Explore the "America's Finest City," San Diego, on a segway tour, passing through its historic neighborhoods and famous landmarks. You can stop at some galleries and museums, as the city boasts a wealth of arts and cultural venues.
On a segway tour in San Diego, make your way along its most glamorous neighborhood, La Jolla, known as "The Jewel" of the city, and marvel at its glorious mansions and shops.
Aside from its abundant tourist attractions, San Diego is well-known for its idyllic climate, 110 kilometers of white sandy beaches and more biodiversity than any United States county.
Here's all you need to know about segway tours, one of the most enjoyable sightseeing tours in San Diego.
What are the best segway tours in San Diego?
Gaslamp Quarter guided segway tours
On this morning or afternoon segway tour, you will learn about the city's history and enjoy the magnificent views of San Diego Bay.
Pass by top landmarks like the historic Gaslamp Quarter, where you will absorb the lively atmosphere of restaurants and shops.
Continue through Chinatown and view Petco Park, the home of the famous local baseball team, San Diego Padres, and a venue for concerts, soccer and other sports.
Visit Balboa Park, one of the country's oldest public parks, dating back to the 1830s. Today, it covers 1,200 acres with 16 special gardens, 15 museums and the world-famous San Diego Zoo.
Early bird segway tours
Join a morning guided segway tour and scoot around to discover San Diego's historic downtown and waterfront while sharing interesting tales of the city's fascinating history along the way.
Like most guided tours, you will explore the Gaslamp Quarter and Petco Park. You will also visit San Diego's latest outdoor entertainment venue, Horton Plaza Park, offering grand-scale productions and more in the heart of the downtown area.
While riding through the downtown district, you will admire the striking views of San Diego Bay.
La Jolla guided segway tours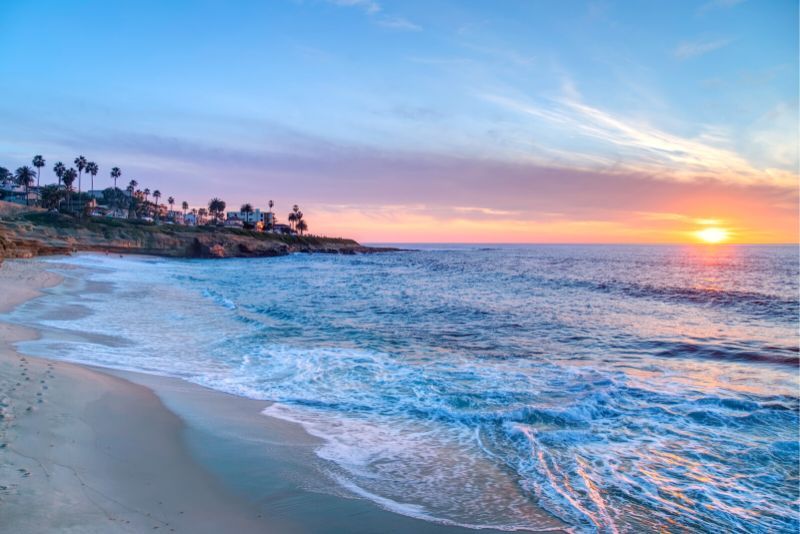 For the segway tour of the prestigious La Jolla, you have a choice of departure in the morning or the afternoon. You will see everything from Bird Rock's seafront estates and elegant boutiques in its shopping quarter to lovely beaches.
Pass by Sunny Jim's Sea Cave, the only sea cave in the neighborhood accessible by land. At the popular Children's Pool – a man-made beach from the 1930s – you will find swimmers and seals alike.
You will also pass by well-known Windansea Beach and the Museum of Contemporary Art before your tour finishes at the lush Ellen Browning Scripps Park.
It has wide views of the Pacific Ocean and is not known as "the most photographed spot in San Diego" for nothing!
Downtown San Diego plus Coronado Island segway tours
Your morning or afternoon guided tour starts in the historical Gaslamp Quarter, from where you will explore downtown San Diego and your guide will tell you fascinating stories about the city's past.
Later you will board a ferry on an entertaining round-trip cruise to Coronado Island and enjoy splendid views of the harbor and city surroundings.
You will look out to the lovely Coronado Beach, which is very popular with surfers and sun worshippers, and the historic Hotel del Coronado.
You will also visit the Embarcadero, the bustling cruise ship hub and ship hub, popular for its seafood and souvenir shops.
Which places are visited?
Gaslamp Quarter
Explore the "Historic Heart" of San Diego, the historic Gaslamp Quarter, characterized by a colorful history, attractive Victorian architecture, museums and other historical landmarks.
A lively neighborhood of nightlife and world-renowned restaurants, it has been established as the playground of trendy, diverse San Diegans and tourists.
The original historical commercial neighborhood began as William Heath Davis' New Town in 1850, and the Quarter's Merchant Association has been active for several decades.
Over the years, the Gaslamp Quarter has become a premier shopping and entertainment district with over 200 restaurants and bars, boutiques, shops and art galleries.
Old Town San Diego
Old Town San Diego was the site of California's first permanent Spanish settlement and is regarded as the state's "birthplace."
In 1769, the first mission of the Franciscan Order was established here, and the eventual chain of 21 missions became the cornerstone of California's colonization.
By 1835, the settlement had acquired the status of El Pueblo de San Diego, and the American flag was raised in the Old Town Plaza in 1846.
The State Historic Park was established in 1968 by California's Department of Parks and Recreation to preserve this rich heritage representing San Diego from 1821 to 1872.
Important buildings include the Serra Museum, chronicling the original inhabitants, the Kumeyaay, and Casa de Estudillo, the former home of Spanish aristocrat Don Jose Antonio de Estudillo (built 1825).
Balboa Park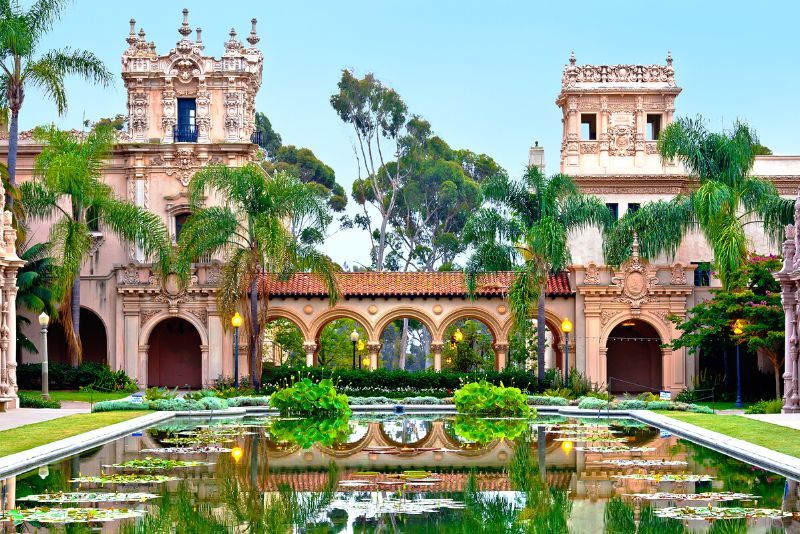 Balboa Park is known as "the Smithsonian of the West" and was reserved in 1835. Today, it is home to some 15 museums, the famous San Diego Zoo and 16 unique gardens.
The special gardens include the Inez Grant Parker Memorial Rose Garden containing 1,600 roses of 130 species. The Spanish Art Village accommodates a thriving community of artisans.
Other attractions – among others – worth visiting are the USS Midway Museum, the longest-operating aircraft carrier of the previous century, and the Museum of Us, which covers a wide variety of human cultures.
How much do Segway tours in San Diego cost?
The Early Bird guided segway tour in San Diego is the cheapest, costing around US$90 per person.
The Gaslamp Quarter guided segway tour in San Diego costs around US$190 per person. The La Jolla guided segway tour costs around US$200 per person. The segway tour in Downtown San Diego plus Coronado Island costs around US$230 per person.
What is included?
Hotel pickup and drop-off
Narration by a professional guide
30-minute segway orientation
Use of segway and safety helmet
Gratuities
Bottled water
Small snacks
Admission tickets
Where does it start?
The starting points for most of the segway tours in San Diego are usually in downtown San Diego at "Another Side Of San Diego Tours" at 300 G Street (close to the Gaslamp Quarter).
The starting point for the tour of the La Jolla neighborhood is 7734 Herschel Avenue in the village of La Jolla, San Diego.
How long does it last?
The typical duration of a segway tour in Downtown San Diego and La Jolla is about 1.5 to 2 hours. The segway tour of Coronado Island, which includes a ferry cruise, lasts about 3 hours.
When is the best time for a segway tour in San Diego?
Morning segway tours in San Diego are not only good for the fresh air but also for avoiding crowds. The best time to visit San Diego for warm-weather action is June to October, which is also the clearer part of the year.
The colder season lasts from late November to early April.
Is it safe?
Segway tours in San Diego are safe, but people with previous health problems such as heart attacks or serious medical conditions should not take the tour
Are children allowed?
The minimum age for participants of segway tours in San Diego is 10. For riders from ages 10 to 15, a parent must be present to sign a waiver and go along on tour.
Riders from ages 16 to 17 must also have a parent present to sign a waiver, but parents do not need to accompany them.
Travel tips
Make sure to book in advance.
Having good insurance is recommended.
Bring waterproofs and gloves, especially for the winter months.
Wear flat-bottomed shoes or sandals with a closed toe.
Segway tours suggest wearing long pants and knee and elbow pads.
Don't use your phone while driving segway.
Avoid segway tours if suffering from serious medical conditions.