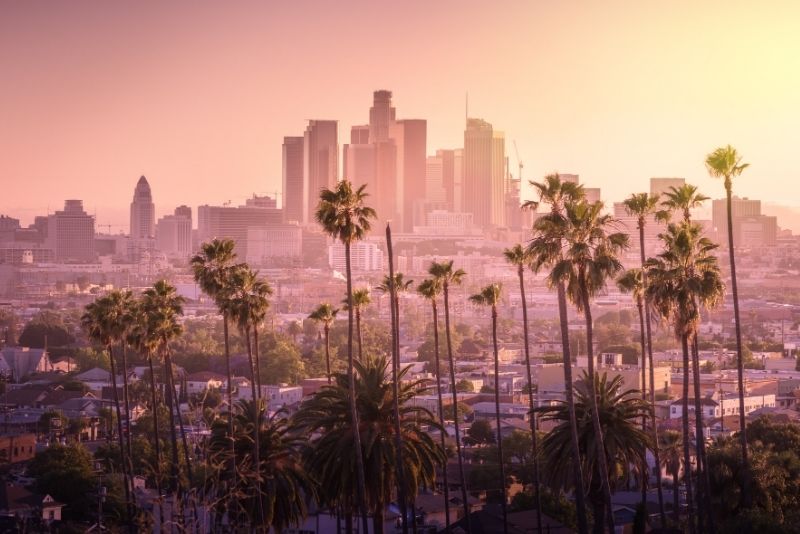 Boasting world-class food, entertainment, museums, nightlife and, of course, multiple award-winning theme parks, it's no wonder that nearly 50 million eager visitors make the trip to the City of Angels every year.
Get behind-the-scenes access to Hollywood studios and see the homes of your favorite celebrities in the most valuable real estate in Los Angeles. Grab an adrenaline fix with Santa Monica Pier thrill rides. Have a bird's-eye view of Downtown LA from Griffith Park and watch a planetarium show at the observatory.
Immerse yourself in art exhibits, theater shows and games in some of the most advanced virtual reality experiences in the country.
Naturally, the museums are fascinating or head out for the evening for a supper theater show. Board a pirate ship for your meal or whilst watching a medieval joust in a castle — only in LA.
Apart from the obvious, there are some unexpected adventures to embark on … Heading out to sea, enjoy a spectacular whale-watching excursion, or feel like you've been transported from the USA to Japan as you meander the streets of Little Tokyo.
With so many fun things to do in Los Angeles, you'll truly be spoiled for choice!
1 – Make a beeline for the Dolby Theatre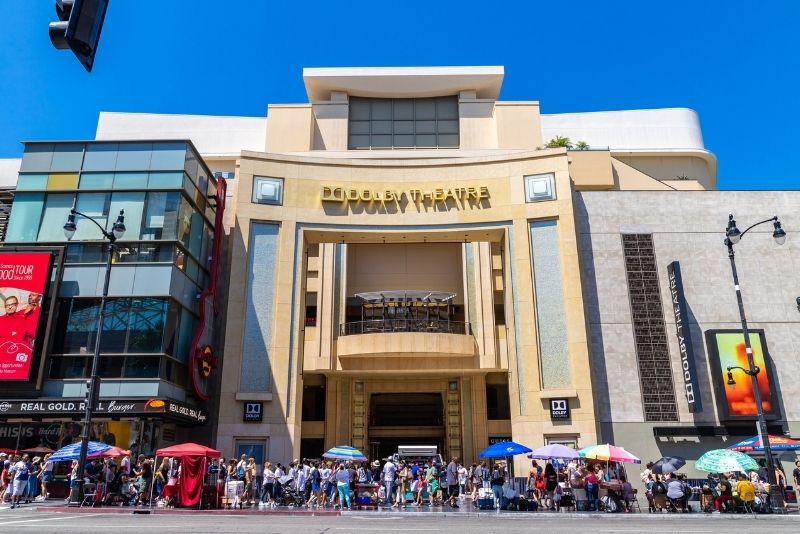 Sitting near the famous corner of Hollywood Boulevard and Highland Avenue, the Dolby Theatre is a Tinseltown icon.
Every year, Hollywood's rich and famous walk its halls to receive their Academy Awards, with decades worth of past Oscar winners placarded on the pillars that line the red-carpeted entranceway.
Home to the Oscars ceremonies, the Dolby also holds premieres of blockbuster movies and popular events such as America's Got Talent. Showcasing Dolby's breakthroughs in entertainment technology, the theater provides super clear images and life-like audio.
Walk on the red carpet and feel like an Oscar nominee on the stage. Get inside the Dolby Lounge exclusive for celebrities and see an Oscar statuette up close. For film buffs, the movie-themed tour is simply unmissable.
2 – Experience the wet and wild fun of Raging Waters Water Park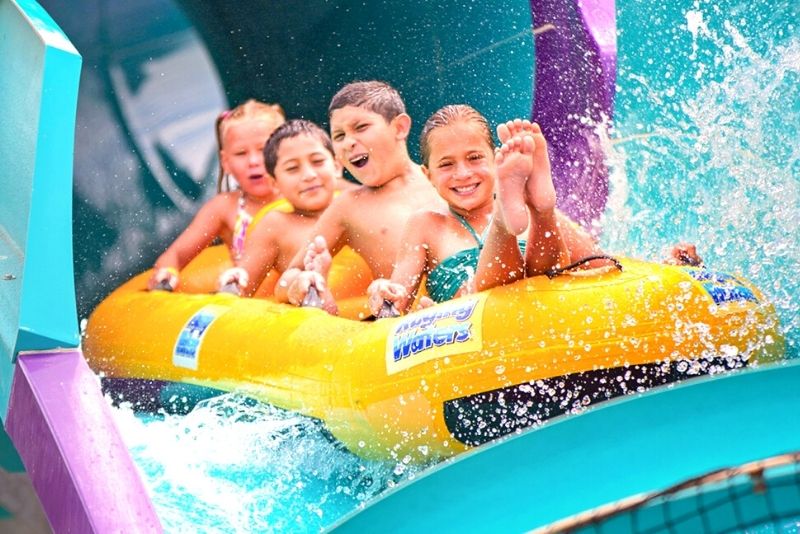 California's largest waterpark (60 acres) Raging Waters has activities for all ages, including the Aqua Rocket — the only hydromagnetic water coaster in California — and Speed Slides with an eight-story-high apex.
For a different challenge, however, take on the Lily Pads obstacle course: walk across the pads using the overhead ropes and try not to wipe out as you cross the lagoon!
If you're looking for a more intense ride, try getting inside a tube that drops you straight at 26 feet per second.
With Bombs Away, you can also choose to go through loops to the pool — from a height of 300 feet.
While there are plenty of adventures for children such as Volcano Fantasea, a family can splash down together in a five-person raft through a 550-foot long channel.
3 – Snap a selfie with a celeb at Madame Tussauds'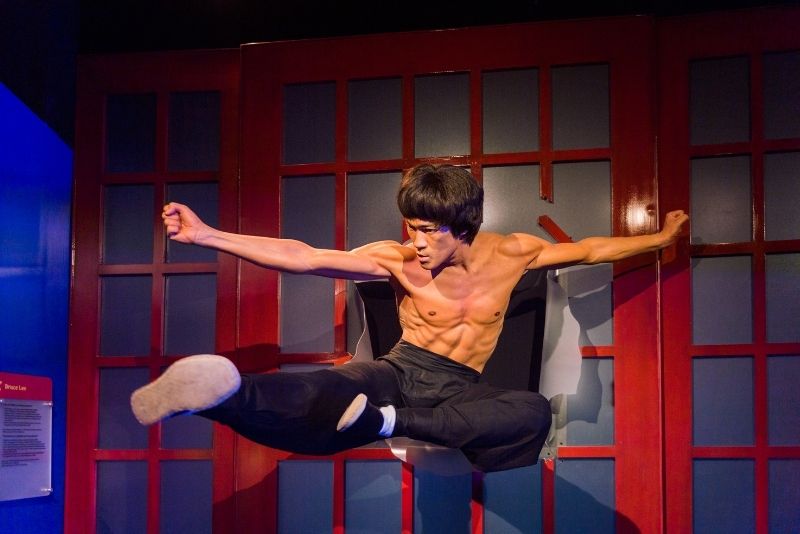 Sure, you could spend hours on tour busses peeking through the hedges of celebrity's fences — or you could see everyone from Jamie Foxx to Nicole Kidman and Denzel Washington simultaneously at Madame Tussauds' Wax Museum!
Nestled among the hustle and bustle of Hollywood Boulevard, this famous attraction makes for a perfect stop on any Tinseltown itinerary.
Showcasing over 100 Hollywood movie stars, the wax museum also displays the King of Pop – Michael Jackson – and living pop icons such as Lady Gaga.
Its latest features include immersive experiences, including 90s music and iconic TV shows. You can also see a 4D movie with legendary Marvel superheroes.
Founded in London by Marie Tussaud, a wax sculptor, in the 1800s, the museum has grown to over 20 museums across the globe.
4 – Watch magnificent Candlelight concerts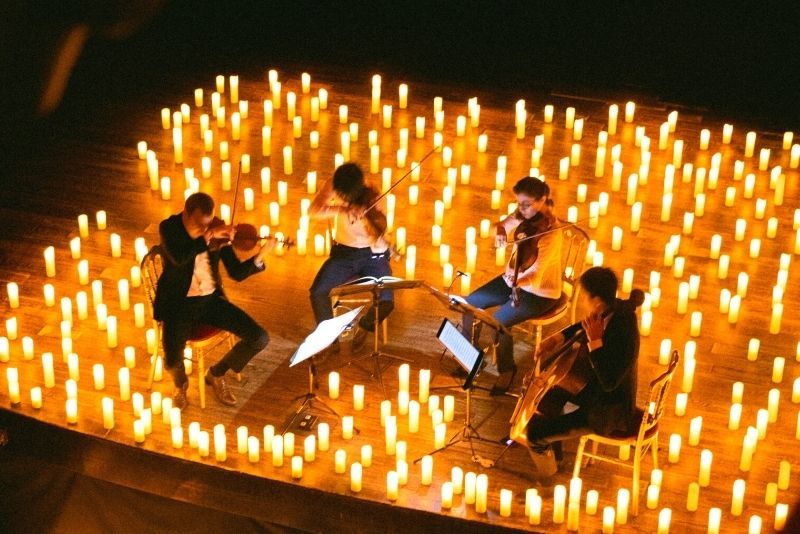 Imagine walking into a space where hundreds of candles surround you, like a scene from a fairytale … Treat yourselves to an evening of melodies and magic in the most surreal setting during these spectacular Candlelight concerts.
Hosting these special concerts at select cities around the world, don't miss the opportunity whilst you're in LA, and there is a variety of performances to choose from, changing every few months, and each set in a uniquely dramatic location.
For example; listen to a tribute to famous composers like Hans Zimmer, or more modern artists of our time, or enjoy the sounds of sweet jazz for the night.
5 – Stargaze at the Griffith Observatory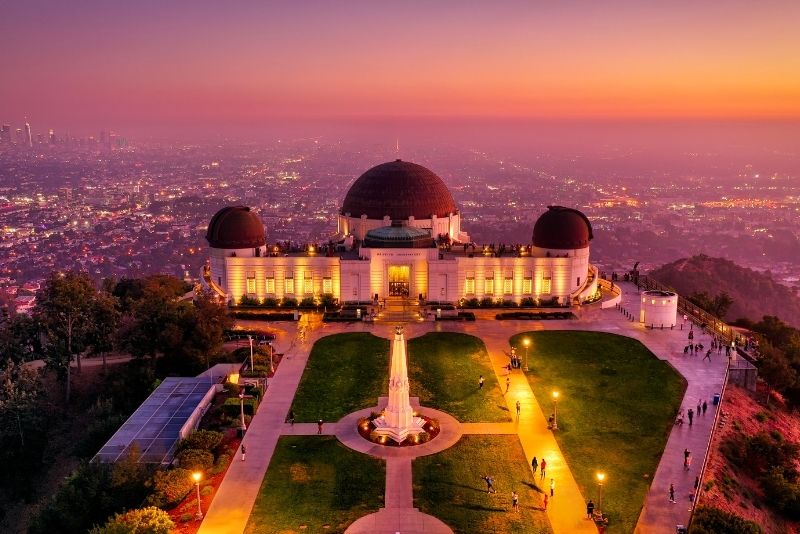 Jutting 1,134 feet above sea level, at the peak of Griffith Park, the famed Griffith Observatory is Los Angeles' gateway to the Milky Way.
The 290-seat Samuel Oschin Planetarium is considered one of the finest planetariums in the world; the giant telescopes are nothing short of impressive, and numerous educational films play in the Leonard Nimoy Event Horizon Theater.
See how humans' observing the sky has changed over time through exhibits at The Wilder Hall of the Eye. Discover how myths and scientific theories converge, and experience our connection to the infinite universe.
Outside the observatory, step on a lawn model of our solar system and understand the movement of the sun and the moon. Look around and admire the panoramic views, including the cityscape, the Hollywood Sign and the Pacific Ocean. It's also a perfect spot to watch the sunset in LA.
6 – See the Hollywood Sign from Griffith Park
No trip to Los Angeles is complete without a selfie in front of the Hollywood sign, and there's no place more fitting for it than the lush urban greenery of Griffith Park – one of the greatest places for a walking tour as well.
At over 4,200 acres, Griffith Park is officially the largest municipal park in the country — which means hiking trails, city views, bike tracks, horse riding routes, and roaming animals to boot.
While at the park, take a picnic and explore the Travel Town Museum, an outdoor museum built to celebrate the railway development in South California.
See the different steam locomotives and railroads, and learn about their significant role in history. Have the kids experience the miniature train ride which has been running since 1978.
The gem of the park is the Art Deco Griffith Observatory which is free to visit but the planetarium requires an admission fee.
See also: fun things to do in Hollywood, California
7 – Join a 'Celebrity Homes' tour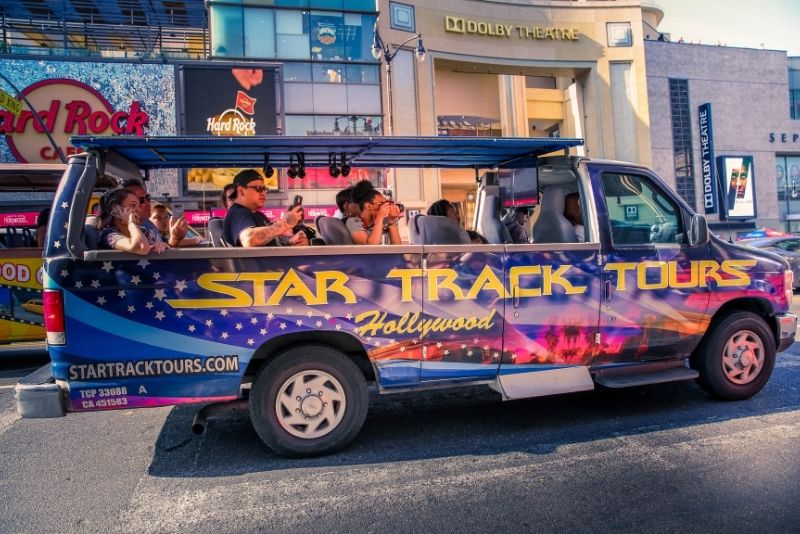 Jump on an open-air bus, grab the camera and see first-hand how some of Hollywood's most famous live their lives!
On a Hollywood and Beverly Hills sightseeing experience, expect to see the over 50 celebrity homes, cruising past notable sights — like Rodeo Drive, Bel Air, and Hollywood Boulevard along the way.
Admire the architectural designs in LA's most high-priced neighborhoods. Drive around and spot some mansions of celebrities like international singer Adele, famous couple Beyonce and Jay-Z, and TV host Ellen DeGeneres.
Read more about Hollywood & Celebrity Homes Tours.
8 – Check out the Richard Nixon Library & Museum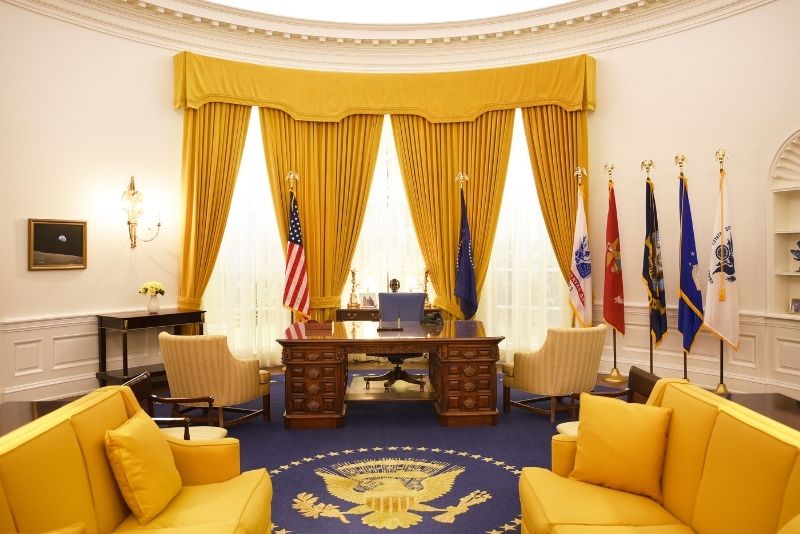 History buffs, look no further. As the burial site of the 37th President of the United States, the Nixon Museum showcases the life and legacy of one of America's most influential leaders.
Visitors are blessed with the opportunity to explore his boyhood home, sit in a presidential helicopter, and learn about the former president's 50-year career in public service.
You can see an exact copy of the White House East Room, the Executive Mansion's biggest room. There's also a replica of the President's office in San Clemente.
Nixon is known for ending the Vietnam War and easing tensions between China and the then Soviet Union during the Cold War.
Join an interactive experience to see how the First Family spent their days and some of the occasions in the Nixon White House.
9 – Go whale watching!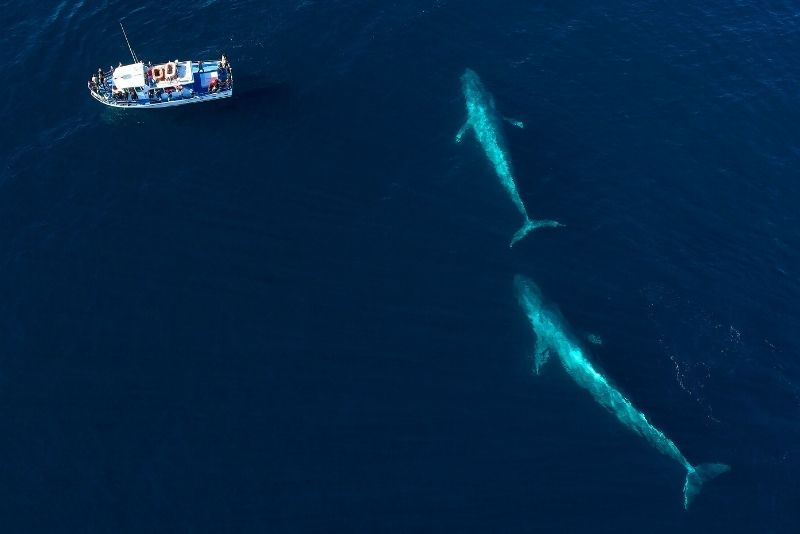 Rarely are Mother Nature's largest creatures visible from a city — let alone a sprawling metropolis — but in LA, whale and dolphin sightings are a dime a dozen.
Perfect for the whole family, a professionally-narrated whale-watching cruise is one of the most fun things to do in Los Angeles, hands-down.
Sail off the Palos Verdes Peninsula on a medium excursion boat to see marine life up close. Spot humpback and sperm whales, dolphins, and sharks, as you sail along the coastline with a refreshing drink on hand. Keep an eye out for seals and sea lions too!
Most tours make stops at Balboa Pier and Fun Zone so children and adults can enjoy the beach or ride the Ferris wheel.
Depending on the type of cruise you choose, there are dolphin-watching and whale-spotting excursions that venture to Newport Beach side instead. Over 2.5 hours, be driven to secret spots around the bay where the intelligent sea mammals are known to call the waters their home.
If you're staying closer to this part of L.A., opt for tours in Newport, however, if you're near the Long Beach area, whale and dolphin-watching boat trips around Palos Verdes Peninsula are more convenient.
Read more: Fun things to do in Long Beach
10 – Encounter dinosaurs in a real-life Jurassic World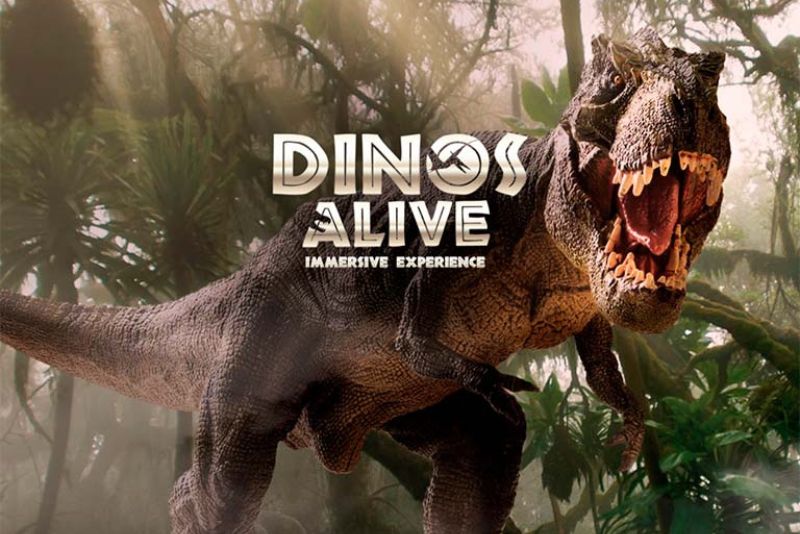 At Dinos Alive, dinosaurs are real — or at least they look like it. This immersive experience will transport you back in time to the Jurrasic era. Walk among life-size, moving replicas of dinosaurs including a T-rex, stegosaurus and velociraptor.
Interactive, entertaining and educational, this is the perfect outing for families with kids in Los Angeles. You'll encounter over 80 animatronics, and even see the colossal creatures that once roamed the seas.
Suitable for kids from the ages of 3, you can even arrive in a dinosaur costume and fit in with the exhibit. Take it a step further with a VR experience, or an exciting Dino Ride!
Tickets start from just US$20 each, and families can receive discount prices.
This is certainly a day out the kids won't forget!
11 – Wander the streets of Little Tokyo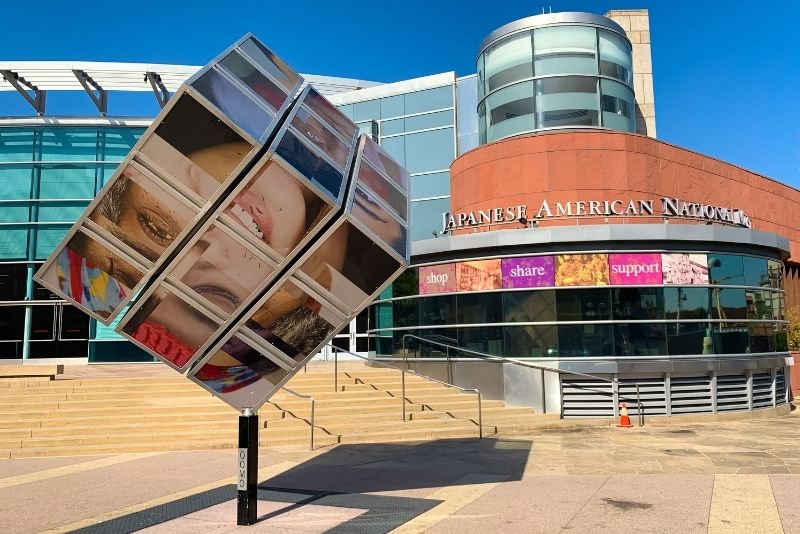 Home to the largest grouped Japanese-American population in North America, Little Tokyo is found five blocks away from Downtown LA.
One of the first Japanese towns in the US founded in the 1880s, this plaza looks like the center of Tokyo with a mall in the middle. It is booming with fascinating food, culture, shopping, and art — all inspired, of course, by Japan.
Adorned by paper lanterns, this festive village has a Japanese supermarket and many other shops and restaurants. You're sure to get all your Japanese cravings from cake and ice cream to cosmetic products straight from Japan.
Make sure to check out the Japanese American National Museum, and grab a bite to eat at the area's oldest Japanese restaurant: Shabu Shabu House (your tastebuds will thank you).
Spot the tree in front of the Shabu-Shabu house which bears paper mosaics and letters containing wishes and prayers.
12 – See everything at once on a Hop-On-Hop-Off bus!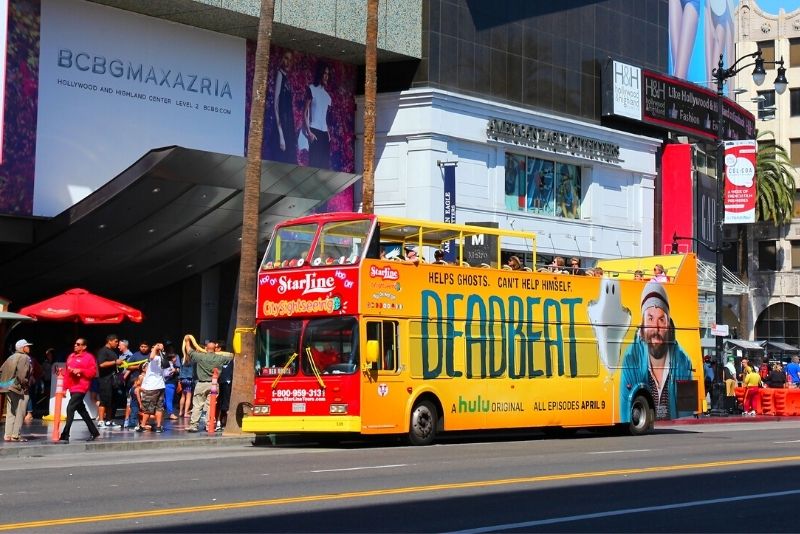 Easily the most efficient way to tick off all of LA's notorious destinations at once, the open-aired Hop-On-Hop-Off busses are perfect for travelers strapped for time.
With 24, 48, and 72-hour passes available, and more than 50 stops at locations across Beverly Hills, Santa Monica, Hollywood, and downtown LA, you'll be able to see the Universal CityWalk, La Brea Tar Pits, Venice Beach, and so much more.
Learn about the history of LA from a local guide, as you ride around the vibrant streets from an open-top sightseeing bus.
Hop off at popular attractions, including the Santa Monica Pier and its famous Ferris wheel run by solar power. You can drop at Melrose Avenue to have a shopping spree or jump off the Pacific Coast to ride a bike.
Choose the bus route you want for the day, either Hollywood, Santa Monica Beach or Downtown LA. Why not get a three-day pass so you experience all routes?
13 – Try your luck in an escape game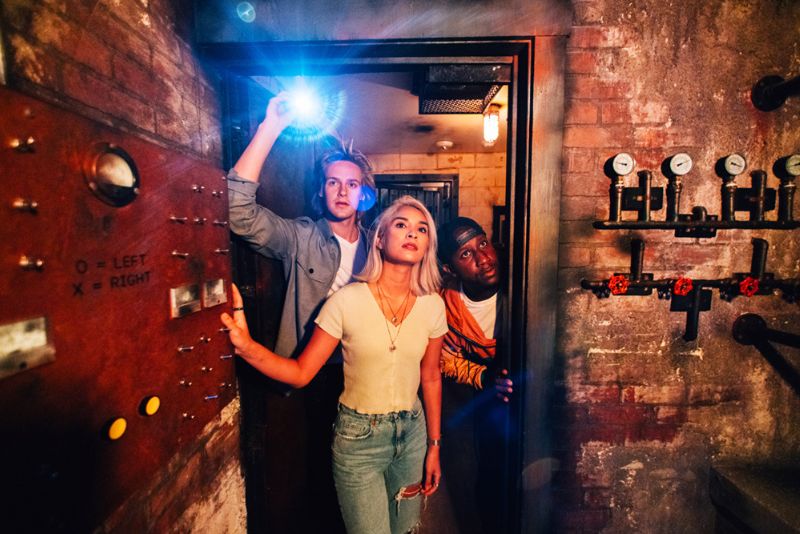 It's time to put on your thinking caps! LA's escape games will challenge your teamwork skills, problem-solving, and creative thinking, all at once.
Grab your team and visit The Escape Game. You might try to pull off a heist, break out of prison, or even save the world — each game has multiple rooms to explore and you can get unlimited clues without penalty or judgement.
Together with your teammates, find clues and work out puzzles to complete a mission. You have 60 minutes to complete your mission in time.
Think you've got what it takes to escape before time runs out? There's only one way to find out! You might escape. You will have fun!
14 – Spend a day at Santa Monica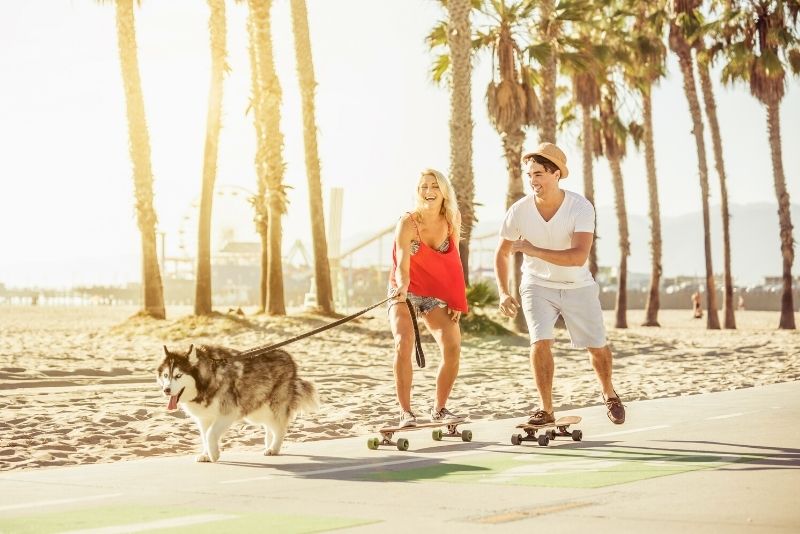 The golden sands of Santa Monica beach are nothing short of iconic — with the picturesque amusement park straddling the pier, the seemingly never-ending boardwalk, street performers to boot, and the vibrant Farmers' Market, there's never a dull moment at this seaside locale.
Grab your favorite cold drink to this lively beach and sit on the soft sand while looking out to the sea. Make sure you bring a swimsuit in case you fancy dipping.
Stroll along the coast where plenty of restaurants line up and ready to serve you with delicious foods.
You can wait for your dessert and walk towards the Santa Monica Pier to grab the highly recommended funnel cake and ice cream.
Whether you explore on foot, bike or Segway, it's a destination not to be missed.
15 – Go surfing (or biking) at Venice Beach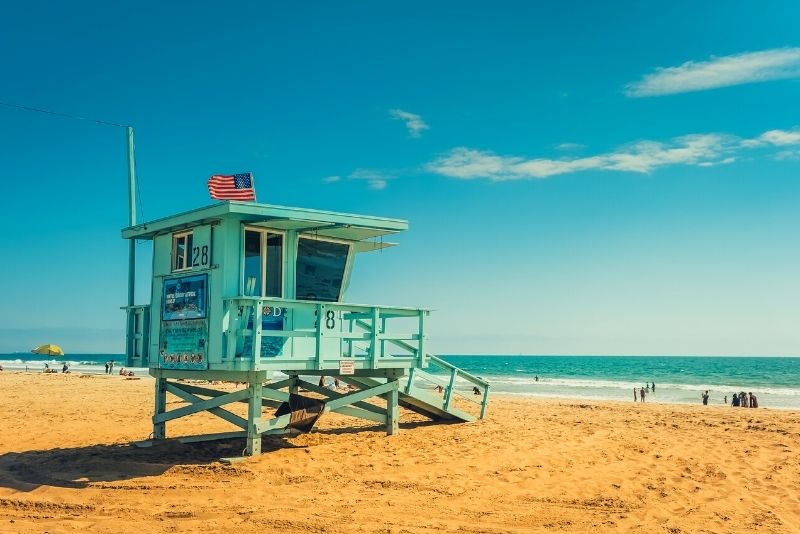 On those sizzling California summer days, there's no better way to cool off than with a swim — or even better yet, a surf — at the shores of Venice beach.
First timers or pros, just bring your swimwear and rent a surfboard with a wet suit. If you enroll in a class, your instructor and equipment are included in the package.
Lessons usually take over an hour, the first half is for basic techniques and the rest is surfing with your instructor. You're sure to enjoy riding the waves and paddling in the water.
After catching a few waves, the area boasts plenty of bars, restaurants, bike paths, and entertainment to fill up the rest of the afternoon. For something a little different, consider one of the area's walking food-themed tours.
16 – Walk along the Venice Canals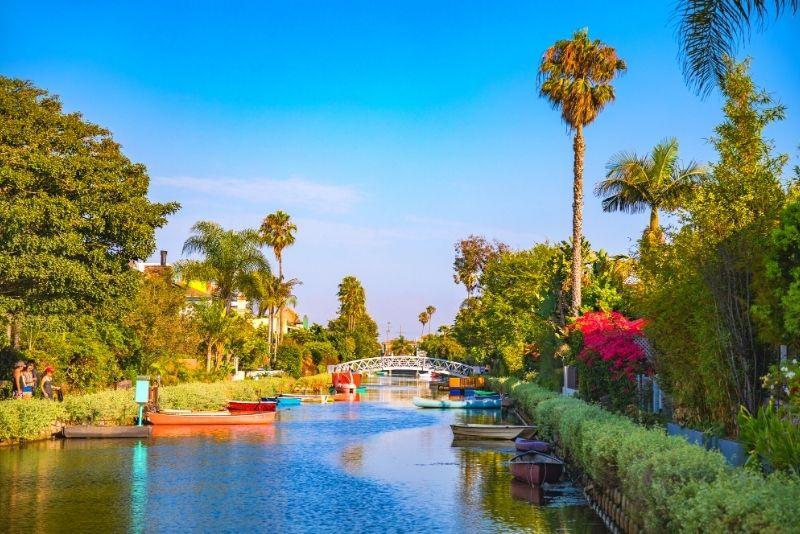 Who says you need to fly to Italy to uncover Venitian canals? A stone's throw from the Venice Beach shore, the man-made canals have been delighting tourists and locals alike since 1905.
Despite the area's popularity, the canals are often quiet and relaxing — a welcomed change from the nearby boardwalk.
Coined as "Venice of America," these man-made canals in 1905 brought a touch of Europe to Southern California. The four canals are the remaining ones from the original construction.
Today, these historic canals play a part in a chic neighborhood. You can see colorful little creative boats that look like flamingos or ducks in front of the houses. Some of the residents have their own mini docks.
Sponsored placement
Explore the Medieval Torture Museum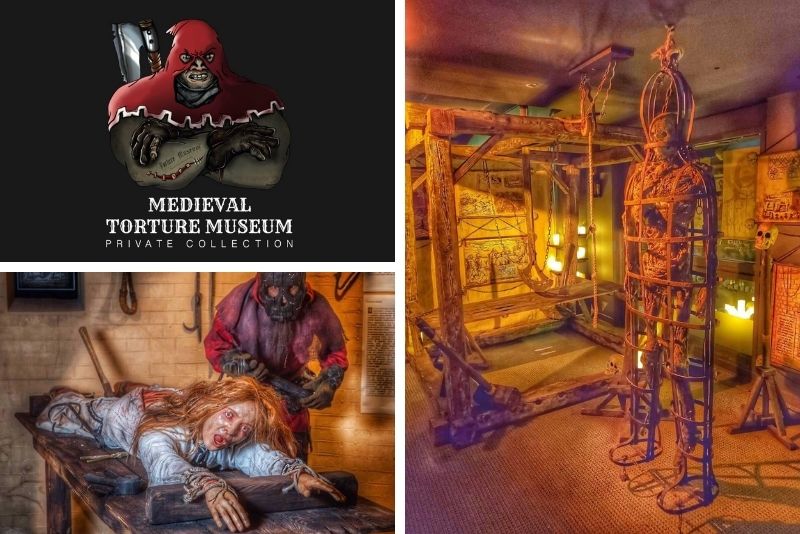 Are you interested in Medieval history and its darkest side of tortures? The largest interactive museum about Medieval torture processes has just opened in Los Angeles.
Located near the Dolby Theather, the Mediaval Torture Museum is an interesting stop while you discover the Walk of Fame on Hollywood Blvd.
See over a hundred gruesome devices and tools from the darkest age of human history. Learn about the pain-inducing techniques demonstrated with historic torture mechanism!
The museum is recommended only for adults (over 18). Kids and teenagers are admitted only with an accompanying adult!
17 – Marvel at the Beverly Hills mansions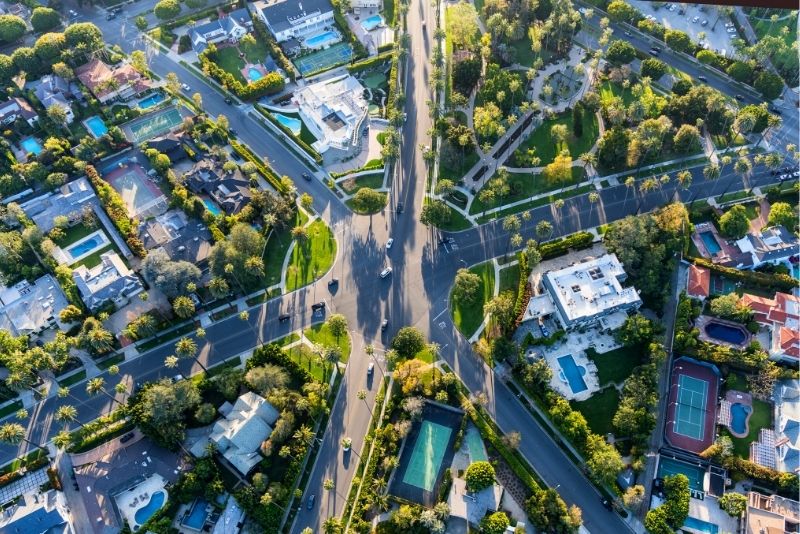 The infamous 90210 has been housing A-listers for decades — its rolling hills and sprawling mansions falling nothing short of astonishing.
Among the famous celebrities living in Beverly Hills are Denzel Washington, Sylvestre Stallone, Leonardo DiCaprio and Justin Bieber.
Take a Segway tour or bike tour (read: calories will be burned!), rent your own car, jump on a sightseeing bus or, for the ultimate experience.
Join a popular tour to guide you past their glitzy mansions. Drive along tall palm trees lined outside one of the most insanely priced real estates in the world.
18 – Go behind the scenes on a studio tour!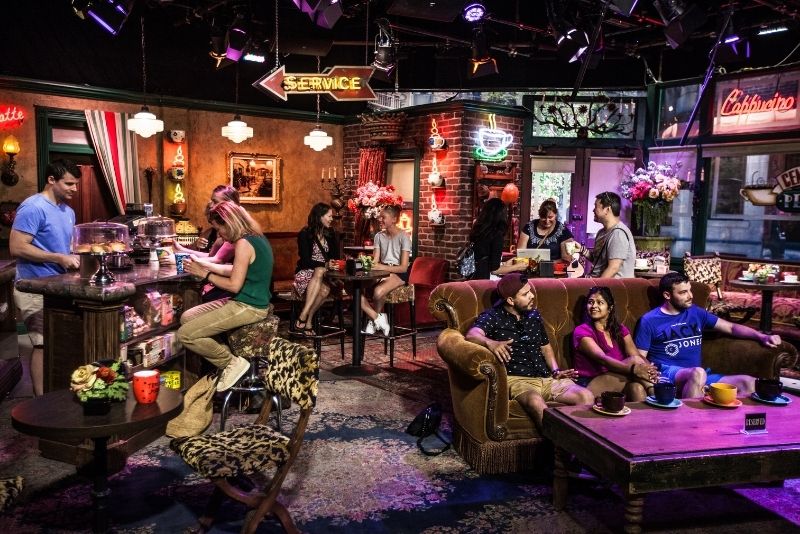 Warner Bros Studio Hollywood
For almost 100 years, Warner Bros Studio has been bringing entertainment to our movie theatres and lounge rooms. Take the Studio Tour through the 110-acre backlot that brought you Batman and Friends; create your own batmobile, ride Harry Potter's broomstick, and sip coffee at Central Perk.
If you're still craving more, why not add in the Classics Tour and Deluxe Tour?
Revisit the Golden Age of film and TV shows with famous classic movies in a three-hour tour. Your guide takes you to backlots and backstages, as well as The Prop House and Big Bang Theory sets.
Sony Pictures Studio Tour
Enter the famous gates and go behind the scenes on a two-hour guided tour to learn what it's really like on-set at a working studio.
The Sony Studio Tour reveals iconic sets such as The Wizard of Oz, Men in Black, Spider-Man, and Jeopardy, while the museum houses memorabilia from classics like On The Waterfront to modern TV masterpieces like Breaking Bad.
If you're visiting with family or a group, get an exclusive "Star Treatment" tour in a real working studio.
Want more? Have VIP access to actual props and virtual reality experience at Sony Museum in a three-hour lunch tour.
Paramount Pictures Studio Tour
Take note: the studio behind Psycho, Indiana Jones, and Titanic will not disappoint. Grab the camera because you'll be checking out locations like the Bronson Gate, Prop Warehouse, and New York Street backlot, with separate areas for each NYC borough.
Visit Paramount Pictures Studio Tour and choose from two-hour or four-hour tours — either way, it's one of the most fun things to do in Los Angeles.
A VIP tour offers access to exclusive spots such as prop warehouses and sound stages. A fine dining experience awaits at one of the production sets.
19 – Rent a swan boat in Echo Park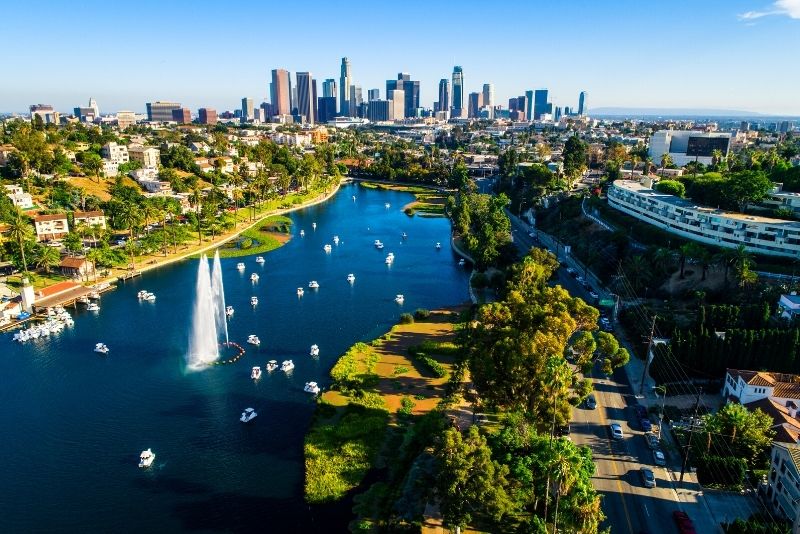 One of Los Angeles' best places to visit, Echo Park (read: more specifically, its shimmering lake) provides the perfect fresh-air activity for couples or families.
The swan-shaped pedal boats come in two-seater (for the romantics) and four-seater (for groups) varieties, but it's the neon-lit night rentals that truly steal the show.
Walk around the lake and spot some ducks, turtles and birds in this beautiful park that offers an impressive view of Downtown LA.
You can rent a pedal swan boat and explore the sights while doing a slight exercise.
If you go early in the morning, you can get a scenic view of the lake and a beautiful sunrise. Make sure you bring a camera!
20 – Soar over LA with an airplane tour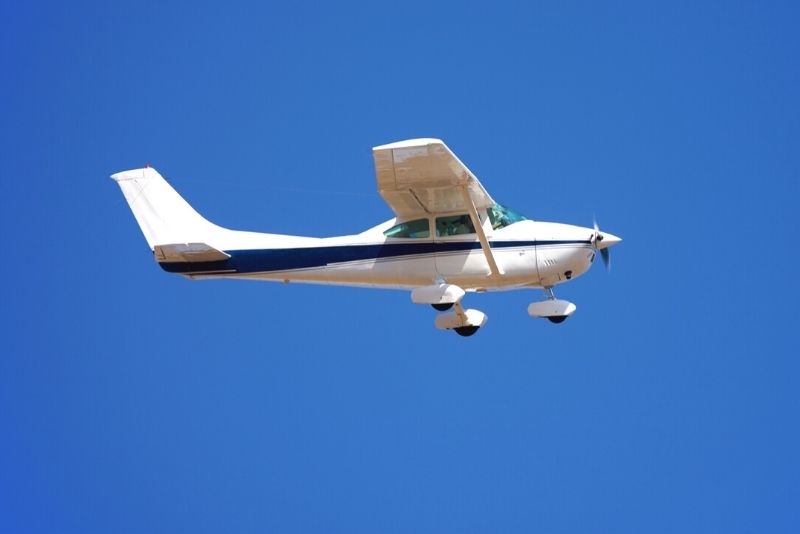 With its sparkling blue coastline, golden sands, built-up Downtown area, and rolling Hollywood Hills, the aerial views over Los Angeles are simply second to none.
There's an option for every budget and preference. You can either hop on the passenger seat of a plane or ultralight trike (similar to a powered hang glider), or sign up for a private flying lesson!
If you want to try simulation, you can take a tour that includes simulation training and an amazing flight with you at the controls for a few minutes.
With astonishing cityscape and sunset view, it's highly recommended for a romantic or surprise date with your special someone.
21 – Walk the Hollywood Walk of Fame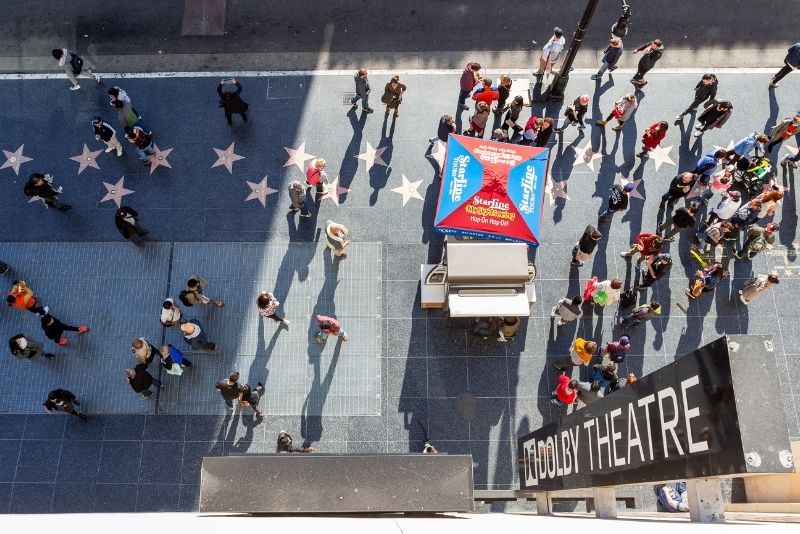 You simply cannot claim to have visited LA without having a semi-awkward photo crouching next to your favorite celebrity's star amidst a wave of pedestrians. There are at least 2,700 terrazzo and brass-made stars you can all step on if you like.
Whether you're after the Beatles, Mickey Mouse or Ryan Reynolds, consult the Star Directory on the official Hollywood Walk of Fame website so you know exactly where to look.
If you're wondering if you could nominate your latest favorite star, the answer is yes! Anyone, including fans, can submit an official nomination for a $250 fee.
22 – Drive or ride in a red Ferrari for the ultimate LA city tour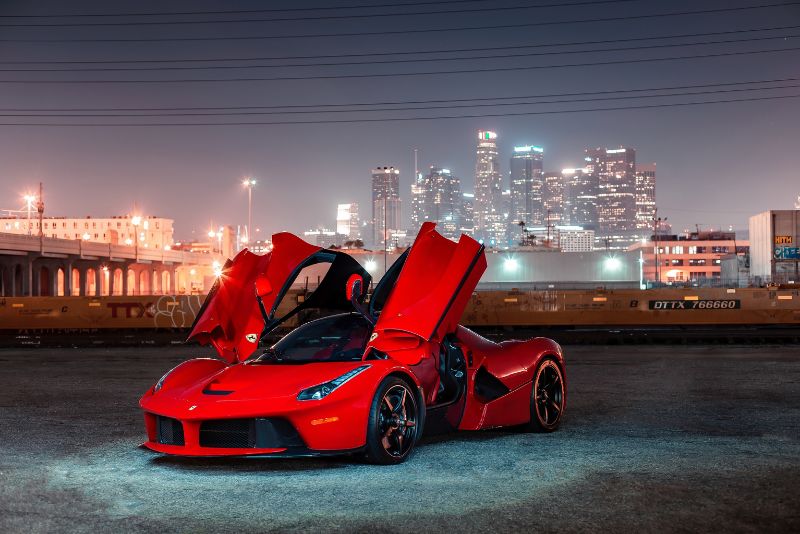 Experience the ultimate Hollywood VIP tour in a stunning red Ferrari.
Choose to drive or ride and explore the city's most iconic landmarks, such as the Dolby Theatre, Hollywood Walk of Fame, and Beverly Hills mansions.
Opt for the 30-minute tour for panoramic views or the 50-minute tour for an up-close look at the Hollywood Sign.
The 4-hour tour includes stops at beautiful beaches like Venice Beach and Santa Monica.
No matter which tour you choose, you're guaranteed to have an unforgettable experience in the city of dreams.
23 – Take a helicopter tour over the city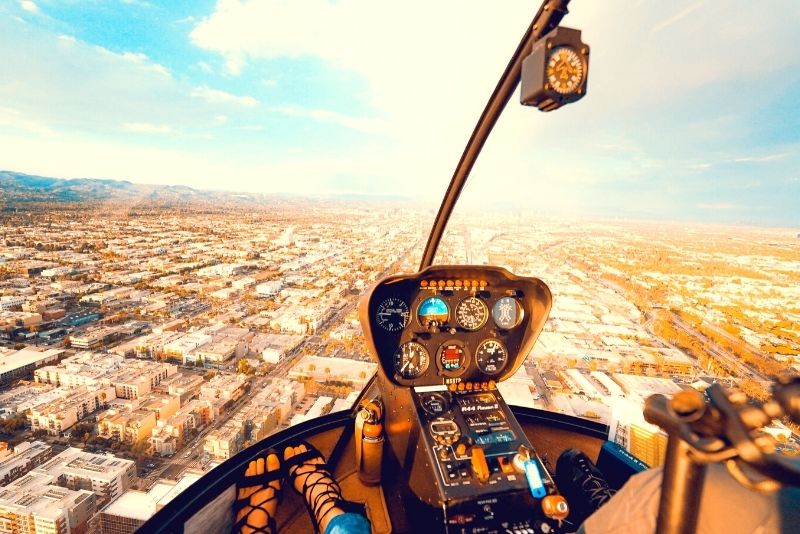 If an airplane tour doesn't quite quench that appetite for adventure, then a private helicopter flight over the Hollywood sign ought to do the trick.
With durations ranging from 10 minutes (solely the Hollywood sign) to 90 minutes (flying across the entire city and beyond), there's something for every budget. For something truly spectacular, opt for the sunset flight.
It's worth trying if it's something that you've never done before. You can see spectacular landscapes up close and take your time to admire them.
Unlike airplanes, helicopters are able to fly much lower, slower, backward and sideways — and they can also hover! Helicopters can be maneuvered to do acrobatics, so your ride can be more fun and thrilling.
Read more about helicopter tours in Los Angeles.
24 – Saddle up for a horse riding adventure!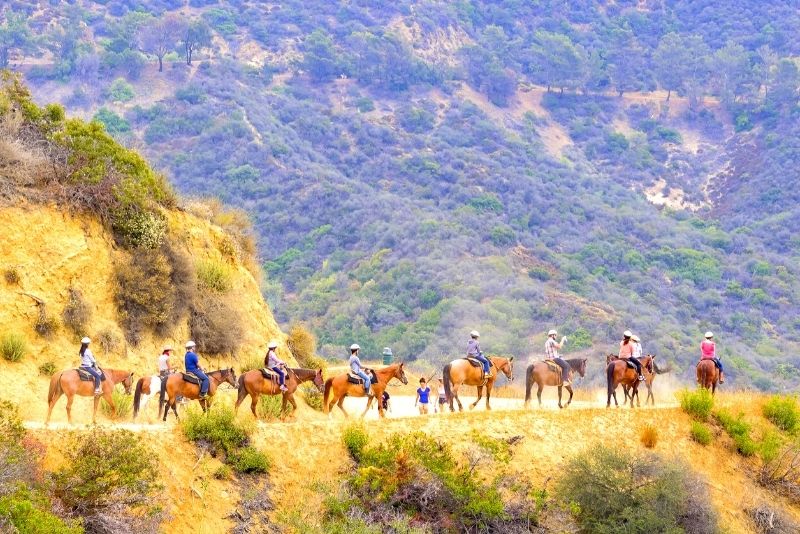 A welcomed change from the Downtown crowds, Sunset Ranch's horse riding adventures take tourists out of the concrete jungle and up into the fresh air of Mount Hollywood, led by friendly guides and trusty steeds.
From the summit, get ready for 360-degree views of the Los Angeles basin, including, of course, up-close viewing of the Hollywood Sign.
​​You can also start from the foot of the hill near Hollywood Boulevard. Ride all the way through an impeccable neighborhood up to Griffith Park and catch the sunset. It's ideal for families and couples who want a relaxing ride and don't need to gallop or canter.
Perfect for first-timers, this tour offers a friendly environment, well-cared horses and kind staff. The guides teach you how to ride, steer and stop your horses — and of course, they know the trail very well.
25 – Watch a movie at the famous Grauman's Chinese Theatre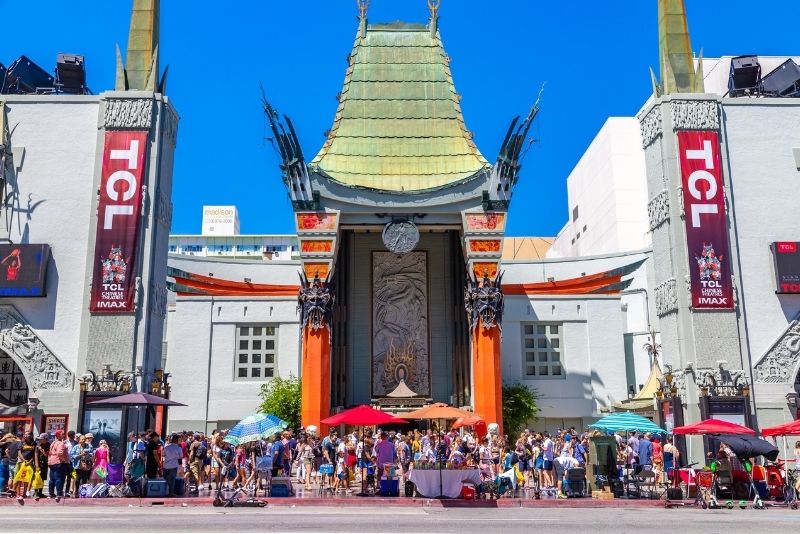 Welcome to the most iconic movie palace in the world! Hosting hundreds of red carpet movie premieres and film festivals, Grauman's Chinese Theatre continues to make Hollywood history.
With the biggest and brightest stars, the theatre has a unique feature of cement hand and footprints ranging all the way back to 1927 — not to mention hosting the world's largest IMAX auditorium!
Make the night even more memorable and feel the movies come to life with an MX4D motion experience. Imagine being part of the movie with your seat rumbling, air blasting and your leg or neck getting tickled!
Get VIP access to the red carpet on an exclusive walking tour inside this historic cinema — where most famous Hollywood celebrities watch their movies.
Sponsored placement
Bubble over with excitement at Bubble World
This immersive experience has come from Europe to Los Angeles to stimulate your senses and release your inner child with huge ball pits, robot bubble shows, a hot air balloon simulator ride and much more!
In over 10 different themed rooms, you can let the magic of science unleash your imagination as you travel through Bubble World.
26 – See the stars at the Ovation Hollywood
Familiar with rolling out a red carpet or two, the Ovation Hollywood is a premier shopping, dining and entertainment complex in, you guessed it, Hollywood!
Shop iconic brands and stores from Footlocker to M·A·C Cosmetics, or grab something to eat at one of the trendy cafes and eateries with flavors from around the world, like JINYA Ramen Bar and PokiNometry.
But it's really the entertainment options that steal the show. Starting with activities; step into a virtual reality at ANVIO VR or try to clock in the highest score at Lucky Strike — the complex's premier adult bowling alley where DJs add more ambiance to the scene.
There are epic shows such as the "Icons of Darkness" featuring haunting characters like Dracula, Frankenstein and Edward Scissorhands, or visit the JAPAN HOUSE LA gallery for a world of Japanese art.
Stop by the iconic Dave & Buster's for drinks and fun games designed to bring out every adult's inner child.
If you're visiting LA in time for award season, the famous 3,332-seater Dolby Theatre is at Ovation Hollywood, home to the Oscars event as well as world movie premiers. The Hollywood Bowl hosts live music concerts for some of the biggest international stars.
FYI: Ovation Hollywood was formerly known as Hollywood & Highland.
27 – Go kayaking at Marina Del Rey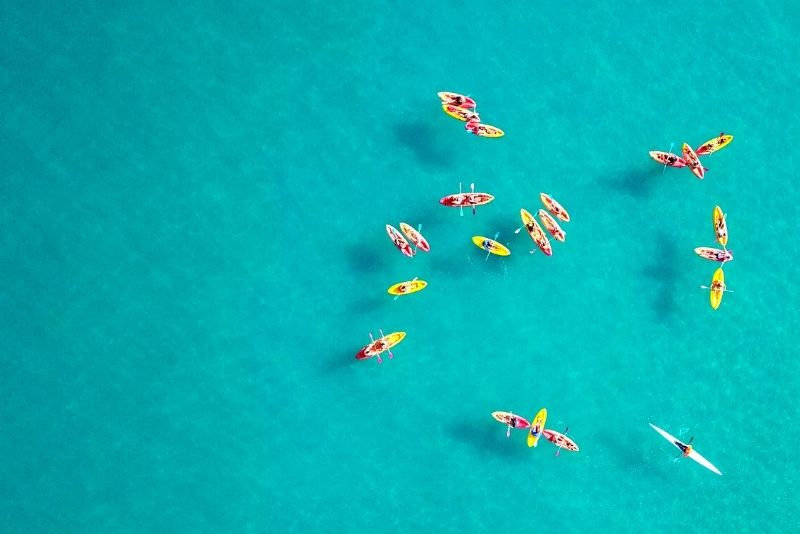 Nestled in the southwest of LA, Marina del Rey is the largest man-made harbor in the US and second world's largest with an area of 1.5 square miles.
Explore the harbor on your own kayak or paddle with a friend on a watercraft for two people. Aside from spotting wildlife, admire over 6,000 charming and unique houseboats.
Rent a kayak or paddle board, and meet your guide to tell you about marine life and its habitat. Not only do you see beautiful creatures and boats, but also have a relaxing time while in LA.
Lounge on a rooftop and watch the famous LA sunset, cycle to nearby Venice Beach, or hire a private yacht and live large for the day, all by the dazzling waters of the Marina del Rey.
Don't forget the paddleboard tours: a two-hour guided tour will take you to the marina's hidden gems, where local sea lions and dolphins often say hello!
28 – Learn about the world of still and moving images at the Academy Museum of Motion Pictures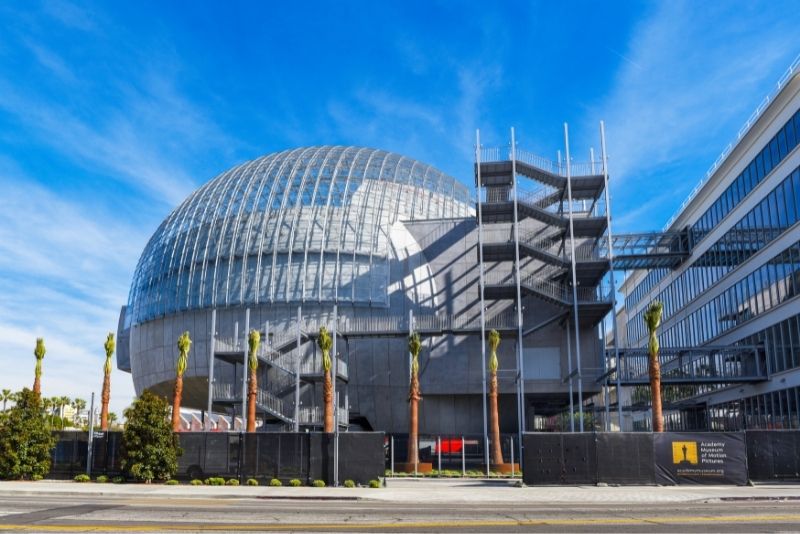 Cinephiles, this one's for you, and the Academy Museum of Motion Pictures is just as its name states … a museum dedicated to motion pictures through the ages.
Not only learn about the grand impact that film has had on society and the development of its role but see awe-inspiring displays comprising props, manuscripts, preserved films and more from some of the most iconic movies throughout the decades.
Through its permanent collections, as well as temporary exhibitions, it aims to shine a light on the history of the Academy of Motion Picture Arts & Sciences. For example, explore visual effects and the making of digital dinosaurs, or the world of 3D animation.
Some of the most prominent collections to investigate include Posters, Production Art, Lobby Cards, the Academy Award Nominated Films and Academy Award Shows exhibits.
29 – Visit an aquarium!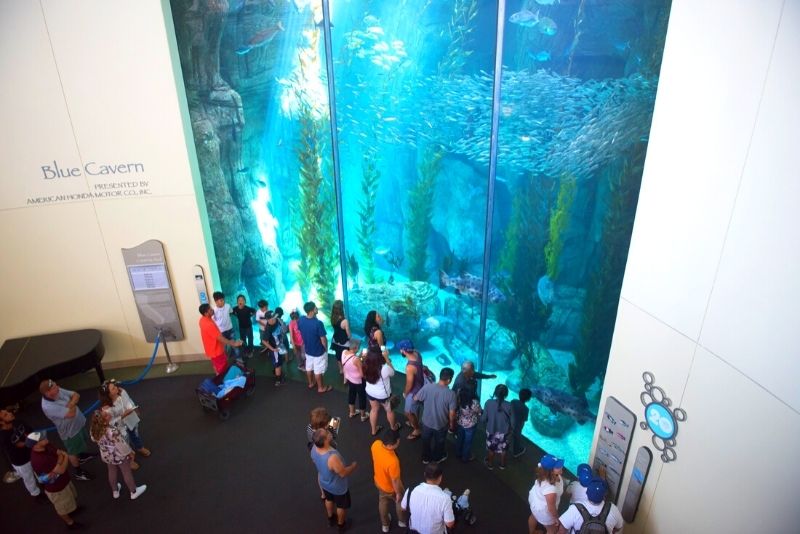 Explore the Aquarium of the Pacific
This giant aquarium houses a plethora of creatures – from adorable penguins to domineering sharks and even a colorful lorikeet forest.
A lot of the aquarium is remarkably interactive, including the Moon Jelly Touch Lab where you can feed and touch the jellyfish, a crawl-space to feel like you're chilling with the penguins.
Meet the sharks up close and feed them their breakfast at Shark Lagoon. Join the rays in an 18-inch pool where you also feed and interact with them!
Stop into the Cabrillo Marine Aquarium
The Cabrillo Marine aquarium has a lot of smaller tanks with a vast array of sea creatures, skeletons of large aquatic animals and a touch tidal pond.
Take some time to go through all the various buildings and read the explanations for a crash course on the local aquatic life. Learn more about the Southern Californian marine life in their habitat from finding food, reproducing and protecting themselves.
The aquarium exhibits major ecosystems, which are open ocean, rocky shores, sandy beaches, mudflats and kelp forests. Admission is by a suggested donation of $5 per adult.
30 – Go animal spotting at Los Angeles Zoo & Botanical Gardens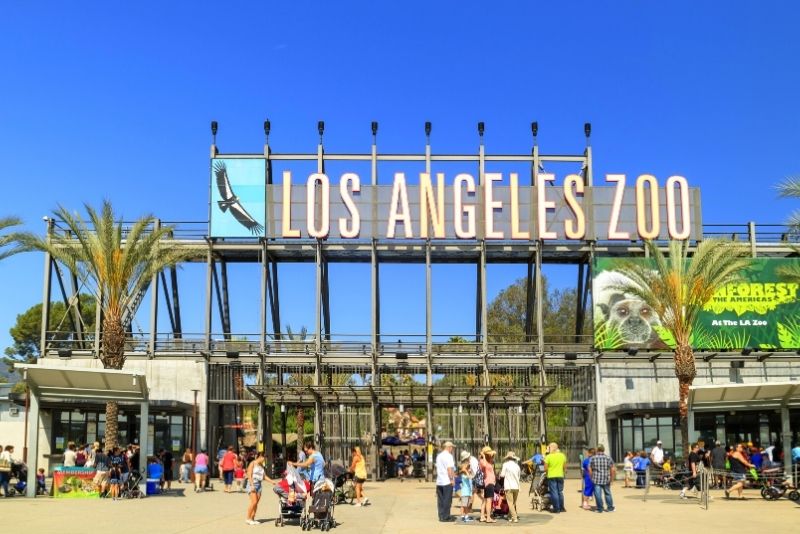 The 133-acre zoo hosts over 1,100 animals, highlighted by gorillas, elephants and a recreated south-east Asian jungle with orangutans!
LA Zoo also has 29 endangered species and has successfully bred animals in captivity that are nearing extinction in the wild.
As for the Botanical Gardens, stroll through the greenery and past the water, looking out for peacocks on the way.
Discover some unusual species of plants such as bald cypress and Chilean wine palm, as well as indigenous plants such as Southern California's shrubs Manzanita.
The zoo also dedicates a garden as a home for migratory and native birds. You may see in the bird garden acorn woodpecker, western scrub jay and American bushtit.
Sponsored placement
Calling all movie geeks to the Icons of Darkness
The world's largest collection of props and costumes from your favorite sci-fi and horror movies is here in Los Angeles.
We're talking Star Wars helmets, original Batsuits, the T-Rex head from Jurassic Park and other memorabilia from the universes of Harry Potter, Lord of the Rings, Terminator and much more!
31 – See a musical at Hollywood Pantages Theatre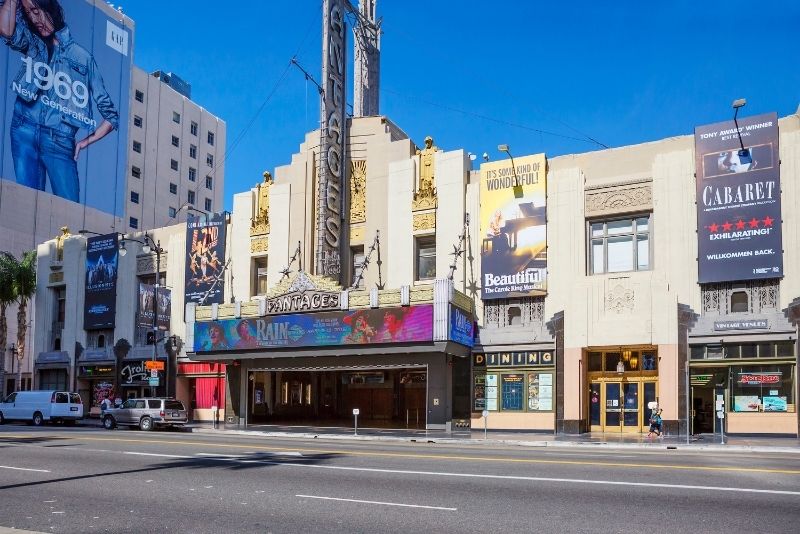 Right in the heart of Hollywood is LA's Broadway where, since 1930, the refurbished Pantages Theatre has stood tall.
The theater had hosted the Oscars ceremonies in the 1950s so you're literally where many legendary Hollywood stars had been there.
With over 90 years of service, it remains one of the best places in LA to watch a musical.
This historic theater continues to be as busy as ever with My Fair Lady, Hamilton, Mean Girls and The Lion King (among the musicals lining up to be performed in the near future).
32 – Meet a paleontologist at the La Brea Tar Pits and Museum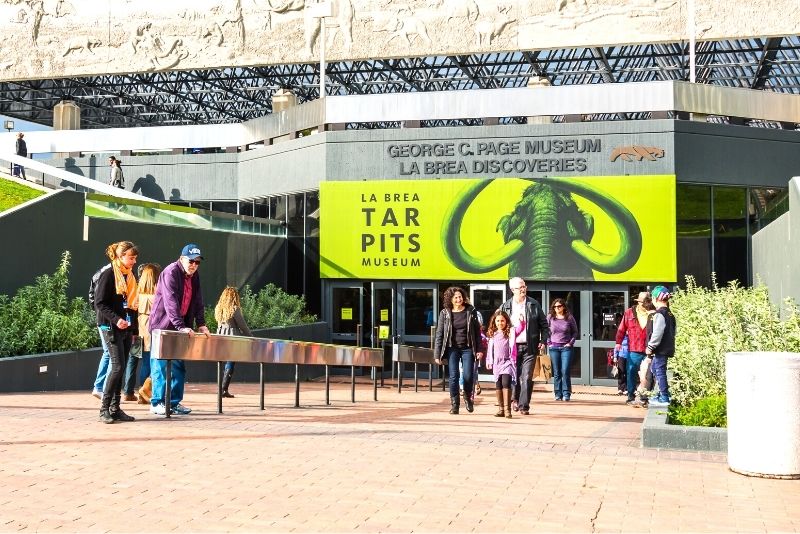 Channel your inner Ross Geller, everyone! At the La Brea Tar Pits, visitors can witness live excavations where 3.5 million fossils have already been found, some dating back to the Ice Age.
The museum's fossils are perfectly preserved and put on display alongside remains of a giant mammoth, sloths and plenty more extinct animals. Discover about the huge creatures that once walked the Earth — right here in LA.
Watch scientists work and see fossils up close with Project 23. These are 23 wooden boxes filled with deposits that they uncover one box each day. Take a peek at Pit 91 where digging of mixed fossils out of the sticky black asphalt has begun since 1915.
Enter the Observation Pit to imagine what it's like going down to an excavation pit and to learn about the techniques used by paleontologists.
33 – Sample the treats at the Original Farmers Market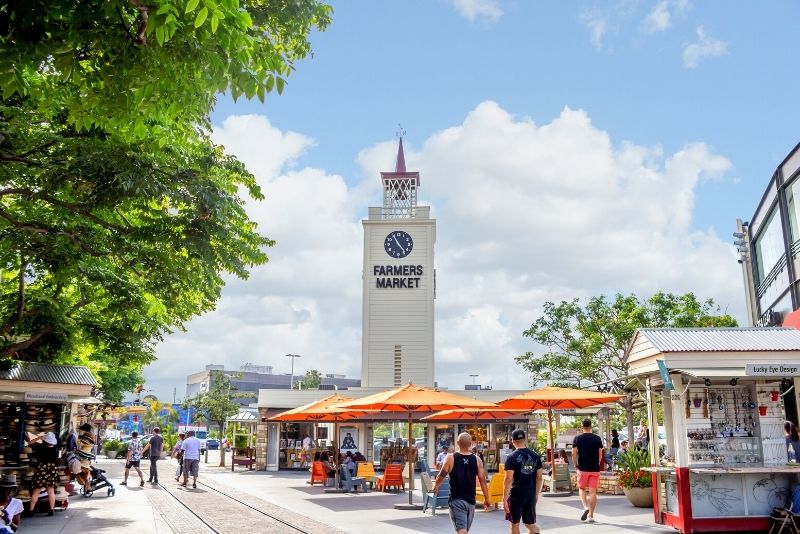 Offering more than 100 family-owned specialty shops, the Original Farmers Market is a must for foodies! Farmers used to sell their fresh harvests on their trucks before it became the market today. It was once a dairy farm then became an oil field which eventually ended.
Make sure to drop by and eat something before shopping at the Grove. Treat yourself from the arrays of stalls selling doughnuts, pastries, cheeses, roasted nuts, fruits, delis and more!
Let your nose be your guide to Nonna's Empanadas, home of the largest selection of empanadas in the city. Next, take a stroll to the Tea Shoppe offering a selection of hundreds of teas.
If you're up for something a little hotter, Light My Fire boasts hot sauces from around the world! Got a sweet tooth? Zia Valentina has you covered with their unique creation: The Waffle Shot.
34 – Speed down the raceway in an electric go-kart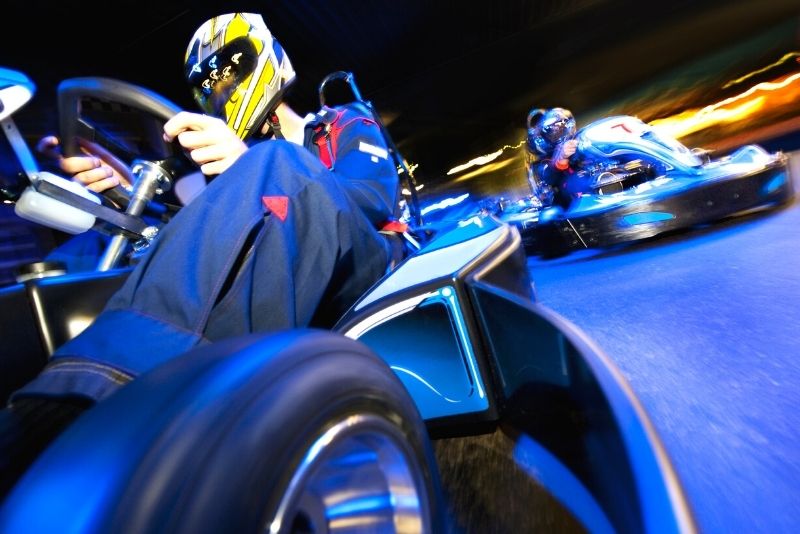 Electric karting has risen to meteoric popularity in the United States and K1 Speed was the company that brought it to these shores. These karts produce huge G-forces that will force you back into your seat.
The handling, acceleration, and safety features are magnificent — so much so that professional racecar drivers often keep their skills sharp during the off-season by racing the indoor track here. Why not get behind the wheels and race with your friends as in a real competition? Bring some adrenaline and energy to conquer the fastest lap against all other racers.
At K1, you can see your results and compare with other drivers. Check them again later online if you want to know if nobody beats your record for a week or even month! First-timers can learn quickly by getting instructions once you arrive there. There are also instructional classes and night races.
35 – Stop by a library, art museum, and botanical gardens at The Huntington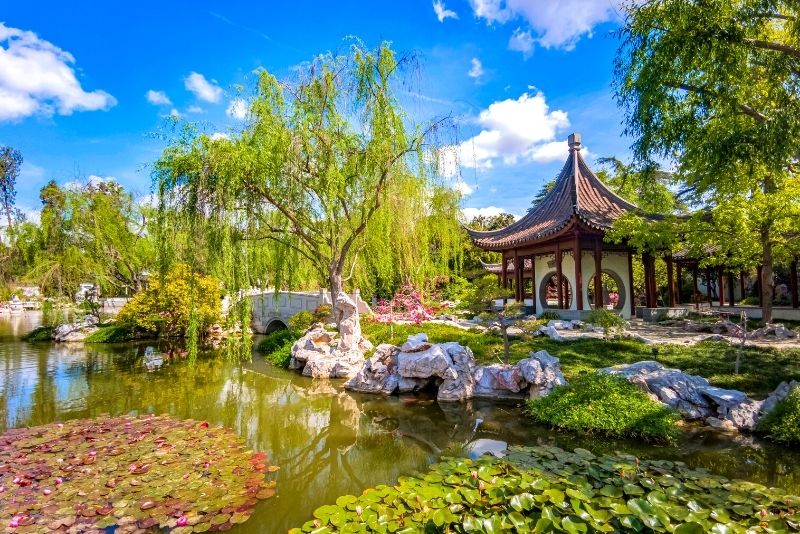 You can't help but feel naturally invigorated and culturally enriched after a couple of hours spent at The Huntington — a botanical garden, museum, and library spanning 83 hectares of land.
Surrounded by a natural landscape of 16 themed gardens, start by navigating your way through all the greenery, home to over 83,000 plants.
The Australian Garden, Rose Garden, Children's Garden, Chinese Garden, Desert Garden, Jungle Garden and the Shakespeare Garden are a few teasers to expect to find. Visit the conservatory greenhouse where you can investigate 50 interactive fauna and flora exhibits.
Moving from the glorious gardens to the museum, dive into a world of art from across Britain, Europe, America, and Asia at the Huntington Art Gallery. Housed inside the former home of the founders, Henry and Arabella Huntington, works on display cover a variety of mediums from oil paintings to antique ornaments.
Arriving at the Huntington Library, history buffs delve into the past and analyze visual (and now digital) evidence and historical research from the 11th to the 21st century.
Collection highlights to expect are the likes of American History, British History, Hispanic History and Culture, Architecture, History of Science, Medicine, and Technology, Early Printed Books, Maps and Atlases, Literature in English, Medieval Manuscripts and more intriguing reads.
Sponsored placement
A Journey Through Time! Titanic: The Exhibition
Imagine stepping back in time and reliving the glory days of the Titanic… Get an authentic boarding pass, explore carefully recreated environments, and take the opportunity to admire over 300 historical artifacts in this immersive exhibition. Take a journey into the past as the history of the world's most famous ship is brought to life.
36 – Set sail at the Pirates Dinner Adventure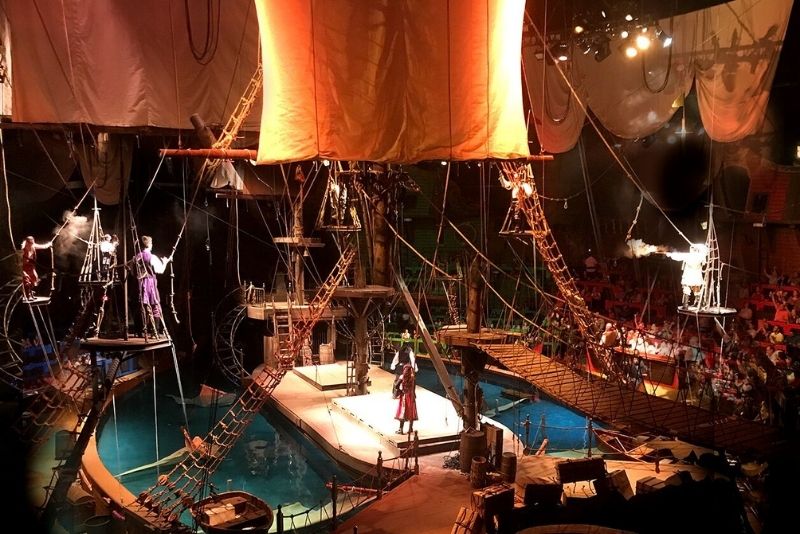 Ahoy mateys! Board the Galleon for a bountiful feast and a 90-minute show in the interactive theatre. Prepare to witness astonishing special effects, death-defying stunts, sword fighting, acrobatics and a captivating tale of the magical mermaid who has blessed the crew.
The Pirate Dinner Adventure show is rife with audience participation so don't be afraid to order a hearty meal and get involved. Expect a lively dinner with lots of singing and cheering, you'd feel like in a Broadway show. It's a perfect place to celebrate an occasion or bond with family and kids.
Capture the full action up close with the Captain Level tickets so you can seat in the first three rows. After a fun and adventure-filled night, make sure to check out the gift shop for some amazing knives and swords.
37 – Dine under the stars on a dinner cruise at Marina Del Rey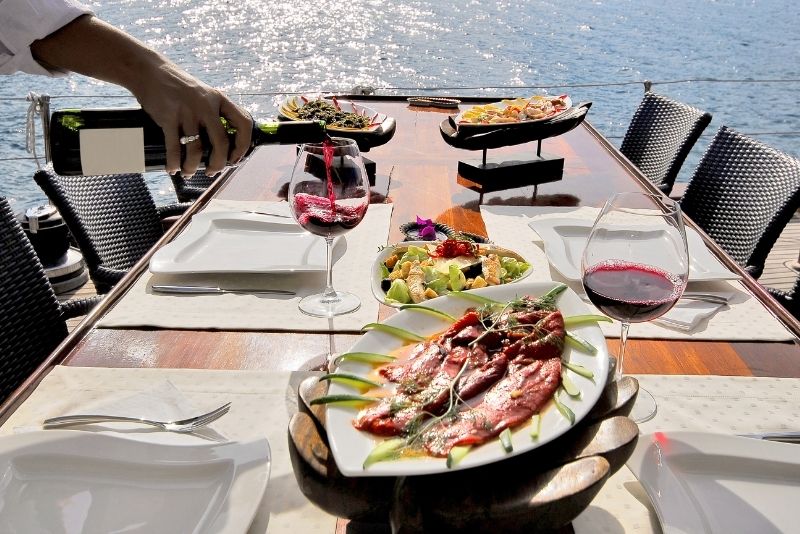 Board a yacht under the starlight, a glass of champagne in hand — the perfect start to a perfect evening with that special someone.
As the boat sets sail, the next 2.5 hours will include awe-inspiring views under the Milky Way, a four-course dinner, and DJ entertainment. Simply step on board, relax, and let the sparks fly.
See the world-famous harbor Marina del Rey glimmer in the evening as you head towards the ocean. The city lights and brightly lit houses look like a beautiful painting above the water.
After enjoying a delicious meal, step outside and listen to the sound of sea lions in the midst of a sublime night.
38 – Laugh till you cry at the local comedy clubs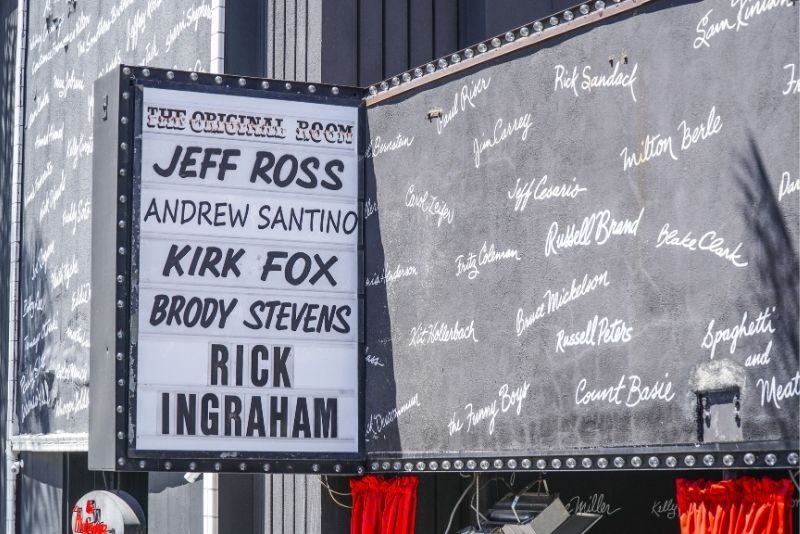 LA has recently become a petri dish of stand-up comedy where aspiring comics take their place on stage. Grab a table at The Comedy Store, a renowned venue where people like Chris Rock and Chelsea Peretti have graced the stage.
Established in the 1970s, the comedy bar is located at Sunset Boulevard, which was formerly home to Ciro's supper club back in the 40s and 50s. It was once a hub where famous stars at the time used to hang out.
Head to Groundlings for a Sunday comedy show, where visitors can also take an improv class. Its name comes from poorer audience members who watched plays from the floor during the time of Shakespeare.
The club started in the 70s as a workshop where performers had honed their plays, songs, improv and dances, among others. They invited their friends to watch until more people were coming. The core group of performers began doing shows around carrying their current name.
39 – Plan an unforgettable day trip!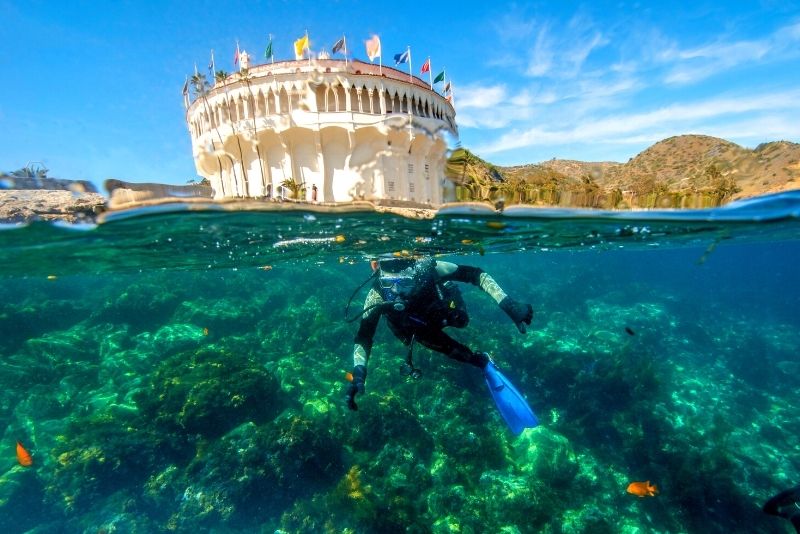 Take a day trip to Catalina Island
One of the best day trips from Los Angeles, the beautiful Catalina Island boasts more snorkeling, diving, hiking, and outdoor activities than any traveler could ask for.
After exploring the quaint city of Avalon, keep an eye out for dolphins in a glass-bottom boat or zoom through the wilderness on a zipline eco-tour. Even getting there is an adventure: jump on the hour-long ferry or, for that extra thrill, fly over the island in a private plane!
Discover striking gardens, pristine beaches and island favorite seafood restaurants. Go hiking to admire the landscape and see many extraordinary plants and animals.
Rent a kayak or stand-up paddleboard to see marine creatures such as seals and dolphins. Stride across the seabed and glance fish and corals up close with SNUBA (snorkel while having an unlimited air supply from the surface).
Take a day trip to San Diego
Just a two-hour drive from LA, San Diego has enough sights to spend a considerable amount of time.
If you only have the day, head to the world-famous San Diego Zoo, explore the USS Midway and San Diego's Old Town, or shop at the worldly Bazaar Del Mundo.
You can also simply lay on white-sand beaches at Coronado Island — the options are endless! Known for its pretty beaches, San Diego offers a remarkable experience alongside the locals. Bring the kids to the amusement park on the seafront.
Walk along the boardwalk towards the Pacific and choose the most eye-catching restaurant you can indulge in a tasty meal.
Take a day trip to a winery
California is full of exquisite wine estates: Malibu Wine Safari lets you feed animals while on your wine-tasting journey; Rosenthal Winery has a gorgeous ocean view; Cornell Winery has an adjoining restaurant serving comfort food, and Cassa Barranca has an arcade with ice cream and boutique fashion shops.
Conveniently, all these estates are less than 2 hours from LA (of course, make sure to arrange a designated driver).
40 – Ride the rapids at Knott's Berry Farm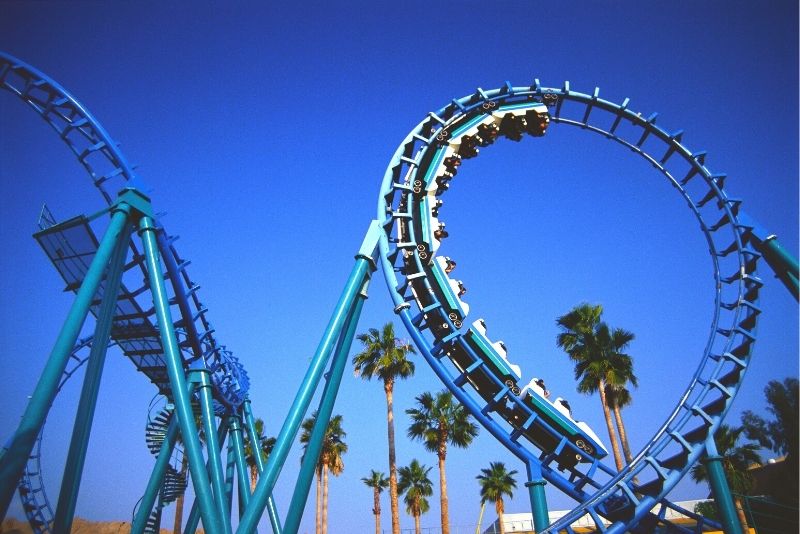 From its humble beginnings as a berry farm, Knott's now boasts 160 acres of adrenaline-pumping roller coasters, a waterpark, a marketplace, and unique seasonal events.
Slowly rise to the air on a miniature hot air balloon with the Camp Snoopy. Prepare to get thrilled as the entire PEANUTS® themed ride rotates. Adults and children can sit side by side on Charlie Brown's Kite Flyer, as well as on the Camp Bus with Snoopy and the whole crew aboard.
The recent addition of the roaring Calico River Rapids is a must, likewise Mrs. Knott's Chicken Dinner Restaurant — home of the fried chicken that launched Knott's to stardom. It's a must-visit to have a fun-filled day with family and children. Book online for discounted prices!
Sponsored placement
Dive into The Fans Strike Back® Exhibition!
Immerse yourself in a galaxy far, far away, where official Star Wars items – photos, posters, costumes, characters and models – are on display. The Empire has a projector; Now it's the fans' turn! Embark on a fan-made Star Wars epic!
41 – Go to the Disney parks (obviously)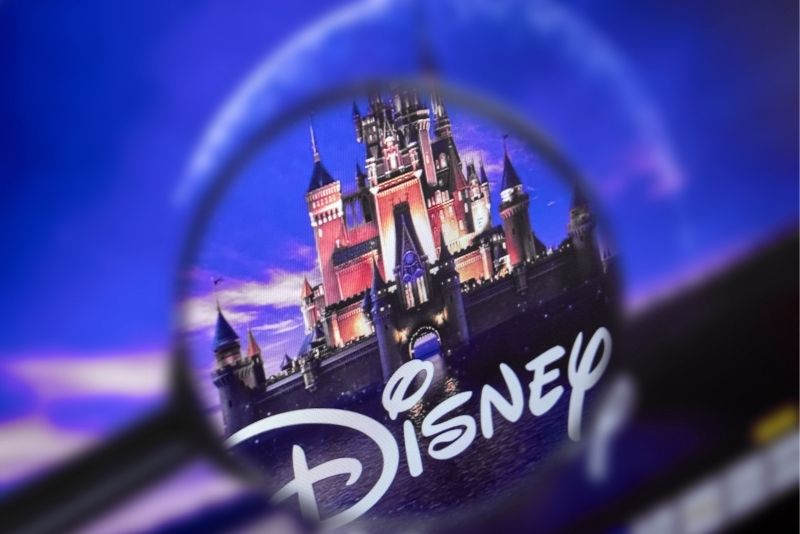 Disneyland
Visit Disneyland and watch your childhood come alive around you! At this iconic theme park, notable experiences include the new Star Wars: Galaxy's Edge, where you can sip blue milk before flying the Millenium Falcon; the spooky Haunted Mansion; and following Captain Jack Sparrow on the Pirates of the Caribbean ride.
The main event, however, occurs as darkness falls: Mickey Mouse conducts scenes from Fantasia in a sea of enormous fireworks and special effects where Mickey faces off against a gallery of Disney villains, including Maleficent as a 45-foot, fire-breathing dragon!
Disney's California Adventure
A stone's throw from Disneyland, the adventures keep on coming.
As Avengers Campus is being developed, keep checking for news on when the new Spider-Man and Doctor Strange experiences are opening.
In the meantime, partner up with Rocket Raccoon, as you rescue the rest of the Guardians from the clutches of The Collector.
Ride the Incredicoaster, the Inside Out Emotional Whirlwind, and Toy Story Midway Mania. Disney's California Adventure is a must-visit for Disney fans visiting LA.
Have lunch in fairytale-inspired eateries outside the park with kid-friendly menus and enchanting desserts. It's the perfect finale of your magical experience.
42 – Brave the Apocalypse at Six Flags Magic Mountain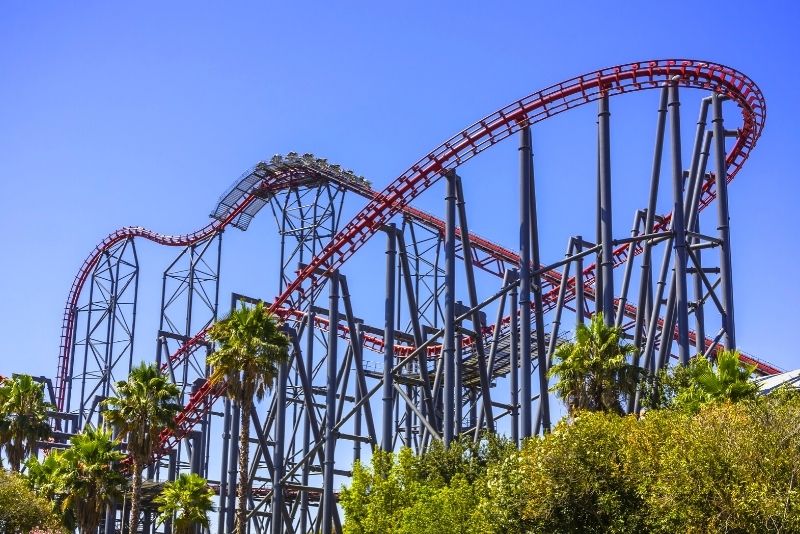 The wooden Apocalypse coaster that runs more than 50 miles per hour is not for the faint-hearted. But if you're a true thrill-seeker, look no further than X2, which takes you at 76 mph with a drop of 215 feet — not to mention the flamethrowers.
Impressively, Six Flags Magic Mountain holds the world record for most roller coasters in an amusement park, meaning screams are guaranteed.
If you want more maximum level, ride the world's fastest and tallest looping roller coaster! Full Throttle swings up in the air as fast as 70 miles per hour and as high as 160 feet.
Make sure to try the world's first 360-degrees looping roller coaster which appeared in several movies and TV shows.
Not satisfied yet? Hop on hyper-coaster Goliath, which does the world's fastest and longest drop from a total of 255 feet at 85 miles per hour.
43 – Ride the Tornado at Six Flags Hurricane Harbor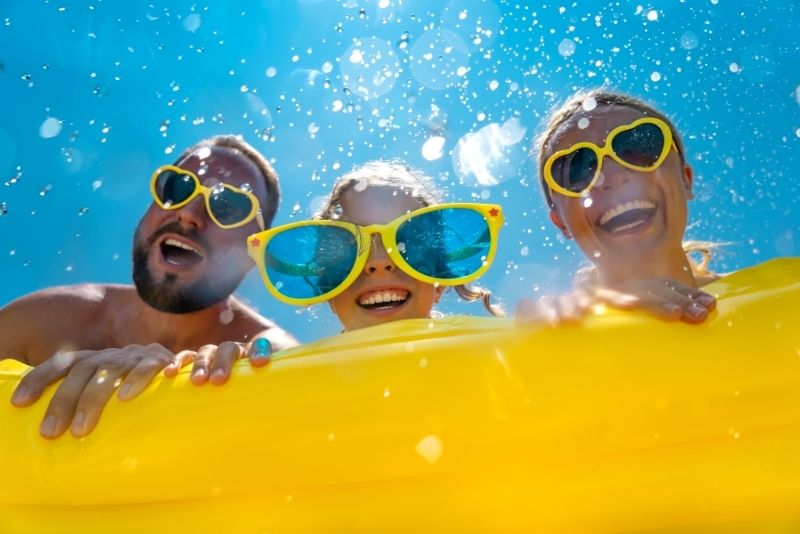 Prefer water parks over old-school coasters? Look no further than Hurricane Harbor!
After climbing seven stories to Tornado's peak, you'll look down into the funnel where you swirl around like you're, well, in a tornado!
If that's not enough, try freefalling 50 feet through the Bonzai Pipeline trapdoor before some extreme body slide action.
The Black Snake Summit, a network of super-fast water slides as high as 75 feet, is strictly made for those who are daring and bold.
Families can dash together in five-lane water slides of Bamboo Racer designed to achieve maximum speed.
While the adults are busy competing at the slides, kids can enjoy playing and dabbling at Castaway Cove and Splash Island.
44 – Visit Legoland!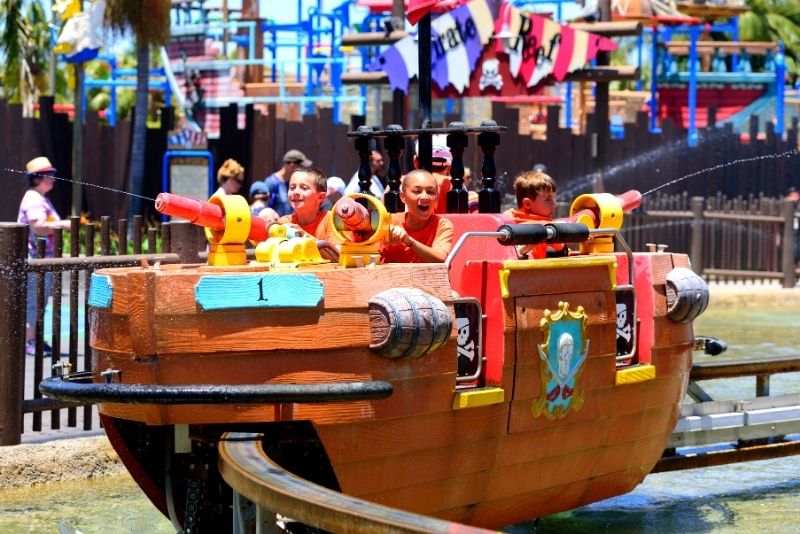 Over two million LEGO bricks reconstruct the Big Apple at Legoland California, a wondrous theme park that also boasts a water park and an aquarium. While more oriented towards kids, it's still one of the most fun things to do in Los Angeles.
Imagination Zone is a great area for adults to have fun with children. Ride and spin together the BIonicle® Blaster as fast as you want, depending on how dizzy you want to get.
One of the latest exciting activities at the zone is The LEGO® Movie™ World where you experience the world of some famous movies through different fun and thrilling rides.
The LEGO® Movie™ 2 Experience gives everybody the chance to go behind the scenes of the movie. Fancy an overnight stay? The Legoland hotels offer interactive LEGO Castle themed rooms: either Knights & Dragons, Royal Princess, or Magic Wizard.
45 – Dance the night away in the LA clubs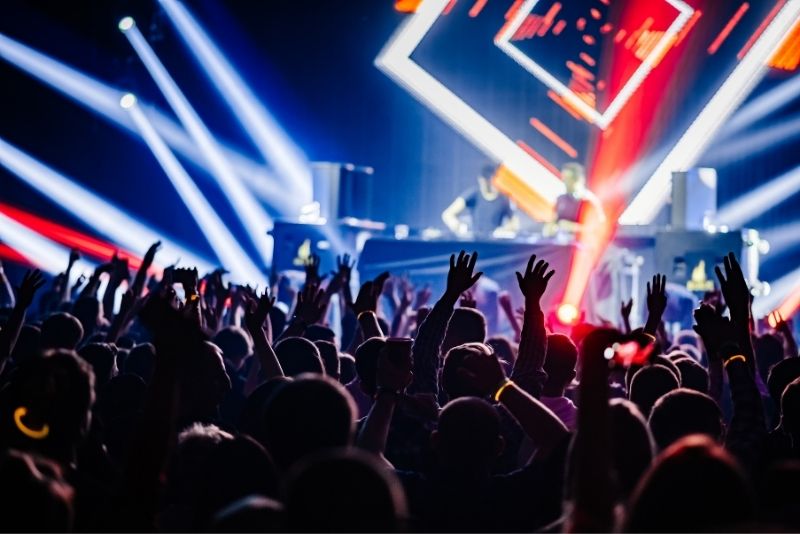 No matter your preference, the clubbing scene in LA has something for everyone! From electric EDM mixes at The Shrine to upbeat Hip Hop beats at Avalon Hollywood, there's no shortage of diversity.
​​One of Southern California's largest theaters, the Shrine Auditorium used to be a civic center and clubhouse of the Al Malikah Shriners. It was rebuilt after a 1920 fire and the new place has been LA's entertainment hub.
Since its restoration, it has hosted concerts of top performers and famous events such as the Grammys and the Oscars awards.
Avalon also began in the 1920s as the Hollywood Playhouse featuring traveling shows with some Broadway stars. It has been a favorite of major artists who want an intimate venue with excellent sound and lighting.
Be sure to keep your camera handy as these clubs are known for being celebrity hotspots!
46 – Ride the Wheel at Pacific Park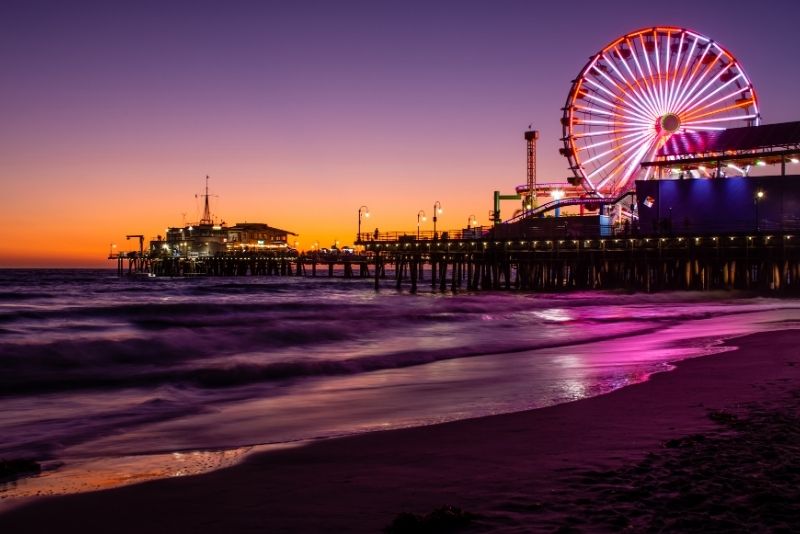 Located on the famous Santa Monica Pier, the Pacific Park Wheel has 174,000 LEDs that light up the LA coastline every night. Ride the wheel by day for stunning views of nearby Venice Beach.
The Pacific Wheel is known as the only Ferris wheel that is run by solar power and has appeared in hundreds of movies, TV shows and ads.
Don't miss the signature ride of the park, West Coaster which has a double-helix track. It starts with a climb to a height of 50 feet and plunges to the first and second loops at 35 miles per hour.
Wave to your friends sitting on the Ferris wheel while you're rising up to 90 feet on the Pacific Plunge — before it drops you to the deck like a feather.
Around the corner, the Santa Monica Pier boasts swanky restaurants, food carts and plenty of souvenir shops too.
47 – Ascend Angels Flight Railway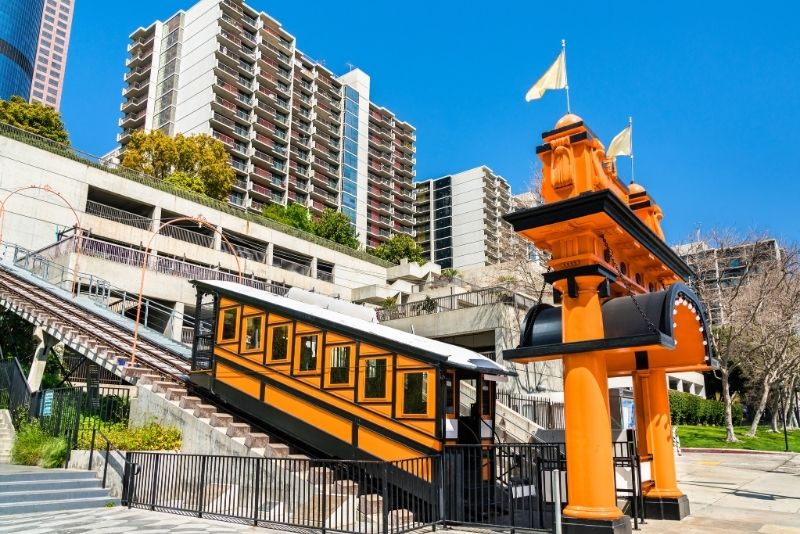 The historic Angels Flight Railway has been transporting guests up and down the world's shortest track since 1901, these days zipping between Hill Street and Grand Avenue on Bunker Hill.
Angels Flight Railway has been featured in movies and short films since 1918. Its most recent appearances include the 2011 movie "The Muppets" and the 2016 film "La La Land."
This historic railway operates every single day — including weekends and holidays.
At just $2 for a round-trip ticket, it's one of the most affordable things to do in Los Angeles! When you're done, make a beeline for the nearby Walt Disney Concert Center.
48 – Ride the Shore Break at Knott's Soak City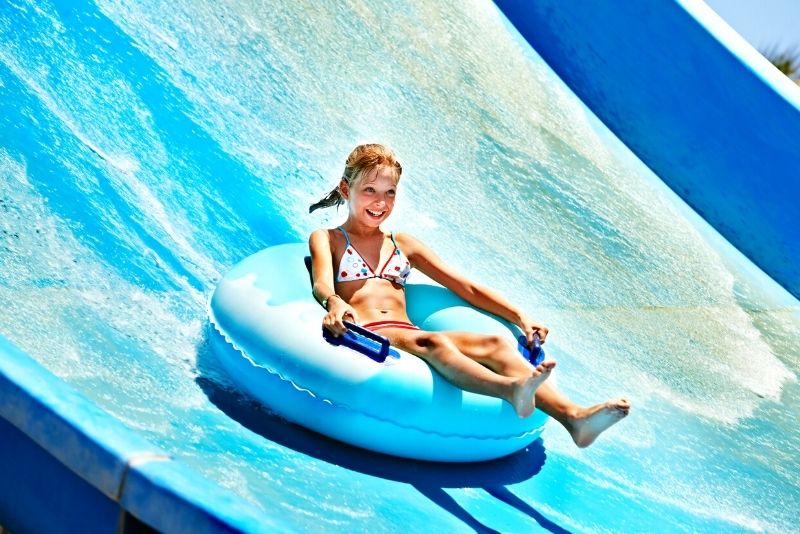 Soak City, the waterpark section of Knott's Berry Farm, offers plenty of fun! Try bodysurfing at Tidal Wave Bay or just float down Sunset River, taking in the scenery.
However, if you're looking for some extra thrill, head to the Shore Break for a seven-story drop!
Need more adrenaline fix? Take three more extreme thrill rides to get the most of your day.
Maneuver an inflatable raft alone or with a friend through the rough waters at Laguna Storm Watch Tower. From a height of 43 feet, slide through three dark enclosed tubes fast and end up in a catch pool.
Don't stop the momentum and run to take another slide tower, the Malibu Run, from a 39-foot high platform.
Before you say you're good, go for the ultimate thrill at Old Man Falls with sudden drops from a 63-foot tower!
Be sure to book your tickets online as they are cheaper than at the gate.
49 – See Michaelangelo's sketches at the Getty Center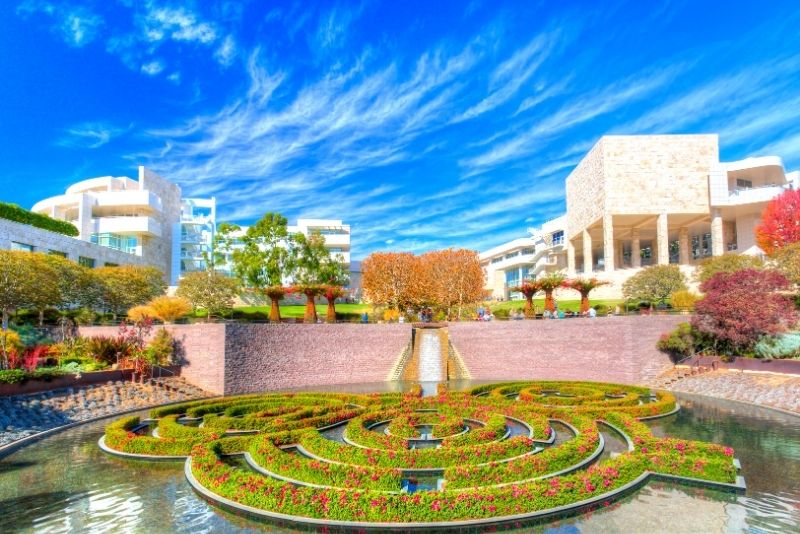 Art-lovers, rejoice! The Getty Center houses European art up (pre-1900-era) amongst plush green gardens and stunning modern architecture.
Their rotating exhibits showcase some of the best artists the world has to offer and the current Michelangelo: Mind of the Master is no exception.
The sketches include designs for the famous Sistine Chapel ceiling and demonstrate the artist's exceptional talent. Admission is free.
Visit also the Italian-inspired Getty Villa in Malibu. It features ancient Roman life with 4,000 years old artworks, serene gardens and views of the Pacific Ocean.
If you come on a Thursday or Saturday, have a cup of tea paired with sweet delights using ingredients from the villa's own garden.
50 – See Andy Warhol's Campbell's Soup Can at The Broad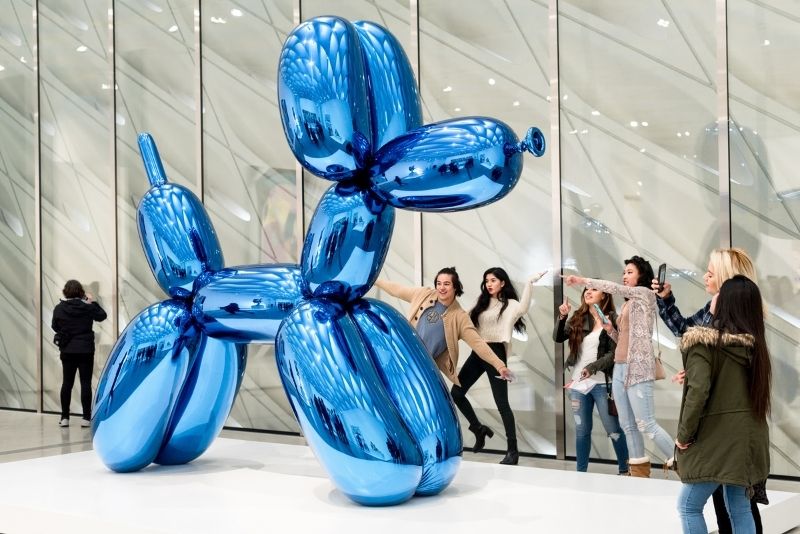 The Broad showcases 2,000 contemporary artworks from the 1950s to the present, highlighted by modern and pop art designed to inspire a counter-culture and depict subject matter that anyone could relate to.
Nowhere is this more evident than in Warhol's glorification of the humble Campbell's canned soup, which sits on permanent display.
Founders Eli and Edythe Broad have collected postwar and contemporary art over the last five decades.
The Broad building is also a work of art, a design called "the veil and the vault." It's a combination of the public art display space (the honeycomb-like structure that acts as the veil) and the storage for art collection (the vault).
Admission is free and regular public tours take place.
51 – Shop at The Grove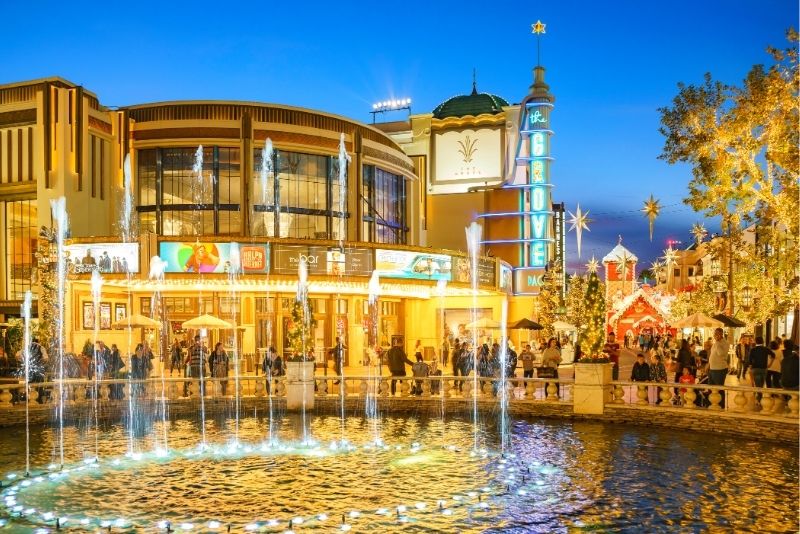 The Grove is a stunning retail and restaurant complex. As you walk past water features and fancy eateries, keep an eye out for your favorite celebrities trying to pick up (or set) the latest fashion trends.
This one-stop destination for the shopping experience also hosts various dining places for breakfast, lunch snacks and dinner.
Take the girls and their dolls (there are seats for them too!) to American Girl Cafe where they can eat cakes and all "girly" treats.
If you want to have a hearty meal first before desserts, dine at Bar Verde for fresh and seasonal ingredients straight from local farms.
Visiting around Christmas time? Make sure to stay until the evening to have dinner at the Grove and witness the lighting of the 100-foot-tall Grove Christmas Tree.
52 – Experience America's best sports!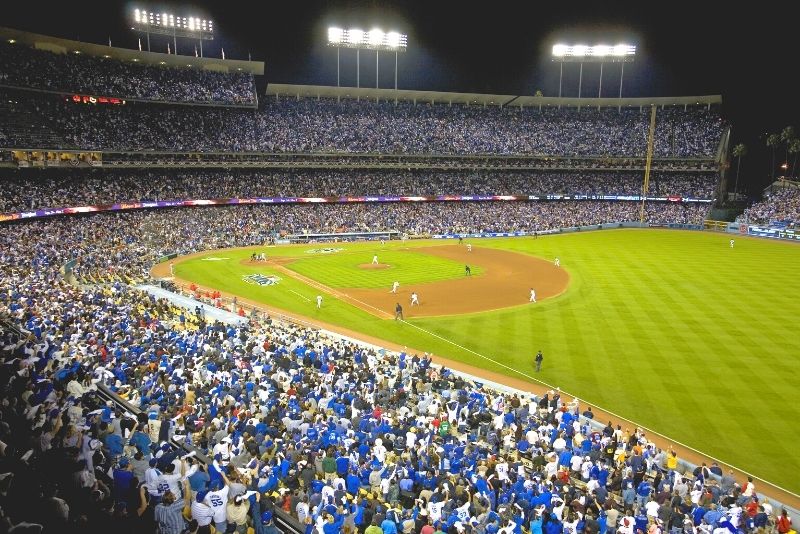 Watch an NBA match at the Crypto.com Arena
The famous Crypto.com Arena is home to one of the city's elite basketball teams: the LA Lakers.
The stadium seats around 20,000 people, and if you can score yourself a ticket, you'll be swept away by the electricity of the home crowd cheering on their beloved ballers. Outside of the season, check out the roster of concerts and events.
Watch the baseball at Dodger Stadium
Baseball is synonymous with LA and the local Dodgers have been killing it recently! If you want to experience this great American past-time, join the home crowd at a game.
Better yet, sit in the Dodger Dugout during the 90-minute stadium tour that takes you down to the field of this 56,000 seat stadium!
Watch the LA Kings at the Crypto.com Arena
Hockey lovers, this one's for you. While the Kings have struggled of late, their diehard fans haven't given up, and they remain as rowdy and as passionate as ever.
Besides watching the pros in action, the players have no qualms dropping their gloves and erupting into a melee — it's all just part of the spectacle, so enjoy!
Watch the LA Galaxy play at Dignity Health Sports Park
No feeling quite compares to the roar of passionate soccer fans, and arguably none are more passionate than those who support the LA Galaxy.
With talented players like Javier Hernandez and Efrain Alvarez lighting up the pitch, there's rarely a spare seat in the 27,000-capacity stadium.
Outside of the season, other sporting events take advantage of the track and field oval and velodrome
Watch the NFL action at SoFi Stadium
When it comes to top-tier football, there's no better place in LA than the magnificent SoFi Stadium, the gleaming home of the Los Angeles Rams and the Los Angeles Chargers.
With its cutting-edge design and unmatched fan experience, experience the sheer grandeur of this 70,000+ seat stadium,
Feel the rush as the home crowd amplifies the atmosphere, celebrating touchdowns and pivotal plays.
Outside the NFL season, keep an eye out for world-class concerts and high-profile events that grace this architectural marvel.
Hot tip: If you are looking for a behind-the-scene experience, book a Sofi stadium tour and dive deep into exclusive areas of the stadium, from luxurious suites and team locker rooms to the players' tunnel. 
53 – Listen to the LA Philharmonic at Walt Disney Concert Hall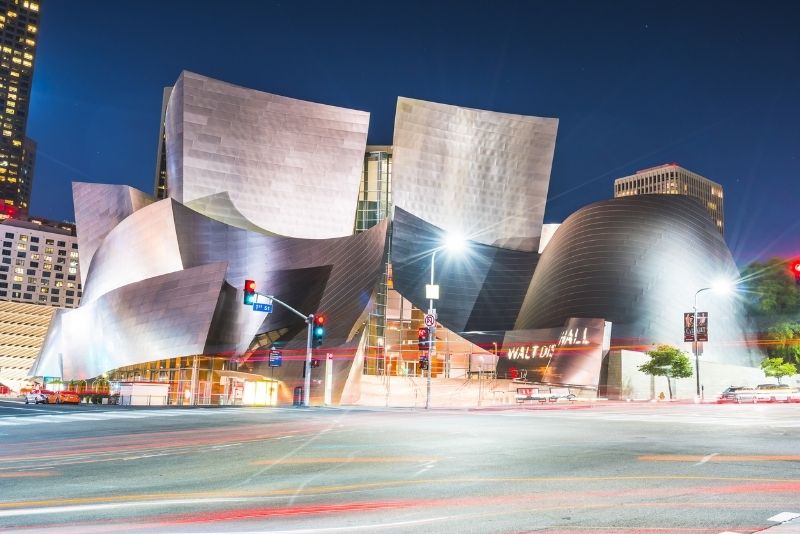 From the outside, the Frank Gehry-designed Concert Hall will entice you. Inside, it is home to the LA Phil, one of the most renowned orchestras in the world.
Music critics like Mark Swed have described the sounds emanating from the orchestra in the specifically-designed hall as a "new sonic dimension" — one that each traveler should hear with their own ears.
The architect envisioned creating a "living room for the city" that welcomes people to gather in a comfortable venue.
Lilian Disney donated $50 million to establish the concert hall which also serves as a tribute to her late husband Walt Disney and his love of music.
54 – Walk among dinosaurs at the Natural History Museum of Los Angeles County (NHM)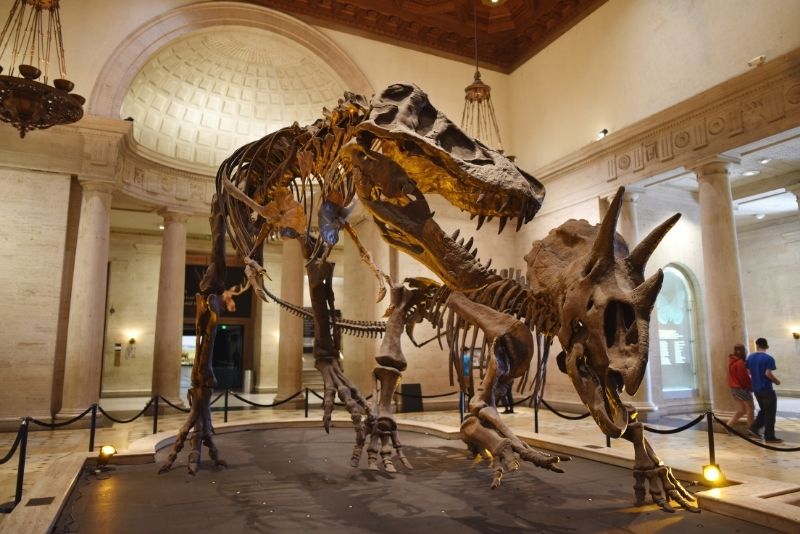 The Natural History Museum Los Angeles, the largest natural and historical museum on this side of the United States has nearly 35 million specimens on any given day – one of the best museums in LA right now.
Don't miss the Dinosaur Hall where, across two floors, you'll witness 20 prehistoric skeletons, including a grown tyrannosaurus rex!
The lifelike skeletons are sure to amaze visitors of all ages, and transport you back to the dinosaur age.
Outside the museum, explore the Nature Gardens and see some of the 600 kinds of plants native to California and from all over the world.
Check out the pond and the animals living there, and watch the butterflies pollinating on the flowering meadows.
Let the kids soil their hands digging compost at the Get Dirty Zone where they can get creative.
55 – Get outdoors for a hike!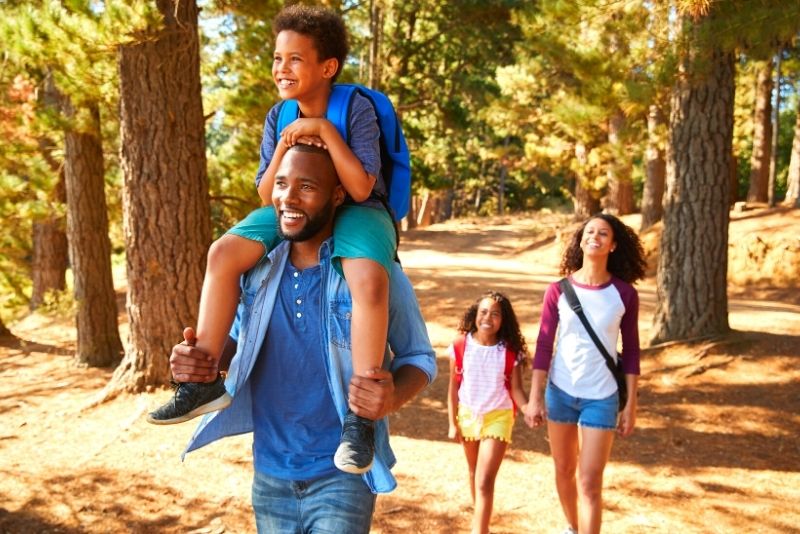 Hike at Runyon Canyon Park
Searching for a breath of fresh air? Head to the Runyon Canyon Park. It covers an area of 160 acres with dusty trails situated at the eastern end of the Santa Monica Mountains.
Depending on how much of a challenge you want, trails range from under a mile to a 3.3 mile loop. The views, of course, are nothing short of magical — on a clear day looking over Hollywood, gear up for panoramic vistas of LA and the Pacific Ocean beyond.
Trek through the Angeles National Forest
Despite parts of the Angeles National Forest still rebounding from recent fires in the San Gabriel Mountains, the 650,000-acre forest is still a must-see — particularly the swimmable east fork of the San Gabriel River.
During winter, Mount Baldy attracts snow and chairlifters, while providing stunning panoramas of the nearby mountains and forests year-round.
56 – Explore the Nethercutt Museum and Collection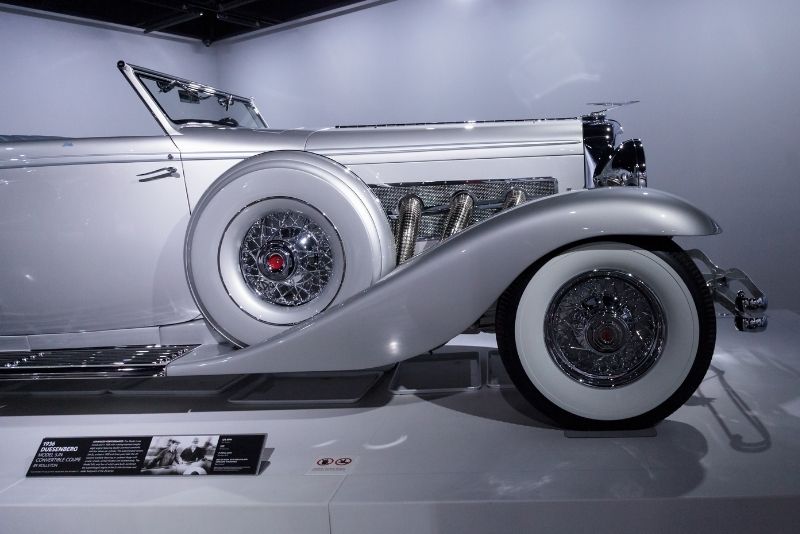 Both the Los Angeles Times and the New York Times have hailed the Nethercutt collection as one of the finest in the world.
The museum houses over 130 antique, vintage and special interest automobiles, as well as a fully restored 1937 steam locomotive.
Walk into the glittering Grand Salon and admire the first-class cars in the early 20th century such as Cadillacs, Renault and Delahaye.
The museum also dedicates a music room for a collection of antique mechanized instruments. See vintage orchestrions and music boxes, and watch a demo of the Mighty Wurlitzer Theatre Pipe Organ.
57 – Take a street art tour in the Arts District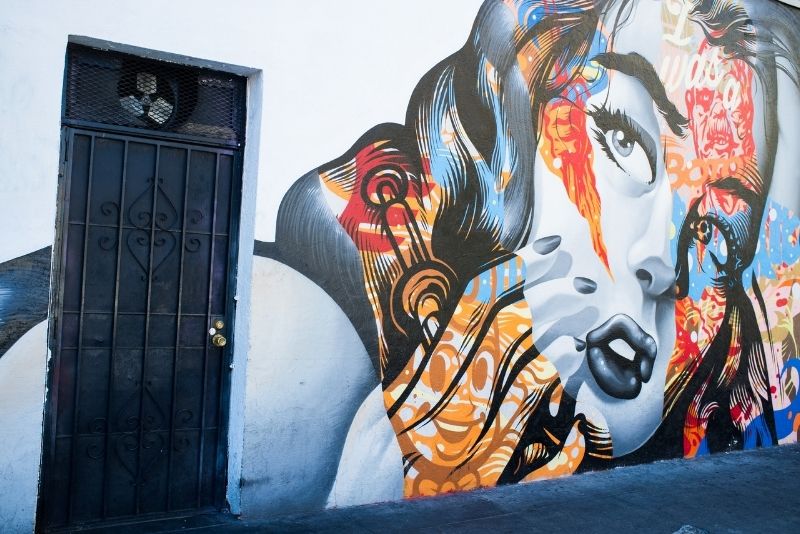 Los Angeles has a rich history of bohemian and street art, and plenty of walking and cycling tours through the Downtown LA Arts District will teach you all about it.
The Arts District is one of the city's oldest neighborhoods and has seen significant developments over the past years.
With street art all around, it has kept its industrial character, while becoming a hub for artists and art lovers.
Aside from its many art galleries, quaint shops and restaurants, the district hosts events such as the Art Walk every first Friday of the month.
Street art is often a reflection of local themes, so having a good guide will let you appreciate stunning art as well as grasp a better understanding of life in LA.
58 – Hang glide over the sand dunes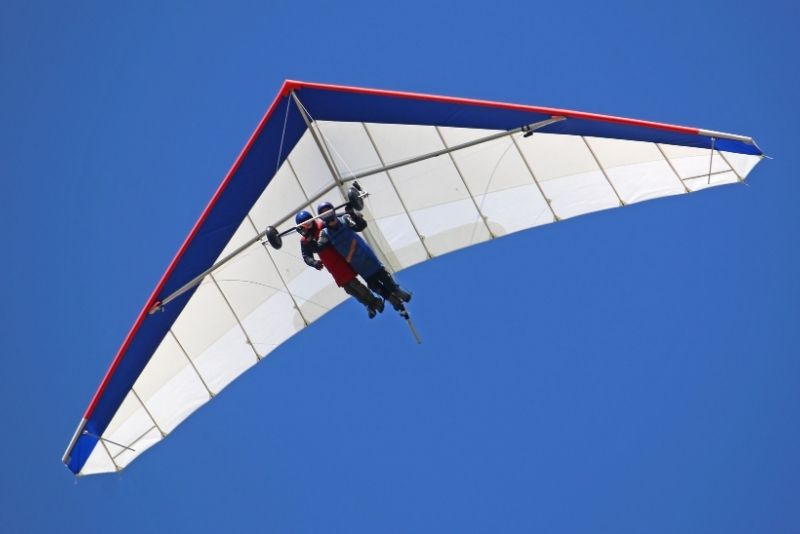 Visit Windsports and tick off hang gliding on your bucket list. Experience the pleasure of launching from the 30-foot sand dunes in an unforgettable introduction to flight.
If you crave greater thrills and wilder views, there's another option. Ascend to the top of Kagel Mountain in the National Forest and tandem glide with a professional instructor!
Many people have been carrying out this unpowered flight experience over Los Angeles since the 1970s. So if you want to try it for the first time, you're in the right place.
You can choose where to take your lessons whether it's from the beach or the mountain. After graduating from the novice program, why not get advanced soaring lessons to learn more techniques? Sky's the limit!
59 – Check out Universal Studios (& CityWalk)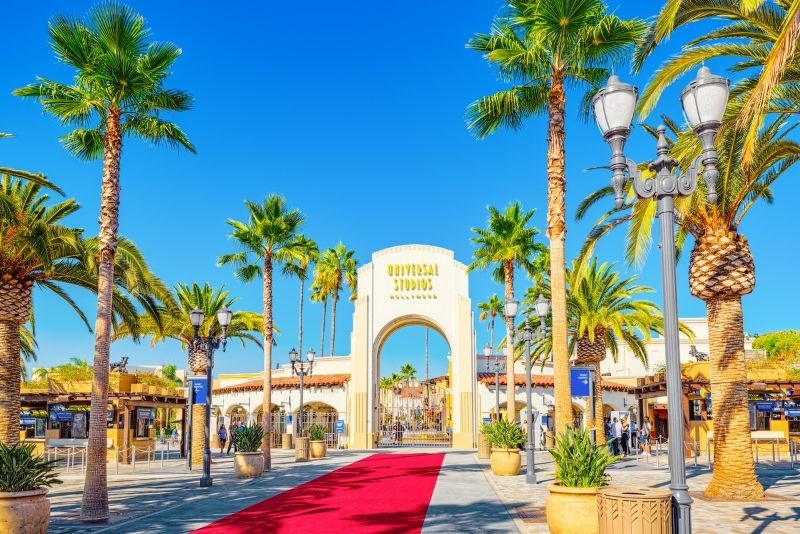 Don't miss 'The Wizarding World of Harry Potter' at Universal Studios
On Harry Potter and the Forbidden Journey — which was voted the best thrill ride in 2017 Editor's Choice — you'll walk through the castle gates and down the corridors of Hogwarts until you find Dumbledore's office, the Room of Requirement and so many more.
This state-of-the-art ride is merely one of the countless magical experiences at Universal Studios. Buy a two-day ticket to Universal Studios so you can explore every gripping section of the park's rides, shows, and attractions.
Learn how to save up to 30% on Universal Studios Hollywood tickets.
Universal Citywalk
Although adjacent to Universal Studios, CityWalk is a separate entity — it's a bustling, concentrated complex of nightlife, dining, shopping, and cinema.
The dancing water fountain is amazing, there's a seven-story-high IMAX screen, and even indoor skydiving amongst numerous shops and eateries.
If you want to soak the night vibe of LA, make sure to visit CityWalk and check out its array of restaurants and bars. Live music and light shows are a regular feature, and admission is free!
It's a regular spot for the TV show "Access Hollywood" for shooting segments, so you might be lucky and see some crews and hosts.
60 – Walk through the Bradbury Building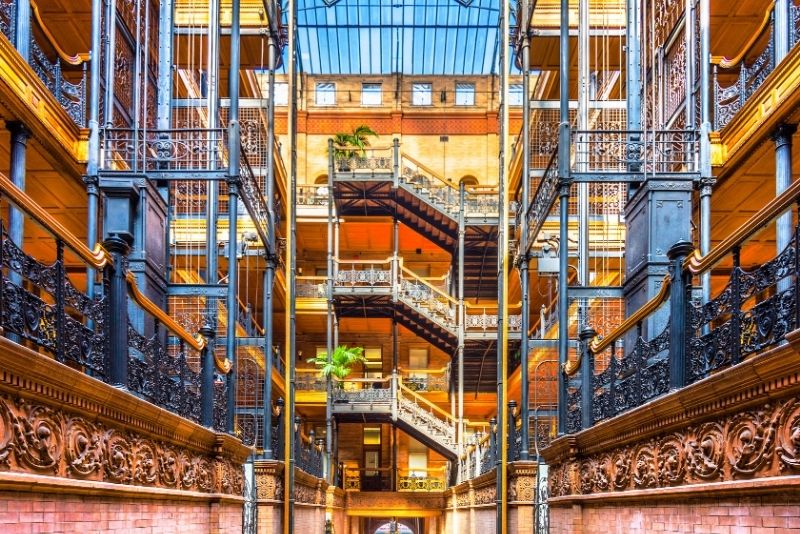 The Bradbury Building is a marvelous anomaly in LA, something of a Downtown architectural oasis.
The five-story office building from 1893 stays true to its heritage: it has a well-lit Victorian court rising to almost 50 feet with open cage elevators and marble stairs.
If the building looks familiar, it features countless films including Blade Runner, Double Indemnity, and Chinatown.
To fully appreciate the magnificence of this Romanesque-style building, see it from the interior in the daytime. The light from the dome at the center floods the whole interior and down below a fountain freshens up the atmosphere.
61 – See the Urban Light at the Los Angeles County Museum of Art (LACMA)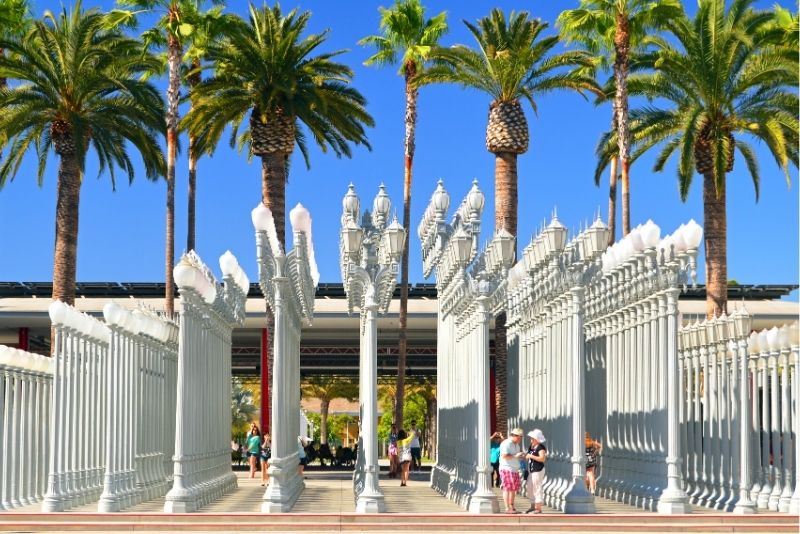 LACMA is the largest art museum on this side of the United States, holding more than 150,000 works from ancient times through to the current day, while also featuring film and concert works.
They are known to push boundaries with the Art + Technology Lab, however, the best-known feature is Urban Light, which has unofficially become an LA icon.
This famous work of Christ Burden is composed of 202 uniform gray lamp posts arranged in a symmetrical manner. It's a celebrated public art that people not only see but also can touch and feel for free.
62 – Walk along Abbot Kinney Boulevard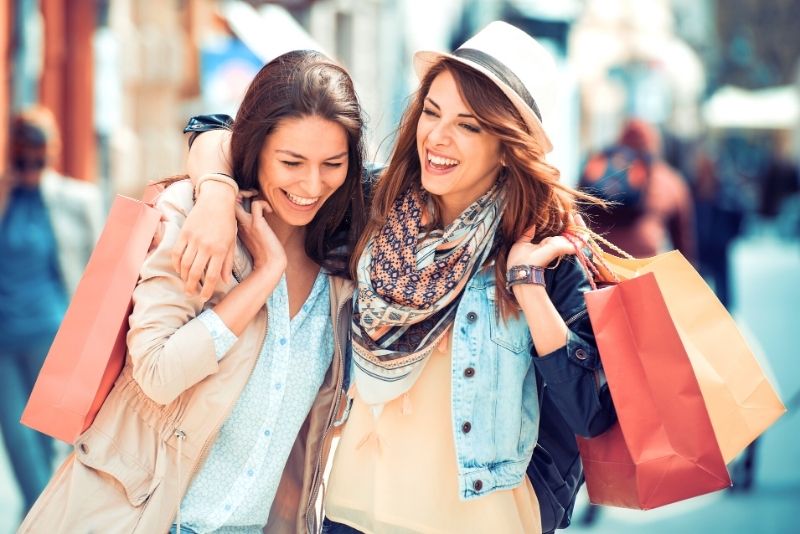 This mile-long road lined with shops, restaurants, cafes, galleries, and nightlife was named the coolest block in America by GQ magazine!
Soak up the vibe of the Venice arts community and enjoy window shopping at funky stores and boutiques. It's a perfect spot for people watching and checking out the famous art murals the cool trends in LA.
Make sure to grab an ice cream from Salt & Straw (try the honey lavender flavor). Shop at Toms Shoes, a shoe-store-meets-cafe decorated with charming wood accents. Mark your calendar for the food truck fest every Friday of the month!
63 – Watch a classic film at Hollywood Forever Cemetery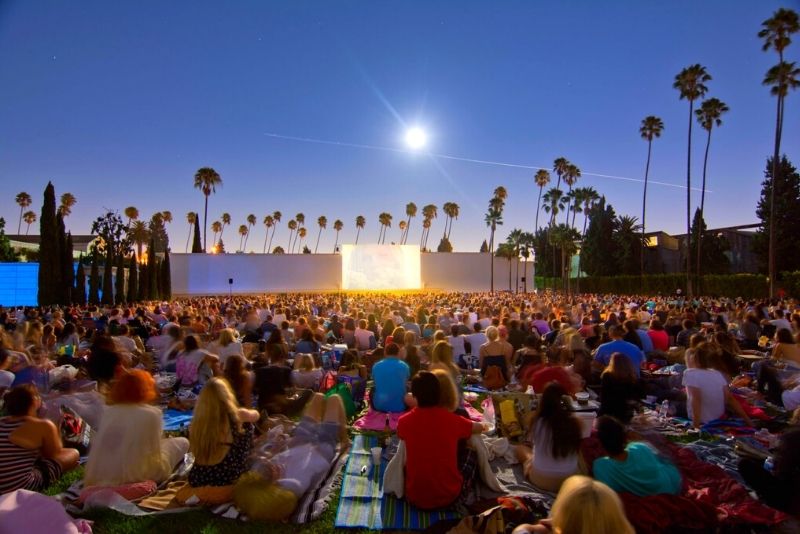 Hollywood Forever is a cemetery where many famous celebrities and notable people were laid to rest. However, it's also a cultural hub that hosts regular community events. Since 2002, classic films have been projected onto a mausoleum on Fairbanks Lawn.
If you're around in the fall, on the last Saturday before November 2nd, Hollywood Forever plays host to the largest Day of the Dead celebrations in the country — complete with hundreds of Aztec ritual dancers and food vendors.
64 – Explore the Autry Museum of the American West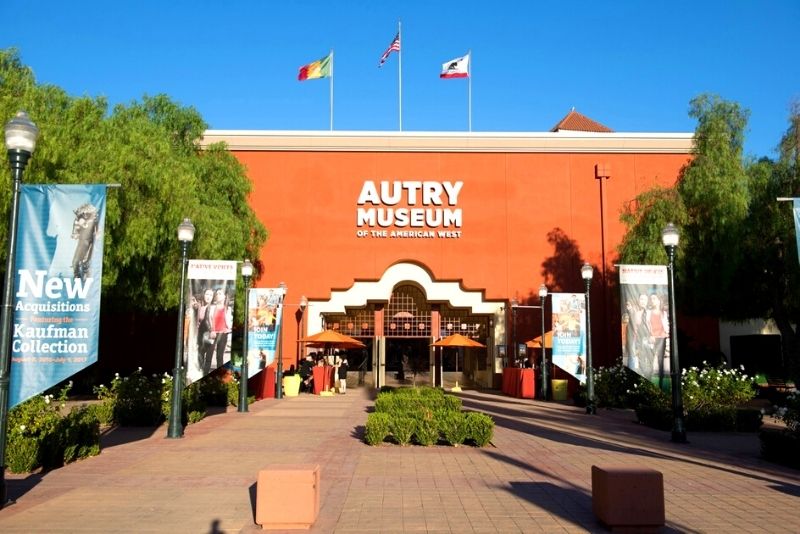 Nestled in Griffith Park, the Autry Museum displays Native American art and cultural materials including film memorabilia, historic firearms and paintings. It also plays host to public events to include all stories of the American West.
The museum strives to reflect that all the cultures and history of the American West are interconnected. Since its founding in 1988, the museum has grown its collection to over 600,000 artifacts and artworks.
Don't miss the tranquil outdoor garden with seating by the waterfall, pond, and basalt columns.
65 – Explore the Petersen Automotive Museum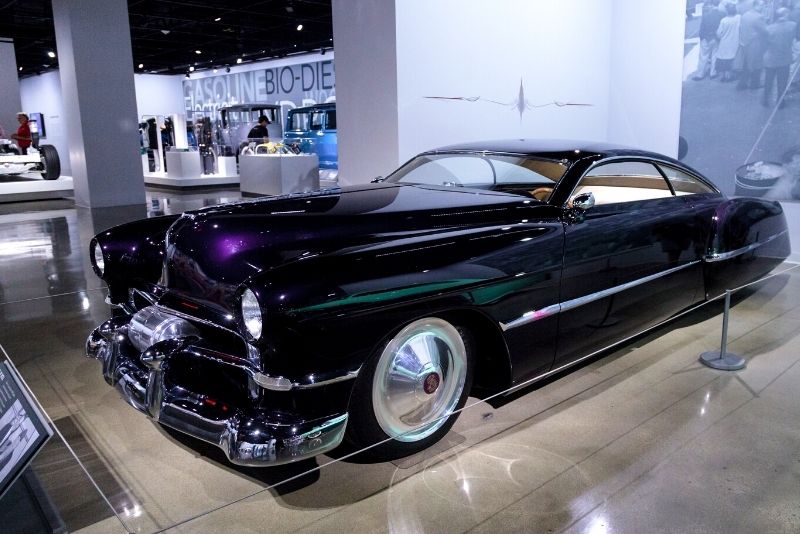 With over 300 vehicles to admire in themed exhibits such as sci-fi movie cars, supercars, race cars, and electric cars — plus 250 more automotive treasures in 'the Vault' — the Petersen Automotive Museum is a must for motor enthusiasts.
Discover the 120-year history of automotive in one of the world's largest collections of vintage vehicles. See for yourself famous classic cars and iconic sports cars like Maseratis.
For a more hands-on experience, the Forza Motorsports Experience gives you a captivating simulation of what it's like to race. Get behind the wheel of this immersive virtual reality race.
At the Cars Mechanical Institute (like the movie "Cars"), learn about their design and engineering, as the cars explain to you how they are made. Children can trace and paint their favorite Cars characters to bring home.
66 – Go to Hannibal Lecter's jail cell at the Hollywood Museum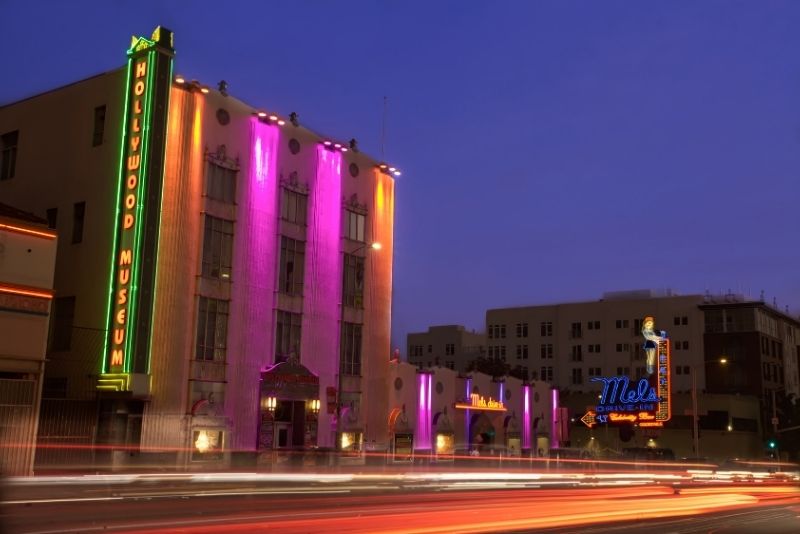 Housing hundreds of costumes from Marilyn Monroe's million-dollar dress to Rocky Balboa's boxing gloves, no trip to Hollywood is complete without the Hollywood Museum.
The eerie lower level even includes Lecter's jail cell from Silence of the Lambs. All in all, there are over 10,000 authentic Hollywood treasures including props, scripts, cars and posters.
Check out the make-up rooms with labels such as "Blonds Only" where Marilyn Monroe transformed into an iconic blonde. There are also rooms only for redheads like Lucille Ball, "brownettes" like Judy Garland, and brunettes like Elizabeth Taylor.
Spot Elvis Presley's robe and prepare to be dazzled by special effects and amazing costumes used in movies.
67 – Go paragliding over Malibu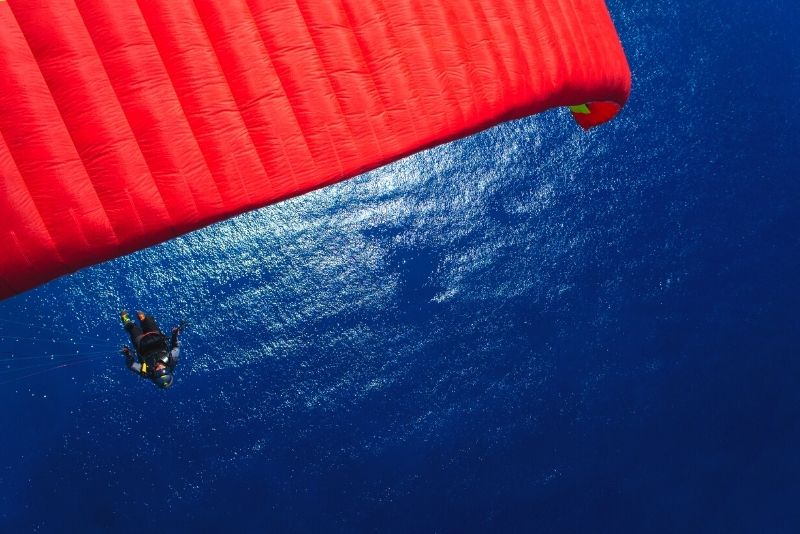 Glide through the warm Californian air, overlooking the endless sands and enormous mansions of LA's ritzy Malibu neighborhood.
The thrilling flights typically last 30 minutes — and with a professional instructor ensuring that you stay en route. All you need to worry about is soaking in the breathtaking scenery of the shores below.
Admire the Santa Monica Mountains, as you fly above the Pacific Ocean. Have a bird's-eye view of the rolling hills and beaches of Los Angeles.
68 – Attend a gig at the Greek Theatre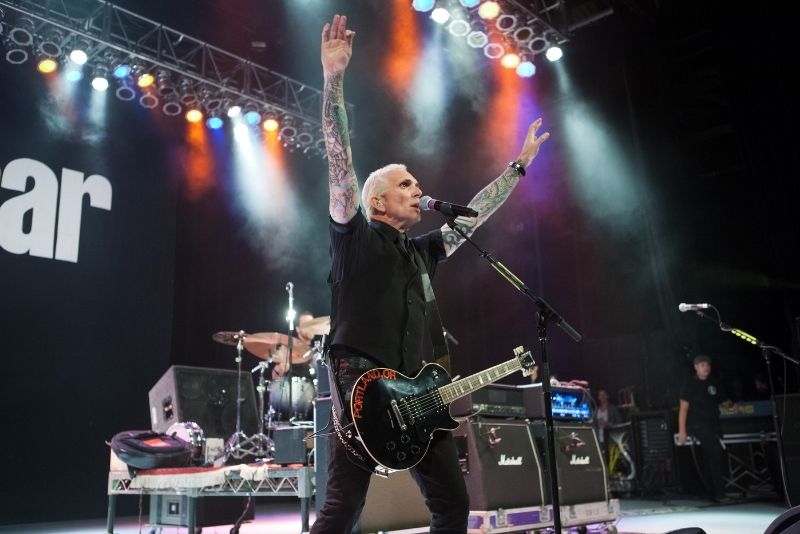 Modeled after an ancient Greek theatre, this circa-1930 outdoor amphitheater is built into a canyon and regularly holds gigs for the likes of Sir Elton John, Aretha Franklin and Alicia Keys.
It's been a spectacular concert venue with amazing acoustics and the beautiful backdrop of canyons and Santa Monica mountains.
Seeing as the Greek Theatre is nestled in Griffith Park, why not rent a bike and ride around the plush nature before the show?
69 – Listen to a talk at Skirball Cultural Center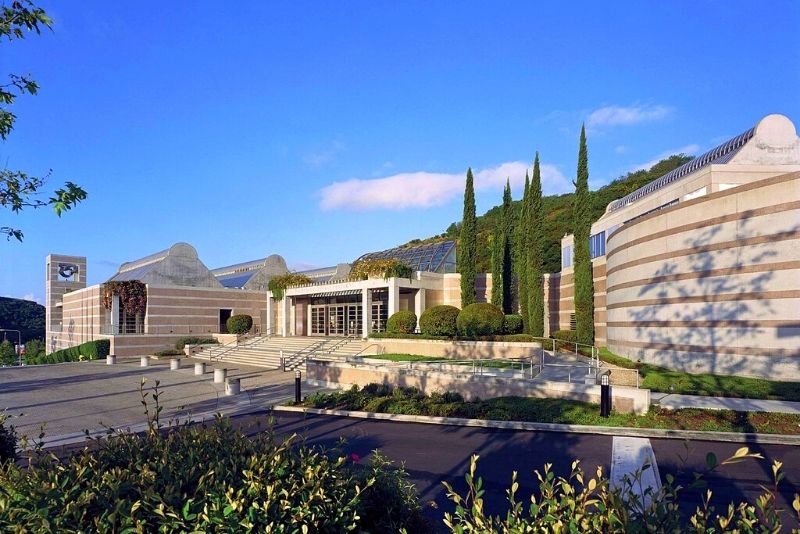 The Skirball Center aims to foster people of all communities and ages to participate in cultural experiences that celebrate hope and discovery.
There are concerts and classes available, but you might fancy one of their question-answer sessions on topics such as political cartooning and the ideals of justice.
The center is inspired by Jewish values such as welcoming strangers and showing kindness. Take the kids to Noah's Ark, an award-winning destination that encourages playing, exploring and making friends.
Immerse in the story of building the ark with toy animals and puppets handcrafted using recycled materials. It's an ideal place for children to have fun and learn some values.
70 – Go to a concert at the Hollywood Bowl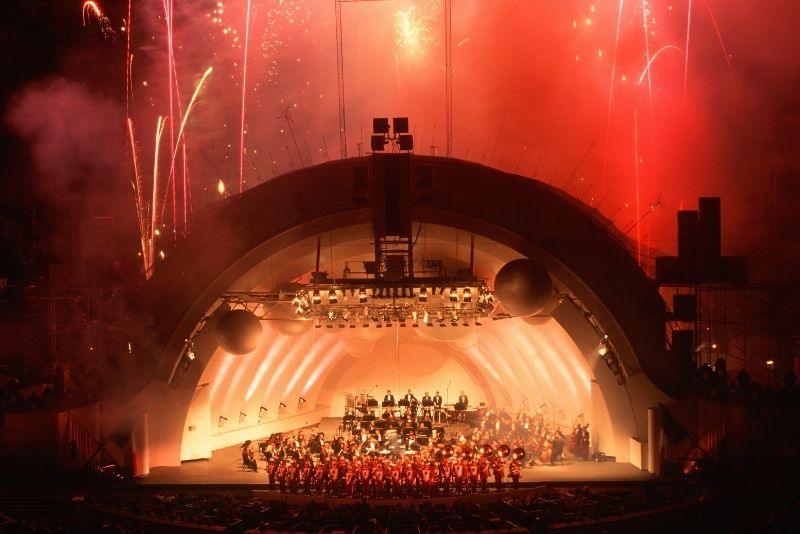 The breathtakingly beautiful Hollywood Bowl, sitting in the foreground in front of the Hollywood Hills, is an iconic venue that has hosted artists from the Beatles to Yo-Yo Ma.
This hillside amphitheater has hosted concerts of legendary performers and musicians since its opening in 1922. Learn more about the 100-year history of the Bowl and temporary exhibitions reflecting the eras of music and entertainment.
If you enjoy classical music, don't miss the Hollywood Bowl Orchestra. Or, for a history lesson, head to the Hollywood Bowl Museum — admission is free.
71 – Go shopping at Citadel Outlets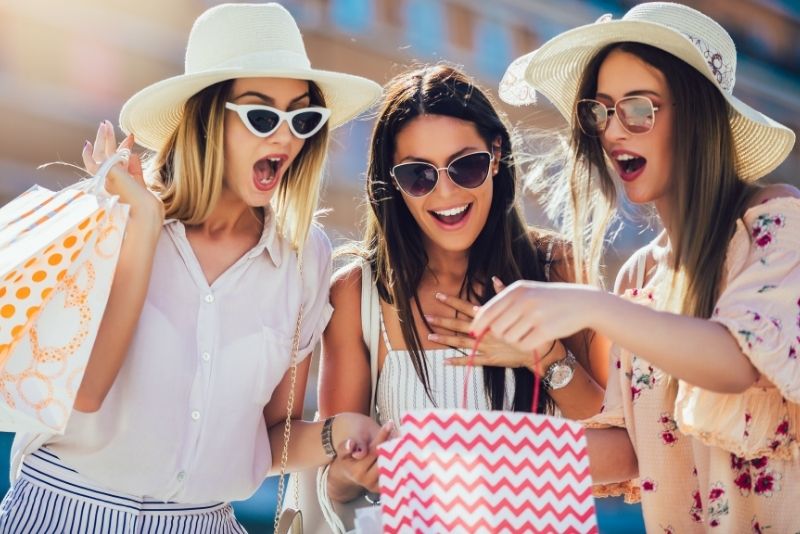 This building, which looks like an ancient Babylonian temple, is where high fashion meets low prices.
There's something for everyone: Armani, Disney Outlet, Lacoste and Adidas are just a microcosm of the 130 famous stores here — along with plenty of eateries where you can put your feet up in between shops.
This outlet mall reflects the vibrant fashion style of LA. Check out some big discounts in the outlet stores of your favorite designers.
After getting great bargains, treat yourself with a refreshing drink or snacks at the food court or one of the quaint cafes.
72 – Explore the city… Amazing Race-style!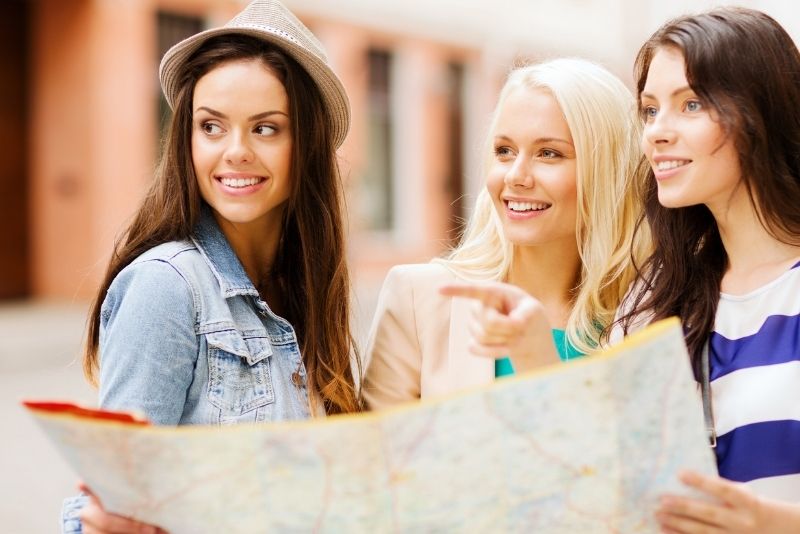 Driving around a city is so mainstream, right? Take your experience to the next level with an interactive, challenging, high-speed scavenger hunt instead!
With options for either Downtown LA and/or Hollywood, and the choice of a leisurely self-guided game or an Amazing Race-esque competition, there's something for every kind of traveler.
Whether you're solo or with a group, download an app that suits your style and explore LA as you solve puzzles and obstacles. For those in Hollywood, wander around the downtown area to discover the best tourist attractions in Los Angeles, such as the Walk of Fame and TCL Chinese Theatre.
If you like to explore the spots near the beach, you can choose to spend your hunting day in Santa Monica. Either way, you're bound to have lots of fun and meet new friends along the way.
73 – Take a picture of the Stahl House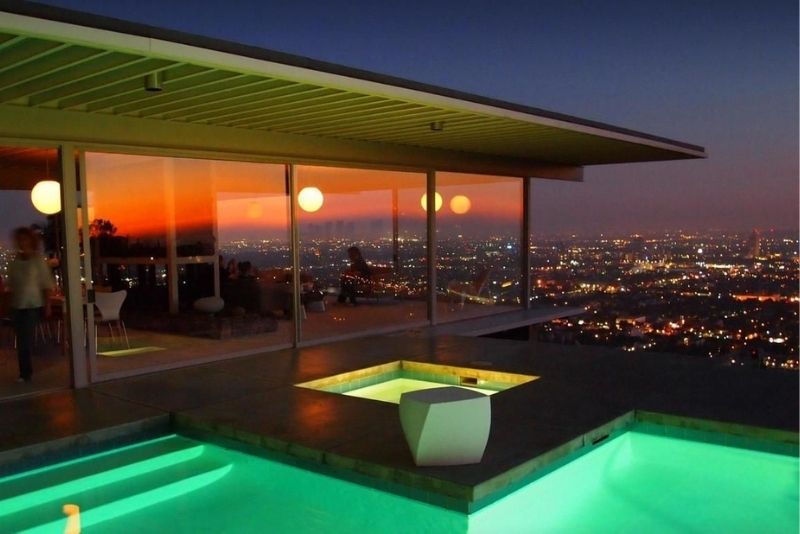 In 1954, the Stahl family bought a small plot of land above Sunset Boulevard. Years later, they hired Pierre Koenig to design and build the house which now exemplifies modern LA architecture.
The Stahl House shot to fame in a famous Julius Shulman photograph and has since appeared in films, television shows, and video games alike.
Owned by Buck and Carlotta Stahl, the house was built in 1954 and became one of the world's most iconic examples of mid-century contemporary homes.
It's declared as a historic cultural landmark by the City of Los Angeles and listed on the National Register of Historic Places.
74 – Board the USS Iowa Battleship Museum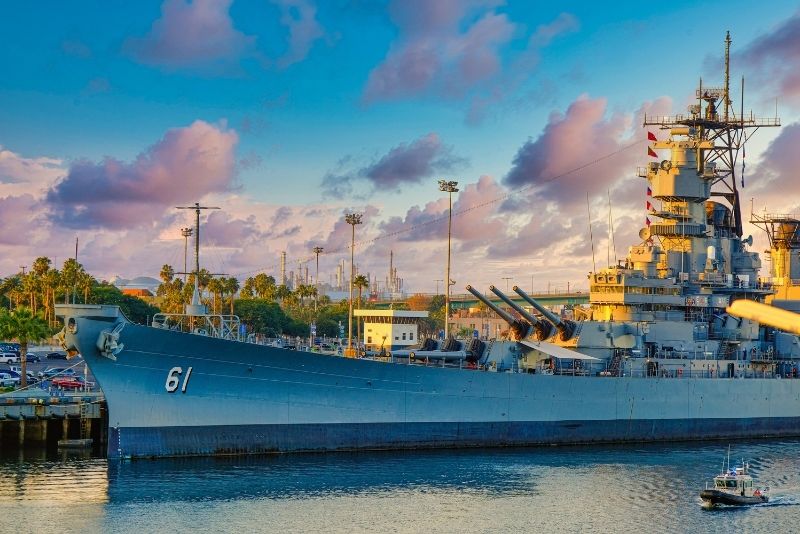 After serving in WW2, the Korean War and the Cold War, the USS Iowa — which formerly housed 3,000 sailors — now serves an educational aim.
The best way to explore its 900 feet of passageways, compartments, turrets, and well-preserved sailors' washrooms is with the self-guided tour, best done by downloading the free Battleship Iowa mobile app.
It's a fantastic place to bring children to learn about battleships and heroic deeds. Discover the ship's history and the life of sailors on board. Hear war stories from Navy sailors as they're usually present to engage with visitors.
Get ready to climb up and down ladders and easily you can spend a couple of hours exploring the ship.
75 – Stroll through the Hollyhock House in Barnsdall Art Park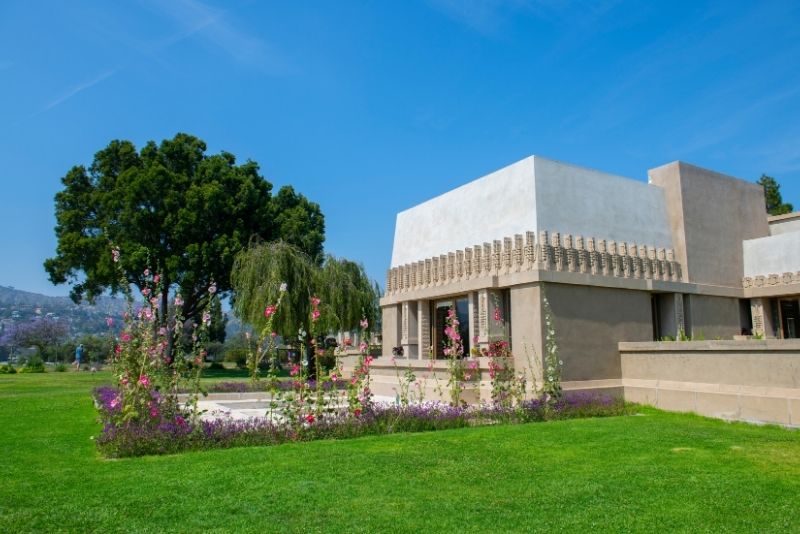 Designed by Frank Lloyd Wright and built around 1920, the house and surrounding 12 acres were donated to the city as a memorial.
The Hollyhock House is named after the hollyhock flower, depictions of which are found throughout the house. See the documentation of the planning and construction with 500 archived drawings and blueprints, among others.
Barnsdall Art Park, including the Hollyhock House and an olive grove, the only UNESCO heritage site in LA. Fun fact: This was the first time modern American architecture was placed on the World Heritage List.
76 – Bless the animals at El Pueblo de Los Angeles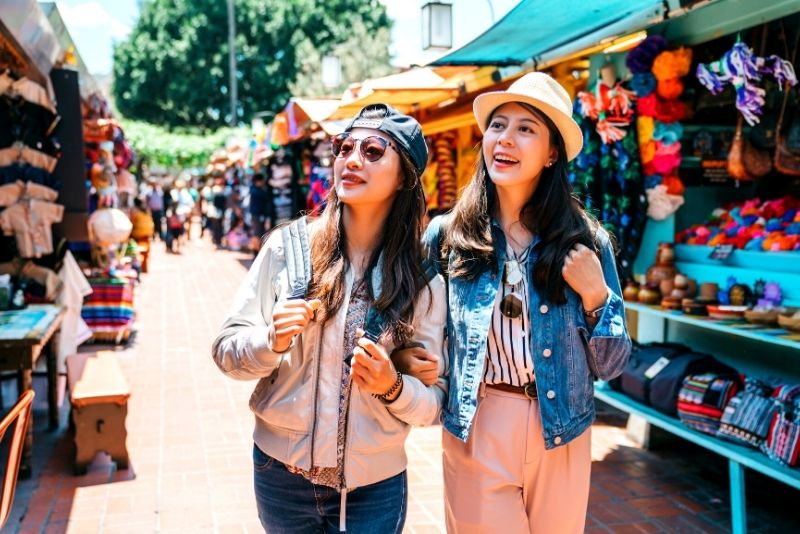 This historic district around the old plaza was the LA town center for most of the 19th century. Nowadays, visiting El Pueblo is one of the best things to do in LA. This living museum is the birthplace of LA — the early town (pueblo) founded by over 40 settlers from Africa, Europe and Native America.
At the Olvera Street Mexican Marketplace on Easter Saturday, it is traditional to bless animals for the benefits they provide us. However, if that doesn't line up, fret not. The Cinco de Mayo and Mexican Independence Day are still there to mark on your calendar.
77 – Visit the World of Illusions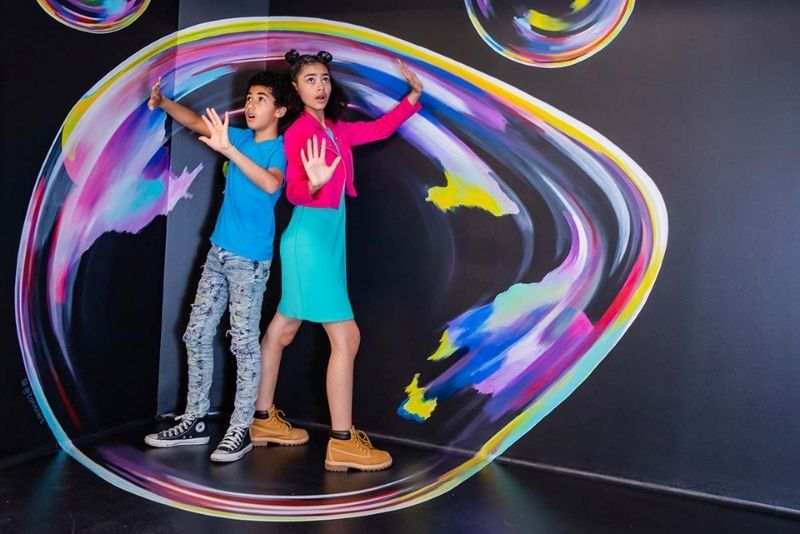 A surefire hit on Instagram, the World of Illusions is full of extraordinary 3D illusions, an upside-down house, and a giant's house.
Has something been stressing you out? If so, this museum will let you write down what's annoying you on a plate (the website suggests 'the year 2020') and throw it against a wall.
This interactive and fun place also teaches you about perception and the human brain. It's a fantastic destination for all ages!
78 – Post on Instagram at the Museum of Selfies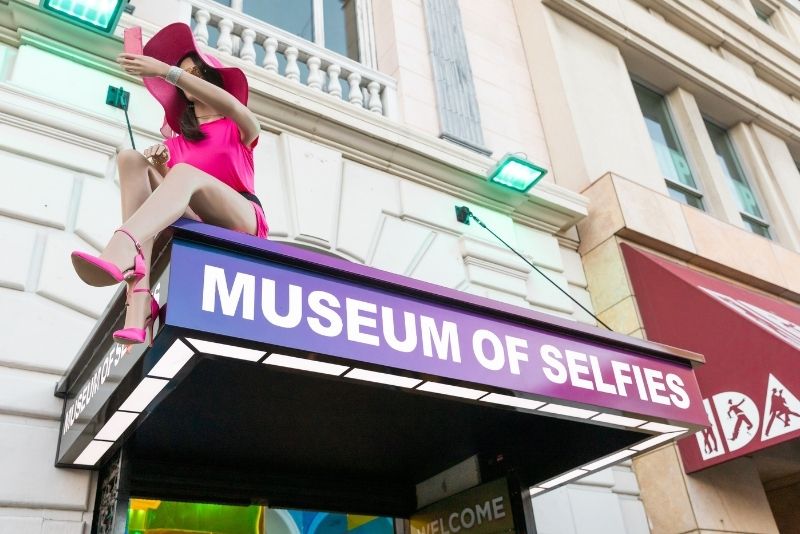 Another one for social media, this interactive museum is whimsically unique, guaranteed to leave you with mind-blowing photos.
It dives into social media-inspired art and the psychology behind selfies. Effortlessly climb one of the tallest buildings in LA, thank your sponsors as you receive your Oscar or sit on a throne made of selfie-sticks.
Immersive installations await you such as the selfie throne as the king on the TV show "Game of Thrones."
79 – Wine and dine on an LA rooftop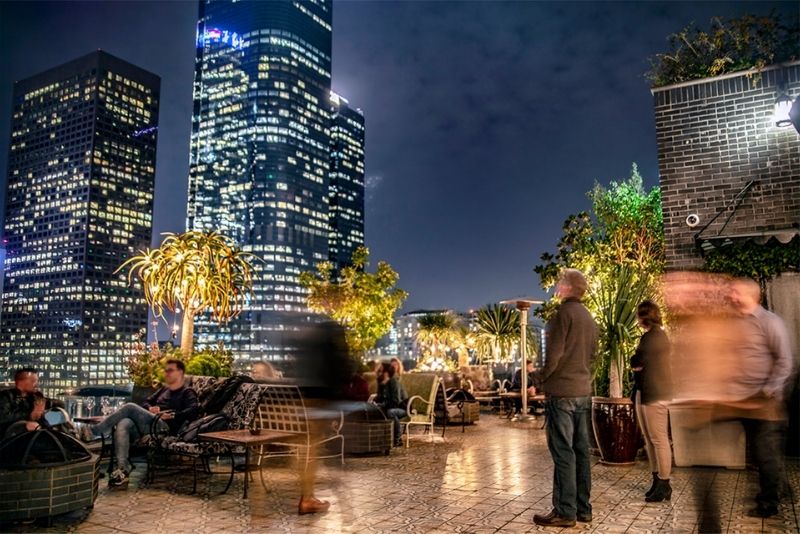 With some of the best rooftop restaurants and bars, Los Angeles is heaven on Earth for sunset drinks.
If you're looking for a bustling scene, make sure to stop off at Perch where its menu and views of the heart of Pershing Square and Downtown are the talks of the town.
Don't forget to swing by the bar on your way in! When you're near Venice Beach, head to High Rooftop Lounge at Hotel Erwin to have a spectacular sunset and view of the Pacific Ocean.
For more breathtaking sights over LA, drop by at The Roof at Edition or LF Rooftop Bar in West Hollywood.
80 – Go fishing on the Venice Fishing Pier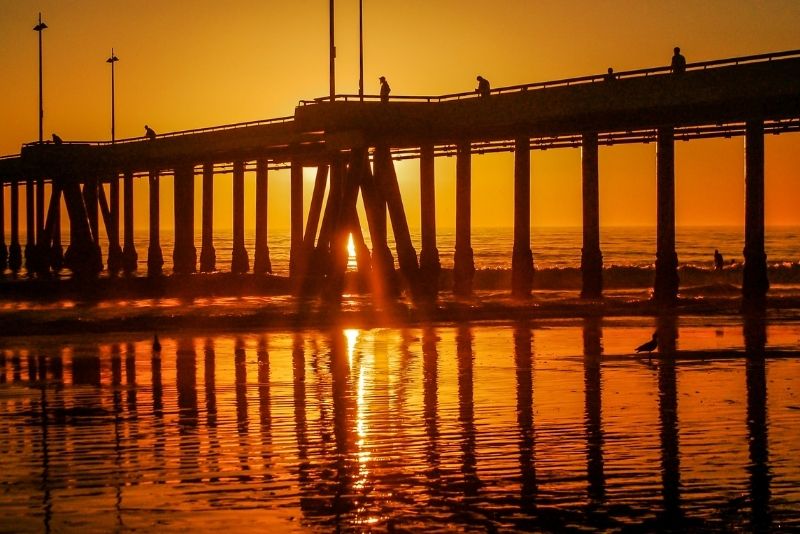 Whether you're an expert or novice fisher, the 700-foot Venice Fishing Pier is a must-see. With free access to the pier, no fishing license requirements, and Papa's Bait Shop around the corner anyone can become an expert.
For a great pit stop and the only beachfront restaurant in the Venice area, check out Sharky's on the pier!
No rod and reel? No worries. You can rent them at $15 a day. It's one of the best things to do when you want to have a laid-back wholesome night.
81 – Watch the Los Angeles Opera at the Dorothy Chandler Pavilion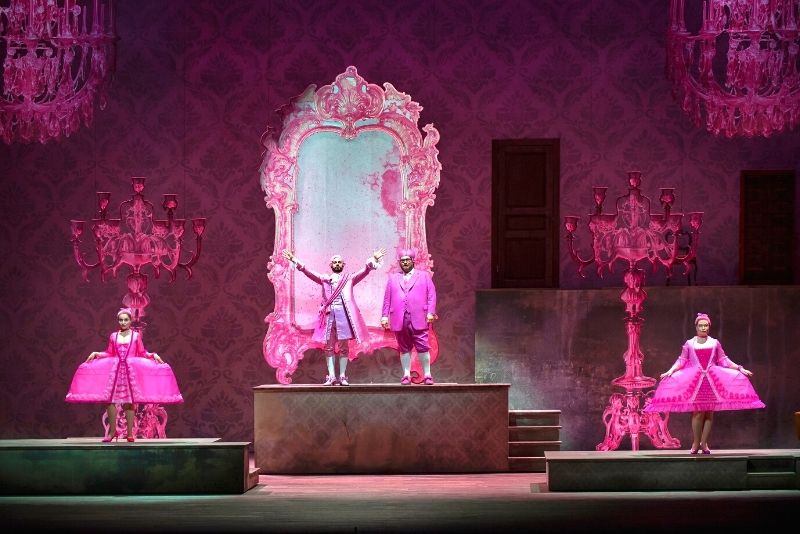 Sit back and let the cast of the LA Opera take you through a journey. Established in 1986, the LA Opera theatre is known for two things: as being a leader in artistic innovation, and for its pavilion.
Extraordinary 61 musicians formed the LA Opera Orchestra which has been the resident group since 1996. They also fill up primary roles in symphony orchestras and record in Hollywood movies and TV shows.
A sight to behold on its own right, the Dorothy Chandler Pavilion has five elegant stories and 78 crystal light fixtures and chandeliers.
For years, the pavilion was the home of the LA Philharmonic and venue of many Oscars ceremonies. This historic setting was first built in 1964, and in the next few years, more buildings were added around the Dorothy Chandler Pavilion, officially forming The Music Center.
The other concert venues to find here are the Ahmanson Theatre and the Mark Taper Forum stage — both constructed in 1967 — as well as the Walt Disney Concert Hall which opened later in 2003.
Not only limited to concert and show venues inside, the Jerry Moss Plaza is located outside and hosts free art and cultural events, as well as concerts.
Also within the campus' outdoor complex is the Grand Park where you can catch a quick chill under the trees, and community events are often held at the park.
82 – Watch a live recording of a TV show… for free!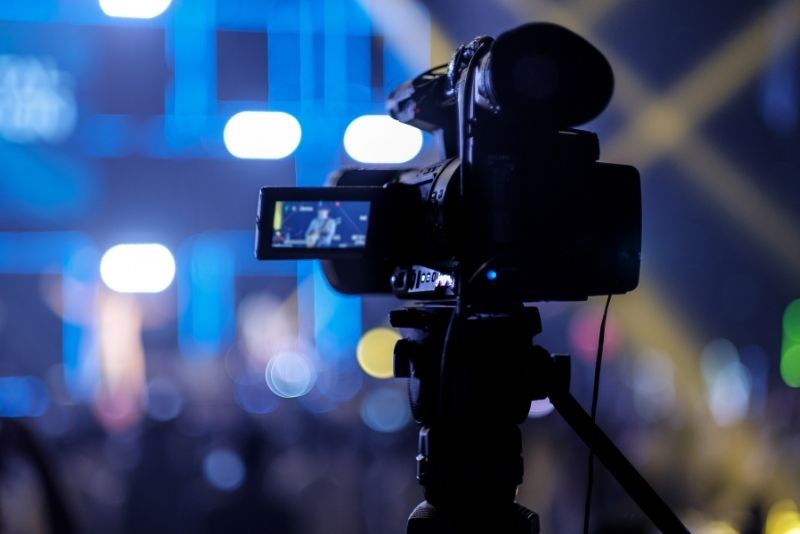 Complete your trip to LA with a taste of Hollywood showbiz! Watch a taping of your favorite TV shows and see your idol up close.
Join the audience on "The Late Late Show" or cheer the competitors in real time on "Dancing with the Stars" or "The Voice."
Many television shows offer live recordings, so dress to the nines and take your pick! If you get into The Price Is Right, you could be randomly chosen to be a contestant.
If you want to laugh, find your way into the audience for Conan, Jimmy Kimmel Live or the Late Late Show with James Corden.
83 – Feel the power of music at the GRAMMY Museum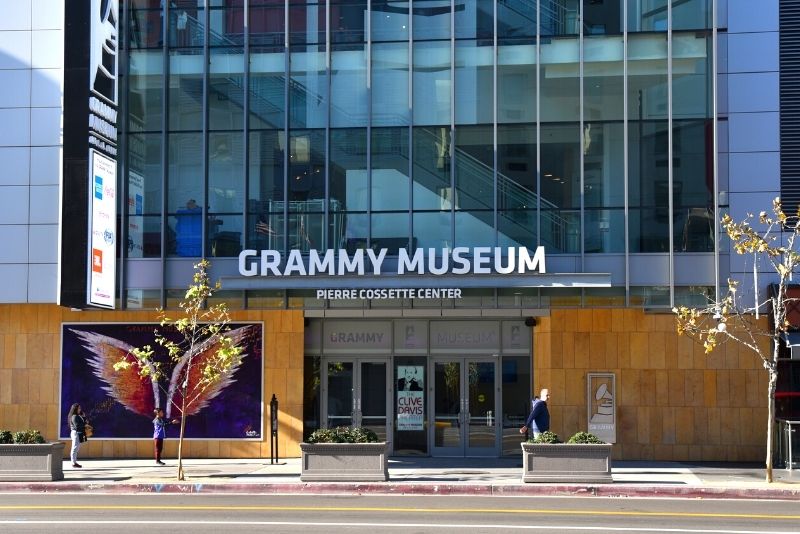 The GRAMMY Museum is more than just pictures of musicians. Their exhibits will compel you to celebrate and appreciate the legacies left by all different music.
Navigate the touch screens, recording booths and historical musical artifacts. Discover just why that song has been stuck in your head and the creative process behind it.
Portraying the history and importance of American music, the museum also aims to inspire everyone to create and discover new forms of music.
Check out the Mono to Immersive exhibit which demonstrates the sounds recorded from the 19th century to the modern ones.
84 – Explore Chinatown!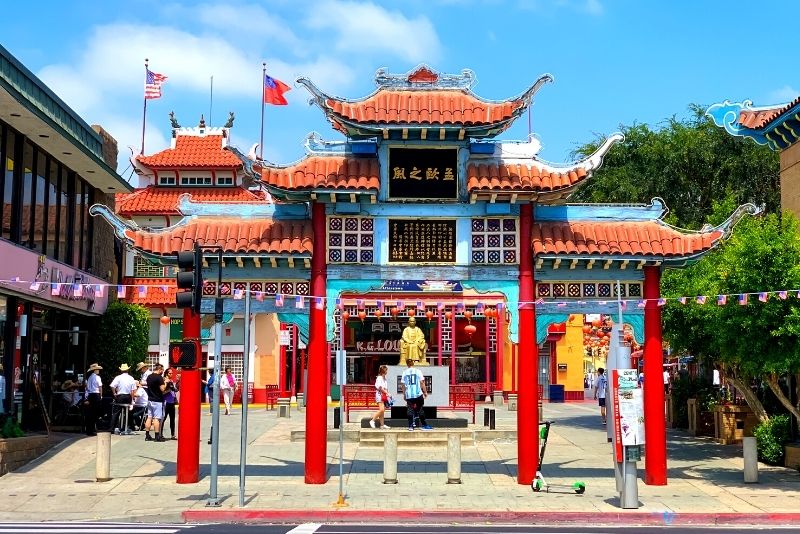 LA's Chinatown is peppered with great food and Chinese specialty stores — you'll be spoiled for choice. For stories of history and art, the Chinese American Museum in El Pueblo is a fascinating attraction, highlighted by its watercolor works.
The neighborhood covers five blocks of Downtown LA and has over 25,000 residents, playing a vital role in this thriving commercial center. Walk around to see several herbal stores, restaurants and temples, as you experience some of the best things from Asia.
Feeling peckish? Head into Yang Chow and order the goopy slippery shrimp which put the dish on the map in LA. Chinatown Central Plaza is not just known as the heart and soul, but it also holds a special place for locals.
During the 1800s, the railway was built in place of the old Chinatown and the neighborhood was demolished. After the local Chinese immigrants combined their savings together as a community, they purchased buildings in the current area and a new Chinatown opened up in the 1930s.
Central Plaza was the first shopping plaza, designed as a destination experience filled with traditional stores and authentic restaurants.
85 – Watch a show at the Orpheum Theatre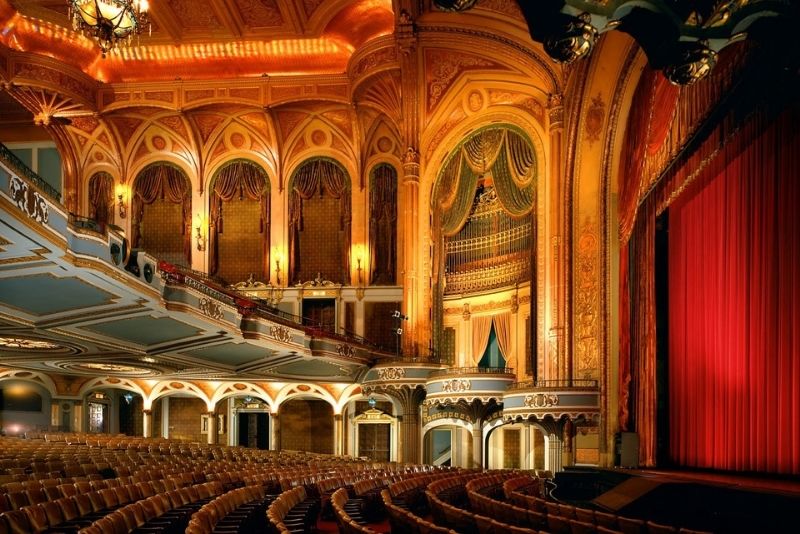 Step inside the lobby of the Orpheum on Broadway and you'll quickly realize why this is one of the most famous things to do in Los Angeles.
Spot the old, quaint ticket booth before entering the theatre, and take note of the marble walls and dazzling chandeliers on the way in.
For decades, the theater had hosted concerts of some of the most reputable performers such as Judy Garland, Ella Fitzgerald and Little Stevie Wonder.
Music videos, movies and tv shows also used Orpheum as their filming locations in the most recent years.
All sorts of shows play at the Orpheum, so there's no excuse to miss out!
86 – Dine at the Magic Castle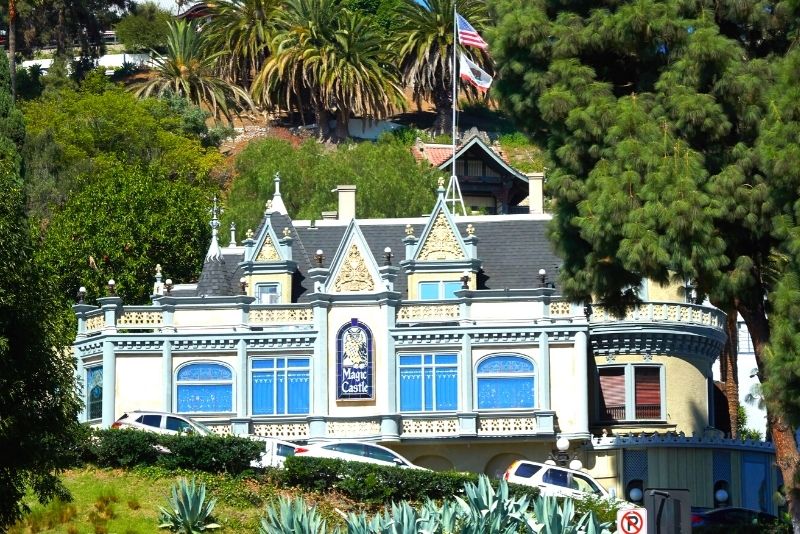 Reserve your spot at The Magic Castle for a formal Victorian brunch or dinner with a magic show!
This mansion requires elegance so this is your chance to wear that gown or tuxedo, and it offers excellent dining and many magic shows. Make your magical experience last and bring home a souvenir, playing cards or mementos at the gift shop.
The venue screams exclusivity — you need to be invited or accompanied by a member of the Academy of Magical Arts.
However, you can better your odds of a courtesy invitation by staying at the Magic Castle Hotel, asking a magician nicely or enrolling in a magic class.
87 – Browse the Museum of Contemporary Art (MOCA LA)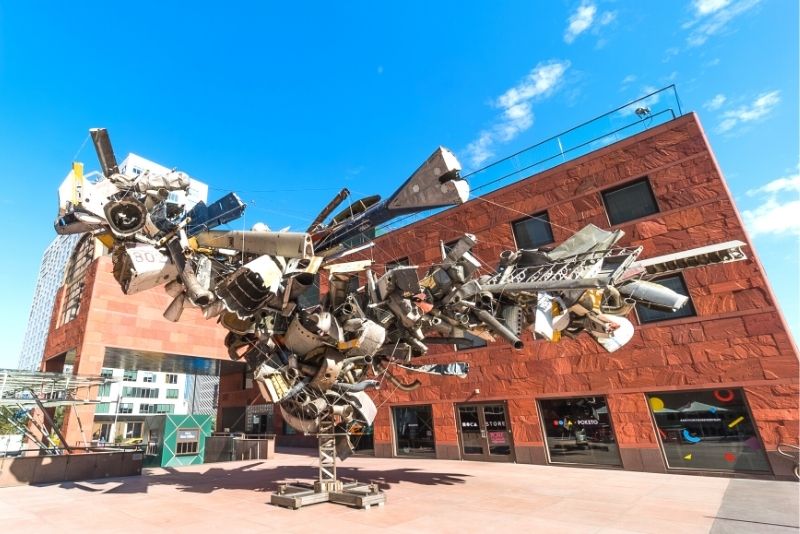 As the only artist-founded museum in the city, MOCA LA has committed itself wholeheartedly to contemporary art created after 1940.
It has collected about 7,000 captivating artworks in the world. Discover concepts and definitions of what is art in the eyes and minds of contemporary artists.
If you're wandering through Downtown, make sure to stop into one of its two city locations: one at Little Tokyo and the other at Grand Avenue
88 – Be amazed at Ripley's Believe It or Not!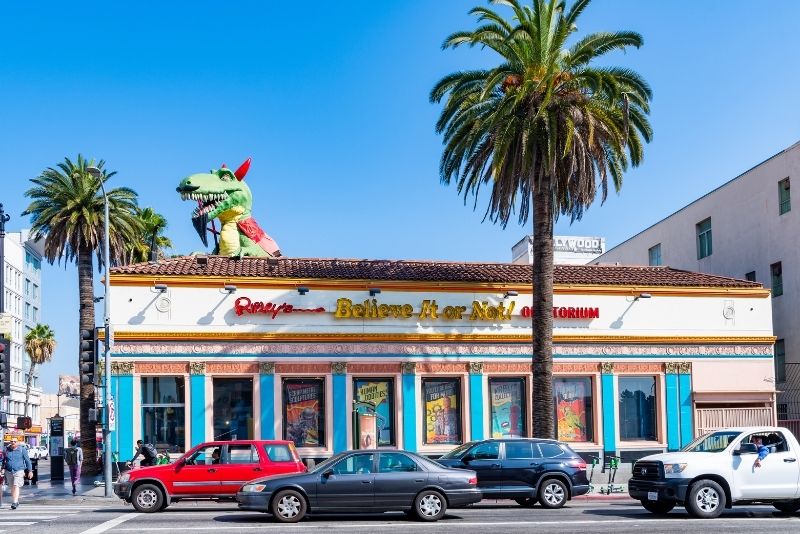 This weird and wonderful place is a hodge-podge of fascinating and wacky attractions that is certain to entertain.
Enter the Ripley's Hollywood Odditorium for optical illusions, a shrunken head, celebrity heads carved from phone books, 17th-century dog armor and so much more.
Take a selfie with pop-culture icons and play with some hands-on striking interactives. Over 500 pieces are on display, all fascinating and family-friendly.
89 – Lose yourself in a labyrinth of books at The Last Bookstore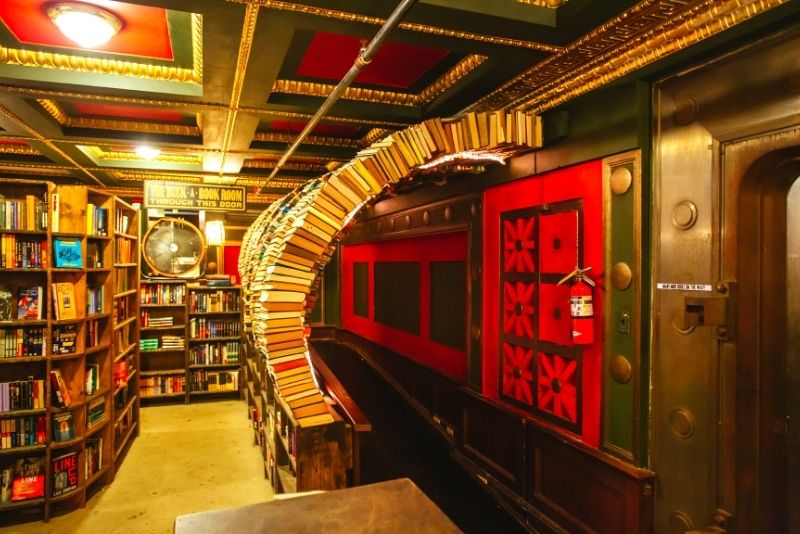 In this day and age where books are going electronic, seeing 250,000 new and used books across two floors is a bibliophile's heaven.
The Last Bookstore is one of the largest — and last — independent bookstores that also offers graphic novels and vinyl records, all combining for a complete artistic experience.
Owner Josh Spencer loves books and wants to revive and preserve the printed world. His bookstore continues to sell and trade physical books with those who share the same passion.
Director Chad Howitt described the space as a "mix of Victorian drawing room, sci-fi spectacle and artist loft bohemianism." Sounds intriguing, right?
90 – Experience a performance at the Hammer Museum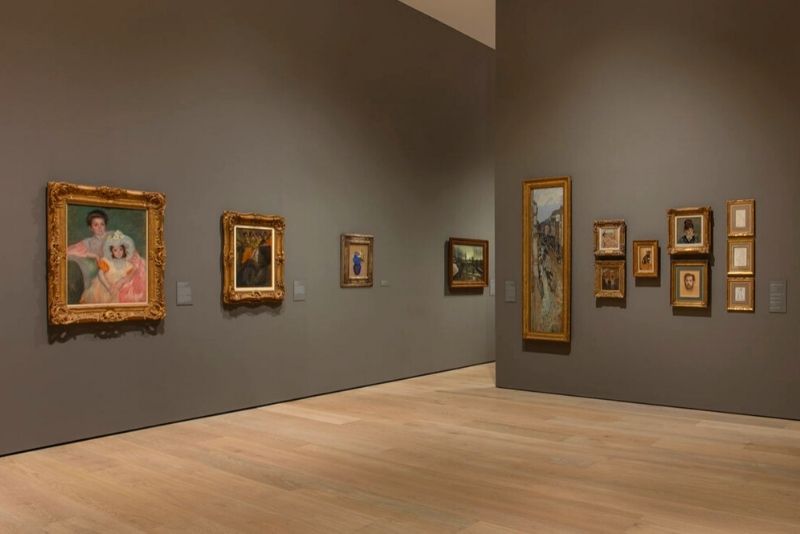 The Hammer Museum champions the power of art to be more than an aesthetic experience, giving insight into the most relevant cultural and social questions of our time.
With that in mind, the Hammer Museum is not only an art display, but also hosts lectures, readings and musical performances — all of which are worth checking out.
The museum began with galleries for collections of Dr. Hammer, including old paintings and drawings, and for traveling exhibitions. Today, it supports artists in its residency program, with research and experience as the main objectives.
91 – Stand toe-to-toe with your favorite celebrity at the Hollywood Wax Museum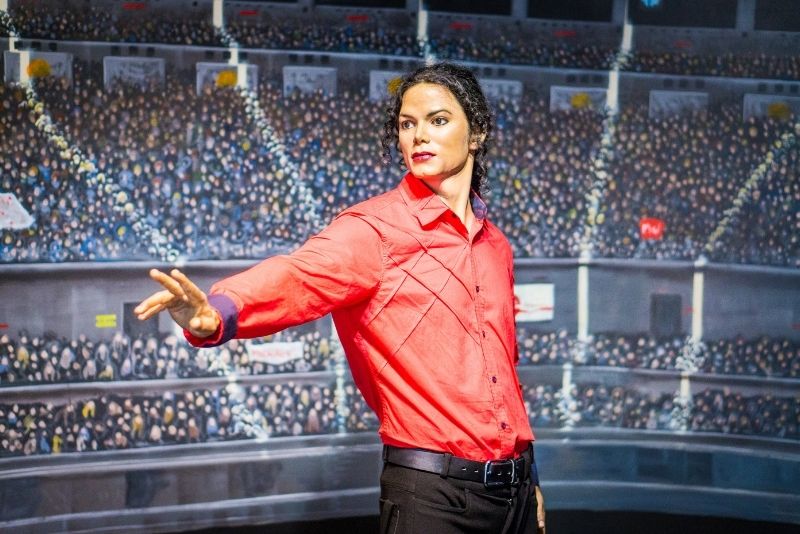 Explore the Hollywood Wax Museum and meet Christian Bale, Angelina Jolie, and Daniel Craig all in one day. They will take a picture with you (but don't be offended if they don't sign an autograph).
Besides the host of famous faces, the affordable ticket also gets you entry into the nearby Guinness World Records Museum! Discover record-breaking abilities and facts known in the world, such as the heaviest person, the most tattooed, and the tallest.
Why not challenge yourself to break a record? Someone did it in 2019 for the "fastest time to write a phrase with magnetic letters." You can be the next!
92 – Eat lunch at the Grand Central Market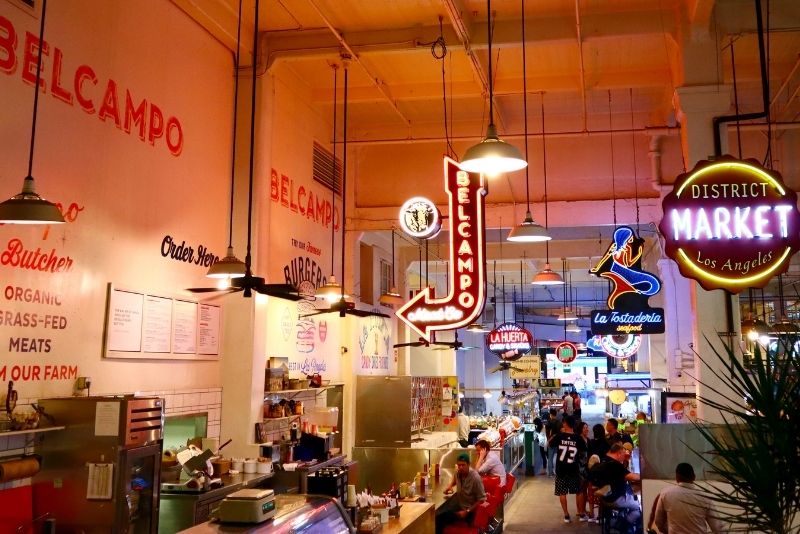 For over 100 years, this bustling market has been a meeting place for the locals. There are over 50 food stalls plus eateries and stands, so there's plenty to choose from.
Originally called "Wonder Market" when it opened in 1917, this historic place has played a significant role in LA's becoming a metropolis.
Discover vendors that have been there for over 50 years such as Roast To Go and China Cafe. They represent the vibrant immigrant communities that help the city's growth.
The market has all your favorite Chinese-American cuisines, as well as Japanese, Mexican and European flavors. Sample craft beers at Golden Road, buy boutique jewelry at Grand Central Jewelry, and order eggs for any meal at the world-famous Eggslut.
93 – Watch a movie at a rooftop cinema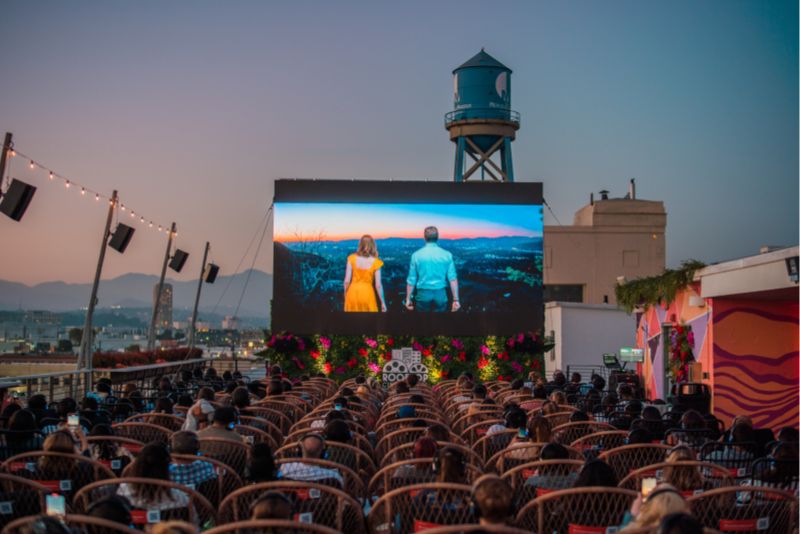 Gourmet street food, cocktails, and lounging in comfy deck chairs with rooftop views of LA  — that sounds like a winning combination. Now add a movie on a big screen that you listen to through your personal headphones.
That completely immersive experience is what awaits at rooftop cinema atop the Row, just one of many around the city. What better time to experience watching your favorite movie on a rooftop than when you're in Los Angeles?
You have fantastic sights and weather, and the Rooftop Cinema Club has great selections of movies. It has something for everybody!
94 – Party at Los Angeles' best nightclubs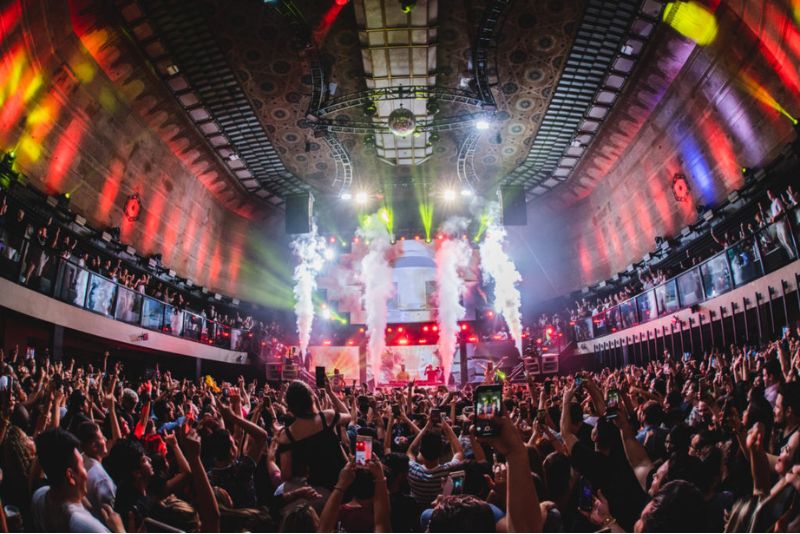 Since 2013, LA Epic Los Angeles Club Crawl has provided guided tours of the best bars, lounges, and nightclubs in Hollywood and Downtown LA.
The Hollywood Club Crawl takes you to the best venues on Hollywood Blvd, while Downtown LA Club Crawl takes you to the hottest parties in DTLA. Both crawls will visit multiple venues in one night.
Receive express, complimentary entry to all venues on the lineup, drink specials at many of the stops, and amazing party hosts!
95 – Get a taste of LA on a Downtown food tour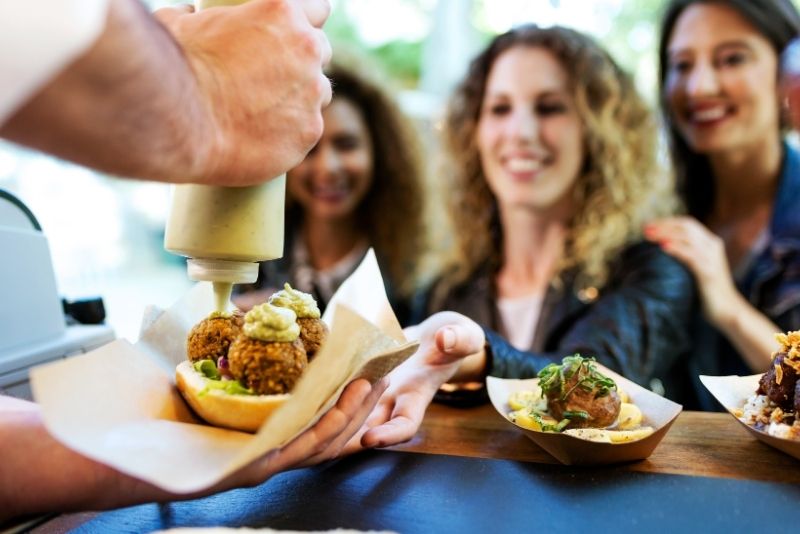 Taking a food tour with a dynamic local guide is a surefire way to delight your taste buds! Indulge in mouthwatering dishes and learn about the history and culture of Downtown LA.
It won't break the bank either! For less than $100, you can get the best culinary experience.
With a tour guide, sample the treats of six different eateries, bakeries and ethnic food destinations (drinks included). Don't miss some local favorites such as crispy doughnuts filled with fresh strawberries and glazed with strawberry jelly.
Be sure to hit up some of the legendary taco trucks hidden within the city – there are at least 3,000 taco trucks spread across LA – these food services have been essential to people's everyday life. It's also a perfect stopover for party-goers who want midnight snacks before going home.
96 – Kayak, paddle, or cycle down the LA River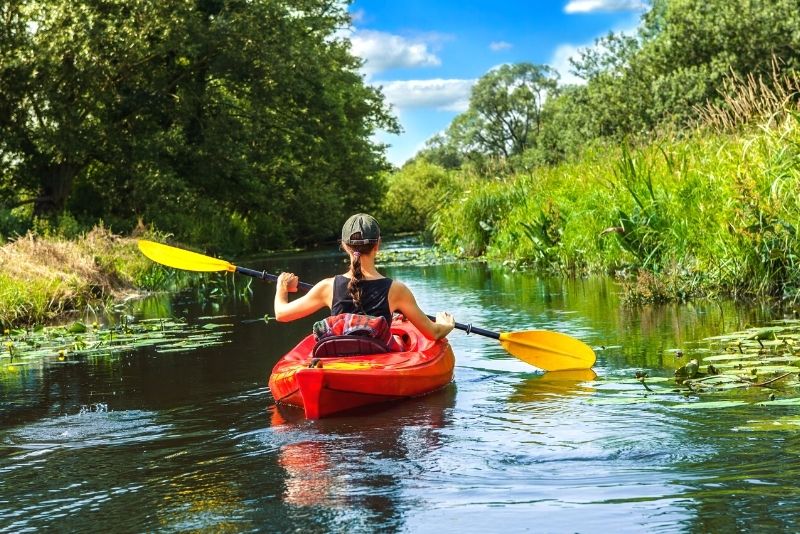 A major river in the county, Los Angeles River is 77 kilometers long with an 8-mile bike path on the banks. For a really unique experience, visit LA River Kayak Safari and explore the LA River with the Frogtown locals.
The 2.5-hour trip includes a bike ride, a downstream paddle, and the lore of the picturesque Los Angeles River. You don't have to be a pro for this, just arrive at the meeting point and you'll be taught everything you need to know!
Offering urban kayaking tours for years, LA River Expeditions promotes protection of the river through this recreational activity.
97 – Play a round of golf at Angeles National Golf Club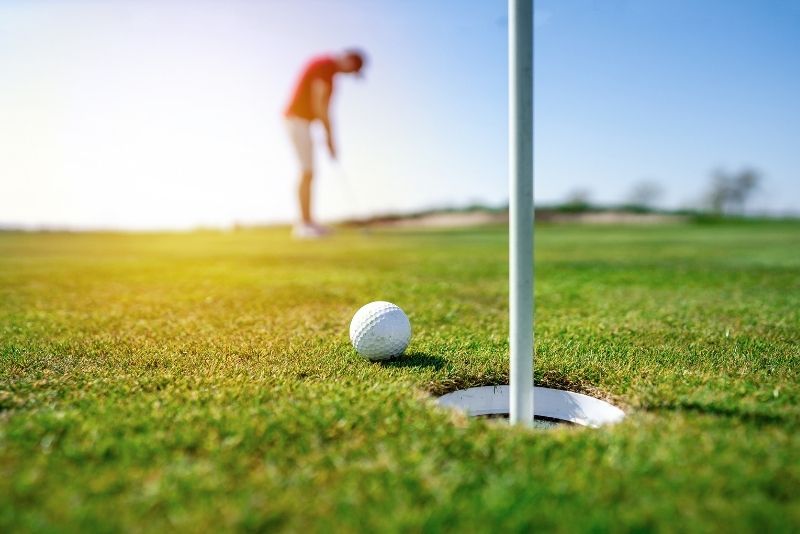 There are a plethora of golf courses around LA where it's always sunny and perfect golf weather.
If you're looking for a nearby course, Angeles National Golf Club is a public course that offers Spanish-inspired architecture. It also has a full restaurant with a bar, pro shop and views of the lake on the 18th hole.
Nestled in the Angeles National Forest, this golf course is known for its difficult field with two lakes and a creek around.
98 – Go skiing in the nearby mountains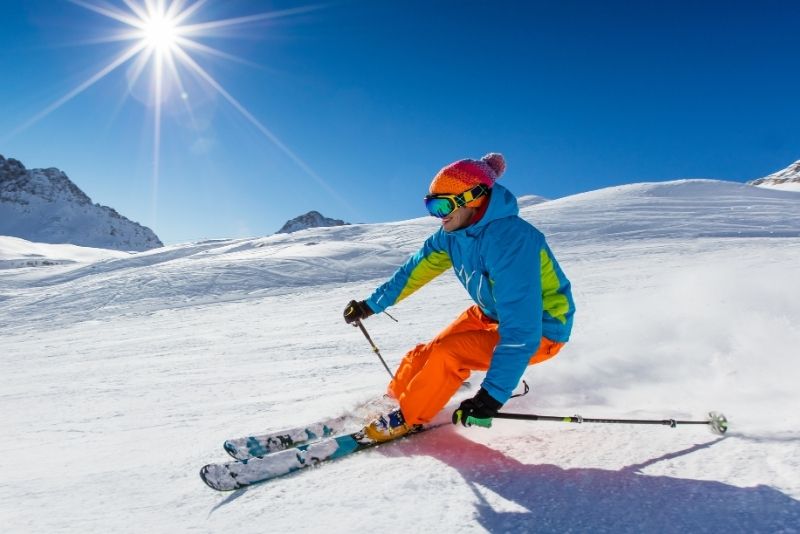 California is a sunshine state, but there are still places to ski during the snowy season. Mountain High is an hour and a half away and as well as skiing includes zip lining and antique shops.
Explore the deep snow at Mountain High with nine decades of ski traditions. With plenty of hotels and cabin rentals around the area, you can prolong your winter escapades as long as you want.
Bear Mountain is a little further away (two and a half hours) but features boxes, rails, jumps, and a snowboard scene. It also offers a night session lift at Snow Summit so you can ski and snowboard under the stars.
Wherever you go, make sure to book in advance!
99 – Be dazzled by Insomniac's Electric Mile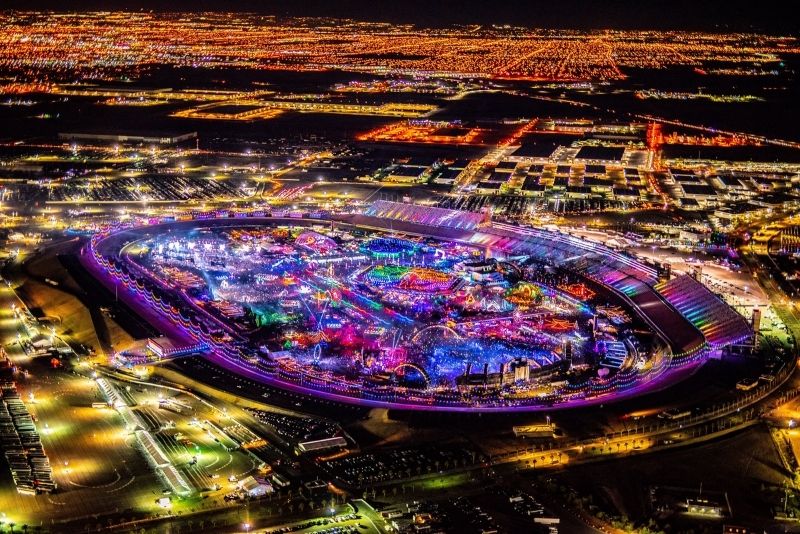 Get comfy in your car as you drive-thru a truly unique, immersive, and illuminating audiovisual experience.
Cruise through the Insomniac's Electric Mile "Seven worlds of light, sound and imagination" with over 5 million lights synchronized to music — with lasers, disco balls, light-up mushrooms and even a warehouse rave.
Revel all night with over 500 art installations and take home some cool stuff. This family-friendly activity is one of the best things to do in Los Angeles, hands-down.
100 – See the Space Shuttle Endeavour at California Science Center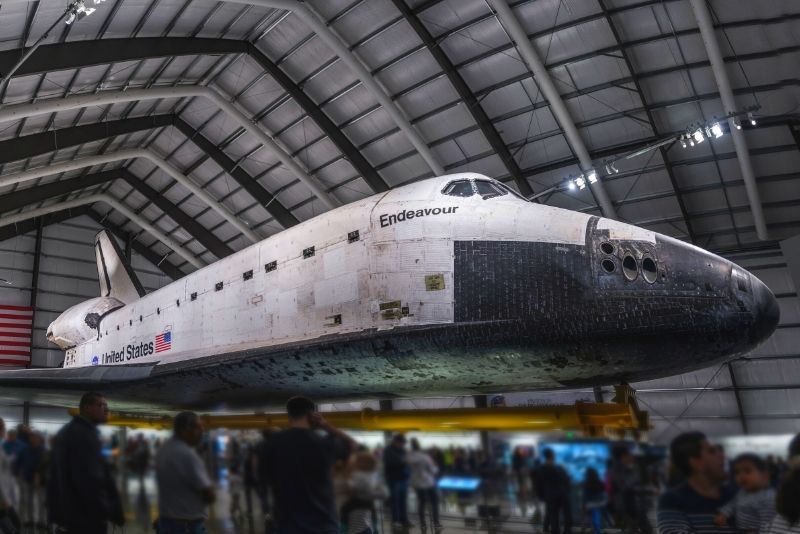 Over 100 interactive scientific exhibits inhabit the California Science Center with the indisputable masterpiece, the Space Shuttle Endeavour. It went on 25 missions and spent almost 300 days in space.
Take the kids to the Air & Space section where they can explore an intriguing collection of artifacts and enjoy hands-on activities. Learn about the principles of air, space and flight that led us to create aircraft and spaceships.
If you're after something a little different, the Science Center currently has an Art of the Brick exhibition with the world's largest display of LEGO art to captivate visitors of all ages.
101 – Travel through time at the Medieval Times Dinner & Tournament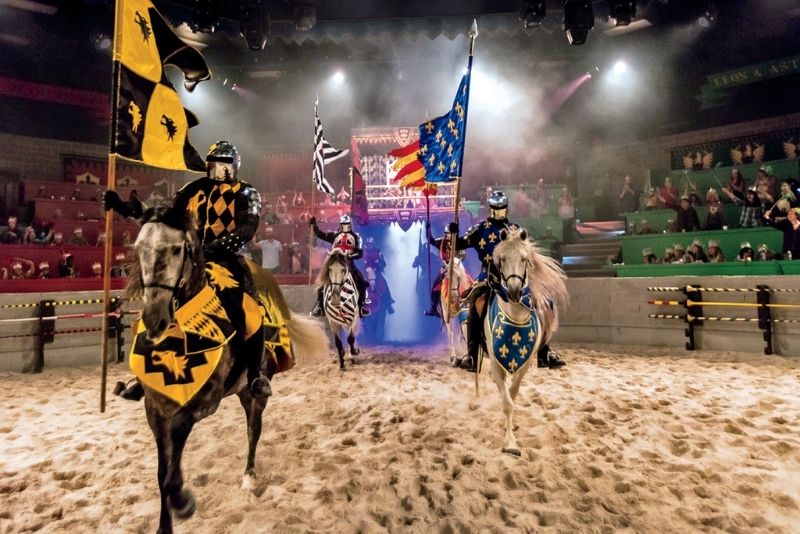 Hear ye, hear ye, you are invited to join the Queen's Royal Court for a four-course meal set in a castle!
For your entertainment, six competing knights riding their noble steeds will joust and duel. Stick around for the live flight of the royal falcon and order libations to your heart's content.
Pack some energy to cheer for your knights. It's a dramatization of how it was during the Medieval Period so that history won't repeat itself.
Enjoy the show as you indulge in finger foods and cocktails, as well as non-alcoholic drinks for the kids. The jousting Medieval Times Dinner & Tournament show lasts two hours but the experience will last a lifetime.
How to get to Los Angeles?
Touching down in LA, you'll arrive at Los Angeles Airport (LAX), which is located on the outskirts of the central city.
Before your vacation begins, pre-organize airport transfers for the moment you land in Los Angeles. After you've disembarked, collected your luggage and are ready to head to your accommodation, look out for your private driver waiting for you — sign in hand so you feel like a real celebrity.
Hopping into an air-conditioned vehicle, be transported to your chosen LA destination, whether you're staying in Hollywood or Downtown Los Angeles.
Where to stay in Los Angeles?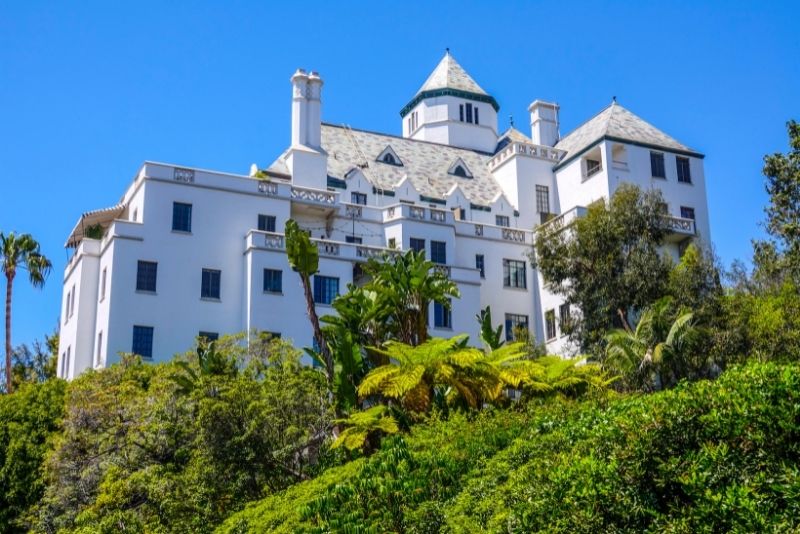 The state of Los Angeles is home to neighborhoods like Beverly Hills, Venice and Downtown LA. If you're wondering where to stay, here are some of the best (and most famous) hotels to take your pick for the celebrity treatment.
Starting off with a bang — and an iconic one at that — check into the super luxe, five-star The Beverly Hills Hotel, and take endless pictures throughout its famous pastel pink halls. Taking design inspiration from some of the most beautiful holiday destinations around the world, the Santa Monica Proper Hotel is stunning, with its conceptual thought and design.
Classic and the epitome of luxury, the five-star Waldorf Astoria Beverly Hills has been pleasing its guests since 1955. With its incredible location, super stylish interiors and with views of Hollywood in the heart of it all on Sunset Boulevard, the 1 Hotel West Hollywood has it all.
For travelers who prefer a beachfront location, head out of the hustle a book a night at the elegant Shutters On The Beach in Santa Monica. Step back in time to old Hollywood at the Chateau Marmont, offering opulent rooms, suites and bungalows, and the hotel first opened its doors in 1927.
Smack back on the Walk of Fame, the Hollywood Roosevelt has hosted some of the biggest stars of the centuries from Marilyn Monroe to Charlie Chaplin. Sophisticated and with impeccable design and fancy finishes, The Ritz-Carlton delivers everything you expect from the world-famous hotel name. Boasting loads of natural light, Casa Del Mar is a gorgeous oceanfront stay.
Visiting Los Angeles on a budget?
With so much to do and see in LA, it makes sense to save money where you can so you have extra moola to spend on shopping or travel expenses. One of the best ways to travel to the city of angels on a budget is by choosing a Go City Explorer Pass.
Including more than 30 must-see city attractions, monuments, tours and cruises, when you purchase a ticket it automatically gives you free entry to between two and seven of the dedicated picks.
Some of these include the Warner Bros. Studio Tour, Madame Tussauds Hollywood, the TCL Chinese Theatre, a Harbor Cruise around Long Beach, the Grammy Museum and plenty more.
Where to go next?
While there is an abundance to explore in Los Angeles, there are many things to do in California and other epic areas to travel to within the country's third-largest State.
If you've satisfied your Hollywood cravings, move on to more laid-back areas like Long Beach or Santa Barbara (a 1.5-hour drive from Downtown LA). Also traveling the same distance, travel from Los Angeles to Palm Springs, and with many fabulous things to do here, it's a perfect weekend escape.
If the O.C. stole your heart in the early 2000s, or you're just chasing the good vibes, head on over to Orange County, a 30-minute drive from LA, passing by Long Beach on the way.
If you are looking for a unique activity, travel to Temecula and experience a hot air balloon ride over fantastic vineyards.
Heading down south from Los Angeles, for a completely different Californian feel visit San Diego. It's under two hours drive from LA, and Joshua Tree National Park is in between the two, further inland.
If your time is limited in Los Angeles, but you would like to see the other areas outside of the city, multi-day trips are great options. Take three days to explore the Cali coastline, for example, or choose an extended five-day tour instead.
Just four hours away from LA is Las Vegas, and there are Las Vegas tours from Los Angeles from two to seven days.
Final thoughts
Experience the celebrity treatment in Los Angeles, or if you'd prefer a vacation to the sunny city that focuses on adventure, there are plenty of things to do in Los Angeles to satisfy all types of travelers.
What's your favorite thing about the City of Angels, and are there any must-visit attractions or monuments at the top of your bucket list? Share your thoughts with us in the comments.
Happy and safe travels.