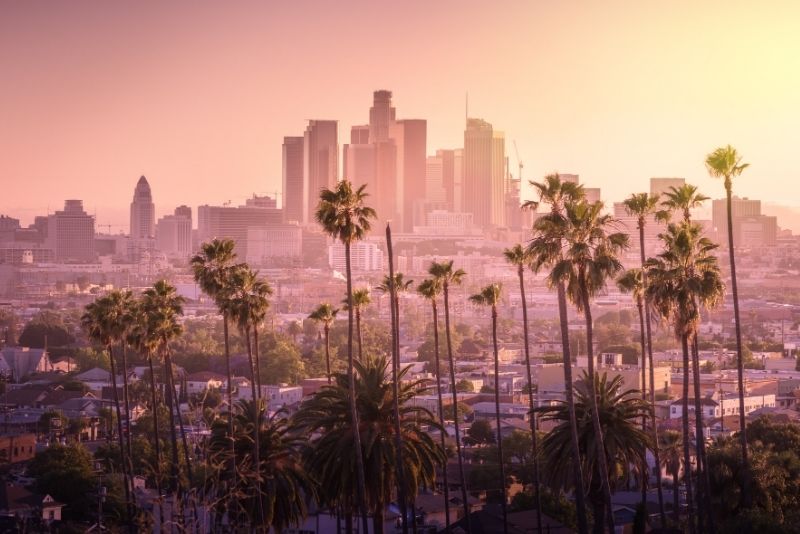 Boasting world-class food, entertainment, museums, nightlife, and, of course, multiple award-winning theme parks, it's no wonder that nearly 50 million eager visitors make the trip to the City of Angels every year.
With so many fun things to do in Los Angeles, you'll truly be spoiled for choice!
1 – Make a beeline for the Dolby Theatre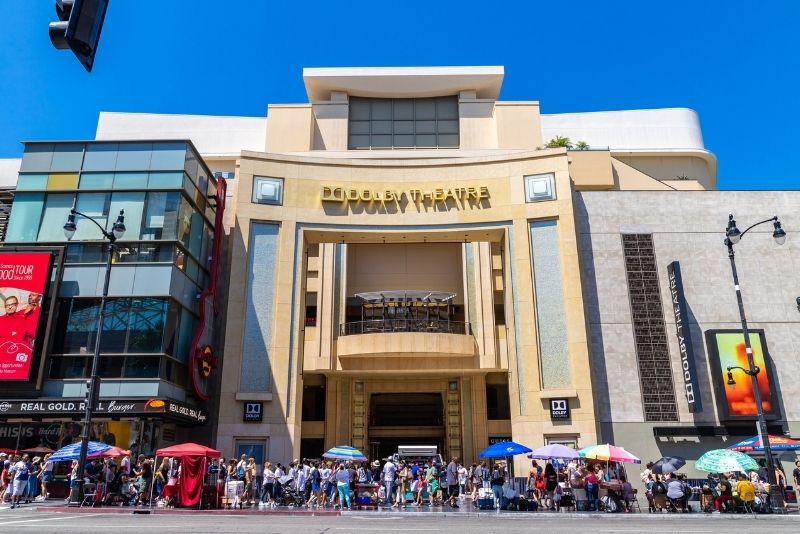 Sitting near the famous corner of Hollywood Boulevard and Highland Avenue, the Dolby Theatre is a Tinseltown icon.
Every year, Hollywood's rich and famous walk its halls to receive their Academy Awards, with decades worth of past Oscar winners placarded on the pillars that line the red-carpeted entranceway.
For film buffs, the movie-themed tour is simply unmissable.
2 – Experience the wet and wild fun of Raging Waters Water Park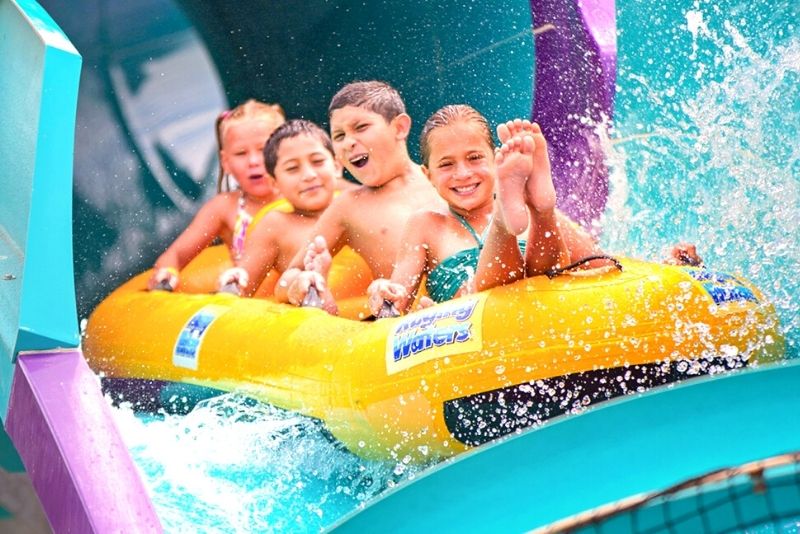 California's largest waterpark (60 acres) Raging Waters has activities for all ages, including the Aqua Rocket — the only hydromagnetic water coaster in California — and Speed Slides with an eight-story-high apex.
For a different challenge, however, take on the Lily Pads obstacle course: walk across the pads using the overhead ropes and try not to wipe out as you cross the lagoon!
3 – Snap a selfie with a celeb at Madame Tussauds'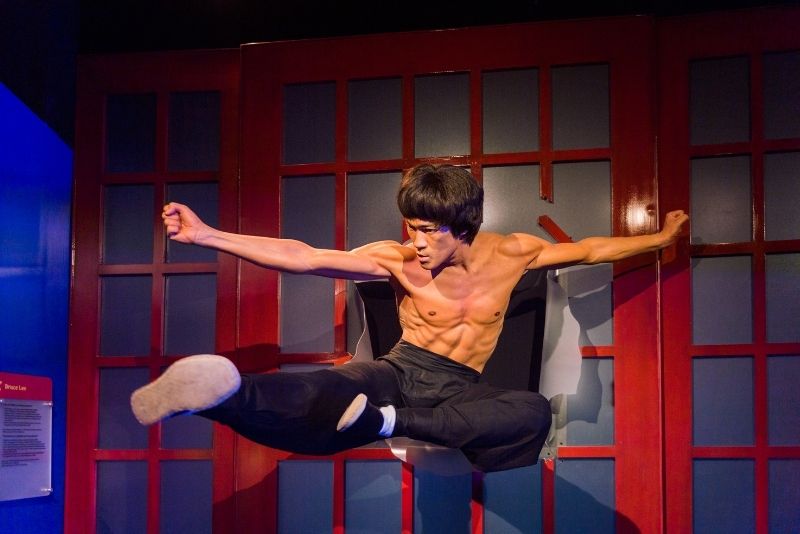 Sure, you could spend hours on tour busses peeking through the hedges of celebrity's fences, or you could see everyone from Jamie Foxx to Nicole Kidman and Denzel Washington simultaneously at Madame Tussauds' Wax Museum!
Nestled amongst the hustle and bustle of Hollywood Boulevard, this famous attraction makes for a perfect stop on any Tinseltown itinerary.
4 – Conquer the slide at OUE Skyspace LA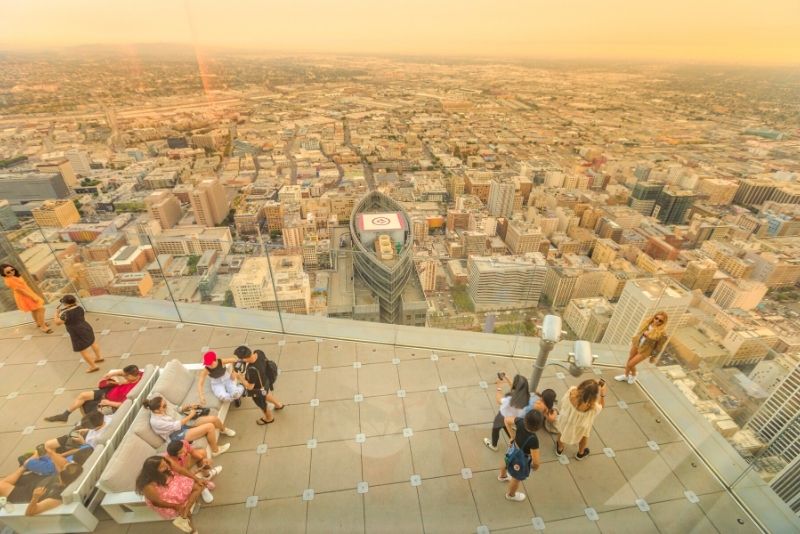 At nearly 1000 feet above the iconic U.S. Bank Tower in Downtown L.A, OUE offers incredible 360-degree views of the sprawling city below.
Besides holding the title of the tallest open-air observation deck in Greater Los Angeles, this modern attraction also boasts the one-of-a-kind SkySlide — a fully-transparent, 45-foot-long, heart-racing experience.
5 – Check out the Richard Nixon Library & Museum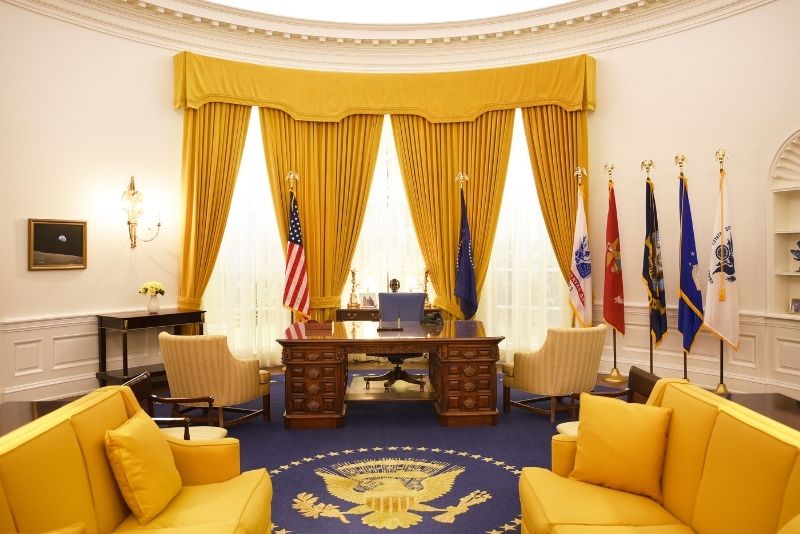 History buffs, look no further. As the burial site of the 37th President of the United States, the Nixon Museum showcases the life and legacy of one of America's most influential leaders.
Visitors are blessed with the opportunity to explore his boyhood home, sit in a presidential helicopter, and learn about the former president's 50-year career in public service.
6 – See the Hollywood Sign from Griffith Park
No trip to Los Angeles is complete without a selfie in front of the Hollywood sign, and there's no place more fitting for it than the lush urban greenery of Griffith Park.
At over 4,200 acres, Griffith Park is officially the largest municipal park in the country — which means hiking trails, city views, bike tracks, horse riding routes, and roaming animals to boot.
7 – Join a 'Celebrity Homes' tour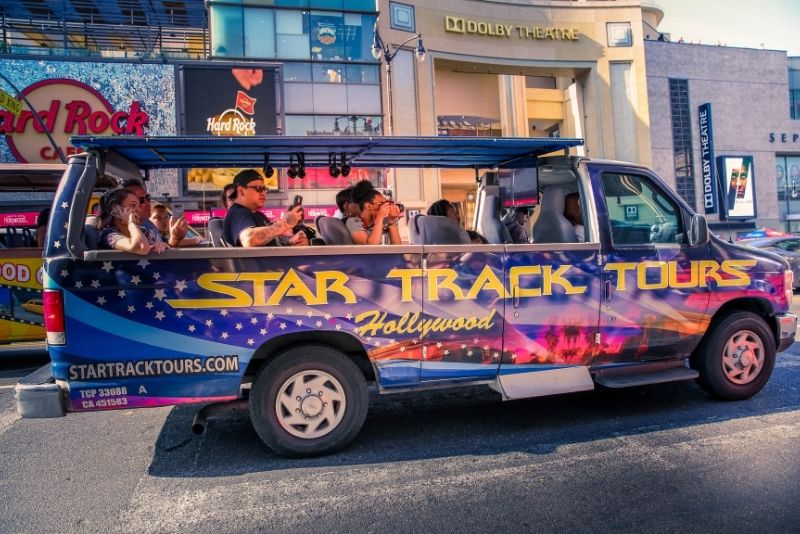 Jump on an open-air bus, grab the camera, and see first-hand how some of Hollywood's most famous live their lives!
On a Hollywood and Beverly Hills sightseeing experience, expect to see the over 50 celebrity homes, cruising past notable sights like Rodeo Drive, Bel Air, and Hollywood Boulevard along the way.
Read more about Hollywood & Celebrity Homes Tours.
8 – Stargaze at the Griffith Observatory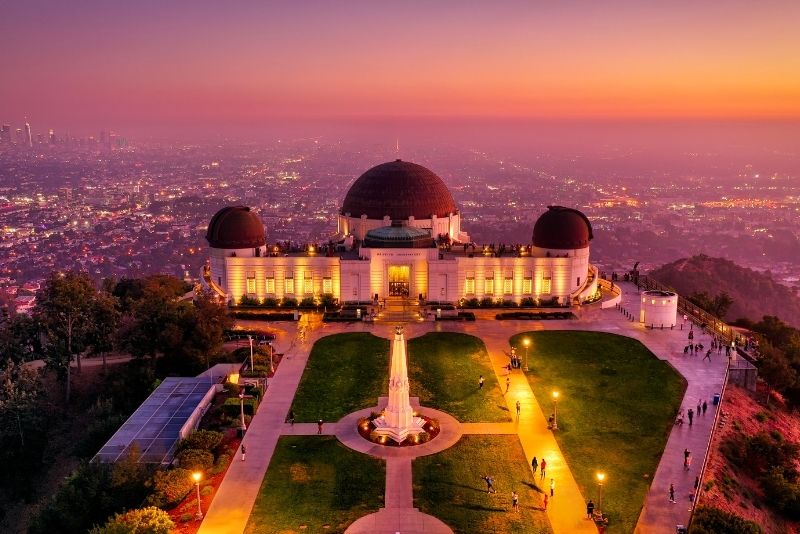 Jutting 1,134 feet above sea level, at the peak of Griffith Park, the famed Griffith Observatory is Los Angeles' gateway to the Milky Way.
The 290-seat Samuel Oschin Planetarium is considered one of the finest planetariums in the world; the giant telescopes are nothing short of impressive, and numerous educational films play in the Leonard Nimoy Event Horizon Theater.
9 – Explore the city… Amazing Race-style!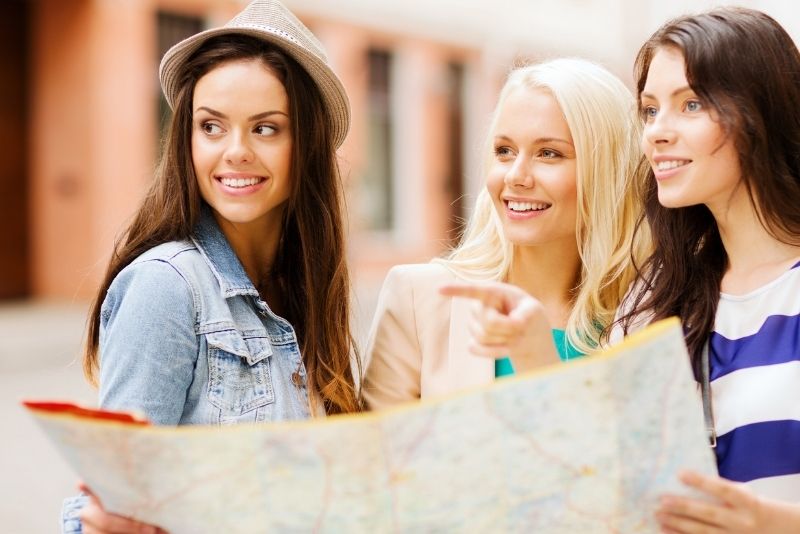 Driving around a city is so mainstream, right? Take your experience to the next level with an interactive, challenging, high-speed scavenger hunt instead!
With options for either Downtown LA and/or Hollywood, and the choice of a leisurely self-guided game or an Amazing Race-esque competition, there's something for every kind of traveler.
10 – See everything at once on a Hop-On-Hop-Off bus!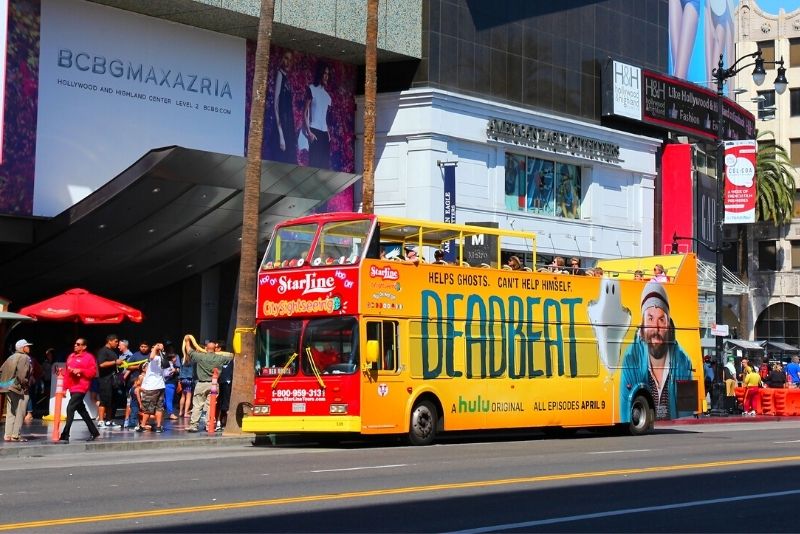 Easily the most efficient way to tick off all of LA's notorious destinations at once, the open-aired Hop-On-Hop-Off busses are perfect for travelers strapped for time.
With 24, 48, and 72-hour passes available, and more than 50 stops at locations across Beverly Hills, Santa Monica, Hollywood, and downtown L.A, you'll be able to see the Universal "CityWalk", La Brea Tar Pits, Venice Beach, and so much more.
11 – Try your luck in an Escape Game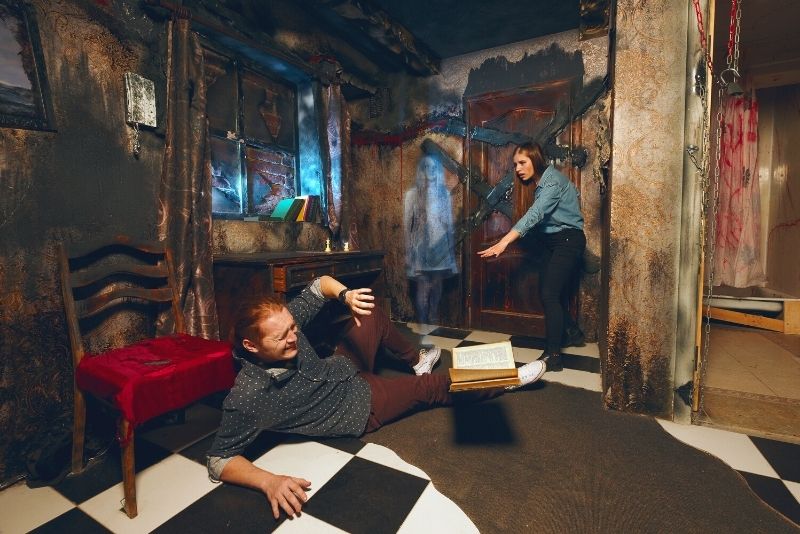 It's time to put on your detective hats! LA's escape games will challenge your teamwork skills, problem-solving, and creative thinking, all at once. Choose from themes Insane Asylum, Prison Break, and plenty more — or for something totally unique, throw in the element of VR.
So, think you've got what it takes to escape before time runs out? There's only one way to find out!
12 – Spend a day at Santa Monica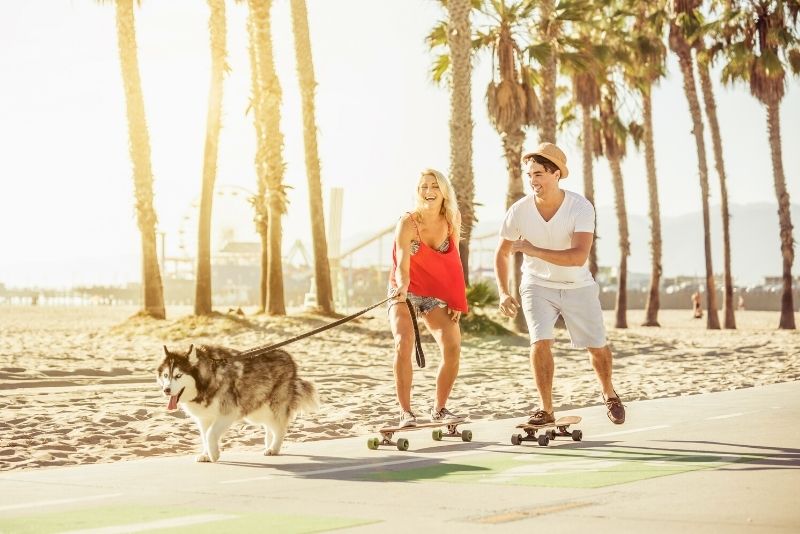 The golden sands of Santa Monica beach are nothing short of iconic — with the picturesque amusement park straddling the pier, the seemingly never-ending boardwalk, street performers to boot, and the vibrant Farmers' Market, there's never a dull moment at this seaside locale.
Whether you explore on foot, bike, or segway, it's a destination not to be missed.
13 – Go surfing (or biking) at Venice Beach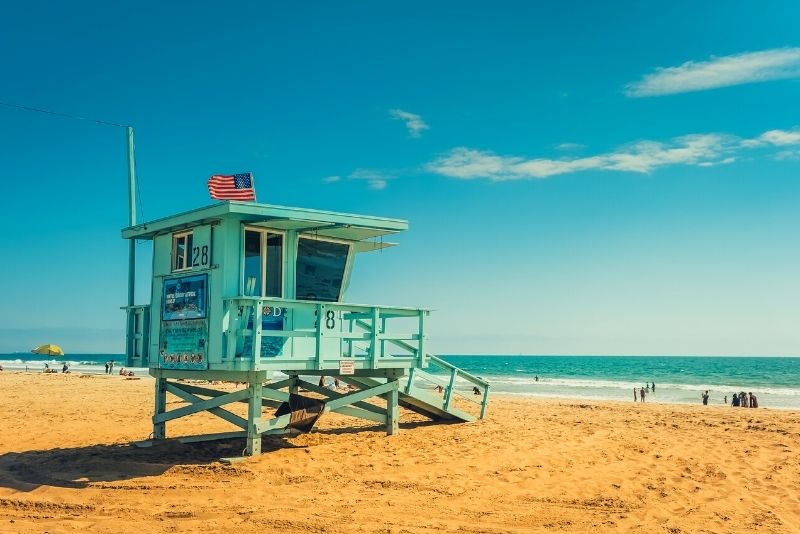 On those sizzling California summer days, there's no better way to cool off than with a swim — or even better yet, a surf — at the shores of Venice beach. After catching a few waves, the area boasts plenty of bars, restaurants, bike paths, and entertainment to fill up the rest of the afternoon.
For something a little different, consider one of the area's walking food-themed tours.
14 – Walk along the Venice Canals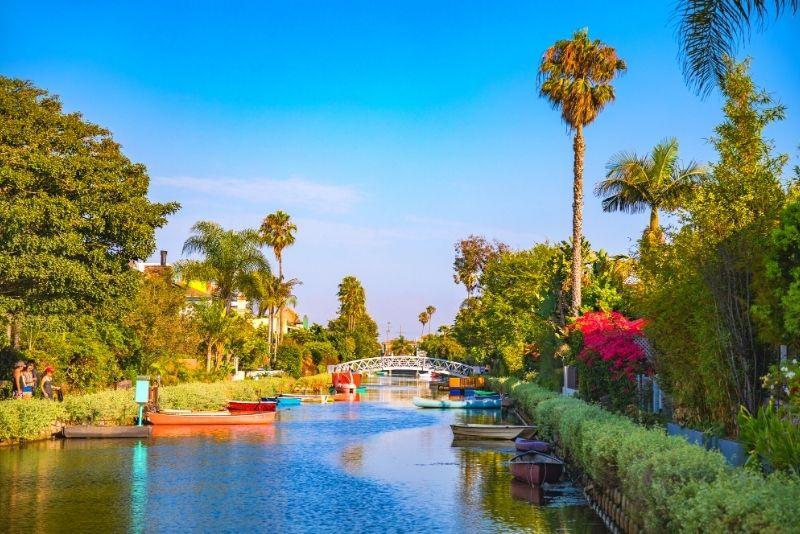 Who says you need to fly to Italy to uncover Venitian canals? A stone's throw from the Venice Beach shore, the man-made canals have been delighting tourists and locals alike since 1905.
Despite the area's popularity, the canals are often quiet and relaxing — a welcomed change from the nearby boardwalk.
15 – Wander the streets of Little Tokyo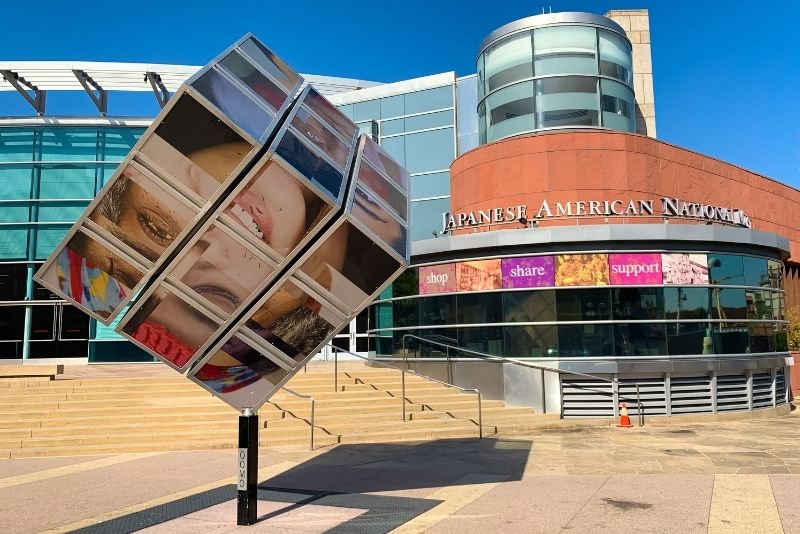 Home to the largest grouped Japanese-American population in North America, Little Tokyo in Downtown LA is booming with fascinating food, culture, shopping, and art — all inspired, of course, by Japan.
Make sure to check out the Japanese American National Museum, and grab a bite to eat at the area's oldest Japanese restaurant: Shabu Shabu House (your tastebuds will thank you).
16 – Marvel at the Beverly Hills mansions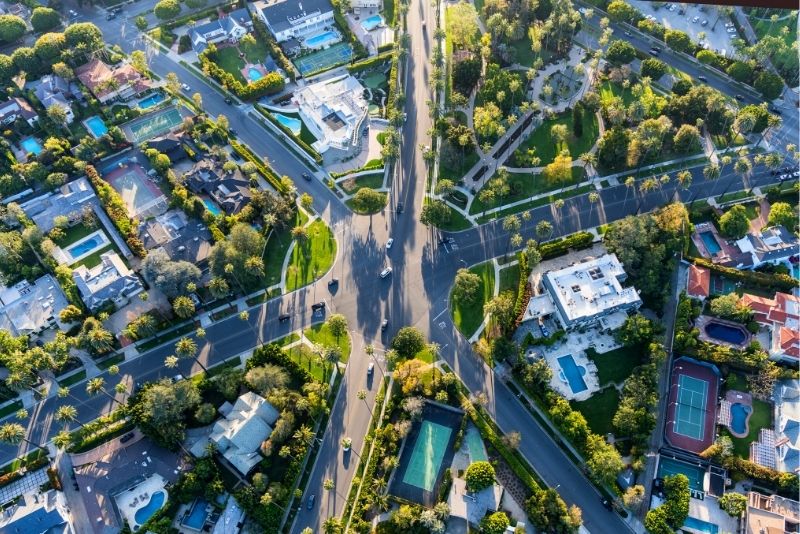 The infamous 90210 has been housing A-listers for decades — its rolling hills and sprawling mansions falling nothing short of astonishing.
Join a Segway tour or bike tour (read: calories will be burned!), rent your own car, jump on a sightseeing bus, or, for the ultimate experience, soar over the lavish neighborhood in a helicopter! Either way, it's a must-visit.
17 – Go behind the scenes on a studio tour!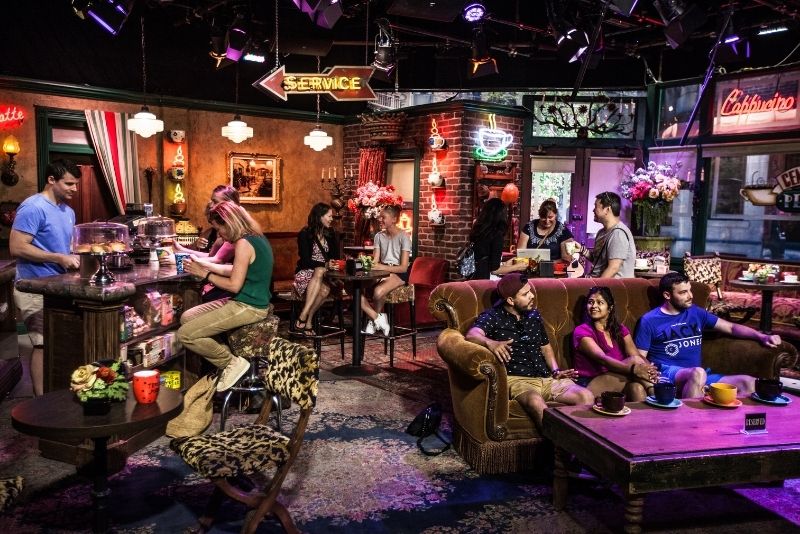 Warner Bros Studio Hollywood
For almost 100 years, Warner Bros Studio has been bringing entertainment to our movie theatres and lounge rooms. Take the Studio Tour through the 110-acre backlot that brought you Batman and Friends; create your own batmobile, ride Harry Potter's broomstick, and sip coffee at Central Perk.
If you're still craving more, why not add in the Classics Tour and Deluxe Tour?
Sony Pictures Studio Tour
Enter the famous gates and go behind the scenes on a two-hour guided tour to learn what it's really like on-set at a working studio.
The Sony Studio Tour reveals iconic sets such as The Wizard of Oz, Men in Black, Spider-Man, and Jeopardy, while the museum houses memorabilia from classics like On The Waterfront to modern TV masterpieces like Breaking Bad.
Paramount Pictures Studio Tour
Take note: the studio behind Psycho, Indiana Jones, and Titanic will not disappoint. Grab the camera because you'll be checking out locations like the Bronson Gate, Prop Warehouse, and New York Street backlot, with separate areas for each NYC borough.
Visit Paramount Pictures Studio Tour and choose from two-hour or four-hour tours — either way, it's one of the most fun things to do in Los Angeles.
18 – Rent a swan boat in Echo Park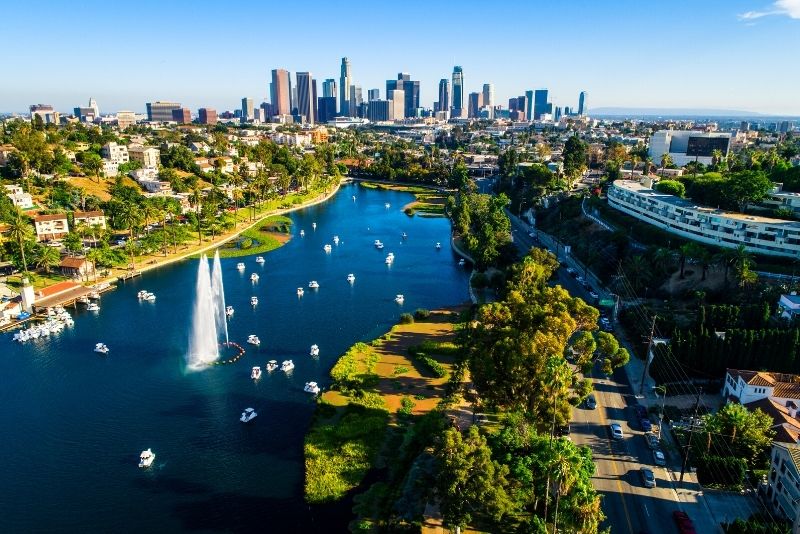 One of Los Angeles' best-kept secrets, Echo Park (read: more specifically, its shimmering lake) provides the perfect fresh-air activity for couples or families.
The swan-shaped pedal boats come in two-seater (for the romantics) and four-seater (for groups) varieties, but it's the neon-lit night rentals that truly steal the show.
19 – Go whale watching!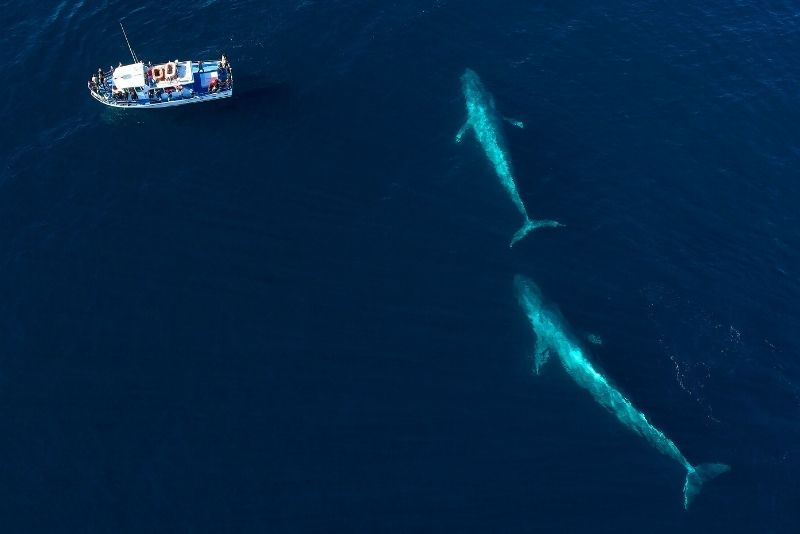 Rarely are Mother Nature's largest creatures visible from a city — let alone a sprawling metropolis — but in LA, whale and dolphin sightings are a dime a dozen.
Perfect for the whole family, a professionally-narrated whale-watching cruise is one of the most fun things to do in Los Angeles, hands-down.
Keep an eye out for seals and sea lions too!
20 – Soar over LA with an airplane tour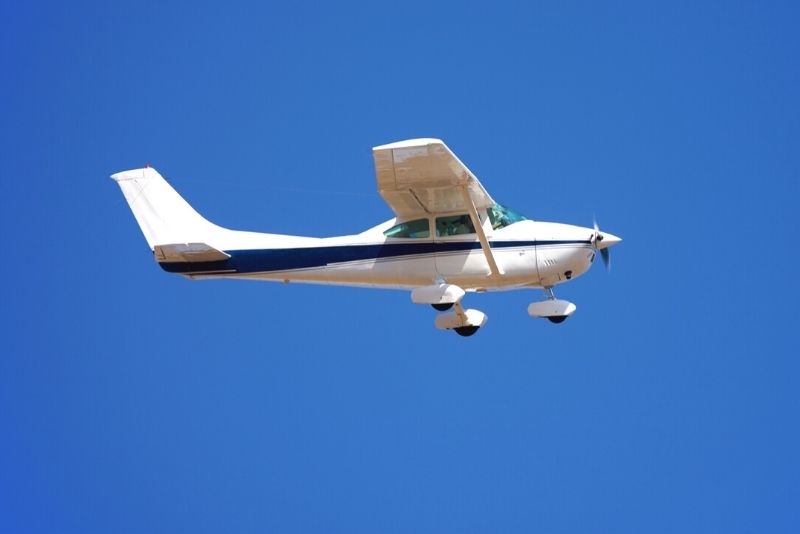 With its sparkling blue coastline, golden sands, built-up Downtown area, and rolling Hollywood Hills, the aerial views over Los Angeles are simply second to none.
There's an option for every budget and preference; hop in the passenger seat of a plane or ultralight trike (similar to a powered hang glider), or even sign up for a private flying lesson!
21 – Go skydiving!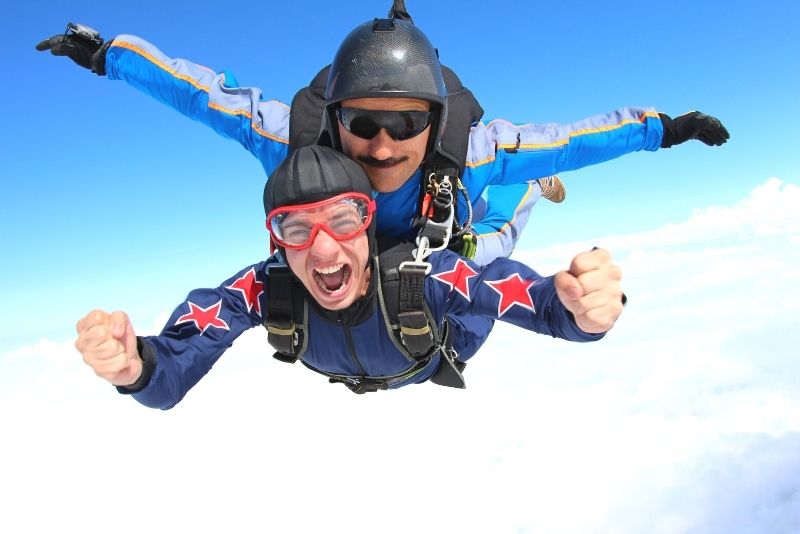 No feeling on this planet can compare to leaping out of a plane from 15,000 feet and hitting terminal velocity at over 120mph.
As you rocket toward the sparkling Pacific Ocean below, the coastline views are nothing short of magical.
Adrenaline junkies, do yourselves a favor and add an LA skydive to the top of your Californian bucket list.
22 – Take a helicopter tour over the city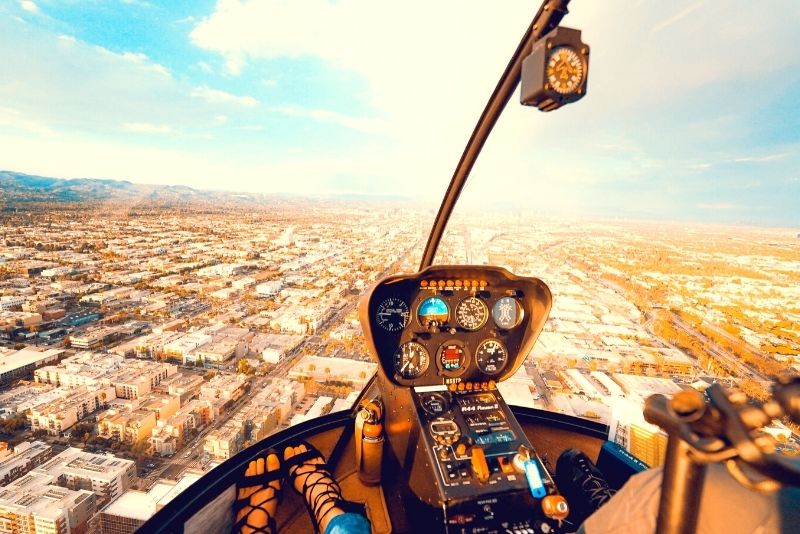 If an airplane tour doesn't quite quench that appetite for adventure, then a private helicopter flight over the Hollywood sign ought to do the trick.
With durations ranging from 10 minutes (solely the Hollywood sign) to 90 minutes (flying across the entire city and beyond), there's something for every budget.
For something truly spectacular, opt for the sunset flight.
Read more about helicopter tours in Los Angeles.
23 – Saddle up for a horse riding adventure!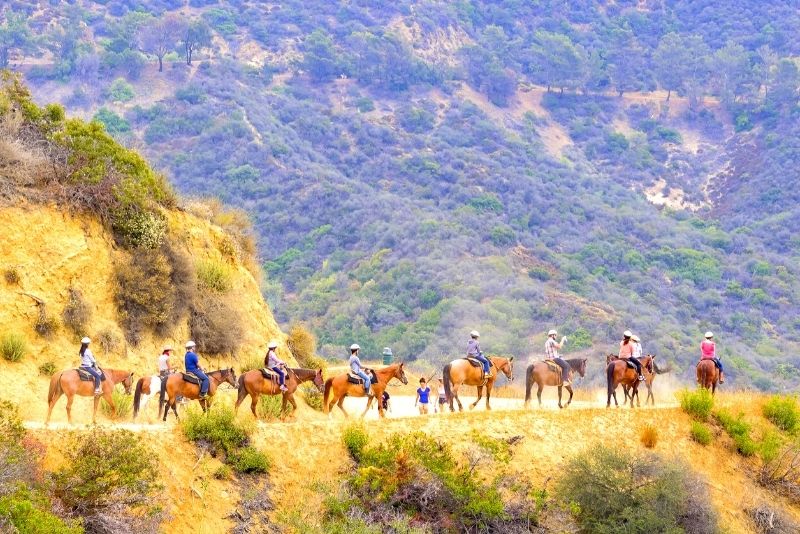 A welcomed change from the Downtown crowds, Sunset Ranch's horse riding adventures take tourists out of the concrete jungle and up into the fresh air of Mount Hollywood, led by friendly guides and trusty steeds.
From the summit, get ready for 360-degree views of the Los Angeles basin, including, of course, up-close viewing of the Hollywood Sign.
24 – Watch a movie at the famous Grauman's Chinese Theatre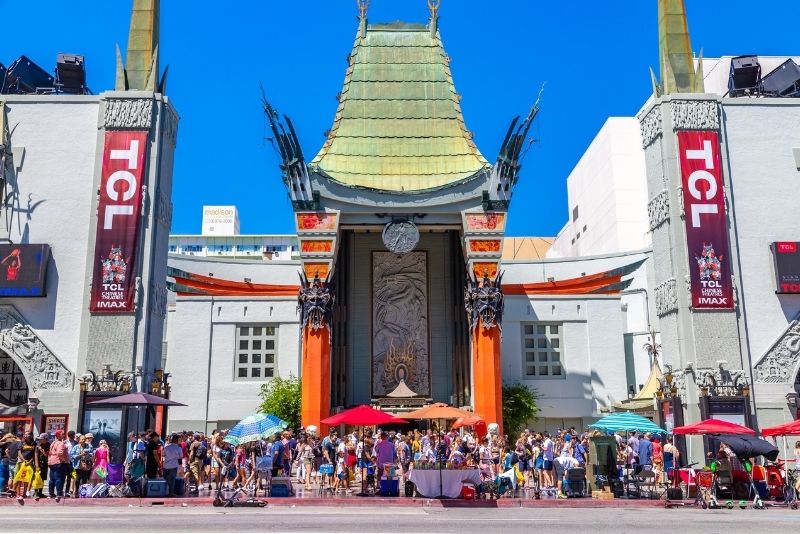 Welcome to the most iconic movie palace in the world! Hosting hundreds of red carpet movie premieres and film festivals, Grauman's Chinese Theatre continues to make Hollywood history.
With the biggest and brightest stars, the theatre has a unique feature of cement hand and footprints ranging all the way back to 1927 — not to mention hosting the world's largest IMAX auditorium!
Make the night even more memorable and feel the movies come to life with an MX4D motion experience.
25 – Go kayaking at Marina Del Rey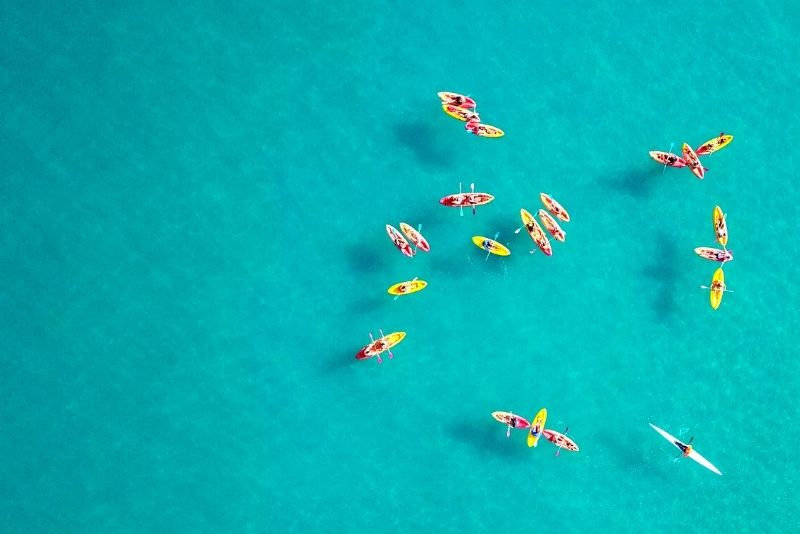 Lounge on a rooftop and watch the famous LA sunset, cycle to nearby Venice Beach, or hire a private yacht and live large for the day, all by the dazzling waters of the Marina del Rey.
Don't forget the paddleboard tours: a two-hour guided tour will take you to the marina's hidden gems, where local sea lions and dolphins often say hello!
26 – Feel the wind in your hair on a jet ski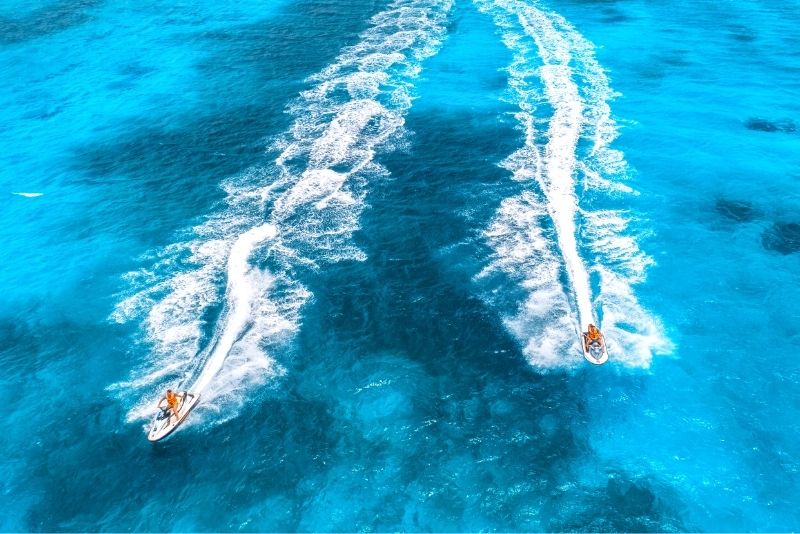 If you want something faster than a paddleboard to get around, look no further. For you thrillseekers, jet skis are rentable by the hour or the day, with plenty of deals and discounts available.
When you're not racing through the water at 50 mph, there are plenty of places to stop for a dip in SoCal's warm waters.
27 – Drive on the Willow Springs Raceway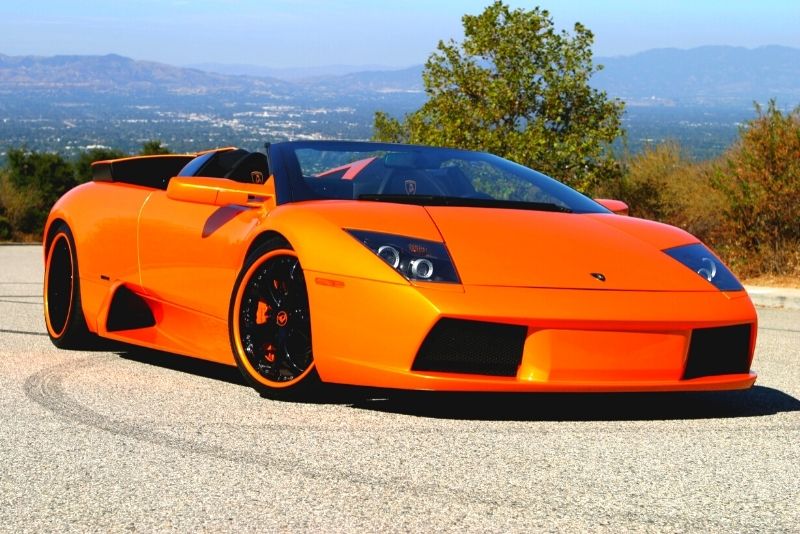 Channel your own Lightning McQueen and take on the 'Fastest Road in the West' by driving the Willow Springs International Raceway; a 2.5 mile, nine-turn road circuit that people have lapped since 1953.
Despite straightaway speeds of almost 200 mph, this is also one of the safest road courses worldwide.
Petrolheads, consider opting for a professional hot lap in a shiny Lamborghini!
28 – Visit an aquarium!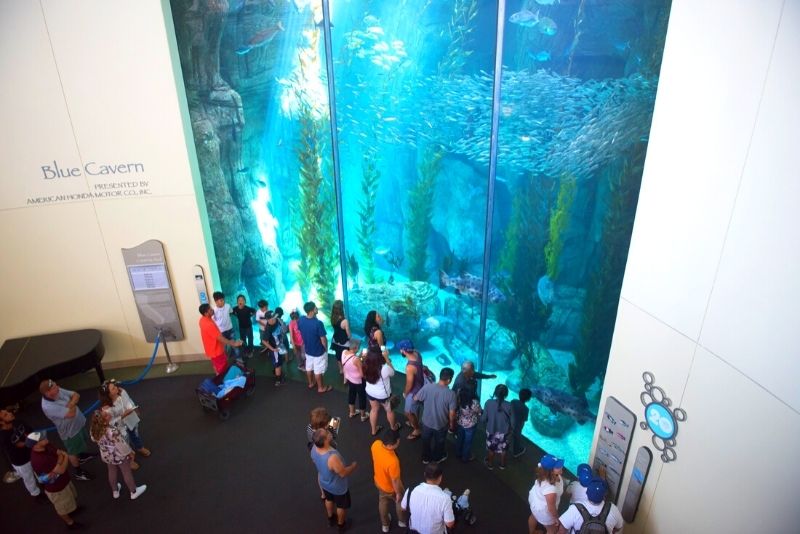 Explore the Aquarium of the Pacific
This giant aquarium houses a plethora of creatures – from adorable penguins to domineering sharks and even a colorful lorikeet forest.
A lot of the aquarium is remarkably interactive, including the Moon Jelly Touch Lab where you can feed and touch the jellyfish, a crawl-space to feel like you're chilling with the penguins, and shark touch pools.
Stop into the Cabrillo Marine Aquarium
The Cabrillo Marine aquarium has a lot of smaller tanks with a vast array of sea creatures, skeletons of large aquatic animals, and a touch tidal pond.
Take some time to go through all the various buildings and read the explanations for a crash course on the local aquatic life.
Admission is by a suggested donation of $5 per adult.
29 – Board the USS Iowa Battleship Museum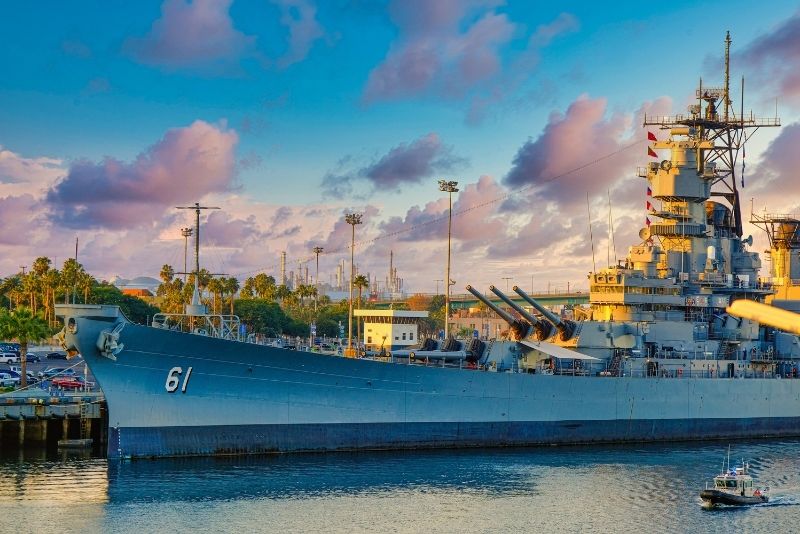 After serving in WW2, the Korean War, and the Cold War; the USS Iowa — which formerly housed 3000 sailors — now serves an educational aim.
The best way to explore its 900 feet of passageways, compartments, turrets, and well-preserved sailors' washrooms is with the self-guided tour, best done by downloading the free Battleship Iowa mobile app.
30 – Explore the Petersen Automotive Museum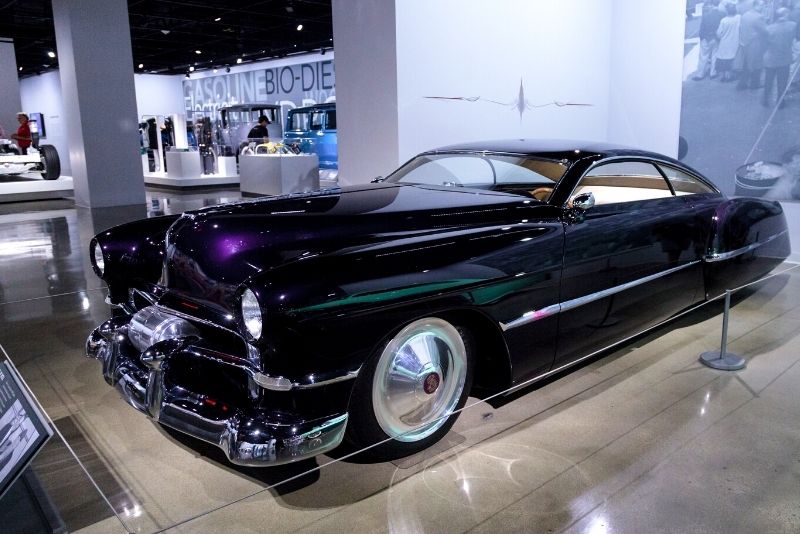 With over 300 vehicles to admire in themed exhibits such as sci-fi movie cars, supercars, race cars, and electric cars; plus 250 more automotive treasures in 'the Vault', the Petersen Automotive Museum is a must for motor enthusiasts.
For a more hands-on experience, the Forza Motorsports Experience gives you a captivating simulation of what it's like to race.
31 – Meet a paleontologist at the La Brea Tar Pits and Museum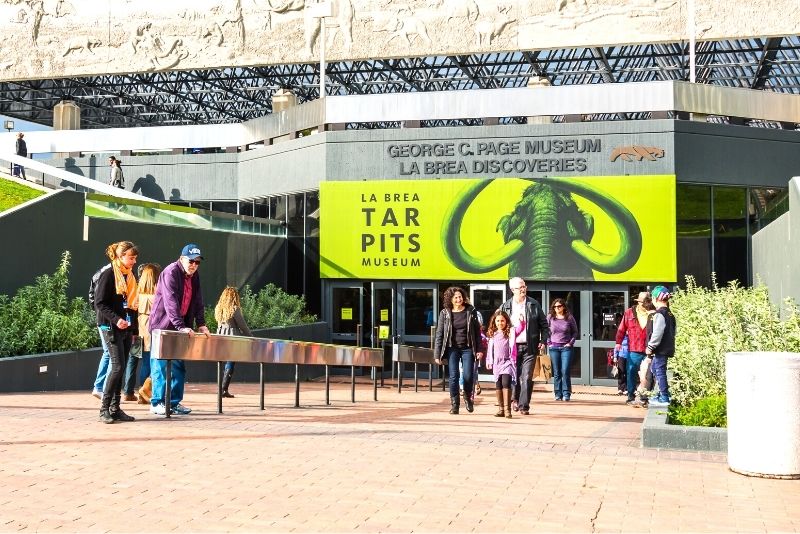 Channel your inner Ross Geller, everyone! At the La Brea Tar Pits, visitors can witness live excavations where 3.5 million fossils have already been found, some dating back to the Ice Age.
The museum's fossils are perfectly preserved and put on display alongside remains of a giant mammoth, sloths, and plenty more extinct animals.
32 – Sample the treats at the Original Farmers Market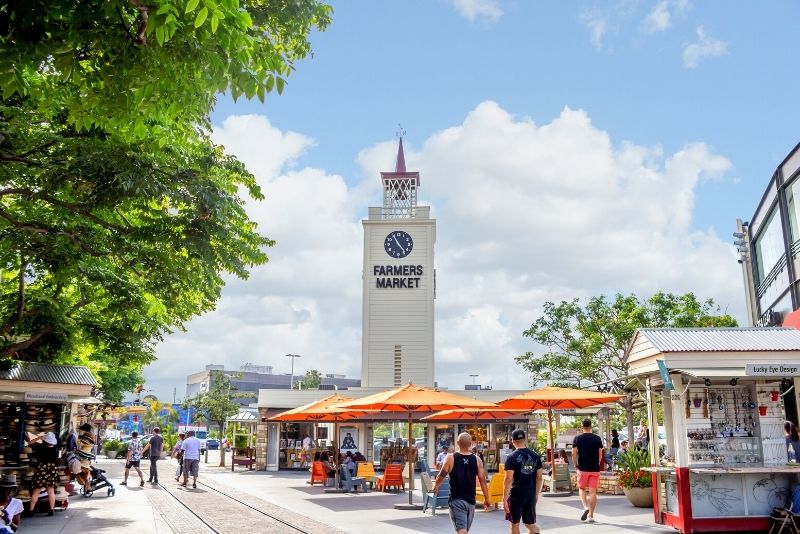 Offering more than 100 family-owned specialty shops, the Original Farmers Market is a must for foodies!
Let your nose be your guide to Nonna's Empanadas, home of the largest selection of empanadas in the city. Next, take a stroll to the Tea Shoppe offering a selection of hundreds of teas, or if you're up for something a little hotter, Light My Fire boasts hot sauces from around the world!
Got a sweet tooth? Zia Valentina has you covered with their unique creation: The Waffle Shot.
33 – Speed down the raceway in an electric go-kart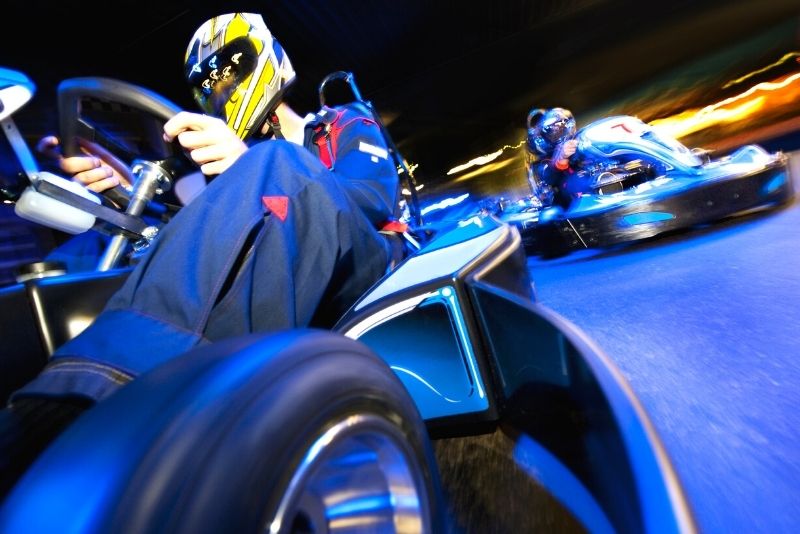 Electric karting has risen to meteoric popularity in the United States and K1 Speed was the company that brought it to these shores. These karts produce huge G-forces that will force you back into your seat.
The handling, acceleration, and safety features are magnificent — so much so that professional racecar drivers often keep their skills sharp during the off-season by racing the indoor track here.
34 – Travel through time at the Medieval Times Dinner & Tournament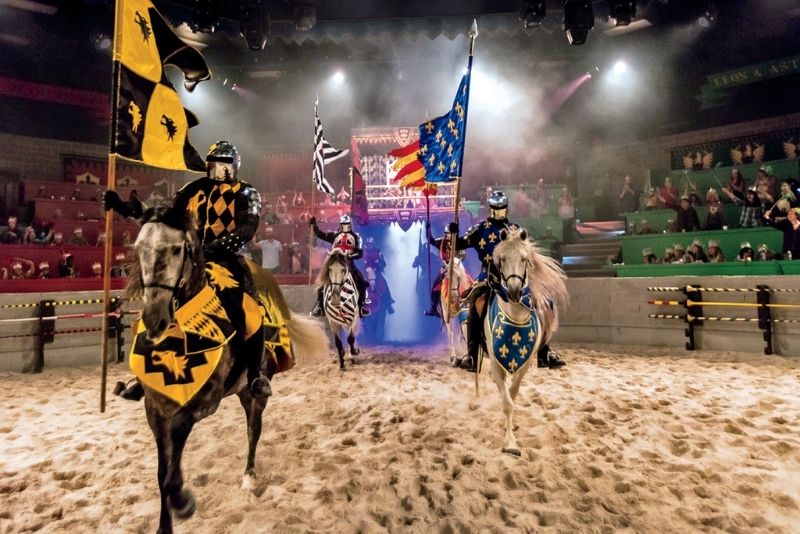 Hear ye, hear ye, you are invited to join the Queen's Royal Court for a four-course meal set in a castle!
For your entertainment, six competing knights riding their noble steeds will joust and duel. Stick around for the live flight of the royal falcon and order libations to your heart's content.
The jousting Medieval Times Dinner & Tournament show lasts two hours but the experience will last a lifetime.
35 – Set sail at the Pirates Dinner Adventure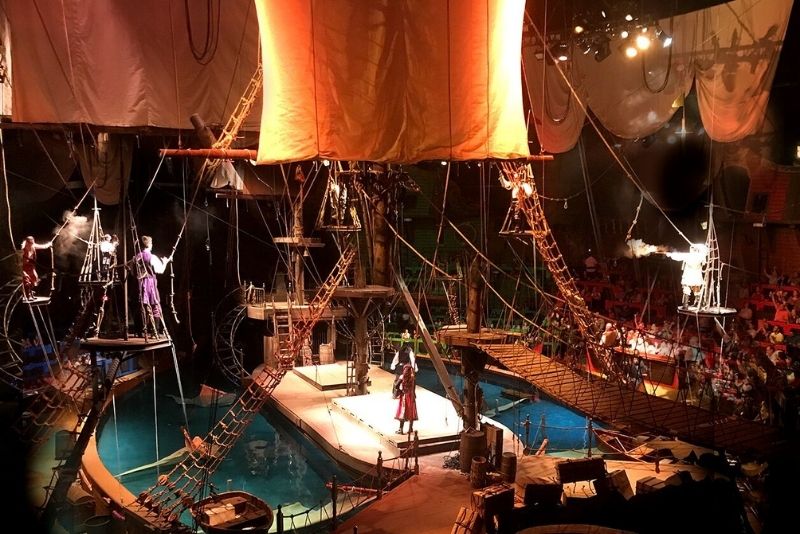 Ahoy mateys! Board the Galleon for a bountiful feast and a 90-minute show in the interactive theatre with astonishing special effects, death-defying stunts, sword fighting, acrobatics, and a captivating tale of the magical mermaid who has blessed the crew.
The Pirate Dinner Adventure show is rife with audience participation so don't be afraid to order a hearty meal and get involved.
36 – Dine under the stars on a dinner cruise at Marina Del Rey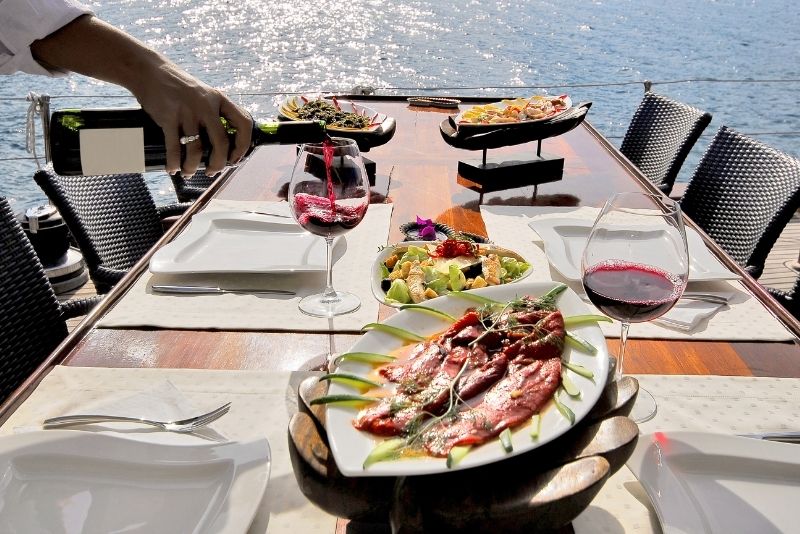 Board a yacht under the starlight, a glass of champagne in hand — the perfect start to a perfect evening with that special someone.
As the boat sets sail, the next 2.5 hours will include awe-inspiring views under the Milky Way, a four-course dinner, and DJ entertainment.
Simply step on board, relax, and let the sparks fly.
37 – Laugh till you cry at the local comedy clubs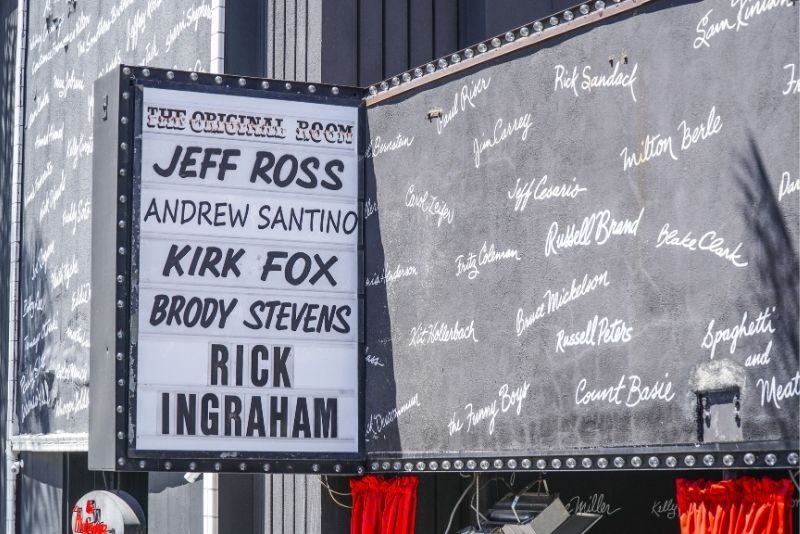 LA has recently become a petri dish of stand-up comedy where aspiring comics take their place on stage.
Grab a table at The Comedy Store, a renowned venue where people like Chris Rock and Chelsea Peretti have graced the stage, or head to Groundlings for a Sunday comedy show, where visitors can also take an improv class.
38 – Plan an unforgettable day trip!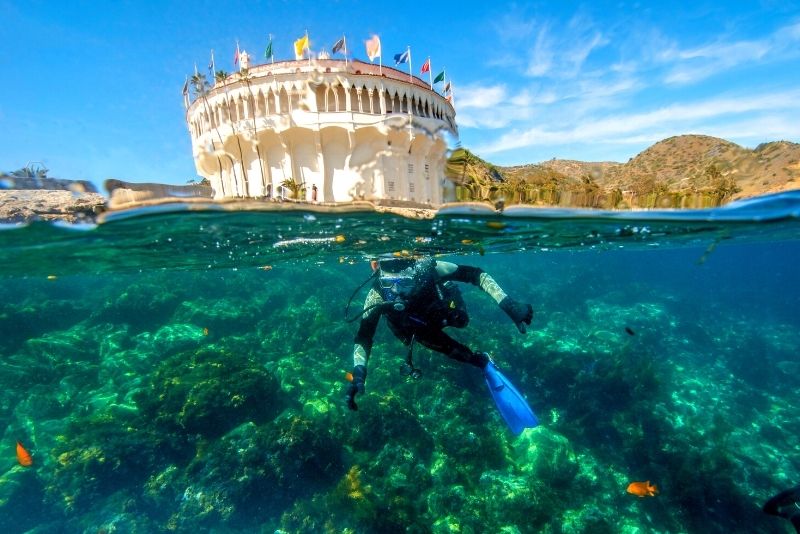 Take a day trip to Catalina Island
One of the best day trips from Los Angeles, the beautiful Catalina Island boasts more snorkeling, diving, hiking, and outdoor activities than any traveler could ask for.
After exploring the quaint city of Avalon, keep an eye out for dolphins in a glass-bottom boat or zoom through the wilderness on a zipline eco-tour.
Even getting there is an adventure: jump on the hour-long ferry or, for that extra thrill, fly over the island in a private plane!
Take a day trip to San Diego
Just a two-hour drive from LA, San Diego has enough sights to spend a considerable amount of time. If you only have the day, head to the world-famous San Diego Zoo, explore the USS Midway and San Diego's Old Town, shop at the worldly Bazaar Del Mundo, or lie on white-sand beaches at Coronado Island — the options are endless!
Take a day trip to a winery
California is full of exquisite wine estates: Malibu Wine Safari lets you feed animals while on your wine-tasting journey; Rosenthal Winery has a gorgeous ocean view; Cornell Winery has an adjoining restaurant serving comfort food, and Cassa Barranca has an arcade with ice cream and boutique fashion shops.
Conveniently, all these estates are less than 2 hours from LA (of course, make sure to arrange a designated driver).
39 – Ride the rapids at Knott's Berry Farm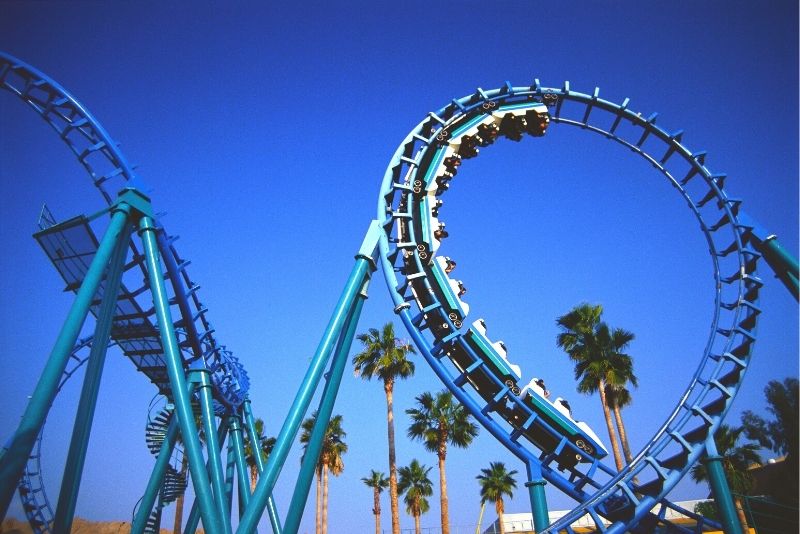 From its humble beginnings as a berry farm, Knott's now boasts 160 acres of adrenaline-pumping roller coasters, a waterpark, a marketplace, and unique seasonal events.
The recent addition of the roaring Calico River Rapids is a must, likewise Mrs. Knott's Chicken Dinner Restaurant — home of the fried chicken that launched Knott's to stardom.
Book online for discounted prices!
40 – Go to the Disney parks (obviously)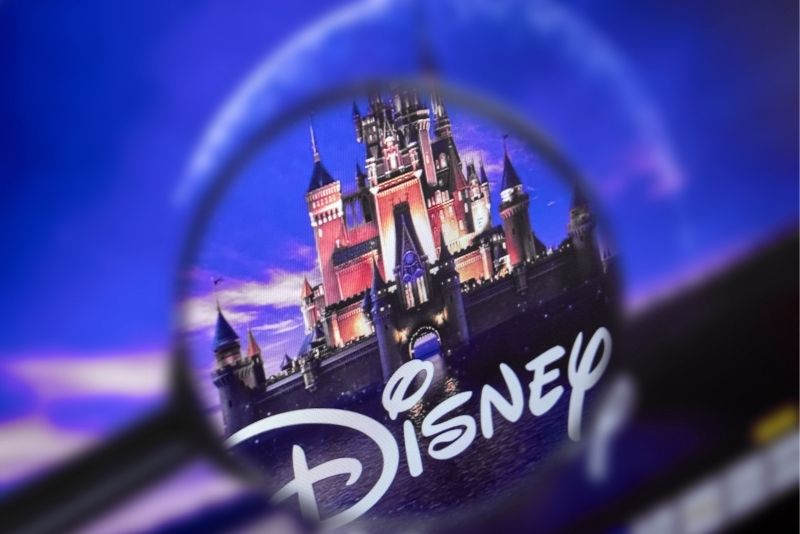 Disneyland
Visit Disneyland and watch your childhood come alive around you! At this iconic theme park, notable experiences include the new Star Wars: Galaxy's Edge, where you can sip blue milk before flying the Millenium Falcon; the spooky Haunted Mansion; and following Captain Jack Sparrow on the Pirates of the Caribbean ride.
The main event, however, occurs as darkness falls: Mickey Mouse conducts scenes from Fantasia in a sea of enormous fireworks and special effects where Mickey faces off against a gallery of Disney villains, including Maleficent as a 45-foot, fire-breathing dragon!
Disney's California Adventure
A stone's throw from Disneyland, the adventures keep on coming.
As Avengers Campus is being developed, keep checking for news on when the new Spider-Man and Doctor Strange experiences are opening.
In the meantime, partner up with Rocket Raccoon as you rescue the rest of the Guardians from the clutches of The Collector, before riding the Incredicoaster, the Inside Out Emotional Whirlwind, and Toy Story Midway Mania. Disney's California Adventure is a must-visit for Disney fans visiting LA.
41 – Brave the Apocalypse at Six Flags Magic Mountain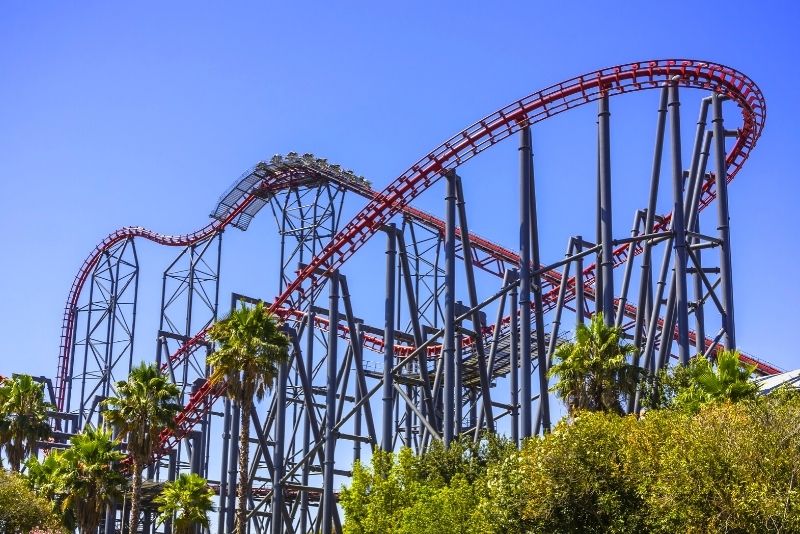 The 50mph+ wooden Apocalypse coaster is not for the faint-hearted. But if you're a true thrill-seeker, look no further than X2, which takes you at 76 mph with a drop of 215 feet — not to mention the flamethrowers.
Impressively, Six Flags Magic Mountain holds the world record for most roller coasters in an amusement park, meaning screams are guaranteed.
42 – Ride the Tornado at Six Flags Hurricane Harbor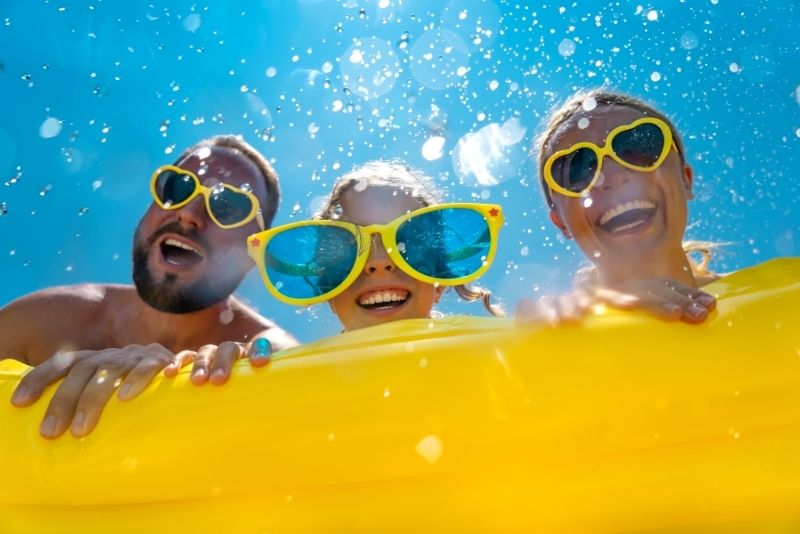 Prefer water parks over old-school coasters? Look no further than Hurricane Harbor!
After climbing seven stories to Tornado's peak, you'll look down into the funnel where you swirl around like you're, well, in a tornado!
If that's not enough, try freefalling 50 feet through the Bonzai Pipeline trapdoor before some extreme body slide action.
43 – Visit Legoland!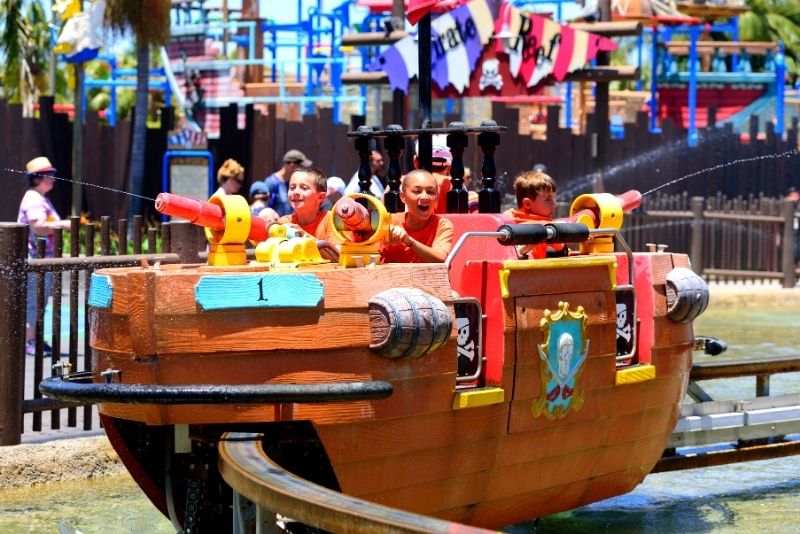 Over two million LEGO bricks reconstruct the Big Apple at Legoland California, a wondrous theme park that also boasts a water park and an aquarium.
While more oriented towards kids, it's still one of the most fun things to do in Los Angeles.
Fancy an overnight stay? The Legoland hotels offer interactive LEGO Castle themed rooms: either Knights & Dragons, Royal Princess, or Magic Wizard.
44 – Dance the night away in the LA clubs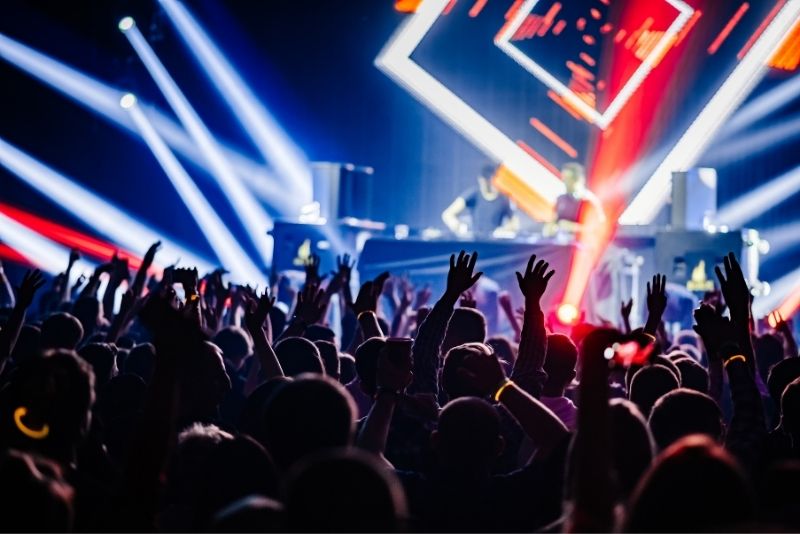 No matter your preference, the clubbing scene in LA has something for everyone! From electric EDM mixes at The Shrine to upbeat Hip Hop beats at Avalon Hollywood, there's no shortage of diversity.
Be sure to keep your camera handy as these clubs are known for being celebrity hotspots!
45 – Ride the Wheel at Pacific Park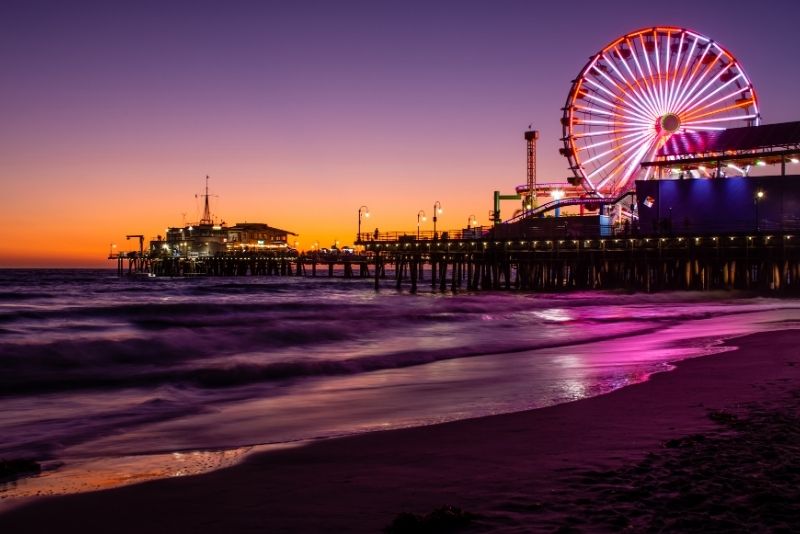 Located on the famous Santa Monica Pier, the Pacific Park Wheel has 174,000 LEDs that light up the LA coastline every night — or ride the wheel by day for stunning views of nearby Venice Beach.
Around the corner, the Santa Monica Pier boasts swanky restaurants, food carts, and plenty of souvenir shops too.
46 – Ascend Angels Flight Railway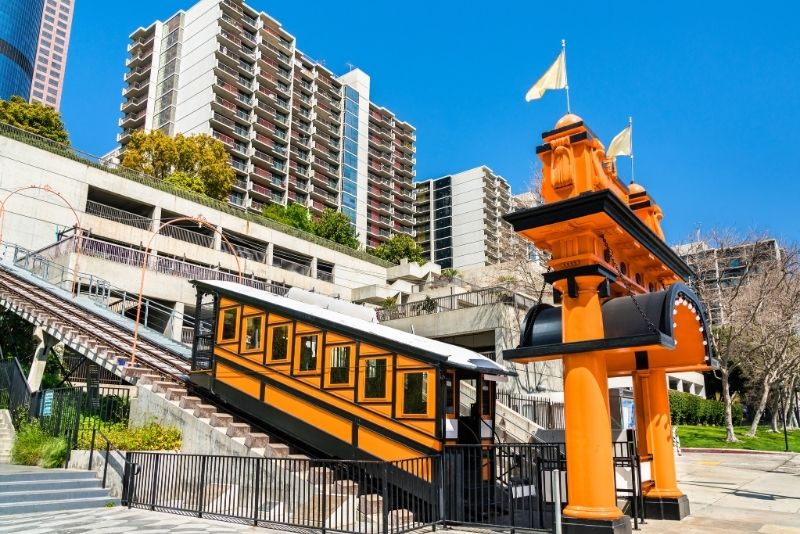 The historic Angels Flight Railway has been transporting guests up and down the world's shortest track since 1901, these days zipping between Hill Street and Grand Avenue on Bunker Hill.
At just $2 for a round-trip ticket, it's one of the most affordable things to do in Los Angeles! When you're done, make a beeline for the nearby Walt Disney Concert Center.
47 – Ride the Shore Break at Knott's Soak City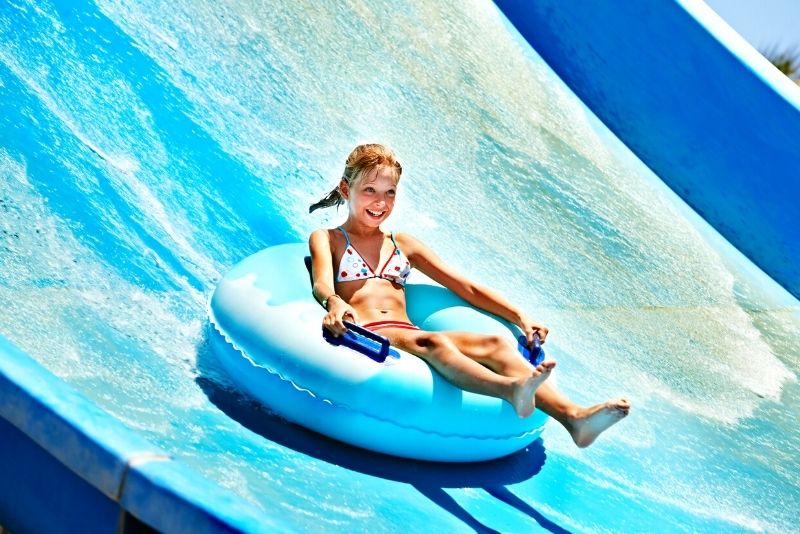 Soak City, the waterpark section of Knott's Berry Farm, offers plenty of fun! Try bodysurfing at Tidal Wave Bay or just float down Sunset River, taking in the scenery.
However, if you're looking for some extra thrill, head to the Shore Break for a seven-story drop!
Be sure to book your tickets online as they are cheaper than at the gate.
48 – See Michaelangelo's sketches at the Getty Center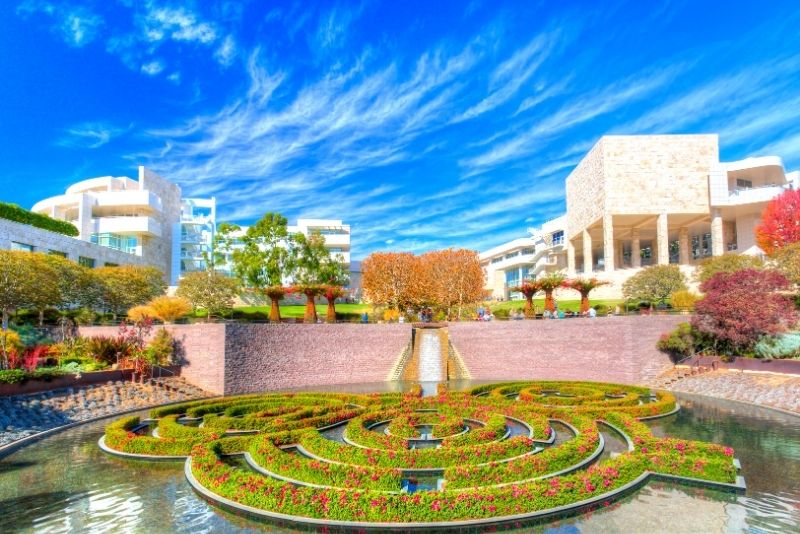 Art-lovers, rejoice! The Getty Center houses European art up (pre-1900-era) amongst plush green gardens and stunning modern architecture.
Their rotating exhibits showcase some of the best artists the world has to offer and the current Michelangelo: Mind of the Master is no exception.
The sketches include designs for the famous Sistine Chapel ceiling and demonstrate the artist's exceptional talent. Admission is free.
49 – See Andy Warhol's Campbell's Soup Can at The Broad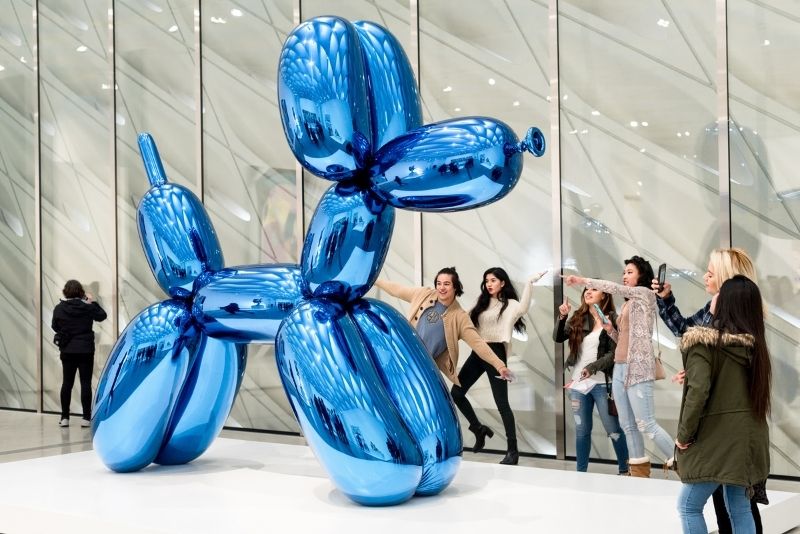 The Broad showcases 2,000 contemporary artworks from the 1950s to the present, highlighted by modern and pop art designed to inspire a counter-culture and depict subject matter that anyone could relate to.
Nowhere is this more evident than in Warhol's glorification of the humble Campbell's canned soup, which sits on permanent display.
Admission is free and regular public tours take place.
50 – Experience America's best sports!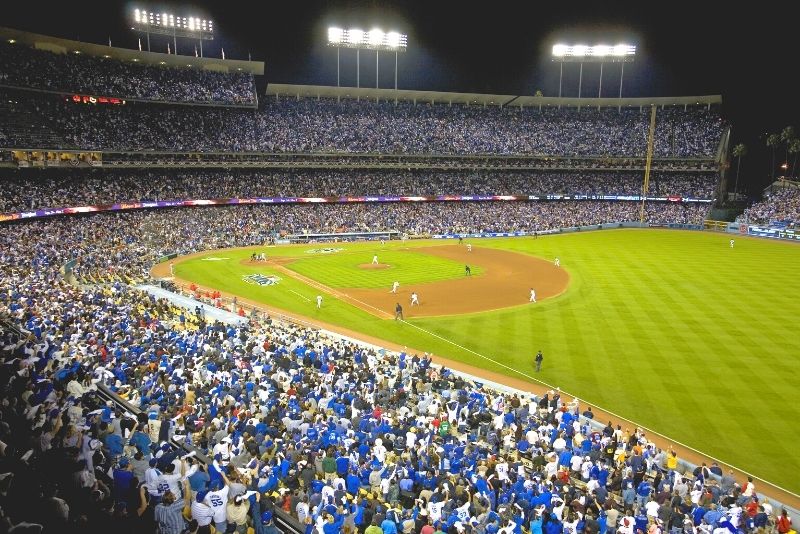 Watch an NBA match at the STAPLES Center
The famous STAPLES Center is home to one of the city's elite basketball teams: the LA Lakers.
The stadium seats around 20,000 people, and if you can score yourself a ticket, you'll be swept away by the electricity of the home crowd cheering on their beloved ballers. Outside of the season, check out the roster of concerts and events.
Watch the baseball at Dodger Stadium
Baseball is synonymous with LA and the local Dodgers have been killing it recently! If you want to experience this great American past-time, join the home crowd at a game.
Better yet, sit in the Dodger Dugout during the 90-minute stadium tour that takes you down to the field of this 56,000 seat stadium!
Watch the LA Kings at the STAPLES Center
Hockey lovers, this one's for you. While the Kings have struggled of late, their diehard fans haven't given up, and they remain as rowdy and as passionate as ever.
Besides watching the pros in action, the players have no qualms dropping their gloves and erupting into a melee — it's all just part of the spectacle, so enjoy!
Watch the LA Galaxy play at Dignity Health Sports Park
No feeling quite compares to the roar of passionate soccer fans, and arguably none are more passionate than those who support the LA Galaxy.
With talented players like Javier Hernandez and Efrain Alvarez lighting up the pitch, there's rarely a spare seat in the 27,000-capacity stadium.
Outside of the season, other sporting events take advantage of the track and field oval and velodrome
51 – Shop at The Grove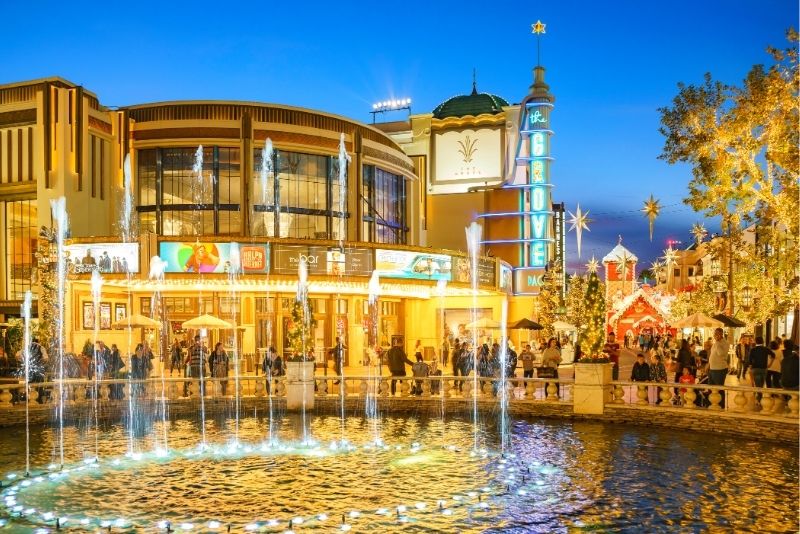 The Grove is a stunning retail and restaurant complex. As you walk past water features and fancy eateries, keep an eye out for your favorite celebrities trying to pick up (or set) the latest fashion trends.
Visiting around Christmas time? Make sure to stay until the evening to have dinner at the Grove and witness the lighting of the 100-foot-tall Grove Christmas Tree.
52 – Listen to the LA Philharmonic at Walt Disney Concert Hall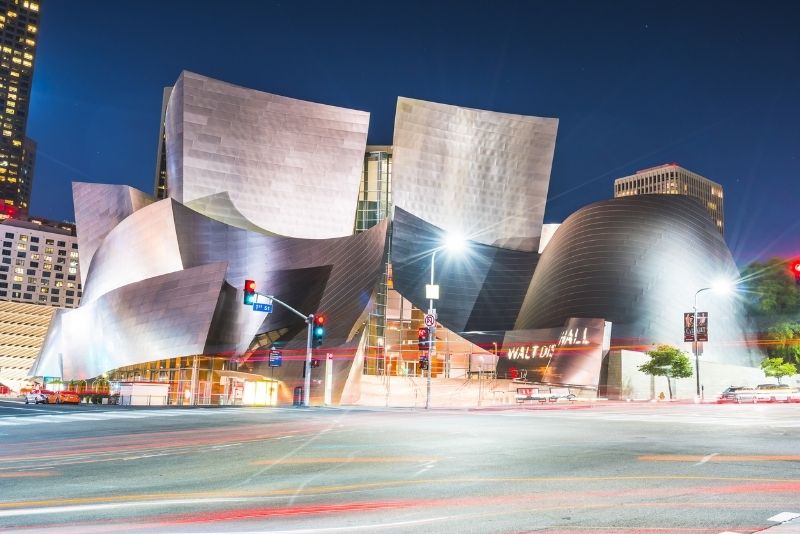 From the outside, the Frank Gehry-designed Concert Hall will entice you. Inside, it is home to the LA Phil, one of the most renowned orchestras in the world.
Music critics like Mark Swed have described the sounds emanating from the orchestra in the specifically-designed hall as a "new sonic dimension" — one that each traveler should hear with their own ears
53 – Walk among dinosaurs at the Natural History Museum of Los Angeles County (NHM)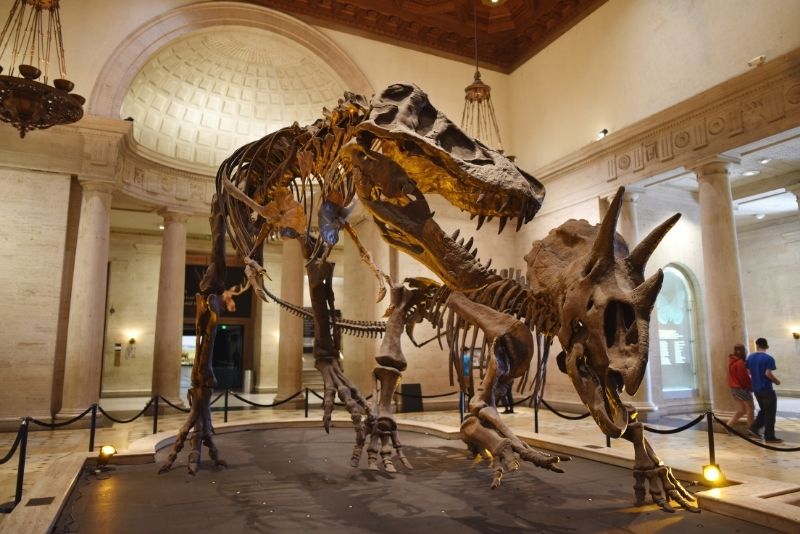 The Natural History Museum Los Angeles, the largest natural and historical museum on this side of the United States has nearly 35 million specimens on any given day.
Don't miss the Dinosaur Hall where, across two floors, you'll witness 20 prehistoric skeletons, including a grown tyrannosaurus rex!
The lifelike skeletons are sure to amaze visitors of all ages, and transport you back to the dinosaur age.
54 – Get outdoors for a hike!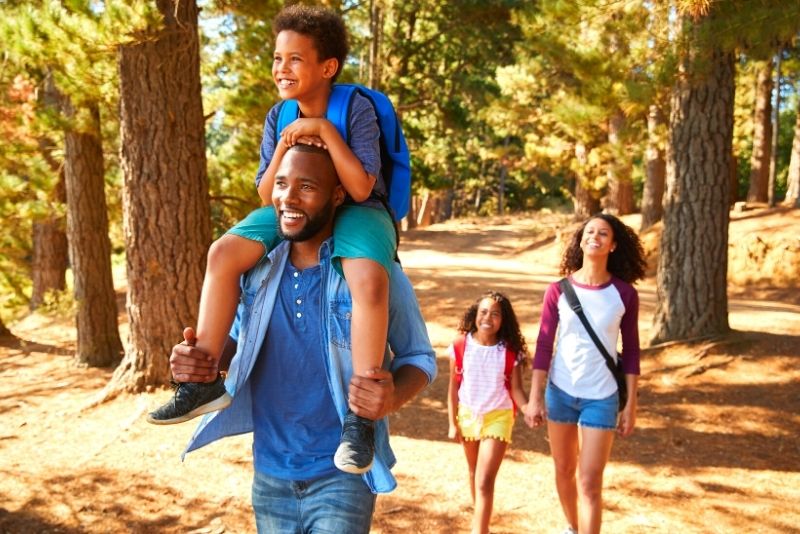 Hike at Runyon Canyon Park
Searching for a breath of fresh air? Head to the Runyon Canyon Park.
Depending on how much of a challenge you want, trails range from under a mile to a 3.3 mile loop. The views, of course, are nothing short of magical — on a clear day looking over Hollywood, gear up for panoramic vistas of LA and the Pacific Ocean beyond.
Trek through the Angeles National Forest
Despite parts of the Angeles National Forest still rebounding from recent fires in the San Gabriel Mountains, the 650,000-acre forest is still a must-see — particularly the swimmable east fork of the San Gabriel River.
During winter, Mount Baldy attracts snow and chairlifters, while providing stunning panoramas of the nearby mountains and forests year-round.
55 – Take a street art tour in the Arts District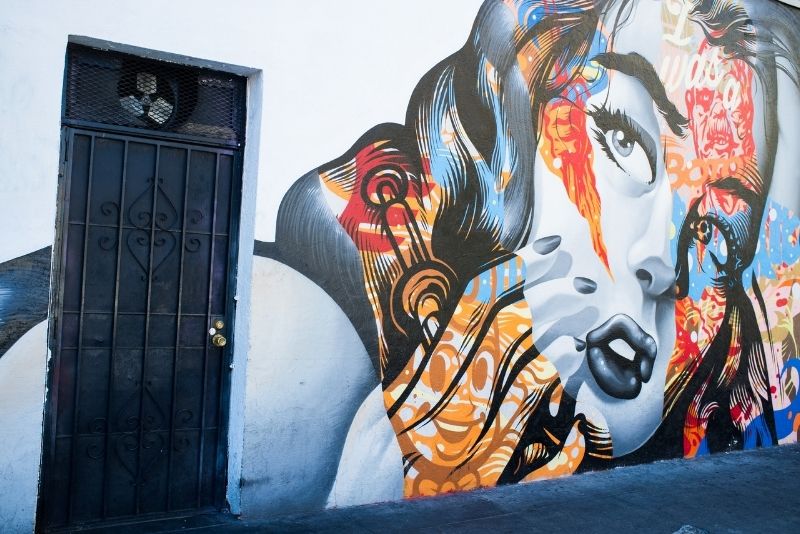 Los Angeles has a rich history of bohemian and street art, and plenty of walking and cycling tours through the Downtown LA Arts District will teach you all about it.
Street art is often a reflection of local themes, so having a good guide will let you appreciate stunning art as well as grasp a better understanding of life in LA.
56 – Explore the Nethercutt Museum and Collection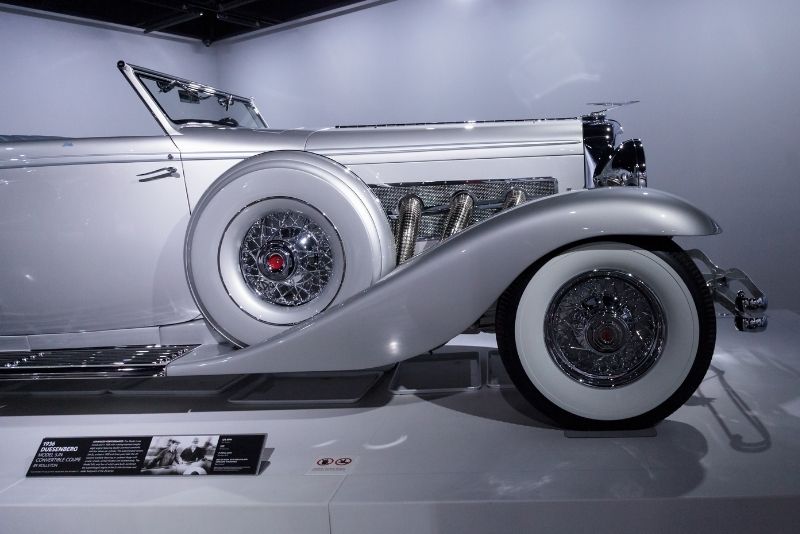 Both the Los Angeles Times and the New York Times have hailed the Nethercutt collection as one of the finest in the world.
The museum houses over 130 antique, vintage and special interest automobiles, as well as a fully restored 1937 steam locomotive and a collection of antique musical instruments (like nickelodeons and orchestrions!).
57 – Taste a legendary taco at the local taco trucks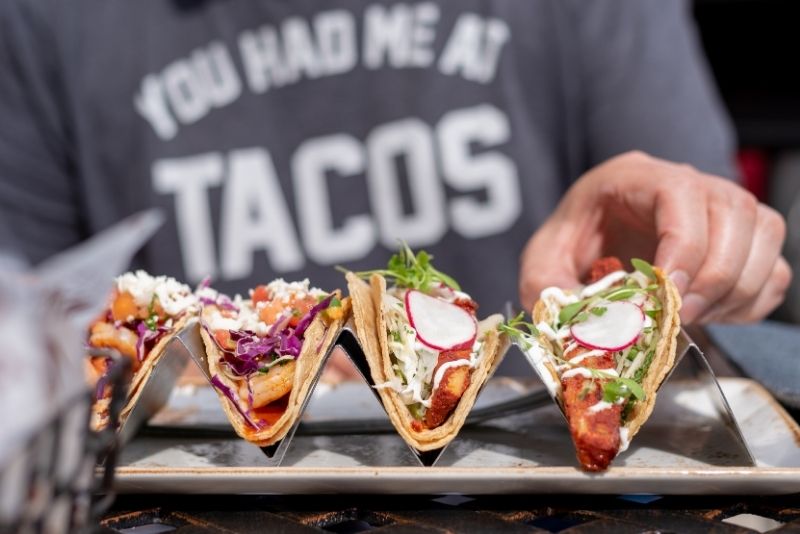 Whether you like a hard or soft shell taco, be sure to hit up some of the legendary taco trucks hidden within the city.
While there's plenty to choose from, locals suggest making a beeline for El Chato on the corner of La Brea and Olympic, where they don't hold back on the salsa and guacamole!
58 – Check out Universal Studios (& CityWalk)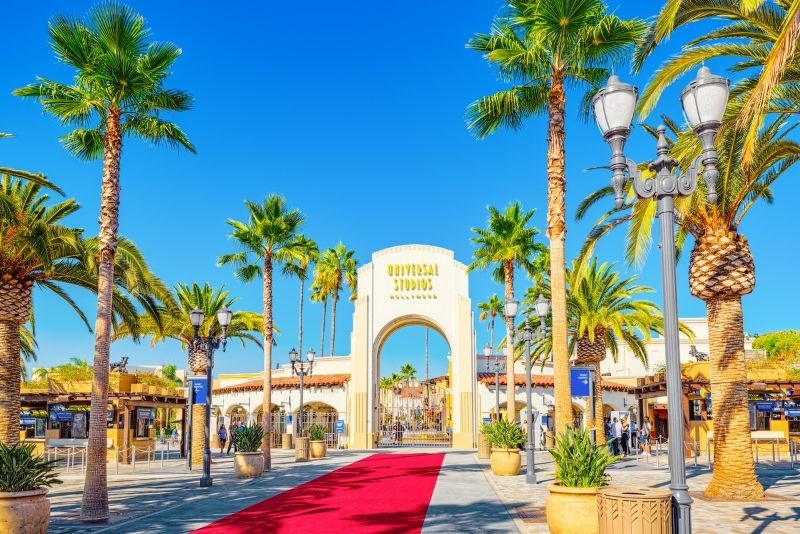 Don't miss 'The Wizarding World of Harry Potter' at Universal Studios
On Harry Potter and the Forbidden Journey — which was voted the best thrill ride in 2017 Editor's Choice — you'll walk through the castle gates and down the corridors of Hogwarts until you find Dumbledore's office, the Room of Requirement and so many more.
This state-of-the-art ride is merely one of the countless magical experiences at Universal Studios.
Buy a 2-day ticket to Universal Studios so you can explore every gripping section of the park's rides, shows, and attractions.
Learn how to save up to 30% on Universal Studios Hollywood tickets.
Universal Citywalk
Although adjacent to Universal Studios, CityWalk is a separate entity — it's a bustling, concentrated complex of nightlife, dining, shopping, and cinema.
The dancing water fountain is amazing, there's a seven-story-high IMAX screen, and even indoor skydiving amongst numerous shops and eateries.
Live music and light shows are a regular feature, and admission is free!
59 – Walk through the Bradbury Building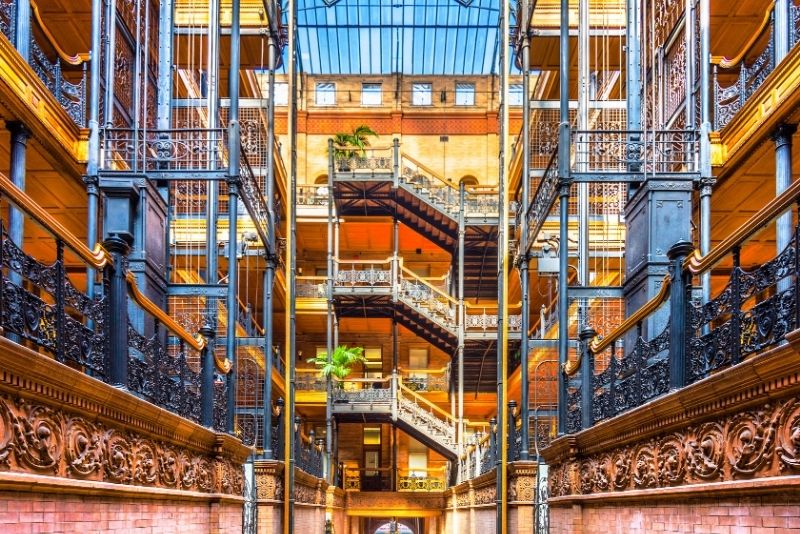 The Bradbury Building is a marvelous anomaly in LA, something of a Downtown architectural oasis. The five-story office building from 1893 stays true to its heritage: it has a well-lit Victorian court rising to almost 50 feet with open cage elevators and marble stairs.
If the building looks familiar, it features countless films including Blade Runner, Double Indemnity, and Chinatown.
60 – See the Urban Light at the Los Angeles County Museum of Art (LACMA)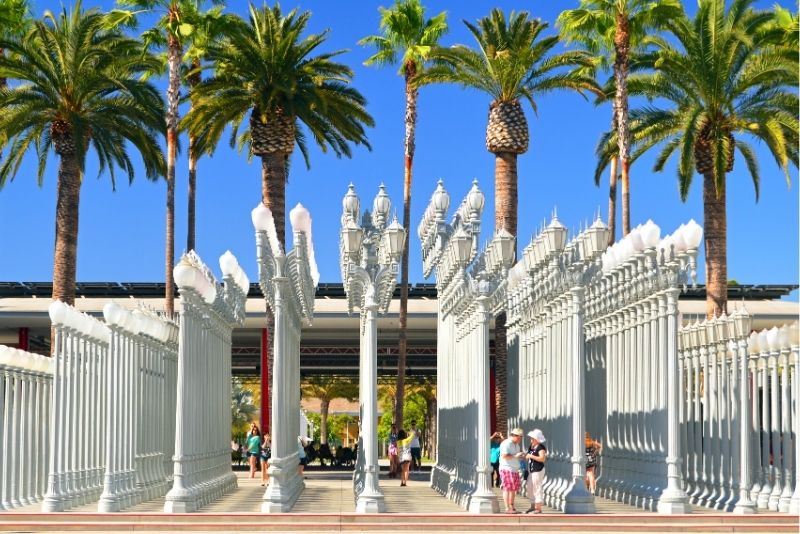 LACMA is the largest art museum on this side of the United States, holding more than 150,000 works from ancient times through to the current day, while also featuring film and concert works.
They are known to push boundaries with the Art + Technology Lab, however, the best-known feature is Urban Light, which has unofficially become an LA icon.
61 – Walk along Abbot Kinney Boulevard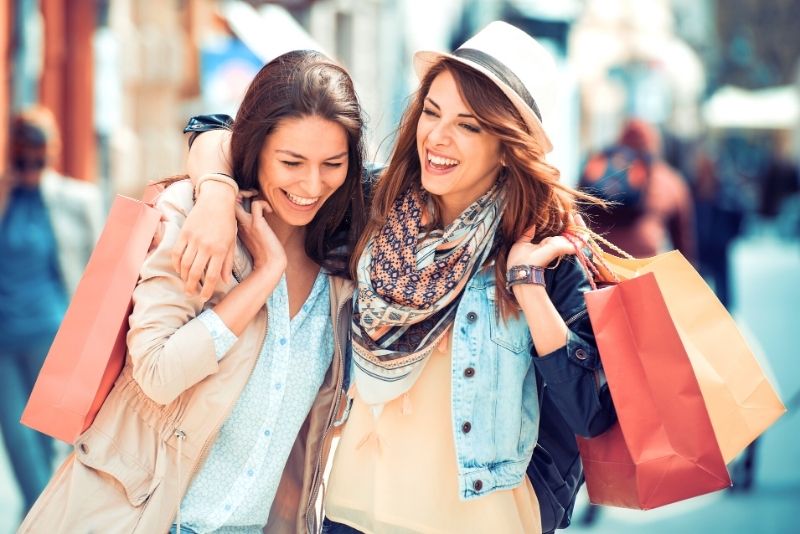 This mile-long road lined with shops, restaurants, cafes, galleries, and nightlife was named the coolest block in America by GQ magazine!
Check out the famous art murals; be sure to grab an ice cream from Salt & Straw (try the honey lavender flavor); or shop at Toms Shoes, a shoe-store-meets-cafe decorated with charming wood accents.
62 – Watch a classic film at Hollywood Forever Cemetery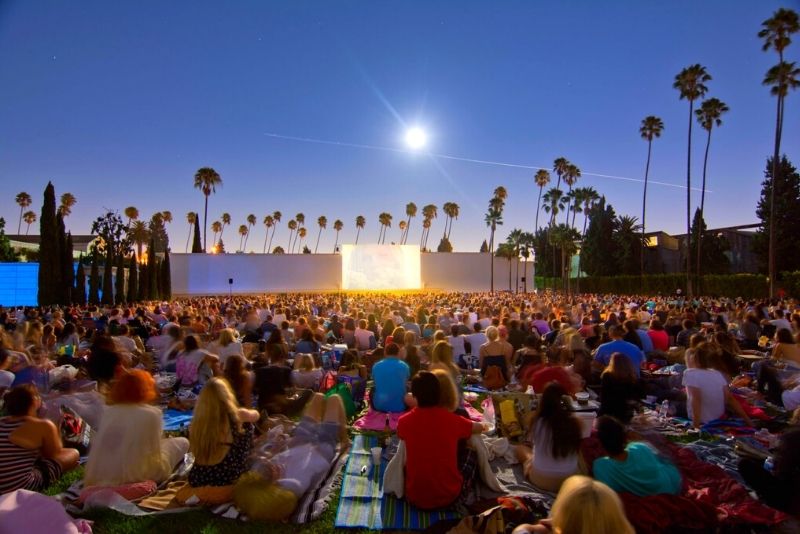 Hollywood Forever is a cemetery, but also a cultural hub that hosts regular community events, Case in point: since 2002, classic films have projected onto a mausoleum on Fairbanks Lawn.
If you're around in the fall, on the last Saturday before November 2nd, Hollywood Forever plays host to the largest Day of the Dead celebrations in the country, complete with hundreds of Aztec ritual dancers and food vendors.
63 – Explore the Autry Museum of the American West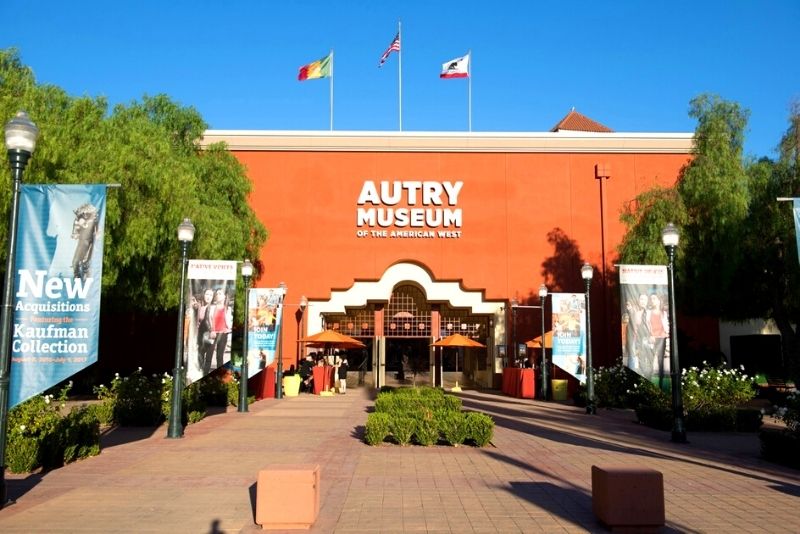 Also nestled in Griffith Park, the Autry Museum displays Native American art and cultural materials including film memorabilia, historic firearms, and paintings, while also playing host to public events to include all stories of the American West.
Don't miss the tranquil outdoor garden with seating by the waterfall, pond, and basalt columns.
64 – See a musical at Hollywood Pantages Theatre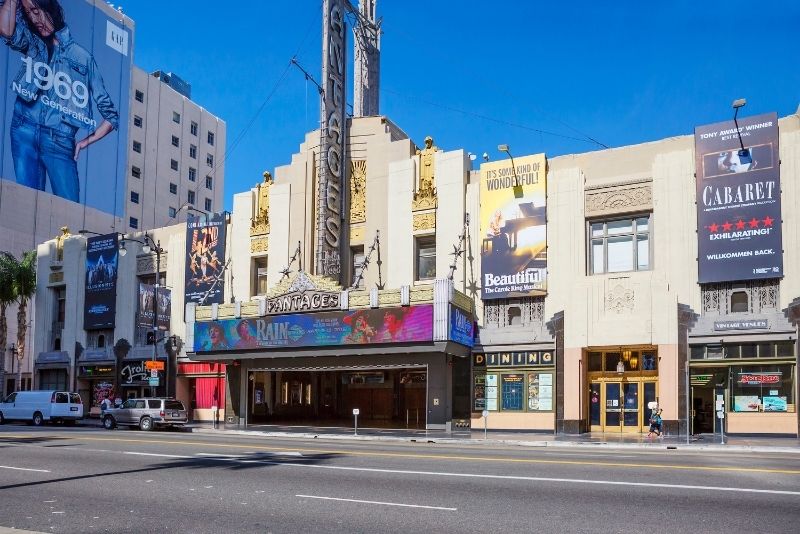 Right in the heart of Hollywood is LA's Broadway where, since 1930, the refurbished Pantages Theatre has stood tall.
Even though the Pantages is 91 years old, it continues to be as busy as ever with My Fair Lady, Hamilton, Mean Girls, and The Lion King among the musicals lining up to be performed in the near future.
65 – Go to Hannibal Lecter's jail cell at the Hollywood Museum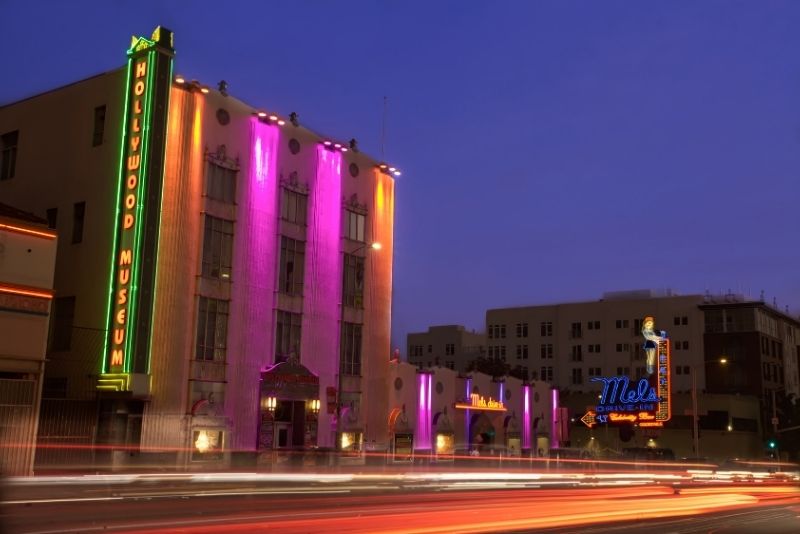 Housing hundreds of costumes from Marilyn Monroe's million-dollar dress to Rocky Balboa's boxing gloves, no trip to Hollywood is complete without the Hollywood Museum. The eerie lower level even includes Lecter's jail cell from Silence of the Lambs.
All in all, there are over 10,000 authentic Hollywood treasures including props, scripts, cars, and posters.
66 – Go paragliding over Malibu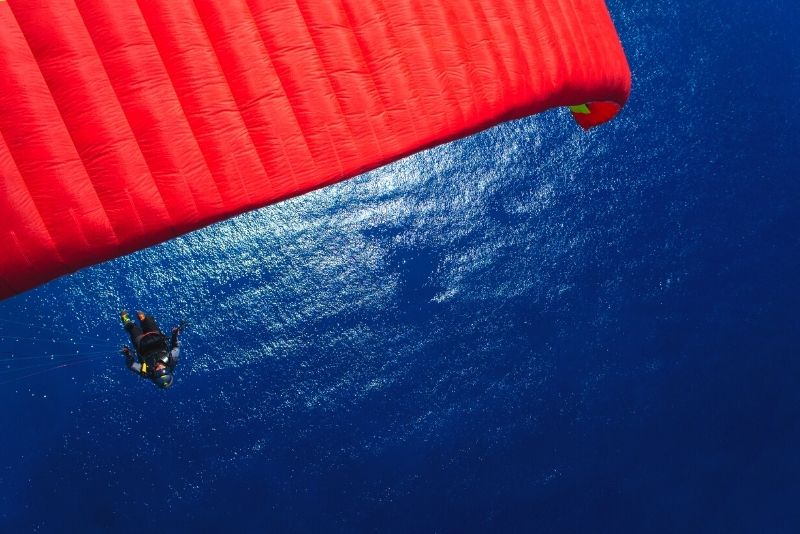 Glide through the warm Californian air, overlooking the endless sands and enormous mansions of LA's ritzy Malibu neighborhood.
The thrilling flights typically last 30 minutes — and with a professional instructor ensuring that you stay en route, all you need to worry about is soaking in the breathtaking views of the shores below.
67 – Attend a gig at the Greek Theatre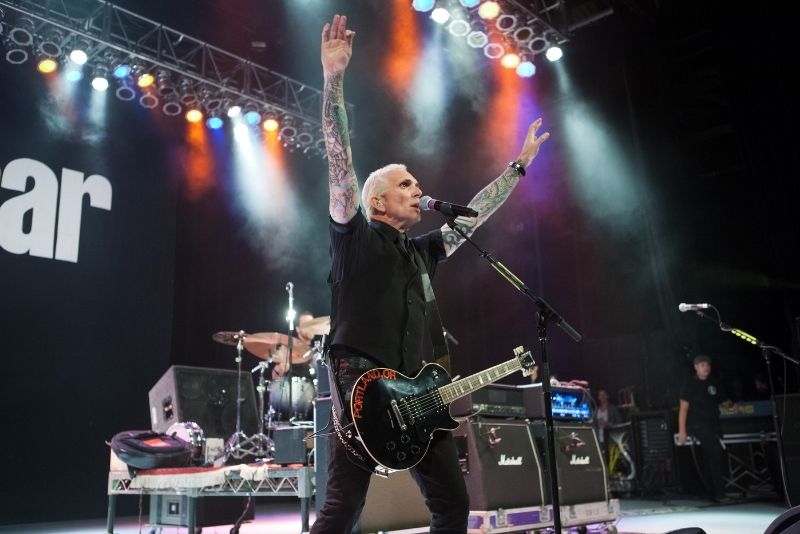 Modeled after an ancient Greek theatre, this circa-1930 outdoor amphitheater is built into a canyon and regularly holds gigs for the likes of Sir Elton John, Aretha Franklin, and Alicia Keys.
Seeing as the Greek Theatre is nestled in Griffith Park, why not rent a bike and ride around the plush nature before the show?
68 – Listen to a talk at Skirball Cultural Center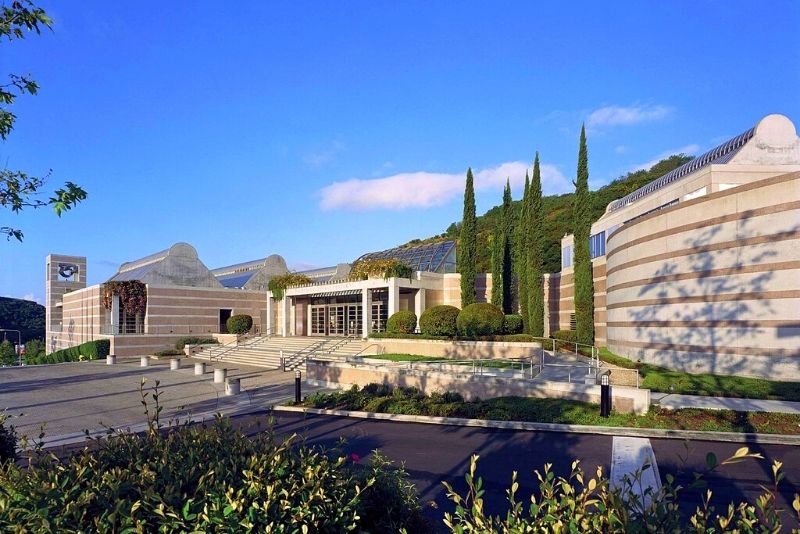 The Skirball Center aims to foster people of all communities and ages to participate in cultural experiences that celebrate hope and discovery.
There are concerts and classes available, but you might fancy one of their question-answer sessions on topics such as political cartooning and the ideals of justice.
69 – Go to a concert at the Hollywood Bowl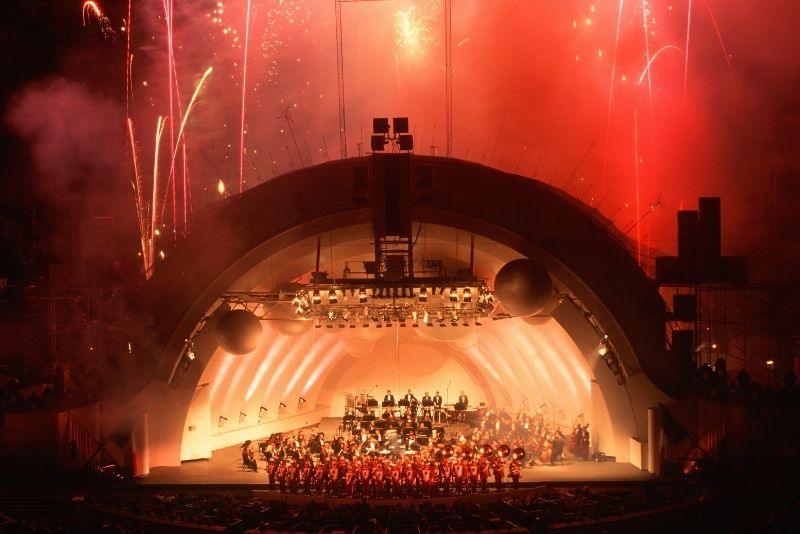 The breathtakingly beautiful Hollywood Bowl, sitting in the foreground in front of the Hollywood Hills, is an iconic venue that has hosted artists from the Beatles to Yo-Yo Ma.
If you enjoy classical music, don't miss the Hollywood Bowl Orchestra. Or, for a history lesson, head to the Hollywood Bowl Museum — admission is free.
70 – Go shopping at Citadel Outlets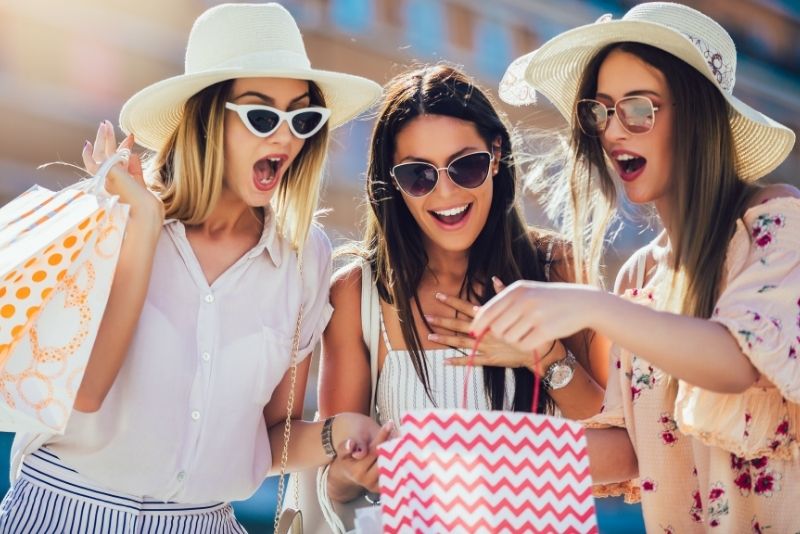 This building, which looks like an ancient Babylonian temple, is where high fashion meets low prices.
There's something for everyone: Armani, Disney Outlet, Lacoste and Adidas are just a microcosm of the 130 famous stores here, along with plenty of eateries where you can put your feet up in between shops.
71 – Walk the Hollywood Walk of Fame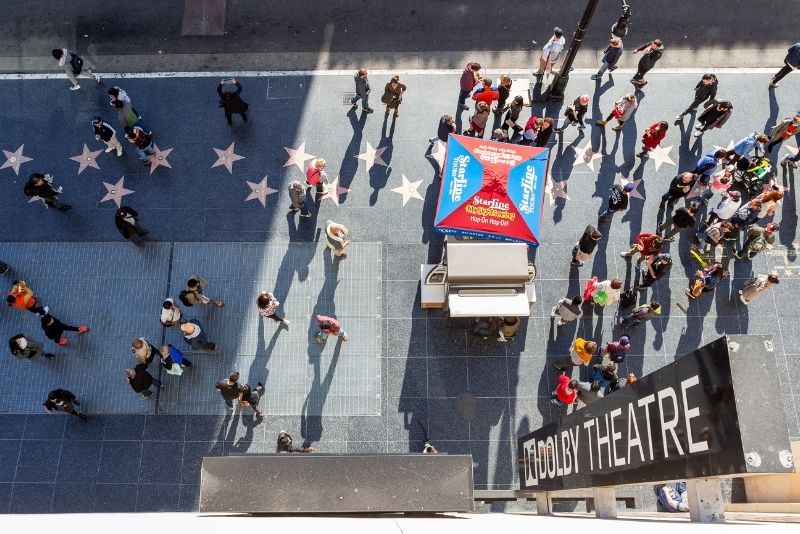 You simply cannot claim to have visited LA without having a semi-awkward photo crouching next to your favorite celebrity's star amidst a wave of pedestrians.
Whether you're after the Beatles, Mickey Mouse, or Ryan Reynolds, consult the 'Star Directory' on the official Hollywood Walk of Fame website so you know exactly where to look.
72 – Take a picture of the Stahl House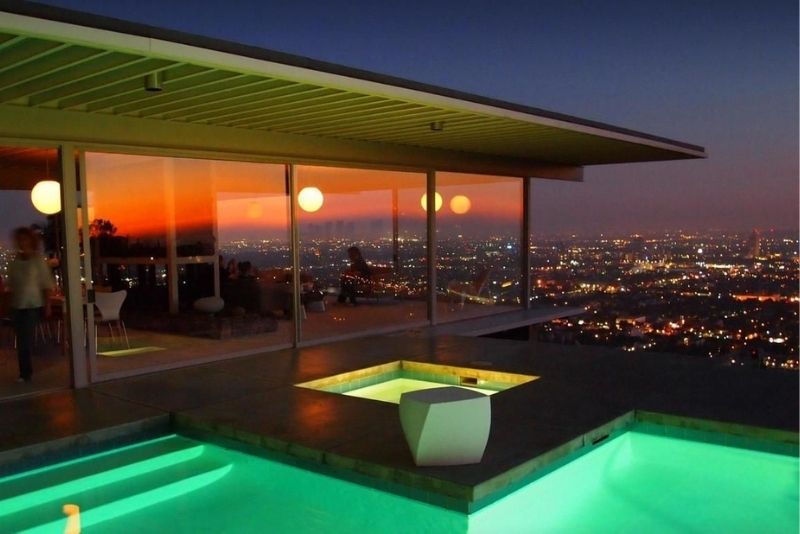 In 1954, the Stahl family bought a small plot of land above Sunset Boulevard. Years later, they hired Pierre Koenig to design and build the house which now exemplifies modern LA architecture.
The Stahl House shot to fame in a famous Julius Shulman photograph and has since appeared in films, television shows, and video games alike.
73 – Go animal spotting at Los Angeles Zoo & Botanical Gardens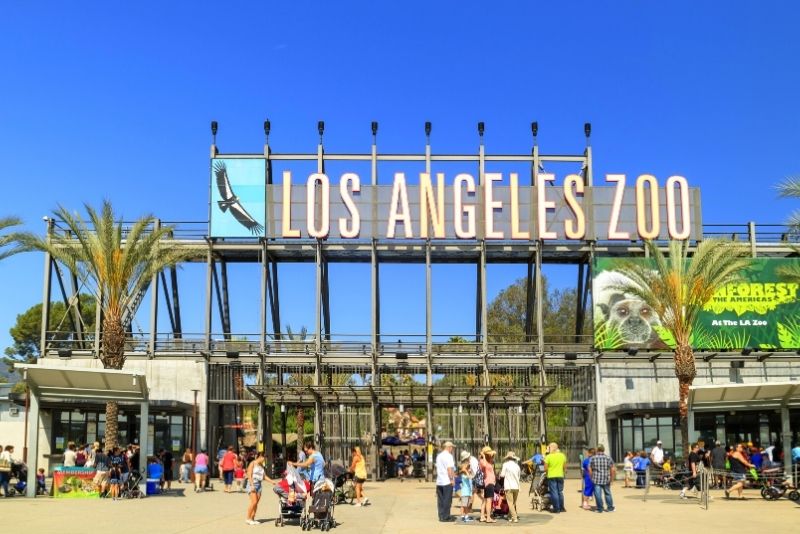 The 133-acre zoo hosts over 1,100 animals, highlighted by gorillas, elephants and a recreated south-east Asian jungle with orangutans! The LA Zoo also has 29 endangered species and has successfully bred animals in captivity that are nearing extinction in the wild.
As for the Botanical Gardens, stroll through the greenery and past the water, looking out for peacocks on the way.
74 – Stroll through the Hollyhock House in Barnsdall Art Park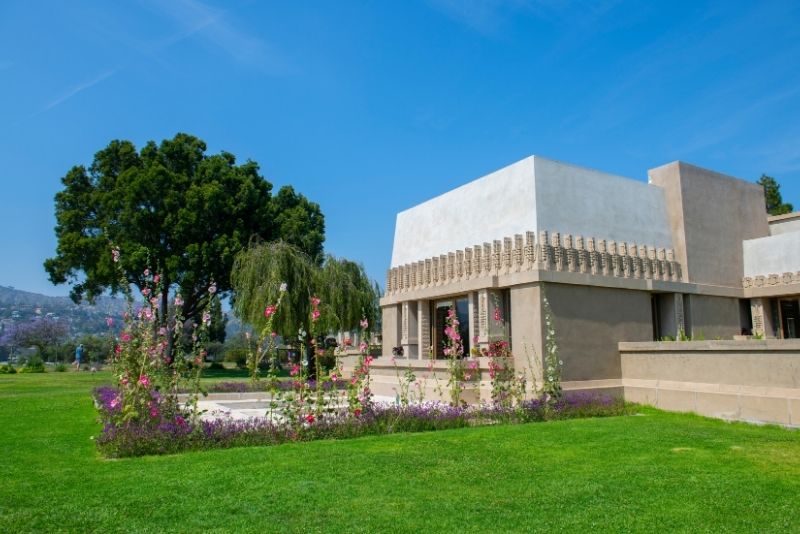 Designed by Frank Lloyd Wright and built around 1920, the house and surrounding 12 acres were donated to the city as a memorial. The Hollyhock House is named after the hollyhock flower, depictions of which are found throughout the house.
Fun fact: this was the first time modern American architecture was placed on the World Heritage List.
75 – Bless the animals at El Pueblo de Los Angeles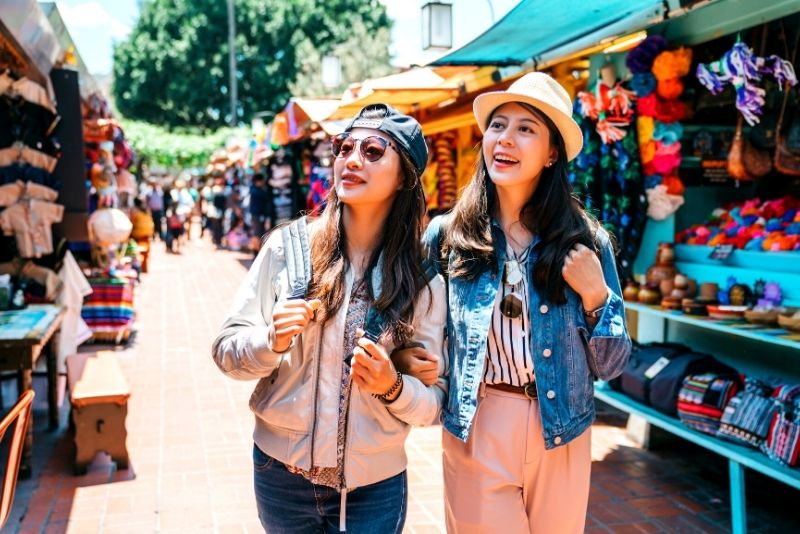 This historic district around the old plaza was the LA town center for most of the 19th century. Nowadays, visiting El Pueblo is one of the best things to do in LA.
At the Olvera Street Mexican Marketplace on Easter Saturday, it is traditional to bless animals for the benefits they provide us. However, if that doesn't line up, fret not: there's always Cinco de Mayo and Mexican Independence Day.
76 – Visit the Museum of Illusions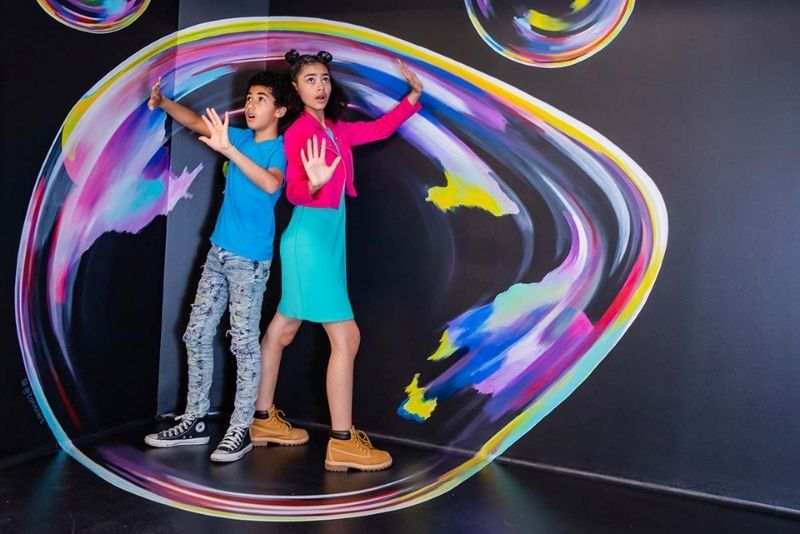 A surefire hit on Instagram, the Museum of Illusions is full of extraordinary 3D illusions, an upside-down house, and a giant's house.
Has something been stressing you out? If so, this museum will let you write down what's annoying you on a plate (the website suggests 'the year 2020') and throw it against a wall.
77 – Post on Instagram at the Museum of Selfies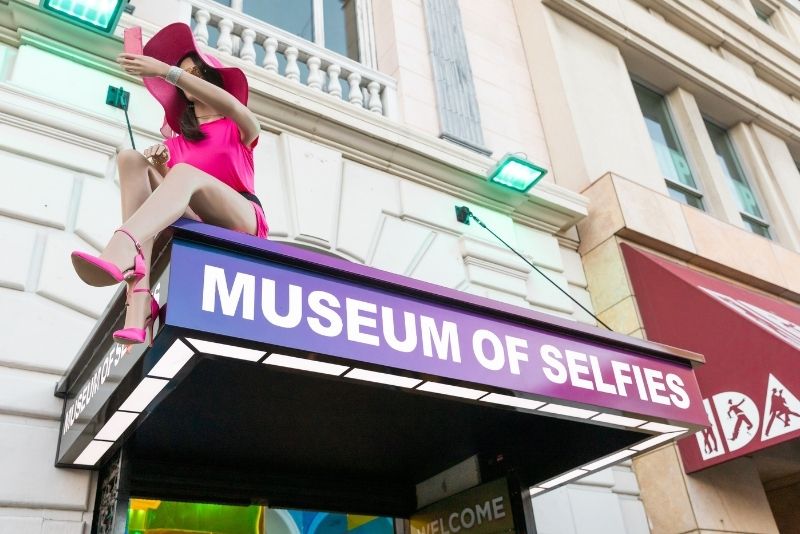 Another one for social media, this interactive museum is whimsically unique, guaranteed to leave you with mind-blowing photos.
Effortlessly climb one of the tallest buildings in LA, thank your sponsors as you receive your Oscar, and sit on a throne made of selfie-sticks as the museum dives into social-media inspired art and the psychology behind selfies.
78 – Wine and dine on an LA rooftop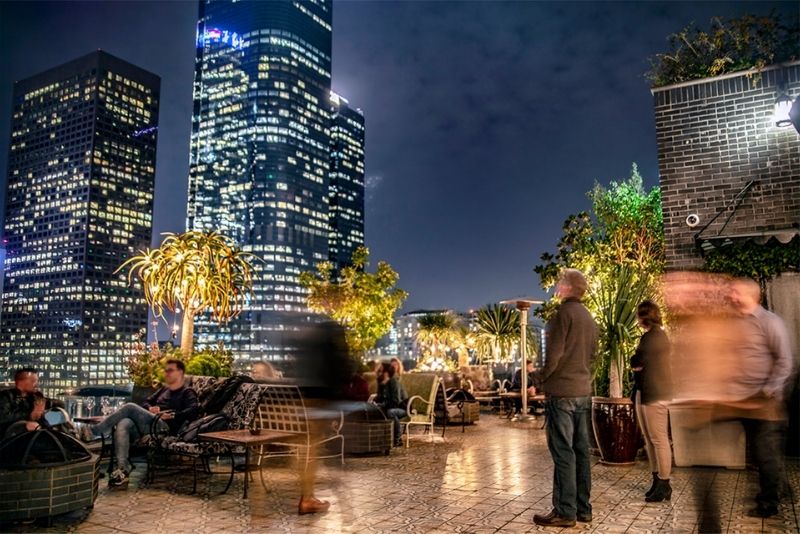 With some of the best rooftop restaurants and bars, LA is heaven on Earth for sunset drinks.
If you're looking for a bustling scene, make sure to stop off at Perch where its menu and views of the heart of Pershing Square and Downtown are the talk of the town.
Don't forget to swing by the bar on your way in!
79 – Go fishing on the Venice Fishing Pier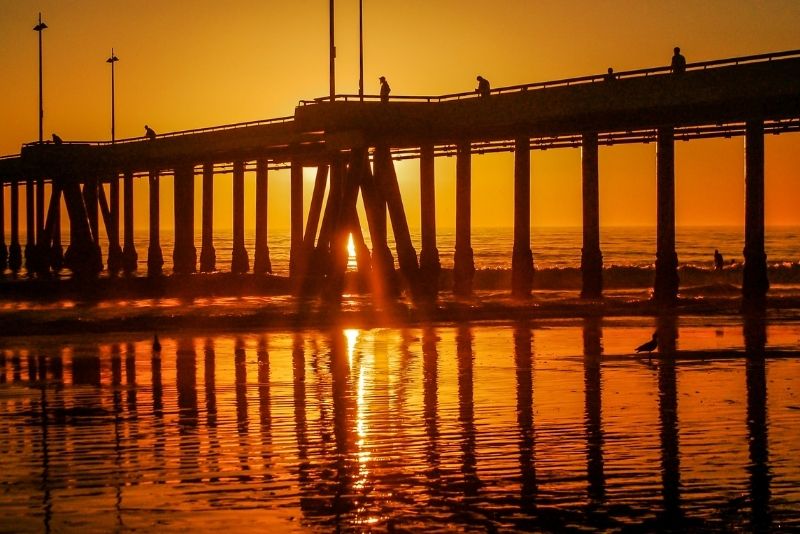 Whether you're an expert or novice fisher, the 700-foot Venice Fishing Pier is a must-see. With free access to the pier, no fishing license requirements, and Papa's Bait Shop around the corner anyone can become an expert.
For a great pit stop and the only beachfront restaurant in the Venice area, check out Sharky's on the pier!
80 – Watch the Los Angeles Opera at the Dorothy Chandler Pavilion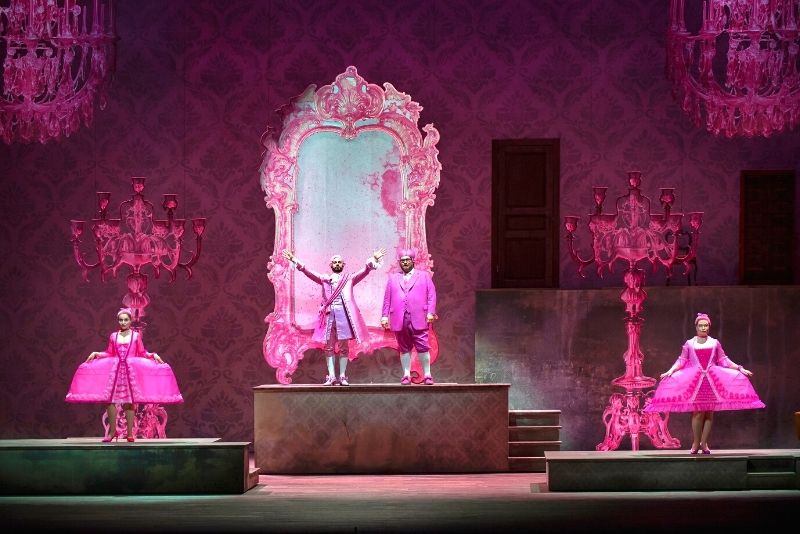 Sit back and let the cast of the LA Opera take you through a journey. Established in 1986, the LA Opera theatre is known for two things: as being a leader in artistic innovation, and for its pavilion.
A sight to behold on its own right, the Dorothy Chandler Pavilion has five elegant stories and 78 crystal light fixtures and chandeliers.
81 – Watch a live recording of a TV show… for free!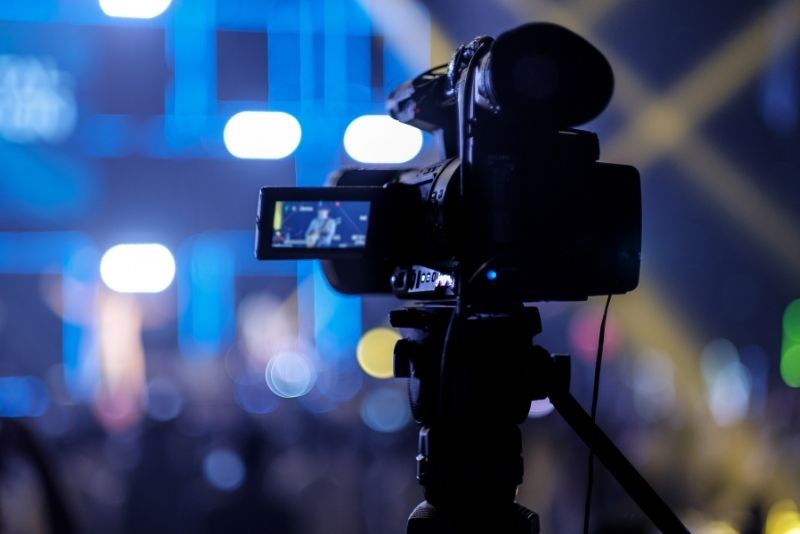 Many television shows offer live recordings, so dress to the nines and take your pick!
If you get into The Price Is Right, you could be randomly chosen to be a contestant, or if you want to laugh, find your way into the audience for Conan, Jimmy Kimmel Live, or the Late Late Show with James Corden.
82 – Feel the power of music at the GRAMMY Museum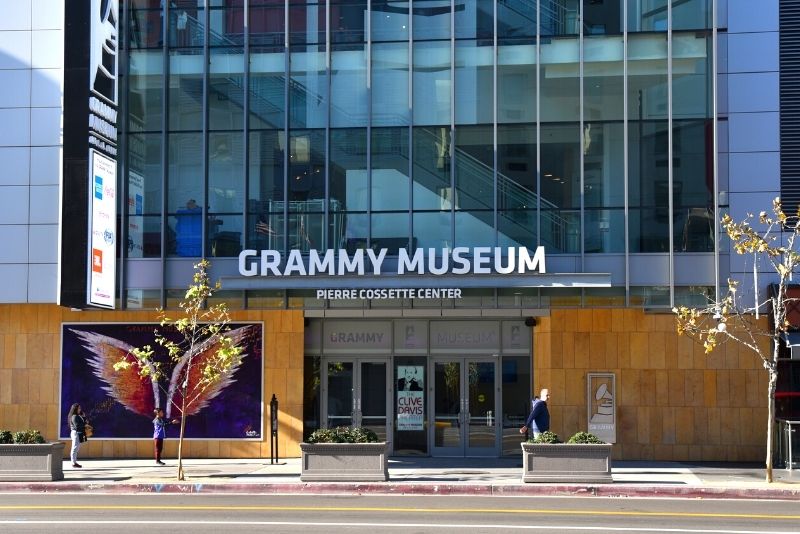 The GRAMMY Museum is more than just pictures of musicians. Their exhibits will compel you to celebrate and appreciate the legacies left by all different music.
Navigate the touch-screens, recording booths and historical musical artifacts as you discover just why that song has been stuck in your head and the creative process behind it.
83 – Explore Chinatown!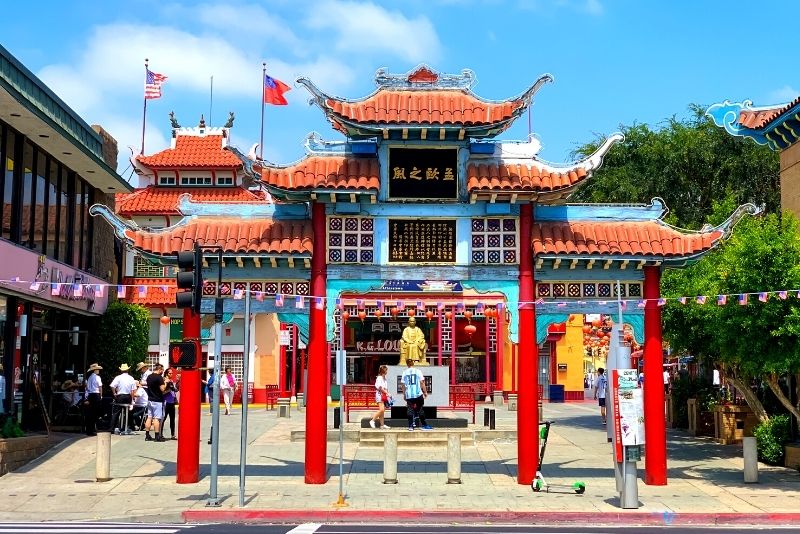 LA's Chinatown is peppered with great food and Chinese specialty stores — you'll be spoiled for choice.
For stories of history and art, the Chinese American Museum in El Pueblo is a fascinating attraction, highlighted by its watercolor works.
Feeling peckish? head into Yang Chow and order the goopy slippery shrimp which put the dish on the map in LA.
84 – Watch a show at the Orpheum Theatre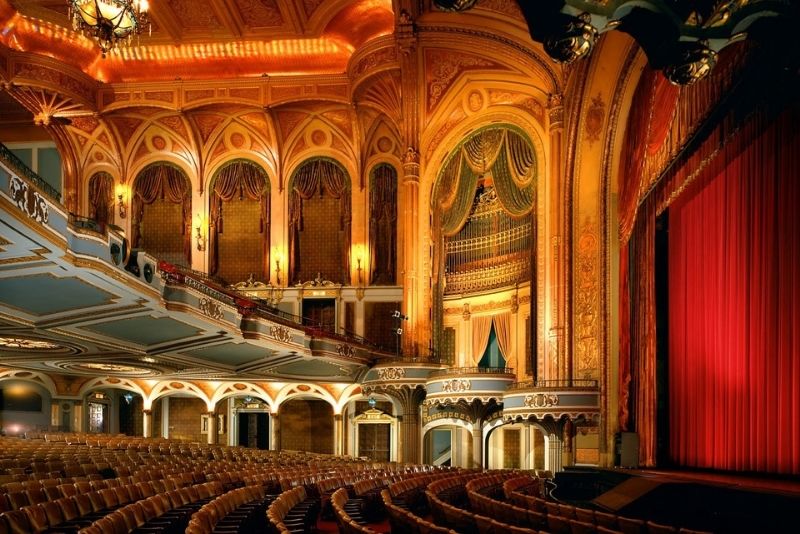 Step inside the lobby of the Orpheum on Broadway and you'll quickly realize why this is one of the most famous things to do in Los Angeles.
Spot the old, quaint ticket booth before entering the theatre, and take note of the marble walls and dazzling chandeliers on the way in.
All sorts of shows play at the Orpheum, so there's no excuse to miss out!
85 – Dine at the Magic Castle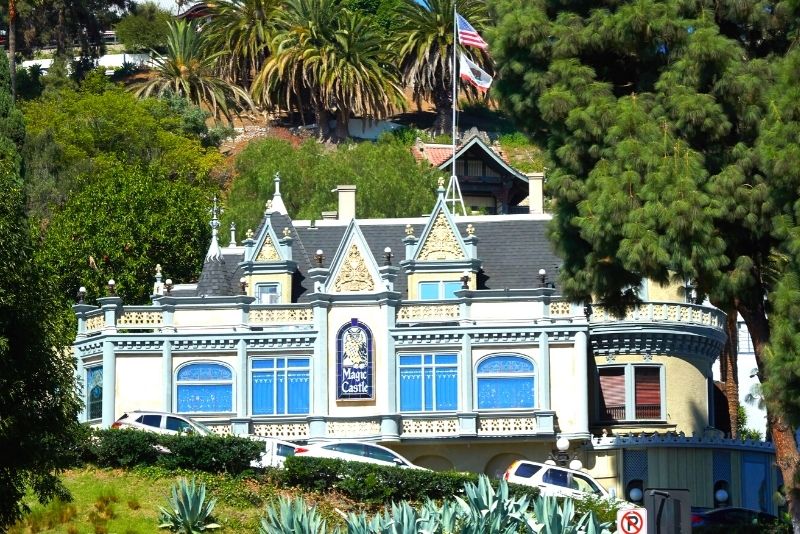 Reserve your spot at The Magic Castle for a formal Victorian brunch or dinner with a magic show!
The venue screams exclusivity; you need to be invited or accompanied by a member of the Academy of Magical Arts — but you can better your odds of a courtesy invitation by staying at the Magic Castle Hotel, asking a magician nicely, or offering to take a magic class.
86 – Browse the Museum of Contemporary Art (MOCA LA)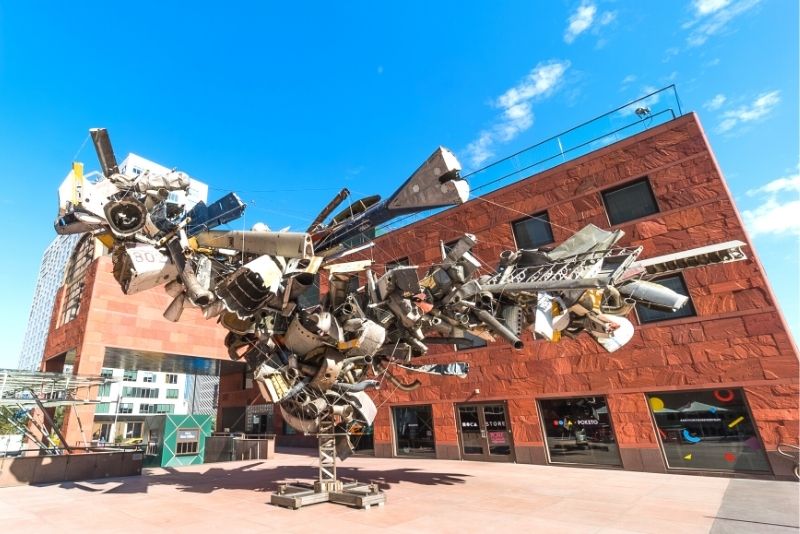 As the only artist-founded museum in the city, MOCA LA has committed itself wholeheartedly to contemporary art created after 1940.
If you're wandering through Downtown, make sure to stop into one of its two city locations: one at Little Tokyo and the other at Grand Avenue
87 – Be amazed at Ripley's Believe It or Not!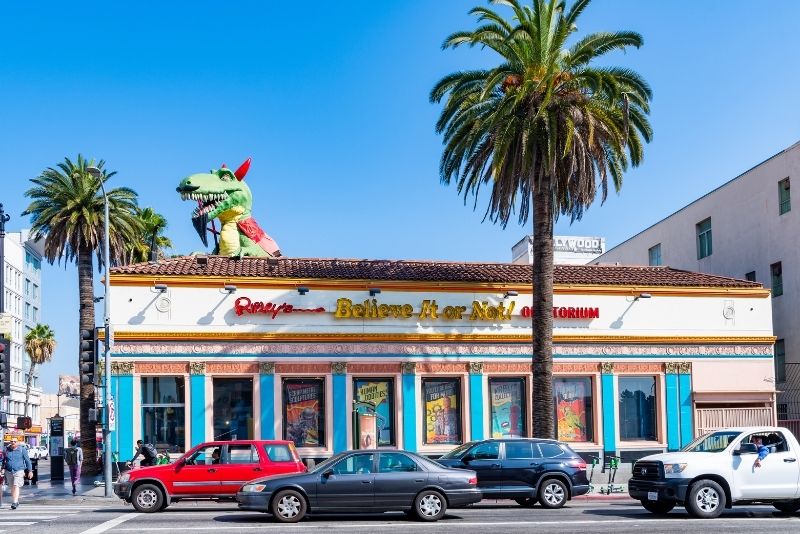 This weird and wonderful place is a hodge-podge of fascinating and wacky attractions that is certain to entertain. Enter the Ripley's Hollywood Odditorium for optical illusions, a shrunken head, celebrity heads carved from phone books, 17th-century dog armor, and so much more.
Over 500 pieces are on display, all fascinating and family-friendly.
88 – Lose yourself in a labyrinth of books at The Last Bookstore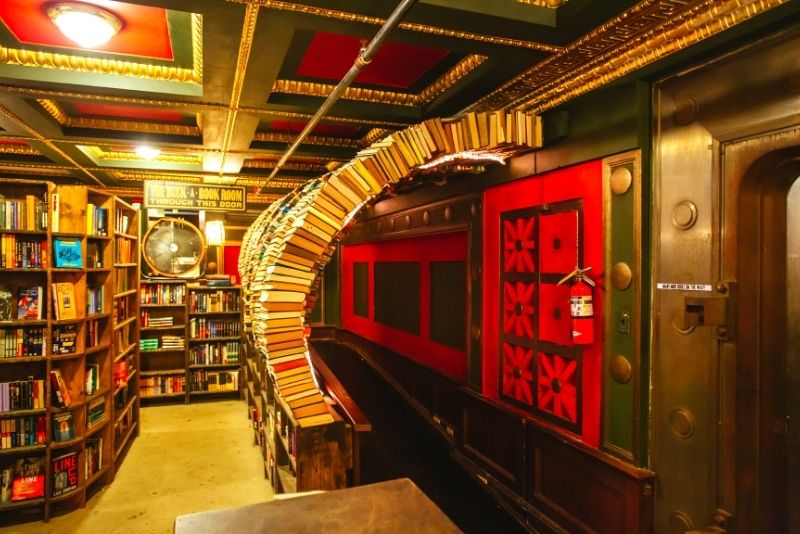 In this day and age where books are going electronic, seeing 250,000 new and used books across two floors is a bibliophile's heaven.
The Last Bookstore is one of the largest — and last — independent bookstores that also offers graphic novels and vinyl records, all combining for a complete artistic experience.
Director Chad Howitt described the space as a "mix of Victorian drawing room, sci-fi spectacle and artist loft bohemianism." Sounds intriguing, right?
89 – Experience a performance at the Hammer Museum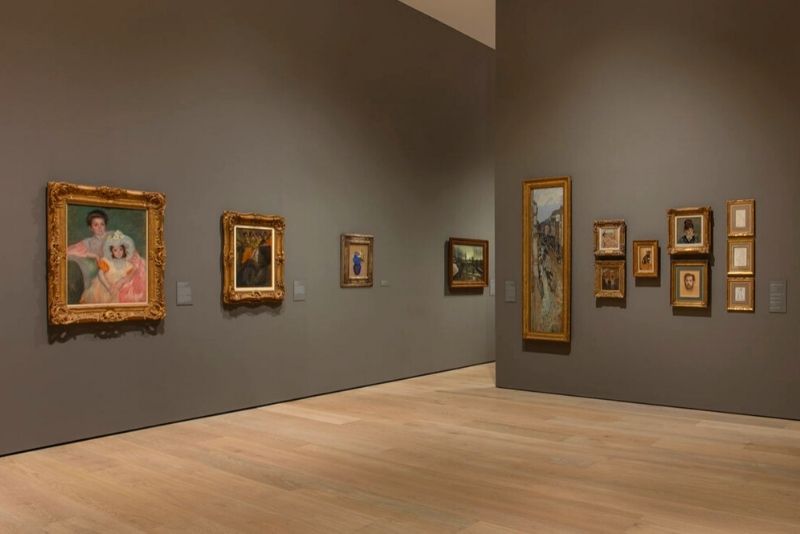 The Hammer Museum champions the power of art to be more than an aesthetic experience, giving insight into the most relevant cultural and social questions of our time.
With that in mind, the Hammer Museum is not only an art display, but also hosts lectures, readings, and musical performances — all of which are worth checking out.
90 – Stand toe-to-toe with your favorite celebrity at the Hollywood Wax Museum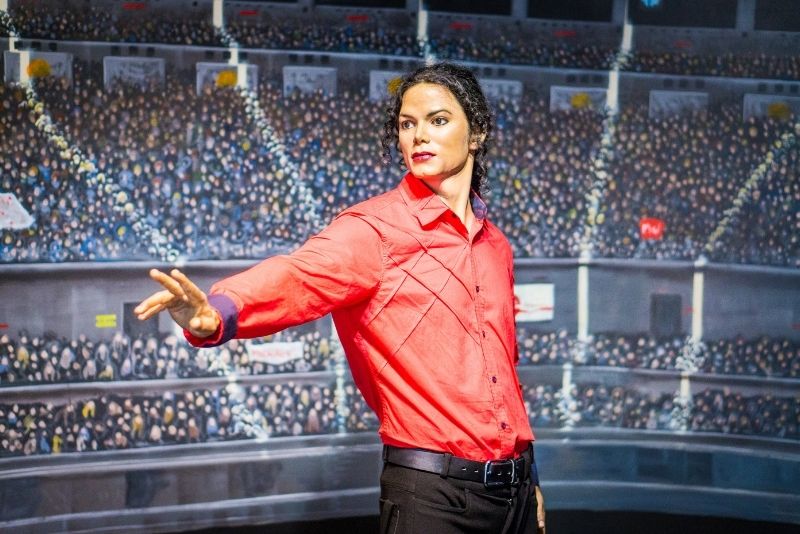 Explore the Hollywood Wax Museum and meet Christian Bale, Angelina Jolie, and Daniel Craig all in one day. They will take a picture with you (but don't be offended if they don't sign an autograph).
Besides the host of famous faces, the affordable ticket also gets you entry into the nearby Guinness World Records Museum!
91 – Eat lunch at the Grand Central Market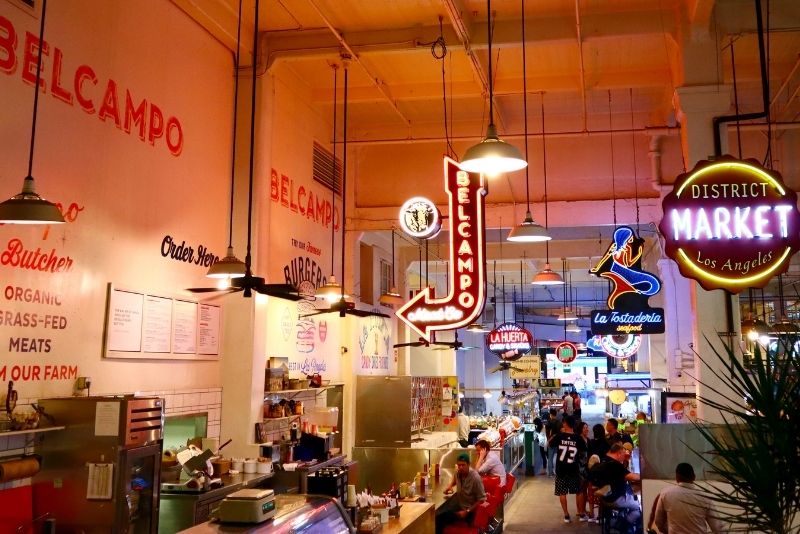 For over 100 years, this bustling market has been a meeting place for the locals. There are over 50 food stalls plus eateries and stands, so there's plenty to choose from.
Sample craft beers at Golden Road, buy boutique jewelry at Grand Central Jewelry, and order eggs for any meal at the world-famous Eggslut.
92 – Watch a movie on a rooftop cinema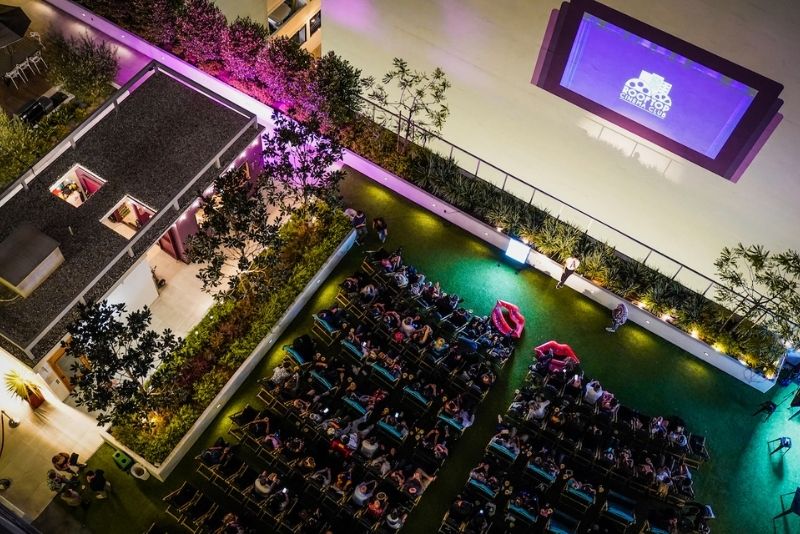 Gourmet street food, cocktails, and lounging in comfy deck chairs with rooftop views of LA  — that sounds like a winning combination.
Now add a movie on a big screen that you listen to through your personal headphones — that completely immersive experience is what awaits at the Level and Neuehouse rooftop cinema, just one of many around the city.
93 – Hang glide over the sand dunes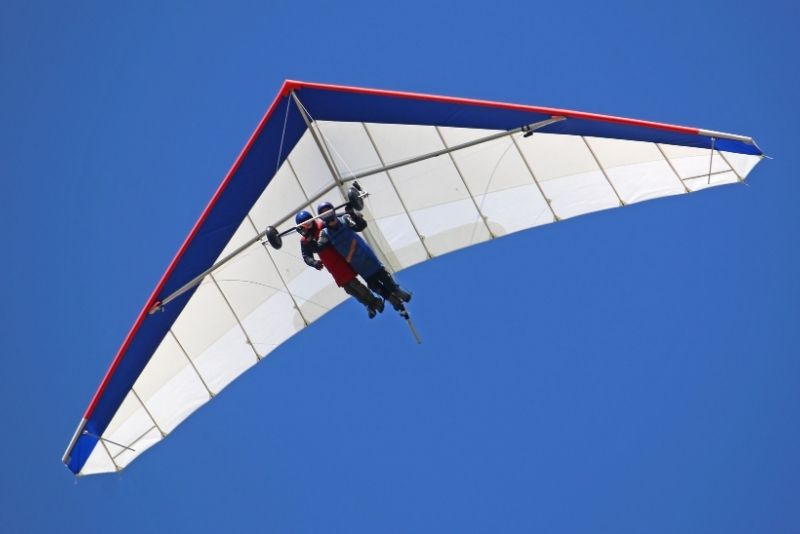 Visit Windsports and check hang gliding off your bucket list. Experience the pleasure of launching from the 30-foot sand dunes in an unforgettable introduction to flight.
But if you crave greater thrills and wilder views, there's another option: ascend to the top of Kagel Mountain in the National Forest and tandem glide with a professional instructor!
94 – Get a taste of LA on a Downtown food tour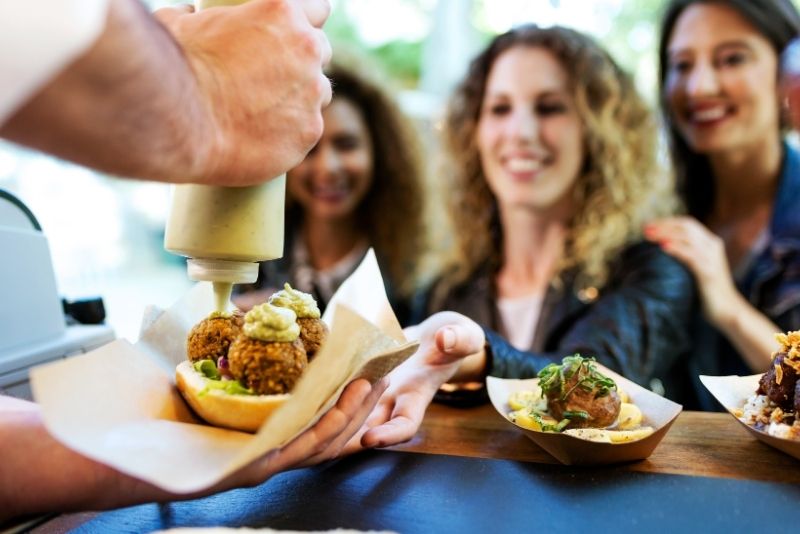 Taking a food tour with a dynamic local guide is a surefire way to delight your taste buds as you eat mouthwatering dishes while learning about the history and culture of Downtown LA.
It won't break the bank either! For less than $100, you can get an intimate experience with a tour guide as you sample the treats of six different eateries, bakeries, and ethnic food destinations (drinks included).
95 – Kayak, paddle, or cycle down the LA River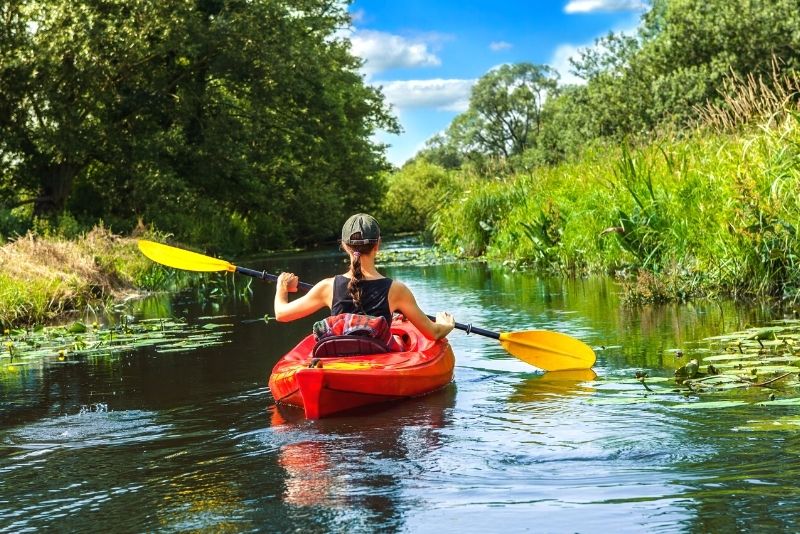 For a really unique experience, visit LA River Kayak Safari and explore the LA River with the Frogtown locals. The 2.5-hour trip includes a bike ride, a downstream paddle, and the lore of the picturesque Los Angeles River.
You don't have to be a pro for this, just arrive at the meeting point and you'll be taught everything you need to know!
96 – Play a round of golf at Angeles National Golf Club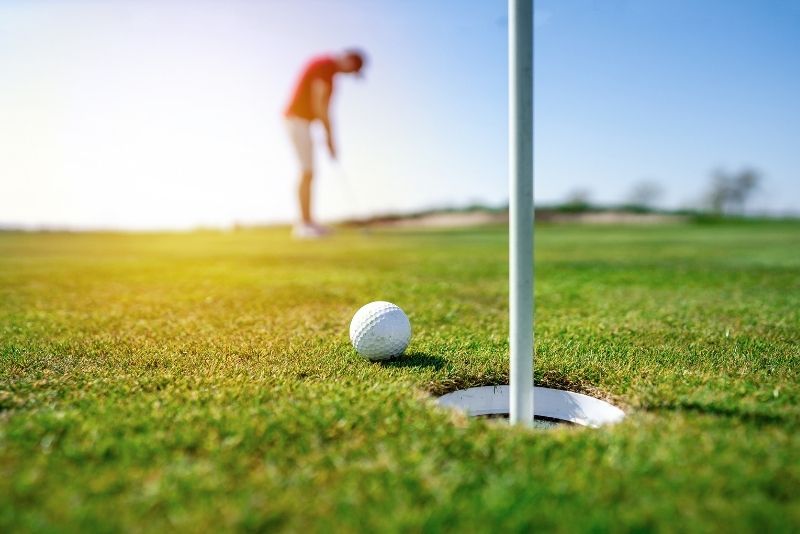 There are a plethora of golf courses around LA where it's always sunny and perfect golf weather.
If you're looking for a nearby course, Angeles National Golf Club is a public course that offers Spanish-inspired architecture, a full restaurant with a bar, pro shop, and views of the lake on the 18th hole.
97 – Go skiing in the nearby mountains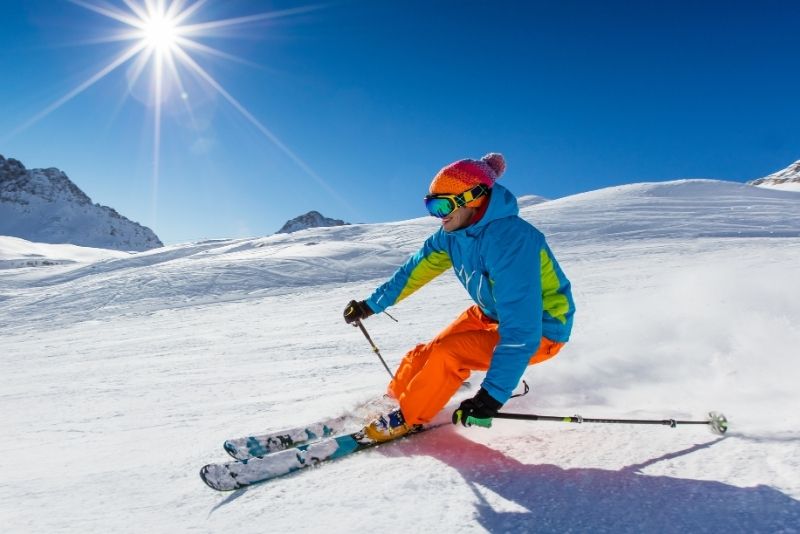 California is the sunshine state, but there are still places to ski during the snowy season. Mountain High is an hour and a half away and as well as skiing includes zip lining and antique shops.
Bear Mountain is a little further away (two and a half hours) but features boxes, rails, jumps, and a snowboard scene. Wherever you go, make sure to book in advance!
98 – Be dazzled by Insomniac's Electric Mile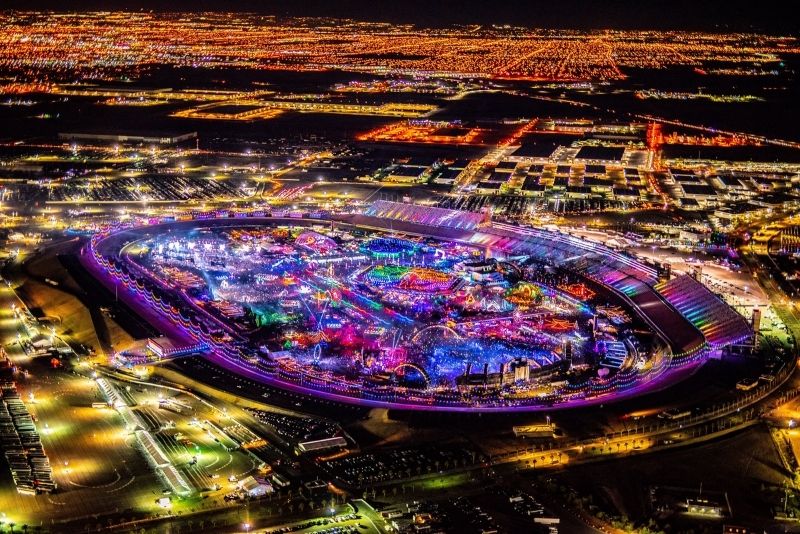 Get comfy in your car as you drive-thru a truly unique, immersive, and illuminating audiovisual experience.
Cruise through the Insomniac's Electric Mile 'seven worlds of light, sound and imagination' with over 5 million lights synchronized to music with lasers, disco balls, light-up mushrooms, and even a warehouse rave.
This family-friendly activity is one of the best things to do in Los Angeles, hands-down.
99 – See the Space Shuttle Endeavour at California Science Center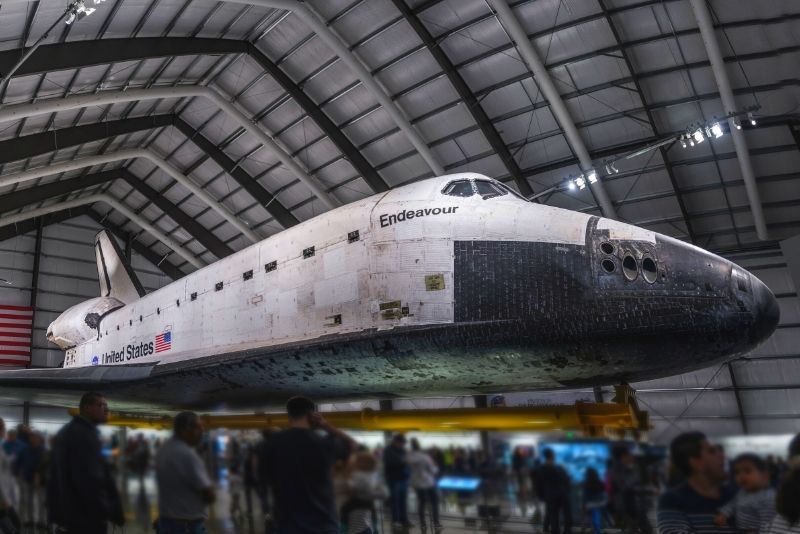 Over 100 interactive scientific exhibits inhabit the California Science Center but the indisputable masterpiece is the Endeavour, which went on 25 missions and spent almost 300 days in space.
If you're after something a little different, the Science Center currently has an Art of the Brick exhibition with the world's largest display of LEGO art to captivate visitors of all ages.
100 – Slow down with a Los Angeles spa day visit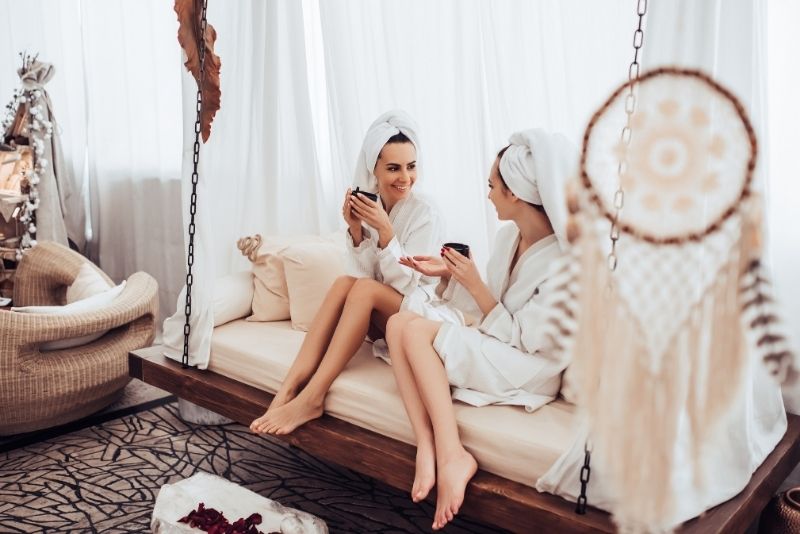 If the celebrities indulge in regular massages why can't you?
With countless day spas, massage parlors, and beauty salons dotted across the entire city, you're never too far away from some good R&R.
Don't forget to check online before you go; heavy discounts are only a few clicks away.
We hope that you enjoyed reading about all the fun things you can do in Los Angeles. Do not hesitate to comment below if you have any other fun activities to recommend in LA.
Happy travels!