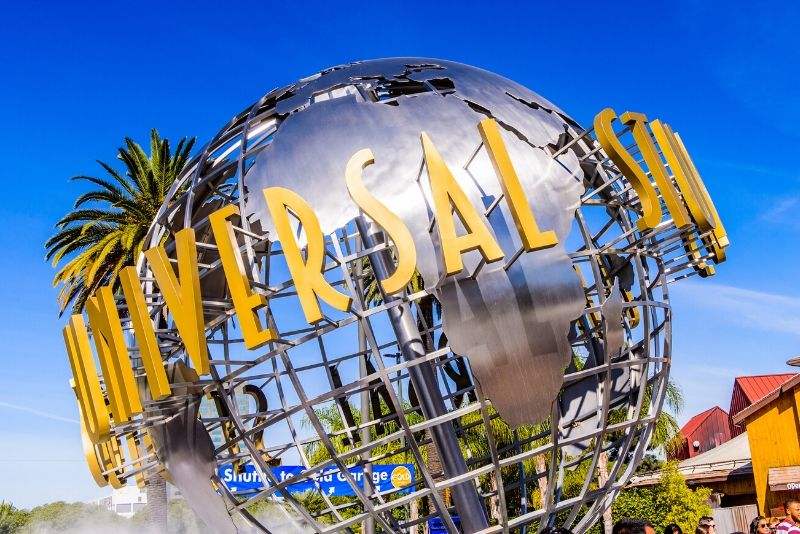 Throughout this piece, we'll outline everything you need to know about Universal Studios Hollywood tickets and answer all the common questions, allowing you to flawlessly (and cheaply) plan your upcoming visit!
Take a step into a fantasy world, ride heart-pumping roller coasters, and get an unmatched insight into the behind-the-scenes business of Hollywood at none other than Universal Studios. Rarely does a guest ever walk away from Universal without an ear-to-ear grin and a pocket-full of unbeatable memories.
Whether you're a film buff or a thrill-ride enthusiast, Universal Studios should be a priority – and if you're on the hunt for cheap tickets then look no further!
Don't feel like reading ahead? Click here to compare all the cheapest Universal Studios Hollywood tickets and deals right now! Bring on the savings!
What types of Universal Studios Hollywood tickets are available?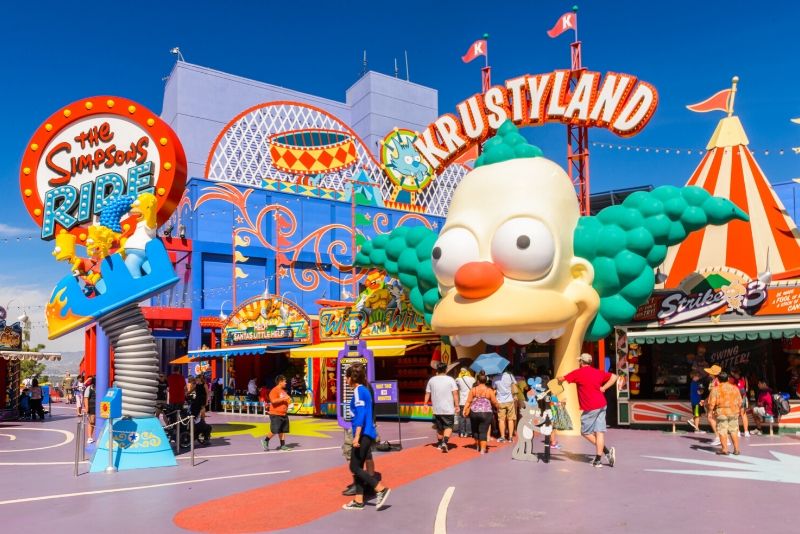 As is the case with most large American theme parks, how much you pay for entry depends on a number of factors, including which type of ticket you choose.
General admission tickets
The Universal Studios general admission tickets grant you access to all of the park's enchanting mainstream attractions. Sip a ButterBeer at The Wizarding World of Harry Potter; experience the multi-sensory DreamWorks Theatre; snap a selfie or two with Homer and Bart in real-life downtown Springfield; and take a front-row seat at WaterWorld, Universal's top-rated live show guaranteed to have you inundated with excitement. All this and plenty more are on offer with a simple general admission ticket.
On busier days, you might not have the opportunity to tick every attraction off the list, or you might be having such a great time that you want to come back and do it all again the next day – that's why Universal offers General Admission in both one-day or two-day options.
The standard one or two-day tickets do not include parking and are non-transferable and non-refundable.
Universal Express tickets
Pressed for time? Don't want to waste hours in line for the world-famous studio lot tour while you bake in the sun? Don't worry, because Universal has another type of ticket that allows you to whiz through the park at rapid speed – the Universal Express ticket.
While the price is a little steeper, the extra few bucks will allow you to go through the park at your own pace. The Express ticket comes with skip-the-line access to every single ride, attraction, and seated show – the catch, however, is that you can only skip the line once per attraction.
VIP Experience tickets
Want something more comprehensive that offers exclusive insight into the studio side of the theme park? Then look no further than the VIP Experience.
The VIP day begins in the Universal lounge with snacks and refreshments. From there, a designated tour guide will escort you to the rides (skipping the lines, of course) and help you find the best seats at each show.
Movie aficionados who opt for the VIP treatment are allowed to explore areas closed to the general public. This includes still-in-use sound stages where blockbuster movies are filmed as well as Universal's so-called World Famous Property Department, home to thousands of set pieces and props.
To top it all off, a VIP chef cooks up a sizzling gourmet meal in a private dining room. If you're willing to spend a few extra bucks, then there's no better way to explore this iconic theme park. The VIP Experience includes valet parking.
Annual passes
For guests who plan to come back time and time again, a number of annual passes are available for purchase. Besides the opportunity to revisit, some passes also include invitations to special events, cheaper food, and drinks, as well as discounts for friends and family.
How much do Universal Studios Hollywood tickets cost?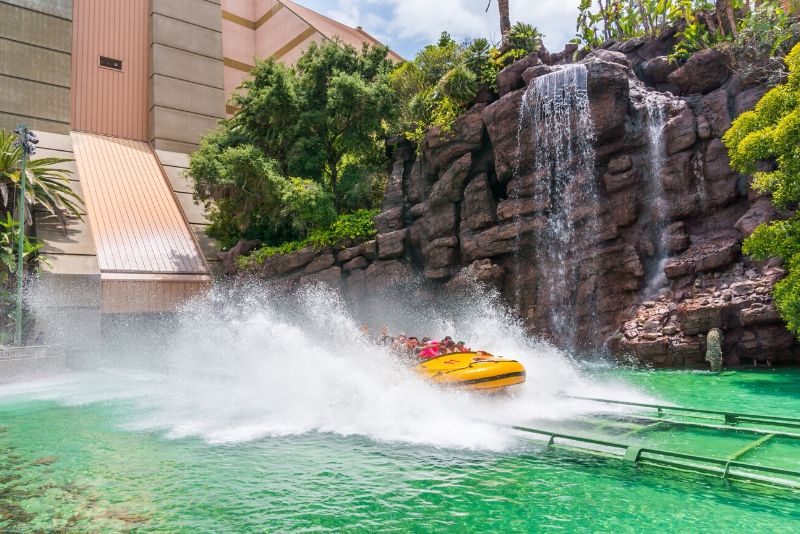 Sadly, a day to Universal isn't free (except the CityWalk, which we'll explain below). But if you ask anyone who's already paid the theme park a visit, they'll vouch that it's well worth the money.
The prices can fluctuate depending on the time of year, so the official Universal Studios website provides a price range, rather than a specific number.
1-Day General Admission: $109 – $129
2-Day General Admission: $149 – $169
Universal Express: $169 – $259
VIP Experience: $349+
This is significantly cheaper than a day at Disneyland, and only slightly more expensive than a day at Six Flags ($92.99).
Annual passes
Platinum Annual Pass: $449
Gold Annual Pass: $249
Silver Annual Pass: $189
California Neighbor Pass: $149
Where can I find the cheapest Universal Studios Hollywood tickets?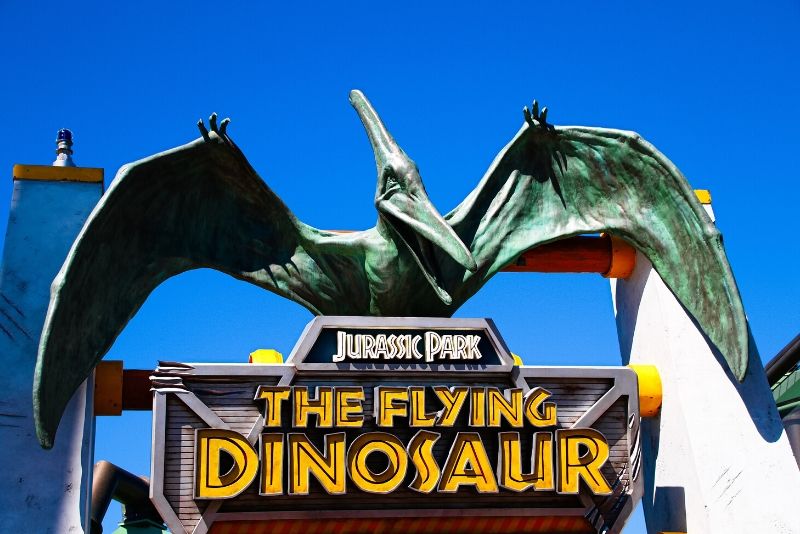 Buying Universal Studios tickets at the gate, on their website, or through a travel agent can burn a sizable hole in any wallet. If you're traveling as a family, then that hole only burns deeper.
Thankfully, countless exclusive deals are available online which offer far more attractive prices – visitors can easily save upwards of 30%, potentially totaling hundreds of dollars. Let's take a look at how to find those great deals!
We compare all the online ticket options for thousands of must-see attractions around the world, including the unmissable Universal Studios Hollywood. Our search engine helps you to compares travel agents, online distributors, and plenty of other retailers, allowing you to quickly determine which option will save you the most money.
There are deals that include hotel pick-up and drop-off, cancelation options, cruise transfers, and more!
How can I visit Universal Studios for free?
Want to check out a world-famous attraction for free? Part of the Universal experience – dubbed the CityWalk, is a cost-free section of the compound open to guests from near and far. Visit the Hard Rock Cafe, choose from the lively mix of dining choices, get the blood pumping on the iFly Indoor Skydiving experience, listen to live music, do some souvenir shopping, or ride a mechanical bull. All this and more without breaking the bank.
How can I skip the lines?
The Universal Express ticket option (explained earlier) allows you to enjoy all the amazing attractions on offer without wasting hours in line.
TourScanner compares all the express options on offer, allowing you to skip the lines without forking out more money than necessary.
What are the best attractions at Universal Studios?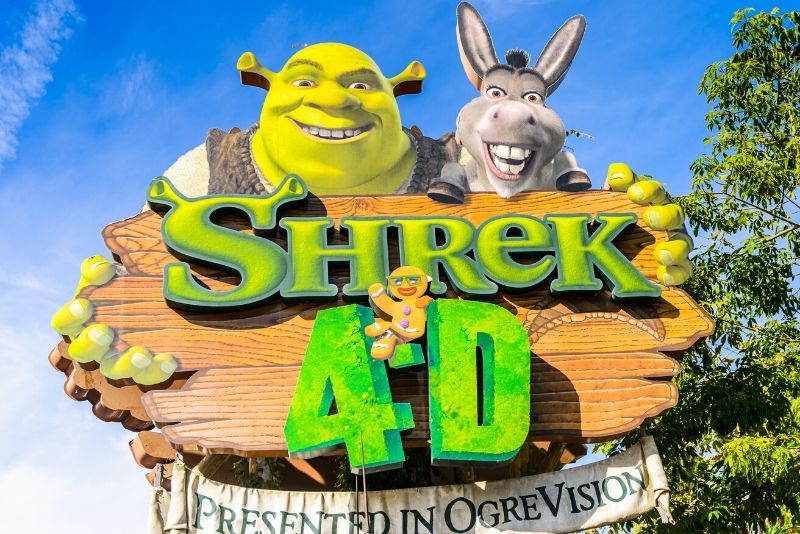 Where do we start? Universal Studios Hollywood boasts an array of world-class rides that arguably put Disneyland and Six Flags to shame. The highlights include:
The World-Famous Studio Tour
As the park's signature attraction, the studio tour has been wowing guests for years. Onboard a tram, visitors are guided along a 60-minute tour through the Back Lot of Universal's working studios – the real locations and real sets where infamous movies have been filmed. Locations from Jaws, Psycho, Fast & Furious, Back to the Future, Jurassic World, and more are all featured on the tour.
Despicable Me Minion Mayhem
On Minion Mayhem, you'll join Gru, his daughters, and the mischievous Minions for a heartwarming and thrilling time on a computer-animated simulator ride. It's 8 minutes long and is touted as a playful, family-friendly experience.
Harry Potter and the Forbidden Journey
Muggles of the world, unite! With a puff of Floo Powder, riders are taken on a fantastical journey through iconic Hogwarts locations like Dumbledore's office, Gryffindor's common room, and the Defense Against the Dark Arts classroom. As you spin and turn, dragons, whomping willows, and dementors fly by in this truly encapsulating ride. The entire Wizarding World of Harry Potter is not to be missed.
Transformers: The Ride 3D
Using state-of-the-art simulation technology, the Transformers ride puts you right in the thick of the action as you join forces with Optimus Prime and the rest of the gang. As more and more new rides pop up around it (Harry Potter, Despicable Me, etc), Transformers has drifted away from the spotlight. Don't let that put you off; this mainstay is as fun as ever and should be high on the list of any thrill-seeker.
What is the best time to visit Universal Studios? How can I avoid the crowd?
As is the case with most theme parks, school holidays and weekends can be chock-full. Your best bet is to head there during the week and leave the weekend available for free neighboring attractions like the Hollywood Walk of Fame or Griffith Park.
For Hollywood and Los Angeles (in fact, most of the major American tourist cities), summer and spring break are the busiest times of the year. To avoid the overwhelming crowds, if possible, book a trip in fall or winter – the weather in Southern California is flawless all year round.
What are Universal Studios Hollywood' opening hours?
CityWalk Hours: 12pm – 8pm
Park hours: 9am – 6pm*
*Note: These hours are typical, however, they do change. Make sure to double-check the opening hours before visiting to ensure that you can take full advantage of everything the park has to offer. As of July 2020, the park's hours are also altered due to the coronavirus.
How can I get there from Hollywood?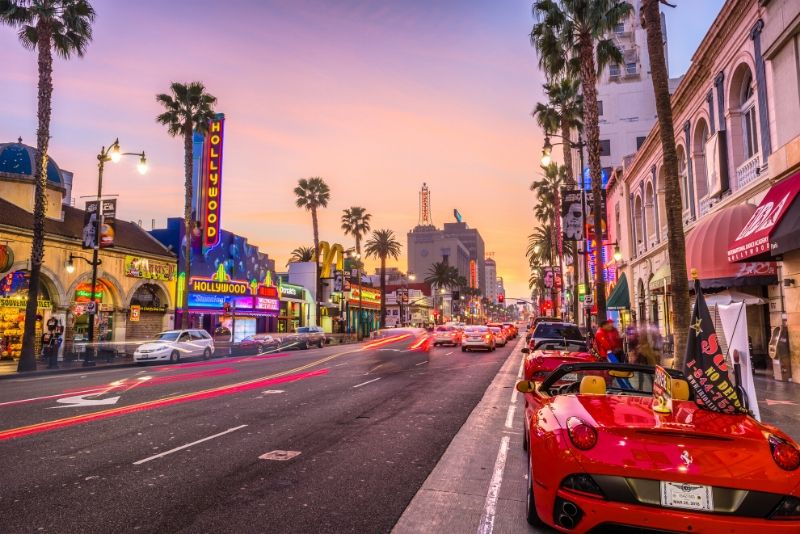 Universal Studios is easily accessible from the main Hollywood tourist strip, with a number of transport options to choose from:
Rideshare – if you're staying in one of the many hotels around Hollywood Boulevard, then a rideshare service like Uber or Lyft could be the best option. You won't have to worry about parking once you arrive, and it's only a 10-minute drive.
Public transport – From either Hollywood/Vine Station or Hollywood/Highland Station, take the red line (metro B) up to Studio City/Universal City Station. Including a short walk, it's about a 25-minute journey.
Hotel pick-up – Choose a package that includes transportation. TourScanner provides a number of cost- and time-saving options in this regard.
How can I get there from downtown LA?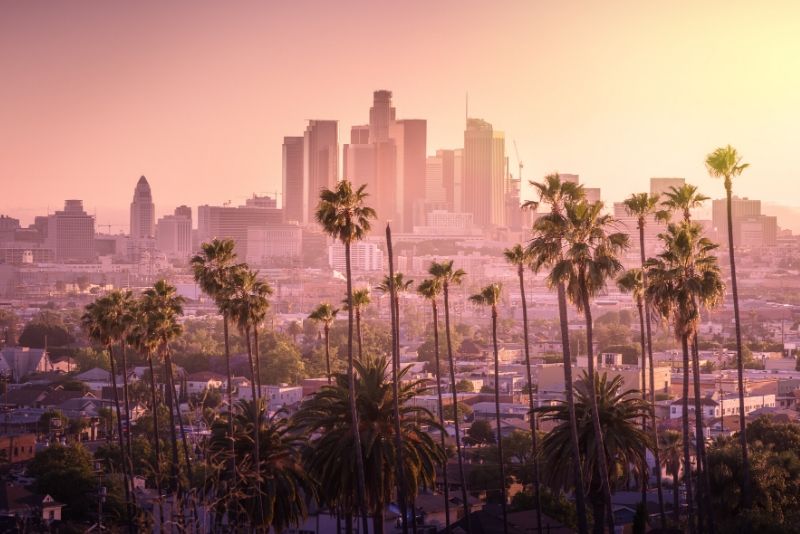 While a little further from Downtown Los Angeles, Universal Studios is still relatively accessible. Your options include:
Rideshare – the drive from Downtown is approximately 10 miles, mostly along a freeway. On a good day, you can make the journey in 15-20 minutes. However, the traffic in this city can be horrendous, so it's best to allow for extra time.
Public transport – take the red line (metro B) up to Studio City/Universal City Station from one of the many Downtown stations.
Hotel pick-up – Opt for a Universal package that includes hotel pick-up and drop-off by checking out the options on TourScanner.
What are the other must-see attractions in Los Angeles?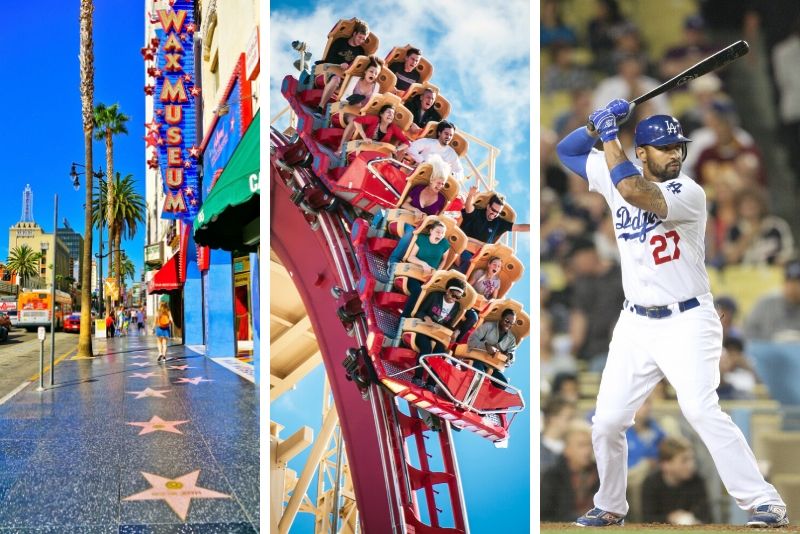 Los Angeles boasts a list of attractions as long and diverse as any American city. If the theme park craving still needs to be satisfied, then any of Disneyland, California Adventure, Warner Bros Studios Hollywood, Six Flags Magic Mountain, or Knott's Berry Farm ought to do the trick.
For something a little more relaxing, take a stroll up through Griffith Park, or admire the works at one of the many famous museums in LA, like the Getty Centre or the Los Angeles County Museum of Art.
The City of Angels is also renowned for its sports teams. Providing the schedule lines up, a seat at a Dodgers (baseball), Clippers (basketball), Galaxy (soccer), Kings (ice hockey), Lakers (Basketball), or Rams (football) promises to be a great spectacle.
Travel Tips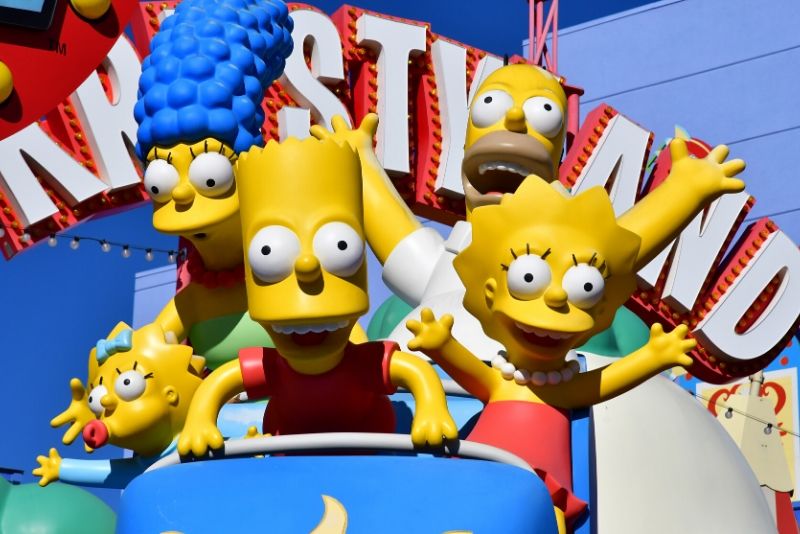 There are also some things that we need to keep in mind in order to make the trip run as smoothly as possible. Take these tips into account and you'll be all but guaranteed to have a great time at Universal Studios!
Download the Official Universal Studios Hollywood app before your big day at the park. In the palm of your hand, you'll have maps, wait times, show times, and WiFi.
Unless you have an Express pass, make The Wizarding World of Harry Potter the first stop. As the day goes on, it tends to become more and more crowded.
Bring an empty water bottle and fill it up inside the park to save money on buying water inside (and to keep hydrated).
Wear sunscreen! The California sun can be very strong.
So, what are you waiting for? Get your Universal Studios tickets today!