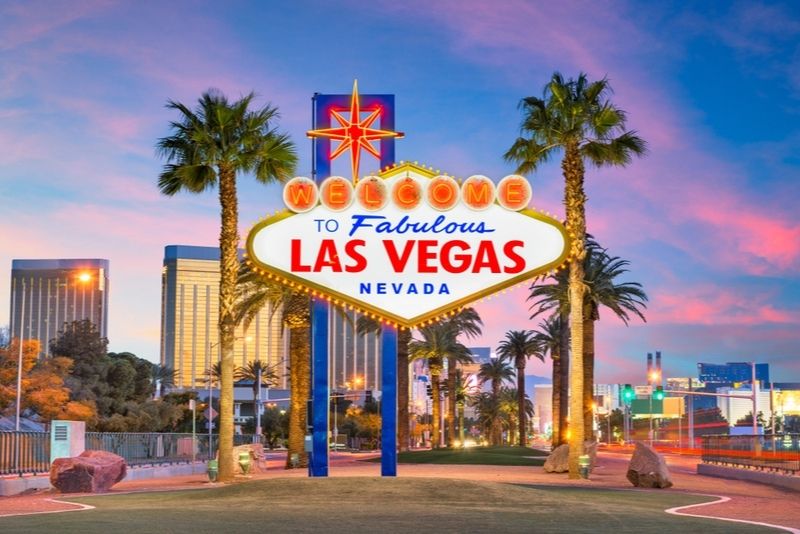 Las Vegas might boast a reputation for round-the-clock partying and dazzling casinos, but Sin City has far more to offer than simply hangovers and roulette!
If you're hunting for fun things to do in Las Vegas, you'll be spoiled for choice. Take a day trip to hike the Grand Canyon, feel the thrills on the Stratosphere, see incredible shows — from Cirque du Soleil's extravagant acrobatics to toe-tapping rock concerts and celebrity tributes— sit back and relax in the luxury resorts, eat at Michelin-starred restaurants, and so much more!
With dozens of hotels offering every sort of entertainment activity under the sun, and more national parks within arm's reach that nearly any other major city in the region, this desert oasis offers a list of unforgettable activities unmatched by any other city in the world.
Throw in its famous nightlife, terrific shops and the country's best spas, pool parties and clubs — all set against a backdrop of towering palm trees and desert mountains — and you've got yourself a city that will keep even the most ardent traveler entertained.
Whether you visit with friends, family, or that special someone, you'll notice soon enough that there is something for everybody in this city! So, enjoy it!
1 – Fly over Las Vegas on board a helicopter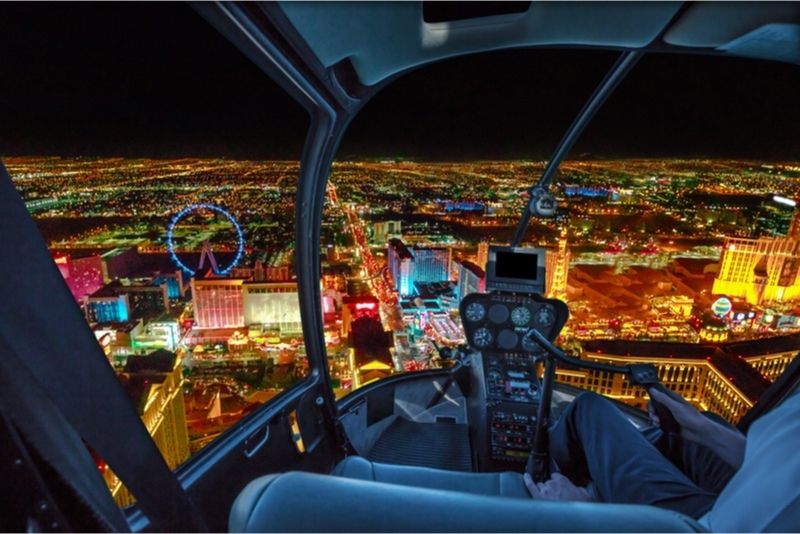 Get a chance to jump in a helicopter and fly under the twinkling starlight over the shimmering Las Vegas Strip. Taking to the skies in a chopper is one thing, but seeing Las Vegas illuminated by all its vibrant lights from the sky is another!
You even have the option to choose the duration of your flight! So, what are you waiting for?
2 – Explore the Black Canyon wildlife by kayak
One of the most enjoyable things you could do while visiting the Black Canyon is a half-day kayak tour. You'll get to see the native wildlife, including desert bighorn sheep. The flora is also very impressive, and you'll get to see a number of beautiful landscapes, such as the Emerald Cave.
Just make sure not to fall in the water – it gets pretty cold down there!
3 – Say "I do" in the Graceland Chapel in front of Elvis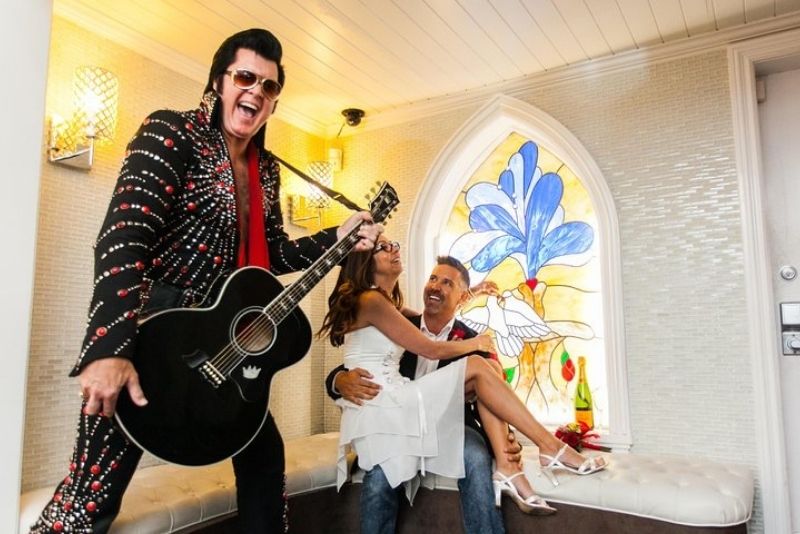 If you're crazy enough for a spur-of-the-moment wedding, then the Graceland Chapel in Las Vegas awaits. It can be an official or nonofficial wedding – the aim is just to have fun! If you want to spice up the event, you can even have the wedding officiated by Elvis!
The only thing left to do is find yourself a partner worth marrying! Don't forget to take pictures, of course.
4 – Try the cowboy lifestyle with a sunset dinner after a horseback tour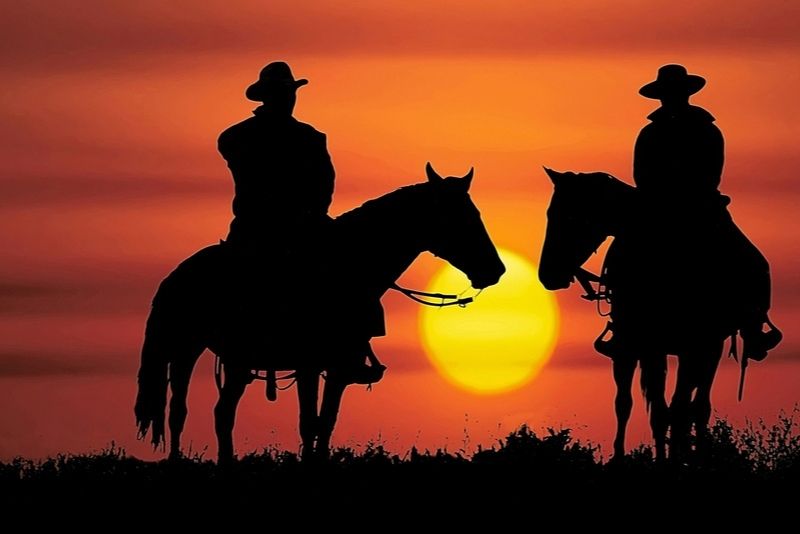 Put yourself into the Wild West with a horseback-seated sunset! Dusk in Nevada is powerful and colorful, and what better way to see it than with a delicious dinner and nothing but nature as far as the eye can see?
With romance written all over it, make sure to invite someone special along for the ride. A tour like this one can be a perfect birthday gift as well.
5 – Crack the code at an escape room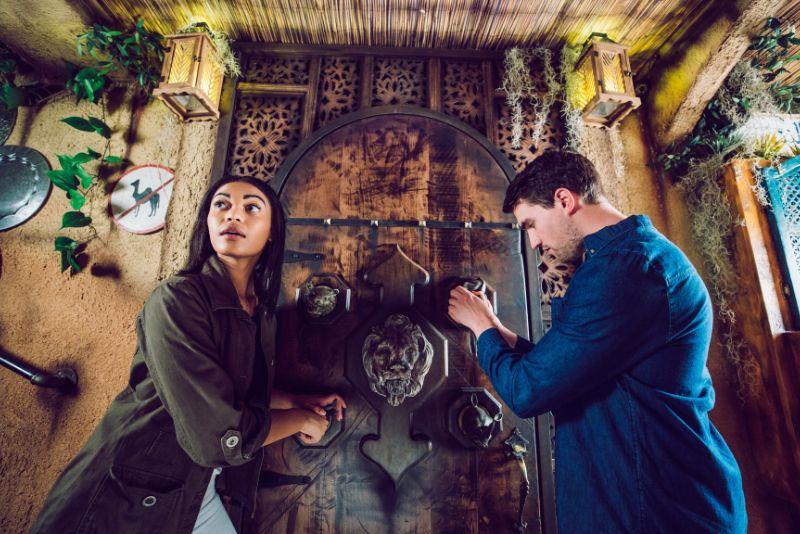 The Escape Game will immerse you and your friends in an adventure that puts your puzzle-solving and communication skills to the test.
Perfect for team bonding, you will have to think strategically with your team to try to escape a room before running the clock strikes zero! Many themes are available to choose from, so you can come back time and time again.
There is no age limit for an escape game, making this one of the most family-friendly, enjoyable things to do in Las Vegas.
Sponsored placement
Transform into the centerpiece of the Museum of Selfies in Las Vegas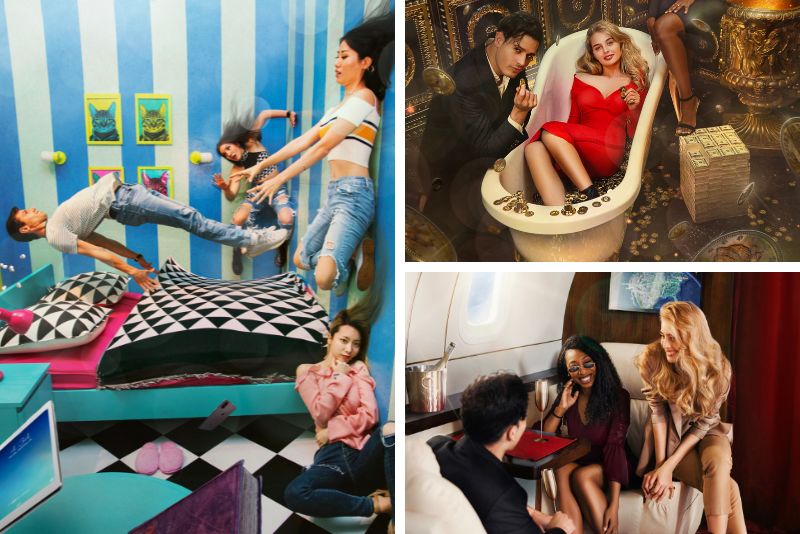 Museum of Selfies at LINQ Promenade is an ultimate destination for modern art enthusiasts and selfie-takers alike.
Immerse yourself in the fascinating history of self-portraiture while snapping unforgettable pictures at interactive exhibits, from the glitzy Gold Bath to the playful Emoji Pool.
Experience a one-of-a-kind, family-friendly outing that will leave you with a newfound appreciation for the art of the selfie and a collection of your finest pictures and self-portraits!
6 – Walk at 1200 meters above the void on the Grand Canyon Skywalk
Are you afraid of heights? Well, if you are, we offer you the chance to get out of your comfort zone! You can walk on the Grand Canyon Skywalk and get some of the most fantastic views you'll ever see!
If you drive to the Grand Canyon West, where the Skywalk is located, you can book online the admission ticket.
See also: Grand Canyon Skywalk Tickets Price – All you Need to Know
7 – Witness the warm color palette of the Valley of Fire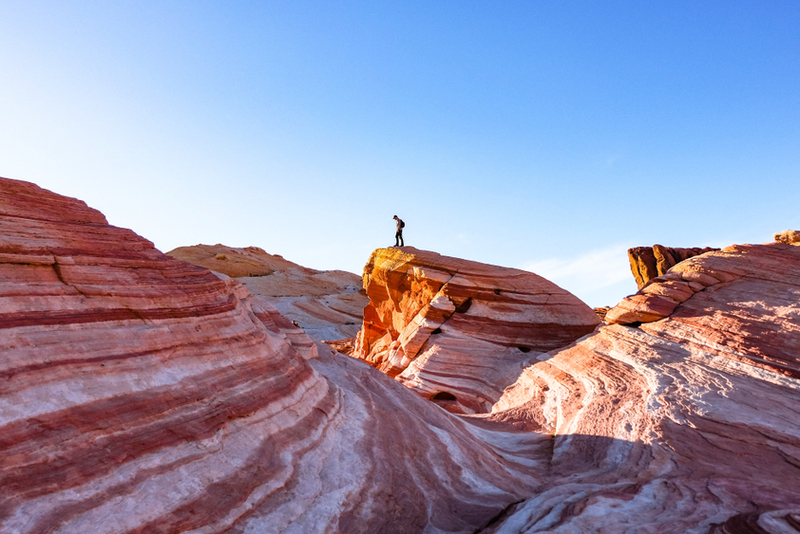 Who said going to Las Vegas was just about gambling? The city is central to many stunning National Parks, including the Valley of Fire. Guided hiking tours pick you up and drop you off from Las Vegas, all you need to do is make sure the camera batteries are charged!
Take a break during your stay in Sin City and enjoy hiking in a natural environment!
8 – Put on your best poker face at the famous Bellagio Hotel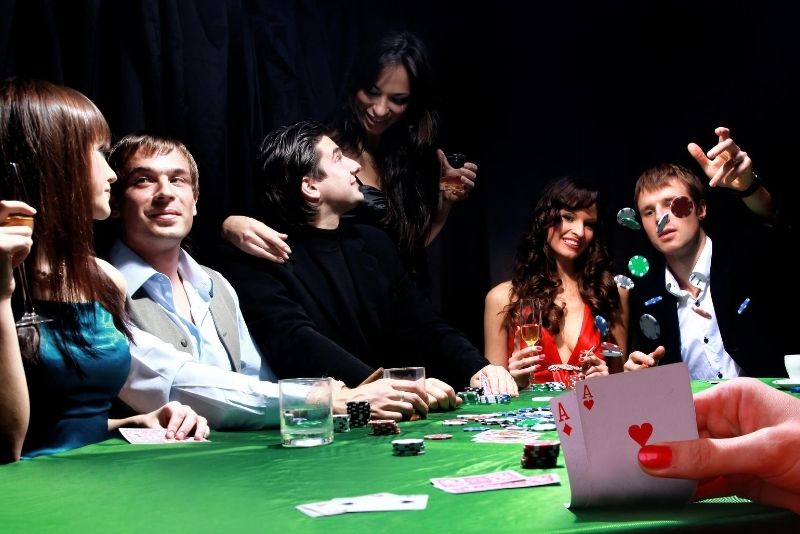 If you are a fan of poker, you will definitely enjoy your stay in Las Vegas. You can play poker in basically every casino you pass by. But if there is one you can't miss, it's definitely the Bellagio Hotel. The sheer volume of cash changing hands at the Bellagio's high-stakes tables are astronomical!
If you prefer not to play, that's fine too – just sit back and watch the pros lock horns instead. There really is something for everyone in this city!
9 – Admire the underwater life at the Reef Aquarium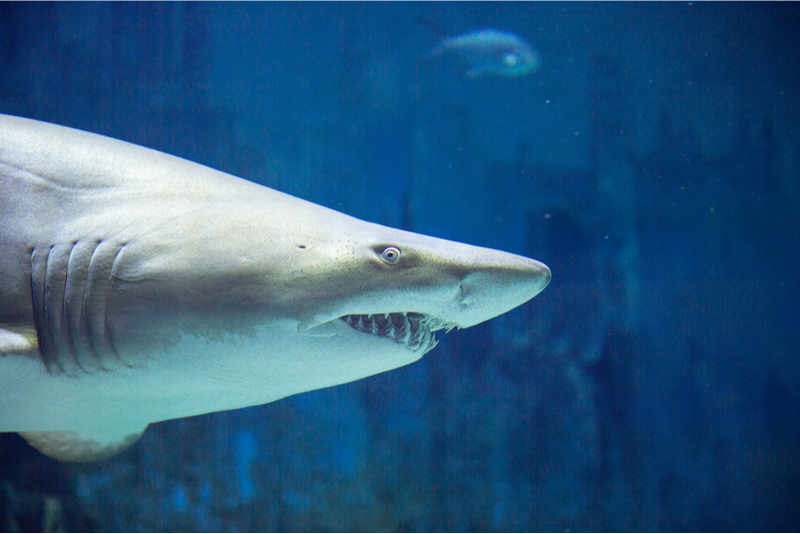 During your visit to the Reef Aquarium, you'll have the chance to see 15 different species of sharks just centimeters from your face (nervous yet?).
With its 2,000 creatures, the Reef Aquarium is one of the most massive tanks in North America. Don't get too scared!
10 – Tick off tandem skydiving from your bucket list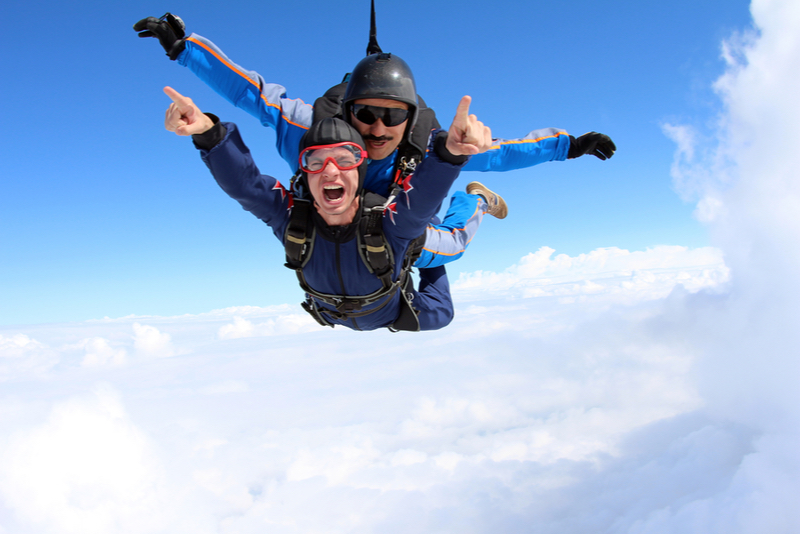 Feel the adrenaline rush through your veins as you jump from a plane in a tandem skydive over the Grand Canyon. A skydive anywhere in the world is heart-racing; a skydive over the Grand Canyon is unforgettable.
Picturesque landscapes will be as far as the eye can see while you rocket back toward Earth at speeds of up to 220 km/hr!
11 – Drink your way through the surreal dream world of Lost Spirits Distillery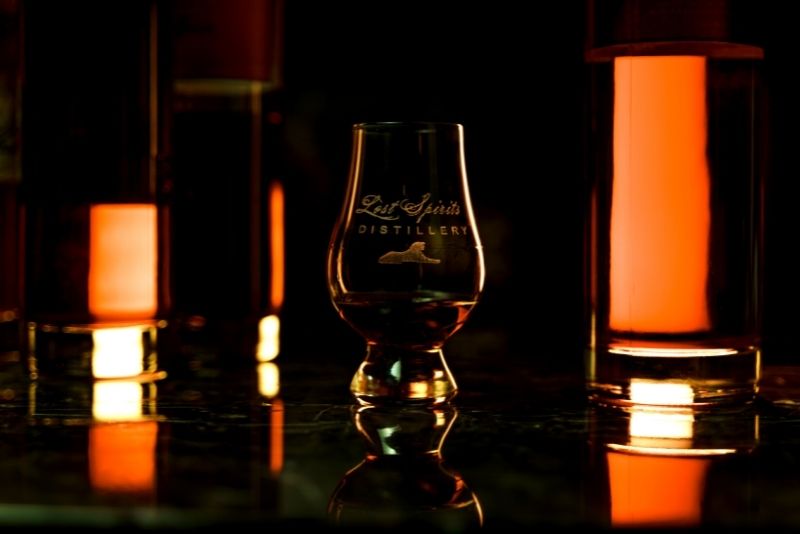 Called the "Willy Wonka" of booze by Playboy Magazine and Disneyland for Adults by WIRED Magazine, travel the artistic and intoxicating world of Lost Spirits Distillery™ while sipping fine rums and brandies.
Lost Spirits also is home to one of most famous research and development rum distilleries in the world – where one can stock-up on award-winning and hard-to-find rums as the perfect souvenir. It is a must see while you are in Las Vegas.
Tickets include a 2-hour adventure and more than enough drinks. After an hour or so, you may find yourself questioning if you're awake, dreaming, or just intoxicated.
Buy tickets with friends, as a date, for business meetings or nearly any special occasion – it is fun to go as a group, couple or solo.
12 – Ride The LINQ, the tallest Ferris wheel in the world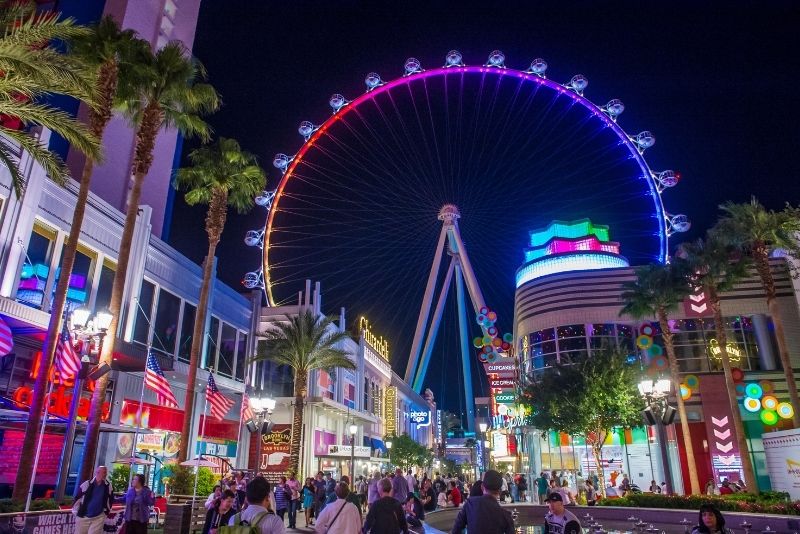 The Las Vegas High Roller appears in almost every picture when you type "Las Vegas" into your browser. That makes it a must-do! Some tours even offer the possibility to have a happy hour while it rotates.
And guess what? We already knew that Las Vegas was a crazy city, but it's about to get crazier: you can even get married on the High Roller, 550 feet above the center of the Las Vegas Strip!
See also: best tourist attractions in Las Vegas
13 – Stare in awe within the walls of Antelope Canyon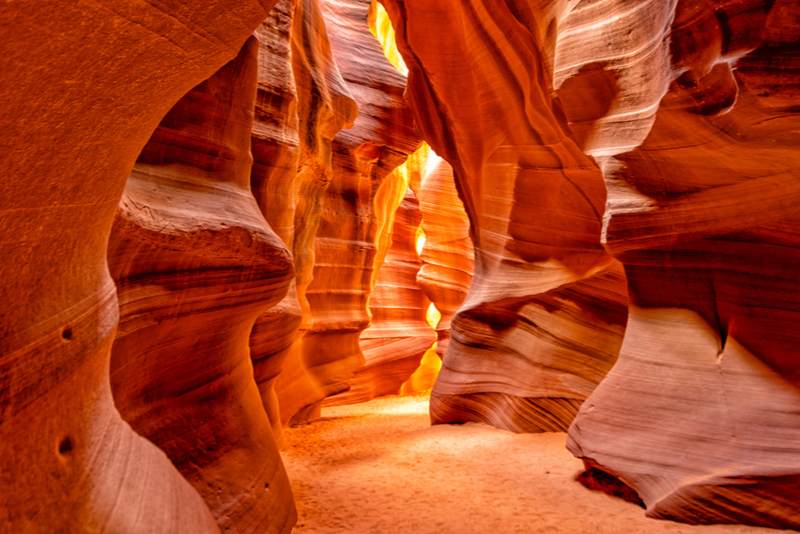 As the most famous and most visited slot canyon in the world, Antelope Canyon is a must-do for anyone visiting Vegas. This calm and peaceful atmosphere will give you the opportunity to relax, away from the hustle and bustle, while offering truly incredible photo opportunities.
Don't forget the camera — a hike through the nearby Antelope Canyon is one of the most visually enchanting things to do in Las Vegas!
14 – Feel the powerful wind around the Hoover Dam Bridge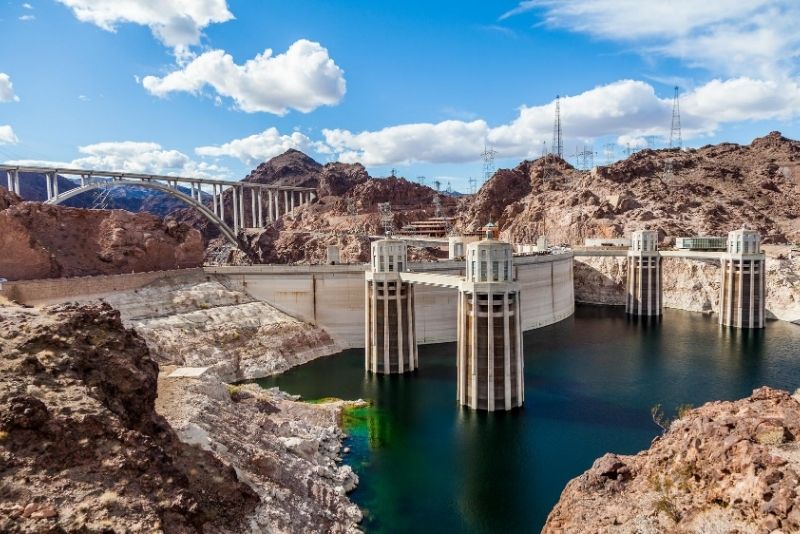 If you get the chance to take a trip to Las Vegas, ensure a day's left available to tick off one of the United States' most popular destinations: the Hoover Dam. It's one of the top attractions in the Las Vegas region.
Countless photo opportunities await, making this spot an ideal destination for passionate photographers!
15 – Become a sniper for a day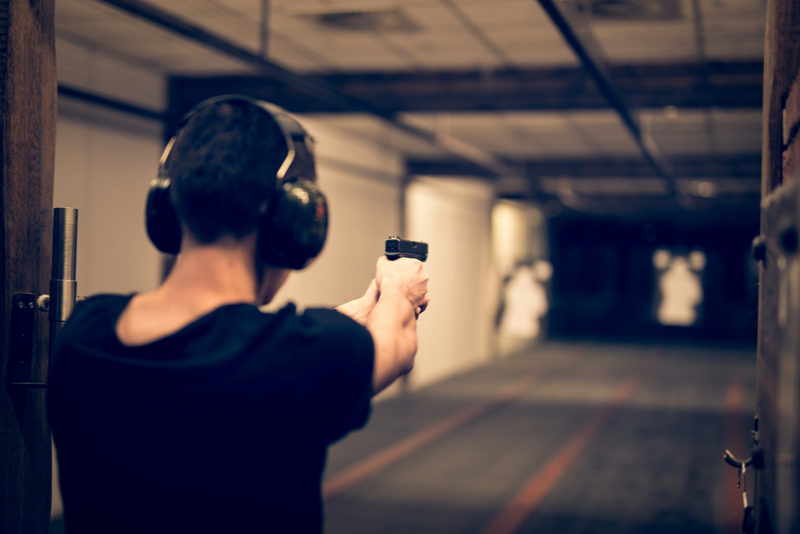 Have you ever watched an action movie and wanted to be like the main character, sniping around and never missing the target? Well, put your skills to the test at the Battlefield Vegas shooting experience!
It is open to everyone, including beginners. So what are you waiting for?
16 – Hear the bellowing roars at Lion Habitat Ranch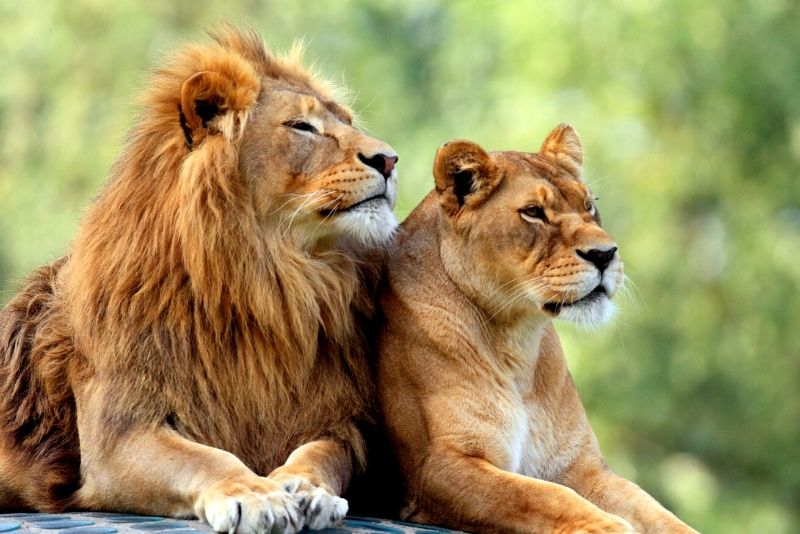 Making any traditional zoo seem like little more than a children's farm, Lion Habitat Ranch provides animal lovers the chance to meet the kings of the jungle, up close and personal.
Home to over 40 big cats and their cute-as-a-button cubs (as well as Ozzie the Giraffe), this outdoor attraction is a hit for the whole family.
While most travelers opt for the self-guided walking tour, those looking for something a little more riveting can sign up for the behind-the-scenes tour.
17 – Take a hop-on-hop-off bus tour around Las Vegas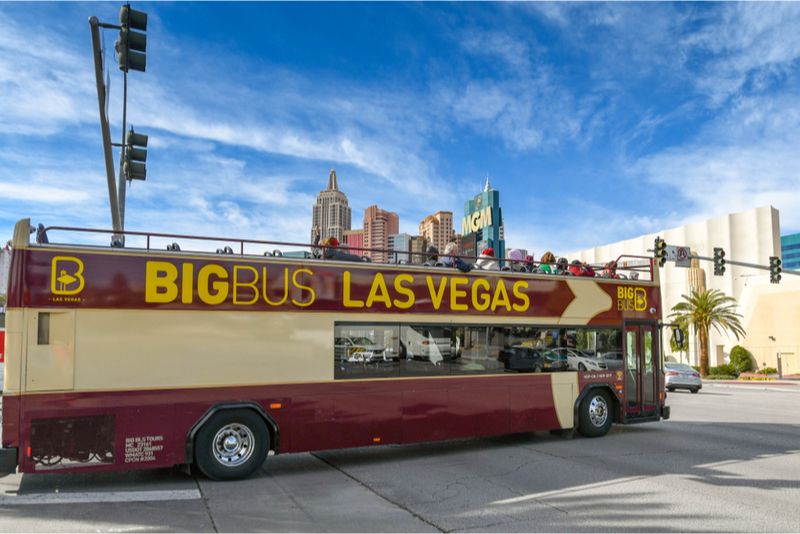 It's not only in London that has double-decker buses! In Las Vegas, you will find the opportunity to do a tour of the entire city, seated on a comfortable bus. The open roof will allow you to have a better view and enjoy the sunny weather at the same time.
If you're pressed for time, this is the perfect way to see as many things as possible.
18 – Fly over the Grand Canyon by helicopter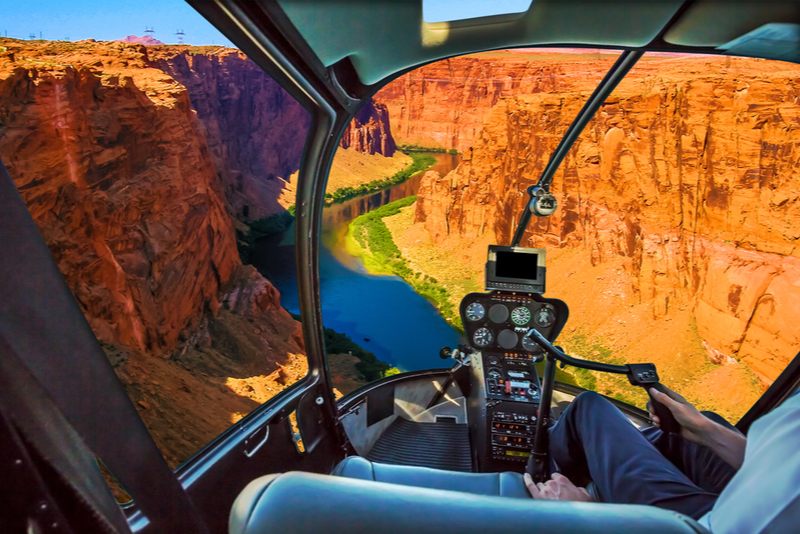 A Grand Canyon helicopter tour from Las Vegas will make you feel tiny as you soar over the enormous mountains, canyons, and gorges. The Grand Canyon is already extremely impressive from the ground, but seeing it from the sky is on another level.
During the helicopter tour, you will also have a live English-speaking guide describing and explaining every point of interest.
19 – Explore the Red Rock Canyon on bike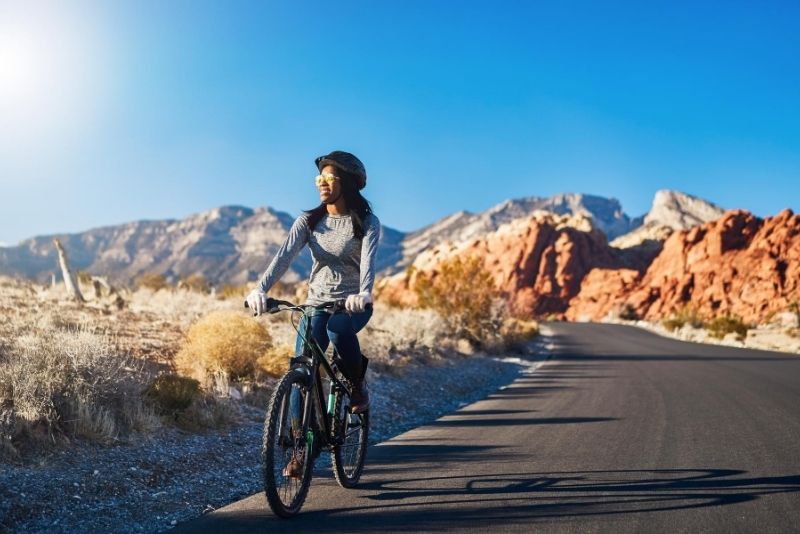 If you want to get out of the hectic Las Vegas Strip for a day, we have the solution for you: a self-guided electric bike tour in the Red Rock Canyon!
Take a bottle of water, a camera, and dress in your most comfortable sportswear for what will be an unforgettable day. For nature-lovers, it's one of the best things to do in Las Vegas
Looking for more options? Check out the 10 Best Red Rock Canyon Tours from Las Vegas.
20 – Watch the stunning Cirque du Soleil show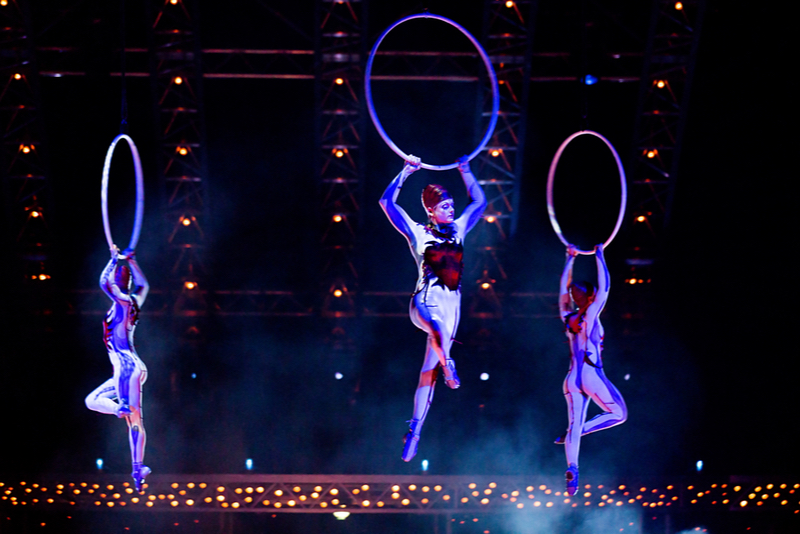 Combining high octane athleticism, art, magic, and more, le Cirque du Soleil is one of the most famous and impressive circus producers in the world. People usually walk away in disbelief – it's just that good.
Don't hesitate to book your ticket if you want to have a great evening with your family or friends. As far as entertainment goes, this is one of the best things to do in Las Vegas.
Hot tip: Check out the best shows in Las Vegas to see right now.
21 – Discover the artsy Seven Magic Mountains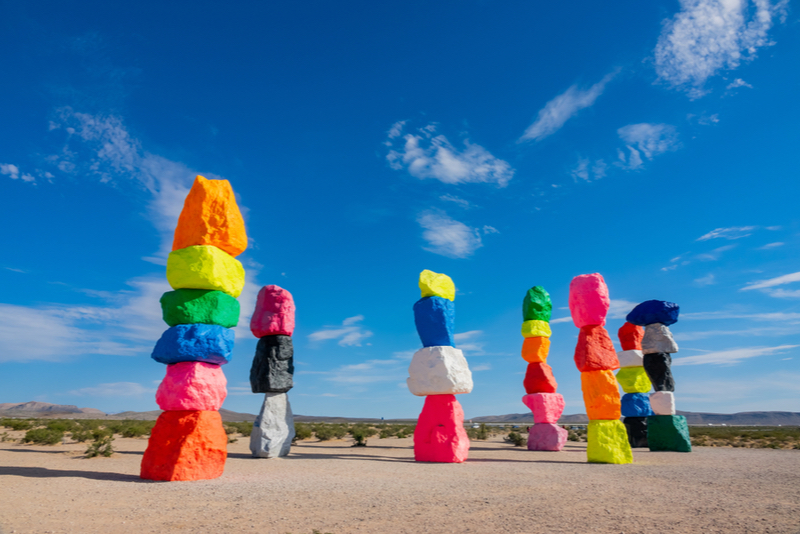 Situated approximately 10 miles away from the Las Vegas Strip, these colorful totems contrasting perfectly with the desert, creating a picture-perfect backdrop. The Seven Magic Mountains is an exhibition created by Ugo Rondinone, a Swiss artist who successfully added his vibrant touch to the arid desert.
Take your best sunglasses and let those neon colors fill your photo frame.
22 – Take the craziest selfies with your favorite celebrities at Madame Tussauds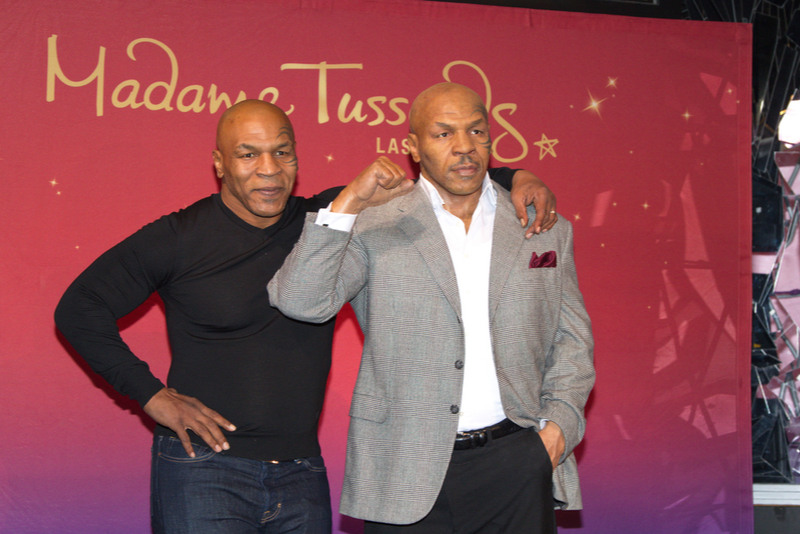 If you pass by Las Vegas, don't forget to take some selfies with your favorite celebrities at Madame Tussauds! The statues are uncanny, and you'll be guaranteed to fool your friends.
Snap a photo with (wax) Eva Longoria, Muhammad Ali, Leonardo DiCaprio, or Britney Spears – regardless of your A-lister of choice, we're sure that you'll have a great time!
23 – Get mesmerized by the Bellagio fountain show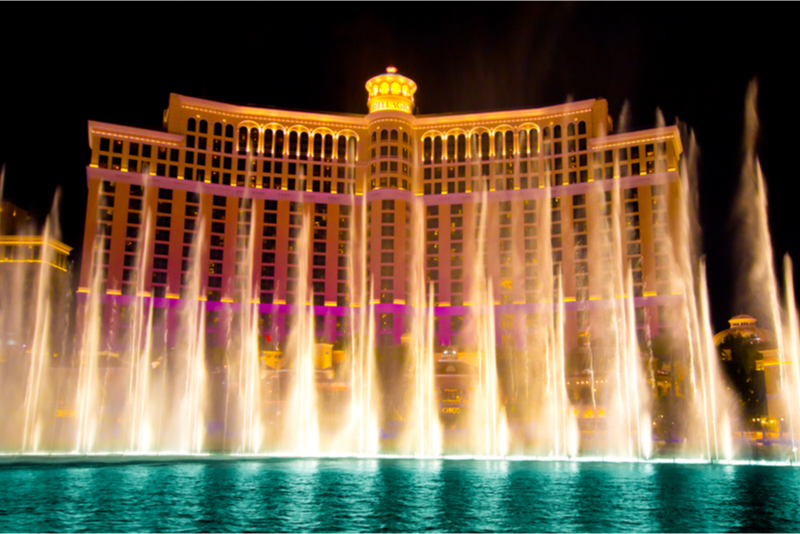 The Bellagio fountain show is one of the city's most iconic spectacles. There is nothing like seeing them live. If you are staying in the city for a few days, this is definitely something you shouldn't miss!
With synchronized music, powerful water cannons, and dancing lights, the atmosphere truly is unreal.
24 – Roar through the desert dunes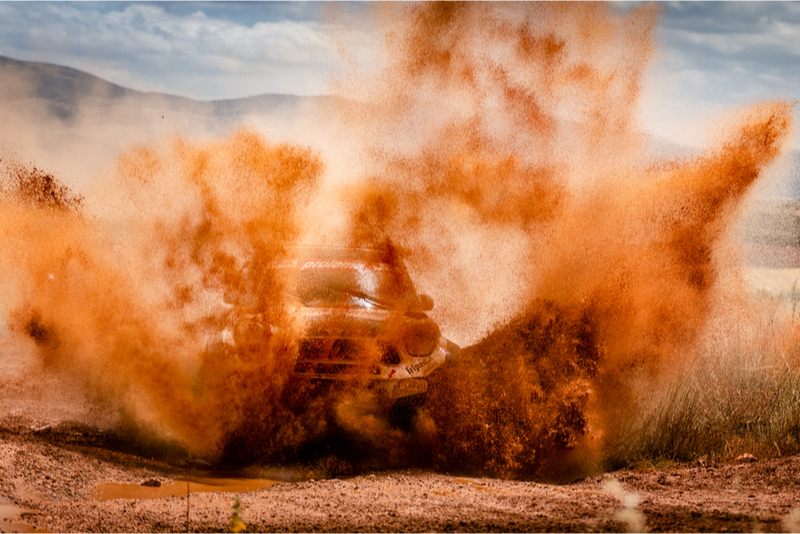 Just outside of the city, if high-octane thrills are what you're after, then you won't find much better than a desert dunes tour during your stay in Las Vegas. Chase dunes on board of a quad bike or a buggy, the choice is yours!
Where to start? The little-known Hidden Valley provides a rugged, otherworldly experience, made up of rolling dunes and beautiful natural landscapes – all just 30 minutes away by car. Surround yourself with friends and book a tour today!
See also: 10 Best Las Vegas ATV Tours
25 – Elevate your Las Vegas experience at the Stratosphere Observation Deck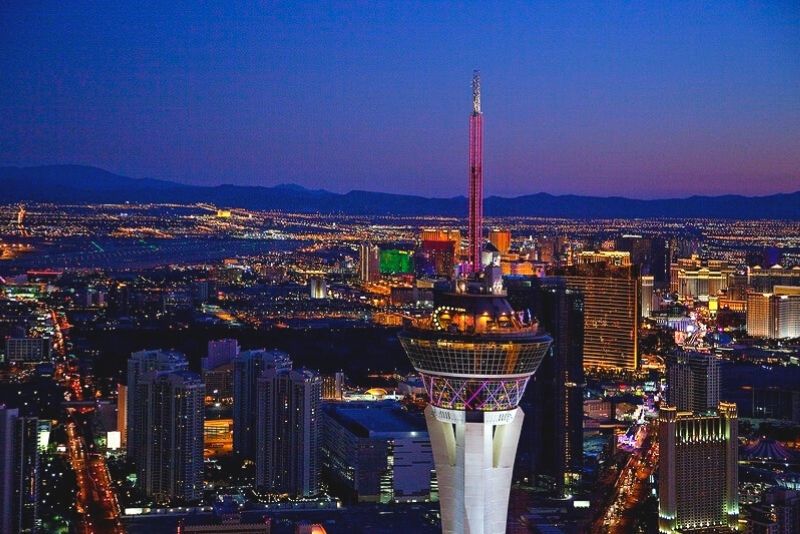 The Stratosphere Observation Deck is definitely one of the most iconic spots in the city. Not only does it sport a fantastic view of the area, but it also hosts restaurants where you can dine out in style!
This is an amazing experience to share with someone you love.
26 – Get in control of powerful equipment on a giant playground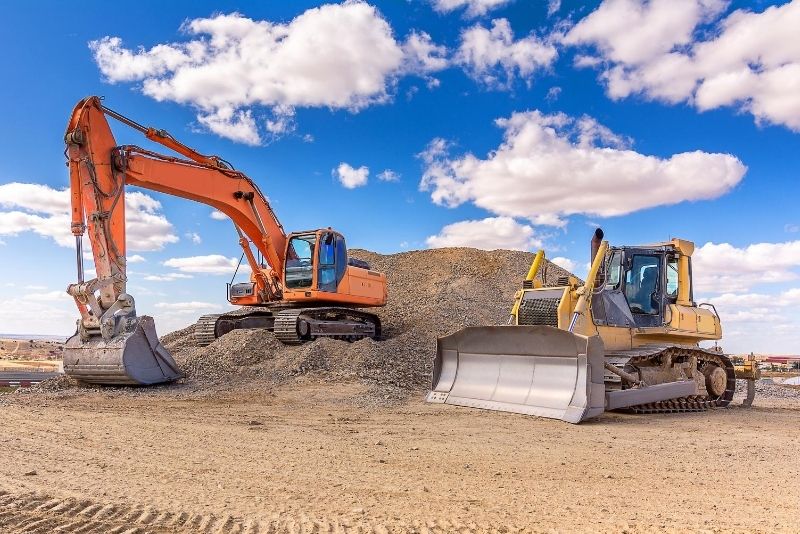 If you're the kind of person with a thirst for power and control, then driving enormous bulldozers and digging giant holes in a supersized playground might be exactly what the doctor ordered!
If you used to play with trucks in the sandpit as a kid, now's your chance to do so for real!
27 – Fly over the dry Pahrump Valley on board of a hot-air balloon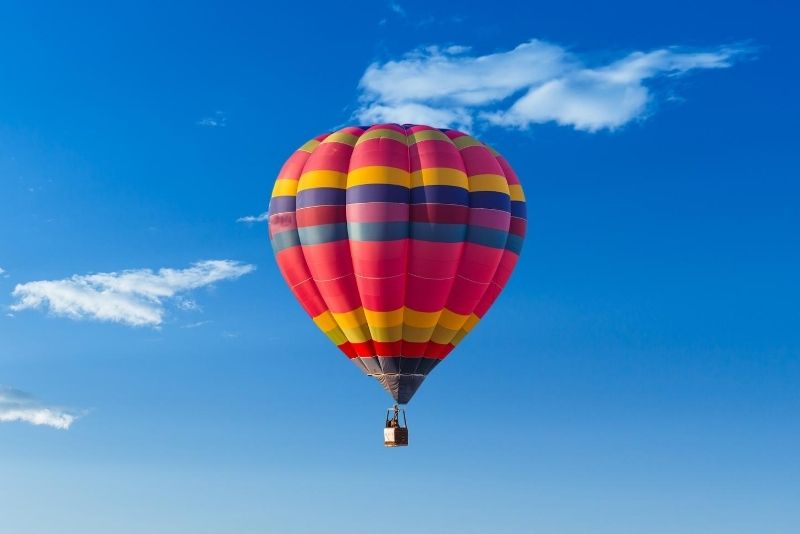 Want to get a view from the sky? Try the hot-air balloon ride and fly over the Pahrump valley. You'll see the massive rocks jut out from the endless landscape, all while enjoying a Champagne float and obtaining your flight certificate!
Choose from a summer sunrise or winter sunset, either way, you're in for a wonderful adventure!
28 – Enjoy an exotic day tour at the Zion National Park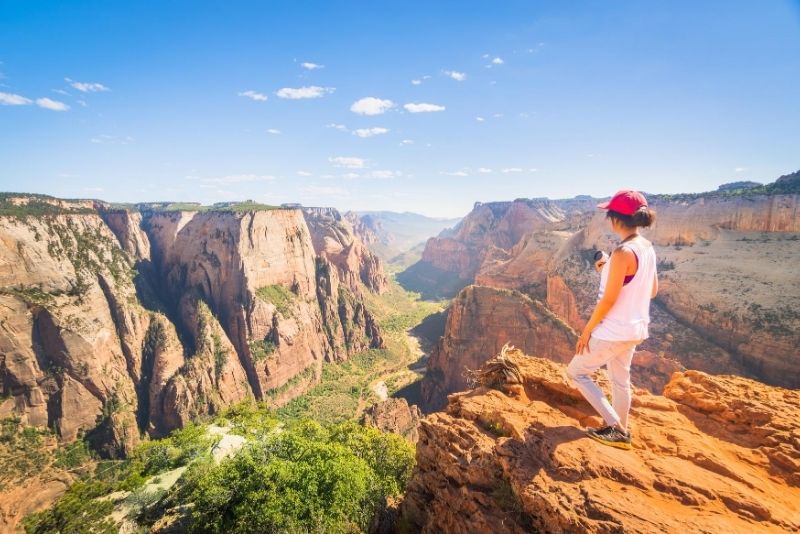 Spanning nearly 150,000 acres in the heart of Southern Utah, Zion National Park is one of Las Vegas' most incredible day trips. Marvel at towering red cliffs and majestic sandstone formations, hike along scenic trails to secluded waterfalls or slot canyons, wander through ancient groves of cottonwood and ash trees, delight in a fantastic array of wildlife, or just simply relax in the park's natural beauty.
While you're there, learn about the "Grand Circle" – a phenomenon of the region's interconnecting national parks – and check out the historic sites, ancient Indian rock art, and breathtaking views. You can also cruise through the famous Mt. Carmel tunnel!
Looking for the best bang for your buck? Consider joining an organized tour. Many of the tours will take you to Zion and other area highlights, including Bryce Canyon National Park and the picturesque Grand Staircase-Escalante National Monument, so you can make the most of your day in nature.
Hot tip: Don't forget to wear your best hiking shoes for the trail!
See also: Fun things to do in Zion National Park
29 – Live your Fast & Furious dream at the Supercar Racetrack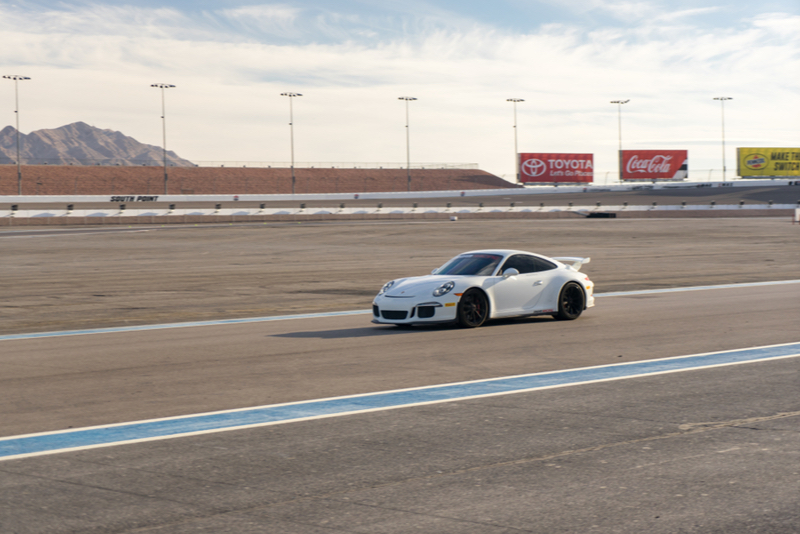 If you are a thrill-seeker looking for things to do in Las Vegas, this activity is made for you! Live your very own Fast & Furious experience as you drift around corners and burn some rubber at the Motor Speedway.
You even have the opportunity to buy the video footage so that you can relive all your shrieks, tears, and giant smiles! A high-thrills memory is about to be made!
Check out the event calendar if you wish to watch the pros racing.
30 – Admire the Grand Canyon's West Rim by airplane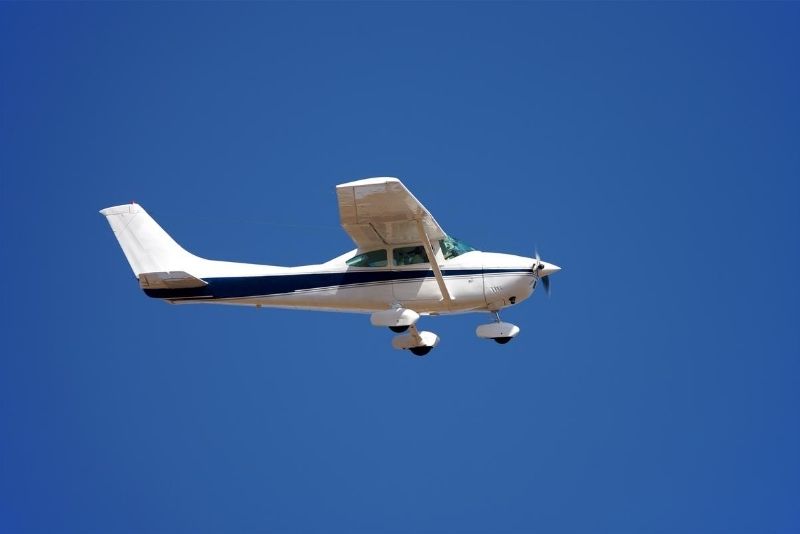 One of the most fantastic things you could do at the Grand Canyon is to see it from the sky on an airplane tour. Through the windows, you will get to see all the exceptional landmarks that the Grand Canyon has to offer, such as the Zuni Corridor, the Desert View Watchtower, and even Point Imperial.
You will also have the chance to hear about the history of the Grand Canyon and its surrounding areas! Who could ask for more?
31 – Get married in… a ghost town?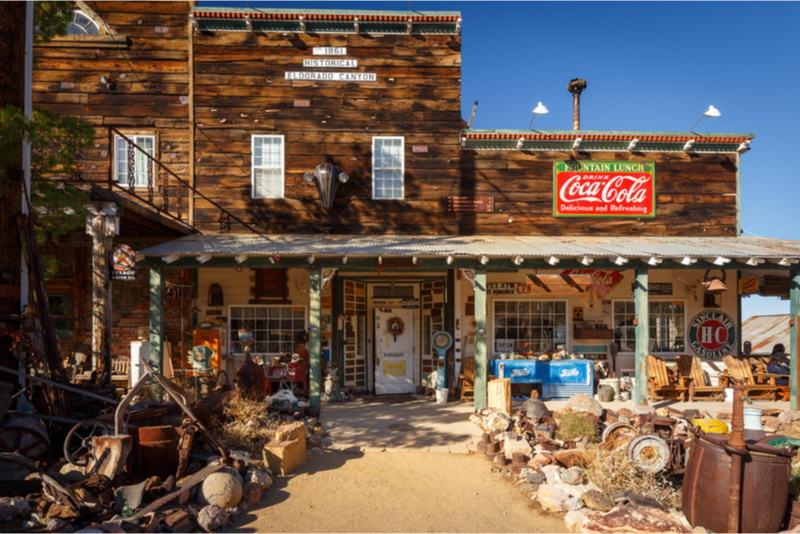 Out of all the craziest ideas someone could have had in Las Vegas, this one probably sits in the top 3! Getting married at the Nelson Landing ghost town? Really? Well, some people have done it! If we ignore the spooky elements, it could actually be a lot of fun!
Bring your friends, invite the whole family, and tie the knot in a seriously unique environment (or visit just for the sake of it).
32 – Explore the Eldorado Canyon and Gold Mine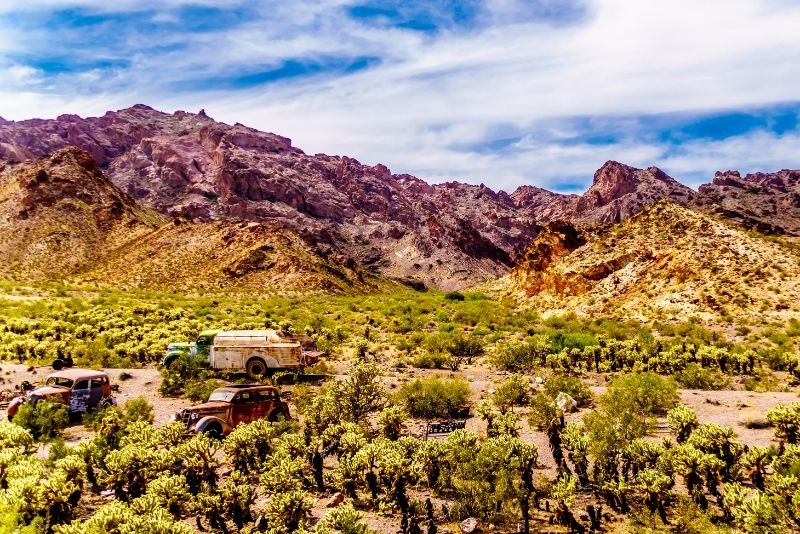 Have you ever wanted to find some hidden treasure? Now's your chance! From Las Vegas, you can plan a visit to Eldorado Canyon, explore the gold mines, and hopefully find something shiny for yourself.
The Canyon offers incredible views with many photo opportunities. The Gold mine is also full of history, so opt for a guided tour if you want to learn about all its secrets.
33 – Work on your drive at Topgolf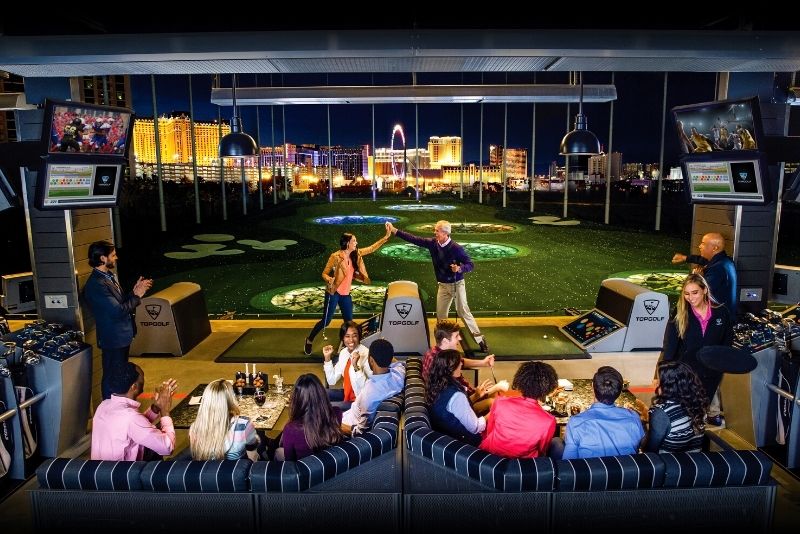 It's like a bowling alley… but for golf! Providing the perfect blend of relaxing entertainment and physical activity, Topgolf utilizes state-of-the-art technology to combine a traditional driving range with competitive augmented-reality activities.
Even if you couldn't care less about golf, the venue has on-site bars, restaurants, and simulation games like Angry Birds to keep everyone having fun.
34 – Climb aboard a Mississippi-style paddlewheel boat for a scenic cruise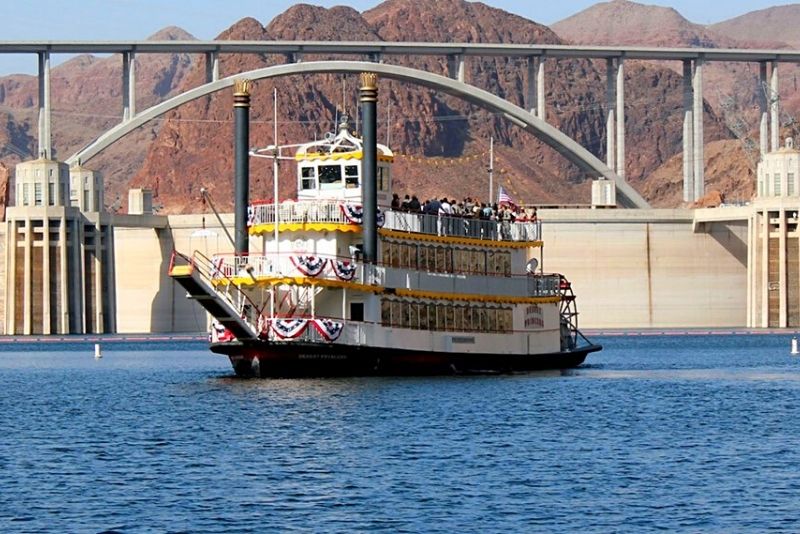 Take the time to appreciate a drink and an excellent meal on Lake Mead aboard a paddleboat. The sunset you witness from the decks is stunning, offering incredible photo opportunities.
This is the perfect location to enjoy a great dinner in the summertime!
35 – Be entertained 24/7 at Circus Circus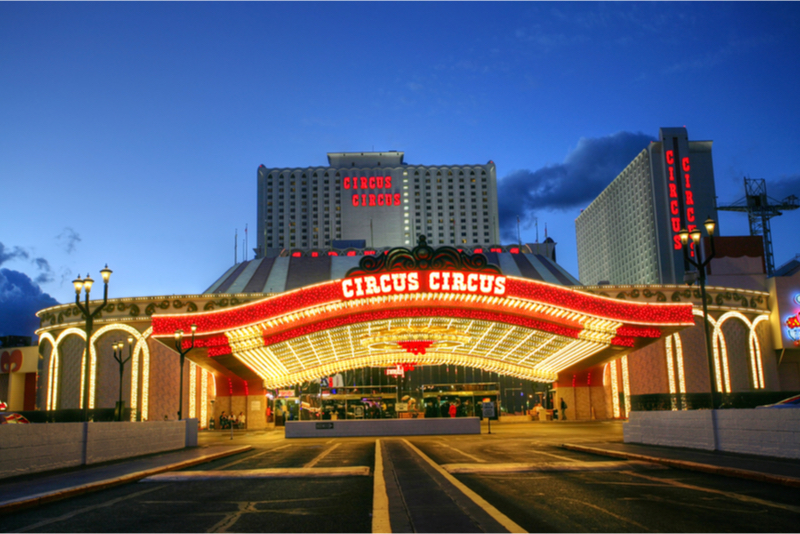 Despite what most people think, Las Vegas is also an excellent place for family trips! If you chose to do it that way, we highly suggest you stay at the Circus Circus Hotel & Casino & Theme Park – a classic hotel known for being the best accommodation for families.
With entertainment, amenities, the casino floor, circus shows, and its very own theme park (Adventuredome), this place is insane! You can be sure that you will never get bored during your stay there.
36 – Live your best shopping experience at the North Premium Outlets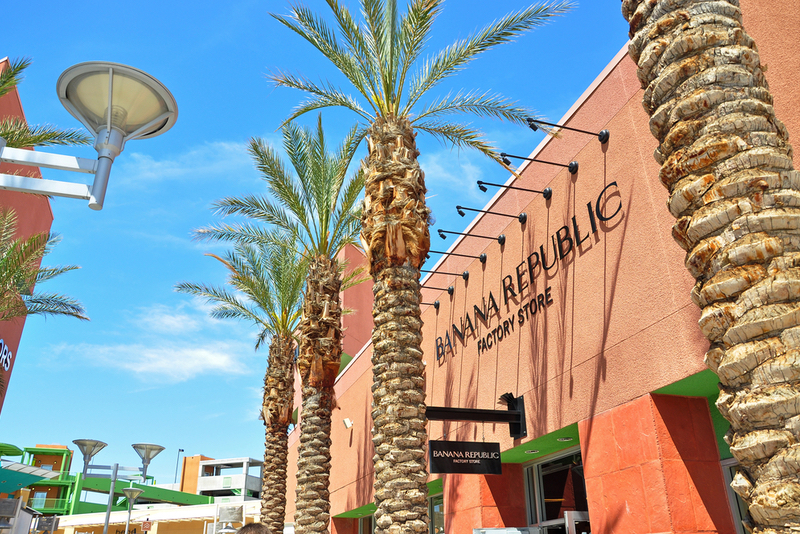 Shopaholics, this might just headline your list of things to do in Las Vegas.
Las Vegas offers many shopping tours and opportunities, highlighted by the North Premium Outlets shopping mall. This open space has over 150 clothing and accessory shops such as Polo Ralph Lauren, Michael Kors, Lacoste, Dolce and Gabbana, and more. Discounts of between 25% and 75% are waiting, all year long!
Be careful not to overuse your credit card though!
37 – Go wild at the best pool party in Las Vegas!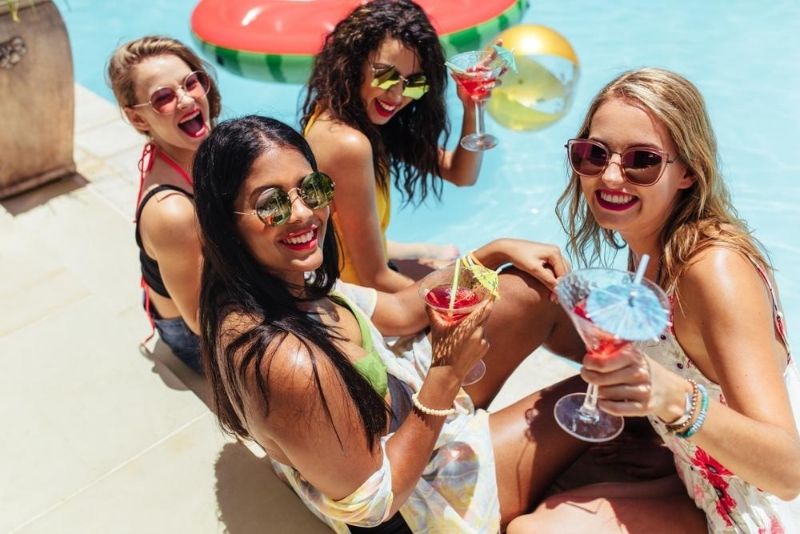 Regardless of whether you're sipping rum-and-cokes at a day club or downing shots at a nightclub, you can't beat the atmosphere of pool parties in Las Vegas.
Depending on your style, you could spend the day at Wet Republic, Stadium Swim (perfect for sports fans), Venus Pool Lounge (a bit more bougie with its European feel), or Encore Beach Club (known for world-famous DJs), a wild day out is never too far away.
38 – Catch the Vegas Golden Knights at T-Mobile Arena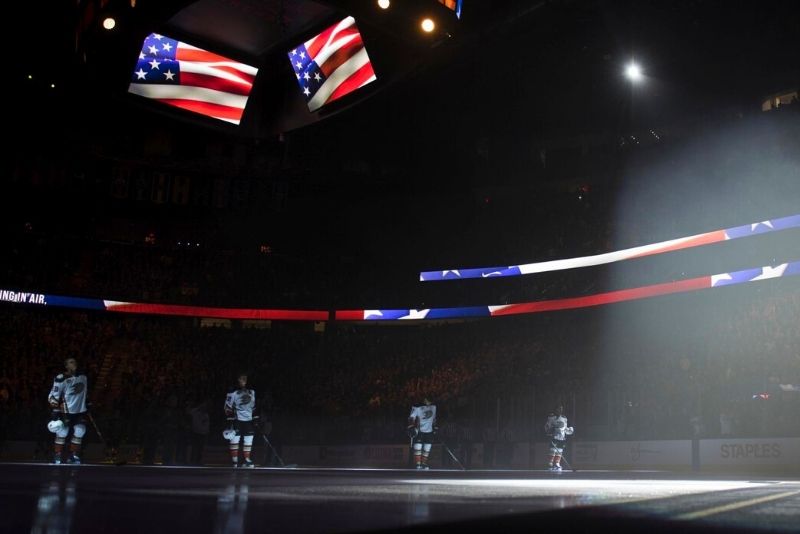 Home to the newest club in the NHL (National Hockey League), the 20,000-capacity T-Mobile Arena dishes up an atmosphere that can only be described as electric.
Outside of the hockey season (that's ice hockey, by the way), the stadium also hosts high-stakes fights, A-list concerts, music festivals, and plenty more.
Located between the MGM Grand and Excalibur, it's easily accessible even without a car.
39 – Get scared at the Wild West Ghost town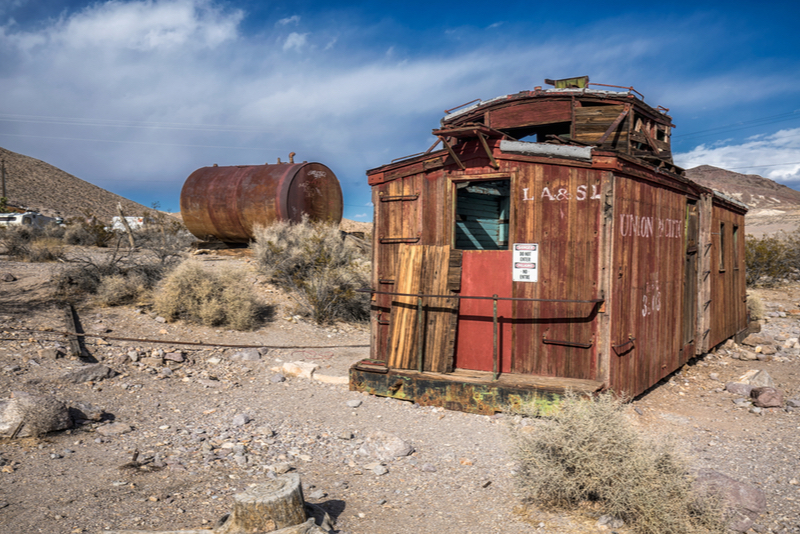 If you are a fan of horror movies, you will want to explore the Wild West ghost town. Funny enough, Nevada is home to more ghost towns than actual populated towns. Crazy when we know that the state hosts the city of Las Vegas, right?
Go on a guided tour and learn about the history of this ghost town. You will have the chance to see a Wild West cowboy shootout show and make a pitstop at a Western saloon!
40 – Meet your favorite heroes at the Marvel Avengers STATION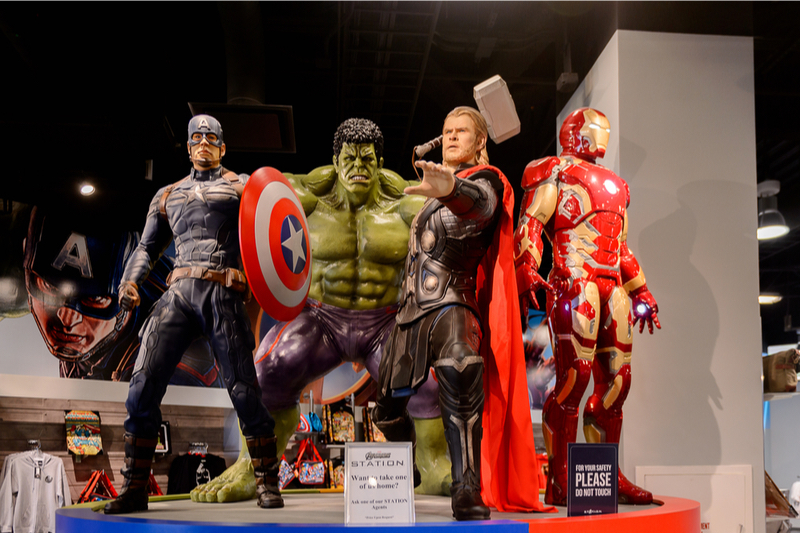 Big fan of the Marvel Cinematic Universe? Then you'll quickly fall in love with everything on offer at the Marvel Avengers STATION. Full-sized superheroes and plenty of apparel, toys, and collectibles await!
This is an excellent activity for kids if you're heading to Vegas with the family.
41 – Fly like a bird on the Bootleg Canyon zipline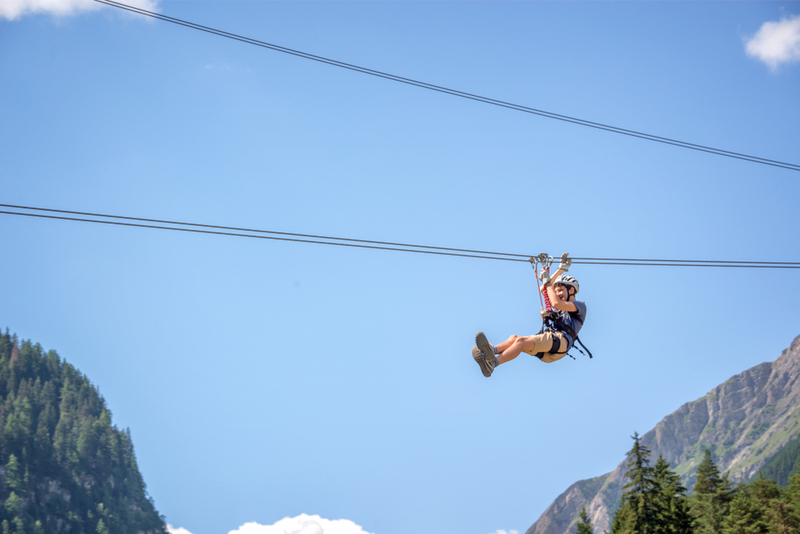 The Bootleg Canyon zip line is definitely one of the most exciting activities you could do during your stay in Las Vegas. If you are a thrillseeker or simply someone who wants to feel the adrenaline of flying over a Canyon, this activity is made for you!
Get ready because it will take your breath away!
42 – Visit the Shelby American Museum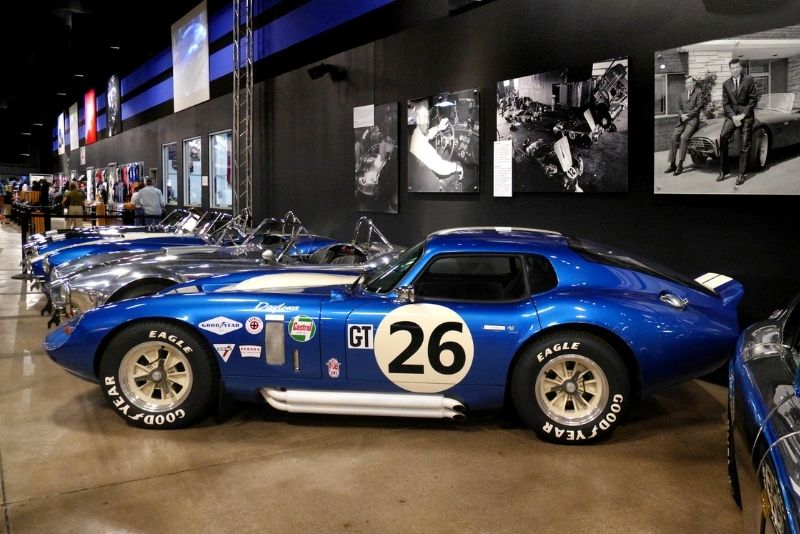 For the diehard motorheads out there, the nostalgia-triggering Shelby American Museum should sit high atop the list of things to see in Las Vegas.
The revered indoor museum showcases the manufacturer's most notable models (as well as rare prototypes), including Cobras, Mustangs, and Supersnakes, plus equally-famous vintage cars like the Ford GT 40.
If you truly live and breathe classic wheels, the venue is even licensed to tie the knot for happy couples.
See also: best museums in Las Vegas
43 – Visit the Las Vegas Springs Preserve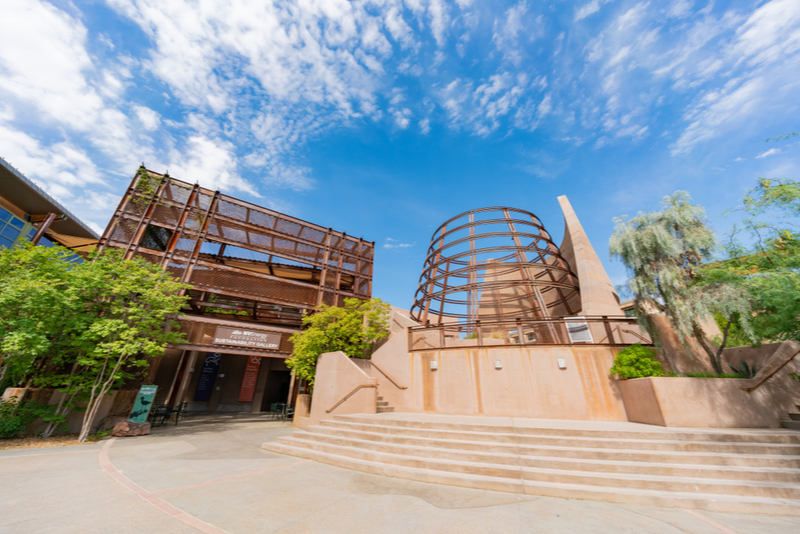 Visiting the Springs Preserve is definitely something the typical Vegas travel rarely considers, to their own detriment! Dinosaurs exhibitions, geology showcases, cabarets, virtual reality experience, and plenty more is on offer – there is something for people of all ages!
44 – Learn the history of gangsters at the Mob Museum
We don't call Las Vegas Sin City for no reason. It hosts the Mob Museum, which is very much one-of-a-kind. With a ticket in hand, you'll learn about the history of gangsters, and the ongoing battles between organized crime and law enforcement.
It's one of the country's most unique museums, without a doubt.
45 – Ascend to the top of Vegas' replica Eiffel Tower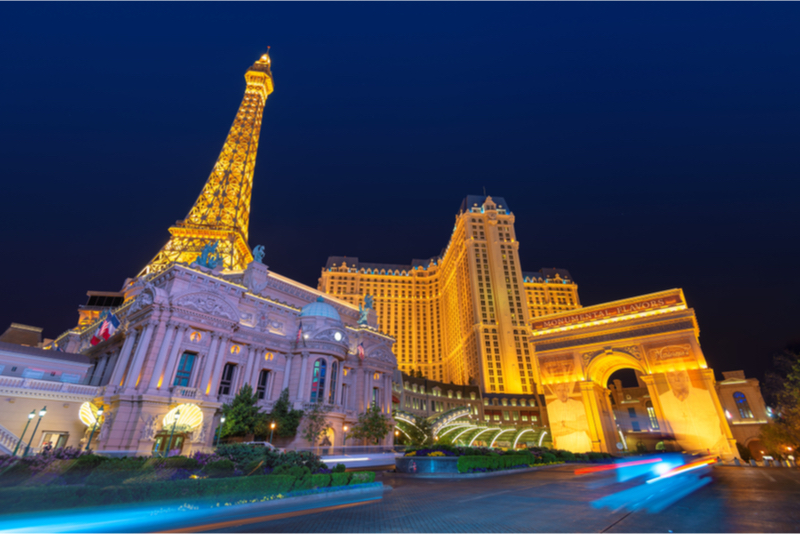 Have you always dreamed of going on top of the Eiffel Tower? Well, who said that you had to go to France to enjoy that? While you might not get the same view or the waft of fresh croissants, the scenes from the top of the Vegas replica at Paris Las Vegas are still well worth checking out!
You'll even get to see the L'Arc de Triomphe, among other landmarks, with the scene lighting up with style after sunset!
46 – Witness a touchdown at Allegiant Stadium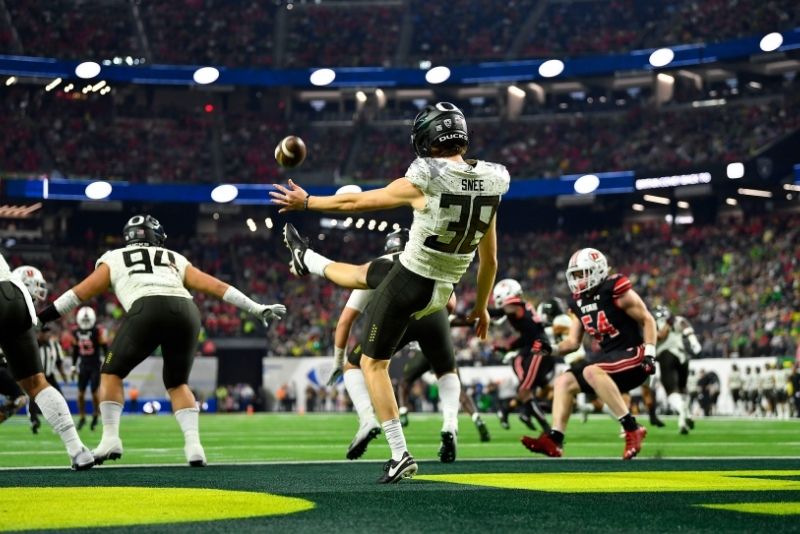 As the stomping ground of the NFL's Las Vegas Raiders, Allegiant Stadium is frequently packed to the brim with loud, unwavering fans. So, why not get in on the action?
The typical season runs from September through to playoffs in February, however, outside of these months, the stadium also hosts an array of exciting concerts and festivals.
If a regular game isn't enough, visitors can sign up for a behind-the-scenes tour that visits exclusive sections like the broadcast booth and locker rooms.
47 – Make your mouth water on a food tour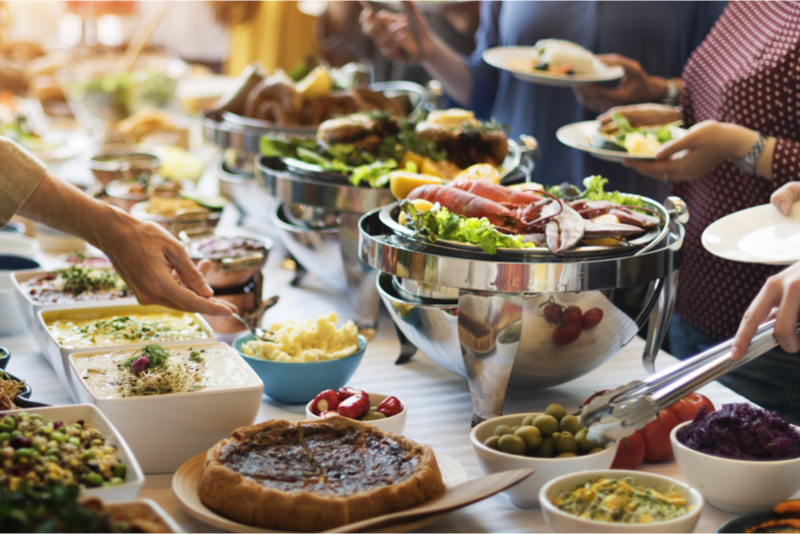 Tantalizing our tastebuds on a food tour isn't something that comes to mind when we think of Las Vegas, but it simply can't be overlooked!
The city boasts legendary buffets; The Buffet at Wynn and the Bacchanal Buffet at Caesars Palace are particularly adored. You will also find all types of food dotted across the Strip and beyond, from Michelin-starred restaurants to the most succulent fast-food joints.
For one of the best food-themed things to do in Las Vegas, take a guided food tour. Your taste buds will thank you.
48 – Enjoy a fresh and fun day at Cowabunga Water Parks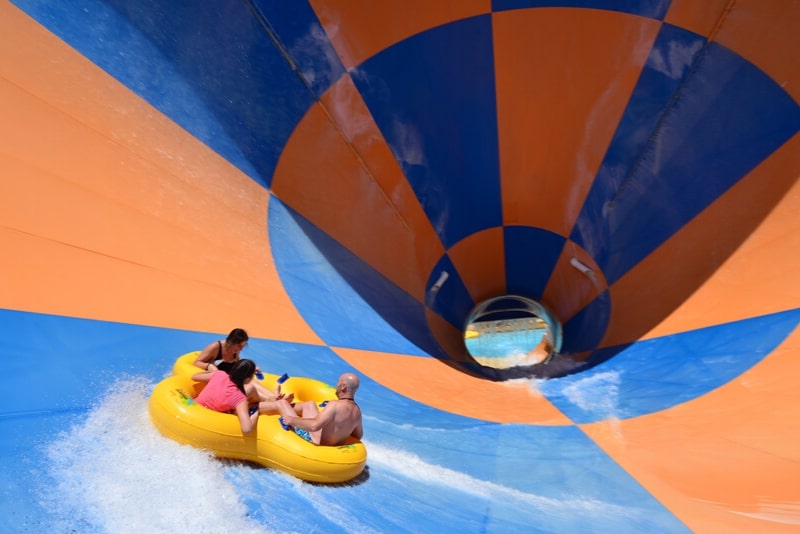 Cool off during the hot summer days in Las Vegas! Bring your kids to Cowabunga Vegas Water Parks and enjoy a day full of fun!
Cowabunga water parks features multiple water slides and swimming pools for adults and kids. Both parks (Cowabunga Canyon Summerlin and Cowabunga Bay Henderson) are located at just 15 minutes' driving distance from the Strip – the perfect solution to spend your day.
49 – Relax and unwind at the Las Vegas spas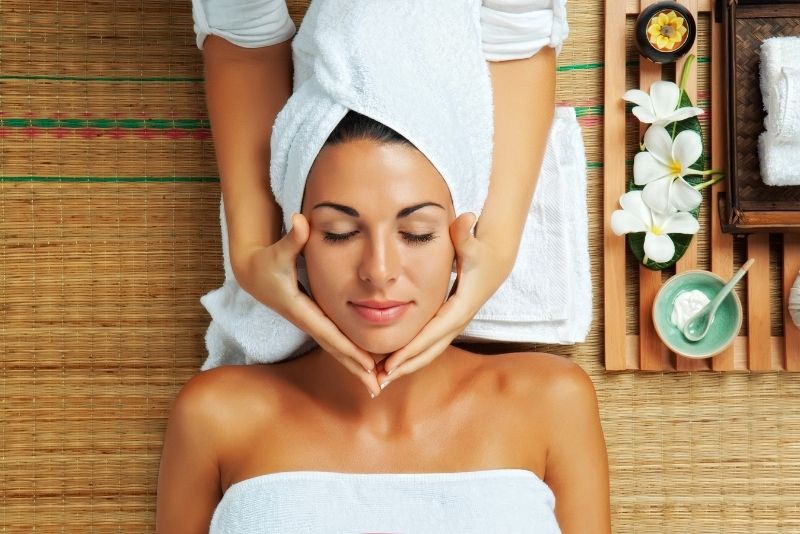 In need of a dose of pampering after a few too many nights out? Thankfully, Sin City has no shortage of rejuvenating spas to help you recover from the hustle and bustle of the city.
Whether it's an invigorating massage (deep tissue or relaxation, whatever you prefer), a skin-renewing facial, a mani/pedi combo or a complete spa package, there are plenty of spas that will take care of all your needs.
Some of the most celebrated relaxation stations include the Qua Baths & Spa at Caesars Palace, the Sahra Spa, Salon & Hammam at the Cosmopolitan, The Spa at Encore and the Bellagio Spa & Salon, to name a few. Each offers a wide variety of treatments, plus luxurious amenities like saunas, steam rooms and hot tubs.
C'mon, you know you deserve it.
50 – Party at LAX, the celebrity hotspot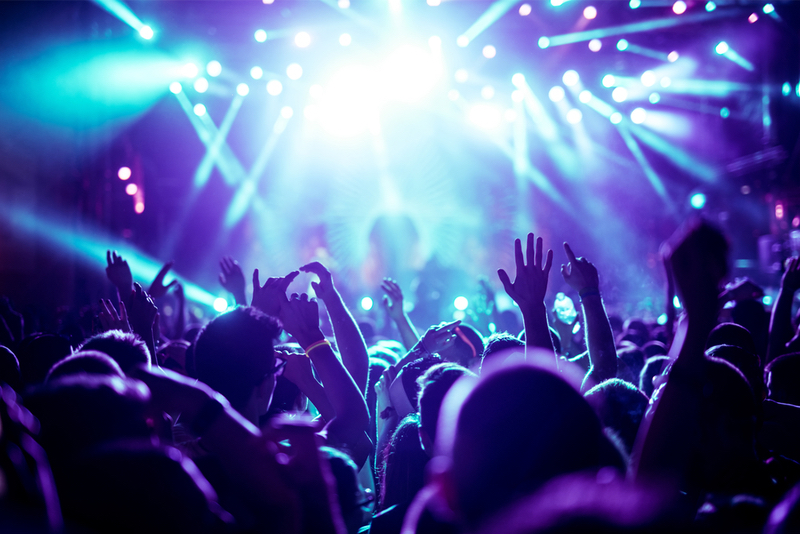 Regardless of the fact that Christina Aguilera and Britney Spears both own a part of this place, the LAX nightclub is the place where you have the highest chances of meeting celebrities!
Famous DJs perform here all the time, with past names such as DJ AM, Fat Joe, and The Game. Since its opening in 2007, LAX has been one of the most coveted places to party in Las Vegas.
51 – Be starry-eyed at the Bellagio Conservatory and Botanical Garden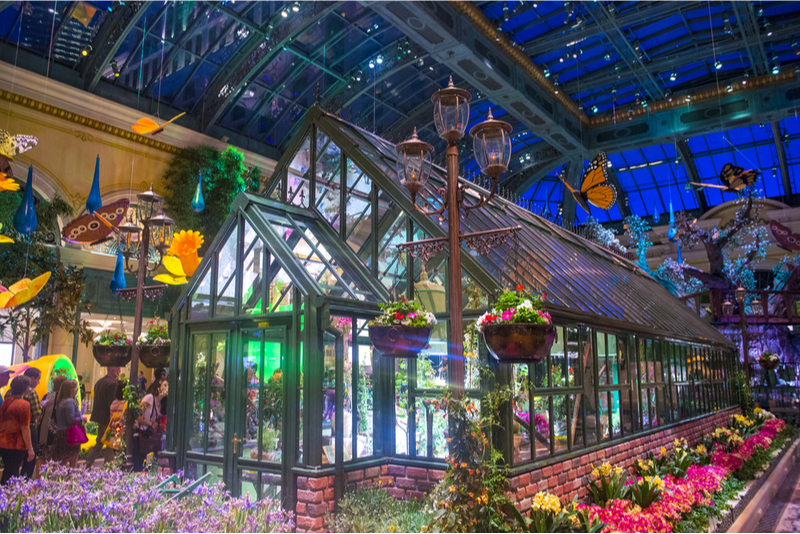 This professional flowerbed, located right next to the Bellagio Hotel, offers its visitors an impressive collection of colorful flowers, featuring a multitude of installations inspired by different themes. With the dancing fountain, this magical place emits an air of fantasy.
Bring your camera with you – fantastic photo opportunities await!
52 – Explore artworks at the Boulder City Historic District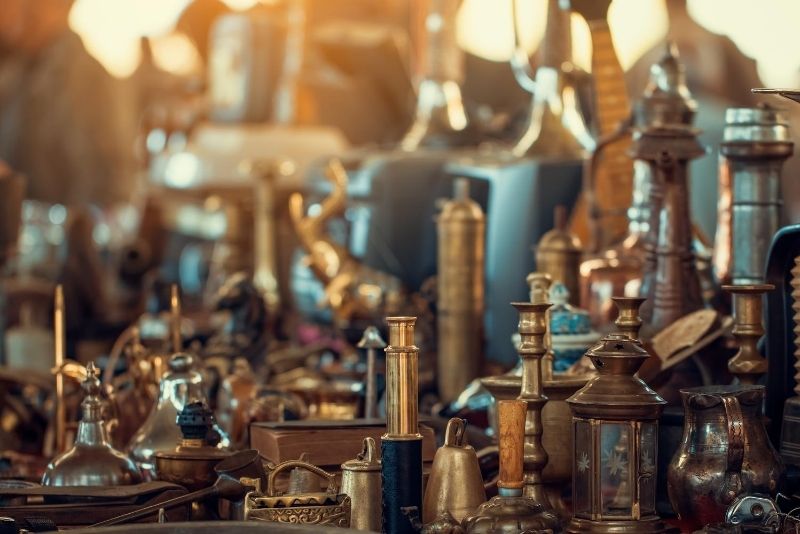 The Boulder City Historic District is full of antiques, artworks, eateries, and museums to visit and explore. The town was made to support the construction of Hoover Dam between 1931 and 1935, which means it's brimming with history.
Take a self-guided tour through the city to learn about its past at your own pace.
53 – Create your own candies at M&M's World, Las Vegas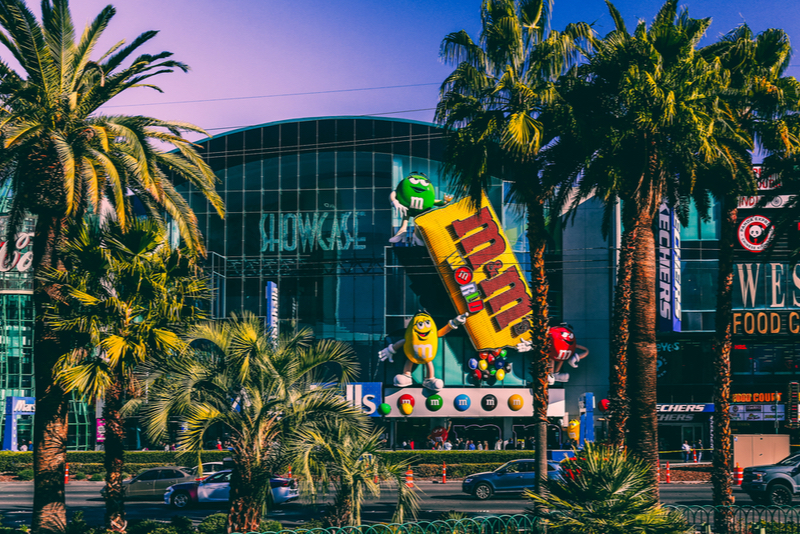 The M&M's World in Las Vegas was the very first of the five locations now dotted around the globe. You can choose your favorite combination of M&M's to take home, with more choices and flavors that you'd ever imagine! You can even create your own M&M's, imprinted with a custom message.
There also sell a number of edible goodies, plush toys, and souvenirs if you want to bring a little memory home for your friends or family.
54 – Take a front-row seat for a world-famous show!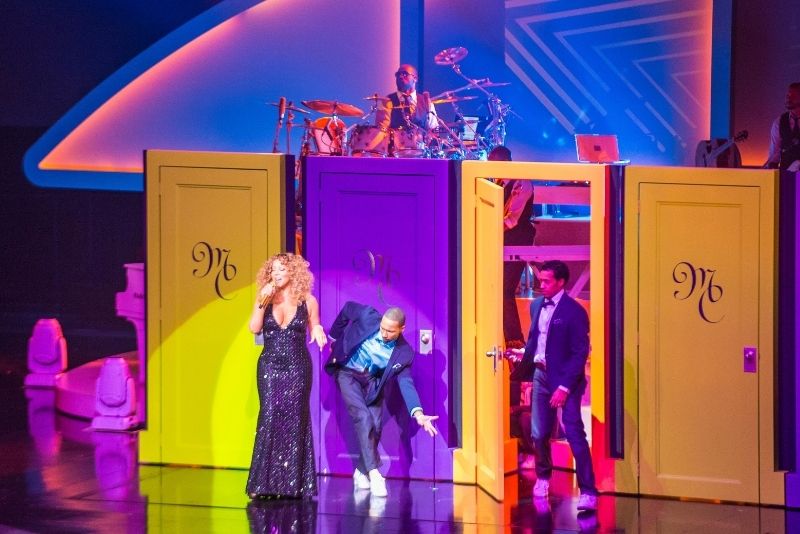 As America's entertainment capital, it's virtually impossible to run out of live shows in Vegas — be them comedy shows, magic shows, or musical theatre.
The city dishes up everything from Cirque du Soleil to Blue Man Group, David Copperfield, and the Jabbawockeez; plus a plethora of tribute performances (The BeeGees, MJ, and The Beatles, to name a few).
Hot tip: book online, not at the door, for the best chance of a hefty discount.
55 – Take a picture in front of the famous Las Vegas Sign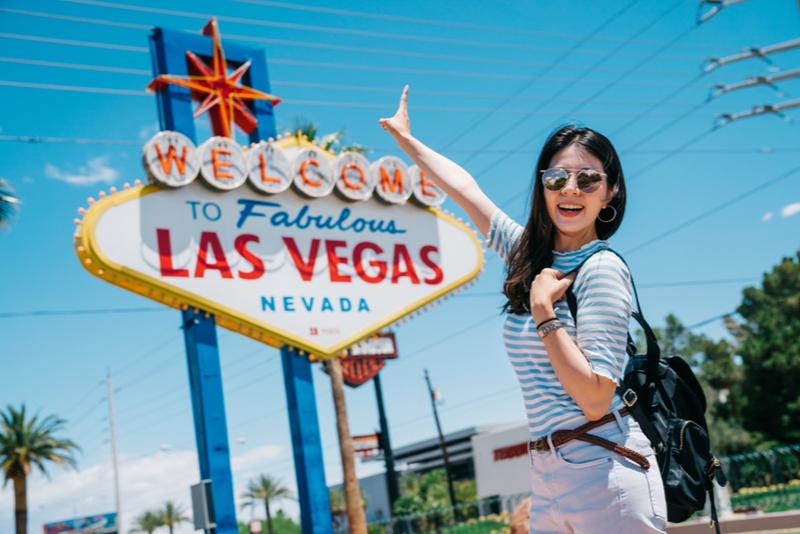 If there is something that simply can't be missed when you get to Sin City, it's the iconic Las Vegas sign. Snapping a selfie or two here is a must-do for anyone passing through the area.
We recommend going in the early morning – that's when crowds are the smallest.
56 – Get wet on a rafting tour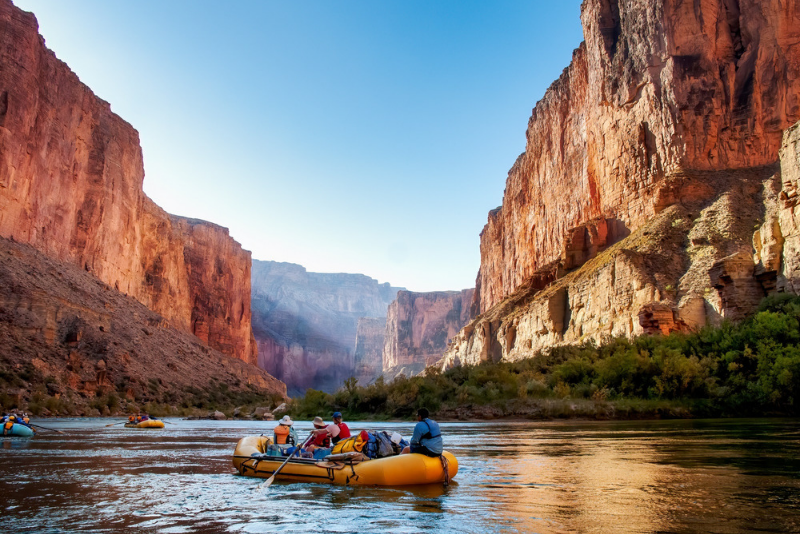 Whether it's on Lake Mead or the Colorado River, there are many rafting opportunities near Las Vegas. If you want to have fun in the fresh air and share a team-bonding activity with your friends or family, this is the perfect thing to do.
Wear sunscreen, enjoy the peaceful environment with its breathtaking landscapes, and take a break from the buzzing city center.
57 – Attend the Mirage Volcano Eruptions show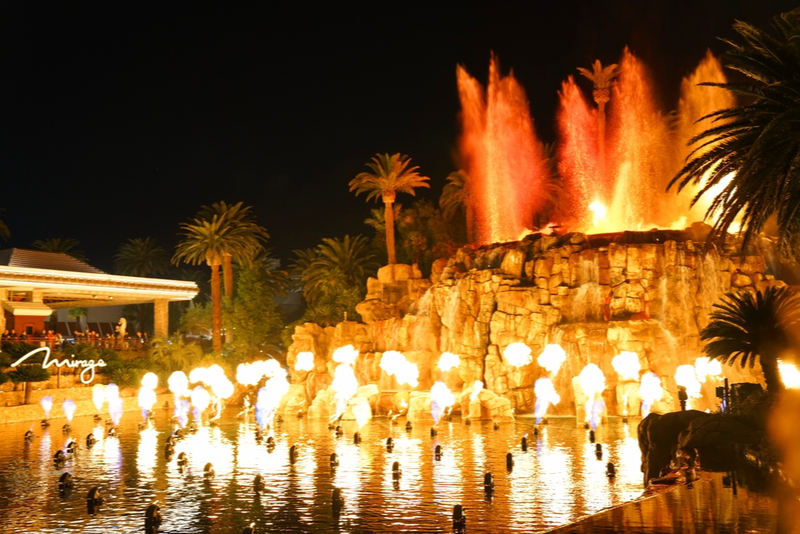 Located outside the main entrance on Las Vegas Boulevard, you'd need to have your eyes closed to miss the Mirage volcano eruption show if you wandered by. This is an awesome spectacle, during which fire jets launch into the air. It's very popular and a must-see for any Vegas tourist.
And you know what the best part is? The show is free! So no excuses!
58 – Get dazzled at the Mystic Falls Park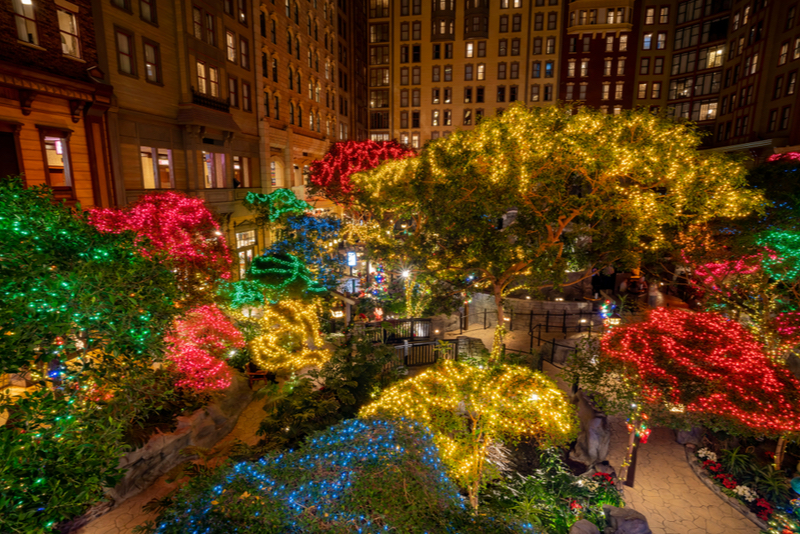 Meander through the Mystic Falls Park and relax with the sound of the waterfall crashing down, all day long. Situated at Sam's Town, the park offers an incredible show and it's one of the greatest attractions in Las Vegas at night, with all the vibrant colors illuminating the area.
You'll feel like Snow White as you walking through the park, with the sound of the birds above transporting you into a real-world fairytale!
59 – Learn quirky facts at the Titanic Exhibition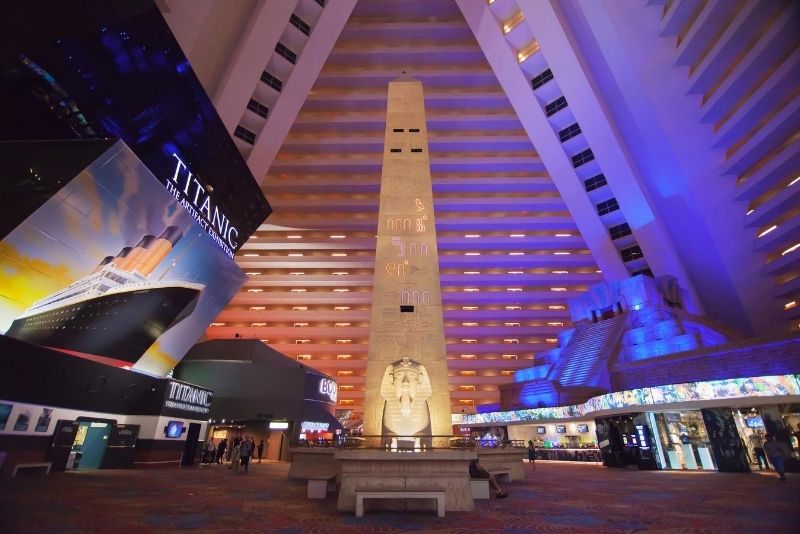 If you are a fan of the iconic James Cameron movie, then Titanic, the Artifact exhibition is for you! Learn all about the monumental ship and the tragic sinking that happened more than a century ago.
You'll find there a vast collection of 250 authentic artifacts found in the boat, plus have the chance to see the cabins that were shown in the movie.
Ticket in hand, you'll learn a lot about the infamous vessel as well as the remarkable stories of the people who went down with it.
60 – Admire the stark contrast between Las Vegas and Death Valley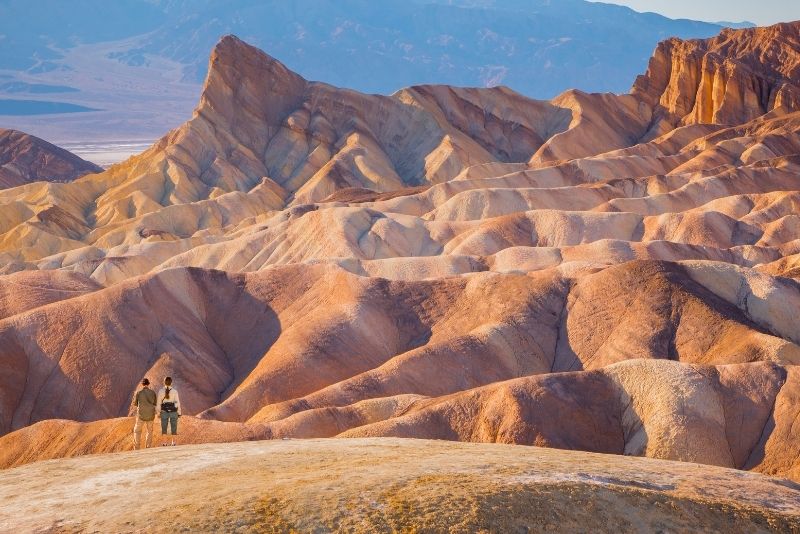 We just can't forget the famous Death Valley in any Vegas activities list! Perfect for a day trip, and despite its dark name, Death Valley offers a vast palette of beautiful colors. The tour organizers also usually offer snacks and water.
Stretch the legs on a hike or admire the vistas from the bus – either way, don't pass up a chance to visit this amazing place!
61 – Enjoy a gondola ride at the Venetian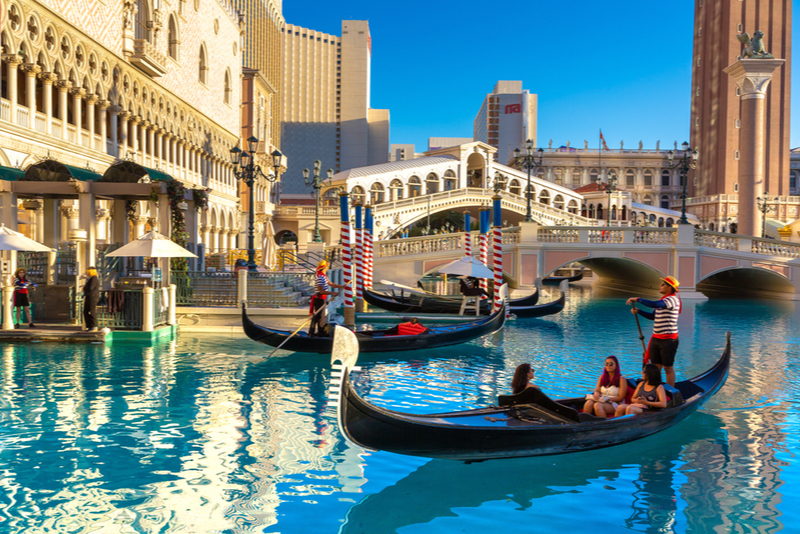 The gondola tours are one of the most iconic activities you could do in Venice. The same statement rings true for The Venetian Las Vegas. The representation of Venice here is stunning, with exactly the same gondolas available as in Italy itself. Onboard, you'll pass the Ponte Di Rialto (Rialto bridge) and a representation of the Piazza San Marco.
Going to Las Vegas will make you travel even more than you'd ever imagine!
62 – Stare up in awe on Fremont Street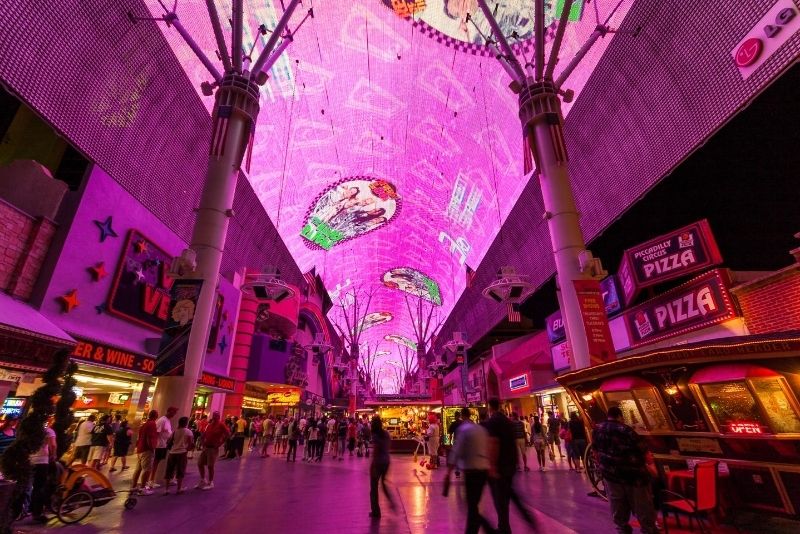 Situated near Downtown Las Vegas, Fremont Street is a must-see for tourists from all around the world. As the historic heart of the city, this five-block stretch of classic Vegas has been around since before the Strip was even a thing.
Make sure to take a walk down Fremont Street and take in the electrifying sights and sounds of classic Las Vegas. Here you'll find classic neon signs, larger-than-life Viva Vision light shows, the SLOTZILLA zipline and street performers; not to mention drinks, shops, restaurants and slot machines around every corner.
If you want to experience all the very best of what Fremont Street has to offer, sign up for one of the many walking tours in the area. These guided explorations span from one end of the street to the other and are packed with interesting tidbits about Fremont Street's history (including its association with the mob), its vibrant culture, and more.
63 – Sign up for a freaky adventure at the Zak Bagans' Haunted Museum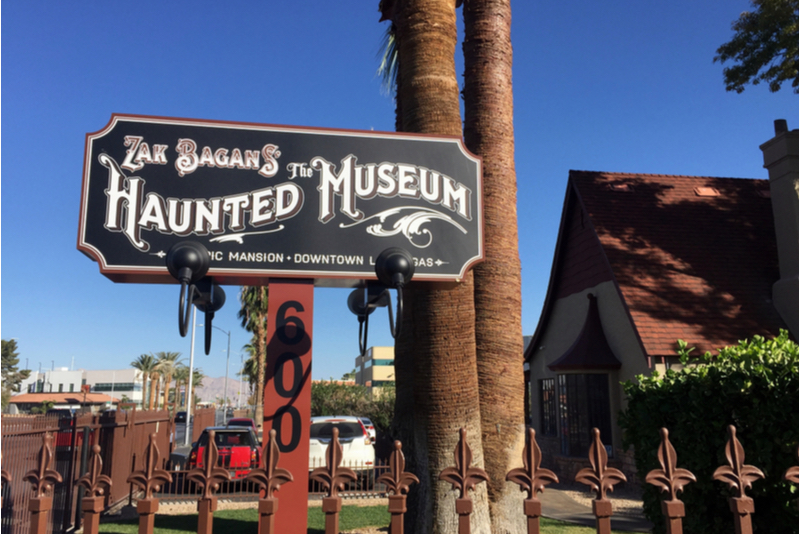 If you love horror stories, you'll want to visit the Zak Bagans' Haunted Museum, situated near the center of Las Vegas. You'll get the opportunity to see original collectibles from haunted sites and learn about paranormal stories.
We can almost guarantee that you will not be able to sleep the night of your visit! (Just kidding)
64 – Get stunned at the Neon Museum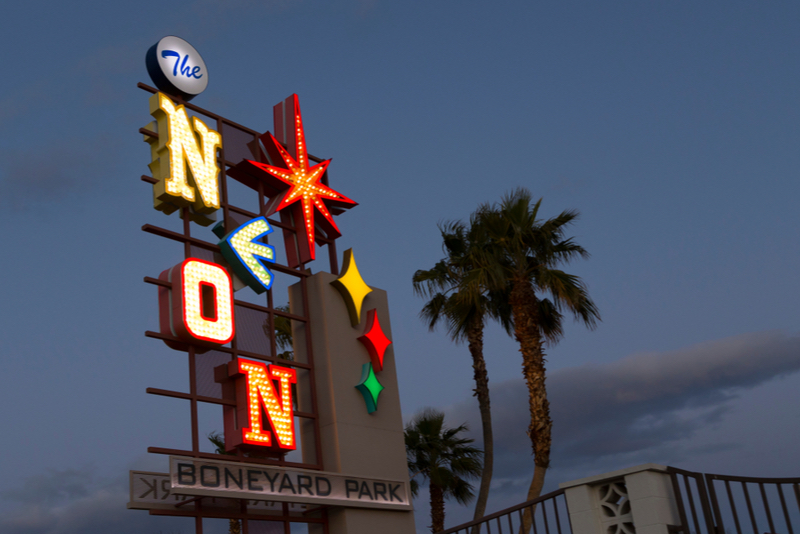 The Neon Museum is famous for its social media opportunities. This is the place to go if you want to post some new and funny Instagram pictures. The museum recounts the story of the Las Vegas casinos via their former neon signs. Victim of its success, the tickets get sold out pretty fast, so book them in advance!
For the ultimate experience, head there during one of the sound and light shows!
65 – Take a Segway street art tour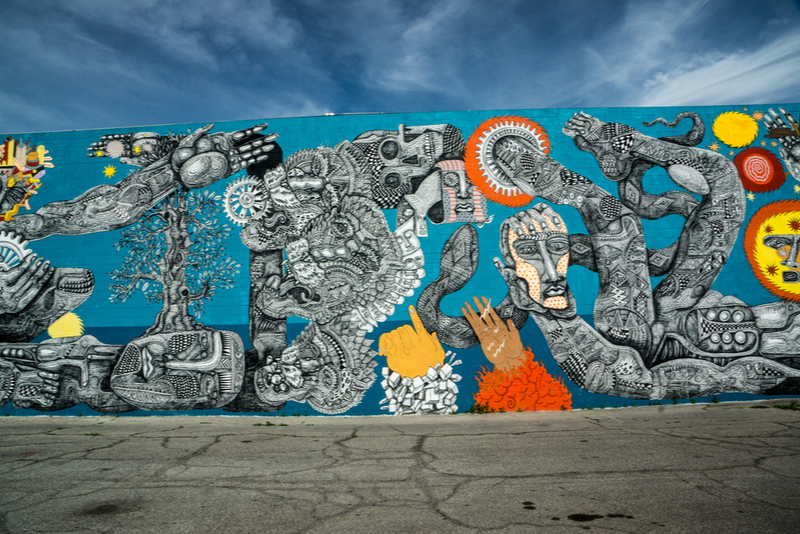 What's more fun than having a street art tour? Doing it on a Segway!
Combine art with fun and try both at the same time! Downtown Las Vegas is booming with street art, meaning that photo opportunities are aplenty.
66 – Gain some speed on a jet ski tour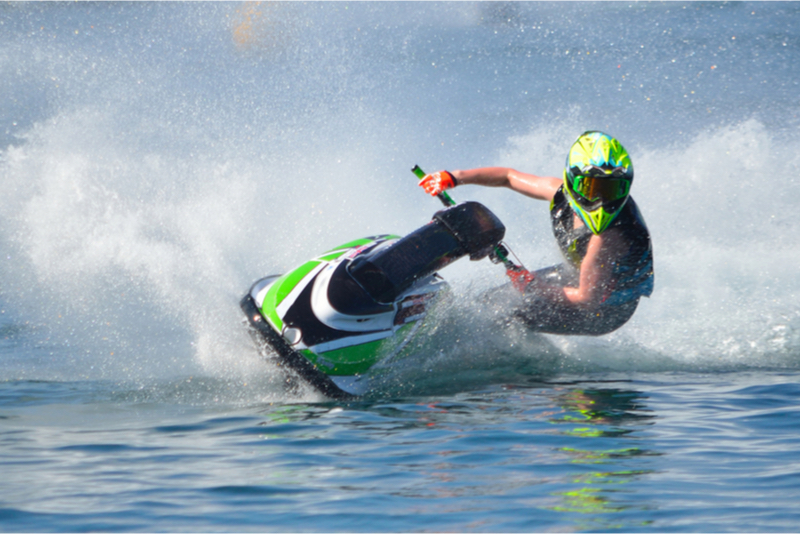 Thrashing through the waters of Lake Mead on a jet ski one of the most exhilarating things you could do during your stay.
The tours usually include a number of stops, including sightseeing at the Hoover Dam and a lunch break at the Lake Mead Marina.
67 – Learn about nuclear weapons at the National Atomic Testing Museum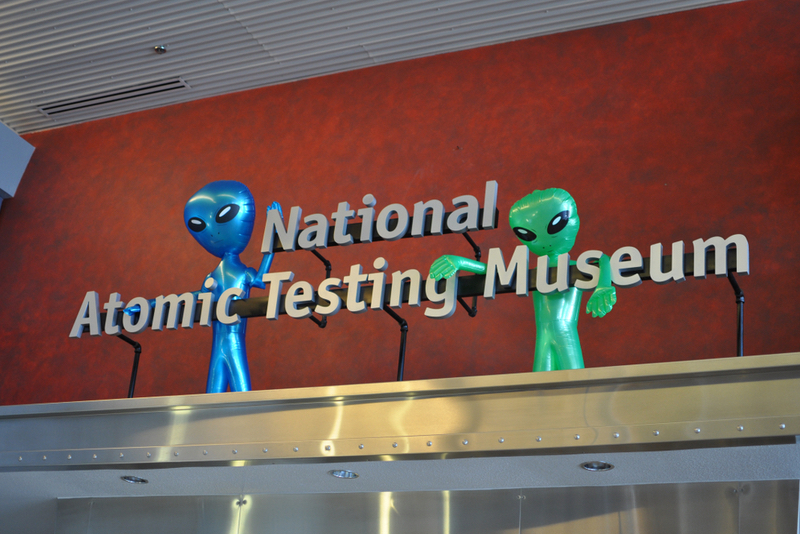 During your stay in Las Vegas, a certain left-field attraction that many find intriguing is the National Atomic Testing Museum, which recounts the time when American nuclear weapons used to be tested in the Nevada desert.
The exhibit has a great and simple objective of making people aware of the danger and lasting impact of these kinds of weapons.
68 – Skydiving… without the sky!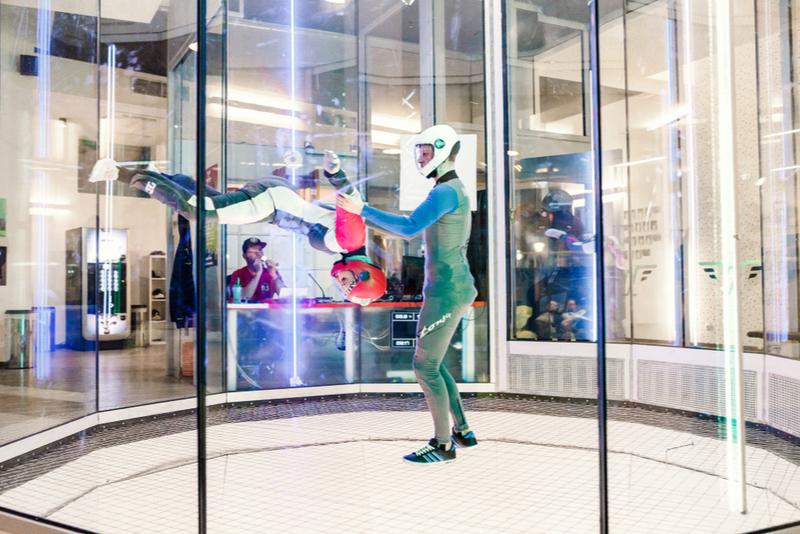 Have you always wanted to try skydiving, but are too scared of the freefall? Well, we have the solution for you! Indoor skydiving will give you the sensation and the adrenaline of a free fall but in a safe, secure, and controlled environment.
It's a great stepping stone to the real thing when you skydive over the Grand Canyon on your next visit!
69 – Have shots with your friends at the Hakkasan nightclub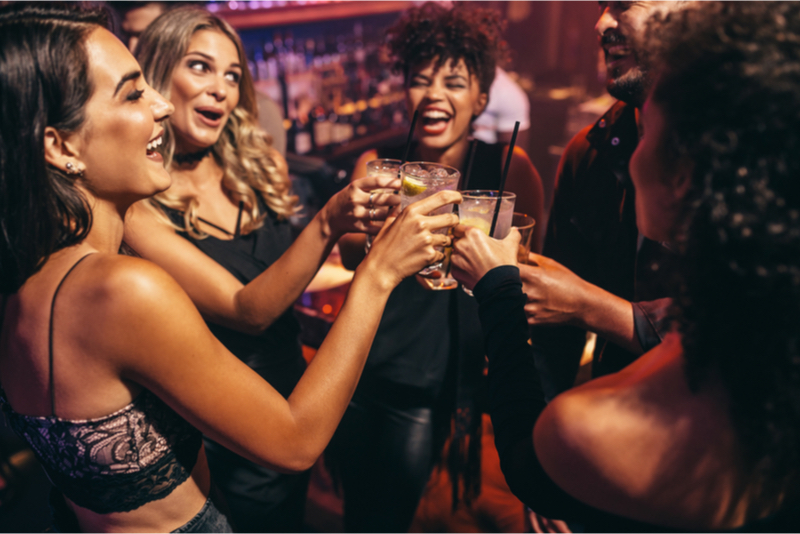 One of the most pumping clubs in Las Vegas, the Hakkasan nightclub at the four-star MGM Grand, will drive you absolutely crazy. The nightclub includes an incredible lounge, a massive Oriental-themed garden with a bar, and an enormous dancefloor.
This is the place to go if you don't want the party to be over!
70 – Join the sports betters at Caesars Palace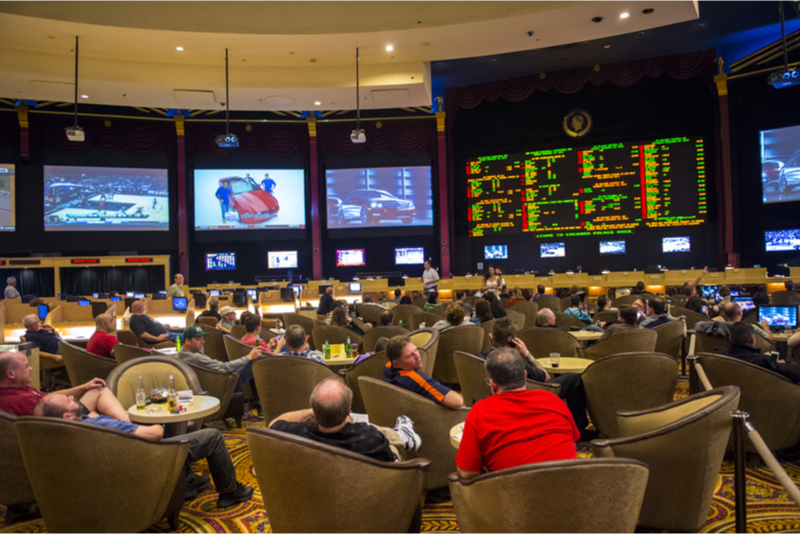 If you want to try sports betting, Caesars Palace is the place to be. Situated in the heart of the Las Vegas Strip, Caesars Palace – famous for its casino and gambling area – is one of the most prestigious hotels in the world.
Even if you don't have a room booked, anyone is welcome to wander in off the streets and take a look.
71 – Turn back the clock at the Natural History Museum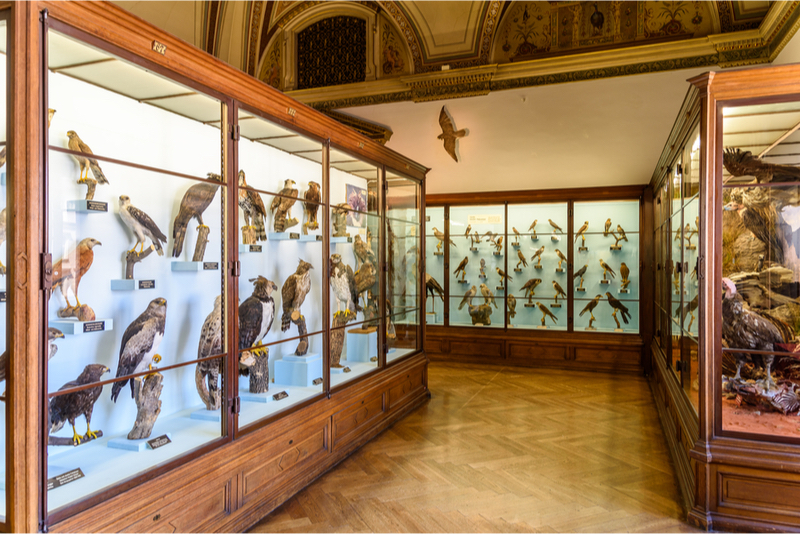 Yes, even Las Vegas has a Natural History Museum! Located in Downtown Las Vegas, the museum offers many exhibits such as the Treasures of Egypt, which is one of the most popular ones. Notably, it includes the tomb of Tutankhamun and many other renowned treasures.
You will also get the chance to see recreations of artifacts like chariots, the Golden Throne, the Golden Shrine, and many more.
72 – The most exciting way to explore the city: a scavenger hunt!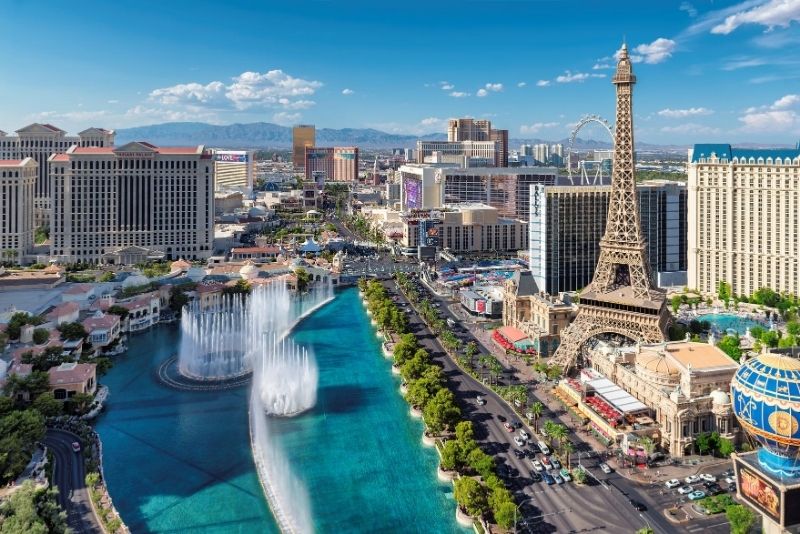 Get in competition with other groups on a scavenger game through the city. The app on your phone will guide you through the different locations and direct you toward objects you need to find in order to succeed.
This is the best way to explore the city on foot in a fun way.
73 – Find out if aliens exist at Area 51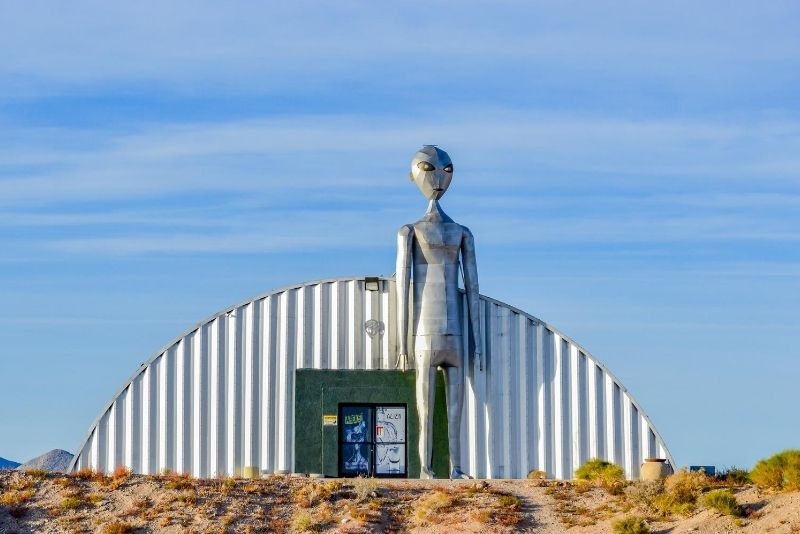 Learn more about the mysterious Area 51 on a guided tour. As your guide takes you through notable locations all over the desert, no secret will be left hidden once all is said and done.
Bring a bottle of water, your best shoes, a hat, and some sunglasses, and explore the conspiracy-laden Area 51! (Well, as close as you can legally get)
74 – Go clubbing at Omnia for your bachelor party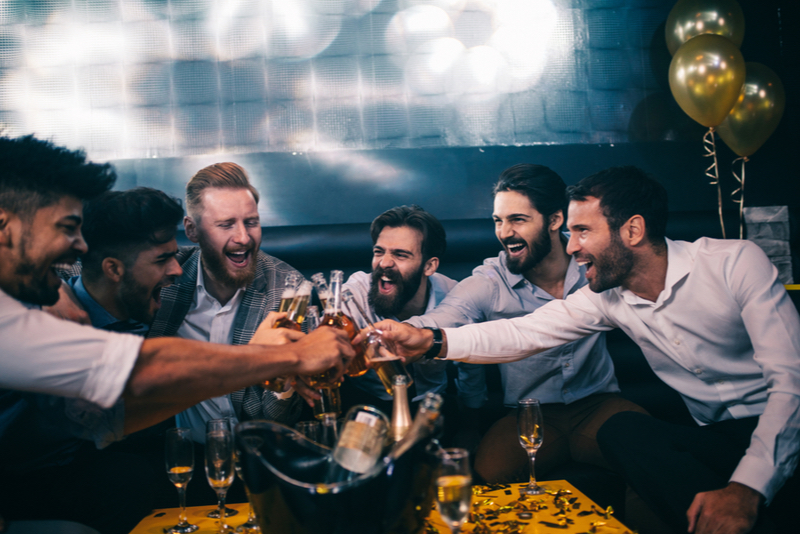 If we had to choose among all the destinations on Earth for a bachelor party, we would all say Las Vegas. Come on, we don't call it Sin City for no reason!
There are several options available to you for a night of debauchery: you could rent a themed-suite or see the Absinthe show from Cirque du Soleil – but if there is something you shouldn't miss, it's clubbing at Omnia!
Bring your best friends and have the time of your life!
75 – Get pampered by a professional hair and make-up artist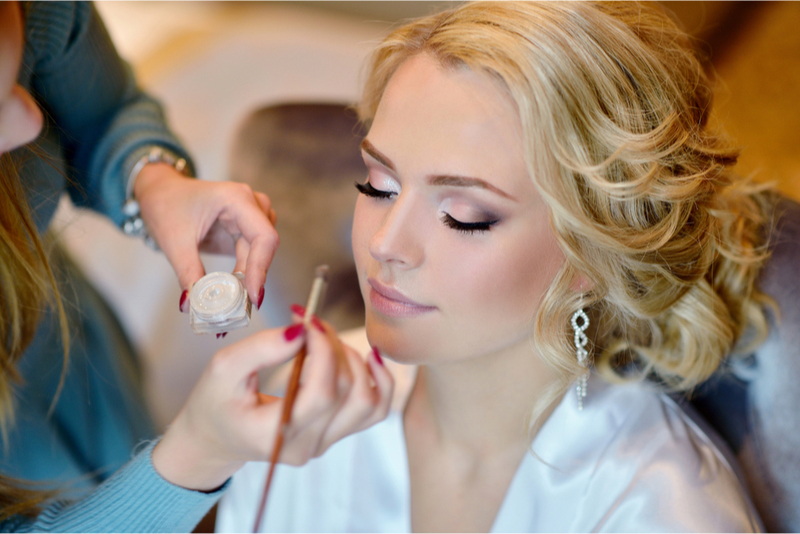 Before tying the knot at the Graceland Chapel, you need to get ready! Lucky for us, Las Vegas offers all the necessary services for that kind of event.
Professional hair styling and make-up services are available whenever you need it, ensuring that you'll be dressed to the nines before your night out or your impromptu wedding! You will be feeling like a real celebrity!
76 – Try the Upper East Side lifestyle in Las Vegas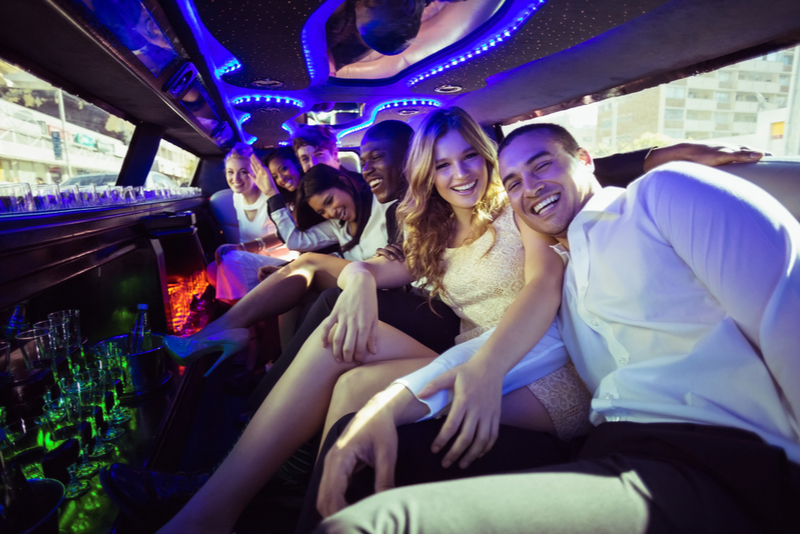 If you came to Las Vegas with nothing but partying on your mind, then one of the best things you could do is to have a Champagne-filled limousine ride! You can select the duration of your ride to be between 1 to 4 hours, depending on your preferences.
The limousines are usually made for 6 to 12 people, so just bring your friends and have some fun!
77 – (Don't) get drunk on a beer tasting tour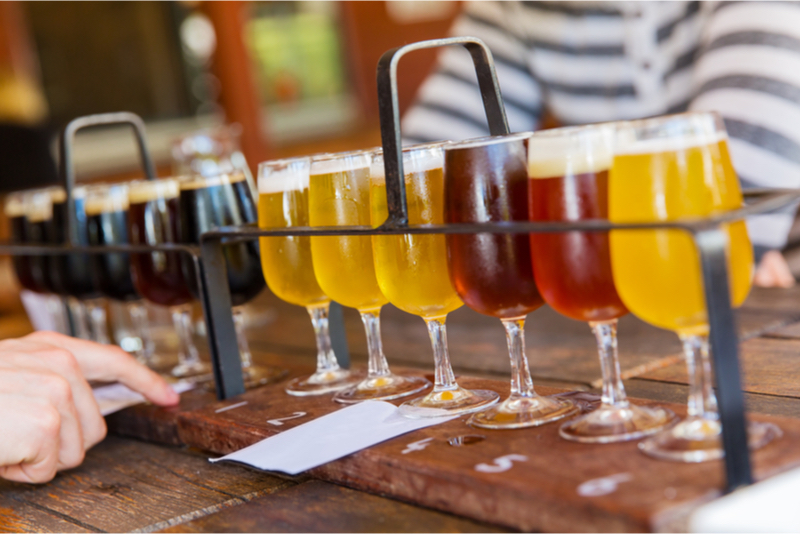 Last but not least, Las Vegas offers amazing beer tasting tours, featuring some of the best local craft beer breweries. Try tens of different beers and choose your favorite one to take home with you! This is an excellent way to meet new people if you're traveling solo.
Not sure where to start? With so many options, we don't blame you. In the heart of the Fremont St. District, you can check out the beloved Banger Brewing microbrewery. A little bit further out of town is Big Dog's Brewing Company – inspired by Wisconsin, this barn-shaped microbrewery offers a wide range of IPAs and seasonal beers.
Alternatively, if it's craft beers you're after, any of Able Baker Brewing, Atomic Liquors (open since 1952, this was officially the first business in Las Vegas to get a tavern license!) and Aces & Ales (with two locations east and west of Downtown) won't disappoint.
Of course, make sure to know your limits, even in Sin City!
78 – Go go-karting in Las Vegas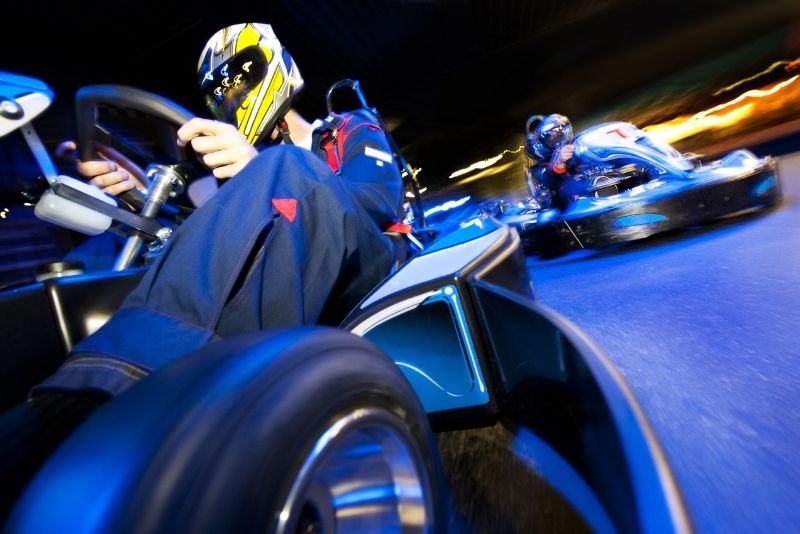 Casinos, bars, and restaurants are a dime a dozen in Sin City; for something a little out of the ordinary, and a perfect activity for the whole family, why not drift around a few corners with a high-octane go-kart session?
Whether you're a beginner or an F1 driver in the making, Vegas hot laps are always a thrill.
Depending on your ability to handle the summer heat, you can race indoors or outdoors!
79 – Bet $10 on a slot at the Aria Casino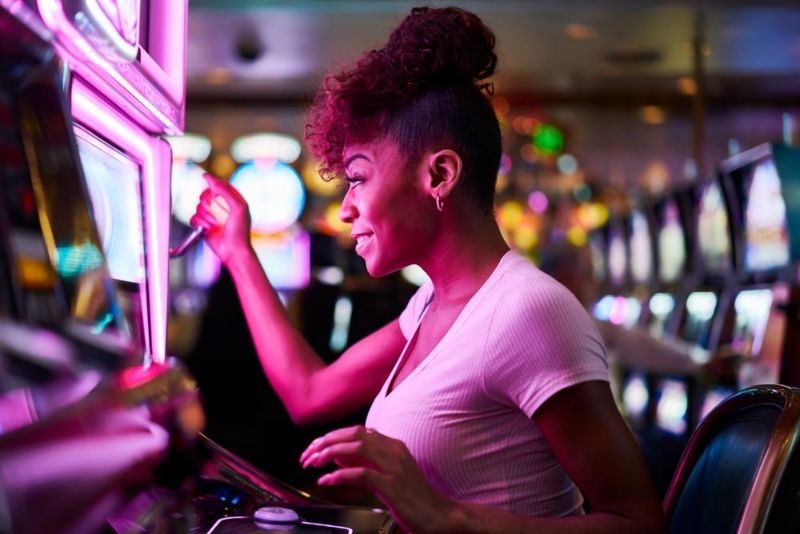 You cannot come to Las Vegas without trying your luck on the slots! This is definitely a must-do! The streets are full of casinos where you can gamble, but the Aria Resort and Casino is one of the most luxurious hotels in Las Vegas and one the best place for slots.
Set some limits, spin that wheel, and hopefully, you'll walk away with the jackpot!
How to get to Las Vegas?
If you're arriving at Las Vegas from within the US, you can get there by plane (using Harry Reid International Airport/ McCarran International Airport), car or bus. The airport is located less than three miles from the Strip and is easily accessible via taxi, shuttle or bus.
Considered the most hassle-free option, there are also convenient airport transfers that pick you up from the airport arrivals hall and drop you right on the door of your hotel. You're on vacation, after all, so why not start it off in style?
Where to stay in Las Vegas?
It's no secret that Sin City is home to a dazzling array of accommodation options, from luxurious hotels on the Strip to budget-friendly apartments off it.
If you're looking for an affordable hotel with all the perks, check out The LINQ Hotel + Experience which offers plenty of free amenities and exclusive discounts throughout the resort. Or if you'd rather stay at one of the city's iconic venues, try The Venetian or The Palazzo for a heavy dose of opulence.
If you want prime-time access to entertainment and casino floors, the Bellagio, Caesar's Palace, MGM Grand or Mandalay Bay make for great choices. And if you're looking for a spot of pampering, ARIA's award-winning spa and pool are hard to beat!
Visiting with kids? The New York New York (famous for its Big Apple Coaster) and Excalibur offer family-friendly prices, while Circus Circus (home to the Adventuredome theme park) and The STRAT boast plenty of kid and teenager-oriented activities.
Hot tip: You can save up to 40% on your accommodation by booking online and in advance.
Visiting Las Vegas on a budget?
Despite its reputation for luxury and extravagance, Las Vegas can be surprisingly affordable if you know where to look. Free attractions like the Bellagio Fountains, Ethel M Chocolate Factory and the Wildlife Habitat at The Flamingo are great ways to explore without breaking the bank, along with many other cheap things to do in Las Vegas.
For the best bang for your buck, grab the Go Las Vegas Explorer Pass. Designed specifically for budget travelers, this pass grants access to multiple popular attractions at a discounted rate, such as the High Roller and Madame Tussauds.
Visiting Las Vegas for the first time?
With literally hundreds of things to do, it can be intimidating to plan your stay in Las Vegas. To make the most of your time, start by familiarizing yourself with best things to do in Las Vegas for first timers.
This the city's iconic landmarks – The Strip, the Bellagio Fountains and Fremont Street Experience – as well as its more underrated attractions such as the Neon Museum and the Bellagio Conservatory.
Visiting Las Vegas with your family?
Just because Sin City is famous for its nightlife, gambling and showgirls doesn't mean there isn't a lot to do with the family. In fact, there's dozens of family things to do in Las Vegas with kids and teens.
Popular choices include kid-friendly shows like the Tournament of Kings, roller coasters at New York-New York and Stratosphere, the Adventuredome Theme Park at Circus Circus and the Shark Reef Aquarium at Mandalay Bay Resort. As you can see, there's something for everyone!
Visiting Las Vegas with your loved one?
Cliché Elvis-themed weddings aside, there's actually a bounty of romantic things to do in Las Vegas for couples. Sure to get the sparks flying, this collection of cutesie activities — think hot air balloon rides, helicopter tours and gondola rides — can help you create memories that will last a lifetime.
Other romantic options include couples massages at amazing spas, horseback riding sunset tours, the view from the top of the Eiffel Tower, or toasting to love with a decadent bottle of champagne in one of Vegas's many award-winning restaurants.
Final thoughts
Well, there you have it: a comprehensive overview of what to expect when visiting Sin City!
From sitting front row at a comedy show to testing your luck in the casinos, this buzzing city has something in store for everyone – whether you're a thrillseeker, foodie, family, or romantic.
So, if you're on the hunt for fun things to do in Las Vegas, take your pick and let the adventure begin!
Viva Las Vegas!
If you want more insights about Las Vegas and Grand Canyon area, you might be interested in the following articles.