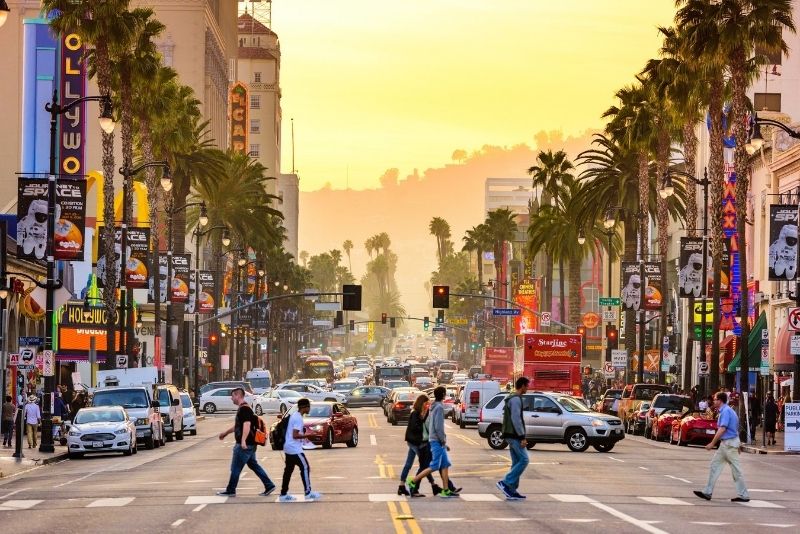 A world-famous playground for the elite, a beacon for all things cinema and entertainment, and a tourist Mecca for decades now, Hollywood is perhaps the most exciting place to visit in California.
If you're after nightlife, the Sunset Strip has got you covered. If it's more family-friendly fun on the menu, Universal Studios and the La Brea Tar Pits won't disappoint. Craving some hiking and nature? Look no further than Griffith Park! And if you're on a mission to satisfy the inner cinephile, then the array of studio backlot exhibits, movie-themed museums, and in-the-know tours will scratch that itch.
Looking for some adventurous fun? Check out iFly for some seriously fun indoor skydiving, or take it outdoors on a hike up to the Hollywood Hills.
Tinseltown is never shy of activities, especially along Hollywood Boulevard, so if you need a hand deciding what to see first, you've come to the right place. With so many diverse things to do in Hollywood, you've got to start somewhere, right?
Let's give the spotlight to the city of stars, as we explore the best things to do in Hollywood!
1 – Party it up on the Sunset Strip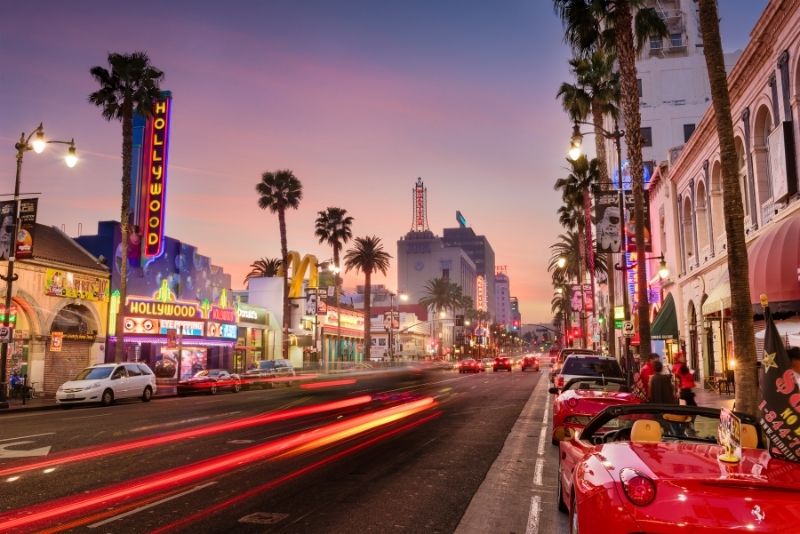 The heart of the Hollywood nightlife and glamour, the world-famous Sunset Strip is a celebrity magnet thanks to its daring comedy clubs, career-defining theaters, and swanky bars.
Kickstart the evening with dinner at Saddle Ranch Chop House, Boa Steakhouse, Lavo, or Warrior, and then after a hand-crafted cockatiel or two make your way to any of the world-famous venues in Hollywood West: from the Comedy Store to the Viper Room, Roxy Theatre, or Whisky A Go Go nightclub, known for its live rock bands, the odds of a great night out are sky-high.
With hundreds of A-listers and up-and-comers gracing the stages of these venues night after night, you might even come across the next big thing.
Even if you prefer to steer clear of the partying and simply get a taste of LA's most famous strip, most bus tours will drive down Sunset en route to Beverly Hills.
2 – Take a hike through Griffith Park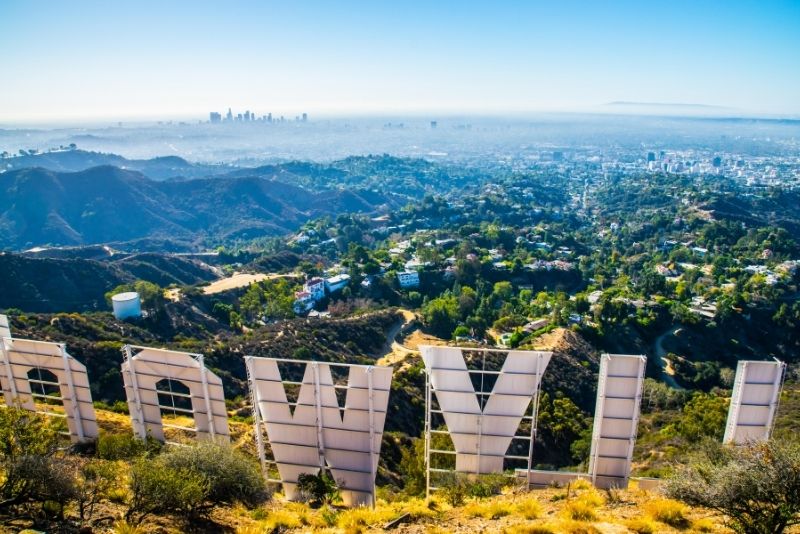 Home of the iconic Hollywood sign, an abundance of hiding trails that offer killer views of the LA basin, an observatory, kid-friendly zoo, and the Autry Museum of the American West, the sprawling Griffith park sells itself as a splendid place for an alfresco family day out.
Little known to tourists, yet a worthy attraction in their own right, are the Bronson Caves, a man-made tunnel that's been featured as the backdrop for countless Western and Sci-Fi flicks. Join a walking tour and explore all this amazing park has to offer.
Hot tip: If you're in Hollywood on the fourth of July, be sure to catch the spectacular Fireworks display over Los Angeles from here.
3 – Tick Universal Studios Hollywood off the bucket list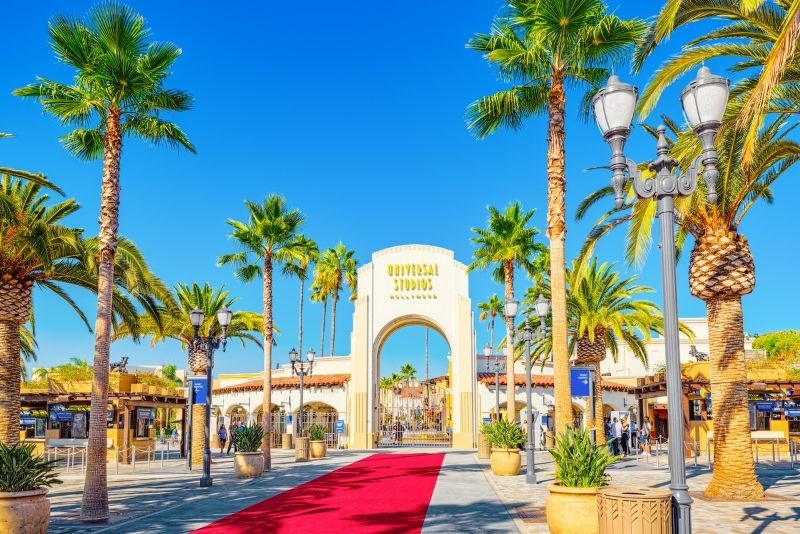 For sheer fun and entertainment, Universal Studios is one of the best things to do in Hollywood — it's all the fun, thrills whimsy, and magic (read: looking at you, Wizarding World of Harry Potter) of Disney without the hassle of a 90-minute drive down to Anaheim!
Universal Studio's main draws are film and TV-themed rides like Jurassic Park: The Ride, King Kong, The Simpsons, and Revenge of the Mummy — but you'll also find several live shows, special effects demonstrations, and an abundance of dining options.
For the main event, it's hard to go past the classic Backlot Studio tour — an insightful trolly tour that dives into the secrets of movie production, from stunts and special effects to iconic sets like Whoville and the Psycho House.
4 – Soak in the atmosphere of Universal CityWalk Hollywood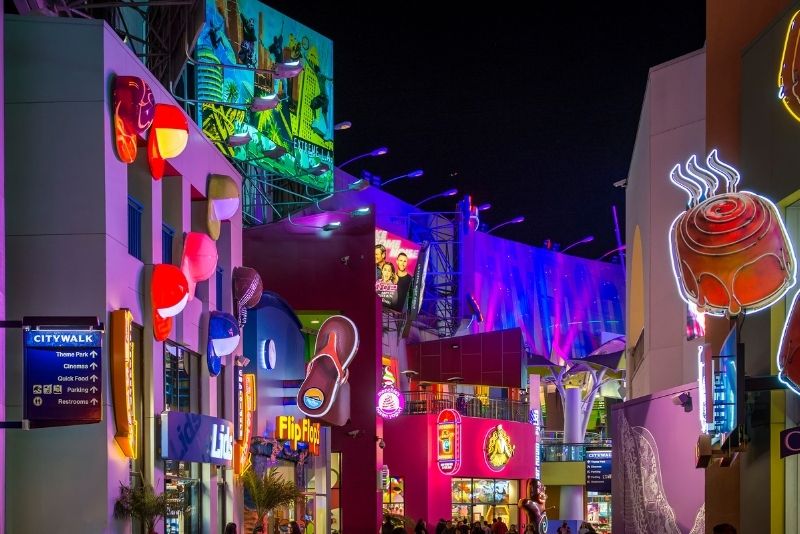 The free, smaller sister to Universal Studios, Citywalk draws in crowds before and after visiting the theme park, thanks to its slew of shops, restaurants, and entertainment venues.
While the main focus is on dining options (including some famous names like Bubba Gump, Voodoo Doughnuts, and the irresistible Antojitos Mexican joint) there are also loads of unique stores you won't find anywhere else in town — including the Universal Studios Store, full of souvenirs.
Looking for something a little more adventurous? Try your hand at the iFly indoor skydiving center, or see if any action flicks are playing at the Universal Cinema.
5 – Keep your eyes peeled on a celebrity homes tour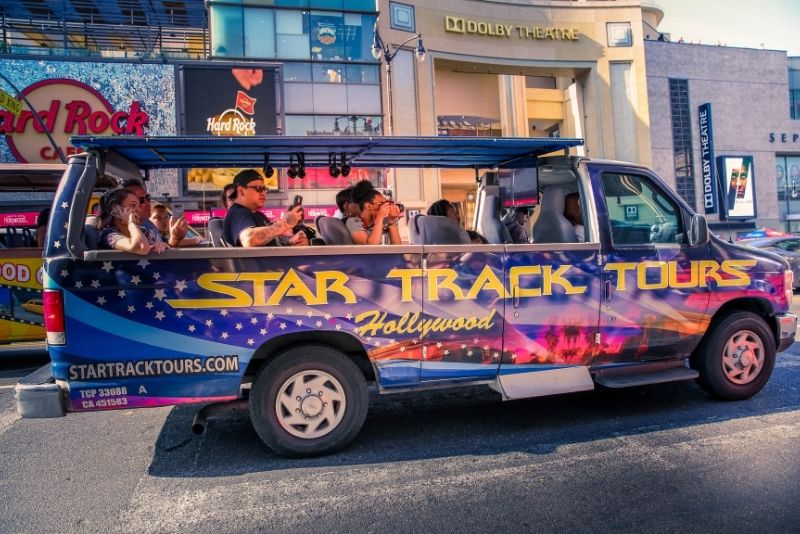 A cliche activity aimed at tourists yet still one of the essential things to do in Hollywood despite its cheesiness, a celeb-spotting tour zips around all the A-list-frequented spots in Hollywood, Beverly Hills, Bel Air, and Holmby Hills, with stops at the likes of Beyoncé and Jay-Z's abode, Adele's stomping ground, and Hugh Hefner's infamous Playboy Mansion.
Even if you don't see a movie star or two out for a walk, the enormous houses and iconic landmarks you'll pass along the way are reason enough to give it a go.
For the best bang for your buck, book the open-aired tour ahead of time — the peddlers on Hollywood Boulevard often jack up the price.
Read more about Hollywood & celebrity homes tours.
6 – Stroll along the Hollywood Walk of Fame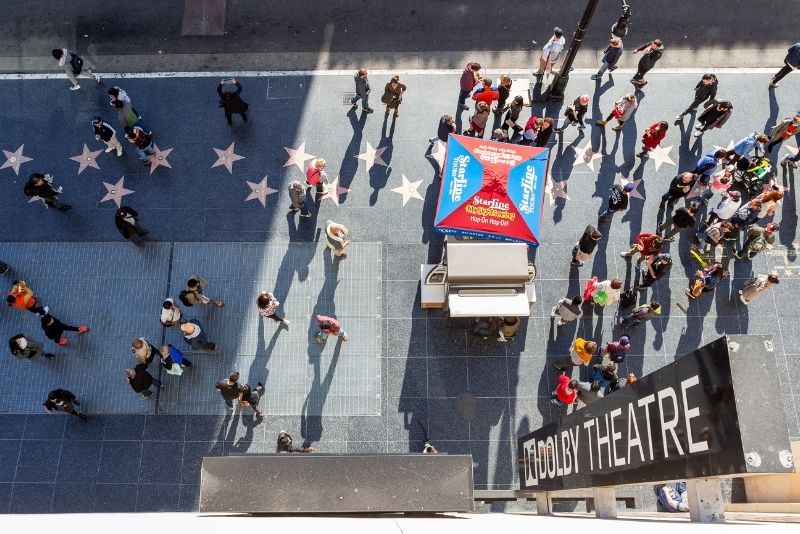 Arguably the most famous sidewalk on the planet, tourists flock here for good reason: it's home to over 2700 commemorative brass stars embedded in pink terrazzo that reflect the who's who of show-biz, film, and music over the past few decades.
Walking tours along Hollywood Boulevard not only share stories of some of the most famous names but also cover famous sights like Madame Tussauds Wax Museum, Ripley's Believe It or Not! Odditorium, the TCL Chinese Theater, and plenty more.
Of course, make sure to take a selfie with one of the stars on the Hollywood Walk of Fame — from Walt Disney to Vince Vaughn and the Backstreet Boys, you're sure to find a star that makes you feel giddy.
7 – Soar over Tinseltown in a helicopter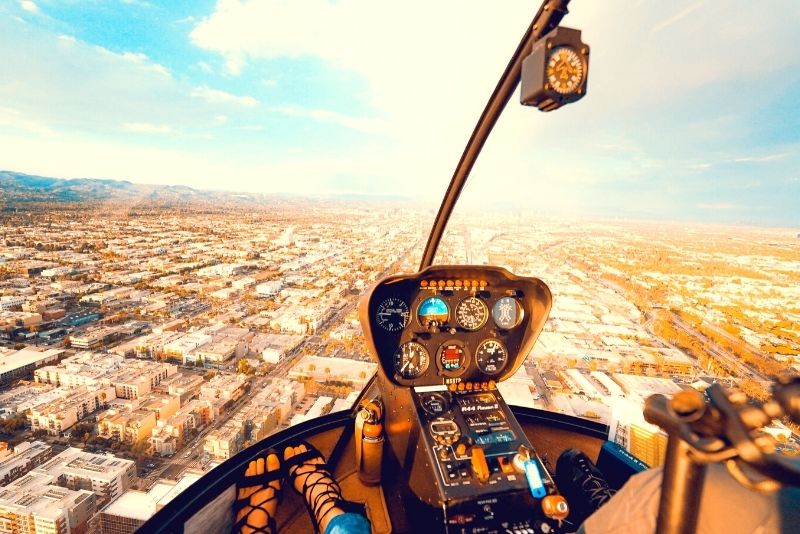 Want to live like the rich and famous for a moment? Then look no further than a helicopter tour! As you soar above Hollywood's tourist-trodden boulevards, Griffith Park, and the LA Basin, you'll be blessed with a bird's eye view of some of the most famed homes, landmarks, and monuments in the area.
The budget-conscious can opt for a 10-minute flight that covers the main highlights, while those not afraid to shell out a little extra can fly for close to an hour, learning all about the famous landmarks and neighborhoods from the friendly pilot by day or night.
8 – Hang out with hippos at the LA Zoo + Botanical Garden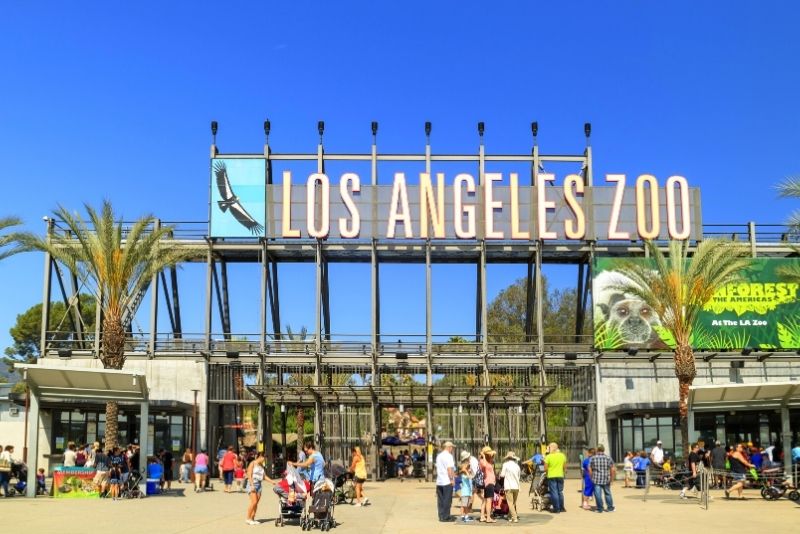 Looking for something a little more easy-going than the hustle and bustle of Hollywood Boulevard? Then look no further than the LA Zoo and Botanical Gardens, an open-aired oasis tucked out the back of L.A.'s Griffith Park.
Home to over 1,100 animals of all different species, from Sumatran tigers and red pandas to elephants and gorillas, you'll be kept busy spotting new favorite creatures around every corner! And with 7,500 individual plants spread throughout the Garden too, the atmosphere is delightfully serene (as far as zoos go).
For that extra-special experience, consider an up-close Hippo Encounter or take a front-row seat for one of the live feedings.
9 –  Check out the stars (read: not movie stars) at Griffith Observatory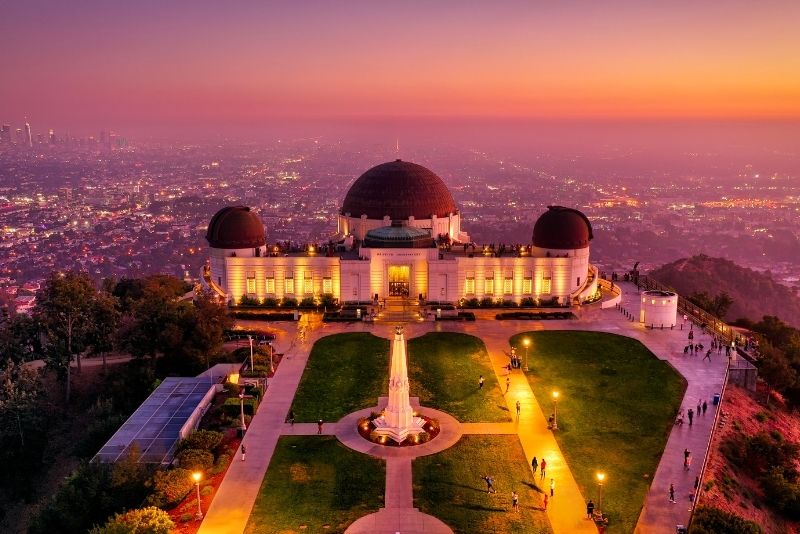 A little outside Hollywood proper but well worth a visit, Griffith Observatory is one of L.A.'s most underrated attractions! The observatory houses an impressive planetarium & space theater (check out daily shows to learn about astronomy), as well as exhibits on solar system movement and constellations.
But the best part? The observatory offers some of the most impressive views in town, overlooking downtown L.A., the Hollywood Hills, and more! For that perfect photo opportunity, be sure to snap a pic at sunset.
10 – Visit Hannibal Lecter's jail cell at the Hollywood Museum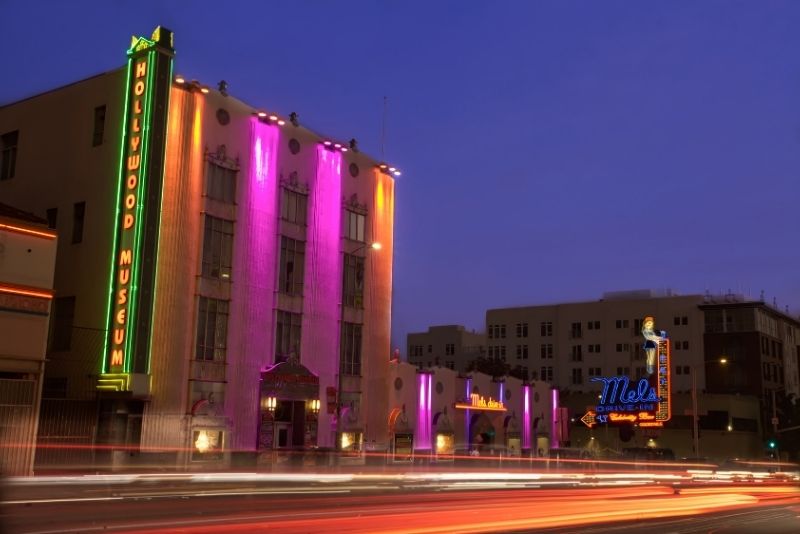 A non-negotiable for movie buffs, the Hollywood Museum houses one of the largest collections of movie memorabilia worldwide, conveniently located in the heart of Hollywood near the Hollywood-Highland Center (home of all the costumed characters).
Spread throughout the Museum you'll find everything from famous wardrobe (that's industry-speak for outfits or costumes) to scripts, props, and movie posters — with some original pieces signed by stars like Marilyn Monroe to top it all off!
With a long list of infamous vehicles too, like the Batmobile and Back to the Future's Delorean, it's heaven on Earth for any film fan.
11 – Take a tour of Warner Bros Studio Hollywood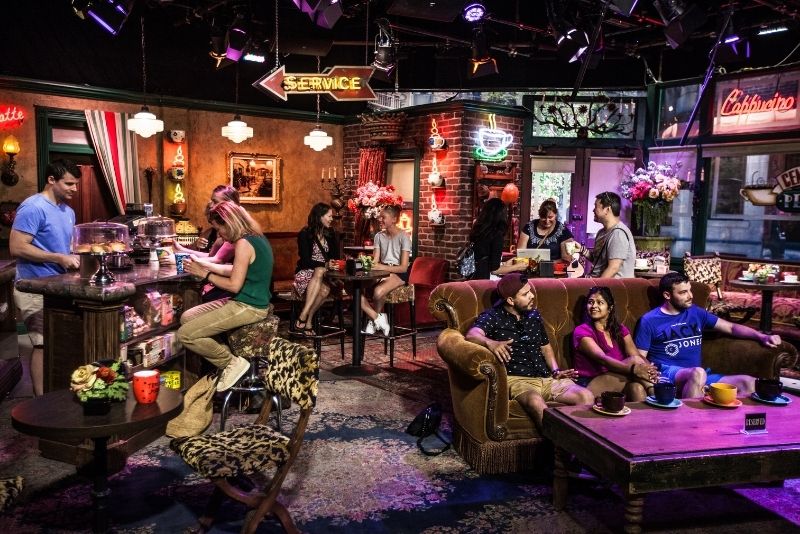 After a day of exploring the city, what could be better than an afternoon at Warner Bros Studio Hollywood?
Spread across a 110-acre backlot that includes legendary sets like the actual Central Perk cafe from Friends (you'll feel right in character as you snap photos with it), this is one movie-themed attraction that's guaranteed to leave you feeling nostalgic.
With a number of tours available that last for either two or three hours (make sure to book in advance though!), you'll also get to learn all about what goes on behind the scenes, interacting with the latest film technology along the way.
12 – Compare handprints at the TCL Chinese Theatre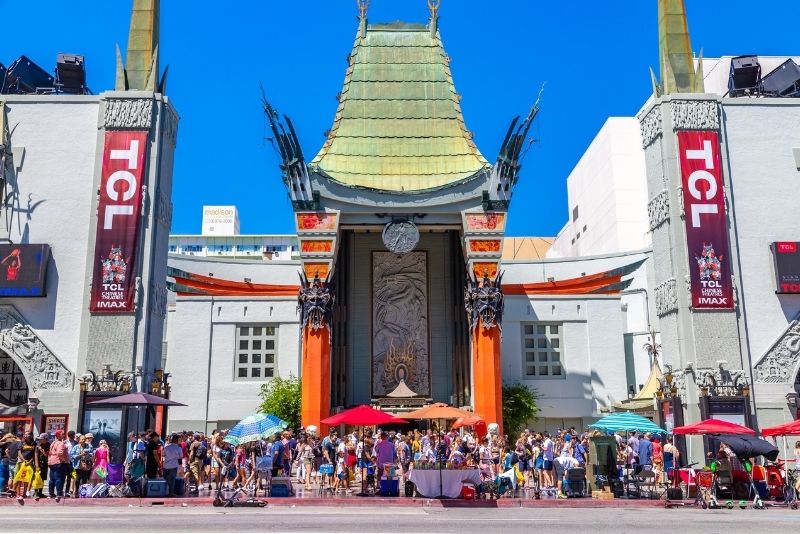 The focal point for red carpet events, film premieres, and movie star appearances, the TCL Chinese Theatre is a Hollywood staple!
One of the first-ever theaters to show movies in 'talkie' format not long after it opened its doors in 1926, you can still see stars today lining up for their chance to press their handprints and footprints into the checker-tiled cement outside — a tradition that's lasted since the 1920s.
While some might declare it as such, this isn't just a tourist trap — as long as you're willing to fork out the extra cash for an IMAX screening, you'll get a first-rate movie experience too.
13 – Pedal around town with a bike tour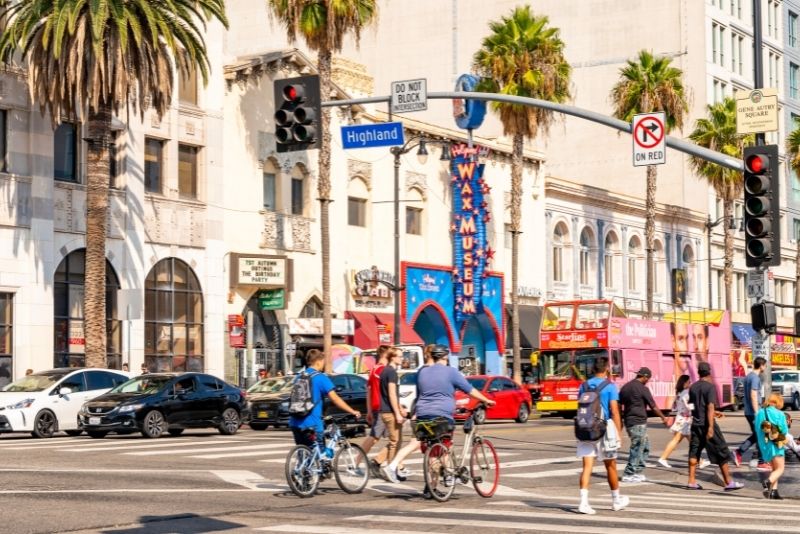 Possibly one of the most fun (and calorie-burning) ways to explore Los Angeles, a ride along the Hollywood Walk of Fame — and, more importantly, then OFF the Walk and into the hidden gems and lesser-known streets — is a must-do for any active tourist.
With a selection of guided tours available that last anywhere up to 5 hours, you'll get to see all the top film and cultural sights in style and even stop for a bite at one or two local favorite spots along the way.
14 – Feel immersed in art at the Lighthouse ArtSpace Los Angeles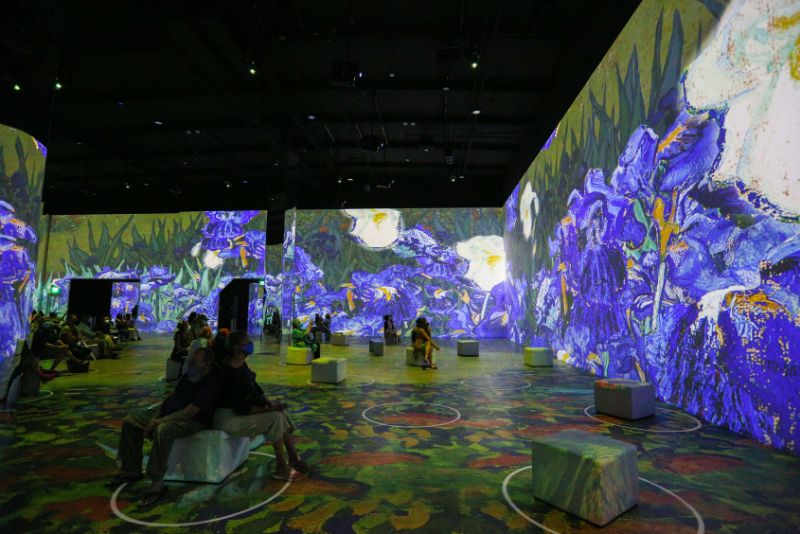 From a spiritual journey into meditation with Deepak Chopra to getting in the middle of Van Gogh's most famous works of art, observing the details of his paintings in an illuminated way, a trip to the Lighthouse ArtSpace Los Angeles is sure to be just that…a trip!
Check out the rest of the special immersive rooms at this venue, for fascinating experiences that truly don't happen in many places. Have yoga inside the immersive space with lights and the perfect soundtrack, or view what else is on.
With the use of over 80 million pixels, 1,200k frames of video, and a wide expansion of white space that becomes the canvas for the art to come alive, you'll surely enjoy every moment of the experience.
15 – Be amazed at Ripley's Believe It or Not!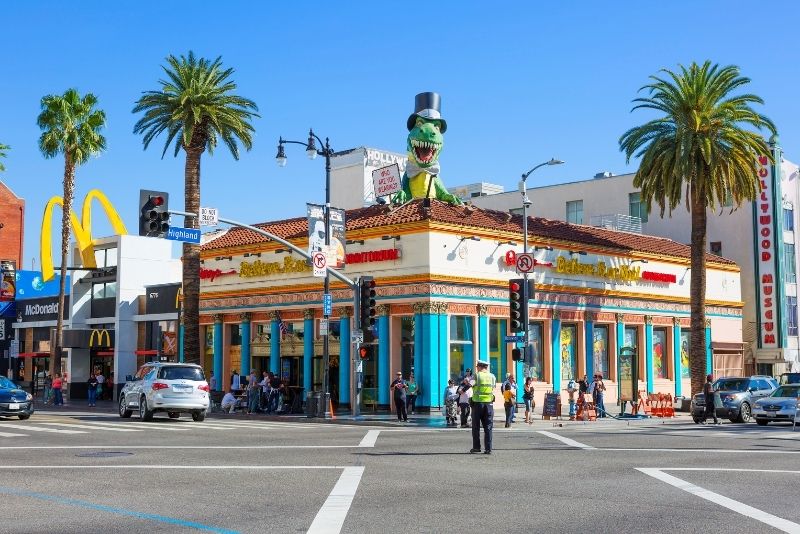 Tucked away inside a historic building (built in 1922) on the ever-popular Hollywood Walk of Fame is the family-friendly Ripley's Believe It or Not!, an interactive museum full of oddities, illusions, confusion, and curiosities.
Spread across dozen galleries full of hands-on displays, guests can get up close and personal with shrunken skulls, artfully carved coconuts, celebrity heads molded from phone books, and centuries-old century dog armor — with over 500 pieces on display, the place is sure to entertain the whole family for at least an hour.
16 – Enjoy a 360º panoramic view with a hop on hop off bus tour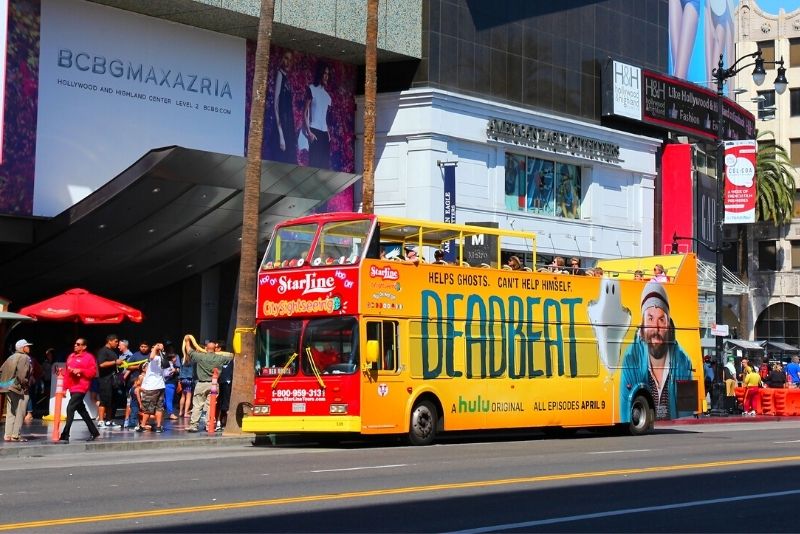 If you're looking to get a quick and comprehensive overview of the city, there are few better ways than taking a seat on an open-top double-decker bus.
With many operators in town all offering slightly different routes and schedules depending on what they specialize in — whether that be architecture, main landmarks, or film locations — it can take some research beforehand but is worth the effort.
Since riders can (as the name suggests) hop on and off whenever they please, it's a great option for those who can't stand planning and prefer to stay flexible.
17 – See what's on at Hollywood & Highland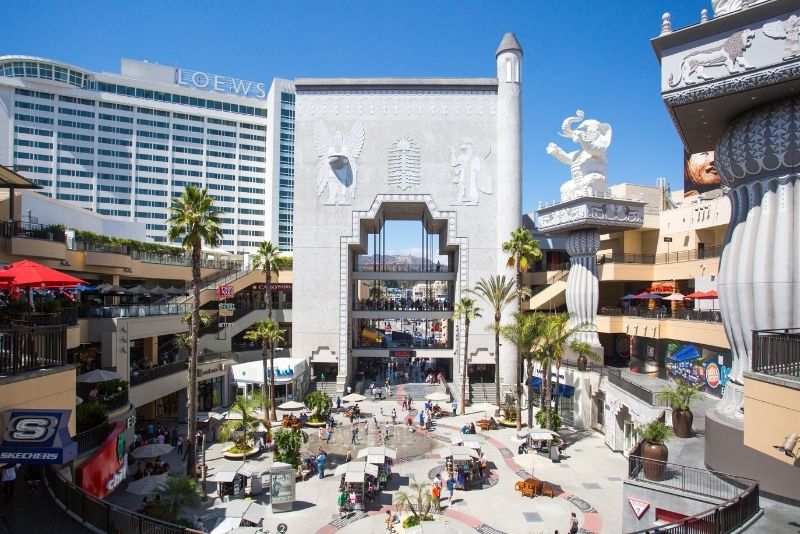 Located smack-bang in the heart of Hollywood, Ovation Hollywood is a gigantic complex widely known as one of LA's premier tourist attractions, serving as an entertainment hub, dining district, and shopping destination all at once.
Ready to be spooked? Don't miss your chance to see some of Hollywood's creepy lifelike props at Icons of Darkness – the "Hall of Fame" space exhibiting the best special effects, costumes, and props utilized in Hollywood's major scary blockbusters!
Home to a huge variety of individual entertainment spots including the world-famous Dolby Theatre (where Oscars ceremonies are often held and decade's worth of Oscar winners' names are etched into stone pillars), plus Madame Tussauds Wax Museum and a constant supply of street performers and costumed characters, there's always something exciting happening.
18 – Drive a Ferrari!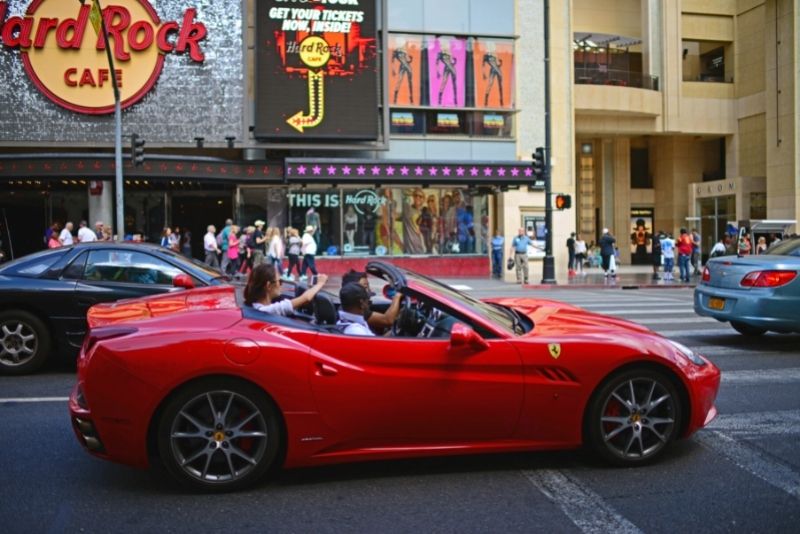 In a city of glamour and style, not to mention riches, who says you can't play the part of the Hollywood elite for a day?
For the ultimate experience, you can choose from a range of supercars — the most popular is the eye-catching bright red Ferrari California T — to take for a spin down Hollywood Boulevard, along the Sunset Strip, or up the winding roads to the Hollywood sign!
19 – Catch a show at the Hollywood Forever Cemetery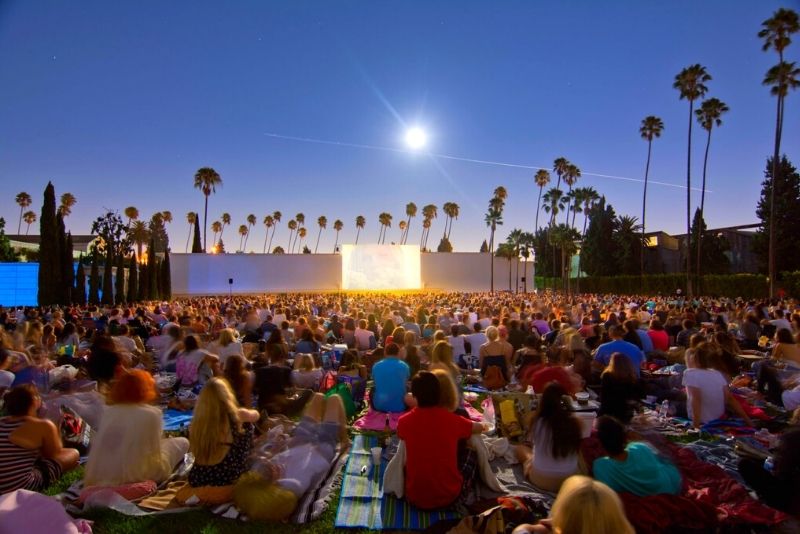 With countless famous names buried within its grounds — including Cecil B. DeMille, Jayne Mansfield, and even Rudolph Valentino — there's no denying the Hollywood Forever Cemetery is an interesting place to spend some time.
Beyond its notable gravesites, the Cemetary is also a cultural epicenter, regularly hosting summer movie screenings, events and festivals. Simply check the website for upcoming events and make sure to get there early for a good spot.
20 – Admire the historic Hollyhock House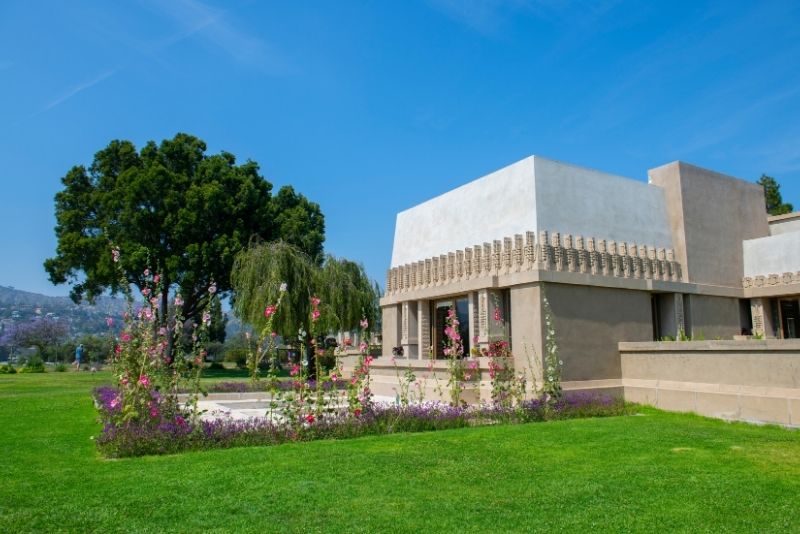 An admired building by cherished architect Frank Lloyd Wright, the Hollyhock House is a rare and beautiful example of his early work, sitting on the quieter eastern side of Hollywood Boulevard near Vermont — close enough to walk to, but far enough to get a little peace and quiet.
Completed in 1921 after a decade-long construction for oil heiress Aline Barnsdall as an arts and theater community center, this iconic structure still gets over 100,000 visitors every year — so if you're looking to get up close with some architectural history, it's definitely worth a visit.
21 – Hike up around the Hollywood hills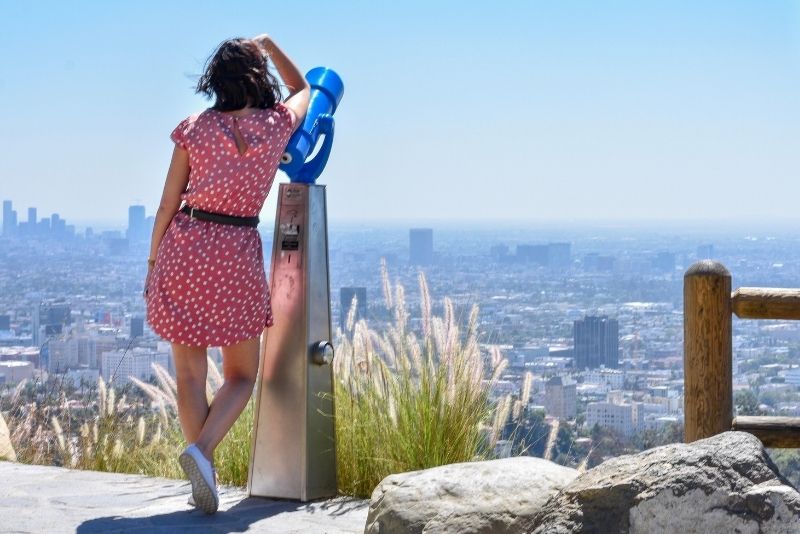 The sunsets over Los Angeles are a sight to behold, and there's no better spot to appreciate them than the array of viewpoints spread throughout the Hollywood Hills. For any La-La-Land fans, that iconic spot is just one of many.
With countless hiking trails leading up into some of Hollywood's favorite local spots — like Franklin Canyon, Laurel Canyon, Runyon Canyon, and Mulholland Drive — you'll get spectacular views across the sprawling panorama as well as a chance to spot one or two celebrity homes.
22 – Meet your favorite celeb at the Hollywood Wax Museum (sort of…)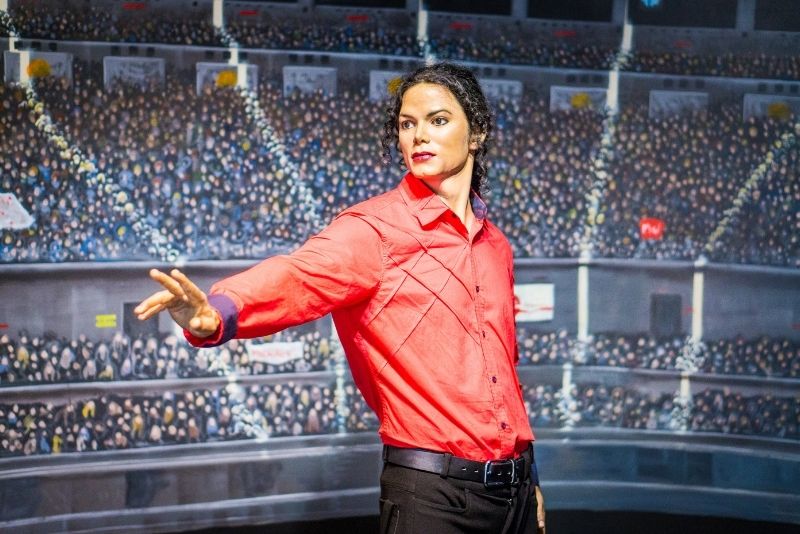 For all those who would rather have their favorite performers come to them, the Hollywood Wax Museum — a great alternative to the usually busy Madame Tussaud's — is just the ticket.
With multiple rooms of life-like waxwork figures ranging from historical legends to modern superstars (Christian Bale, Daniel Craig, Leo DiCaprio, and the list goes on), it's a fun way for anyone looking to get up close and personal with some familiar faces.
And with a particularly impressive horror section, it makes for a brilliant Halloween experience if you happen to be visiting in late October.
23 – Try to break a record at the Guinness World Records Museum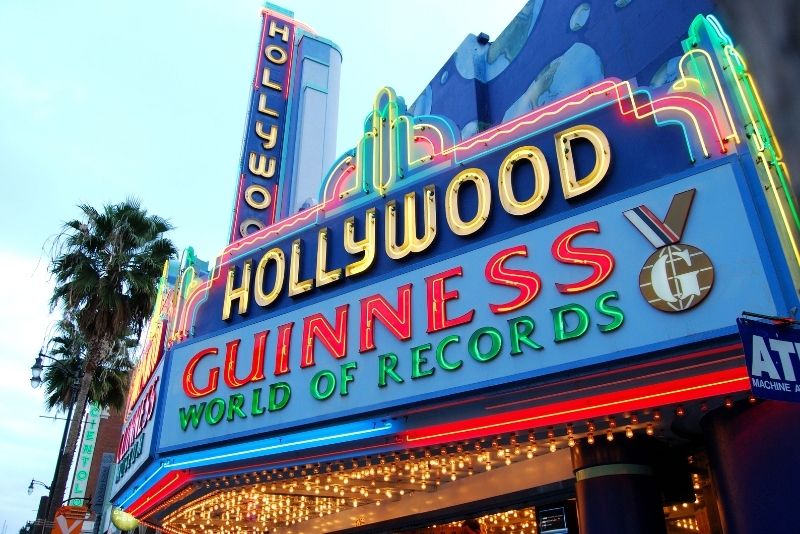 For those who've always been interested in the weird and wacky world of record-breaking, it's time to make your way over to Hollywood's very own Guinness World Records Museum — a mainstay attraction welcoming tourists for over 30 years.
With everything from classic items like the tallest man (Robert Wadlow) through to some truly bizarre records like 'the man who swallowed 22 swords simultaneously' — you're sure to be entertained and educated at the same time.
For anyone with kids in tow, the interactive record-breaking challenge zone is a surefire hit.
24 – Go behind the scenes with a Paramount Pictures Studios Tour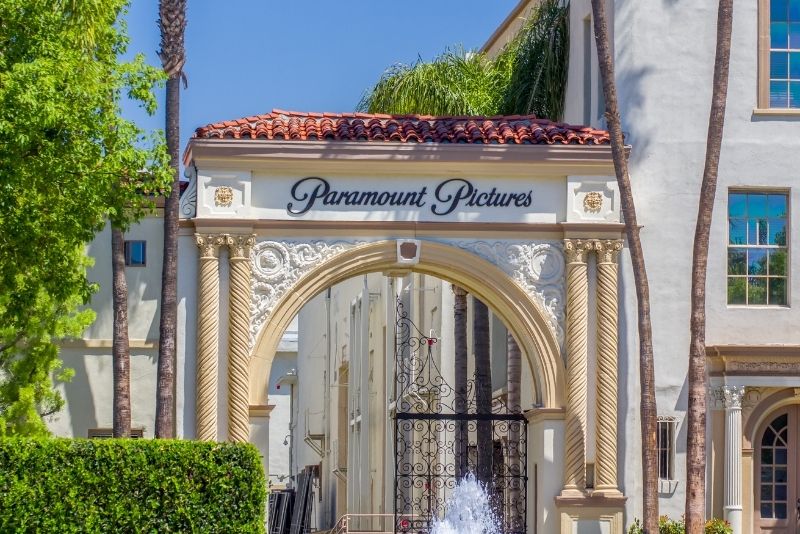 From its earliest days to the modern era, Paramount Pictures has been one of Hollywood's most iconic studios, producing award-finning classics like Indiana Jones and Titanic, just to name a couple.
A great option for families, the tour kicks off with an interesting historical look at this true American institution, before handing over the reins to film-savvy guides who escort guests through the studio's vast backlot and fascinating areas like the Prop Warehouse, and New York Street set.
25 – Have fun at World of Illusions Los Angeles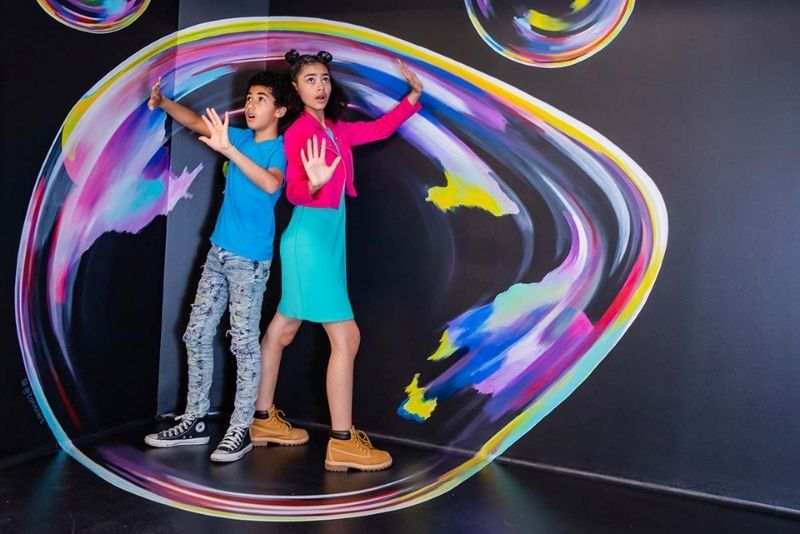 A family-friendly indoor attraction nestled amongst the controlled chaos of Hollywood & Highland, World of Illusions is jam-packed with extraordinary 3D illusions, optical tricks, and special effects.
Kids particularly love the upside-down house and giant's house, while Instagrammers go nuts for the dozens of photo ops!
26 – Grab a table at the Hard Rock Cafe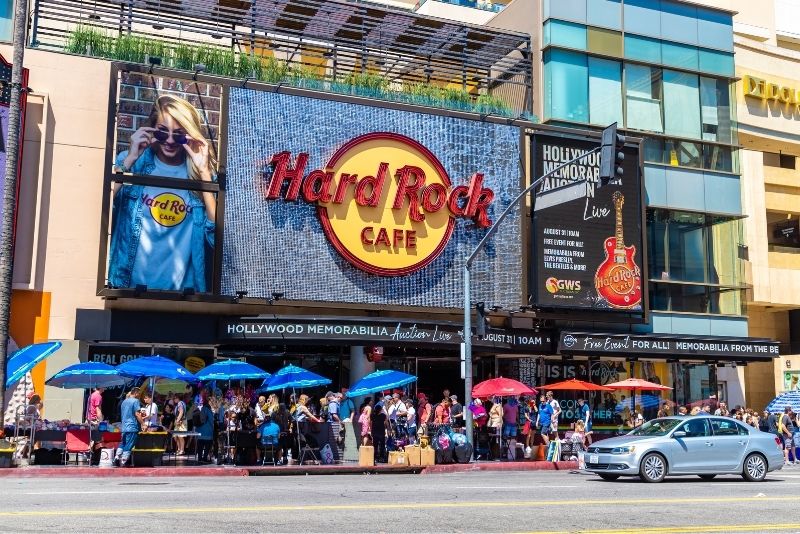 It's time to feel like a rock star as you work your way through the extensive menu of American classics and new world fusion fare at this internationally-renowned restaurant!
While it's a great spot for anyone who happens to be hungry, the Hard Rock Cafe has become famous with visitors and locals alike as an excellent place to catch some upbeat live music with some of Hollywood's most talented live acts — so if you're looking for somewhere fun and vibrant with music on tap and memorabilia hung on every wall, look no further.
27 – Grab some lunch at the Hollywood Farmers Market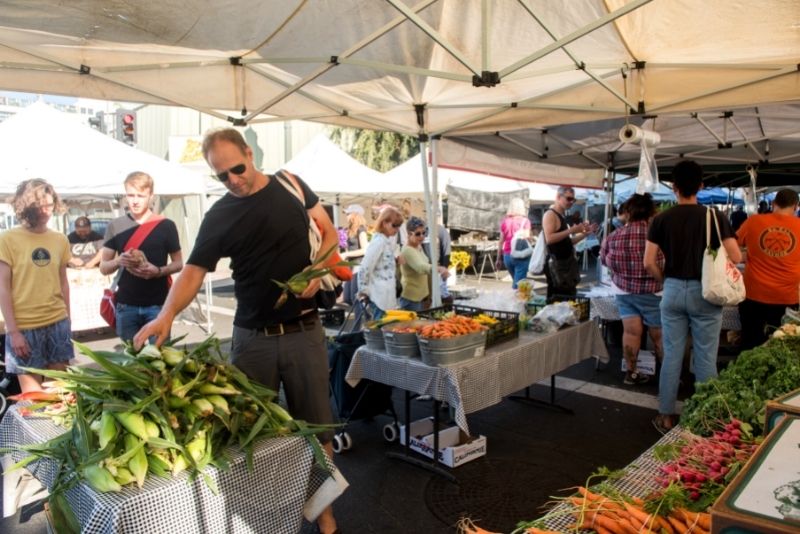 A treasure trove of fresh produce, baked goods and gourmet items for local residents and visitors alike — the Hollywood Farmers Market is both one of LA's best weekly markets and a hot-spot for A-listers.
With room for up to 170 vendors every Saturday morning from 9 till 1 in the heart of town, it's a great place to pick up some delicious goodies at bargain prices and soak in the quintessential LA vibe — just be sure to get there early if you want the best selection!
28 – Throw down the picnic rug at Barnsdall Art Park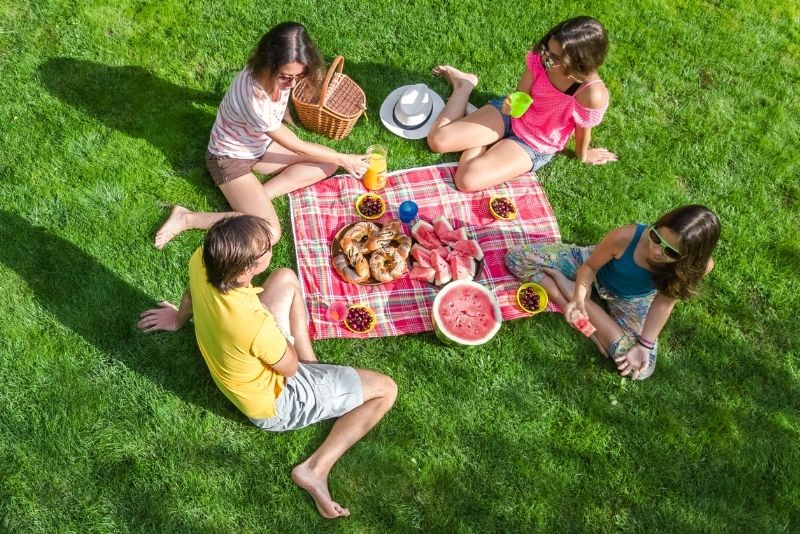 A perfect example of the new wave of public urban parks that are popping up all over LA at present, Barnsdall Art Park is a beautiful community space built on top of a hill that dishes up stellar views of Downtown LA.
Guests are welcome to stop by for an afternoon picnic, admire the Hollyhock House, or even try their hand at some art classes!
29 – Step inside the Stahl House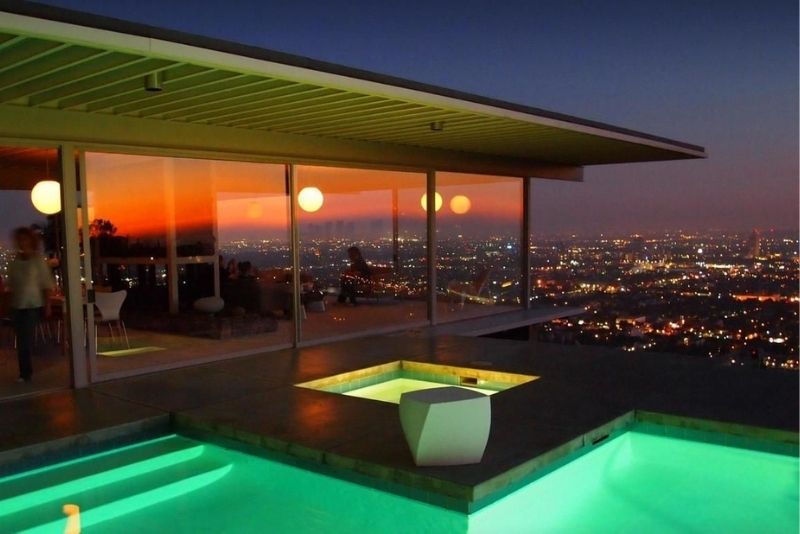 Nestled high up in the Hollywood Hills on Woods Drive, this enormous mansion is both an iconic example of 20th-century modernist architecture and a mainstay on the silver screen, having been featured in Nurse Betty, Playing by Heart, and dozens more productions.
Boasting the strong claim to fame of being one of the ten best houses in Los Angeles (according to LA Weekly), a tour of this palace-like abode really is unlike anything else.
30 – Get amongst nature at Sunset Ranch Hollywood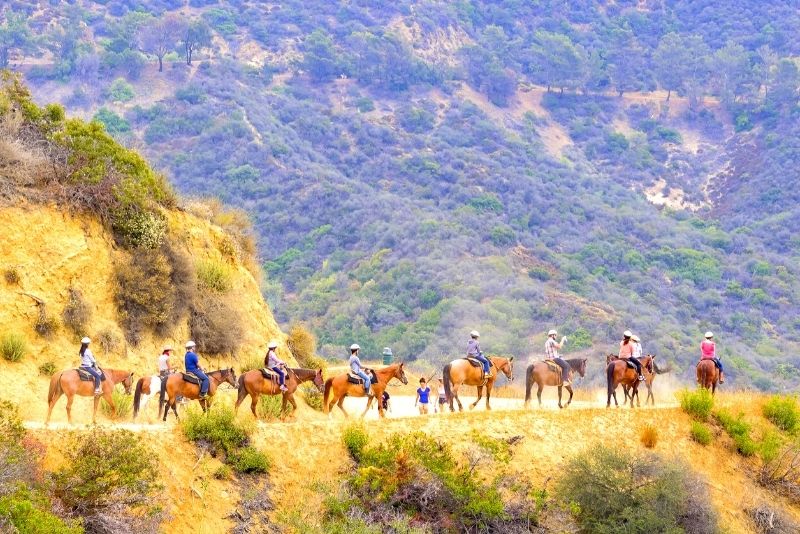 A popular spot for both locals and visitors, Sunset Ranch Hollywood Stables offers trail rides on the outskirts of Griffith Park every day (weather permitting), providing an opportunity to see some more natural parts of California, away from the tourist crowds.
With two-hour sunset rides or quick and easy one-hour rides available, and a huge variety of beautiful and well-trained horses to choose from, even newbies can saddle up without a worry.
31 – Check out the Hollywood Sign from Lake Hollywood Park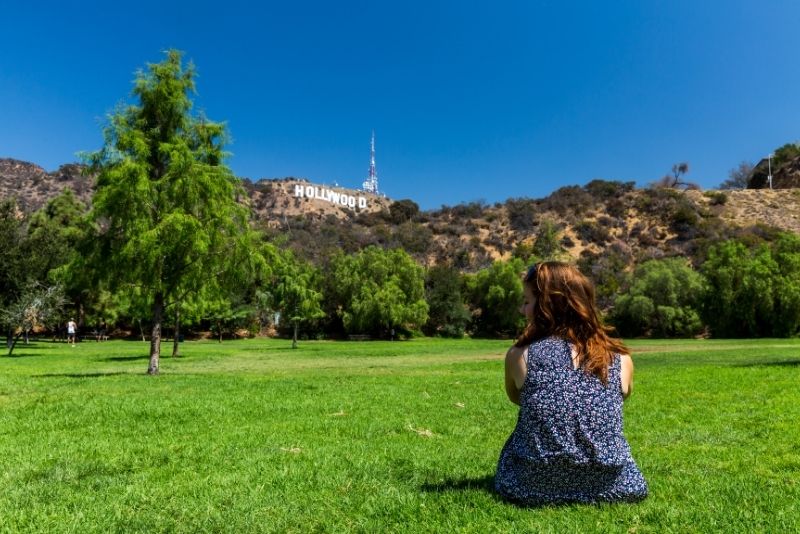 A great spot for an afternoon stroll, Lake Hollywood Park sits on the edge of Mulholland Drive and offers some picturesque views out over Los Angeles. The best view by far, however, comes from the hill above the park, where the Hollywood Sign is visible, unobstructed, and impressive.
With well-maintained paths that wind around the manmade lake (which is actually part of a reservoir) to facilitate joggers, walkers and cyclists alike, it's one of the more peaceful parts of Hollywood.
If you plan on walking the entire 3.5-mile loop, expect about 90 minutes worth of walking.
32 – Meet your favorite celebrities at Madame Tussauds Hollywood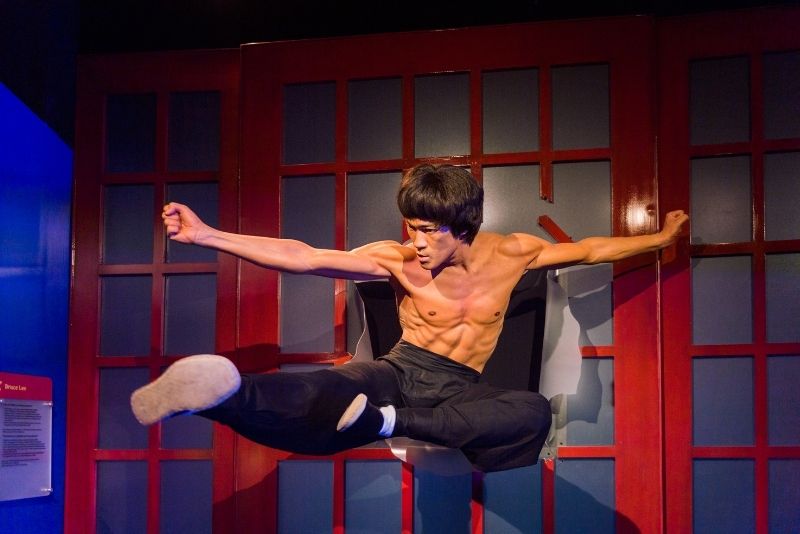 Who doesn't love a selfie with their favorite celebrity?
With an unbeatable roster of wax-work celebs including everyone from Taylor Swift to Brad Pitt and Angelina Jolie, Madame Tussauds is the perfect way to get up-close and personal with your most famous idols.
Depending on how much time you have, there are also several themed rooms too — like Marvel Super Heroes or Sci-Fi Invasion — where you can snap your photo with your favorite Avenger.
Just around the corner from the TCL Chinese Theatre, it's an easy addition to any day of Hollywood walkabout.
33 – Stop into the Museum of Broken Relationships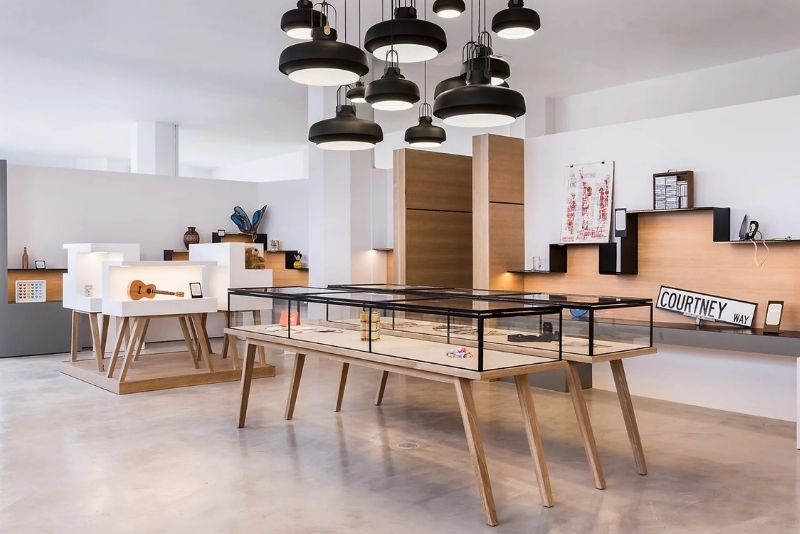 Certainly one of the more unusual things to do in Hollywood — and probably not suited to anyone who's just been dumped — the Museum of Broken Relationships was built up to explore the idea that love is both beautiful and brutal.
Displayed in a poetic, sometimes comedic fashion are hundreds and hundreds of mementos donated from all over the world — items representing everything from wedding dresses to teddy bears to a lock of hair.
Each story is different, and each provides an insight into the beauty and pain that comes with love gone wrong. And be sure to check out the confessional under the staircase before you leave!
Fun fact: there's also a Museum of Broken Relationships in Zagreb, Croatia, if you're ever meandering through that part of the world.
34 – Play a round of Golf in Griffith Park!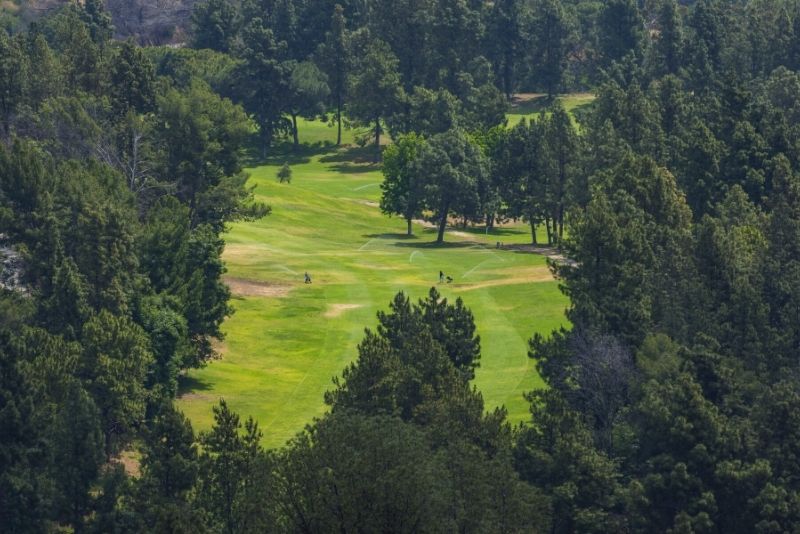 The Hollywood celebrity factor means that golf has always been popular here, so it comes as no surprise that LA is home to some of the best courses in California, many with spectacular views and challenging layouts.
So, where to begin? You can't go wrong with the Wilson Golf Course, a picturesque set of fairways in the middle of Griffith Park that welcomes every kind of golfer. At over 7,000 yards, it's the longest of all LA courses. It's a similar welcoming feeling next door at the Harding course, which has been in action since 1923; and while the Roosevelt Municipal Golf Course only offers 9 holes, it arguably boasts the best views of the bunch!
35 – Browse through some art galleries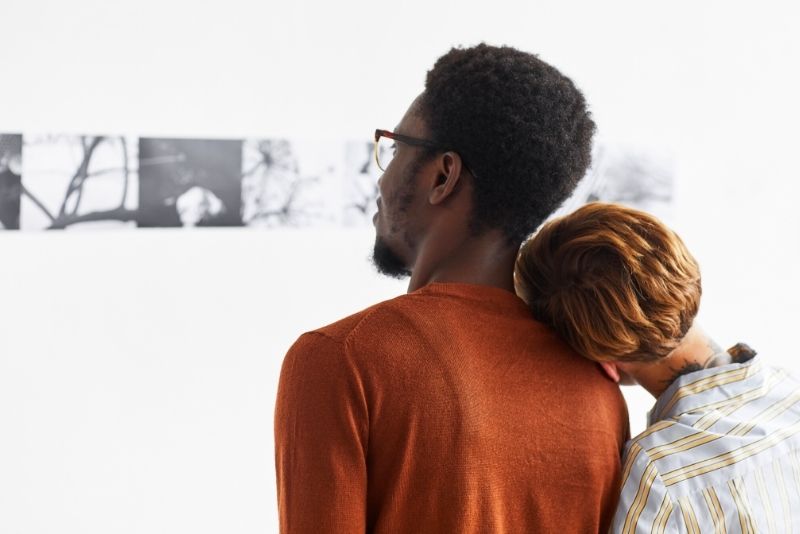 Hollywood has always been a magnet for the arts, with countless galleries and museums springing up all over town. One of the front-runners, LACE on Hollywood Blvd showcases a range of experimental collections — having opened its doors back in 1978 as part of an artistic uprising that was sweeping through Hollywood at the time, it's become a LA icon.
If that isn't enough to quench your thirst for culture, the Kohn Gallery focuses on pop art and whimsical modern masters, while Latitudes Gallery is a standout for photography.
36 – Get spooked on a True Crime & Haunted Walking Tour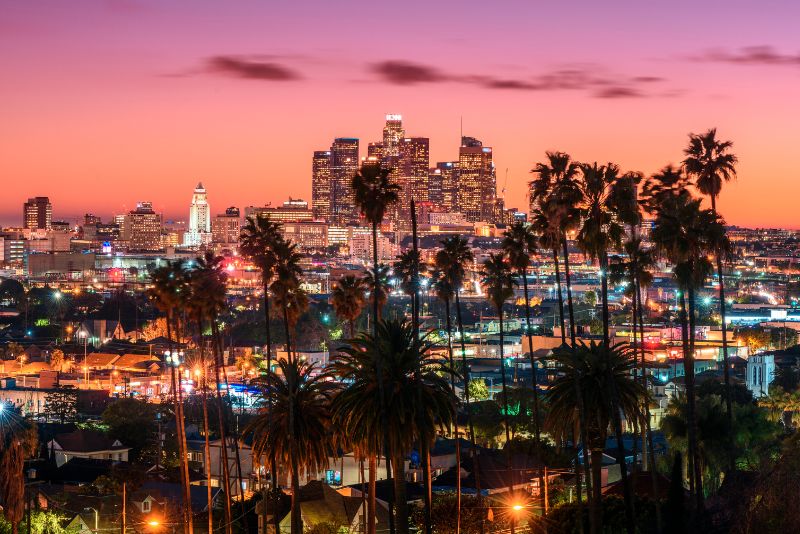 For those who like a little cryptic-themed night activity, check out a true crime and haunted walking tour, which takes you through a walk of Hollywood and nearby, as you learn about the darker side of this famous city.
From tragic murders to creepy accidents, and all sorts of misfortunes, this true crime, and haunted walking tour will truly creep you out, while also giving you curious insight into a few historical moments that tainted the city's past.
Learn about the mysterious death of Marilyn Monroe, to other creepy legends, while stopping by historic and haunted hotels, restaurants/bars, and walking the same streets where victims in the past met their untimely fates.
Book soon to get spooked, as this tour is a popular one!
37 – Catch a Disney flick at the El Capitan Theatre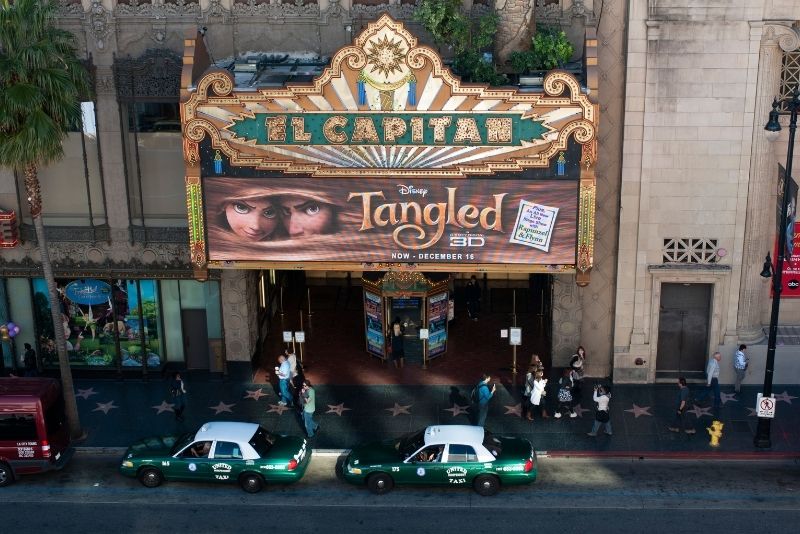 One of the most popular things to do in Hollywood is also one of the best-known. El Capitan Theatre on Hollywood Boulevard is a Disney attraction that's been around for nearly a century but was completely renovated and restored to its former glory and magic.
The theatre, owned by Disney, plays host to most Disney premieres and regularly showcases some truly spectacular films, from Pixar favorites such as Cars or Toy Story, to live-action films like Beauty and the Beast.
38 – Laugh until you cry at the best Comedy Clubs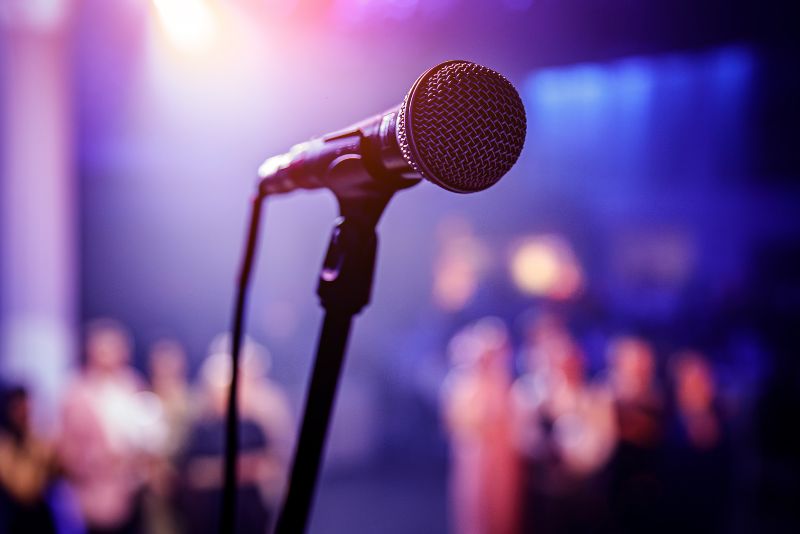 Crack a chuckle at some of the best comedy clubs in Hollywood, starting with the world-renowned – The Comedy Store, featuring a varied list of some of Hollywood's best comedians, and local talent. Grab a drink or two, and don't forget and ID, and be ready to have a ball!
Catch the All-Stars, or the other themed evenings highlighting comedians of varied genres and interests at another world-renowned comedy club, The Laugh Factory! With locations all over the country, Hollywood's location is one where you can catch some of the world-famous comedians taking the stage.
Bring your thirst and hunger to the Hollywood Improve comedy club, featuring a time-honored space that has been entertaining people since the 70s! To book your ticket, head to their website.
39 – Take a record home from Amoeba Music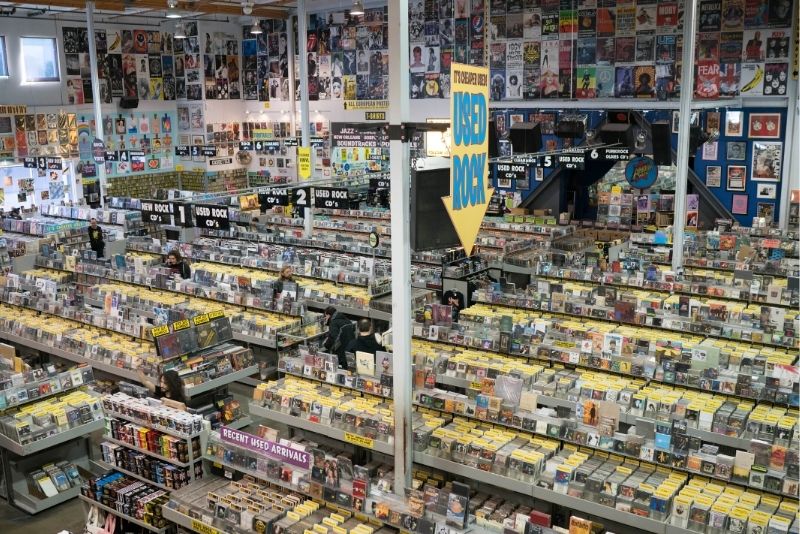 Heaven on earth for music lovers, Amoeba Music on Sunset Blvd wields the coveted title of being the largest independent record store in America.
Spanning three stories and housing more than a million records (with new stock arriving daily), it houses every genre under the sun and each section is curated with real passion.
40 – Dine at Yamashiro Hollywood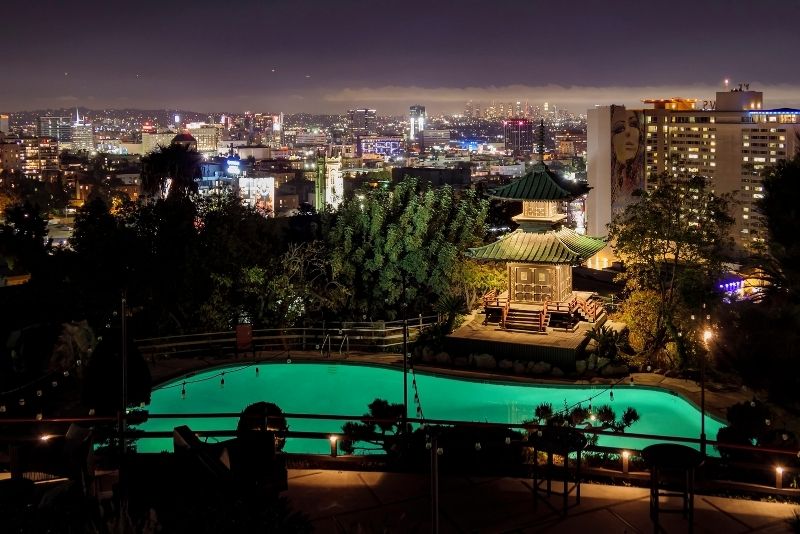 It's hard to believe that you could be whisked away to Japan on your trip to LA, but sitting on Sycamore Avenue high in the Hollywood Hills is Yamashiro, a popular Japanese restaurant that, thanks to its charming architecture, atmosphere, and menu, does exactly that.
The beloved locale was modeled after a Kyoto palace — koi pond and all — and has been serving up sushi and other traditional dishes to the stars for over a century.
The views over LA are spectacular, but it's not just about the food or vistas here; Yamashiro also offers a range of entertainment experiences, like DJs on its terrace and the Hollywood Night Market.
41 – Check out the obscure Psychiatry Museum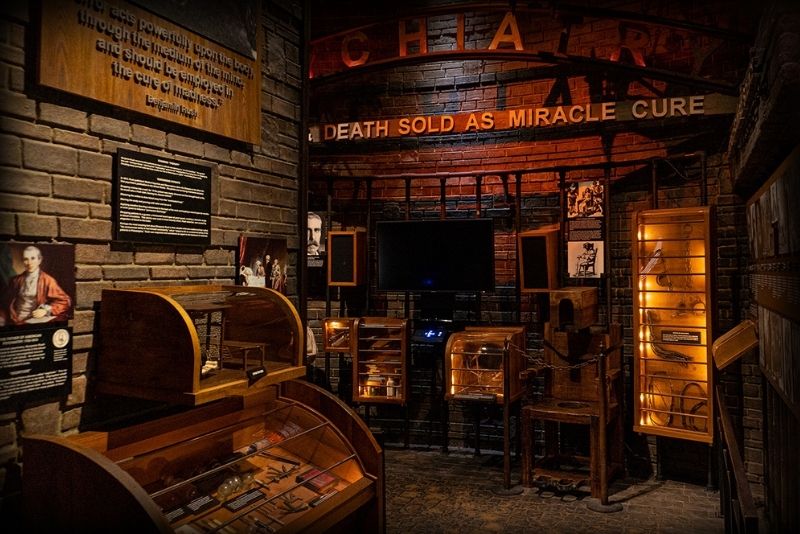 The Psychiatry: An Industry of Death Museum might not be the first thing that springs to mind when planning a trip to Tinseltown, but with exhibits shedding light on electric shock therapy), lobotomies, and other forms of psychiatric treatment and trauma, it's certainly one of the most fascinating things to do in Hollywood.
Since the Museum is fully funded by the Church of Scientology, the displays do somewhat communicate an ideology, however, that doesn't make them any less eye-opening.
42 – Step back in time at the La Brea Tar Pits and Museum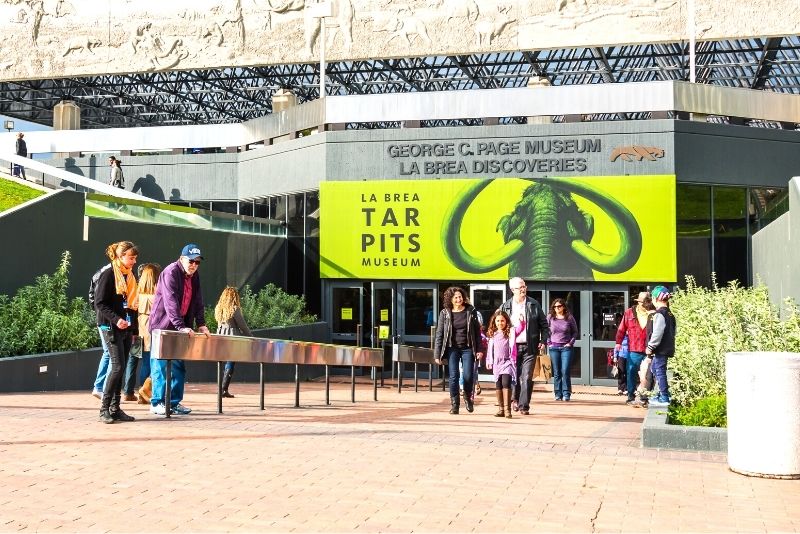 A non-negotiable for dinosaur lovers and budding archeologists, the family-favorite La Brea Tar Pits have been bubbling beneath Wilshire Boulevard for tens of thousands of years, with over 3.5 million fossils found to date and counting!
Curious visitors can witness live excavations, learn about wooly mammoths and sabertoothed tigers, and discover the ins and outs of the world's only active, urban Ice Age excavation site!
With plenty of hands-on activities, it's a regular hit with the youngsters.
43 – Check out the Capitol Records Building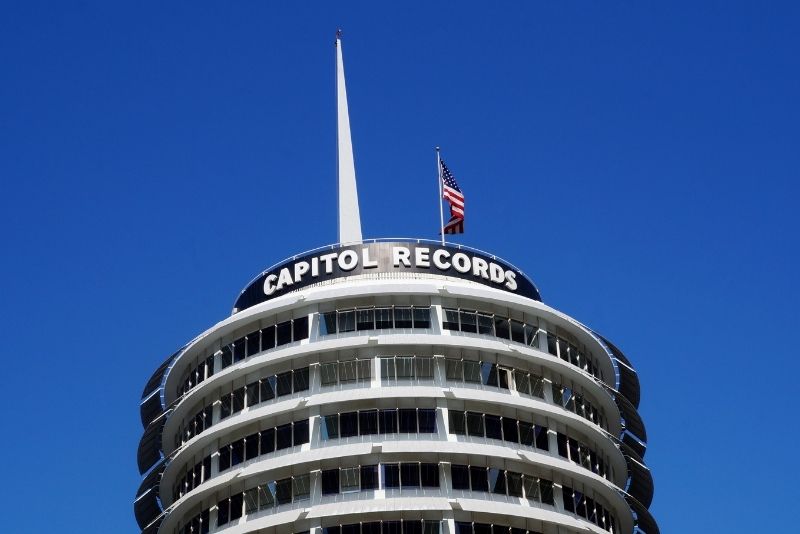 Built in 1955 and meant to resemble a stack of records on a turntable, complete with the label's logo emblazoned across its side, the iconic Capitol Records Building on Vine Street is one of Hollywood's most recognized structures.
Having appeared in hundreds of blockbuster films over the years, the former record studio, while not open to the public, is still worth a quick peek, especially considering that the Beatles' stars are located at its doorstep.
44 – Wander through the Hollywood Palladium for live music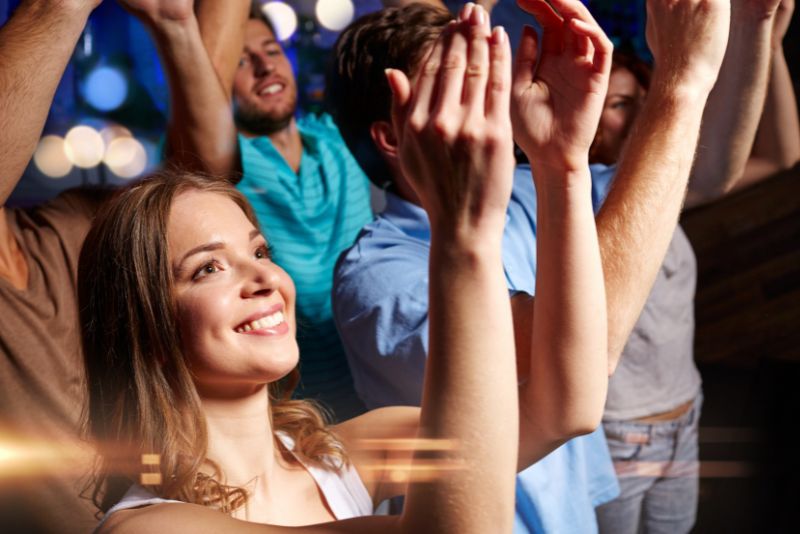 The famous live venue tucked in the also famous Sunset Boulevard is the Hollywood Palladium, a music venue that has become famous with the times for being the stage for many artists known today, as well as hosting notable audience members like John F. Kennedy in 1961.
Though today's music scene has moved a bit from its early jazz and Latin Music orchestra, today you can catch a rock show, rap and R&B performance, and a few pop musicians.
Be sure to check out their headlining calendar on their website, where you can also purchase tickets ahead of time for your desired show. Be aware that you can only purchase concert tickets on their website and not through LiveNation or Ticketmaster.
45 – Learn about decades gone by at the Hollywood Heritage Museum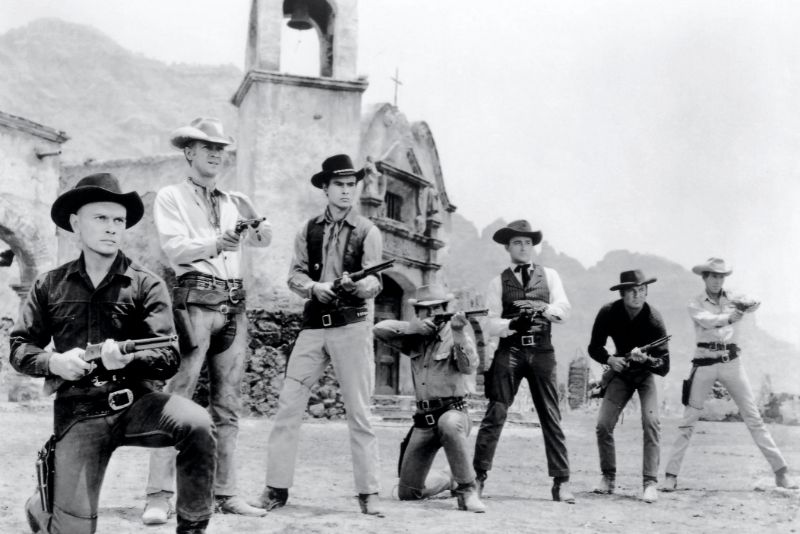 Forming part of the Hollywood Bowl, it might not look like much from the outside (it sits in a restored barn, in fact) but delve deeper and you'll find a fascinating peek into Tinseltown's history at The Hollywood Heritage Museum.
Featuring everything from old scripts to costumes worn by silver screen stars over the years, it's an all-around insight into how this iconic town in the hills got its name and developed into what it is today.
If you're lucky, you might even stumble upon a book signing or special presentation.
46 – Taste a negroni at the historic Musso & Frank Grill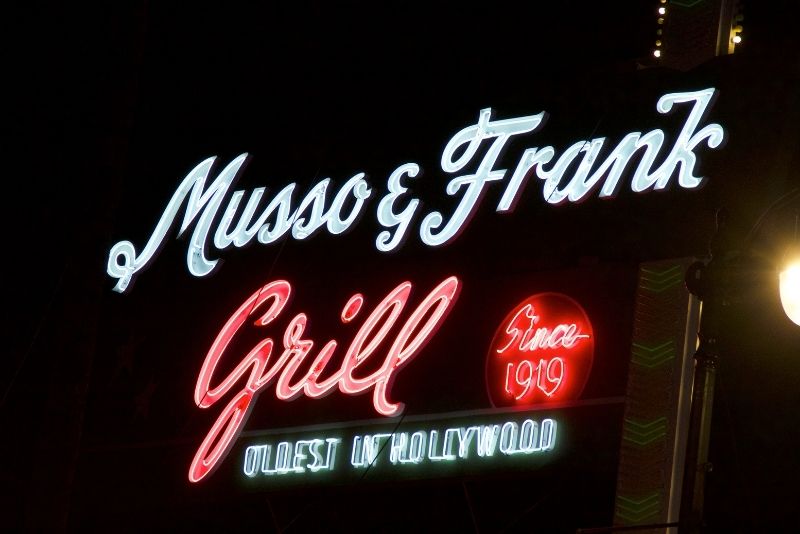 The oldest restaurant in Hollywood, this staple resto-bar has been serving up food and drink for over a century to visitors from near and far, and local legends of the likes of Charlie Chaplin, Marilyn Monroe, and F. Scott Fitzgerald.
Aside from its history (currently run by 4th generation Mosso family), it's recently found itself in the spotlight again after appearing in Tarantino's Once Upon a Time… in Hollywood — so if you're after a table, better get in early.
47 – Catch a Broadway show at the Hollywood Pantages Theatre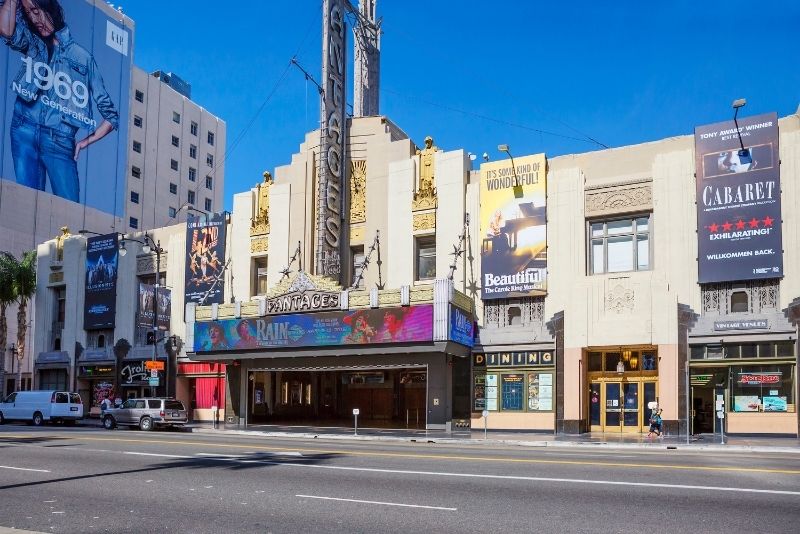 One of the city's most iconic venues for all things center-stage, this historic theater has been drawing in audiences for more than a century, housing toe-tapping musicals, emotive plays, film screenings, and unforgettable concerts.
With a glorious interior and exterior, as well as an unbeatable view from its mezzanine level of the stage below, it's no wonder this venue — built by infamous impresario Alexander Pantages — has been gracing Hollywood with all things theatre for over 90 years.
Hot tip: the roster is always changing, so check out the website before your trip to see what's on and secure a seat.
48 – Order a shake at Mel's Drive-In on Sunset Boulevard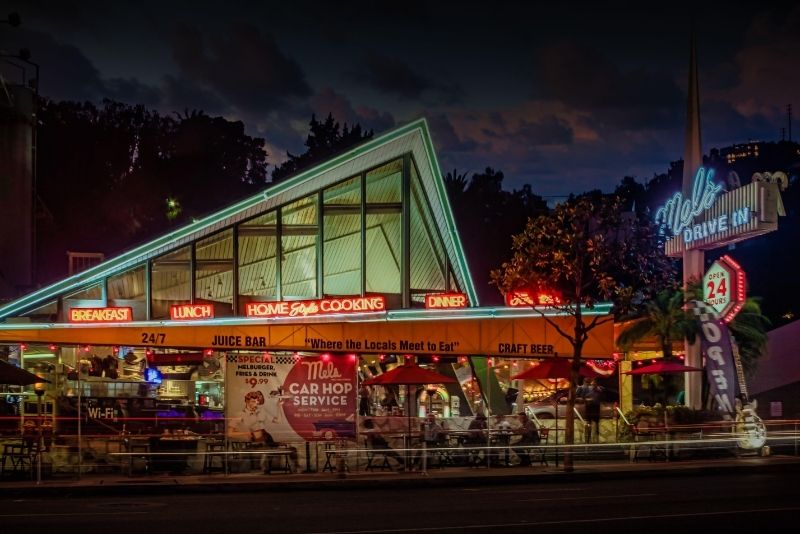 Another Hollywood star, Mel's Drive-In on Sunset Boulevard sits along the famous boulevard and has been serving up classic Americana in a 50s-style setting (think red stools and giant silver milkshake holders) since 1997.
With a reputation for its burgers as well as other fast-food fixings like onion rings and enormous sundaes, this unapologetically retro diner is full of nostalgia.
Open 24 hours a day, 7 days a week, it's perfect for some late-night grub after hitting up any of the Strip's nightclubs.
49 – Marvel at the scandelous Chateau Marmont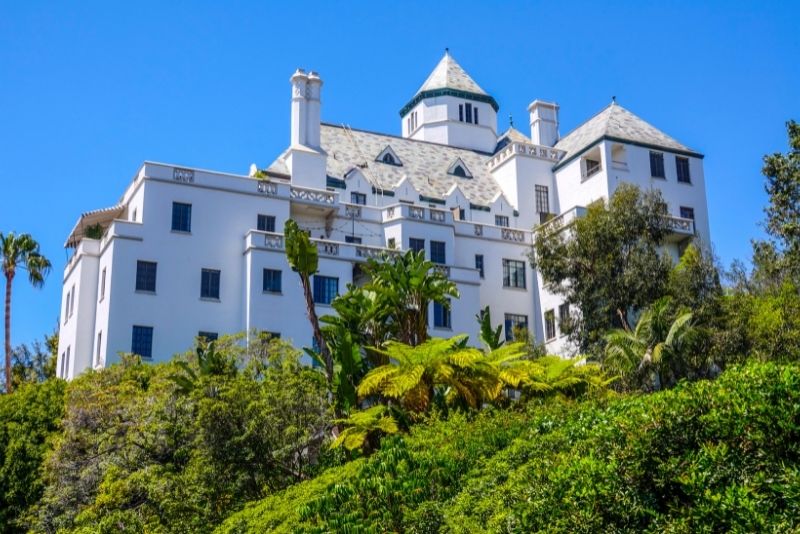 Perhaps the most celebrated building in Hollywood, Chateau Marmont's iconic seven-story French Gothic castle sits right on Sunset Boulevard and has been a playground for celebrities over recent decades.
The hotel, established in 1927, boasts a fairytale setting with a poolside garden and rooms overlooking Sunset Boulevard, as well as a private bungalow for guests to rent out — bungalows, which, have seen more than their fair share of scandalous antics and excitement over the years!
But if you're not staying the night, it's still worth stopping by for a drink at its rooftop bar where you can people-watch over Hollywood.
50 – Don't get too spooked at the Museum of Death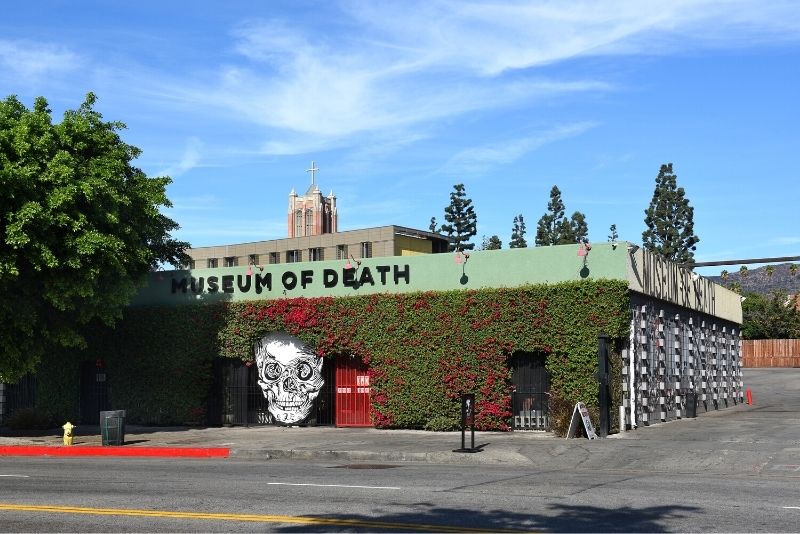 An unusual but fascinating museum, the Museum of Death is dedicated to everything macabre, renowned for housing the largest collection of serial killer artwork on the planet.
Located on Hollywood Boulevard inside a foreboding Victorian-style house, it's filled with eerie memorabilia ranging from crime scene photos and autopsy tools to investigation reports, weapons, and a whole lot more
It may not be for everyone (especially those who are squeamish) but it's certainly worth a visit if you're after something different from the typical tourist draws.
51 – Sit back for a summer show at the Hollywood Bowl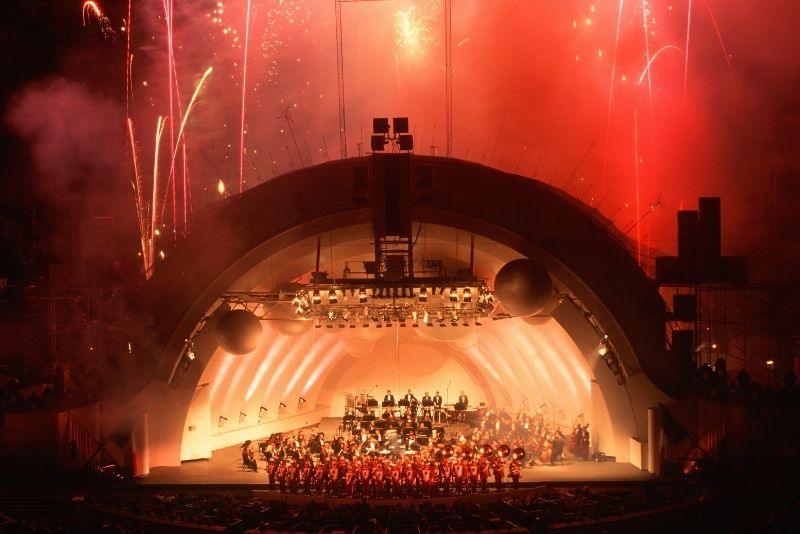 A Hollywood staple, this outdoor amphitheater has been hosting its take on summertime fun since 1922 and is still considered one of the 10 best live music venues in America to this day (if you ask RollingStone).
From classical symphonies to live musical performances and a whole lot more during the warmer months of spring and summer, it's one of those local institutions where you can be sure to have a good time — especially if you're going with a date!
52 – Watch for sleight of hand at Black Rabbit Rose Magic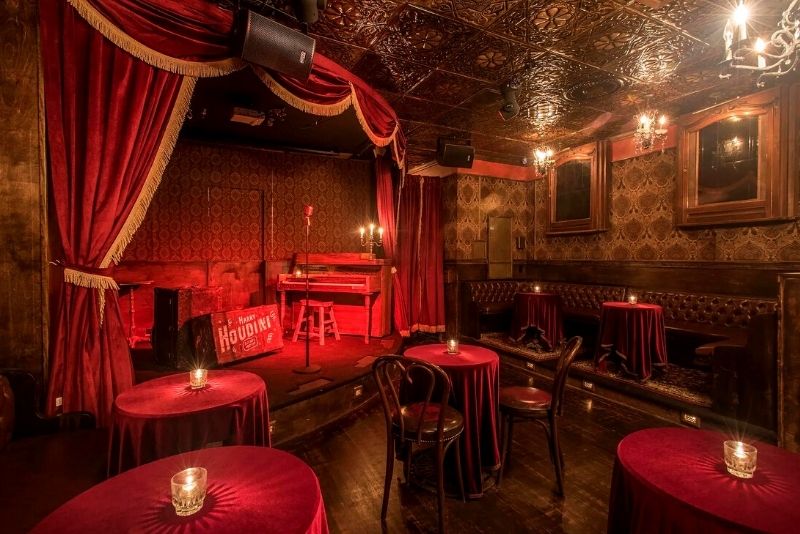 A mystical bar-slash-venue doused in magic and mystery, Black Rabbit Rose Magic is a hidden gem on Hudson Ave that's perfect for an immersive and intimate evening.
Once inside this curious place, 21+ visitors are transported to another world where the bar's magic really comes alive in a variety of different ways — from the ice cubes that keep your drink cold to the tableside tricks and nightly live music on the bar's own stage.
53 – See who's performing at the Dolby Theatre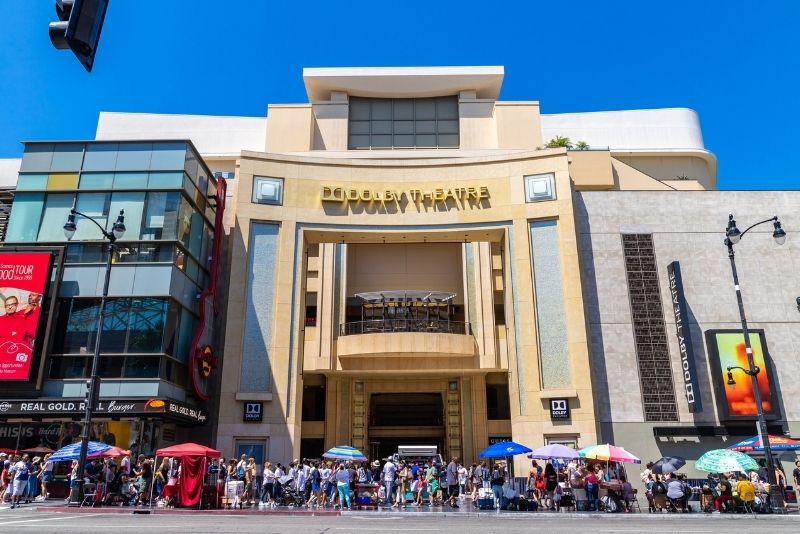 The Academy Awards are Hollywood's biggest night of the year, so why not visit where it all happens?
Formerly known as the Kodak Theatre, this historic building is where all of Hollywood's biggest stars come out to shine — and it has an incredible history in its own right.
Stroll down the hall of Oscar winners, catch a live musical or magic show, or try to sneak a peek of the Tinseltown elite when the Academy Awards roll around!
54 – Devour a delicious meal at some of the best Michelin Starred Restaurants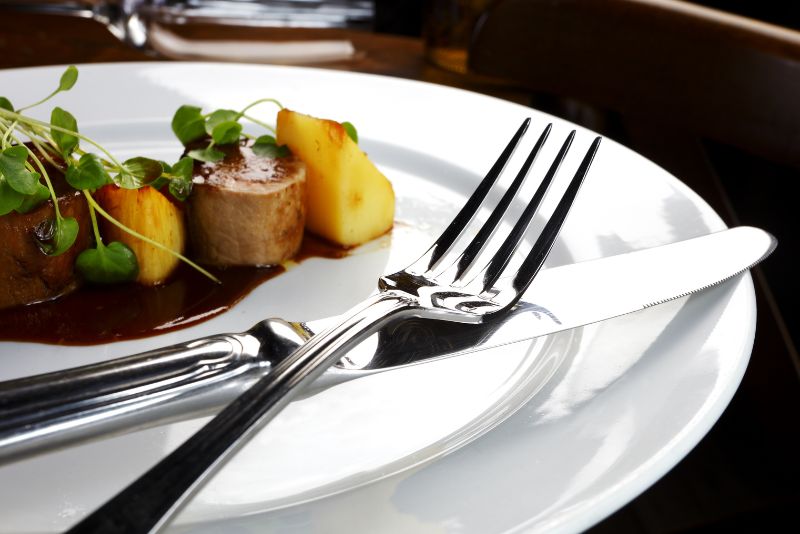 Kali in Hollywood is a magnificent restaurant located on Melrose street, that offers guests the perfect dish with the best wine pairing. Indulge in dishes created with specifically sourced produce from local California farms, from the charred avocado salad to the Sonoma County Liberty Farms Half Duck.
Providence is an award-winning seafood restaurant that welcomes its guests with sustainable fish and wild-caught options from the oceans of California. From scrumptious caviar to lobster mousse, sea lovers need to stop by this restaurant for a memorable meal.
Sushi Ginza Onodera in West Hollywood is another match made in heaven for seafood lovers, especially sushi! From delectable tiger shrimp with miso to sushi in a variety of formats, Sushi Ginza Onodera will blow you away.
55 – Do whatever you can to get inside the Magic Castle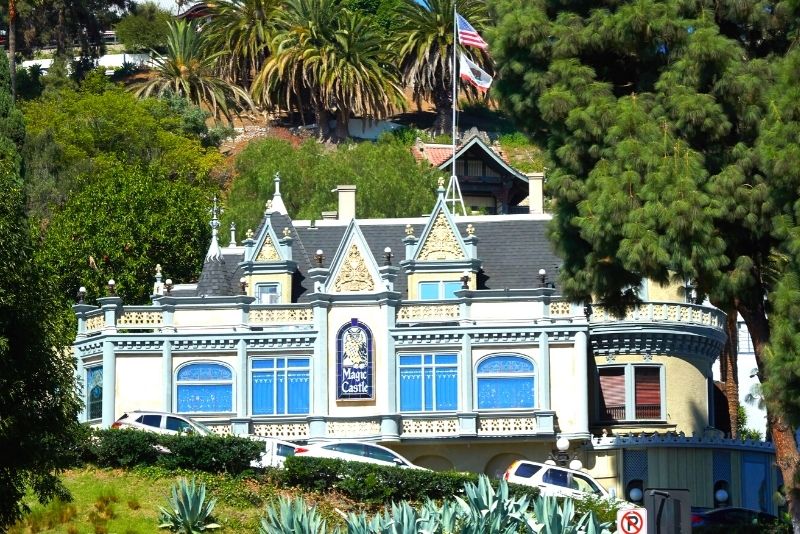 The Mecca of magic, this highly esteemed, private, and exclusive magician's club is an invite-only experience — one which, if you're lucky to score an invite, will transport you to another world for the evening.
With a labyrinth of passages and secret doors, plus formal magicians training, a roster of shows from the industry's very best, and a bar and restaurant on-site, it makes for one truly… magical evening.
Hot tip: while getting in the door is tough, if you're staying at a Hilton Hotel and book your room at least six weeks in advance, you'll score a dinner or brunch seat at the Magic Castle.
56 – Hear the next big thing at the Troubadour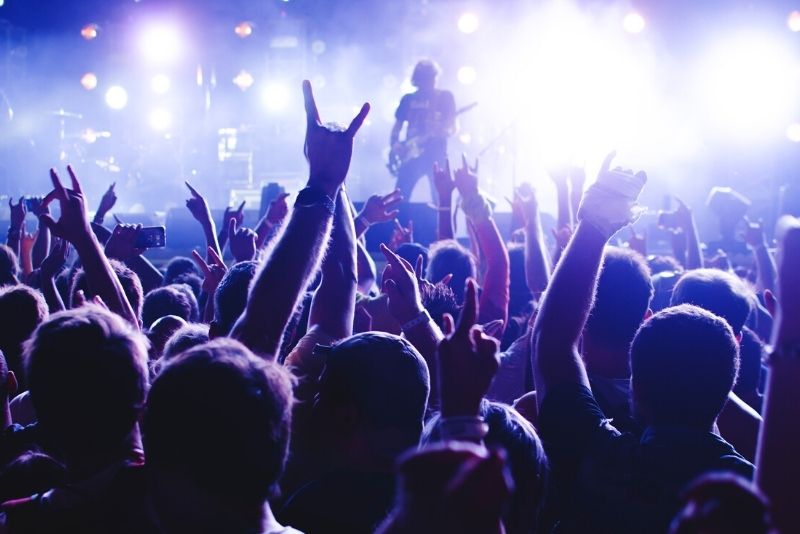 The rock-and-roll nightclub famous for debuting countless musical superstars and singer-songwriters — none more revered than Elton John — is still going strong today after opening in 1957.
Without a doubt, the Santa Monica Boulevard venue is one of Hollywood's most legendary hotspots, continuing to showcase both big names and emerging acts to this day — simply check the website to see who's gracing the stage when you're in town!
57 – Cheers with your favorite drink at the best rooftop bars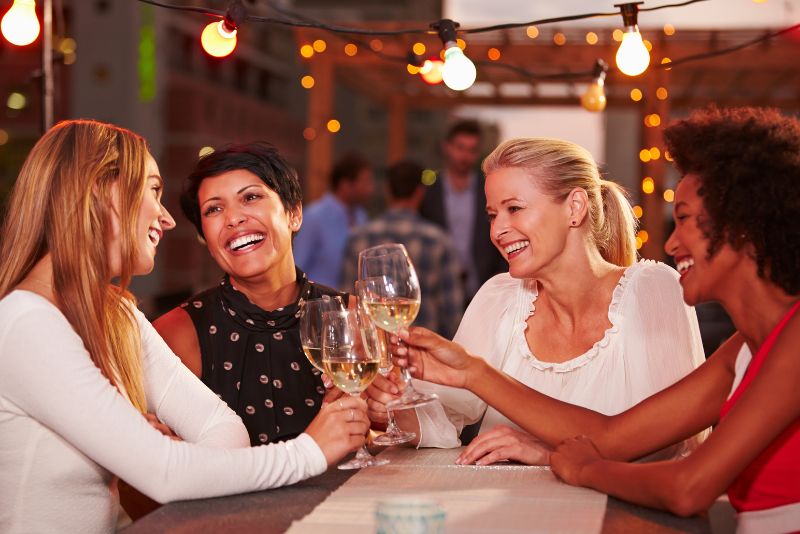 Click with the right people at the right place at Mama Shelter, offering some of the most beautiful sunset views of Hollywood. Have a look at some of the best, housemade dishes that pair just perfectly with the ample amount of cocktails.
Get a 360-degree view of Hollywood at the best rooftop in Los Angeles (according to many locals) at 1|0 Rooftop at The Godfrey. Serving perfect bar bites with exclusive drinks on the 7th floor of this hotel, enjoy the views from the pool or a lounge chair.
Grab an old-fashioned cocktail and other vintage drinks at Harriet's Rooftop, for a taste of Old Hollywood, as you stare off into the beauty of the city as well as the Hollywood Hills.
How to get to Hollywood?
Though there is a bus that can take you to downtown Hollywood from Burbank Airport, it may not be the most practical as you carry suitcases.
We recommend pre-arranging an airport transfer, to pick you up directly at arrivals, and then swiftly and easily transport you to the front of your hotel.
Airport transfers can start as low as $32 USD, a no-brainer!
Where to stay in Hollywood?
If the Chateau Marmont or Hollywood Roosevelt are a tad too intertwined in Tinseltown scandals for your liking, there's no shortage of other options in Hollywood to spend the night.
Amenities, location, and price vary greatly from hotel to hotel — so the best way to figure out where you should stay is to take a look at Booking.com. The comparison website allows you to search for hotels in Hollywood by price, star rating, amenities, and location, and always offers the best bang for your buck.
Need some suggestions? The Best Western Plus Sunset Plaza has all the basics down-pat. The Hollywood Highland Hotel and Hostel offers a simple bunk-bed for anyone on a tight budget.
And the Loews Hollywood Hotel, Dream Hollywood, and Kimpton Everly all offer stunning pools, 5-star living, and every amenity under the sun — of course, you get what you pay for. As well as the Hollywood Roosevelt, a timeless, art deco hotspot that's been wowing visitors since 1927.
Visiting Hollywood on a budget?
With millions of tourists passing through Hollywood and Los Angeles year after year, the city has created an easy, affordable way for visitors to see all the main attractions and get the most out of their trip: the Go Los Angeles Pass.
The Pass provides access to more than 30 top-rated attractions in the city, all for one low price, and can be customized to suit the duration of your trip. Best of all, it even includes a weekday visit to Universal Studios Hollywood!
Where to go next?
Checking out where to head next? Consider visiting Los Angeles, only a 24-minute drive away, where you can indulge in some of the most stunning views of the city, the Hollywood Hills, and beyond at the Griffith Observatory, get lost exploring Little Tokyo, and all its cultural hidden gems, or go beach hopping from Santa Monica beach to Venice Beach.
Fancy taking it further? Explore the different day trips from Los Angeles that are totally worth the trip! From exploring all the things to do in San Diego, Santa Barbara, Ventura Beach, Laguna Beach, or up north to San Francisco – there are tons of other beachside cities worth venturing into.
Long Beach is another wonderful city to check out only 1 hour south of Hollywood, where you can take in the scenic vibes at Shoreline Village, or venture into the supposedly haunted Queen Mary ship for a drink.
Final thoughts
From the spectacular tours bringing you closer to your favorite celebrities, getting a behind-the-scenes look at your favorite movies and shows at Universal Studios, and the incredible beaches, and social ambiances at the best rooftop bars – we hope our list of the best things to do in Hollywood has got you in the travel planning state of mind!
Happy travels!