From the renowned Golden Gate Bridge to the iconic Pier 39, San Francisco is a city full of amazing places to visit and tons of cool things to do. Here are 54 fun things to do and cool activities in San Francisco. Experience the city in ways you might never have imagined and be prepared to be amazed, transformed and inspired.
1 – Lose yourself in Magowan's Mirror Maze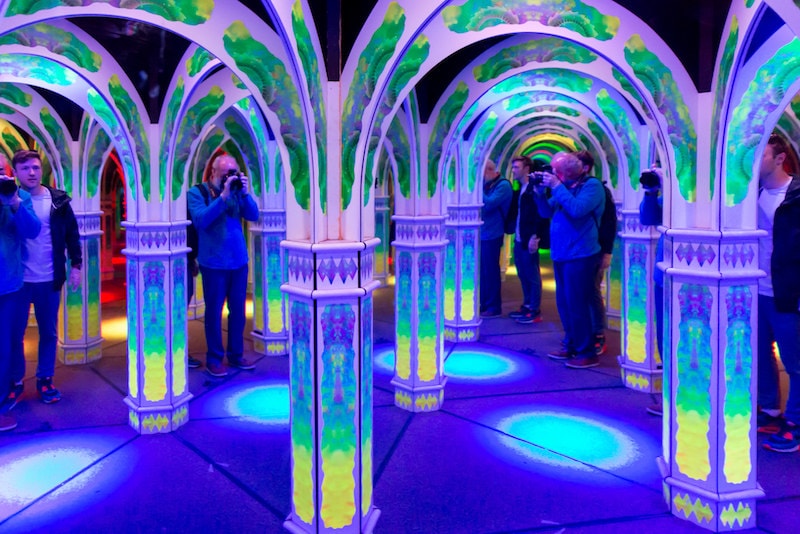 Located on San Francisco's Pier 39, Magowan's Infinite Mirror Maze is possibly the most psychedelic place you can legally reach in the city.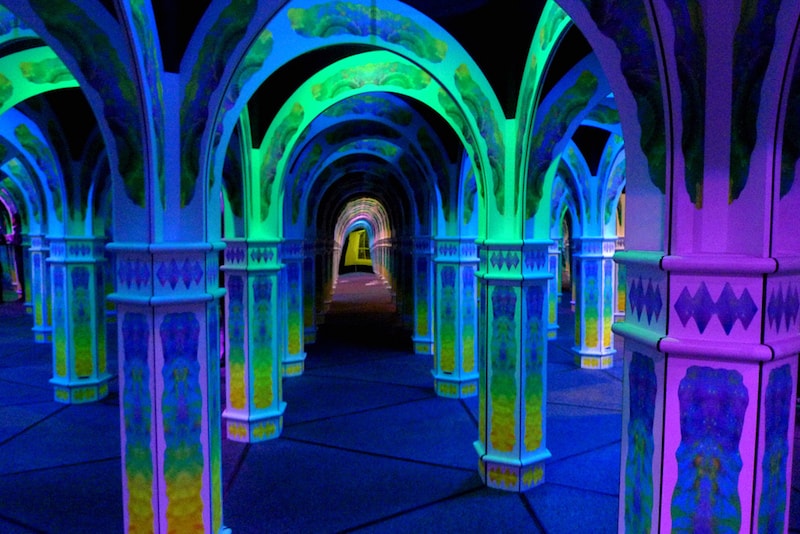 ? Pier 39, 918 D Avenue, San Francisco, CA 94133
2 – Lift on a helicopter and praise San Francisco view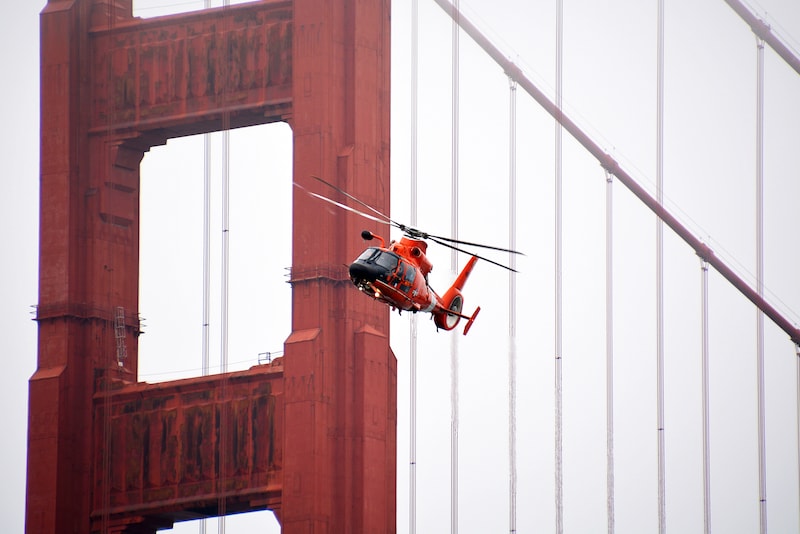 San Francisco tours by helicopters are one of the most famous and well-respected activities in the Bay area. It is the most thrilling ways to see the San Francisco Bay. Soar high above the San Francisco cityscape and surrounding vistas.
3 – Bike across the Golden Gate Bridge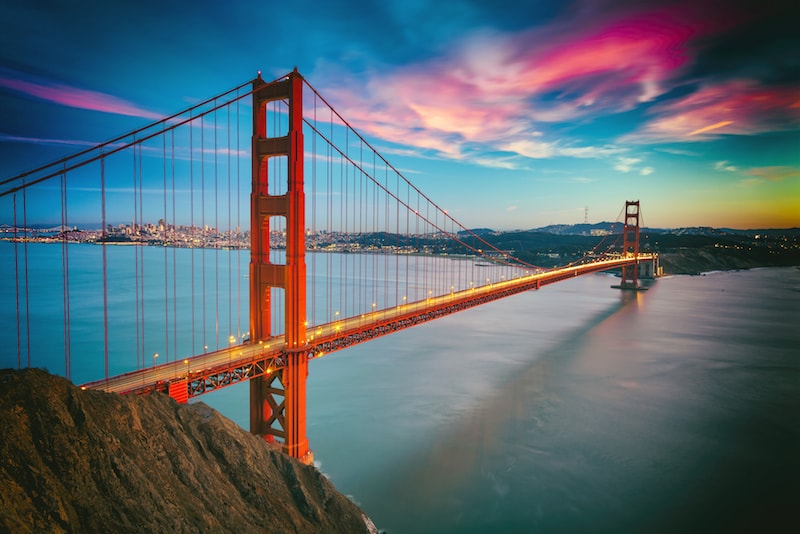 The Golden Gate Bridge's vaulting, orange arches amidst the rocky shore of the San Francisco Bay have made it one of the West Coast symbol. Today, the bridge is recognized as one of the seven modern wonders of the world.
4 – Discover the underwater world at the Aquarium of the Bay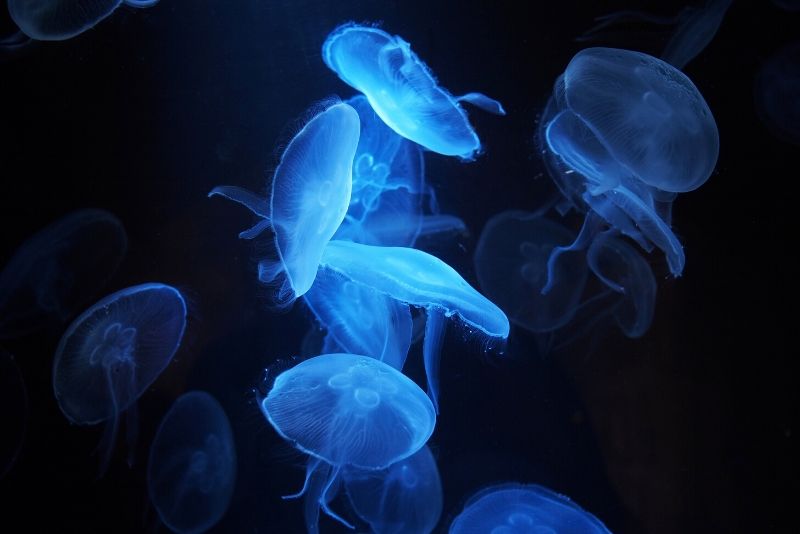 Visit the Aquarium of the Bay in San Francisco, located at Pier 39 , near Fisherman's Wharf and the Alcatraz ferry landing. The aquarium is home to over 20,000 sea animals. Enrich your knowledge about the Pacific Ocean and its inhabitants, including sharks, octopuses and fluorescent jellyfishes.
5 – Fly on a hot air ballooning in Napa Bay

Elevate in a hot air balloon ride above Napa Valley's wine country. Go for an exhilarating sunrise balloon flight over the beautiful Napa Valley. Enjoy a scenic and memorable flight with one of our experienced pilots and join us in celebration at our post-flight champagne breakfast. Napa Valley is also an amazing place for wine lovers, easily reachable on a day trip from San Francisco.
6 – Sail below the Golden Gate Bridge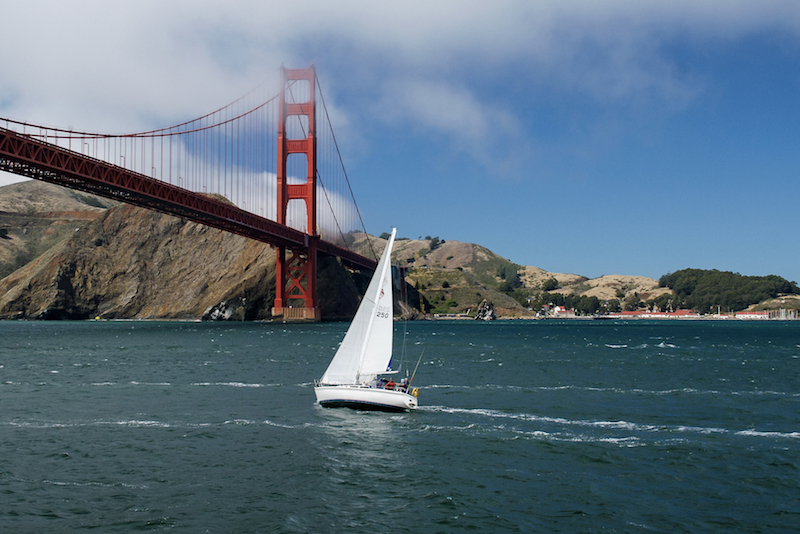 Admire San Francisco and its surrounding sights from the water on a sailing boat. Sail under the Golden Gate Bridge, taste champagne and praise the incredible panoramic views of the San Francisco city front.
Read our latest article about the best San Francisco boat tours.
7 – Chill with the seals at Pier 39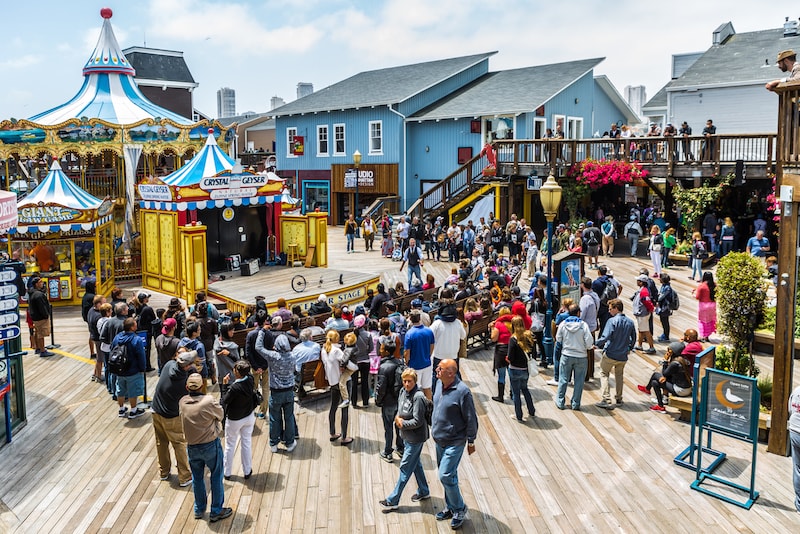 Pier 39 is a must do on your list of San Francisco, with sea lions, waterfront dining, street performers, live music and more. Pier 39 San Francisco is one of the most popular destinations for travelers visiting the city. It is full of attractions and you might spend and entire day just there. You can book the pass for all the attractions at Pier 39.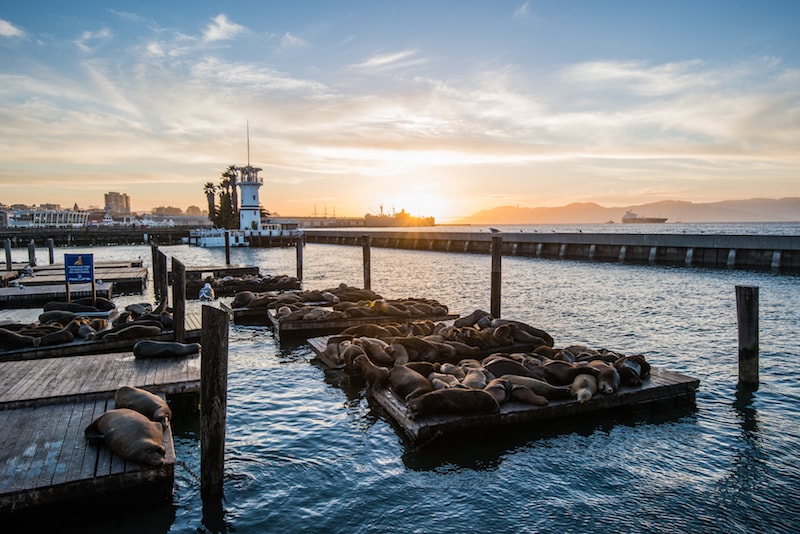 8 – Escape from Alcatraz Prison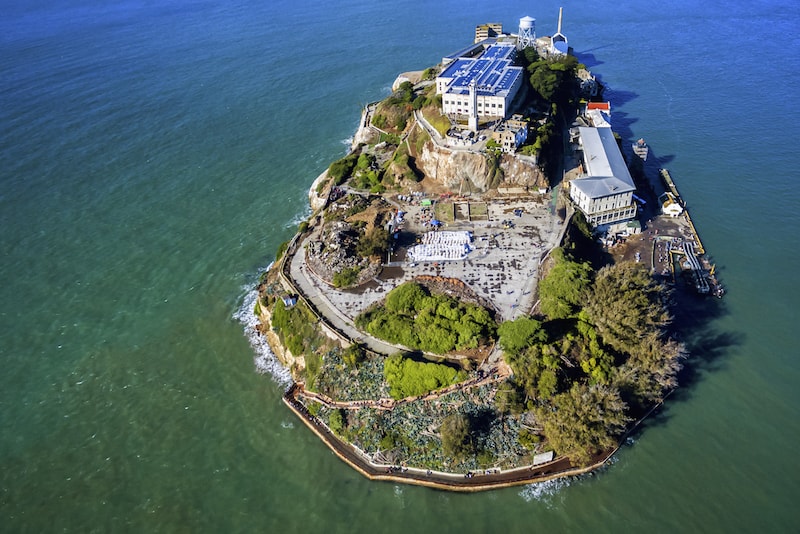 Alcatraz Island located in San Francisco Bay, 2.01 km offshore from San Francisco. Visiting Alcatraz Prison is one of the most valuable experiences of any trip to San Francisco.
Alcatraz is probably the most famous prison in the world. It is located in a island and, due to its isolation from the outside by the cold, strong, hazardous currents of the waters of San Francisco Bay, Alcatraz was used as prison from the time of Civil War (1861). You can visit the island reaching it by ferry, in a little under 15 minutes. The ferry leaves from Pier 33, located between the San Francisco Ferry Building and Fisherman's Wharf.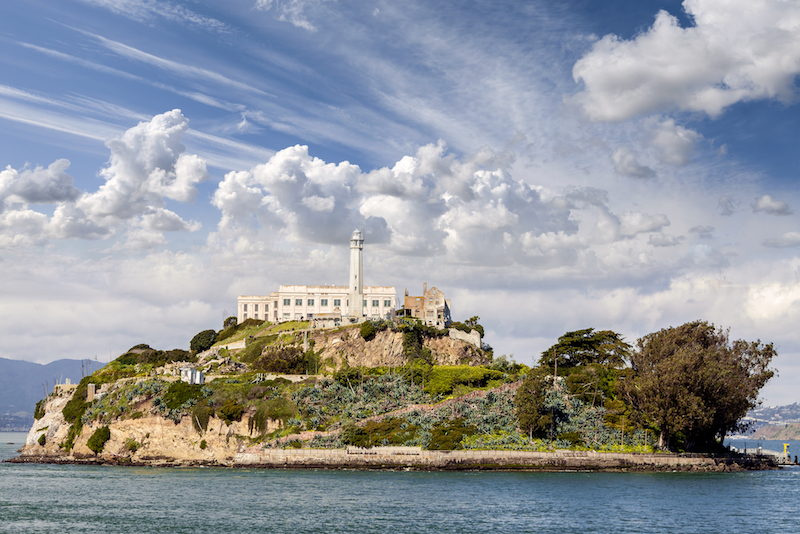 9 – Be impressed by the giant redwoods at Muir Woods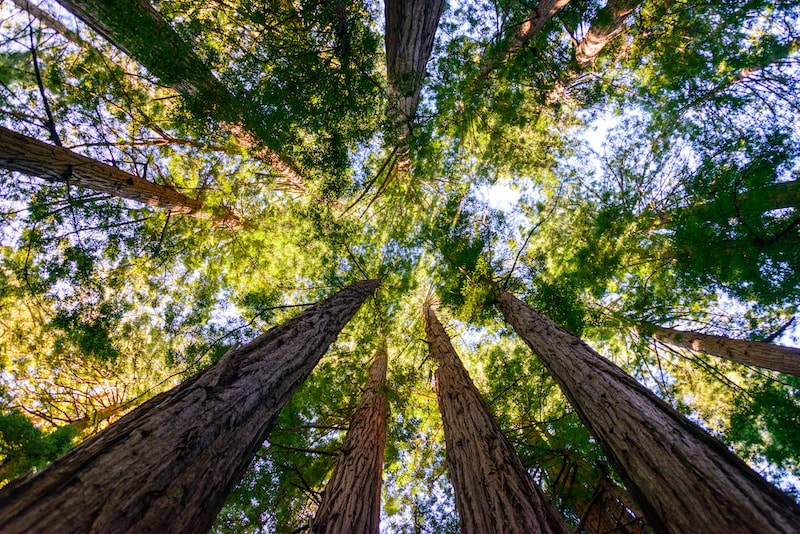 Dedicated to the National Park's father, John Muir, the Muir Woods National Monument is redwood forest along the Pacific coast that offers views unlike any other. Muir Woods is the perfect location for a day trip outside San Francisco.
10 – Solve your way out of this prison cell in 60 minutes or less!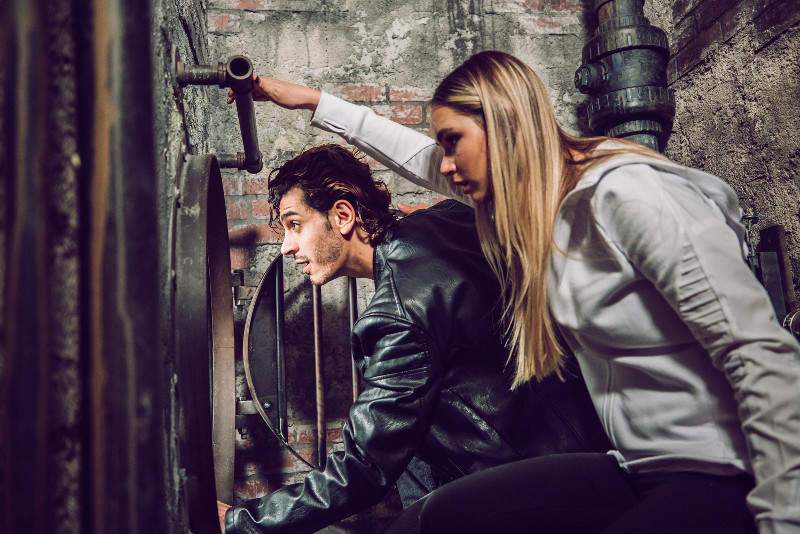 Challenge your friends to this prison-themed escape room! Located in the Financial District, The Escape Game will immerse you and your friends in a one-of-a-kind adventure.
Can you escape in time?
Solve a series of riddles and puzzles using hints and clues to complete the objectives at hand. You have 60 minutes max, so make sure to be quick!
11 – Sample real Chinese food in Chinatown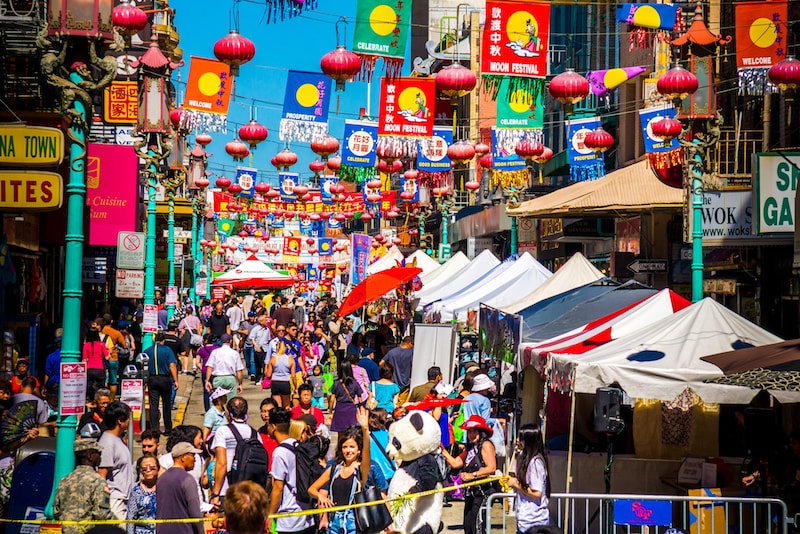 The most massive Chinatown in America. Chinatown is one of the most famous attractions in San Francisco, and for a good reason. It is easy to spend a day here, exploring the streets and alleys filled with Asian culture, browsing the shops and enjoying the authentic Chinese food. Being one of the most eccentric and fascinating quarter of San Francisco, there are may offers for walking tours and food tours.
12 – Ride on cable cars in downtown San Francisco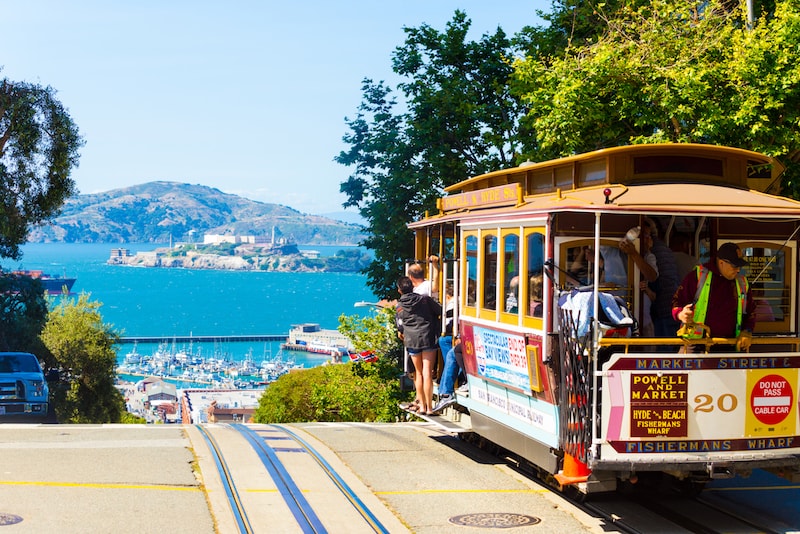 Unbeatable views. Unforgettable trips. No experience is more uniquely San Francisco than a ride on a cable car. It is still real working transportation up the steep hills of the city.
13 – Breathe fresh air in Golden Gate Park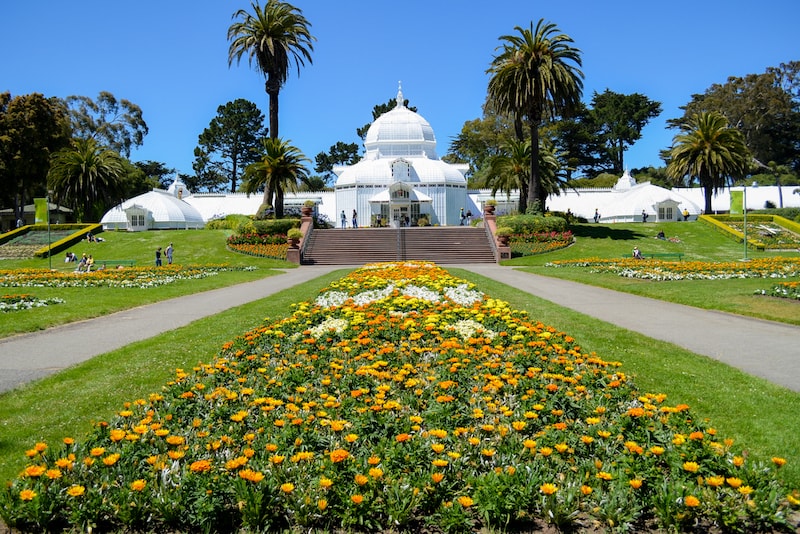 Located near Downtown San Francisco, Golden Gate Park is kind of the twin of Central Park in New York City.
From bison and archery to windmills and a carousel, the Park is one of the city's greatest treasures. Golden Gate Park is the ultimate haven away from urban chaos.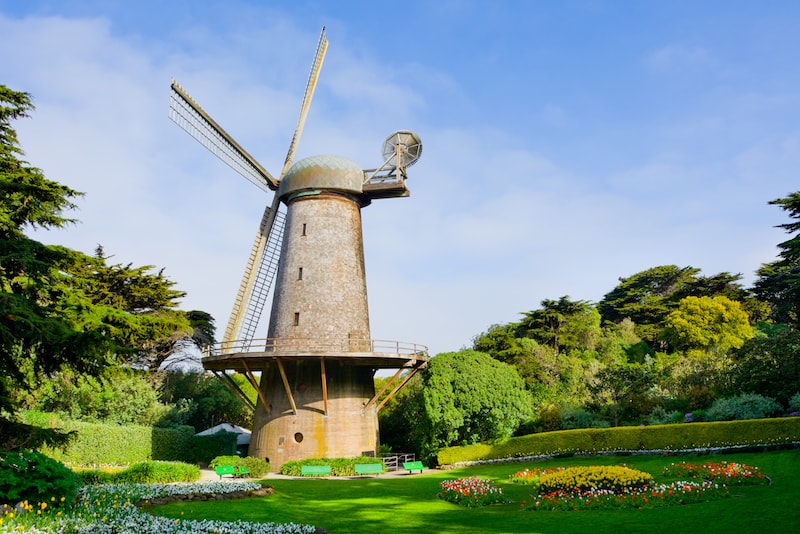 14 – Jump at House of Air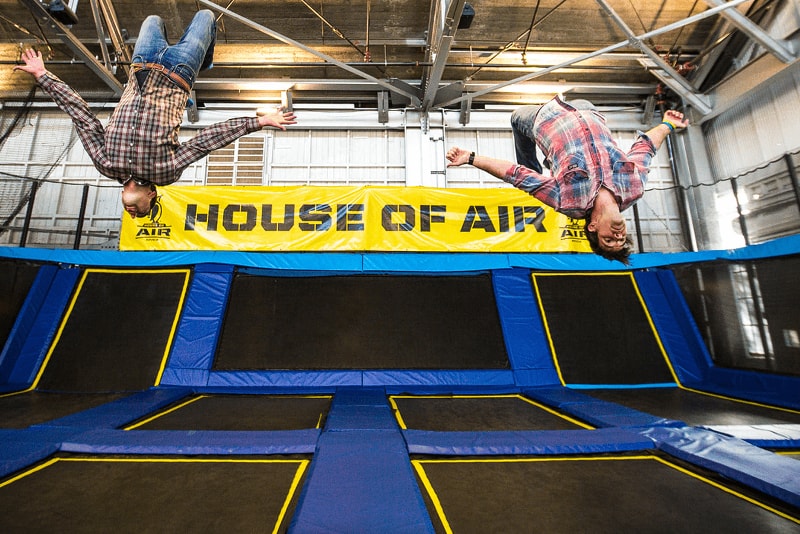 Inside an old airplane settlement, friends and strangers can play on giant trampolines. House of Air is 8000 square feet of conjoined trampolines that are thoughtfully divided to suit different ages, interests, and activities.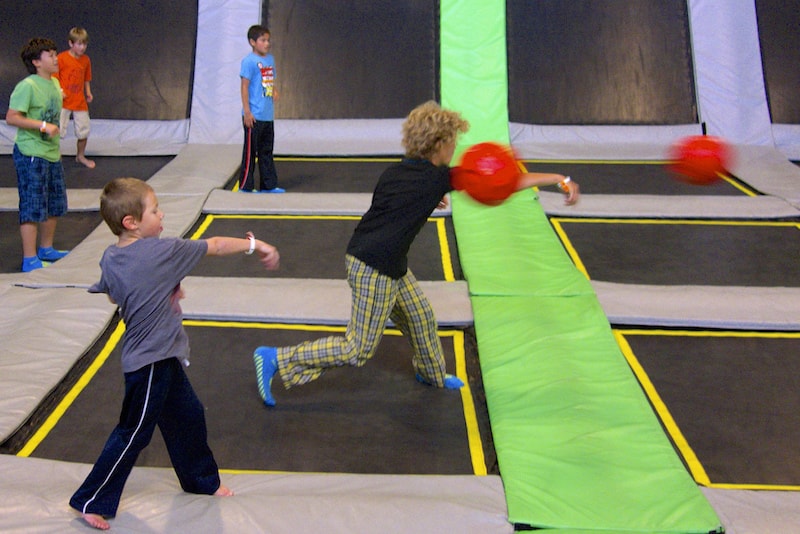 ? 926 Mason St, in the Presidio, San Francisco, CA 94129-1602
15 – Take pleasure at the Good Vibration Museum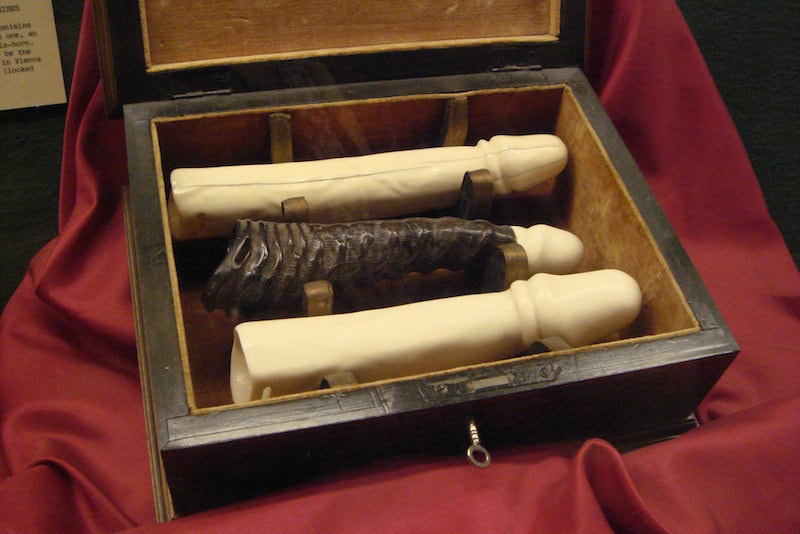 Ever wonder when the first vibrator sex toy was invented? The Good Vibrations Antique Vibrator Museum is a San Francisco iconic museum. It attracts tourists' curiosity from all over the globe.
1620 Polk St, San Francisco, CA 94109, USA
16 – Trek in Yosemite National Park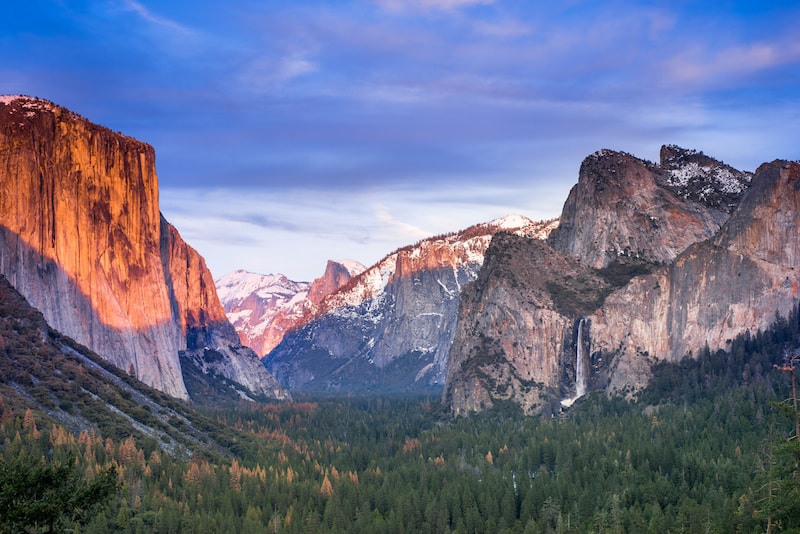 Yosemite National Park in Mariposa County is home to majestic venues and premier lodging. Known for its plunging waterfalls, sheer granite cliffs, giant sequoia trees, etc. you can easily spend weeks to explore Yosemite National Park. The shoulder season in the Park means merely fewer people and a chance to see Yosemite's beauty from different angles.
17 – Have a photo opportunity unlike any other at the Museum of 3D Illusions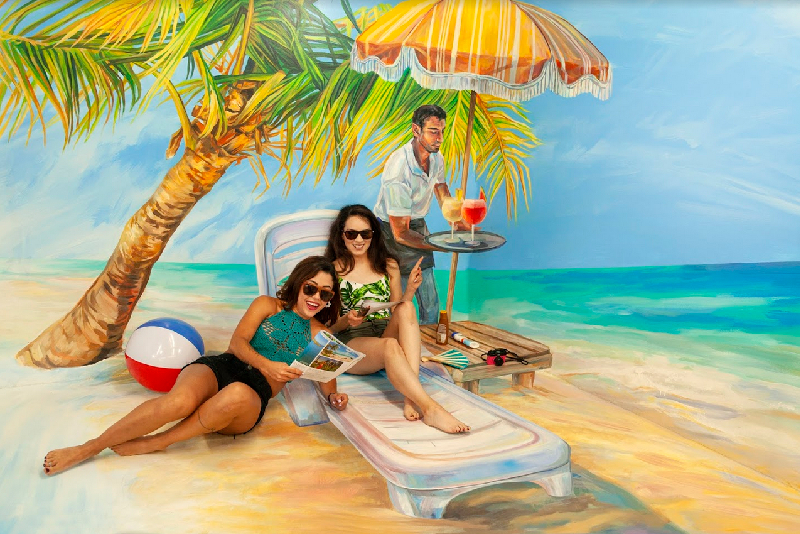 Let your imaginations run wild at the Museum of 3D Illusions! This new San Francisco museum is one of a kind, reflecting the magic San Francisco has to offer. The Museum of 3D Illusions is a great place for friends and family, young and old.
Bring your families, friends and loved ones and create memories that will last a lifetime.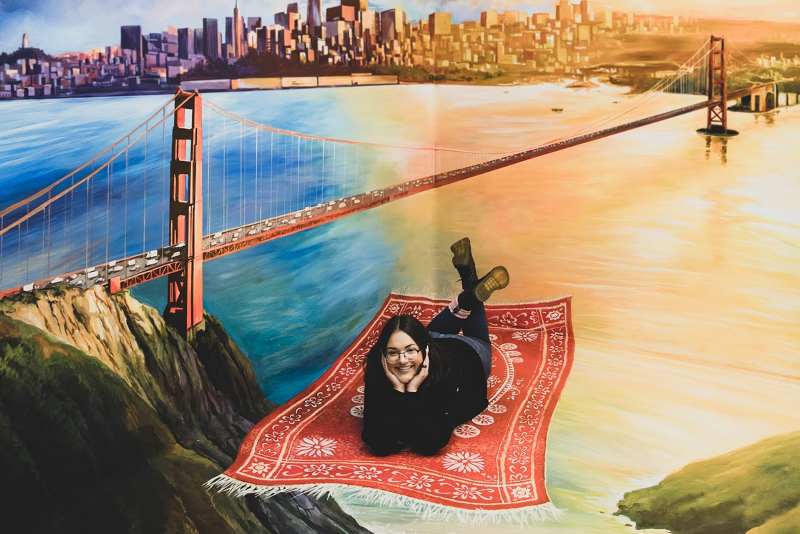 The Museum of 3D Illusions is suitable for everyone. Use promo code Tourscanner and save 10%.
18 – Walk down San Francisco decorated streets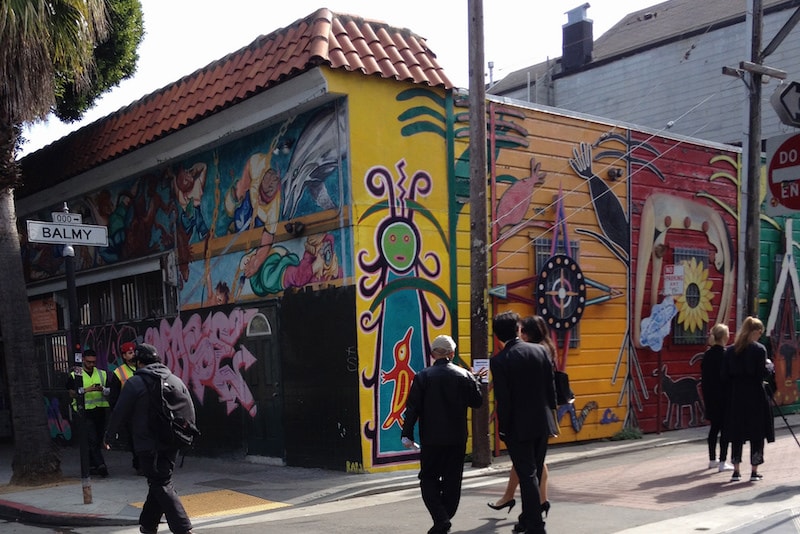 Did you know San Francisco ranks in the top three cities in the country for murals, just behind Los Angeles and Chicago?
Go away from the usual tourist routes to discover San Francisco's famous street art and visit the neighborhood with the most important concentration of street art in San Francisco. From Baker Beach to Pier 39, San Francisco is home to thousands of street art masterpieces.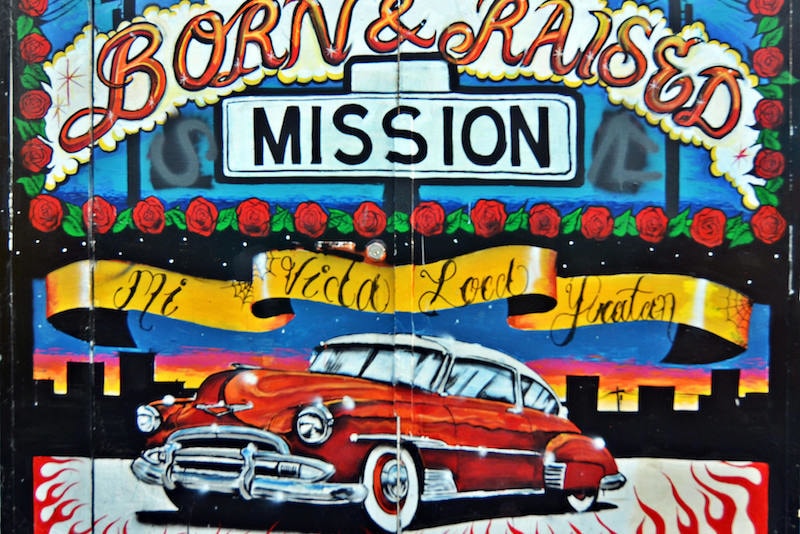 19 – Play music on shore with Wave Organ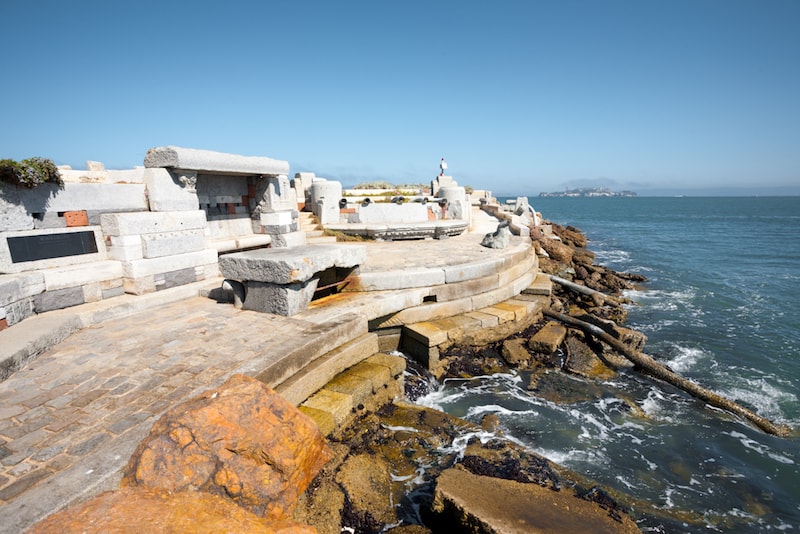 The Wave Organ is an acoustic sculpture located in San Francisco Bay. It is a huge musical instrument played by the ocean.
20 – Taste cookie dough at Doughp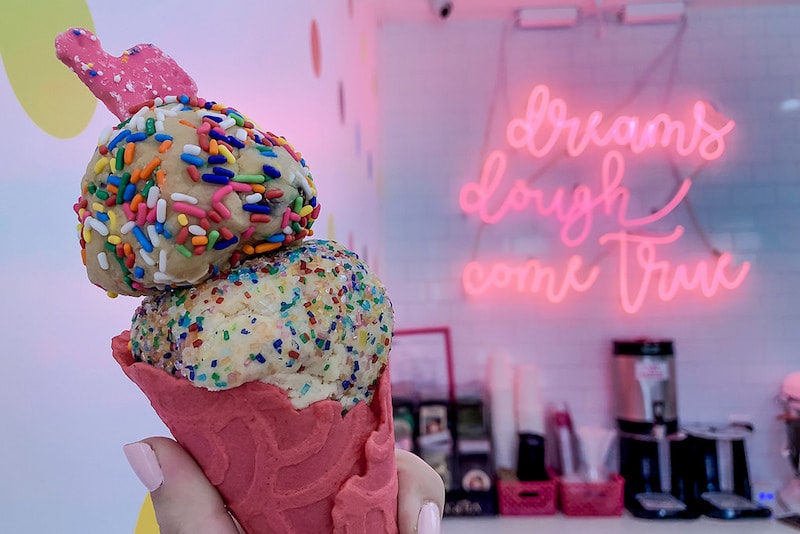 Doughp prepare edible cookie dough, flavored waffle cones, and hundreds of different toppings. Sugar addicts will already know Doughp (pronounced "dope"), a purveyor of cookie dough that's been serving up eggless scoops of batter in fun flavors at Pier 39.
? Pier 39, Space D-13, 2nd Level Next to Crab House, San Francisco, CA 94133
21 – See the most beautiful Homerun at Oracle Park, with San Francisco's giants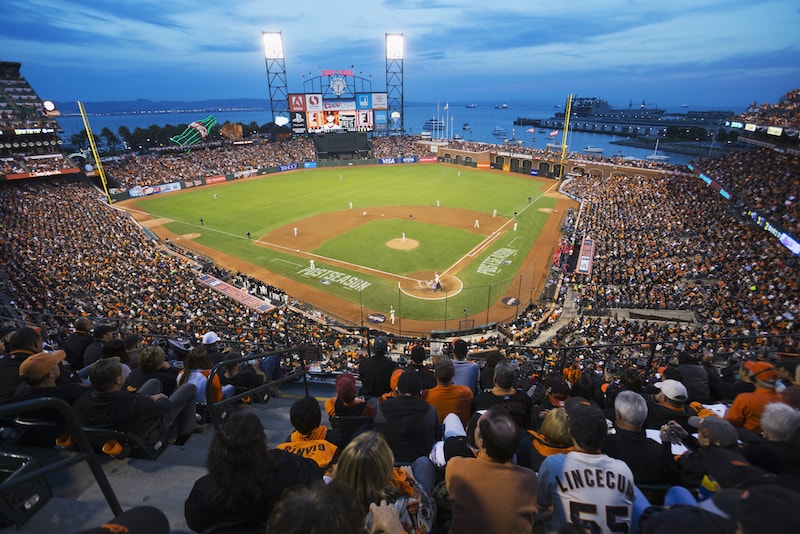 Oracle Park, with its astonishing views and classic design, is home to the World Series Champion San Francisco Giants. If you're lucky, you'll see a lefty smash ball up over the 24-foot brick wall and watch it splash into McCovey Cove.
Check out San Francisco Giants next matches!
24 Willie Mays Plaza, San Francisco, CA 94107, USA
22 – SCREAAAAAAM ! ! ! at Six Flag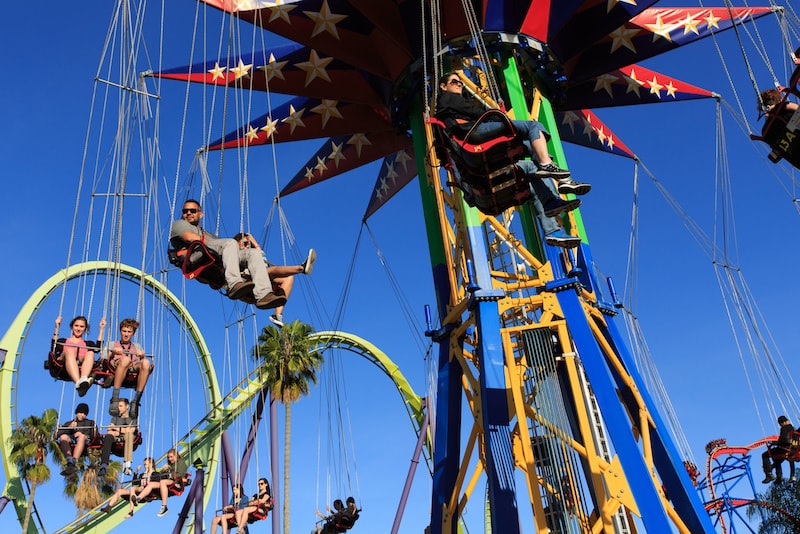 Situated in the Bay Area and less than 60 km from either San Francisco or Oakland. Six Flags Discovery Kingdom provides one of the best family experiences, starring some of your favorite superheroes. Getting out of the park can be a pain. Definitely a fun thing to do while traveling to San Francisco.
23 – Join Lucy in the Sky with Diamond at Illegal Image museum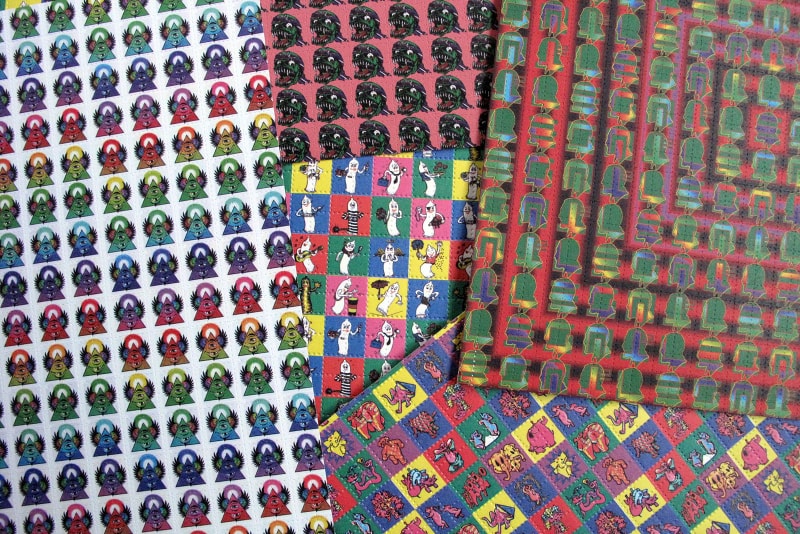 From Ken Kesey's Acid Tests in the 1960s to rumors about Adderall to improve productivity in startups. San Francisco has a rich drug history. Illegal Image museum aggregate more than 30,000 LSD Hits, collected by Mark McCloud
24 – Let your body express itself at The Great Northern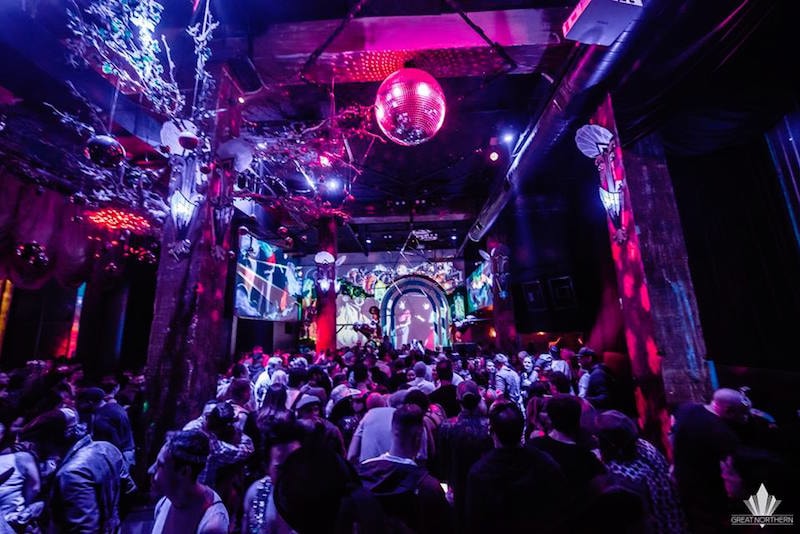 You'll feel like you're stepping into magical fantasy land. The sound is amazing, the visuals are mesmerizing, and the bartenders are awesome. Weaving an art deco inspired design, The Great Northern is one of best nightlife spots in San Francisco.
? 119 Utah St, San Francisco, CA 94103, USA
25 – Put your scariest make up at Dia de Los Muertos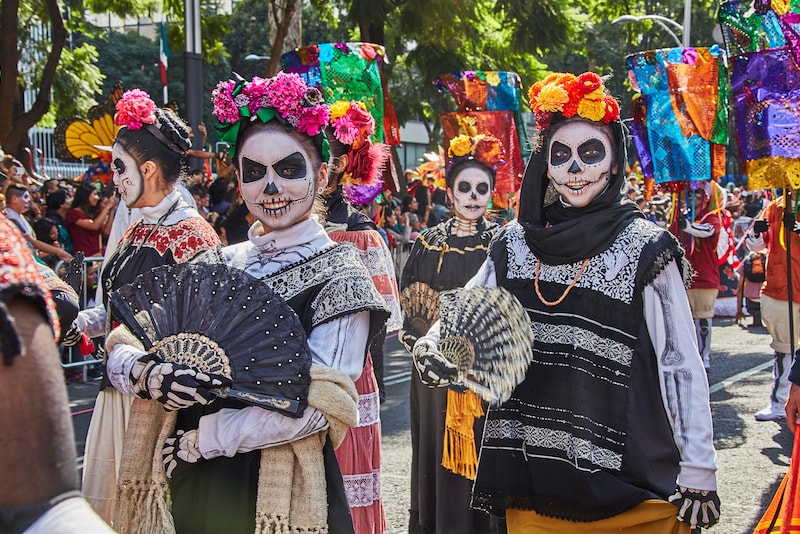 Dia de Los Muertos in San Francisco is a community event that has been happening for over 30 years. This traditional Meso-American holiday is dedicated to both dead people and cycle of life.
26 – Watch your step at San Francisco's stairways
San Francisco stairways are also part of city's beauty, created by Adah Bakalinsky. These masterpieces will surprise at night as well as during the day. Now Adah is the queen of San Francisco's majestic and quirky stairways.
27 – Swing on a rope watching the city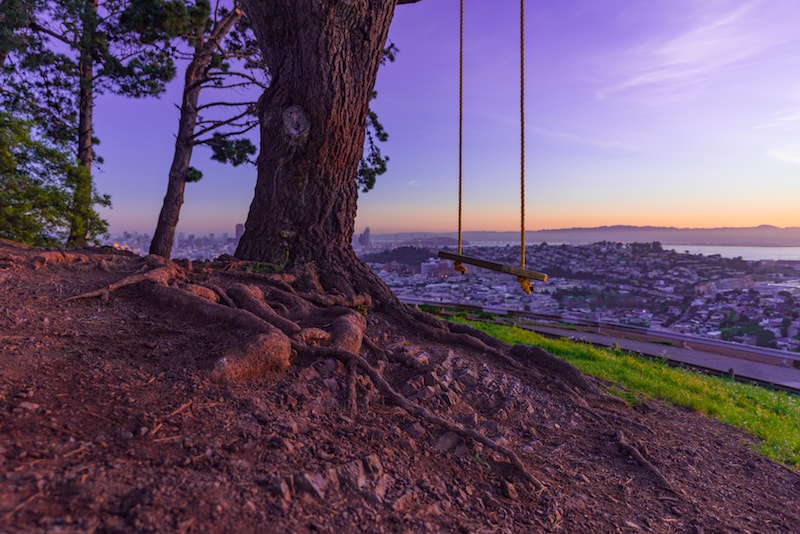 Prepare your smartphones and drag along a good friend to give you a push. Here you can swing while admiring an awe-inspiring view of the San Francisco Bay and downtown SF.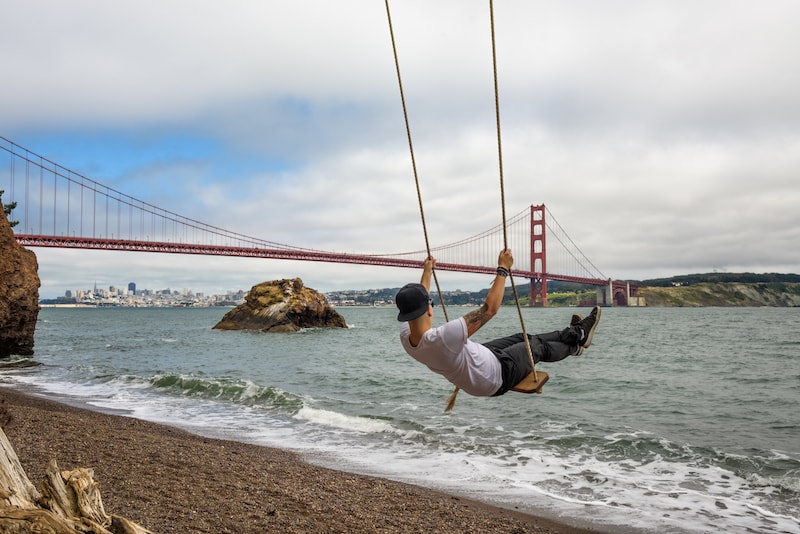 ? Billy Goat Hill / Kirby Cove / Tank Hill / Lands End / Hippy Tree
28 – Practice Yoga at Grace Cathedral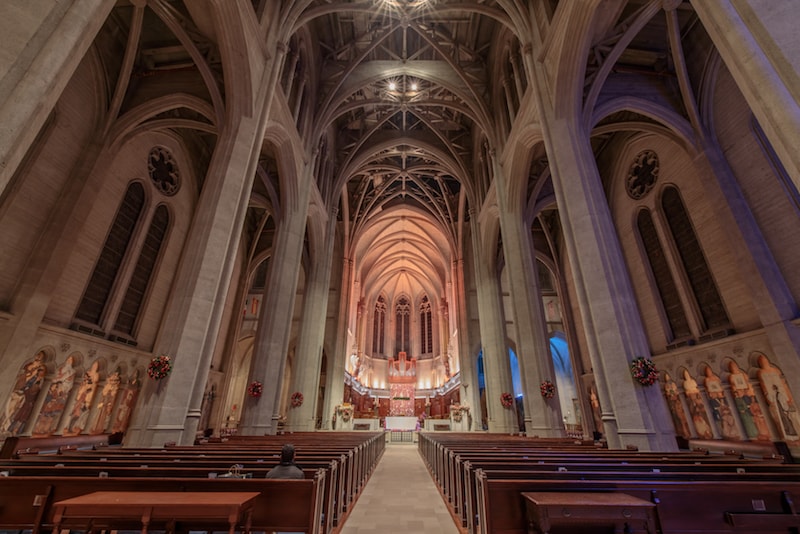 Grace Cathedral is an Episcopal cathedral on Nob Hill. Practice Yoga on the labyrinth at Grace Cathedral is a unique experience you can try every Tuesday.
1100 California St, San Francisco, CA 94108, USA
29 – Taste sugar sandwich at Cream
It may not ever be ideal ice cream weather, but it doesn't stop San Franciscans from snaking the sweetest stuff at Cream. No more significant childhood memory exists than this delicious ice cream between two out-of-the-oven cookies.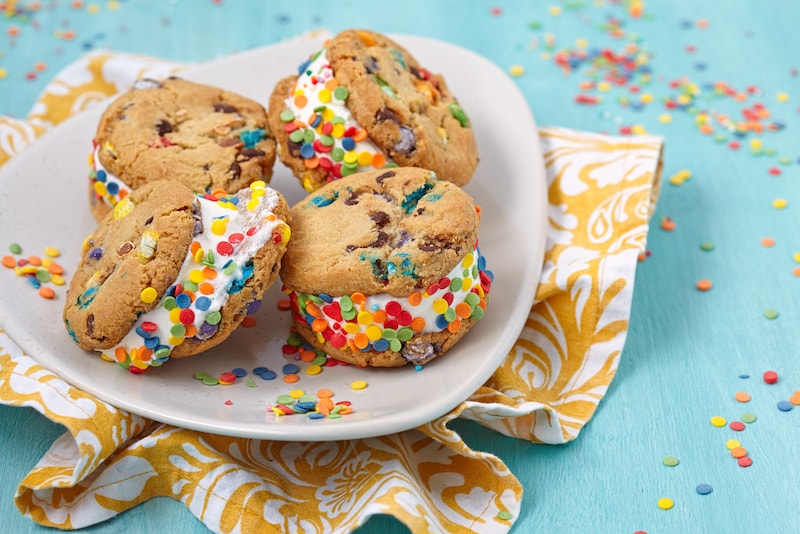 3106 16th St, San Francisco, CA 94103, USA
30 – Paddle under San Francisco Bridge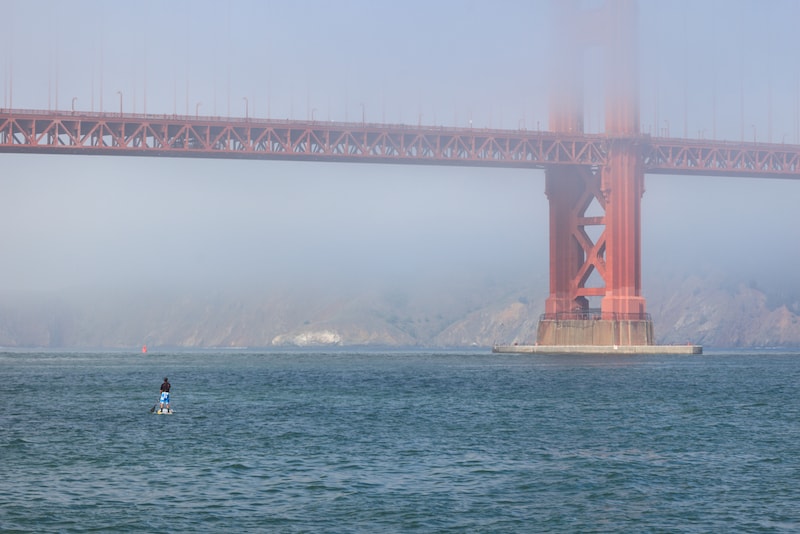 Go under the Golden gate bridge on a paddle board and observe birds, ducks, geese, and turtles. This unique expedition is full of sun and shade spots.
31 – Enjoy the sunset at El Techo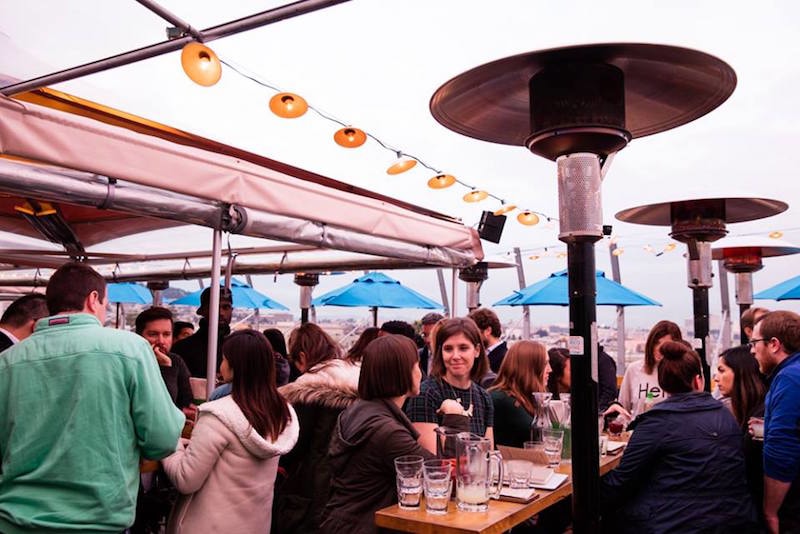 Located in the core of the Mission on the top of Argentinian restaurant Lolinda, El Techo is offering breathtaking city views, pan-Latin American casual cuisine, and classic homemade cocktails.
? 2516 Mission St, San Francisco, CA 94110, USA
32 – Take a shower at Alamere Waterfalls

Alamere Falls is a splendid waterfall that flows directly into the ocean in Point Reyes National Seashore, Northwest of San Francisco in Marin County. It tumbles over fragile shale cliffs at Alamere Creek Beach.
33 – Be amazed by the Audium Theater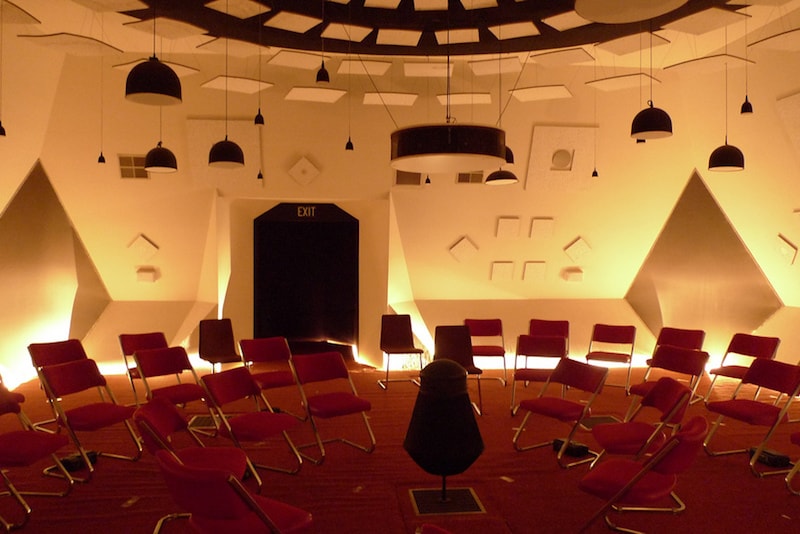 Audium Theater with sound-sculptured space is the only theater of its kind, constructed specifically for sound movement.
? 1616 Bush St, San Francisco, CA 94109, USA
34 – Slide at Bernal Neighborhood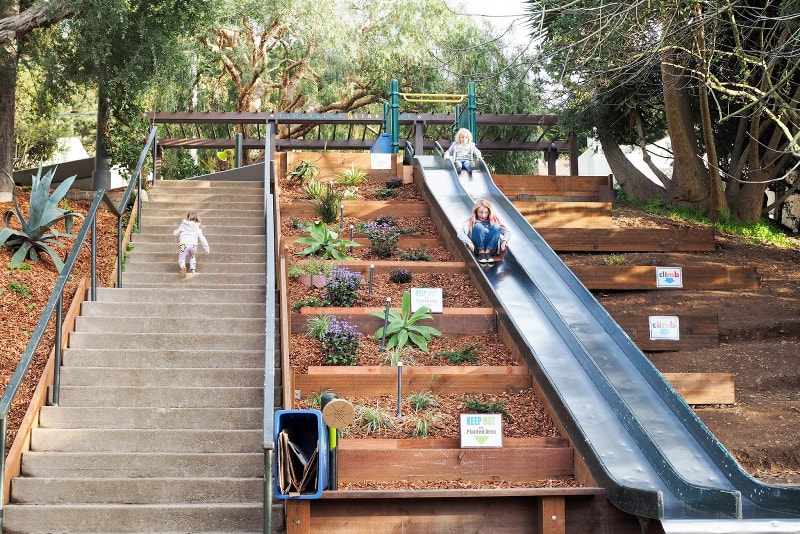 Hidden by trees near Esmeralda Avenue in Bernal Heights, there is a semi-secret joy ride where hotheads can propel themselves. It is a 35-foot slide that both adults and children can ride.
35 – Smell fresh fruit in Farmer Market at Ferry Building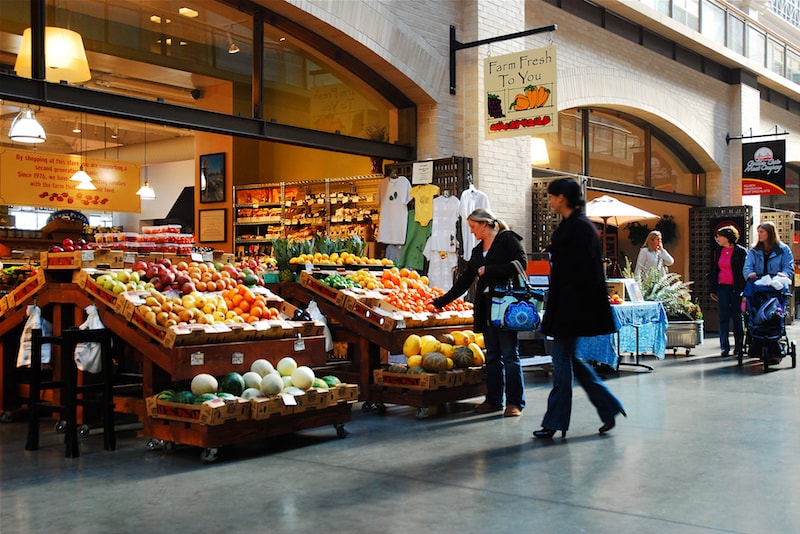 The 65,000 square foot Farmer Market is organized along a central nave and provides a unique marketplace for bringing together under the same roof, Bay Area products and specialty food supplier. The San Francisco Ferry Building is a former terminal for ferries that go across the San Francisco Bay
1 Ferry Building, The Embarcadero at Market Street, San Francisco, CA 94111-4209
36 – Steal the show at The Church of 8 Wheels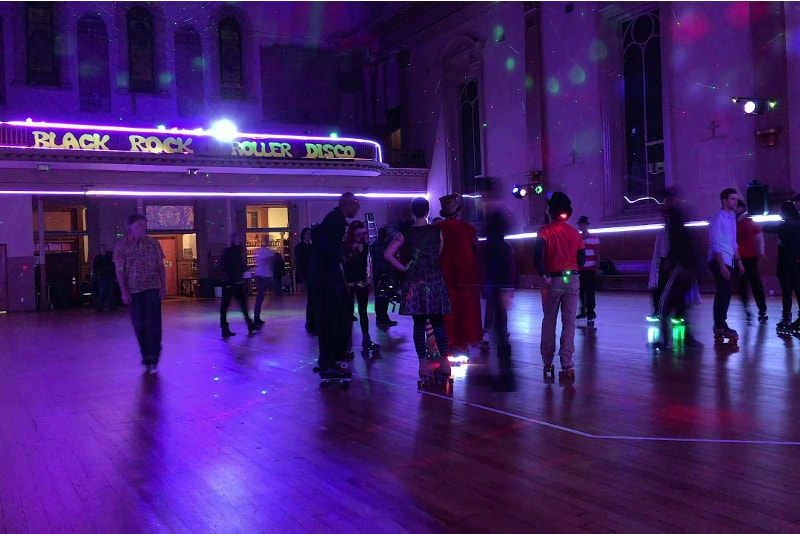 8 Wheels is a disco roller rink established in a former church. Visit the church for a 'rolligious experience,' in which you can spin and skate all night long in festive suits accompanied by vibrant neon lights.
? 554 Fillmore St, San Francisco, CA 94117, USA
37 – Look at the world surrounding you at Exploratorium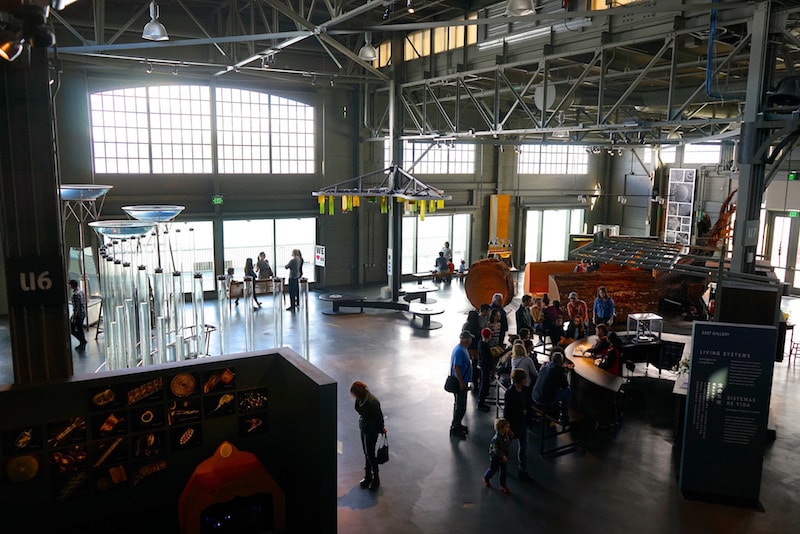 Located in San Francisco, Exploratorium is an experimental, hands-on museum designed to provoke curiosity regardless your age or science knowledge.
 Pier 15 The Embarcadero, San Francisco, CA 94111, USA
38 – Musee Mecanique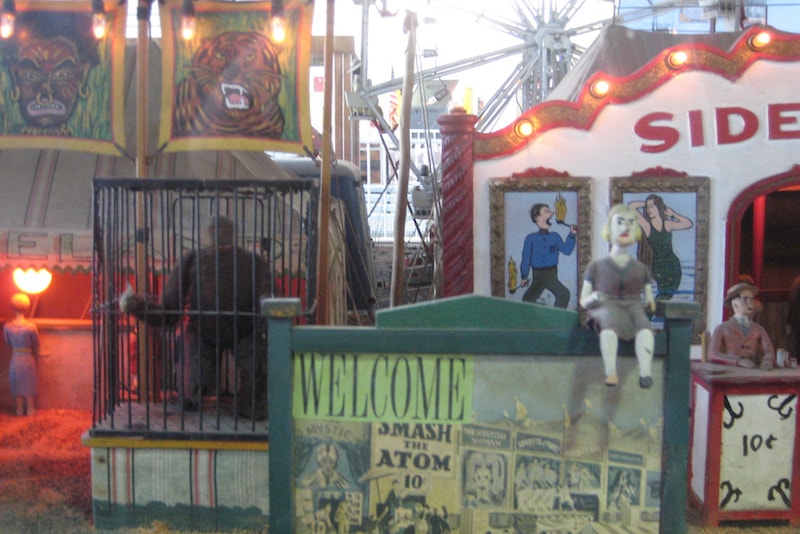 Located at Fisherman's Wharf in San Francisco Pier, The Musee Mecanique is an unusual museum and one of the world's most extensive privately owned collection of vintage mechanical musical instruments and collector's item arcade machines in their original working.
 45 Sausalito – San Francisco Pier 41, San Francisco, CA 94133, USA
39 – Watch the city skyline at B Restaurant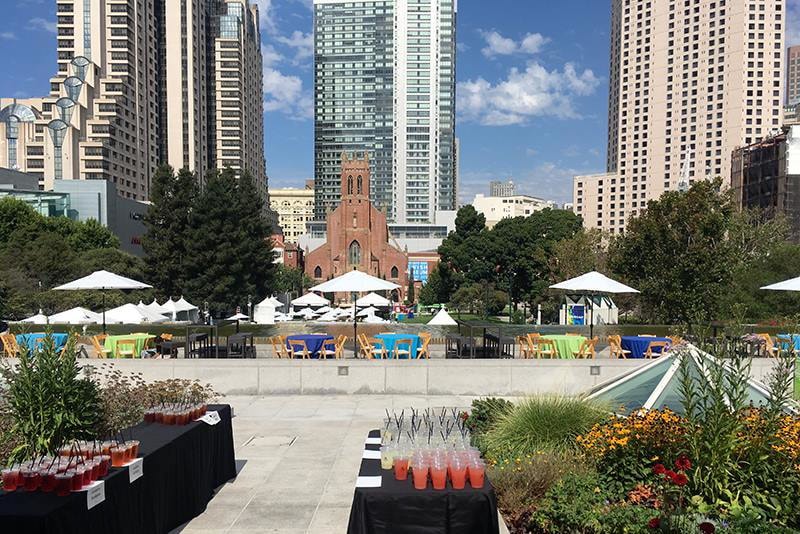 Architecturally, a 25-foot terrace embedded concrete bar spans the venue with deconstructed wine barrel stools below. Enjoy a relaxing evening there with your friends or family.
720 Howard St, San Francisco, CA 94103, USA
40 – Head to Lands End Labyrinth

Now children play in the 11 concentric circles' stone labyrinth, and everyone enjoys the fantastic views. From this point, you have an unbeatable view of Mile Rock Beach.
41 – Listen to live music at Tonga Room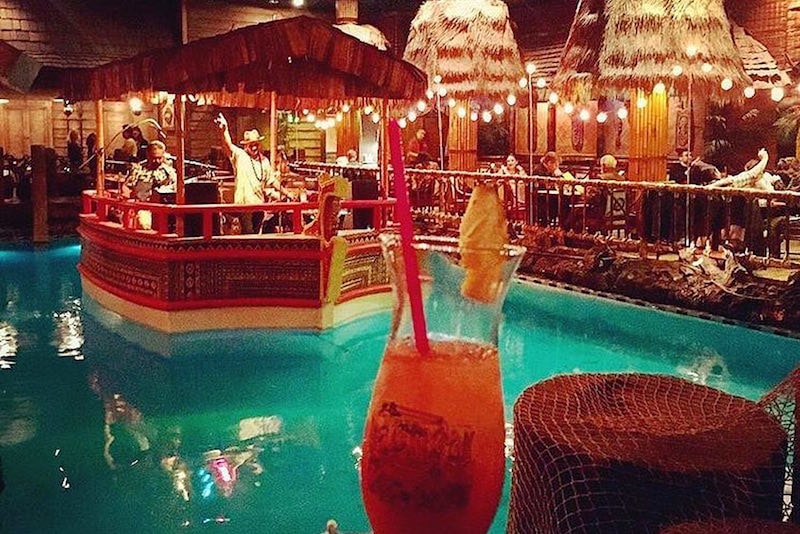 A visit to San Francisco is not fully accomplished if you don't go to Tonga Room & Hurricane Bar. This world-famous venue serves exceptional Polynesian-fusion, family-style cuisine in a unique tropical setting. Be sure to try the city's best the Mai Tai in the restaurant.
 950 Mason St, San Francisco, CA 94108, USA
42 – Ramble in Japanese Tea Garden

The Japanese Tea Garden in San Francisco is a beautiful and relaxing spot on the east side of Golden Gate Park. It's the oldest Japanese Tea Garden in the United States.
43 – Practice at Urban Putt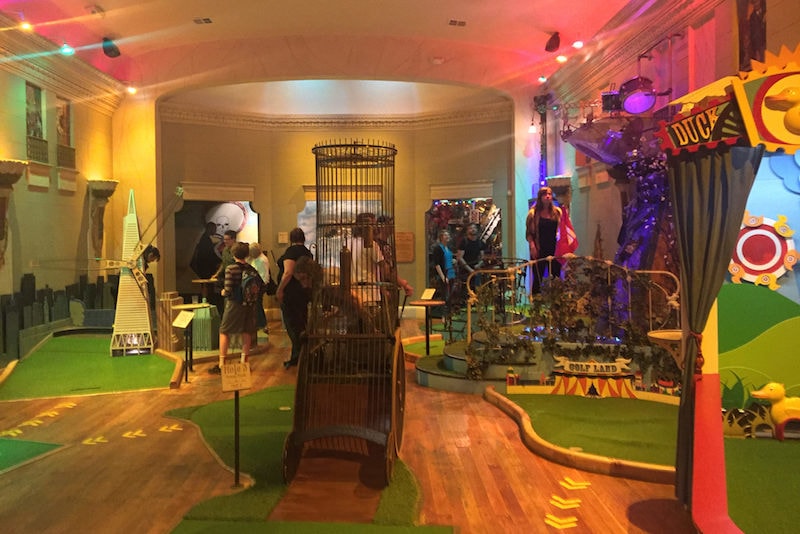 Located in the center of San Francisco's Mission district, Urban Putt is the City's first and only indoor mini-golf. Throw in excellent food, drink and an unswerving commitment to fun. The best formula for something unique and wonderful.
 1096 S Van Ness Ave, San Francisco, CA 94110, USA
44 – Feel shameless at St. Stupid's Day Parade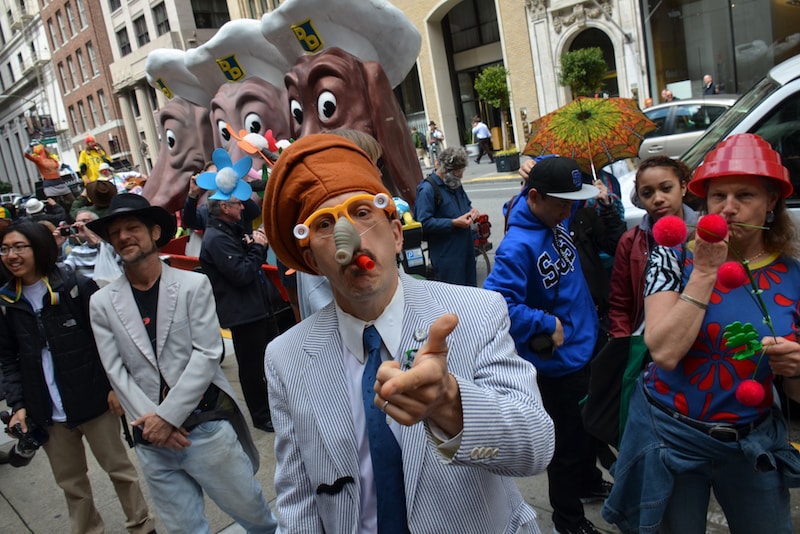 The St. Stupid's Day Parade is a San Francisco landmark. This event is a unique occasion to let yourself behave utterly silly for a while, you are eager to wear as ridiculous clothes as possible, shout stupid slogans and you may not worry about people judging you or looking at you like a hooligan.
45 – Dance at Mezzanine nightclub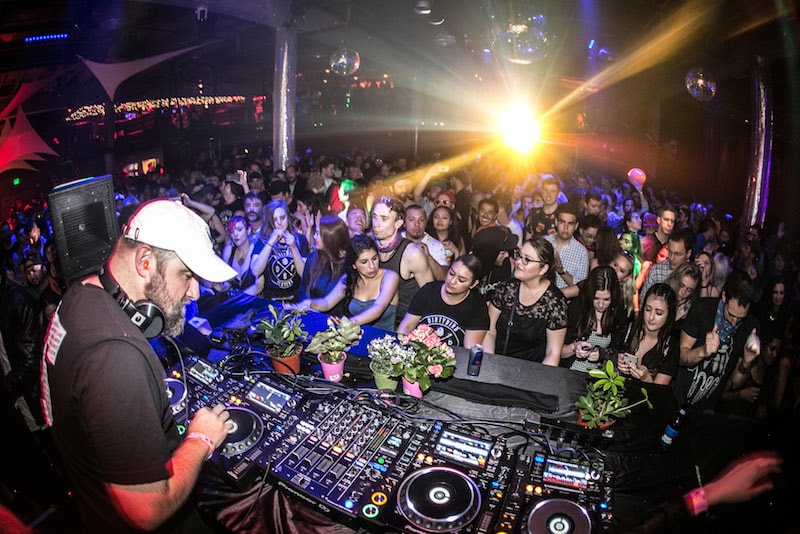 Mezzanine is a San Francisco venue known for its live performances and private parties as well as a techno and house nightclub. Spreading out over 12,000 feet with a massive capacity dance floor, Mezzanine host a wide variety of live music and DJ performances.
 444 Jessie St, San Francisco, CA 94103, USA
46 – Applause a touch Down at Levi's Stadium with 49er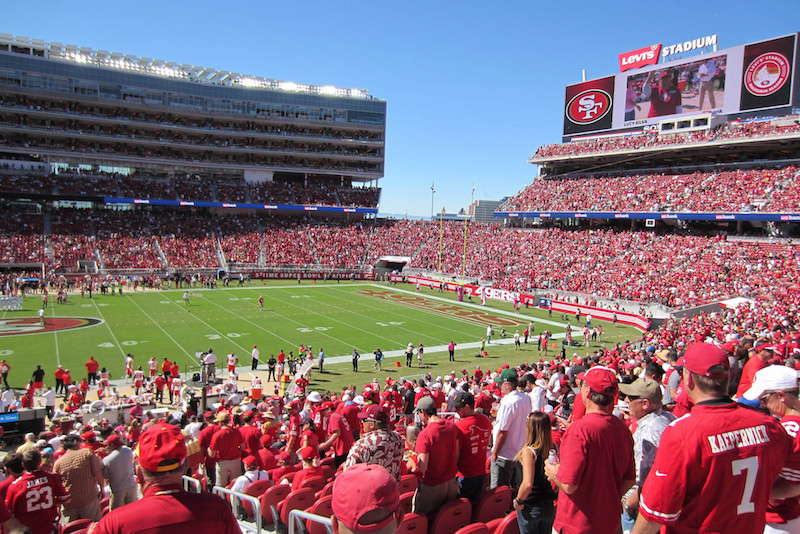 Initially, the 49er or Forty-Niner is the nickname for people who took part in the 1849 California Gold Rush. Now it is San Francisco Football team. Watch them play at Levi's stadium!
 4900 Marie P DeBartolo Way, Santa Clara, CA 95054, USA
47 – Have your eyes bigger than your stomach at AsiaSF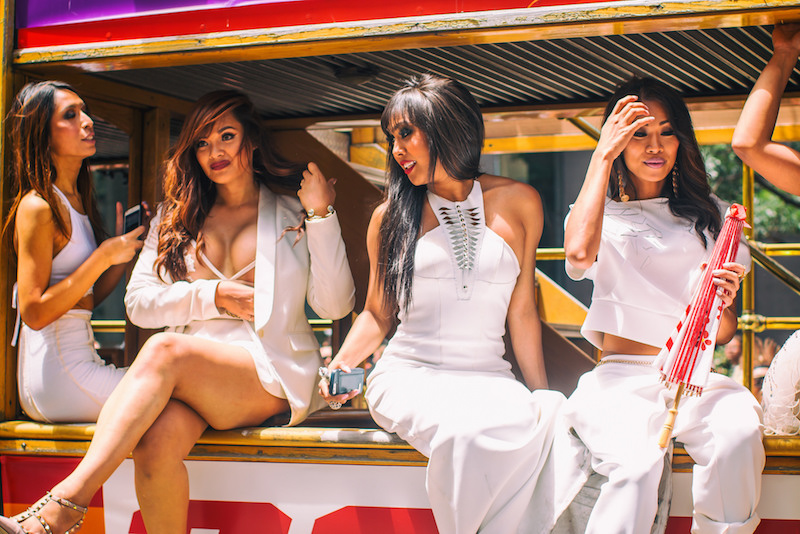 At AsiaSF admire the amazing performances of the "Ladies" while enjoying fine Californian Asian cuisine. We promise you an unforgettable dinner.
? 201 9th St, San Francisco, CA 94103, USA
48 – Watch Golden States Warriors team at Oracle Arena in Oakland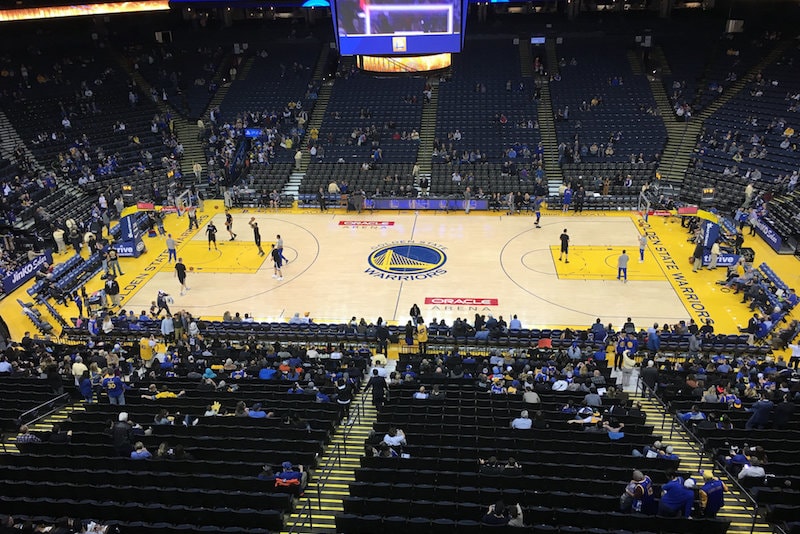 The Golden State Warriors are THE American basketball team based in Oakland, California. The Warriors play their home games at the huge Oracle Arena in Oakland.
Check out the next matches of the Golden State Warriors!
7000 Coliseum Way, Oakland, CA 94621, USA
49 – Spend a day at Ghirardelli Square

Formerly a Chocolate Factory, Ghirardelli Square is now home to a stylish collection of shops and restaurants one of the most pleasant places to stroll and shop in the Fisherman's Wharf area of San Francisco.
50 – Go swimming at Grey Whale Cove Beach

The beach (also known as Devil's Slide) features a protected cove surrounded by cliffs that drop directly into the Pacific Ocean. A pleasant walk from Montara Beach to Gray Whale Cove Beach brings excellent views of the Pacific.
51 – Google your trip to Silicon Valley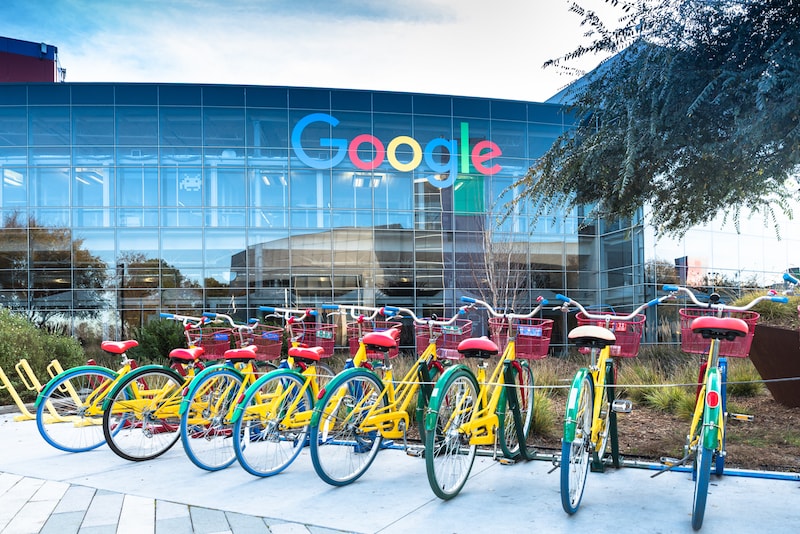 Located in the south end of San Francisco Bay, the Silicon Valley is home to the heart and soul of computer technology. Geeks from around the world make a daily excursion to the Silicon Valley. Discover your inner geek when you travel there.
52 – Spin at DNA Lounge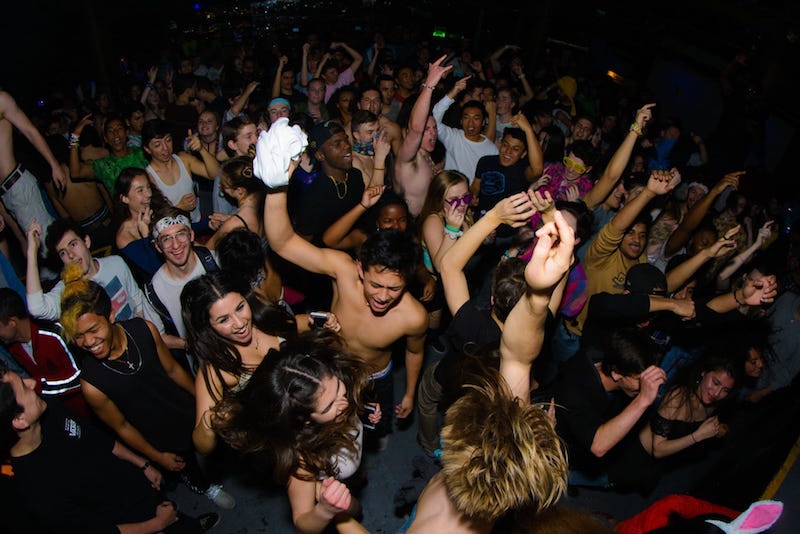 Located on San Francisco's Soma district's edge and open since 1985, DNA Lounge is a well-decorated two-level venue. One of the city's most popular nightclubs for over thirty years, hosting an always-eclectic variety of events, including live music, 18+ dance parties, burlesque shows and private parties.
? 375 11th St, San Francisco, CA 94103, USA
53 – Relax at Montara state beach

Montara State Beach is a wide beach along the San Mateo County Coast. Behind the beach are huge sculpted sandstone cliffs making this a very photogenic spot.
54 – Take a break at Union Square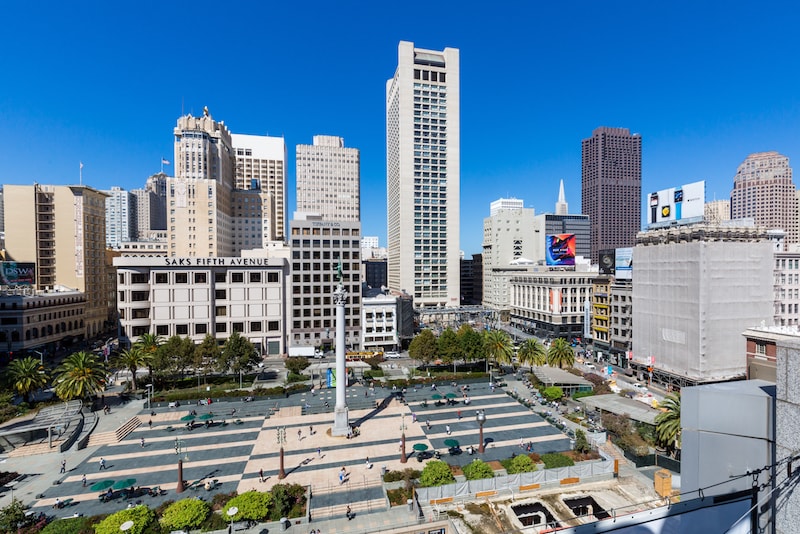 Union Square is a 2.6-acre (1.1 ha) public place bordered by Geary, Powell, Post and Stockton Streets in downtown San Francisco. It is the vibrating commercial hub of the city.
I hope you enjoyed our San Francisco Bucket List! What is your favorite spot? Tell us in comments and enjoy California! 😀
Share it on Pinterest