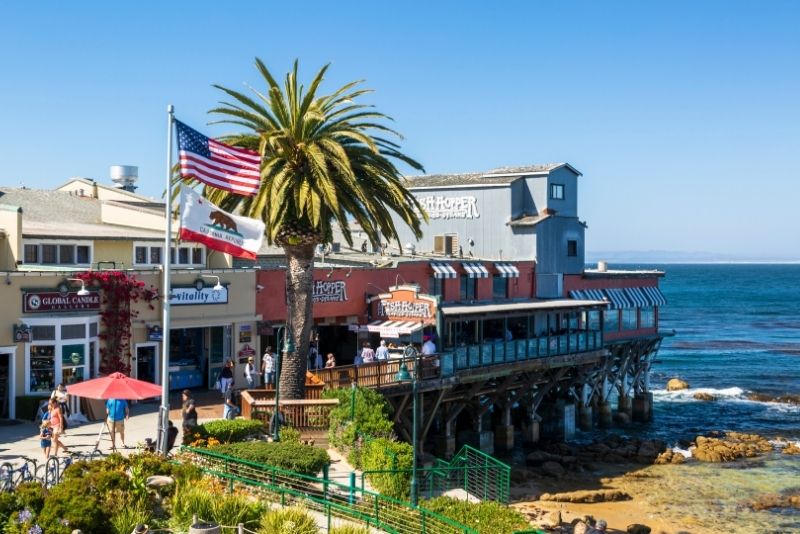 A melting pot of wonder, Monterey has been justifiably labeled the Whale Watching Capital of the World, as well as California's First City — and those two nicknames should tell you just about everything you need to know about this seaside paradise. It blends history with natural beauty unlike any other city nationwide.
Here, the centuries-old Spanish and Mexican influence fuses brilliantly with the enchanting serenity of sweeping coastlines, mountainous backdrops and natural landmarks, dishing up both indoor and outdoor activities in spades.
With so many things to do in Monterey, from the stunning 17-Mile Drive to a round on the world-famous Pacific Grove Golf Links, mirror mazes, craft breweries and more seafront restaurants than you could feasibly eat at in one trip (not to mention exploring the diverse wildlife ecosystems of what's dubbed the Serengeti of the Sea), it's abundantly clear what voyagers need to do next — add Monterey, a shining gem of central California, to your bucket list!
1 – Go whale-watching!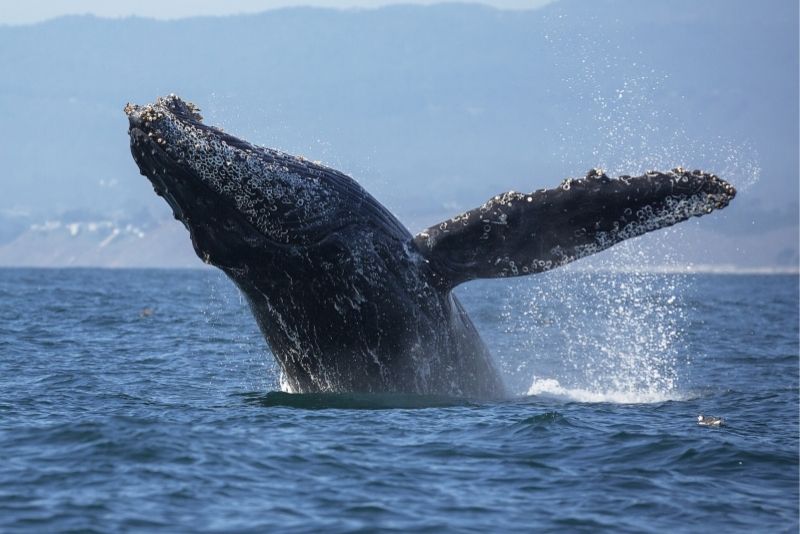 Lasting anywhere from two to six hours, Monterey's vast selection of whale-watching excursions bring you up close and personal with Mother Nature's gentle giants.
Sitting comfortably on-board one of the area's many luxurious yachts, you'll be treated to views like no other as your experienced crew — who'll share fascinating tidbits about the city, the sea life, and the region's ecology along the way — takes you out into the Pacific Ocean in search of the majestic humpback whales.
Besides the humpback whales who frequent the Pacific shores year-round, keep your eyes feeling for dolphins, sea otters, and seals; and if venturing out onto the water between December and May, grey whales as well.
Looking for a hotel near the wharf with ocean views? You'll be spoiled for choice, however, the Monterey Plaza Hotel & Spa, Monterey Tides (on the quieter side of town), and the InterContinental at the Clement Monterey are each coveted and popular options.
2 – Meet the giant octopus at the Monterey Bay Aquarium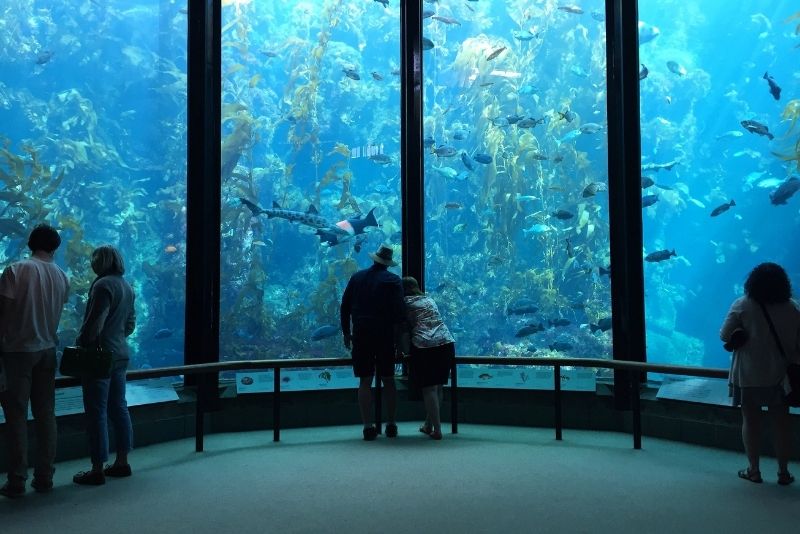 Home to over 35,000 sea creatures in all shapes and sizes — from otters to jellyfish, starfish to sharks, rays to eels and nearly 550 more species — it's no wonder the Monterey Bay Aquarium is one of small-town California's most-visited attractions!
With its insightful exhibits that focus on everything from sustainable seafood solutions and protecting endangered species to climate change and the ocean's role in our planet's future, the aquarium fuses education with entertainment for visitors of all ages.
Stroll through the Open Sea exhibit and come face-to-face with hammerhead sharks, or head to the Monterey Bay Habitats where intimidating rays and seven-gilled sharks glide around the 90-foot exhibit.
Watch as penguins dive and play in their icy habitat at the Splash Zone, or say hello to the mysterious giant pacific octopus — as you can see, there's no shortage of diverse creatures to admire.
Looking for a VIP experience? The beloved, family-friendly aquarium also offers guided tours, educational shows, animal encounters (perfect for a souvenir photo) and feedings.
3 – Soak in the fresh air at Lovers Point Park & Beach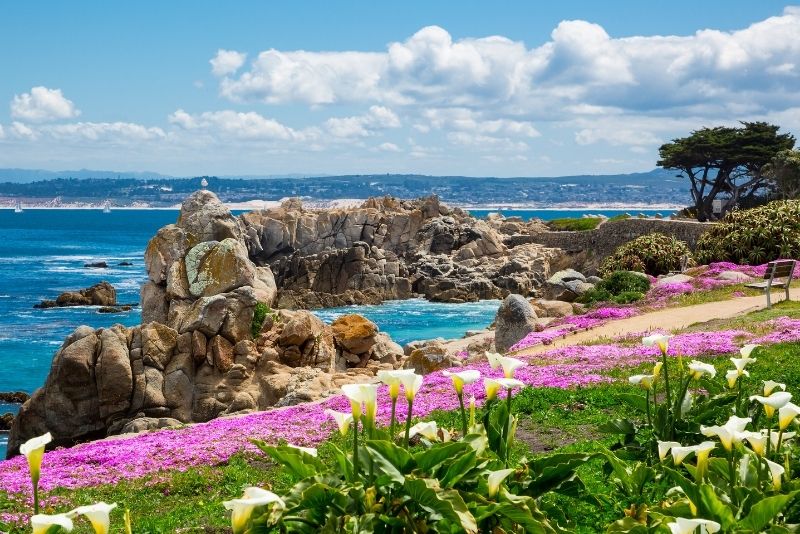 A wonderful slice of nature for residents and tourists alike, Lovers Point Park & Beach offers miles of open green space on the edge of Pacific Grove — perfect for picnics, sunbathing (there's a fantastic playground here too), bird watching, and more.
The park's namesake lookout point offers stunning views of the Monterey Bay coastline, while the sandy beach is a great place to take a walk, relax and listen to the waves.
Throw in a beach volleyball court, a swimming pool designed for the youngsters, and a charming pier that juts out into the bay, and it's easy to see why a visit to the foot of 17th Street is one of the essential things to do in Monterey.
4 – Step back in time at Monterey State Historic Park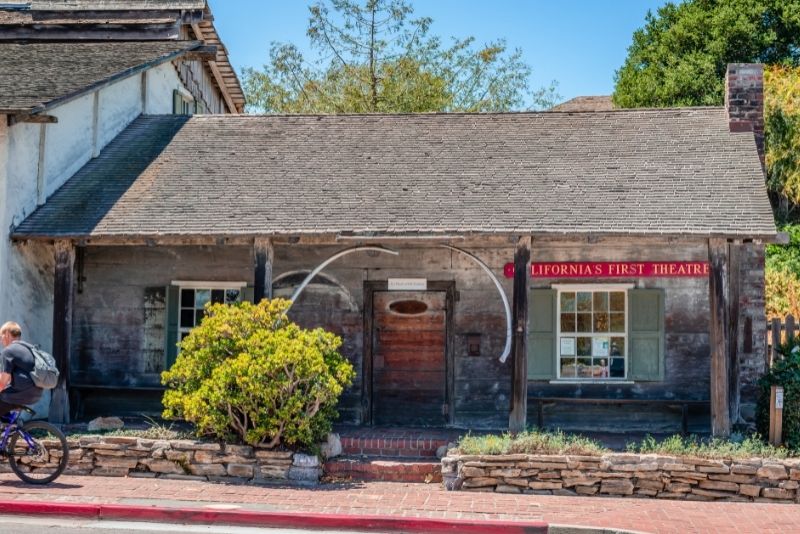 If you're after a dose of California's storied past, look no further than Monterey State Historic Park.
Far from your typical grassy field, this Historic Park is more like a neighborhood, home to over a dozen different buildings and sites dating from the 17th century to the early 20th century — all in all, offering offers visitors a fascinating opportunity to explore life in early California.
The highlights include Custom House Plaza, which is officially California's oldest public building and now houses a visitor center with exhibits on the park's history. Pacific House's museum tells the intricate story of Monterey in the era of being the capital of Spanish and Mexican California.
Colton Hall is the site of California's Constitutional Convention of 1849 and yet another a California Historical Landmark.
Hot tip: Rather than mozy around solo, for a more in-depth analysis of times gone by, join an hour-long, historian-led guided walking tour.
5 – Take a stroll around Old Fisherman's Wharf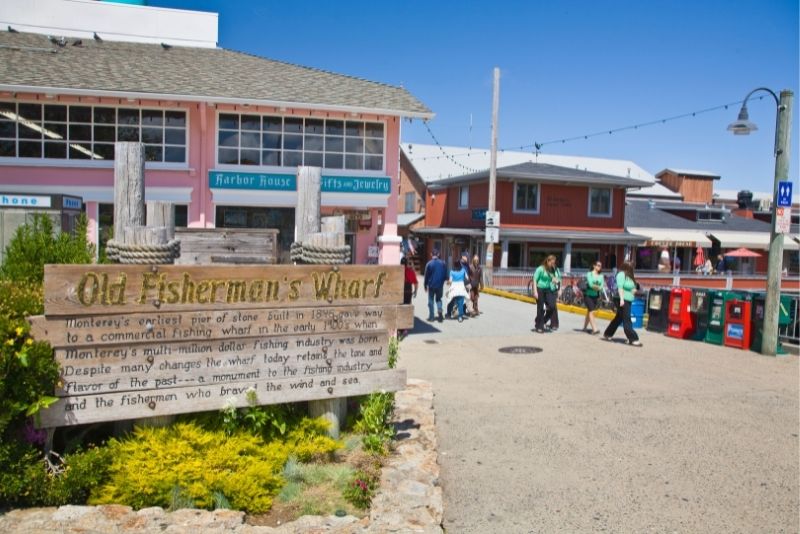 Dating back to 1845, Old Fisherman's Wharf (they don't call it old for no reason) is the place for all your seaside dining and shopping needs.
The wharf itself — with plenty of seating, shops and restaurants spilling out onto the boardwalk — offers a bustling hub for locals and tourists alike looking to taste local seafood or pick up some souvenirs.
Meanwhile, the adjacent Monterey Harbor is a great spot for fishing, sailing, live theater shows, whale-watching and more.
Not sure where to start? Some of the locals' favorite wharf spots include The Chowder House (for all your clam chowder needs), Old Fisherman's Grotto Restaurant (for fresh seafood cooked to perfection), and more saltwater taffy merchants than you can count!
6 – Take the little one to El Estero Park's 'Dennis The Menace' Playground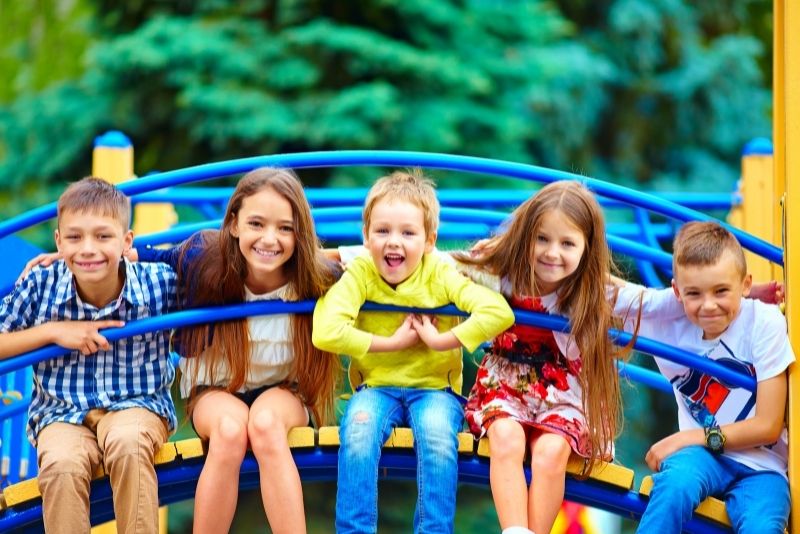 Traveling with kids in tow? Look no further than El Estero Park's "Dennis The Menace" Playground, an expansive park filled with lush gardens, plenty of open space and a fantastic array of family-friendly rides and amenities — sure to keep the youngsters entertained for at least a couple of hours.
Operational since the mid 20th century, the playground dishes up a challenging hedge maze, a rock climbing wall, plenty of large slides, a suspension bridge and — arguably the main attraction — an authentic 1924 Southern Pacific steam engine.
7 – Explore beautiful Point Lobos State Natural Reserve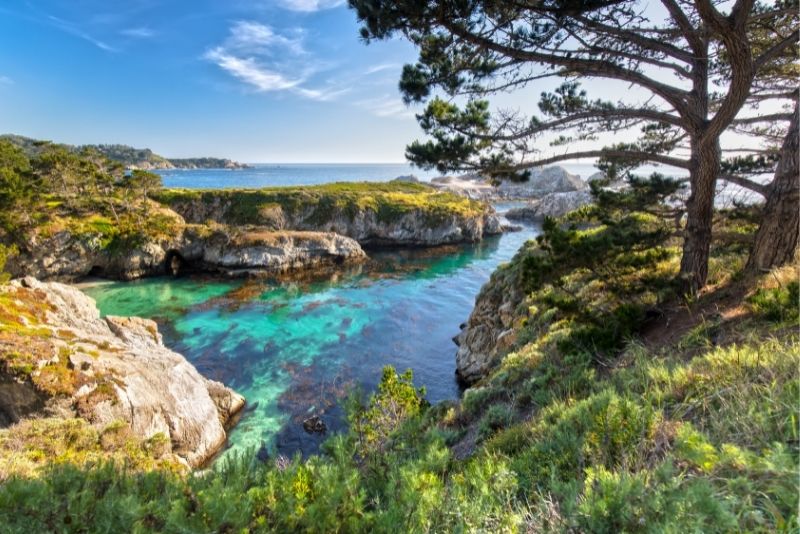 Home to a wide variety of plant and animal life, the enchanting Point Lobos State Natural Reserve is one of the most beautiful and diverse spots on California's Central Coast.
Boasting everything open ocean overlooks to cypress groves and meadows alive with wildflowers, the reserve offers visitors a constantly changing landscape that provides an often-cherished change of pace from the big city life (and even the small-town Monterey life).
Hikers, follow the shoreline to end up at hidden coved; while animal lovers, keep your eyes peeled for the likes of seals, sea lions and sea otters roaming around the rocks — not to mention all kinds of seabirds.
8 – Admire the stained glass at the Carmel Mission Basilica Museum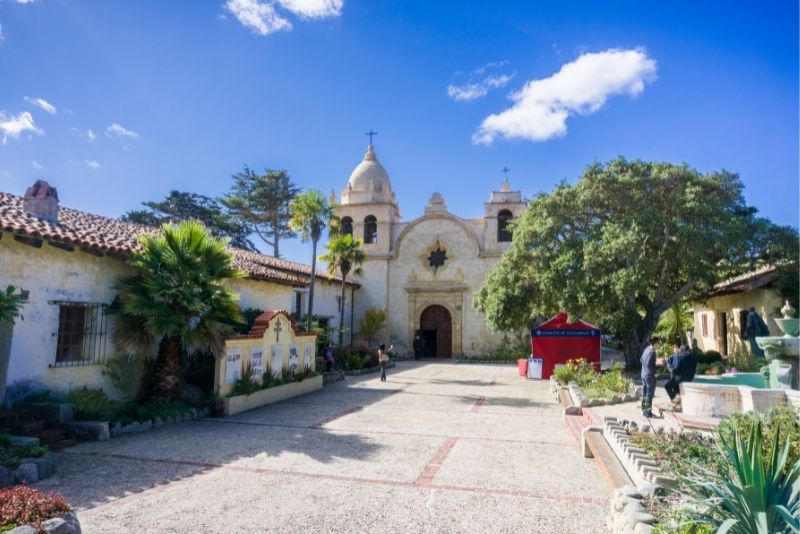 One of the most popular tourist-focused things to do in Monterey County, visiting the Carmel Mission Basilica Museum is like stepping back in time. It contains a wealth of art and artifacts detailing California's early Spanish history.
Founded by Father Junipero Serra in 1797, the mission is one of the 21 original missions founded along the coast of California and presents as what's widely considered to be the most authentically restored Roman Catholic mission church across the state.
About a 15-minute drive from Monterey in Carmel-by-the-Sea, you'll find no shortage of charming nearby activities to make a day of the coastal city hop.
9 – Soak up the sun at Monterey State Beach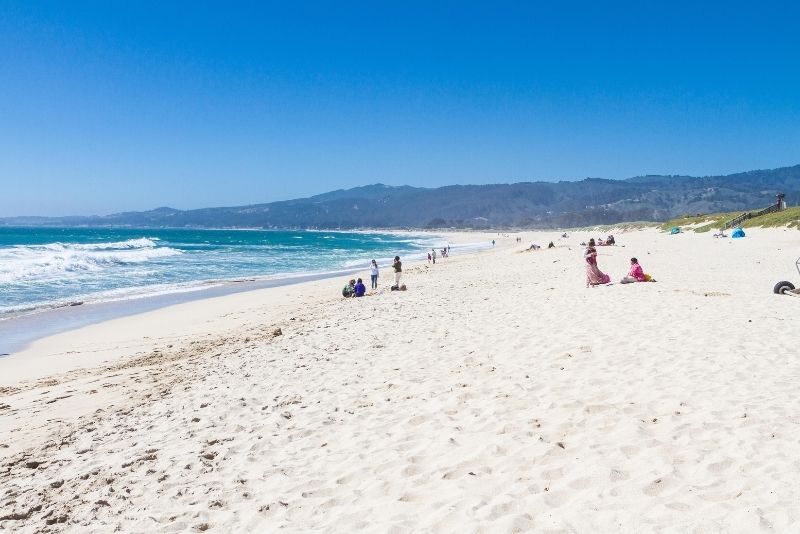 With warm air and beautiful sunshine most days of the year (although the water can get a bit nippy in the wintertime), Monterey State Beach is a magnet for sun-seeking locals and tourists alike (not to mention paragliders and surgery) looking to soak up some sweet Vitamin D.
Located just north of the even more popular Del Monte counterpart, Monterey State Beach usually sees smaller crowds — and even on the busier days, as it stretches for miles long along the sparkling Bay, space is never hard to come by.
And with plenty of amenities including eateries, restrooms, showers, and picnic areas, it's a must for the summer bucket list.
10 – Join a bike tour!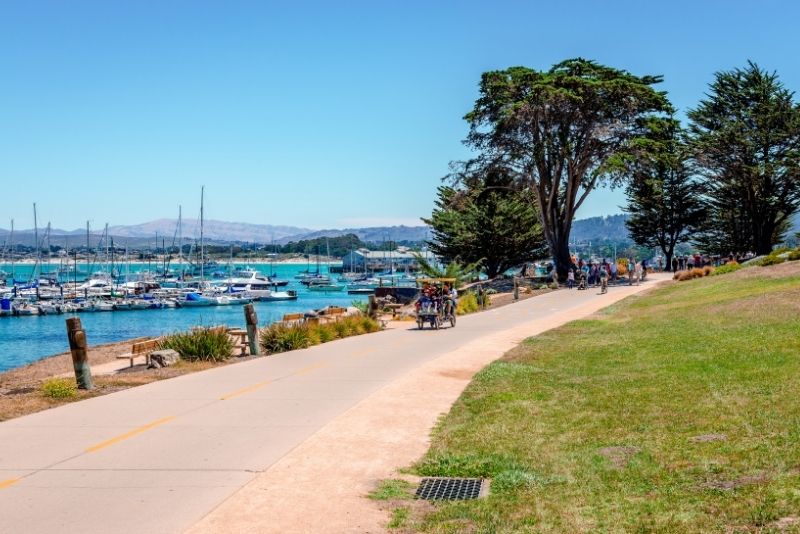 If you're looking to check off all the main sights – and get a bit of exercise at the same time — then a bike tour, led by in-the-know locals, is an ideal way to do it.
Monterey offers plenty of interesting neighborhoods and historical landmarks just waiting to be explored, so grab a bicycle (or rent one) and hit the pavement for a fresh perspective on the city.
Hot tip: If you're all about the coastal air, look no further than the famous and aptly-named 17-Mile Drive (made a little easier on e-bikes).
11 – Get your culture fix at the Monterey Museum of Art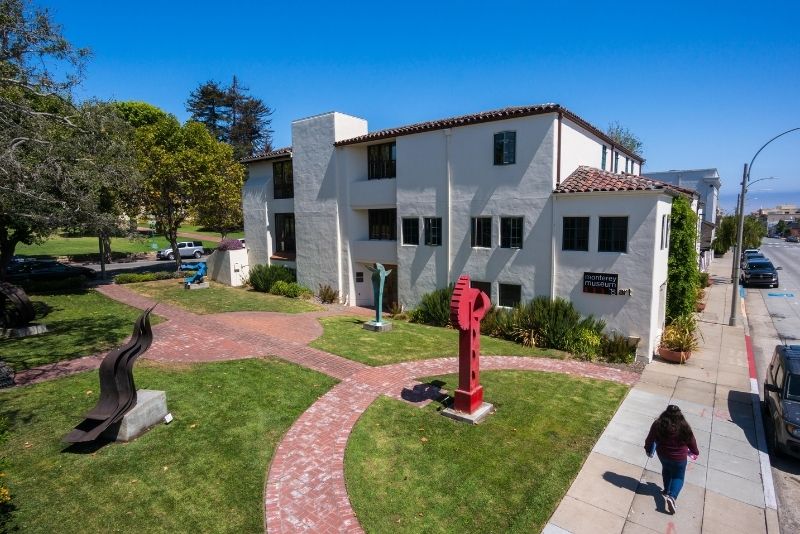 Tucked away on Pacific Street about a 10-minute walk from the wharf, the Monterey Museum of Art is one of the largest museums on California's Central Coast. It boasts an impressive collection that includes both historical pieces as well as contemporary works.
Housing a range of permanent exhibits complemented by diverse traveling collections, this local favorite offers visitors a chance to explore everything — from early American settlers paintings to works by key 20th-century artists and more modern artistic takes on Monterey's scenery and landscapes.
12 – Take a trip down the 17-Mile Drive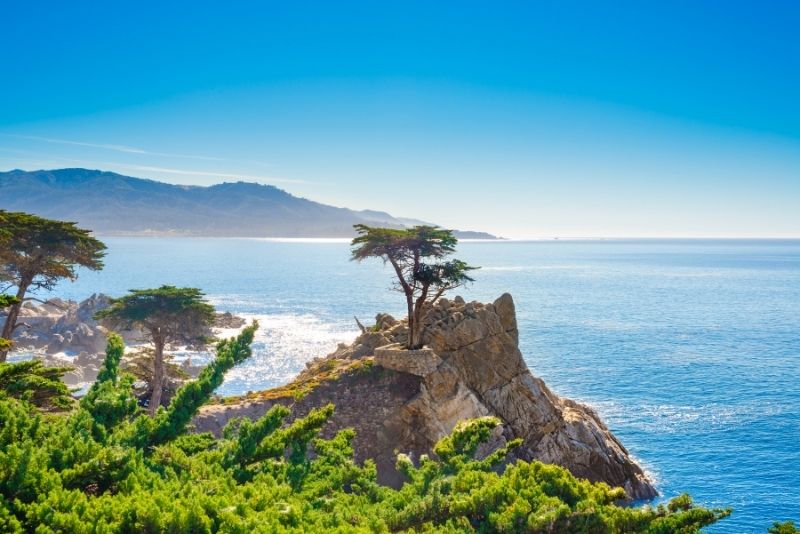 A scenic road that winds through some of the most beautiful coastline available in all of California (and even beyond), 17-Mile Drive links Pacific Grove with Pebble Beach.
It's chock-full of diverse landscapes along the way from rocky cliffs to Stillwater Cove and the engulfing Del Monte Forest — no wonder that this is one of the most famous drives in the world.
Just remember to take it slow, stop at the landmarks along the way (especially the famed Pebble Beach golf course and nearby shops), and capture the moment with a few snaps.
13 – Wander around vibrant Cannery Row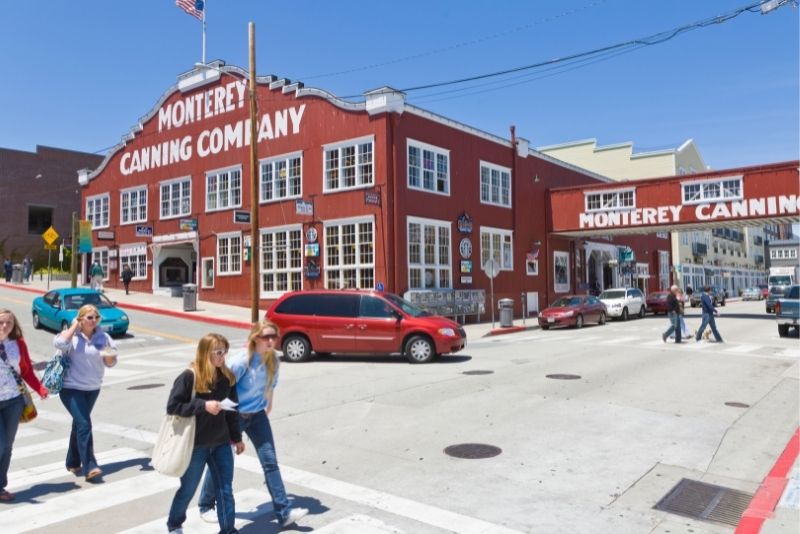 If you're looking for a taste (quite literally) of Monterey's history, Cannery Row — made famous by author John Steinbeck — is the place to go.
Formerly (and fittingly) known as Ocean View Avenue, this revamped promenade near Pacific Grove once housed dozens of canneries that produced sardines and other seafood products (the last cannery closed in 1973).
This now-touristy district is home to restaurants, luxurious waterfront hotels, eclectic art galleries, souvenir shops and more — all housed in buildings that date back to the early 20th century.
Families, consider taking a spin on a four-wheeled surrey adventure; thirsty travelers, head to one of the handful of open-air bars; collectors, make a beeline for the Cannery Row Antique Mall; and if you're into marine life, the Monterey Bay Aquarium is just a short walk away.
14 – Admire a great author at Steinbeck Plaza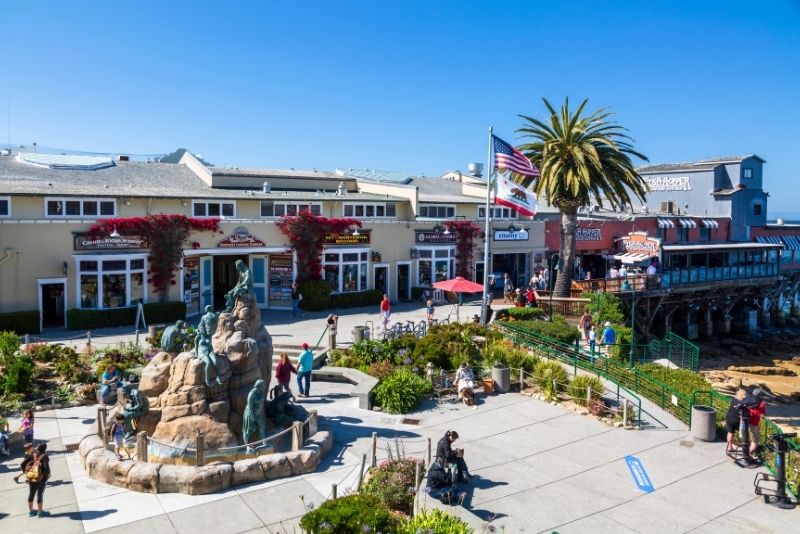 Speaking of John Steinbeck, if you're looking for an outdoor spot to pay homage to the man who put Monterey on the map, look no further than Steinbeck Plaza — there are actually two, Steinbeck Plaza One and Steinbeck Plaza Two, collectively dishing up a pretty impressive view of the Monterey Bay.
Situated at the crossroads of Cannery Row and Prescott Avenue, this public square is adorned with a statue of Steinbeck, perfectly poised atop a rocky sculpture with characters from the novel scattered beneath.
While you're in the area, make sure to pop into Steinbeck's Spirit of Monterey Wax Museum where you can learn all about the writer's life and work, as well as admire a huge selection of different wax and animatronic figures spanning some 400 diverse years of California history.
15 – Sign up for a Pacific Biological Laboratories tour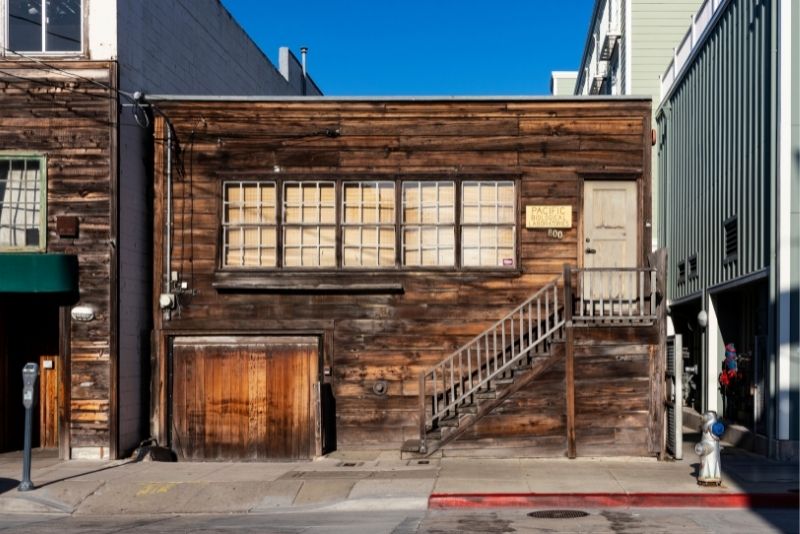 Just a two-minute walk from the popular Monterey Bay Aquarium, if you're on the hunt for a fascinating (and free) activity that's perfect for science lovers of all ages, the Pacific Biological Laboratories tour is absolutely one of the essential things to do in Monterey.
Formerly owned and operated by the best friend of John Steinbeck and so-called grandfather of modern Marine Biology, Edward Flanders Robb Ricketts, the lab is open to the public for fascinating hour-long guided tours that offer visitors a look at some of the most cutting-edge oceanographic equipment of the time.
The lab (and house) combines science with history and literature in a truly one-of-a-kind way.
16 – Ride along the Monterey Bay Coastal Recreational Trail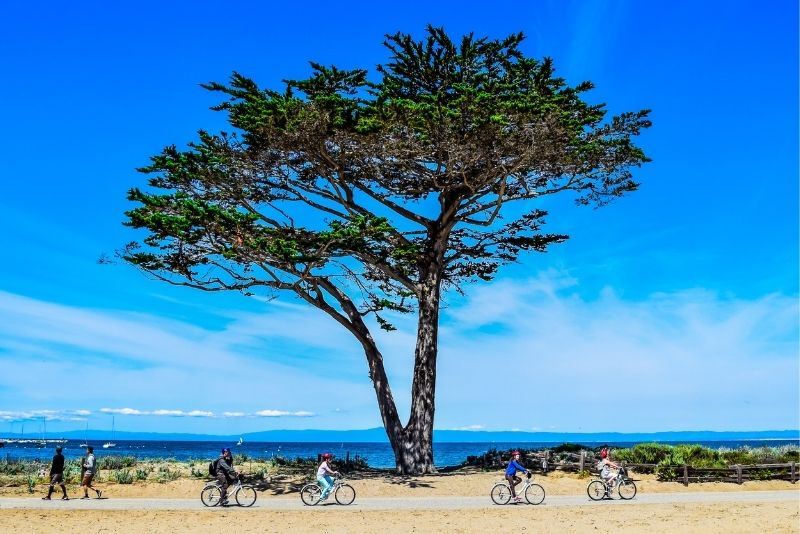 Hikers, listen up! If you're looking to explore the coastline and natural surroundings of Monterey, taking a walk along the Coastal Recreational Trail should be high on your list.
Hugging the coastline for close to 18 miles, from Castroville in the north to Pacific Grove in the south, the enchanting Trail passes by notable landmarks like Lovers Point, Del Monte Beach Park, the Old Fisherman's Wharf, and a whole lot more — making it the perfect way to take in all the beauty Monterey Bay has to offer.
Since the trail is completely cut off from cars, it's become a biking heaven. On two wheels, expect the journey to take about 1.5 hours. While on two feet, you're looking at
17 – Browse the artwork at MHAA: Salvador Dalí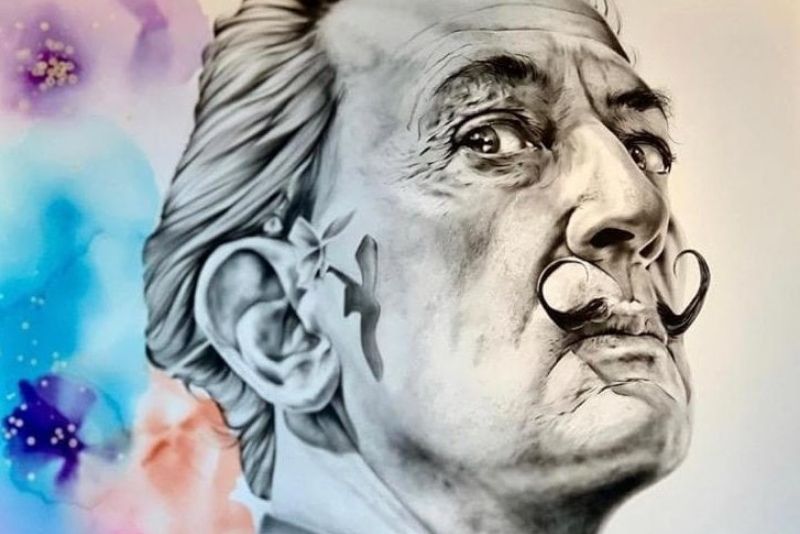 For all the art aficionados, a visit to the Monterey History & Art Association (MHAA) is quintessential — and even if you're not, there's still plenty to enjoy at this top-rated museum.
Tucked away next to the Old Fisherman's Wharf, the exhibition features no less than 580 works by the notorious artist including not only paintings but lithographs, sculptures, etchings, and tapestries too.
As one of the country's largest private collections of Salvador Dalí artwork, it'd be remiss of any visitor not to opt for the guided tour option.
Looking for a downtown or Old Fisherman's Wharf hotel near the museums? The 4-star Monterey Marriott, nautical-themed Portola Hotel & Spa, and quaint cottages at the Merritt House Hotel all come recommended by fellow travelers.
18 – Practice your drive at the Pebble Beach Golf Links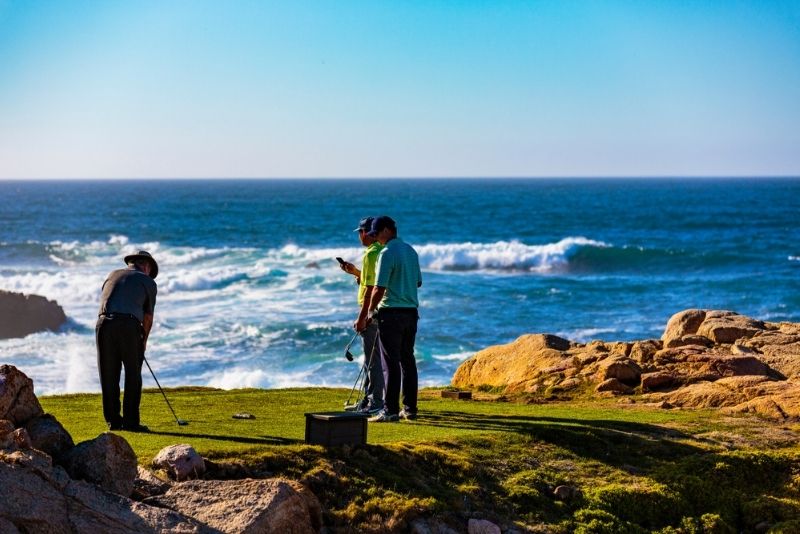 Up for a swing on the fairways? One of the most famous golf courses in the world and officially the No. 1 Public Course in the Country, this 18-hole championship course is located right on the coast and offers some of the most breathtaking views you'll ever see.
Designed by Jack Neville and Douglas Grant, who were also the co-founders of the Monterey Peninsula Golf Course, Pebble Beach first opened in 1919 and has since been the host to some of the most prestigious golf tournaments in history.
If you're not feeling quite so competitive, there's no need to worry — simply take a leisurely stroll around the course instead and admire all that natural beauty.
19 – Snorkle at the Monterey Bay National Marine Sanctuary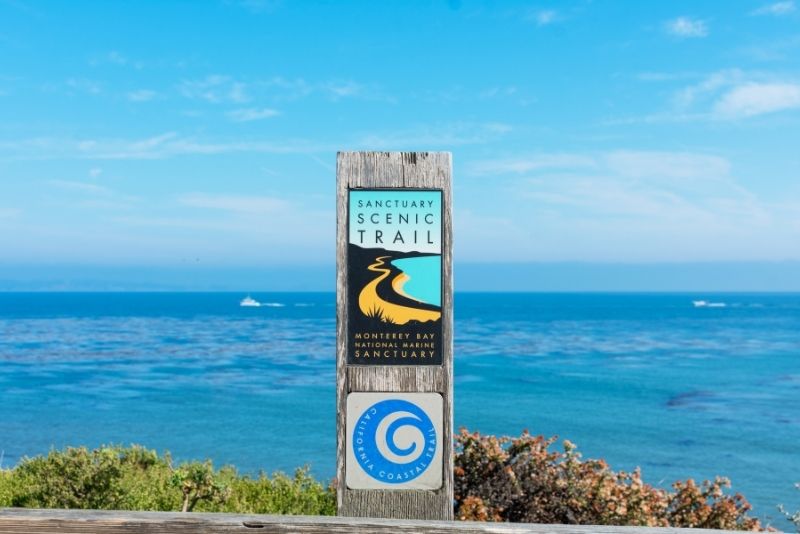 Thanks to its reputation of being one of the world's most diverse shoreline ecosystems, this stunning slice of coastal whitewater heaven was designated as a National Marine Sanctuary in 1992 — and ever since it's become known as central and northern California's most popular dive and snorkel spots.
Covering hundreds of miles of coastline from the waters north of San Francisco to the Big Sur coast, the Monterey Bay National Marine Sanctuary is home to an impressive array of marine life including whales, dolphins, sea lions, otters, and seals.
All up, some 34 species of marine mammals call this place home, with 180 species of seabirds over 500 different colorful fish to boot.
If snorkeling or diving is a bit too much, simply peek at the tide pools or join a relaxing kayak ride.
20 – Take a boat tour of the bay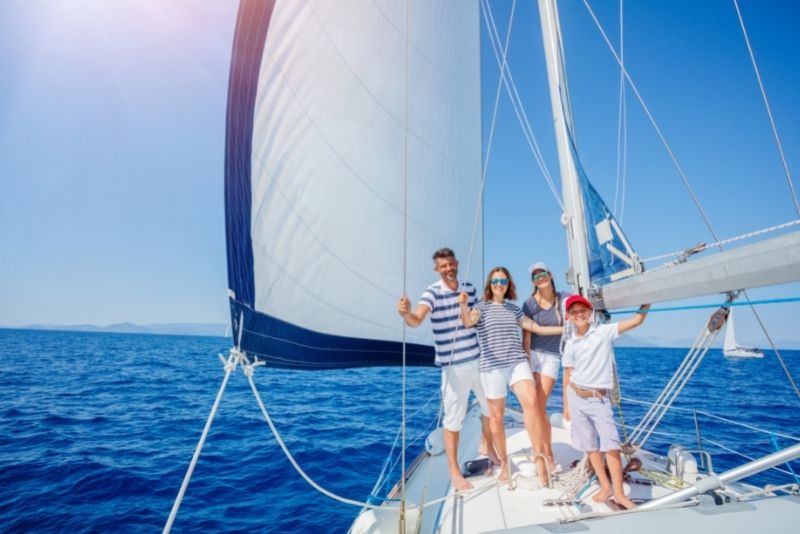 There's simply no better way to see Monterey Bay than from the deck of a boat and fortunately, there are plenty of operators in the area who offer just that.
From glass-bottom boats that let you spy on marine life without getting wet, to sailing tours that take you around some of the most picturesque coastlines at sunset (drink in hand), and, of course, the long list of wildlife-viewing excursions that depart daily, you'll be spoiled for choice.
21 – Stop into a service at the San Carlos Cathedral (Royal Presidio Chapel aka San Carlos Borromeo)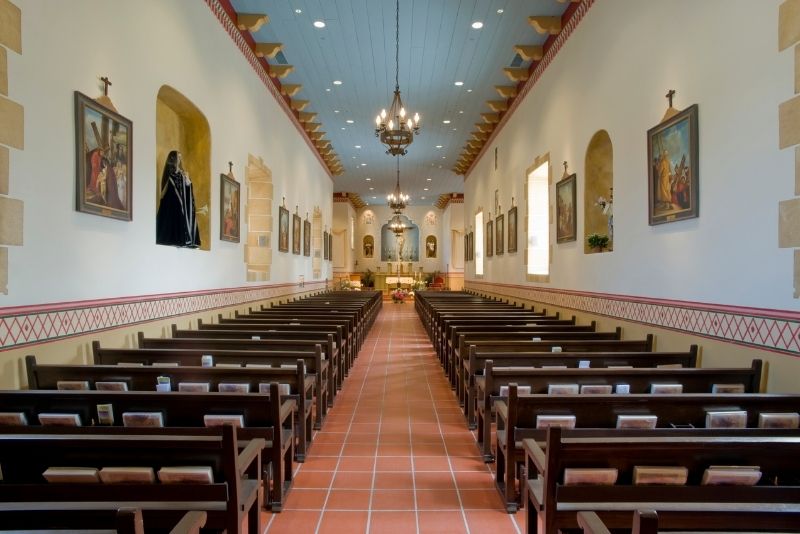 A notable example of local history and Spanish-influenced architecture, this beautiful building was originally built in 1794 and served as the Royal Presidio Chapel for decades. Nowadays, it boasts the title not only of the oldest stone building in California, but also its oldest continuously operating parish too.
A National Historic Landmark, the iconic landmark features a distinctive design and is one of only a handful of Spanish colonial-era buildings remaining in California.
If you're lucky enough to be visiting on a Sunday morning, make sure to catch the traditional Catholic mass which still takes place here.
22 – Visit the Colton Hall Museum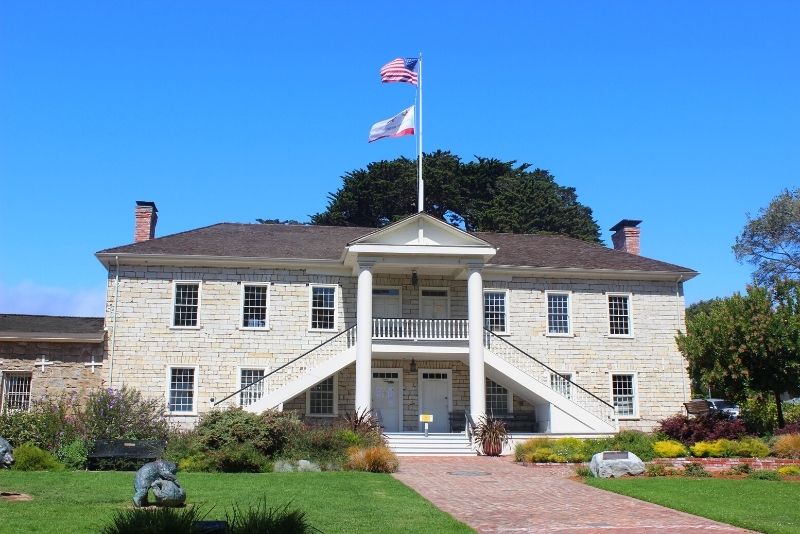 A simple yet informative museum dedicated to Californian history, this venue is a wonderful way to get yourself acquainted with some of the city and state's most famous moments.
Featuring a small yet fascinating collection of original artifacts and paintings, you can learn about California from its earliest days as an independent republic right through to the mid-19th century on display here — including a thorough re-creation of the meeting room where California's first Constitution was drafted in October 1849.
Colton Hall Museum is located at 570 Pacific St as part of the city hall complex, sits adjacent to the historic Old Monterey Jail, and welcomes intrigued visitors on the weekends from 10 am to 4 pm.
23 – Get lost in the Monterey Mirror Maze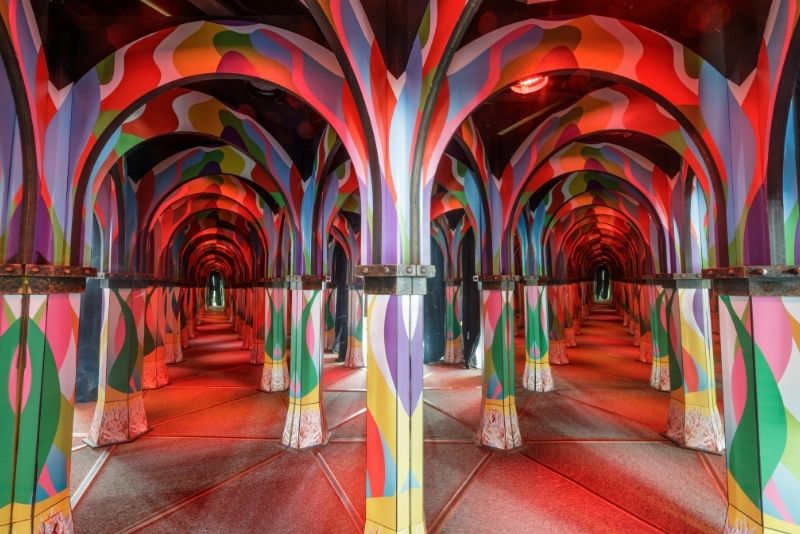 For those who love traditional mazes but want something with a twist, this is your place — where colors run rampant, reflected off mirror-lined archways in every direction, and a sense of fun and adventure beckons from just around the corner.
Navigating through Monterey's Mirror Maze — complete with lights, mirrors, reflections and optical illusions galore — is an experience that will have you smiling for hours after it's over.
Hot tip: Nobody wants to walk face-first into a wall, so keep your hands in front of you when wandering around.
24 – Soak in the sun at Del Monte Beach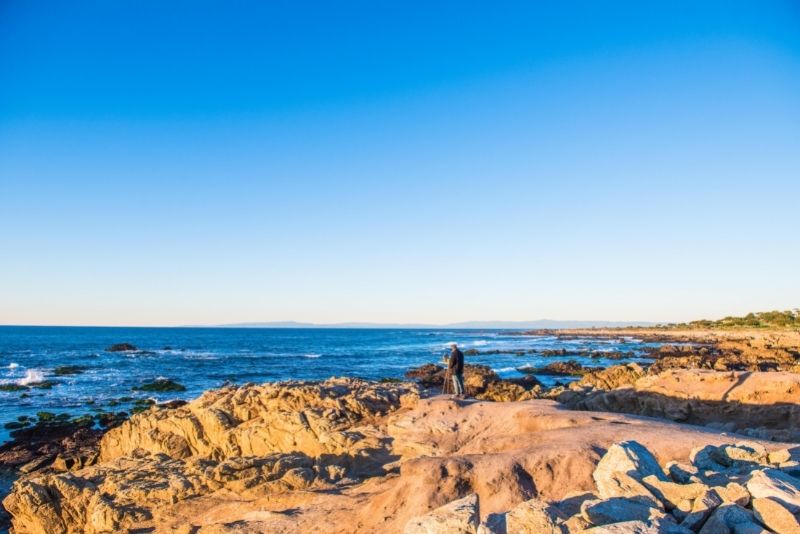 A prime spot for photographers, sunbathers, surfers and swimmers alike — more broadly, a popular place for all kinds of water sports enthusiasts — sun-drenched Del Monte Beach delivers activities, beauty and fun in equal, sunny portions.
From people-watching to catching some rays on the soft sands while taking in gorgeous views of Monterey Bay and beyond; from swimming lessons for kids (and adults) to surfing classes — this off-beat stretch of sand is perfect whether you're looking for a quiet picnic by the boardwalk, an action-packed afternoon on the waves, or anything in between.
25 – Marvel at they migrate at the Monarch Butterfly Sanctuary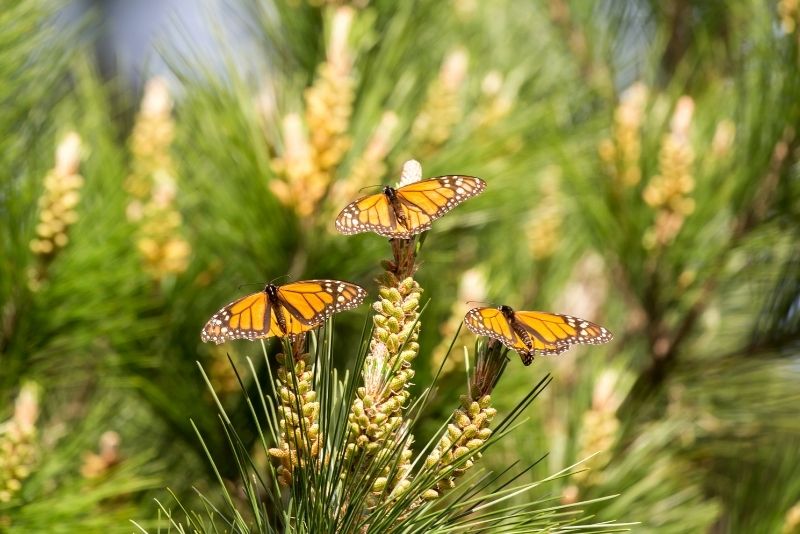 Where wonder and wildlife come face to face every year from October through early March, the Monarch Butterfly Sanctuary over in Pacific Grove (just 10 minutes down the road from Monterey) is a place of enchantment and intrigue — and, most notably, color — for visitors of all ages.
Home to one of the most diverse butterfly populations in North America, this reserve offers an up-close look at these delicate creatures as they flutter about their natural habitat during their annual migration.
In addition to the butterflies, you can also expect to see plenty of other local fauna, including hummingbirds and dragonflies.
26 – Hop on the Monterey Trolley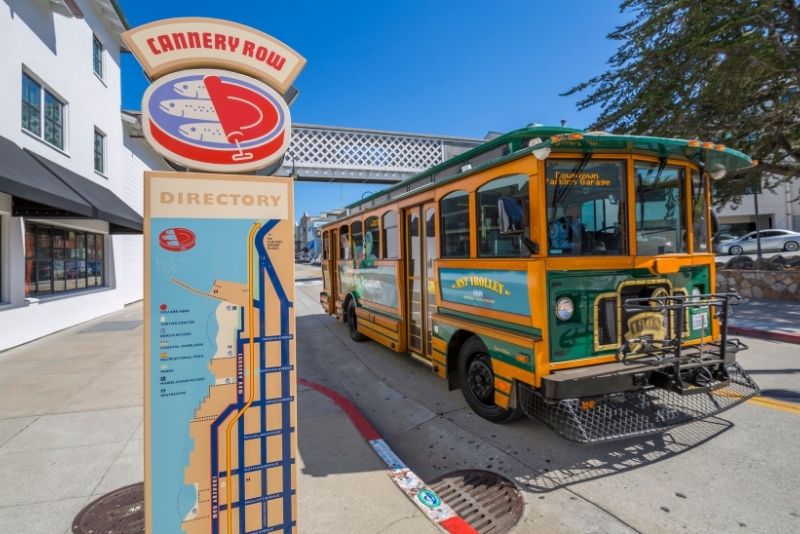 Stopping at places like Cannery Row, Fisherman's Wharf, the Monterey Conference Center, the Monterey Bay Aquarium and a host of the quintessential landmarks, a ride on the Monterey Trolley is a great way to get around town without breaking a sweat — or your budget.
Operated by the city of Monterey, this convenient (and free!) transportation service runs daily during the summer, every 15-20 minutes from early morning until late evening, and on the weekends in the off-season, typically leaving from Tyler Street and Del Monte Avenue.
27 – See it all from above at Jacks Peak Park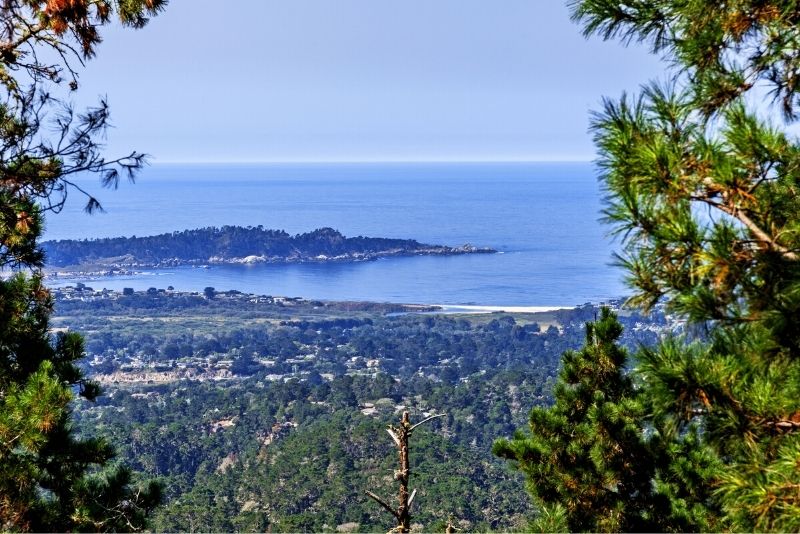 For a sweeping view that can only be described as magical, majestic, and mesmerizing all at the same time, make your way to Jacks Peak Park.
One of the highest points in Monterey County, rising over 1,000 feet above the towns and shorelines below, this 525-acre public park is open year-round and welcomes hikers, mountain bikers, archeology enthusiasts (thanks to its Miocene fossils), and horseback riders on its many well-maintained trails.
Picnickers and sunbathers alike can enjoy the expansive, grassy spaces and panoramic views from its peaceful summit.
28 – Head to the viewpoints of The California Sea Otter State Game Refuge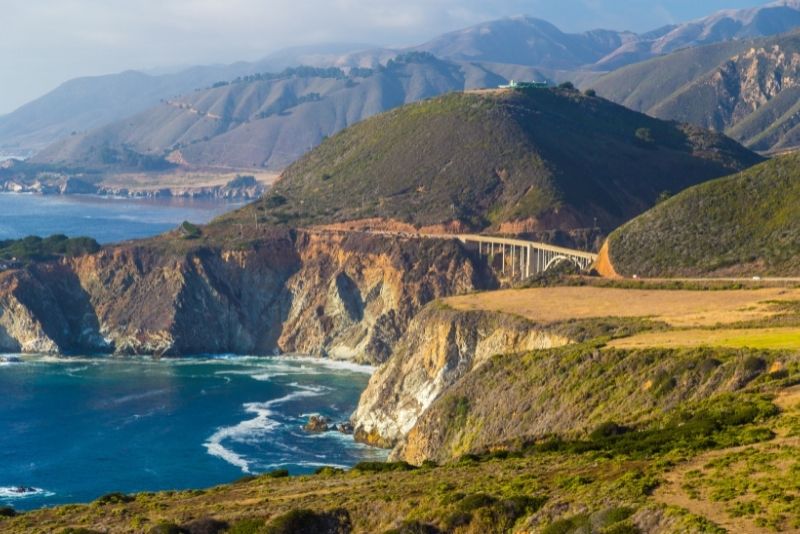 If you're an animal lover, head south down the coast for about an hour to a wildlife oasis unmatched by many: the California Sea Otter State Game Refuge.
Found off the coast between Monterey and Big Sur, this refuge is home to one of the largest populations of sea otters on the west coast, as well as a variety of other marine life including seals, dolphins, and whales; making it a popular spot for nature lovers of all kinds.
You'll find no shortage of viewpoints in the areas designed to capture some amazing photos: the Sea Otter Refuge View Point, iconic Bixby Creek Bridge and Little Sur River Viewpoint are each awe-inspiring — and you never know where an otter or seal will pop up.
29 – Visit the lighthouse at Point Sur State Historic Park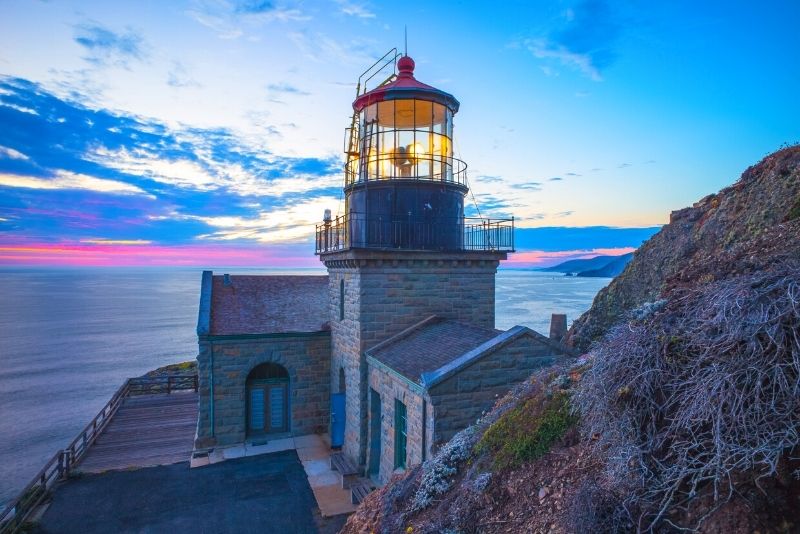 Small in stature yet mighty in reputation, historical significance, and beauty, the single-domed lighthouse at Point Sur State Historic Park is an attraction worthy of a postcard.
Built in 1889 and still operational, dramatically towering 361 feet above the Pacific Ocean, this picturesque lighthouse has been called one of the "most beautiful lighthouses in America."
Point Sur Lighthouse aside, however, the Historic Park sits on a giant volcanic rock that protrudes out of the sand, also offering three-hour walking tours full of fascinating things to learn.
30 – Be dazzled by McWay Falls in Julia Pfeiffer Burns State Park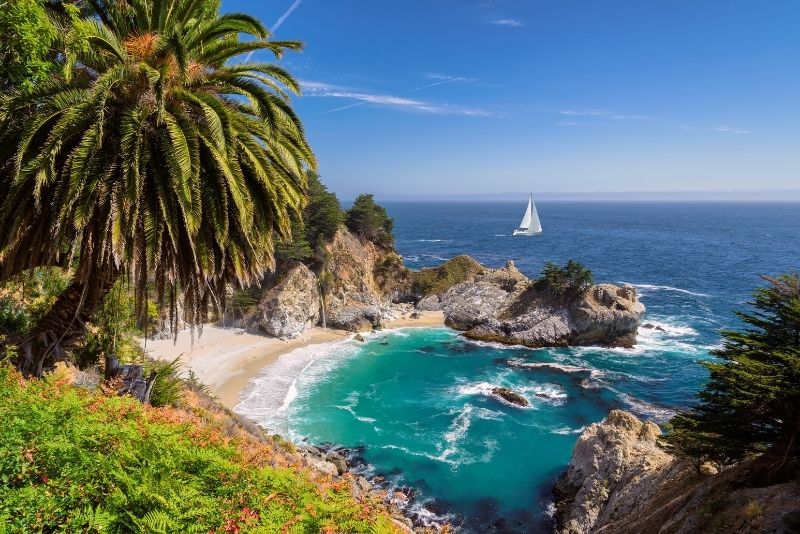 As Instagram-worthy a beachy inlet as any — so pristine, in fact, that you'll think you're looking at a slice of the Mediterranian — McWay Falls is a must-see stop on any California coastal road trip.
Tucked away in Julia Pfeiffer Burns State Park, just south of Carmel-by-the-Sea, this 80-foot waterfall cascades over a rocky cliff and down to the ocean below, making for an unforgettable sight (and selfie).
Spend the day wandering the multiple inland and coastal hiking trails; stop by for a picnic quick lunch with a view; or book what is truly one of the most spectacular campsites in the country.
If you do plan on camping, however, you'll need to book months in advance because the campsite popularity is through the roof.
31 – Pop into the 19th-century general store: Casa del Oro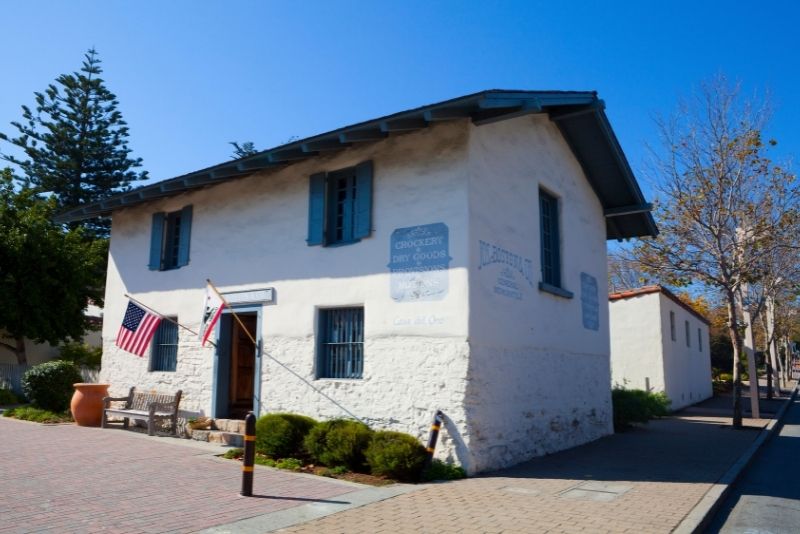 Telling a story that begins back in 1945, Casa del Oro (also called the Joseph Boston Store) wields the title of being one of the first general stores in the Monterey area.
A symbol of bygone centuries, today this historic landmark at the southwest corner of Olivier and Scott streets is run by the Historic Garden League – who have preserved the essence of the building — and sells 19th-century-themed knick-knacks like kids' toys, decorative antiques, stationery, and candy.
32 – Hear of Monterey's storied past at the Old Custom House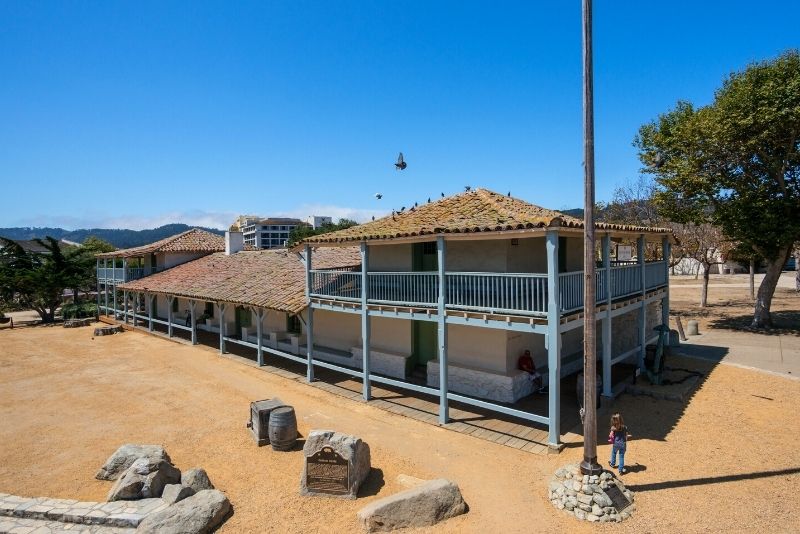 Presenting as one of the main yet many historic buildings in the Monterey State Historic Park, the Old Custom House boasts a storied past. It was originally constructed in the 1820s as a trade port office on the wharf and was since declared the first California Historical Landmark.
The iconic adobe Custom House is open daily from 10 am to 4 pm, functioning as a tiny museum where you can browse Monterey and marine-themed writings, and pick up some local artisan-crafted souvenirs.
Best of all, entry is free and, on weekends, guided walking tours of the historic park (which meet here) are available for a modest fee.
33 – Stare up at the Monterey 'Moon Tree'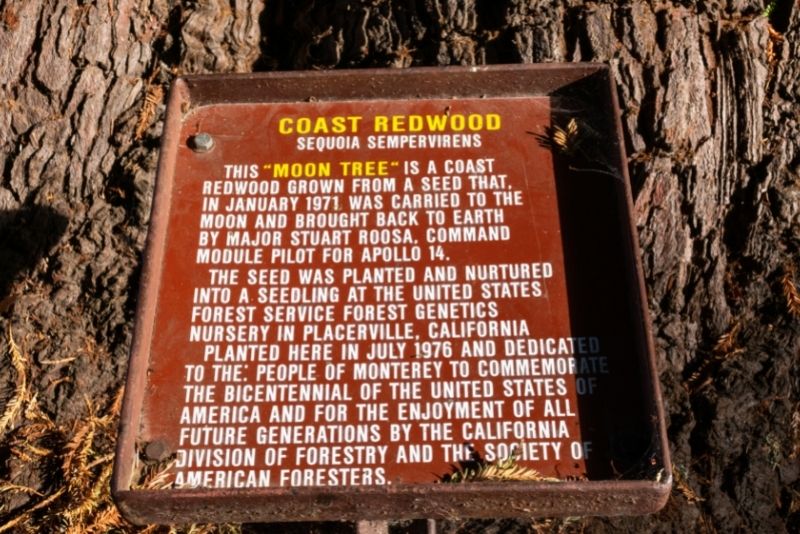 Towering over Pacific Street next to the Monterey Museum of Art, the aptly-named Moon Tree is an experimental tree that was grown from a seed taken to the moon and back on Apollo 14.
The foreboding sequoia (aka redwood) was planted back in 1976 to commemorate the Bicentennial of the United States of America and has been growing — and attracting tourists — ever since.
These days, it's as postcard-worthy a spot as any, and often included in walking and trolley tours around the coastal city.
34 – Let the kids' imaginations run wild at the Monterey County Youth Museum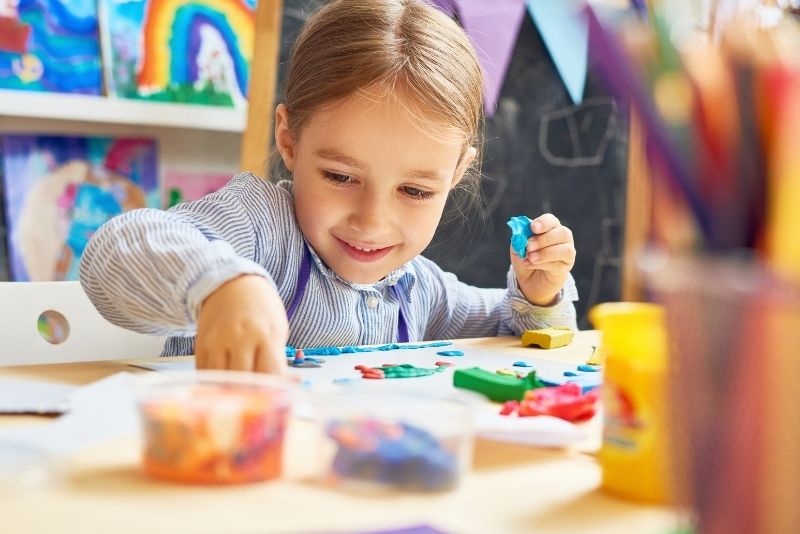 A playful oasis that leaves ear-to-ear grins on toddlers and bigger kids alike, the Monterey County Youth Museum is an interactive, colorful and educational wonderland that offers lots of hands-on activities for curious minds.
With dozens of exhibits and galleries to explore across its 8,500 square feet of space, including an arts and crafts section, play farm, play theater and mini-golf zone to name a few — it's a surefire hit for visiting families.
35 – Spot sea lions from Coast Guard Pier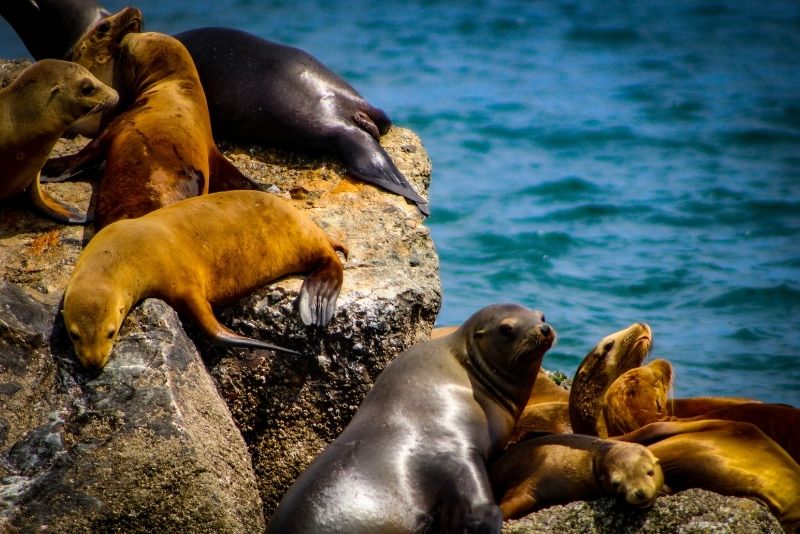 Any ask local nicely and they'll let you in on a little secret: one of the best sea lion viewing spots is here, at the Monterey Coast Guard Pier.
The pier is open from sunrise to sunset and, though it can be a little windy, offers an uninterrupted view — when the conditions are right — of groups of sea lions (and sometimes harbor seals) lazing on the rocks below.
Even if you're not a fan of marine mammals — or crowds — it's worth popping by just to check out the sweeping vistas, which stretch over Monterey Bay toward Carmel-by-the-Sea.
36 – Escape to the quiet Asilomar State Beach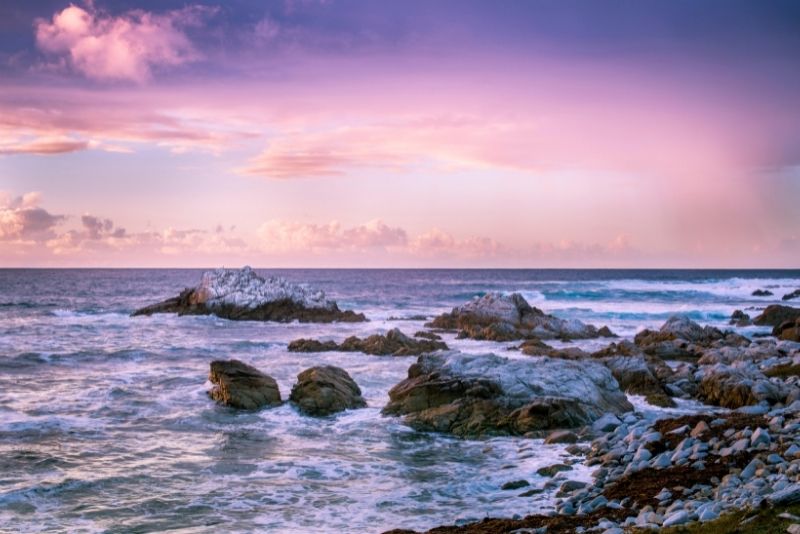 A secluded slice of paradise just 10 minutes by car from downtown Monterey, Asilomar State Beach is an idyllic getaway that feels worlds away from the hustle and bustle of city life.
The one-mile stretch of white sand is everything you could want in a seaside retreat: sandy beach, rocky tide pools, climbable dunes, curated boardwalk, and nature-immersed hiking trails, along with an abundance of wildlife.
Despite the convenient location, it remains one of the area's more secluded and quiet urban beaches.
37 – Take an afternoon (or day) trip to Carmel-by-the-Sea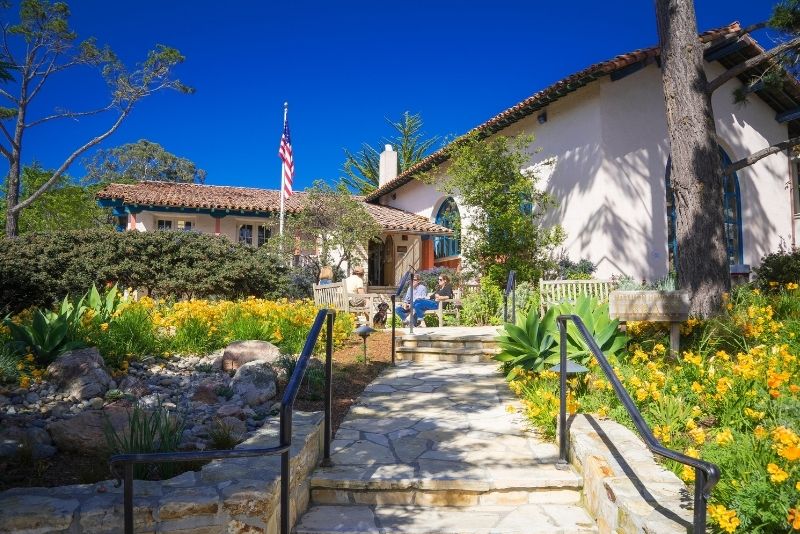 Less than 10 minutes drive from Monterey, Carmel-by-the-Sea is a charmer of an oceanside town that's well worth a visit.
It features white-washed cottages, upscale galleries and boutiques, and world-renowned restaurants and wineries set against the dramatic backdrop of the Pacific. It's no wonder this place has been a favorite escape for Hollywood A-listers and other notables for decades.
Take a leisurely stroll down its picturesque streets, enjoy some people watching on the beach, or just sit back with a coffee and watch the world go by — you'll quickly see why Carmel is a favorite escape for both locals and visitors alike.
Hunting for a hotel in Carmel-by-the-Sea? Anything ocean-facing is a treat, however, more generally, the Quail Lodge & Golf Club, Tradewinds Carmel, and Briarwood Inn come highly recommended.
38 – The Farmer's Market at Old Monterey Marketplace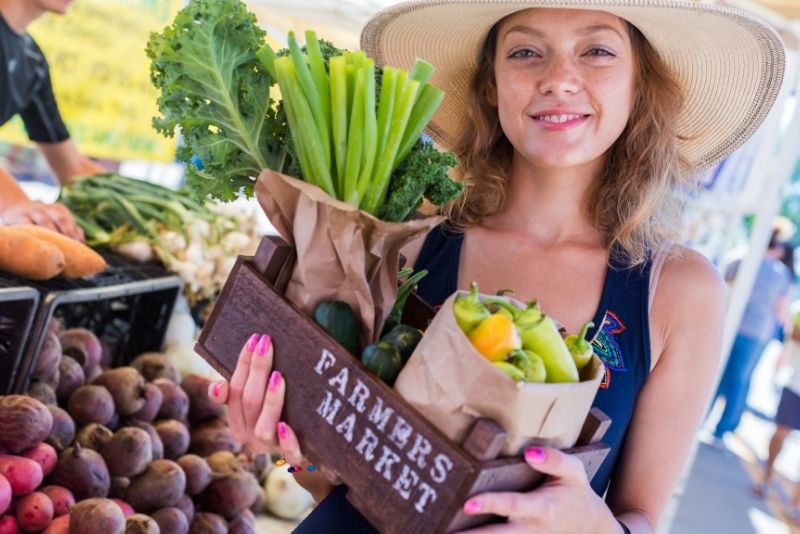 Locals congregate at the Farmers' Market on Alvarado and Franklin Streets every Tuesday evening from 4 pm to 8 pm to pick up fresh produce, flowers and baked goods from a range of local producers. It's a great place to mingle with the friendly and diverse community of Old Monterey, not to mention try a handful of local staples.
Featuring everything from organic fruit and vegetables grown in Monterey County to artisanal jams, homemade pies and fresh-baked treats, the market has plenty on offer for everyone at this popular family market.
39 – Jump in a 'Sea Car' for a GPS-self-guided adventure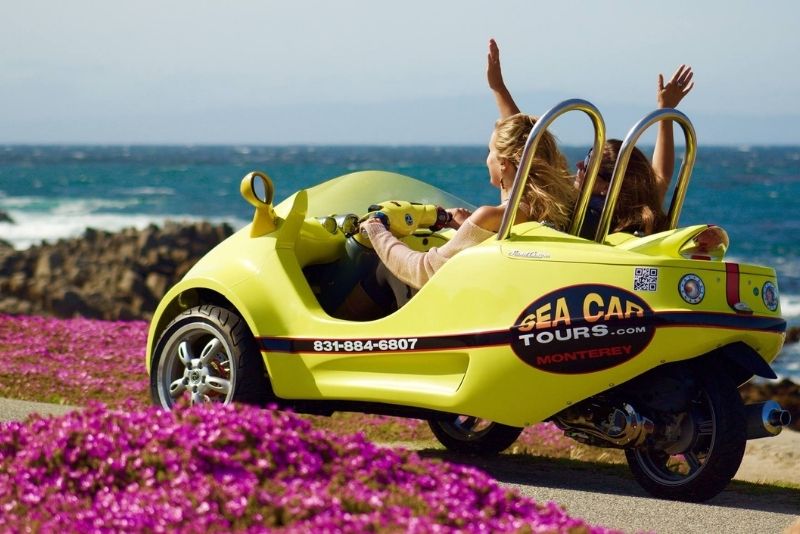 A three-wheeled adventure with the salty sea breeze running through your hair, a GPS-guided cruise around the Monterey Peninsula is a great way to see all the sights without having to worry about organizing a darn thing.
Available in a range of packages to suit different interests and budgets (although typically lasting for about an hour), these 2-seater convertibles tours take you on an easy-paced drive past world-famous golf courses, picturesque seaside towns, stunning vistas, and even historic Cannery Row.
40 – Learn a thing or two at the Presidio of Monterey Museum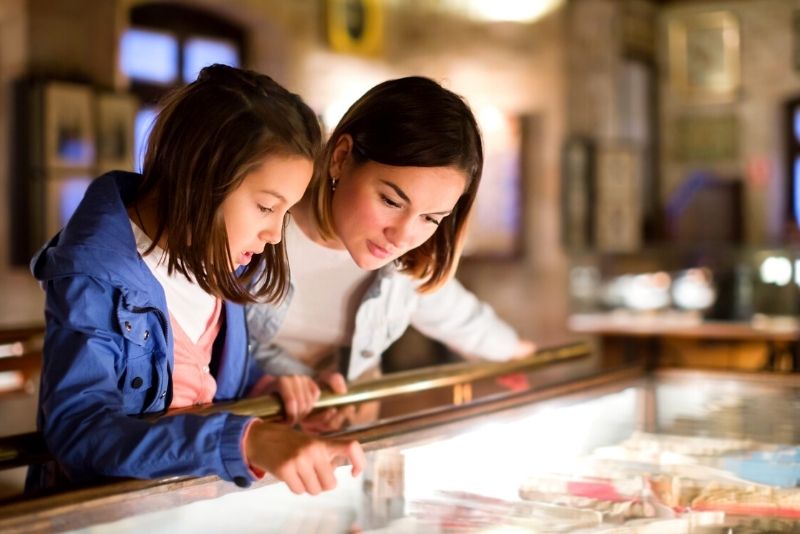 This insightful museum is home to one of the most diverse collections of military artifacts in the US, spanning the Spanish and Mexican periods up to the present day, so it's easy to spend an afternoon here lost in history.
Ideal for history buffs, the museum's walls are lined with displays that dive into the region's military development over the last 300-or-so years, made all the most interesting by the Year On a Cavalry Post video that showcases life Monterey life back in 1938.
41 – Catch a show at the historic Golden State Theatre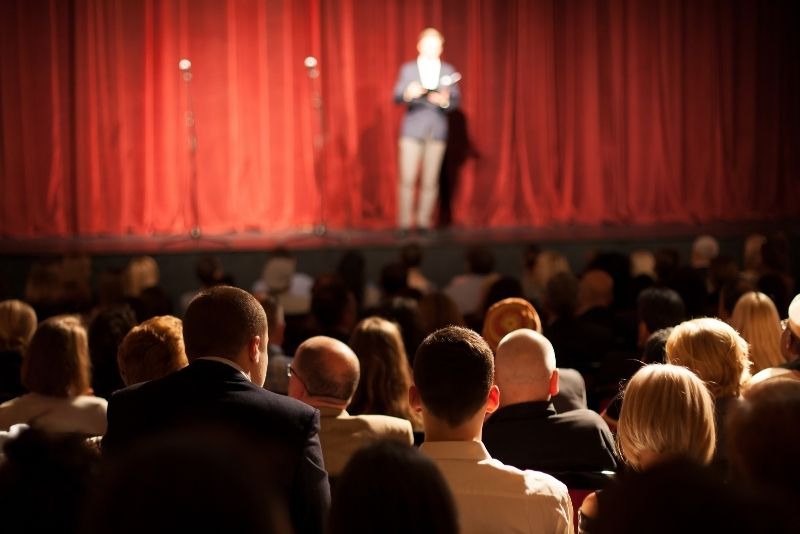 Looking for an evening of culture, history, and entertainment? Look no further than the Golden State Theatre.
Originally opened in 1926 as a vaudeville house, this beautifully restored Art Deco theatre is now home to a variety of live performances, including music concerts, dance recitals, stand-up comedy shows, and more — the likes of the Beach Boys, Jay Leno and Tracy Morgan have previously graced the center stage, to give you an idea.
What's more, with its ornate ceilings, classic red leather seats and gold-plated detailing, the theater holds its own as one of Monterey's most iconic attractions, regularly selling out its 1,300-seat auditorium.
42 – Hear all about the Monterey of old at the Pacific House Museum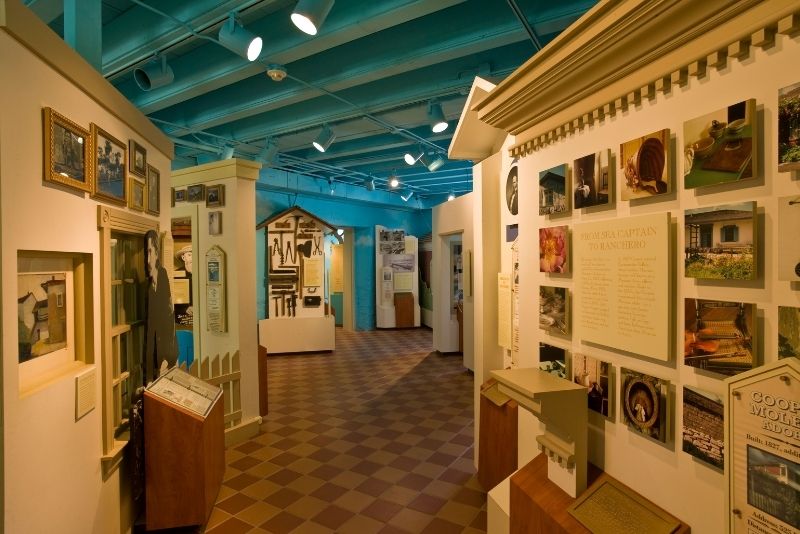 Housed in the beautifully maintained two-story Pacific House, a stone's throw from the waterfront, this iconic landmark takes a thorough dive into what life was like in Old Monterey — in terms of people, culture, trade, lifestyle and architecture — more than 150 years ago.
The educational walking trail is a crowd favorite, but it's usually the wonderful display of native American artifacts and crafts on the second floor (the Holman Collection of American Indian artifacts) which steal the show.
43 – Join the festivities at the Monterey County Fairgrounds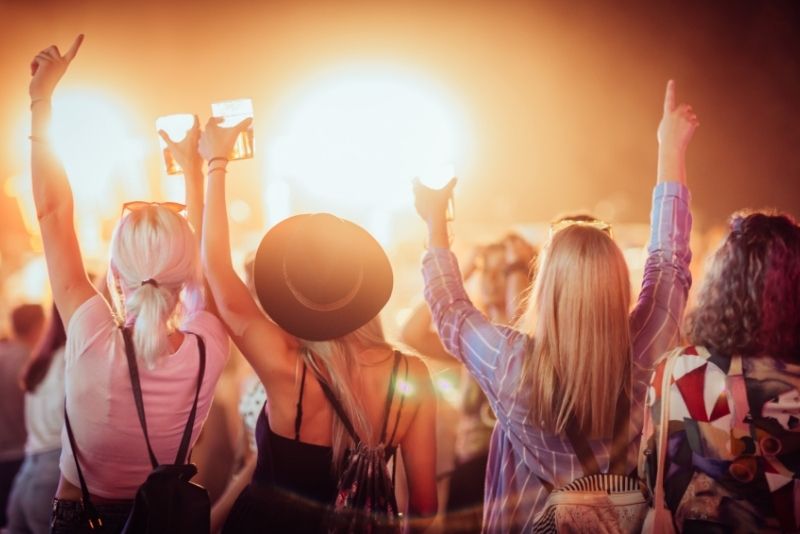 Festival heads, listen up. If you're on the hunt for an event to truly ingrain yourself in the go-slow coastal lifestyle, odds are you'll find something that tickles your fancy at the famed County Fairgrounds.
A regular fixture on any tourist's itinerary, this expansive fairground features two outdoor concert venues and both indoor and outdoor showgrounds. It's home to a seemingly endless stream of events and festivals year-round, from agriculture shows and horse racing to food festivals and car rallies.
The undisputed main event, however, is the annual Monterey County Fair, which is held each September and draws in crowds of tens of thousands of people from near and far.
The rides, live music, and food stalls combine for one hell of a good time. Simply check the website to see what's on during your stay.
44 – Get to know the wildlife at the Pacific Grove Museum of Natural History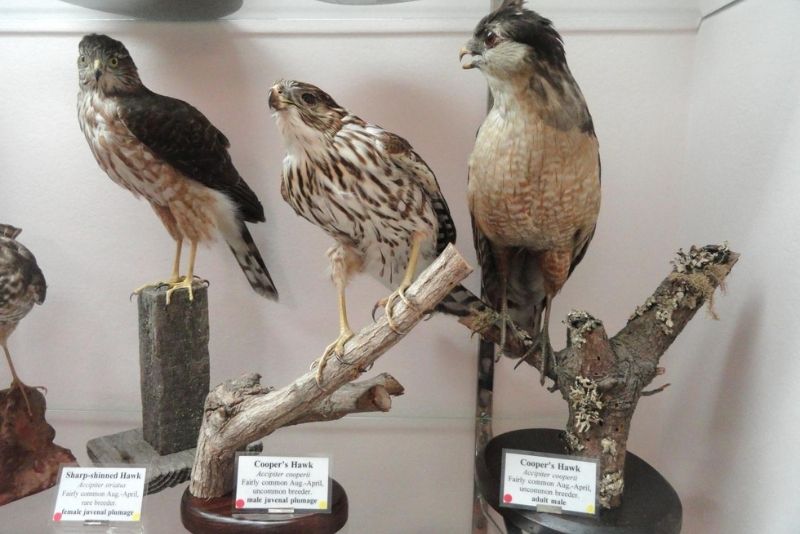 If you're hoping to explore the wildlife that calls Monterey Bay home, the Pacific Grove Museum of Natural History is a great place to start.
As the first Pacific Grove museum, dating back to 1883, this exciting locale has continually built and expanded its collection over the decades, now featuring one of the area's most diverse nature-focused exhibitions.
Throughout its indoor and outdoor sections, you'll uncover insights into everything from local sea creatures and their habitats to geological features of the area, the Monarch butterfly migration, plant garden, colorful wildflower display and a whole lot more.
45 – Check out the Stevenson House, a homage to a literary icon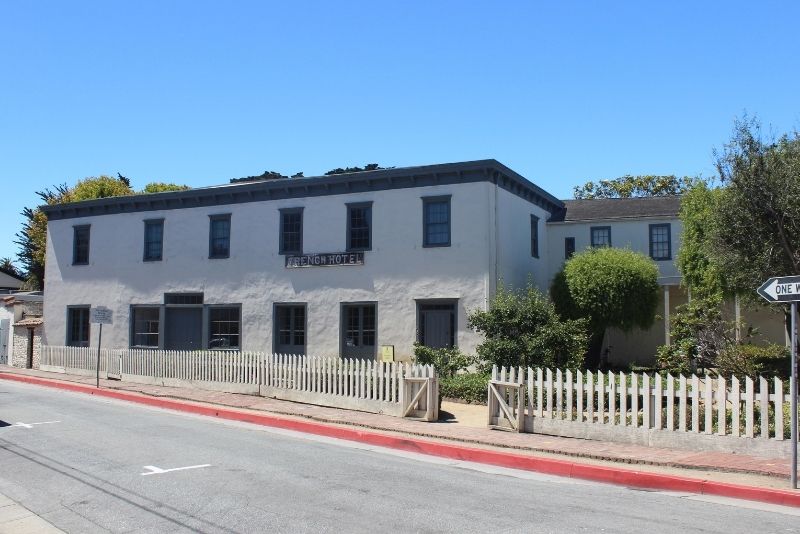 While nondescript from the outside, one step inside the Stevenson House at 530 Houston Street and you'll feel like you've stepped back in time into the whimsical lyrical world of none other than the infamous author himself, Robert Louis Stevenson.
Unless you're a bookworm, this beautifully preserved historic landmark remains one of the underrated things to do in Monterey. Yet, it is both insightful and delightful thanks to its well-stocked display of writings, art and knickknacks from Stevenson's time in Monterey back in 1879.
46 – Explore the city with a scavenger hunt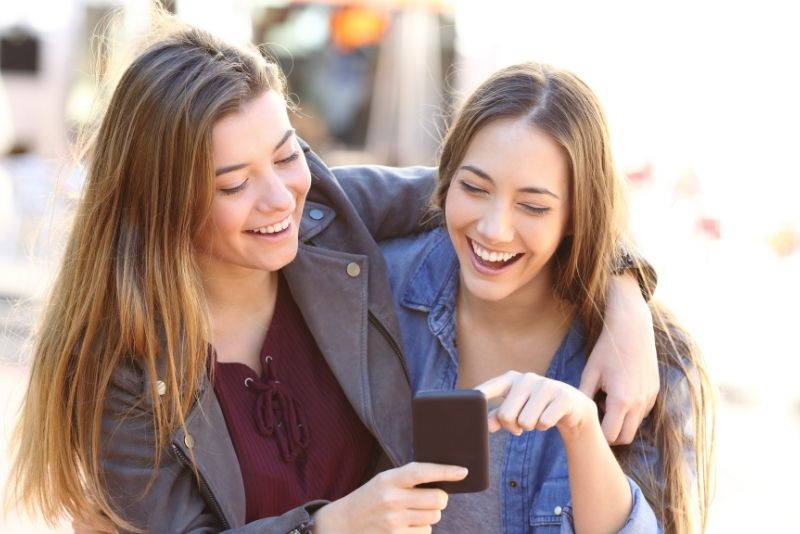 Far more interactive and exciting than your typical walking tour, bus tour, or a lazy day of solo venturing, a high-speed, thought-provoking scavenger hunt is not only a fantastic way to get out and explore the city, but it's also an excellent team activity.
Besides hitting up an array of the main attractions (think Fisherman's Wharf, Cannery Row, and the Monterey Bay Aquarium), these app-led hunts also take you off the beaten track to uncover some rarely-sighted nooks and crannies, solving riddles and challenges along the way.
47 – Gaze at the bounty of birds from Bird Rock Vista Point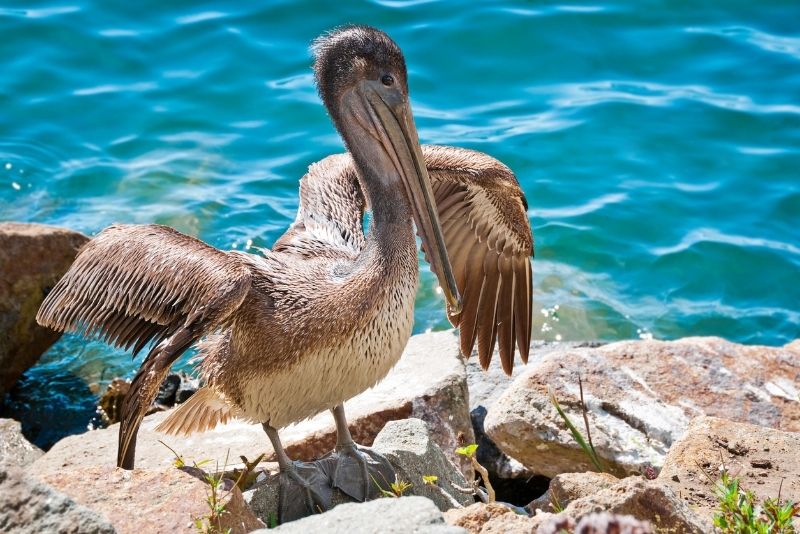 An essential stop along the 17-Mile Drive, Bird Rock Vista Point — as you might expect from its moniker — dishes up an unobstructed, top-notch view of Bird Rock, where thousands upon thousands of winged beasts take refuge day after day.
Pelicans, seagulls, and the rest of the seabirds aside, the panorama containing everything from the rocky coastline to the crashing waves below is sure to light up any social media feed.
48 – Venture out on a fishing trip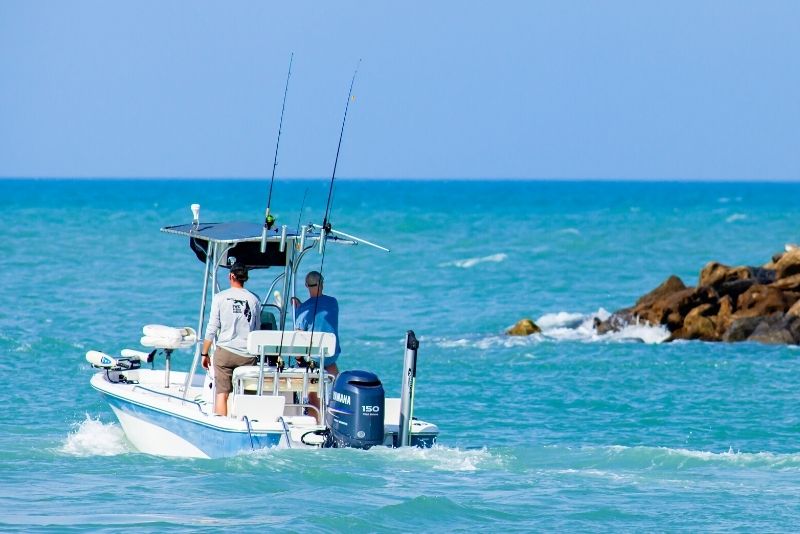 Whether you rent your own boat or join a pre-organized fishing charter, a Monterey fishing trip doesn't disappoint.
With the likes of dedicated halibut, salmon, crab, and cod fishing excursions that take you into scenic backwaters or out onto the open ocean, there's something for every level of fisherman or fisherwoman here in Monterey.
Plus, provided equipment and boat aside, the friendly guides are more than happy to share their knowledge of the waters (and the town as a whole), so you'll walk away knowing more than when you first arrived.
49 – Peer into the cells of the Old Monterey Jail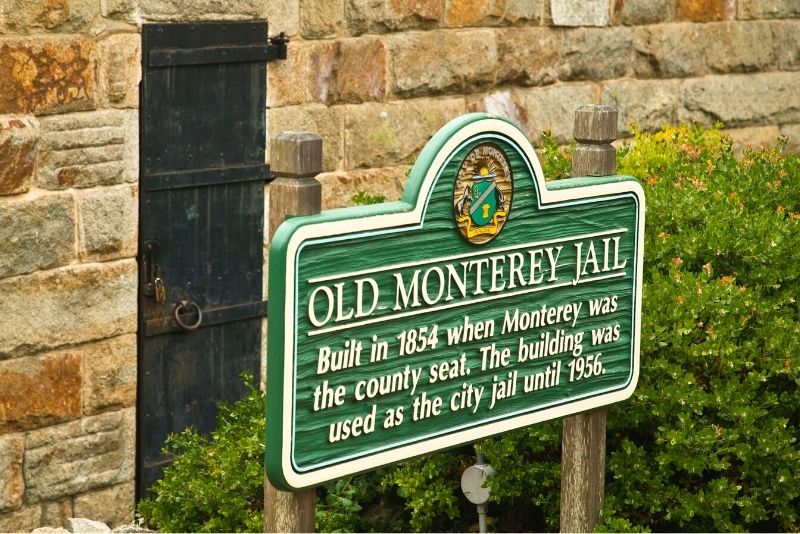 A downright eerie but nonetheless historically intriguing attraction, the Old Monterey Jail is one of those places that's just begging to be explored.
Now a museum open for tours, the landmark originally opened in 1854 as a government building, but then transitioned to the notorious lockup all the way up until 1956, housing everyone from petty criminals to thieves and Gold Rush names that would send shivers down the spine (such as Bill Roach and Lew Belcher).
Believe it or not, not a single person managed to escape from the thick granite walls during the prison's operational history (take that, Alcatraz).
50 – Wander the gardens of the Cooper Molera Adobe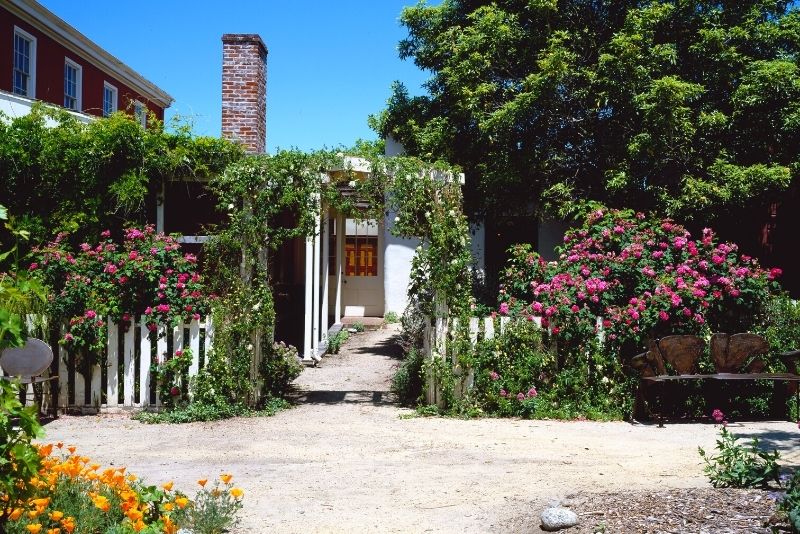 Perched over on Munras Ave, the nearly-two-century-old Cooper Molera Adobe is an authentic example of Monterey's early history.
Constructed in 1827 (!), it was one of the first structures built in the area. These days, however, it serves as a tourist hotspot, meeting place and museum, showcasing the life, history and evolution of the city's former residents — from Mexican and Spanish times to the creation of the state of California and beyond.
While you're there, don't miss the bakery for a snack, restaurant for a bigger meal and charming garden for a quiet stroll.
51 – Dine at the city's best restaurants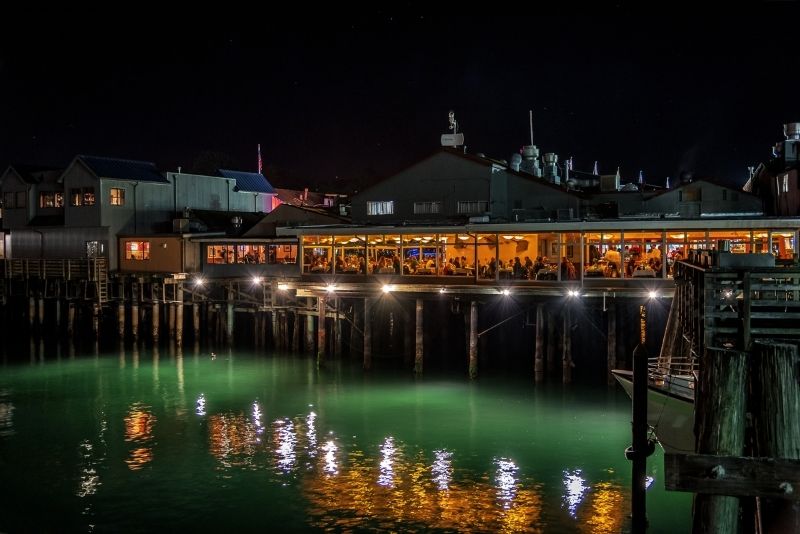 Is all that sightseeing making you hungry? Fortunately, Monterey is home to some of the most tantalizing restaurants on the west coast, with everything from fresh seafood fare to international cuisine on offer.
Both the Old Fishermen's Grotto and Crab House are crowd favorites, while the Bubba Gump Shrimp Co., despite being a chain, is still known for its killer shrimp cocktails. The Whaling Station Steakhouse has been considered Monterey County's best Steak House for over 50 years.
Meanwhile, the French & Italian Cassanova Carmel serves up authentic and thoughtful dishes that transport you to the Mediterranian coast with every bite — and, if it was good enough for Van Gogh (yes, really), it's good enough for us.
Of course, not to be overlooked is the area's array of lip-smacking Mexican restaurants. El Cantaro is vegan, affordable and delicious; La Bahia offers the revered street-style tacos and sizzling fajitas; while El Torito combines excellent dishes with an even more impressive ocean view.
No matter which eaterie you choose, with Mexican influence running deep in the city's veins, sitting down for an authentic Mexican meal is unquestionably one of the essential things to do in Monterey.
52 – Sample the region's premier blends with a wine tasting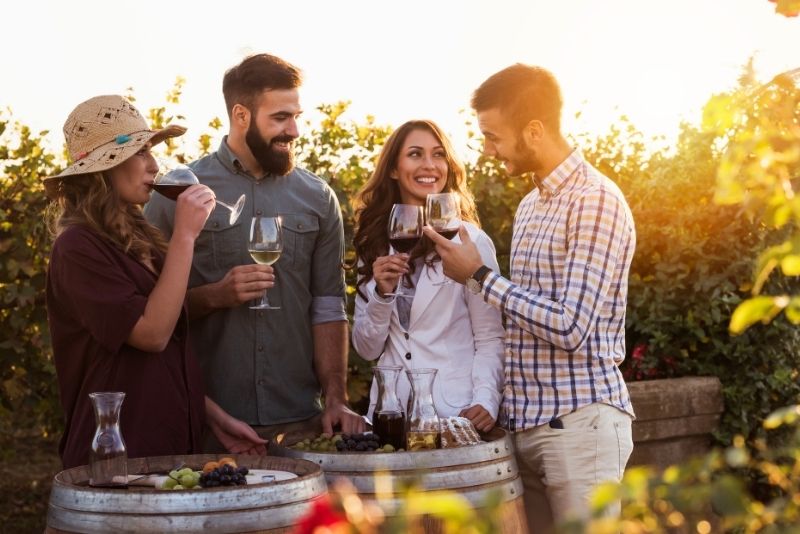 Feeling thirsty? Luckily, the Monterey Peninsula's wine scene has been flourishing in recent years thanks to a moderate climate that is perfect for vineyards.
The family-owned Pierce Ranch Vineyards provides some of the best Spanish and Portuguese-style wines this side of Europe, with its cellar door a stone's throw from the main Monterey haunts.
For a broader range of blends to try, the small yet welcoming Carmel Ridge Winery Tasting Room in the busy Cannery Row area offers up five-wine tasting flights with wonderful ocean views to boot.
If you're after something more experiential, the aptly-named Wine Experience (also on Cannery Row) provides not only tastings at its bar but wine-making workshops, label-making sessions, and custom blending.
With no less than 95 different wineries in the Monterey region, to sample and browse the widest selection, head to A Taste of Monterey — the wine market meets bistro is the 2nd-largest attraction on Cannery Row, combining variety with ocean views like no other.
53 – Hop around the Monterey breweries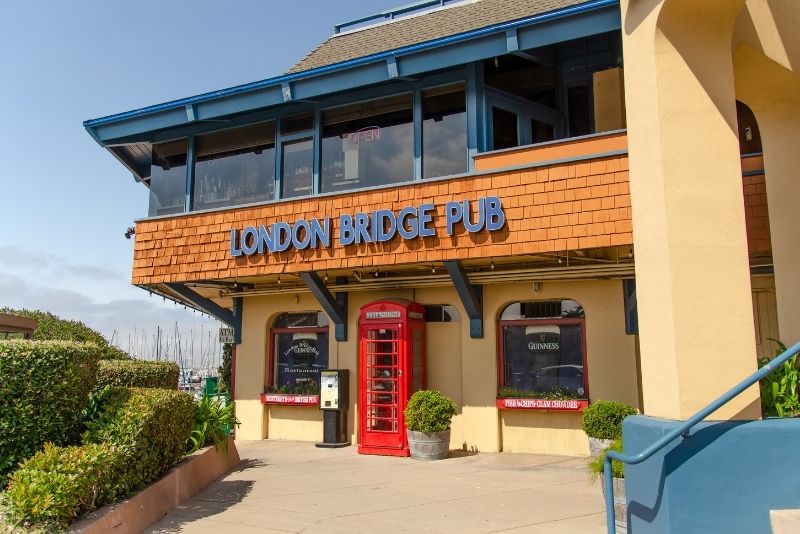 Although wine is the drink of choice for most visitors to the Monterey Peninsula, beer aficionados shouldn't despair. There are a few humble craft breweries in the area that are worth checking out.
Kickstart your hoppy journey over at the Alvarado Street Brewery — a new kid on the block whose taproom showcases strong IPAs and the simplistic and refreshing Monterey Beer (a can of which makes for a great souvenir).
Over on Franklin street, nautically-themed The Crown & Anchor (C&A) boasts 20 beers on tap including English Ales, Irish Stouts, International Pilsners and Microbrews; while the London Bridge Pub, with its landmark red telephone book out the front, serves up excellent fish and chips to complement its beer selection.
Still thirsty? The Fieldwork Brewing Company in downtown designs its beers specifically for outdoor consumption (originally brewed over in Berkeley). And if you're up for a little driver, make sure to add the alien-themed Elkhorn Slough Brewing Company to your list of thirst-quenching things to do in Monterey!
54 – Pamper yourself with a massage (because you deserve it!)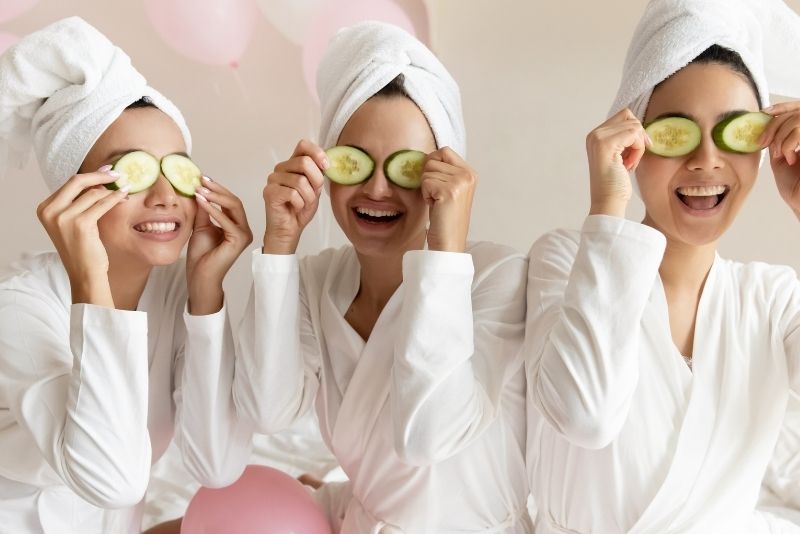 After all that sightseeing (and wine tasting), a good old-fashioned pampering always goes down a treat.
Whether it's a bit of R&R you're after, or some TLC for those sore muscles brought on by all that walking, there are plenty of options to choose from in Monterey!
With classic massage options like hot stone, Thai, remedial and deep-tissue massages, as well as alternative beauty treatments like facials and aromatherapy available at a plethora of locales, you'll be feeling fresh and ready to tackle more activities in no time!
Hot tip: Rather than decide on the day, book online in advance to save up to 55% off the original price.
55 – Feel the rhythm of the annual Monterey Jazz Festival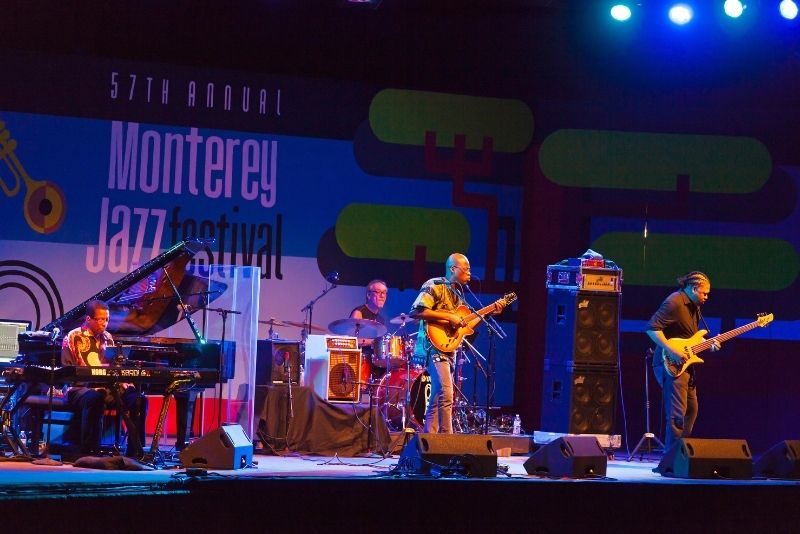 Running and delighting attendees since its debut in 1958, the Monterey Jazz Festival wields the coveted title of not only being the most iconic and longest-running music festival in the US, but also the longest continuously-running jazz festival in the world.
Held every September over three days at the Monterey County Fairgrounds, the festival sees dozens of acclaimed artists from all corners of the jazz spectrum take to stages — with styles ranging from Latin Jazz and Swing to Bebop, Fusion and a whole lot more (including a bit of blues and rock).
Names like Herbie Hancock, George Benson and Regina Carter are just the tip of the iceberg — check the schedule to see who's playing this year and bag yourself some tickets!
Final thoughts
Hopefully, you've enjoyed the selection of things to do in Monterey, California! While you're in the area, don't forget about San Francisco too. If you have any other must-see suggestions, feel free to share them in the comments!
As always, happy travels.