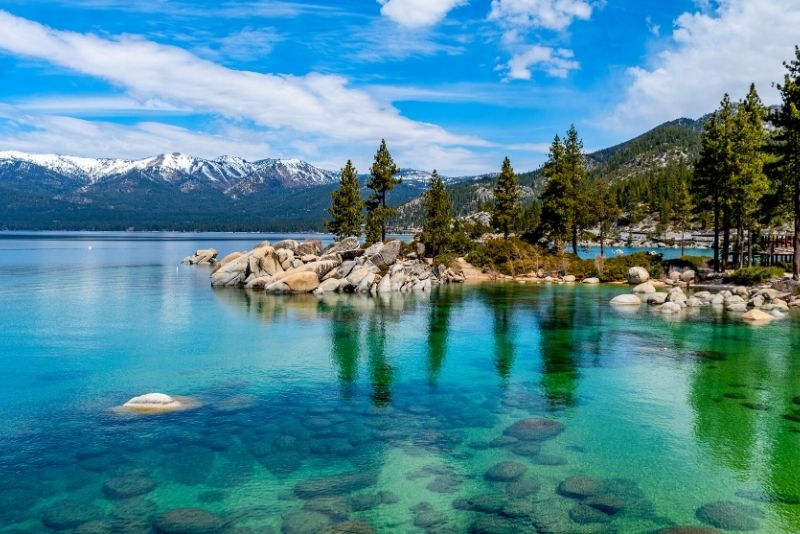 Known as the sapphire heart of the Sierra Nevada mountains, the postcard-worthy Lake Tahoe welcomes three million visitors year after year.
While the lake itself (which measures 12 miles (19 km) across and many more miles long) hosts waterskiing, kayaking, boat cruises, and so much more, the wider area is flush with noteworthy activities — particularly thanks to the untouched beauty of mother nature!
Whether you're looking for things to do in Lake Tahoe in the wintertime (think skiing, skating, or tubing) or in the summer (hiking, boating, fishing), you'll never run out of choices.
Love beer? Consider doing the South Tahoe Beer Trail, checking out the impressive craft beer scene, taste testing a few beers that uniquely have a special pine taste, like the Needle Peek Ale at The Brewery in Lake Tahoe.
For a historic dose, curious travelers will love to visit the Tallac Historic Site, a series of historic homes and incredible gardens that have been converted into a museum. From nature to food and unique drinks, and history, let's discover more of what Lake Tahoe has to offer.
1 – Take a guided photography tour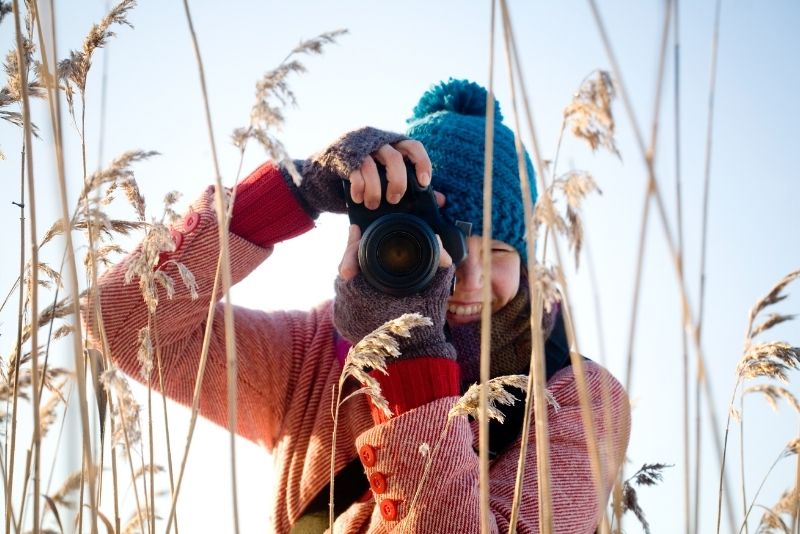 Lake Tahoe is picturesque — that, we already know. And while exploring the region to find the best photo ops makes for a fantastic trip, not everybody has the time.
Fortunately, local photographers have already found the most incredible spots, and you can see them all — snow-covered mountains, towering trees, wildflowers, and the lake — in one compact tour!
2 – Brave the Tahoe Treetop ropes course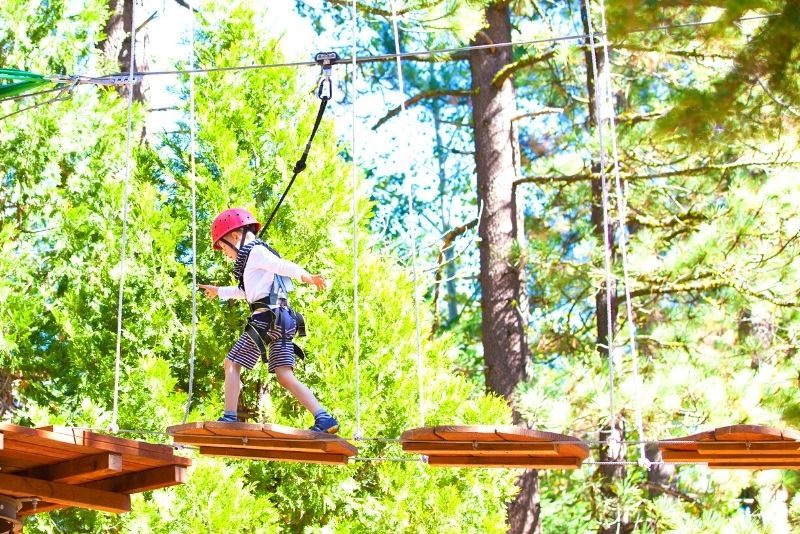 With a whopping 97 treetop platforms across 10 total courses (2 low ones for beginner, 6 mid-height, and 2 advanced for the real daredevils), Tahoe Treetop is a surefire rush of adrenaline for visitors of all ages.
And if an array of high ropes courses wasn't enough to get excited about, Tahoe Treetop also boasts 27 unique ziplines!
3 – Ski or snowboard at the Squaw Valley Resort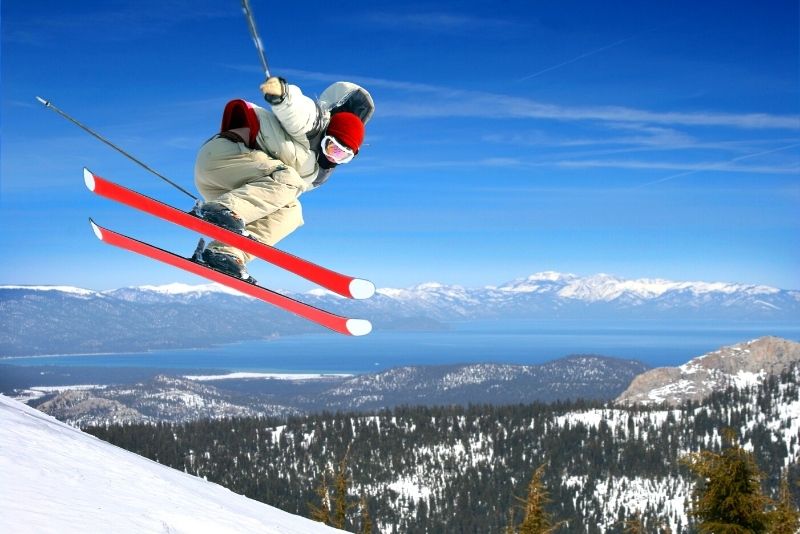 For all the snow bunnies out there, the world-renowned Squaw Valley Resort is a haven for skiing and snowboarding.
In perfect conditions, the resort offers 245 trails and over 30 lifts.
On top of the impressive range of greens to black diamonds and the scenic Aerial Tram Ride, the resort also hosts the only funitel-style cableway in the United States.
For a change of scenery, the smaller Alpine Meadows resort (about 5 miles down the road) offers 100 trails of its own.
4 – Take a scenic gondola ride to the Heavenly Observation Deck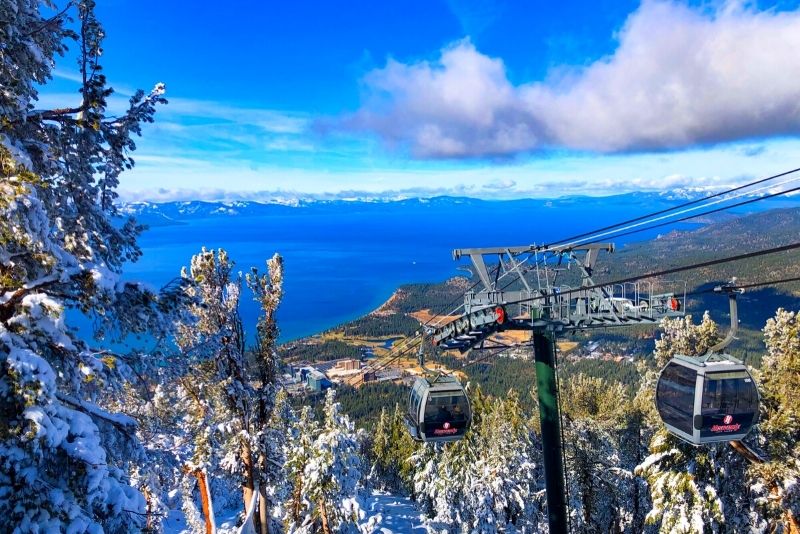 If it's panoramic views of Lake Tahoe that you're after, look no further!
As you soar up the 2.4-mile cable car route in the Heavenly Mountain Gondola, sprawling views of the endless sugar pine trees make for the perfect photo backdrop.
Once you've reached the top, grab a souvenir from The Gondola Sports shop, a coffee from Cafe Blue, or embark on one of the numerous hiking trails.
5 – Charter a private boat at Emerald Bay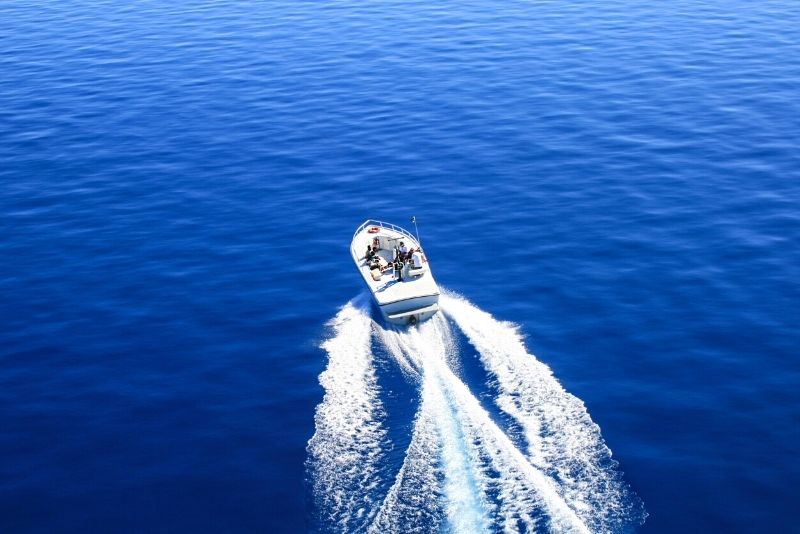 If group cruises aren't really your thing; if you're after the chance to cruise around the lake at your own pace, a private boat charter from Emerald Bay is a great option.
With space for up to six people to sit comfortably on the luxury, stylish vessel, there's room for the entire family!
6 – Rent a jetski and roar across the lake!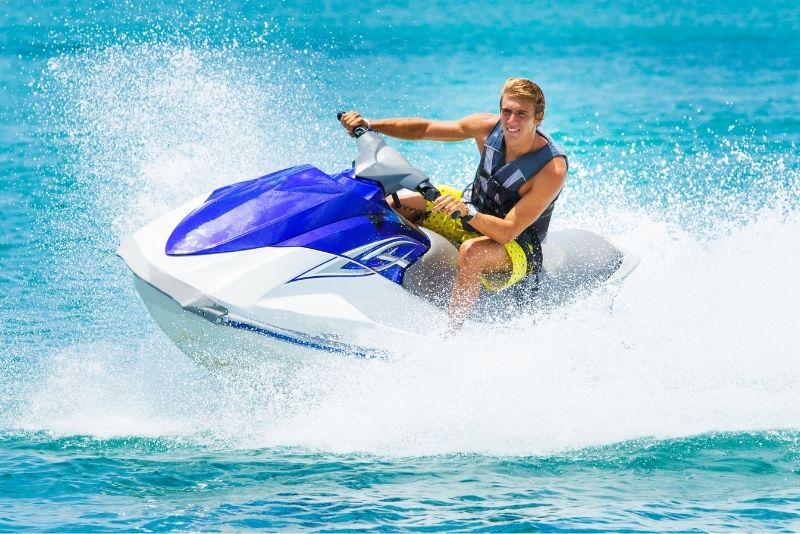 If you've always wanted to feel the thrill of a jetski ride but never had the chance, there's no better place to try it for the first time than on the calm waters of Lake Tahoe!
It's the perfect blend of adventure, relaxation, and great scenery (and romance, if you opt for the tandem option) — just remember to slap on some suncream!
Look up Tahoe Sports Jet Ski Rentals, and choose between their jet ski tours, starting at ½ hour sessions to even multi-day experiences, each at different price points.
7 – Soar over the lake with a helicopter tour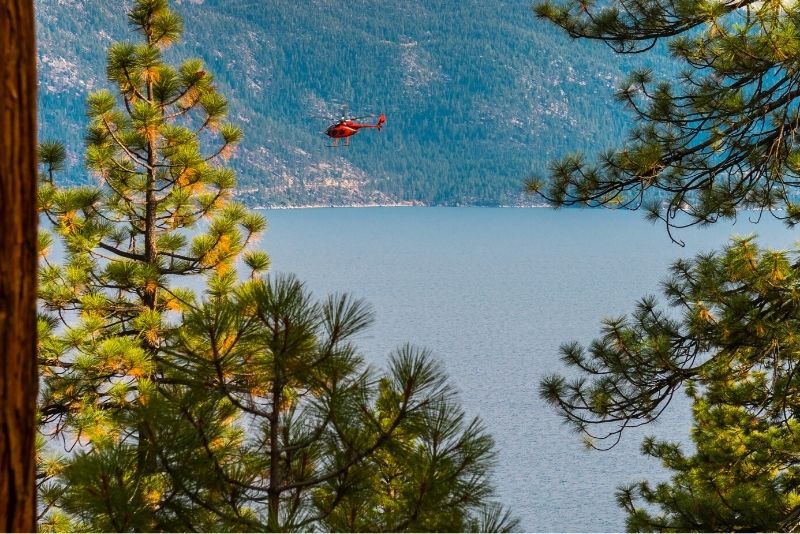 From the surface, Lake Tahoe is a shimmering oasis.
From thousands of feet above, strapped into the passenger seat of a helicopter, its beauty shifts to an entirely new realm.
For the chance to obtain a fresh, new perspective on this impressive slice of Mother Nature — and to hear plenty of fun facts and recommendations from the pilot — a chopper tour is an excellent option.
8 – Zoom down the Ridge Rider Mountain Coaster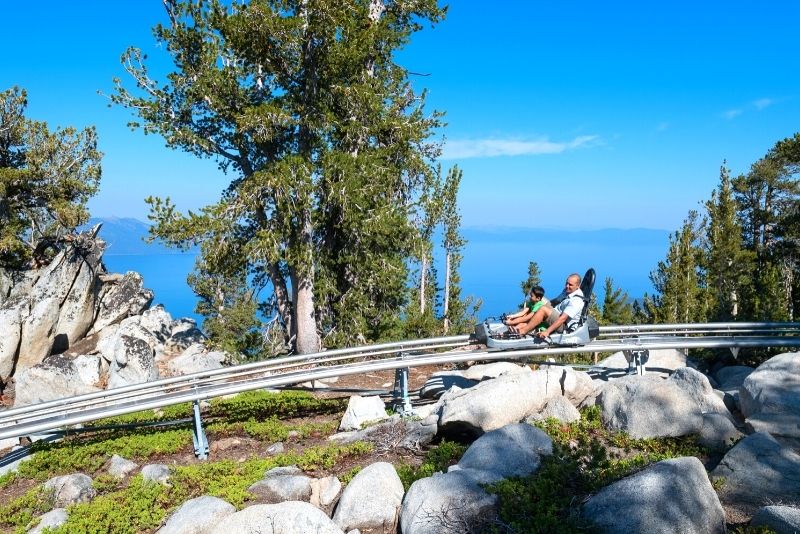 To all the adrenaline junkies out there, if there's going to be anything that needs to appear on your list of things to do in Lake Tahoe, it's the Ridge Rider Mountain Coaster.
This gravity-powered coaster is self-controlled, meaning that you choose the speed at which you rocket down the mountain.
Depending on your appetite for speed, it's about a 6-minutes journey from the summit to the base.
9 – Combine dinner with a sightseeing cruise onboard the M.S Dixie II Paddle Wheeler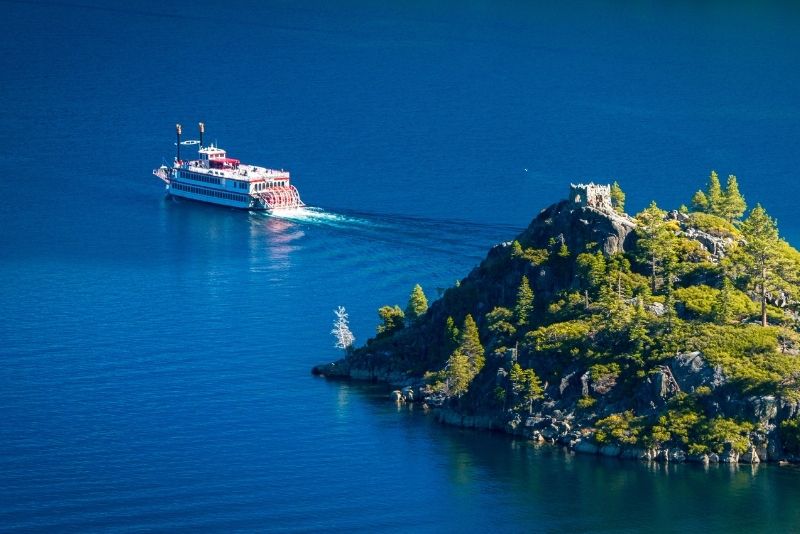 What's better than cruising around Lake Tahoe's pristine waters, taking in all the sights?
Doing so on a traditional paddle wheeler boat, with dinner included!
The atmosphere, thanks to the music, is always enjoyable; the food, with multi-course meals including selections like grass-fed beef or trout, is mouth-watering, and the sights (as you'll quickly realize) are nothing short of heavenly.
10 – Explore the area with a bike tour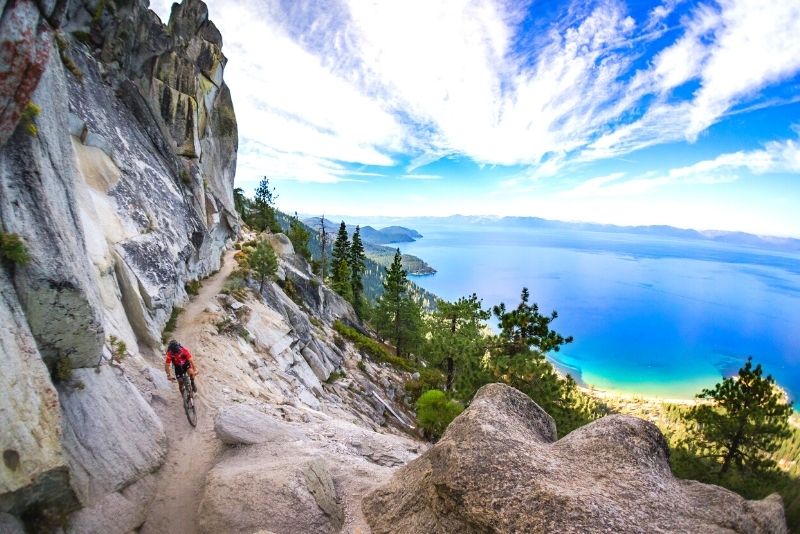 Despite the main attraction being the lake itself, the Tahoe area boasts a number of on-land attractions and landmarks, many of which can be ticked off in a single afternoon with a self-guided bike tour!
The maps, points of interest, and bikes are provided for you — all you need to do is follow the route through the North Shore of Lake Tahoe and enjoy the journey!
11 – Try parasailing!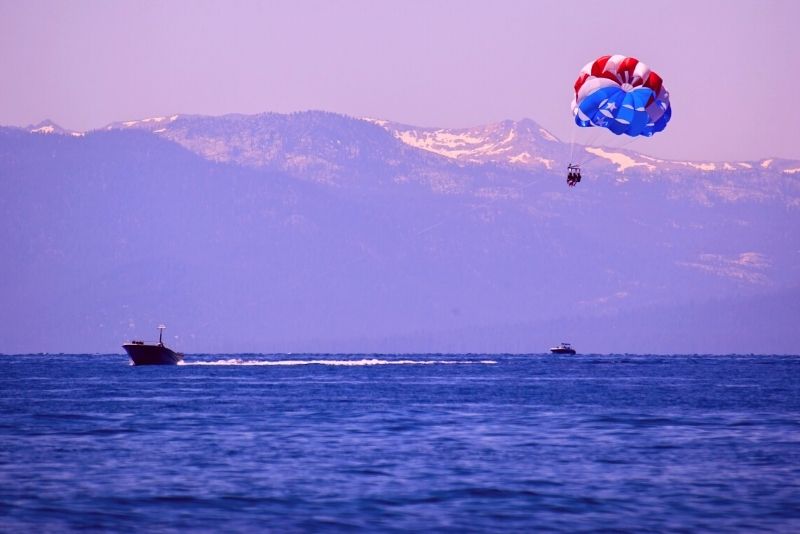 Thrill-seekers, take note!
Once the speedboat hits full speed, you'll soar hundreds of feet above the surface (400, 800, or 1200, depending on your preference), where you'll be met by unobstructed views of the largest alpine lake in North America.
Choose between a morning or early evening parasailing tour over Kings Beach, or from 3 other locations throughout Lake Tahoe at North Tahoe Watersports.
12 – Work on the tan at Sand Harbor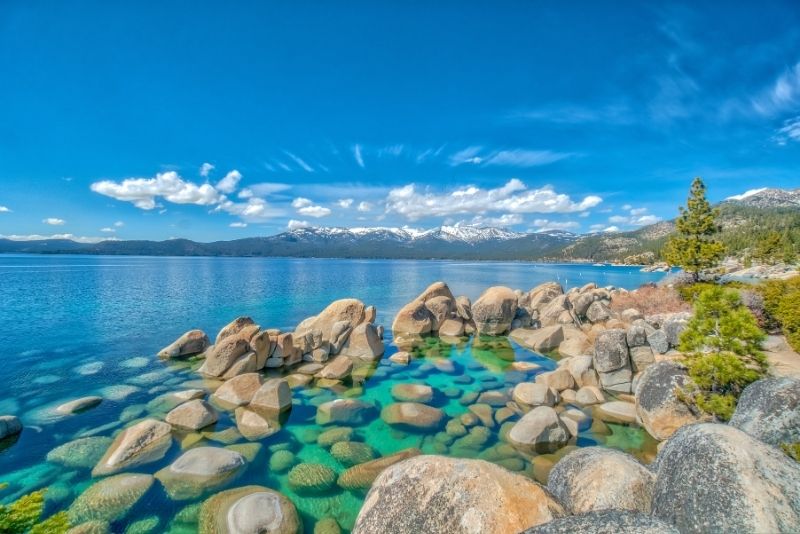 Hidden on the Northeast shore of Lake Tahoe, Sand Harbor is often considered one of the most visually spectacular sights in the area.
With dark granite rocks juxtaposed by vibrant blue water, the contrast is stark and the photo backdrop is unmatched.
Besides the obvious kayaking and boating opportunities, Sand Harbor also hosts the annual Lake Tahoe Shakespeare Festival.
13 – Escape the crowds at Fallen Leaf Lake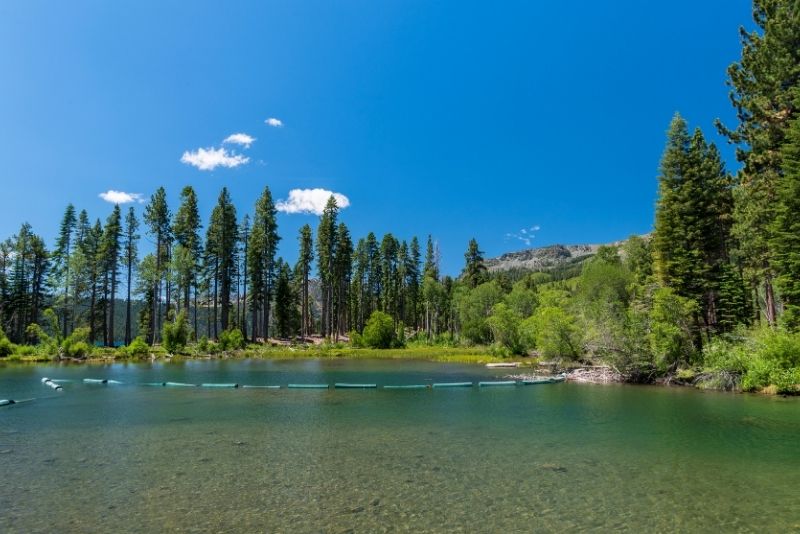 While Lake Tahoe might boast the reputation of being one of the deepest lakes in the United States, Fallen Leaf Lake (which sits about a mile south-west) certainly holds its own in the aesthetics department!
While all the tourists flock to Lake Tahoe, Fallen Leaf provides a welcomed breath of fresh air — not to mention an abundance of water-borne and hiking activities.
14 – Take a day trip to the historic Virginia City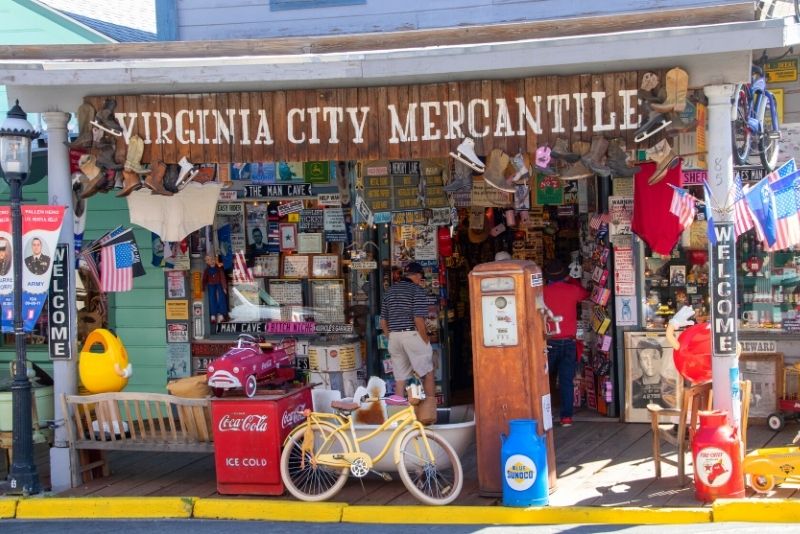 Officially designated as a National Historic Landmark District, a trip to Nevada's Virginia City is like stepping back in time.
In addition to the selection of impressive Victorian buildings erected during the 19th-century mining boom, the town also showcases museums, a classic western saloon, and plenty of historic monuments.
As an alternative to the bus trip, you can also hop aboard the Virginia & Truckee Railroad and make the journey in an old-timey locomotive!
15 – Check the view at Inspiration Point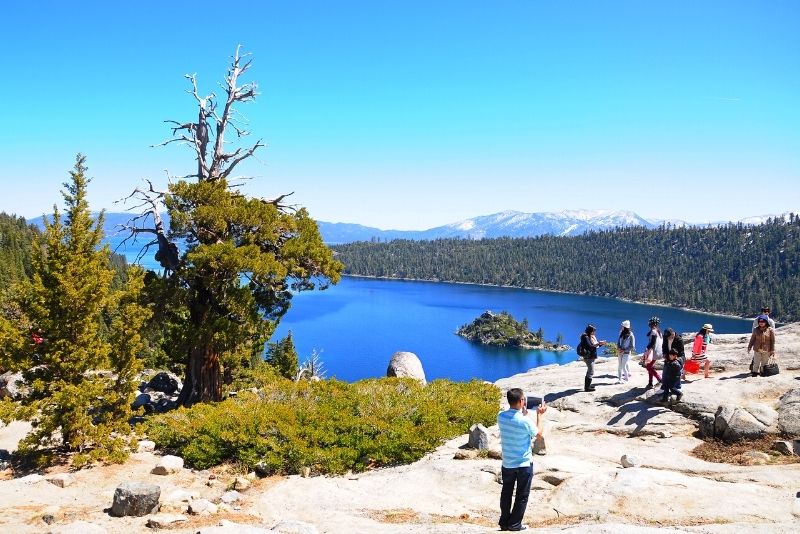 There's no need to sprinkle anything superfluous on here — that unforgettable view simply speaks for itself.
As you stand above the glistening lake, some 600 feet above the surface, keep an eye out for the 1920's Scandinavian-style castle as well as local birds and wildlife as they visit the watering hole.
Located not too far from Eagle Falls, it's a simple addition to an easy day of hiking.
16 – Hop aboard a sailing boat tour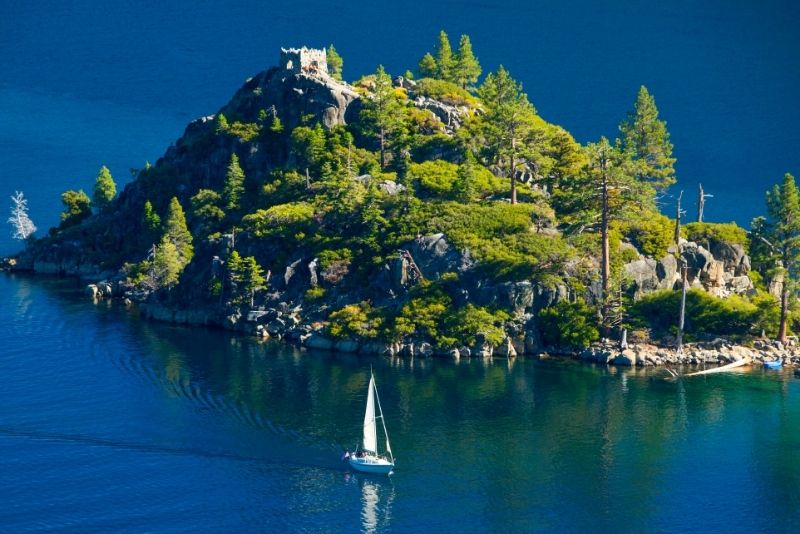 Whether you opt for a large catamaran or a private sailboat, there's never a bad time to cruise around the flat waters of Lake Tahoe and Emerald Bay — especially when you get the chance to soak in the colorful sunset.
Depending on your budget and preference, there are options for onboard dinners or romantic VIP experiences with your very own captain.
17 – Check out the Donner Memorial State Museum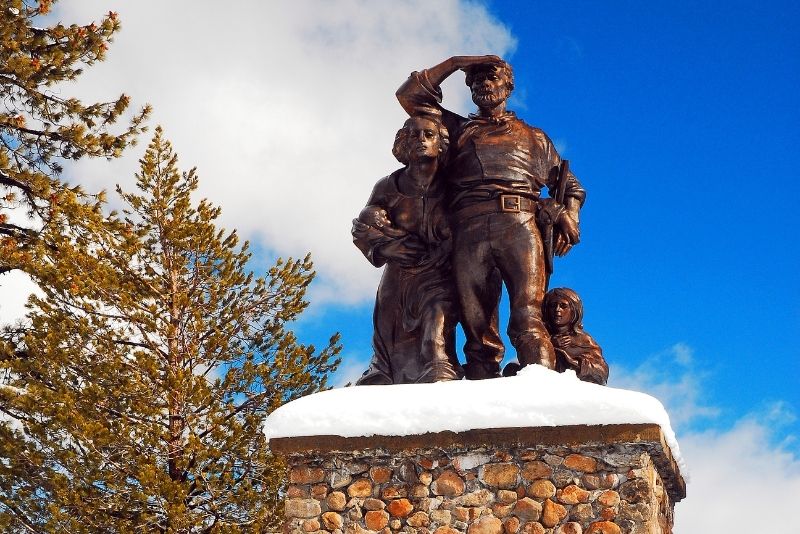 About 3 miles west of Truckee sits a fusion of history and nature: the museum showcases the fascinating history of the Donner Party's journey to the west coast, while the parkland provides a relaxing and peaceful breath of fresh air.
Even if you're not overly interested in history or the Emigrant Trail Museum, the State Park is absolutely beautiful and worth a visit in its own right.
18 – Trek through the Tahoe National Forest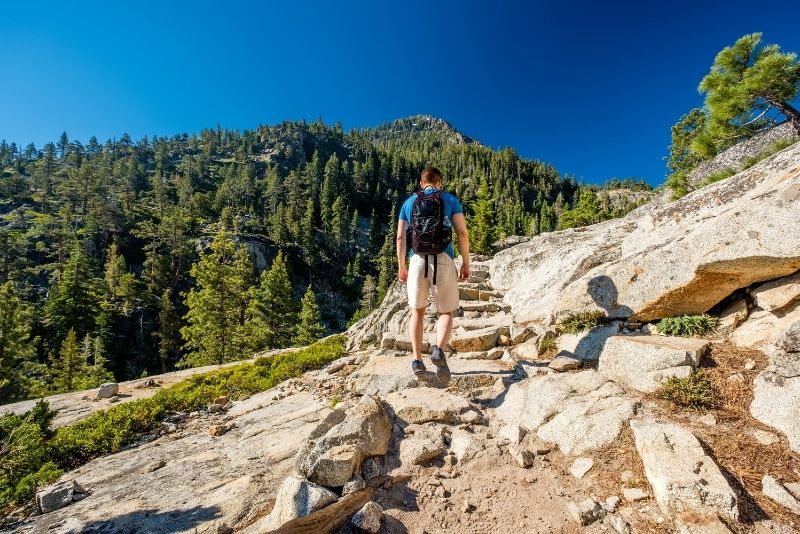 With bountiful hiking opportunities in the area, it might be tough to decide where to go!
Well, if past hikers' experience is anything to go by, the Mount Judah Loop, Stevens Trail, and Five Lakes Trail — just a sliver of the hundreds of routes in the Tahoe National Forest, located in Donner Memorial State Park — are all exceptional ways to explore the outdoors and appreciate the scenery.
19 – Try snowshoeing for the first time!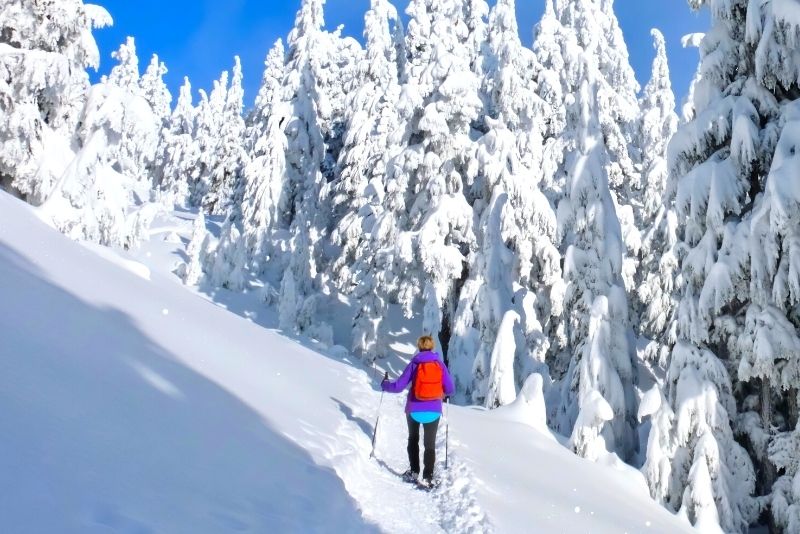 While snowshoeing might not get the same spotlight and skiing and snowboarding, as anyone who's ever done it will preach, it's great exercise and a lot of fun!
Choose from locations like Donner Summit or the Squaw Valley Resort; decide between simple rental or a guided tour; dress warm, and away you go!
20 – Visit the Tallac Historic Site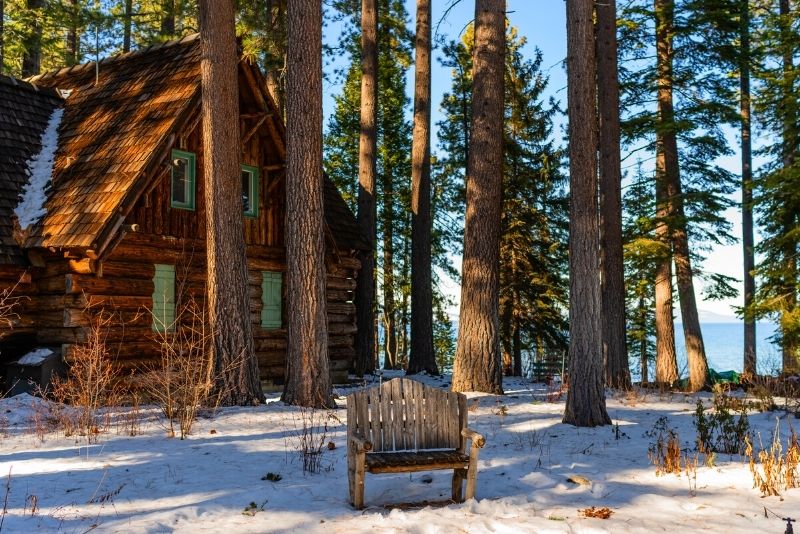 Approximately three miles northwest of South Lake Tahoe, the Tallac Historic Site — listed officially on the National Register of Historic Places — is a must-see for locals and tourists alike.
Home of the once-thriving 100-year-old casino and resort, the site now offers guests the opportunity to wander throughout the old estates, stroll through the lush gardens, check out the Tallac Museum and Vintage Clothing Exhibit, and even watch a live Blacksmith in action.
21 – Rent a double-decker family pontoon on Lake Tahoe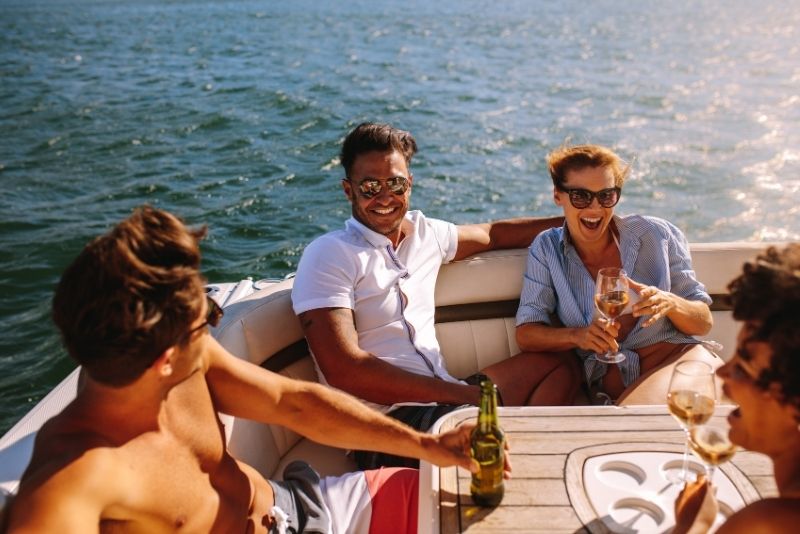 Ready to be the envy of everyone else on the lake?
Then ditch the sailboats and kayaks and opt for the insanely luxurious family-sized pontoon instead.
While it's a little on the expensive size, the amenities speak for themselves: a towable innertube for kids to enjoy, a fully-sized waterslide, a full tank of gas, and an adjustable shade sail.
Throw in a few snacks and refreshing drinks and you've got yourself a winning combo!
22 – Hike the trail to Eagle Falls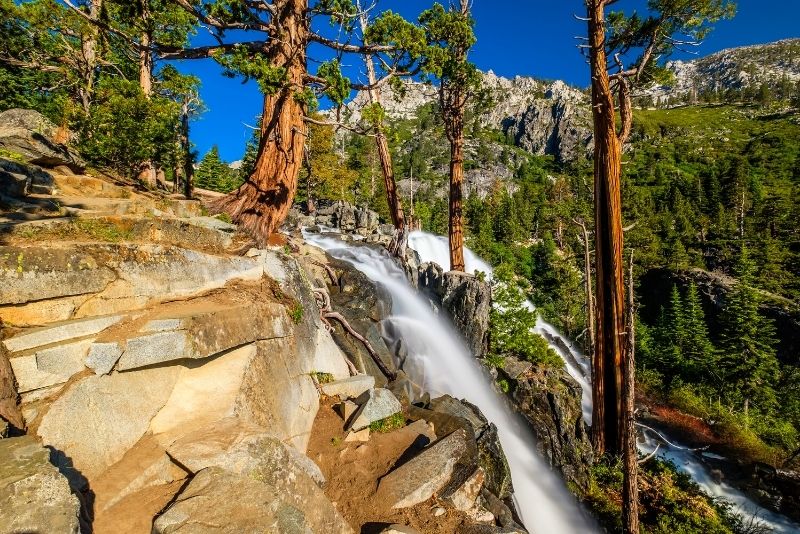 Nestled within Emerald Bay State Park, the Eagle Falls trail dishes up some of the most impressive landscapes across the entire Lake Tahoe Basin — and is perfect for beginners.
As you trek through a series of distinct environments en route to and from the lake, you'll be faced with challenging stairs and plenty of stunning views of mountain ridges.
23 – Strap on the cross-country skis
For when perfectly-curated ski hills just don't cut it, the resorts around Lake Tahoe also offer a range of backcountry and cross-country skiing opportunities.
No matter where you're staying — be it Truckee, North Shore, Incline Village, or South Lake Tahoe — there are numerous backcountry options.
24 – Take the kids to Tahoe Trout Farm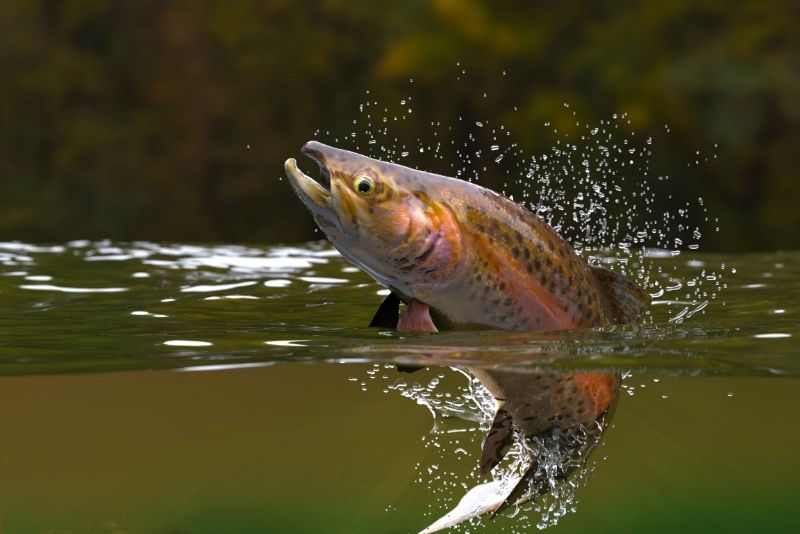 A perfect opportunity to teach youngsters how to fish, Tahoe Trout Farm has been welcoming locals and tourists alike for more than 70 years.
Best of all, admission, bait, and tackle are totally free — you only pay for what you catch, and if you do catch something, you can grill it up and call it dinner, with plenty of suggested recipes from the venue.
25 – Splash around at the best beaches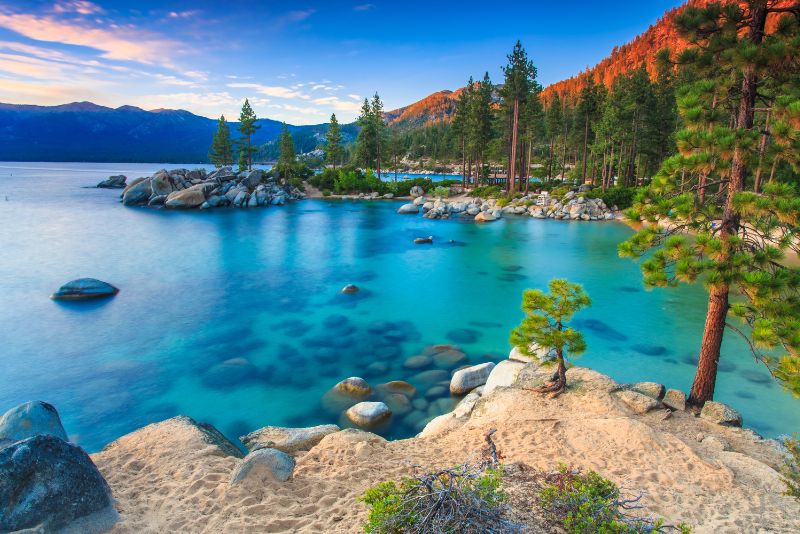 Do some paddleboarding or kayaking at Pope Beach, or sit under the shade of the abundant pine trees.
Trade a sandy beach for a "grassy" beach at Commons Beach as you place your blanket to watch the kids play in the water, as live music fills the air.
Run don't walk to the free Thomas F. Regan Memorial City Beach, featuring free parking, perfect views of the mountains, and seasonal restaurants nearby.
If you're on the eastern Nevada side, check out Sand Harbor Beach, one of the best beaches of the area.
26 – Go kayaking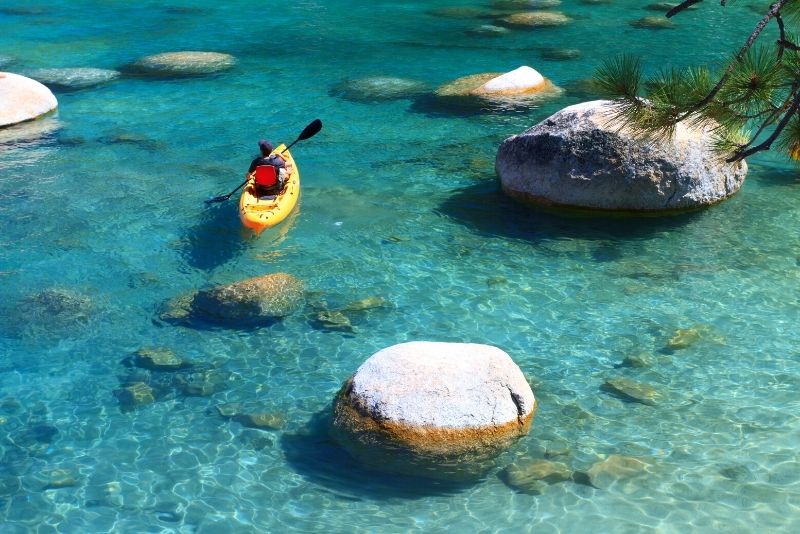 You'll be hard-pressed to find a more spectacular combo than the idle, crystal-clear waters and the 12,000-foot-tall adjacent mountains.
So, what better way to soak in all the beauty than in your very own kayak?
With rental options available by the hour, and both solo or tandem kayaks available (for the romantics, of course), it's a no-brainer.
27 – Tackle the slopes at Heavenly Ski Resort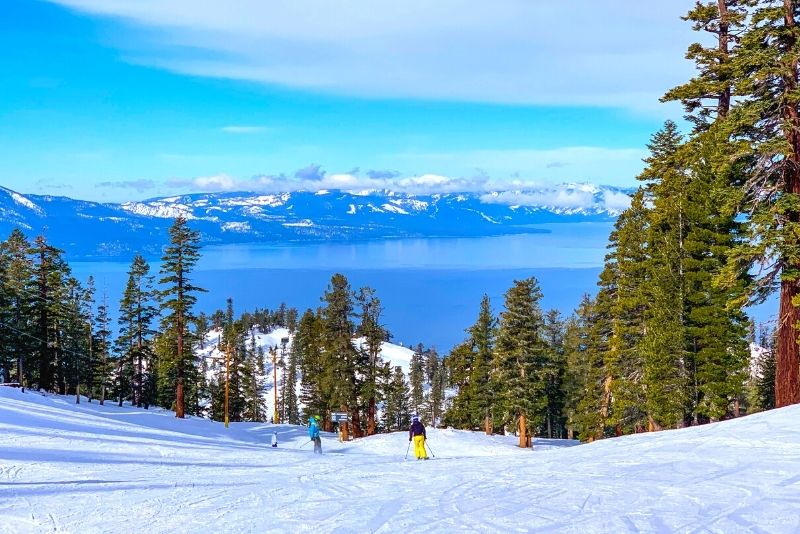 Officially California's largest ski resort, with 20% of the terrain dedicated to beginners, Heavenly presents as the ideal powder ground for people of all ages and competence levels.
The views from the top are spectacular, and for that apres-ski experience, the 24-hour nightlife is regularly pumping.
If you haven't got (or forgot to pack) your own gear, the Heavenly resort (and well as independent shops and other resorts) offers hassle-free ski and snowboard rental.
28 – Take a ride with Lake Tahoe Balloons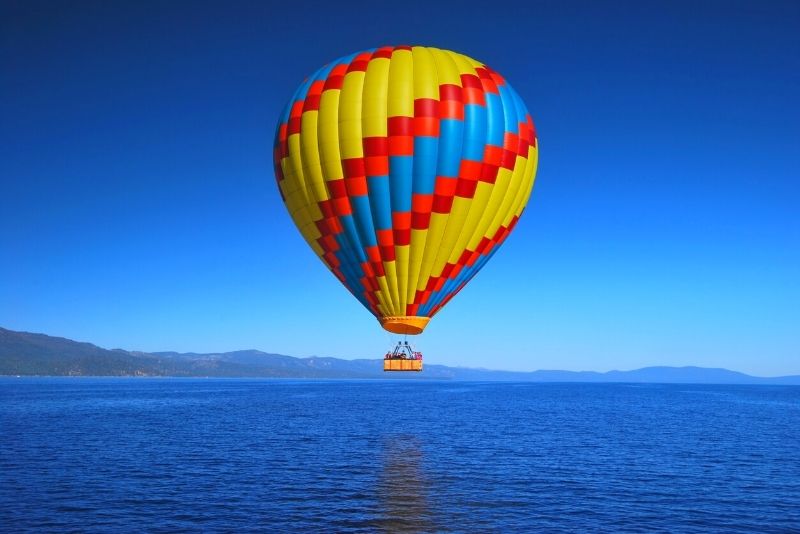 An experience that promises to be the perfect blend of adrenaline-pumping and relaxing, a hot air balloon is a must for anyone visiting Lake Tahoe (anyone willing to spend a few extra bucks, too).
In the wintertime, flights soar over Minden, Gardnerville and Carson Valley, while in the summertime, the balloons glide above the lake itself — either way, the views are incredible.
29 – Ski the double back diamonds at Sugar Bowl Resort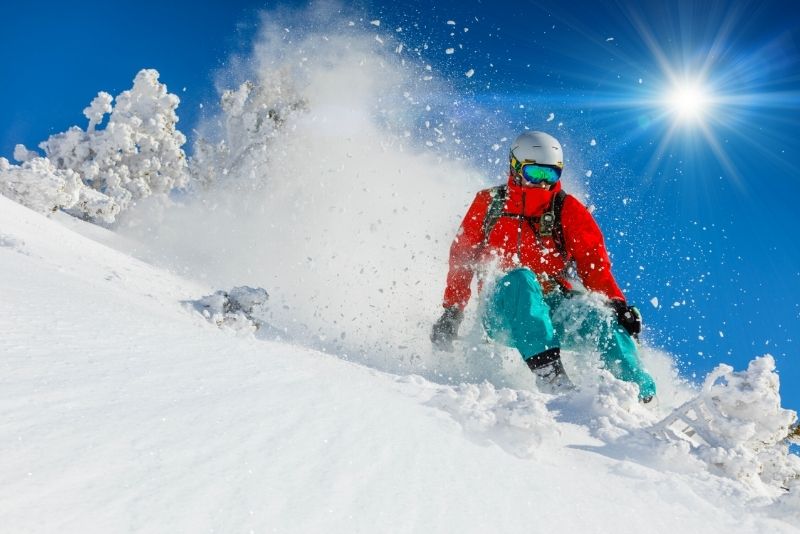 A family-owned and operated resort, Sugar Bowl offers 102 trails, 12 lifts, and plenty of variety for skiers and boarders of all experience levels.
Thanks to its smaller crowds, Sugar Bowl is touted as a great beginner mountain; however, don't let that fool you: the double black diamonds are considered some of the most challenging in all of Tahoe!
If you're coming from San Francisco for a day trip, it's also the closest resort to get to from Bay area.
30 – Ride the zipline at Heavenly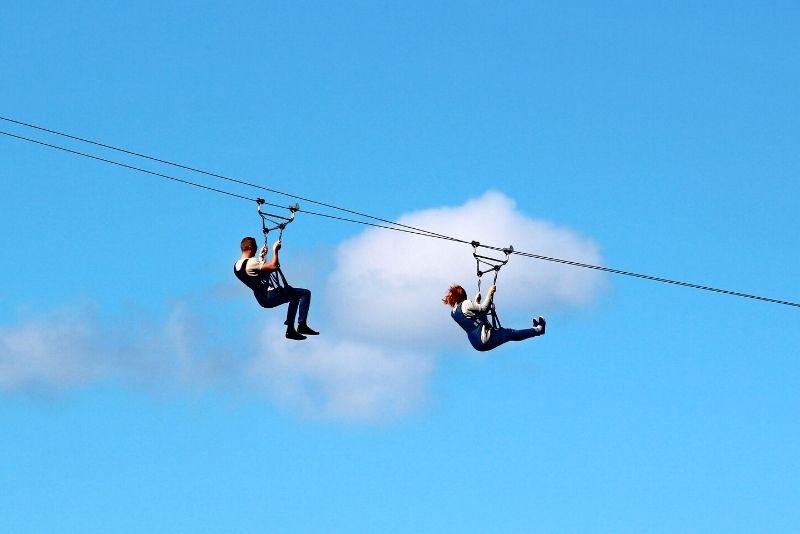 While there's no shortage of ziplines around Lake Tahoe, arguably the most impressive of the bunch is found at the Heavenly Resort.
Here, the resort's zipline starts at an elevation of around 10,000 feet before rocketing riders down the mountain's slopes at top speeds of up to 50 miles per hour.
With two 3,300-feet-long ziplines side by side, you can share the experience with your better half!
31 – Relax with a stand-up paddleboarding experience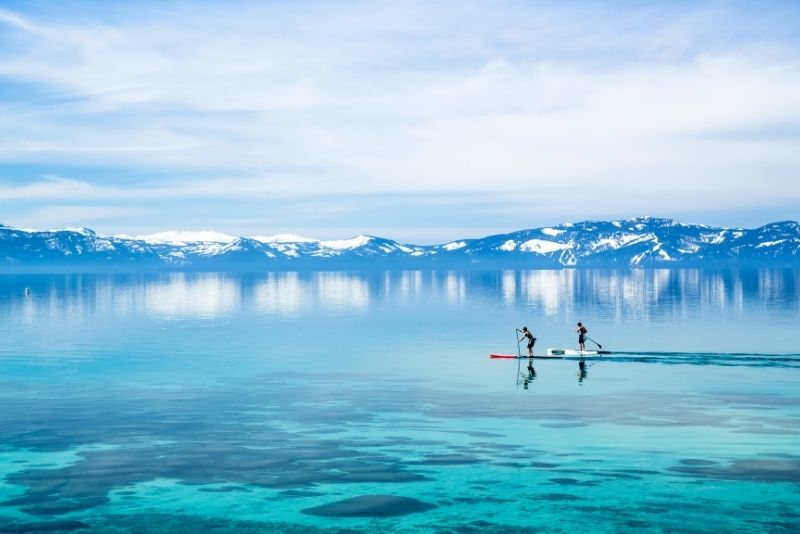 If you've already ticked kayaks and boats off the list, why not take in the granite boulders and towering sugar pines that ring the lake on top of a stand-up paddleboard?
Once you get the hang of balancing on the board (trust us, it's trickier than it looks for first-timers), it makes for a wonderfully calming experience.
32 – Sign up for a day on horseback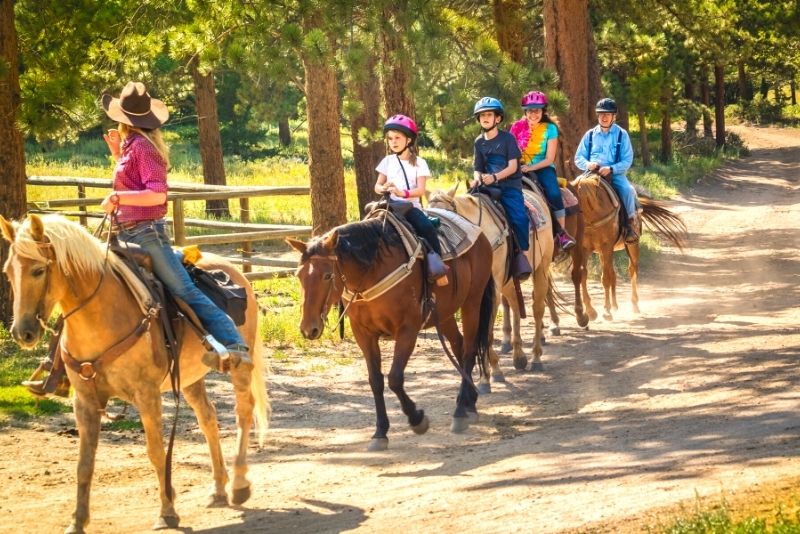 A great outdoor activity suitable for both kids and adults, a guided horseback ride through meadows, mountains, and the forest is a wonderful way to explore the vast nature around Lake Tahoe.
Whether you opt for a shorter or longer experience, breathtaking views of Lake Tahoe are guaranteed.
Book your scenic horseback ride at Alpine Meadows Stables, or Zephyr Cove Stable, offering a dinner and horseback ride package for the ultimate experience.
For the youngsters who aren't quite ready for the full-strength adventure, Camp Richardson also offers gentle five-minute pony rides.
33 – Make the trip to the Homewood Mountain Resort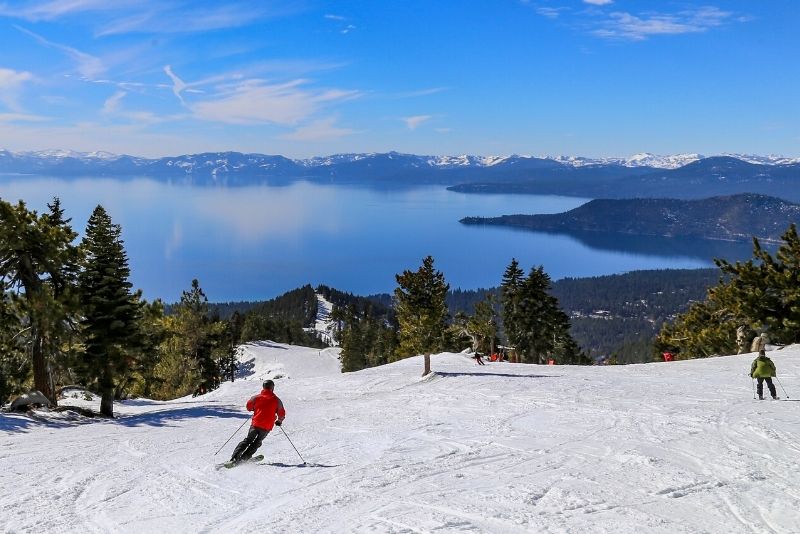 Located 50 miles from Reno or just 6 miles from Tahoe City (and 200 miles from San Francisco, if you're making the long trip), Homewood not only dishes up 67 trails and 8 lifts, but amazing views of Lake Tahoe, on-mountain dining options, and on-site lodging.
For freestyle skiers or snowboarders, thanks to its five terrain parks and protection from the wind, Homewood is considered one of the area's leaders.
34 – Hit the slopes at the Northstar California Resort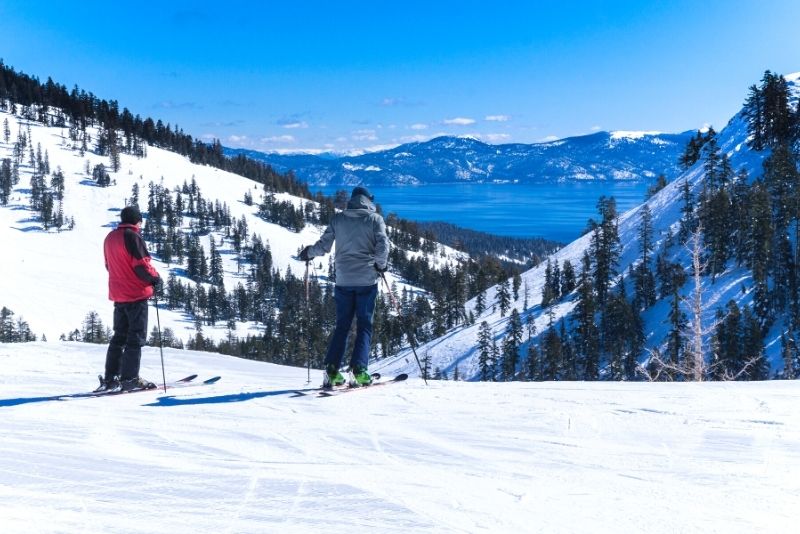 With over 3000 acres of powder and over 100 routes (the majority of which are classified as intermediate), there are days worth of great skiing on offer here.
If you don't have your own skis or snowboard, there's no need to worry — plenty of resorts provide on-site rental.
It's not just powder here though; in the summertime, Northstar offers a range of incredible hiking and outdoor activities. Similarly, after hitting the slopes or trails, the vibrant base village offers plenty of dining options.
35 – Throw an event at Valhalla Tahoe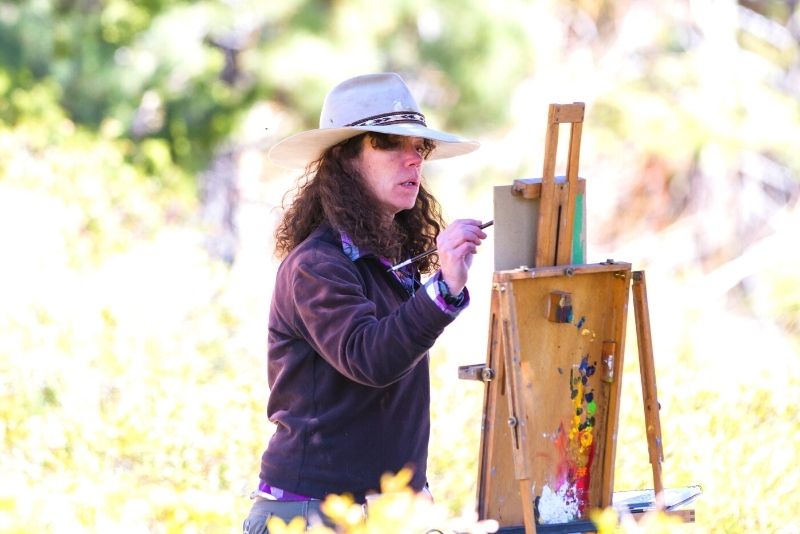 A ceremony and reception venue straddling the shores of Lake Tahoe; and hosting a range of world-class music performances, theatre shows, and cultural arts events, Valhalla Tahoe is a great spot to keep in mind if you're planning an event of your own.
If the dates line up, the center puts on the annual Valhalla Art, Music & Theatre Festival in mid-June — now well into its fourth decade.
36 – Admire the art at the Marcus Ashley Gallery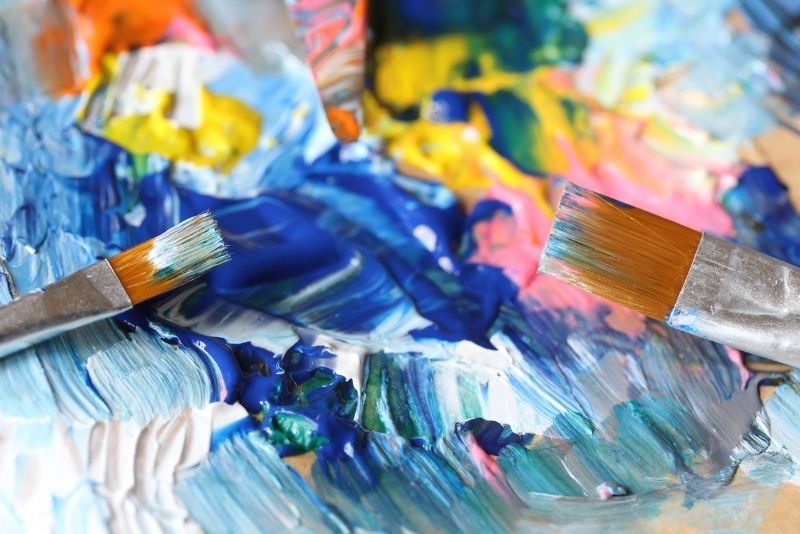 Showcasing a host of modern and classic North American art, spanning everything from oil paintings to glass art, prints, sculpture, the Marcus Ashley Gallery is a must-visit for any art lovers visiting the Lake Tahoe area.
With a rotating calendar of art shows — often including hors d'oeuvres, wine and refreshments — not only can you see rare pieces, but you can also meet the local artists behind them!
37 – Wet your whistle at the South Lake Brewing Company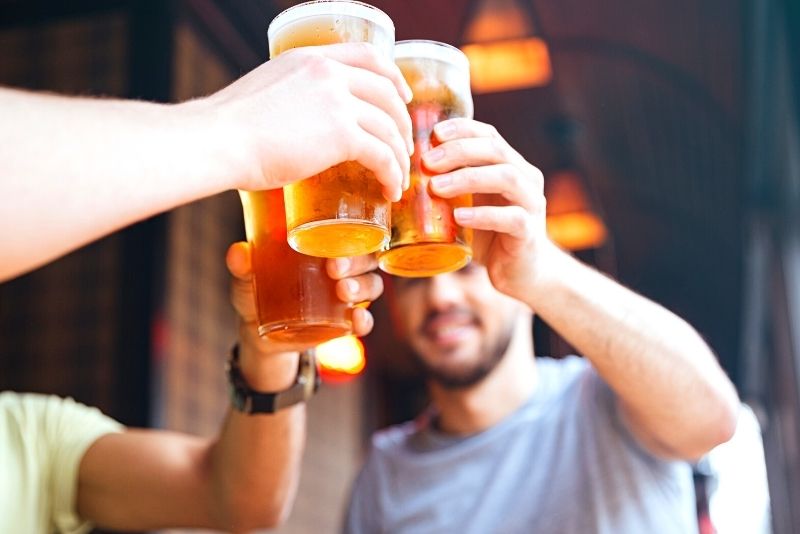 Hop on the South Tahoe Beer Trail, sipping away through the different brews local to the Tahoe area, starting with the South Lake Brewing Company, featuring over 15 different craft beers on tap.
Devour a woodfired pizza in the middle of the woodsy scenery at Lake Tahoe Aleworld, helping yourself to the self-serve beer wall for all you can drink.
Enjoy the house-made craft brews at Cold Water Brewery, from their Stillwater Stout to the Preachers Pale Ale.
38 – Take the youngsters to Granlibakken Ski & Sled Hill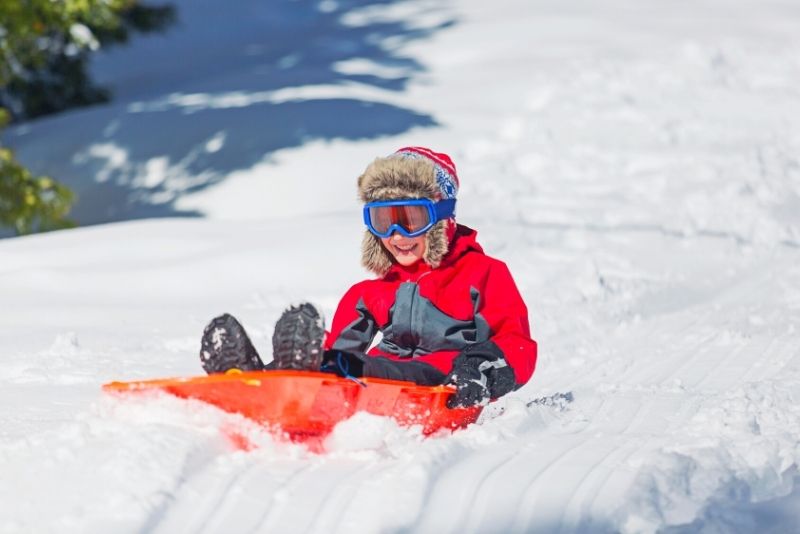 Spoken of as Tahoe's most family-friendly ski hill, the Granlibakken facility offers up one ski run (perfect for beginners taking lessons, 2 hills for sledding, and a snow play area for the youngsters.
Since it's much smaller than most ski hills, it makes for a perfect half-day activity in Tahoe City.
39 – Chill on the sand at Kings Beach State Recreation Area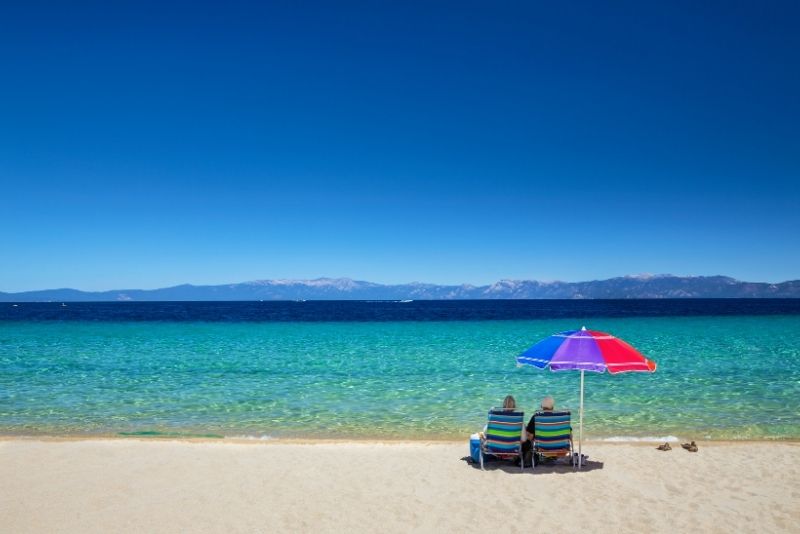 As the flagship beach site in the North Tahoe area, Kings Beach welcomes hoards of tourists from near and far — and yet, it barely ever seems overcrowded.
With a play area for kids to enjoy, plenty of parking, and a number of picnic spots, not to mention the amazing views, it's always a great spot to enjoy the sunshine and soak in the fresh air.
40 – Visit the lighthouse at D. L. Bliss State Park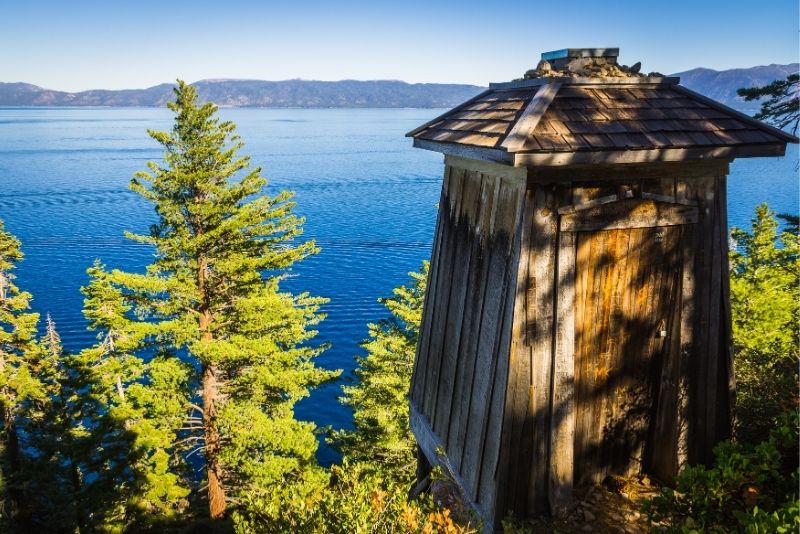 Home of the highest lighthouse in North America, DL Bliss not only boasts warm sand beaches like Lester Beach or Calawee Cove, but also a slew of excellent hiking trails; Rubicon Trail, Lighthouse Trail, and the Balancing Rock Trail are all phenomenal routes, just to name a few.
There's a good selection of campgrounds too!
41 – Try your luck at the casinos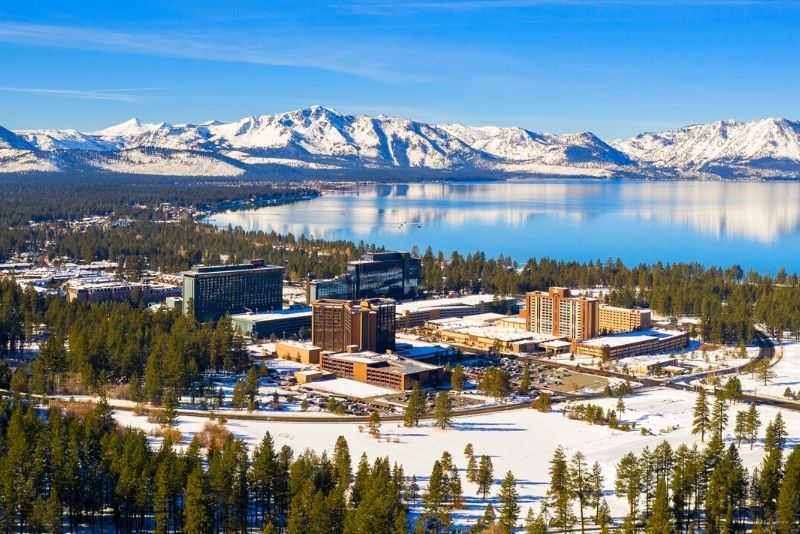 Feeling lucky?
If you're after a night of bright lights, high stakes, free-flowing drinks and often-live entertainment, Lake Tahoe boasts more than its fair share of casinos.
Harrah's Lake Tahoe Casino features a pool and a lounge; the Hard Rock Hotel & Casino sits just a 7-minute walk from the Heavenly Mountain Gondola; and the Grand Lodge Casino in Incline Village offers a spa and a fitness center.
42 – Spend the day Kirkwood Ski Resort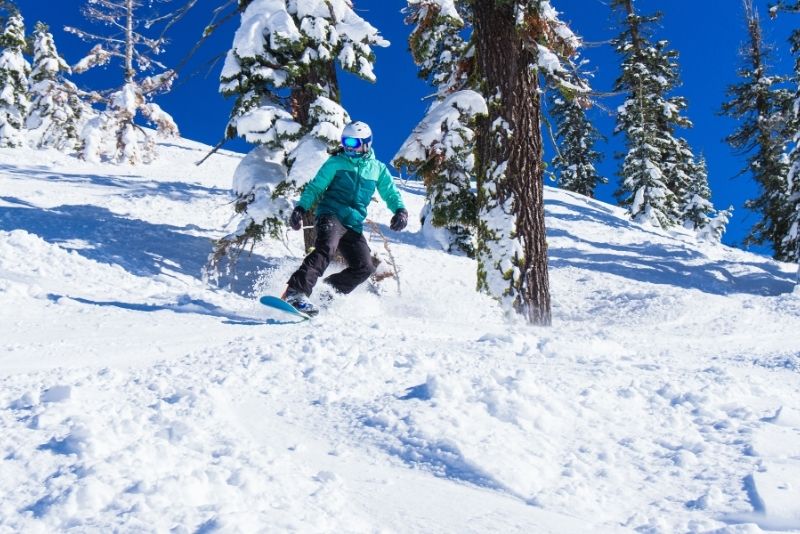 Offering 86 trails and 12 lifts, the Kirkwood Ski Resort might not be the largest in the area, but often less-popular is a good thing when it comes to skiing; fewer people, smaller lines, and more fresh powder to yourself!
In fact, Kirkwood usually has the deepest snow in all of Tahoe.
If you happen to be visiting in summer, Kirkwood boasts a range of A-grade hiking and mountain-biking routes.
43 – Go fishing!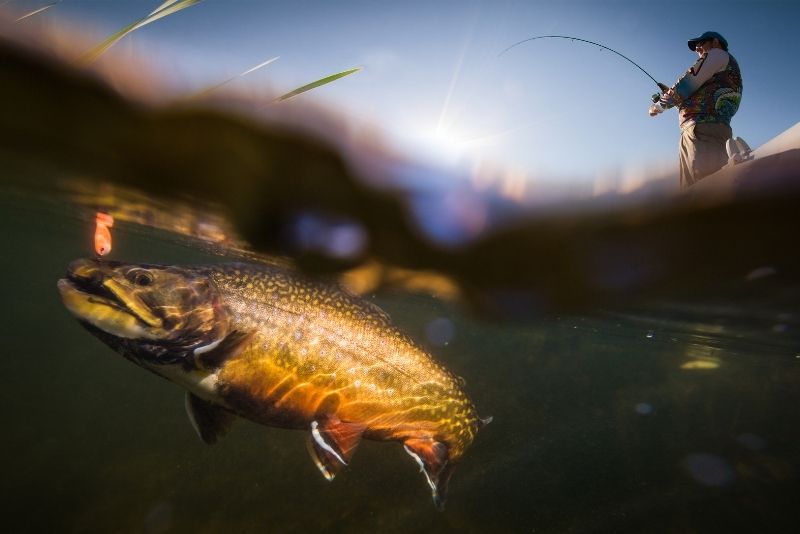 Ready to reel one in? Lake Tahoe is enormous, which means that there's plenty of room for fishing.
Common freshwater catches typically include kokanee, bass, rainbow trout, brown trout, brook trout, and cutthroat trout — but the fish synonymous with lake, and the most popular catch, is the mackinaw trout.
Either rent your own boat or join a charter tour!
44 – Explore the Emerald Bay Heritage Trail…underwater!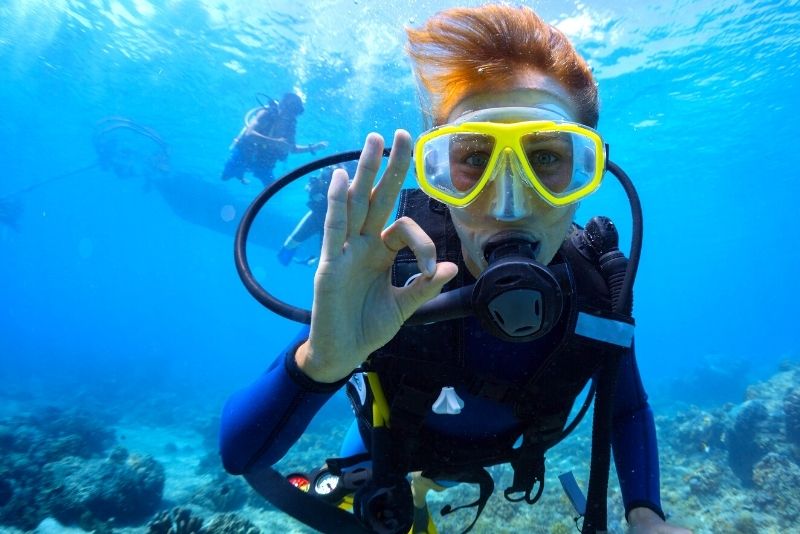 Nestled on Lake Tahoe's western side, Emerald Bay has been a popular tourist location for over a century.
But today, below the surface of the Lake, the Emerald Bay Heritage Trail has stolen the limelight.
Divers and snorkelers are greeted by shipwrecks, barges, and remnants of a once-thriving resort, all of which were popularly used on the lake during the early 20th century.
The Barge Dive Site, which goes down 40 feet below the surface, is a hit for divers.
45 – Come hungry to the best restaurants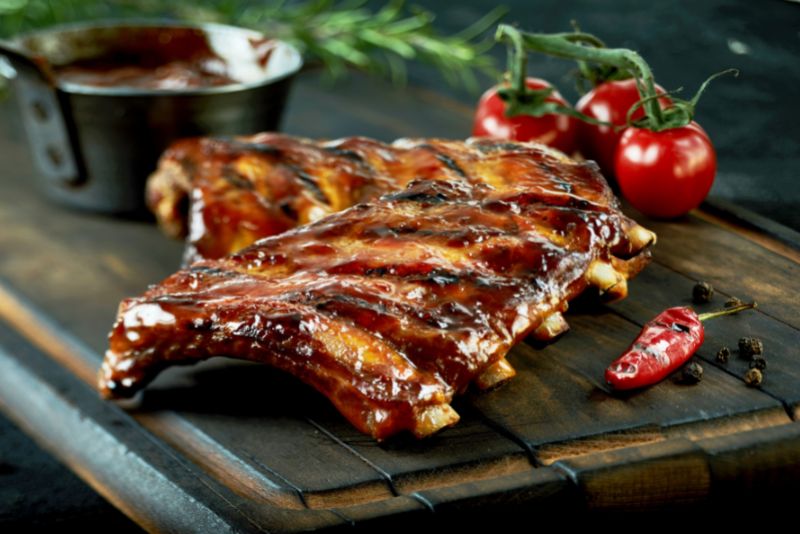 Enjoy a lake view with your meal at The Beacon Bar and Grill and Riva Grill On the Lake, popping in for happy hour for discounted drinks, and food items.
Step in at Artemis Lakefront Cafe, offering Mediterrenean-inspired dishes on its glorious outdoor patio, and join the good vibes at Sonney's BBQ Shack Bar & Grill, to try their famous BBQ sauces.
Fire Sign Café is your perfect wake-up call, offering homemade comfort breakfast dishes like cozy omelets and hot lattes.
46 – Feel the thrills of a snowmobile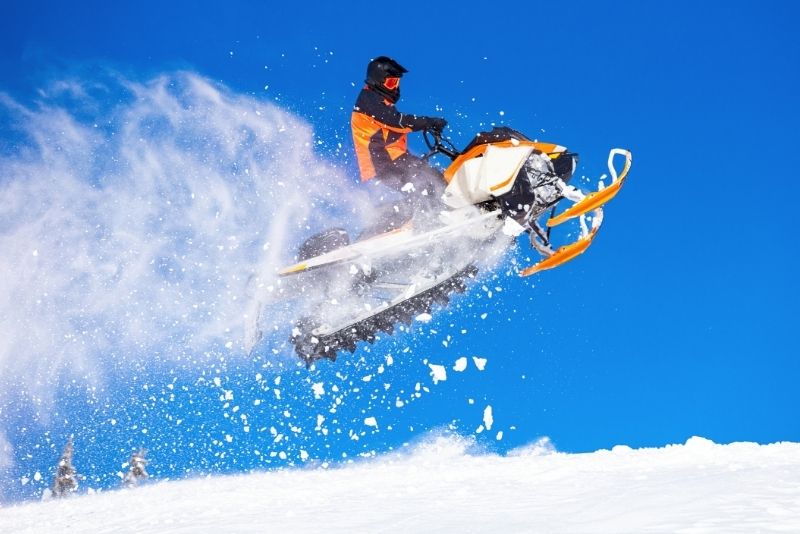 Travelers not only love snowmobile tours for the thrills and fresh air, but also for the unparalleled views of the Sierra Nevada Mountain Range visible from various points on the route.
With shorter (two-hour) and longer (half-day) tours available, there's plenty of time to explore Tahoe's backcountry, Faith Valley, Sierra Crest, Charity Canyon, and more.
Hotel transport is included, and clothing rental is provided as well — all you need to bring is yourself and an appetite for adventure!
47 – Land on the green at the Tahoe Edgewood Golf Course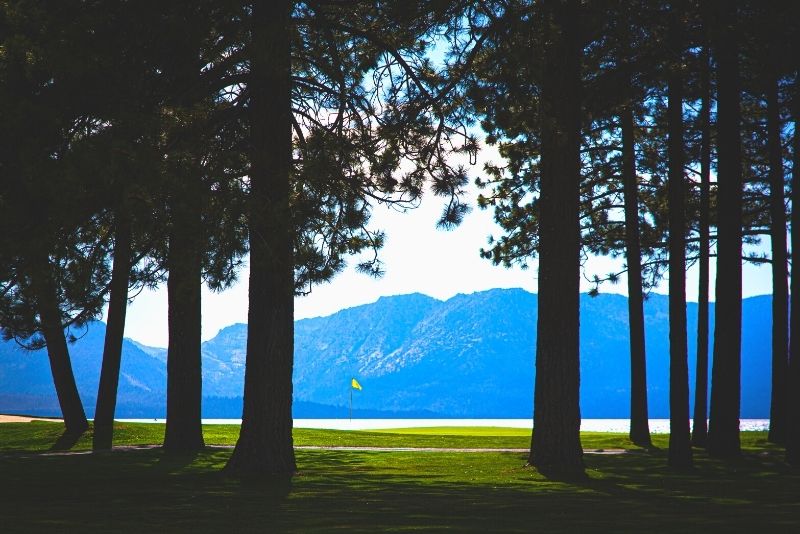 Itching to get on the fairways?
While Tahoe Edgewood certainly offers 18 exceptional holes, it flies its flag as a course unlike any other; at an altitude of over 6,200 feet, straddling the shore of the country's most majestic alpine lake, Tahoe Edgewood is simply stunning.
If it's good enough for pros like Tiger Woods, Arnold Palmer, and Phil Mickelson to frequent, that says something.
Get in on the "Lake Tahoe Golfing Tradition" at Old Brockway Golf Course and Tahoe City Golf Course, featuring the family-friendly, 9-hole golf course set in the serene setting of ponds and Sugar Pines.
Lake Tahoe Golf Course calls to the eco-friendly golfer, practicing environmentally-friendly protocols, with outstanding views of the Sierra Nevada mountains.
48 – Hike Mt. Tallac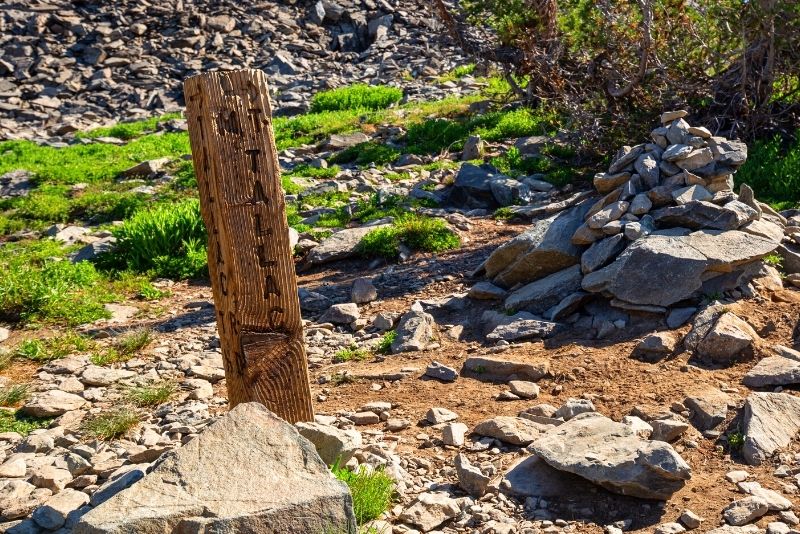 Open for hiking during the summer and fall months, Mt. Tallac showcases a collection of sought-after trails popular with travelers and locals alike.
If you're looking for a more subdued style hike, the 1.7-mile Floating Island Lake trail or 2.5-mile Cathedral Lake trail are great options; if you're after a challenge, check out the 5-mile Mt. Tallac trail.
49 – Snowboard or ski at Sierra-at-Tahoe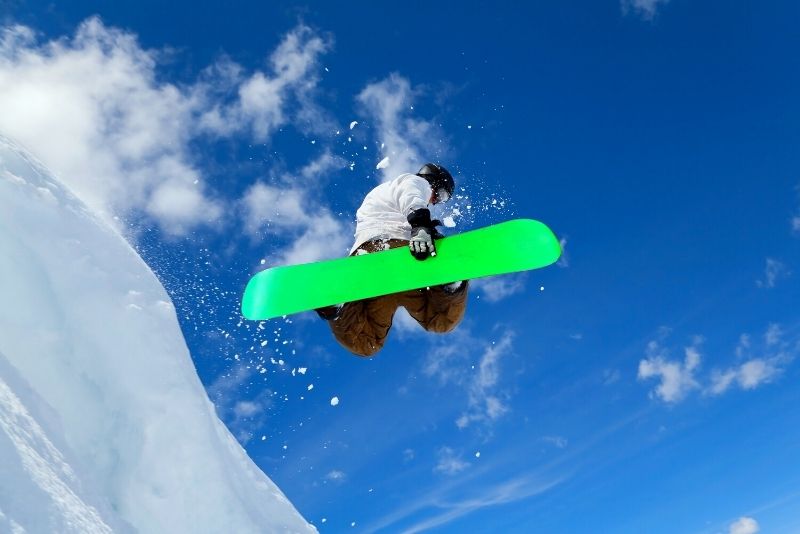 Boasting over 2000 acres of manicured trails as well as backcountry skiing and snowboarding, Sierra-at-Tahoe features 14 chairlifts and over 2,200 feet of vertical.
Located in the Eldorado National Forest, about a 25-minute drive from South Lake Tahoe, this mountain is easily accessible, highly spoken of, and a hit for beginners and experts alike.
One of Sierra-at-Tahoe's benefits is that the slopes are protected from the wind, making the ski conditions more pleasant than most mountains.
Just keep in mind that there's no lodging at the base.
50 – Get sippin' on a tour through the El Dorado Wine Region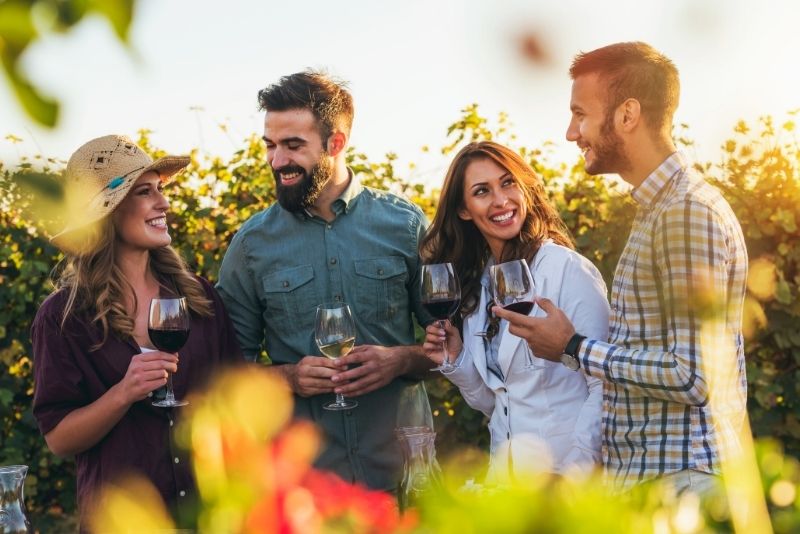 Do we have any oenophiles in the house? Then this one's for you!
Nestled in the Sierra Mountains foothills, El Dorado Wine Country boasts a number of remarkable wineries (like Jodar Vineyards & Winery and Boeger Winery, for example), as well as apple farms and fruit orchards.
The transport from South Lake Tahoe is included, likewise three wine tastings and a cite picnic lunch!
51 – Go wakeboarding & waterskiing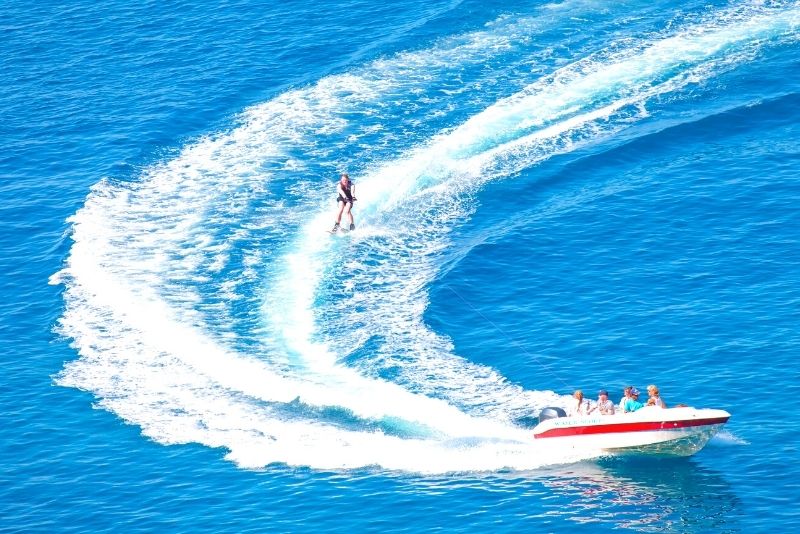 On those toasty summer days, there's nothing quite as refreshing as the wind in your face and water beneath your feet!
Whether you're into wakeboarding or waterskiing — both of which are exhilarating, once you get the hang of it — then there's an abundance of boat charter options ready to make it happen. Just remember to hold on tight!
Book a private wakeboarding or waterskiing lesson at Lake Tahoe Watersports, learning the basics in a private session from the patient and knowledgeable team of professionals.
52 – Spend a couple of hours ice skating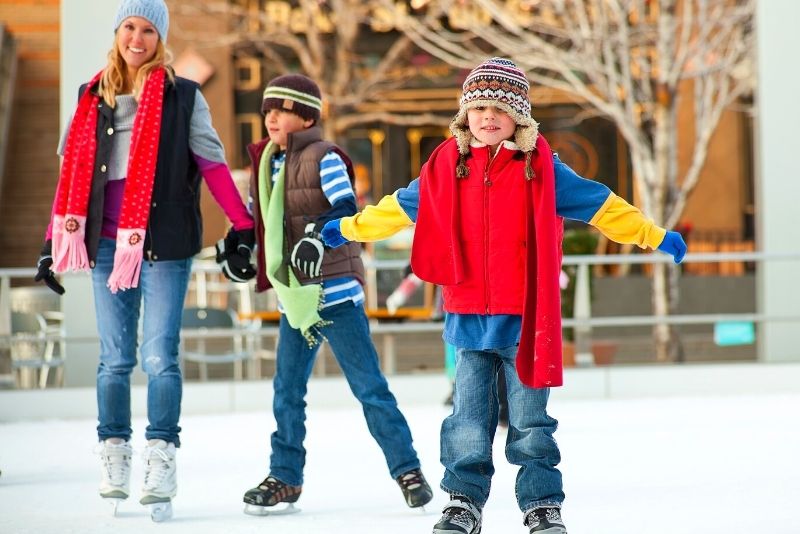 Depending on where you're staying, a family-friendly rink is never too far away; the Winter Sports Park in Tahoe City, the atmospheric rink in the Northstar Village, or the public skating area in Truckee are all popular options.
The pick of the bunch, however, has to be the rink at the Squaw Valley resort, where the valley's six mountain peaks are visible.
53 – Unwind at a spa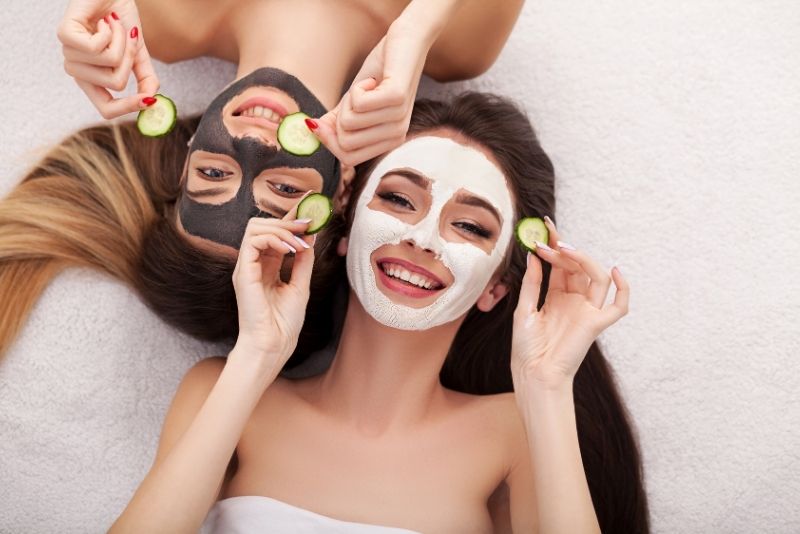 If you're searching for some of the more relaxing things to do in Lake Tahoe, the area boasts plenty of spas and wellness centers, perfect for recharging the batteries after a few days skiing or hiking.
Several hotels, including the Hyatt Regency Lake Tahoe Resort, Spa and Casino in Incline Village; the Ritz-Carlton in Truckee; the Resort at Squaw Creek, and Harrahs are all known for their on-site spas. However, there's also no shortage of independent spas in the towns themselves.
54 – Fly like a bird with a paragliding adventure!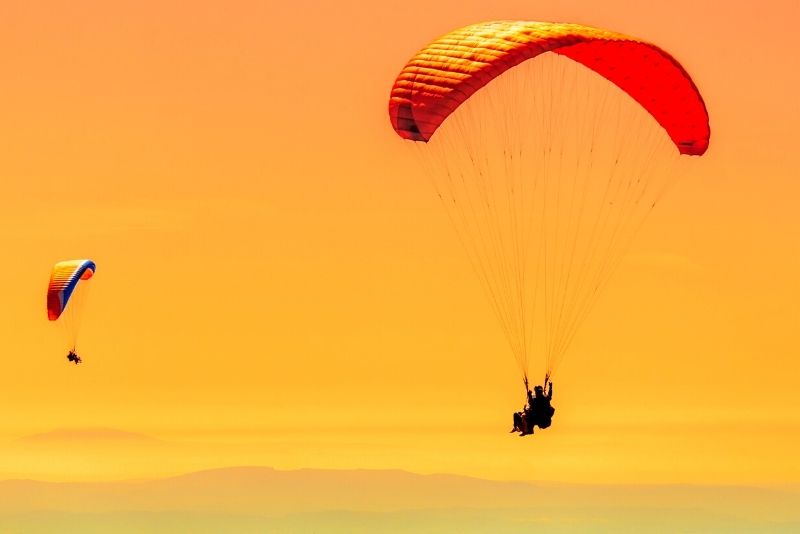 Ready to soar above the California-Nevada border like a bird?
For unobstructed views of the Lake and the Sierra Mountain Range as far as the eye can see, you can't go wrong with a paragliding adventure.
With a professional USHPA Certified Tandem Instructor showing you the ropes, even beginners can sign up for this unforgettable experience.
55 – Go rafting along the Truckee River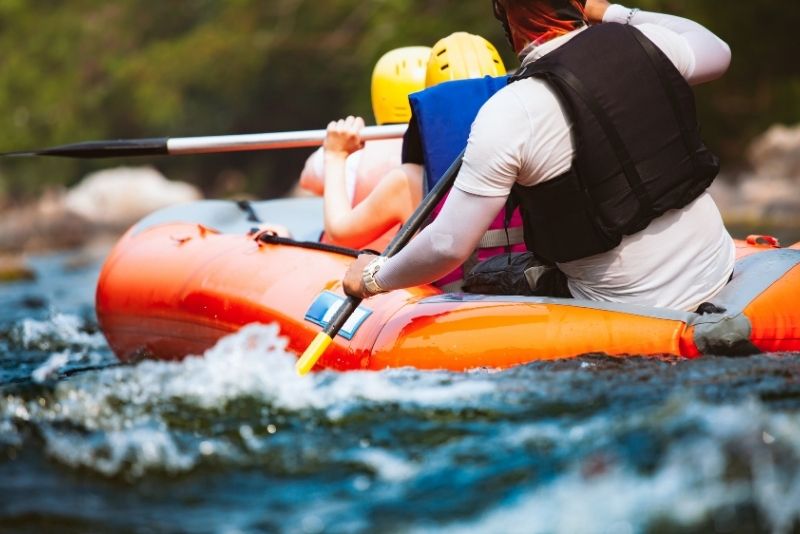 The surface of Lake Tahoe might be famously still, but the rivers which surround it can churn still churn out a few rapids!
Travelers love the rafting experience which takes them along the Truckee River from Tahoe City to River Ranch, largely due to the sweeping views of scenic meadows, mountains, and wildlife along the way.
56 – Spend the day at Mt. Rose Ski Tahoe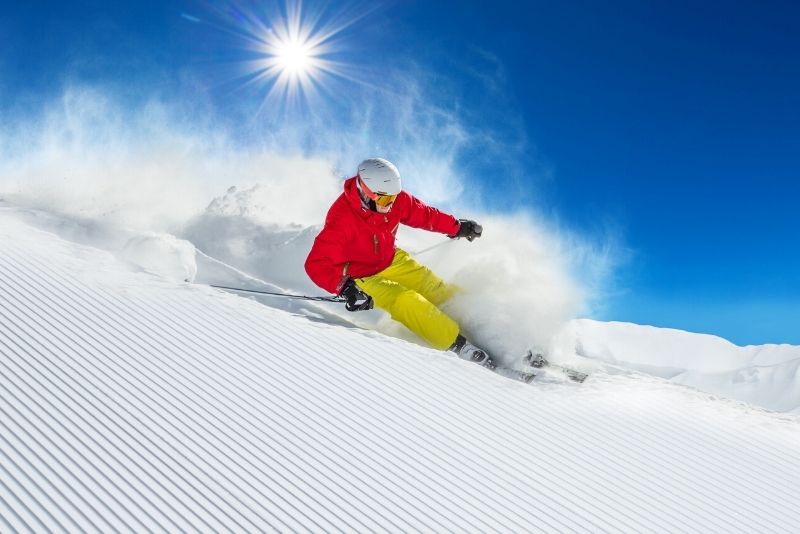 Presenting more than 1,200 acres of ski terrain, with slopes that offer truly remarkable views of both Reno and Lake Tahoe, the Mt. Rose Ski Tahoe is a great place for advanced skiers, with the most challenging runs dishing up a total of 1,800 feet worth of vertical drops.
All up, the resort has 20% beginner runs, 30% intermediate runs, 40% advanced, and 10% expert runs.
57 – Enjoy a night of live entertainment at Bally's Lake Tahoe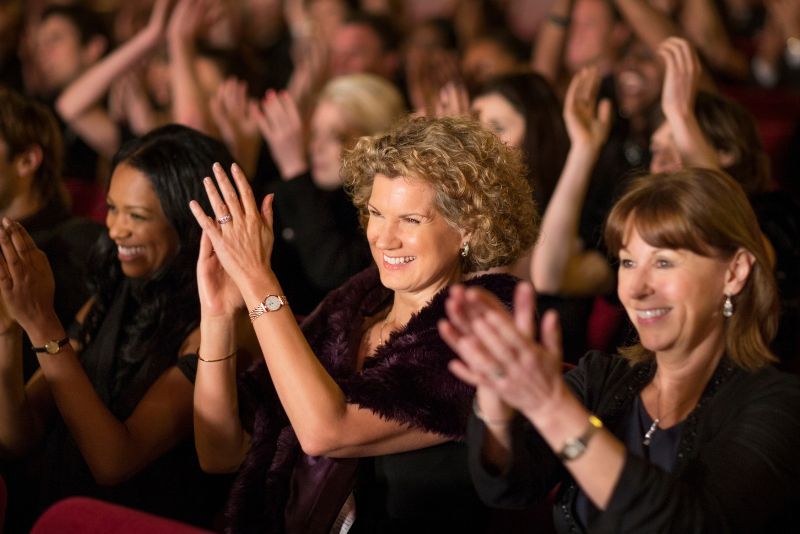 Offering a little bit for all ages, bring the family for an evening of laughs and live entertainment at Bally's Lake Tahoe.
From themed events like New Year's Eve parties, to film festivals, and ballet performances, the extensive variety of performers that make their presentations at Bally's is truly exciting!
Make sure to check their frequently updated calendar to see which act catches your eye.
58 – Relax in a hot tub!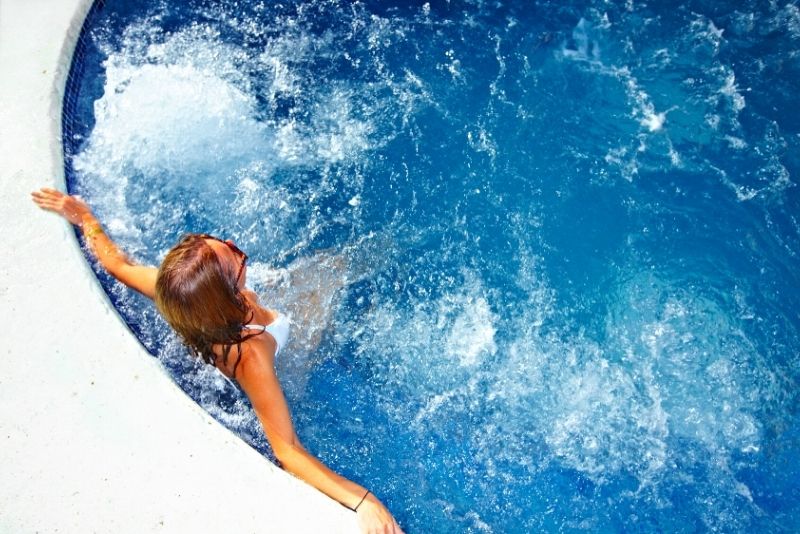 While most Lake Tahoe resorts offer spas and jacuzzis of their own, it's hard to go past the hot tub at Squaw.
After visitors take the scenic Aerial Tram ride up to the 8,200-feet-above-sea-level High Camp, they're greeted with scenes of Squaw Valley's legendary granite peaks.
Combine those views with a relaxing hot tub, especially when the air is cold, and you've got your very own slice of paradise.
After a dip, check out the High Camp Marketplace for a hot coffee and some fresh baked goods.
59 – Look up for spectacular Stargazing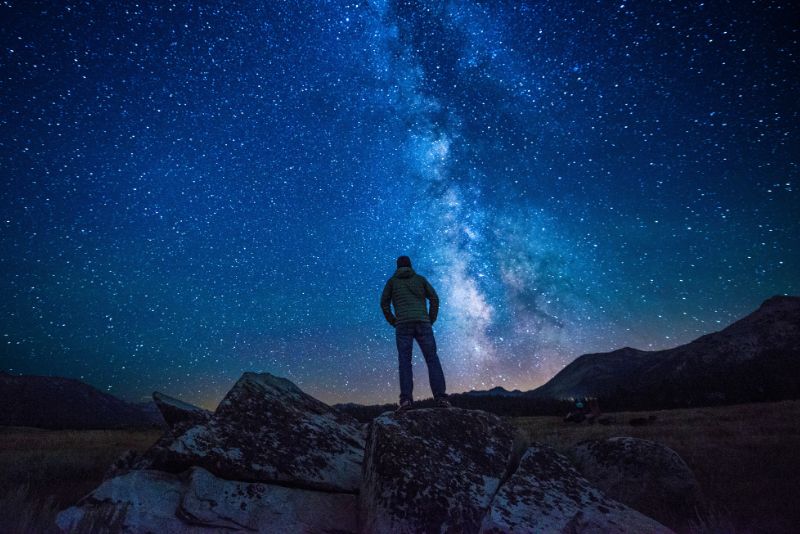 With a lucky 300+ nights of clear skies per year, stargazing is a must in Lake Tahoe!
Bask in the bright stars at Spooner Lake, with its location separated from flashy street lamps. Emerald Lake may be crowded by day, but by night, it's just you and the bright moon above.
Set your blankets on the sand at Camp Richardson, for equally beautiful views of the stars.
60 – Walk in athletes' shoes at the Olympic Museum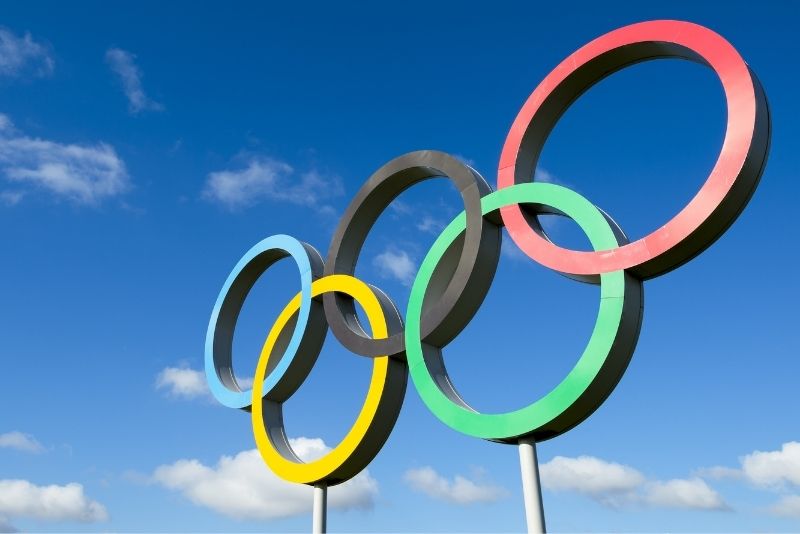 Also found at High Camp at the Squaw Alpine resort, the crowd-favorite Olympic Museum provides a chance for travelers to step back in time and relive the 1960 Winter Olympics — which, of course, took place right here.
Take a seat for the 5-minute historical film, admire the uniforms, old hockey skates, and all of the fascinating memorabilia on display.
61 – Catch the magical dinner show at The Loft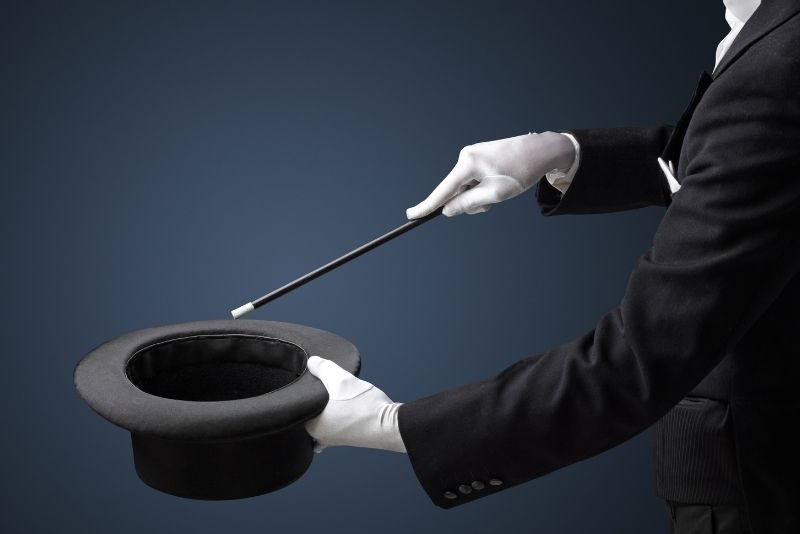 Located in the vibrant Heavenly Village you'll find South Lake Tahoe's ever-popular and award-winning live performance theatre: The Loft!
Besides putting on magic shows that captivate audiences from near and far, The Loft also serves up tantalizing dishes handcrafted by culinary expert, Frank Trotta.
So, what are you waiting for? Book a table!
62 – Sway to the live music at Lake Tahoe Outdoor Arena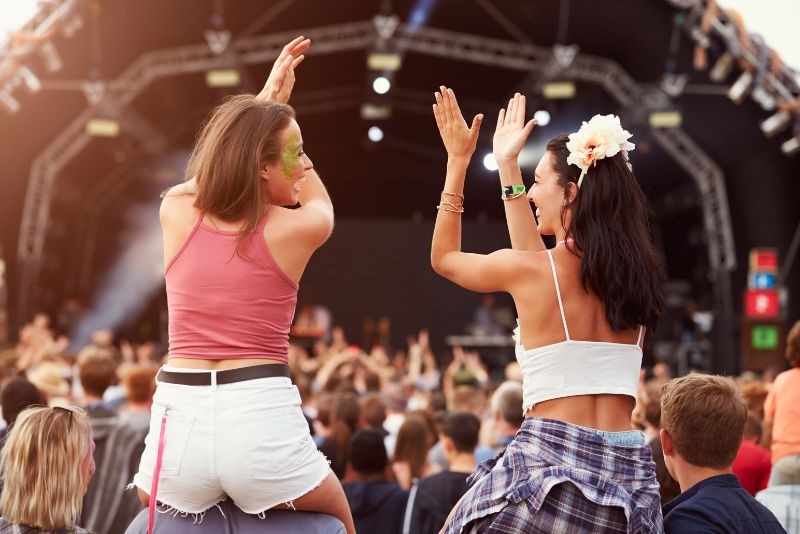 Check out the acts taking the stage at the Lake Tahoe Outdoor Arena.
Beloved by its returning guests for its pristine setting of mountains and evergreen pines all around, just going to see the venue is enough of a reason to visit!
From country music to rock, you'll surely enjoy the music as well as the highly-rated hospitality. The arena is open seasonally, starting June 2023.
63 – Dance the night away on a Tahoe Club Crawl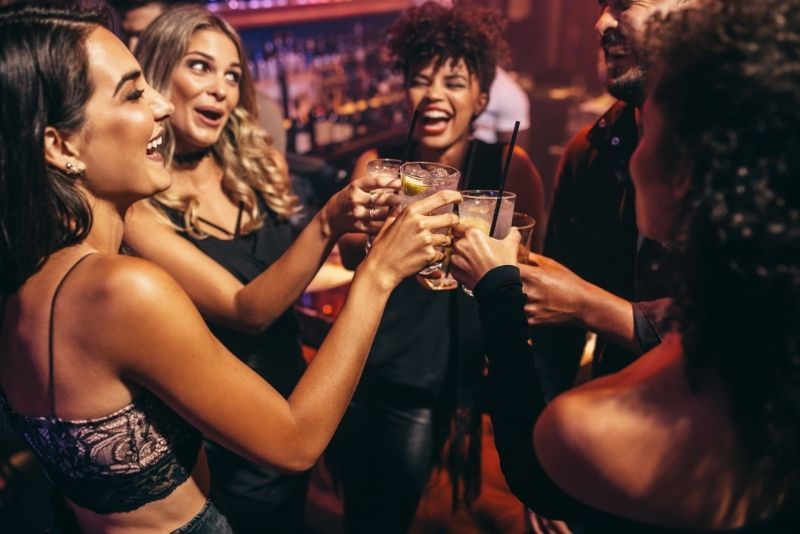 Hit up Opal nightclub to dance the night with the music from the live DJ. Is it your birthday? Let them know and you'll get a discount on your $10 cover charge!
Get wild at Red Dog Saloon, a traditional wild west saloon with live music on the weekends, where you can pet the resident Red Dog, Ruby.
Fancy a glass of wine? Uncorked Wine Bar hosts their "Meet the Winemaker" events on the weekends, sampling unique wines, both local and global.
64 – Don't forget to take a photo of Vikingsholm Castle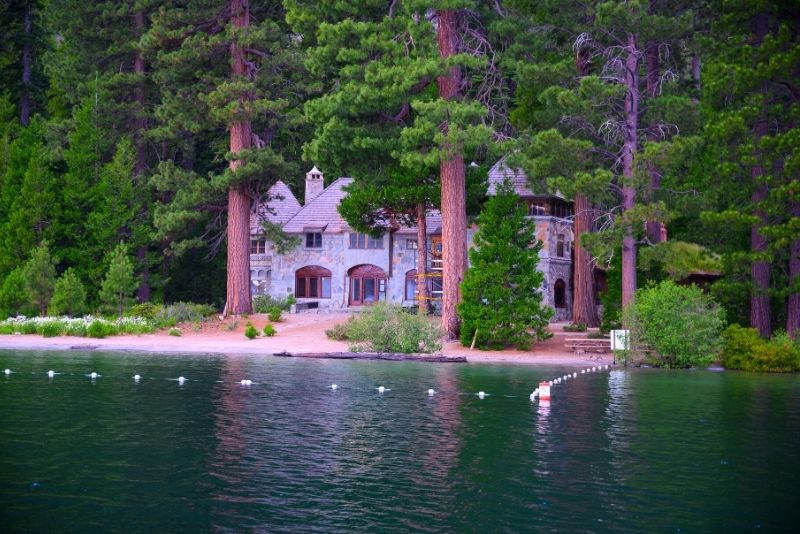 As the visual melting point of nature's spectacular beauty and man's architectural ingenuity, this hidden castle in Emerald Bay provides one of the more stunning sights in the area.
Considered a beacon of fine Scandinavian architecture, Vikingsholm is open for tours during the summer months — in the winter, it still makes for magnificent viewing from afar.
65 – Drive along Ring Road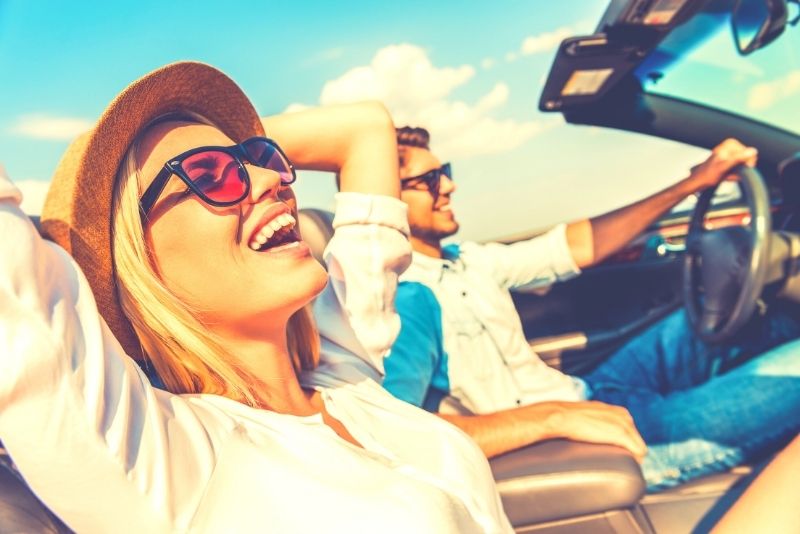 With more than 70 miles worth of beautiful scenery, unique history, and unlimited adventure, the Ring Road which surrounds Lake Tahoe is one of the area's non-negotiable road trips.
Along the way, all of Inspiration Point, Emerald Bay Lookout, Chambers Landing (a great spot for lunch), and Watson Cabin are unmissable.
However, locals recommend taking your time and seeing all the Ring Road has to offer!
Where to stay in Lake Tahoe?
When a room frees up at Club Tahoe Resort, take it! This village resort features top-notch accommodations for a comfortable stay, including fabulous views of the mountains from your room and laundry services.
Stay in the beautiful and modern Northstar Lodge by Vacation Club Rentals, offering in-suite kitchens, a cozy fireplace and sitting area in your room to watch the snow slowly fall. If you bring a car, you get free parking access!
Guests at the Firelite Lodge relish everything from the beach access and boat amenities for those who need them. Take in the nature-filled activities near the hotel, from scenic walking paths to water activities, and relaxing in the outdoor swimming pool.
Slip into the hot tub and admire the beautiful pine trees nearby at Truckee Donner Lodge. Guests who stay get a complimentary breakfast with their stay, perfect to start with before heading to the day's adventures.
Where to go next?
Reno, Nevada – The Biggest Little City In The World, offers more than just a good time at the slots. Satisfy your inner history buff at the National Automobile Museum, or take your kids to The Discovery Museum for a fun interaction with science.
Move to the Golden State to explore the abundant things to do in California, starting at its capital, Sacramento, by revisiting the state's Gold Rush era, or for the adventurous, try rafting on the great American River.
Head to Napa Valley for the perfect glass of California wine on a wine tour through the world-renowned wine region. Sample the other products of the region at Oxbow Public Market, before heading on the adventure of a lifetime on a hot air balloon ride.
Cross the famed Golden Gate bridge in San Francisco, walk through Pier 45, and get a glimpse of Alcatraz before going yourself… for a nighttime tour!
Final thoughts
A unique, natural attraction within the U.S. – Lake Tahoe charms the nature-lovers with its overflowing natural beauty.
With its clear night stargazing skies, its middle-of-the-woods restaurants, and its outstanding hiking and outdoor activities – the list of things to do in Lake Tahoe just keeps going.
Is the Jewel of the Sierra your next destination?
Happy travels!