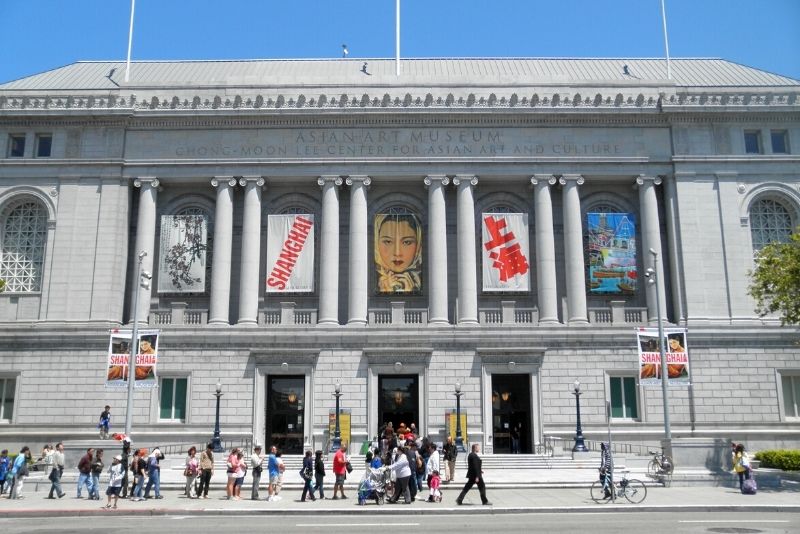 If you're about to leave your heart in San Francisco, don't worry, you're not alone. With its many Michelin-starred dining options, iconic landmarks, and bustling beauty, it's no wonder that San Francisco ranks as one of the greatest cities in the world.
The city is also a major art and history hub, filled with museums, galleries, and cultural experiences to please everybody. From world-renowned institutions like the San Francisco Museum of Modern Art and the Asian Art Museum to hidden gems like the antique-oddities collection at the Musée Mécanique, you'll find all the best museums in San Francisco in our list.
So go ahead and experience everything the city has to offer, but take some time for top-class museums and galleries as well!
1 – San Francisco Museum of Modern Art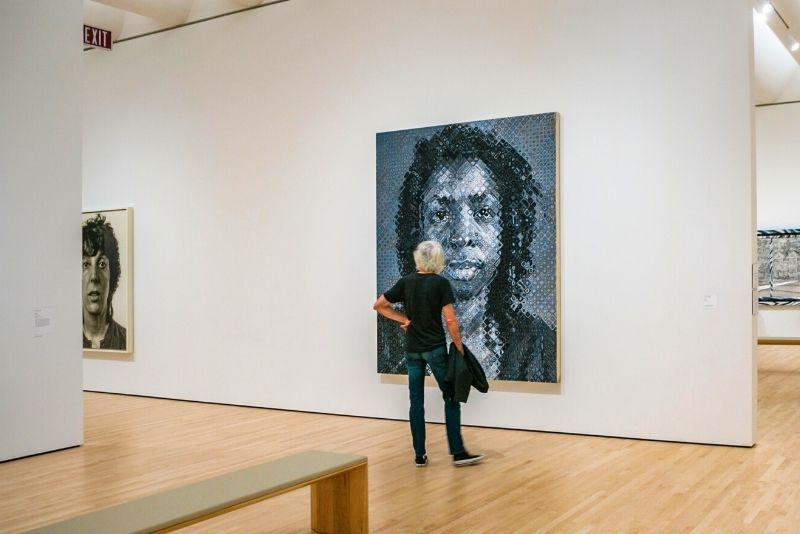 Over 30,000 works of art call the SF Museum of Modern Art home.
Its impressive collection of modern and contemporary art includes not only paintings and sculptures, but also photography, mural commissions and immersive works where air, water, music and light combine to create large-scale installations.
Artists featured in the museum include abstract expressionist painter Jackson Pollock, Frida Kahlo, Andy Warhol, and landscape photographer Ansel Adams, famous for his photos of the American West and especially Yosemite National Park.
Step outside on the museum's terrace to breathe the green of the 45×12 living wall featuring native plants, check out the museum's special screenings, or grab a bite in the sculpture garden.
The museum's 1,340-square-meter rooftop garden is also worth exploring, and so is the museum's gift shop and its curated collection of one-of-a-kind gifts.
2 – Exploratorium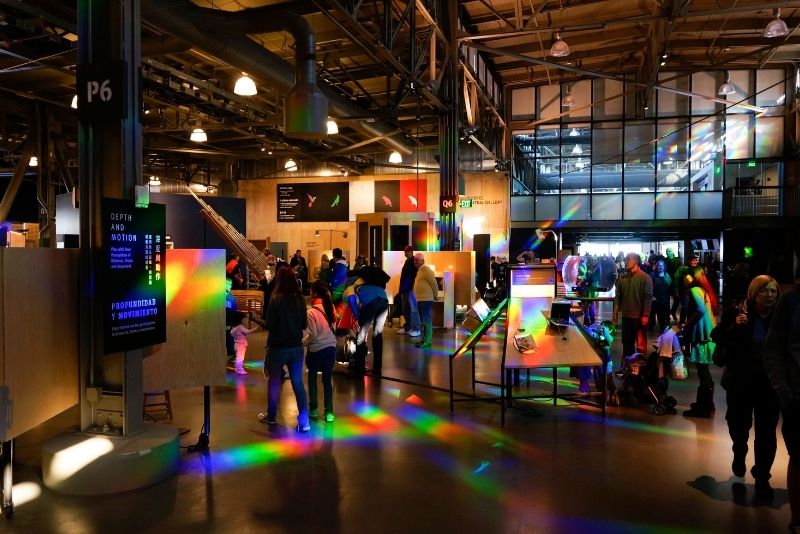 A museum that combines science, technology, and the arts, the Exploratorium will fascinate visitors of all ages. From anatomy and genetics to history and the social sciences, there's plenty to explore here.
Some of the galleries offer hands-on workshop areas to investigate light and color perception. Anti-gravity mirrors, chronoscopes, and a cloud chamber are some of the museum's most popular exhibits.
The museum also has an outdoor gallery where visitors can get up-close with the Bay environment. Exhibits here include a rain machine and a fog machine built on the bridge that connects Piers 15 and 17. The installation is both a science experience (to see a common weather pattern of the area) and artistic.
Temporary exhibits have showcased a lifelike model of NASA's Mars Rover, a look into earthquakes and their impact in California, and a chance to learn more about meteorites.
3 – de Young Museum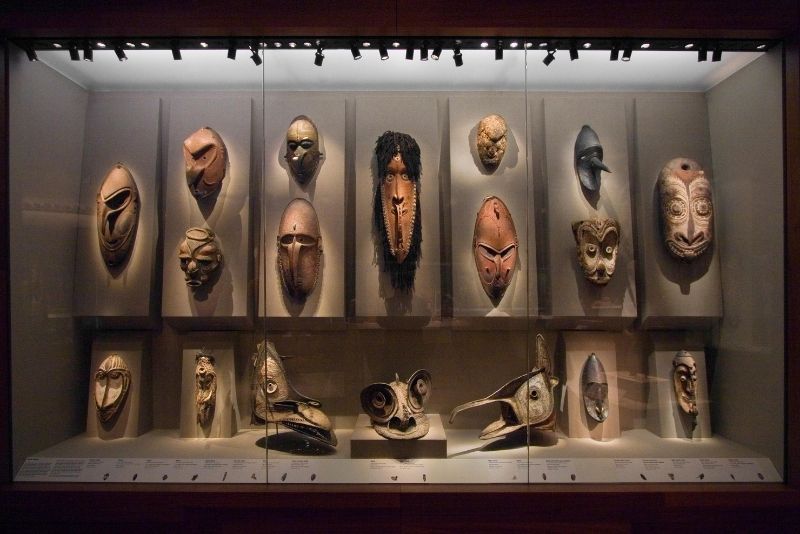 Founded in 1894 as part of the California Midwinter International Exposition, the de Young Museum started as a gallery of exotic items from Egypt and other far-away destinations.
Over the years, the museum switched its focus more towards American art, though still holds an impressive collection of artifacts from Africa, Oceania, and the Ancient World.
This fine arts museum features works of art dating as far back as the 17th century. As part of an agreement exchange with the Fine Arts Museums of San Francisco, de Young now also holds a large number of anthropological artifacts, including indigenous pottery and art from Sub-Saharan Africa and Mexico.
There are also important collections of  Native American art, costumes and textiles from around the world, and basketry and lithics from Oceania.
4 – Musée Mécanique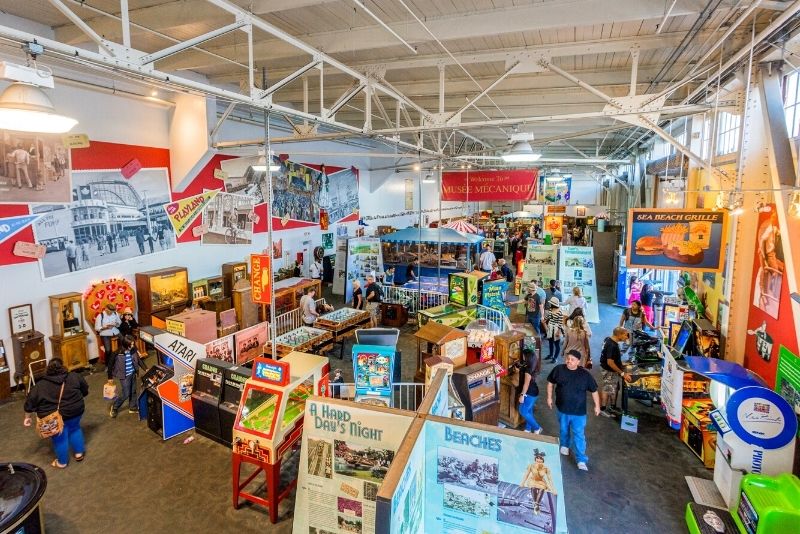 One of the more unusual museums in San Francisco is Musée Mécanique, a combination of live arcade and museum filled with over 300 pinball machines, penny arcade games, and mechanical carnival games.
Once part of the famous Playland seaside amusement park, the museum is now a favorite attraction at Fisherman's Wharf. The majority of the machines here –some dating back to the 1920s– are fully functional and visitors can buy an all-day pass and try them all.
More unique coin-operated machines include fortune-teller machines, old-school photo booths and a number of dioramas, including one that was featured at the 1915 Panama–Pacific International Exposition.
There are also musical contraptions (including player pianos and giant music boxes), automatons, and video games available.
5 – San Francisco Cable Car Museum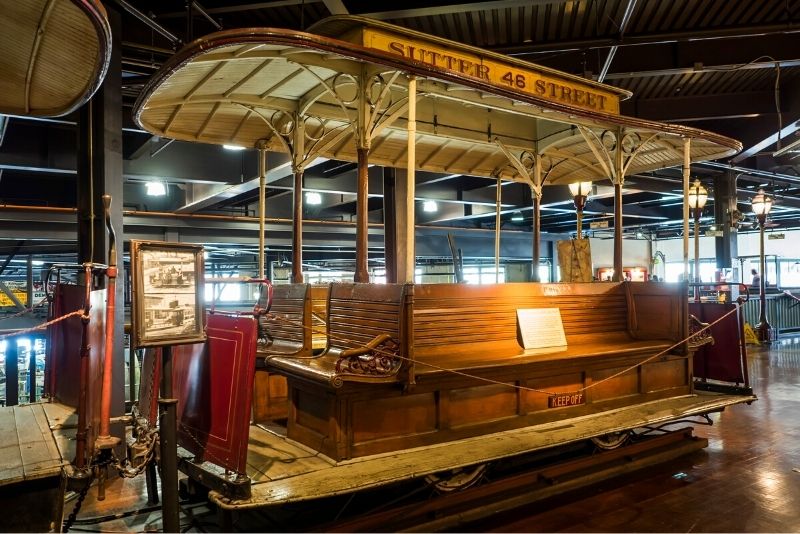 Aside from the Golden Gate Bridge, cable cars are the other most iconic sight in San Francisco.
While they're part of the public transportation system, they are also a major tourist attraction –not only because of their historic significance but also because two of the three lines in the city take you straight to the popular Fisherman's Wharf.
If you're curious about their history, this is one of the best museums in San Francisco to visit. The museum itself is housed in the same building where the cable car barn is. This means you can actually take a peek into the working systems and engines that power the entire cable car system today.
The museum's best exhibit is the Clay Street Hill Railroad car number 8, the only surviving car from the original cable car line that took to the streets in September 1873.
There are plenty of other vintage cars here as well, and most allow visitors to climb on them for a little trip back in time. Displays contain plenty of photographs and detailed models as well.
Stop by the gift shop on your way out for some cable car memorabilia, including genuine car bells.
6 – San Francisco Maritime National Historical Park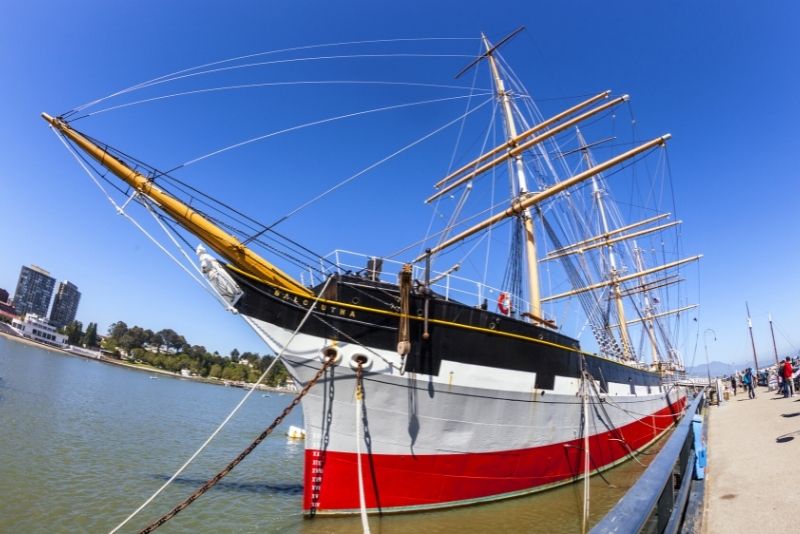 This museum and research center dedicated to Pacific Coast maritime history has a massive collection that includes over 100 historical and modern vessels.
Notable examples include an 1890 side-wheel paddle steamboat and an 1895 three-masted schooner, as well as ferryboats and sailing ships. All can be seen at Hyde Street Pier across from the museum's Visitor Center.
The museum's permanent collection also includes many hours of archival film and video, over 500,000 photographs, historical maps and charts, audio recordings, and thousands of books and publications chronicling maritime history in the Bay Area.
Exhibits also include a shipwrecked boat and visitors can stop by the museum's theater to catch short films and documentaries.
7 – California Academy of Sciences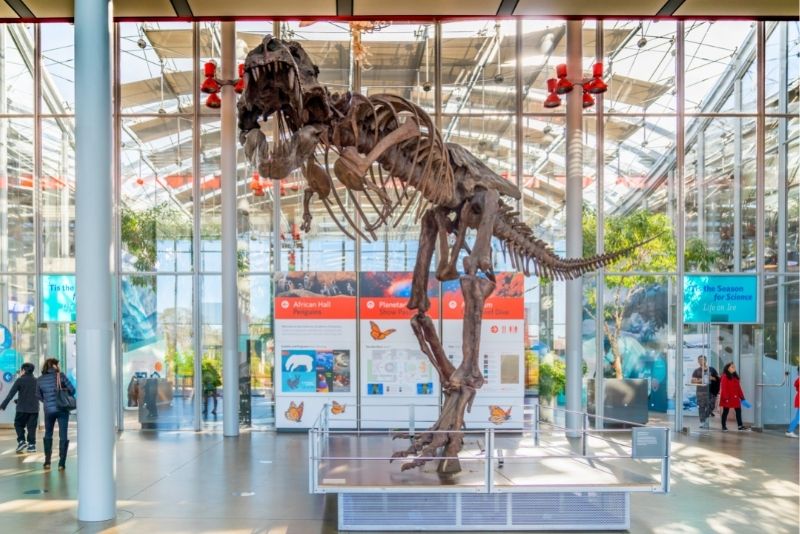 With over 46 million specimens in its collection, the California Academy of Sciences is not only one of the best museums in San Francisco but also one of the world's largest natural history museums.
Filled with hands-on exhibits that highlight both the present and the distant past of Earth, the museum also features one-of-a-kind specimens, including a full T-Rex and a 26-meter-long blue whale skeleton.
There are also exhibits on animal behavior, gems and minerals, ancient redwoods, dioramas of African landscapes, and natural phenomena such as earthquakes and fog.
In addition to the main natural history area, the museum also includes three other major venues: a planetarium with a 27-meter tall dome, an aquarium with over 40,000 live animals (including a Southeastern swamp habitat and a Philippine Coral Reef), and a rainforest exhibit home to exotic plants, butterflies and Amazonian tree boas.
The museum is open for nighttime visits once a week and there are always lectures, workshops, and rotating exhibits in place every month.
8 – The Walt Disney Family Museum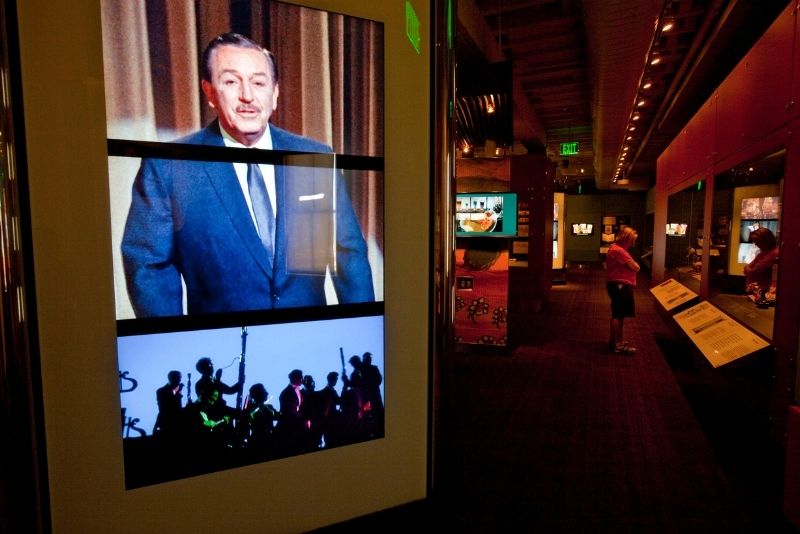 If you're a Disney fan, you'll love this museum dedicated to the life and legacy of Walt Disney himself. As an animation industry pioneer, Disney forever changed the entertainment industry.
From his first character ever (Mickey Mouse) in 1928 to feature-length cartoons to the amusement parks loved around the world, you can see it all about Disney's career here.
The Walt Disney Family Museum occupies over 3700 square meters. Filled with drawings, music, and movies, the museum uses listening stations and interactive exhibits to bring its collection to life.
See Disney's many Oscar wins, check out his own miniature Carolwood Pacific Railroad, and marvel at the 3.6-meter model of Disneyland.
The museum also hosts an annual Animation Festival, organizes special events, and offers screenings of classic Disney films.
9 – Asian Art Museum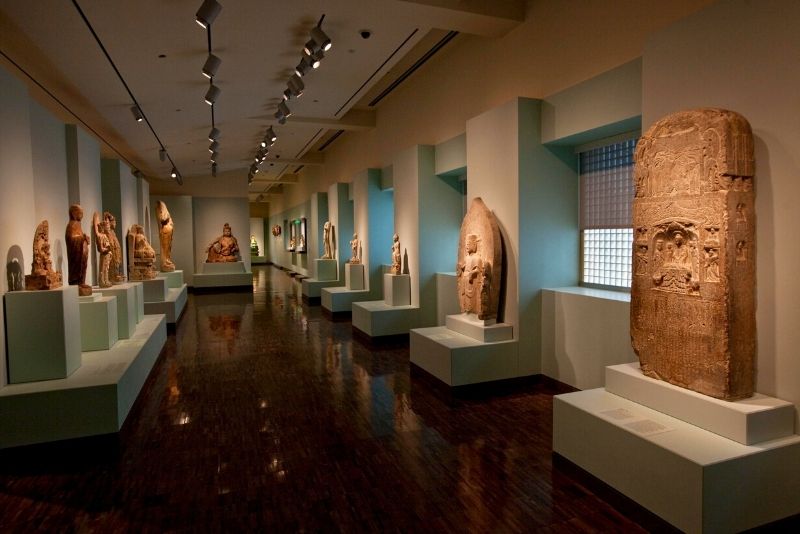 Spanning over 6,000 years and organized by region or country, the permanent collection at the Asian Art Museum is nothing short of awe-inspiring. Stunning masterpieces include mandala paintings and gilded sculptures from the Himalayas, suits of armor from Japan, court robes and ink drawings from China.
There are also special galleries dedicated to Korea, Southeast Asia, and West Asian art. The current collection contains more than 18,000 works of art and over 2,000 of them are displayed at any given time.
In addition to the permanent collection, the museum also organizes temporary exhibits. Past ones have included immersive and interactive digital experiences, the complexities of gender across Asian art, and the storytelling impact of textiles.
Workshops, lectures, special family days, and other events are held throughout the year.
10 – Legion of Honor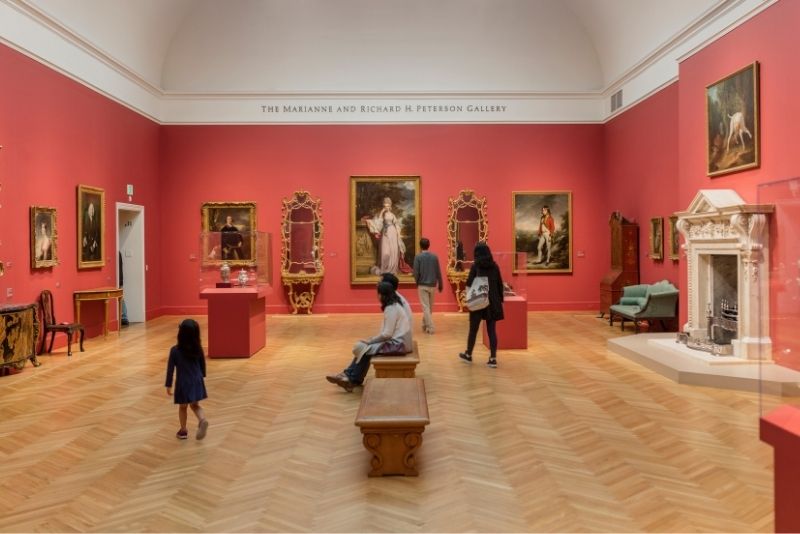 This unique art museum of ancient and European art covers the last 4,000 years of human history. Its impressive collection includes European paintings from the 14th to the 20th centuries, as well as European sculptures going back to the 1500s.
There are also over 90 sculptures by French master Auguste Rodin in the collection, many of which are in permanent placement in the galleries.
For lovers of antiquities, the museum's collection of ancient art is particularly stunning and features pieces from Egypt, Greece, Rome, and the Near East.
In addition to sculptures and carved reliefs, there are also jewelry, terracotta, and glass pieces. Highlights include Egyptian mummies, gold items, and painted vases.
11 – USS Hornet – Sea, Air and Space Museum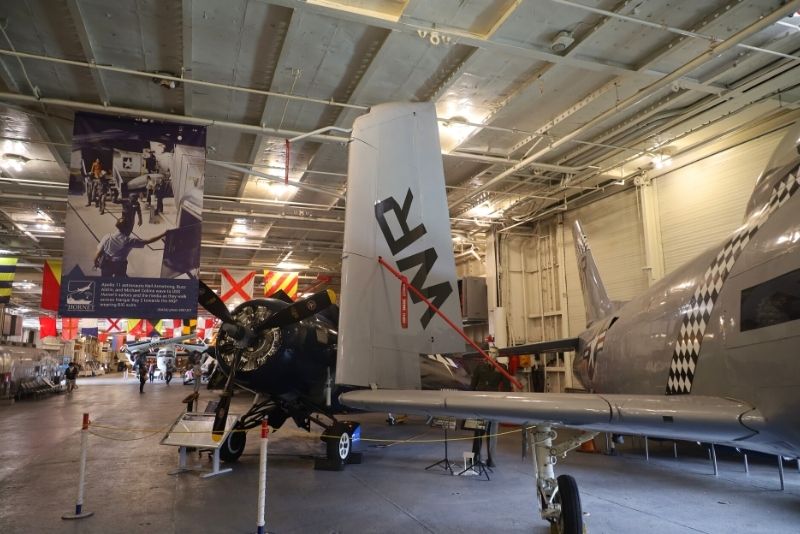 This massive aircraft – a survivor of WWII – carrier holds a number of fascinating exhibits.
Visitors can start at the flight deck outside, where an early supersonic jet used in the Gulf War is permanently parked.
The hangar deck and first deck below hold more retired aircraft, including anti-submarine warfare aircraft, a WWII torpedo bomber, and a 1950s utility helicopter.
The USS Hornet was used as a recovery ship for the Apollo 11 and Apollo 12 moon missions. Many items connected to the missions are exhibited onboard, including the command module, memorabilia, and photos.
Docent-led tours are available for restricted areas like the flight deck of the ship.
12 – Conservatory of Flowers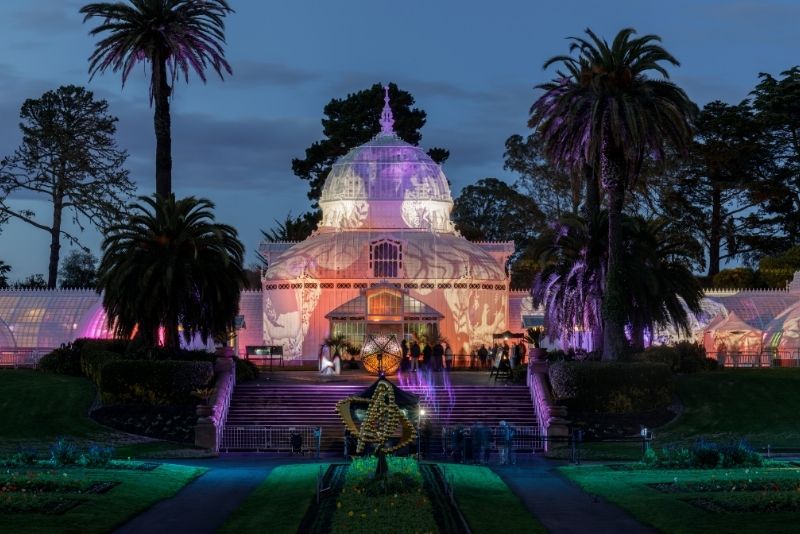 As the oldest wood and glass conservatory in the country, this place deserves a visit for both its collection of plants and its beautiful architecture.
The space is divided into rooms, covering the tropics, aquatic plants, and potted plants.
Over 2,000 plant species include exotic-looking blooms, jungle trees, giant lilies, and a 100-year old giant Imperial Philodendron.
The greenhouse also holds temporary exhibits.
13 – Madame Tussauds San Francisco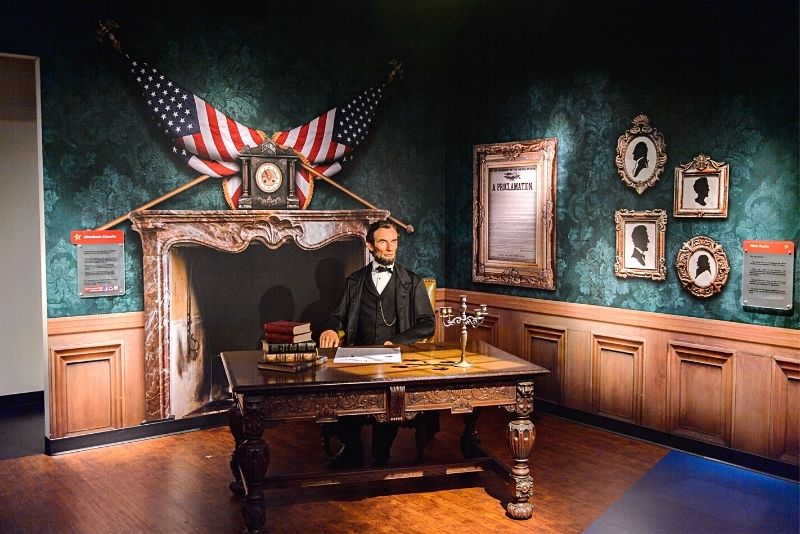 The world's most famous wax museum has a branch at the Fisherman's Wharf in San Francisco. Inside, you'll find figures of famous politicians, movie stars, singers, and TV personalities.
Stand next to Rihanna or Adele, see how tall Serena Williams really is, or say hi to Marilyn Monroe and Abraham Lincoln.
The museum has a number of exhibits dedicated to "the spirit of San Francisco", featuring local artists and activists. Plus, you'll also get to try interactive exhibits.
Get on stage and perform with Taylor Swift or Jimi Hendrix, film your own movie with Alfred Hitchcock, or jump into a colorful fan for a groovy trip to the 60s.
14 – USS Pampanito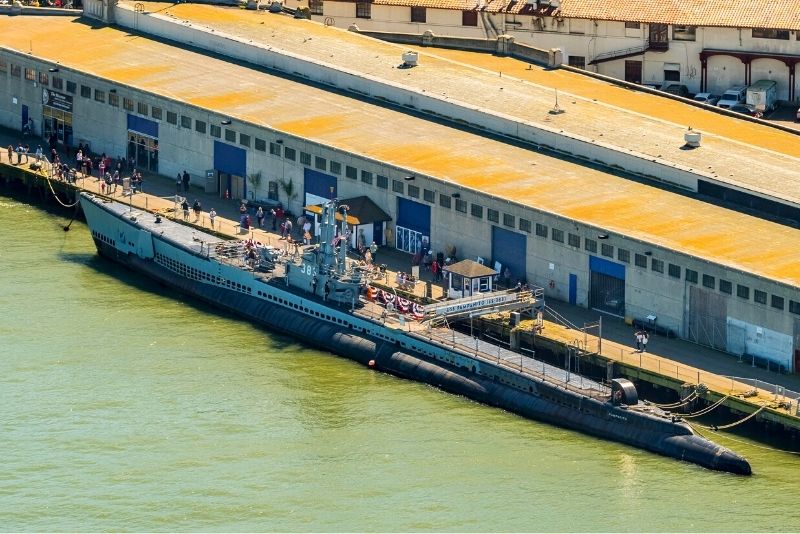 The USS Pampanito fleet submarine is one of the best museums in San Francisco for history lovers. The vessel had a successful run during WWII. During its six patrols, it sank and damaged many Japanese ships, as well as stopping the delivery of essential war supplies.
After being decommissioned in 1945, it was converted into a museum and is now one of the most visited historic vessels in the country. It is also a National Historic Landmark.
Visitors can tour most areas of the vessel, including the engine room, control room, periscope, galleys, and plenty of steep ladders, tight spaces, and hatches. The entrance fee includes a free audio tour so you can learn about the history and background of the submarine as you walk around it.
Two Saturdays a month, the radio room of the museum comes to life and amateur radio users can connect directly with the boat via voice or Morse Code.
15 – Ripley's Believe It or Not!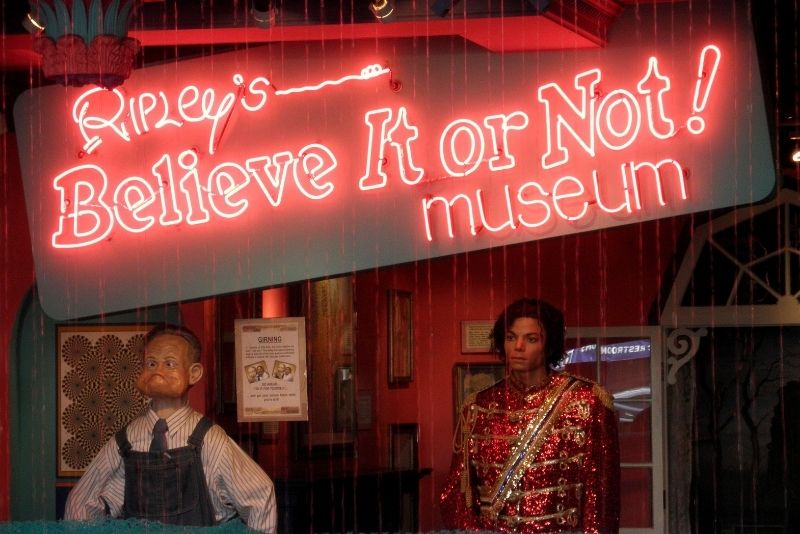 Back in the 1920s, Robert Ripley was a collector of all things odd, unusual and, well, just unbelievable. His collection was first put on display at the 1933 Chicago World's Fair –and the rest, as they say, it's history.
Since then, many Ripley's museums have opened around the world. At a massive 1100 square meters of exhibition space spread over two floors, the San Francisco branch is one of the biggest. It now holds over 400 exhibits – many of them interactive or based in Bay Area curiosities — divided into 16 galleries.
The museum features a huge variety of items, including cultural artifacts like shrunken heads, a life-size statue of the tallest man ever, microscopic exhibits that can only be seen through magnifiers. There's also plenty of artwork created using toothpicks and matchsticks, Phillips head screws, and computer parts.
Visitors to the museum can buy a combined ticket to also enjoy Ripley's Marvelous Mirror Maze.
16 – SS Jeremiah O'Brien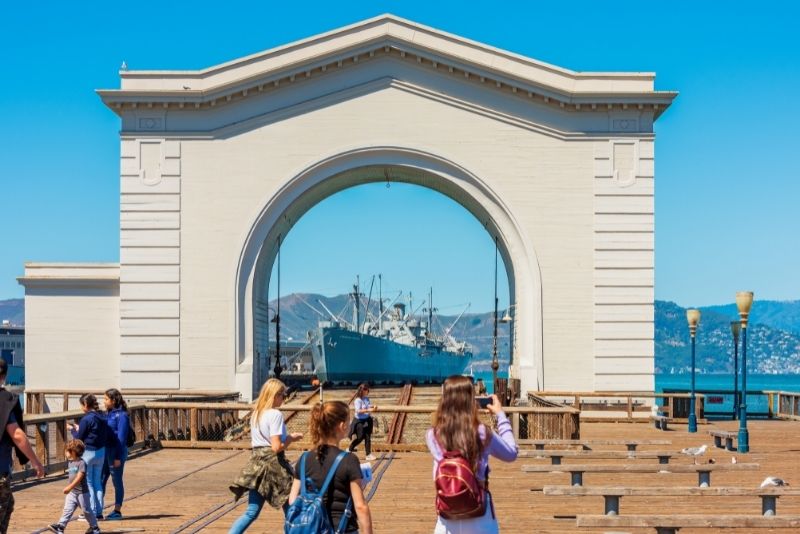 The SS Jeremiah O'Brien was part of the fleet that landed in Normandy on D-Day – and one of the very few vessels that survived the events of that day.
Of the almost 3,000 Liberty ships (essentially commercial merchant vessels) built during WWII, only the SS Jeremiah O'Brien and two others are still operational.
After the war, the 135-meter-long SS Jeremiah O'Brien was part of the Reserve Fleet for many years until it was finally docked at Pier 45 and became a floating museum. A few times a year, for special occasions, the SS Jeremiah O'Brien leaves the dock for cruises around the San Francisco Bay.
The rest of the year, visitors can tour the inside of the ship, including the engine room (featured in the film Titanic, as both ships had very similar engines), cargo holds, and the flying bridge.
17 – Yerba Buena Center for the Arts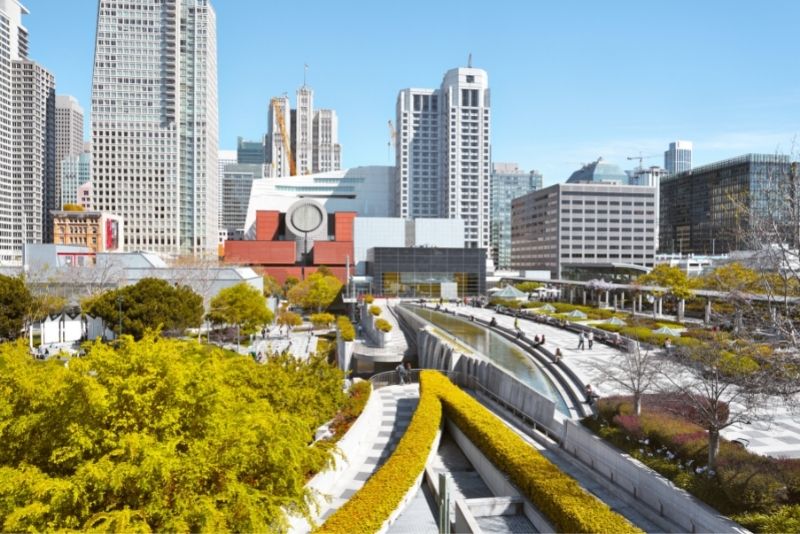 A contemporary arts center with no permanent collection, YBCA focuses on temporary art shows and exhibits that also cover film and performance.
The center's galleries are dedicated to showcase work that provokes dialogue and inspire others to create.
Although much of the focus is on local artists, performers are welcome from all over the world and have included award–winning choreographer Kyle Abraham and performance artist Paul S. Flores.
18 – The Contemporary Jewish Museum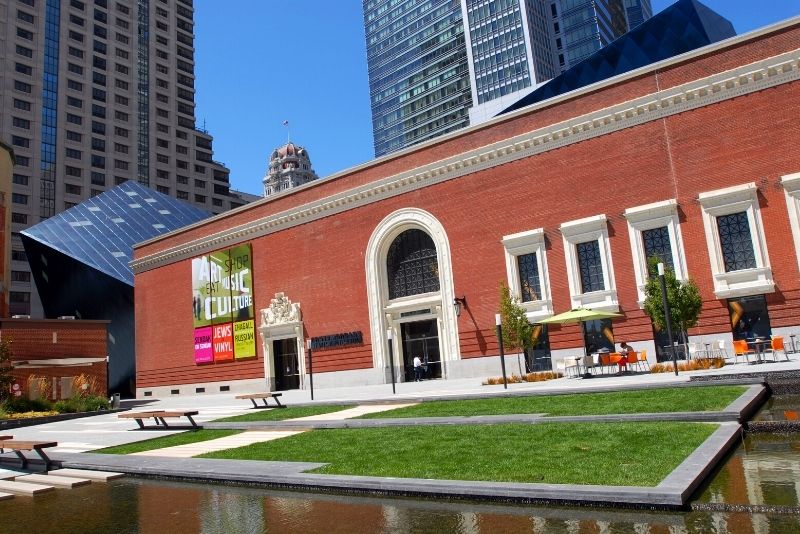 CJM is a unique museum that holds no permanent collections. Instead, their focus is on exhibitions that educate visitors on the Jewish experience from a 21st-century perspective.
In addition to art and film projects, the museum also hosts programs on literature, debate, and audio projects.
Through collaborations with other institutions such as the University of California, Berkeley, CJM has also been able to showcase unique items, such as 19th-century textiles from the San Francisco Jewish community.
Programs and events at the museum encompass a wide range of topics. Past events have included a look at the SF Golden State Warriors basketball team (which was originally born as the South Philadelphia Hebrew Association) and a talk about Jim Henson (creator of The Muppets) and the art of puppetry.
19 – Children's Creativity Museum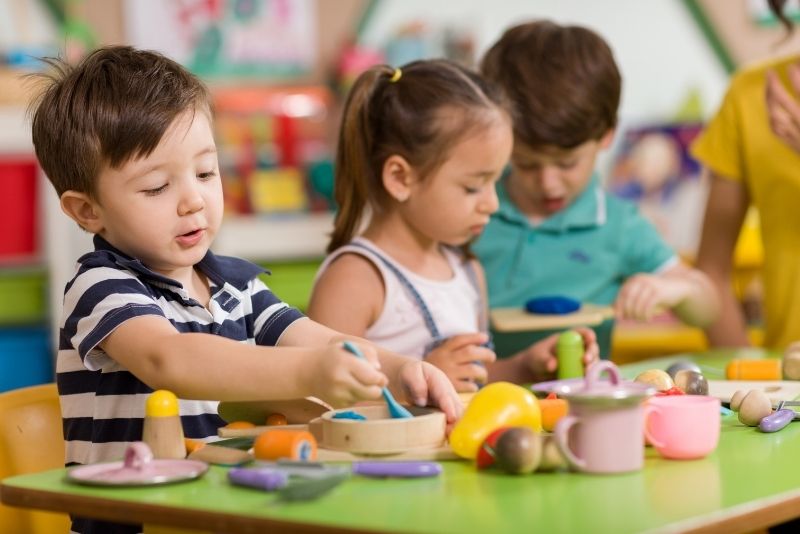 Want to put together your own animation film using LEGO & DUPLO bricks? How about recording your own song or jumping up and down on a musical carpet?
Created especially for children 2 to 12 years old, this interactive museum relies on creativity rather than static exhibits to encourage curiosity and learning. Whether kids want to discover multimedia or program robots, there's a station for that at the Children's Creativity Museum.
The museum is divided into four areas: an animation studio, a music station, a mood room, and an early childhood literacy exhibit that encourages reading. There's also an early childhood zone for the youngest kids, which offers painting, building blocks, and three train tables for fun and exploration.
Just outside the building, the historic LeRoy King Carousel offers more than just horses – there are also plenty of camels, dragons, giraffes, and even gargoyles to ride here.
20 – Pacific Pinball Museum
Located in nearby Alameda, Pacific Pinball Museum is one of the best museums in San Francisco for the child in you. Imagine a giant arcade organized chronologically with almost 100 pinball machines going as far back as the 1940s always available.
Here, you'll get a history lesson on how the game evolved, as well as have a chance to try out all games on your own. The museum offers an affordable all-day pass for unlimited play on all machines.
In addition to pinball machines, the museum's 650-square-meters space also features vintage Jukeboxes and special rotating exhibits to showcase additional machines from the museum's collection of over 1500 games.
Special exhibits examine pinball's roots in gambling and adult-oriented entertainment, the art of Arthur Stenholm (famous for its colorful pinball art), and the uniqueness of 1940s pinball art.
21 – Autodesk Gallery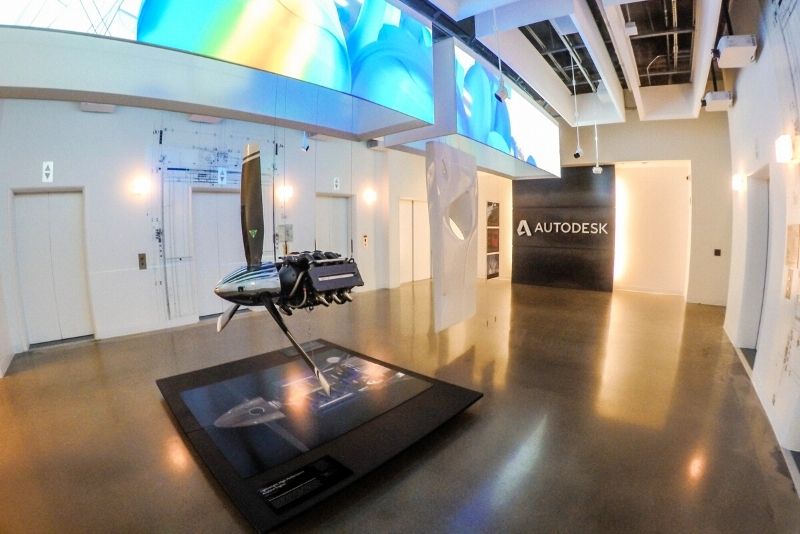 Software company Autodesk creates groundbreaking products that are extensively used in the engineering, manufacturing, and entertainment industries.
Many of the visual effects in movies like Harry Potter and the Deathly Hallows Part 1, Iron Man 2, and Titanic were created using Autodesk software.
The Autodesk Gallery in San Francisco is a good place to see some of the magic the company has been able to create through engaging and often interactive experiences. Models, 3D printed items, and even examples of prosthetics and even vehicle designs created with Autodesk are on display here.
See what happens when the power of inspiration meets technology at this free museum located a three-min walk from the Ferry Building. There are over 20 exhibits (which change throughout the year), so you can easily spend a couple of hours interacting with the displays.
22 – Museum of 3D Illusions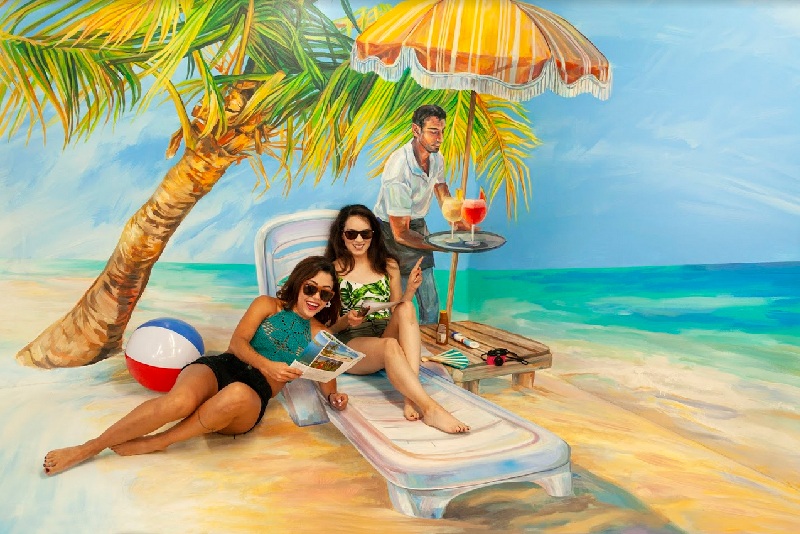 Can you imagine yourself escaping from the jaws of a hippo or being trapped inside a giant soap bubble? How about flying away like Mary Poppins? The Museum of 3D Illusions offers an interactive and immersive experience with over 40 mind-bending exhibits where nothing is quite as it seems.
Step right into the giant painted murals for a well-posed photo and see the magic happen. Suddenly, you're not just posing in front of a painting but are actually part of the action.
Easy arrows show you where to stand for the best photo, or you can buy a VIP package and have a photographer walk around with you for even better images.
In addition to the 3D illusions, the museum also offers a unique experience called Smash It! If you've had a stressful week, this is your chance to write everything that's bothering you on ceramic plates so you can then smash all the stress away.
23 – Randall Museum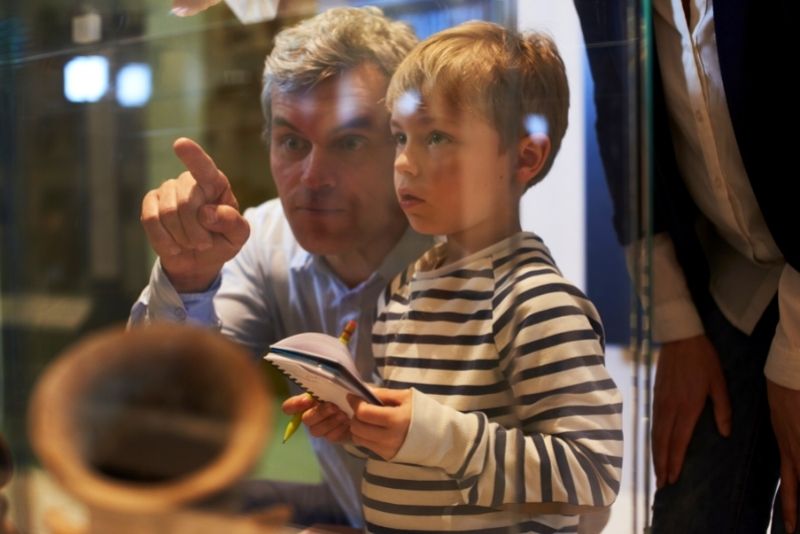 The Randall Museum is a unique museum that combines nature, science, and the arts. Originally created as a museum for children in 1937, it has expanded its exhibits throughout the decades and now offers attractions for all ages.
Still, the museum remains very eclectic, mixing an "Animal Room" that features Bay Area habitats and houses live animals with a "Foundation" geological exhibit and an area dedicated to an interactive railroad exhibit about how trains shaped the West.
In addition, the museum offers plenty of events, lectures, and classes for children and adults and houses an art studio, pottery wheel, wood shop, and a natural sciences lab.
There's also a theater with regular performances by the Young People's Teen Musical Theatre Company, and field trips for the whole family.
24 – Museum of the African Diaspora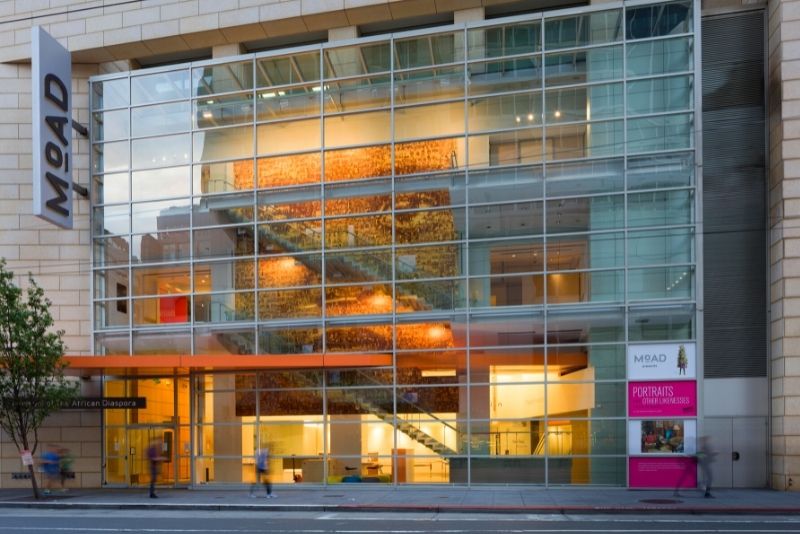 When this small museum first opened its doors, its main focus was on the original African Diaspora (the tracking of the first humans as they moved through and out of Africa).
Over the next few years, the museum switched its focus to contemporary art that celebrates Black cultures and inspires learning.
The museum has five art galleries and they often feature five different exhibits at the same time. Some of these are part of their Emerging Artists Program or in partnership with other museums around the country, such as the  Contemporary Arts Museum Houston.
The museum is also home to the Toni Rembe Freedom Theater, which presents short films and documentaries, live concerts, and special talks and workshops.
25 – Cartoon Art Museum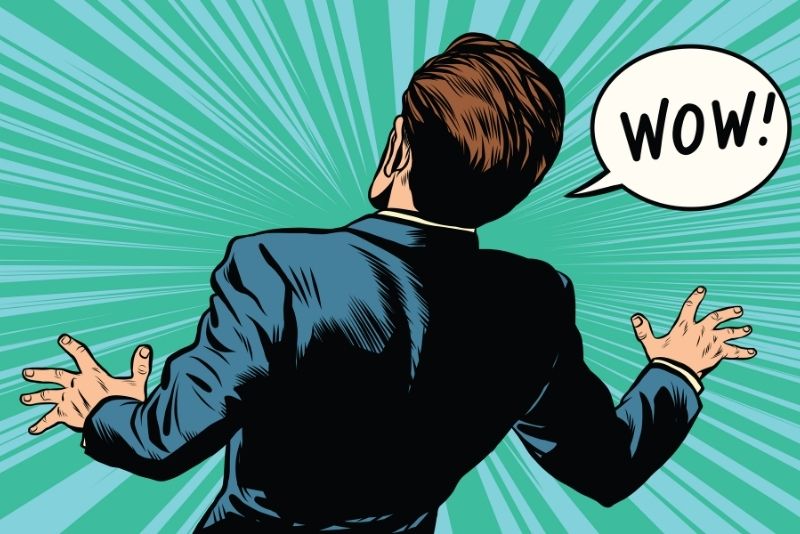 Whether you love comic strips, political cartoons or comic books, this is one museum that won't disappoint. With a collection of over 7,000 items rotated regularly throughout the year, this small museum can be visited over and over for a brand new experience every time.
Originally started by a group of cartoon aficionados, it wasn't until cartoonist Charles Schulz donated funds that the museum found its permanent home.
Over the years, the museum has acquired a growing number of original artwork, tear sheets, original animation art, and illustrations from TV series and films.
Charles and Jean Schulz donated original Peanuts artwork, while animator Alex Anderson donated the animation camera he used for Rocky and Bullwinkle. Other donations have included animation cels and drawings from Disney, Hanna-Barbera, and Warner Bros., as well as concept art and drawings.
Temporary exhibits are usually thematic and in the past have covered horror comics, superheroes, and individual artists' showcases.
26 – San Francisco Railway Museum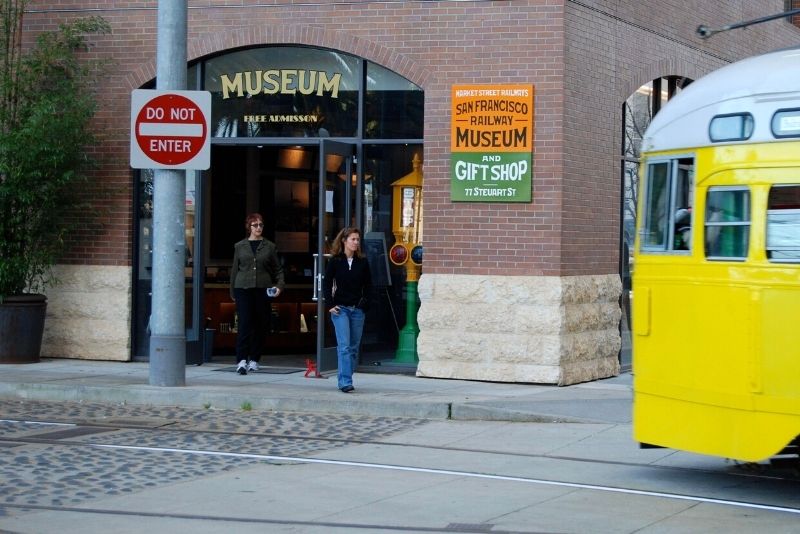 If you've fallen in love (and who doesn't) with the vintage cable cars still riding the streets of San Francisco, this small museum is a great stop to learn more about San Francisco's rail transit history.
Although compact, there's plenty to see here, including a replica of a 1911 motorman's platform, where you're more than welcome to play with the controls.
There are also audiovisual presentations, historical photographs and artifacts, and plaques full of interesting tidbits of information. Temporary exhibits usually focus on things of local importance, such as the 1906 earthquake or the history of transportation in San Francisco.
Entrance to the museum is free and visitors can also pick up unique memorabilia and San Francisco-themed souvenirs at the museum's gift shop.
27 – Wells Fargo Museum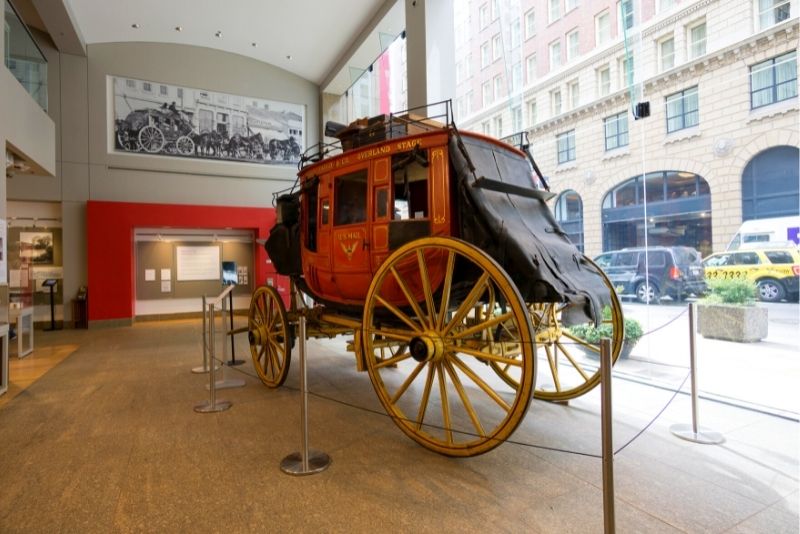 Multinational financial services company Wells Fargo is best known for its subsidiary banks. But as a company founded in 1852 to provide banking services during the California Gold Rush, it makes sense that they have plenty of interesting history behind them to share in their own museum.
Located in the company's corporate headquarters in San Francisco, the Wells Fargo Museum is a trip back in time.
There are plenty of big items to see here, including a horse-drawn Concord coach used for mail delivery, telegraph equipment, and gold mining artifacts. There are also gold nuggets, old banking equipment, and photos and information about the much-romanticized Pony Express mail service.
The interactive exhibits allow you to send a telegram and experience a virtual ride on a stagecoach. The museum is free and a great place to spend an hour on a rainy afternoon.
28 – The Beat Museum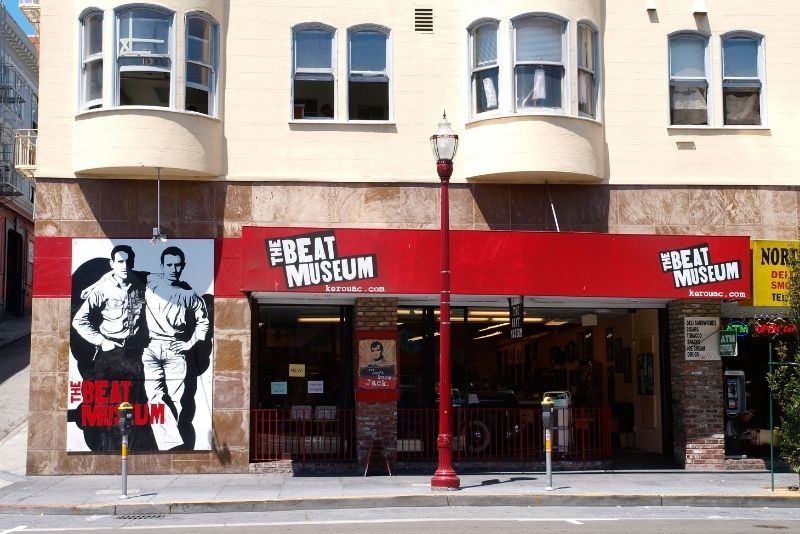 The literary movement known as the Beat Generation helped define the 1950s. It brought the focus of writing on a new form of spirituality that rejected materialism and explored all types of religions.
It also brought to the forefront of literature topics like sexual liberation and the human condition. Authors like Jack Kerouac, William S. Burroughs, and Philip Lamantia are good examples of Beat writers.
Whether you're a fan of the generation or ready to learn more about it, The Beat Museum holds an outstanding collection of books, memorabilia, a typewriter that belonged to author Allen Ginsberg, the car used in the movie On the Road (an adaptation of a novel by Jack Kerouac), and many original manuscripts and photographs.
The museum also hosts events year-round, including reading marathons, documentary and film showings, lectures, and book releases.
29 – Museum of Craft and Design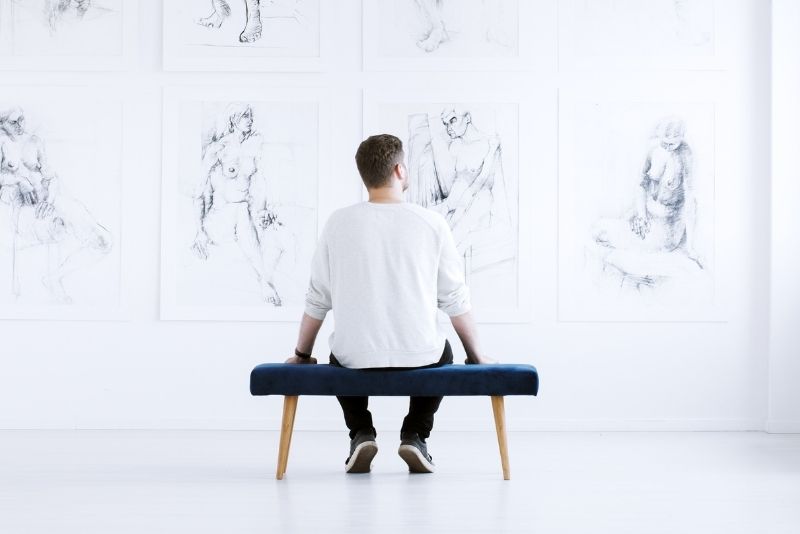 Without a permanent collection of its own, the Museum of Craft and Design is an active, rotating showcase space. Here, designers and artists can present unique creations that might not fit into the traditional museum space.
These innovative exhibitions include plenty of unexpected versions of design, featuring not only sculptors and painters, but also olfactory designs (bottles and containers for scents), gender identity through fashion, and issues of climate change.
The museum is also well known for its unique events, which in the past have included topics like craft as a tool for activism and special presentations focused on artists with developmental disabilities.
They also offer MakeArt worshops on topics like block printing, suminagashi paper marbling, and more.
If you're looking for a unique gift, the museum's gift shop is filled with everything from home and office items, accessories, and art books.
30 – International Art Museum of America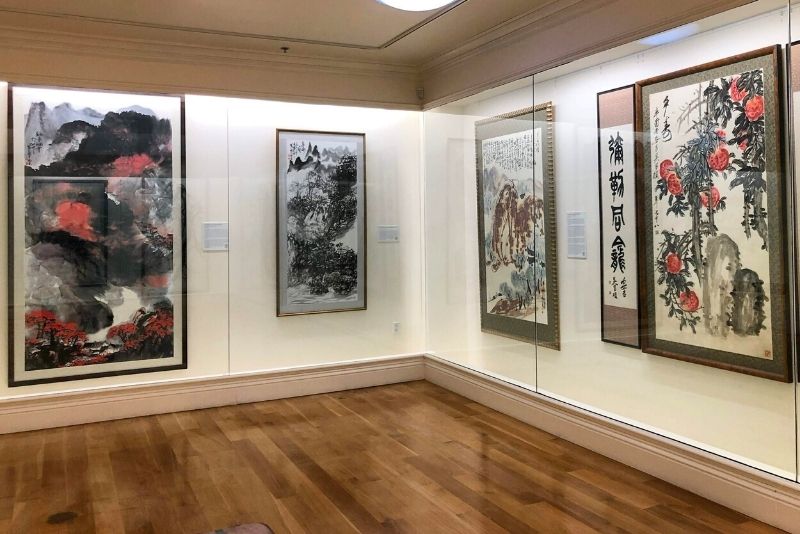 No other museum in San Francisco (and perhaps the country) has the kind of unusual background as the International Art Museum of America (IAMA). The museum was originally founded by Chinese-American artist Yi Youngao, who calls himself H. H. Dorje Chang Buddha III and claims to be Buddha reincarnated.
When the museum originally opened in 2011, it only featured works by Yi Youngao himself. The collection has since grown to include a large number of works of Chinese ink paintings and calligraphy, as well as contemporary Chinese art.
The museum's new Western Collection is much more eclectic, featuring works by both American and European painters as far back as the 17th century.
The museum has an unusual feature called The Treasure Room, which can only be accessed via private viewings available every three months. The room holds sculptures created by Youngao.
31 – Tenderloin Museum
The Tenderloin neighborhood in downtown San Francisco is one of the most "controversial" areas in the city.
Once an area known for its drug crime, burlesque houses, and gambling dens, it was also the neighborhood where refugees from Southeast Asia found a place to call come after the Vietnam War.
Today, it also houses many historical art galleries and theaters, including the Curran, where Broadway national tours often play, and the Blackhawk Jazz Club, which once hosted big names like Miles Davis and Billie Holiday.
The Tenderloin Museum focuses on those contradictions, taking a closer look at everything from immigration struggles to musical history to LGBTQ activism in the neighborhood. The museum goes back over a hundred years of the Tenderloin through interactive displays, photographs, and audio presentations.
The neighborhood has over 400 buildings registered in the National Register of Historic Places. And every Saturday, the museum leads one-hour historical tours that take visitors to some of those buildings, including residential hotels where boxers like Muhammad Ali once spent time in.
32 – Pier 24 Photography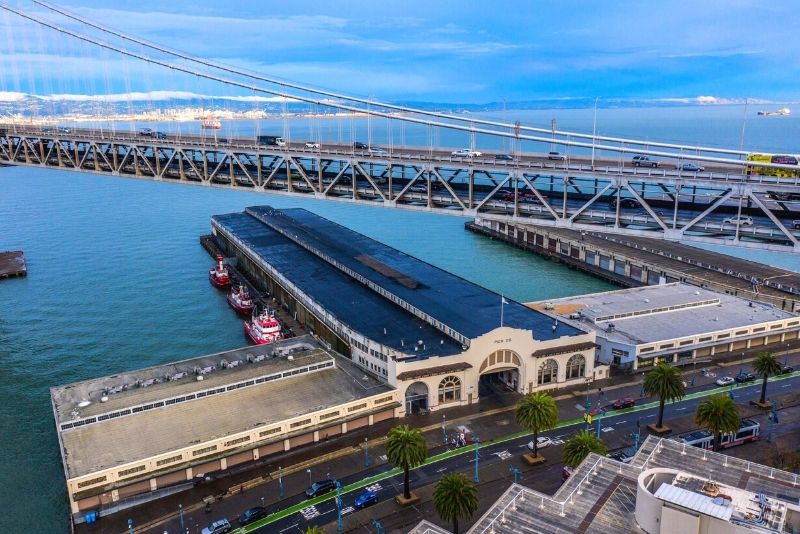 Part museum, part gallery, Pier 24 Photography is an exhibition space dedicated only to photographs. Its permanent collection –which includes about 4,000 works — belongs to the Pilara Foundation, and it's showcased in the museum on a rotating basis.
Classic artists like Ansel Adams, Richard Avedon, and Dorothea Lange are represented here, but so are contemporaries like Alec Soth and a number of emerging photographers.
The museum also has a visiting artist program – a chance to see the work of international photographers as well as attend their lectures.
In addition, the gallery space of the museum focuses on thematic temporary exhibits.
Past ones have included Secondhand (based on artists who create curated photographs using found images), This Land (examining the current social climate), and Looking Back (a reflection on the museum's history).
33 – Chinese Historical Society of America Museum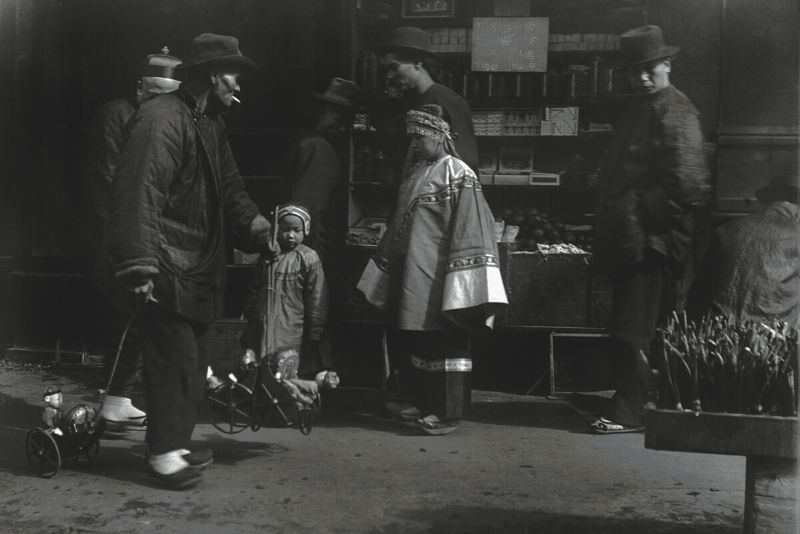 The Chinese Historical Society of America Museum (CHSA) was created to document the true impact of Chinese immigrants in helping build California.
In fact, 19th-century Chinese immigrants played a crucial role during the Gold Rush, the building of the Central Pacific Railroad, and mining work – much of which was kept out of history books for decades.
In addition to a significant archives collection featuring documents and historical photographs, the museum also features memorabilia, advertising trade cards, sheet music, and toys.
There's advertising from the groundbreaking Kublai Khan nightclub and watercolor paintings by Chinese-American artist Jake Lee. Visitors can also see the famous 154cm×533cm mural entitled One Hundred Years: History of the Chinese in America by James Leong.
The CHSA also runs community programs that include monthly Mandarin and Cantonese meetings for new learners of the language, open roundtables to discuss issues affecting the Chinese American community, book clubs, and film screenings.
34 – Haas-Lilienthal House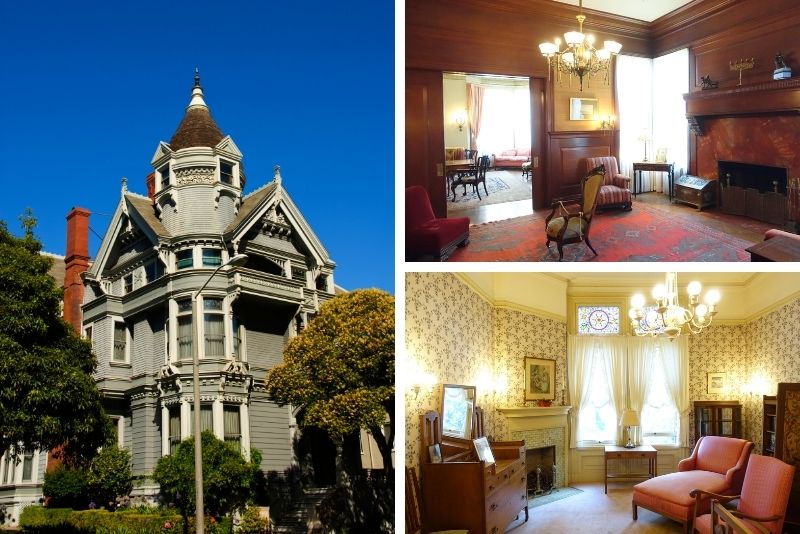 Built in 1886 for local merchant William Haas and his family, the 1000-square-meters Haas–Lilienthal House is a San Francisco Designated Landmark.
The house is done in a Victorian Queen Anne-style, a form of late Victorian architecture that retains the beautiful lines and ceilings but allows for an asymmetrical façade, stronger and more lively colors, and special wall textures and extra balconies.
The stunning Haas–Lilienthal House –the only Victorian house in San Francisco that's currently also a museum— includes all that. The building is filled with original period furniture and décor.
Tours take you through the many rooms of the property, including the two parlors, dining room, butler's pantry, nursery, sitting room, bathrooms and bedrooms.
35 – Gregangelo's Velocity Arts & Entertainment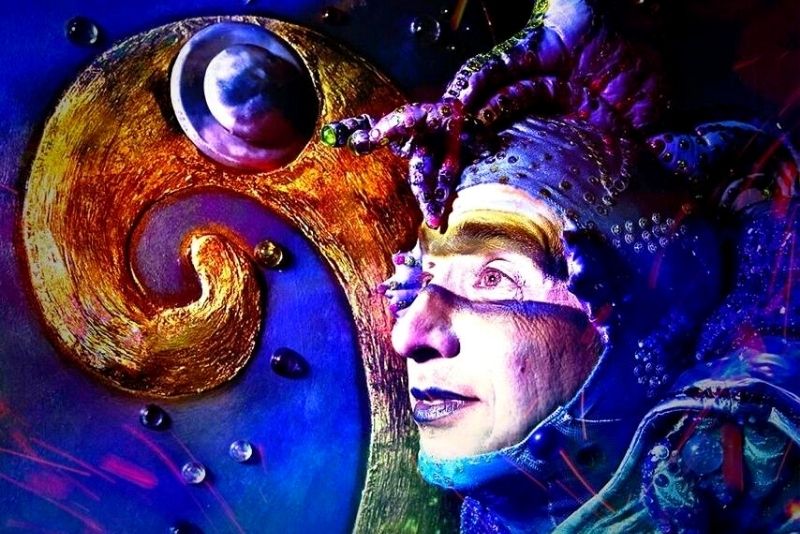 Artist Gregangelo Herrera is the mastermind behind the circus troupe that combines aerial arts, motion media and optical illusions to create immersive experiences that are hard to describe.
Although much of their work consist of performances and installations, Gregangelo has also converted his own home into a museum.
This is no ordinary museum, though. Think of it as a theatrical experience instead. Or walking into a surrealist painting where circus acts come to life and where LED lights, twigs and branches, and colorful mosaics all coexist.
The house itself is massive, with about 30 rooms blending into each other. You'll find bejeweled bathrooms, alien rooms, a life-sized sarcophagus in the living room, and a real llama dressed as a unicorn living in the garden.
All proceeds from the two-hour guided tours of the home are donated to a local children's arts organization.
36 – The Mexican Museum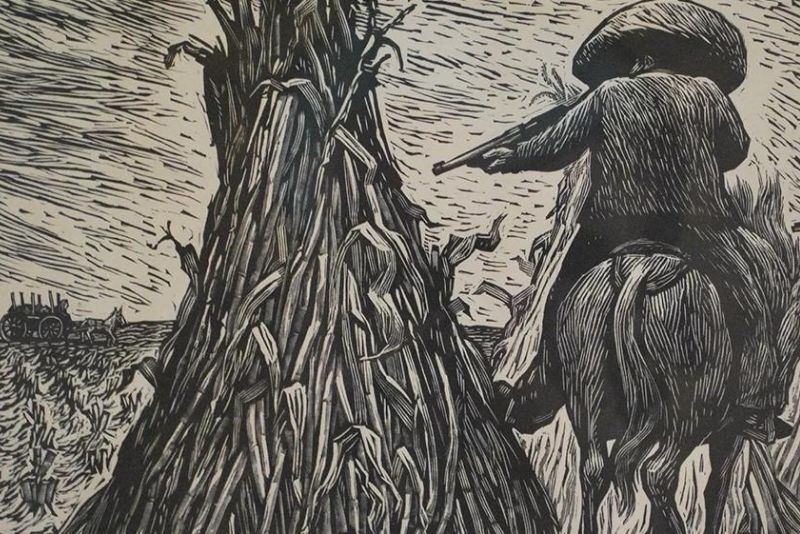 The labor of love of American artist Peter Rodríguez who founded it in the 1970s, the museum has moved several times over the decades. A new building –and hopefully the museum's last home- is now under construction in the Yerba Buena Gardens.
Despite all the changes, the Mexican Museum still fills a premier space in San Francisco as the only museum dedicated to Mexican and Mexican-American culture.
Its collection, which consists of over 16,000 items, covers everything from Pre-Hispanic and Colonial times to historical Mexican and Chicano contemporary art.
37 – GLBT Historical Society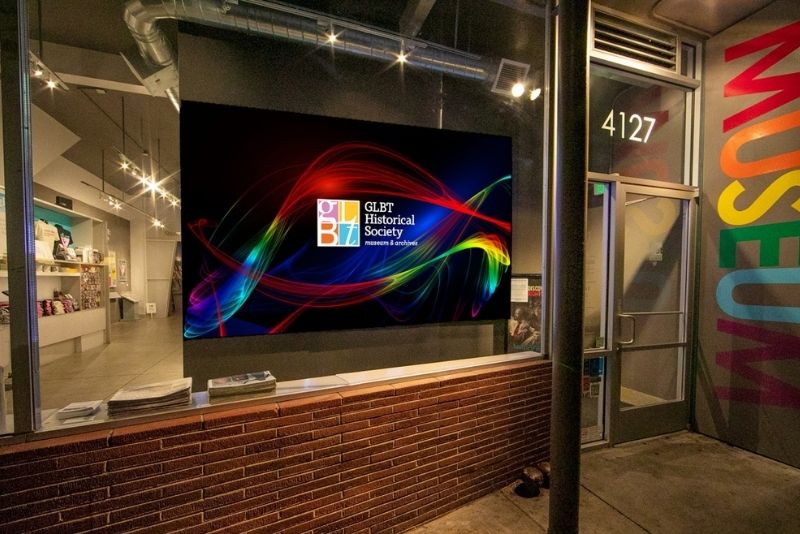 Serving both as an archive and museum, the GLBT Historical Society chronicles the history of LGBT communities in the Bay Area and around the country.
The society's stand-alone museum is the only of its kind in the country and holds thousands of items, photographs, and documents about the LGBTQ public history.
Among the museum's permanent exhibits is Queer Past Becomes Present, which chronicles over a century of queer life through photos and film, documents, and artifacts.
Highlights of the exhibit include the history of the 1950s Daughters of Bilitis social club for lesbians, the persecution and assassination of several activists, the beginnings of the HIV/AIDS pandemic, and clubs and bars that played a role in queer history.
The society also organizes exhibitions, author talks, and panel discussions about issues that promote understanding of LGBTQ culture and history.
38 – San Francisco Fire Department Museum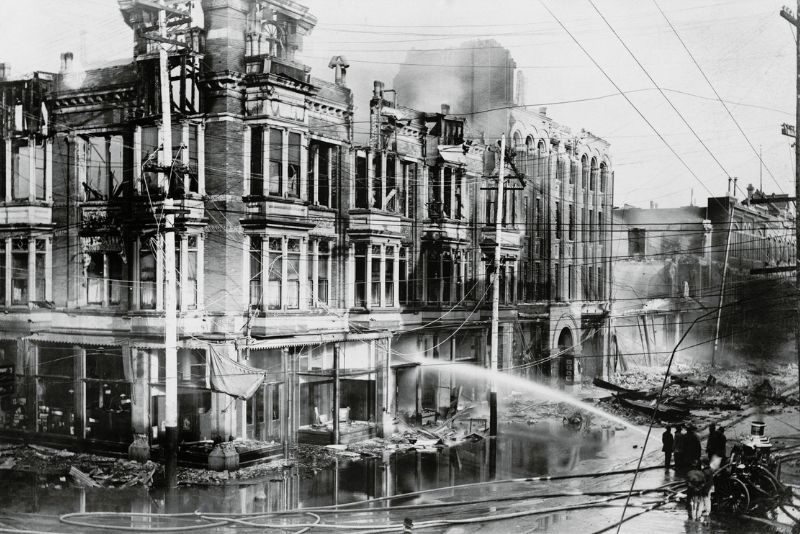 San Francisco has a long and sad history connected to fires. In 1906, a massive earthquake hit the city – but it was the fires that came right after that almost completely destroyed it.
The San Francisco Fire Department Museum and Safety Learning Center is home to a great collection that chronicles the history of firefighting in San Francisco. But it's also a place where visitors can learn about fire safety and what happens when safety measures fail.
The collection includes antique firefighting equipment, an early fire truck, and horse-pulled fire engines.
You can also see a large exhibit focusing on the 1906 earthquake, including photos of what the city looked like after and examples of melted items. This includes a partially melted giant bell once used to warn residents about fires.
39 – American Bookbinders Museum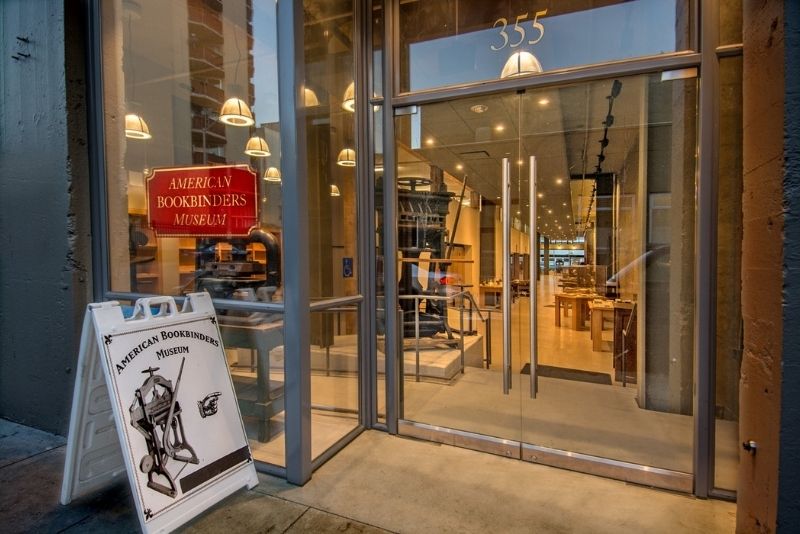 Up until the 1800s, all bookbinding was done by hand. Back then, getting a book ready for sale was as much a business as it was an art.
The American Bookbinders Museum is a great place to take a look back at the history and craftsmanship of hand bookbinding as well as the evolution into its industrialization.
Although small, the museum houses an exciting collection of bookbinding equipment, ephemera connected to the bookbinding process, and antique books.
Special items include a 19th century English blocking press, an 1800s embossing press that could produce cloth-covered book covers, and an example of a lying press used by hand-binders to press and trim edges since the 1500s.
In addition to rotating exhibits, the museum also hosts workshops, talks on bookbinding and book preservation, and much more.
40 – Museum of Russian Culture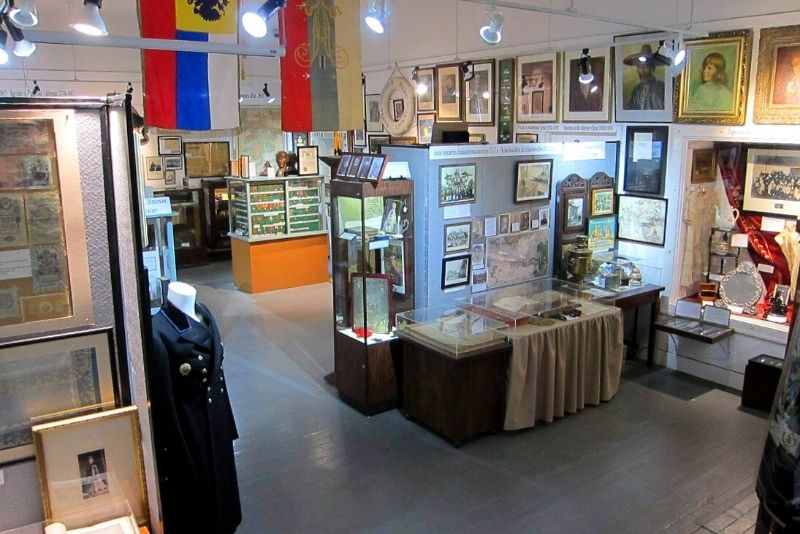 You might not associate San Francisco with images of snow-covered Russia, but the truth is that religious persecution and then the 1917 Russian Revolution resulted in many Russian immigrants making their way to the US. San Francisco, as well as other coastal cities, received the largest numbers.
The Museum of Russian Culture was born as a way to document immigration, promote Russian culture, and track the impact of Russian-Americans in the history of the country.
The museum's collection is mainly based on periodicals, archival materials, documents, and photographs covering wars, the Russian Revolution, and the Romanov dynasty.
Their exhibition hall features a large number of historical photographs, costumes and uniforms, books, and more. The museum also organizes a number of activities throughout the year, including Russian folk dancing classes, and a food festival every February.
41 – Museum of Performance & Design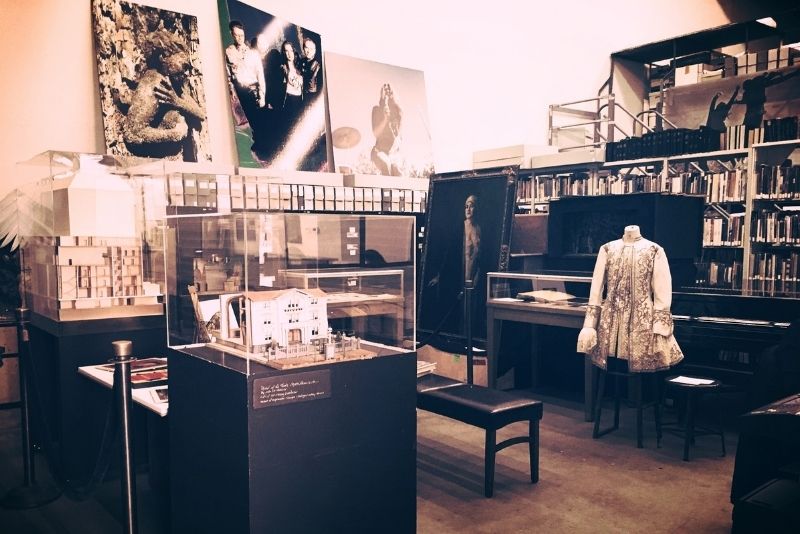 The Museum of Performance + Design is San Francisco's only museum dedicated exclusively to the performing arts.
While the emphasis of the collection is on local artists and works, the museum doesn't just chronicle contemporary performances – instead, it goes back all the way to the Gold Rush era.
With a massive rotating collection of over 3 million items, the museum offers a new experience every time you visit. Photos, original costumes and artwork of performances in the Bay Area are always exhibited and often grouped into special displays to match anniversaries or events.
There are also recording of live performances always playing or available to watch.
While major organizations like the San Francisco Ballet and Opera are well represented here, you can also see plenty of interesting materials related to other types of performing arts, including The Pickle Family Circus, which inspired the creation of the world-famous Cirque du Soleil.
42 – Fort Mason Center for Arts & Culture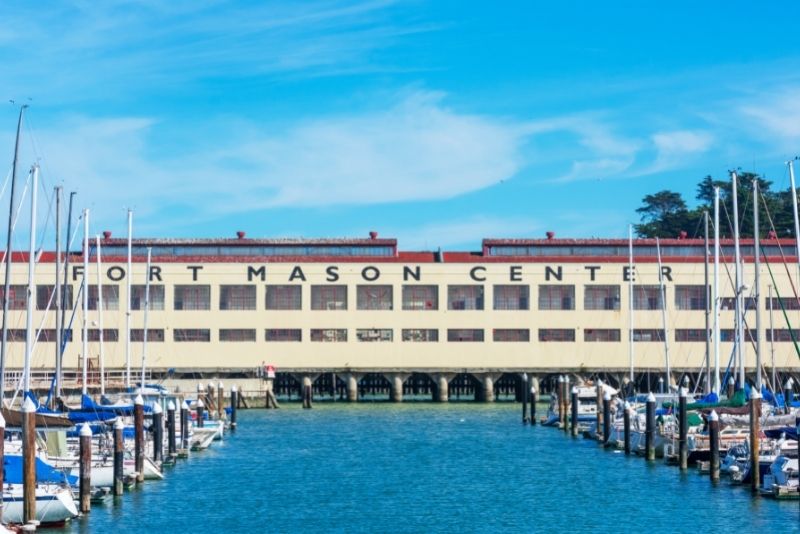 This former military base is worth a visit even if it's just to enjoy its stunning views of the Bay and the Golden Gate Bridge. The Fort Mason Center for Arts & Culture (FMCAC), however, has a lot more to offer to visitors than great photo opportunities.
The FMCAC's main focus is on rotating exhibits and performances that include everything from art by SF Bay Area residents, seminars on social and cultural topics, and a theater season filled with plays and performances.
Free walking tours organized by the center take visitors to nearby historical areas and great viewpoints while sharing details about the military background of the FMCAC.
43 – Society of California Pioneers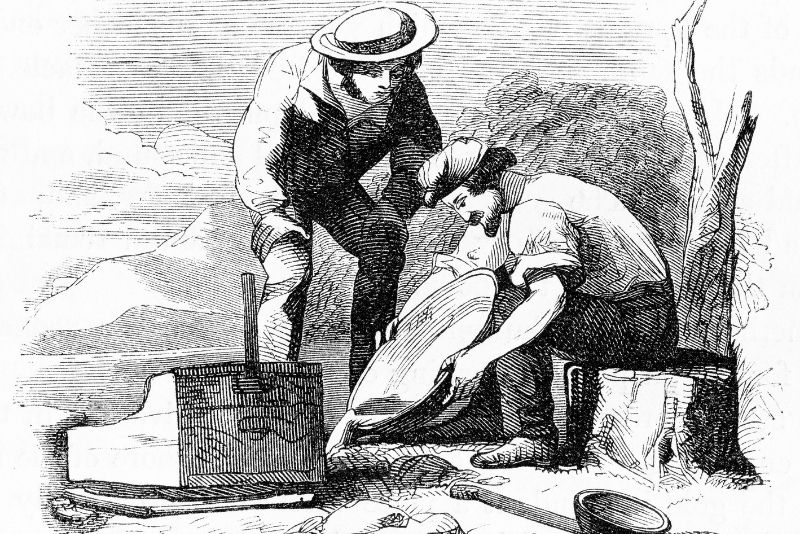 The Society of California Pioneers was established to record the culture and history of 19th-century California settlers and their descendants.
In addition to archives and a library (actually the first library ever in California), the Society also runs a museum chronicling some of the events that shaped and changed the area forever. The Gold Rush years and the 1906 earthquake are two of those events.
The museum's collection features letters, pioneer diaries, daguerreotypes and photographs, maps, newspapers, and historic artifacts. Their Gold Rush collection contains a number of impressive items, including documents on San Francisco's first master goldsmith, necklaces featuring gold nuggets, and a gold cane head.
In addition to rotating exhibitions, the museum also hosts events, public tours, and a number of online exhibitions throughout the year.
44 – African American Art & Culture Complex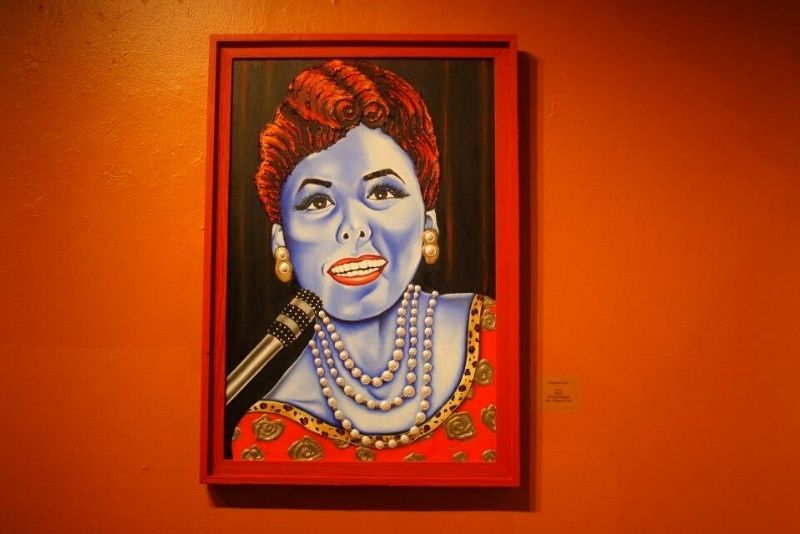 Established as an Afro-centric artistic and cultural center, the AAACC offers Black creatives an art gallery, library, exhibition spaces, and a theater. There are also multi-purpose spaces that are used to host dance performances, plays, and conferences and the AAACC hosts a community garden nonprofit.
The complex offers a number of summer programs for both children and adults, including dance and theater classes and arts and crafts.
Although there are no permanent exhibits in place here, rotating ones are always in place throughout the year. Recent ones have focused on the role of Black women artists and Bay Area mural artists helping redefine outdoor art.
45 – Museum of the Eye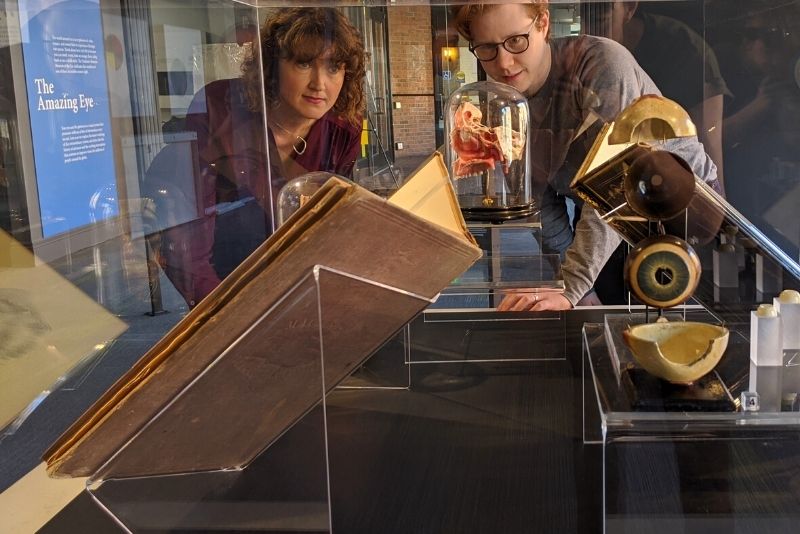 Run by the American Academy of Ophthalmology, the Truhlsen-Marmor Museum of the Eye® is the world's only public museum dedicated to everything sight-related and one of the best museums in San Francisco for science buffs.
Not only the science of how we see and what health concerns affect our vision, but also the fun side of seeing –how optical illusions trick our eyes, the evolution of eyeglasses and glass eyes, how eye surgeries got their start and how things have changed since then.
Plenty of interactive and hands-on stations make the science side of things accessible to everybody. There are even virtual reality headsets and a collection of over one thousand spectacles dating back hundreds of years.
Visitors can also learn about legends surrounding sight and use a large-scale eye model to learn how vision and the brain work together.
46 – Military Intelligence Service Historic Learning Center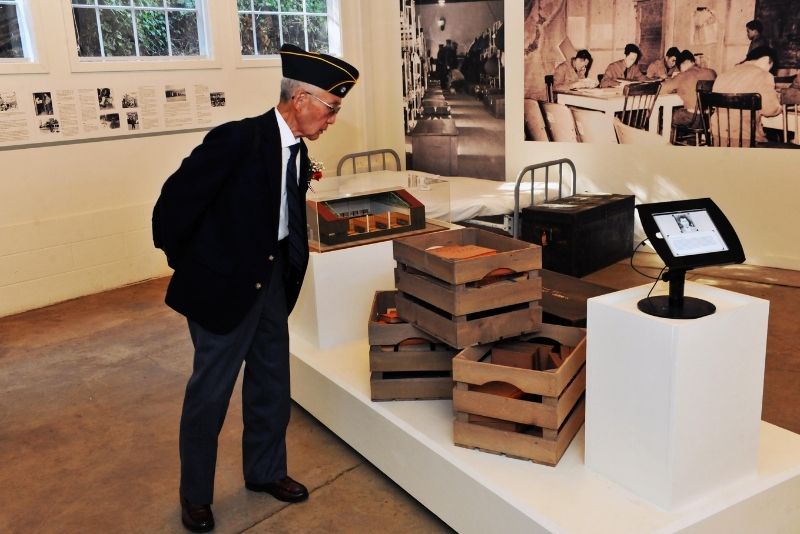 Located in the heart of the Crissy Field public recreation area, the Military Intelligence Service (MIS) Historic Learning Center focuses on one very specific time in history.
To understand the background, you have to travel back to 1941, at a time of growing tensions between the United States and Japan. To help support the war effort, the US Army trained thousands of Japanese American soldiers as linguists to join combat units.
Building 640 — a renovated hangar where the first soldiers were trained – houses the museum today. The exhibits inside photographs, historical documents and personal stories of the soldiers who were part of the mission.
There are also details about the war companies they were involved in, as well as personal effects.
47 – Treasure Island Museum
You won't find a sunken chest of gold here, but Treasure Island is rich in history, cultural sights and beauty. An artificial island built for the 1939 Golden Gate International Exposition (and once meant to become SF's second airport), Treasure Island is now a popular city escape featuring bike paths and a marina.
The Treasure Island Museum is as eclectic as the history of the island itself. Its collection includes three dragons that were part of the 1939 fair, copies of the official newspaper of the former Treasure Island naval base, and plenty of photographs and banners retelling the island's dynamic history over the past decades.
The museum also offers walking tours of the island, as well as lectures, temporary exhibits, and talks on topics like the history of the Golden Gate International Exposition and the island's sustainability.
48 – San Francisco Art Institute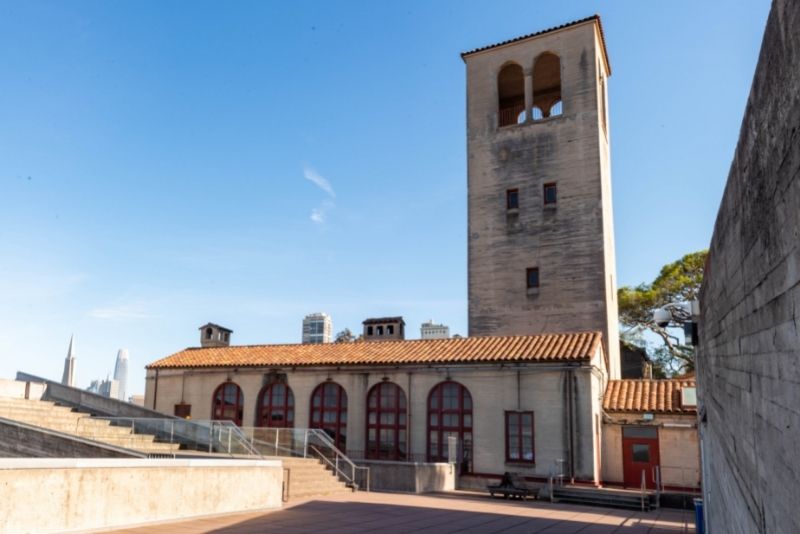 As a private and very small art college, the San Francisco Art Institute's primary goal has always been education. Originally established in 1871, it was completely destroyed by the 1906 earthquake and fires that followed, which destroyed the institute's art collection completely.
After an extensive (and expensive) restoration, a student-directed art gallery, a lecture hall, and studio space were added to the original building. This allowed students and faculty to focus on exhibitions, open performances, and other cultural and artistic activities that weren't possible before.
Famous artists like photographer Annie Leibovitz, Academy Award for Best Director Kathryn Bigelow, and portrait painter Kehinde Wiley all went to school here.
The museum hosts a number of events and exhibitions throughout the year covering everything from contemporary sculpture to abstract photography.
49 – California Historical Society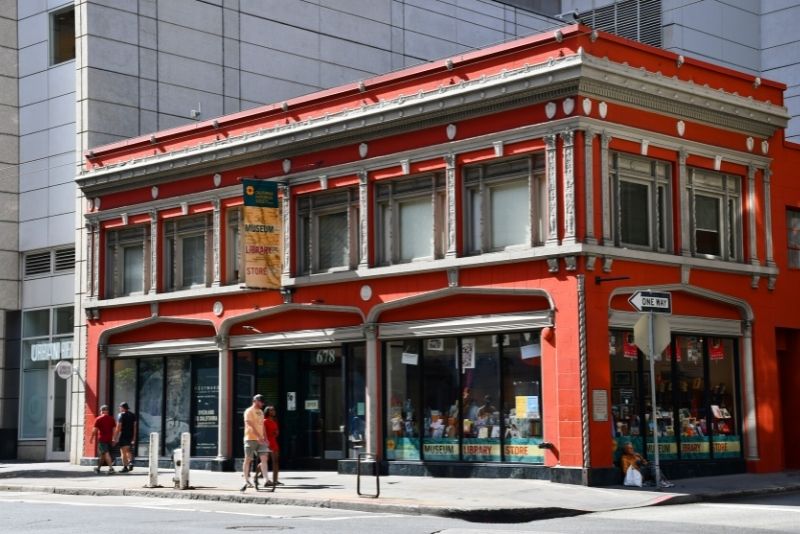 One of the best museums in San Francisco to learn about local history, the California Historical Society (CHS) was originally created in the 1870s. Its first purpose was to collect and showcase documents, photographs and objects to document the colonization and settlement of California.
By the 20th-century, however, the museum's collections had started to grow and include items that helped with an environmental, political, and cultural understanding of the area.
Today, the museum's massive collection features over 500,000 photographs, as well as books, posters, newspapers, and works of art. Their fine art collection holds works by Albert Bierstadt and his paintings of the American West and some of the famous California landscapes painted by William Keith.
An always-growing ephemera collection includes posters and arts for everything from prisons and sanatoriums to political parties, historic museums, and transportation systems.
Ongoing programs and lectures cover topics such as the history of Chinese pioneers, San Francisco and the 1915 World's Fair, and Native American portraits. There are also online exhibitions available.
50 – Good Vibrations Antique Vibrator Museum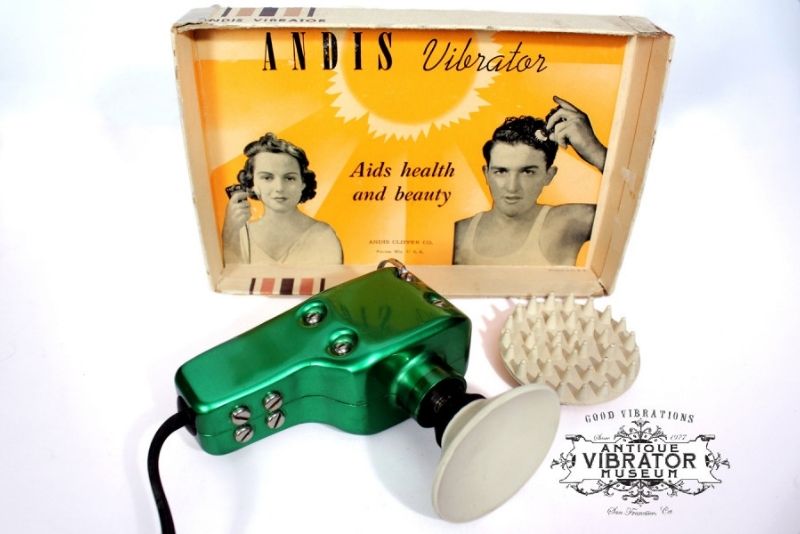 Welcome to the world's only museum dedicated to a very specific form of sexual pleasure. Based in San Francisco since the 1970s, Good Vibrations is a sex-positive company that sells erotic products, including a large range of vibrators.
The museum started almost by accident, as the company's main store in SF had a corner display dedicated to historical vibrators that became very popular. When it was very obvious there was real interest in learning about the history of vibrators, a museum was born.
Vibrators –in one form or another– go back to the 1800s, when they were prescribed by doctors to treat "hysteria" and other "female disorders." By the 20th-century, vibrators had become a health product (sold under names like massager, blood circulator or "magic vibrating disk") used to improve vigor.
The museum explores this side of history through historical and medical papers, photos and advertising. There are plenty of vibrators on exhibit too, some dating as far back as the turn of the century. Free educational tours led by a sexologist are available on request.
51 – Museo Italo Americano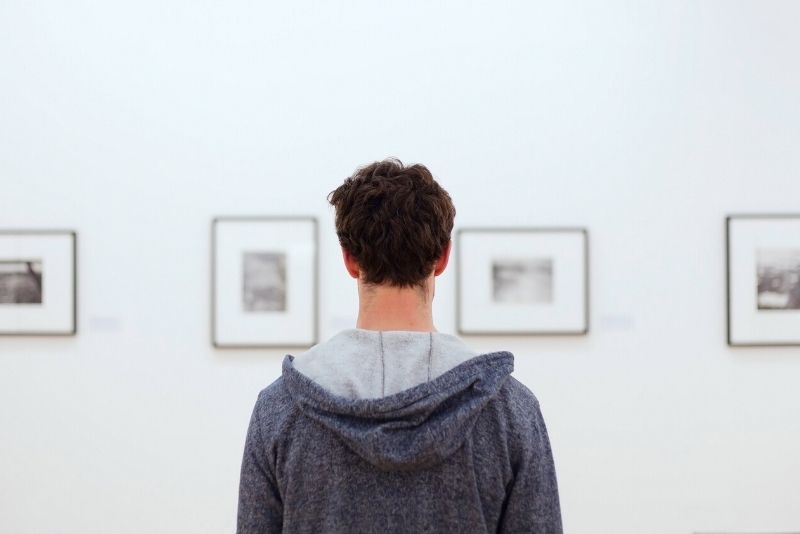 Dedicated to preserving the heritage of Italian-Americans, the Museo Italo Americano has a significant permanent collection of paintings, sculptures, and mosaic works by artists like Giorgio De Chirico, Francesco Clemente, and David Bottini. They also house a special historical archive for artifacts donated by Italian immigrants.
Their main focus, however, is on temporary exhibits in their two art galleries. Past exhibits have featured photographs by local artists, Italian Neorealism art, and a presentation of the work of Giancarlo and Giovanni Cerri, a father-son duo of artists.
In addition to exhibitions, the museum also hosts a number of educational and cultural events, including lectures, film and book presentations, wine tastings and more. They also offer Italian language classes for all levels.
We hope this article has inspired you to visit a few of the galleries and museums San Francisco has to offer!
Whether you're looking for art, history or a bit of science, there's plenty to explore in the City by the Bay.