Get a bird's-eye view of the "City by the Bay" in an airplane tour of San Francisco. Spy the shores, architecture and natural spaces of the town in one of the many airplane tours available.
Whether it's a sunset flight with champagne or a seaplane ride over the bay, an airplane tour in San Francisco is a once-in-a-lifetime experience!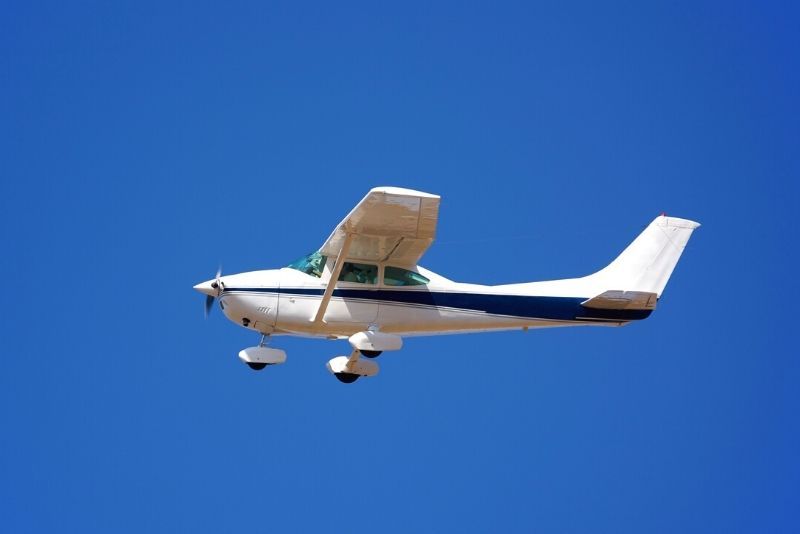 You will find below everything you need to know about airplane tours, one of the most scenic outdoor activities in San Francisco.
What are the best airplane tours in San Francisco?
Sightseeing tours
If you're short on time and don't want to miss any of the best sights in San Francisco, an airplane tour is an ideal way to experience much of the area in a short period of time. Take in astounding views of Northern California's Pacific coast and mountains from 300 meters above.
Airplane tours show you the glittering skyscrapers, expansive bridges and hilly streets of the Bay Area while you hear commentary from a guide. Some are live guides, commentaries from the pilots and others offer pre-recorded audio guides in several European languages.
You will coast over Golden Gate Bridge and Bay Bridge, historic forts with centuries-old histories, the formidable Alcatraz prison island and hilly neighborhoods of the city.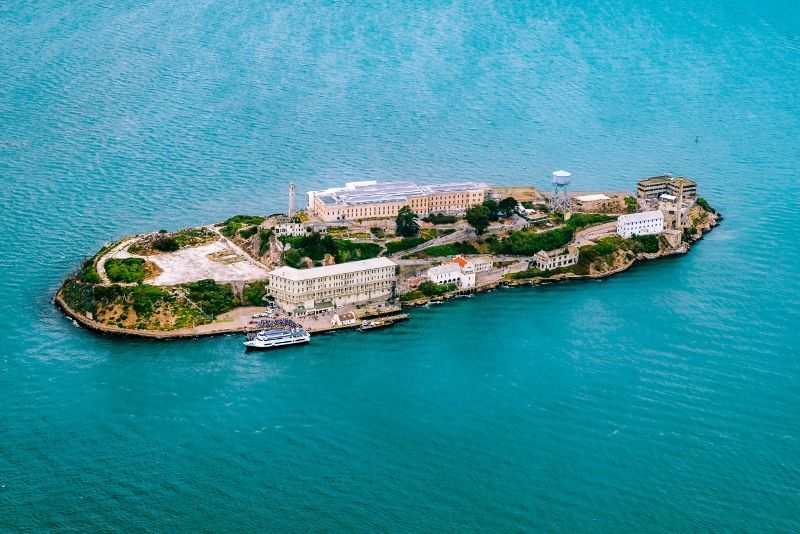 Longer tours take you further to the Marin Headlands, the ancient redwood forests of Muir Woods and the charming towns of Sausalito, Tiburon and Belvedere.
Flights on a standard plane (not a seaplane) are handicapped-accessible and can accommodate strollers and small children.
Sunset tours
Want to celebrate a romantic occasion? Experience San Francisco from above with a glass of sparkling California wine or champagne with your loved one. See the sun dip toward the horizon and the city come alive on an evening airplane tour.
You will experience a different San Francisco as you see the lights of cars maneuver crooked Lombard Street, the illuminated boats passing through the bay and the dusky colors on the mountains to the east.
Fly over Golden Gate and Bay Bridges with their strings of lights connecting the Marin Peninsula with the city. If you're lucky, you may catch a bit of a Giants baseball game at Oracle Park from above.
Seaplane tours
See all the landmarks you would see in other San Francisco flight tours with the thrill of a water take-off and landing on a seaplane trip. You will ride in a bush plane that seats up to six people.
Seaplane tours depart from the Sausalito area, so these tours give a lovely glimpse of the Marin Peninsula as well as the city as you start your excursion. Seaplanes are not handicapped-accessible or easy to board with a stroller.
Private tours
Create a magical experience for yourself and a loved one or small group in a private plane tour. Seaplanes and standard planes are available for private charters, and you can have the space and attention of the guide all to yourselves.
Create your own itinerary and see only what you want to see, or leave the details to the guide who will choose the best sites for you to see from above.
How much do airplane tours in San Francisco cost?
Tours start as low as US$200 per person for a 20-minute flight. Flights lasting 40 to 45 minutes cost between US$260 and US$300 per person, depending on whether it's a private tour or if champagne is included.
Hour-long tours are US$300 per person for either private or small group excursions. Some tours offer rides from Fisherman's Wharf to the airport for an additional US$15.
What is included in an airplane tour in San Francisco?
Airplane tours include your flight and guide to give you insight into the landmarks below. Tours provide either a pre-recorded audio guide or a live guide.
A few tours include pickup from your hotel or from Fisherman's Wharf. Sunset tours include champagne or local sparkling wine.
Where do airplane tours in San Francisco start?
Tours in standard airplanes start from Hayward Executive Airport near the eastern shores of San Francisco. Seaplane tours begin near Sausalito at the Seaplane Base of Mill Valley.
How long do airplane tours in San Francisco last?
Airplane tours last from 20 to 60 minutes. However, the times listed for most tours also include preparation time, takeoff and landing, so your actual flight time will be slightly less than what is advertised.
When is the best time for an airplane tour in San Francisco?
Any season can be great for an airplane tour, but summer has a few disadvantages. It is the foggiest season which can cause flight cancellations.
Some tour companies require that their airplanes return to the airport by 7 PM, making it too early to see the sunset if you've chosen a sunset tour during summertime.
Is it safe to take an airplane tour in San Francisco?
Airplane tours in San Francisco are safe. Planes include passenger seat belts, and companies ensure that flights do not occur during hazardous weather.
Are children allowed on airplane tours in San Francisco?
Children are allowed on airplane tours. Most companies offer reduced prices for children aged two to 12, and some companies do not charge for infants under two years old.
However, seaplanes are not accessible with a stroller. Some tours recommend bringing noise-canceling ear protection for small children.
What happens in case of bad weather?
In case of dangerous weather, companies will give you the option of a refund or reschedule your tour.
Travel tips
Bring a government-issued photo ID.
Carry cash for tips. If your tour has both a guide and a pilot, plan to tip both of them.
Wear a jacket or sweater in case of cool weather.
If you suffer motion sickness, plan ahead by taking anti-nausea medication.
Bring sunglasses and a camera to capture the best views!