Have you ever wondered what is it like to see San Francisco from the water? Touring the "City by the Bay" by boat is an enjoyable way to see the major sites in town while relaxing and spying wildlife.
A boat tour in San Francisco will deliver layers of history, natural beauty and a mix of cultures that fill your visit with variety.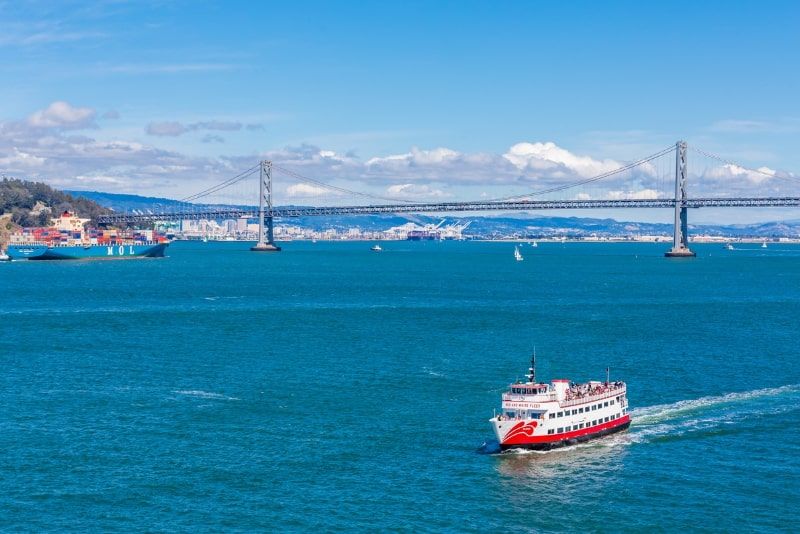 You will find below all you need to know about boat tours, one of the most fascinating outdoor activities in San Francisco.
What are the most popular boat tours in San Francisco?
Viewing San Francisco on a boat tour is a way to see the best of the city in a short amount of time.
Bridges and Alcatraz sightseeing tours
Bridges and Alcatraz tours make Golden Gate and Bay Bridges and the formidable Alcatraz Island their main focus. However, they also pass by sites such as Angel Island State Park, Pier 39 with its sea lions, and the seaside towns of Sausalito and Tiburon.
Guides offer audio commentary to make sure you don't miss a thing. Most audio guides are pre-recorded and accessible with a smartphone or headset provided to you. Pre-recorded commentary is available in major European languages.
These tours include snack bars and protected viewing areas. Some also serve alcoholic beverages for extra money.
Many sailboats have nets where you can hover the sea for a unique way to take in the scenery. RIB tours give you all the sightseeing you'd get on other boat trips along with a thrilling 50-kilometer-per-hour ride.
There are also sunset sail tours that serve beverages while you watch the sun sink into the Pacific.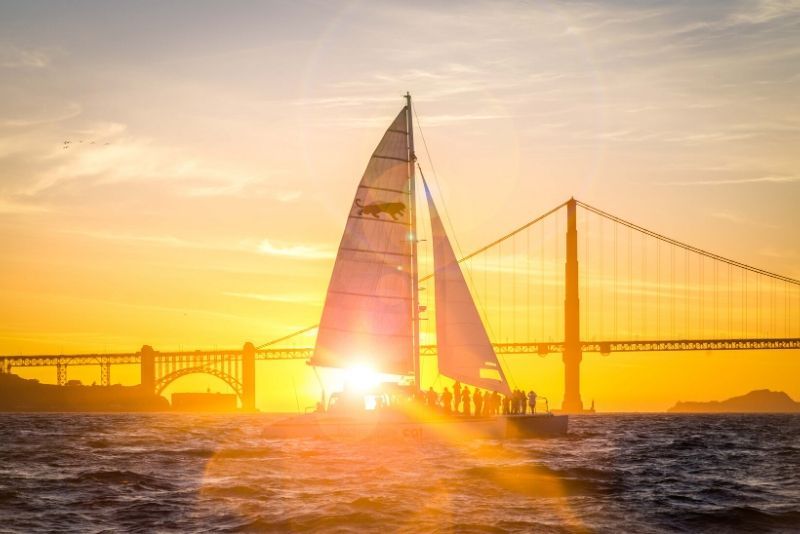 Cruises with dining
Enjoy the perks of a boat tour with the cost of drinks and a meal included. You can choose brunch, lunch or dinner. See unmissable sites along the bay while sipping a cocktail and tasting local dishes.
Although dining and music take center stage on these excursions, guides will also provide information about famous landmarks and natural phenomena that you pass.
Brunches include champagne or mimosas, and other meals include alcoholic beverages and soft drinks. Dinner cruises often feature music and dancing, either with a DJ or a live band.
Most boat trips serve meals aboard the boat, but several tours offer meals on land before or after your time on the water. If you really want to eat aboard, make sure your tour fits this preference before booking.
Boating and walking or biking tours
If you want to stretch your legs during your outing, choose a boat tour that involves some foot or bike travel. Options include a boat tour plus walking tours of Sausalito, Muir Woods, Chinatown and other parts of San Francisco.
City tours often include a ride on the San Francisco cable car.
Hop-on hop-off boat and bus tours
Enjoy a boat ride with a hop-on hop-off bus tour for access to 20 of the most famous locations in the Bay Area.
Choose where you board and leave the bus and when to take your 1-hour boat tour for a full day of exploring San Francisco. Double-decker buses with guides usher you around the city, giving you access to the best parts of town.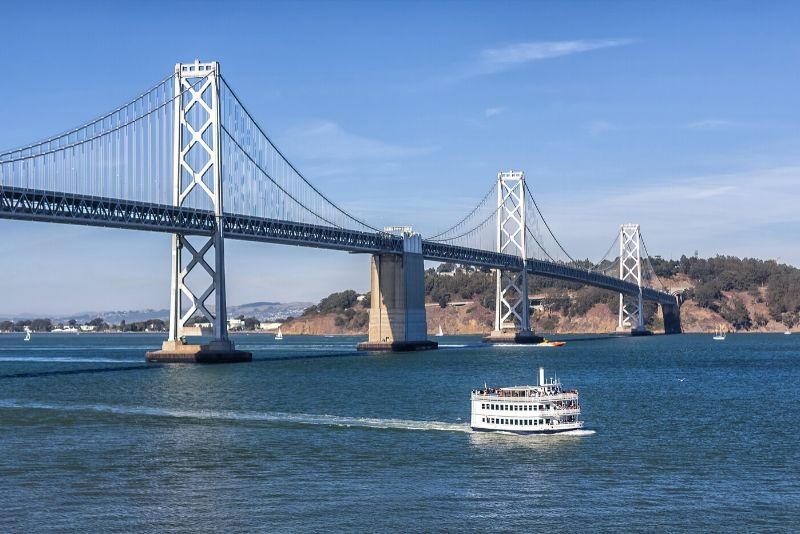 Private San Francisco boat tours
See the best of San Francisco without the crowds! An ideal outing for your small group, a private boat tour gives you full access to a vessel and guide while you take in views and history of San Francisco.
You will have a guide all to yourself, making sure you don't miss a thing as you pass historical forts, scenic villages and marine life.
There are many options for a private boat outing in San Francisco. You can charter a sailboat for a tour with or without a captain for your small group.
Multi-day boat trips in San Francisco
For an unforgettable experience, take a 3-day tour in San Francisco Bay. This option means you will charter a yacht to yourself and spend two nights aboard.
Meals and drinks are included. For an extra cost, you can tour Angel Island State Park by bicycle or on foot.
How much do boat tours in San Francisco cost?
Costs for boat tours in San Francisco depend on the duration of the trip, the type of boat and whether other amenities are included.
Trips on multi-level tour boats in San Francisco cost around US$35 per person for 1-hour tours. Sailboat or RIB sightseeing tours cost between US$60 to US$100 per person for 1.5 hours, depending on whether drinks are included and the passenger capacity of the boat.
Boat tours with a meal range from US$100 to US$180 per person, depending on the number of courses and duration of the trip.
Boat and walking combo tours cost between US$120 to US$130 per person for a 6-hour tour. Boat and biking combo tours cost US$112 per person for a 3-hour tour.
Hop-on hop-off boat and bus tours cost US$100 for a 1-hour boat ride and 24-hour access to bus stops.
Some private boat tours start at approximately US$600 per group. Others cost around US$1,200 per hour per group without a captain or amenities. Fuel, marina fees and San Francisco city entry permit are all additional costs.
Multi-day boat tours start at $900 per group with 3 days, depending on the size of your group.
Which places are seen and visited with a boat tour in San Francisco?
San Francisco's skyline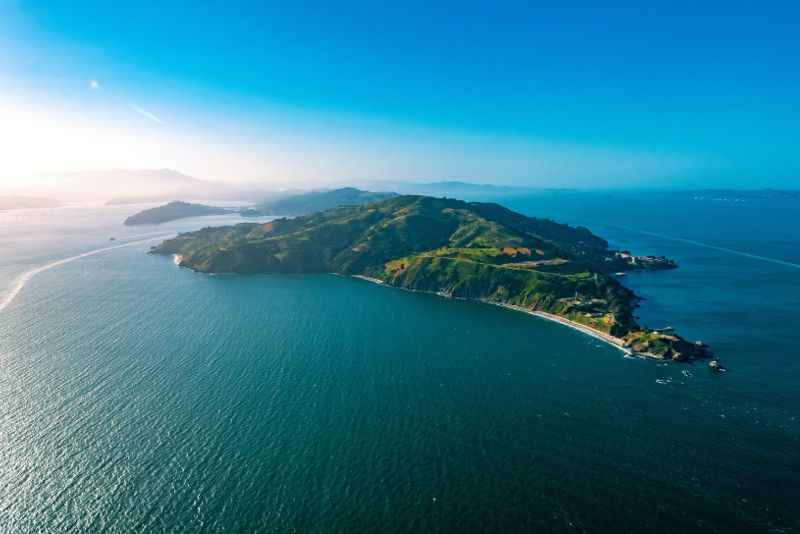 Views of San Francisco from a boat show you a panorama of shoreline up to skyscrapers. Iconic locations include Fisherman's Wharf, North Beach, Angel Island State Park, Mile Rocks Lighthouse and Coit Tower. Keep your eyes out for sea lions lounging at Pier 39, too!
Alcatraz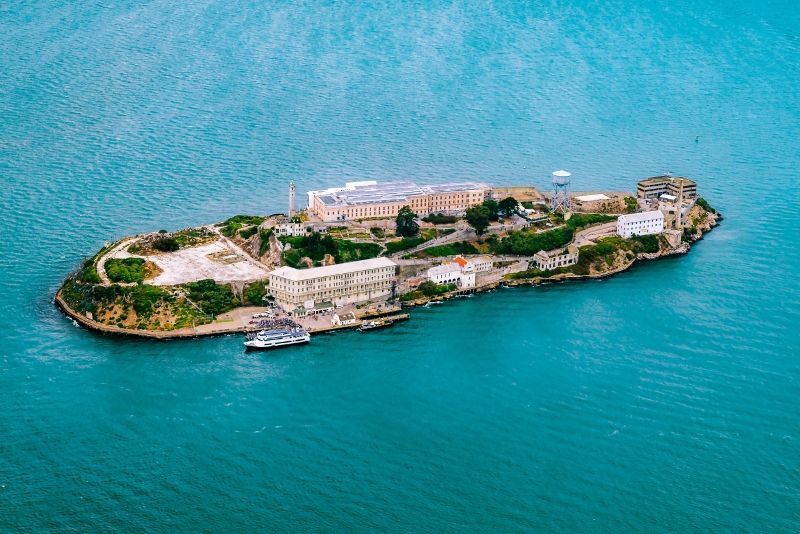 Perhaps the most famous prison in the US, Alcatraz is shrouded in history. Also known as The Rock, no trip through San Francisco Bay would be complete without seeing this forbidding island.
Tours circle the island while audio tours fill you in on amazing facts about its history, from its start as a military base to its more infamous time as a federal prison. Most tours do not include entry to the island.
Golden Gate and Bay Bridges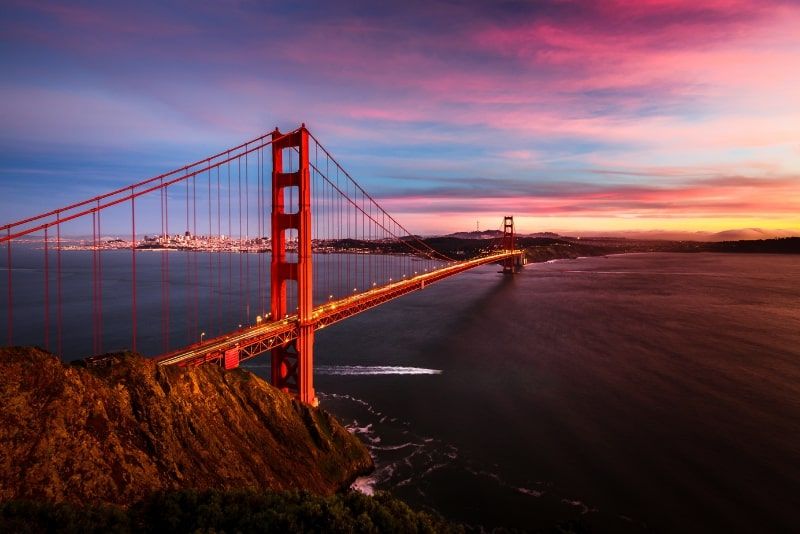 The Golden Gate Bridge and the Bay Bridge in San Francisco are emblematic of the town. Learn about the Golden Gate's controversial beginnings, and marvel at the three structures that make up the Bay Bridge. Take a boat tour beneath the bridges and hear their story while taking in views of other attractions.
San Francisco's Forts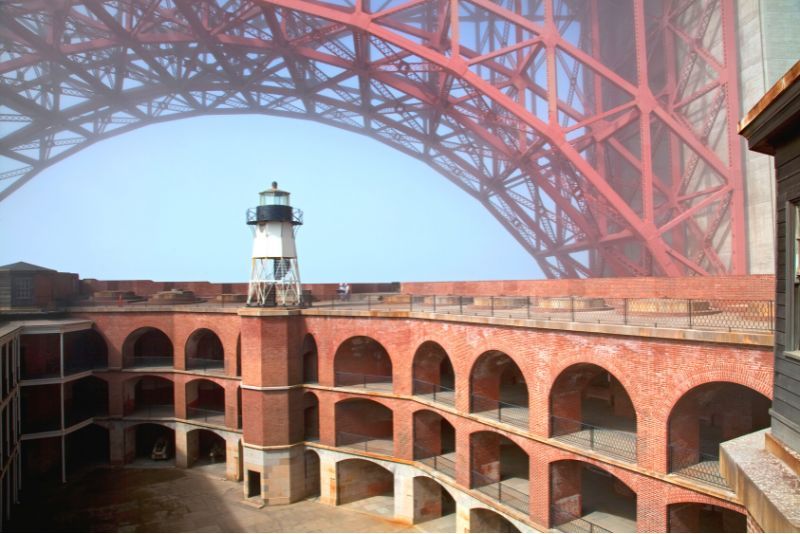 San Francisco is home to several 18th- and 19th-century military forts. See the Presidio, established in 1776. Then cruise past Civil War-era Forts Mason and Fort Point while you listen to their fascinating histories.
Sausalito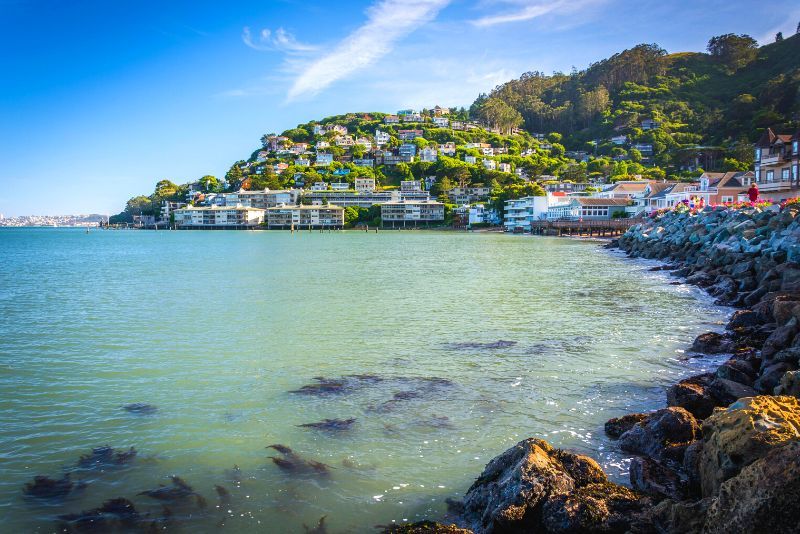 This colorful seaside village across the bay from San Francisco has a rich history. Originally home to the Miwok people, Sausalito was later a fishing and mining hub.
During your visit here, you can discover shops and galleries as well as restaurants serving local specialties and take in the idyllic seaside scenery.
Muir Woods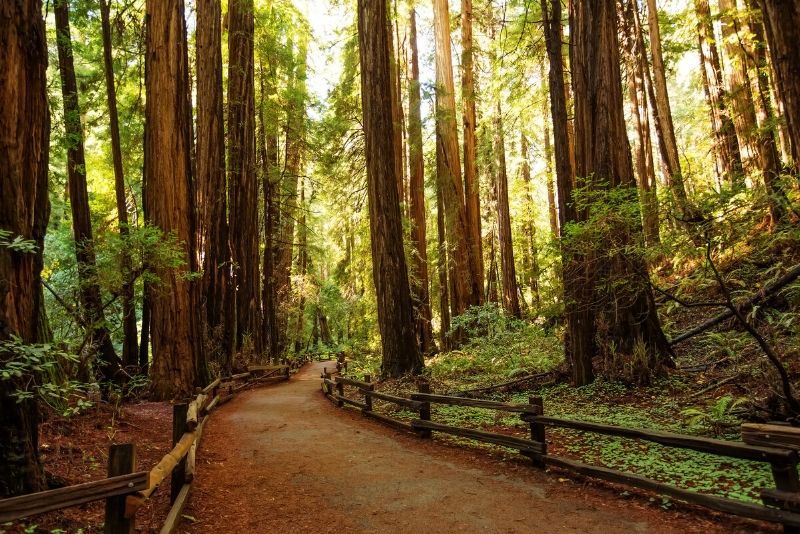 The famous redwood forests of Northern California are less than an hour away from San Francisco.
A boat and walking tour to Muir Woods National Monument will give you the chance to soak up the unique redwood ecosystem. Trees here stand 80 meters high, and some of them are as old as 1,000 years. You can explore this park on foot or by bike.
How long does a boat trip last?
Sightseeing trips last from 1 to 2 hours depending on the time of day. Brunch, lunch or dinner tours last around 2 hours.
Boat and walking tours are around 5 hours. Trips to Muir Woods include 1.5 hours of road travel with a return to San Francisco by boat.
Bus and boat hop-on hop-off tours are available for a 24-hour window with 1 hour of touring by boat. Touring all of the sites by bus takes 2 hours.
Private tours without a captain can last as much as you wish, but if you want to have a captain onboard it will last approximately 4 hours.
Where do boat tours leave from?
Most sightseeing trips leave from the Embarcadero area or from pier 33 to pier 43.5. Some tours leave from piers in the East Harbor, and yachts leave from the Yacht Harbor.
When is the best time for a boat trip in San Francisco?
San Francisco experiences moderate temperatures year-round, making boat trips possible any month of the year. For your best chance of seeing whales and dolphins, take your boat tour from May to October.
Evening boat tours allow you to take in a sunset and illuminated skyline while seeing other landmarks. Most boats have indoor areas so that you can enjoy your trip in cool or rainy weather.
Which other outdoor activities can be done in San Francisco?
Travel tips
Pack a jacket for cool and breezy conditions on the water.
Wear soft-soled shoes for tours on sailboats.
Carry cash for tipping and extra purchases.
For tours with audio guides that you must access online, bringing a smartphone is essential.