Discover the fascination of one of San Francisco's most bustling districts on a tour of old Chinatown. Once you've past the iconic Dragon's Gate, you will be met by a maze of vibrant streets and alleys.
For variety, combine your Chinatown in San Francisco visiting the city with a Bay boat cruise to take in Golden Gate Bridge and intriguing Alcatraz.
Admire the ornate temples, explore Chinese traditional eateries, bakeries, herbalists and souvenir shops.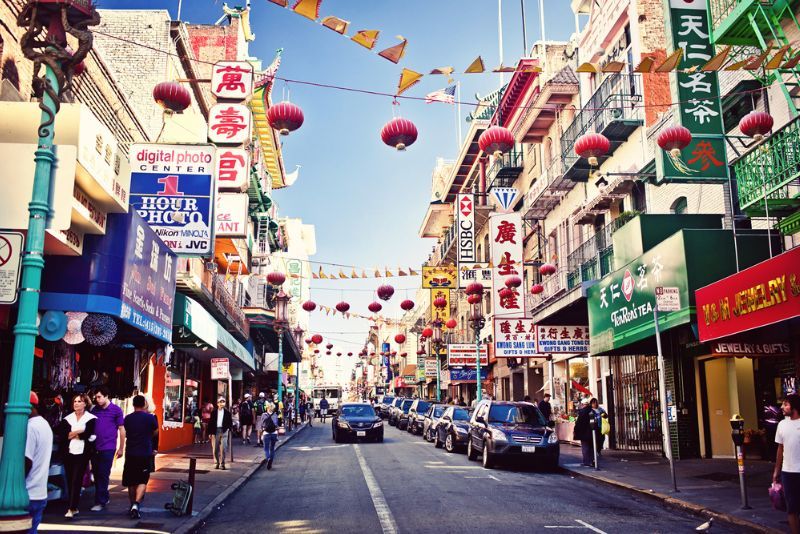 Here's all you need to know about Chinatown, one of the most exhilarating options for sightseeing tours in San Francisco.
Where is Chinatown located?
Chinatown is spread over 24 square blocks and bordered by Kearny, Broadway, Powell and Bush Streets, with the Dragon's Gate entrance to Chinatown just a couple of blocks from Union Square.
How to get there?
By bus: The 30-Stockton bus travels right through the center of Chinatown, down Stockton Street and you can get off at any stop between Broadway and Bush.
You can catch the 30-Stockton bus from Fisherman's Wharf along North Point Street from Columbus to Van Ness, or near Union Square at Sutter and Stockton.
By cable car: All three San Francisco cable car lines go through, or near, Chinatown. The California Street line stops at Grant Avenue, Chinatown's main street.
What are the best things to do in Chinatown?
The Tin How Temple
The temple was founded in 1852 and is the oldest Chinese temple in the US. It's located on the third floor of 125 Waverly Place and is open to the public.
Dedicated to the goddess Mazu, the Empress of Heaven (Tin How) and guardian of seamen, it is a special place for Chinese immigrants.
Grant Avenue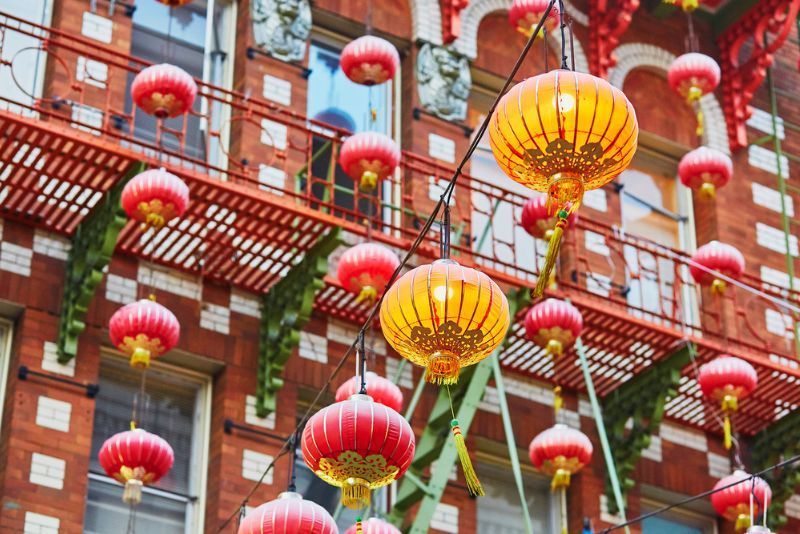 The avenue is home to many of the tourist-oriented businesses and runs the length of Chinatown. It is characterized by decorative Chinese-style buildings, lamp posts and numerous red lanterns.
Wander down Grant Avenue, where most of the gift shops are located, and experience the street's pleasant ambiance.
Stockton Street
In Chinatown, especially between Washington Street and Broadway, Stockton Street is the district's main commercial street, where locals buy fresh, cheap produce and meat. The shops also offer live seafood and dried herbs.
Some well-known shops on Stockton Street are the Hop Hing Ginseng Company, the Luen Sing Fish Market, Louie's Produce and Fruit City.
The street is dominated by mixed-use three to four storey-high buildings with ground-floor shops and upstairs residential units.
Old St. Mary's Church
The St.Mary's church was built in 1854 in the Gothic Revival style. When St. Mary's cathedral first opened, it was the highest building in San Francisco and, in fact, all of California.
It was replaced by the first Cathedral of Saint Mary of the Assumption, due to the need for more space for the growing Catholic community. It's situated on the corner of Grant and California Street.
Old St. Mary's survived the 1906 earthquake but burnt down a day later following fires started by the earthquake. It has been beautifully restored and was declared a Designated San Francisco Landmark in 1968.
What are the best tours to visit Chinatown?
San Francisco Chinatown walking tour with optional lunch
Explore one of San Francisco's most historic neighborhoods on this walking tour of the famous Chinatown. Visit popular and lesser-known highlights in this vibrant district with a knowledgeable guide.
See the Buddhist temple, the buzzing food markets of Stockton Street, herbal pharmacies and a fortune cookie factory. Listen to commentary from your guide about Chinatown's colorful history and culture.
Your meeting point is at Old Saint Mary's Cathedral on California Street. Visit Portsmouth Square, the birthplace of San Francisco's first American flag, its first public school and cable car line.
Wander down Stockton Street among the fresh, exotic foods at the food markets. Then look into Golden Gate Fortune Cookies and sample these cookies and see how it's made.
Go down Stockton Street and see exotic dried goods – ginseng, geckos, bird's nests, abalone and much more and learn about its medicinal qualities.
You will get to the soul of Chinatown, Waverly Place, decorated with colorful flag-festooned temple balconies and hear the background to its secret institutions.
View a genuine example of a traditional pagoda-style building and hear about its history. The tour ends two blocks from Old St. Mary's Cathedral where the tour started on Grant Avenue, the economic heart of the district.  
Upgrade your tour to include a hosted 10-course dim sum luncheon with pork or chicken as main course, and two specialty teas, at one of the popular restaurants.
San Francisco: Golden Gate Bridge, Chinatown and Bay cruise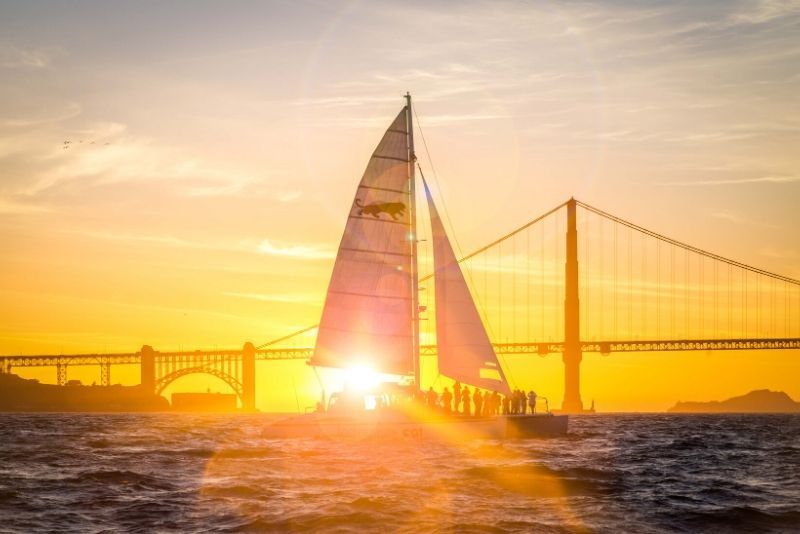 See San Francisco's major attractions all in one day on an 8-hour guided city walking tour. Enjoy a one-hour bay cruise admiring the Golden Gate Bridge, Alcatraz Island with the historic prison and the striking city skyline.
Also visit the "crooked" Lombard Street, magic Chinatown, Fisherman's Wharf, Nob Hill, North Beach (Little Italy) and Ghirardelli Square.
Your tour starts in Steuart Street at San Francisco Railway Museum, near the old Ferry Building, to catch a cable car from a favorite stop.
Disembark on Nob Hill and wander through Huntington Park while learning about the industrial tycoons who built San Francisco. Enter the busy neighborhood of Chinatown, the largest Chinese district outside Asia and the oldest in the US.
See out of sight landmarks like the Tin How Buddhist Temple and pop into the legendary Golden Gate Factory to learn about fortune cookie making. Get advice on which eatery to come back to if you're keen on trying the famous dim sum dish.
Visit Lombard Street, the "most crooked street" in the city, popular Fisherman's Wharf, and Ghirardelli Square. See Fisherman's Wharf, explore the old docks, and try the delicious fresh bread in the well-known Boudin Bakery.
Then, pause at Ghirardelli Square to sample their famous chocolate. Continue to your last highlight of the tour, a delightful cruise of the bay's historic waterfront.
Listen to some fascinating tales on the included audio device while admiring lovely views of San Francisco's skyline all round.
Sail past the sea lions on famous Pier 39, under the Golden Gate Bridge and around the notorious Alcatraz Island for a perfect end.
What are the prices of Chinatown tours?
The San Francisco Chinatown walking tour with optional lunch costs US$60 per person, but can be upgraded to include a 10-course dim sum lunch.
The Golden Gate Bridge, Chinatown and bay cruise tour costs US$100 per person and includes the City Bay cruise tickets, chocolate and fortune cookie tastings.
Where do Chinatown tours start?
Chinatown tours usually start from different meeting points in downtown San Francisco, such as the Old Saint Mary's Cathedral on California Street and the San Francisco Railway Museum on Steuart Street.
When is the best time to visit Chinatown?
Most of the places in Chinatown start to open from 8 to 9 AM, and by 9 AM food markets in Stockton Street will be open.
The best time of the year to visit San Francisco/Chinatown is from September to November when you have some of the warmest days and less crowds.
Travel tips
Make sure to book your Chinatown tour in San Francisco in advance.
Wear comfortable shoes and bring warm clothing.
Restaurants can adapt to your dietary restrictions upon request.