Pedal through the City by the Bay with a bike tour of San Francisco. From its perch on the Pacific in northern California, San Francisco attracts visitors from all over the world with its characteristic architecture, seafaring history and the cultural enclaves established by the many immigrants who have made this city their home.
Take to the streets on a bicycle to get a more intimate visit than what you would get on a tour bus. Get set for a heart-pumping ride through this vibrant city.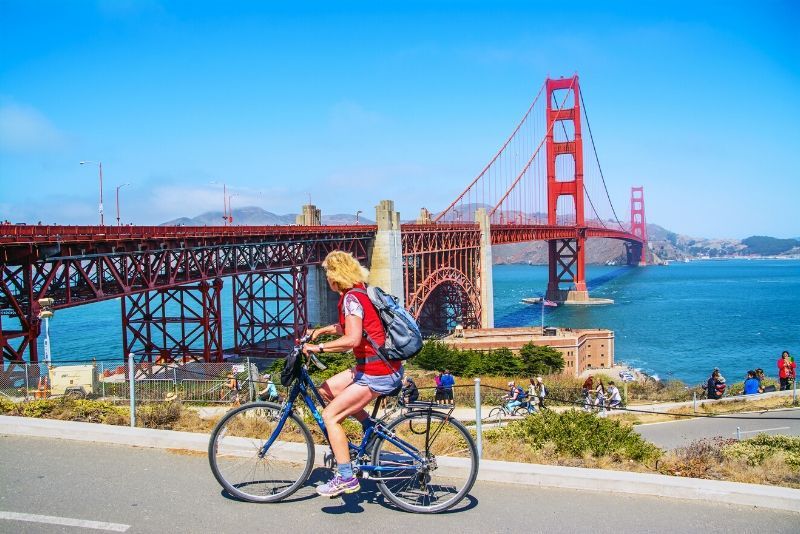 You will find below all you need to know about bike tours, one of the best options for outdoor activities in San Francisco.
What are the best bike tours in San Francisco?
Streets of San Francisco bike tours
Take in San Francisco's hilly streets, quaint neighborhoods and seaside attractions from the pace of a bicycle. Guides lead you through an experience entirely different from what you'd have on a tour bus. Seeing San Francisco from a bicycle's point of view gives you a more immersive experience.
Roll past the gardens of Golden Gate Park, spy public art from close up and enjoy the classic San Francisco landmarks like Lombard Street, the Painted Ladies and Ghirardelli Square.
Golden Gate Bridge to Sausalito bike tours
Join a guided tour from Fishermans' Wharf and roll along the shore to the Golden Gate Bridge. Pass through attractions like the Presidio and Golden Gate State Park before making the 3 km trek across what was once the largest suspension bridge in the world.
Then, ride along the slope of the Marin Headlands into charming Sausalito. Stroll or bike the lanes that house great dining and artistic souvenirs before boarding a ferry back to San Francisco.
Alcatraz and San Francisco 2-day bike tours
Venture through the streets of San Francisco on a standard or ebike on day 1. Guides show you the most notable spots in town, and most provide some free time to explore on your own after some insider tips of what else you should see.
Day 2 is your guided visit by ferry to Alcatraz, the inescapable prison where some of America's most infamous criminals served their sentences. Enjoy the ferry ride over the waves, then wander the fortress and island while you learn its dark history.
Tours of Alcatraz include a multilingual audio guide and round-trip ferry service to the island.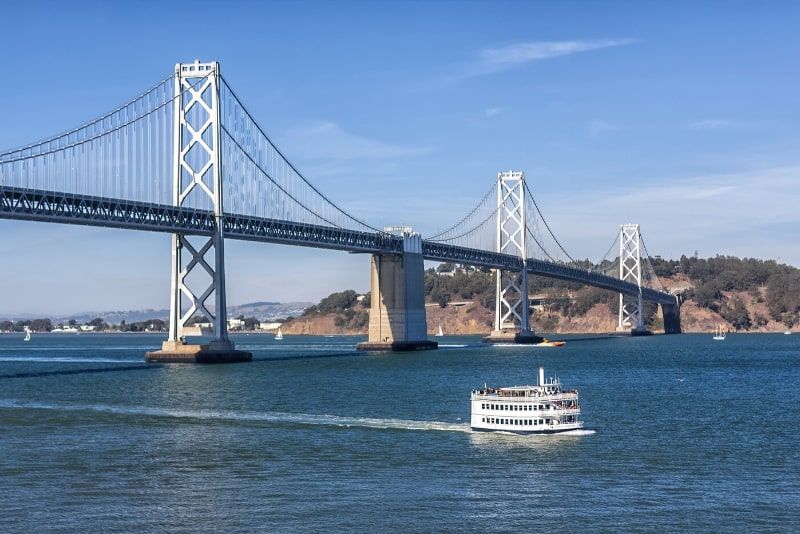 Self-guided bike tours
For a more independent or budget-minded traveler, take advantage of the freedom of a bike rental with downloadable tours you can follow with your phone. Self-guided bike tours in San Francisco allow the flexibility of time and group size as well as a lower price.
Private bike tours
Ideal for families or groups of friends, a private bike tour of the San Francisco area is an active and eco-friendly way to explore. Guides lead you to the best in the city and make sure you see exactly what you and your friends want to see.
How much do bike tours in San Francisco cost?
Streets of San Francisco bike tours cost around US$100 per person and encompass the best general sightseeing in the city.
Golden Gate Bridge to Sausalito tours cost US$60 per person without the cost of a ferry ticket to San Francisco from Sausalito. Tours costing US$80 per person include either lunch vouchers or ferry tickets but not usually both. Tours with the most amenities - lunch, alcoholic beverages, and ferry tickets - cost US$150 per person.
Many tours include ferry transport back to San Francisco from Sausalito at the end of the day. However some do not, so check to see if your return to the city is an extra cost. Ferry tickets start at US$15.
Alcatraz and San Francisco 2-day bike tours cost from US$120 to US$150 per person, depending on the length of the tour and whether you rent a standard or ebike.
Self-guided bike tours cost around US$40. Some tours are only available for iPhone, so check to see that your mobile device is compatible before booking.
Private bike tours cost between US$100 and US$140 for a 4 hour excursion depending on whether the package includes a return ferry ticket from Sausalito. Group tours cost from US$400 to US$500 per group of up to 10 people. Lower-cost tours do not include lunch, and most private tours provide the use of ebikes in the price.
What is included in a bike tour in San Francisco?
Bike tours in San Francisco include rental of a standard or ebike, helmet and lock. Some also provide handlebar baskets and water. Some tours also provide lunch or ferry ticket in the cost of the package.
Unless stated that it is an ebike tour, expect a standard multi-speed bike. However, many standard bike tours offer upgrades to ebikes for an extra US$40 per bike. Tours on an ebike help you access hilly parts of the city that would be difficult on a standard bike.
All tours feature a guide, whether it be an audio or downloadable guide or an expert leading you to the sights.
Where do bike tours in San Francisco start?
Most bike tours in San Francisco start near Fisherman's Wharf. Many companies' storefronts are within a block or two of the wharf. Some start at North Beach which is also centrally-located.
How long do bike tours in San Francisco last?
Bike tours range from 1 hour to a full day depending on your itinerary. General sightseeing tours last 3 to 5 hours. Longer tours tend to be on ebikes. Golden Gate Bridge to Sausalito tours last 3 hours.
Two-day tours of Alcatraz and San Francisco start with a 2- to 3-hour bike tour on the first day followed by a 2-hour excursion to Alcatraz on the second day.
Self-guided tours allow the greatest flexibility, as you have the bike for the full day and in some cases 24 hours. Private tours last from 2 to 5 hours.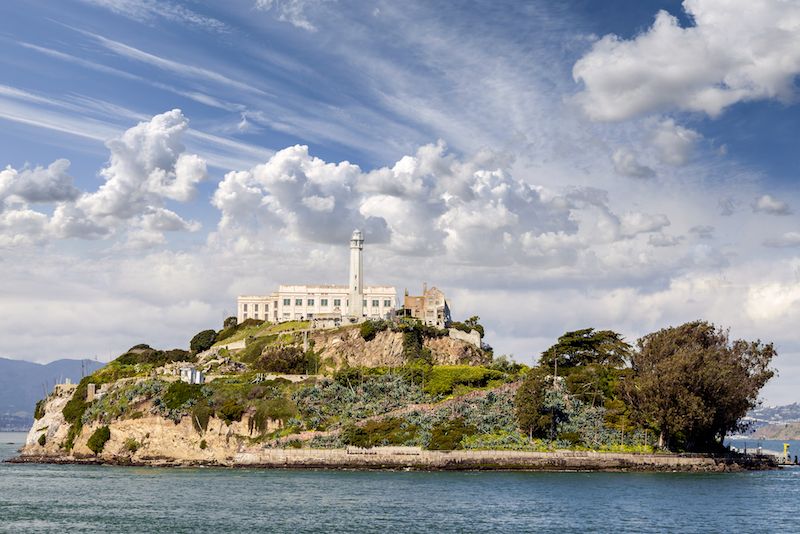 When is the best time for a bike tour in San Francisco?
San Francisco's climate is moderate year-round, making biking in any season feasible. Summer temperatures rarely climb above 80 degrees Fahrenheit (27 degrees Celsius), but it is the foggiest season.
Winter temperatures average around 60 degrees Fahrenheit (16 degrees Celsius) making tours during those months very pleasant.
Are there any combo available with bike tours in San Francisco?
Bike and brew tours
Relax with a local brew and seasonal fare at Sausalito's Joinery Restaurant after a 13 km bike ride from Fisherman's Wharf. Pass through the Presidio, Golden Gate Park and over the Golden Gate Bridge and coast downhill into Sausalito.
Enjoy a meal at the Joinery with a US$20 voucher before returning to San Francisco. You can cycle back to the city or purchase a ferry ticket for US$13.
Is it safe to take a bike tour in San Francisco?
Taking a bike tour in San Francisco is safe if you follow safety guidelines. Helmets are mandatory for people under 18 years old, and tours provide them to all participants. Tours choose the safest routes to avoid dangerous areas.
Are children allowed on bike tours in San Francisco?
Most tours require participants to be older than 12 to 15 years of age. Children under 16 are not allowed to use e-bikes, and participants 18 years old and under are legally required to wear helmets.
What happens in case of bad weather?
Most tours will still occur in the case of rain. However, in dangerous weather, tour companies give you the option of rescheduling or refunding your tour price.
Travel tips
Bring a jacket or light layers in case of cool weather.
Carry a bottle of water if your tour does not include water in the price.
Wear clothing that allows comfortable movement.
Wear sunscreen and sunglasses.
Carry cash or credit card for tips and extra expenses.