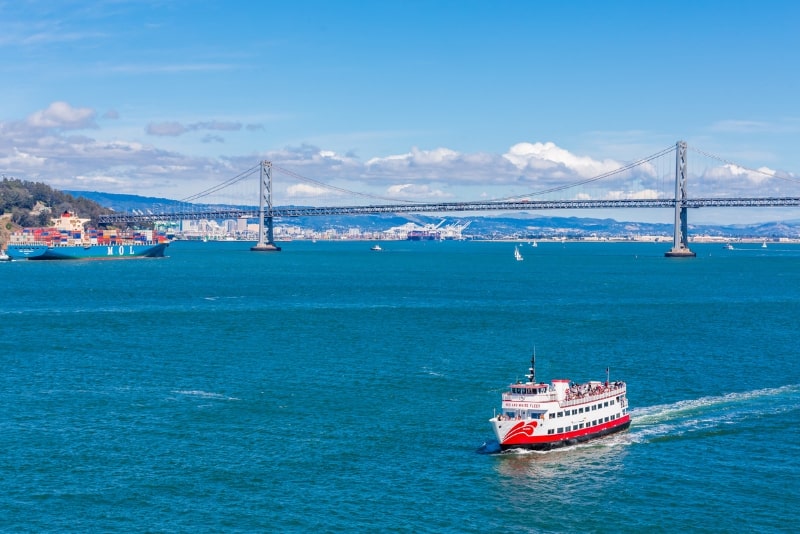 Looking for the best San Francisco boat tours? Foggy and progressive, always iconic and authentic, San Francisco is an eclectic mix of neoclassic architecture, historical landmarks, and natural beauty that is best explored from its pristine waters. Because of this, there are a variety of San Francisco boat tours – from sunset sails and whale watching excursions to the Golden Gate Bridge and Alcatraz day tours!
Here is a comprehensive guide to the best boat tours in San Francisco:
Don't feel like reading ahead? Ready to book your San Francisco boat tour? Click on the button below.
What kind of boat tours can I find in San Francisco? What can I expect?
Known as the 'city by the bay', San Francisco is not only surrounded by water on three sides but is also the gateway to the Pacific Ocean with boat tours for every type of visitor. Whether you're looking for a new perspective on the 'city by the bay' or just want to appreciate the glorious, legendary landmarks, including Golden Gate Bridge, Alcatraz Island, or the Fisherman's Wharf, there are San Francisco boat tours for every type of visitor.
What's even better, just a few miles off the shore, are calm waters that proffer adrenaline-fueled opportunity to admire the army of majestic blue whales as it sprints across the sea and glides past your boat gracefully.
All this and a lot more to explore on an unforgettable San Francisco boat tour that promises a once-in-a-lifetime experience you won't want to miss. Here's a list of the best San Francisco boats, broken up into five categories, to help you choose the right one for your SF itinerary.
1 – Straight to the gate access boat tours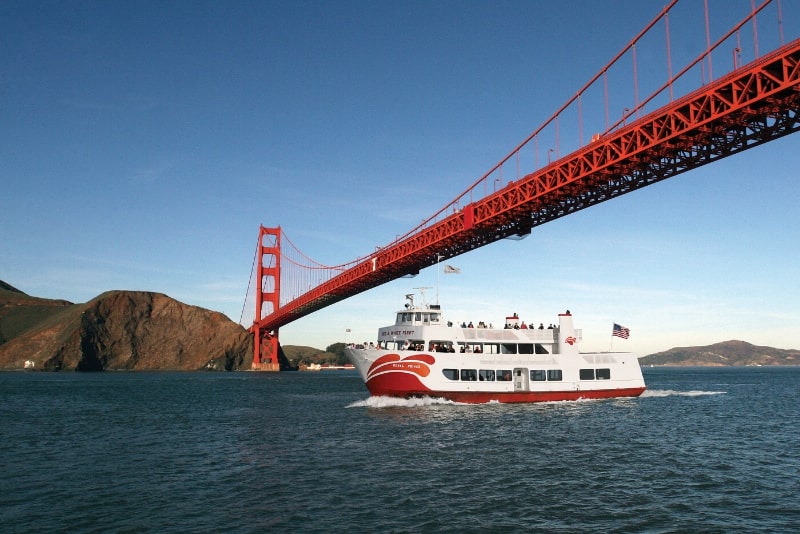 If you're looking to witness San Francisco's breathtaking waterfront from a different perspective, consider this 60-minute San Francisco boat tour that projects SF icons in a brand new light —sailing beneath the majestic Golden Gate Bridge, and relishing in the panoramic views of the picturesque Alcatraz Island.
Take advantage of fantastic photo opportunities with unobstructed views in every direction— from Crissy Field and the lush hillsides of the Presidio to the barking California Sea lions sprinting joyfully in proximity to your boat!
What's more; Discover San Francisco's rich and varied heritage via an award-winning audio tour that describes all the major landmarks as you glide past and is available on your smartphone, tablet, or other WiFi-enabled devices, in 16 different languages.
P.S. Gate Boat Tours costs $35 on an average and departs daily at 10:00 AM.
2 – Alcatraz boat tours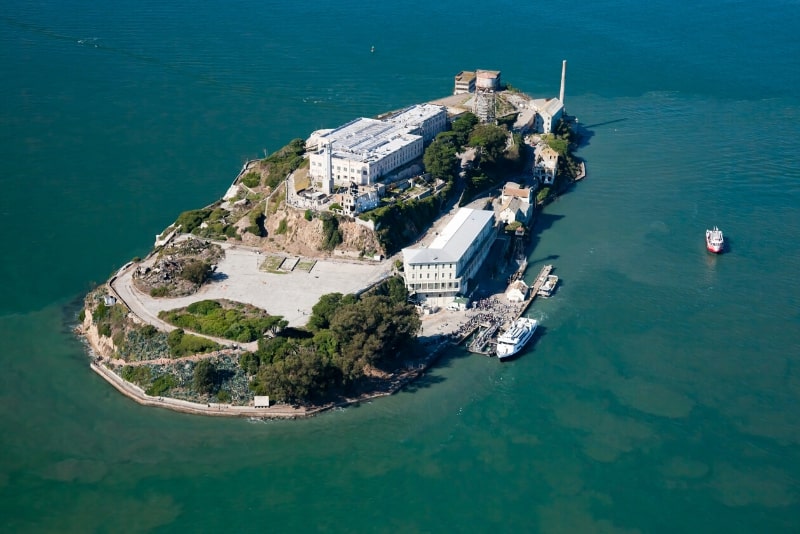 While the former island prison of Alcatraz remains one of the most popular —and often sold-out— landmarks in the city, thanks to Alcatraz Boat Tours, it is now possible for you to experience the beauty, history, and infamy of Alcatraz Island for yourself!
This 4-hour San Francisco boat tour leaves you awe-inspired by what you see and learn— from breathtaking views of the SF landmarks such as the Golden Gate and Ferry Building Marketplace to an intimate look at the former federal prison that housed some of history's most dangerous felons.
Fascinated by the visuals, you'll start planning your independent getaway even before your ferry arrives on the Rock— and then disembark on the island to explore the cellblocks while listening to the award-winning self-guided audio tour that narrates the history of the prison and tells about some of the famous escape attempts made by the inmates.
P.S. Alcatraz boat tours cost about $39.90 on average and start at as early as 8:45 AM to give your day a head start and let you avoid the crowds arriving later.
Looking to visit Alcatraz? Find out how to book Alcatraz last minute tickets.
3 – San Francisco bridge to bridge boat tours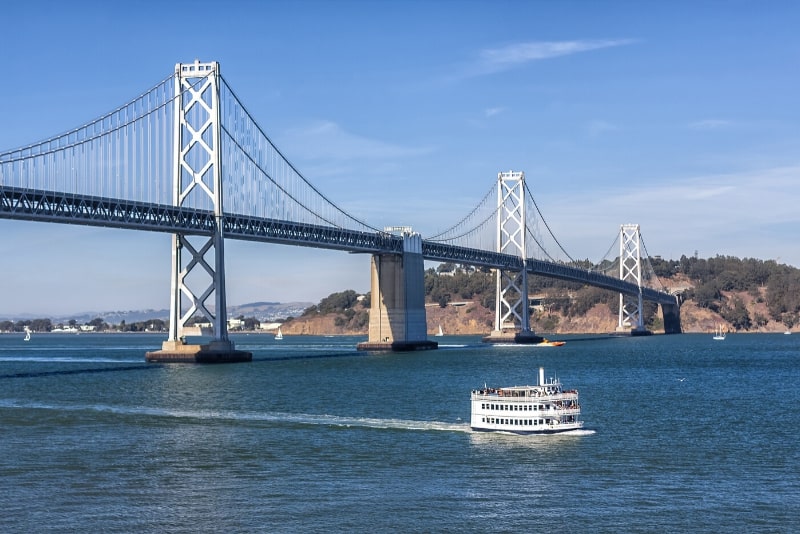 Cruise under two of the most iconic San Francisco landmarks— the Golden Gate Bridge and the Oakland Bay Bridge on this beautiful bridge to bridge boat tour as you learn more about California's most eclectic city in the company of your audio guide.
Along the way, immerse yourself in the city's scenic skyline and its stunning waterfront landmarks! From the spectacular views of Coit Tower and the Transamerica Pyramid (the tallest skyscraper in San Francisco) to the majestic sights of the famous Ferry Building and a vibrant Farmer's Market, this 1.5 hour San Francisco boat tour brings you up close with never-seen-before vistas.
That's not all; as you glide past the waters, you will also have a great opportunity to know about the city's unique natural history, architecture and geology via an award-winning narration playing over your personal, wireless headphones.
P.S. Bridge to bridge tours cost about $44 on an average and starts at 11:00 AM every morning.
4 – Dinner cruises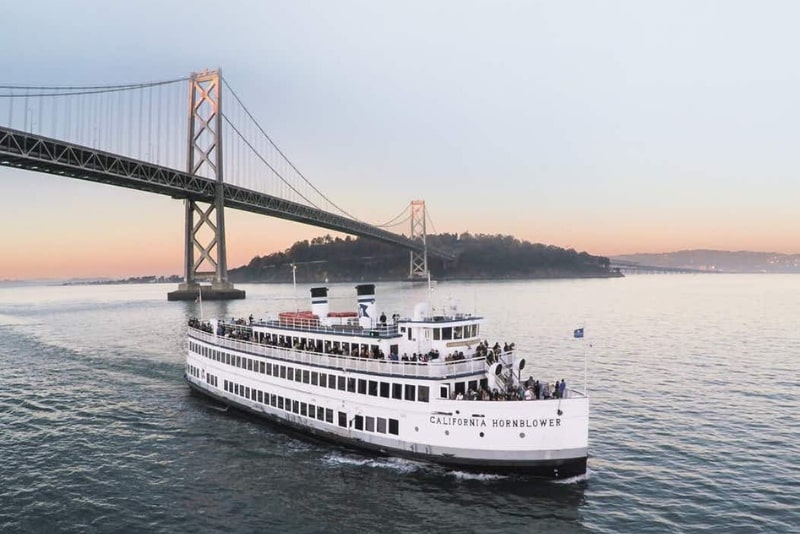 As the sun slowly sets into the ocean and the vivid lights take over to illuminate the skyline, treat yourself to a four-course gourmet dinner aboard a 3-hour dinner cruise on the San Francisco Bay. Cruise under the Golden Gate and Bay Bridge and then pass by the iconic site of Alcatraz— treating yourself to San Francisco's best light show ever.
Other than the spell-binding scenery of SF striding past you slowly, the main draw of the dinner cruise lies in the delectable meal crafted onboard by experienced chefs with local, seasonal ingredients. What's more; there is added touch of drinks, and of course the varied entertainment options including dance, songs, and music, to bid you an experience that you won't forget anytime soon!
P.S. Dinner cruises cost about $156 on average, with complimentary live music and dancing.
5 – Sunset boat tours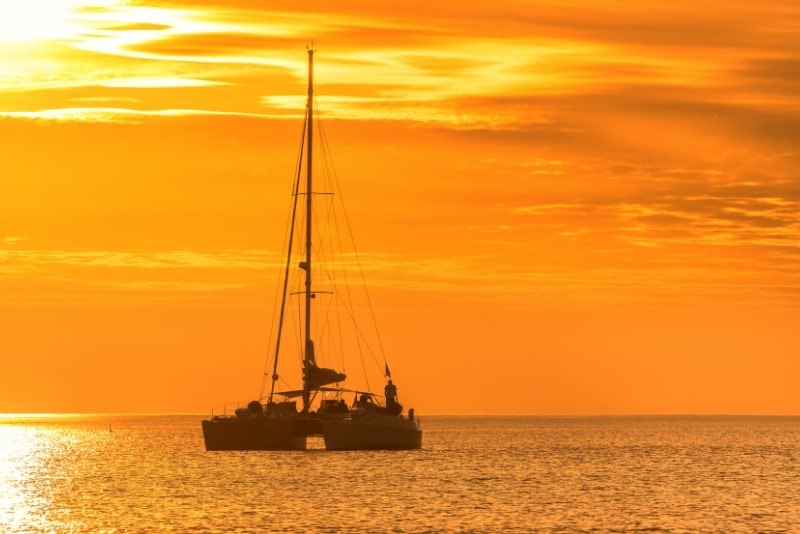 Enjoy romantic sunset views of San Francisco bay and relish the panoramic views of the surrounding landscapes aboard this 1.5-hour sunset boat tour, one of the best things to do in San Francisco for couples, which reviewers find lovely and a picture-perfect way to spend an evening!
Added, live guitar music, a couple of glasses of your favorite drinks, and a light appetizer buffet (additional charges) — you are ready to witness this amazing natural phenomenon with a whole new perspective altogether.
From the city's stunning Coit Tower and the Transamerica Pyramid to the historical landmarks of Alcatraz and the natural beauty of Angel Island National Park, this scenic cruise also showcases the sunset views sailing along the gorgeous Sausalito, Tiburon, and Belvedere shores.
While the sunset boat tour departs every evening all through May till November, departure times may vary according to the month.
P.S. Tickets start at about $65 on average.
6 – All-day sailing tours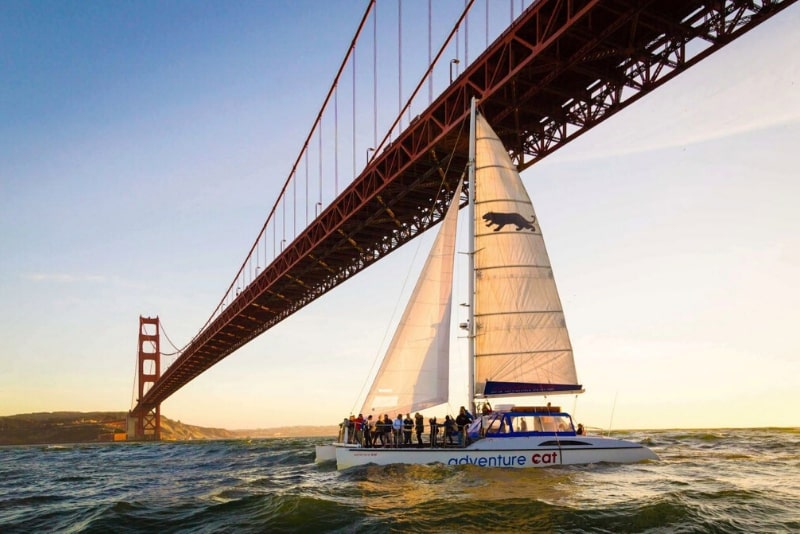 Embrace yourself, sailing aficionados! Would you ever want to let go of the golden opportunity to sail on an 84-foot yacht with an exhilarating feeling of having the waves rush under your feet? Here's an adventurous way to sightsee San Francisco's breathtaking waterfront onboard a catamaran (watch out, you may get a little wet) and getting a close-up view of the Golden Gate Bridge, iconic Alcatraz Island and the hamlet of Sausalito.
Take advantage of deck trampolines for the ultimate adrenaline rush while soaking up the fresh sea breeze during this scenic sailing tour. And just in case, if you want a quick break from the wind, you can always come inside the protected deck, enjoy a seat, and continue to soak in the spectacular sights of the water and sky!
P.S. This 1.5-hour sail tour is generally offered twice a day from Thursday till Sunday, and tickets range from $46 to $150 depending on the time duration of the sail.
How to book San Francisco boat tours?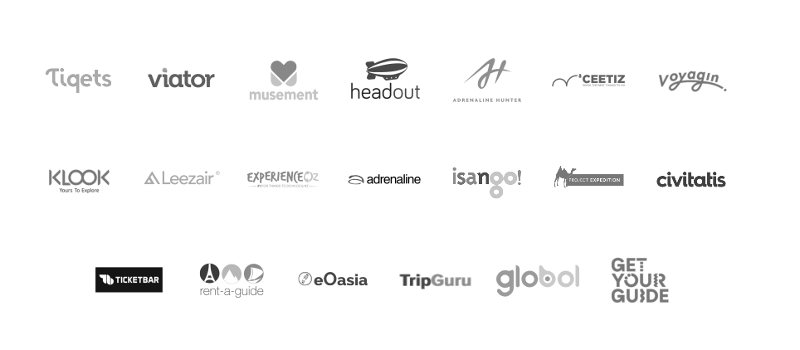 While several tour operators offer San Francisco boat tours, there is plenty for you to choose from, and research can be a hassle. Use TourScanner's search engine to compare all offers in one place and find the best fit.
What is the best time to go on a boat tour in SF?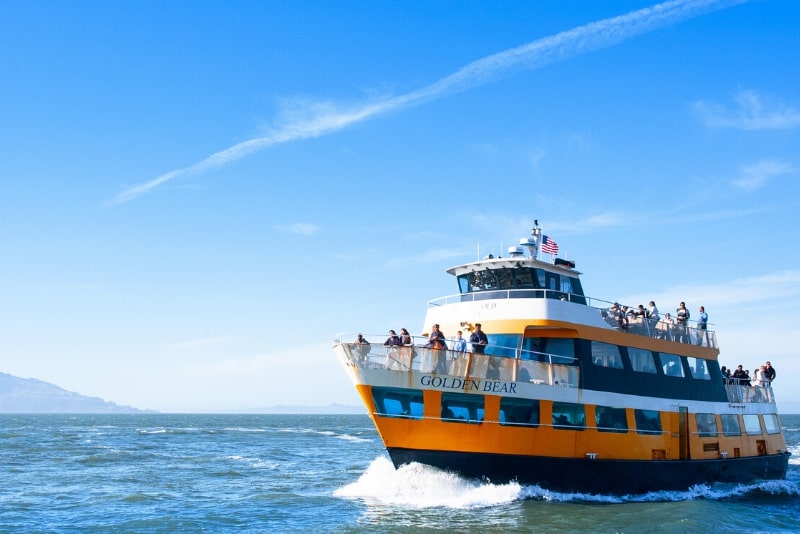 The best time to hop aboard a San Francisco boat tour is during fall— from September to November. Believe it or not, this time of the year offers some of the city's warmest temperatures with crystal clear waters. Moreover, spring (from March to May) is another ideal time of the year to sail the waters, thanks to its mild temperatures, lack of rain, and not to mention fewer crowds than summer.
What happens in case of bad weather?
Bad weather and poor cruising conditions are some of those uncontrollable events that we can change as per our wish. Thankfully, San Francisco is not known for its down days. Most of the boating days in SF comprise of clear, sunny skies and calm transparent waters.
But in case there is an ugly weather day that prevents you from taking the boat excursion, most tour operators will understand and give refunds, but not all. So, it is always wise to ask about refund policies before booking the trip with a company.
Travel tips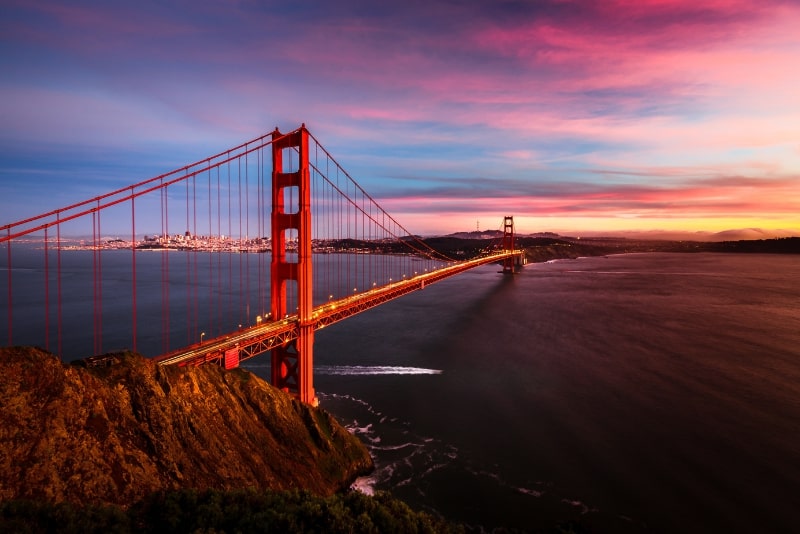 If you're prone to motion sickness or feel dizzy when the waters are extra rough, it is advisable to take your usual precautions beforehand.
Always carry a jacket as it may get cold amidst the ocean waters.
It is sage to book your seats in advance if you're concerned about availability, but make sure you're aware of the company's cancellation and no-show policy.
Don't forget to take along your camera. As a bonus tip, when you're clicking while sailing past, try to keep the subject centered in the same spot rather than resorting to your regular still-as-possible technique.