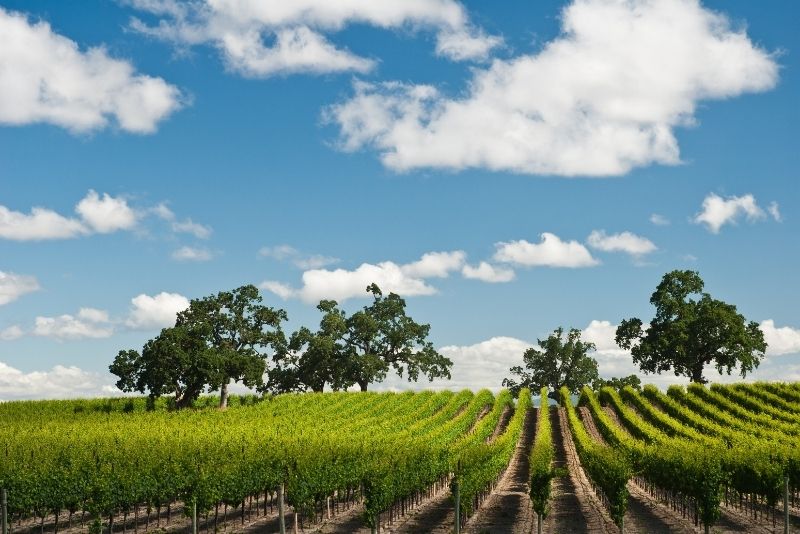 Looking for the best Napa Valley wine tours? This guide pulls together both classic and unusual excursions to the most famous wine-making region in California.
Travel by car, bus, or even vintage train to explore rolling hills and hidden valleys, visiting the finest vineyards and wineries along the way. Your taste buds will go into overdrive on these superbly curated Napa Valley wine tours, with gourmet lunches, foodie walks, and of course plenty of wine tasting on offer.
Tours from Napa & Sonoma Valleys
1 – Small-Group Wine-Tasting Tour through Napa Valley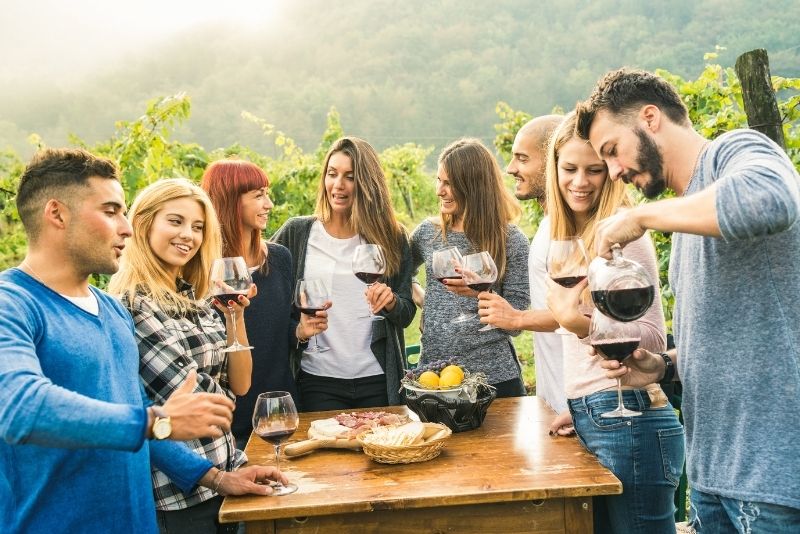 Sit back and relax on this gently paced small-group tour, which will take you by shuttle into the heart of this lush wine region. The Napa Valley wine tour lasts around 6.5 hours, giving you plenty of time to enjoy tastings (not included) at three of the best wineries in the area.
Dig into an indulgent complimentary picnic at one of the wineries, and have fun working out which cheese and wine pairings are your favorites. Your knowledgeable driver-guide will be on hand with live commentary and to answer questions about this famous region. Hotel pick-ups are included.
2 – Napa Valley Wine Train with Gourmet Lunch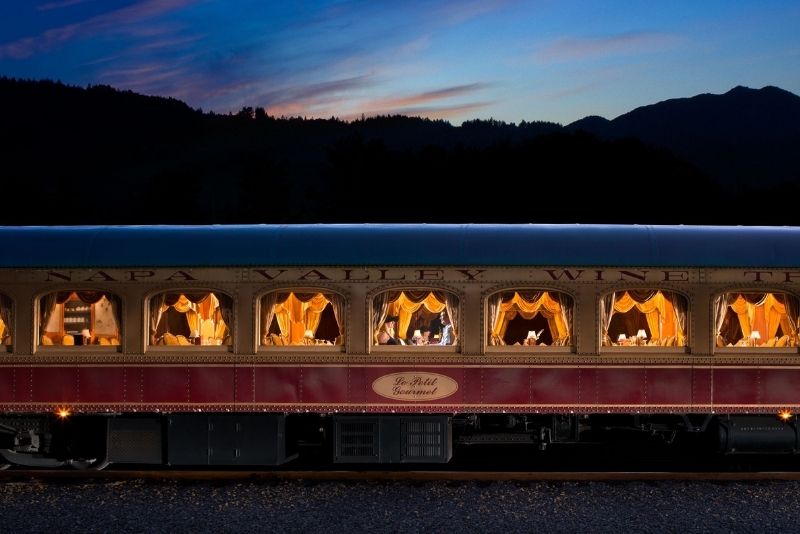 Climb on board the Napa Valley Wine Train and be transported back to the golden age of travel as you journey through California's heartland. This 3-hour round-trip trundles past picturesque towns like Rutherford and St. Helena, with unsurpassed views of undulating hills and sprawling vineyards.
Explore the vintage train carriages and enjoy appetizers in the lounge car before tucking into a gourmet meal in the on-board restaurant. You can even poke your head into the kitchen to watch the chefs in action. Private dining is available in the Champagne Vista Dome on dinner excursions during your Napa wine train tour.
3 – Small-Group Napa Valley Tour for Wine Lovers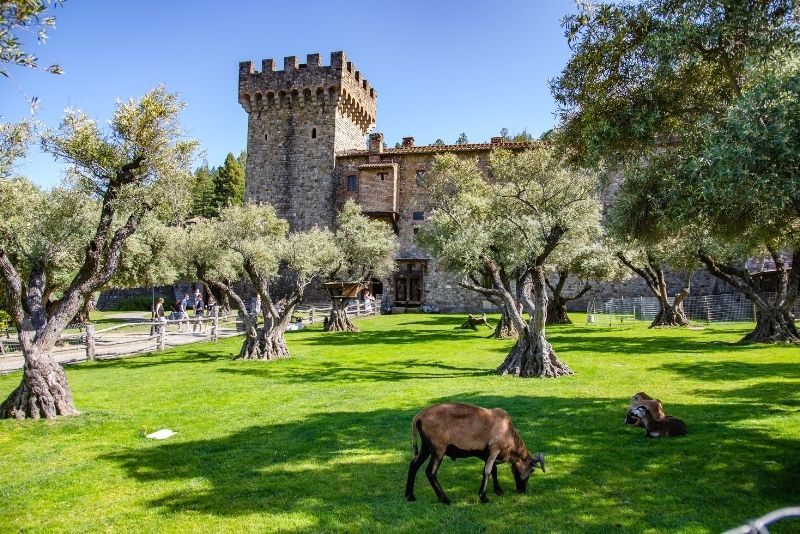 Enjoy an exclusively arranged visit to the medieval Castello di Amorosa on this small-group Napa Valley wine tour. Explore the towers, moat and armory then sip fine wine in the vaulted cellars.
For stunning vistas over the Napa Valley ride the aerial tram up to Sterling Vineyard, nestled high above Calistoga. Savor the aromas of award-winning wines in the tasting rooms and soak up the sun on the outdoor terrace.
Next head to the oldest winery in Napa to sample truly refined reserve wine at Beringer Vineyards. Finish on a high with a champagne toast at the Golden Gate Bridge.
4 – Wine Country Hot Air Balloon Ride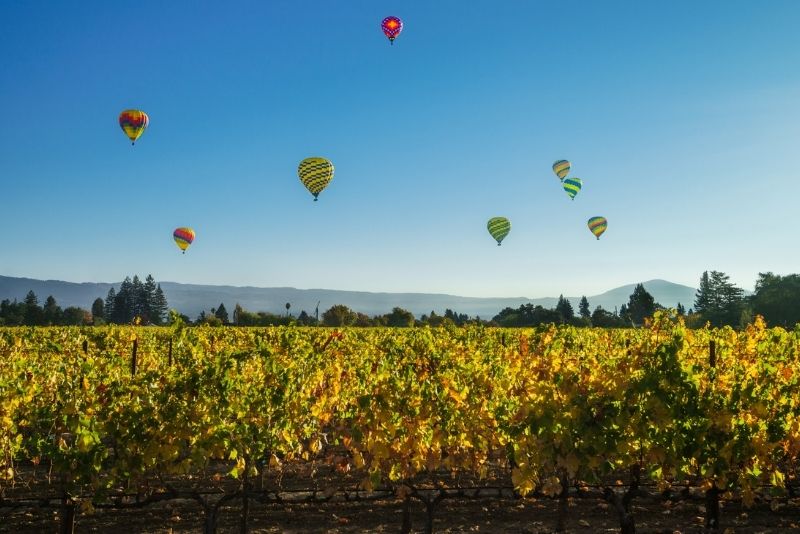 Take to the skies on this early morning Napa hot air balloon ride and soar above the valley as it awakens far below. Keep your camera handy to capture the spectacular birds-eye views of vineyard-clad hills and elegant estates.
Relish the tranquility as you float silently through the countryside and listen as your pilot shares insider secrets on the best wineries to visit when you are back on terra firma. The ride itself lasts up to an hour depending on weather conditions, and there is an in-flight photo package included to commemorate your Napa Valley tour. Local hotel picks-ups included.
5 – Napa Valley Open Air Wine Trolley Tour with Lunch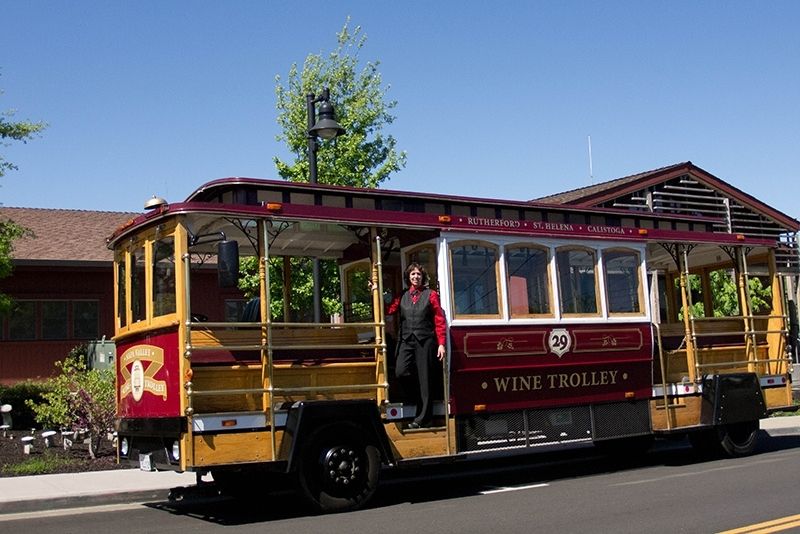 Feel the gentle breeze in your hair as you ride the open-air Napa Valley Wine Trolley on this hassle-free guided vineyard tour. Modeled on a vintage 1890s San Francisco cable car, this unusual trolley offers one of the best Napa Valley wine tours around.
Indulge in private wine tastings at four family-run estates and discover first-hand just why this region is so famous. The icing on the cake is a relaxed family-style lunch with your fellow travelers at The Girl & Fig, a French bistro that is a popular choice with locals. Wine tasting fees are not included.
6 – Napa Valley Wine Train with Gourmet Lunch, Wine Tasting and Vineyard Tours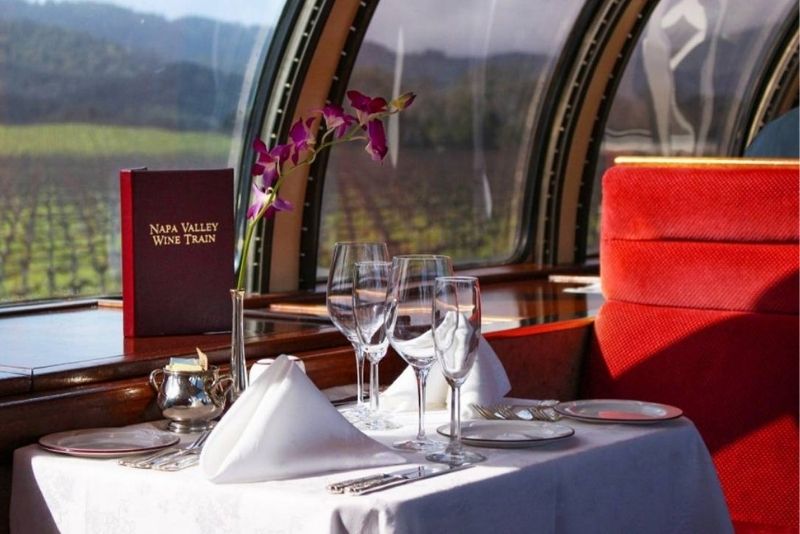 Combine refined wine tasting with a stylish rail journey on this 5-hour Napa Valley wine tour. Sit back and relax on board the historic wine train, admiring the passing rural Californian scenery through large viewing windows.
Head to the elegant dining car to soak up panoramic vineyard views alongside a freshly prepared three-course gourmet lunch. Tantalize the taste buds further with guided tours and tasting sessions at one or two Napa wineries along the way.
The Napa Valley Wine Train passes through St. Helena, Oakville, Rutherford, and Yountville on this linear journey, with coach transfers provided for the return trip.
7 – Private Limousine Wine Country Tour of Napa or Sonoma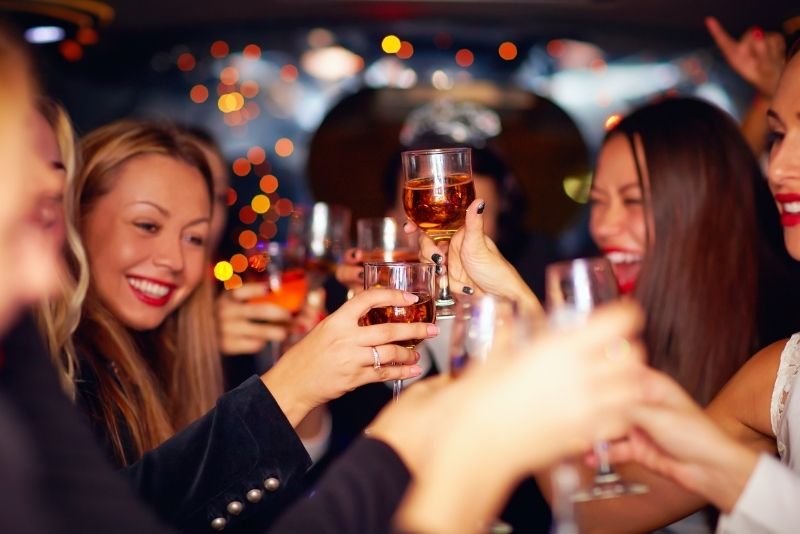 Celebrating a special occasion or just want to treat yourself? This 6-hour luxury Napa Valley wine tour will see you visiting boutique wineries, gourmet restaurants, and vast vineyards while being chauffeured around in your own personal limousine. Hotel pick-ups are included.
Your driver will help you create a bespoke itinerary, so you can enjoy complete freedom to explore at your own pace. It really is the ultimate private Napa wine tour. In between stops sip cocktails, champagne, and soft drinks from the complimentary onboard bar, and remember to take photos to commemorate this incredible day. Wine tasting fees are extra.
8 – Napa and Sonoma World-Class Wine Tour with Lunch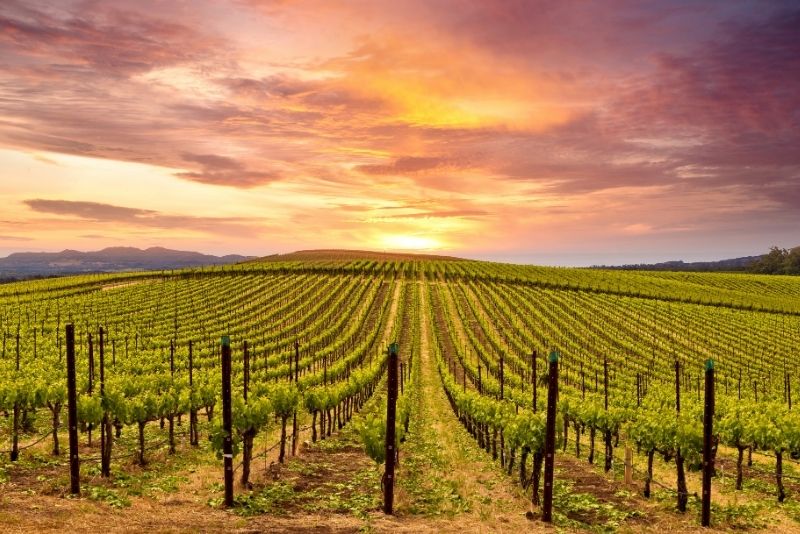 Immerse yourself in California's winemaking region on this combined tour of both Napa and Sonoma Valleys. The excursion kicks off with a drive over the majestic Golden Gate Bridge and a scenic meander through the Marin Headlands.
Imagery Winery in Sonoma is a spectacular setting for your first tasting, followed by a narrated 45-minute tram tour of the Benziger Family Winery. Head underground to explore the wine caves and discover how the vine-to-bottle process really works.
A tasty picnic lunch will keep you fueled for further stops on this Sonoma and Napa Valley wine tour. Afternoon tastings are not included.
9 – Private Wine Country Tour Including Professional Photographer
Capture magical moments on this personalized Sonoma or Napa Valley wine tour with your own professional photographer. These Napa photography tours include stops at two or three wineries, where you will enjoy tastings and explore vineyards, taking home pictures to remember the day. Other activities like wine blending or hot air ballooning can be arranged at an additional cost.
Feel relaxed in front of the camera under expert guidance from your photographer, who knows the best spots for perfect snaps. Ideal for couples, small groups, and proposals, this 6-hour excursion includes private luxury transport. Lunch and tasting fees are extra.
10 – Downtown Napa Food and Wine Tour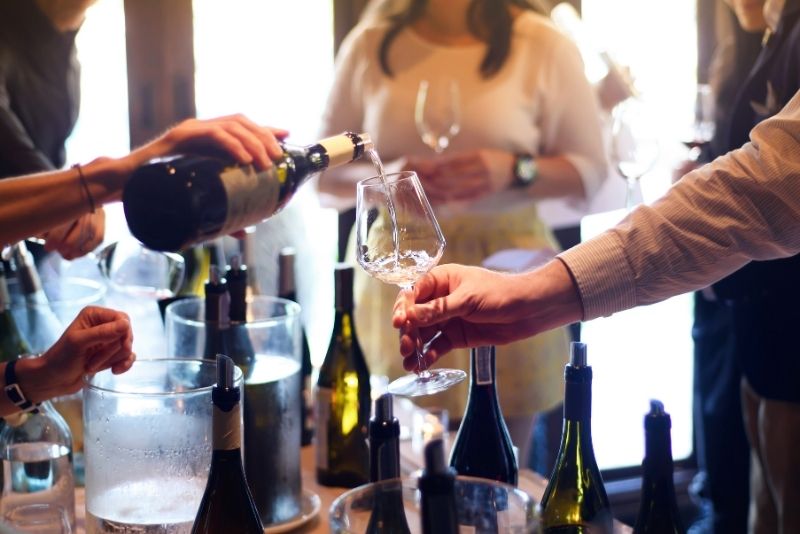 Discover insider secrets from your foodie guide as you stroll through town on this 3-hour Napa Valley wine tour. This is a meal spread out over several stops, with gourmet tastings at seven different cafes, restaurants, and boutiques to feast on cutting-edge local cuisine.
Relish the fine flavors of artisan cheese, organic bread, and delicious Sonoma lamb meatballs. Then indulge your sweet tooth with handmade chocolates and ice cream before washing it all down with a visit to a winemakers' collective. This leisurely stroll in downtown Napa covers about a mile, in a small group setting to ensure personal service.
11 – Napa Valley Wine Train with Gourmet Dinner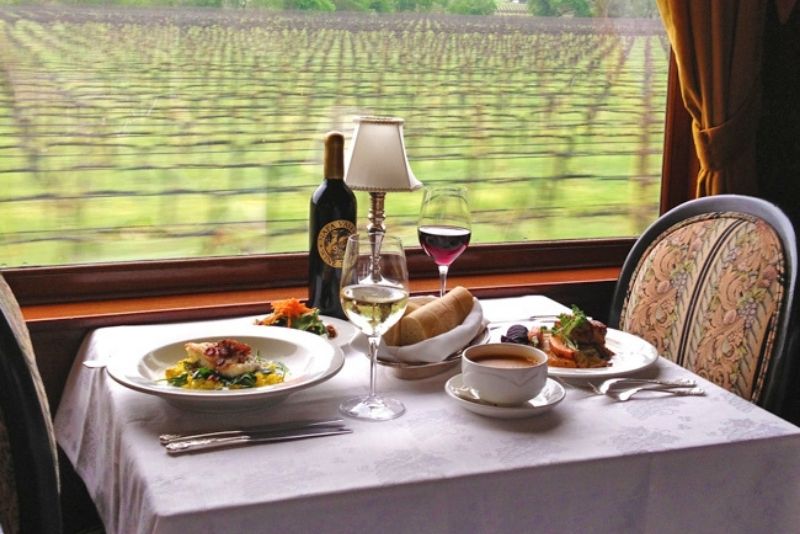 Enjoy a slice of the high life with a private dining table on board this romantic antique train. Keep an eye on the captivating views as you wind your way through the Napa Valley, watching as twilight bathes the landscape in golden hour sunlight, making for atmospheric photos.
Check out the historic Pullman cars which date back to the early 1900s, and see the chefs rustling up your dinner in the onboard kitchen. After polishing off your sumptuous three-course meal, head down to the wine tasting bar for a celebratory glass. This round-trip Napa Valley wine tour lasts two hours.
12 – Private Hiking and Wine Tasting Tour in Napa Valley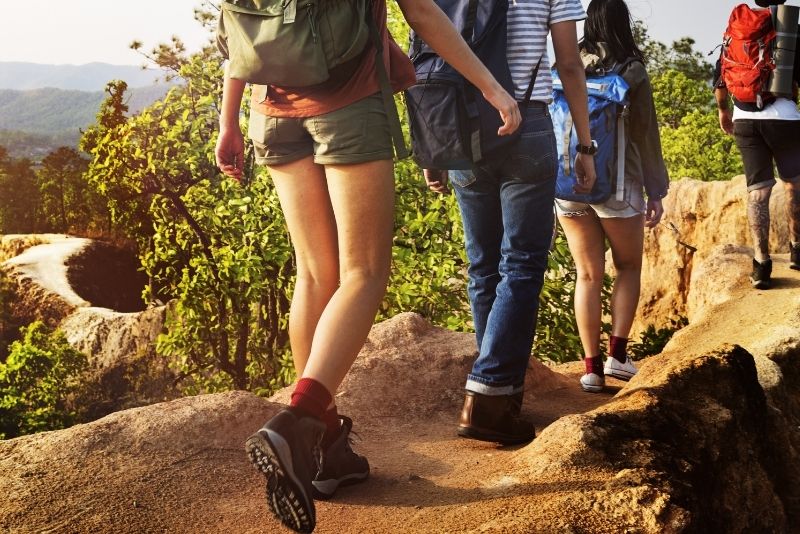 Breathe in the fresh countryside air as you spend the morning hiking through lush redwood forests on this private Napa Valley walking tour. The trail winds past vineyards and wooded slopes for 3-4 miles and is suitable for anyone of moderate fitness.
Keep your camera handy for dramatic mountain shots and listen to stories about this stunning landscape from your local guide. Reward your efforts with stops at two boutique wineries for premium tastings on this 6-hour Napa Valley wine tour. You might also like to treat yourself to a food and wine pairing experience for lunch at an additional cost.
13 – Priority Wine Pass: Discounts at 400+ wineries in Napa, Sonoma, CA, OR and WA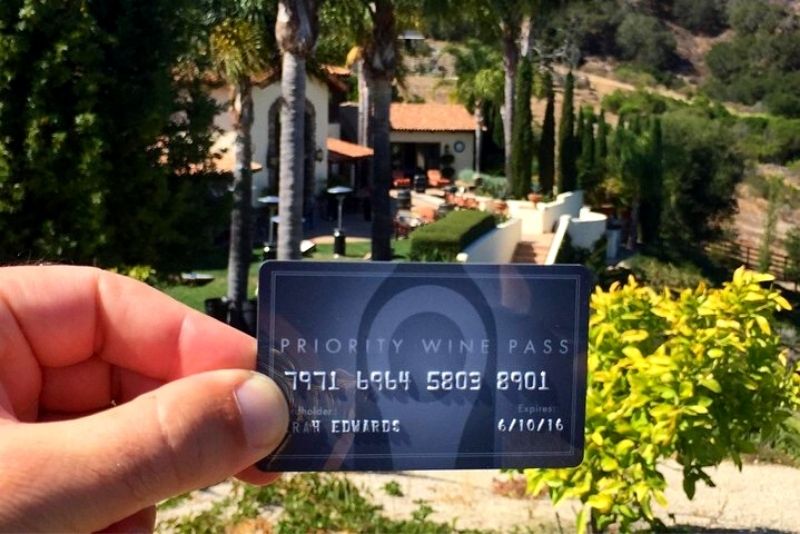 For wine connoisseurs and enthusiastic amateurs alike, purchasing a Priority Wine Pass is the ultimate way to enjoy a highly personalized Napa Valley wine tour. The complimentary concierge service will assist with choosing the best wineries according to your preferences, as well as pointing you in the right direction when it comes to expert drivers.
Whether you fancy a spin on the wine train or want to go vineyard hopping in Sonoma, Napa, or further afield, the pass gives you the flexibility to enjoy a bespoke day out. It includes hotel and winery discounts to make your stay even easier.
Tours from San Francisco
14 – Napa and Sonoma Wine Country – Full-Day Tour from San Francisco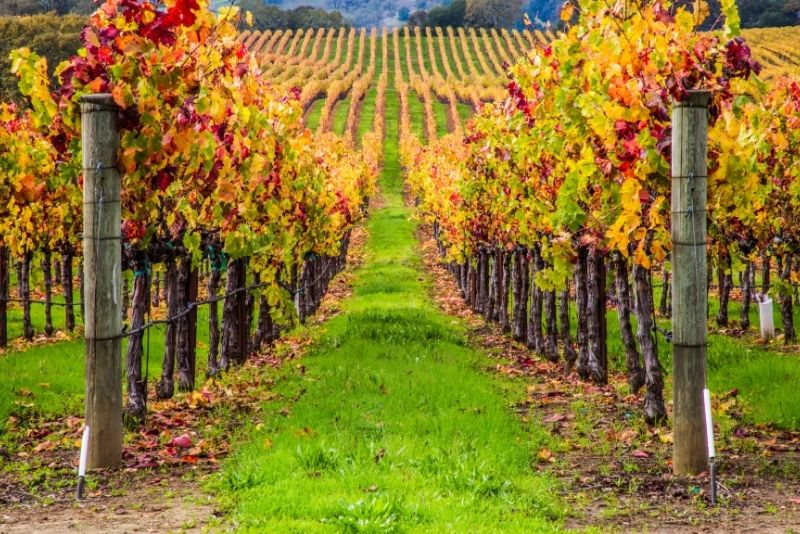 Get picked up from your San Francisco hotel and escape to rural California on one of the best Napa Valley wine tours in town. This full-day excursion takes in tours and tastings at a mixture of big-name estates and family-run wineries. Some are perched on hilltops while others overlook the lush Napa and Sonoma Valleys.
Stop for lunch (not included) in the charming Sonoma Square Plaza, where there are several renowned local restaurants to choose from. Finish the day with photos at Golden Gate Bridge in the late afternoon sun. Transport is by luxury coach which has an onboard restroom.
15 – Full-Day Muir Woods with Napa and Sonoma Wine Tour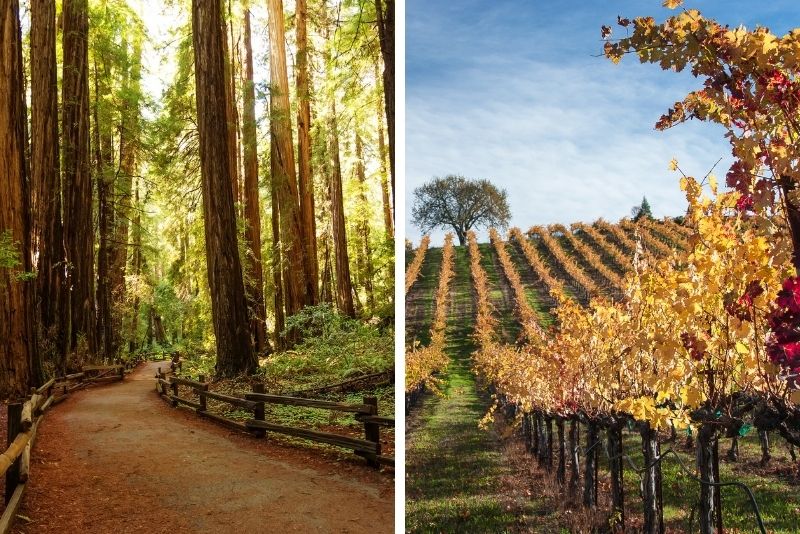 See if you can guess the height of the colossal redwood trees in Muir Woods on this combined walking and wine adventure. The hour-long hike takes you through a magnificent coastal forest, so you can work up an appetite for the day ahead.
Swap rocky mountains for idyllic wine country as you head inland to sample the produce from some of the region's top winemakers, including the Larson and Robledo families and Cline Cellars. Enjoy a relaxed lunch at your own expense in the historic Sonoma Plaza, and stop for photos at the Golden Gate Bridge on your return journey.
16 – Napa Valley Tour by Private Car from San Francisco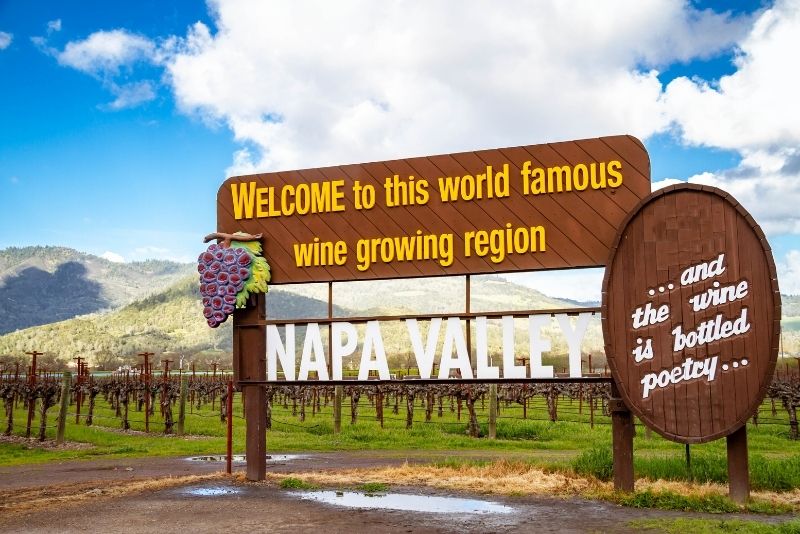 Avoid the crowds and stay independent on this 6-hour private Napa Valley wine tour. You will decide which estates to visit and how long to spend there, giving you complete flexibility over your day.
Choose three to four wineries in Napa or Sonoma such as Domaine Chandon and Domaine Carneros by Tattinger, and get stuck into discovering your new favorite wine. Guided tours are available too.
Stop for a spot of lunch in either Sonoma, St. Helena, or Yountville before heading off to catch the setting sun over the Golden Gate Bridge. Tastings, tours, and lunch are not included.
17 – Small-Group Napa and Sonoma Wine Country Tour with Lunch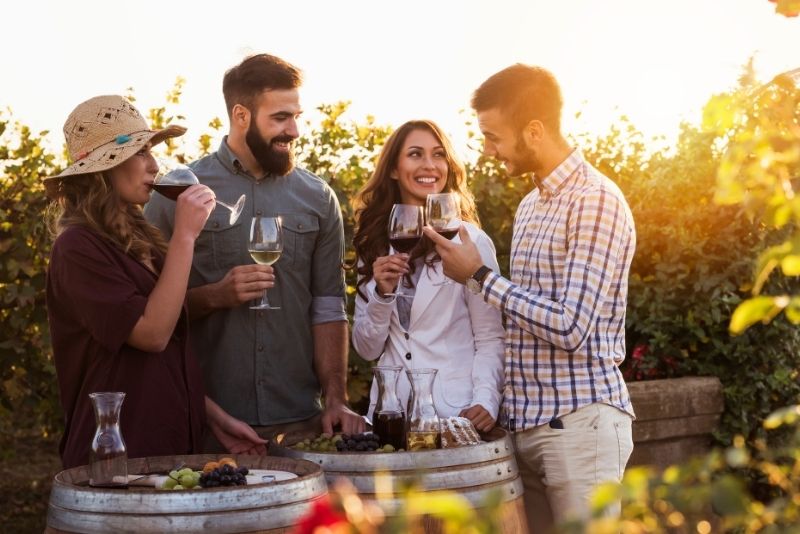 Add a splash of glamor to your day with a visit to one of the top sparkling wine vineyards in California on this relaxed small-group Napa Valley tour. A maximum of 14 participants keeps the excursion intimate, with guests arriving as strangers and parting as friends.
You will be treated to tastings at several family-owned wineries across the Napa and Sonoma Valleys, drinking in panoramic views at the same time. Lunch comes with a touch of history in the cobbled streets of Sonoma Plaza, which was once a Mexican military outpost and a Spanish Mission. Transport is by luxury van.
18 – Napa Valley Wine Train from San Francisco: Gourmet Lunch, Wine Tasting and Vineyard Tour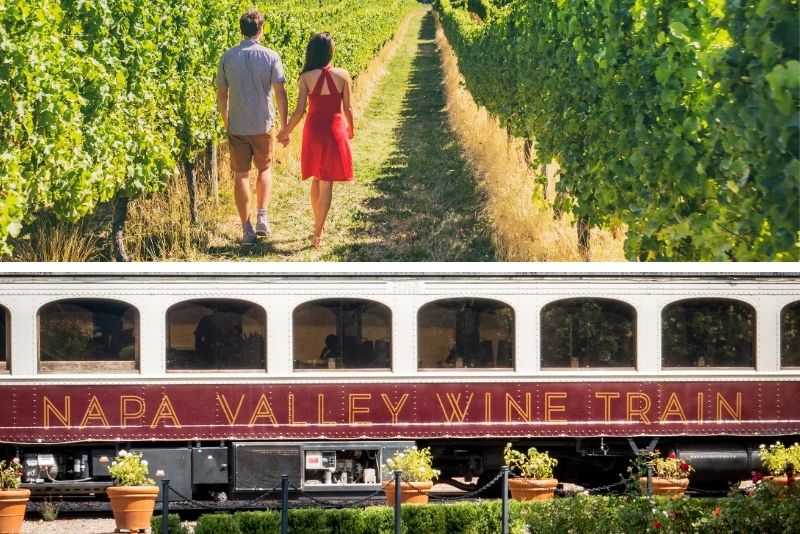 Take a scenic ride on the vintage Napa Valley Wine Train and indulge in a delicious three-course lunch that is locally sourced and prepared on board by professional chefs. Luscious rural views come as a standard accompaniment on this full-day Napa Valley wine tour from San Francisco.
Disembark to continue your journey of discovery with complimentary wine tastings and a guided tour at one or two of Napa's finest estates, such as Grgich Hills, Charles Krug Winery, or Raymond Vineyards. Round-trip shuttle transfers between an agreed meeting point in San Francisco and the Napa Valley Wine Train are included.