See how the other half live on a specialist celebrity homes tour in Los Angeles. You'll cruise through the streets like VIPs, enjoying glimpses of lavish residences that belong to A-Listers. The gated mansions of the Hollywood Hills will give you a taste of the high life – can you guess who they belong to?
Filming locations are another highlight of these Los Angeles celebrity houses tours, with Beverley Hills and Bel Air topping the star-studded listings.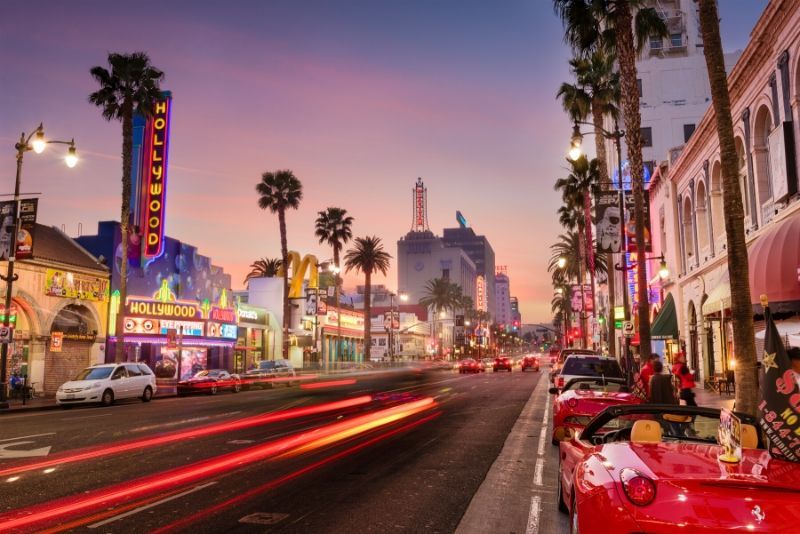 You will find below all you need to know about celebrity homes tours, one of the most fun options for sightseeing tours in Los Angeles.
What are the best celebrity homes tours in Los Angeles?
Group bus tours
Tours of celebrity houses in Los Angeles are usually enjoyed by open-top minibus. This means that you'll have uninterrupted views of the pricey piles while soaking up that warm Californian sunshine. Arrive in good time to bag the best seats!
As you drive through the streets, your onboard guide will narrate the journey, pointing out key sights along the way. Keep your camera handy for glitzy landmarks like the Dolby Theater, Rodeo Drive and the famous movie studios. You'll see the iconic Hollywood Sign too, as well as Grauman's Chinese Theater and the Sunset Strip.
Setting foot on the Hollywood Walk of Fame will get you in the mood for spotting the hotly anticipated celebrity houses. If you want to see a particular sidewalk star, let the guide know and they'll direct you to the right spot for a selfie.
Finally, it's time to head deep into Beverly Hills for a hearty dose of mansions and movie stars. You might even see someone famous as you crawl by – keep your eyes peeled for the likes of Taylor Swift and Tom Cruise. After having your fill of glitz and glamor, you'll be returned to the starting point of the tour.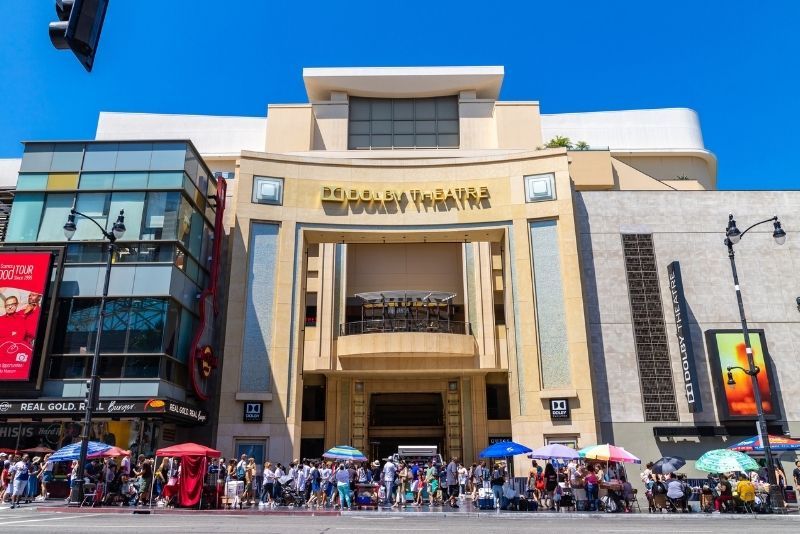 Private SUV tours
Want to avoid the bus crowds and travel more discreetly? Then book a private excursion and journey through the city in a luxury SUV. There will be WiFi on board so you can instantly share photos to make your friends envious. You'll have your own guide too so if you have questions, just ask away.
Your urban adventure begins with a pickup from your hotel if your accommodation is centrally located. You'll then trundle through Los Angeles, passing filming locations and plenty of celebrity houses.
See if you can spot anyone famous on Rodeo Drive, where high-end stores and the iconic Beverly Wilshire Hotel are popular haunts. Next up is the Greystone Mansion and park which has been used as a backdrop for hundreds of TV shows and movies.
You'll also explore Beverly Hills, Sunset Strip and Sunset Boulevard during your outing. Saving the best until last, your final location is the Hollywood Hills where many an extravagant mansion will catch your eye.
After your Los Angeles celebrity homes trip, you'll be dropped back at your original meeting point.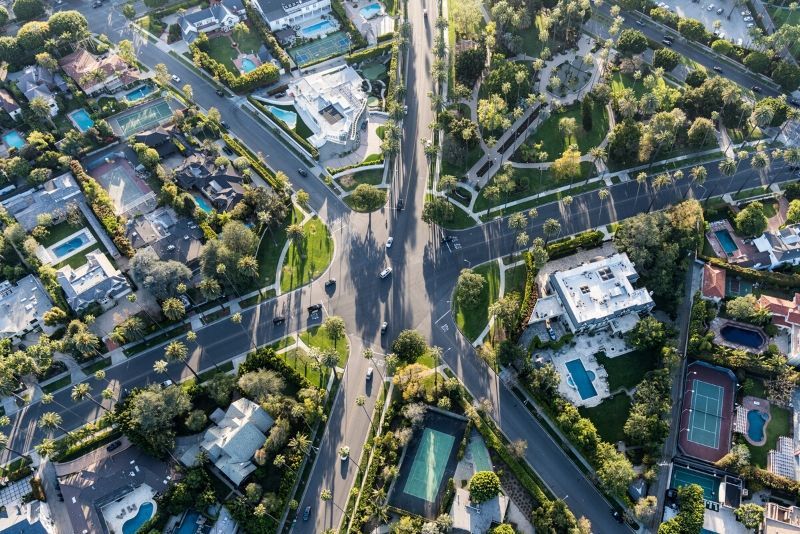 How much do celebrity homes tours in Los Angeles cost?
Standard celebrity houses tours in Los Angeles are priced from US$40 per participant for a 2-hour ride. If you book the longer 4-hour trip, expect to pay US$90 each. These excursions are operated on a group basis and take place on an open-top minibus.
Private tours by SUV cost US$180 per person for a 2-hour experience. You will have an exclusive guide and vehicle for the duration of the trip.
What is included in a celebrity homes tour in Los Angeles?
Los Angeles celebrity houses excursions include a place on the tour bus and a local guide who will provide onboard commentary. You'll usually have to make your own way to the starting point.
On guided private SUV tours, you'll enjoy complimentary snacks, bottled water and onboard WIFI. Hotel pickups and drop-offs from selected properties are offered, depending on where you're staying in the city.
Where do celebrity homes tours in Los Angeles start?
For most excursions, you'll be asked to meet at a central departure point in the city. Common locations include Sunset Boulevard and Hollywood Boulevard.
Some tours offer pickups from selected hotels. Bear in mind that Los Angeles is a vast city, so starting points are generally limited to central and accessible locations. Your excursion provider will have a list of hotels so you can check if yours is included.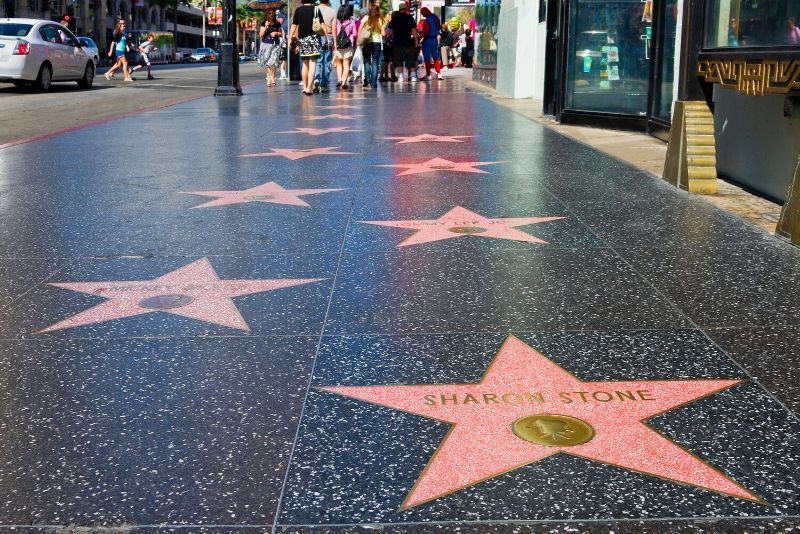 How long do celebrity homes tours in Los Angeles last?
Most excursions last around 2 hours, which is plenty of time to drive through the main districts and see the famous sights. If you want to explore a little deeper, 4-hour celebrity homes tours in Los Angeles are also available.
When is the best time for a celebrity homes tour in Los Angeles?
Los Angeles celebrity houses tours run throughout the day, so you can just pick a time that suits you. Mornings are often quieter than afternoons.
The excursions are a great introduction to the city as they pass by many of the top sights. It's therefore a good idea to book a tour at the start of your visit to help you get your bearings.
Travel tips
You should arrive at least 15 minutes before the tour departs.
Celebrity homes tours in Los Angeles are one of the most popular city experiences, so don't leave booking until the last minute. By reserving your place online you'll be able to search for the best deals too.
Dress appropriately for the weather as it's not always sweltering in Los Angeles. If the weather is poor, the trip may be canceled but you'll be offered an alternative date or a refund.
You might want to take drinks and snacks if they are not included on your tour.