The food in Los Angeles can be described in one word – diverse. Not only is Los Angeles home to many celebrity chefs, it is a melting pot of international cuisine and American favorites.
Los Angeles is a city where you may experience fine dining beside an A-list celebrity just as easily as you can catch a quick but delicious meal on the go from a food stall. Food tours in Los Angeles led by local guides offer the perfect introduction to this chic yet eclectic metropolis.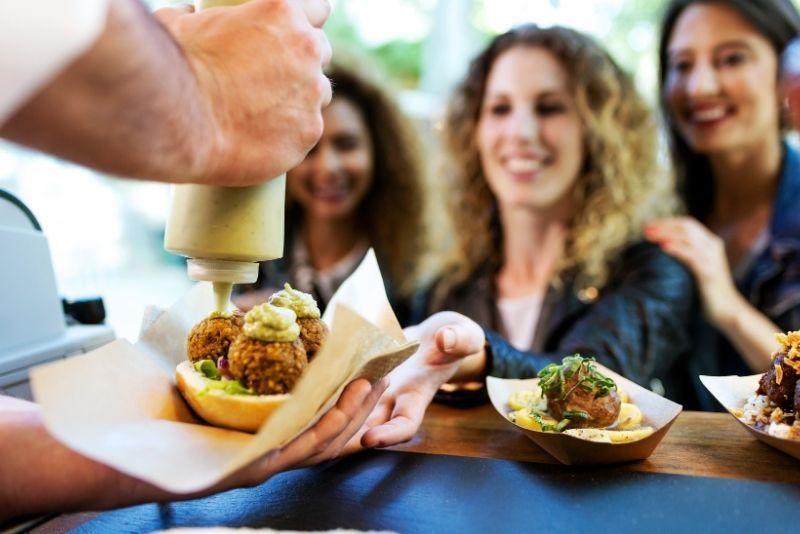 Here's all you need to know about the best food tours, one of the food experiences in Los Angeles.
What are the best food tours in Los Angeles?
Food tours are offered in various parts of Los Angeles and with such an exciting variety of cuisine types and venues, its best to examine each itinerary carefully to decide on the right tour for you. Here are just some of the best food tours available in Los Angeles.
Downtown Los Angeles food tour
On a 3-hour food tour, you will pass by some of the areas best-known landmarks and learn more from your guide.
Most downtown tours in Los Angeles visit the Grand Central Market – a gathering place for the diverse cultures and cuisines of Los Angeles. An authentic French boulangerie, a food stall for some street food and even some succulent Texas-style barbeque could be on the menu.
Venice Beach food tour
Venice Beach is free-spirited and bohemian, where a laidback atmosphere meets foodie hotspots, trendy coffee shops and stylish boutiques. You can expect visits to popular food stalls and tastings of tacos, crostini, and poke with your local guide.
West Hollywood food tour
A small-group guided West Hollywood food tour is perfect for avoiding the tourist traps and experiencing the real Hollywood. The 2.5 hour tour includes tastings at the Original Farmer's Market and you can expect to see the iconic Television City, the Fairfax District and the famous Kibitz room on your walk.
Little Tokyo and Art District food tour
On a 2-hour food tour of Little Tokyo and the Art District you will learn how the community has managed to retain its history and cultural traditions while you sample some of the delicious Japanese cuisine and other food on offer.
Private and personalized food tour
To personalize your food tour in Los Angeles, this 3-hour private tour matches you with a knowledgeable guide based on your interests and the foods you want to experience. Your guide will show you some of the city's best kept culinary secrets, as they walk you through the streets of the city.
Balboa Island food tour
On this 3.5-hour food tour,  you will join your small group to soak up the seaside atmosphere and gourmet food offerings in Balboa Island. On your walking tour, you will visit six local food businesses and learn more about the island's history from your friendly guide.
What are the highlights?
Food tours take place in various parts of metropolitan Los Angeles. Restaurants, street vendors and food stalls and markets may all be on your tour itinerary.
On a downtown food tour in Los Angeles, the Grand Central Market is often a focal point of your excursion.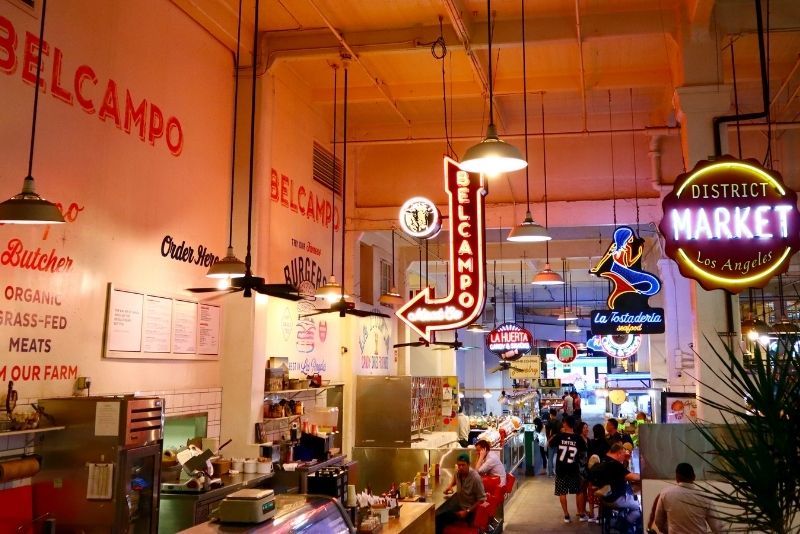 Venice Beach tours highlight food stands and trendy cafes. In West Hollywood, a stop at the Original Farmer's Market and The Kibitz Room are usually on the itinerary.
Tours to Balboa Island include a ride on the historic Balboa Island Ferry.
Should you decide to book a private food tour, you and your guide will design the ideal itinerary for you.
How much does it cost?
Downtown Los Angeles food tours are operated in small groups and cost from US$75 per person.
A food tour to Venice Beach with no more than 12 participants starts at US$80 per person.
A small-group West Hollywood food tour costs from US$75 per person.
Little Tokyo and Art District food tours start at US$75 per person.
Private and personalized food tours in Los Angeles cost US$220 per person and require at least two participants to confirm.
A Balboa Island food tour starts at US$110 per person with a minimum of two people required to confirm.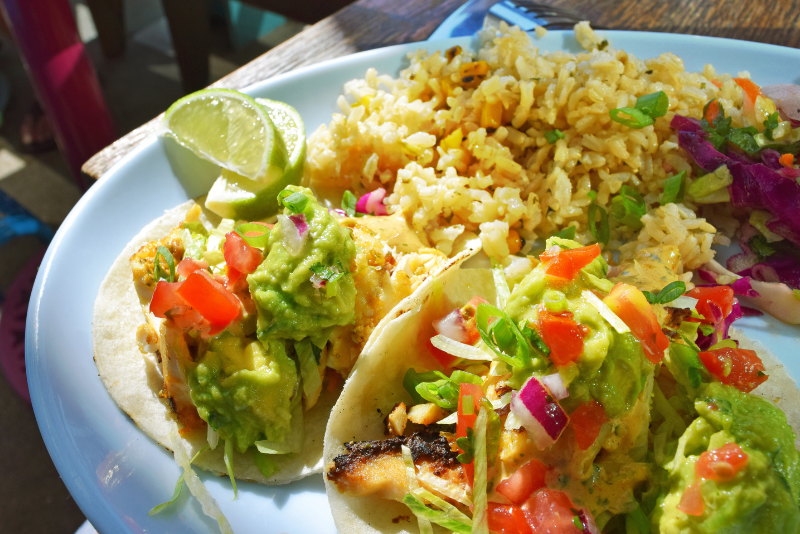 What is included?
On small-group walking tours the following is usually included:
Local guide
Food tastings as specified on the itinerary
Water
Some tours include some drinks or entrance fees (if applicable) and others include a hotel pickup.
Where does it start?
Each tour will have a starting point close to the tour route. Most tour operators will make sure that the meeting point is close to a public transport route and easy to find. If your tour includes a hotel pickup this will be confirmed when you make your booking.
How long does it last?
The typical duration of a food tour in Los Angeles is 2-3 hours. There are a few tours that last for up to 5.5 hours. A full-day combo tour lasts in the region of 8 hours.
When is the best time for a food tour in Los Angeles?
It's best to go on a food tour of Los Angeles once you've settled in at your hotel, as it's a great way to introduce you to the tastes and sights of this bustling city. Check with your tour operator as some tours only operate on certain days.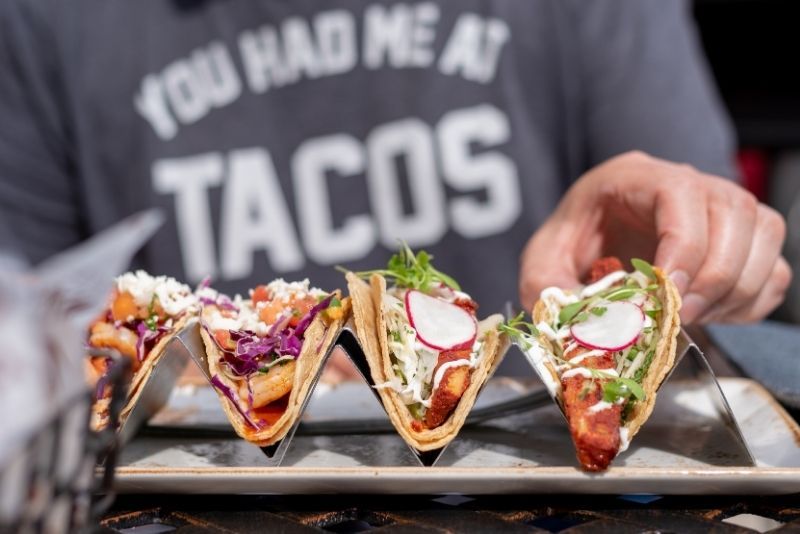 Spring and autumn are the best time for a food tour in Los Angeles. In the summer months, it can be very hot and smog can also make the city oppressive. In the winter, you may get better deals, but be prepared for the possibility of rainy weather.
Are there any combos available with food tours in Los Angeles?
If you want to do more than just sample the flavorful multicultural tastes of Los Angeles, you can book a combo tour that includes sightseeing or other local activities.
Downtown LA food plus art and culture walking tour
Take in the atmosphere of the city on this 2-hour walking tour in Los Angeles that includes food-halls like Spring Arcade Building and Grand Central Market.
Full-day Los Angeles fun fashion photo plus food private tour
Feel like a star as your own private photographer accompanies you on your guided tour of Los Angeles. On this full day tour ,you will visit the Grand Central Market, an international foodie center in downtown Los Angeles.
Los Angeles food plus history plus design tour
Starting at Union Station, this tour combines the local tastes with a tour that showcases the architecture, design and history of this fascinating city.
Are children allowed?
Many food tours are family friendly and some will not charge for children under a certain age. Remember that the tours are walking tours and your child will need to be able to keep up with the group.
Travel tips
If you are going to be spending the day tasting food, don't ruin your appetite with a big breakfast.
Wear comfortable walking shoes.
Advise your tour operator in advance if you have any food allergies.
Be willing to try new things to make the most of your food tour.
Tours are often all-weather experiences, so bring a rain jacket if the weather is bad.