The golden state of California is famous for many things, from the glamor of Hollywood to amusement parks, majestic scenery and sun-drenched beaches. Thanks to its ideal climate and soil conditions, the state is also home to some of the worlds' top vineyards.
If you're visiting California and would like to spend some time wandering through the vines and tasting internationally recognized wines, a wine tour in Los Angeles may be exactly the right excursion for you.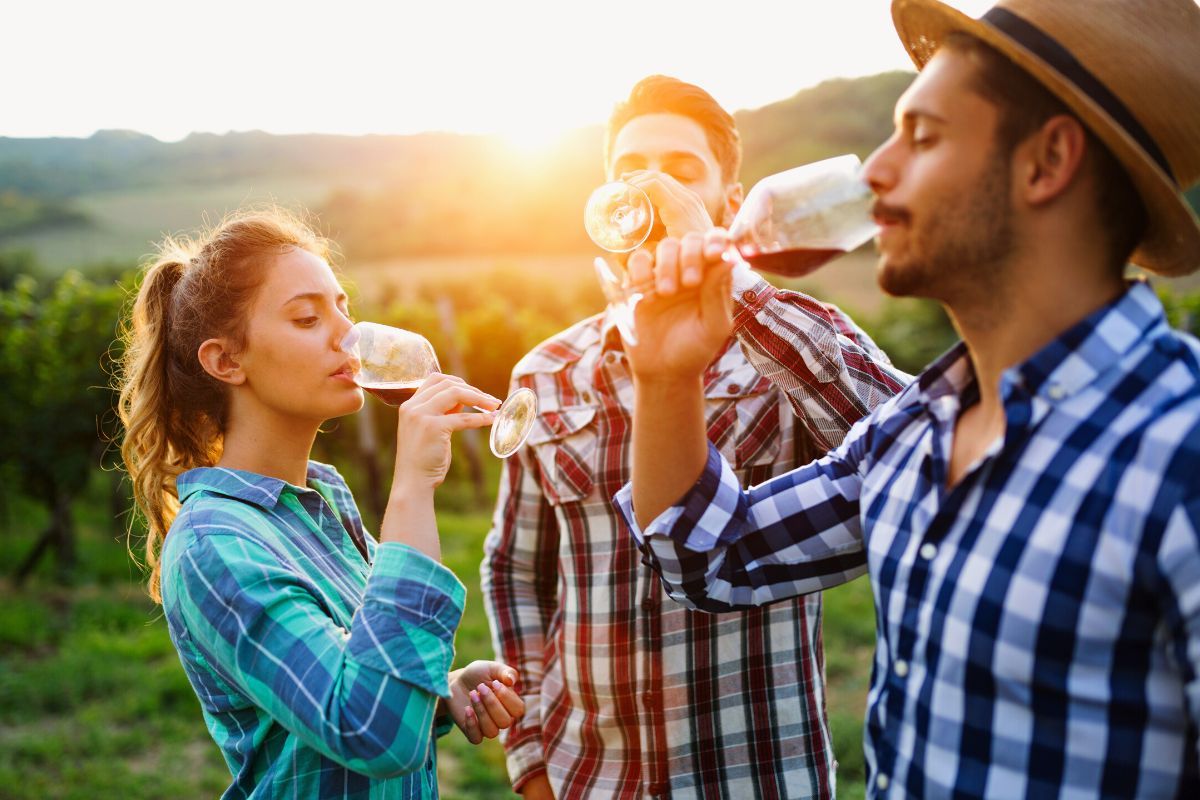 Here's all you need to know about wine tours, one of the best options for food and wine experiences in Los Angeles.
What are the best wine tours in Los Angeles?
Temecula Valley wine tours
On a Temecula Valley wine tour from Los Angeles, your small-group tour will be treated to a VIP experience by your local guides. The wineries in this region are mostly small, family-owned concerns and this is reflected in the personal experience you receive at each stop.
You will be able to select your own wines and pay for your tastings accordingly.
There will be plenty of photo opportunities at your winery stops and along the scenic route. The tour also includes a leisurely lunch stop at an award-winning restaurant in the Valley.
You can also choose to book this a wine tour from Los Angeles to Temecula Valley on a private basis.
Malibu wine and sightseeing tours
You can expect to experience 5-star hospitality on this small-group wine and sightseeing tour in Malibu. Depending on availability your tour will include a visit to three of four sites: a classic California vineyard, a wine tasting in Malibu Village, the Malibu Pier and a tasting room in the Santa Monica mountains.
During your trip, you will drive through the Malibu Canyon, along the Pacific Coast Highway and past the Malibu Lagoon State Beach and Malibu Beach.
Santa Barbara wine tasting day tours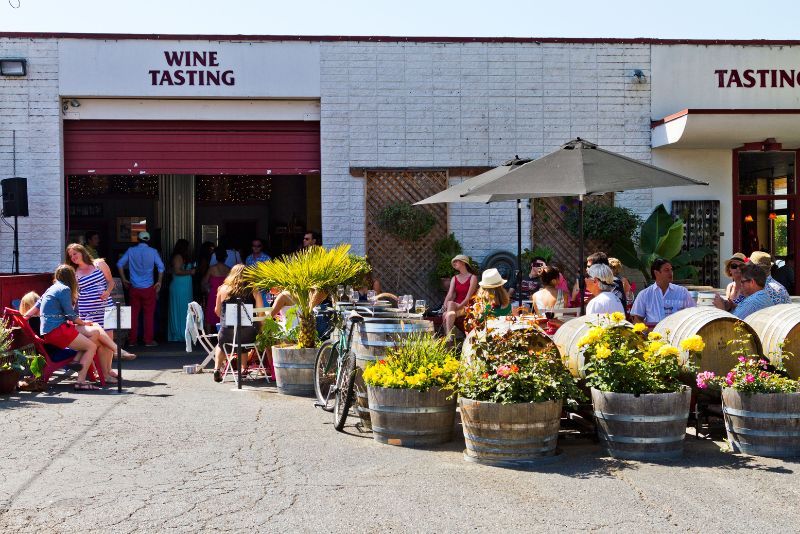 A small-group wine tour from Los Angeles to Santa Barbara starts with a drive through the eclectic sites of downtown Santa Barbara. Travel along the Pacific Coast Highway to the picturesque Santa Ynez Valley. Your tour continues with stops for wine tastings along this meandering wine trail.
On the return trip, you will pass the spectacular views of Lake Cachuma and Los Padres National Forest.
This full-day excursion includes a pickup from your Los Angeles hotel and you will stop for lunch at one of the many wonderful restaurants in the region.
Private Malibu wine tours
For a luxurious private experience, a private Malibu wine tour is ideal. Your wine guide will inform and guide you as you visit some of the top wineries on the West Coast.
Your excursion begins with a stop at Rosenthal, well known for its Cabernet Sauvignon. Next up is the 18-acre Tuscan inspired Cielo farms estate located in the rolling Malibu hills.
The Cornell Winery and Tasting Room is the final stop on your tour. At the Cornell tasting room, you will be able to choose between many of the fine wines produced in the mountains of this region.
Which places are visited?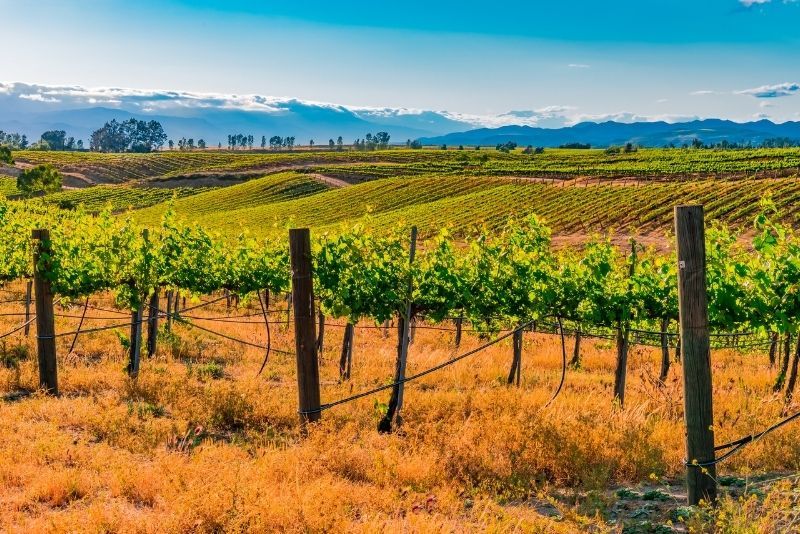 Wine tours from Los Angeles explore several wine producing regions around the city. Santa Barbara, Malibu and the Temecula Valley are among the most accessible areas for a day trip.
On your tour, you will stop at one or more wineries or tasting rooms for the chance to taste the different wines grown in the area. Each tour includes a scenic drive and your guide will point out attractions and places of interest as you travel.
How much does it cost?
If you join a small-group full-day Temecula Valley wine tour, your ticket will cost roughly US$140.
The price of your tastings and lunch are not included in this price. Private tours may be priced per person or per group.
A private tour can cost from US$450 for a couple, while for a larger private group, you can expect to pay around US$1,200 for up to 14 participants.
Wine tasting day tours to Santa Barbara cost from US$300 per person in a small group of up to 14 people.
Malibu wine tasting and sightseeing tours start at US$99 per person, excluding the cost of the tastings.
A luxurious private Malibu tour costs from US$800. Your tour takes place in a luxury vehicle and your guide is with you throughout.
What is included?
All the wine tours from Los Angeles include your transport and the services of a driver-guide. Most tours collect you from your hotel and drop you off after the tour ends. If a pickup is not included, your tour operator may offer this service at an extra cost.
Some tours include the cost of the wine tastings in your excursion price, but on other tours you will need to pay this cost directly. Unless stated explicitly in the tour description, you should also expect to pay for your lunch.
Where does it start?
The Santa Monica Place Mall and the Santa Monica Pier are two common starting points for wine tours. Tours to Temecula often begin in Newport.
How long does it last?
You can choose between a half-day or a full-day wine tour in Los Angeles. A half-day tour is typically about 4 hours long while a full-day excursion can take anywhere between 8 and 10 hours.
When is the best time for a wine tour in Los Angeles?
Although there are good reasons to enjoy a wine tour at any time of the year, the autumn months from May to September are the best time for a wine tour in Los Angeles, At this time of the year, the temperatures become milder but the days are still mostly sunny with comfortably warm evenings.
Are there any combo tours available?
Angeleno wine tasting plus cider and beer tastings
One Sunday a month you can book a tour that includes a stop at Angeleno Wine Company – one of Los Angele's newest winemakers.
On the tour you will get to sample some of their interesting varietals, visit Cider House 101 for a local cider and beer tasting and one of the area's craft breweries. This half day combo tour includes at least one stop where food is served.
Malibu: Wine tasting plus vintage VW sightseeing tour
On this private sightseeing tour of Malibu in a vintage Volkswagen van, you will spend the day seeing some of the area's most well-known sites and landmarks before ending your day with a wine tasting experience.
Are children allowed?
The legal drinking age in California is 21. For this reason, most wine tours will only permit participants over the age of 21.
Travel tips
Book your tour in advance.
Ask your hotel to assist you with booking a taxi to the start point if a pickup is not included in your tour price.
Check what is included on your tour to avoid any unexpected costs.
The tasting room assistants are very knowledgeable and will be able to assist you in choosing between different wines for your tasting.
Remember your camera to capture the natural beauty and interesting places on the way to your wine tastings.