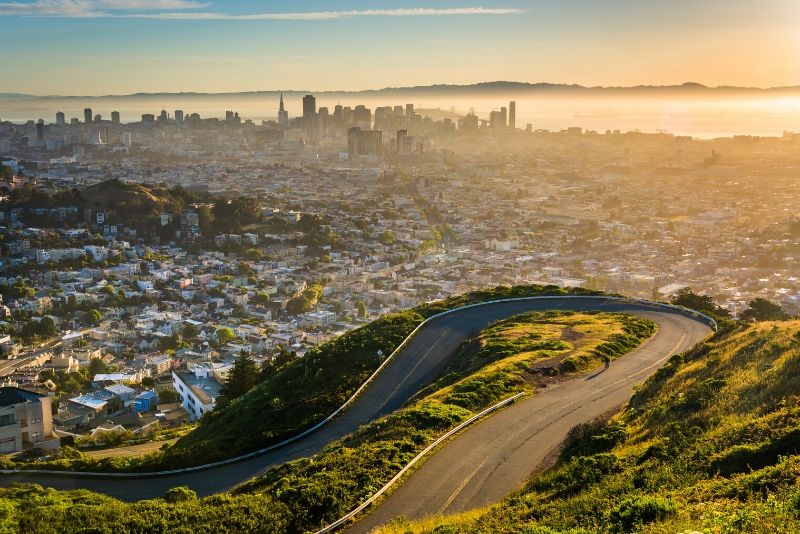 There's no need for California Dreamin' when you're on one of the best San Francisco tours around. Each one of our recommended tours will have you feeling very awake, whether it's a visit to Alcatraz Island, whizzing around the city on a segway, or being at one with nature in Yosemite National Park.
There's so much to do in a city that is known as the "home to a bit of everything," so let's get right into it and look at 23 of the best San Francisco tours.
1 – San Francisco Bay Sunset Cruise by Luxury Catamaran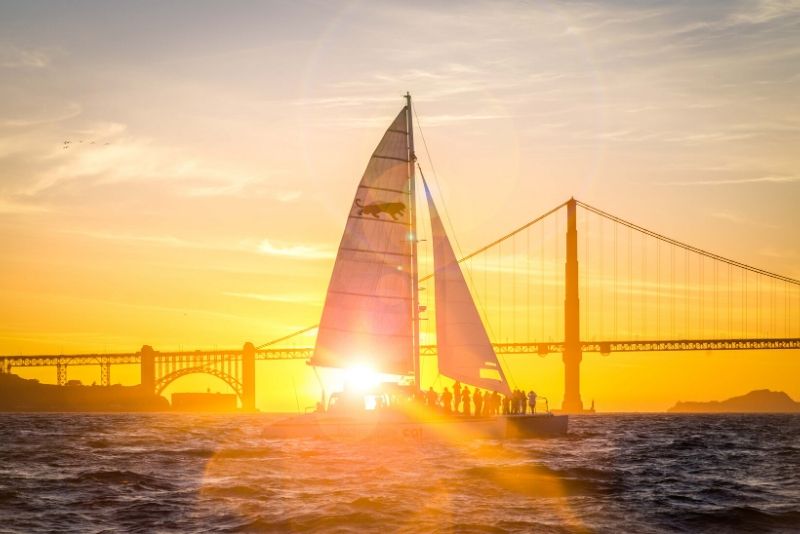 This 90-minute cruise on a luxury Catamaran is perfect for those who want to capture the aura of the city and see views of iconic landmarks such as the Golden Gate Bridge and Alcatraz as the sun goes down.
Cap your tour off with 2 complimentary drinks and a selection of light hors d'oeuvres to nibble on.
2 – Complete San Francisco Tour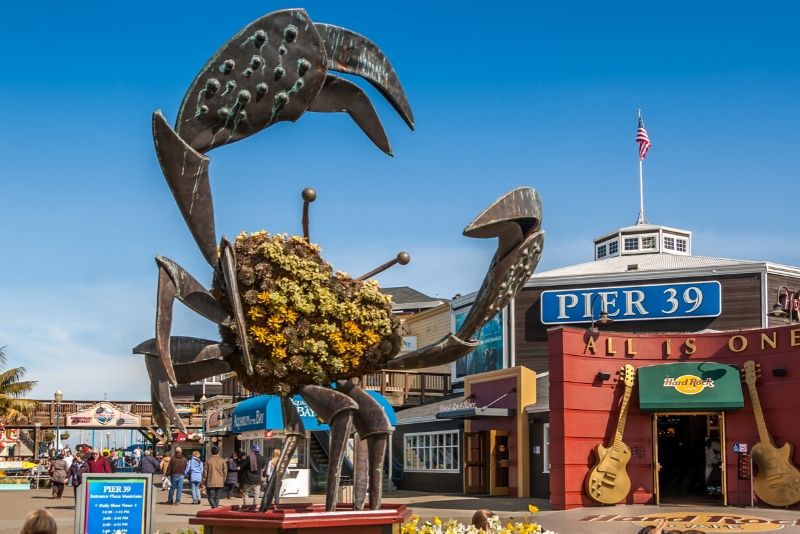 Listen to the history of the city from a local guide and see sights like Chinatown, Fisherman's Wharf, and The Presidio as you glide around the city on an air-conditioned bus.
Then, complete your San Francisco tour with a 60-minute cruise of San Francisco Bay and witness the Golden Gate Bridge and Alcatraz first-hand.
3 – Alcatraz Island Tour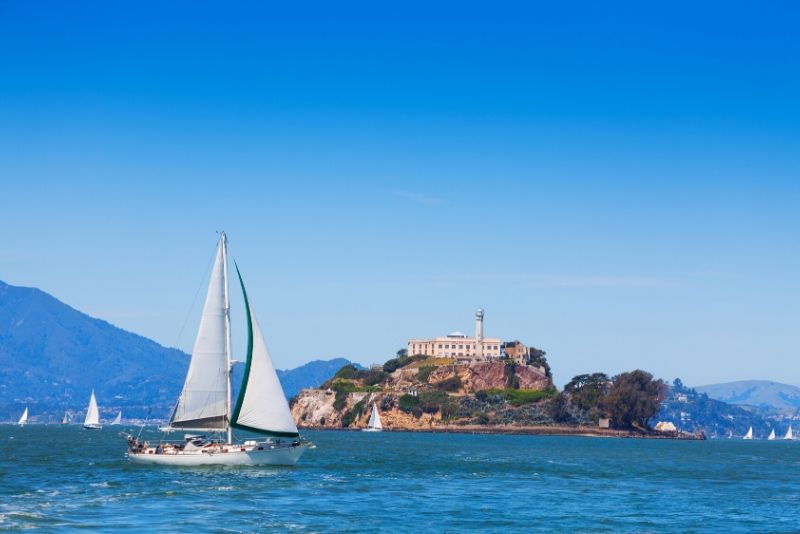 Alcatraz Island once housed famous criminals like Al Capone and the Birdman. Today, it's one of San Francisco's most visited tourist destinations and includes a 45-minute audio presentation titled Doing Time.
Once you've explored the former cells, head outside to the historic gardens that are now brimming with local wildlife.
Check here our selection of the best Alcatraz Island tours or read how to book last minute Alcatraz tickets if tickets are sold out.
4 – San Francisco Super Saver: Muir Woods & Wine Country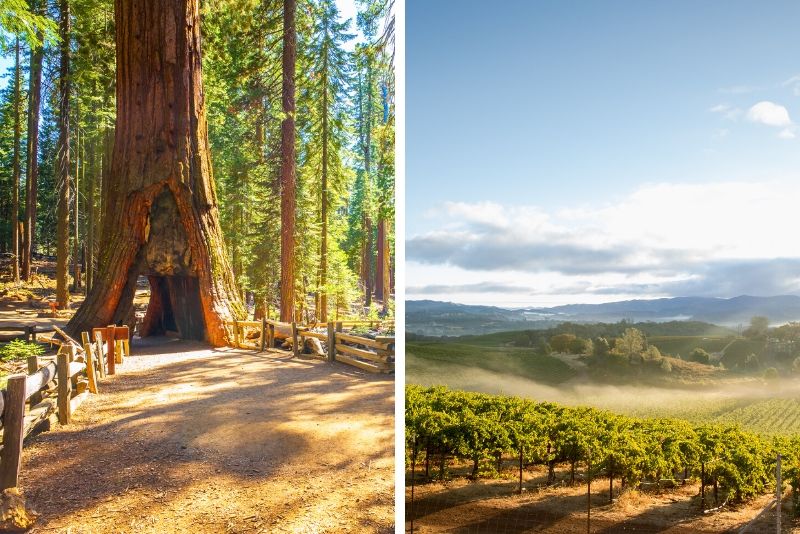 If you're struggling to narrow down the best San Francisco Tours, why not combine two of them? This Muir Woods and Wine Country Tour lets you see the wonders of Muir Wood with its pristine forest of California coastal redwoods and the San Fran wine country in the famous Sonoma County's Carneros region.
Get back to nature and then sip of some fine red wine.
5 – Combo Tour: Alcatraz Island and San Francisco Grand City Tour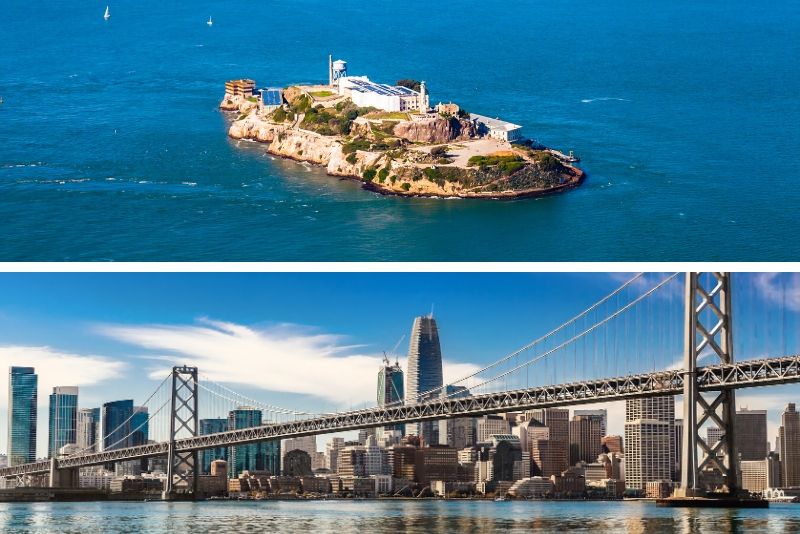 Another great 2-in-1 tour, the Alcatraz and San Francisco Grand City Tour combine the island known as The Rock and the city called the Paris of the West in one.
Start with a trip across the San Francisco Bay, where you can explore Alcatraz Island with an audio tour, then finish your tour with a local guide who will take you around famous spots like Chinatown and Fisherman's Wharf while detailing the history of California's second city.
6 – 3-Hour San Francisco Segway Tour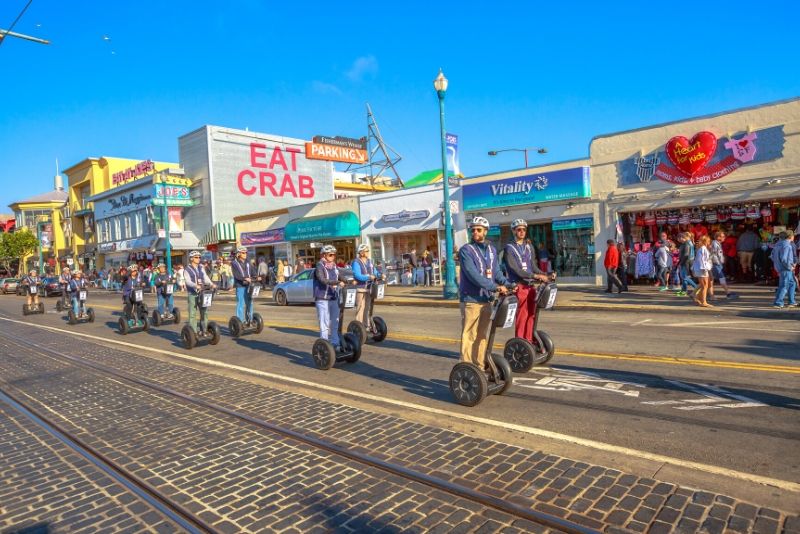 Glide around the hilly streets on a segway for 3 hours as a tour guide takes you to places like the unique restaurants and stores of Ghirardelli Square, the ships at Hyde Street Pier, the Golden Gate Bridge, and the USS Pampanito Submarine.
Enjoy fantastic views, such as Alcatraz Island, throughout this tour.
7 – Napa and Sonoma Wine Country – Full-Day Tour from San Francisco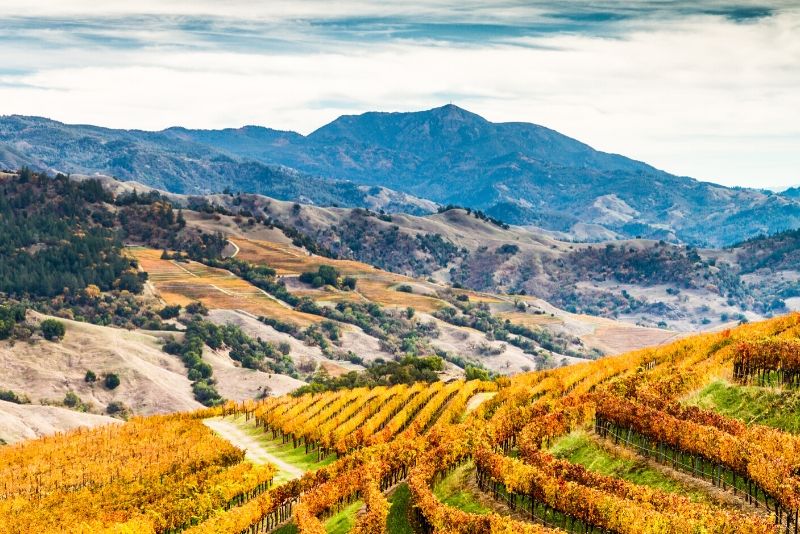 Escape the hustle and bustle of the city with a tour to the wine country regions of Napa and Sonoma. This full-day excursion is one of the best San Francisco tours for wine lovers and sees you visit multiple wineries, where you will learn about the wine-making process and enjoy the company of an expert guide.
Visit vineyards and barrel rooms in Napa and Sonoma and become an expert wine taster.
8 – San Francisco Golden Gate Whale-Watching Tour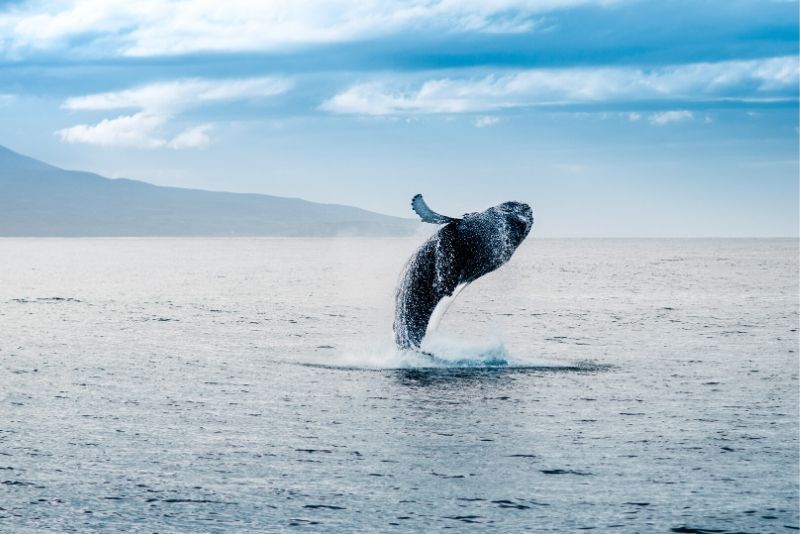 Jump on an eco-friendly catamaran to see the whales of San Francisco. Departing from the famous Pier 39, the tour lasts 2.5 hours and will see you jet under the Golden Gate Bridge as you head out onto the open Pacific.
Keep your eyes peeled for humpback and grey whales, plus other sea animals like dolphins and seals. Your local expert guide will also be on hand to tell you all about the history and geology of the area.
9 – San Francisco: Bridge to Bridge Cruise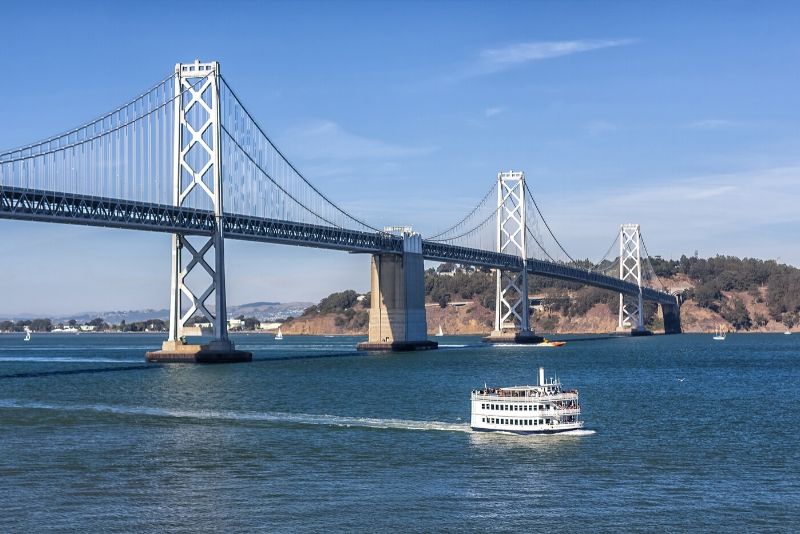 It is a little known fact that San Francisco has arguably the most famous bridge in the world, so it doesn't come as a surprise to see a tour dedicated to the iconic landmark. Even better is the fact that you get to visit another bridge – Oakland Bay Bridge.
The tour lasts for 90 minutes and features personal audio guides as you zip along San Francisco Bay, where you'll see Alcatraz Island and, of course, the Golden Gate Bridge and Oakland Bay Bridge.
10 – Yosemite National Park and Giant Sequoias Day Trip from San Francisco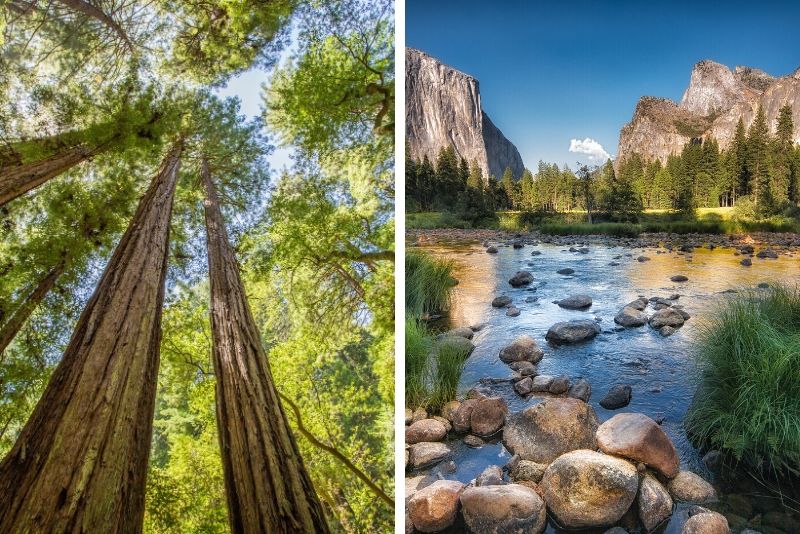 Get back to nature with a visit to Yosemite National Park, where you will see great Sequoias trees and get to experience the famous gold rush towns.
Take in the rugged landscape of Sierra Nevada as you head to Yosemite National Park, one of the most visited parks in the US. Once at Yosemite, go on a hike and discover beautiful natural scenery that includes those famous Sequoias trees.
11 – Muir Woods & Sausalito Tour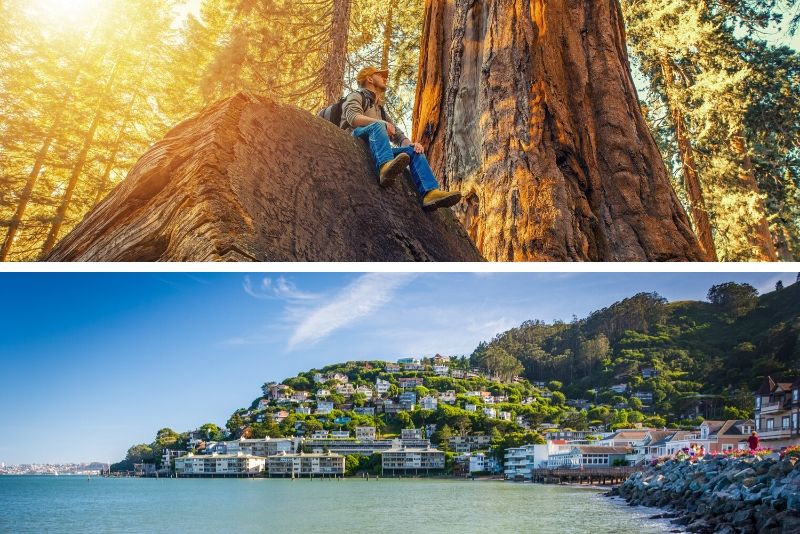 Start this combined tour with a visit to Muir Woods National Monument and witness Giant Redwoods as you lose yourself in the mythical park that has been around for between 500 and 800 years.
The second part of the tour includes a visit to Sausalito, a coastal town known for its Mediterranean-style village. Here, you can explore quaint shops, art galleries, and waterfront restaurants.
12 – Alcatraz and Big Bus Premium 1-Day Hop-On Hop-Off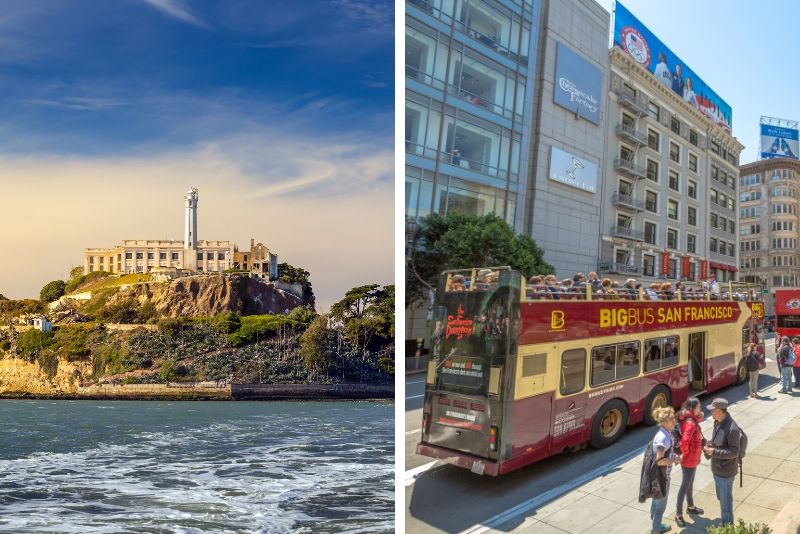 Visit the best sites in San Francisco with a combined Alcatraz visit, hop-on, hop-off Big Bus tour, and Sausalito visit. Spend a day hopping on and hopping off the Big Bus, discovering iconic areas like Chinatown at your own pace.
Spend time visiting the island of Alcatraz and learning its storied history and go on a shopping trolley tour of Sausalito.
13 – Monterey, Carmel and 17-Mile Drive – Full-Day Tour from San Francisco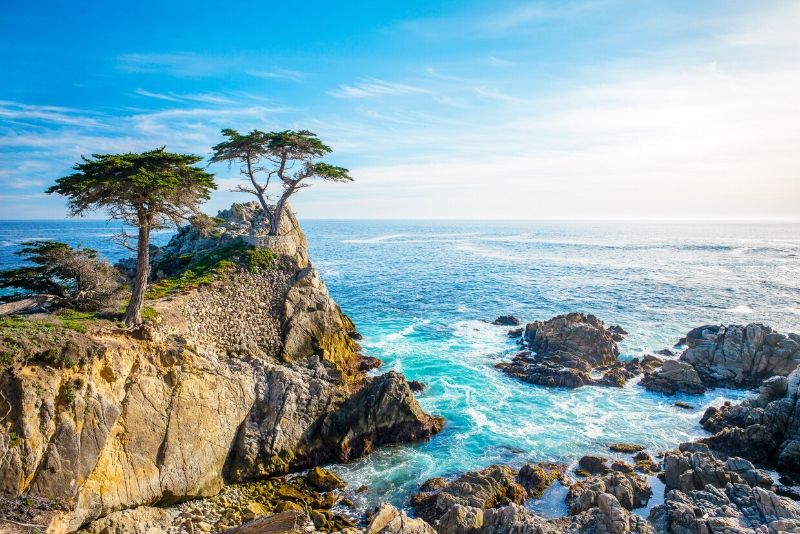 Hop on a luxury coach and take the scenic route on an iconic 17-mile drive of California. The full-day tour passes Highway 1, which features the grand mansions of Pebble Beach before it stops at Monterey and Carmel-by-the-Sea.
Explore Monterey with its Steinbeck Cannery Row and the Monterey Bay Aquarium, one of the best aquariums in the world. Next, head to Carmel-by-the-Sea and browse the many boutique shops.
14 – San Francisco: Food and Street Art of the Mission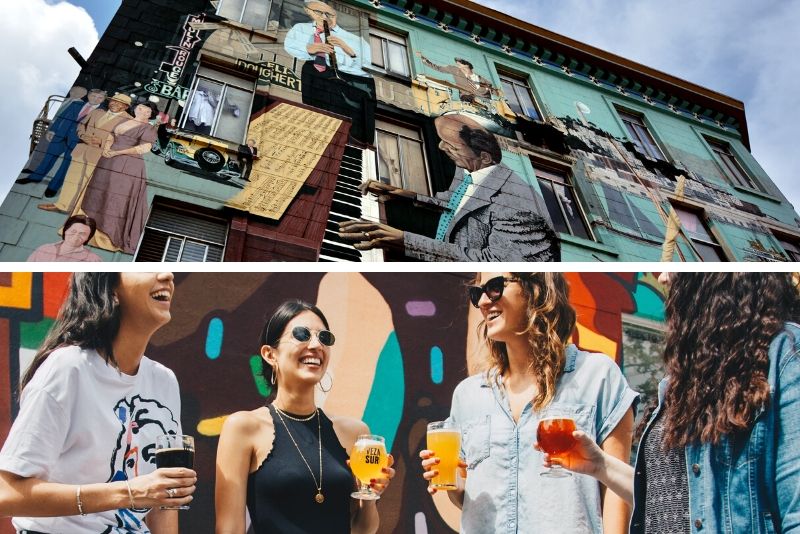 One of the trendiest parts of San Francisco, the Mission is a neighbourhood to discover the arts and everything creative.
Start the 2.5-hour tour with coffee and locally-sourced doughnuts and listen to your guide as they tell you about the Mission's history while taking your around popular places such as Balmy Avenue, which is full of murals that line the street.
15 – San Francisco Hop-On Hop-Off: Classic, Premium or Deluxe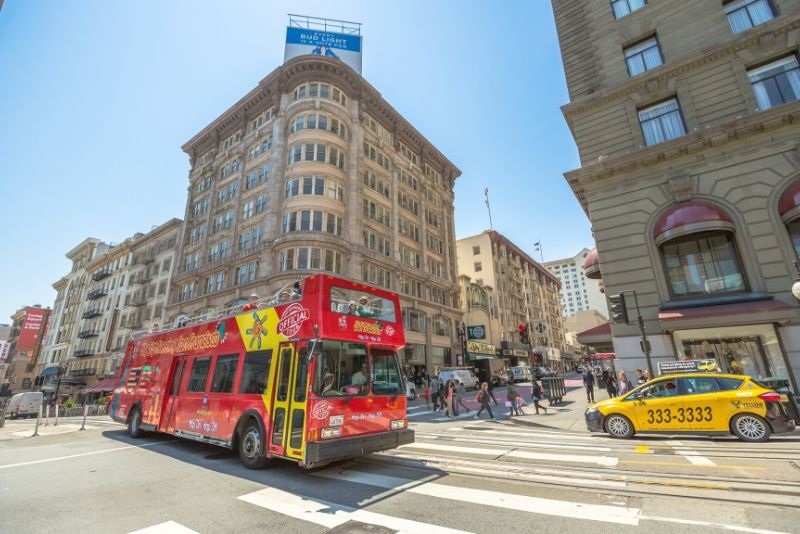 If you want to see the city of San Francisco but don't have lots of time, the hop-on, hop-off service from the Big Bus is one of the best San Francisco Tours.
Choose from a Classic, Deluxe, or Premium ticket and discover the city's most famous landmarks at your own pace.
16 – Early Access to Alcatraz and Cable Car Sightseeing Tour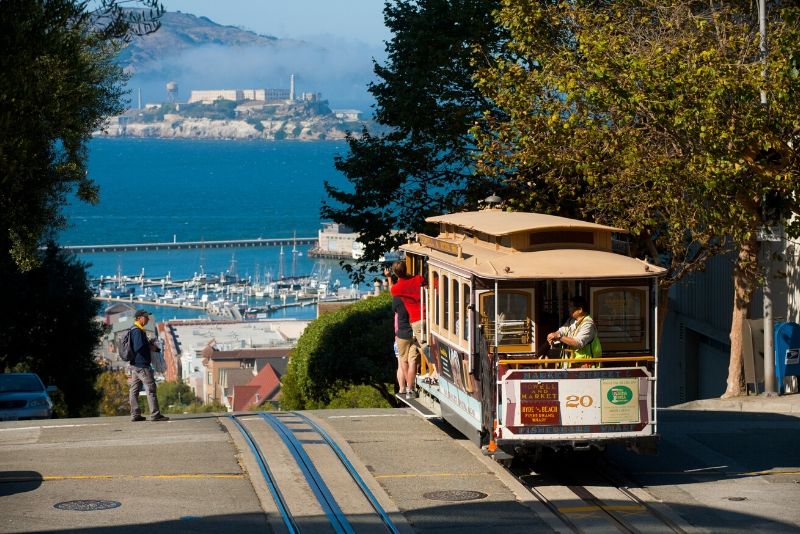 Beat the queues and see Alcatraz Island before it gets too busy, arriving in style on a motorised classic cable car.
Explore the former prison with an audio guide before enjoying a sightseeing tour that includes the Golden Gate Bridge, the Palace of Fine Arts and Fort Point – all while riding an iconic cable car.
17 – Yosemite National Park Day Trip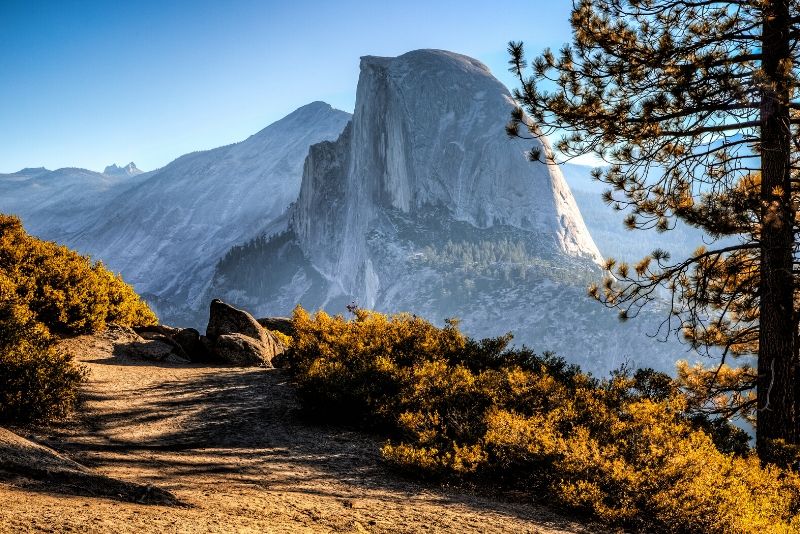 Discover the secrets of Yosemite National Park on this day trip that includes photo opportunities at the best viewpoints. Bask in the wonders of the park's natural beauty and get back to one with nature.
The trip also includes 3 hours of free time, where you can break away from the pack and explore at your own devices.
18 – San Francisco Golden Gate Bridge to Sausalito Guided Bike Tour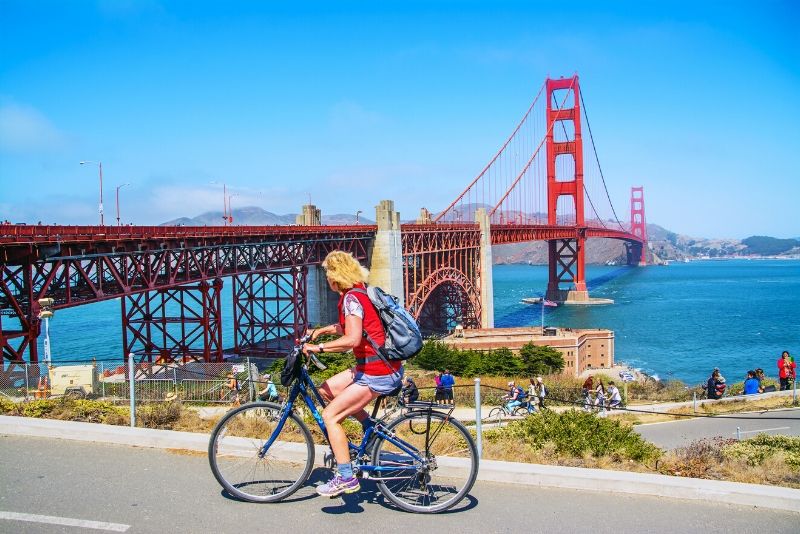 Cycle from the city of San Francisco to the town of Sausalito while crossing the Golden Gate Bridge and taking in the fabulous views on offer.
Led by a guide, get pedalling (at a steady pace) and pass landmarks like Fisherman's Wharf and Crissy Field before arriving in the town of Sausalito.
19 – Golden Gate Bridge from the Air! Seaplane Tour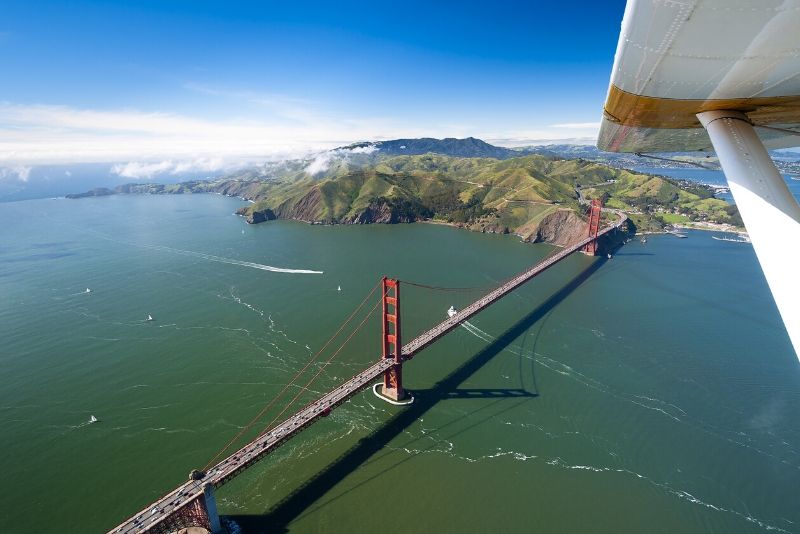 See the Golden Gate Bridge from the skies as you lift off in a seaplane. The 30-minute tour includes bird's eye views of the city and flies directly over the Golden Gate Bridge, offering the perfect opportunity to take amazing photos.
The plane then heads over the picturesque towns of Tiburon, Belvedere and Sausalito.
20 – Silicon Valley Campus Hop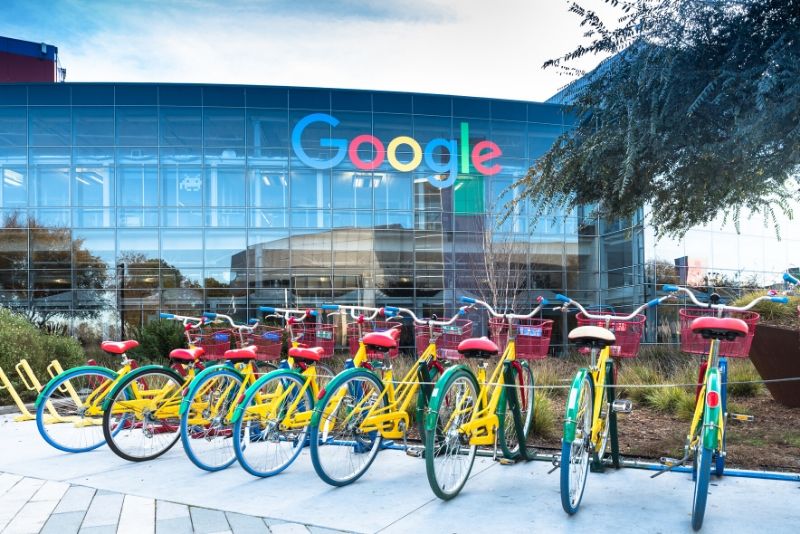 Embrace your inner geek and get technical with a visit to the one and only Silicon Valley. See where the tech giants operate on this campus hop tour that includes a live guide.
Learn the history of Silicon Valley at the Computer History Museum, visit the campuses of Google and Facebook as well as the Apple Park Visitor's Center.
21 – San Francisco Chinatown Walking Tour with Optional Lunch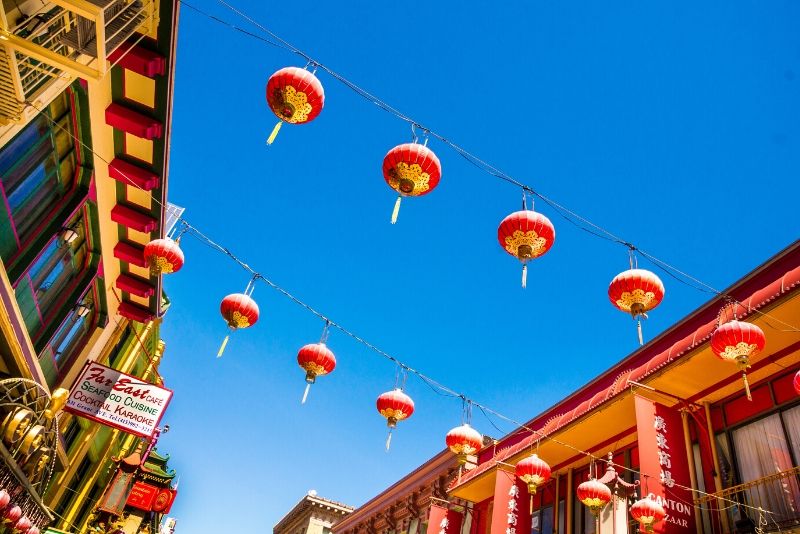 Embrace history as you walk around Chinatown, learning about everything from paper lanterns to medicinal herbs and even a fortune cookie factory.
A local expert guide will take you around the popular San Francisco neighbourhood, where you will see popular quarters as well as lesser-known sites that includes a Buddhist temple.
22 – Little Italy and North Beach Walking Tour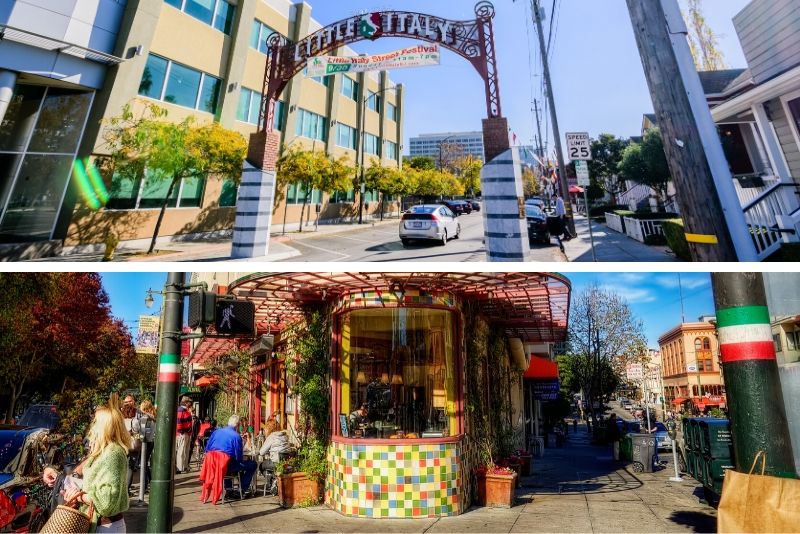 Foodies will delight at the chance to discover Little Italy and all its gems. The neighbourhood of North Beach has plenty of culinary delights and places to enjoy a great brew – plus, it's steeped in culture and features landmarks like Saints Peter and Paul Church.
This particular tour was even voted as one of the 15 best foodie tours in the USA.
23 – San Francisco Helicopter and Alcatraz Tour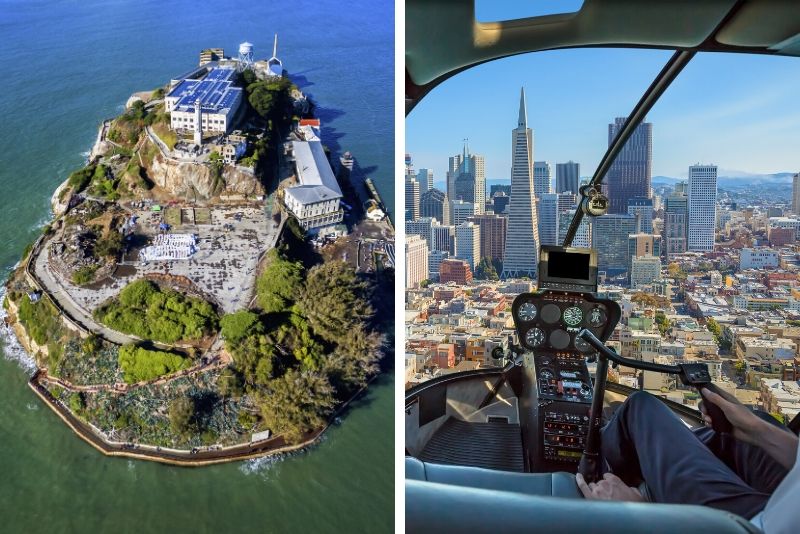 Jump in a helicopter and soar over San Francisco in this 20-minute tour that includes landmarks like the Golden Gate Bridge – all to expert narration about the sights you see from the pilot.
Round things off by crossing the Bay and visiting Alcatraz Tour, the former prison site that is now one of San Francisco's primary tourist attractions.