As one of the country's most vibrant cities, San Francisco has gained a reputation for its outstanding culinary scene, the perfect weather that's never too cold or too warm, and a history that goes back to the 1840s Gold Rush.
The City by the Bay has no shortage of options to keep you entertained either. Whether you're after historical theaters, world-class shopping, hiking and breathtaking views, or quirky attractions, San Francisco won't disappoint.
If you have time to explore beyond the most popular tourist attractions in San Francisco, you'll also find plenty of stunning architecture, museums filled with hands-on experiences, and plenty of chances to mingle with sea animals.
Whether you're traveling solo, bringing a partner along or taking the whole family, you'll never be short of ways to fill your itinerary in San Francisco.
1 – PIER 39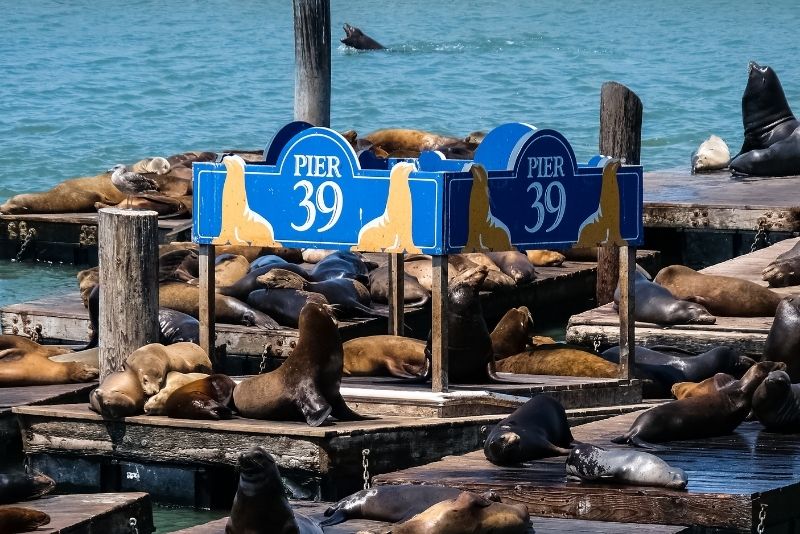 Sitting right on the San Francisco Bay with stunning views over the ocean and Alcatraz Island in the distance, Pier 39 is part of the historical San Francisco Fisherman's Wharf.
Once a fishing industry hub, the area is now one of the most popular tourist attractions in San Francisco and a vibrant shopping destination.
The California sea lions that call the pier home are by far the most popular feature of the area, and you can learn more about them by visiting the Sea Lion Center and the Aquarium of the Bay, both steps away.
Among the many shops and restaurants at the pier, you'll also find plenty of entertainment, including a two-story, Italian-crafted carousel, a video arcade, whale watching tours, street performers and musicians, and thrill rides.
See also: Best things to do in Fisherman's Wharf
2 – Golden Gate Bridge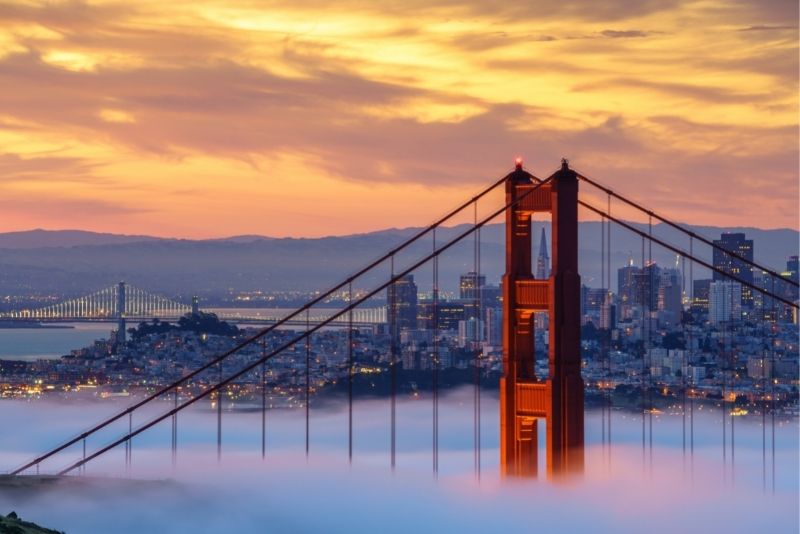 As San Francisco's most iconic sight, the bright red Golden Gate Bridge is at the top of every must-see list when visiting the city.
Construction on the suspension bridge connecting San Francisco to Marin County started in 1933 to replace the slow ferry service that was in use at the time.
Before the bridge finally opened to traffic in 1937, the city held a Pedestrian Day –which resulted in over 15,000 people per hour crossing the bridge on foot.
Today, visitors can walk or bike across the bridge during daytime hours, one of the most romantic things to do in San Francisco. The Golden Gate Bridge Visitor Area near the south tower is a great place to stop by to learn more about the history of the bridge and its construction.
If you're here for photo opportunities, the best view of the bridge is from the Battery Spencer overlook, a high vantage point and the site of an old military battery.
3 – Alcatraz Island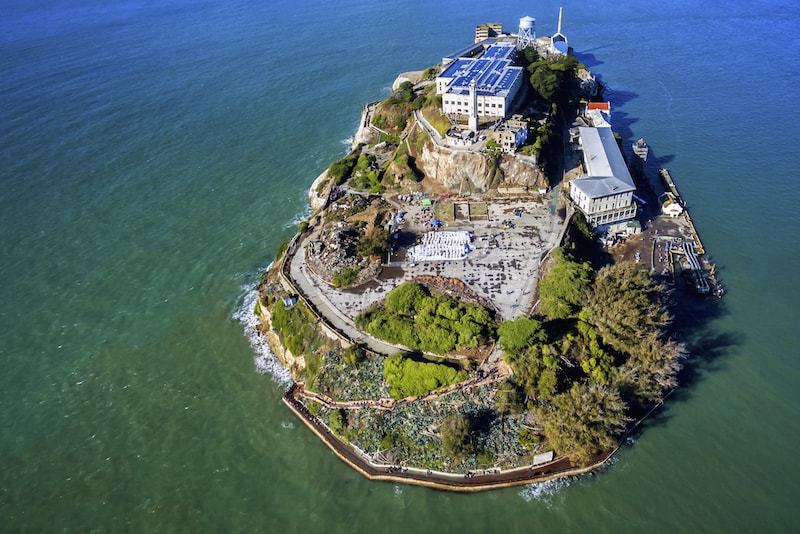 One of the most visited tourist attractions in San Francisco, Alcatraz Island got its name from a Spanish explorer who originally called it Isla de los Alcatraces (roughly translating to Island of the Pelicans) back in 1775.
Today, the island is better known for its complex history and the infamous abandoned  Alcatraz Federal Penitentiary.
Daytime tours of the prison show visitors the harsh living conditions of prisoners serving time here, including stepping into one of the solitary confinement cells. Braver souls can join a spookier nighttime tour.
Alcatraz has a reputation for being hunted and many have reported ghost sightings on the island.
There's more to explore here than just the prison, though. The island was once home to the oldest operating lighthouse on the West Coast –which was eventually replaced with the current one in 1909.
The views from the island are stunning too, especially if you follow the Agave Trail on the southern side of the island.
Looking for a guide? Learn more about the best Alcatraz tours.
4 – Madame Tussauds San Francisco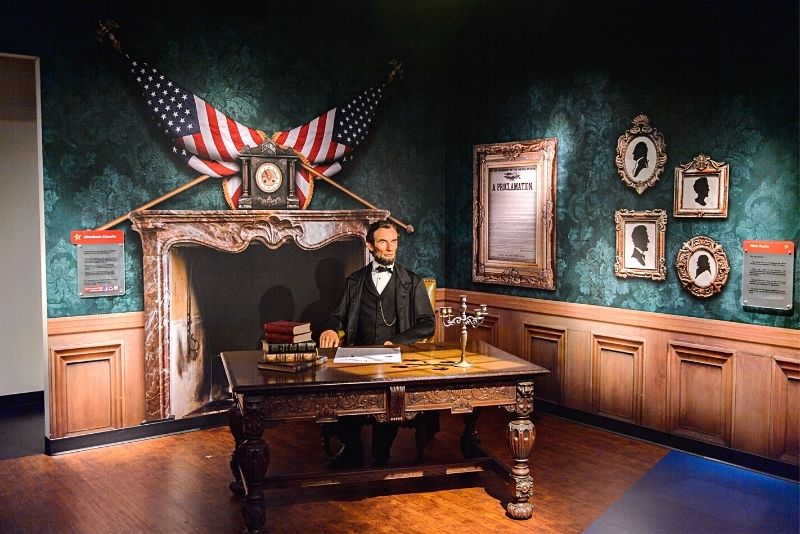 Part of Fisherman's Wharf, Madame Tussauds San Francisco is so much more than just another wax museum.
Among the over 270 statues here, you'll find plenty of famous faces like Muhammed Ali, Marilyn Monroe, and Steve Jobs –but you'll also get a chance to learn more about local artists and activists that have helped shape the city's past.
There are plenty of interactive and multi-sensory exhibits inside the museum to keep you entertained for a couple of hours.
Go ahead and sit at the table with Audrey Hepburn to have "Breakfast at Tiffany's," create your own movie scene alongside Hitchcock, or jump into a VW "hippie" van to travel back in time.
5 – Union Square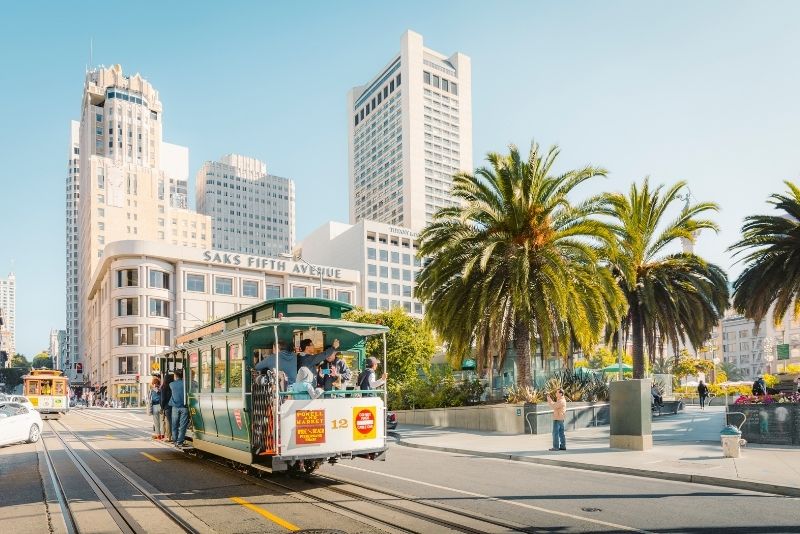 This one-block plaza and the busy area around it – filled with everything from large department stores to art galleries to unique boutique shops– have become a popular gathering place in downtown San Francisco.
At 1.1-hectare in size, Union Square itself isn't very large, but don't let that discourage you from visiting – the plaza has plenty to offer year-round in the form of live entertainment, parades, and special events.
There are plenty of dining experiences, bars, and lounges around the square. You're also just stepping away from flagship storefronts, entertainment venues, and historical landmarks.
The only Frank Lloyd Wright building in the city is here, and so is the newly restored 1922 Curran Theater, where you can catch Broadway national tours.
6 – Ferry Building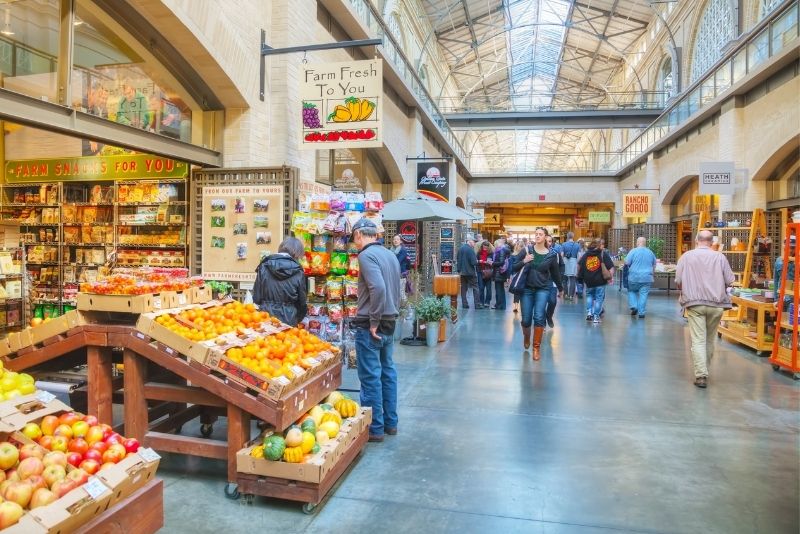 Built in 1898, the Ferry Building might have started life as "just"  a terminal for ferries, but over the decades has become a famous landmark and one of the most visited tourist attractions in San Francisco.
Its 75 meter-tall clock tower is still one of the most beautiful sights on the waterfront.
Once the Golden Gate Bridge opened and ferry use declined, a renovation project converted the building into a world-class marketplace.
From farm-sourced skincare lines to handmade bread to gourmet food and mid-century American pottery, you'd be hard-pressed to leave the building without grabbing a few favorites to take with you.
Three times a week on Tuesdays, Thursdays, and Saturdays, visitors can catch The Ferry Plaza Farmers Market just outside the Ferry Building.
Here, local farmers and sustainable growers sell produce, baked goods, ready-to-eat breakfast and lunch options, and fair-trade coffee. The Saturday market is the largest, with over 100 vendors.
7 – Ghirardelli Square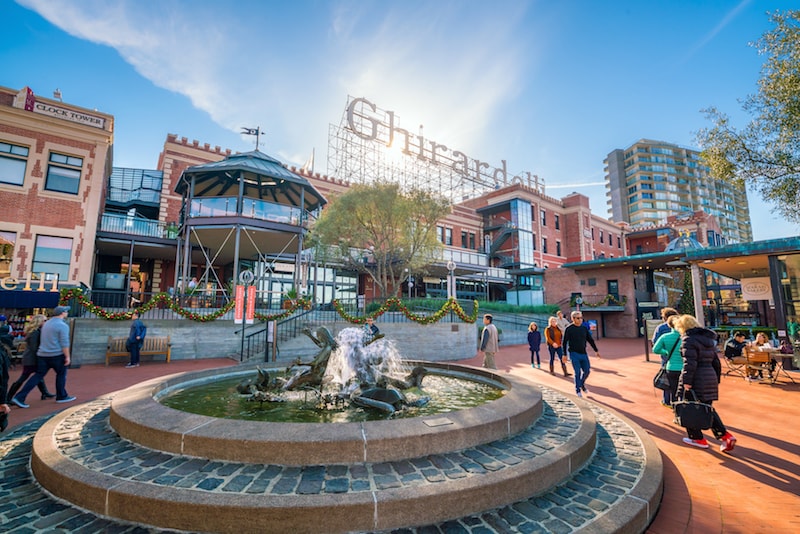 Back in the 1800s, Ghirardelli Square was the site of a general store and successful chocolate factory.
When the factory was sold and moved somewhere else in the 1960s, shipping executive William Matson Roth and his mother bought the entire square to prevent its demolition and convert it into the thriving restaurant and retail complex it still is today.
Ghirardelli is back in the square with four locations, including an ice cream and factory shop and an on-the-go shop for quick treats.
But you can also find here a wine and cheese bar, a tea house, a brewery, a mini-golf and arcade space, and plenty of unique retail offerings.
8 – Oracle Park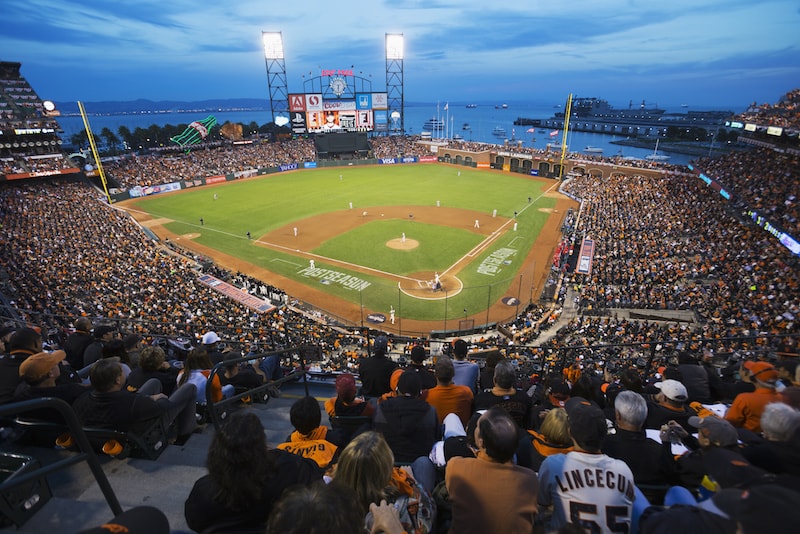 Home to the San Francisco Giants baseball team, Oracle Park (formerly AT&T Park) sits right on the San Francisco Bay and can accommodate around 41,000 spectators.
Although mainly reserved for baseball games, the stadium has also hosted American football and soccer matches, the 2018 Rugby World Cup Sevens, and a number of concerts. Paul McCartney, Metallica, and the Eagles have all played here.
Oracle park offers tours that take you behind-the-scenes access and even allow you entry to the field itself. Visitors can also stock up on San Francisco Giants' gear at the official store.
For foodies, Oracle Park is a bit of a dream come true. Where else can you snack on restaurant-quality food –think porcini doughnuts, deep-dish pizza, and even fried brussels sprouts – while watching a game?
If visiting with kids, head to the all-ages play area Coca Cola Fan Lot, free to ticket-holders on game days. Try the slide shaped like a Coke bottle, jump onto the viewing platforms, or pose for pictures in front of an 8-meter-tall baseball glove.
9 – The Palace of Fine Arts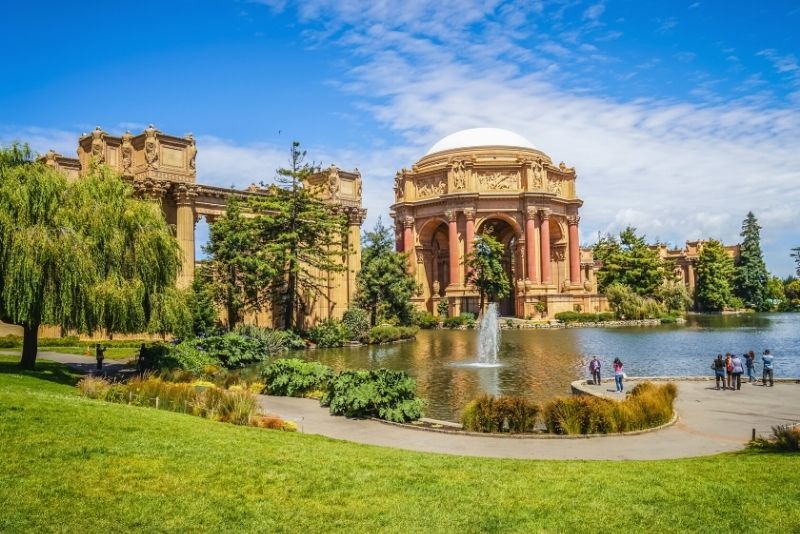 Set in the Marina District, the Palace of Fine Arts is the only remaining on-site structure built for the massive 1915 Panama Pacific Exposition.
The exhibition itself was a massive undertaking – over 635 acres of land housing more than 70,000 exhibits.
The 49-meter-high Palace of Fine Arts was designed to look like a Roman ruin, complete with an open rotunda, Corinthian columns, and a massive colonnade surrounded by a lagoon.
Today, it offers an idyllic background for walks and photos, and a door to nearby trails with views over the Golden Gate Bridge.
10 – The Painted Ladies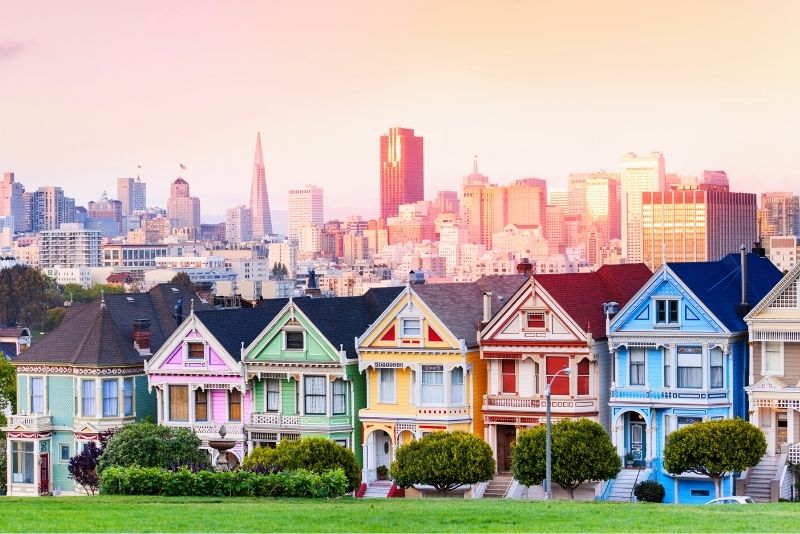 The painted ladies are, well, not ladies at all. Instead, the name refers to a row of historical Victorian homes next to Alamo Square Park that have been colorfully repainted to enhance their architectural features.
When the houses were originally built in the mid-to-late 1800s, they were bright and cheerful –only to be repainted in grays and stripped off their brick or stucco during WWII.
The initiative to bring back their original cheerfulness was started by artist Butch Kardum in the early 1960s, when he repainted his own Victorian home in different shades of blues and greens.
By the 1970s, there were plenty of other painted ladies in San Francisco.
11 – The Escape Game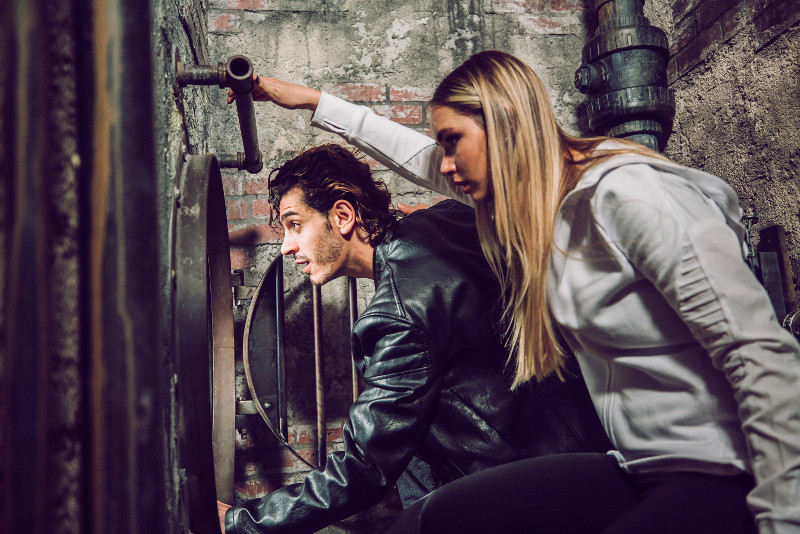 Can you unravel the clues on time to free yourself? Visit The Escape Game and experience a pulse-racing real-life adventure.
This real-life escape game experience is offered at two prime locations in San Francisco: one in the Union Square District and another at Fisherman's Wharf. Here, you don't only get a unique hands-on game, but you get to choose from five very different scenarios.
Recover a stolen painting hidden inside a museum, step into a playground or escape from prison. You can also go on the hunt for gold or become a field agent investigating a mysterious market.
Games vary in difficulty from 6-10 so you can choose just how hard you have to work to make it out of the room in 60 minutes.
Most games don't have a minimum number of players, so if you're traveling with just one other person, that's all you need for the adventure of a lifetime.
12 – San Francisco Museum of Modern Art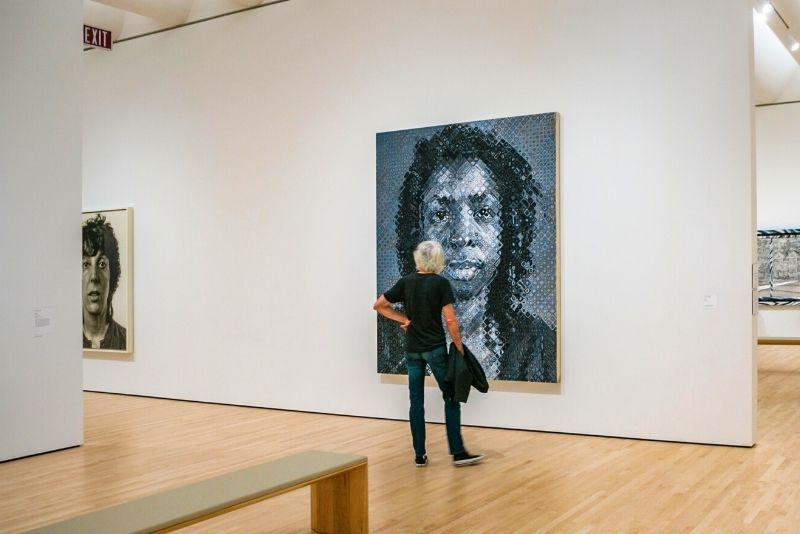 One of the largest art museums in the United States, the San Francisco Museum of Modern Art houses over 30,000 works –anything from paintings and sculpture to media arts to photography– in over 4,100 square meters of exhibition space.
Special screenings, interactive exhibits, and unique events are always ongoing.
Although the collection features works from around the world, its collection of American art is particularly extensive.
Abstract expressionist painters Jackson Pollock and  Clyfford Still are well represented here, but so are landscape photographer Ansel Adams and artist Andy Warhol.
The SFMOMA's massive rooftop garden –over 1,340 square meters designed as an unexpected urban refuge- serves as an open-air gallery for some of the museum's large-scale sculptures.
It also features a full-service restaurant, a glass pavilion used as a gallery, and some of the best views over the San Francisco skyline.
13 – Twin Peaks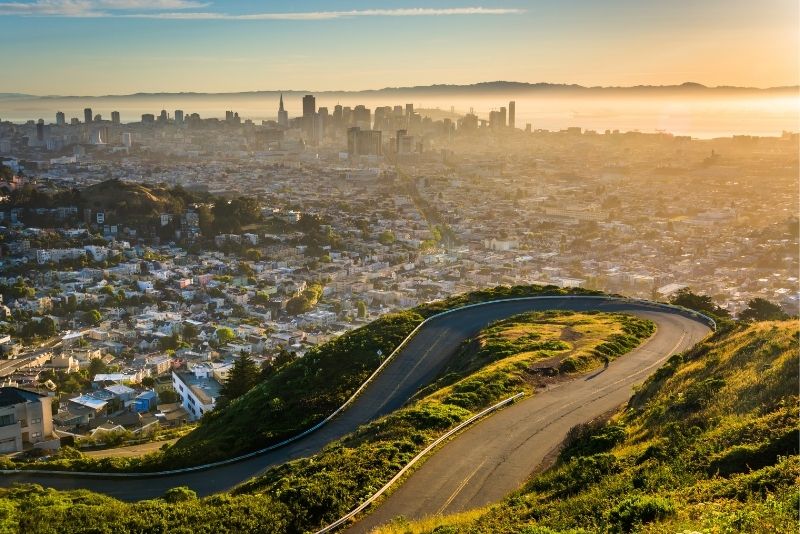 Just as their name suggests, the Twin Peaks are two hills near the center of the city.
At 282 meters high, they offer a great vantage point over the city and the Santa Clara Valley.
You can bike or take a tourist bus up the hill, but the best way to enjoy the 360-degree views is to hike.
While steep, the trail is only 1.1 km long and offers postcard views of the Bay Area.
The top of the peaks is a Mission blue butterfly habitat conservation area, and home to many bird species.
14 – Japanese Tea Garden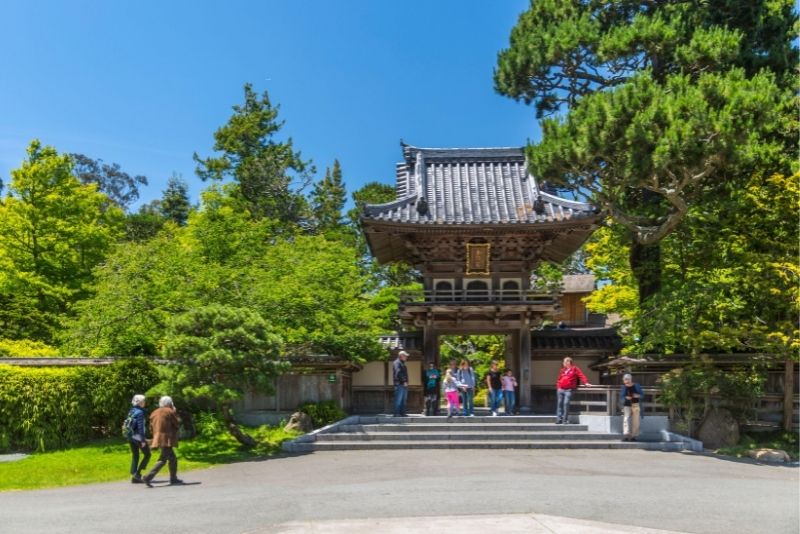 This 5-acre Japanese Tea Garden in Golden Gate Park has become the perfect escape from the hustle and bustle of busy San Francisco, but its beginnings are a lot more humble.
The garden was originally built in 1894 as part of a Japanese exhibit for the California Midwinter International Exposition and never meant to be a permanent fixture – but once the fair ended, locals had fallen in love with it.
Additional buildings –including the five-tiered pagoda and the Temple Gate –came from the 1915 Panama-Pacific Exposition and were moved to the garden after the fair ended.
You'll find all the expected classic elements here, such as serene koi ponds with ornate arched bridges, zen gardens, and stone paths, as well as plenty of cherry blossom trees and a tea house offering traditional Japanese sweet and savory snacks and six types of tea.
15 – Coit Tower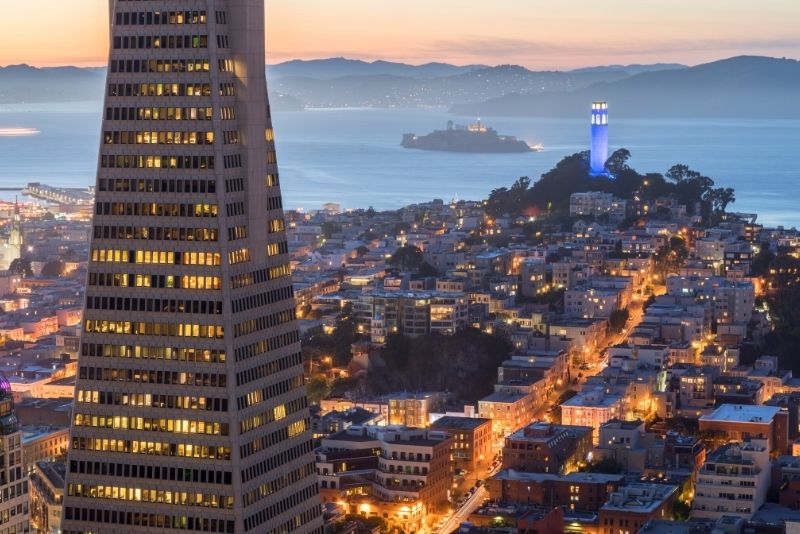 Built using plain reinforced concrete, the 64-meter-tall Coit Tower might not seem that impressive at first view, but it has long been one of the main features of the San Francisco's skyline.
The tower sits at the top of historic Telegraph Hill and its construction was funded by eccentric socialite Lillie Hitchcock Coit, who left a third of her fortune to the city of San Francisco "for the purpose of adding to the beauty of it."
Inside, the tower's mural rotunda features fresco murals depicting life in California during the 1930s Depression.
An elevator takes visitors to the observation deck, which offers 360-degree views of the bay, the Golden Gate Bridge, and much of the city.
16 – San Francisco Zoo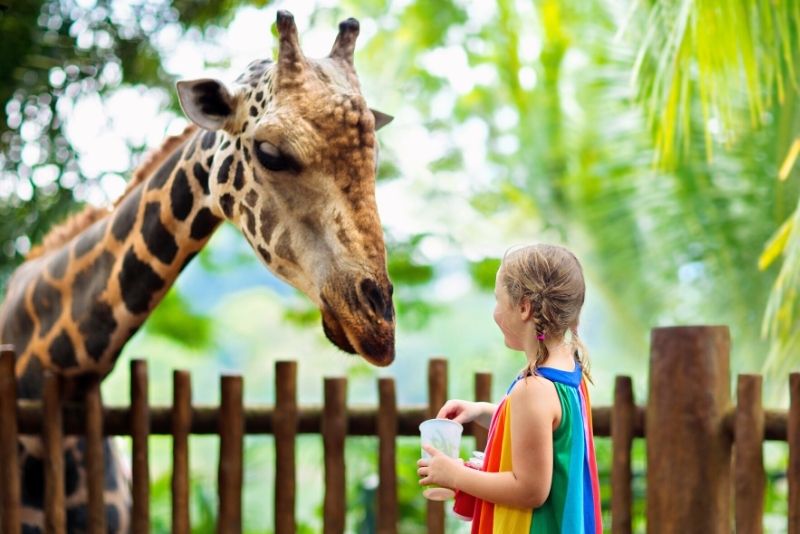 With over 100 acres of lush park-like grounds housing more than 2,000 animals, the San Francisco Zoo is one of the top tourist attractions in San Francisco and a great day-long outing with plenty of entertainment options for the whole family.
Animals are organized according to their place of origin. The Australian Walkabout is home to kangaroos and wallaroos as well as cassowaries, the world's deadliest bird, while the African Savanna exhibit features giraffes, zebras, and kudu.
The zoo's invertebrate exhibits – which include giant fluffy tarantulas and Madagascar hissing cockroaches – are a particularly popular area.
In addition to the animal exhibits, the park also features great family things to do in San Francisco with kids, including a historic steam train and carousel, a large play area, and plenty of scheduled activities, such as feeding the penguins.
17 – Exploratorium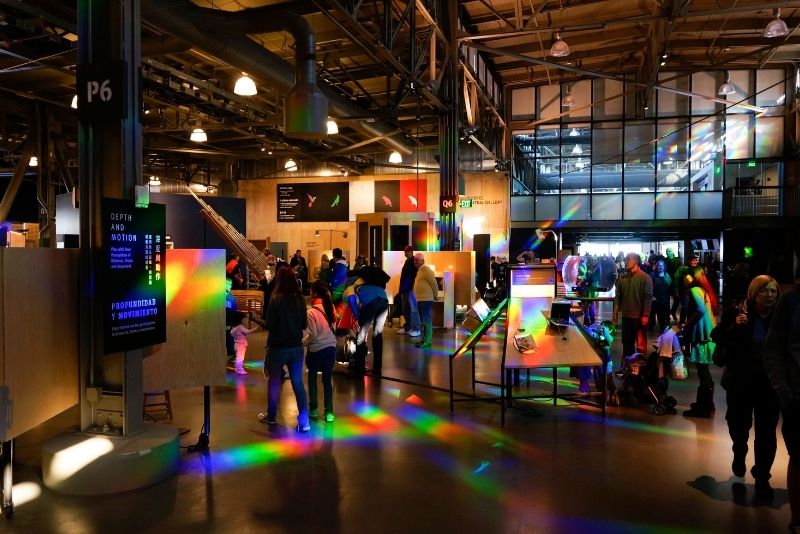 The Exploratorium, a hands-on museum designed for kids –but just as much fun for adults- offers hundreds of interactive exhibits divided into several galleries, including some dedicated to light and mirrors, human phenomena, and the ecology of the Bay Area.
From pitch-black rooms that can only be explored by touch to the world of colored shadows or a chance to stop time, the museum offers plenty of jaw-dropping opportunities to explore the world around us.
An outdoor gallery also offers an in-depth look into the history and ecology of the San Francisco Bay region.
18 – The Wave Organ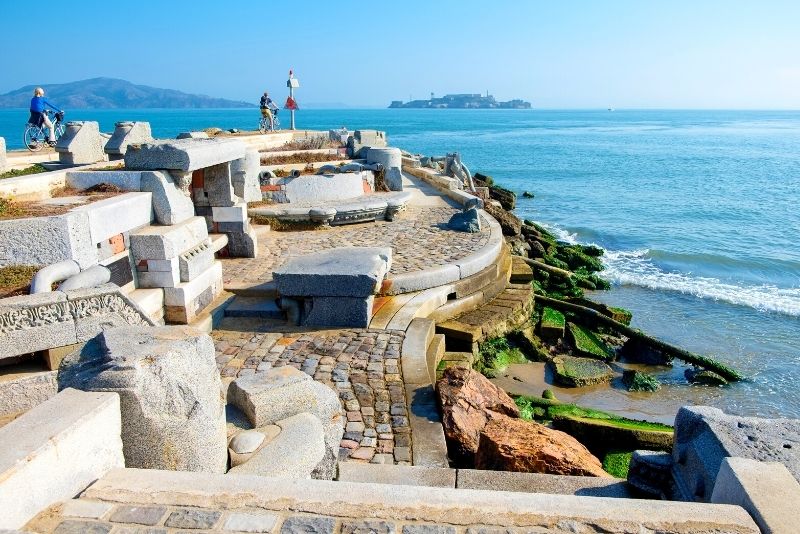 Part of The Exploratorium but located outdoors on a jetty in the Marina district, the Wave Organ is part acoustic sculpture, part science project, and all-around amazing.
The organ is wave-activated – as the waves hit one of the 25 organ pipes installed at various heights on the jetty's granite blocks, they produce different sounds.
Subtle, yet spellbinding, it's like listening to the ocean's own music – a sort of giant seashell amplifying the ocean sounds. For the best sound, arrive during high tide (usually very early in the morning).
19 – Lands End Lookout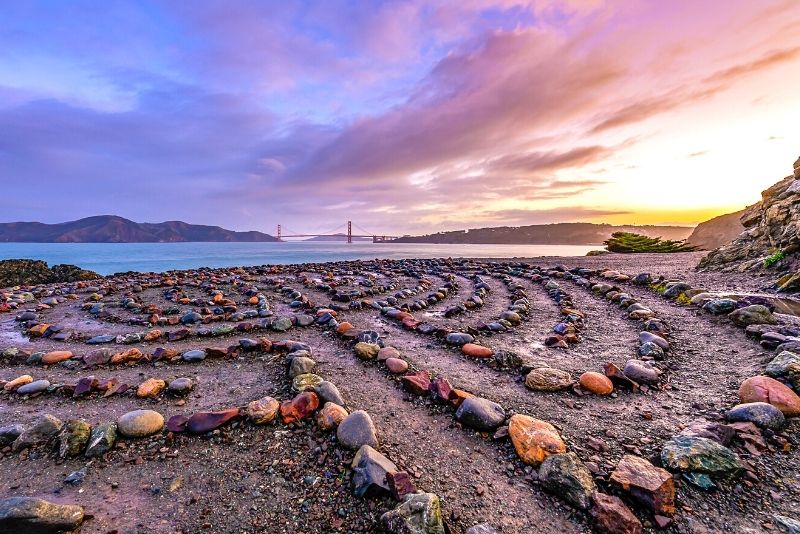 San Francisco has an abundance of stunning lookouts and postcard-perfect views, and Lands End is no exception.
A park better known for its windswept shoreline and its paths that zigzag over cliffs and through eucalyptus trees, Lands End is also home to the Sutro Baths ruins.
The main Lands End trail is a 5.4 km loop that takes visitors through wildflowers, down rustic stone stairs, and alongside trees and bushes.
If you follow along the rocky cliffs until you find a steep stairway, you'll reach Lands End Point, the area's most beautiful lookout, as well as a small hidden beach. You'll even catch a sight of the Golden Gate Bridge.
The Lands End Lookout, where the visitors center is located, is a great starting point to explore the park.
Stop by to grab a coffee, learn about the history and nature of the area, or pick up a souvenir of your hike to take home.
20 – de Young Museum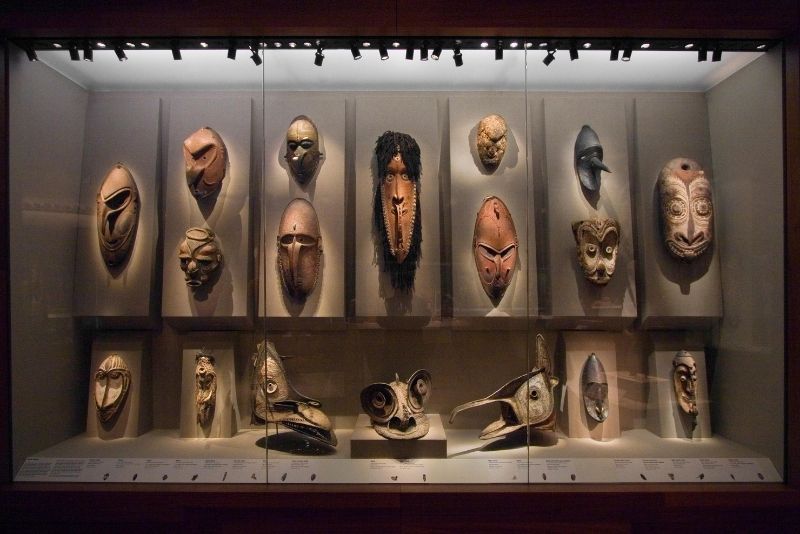 Named after local newspaperman M. H. de Young, this fine arts museum showcases worldwide works of art from as far back as the 17th century.
In addition to paintings, prints and drawings, sculptures and photography, the collection also includes over 10,000 costumes and textiles from around the world.
The museum's collection of American art is particularly stunning, as it includes modern art but also historically diverse objects created by Native American cultures, enslaved Africans, and immigrants from different cultures and eras.
21 – San Francisco Botanical Garden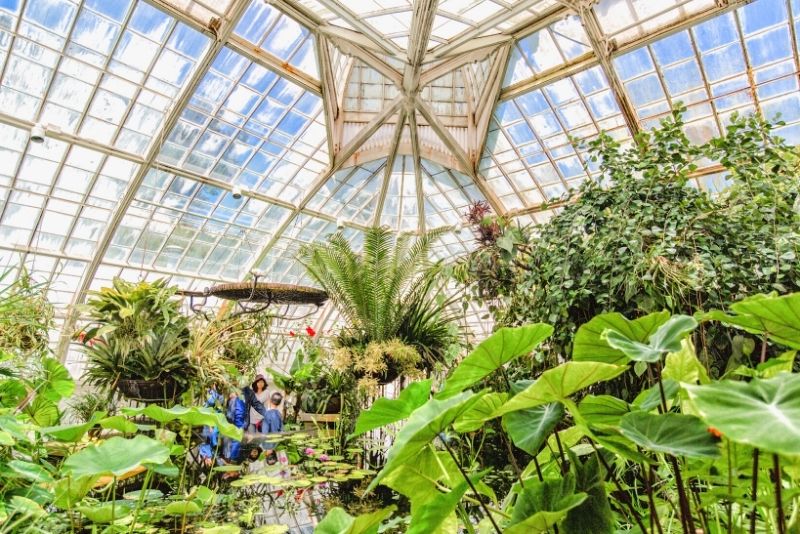 Covering over 22 ha within Golden Gate Park, San Francisco Botanical Garden is the perfect urban oasis escape.
The garden officially opened in 1940, though plans for it had been set decades before. Today, the gardens are beautifully organized in thematic collections that cover different climates, areas of the world, and special themes.
Favorites include the Ancient Plants garden (where you can see plants that date back to the time of the dinosaurs), the Moon Viewing garden (a Japanese garden filled with ponds and stone pagodas), and the garden dedicated to showcasing California's native plants.
The Botanical Garden is also home to rare heat-intolerant palm species from South America and Southeast Asia, a lush Great Meadow area where picnics are encouraged, and a world-recognized collection of magnolias.
The garden offers hands-on horticulture workshops, health and wellness programs that include yoga, meditation, and tai-chi among the greenery, and art programs such as their popular botanical drawing and sketchbook techniques workshop.
22 – Musée Mécanique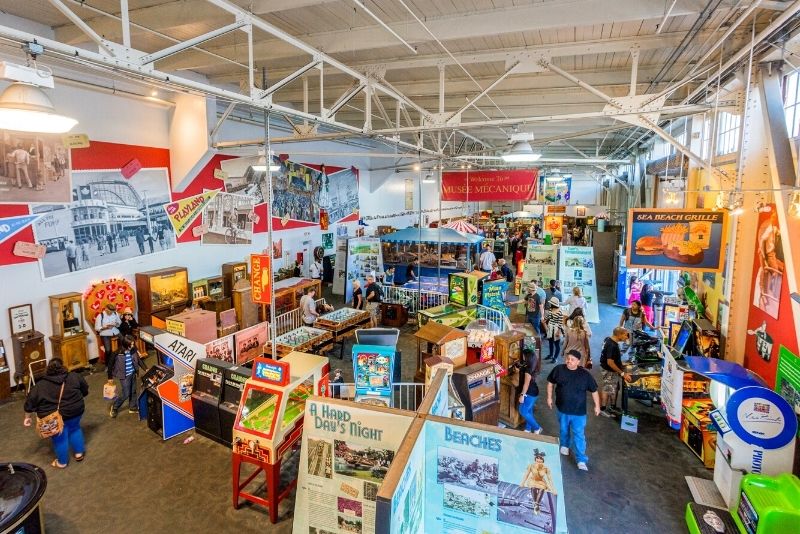 A private museum located at Fisherman's Wharf, Musée Mécanique is home to one of the world's largest private collections of penny arcade games and amusement park devices.
From hand-cranked music boxes to coin-operated fortune tellers, musical contraptions, peep shows, and plenty of classic pinball machines, the museum has something for everybody.
As this is an interactive museum, you're welcome to try the machines – anything not locked inside a glass box works and can be played for quarters (25 cents USD).
Among the most unique objects are a large diorama with carnival rides, the world's only steam-powered motorcycle, and a 1.8-meter-tall laughing automaton that will give you nightmares for weeks.
23 – Chinatown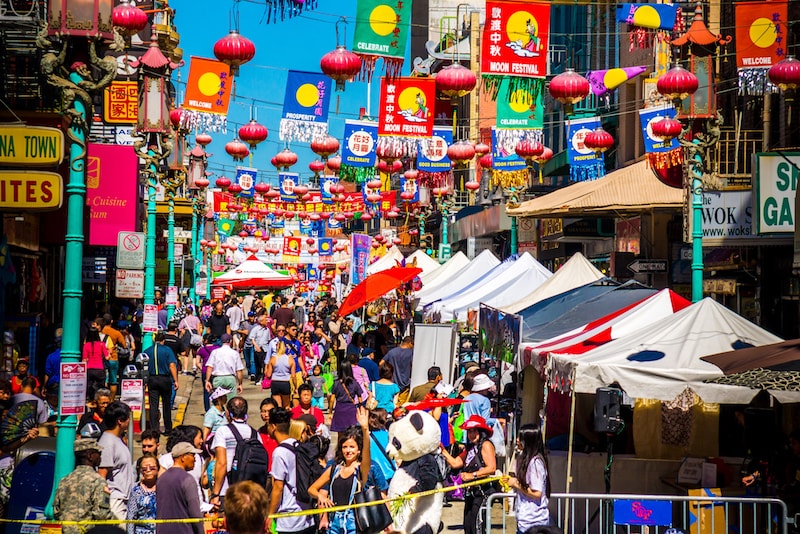 Established in 1848, San Francisco's Chinatown is the oldest in the US (and the second largest after NYC).
Aside from being one of the most popular tourist attractions in San Francisco, Chinatown is also a hub of history and culture for ethnic Chinese immigrants in the country.
The best way to discover Chinatown is to wander around. Stop under the ornate Dragon Gate as you enter Chinatown on Bush Street, then follow Grant Avenue right into the heart of the area.
If you're looking for the touristy side of Chinatown, Grant Avenue fits the bill — most gift shops flank this street and the red lantern street lamps make for great photo opportunities as you stroll down past restaurants and colorful signs.
If you're up for a more authentic experience, turn into some of the little side streets to discover tea shops, a fortune cookie factory, the Waverly Place alleyway (background to many Hollywood movies, including The Pursuit of Happiness), and the historical Chinese Telephone Exchange building.
During September, Chinatown becomes the backdrop for the annual Autumn Moon Festival, filled with bazaars, entertainment, and plenty of sweet-bean-filled mooncakes.
24 – Washington Square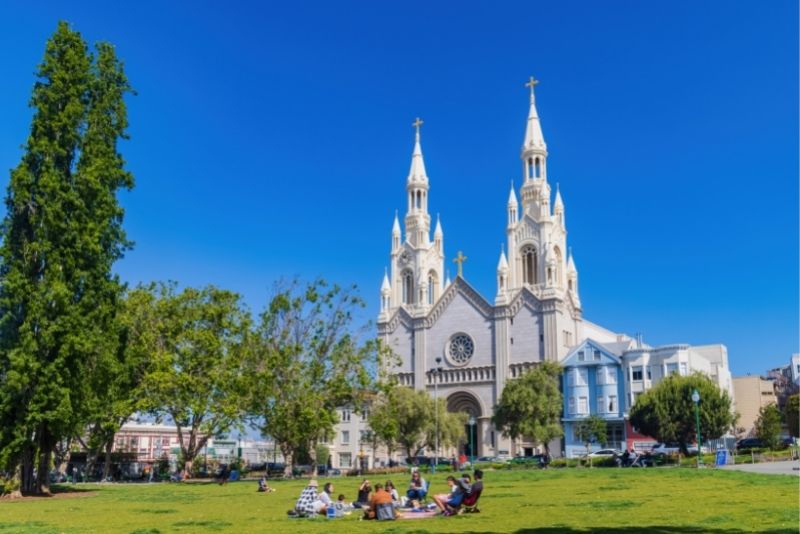 One of San Francisco's oldest parks, Washington Square is as popular today as it was when it was first established in 1847.
After the 1906 earthquake, the park was equipped with Army tents and temporary housing for hundreds of people who had lost their homes.
The park occupies a square right across Saint Peter and Paul's Church and is surrounded by cafes and restaurants.
A popular green spot in summer, people gather here for picnics, to play with their dogs or just to catch some sun before grabbing a bite nearby.
25 – California Academy of Sciences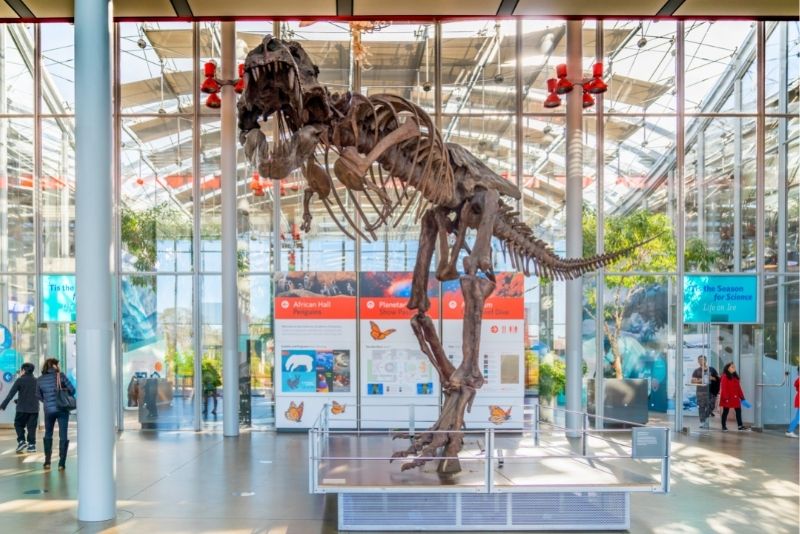 Although better known as a research institution, the California Academy of Sciences is also home to one of the world's largest museums of natural history.
The museum's massive setup includes four major venues: a planetarium with a 23-meter projection dome, a rainforest exhibit home to over 1,600+ live plants and animals, an aquarium housing over 40,000 animals, and the main Kimball Natural History Museum.
The Kimball Natural History Museum is the main attraction here, however. With a collection of over 46 million specimens and interactive exhibits –which includes a T. Rex skeleton, a Foucault pendulum, and an earthquake simulator – you could easily spend a few hours discovering everything the museum has to offer.
Special NightLife tickets allow entry to all four buildings between 18:00 and 22:00, with special planetarium shows, illuminated jellyfish tanks, and access to the museum's Living Roof – as well as live Djs and outdoor bars on certain nights.
26 – Aquarium of the Bay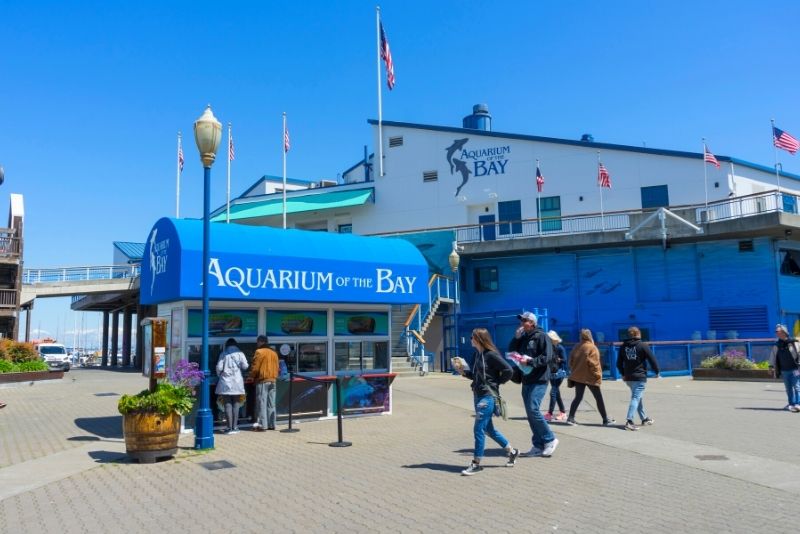 One of Pier 39's most popular attractions, the Aquarium of the Bay is mainly focused on local marine life and is home to over 20,000 animals – from rays and octopuses to sea otters and sharks.
The aquarium's main attraction is the two 91-meters-long acrylic tunnels, which give you the experience of walking directly under the bay and coming up-close-and-personal with Giant Pacific Octopus, sharks and rays, and colorful Rockfish.
The aquarium also puts the bay at your fingertips by allowing you to touch rays, leopard sharks, and sea stars. You can see river oats at play and get as close as you'll ever be to mesmerizing giant jellyfish living in the aquarium's two 3,000-liter water tanks.
Nature lovers can also learn about plastic pollution, habitat loss, and what's being done to protect the Bay.
27 – Yerba Buena Gardens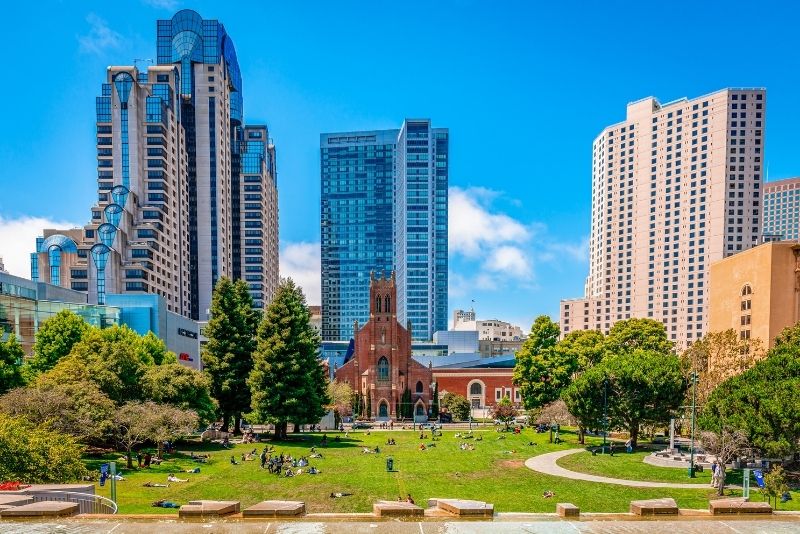 Yerba Buena Gardens is a unique public park concept that was designed to help improve urban areas. It consists of two separate full blocks of green open spaces connected by a pedestrian bridge.
While the green lawns are the main draw here – inviting visitors to relax, have a picnic or just enjoy the afternoon sun – there are plenty of other reasons to visit as well.
Attractions here include a historical 1906 LeRoy King Carousel, and ice skating and bowling center, a children's museum, and public art installations such as the etched glass Martin Luther King Jr. Memorial.
The Yerba Buena Center for the Arts was started to help artists from the Bay Area create pieces that make a social difference. It features contemporary art, film, and performance work. Exhibits are held within the center and also in the form of public art.
28 – The Walt Disney Family Museum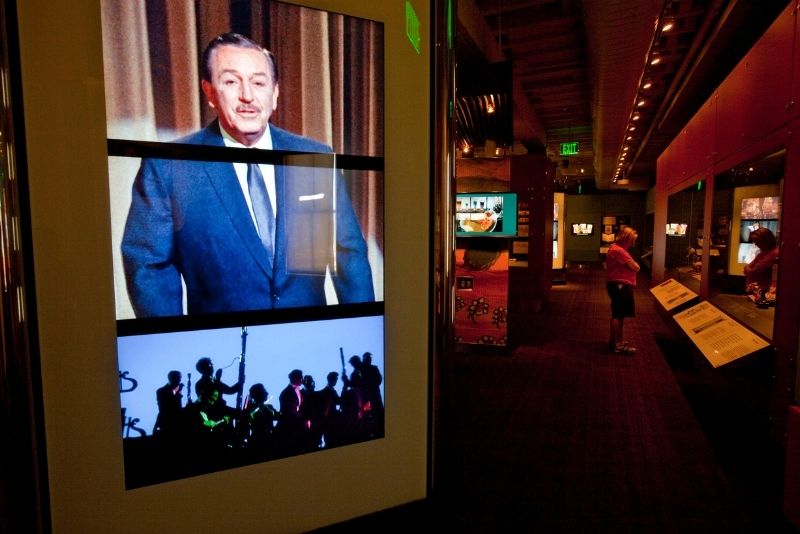 For those who have already visited magical Disneyland, the Walt Disney Family Museum offers an inspirational behind-the-scenes look at the life and legacy of Walt Disney, the "man behind the mouse."
A 3,700-square-meter space with interactive galleries and historic materials, the museum is the perfect place to get a glimpse of early animation, see Disney's many awards, and marvel at the 3.5-meter long model of Disneyland.
A theater screens classic Disney films all day long, and you can also see Disney's personal Lilly Belle locomotive on display, which he built as part of his own miniature backyard railway.
29 – Asian Art Museum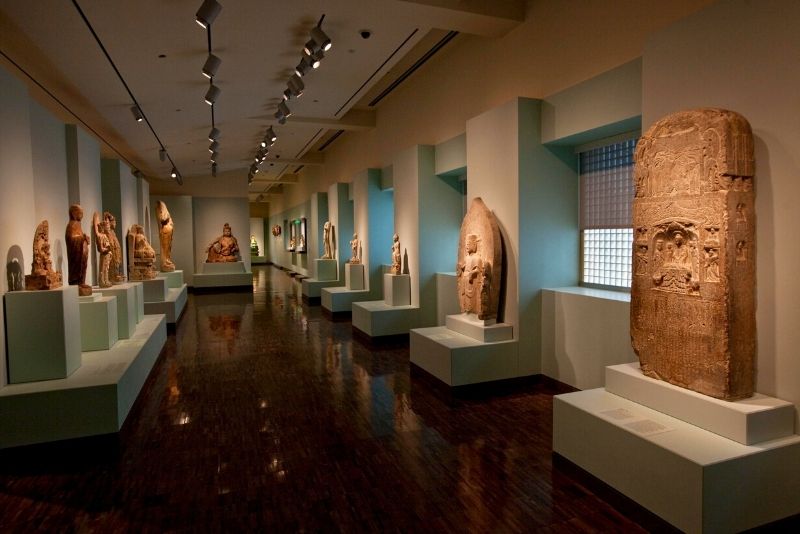 Funded by a former President of the International Olympic Committee, this museum and cultural center specializes in Asian art.
Of the museum's massive collection of over 18,000 objects, about 2,000 are showcased at the museum's galleries at any given time – but since the collection is regularly rotated, no two visits to the museum are ever alike.
Works of art – which include paintings and sculptures but also lacquerwares, jade carvings, tiles, and metalwork – are grouped by culture or regions, with the biggest areas reserved for the Chinese art collection through 960 CE and the large section of Japanese artworks.
There are also smaller Persian, Southeast Asian, and Korean collections. Modern and contemporary works are spread throughout the museum.
30 – Legion of Honor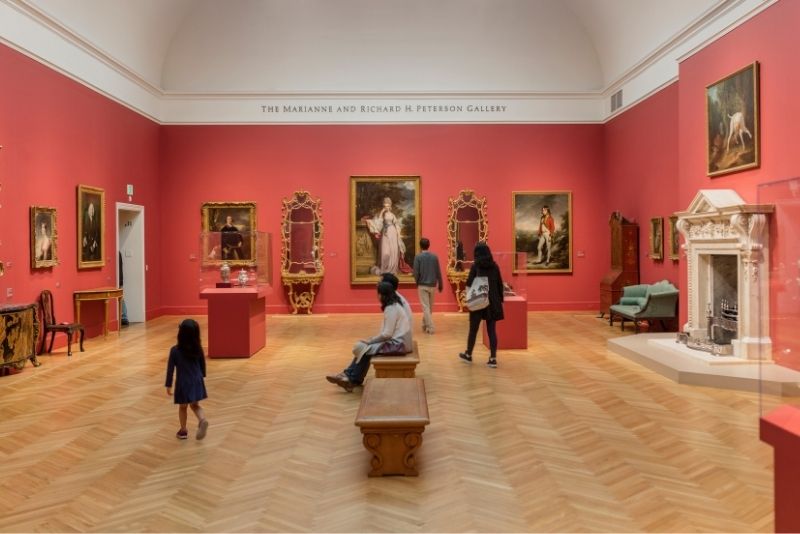 Millionaire couple Alma and Adolph Spreckels donated the Legion of Honor museum to the city of San Francisco in 1924.
Alma herself – a philanthropist known as "The Great Grandmother of San Francisco" – traveled extensively to gather additional donations of works of art and establish what is now one of California's best collections of ancient and European art.
Some of the most important objects in the museum's collection include several works by "the founder of modern sculpture" Auguste Rodin, figurines and carved reliefs from Egypt and Rome, a massive collection of works of art on paper (including ancient books), and works by Rembrandt, Renoir, Degas, Cézanne, and van Gogh.
The museum also showcases unique items that include a 16th-century gilded Spanish ceiling and a recreation (with original objects) of a pre-Revolutionary Parisian salon.
31 – City Lights Booksellers & Publishers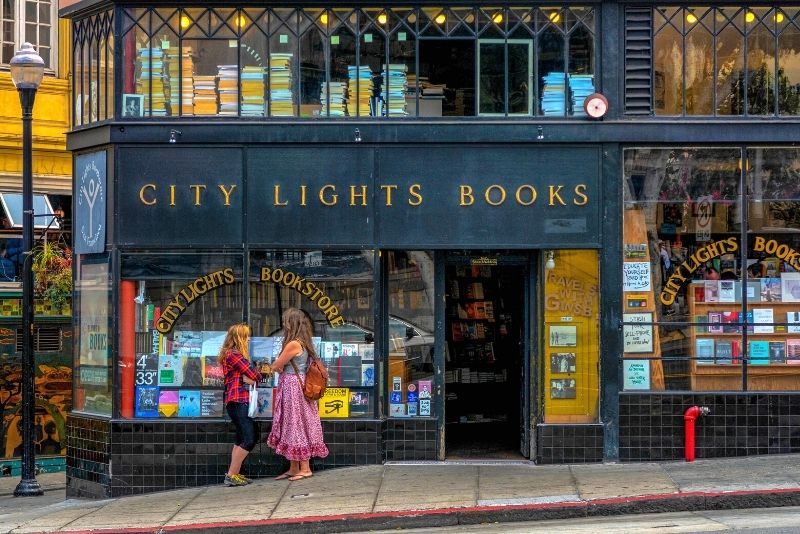 Back in 1953, poet Lawrence Ferlinghetti and bookstore owner Peter D. Martin partnered up to create a bookstore that focused on anti-authoritarian politics and alternative culture. It quickly became part of the top tourist attractions in San Francisco.
At the time, it was a revolutionary idea: the country's first all-paperback bookstore. Two years later, City Lights had expanded to include a publishing office that would release innovative and progressive titles.
Although the bookstore now sells books from all major publishing houses, they are still a great destination for harder-to-find, specialty titles, including poetry, translations, and cultural studies.
Book readings and discussions are held regularly at the bookstore.
32 – USS Hornet – Sea, Air and Space Museum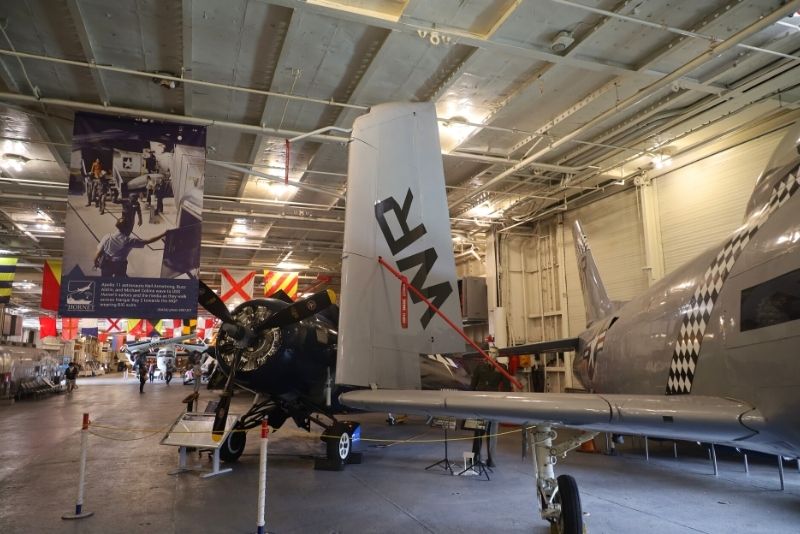 Located a short ferry ride away in Alameda, the USS Hornet Museum is set onboard an aircraft carrier that saw combat during World War II.
The decks of the ship hold several retired aircraft, including older planes like Vietnam-era helicopters, supersonic fighters, and WWII torpedo bombers.
The USS Hornet was the official recovery ship for the  Apollo 11 Moon mission. This means the ship was in charge of picking up the Command Module carrying the astronauts after it splashed back into the ocean.
The module is on display here, as is the Mobile Quarantine Facility from Apollo 14 (back from when officials were worried about the astronauts bringing back some alien virus from the moon), and a lot of memorabilia and other items from the mission.
Visitors who want to step into the engineering rooms of the flight control deck will need to join a special guided tour.
33 – 16th Avenue Tiled Steps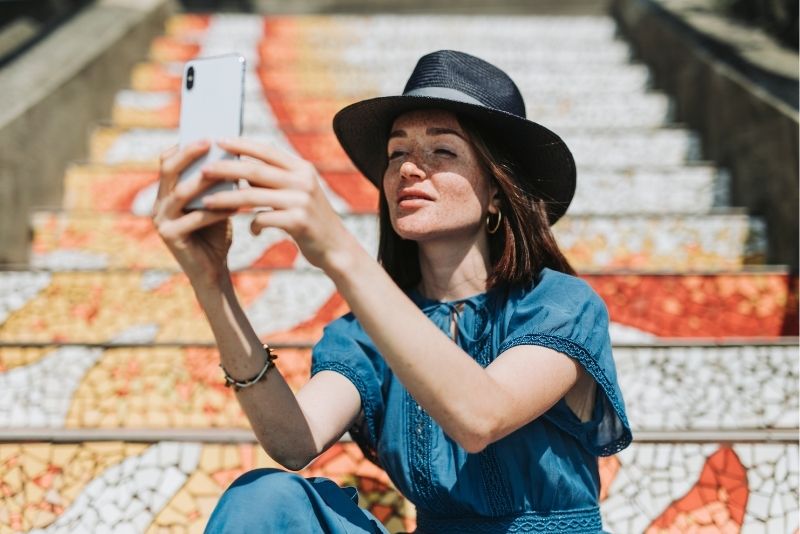 The 16th Avenue Tiled Steps is a unique art project that had its start in 2003.
The project was simple: unite neighbors and artists to convert a plain 163-steps concrete stairway located in the Golden Gate Heights Neighborhood into a colorful work of art.
Over a period of two years, 163 handmade mosaic panels were installed on the stairs, creating a giant spiral design surrounded by sea stars, shells, and marine animals.
Over the next few years, both sides of the stairs were converted into gardens, filled with California native plants and succulents.
34 – Conservatory of Flowers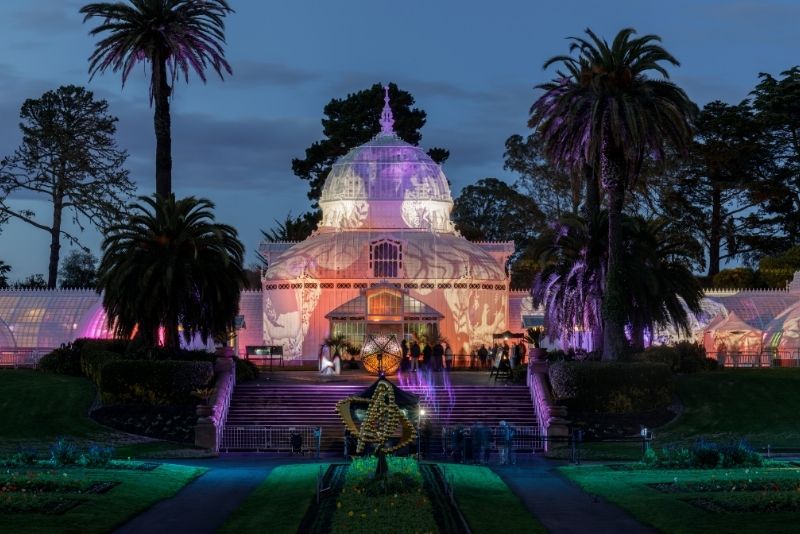 Located in Golden Gate Park, this large greenhouse dates back to Victorian times, when it became an extremely popular attraction as soon as it opened.
The exhibits and design were slightly different back then, and included the first Victoria regia (giant water lily) to be grown in California.
The conservatory has gone through a number of reconstructions throughout the years, mainly to repair damage caused by several fires and wind storms.
The last one, dating back to 2003, retains most of the original design –including the conservatory's 18-meter high central glass dome – but adds timely exhibits such as aquascaping, several galleries of aquatic plants, a rainforest area that includes prehistoric plants, and an orchids gallery.
35 – Lombard Street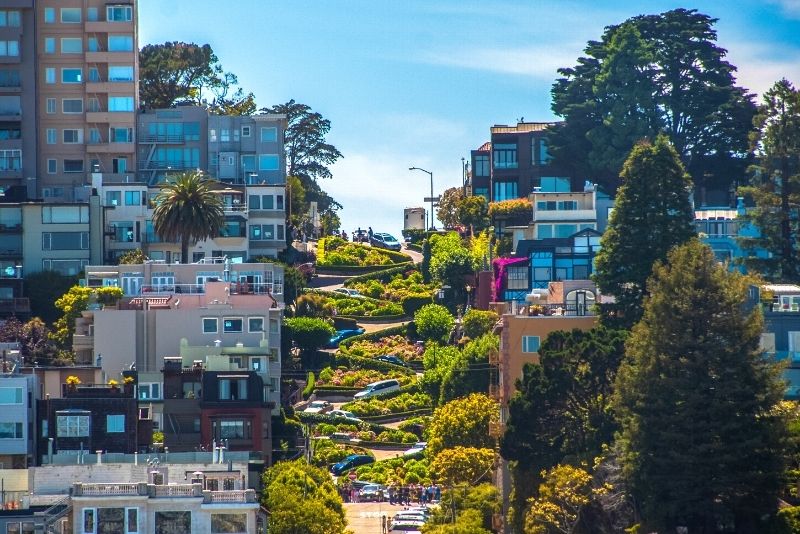 You might not recognize the name, but chances are good that you've seen pictures of Lombard Street many times before.
This famous steep street –often referred to as "the crookedest street in the world" — on Russian Hill features eight hairpin turns in a one-block section.
Back in 1922 when the original design was created, vehicles were expected to have trouble navigating the street's 27-degree angle.
The crooked block was expected to help slow down traffic and prevent accidents. Today, over two million visitors make their way to Lombard Street to see it and photograph it.
36 – Sutro Baths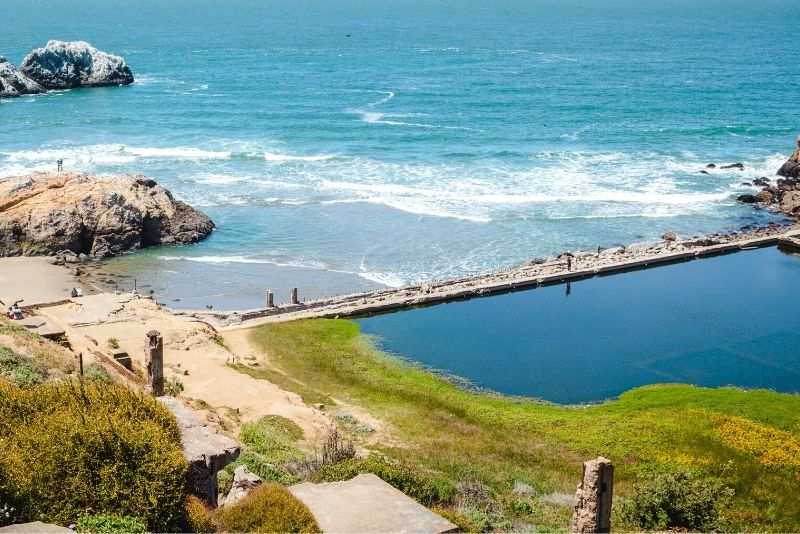 Of the top tourist attractions in San Francisco you might not have heard about, the Sutro Baths is one worth adding to your must-see list.
Opened in 1894 near Ocean Beach, the Sutro Baths were a massive complex and recreational facility.
It had seven swimming pools (complete with slides and a high jump), an indoor amphitheater that could sit almost 3.000 people, and even a small natural history museum showcasing some of the items self-made millionaire Adolph Sutro had collected on his trips around the world.
At the time of its opening, this was the world's largest indoor swimming complex and public bathhouse.
Six of the swimming pools were saltwater and would refill themselves during high tide. The baths could easily fit 10,000 people at once and offered both towels and swimsuits for rent. Over the years, the baths struggled to make a profit and eventually closed.
In 1966, a fire destroyed the entire abandoned structure and all that remains today are crumbling walls and concrete ruins. This is a great spot to catch the sunset views over the ocean.
37 – Museum of 3D Illusions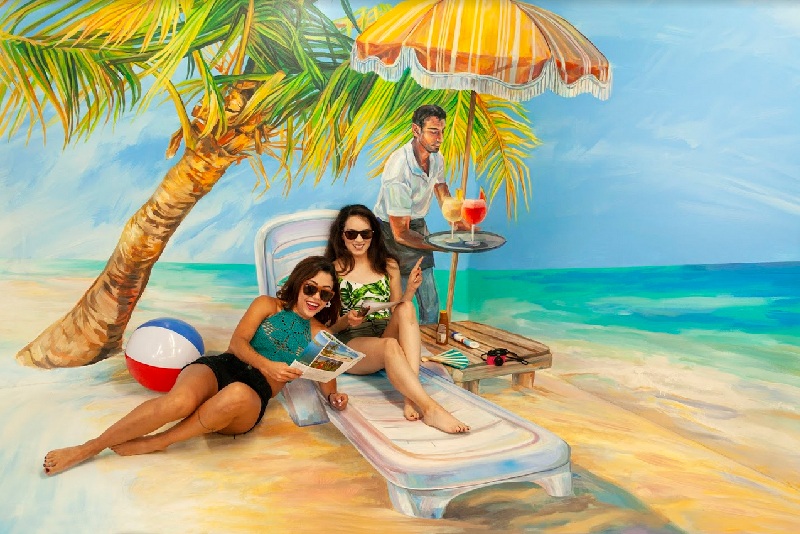 For a couple of hours of fun, it's hard to beat this quirky museum, where over 40 3D optical illusions let you step right into a painting and become part of it. Ride a wave, escape from a shark attack, or get chased by zombies.
The paintings, created by a number of talented artists, offer one-of-a-kind settings for a set of photos you won't easily forget. This is the ultimate selfie destination, no matter your age.
The museum also offers a number of VIP packages that come with your own photographer, who will direct you to the best spot for each photo.
38 – USS Pampanito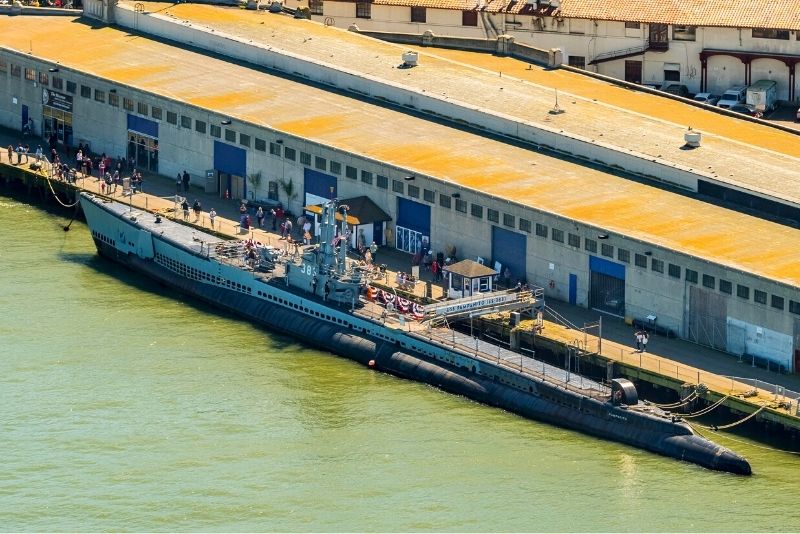 WWII submarine USS Pampanito sank six Japanese ships before being decommissioned in 1945. After some years spent in reserve, it was finally converted into a museum in 1975 and moved to the Fisherman's Wharf neighborhood.
Self-guided tours allow visitors to step into the heart of the submarine, exploring the captain's stateroom, engine rooms, the conning tower (where the submarine's sonar controls and two periscopes are located), and torpedo rooms (which doubled as sleeping quarters for some of the crew).
The radio room, which served as the main communications center and the place where encrypted messages were decoded, can still operate today.
39 – War Memorial Opera House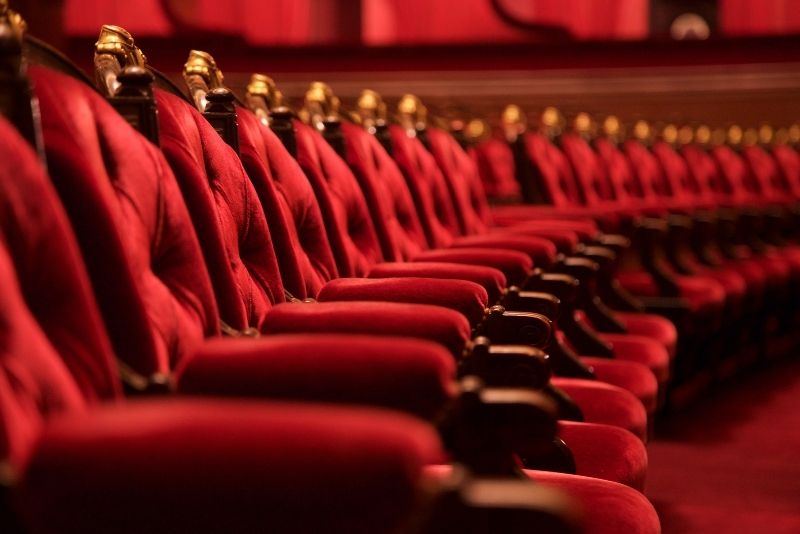 The Opera House is part of the San Francisco War Memorial and Performing Arts Center (SFWMPAC), a complex that also includes the five other performance spaces, including the Louise M. Davies Symphony Hall and the Herbst Theatre.
Built in 1931 and home to the San Francisco Opera and Ballet, this cultural landmark –designed by the same architect who also created the magnificent San Francisco City Hall– was created with opulence and elegance in mind.
In addition to 12-meter ceilings, grand staircases, and massive chandeliers, the Opera House also features state-of-the-art lighting and sound systems for impeccable performances.
The War Memorial Opera House is well known for offering great dining and cocktail options before performances or during intermissions.
There's also a house bar available for Sunday matinee performances and a sit-down restaurant offering California cuisine with global influences.
40 – Ripley's Believe It or Not!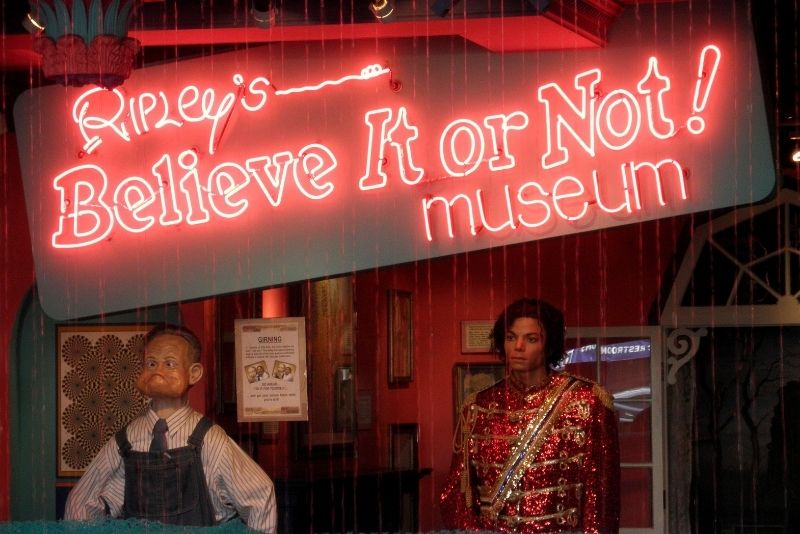 Not far from Pier 39, San Francisco's favorite museum of the weird and unbelievable covers two floors and offers hundreds of exhibits, many of which are interactive.
The Ripley collection includes everything from science and technology to oddities of the animal world, microscopic art, and even vampire killing kits.
Sculptures created with nails or toothpicks, odd facts from history, statues and photos of the world's most tattooed people, and even real fossils all make an appearance at San Francisco's Ripley's museum.
This branch of the museum also offers a Marvelous Mirror Maze, where 185 square meters of mirrored pathways and lighting effects offer plenty of chances to get lost.
41 – SS Jeremiah O'Brien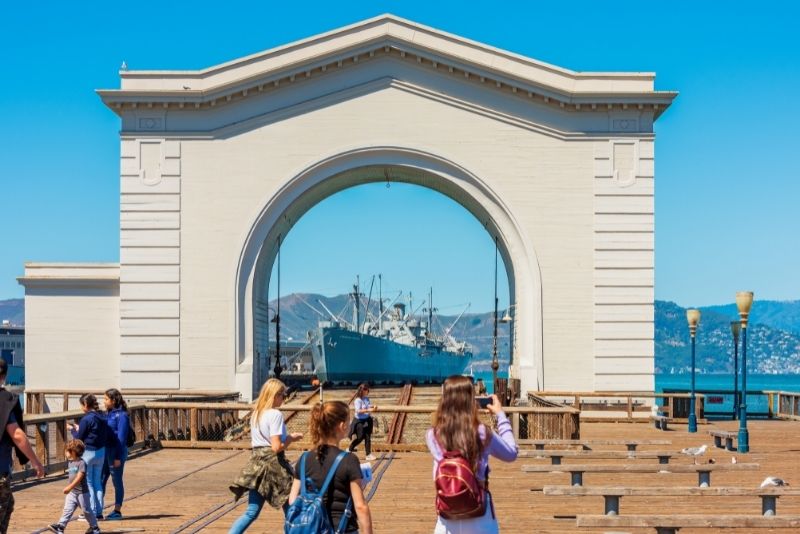 The SS Jeremiah O'Brien Liberty ship (a type of cargo ship) is a survivor. She's one of the few ships that supported the troops in Normandy in preparation for D-Day and survived, and one of only two fully functional Liberty ships used in WWII that still exist (there were over 2,700 built).
Though the SS Jeremiah O'Brien is now docked at Fisherman's Wharf, it does leave several times a year for special daylight cruises down the Bay. One weekend per month, the 2500-horsepower steam main engine is turned on so visitors can see its power in action.
The rest of the time, visitors can hop on board to explore almost every corner of the ship, including the flying bridge and cargo holds.
42 – Top of the Mark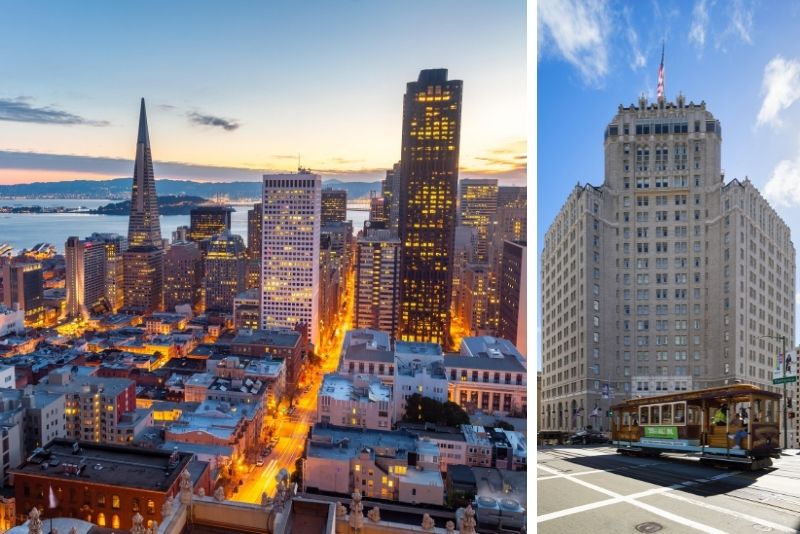 Located on the 19th floor of the Intercontinental Mark Hopkins San Francisco Hotel, Top of the Mark combines a luxurious sky lounge experience with stunning views of the city's skyline.
Make a reservation for a stylish set of appetizers and drinks. Or try one of the lounge's special pairings: Hanson vodka and artisan chocolate truffles or Piper Heidsieck champagne with caviar.
Famous for offerings many variations of a martini, Top of the Mark also attracts those looking for live music. During the Christmas season, the lounge adds an afternoon tea service to the menu.
43 – San Francisco City Hall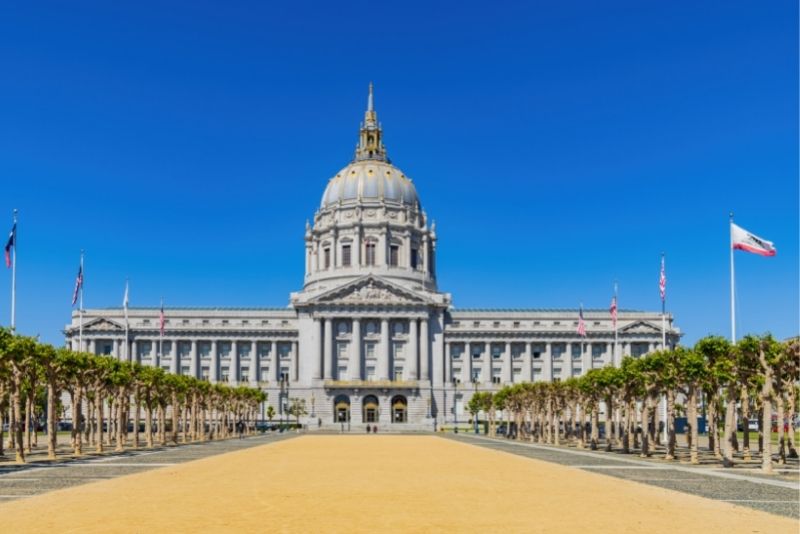 The massive 46,000 square meters City Hall you see today when you visit San Francisco was built in 1913.
The original city hall had been destroyed in the 1906 earthquake and subsequent fires that devastated almost 80% of the city.
The new City Hall is a work of art, with a dome taller than the one at the United States Capitol, white marble interiors, and beautiful painted ceilings.
The entrance rotunda and grand staircase have famously appeared in many films, including Indiana Jones' Raiders of the Lost Ark, Invasion of the Body Snatchers, and Dirty Harry.
44 – Transamerica Pyramid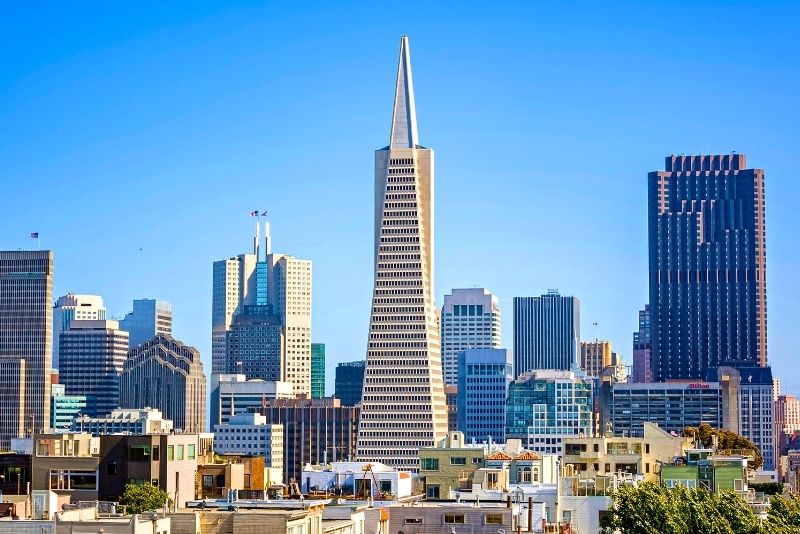 Designed in 1972 by architect William Pereira – famous for his love of science fiction and futuristic designs – this 48-story tower was once the tallest building in San Francisco.
Although originally built as the headquarters of the insurance and investment firm Transamerica Corporation, the building is now mostly rented by different corporate offices.
While there used to be an observation deck on the 27th floor, it was closed many years ago. As one of the most iconic buildings in San Francisco, the Transamerica Pyramid – which has over 3.600 windows and a façade covered in crushed quartz – is still worth checking out –even for it's just for the photo opportunities.
During special occasions, including Independence Day, a special twinkling beacon at the top of the pyramid is turned on to light up the sky.
45 – Chase Center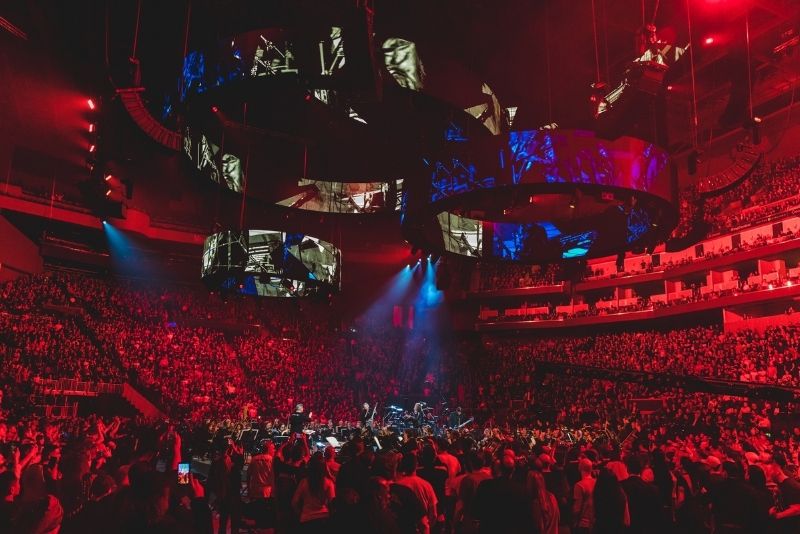 If you're looking for a state-of-the-art place to catch a basketball game (the Golden State Warriors have their home base here) or catch a major concert or entertainment event, the 19,500-seats Chase Center is likely your go-to destination in San Francisco.
With an almost 1,000-square-meter store selling Warriors apparel and the nearby open-air Thrive City district nearby offering plenty of spaces to eat and shop, you might just end up spending a whole day here.
Thrive City was created as a community gathering space and regularly hosts farmers' markets and year-round health and wellness programs.
46 – Golden Gate National Recreation Area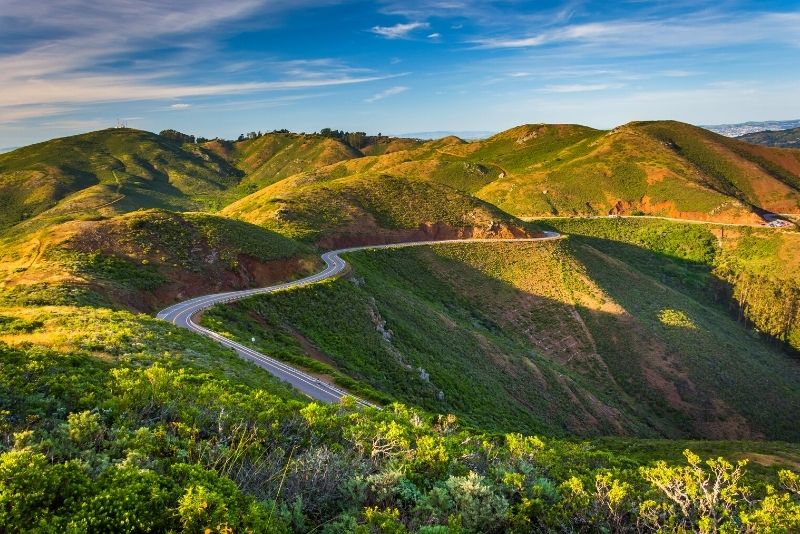 A protected area covering over 33,00 ha –making it one of the world's largest urban parks – the Golden Gate National Recreation Area is simply too vast to be explored in a few days day.
Still, there are plenty of places worth visiting here, and even famous landmarks like Alcatraz Island, the Sutro Baths, and Lands End belong to the park area. You can even find campsites, forts, lighthouses, and batteries to explore.
Taking to the 250+ trails here is a great way to discover the park.
Favorites include the Tennessee Valley Trail that takes you to a secluded beach, the Point Bonita Lighthouse Trail for an up-close encounter with harbor seals, and the Muir Woods Main Trail to see the majestic redwoods.
47 – The Fillmore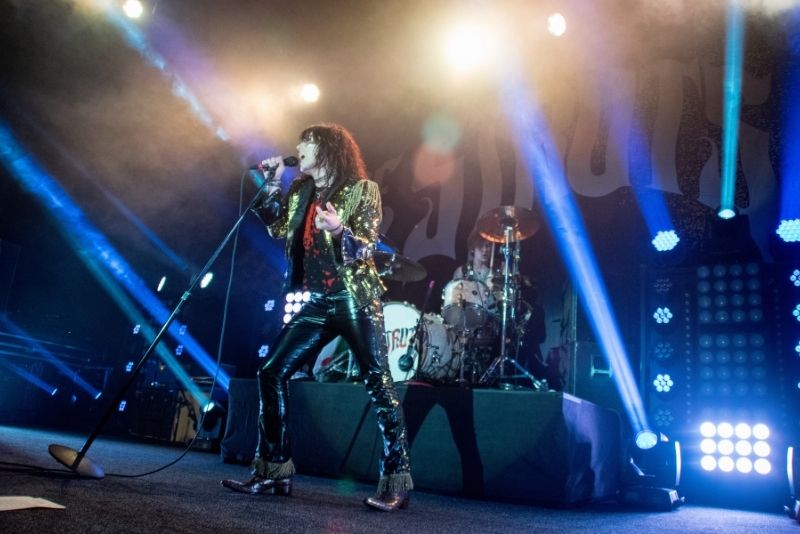 Originally built in 1912, The Fillmore served as a musical stage, dance academy, and roller skating rink before it became a live music venue and was renamed The Fillmore Auditorium in 1954.
Over the next decade, a number of successful bands and counterculture shows played at The Fillmore, including Andy Warhol's multimedia show, the Grateful Dead, Miles Davis, B.B. King, and Aretha Franklin.
With a capacity of just over 1,300 guests, The Fillmore now hosts small, alternative concerts from up-and-coming or alternative bands. The mezzanine level of the venue features a collection of 1960s psychedelic concert posters.
If you're a music fan, a stop by this historical place should be on your list of top tourist attractions in San Francisco.
48 – Cartoon Art Museum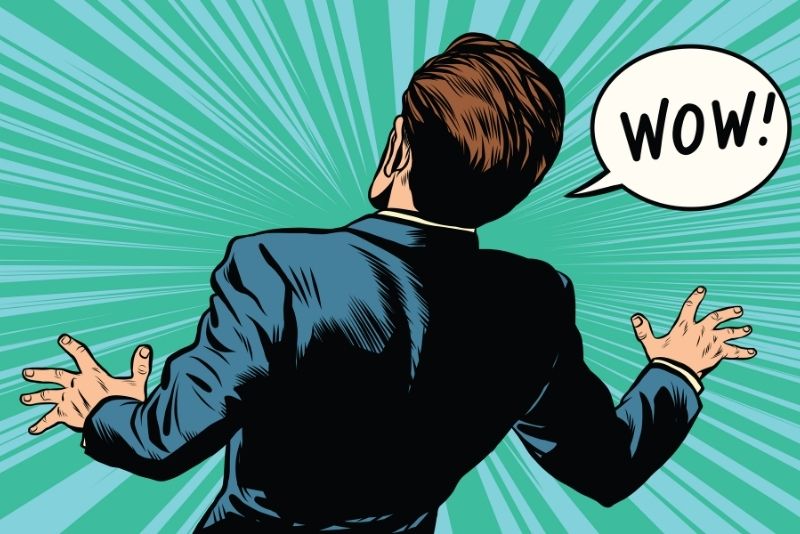 While you'll find several museums around the country dedicated to comic books and comics art, this is the only one that also focuses on cartoon art.
Started by a group of cartoon art enthusiasts in 1984, the Cartoon Art Museum's collection now contains more than 7,000 objects, including animation cels, comic strips from as far back as the 19th century, drawings, graphic novels, and original Peanuts artwork donated directly by his creator Charles Schulz.
In addition to rotating curated exhibitions, the museum also offers screenings, workshops where you can create your own comics, and special solo and themed exhibits throughout the year, such as a recent one focused on Batman movie costumes and props.
49 – Children's Creativity Museum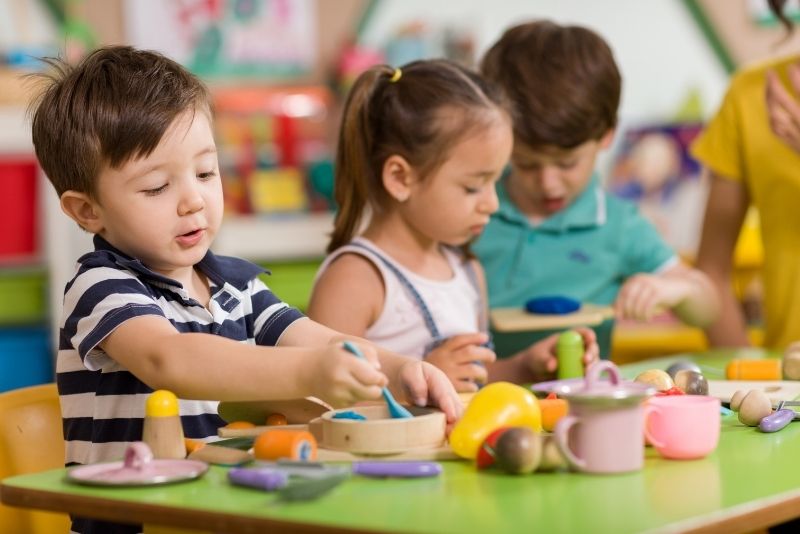 Built especially for children under 12, this hands-on technology museum encourages kids to imagine and create as soon as they walk through the door.
In the Animation Studio, visitors can film a stop-motion animation movie, while the Tech Lab introduces kids to coding.
Visitors can create music, program a robot, put their problem-solving skills to the test, or join a reading corner.
Museum educators are always around to explain and introduce complicated concepts to children.
50 – SFJazz Center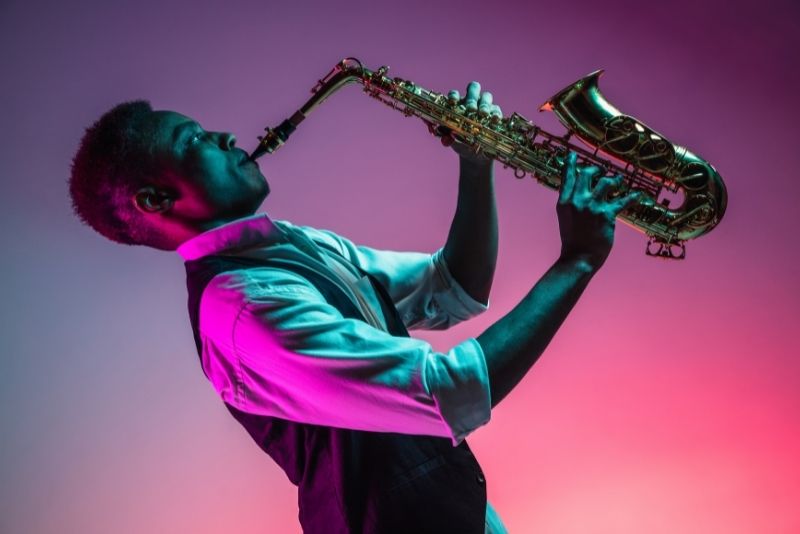 As musical institutions go, the SFJAZZ Center is very young.
But since its opening in 2014, the 3,300-square-meters SFJAZZ has not only become San Francisco's premier jazz destination with hundreds of performances every year, but has also given the city the annual San Francisco Jazz Festival as well as free concerts at the Stanford Shopping Center and Levi's Plaza every summer.
Occasionally, the SFJAZZ Center lobby is used for photography installations as well as a film screening venue. Visitors can also walk up to the second floor to see three tiled murals that represent the "history and scope of jazz."
Save money with an attractions pass
If you're in San Francisco for more than just a few days, an attractions pass can save you not only money but also time.
A good option to try is the Go City San Francisco pass, which offers discounts on up to 30 of the city's most popular attractions.
Final thoughts
Whether you're in town for a night or a week, we hope you've enjoyed our list of the best things to see and do in San Francisco.
Do you have a favorite from this list? Or any suggestions for other must-see attractions in San Francisco? Feel free to let us know in the comments!