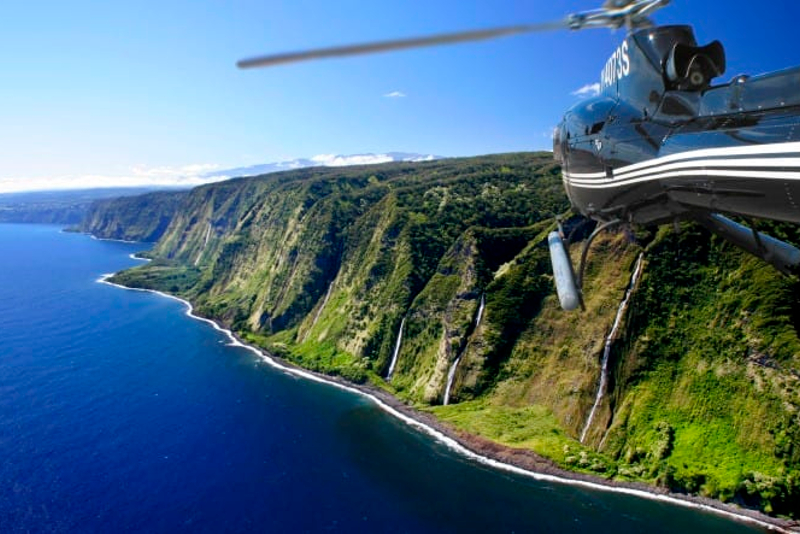 Nowhere else on earth is quite like the Big Island in Hawaii. Famous for its stunning beaches, scenic waterfalls and vibrant culture, there is a huge variety of fun things to do in Big Island in Hawaii to make sure you have a memorable trip.
But if you are looking for an amazing bird's-eye view, you need to book yourself on to one of the best helicopter tours on the Big Island of Hawaii.
This article provides an overview of the various helicopter rides in Big Island, including what tour fits best your needs, how much it costs, what to see during the ride, how to book online and get discounts, what is the best time to fly and much more.
Get insider tips and unbeatable prices on the best helicopter tours in Big Island in Hawaii. Have a safe flight and enjoy the view!
Don't feel like reading ahead? Book your helicopter tour in the Big Island right now.
Which helicopter tour on Big Island should I pick?
From amazing rainforests and waterfalls, from turquoise blue water to volcanic badlands to unique historical sights, Big Island in Hawaii offers something uniquely beautiful that can only be experienced from the sky.
Each year, thousands of visitors experience a scenic helicopter tour across Big Island. As vast areas of Big Island are inaccessible from the ground, many hidden spots that can only be seen from the sky. Either no road leads there or it is impossible or prohibited to get there on foot.
Using a helicopter makes it possible to admire these wonders in a very short amount of time. To pick your ideal helicopter tour, you will need to decide what you wish to visit from the sky, from the steep coastal cliffs and ancient settlements of the Waipio Valley to the jaw-dropping lava fields of Hawaii Volcanoes National Park.
1 – Volcanoes helicopter tours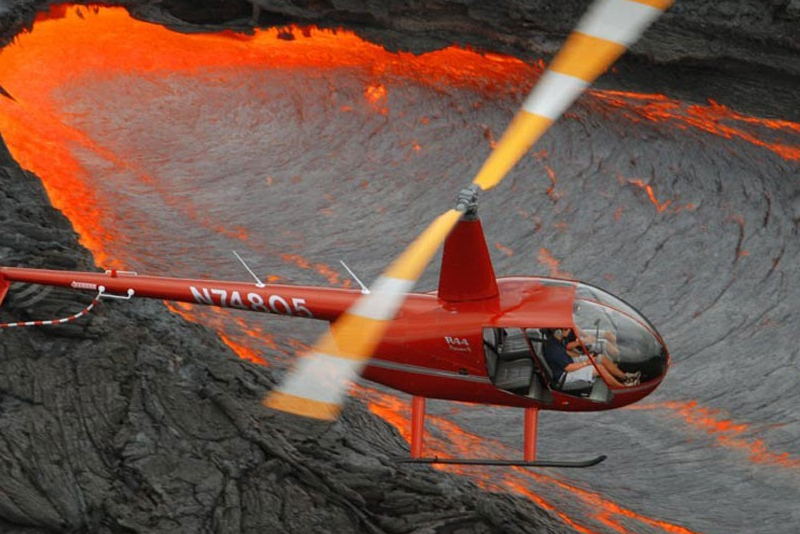 Big Island, unique among all the other islands in Hawaii, is the only one that is continuously visited by live volcanic activity. The extraordinary eruptions of the world's most active volcano have changed the face of the Big Island in incredible ways.
The volcanoes helicopter tours are best suited for travelers that mostly want to admire the lava. These helicopter tours tend to be the shortest and also most affordable when they depart from Hilo heliport.
Usually, you will make a 40 to a 50-minute flight going southwest from the Hilo airport to the Kilauea volcano, then northeast to dozens of roaring waterfalls and jungle at the Hamakua coast, and then back to the airport.
2 – Waterfalls and dramatic cliffs helicopter tours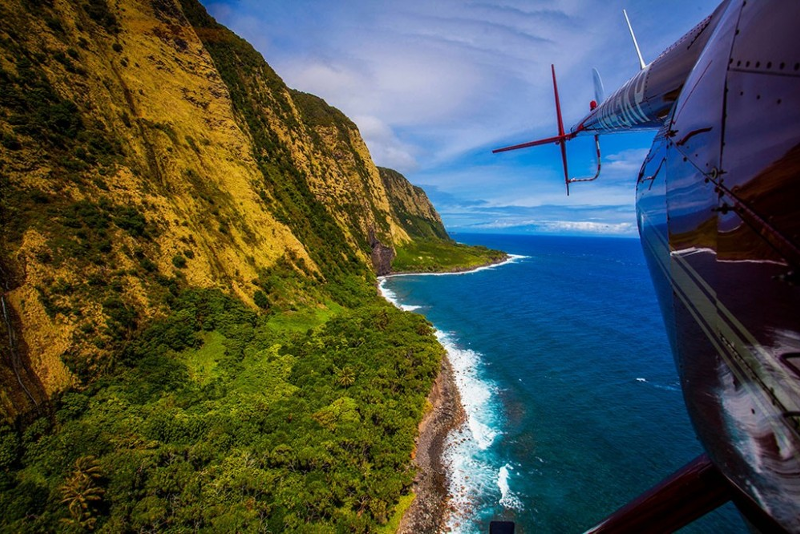 Witness the amazing Kohala coast located in the North of Big Island, where the sea cliffs of Waipi'o Valley open into the dramatically deep valleys of the Kohala Mountains.
During this helicopter flight, you will also admire beautiful waterfalls cascade thousands of feet down the rainforest below, where remnants of ancient Hawaiian settlements are still visible. This scenic helicopter adventure is one you won't soon forget.
3 – Circle island helicopter tours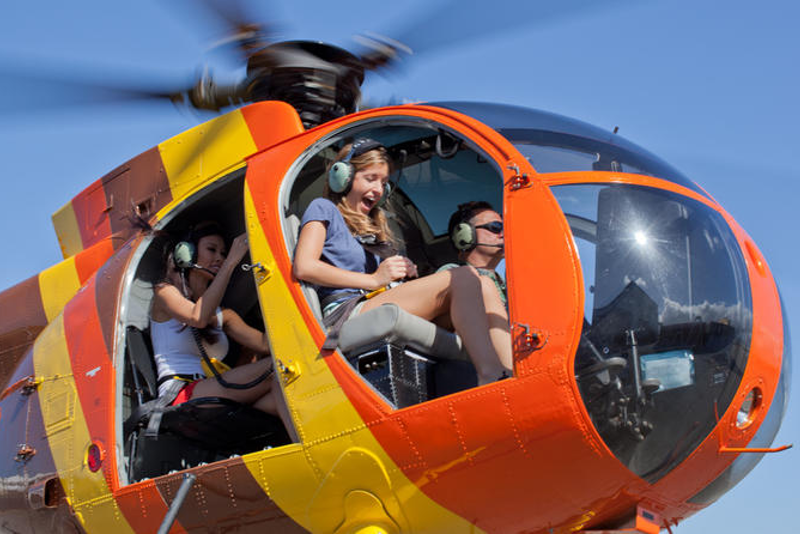 Embark on a breathtaking adventure and witness the best sights of Big Island that you will never forget! Discover the Big Island's magnificent beauty, its stunning cliffed coasts, magnificent rainforest and its volcanic fury on this circle island helicopter tour.
A circle island helicopter tour combines all of the above. Some helicopter tours can even take the whole day, with at most around two hours of flight time. The rest of the time is used for on-ground sightseeing during the tour.
The circle island helicopter tours are an excellent choice for the ones who wish to see it all.
How much do helicopter tours in Big Island cost?
The cost of a helicopter tour depends mainly from the duration of the flight, the comfort provided by the helicopter company and if it is a private or shared flight. Usually, helicopter tours cost between 200$ up to 700$.
What are the best companies to book a helicopter tour in Big Island? Are there any discounts available?
Helicopter tours are big business on Big Island in Hawaii and there is a healthy competition between helicopter companies.
You may book directly with the helicopter company (Paradise Helicopters, Blue Hawaiian Helicopter Tours, Safari Helicopters, Sunshine Helicopters) or book with an online travel agency such as Viator, Getyourguide, Headout, or Musement to name a few.
Prices are very competitive and discounts are offered on a regular basis. Make sure you do a price comparison before booking as you will often find generous discounts.
What is the best time to fly?
Usually, late morning or early in the afternoon are the best times to fly in Big Island. You will get limited shadows and more brilliant colors with the sun overhead.
Also please note that as the day lengthens, the possibility of clouds or rain increases. If you book your tour in the morning, it gives you more flexibility to reschedule your flight later in the day.
How long do helicopter tours in Big Island last?
Usually, helicopter tours in Big Island last between 40 mins up to 2 hours. The duration of the tour depends on what you wish to see.
From where do helicopter tours in Big Island depart?
Helicopter tours depart from 4 different heliports: the Hilo airport, the Kona airport, and the Hapuna and Waikoloa heliports. Depending on the location of the heliport you choose, the price difference can be significant.
Bear in mind that some companies provide free hotel pick up.
Can I cancel my booking before the starting date?
Check the cancelation policies before booking.
Cancelations policies differ according to the helicopter company you choose. Most of the time you can cancel your booking 72 hours prior to departure and get fully refunded. If you want to cancel your helicopter tour 48 hours (or less) prior to the scheduled departure time, you may have to pay a fee per passenger. If you decide to cancel your tour less than 24 hours prior to the departure, you won't get any refund.
May I pick my seat before the booking?
Helicopters tour companies in Big Island use six-seat helicopters with two passengers in front and four in the back. Therefore two passengers will be seated in the middle seats in the back and with a slightly less direct view of the scenery.
Please note that the seating arrangement will be based on the weight of the passengers. Weight needs to be balanced to make it fly properly and ultimately for safety reasons.
However, you can voice your seating preferences during the process, and the staff will try to accommodate your wishes before the start of the flight.
What do I do in case of bad weather?
Have a look at the weather forecast before scheduling your helicopter tour. In cases of poor visibility, lightning, extreme winds, or heavy rain, your flight may be canceled. Helicopter companies will offer you a full refund or the possibility to reschedule your tour for another day.
Are children allowed inside the helicopter?
Of course! Children are allowed to join a helicopter flight. If your baby is younger than one year old, he/she may sit on an adult's lap. Over 2 years old, children have to pay for their seat as a regular adult.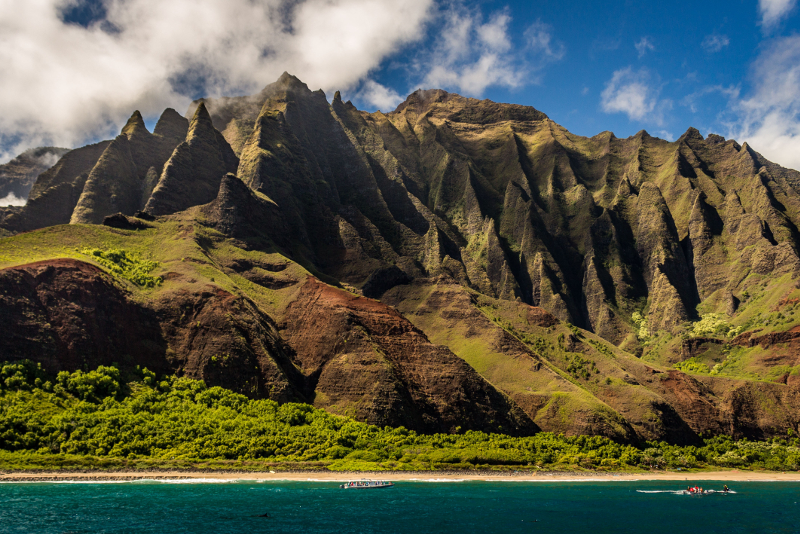 Travel tips
No bags are allowed inside the helicopter. You can store bags and coats in the free lockers.
Pay attention and follow all safety instructions and do not hesitate to ask questions to the staff.
Don't forget your passport, some companies may require it before boarding.
Wear dark clothing to minimize the glare on the helicopter's windows.
Avoid wearing earrings as they could get in the way of your headphones.
If you are prone to motion sickness, do not forget to take medication prior to your flight.
Use high-speed film for your camera and hold your camera lens near the window to minimize reflections.
If you ask for a guaranteed window seat, you may need to book a private tour.
Looking for more fun activities? Check out our list of things to do on the Big Island, Hawaii.
Wishing you an excellent helicopter tour on Big Island. Have a safe flight and enjoy the view