The diversity of Bali's nature seemingly knows no bounds. Venture out of the lush jungle of the central island region to the memorable coastline of eastern Bali. Tulamben's unique rocky shore is home to one of the most mesmerizing diving spots in the world.
Here, divers flock to sink their snorkels into the shipwrecks and coral gardens that are close to shore. Tulamben day trips from Bali offer ample diving opportunities for both experienced and novice divers at some of the most affordable rates imaginable.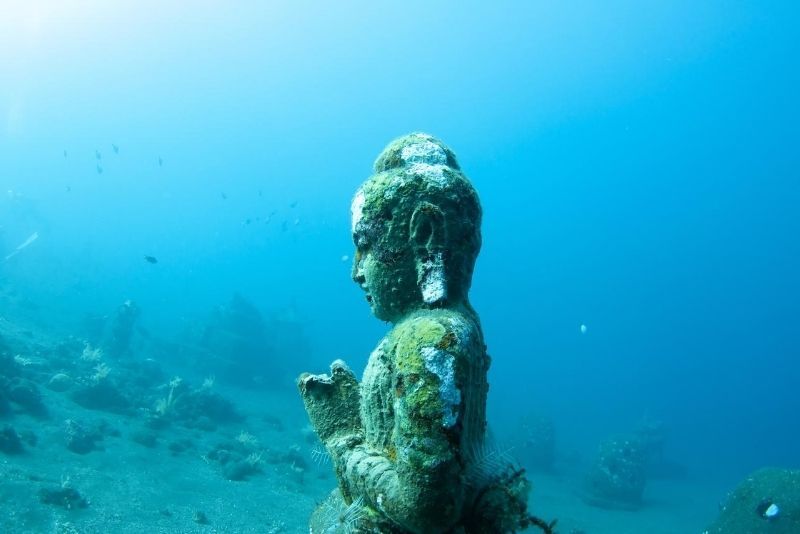 Here is a look at everything Tulamben has to offer and how you can tap into this abundant treasure, one of the most incredible spots for day trips in Bali.
Where is Tulamben located?
The charming fishing village of Tulamben is on the eastern side of Bali. It is roughly 3 hours from Kuta and about 30 minutes from the popular diving region of Amed.
It is a remote village with no taxis so a guided tour to Tulamben is the easiest way to get there. You can also rent a scooter and make your way to the pebbly beach.
What are the best things to do in Tulamben?
Scuba Diving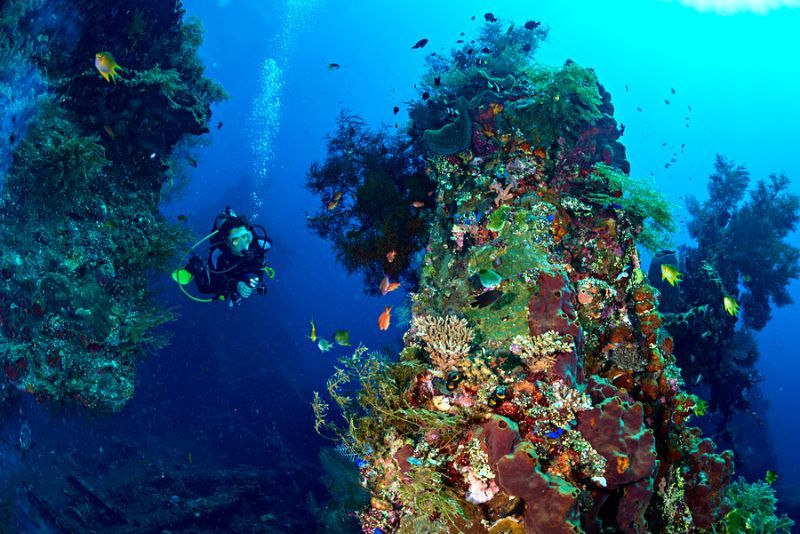 This is one of the best places to scuba dive in Bali. Beginner divers love the easy conditions and more advanced divers can explore past the main dive sights.
The massive USAT Liberty shipwreck is not far from the shoreline and its broken body is teeming with life. The reefs around the wreck are also in excellent condition and the water visibility is among the best in the world.
Snorkeling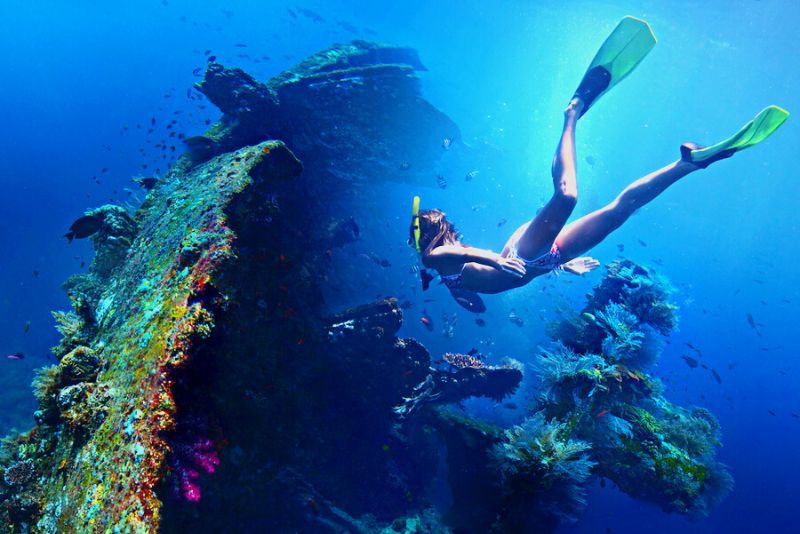 If scuba diving feels a bit advanced, you can opt for snorkeling in Tulamben. The reefs can be reached from the shoreline, and hundreds of captivating fish and plant species thrive in the tropical water.
The USAT Liberty's front end is only 3 meters below the surface so you won't miss out on any of its underwater treasures if you do not want to scuba dive.
What are the best tours to visit Tulamben?
Tulamben snorkeling experience
Maximize your underwater experience with a full-day snorkeling experience in Tulamben. Scuba experiences cut into your underwater time with training before you hit the reef but a snorkeling experience requires no formal training.
This unforgettable underwater adventure allows you to explore the reefs and wreck off of Tulamben's pebbly beach at your own pace, coming and going as you please. You will also be treated to a delightful Indonesian lunch on the beach, keeping you energized for even more snorkeling.
Beginner Tulamben scuba diving tour
A scuba diving tour in Tulamben is designed with beginners in mind. This 8-hour experience will equip you with all the skills you need to successfully take your first unforgettable breaths underwater.
The first few hours are spent getting familiar with your equipment and how to operate it above the surface and down in the depths. Divers get to take their first breaths in the ocean instead of in a pool, giving you an up-close reef experience from the get-go.
After refueling over lunch you will dive at the coral gardens and graduate to the mammoth shipwreck not far from shore. These experiences are done under the supervision of expert divers and get divers acquainted with diving over several hours.
Tulamben scuba diving tour for experienced divers
Tulamben isn't only for beginner divers and there are several tours focused on divers who are already certified. Guides will take you to several diving spots around Tulamben, all regarded as some of the best in the world.
You get to dive on two shipwrecks, the USAT Liberty and Boga, as well as the drop-off, the coral garden and various sunken statues around the area. These tours last anywhere from 2 to 4 days and you can enjoy several dive sessions spaced out over your stay.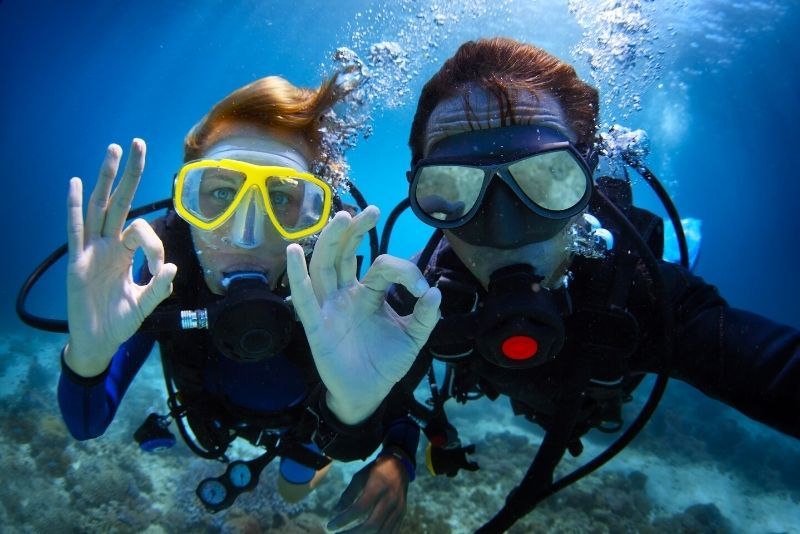 What are the prices of Tulamben tours?
Beginner scuba diving tours on shallow waters in Tulamben cost between US$65 and US$100 per person. This includes the use of all scuba gear and expert training before your dives. More expensive tours often last a few hours longer and include hotel transfers.
To experience deeper waters you would need to become a certified diver in Tulamben on a multi-day tour from Bali. For these tours you can expect to pay around US$250 per person.
Certified divers will pay around US$110 per person for one day of dives and around US$270 per person for multiple days.
A full-day snorkeling experience costs US$70 per person and lasts around 9 hours.
Where do Tulamben tours start?
Some tours start at your tour operator's office in Tulamben but the village's remote location makes this a little tricky. In most cases, you can opt for hotel pickup from hotels in Sanur, Seminyak, Kuta, Legian, Nusa Dua and Jimbaran or pay a fee for pickup in other locations.
When is the best time to visit Tulamben?
Most people first choose to explore the Bali rainforests when they arrive on the island. Book your dive experience in Tulamben shortly after that. It is a remote location so it is best if you make your way there after seeing most of the island's main attractions.
Remember to leave more than 24 hours between your dive and your flight home. Flying too soon after a dive is dangerous and can lead to Decompression Sickness.
Travel tips
Bring your swimsuit and your towel. You have to wear a swimsuit under the wetsuit provided on your tour.
Bring a change of clothes to put on once your dives are finished.
Plan your dive with enough buffering time in case you are hit with bad weather and need to reschedule.