Canoeing in Bali is a fun way of getting back to nature and exploring the island in a new way. You'll paddle across mirror-like lakes where forests and temples line the shores. Some trips even take you deep into the mangroves in search of wildlife.
There are several canoeing tours in Bali on offer, with many incorporating jungle hikes as part of the package.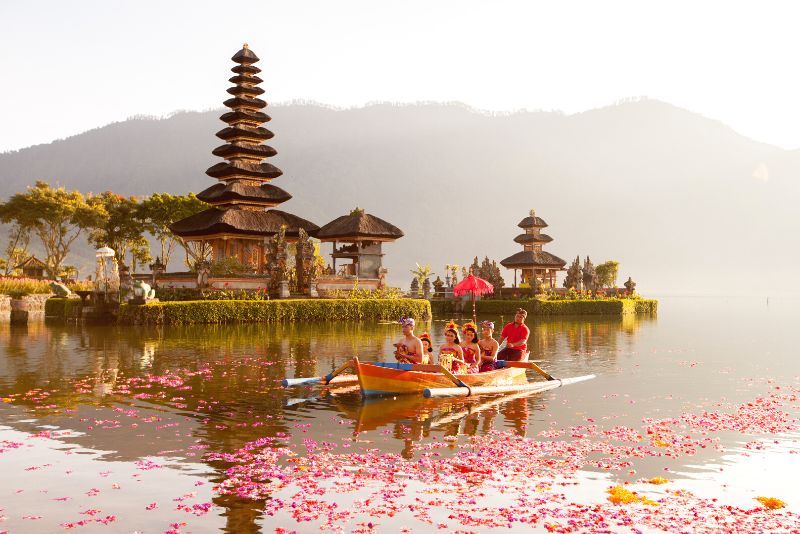 Here's all you need to know about canoeing, one of the most exciting outdoor activities in Bali.
What are the best canoeing tours in Bali?
Guided canoeing and trekking tour in Bali
Most canoeing tours in Bali also include an element of jungle trekking, for full immersion in the tropical landscapes. These trips last a full day, so you know you're getting your money's worth!
Both small group and private tours are available. If you want to keep costs down and meet other travelers, then the former is a fun way to explore. Meanwhile, if you prefer to retain a bit of independence and have your own personal guide, then opt for a private excursion.
You'll kick off the day with a hotel pickup, and a transfer to Bali's twin lakes of Buyan and Tamblingan. Then it's time for coffee and cake before lacing up those boots and setting off on your first trek.
You'll explore the forested slopes around Lake Buyan on foot, marveling at the ancient banyan trees along the way. On arrival at the shoreline, you'll hop into a traditional canoe and enjoy a ride with a local fisherman. Keep your camera handy for the views!
Next up is another jungle walk, this time with added temples. Ulun Danu is perhaps the most famous, while the ancient Handara Gate makes for iconic photos. The hike ends at the Banyumala Twin Waterfalls where relaxing and swimming are both on the cards.
If you journeyed up from the south of the island, your tour will make bonus stops at Lake Beratan and the Bedugul spice market.
Mangrove forest canoe excursion in Bali
For an entirely different experience, these mangrove adventures show off a unique side of Bali. After being picked up from your hotel, you'll travel to the meeting point and get set up with your canoe. Don't worry if it's your first time – instruction will be given.
As you paddle stealthily into the tangled mangrove maze, keep your eyes peeled for wildlife. Take a moment to soak up the atmosphere of this mysterious ecosystem, and marvel at the hardy birds that call these coastal forests home.
If you want to try a spot of Balinese fishing, this is the place to do it. A fisherman will be on hand to show you some local tricks as you cast your line. Have a competition to see who can catch the most!
After a few hours in the heart of nature, you'll be driven back to your hotel, ready for the next adventure.
How much does it cost?
Expect to pay US$70 per person for small group canoeing tours in Bali. These are full-day trips with transport by minivan and lunch provided.
The 3.5-hour mangrove canoe tour in Bali is priced at US$40. Canoe rental, transfers and a guide are provided. This is a group activity, so you'll be traveling with other people. Lunch is not offered on these half-day trips.
Private Bali canoe excursions don't cost much more, with day trips starting at US$80 per participant. You will have your own guide and an air-conditioned vehicle for personalized service.
What is included?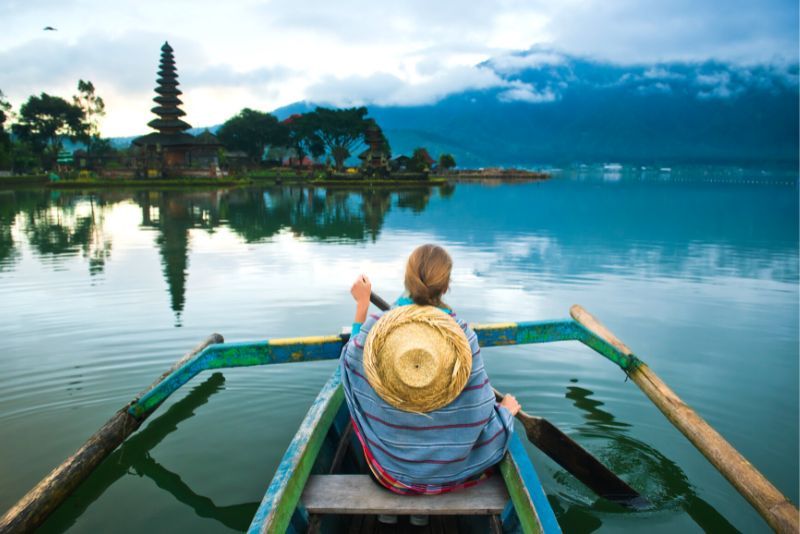 You don't need to take much on a canoeing trip in Bali as all the essentials are provided. Just remember to wear suitable outdoor shoes and take a backpack to carry a raincoat and your camera.
Here's what is usually included in these canoeing and trekking tours:
Bottled water
Lunch in a local restaurant
Walking sticks
Jungle canoe ride
Transfers in an air-conditioned vehicle from your hotel
Professional guide
Coffee and tea
Fishing gear and bait are included on the mangrove tours
Admission tickets for the temples are not included in most tours, so take some cash to cover these small additional expenses.
Where does it start?
Most operators offer hotel pickups to make sure your Bali canoe tour runs smoothly. Collection locations cover the whole island, so wherever you're staying, a hotel transfer should be possible.
Popular pickup places include Kuta, Sanur, Seminyak, Ubud, Jimbaran, Lovina and Padang Bai among others. If in doubt, check with your provider to see if your resort area is on their list.
How long does it last?
Canoeing tours in Bali are generally a whole day affair, lasting between 7 and 10 hours. This is because most excursions include some trekking as well as boating, giving you a fully-rounded experience.
Want something shorter? Then try the 3.5-hour mangrove canoe trip where you can watch for wildlife and have a go at fishing.
When is the best time to go canoeing in Bali?
Canoeing trips in Bali run throughout the year, so you can enjoy one no matter when you visit the island. Most excursions last a full day so expect a fairly early start.
The wet season in Bali falls between November and March, but it doesn't usually rain all day. Try to schedule your tour toward the beginning of your vacation just in case it's postponed due to bad weather.
Are there any combo tours available?
Canoeing tours in Bali plus jungle trekking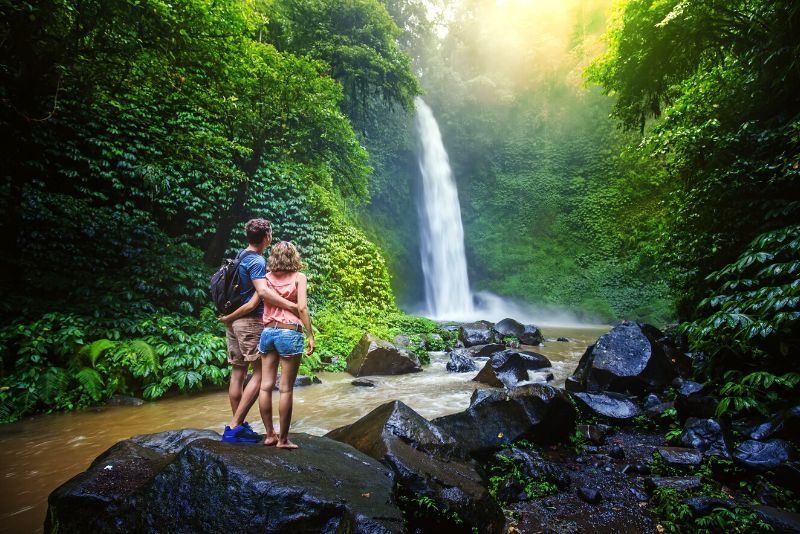 Combine two of the most pleasurable outdoor activities in northern Bali on this full-day canoeing and trekking tour.
You'll get to paddle on serene lakes and explore the forested shorelines on foot. Visits to temples and refreshing swims in waterfall pools are the icing on the cake.
Are children allowed?
Yes, they are! Canoeing experiences in Bali are a fun day out for all the family. The boating and hiking are enjoyed at a leisurely pace so even little legs can cope with the terrain. Infants will need to sit on adult laps while in the boat.
What happens in case of bad weather?
Canoeing excursions in Bali are weather dependent and may be canceled if it's too wet. The trails can become very muddy during periods of heavy rain, making them unsuitable for hiking.
If your tour is canceled, you'll be offered an alternative date, or given a full refund.
Which other water activities can be done in Bali?
Travel tips
Bali canoeing tours are usually limited to 10 participants to ensure a personal experience. Therefore, it's advisable to book your tickets in good time to avoid missing out.
Wear sturdy footwear so you can traverse the jungle trails in comfort. Taking a light waterproof jacket is a good idea just in case there is a rain shower.
While the hiking and canoeing aren't arduous, travelers should have a reasonable level of fitness to make the most of the day.