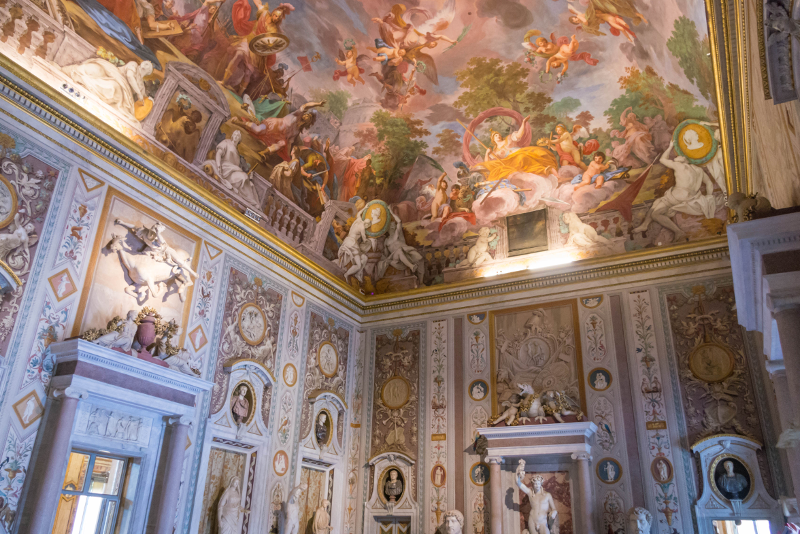 Are you looking for the best Borghese Gallery guided tours? You will find in this article an accurate travel guide about the different tours available to visit the Borghese Gallery, including private tours, group tours, tours for kids and families, and more. Determine which one is the best suited to your needs, and how to pay the best price.
If you already want to book your Borghese Gallery Guided Tour right now and don't want to read ahead, click here to book your Borghese Gallery tour.
For the ones who are just looking for tickets, click here to book your Borghese Gallery ticket.
Borghese Gallery tours – Is it worth it taking a tour?
Taking a guided tour is worth it, for a number of reasons:
Don't worry about anything – Your guide knows everything about the Borghese Gallery. You only have to be at the meeting point on time and the guide will do everything.
Know everything about the Gallery – A guided tour allows you to ask questions to the guide, who will systematically answer you. Guides have great knowledge about the gallery and will describe precisely the artworks you will see.
Enjoy each moment – When you visit a monument by yourself, you might overlook some special places, in spite of their importance. With an expert guide, you will see everything and learn as much as possible.
Borghese Gallery tours – Which one is right for you?
Here is a look at the different options of tours you can choose:
Private tours
Group tours
Kids & family tours
Decide what type of Borghese Gallery tours you want to book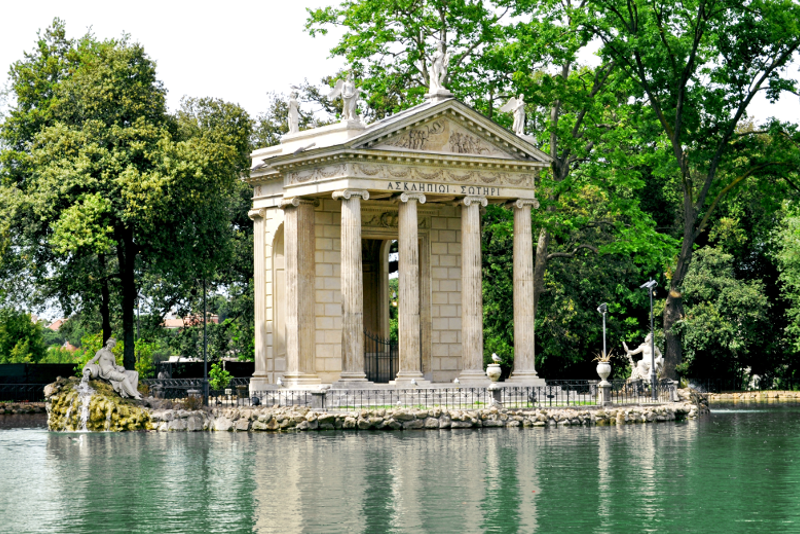 Borghese Gallery private tours
If you are looking for precise descriptions and visiting according to your needs, then the private tour is definitely for you. Along with a private tour guide, you will avoid the crowds and make the most of your time. Most of the guides speak English, especially when you are in a group, to make you feel more comfortable. Furthermore, some offers include hotel pick-up so that you don't need to meet anywhere. You will even be able, in some cases, to visit the Villa Borghese, Capitoline Museums, the Doria Pamphili Gallery, Vatican Museums, Piazza del Popolo or Villa Farnesina, in addition to the Borghese Gallery.
Borghese Gallery group tours
Group tours are the most popular choice for a guided visit of the Borghese Gallery, as well as one of the cheapest options. Group tours include between 6 to 15 people. If you have difficulties to clearly hear and understand what the tour guide is saying, there is no need to worry: headphones are often included. In addition to skip the line and visit the Borghese Gallery, many group tours also include the visit of the Borghese Gardens. Don't miss that great opportunity!
Borghese Gallery kids and family tours
It is evident that travelling with young children can be a tough situation because they may get tired or bored when visiting a museum. Thankfully, some Borghese Gallery tours were designed especially for families who have children. There are lots of benefits for choosing these tours:
To begin with, you will benefit from a child-friendly guide to entertain your kids and make them enjoy the visit of the Borghese Gallery.
Games, activities, and multimedia offerings are aimed at children so that they have fun throughout the visit of the Borghese Gallery.
You will skip the line and prevent any waiting time.
It is a private tour: you and your whole family will have the Borghese Gallery just for you!
Are there any Borghese Gallery tours included in the Roma Pass or Omnia Card?
The Roma Pass gives free access to the Borghese Gallery, but it does not include any tour of the gallery.
It is the same thing with the Omnia card: it delivers a free access to the gallery, but no tour is included.
Is it possible to visit the Borghese Gallery for free?
Yes, it is: all the admissions are free of charge on the first Sunday of every month. Moreover, children and young teenagers can benefit from reduced prices at the entrance of the gallery. However, there is no free Borghese Gallery tour available.
What will I see?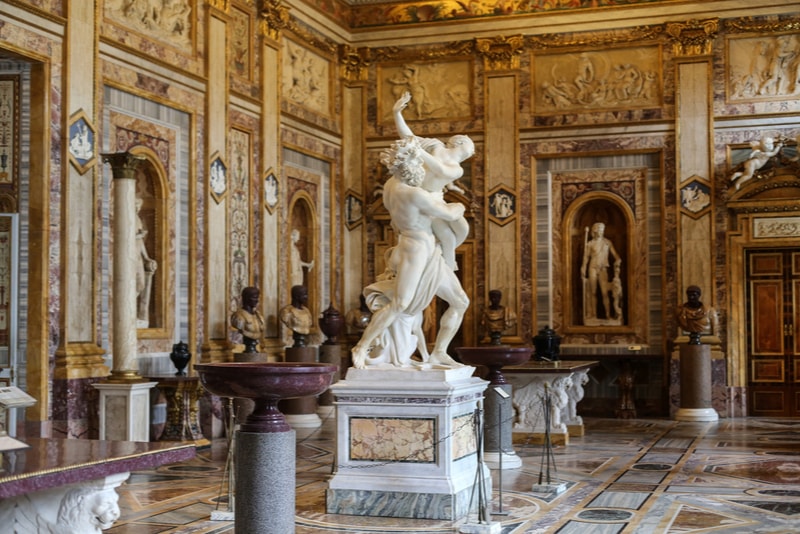 The Borghese Gallery is one of the most fascinated art museums in the world. Its 22 rooms feature a lot of tremendous masterpieces including paintings of Raphael, Titian, Caravaggio, and Rubens. The original collection was built by Cardinal Scipione Borghese.
Here are some of the most famous masterpieces it is possible to see at the Borghese Gallery:
Bernini's "The Rape of Proserpina" marble sculpture.
Raphael's "The Deposition" painting.
Caravaggio's "Madonna, Child and Serpent" painting.
Titian's "Venus Blindfolding Cupid" painting.
Rubens's "Susanna and The Elders" painting.
The Borghese Gallery is located in the Villa Borghese (a 80-ha park) in Rome, Italy. The villa counts with various museums:
National Etruscan Museum
Villa Medici
National Gallery of Modern and Contemporary Art
Museo Civico di Zoologia
Pietro Canonica Museum
Carlo Bilotti Museum
Bioparco di Roma
The Villa Borghese includes many sculptures and paintings that might be difficult to understand and analyse without an adequate knowledge of their authors. Therefore, a guided tour could really change the experience of visiting the Villa Borghese and make you enjoy your stay in Rome!
Which are the Borghese Gallery opening hours?
The Borguese Gallery is open every Tuesday to Sunday, from 9 am. to 7 pm.. There is no entry/admission after 5 pm.
Travel tips
Art historians often lead group tours, which adds context to the artwork you're observing.
The Borghese Gallery is located in the Villa Borghese, the largest urban park in Rome. You will find a lake, temples, fountains, statues, and many museums. The combination between nature and Roman art will impress you.
Wi-Fi is free in the entire gallery.
Don't hesitate to comment below if you have any questions regarding the Borghese Gallery tours.
Enjoy your visit in the Borghese Gallery