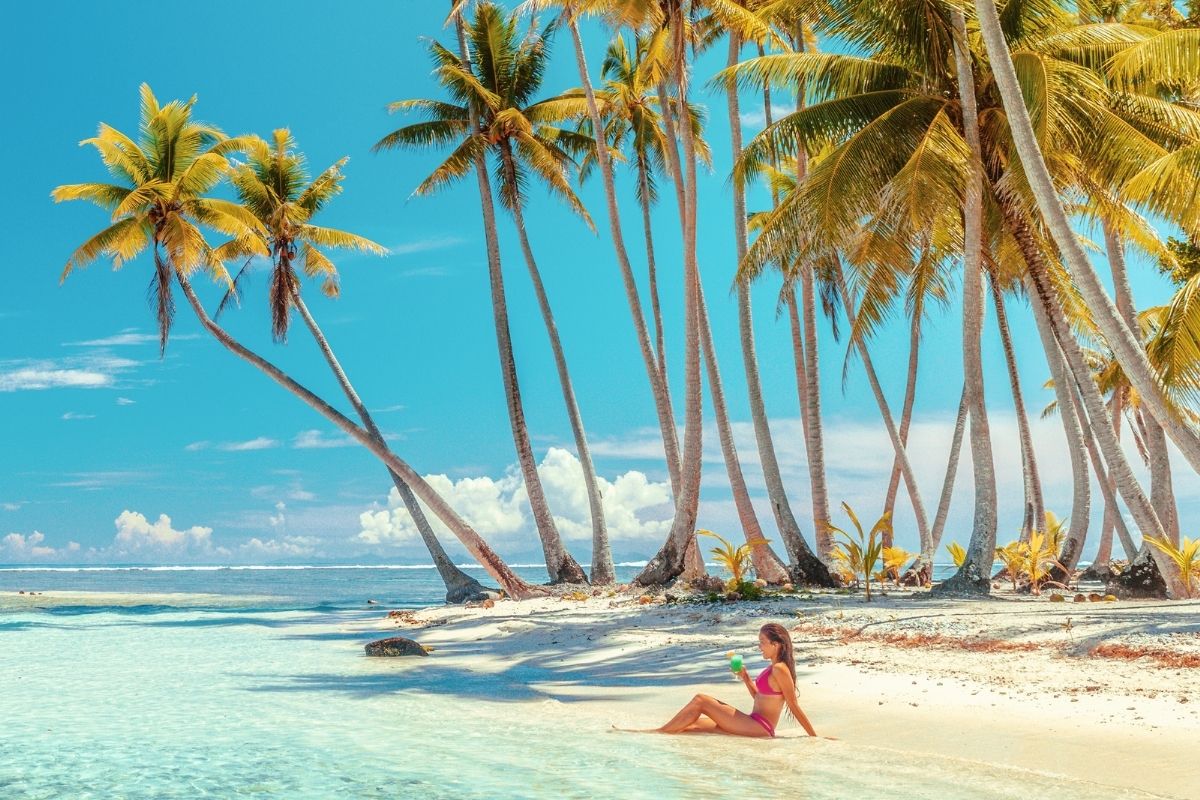 The Caribbean – think sun-kissed beaches, mesmerizing turquoise waters, and a cultural tapestry that never ceases to amaze. But with so many gorgeous spots dotted across this paradise, the burning question is: which ones are capturing the most hearts lately?
Well, we've been digging deep into our own data to find out just that. This isn't just any list; it's a roundup of the 50 best Caribbean destinations, both island and coastal, shaped directly by your searches and bookings. Yup, every search, every click, and every booking you made on our platform played a part in this.
How did we weave together this list?
Booking Histories:

By meticulously combing through users' booking histories, we've been able to pinpoint the destinations that consistently emerged as favorites, painting a picture of the regions that are genuinely preferred.

Browsing Behavior Analysis:

By keeping tabs on your browsing antics, from the destinations you searched for to the amount of time you lingered on specific pages and the content that made you click, we've gleaned insights into which regions truly spark interest.
Following this analysis, we allocated a popularity percentage to each destination, serving as a direct indicator of its appeal to our user base.
Whether you're an old soul of the Caribbean's charm or a fresh explorer ready for a splash, here's a peek into the Caribbean destinations that are setting hearts aflutter.
Ready to set sail?
1 – Cancún, Mexico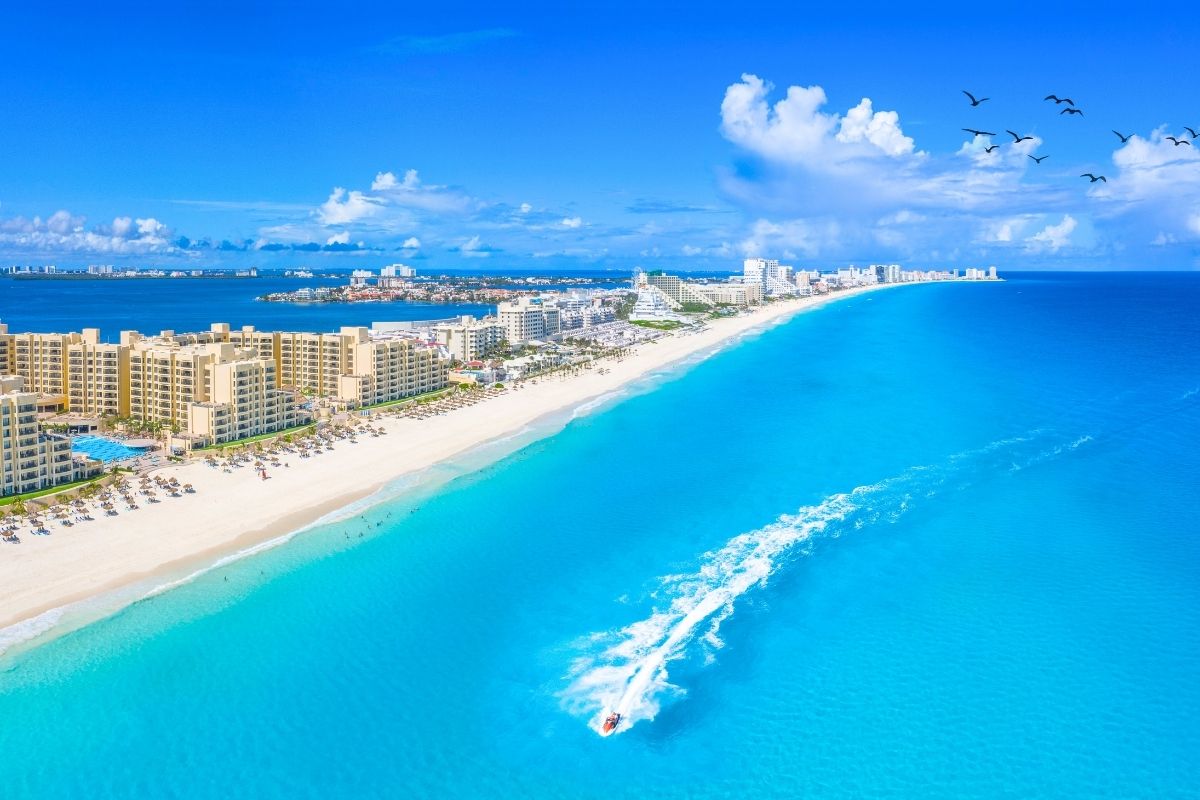 Popularity score: 94.02%
Cancún is not just about glitzy hotels and vibrant nightlife; it's a gateway to some of Mexico's most extraordinary treasures.
Imagine exploring ancient Mayan ruins, diving into hidden cenotes, and lounging on powdery white beaches that stretch as far as the eye can see.
If you're seeking a blend of adventure and relaxation, Cancún is calling your name!
See also: Fun things to do in Cancún, Best Snorkelling Spots in Cancún, Best Cancún Excursions and Day Trips, Best Cancún tours, Best Theme parks in Cancún
2 – Montego Bay, Jamaica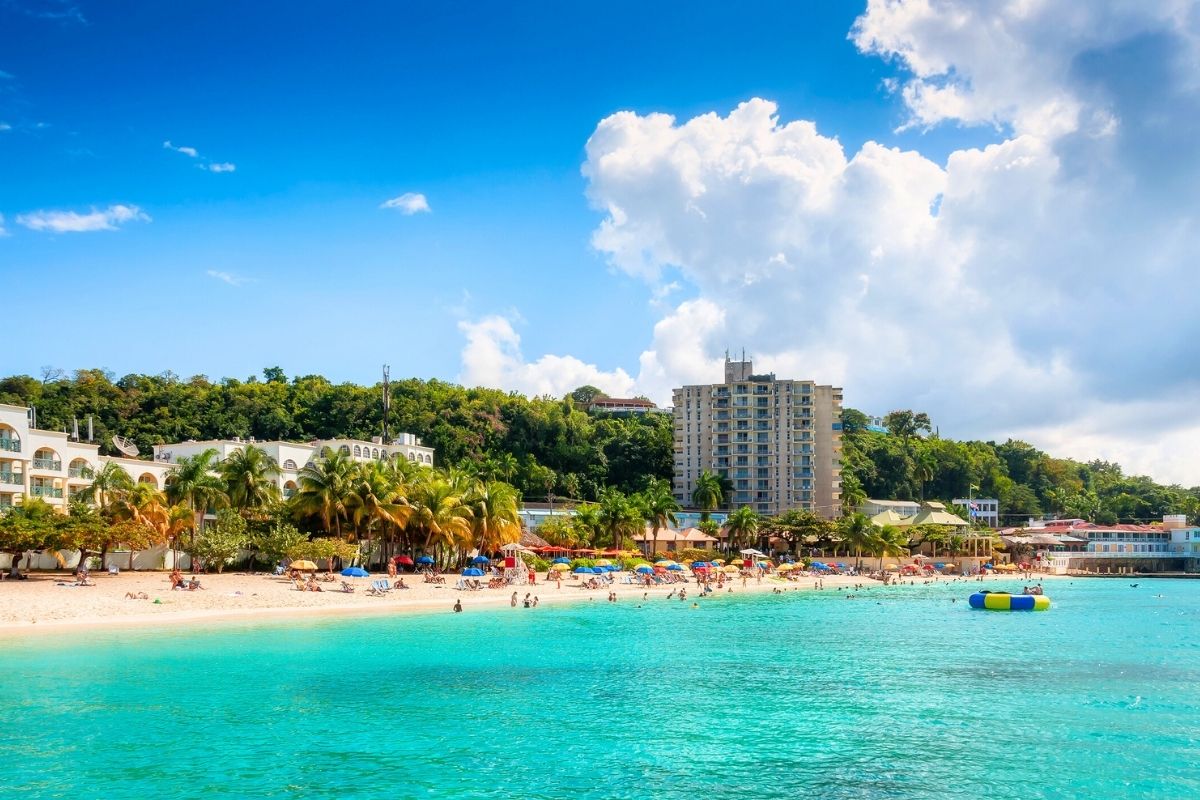 Popularity score: 91.70%
Step into Montego Bay, where the beaches are as warm and welcoming as the locals.
This Jamaican gem offers unparalleled snorkeling experiences, the hauntingly beautiful Rose Hall Great House, and the unique, bustling Hip Strip for your shopping and entertainment needs.
Montego Bay is the epitome of a laid-back yet exciting Caribbean escape.
See also: Fun things to do in Jamaica
3 – Punta Cana, Dominican Republic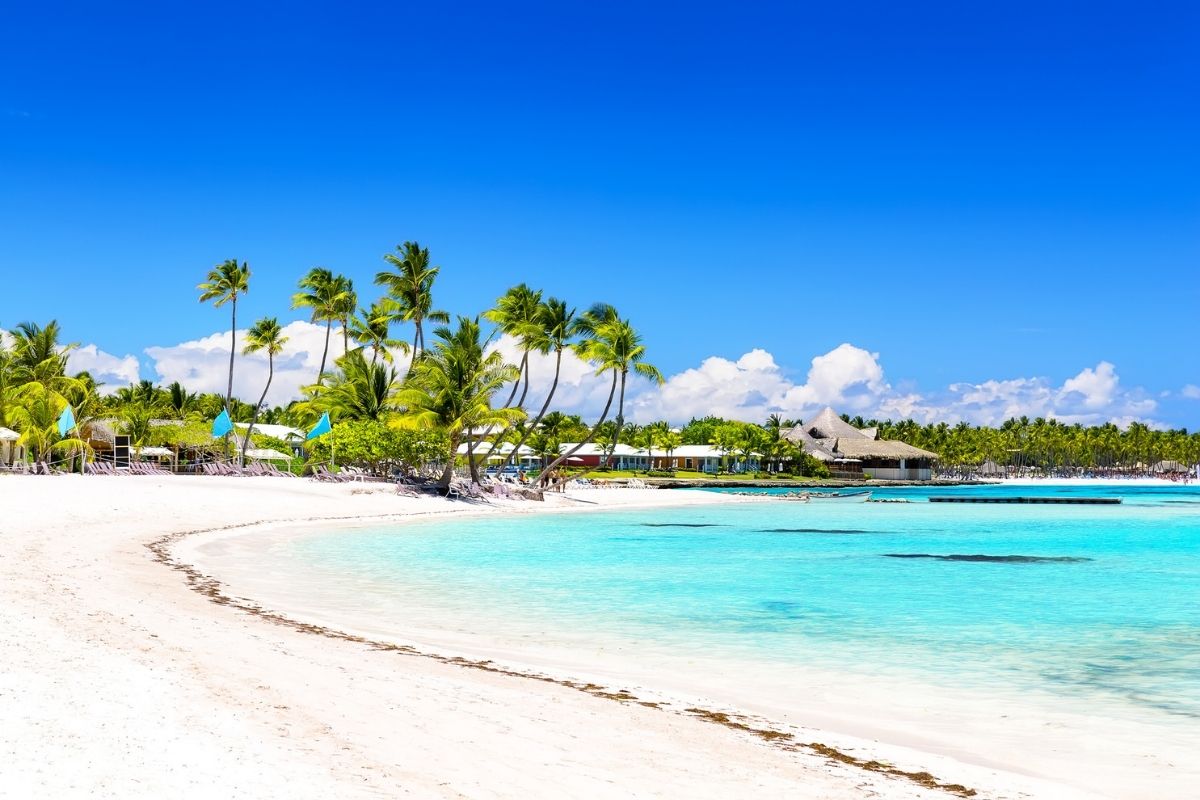 Popularity score: 88.04%
Punta Cana, a captivating destination, boasts some of the Caribbean's most pristine beaches, perfect for leisurely soaking up the sun or engaging in exciting water sports.
Beyond the shore, travelers can venture into lush ecological reserves and hidden caves, each telling tales of the island's rich history and biodiversity.
If you crave a vacation that's both relaxing and adventurous, Punta Cana should be on your radar.
See also: Fun things to do in Punta Cana
4 – Playa del Carmen, Mexico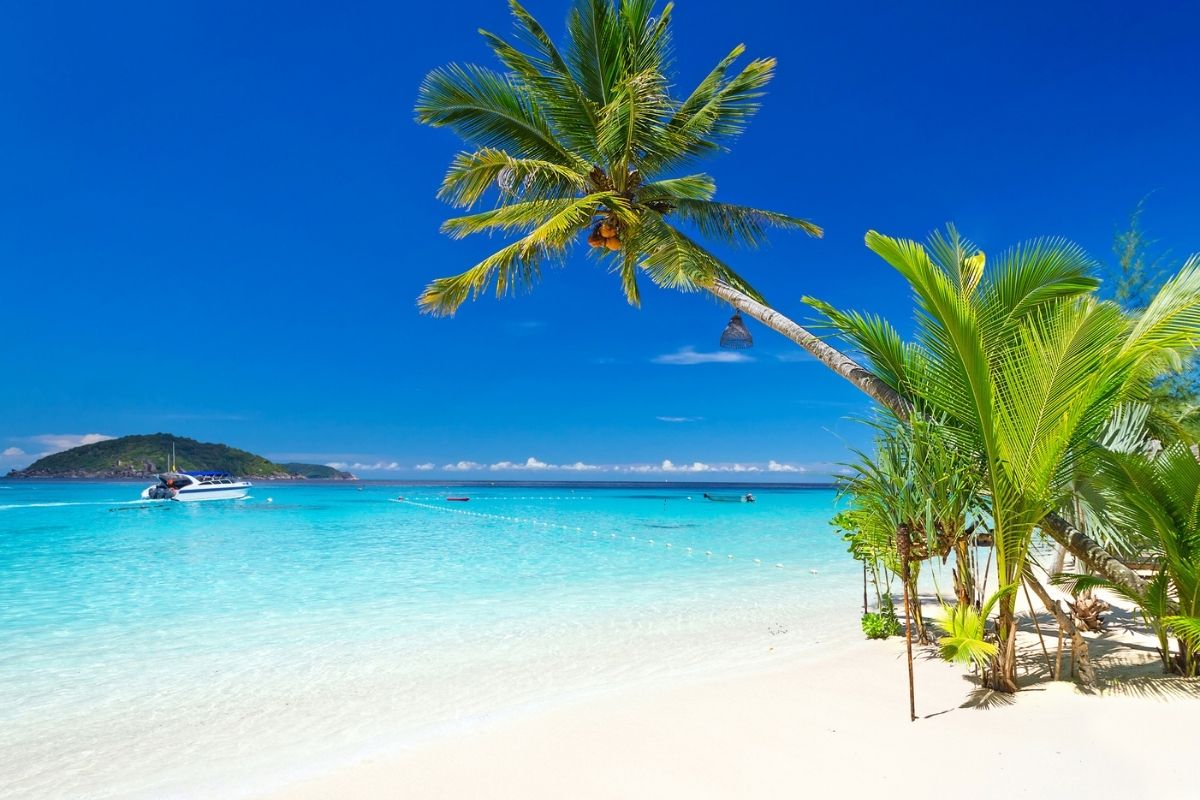 Popularity score: 87.61%
Playa del Carmen serves up a cocktail of lively nights, majestic beaches, and shopping delights that's hard to resist.
Ever wandered along Fifth Avenue? If not, picture a street come to life with trendy boutiques, tempting food spots, and bars filled with energy.
And don't forget: just a stone's throw away, you'll find eco-parks and Mayan ruins, each brimming with stories from the past.
See also: Fun things to do in Playa Del Carmen
5 – Cartagena, Colombia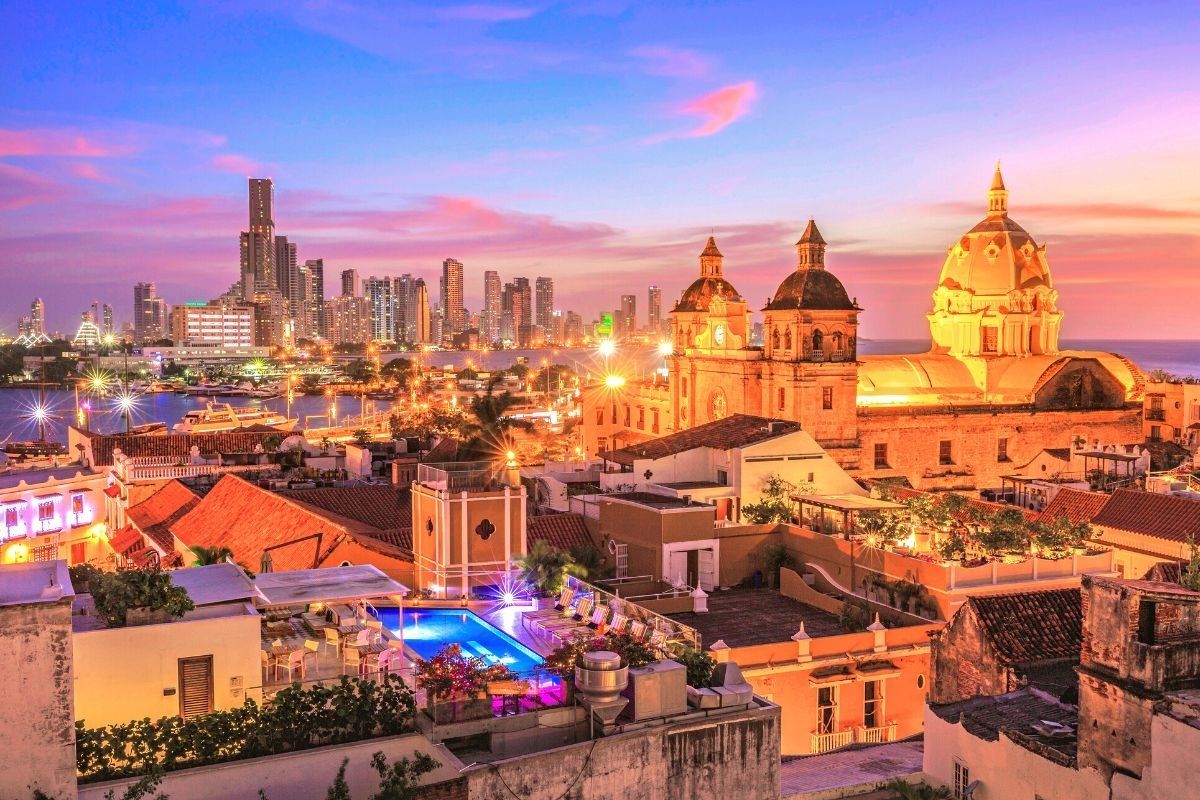 Popularity score: 86.06%
Every visit to Cartagena is a swirl of colonial romance mixed with irresistible Caribbean energy.
Beyond the city's iconic pastel-colored buildings and cobblestone streets, you'll find enchanting local markets, innovative gastronomy, and the beguiling Rosario Islands—pristine Caribbean paradises that are only a short boat ride away but feel like a world apart.
See also: Fun things to do in Cartagena
6 – Tulum, Mexico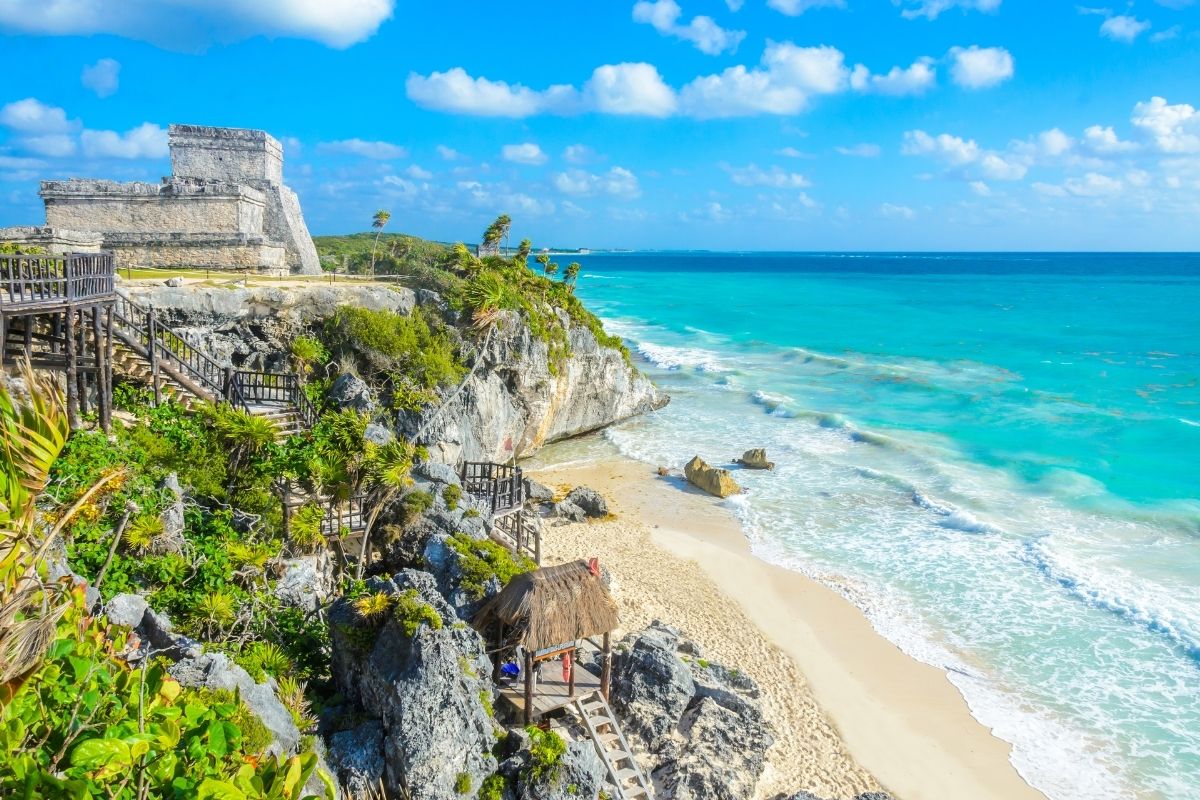 Popularity score: 84.03%
Tulum, nestled along the Riviera Maya, is where history whispers among the waves and contemporary charm dances with traditions.
With every step on its sandy pathways, there's an ancient ruin beckoning or a laid-back beach cafe inviting.
Whether it's the mystique of the Mayan temples or the relaxed aura of beachside cabanas, missing out on Tulum feels like overlooking a vibrant hue in a masterpiece of a palette.
See also: Fun things to do in Tulum, Fun things to do on the Riviera Maya
7 – Havana, Cuba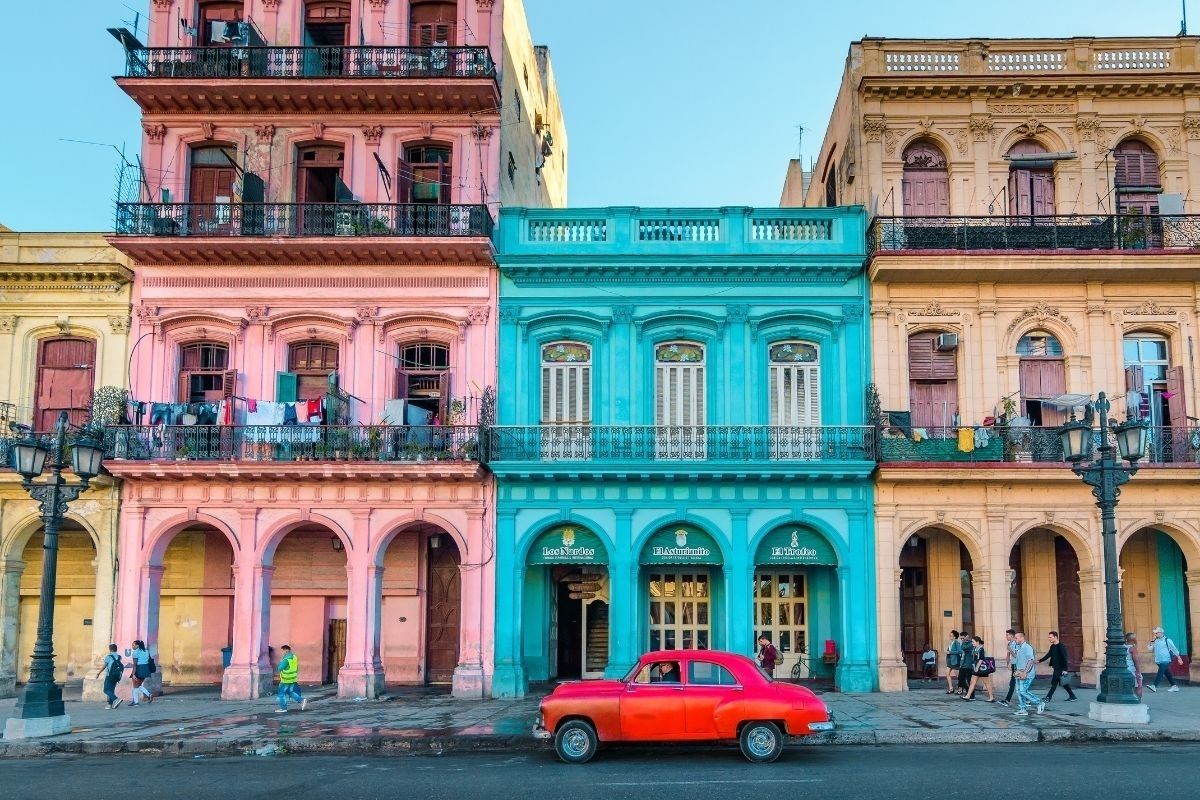 Popularity score: 80.72%
Have you ever strolled through a city that seemed to be a real-life novel? That's Cuba for you.
It is made to be so by the vibrancy of its buildings, the beat of its music, and most importantly, the friendliness of its people.
Every vintage car roaring by or every imposing fort in Old Havana brings history to life. Have you missed this city?
You can't find anything like its vibe and the good spirit of its people anywhere else, so it's like letting a beautiful melody pass you by.
See also: Best Holiday Destinations in 2023
8 – Cozumel, Mexico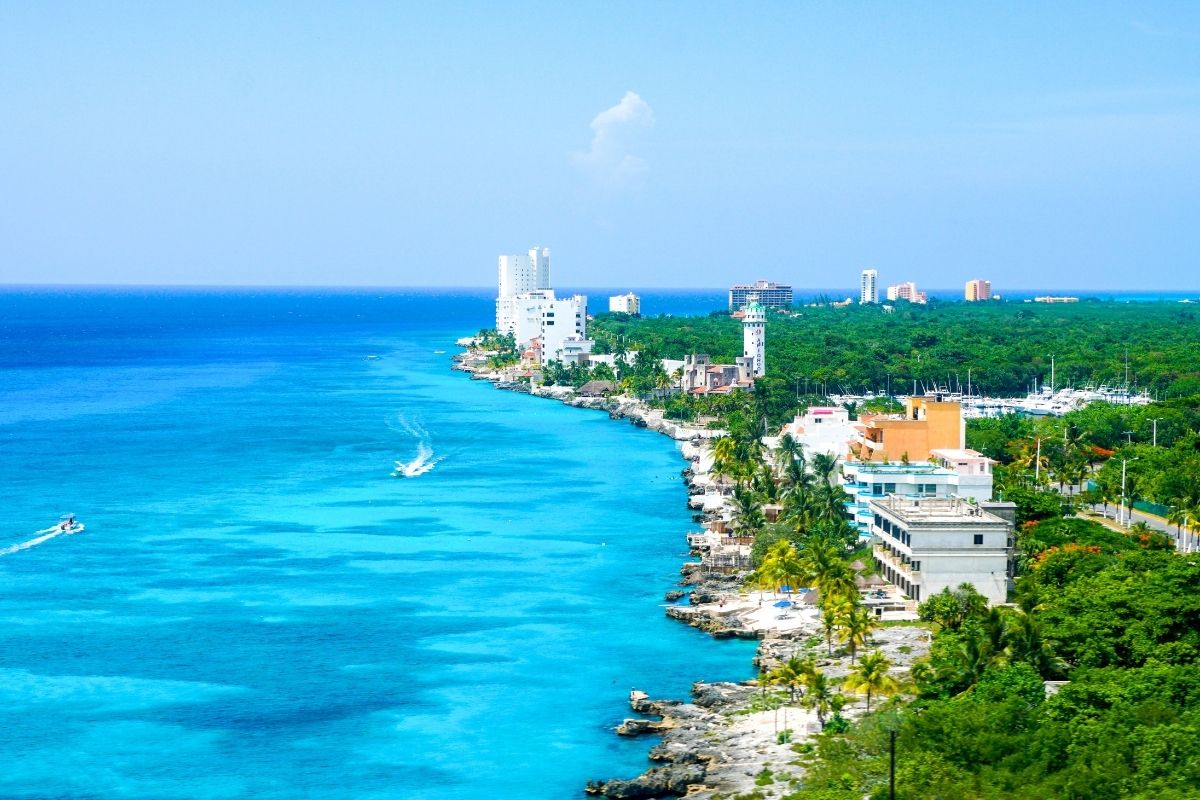 Popularity score: 79.78%
The extraordinary Caribbean island of Cozumel provides travelers with a glimpse of authentic Mexican culture as well as breath-taking natural beauty.
Famous coral reefs are waiting beneath the light waters of Cozumel, making it a diver's paradise.
Explore the ancient Mayan ruins on land or indulge in the mouthwatering flavors of local cuisine.
Passing up this experience would mean missing out on a wealth of adventures and the true flavor of Mexico. It is both panoramic and mouthwatering.
See also: Fun things to do in Cozumel
9 – Ocho Rios, Jamaica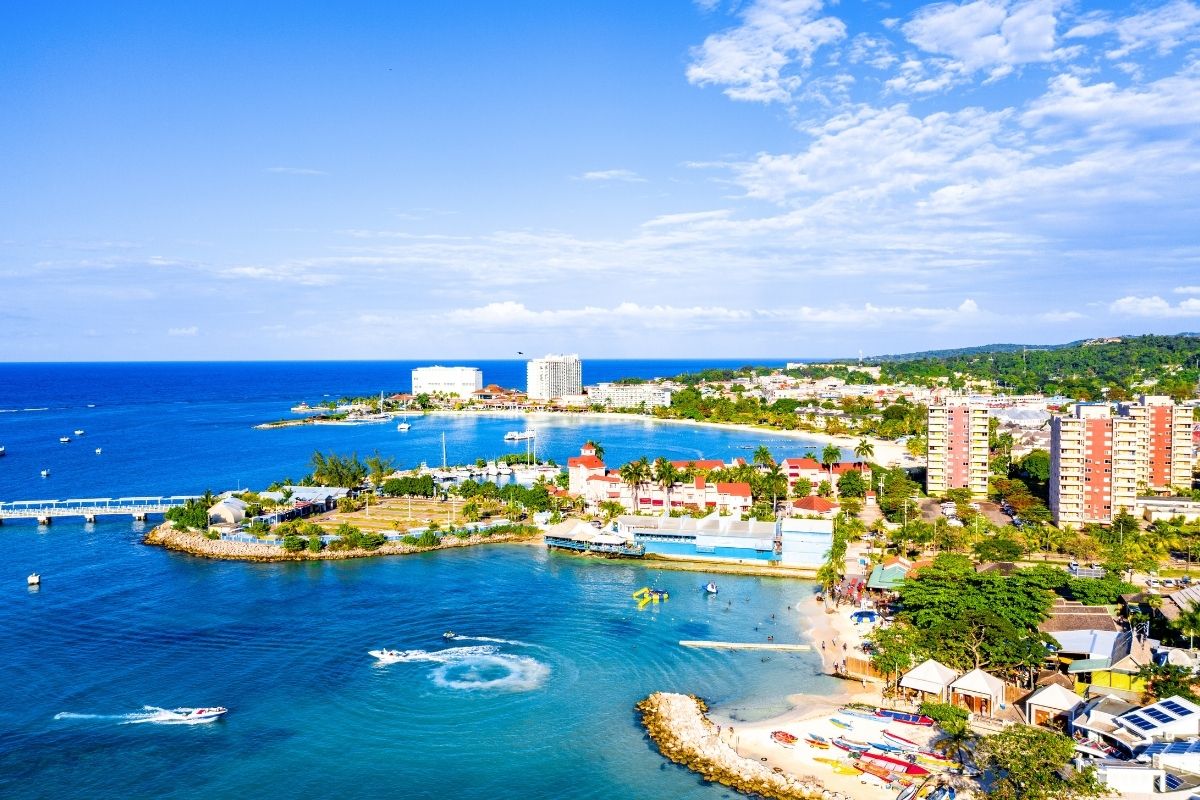 Popularity score: 76.90%
Ocho Rios, in Jamaica, is the country's entryway to the breathtakingly beautiful Caribbean with its golden beaches and lush, rolling hills.
This location is jam-packed with culture, adventure, and relaxation, from the beautiful Dunn's River Falls to the buzzing artisan markets.
You would be missing out on the opportunity to immerse yourself in a tapestry of exhilarating experiences and the tranquil, picturesque views that capture the very soul of the Caribbean if you chose not to go.
10 – Roatán, Honduras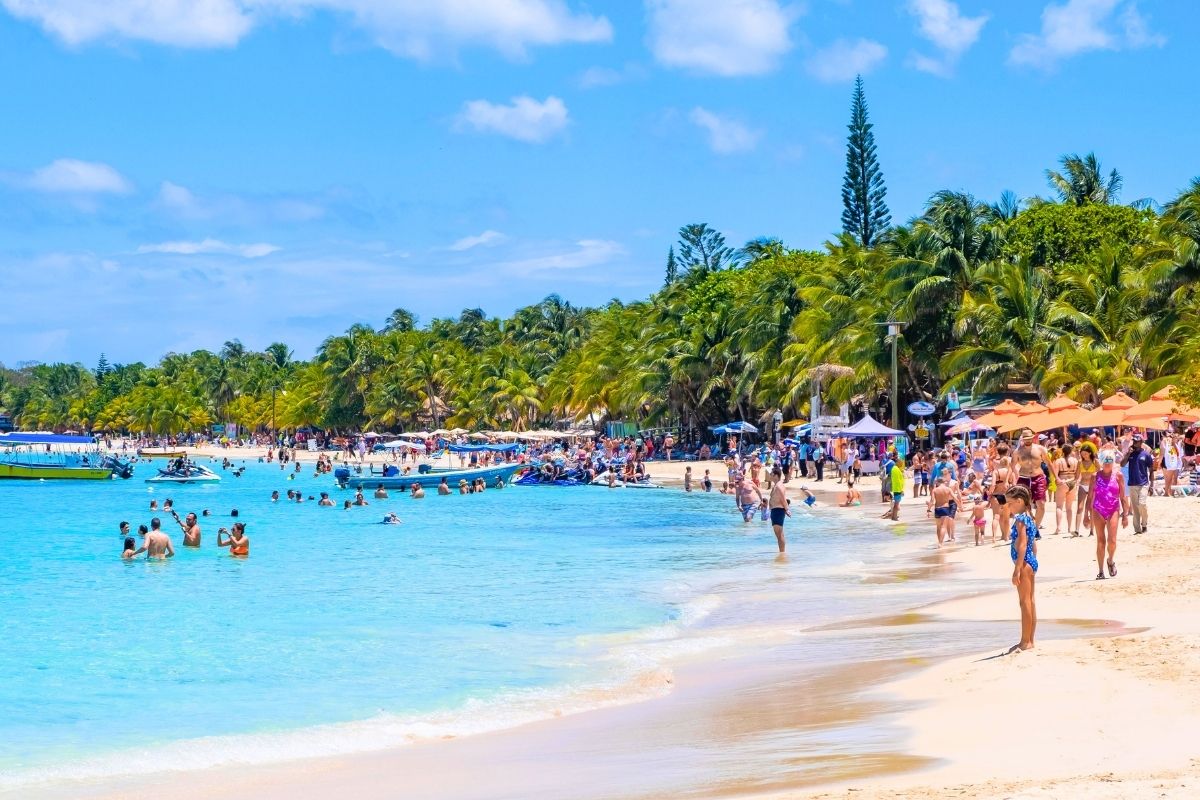 Popularity score: 75.97%
Roatán, a glittering gem in the Honduran Caribbean, extends an open invitation to you.
It is home to vibrant coral reefs that are ripe for exploration by both eager snorkelers and divers.
You can find pristine white sand beaches here as well as a distinctive fusion of Garifuna, Afro-Caribbean, and Spanish cultures, each of which is represented by mouthwatering cuisines and entrancing musical rhythms.
11 – St. Lucia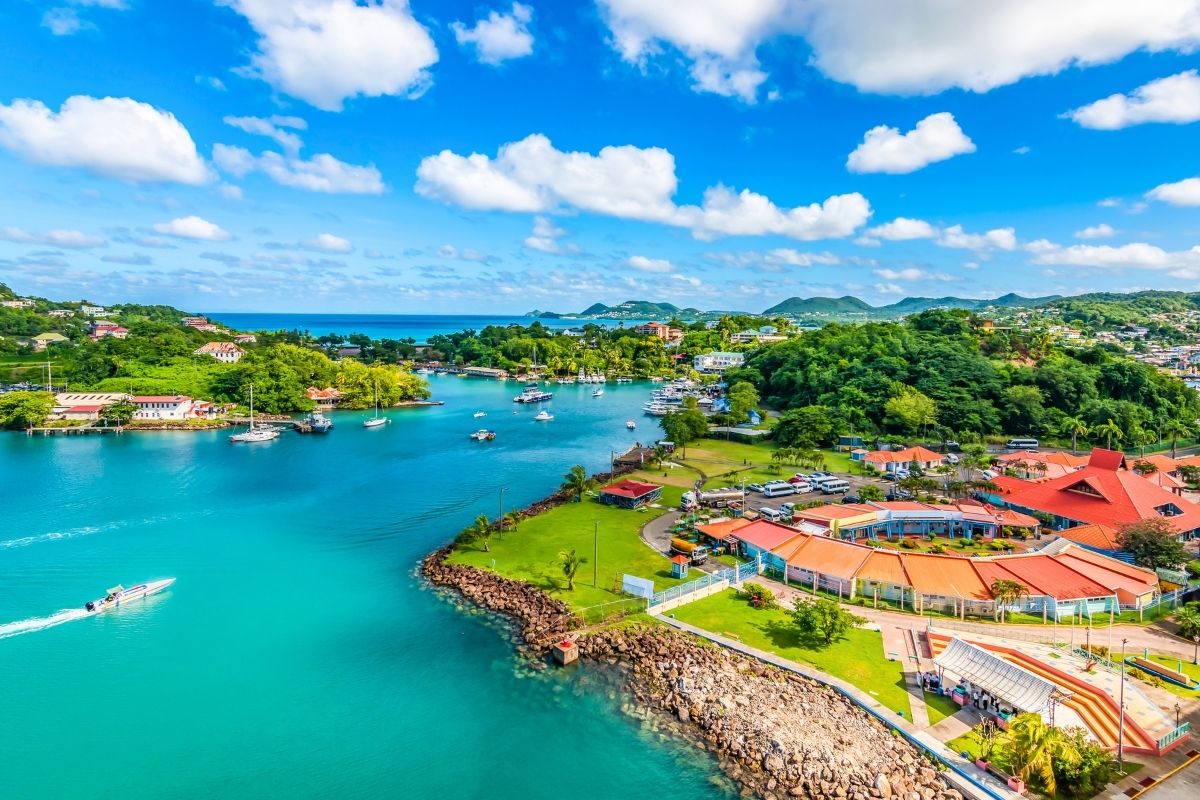 Popularity score: 75.05%
Want a little piece of paradise? Your sun-drenched adventures will be beautifully framed by St. Lucia's dramatically tapered Pitons mountains.
Engage in the Creole culture of the island and let the steel pan drums' symphony lead you to secluded waterfalls and geothermal springs, each of which bears witness to the island's volcanic origins.
See also: Fun things to do in St. Lucia
12 – The Bahamas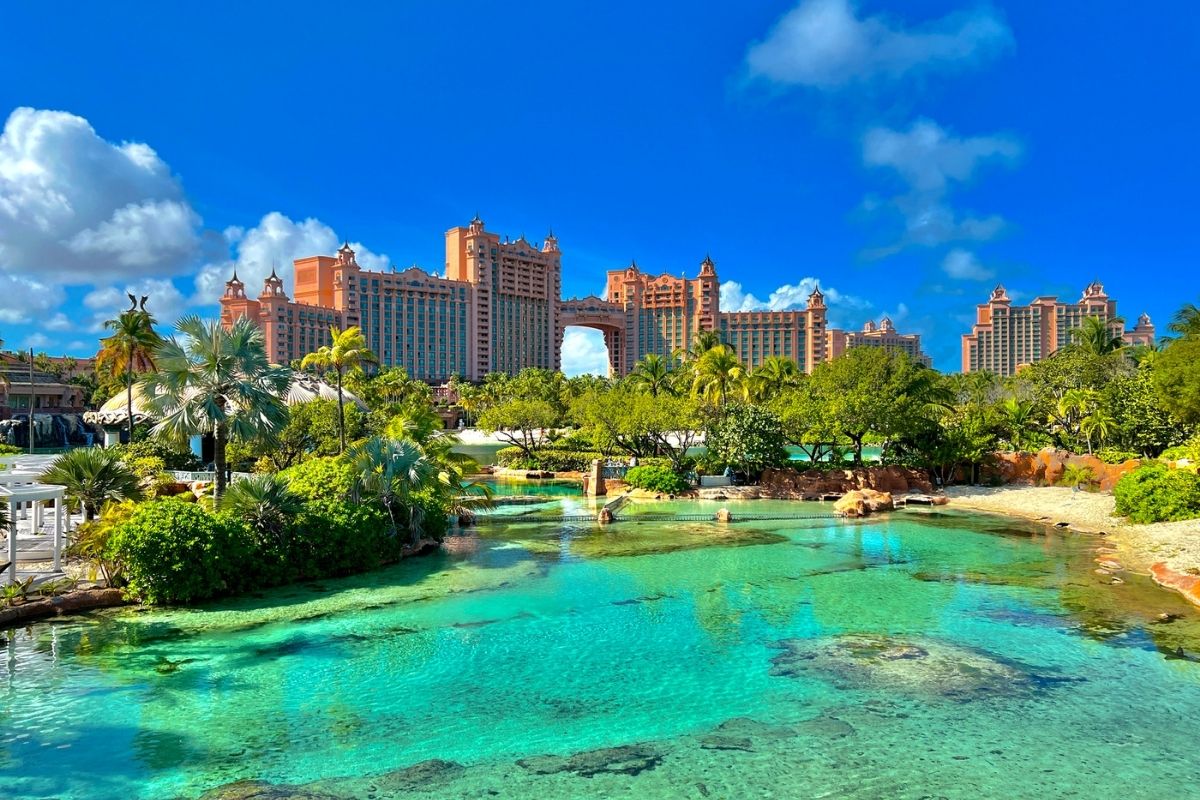 Popularity score: 71.72%
Picture this: 700 islands, each whispering its own adventure or serenity story.
That's the Bahamas for you. While each island sings the vibrant tunes of Junkanoo festivals, they also promise shores painted in hues of pink for sun lovers, and underwater wonderlands of coral reefs and deep-blue caverns for those who seek the thrill of the dive.
See also: Fun things to do in Bahamas, Fun things to do in Nassau
13 – Santa Marta, Colombia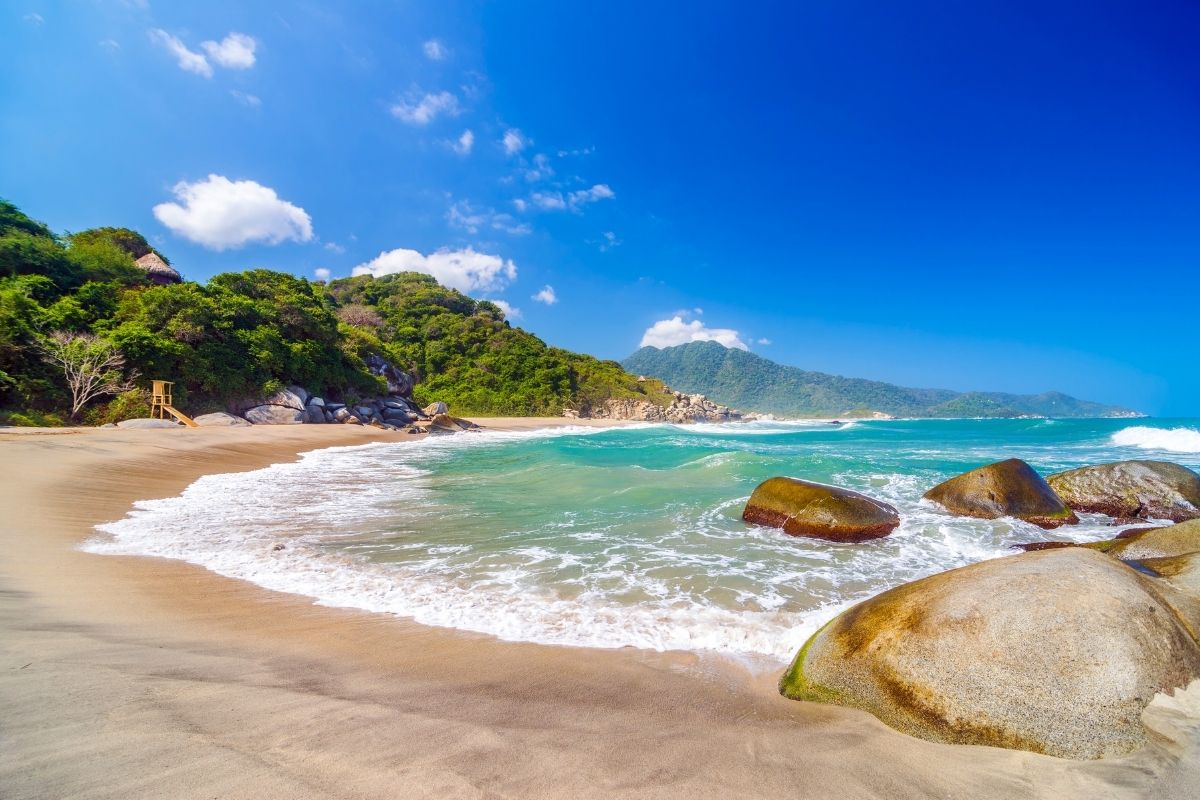 Popularity score: 71.45%
Between the sparkling embrace of the Caribbean and the watchful gaze of the Sierra Nevada de Santa Marta mountains lies the enchanting Santa Marta, Colombia.
Peel back its layers, and you're introduced to the whispers of Tairona and the hidden treasures of Ciudad Perdida, deep within the verdant jungles.
Every hidden beach, every tucked-away cove, paints a picture of romance. So, if you've got a travel story to write, make sure Santa Marta is a chapter you relish, whether you're chasing adventures or moments of tranquility.
14 – Puerto Plata, Dominican Republic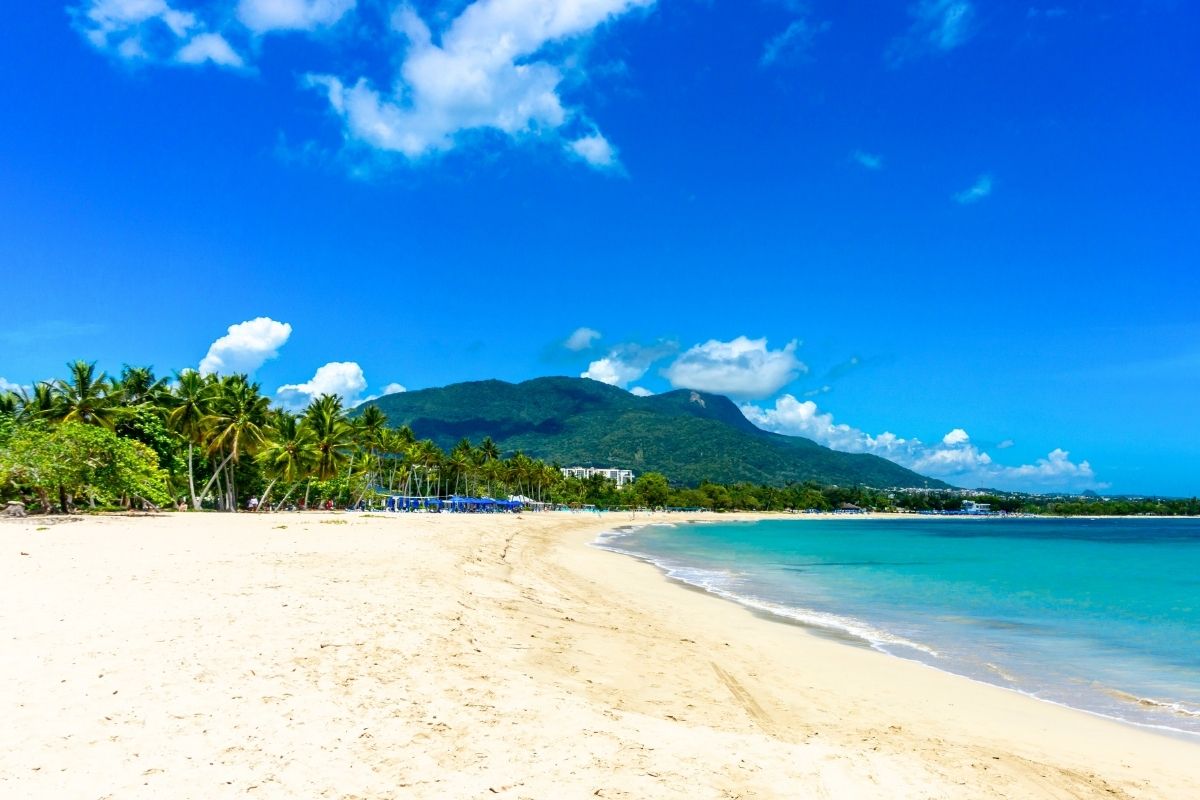 Popularity score: 70.24%
Imagine a place where golden shores meet stories of old – that's Puerto Plata in the Dominican Republic for you.
You'll find yourself swaying to the merengue, the island's heartbeats transformed into dance. But there's also a quieter allure, found in the time-honored Victorian buildings that grace the streets.
Whether you're soaking up tales at Fort San Felipe or sinking your toes into the soft embrace of Amber Cove's sands, Puerto Plata weaves a melody that's both a nod to its past and a celebration of the now.
15 – Sosúa, Dominican Republic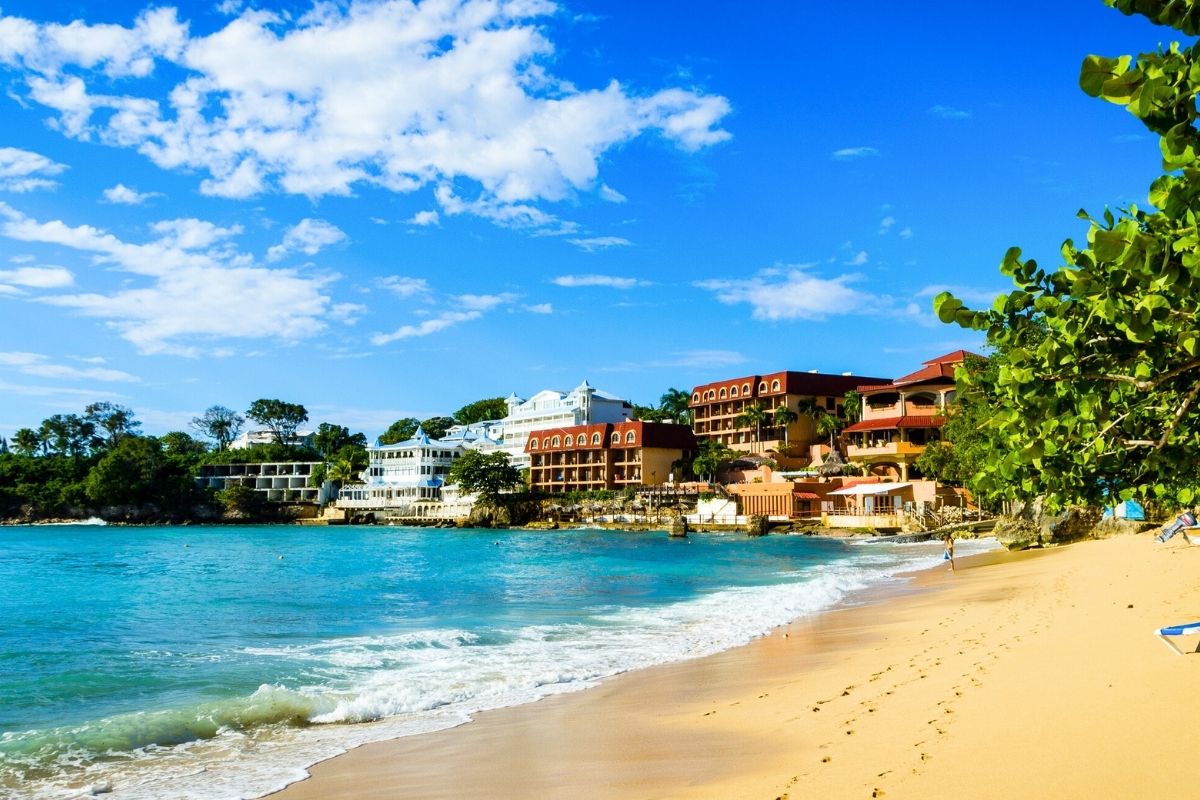 Popularity score: 68.88%
There's a magnetic pull to Sosúa that's hard to resist. It's where tantalizing beaches meet the soulful essence of the Dominican.
Dive beneath its waves to uncover underwater wonders or let loose and dance the merengue beneath a canopy of stars.
Between its spirited markets and calming shores, Sosúa offers a beautiful dance of contrasts, echoing the very essence of Dominican life.
16 – Aruba, Netherlands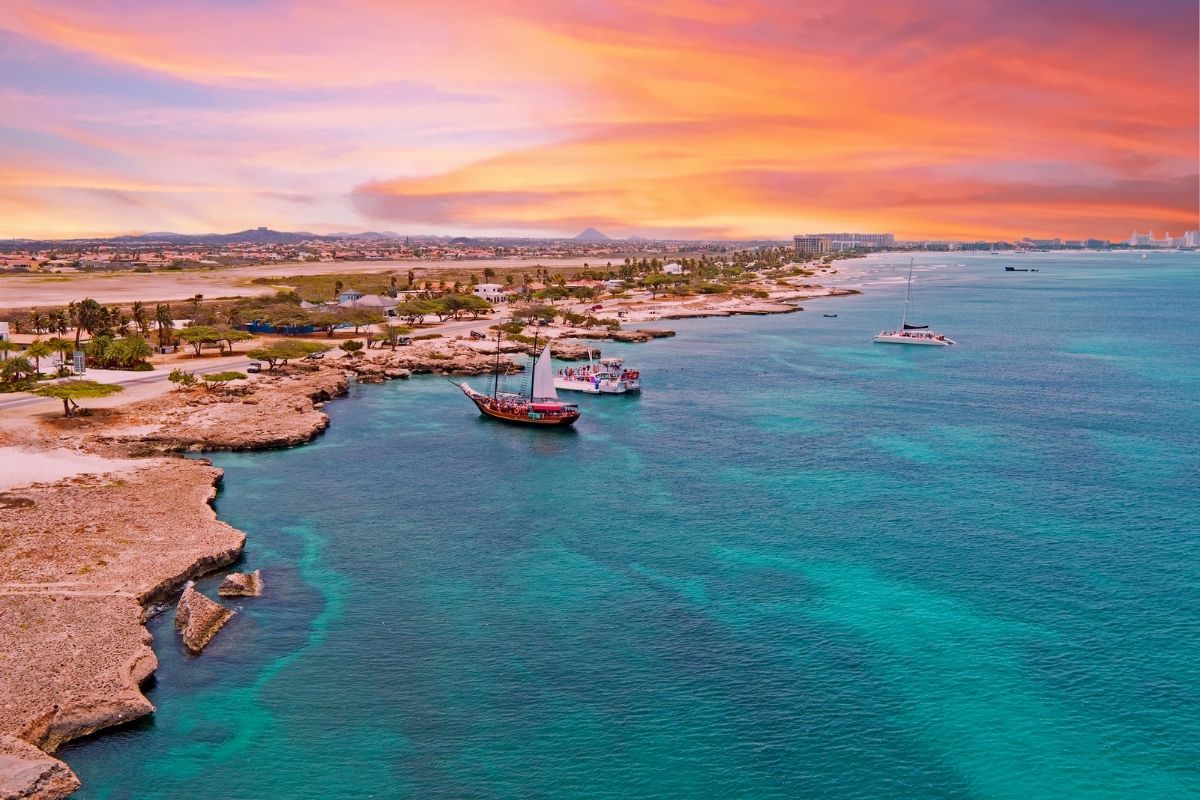 Popularity score: 67.53%
Ever wished for a perpetual summer? Aruba might be the only place that comes close.
There, the sun feels like a gentle embrace and the ocean seems to hum a lullaby.
If you dig a little deeper, you'll discover a fusion of Dutch charm and Indigenous spirit. Would you like to spend the day relaxing? The location is Eagle Beach.
Are you feeling daring? The National Park of Arikok calls. Aruba is similar to that friend who understands when you need to unwind or experience a little excitement, all served with a touch of European elegance.
See also: Fun things to do in Aruba
17 – Falmouth, Jamaica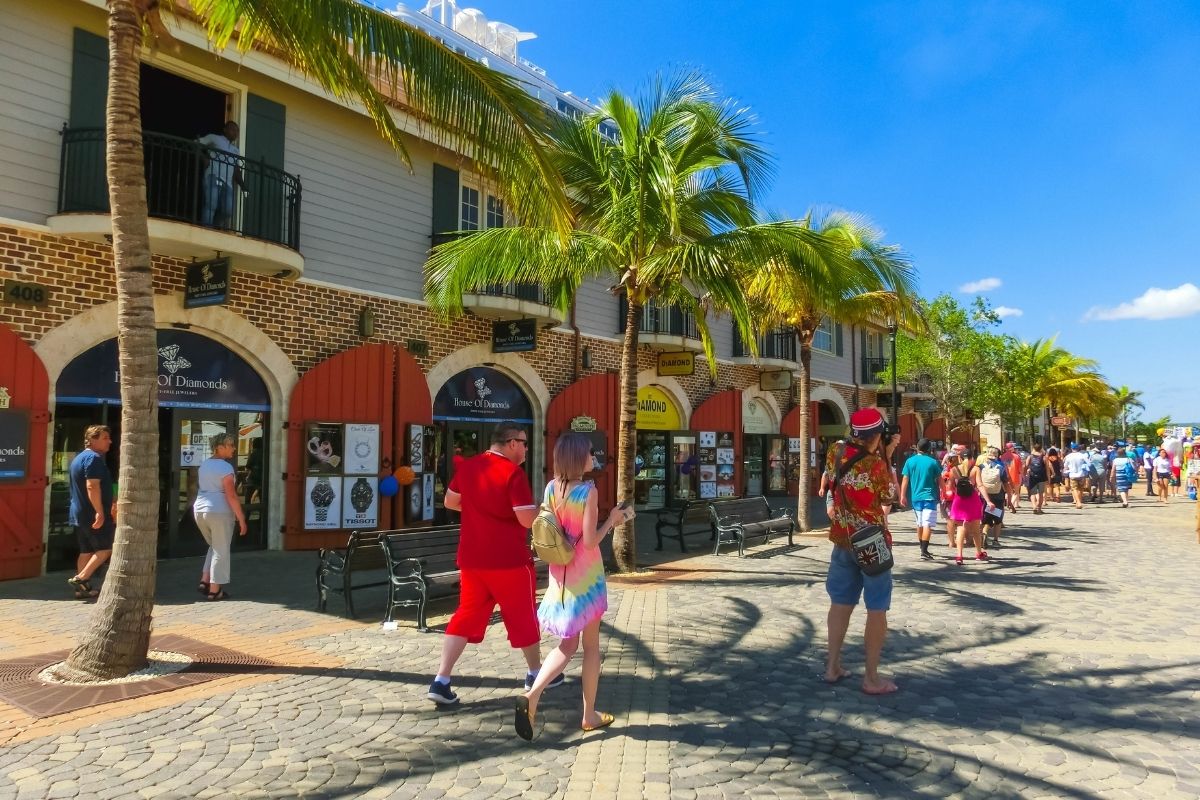 Popularity score: 67.51%
Falmouth, the undiscovered jewel of Jamaica, entices visitors with its Georgian architecture and brilliant bioluminescent lagoon.
Imagine exploring its colonial streets, savoring hot jerk chicken from a roadside stand, or relaxing on a bamboo raft down the Martha Brae River.
Falmouth offers more than just a place to stay; it also offers a genuine Jamaican experience just waiting to be woven into your travel stories.
18 – Negril, Jamaica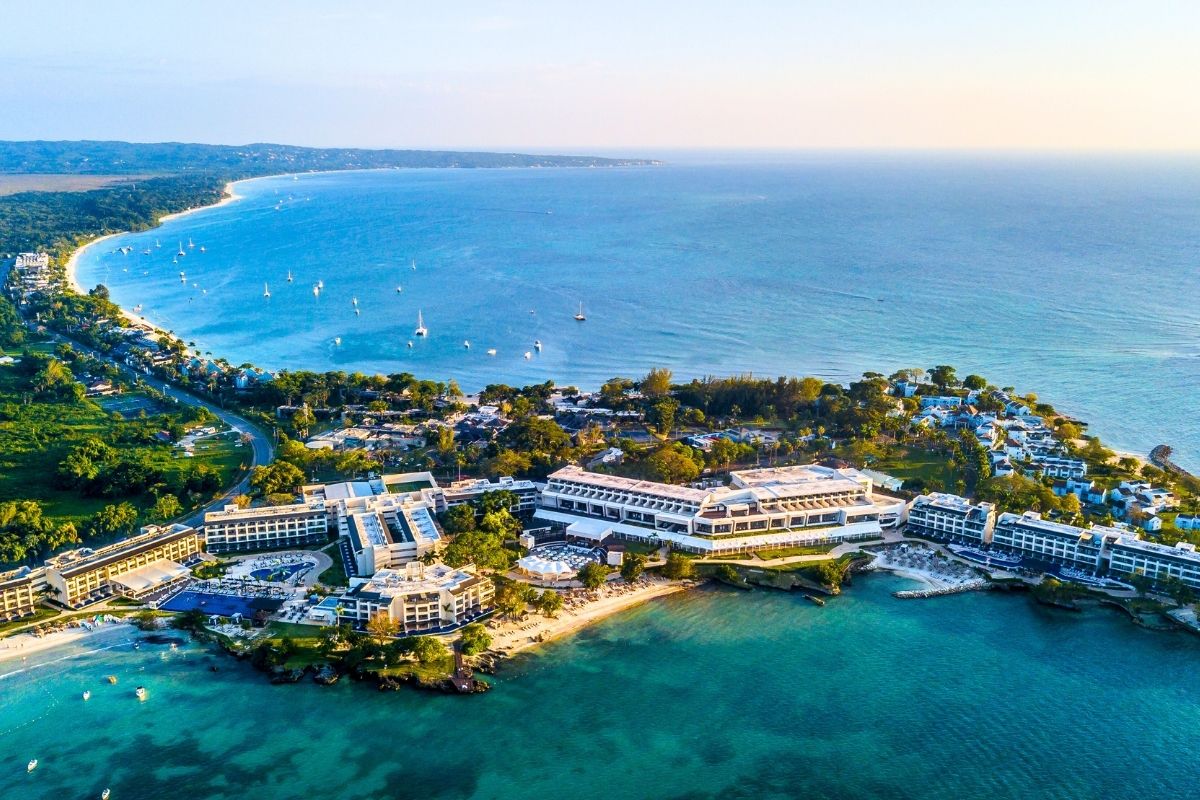 Popularity score: 67.11%
Have you ever found yourself amidst Negril's spellbinding golden sunsets? If not, trust me, it's a sight to behold.
Imagine strolling along the Seven Mile Beach, each step sinking into the powdery white sands. But Negril is so much more than its scenic charm.
It dances to Jamaica's beat, radiating its energy, its passion.
Whether you're up for an adventure or just want to chill and take in the vistas, Negril promises a Caribbean experience stitched together with unforgettable moments.
19 – Fajardo, Puerto Rico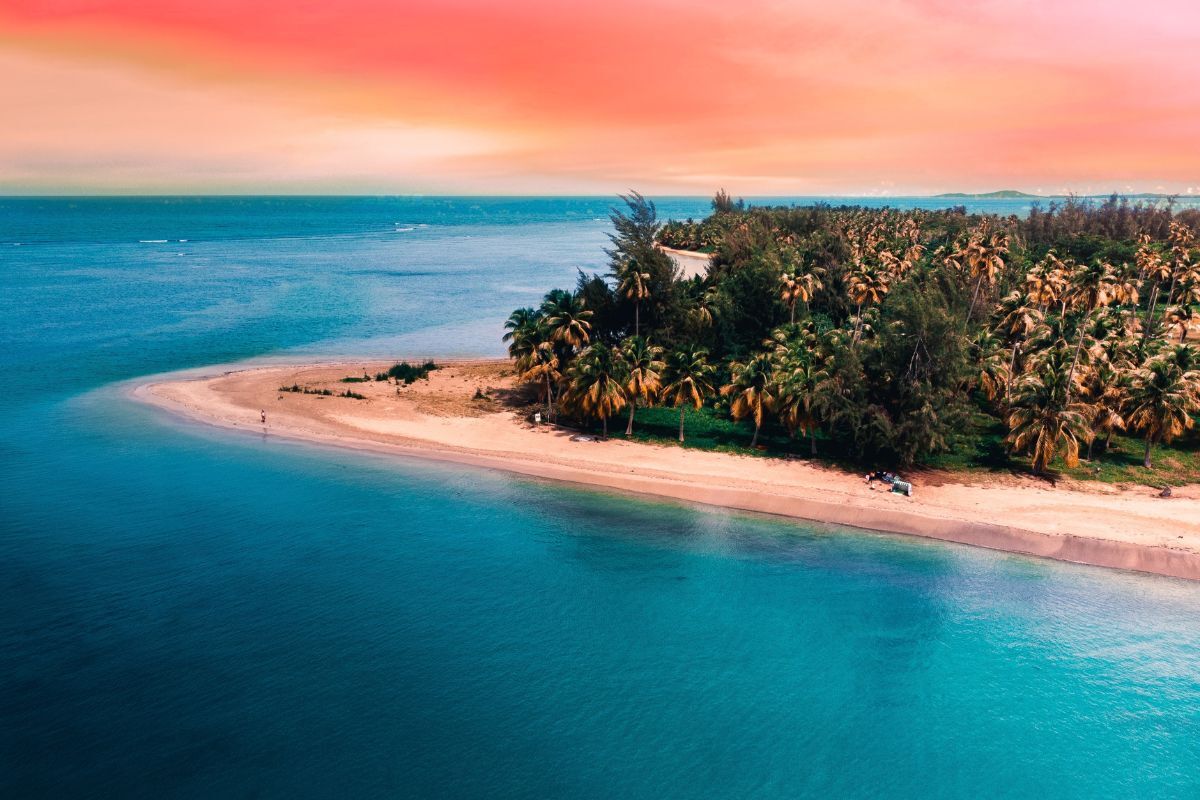 Popularity score: 66.27%
In Fajardo, every wave tells a different story.
Sink your toes into the soft sands of Seven Seas Beach, immerse yourself in Puerto Rico's coastal beauty by paddling through the bay's captivating bioluminescent glow, or learn more about the fascinating history of the iconic Cabezas de San Juan Lighthouse.
Fajardo is the perfect blend of relaxation and cultural immersion, promising an unforgettable Caribbean holiday.
20 – Turks and Caicos, British Overseas Territories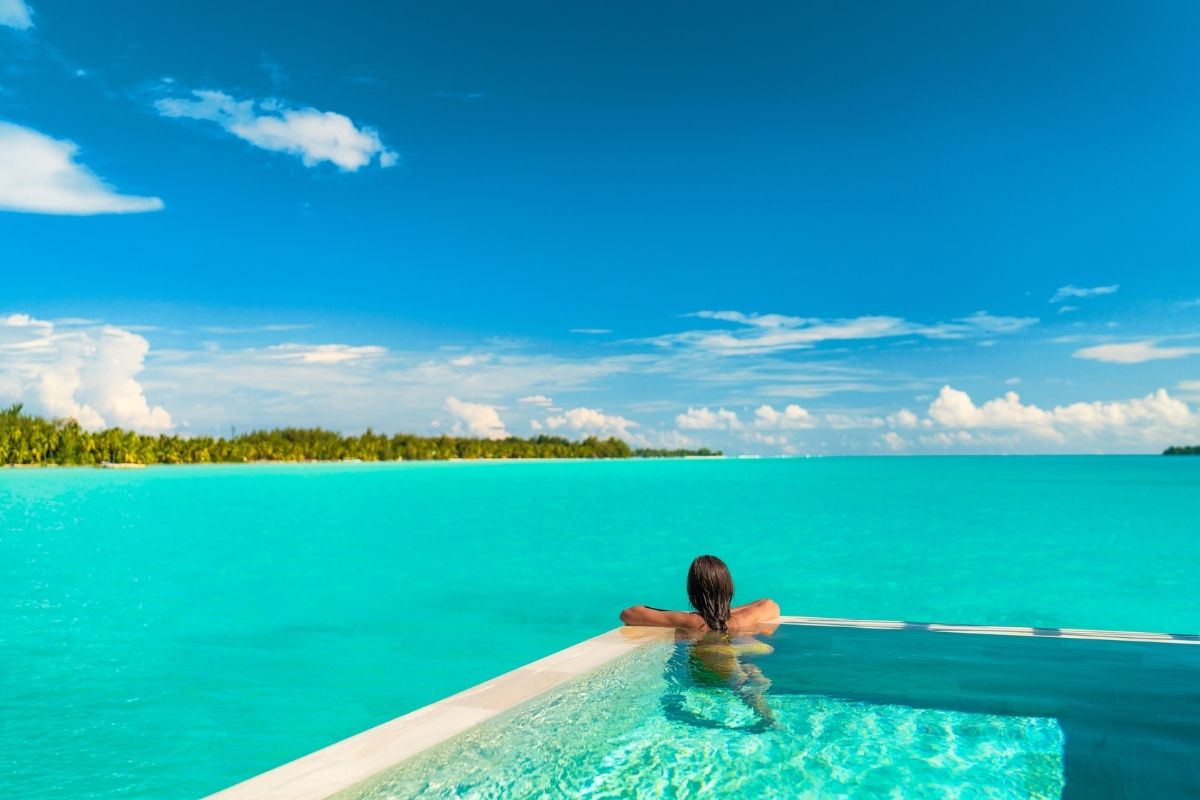 Popularity score: 66.10%
Ever daydreamed about where you might find the world's most jaw-dropping coral reefs?Let me introduce you to Turks and Caicos.
Beyond its tranquil blue shores, it's a paradise for marine enthusiasts.
Dive in, and you're floating alongside the globe's third-largest coral system. It's not just an underwater thrill – it's a story in every ripple, a secret in every shade of blue, all while the island's serenity cradles you.
See also: Fun things to do in Turks and Caicos Islands
21 – San Juan, Puerto Rico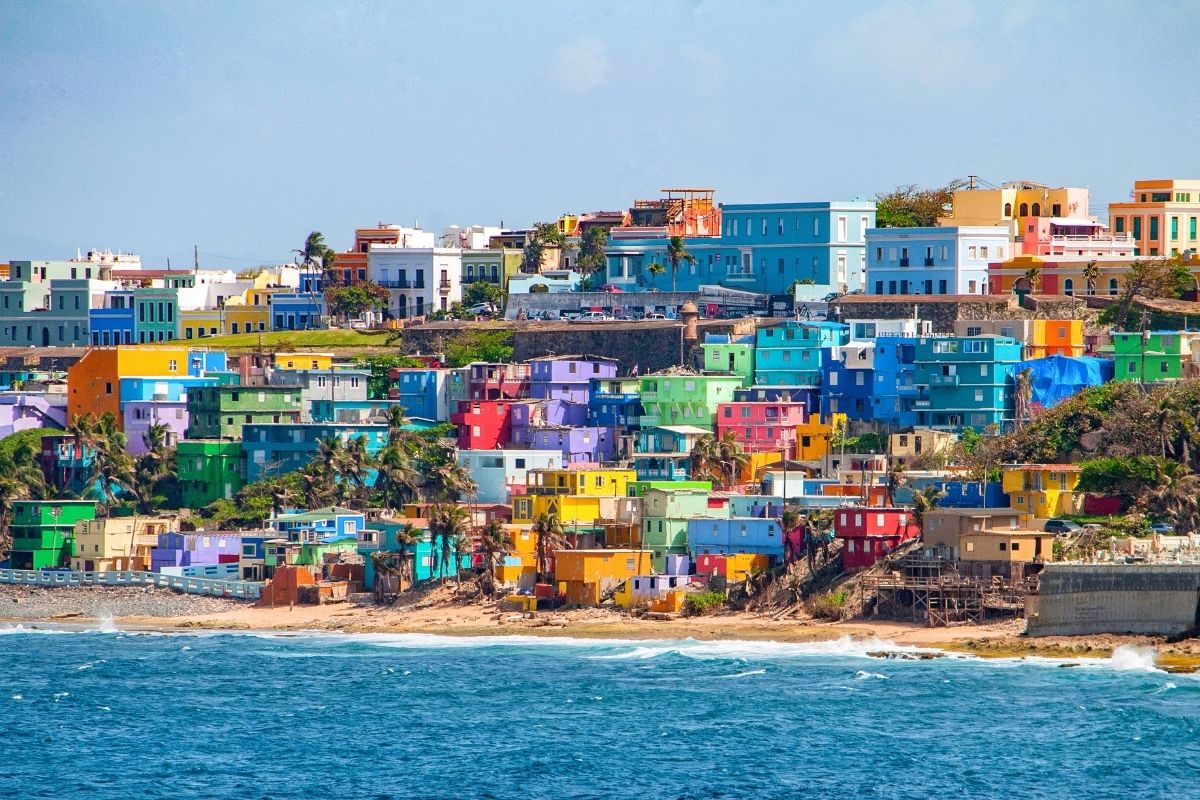 Popularity score: 66.01%
San Juan is a vibrant fusion of the old and new, so missing it is a loss.
Here, vibrant Spanish colonial architecture and a thriving nightlife coexist. Explore the historic El Viejo neighborhood of San Juan.
Let the forts and streets with ocean views tell their stories, and savor the unrivaled mofongo that the neighborhood restaurants are so proud to serve!
See also: Fun things to do in San Juan, Fun things to do in Puerto Rico
22 – Belize City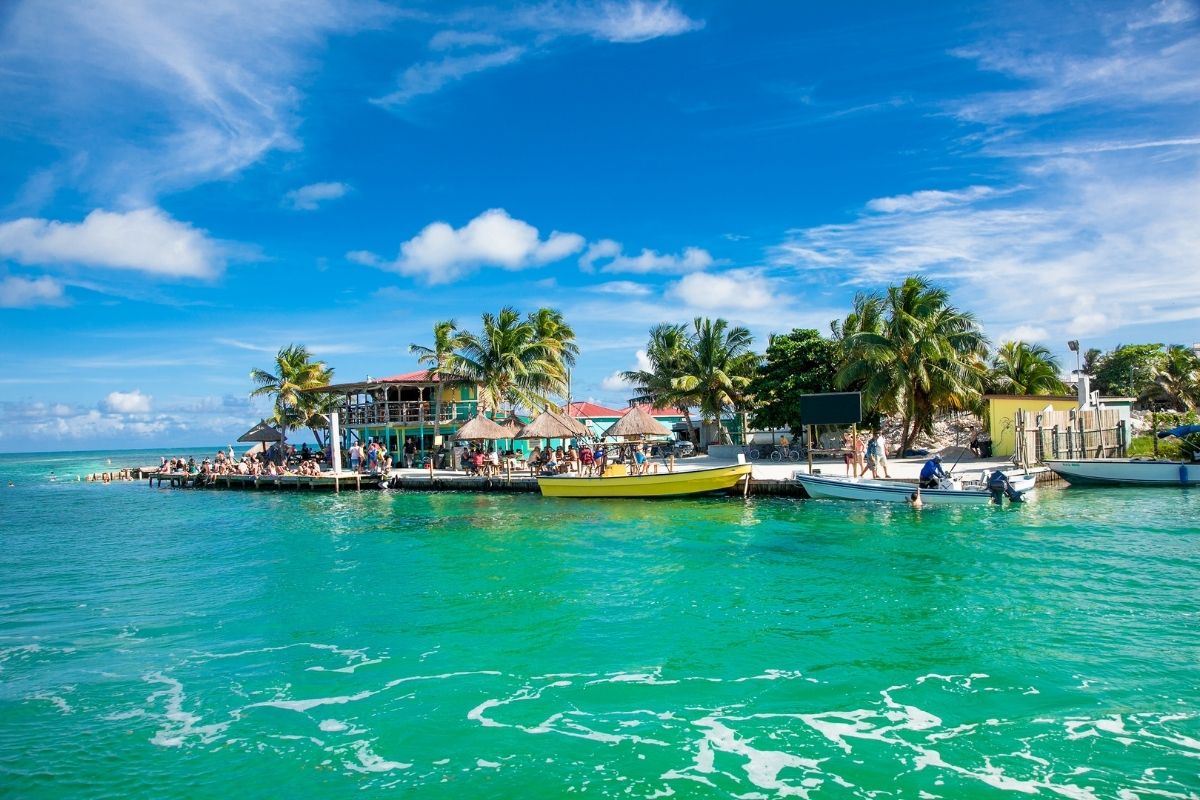 Popularity score: 65.85%
Peace and exciting excursions are both available in San Ignacio, a mysterious location in the center of Belize.
It feels as though you've entered a living book in places like the Xunantunich Ruins and the dense rainforests, which hum with nature's untold tales.
When you immerse yourself, get lost, and truly experience this location as opposed to just admiring it from a distance, you can feel the heartbeat of a place eager to share its enthralling tales.
See also: Fun things to do in Belize
23 – U.S. Virgin Islands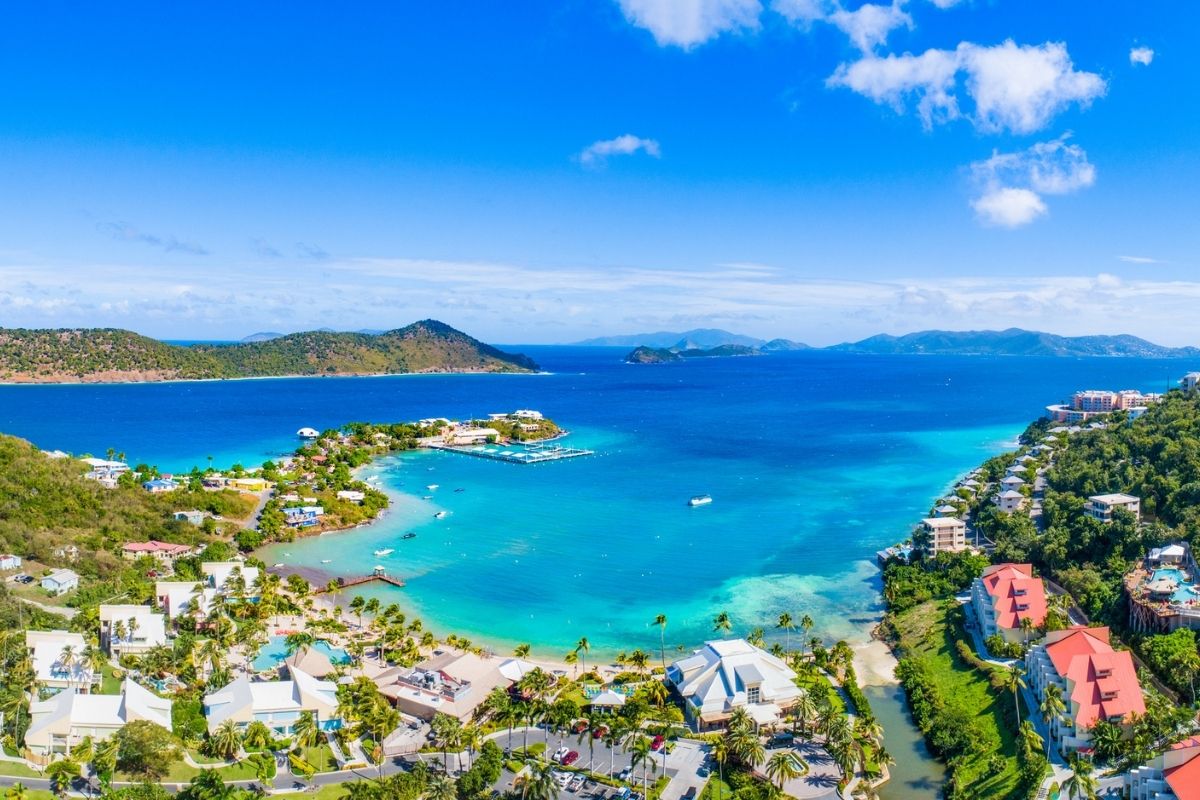 Popularity score: 64.25%
Ever thought about what you're missing by not visiting the U.S. Virgin Islands? It's like leaving behind a chance to sway to the calming island beats and uncover hidden nooks amidst vibrant greens. Every island promises its own kind of magic.
From the serene stretches of sand in St. John, bustling vibes of St. Thomas markets, to the wild heartbeats of nature parks filled with wonders.
24 – Barbados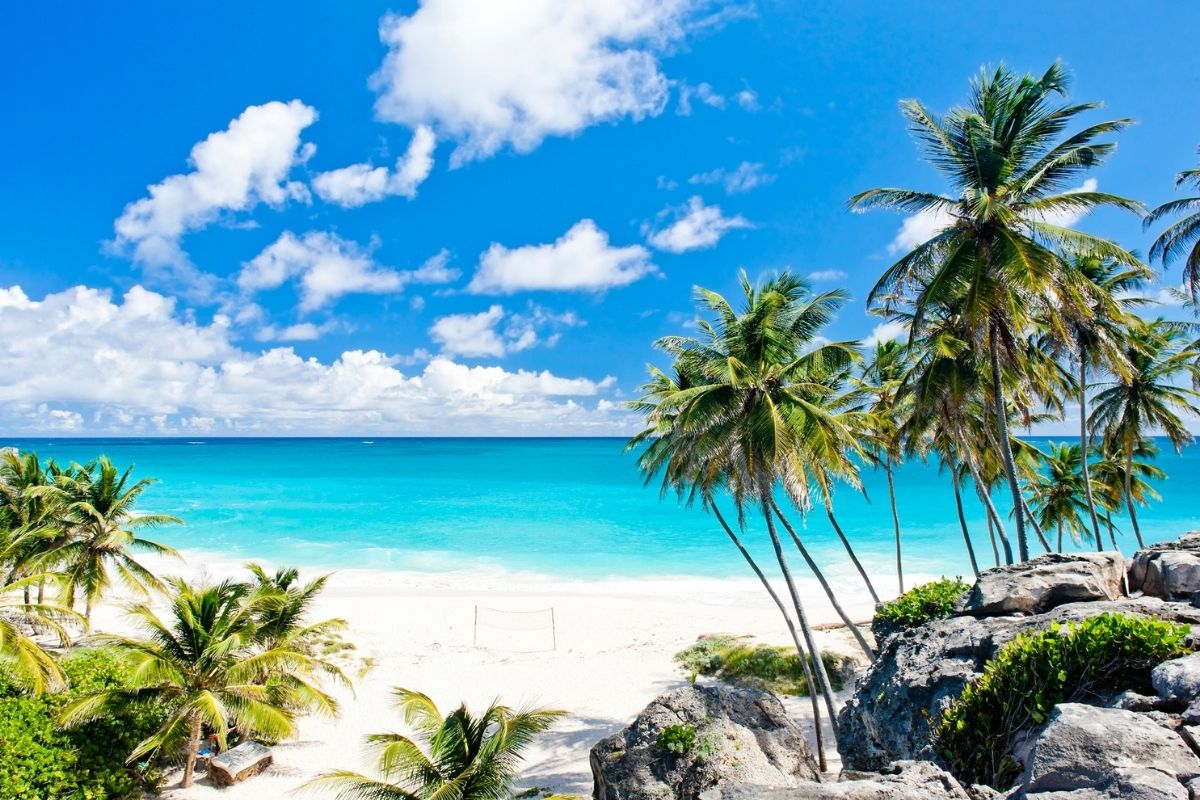 Popularity score: 61.36%
Picture this: You're standing on the shores of Barbados, an Eastern Caribbean treasure where the best of nature and energetic culture collide.
Missing the thrill of Bathsheba Beach, the calming beauty of pearly sands, or the echoes of Bridgetown's history? Ah, what an experience that would be!
Here, it's the welcoming Bajan smiles paired with some dreamy landscapes.
See also: Fun things to do in Barbados
25 – Santo Domingo, Dominican Republic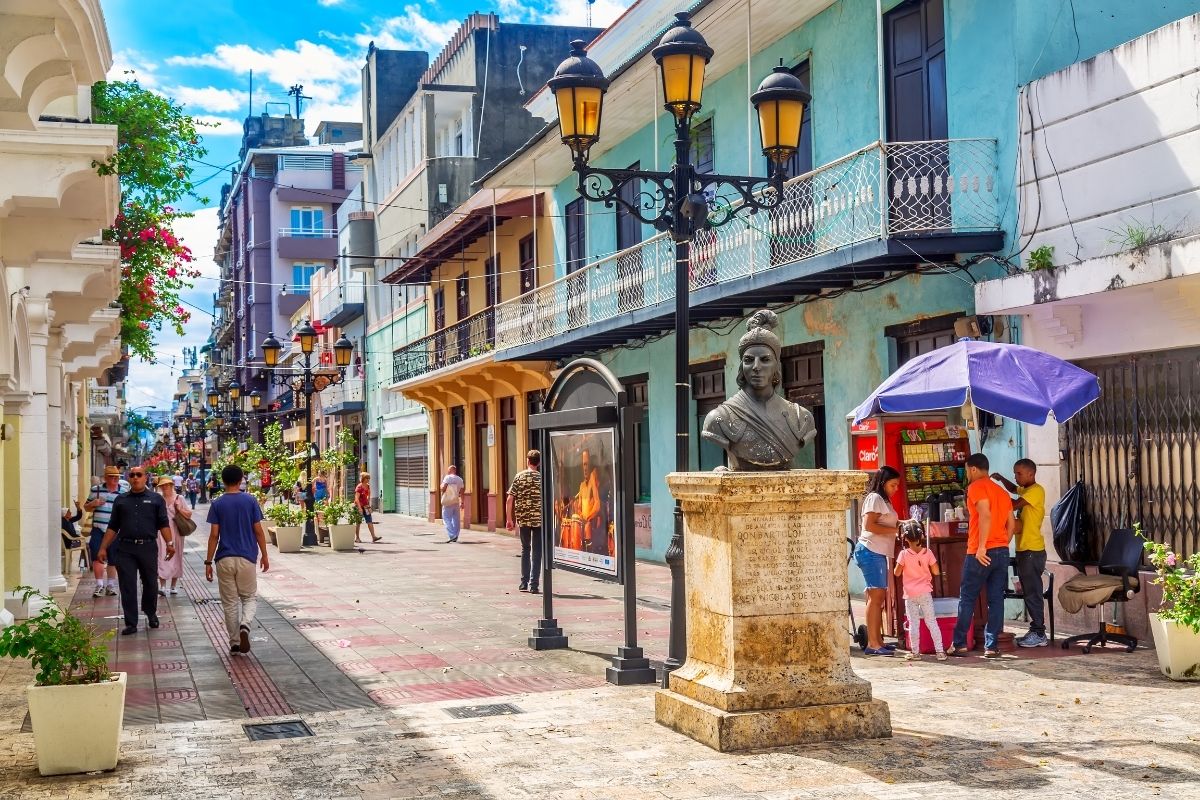 Popularity score: 59.44%
Imagine overlooking the bustling life of Santo Domingo! This capital, the very soul of the Dominican Republic, weaves ancient stories with today's vibrancy.
The Zona Colonial holds tales of yesteryears, while the streets come alive with foot-tapping merengue beats. And oh, the culinary journey here? Simply unparalleled.
Santo Domingo is a city that never runs out of surprises.
26 – San Ignacio, Belize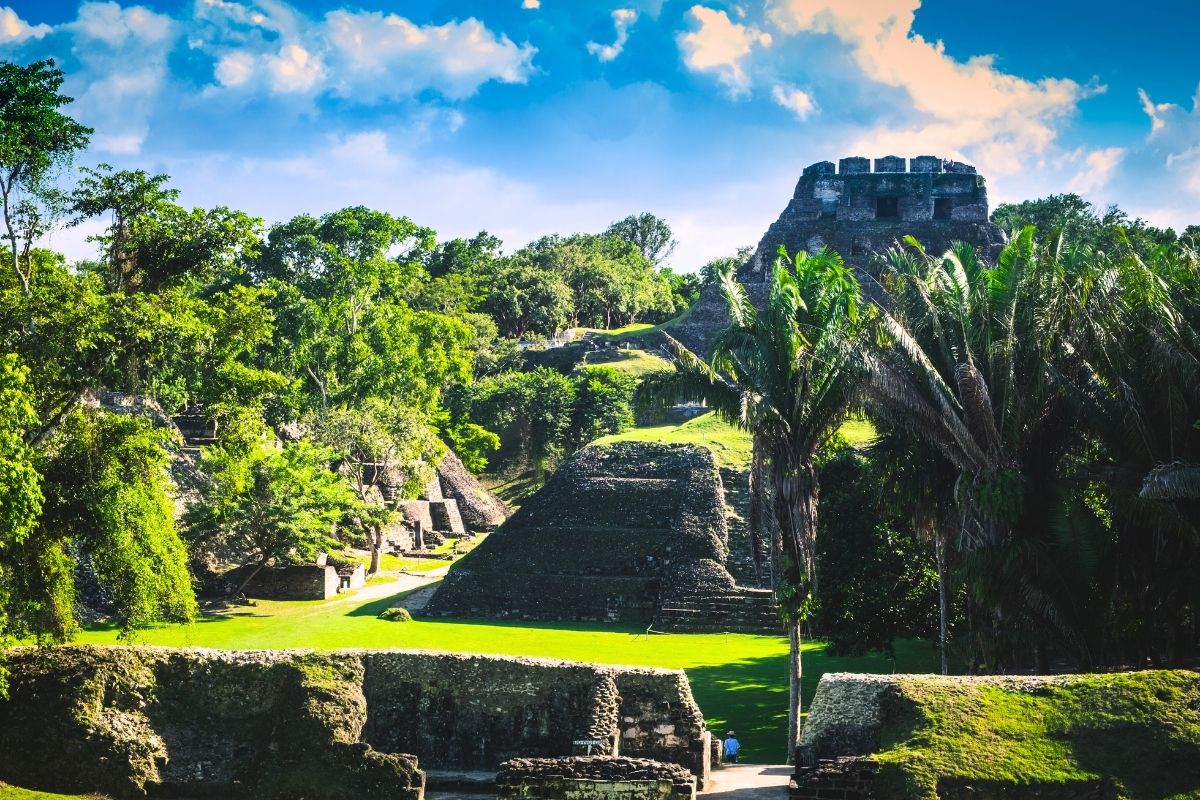 Popularity score: 58.50%
Ever daydreamed about uncharted adventures? San Ignacio in Belize might just be the answer.
By not being here, you're skipping the magic of the ATM Cave, getting lost in the tales of the Xunantunich Mayan ruins, or savoring that farm-fresh meal amidst the whispers of the jungle.
This town isn't just a destination; it's a living postcard bursting with sights waiting to be seen.
27 – Antigua and Barbuda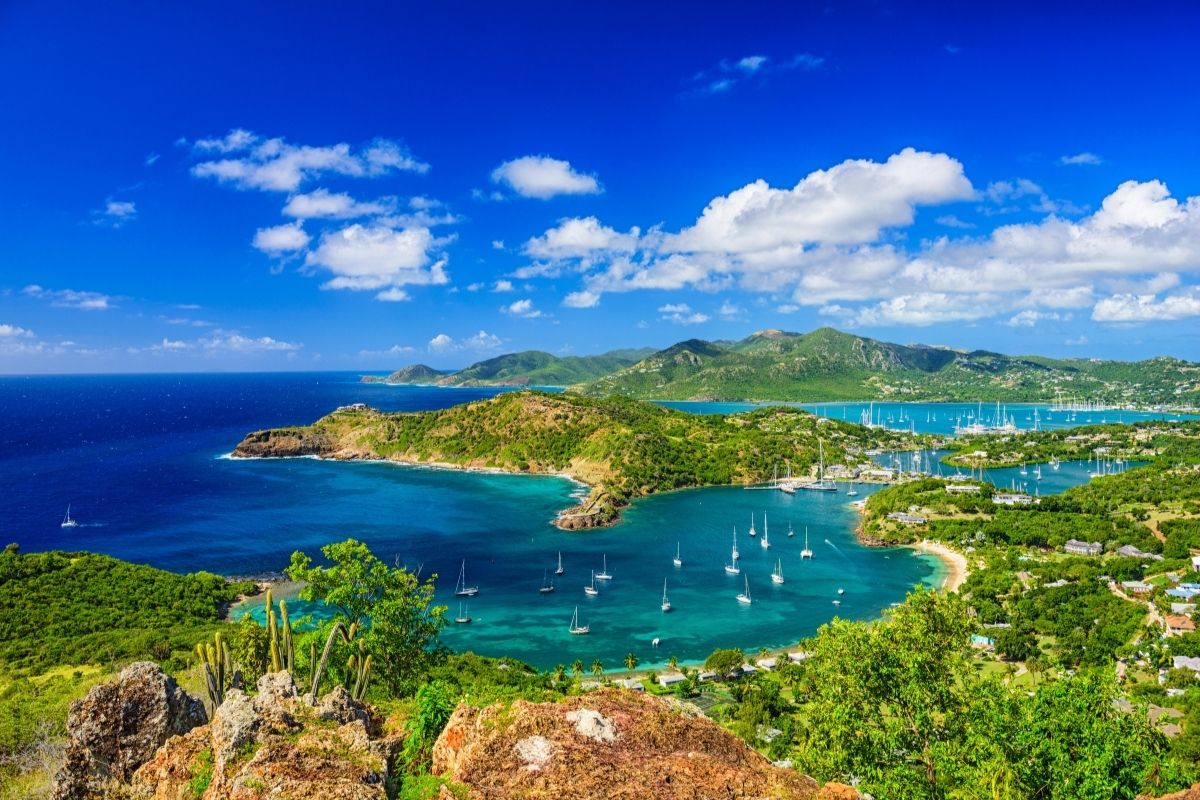 Popularity score: 57.57%
Have you ever wanted to pause time so that you could enjoy life's small pleasures? Your best bet might be Antigua and Barbuda.
Imagine a different beach for every day of the year, with joyful celebrations, cricket cries, and sultry tunes filling the air.
Nelson's Dockyard, for example, can take you back in time while the underwater world below teases you with fascinating mysteries.
This pair is more than just a place to go, it's a blank canvas ready for memories to be painted.
28 – Saint Kitts and Nevis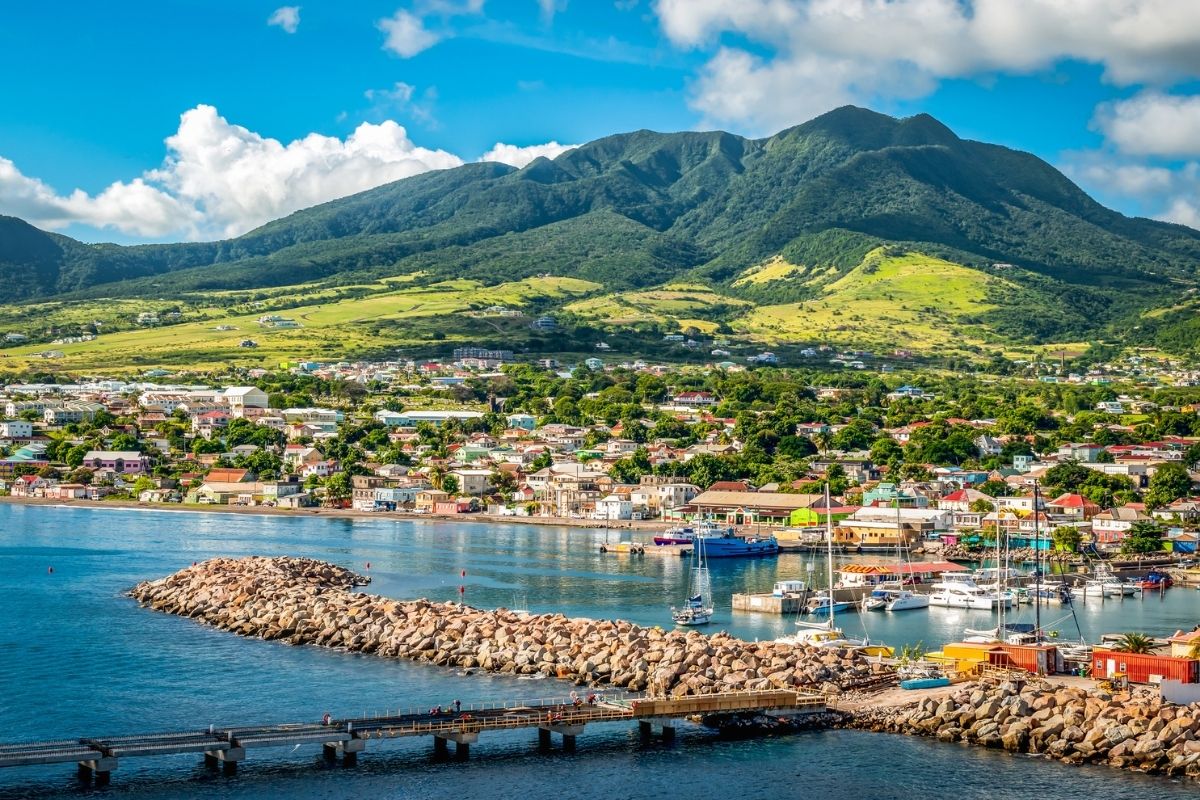 Popularity score: 57.36%
Ever danced under the Caribbean sun in Saint Kitts and Nevis? Here, untouched nature and deep-rooted culture come together in an enticing dance.
Picture standing in the shadow of the grand Brimstone Hill Fortress, feeling its stories of yesteryears seep into your soul, or wandering through vibrant rainforests filled with nature's own melodies.
As the sun bows, the sky explodes in shades of gold and ruby. The island's vibe? A heartwarming mix of Caribbean flair, African rhythm, and European charm that promises a world of discoveries.
29 – Runaway Bay, Jamaica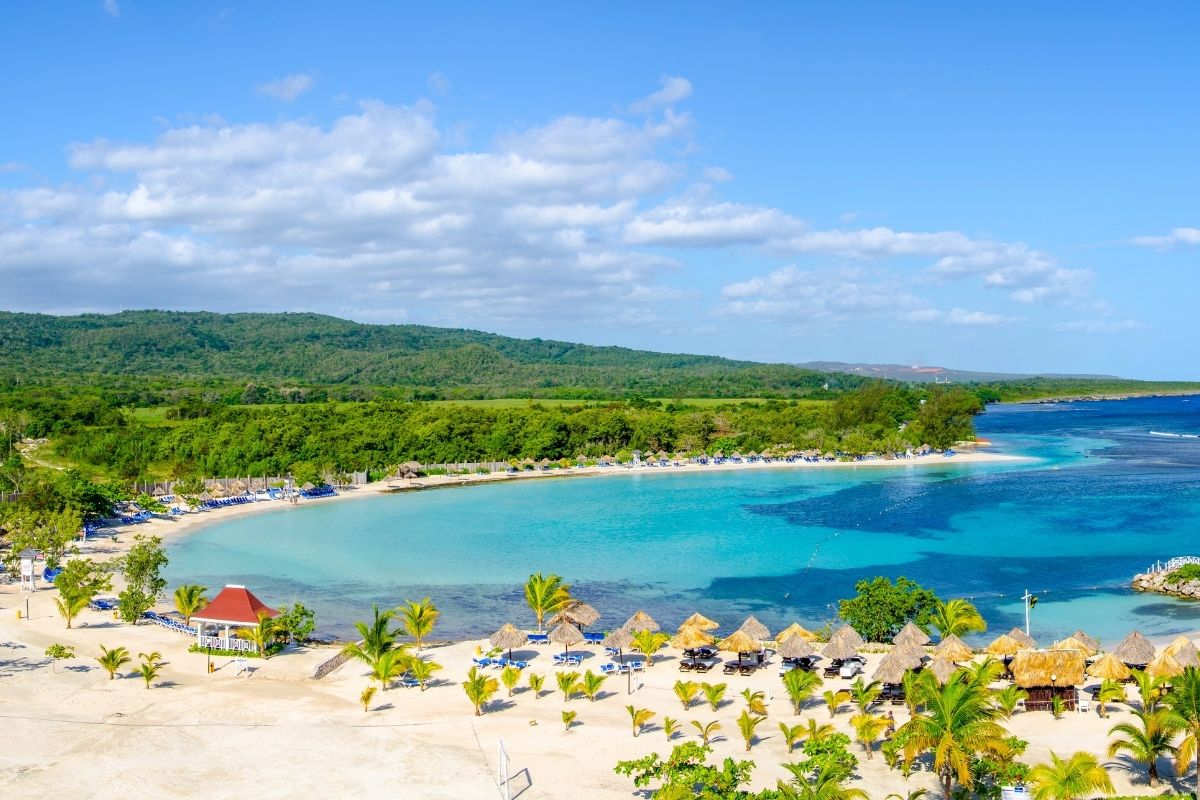 Popularity score: 57.01%
Want to truly escape to the Caribbean? Let Jamaica's hidden gem of Runaway Bay take your breath away.
Imagine beautiful beaches where the sand almost kisses the water, and the allure of the Green Grotto Caves.
Reggae is playing everywhere you look, island food is spicy, and people are smiling and waving to you.
This isn't just another place to go; it's an experience, a feeling, and the hushed promise of new adventures every morning.
30 – La Romana, Dominican Republic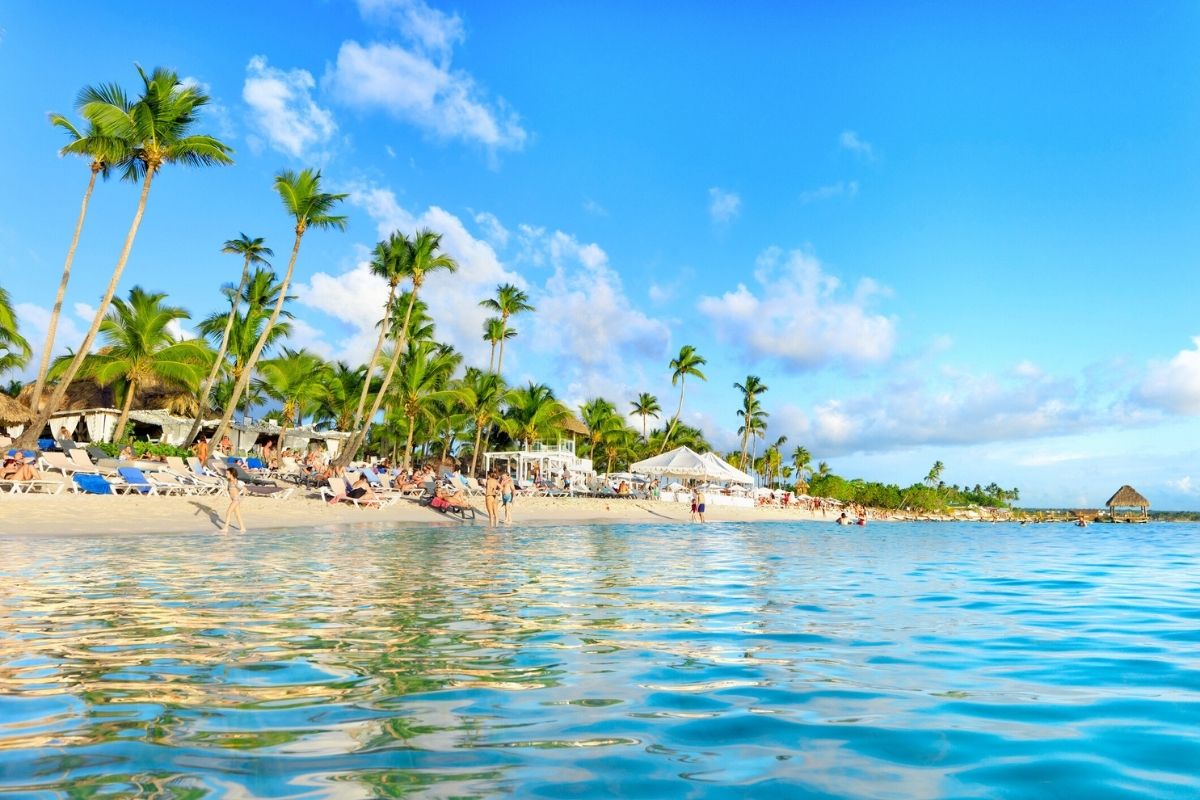 Popularity score: 56.40%
Imagine the sun showering its golden warmth on you as you laze on the elegant beaches of La Romana.
Beyond the beaches, the lively Mercado Público pulses with colors and the tempting fragrances of Dominican dishes.
Dive a little deeper and uncover the mysteries of Cueva de las Maravillas, rich with age-old Taino engravings, or chase the thrill at some of the world's best golf greens.
Simply put, La Romana is a treasure trove of experiences, each more enticing than the last.
31 – Cayman Islands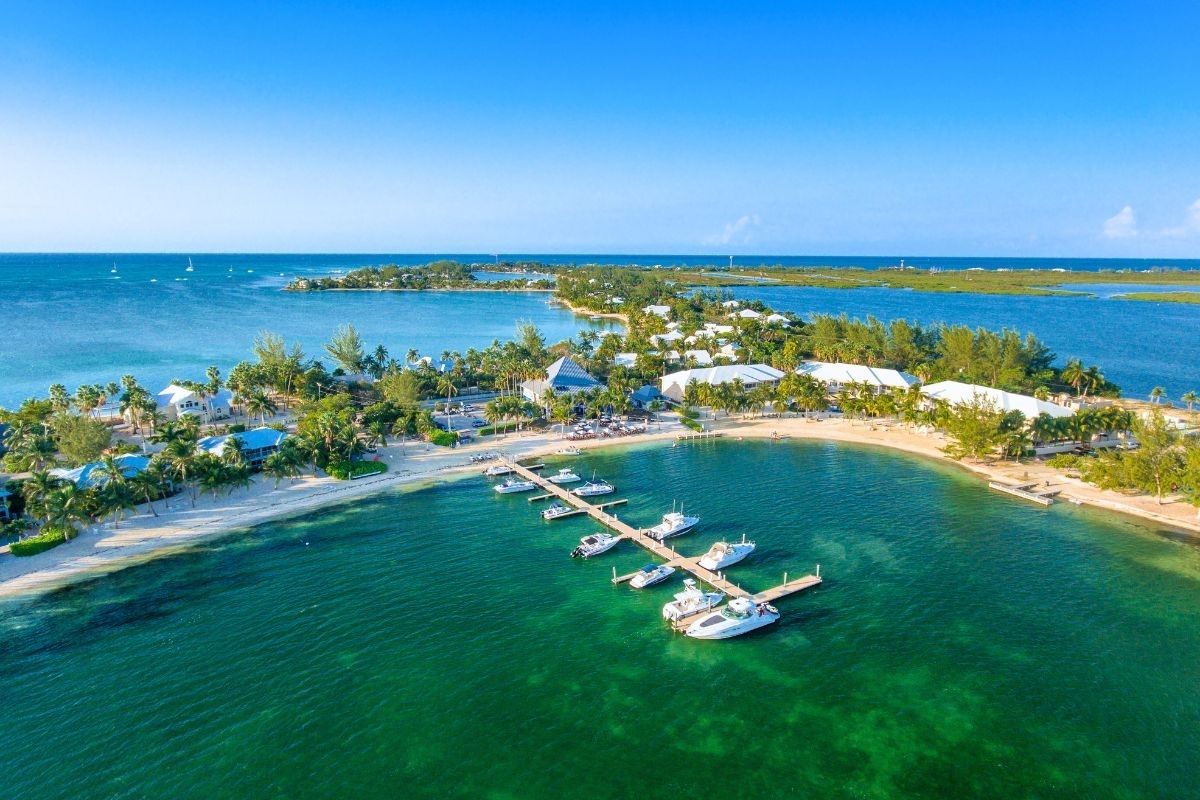 Popularity score: 56.38%
Each island in the Cayman Islands offers a distinctive but complementary experience for the discerning traveler, creating a symphony of three paradisiacal notes.
The largest of the three islands, Grand Cayman, seduces with its urban vibes and famous Seven Mile Beach, a beautiful stretch of sand.
Discover Cayman Brac's serene, untainted beauty or lose yourself in Little Cayman's serene, laid-back charm, where undulating waves whisper secrets and vibrant coral reefs explode with a myriad of colors and marine life.
See also: Fun things to do in Cayman Islands, Fun things to do in Grand Cayman
32 – Sint Maarten/Saint Martin, Netherlands/France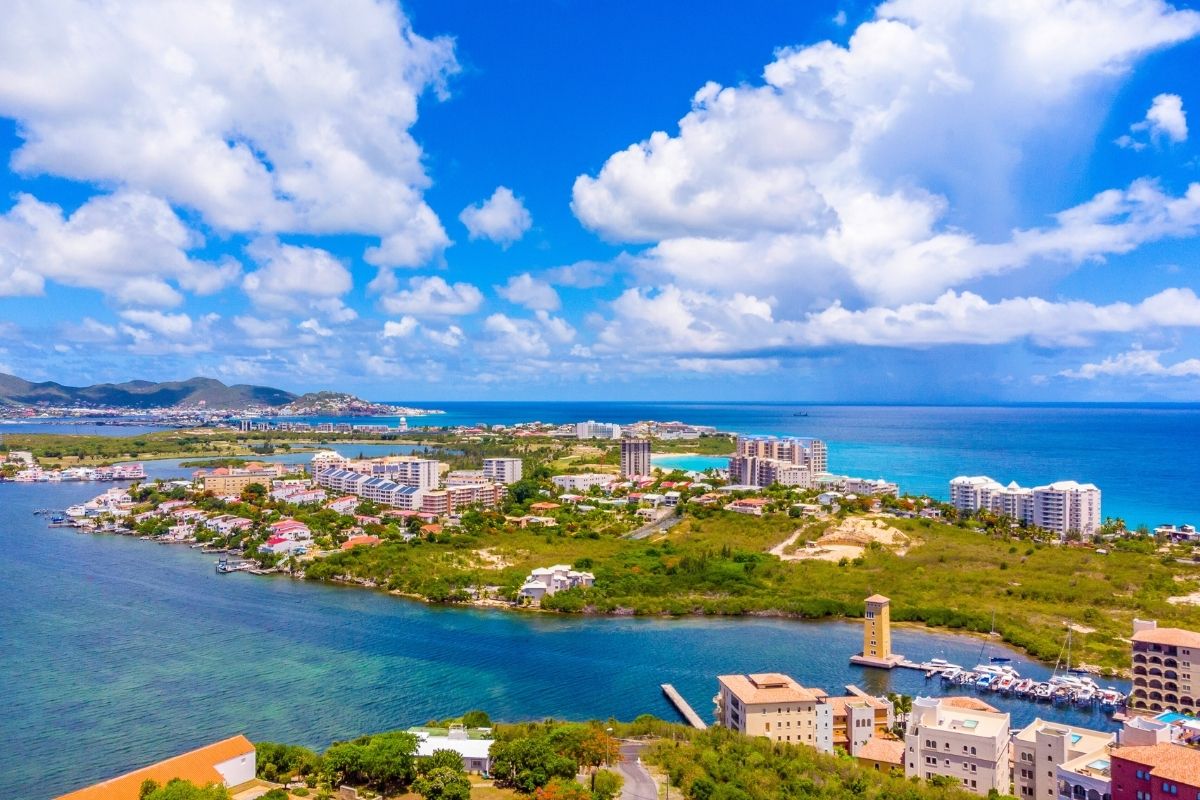 Popularity score: 56.36%
An intoxicating blend of Dutch efficiency and French élan, the island of Sint Maarten/Saint Martin is a sun-drenched, cultural mosaic where the joy of living is celebrated daily.
Imagine sipping exquisite wine while gazing out at marinas dotted with yachts, as the gentle breeze carries whispers of adventures from Fort Louis and Loterie Farm's treetop adventures.
From indulging in duty-free shopping on the bustling Front Street to lounging on the iconic Maho Beach, watching as planes land astonishingly close overhead, every moment on this dual-nation island is an invitation to embrace the delightful unpredictability of life and travel.
See also: Fun things to do in St. Marteen
33 – Costa Maya, Mexico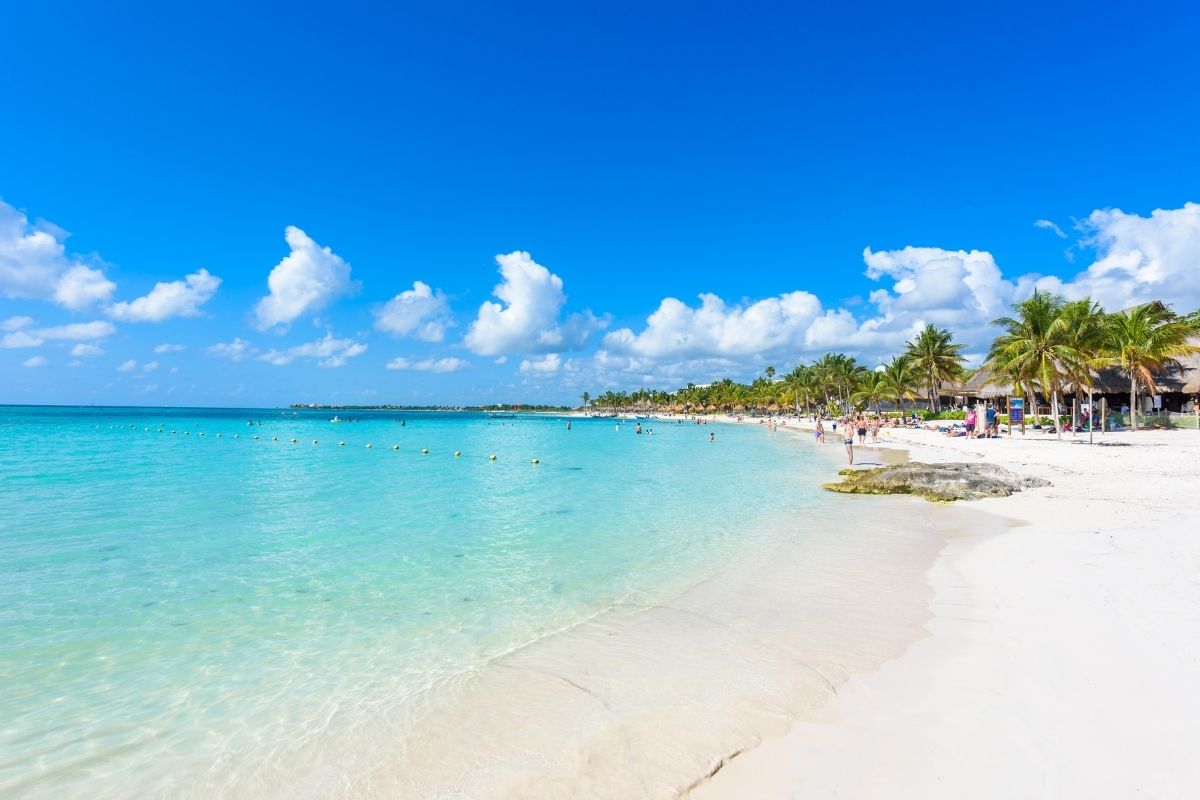 Popularity score: 55.70%
Ever had a conversation about Costa Maya in Yucatán? It resembles turning the pages of an explorer's journal.
Dive into the Mesoamerican Barrier Reef's vivid depths or walk the Mayan trails that the jungles are so adamant about keeping hidden.
And when the buzz of life becomes a little too much? The best view of the sky creating a masterpiece is waiting for you on those tranquil beaches.
Where rhythms, stories, and treasured memories converge is Costa Maya.
34 – Limón, Costa Rica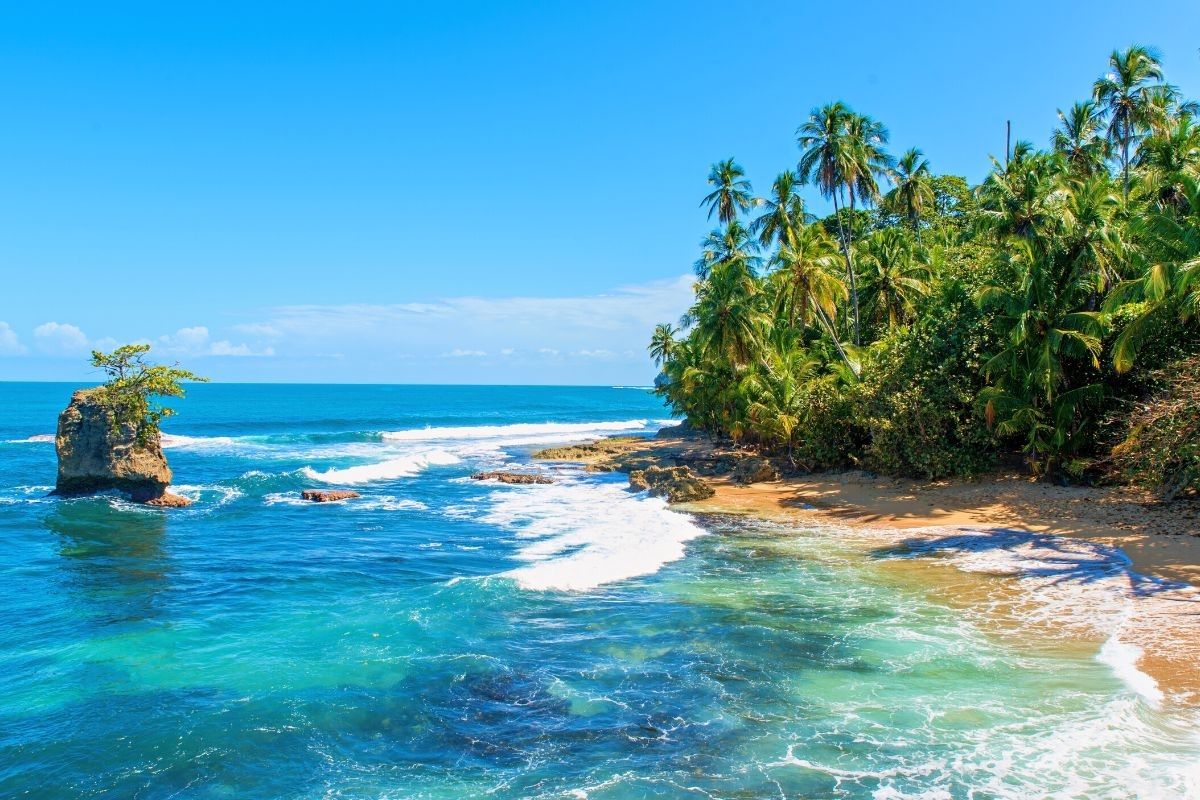 Popularity score: 55.59%
Limón, Costa Rica is more than just a place to visit; it's a canvas painted with an amazing combination of lush, verdant rainforests and immaculate, golden beaches that beckons you to embark on an exhilarating adventure amidst nature's finest works of art.
Experience its vibrant Afro-Caribbean culture while navigating through its busy markets, or set out on a rafting trip down the challenging Ro Reventazón while listening to the symphonic calls of the wildlife.
The captivating Veragua Rainforest Park offers an up-close encounter with the untamed beauty and vibrant life of the tropics through its abundance of exotic wildlife and majestic waterfalls.
See also: Fun things to do in Costa Rica
35 – Samaná, Dominican Republic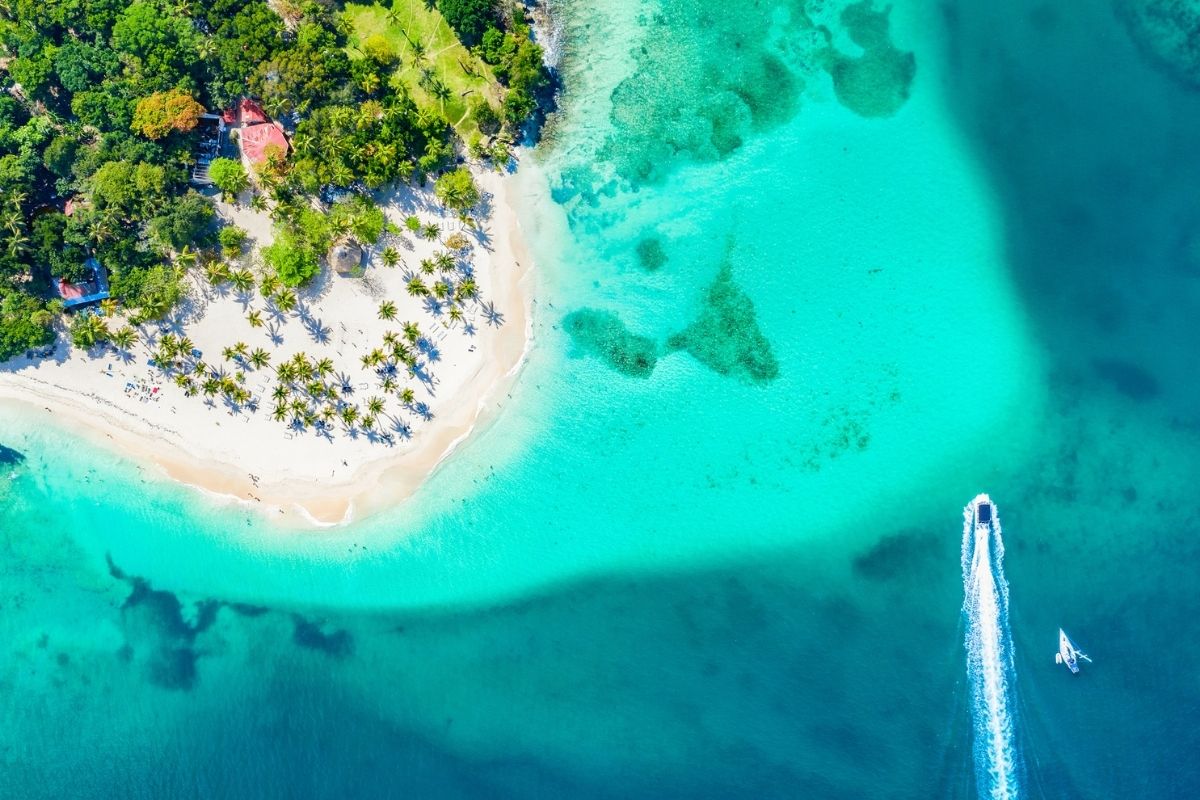 Popularity score: 55.58%
Dive into Samaná, a magical place in the northeastern embrace of the Dominican Republic.
As coconut trees lead you to secluded beaches like Playa Rincón, where the ocean paints azure strokes, feel the rhythm of the place.
But that's just the beginning; the majestic El Limón Waterfall, hidden by untamed mountains and forests, beckons, and the serene Samaná Bay assures heart-rending winter whale songs.
Samaná is more than just a place to go; it's a sensation, a captivating tale just waiting to be experienced.
36 – St. Barts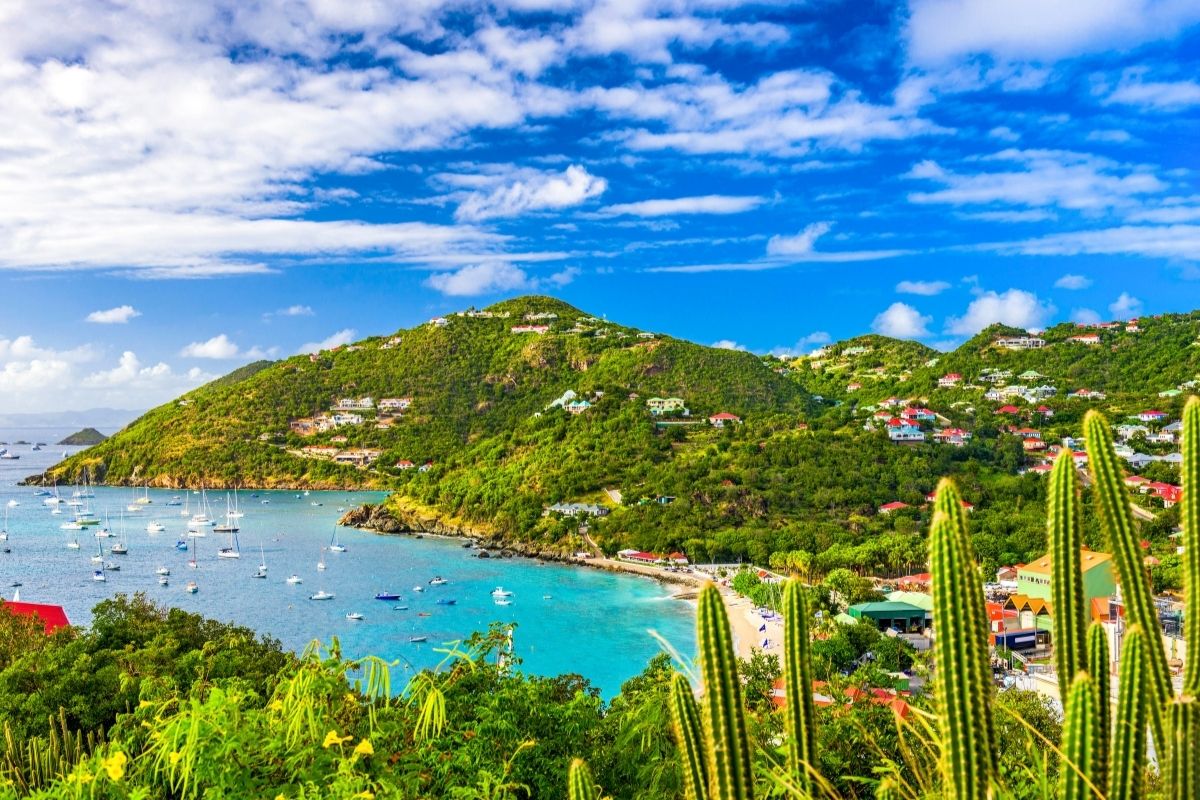 Popularity score: 55.57%
St. Barts is more than just a place to visit in the Caribbean; it's an adventure. Here, elegant opulence and breathtaking natural beauty blend harmoniously.
The beginning doesn't end with the beaches and their inviting waters and soft sand. Foodies, get ready to fall in love—the island is a culinary paradise with French influences.
Beyond eating and unwinding, what else? A colorful patchwork of hopping markets, historic forts, and hip shops, each offering a piece of St. Barts magic.
37 – Bonaire, Dutch Special Municipality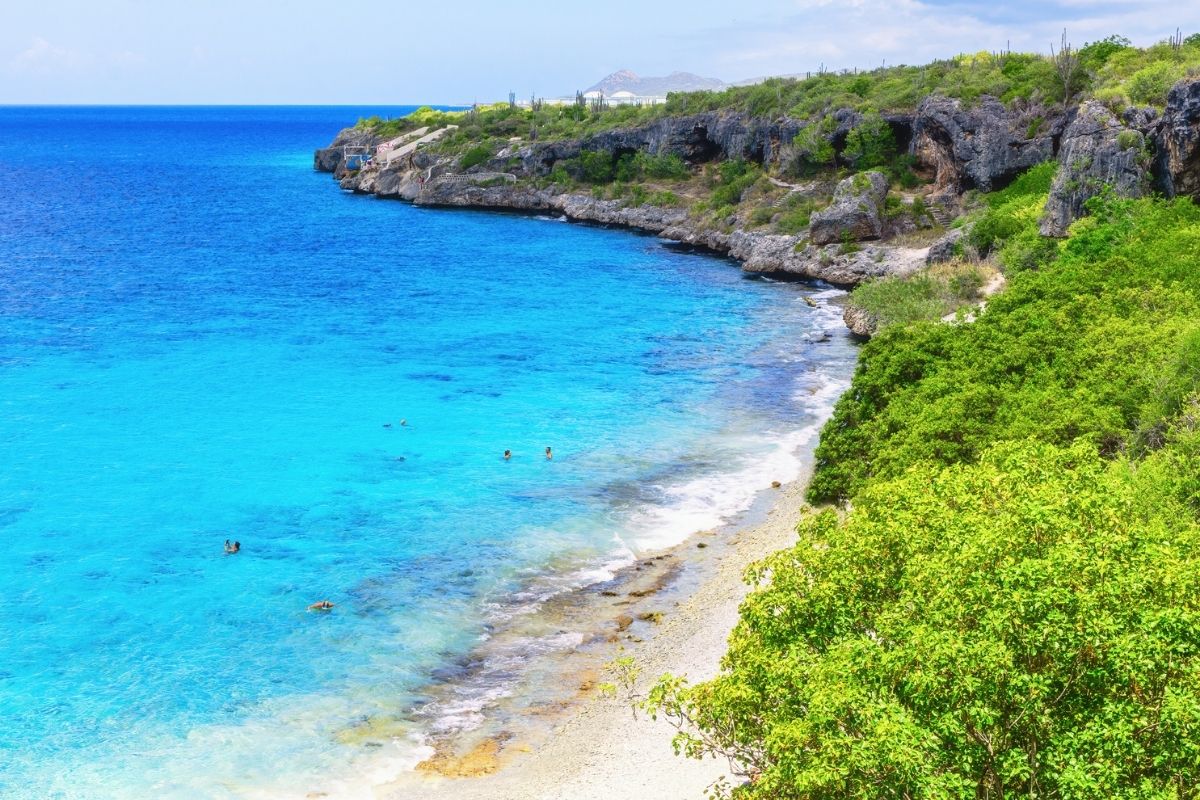 Popularity score: 55.43%
If there's a Caribbean whisper that calls to explorers of all kinds, it's Bonaire.
Every dive is an adventure through nature's art gallery as it explores the vivid display of marine biodiversity that lies beneath its waters and is protected and treasured.
On the ground, Bonaire proudly displays its history in every nook and cranny, on every plate, and during every rhythm-filled celebration.
A trip to Bonaire is more than just a quick stop, it's an immersion into a captivating world that stays with you forever.
38 – Martinique, France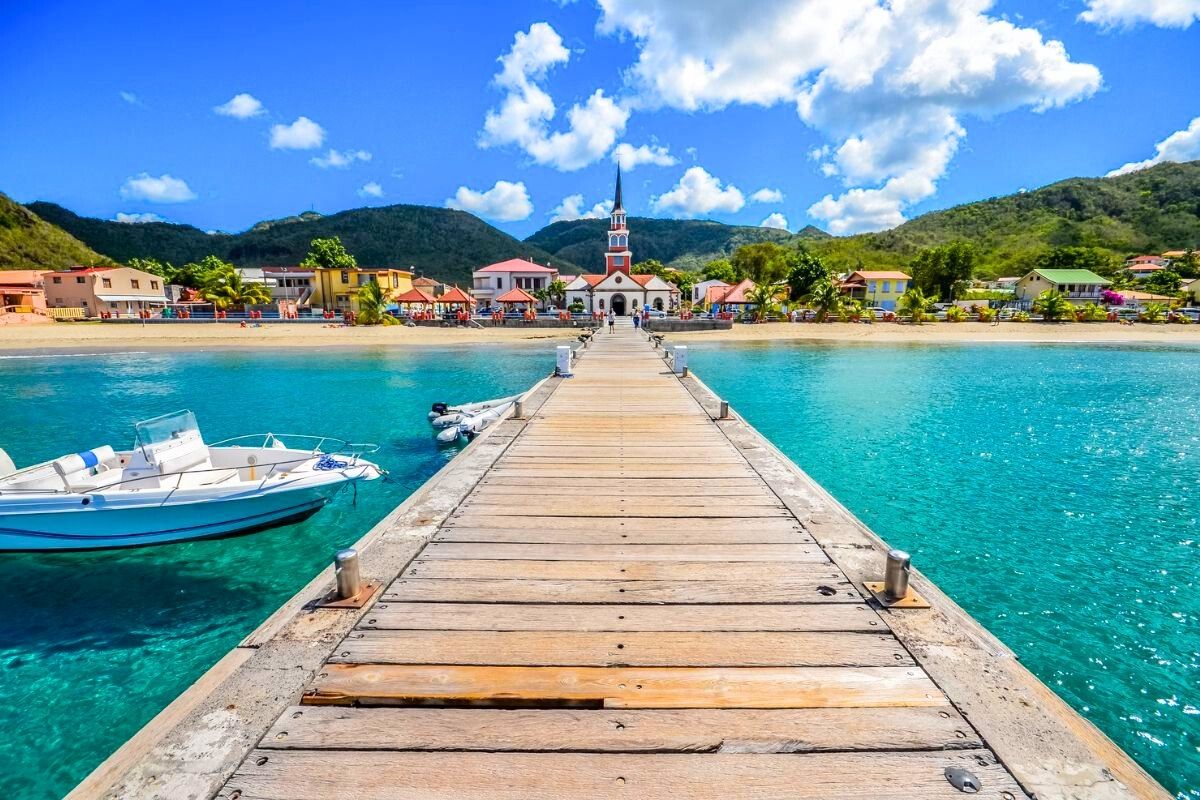 Popularity score: 55.15%
Martinique offers a lovely fusion of French style and the carefree Caribbean spirit.
Fort-de-France is home to lively markets where you can indulge in a sensory extravaganza of exotic fruits and spices. On the other hand, areas like Les Salines offer serene beaches for unwinding.
For the intrepid, the towering Mount Pelée volcano offers not only a strenuous hike but also a vantage point from which to view the island's diverse topography, which includes dense forests and old plantations.
See also: Fun things to do in Martinique
39 – Bermuda, British Overseas Territories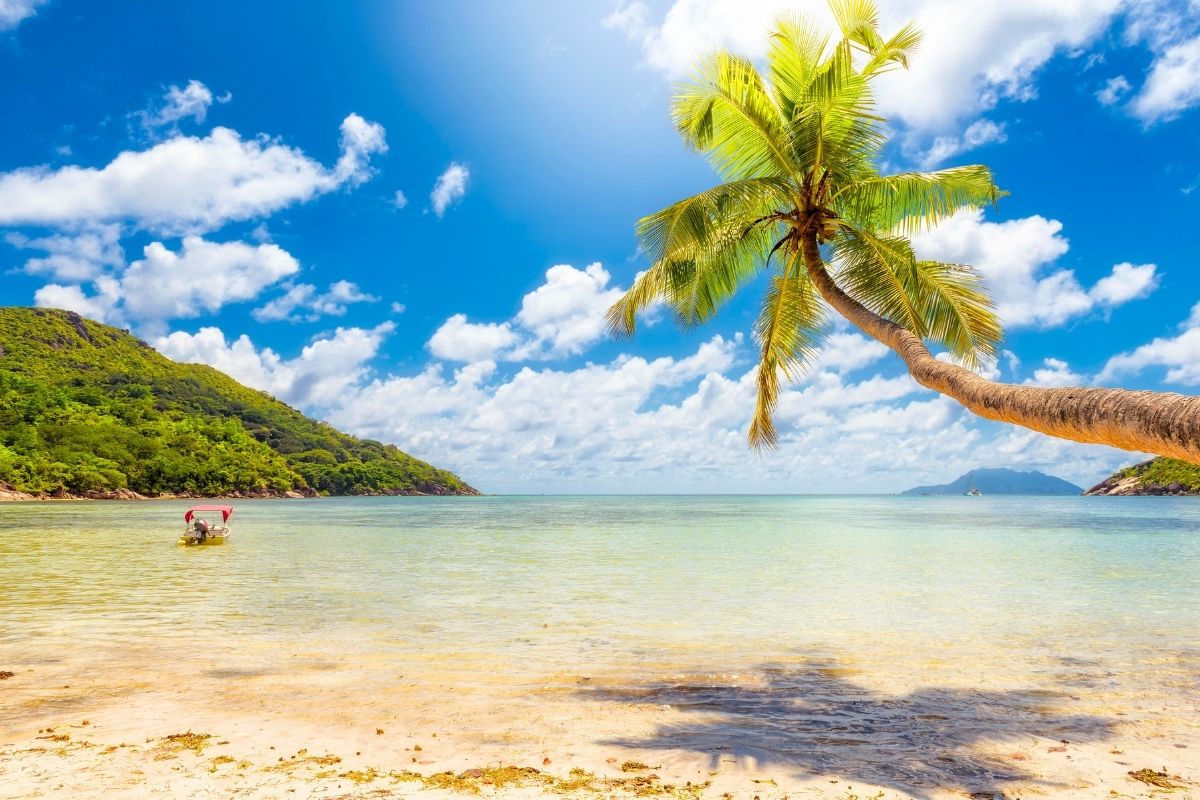 Popularity score: 54.72%
Sunkissed and spectacular, Bermuda is the epitome of life's finest pleasures waiting to be unearthed by avid explorers like you.
From the famed, ethereal pink-sand beaches like Horseshoe Bay to the mystical Crystal Caves, each corner of Bermuda promises a canvas of unforgettable moments and Instagram-worthy snapshots.
Engage in exhilarating water sports, explore UNESCO World Heritage sites in St. George, or simply bask in the island's infectious, laid-back vibe, Bermuda extends an irresistible invitation to experience the mesmerizing amalgamation of British, American, and Caribbean cultures.
40 – Placencia, Belize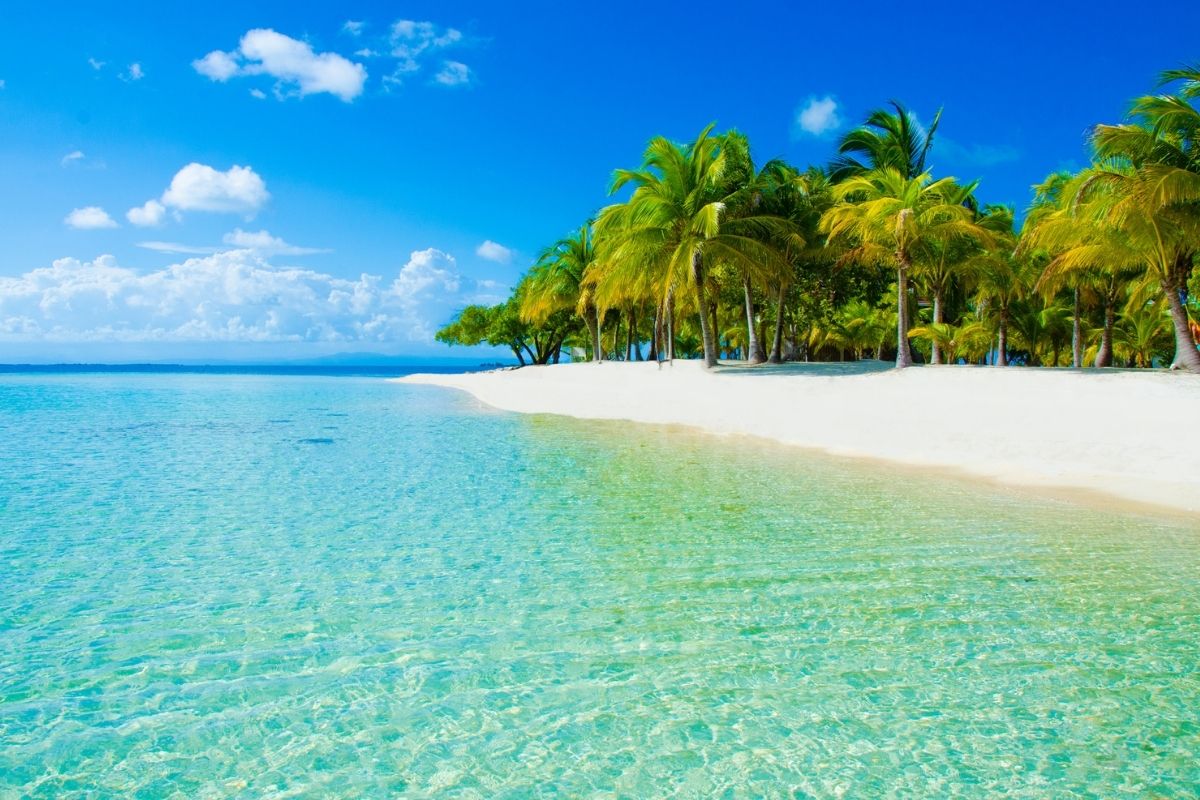 Popularity score: 54.00%
Wishing for the ideal fusion of local culture and the beauty of nature? Placencia is the solution.
The Caribbean kisses its beaches, and the Maya Mountains keep watch.
But there's more to it than just the scenery; you can also explore the Belize Barrier Reef, take a deep dive, and savor the fresh seafood catch of the day as the stars twinkle overhead.
41 – British Virgin islands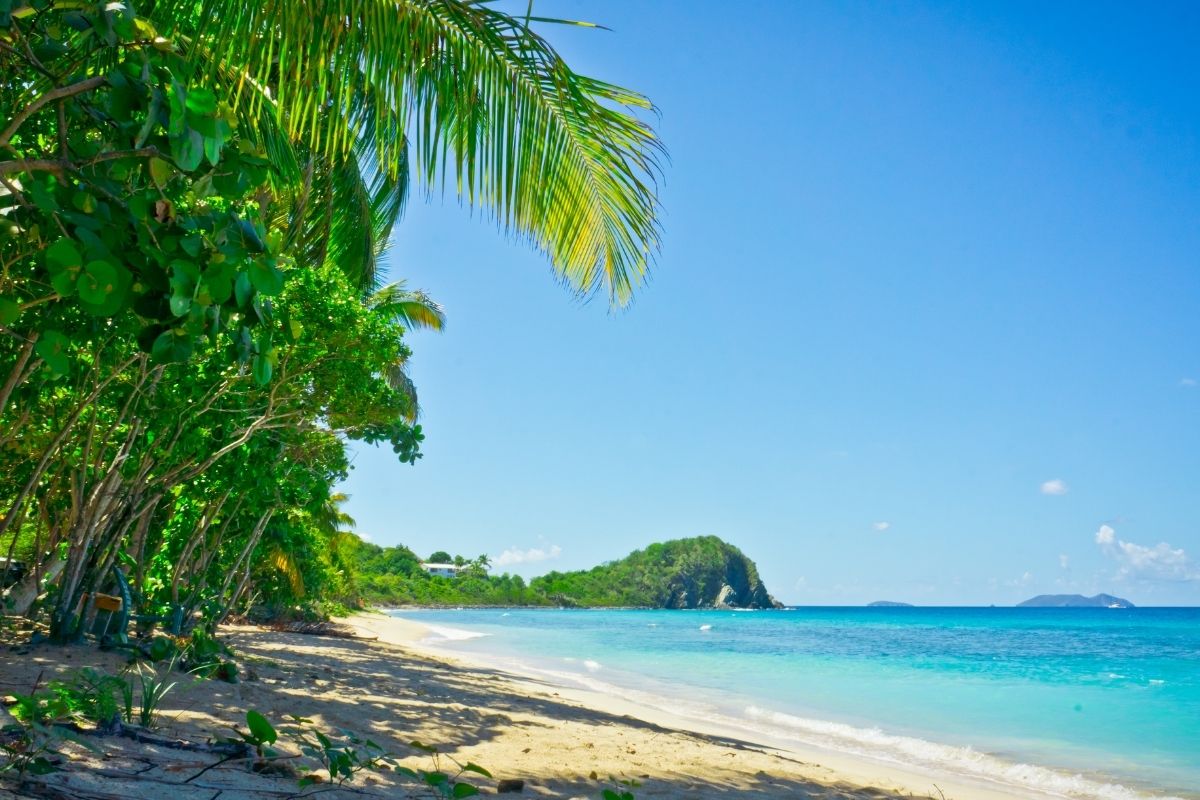 Popularity score: 53.72%
Imagine a location where each step is in time with the song of the ocean. For you, the British Virgin Islands.
Every day is an adventure around here, from tales of secret bays to breath-taking mountaintop views.
Set sail in clear waters, seize a piece of unspoiled paradise, and relax on stunning beaches. Why not sing with the island chorus?
42 – Guadeloupe, France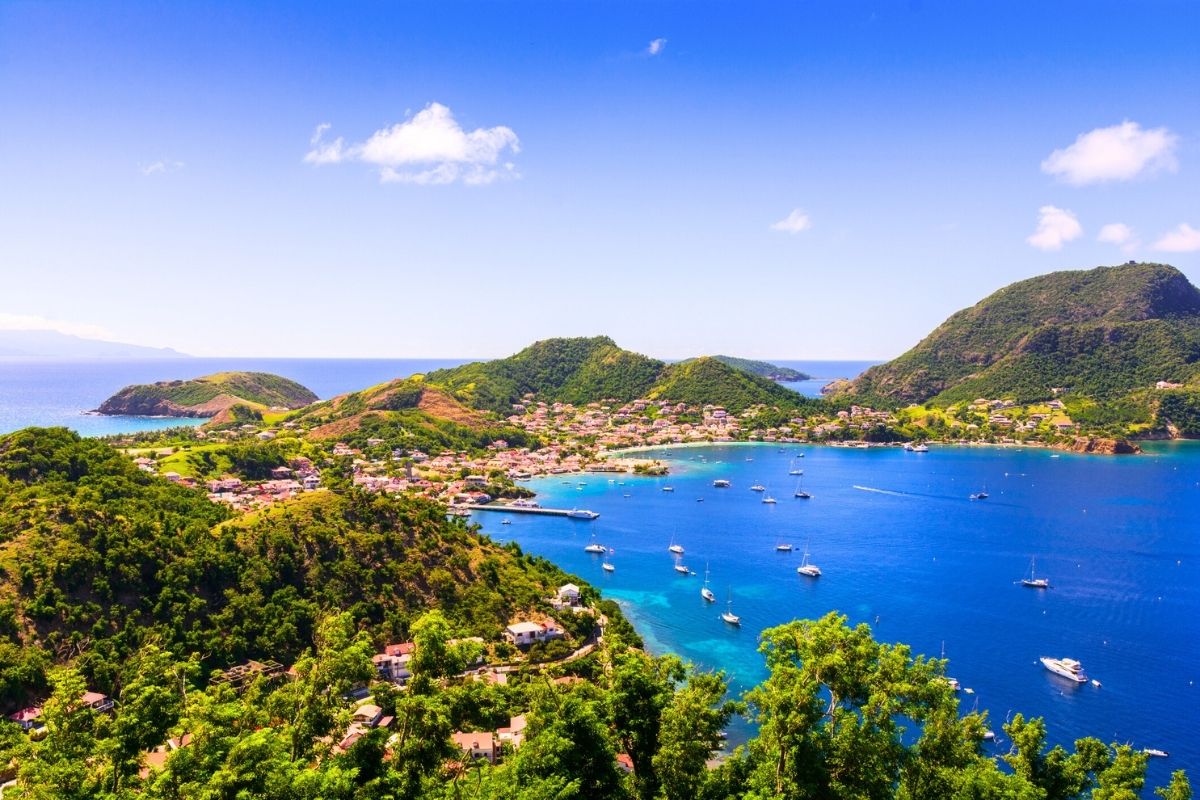 Popularity score: 53.01%
When you enter Guadeloupe, it's like embracing a one-of-a-kind symphony of unspoiled natural beauty, vibrant culture, and irresistibly mouthwatering cuisine that all harmoniously blend together under the warm Caribbean sun.
Here, you aren't just a guest; you're a part of a vibrant life scene where each day unfolds like a masterpiece filled with thrilling adventures, from climbing the majestic La Grande Soufrière volcano to savoring the electrifying rhythms of Gwo Ka music.
Guadeloupe won't let you down if your taste buds are itching for a culinary adventure. The island offers a delightful fusion of French elegance and tantalizing Creole flavors, creating a dance of flavors and aromas that tell stories of the island's rich heritage and the friendliness of its people.
43 – Grenada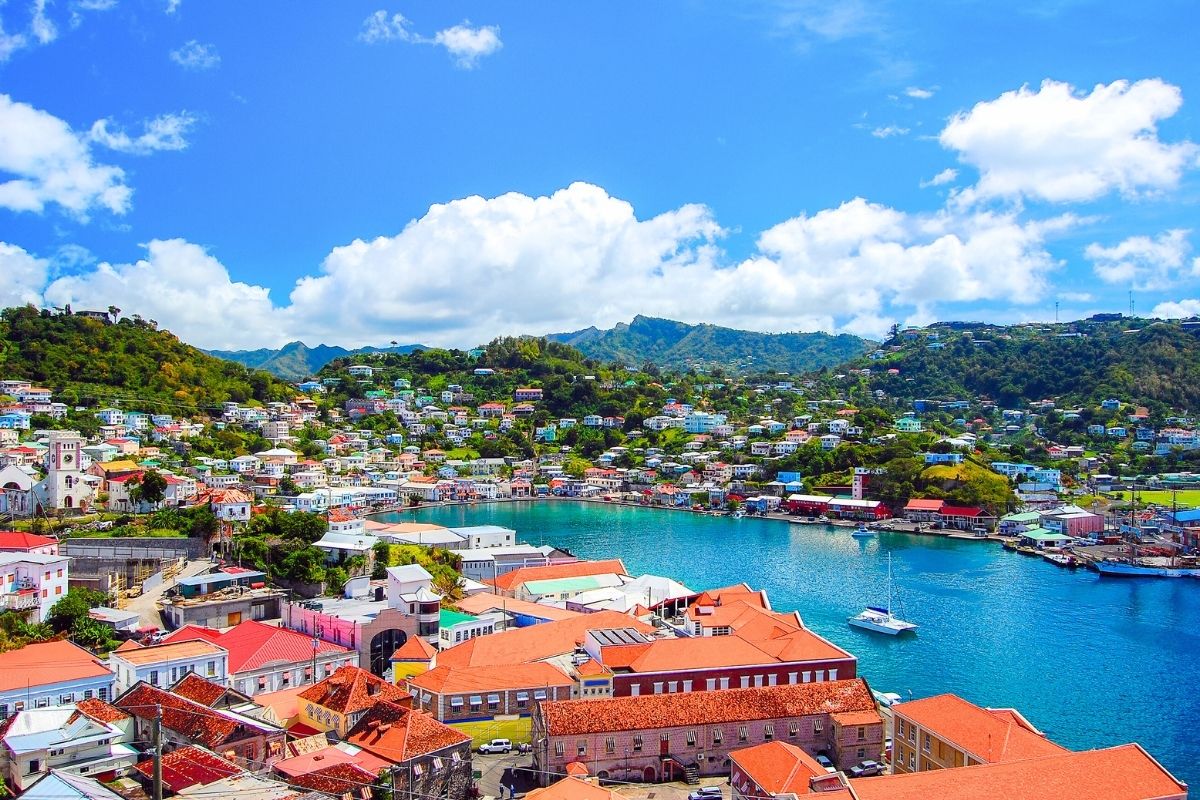 Popularity score: 52.87%
Grenada is the unsung hero of the Caribbean, luring visitors with its bewitching combination of mountainous landscapes, lush rainforests, and pristine beaches.
It is immersed in an enchanting blend of spice-scented breezes and sunlit waters. Explore the heart of the island by strolling through St. George's bustling market squares, where the nutmeg scent fills the air and the city's vibrant colors and sounds paint a picture of lifelong memories.
Grenada invites you to let go and find happiness in its enchanted embrace, whether you're diving into the mesmerizing underwater sculpture park, hiking through the lush Grand Etang National Park, or simply enjoying the sunset with a glass of the island's legendary rum in hand.
44 – Ambergris Caye, Belize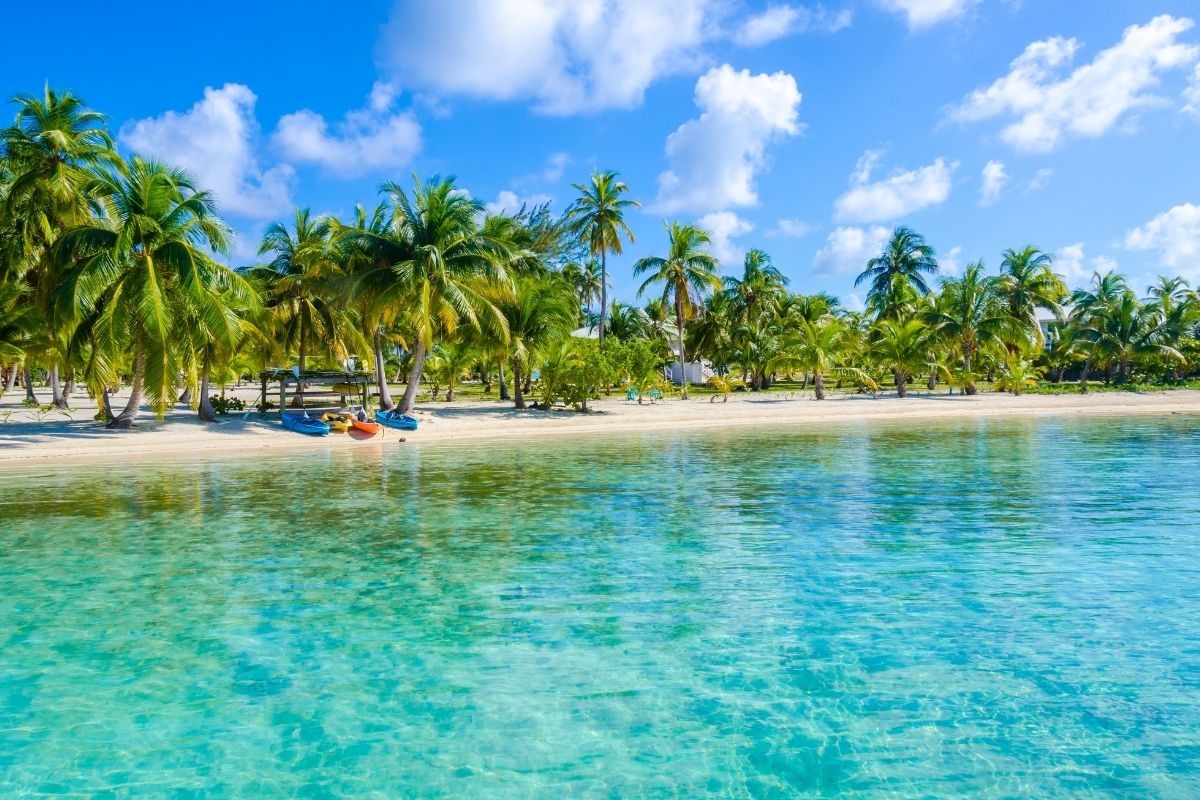 Popularity score: 52.77%
If you've never experienced the tranquil allure of Ambergris Caye, you're missing out on a destination that is a symphony of breathtaking natural beauty and vibrant local culture.
As the largest island in Belize, Ambergris Caye is the epitome of a tropical paradise, offering white, sandy beaches and crystal-clear waters teeming with an array of colorful marine life.
Here, the ancient mysteries of the Mayan ruins seamlessly blend with the pulsating rhythms of Caribbean life, promising an adventure that is as relaxing as it is exhilarating.
45 – Saint Vincent and the Grenadines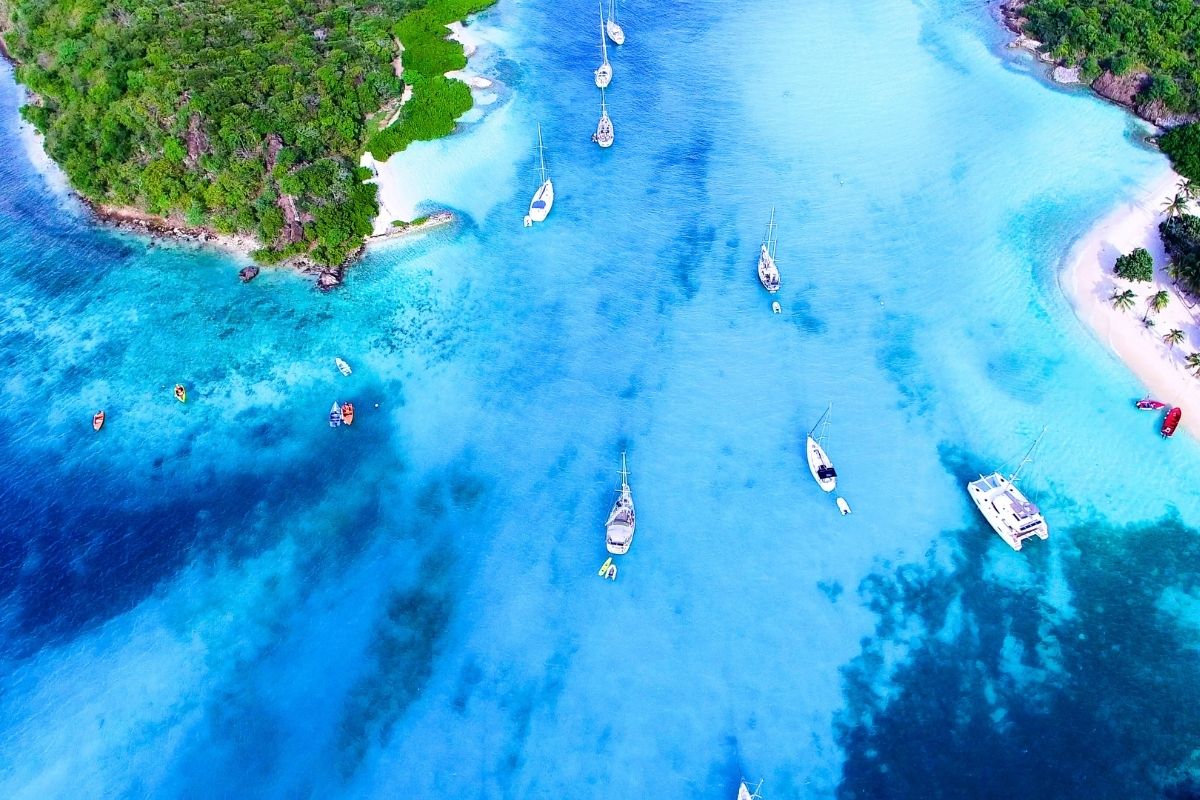 Popularity score: 52.59%
Have you yet to be enchanted by Saint Vincent and the Grenadines' untainted charm?
With its alluring combination of lush volcanic landscapes, sparkling blue lagoons, and exquisitely secluded beaches, this alluring group of islands beckons. A visit here promises a wide range of unforgettable experiences, from sailing along the idyllic Tobago Cays to taking part in the pulsating energy of the nearby Vincy Mas carnival.
Each island here presents a distinct tapestry of vibrant culture and arresting natural beauty.
46 – Trinidad and Tobago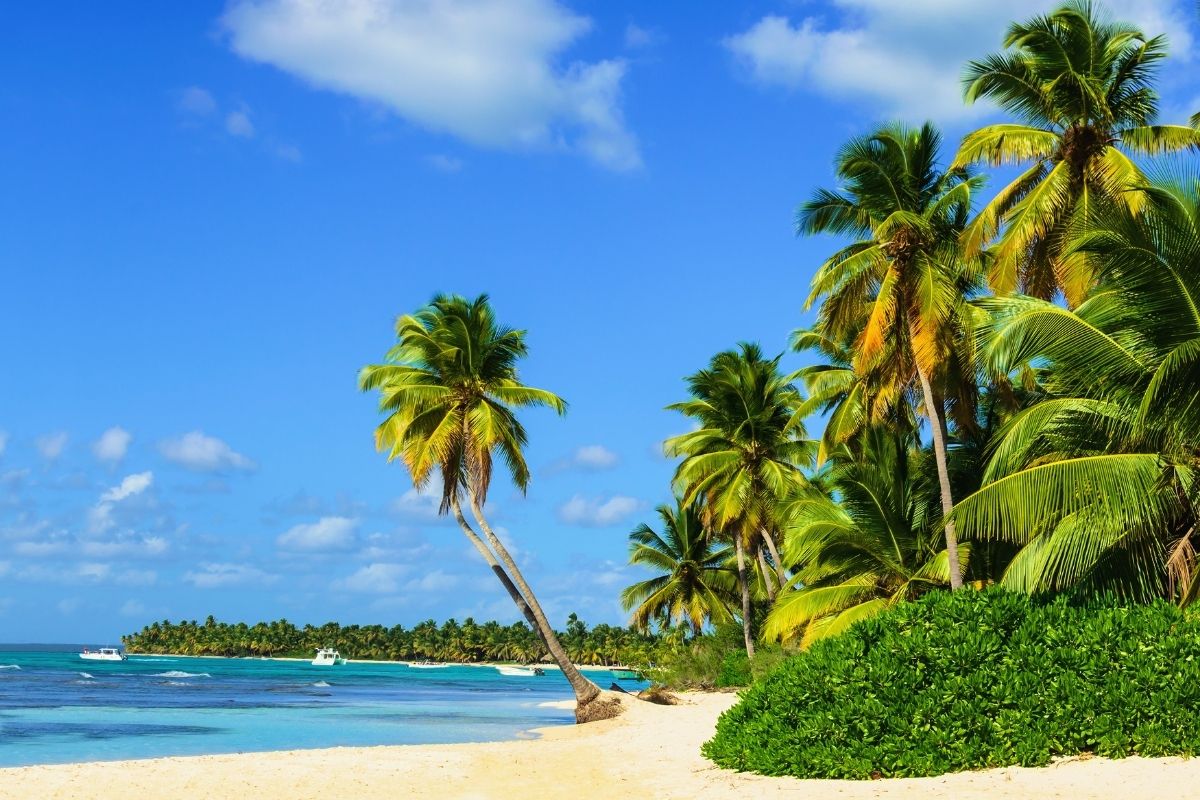 Popularity score: 52.45%
If Trinidad and Tobago haven't been on your travel radar, get ready for an exhilarating discovery of a lifetime.
From the hypnotic steelpan rhythms at the renowned Carnival to the serene, unspoiled beauty of Tobago's Pigeon Point, these twin islands serve up a dazzling cocktail of cultural richness and biodiversity, offering a feast for the senses.
Every moment spent here unfolds into an enchanting story against a backdrop of lush rainforests, mangrove swamps, and coral reefs, luring visitors with its plethora of hidden gems and vibrant, contagious energy.
47 – Cabarete, Dominican Republic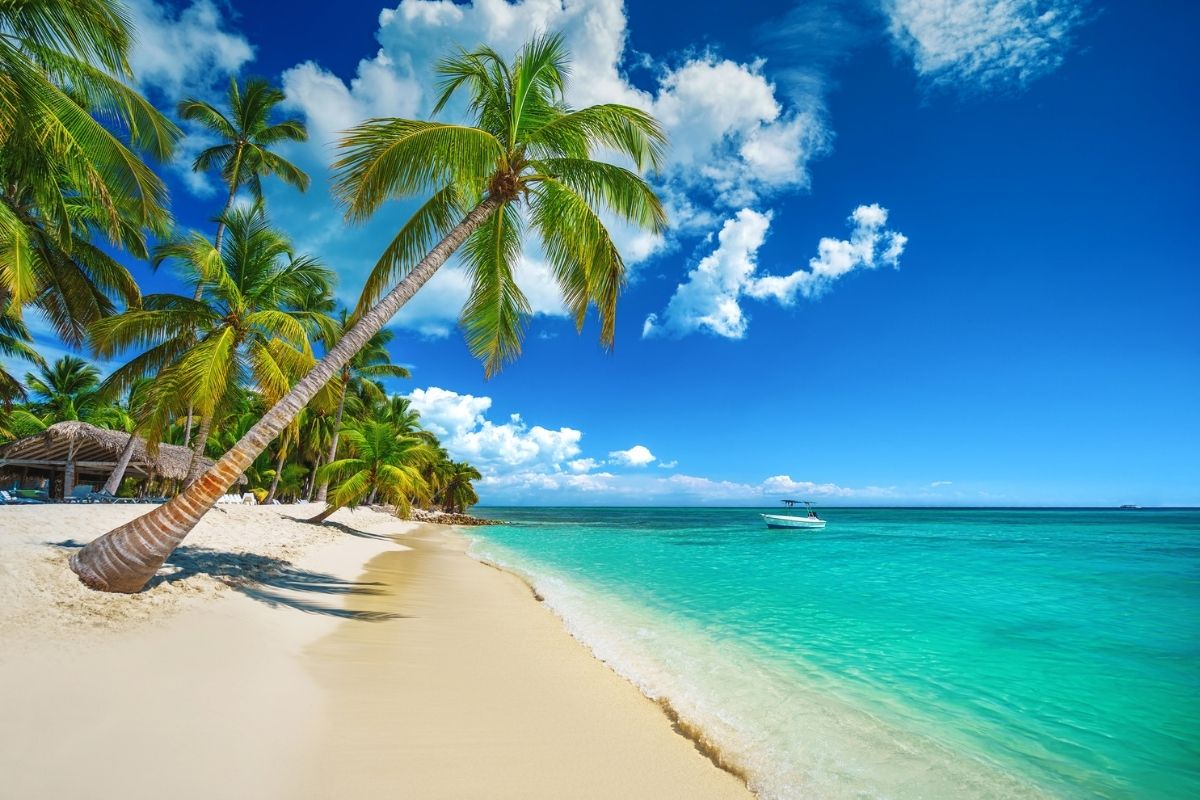 Popularity score: 52.31%
Cabarete, tucked away on the Dominican Republic's northern coast, is not just a hidden gem; it's also a colorful canvas with wind-swept beaches and an array of adventure activities just waiting for you to try.
Cabarete promises a tapestry of unforgettable experiences, from kitesurfing amid the dance of the Atlantic breezes to exploring the mysterious El Choco National Park with its secret caves and lagoons.
Its bohemian nightlife, where each dusk is celebrated with a symphony of laughter, music, and the irresistible aroma of Caribbean cuisine wafting through the palm-fringed shores, will be missed.
48 – Anguilla, British Overseas Territories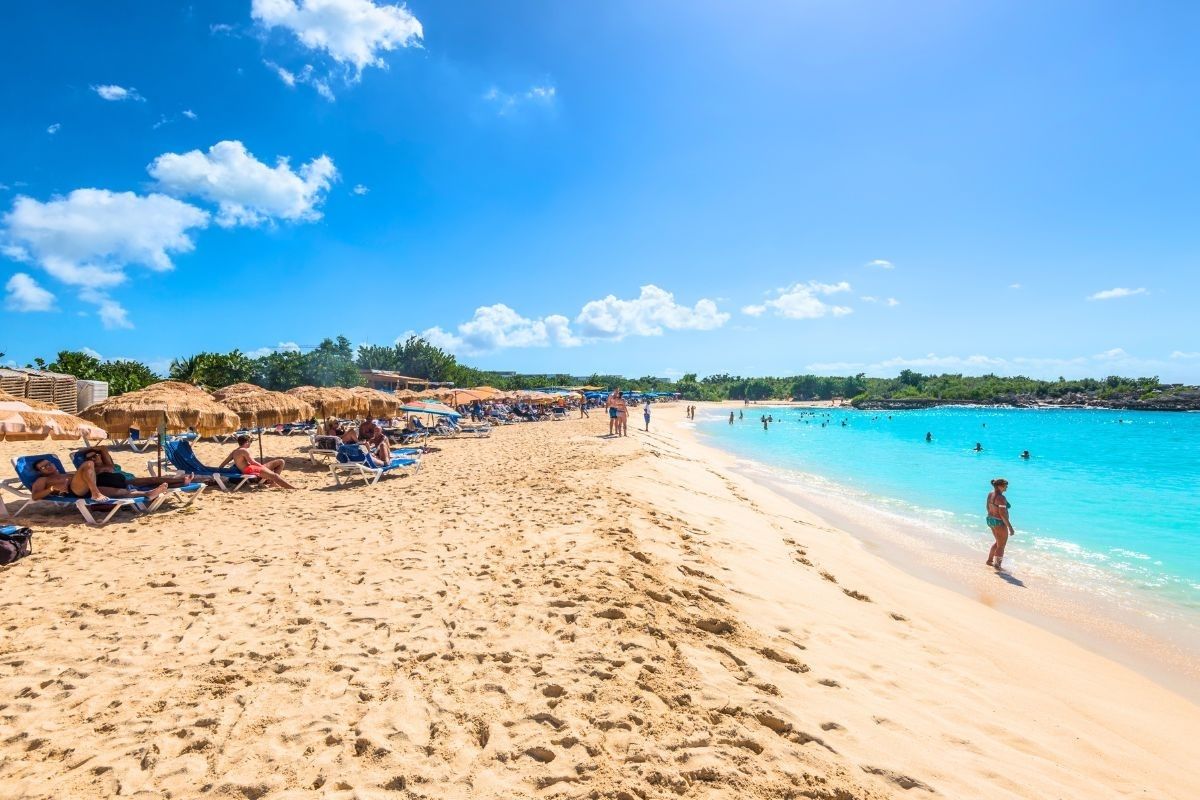 Popularity score: 51.74%
With its ribbon of snow-white beaches and calm turquoise waters, Anguilla, a glittering jewel in the British Overseas Territories, extends a warm invitation and creates a tranquil tapestry that whispers luxury and relaxation.
Here, you're not just a guest—you're an honorary islander basking in the rays and swaying to the beat of the captivating calypso and reggae music that permeates the air.
Snorkeling on the island will allow you to interact with the magnificent marine life, or you can let the allure of the art galleries, which showcase the island's diverse cultural heritage, lead you on a journey of discovery and connection with this idyllic paradise.
49 – Dominica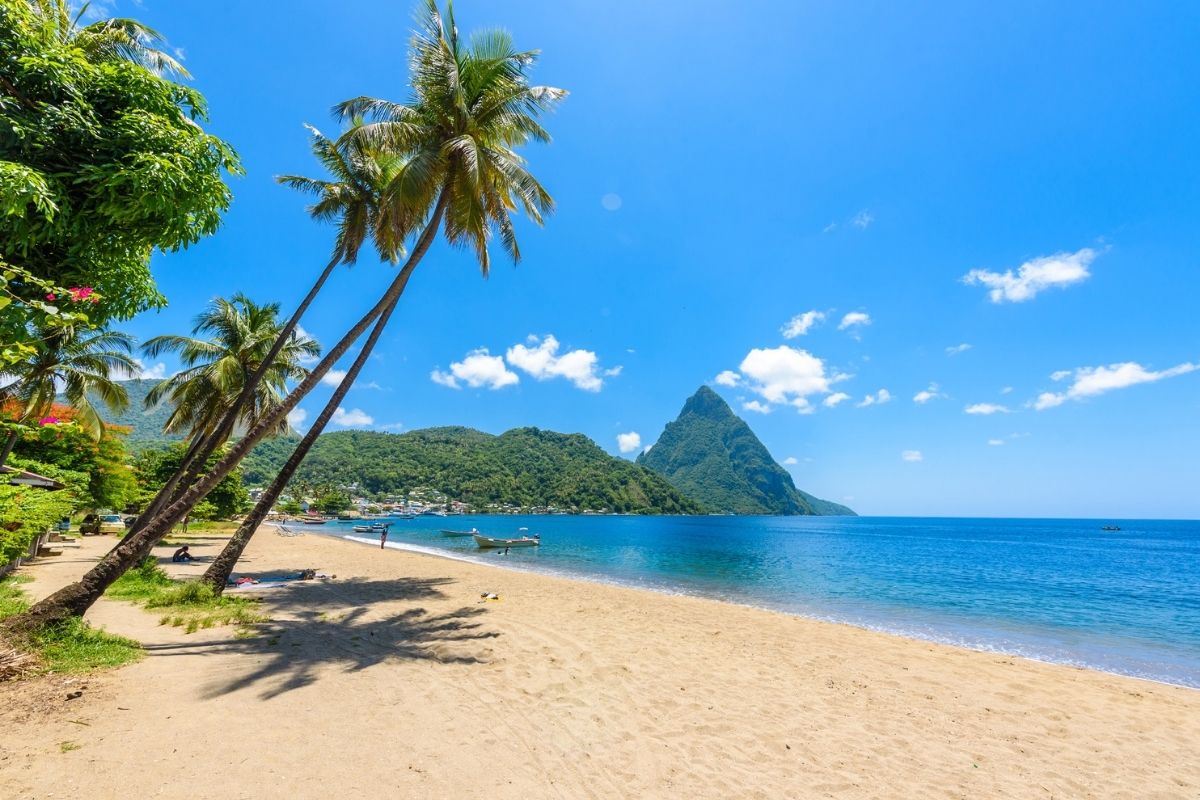 Popularity score: 50.45%
With its symphony of roaring waterfalls, meandering trails through ancient rainforests, and mountains that tell tales as old as time, Dominica, known to travelers as the "Nature Island," beckons.
Every step you take on this lush island reveals a new secret, whether it's a secret hot spring waiting to welcome you into its warm embrace or lively markets resonating with Creole music and bursting with handcrafted goods and exotic spices that dance under your nose.
Immerse yourself in the diverse tapestry of cultures, where the Kalinago people extend their hospitality by sharing legends and crafts that reveal the essence of the island.
50 – Curacao, Netherlands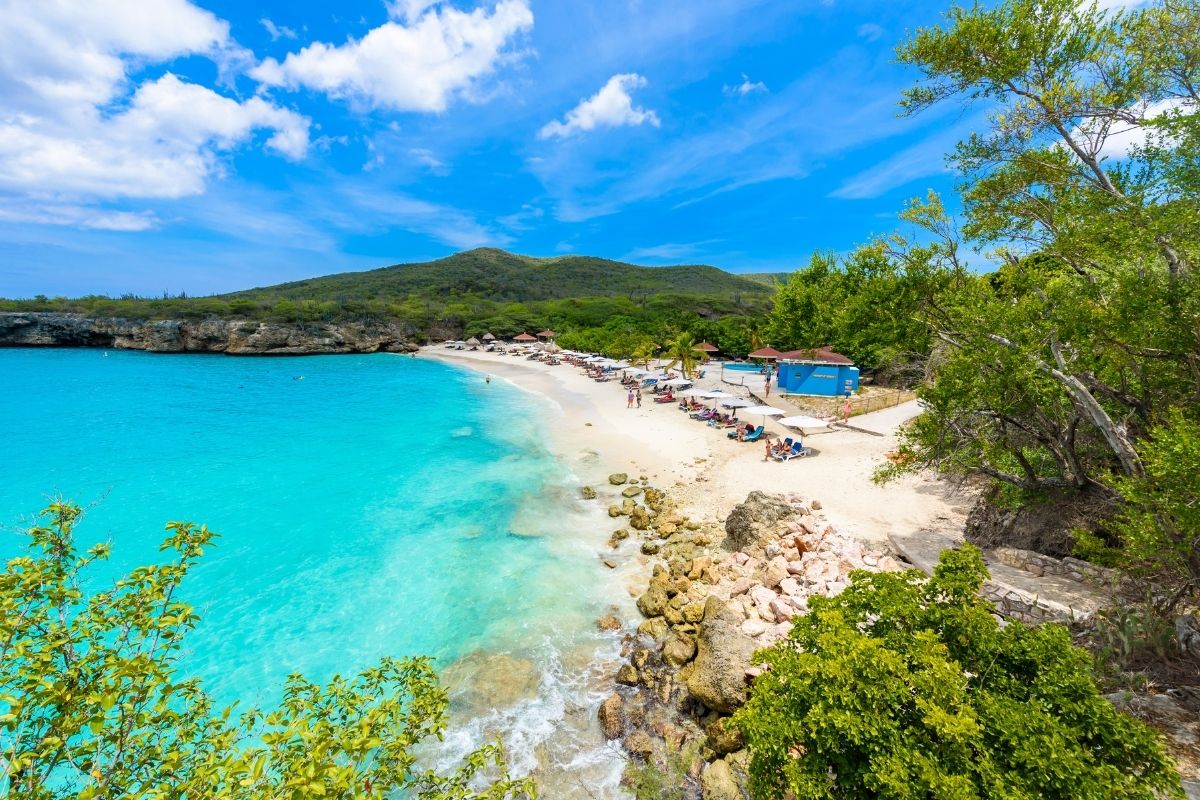 Popularity score: 50.09%
You can find a canvas of vivid colors and experiences in the Southern Caribbean called Curacao, which is more than just a drink.
Imagine taking a stroll through the old streets of Willemstad, where Dutch architecture meets buildings with pastel colors to create a singular, stunning backdrop. You can relax on the island's secluded, sun-drenched beaches or dive into the island's crystal-clear waters to discover a world of vibrant coral reefs teeming with life.
Curacao is a place where every corner sings a different song, promising an unforgettable symphony of adventures and breathtaking sights that you won't find anywhere else.
Final thoughts
We hope you enjoyed our list of the most popular Caribbean destinations.
What are your thoughts? Do you agree with that listing? Any guesses on what the next trendy spots to visit in the Caribbean might be?
Don't hesitate to share your top picks in the comments below.
Happy travels!