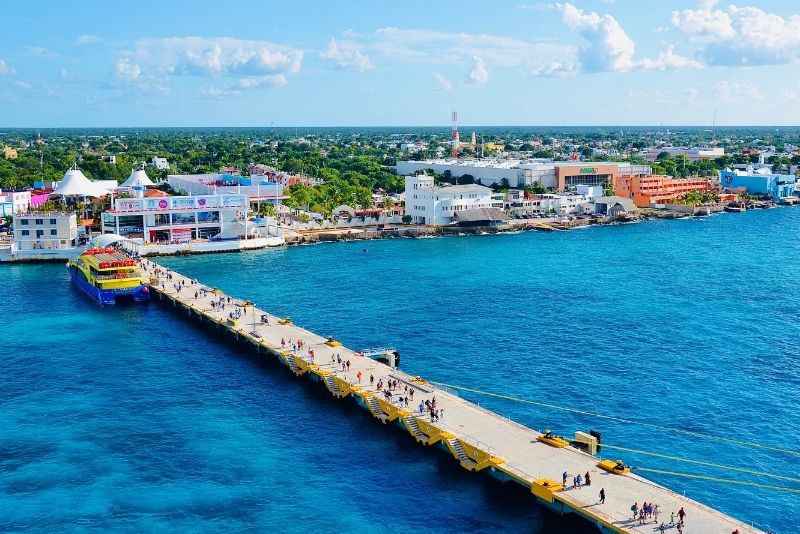 Live the island life on Cozumel, a wild tropical oasis just a stone's throw away from Playa del Carmen on Mexico's Yucatán Peninsula.
Despite being a small island, there are heaps of fun things to do in Cozumel. You can dive on some of the best reefs in the world, ride horses along the beach, or even visit a bee sanctuary.
Thrill-seekers love hurtling through the jungle by ATV or taking to the skies on a parasailing adventure. For something more relaxing, chill out at a beach club or indulge your taste buds on a food tour.
1 – Go wild at Chankanaab Beach Adventure Park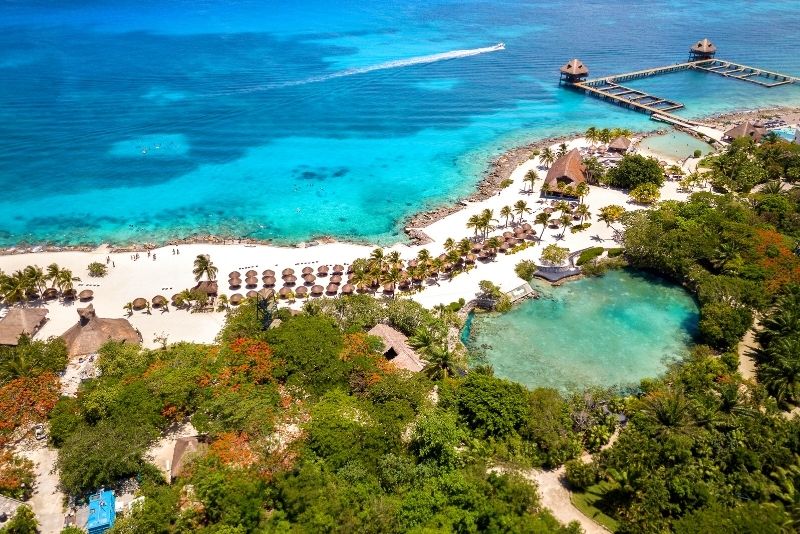 Spending a day at this nature-themed amusement park will be the highlight of any family holiday. Kids can meet the cheeky sea lions and creepy crocodiles, and there are plenty of tropical trails to explore.
Dolphins are the stars of the show at Chankanaab, and swimming alongside these playful creatures is a moment to remember. Snorkeling tours and a child-friendly beach are the icing on the cake.
2 – Take to the skies on a parasailing excursion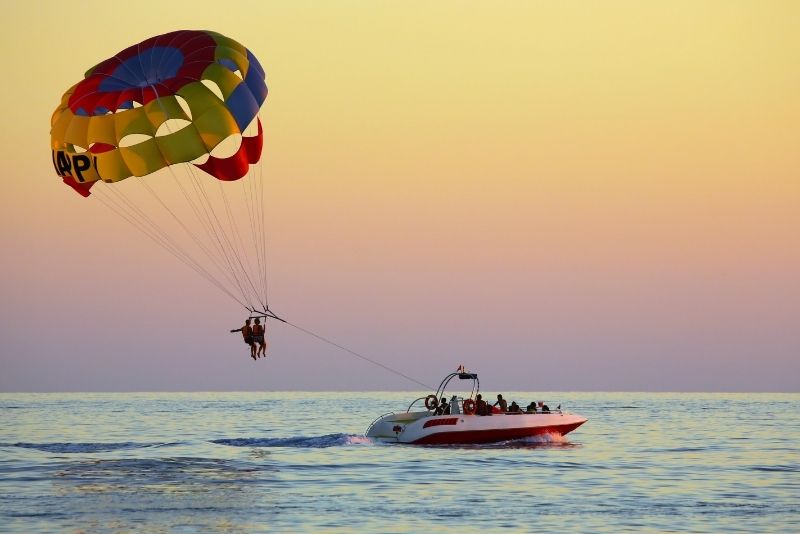 Harness your adventurous soul and fly like a bird above the Caribbean Sea. No experience is necessary as the experienced crew will show you the ropes.
Feel the wind in your hair as you sail through the sky behind the tiny boat down below. Watch out for the adrenaline rush as you come to land. The views are incredible, so don't forget your camera.
3 – Make a splash at Playa Mia Grand Beach Park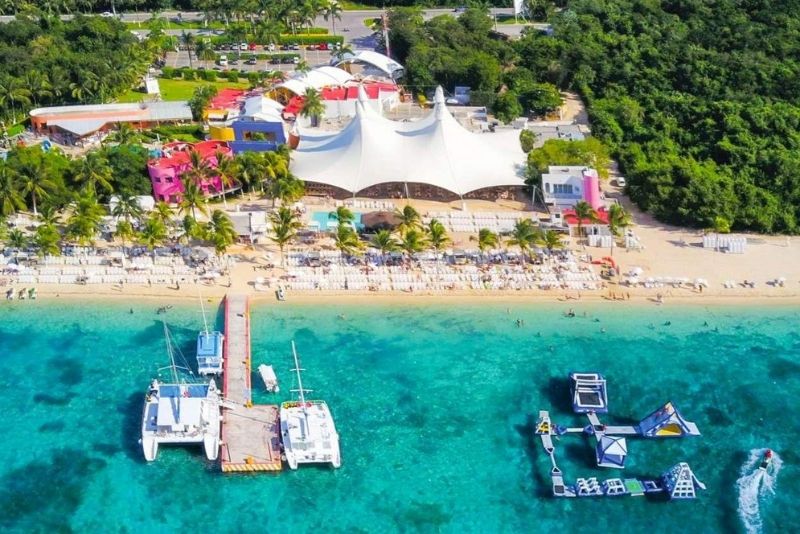 Scream in delight as you plummet down slides and battle with water cannons at Playa Mia Grand Beach Park. Explore an underwater Mayan city and let the kids loose in Buccaneer's Bay while you chill in the hydromassage tub.
After all the excitement it's time to take a refreshing dip in the clear Caribbean waters. There's kayaking too at this western beach haven.
4 – Discover new flavors on a food tour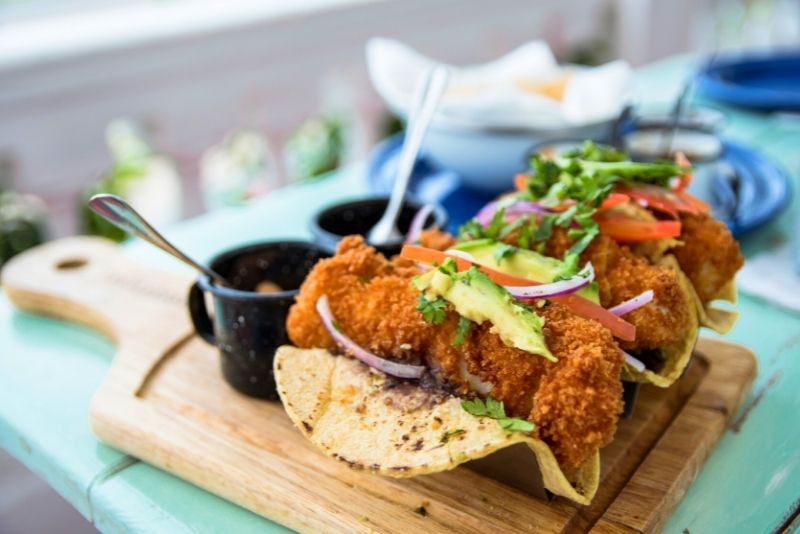 Food is the key to unlocking the secrets of any culture, and nowhere more so than here in Mexico. Taking a food tour is the best way to educate your palate, and explore the local culinary customs.
You'll enjoy sampling a fusion of Mexican-Caribbean delicacies at different eateries. Get stuck into empanadas, find out what a true taco should taste like, and enjoy finger-licking pastries to finish.
5 – Hang out at Paradise Beach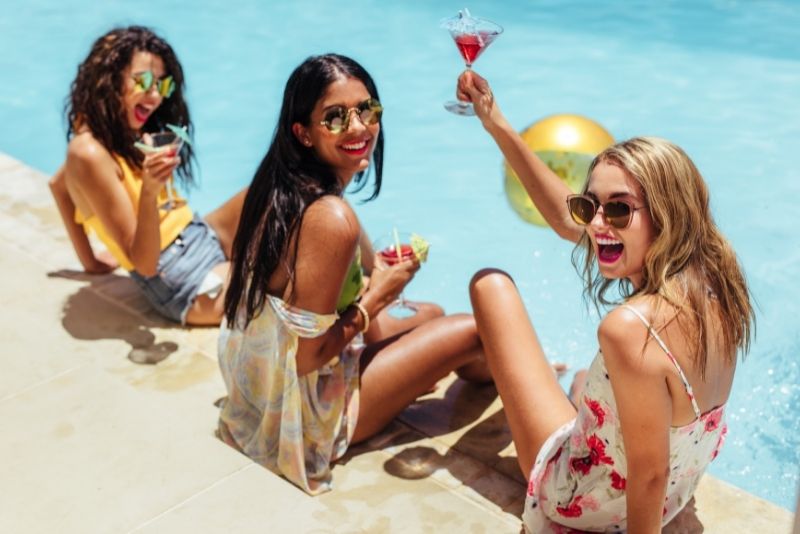 The clue is in the name of this stylish beach club. Escape from the heat by relaxing beneath the shady palm trees, and enjoy tacos or cheeseburgers served to you right on this southwestern Paradise Beach.
There's an open bar to keep you hydrated – the mojitos are to die for! Itching for a bit of action? Then snorkeling, kayaking, and paddleboarding are all on the cards.
6 – Stroll around San Miguel de Cozumel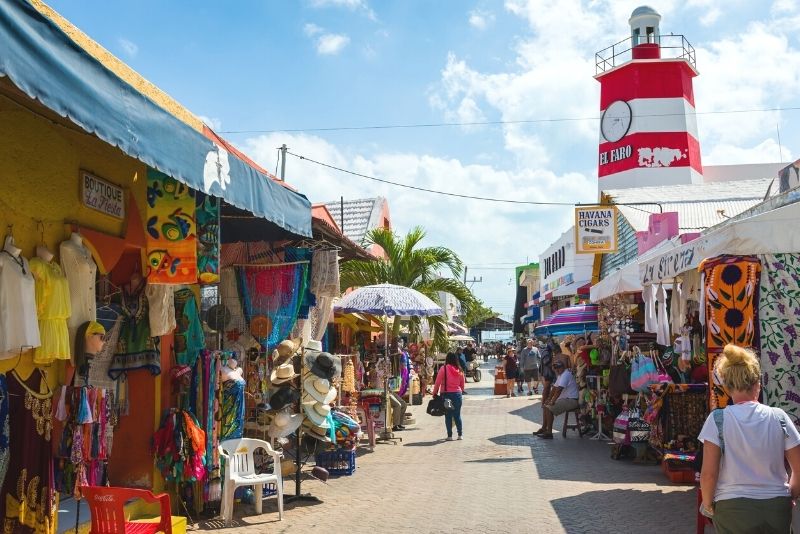 San Miguel de Cozumel is the main city on the island. It's a great place to dive a little deeper into Mexican culture and see some of the historic sites.
Highlights include Corpus Christi (Cozumel's largest church), as well as the Grijalva monument, and a Mayan pyramid.
Swing by a traditional market for a glimpse into daily island life and to buy some artisan souvenirs.
7 – Snorkel the second largest reef in the world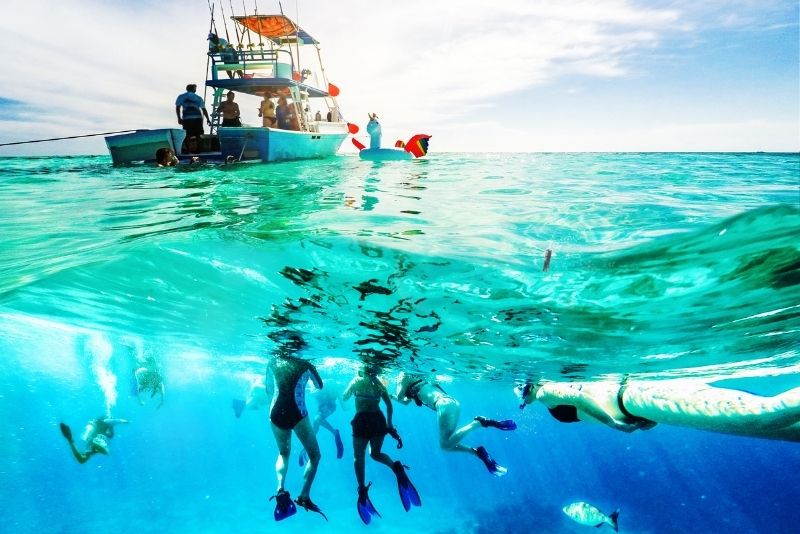 Cozumel's coral reef is so vast that it's easy to find that perfect secluded snorkeling spot. You can enter straight from the shore – Playa Palancar is a great option with a superb shallow reef teeming with sea life.
Want to see big fish? Then take a boat tour to the deeper reefs and see if you can spot sea turtles, schools of parrotfish, and majestic rays.
8 – Explore secret shores on a boat tour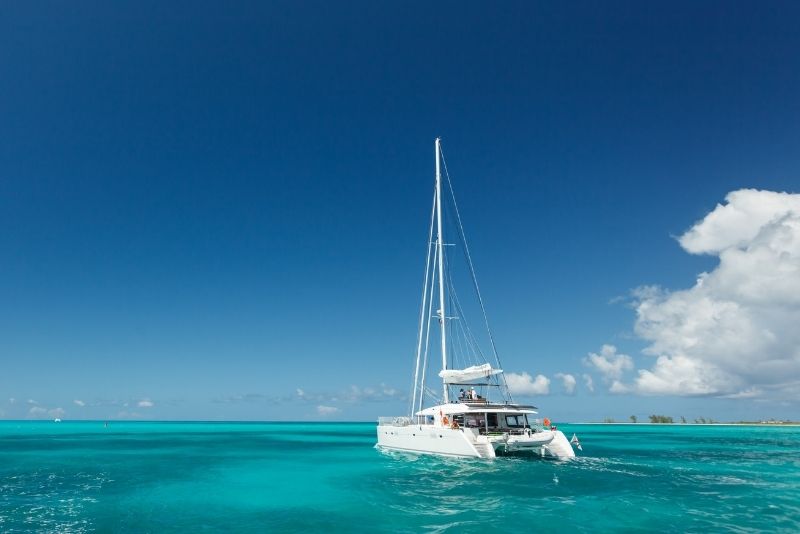 Experience life on the ocean wave as you sail around the tropical coastline of Cozumel. Choose from speedy jet boats for some ocean exhilaration or opt for a more serene sailing excursion on a luxurious catamaran.
You'll drop anchor in turquoise lagoons for swimming and snorkeling along the showstopping reef. Celebrate your sightings with a glass of bubbly back on deck.
9 – Drive an ATV to Jade Cavern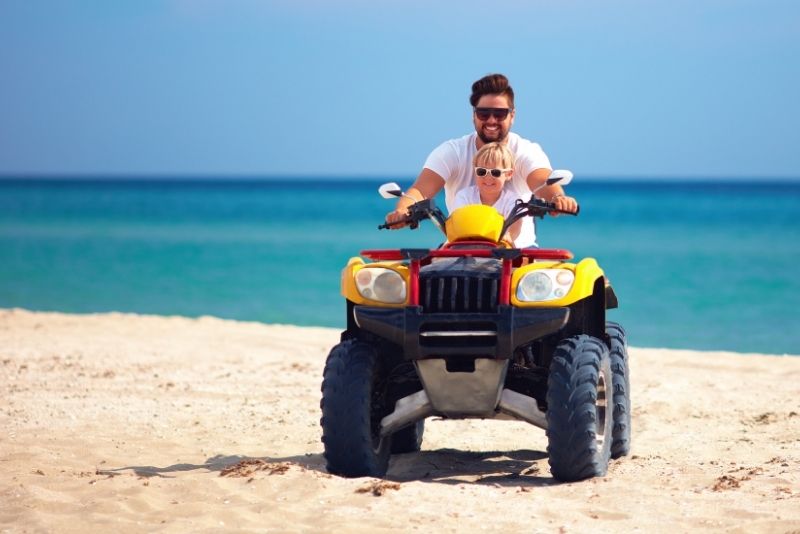 Max out on adrenaline as you bounce through the heart of Cozumel's jungle on an epic ATV tour. One of the most thrilling things to do in Cozumel, these off-road adventures take you deep into the wild island interior.
Explore hidden trails leading to Mayan villages, then reward your efforts with a cooling swim in the enchanting waters of Jade Cavern cenote.
10 – Get back to nature at Punta Sur Beach Park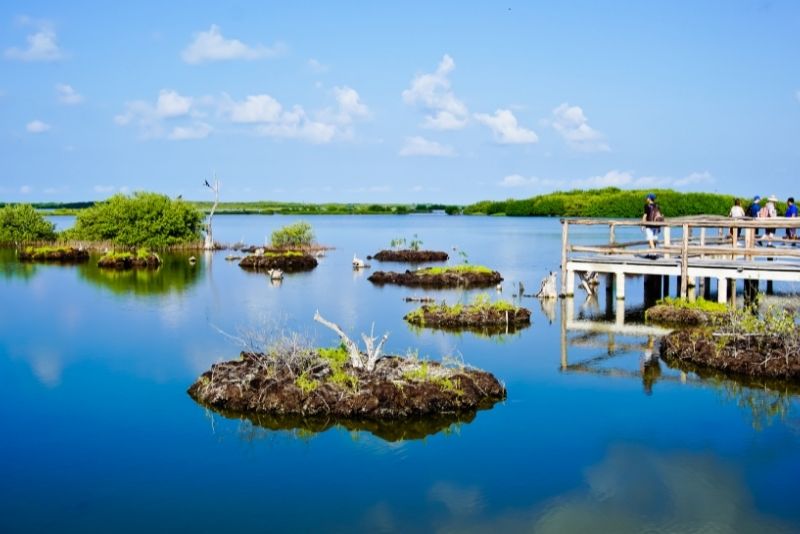 Punta Sur Beach Park is the largest ecological reserve in Cozumel. This one is for nature lovers and beach buffs looking for a wilderness experience.
There are over 1000 hectares to explore, with lagoons and lighthouses being the cream of the crop. See if you can spy crocodiles from the observation tower and admire the sea fan gardens along the reef while snorkeling.
11 – Drive along secret trails on a buggy tour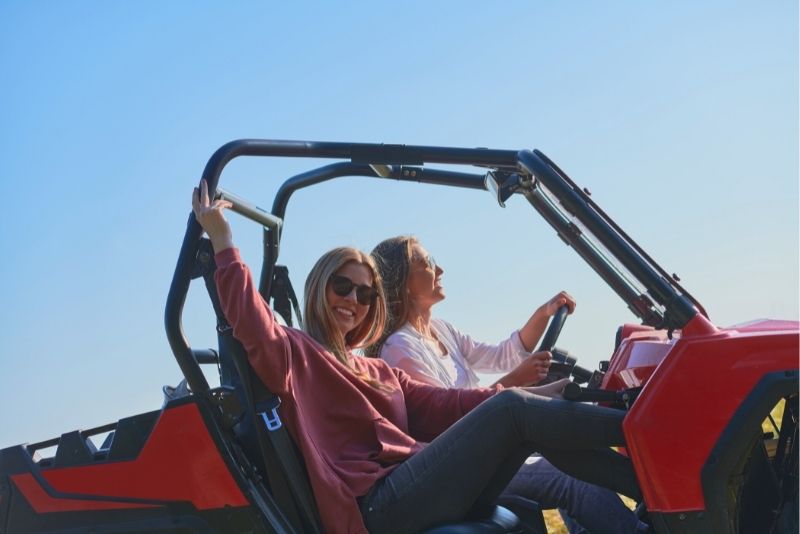 Hold on tight as you go full throttle along sandy trails, negotiating undulating dunes and trying not to get distracted by the dramatic ocean views. Keep your camera handy for scenic photo stops along the way.
Experience the adrenaline of taking the wheel and driving off-road to explore remote corners of the island. You'll discover places few other visitors see on this epic buggy adventure.
12 – Feel the need for speed on a thriller jet boat ride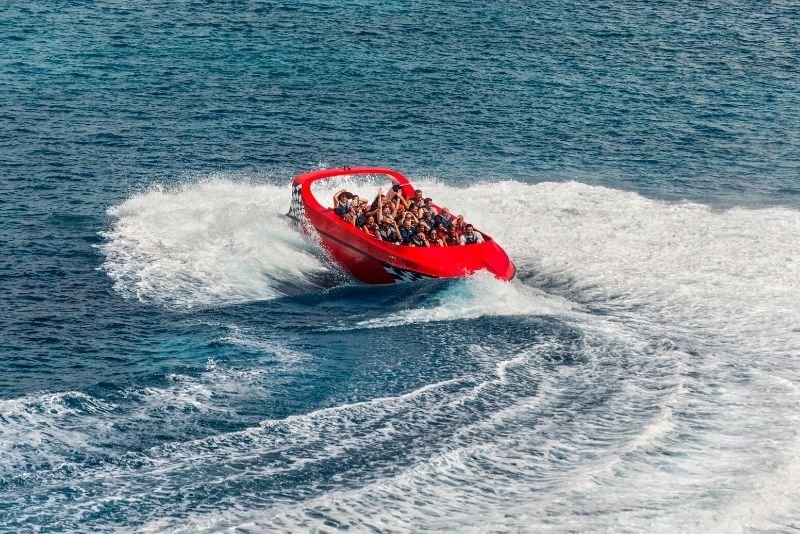 Skim across the waves and prepare to get wet as you take on the thriller jet boat!
After a briefing from your captain, you'll buckle up and get comfy in your seat as the power is cranked up. Reaching speeds up to 72 kilometers per hour, this speedy craft shows off its lightning moves.
Watch out for crazy spins, sudden turns, and huge splashes.
13 – Saddle up for a horseback riding tour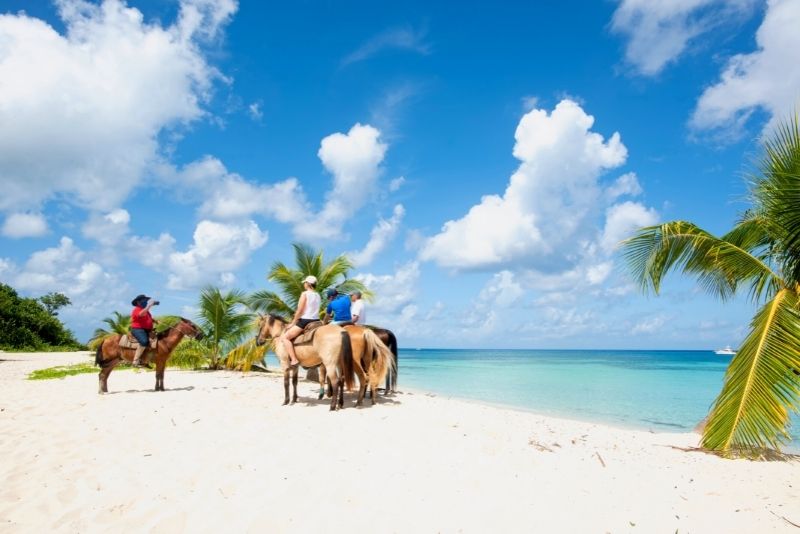 There's something so refreshing about exploring the jungle trails of Cozumel on horseback. It brings you in tune with nature and allows you to see the little things you'd otherwise have missed.
Visit ancient Mayan villages and stop at sparkling forest cenotes. Then head to the beach for a ride beside the ocean. It's one of our favorite things to do in Cozumel.
14 – Drink and dine at the quirky Coconuts Bar and Grill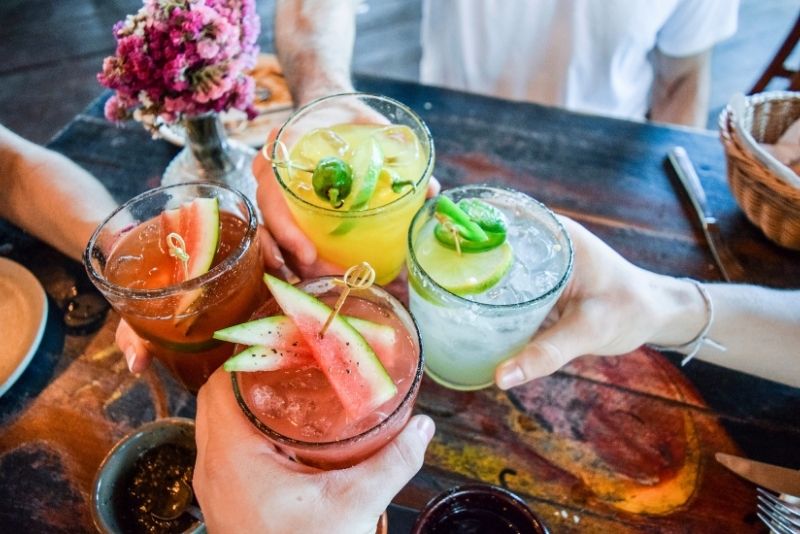 Unwind, relax, and sink your teeth into some of the freshest seafood in town at the laid-back Coconuts Bar and Grill.
If you're after a fun vibe with some great grub, this is the place to come.
While away a lazy seaside lunch in this eclectic cliff-top hut, where piña coladas and parrots live side by side.
15 – Search for treasure on a scavenger hunt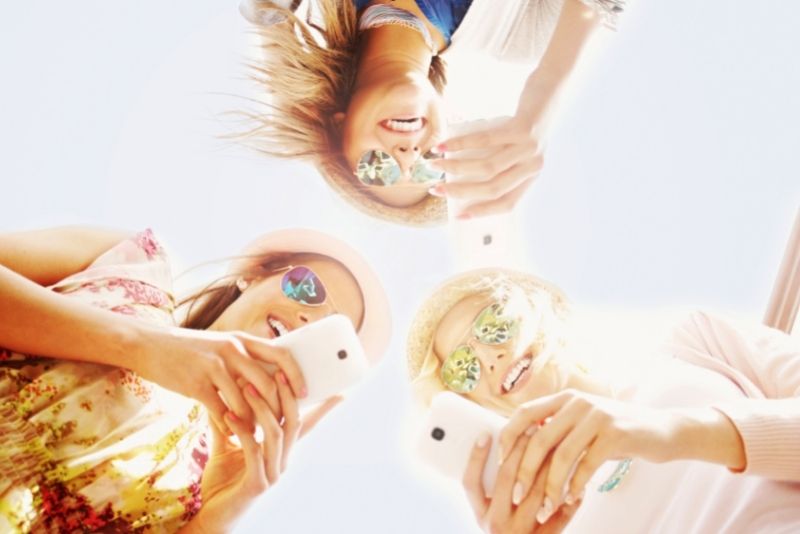 Become a detective for the day as you follow scavenger hunt clues and solve mysteries at key landmarks across the city.
You'll be cracking codes to unlock the next mission in this immersive adventure game. Will you be first past the post?
This self-guided sightseeing tour is a fun way to explore Cozumel. It's also a chance to prove your super-sleuthing powers to your friends.
16 – Go stand up paddleboarding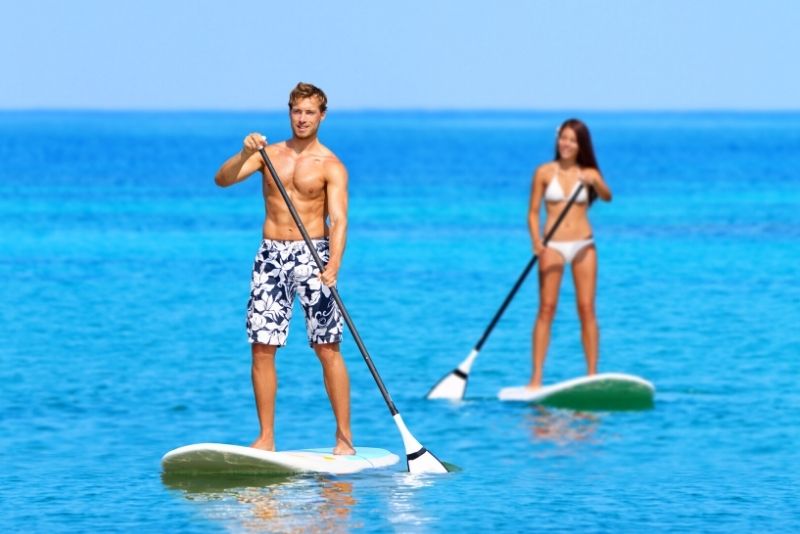 Don't worry if you've never tried stand-up paddleboarding before – the warm Cozumel waters are a great place to learn.
Once you've mastered your balance, propel yourself along the emerald coastline and drink in those views.
Watch as tiny tropical fish dart beneath your board, and admire the coral reef down below. Feeling hot? Then just dive in for a refreshing swim.
17 – Soak up the sun at Mr. Sanchos Beach Club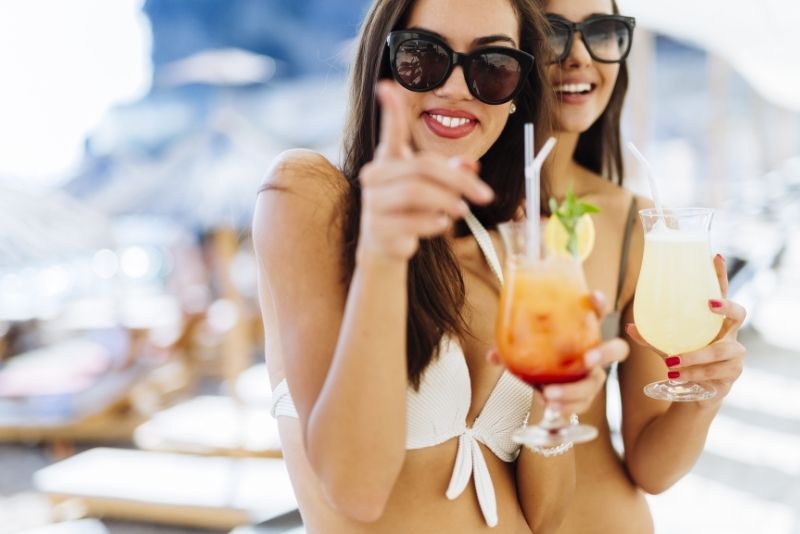 No trip to Cozumel is complete without visiting Mr. Sanchos Beach Club. Enjoying a beachfront position in the southwest of the island, the venue has all the ingredients for a relaxing day in the sun.
Swing in a hammock or chill out on the sand, the choice is yours. Feeling peckish? Then tuck into tasty meals and keep thirst at bay with inventive cocktails.
18 – Drive along the coast on a scooter tour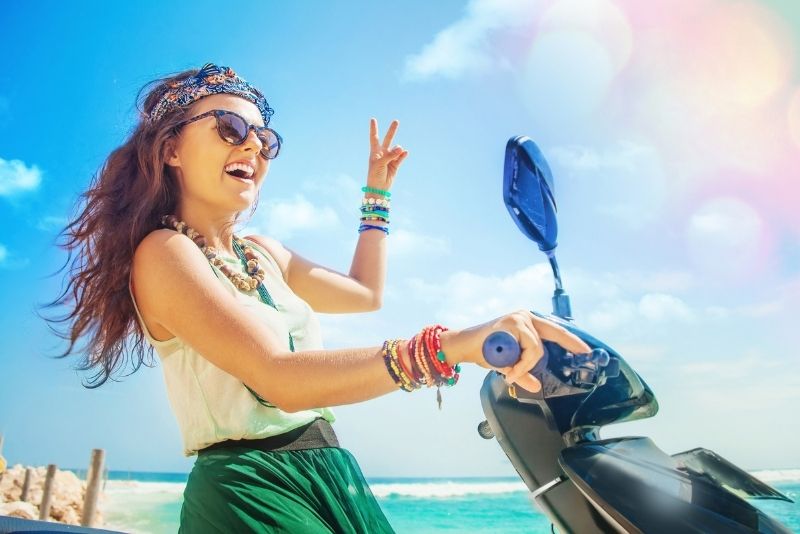 Scooter tours are one of the most fun things to do in Cozumel and a great way to get to know the island.
You'll be exploring all the top locations, with the chance to pose for photos at jaw-dropping viewpoints.
This is Mexican beach-hopping with a difference, including all the snorkeling and souvenir shopping you want along the way.
19 – Take a trolley bus tour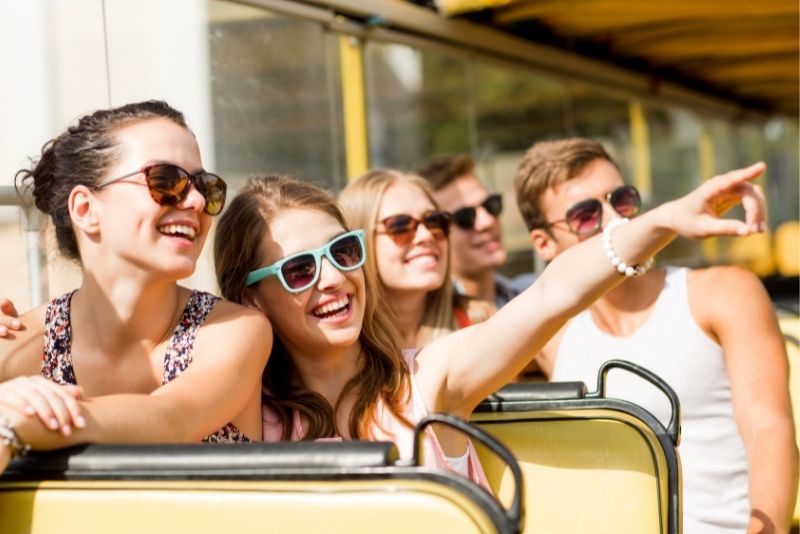 See the sights from a new angle as you journey around downtown Cozumel by trolley bus.
All the main landmarks are on the agenda, and there's free time for exploring the main square.
You'll pop into several churches, and shop for handicrafts and clothing in the historic center. See if you can spot the giant Mexican flag and take selfies at San Miguel Bay.
20 – Check out the street art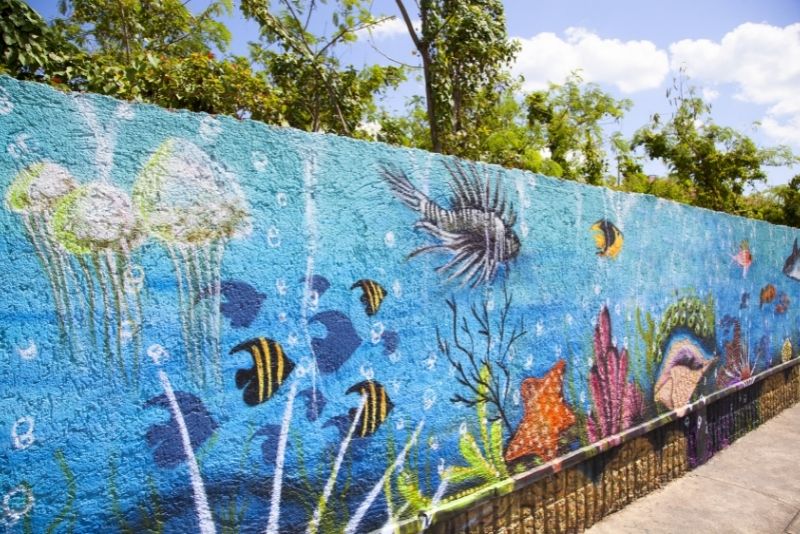 Be invited into the underground art world as you roam the city streets with a local artist guide.
There are real-life stories behind these colorful murals, all vividly depicted by internationally renowned creators.
Learn how to identify different techniques and discover how the graffiti scene is thriving in Mexico. The dazzling displays give a fascinating insight into local culture and tradition, and they look good on Instagram too!
21 – Visit the ancient settlement of El Cedral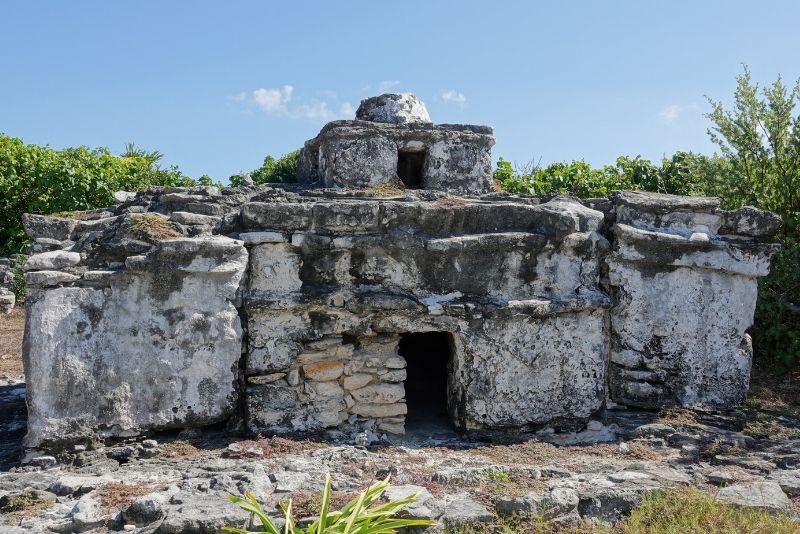 This old Mayan village is steeped in history, with a genuine charm that will have you wanting to linger for longer.
El Cedral was once the capital of Cozumel, and today is a quaint settlement of farms and homesteads.
The oldest archaeological site on the island is found here, and there's a pretty Catholic church that's worth a visit.
22 – Visit the archaeological site at Tulum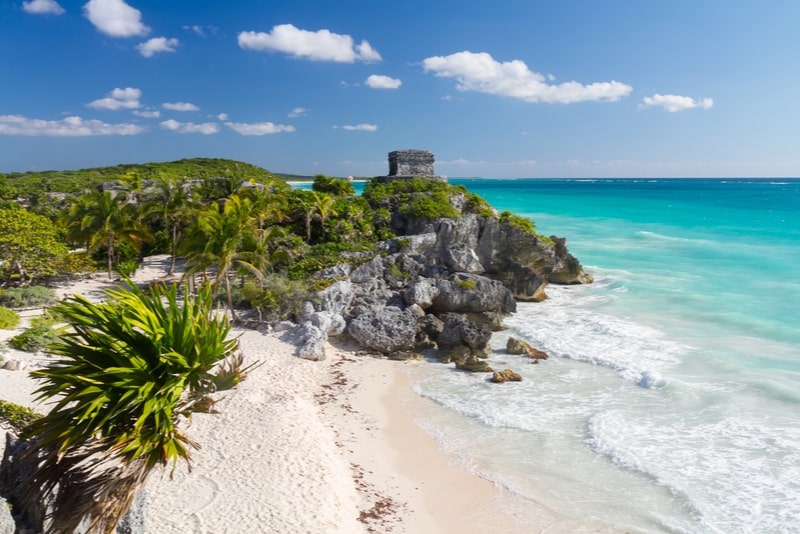 Perched majestically on a rocky outcrop, the Mayan ruins at Tulum are some of the most photogenic on the Yucatán Peninsula.
Overlooking a secret beach beside the Caribbean Sea, the 13th-century walled site has a watchtower and several buildings to explore. Don't forget your camera!
This is one of the most spectacular settings for a swim in Mexico, so take a towel if you fancy a dip.
23 – Sunbathe and snorkel at Playa Uvas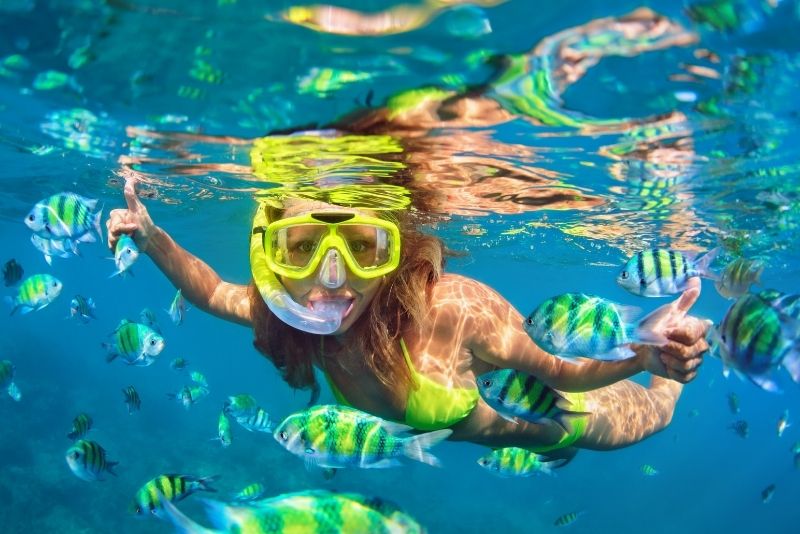 Combine scrumptious cuisine, personal service, and even snorkeling at the trendy Playa Uvas beach club on Cozumel's west coast. Bag a sun lounger or hammock and start your day in style with a complimentary welcome cocktail.
Snorkel gear comes as standard so can explore the marine kingdom to your heart's content. Enjoy a slap-up meal and free-flowing drinks, before surrendering your senses with a relaxing massage.
24 – Taste honey at the Mayan Bee Sanctuary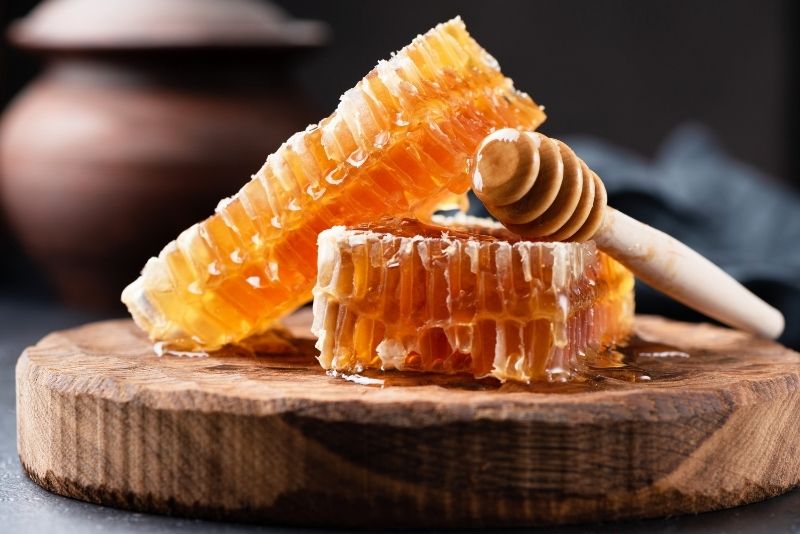 Looking for off-beat things to do in Cozumel? Then head to the Mayan Bee Sanctuary and open your eyes to a whole new side to the island.
Learn about the importance of bees in the Mayan world as they buzz lazily around the jungle glade. Don't worry, they are stingless!
The tour finishes on a sweet note with honey tasting fresh from the hives.
25 – Chill out on Isla de la Pasión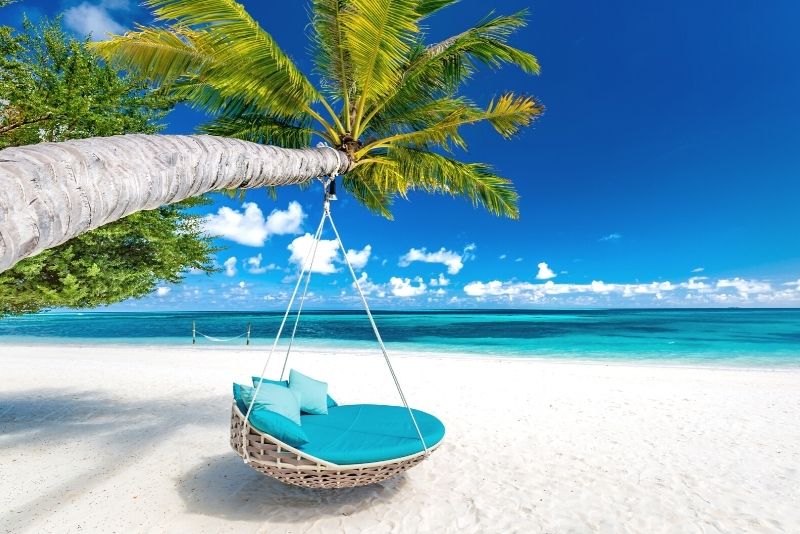 This private island off northern Cozumel is the ultimate beach getaway, with all the powder white sand and turquoise sea that you can handle. Isla de la Pasión is THE retreat of retreats, popular with couples as well as families.
Share a seafood picnic beneath a shady palm tree or join in the games at one of the beach clubs.
26 – Explore the Zona Arqueológica San Gervasio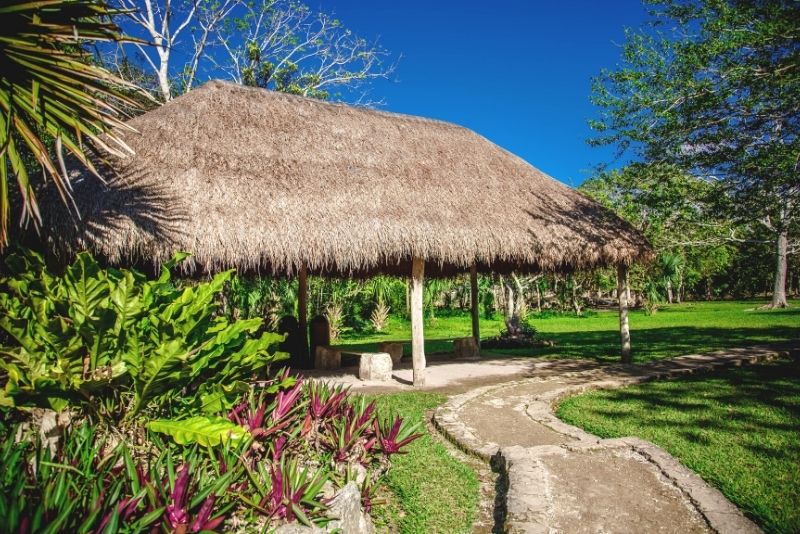 Visit the best-preserved pre-Hispanic site on the island, where Mayans once made pilgrimages to worship the Goddess Ixchel.
This sacred center was also a strategic trading settlement, with an unusual network of roads leading to hidden forest temples.
Take a wander around the San Gervasio complex and try to imagine what life was like here back in the day. Don't forget the sunscreen!
27 – Dive into the big blue sea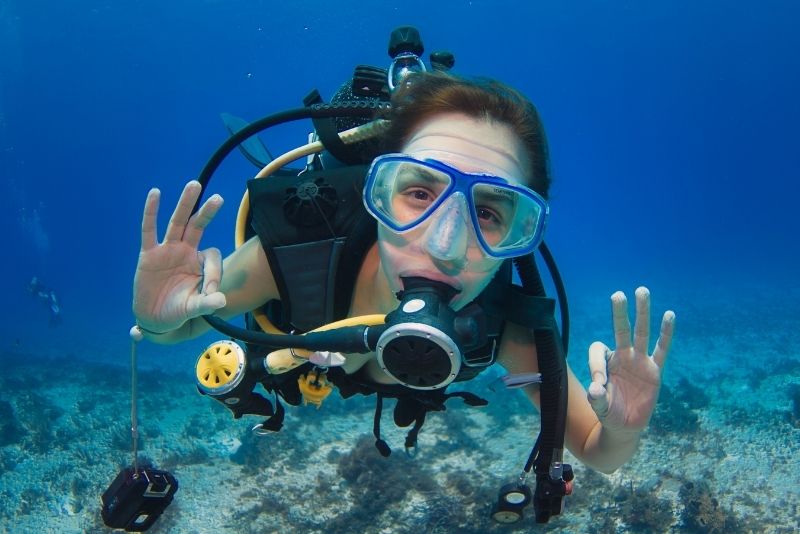 Cozumel is home to some of the best dive sites in the world, with Columbia Reef and Santa Rosa Wall giving the ultimate bragging rights.
Visibility here is second to none so you won't miss a thing when it comes to spotting the marine residents. Sea turtles and whale sharks are frequent visitors.
There are discovery sessions for beginners and drift dives for the experts, keeping everyone happy.
28 – Take a day trip to Cancún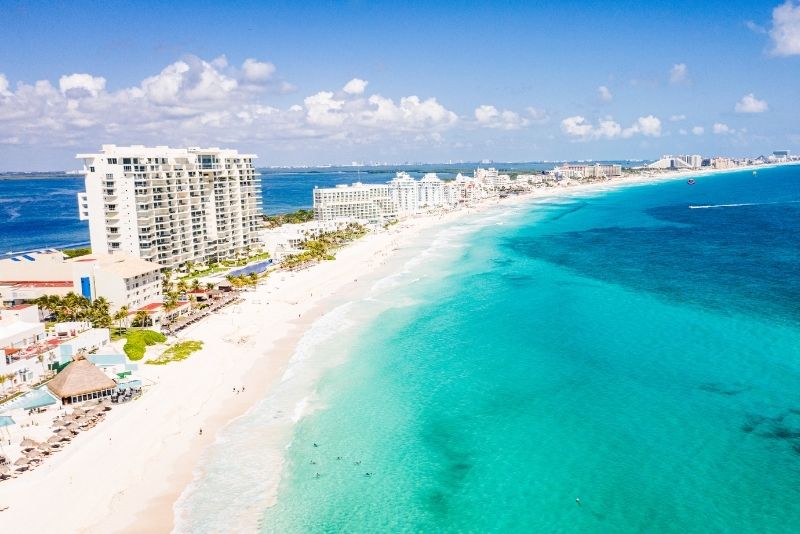 Beautiful natural surroundings and endless entertainment are what make Cancún tick. Famed for its world-class beaches, flashy resorts, and buzzing nightlife, the city is a lively contrast from sleepy Cozumel.
Walk barefoot along the pristine white sand and snorkel in the crystal-clear waters. Then treat yourself to a delicious dinner in this larger-than-life town before partying into the inky black night.
Check out our selection of fun things to do in Cancun.
29 – Spot starfish at El Cielo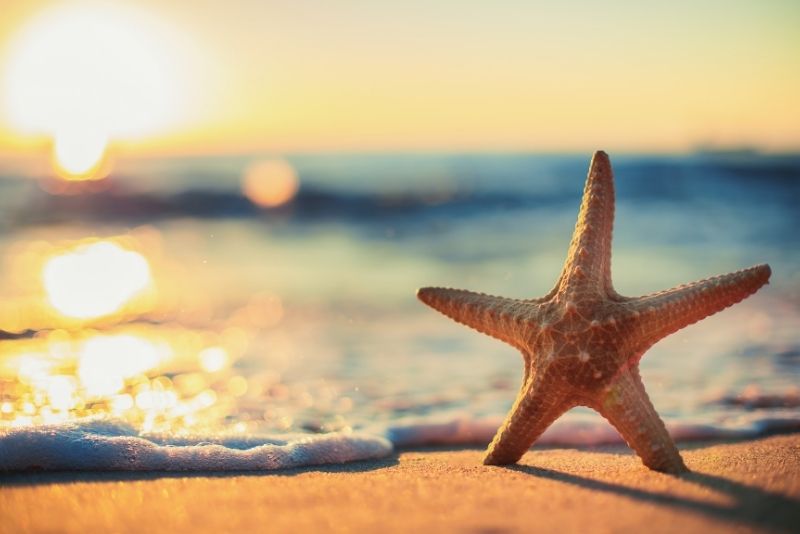 Feel like you're on a private island as you tiptoe over the silky white sands of El Cielo. Lying half a mile offshore from Cozumel, this idyllic sandbar is accessed only by boat.
The gently lapping water invites you in for a snorkel, to see vibrant fish darting about and starfish lazing on the seabed. It's shallow, so perfect for families wanting barefoot adventures and easy marine encounters.
30 – Head to Playa del Carmen on a day trip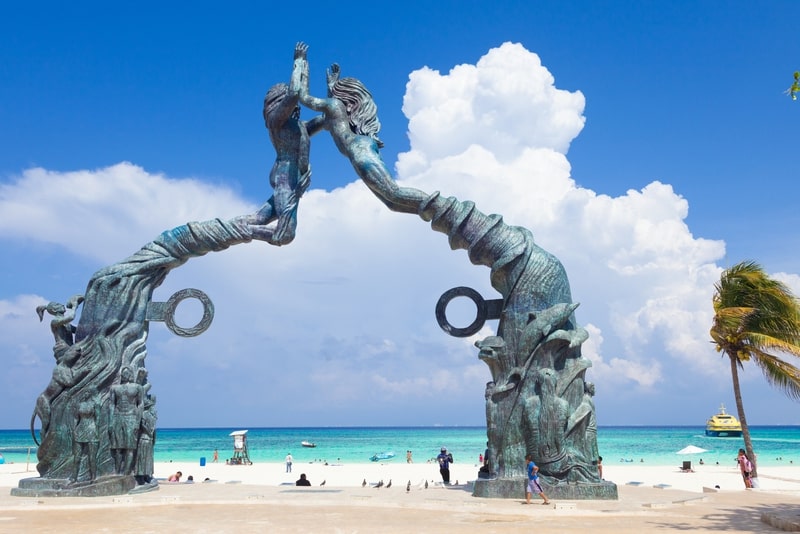 Enjoy a taste of mainland life on a visit to Playa del Carmen. This chilled resort town is a magnet for beach lovers across the Riviera Maya. Turquoise water and sugar-soft beaches await, with water sports and sun loungers in plentiful supply.
Feast on iconic Mexican dishes in stylish restaurants, and dance along to the tunes being pumped out by live DJs.
Check out our selection of fun things to do in Playa del Carmen.
31 – Be entertained at La Mission Restaurant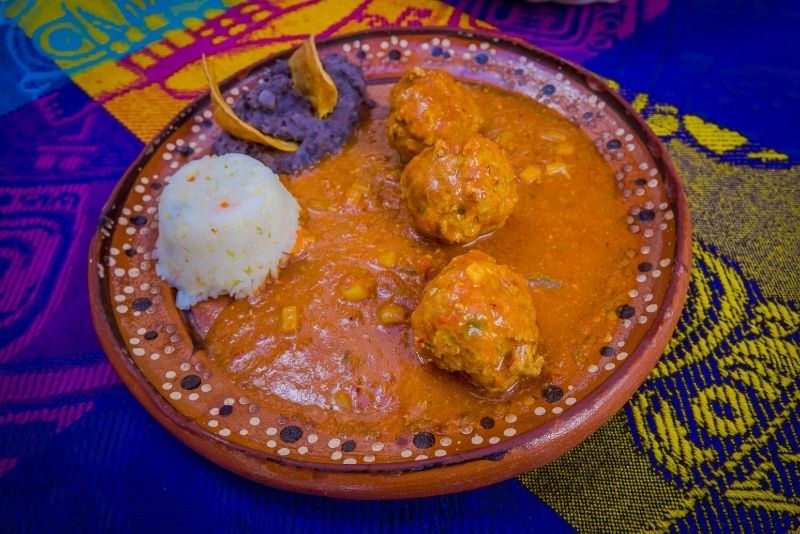 Settle in for an evening of folk entertainment and good food at this themed Mexican restaurant.
Styled around a tropical garden with a colorful Caribbean vibe, La Mission will transport you back in time to pre-Hispanic Cozumel.
Tuck into traditional favorites like garlic shrimp and mole chicken, while being serenaded by live musicians. Feel free to get up and dance!
32 – Discover Emotions Native Park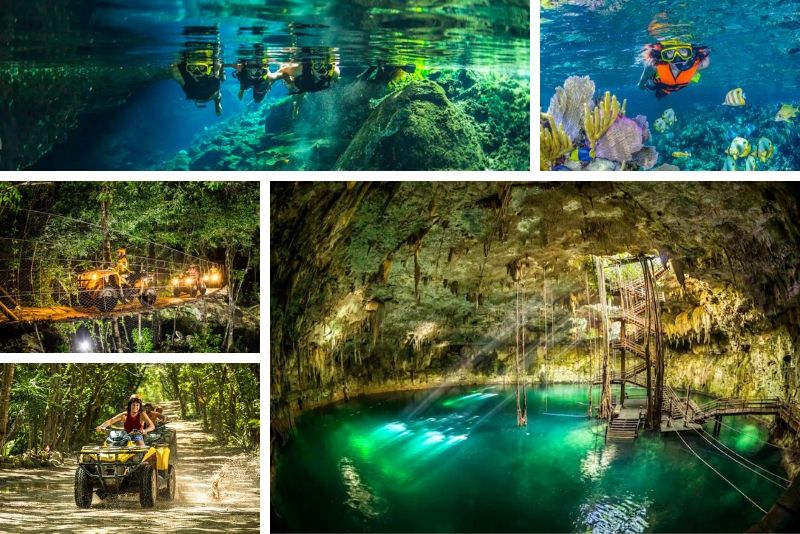 Ramp up the action with a thrilling visit to Emotions Native Park over on the mainland. You can drive ATVs along tropical forest trails and wobble along a bridge suspended high in the canopy.
Take on the zip line if you dare, and splash around in a cenote afterward. To add to the atmosphere, you'll see picturesque Mayan temples peeping through the foliage, making for great vacation snaps.
33 – Get active in Garrafon Reef Park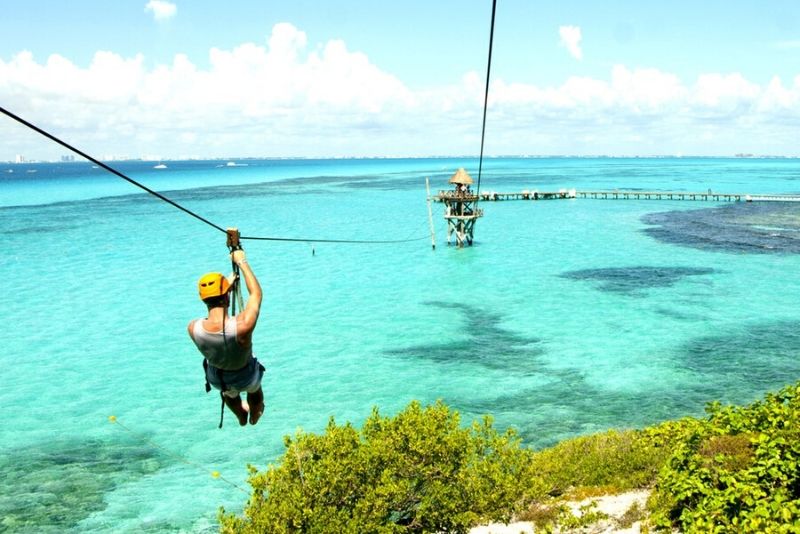 Garrafon Reef Park expertly balances relaxation and adventure, with thrilling activities and tranquil infinity pools working side by side.
Kayak through tropical lagoons or see how fast you can slide on the zip line. Then dive into the ocean for some fun snorkeling on the vibrant reef. Need a breather? Then swing in a hammock and plan your next moves.
34 – Connect with nature at Tankah Cenotes Park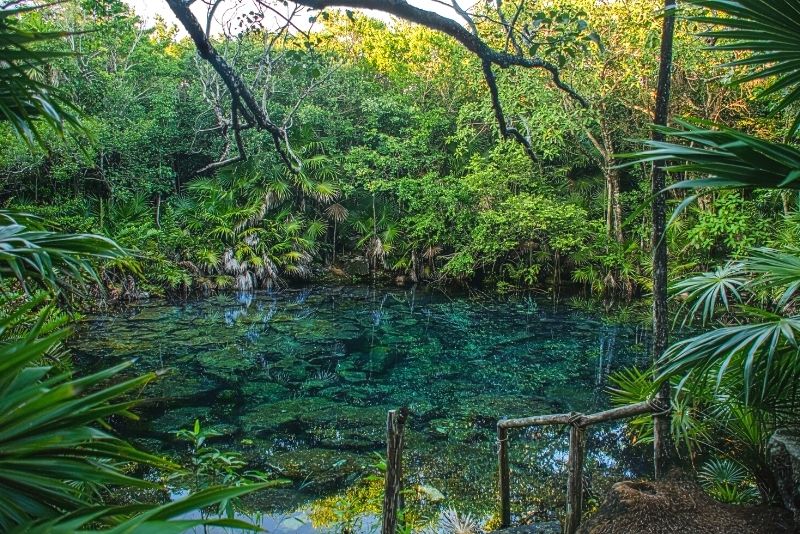 Is swimming in a freshwater jungle pool at the top of your to-do list? Then plunge into the inviting waters of Tankah Cenotes Park and surround yourself with a bit of Mayan enchantment.
Feeling brave? Then jump off the diving platforms and zoom through the trees on zip lines to get a true feel for your surroundings. Forest hikes and village visits add to the adventure.
35 – Get spooked at the Underwater Museum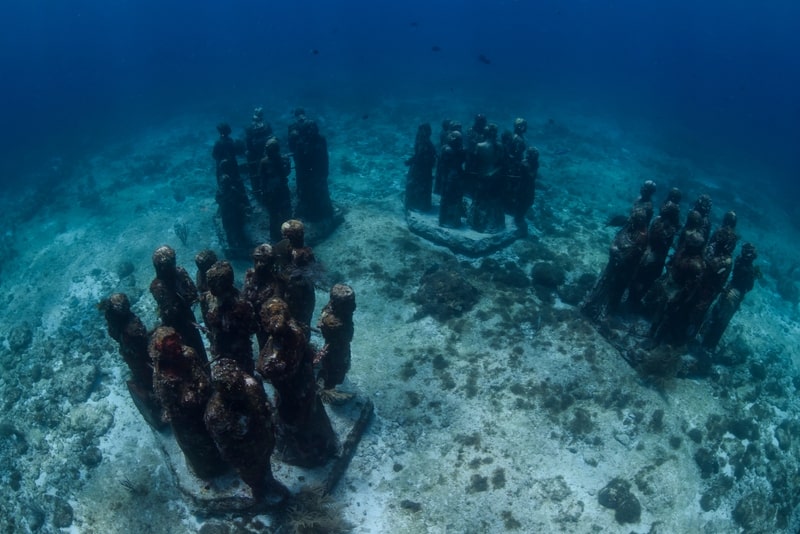 Have you ever visited a museum that was fully submerged in the ocean? This delightfully eerie sculpture park sits on the seabed and can be explored by divers, snorkelers, or visitors on a glass-bottom boat.
Swim past life-size stone statues, giant hands, and even a replica car. You won't be alone down there – the Underwater Museum is a paradise for turtles and reef fish.
36 – Zip line through the forests of Tulum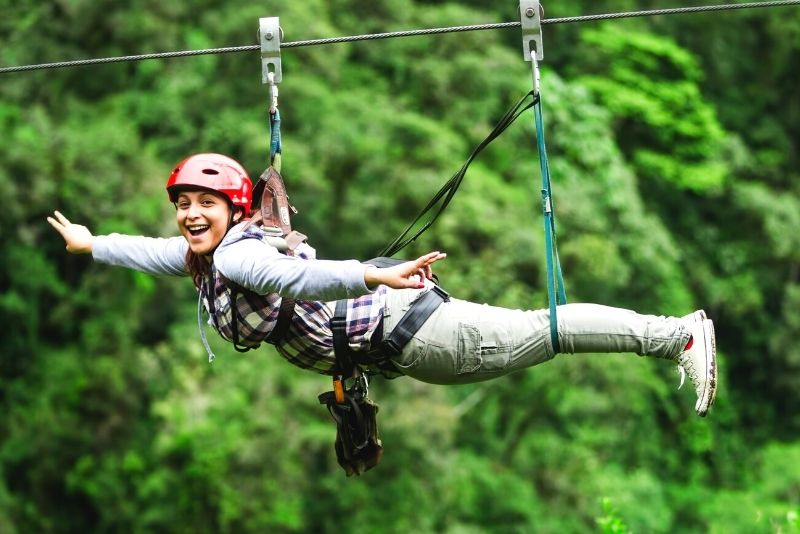 Fly free as a bird through the jungles of Tulum on an adrenaline-pumping zip lining mission. Enjoy close encounters with canopy wildlife and see the Riviera Maya from a whole new perspective.
Some of the most thrilling lines take you right over the top of sparkling cenotes. Who can resist a swim in one of them to cool down after all the excitement?
37 – Kayak across lagoons in Tulum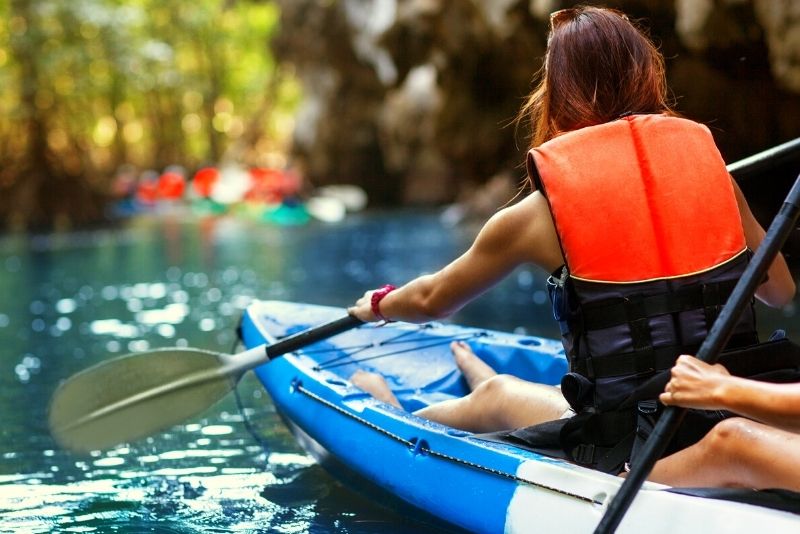 There's something satisfying about exploring under your own steam, and paddling a kayak is the ultimate human-powered adventure.
You'll be journeying across tranquil lagoons and delving deep into mangrove labyrinths in search of wildlife. Keep your eyes peeled for sea turtles and crocodiles hiding in the shallows.
The Mayans used these waterways to ply their trade, so you'll be following in some rather historic footsteps!
38 – Dive down on an Atlantis Submarine expedition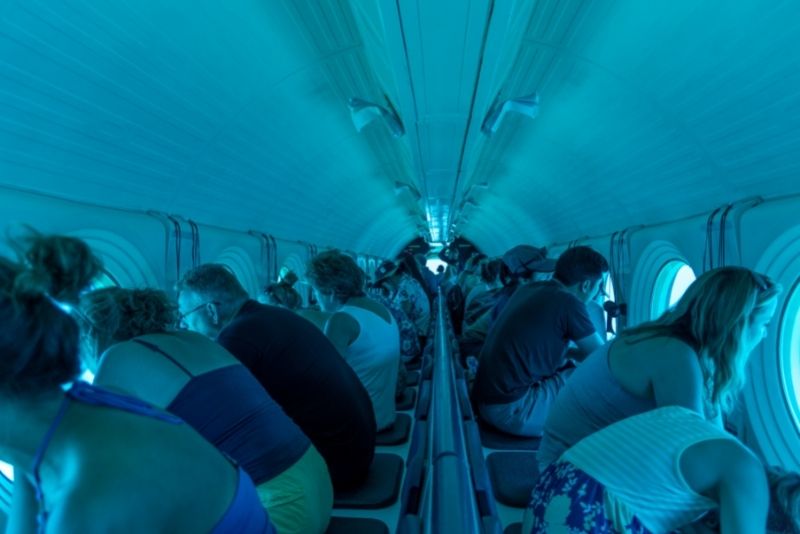 Make like Jules Verne and descend into the marine kingdom by submarine in search of unusual sea creatures.
This is one of the top things to do in Cozumel for families who want to experience the seabed without getting their feet wet.
Watch as rays and shoals of tropical fish swim past the windows as you plunge deeper into your ocean explorations.
39 – Take photos of the Coral Reefs Monument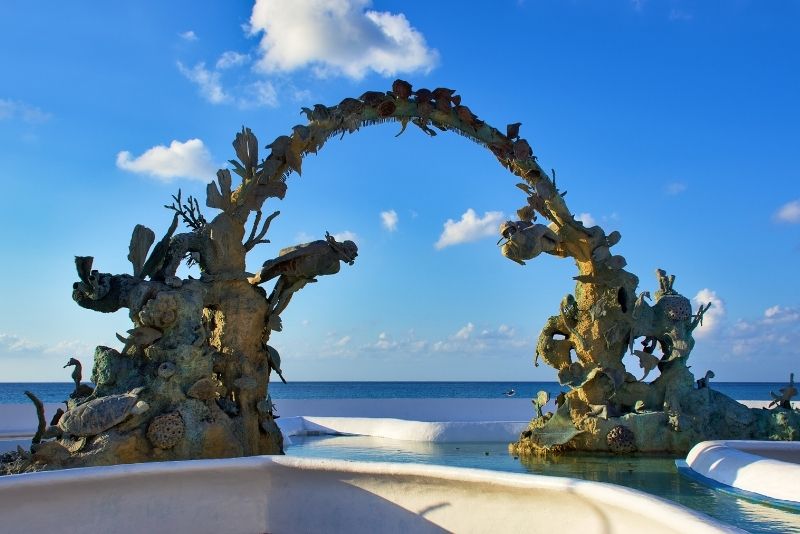 The astonishing monument on the promenade in San Miguel de Cozumel features two scuba divers surrounded by marine life.
A celebration of the local coral reefs, this intricately crafted archway sits on top of a fountain for added effect.
The Coral Reefs Monument is great for photos, especially when the water is in action. See if you can count the fish carved all around the sculpture.
40 – Explore Mayan culture at Kun Che Park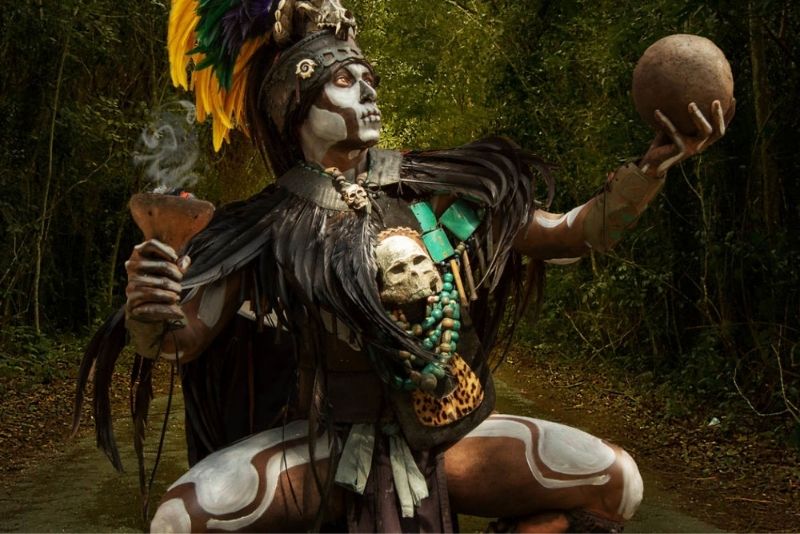 Drive into the sacred Cozumel forest and enter Kun Che Park, the island's oldest settlement.
You'll be whisked off on a journey through time, discovering the local culture and how Mayans used to live in this enchanting sanctuary.
Take part in purification rituals, pay your respects at an ancient altar, and taste organic artisan cacao. Dance performances and folklore shows are all part of the experience.
41 – Swim at Chen Rio Beach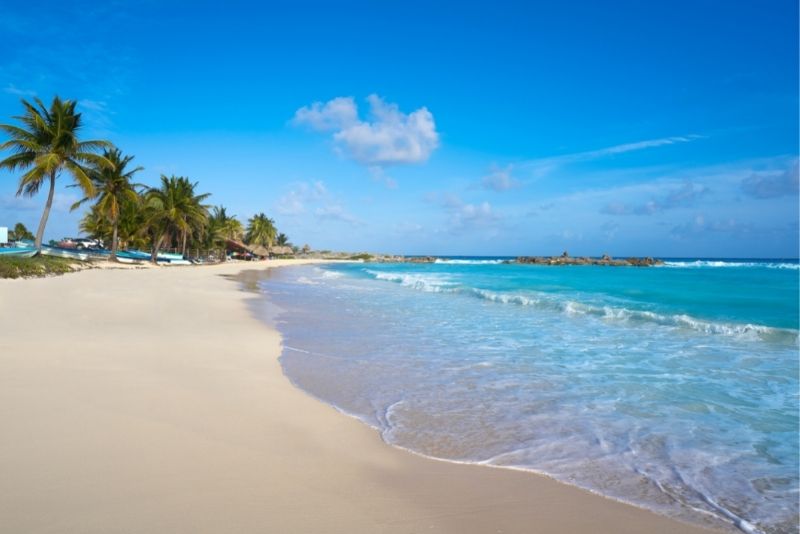 This sheltered beach on the southeastern shores of Cozumel is one of the best places to take a dip. Lined with lush vegetation and with a river running through it, Chen Rio Beach is serene and totally tropical.
Natural pools have formed around some large boulders, making this a favorite with families looking for safe swim spots. Fish restaurants provide sustenance after your exertions.
42 – Sip cocktails at Jimmy Buffett's Margaritaville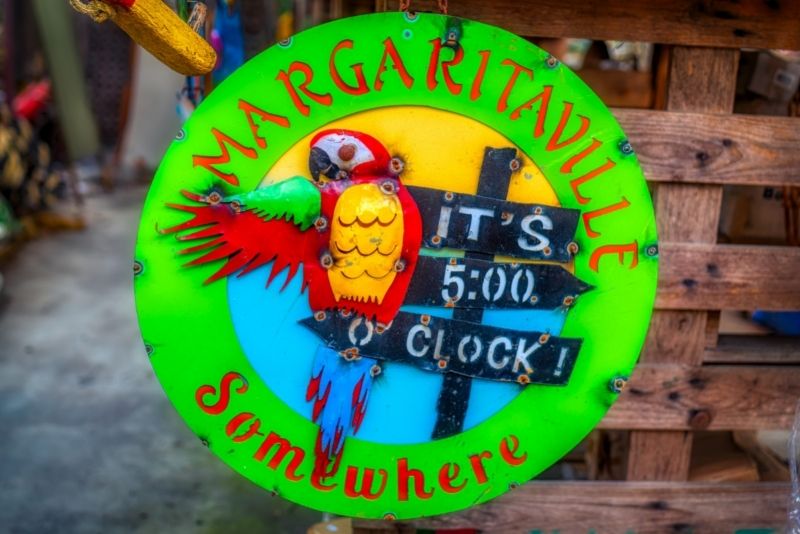 It's not often your cocktails come with free snorkeling, but that's exactly what's on the menu here at Jimmy Buffett's Margaritaville.
This laid-back bar is right on the ocean, so having a swim in between your drinks just seems the right thing to do.
Laze on the sun terrace or watch a bit of live sport, then order buffalo wings and fried calamari to keep hunger at bay.
43 – Become action warriors at Xplor Adventure Park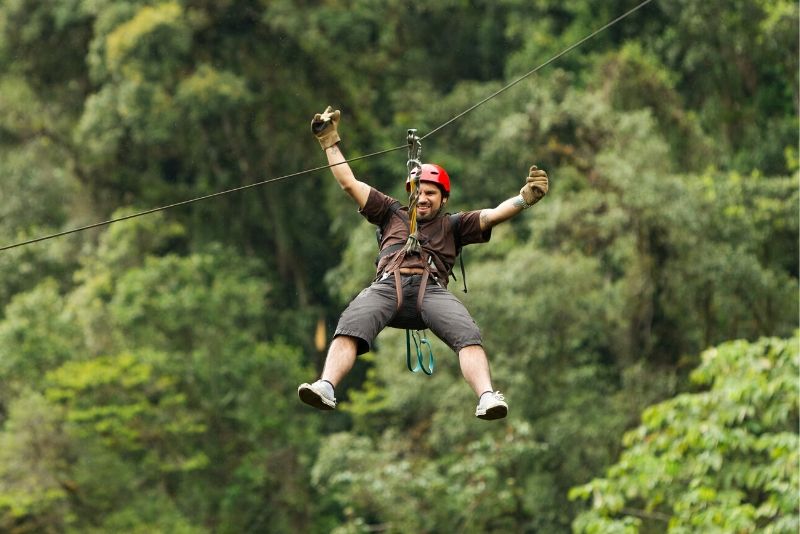 Rafting on underground rivers and driving amphibious vehicles through the jungle are all in a day's work at Xplor Adventure Park.
Of all the things to do in Cozumel, a day trip here is perhaps the most thrilling of them all. Flying through the canopy on zip lines and swimming in mysterious grottoes will surely set your heart aflutter.
44 – Chow down on churros at the Three Amigos Restaurant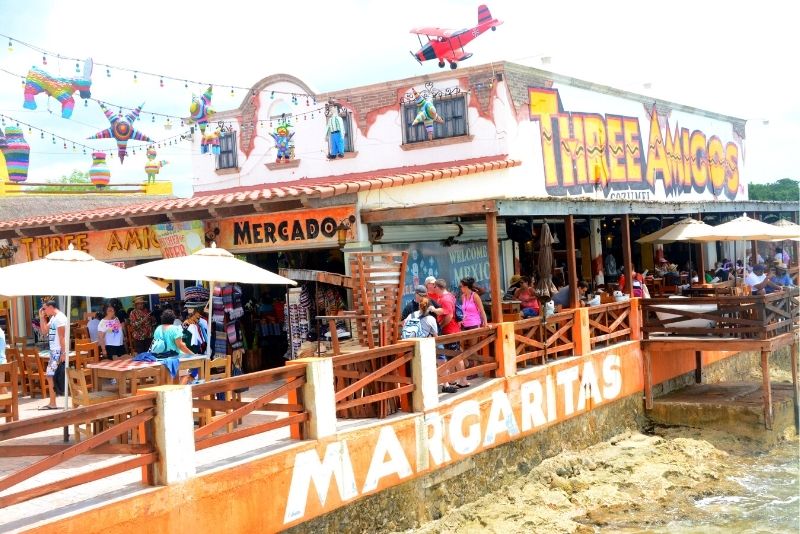 Get stuck into chicken quesadillas piled high with cheese or mountains of loaded nachos at this welcoming restaurant in San Miguel de Cozumel.
Mexican comfort food is what it's all about at the Three Amigos, for a bit of guilt-free indulgence.
Those with a sweet tooth will love the sugar-dusted churros, all washed down with one of the famous mariachi margaritas.
45 – Enjoy a tequila tasting tour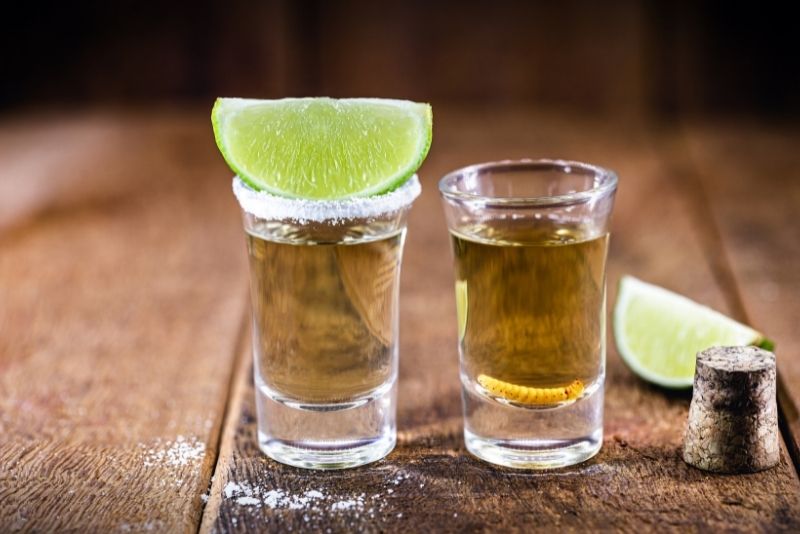 Tequila is the lifeblood of Mexico, so discovering this amber nectar first-hand is a no-brainer on Cozumel. Learn about the history of the fiery elixir on a factory tour, and the secret processes that turn it from plant to drink.
Then it's tasting time – see if you can identify some of the local flavors in Mexico's national tipple.
46 – Soak up the atmosphere at Guido's Restaurant Bar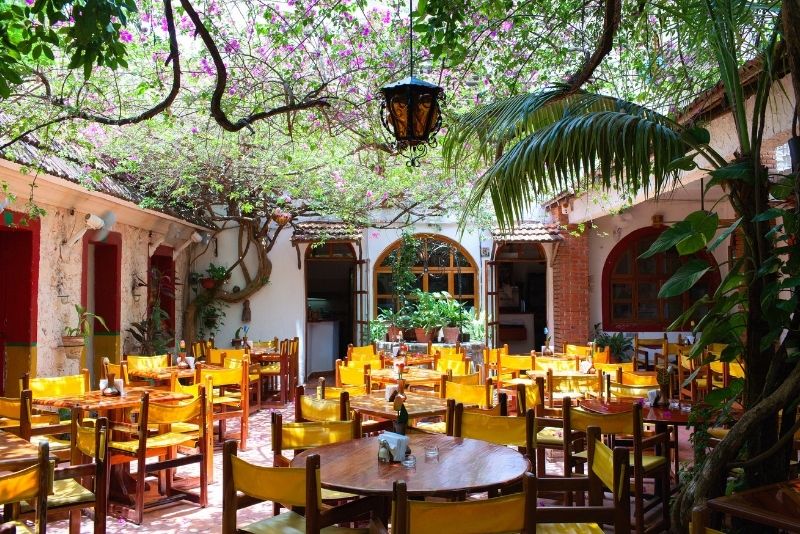 The bougainvillea-draped courtyard and flickering yellow candles at Guido's Restaurant Bar set the mood for a romantic evening out. This family-run eatery is a favorite with locals and visitors alike.
Dig into indulgent seafood platters and swap tacos for wood-fired pizzas and creamy lasagnas at this Swiss-Italian restaurant. The garlic bread is a must, while homemade ice cream provides the ultimate finale.
47 – Enjoy hands-on history at Discover Mexico Park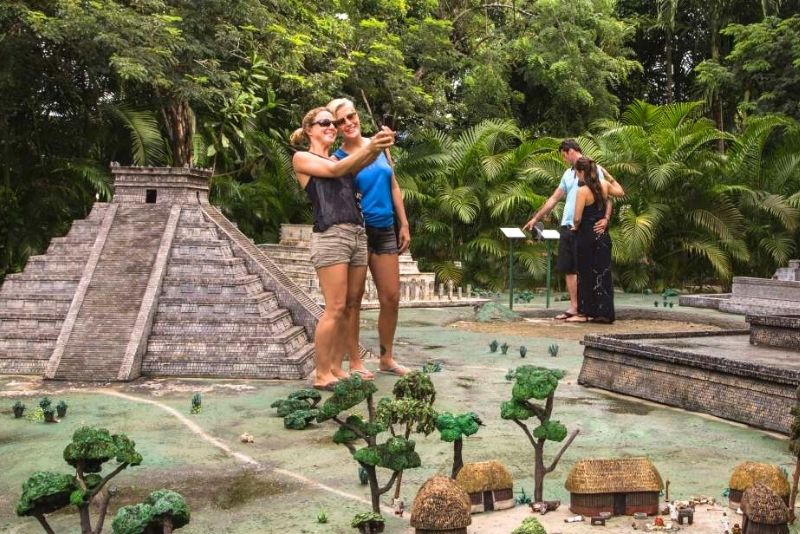 This one-of-a-kind theme park takes you on a whirlwind tour through Mexico's history. You will learn about the culture and architecture of this exotic land, with interactive films bringing the stories to life.
Kids love the miniature scale models of famous Mexican sites, with temples, cathedrals, and monuments to identify. Stroll through tropical gardens and check out the art museum before you leave Mexico Park.
48 – Go on a pub crawl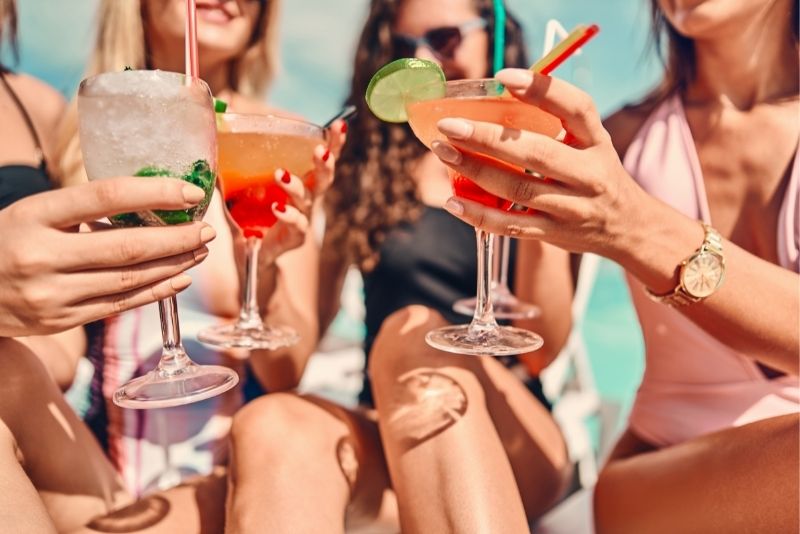 Pub crawls are one of the many things to do in Cozumel that will get you in the party mood. You'll be stopping at some of the best watering holes on the island, most of them right beside the ocean.
There will of course be a stop at the famous tequila factory, but make sure you leave room for some Caribbean cocktails. The mojitos here will rock your world!
49 – Taste wine and chocolate by the sea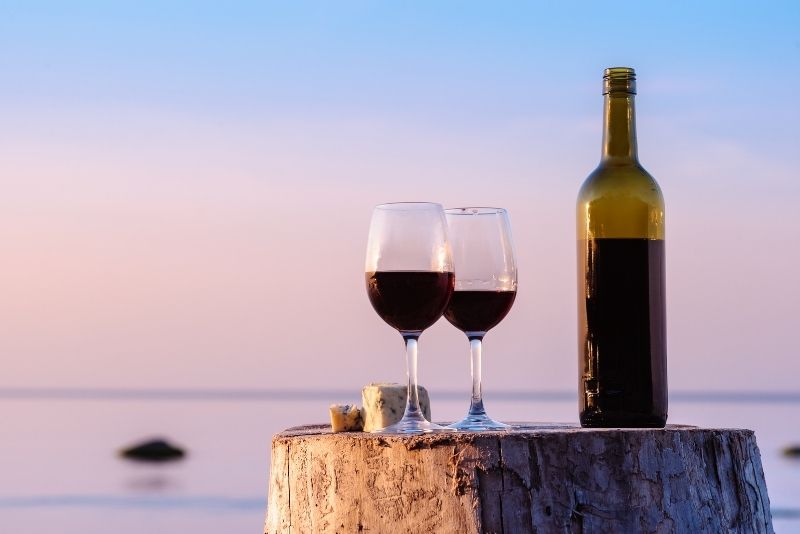 You don't need to be a wine connoisseur to enjoy the wine tasting tours in Cozumel. Especially when they come with lashings of rich Aztec chocolate and a view of the beach.
The Mayans may have invented this delicious local sweet treat, but it wasn't until later that the locals discovered how good it tastes with red wine. We think you'll agree.
50 – Shop for handicrafts at Los Cinco Soles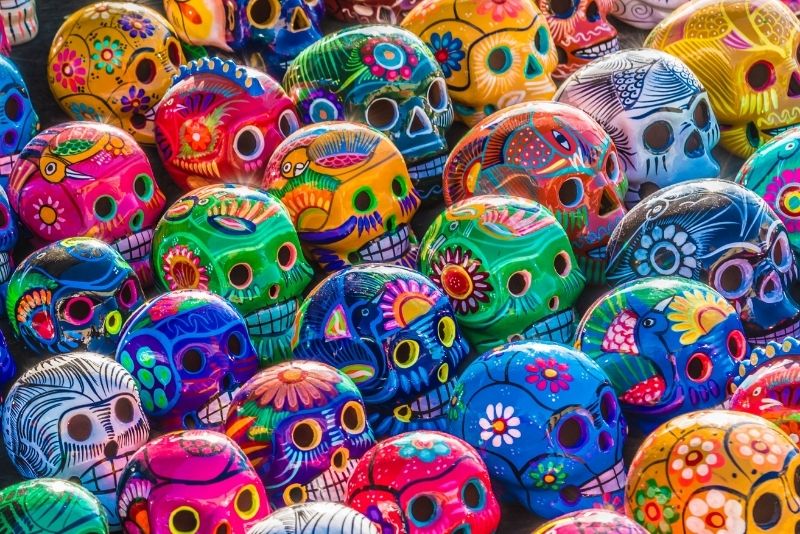 Discover the story of Mexico through the work of its skilled craftsmen and women. The vibrant colors and patterns on the artisan pieces at Los Cinco Soles reveal stories to those who look hard enough.
You can buy everything from earthenware egg cups and silver jewelry to kaftans and specialty tequila. Just make sure you have room in your luggage to take it all home!
51 – Stay at the Grand Park Royal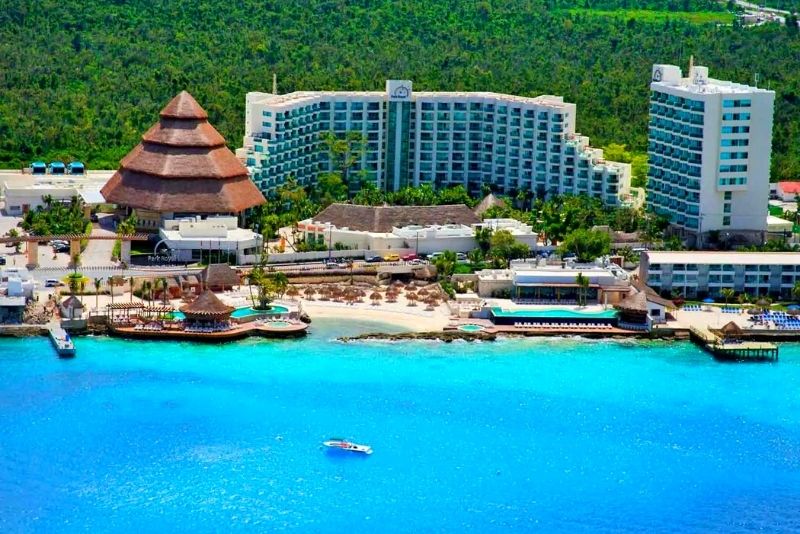 The stylish Grand Park Royal is the ultimate luxury Cozumel hotel. If you want to gaze upon the ocean from your hot tub, indulge in spa treatments, or enjoy private beach access, this is where it's at.
The 5-star resort is a haven of infinity pools and international restaurants, and there's even a kids club for when you want some "me time".
We hope you enjoyed our round-up of all the top things to do in Cozumel. Whether you're a sun worshiper or an adrenaline junkie, you should now be armed with all the information you need for the vacation of a lifetime.
Don't forget to book your hotel in Cozumel well in advance. The island is very popular, and rooms do sell out so get in quick to bag your preferred spot.
It's always a good idea to book airport transfers too, for a seamless journey that gets your trip off to a smooth start.