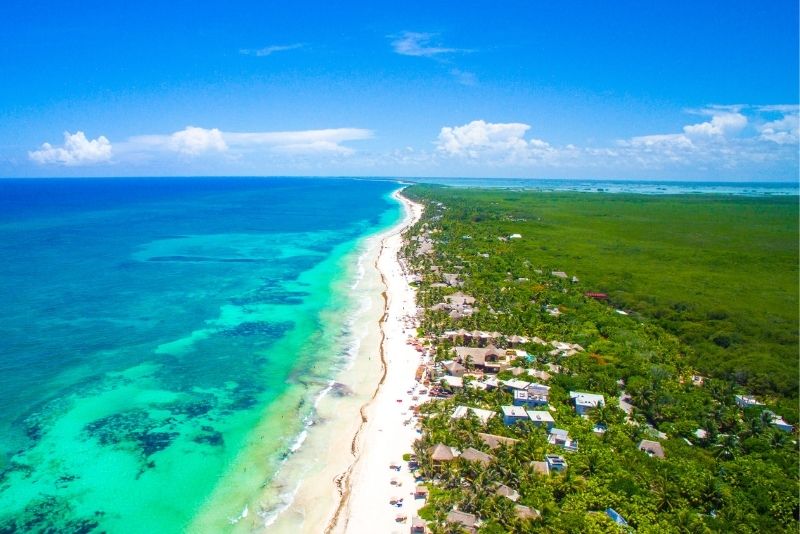 A slice of Central American paradise, Mexico's Riviera Maya coastline is 100 miles of powder-soft sand that stretch along the Yucatan Peninsula. Seldom dishing up a rainy day; the affordable, diverse, and all-around fun destination has been a tourist favorite for years.
Its cenotes (natural swimming holes), all-inclusive resorts (perfect for party-goers), family-friendly adventure parks, and endless snorkeling and diving opportunities provide unbeatable traveler itineraries no matter your age or traveling style.
History buffs, go right ahead and explore the area's ancient Mayan Ruins and underwater museums; adventures, take a day trip to Cozumel for diving, snorkeling, and sailing excursions, or cross the Chichen Itza World Wonder off the bucket list.
Millennials, kick back in Tulum and dig into the enviable foodie scene; or let your hair down and dance the night away at rowdy clubs and bars.
With so many things to do in Riviera Maya — from Puerto Morelos in the North to Punta Allen in the South, and Tulum and Playa del Carmen in between — you'll never want to leave this incredible oasis.
1 – Head underwater at Puerto Morelos' Snorkel Native Park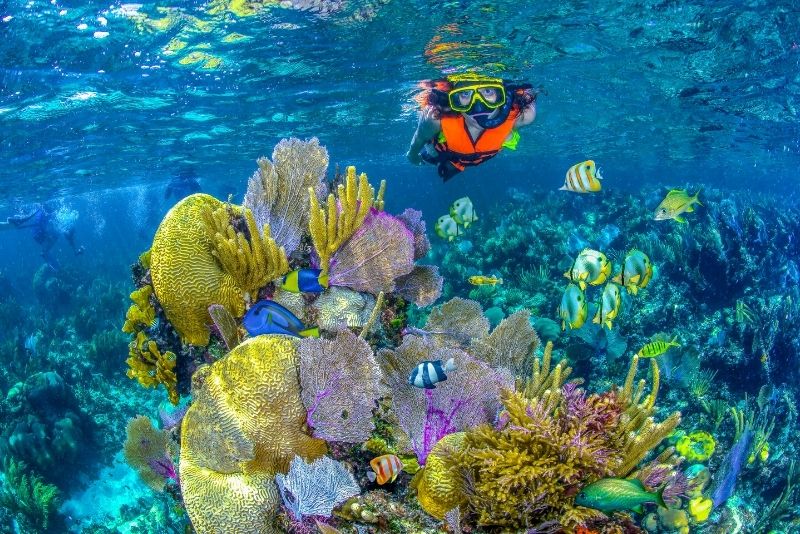 While the Yucatán Peninsula boasts no shortage of stunning translucent waters, the Snorkel Native Park — about halfway between Playa del Carmen and Cancun — dishes up some of the most pristine snorkeling not just nationwide but worldwide, with warm and flat waters, colorful coral, and vibrant sea life abundant.
With all necessary snorkeling equipment included, plus optional hotel pickup and drop-off, and guided swims around what is the second-largest barrier reef in the world, spanning both the Tanchacte and Caracol reefs, the experience is one that must be tried to fully appreciate.
2 – Soak in the sun at Playa Maroma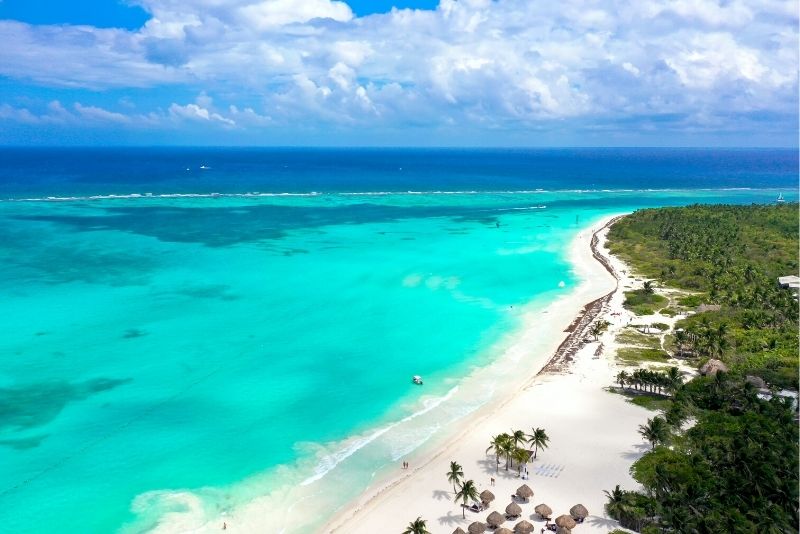 Sitting about 35 kilometers south of Cancun, Playa Morama (Morama beach) is renowned for its lush, protected mangrove forests and white-sand shoreline that stretches for five miles.
If you're after an all-inclusive resort (read: first-class service, free-flowing drinks, and live DJs) to best experience the area, Catalonia Playa Maroma is hard to beat; if you're looking more for adventure rather than relaxation, a range of water sports are on offer from kayaking to snorkeling.
3 – Work on the tan at Playa Xcalacoco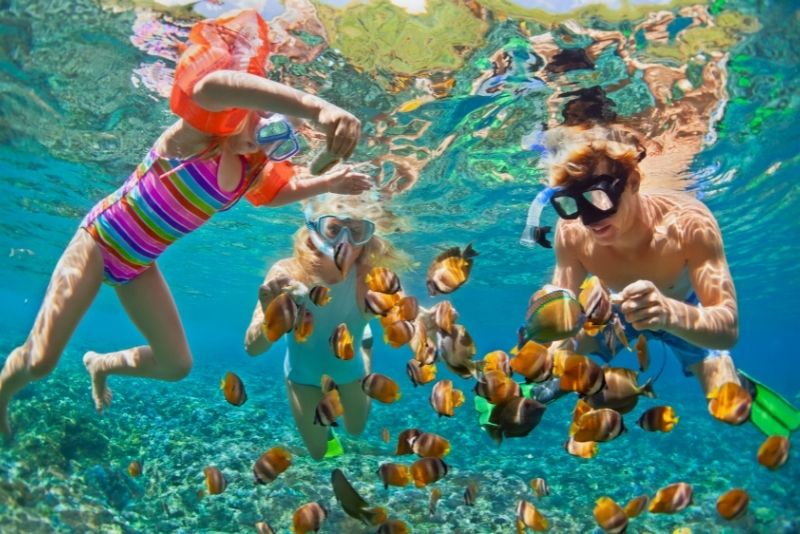 As another beach famous for its turquoise waters and stunning white sands, a day at Playa Xcalacoco sells itself as one of the best things to do in Riviera Maya for sun-seekers.
It's also a first-rate spot for snorkeling — you can see all manner of sea life through its crystalline turquoise waters.
Thanks to its location on the northern side of Playa Del Carmon, Xcalacoco is just far enough from the main strip where it's rarely crowded, yet close enough to reach by a decent walk or quick taxi ride.
4 – Jump into the Cristalino cenote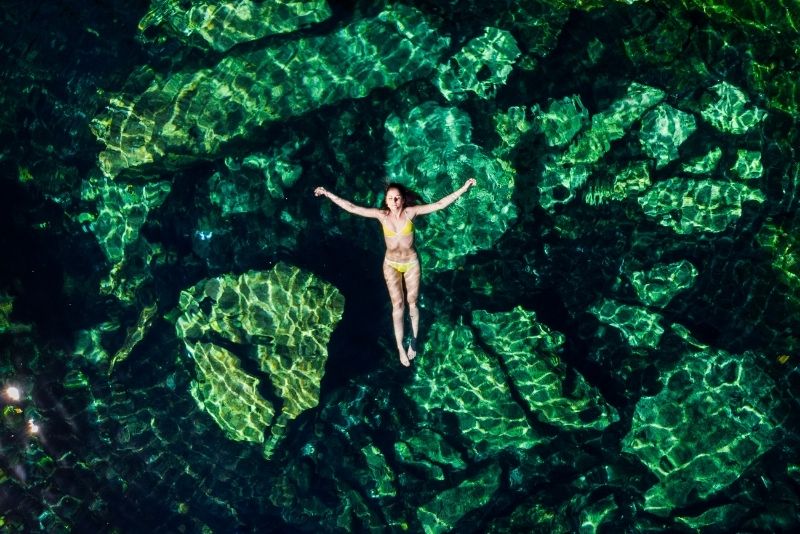 Not too far from Playa del Carmen and within walking distance from the postcard-perfect Cenote Azul (blue cenote), Cenote Cristalino is another must-see when in the area, especially when in need of cooling off on a toasty Mexican summer's day.
Besides offering a nice, not-too-high cliff-jumping point, Cristalino is also considered one of the area's best when it comes to swimming.
Background info: A cenote is a natural pit or sinkhole resulting from the collapse of limestone bedrock that exposes groundwater underneath, and they are mostly found along Mexico's Yucatán Peninsula.
There are thousands of them throughout this region, with some simply being large pools while others lead to underground rivers.
5 – Practice your swing at Gran Coyote Golf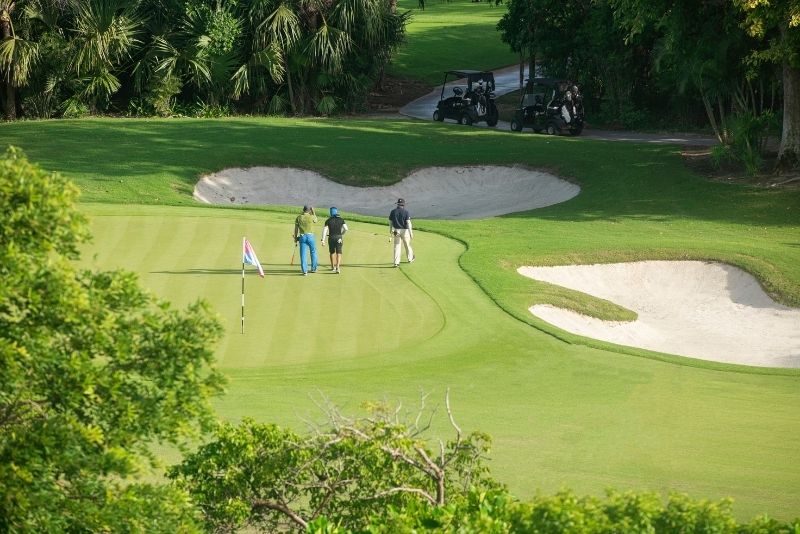 If you're a fan of golf, or perhaps fancy yourself as something of an amateur prodigy, the Gran Coyote Golf course — one of Riviera Maya's best-kept secrets for sports nuts — is ideal for those looking to test their skills.
Set amongst tropical surroundings on the outskirts of Playa del Carmen, a stone's throw from the beachfront with lush greenery and water features to boot, this is one of the best places in town to hit the fairways.
The course itself has 18 holes (although there are multiple tee-off points for some holes) — and when you're done putting and driving, the Pro-Shop, Club House, and Coyote Grill await.
6 – Grab some souvenirs along Quinta Avenida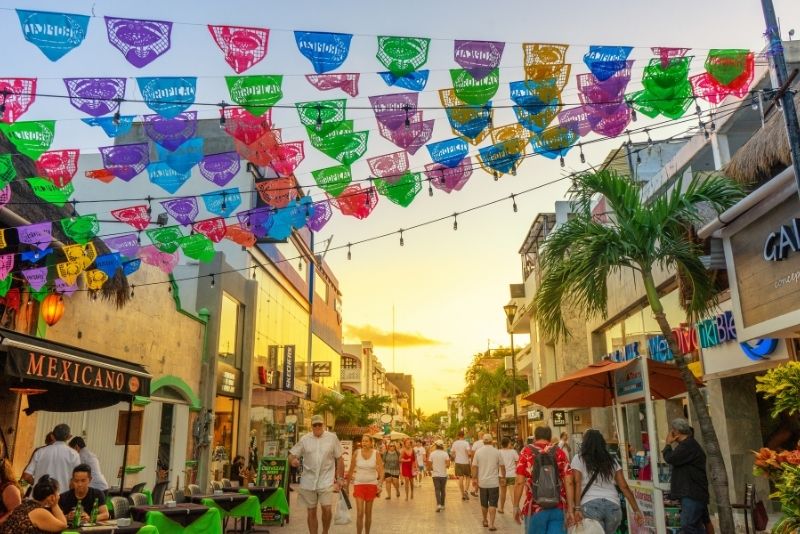 An unmissable attraction for those looking to do a little shopping in Playa del Carmen, Quinta Avenida (translating to 5th Avenue) is the town's main strip, running parallel to the waterfront and offering a range of boutique stores (and cheesy touristy stores too) and restaurants suitable for all tastes and budgets.
Never presenting a dull moment, the avenue is also the place to be for some authentic Mexican culture, from roaming street performers and musicians to local cafes where you can enjoy a hearty breakfast while checking out what's going on.
Looking for classic American brands? Head to the 12th Street intersection for the new Calle Corazon shopping mall, home to H&M, Sephora, and brands of that caliber. Looking for souvenirs? Check out Hacienda Tequila or the Tequila Bazaar. Need recommendations for a bite to eat? Club de Cerveza, La FIsheria, and Chez Celine (great for breakfast) all come highly revered.
7 – Snap some selfies at the 3D Museum of Wonders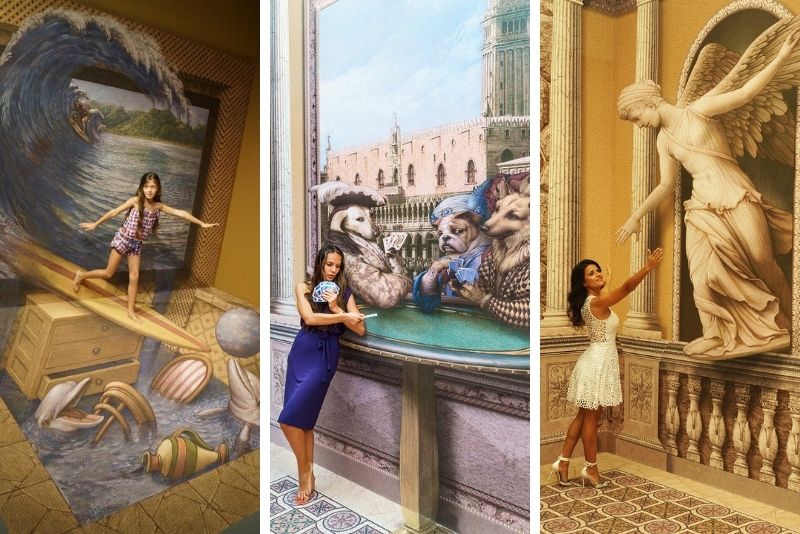 If you're in the mood for an interactive experience that brings your Instagram stories to life, then this is one of Riviera Maya's most unique attractions.
Located just a few minutes from the main strip of Playa del Carmen,  the museum dishes up a host of whimsical, playful, and scroll-stopping exhibits designed to delight all ages.
From 3D illusional artwork by legendary painters like DaVinci and Michelangelo to optical illusions that will leave your head spinning and no shortage of interactive zones where you become part of the exhibit itself, it's a must for the bucket list.
8 – Walk around Parque Los Fundadores and under Portal Maya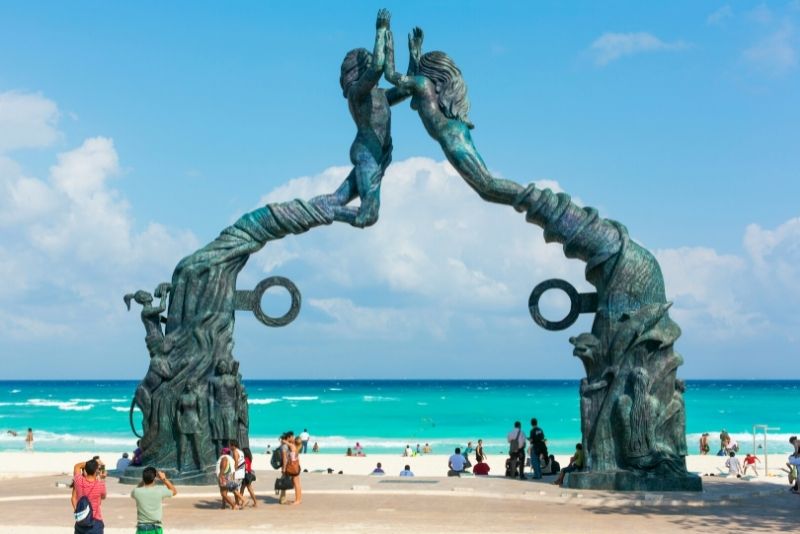 Playa del Carmen's main beachfront park where tourists gather, street performers strut their stuff, and the warm ocean breeze hits you in all its glory, Parque Los Fundadores is a great place to soak up some local flavor while working on your tan.
With the main strip of Quinta Avenida just around the corner, this is also where you'll find one of Playa del Carmen's most popular attractions: the beautiful, 50-foot-tall, and now-iconic Portal Maya sculpture.
9 – Mingle with macaws at the Xaman-Ha Aviary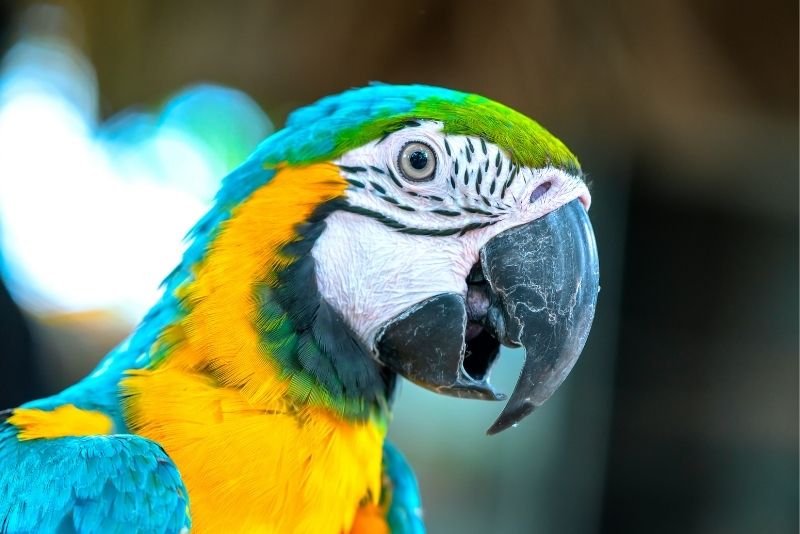 A birdwatcher's heaven on earth, Xaman-Ha Aviary is a tranquil, sensory experience with dozens and dozens of free-flying tropical birds making their way around ponds and forest enclosures.
It's an incredible opportunity to get up close and personal with some of the world's most exotic creatures, from parrots and macaws to flamingos, pelicans, and ducks.
Sitting on the south side of Playa del Carmen, it's perfectly combined with a visit to the nearly Playacar Mayan Ruins.
10 – Check out the stalactites in Cenote Chaak Tun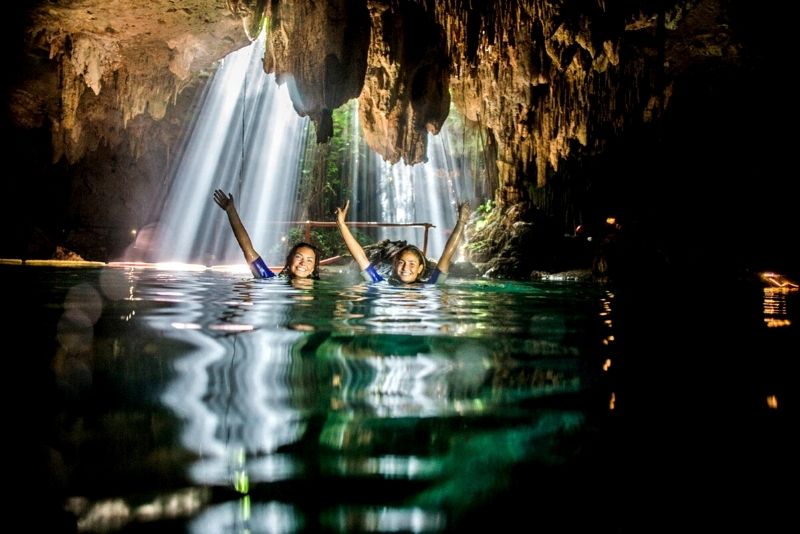 One of Playa del Carmen's most visited natural attractions, and one with a little bit of history behind it too, Cenote Chaak Tun is part of an intricate cave system that was first used as an ancient ritual spot by the Mayans over 1000 years ago.
Today, it's one of Riviera Maya's most popular swimming holes and home to some incredible stalagmite and stalactite formations and other geological wonders for you to take in while taking a refreshing dip in its low-lit caverns and jungle surroundings.
11 – Fuel the need for adrenaline at Emotions Native Park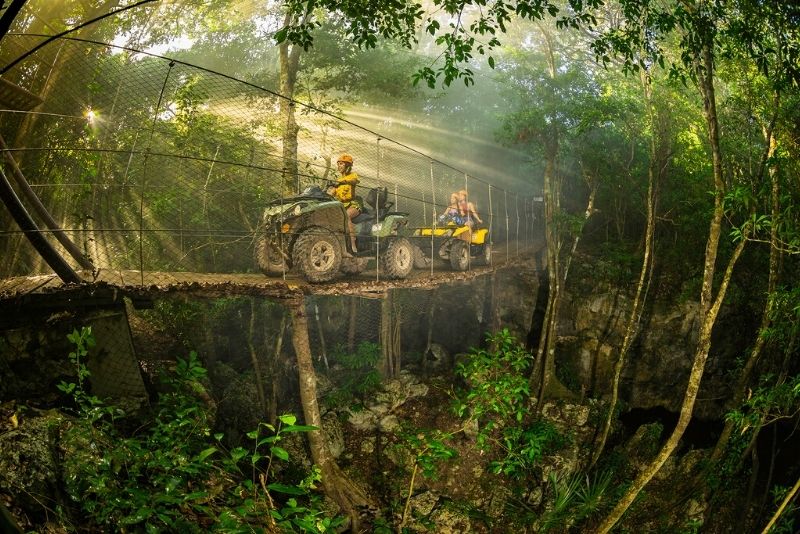 Playa Del Carmen's go-to spot for all things adventure, Emotions offers thrill-seeking guests the chance to drive ATVs through a lush jungle setting, soar over canopies and between treetops on lengthy zip lines, and even explore a range of historic underground caves.
For the ultimate day out, consider combining a trip to Emotions with a cenote swim as well — a range of pre-organized tours provides combination tickets.
Hot tip: to avoid paying full price, make sure to book your tickets in advance — nice discounts are often available when booking online.
12 – Ride zip lines at the Xplor adventure park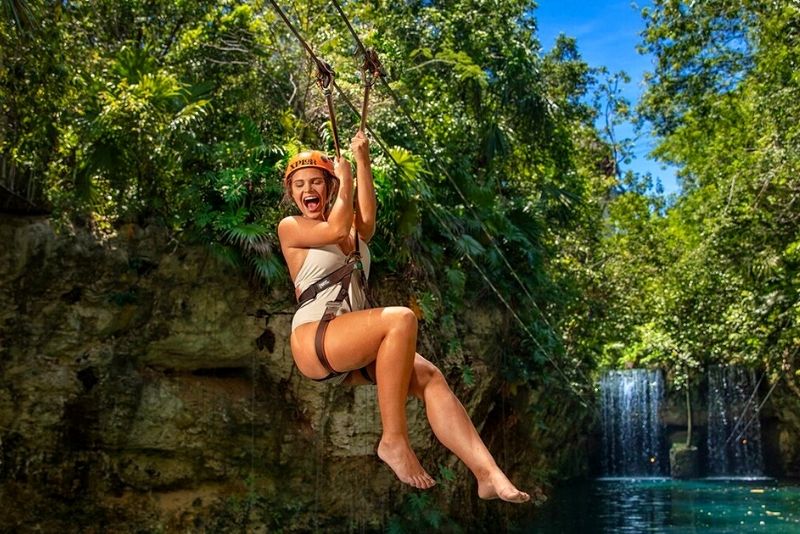 If you're short on time, but not short of excitement, then Xplor is the one thing in Riviera Maya that has it all.
Combining zip-lining (no less than 13 zip lines in total) and cave tubing with a series of thrilling underground cenote expeditions, this all-in-one experience really packs in more than most.
Similar to Emotions and soon-to-be-discussed other adventure parks, the best bang for your buck often comes when booking online and considering combo options.
13 – Confuse yourself at Xenses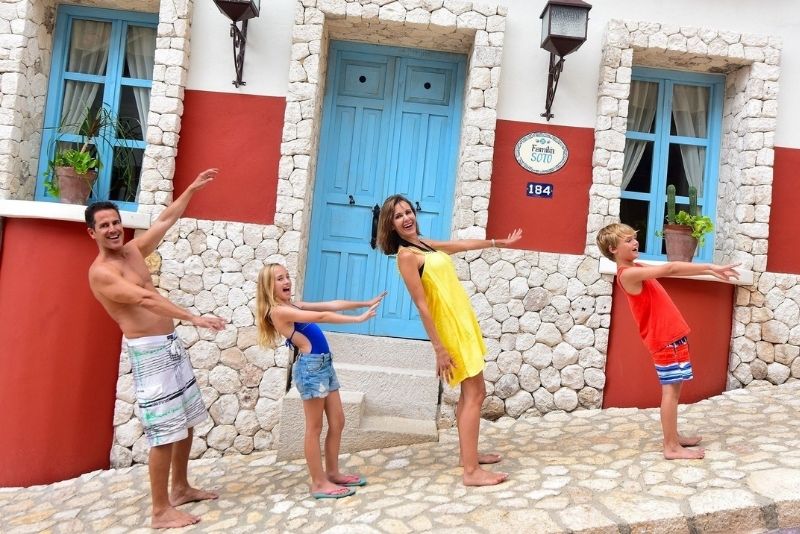 An exciting destination for the entire family, Xenses offers more than 50 fantastic scenarios and a diverse selection of immersive optical illusions and activities to amuse (or perplex) your senses.
Bizarre backdrops aside, the attraction also offers a range of adventure-related activities too: Birdflight, Slip, and Sludgeries being some of the most popular.
14 – Swim through historic caverns at the Rio Secreto Nature Reserve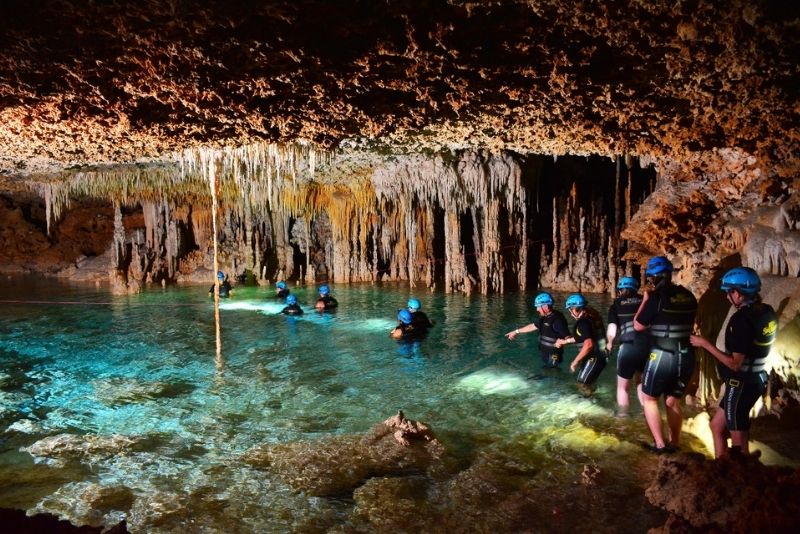 One of the Riviera Maya's most unique attractions, the Rio Secreto Nature Reserve — located about 20kms south of Playa Del Carmen — is a fantastic example of both Mexico's natural beauty and its rich culture.
Combining incredible underground caverns with Mayan heritage to create one out-of-the-ordinary experience, visitors are taken on guided tours deep into the earth where they can explore subterranean rivers full of sparkling turquoise waters that reflect overhanging crystals,
On most tours, wetsuits and life jackets are supplied (though rarely will you need a wetsuit or warm days), so all you need to bring is yourself, a waterproof camera to capture those stunning sights, and a can-do attitude!
15 – Spend the day at Xcaret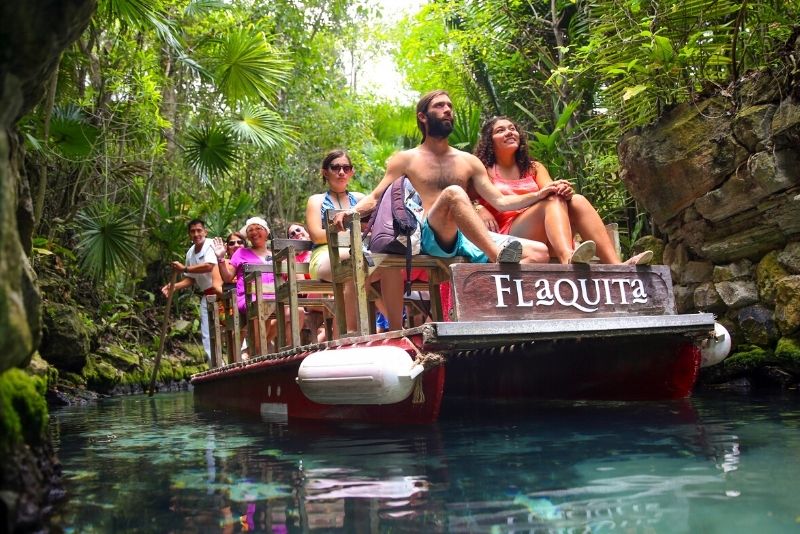 Ideal for families and thrill-seekers, Xcaret Park is a multi-faceted destination — it's a theme park, resort, and eco-tourism spot all in one!
Wade through subterranean rivers, grab a front-row seat for a performance at the main theater, dig into a hearty and authentic Mexican meal (the al pastor tacos are to die for all along the Yucatan) from one of the many on-site restaurants, learn about the history of ancient Mayans from the friendly tour guides, and so much more!
16 – Be a beach bum at Playa Paamul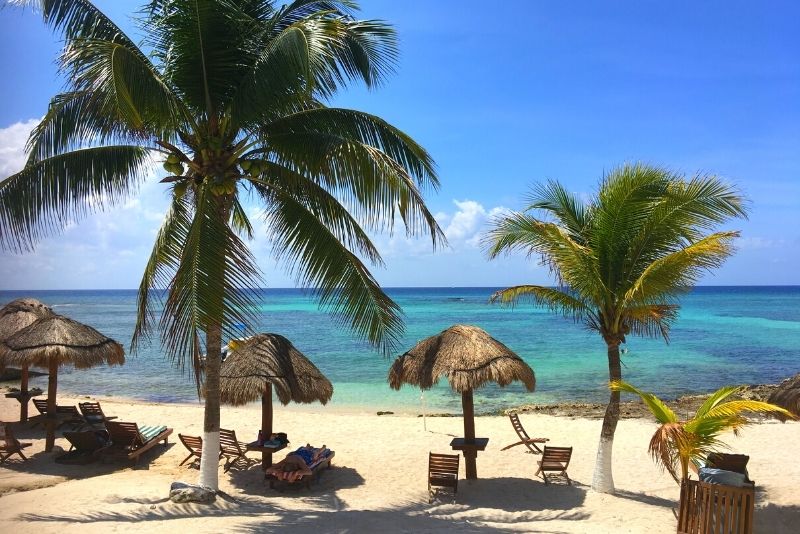 A stunning beach in its own right that sits about 20 mins away from Playa del Carmen by car or Collectivo (cheap minibus public transport), Playa Paamul dishes up white sands, crystal-clear waters, and a luxury hotel for those who want to kick back and sleep in style.
The waves are seldom rough, making it a hot spot for divers and snorkelers — if you prefer to stay dry, however, there's plenty of sun loungers with shade provided by and umbrellas and towering palm trees.
17 – Cool off at the Kantun Chi cenotes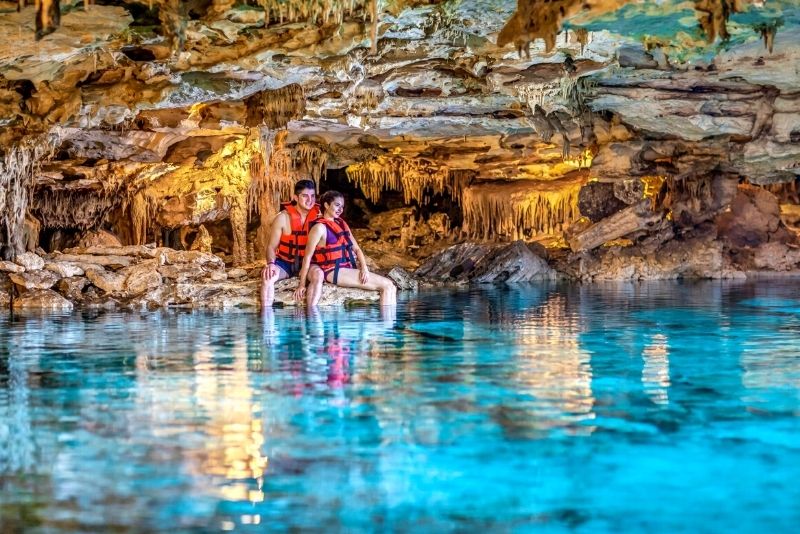 One of the Mayan Riviera's most underrated destinations and an ideal spot for those who want to experience Mexico off its beaten track, Kantun Chi (just south of Puerto Aventuras) is an eco-tourism park that offers plenty of activities and attractions — subterranean rivers, caverns, and history-centric guided tours to name a few.
The main event, however, is its selection of five enchanting cenotes. On those toasty days, cool off by paddling your way through the crystal-clear waters while admiring the sunbeams that shine their light into these natural pools.
18 – Take a dip in the Jardín Del Eden Cenote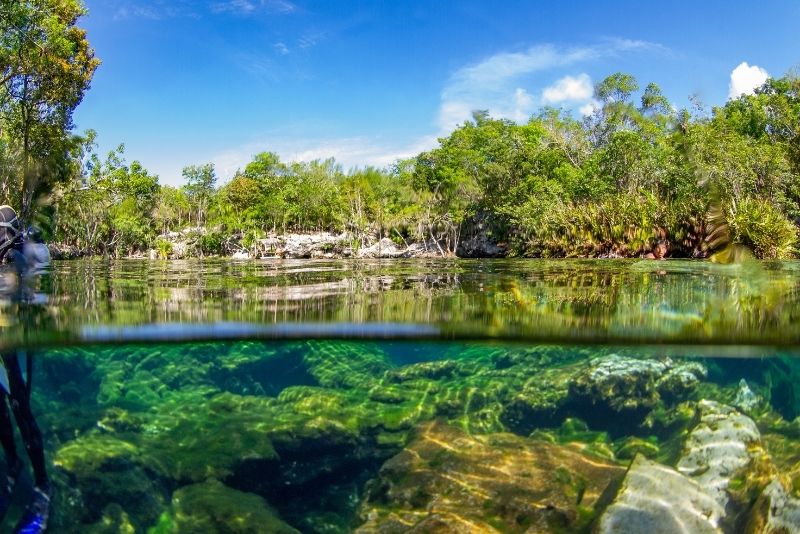 Another natural gem and an ideal alternative to Kantun Chi, Jardín del Eden is a nature reserve and cenote less than 10 minutes away from the center of Puerto Aventuras.
With a shady tree canopy around the edges of the lagoon offering refuge from the searing heat of the sun, this spot provides an idyllic natural environment for those who want to swim, snorkel, or sunbathe.
Keep in mind: the entry fee is 200 pesos for adults
19 – Enjoy the sunset at Playa Xpu-Ha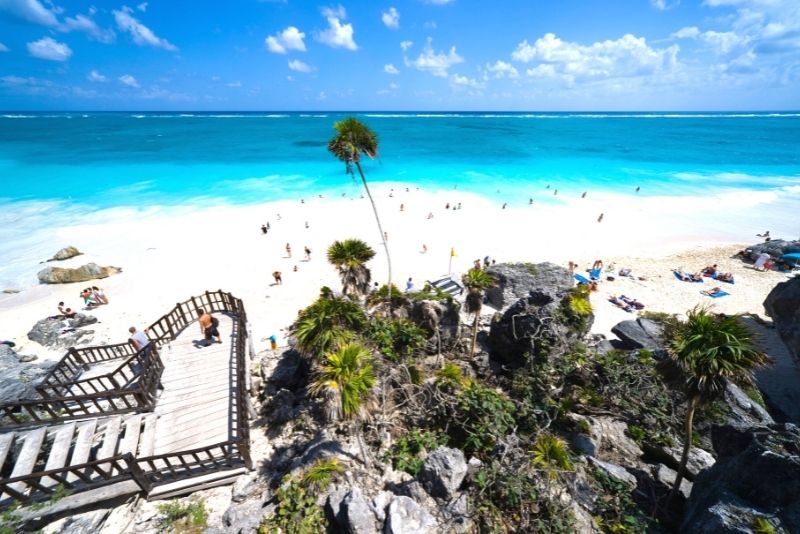 Fed by the gentle blue waters of Mexico's Caribbean coastline, Playa Xpu-Ha is a popular destination for those who want to enjoy an ice-cold beverage while watching the sun go down.
Located just south of Puerto Aventuras, you won't have to pay any entry fees or pay for parking, and since the beach is long enough to accommodate all, there's plenty of space.
After (or while) the sunsets, consider grabbing dinner at one of the nearby seafood restaurants and washing it down with a cerveza or two.
20 – Snorkle in the Yal-Ku Lagoon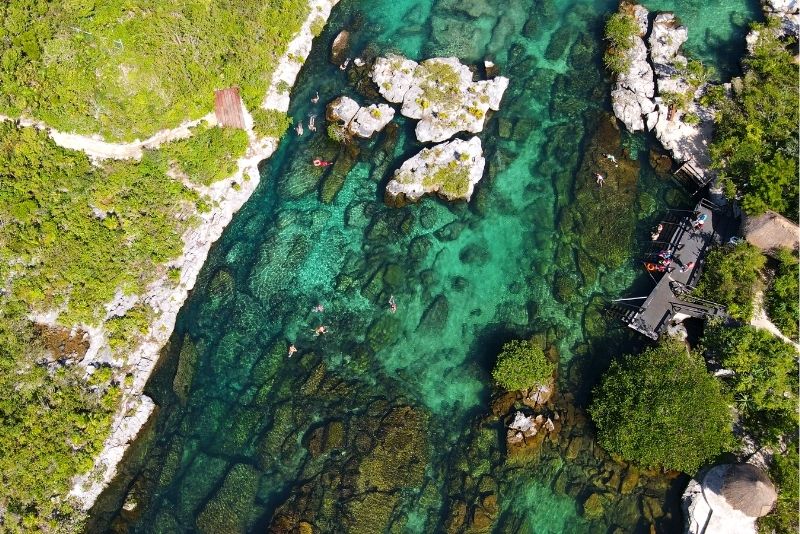 Beautifully tucked away about halfway in between Tulum and Playa Del Carman in the underrated small town of Akumal (known for its beach), Yal-Ku Lagoon and its surroundings boast a collection of fascinating Mayan ruins as well as one of the best snorkeling spots in the area.
The lagoon itself — home to a range of crystal-clear shallow cenotes — is perfect for those who want to swim with colorful fish, see sea turtles up close, or simply soak in the sunshine
At just 200 pesos per visitor, with no ocean waves and several easy entry stairways, it's perfect for visitors of all ages.
21 – Check out the popular Playa Akumal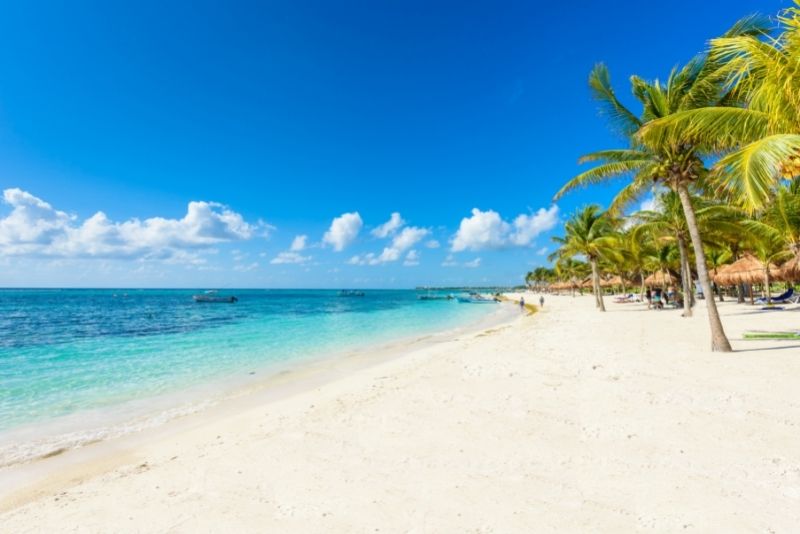 10 minutes down the round from the south end of Yal-Ku Lagoon is Playa Akumal, a beautiful white sand beach that offers tons to do beyond just sunbathing.
Snorkeling in its clear blue waters will reveal an abundance of marine life, including turtles and fish galore (so bring your underwater camera) while its more gentle waves make it an ideal place to learn how to ride the ocean.
For those who don't want to get wet, you can watch others swim and play in the water while enjoying a fresh taco at one of Playa Akumal's nearby beach bars or restaurants.
22 – Make some new friends at the Akumal Monkey Sanctuary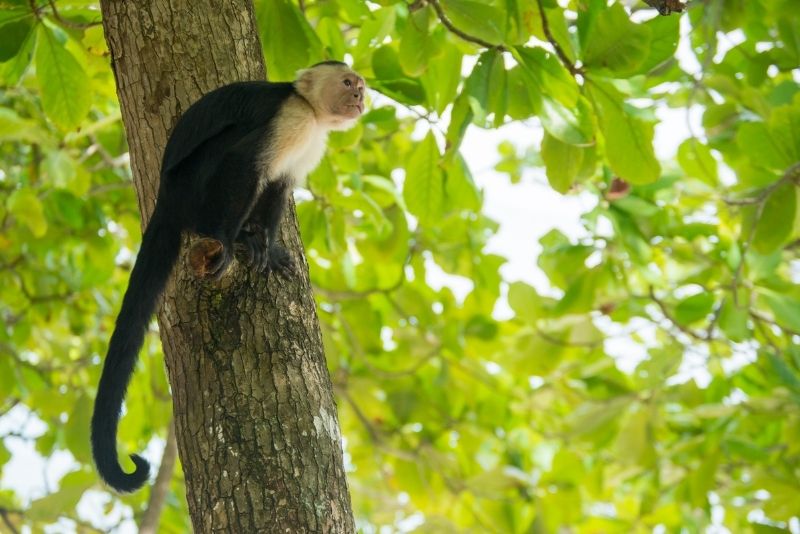 It's not only the turtles and fish that make Akumal such a beautiful place to visit; deep in the Akumal jungle, you can also see tons of local wildlife at its very own Monkey Sanctuary.
Home to capuchin, squirrel, and spider monkeys who leap from tree to tree and come up to greet guests on the walkways, this eco-tourism site acts as a refuge for dozens and dozens of rescued monkeys — many of which are cheeky buggers — who have been taught how to live on their own in the wild.
Hot tip: if you're after a unique Mexican souvenir, the Sanctuary's gift shop sells a range of indigenous crafts that will make for the perfect gift to your jealous friends back home.
23 – Tee off at the Riviera Maya Golf Club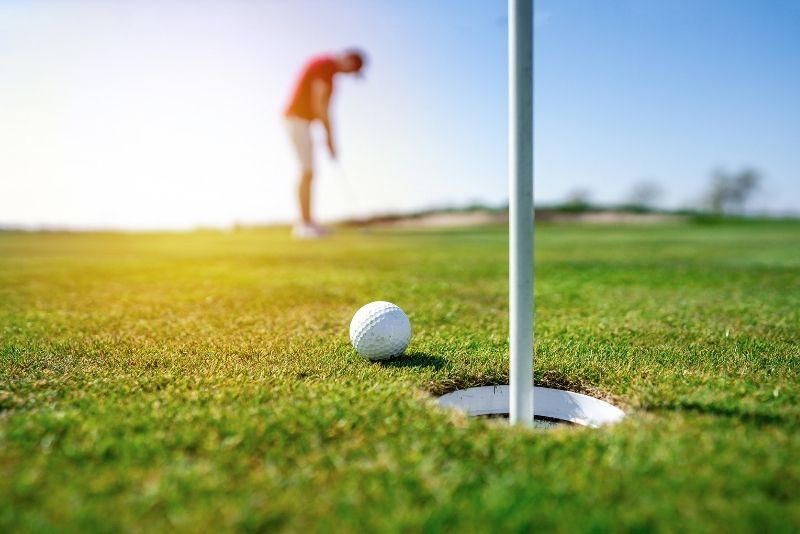 As the only golf course in Tulum, with well-manicured fairways, 27 holes to test your skill, and a clubhouse with ice-cold beers on top, the famous Riviera Maya Golf Club is a must for golfers visiting the area.
With the esteemed rank as one of the top five golf courses in Mexico — not to mention being an official partner of the PGA of America — and its beautiful setting nestled between the Mayan jungle, its reputation and beauty precede it.
24 – Snorkel at Aktun Chen Cenote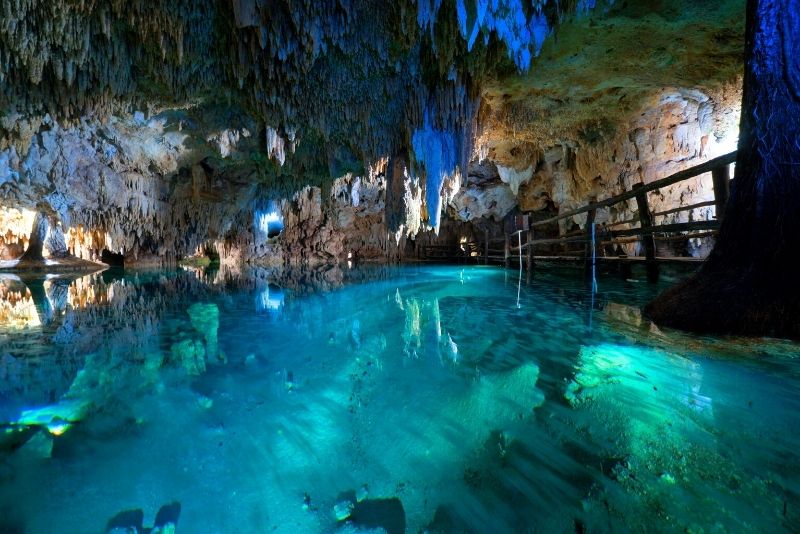 About 10 miles north of Tulum and close to Akulam is Aktun Chen, one of the most magical cenotes in all of Mexico.
As postcard-worthy, as they come, this 5-million-year-old underground cave boasts spectacular rock formations, translucent water, and a thick jungle atmosphere.
Throw in a range of adventure-related activities across its 400 acres of forest landscape — ziplines, bushwalks, and eco-tours — and you have yourself a spectacular day out.
25 – Take your best Instagram pic at Cenote Azul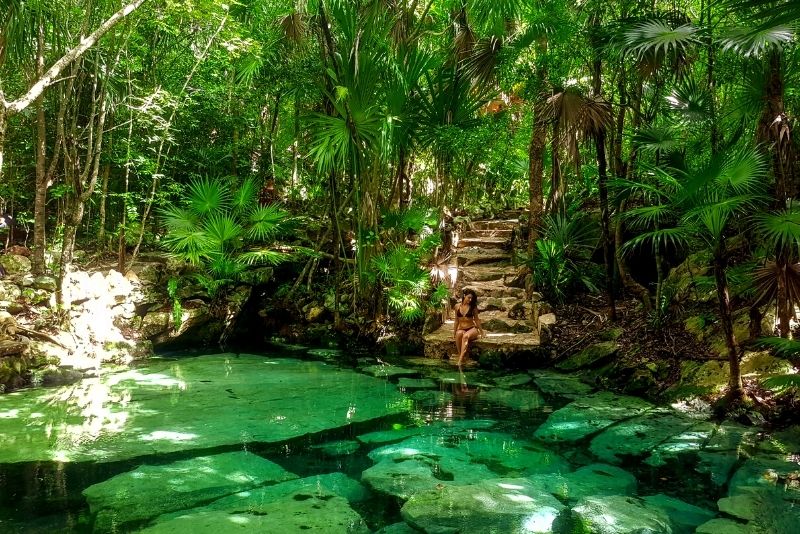 Need a new Instagram snap? For one of the most breathtaking views in all of Mexico, head to Cenote Azul.
Sitting about 20 minutes south of Playa del Carmen and 25 minutes north of the tourist-frequented Tulum Ruins, this beautiful slice of Mother Nature is not only is the fourth-longest cave system along the Riviera Maya, but also one of the most picturesque thanks to the green surroundings reflecting off the water and the frequent wildlife that stop by.
Keep in mind: as a deep cenote and therefore popular scuba diving spot, if you plan on snorkeling then a life-jacket is recommended.
26 – Have fun with your friends at Xel-Há water park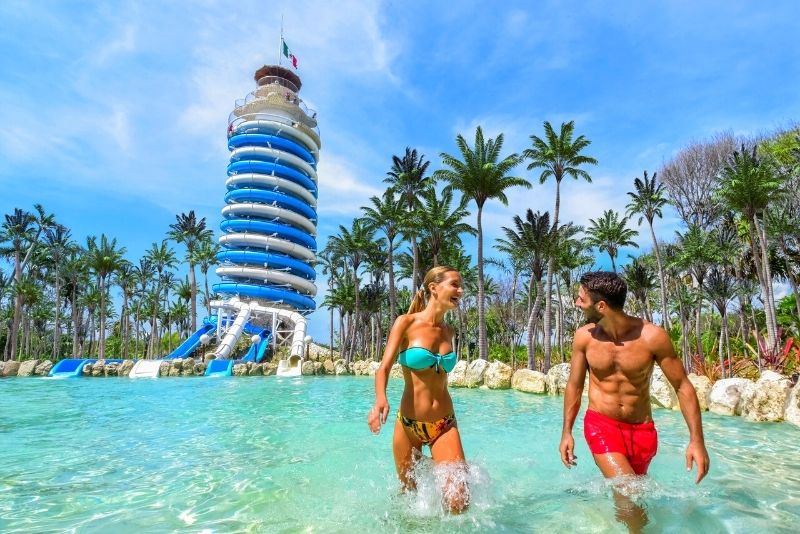 Where water park meets natural oasis meets fancy resort, Xel-Ha is one of the more underrated attractions along the coast — purely to the detriment of those who choose to overlook it.
Boasting not only its very own snorkeling spots, but also a lush landscape explorable on foot or via zipline, and eateries where you can stuff your face and drink till your heart's content (that's all-you-can-eat and drink, to make things clear), Xel-Ha is ideal for either families or partygoers.
Start your day by tubing down the river, then head down the slides, check out the lighthouse, and hit up one of the refreshing pools!
27 – Dive in Dos Ojos Cenote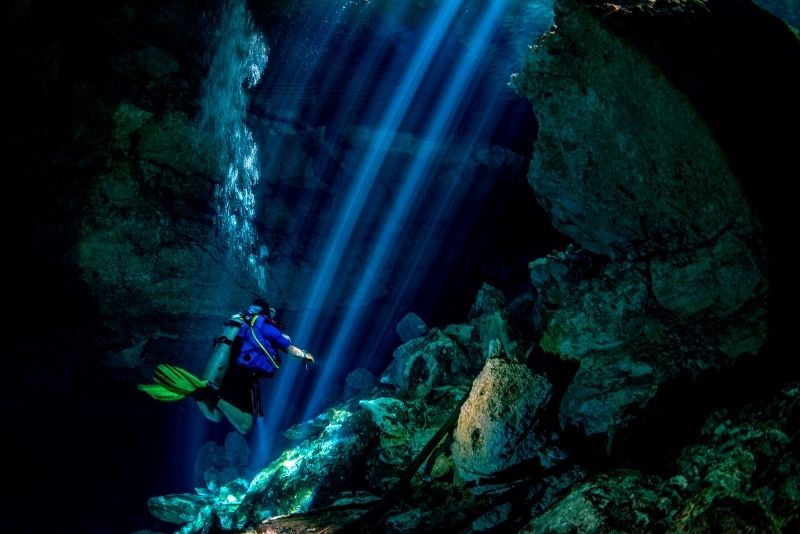 Meaning "two eyes" in Spanish, Dos Ojos is not one but two blissful cenotes found just north of Tulum.
Usually welcoming 100 or so tourists per day, it's rarely crowded in comparison to some of the more famous cenotes, making it a peaceful and relaxing experience whether you're looking to swim, snorkel, or dive.
Hot tip: If you plan on snorkeling more than once along the Riviera Maya — which, if you do it right, you should be — avoid renting a snorkel kit every time and buy your own instead! You'll save a handful of pesos this way.
28 – Follow a guide around the Sac Actún Cenote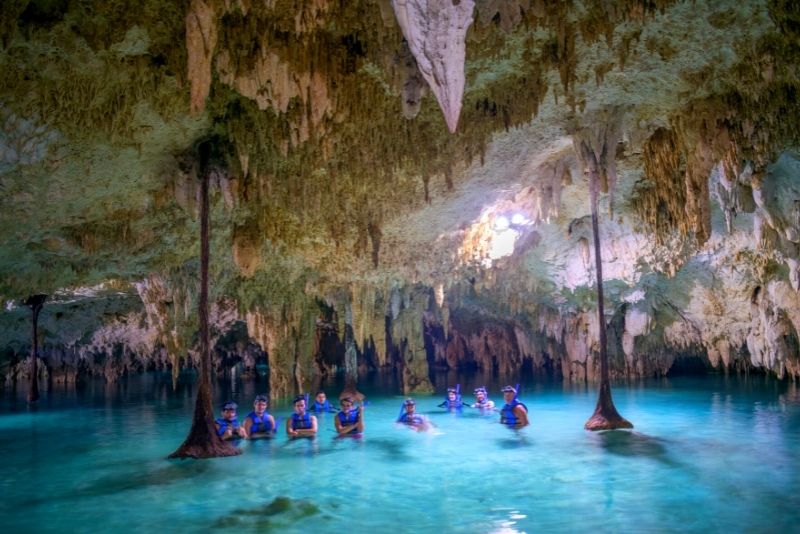 Yet another cenote — and yet another attraction worthy of the bucket list on any sun-kissed summer's day — Sac Actún is officially the longest underwater cave system in Mexico and is as picturesque as they come with striking stalactites to boot.
Thanks to the reliance on guides (at this cenote in particular), not only will you get to explore the shaded caves but also learn about their geology, history, and legends.
29 – Stop by the Gran Cenote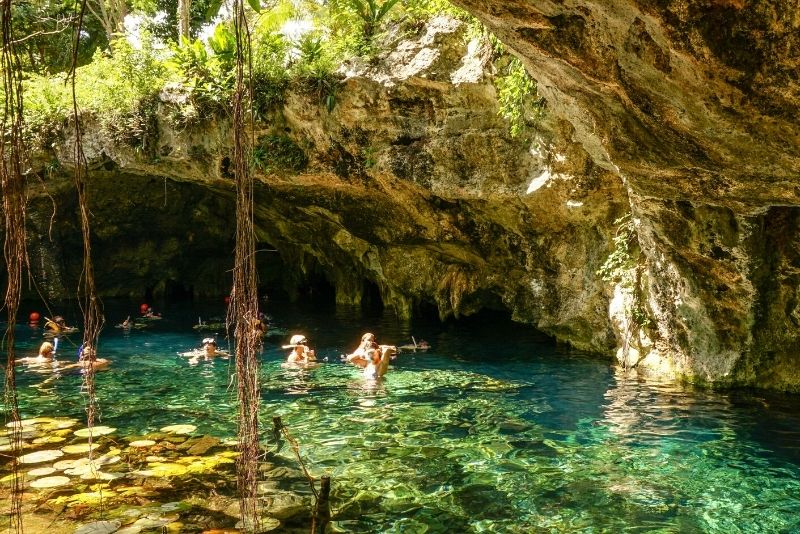 Found on the outskirts of Tulum, Gran Cenote is undeniably one of Quintana Roo's most well-known swimming holes, therefore selling itself as one of the essential things to do in Riviera Maya.
True to its name, it's a big ole sinkhole flooded with clear water and colorful fish, making it a great day out for any swimmers, divers, and snorkelers.
30 – Zip into the water at the Zacil-Ha Cenote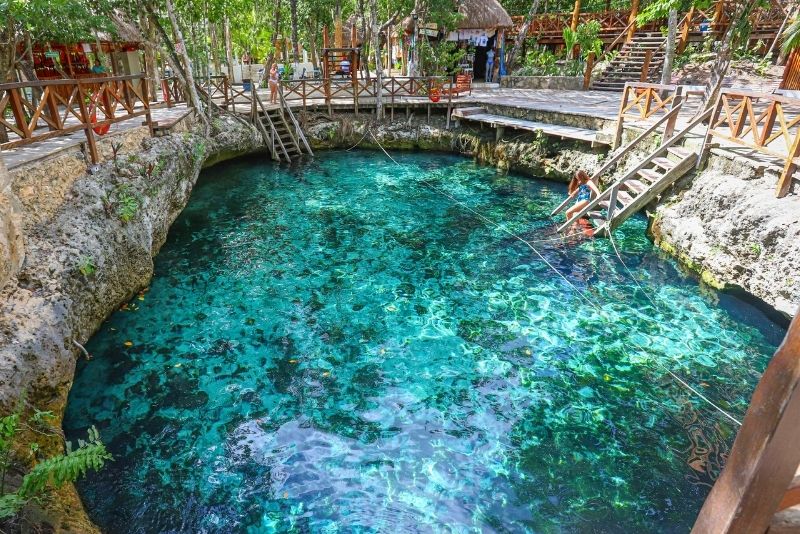 Another cenote, another massive bucket list item. Like most of the cenotes in Mexico, Zacil-Ha is a must-do attraction for anyone touring Playa del Carmen and Tulum thanks to its zipline feature!
Offering not only a swimming area (small but fresh and clear nonetheless) but also what looks — more so than the others — like a perfectly-shaped natural swimming pool, Zacil-Ha is one of the more unique cenotes around.
31 – Take incredible photos at the Calavera Cenote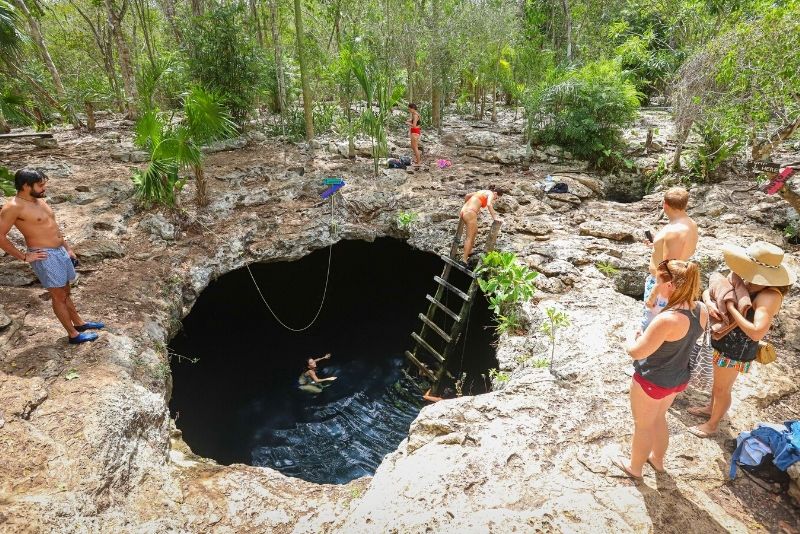 Hunting for that jealousy-evoking social media pic? Look no further! Home to the picture-perfect Tarzan swing that sits above the water, Calavera is an Instagrammer's dream.
With its three holes positioned in a spooky skull-like formation, it's no wonder this tourist hot-spot has been dubbed the 'Temple of Doom'.
Keep in mind: go early on a weekday for the best experience as weekends can be rather crowded!
32 – Step back in time at the Tulum Archaeological Site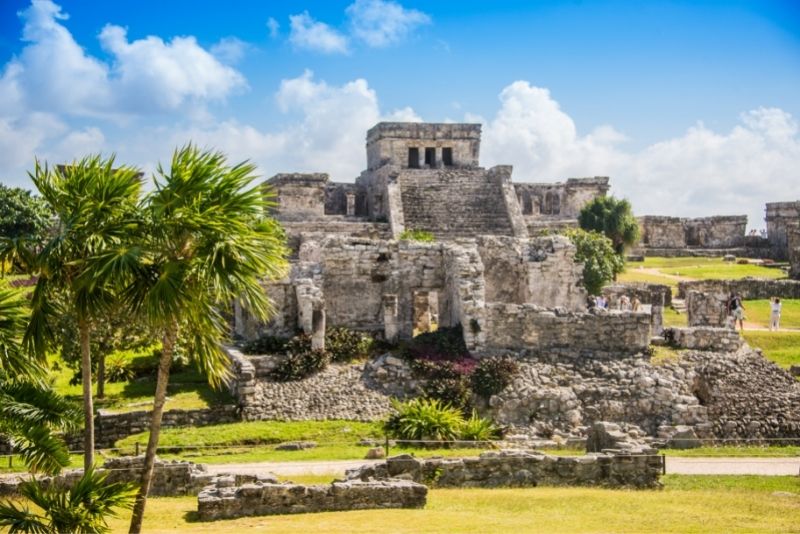 One for the history buffs, the beloved Tulum archaeological site is the perfect blend of history and natural beauty.
Unfortunately, both its name and photo do it little justice — for this spectacular wonder lies on a cliff overlooking the sea!
For a quick history lesson, Tulum has its roots as an ancient Mayan civilization that dates back to between the 12th and 15th centuries; a stark contrast to the upbeat air it exudes today.
Hunting for a bargain? To score the best value, consider a multi-attraction tour that combines the ancient ruins with cenote swims or city tours!
33 – Stroll along the sands of Playa Pescadores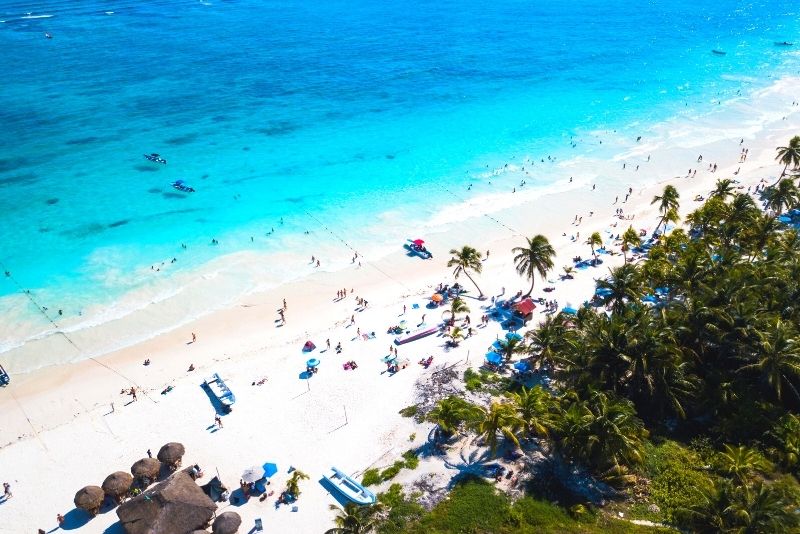 Just around the corner from the iconic Tulum ruins, Playa Pescadores is a picture-perfect beach with turquoise waters and powdery white sands sure to light up any social media feed.
Unlike some of its beachy counterparts, its calm Caribbean water makes for great snorkeling opportunities as you swim along the shoreline to see everything from starfish to sea horses!
34 – Don't miss Laguna de Kaan Luum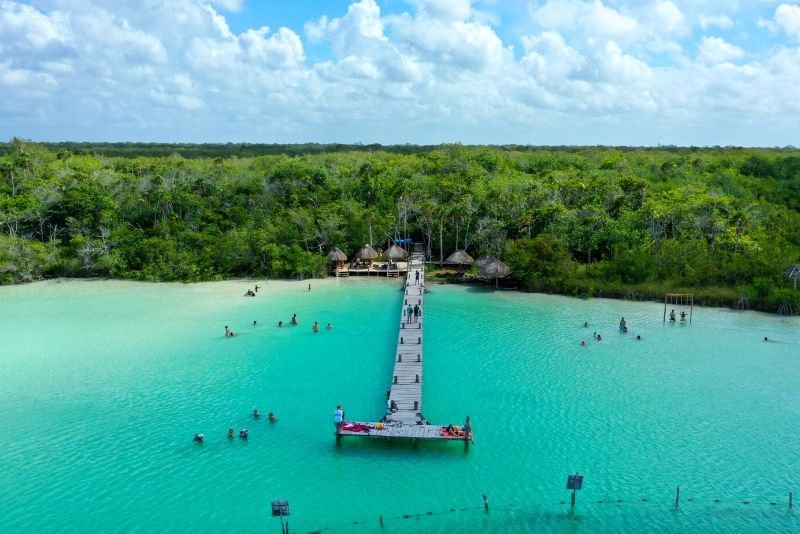 Whichever way you look at it — whether from above, appearing as a perfectly round lake amidst a perimeter of majestic green jungle, or from eye-level, with the sunlight bouncing off clear and flat waters — to call the Kaan Luum Lagoon a truly stunning piece of nature would be an understatement.
Located close to Tulum, but far enough away from the major resorts are tourist traps, the lagoon offers a picturesque combination of light and dark blue hues, with waters warm year-round due to the shallow depth.
35 – Explore the ancient Muyil Archaeological Zone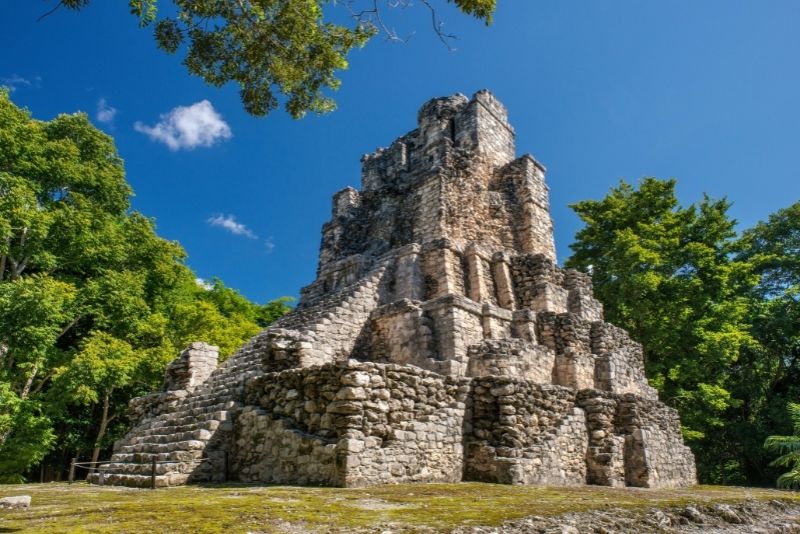 While rather quiet and untouched compared to the likes of the Tulum ruins and Chichen Itza, to overlook the Muyil archaeological site is a bold move.
Sitting in the town of Chunyaxche, about 35 minutes away from Tulum by car, this historic slice of land has its roots as an ancient Mayan settlement that dates back thousands of years.
Being one of Mexico's oldest settlements, it is home to a variety of well-preserved ruins such as temples and shrines — all situated amongst tropical vegetation for an overall picturesque backdrop!
Hot tip: while you're there, be sure to check on the Sian Ka'an Biosphere right around the corner.
36 – Be adventurous at Tulum's Jungle Maya Native Park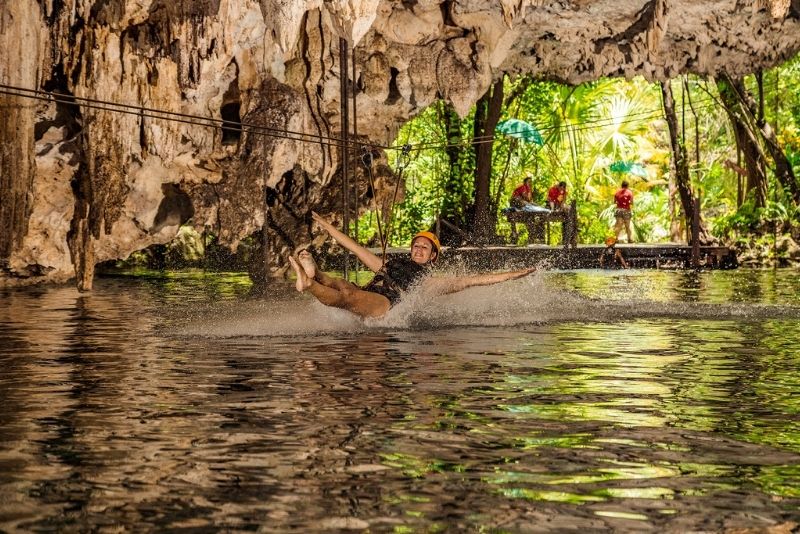 If you're on the hunt for things to do in Riviera Maya — and Tulum, specifically — that quench the thirst for adrenaline as well as give a unique insight into the local culture and traditions, look no further.
From rappelling tours to heart-racing zip lines, and a range of water-related activities thanks to its proximity to the amazing Sac-Actun system (the world's longest underground river), not to mention authentic Mayan ritual performances, the diversity promises something for every kind of visitor.
37 – Enjoy dolphin watching at Sian Ka'an Biosphere Reserve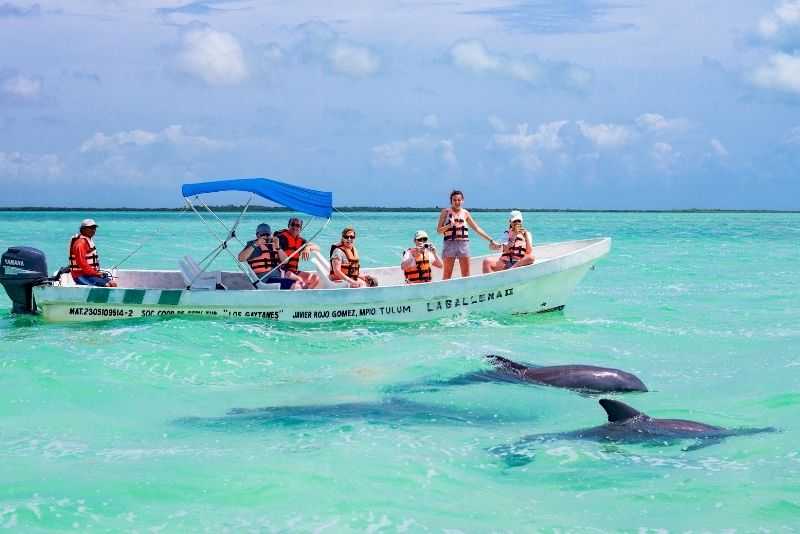 Covering more than 1.3 million acres of lush biosphere reserve in what is the largest protected area on Mexico's Caribbean coast, with diverse wildlife, clear waters ideal for snorkeling and scuba diving, and the mystery of ancient Mayan ruins within its depths, visiting the Sian Ka'an Biosphere Reserve is sure to leave you feeling like a kid in a candy shop.
Since there is a range of trails and waterways, Sian Ka'an is best explored with a guide — choose from all-day excursions or shorter trips that include transport from Tulum or Playa Del Carmen, and enjoy the impressive array of flora and exotic fauna along the way!
Check Sian Ka'An day trips from Tulu'um or Sian Ka'An day trips from Playa del Carmen.
38 – Swim alongside whale sharks!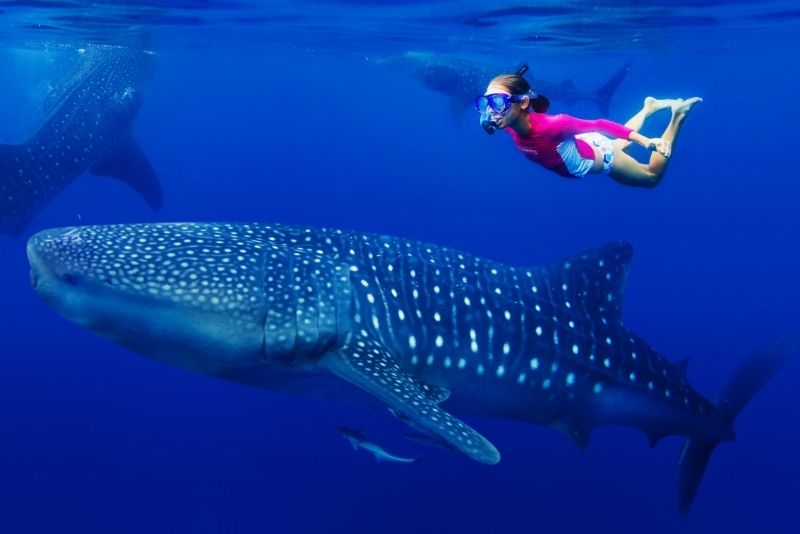 One of the things to do in Riviera Maya that is reserved for the brave, swimming with whale sharks is guaranteed to get the heart racing!
Weighing up to 30 tons, and growing up to 18-meters (60 feet) in length, you'll get the chance to snorkel alongside these gentle giants of the sea amidst clear waters that are just perfect for appreciating underwater life.
With tours departing from Isla Mujeres, Cancun, Playa Del Carmen, and Tulum — including transport and gear — it's as simple as booking online and leaving the rest to the local experts.
While whale sharks are huge but largely harmless, if you're up for meeting some traditionally more fearsome-looking creatures, consider swimming with bull sharks! They're not very aggressive, however, closely resembling great whites in stature, they're sure to send a shiver down your spine.
Check whale shark swimming tours from Cancun or whale shark diving tours from Playa del Carmen.
39 – Stuff your face on a food tour!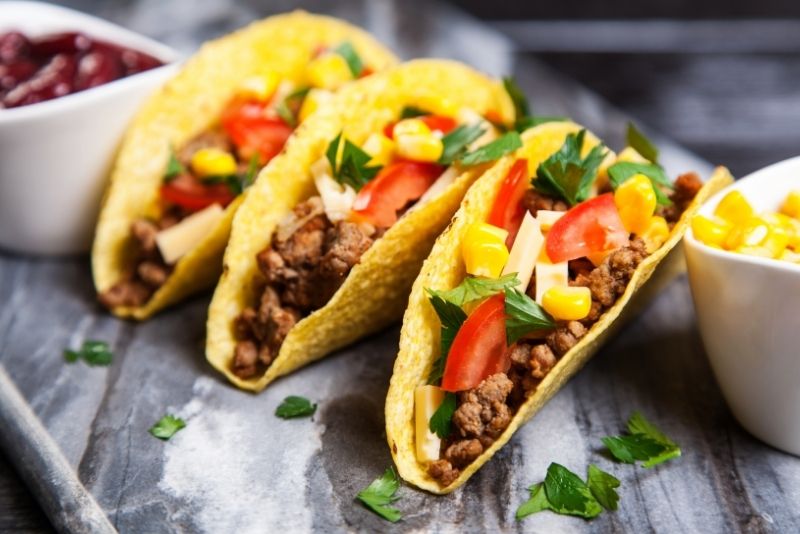 It wouldn't be a Mexican vacation without exploring the lip-smacking flavors that this Central American nation is famous for, now would it?
Taking on a Tulum food tour (they're hosted in Playa Del Carmen and Cancun too) is the ideal way to get under the skin of this fascinating destination, away from the tourist traps and into the heart of the local foodie scene. And what's more — it promises no shortage of mouth-watering meals.
From tacos al pastor to sweet plantains, tostadas de tinga and chorizo sausage — the street food is fresh, delicious and often comes in generous portions.
And let's not forget about the ceviche! It might be prepared with shrimp or octopus but you can't go wrong either way, especially when paired with some local Mezcal!
Compare food tours in Tulum, food tours in Playa del Carmen, or food tours in Cancun.
40 – Take a day trip!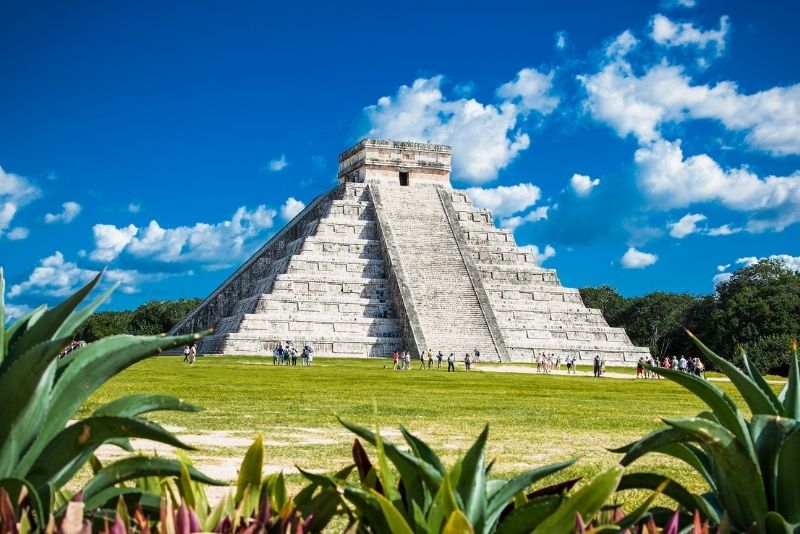 With so many ancient Mayan ruins, endless coastline, historic cities, and paradise islands all within a few hours' drive, it's fair to say that the diversity of day trips doesn't get much better than on the Yucatan.
A day trip for history
First and foremost, it'd be remiss of any Riviera Maya visitor to overlook a World Wonder: Chichen Itza (Xichen Itza) stands testament to one of the most advanced civilizations in human history. This UNESCO World Heritage Site is home to a pyramid that was built over 1500 years ago, surrounded by lesser-known ancient stone structures and plenty of unique souvenirs.
Compare Chichen Itza day trips from Cancun, Chichen Itza day trips from Playa del Carmen, or Chichen Itza day trips from Tulum.
Less famous but equally worthy of a day trip are the Coba ruins. Here, visitors can climb the pyramid's hundreds of steps to the top where sweeping views of a lush green carpet jungle await. It holds the claim to fame of being the largest network of stone causeways in the ancient Mayan world and is right next to Cenote Choo-Ha — making for a great back-to-back visit.
Compare Coba day trips from Cancun, Coba day trips from Playa del Carmen, or Coba day trips from Tulum.
A day trip for chilling out
Two islands unique in flair but equally worthy of checking out for at least a day are Cozumel and Isla Mujeres. Cozumel, a short ferry ride from Playa Del Carmen, is the largest of all Yucatan islands, famed for its world-class snorkeling and diving spots.
Check out our selection of fun things to do in Cozumel.
Isla Mujeres on the other hand, located close to Cancun, isn't as big but what it lacks in size it makes up for with beautiful white sand beaches that are perfect for unwinding after a day spent exploring! Throw in a turtle sanctuary, go-slow attitude, and historic lighthouse and you've got yourself an underrated must-see locale!
Compare Isla Mujeres day trips from Cancun, or Isla Mujures day trips from Play del Carmen.
A day trip for activities
Any, if you're after world-class resorts, a distinctly urban and touristified environment, and a range of museums, restaurants, and parties, then be sure to take a quick trip to Cancun. Hot tip: the area's main airport is in Cancun, so consider exploring this city at the beginning or end of your Riviera Maya vacation.
And those day trips are just the tip of the iceberg. Check out the full list below and, if you're short on time, consider excursions that combine two or three of the main haunts in one trip.
Check out our selection of fun things to do in Cancun.
Looking for a resort?
With no shortage of warm white sand to share, the list of beachfront resorts along the Riviera Maya — from Cancun down to Tulum and everywhere in between — is second to none.
The Grand Velas Riviera Maya just north of Playa Del Carmen offers three distinct buildings (two of which are family-friendly and one that's adults-only) and is widely considered one of the best not just on the coast but nationwide. For an underrated hidden gem, the adults-only Valentin Imperial Riviera Maya boasts its own private beach, while its Imperial Suites each have hot tubs on the balcony. If traveling with kids in tow, the Hotel Xcaret Mexico includes unlimited access to all of the Xcaret amusement parks; and if you're looking to escape the crowds with somewhere more intimate, Zoetry Paraiso de la Bonita near Puerto Morelos offers its own saltwater spa.
Looking to party? In Tulum, Hostel Che Tulum and the Mayan Monkey Hotel & Hostel Tulum are cheap and offer strong cocktails at happy hour, while any of the aforementioned resorts offer all-you-can-drink options.
Looking for romance? Designed for couples, Secrets Maroma Beach Riviera near Cancun should sit high atop the list for lovers.
No matter what your style or budget, the best deals are always found on Booking.com. Browse through their selection to find hotels and resorts at up to 40% off!
Why you should book an airport transfer
For first-timers and foreigners visiting the Riviera Maya, negotiating with taxi drivers or deciphering the Collectivo system can be a little overwhelming. Instead, take the hassle out of getting from the airport to your hotel and book a private transfer.
A friendly chauffeur will meet and greet you at the arrivals lounge, help you with your luggage, and whisk you away in a luxury car to your resort.
Compare Cancun airport transfers from/to Tulum, Cancun airport transfers from/to Playa del Carmen, or Cancun airport transfers from/to Cancun hotel zone.
Final thoughts
Depending on where you will be staying, don't miss our selection of fun things to do in Playa del Carmen, and fun things to do in Tulum.
Can you think of any other essential activities? If so, feel free to let us know in the comments!
As always, happy travels.