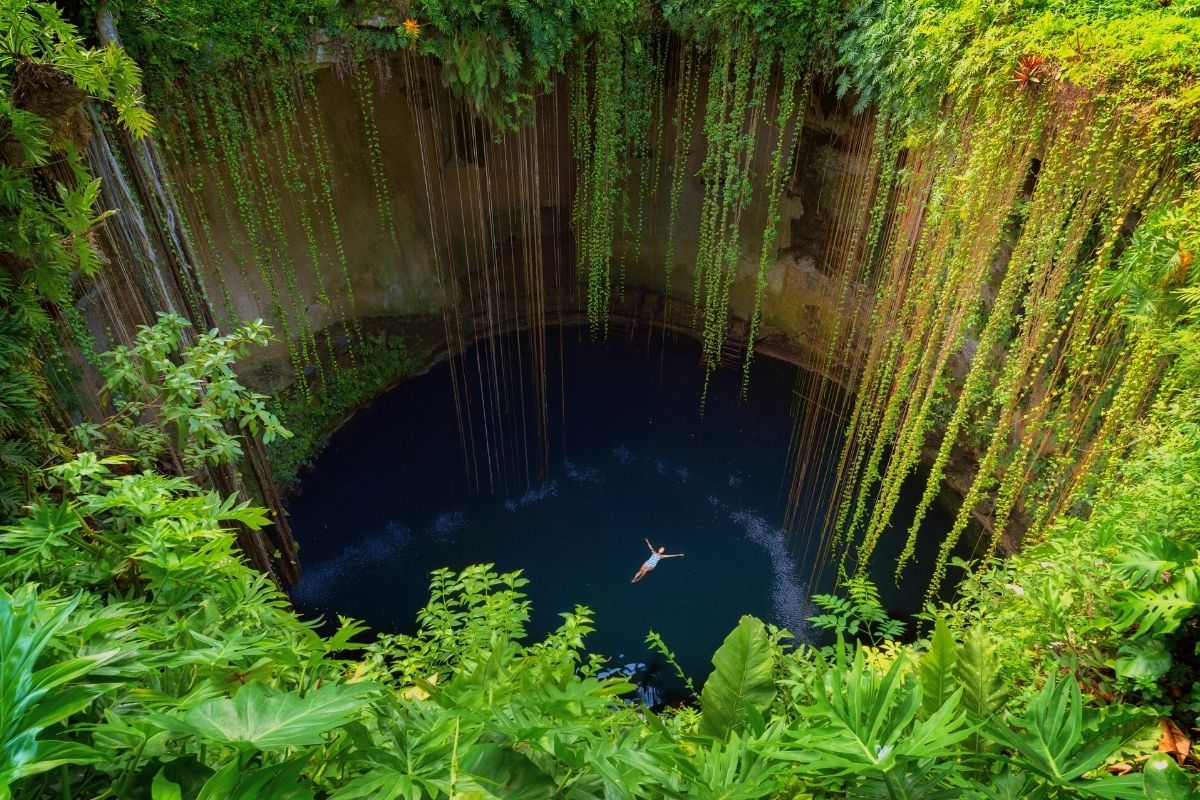 A debaucherous party scene, a foodie landscape that draws in flavor-seeking tourists from all over the world, a natural wonderland full of cenotes (swimming holes), and a hotspot for some of the most pristine stretches of white-sand beaches you could imagine — that, and so much more, is the all-too-true stereotype of buzzing Cancun.
Scratch below the surface, however, and you'll find that this slice of Central American paradise oozes culture, history, and adventure too, with a menu of bucket-list-worthy activities that suit thrill-seekers, beach bums, foodies, party animals, art connoisseurs, and everyone in between.
From the endless snorkeling and diving opportunities along the sun-kissed coast (and nearby islands like Cozumel and Isla Mujeres) to the rich Mayan history on display through the myriad ruins throughout the region – none more famous than the Wonder of the World, Chichen Itza – and the plethora of high-octane and family-friendly theme parks near Cancun, the variety of things to do near Cancun always pleasantly surprises.
This isn't just a 5-star-resort, Spring Break destination; Cancun is a treasure trove of incredible activities – and when you consider all of the things to do in Riviera Maya within striking too, you could easily spend weeks here and barely make a dent.
1 – Swim through underground caves at Rio Secreto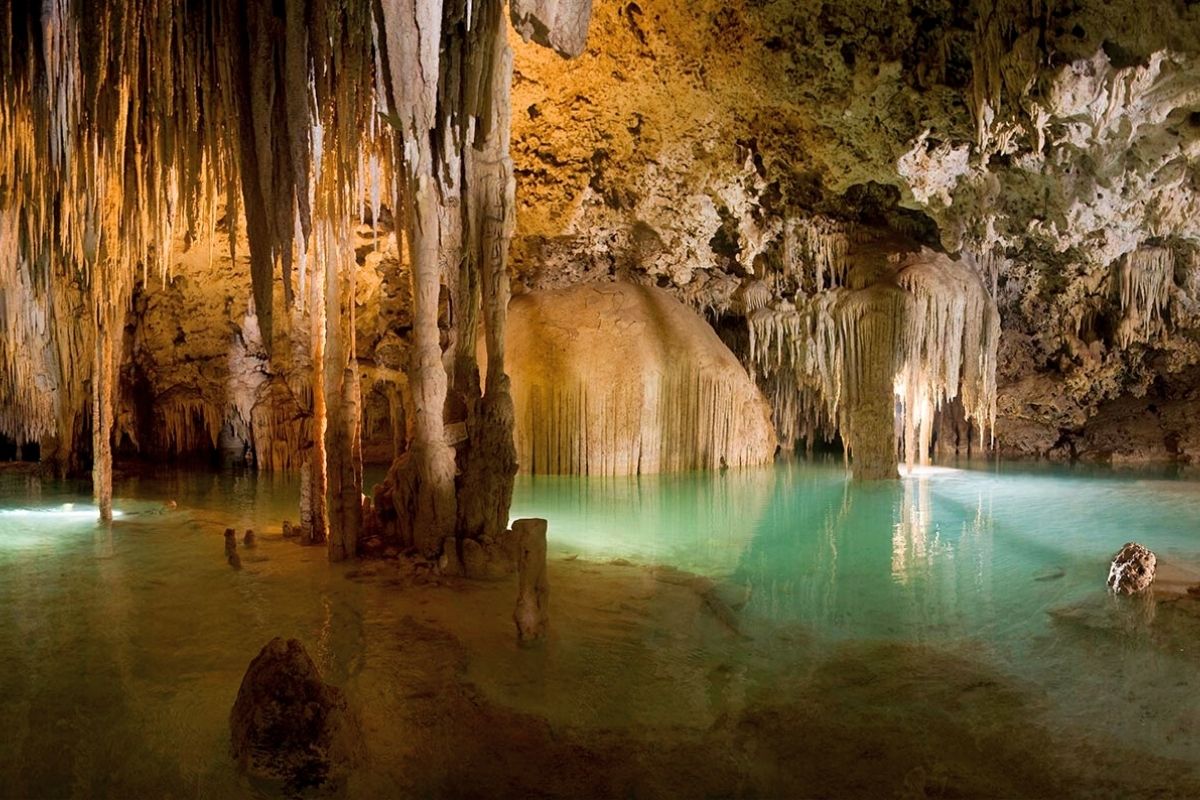 A captivating piece of Mother Nature's beauty; fusing underground rivers with enchanting caves, crystal-clear refreshing waters, and an array of stalactites and stalagmites, Rio Secreto is a natural wonderland that's not to be missed.
Considered one of the best things to do near Cancun, guests have the opportunity to swim and explore several different caves – some of which date back 2.5 million years – alongside fish, bats and other wildlife, making this best-kept secret a top attraction for divers and snorkelers alike.
A visit to the magical Rio Secreto can only be done through the organized tours offered by the reserve, during which you'll be taken on a little hike to the entrance of the submerged cave, get to witness a brief traditional Mayan ceremony, learn all about history and geology of the cave, and have the chance to experience pure darkness (when you turn off your headlamps), with nothing but the sounds of your own breath and the gentle flow of the water around you.
The natural marvel is open to visitors from 9 am to 3 pm, and sits about 6 miles south of Playa Del Carmen next to Xcaret Park – about a 90-minute drive from the resorts of Cancun.
2 – Check off the area's famous Cenotes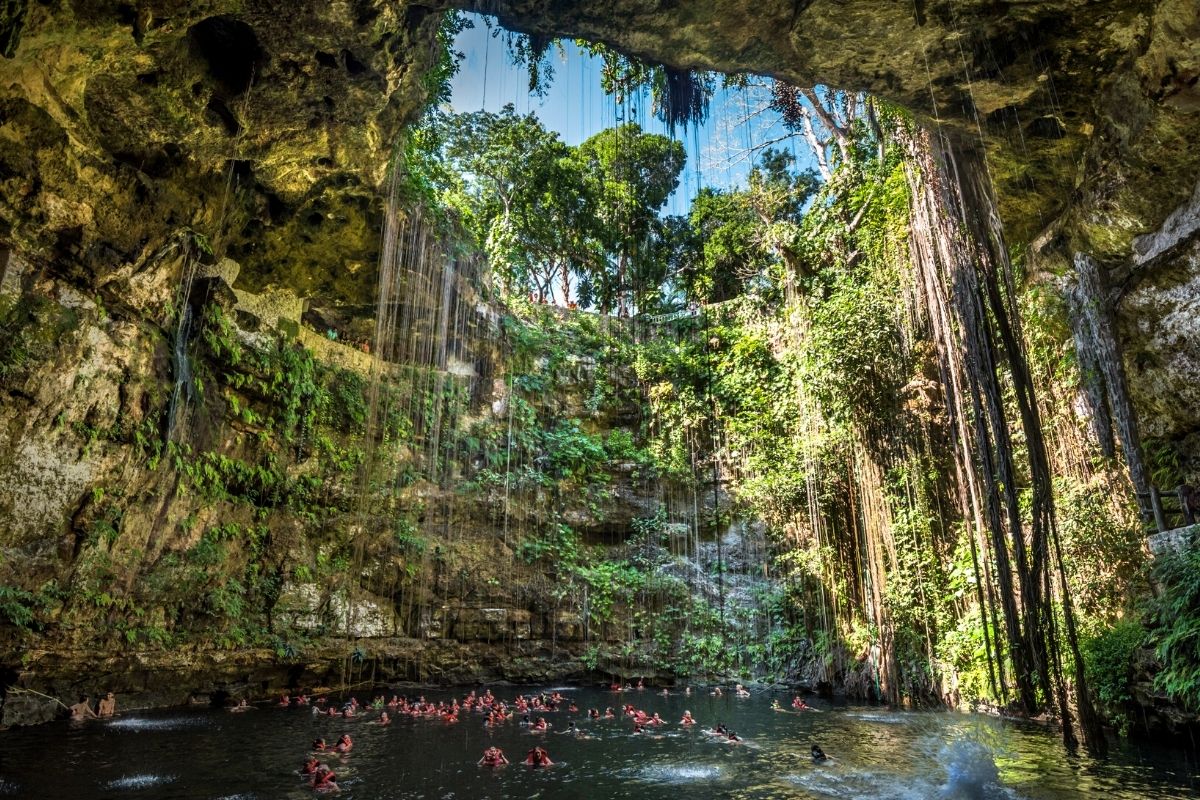 A staple of the Mexican – and especially, Yucatan Peninsula – tourism scene, cenotes (for the uninitiated) are magical natural swimming holes, formed by the collapse of limestone bedrock that exposes the underground river systems below.
They're teeming with wildlife, provide a welcome respite from the summer heat, and are simply gorgeous to look at.
Dotted all around the Riviera Maya, from Cancun down to Tulum and everywhere in between, there are hundreds of cenotes to choose from – some more popular (and touristed) than others – but each one with its own unique personality and history.
From underground caverns and caves to open-air lagoons and cenotes with cliff jumping, there's definitely a spot for everyone to enjoy, particularly on those sizzling summer days.
So, where to begin? At 118 meters deep, Dos Ojos (Two Eyes Cenote) is one of those hidden gems. Located close to Tulum (about an hour and 45 minutes drive from Cancun), Dos Ojos is home to friendly fish and turtles, named after a pair of sinkholes connected by a boardwalk.
Not too far away (also in the Tulum region) is the aptly-named Gran Cenote. Here, the vast, colorful surrounding jungle contrasts the aquamarine cave's waters, creating a postcard-perfect moment – especially when the resident turtles come out to play.
Lesser-known than the others, Cenote Zacil-Ha is another Tulum watering hole well worth considering. Wonderful for families thanks to the oft smaller crowds, this small yet stunning attraction offers an optional zip line experience and a platform for jumping into the water.
Looking like a skull, the less popular Calavera Cenote is a top diving spot; the open-air Zacil-Ha acts as a natural swimming pool if you're looking to get some sun, and the Casa Tortuga Tulum cenotes experience dishes up four different swimming holes for the price of one.
Moving inland from Cancun now, then there's the Ik Kil Cenote, which is one of the most popular cenotes in Mexico – and for good reason, it's absolutely stunning! A typical stop en route to Chichen Itza, Ik Kil resembles a perfect cylinder, with tree roots cascading – in picturesque fashion – into the cenote below.
Just past the town of Valladolid, this cenote sits 26 meters deep inside a collapsed cave (with water running 48 meters deeper still), with luscious greenery all around, making it feel like you're swimming in a natural well. The lifeguarded cliff-jumping platform scratches the daredevil itch here too.
Not too far from Ik Kil is the magnificent – and utterly unique – Suytun Cenote, tucked away within the borders of Valladolid. Suytun's claim to fame? Shallow waters, stunning stalactites and stalagmites have formed over time, and an incredible walking platform that juts out into the middle of the cenote, making it one of the most Instagrammed natural landmarks in all of Mexico (as such, arrive early).
The Hubiku Cenote, on the outskirts of Valladolid, is a little different from your typical cenote experience. Around every midday, a beam of sunlight pierces the center of the cenote, providing a moment of ethereal beauty as you take a dip.
Kantun Chi (just south of Puerto Aventuras) is an eco-tourism park with subterranean rivers, caverns, five cenotes, and history-focused guided tours that's worthy of a mention, while Jardín Del Eden Cenote (despite being further away) is a good off-the-beaten-track spot to avoid the crowds)
As you can see, there's no shortage of fascinating natural wonders to check out. If you're not sure where to start, a guided tour that includes Cancun hotel pickup, entry fees, and potential stops at places like Chichen Itza, Valladolid, Playa Del Carmen, and Tulum.
3 – Visit a world wonder: Chichen Itza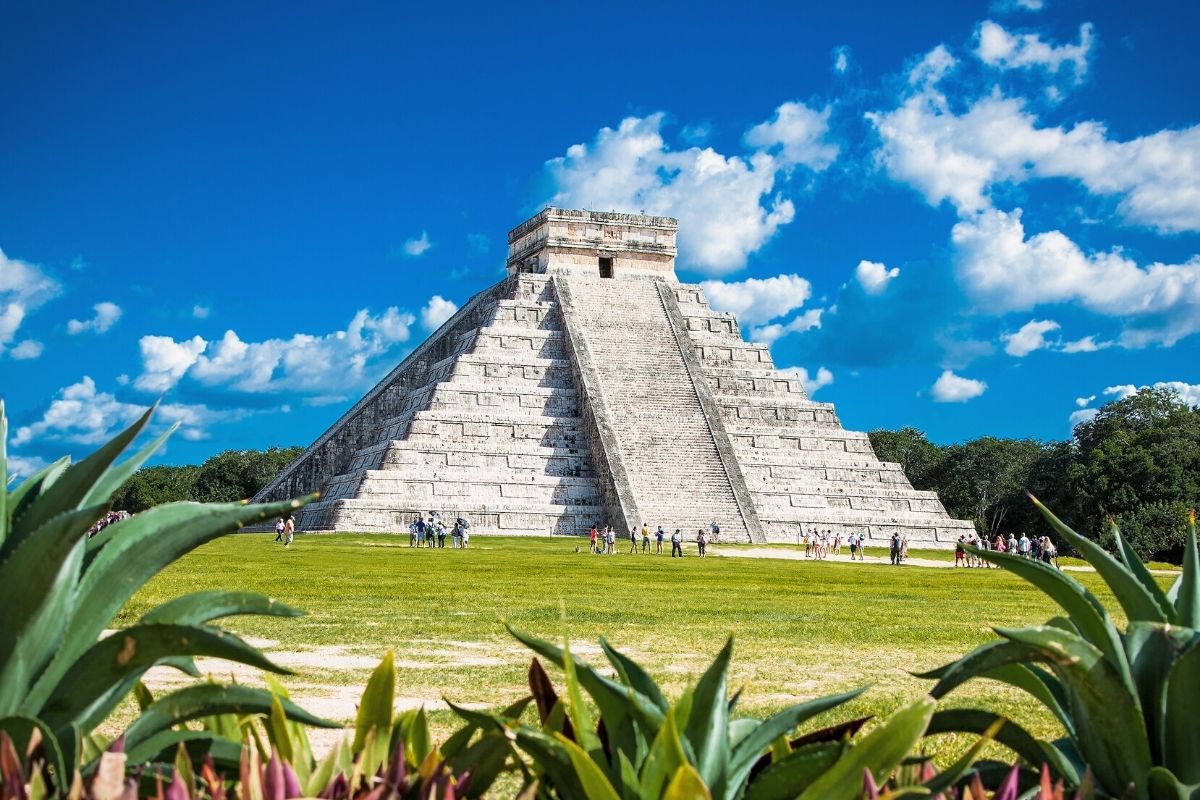 The poster-child of Mexico, standing ominously at 98 feet tall and 181 feet wide at its perfectly square base, Chichen Itza's El Castillo (or its Temple of Kukulcán) is one of the New Seven Wonders of the World; a formidable architectural feat, and an awe-inspiring sight.
A UNESCO World Heritage Site, and the most visited archaeological site in Mexico – Chichen Itza was once one of the largest Maya cities (at its peak, home to around 50,000 people), and is now a popular day trip from Cancun (about two hours drive away).
Unsurprisingly declared a UNESCO World Heritage Site in 1988, this infamous landmark is far more than just the iconic pyramid at its center. In reality, it's an ancient city that was once the political and economic center of the Maya civilization.
As you explore, you'll come across a number of different buildings, each with its own unique purpose; there's El Caracol (an observatory), The Temple of the Warriors (a huge complex with an impressive thousand columns supporting its roof), The Great Ball Court (the largest in Mesoamerica), and so much more.
With its fascinating history, incredible architecture, and stunning location, it's no wonder that Chichen Itza is one of the most popular things to do near Cancun.
And while you're more than welcome to visit on your own terms, most travelers opt to go on a guided tour (complete with Cancun hotel pickup) for the full experience and most in-depth history lesson.
As a bonus, the majority of pre-organized tours will stop in the charming city of Valladolid on the way back to Cancun, giving you a chance to explore another slice of Mexico's culture, as well as a Cenote or two.
4 – Take it slow on picturesque Isla Holbox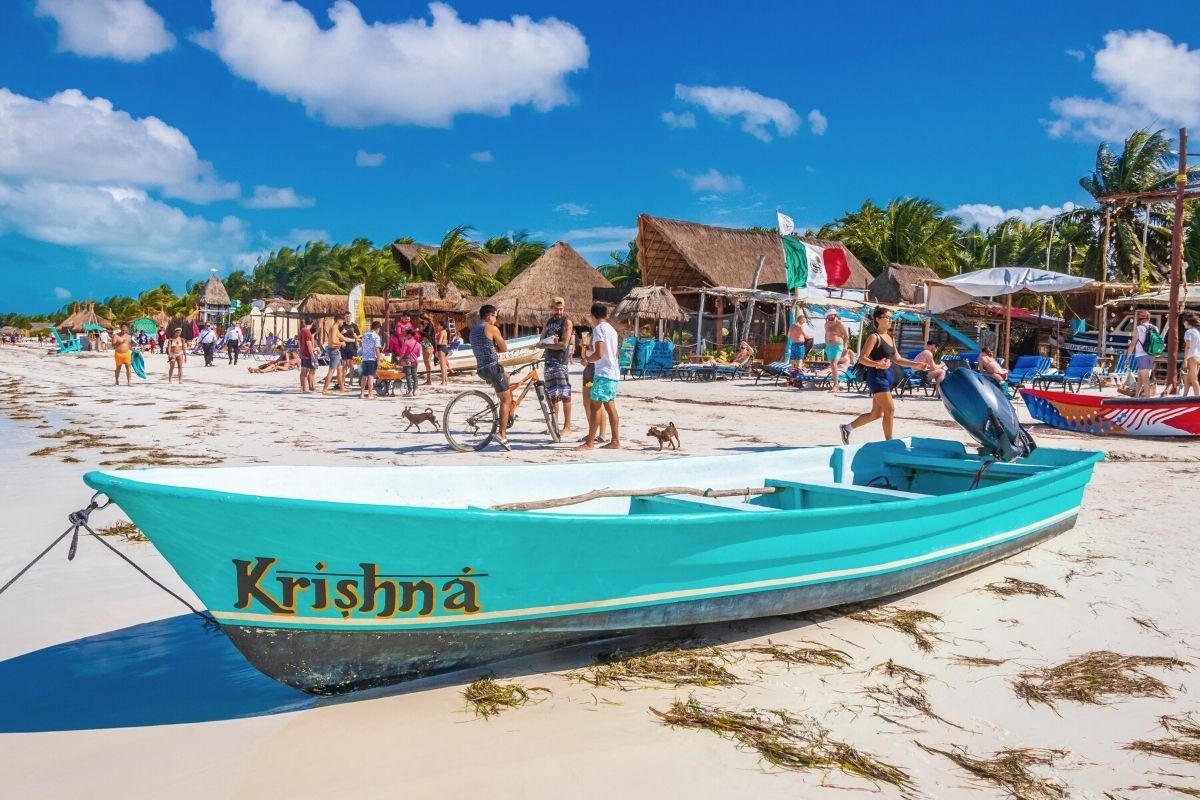 Just off the coast of the Yucatán Peninsula is the small, serene island of Isla Holbox – a world away from the hustle and bustle of Cancun, and the perfect place to relax, unwind, and soak up some Mexican Caribbean charm.
With its sandy streets (the only mode of transportation here is golf carts), laid-back beach bars, colorful buildings, and famous bioluminescent waters, Isla Holbox has a definite bohemian vibe – it's a wonderful spot to go if you're looking to escape the crowds and experience a different side of Mexico.
A whopping 75 percent of the island is a jungle of wild mangroves, equating to a hiker's paradise – there are plenty of marked and unmarked trails to explore, leading you through the jungle to hidden lagoons where you might just spot a flamingo or two.
Other popular activities on Isla Holbox include taking a dip in the turquoise waters of Playa Punta Cocos, one of the most beautiful beaches in Mexico (and snapping that iconic sea-swing selfie), going on a whale shark tour (between May and September), exploring its mangroves by kayak, riding a bike around its sleepy streets, or simply lounging on the beach with a good book.
Getting to Isla Holbox from Cancun is easy enough – there are plenty of ferries making the journey every day (it takes around two hours) and a plethora of convenient day tours that feature lunch, breakfast, hotel pickup, and activities.
With no cars and no worries, you might want to stay a little longer than just a day though!
5 – Spend the day at Xcaret Park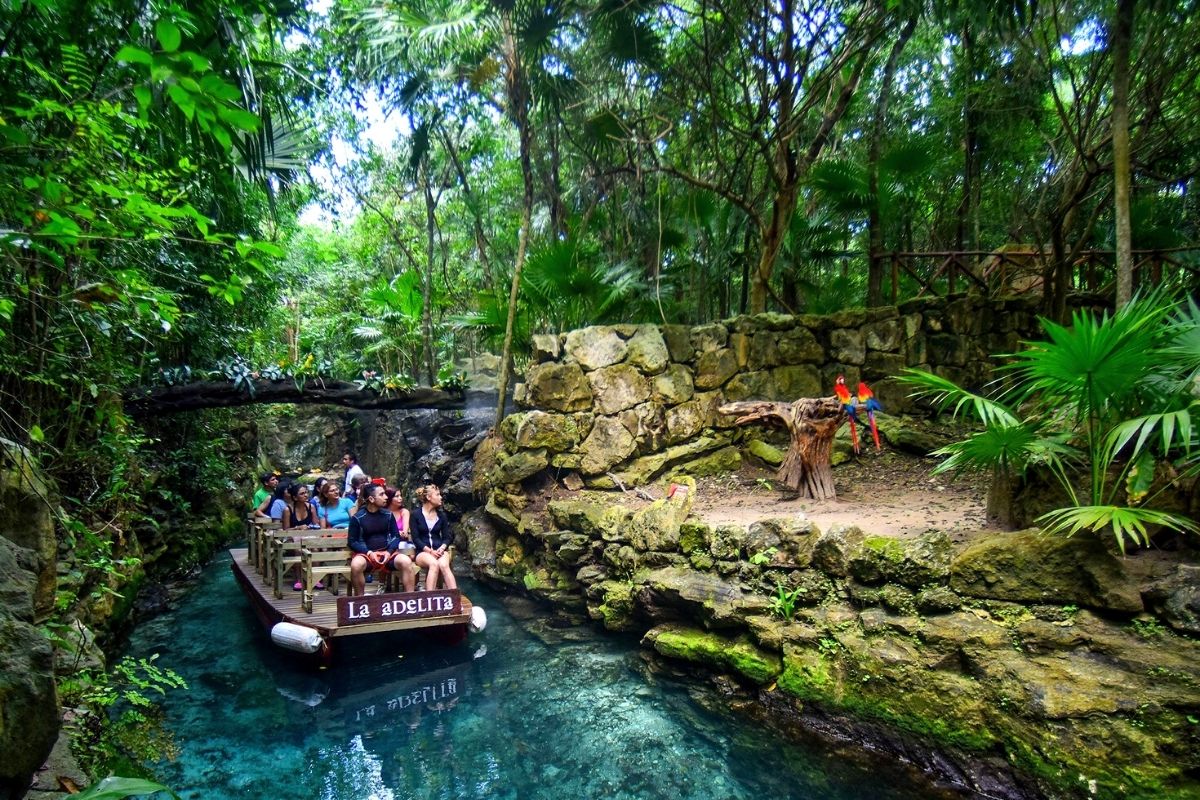 Chock-full of adventure for the whole family, Xcaret Park is an eco-archaeological theme park near Cancun that provides visitors with a unique insight into Mexico's history, culture, and natural environment, all at once.
Set amongst the backdrop of stunning jungles and pristine beaches, Xcaret Park offers something for everyone – from swimming in underground rivers and relaxing in natural hot springs to exploring ancient ruins, snorkeling in the world's second-largest coral reef, mingling with friendly residents at the Coral Reef Aquarium (with over 5,000 living organisms) or zoo, learning a thing or two from the on-site Bromeliad Museum, and taking a front-row seat to watch a traditional Mexican dance or theatre show.
The Mexican Folk Art Museum is a cultural bonus, likewise the equestrian show, the replica of a Mayan village, and the "Bridge to Paradise" Mexican Cemetery.
If you're more about nature than culture, you'll be pleased to know that animal encounters are a dime a dozen here; including dolphin swims, bird aviary visits, butterfly gardens (with over twenty colorful species), and pink flamingo meet and greets (to name just a few).
And when you work up an appetite from all that exploring, Xcaret Park has you covered with a plethora of excellent restaurants to choose from (the seafood buffet at La Península is top-notch).
And for anyone traveling with little tots, Children's World is a special area where the youngsters can swim in shallow cenotes and wading pools, all under the watchful eye of expert lifeguards.
With so much to see and do, it's no wonder that Xcaret Park is one of the most popular things to do near Cancun – especially for families with kids. You'll find this multi-faceted playground – where over 50 unique attractions await – near Playa del Carmen, about an hour's drive from Cancun proper.
6 – Take a day trip to beautiful Isla Mujeres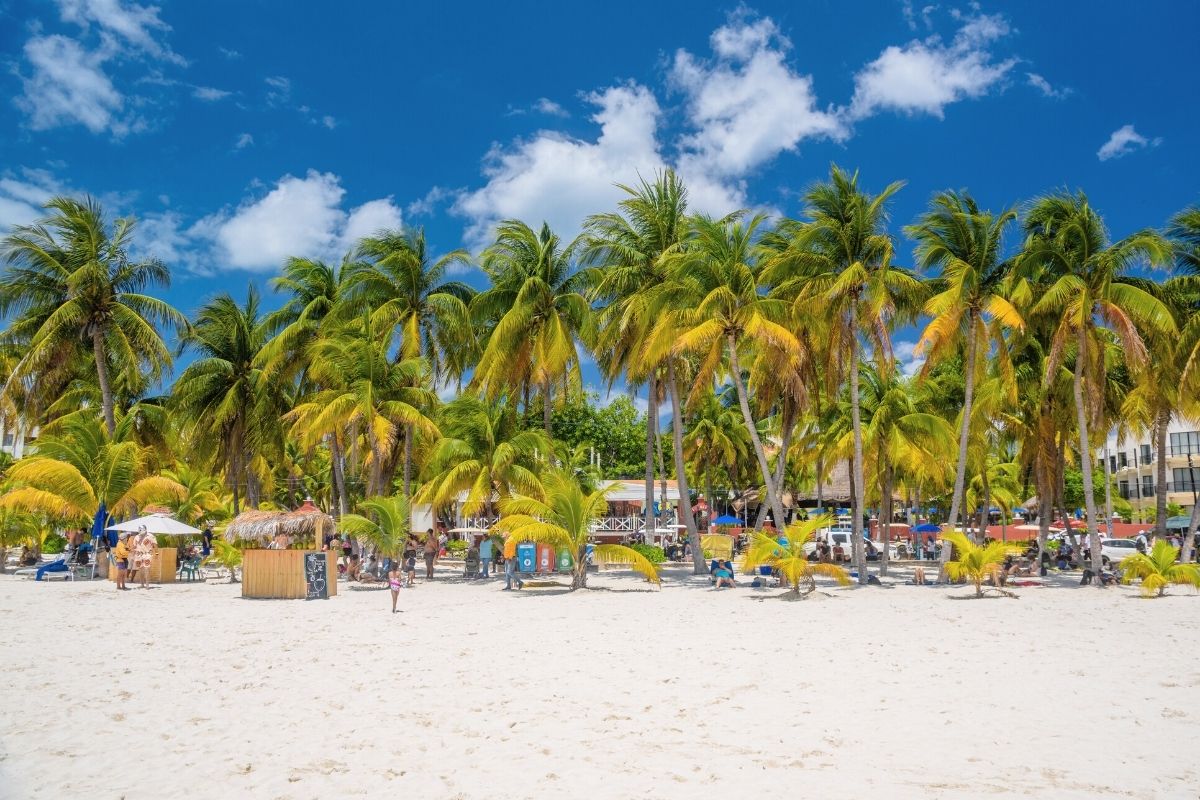 Boasting the whitest sand, the clearest water, and the most beautiful sunsets you've ever seen, it's no wonder that Isla Mujeres (meaning "Women's Island") is one of the most popular day trips from Cancun.
This tiny island paradise – just four miles long and half a mile wide – is located just off the coast of Cancun and can be reached via a short ferry ride from the mainland.
Once you set foot onto this laid-back island, the hardest decision you'll have to make is how to spend your time; as Isla Mujeres boasts an impressive array of activities and attractions, including world-class snorkeling and scuba diving, swimming with dolphins, exploring Mayan ruins, ATVing around the island, going on a glass bottom boat tour, zip-lining through the jungle canopy, or simply kicking back and relaxing on one of Isla Mujeres' many idyllic beaches.
Without many cars on the island, your best bet for transport is either a golf cart or a bike. Once you've got your wheels, make your way over to Playa Norte, the most Instagrammable of Isla Mujeres' beaches. Here, the flailing palm trees, gentle waves, and ultra-soft sand embody what summer vacation is all about.
When hunger strikes, there are plenty of excellent restaurants to choose from on the island, serving up everything from fresh seafood to Mexican classics; but for the best views (and photo ops), make your way to Sunset Grill, where you can enjoy a delicious meal while watching the sun dip below the horizon.
Prefer to have someone else organize everything? No problem! Many of the boat tours in Cancun make a stop at Isla Mujeres, giving you enough time to soak in the island's laid-back vibe and snap a few photos before heading back to the hustle and bustle of mainland Mexico.w
Hot tip: don't miss the Garrafon Reef Park & Beach Club. Found on the island's southernmost tip, this outdoor oasis is complete with a natural swimming pool, coral reef snorkeling area, zip-lining, kayaking, walking trails, sculpture garden, dolphin encounters, ancient temples, and luxury hotel facilities, should you want to extend your stay.
7 – Snap that perfect Instagram photo at Laguna de Kaan Luum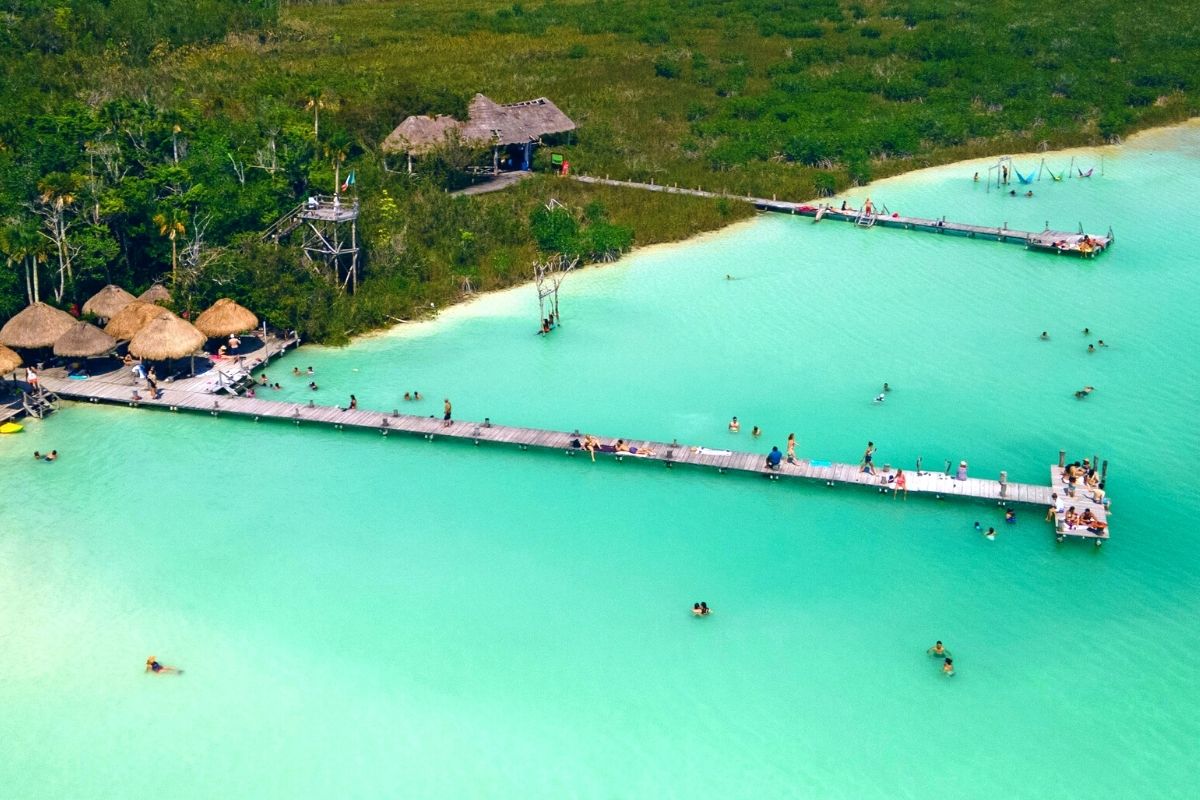 A protected ecological reserve centered around a shallow transparent lake that hangs over a deep cenote – creating a remarkable gradient-like color effect –, Laguna de Kaan Luum is a beautiful lagoon that's home to an abundance of wildlife, who (along with the visitors) come in search of the clearest and calmest water in the region.
Found off the beaten track, immersed in the jungle not too far from Tulum (about 2 hours from Cancun), this remarkable combing-together of deep and shallow waters is one of the most unique natural sights in Mexico.
While swimming isn't allowed in the cenote itself, you can take a refreshing dip in the shallows of the lagoon where there are plenty of fish to be found – perfect for paddleboards or a refreshing swim.
As one of the region's best-kept secrets, with overwater hammocks and swings to relax in (and snap that envy-evoking Instagram photo) it's considered one of the best things to do near Cancun.
8 – Step back in time at the Tulum Archaeological Zone
Like stepping back in time, this ancient Mayan city – which served as a major trading post during the height of the empire – is situated atop a dramatic cliff, overlooking the turquoise waters of the Caribbean Sea.
Although small in comparison to other ruins in Mexico, Tulum is the only archaeological site built directly on the coast, making it a popular spot for both historians and beach lovers alike.
A visit to terrific Tulum begins at the main entrance, where you'll find a number of impressive structures, including the Temple of the Frescoes (featuring well-preserved Mayan murals), the Temple of the Descending God (depicting a figure upside down), and the 7.5-meter-tall El Castillo, the site's largest building and main draw.
From there, make your way down to the ruins' lower level, where you'll find a handful of fascinating smaller temples and ancient dwellings, as well as an expansive stretch of white-sand beach.
With Mayan history that dates back to between the 12th and 15th centuries, Tulum is one of the most popular day trips from Cancun, and as such, there are a number of tour options available to choose from.
If you're short on time, opt for a half-day tour, which will give you enough time to explore the main highlights of the site; but if you're looking for a more immersive experience, consider signing up for a full-day tour, which often includes stops at nearby Coba and Playa del Carmen.
9 – Relax at the pristine Akumal Beach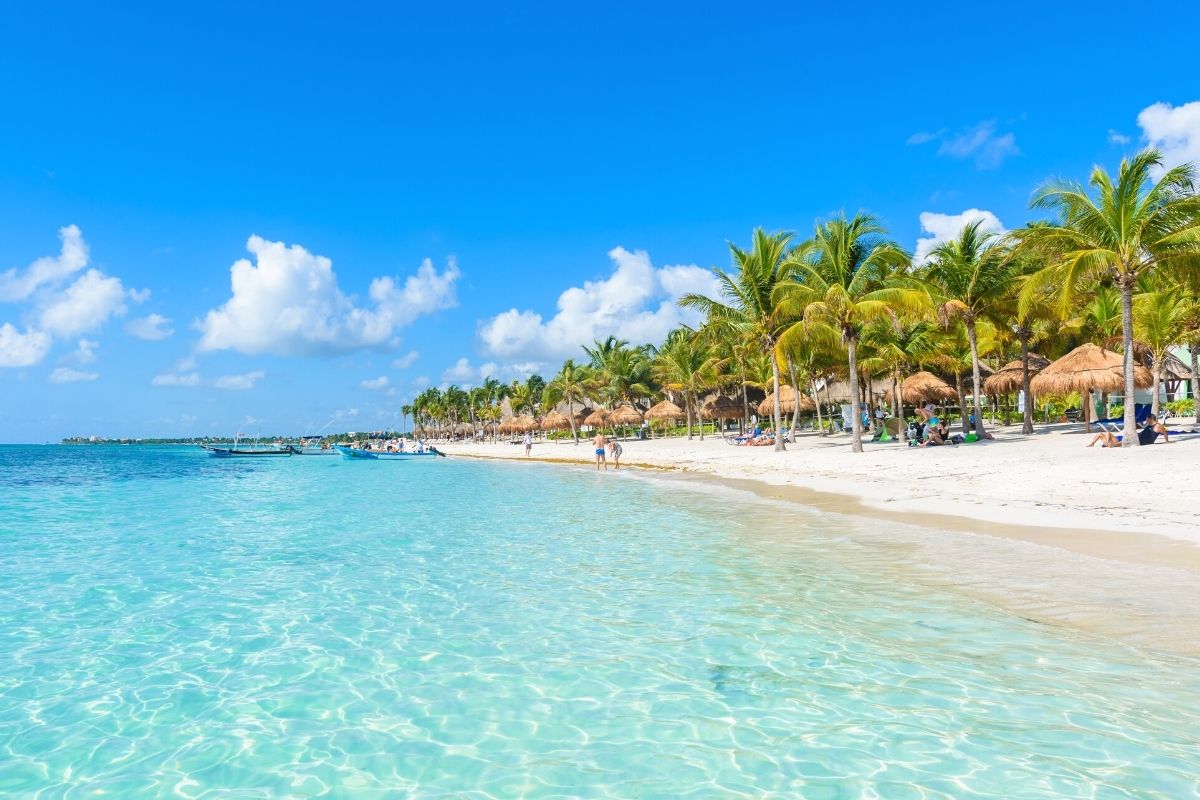 Renowned for its gentle waves and sheltered bay, Akumal Beach is the perfect spot to relax, swim, and snorkel, soaking up that oh-so-glorious year-round Yucatan sun.
Located just 90 minutes south of Cancun, this idyllic beach spot was once the peninsula's best-kept secret – not anymore.
Shaded by palm trees, the pristine white-sand beach and calm, clear waters have turned Akumal into a popular getaway — despite its increase in fame, largely thanks to the hordes of friendly turtles which swim in its waters (after all, Akumal does mean "Place of the Turtle" in the Mayan language), it remains peaceful and relatively quiet.
Easily one of the best snorkeling spots near Cancun, grab snorkeling gear and swim out to the reef, where you'll find an array of colorful fish just waiting to say hello; or, if you're feeling a little more adventurous, why not scuba dive? The excellent visibility (up to 30 meters), abundance of marine life, and dozen dive sites make Akumal a scuba lover's dream.
Not interested in getting wet? No problem! Take a walk along the shore, build a sandcastle, or simply relax on a lounge chair with a good book and cold drink in hand before embarking on a sunset sail in a catamaran — there's no wrong way to spend a day at Akumal Beach.
10 – Mix nature with adventure at Xel-Ha Park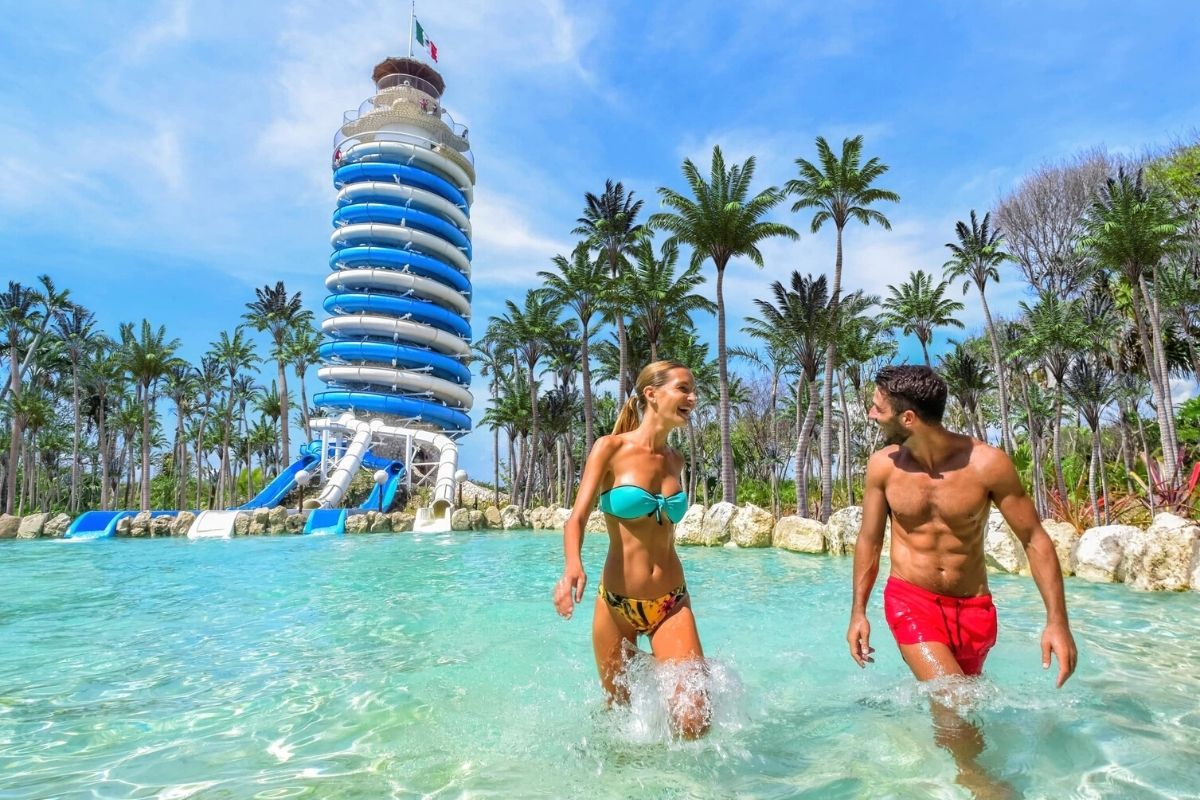 Similar in style to Xcaret Park (see #5), blending natural beauty with ancient ruins, waterslides, and marine life, Xel-Ha is another eco-archeological-park cross adventure-playground that dishes up a little bit of everything that the region is famous for: great food, natural pools, adventure rides, history lessons, animal encounters, and more.
Home to an impressive array of plant and animal species – including over 100 types of birds, iguanas, and countless tropical fish throughout its beaches, mangroves, and jungle – the natural inlet is teeming with wildlife both above and below the water, many of which can be spotted with leisurely walks along the Jungle Trails.
Xel-Ha's main lagoon is a designated snorkeling area, and its caves, coves, and crevices make for wonderful places to cool off on hot days.
Craving adrenaline? Head to the Cliff of Courage and jump from a height of 5 meters into the water below, zoom down the Trepachanga or Salpichanga ziplines, ride the 98.5-feet-high waterslide from atop the Scenic Lighthouse or test your balance on the Floating Bridge.
As a bonus, it's all-inclusive — all food and drinks are included in the admission price, so you won't have to worry about a thing.
Want to take your visit to the next level? If you don't mind upgrading, choose from manatee and stingray encounters, speedboat tours, swimming with dolphins, or fish therapy to make the day all the more memorable!
11 – Head to the island of Cozumel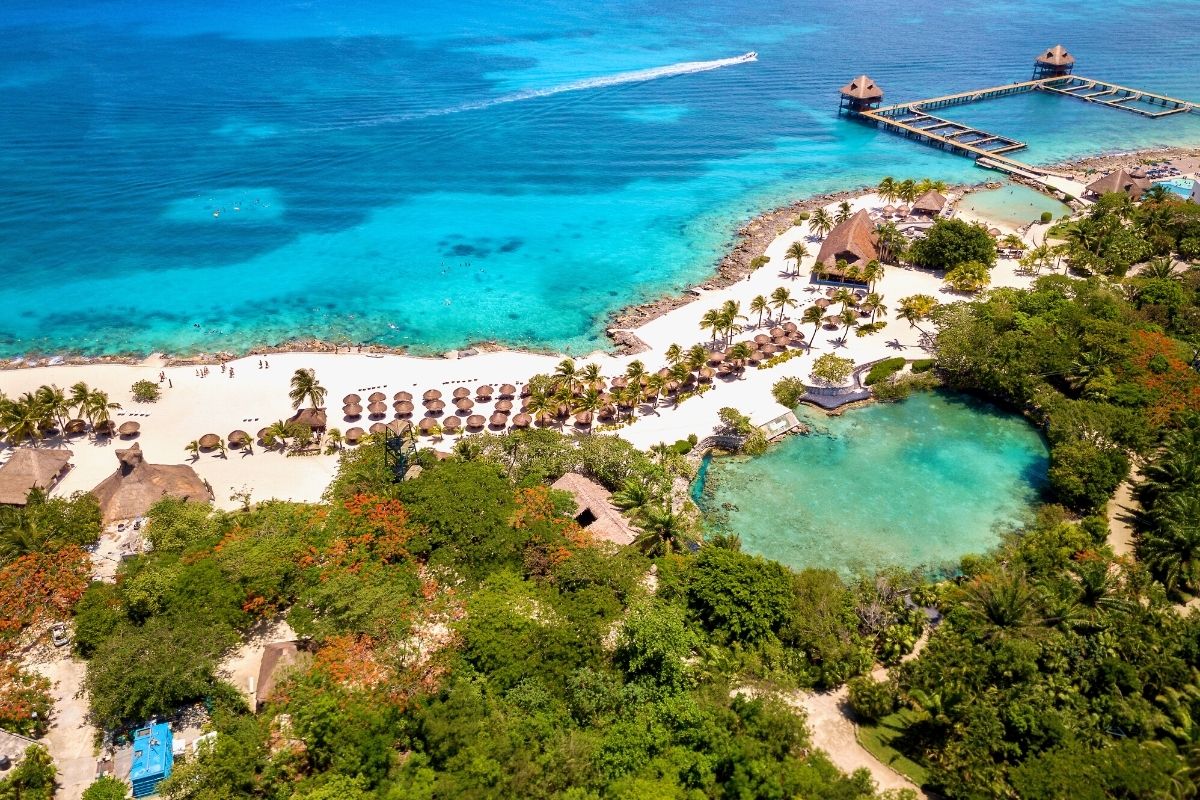 Sitting a mere 45-minute ferry ride away from the hustle and bustle of Cancun, Cozumel is a world unto itself.
This small island off the coast of Mexico's Yucatan Peninsula is well known for its excellent scuba diving and snorkeling – in fact, it's widely rated as one of the top five dive destinations in the world. But Cozumel has plenty to offer above ground, too.
Beyond its main city, San Miguel de Cozumel, where souvenir stores, historic buildings, and jeep rentals await, the island is home to gorgeous national parks and adventure playgrounds, including Punta Sur (the largest ecological reserve in Cozumel, with over 1000 hectares to explore) and Chankanaab (where you can witness sea lion shows and even swim with dolphins), as well as a handful of ancient ruins, few more famous than the San Gervasio Mayan archaeological site.
And of course, no trip to Cozumel would be complete without sampling the delicious food – think fresh seafood, cheap-as-chips tacos, and all the guacamole you can eat!
If you're after a cocktail in the sun, Paradise Beach, Mr. Sanchos Beach Club, and Coconuts Bar and Grill are calling; if you want to scratch that itch for adventure, you'll find stand-up paddleboarding, ATV-riding, paragliding, and jetboating all on the menu.
To learn about the history of the island, make a quick stop at the Cozumel Museum, or to get a highlight reel of all the best activities and things to do in Cozumel, book a tour with one of the many reputable companies that which you to the island from Cancun.
12 – Fuel the thirst for adrenaline at Selvitica Park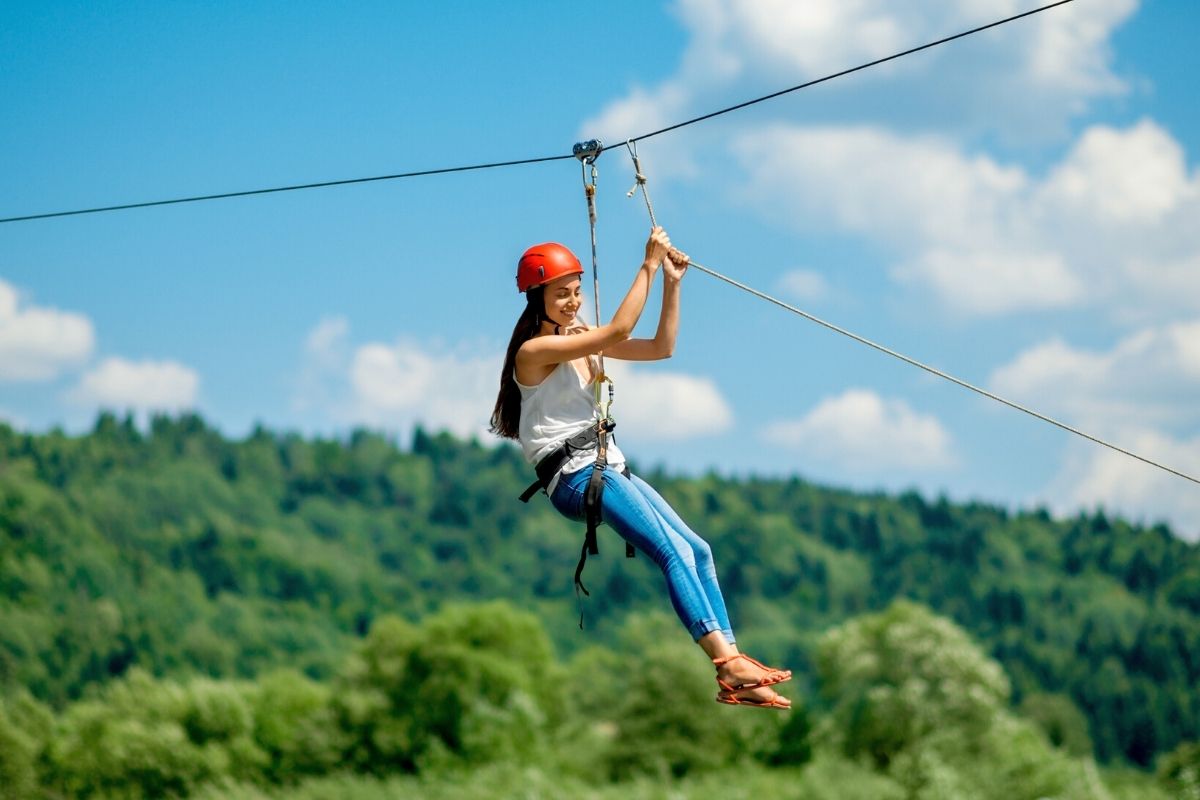 A quintessential attraction for any devout daredevil, thrill seeker or outdoor adventure enthusiast, Selvatica Park is one of the most popular adrenaline-pumping destinations in the Cancun area.
Set among the jungle about 50 minutes from Cancun (directly inland from Puerto Morelos), this extreme adventure park boasts over 12 different zip lines (the longest being nearly a kilometer long), including one that's hair-raising Superman-style, as well as ATV, buggy and dune-buggy rides, all designed to get your heart racing.
For that extra dose of action, the Bungee Swing and Tarzania Coaster will have you flying high above the jungle canopy, while the offroading adventures not only escort you through some of the most stunning scenery in Mexico but also teach you a thing or two about the local flora and fauna.
While adventure is clearly the name of the game here, don't overlook the natural relaxation opportunities either. If you opt for the Swim-In experience in the "NaturAll environment", you'll have a chance to explore and snorkel in a cavernous cenote as well as kayak through the largest open-air cenote on the peninsula – a slower-paced yet no less memorable way to take in the jungle's unique surroundings.
13 – Drink, tan, and relax at Cozumel's Paradise Beach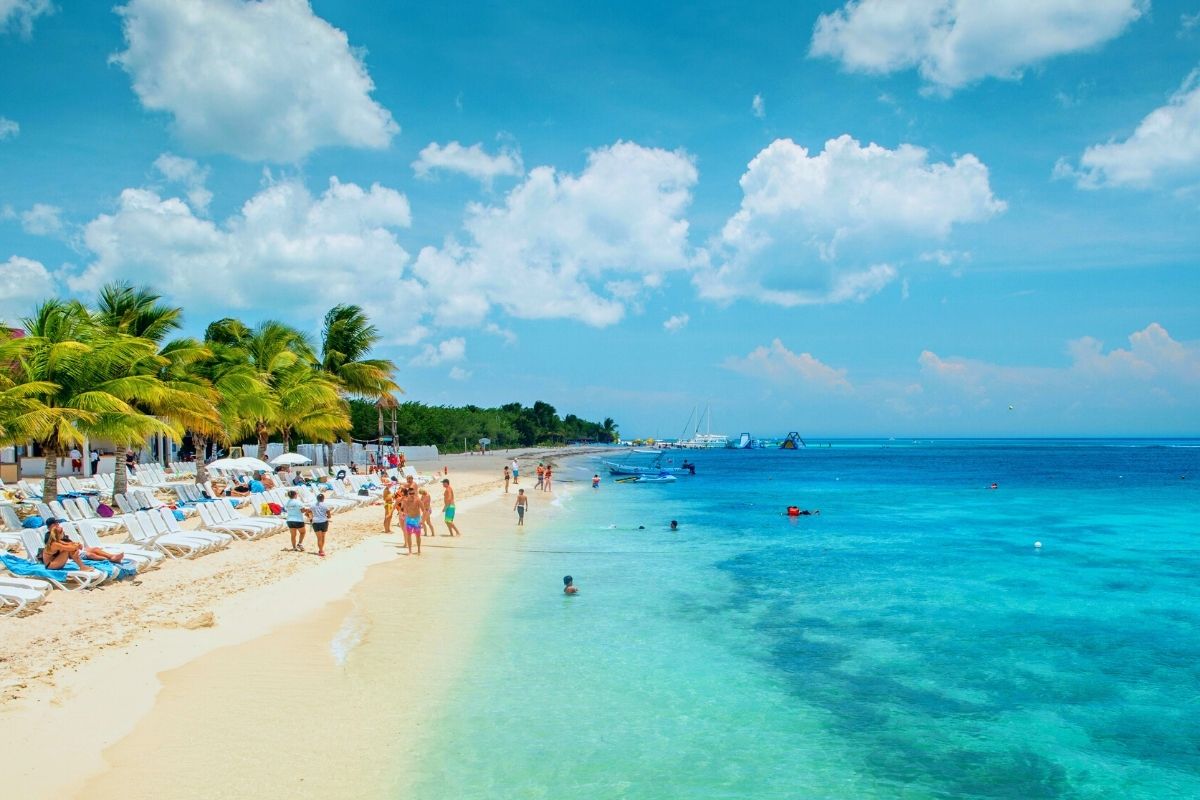 Appropriately named for its postcard-perfect setting (and turquoise waters that rival anything you'll find in the Caribbean), Paradise Beach is without a doubt one of the best beaches near Cancun.
While technically located on the island of Cozumel – just a 35-minute ferry ride from Playa del Carmen – this idyllic spot is well worth the effort to get there.
Once you arrive, you'll find plenty of things to keep you occupied, from swimming and sunbathing on the powdery white sand, to sipping cocktails at one of the beach bars, or enjoying a delicious authentic meal from one of the shoreside eateries.
If you're feeling active, there's also the option to rent some snorkeling gear and explore the nearby reefs, or try your hand at stand-up paddleboarding; or parasailing or banana boat rides for an extra few pesos.
More than just a stretch of sand, however, Paradise is also a beach club, offering travelers the chance to relax in style with a range of beach umbrellas, sun loungers, water hammocks, and day beds available for rent.
There are also henna tattoo stands, pools, and an à la carte menu with all of your favorite Mexican dishes – plus, plenty of options for vegetarians and vegans.
14 – Meander through the Sian Ka'an Biosphere Reserve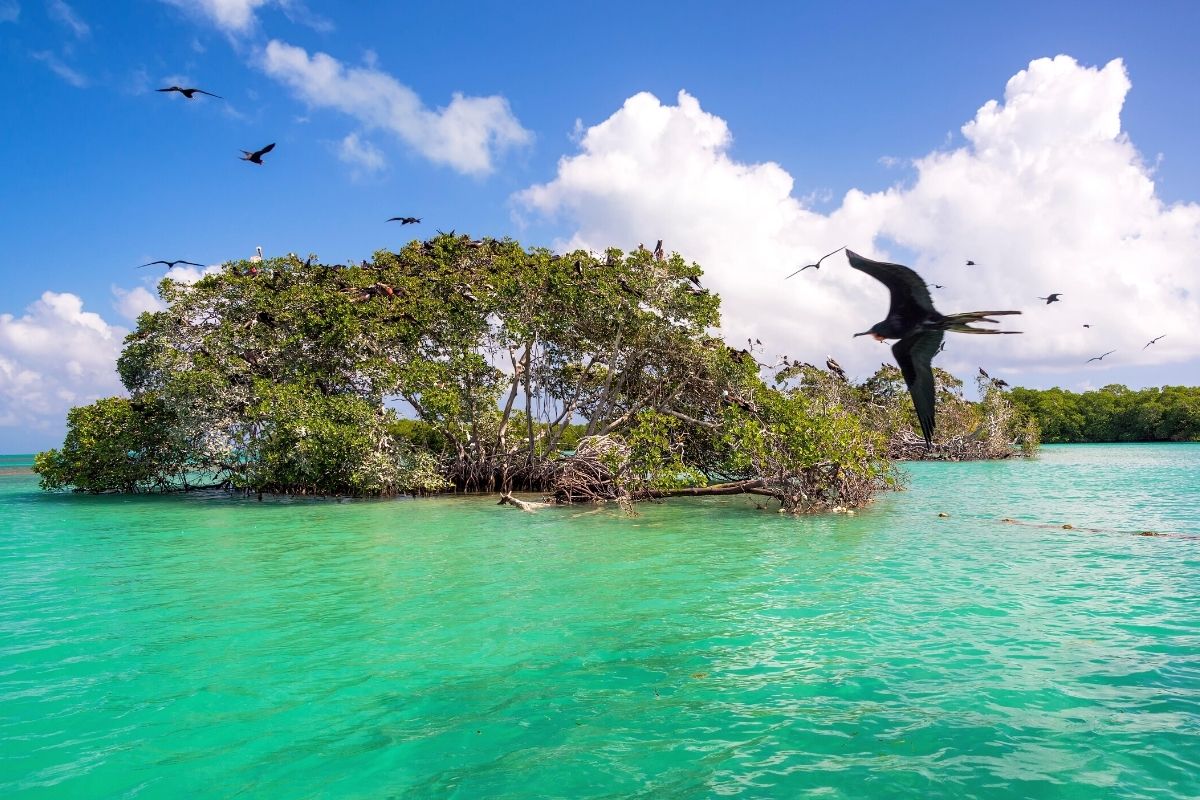 A deserved UNESCO World Heritage Site, the Sian Ka'an Biosphere Reserve is one of the most ecologically diverse and important protected areas in all of Mexico.
Stretching from the Riviera Maya coastline all the way inland to the town of Felipe Carrillo Puerto, this reserve encompasses over 5,280 square kilometers of land and sea, including mangrove forests, rainforests, wetlands, beaches, and coral reefs – all teeming with wildlife, turtles playing in the vibrant shores to spider monkeys leaping from tree to tree.
A visit here can take many different forms, from a day spent lounging on the pristine white sand beaches of Punta Allen to an overnight camping trip deep in the jungle, or even a boat tour through the mangrove-lined canals in search of crocodiles, manatees, and a wide variety of bird species (330 different species to be precise) fluttering through the canopies.
But regardless of how you choose to spend your time in the Sian Ka'an Biosphere Reserve, one thing is for sure – you'll be blown away by the sheer beauty and biodiversity of this special place.
Nature aside, the area is steeped in history too. Throughout the reserve, you'll find almost two-dozen Maya civilization archaeological sites (including Muyil, a remarkable 56-foot-tall stone tower in the heart of the jungle), as well as a handful of remains of the early 20th-century Decauville railway Vigía Chico-Santa Cruz.
Due to its sheer size, the best way to soak up everything the Sian Ka'an Biosphere Reserve has to offer is on a guided tour, which can easily be booked through any number of reputable tour companies in the Riviera Maya, the majority of which include hotel pick-up and drop-off in the price, and some time exploring nearby Tulum.
The name itself translates to "Gate of heaven", and once you've spent a day wandering around its diverse landscapes, you'll quickly understand why.
15 – Join a jungle mangrove speedboat tour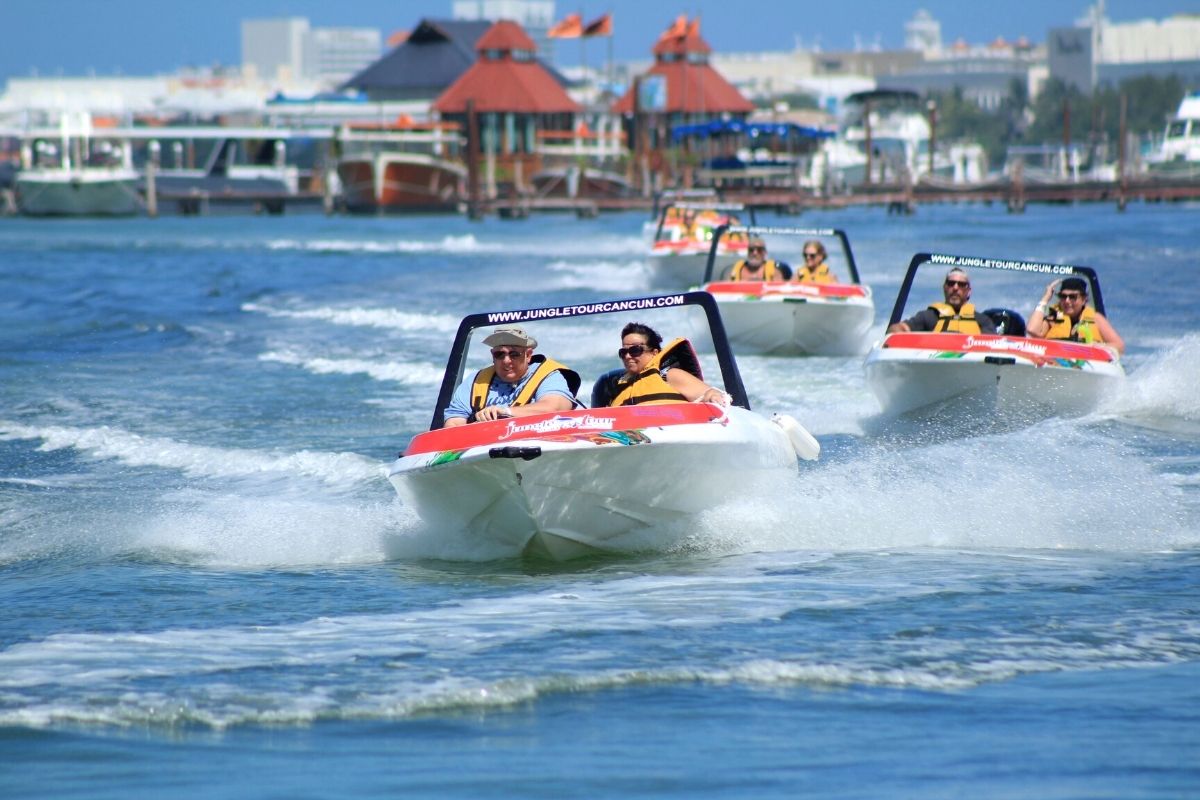 Spread across some 3,000 hectares, the Nichupte Lagoon – which sits on the doorstep of Cancun itself – is one of the largest lagoons in all of Mexico and home to an impressive array of plant and animal species.
And despite its proximity to the big city, it remains a largely unspoiled and natural place, its mangrove-lined shores providing a much-needed habitat for all sorts of birds, fish, reptiles, and mammals.
One of the most enjoyable ways to explore the Nichupte Lagoon is on a speedboat tour, which will whisk you in and out of the myriad of canals and inlets, all while taking in the stunning scenery of Cancun's Hotel Zone skyline off in the distance.
With the wind in your hair, your guide will bless you with you up-close views of the mangroves, birds, and other wildlife as well as the odd Maya ruins thrown in for good measure. And, if you're up for it, you can even grab the controls and take the boat for a spin yourself!
Most tours last around two hours and include a stop at one of the many small islands in the lagoon where you can jump in for a swim, relax on the beach or simply take in the sites of whichever beach your captain brings you to – Punta Nizuc bay being a common stop.
As a bonus, depending on your tour of choice, you'll have the chance to snorkel through coral reefs and check out the Cancun Underwater Museum which features incredible sunken sculptures 30 feet deep, including VW Beetles, a man watching TV on the couch, and so much more.
16 – Take the family to the Xplor Adventure Park by day…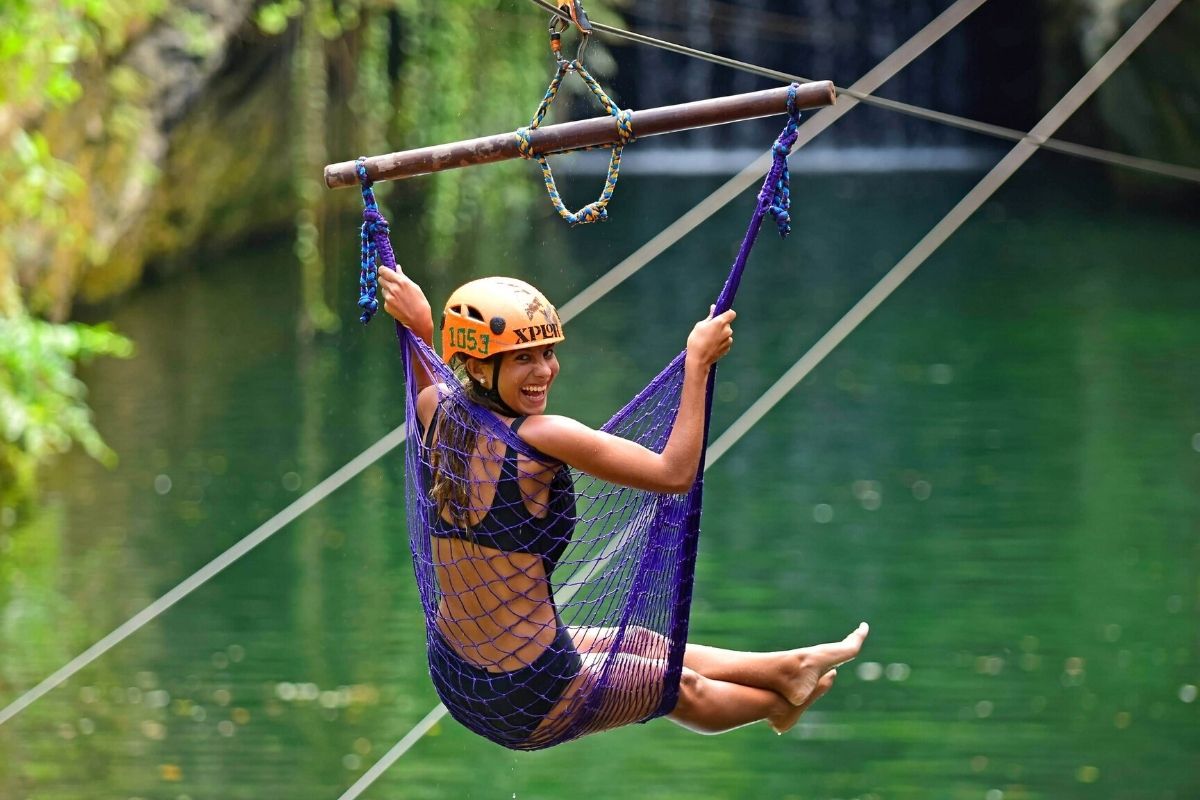 Sure to light a fire in any adrenaline junkie's belly, Xplor Adventure Park is an all-inclusive, action-packed day out that's perfect for those who like to get their heart racing.
Considered to be the most visited zip-line park in the world, and situated just an hour from Cancun in the Riviera Maya (just south of Playa Del Carmen), Xplor boasts zip lines (13 in total), amphibious vehicles, underground rivers, and more – all set within a stunning natural landscape of rainforest, caves, and cenotes.
With close to half a dozen different water and land-based activities on offer, there's something for everyone at Xplor.
For thrillseekers, there's the chance to zip line through the treetops, race through the jungle in all-terrain amphibious vehicles and swim through underground rivers and cenotes.
And for those who prefer to take things a little slower, there are plenty of options too, from exploring the caves on foot or by raft to relaxing in a hammock or taking a dip in one of the natural pools.
Looking for something a little more VIP? If you're happy to shell out a few extra bucks, the Adrenalina jetboat ride, Xcaret México Espectacular dinner and show (a great cultural insight), wine pairing at the Xcaret Wine Cellar, swimming with dolphins, or even a pampering spa treatment can be added to the itinerary.
At the end of the day, you can refuel with an all-you-can-eat buffet dinner at El Troglodita restaurant (and sample the Mexican hot chocolate) before heading back to your hotel for a well-earned rest.
Hot tip: for the best bang for your buck, book online, in advance, and consider one of the many combination options – since it's a partner to Xcaret group, the opportunities are endless.
17 – … and come back for the firey Xplor Fuego Adventure Park at night!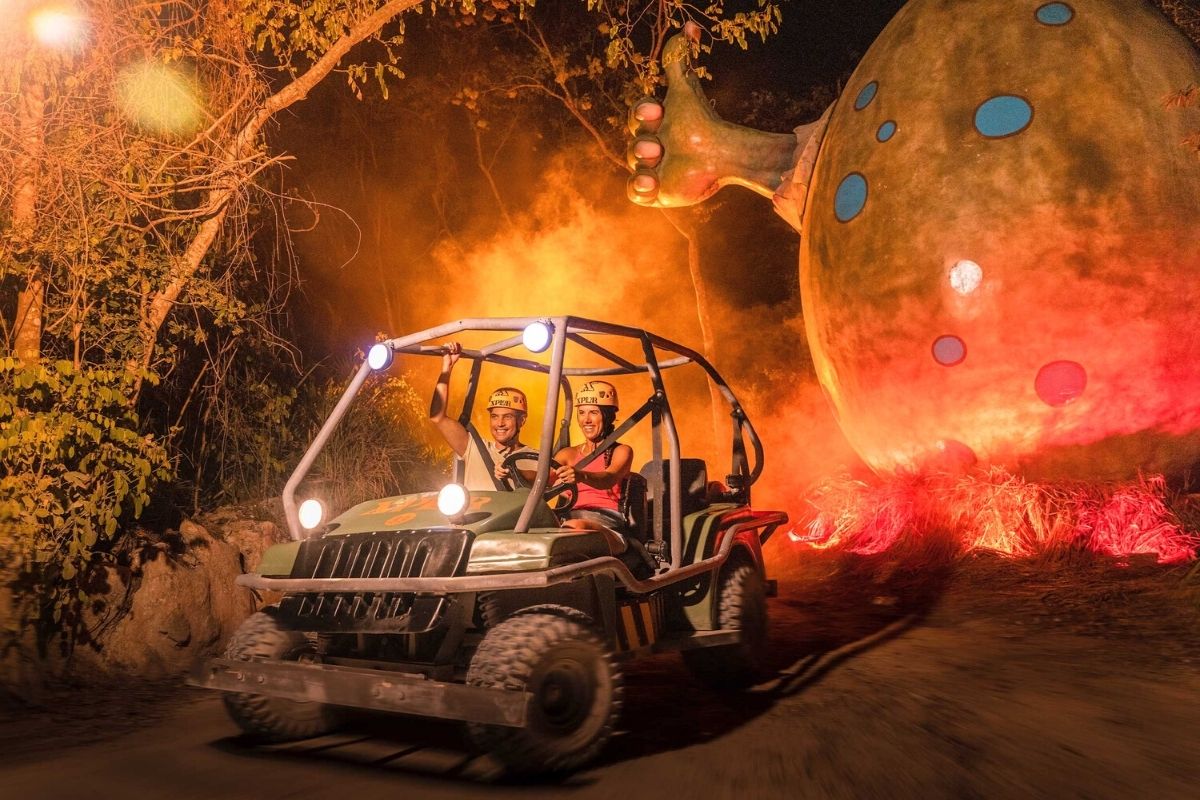 If you're feeling giddy after reading through #16 (Xplor Adventure Park), then take note: when you go Fuego-style, the attraction takes it up a notch.
Held at Xplor but with the caveat of being under the moonlight, the Fuego package includes unlimited use of all the activities on offer, as well as a buffet dinner, unlimited non-alcoholic beverages, live music, and entertainment.
The standard package brings together a host of adventure activities, from ziplining through a 7-rope course (which includes the tallest in the Riviera Maya, and a dramatic zoom through a fire arch!) and driving amphibious vehicles through the 3.1-mile jungle and cave circuit, to rafting through 623 yards (570 m) of red-lit underground rivers, and swimming in stalactite-abundant caves.
If you're hoping to stretch the legs, the cave hike is a crowd favorite, while the pyrotechnics all around the park will certainly get the heart racing. As the only night-time zip-lining park in Mexico, Xplor Fuego is an experience not to be missed for those whose itch for adventure runs deeper than most.
Once the daytime Xplor crowds have cleared out, Fuego kickstarts from 5:30 pm and stays open till 11 pm Monday to Saturday.
18 – Go swimming with whale sharks!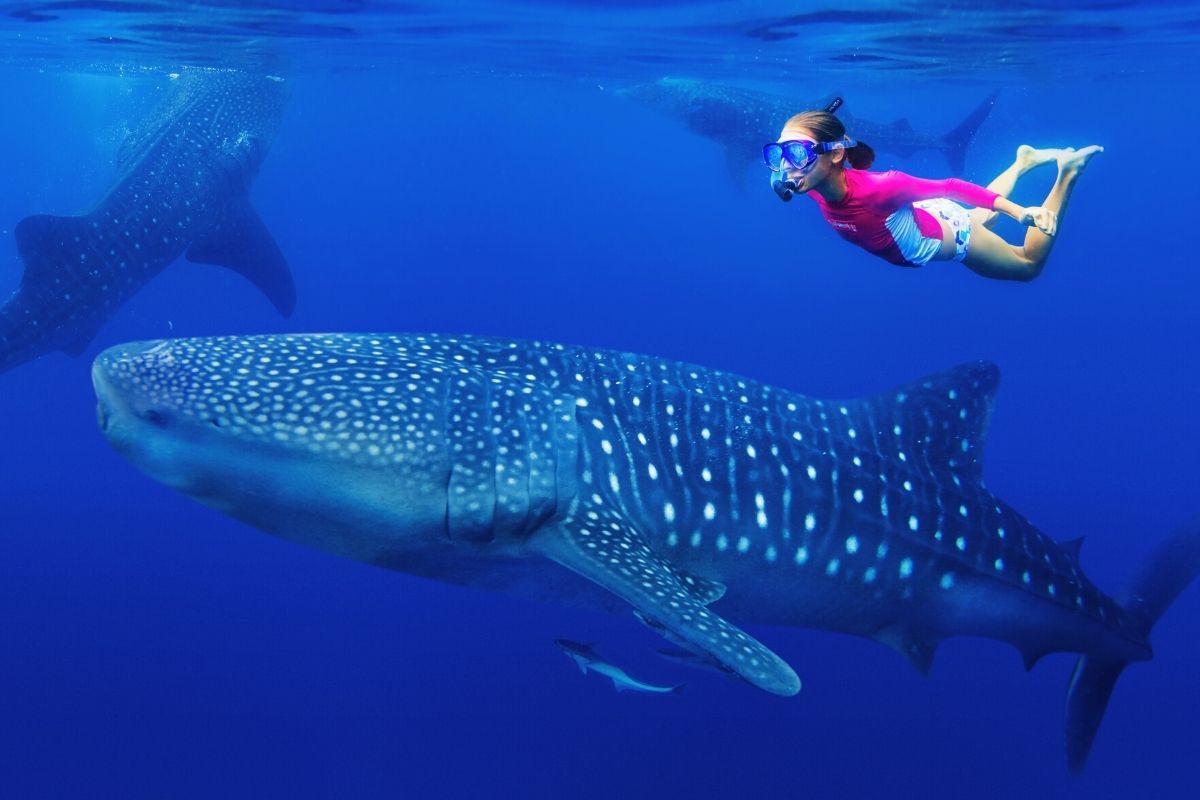 Whale sharks are the largest fish on the planet; Their foreboding, ominous, eye-opening stature is hard to comprehend in words and images alone; Weighing up to 30 tons and growing almost 60 feet in length, these gentle giants of the sea are an awe-inspiring sight to behold.
And lucky for us (read: for those with nerves of steel), every year between May and September, these majestic mammoths can be found just off the coast of Cancun, where they come to feast on fish eggs in the warm waters of the Caribbean Sea.
A once-in-a-lifetime opportunity for many, swimming with whale sharks is an exhilarating experience that will stay with you forever. And while it might sound daunting at first (I mean, they are huge!), rest assured that these creatures are harmless to humans and actually quite docile, making them the perfect animal encounter for thrillseekers alike.
Most tour companies offering whale shark swimming experiences include hotel pick-up and drop-off, as well as all the necessary gear (wetsuit, lifejacket, snorkel, and mask), so all you need to do is turn up and enjoy the ride.
Once you've dried off (and snapped a few incredible photos to boot), you'll have some time to kick back and relax on the beach – typically Playa Norte beach on Isla Mujeres – and tuck into a hearty lunch (usually fresh ceviche, and sometimes accompanied by an open bar) before being dropped back off at your hotel for a night on the town.
19 – Cool off in the Kantun Chi cenotes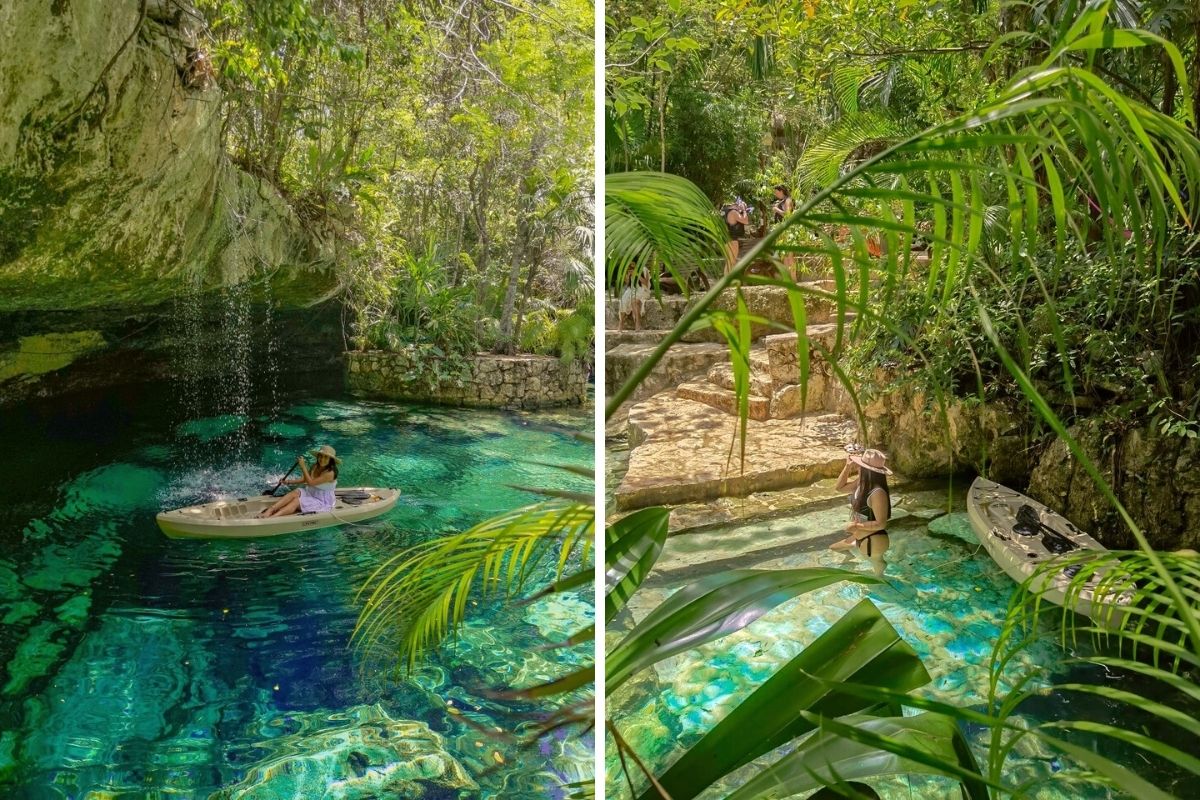 Hidden within the sweeping jungles that juxtapose the Yucatan shoreline, and offering both an exotic and relaxing day away from the beach, Kantun Chi is a series of natural sinkholes that have been connected by man-made channels and now function as an incredible eco-park.
As you meander your way through the lush greenery that surrounds you, you'll be able to take in the staggering array of cenotes (five of which are currently open to the public for swimming or diving) and take a refreshing dip in their cool, crystal-clear waters.
Of the five, the eponymous Kantun Chi is the first cab off the rank as you enter the park, while Saskaleen Ha is the largest of the bunch. Full of colorful fish, Uchben Ha is open-air, allowing for plenty of sunshine, and Zacil Ha – translating to clear water – is illuminated by underwater lights, creating an enchanting cave experience.
But Kantun Chi is about more than just swimming; it's also an ecological reserve that's home to countless species of animals, from deer and raccoons to toucans and spider monkeys. As such, there are plenty of opportunities for birdwatching and wildlife walks.
Open from Monday to Sunday from 9 AM to 5 PM (6 PM during the summer), the nature-focused park provides a handful of exciting guided tour options – the Grotto Adventure, Magical Waters, and DIY Cenote experience – that last between three and four hours and can include a tantalizing 3-course menu.
20 – Learn about the ancient Maya at the Ek Balam Archaeological Site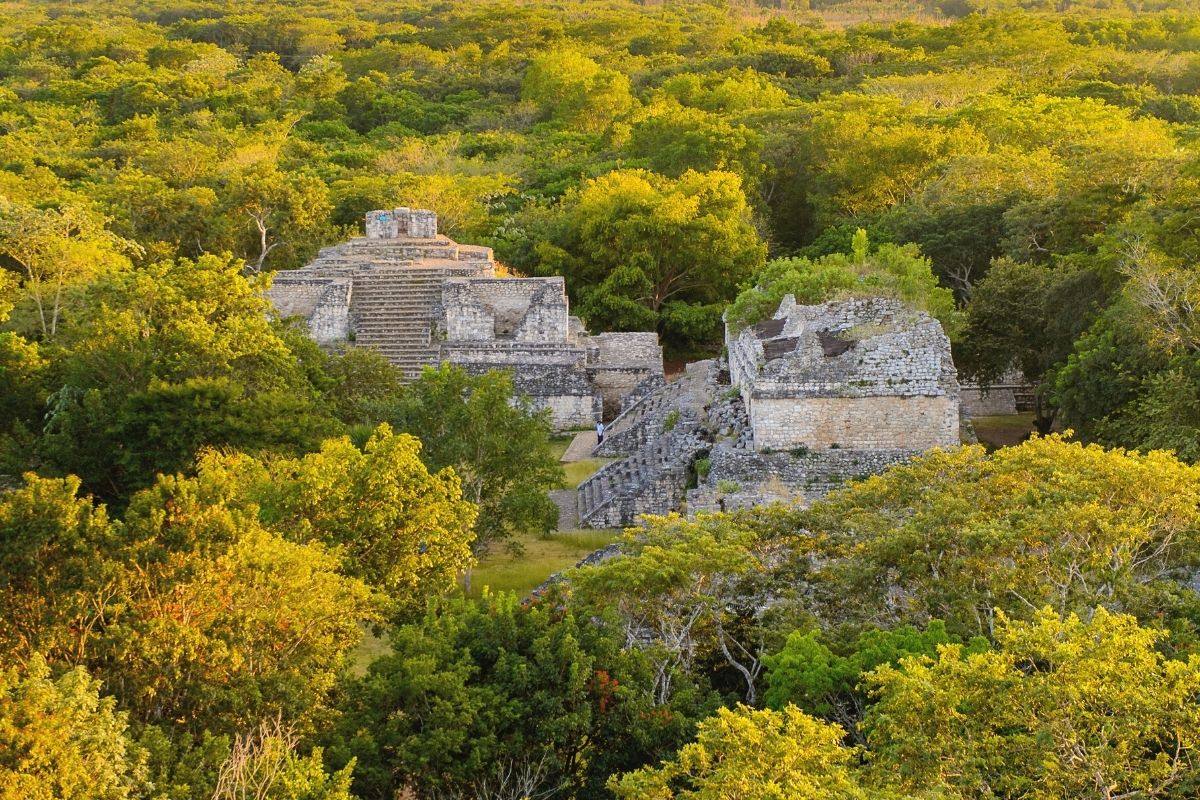 While Chichen Itza finds itself on the most postcards, and the Tulum Ruins draw the biggest Riviera crowds thanks to their proximity to the beach, it's Ek Balam that's considered to be one of the most important archaeological sites in Mexico.
Situated about 2 hours outside of Cancun just north of the small town of Valladolid (not too far from Chichen Itza, in fact), Ek Balam – which means 'Black Jaguar' in Maya – was once the political and economic center of the Maya civilization.
Famed for its well-preserved buildings – most notably, the Acropolis, which at 98 feet (30 meters) tall is the tallest Maya structure in the Yucatan Peninsula – as well as its stucco friezes, deep defensive walls, ceremonial entrance arch, and the Oval Palace, Ek Balam is an underrated ancient site that's very much worth the visit.
While most of the site can be explored without too much trouble, it's recommended to join a guided tour in order to get the most out of your trip, as well as gain some valuable insights into Maya culture and history, and the efforts it took to construct such an architectural feat as early as 100 BC.
Unlike most of Mexico's ancient towers, this one is allowed to be climbed – and once you reach the summit, you'll be rewarded with sweeping views of the entire site.
On a clear day, you can see Chichen Itza and Coba 35 and 40 miles away in the distance respectively.
21 – Pay a quick visit to Isla Contoy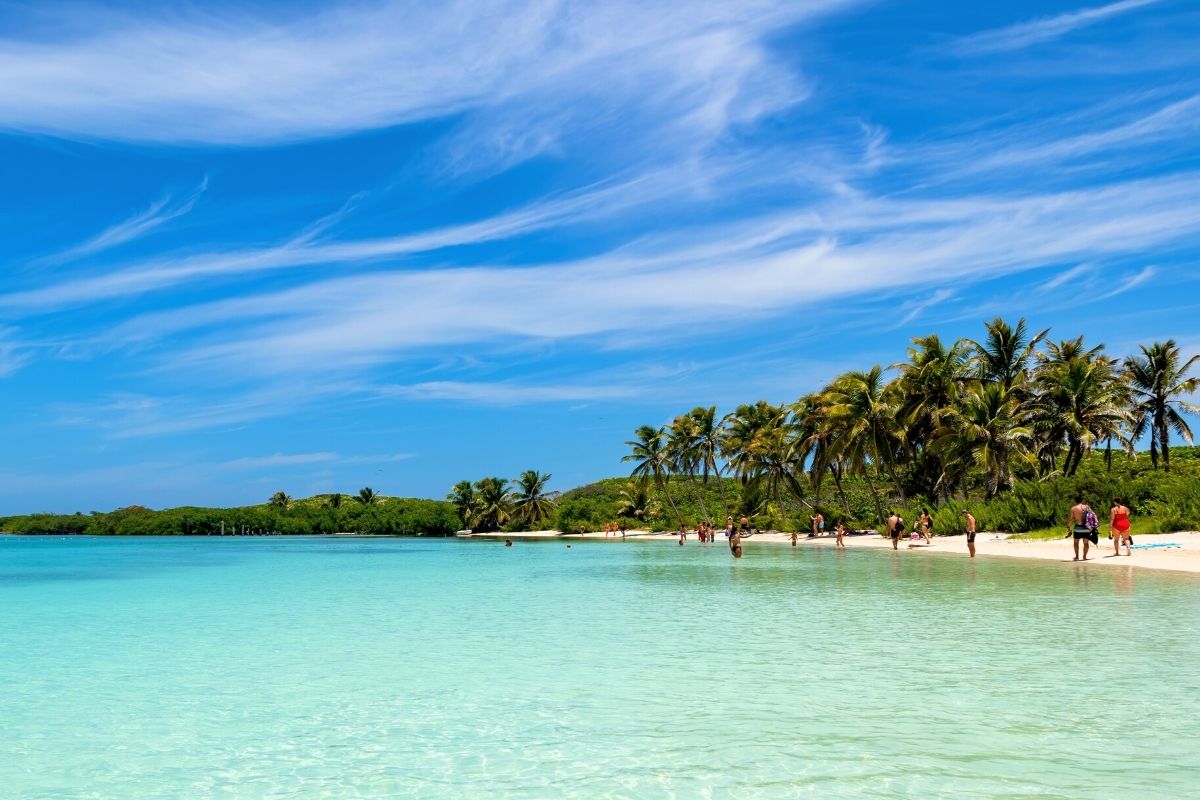 Flying under the radar compared to its more famous counterpart, Isla Mujeres, Contoy is a small and secluded island situated about 30 miles south of Cancun.
Despite its diminutive size – the island is only 5.3 miles long and less than a mile wide – Contoy is teeming with natural beauty and wildlife; in fact, it's classified as a national park due to the fact that over 90% of its surface is covered in dense mangrove forests.
The island is home to an impressive variety of birdlife, including great blue herons, snowy egrets, frigate birds, pelicans, and a vibrant flamingo colony – over 150 local and migratory bird species all up – while loggerhead turtles come to lay their eggs on Contoy's beaches between May and August.
Guaranteed to feel like your own private sliver of paradise, Isla Contoy is a delightful place to relax and soak up some sun, swim in the azure waters of the Caribbean Sea, or go snorkeling and diving in the nearby coral reefs where rays and fish are aplenty.
There are only a handful of tour operators that offer trips to Isla Contoy, so it's best to book in advance.
For the best bang for your buck, opt for one that also visits its big sister, Isla Mujeres – all wrapped up in a convenient single-day tour.
22 – Go on a fishing charter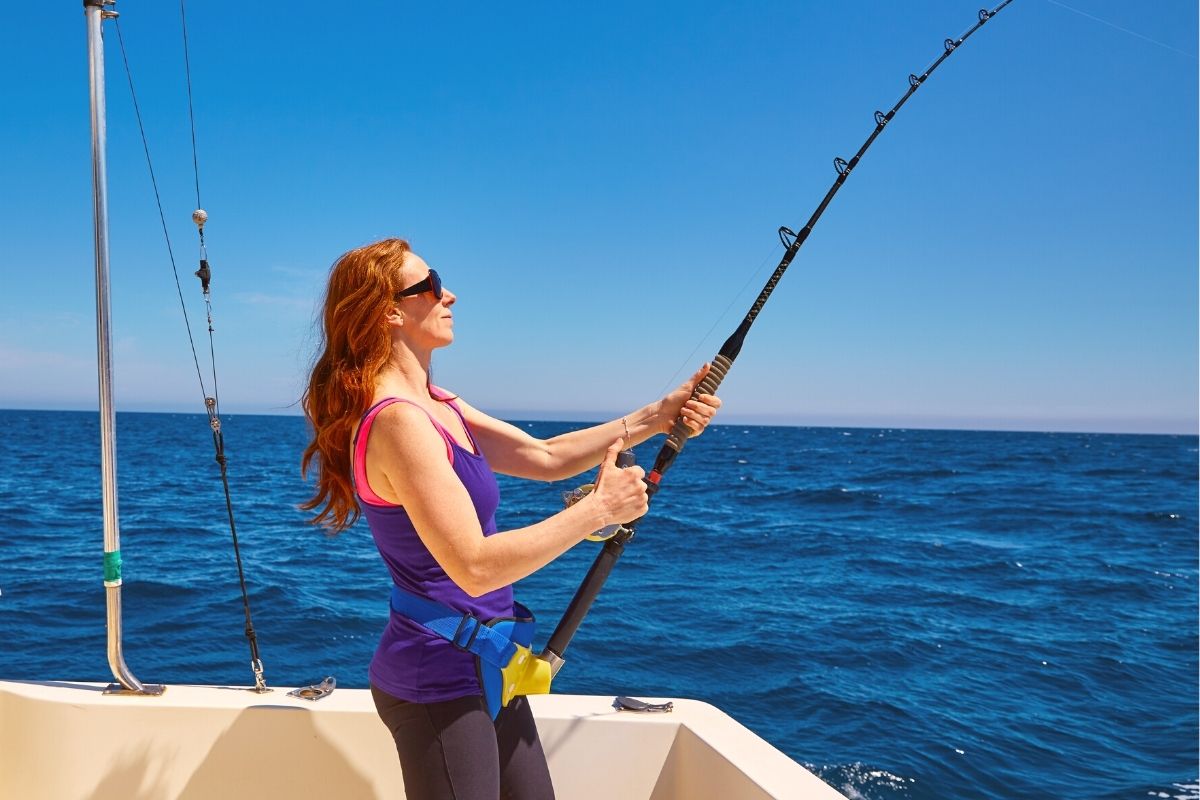 The warm Caribbean waters off the coast of Cancun are teeming with marine life big and small; from kingfish and barracuda to sailfish, blue marlin, and even the occasional shark, there's no shortage of fish to be caught when casting a reel in these sun-kissed oceans.
What's more, with a bounty of charter companies offering all-inclusive packages that include bait, rods, licenses, food, and drink – not to mention the informative and friendly captain and crew – deep sea fishing in Cancun is the perfect activity for those who want to sit back, relax, and let someone else do all the hard work.
And if you're lucky enough to catch a big one, most charter companies will even clean and prepare your fish for you so you can enjoy it for dinner that night.
Whether you're a seasoned angler or a first-time fisherman, there are plenty of charter companies that can take you out for half a day or a full day of fun on the high seas.
Take your pick from private and intimate open-aired motorboats to more luxurious yachts complete with all the bells and whistles, or trips that include time to snorkel as well – it's entirely up to you.
23 – Wander through the underrated Muyil Archaeological Site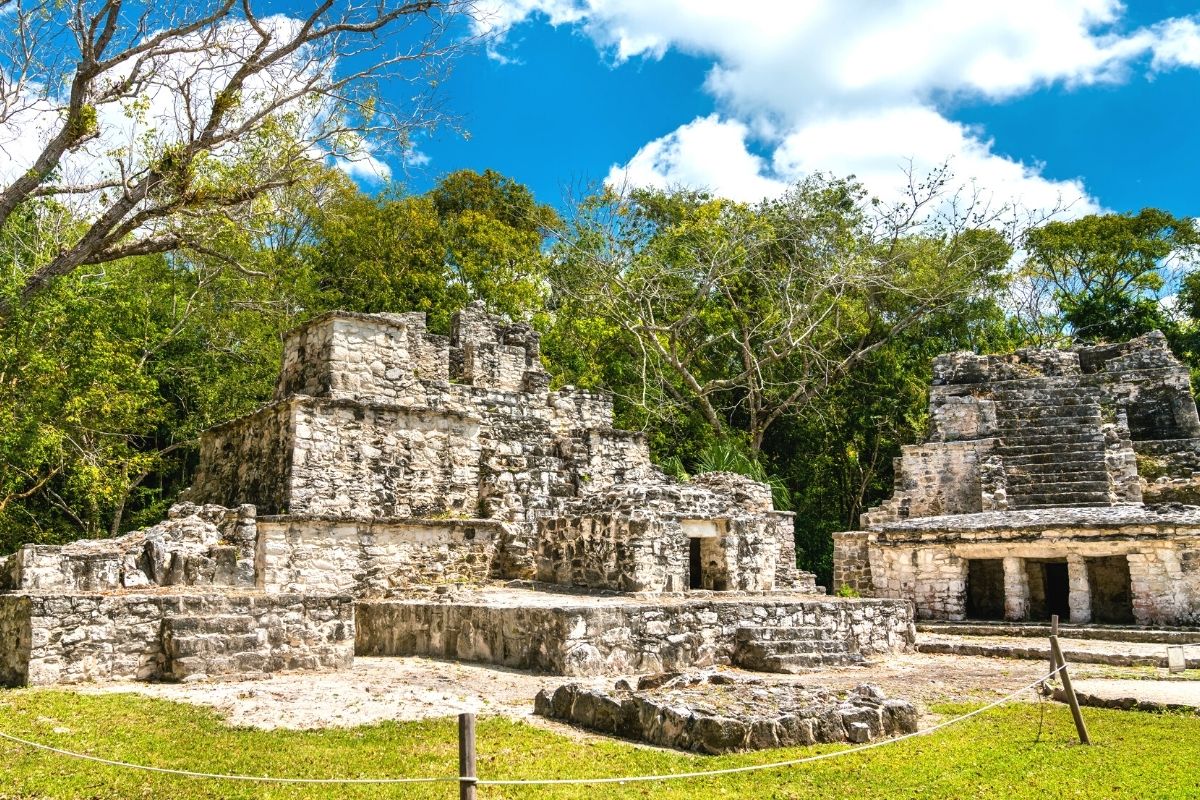 All the historical wonder of an ancient Mayan site without the throngs of tourists that you'd expect from Chichen Itza, Coba, and Tulum, Muyil is an excellent option for those looking to explore some of Mexico's fascinating past.
Sitting on the northern edge of the Sian Ka'an Biosphere Reserve and extending across 38 hectares of verdant jungle, Muyil (also known as Chunyaxche) was once a bustling trading post, and though it's no longer the economic powerhouse it once was, the ruins are still intriguing to explore.
As you wander through the site, you'll see various temples, plazas, and dwellings, as well as a Lagoon lookout that dishes up spectacular views of the surroundings and the Laguna de Muyil cenote.
Standing 57 feet high (making it the highest on the coast), the main event is undoubtedly the Castillo – towering high above the rest of the site and offering excellent views itself.
Guided tours of the site are available and come highly recommended as one of the essential things to do near Cancun, as the guides are incredibly knowledgeable about Muyil's history – dating as early as the 4th century – and can provide context for the ruins that you'll see.
If you're looking to explore even further, the nearby town of Tulum also offers a number of excellent archaeological sites, as well as incredible beaches.
24 – Kayak through the Nichupte Lagoon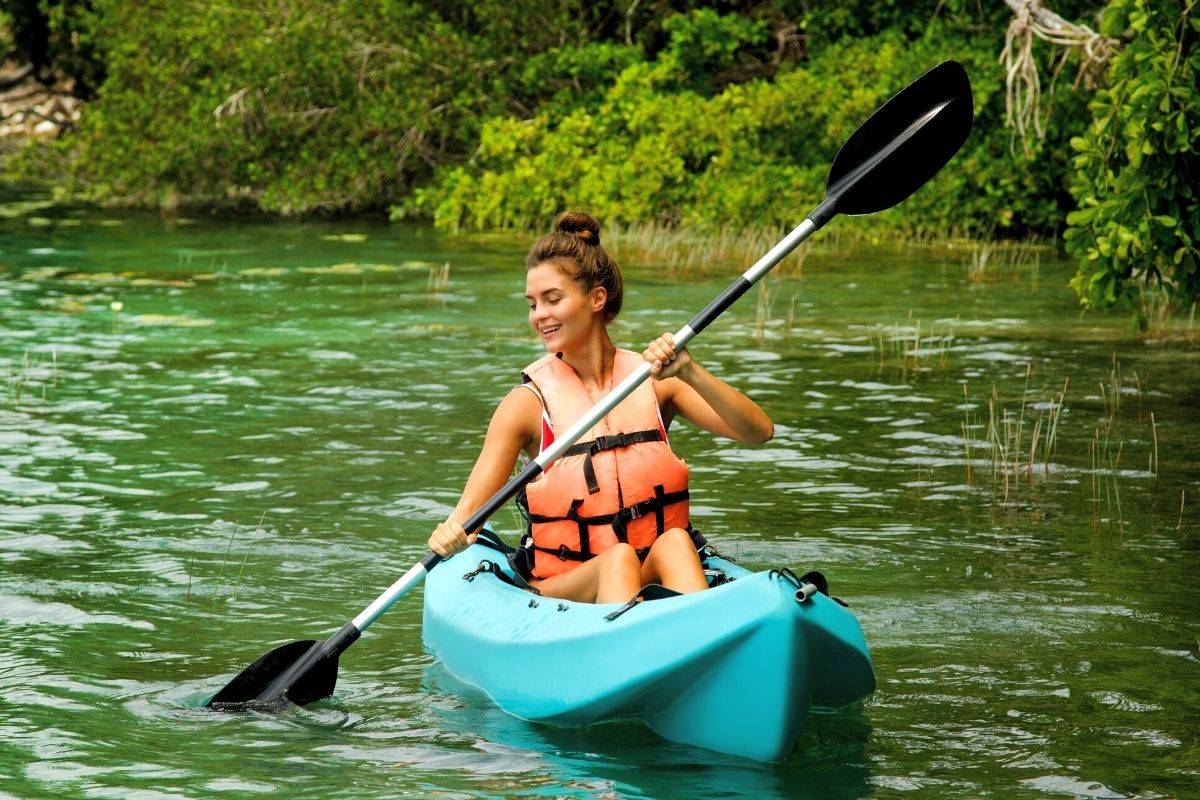 Protected from the open waters of the Caribbean by a long stretch of coral reef, Nichupte Lagoon and its myriad small, quiet inlets serve as one of the most popular places to get out on the water in Cancun.
Thanks to the year-round sunshine and warm temperatures, there's never a bad time to explore the lagoon by kayak. If you're after a workout, opt for a single kayak and paddle your way around the lagoon at your own pace, or share the load (and the fun) with somebody else in a double kayak.
As you make your way through mangrove tunnels and across the calm Nichupte Lagoon waters, you'll get to see Cancun from a whole new perspective.
And if you're lucky, you might even spot some of the local wildlife, highlighted by a large variety of birds – which you'll learn all about thanks to the expert naturalist guides.
While there's never a bad time to get out on the water, it's hard to beat a truly magical sunrise or sunset paddle.
25 – Mingle with the monkeys at the Akumal Monkey Sanctuary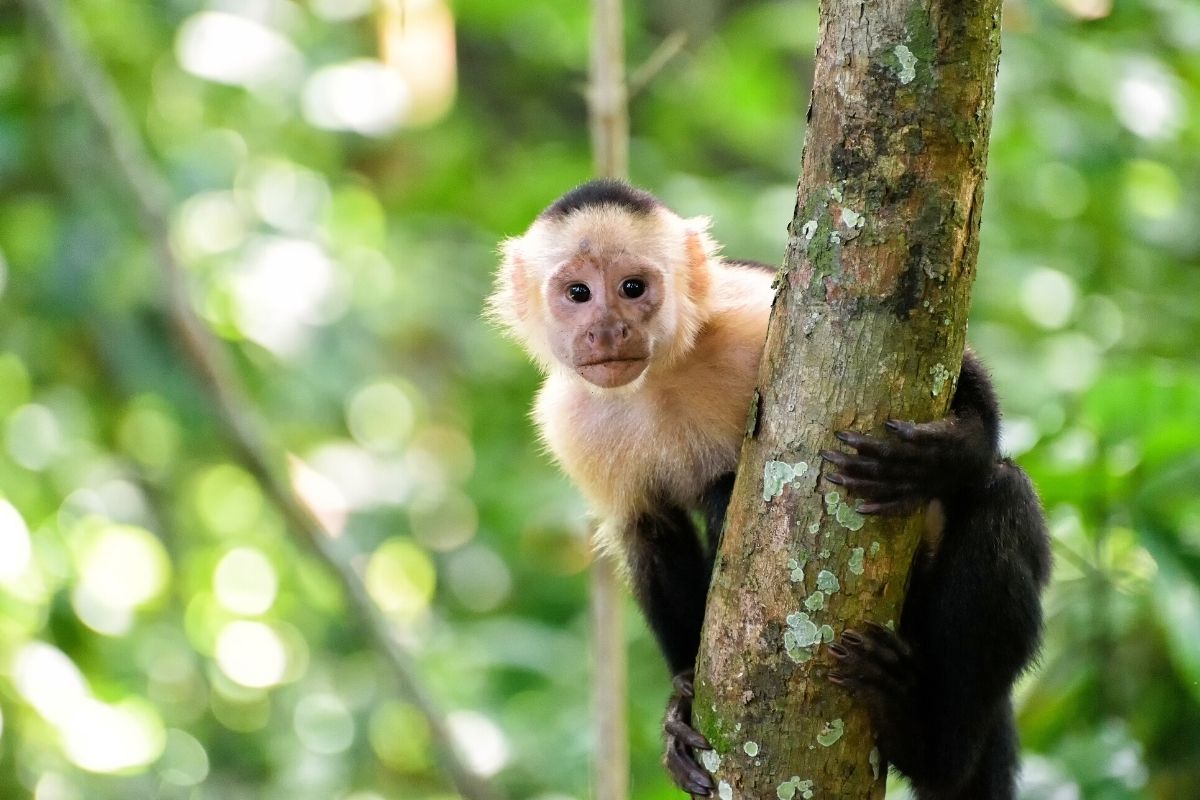 Animal lovers, this one has your name written all over it.
Situated in the small town of Akumal along the radiant Riviera Maya (where you'll find a top-tier snorkeling beach – see #9), just a short drive down the coast from Cancun, the Akumal Monkey Sanctuary is home to a troop of dozens of monkeys and primates from all over the world; friendly critters that have been rescued and now live in a semi-wild state in the protected jungle area.
Housing the beautiful Lemurs of Madagascar, a handful of Capuchin monkeys, and families of speedy Spider Monkey, the Monkey Sanctuary is a great place to learn about these amazing animals, their habitats, their diets, and their social structures.
Despite the name, you'll find more than monkeys here; all up, over 200 critters from 55 different species (macaws, snakes, zebras, and more) wander the well-kept sanctuary.
And, of course, you'll get plenty of opportunities to take photos and even feed some of the monkeys during your visit – if they're feeling playful enough, they might take a leap onto your shoulder too. Make no mistake though; this is no zoo.
The sanctuary blends animal conversation and meet-and-greets with typical Mexican adventure, offering ATV excursions, cenote swims and guided tours as part of their options. You can feel good knowing that the entry fees all go to supporting the efforts to keep rescued animals in a safe home.
26 – Explore colorful Valladolid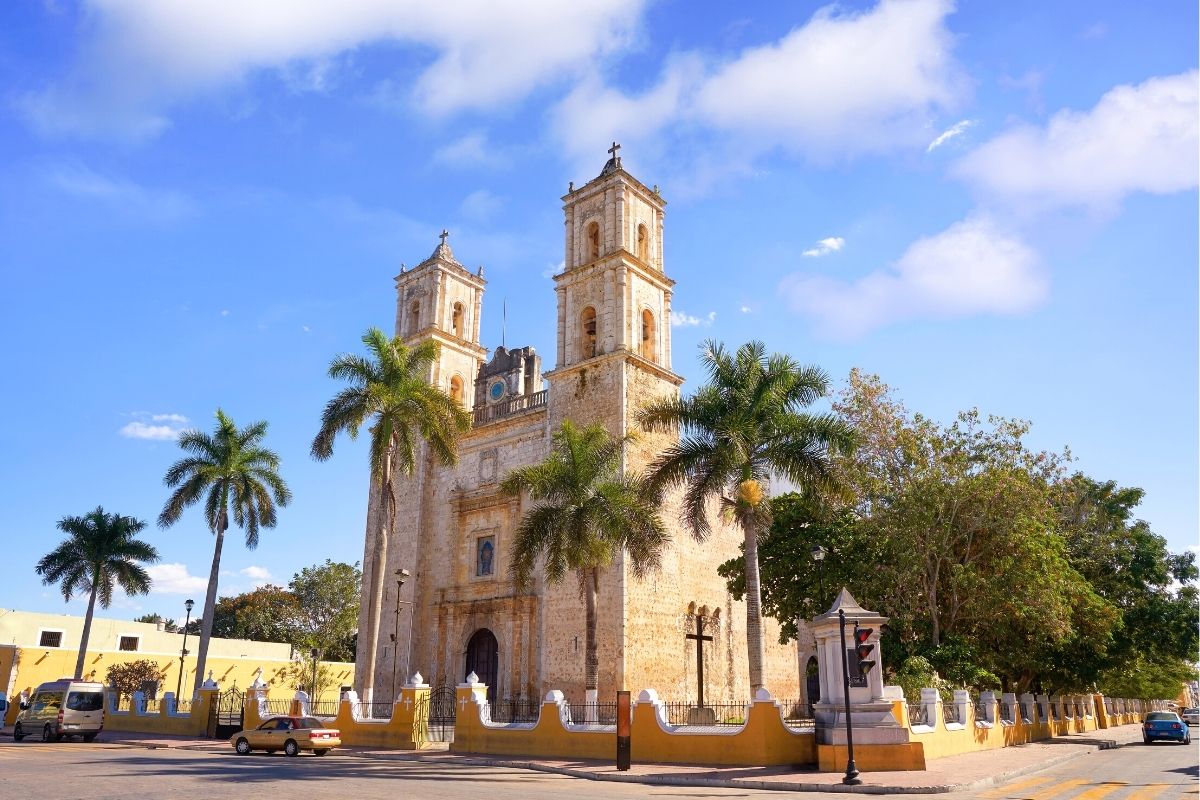 Oozing charm and acting as a launchpad for some of the Yucatan's most incredible natural and manmade attractions (think: cenotes, Mayan ruins, and colonial Spanish architecture), Valladolid is a must-visit for any traveler to the region.
A comfortable 2-hour trip from Cancun, this hidden gem is full of color, culture, and character, with a relaxed vibe that makes it the perfect place to unwind after a busy few days exploring everything else that the Yucatan has to offer.
From strolling through the central square and visiting the San Bernardino de Siena Convent, to cooling off in one of the many cenotes (don't miss Cenote Suytun and Cenote Zaci) or learning about the area's history and art at the interactive Casa de los Venados Museum (where you'll discover more than 3000 pieces of Mexican Folk art), there's no shortage of things to see and do in Valladolid.
And when it comes time to refuel, you'll be spoiled for choice with an array of excellent restaurants serving up local specialties like papazules (crispy tortillas in creamy and cheesy sauce) and panuchos (open-face tacos).
Make sure to save a few minutes to stroll down Calzada de los Frailes too, a cobblestoned street lined with beautiful pastel-colored buildings.
While you can easily explore Valladolid on its own, most of the guided tours from Cancun combine this charming city with stops at Chichen Itza, one of the New Seven Wonders of the World, a buffet lunch, the ancient Ek Balam ruins, and a dip in either Cenote Ik-Kil or Cenote Xcajum.
27 – Admire the temples and pyramids at the Coba Archaeological Zone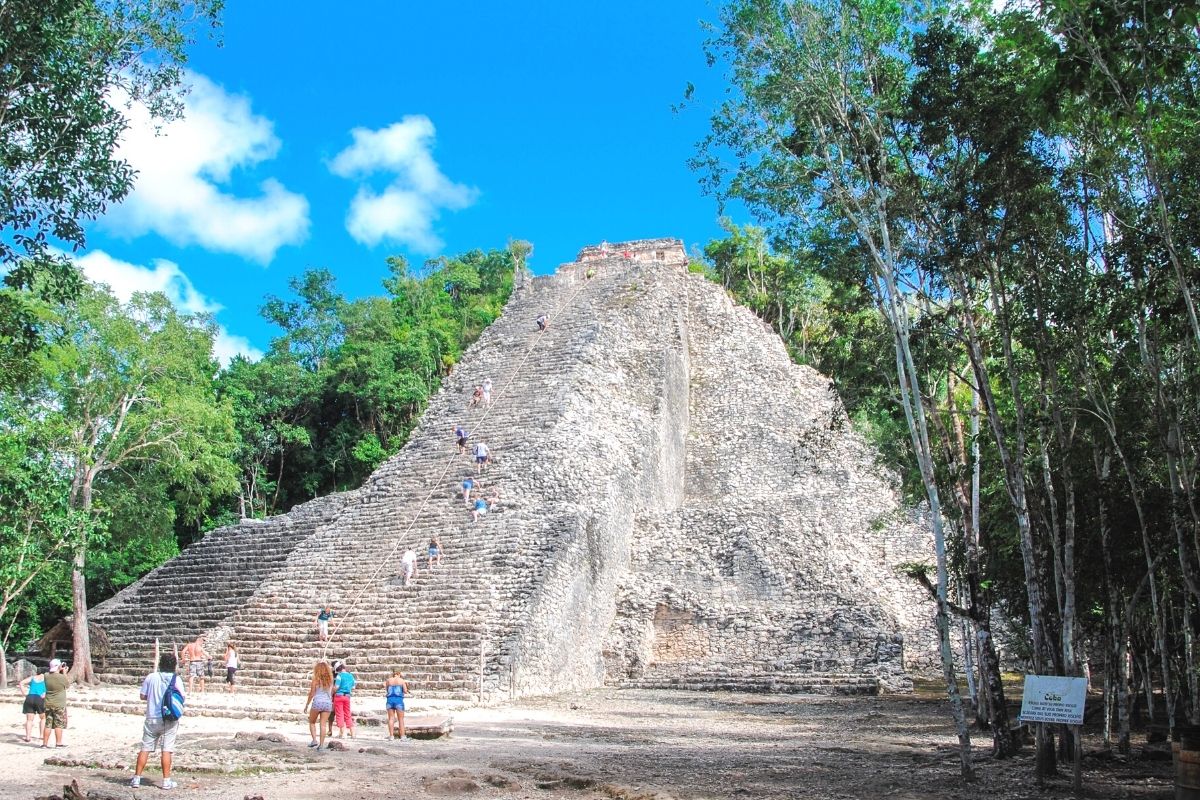 A massive complex spread throughout a vibrant green jungle, the Coba Archaeological Zone is one of the largest ancient cities ever discovered in the Americas.
Dating back to around 600 AD, and once housing a thriving civilization of some 50,000 inhabitants, this site is home to an impressive network of stone causeways (or sacbeob), as well as a number of temples, pyramids, and palaces, making it an essential stop for anyone interested in learning about the Maya.
While much of Coba remains unexcavated (leaving plenty to the imagination), there are a few key highlights that are definitely worth checking out, including the group of Nohoch Mul pyramids (the tallest of which, standing 138 feet high, is the largest in the Yucatan and can be climbed), and the nearby Coba Lagoon – a beautiful natural pool surrounded by jungle.
Guided tours are excellent and plentiful; taking care of the hassle of transport to and from Cancun, these educational excursions will not only take you around all of the main sites but will also provide you with plenty of fascinating facts and stories about the area's rich history, and typically include stops in Tulum and a cenote or two.
28 – Let your hair down on a boat party near Cancun!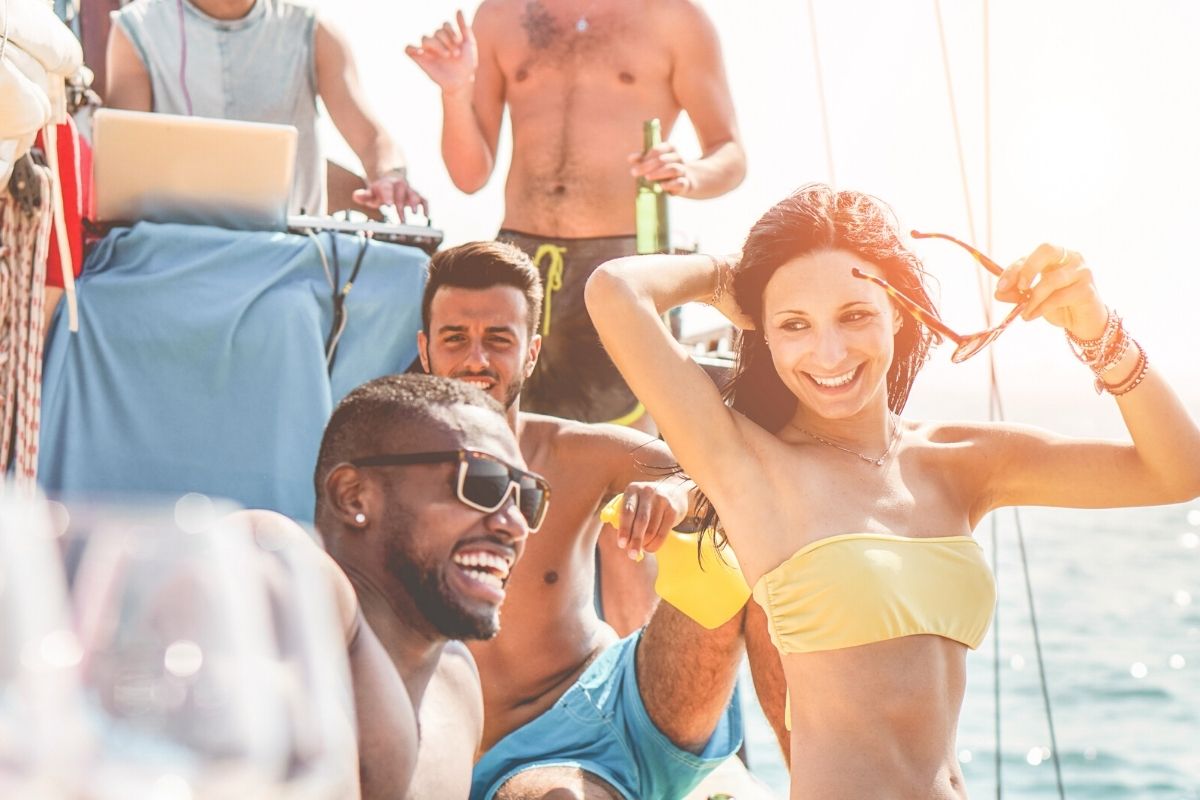 What comes to mind when you picture Cancun? Turquoise waters, white sand beaches, stunning sunsets, and a cocktail and tequila shot (or three) right? Well, a boat party is the perfect way to experience all of that – and more! – in one go.
A great opportunity to mingle with other travelers, these booze-filled cruises combine live DJs with free-flowing champagne, water sports activities, epic view of the Zona Hotelera, an all-you-can-drink bar, and stops (depending on your cruise of choice) at Isla Mujeres, private beach clubs, or vibrant snorkeling spots.
Oh, and did we mention that they're also great value for money too? With most boat parties costing less than $100 USD per person – and some even offering free entry to clubs or other activities afterward – they're a no-brainer for thirsty travelers!
Most boat parties depart from Puerto Juarez or Caribbean Carnival Pier in Cancun – and while that's the starting point, you'll slowly drift away from the big city into a world of blue waters, beautiful beaches, and party people from all over the globe.
29 – Head north to the Las Coloradas Pink Lakes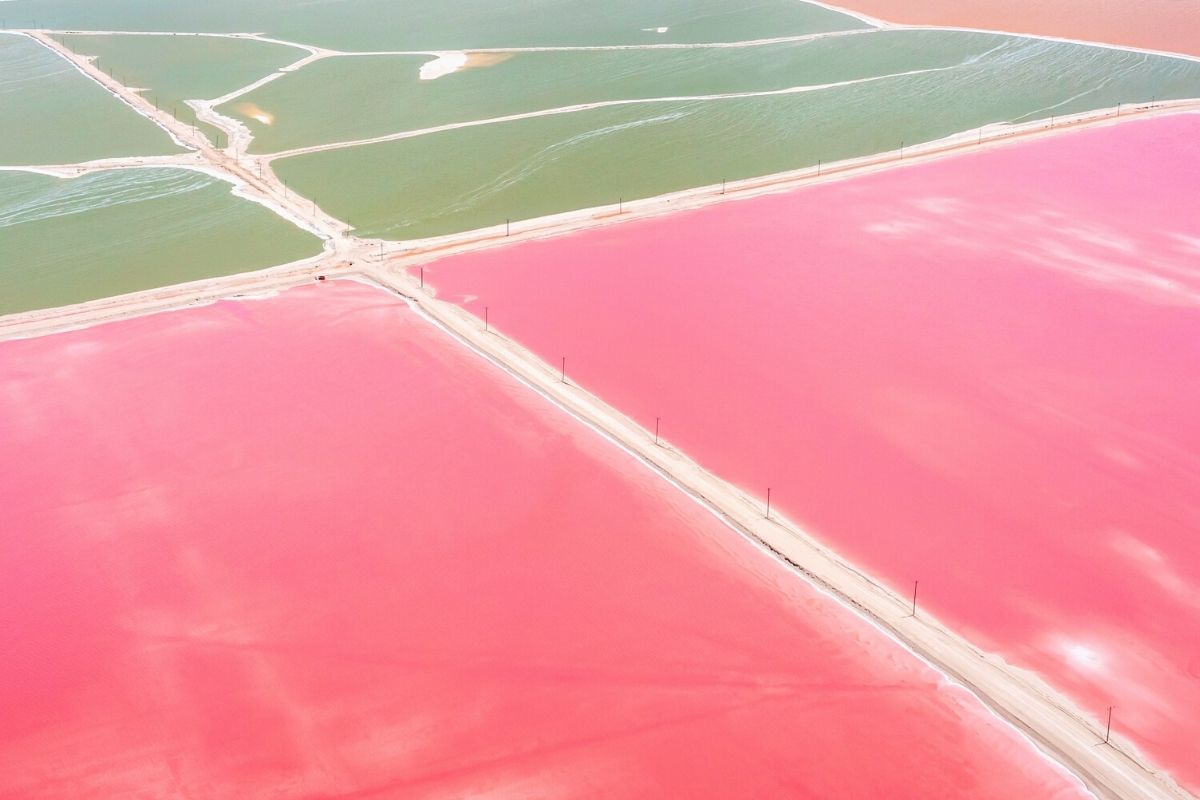 Looking like something swiped straight from a postcard (or Instagram, more likely), the Las Coloradas Pink Lakes is one of Mexico's most unique natural wonders.
Situated at the very tip of the state of Yucatan within the Río Lagartos Biosphere Reserve (approximately a 3-hour and 30-minute drive from Cancun), these blush-hued waters are actually a result of a concentration of pigmented algae and microscopic crustaceans known as brine shrimp, which thrive in the high salt content of the region's coastal waters.
While you can't swim in the lakes (the water is far too salty and can actually be toxic on your skin), you can take a boat ride out to them, or simply enjoy their cotton-candy beauty from the comfort of the nearby walking trails. Keep your eyes peeled for local wildlife too – flamingos, crocodiles, jaguars, sea turtles, and a host of birdlife are known to frequent the pink lakes.
The nearby eponymous fishing village is charming and worth a stop for a quick bite, and the coastal hiking/biking route is a great add-on option for those who want to stretch the legs.
30 – Rev through the jungle with an ATV tour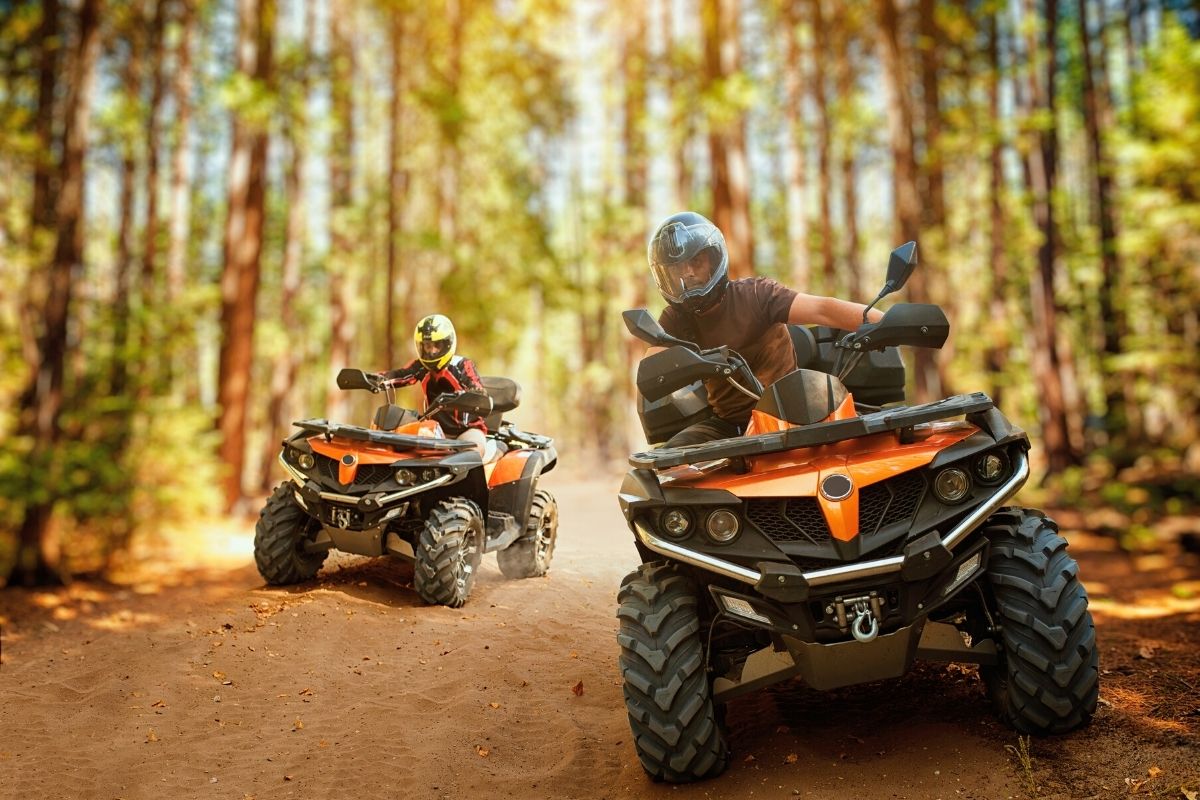 Hunting for a dose of off-road adrenaline and a way to see some of the Cancun region's more remote and rugged terrain? Then look no further than an ATV tour; combining the best of both worlds!
With a huge range of different companies and tour options available, you can explore everything from the jungle-clad interior to the nearby Mayan ruins or even take a sunset ride along the beach.
Most ATV tours will include all safety gear, an experienced guide, and (for those who want it) a bit of training before you hit the open road, so don't worry if you're a first-timer.
Just be sure to wear clothes that you don't mind getting muddy or sand-covered, and remember to apply sunscreen – this is the jungle after all!
Hot tip: for the best bang for your buck, look for a tour that includes stops at a cenote or two, a zipline course, a speedboat ride, or all of the above – you won't regret it!
31 – Escape the crowds at the Yal-ku Lagoon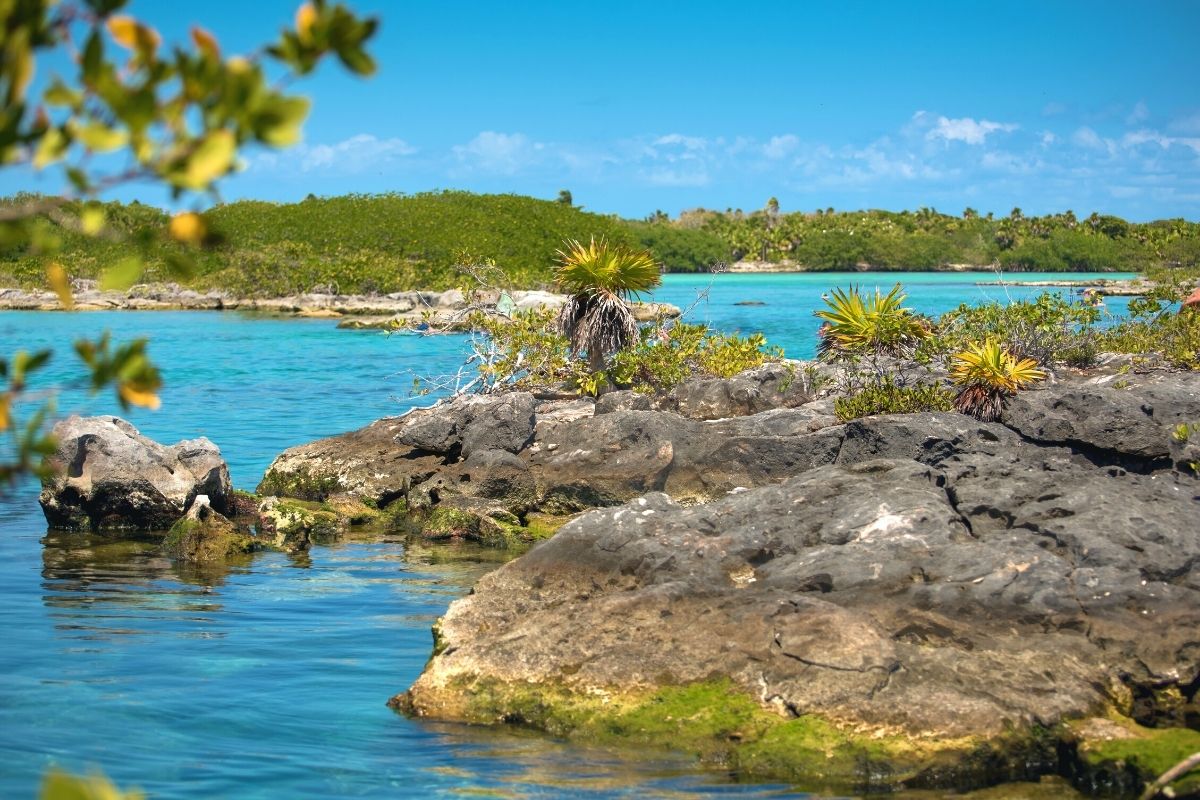 Gorgeous in both form and function, the Yal-ku Lagoon is a natural freshwater inlet (relatively shallow with a maximum depth of 4 meters) that's teeming with beautiful tropical fish and protected from the waves of the ocean, making it ideal for snorkeling.
Situated in the Akumal region – about an hour south of Cancun – and just 2 miles from the entrance to beautiful Akumal beach (making for the perfect back-to-back itinerary), this underwater paradise is loved by both locals and travelers alike.
With a wide range of different fish species (including parrotfish, moray eels, barracuda, and triggerfish) as well as the turtles and rays occasionally seen gliding through the lagoon's gentle waters, you're sure to have a blast exploring all that this unique spot has to offer.
Snorkeling gear can be rented on-site or provided with your guided tour, while a handful of restaurants, bars, and cafes located nearby should provide that post-swim refuel.
All in all, a wonderful swimming spot without the crowds of Akumal's (or Cancun's) main haunts.
32 – Delight (and confuse) the senses at… Xenses!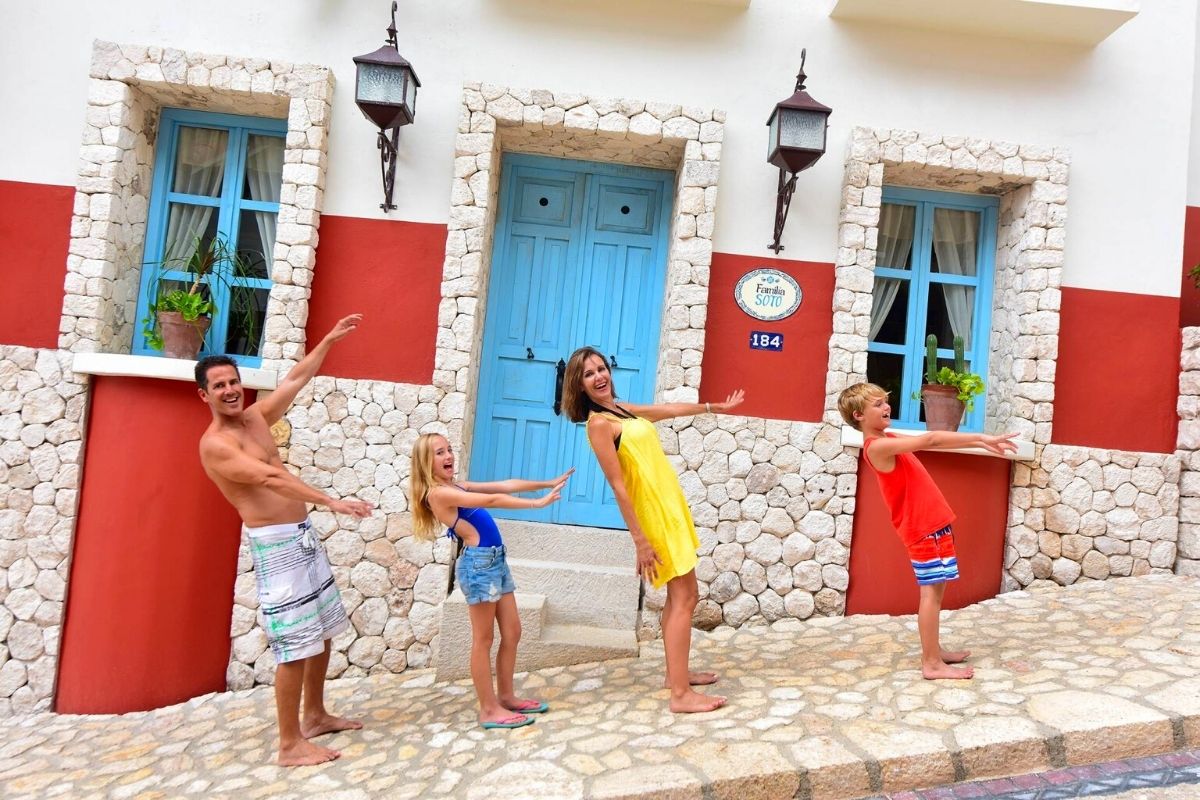 A magical theme park designed to trick and tantalize the senses, Xenses is one of the coolest (and newest) things to do near Cancun, particularly for families.
With over 50 different "experiences" to choose from that play with your perception, where – as the park puts it – nothing is what it seems, this popular attraction is sure to delight, surprise and amaze visitors of all ages.
From swimming in what appears to be an underground river, to flying through the air on a zipline, posing in front of crooked houses, or exploring different ecosystems in complete darkness (the Xensatorium), there's an endless array of quality things to do here.
But it's not exclusively optical illusions or peculiar photo-ops; for those which an appetite for thrills, the adventure-related activities are a dime a dozen. Case in point: Birdflight, a 45-60 second-long zipline; Slip, a fast-descending water slide; Sludgerie, a mud cleanse activity; and the Labyrinth of Underground Arteries being some of the top choices.
Sure to flare the nostrils, the lemon-scented Xitric Garden deserves a walkthrough, while the slow Riverlaxing water slide delivers serenity and relaxation in spades.
33 – Relax on the untouched white sands of Isla Blanca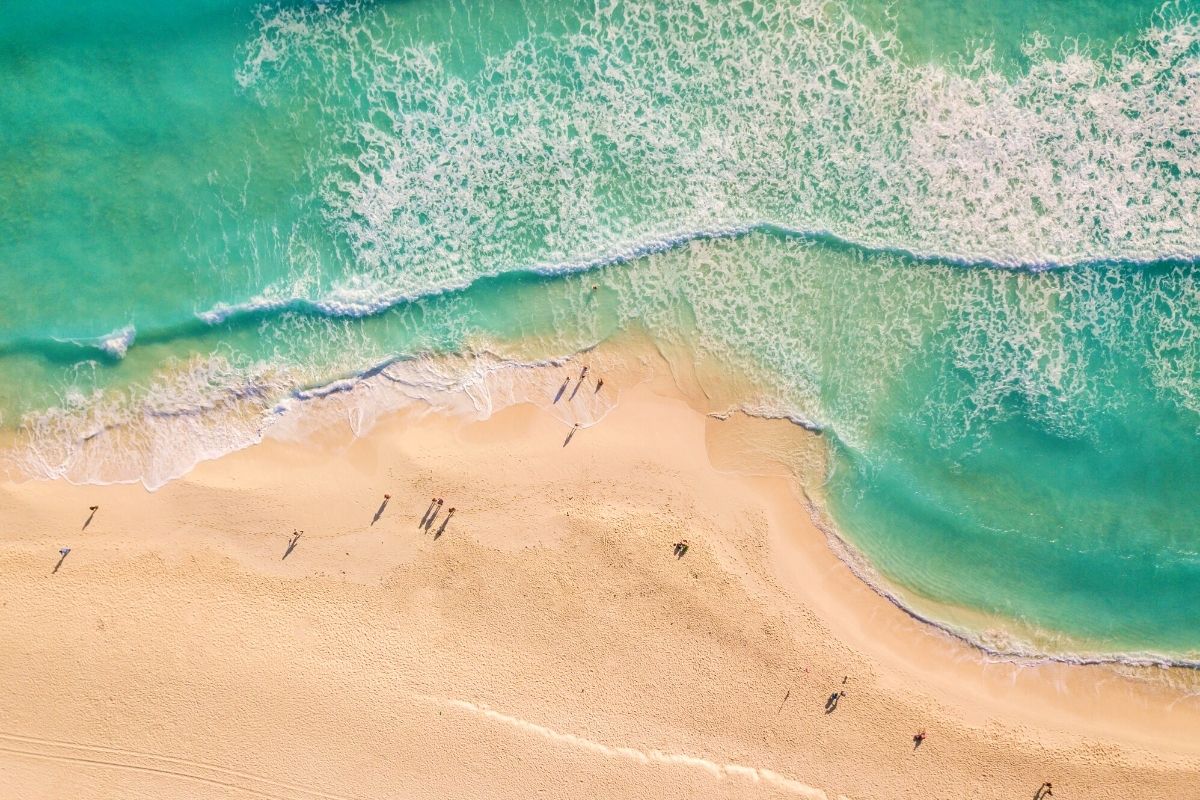 Still a relatively unknown jewel of the Yucatan coast, Isla Blanca is a long, thin stretch of white sand beach that sits about an hour north of Cancun that – as you might expect from the name – delivers picturesque white sands and jealousy-evoking photo opportunities galore.
This isn't a place where you'll find high-rise hotels, booming beach bars, and glittery nightclubs; peaceful and laid-back would be a far more accurate way to describe the atmosphere here.
Lapped by gentle waves and with very few people around (even on weekends), this beautiful spot is a little slice of paradise for those who want to escape the hustle and bustle of the city but don't want to venture too far from all the comforts that Cancun has to offer.
With a wide range of activities on offer, including swimming, sunbathing, kayaking, fly fishing, stand-up paddleboarding, and windsurfing (to name just a few), as well as no fewer than 20 kilometers worth of beaches, it's no wonder this underrated gem is considered by locals as one of the best things to do near Cancun.
34 – Head to at least one of the Native Parks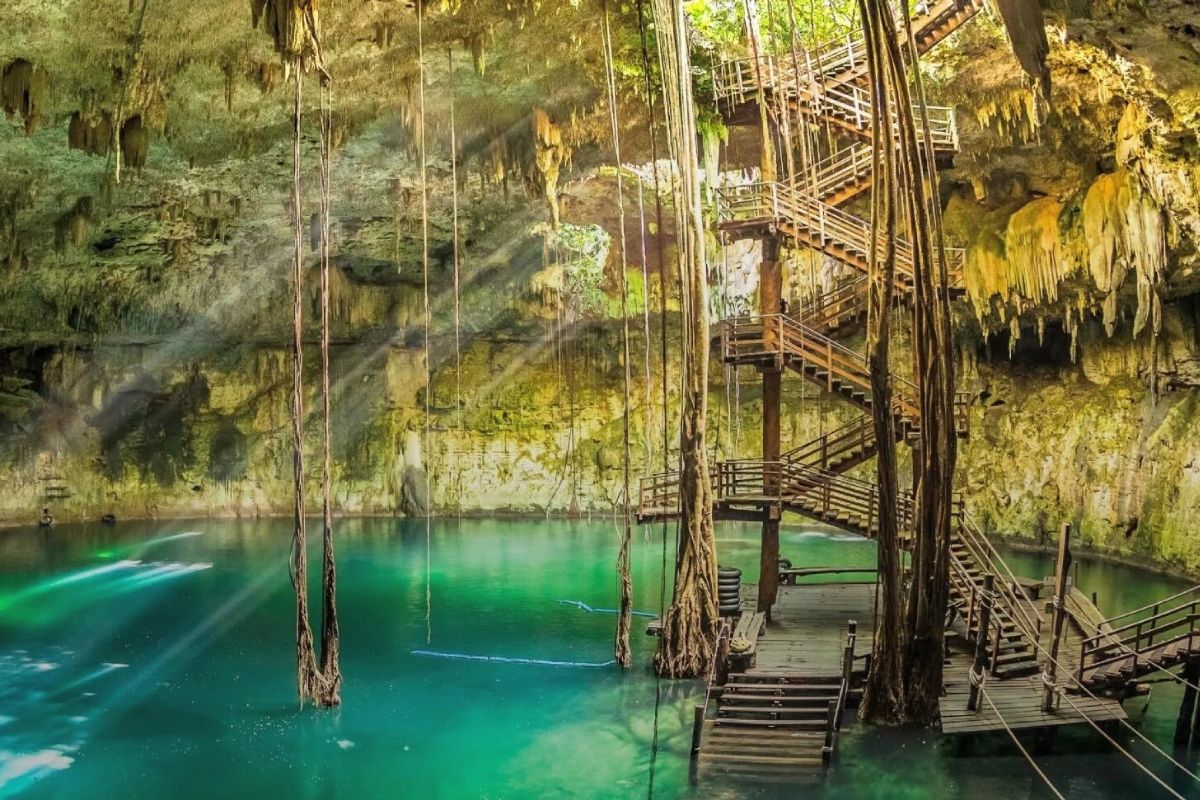 Ditch the high-rise hotels and crowded beaches for a day (or two) and get back to nature with a visit to one of the several protected natural areas that surround Cancun.
One of the most popular choices is Punta Nizuc, located just minutes from the main drag, where you can find some of the area's best snorkeling and scuba diving, as well as a mangrove forest that's perfect for exploring by kayak or stand-up paddleboard.
For those with a bit more time on their hands (and who don't mind driving), the Sian Ka'an Biosphere Reserve is about two hours south of Cancun and offers visitors the chance to see an incredible diversity of plant and animal life, including over 300 species of birds, in their natural habitat.
Common for group tours, Emotions Native Park, Native Park Tulum, and the eco-archaeological Xcaret Park (see #5) are all excellent choices that offer a variety of activities, such as zip-lining, ATVing, horseback riding, and more – typically included in any package tour deals.
There's also the chance to spot some Mayan ruins, go fishing, or take a dip in one of the many freshwater cenotes that dot the area.
So whether you're looking to get in touch with your wild side or just want to explore the Mexican jungle without having to venture too far from Cancun, be sure to add one of the wonderful native parks to your to-do list.
35 – Go ziplining!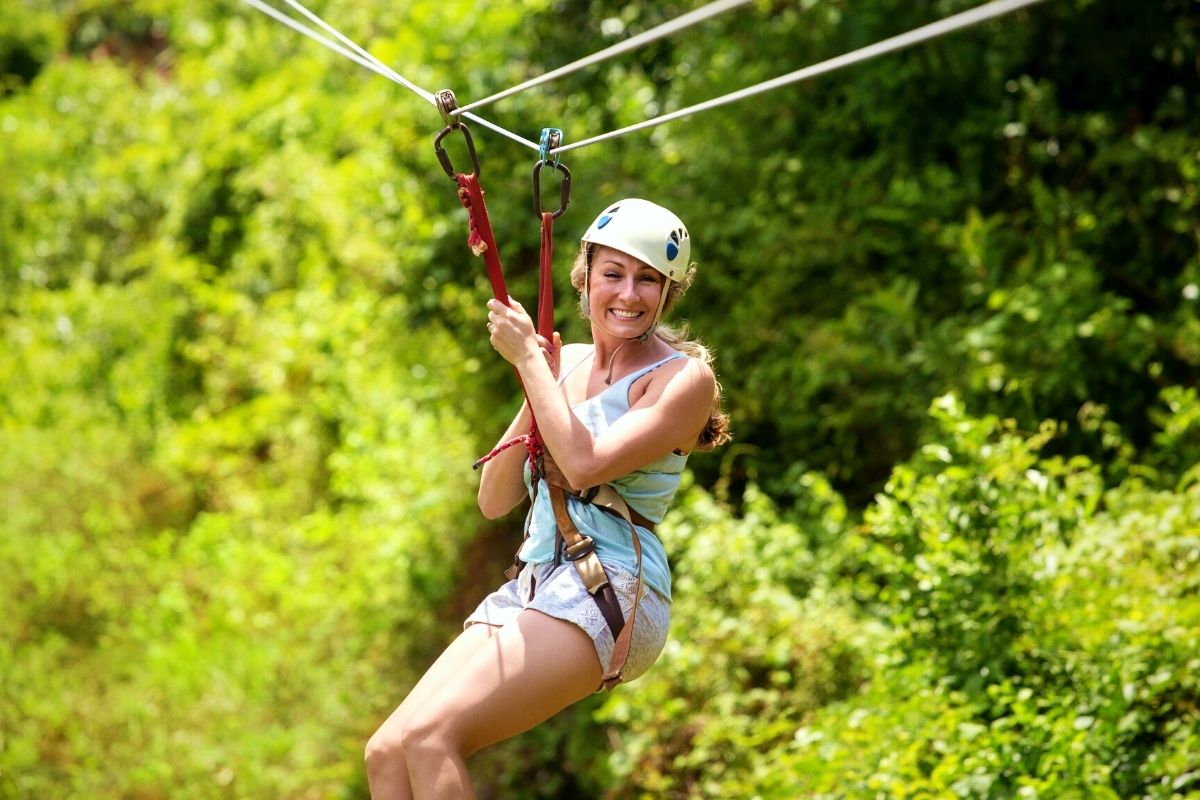 Thrill seekers, listen up.
One of the best things to do near Cancun if you're looking for an adrenaline rush is to go ziplining through the jungle. And, luckily for you, thanks to the verdant jungle and adventure-focused culture, you'll find more options in this part of the world than just about anywhere else.
One of the most popular companies, Xplor, offers two circuits of seven zip-lines each that range in speed (and height) and even has a few nighttime options (Xplor Fuego) that are perfect for those who want to add a bit of extra excitement to their vacation.
Another must-consider is Selvatica, an outdoor adventure park that (in addition to offroading, cenote swims, and bungee swings) boasts a heart-racing 10-course zipline that climaxes with the Aqua Zip. The Tarzania zipline coaster and Superman-style zipline ride add that final dose of excitement.
Do note that many of the ziplining companies in the area require that you book your tour in advance, so if this is something you're interested in, make sure to plan ahead – especially if you want to combine your zipline adventure with archeological ruins, ATV riding or cenote swims.
36 – Scratch the adventure itch at Xavage Park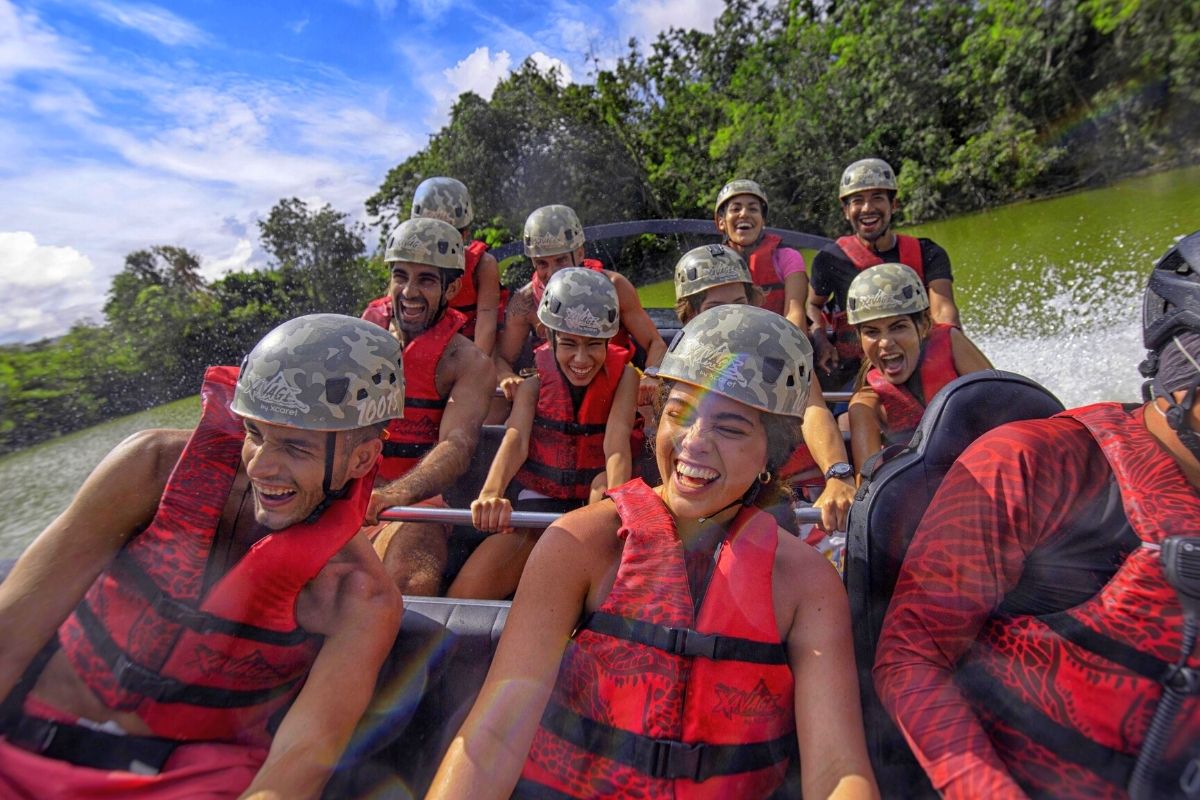 Another piece of the Xcaret Group adventure park pie (and the newest of the bunch), Xavage Park is tailored for the adventure lovers, ideal for those who want to get their adrenaline pumping.
Featuring 7 main activities each named after different animals — the Howler Monkey ropes course, Hawk Superman-style zipline, Barracuda white water rafting, Puma monster trucks, Crocodile kayaking, Dragonfly high-speed jet boat experience, and Serpent kids pool — and just 20 minutes from Cancun, this is one outdoor adventure that you won't want to miss.
In particular, the white water rafting and monster truck course are sure to get the blood pumping!
Hot tip: while you're in the area, make your way next door to Xoximilco, another Xcaret experience where visits can float down canals on a colorful barge, sipping tequila with live Mariachi tunes ringing in the background.
While open Monday to Saturday from 8.30am to 5pm, keep in mind that Xavage is closed on Sundays.
37 – Watch the sunset at Xpu-Ha Beach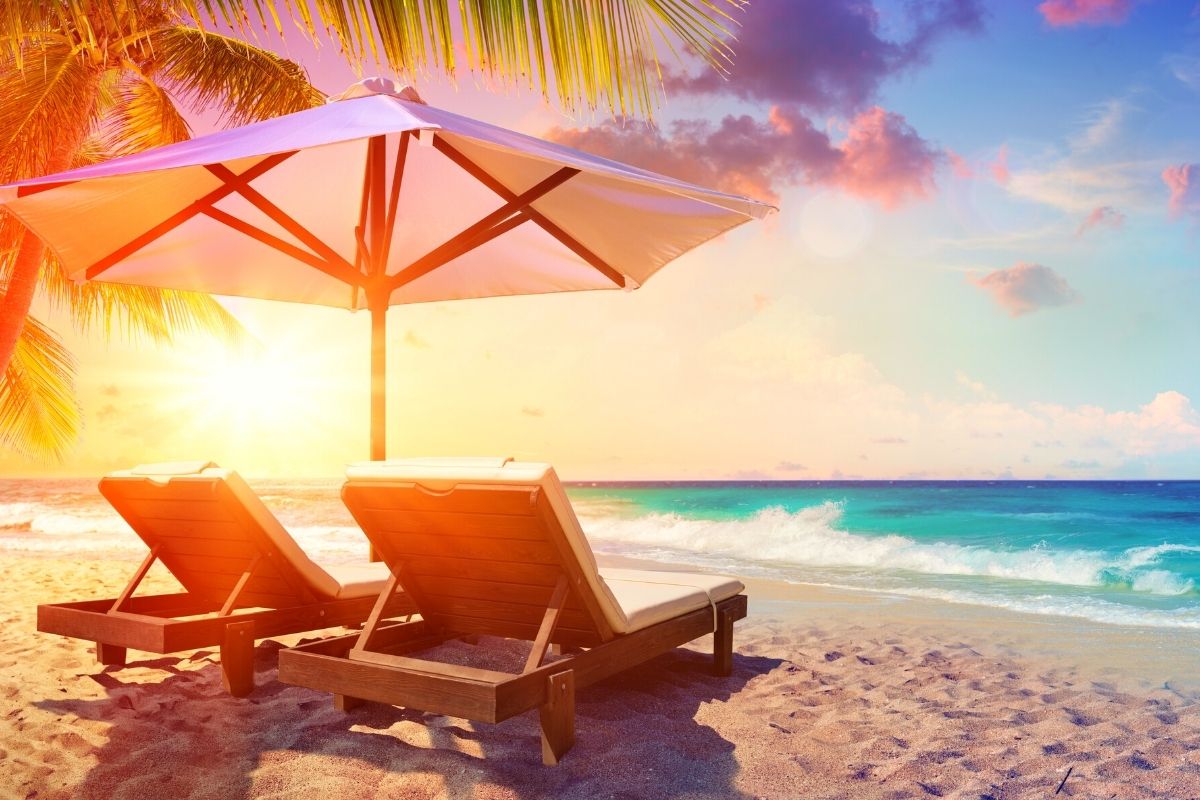 Where the softest white sands juxtapose the most crystal-clear turquoise waters, Xpu-Ha beach is an idyllic slice of paradise that's often overlooked by tourists in favor of some of the more well-known beaches in Cancun.
For exactly that reason, one of the best things about Xpu-Ha is that it's never too crowded, so you can always find a spot to lay your towel and relax without having to elbow your way through throngs of people.
Sitting about 30 minutes south of Playa del Carmen (or an hour and 20 minutes from Cancun) the picturesque beach is also flanked by a lush jungle backdrop, making it feel even more like a scene from a postcard.
With plenty of beach clubs and restaurants in the area (the Serenity Beach Club boasts a full-service restaurant and bar), plus options for some top-tier snorkeling and scuba diving just offshore, thanks to its kicked-back charm and soulful atmosphere, Xpu-Ha is the perfect place to spend an afternoon under the sun.
38 – Make a detour to Puerto Morelos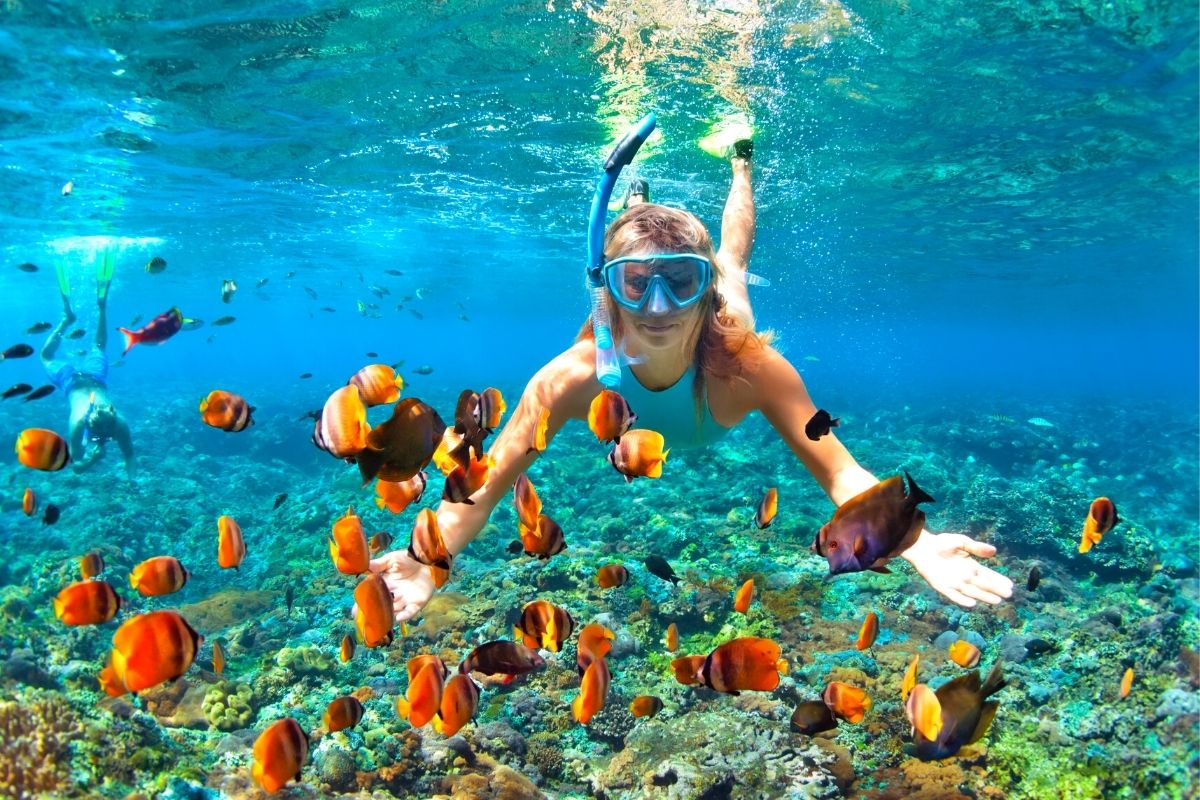 The calm antidote to the high-speed antics of Cancun's Downtown and Hotel Zone, Puerto Morelos is a sleepy fishing village that's famed for its coral reef (the second largest in the world no less).
With its slow pace of life and more traditional Mexican feel, it's easy to spend a day or two here just exploring the town and relaxing on the beach.
For those who want to get out on the water, there are myriad operators offering incredible snorkeling and diving trips to the vibrant reef, while those who want to stay on land can explore the town's colorful streets, try out some authentic Mexican cuisine (you won't find big chain restaurants here) or simply relax with a cold drink in hand.
For a feast for the ages, head to El Roy del Pollo or El Sazon Mexicano; for fresh-as-can-be seafood, you can't go past Blue Morelos, a local mainstay.
Great for nature lovers of all kinds, Puerto Morelos also plays host to a handful of small eco-parks and reserves where you can learn about the local flora and fauna (highlighted by the 160-acre Dr. Alfredo Barrera Marín Botanical Garden), or take a jungle hike through the Mayan woods.
Don't forget the quintessential snap in front of the leaning lighthouse, El Faro Inclinado, and consider saving some time to explore the Ruta de los Cenotes (Route of the Cenotes) where no fewer than 60 mystical sinkholes await.
Just 40 minutes from Cancun, this sleepy seaside town is an easy addition to any Cancun itinerary.
39 – Cool off in the natural swimming holes at Xenotes Park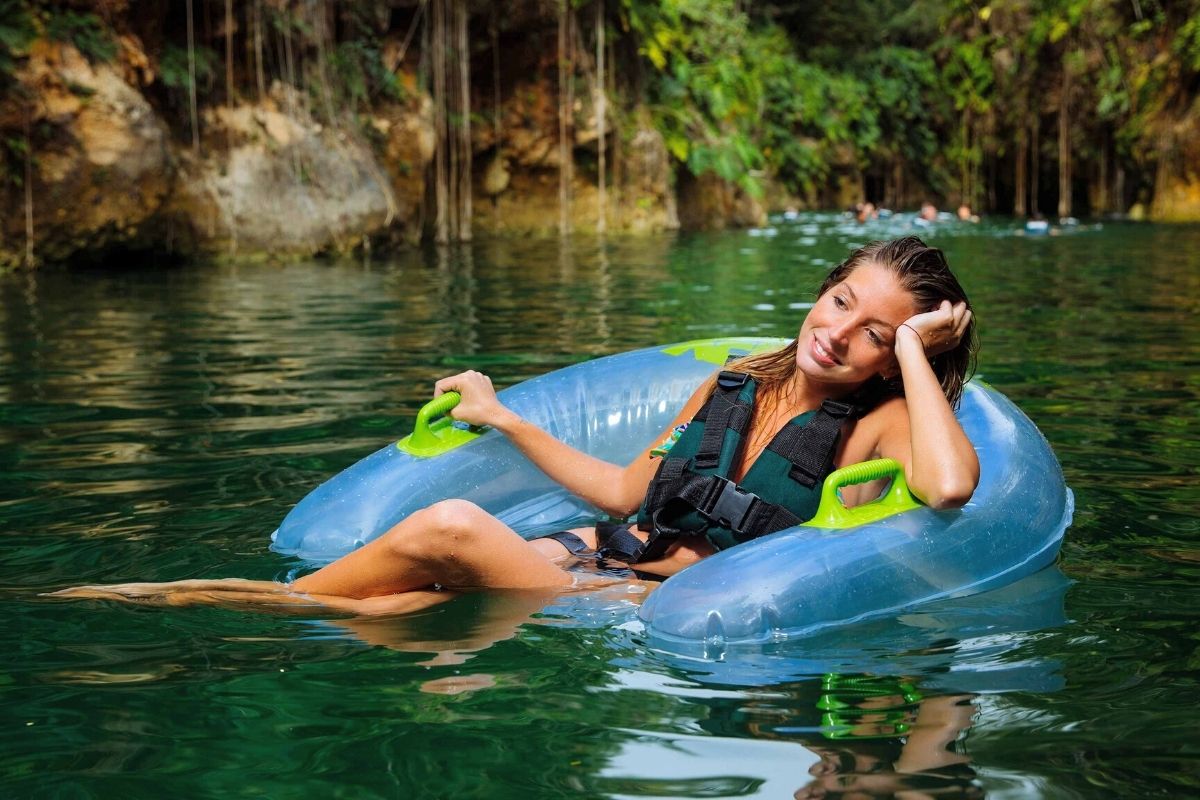 Considered one of the best things to do near Cancun for nature lovers, especially when the sun is sizzling, Xenotes Park is an outdoor oasis that's home to four different types of cenote (sacred sinkholes found throughout Mexico): semi-open, open, ancient, and cavern.
Far more than just a collection of beautiful swimming holes, this family-friendly park combines the excitement of zip-lining, rappelling, and ATVing with the opportunity to cool down in some of Mexico's most stunning natural wonders.
Highlights include swimming in crystal clear waters beneath a cathedral-like cavern roof, zip-lining into an ancient cenote, kayaking through the underwater gardens of Ha', cliff jumping from more than 20 feet into deep turquoise waters, and exploring an underground cave system.
Hot tip: As part of the Xcaret Group, you can save upwards of 20% by combining Xenotes with some of the other parks mentioned above (Xenses, Xplor, Xoxomilco, or Xcaret, to name a few).
40 – Try your hand at horse riding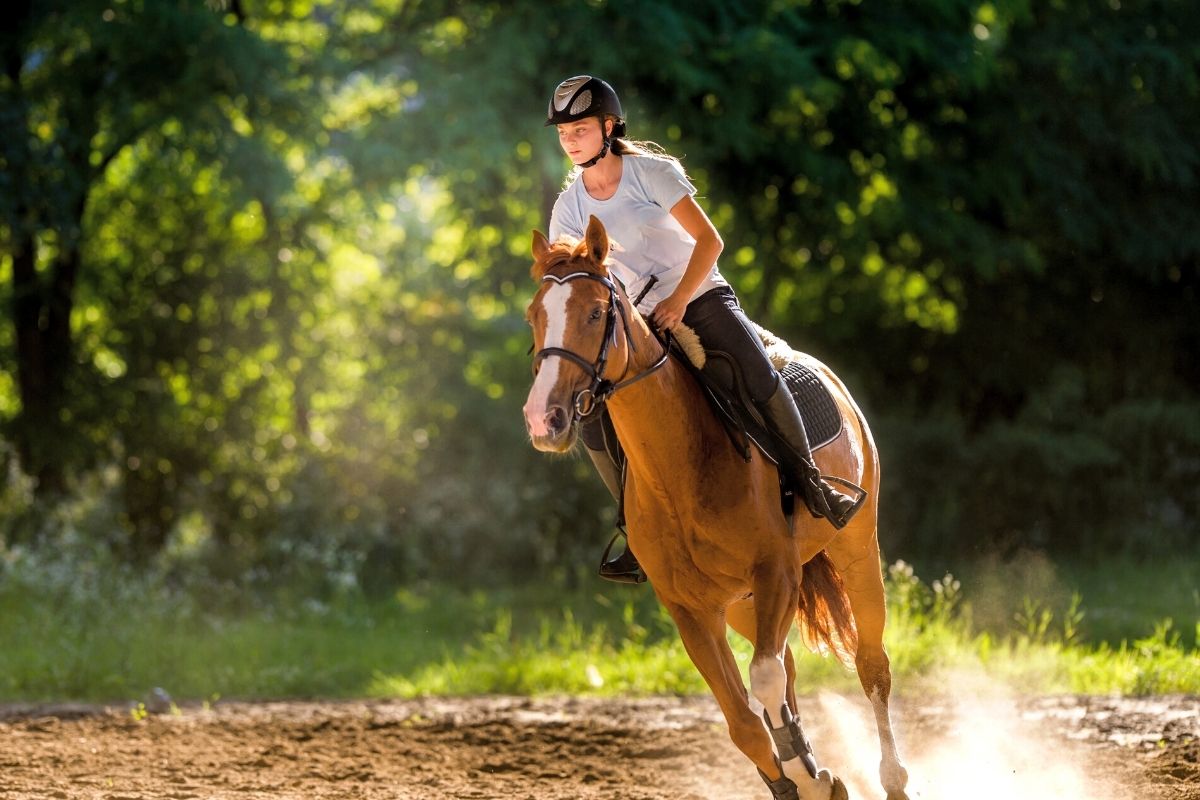 A wonderful opportunity to get back to nature and explore the jungle in a different way, horse riding tours are available for all levels of rider, from total newbies to the most experienced equestrians.
Led by a friendly, local, and safety-trained guide, the myriad horseback riding trails will take you through some of the most beautiful scenery in Mexico, from verdant jungle to secluded cenotes and sandy beaches.
You'll likely spot plenty of wildlife along the way too, with everything from brightly colored birds and iguanas to spider monkeys occasionally making an appearance.
With pickup and dropoff – and a hearty multi-course lunch – part of the deal, horse riding tours make for a fun and hassle-free day out.
For the best bang for your buck, and the most comprehensive overall adventure, consider one of the package tours that also includes ATV rides, a zipline circuit, and a cenote visit!
41 – Get the blood pumping at Extreme Adventure Cancun Eco Park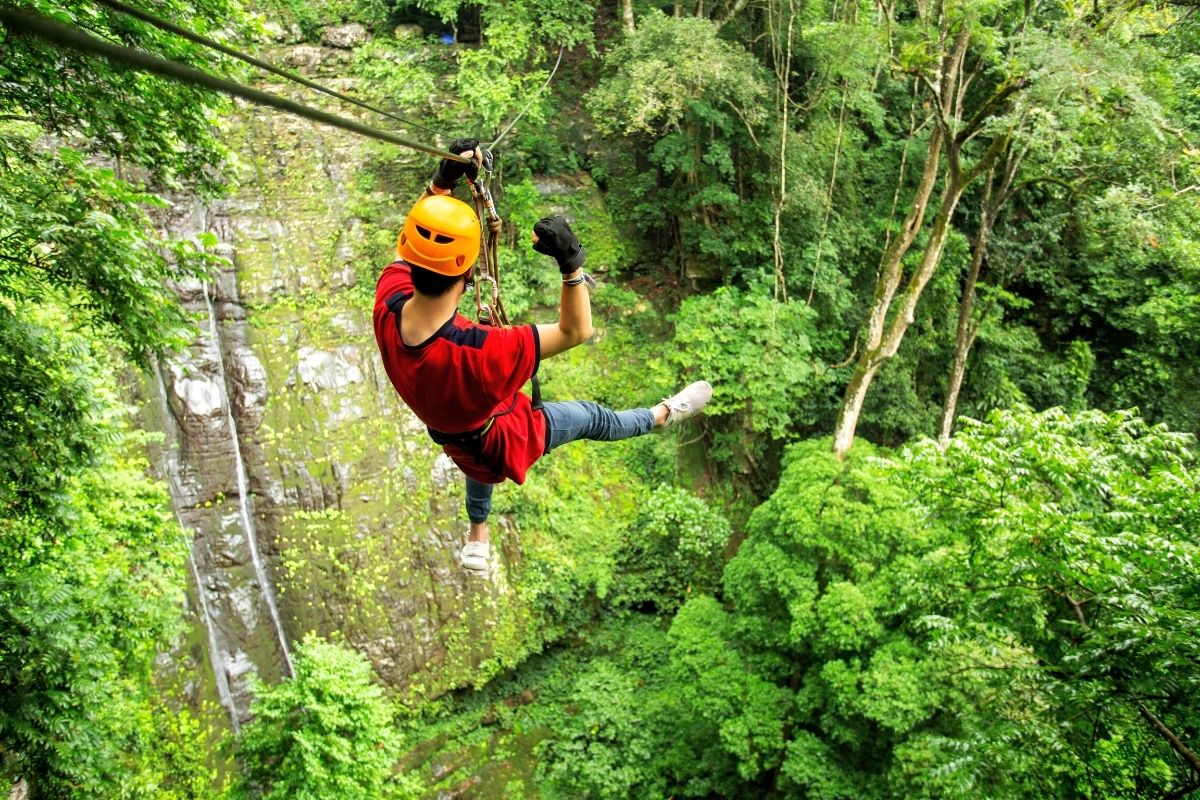 One of the many reasons to add Puerto Morelos (see #38) to the bucket list, Extreme Adventure Cancun Eco Park is an outdoor adventure lover's dream, with ziplining, rock climbing, rappelling, and more all on offer.
With six different ziplines (and three interactive bridges to boot), horse-riding through the engulfing Mayan jungle, and ATV rides through muddy trails, the hair-raising thrills are sure to fill up an entire day.
Add in a cenote swim and snorkel, and a hearty lunch for good measure, and it's easy to see why this is one of the most talked-about things to do near Cancun – just a cruisey 15 minutes away by car (although you won't have to worry about driving – every package purchased includes Cancun hotel pickup).
42 – Take the youngsters to the family-friendly Croco Cun Zoo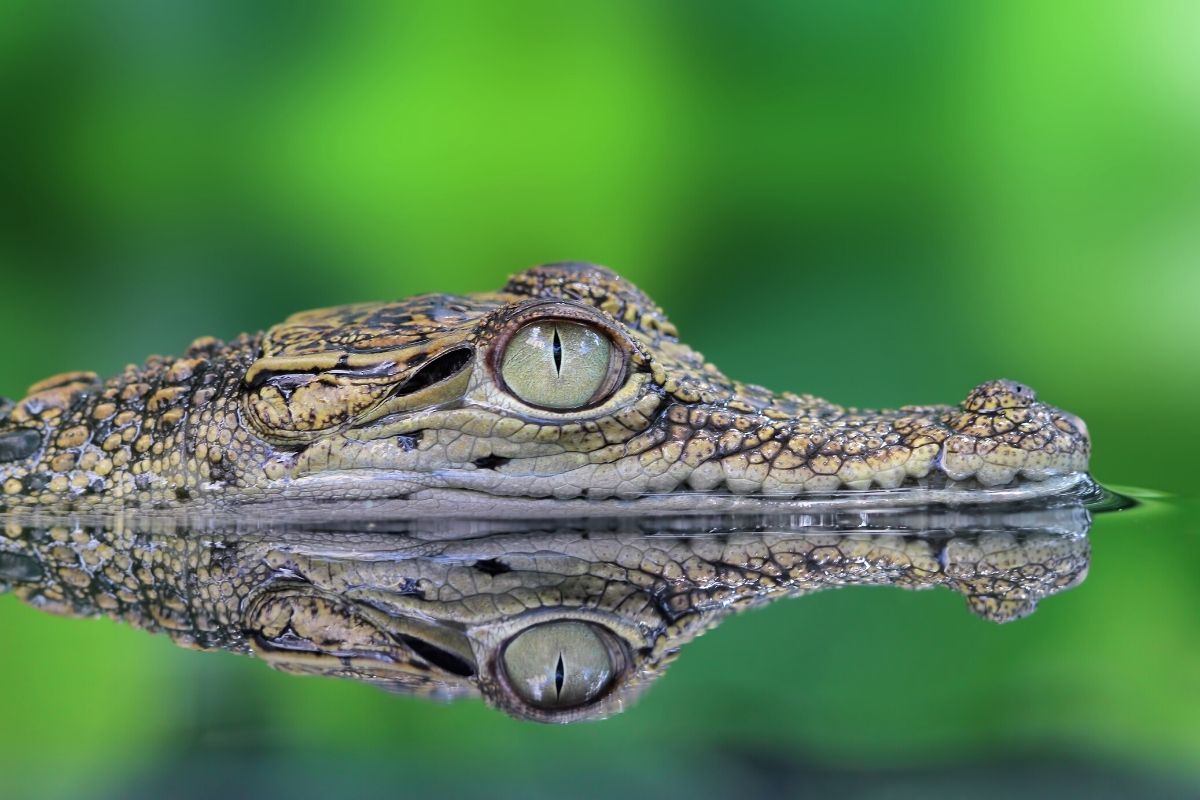 A great option for those with kids in tow (or anyone who loves getting up close and personal with animals), Croco Cun Zoo offers the chance to feed, pet, and even hold some of Mexico's most iconic creatures, all within the enchanting bounds of the tropical jungle.
With dozens diverse of species of animals calling this Puerto Morelos attraction home, spanning everything from crocodiles, snakes, and iguanas to raccoons, turtles, spider monkeys, and toucans, you're guaranteed to see something new and exciting at Croco Cun.
Highly informative and educational, the zoo's knowledgeable guides will teach you everything there is to know about the resident animals, from their eating habits and natural habitats to their place in Mayan culture and folklore.
Photo ops are aplenty, and the on-site cafe serves up a selection of sandwiches with coffee for the parents and milkshakes for the kids for when you need a refuel.
43 – Amble through the bustling streets of Playa del Carmen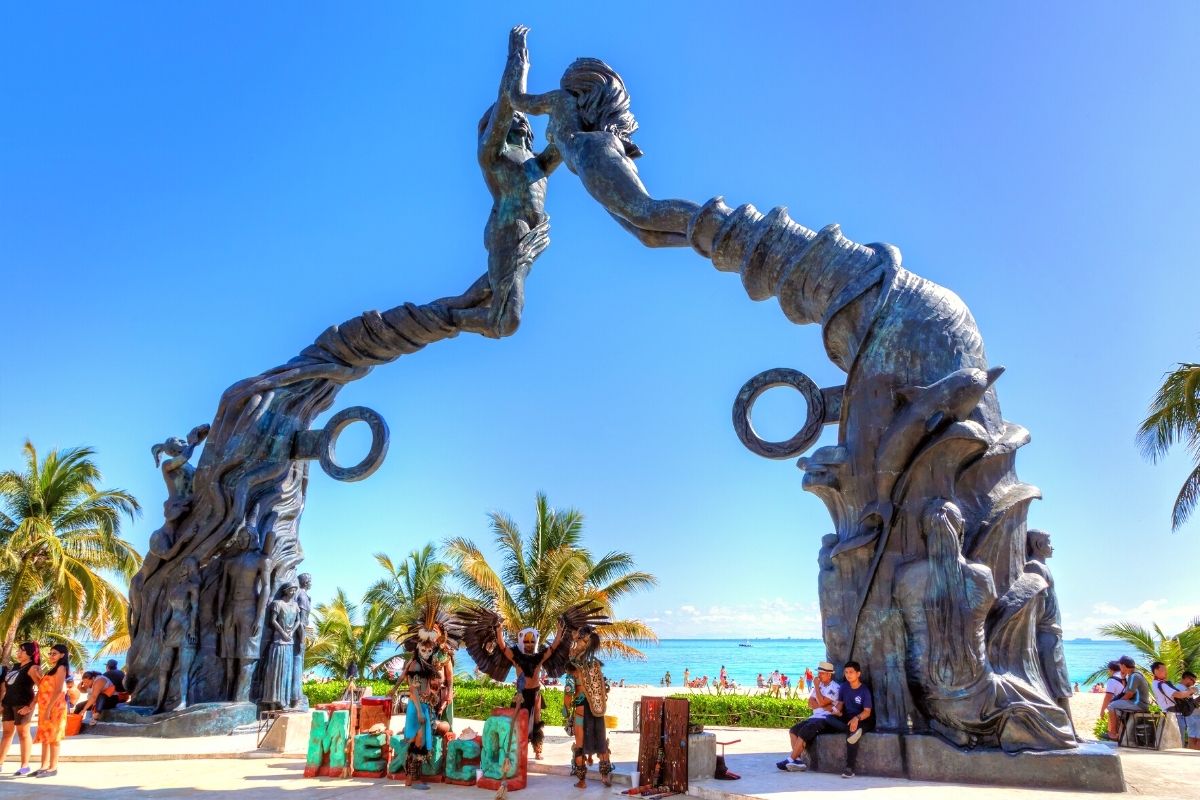 Feeling like a mix of bohemian chic meets Caribbean cool, the beach town of Playa del Carmen draws in tourists from all over the world who are looking to soak up some sun, enjoy the nightlife and, of course, take in a stunning beach or two.
With its turquoise waters and soft white sands, Playa del Carmen's main beach is gorgeous. And while it can get pretty crowded during peak season, it's still one of the best places to relax, people watch and enjoy all that Cancun has to offer.
If you're looking for a bit more action, though, head to Mamitas Beach Club, where you can dance to live DJs daily, get a massage, or just enjoy a refreshing cocktail while lounging in a beachfront cabana.
For shopping and souvenirs, take a stroll down 5 Avenida Norte, and catch some street performers and blissful sunset views from Parque Los Fundadores.
And for a dose of quintessential Caribbean nightlife, you can't beat Playa's Coco Bongo. Fusing circus acts with wild costumes, free-flowing booze, and some of the best music in town, it's no wonder this club is one of the most popular in all of Mexico.
Of course, being a foodie paradise, no trip to Playa del Carmen would be complete without at least trying out some of the delicious (and fresh) seafood on offer – El Pirata is known for having some of the best fish tacos in the area, while El Fogon is a great spot for a more traditional Mexican meal.
With so many fun things to do in Playa del Carmen, and its proximity to cenotes, theme parks, and archaeological ruins, it's no wonder this town is one of the most popular tourist destinations in Mexico.
44 – Go scuba diving!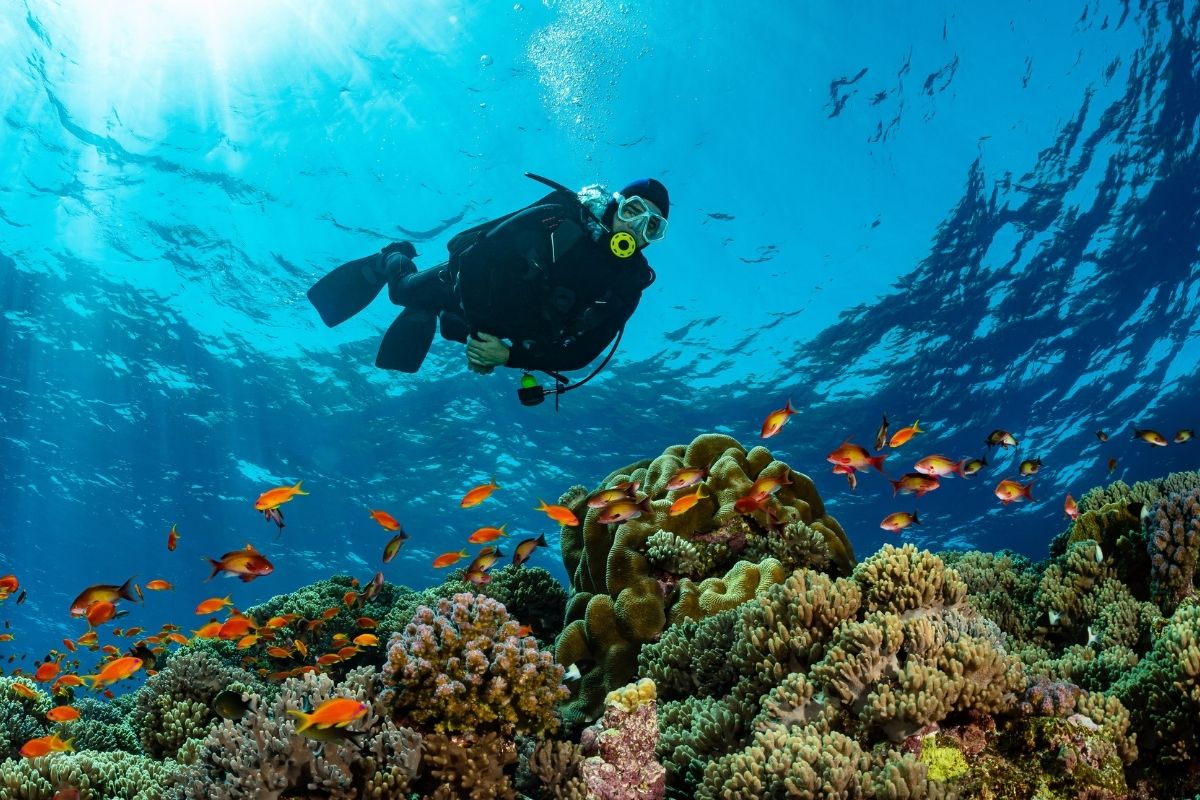 Besides the Great Barrier Reef in Australia, no other place on Earth can rival the Mesoamerican Barrier Reef when it comes to scuba diving.
Stretching a staggering 625 miles from the northern tip of the Yucatan Peninsula all the way down to Honduras via Belize and Guatemala, this natural wonder is home to an incredible array of marine life, from delicate corals and brightly colored fish to loggerhead turtles, manta rays, and even the occasional whale shark.
With over 100 dive sites to choose from in Cancun and Puerto Morelos alone, scuba diving tours cater to all levels of experience, from first-time divers who want to get certified to those with hundreds of dives under their belt. And with crystal clear waters and visibility often exceeding 100 feet, the conditions couldn't be better.
Most tours include all the necessary gear, as well as an experienced instructor who will help you make the most of your underwater adventure.
So whether you're a certified diver looking to explore new waters or someone who's always wanted to give diving a try, there's no excuse not to jump in!
Hot tip: whether you choose to dive or snorkel, the Underwater Museum (also known as MUSA) is a non-negotaible. Featuring over 500 life-size sculptures, this one-of-a-kind attraction blends reality with imagination, and serves as one of the top things to do near Cancun.
45 – Grab tickets to the Jolly Roger pirate dinner show cruise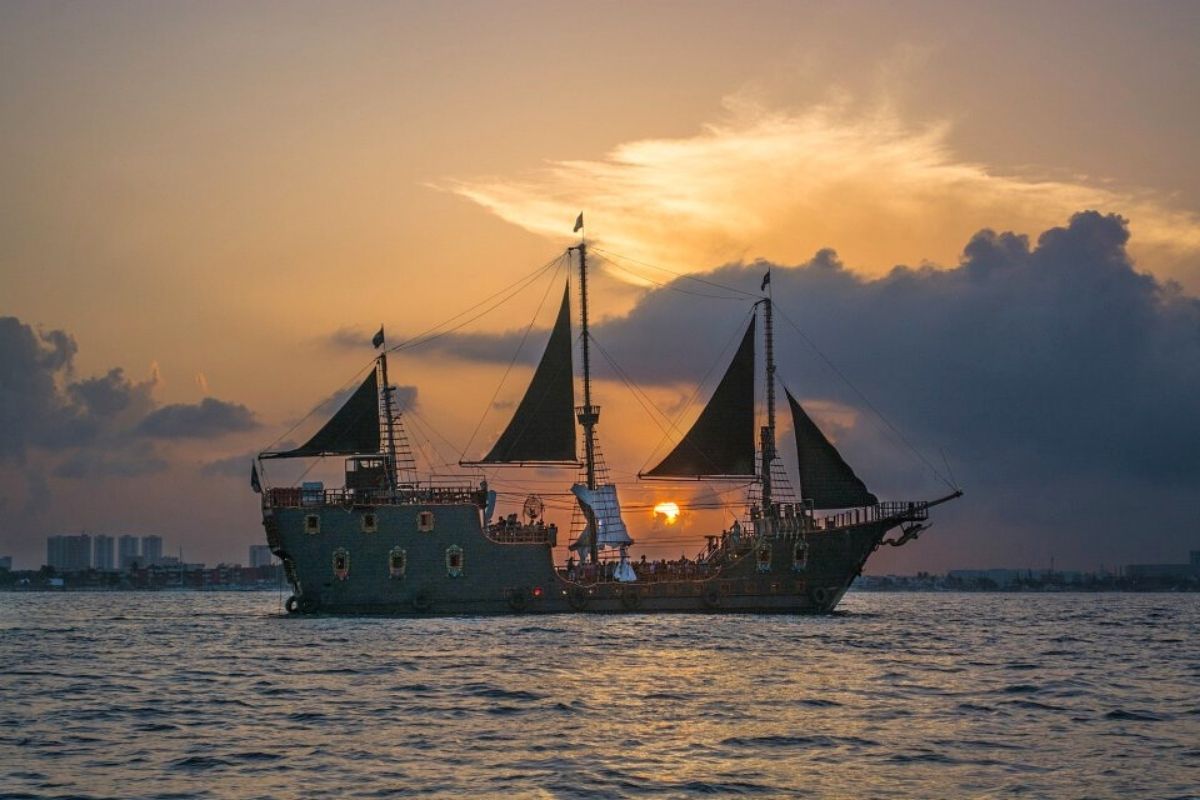 A Cancun institution, the Jolly Roger pirate dinner show is a must-do for anyone visiting the area – especially those with kids in tow.
Featuring a swashbuckling pirate ship complete with cannons, acrobatics, pyrotechnics, sword fighting, singalongs, fireworks, and of course plenty of rum (from the open bar), the seafaring extravaganza promises an evening of non-stop fun, laughter, and good times.
Held just a short walk from Cancun's main strip, the Jolly Roger pirate dinner show is an affordable and family-friendly way to enjoy some of Mexico's vibrant culture and traditions.
Plus, the all-you-can-eat buffet features a delicious selection of international and local dishes, so you're guaranteed to leave with a full stomach.
Being a replica of Columbus' original flagship, even the boat itself, with its three masts and billowing sails, is a sight to behold – the ideal venue for 3 ½ hours of full-on pirate shenanigans.
46 – Immerse yourself in local customs with a Mayan Temazcal purification ceremony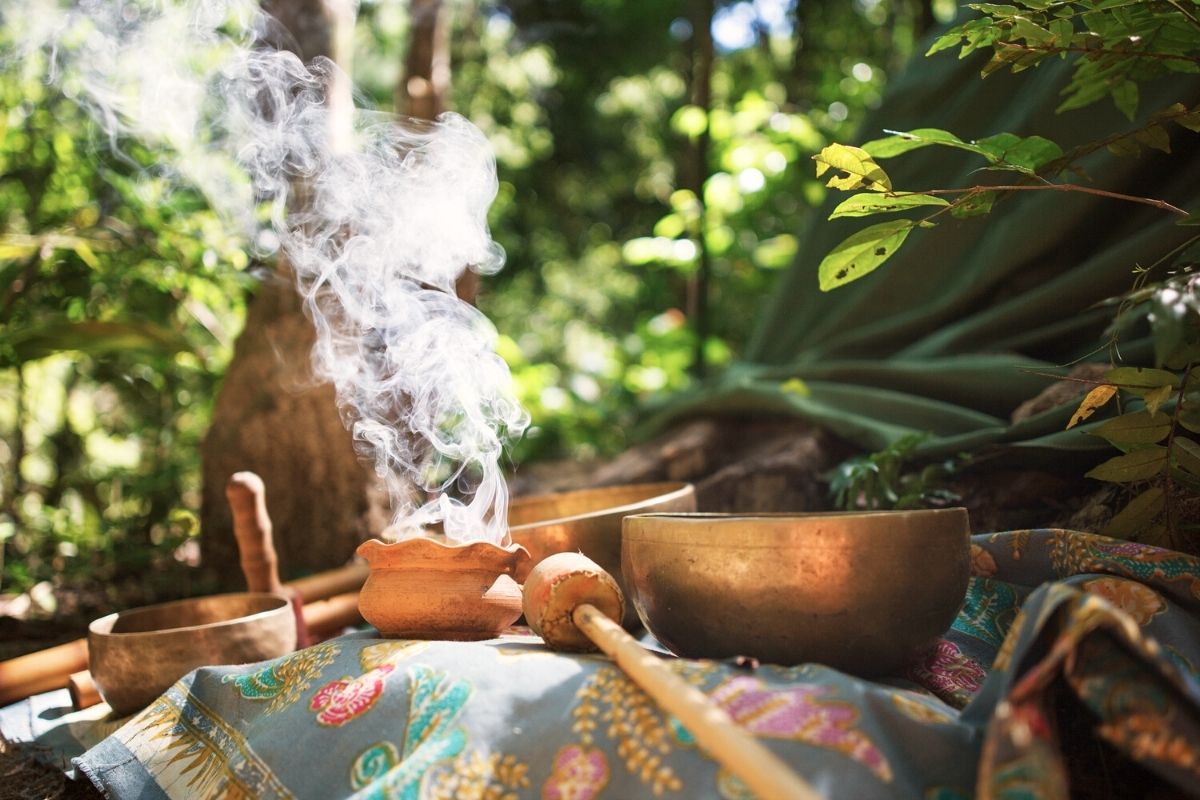 A chance to dive head-first into the age-old traditions of the Maya, a Temazcal ceremony is a truly unique and unforgettable experience that connects the spirit with nature and the gods.
A type of sweat lodge or sacred steam bath, the Temazcal is said to cleanse the body, mind, and spirit, and has been used by indigenous cultures for centuries as a way to heal the sick and prepare for special occasions.
Nowadays, Temazcals are still widely practiced in Mexico, and special excursions offer visitors the rare opportunity to witness – and participate in – a tradition that has been passed down from generation to generation.
Most Temazcal ceremonies take place around sunset, when the air is cooler and the steam is more potent. They typically last around 5-6 hours when factoring in the Mayan dinner (in the middle of the rainforest) and the transport, making them the perfect activity for a culture-seeking night owl.
Depending on the trip you book, you might also have the chance to embark on a rainforest trek and check out an illuminated cenote.
47 – Dial up the romance with a Columbus dinner cruise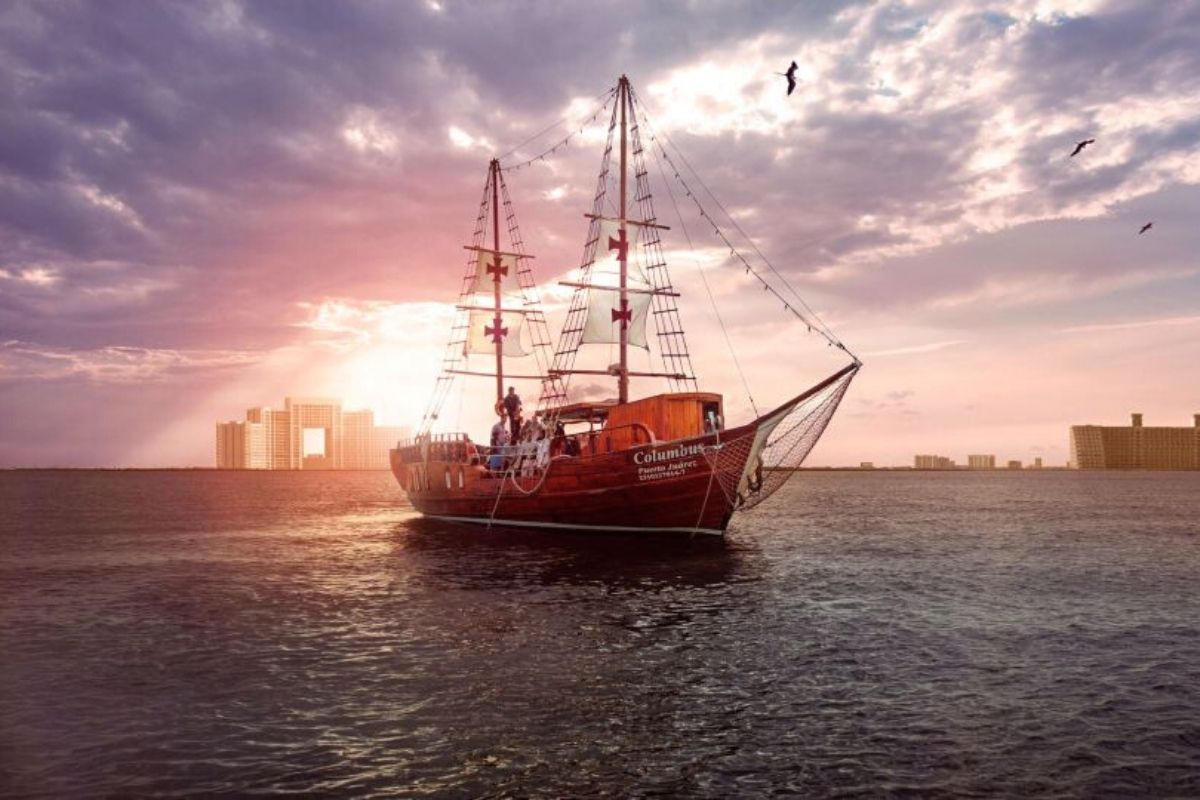 Combining the best of both worlds – a delicious dinner and stunning views of the Mexican coastline – a Columbus dinner cruise serves as both a relaxing and romantic way to spend an evening near Cancun.
Named after Christopher Columbus, who first landed in Mexico back in the late 1400s, the cruise ship takes guests on a leisurely tour around the calm waters of the Nichupté Lagoon, with the sounds of live saxophone music echoing in the background.
As you dine on a sumptuous three-course meal with an open bar to boot, you'll be treated to unobstructed views of the twinkling city skyline.
Take your pick from the surf 'n' turf, lobster dinner, ribeye, or vegetarian menu, and let the good times roll and the cocktails flow as you sail into the night.
48 – Party it up Mexican style at Xoximilco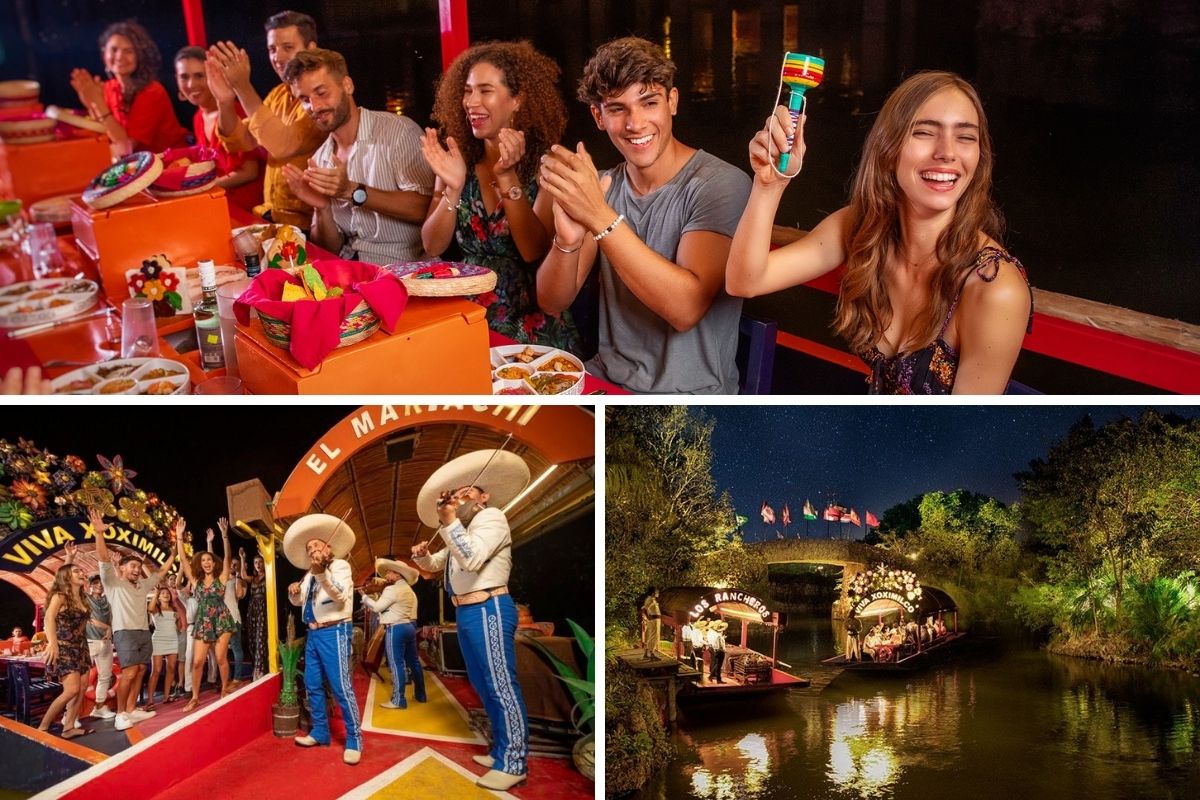 A cultural extravaganza, Xoximilco is a must-do for anyone visiting Cancun. A truly unique experience, it's like Mexico's answer to Venice, but with a distinctly Mexican twist.
Sit back and relax in a traditional colorful Mexican gondola known as a trajinera as you float down the canals, taking in the sights and sounds of Xoximilco.
As you cruise through the beautiful Mayan jungle, popping into inlets and mangroves and admiring pre-Hispanic and colonial architecture along the way, you'll be serenaded by mariachi bands and norteño music and treated to a delicious all-you-can-eat Mexican buffet, with plenty of beer, tequila, rum and margaritas to wash it all down.
You'll also have the chance to try your hand at some traditional Mexican games and mingle with a few fellow travelers, making Xoximilco a fascinating alternative to the typical Cancun party scene.
49 – Play a round of golf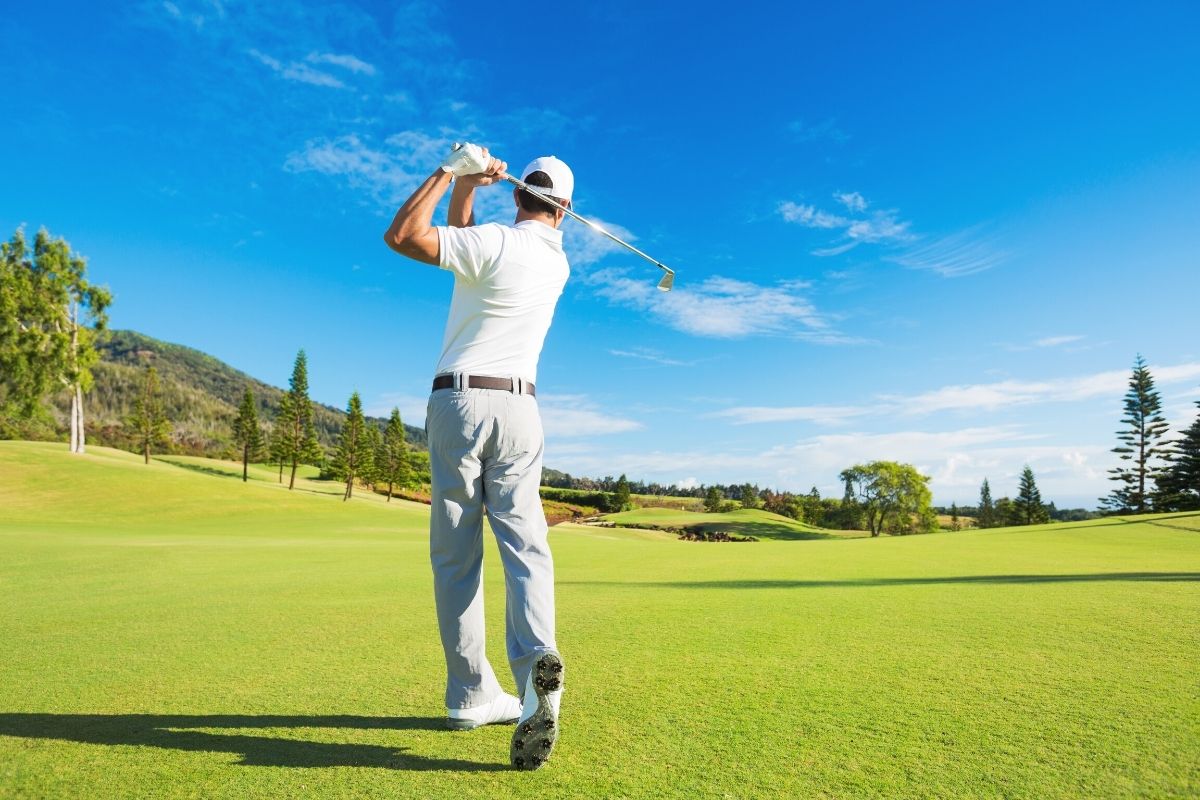 Want to practice your drive? With sunny weather year-round, there's never a bad time to tee off in Cancun.
While the area around Cancun is relatively flat, and chock-full of courses in both the Zona Hotelera (hotel zone) and downtown, myriad challenging and diverse courses await if you're looking for a game outside of the city limits.
Down in Playa Del Carmen, for example, just 45 minutes from Cancun, you'll find the Iberostar Playa Paraiso Golf Club. Tucked away in the heart of the Mayan jungle, and with a replica of Chichen Itza's El Castillo on site, this course is as picturesque as they come.
If you're after a more challenging game, the El Camaleon Mayakoba, just down the road in Riviera Maya (part of the Five Diamond Mayakoba hotel complex) is host to the only PGA TOUR event in Mexico, and features three distinct nine-hole courses that are sure to test your skills. While it's a little pricier than some, the spectacular tropical landscapes make it worth the investment.
Not too far away, about halfway between Cancun and Playa sits the Jack Nicklaus-designed Vidanta course. Stretch 18 holes at a par 54 (with the option to play either 9 or 18 holes), this pro course features sand traps, natural stone outcroppings, and deep blue water features – collectively making it both a delight to play on and experience. With a pro shop and delicious restaurant on site, you're sorted for a great day out.
50 – Enjoy the magical Cirque du Soleil JOYÀ show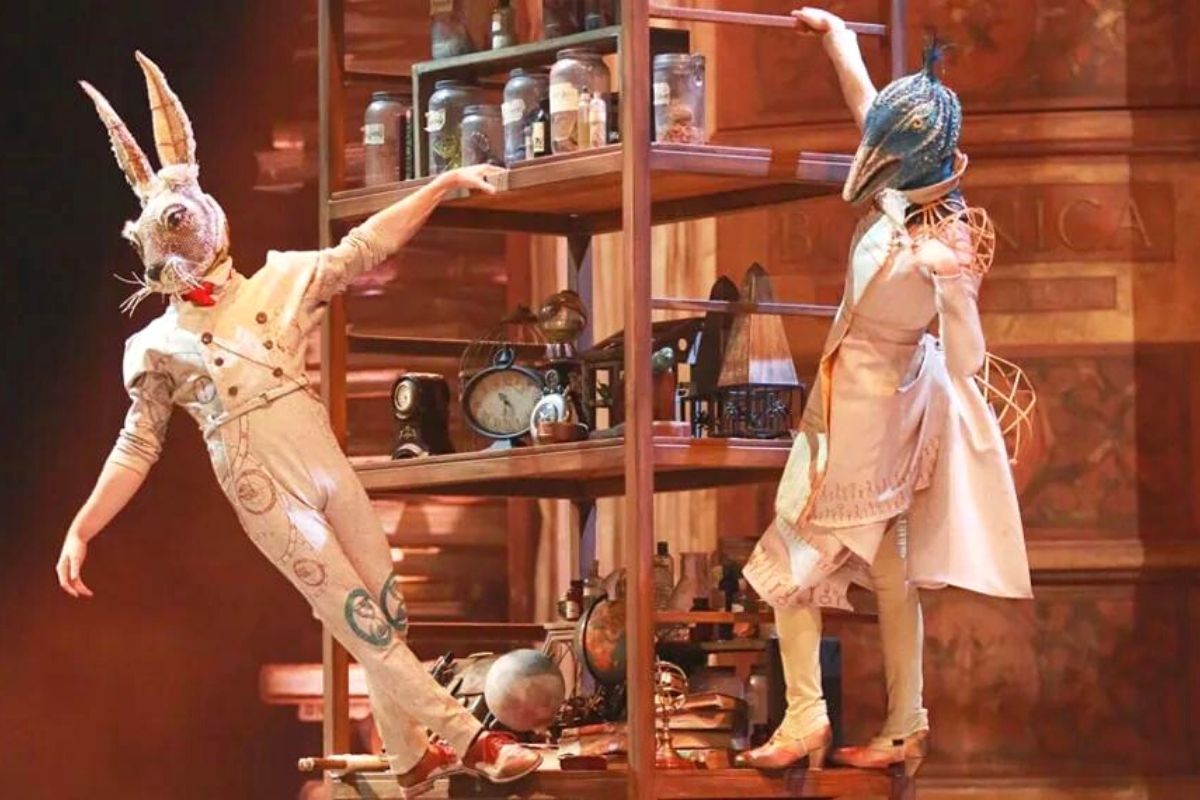 A mesmerizing mix of acrobatics, storytelling, special effects, on-stage bands, and stunning costumes, Cirque du Soleil's JOYÀ show brings the world-famous Cirque reputation and adds an authentic peppering of Mexican culture on top.
With a unique blend of circus arts and theatrical performance, JOYÀ tells the story of an eccentric scientist and his granddaughter who embark on a journey to discover the secrets of life. The result is an unforgettable spectacle that will leave you both amazed and inspired.
With three different showtimes available, as well as VIP upgrade options that include an extra hour of intimate entertainment with dinner and champagne, there's something for every schedule and luxury appetite.
And while it's not the cheapest of activities on this list, the spectacular showmanship and brilliantly talented acrobats put JOYÀ up there among the most essential things to do near Cancun for an evening of entertainment.
Looking for hotels near Cancun?
Whether you're on the hunt for 5-star luxury with all the bells and whistles, or prefer something a little more low-key, you'll find no shortage of great hotels near Cancun.
From beachfront all-inclusives to cozy budget options and everything in between, there's something tailor-made for your upcoming holiday.
Staying in Cancun? Then consider some of the big resorts like the Grand Oasis, Paradisus Cancun, or Secrets The Vine. Or, if you're looking for a more intimate boutique experience, check out the Casa Tortugas Boutique Hotel, The Fives Oceanfront in Puerto Morelos, or the Andaz Mayakoba Resort Riviera Maya near Playa del Carmen.
Plenty of great mid-range and budget hotels line Cancun too, like the Hotel NYX Cancun, Tsaakik Jungle Hotel & Spa, or the Sina Suites.
Whichever style you prefer, make sure to book online in advance – you can save as much as 40% compared to last-minute deals.
Arriving by plane? Get an airport transfer
You're on vacation, after all, so why worry about the hassle and expense of getting from Cancun International Airport to your hotel?
Instead, book an airport transfer with one of the plethora of luxury transport services and relax in the knowledge that you'll be picked up on time and whisked straight to your doorstep. With a huge range of vehicles to choose from – including private cars, vans, and limousines – you can arrive in style, no matter how big your group is.
And, if you're traveling as a group, it's often more affordable than cumulative individual transport tickets.
Final thoughts
Well, that's a wrap! We hope you've enjoyed our roundup of the 50 best things to do near Cancun.
Whether you're looking for breathtaking natural beauty, ancient ruins, delicious food, or world-class entertainment, there's something on this list for everyone. So what are you waiting for? Start planning your dream vacation today!
Looking for more inspiration? Check out our guides to the best Cancun excursions and best Cancun tours.
Happy travels!