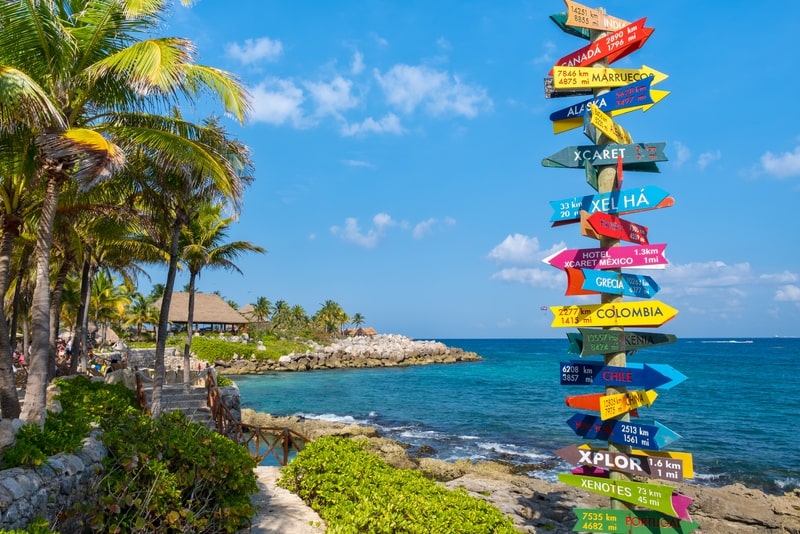 Whether you're looking for a spring break to remember, a romantic getaway with a loved one, or a lively holiday with friends, the following Cancun excursions can satisfy any type of vacation goer, and provide the setting for a wealth of wonderful memories.
A versatile, idyllic tropical paradise aptly labeled as the 'Glistening city of the Caribbean sea', Cancun offers an eclectic mix of beautiful beaches, untouched Mayan ruins, and unforgettable world-class cuisines.
Let's have a look at the very best Cancun excursions…
1 – Coba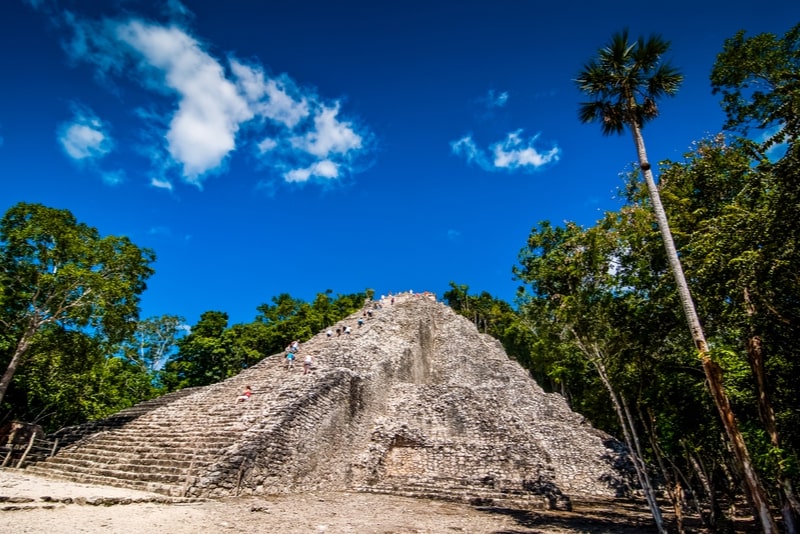 Discover the archeological site of Coba that offers a wonderful way to blend an outdoor adventure with an intellectual insight into the ancient Mayan culture. Nestled deep in the thick jungle with a croc-filled lagoon, Coba lies 146 kilometers to the southwest of Cancun.
Here you can explore and climb the tallest of the Mayan ruins, reaching up to 42-meters high in the air or feel like Indiana Jones as you cycle around dozens of other untouched structures, each with their own history.
2 – Valladolid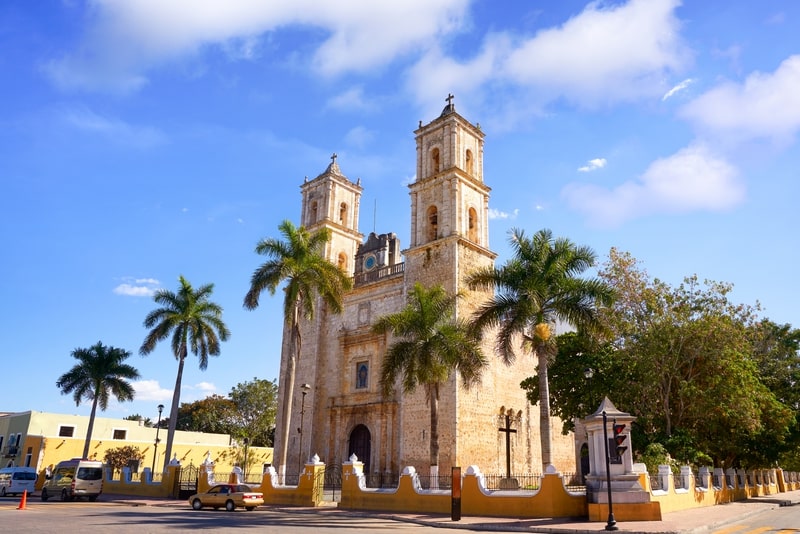 The best next stop after exploring the Mayan ruins of Coba—is the quaint little town of Valladolid. Located about 97 miles southwest of Cancun, Valladolid boasts of perfectly preserved Spanish architecture in ancient colonial buildings with lavish, green courtyards in the middle!
It's worth staying here for a few days, as the provincial town resides at that magical point where there's plenty to sightsee— including Casa de los Venados and the famous Catedral de San Servasio.
3 – Ik Kil Cenote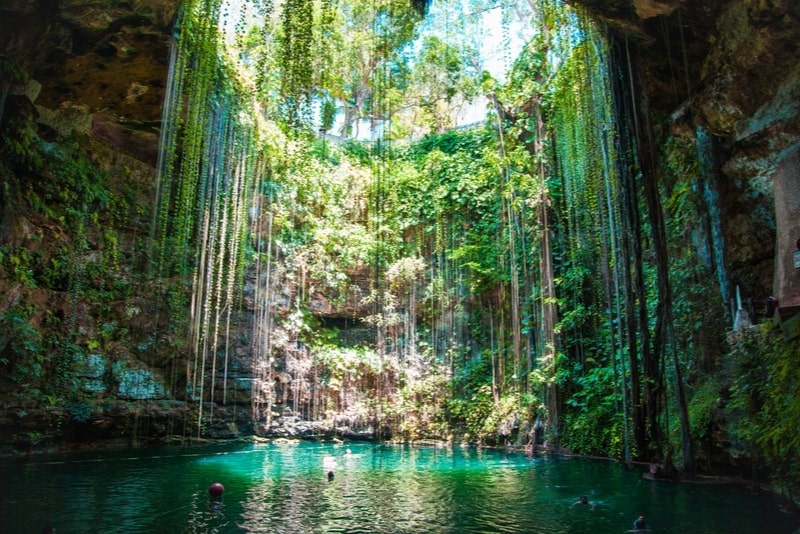 A mesmerizing sinkhole tucked in the Yucatan peninsula, Ik Kil is one of Mexico's most stunning cenotes —adorned with mini cascades and hanging vines.
Located just down the road from the Mayan ruins of Chichen Itza, this majestic site allows the visitors to swim and snorkel in its beautiful waters as they take incredible insta-worthy photographs amidst its lovely flora and fauna and then treat their taste buds with a delicious buffet in one of the restaurants nearby.
4 – Isla Mujeres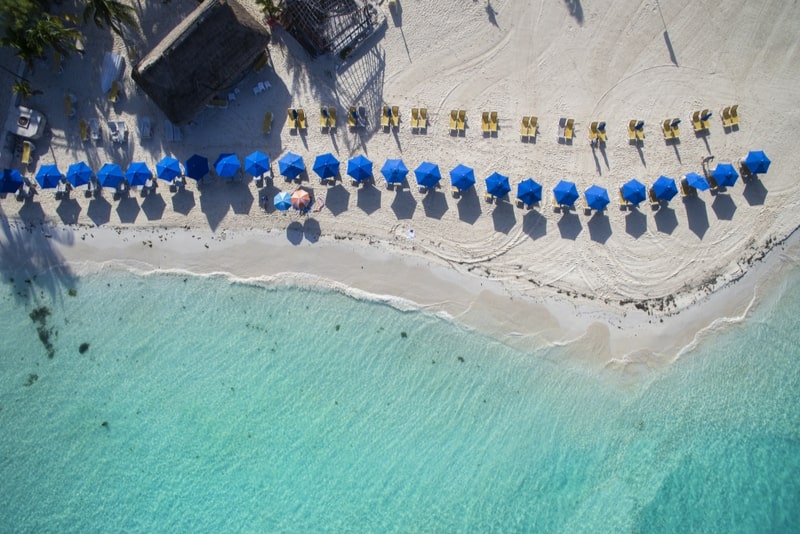 Located just a short, 15-minute ferry ride away from the coast of Cancún, the tiny island of Isla Mujeres is one of the best-kept secrets of Mexico.
With wild cliff sides, a sensational stretch of palm trees along the shoreline, and one of the world's most gorgeous white-sand beaches, the island enthralls travelers with its quaint, relaxing vibe!
Whether you want to scuba dive and snorkel in the turquoise waters or simply enjoy swimming and lazing around — an excursion to this "Women Island" has a little something for everyone.
5 – Chichen Itza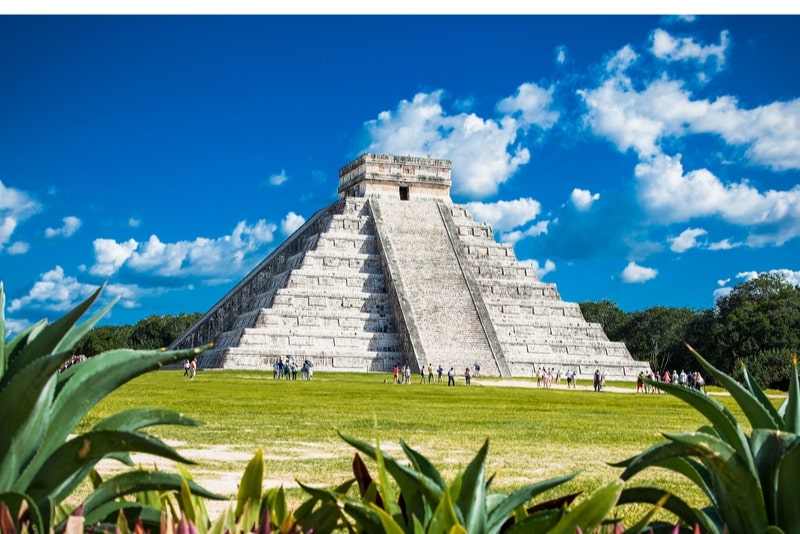 To the north of the Yucatan Peninsula lies Chichén Itzá— the stunning, best-restored ruin of the Mayan culture and arguably one of the most famous archaeological sites on the planet.
Well worth visiting for its marvelous, iconic edifices, and the historical importance, Chichén Itzá is one of the most popular Cancun excursions and is sure to impress even the most jaded visitor. Yes, it's totally a goosebump material (despite the crowds).
6 – Tulum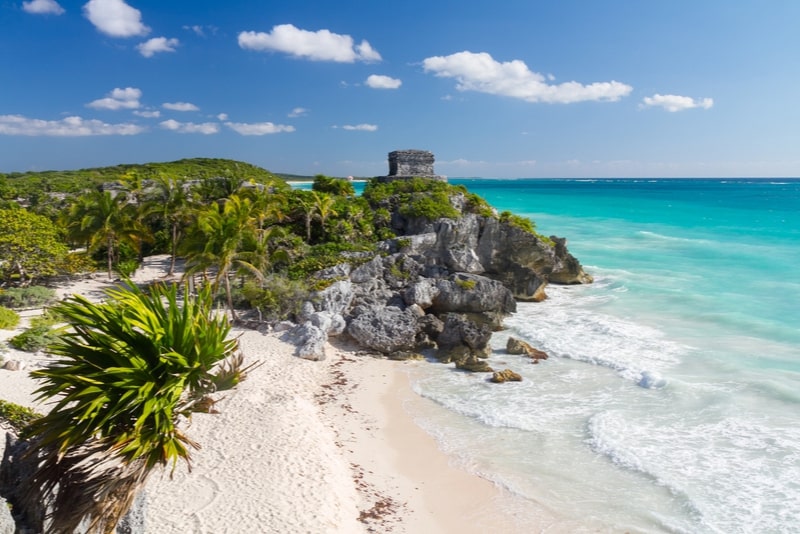 Embrace yourself, beach lovers! Pave your way to the sizzling hot coastal town of Tulum that promises an unplugged beach vacation for many good reasons!
Nestled 90 minutes south of Cancun along Mexico's eastern coast, Tulum boasts of numerous activities—from sightseeing historic Mayan ruins and the Sian Ka'an Biosphere Reserve to savoring fresh fish tacos and practicing hatha yoga overlooking the azure waters!
7 – Extreme Adventure Cancun Eco Park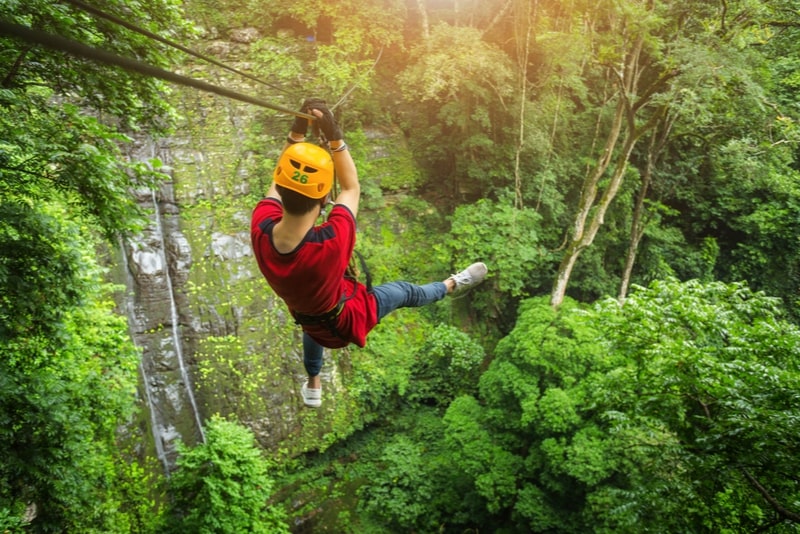 Looking for some fun Cancun excursions to get your adrenaline kicking?
Get your blood pumping and heart-pounding at the Extreme Adventure Eco Park that offers exhilarating challenges on an action-packed jungle adventure.
From discovering the winding trails of the deep jungle canopies on a powerful 4×4 ATV to zipping across treetops on a zip line and finally jumping into the refreshing water of a 100% natural Mayan cenote — Extreme Adventure Cancun Eco Park guarantees a fun-packed, memorable experience that you'll cherish for a lifetime.
8 – Underwater Museum Punta Nizuc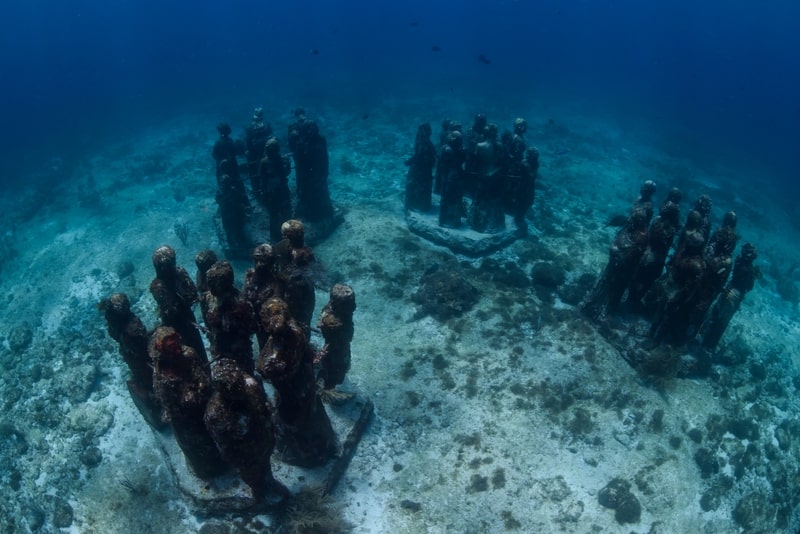 Explore the newest and most spectacular snorkeling spot in Cancun— the Underwater Sculpture Museum that boasts an under-sea sculpture gallery of more than 500 life-size figures.
While this 4-meters deep aquatic gallery lays testimony to Cancun's preservation efforts to divert divers away from deteriorating coral reefs, it is ideal for first-time divers —offering a never-seen-before view of the ocean that will surely leave you spellbound! This is one of the coolest Cancun excursions!
9 – Xcaret Park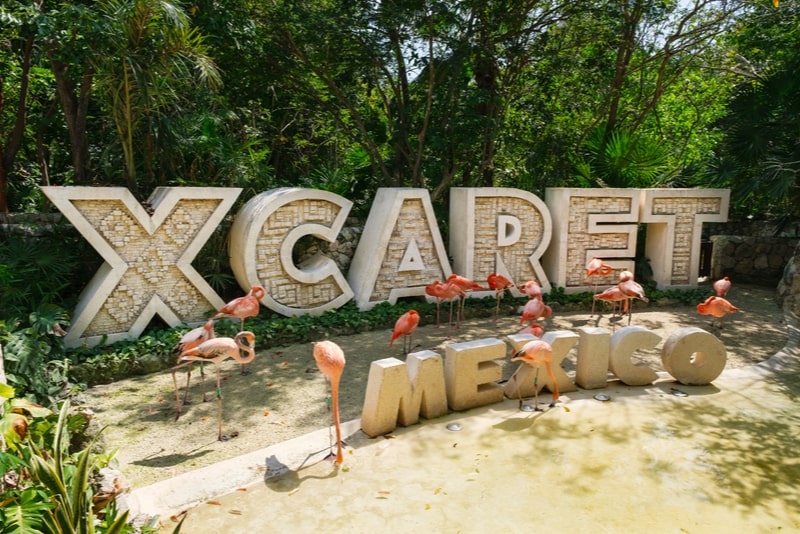 An ecological paradise loaded with the goodness of several nature-based activities, Xcaret is the perfect cross-section of the underground rivers, traditional Mayan culture and luxurious seaside, all in one place.
Situated only 37 miles south of Cancun, this emblematic beach town has a lot to offer— from the Coral Reef Aquarium to the ancient Mayan ruins and the unique Xcaret México Espectacular musical show that promise to make your vacations unforgettable.
10 – Isla Contoy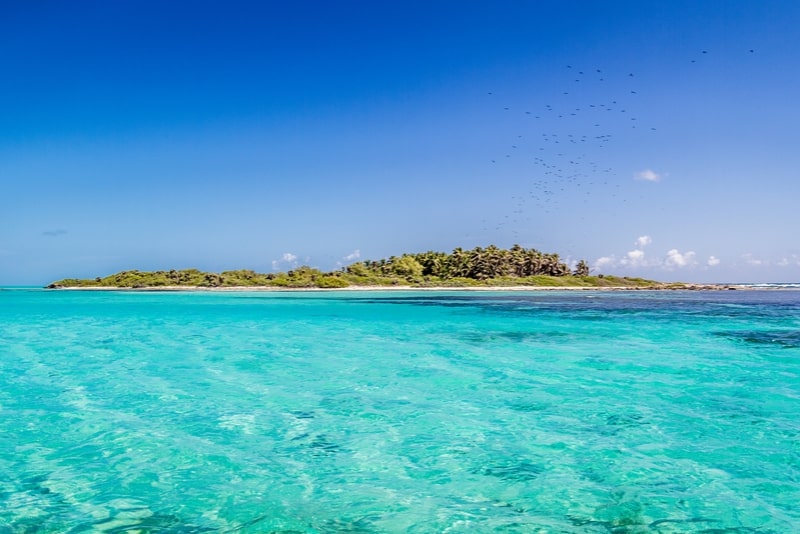 Discover turquoise waters and white sandy beaches, relax and enjoy the nature under the shade of the lush palm trees at this beautiful Mexican Caribbean island!
Even better, this nature lover's paradise makes a post-card perfect destination for an excursion from Cancún! Home to more than 170 species of migrating birds including pelicans, turkey birds and often red flamingos, Contoy serves an uninhabited national park and sanctuary that allows only 200 visitors to explore its pristine beauty each day!
11 – Xel-Há Park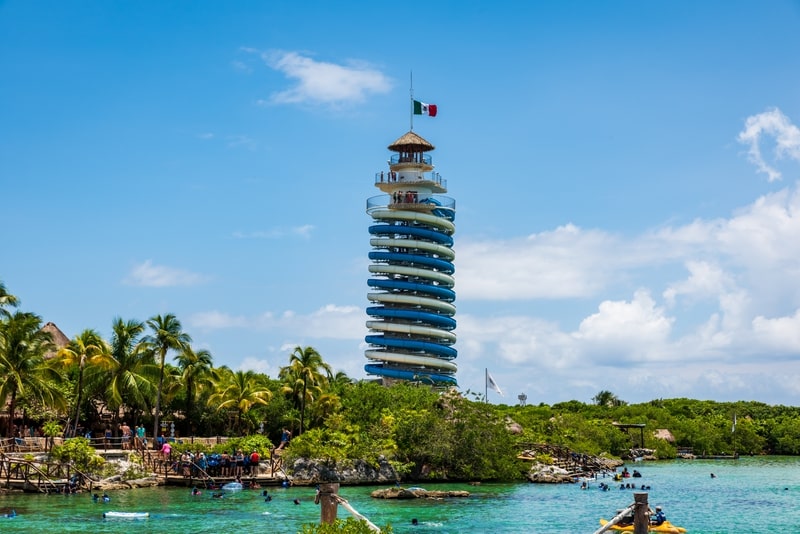 Visit Xel-Há, a fantastic natural wonder in the heart of the Riviera Maya that proffers a plethora of aquatic activities to keep you cool and entertained!
From snorkeling in the crystal clear cenotes to checking out tropical marine life up close to simply floating along the lazy river— this all-inclusive park is an ideal place for the 'aqua-marine' nature-lovers.
That's not all; you can also challenge the adrenaline junkie inside you with zip-lines, single-rope bridges and hiking trails that take you through the sultry coastal jungle.
12 – Río Secreto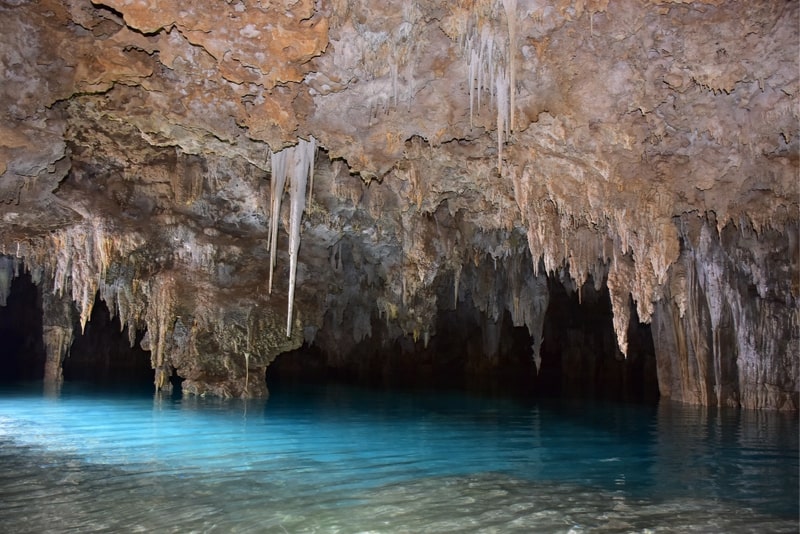 Looking for some unusual Cancun excursions? Hike and swim through the clear, fresh waters of Río Secreto— the stunning 1km-long underground River flowing 5km south of Playa del Carmen.
Enriched with myriad geological formations, thousands of dramatic stalactites and stalagmites, this truly spectacular excursion feels like stepping back in time to witness the peace of the Mayan underworld!
13 – Xenotes Oasis Maya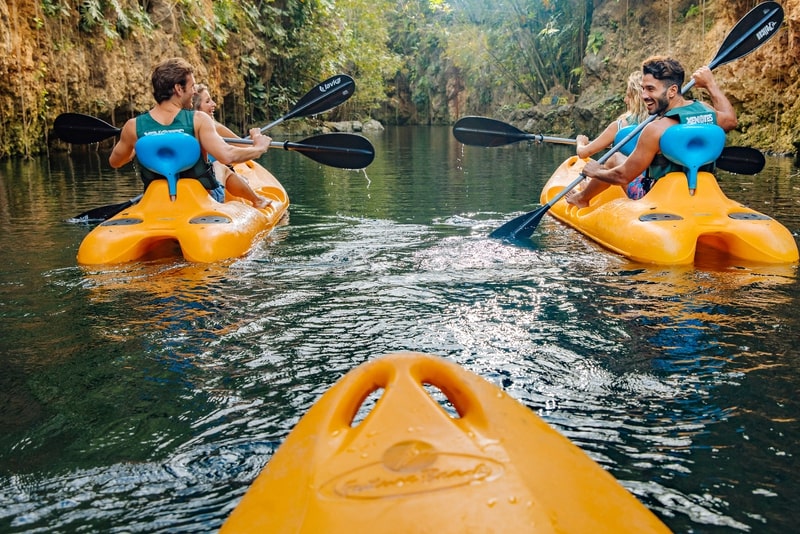 Looking to cool off from the scorching sun and break away from teeny-bikini flashiness?
Come home to the secret underworld of turquoise pools in Cancun, where Mayans connected with their gods. Discover four different cenotes and enjoy different fun water activities during the tour.
This is one of the best Cancun excursions to experience, full of adventure and surrounded by stunning landscapes.
14 – Ek Balam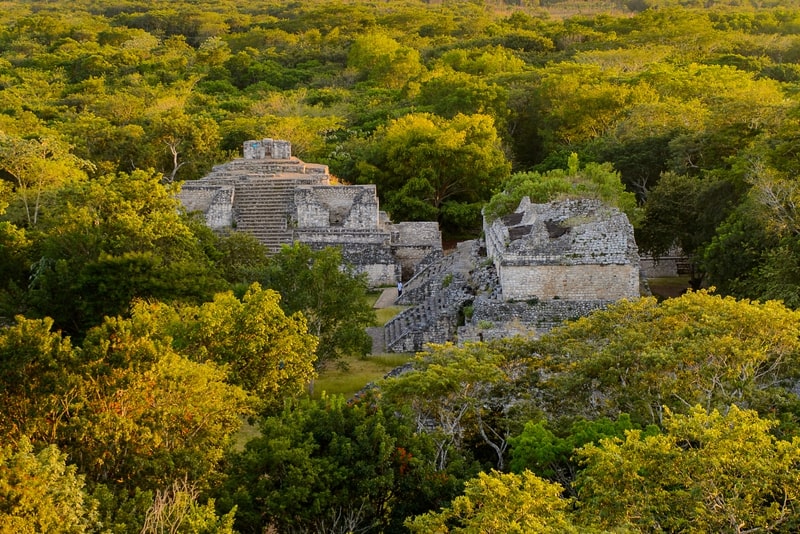 Want to unveil how a traditional Mayan village looked like?
Take a detour and head for an excursion to the less popular yet fascinating village of Ek Balam! Literally translating to the 'Black Jaguar' in English, this wonderful Mayan archaeological site showcases a lovely, lush setting with a massive pyramid sporting a gaping jaguar mouth near the entrance!
Most impressive, however, is the main Acrópolis, which is 95-feet high and boasts a 'gallery' with a series of separate chambers.
15 – Isla Holbox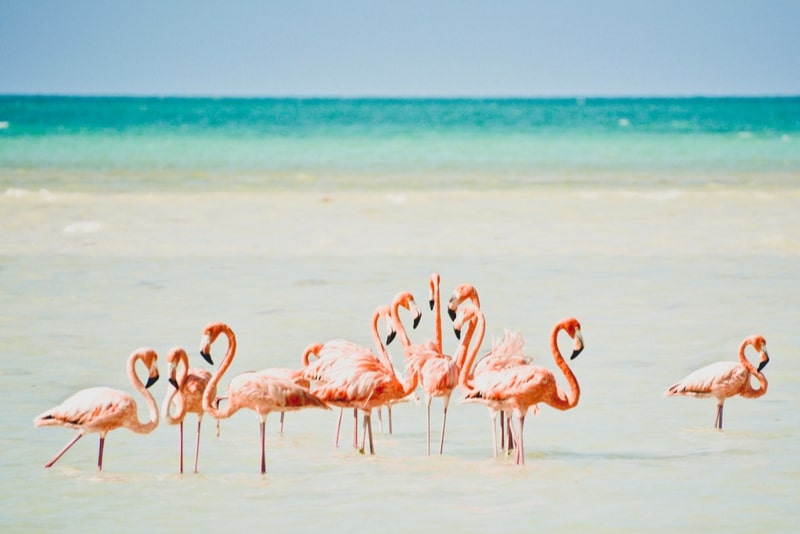 No cars, no paved roads, and miles of pristine, natural beaches – the island of Holbox is arguably the perfect mix of bohemian beauty, splendid weather and tropical relaxation!
Located just four hours from the international airport at Cancun, Holbox is not only far away from the hustle and bustle of Cancun but also a great place to hang out with welcoming natives and chill on the beach with flamingos!
16 – Croco Cun Zoo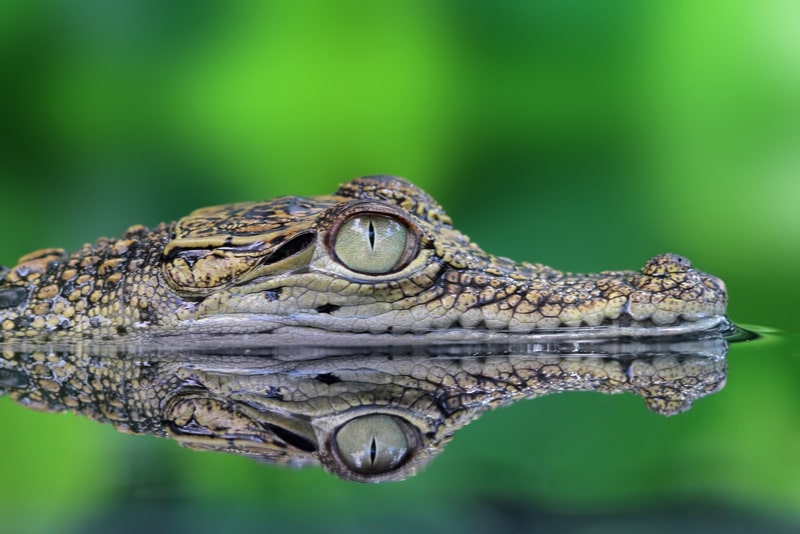 Once a teeming crocodile farm, Croco Cun Zoo is now famed as a conservationist interactive adventure zoo where you get hands-on encounters with exotic tropical flora and fauna!
Located merely 20 miles from Cancun, a day tour to this animal haven blesses you with a fun animalistic experience of walking through a crocodile enclosure, holding boas, baby crocs, and iguanas, and watching swinging spider monkeys.
17 – Playa del Carmen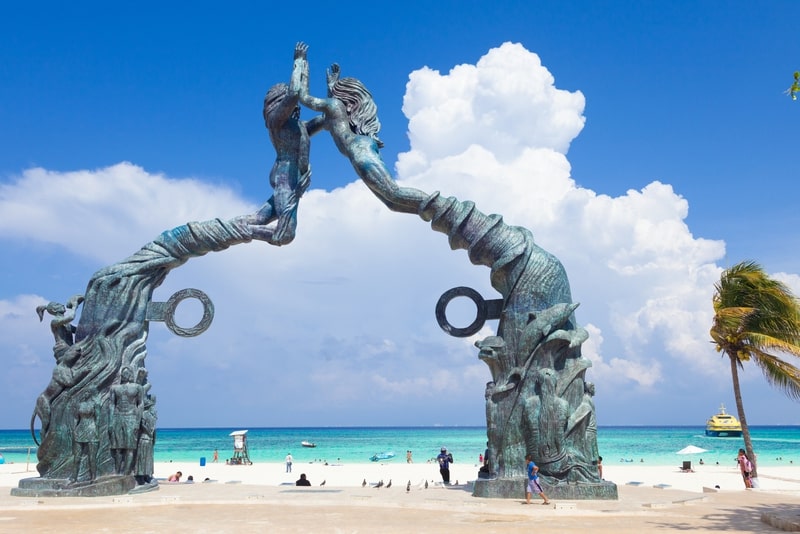 'Playa del Carmen' is a gorgeous coastal resort town that is nestled just 47.8km from Cozumel Island.
With palm-fringed beaches, beautiful coral reefs and turquoise water, this laidback town is a beachside bliss that blows savvy beachgoers' expectations.
From vibrant clubs for night owls to world-famous historical landmarks for history buffs to intrepid water sports for adrenaline junkies, Playa is a sociable, happy-go-lucky paradise for every kind of traveler.
18 – Merida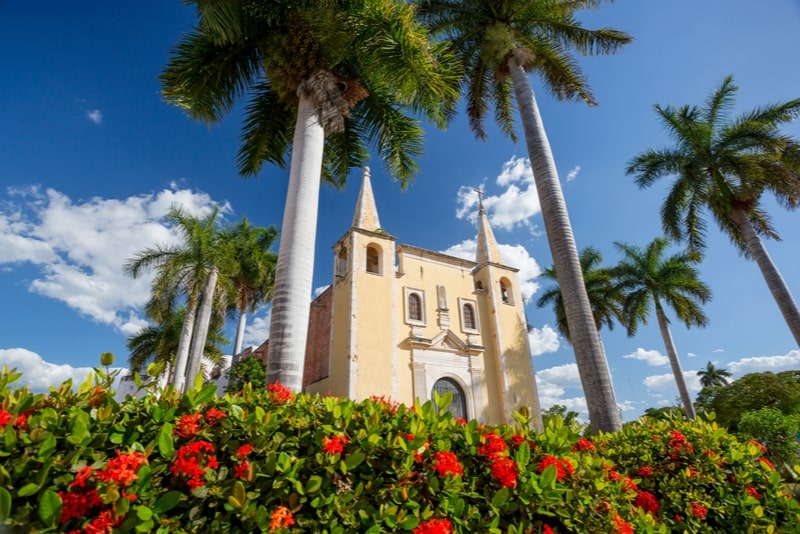 An enchanting city with colonial charm, Mérida is located at a distance of 1.15 hours from the incredible ruins of Uxmal.
Also renowned as the 'White City' because of breath-taking white colonial buildings painted with vibrant pastel hues, the Yucatán capital isn't just aesthete's dream steeped in history but is also well-known for romantic haciendas, gorgeous cenotes, and contemporary Soho galleries.
19 – Sian Ka'an Biosphere Reserve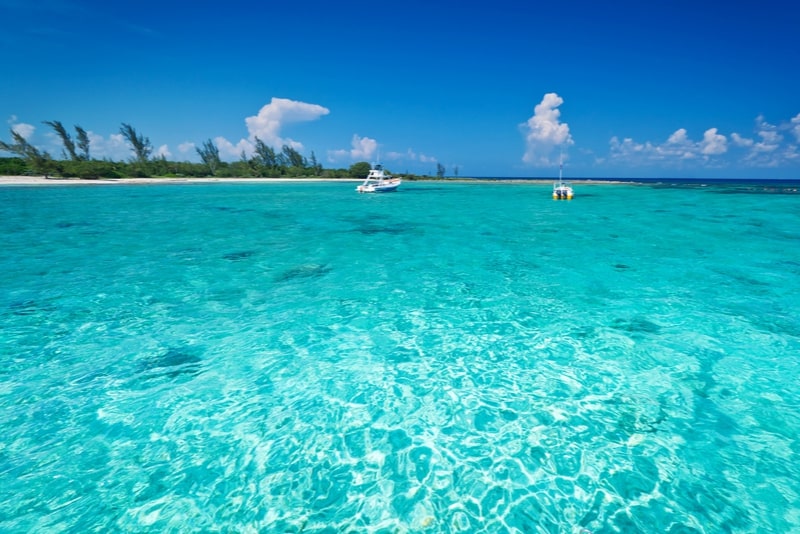 Sian Ka'an Biosphere Reserve is a sublime area of natural beauty, an abode to thousands of species of flora and fauna, and an acclaimed World Heritage Site by UNESCO!
Located 2 hours south of Cancun, Sian Ka'an is the largest protected area in the Mexican Caribbean— offering an enriching journey as you walk through the tropical forest!
That's not all; you can also relish a snorkeling tour in the preserved coral reefs— watching dolphins flip high up in the air.
20 – Puerto Morelos National Park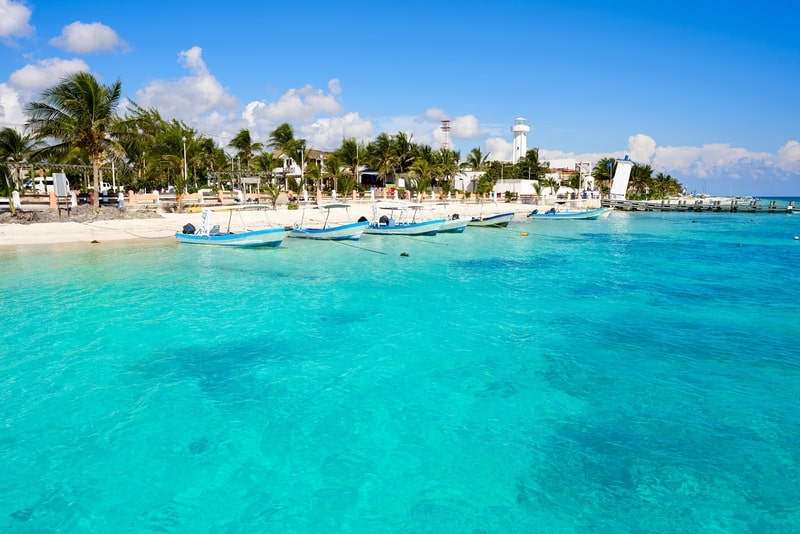 Puerto Morelos is internationally recognized as Cancun's quiet little neighbor. Explore the deep blue Caribbean ocean waters as you snorkel, mermaid your way into the deep blue water, and swim past the Mesoamerican Reef, the second-largest reef in the world!
Sandwiched halfway between Cancun and Playa del Carmen, an excursion to Puerto Morelos challenges you to dive through the ship wreckages alongside sharks, turtles, and eagle rays.
21 – Xplor Park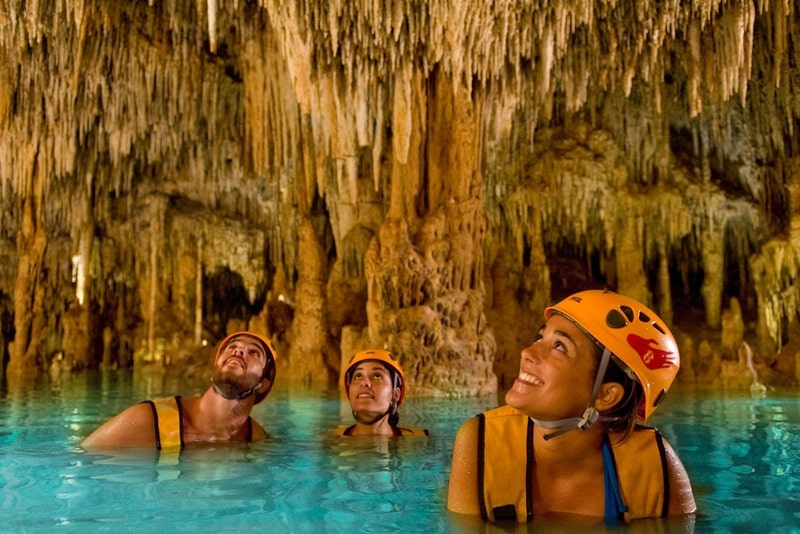 Situated 6 km south of Playa del Carmen, Xplor is an adventure park that offers thrilling activities in the middle of the jungle.
From towering over Mayan jungles on a zip-line to driving the amphibious vehicle and hiking through the caverns to hammock splashing over a cenote, Xplor Park satisfies the insatiable hunger of the adventurer in you during the Cancun tour.
Moreover, this amusement park in Riviera Maya operates even at night when it gets ignited by the fire and is super-lit!
22 – Akumal Bay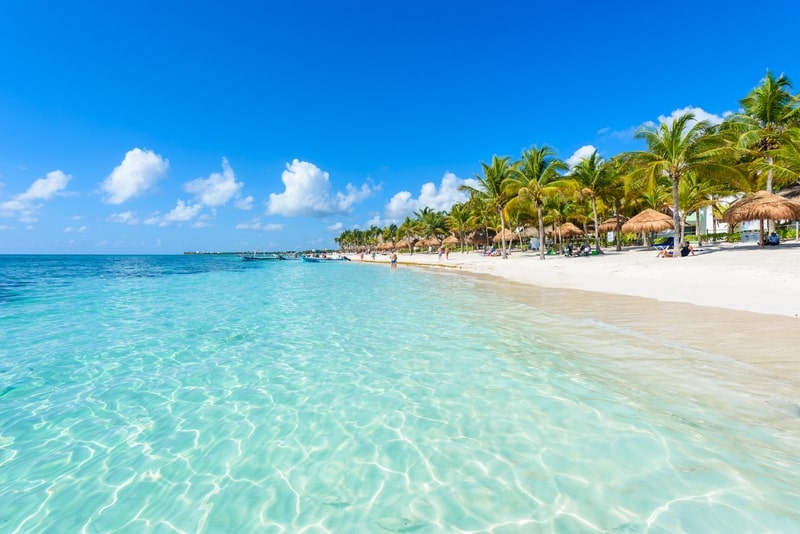 Just an hour and a half from Cancun, Akumal Bay is the most idyllic place to unwind and take pleasure in the beauty of the bay in its pristine natural form.
The Bay is also referred to as 'Turtle Bay' because Akumal translates to 'place of the turtles' and is an abode to hundreds of turtles.
Here you will gain a wonderful experience of swimming and snorkeling in the crystal clear water alongside wild turtles, stingrays and tons of colorful fish as you marvel the beautiful healthy coral reefs.
23 – Isla Cozumel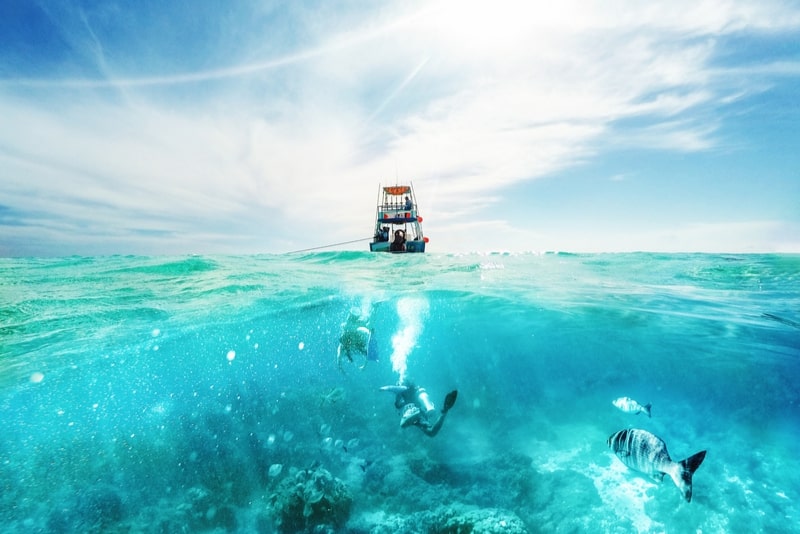 Located on the offshore of Mexico's Playa del Carmen, Isla Cozumel is the most preferred destination to unplug, bask in the sun and capture Instagram-worthy white-sand stretches.
Boasting of Mexican heart with Caribbean soul— Cozumel offers exquisite beach activities like snorkeling and scuba diving in the azure, blue waters alongside clear water coral heads, tropical fish, the queen conch and underwater caves!
24 – Xenses Park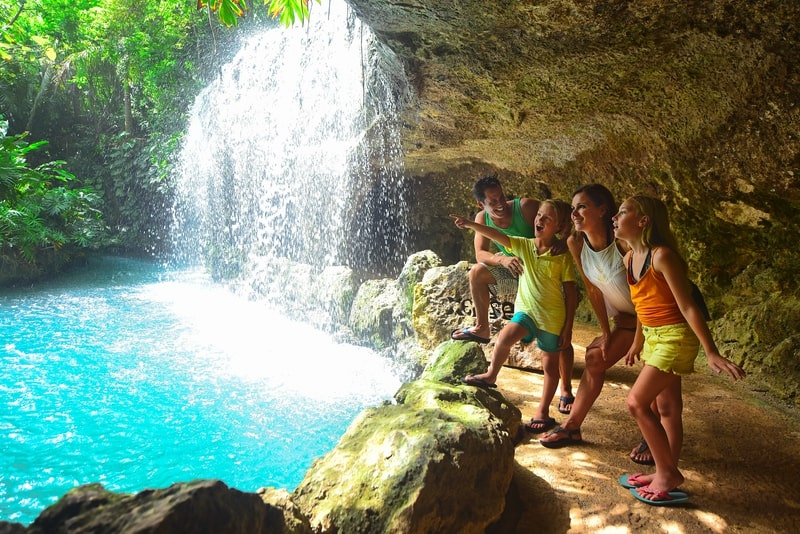 Xenses Park is the only half-day park in the Riviera Maya that delights visitors with multisensory activities to awaken your senses.
From floating in the saltwater to riding a waterslide that runs into a cave to exfoliating in the mud river, the enigmatic experiences in Xenses Park will leave you spellbound and wanting for more.
Another mind-boggling activity at Xensatorium is the extraordinary tour of various ecosystems in pitch-black darkness to challenge your senses!
25 – Isla Blanca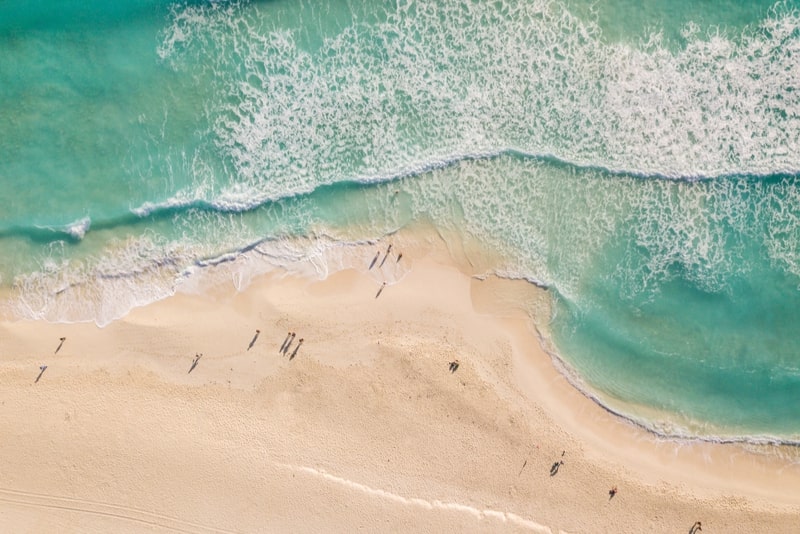 Be part of a unique ecological adventure at Isla Blanca that's more than just a typical island —but a virgin peninsula just 25-minute, short drive to the North of Cancun.
Flanked by a shallow saltwater lagoon and beautiful, unspoiled beaches with a pleasant ocean breeze, Isla Blanca is a world-reckoned tropical destination for kite-surfing.
What's more; you can snorkel in its crystal clear waters or enjoy beach-camping in the secluded white stretch of sand for an ultimate weekend getaway.
Looking for more Cancun excursions? Check here our full list of Cancun tours.
For more activities in Cancun, here are 74 fun things to do in Cancun.