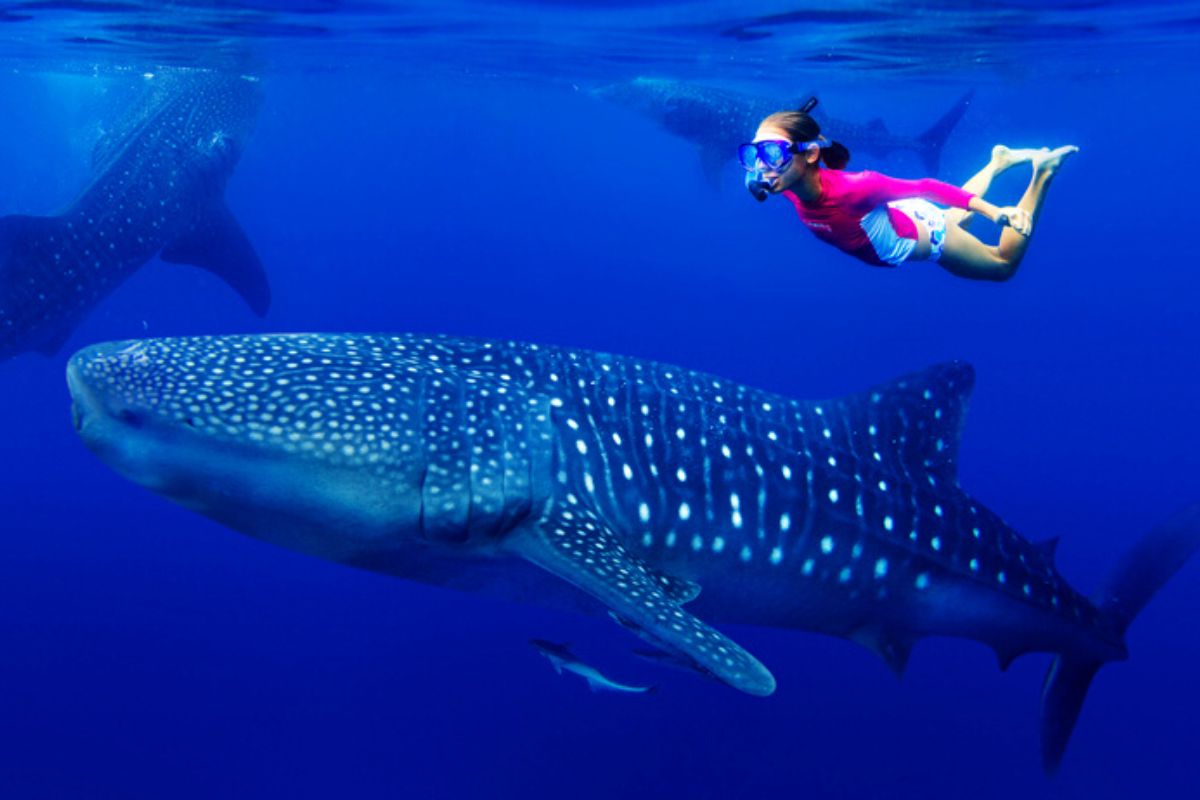 Famed for its year-round sunshine, the eclectic party life, and the near-endless stretches of soft, white sands, Cancun – and the entire sun-kissed Riviera Maya – is an outdoor enthusiast's paradise. While the Yucatan Peninsula's key towns – the biggest and most popular of the bunch being Cancun – each provide their own land-based activities (think ziplining, ATVing, theme parks, and exploring ancient ruins – to barely scratch the surface), there's no denying that the real action is found beneath the waves.
Spread across the 80 miles of coastline, a seabord that hugs the world's second-largest coral reef, the Great Maya Reef (AKA Mesoamerican Barrier Reef), the Riviera Maya serves up an impressive array of underwater adventure, boasting some of the planet's most exciting and vibrant snorkeling and scuba diving sites. Full of colorful fish, dotted with shipwrecks, and home to a plethora of marine life (including turtles, rays, barracuda, eels, whale sharks, and much more), the Great Maya Reef is an underwater playground that's just waiting to be explored, promising hours of refreshing fun whether you're a first-time snorkeler or a seasoned pro.
But who says the best snorkeling spots in Cancun are reserved for the ocean waters? What makes this tourist-friendly region so unique is the series of cenotes (natural swimming holes) that line the coast. A product of the area's limestone bedrock, these hidden gems provide an otherworldly experience, offering swimmers the chance to cool off in protected crystal-clear waters, surrounded by lush jungle foliage and dramatic cliff walls.
With Cancun as your starting point, you're blessed with easy access to some of Central America's top-tier snorkeling locations: Isla Mujeres, Puerto Morelos, Playa del Carmen, and Tulum, to name a few. With that in mind, we've put together a list of the very best snorkeling spots in Cancun and its extravagant surroundings.
From world-class scuba diving and snorkeling to swimming with dolphins and stingrays, here are 35 of the best spots to get your fins wet in Cancun. Happy swimming!
Best snorkeling spots near Cancun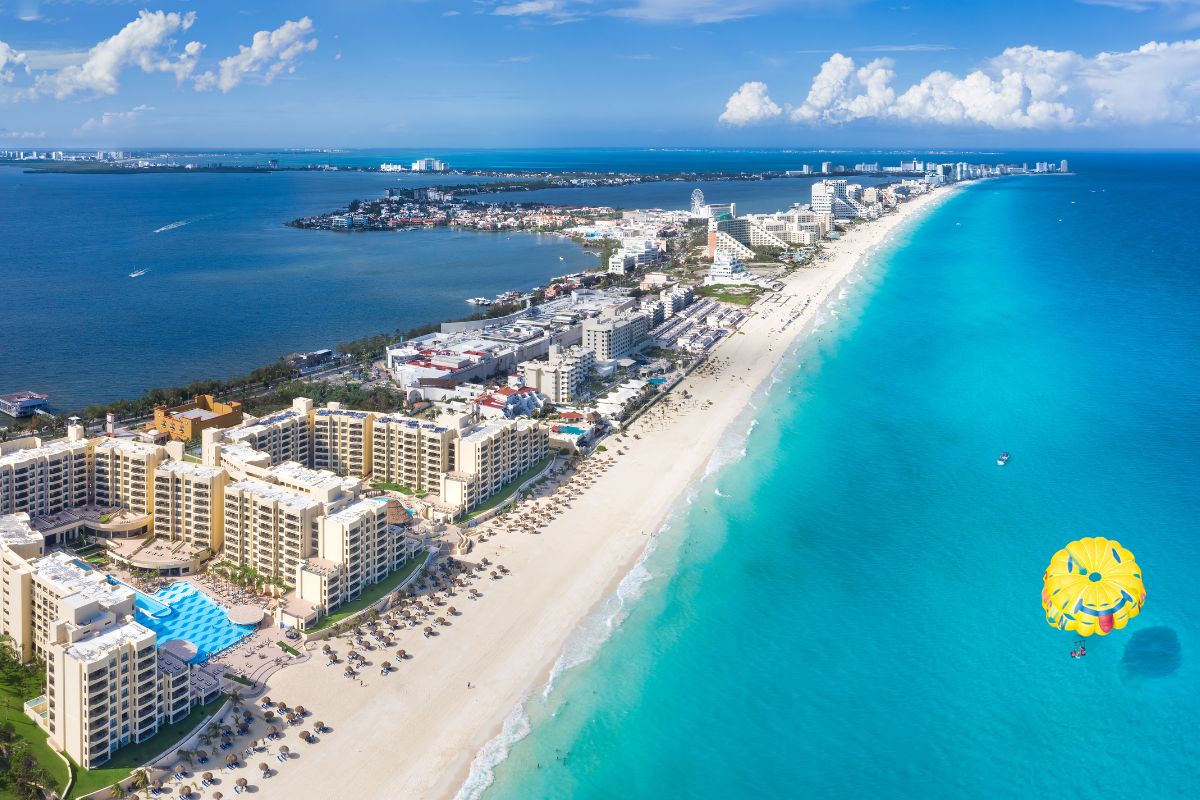 Most travelers' first touchpoint in the Riviera Maya, and often the home base for those looking to check out the nearby land and sea attractions, Cancun is a bustling resort town with no shortage of things to do. While the city's Hotel Zone is chock-full of high-rise all-inclusive resorts and a happening nightlife scene, there's still plenty of opportunity to get out and explore the area's natural beauty, including, of course, diving into some of the best snorkeling spots in Cancun.
Covering both calm, protected lagoons as well as nearby islands and cenotes, you'll find a wide variety of snorkeling spots in Cancún.
In most cases, the top destinations can be easily reached by a jet boat tour or a catamaran sail, with authentic meals, free-flowing drinks, hotel transport, and informative crews thrown in for good measure.
1 – Punta Nizuc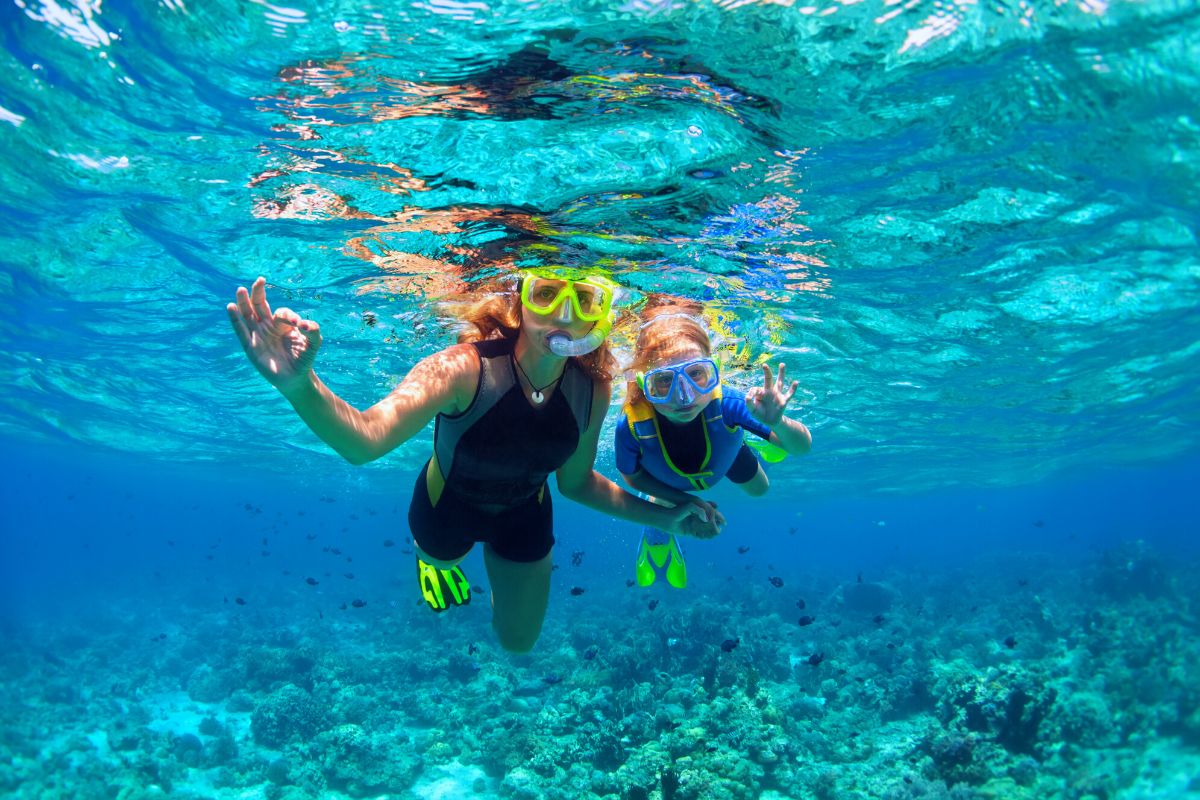 One of the closest and most accessible Cancun snorkeling spots, Punta Nizuc is located just minutes from the mainland in the National Marine Park, near a secluded beach on the bustling Zona Hotelera (hotel zone).
A world-famous scuba diving and snorkeling destination, this protected spot plays host to an abundance of marine life, including colorful fish, rays, sea turtles, and much more. And thanks to its calm, clear, and shallow (maximum depth of 4 meters) waters year-round, Punta Nizuc serves as an excellent place to snorkel, whether you're a beginner or a pro.
What's more, this centrally-located underwater wonderland is home to one of the MUSA Underwater Museum's galleries. A truly unique museum full of subaquatic art installations, MUSA showcases over 500 life-size sculptures across its two locations that have been carefully placed on the seafloor to encourage coral growth (and provide a fascinating snorkeling experience.
From lounge room set-ups of a man watching TV to submerged VW beetles and hundreds of human figures (dubbed The Silent Evolution), it's an ethereal place that's well worth a visit. The Punta Nizuc section specifically boasts 33 sculptures, and thanks to their shallow depth, are ideal for snorkeling.
To get to Punta Nizuc, you can book a snorkeling tour from almost anywhere in Cancun. These full-day or half-day excursions typically include stops at other nearby snorkeling spots like Isla Mujeres too, where the bulk of the MUSA sculptures awaits.
2 – Chitales Reef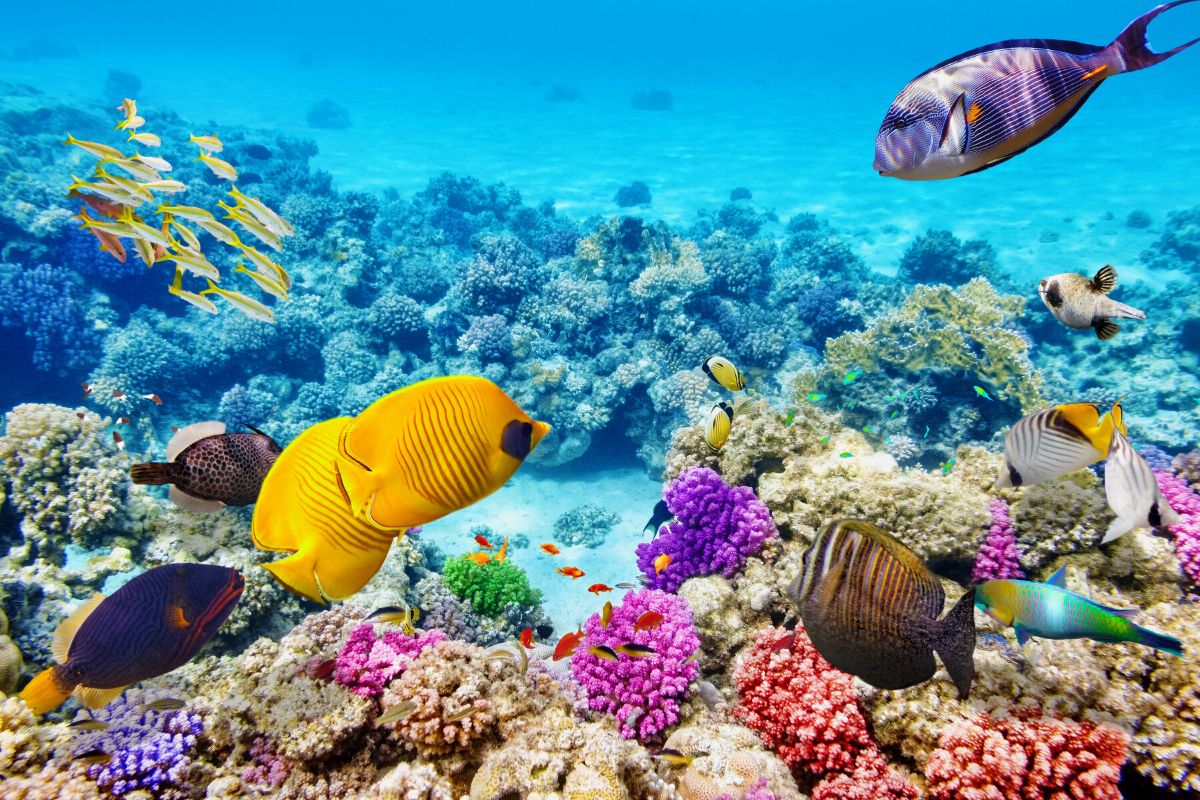 Found just off the coast of the northern end of the hotel zone, in between the Cancun mainland and the western side of Isla Mujeres, Chitales Reef is one of the more popular snorkeling spots near Cancun, and once you breach the surface and get a look of the colorful colonies of fish and brain coral that make this place home, it's easy to see why.
With a maximum depth of just 35 feet, the reef is practically overflowing with marine life, including angelfish, barracuda, parrotfish, angelfish, yellow goatfish, and grouper – you name it!
Bring a rather shallow reef (35 feet deep), Chitales serves as one of the more family-friendly options to go snorkeling in Cancun, with little ones able to safely enjoy all that the underwater world has to offer without venturing too far from the surface.
Famed for its high number of sea turtles, as well as its excellent visibility (often upwards of 30 meters), Chitales is a must for any first-time Cancun snorkeler looking to get up close and personal with some of the area's most iconic marine life.
You can reach Chitales Reef by taking a short boat ride from Puerto Juarez or, if you're staying in the Hotel Zone, from one of the many tour operators that offer guided trips to the reef – either as a quick standalone excursion from Cancun, or as part of a more comprehensive adventure that makes its way to Isla Mujeres too. Either way, you're in for a treat.
Like El Meco, Chitales is also conveniently located near a number of restaurants and bars (the Hotel Zone), making it easy to refuel with some post-snorkeling grub.
Looking for something different? Rather than snorkel, some travelers opt for the underwater ride on a BOB scooter – a quirky mix between scuba diving and riding a bike, designed specifically for beginners.
3 – El Meco Reef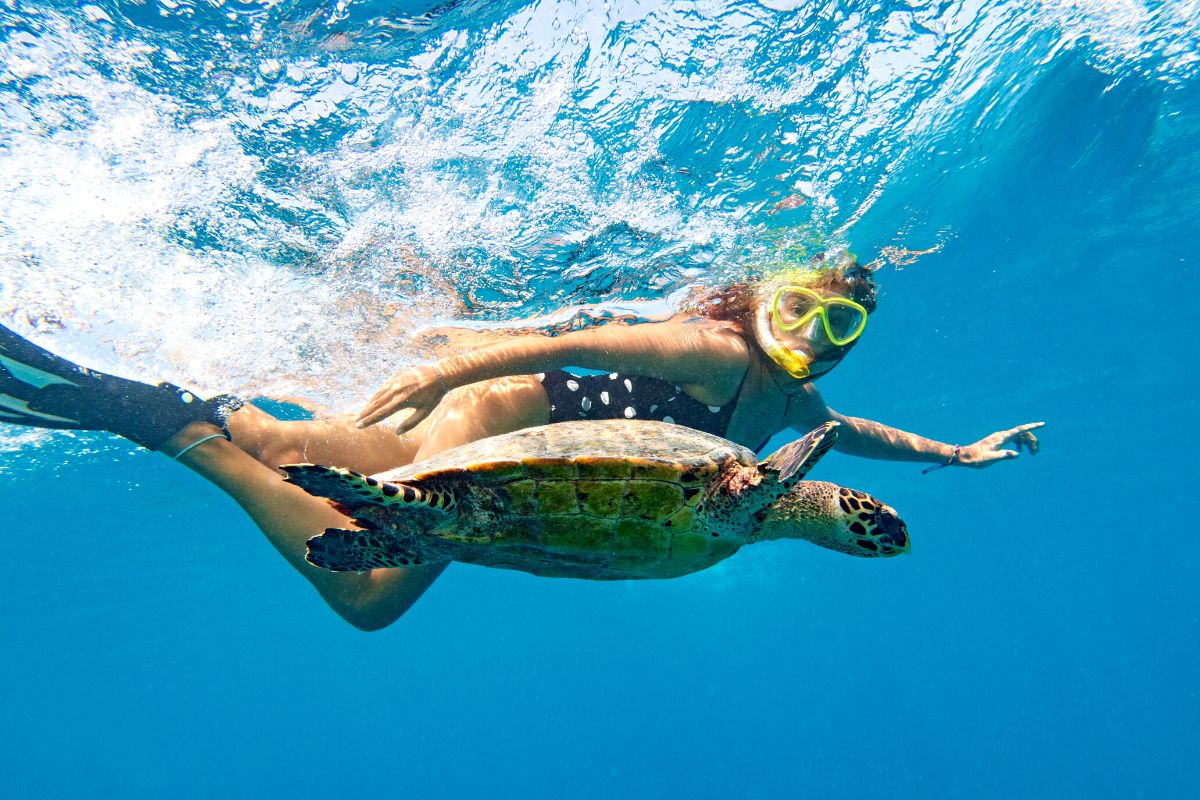 Relatively shallow, with a maximum depth of just 4 to 5 meters, no strong currents, and a small total area, the El Meco Reef is an excellent option for first-time snorkelers looking to experience underwater magic without venturing too far from Cancun.
A protected marine area full of life, this slice of coral reef is located just north of Puerto Juarez and boasts an array of colorful fish and other marine life, with stingrays, barracudas, turtles, and a rainbow of fish gliding through its waters daily. Keep your eyes peeled for some of the underwater statues that were placed here to grow corals and attract fish and crustaceans too!
What makes El Meco truly special, however, is its proximity to the El Meco Archeological site (hence the name), a pre-Hispanic Maya port that was once an important hub for maritime trade. While you can't snorkel around the ruins themselves (being land-based, obviously), it's definitely worth checking out this little slice of history before or after your time in the water.
As you wander around the El Meco Archaeological Site, thought to have been first inhabited as early as the 3rd century, you'll come across a handful of temples as well as the tallest pyramid structure in the northern peninsula, with three structure-abundant plazas making up the core site.
If you're staying in Cancun proper, you can reach El Meco by jetboat from the Puerto Juarez pier, or as part of a more comprehensive tour that also checks off Isla Mujeres. It's also conveniently situated near several land-based restaurants, making it easy to refuel with some post-snorkeling grub.
4 – Shipwreck Snorkeling
Acting as a magnet for marine life, with their coral-encrusted frames and hidden nooks and crannies, shipwrecks make for some of the best snorkeling spots around. And Cancun is no exception.
A joint effort of tourism and environmental decision-makers, the city of Cancun began intentionally sinking retired ships in the 1980s to create artificial reefs that would welcome new marine life and, in turn, attract scuba divers and snorkelers from all over the world.
Spread throughout the region, some nearer and some further, you'll find a bounty of underwater wrecks.
The C-58 Gunboat Shipwreck is the most popular in the area and arguably the most picturesque, sitting 82 feet (25 meters) below the surface; the Chairel, a car ferry that's been flipped upside down, is another excellent option that's a bit deeper (at 88 feet / 27 meters) and therefore recommended for experienced divers; and the C-55 Mine Sweeper Shipwreck, which is divided into four distinct sections, is a hotbed for dolphins, giant turtles, and reef sharks!
While scuba diving can get you into the nitty-gritty of these Cancun shipwrecks, snorkeling is the perfect way to explore the exterior and get a taste of what's going on beneath the surface. Most tour operators in Cancun offer some form of shipwreck snorkeling, over and done within 3-4 hours, giving you plenty of time to work on the tan on the beach when you're done.
Best snorkeling spots in Isla Mujeres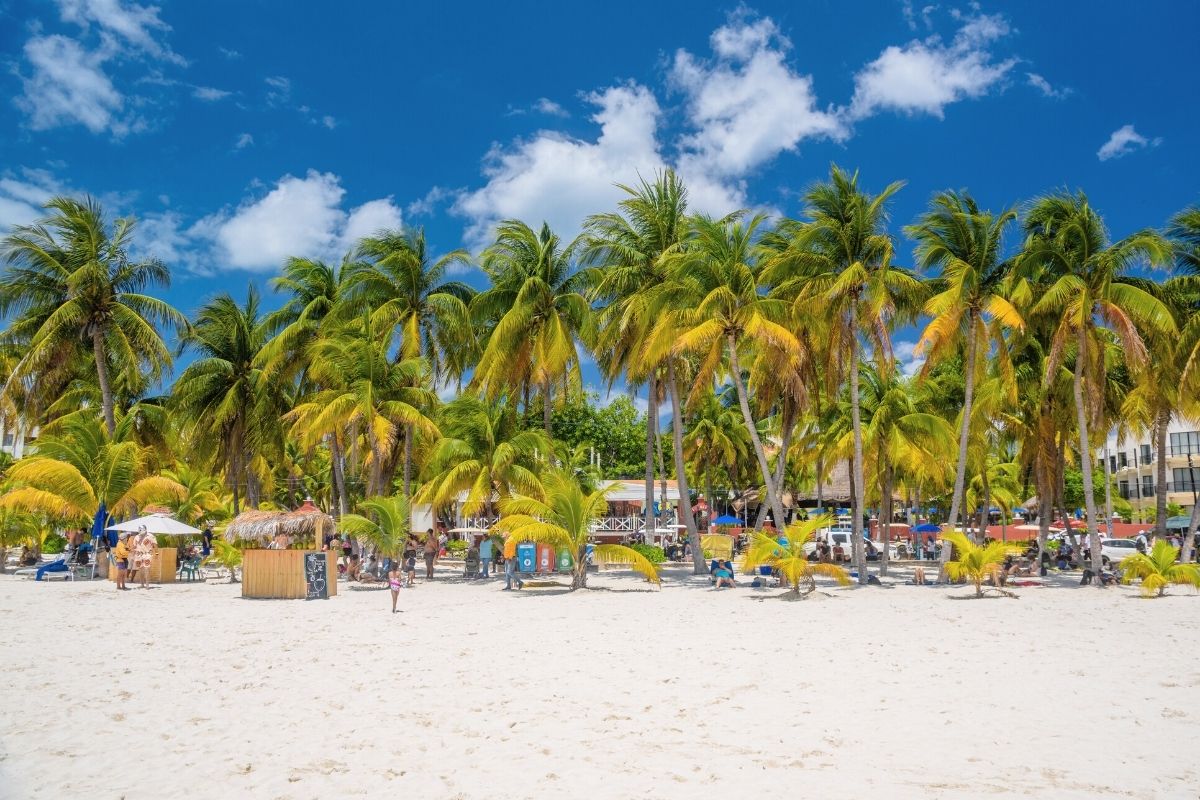 A pristine slice of Caribbean paradise, Isla Mujeres isn't just one of the best places to go snorkeling in Cancun, it's one of the best places to visit on the Rivera Maya, hands down.
Located just a short ferry ride away from the mainland, this small island – measuring in at just four miles long and half a mile wide – is home to some of the most beautiful beaches and most vibrant reefs in the region, with white sands, crystal-clear waters, and an underwater world that's just begging to be explored.
Combining sun-kissed shoreline with lush jungle, with top-tier restaurants, beach clubs, and ancient ruins dotted in between, this offbeat destination has justifiably become a hot spot for adventure enthusiasts, offering visitors the chance to explore Mayan settlements, zipline through verdant canopies, swim with dolphins, ride ATVs (or bikes, if you're after a workout), or simply kick back on a secluded stretch of sand with a good book and an ice-cold margarita.
But snorkeling is definitely Isla Mujeres' main draw, with the island playing host to some of the best reefs in Cancun. From the world's largest underwater sculpture park (more on that later), to a plethora of colorful fish and coral, not to mention whale shark swimming thanks to the annual migration of nature's gentle giants, there's plenty to explore both above and below the surface.
Being such a multi-faceted destination, a solid portion of the boat tours in Cancun include a stop at – and some freedom to explore – Isla Mujeres, giving you enough time to appreciate the go-slow lifestyle before heading back to the mainland at spots like the Garrafon Reef Park & Beach Club or Playa Norte.
Getting there:
Just a 15-20 minute ferry ride from Cancún, Isla Mujeres is one of the most popular day trips from Cancun and an excellent place to go snorkeling.
Ferry tickets can be bought at the terminal in Puerto Juárez, and cost $231MXN for an adult one-way or $462MXN for a round trip – around $12 and $24 USD, respectively.
You can also jump on the ferry from Playa Tortugas, where the trip is a little longer (30 minutes) and a few pesos extra, but the views along the way are no less magical.
If you prefer to avoid the hassle, a bucketful of pre-organized day trips can take you to and from Cancun – the most budget-friendly will transport you on the ferry, while those more luxe will feature their own decked-out catamarans or sailboat.
Once you arrive, these comprehensive tours typically include a buffet lunch, open bar, and plenty of stops for swimming, snorkeling, and relaxing on the beach, so they're well worth considering.
5 – MUSA Underwater Museum: Manchones Reef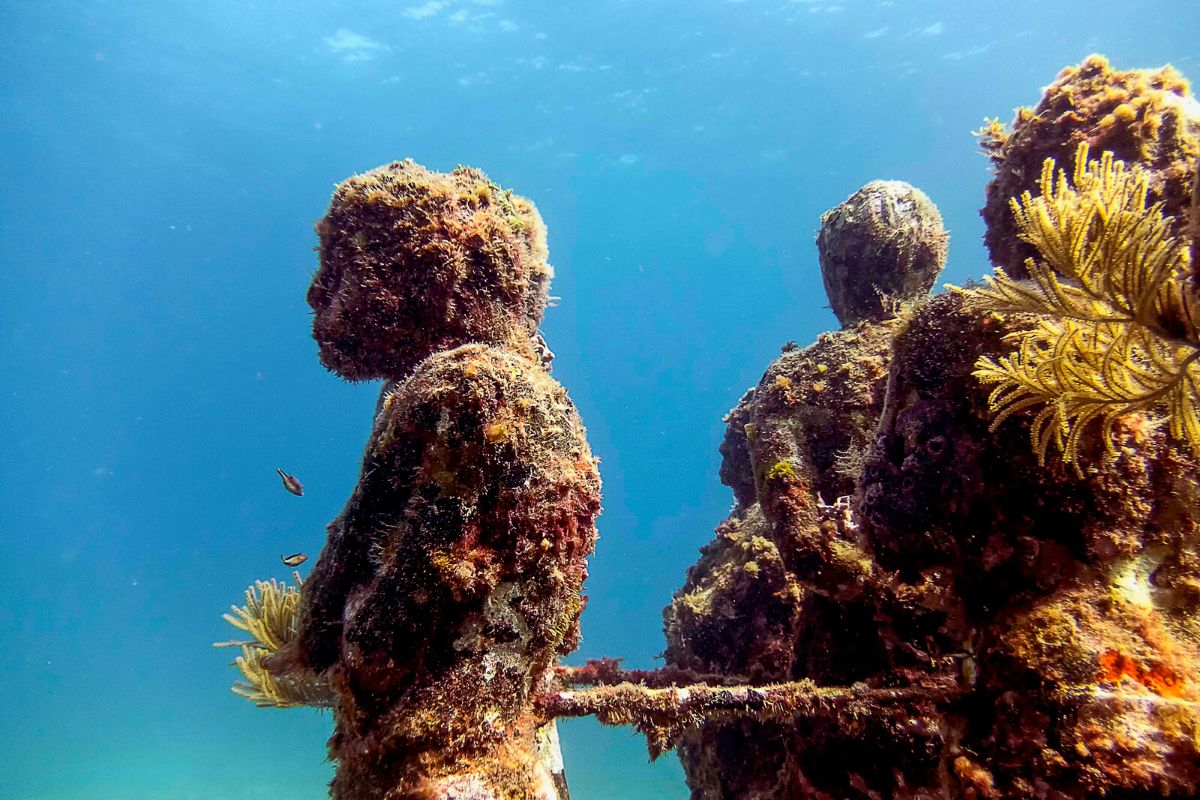 If you took The Louvre and thrust it beneath the surface of the Caribbean Sea, you'd end up with something resembling MUSA – an incredible underwater museum that's home to more than 500 life-size sculptures, all designed to promote coral growth and act as an artificial reef.
And while its primary purpose was indeed to encourage marine life, it's also become one of the coolest Cancun snorkeling spots, with tourists descending en masse to check out the impressive collection.
The brainchild of Jason deCaires Taylor – who also happens to be behind a similar project in Grenada – this vast open-water gallery was created using pH-neutral materials that wouldn't damage the environment, and each of the sculptures is anchored to the sea floor with metal rods.
The result? A veritable playground for fish, who now have plenty of nooks and crannies to dart in and out of, as well as a few new photo opportunities for you (be sure to bring your GoPro).
Among the most coveted installations are the life-size replica of a Volkswagen Beetle made out of concrete and seaweed (dubbed 'Anthropocene'), which has quickly become a favorite among selfie-stick toting tourists, as well as the "Silent Evolution" – an ethereal piece made up of dozens and dozens of human figures, giving off the illusion of an underwater crowd.
Snorkeling aside, you can jump on a glass-bottom boat tour for an overview of the area, and if you really want to gain a new perspective, it's understandable a terrific place for scuba diving.
Keep in mind: there are two other MUSA locations – Punta Nizuc and Punta Sam – however, these play host to just 10% of the sculptures you'll discover in Manchones, so are overlooked by most tour operators. The benefit here, however, is that they're seldom crowded.
6 – Garrafon Natural Reef Park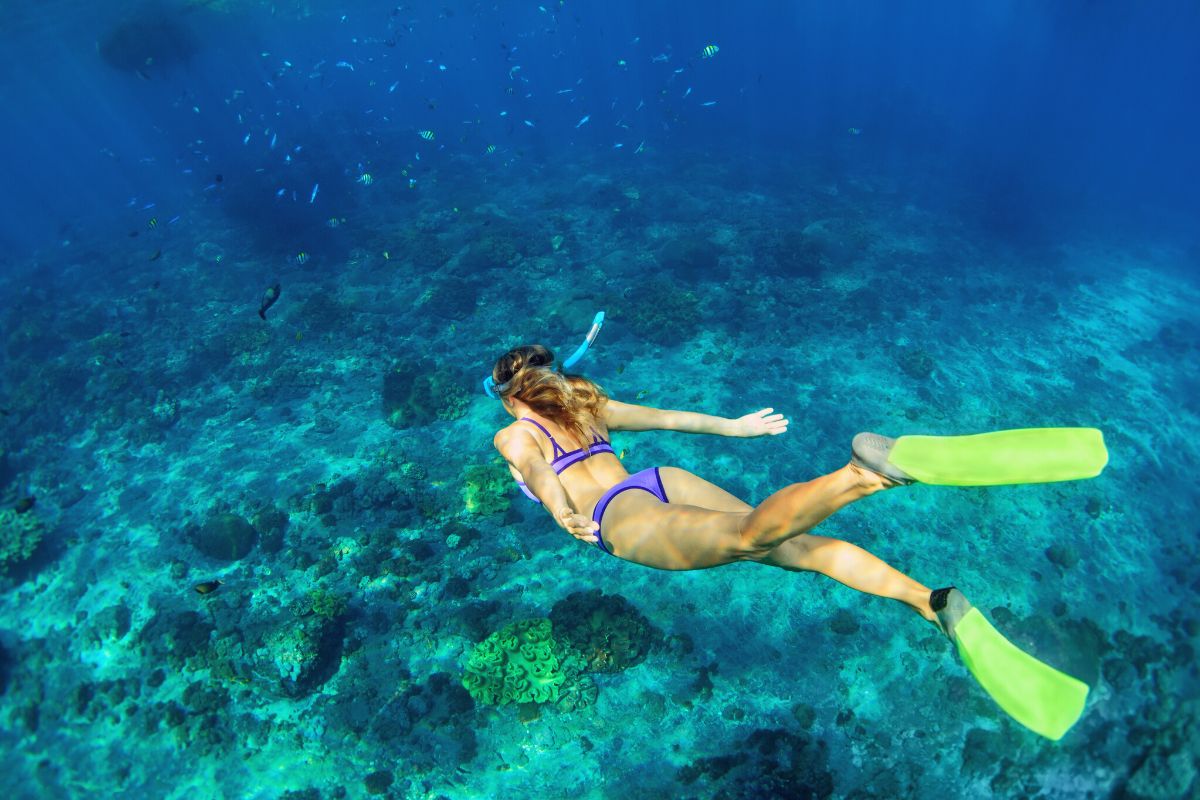 A veritable natural paradise, Garrafon Natural Reef Park is located on the southern tip of Isla Mujeres and, thanks to its diversity of underwater life and crystal clear water, ranks highly among the best snorkeling spots in Cancun.
The reef is home to a wide variety of fish, coral, and other marine life, making it a snorkeler's dream come true. And if you're lucky, you might even spot a turtle or two!
Make no mistake though, this isn't just a Cancun snorkeling spot. Garrafon is a nature playground, mixing sprawling green areas boasting strollable gardens with adventure activities such as zip-lining, rock climbing, swimming with dolphins, kayaking, and ATVing, not to mention guided excursions of the island.
On the flipside, if you're hunting for a little more relaxation, the Mayan sauna – temazcal – won't disappoint, and the panoramic pool and lounge chairs welcome lazy afternoons in the sun.
In short, it's the perfect place to spend a day (or two) if you want to mix things up a little and explore both the underwater world and the Mexican jungle. And with a bar and buffet restaurant on site (consider upgrading to the VIP package for unlimited drinks), you won't have to go far for a refuel.
7 – Sac Bajo Reef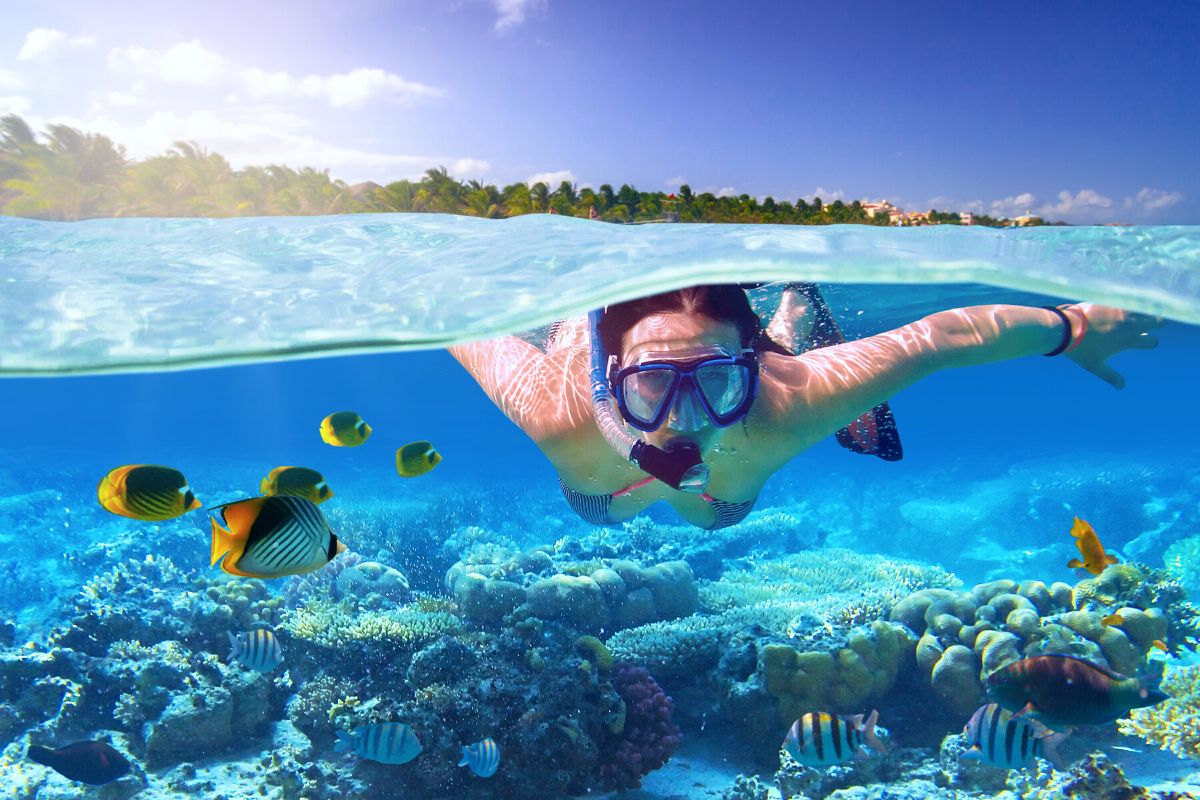 Tucked away on the western part of Isla Mujeres, between the peninsula and a small island, Sac Bajo Reef is one of the best snorkeling spots in Cancun if you're looking for a more intimate experience. The reef is relatively small and narrow, but it's home to an abundance of colorful fish, and the clear water makes it easy to spot them as you swim.
With easy access to a range of docks, hotels, and restaurants along Carretera Sac Bajo, this hidden gem lacks crowds but not charm, and after exploring the underwater world it serves as a wonderful place to while away an afternoon with a good book, a refreshing drink, and some of the best views of Cancun.
While you're in the area, don the educational hat and make your way to one (or both) of Dolphin Discovery and Turtle Farm. The former offers the chance to learn about – and swim with – these amazing creatures, while the latter is a great place to see loggerhead, hawksbill, and green turtles up close (some of which weigh up to 300 kilograms!) and learn about the efforts being made to protect them.
And if you're looking for something a little more active, there are plenty of water sports on offer in the area, from jet skiing and parasailing to windsurfing and kitesurfing.
8 – El Farito (Lighthouse Reef)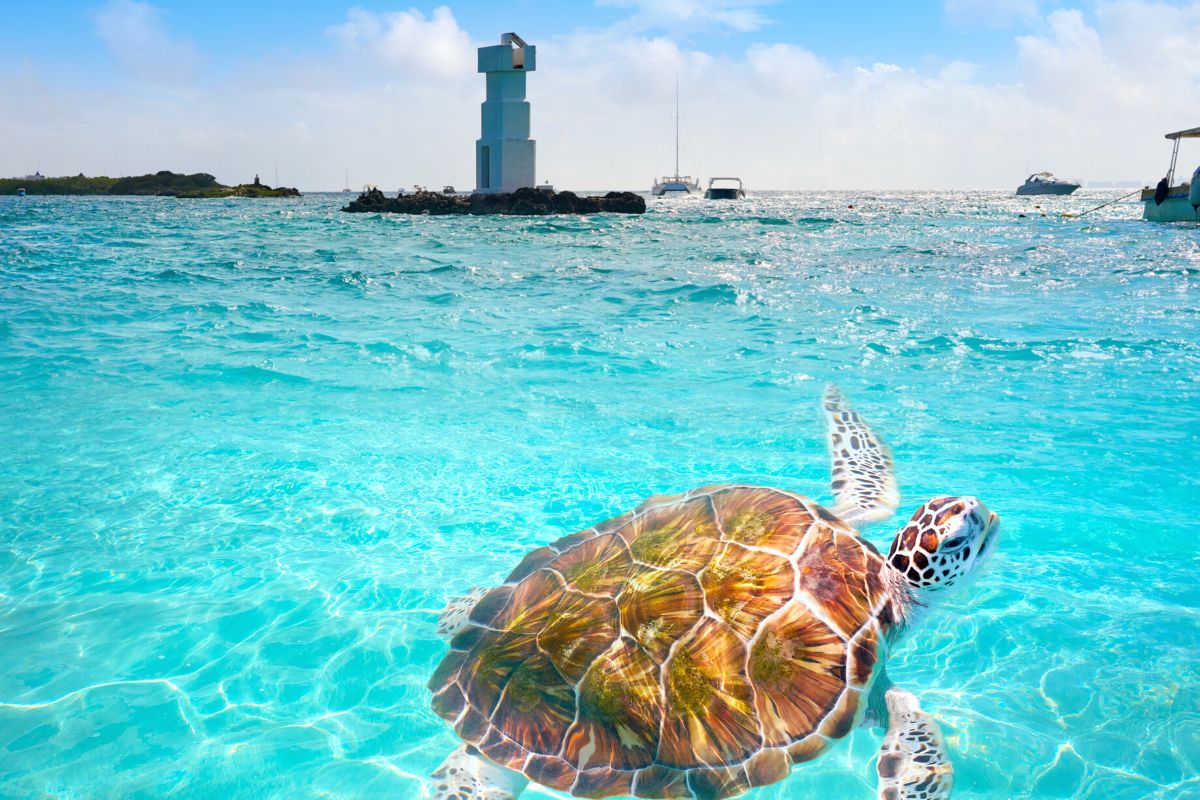 If you're looking for an authentic Caribbean experience, look no further than El Farito. Also known as Lighthouse Reef, this small island is located about 1500 meters off the coast of Isla Mujeres and can be reached via a short boat ride from Puerto Juarez or Playa Norte.
Despite its small size, the island is a tourist favorite; its iconic lighthouse makes it one of the most memorable – and photographed – water-based landmarks. But the real drawcard is the snorkeling: the reef surrounding the island welcomes rainbows of fish, and the clear water means you'll have no trouble spotting them as you float your way around.
Being located far from the mainland, the most convenient way to check off this spot is with a guided tour. The guides and friendly, experienced, and safety-conscious, ensuring even first-time snorkelers feel comfortable in the water.
So if you're after snorkeling in Cancun, that's somewhere in the middle of popular and lesser-known, with myriad marine life but fewer human visitors, Lighthouse Reef is a great shout.
9 – Playa Norte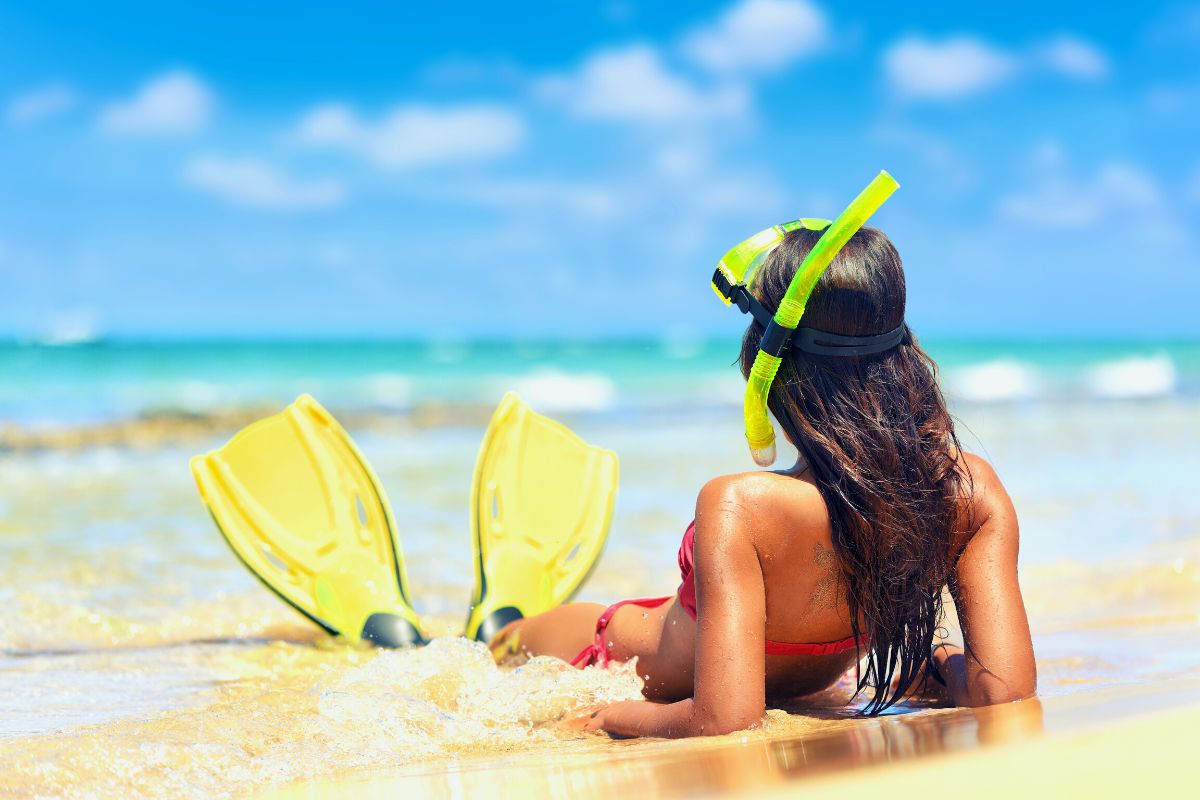 The most talked-about beach on beautiful Isla Mujeres, and regularly ranked as one of The 10 Best Beaches in the World, Playa Norte is a powdery-soft stretch of sand that's beloved by both locals and tourists alike.
And while it might not be the best place for zen (it's popular for a reason), it more than makes up for it with its paradise-like atmosphere, laidback vibe, and, of course, some of the best snorkeling spots in Cancun.
The water here is crystal clear, making it easy to spot a myriad of colorful fish as you swim; the sands are a stone's throw from restaurants and bars, meaning you can refuel with a margarita in between dips; and the views? They're postcard-worthy, to say the least.
If you want to make a day of it, there are plenty of beach clubs dotted along the shore where you can rent sun loungers, umbrellas, and paddleboards; or, if you're feeling active, there's also a walking/cycling path that runs the entire length of the island.
And when it comes to snorkeling? You'll find the best spots towards the north end of the beach, just A 10-minute walk from where the catamaran ferries drop anchor. Here, you can swim in calm and shallow waters – perfect for families – where you're guaranteed to spot a turtle or two, or make it your starting point on a more comprehensive tour of the island or snorkeling.
Hot tip: Don't forget to snap a selfie at the giant town sign at Parador Fotográfico Isla Mujeres while you're in the area!
10 – El Cabezo Reef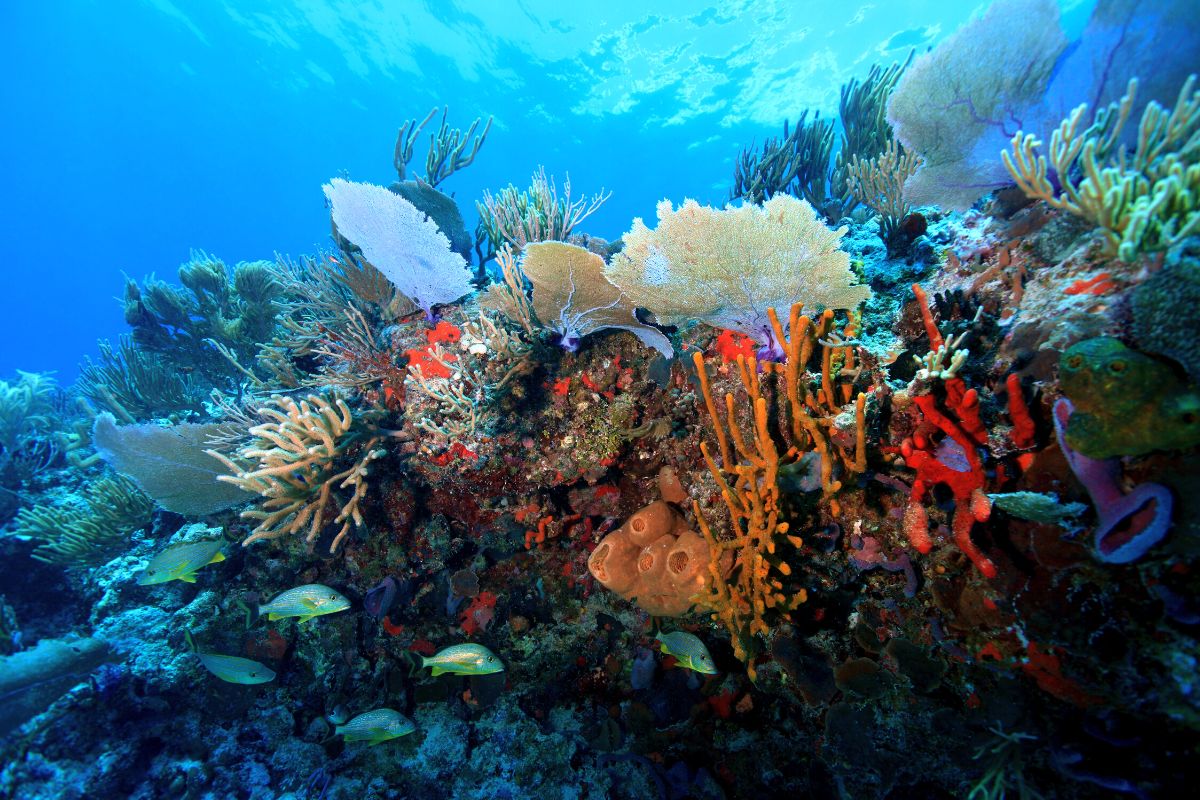 Swept under the radar in favor of Playa Norte, El Cabezo Reef is one of the best snorkeling spots in Cancun for those who want to avoid the crowds.
It's located to the east of Isla Blanca, near Playa Mujeres – parallel with Isla Mujeres – and can be reached via a short boat ride from Puerto Juarez or Playa Norte. Overflowing with Great barracuda, Northern red snapper, and Eastern Pacific bonito, the reef is a mecca for fish enthusiasts, and the clear turquoise waters make it easy to spot them as you swim.
If you want to explore the area in more detail, there are plenty of tour operators who offer snorkeling and scuba diving trips; or, if you're feeling really adventurous, why not try your hand at kitesurfing or windsurfing on the same day?
And when you're done exploring the underwater world, make sure you take some time to relax on one of the many secluded beaches that line the coastline – Playa Mujeres is a wonderful one on the mainland, while Playa Norte is the obvious choice if you make it onto the island.
11 – Isla Contoy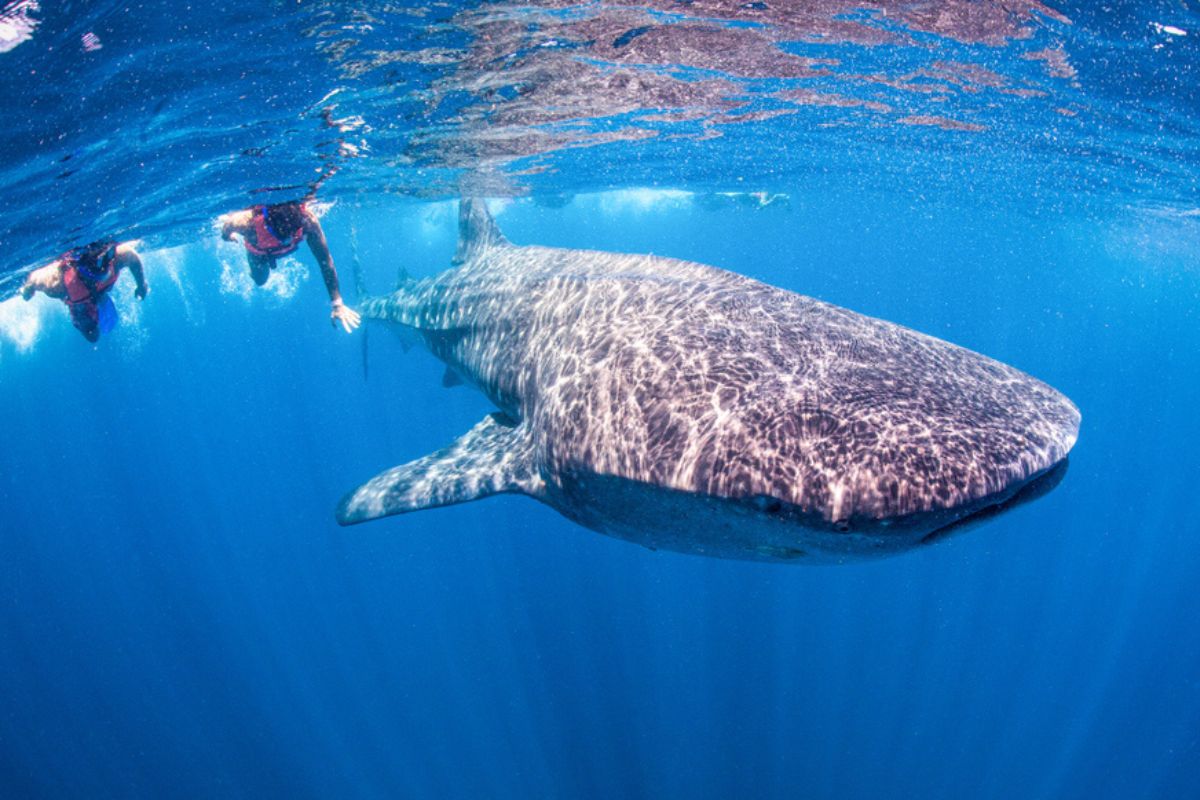 The little sister of Isla Mujeres, Contoy is an uninhabited island located just north of Isla Mujeres (by boat it takes less than 30 minutes) and, being a mostly untouched slice of nature, is home to some of the best snorkeling in Cancun and its surroundings.
Welcoming all kinds of fish – from small, brightly-colored tropical fish to nurse sharks and stingrays – the reef surrounding the island is a snorkeling dream.
Above the surface, it's considered the most important bird sanctuary in the Mexican Caribbean, with 150 native and migrant species nesting around its lush jungle: roseate spoonbills, great blue herons, snowy egrets, frigate birds, pelicans, and an attractively pink flamingo colony.
But that's not all Contoy has going for it. As an uninhabited island, there's zero development, so you'll find nothing but pristine white sand beaches and lush vegetation (covering 90% of the island) as far as the eye can see. And because the island is a protected national park, there's also a heavy focus on conservation, with only 200 visitors allowed on the island per day in order to minimize environmental impact.
The only way to get to Contoy is via a guided tour (which you can book through your hotel or hostel) and, as space is limited, it's best to book in advance. The tours typically include return transport from your accommodation, food and drinks on the boat, time to wade through the Ixlache Reef (a great spot for swimming with whale sharks during their migration season) and plenty of time to relax on the beach and work on the tan.
Best snorkeling spots in Puerto Morelos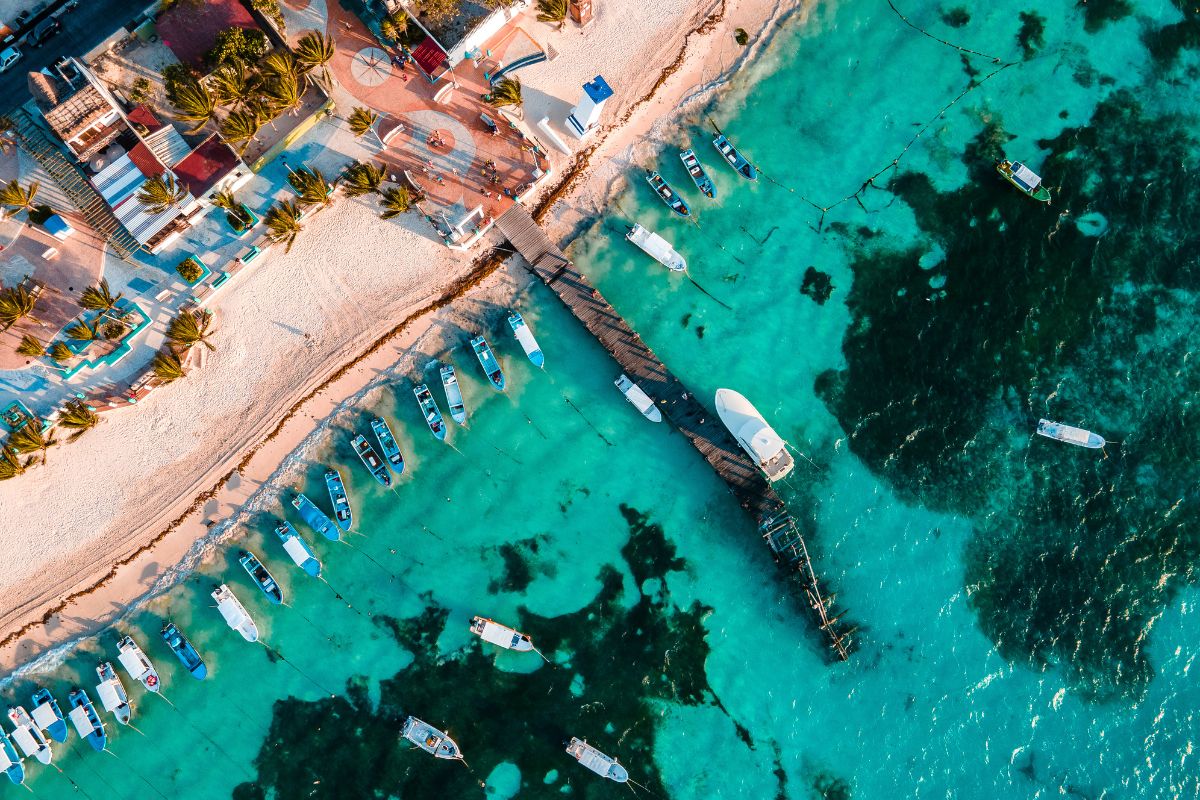 It's no secret that Cancun can be a little hectic; its high-rise hotels, action-packed water parks, and vibrant nightlife all lend themselves to a pretty high-octane atmosphere. So when you're looking for a go-slow antidote that spells low-key, relaxing, and natural, head to the fishing village of Puerto Morelos, a small town of just 9,000 residents known, among other things, for its exceptional sea turtle snorkel experiences.
Tucked away on the coast between Cancun and Playa del Carmen, Puerto Morelos is a world away from the hustle and bustle of its more famous neighbors. Its protected reefs make it one of the best snorkeling spots in Cancun – you can even snorkel straight from the beach – and, because it's a designated marine park, the area is teaming with tropical fish, turtles, manta rays, and nurse sharks.
If you're not much of a swimmer (or just want to take things slow), you can still enjoy the underwater world from the safety of a glass-bottomed boat or the still waters of its 50+ cenotes (natural swimming holes) along the Ruta de los Cenotes (Route of the Cenotes).
Once you've dried off, Puerto Morelos delights with archaeological sites, excellent restaurants, authentic streetside bodegas, lively bars, a traditional town square (great for people watching) as well as a quintessential Puerto Moreles sign perfect for a selfie.
Getting there:
About 25 kilometers from Cancun airport, or an hour's drive from the resort area, Puerto Morelos is an easy day trip from Cancun or a great place to stay for a few nights if you're looking for a more authentic Mexican experience.
To get there, take Highway 307 (Carretera Federal) south from Cancun airport toward Playa del Carmen.
If you're arriving at the airport, a taxi is one of the most convenient ways to get to Puerto Morelos. The journey should take around 30 minutes and would cost around $60 USD. A much cheaper option, the ADO Bus fare from Cancun airport to Puerto Morelos is 120 MXN, about $6 USD. And in between, the private airport transfer is a great option for those in a group.
Alternatively, if you're staying in the resort area of Cancun, there are a handful of wonderful tours that include snorkeling in Puerto Morelos as part of a day trip (usually with stops at other nearby attractions like cenotes or ancient ruins). The pre-organized tours will whisk you to and fro your hotel, meaning all you have to do is sit back, relax, and enjoy the ride.
12 – Radio Pirata Reef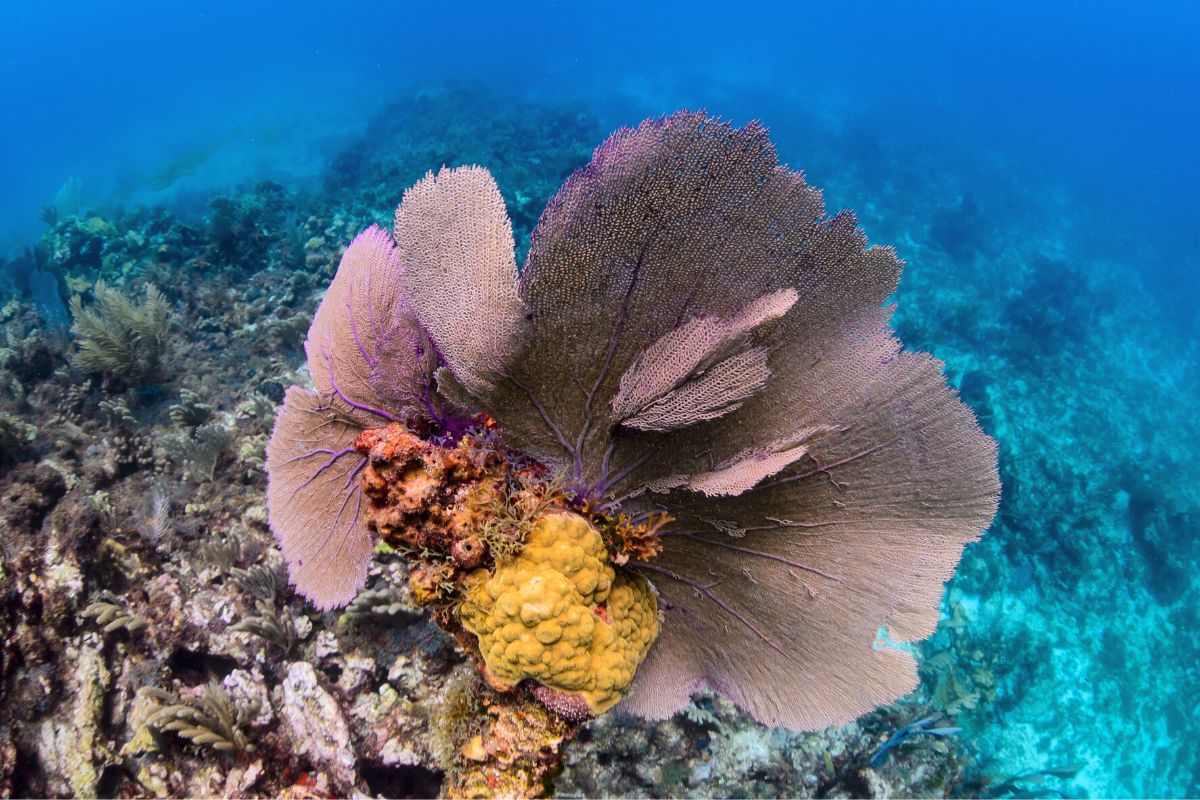 Alongside Rodman (see #130 and Cerebros, Radio Pirata is one of the best-kept secrets in Cancun's snorkeling world – the trio all within striking distance of the Puerto Morelos shoreline.
Found in front of The Fives Hotel, Radio Pirata Reef is a little slice of paradise, boasting some of the clearest waters and most abundant marine life in the region. Traveling with kids in tow? Thanks to its calm waters and excellent visibility, this little-known spot is considered an easy swim, making it worthy of strong consideration for voyaging families (or beginner swimmers).
Like the other Puerto Morelos and Cancun snorkeling spots, this one is only accessible by boat, so be sure to look in your adventure in advance.
14 – Rodman Reef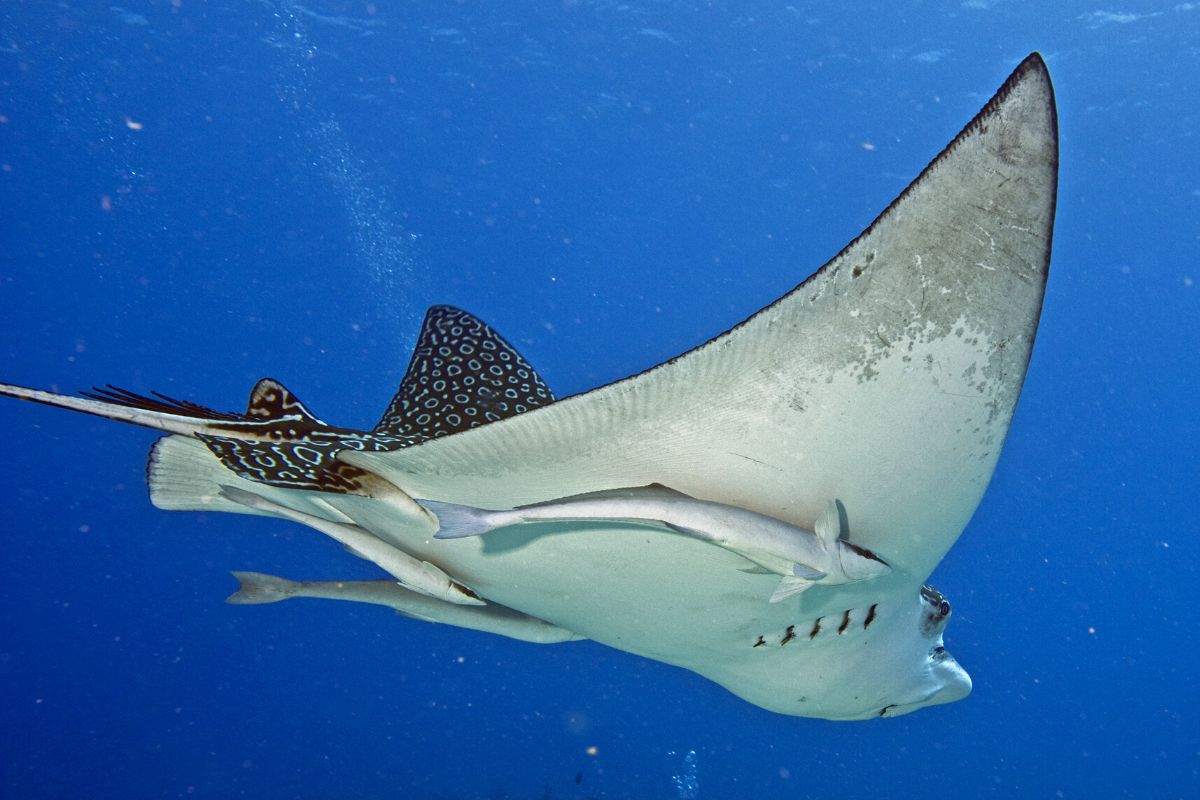 Sitting off the sun-kissed coast, just north of Puerto Morelos' main beach, the beautiful Rodman Reef holds its own as one of the top – and most underrated – snorkeling spots in Cancun.
Typically full of lobster, stingrays, starfish, reef fish, eels, and a whole lot more, this lesser-known underwater wonderland touches on all the best that the Mesoamerican Barrier Reef has to offer, but without the crowds.
Of all the reefs in the Puerto Morelos area, Rodman's coral colonies are thought to feature the highest richness of species, with more than 400 individual species making up the reef's thriving ecosystem.
To reach the reef, simply book a tour with one of the many local companies offering snorkeling and scuba diving trips to the area. Being a smaller, off-beat location, you might need to book in advance to secure a spot on the tour of your choice.
14 – National Reef Park of Puerto Morelos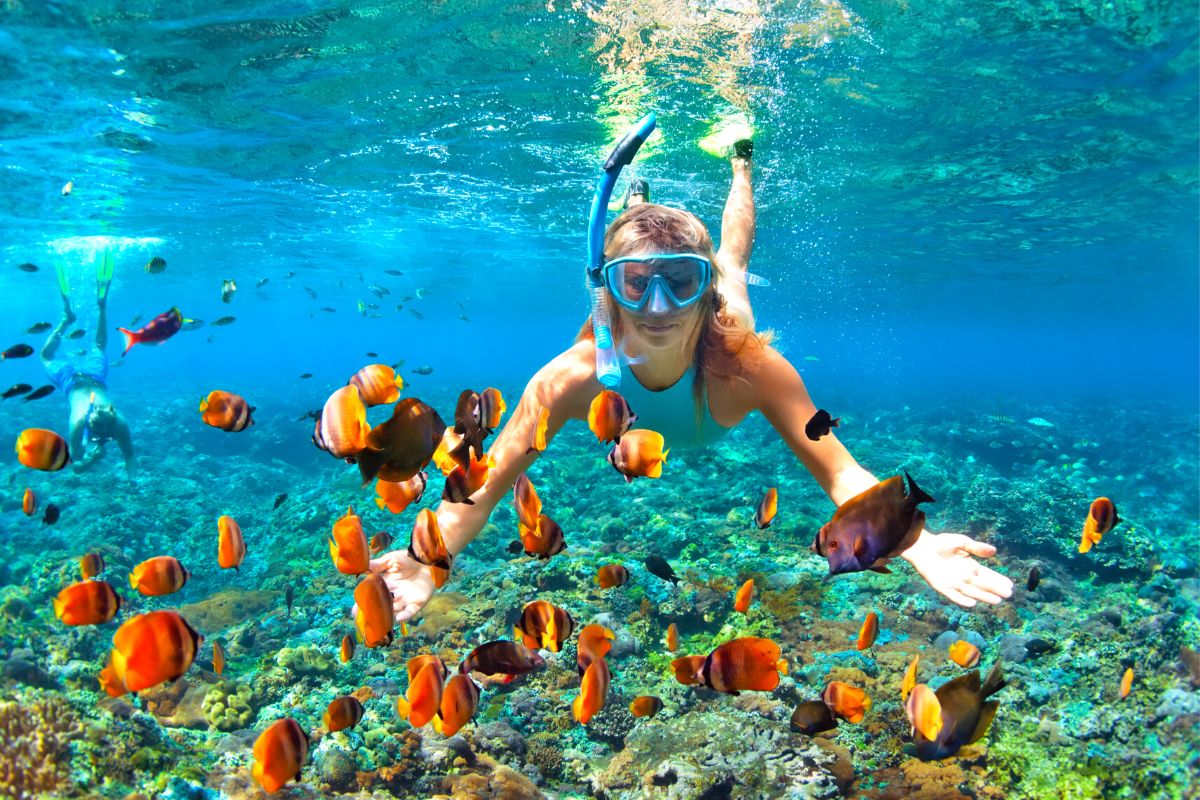 Running parallel to the shoreline, the enormous Mesoamerican Barrier Reef – the second-largest coral reef in the world behind Australia's Great Barrier Reef – is home to an incredible diversity of marine life, earning it the unofficial status as one the Riviera Maya's premier snorkeling spots.
The National Reef Park of Puerto Morelos was established in 1998 to help protect this natural wonder, whose warm and clear waters overflow with colorful fish, turtles, manta rays, and nurse sharks throughout the year. As such, a dip in these shores is a must for any nature lover or snorkeling enthusiast – and it's just a cruisey 50-minute drive from Cancun followed by a relaxing boat ride.
Once you're in the park, there are several different ways to explore the reef. You can take a glass-bottomed boat, join a snorkeling tour, or even scuba dive. Either way, you're bound to have an unforgettable experience as hundreds of vibrant fish swim around you.
Keep in mind: because of its protected status, it's illegal to swim out to the reef from the shore. Your best bet is to join a guided tour – you'll learn plenty more about the area's history and ecology, and get to dig into a complimentary lunch and open bar too.
Best snorkeling spots in Playa del Carmen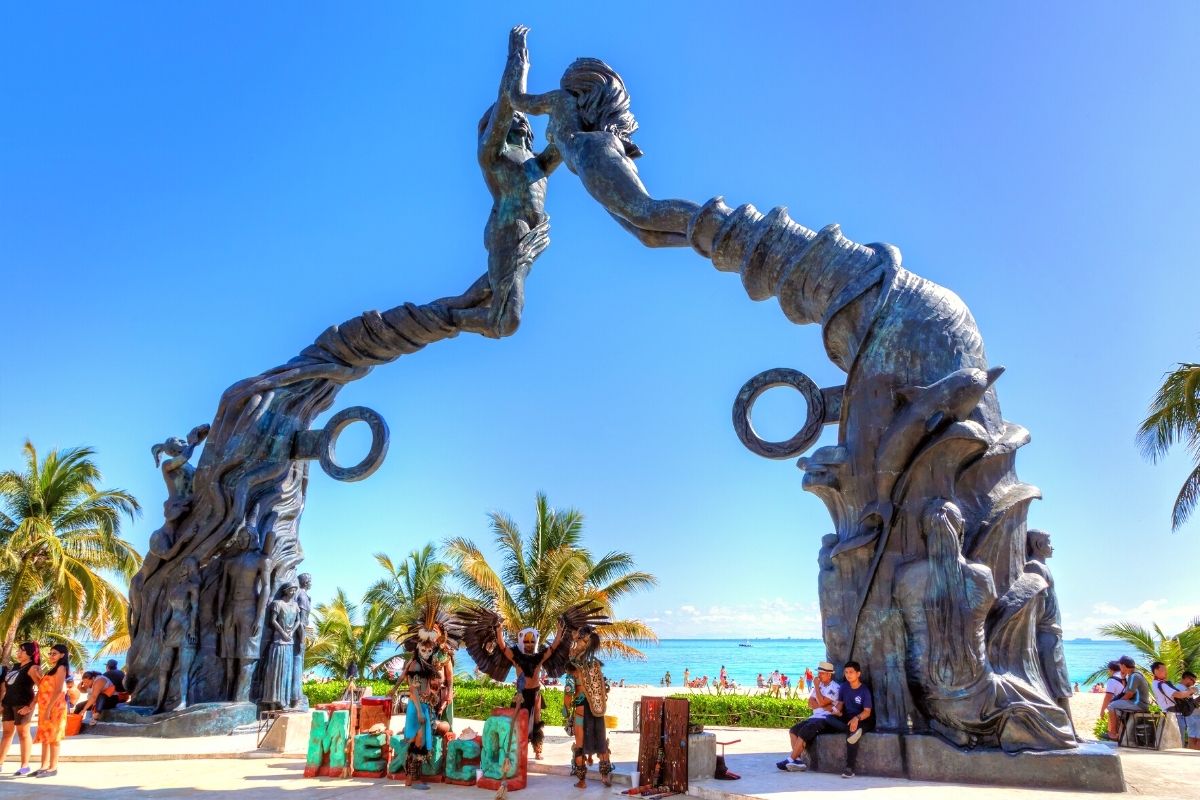 The second-largest city in Quintana Roo, Playa del Carmen is the perfect middle ground between the familiar and the unfamiliar, blending American tourism influences (shops, restaurants, and souvenir stores) with the best of local Mexican culture through authentic food, music, and art.
Thanks to the coastal town's wide variety of activities — from endless cenotes to the infamous Coco Bongo nightclub, boozy beach bars, and everything in between — it's easy to see why Playa del Carmen has become a major tourist hub in recent years, welcoming millions of sun-seeking out-of-towners who come in search of sand and sea.
Much like big brother Cancun to its north, Playa del Carmen knows how to party, with eclectic bars and nightclubs galore. The foodie scene is renowned, too, with world-class restaurants serving up everything from fresh seafood to international fusion cuisine juxtaposing locally-run street carts dishing up al pastor tacos like you've never tried before.
But what about snorkeling, you ask? While not as widely known for its marine life as some of the other spots on this list, Playa del Carmen's coral reef — part of the second longest in the world! — is definitely worth exploring. With a bounty of excellent reefs and cenotes (underwater sinkholes) located offshore and island, there's plenty to explore beneath the waves, whether you're scuba diving, snorkeling, or swimming with the foreboding whale sharks.
Getting there:
Being the closest major city to Cancun, Playa del Carmen is easily accessible from just about anywhere in the world. Cancun International Airport (CUN) is located just 45 minutes away by car or shuttle bus, making Playa – as dubbed by the locals – the perfect place to base yourself for your Mexican vacation if the hustle and bustle of the Cancun Hotel Zone is a little too fast-paced for your liking.
Looking to add a little adventure to your snorkeling trip? Consider scuba diving airport is Cancun International Airport (CUN), located about 45 minutes away from Playa del Carmen by car. From the airport, you can either take a taxi or shuttle service (or VIP airport transfer, if you're feeling fancy) straight to your hotel or resort, or rent a car and even drive yourself. If you're already staying in Cancun, it's about 60-70 minutes, with the drive being a simple one all the way down the coastal highway.
Once you land in beautiful Playa del Carmen, getting around is relatively easy and cheap too – the town is small enough to walk, and there are plenty of taxis, buses, and collectivos (shuttle bus vans) available if you don't want to walk.
Keep in mind: it's best to avoid services like Uber due to the legalities and public image of ride-sharing in Mexico (taxi drivers typically aren't fond of them).
15 – Maroma Reef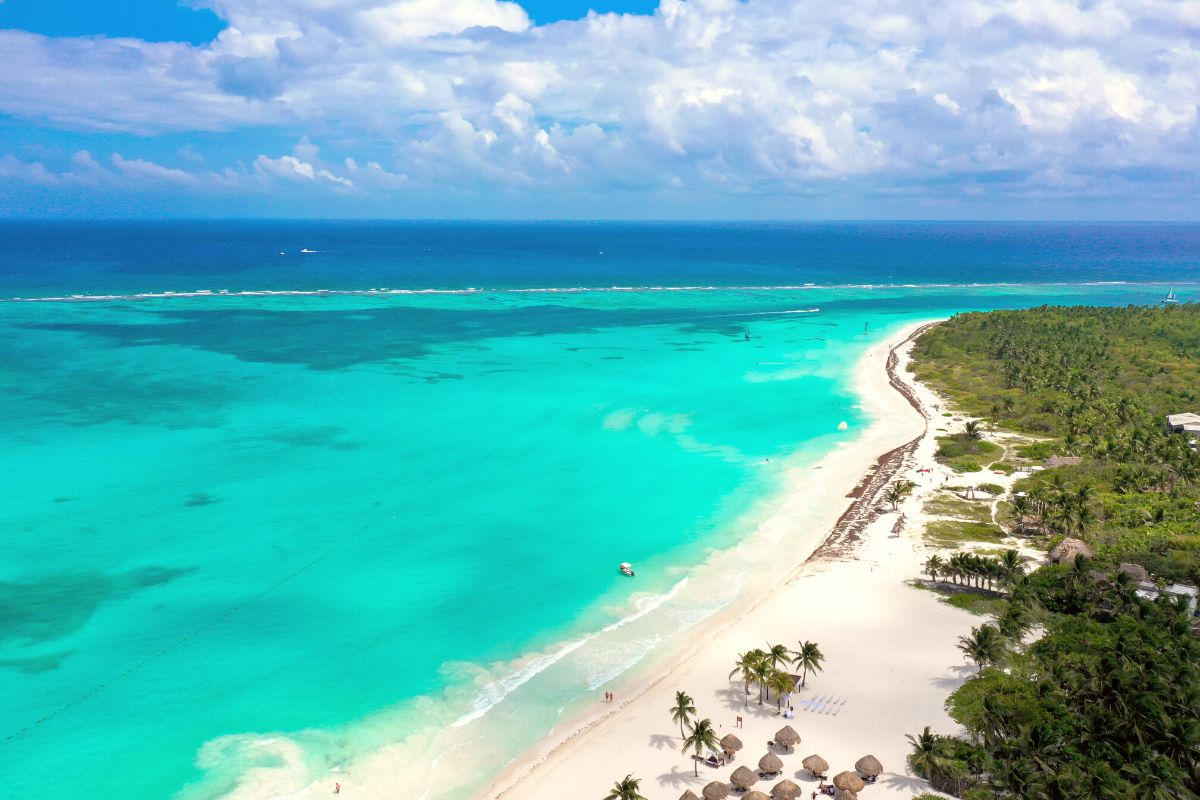 Located between Playa del Carmen and Puerto Morelos, Maroma Reef is one of the most popular snorkeling spots on the Riviera Maya.
A protected area off the coast of Maroma Beach (Playa Maroma), the reef features crystal-clear waters with visibility up to 30 meters (100 feet), making it a top choice for spotting all sorts of marine life – from colorful tropical fish to sea turtles, stingrays, and even the occasional nurse shark.
One of the best things about Maroma Reef is that it's easily accessible for both beginner and experienced snorkelers – there are several tour operators in Playa del Carmen that offer snorkeling trips out to the reef (which is less than 30 minutes by boat), and the reef itself is shallow and still enough that even those who are not strong swimmers can enjoy snorkeling here.
Just be sure to bring plenty of sunscreen, as there is very little shade out on the reef!
While each oceanic adventure is a little different, pre-organized boat trips typically include 2-3 hours of activity at sea, with stops at minimum two snorkeling spots — whichever areas are most likely to be thriving on any given day (the captain will know exactly where to take you). All the snorkel equipment (diving mask and airtube, fins, and lifevest) are provided, as well as some refreshing drinks and snacks for when you're all tuckered out.
16 – Francisco I. Madero Reef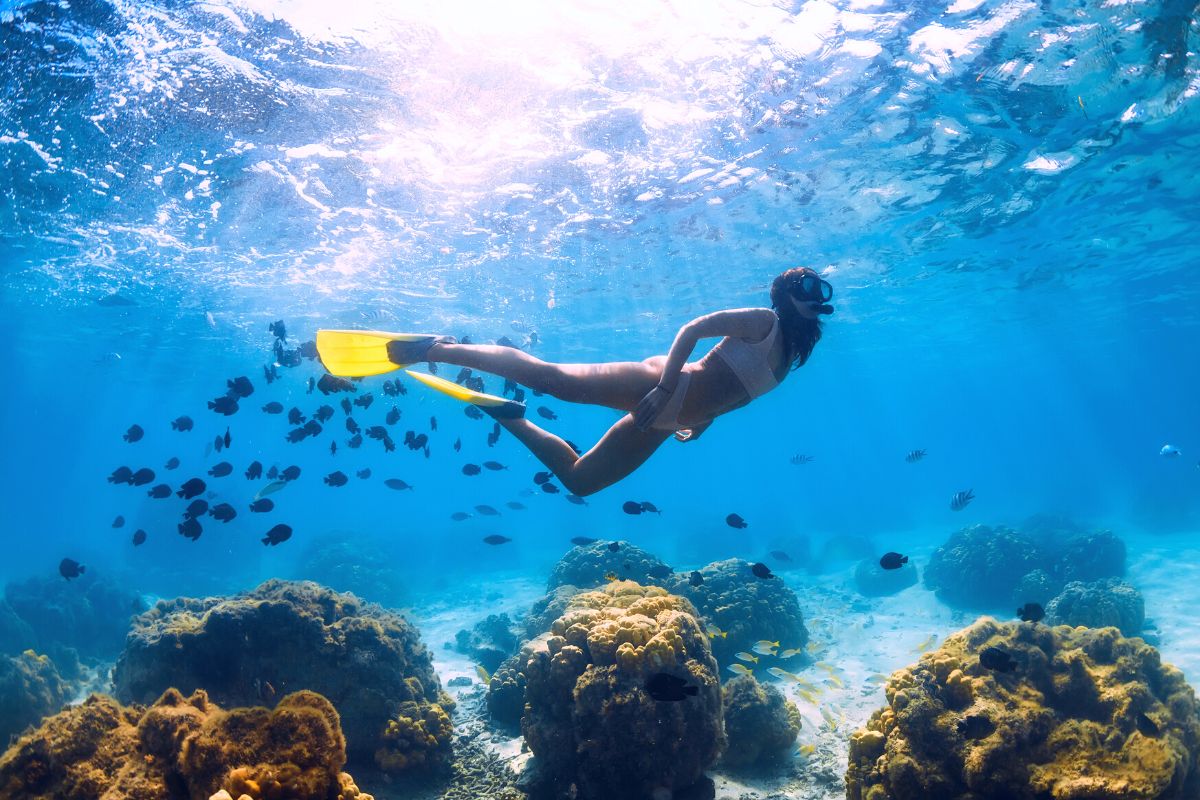 Sitting about 600 meters (2000 feet) from the shore – easy enough to access but far enough that you won't find anyone swimming out to it willy-nilly – Francisco I. Madero Reef is entirely swept under the radar. Seldom crowded – scratch that, seldom welcoming even small groups – this underwater paradise is one of Cancun's best-kept secrets.
As a result, the reef and all its inhabitants – Queen Conch, brain coral, sea cucumbers, you name it – are in pristine condition. The reef itself isn't overly large or deep but it makes up for that with an impressive collection of both hard and soft coral.
A visit to Francisco I. Madero Reef is an intimate affair – you'll likely have the place to yourself, or at least be sharing it with only a handful of others.
If you're looking for a truly unique snorkeling experience in Cancun, this is the spot for you! And while it might take a little more work to organize (hot tip: ask your hotel for recommendations, or chat with local dive shops), the serenity is certainly worth the hassle.
17 – Xcaret Park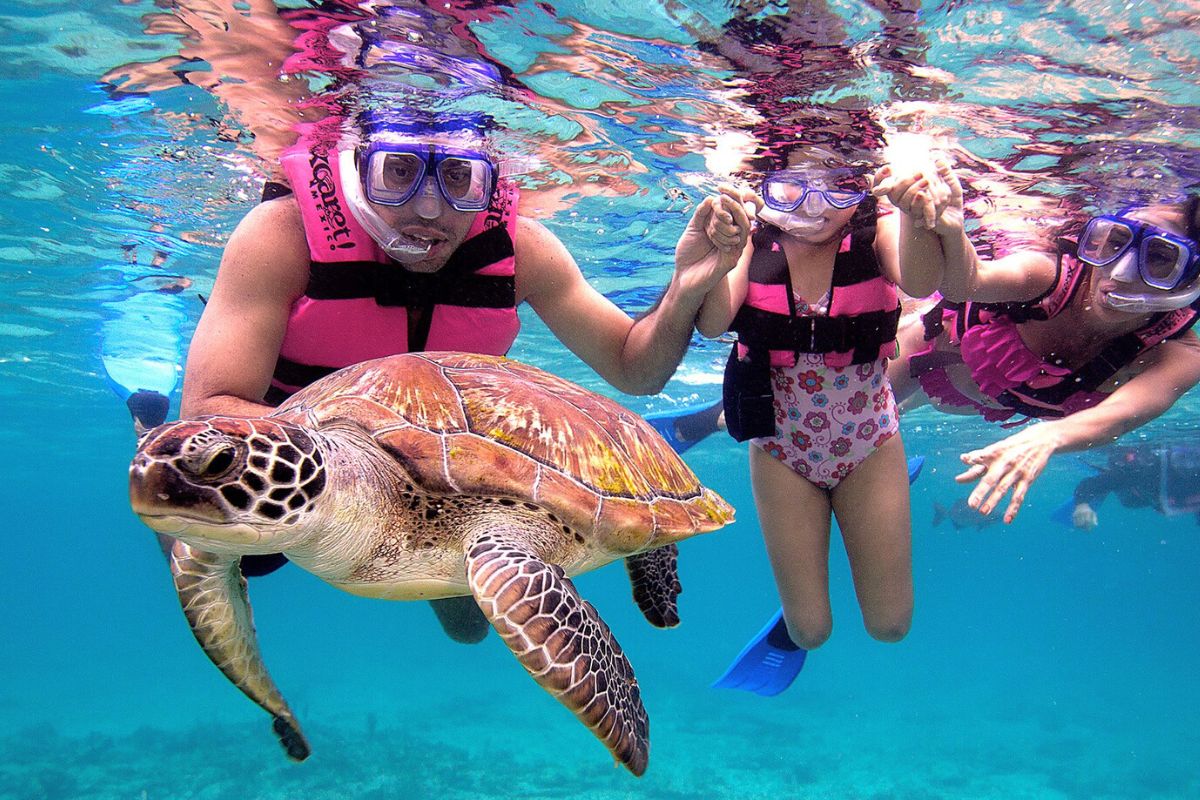 An all-encompassing adventure oasis with more than 50 activities to choose from, Xcaret Park has taken the natural beauty of the Riviera's verdant jungles and golden beaches and turned them into one of the most popular tourist attractions in all of Mexico – a theme park that delights kids and adults alike.
Set on the site of a former Maya port, Xcaret Park combines history and culture with eco-friendly adventure, offering activities like swimming in underground rivers, exploring ancient ruins, relaxing in a hammock, or floating down a lazy river on a raft.
There's also an aviary, Bromeliad Museum, Coral Reef Aquarium (with over 5,000 species), zoo, butterfly pavilion, and even some natural hot springs, as well as plenty of fascinating shows and performances throughout the day – including a traditional Mexican theatre performance complete with mariachi music and folkloric dancing.
Of course, no visit to Xcaret Park would be complete without snorkeling in the Mesoamerican Barrier Reef – the second longest coral reef in the world!
Don't miss the replica of the Mayan village, and if you're traveling with youngsters, pop into Children's World, a lifeguard-posted kids' area with shallow wading pools and pint-sized cenotes.
As for snorkeling, choose from the park's easily-accessible lagoon or subterranean caves, or take a short boat ride out to Barracuda Reef – managed by the park itself, this spot is perfect for beginner snorkelers.
Beloved Xcaret Park is located just a few minutes south of Playa del Carmen by car. For the best bang for your buck, combine a visit with other activities like swimming with dolphins, zip-lining through the jungle, or taking a tour of a nearby ancient ruins site.
Best snorkeling spots in Puerto Aventuras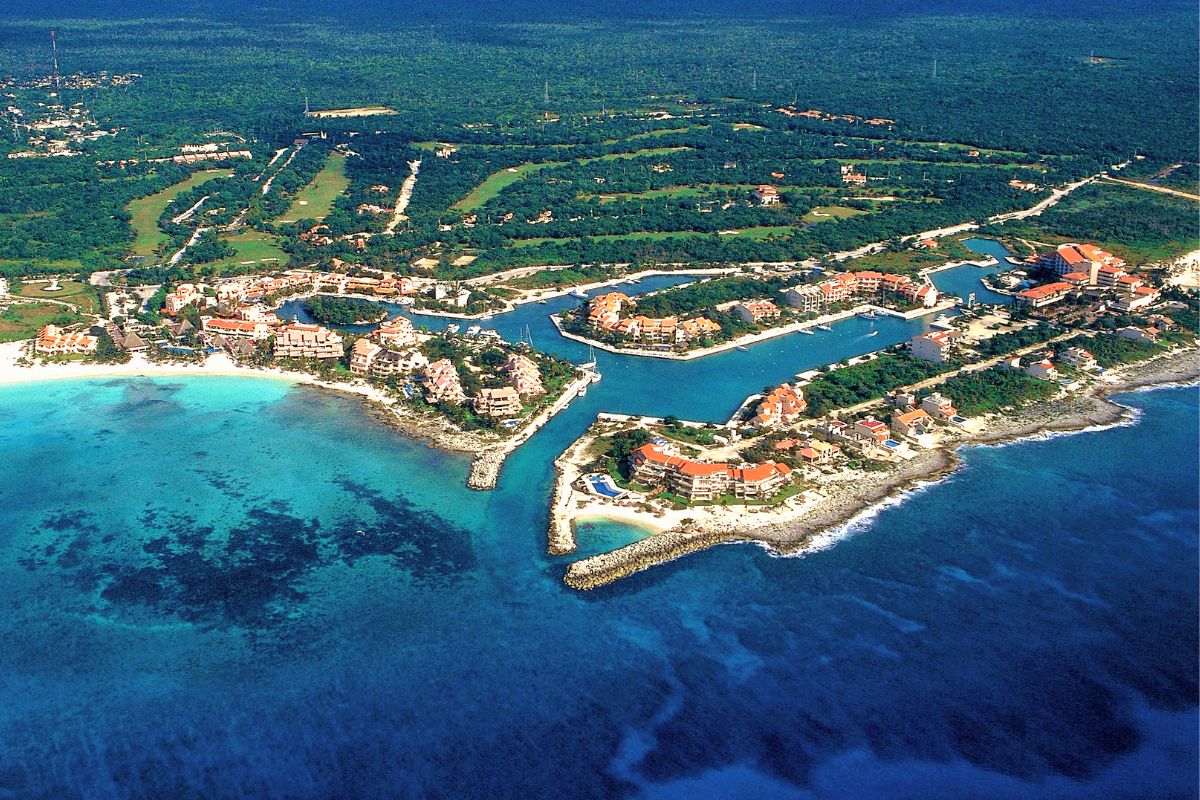 A relatively new addition to the Riviera Maya tourism scene, Puerto Aventuras is a purpose-built, gated community that sits about halfway between Playa del Carmen and Tulum.
While there's plenty to do in Puerto Aventuras – from swimming with dolphins at the on-site dolphinarium to playing a round of golf or exploring one of the many cenotes in the area – it's the all-inclusive resort life, laid-back atmosphere, and beautiful beaches that really draw visitors in.
For anyone looking to embody what vacation is all about – bottomless margaritas by the pool, long lazy days spent lounging on the beach, leisurely strolls along the marina – Puerto Aventuras is definitely worth considering. But look beyond the resort life and you'll find there's plenty of adventure to be had here too, including some great snorkeling spots.
One of the best things about Puerto Aventuras is that it's within striking distance of several reef systems as well as cenotes, many of which can be visited on a day-trip from Cancun or Playa del Carman with ease.
Getting there:
Found in between Playa del Carmen and Tulum, not too far from Akumal (another prime snorkeling spot, mind you), Puerto Aventuras is about an hour and 20 minutes drive from Cancún, straight down the highway. You can drive yourself, of course, or book a tour that includes transportation – up to you!
If you still want the freedom to explore solo but don't have your own car, a taxi, the ADR bus, or the local collective vans (collectivos) are all viable options.
18 – Cenote Cristalino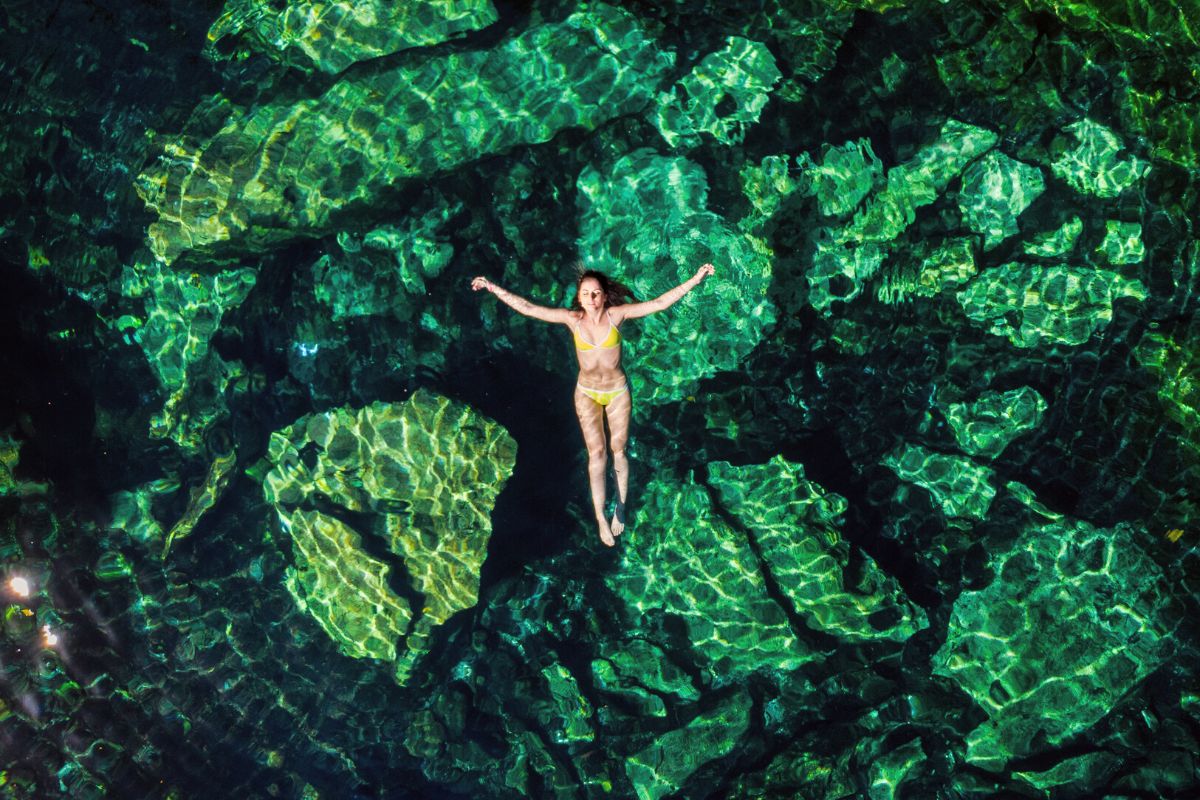 A stone's throw from Cenote Azul, Cenote Cristalino is another stunning example of what these natural swimming holes have to offer in the Riviera Maya.
With an ethereal quality that's almost impossible to put into words, the main drawcard at Cenote Cristalino is the diversity of activities: the open-air section is great for a refreshing dip, there are plenty of areas perfect for some Insta-worthy shots, the cliff jumping ticks the box for adrenaline junkies, and the stalactite caves make for some enviable snorkeling.
Beneath the surface, visibility is as clear as it gets, with no waves or currents to contend with, making it a perfect spot for beginner snorkelers and those who prefer to take things slow.
And while Cristalino isn't as commercialized as other cenotes in the region, you'll still find all you need with toilets, showers, locker rentals and life jackets available for rent for those who aren't feeling too confident in the water. And at $150 MXN (a little less than $8 USD), it's a steal.
Sitting about a 1 hour and 30-minute drive from Cancun, a visit to this natural pool is best combined with some of the quintessential Playa del Carmen activities (think: shopping, restaurants, and nightlife) to make the most of the trip.
19 – Cenote Azul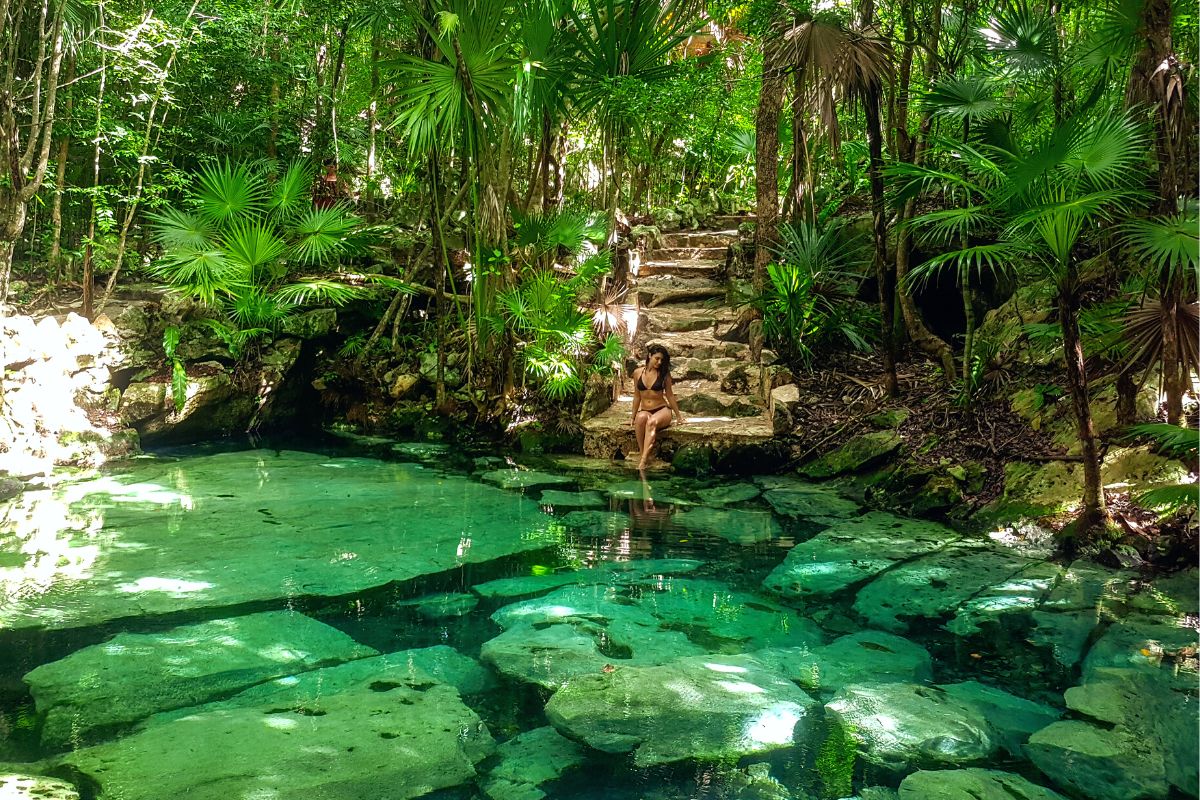 Translating to 'Blue Cenote', Cenote Azul is unsurprisingly a popular spot for swimming, snorkeling, and general merriment.
As one of the larger cenotes in the Riviera Maya, and an open-air option where you can soak in the warmth of the sun, Cenote Azul boasts crystal-clear waters that reflect the sunlight filtering in from above, creating a surreal atmosphere and setting deserving of a postcard.
About a 20-minute drive from Playa del Carmen, this natural swimming hole might not boast the same extreme biodiversity as the Mesoamerican Reef spots that dot the Riviera, however, it more than makes up for it with its striking turquoise waters, impressive stalactites and stalagmites, and of course, that all-important Instagram factor.
For the adventurous, the main cenote area has a cliff you can jump from; if you prefer to go it slow, the manmade dock area makes wading in easy.
Cenote Azul is open daily from 8:30 am to 5:30 pm and entry costs around $7-8 USD per person.
Hot tip: Azul is located right next to three other cenotes: Cristalino, Kantunchi, and Jardin del Eden, so why not make an afternoon of hit and hop around them all? Each with its own characteristics, you'll get to appreciate the diversity of the cenotes in this part of Mexico.
20 – Cenote Jardin Del Eden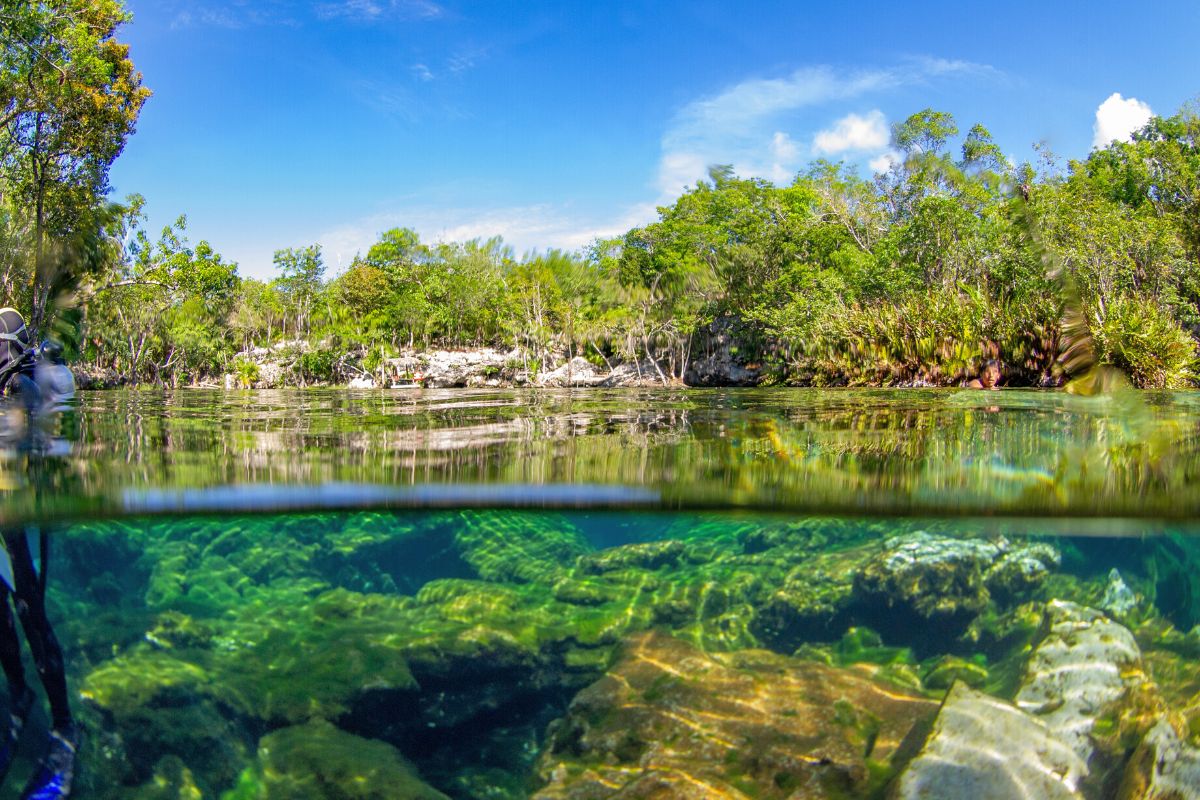 With a name that means Garden of Eden, it should come as no surprise that this tranquil piece of paradise is one of the most popular cenotes in the Riviera Maya – and, as a result, one of the prime non-reef Cancun snorkeling spots.
Famous for its incredible turquoise waters and lush, jungle surroundings, Cenote Jardin del Eden (sometimes referred to as Cenote Ponderosa or simply Cenote Eden) welcomes visitors from Sunday to Friday, from 7:00 am to 5:00 pm, who come in search of a little slice of heaven on Earth.
And as far as snorkeling goes, the cenote's large system of caves with rooms of all sizes makes for some pretty spectacular views and diving opportunities, with stalactites and stalagmites creating a remarkable visual.
Keep your eyes peeled for slider turtles; take a seat on the rocks and let the little fish swim your feet, "fish spa" style; or take a leap of faith from the 12-foot-high cliff-jumping platform.
Inexpensive and rarely crowded, Cenote Jardin del Eden is a fantastic option for those who want to avoid the more touristed spots and enjoy some quality time in nature. Keep in mind, however, that there aren't too many shallow areas, so it's probably not the best option for those with small children (although you can rent lifevests).
Remember that the Garden of Eden sits next to three more cenotes: Azul, Cristalino, and Kantun Chi, so you can certainly make a full day of it by checking out a couple back to back!
21 – Playa Xpu-Ha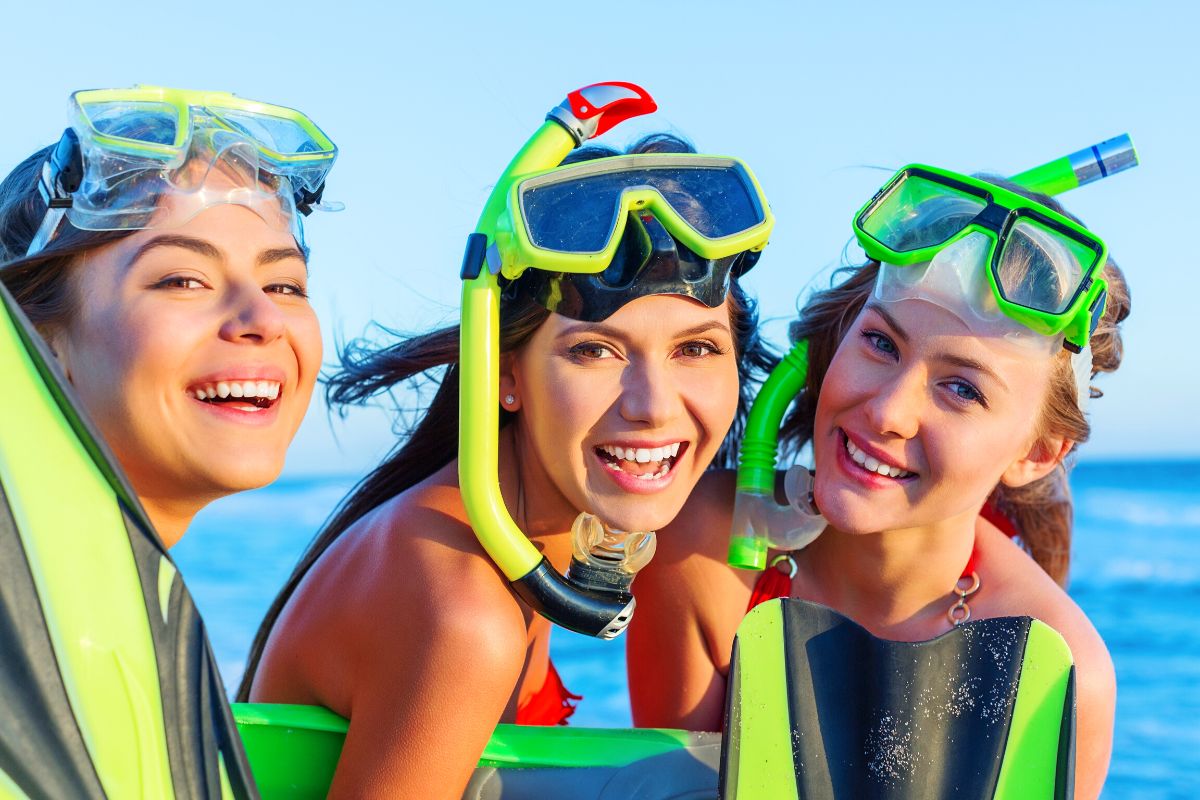 Sitting down the pecking order compared to the likes of Cancun Hotel Zona, Playa Del Carmen, and even Akumal, this beach is often overlooked as a must-visit. Big mistake.
With its gentle waves and relaxed air, Xpu-Ha is one of the premier snorkeling spots in Cancun and the Riviera Maya, with an abundance of marine life to explore just offshore. Add to that the fact that its soft white sands contrast brilliantly with the bright blue waters and you have a recipe for perfection.
Xpu-Ha is also a top choice in for families with little ones in tow, as the shallow waves make it safe to paddle and play in the water without parents having to worry too much.
The picturesque beach is about 30 minutes south of Playa del Carmen (or an hour and 20 minutes from Cancun) and is bordered by a verdant grassy jungle backdrop, making it all the more Insta-worthy.
Looking for a feed or a cocktail post-swim? No problem – there are plenty of beach bars and restaurants to choose from (Serenity Beach Club is great for a drink, and Cevichería Angel del Mar is renowned for seafood), as well as some small convenience stores should you need to stock up on supplies.
Best snorkeling spots in Akumal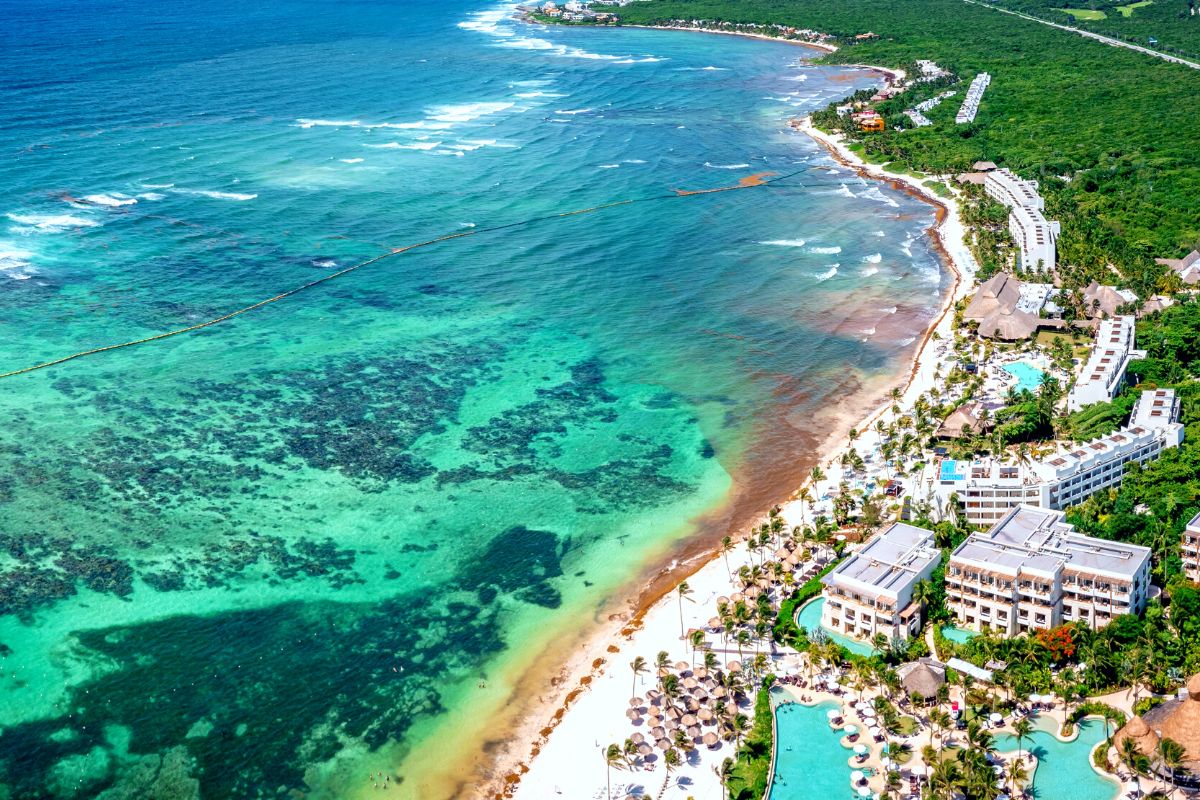 Quickly rising the ranks in the Riviera Maya tourism scene, Akumal has recently garnered a reputation for being one of the best places to kick back on the soft sand and soak in the sun away from the burly Hotel Zone crows. But that's not all; famous for its resident turtles that swim just offshore, Akumal is one of the top snorkeling spots in Cancun for those who want to see these gentle gliders up close and personal.
Beyond the toasty sands at the curved Half Moon Bay and Akumal Beach, this little coastal town offers a smorgasbord of activities for visitors of all ages and interests: from cooking classes and yoga retreats to mingling with monkeys at the Akumal Monkey Sanctuary, zip-lining through nearby jungle, swimming in a handful of cenotes, or joining in on traditional Mayan temazcal (steam cleansing) ceremony, there's far more than meets the eye.
Getting there:
Nestled just north of Tulum, Akumal is about an hour and 20 minutes drive from Cancun International Airport (or 45 minutes from Playa del Carmen), making it a great option for those looking to explore the Riviera Maya beyond just the Hotel Zone.
If you don't have your own car (and considering the affordable transport and myriad tours in the area, you don't really need one), you can choose from a slew of day trips that meander down the coast from Cancun, usually stopping at a couple of different sites along the way and making time for swimming, snorkeling, and a spot of authentic Mexican lunch.
22 – Yal-Kú Lagoon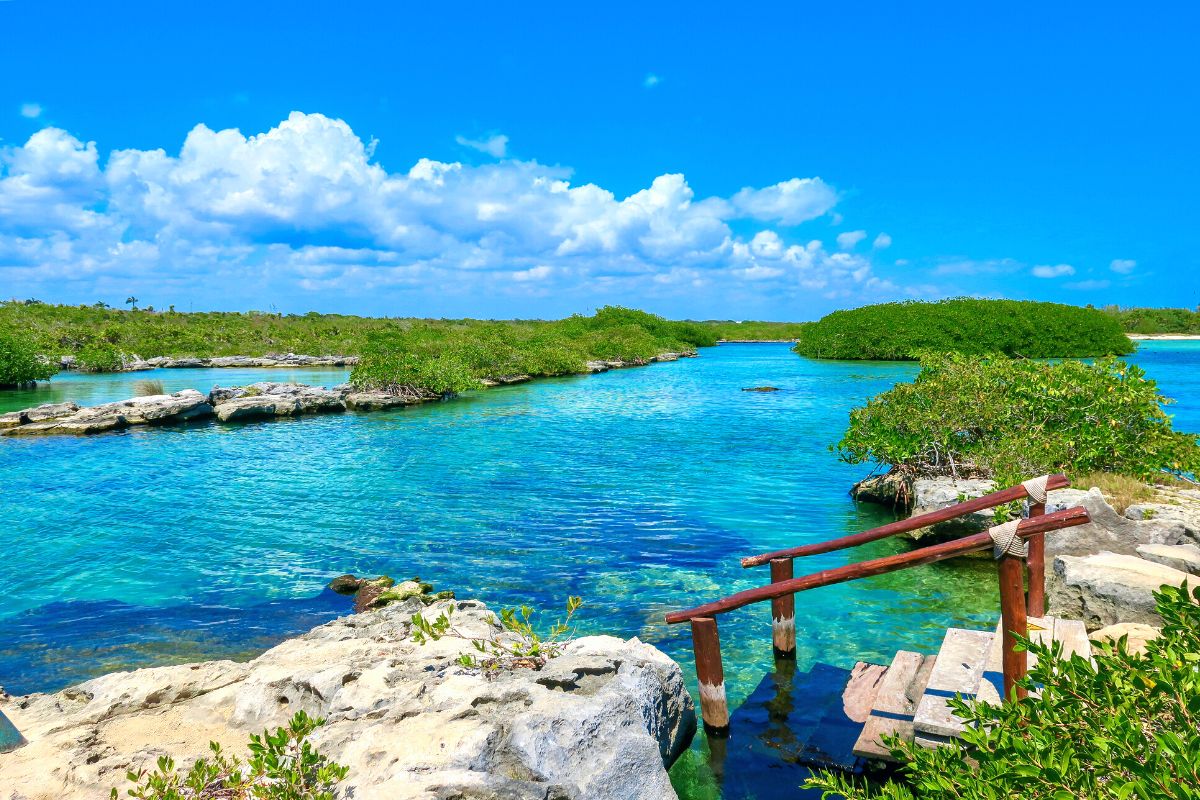 Fully sheltered from waves and currents, creating a slow, idyllic setting, Yal-Kú Lagoon is made up of a series of shallow pools and bays that descend no more than four meters deep, making it a prime choice for beginner snorkelers and families who want to soak in the beauty of the Akumal area marine life without the worries of the open ocean waters.
A confluence of fresh and salt water, the lagoon is a unique ecosystem that's home to a diverse variety of colorful fish, mollusks, and other underwater critters that make for an exciting (and safe) snorkeling experience.
Flanked by tropical scenery, Yal-Kú is also great for swimming, sunbathing, and simply taking in the vistas of the Riviera Maya; there's even a little restaurant on site should you get peckish.
If you're already in Akumal, the lagoon is a pleasant 25-minute stroll across the backstreets of Half Moon Bay. If you're coming from out of town, it's about 20 minutes south of Playa Del Carmen off the 307 Highway or 1 hour 45 minutes from Cancun.
23 – Playa Akumal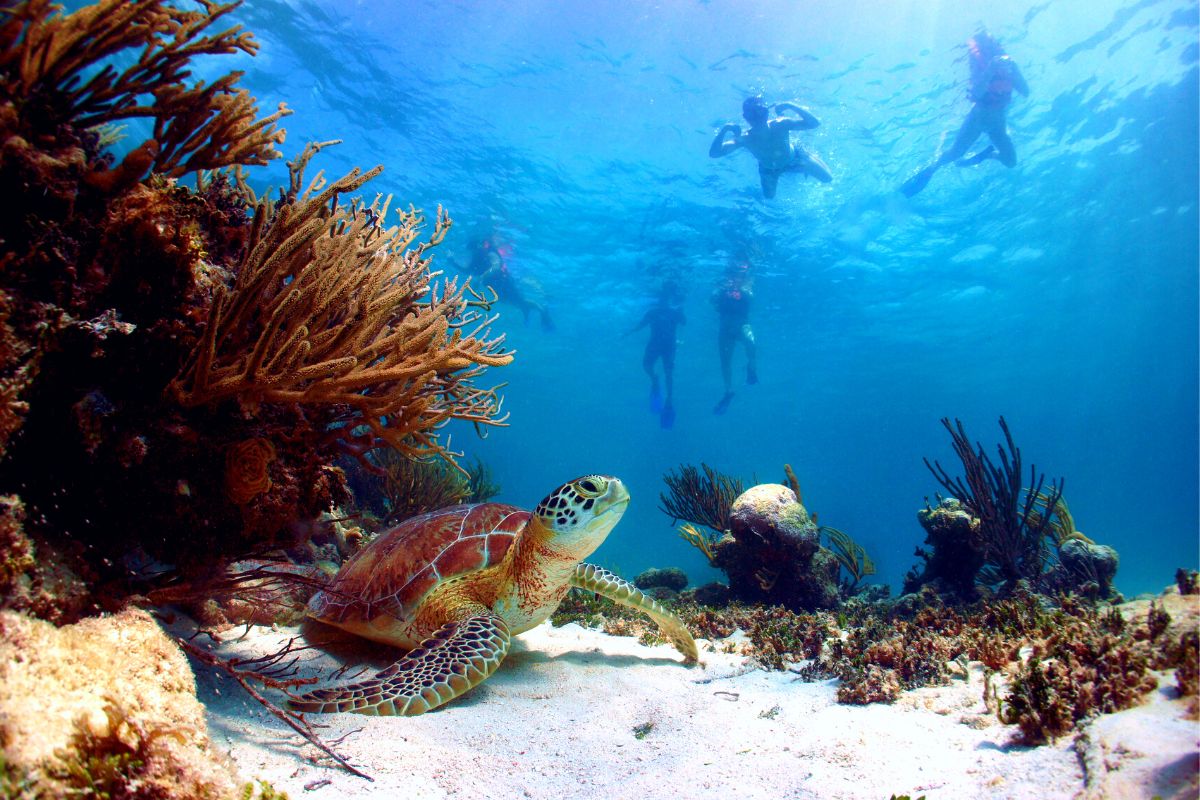 The centerpiece of Akumal, with its turtle-frequented shoreline and soft sands, Playa Akumal is unsurprisingly a hot topic among nature and animal-loving travelers.
But there's more to Playa Akumal than just turtles; the shallow, clear waters make it ideal for swimming and wading, while the coral reefs offshore provide ample opportunity for some quality snorkeling time. Keep your eyes peeled and you might even spot a ray or two!
The beach is also flanked by a number of bars, restaurants, wellness centers, and convenience stores (and a couple of accommodation options) should you need to refuel after all that swimming. And if you're looking for something to do beyond just lounging on the sand, there's plenty to see and do in Akumal itself.
Keep in mind: out of efforts to conserve and protect the local environment, only 200 people are allowed to swim in the protected turtle zone each day, so your best bet is to arrive early and get a guide, or book a pre-organized tour that takes care of all the logistics for you.
24 – Aktun Chen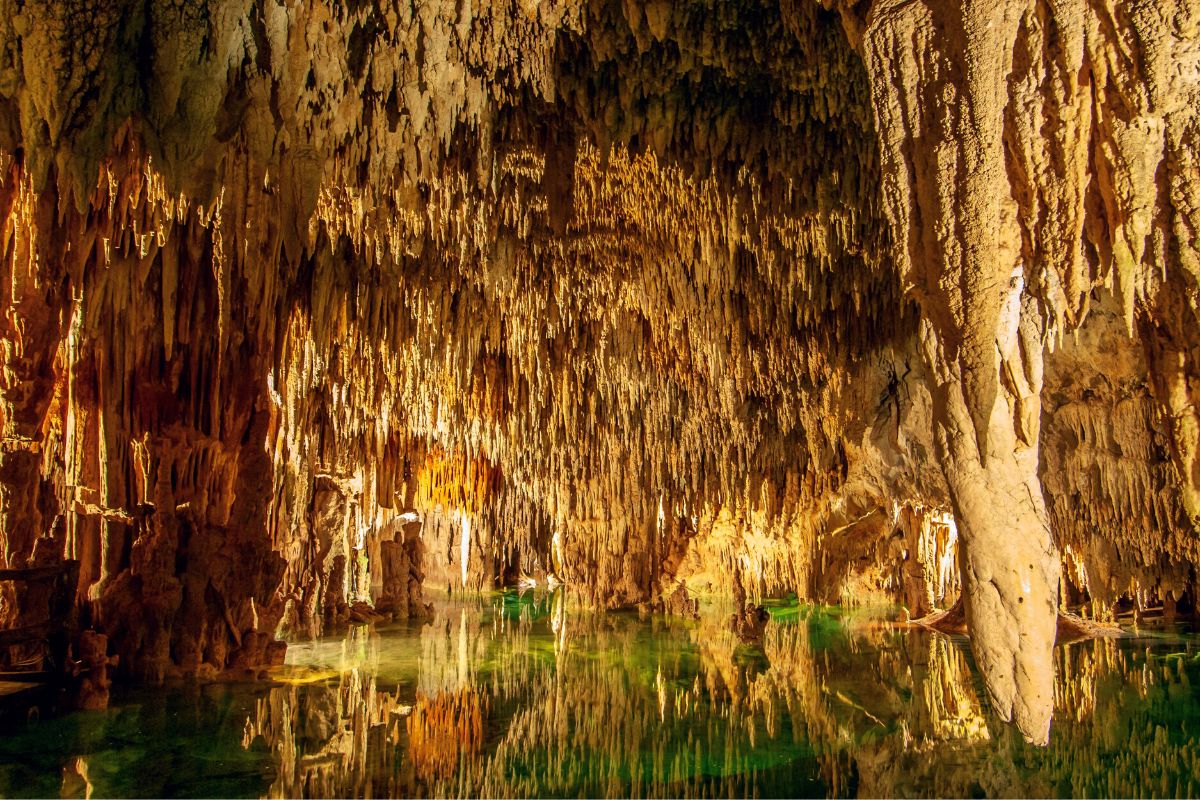 A natural rainforest theme park spread over 3 hectares of Yucatan Jungle that combines an underground cave system with above-ground adventure, and where white-tailed deer, parrots, and spider monkeys roam freely, Aktun Chen regularly delights voyaging families with its diversity of activities.
Start your day with a dip in one of the cenotes, explore the stunning caves, take a thrilling zip line ride through the treetops, ride an ATV through the greenery, pop into the on-site zoo to mingle with crocodiles and a huge boa constrictor, and cap it all off with a refreshing swim and snorkel in one of the underground rivers.
The fact that National Geographic has named the Aktun Chen cave tour as one of the world's Ten Best Underground Walks (#3) should be reason enough to check out this coveted (yet still underrated) attraction.
As a bonus, those who book a package of the main activities are blessed with an authentic forest lunch – no Americanized clichés, just rich local cuisine in the form of beans, tortillas, rice, meats, and salsas. Who's hungry?
Aktun Chen is located about 35 minutes drive south from Playa del Carmen (or an hour and 40 minutes from Cancun) – so is best combined with a couple of the other Tulum and Akumal-area activities.
Best snorkeling spots in Tulum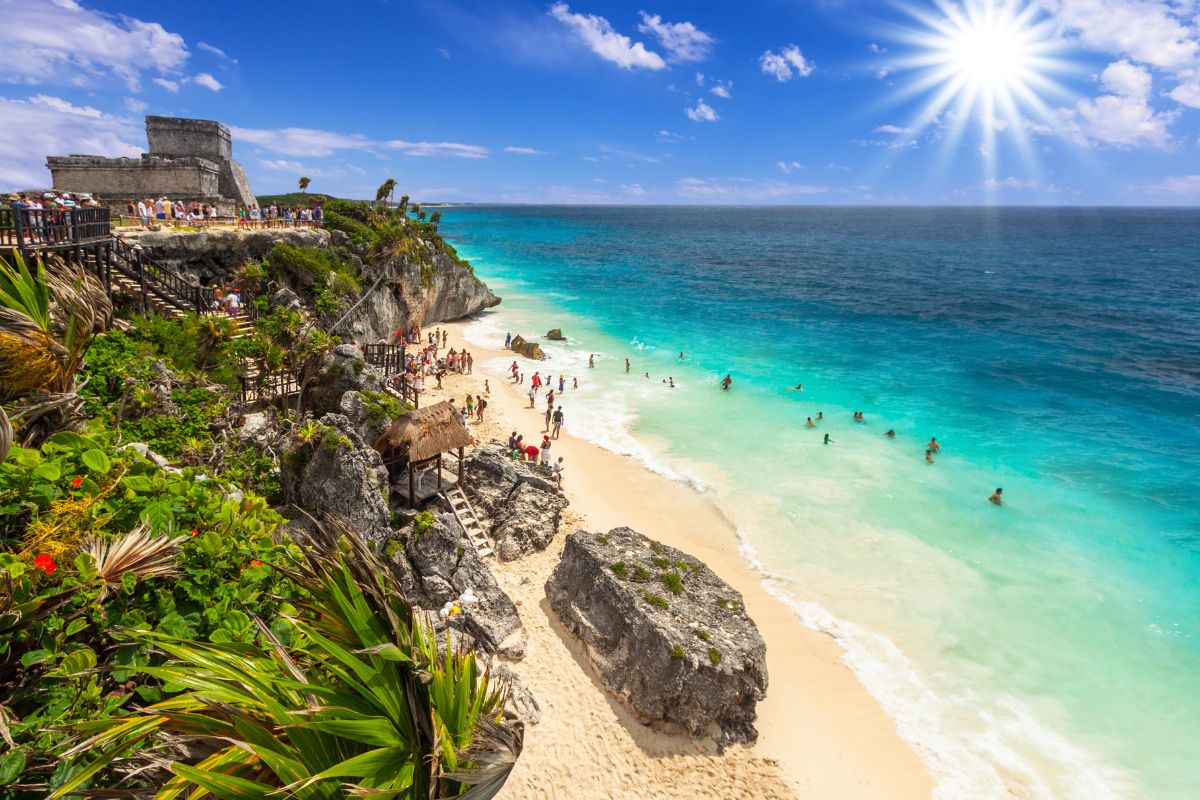 Once an underground nomad hangout and now one of Mexico's most cherished small towns, Tulum is an easy (and justifiably popular) day trip from Cancun or Playa del Carmen – and a must for those enamored with bohemian chic, tantalizing gastronomy, turquoise waters, and history-rich archaeological sites.
Wander the streets of the town center (or pueblo) for handicrafts, great coffee, and cheap eats before hitting the beach for a swim or some sunbathing; join one of the Cenote diving excursions or catch one of the many classes on offer (cooking, yoga, and the like). If you're feeling active, water sports are a dime a dozen, from kite-surfing and paddle boarding to snorkeling and scuba diving – not to mention romantic sunset cruises.
An undisputed highlight, straddling the seaside cliffs sits the Tulum ruins – one of Mexico's most-visited archaeological sites and the only Mayan city built right on the coast.
For those who want to stay longer than a day, Tulum offers a wide variety of accommodations too, from social hostels to blissful beachside studios and everything in between.
Getting there:
Typically the furthest coastal destination Cancun visitors will venture to, Tulum sits close to two hours south of Cancun on the Riviera Maya. The best way to get from Cancun to Tulum is by bus, with plenty of comfortable and cheap ADO services making the journey daily.
Alternatively, those with a little more time (and money) can book themselves onto a day trip which will whisk them down to Tulum in style – think air-conditioned vans, bilingual guides, and stops at a couple of other Riviera Maya highlights and towns along the way.
25 – Xel-Ha Park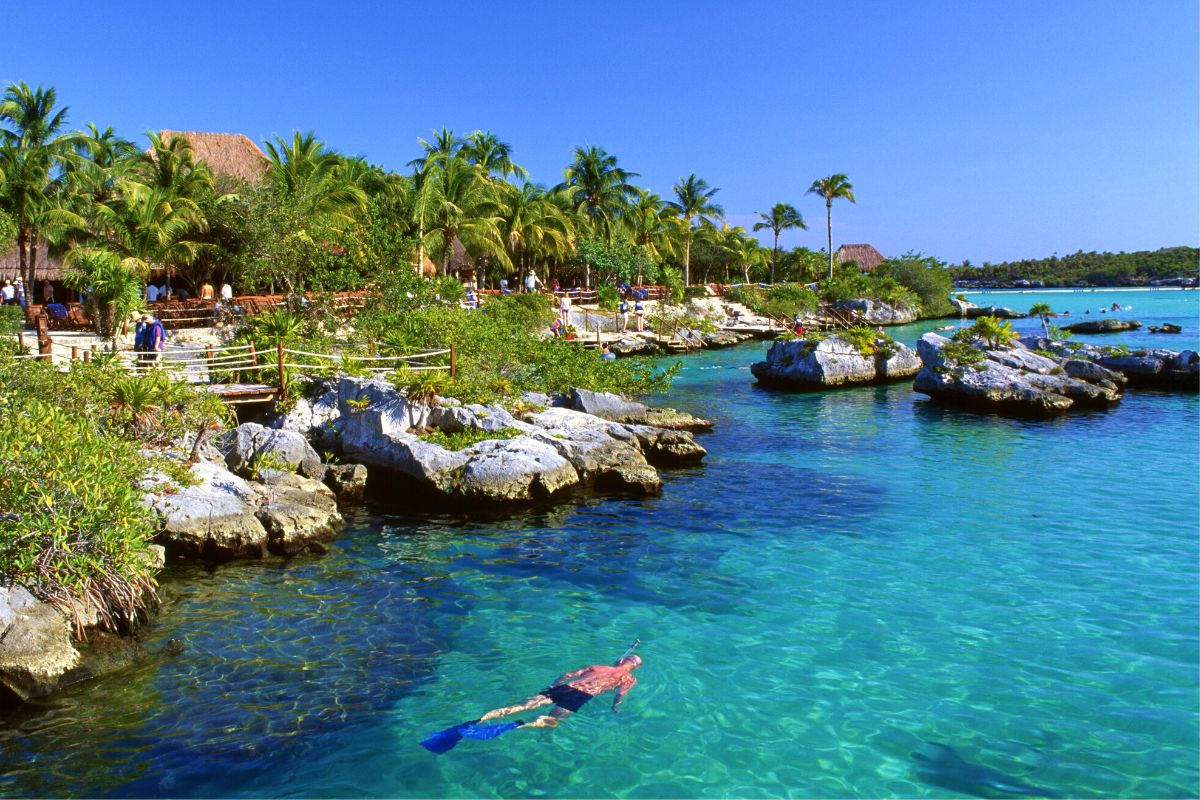 Fusing all the benefits of the Riviera's natural beauty with a bounty of activities for all ages, Xel-Ha is one of the world's largest natural aquariums and a snorkeler's dream come true.
A day spent here swimming in crystal-clear waters, among multi-hued fish and turtles, admiring the stalactites and stalagmites of an underground river, swimming with dolphins, or feeling the thrill of a high-octane speedboat tour — whatever your itinerary, a fun day out is guaranteed.
Then there's the enchanting cenotes and the main lagoon, where you can cliff jump into deep waters from the 5-meter-high Cliff of Courage or simply take a refreshing dip; and for those who want to stay dry, land-based activities are aplenty too, from animal encounters (you'll find reptiles, tropical fish, and over 100 types of birds roaming the park's beaches and forest) and jungle trail walks to the hair-raising Trepachanga and Salpichanga ziplines.
With all the food and drinks you could ever want included in the admission price, it makes for an excellent all-inclusive day trip from Cancun!
26 – Cenote Dos Ojos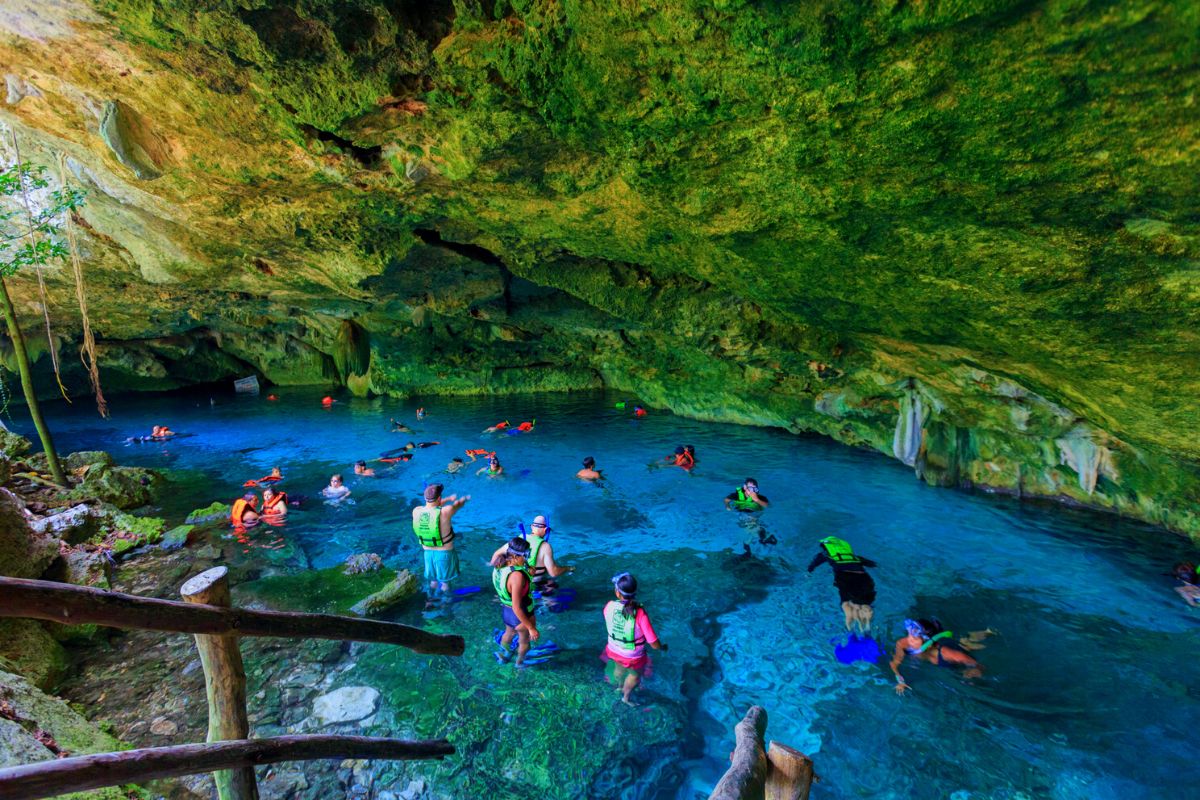 Translating to "two eyes", Cenote Dos Ojos gets its name from its layout: a pair of picturesque sinkholes connected by a boardwalk.
Wielding the title of the deepest known underwater cave system in the world, with an astounding depth of close to 118 meters, this cenote is unsurprisingly a big hit with scuba divers – but it's also a fantastic spot for snorkelers too, especially beginners (wear a lifevest, obviously) who prefer the calm waters of protected cenotes to the open sea.
Without venturing too far, snorkelers can discover startling underwater rock formations, including stalactites and stalagmites, as well as an abundance of fish and friendly turtles in the shallows; meanwhile, divers will be able to explore an extensive network of caves, tunnels, and passageways.
Don't want to organize your own trip? Fortunately for us, day trips can be booked from Cancun. With transport, entry, and lunch included – not to mention plenty of tidbits about the cenote's history and ecology from your expert guide – it makes for a fun and hassle-free day out.
27 – Great Cenote (Gran Cenote)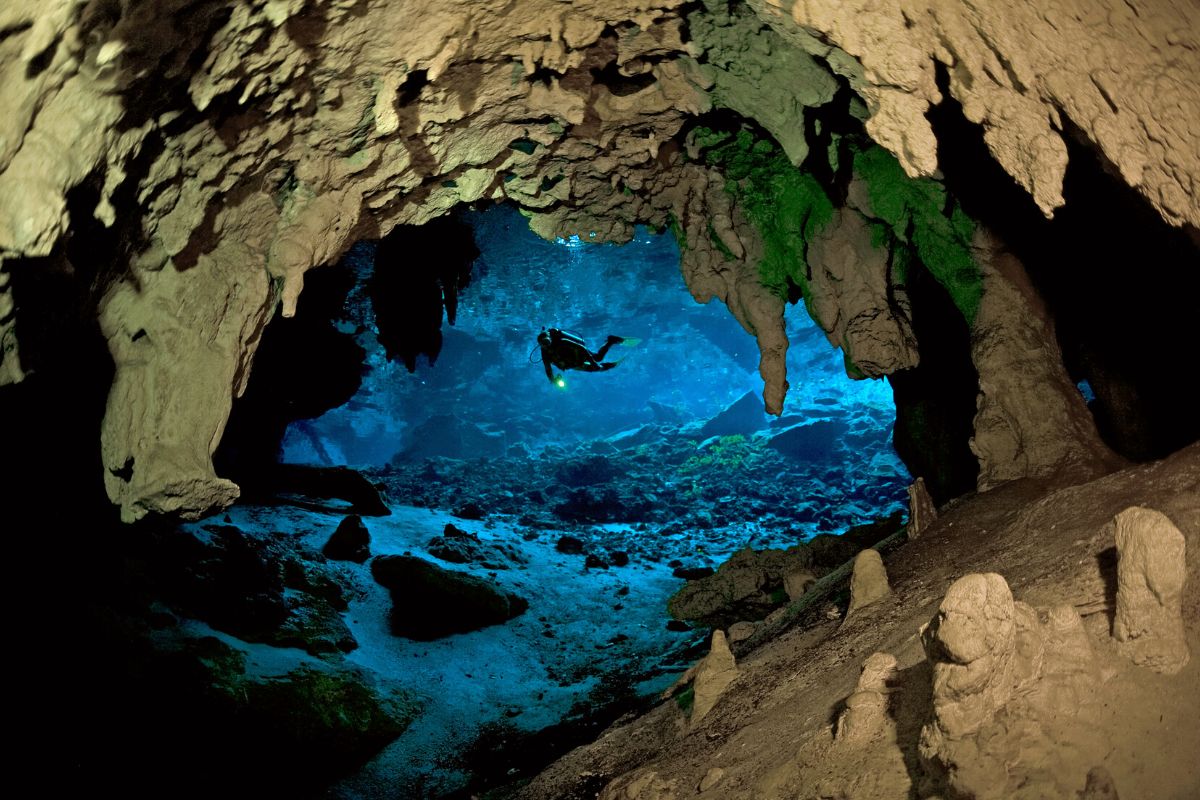 Found just 3 miles from the hustle and bustle of Tulum's town center (en route to Coba), the Great Cenote is both famous and popular, welcoming hundreds to thousands of curious nature-lovers daily.
A large, open-air sinkhole measuring approximately 150 meters in length (and 30 feet deep), this natural swimming hole is flanked on one side by jungle and on the other by rocky cliffs, creating an atmosphere that seldom feels crowded even during the peak season.
Ideal for a cooling dip on a sizzling summer day or some leisurely snorkeling; with its clear turquoise waters and underwater caverns lined with stalactites, the Great Cenote is one of the Riviera Maya's finest natural attractions.
Due to its popularity, Gran Cenote can be a little pricey compared to others if visited solo ($500 MXN or $25 USD), but don't let you put that off – it's popular for a reason!
Want to make a day of it? Combine your visit with a stop at nearby Coba – an ancient Maya city boasting towering pyramids that you can still climb today – or the coastal Tulum ruins!
28 – Cenote Calavera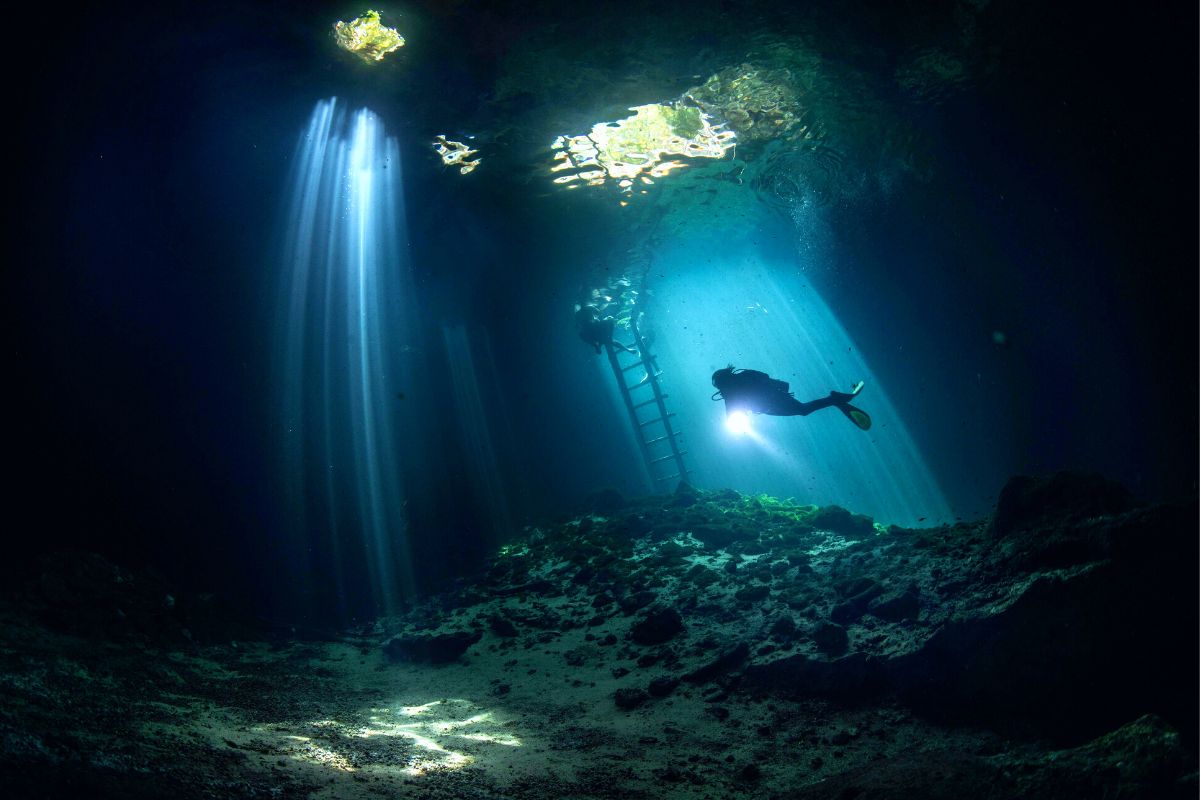 Certainly not the first place that comes to mind when most people research snorkeling in Cancun, however, Cenote Calavera (AKA the "Skull Cenote" or "Temple of Doom" cenote due to its spookily-shaped entrance) is a lesser-known but nonetheless beautiful spot for a refreshing dip and some beginner-friendly snorkeling.
Unlike most of the open-air cenotes in the region, this one is special for the fact that its roof has broken away, revealing the very clear water beneath.
Accessed via a ladder that leads down into the sinkhole (or, if you're up for it, a thrilling cliff jump), Cenote Calavera's main entrance is relatively small (around 30 meters in diameter), however, as soon as you breach the rocky skull entrance, you'll discover a much larger swimming area, close to some 160 meters in circumference.
With an entry fee of $250 MXN (roughly $12 USD), it's half the price of the Gran Cenote without the crowds – what's not to love?
29 – Playa Paraiso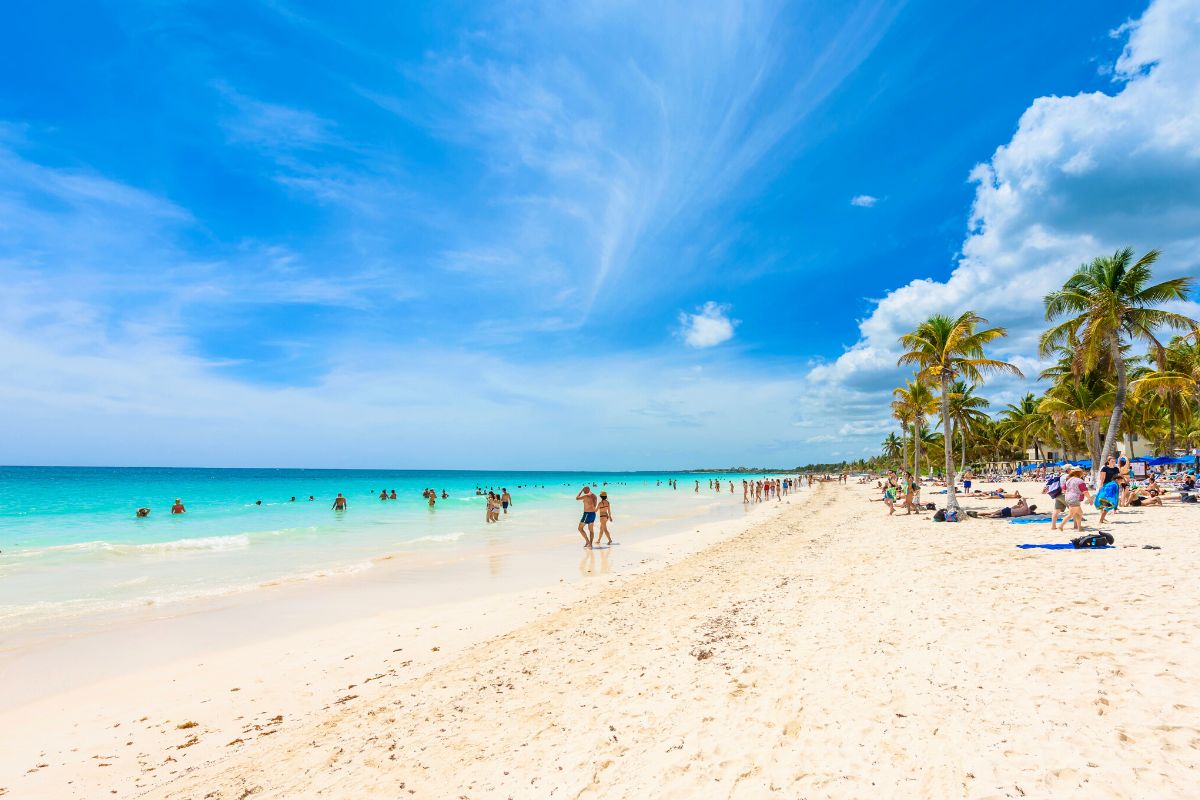 Straddling the shores of the Caribbean Sea, a name like Playa Paraiso – Paradise Beach – paints a certain mental image. But once you set foot onto the beach and soak in the swaying palm trees, soft white sands, and gentle waves lapping at the shore, it not only lives up to its name, it exceeds all expectations.
A protected beach flanked by the world's second-largest coral reef (the Mesoamerican Barrier Reef), just offshore from Playa Paraiso lies a snorkeler's paradise, with an abundance of tropical fish and marine life to discover in the ultramarine waters.
In terms of specific snorkeling locations in the area, the private gated community of Mayakoba plays host to the Mayakoba Reef, home to over 500 species of fish, as well as turtles, rays, and eels, not to mention the stunning orange, antlered Acropora Palmata Coral – so make sure you bring your GoPro!
Then there's La Poza, a more intermediate locale where a high-walled channel sports a large colony of sizeable tarpon. More advanced still, La Chimenea runs between 20 and 27 meters deep, teeming with wildlife in its caves and crevices. Last but not least, La Pzaeta – a more beginner-friendly option – is where you'll find moray eels and lobsters scampering along the sandy bottoms.
30 – Sian Ka'An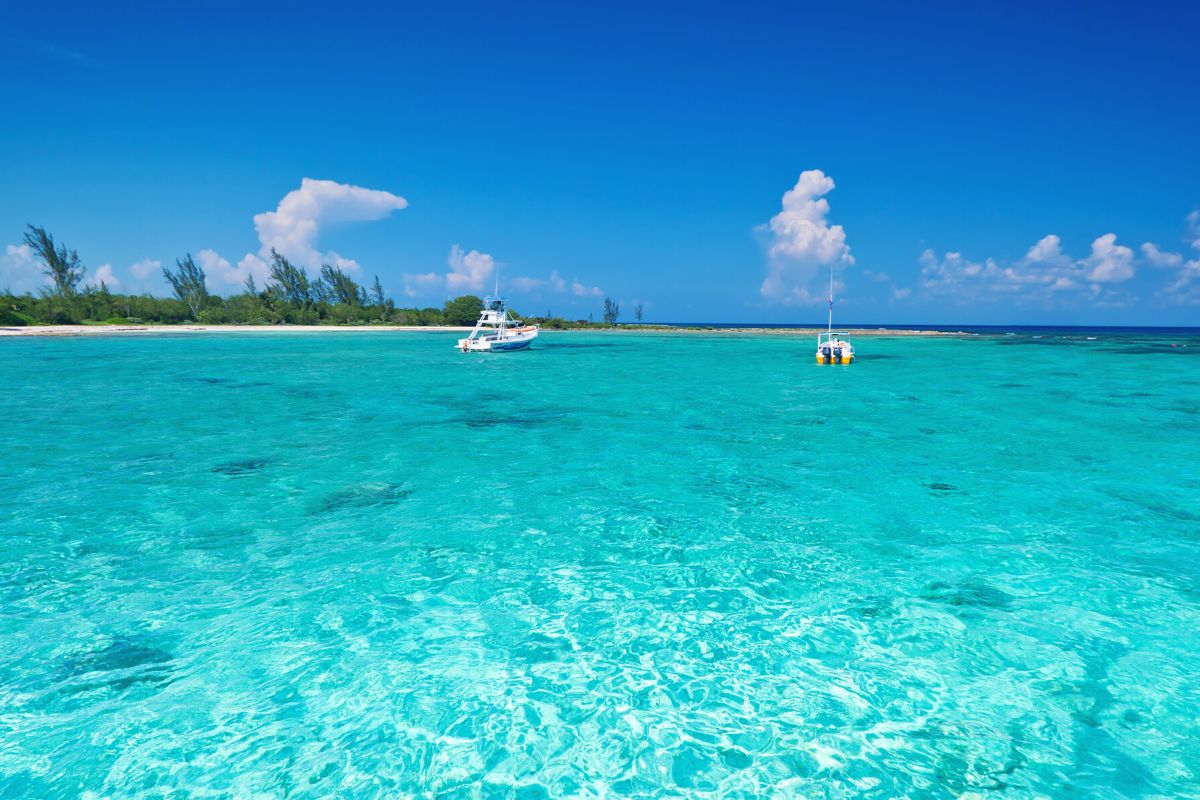 Both a UNESCO World Heritage Site and an official Biosphere Reserve, Sian Ka'an is one of the most important – and impressive – protected areas in all of Mexico.
A 1.3-million-acre mosaic of tropical forest, savannahs, lagoons, and mangrove-lined canals, the reserve is home to an astounding array of plant and animal life – literally thousands of species; it's also where you'll find some of the best snorkeling on the Riviera Maya thanks to its myriad of cenotes, coral reefs, and transparent turquoise waters.
Choose from a bounty of guided tours available that will take you through the reserve's highlights – think early morning bird-watching walks in search of toucans, macaws, and parrots; visits to ancient Maya sites; kayaking adventures, or snorkeling trips to spot manatees, dolphins, sea turtles, and an array of colorful fish.
Found just south of Tulum, this ecological wonderland deserves a spot high on the to-do list.
Best snorkeling spots in Isla Cozumel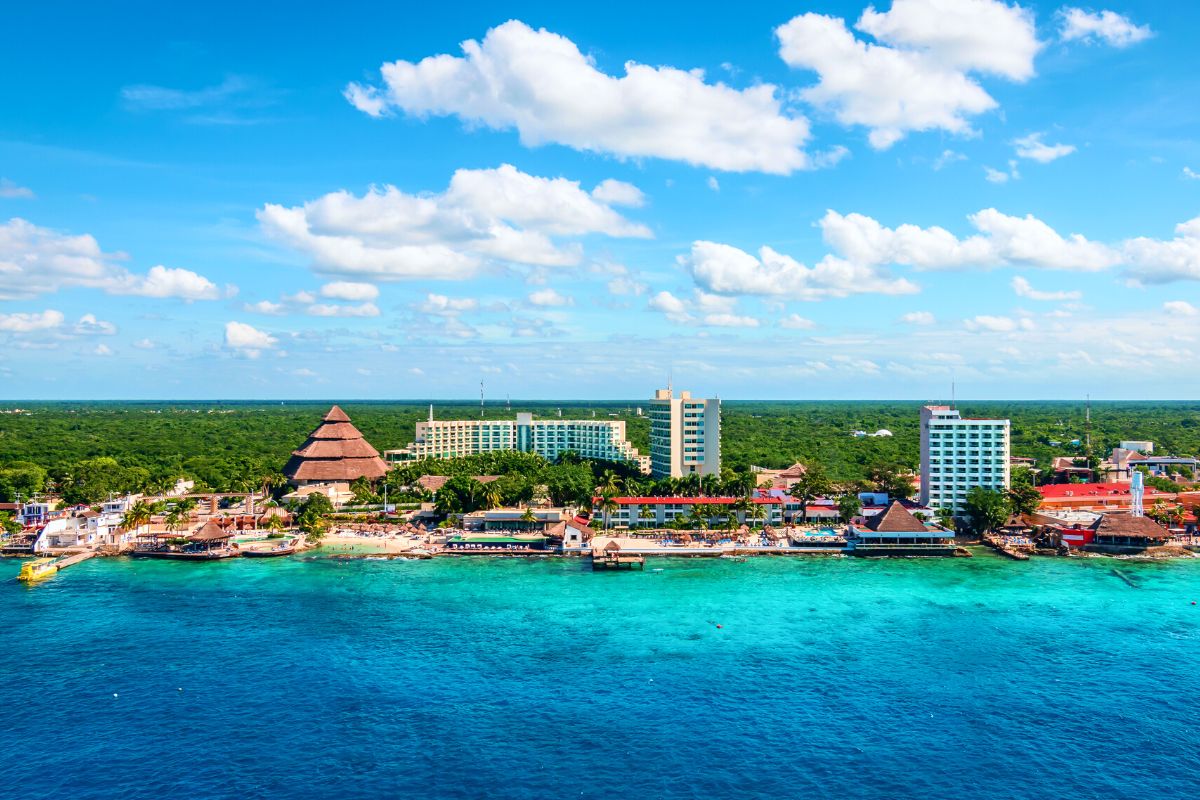 11 miles off the coast, and about a 45-minute ferry ride away from the mainland, this small – yet profoundly beautiful – island is a world unto itself, and its proximity to the Mesoamerican Barrier means that it's unsurprisingly one of the top-rated places for snorkeling in Cancun.
With pristine sandy beaches, towering palm trees, dense jungle sections, and a vibrant town center (San Miguel de Cozumel), Isla Cozumel has something for everyone.
From the underwater wonderland of Palancar Reef and Columbia Reef to the world-famous dive sites of Chankanaab Park, there's an underwater adventure to be had for snorkelers of all levels here. These amazing spots, as well as a handful of others, can be reached on a hassle-free boat tour, of which you'll find private and small group options available.
Don't forget to explore the island itself though – there's plenty to see and do, from visiting the ancient Maya ruins of San Gervasio to taking a jeep tour through the jungle!
Getting there:
The most direct route from the mainland to Cozumel is via the Ultramar Ferry, which runs from Playa del Carmen – about an hour's drive from Cancun's Hotel Zone. The journey on water takes around 45 minutes and tickets can be purchased on arrival at the ferry terminal, or in advance if you prefer a comprehensive day tour.
Remember that there's no ferry service that runs directly between Cancun and Cozumel, so the Playa ferry or a private transfer/tour are your best bets.
Once you've arrived on the island (likely at The Punta Langosta Pier), either rent a car or a bike to explore on your own, or book a tour that covers all the main snorkeling spots and landmarks – that way, you can relax and enjoy your surroundings without having to worry about the logistics!
31 – Chankanaab Park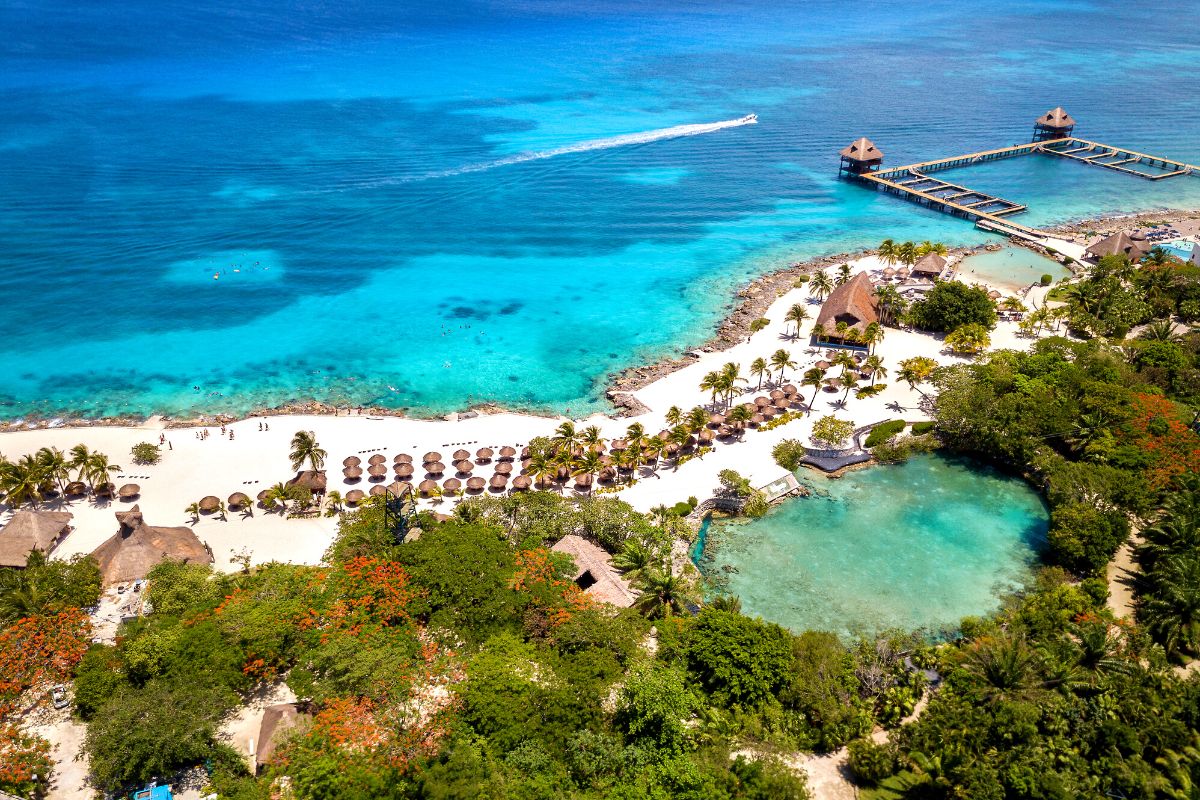 A family-favorite destination where, alongside being one of the prime Cancun snorkeling spots, offers sea lion shows and even the chance to swim with dolphins, Chankanaab is a must-visit if you're making your way across to Cozumel.
Home to over 85 different species of marine life, the protected lagoon here has something to see at every turn, from colorful coral gardens and brain coral formations to turtles and tropical fish galore. While snorkeling's the main drag, seatrek tours, snuba tours, and scuba tours are on the menu too.
With that said, it's not just the underwater world that makes Chankanaab so special – on dry land, you can explore the lush gardens, take a dip in one of the freshwater cenotes (sinkholes), join a tequila tour, or take part in a temazcal ceremony and learn about the traditional Maya culture.
Partygoers, there's also a beach club where you can relax in a hammock, enjoy some delicious Mexican cuisine, or knock back an ice-cold cocktail on the sand.
32 – Arrecifes de Cozumel National Park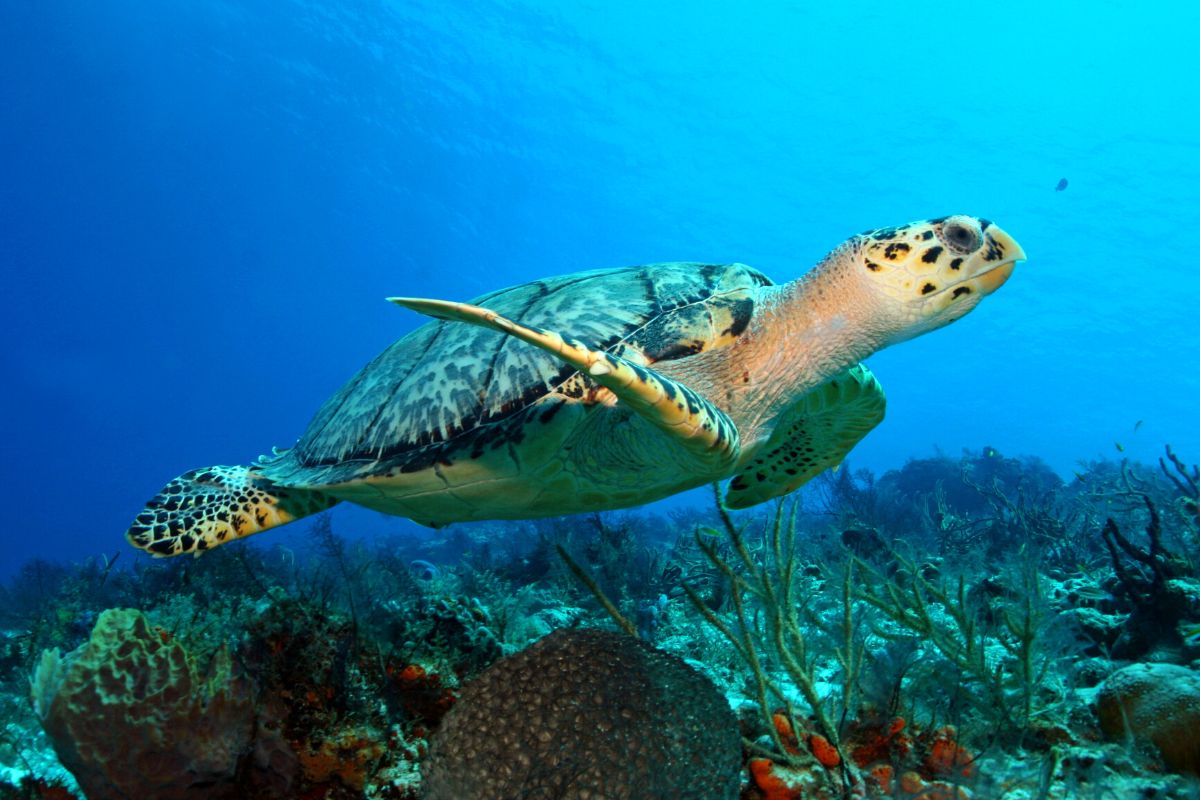 Part of the Mesoamerican Barrier Reef System, Arrecifes de Cozumel National Park is unsurprisingly a hotbed for marine species, with hundreds of species of colorful coral, a wide variety of fish big and small, and no shortage of turtles, rays, and more, all inhabiting its 22 kilometers worth of waters.
With that said, it's not all about snorkeling – you can also scuba dive, fish, or even go swimming with sharks (if you're feeling brave!).
Fun fact: Even though almost the entire Cozumel island is surrounded by breathtaking coral reefs, the Arrecifes park is restricted to those on its south side.
Through the National Park are a bevy of snorkeling spots, with the El Cielo Reef, Palancar Reef (the most popular reef in Cozumel), Columbia Reef, Pasos de Cedral Reef, and Santa Rosa Reef (only recommended for experienced divers) being the main handful.
Paraíso south and North, in particular, are great beginner spots thanks to other calm waters, playing host to giant sea cucumbers, yellow and blue Angelfish, and enormous maroon sea sponges.
33 – Punta Sur Beach Park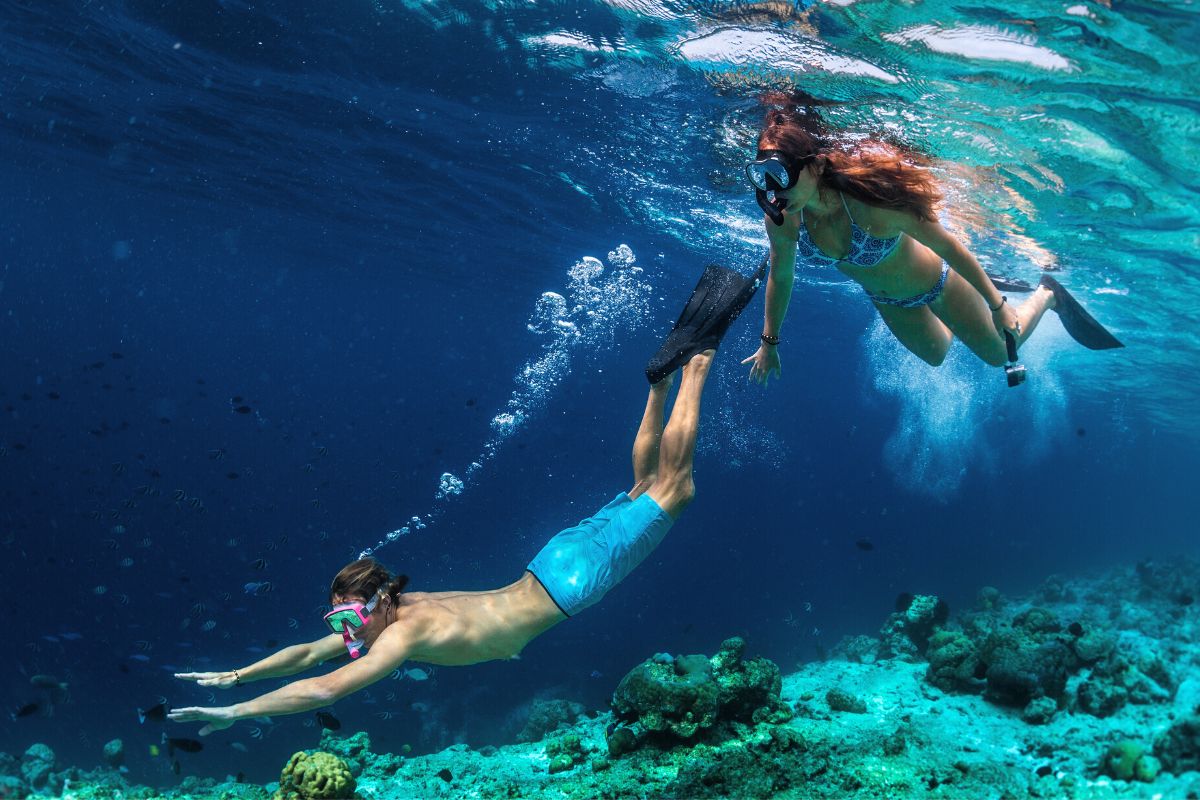 Spanning over 1,000 hectares, Punta Sur earns the title of the largest ecological reserve in Cozumel, delivering a nature-focused experience that combines animal encounters, ancient ruins, and of course, some of the best snorkeling in Cancun.
Here you can find a wealth of things to do, from swimming with sea turtles in the wild to tasting tequilas, exploring the old Faro Celarain lighthouse (where great views await!), popping into the Navigation Museum. and learning about the Maya people who once inhabited this place.
Not to be overlooked is the spectacular crocodile-infested Columbia Lagoon, likewise the 'El Tatich' Catamaran boat ride. There's also a long stretch of beach where you can bake in the sun; if you're feeling active, meander down the handful of hiking trails that weave through the mangroves and beaches.
Snorkeling-wise, you'll find an abundance of tropical fish and coral reef formations – angel fishes, yellow grunts, lobsters, and fan corals, to name a few.
Best snorkeling spots in Isla Holbox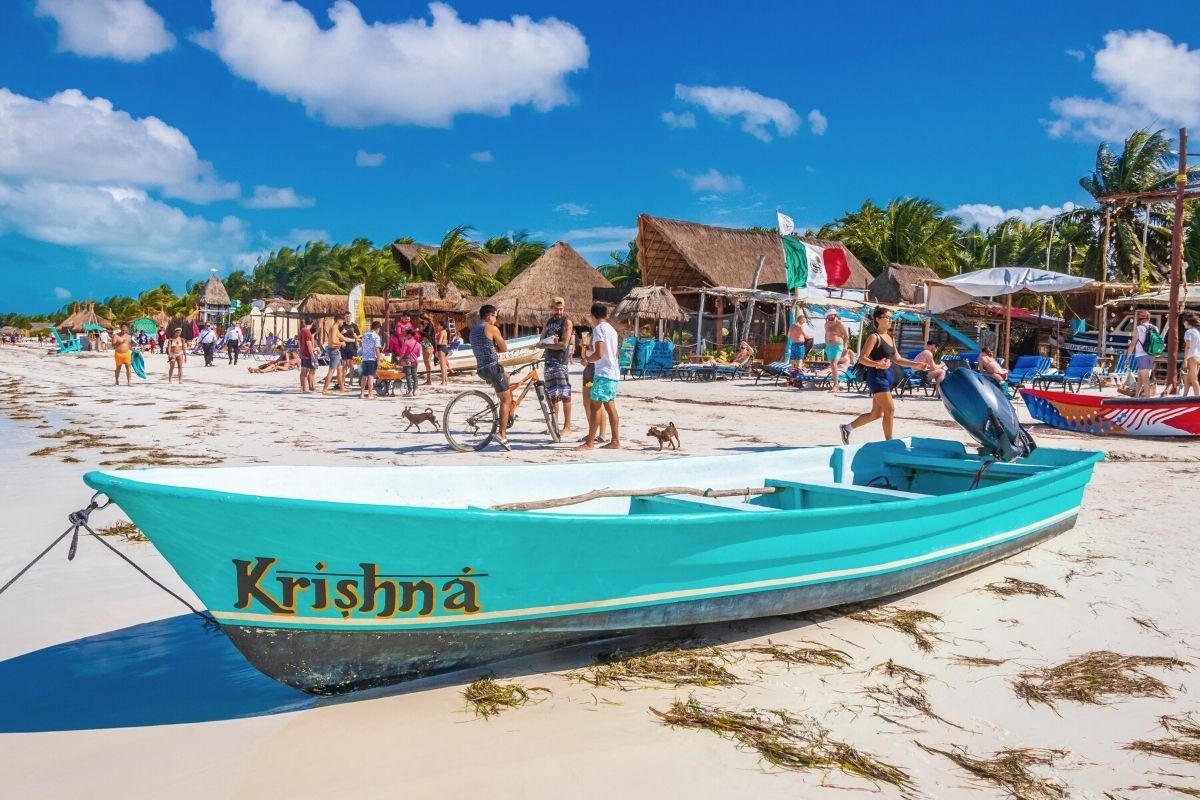 Embodying the go-slow lifestyle that a Caribbean vacation is all about, Isla Holbox is a small, sleepy island off the coast of Cancun that's famed for its pristine beaches, mangrove-lined coastline, and – you guessed it – world-class snorkeling.
Don't come here expecting nightlife or luxury resorts (although a small portion of beach bars do exist); rather, Isla Holbox is the perfect place to relax, unwind, and get back in touch with nature.
That's not to say there's nothing to do – quite the contrary, in fact.
When you're not lounging on one of the many white sand beaches or swimming in the turquoise waters, you can explore the island by foot or bicycle, go birdwatching in the Punta Cocos mangrove forest (home to over 200 species of birds!), or take a day trip to nearby Isla de la Juventud.
As for snorkeling, you'll find an array of options here, from swimming with whale sharks – the gentle giants migrate through these waters from May to September – to exploring the huge sandbank world of Punta Mosquito, where you can find a wide variety of critters, or joining the once-in-a-lifetime bioluminescence nighttime snorkeling tours that hit-up some of the little-known snorkeling spots in Cancun and beyond.
Getting there:
If you're not joining one of the many pre-organized Isla Holbox day trip options (read: recommended due to their hassle-free nature), the best way to get to Isla Holbox from Cancun is by taking the ADO bus from the Cancun airport to the town of Chiquila – about a 2-hour drive. From there, you can take a ferry over to the island, which should be about 20 minutes on the water.
Once you're on the island, cars are a foreign concept; either rent a golf cart, ride a bicycle, or – better yet – just walk around and explore the colorful buildings and laid-back atmosphere.
34 – Cabo Catoche
Lands end of the Yucatan peninsula and one of the tips of Isla Holbox, Cabo Catoche (Cape Catoche) marks the point where the Gulf of Mexico and the Sea of the Antilles divide.
A nearly entirely untouched slice of coastline, what Catoche lacks in amenities it makes up for in wildlife, with a variety of birds, lizards, turtles, and – you guessed it – fish to be found in its mangroves and coastal waters.
Besides being an excellent place to snag some beginner-friendly snorkeling, Catoche can also be a jumping-off point for bottom fishing, bird-watching walks, or a simple walk on the beach
Beyond its natural beauty, the cape is also relevant historically, being the landing site of the first European settlers back in 1517.
35 – Playa Punta Cocos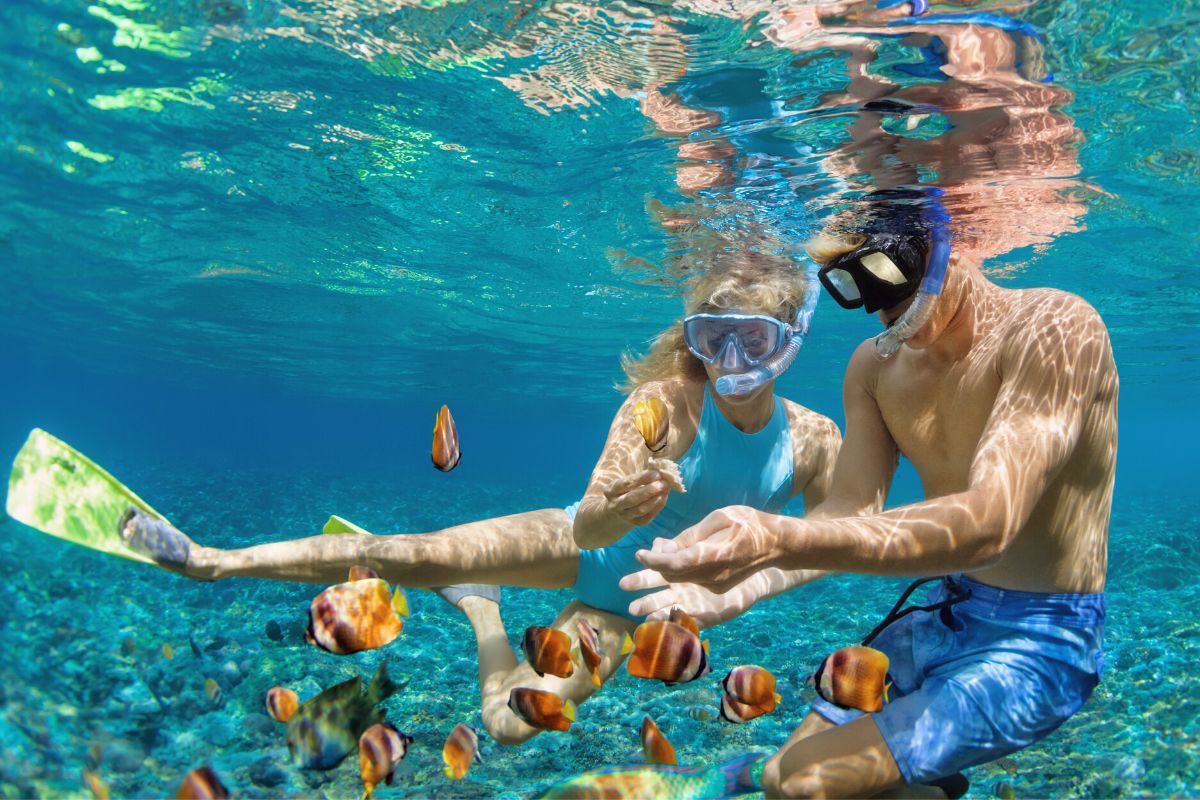 Secluded, quiet, and deserving of being a desktop screensaver for its idyllic beauty, Playa Punta Cocos is the westernmost point of Isla Holbox and acts as a wonderful spot to watch the sunset, enjoy the company of a good book, or explore the many tide pools that form in its rocky coastline.
Of course, another reason to come here is for the snorkeling – which, in addition to being some of the best on the island, is also easy to access with a long section of shallow water to explore
You'll find a small bar that serves food and drinks, and an in-water swing that paints an envy-evoking picture, however, for the most part, this off-beat locale is raw, natural, and unadulterated.
If you can afford to stay the night, don't miss the 'Bioluminiscencia' experience – an ethereal, neon-lit display that happens when plankton in the water light up like stars in the sky. With this in mind, Punta Cocos sells itself as a must-visit for any traveler to Isla Holbox, and anyone hunting for the top-level snorkeling spots in Cancun
How to reach those snorkeling spots?
If you want to go snorkeling in Cancun (which you absolutely should, as it's some of the best in the world!), you'll find a wide variety of companies offering snorkeling tours in Cancun.
To make your experience as hassle-free and seamless as possible, use our search engine to compare every tour and pick the one that fits your needs and budget best.
Whether you're after luxurious catamaran snorkeling tours, family-friendly tour options, or something a little more adventurous like swimming with whale sharks, we've got you covered.
What are you waiting for? Start planning your Cancun snorkeling adventure today!
Final thoughts
Well, there you have it – our comprehensive guide to the best underwater adventures, and the ultimate guide to snorkeling in Cancun! We hope this has inspired you to add a snorkeling trip (or two, or three!) to your Cancun itinerary.
Have we missed any of your favorite snorkeling spots in Cancun? Let us know in the comments below!
Looking for more things to do in Cancun? Check out our blog for more ideas. From beach clubs to museums, sunset cruises, and cenote swimming, you won't be shy of options.
Want to extend your trip? Consider adding Tulum, Playa del Carmen, Valladolid, or even Mexico City to your list of homebase cities.
As always, happy travels!