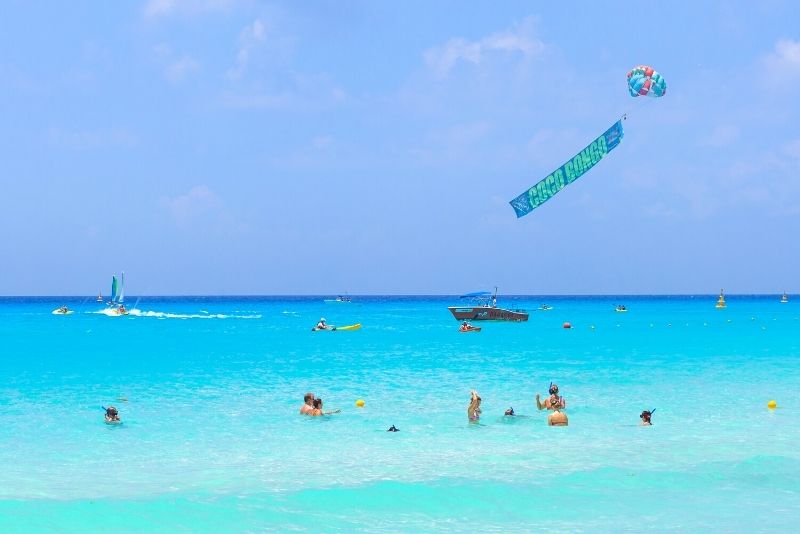 Playa del Carmen is one of the shiniest jewels in the Mexican Caribbean, with white sand beaches, turquoise sea, and Mayan ruins everywhere you turn.
Spend your days swimming in mysterious jungle pools or snorkeling with sea turtles. Then as dusk falls, get the party started with tacos and tequila.
There's a definite romantic feel about this tropical town, which forms part of the Riviera Maya coastline. Frequented by couples (and honeymooners), that's not to say there aren't plenty activities for families, or friends.
Stop by the Frida Kahlo Museum, swim in underground rivers at a world-famous eco-archaeological park, and marvel at a magnificent Cirque du Soleil show.
Naturally, it's paradise for the traveling souls who feel happiest when surrounded by Mother Nature. Tour picturesque islands nearby on day trips, go dolphin watching and partake in a traditional temazcal ceremony — an ancient cleansing ritual.
The coral reefs here are some of the best in the world, and the foodie scene will set your senses ablaze. There are lots of incredible things to do in Playa del Carmen, but these are the ones you shouldn't miss.
Want to dive straight in? Browse our catalog now!
1 – Go swimming with the whale sharks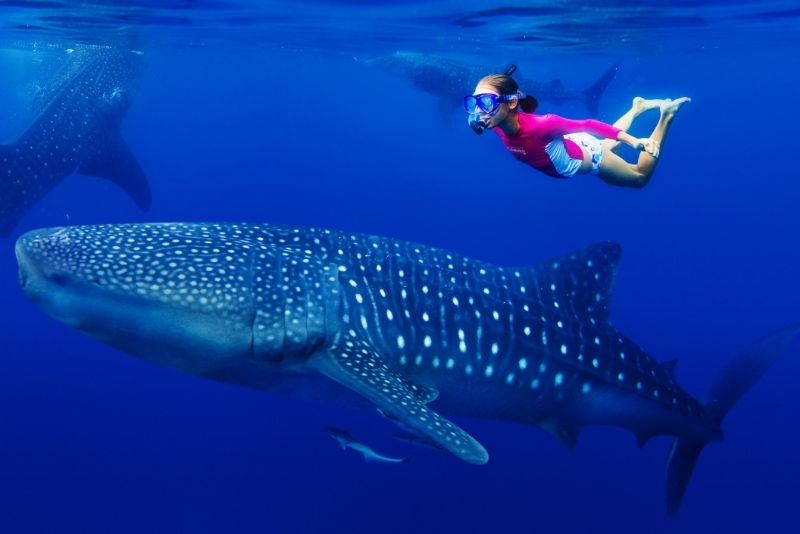 Whale Sharks are the largest fish in the ocean, so imagine what swimming beside one will feel like! Between May and September, the Riviera is a great snorkeling place to see the whales as they migrate to these warm Mexican waters.
You'll head out to sea by boat in search of these friendly marine giants. Then it's time to jump overboard and see them in action up close.
As you head out on your adventure, you'll also get to learn more about the conservation efforts being done to protect this incredible sea creature, while basking in the scenery of the sea all around.
After that rush of adrenaline, you'll come back for air to enjoy a delicious lunch on board.
2 – See tropical reefs up close on a scuba diving adventure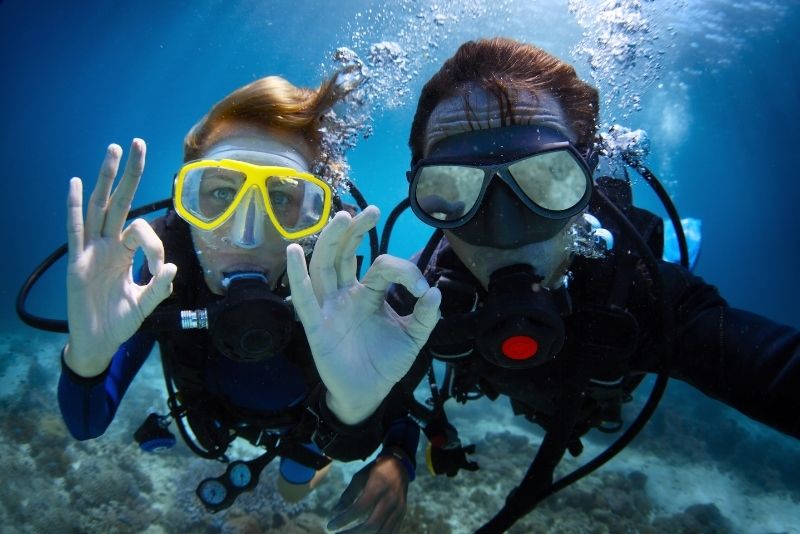 Immerse yourself in the magical marine kingdom as you dive the tropical reefs that lay beneath the waves. Beginners can enjoy an introductory program that finishes with their very first open water dive.
Certified divers will love seeing the coral formations, plunging walls, and exotic residents of the Mesoamerican Reef. Cenote diving is fun too, giving you a glimpse into a secretive underwater world.
3 – Refresh at the luxurious Jungala Aqua Experience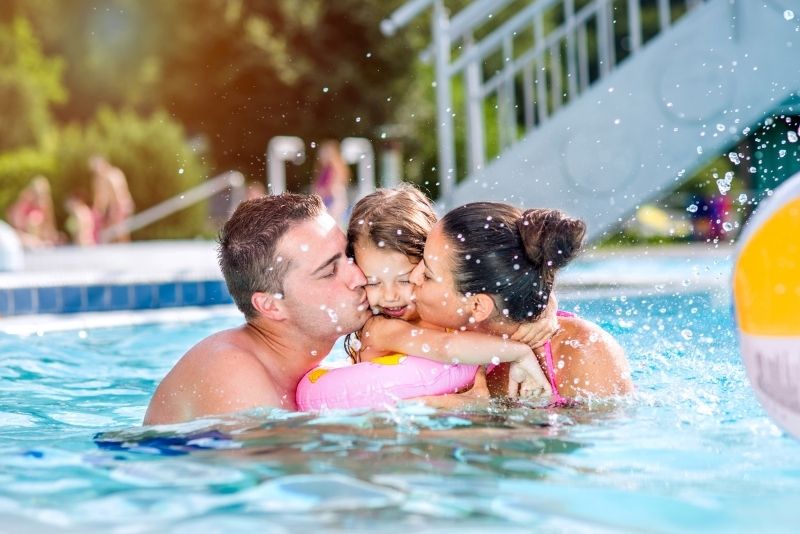 Combining both a fun and luxurious ambiance, make sure to pack your beach day essentials and head to Jungala Aqua Experience, one of the best and newest water parks in Latin America making waves for it's games, rides, and more.
From shopping, spas, luxury cabanas, and pools for the adults, to fun slides, play sections, and a special kid's area for the smaller travelers, this is sure to be one of the best activities for all who visit!
Enjoy hopping on the rides without long lines or tons of people around, access the newest and fun activities, and appreciate the cleanliness of the parks.
Before heading to the park, make sure to make your reservation ahead of time, starting at $80 USD.
4 – Embrace nature and culture at Xcaret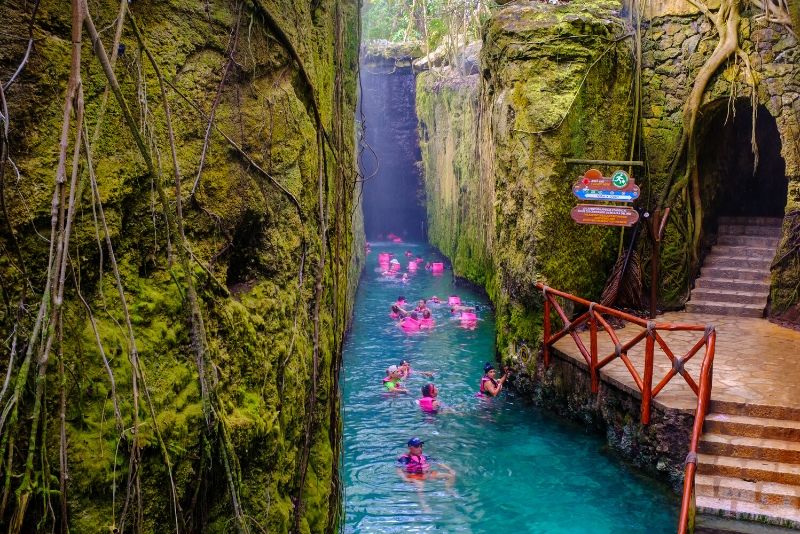 This world-famous eco-archaeological park is a thrilling day out for families and friends, with over 50 natural and cultural attractions.
You can swim in underground rivers, make friends in the Coral Reef Aquarium, and even discover ancient Mayan ruins. There are shows and folk museums to enjoy at Xcaret too, and don't forget to visit Jaguar Island and Manatee Lagoon before you leave.
To make the most of your time at this incredible park, look through our list of the best tour packages to Xcaret that include numerous things for one single price! From swimming with dolphins to enjoying the incredible night show demonstrating in a colorful way Mexico's culture and history!
Want to save time? Score the fast pass entry tickets!
5 – Work on your tan at the best beaches in Playa del Carmen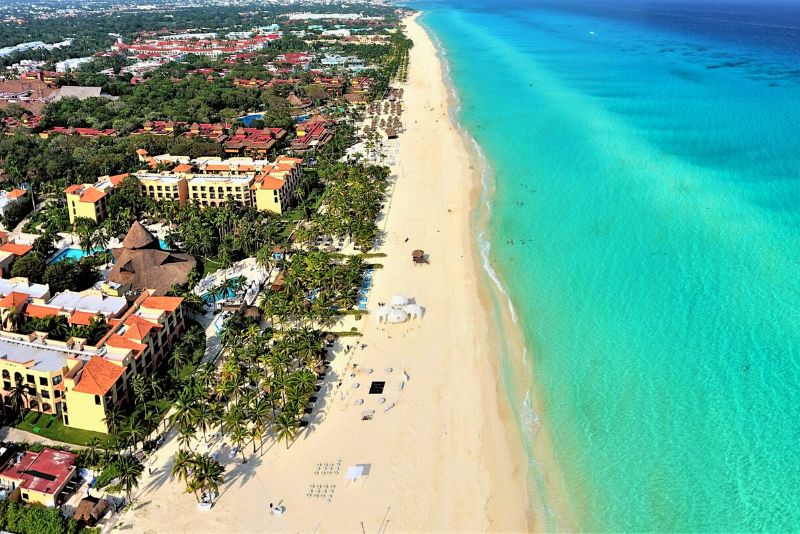 One of the biggest draws for travelers is Playa del Carmen's splurge of incredible beaches, boasting the softest whitest sands and crystal clear light blue oceans. Naturally, beach days are a high priority, so here are some of the best beaches around.
Whether it's a long, romantic walk on the beach that you're after or the perfect spot to bring the family, Playacar Beach is quiet and relaxing and the waters are always flat.
Go snorkeling around Playa Xcalacoco and then indulge in a delicious lunch at one of the few restaurants on the beachfront. Or, stay for sunset and enjoy dinner under the stars.
For lagoon-like scenes, Playa Punta Esmeralda is pristine and well-favored for families with young children. Or, on the flip side, Playa Mamitas (where the famous Mamitas Beach Club) has everything you need for the ultimate beach day, from rental facilities to places to eat.
Travel 30 minutes outside of the city center and have the chance to go swimming with turtles — if you're lucky — at Playa Akumal.
6 – Discover the coast on a boat tour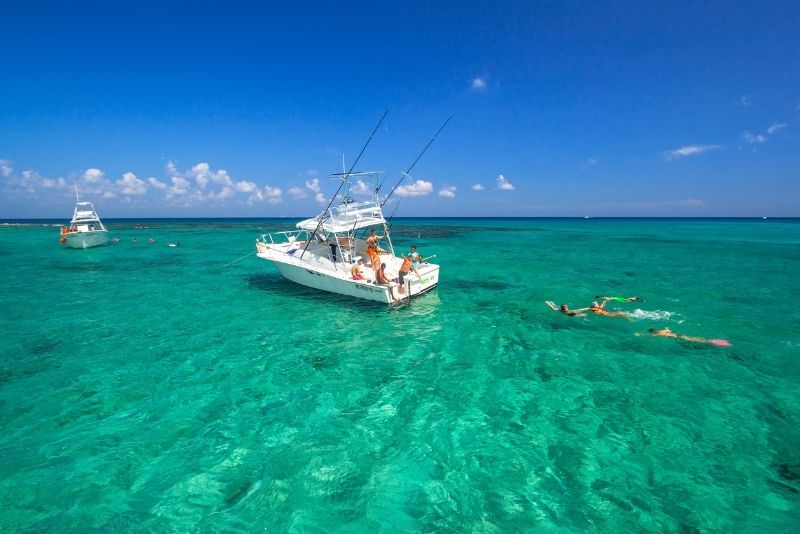 Taking a boat tour along the lush Caribbean coast is one of the most sought-after things to do in Playa del Carmen. Cruise along the tropical shore, anchoring in secret lagoons and snorkeling over reefs.
You can try stand-up paddle boarding on some boat tours, or just chill out on deck with a gourmet lunch and an open bar.
Look into booking the perfect sailing tour in Playa del Carmen, from an exciting catamaran tour with lunch provided on board, for the perfect package and day out, or consider a private sailing tour if you're traveling with a larger group!
Sail to some of the main sights including Isla Mujeres, and even get to have a snorkeling break in between!
7 – Whiz through the forest on a zip line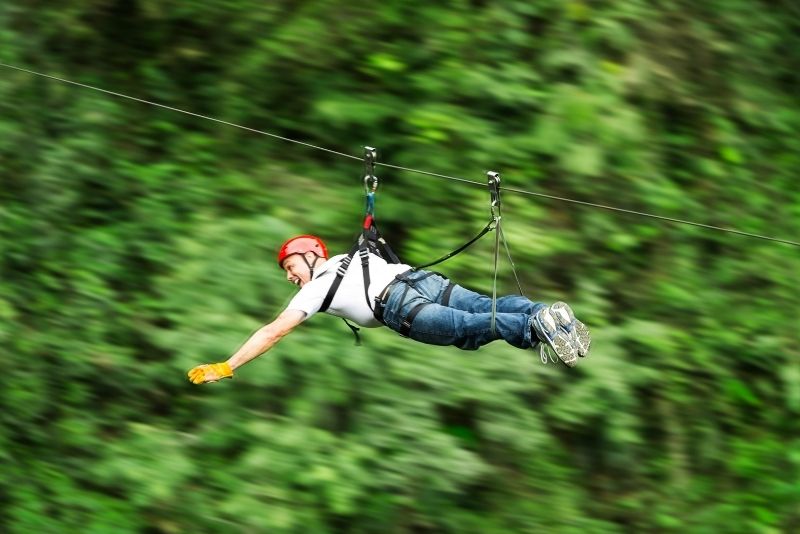 Harness your inner Tarzan and fly through the trees, getting up close and personal to the jungle canopy.
After a safety briefing and gear fitting, it's time to take a leap of faith for the ultimate aerial view of the jungle. There will be the opportunity to zoom over hidden cenotes, and then go for a swim in them to cool off.
Couple some zip-lining with other bonus activities, including riding ATVs through the jungle, snorkeling in the blue waters of the cenotes, and even a delicious Mayan lunch break in between, and you're on to an amazing day-long trip! Make sure to bring a change of clothes for all the adventures ahead!
Zip-lining tours range between 3 to 7 hours long.
8 – Taste local flavors on a food tour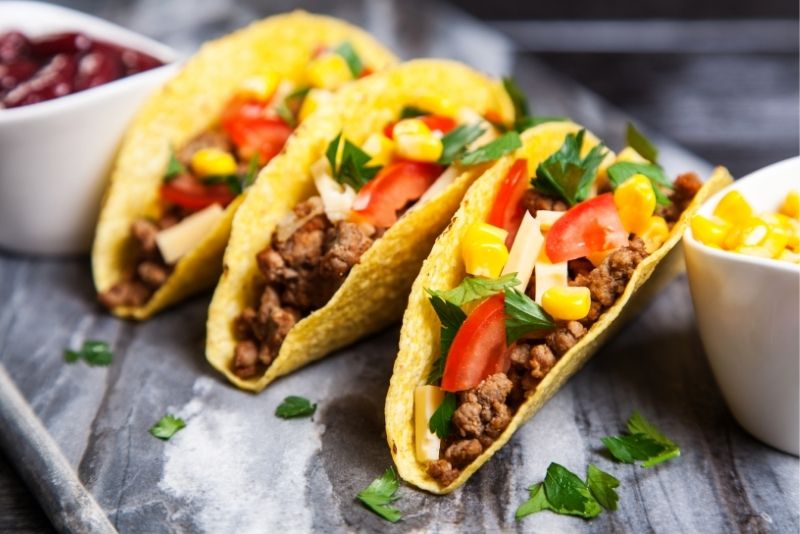 Joining a food tour is one of the tastiest things to do in Playa del Carmen. You'll be sampling dishes at the best eateries in town, and learning more about Mexico's intriguing food culture.
Head off the beaten track on a walking tour, in search of lesser-known specialties. Will you prefer the handmade quesadillas and tacos al pastor, or are popsicles and ice cream more your thing?
9 – Explore the underworld at Rio Secreto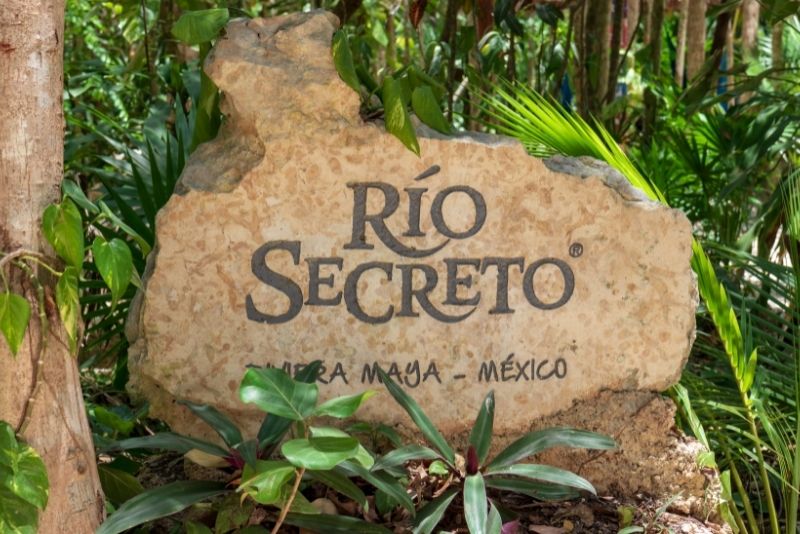 Put on your explorer's hat and venture deep underground to discover show-stopping caves and secret subterranean rivers. Formed over millions of years, the colossal stalactites and stalagmites of Rio Secreto are the real highlights.
Hike through tunnels and caverns, all the time surrounded by ghostly geological formations. You'll have to swim along some sections, and there are cycling and snorkeling options for intrepid adventurers, but not to worry, this experience is open to all with an open mind and soul of an explorer.
Along with your tour guide, you'll be led to the specific points where you'll see the incredible natural formations, learning about how they form, and more, and then at the end, enjoy a delicious lunch with your groupmates!
10 – Seek out local life at Parque Los Fundadores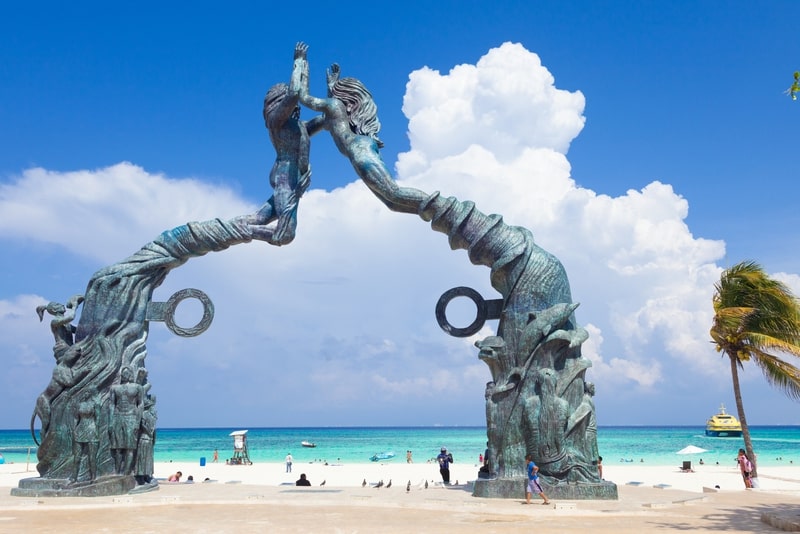 Take time out as you stroll around the Parque Los Fundadores ("Founding Fathers Park") and see a different side to Playa del Carmen.
Listen to live music and watch street performers as you wander along, eating fresh fruit from the local women vendors. Parque Los Fundadores is a great place to steep yourself a bit more into local culture, not too far off from the resorts.
Swing by the white stucco church called the Nuestra Señora del Carmen Church, and stop for beachside photos at the towering Portal Maya sculpture.
If you're lucky, you may even catch sight of the famous Papantla dancers, a group of trained men who elegantly hang upside down and spin around a tall traditional pole.
11 – Unearth the secrets of Coba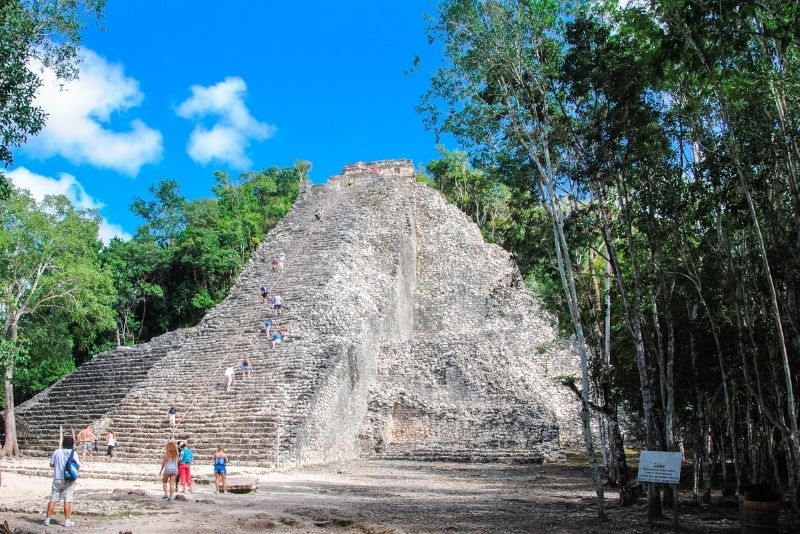 Scramble to the top of the tallest ancient pyramid on the Yucatán Peninsula and gaze out over the dense jungle that carpets the peninsula.
Coba is one of the most spectacular Mayan archaeological sites in Mexico but is quieter than Chichén Itzá thanks to its remote location. The ruins here have not yet been fully excavated so they have a real Tomb Raider feel about them!
Along your trip to Coba, you'll also get the chance to add more to your day with visits to Tulum, swimming in a few cenotes, and even a boat ride! Make sure to check what your tour includes, as some may vary, as well as the duration from 6-12 hours. It's your pick!
12 – Make a splash jumping into Hubiku Cenote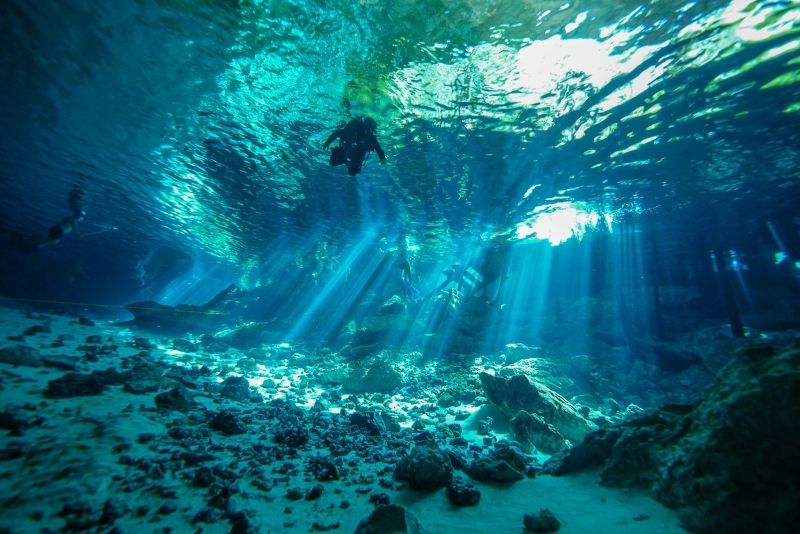 Head deep into the lush jungles of the Yucatán Peninsula for an ethereal swim in one of Mexico's famous cenotes. These hidden limestone pools lead to a mysterious subterranean world, once used by the ancient Mayans for water and worship.
The mother of all cenotes, this natural cave pool is one of the most popular swimming spots in the region. Natural light seeps through the cavern roof, showing off the rock formations in all their glory.
Hubiku is one of the most accessible cenotes so it's a great place for families. See if you can spot the catfish that live in the depths.
13 – Explore the Mayan jungle on an ATV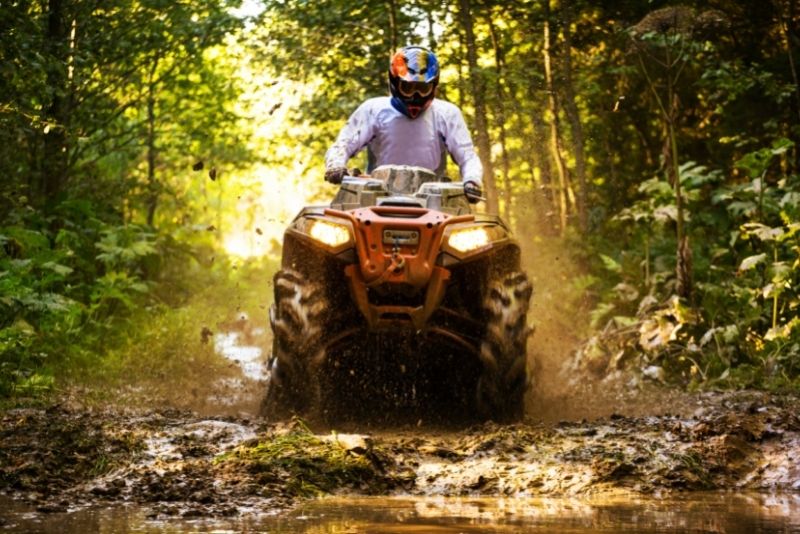 Feel the need for speed as you rocket along jungle trails, splashing through forest pools as tropical trees fly by. If you're looking for fun things to do in Playa del Carmen, ATV tours tick all the boxes.
As you emerge from the rainforest, keep your hand on the throttle as you negotiate the sandy shoreline. Cool off with a cenote swim along the way.
Starting at $80 USD, you'll be able to swerve around the Mayan jungle and join others in different activities to enjoy the fun-packed day with different departure times for convenience!
So double up on your adventure essentials, and bring a change of clothes, because an ATV adventure will mean going through some dirt and mud!
14 – See one of the Seven Wonders of the World: Chichén Itzá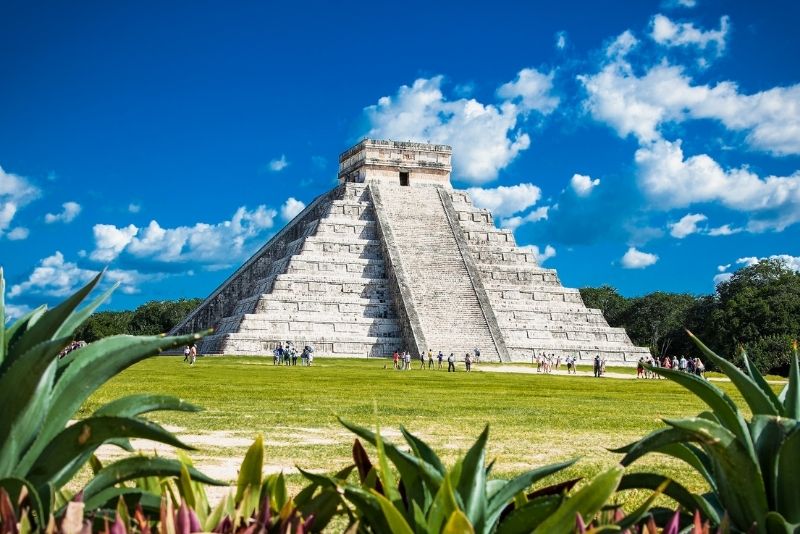 If you only visit one set of Mayan ruins in Mexico, make sure it's Chichén Itzá. This famous archaeological site is one of the New Seven Wonders of the World, with ancient temples and pyramids punctuating the forest canopy.
Go early to admire the ruins before the crowds arrive, and soak up a little of that ancient Mayan enchantment as you wander around the vast complex. If you're short on time, or simply don't want to wait in exhausting long lines, check out a skip-the-line ticket with access to a cenote and lunch included!
If you're visiting with a larger group, book a VIP Chichén Itza tour, allowing you the luxury of experiencing Chichén Itza without many people around!
15 – Grab drinks at Be Playa Rooftop Pool & Bar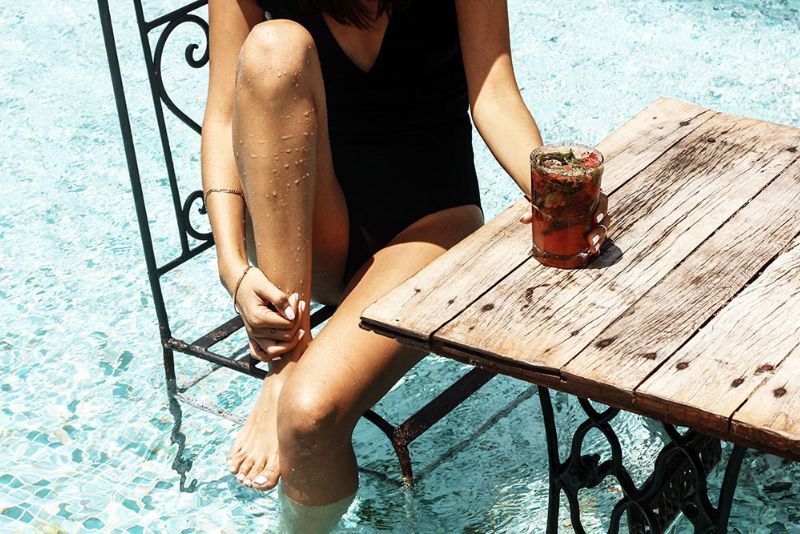 The perfect spot for sunset hour, a scrumptious lunch or a place to escape the Mexican sunshine for a few hours, Be Playa Rooftop Pool & Bar is the place for it.
Open from mid-morning to the late evening, as soon as you arrive at the rooftop be treated to a cocktail, beer or smoothie welcome drink. Pick a boho Mexican seater around the bar area or a bean bag next to the pool.
Other than the complimentary drinks, guests receive towels upon arrival and all access to wifi — so an Insta-moment is never far from uploading.
Try one of their specialty mezcal cocktails, like the 'Hibiscus' made from mezcal, serrano chile, hibiscus, Controy and lime juice, or a signature tequila.
16 – See Frida's best work at the Frida Kahlo Museum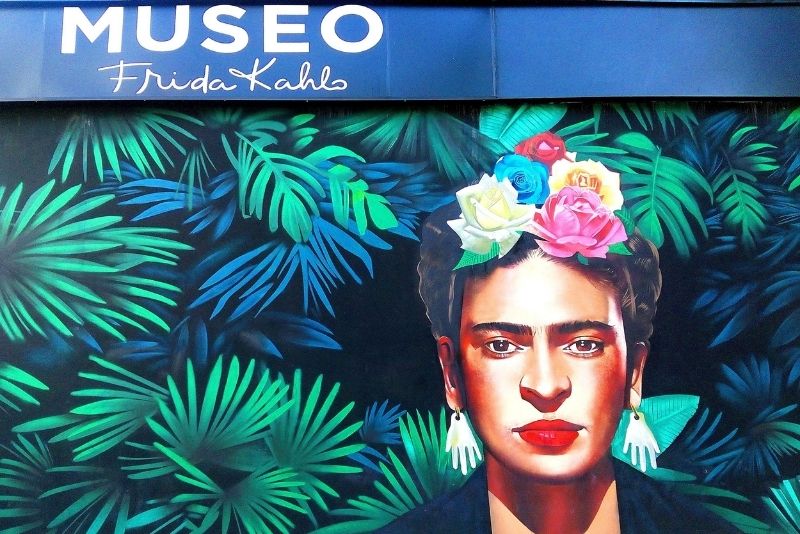 If you're looking for cultural things to do in Playa del Carmen, make sure you pop into the Frida Kahlo Museum. Learn about the life of this thought-provoking Mexican artist, who was famous for her self-portraits and controversial nature-inspired work.
Located on the famed 5th Avenue strip, the Frida Kahlo Museum should be an easy find, and the perfect activity for those tropical rainy days in Playa del Carmen.
Inside you can admire photos and art displays chronicling Frida's life, and watch a short movie in the mini theater.
With displays and descriptions available in both Spanish and English, you won't have to worry about language barriers coming between you and Frida at the museum! Just book your tickets ahead of time!
17 – Visit the underwater sculpture museum at Isla Mujeres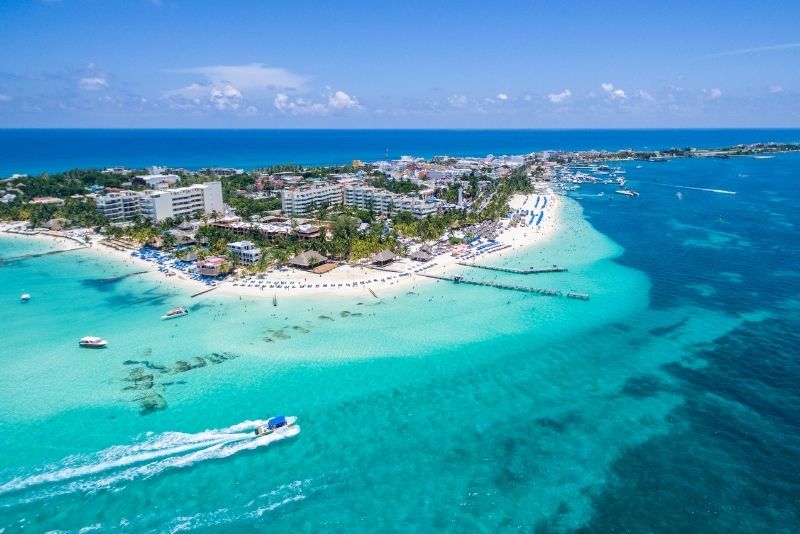 Famed for its vibrant coral reefs and dazzling white beaches, Isla Mujeres deserves a place on your itinerary. Time passes slowly here, and the friendly locals make you feel welcome the moment your feet touch the sand.
Check out the underwater sculpture museum, swim with turtles, or explore the ruins of a hacienda that was built by a pirate. You'll be sad to leave this pristine paradise.
Make a whole day out of the experience, relax and unwind as you discover another beach paradise like Isla Contoy, and enjoy a lovely lunch or breakfast depending on the time of your experience.
Some tours also include amazing snorkeling opportunities, or simply enjoying a spectacular sailing outing! What will you go with?
18 – Stroll the cobbled streets of Valladolid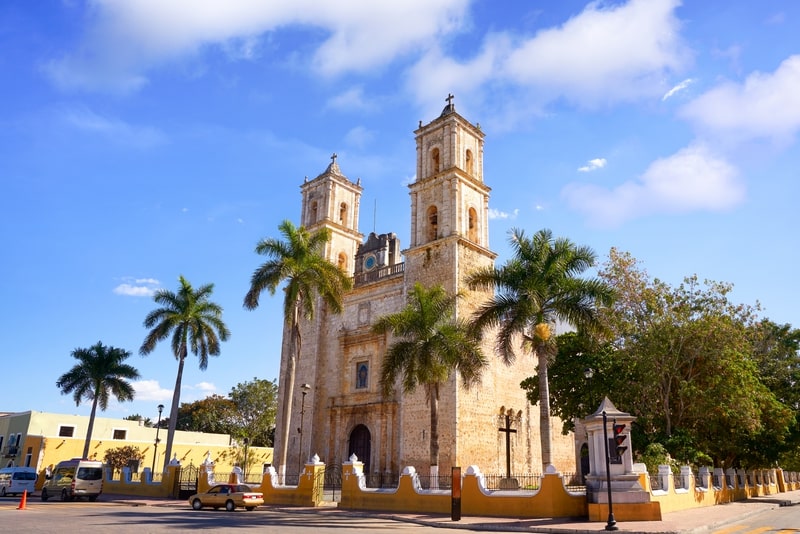 The charming colonial town of Valladolid is the place to go if you want to discover the real Mexico. You can pop into ancient churches, admire the architecture of the houses that line the streets and shop for handicrafts in colorful markets.
The pastel hues of the buildings in the historical center make for eye-popping photos, so make sure your camera batteries are charged.
Get to know the city on its own when you explore it on a walking tour or even explore other sites along with your visit to Valladolid, including a visit to the cenotes like Cenote Ik Kil, Chichén Itzá, and more!
Starting at $39 USD for a full 12-hour experience – it's a deal hard to beat!
19 – Swim with sea turtles and other marine life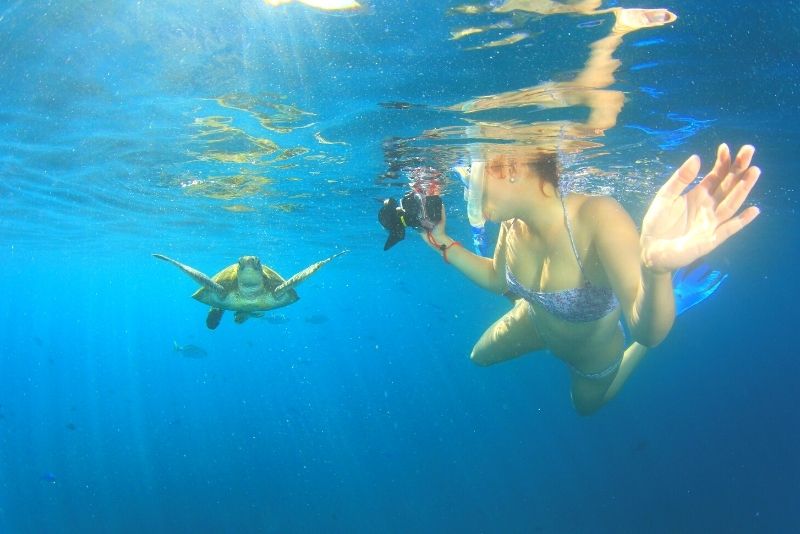 Ever wanted to swim with a sea turtle? The calm lagoons of the Yucatán Peninsula are one of the best places in Mexico to see these gentle sea creatures.
Take a deep breath and glide through the water with the turtles, keeping an eye out for the other marine inhabitants darting about the reef. This special moment is sure to stay with you forever.
Opt for a private or a group excursion to snorkel and swim with the sea turtles, proving to be one of the most magical moments in nature that you could experience! For those with extra time, make sure to look into combined experiences, that include a cenote visit, zip lining, and a delicious Mayan lunch!
20 – Work on your backswing at the golf courses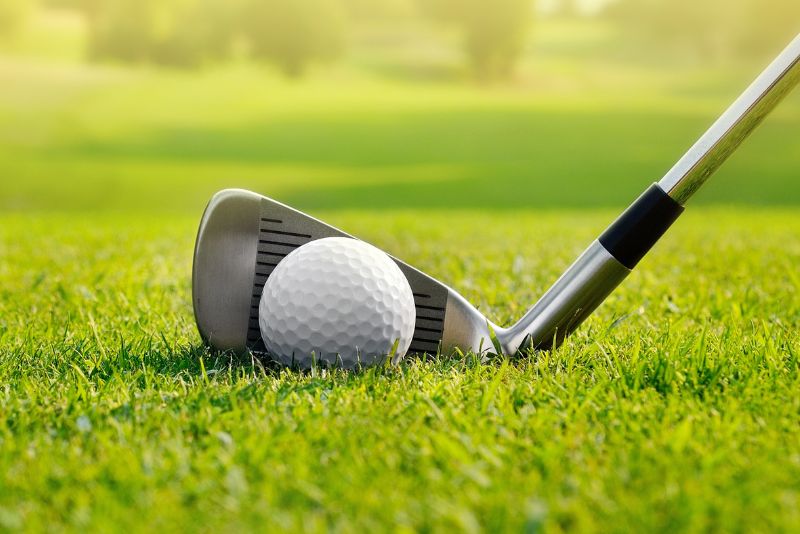 Grab your buddies or if you're here on a family vacation and have a few hours to yourself (dads, we're talking to you), practice your golf swing and tee off at some of Playa del Carmen's golf courses.
Built next to the ocean and with a coastal jungle sweeping around the course, the Gran Coyote Golf is an 18-hole course with a par 71. Positioned on the seaside, winds do pick up sometimes and can pose a challenge (accepted).
If you're feeling rusty, practice prior at the Practice Range, or sharpen your skills at the Golf Academy.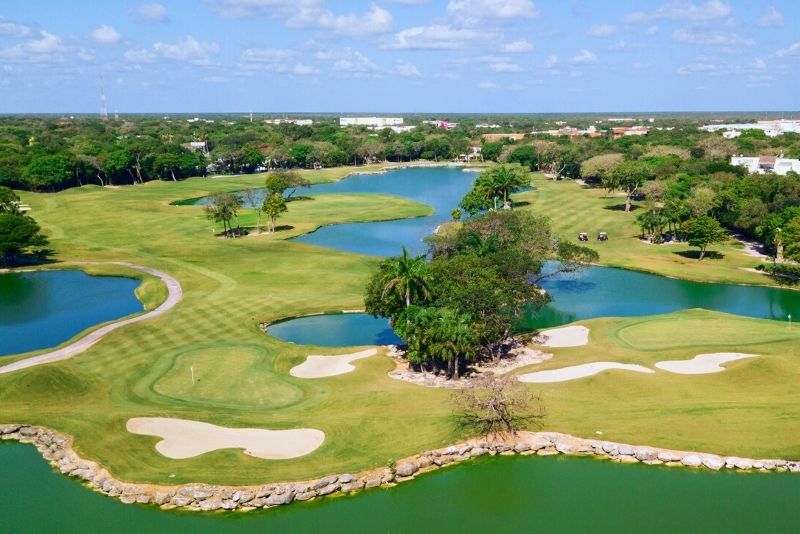 Situated in Quintana Roo, the Hard Rock Golf Club is an award-winning golf range designed by Robert von Hagge. With a romantic setting of native wildlife and ancient ruins, this course is favored by couples who love to golf together.
As the first official 'PGA TOUR Golf Course in Latin America', the 18-hole El Camaleón Mayakoba Golf Course is a premier course — boasting Greg Norman design. Learn how to play at the Jim Mclean Golf School or relax afterward at the Koba Club House.
21 – Be in the company of monkeys at Akumal on a day trip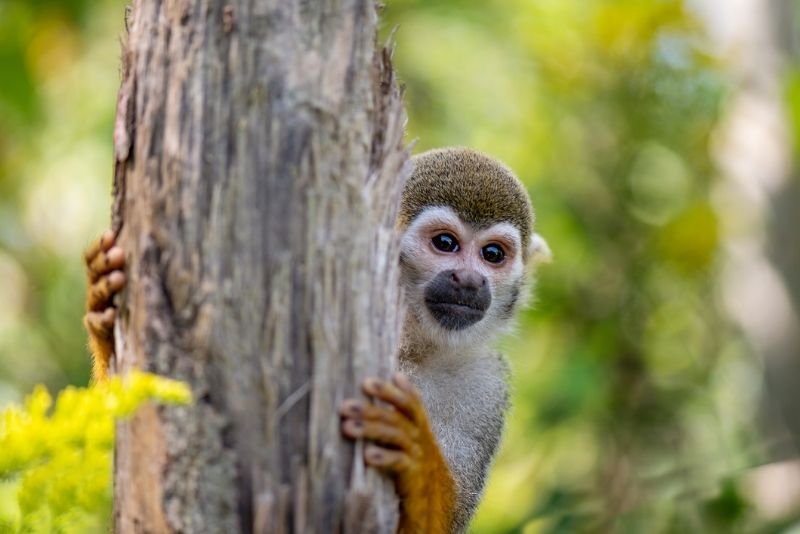 Feel connected with the local nature and wildlife when you spend a day at Akumal, a wildlife sanctuary located a little under 2 hours away from Playa del Carmen. Learn more about, and lend a hand and time at the sanctuary, which takes care of mostly monkeys and a few other local animals.
At the sanctuary, you'll gain some consciousness about the local events that are causing some of the animals into unfavorable situations, as well as these human influences on nature that are causing a disruption in the local ecology.
Check out the Akumal Sanctuary Tour, which offers a guided visit throughout the sanctuary, getting to interact with the local primates, and directly adding a positive impact to the healing animals.
22 – Refresh yourself with a swim at the Ik-Kil Cenote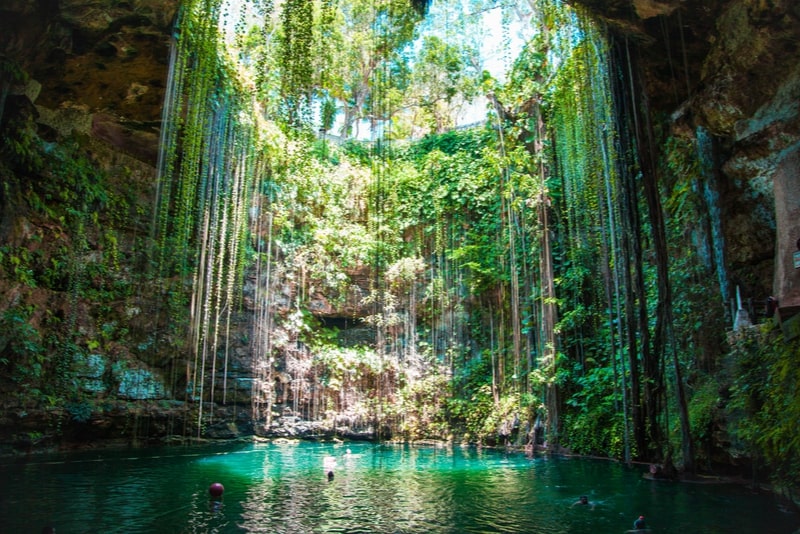 This jungle cenote has a mysterious vibe, with rainforest foliage dripping down the cavern sides and light dancing off the walls. Of all the things to do in Playa del Carmen, Ik-Kil is one of the most beautiful.
Climb down the steps and dive into the inviting blue waters of the pool. This is what it feels like to be living in a fairy tale!
Dive into these sacred well for a refreshing dip. Watch the light play above your head and absorb a little Mexican magic.
23 – Plan a fun-filled day doing some kitesurfing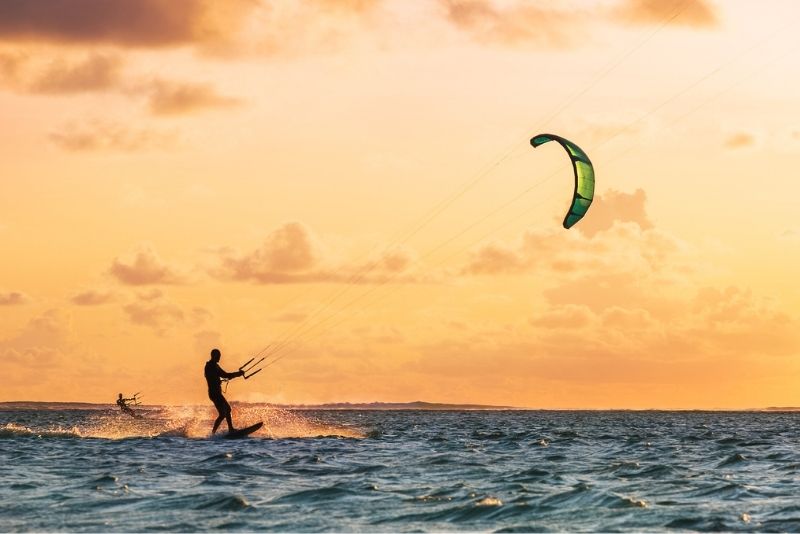 Go where the wind blows you when you book yourself for an enthralling kitesurfing experience through the blue waters of some of the best Mexican beaches!
With multiple different experiences lasting anywhere between 1 up to 9 hours of kitesurfing, relish this amazing sport whether you're new to it or you've done it before.
If you are however on the advanced side, there are kitesurfing experiences that meet you where you're at, and take place in different parts of Playa del Carmen, offering a bit more room for your epic skills to shine!
If you feel that you have a pretty good handle on the sport, opt for simply renting out the kitesurfing gear, and and truly choosing your own adventure!
24 – Climb Ek Balam for incredible views of the peninsula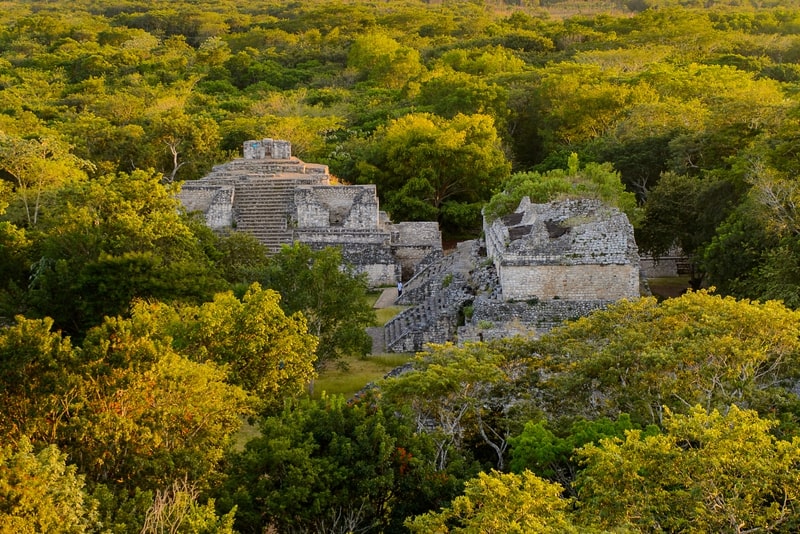 Located 25 kilometers north of Valladolid in the Mayan Lowlands, Ek Balam is smaller and quieter than its sister archaeological sites.
Meaning "Black Jaguar" in Mayan, the city of Ek Balam dates back to 600BC. You can climb some of the pyramids here for incredible views of the peninsula and explore the complex to discover more about the civilizations of old.
Enjoy a seamless way to experience some of Mexico's most treasured sites with an all-inclusive tour, including visiting some of the most notable pyramids including Chichén Itza, and even stopping by a few cenotes to get away from the heat a bit!
Some tours also include lunch and roundtrip transportation, so all you have to do is get ready!
25 – Shop till you drop at Quinta Avenida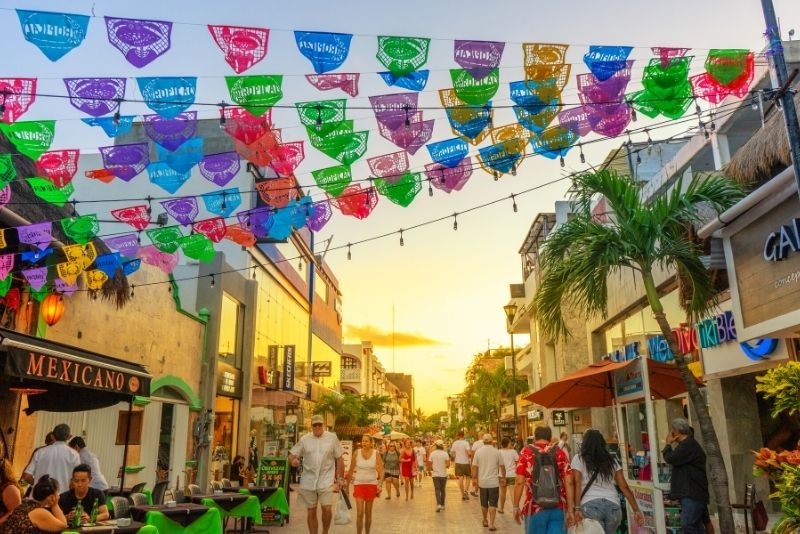 So, you've seen the sights, now it's time to hit the shops. Head down to 5th Avenue on a shopping tour and get hunting for some quirky souvenirs.
Be dazzled by the colorful handcrafted textiles and pick out your favorite piece of jewelry to remind you of your vacation. From rugs and leather to sculptures and of course tequila, it's all right here.
Don't know where to start? Why not let someone show you around the best shops and boutiques for those one-of-a-kind items? Consider a 5th Avenue Shopping tour, and even receive a few goodies including a gift certificate to use at one of the shops!
Throughout the experience, you may or may not stop for a tequila tasting!
26 – Pass hidden pyramids on a buggy tour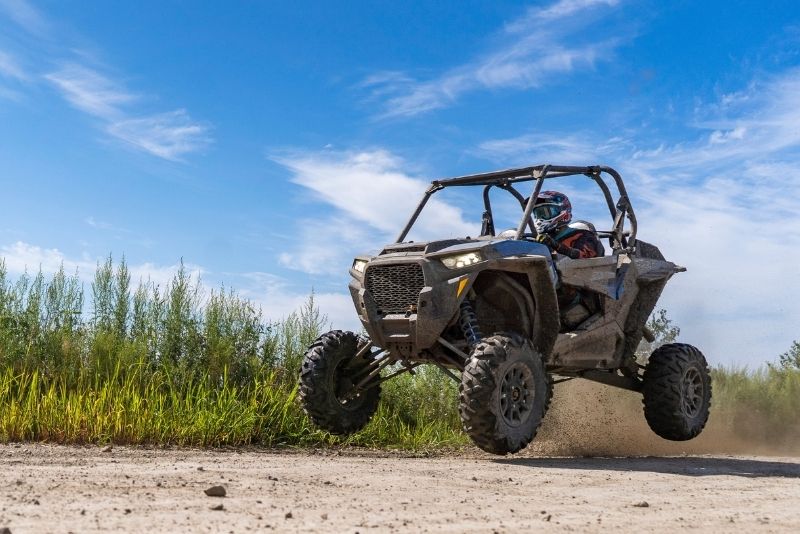 Get behind the wheel of an off-road buggy and finally realize your childhood racing dreams. Hang on tight as you bump along jungle tracks, following a guide to several scenic photo stops.
You'll be exploring well off the beaten trail and visiting places few other tourists get to see. Wash off the dirt with a dip in a cenote after your ride.
To see it all the much better, consider booking an exciting 3-hour long buggy tour through the balmy tropical Mayan jungle, and then finalize the experience with a cooling dip with optional snorkeling or swimming inside a turquoise-colored cenote!
Enjoy a cultural experience, passing through Mayan villages, stopping for a traditional meal in between, and even taste-testing natural cacao.
27 – (Safely) go shark diving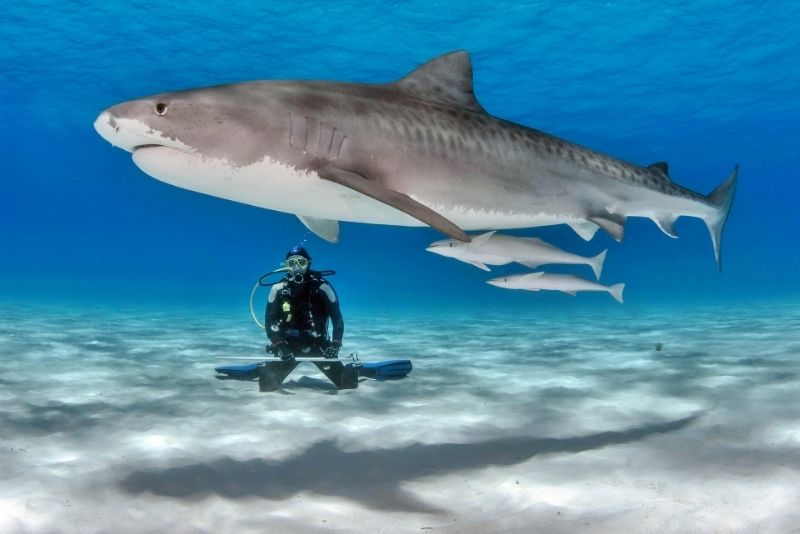 See some of the most powerful ocean predators up close in their own territory on a thrilling shark dive. Descend into the deep blue depths and watch in awe as bull sharks glide over the reef.
Then enjoy a drift dive over the sandy ocean floor which is a favorite haunt of these graceful creatures. Sightings are most prevalent during winter and occur not far from shore.
With day-long tours available from Playa del Carmen, make your way to Isla Mujeres, on a speedboat until reaching the diving site. Get ready as your professional guide shares important tips and safety rules, while you're gearing up!
After your magical encounter with the sharks, you'll get some relaxing beach time and a delicious lunch!
28 – Feel the thrills on a speed boat ride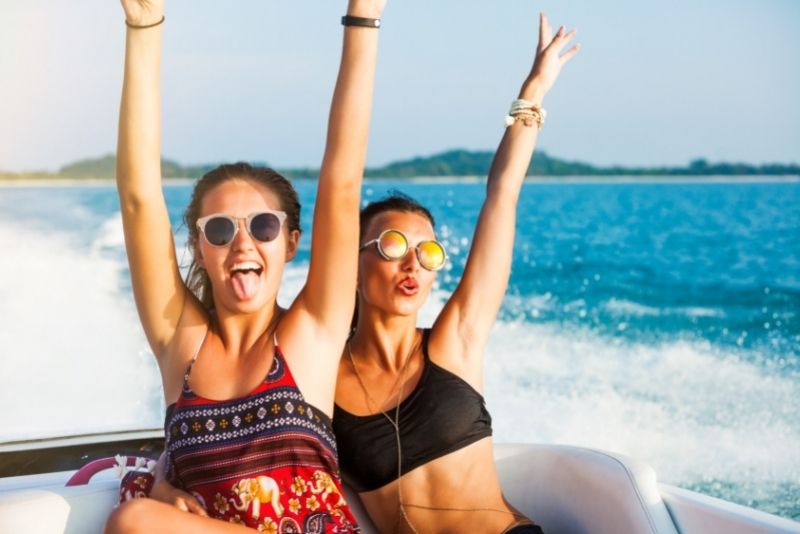 Cruise through the crystal-clear Caribbean Sea and admire the sights from an ocean perspective. This is your chance to get behind the wheel and be captain of your own boat.
Pack up your day trip essentials and your excitement as you get ready to hop on the exciting speed boat, rushing through the waters near the famed Xcaret park, and even stopping for a delicious and hearty lunch. Gain entry into the entertaining park with your speedboat tour, and have fun with all the activities awaiting you on the inside.
Enjoy the warm breeze on your face as you open up the throttle and slice through the waves, keeping watch for marine wildlife along the way. No prior experience is required.
29 – Enjoy a good morning while paddleboarding the Mexican Caribbean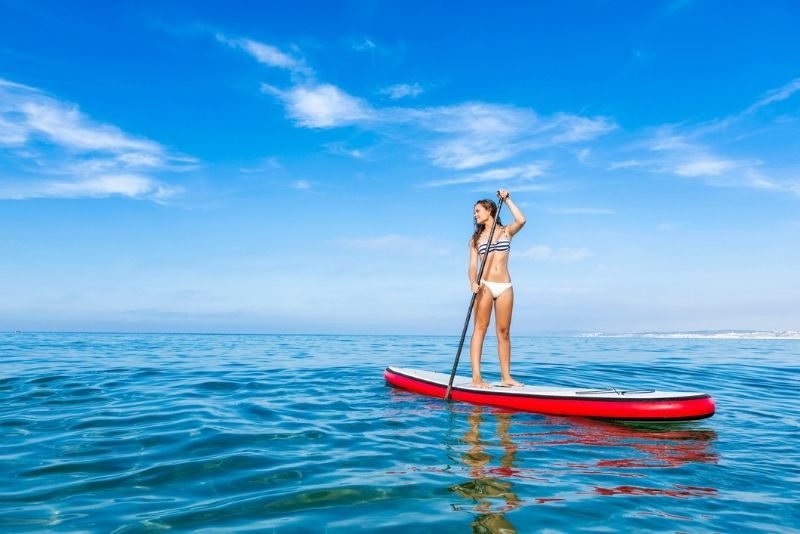 Greet the new say with a paddleboarding experience on the water with views of the Mayan Riviera and some of the world's best beaches in the world!
Whether you know how to paddleboard or not, rest assured a great time is waiting for you when you expand your horizons, and take up this amazing activity with the guidance of your instructor!
Don't want to wake up early? Look through our list of the best paddleboarding in Playa del Carmen activities, including a cenote tour on a paddleboard, an equally mesmerizing sunset paddleboard experience, or paddleboarding through an ancient Mayan lagoon.
Traveling with kids? You may want to consider the paddleboarding activity for children, geared specifically for children and their parents to enjoy together.
30 – Pick your adventure at Emotions Native Park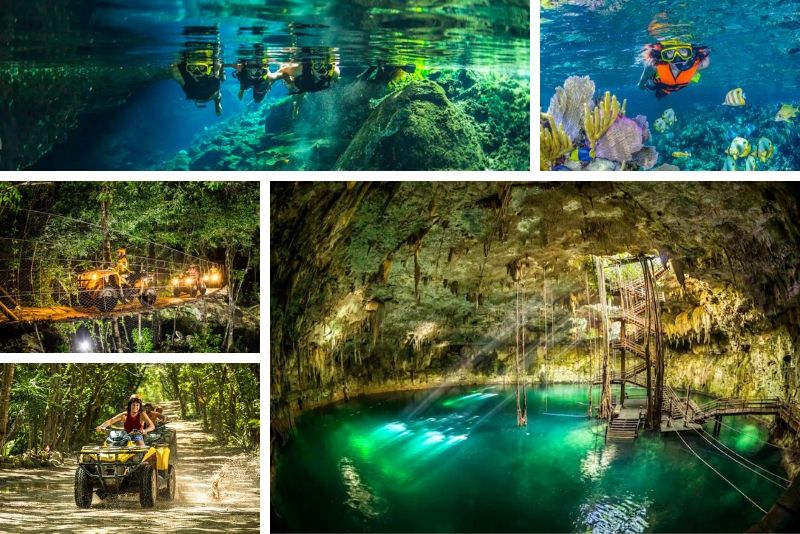 Explore the jungle a little differently with an active tour in Emotions Native Park. Make like Indiana Jones as you traverse a treetop suspension bridge, and see Mayan ruins poking their heads out of the trees.
A zip line will whisk you away through the canopy – look down if you dare. Finally, dangle your toes in the underworld as you swim in a cenote.
For those wanting to explore the park through land, check out an ATV adventure, and drive down the nature trails of the park, as you learn more about the local history of the park, and nature surrounding you.
Don't know how to get there? Book a roundtrip transport to and from your hotel to the park!
31 – Explore the wild on a jeep tour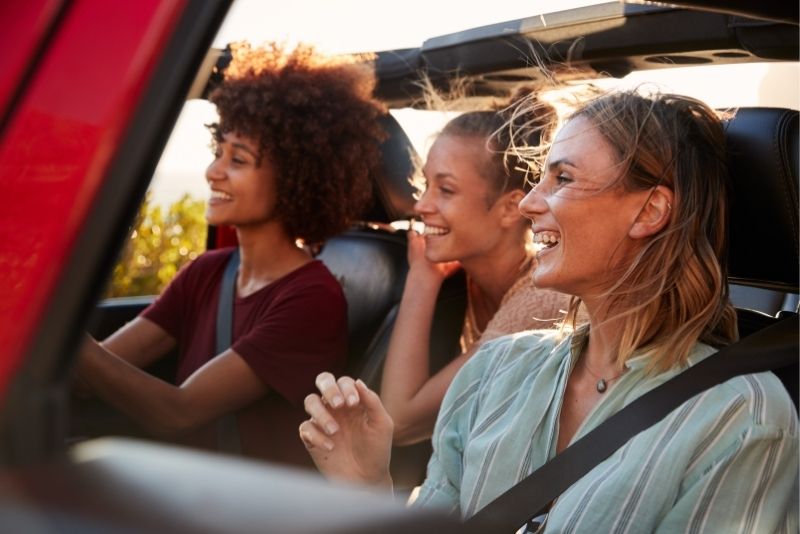 Get ready for a bumpy ride as you hurtle along jungle trails to check out this tropical Mayan realm. Whether you like to be chauffeured by a local guide or want to be in the driving seat yourself, there's something for everyone.
Power through the rugged wilderness, encountering native wildlife along the way. Some tours swing by the beach where lighthouses and shimmering waters await.
Visit stunning Cozumel, and brace for a day full of activities, from riding a ferry, to snorkeling, and riding a Jeep, with lunch included. Other tours will take you to other corners and include other activities such as a catamaran excursion into the fluorescent blue waters of the Mexican Caribbean.
Jeep tours start at $94 USD.
32 – See geological formations rappelling into a cave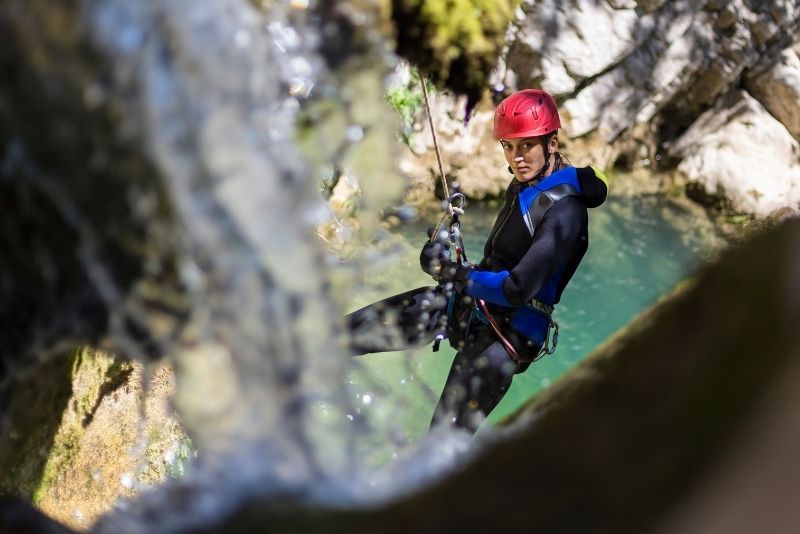 Muster your courage as you lower yourself off the rock edge and slowly descend into the steaming Mayan jungle down below. You'll be perfectly safe, but the adrenaline buzz will be epic!
Take the adventure to a whole new level with a rappel into an underground cavern dripping with stalactites. There's simply no better way to enter the Mayan underworld than this.
If this excites you, then you'll want to check out other amazing tours that include activities such as an ATV ride through the jungle, a bonus swim in a local cenote, and even a zip line above the green oasis of the Mayan jungle as the cherry on top!
Tickets start at $93 USD. Some tours include lunch, so look carefully!
33 – Explore the coastal ruins at Tulum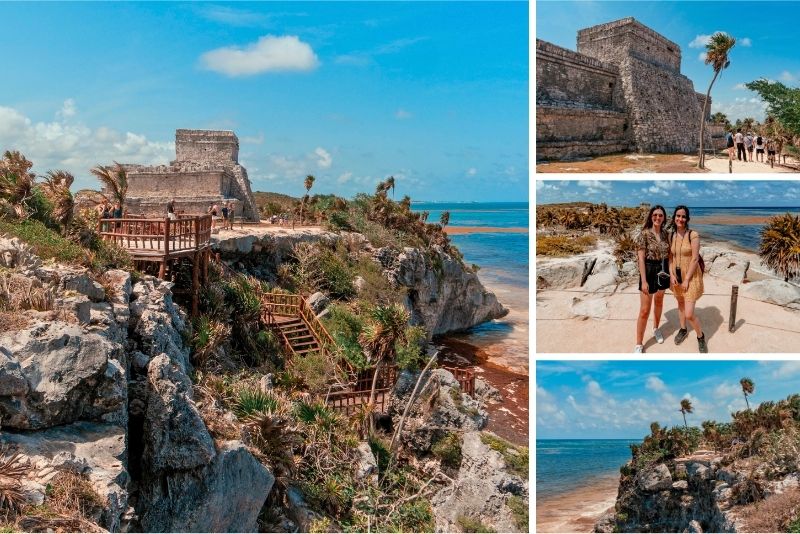 The ancient Mayan port city of Tulum is renowned for its sugar-soft beaches and well-preserved fortress ruins. Standing dramatically on the edge of a cliff, the archaeological site overlooks the sea and features a small castle at the top.
There are emerald lagoons, secret cenotes, and tropical forests to discover too, making a day trip to Tulum well worth the effort.
If you're trying to get some quality time at the coastal ruins of Tulum without too many people around, check out the VIP private Tulum tour, which offers your own guide and grants you a private moment to both hear the waves and admire this historic ruin.
Short on time? Visit both Coba and the ruins of Tulum on an all-inclusive tour!
34 – Shun reality at the 3D Museum of Wonders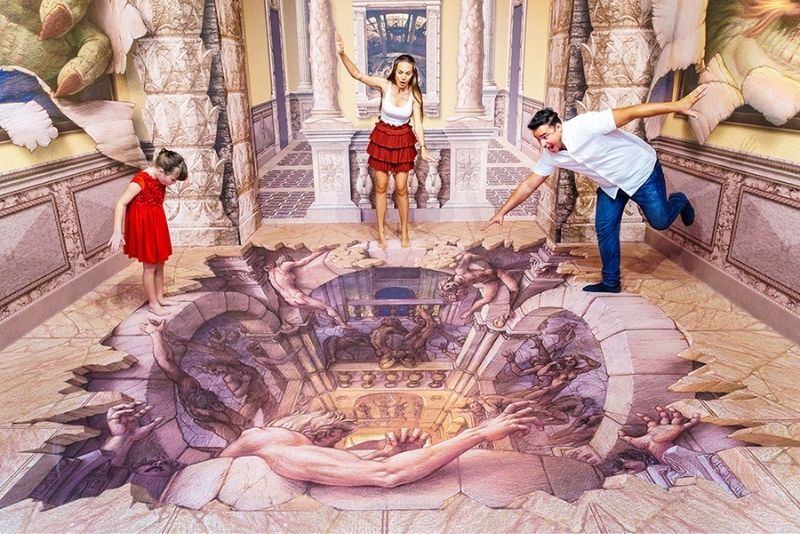 Get ready to have your mind blown at the wacky 3D Museum of Wonders. The unique illusions will have you scratching your head, trying to work out what's real, and what isn't.
Take a close look at some of the realistic exhibits, showcasing scenes from Greek Gods, to F1 race car stars, to climbing the world's tallest mountain, and so much more!
It's a great opportunity for families traveling with children, for a fun-filled and laughter-filled experience that will get children's imaginations going.
Fun for all the family, this unconventional attraction is packed with interactive exhibits, so you can get hands-on with art. Take photos from obscure angles for some crazy souvenirs.
Tickets for this whacky museum start at $40 USD.
35 – Discover awe-inspiring scenery at other cenotes nearby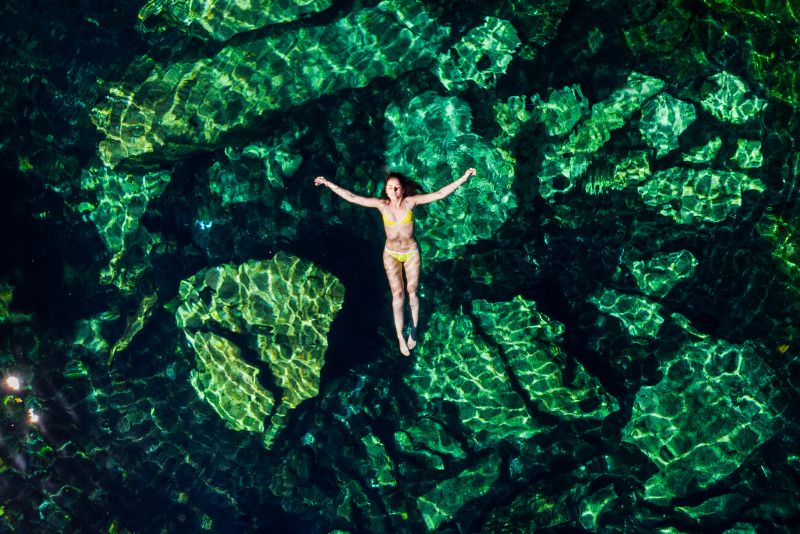 Whenever you see an image of a striking oceanic hole in a cave, chances are its location belongs in Mexico. Take advantage, and explore as many of these magical cenotes as possible during your vacation in Playa del Carmen, and there are a couple of others worth visiting around the city.
Only accessible to the public since 1999, Cenote Chaak Tun is super easy to reach, 10 minutes outside of town. Snorkel around the sacred waters and explore the captivating, ancient stalagmites and stalactites.
Prepare your cameras for the (hundreds) of pictures you're going to want to snap during a visit — and swim — at Cenote Cristalino. Arrive early though to avoid the masses; this spot is popular and gets crowded fairly quickly.
Shrouded in lush greenery, Cenote Jardín Del Eden is less of a tourist hotspot, and fewer people equals more open swimming space and privacy. Some travelers have encountered less-than-friendly security guards, but don't be put off, this "Eden" is worth it.
36 – Immerse yourself in nature at Sian Ka'an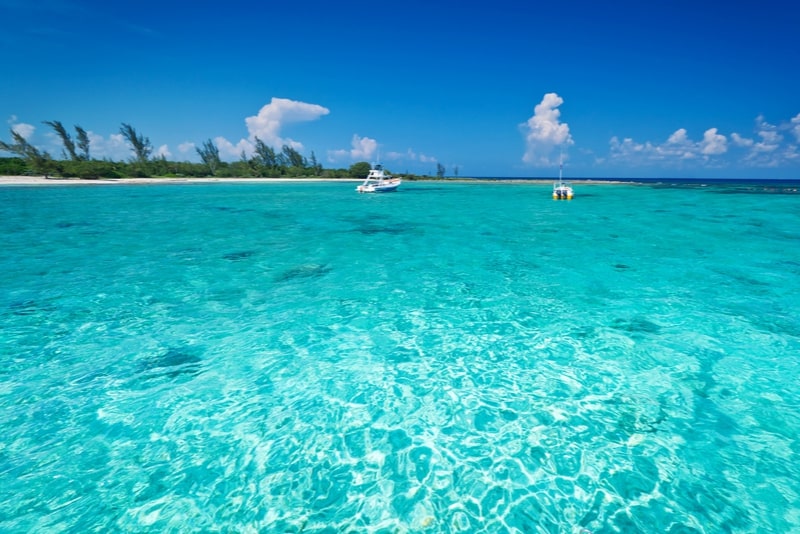 Escape the crowds and journey into Sian Ka'an – the largest protected Biosphere Reserve in the Mexican Caribbean. Snorkeling with tropical fish and picnics on remote sandbars are just part of the adventure.
Whether you opt for a lazy day sailing through the impressive preserve, or you go for the exciting boat tour plus Jeep expedition package, rest assured you'll inevitably fall in love with the natural side of Quintana Roo, not too far away from Playa del Carmen.
Curious explorers can float through hidden lagoons and mangrove canals in search of crocodiles, and go birdwatching at sunset. You might even glimpse a manatee or two if you're lucky.
Look through the best Sian Ka'an day trips starting at $135 USD for full-day adventures!
37 – Party the Mexican way at Xocimilco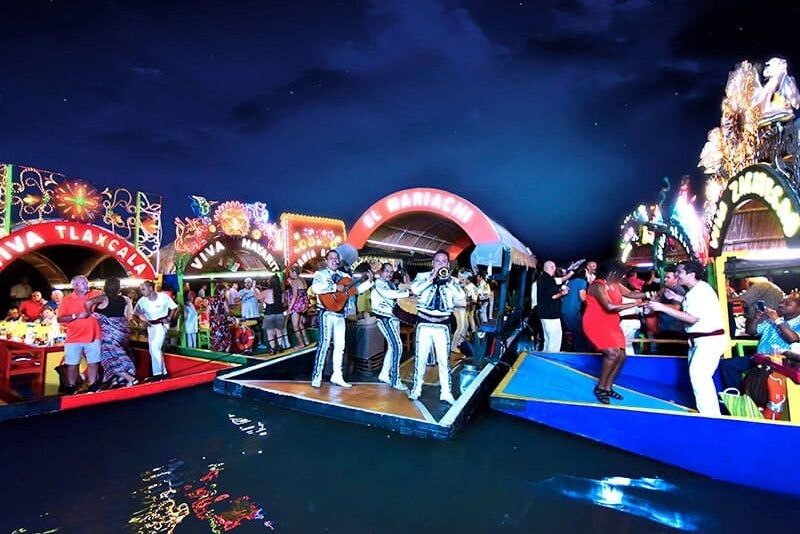 Mexican parties are the real deal, so put on your glad rags and join the Xoximilco fiesta. Your evening begins with a leisurely gondola ride while being serenaded by a mariachi band.
Board a traditional and colorful "trajinera" (Aztec-style boat) and let the good times roll with services literally floating to you! Learn about the history of this historic mode of transportation for the Aztecs in Modern-day Mexico City, now available in Tulum!
There's an open tequila bar to get you in the mood, and tasty local food to tantalize the taste buds. Back on dry land join in traditional games and dance at a mini carnival. Don't know how to get to Zochimilco? Consider booking a Xochimilco bus transfer for the easiest roundtrip transport.
38 – Swim and slide at Xel-Ha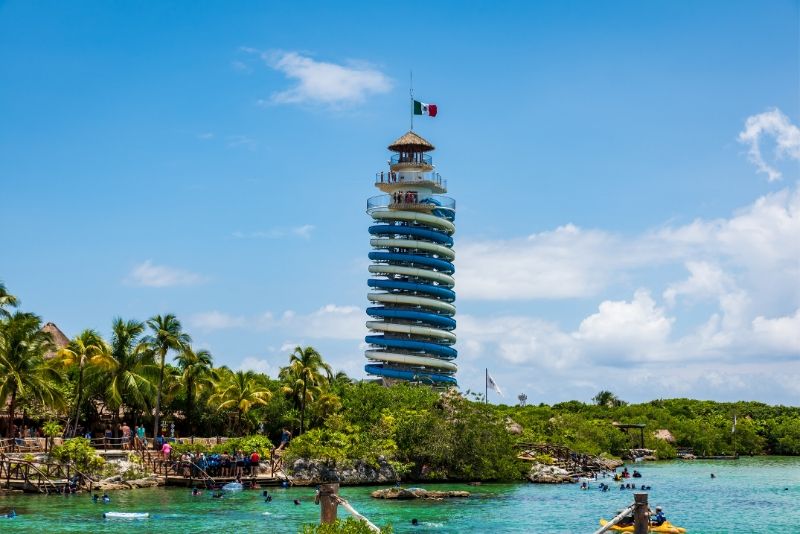 Xel-Ha is a paradise for swimmers and snorkelers, with azure coves and hidden cenotes beckoning you in for a soak.
Known as one of the most beautiful natural wonders on the continent, this idyllic peninsula is an adventure playground for water babies of all ages. Float down the lazy river to the mangroves, and dive into freshwater jungle pools. There are waterslides and zip lines too.
Whether you're looking for the best all-inclusive ticket granting you access to the park, plus access to an enthralling jungle rappel ride, access to swim inside a cenote, and even a visit to a ruin, or you're looking for a simple entry, make sure to check out our list of the best Xel-Ha park entries!
39 – Dive or snorkel in Dos Ojos Cenote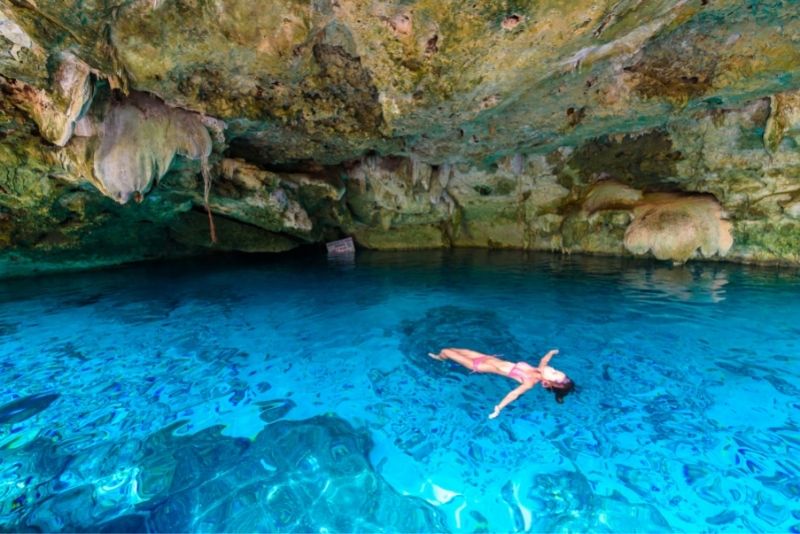 Boasting a vast underground cave system, Dos Ojos Cenote is one of the most renowned diving sites in the Yucatán Peninsula. The water visibility is remarkable, so snorkelers and swimmers love it here too.
Want to experience this beautiful cenote for yourself? Opt for a VIP Dos Ojos Cenote private tour, with lunch your own private tour guide, and transportation amongst other things included in your unique adventure.
Adrenaline-junkies? Check out diving instead of just swimming around the cenote, and go into the depths of the historic cenote to wander around the underwater caves.
Hidden away inside a cave, this stunning cenote is surrounded by jaw-dropping geology. You won't be alone either – there are bats, freshwater shrimp, and even fish living here!
40 – Unwind and leave feeling rejuvenated after time at the spa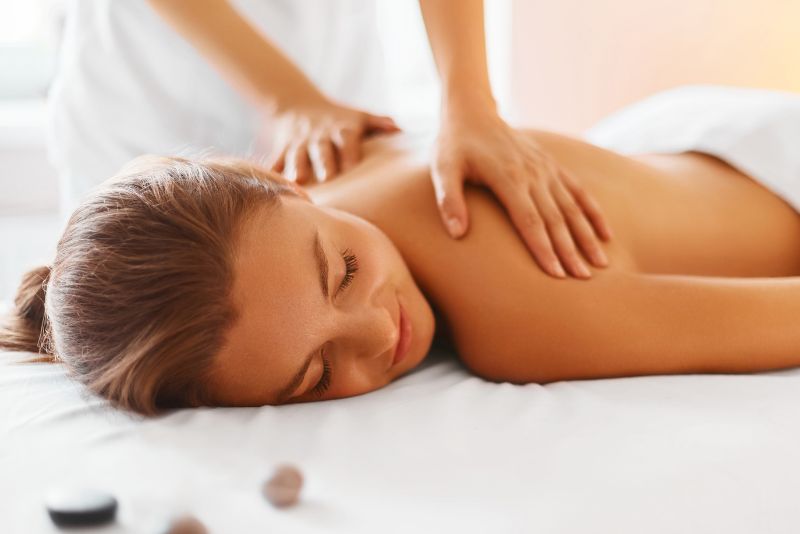 After long beach days, traveling around the city with family or hours of outdoor excursions, what better way to relax, unwind and treat your body than with some much-deserved time at the spa?
Revive Spa is a true sanctuary, nestled among tropical flowers and trees. Specializing in Mayan massage techniques, the spa only uses organic Mexican treatment products. Champagne is served upon arrival!
With the slogan 'balance your body, mind & spirit,' the stunning Okom Spa focuses on harnessing the natural elements of earth, wind, fire and water. Experience one of their curative treatments, relaxing massages, hydrotherapies, facials or Mayan treatments.
While not as fancy as the others, the Bric Spa wins for its incredible massages, and this local jaunt is extremely popular because of it. They also offer healing treatments like a sound healing therapy session, reiki, reflexology, biomagnetic therapy, clarity breathwork sessions and more.
41 – Take a Mexican cooking class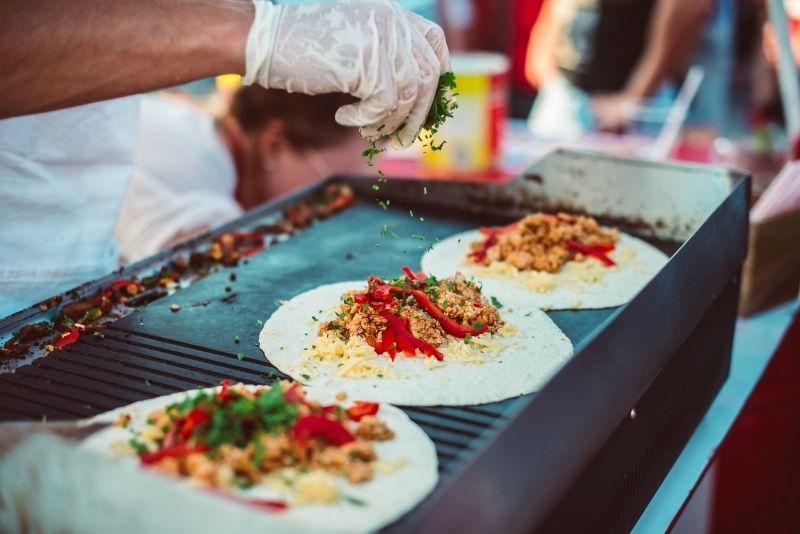 Learn the secrets behind those local flavors you've been loving, so you can rustle up your favorite dishes back home. First up is a trip to the market, where you'll shop for fresh ingredients and fragrant spices.
Lasting anywhere from 2-5 hours, your class will cover some of the essentials when it comes to Mexican cooking, digging deep into the ancestral roots of traditional cooking methods used by the Mayans, all the way to innovative ways in which Mexican cuisine has become one of the most popular, globally.
Then it's time to get serious in the kitchen, following the instructions of your chef. Want to know how to make salsa, guacamole, and tortillas? This is your chance.
42 – Do an obstacle course at Xavage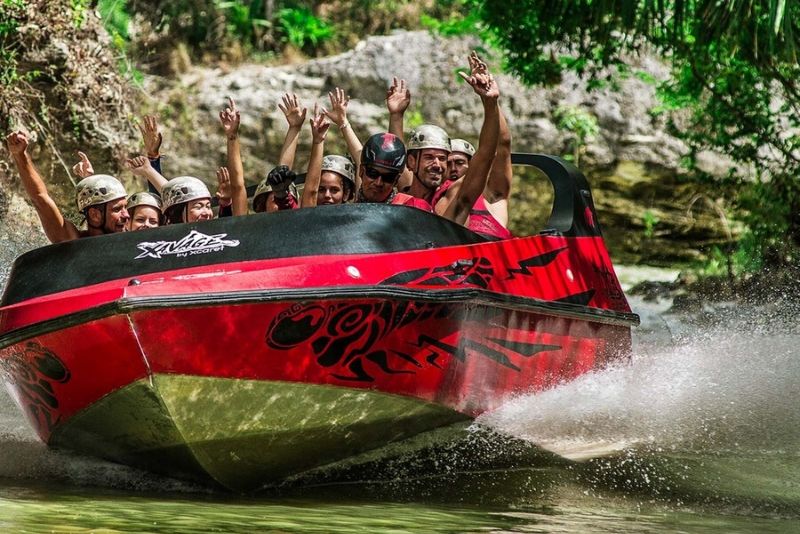 The Xavage adventure park throws you into a world of action with activities to test courageous explorers. Limber up for the ropes course where you'll need to overcome obstacles to complete your mission.
Then hang onto your hats during an exhilarating jet boat ride or take on the only whitewater rapids in the Riviera Maya. If that's not enough, kayaking and ziplining are also on the agenda.
Admission tickets are available for purchase ahead of time, as are all-inclusive packages that will group together a series of fun activities, from roundtrip ground transportation to lunch and snacks, access to children-only activities, equipment for the games, plus more!
If you only wondering how to get there, transportation options alone are available for to book!
43 – Go wild at Xplor Adventure Park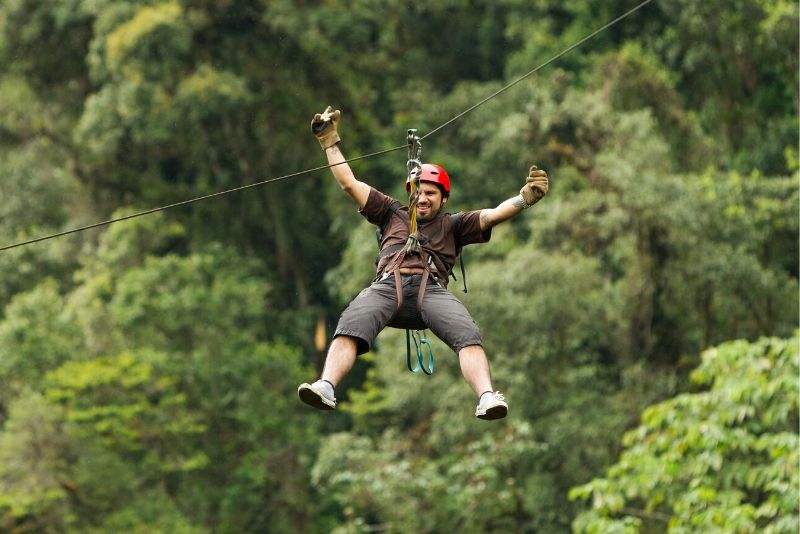 Delve deep into this mysterious underground world in the heart of the Mayan Riviera and really get to know this tropical realm.
Take the wheel of an amphibious vehicle and navigate your way through Xplor Adventure Park, before going rafting on a subterranean river.
Next up is zip lining with a water landing, and a swim through grottos and sinkholes beneath a ceiling of stalactites.
45 – One, two, three, JUMP! Go skydiving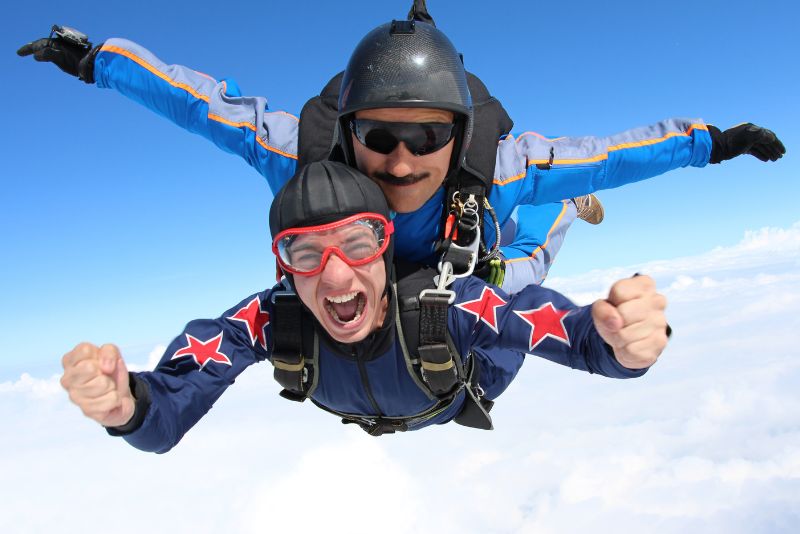 Do you live for an adrenaline rush and a life full of adventure? One of the most heart-pumping activities to try here has got to be skydiving at Skydive Playa!
Before you pretend to be a bird, these tandem jumps are preceded by a safety briefing and a short instruction on what to expect and do before, during and after your skydiving excursion.
Harnessed in with one of the center's certified masters, tandem jump out of a plane '10.000 AGL' (or, in layman's terms, 10,000 feet above the ground).
Experience all of the thrills as you reach speeds of 190 kilometers per hour, and then freefall with your parachute out for five to seven minutes, landing on the soft sands of a local beach.
Operating skydiving flights since 1996, you'll feel super safe and secure with these pros. HD videos of your jump and freefalling flight are available too!
45 – Chill out at the best beach clubs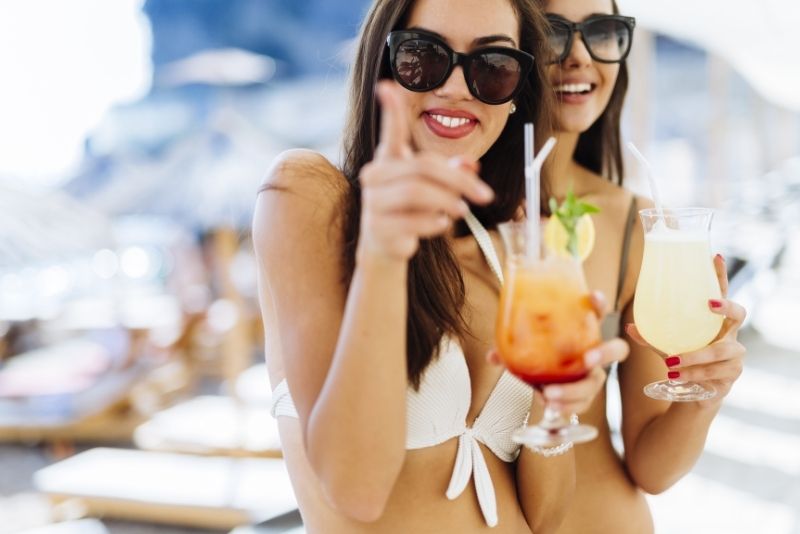 What's better than a beach day? How about spending the morning, afternoon or evening at a beach club with easy access to drinks and food, comforts and all of the beach amenities?
The popular Lido Beach Club is all about treating yourself: eat breakfast on the beach, work on that suntan by the pool, enjoy a massage with a view of the sparkling Caribbean Sea, and sip cocktails from fresh coconuts.
Spread across 200 meters of powder white, soft sands, Mamitas Beach Club has an upmarket, stylish feel. Opt for the VIP area for adults only, including a private pool and cabanas, or if here with the familia, they have a dedicated children's pool.
If you're after a serious vibe, Martina Beach Club is the place to be, with sweet tunes always playing in the background, a private beach and a menu comprising delicious cocktails. Trendy as ever, there are loungers and cabanas on the beach and around their pool areas.
With tables or high chairs dotted in between tall palms (wrapped and lit up at night), Zenzi Beach Club exudes a laid-back feel — naturally. Daily live music sets the mood and if there's a sports match on, count on their sports bar to show the games.
The swimming pool built on the beach at Marena Beach Club catches heartbeats in an instant and is a great choice for families. Munch down around comfy low tables and sofas in the sand, with tons of activities to get involved in like soccer, volleyball, watersports, and more!
46 – Ride horses through the jungle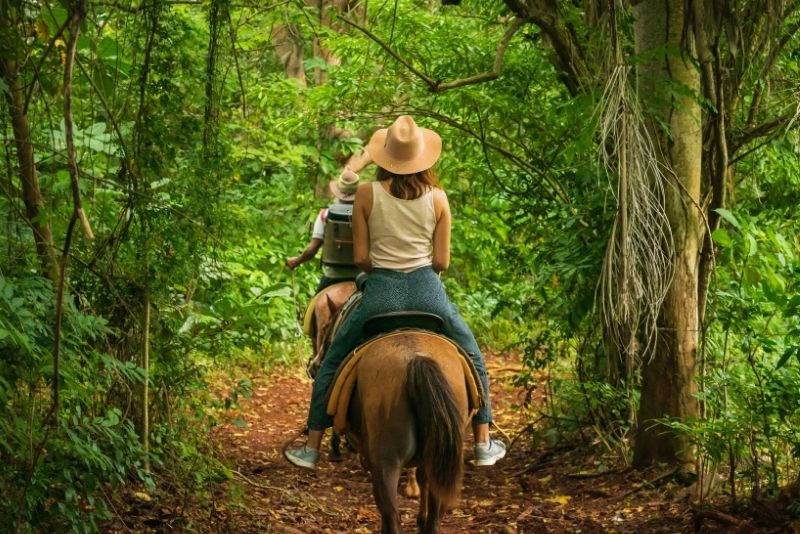 Saddle up and set off on a horse riding adventure, along jungle trails around a traditional Mexican ranch. First time on four legs? That's not a problem, as all levels of rider are catered for.
Enjoy this memorable experience held exclusively within a group of 6 people or less, and pick between a morning or afternoon departure to better suit your schedule. Depending on your scheduled time, you may receive a delicious pastry and coffee breakfast, or a delicious wine/beer option with snacks in the afternoon!
Experienced cowboys and cowgirls can up their game with a canter for the ultimate ride. There will be plenty of stops for photos along the way so don't forget your camera.
47 – Open your mind at Xenses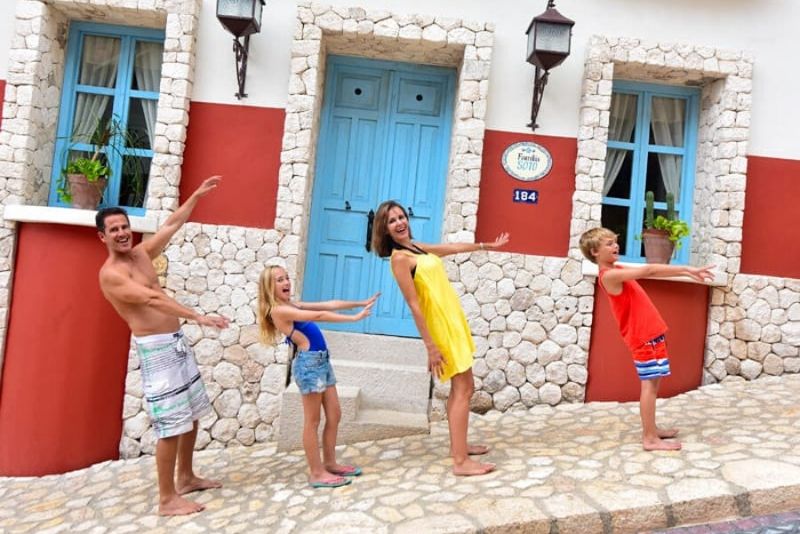 Nothing is quite what it seems at Xenses, and you'll be questioning reality at every turn. Let your senses guide you through the Labyrinth of Underground Arteries, see things from a giant's perspective, or enjoy a mud bath in the Sludgerie.
Then take to the skies on the Bird Flight zip line or shoot down a waterslide into an underground cavern. The opportunities are endless.
To save some time, consider a fast-track ticket, and speed up your access to the fun inside Xenses! Another great deal to choose from is a fast-track ticket with a transportation option, taking care of the small details in time for the big fun!
Traveling with kids? Check out access to the park plus Xplor Children.
48 – Go exotic bird watching at Contoy Island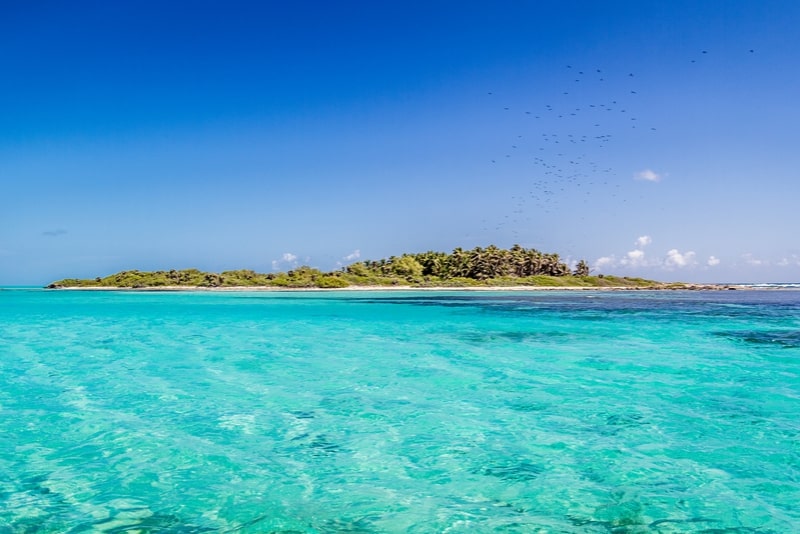 This untouched island is small yet perfectly formed. Home to over 150 exotic bird species and lots of sea turtles in season, Isla Contoy is a relaxing day trip from Playa del Carmen.
Located on the second-longest coral reef in the world, the island is all about the turquoise sea, powdery beaches, and swaying palms. Snorkeling here is truly spectacular.
Though the beaches alone are enough reason to visit, other activities to get you moving and enjoying other parts of the island are available for those looking for them.
Consider snorkeling underneath the turquoise-colored waters to spot schools of fish, or go diving to see new depths of the Mexican Caribbean. Fancy a good workout? Plan a hike with a guide!
49 – Get a clay treatment at Las Coloradas on a day trip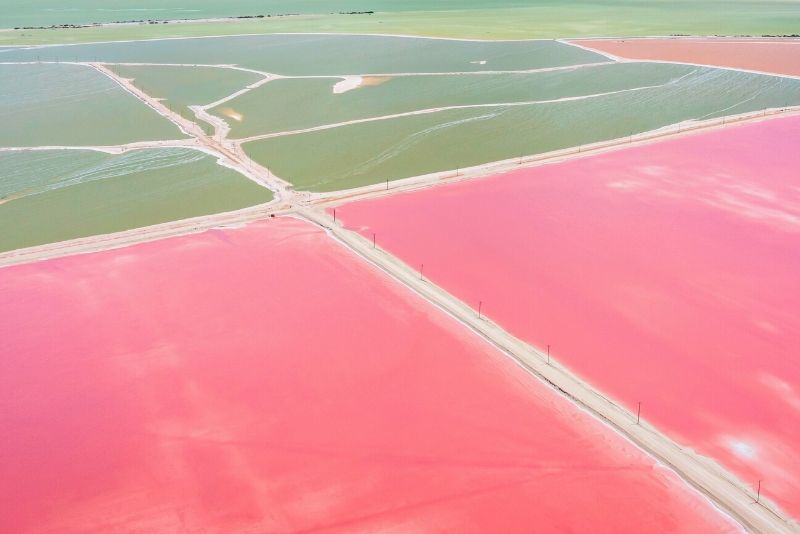 Set almost 3.5 hours away from Playa del Carmen in the village of Rio Lagartos, check out Las Coloradas, a stunning natural sight to see for yourself! Painted in various shades of pink, enjoy the views of the pink-colored waters throughout the canals of an important nature reserve.
Hop on a boat and explore the pink waterways of Las Coloradas, and learn more from your guide as far as why the water is a pink color, what type of animals live locally, and more interesting information on the local ecology.
Some tours will offer a stop at the nutrient-dense bath with clay, said to improve skin's appearance, and then head to the beach to wash it off at the sea.
50 – Pick Alux Cave Restaurant for date night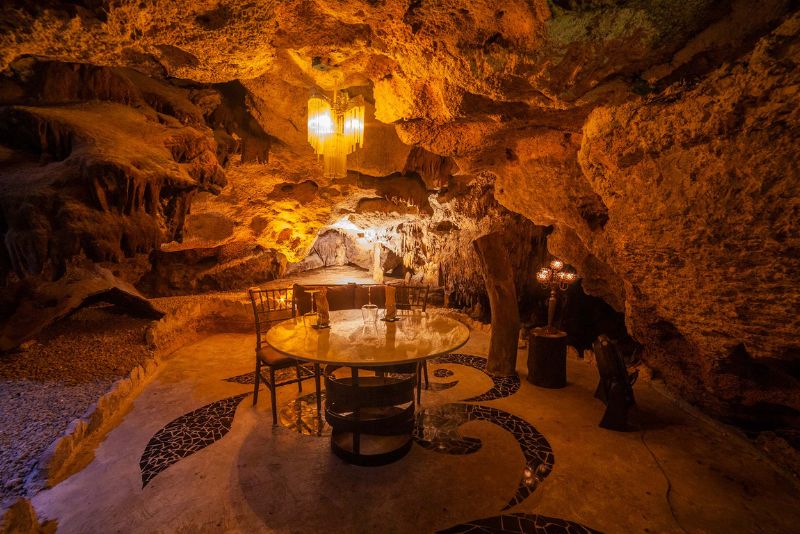 As a favorite destination for honeymoon-goers, if you're here celebrating a special occasion or perhaps, hunting down a unique dining experience, book a table at Alux Cave Restaurant, built inside an underground cave.
Lit up in low, warm lighting (and some pops of deeply colored bulbs here and there), this spot oozes ambiance, and surrounded by the cavern walls, it might give you shivers — in the best way possible.
With stalactites and stalagmites dripping from the cave's rooftops, the setting is unmatched. For something even more extravagant, book one of their VIP cave vaults for dinner with maximum privacy, so it feels like just the two of you.
The menu comprises Mexican and international flavors and dishes, with a serving of craft cocktails.
51 – Skip through the water on a jet ski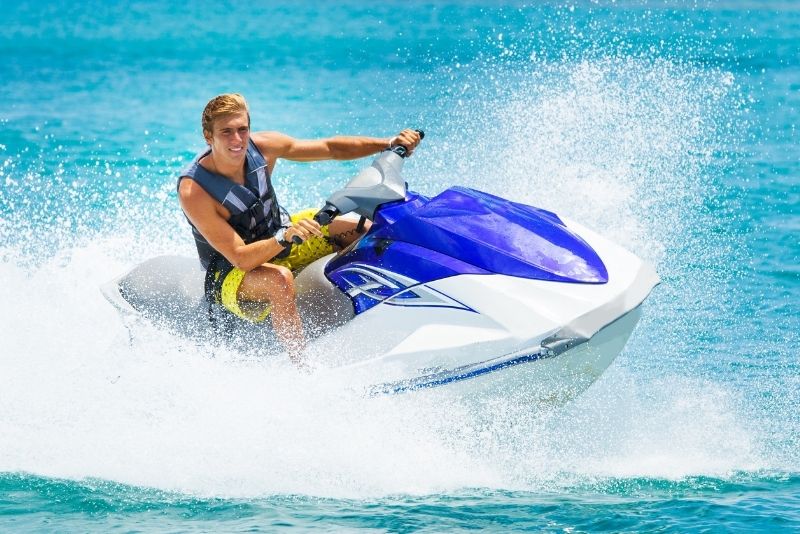 Head into Playa del Carmen's best beaches such as the beach of Isla Blanca or Playa Mamitas, and go where the wind blows you when you book a fun jet ski adventure!
Whether you're new to the sport, or you have some experience under your belt, a jet ski activity is sure to be the ticket for instant fun! With the guidance of a professional jet skier, you'll learn the best tips and tricks to help you get on the jet ski with confidence.
Typically lasting around 1 hour, you'll also get to explore the beach surroundings and get a view of local life from the water. Want to just rent a jet ski alone? 30-minute rentals start at $75 USD.
52 – Test your courage at Extreme Adventure Eco Park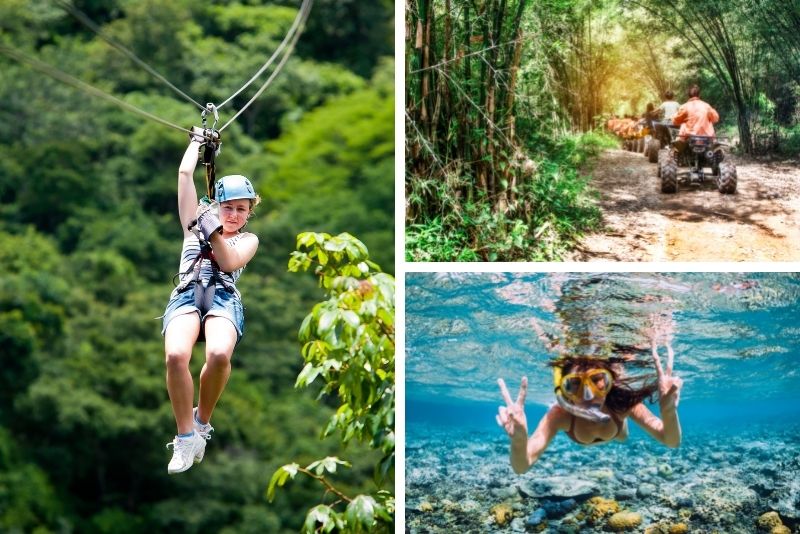 Xtreme combines the best adventure activities into a single day, making this a great way to do a lot in a short space of time. You'll be dangling on the end of a zip line as you zoom through the jungle canopy, seeing nature in a whole new light.
Then it's time to rappel down to the forest floor before snorkeling in a submerged river. To see and engage with all the fun awaiting you at Extreme Adventure Eco Park, make sure to check out our list of the best entry tickets and all-inclusive packages!
From ATVs to swimming in the historic cenotes inside, and even lunch included in most cases, see which entry ticket calls out to you!
53 – Relish the views from a helicopter tour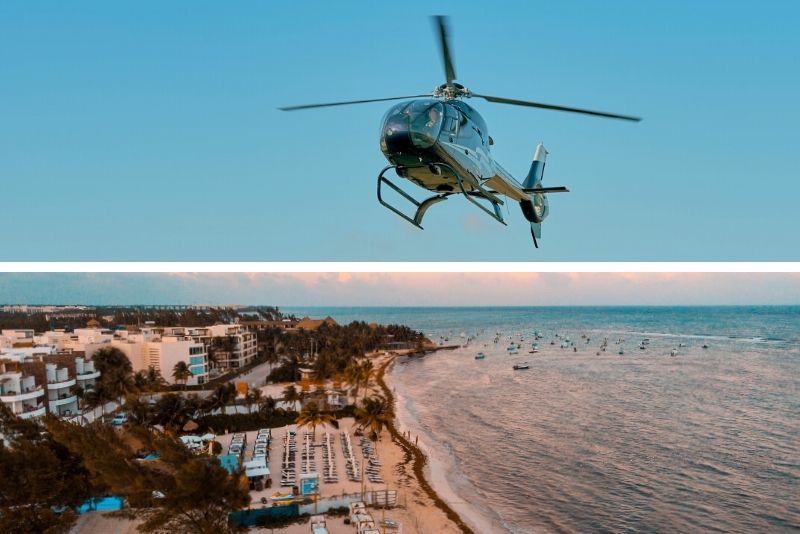 Experience something truly epic when you soar across the skies overlooking Playa del Carmen's immense beauty on a helicopter tour!
Take your sightseeing activities to the next level, and look from above a panoramic view of Playa del Carmen choosing between a scenic helicopter flight overlooking Chichén Itzá and surrounding pyramids and cenotes, or making it through the Mayan Riviera, overlooking some of the country's best resorts and the world's best beaches!
Starting only at $145 USD, this experience is not only a lot more accessible than in other places in the world but also offers some of the most beautiful sights in the world.
Pro tip: some tours depart from Cancun airport, and some tours offer roundtrip ground transportation!
54 – Enjoy a romantic sunset cruise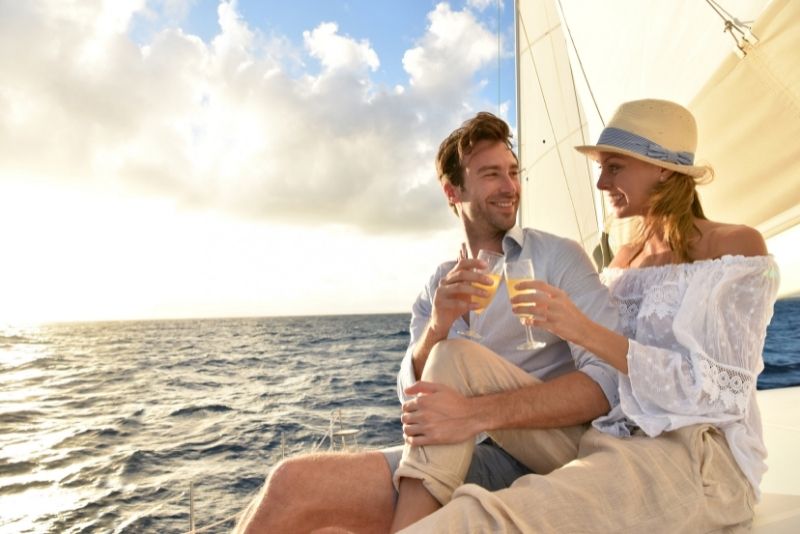 Looking for the perfect way to end your evenings in Playa del Carmen? Whether you're traveling with your significant other, or it's you and your friends looking for a scenic activity, consider a beautiful sunset cruise along the Mexican Caribbean.
Enjoy numerous sunset cruises in Playa del Carmen, from a luxury sunset cruise with an open bar and snacks to a special private sunset cruise just for yourself and your significant other, celebrating your relationship in the middle of the turquoise waters!
Regardless of your specific occasion, a sunset cruise is the best way to seal the day with a perfect bow! Sunset cruises start at $89 USD, and many of them include roundtrip ground transport for easier arrival!
55 – Dine and dance to your heart's content at the best restaurants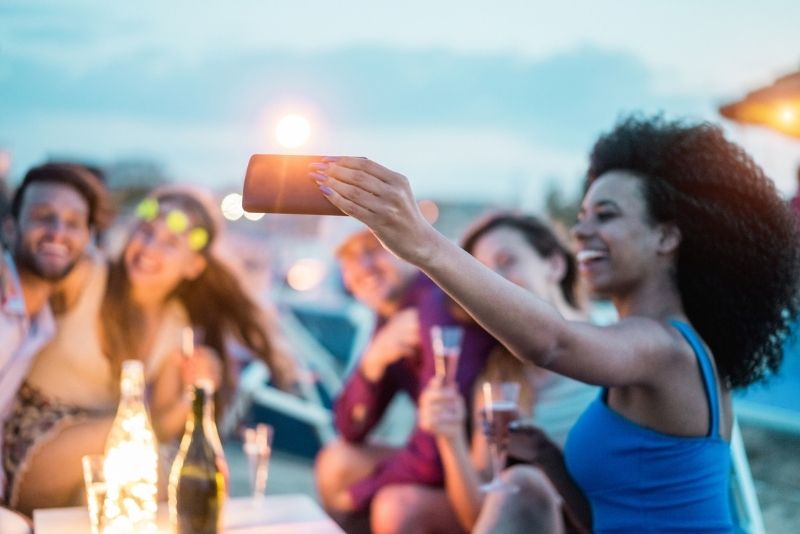 When it comes to finding the best restaurants in Playa del Carmen, here are some of our best recommendations, starting with El Fogon. Known for its laid-back approach to traditional Mexican cuisine, you can find anything from tacos el pastor to Yucatec dishes.
Señor Frog is also a clear winner, especially if you're traveling with children who aren't ready to try spicy food. Plus for the parents, they offer a great selection of Mexican beers to enjoy.
For a fancier affair, make sure to visit The Travelers Table, which features an excellent variety of Mexican cuisine. Experience a wonderful gastronomic history lesson through Mexico from The Traveler's Table, enjoying the perfect pairings of mezcal and typical Yucatec dishes, and more!
56 – Practice new tricks in the air on a flyboard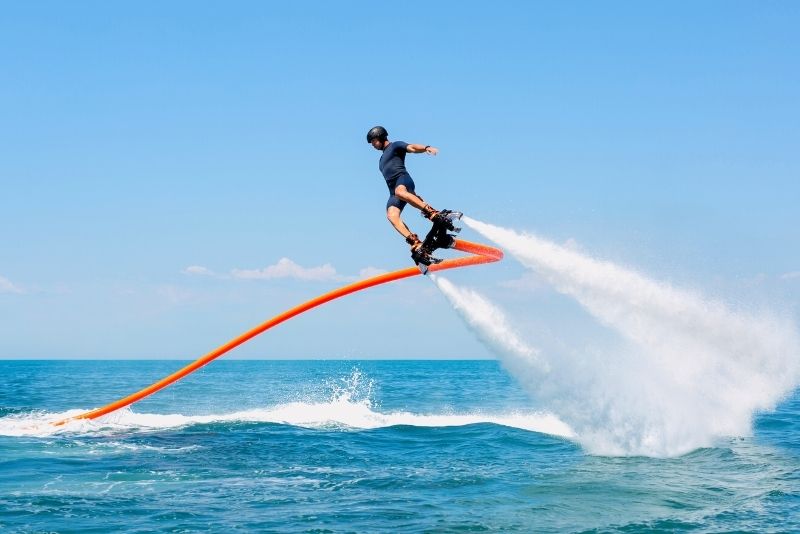 Want to do something unique and exciting in Playa del Carmen? Sign up for a flyboard session, and learn how to master your balance on a flyboard while exercising your body without you even knowing!
With the help of your professional guide, you'll head to the best beaches to practice this cool sport, which will surely draw the attention of many other beachgoers with intrigue as you burst into the air, with style.
Propelled with small engines on the board, a flyboard is able to lift you up, and also help you practice a few tricks with the safety net of the water below to break your fall.
Depending on your tour, some packages may include professional photos and videos!
57 – Take part in a temazcal ceremony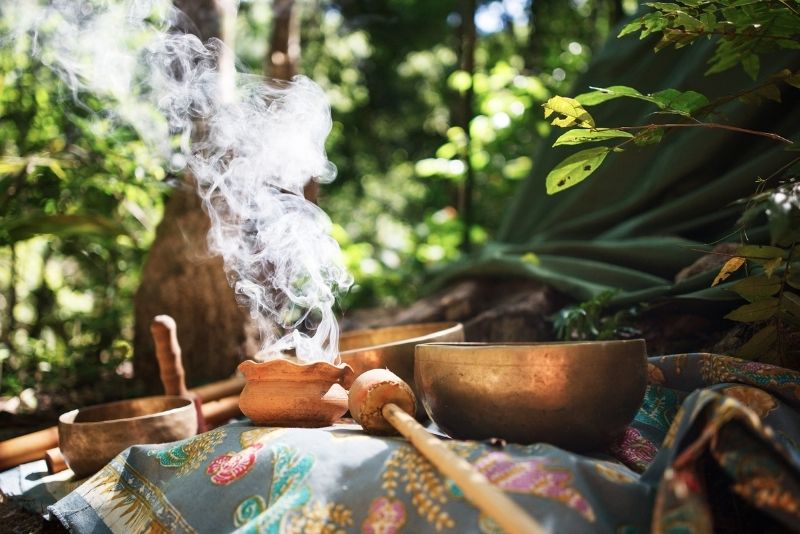 Get a privileged insight into the indigenous culture in Mexico by taking part in a traditional temazcal ceremony. The shaman will guide you through the cleansing ritual, which begins with an aromatic sauna in a hot stone house.
Soak up the fragrant steam and listen to live music as the herbs work their magic on your spirit. A rejuvenating cold bath and drinks follow.
When you book a temazcal ceremony, you'll not only receive the ceremonial blessings, but you'll also be part of the ceremony itself.
Learn about the symbolism of this time-honored tradition in the Mayan world, while also doing your part to flush your body of what no longer serves you.
Temazcal ceremonies can be done in groups or private.
58 – Venture into the Mayan world on a Xenotes tour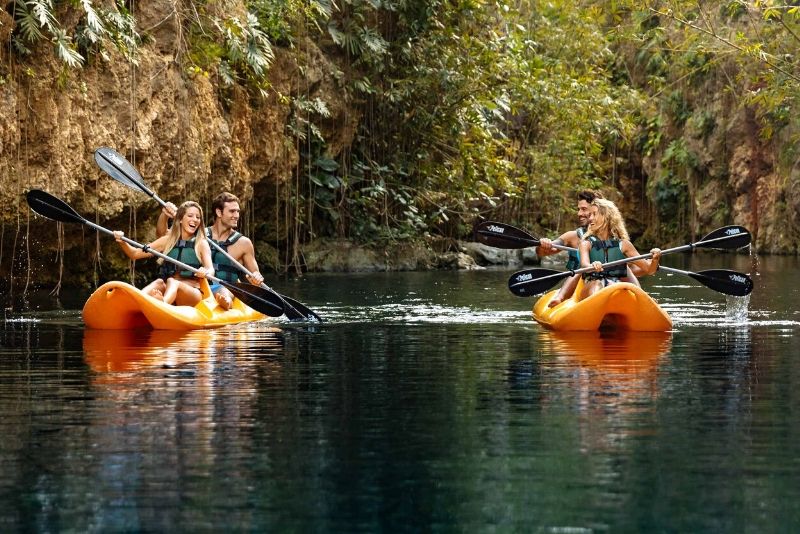 This action-packed day of adventure is one for the thrill-seekers. You'll be exploring some of the best ancient cenotes, with cliff jumping, kayaking, and swimming in emerald waters all on the cards.
Rappel deep into caverns in search of the mystical Mayan underworld, then fly through the air on a zip wire on this heart-thumping Xenotes tour.
Look through the different Xenotes tours, offering anything between 8 hours long up to 2 days, each offer featuring a different type of access to the park.
Whether you want ground transportation only, or you want to enjoy a full-inclusive package with lunch, transportation, access to activities, and more, it's all available.
Xenotes Park is 1 hour away from Playa del Carmen.
59 – Get a bird's eye view of Playa del Carmen with some parasailing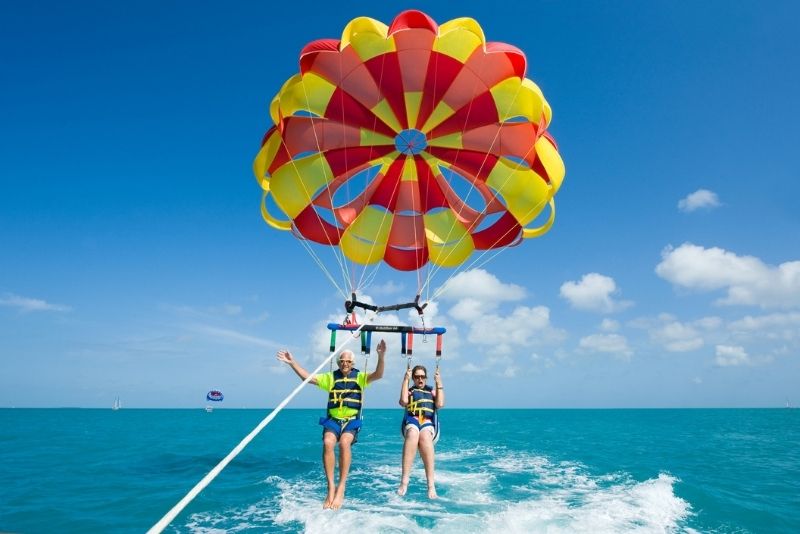 Glide through the Mexican skies on a scenic journey above Playa del Carmen's most beautiful sights, including the Mexican Caribbean, gorgeous white sand beaches, resorts, and the Mayan jungle!
On parasailing adventures high above, take off from an award-winning beach in Playa del Carmen, and ride with a parasailing professional, meaning you don't have to worry about the logistics of maneuvering parasailing. All you have to do is sit back, relax, and enjoy the expansive views right underneath and around you!
The typical duration of a parasailing adventure is 12 minutes, and most parasailing experiences include ground transportation and even video and photos of your experience to look back on for years to come!
Parasailing adventures start at $75 USD.
60 – Be part of the show at Coco Bongo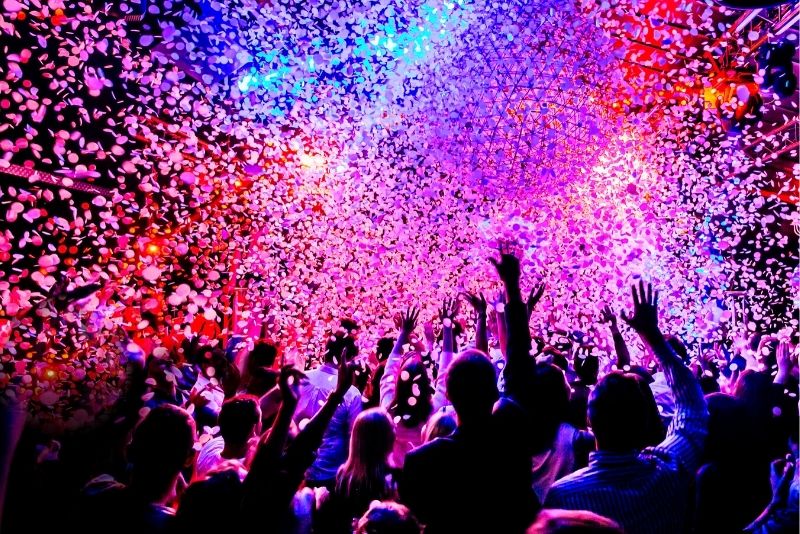 Let your hair down and boogie the night away at the hippest nightclub in town. Part disco, part performance, buzzing Coco Bongo is all about high-octane acrobatics and thumping dance tunes.
Heralded as one of the most memorable things to do in Playa del Carmen, an evening at this Vegas-style venue will stay with you forever.
Pre-book a coco bongo package that includes entry, food, drinks, and even transportation, and get ready to party, Playa del Carmen style!
Are you visiting (or planning to) for New Year's Eve? There's truly no better time or place than to ring in the new year with all the glitz and glamour at Coco Bongo! So pick your favorite going-out outfit, and hit the town right!
61 – Relish an acrobatic show at the Joya Show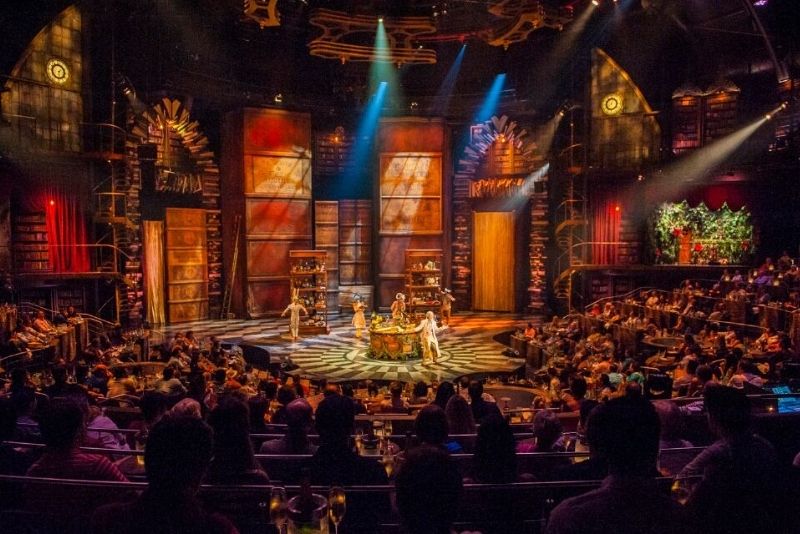 Prepare to be wowed as the Cirque du Soleil performers put on a show to remember. Sit back and relax over a gourmet dinner in this intimate jungle theater, while acrobats twirl and musicians entertain.
Drawing on Mexico's exotic heritage, the Joya Show invites you into a world of magic and mystery. The tasty tacos, Mayan salads, and braised ribs slip down easily too!
Browse through their dinner and drink options, and check out the best VIP experiences which include a 3-course dinner with unlimited champagne and a house cocktail. Choose the best seats in the house, and tuck in for an amazing experience!
Visiting during New Year's Eve? Check out the special offers to ring in the new year!
How to get to Playa del Carmen?
For international travelers, the most convenient way to get to Playa del Carmen is by plane, landing at Cancun International Airport. The drive from the airport to Playa del Carmen is 45 minutes.
Consider booking airport transfers in Playa del Carmen for the moment you arrive, and this pre-organized transport option helps to save time and eliminates the stress of haggling with taxis after a long flight.
As you exit the airport gates, your driver awaits you holding a sign with your name on it, and then it's off to your private, air-conditioned vehicle like an SUV. Sit back, relax and be transported in style and comfort directly to your accommodation in Playa Del Carmen.
Where to stay in Playa del Carmen?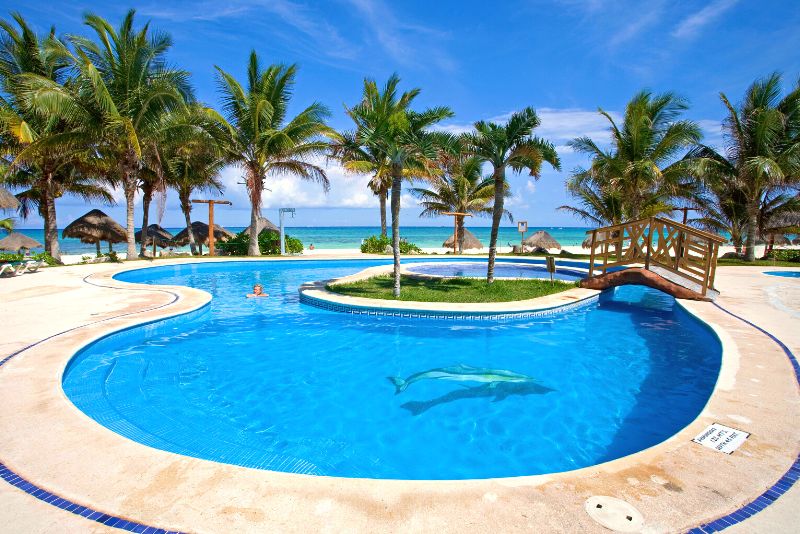 There is nothing quite like arriving at your accommodation when on holiday and being blown away by your stay and home for the next couple of days. Take your pick from some of the best hotels and resorts in Playa Del Carmen.
One thing to note, this city is a popular destination for couples and as such, there are dozens of adults-only stays. Let's begin with these.
The all-inclusive Hotel Xcaret Arte leaves guests feeling like they're in the middle of paradise, and thanks to its location, it's extra private. Expect gorgeous, contemporary Mexican design, with art throughout the hotel.
From the indoor spa pool to the outdoor version, even though the Magic Blue Spa Boutique Hotel is centrally located, it feels as if you're somewhere in the jungle.
Start your day with yoga, spend the arvie in the rooftop pool, then play a round of table tennis or sink some holes at The Reef 28. They also offer an 'Optional Gourmet All Inclusive' package stay.
Another all-inclusive to choose from; the Yucatan Resort Playa del Carmen (by Hilton) is contemporary-cool and all rooms are warm with natural accents.
These next options aren't exclusively adults-only stays…
Palmaïa, The House of AïA is an all-inclusive wellness retreat that will truly take your breath away, from location to the beach to the design and rooms opening up onto the pool. It has all the private island feels.
Terasu Riviera Maya is aesthetically pleasing on all fronts, whether room or suite, enjoy waking up to jungle sounds and coffee from your private balcony. The thatched roofs add tons of ambiance.
Chic and charming, Hotel La Semilla is a gorgeous boutique hotel with wonderful gardens, and the suite with a terrace is a top-notch option!
If you love your boho boutique stays, check into the affordable Ahava Hotel featuring an indoor pool. The rooms are clean, with lovely touches like macrame hangings and hammock seats.
Visiting Playa del Carmen on a budget?
Looking for ways to save a little extra cash here and there when visiting Playa del Carmen? Enjoy extra bucks to spend on dining out, shopping or outdoor activities when choosing a free walking tour in Playa del Carmen.
Excellent for sightseeing the city under the guidance of a local pro; navigate the streets and learn about local history and Mayan culture.
Where to go next?
Wondering which Mexican destination to go to next? Did you know that just across the way from Playa del Carmen is Cozumel Island? Catch a 45-minute ferry across and see for yourself the wonderful, tropical-induced things to do in Cozumel.
Stroll around the colorful streets, spend the day at an outdoor water adventure park or snorkel the world's second-largest reef! There are many other things to do in Riviera Maya and plenty of other towns to discover, like Tulum and Cancun.
Driving just short of one hour, see what's happening with the long list of things to do in Tulum is for the boho spirits and is steeped rich in culture and history. Uncover ancient ruins and temples, visit a cenote and dine at the cute hippy cafes and bars.
Also, a one-hour drive from Playa del Carmen, get into all the amazing things to do in Cancun, making for a great day trip or next vacation spot on the agenda and offers a completely different vibe. It's renowned for its nightlife, pristine beaches and endless postcard-perfect scenery.
If you're craving a touch of authentic Yucatan culture, set your sights on all the incredible things to do in Merida. A few hours from Playa del Carmen, this colonial gem offers a blend of Mayan and Spanish heritages.
Final thoughts
Fun in paradise all year round, friends, honeymooners and families fall in love with this town time and time again — and for good reason. From the food to the adventures to the culture, be sure to add it to your Mexico bucket list.
Have you traveled to this part of Mexico before? What are your favorite things to do in Playa del Carmen? Let us know in the comments!
As always, happy and safe travels!