Boasting a handful of natural marvels, an abundance of world-class entertainment, too many postcard-worthy beaches to count, and year-round summer rays, Cancun is truly a traveler's paradise.
Visit Chichen Itza, one of the official world wonders; party the night away at Coco Bongo; get up close and personal with whale sharks and turtles, and so much more in this beloved Yucatan Peninsula holiday destination.
While it's rightfully known for its outdoor activities, the area also offers plenty of history and culture for visitors to explore, from its stunning archaeological ruins to an art museum with a pretty unique location: the bottom of the ocean!
And if you're an adrenaline junkie, there are plenty of thrilling activities to get your pulse racing, from ziplining to monster trucks to submarine voyages.
Looking for fun things to do in Cancun? Look no further because the complete guide of noteworthy things to do on the Yucatan is right here, under your nose.
Ready to soak in the sun? Here are 74 incredible Cancun-based activities to add to your Mexican bucket list – perfect for kids and adults alike.
1 – Embark on a day trip to the picturesque Ik Kil Cenote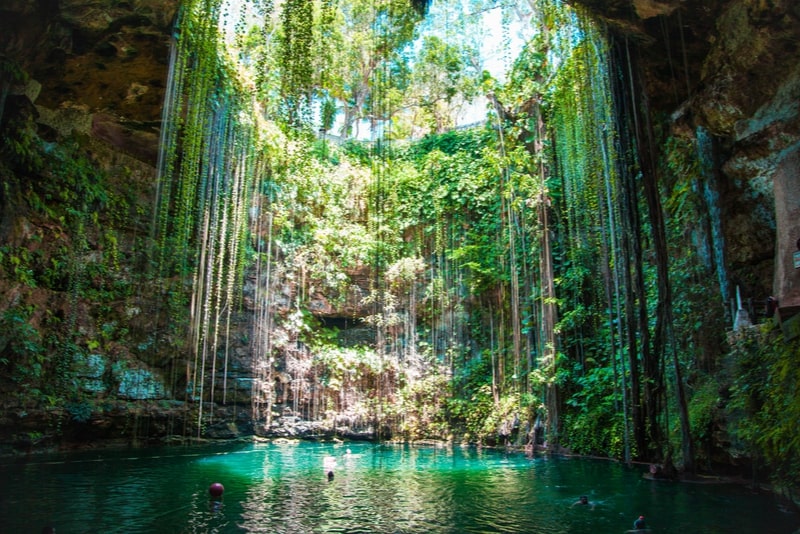 Mexico is abundant with cenotes (naturally-formed swimming holes). However, arguably none is more renowned or stunning than the perfectly-circular Ik Kil.
If Chichen Itza is already on your bucket list, opt for one of many tours that include a stop at this fascinating work of Mother Nature.
2 – Swim with turtles on a reef and shipwreck snorkeling tour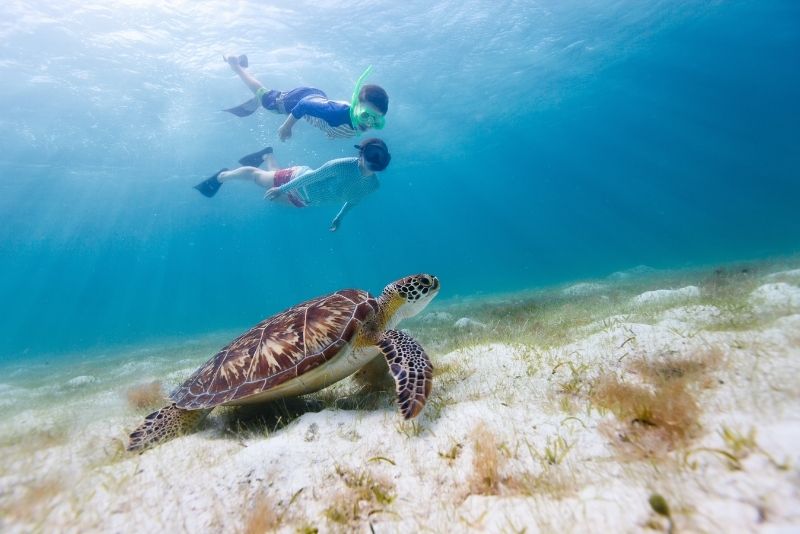 With some of the world's most diverse and beautiful reefs, and endless jaw-dropping snorkeling spots, Cancun is heaven on Earth for snorkelers and divers.
You'll marvel at the underwater vistas of tropical fish, coral reefs, and famous shipwrecks. Bring the underwater camera because, if you're lucky, you might snap a selfie with a giant sea turtle!
3 – Take a full-day catamaran tour to Isla Mujeres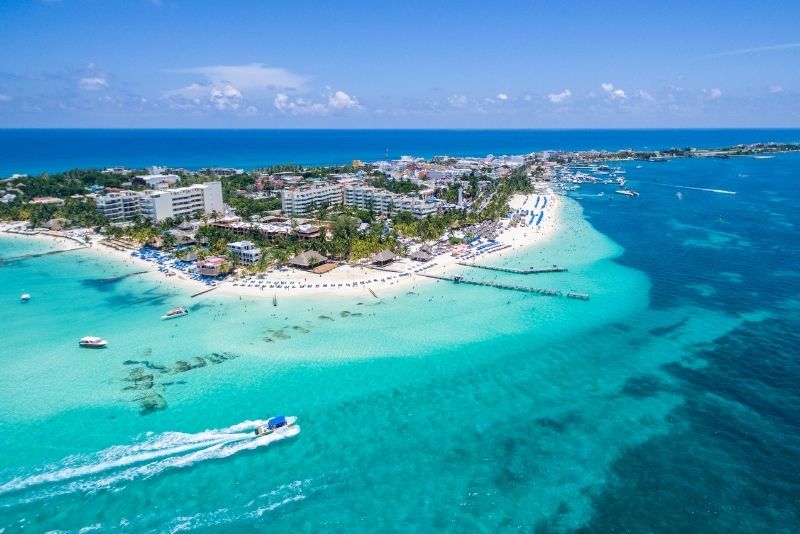 Easily one of Mexico's most underrated holiday spots, don't get yourself fooled, a day trip to Isla Mujeres is one of the greatest things to do in Cancun.
Showcasing glistening turquoise waters, there's no better way to see it than by setting sail on a catamaran, soaking in the views of the pristine Caribbean Sea while the glowing sun beams down from above. The day-long activity includes an open bar, so you'll make friends and memories in no time! It's one of the most unforgettable things to do in Cancun!
For perfect vacation vibes, head to Playa Norte, whose perfect white sands and crystal-clear waters have earned it a reputation as one of the best beaches in Mexico.
4 – Get the adrenaline pumping with a jet boat ride around Nichupte Lagoon mangroves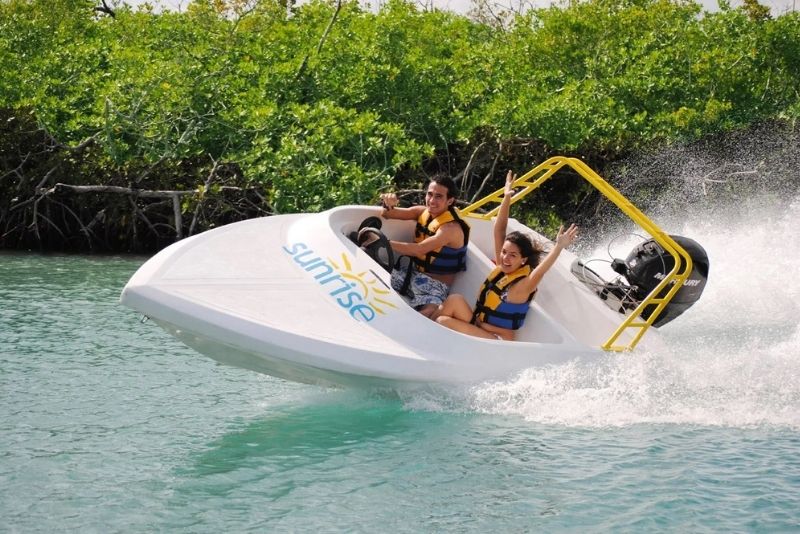 Cancun might be renowned for its beaches, but its mangroves and jungles are equally impressive. Combining a high-octane speedboat tour with relaxing swimming and snorkeling opportunities, a Cancun jetboat experience is guaranteed to delight.
Perhaps the best part of the activity is the chance to snorkel with the world-famous underwater statues at the Punta Nizuc coral reef.
5 – Unwind on the best beaches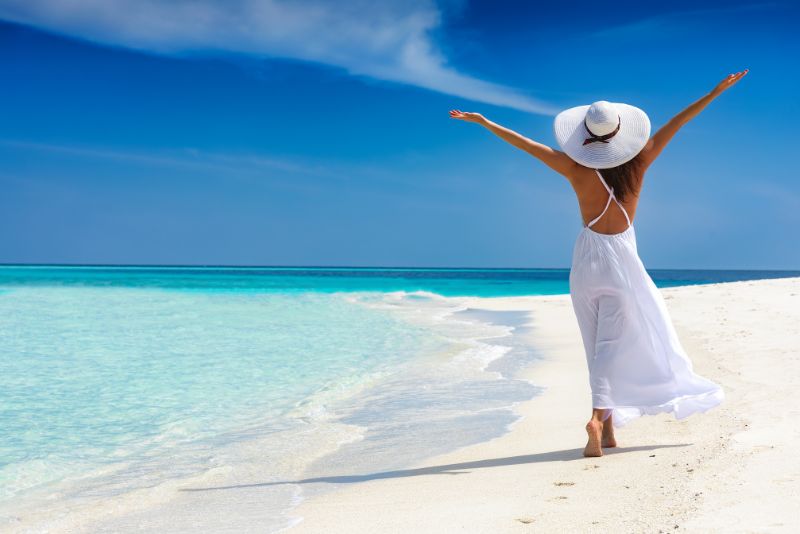 While there's no shortage of gorgeous beaches to lounge on in this area, there are definitely some standout options.
Let your little ones play in the shallow, gentle waters of El Nino Beach (Playa del Nino), or try out wilder activities like jet skiing at Playa Tortugas.
Admire nesting sea turtles at Playa Marlin, or watch for dolphins in the gorgeous waters of Playa Delfines.
And for a little bit of everything, head to Playa Langosta, which is perfect for swimming, soccer, and volleyball.
6 – Enjoy a lobster dinner cruise on a Spanish galleon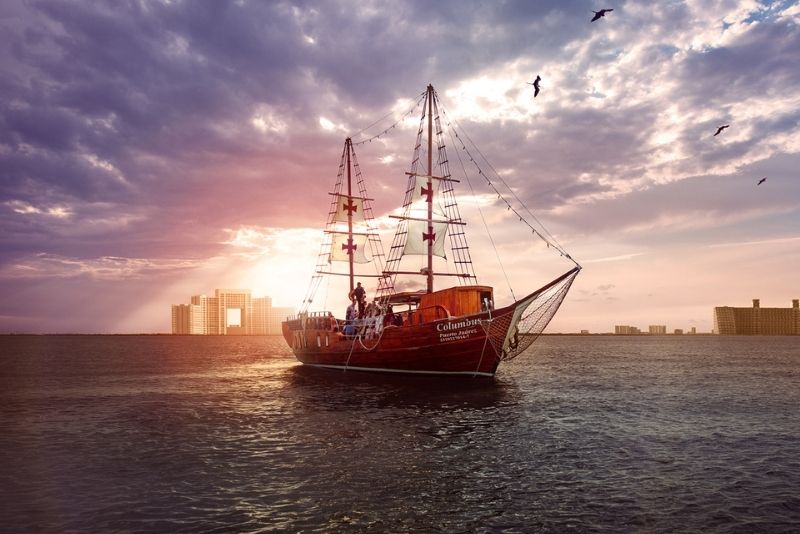 Combining fine dining with spectacular views of the Cancun coastline, there's no better way to admire the sparkling sunset than with an intimate 2.5-hour cruise aboard a historic galleon.
The freshly grilled lobster is tantalizing, while the selection of complimentary high-end wines and live music will keep the atmosphere electric.
7 – Take a day trip to a world wonder: Chichen Itza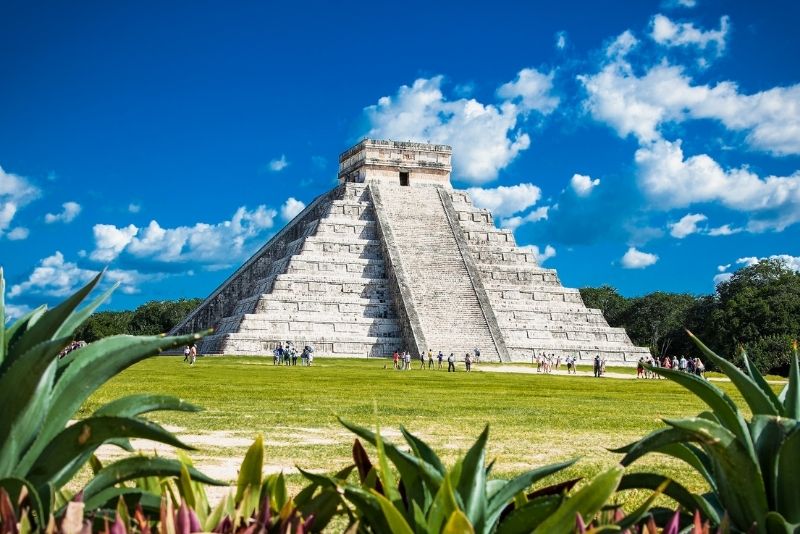 One of the most famous attractions near Cancun, about 200 kilometers inland from the Downtown area, Chichen Itza combines Mayan history with modern awe.
Wielding the title as one of the New Seven Wonders of the World, this sprawling ancient ruin complex welcomes around 2.36 million delighted tourists year after year. The main attraction (El Castillo – the iconic pyramid) is undoubtedly jaw-dropping. However, there's plenty more to see across the entire ancient complex.
This isn't just one of Cancun's top attractions; it's one of the most popular destinations in all of Latin America.
Read more about the best Chichen Itza tours from Cancun
8 – Swim with whale sharks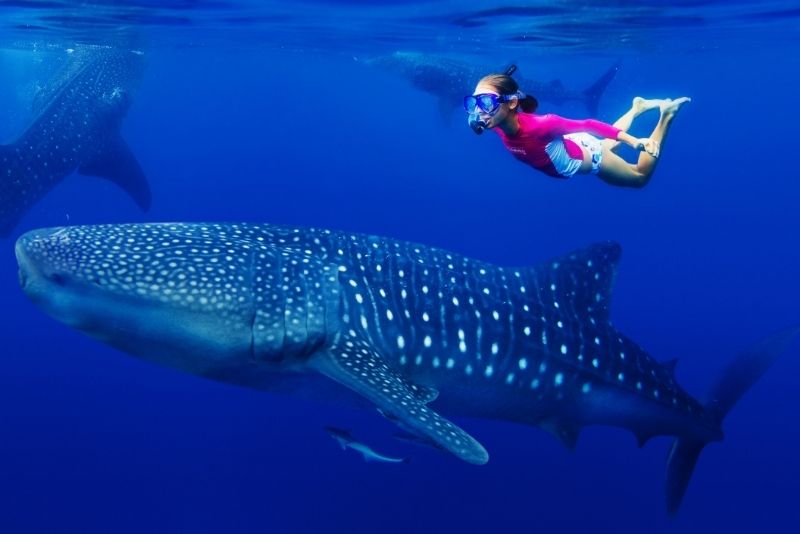 Sharks may don a sour reputation, but whale sharks are nothing more than gentle giants! And when we say 'giant', we mean it: a whale shark can stretch as long as a school bus and weigh over 20,000 kilograms!
No feeling compares to witnessing one of these beasts glide past — the best and safest way to experience it is by signing up for a professionally-operated snorkel or dive tour.
9 – Enjoy a refreshing day trip to Las Coloradas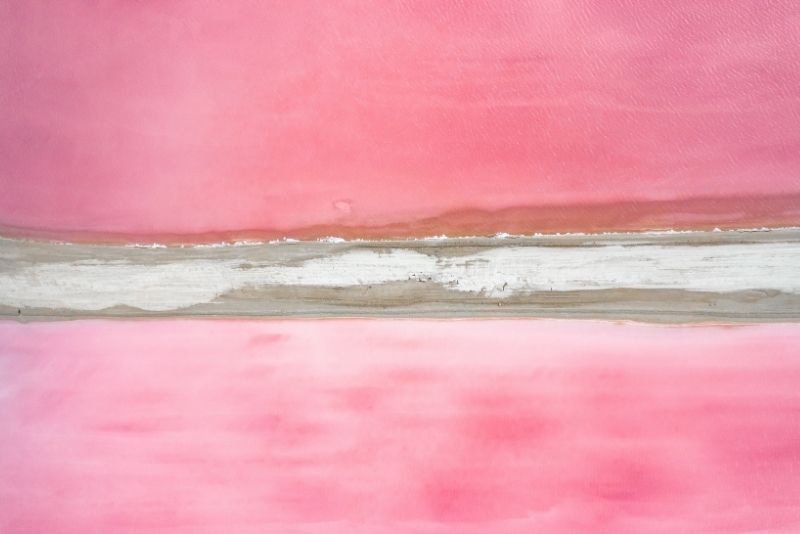 As the number-one photographers' and Instagrammers' destination, the pink lake at Las Coloradas needs to be seen to be believed – it's a jealousy-evoking backdrop for any social media pic.
For a full-day adventure, choose a tour that adds lunch and a boat ride!
10 – Point out constellations at the Ka'Yok Planetario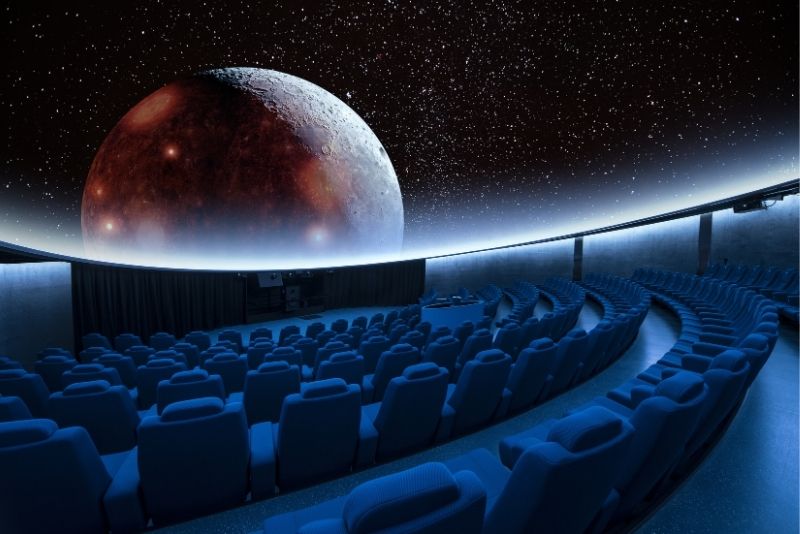 A delightful educational experience for the whole family, Cancun's Ka'Yok planetarium is a flawless choice for a rainy day.
Observe the giant telescope before catching an informative light show in the dome theatre.
11 – Mix ocean with archeology at the Tulum ruins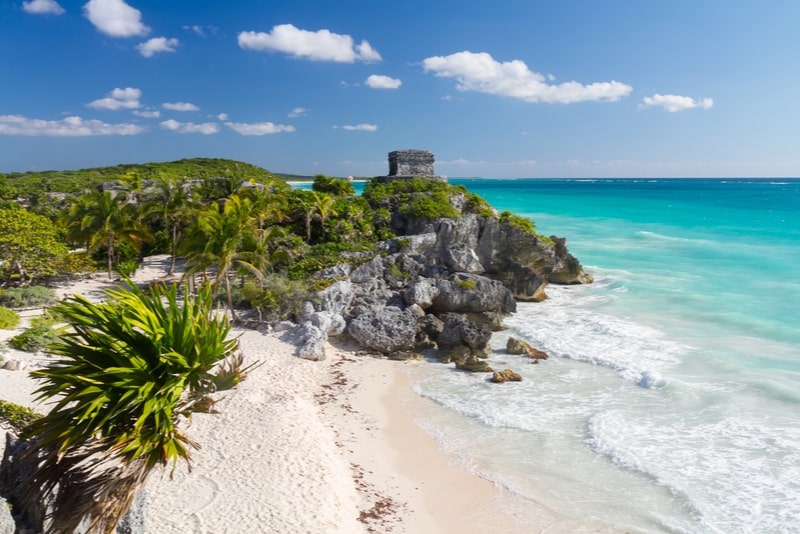 Offering a tranquil alternative to the high-speed life in Cancun, Tulum is a regular go-to for travelers looking to unwind.
Guided tours provide an intriguing insight into the region's history and its 13th-century ruins, while offering downtime to soak in the calming turquoise waters and dig into a few mouth-watering tacos for lunch.
12 – Feed the friendly crocs at Croco Cun Zoo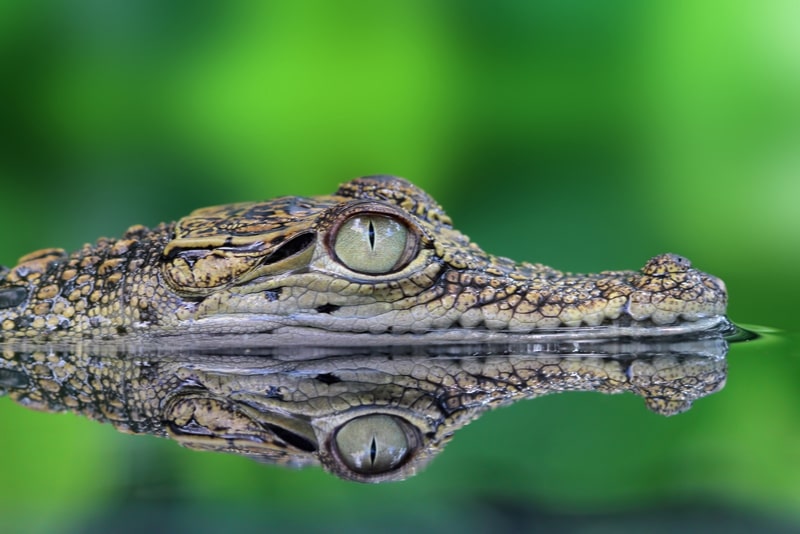 For a wildlife experience unlike anything else, look no further than the Croco Cun Zoo – a crocodile farm turned animal shelter that sits about a 25-minute drive from Cancun's Hotel Zone.
Unlike most zoos around the world, this establishment allows its visitors to get up close and personal with the animals, offering the unique chance to feed and touch the snakes, monkeys, parrots, deer, and crocodiles.
13 – Fend off the pirates with a Captain Hook dinner and show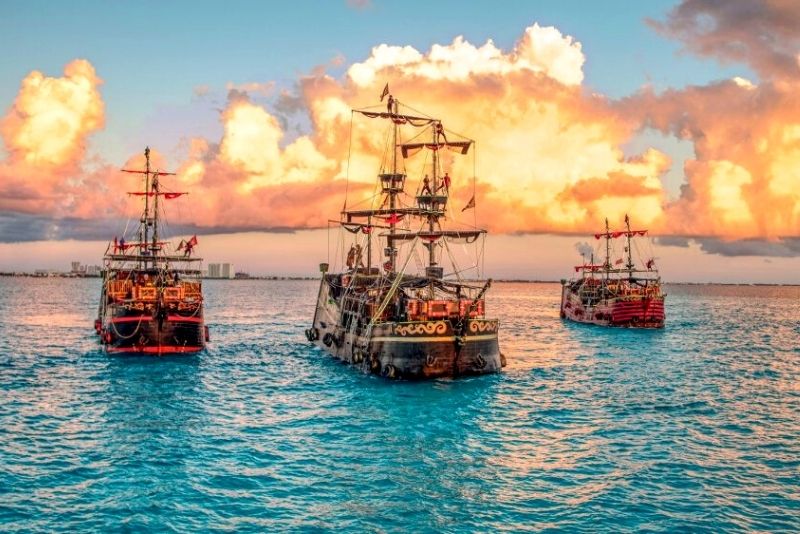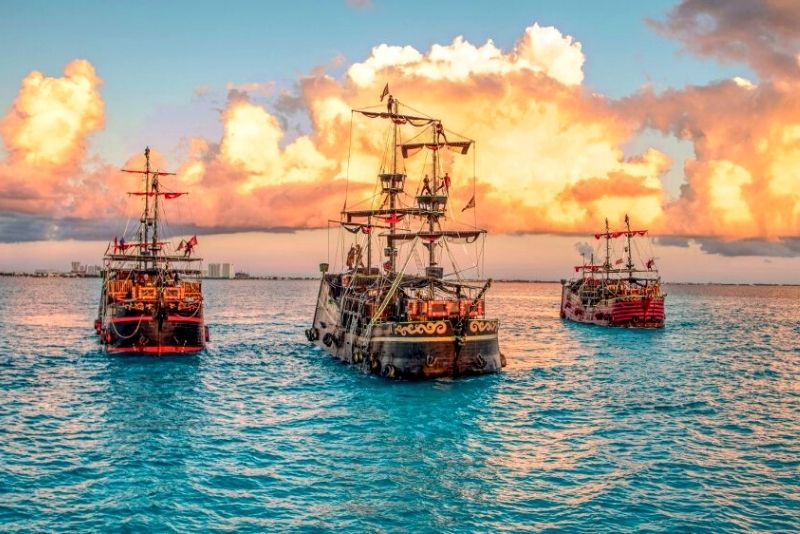 After the cannons fire into the air to signal the official departure, you'll set sail for the open waters. Cruises usually last around two and a half hours, comprising of great food, interactive contests, a few dances, and, best of all, a pirate invasion reenactment!
If you're looking for a family-friendly excursion on the water, this is easily one of the most enjoyable things to do in Cancun!
14 – Ride on horseback through the jungle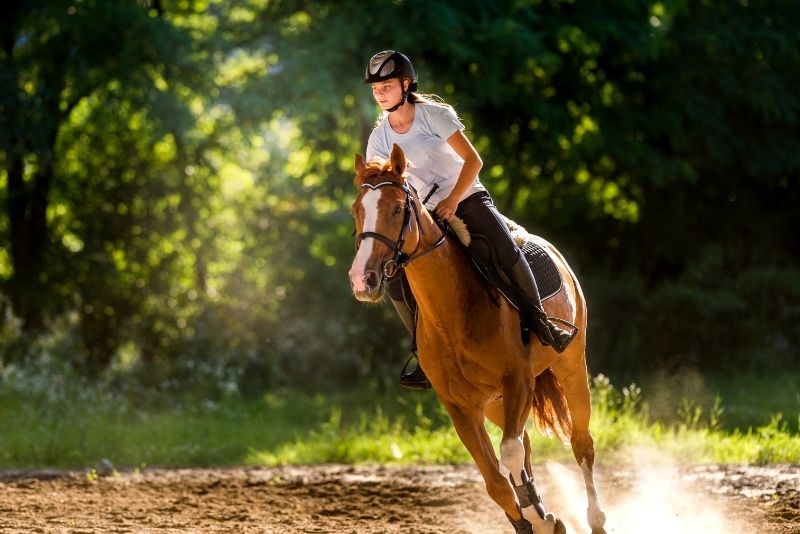 For a genuine sense of adventure, and a break from the busy beaches, allow professional guides to escort you through the picturesque landscapes of Quintano Roo on one of the region's oldest and most reliable forms of transportation: horseback.
Why not opt for double the fun with a zip-line through the jungle as well? Either way, make sure to bring a hat and sunscreen!
15 – Shop until you drop at Mercado 28 & Plaza 28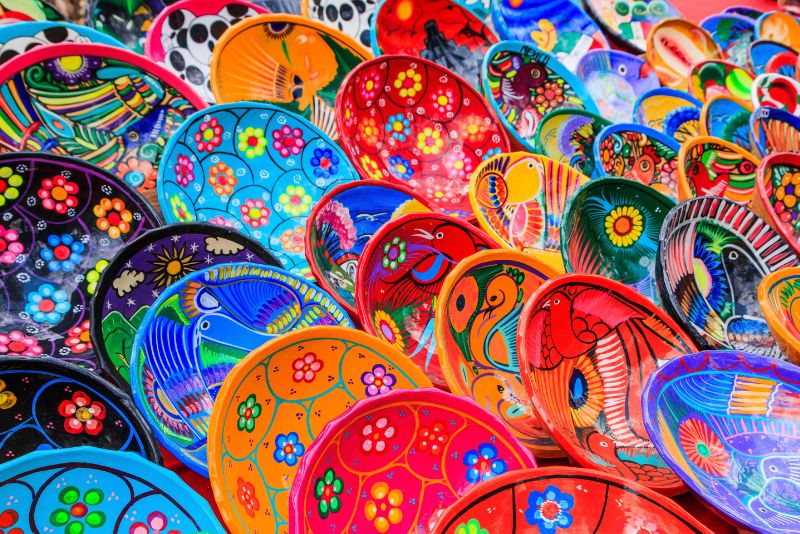 When you're ready for some retail therapy, head to Mercado 28, where the atmosphere is almost as fun as the items you'll purchase.
Wind your way through lively stalls full of food, drink, and souvenirs, taking in the rainbow hues of the buildings around you.
Whether you desire good tequila, beautiful silverwork, or unique handmade works of art, you'll find something to suit your fancy here. There are even places for you to book excursions!
Remember: bartering is expected in the market, so get ready to haggle!
16 – Satisfy any history geek with a day trip to Coba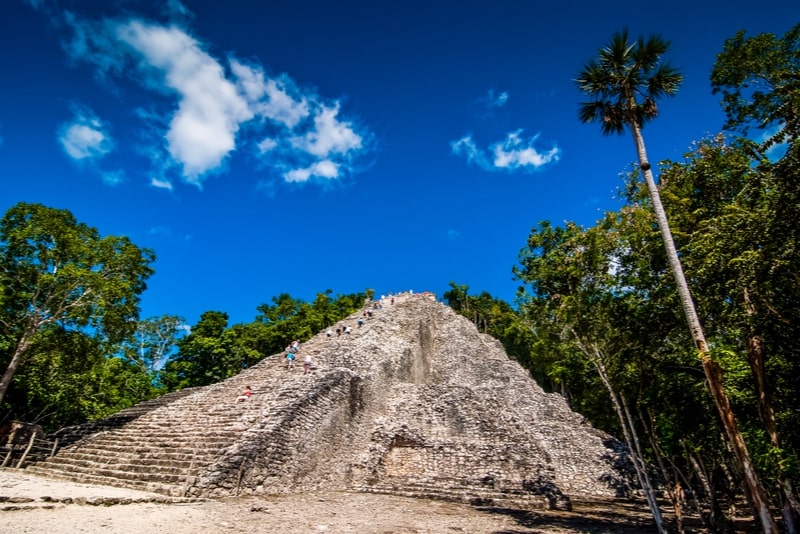 Chichen Itza might find itself on all the Cancun posters, yet the Mayan ruins of Coba are not to be overlooked. This underrated Yucatan gem features the tallest Mayan pyramid (40 meters) in Mexico's southeastern peninsula: its focal point, the Nohoch Mul Pyramid.
Unlike most archeological sites in Mexico and beyond, the Nohoch Mul Pyramid can still be climbed — and once you reach the top, you'll quickly understand why it's a massive tourist draw.
17 – Roar through the jungle on an ATV tour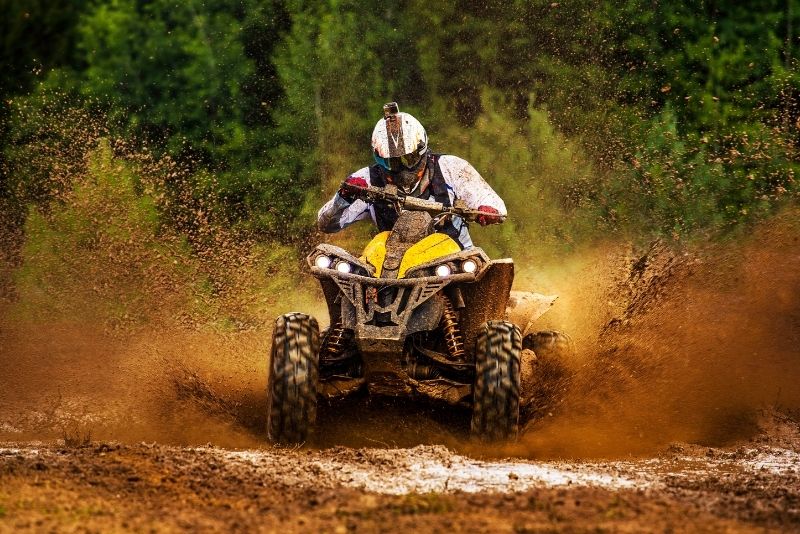 For when bussing around town and exploring on foot starts to become a little repetitive, hop on an ATV for an adrenaline-filled adventure.
These four-wheeler tours allow you to feel the wind in your hair as you immerse yourself in Mexico's natural beauty — traversing jungles and spotting endemic wildlife all the way through.
Combine the ATV ride with a zipline experience or snorkeling afternoon for a truly unforgettable day that promises to be one of the most exhilarating things to do in Cancun.
18 – Get the adrenaline pumping at Xplor Park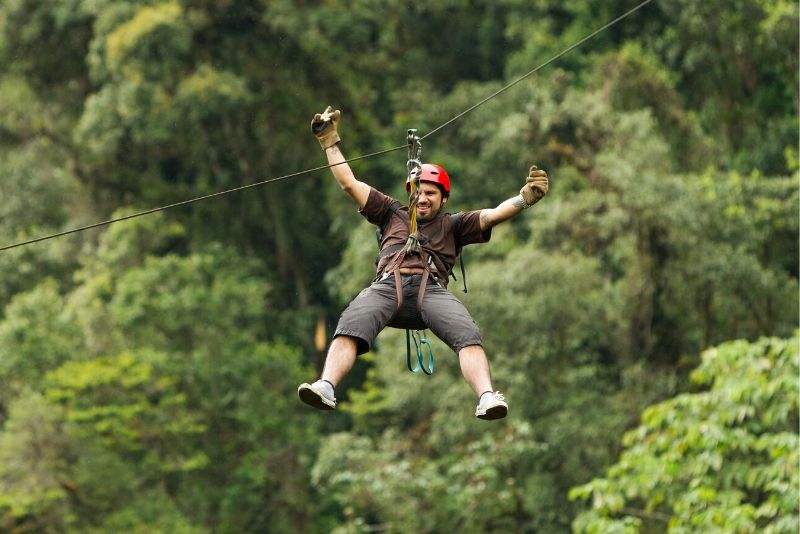 If adventure is the name of the game, look no further than Xplor Park.
This excitement-filled attraction offers a range of activities suitable for the whole family: the highest ziplines on the Riviera Maya, ample rafting routes, opportunities to ride amphibious ATVs, and plenty of jungle hiking.
Best of all, most Xplor Park tours provide hotel pick-up and drop-you!
19 – Dance with dolphins at Isla Mujeres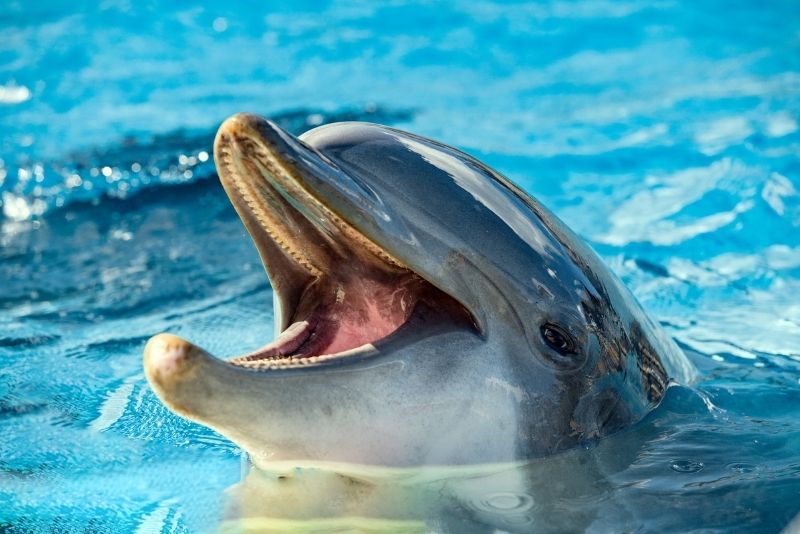 Nothing quite says vacation like an idyllic swim with some of nature's friendliest, bubbliest critters: dolphins!
You'll be served a hearty breakfast onboard the boat as you zoom across the water to Isla Mujeres, before spending close to an hour, up close and personal, with these delightful oceanic acrobats.
20 – Explore the El Rey and El Meco archaeological sites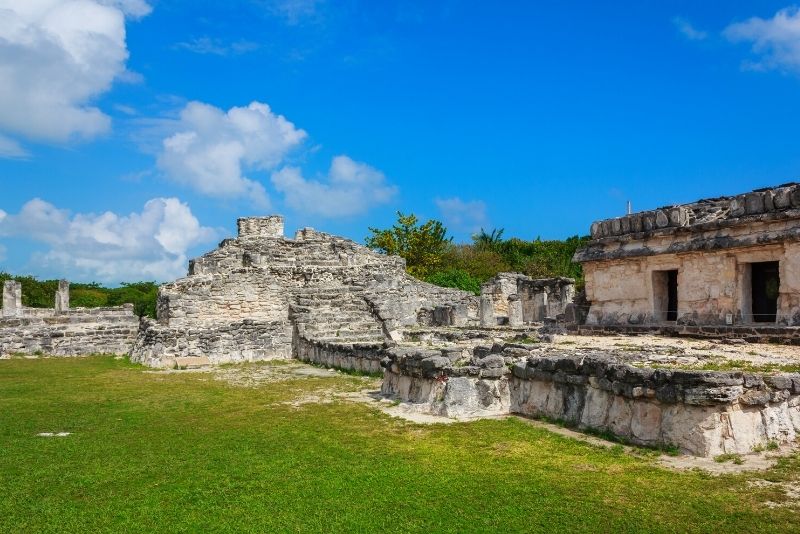 Within walking distance from most major Cancun hotels, the El Rey Archaeological Zone is a terrific way to experience ancient ruins without venturing too far inland. 47 ancient Maya stone structures are displayed here, with the intimate site doubling as a botanical garden.
Just outside the city, you can also take in the wonders of the El Meco Archaeological Site, including a road made of white stones, several ceremonial buildings, and the tallest pyramid in the peninsula's northeast region.
21 – Swim through underground crystal caves in the Rio Secreto nature reserve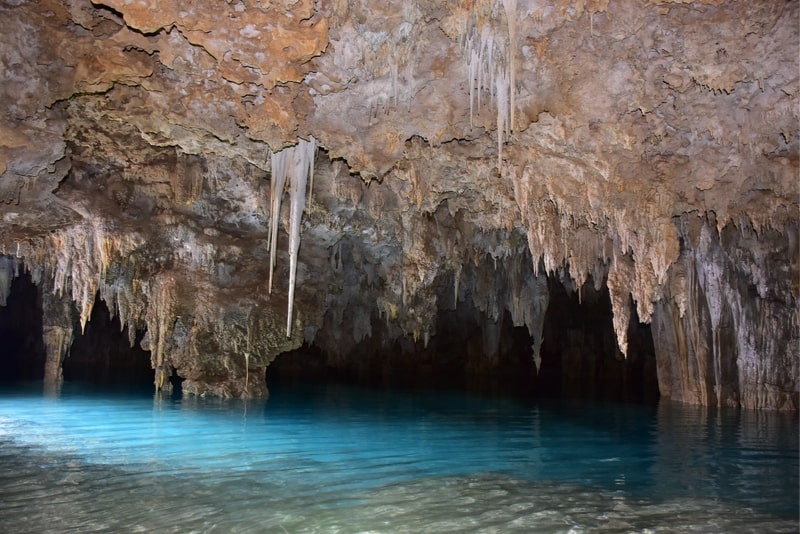 Featuring some of the most spectacular underground caves in all of Mexico, the Rio Secreto Nature Reserve outside of Cancun is a must for all nature enthusiasts.
The turquoise waters reflect the overhanging crystals, presenting photo opportunities unlike anywhere else in the area.
Wetsuits, life jackets, and protective gear are provided on most tours – all you need to bring is yourself.
22 – Admire the wildlife on Isla Holbox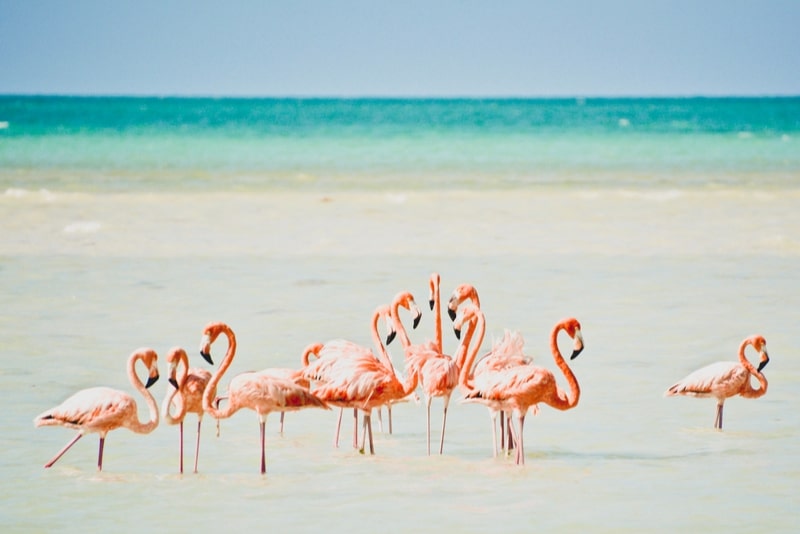 That's not Photoshop, folks. Those are real flamingos strutting around on the pristine sandy shores of Holbox's Punta Coco beach.
Cars are forbidden on the island, which has allowed nature to flourish — a stark contrast to the busy, resort-filled Cancun mainland.
Why not kayak through the mangroves or take some kitesurfing lessons while you're there?
23 – Explore the amazing Xcaret Park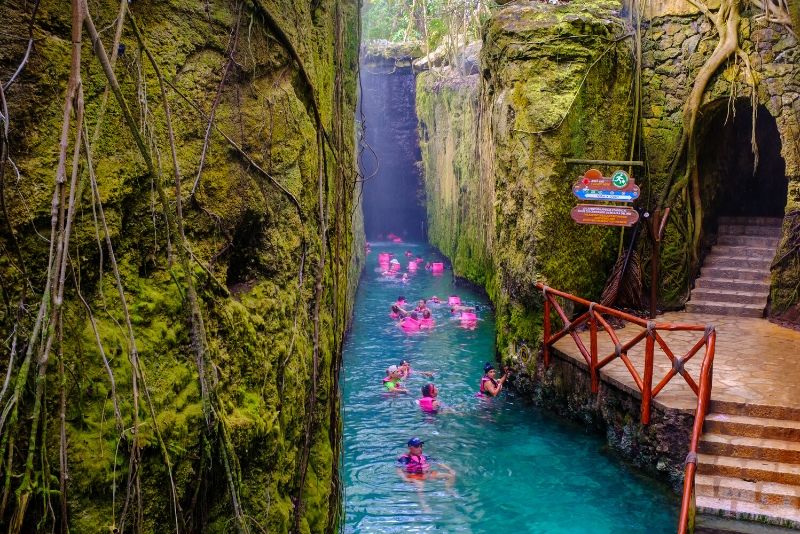 Often touted as Riviera Maya's premier attraction, Xcaret Park is a multi-faceted destination — it's a theme park, resort, and eco-tourism destination!
Wade through underground rivers, watch a show at the main theatre, devour a delicious meal at one of the many on-site restaurants, learn about the history of the ancient Mayans, and plenty more — all with a single ticket.
See also: best theme parks in Cancun
24 – See the sights on a Camel Ride
Cancun may not be the place you'd immediately think of for camel riding… but after your adventurous tour, it certainly will be!
Hop aboard your trusty steed and discover the region's natural wonders, from pristine shorelines and picturesque sand dunes to dense jungles full of wildlife.
It's a wonderfully unique way to explore this Caribbean paradise – after all, it's not every day that you get to feed your transportation snacks!
25 – See it all from the Cancun Scenic Tower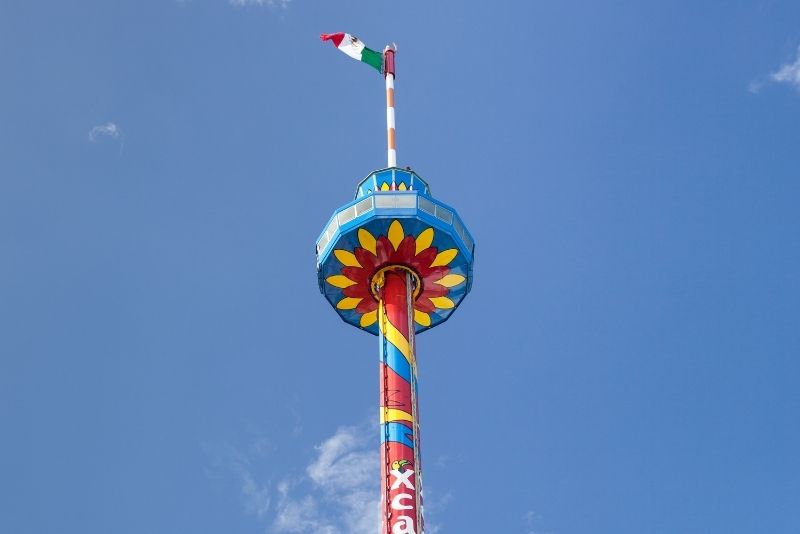 Nestled within Xcaret Park, the Torre Escénica del Embarcadero de Cancún (Scenic Tower), is an incredible way to see the city from above.
Best of all, your ticket to any of the fun-filled parks from the Xcaret Group also includes access to the Cancun Scenic Tower, which offers spectacular views of the surrounding area from 262 feet in the air.
If 80 meters isn't quite high enough, take to the skies on a private helicopter flight instead.
26 – Experience Xenotes Oasis Maya Park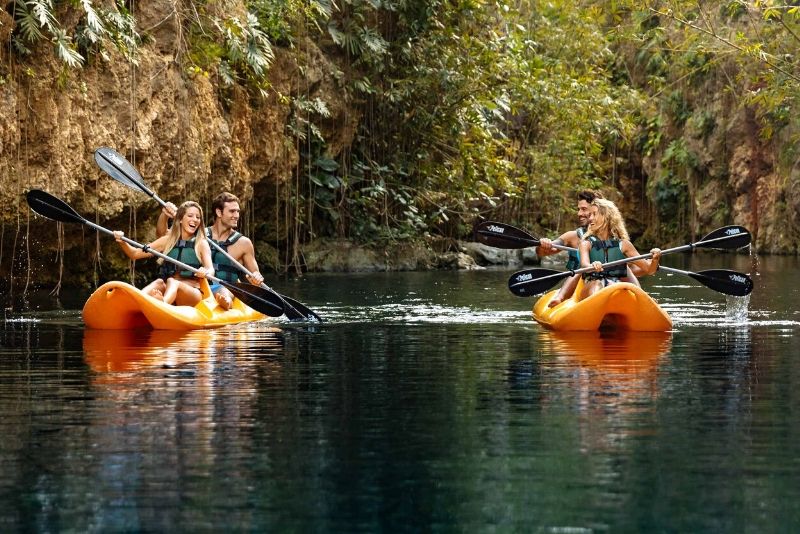 There are only four types of cenotes (natural swimming holes) worldwide, and they're all on display in the Xenotes Oasis Maya Park.
Whether you prefer to swim, kayak, abseil, or snorkel (all options are available), after a day exploring Xenotes Oasis, you'll be reminiscing about these marvelous works of nature for years to come.
For an immersive, nature-filled activity, this is the frontrunner for things to do in Cancun.
27 – Take a day trip to Sian Ka'an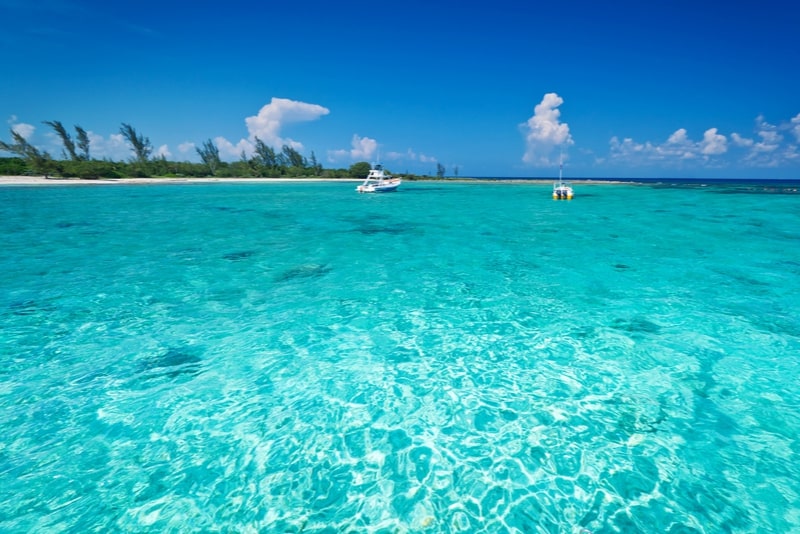 Just when you thought that Mexico couldn't be any more beautiful, you stumble across Sian Ka'an.
Sporting picturesque coastal wetlands and sparkling, clear lagoons, this 2,797 km² oasis has been designated a UNESCO World Heritage Site for over 30 years – and it's not hard to see why.
Several professionally guided tours operate in the area, stretching from half-day to week-long adventures.
28 – Parasail over the shoreline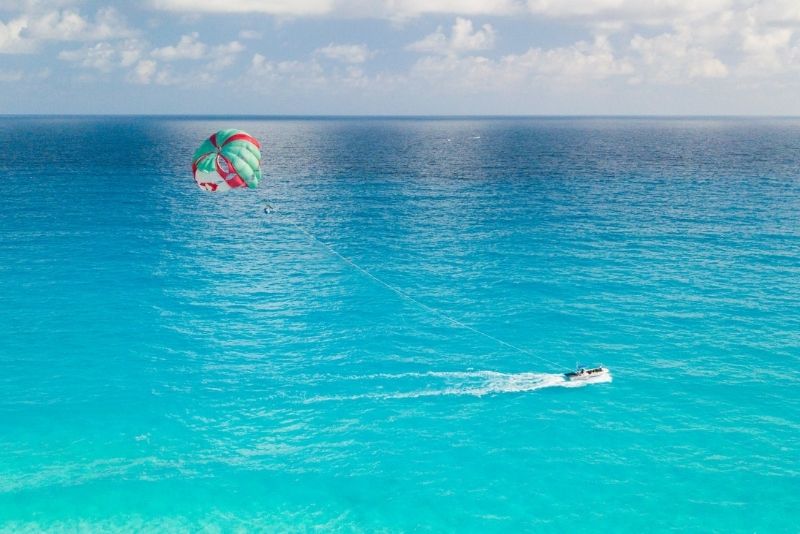 What better way to admire the shimmering Cancun coastline than from above?
Strapped safely into a harness, you'll soar up to 250 feet (76 meters) in the air, with nothing but clear water and blue skies as far as the eye can see.
Take your partner or kids along for the ride; up to three people can fly together simultaneously.
29 – Experience the magic At Riviera Maya's Cirque du Soleil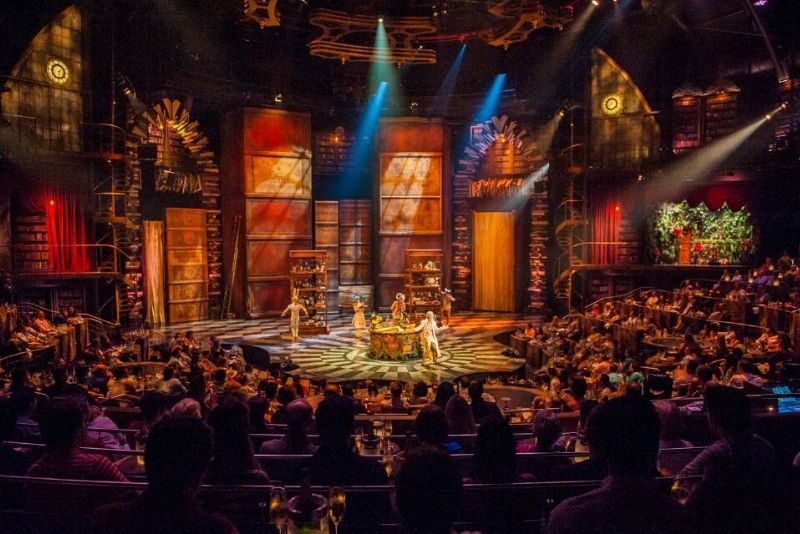 A world-famous entertainment act, you can never go wrong with a night under the big top with Cirque du Soleil.
The latest whimsical spectacle, Joya brings together brilliant acrobats from all over the globe, combining performing arts with a rare culinary experience.
The VIP pass includes unlimited champagne – need we say more?
30 – Shop at La Isla Shopping Village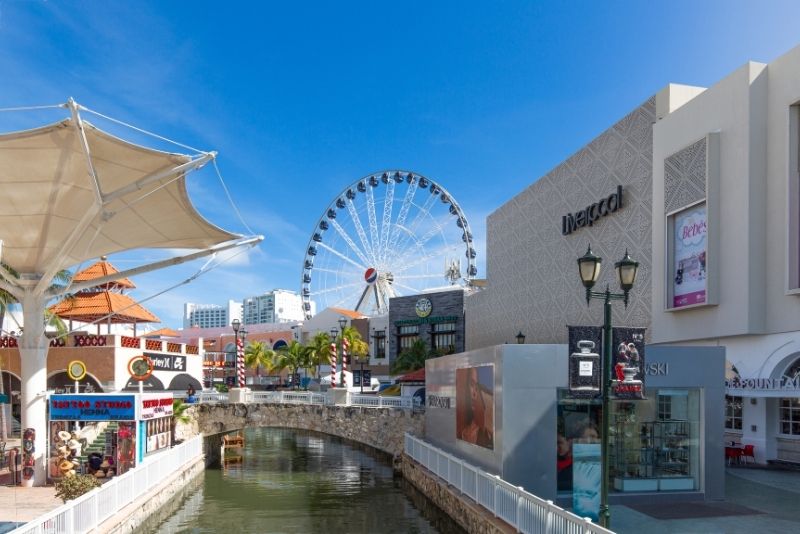 Featuring clothing stores, an aquarium, restaurants to suit any budget, and a towering Ferris Wheel, La Isla Shopping Village is a great way to spend a couple of hours.
The open-air shopping complex is regarded as the most aesthetic mall in Cancun — an ideal spot to grab a few souvenirs for the friends back home.
31 – Have fun at Xel-Há natural park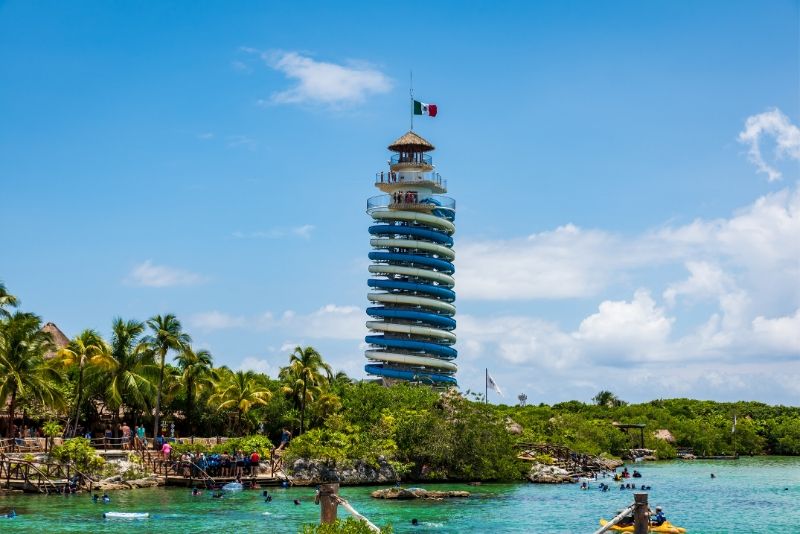 Ride the waterslides of the Scenic Lighthouse, grab a bite to eat at a local waterfront restaurant, and swim with rainbow-colored fish, all in Xel-Há Natural Park — the world's most impressive so-called 'natural aquarium'.
Outside of the water, the park's jungle region sports over 220 species of plants and 100 varieties of birds — so don't forget the camera! The park is hidden just outside of Tulum, about an hour and a half from Cancun.
32 – Feel the power of the flyboard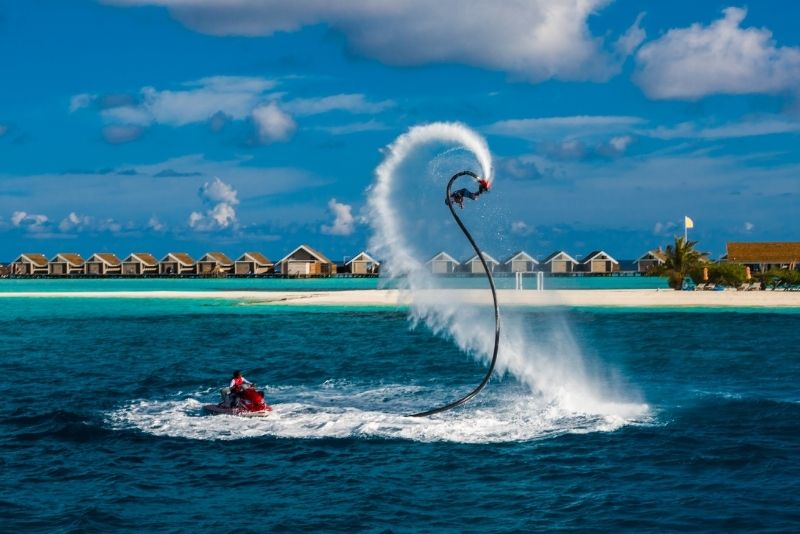 For those of you who've never tried flyboarding, there's no better time than on your next Cancun vacation!
The heart-racing water sport takes a little time to master, but once you're comfortable with the power beneath your feet, you'll be hovering, swirling, and diving like no tomorrow.
If you've ever wanted to feel like Superman, now's your chance.
33 – Escape to the tranquil Isla Blanca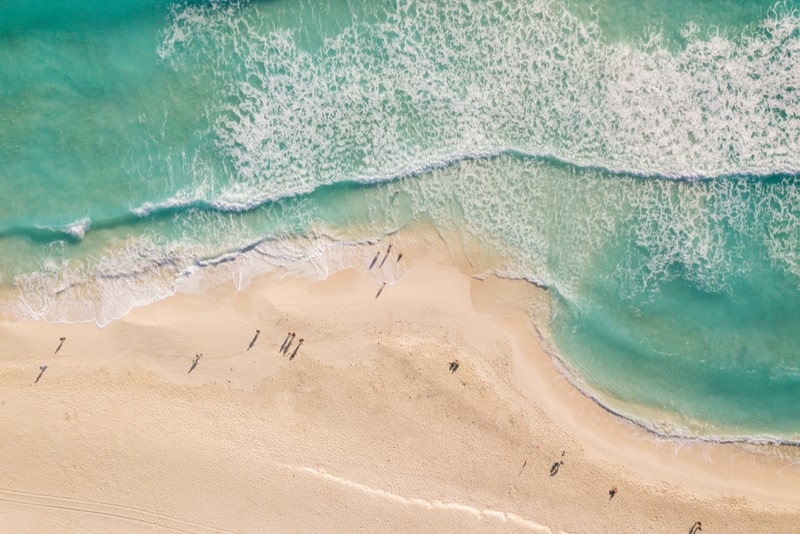 Just a short drive (about 20km) out of Cancun sits the white-sand paradise that is Isla Blanca.
Considering its location and lack of public transport access, this idyllic stretch of sand feels tranquil and remote — a refreshing change from the busy Hotel Zone.
34 – Visit the majestic Cenote Hubiku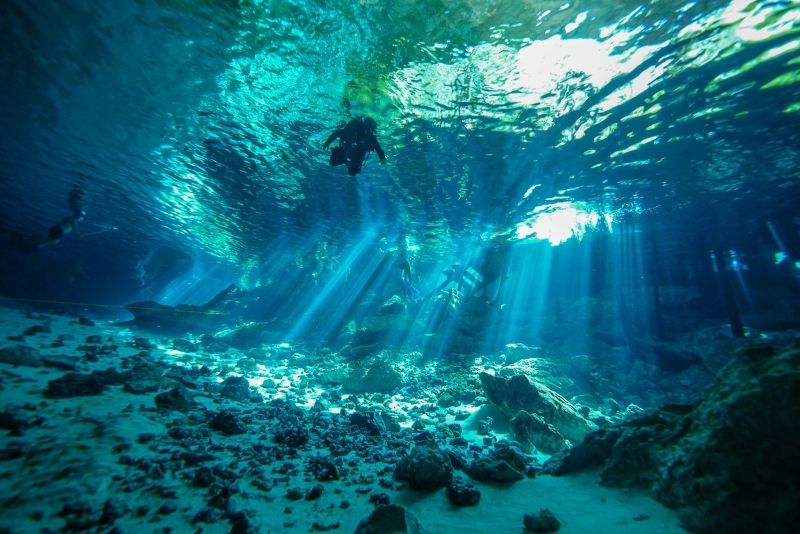 The Yucatan region has no shortage of wondrous cenotes, perhaps none more impressive than Hubiku.
Every day as the clock strikes noon, a powerful beam of sunlight penetrates the roof, lighting up the sparkling waters below and creating the perfect photo opportunity.
Combine it with the pink lake experience for a day unlike any other.
35 – Fend off zombies on monster trucks at Pistón Pueblo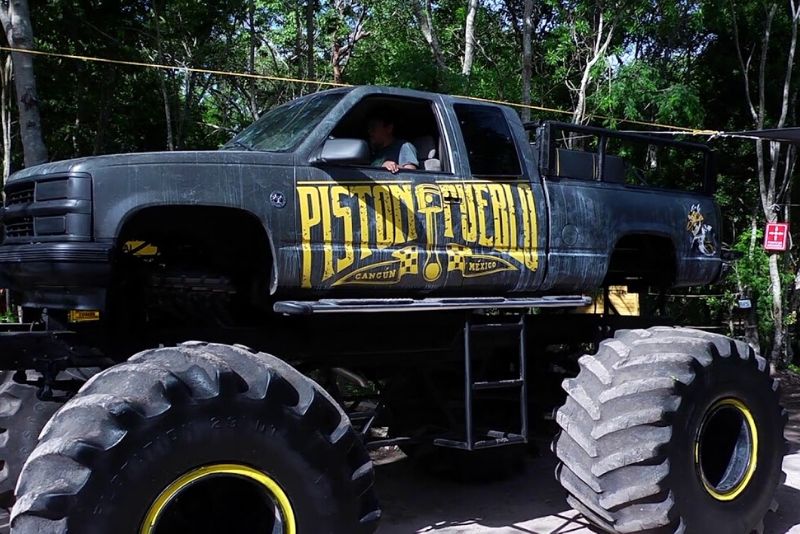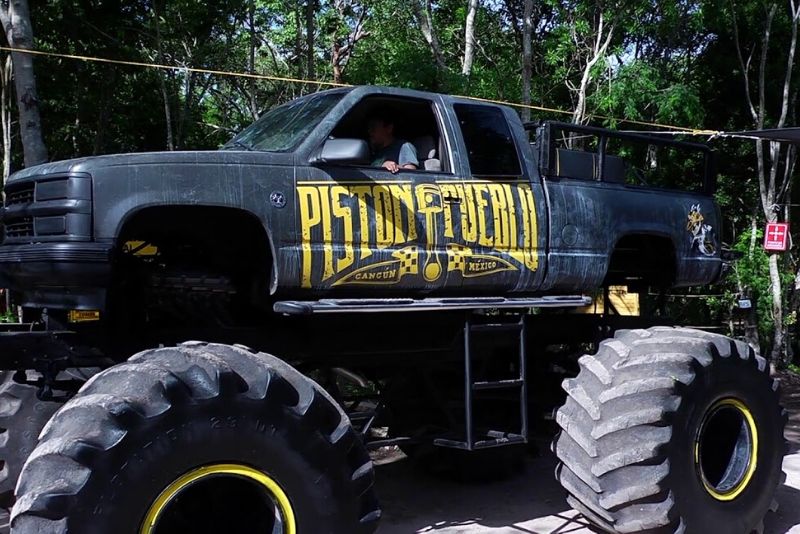 Ever dreamed of shredding through the jungle on a monster truck while annihilating zombies? Well, now's your chance!
Unlike any other attraction in Cancun, Pistón Pueblo theme park provides guests the chance to hop on an ATV, monster truck, or horse and saddle, and zoom through the jungle.
The park also has a cenote to cool off, food to refuel, and provides hotel pick-up and drop-off.
36 – Explore the Ek Balam ruins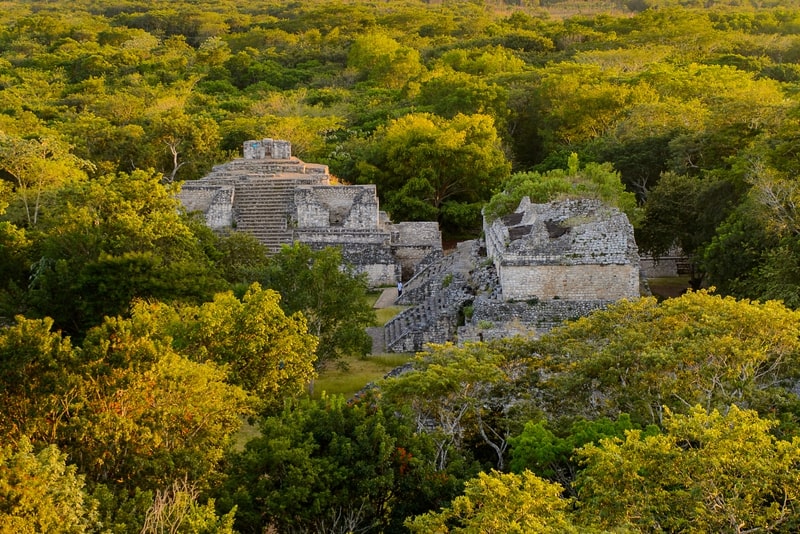 Found in the Northern Maya lowlands, with far smaller crowds than Chichen Itza and the Tulum Ruins, the mysterious Ek Balam is a must-see spot for any history and archeology fan.
Despite being thousands of years old, the ruins remain excellently preserved.
37 –  Snorkel through the Underwater Museum at Punta Nizuc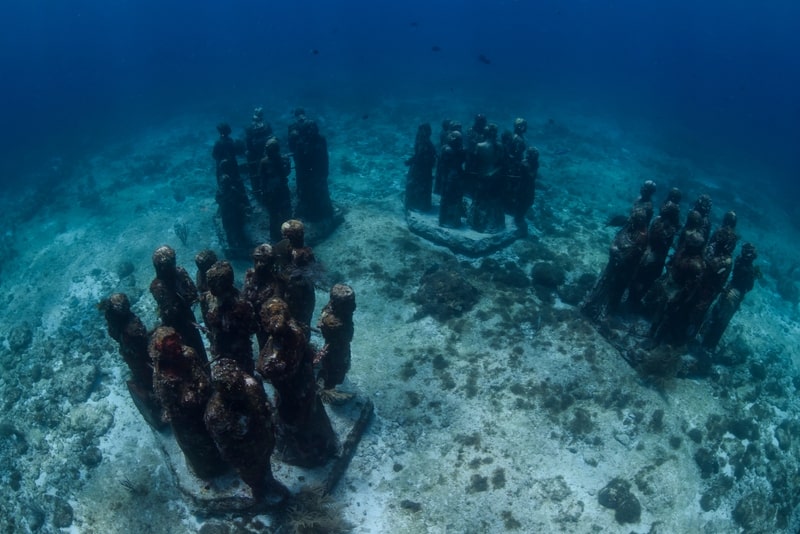 Breathtaking is an understatement when it comes to the collection of deep-sea sculptures on display at the Underwater Museum of Art.
Throw in substantial sealife, warm waters, and a beautiful reef, and Punta Nizuc really does tick all the boxes.
38 – See the mangroves on a kayak tour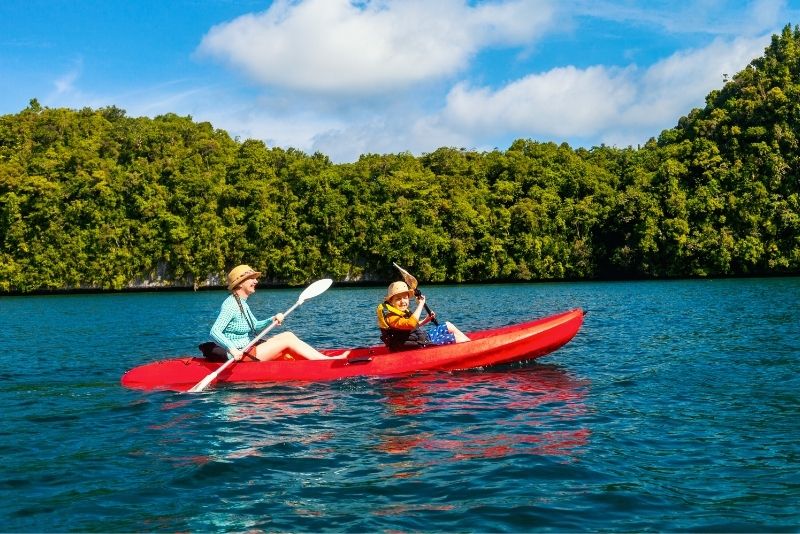 With flamingos and ospreys headlining an army of local birds, plus crocodiles and boas lurking safely but visibly in the distance, a kayak tour through the Holbox mangroves or the Nichupte Lagoon is one of the most fascinating things to do in Cancun.
Better yet, take it to the next level with a kayak under the stars.
39 – Experience a new perspective at Xenses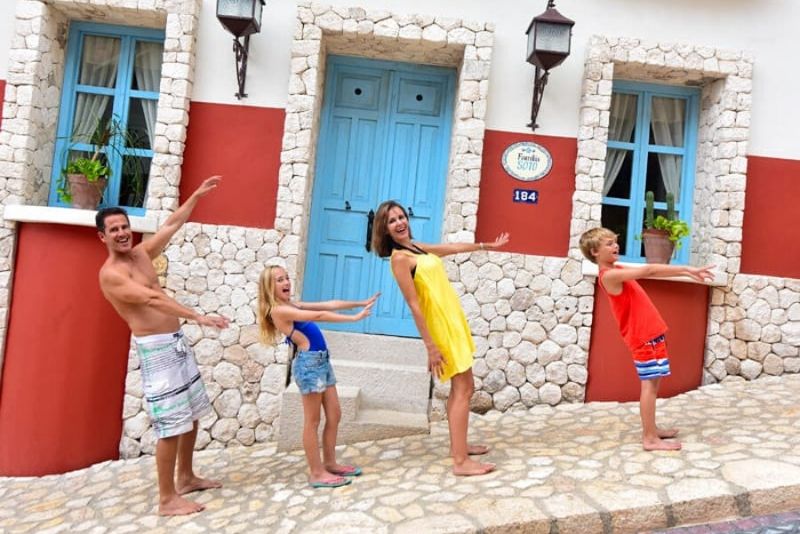 Showcasing a plethora of immersive optical illusions and activities designed to delight (or confuse) your senses, the Xenses outdoor amusement park is fun for the whole family.
This attraction can be ticked off in just half a day, allowing you to fit in a quick cenote snorkel, ruin visit, or authentic Mexican feast.
40 – Play a round on one of the world's best golf courses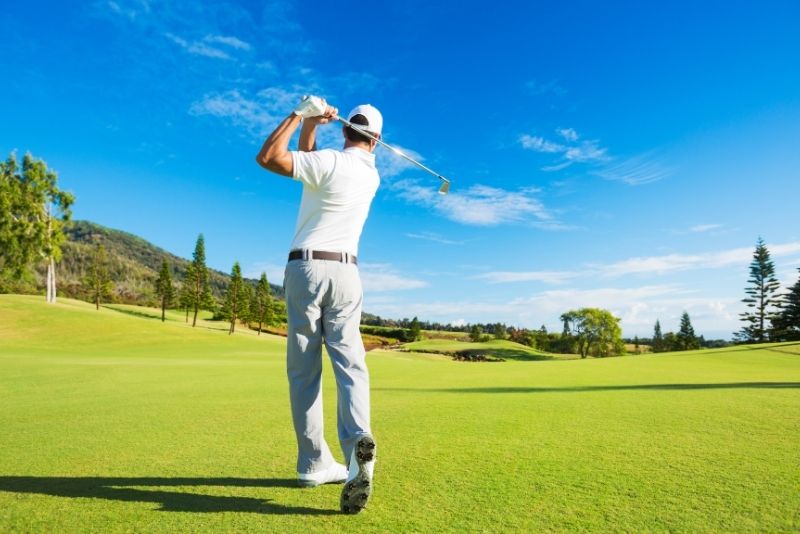 Rarely does sport come to mind when visitors dream up about their Mexican getaway. That being said, the greater Cancun region boasts some of the most elegant courses in the country – scratch that, the continent!
The greens on El Chameleon Mayakoba are second to none. You can also tee off in the forested surroundings of Playa Mujeres Golf Club, or play a round amongst the mangroves at Iberostar Cancun Golf Club.
Swing by the opulent Cancun Country Club to try El Tinto Golf Course Cancun, or the championship-level course at Cancun Golf Club at Pok ta Pok.
41 – Go clubbing at the world-famous Coco Bongo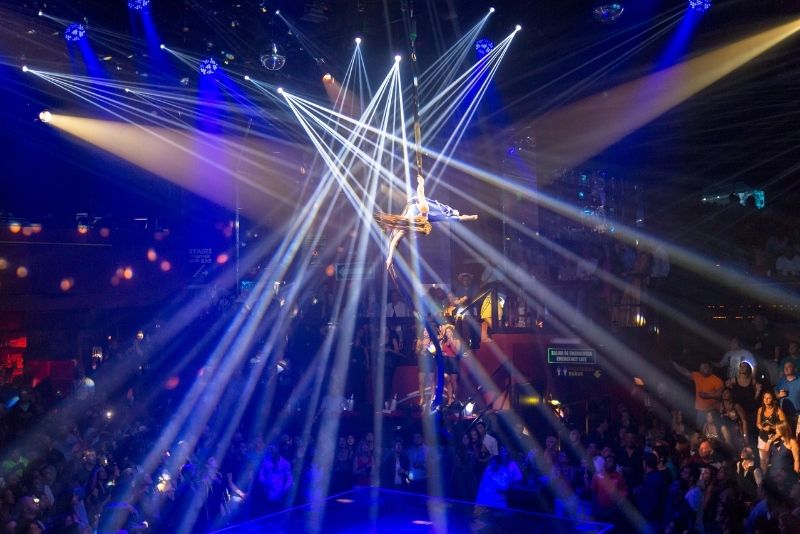 Regarded as home to one of the wildest nights of partying on the entire Yucatan Peninsula, Coco Bongo is a surefire way to let loose.
The glitter and the drinks will flow, the music will blast, and the dancing will continue until the early morning hours. Truthfully, the live entertainment needs to be seen to be believed.
42 – Sail on the Jolly Roger for dinner and a pirate show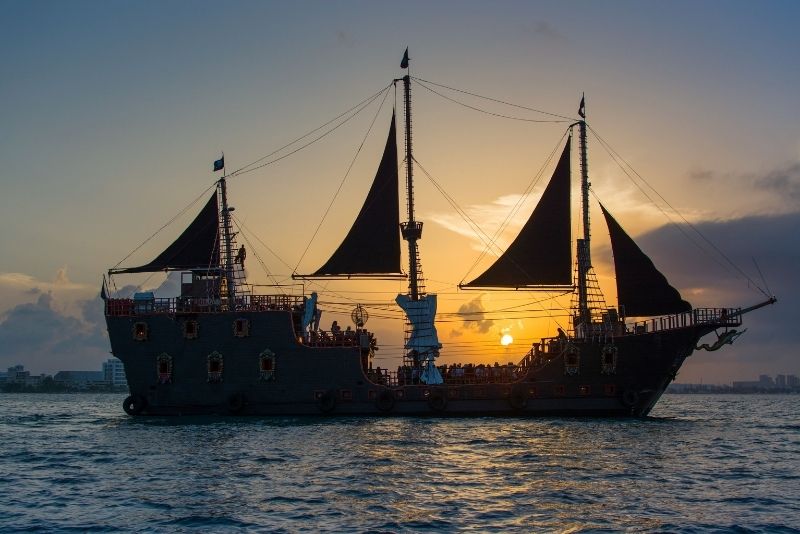 As a perfect activity for the whole family, both kids of age and kids at heart are sure to love the authentic sunset experience aboard the Jolly Roger.
The adults can take full advantage of the open bar while enjoying live music, meanwhile, the youngsters will marvel at the shooting of the cannons, miraculous firework display, and whimsical pirate show.
43 -Feel the intense thrills at Xavage Park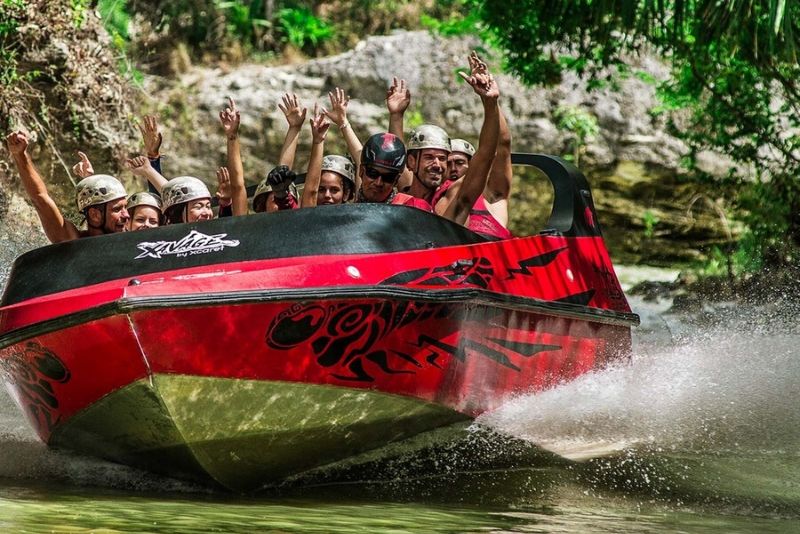 Leave your fear at home with a trip to the thrilling Xavage Park.
The latest Mexican adventure destination offers six high-octane choices: ropes courses, ziplining, kayaking, jet boating, rafting, and – perhaps most impressively – monster trucking!
Whether you buy the regular entry or the all-inclusive ticket, an unforgettable time awaits.
44 – Please your palate with a taco & beer tasting tour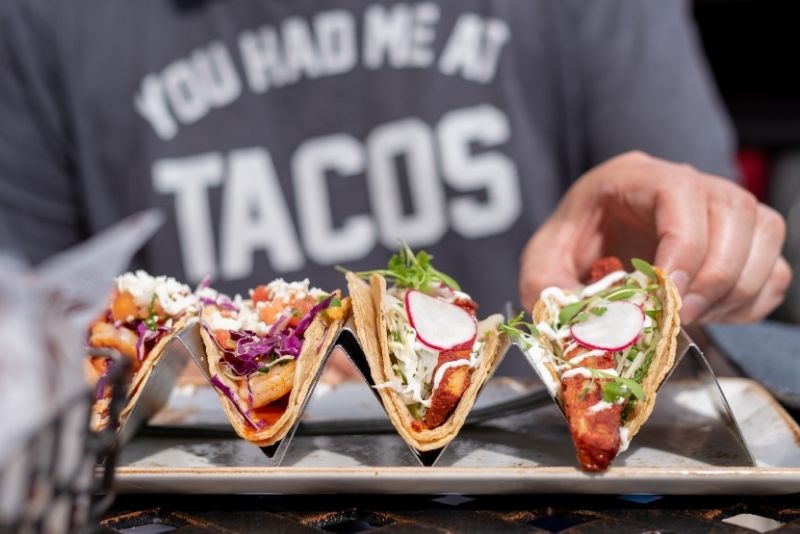 If you don't devour at least a few dozen tacos or sample a few Coronas (or Modelos, or Mezcals) by the beach, then you didn't experience the real Mexico.
As evening rolls around, head to Parque de las Palapas to enjoy some of the city's famous nightlife, and take some time to sample the delicious offerings from the various street food carts and taste local beers.
Choose a standalone food tour or combine it with a couple of activities – either way, your tastebuds will thank you.
45 – Get historic at Museo Maya de Cancún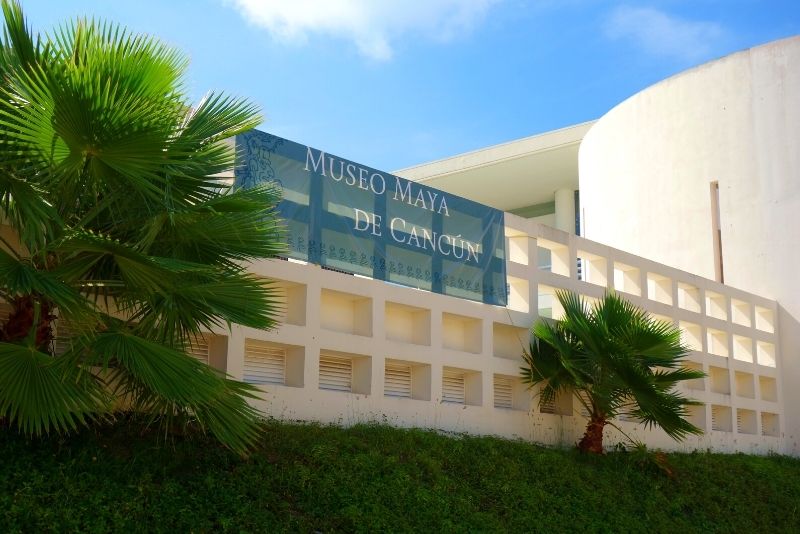 One for the history buffs, the Museo Maya de Cancún provides unique and sophisticated learnings into the traditions and cultures of the Mayan civilization.
A museum ticket also grants you access to the San Miguelito Archaeological Zone, home to numerous Mayan ruins.
46 – Visit the beautiful Island of Cozumel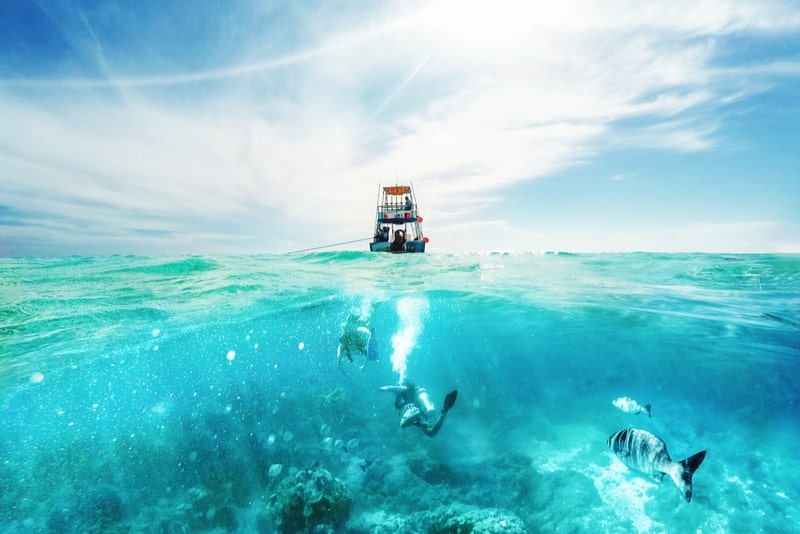 A common cruise ship port, Cozumel showcases some of the nation's premier dive spots, with dolphins, manatees, and sea turtles galore.
The popular island also features souvenir shops, restaurants, private beach clubs (like Mr. Sanchos), and far less crowded shores than the mainland.
Why not grab a couple of friends, don a helmet, and view the entire island with the wind in your face on a trike?
47 – Take a jeep safari through Reserva Nativa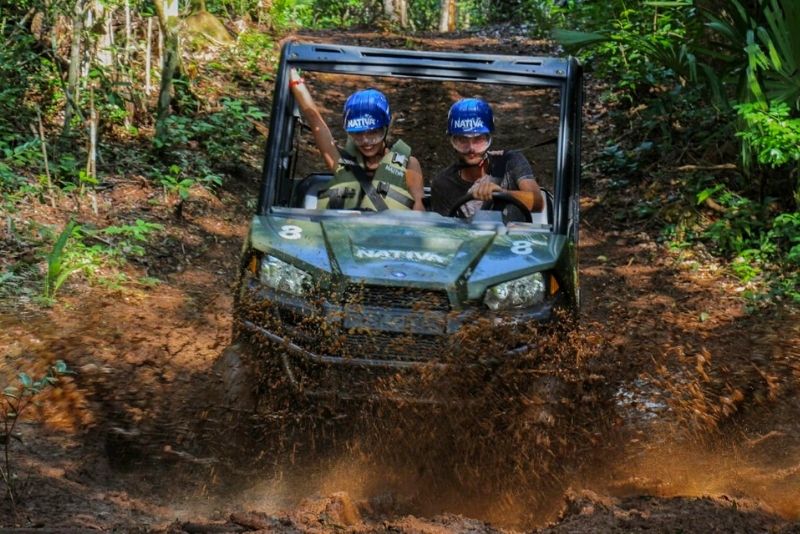 Strapped into a Polaris ATV, you'll roll through the jungle-laden Reserva Nativa.
Spend an hour learning how to make traditional tortillas for lunch before capping off the experience with a relaxing canoe ride through the Dakini lagoon.
If, after this, you still can't get enough of the four-wheelers, a number of additional Jeep tours await.
48 – Get a different perspective on a submarine tour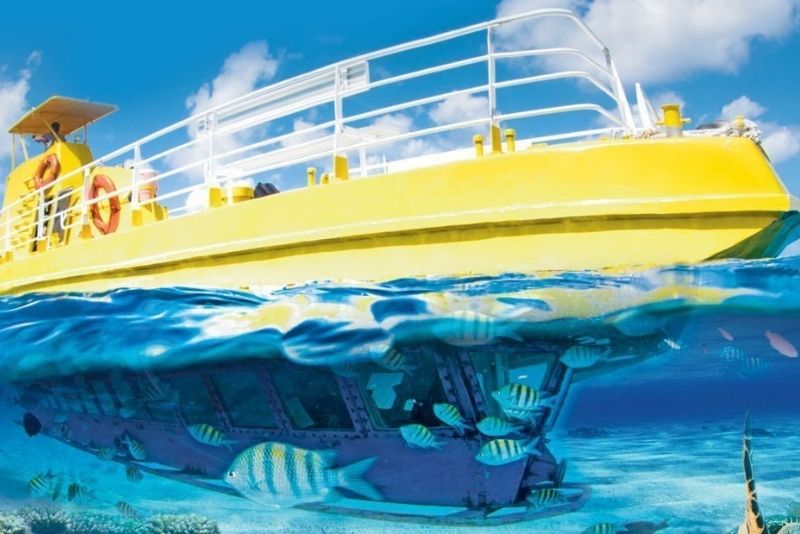 Dive underwater while staying completely dry in a submarine-style glass-bottom boat.
The vessel will cruise along Punta Nizuc, the world's second-largest coral reef, and you'll be entertained with marine facts and passing wildlife the entire way through.
It's an activity perfect for all ages.
49 – Experience the excitement of Cancun's Ventura Park waterslides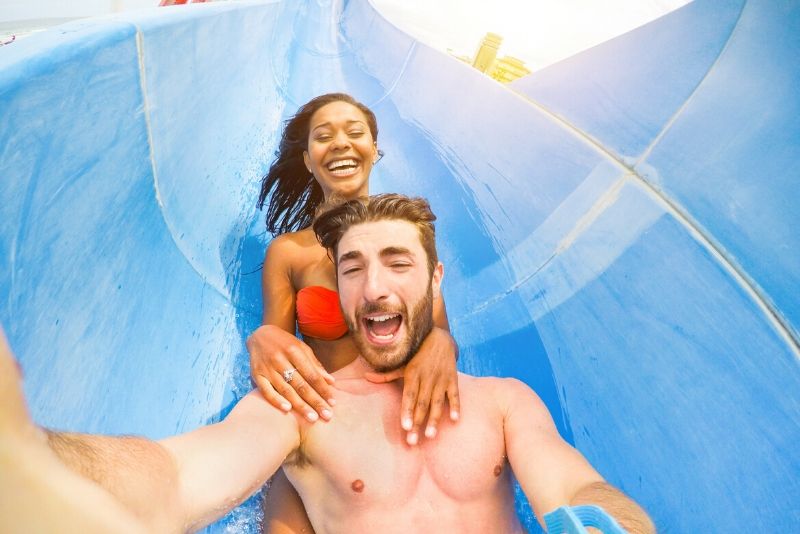 With year-round sunshine, there's never a poor time to take the family to Ventura Park.
Boasting waterslides, a wave pool, a zipline, go-karts, a dolphin encounter, and more, Cancun's newest oceanfront theme park is fun in the sun for the entire gang.
50 – Feast at Cancun's best restaurants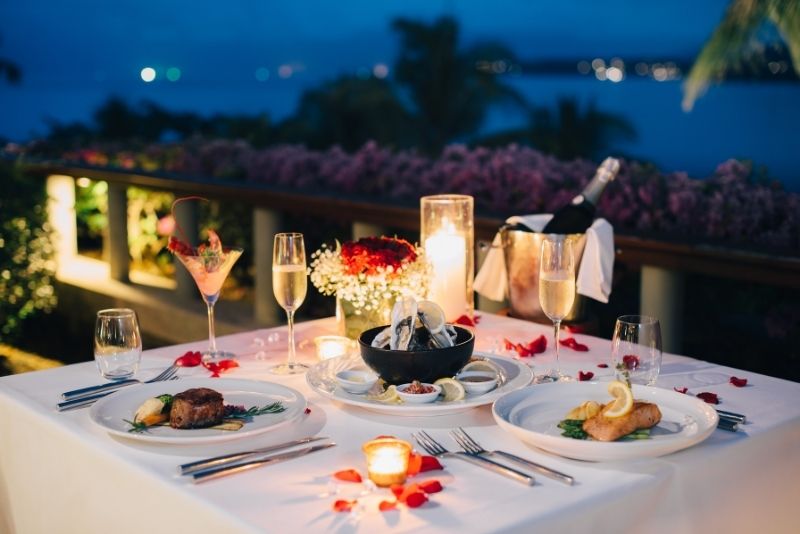 This is one for the foodies!
Rated the premier Mexican restaurant in Cancun by TripAdvisor, The White Box has amazing service and a diverse menu full of utterly scrumptious local dishes.
Hovering on foundations above the lagoon, Lorenzillo's has been serving lobster and specialty seafood dishes since 1985. Book a table at sunset for unbeatable romance.
For an unforgettable waterfront dining experience, look no further than Captain's Cove, a renowned seafood specialist. Choose from fresh lobster dinners, legendary clam chowder, the catch of the day, and more, all while appreciating the panoramic lagoon views.
Smack-bang in the middle of the Hotel Zone, Harry's Steakhouse is not the cheapest of eateries, but the food is heavenly; meals are detail-focused, high-quality, and stylish.
51 – Get wild on an adults-only Rockstar boat party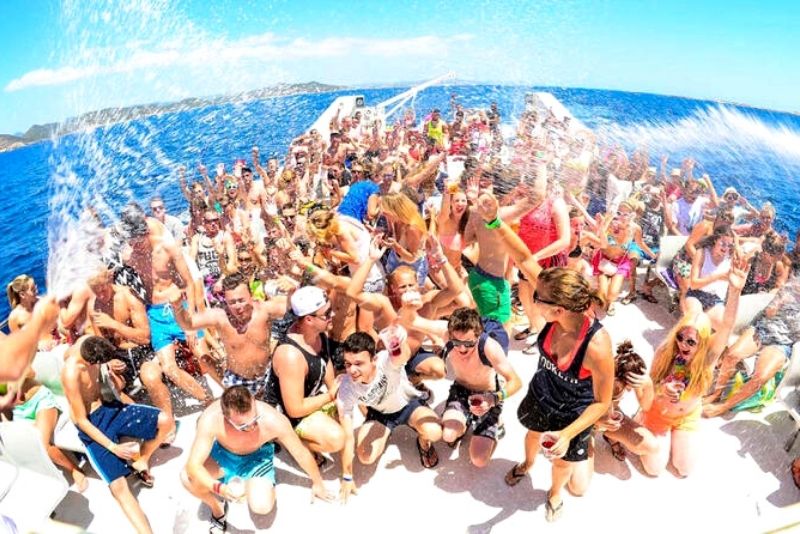 Leave the kids at the hotel; this one's for the grown-ups.
The booze will be flowin' and the music will be pumpin' aboard the Rockstar Boat Party, one of the most exciting, wild things to do in Cancun!
With an open bar, you'll easily be able to get your money's worth – all while soaking in the sun and admiring the pristine views of the shore.
52 – Feed sharks at Cancun's Interactive Aquarium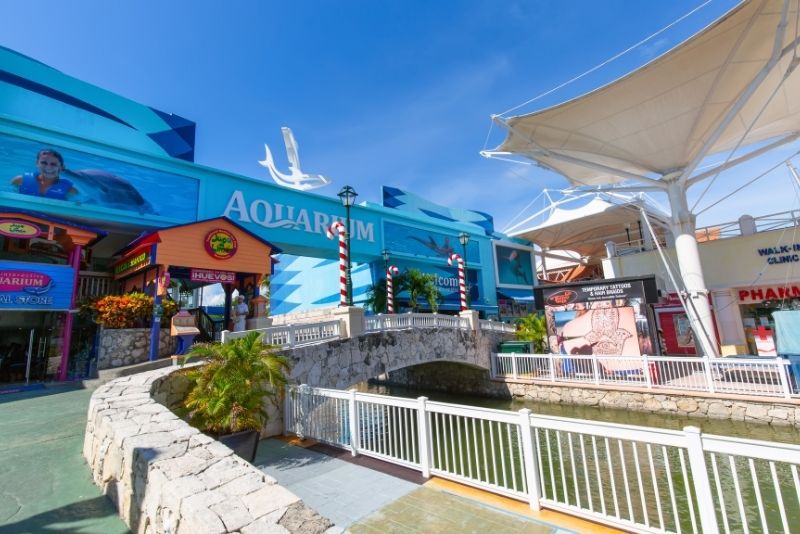 'Aquarium' and 'interactive' don't always go hand in hand — but in Cancun, anything's possible. Almost 1200 unique marine species call this attraction home.
Ever wanted to touch a sea urchin? How about swim with dolphins? Or feed sharks beneath the surface? All this and more is doable during a visit to the Interactive Aquarium.
53 – Feel the thrills with Adventure Tribe At Selvatica Park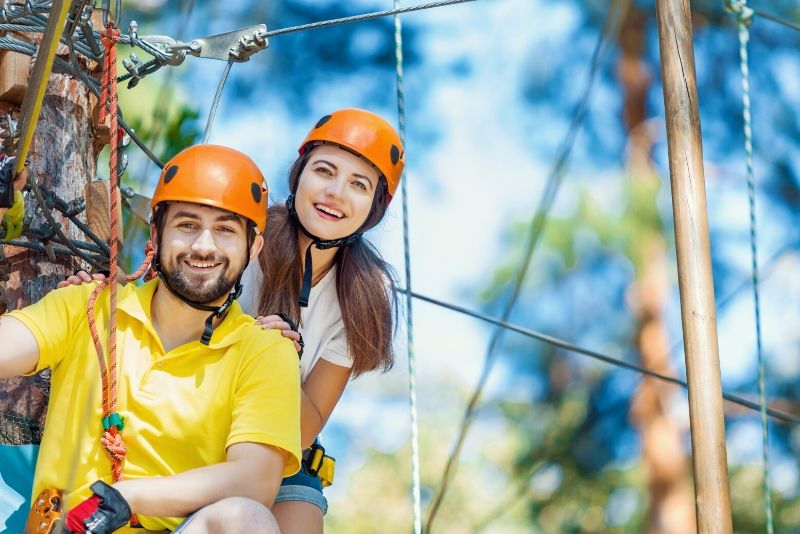 Adventurers, rejoice! Selvatica Park is an explorer's paradise; soar over the jungle via a zipline circuit, hike through the trees and spy the endemic wildlife; or traverse the muddy pathways on a roaring ATV.
For those with nerves of steel, there's also the option to venture through the jungle by moonlight.
54 – Ride the waves on a jet ski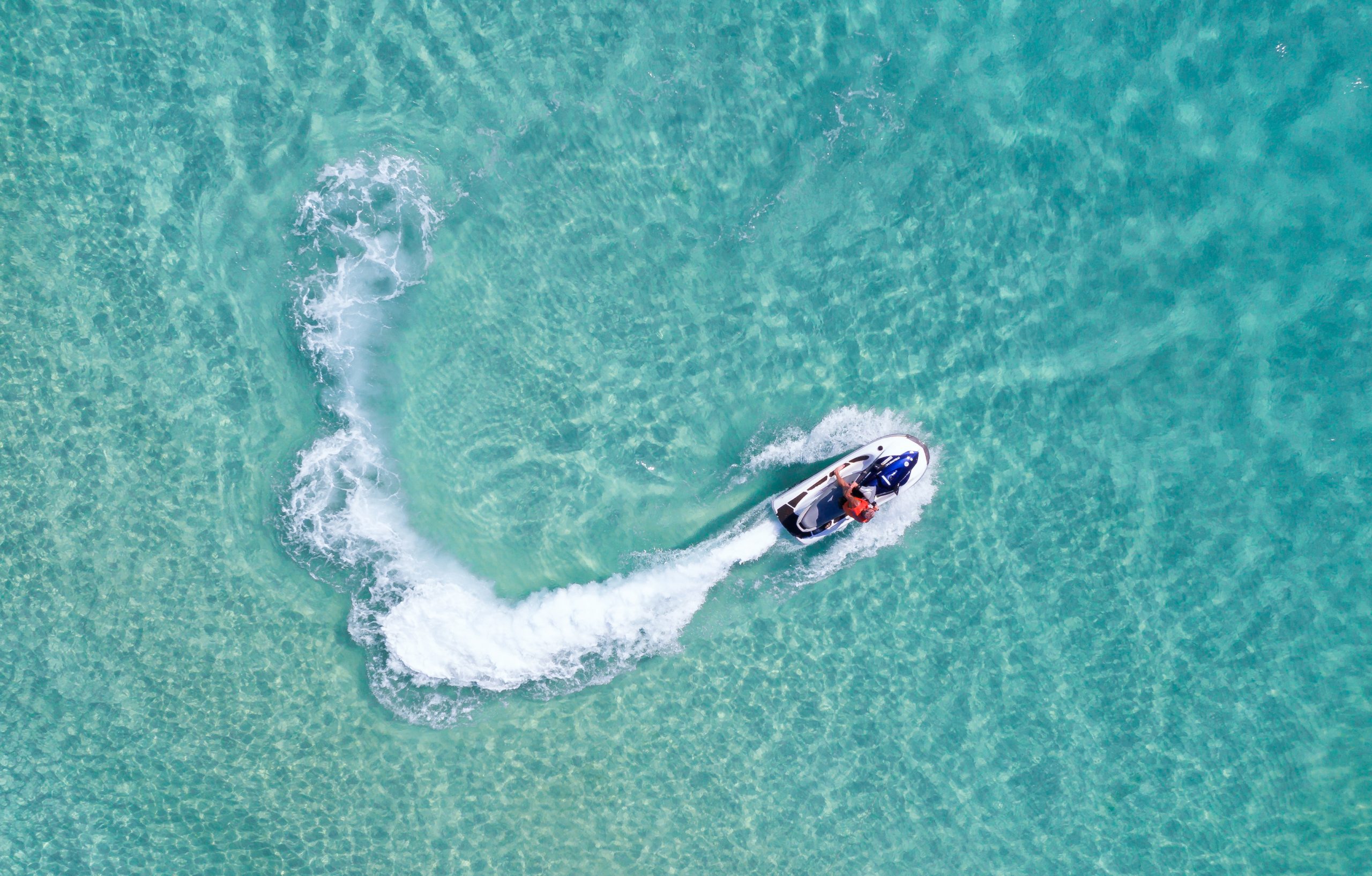 As anyone who has ever hopped on a jet ski will attest, a more exhilarating way to hit the waves doesn't exist.
Rent a standalone jet ski for an afternoon, or combine it with either a mangrove tour or sea turtle viewing for a full-day activity.
55 – Get behind the wheel of a luxury car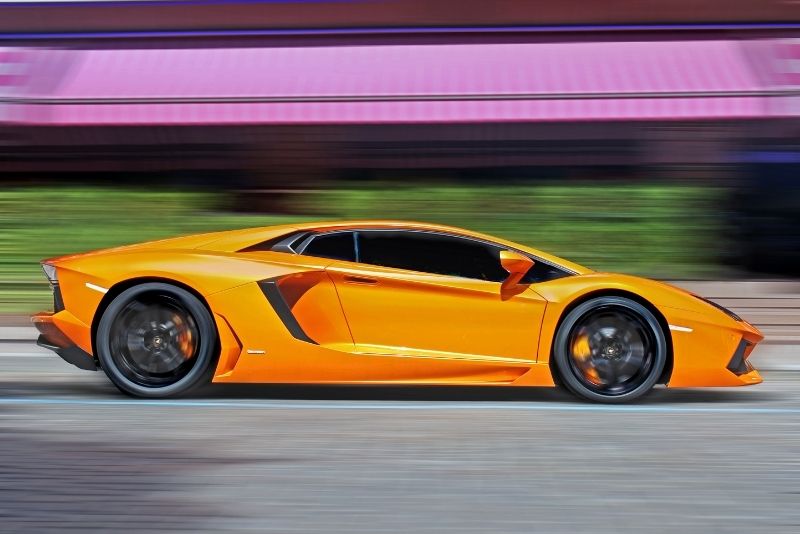 Stop dreaming, start driving! Finally, you can strap yourself into your dream car.
Visit Exotic Rides Cancun, choose from a Lamborghini, Ferrari, Audi, or Porsche, and tackle the streets of Cancun in style.
For seriously heart-pumping thrills, sign up for a hot lap on the race track in your wheels of choice! Petrolheads, this might just headline your list of things to do in Cancun!
56 – Party authentically at Xoximilco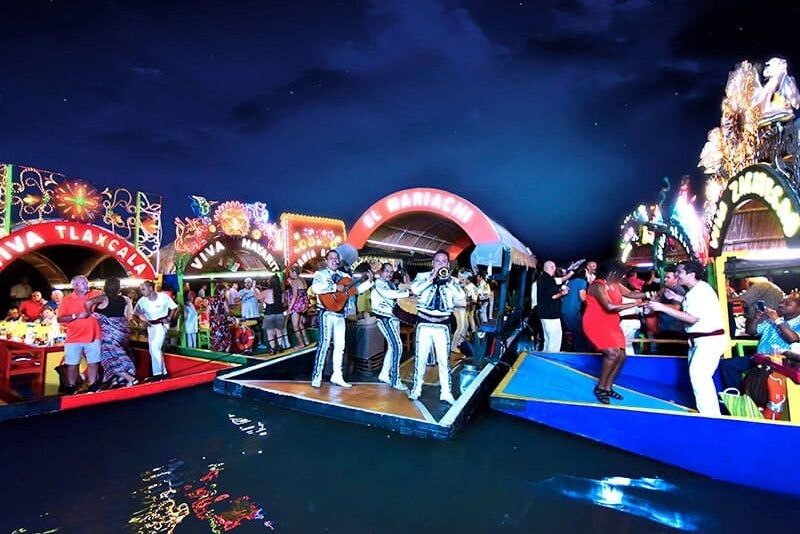 A Mexican floating party like no other; Xoximilco combines authentic local music, culture, customs, food, and tequila, all brought together on a giant trajinera (gondola-like boat) which sails through the canals.
Each boat holds about 20 people, so you're guaranteed to meet a few new faces.
57 – Greet turtles on the magical Isla Contoy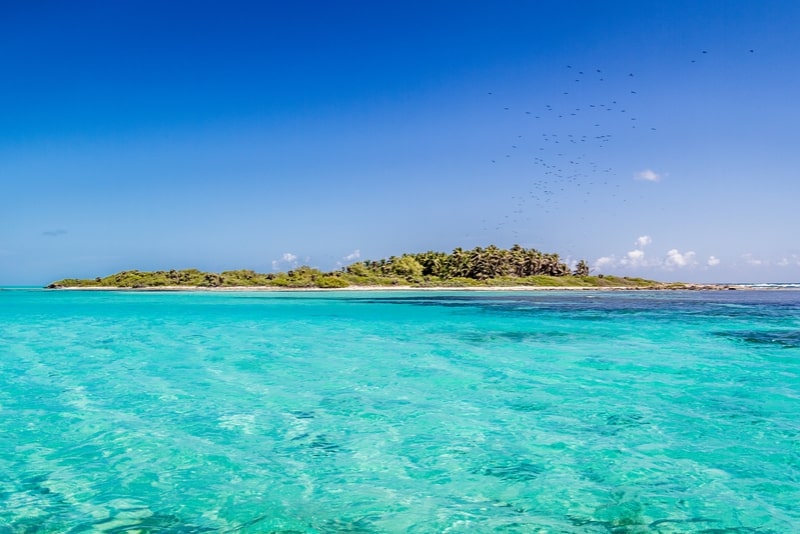 Isla Contoy is an underrated yet incredibly magical island off the coast of the Yucatan Peninsula. The uninhabited national park showcases crystal-clear waters and a thriving underwater ecosystem full of turtles.
Not only is Isla Contoy home to turtles and sea life, but it also plays host to over 150 different species of tropical marine birds. Grab your binoculars, bring your zoom lens, and spend the afternoon admiring these magnificent creatures in their natural habitat.
Whether you prefer to get there via high-speed boat or relaxing catamaran, this postcard-worthy island can't be missed.
58 – Admire the allure of Garrafon Reef Park & Beach Club
Nestled away at the southern tip of Isla Mujeres is Garrafon Park – a stunning, all-inclusive beach club and nature reserve.
If it's an adventure you're after, Garrafon offers snorkeling, kayaking, nature tours, and ziplining opportunities. On the other hand, for those looking to wind down, there's also a  Mayan sauna, panoramic pool, and plenty of lounge chairs and hammocks on site.
59 – Arrange a date with nature at Emotion Native Parks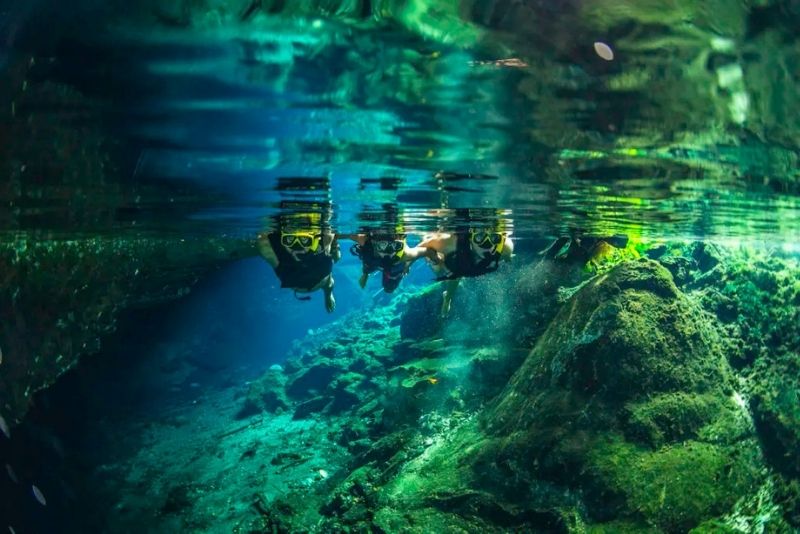 Zoom through the jungle on an ATV, immerse yourself in authentic Mayan culture, or snorkel through underground rivers and caves, all at Emotions Native Park.
Most tours include hotel-pick up and drop-off, so all you need to worry about is how to maximize your visit!
60 – Discover Mexico's History through a New Gastronomic Experience
At The Table, patrons can embark on a visual and gastronomic journey through Mexico's unique history through panoramic videos and carefully selected dishes that complement the country's past.
This one-of-a-kind event encompasses a 12-course meal and specialty drinks, promising a stirring tribute to Mexico and its epic past.
This unique culinary adventure – accompanied by narrative and music that walks its visitors through Mexico's timeline – creates an elevated experience with 360° views, projections off murals and live performances.
61 – Avoid the crowds at Extreme Adventure Eco Park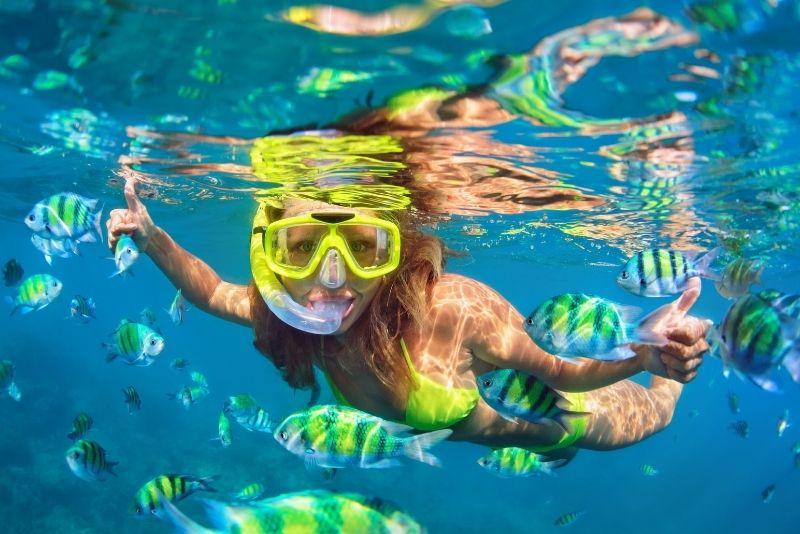 With ATV riding, (intense) ziplining, snorkeling, and cenote swimming activities for the whole family, Extreme Adventure Eco Park offers all the Mexican fun without the long lines and large crowds.
Thanks to the strict maximum of 14 people per group, you'll spend less time waiting and more time feeling adventurous!
Extreme is only about 15 minutes from Cancun.
62 – See the turtles during a Marine Turtle Observation in Akumal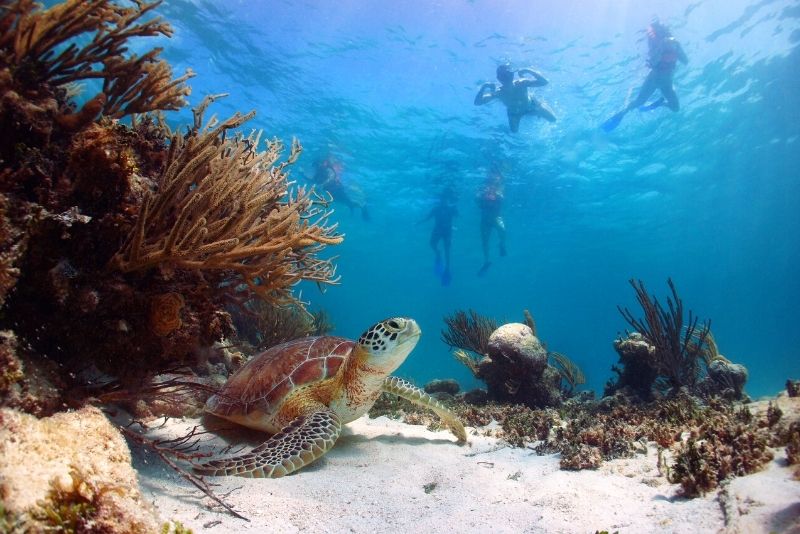 Akumal Bay is undoubtedly one of the most beautiful beaches on the Yucatan Peninsula. Its crystal clear waters have welcomed tourists for decades, who are often greeted by turtles and colorful schools of fish.
If you simply can't leave Mexico without a turtle selfie, this is the activity for you. This tour is all about turtles – you'll learn about them and see them up close – so you won't leave disappointed! Cap off the day with a dip in the transparent waters of Cenote Azul.
if you prefer to avoid taking a taxi, numerous private transfer options are available.
63 – Spot a celebrity at the Cancun Wax Museum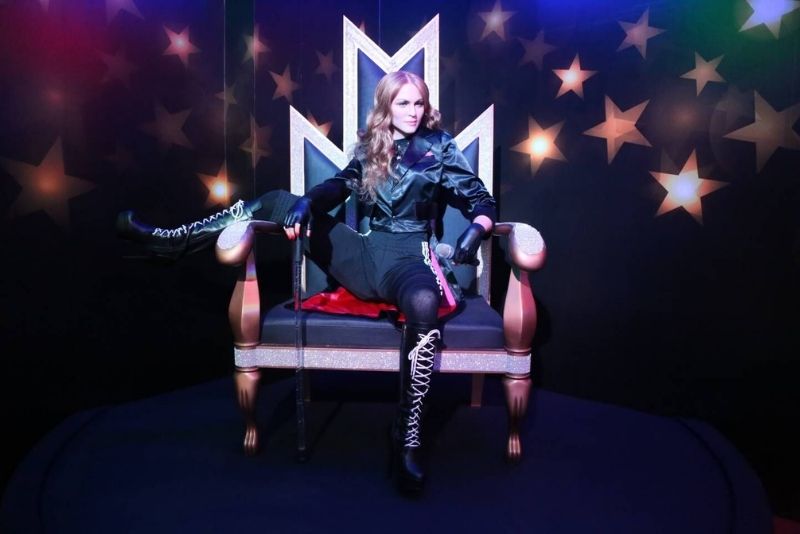 A perfect break from the hot sun, the Cancun Wax Museum is undisputed family fun.
Let realistic models of Nicole Kidman, Albert Einstein, or Charlie Chaplin photobomb your happy snaps before taking a stroll for a much-deserved plate of sizzling street food.
64 – Tantalize your tastebuds with a Mexican cooking class
Mexican food is unbelievable – it's as simple as that.
As part of the cooking class, you'll explore the Cancun food markets, make some friends, and get to devour your very own freshly-cooked meals.
For something truly special, opt for an educational feast… in the jungle!
65 – Watch a Lucha Libre show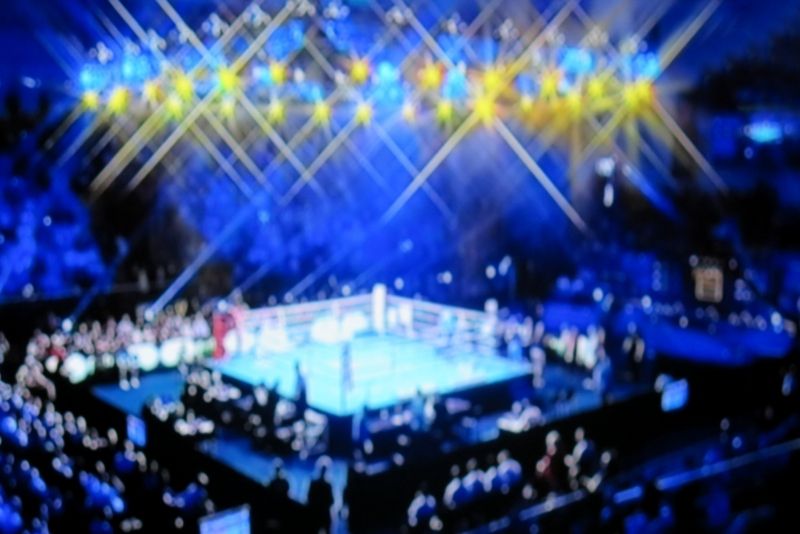 Lucha Libre – otherwise known as Mexican Wrestling – is an unparalleled high-flying spectacle.
No trip to Cancun is complete without a ringside view of these local athletes dishing out punches, throwing suplexes, and showing off their exceptional athleticism.
Combine it with some street tacos and a Modelo for the perfect trio.
66 – Urbanize yourself with an underground street art tour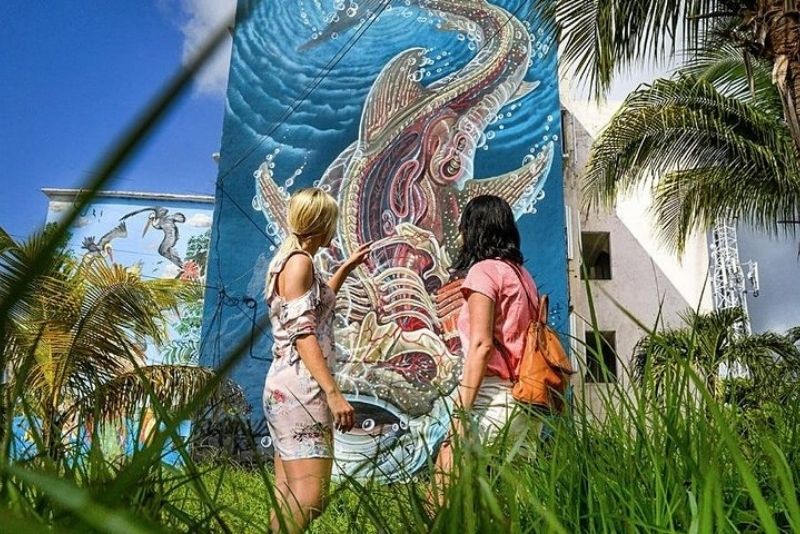 Obtain awesome urban insights into a different side of Cancun with an underground street art tour.
Expert guides lead guests on foot around town, pointing out the latest and greatest pieces of wall art while providing a glance into the stories behind the murals.
The tour guides will be happy to recommend their favorite restaurants and activities as well!
67 – Surf the waves at Playa Ballenas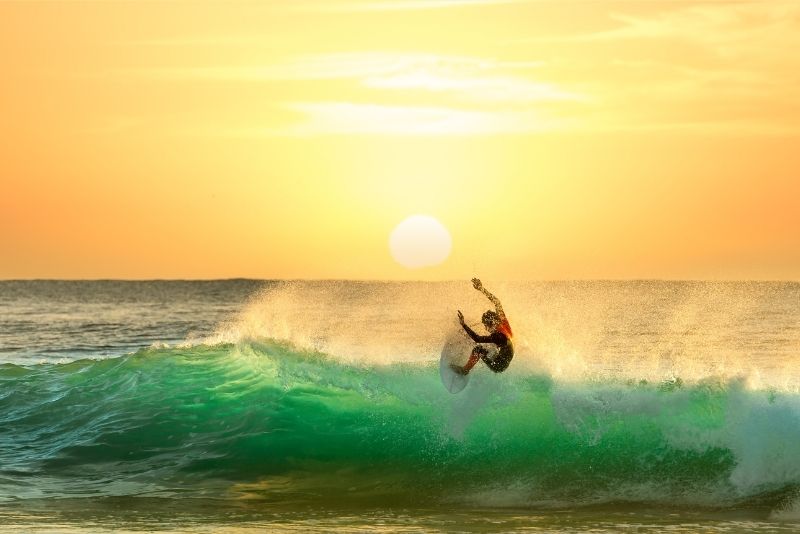 If you're looking for some fun in the sun, surfing is definitely one of the best things to do in Cancun. But it's also a great area for an up-and-coming sport: hoverboarding!
Playa Chacmool and Playa Ballenas are great for both of these activities, offering gentle waves and plenty of space to practice.
If you've never tried out a hoverboard before, don't fret; excellent instructors are available to show you the ropes. Whether you're floating above the water or riding along it, you'll have an excellent time!
68 – Enjoy a day trip to the charming city of Valladolid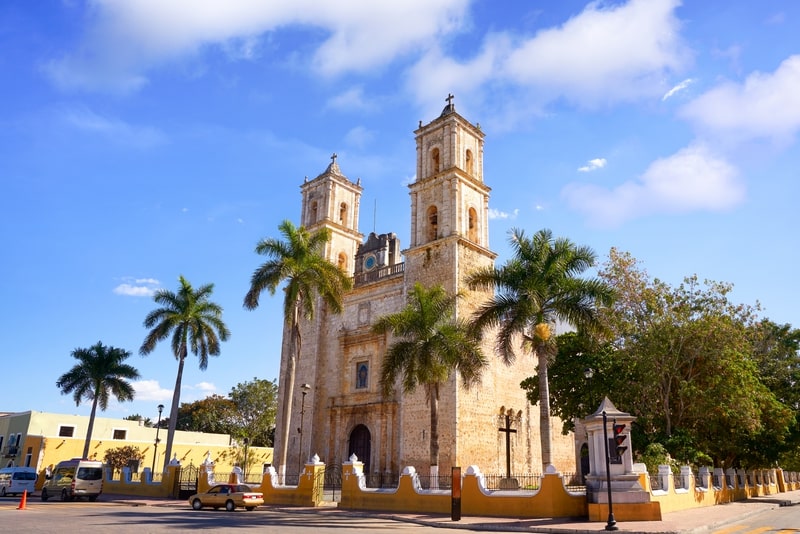 Lined with photogenic colonial buildings, none more famous than the Convent of San Bernardino of Siena, the beautiful city of Valladolid is a typical stopping point en route from Cancun to Chichen Itza.
The historic area is plentiful of adored restaurants for lunch and is centrally located to a number of famous (and lesser-known) cenotes.
69 – Kitesurf over Cancun's shores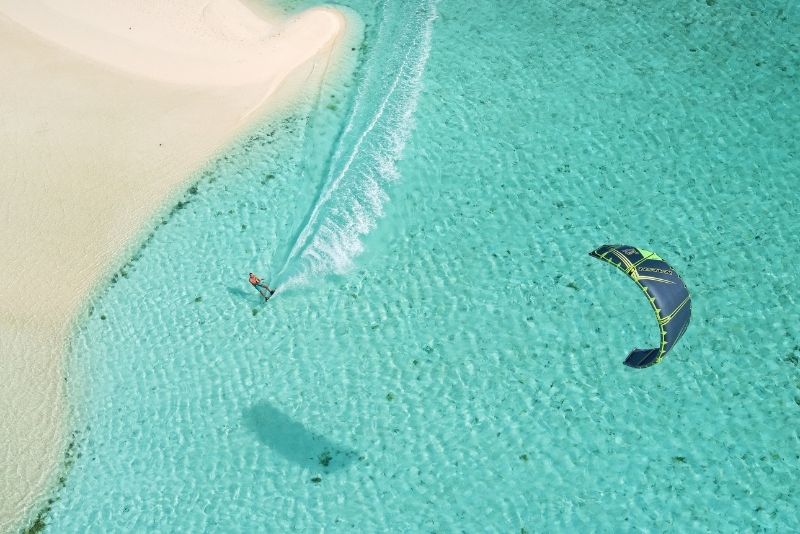 Now's the chance to finally tick kitesurfing off the bucket list! There's no feeling as exhilarating as soaring over the Cancun waters, overlooking the Hotel Zone in the distance.
While you can kitesurf in Cancun, the ideal location is on Isla Holbox.
70 – Catch a baseball game at Beto Avila Stadium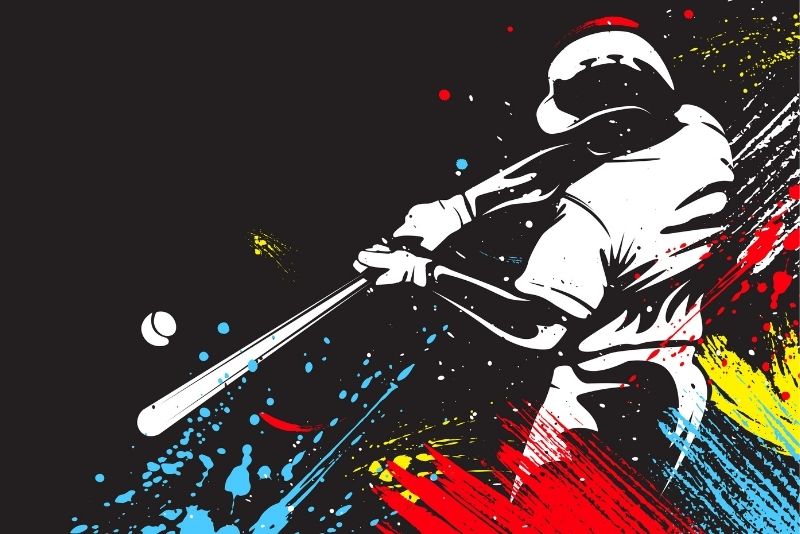 You're visiting a nation that adores baseball, so why not catch a game first-hand at the local stadium?
Fingers crossed that the playing schedule lines up with your trip because the atmosphere at a Quintana Roo Tigres game is unlike anything else!
71 – Float past stalactites while cavern diving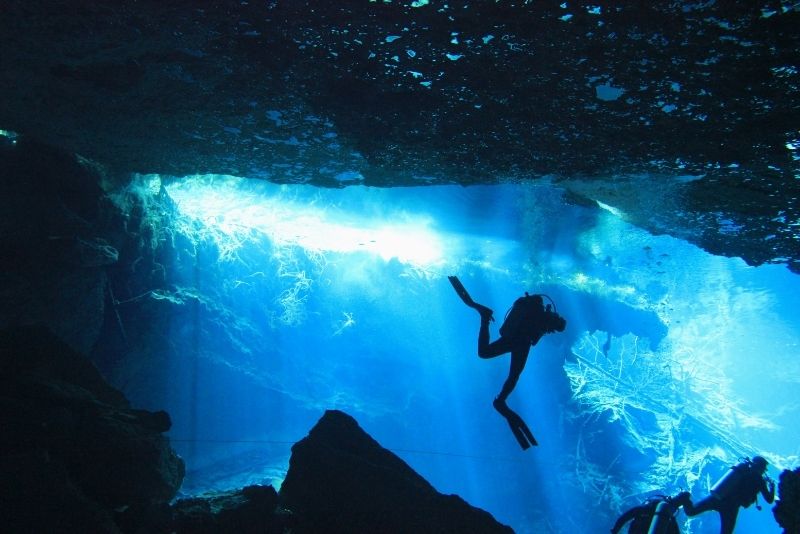 Diving in the open ocean is one thing, but diving in a Yucatan cave is on another level entirely! As you dive, you'll be surrounded by stalagmites and stalactites — some so enormous that they completely overshadow the divers.
With professional underwater supervision, you'll be given an expert tour of the beautiful world of underwater Mexico.
72 – Take part in a Mayan Temazcal purification ceremony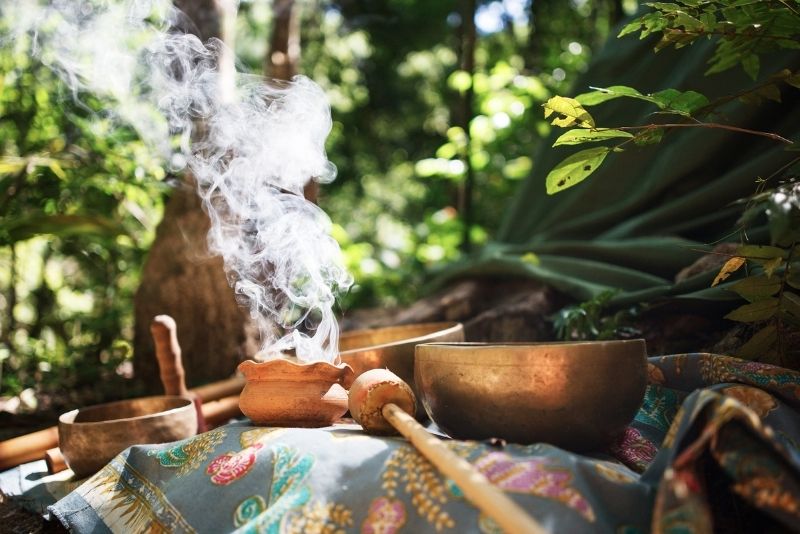 Immerse yourself in authentic Mayan culture by witnessing a moonlit purification ritual called Temazcal.
Here, in an ecological reserve, you'll learn about the ancestors and ancient traditions, before joining a local family in the heart of the rainforest for a delicious and traditional Mayan dinner. Yum!
73 – Catch your own food on an offshore fishing trip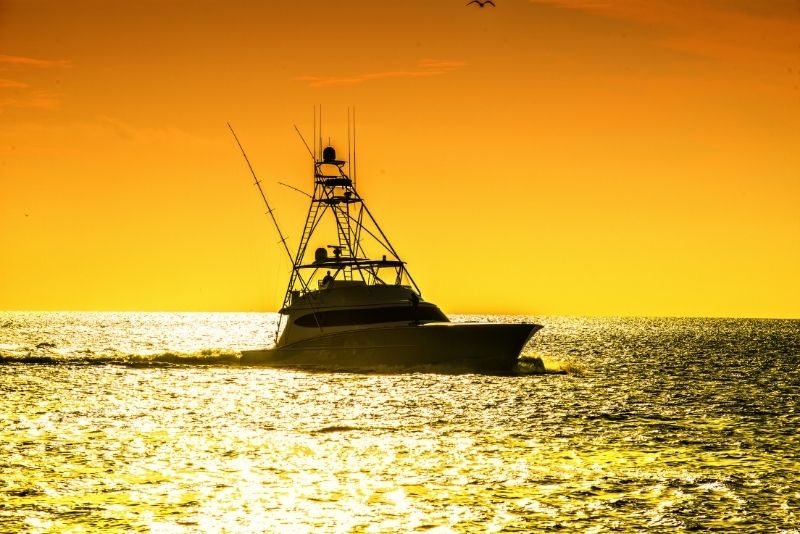 Fancy catching a Sailfish? Think you've got what it takes to reel in a Marlin or two? Then there's no spot more prime than the shores of Cancun.
Opt for a small-group guided fishing tour or, if you're feeling a little fancy, splurge on a 43-foot private yacht!
74 – Dance the night away at Mandala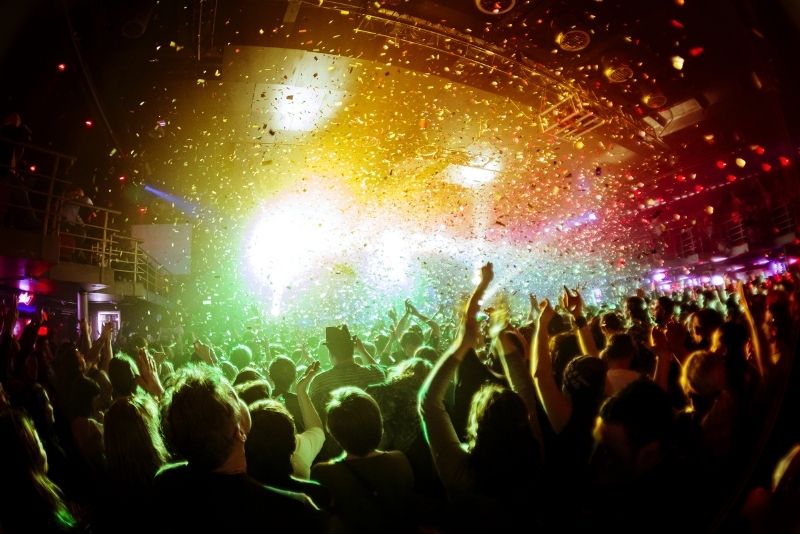 You haven't been clubbing until you've been to Mandala.
This famous venue features a unique oriental atmosphere set across multiple levels, allowing you to wander around until you uncover your perfect vibe.
Grab a VIP pass to skip the lines and access unlimited drinks.
How to get to Cancún?
After flying into Cancun Airport, you can book an airport transfer to get deposited straight to your hotel.
From shared vans to luxury cars, you can choose the vehicle that best suits your needs – and whatever option you pick, you're guaranteed a convenient, reliable ride.
Where to stay in Cancún?
At Renaissance Cancun Resort & Marina, you can choose between world-class golfing, delicious meals, great shopping opportunities, and strolling around the gorgeous Puerto Cancun Marina.
Or relax in the tranquil garden of Capital O Cancun Ocean View, which also offers easy access to Parque las Palapas and Cancun Government Palace.
SLS Cancun Hotel & Spa focuses on upping the luxury, offering everything from beach access and high-end shopping to delicious restaurants and a golf course.
As the name suggests, Fairfield Inn & Suites by Marriott Cancun Airport is conveniently located near the main transportation hub, and also provides plenty of relaxation, from the swimming pool to the on-site bar.
And Adhara Hacienda Cancun will feel like a home away from home, with its fitness center, delicious restaurant, and reliable shuttle service to nearby destinations.
Where to go next?
While there are plenty of awesome activities in and around the city itself, there are also tons of great things to do near Cancun.
Swim alongside mighty whale sharks, delve even deeper into the world of ancient ruins, or explore the lush rainforest and picture-perfect cenotes on horseback. Head out a little further, and you'll find even more adventures.
In Riviera Maya, you can make your way through stunning underground rivers and caves, or come face to face with dynamic monkeys. Or head to Playa Del Carmen to rappel down cliffs and enter the Mayan underworld, or dance until you drop at the city's many festivals.
Visit Cozumel for fantastic food, thrilling outdoor activities, and fascinating displays of Mayan culture. And if you like a rich creative scene, abundant watersport opportunities, and some utterly amazing food and drink, you'll love the vibrant paradise of Tulum.
And don't miss out on Merida, the charming cultural capital of the Yucatan. This colonial gem offers a rich blend of Mayan and Spanish heritages. With its warm and welcoming vibe, Merida is a perfect continuation of your Cancun adventure.
There are also tons of awesome multi-day trips where you can delve even deeper into the area's many highlights, from scuba diving to ancient history.
Final thoughts
As you check out all of the amazing things to do in Cancun, you may feel like you're in another world.
With its stunning cenotes and beautiful tropical regions, it's a perfect natural wonderland. And whether you're parasailing or zooming through the wilderness on an ATV, you'll always have a new adventure to try.
Or you can party, enjoy delicious food, or just kick back and relax on those world-famous beaches.
So grab your suitcase and get ready for an amazing vacation!