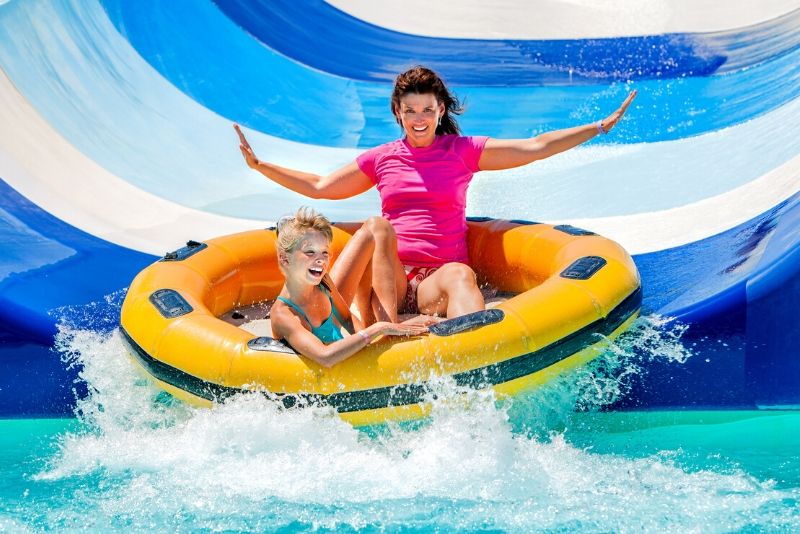 From waterslides that take you into crystal clear waters to zip-lining in the jungle, there are plenty of choices when it comes to the best things to do near Cancun.
But which one should you choose? Whether you're after a waterpark, adventure park or amusement park, we've put together a list of the best theme parks in Cancun.
Read on, pick your favorite one and have the time of your life 🙂
 1 – Xcaret Theme Park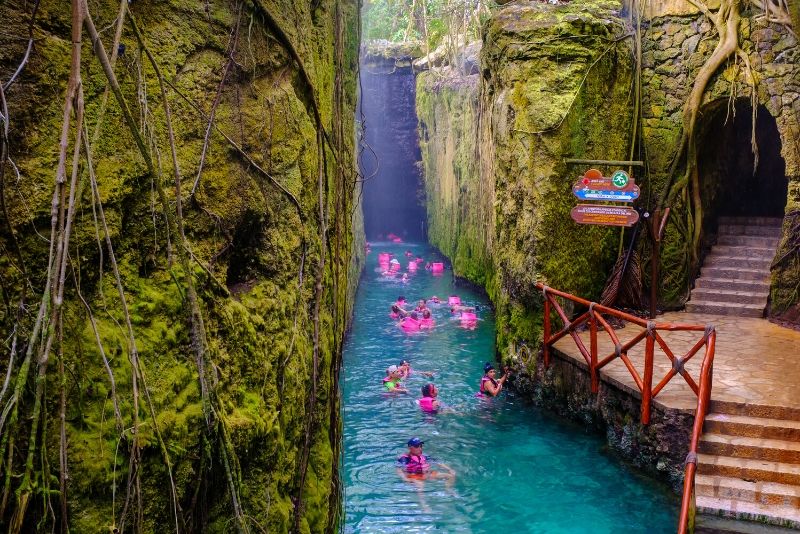 Hidden underground rivers and a mixture of Mexican and Caribbean culture are on the agenda at Xcaret Park, one of the best theme parks in Cancun. Xcaret is a water, theme, amusement and eco-archaeological park all in one and is located in Playa del Carmen.
There is an underground river, beach area and lagoon for those who want to explore the Mayan waters. Other attractions include a Coral Reef Aquarium, spectacular dance shows, and caves to Mayan villages. Xcaret isn't just a theme park – it's a cultural and entertainment adventure.
Opening hours: Monday to Sunday, from 8:30 am to 10 pm
2 – Xel-Ha Water Park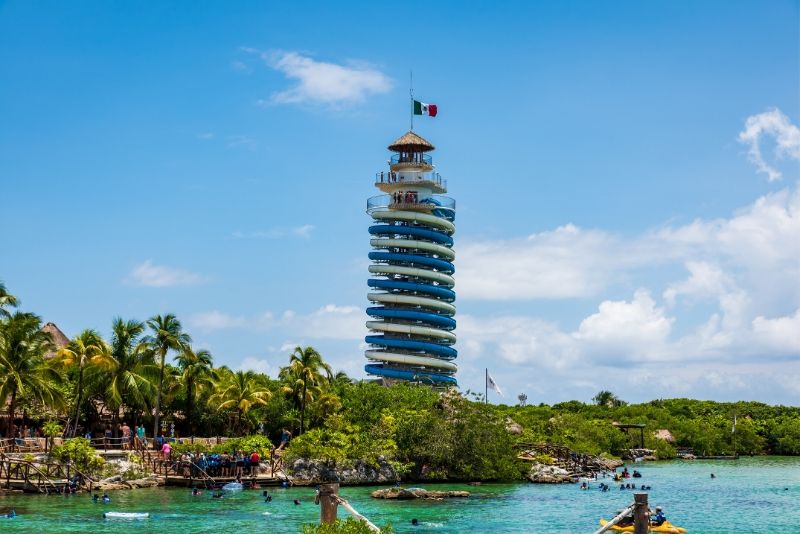 First opened in 1995, Xel-Ha is located in the Riviera Maya and translates to "where the water is born". What once served as an inner port and trading center is now a place to discover the natural beauty of Mexico with fun-filled activities.
Attractions at Xel-Ha include Scenic Lighthouse, where you can descend a waterslide from 30 meters high, and Cliff of Courage, which will see you jumping into the crystal clear water from 5 meters above.
If you're after something slightly more low-key, there's the River Tour Xel-Ha, one of the greatest snorkeling spots in the area.
Opening hours: Monday to Sunday, from 9 am to 6 pm
3 – Xplor Adventure Park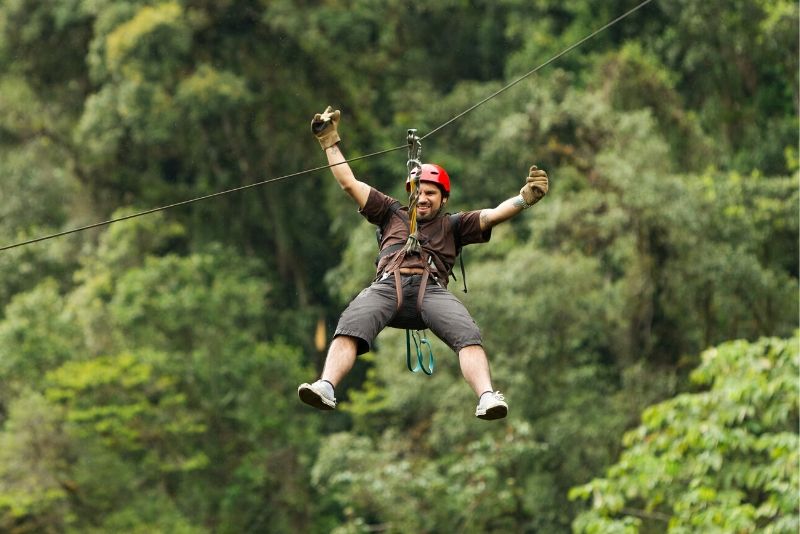 The world's most visited zip-line park can be found at Xplor, which is part of Xcaret The highest zip-lines in the River Maya await you and present the chance to behold some of the best views in Cancun as you descend the zip-line.
Feel freedom right in the heart of the jungle as you experience two zip-line circuits, plus the chance to ride a hammock that takes you to a refreshing underground river. There are also amphibious vehicles that will take you through the jungle.
How to get to Xplor Adventure Park
Opening hours: Monday to Sunday, from 9 am to 5 pm, and then 5:30 pm to 12 am
4 – Xenotes Fun Park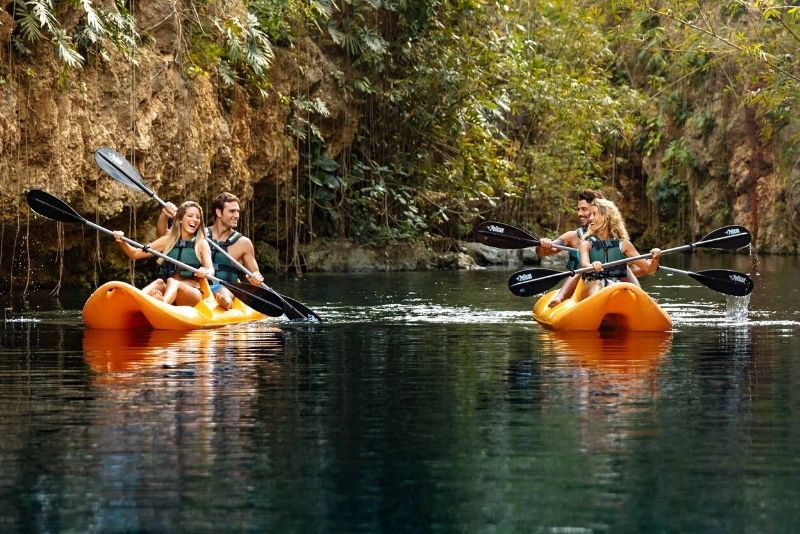 Cenotes are the prettiest jewels of the Yucatan Peninsula, and the Xenotes Park lets you see them while enjoying a sense of adventure. Take a deep dive at Xenotes, where kayaking, zip-lining and rappelling are all part of the fun activities on offer.
Enjoy an assisted rappel into a cavern cenote before zip-lining and cliff jumping into the waters below. Then enjoy a spot of kayaking so that you can see the local flora and fauna. Xenotes offers the perfect combination of adventure and tranquillity.
Opening hours: Monday to Saturday, from 9 am to 6 pm
5 – Xoximilco Party Park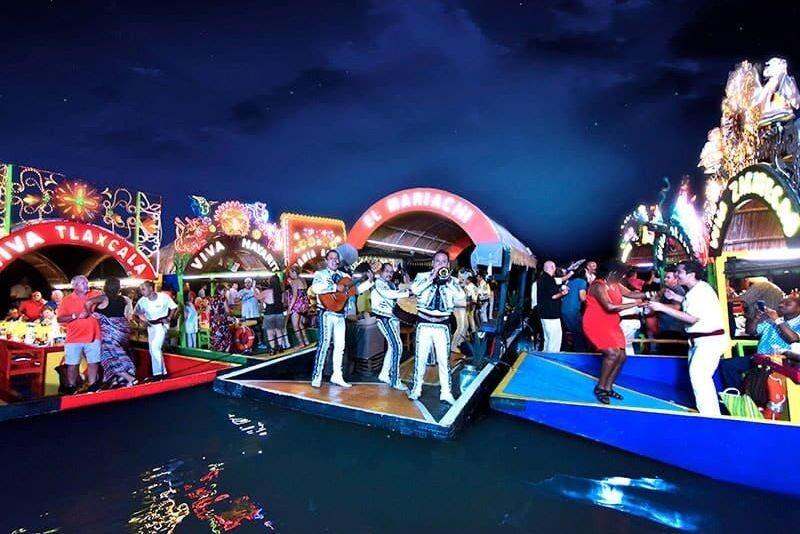 Cancun is known for its world-class parties, and Xoximilco has some of the best in the city. Paying tribute to local traditions, culture and folklore, Xoximilco is a UNESCO World Heritage Site that provides plenty of dancing, games and musical surprises.
Practice your dance moves at the Mexican Carnival before boarding a Gondola, where you experience a delightful dinner along with tequila and beer. There's a variety of music genres playing, so you can dance the night away in the middle of the jungle.
Opening hours: Monday to Saturday, from 7:30 pm to 12 am
6 – Garrafon Water Park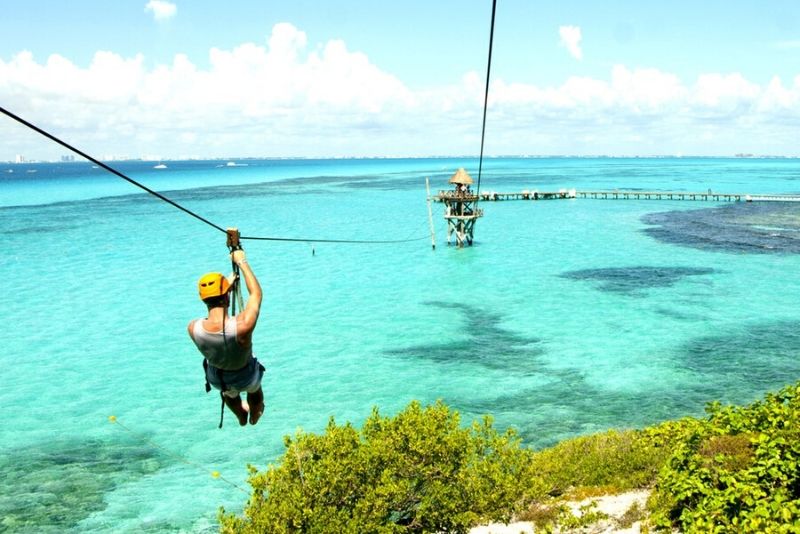 Known all over the world for its impressive reefs, Garrafon Park is located just 25 minutes from Cancun. Along with activities, visitors can enjoy the sparkling turquoise waters in this little slice of paradise on the Mexican Caribbean Sea.
As nice as the views might be, it's the activities that see people flock to Garrafon Park. From snorkeling to kayaking, and zip-lining to tours of the island, there's plenty of adventure to be had. And for those into relaxation, spend some time at the Mayan sauna, panoramic pool and lounge.
Opening hours: Monday to Sunday, from 10 am to 5 pm
7 – Xenses Theme Park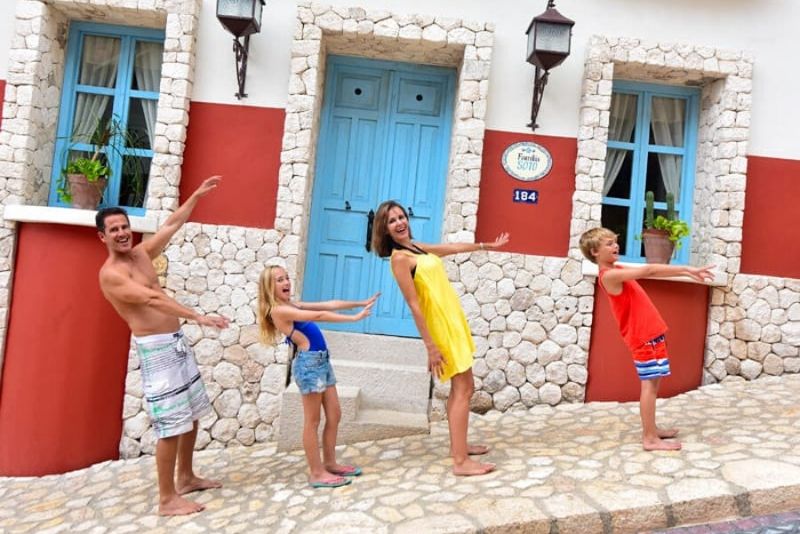 Get in touch with your senses and witness an illusion or two at Xenses theme park. From Synesthesia, where one sense stimulates another, to immersive 3D movies, a visit here will see you questioning what is and isn't real as you get in touch with your Xenses.
Combining the thrill of a theme park with mind-bending features, Xenses is a place where you can zip-line across trees, enjoy animal exhibits and ride down waterslides. There's even a recreated traditional Mexican town to explore on your Xenses experience.
Opening hours: Monday to Saturday, from 8:30 am to 7 pm
8 – Ventura Park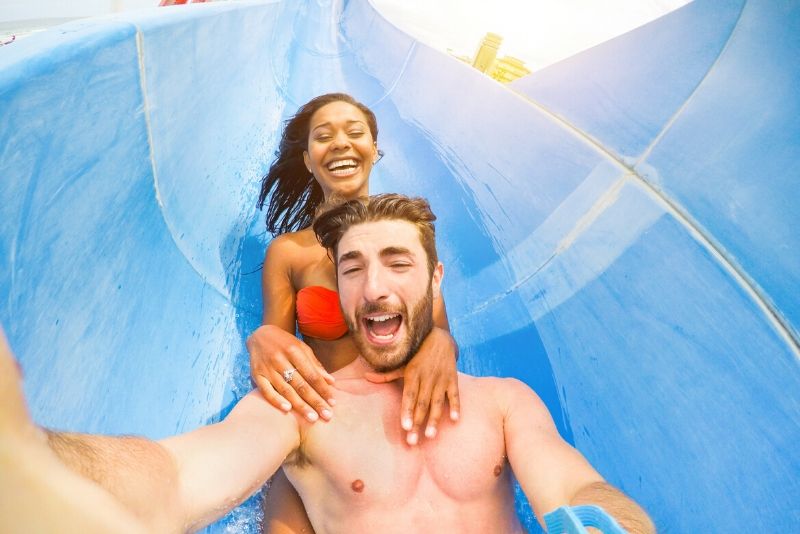 One of the best theme parks in Cancun, Ventura Park is a family-run amusement park for everyone. Head to the waterslide park, Wet 'n Wild, and jet down adrenaline-pumping rides and make time for Aaa, which is zip-line and bungee swing central.
If you're heading to Ventura Park with the kids, make sure you go to Fun World. The child-friendly activities include a Grand Prix and kart track, as well as virtual reality games. Finish the day by swimming with the dolphins.
Opening hours: Monday to Sunday, from 10 am to 5:30 pm
9 – Native Park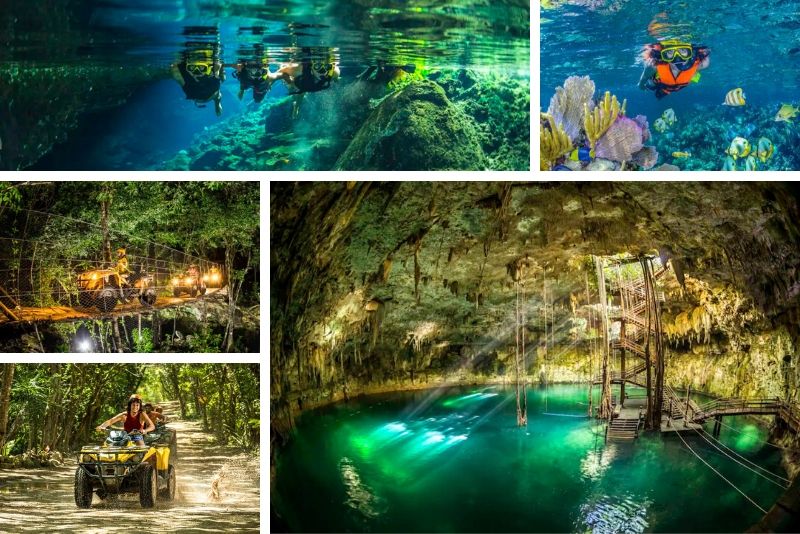 Immerse yourself in an authentic Mayan community at Native Park, which is an ecotourism center that preserves the region's flora and fauna. There are five parks at Native, each one offering a different experience from jungle to water.
Jungle Maya
Jungle Maya has the world's longest underground river and plenty of features to keep you coming back for more. Rappel into the waters before going for a swim, snorkel in the caves, zip-line over trees and participate in an authentic Mayan blessing ceremony.
Emotions
Go on an adventure at Emotions and drive an ATV vehicle through the jungle trails, in what is one of the best theme parks in Cancun for getting behind the wheels of a vehicle. There are also walks through protected natural areas, opportunities to fly above vegetation on a zip-line, and refreshing cenotes with clear waters to swim in.
Cenote Maya
Swim in the waters of Yaxmuul at Cenote Maya while taking in the beauty around you. If you want to up the adrenaline, why not rappel into them? Take things a notch by seeing if you can walk the Trepachanga.
Snorkel
One of the best snorkelling adventures in Cancun, this is your chance to discover marine life in two different reefs on the National Park of Puerto Morelos. Get ready to discover an underwater paradise with multicoloured fish and fantastic reef formations at the second-largest barrier reef in the world.
Jungle Night Emotions
Everything is better at night – at least it is at Jungle Night Emotions, where you can take an after-dark stroll through the jungle. Discover fascinating caves and take to the skies with three impressive zip-lines that fly over local vegetation.
If that's not enough for you, unearth ancient Mayan culture by participating in a shaman's purification ritual and a Temazcal session. Round your evening experience off with a bonfire and snacks on this night to remember.
Opening hours: Monday to Sunday, from 9 am to 5 pm
10 – Pistón Pueblo Fun Park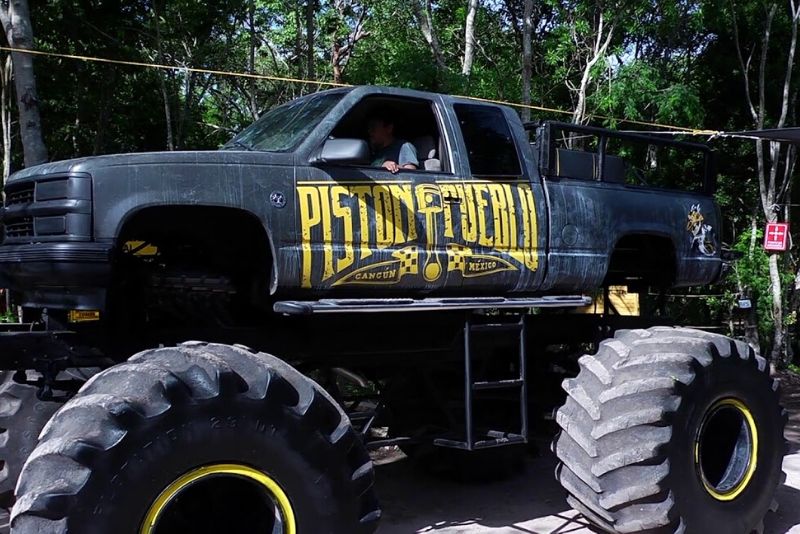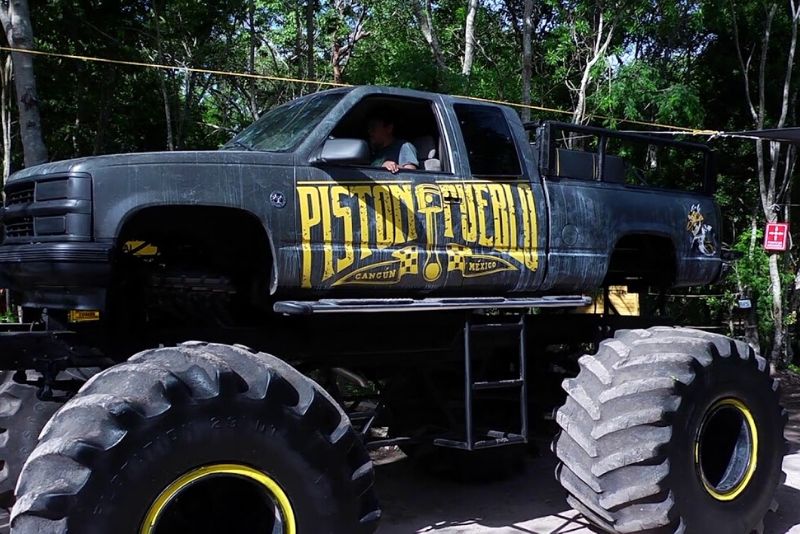 Go on a jungle adventure at Pistón Pueblo, where you can experience thrills that will make your pulse race. The jungle theme park lets you race through the jungle in an ATV, ride a monster truck while shooting zombies, and go horseback riding around the park.
Before the action begins, you will have the chance to fly over the entire park on a zip-line and take a dip into the interactive swimming cenote. There's even a well-deserved meal on offer, which will surely be hard-earned after all that zombie shooting.
Opening hours: Monday to Sunday, from 9 am to 5 pm
11 – Selvatica Theme Park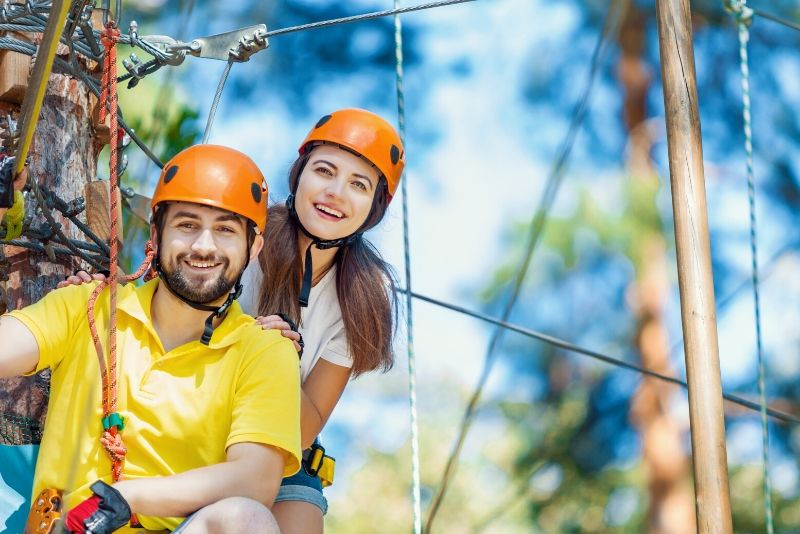 Zip-lines are popular in Cancun, which makes sense as there is so much beauty to see from above. But Selvatica might just be king of all the zip-lines and one of the best theme parks in Cancun with its 10 zip-line course. It's time to turn the adrenaline levels up to the max!
Tarzania is perhaps the most exciting of all zip-lines; it's known as a human roller coaster! After the thrills and spills of the zip-lines, take some time to relax in a natural cenote and round things off with lunch after a day full of action.
Opening hours: Monday to Sunday, from 9 am to 5 pm
12 – Xavage Amusement Park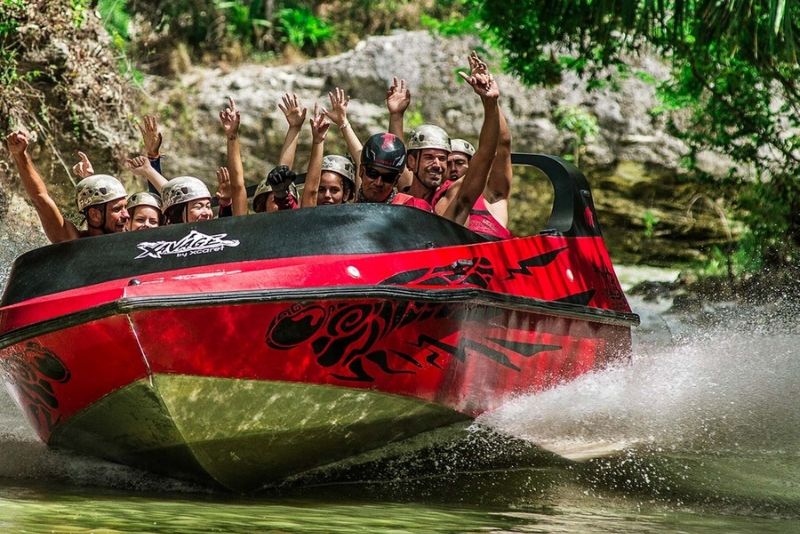 Head to Xavage Amusement Park and combine adventure with authentic Mexican and Caribbean culture. From thrill rides in a monster truck to water activities, Xavage Park is your chance to let your hair down and enjoy a great selection of rides.
Hop on a jet boat and take a splash, or go rafting in the only whitewater rapids in Cancun. There's even a zip-line, where you can glide through the local surroundings before heading to the ropes courses for a spot of climbing.
Opening hours: Monday to Sunday, from 8.30 am to 10 pm
We hope our selection of the best theme parks in Cancun has been helpful.
Looking for more things to do in Cancun? Check out our full catalog of tours & activities in Cancun.
Wishing you a lot of fun in Cancun 🙂