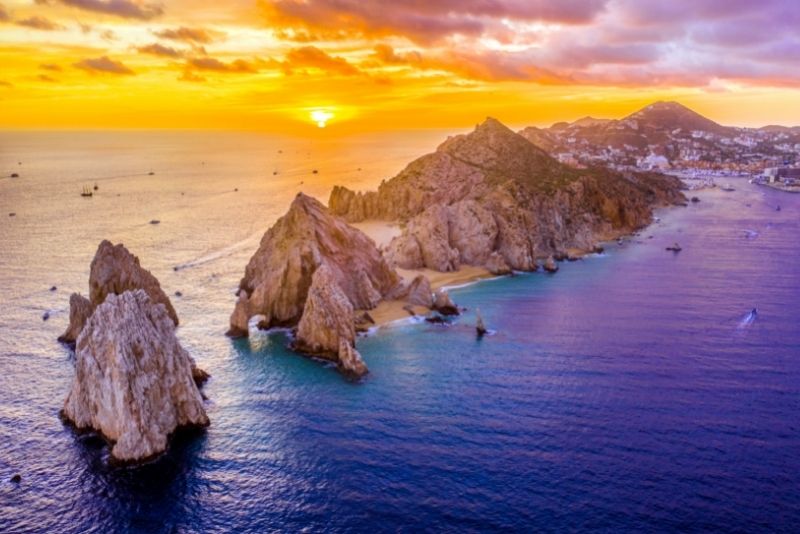 Tucked away on the southern tip of Baja California, the sizzling resort city of Cabo San Lucas is beach heaven. Plunge into the inviting blue waters in search of tropical fish, or sail around the coast on the hunt for secluded coves.
Energetic travelers love exploring the wild canyons and deserts, while foodies can sink their teeth into lip-smacking Mexican cuisine on a culinary adventure.
Are you looking for a quiet retreat? Indulge in the serenity of San Jose Estuary with a side of birdwatching, or a lazy day bronzing your skin on a lay at Playa del Amor – stunning cliffs, golden sands, turquoise waters, and all.
But don't think the fun and games end there, Cabo knows how to party with endless nightlife options such as El Squid Row or night beach vibes at Blue Marlin Ibiza.
With so many fun things to do in Cabo San Lucas, it can be tough knowing where to start. Luckily, we've done the hard work for you with this mega round-up of activities and sights, so you don't miss a thing.
1 – Snorkel in Chileno Bay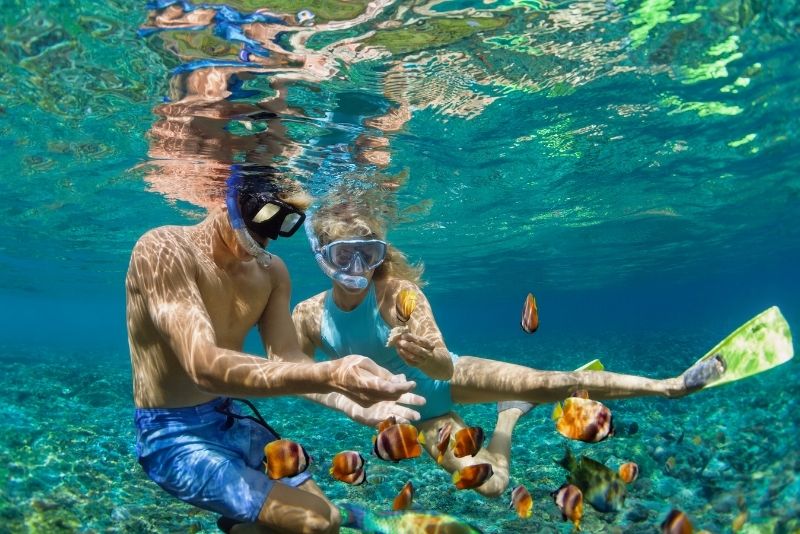 Dive into the underwater world and meet the exotic marine life that reside beneath the waves in Chileno Bay. The crystal clear waters in this hidden cove make it one of the best places in Cabo to go snorkeling.
Glide along sand gullies and float above rocky reefs, as you search for parrotfish and rainbow wrasse. Afterward, dry off in the sun on the golden beach.
2 – Embark on a private luxury sailing adventure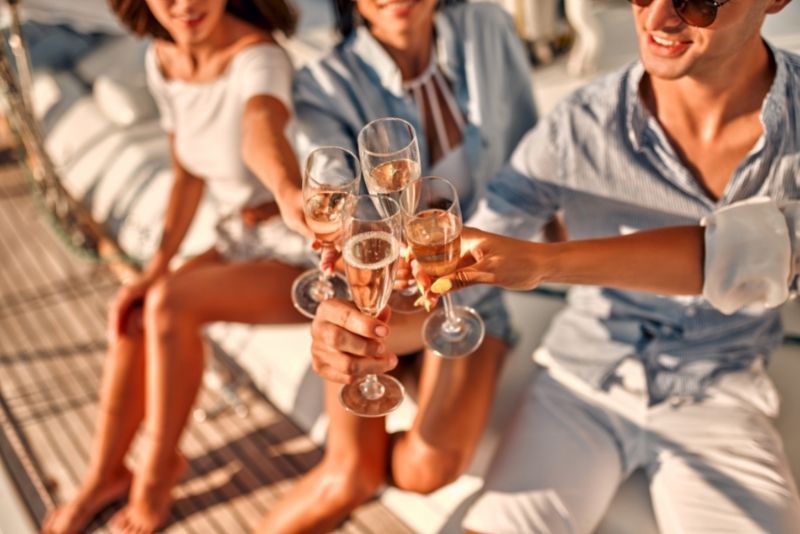 Up the luxury with a private sailing excursion from Cabo and soak up the sun in style. Enjoy the fresh sea breeze ruffling your hair, as the yacht skims across the ocean.
Snorkeling and paddle boarding are often included, as well as plenty of cocktails to keep spirits high. Choose between gourmet lunch excursions and sultry sunset sailings — whatever floats your boat.
3 – Ride camels along the sand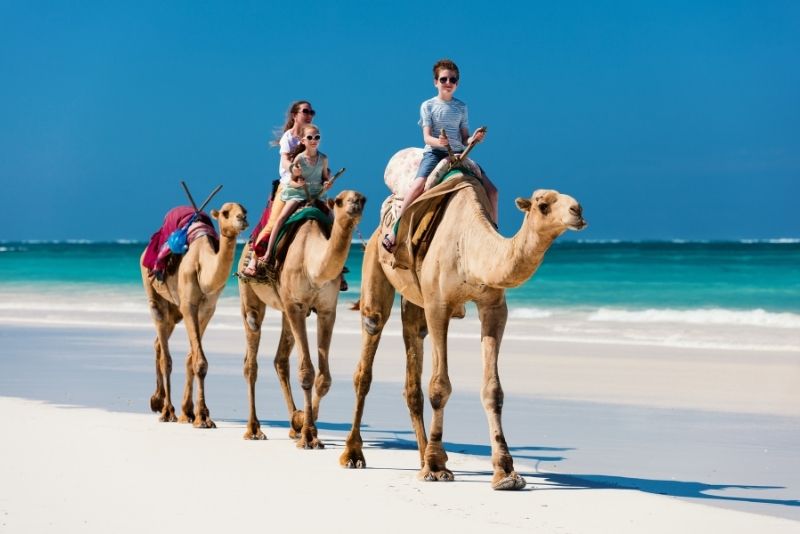 Harness your inner Lawrence of Arabia, as you venture off on your trusty ship of the desert. Camel riding is easier than it looks and is one of the most popular things to do in Cabo San Lucas for families.
Hang on tight as your newfound friend negotiates the undulating sand dunes, and drink in the breathtaking coastal views, as you plod softly along the beach.
4 – Go whale watching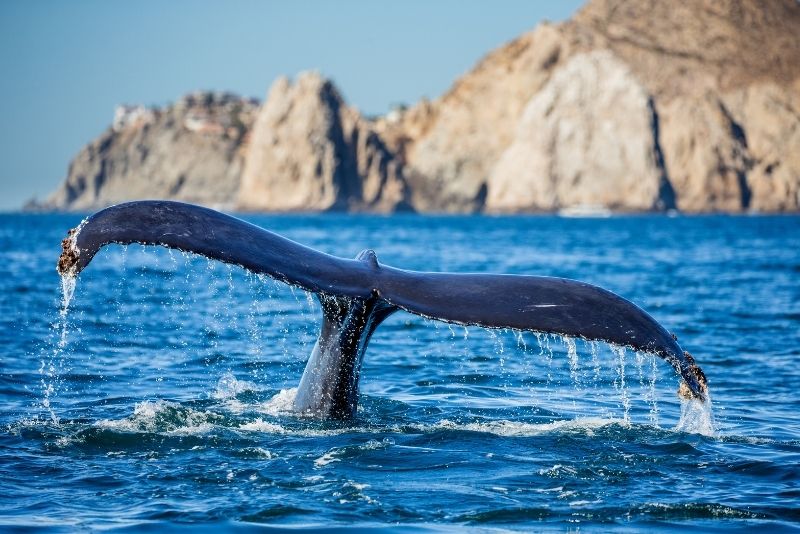 If you've never clapped eyes on these gentle marine giants, Cabo San Lucas is a great place for your first encounter.
Voyage out to sea with a marine biologist who will spill the beans about humpback whale antics. Keep your camera handy during your ocean quest — you never know where the whales will pop up next.
Opt for a morning excursion for the calmest seas.
5 – Explore Wirikuta Botanical Cactus Gardens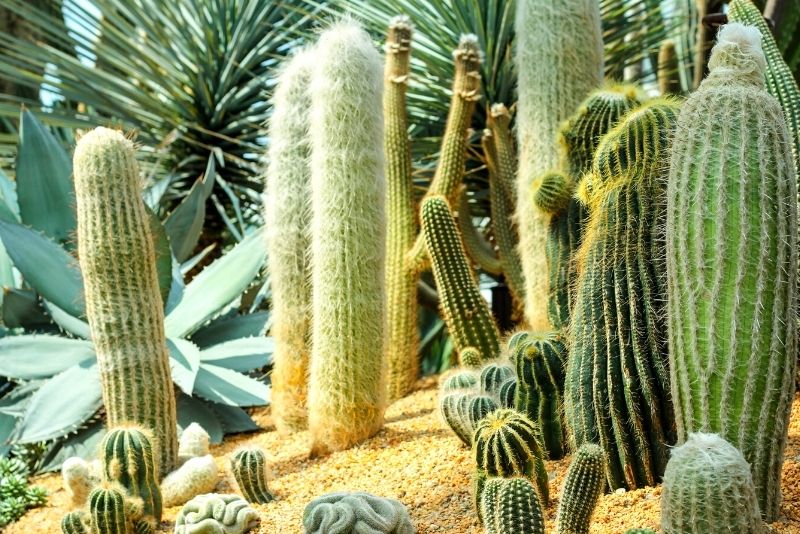 The cactus is a Mexican icon and Wirikuta Botanical Gardens celebrates this with unbridled flair. The 12-acre park boasts over a million cacti and desert plants from around the world — how many can you identify?
However, it's not all about the humble cactus. You can get lost in the bougainvillea labyrinth, admire the giant granite pyramids and explore all manner of botanical nooks and crannies.
6 – Admire the famous sea arch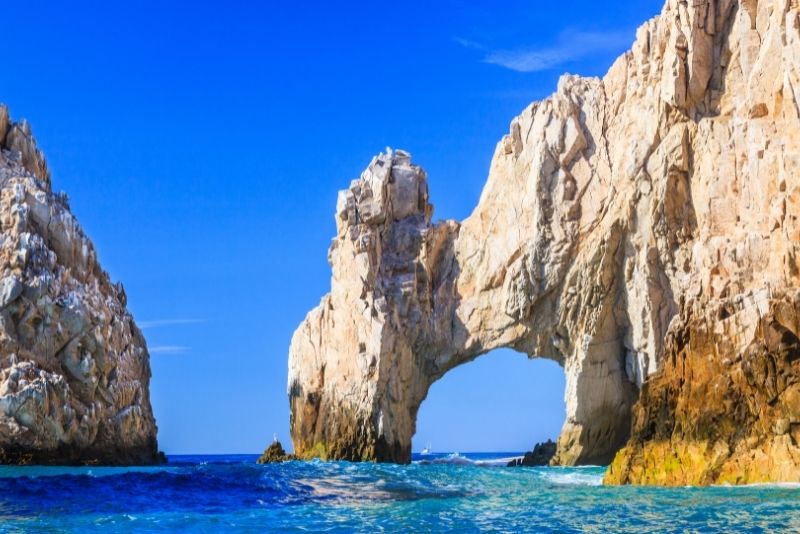 No visit to Cabo is complete without a trip to El Arco. Standing regally between the Sea of Cortez and the Pacific, this rock arch is a proud symbol of the region.
Breathe in the sea air and gasp at peculiar rock formations, as your boat bobs on the water. Feeling adventurous? Walk beneath the arch at low tide and leave your footprints at Land's End.
7 – Venture into the desert on an ATV tour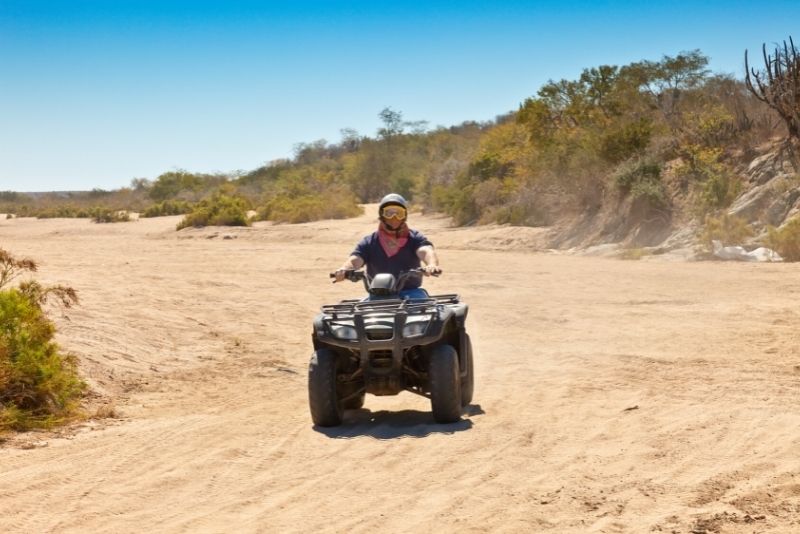 Ride into the rugged desert interior on a heart-pumping off-road ATV journey. Discover hidden canyons and bounce along sandy creeks under the watchful eye of lofty mountains.
Your guide will lead you along dirt trails towards the Pacific Ocean with lots of viewpoints along the way. Finally, take a spin along the deserted beach to celebrate your epic adventure.
8 – Kayak to Lover's Beach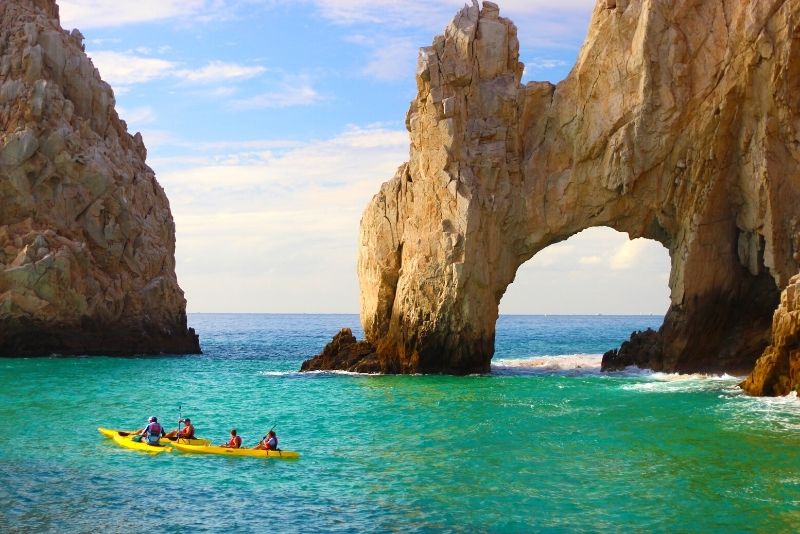 For the ultimate sea-going adventure, take to the water by kayak and paddle to the most southerly point of the Baja Peninsula. See the rock arch and glide past the vocal sea lions, as you explore the granite coastline.
Land at Lover's Beach for a breather and relish the soft golden sand between your toes. It doesn't get much more picture-postcard than this!
9 – Feel the thrills on a Wild Canyon zip line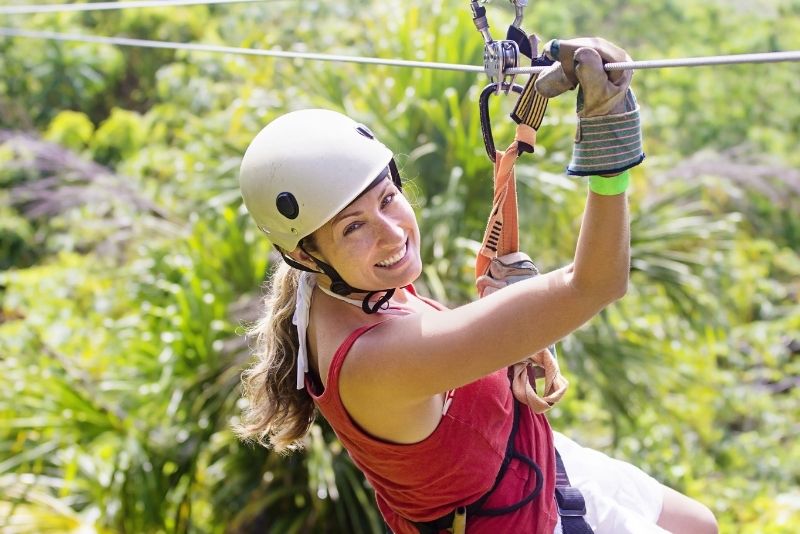 One of the most electrifying things to do in Cabo San Lucas is to take on the Wild Canyon zip line.
Feel the adrenaline build as you hurtle through the air, soaring over ravines in the middle of the desert. Fly with your friends on tandem lines, with the glittering Sea of Cortez providing a magical backdrop to your aerial adventure.
10 – Paddle an outrigger canoe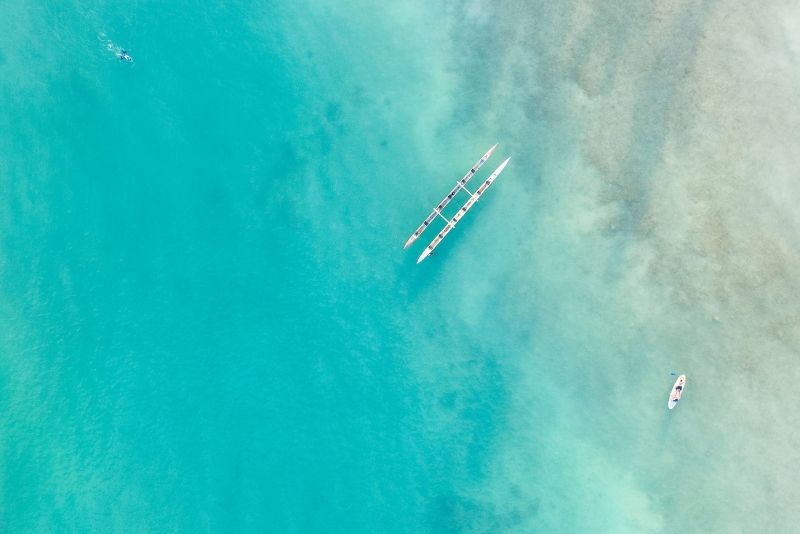 Experience the coast of Cabo San Lucas a little differently on a fun outrigger canoe trip. First-timers will enjoy an introductory lesson before taking to the sea in this unique Polynesian vessel.
You'll work in harmony with five other paddlers, cutting through the waves, exploring secluded bays and marveling at rock formations. Say hello to the colony of sea lions as you glide silently by.
11 – Tuck into local delicacies on a food tour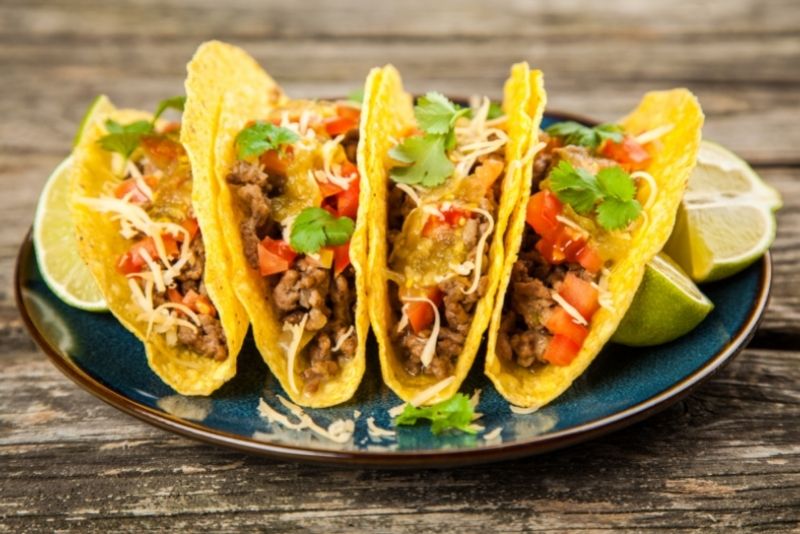 Get those taste buds working overtime, as you embark on a foodie mission in the heart of Cabo San Lucas. Chow down on tacos, visit local markets and follow it all up with a glass of wine or two.
Food walking tours are the perfect way to get your teeth into Mexico's unique culinary culture. They are a true feast for the senses.
12 – Bounce around on a jeep tour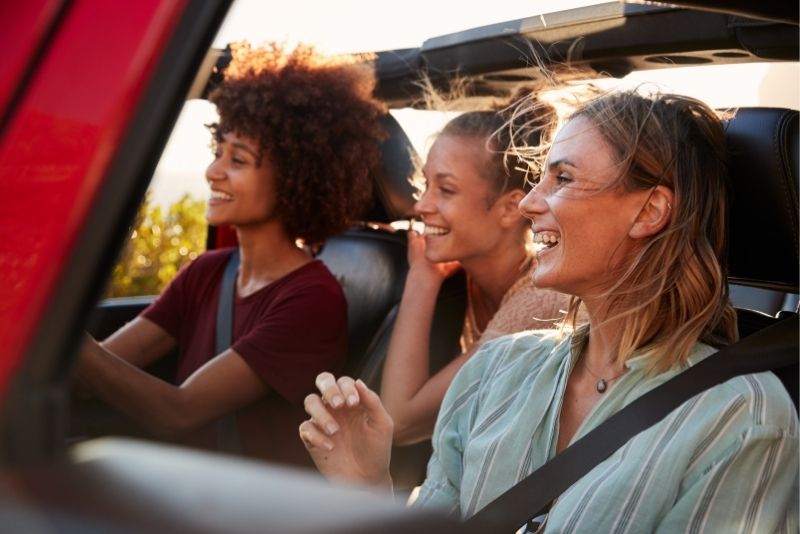 Explore well and truly off the beaten track on a thrilling jeep safari from Cabo San Lucas. Journey along desert trails and soak up the sweeping panoramas at every turn — keep your camera close.
Up for a challenge? Then take the wheel of the 4×4 and head off on an adventure through mountains, farmland and fruit orchards before finishing at the beach.
13 – Have a go at stand-up paddleboarding
Glide stealthily along the coast on a stand-up paddleboarding tour, keeping an eye out for exotic marine life down below. Once you've mastered the key strokes, you'll soon be powering along like an expert.
Feeling hot? Then just jump in the ocean for a refreshing dip before continuing your explorations of idyllic coves and dramatic sea cliffs.
14 – Saddle up for some horse riding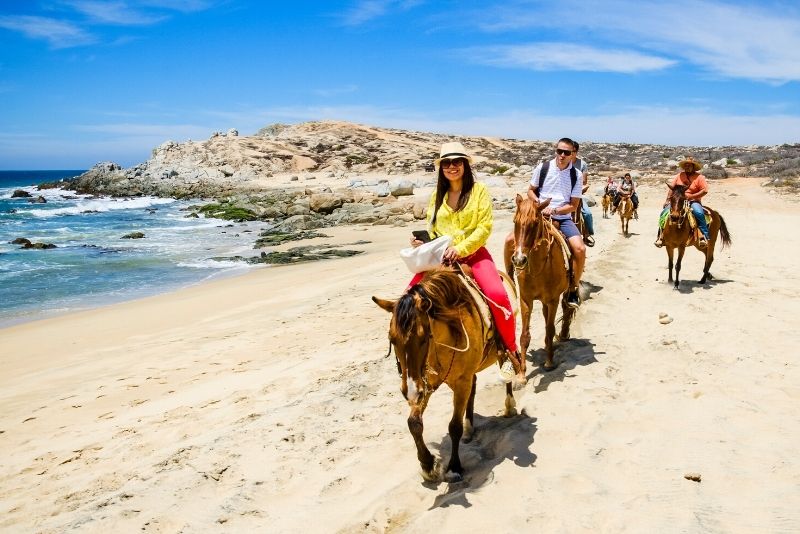 Trot off into the desert on your hardy four-legged stead, realizing all your secret cowboy dreams. Horse riding tours take you to places that can only be accessed on foot, so prepare to be wowed by secret trails and coastal views.
Experienced riders can canter along sandy beaches beside dramatic cliffs — just watch out for the cacti as you fly past!
15 – Meet marine residents on a yellow submarine tour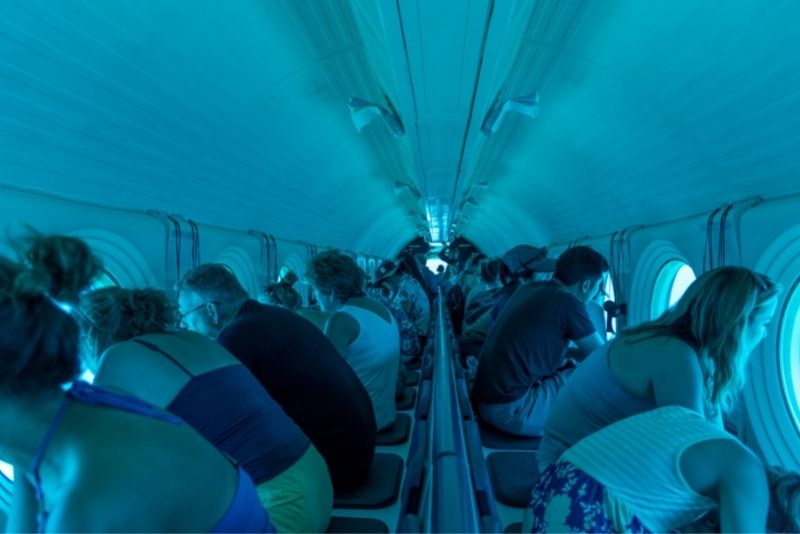 Head below the waves on board a semi-submersible for some rather unique sightseeing in San Lucas Bay. This is a hit with kids and any Jacques Cousteau wannabes who want to encounter sea life without getting their feet wet.
Keep watch as colorful shoals of fish dart past the panoramic windows while you immerse yourself in the magical underwater world.
16 – Sample the best tequila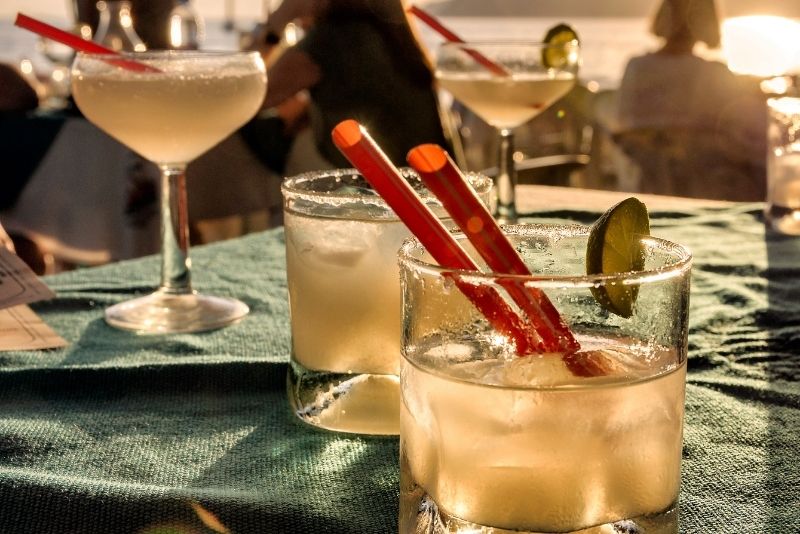 Tequila might just be Mexico's most famous export, so tasting it at the source during your vacation is a no-brainer. Discover the real essence of Baja California, as you knock back the amber nectar — see if you can identify the different flavors.
Find out how this national tipple is made and learn insider secrets, so you know which to choose in the future.
17 – Visit Land's End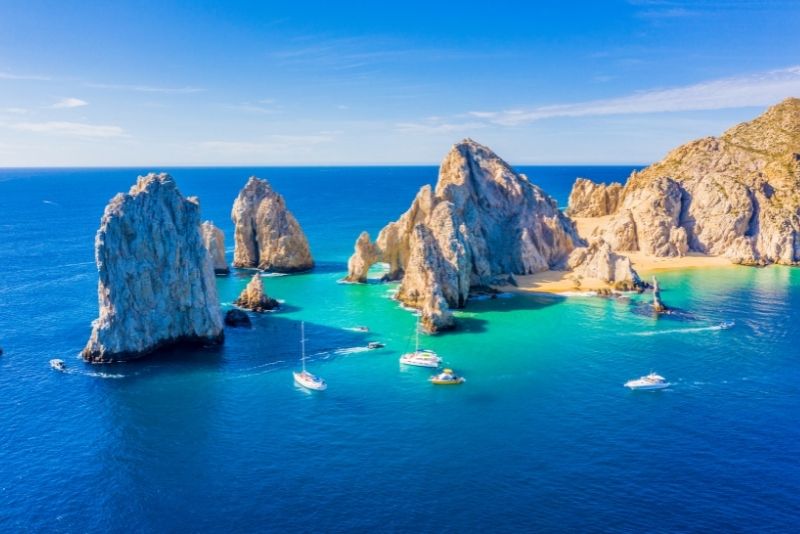 Journey to the edge of the world with a trip to the extreme southern point of Baja California — Mexico's Land's End. The coastline here is the stuff of dreams, with rare rock formations, secluded beaches and even sea lions.
The main event is El Arco, a magnificent sea arch that deserves pride of place in your photo collection. The easiest way to visit is by boat.
18 – Discover charming San José del Cabo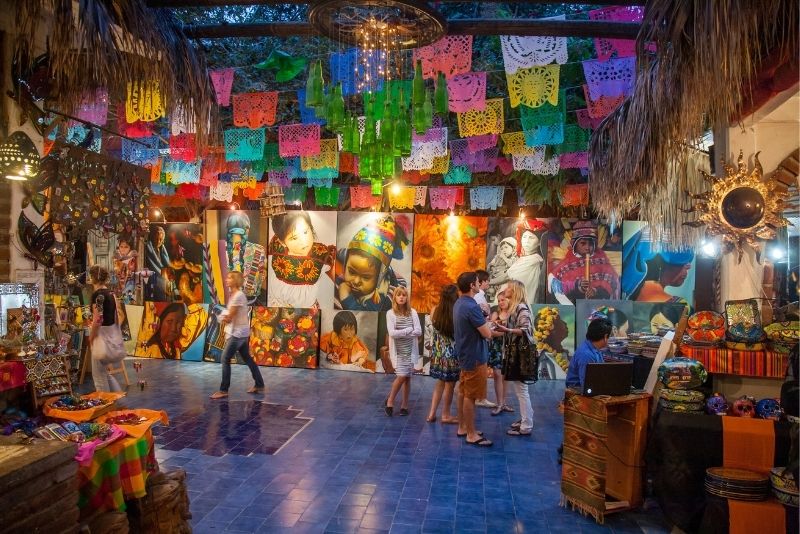 Soak up the small-town vibe of San José del Cabo, as you stroll through the laid-back city streets. For your history fix, head to Plaza Mijares in the heart of the old district and admire the colorful colonial buildings.
Best explored on foot, San José is the place to go for art galleries, street entertainment and outdoor dining on locally caught seafood.
19 – Learn some awesome flyboarding moves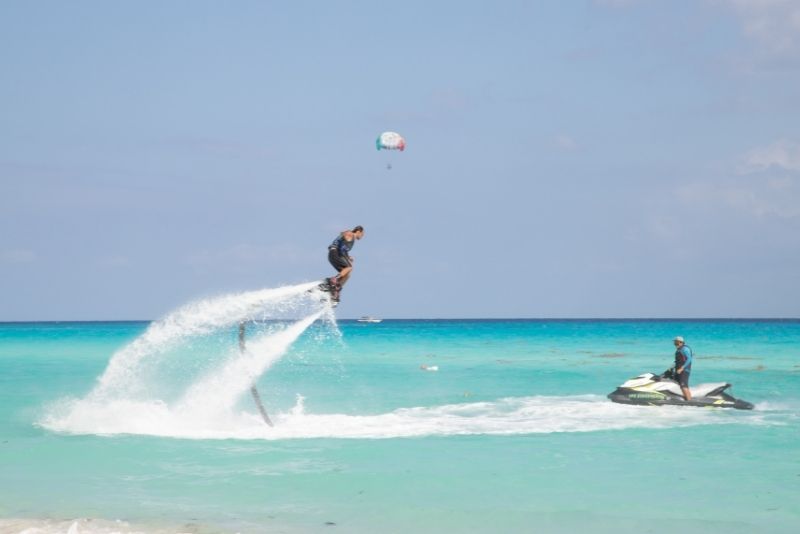 Have you ever wanted to know what flying feels like? Then get kitted up and prepare to have your breath taken away. You'll pick up the art of flyboarding in no time, thanks to some handy hints from your professional instructor.
After a practice run, show off your superhero moves as you zoom skyward, flying high above the inviting blue sea.
20 – Luxuriate at the Omnia Club
For a truly decadent day out, reserve your spot at Omnia Club, one of Cabo's top beach clubs. Chill out in a VIP beachside cabana or soak the afternoon away in a private plunge pool — the choice is yours.
Come at the weekend for a slice of the daytime party scene, where fiery Mexican cuisine and live DJs get you in the fiesta mood.
21 – Try scuba diving in Cabo San Lucas Marine Park or Cabo Pulmo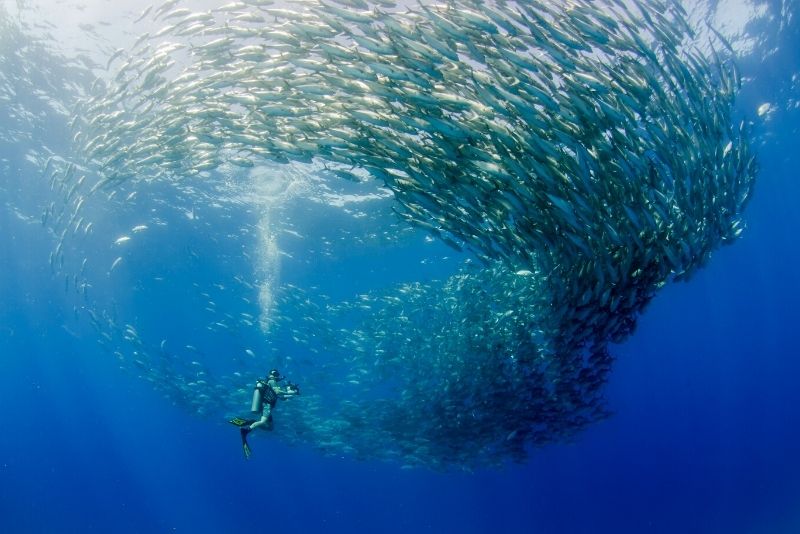 The calm water of Cabo San Lucas Marine Park is the ideal adventure playground for divers. Propel yourself along beside manta rays and turtles, while keeping watch for eels hiding in rocky crevices.
Beginners can learn the ropes and discover the mystical underwater world on a shallow dive. Meanwhile, certified divers can explore shipwrecks and even swim with sea lions.
Cabo Pulmo, instead, is located about 2 hours away from Los Cabos and it is the best place for scuba diving in Baja California Sur. There is a reef with different tropical fishes and even sharks.
22 – Take a Mexican cooking class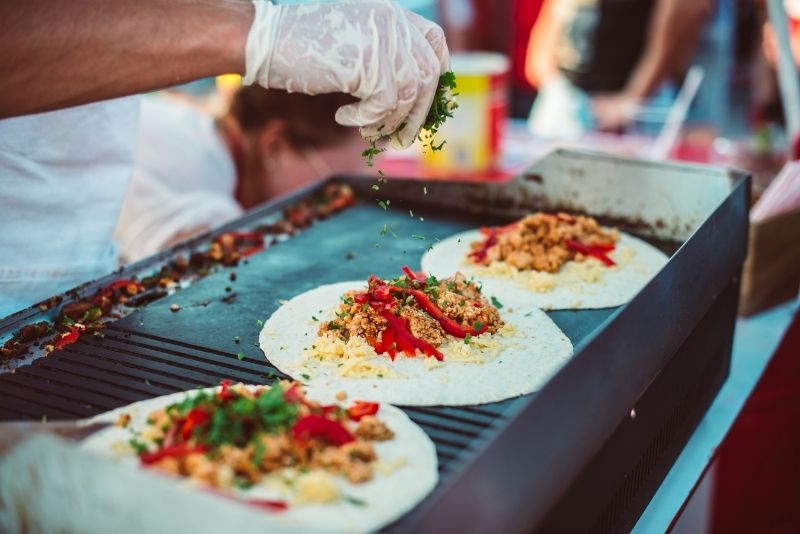 Unleashing your inner chef skills at a Mexican cooking class is one of the more unusual things to do in Cabo San Lucas.
After shopping for fresh ingredients at the market, you'll rustle up an authentic Mexican feast under the watchful eye of your tutor. Tortillas, tamales and guacamole are all on the cards, and of course, you get to eat the results. Yum!
23 – Splash around in Santa Maria Bay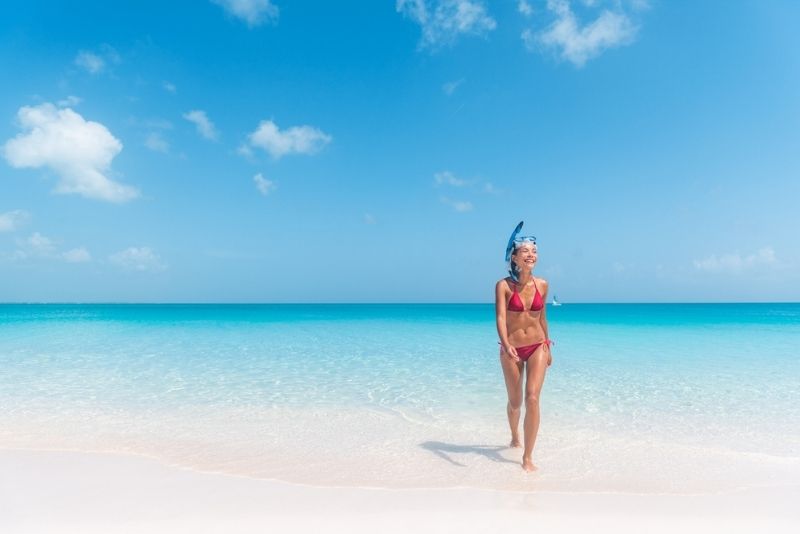 Flanked by rocky headlands, this secluded horseshoe cove has one of the best beaches on the peninsula. The pink-tinged sand and turquoise water give Santa Maria Bay an ethereal appeal, making it an ideal picnic spot.
Pull on your mask and fins to snorkel among the shoals of dazzling tropical fish, then settle down for a bit of sunbathing, Mexico style.
24 – Hike in Fox Canyon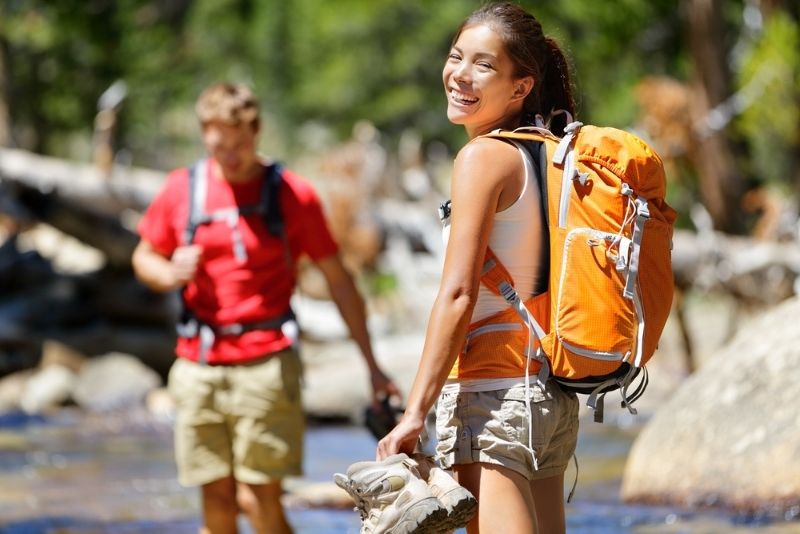 Hidden away in the Baja desert, Fox Canyon is probably Cabo's best-kept secret. Lace up your boots for a hike through this otherworldly landscape, and reward yourself with a cooling dip in shimmering waterfall pools.
Keep your eyes peeled for lizards, roadrunners and coyotes, as you explore one of nature's greatest oases. Visit during winter to behold the incredible floral blooms that carpet the valley.
25 – Cycle through the desert on a bike trip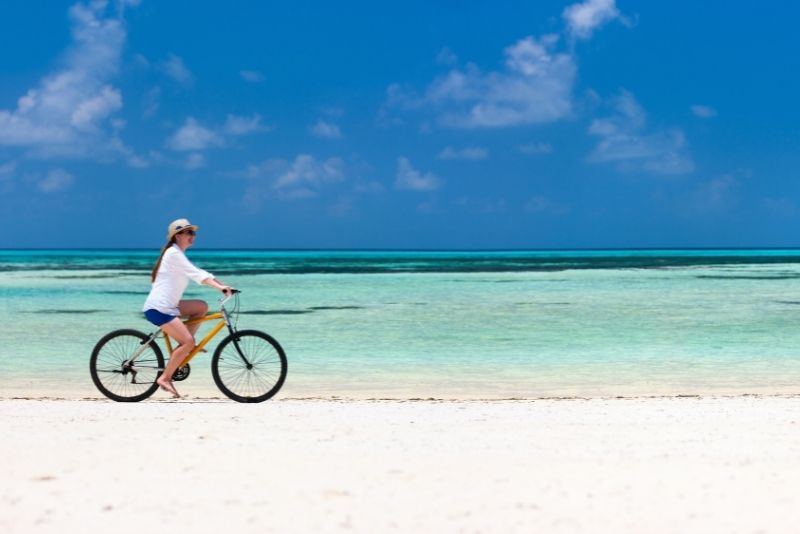 Cycling is an intimate and eco-friendly way to discover the Cabo San Lucas region, with the bonus of burning some calories. Both mountain bike and e-bike tours are available, so don't worry if you'd prefer a more relaxing ride.
Explore remote cactus trails and desert valleys, with plenty of photo stops along the way. Finish up with a pedal on the beach.
26 – Enjoy a day trip to Todos Santos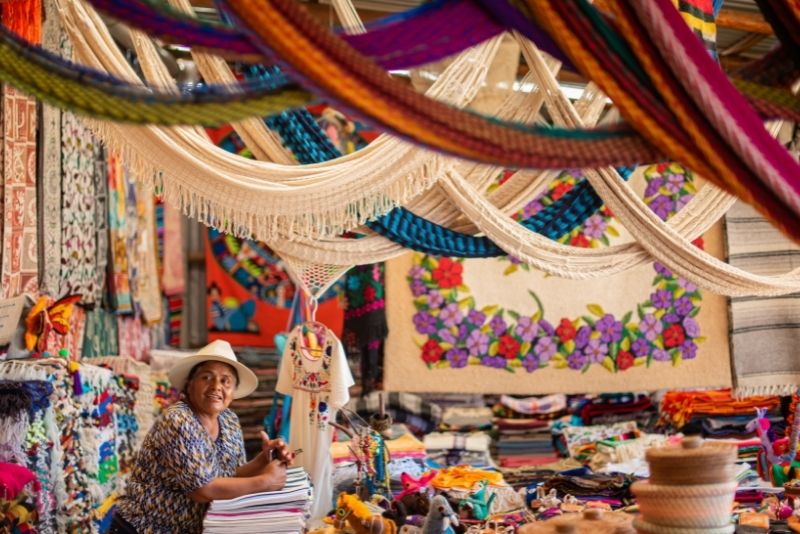 For a change of scenery, head to Todos Santos for sea breezes and unspoiled beaches. This oasis town is sandwiched between the magnificent Sierra Laguna mountains and the Pacific, so don't forget the camera.
Fruit trees and palms punctuate the landscape, which is a haven for local wildlife. Indulge in upscale eateries and browse artists' studios, as you stroll along the historical streets.
27 – Hook a whopper while sport fishing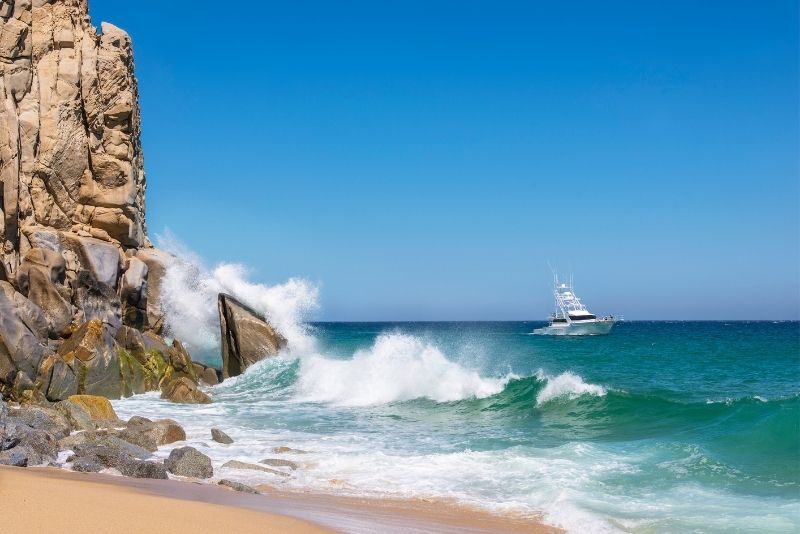 Reel in the fish of your dreams on a sport fishing tour off the Baja Peninsula. You'll be heading out early to increase your chances of coming up trumps, with marlin, wahoo, and swordfish all up for grabs.
Cast your line and enjoy the anticipation as you wait to see what bites first. Compete with your friends, then celebrate on board with lunch and drinks.
28 – Fly high on a parasailing adventure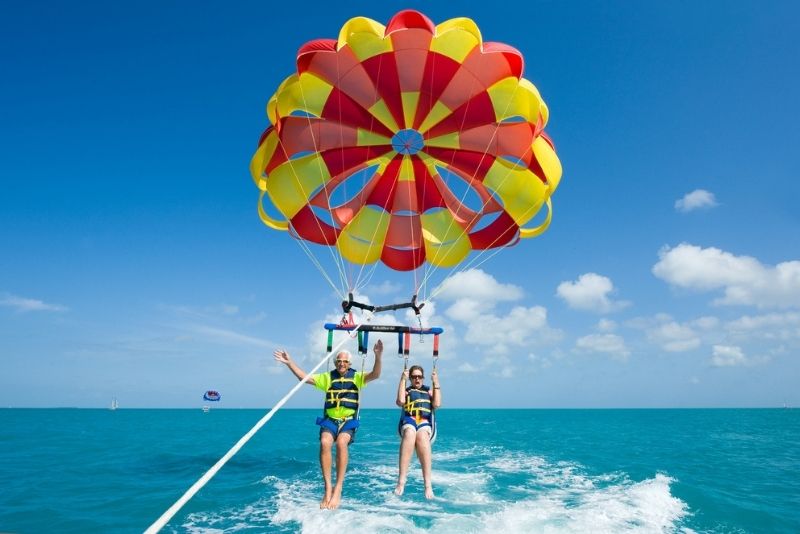 Take to the skies and soar like a bird above the sparkling Sea of Cortez. See if you can identify the local landmarks from your lofty vantage point, and view Mexico's Land's End in a whole new light.
After a smooth launch from the back of the boat, just sit back and enjoy the flight. Don't forget your camera for those once-in-a-lifetime selfies.
29 – Hike in the Sierra La Laguna Biosphere Reserve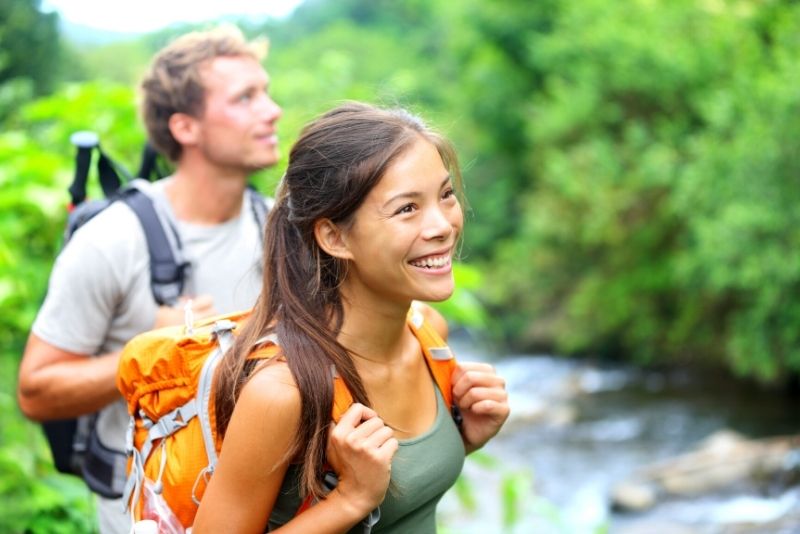 Pull on your walking boots for a real adventure in the depths of the Sierra La Laguna Biosphere Reserve. This is one of the best places in Mexico to see hummingbirds, some of which are endemic to the region.
Scramble through the mountains on forested hiking trails, then cool off with a refreshing lake swim afterward.
30 – Treat yourself to the best culinary experiences at the best restaurants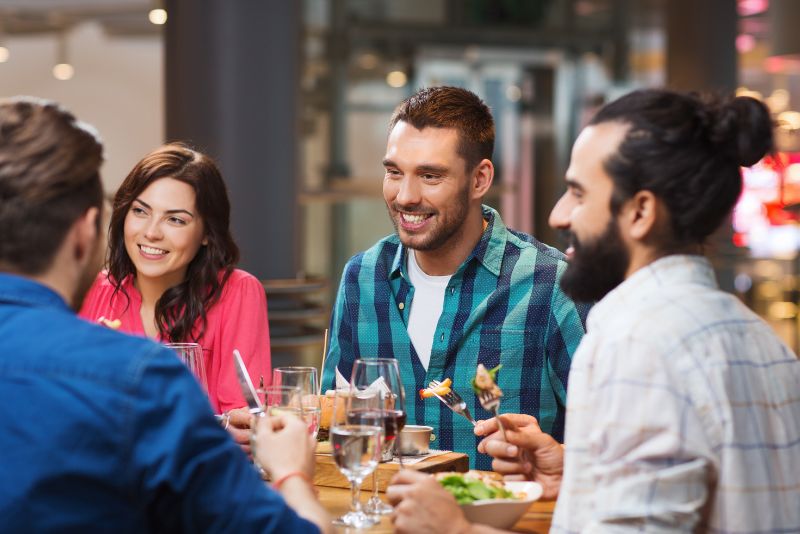 Bask in the seafood haven that is Cabo at Edith's Restaurant and Paradero Restaurant, both serving their own unique seasoning inspired by the freshness of ingredients and seafood abundance in Cabo.
For chef-created dishes and spectacular views, don't skip award-winning Manta, for its Baja, Peruvian, and Japanese-infused dishes that are simply to die for.
Step into Los Tres Gallos, for a traditional, rich Mexican cuisine experience. Representing all of Mexico on its plates, you'll leave with a flavorful taste in your mouth.
31 – Ride the surf in the sun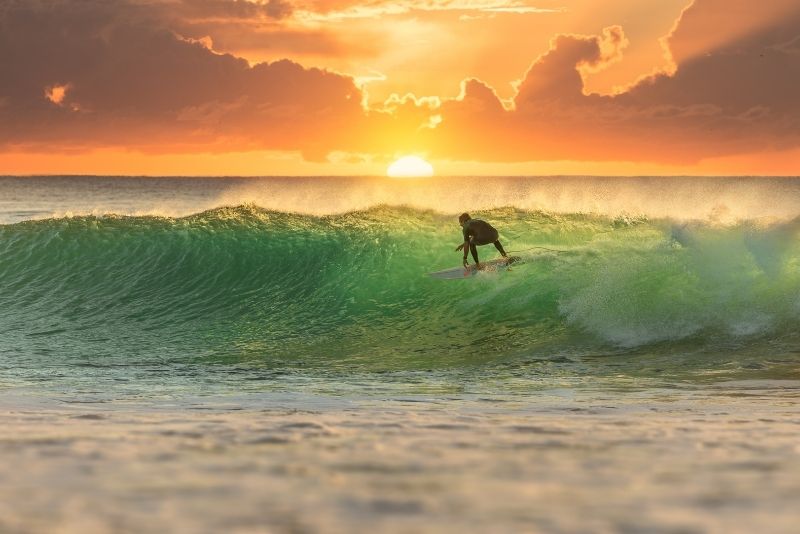 Whether you're a beginner boarder or an expert surfer, conquering the waves at Cabo will be the highlight of your vacation. First up is a beach lesson where friendly instructors will teach you some serious moves.
Then it's time to ride those ocean crests and put your new skills to the test. You'll be carving through the water like a pro in no time.
32 – Dive with whale sharks in La Paz Bay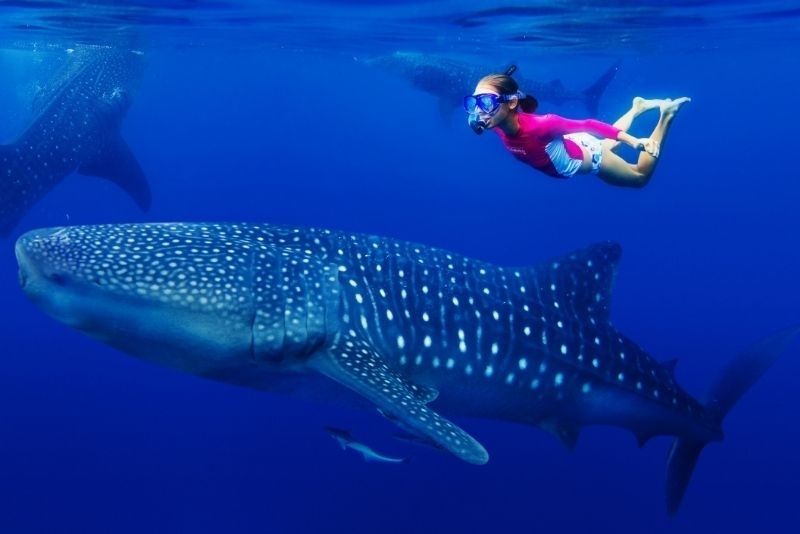 Come face to face with these giants of the sea in La Paz. Whale sharks are technically sharks, being fishes and not mammifers. However, they feed in the same way as whales and therefore they are not dangerous for the humans. Whale shark season runs from October to mid April.
To tick off the ultimate bucket list experience, swimming alongside whale sharks — the largest fish in the sea — takes some beating. Take the chance to do this wonderful experience in one of the few places in the world in which it's so easy to swim with whale sharks.
33 – Take a glass bottom boat tour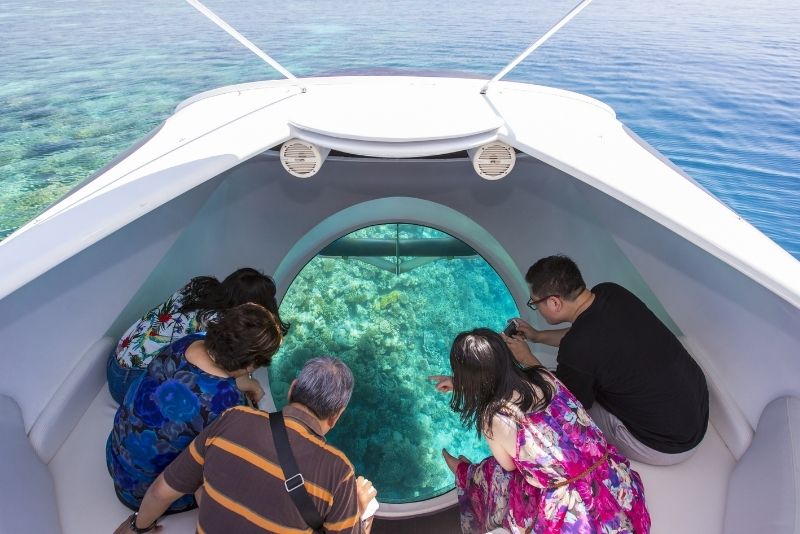 Of all the things to do in Cabo San Lucas, this is the most relaxing. You'll ride the glass bottom boat to Land's End before arriving at Pelican Rock, where these prehistoric-looking birds guard their watery realm.
Watch the vibrant fish darting right beneath your feet, then go snorkeling to spot seahorses and starfish along the ocean floor.
34 – Race buggies along the beach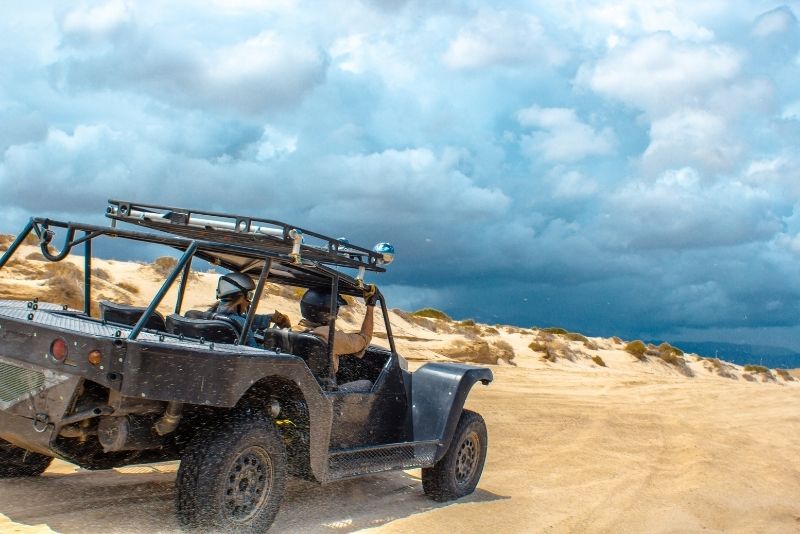 Delve deep into the wild outdoors on an exhilarating buggy tour from Cabo San Lucas. This next-level adventure will have you powering along desert tracks and dry riverbeds, either solo or tandem. Keep your eyes peeled for wildlife as you fly past.
Race your friends through the dunes before hurtling along the beach at full throttle if you dare.
35 – Enjoy a Flora Farms tour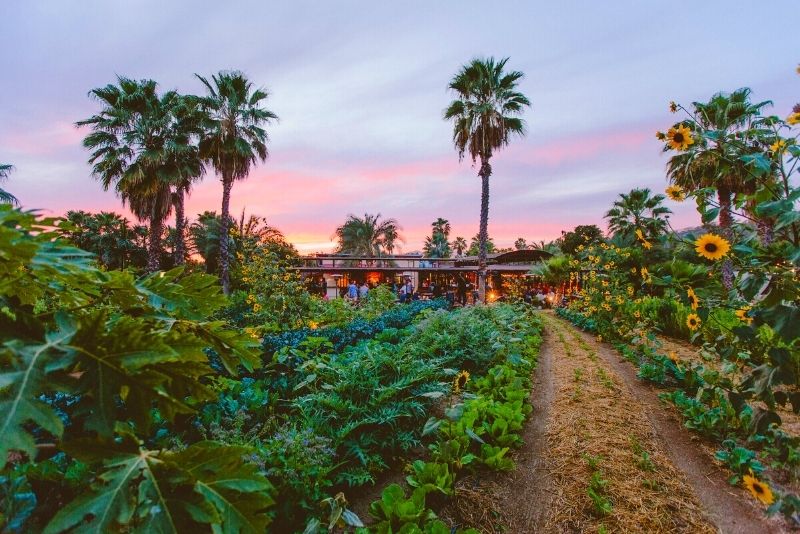 Head into the foothills of the Sierra de la Laguna Mountains to explore this unique 25-acre organic farm. Your guide will explain the cultivation process where everything is done by hand.
A world away from buzzing Cabo, Flora Farm has a field kitchen with a farm to fork ethos. Try delicious local produce like fennel sausage and fresh pineapple, all washed down with fruit-infused cocktails.
36 – Soak up the Cabo sun and coast on a jet ski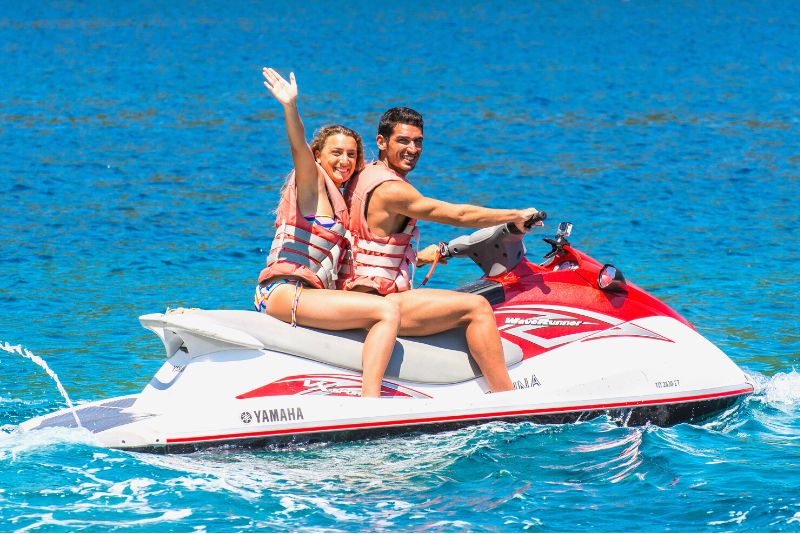 Hop on a fun jet ski experience and glide through the sparkling Sea of Cortez, as you are guided by a professional, sneaking a peek at the beautiful water creatures from dolphins to colorful fish throughout the way.
Along your journey, you'll also be able to gaze at some of the most spectacular homes of the wealthier residents, as well as capture the stunning coast of Los Cabos!
37 – Dare to jump off Pelican Rock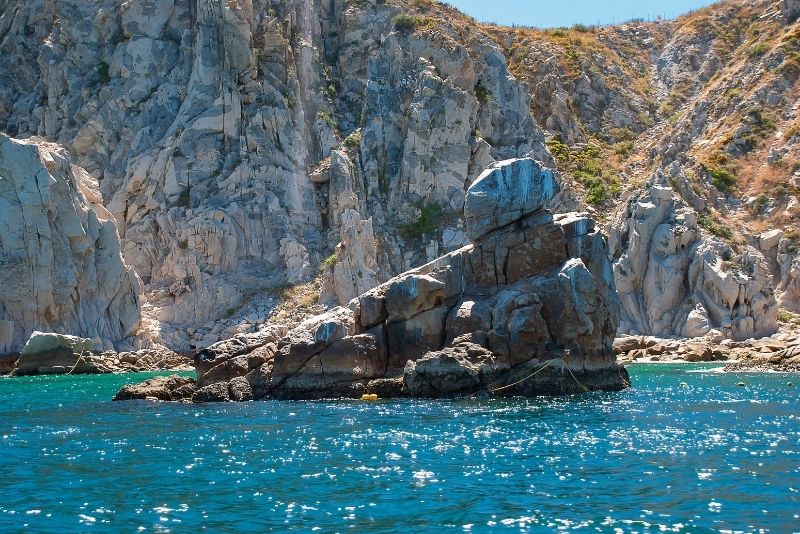 Standing tall in the Bay of Cabo San Lucas, Pelican Rock is one of the top natural attractions along the Land's End coastline. Accessible only by boat, this towering pinnacle is a popular spot for snorkeling and diving.
Feeling adventurous? Brave explorers can scramble up the rock and try a bit of cliff jumping — get those cameras poised to capture the action!
38 – Sunbathe on Playa del Amor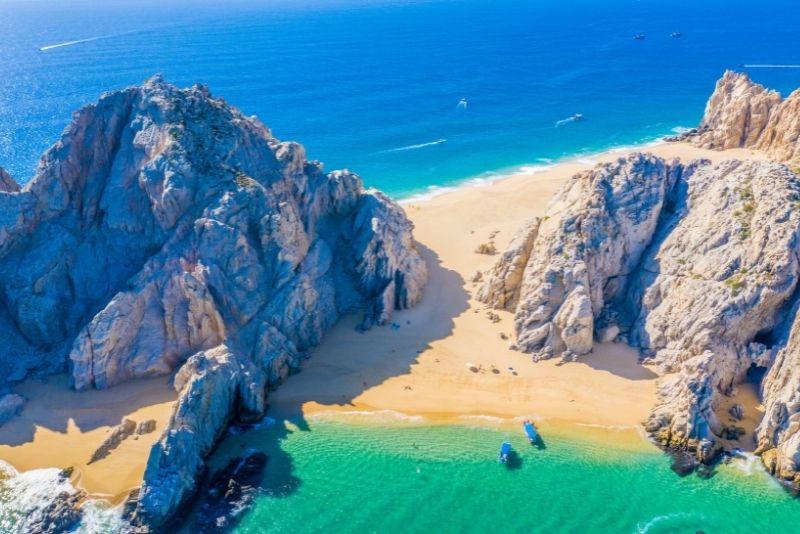 Known as Lover's Beach, Playa del Amor is secluded, dreamy and golden. Hidden away between imposing cliffs, this beach is one of the best swimming spots in Cabo.
Access is easiest by boat, with snorkeling and diving both highly recommended. Whether you fancy a romantic stroll with your other half or just want to take a dip, Playa Amor ticks all the boxes.
39 – Smile wide for your picture-perfect photo session on the beach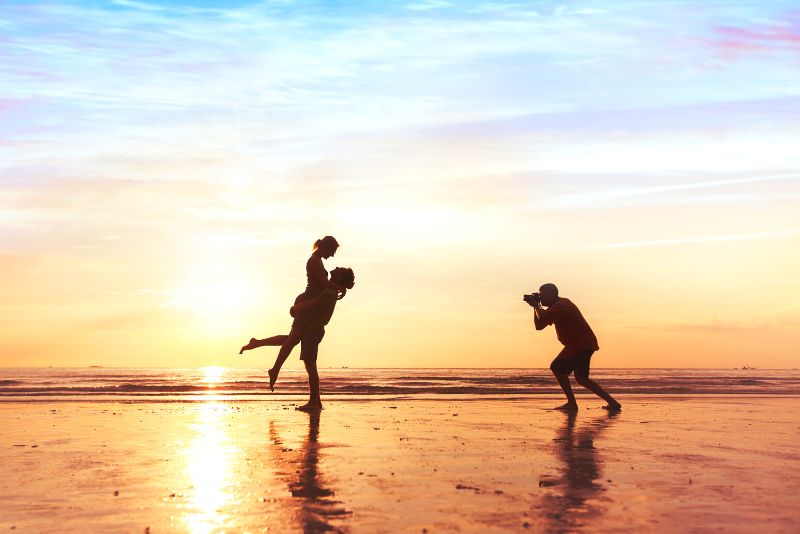 Commemorate your trip to Cabo San Lucas with a session with a professional photographer who knows the best spots to snap your pictures!
Whether you're celebrating a special occasion, or you're in search of some professional photos with some of the best beach backdrops in the world, don't hesitate to book your 1-hour session.
Some tours include transportation by the photographer so no worries about how to meet your photographer!
40 – Party by the pool at the Blue Marlin Ibiza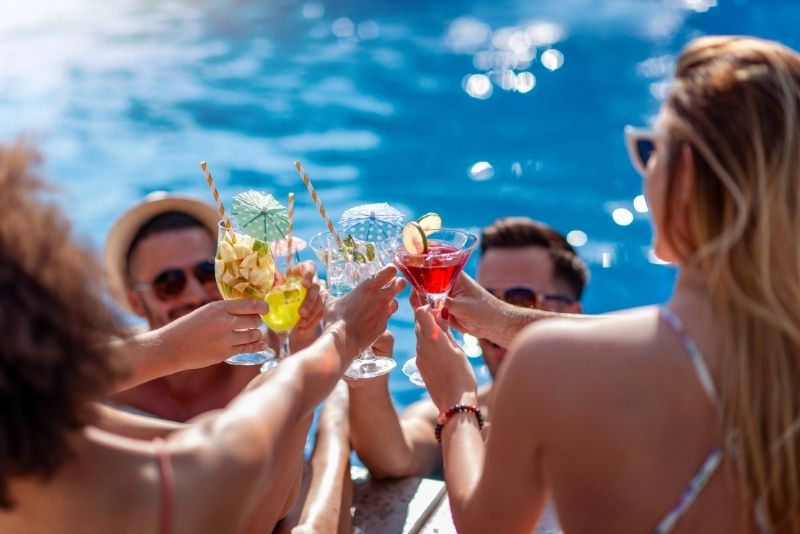 This sizzling beach club really packs a punch when it comes to location. Overlooking the iconic rock arch and sitting beside the best swimmable beach in Cabo, the Blue Marlin Ibiza is the place to party in the sun.
Enjoy leisurely lunches and cocktails by the pool, as cutting-edge DJs work their musical magic.
41 – Be brave on a bungee jump
Bungee jumping is one of the most exhilarating things to do in Cabo San Lucas and is not for the faint-hearted. Yet it's perfectly safe and well worth the heart flutters for those who are brave enough to take the plunge.
Scream in delight as you leap into the canyon from a suspended glass-bottomed gondola. You'll have some serious bragging rights afterward!
42 – Spend the day at Medano Beach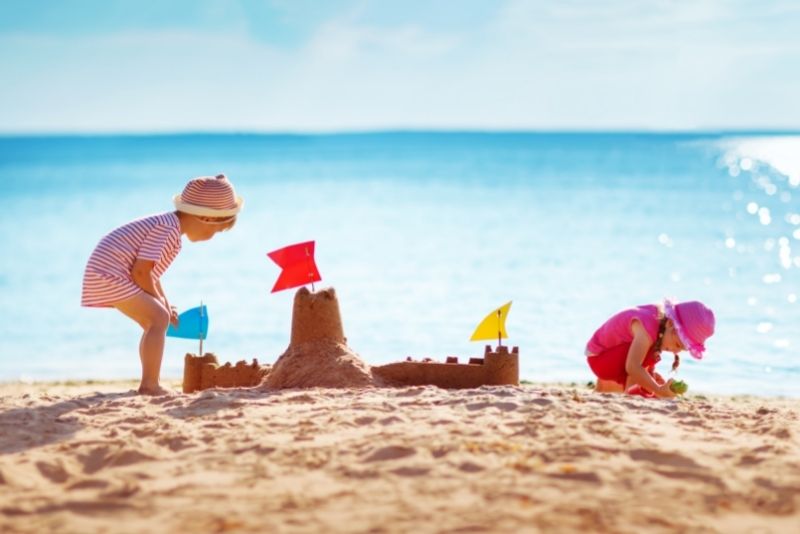 Looking for somewhere safe and easy to swim? Then head down to Medano Beach and settle in for a day of fun in the sun.
It's popular but never feels crowded, thanks to the sand stretching for several miles along the coast. After swimming, kayaking or water skiing, you can re-energize at the beach bars and restaurants dotted along the bay.
43 – Cruise the coast in a pirate ship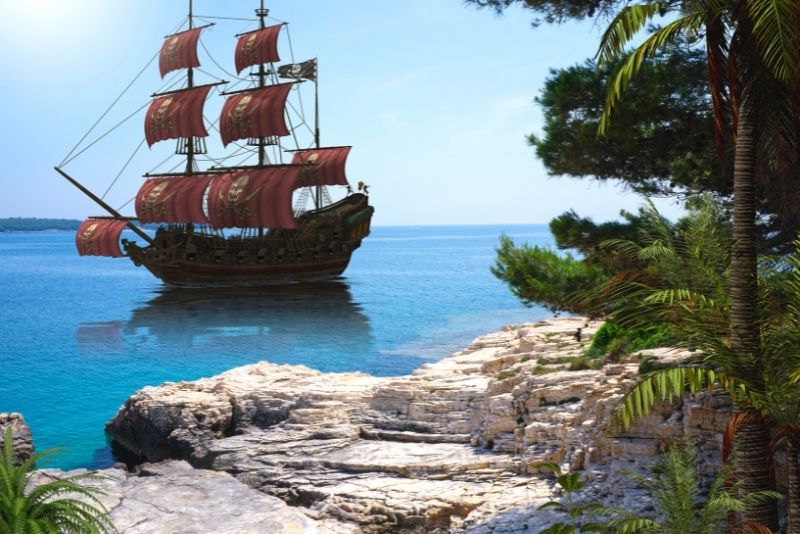 Practice your pirate swagger as you quest for hidden treasure around the Sea of Cortez. Follow the map clues as you sail past dramatic cliff faces, and image pirates of old storing their gold in secret sea caves.
A snorkel session with tropical fish will lead you to the sunken treasure chest so you can claim your bounty. Celebrate with lunch and cocktails back on board.
44 – Tap into your dare-devil self and book an abseiling experience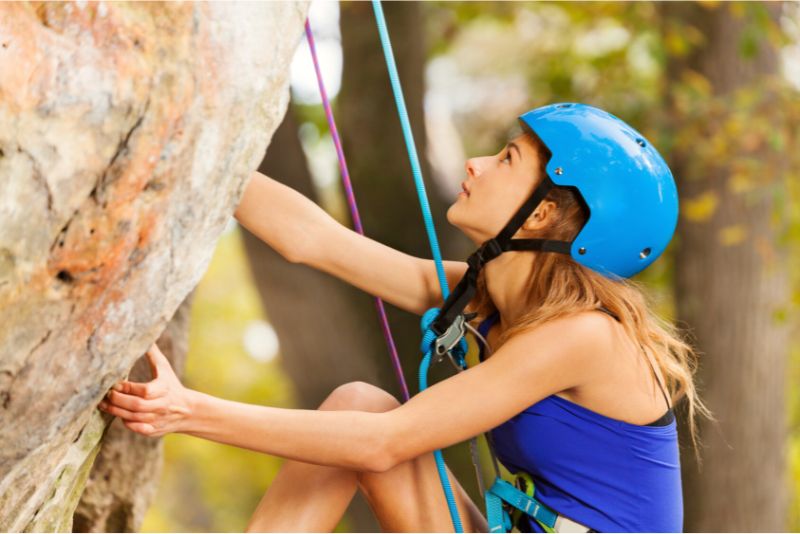 In for a little thrill? Consider booking an abseiling experience, essentially rappelling down one of the many beautiful cliffs in Cabo, with the guidance of a professional at all times.
As a part of abseiling, many tours also include a scenic zip line ride between the cliffs, as well as a panoramic walk through the suspension bridge.
So what are you waiting for? The cliffs await!
45 – Go wild in the San Jose Estuary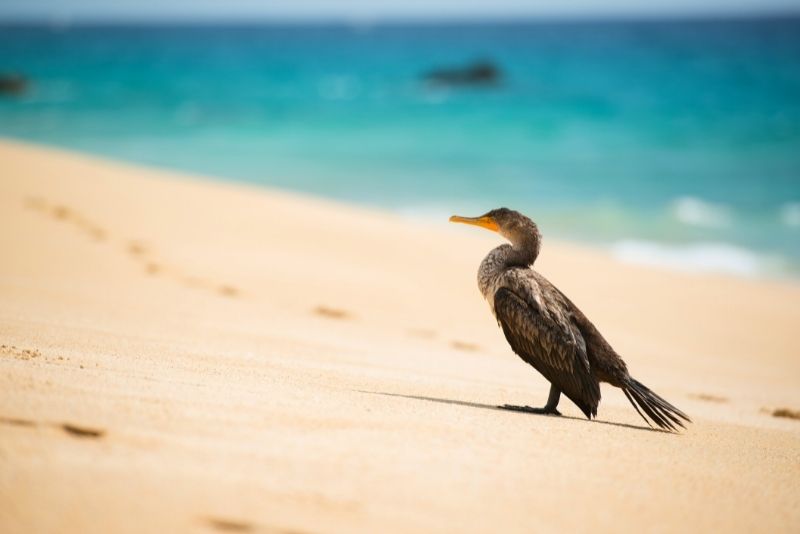 Avid bird watchers and nature fans will love exploring the depths of the tropical San Jose Estuary. Home to an astonishing array of bird species, this special sanctuary is a haven for wildlife too.
Peel your eyes away from the binoculars to enjoy a relaxing kayak journey along the meandering waterways, or hike along the shore at sunset.
46 – Explore Espiritu Santo Island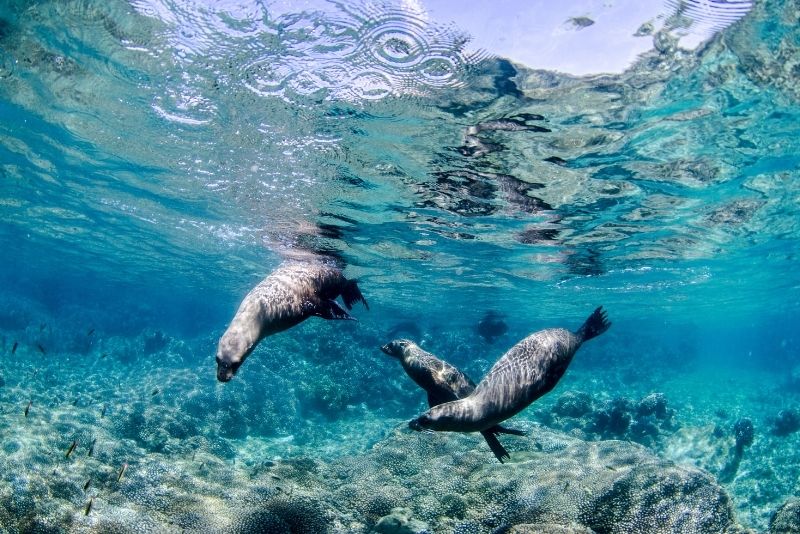 Taking a boat trip to Espiritu Santo Island is one of the best things to do in Cabo San Lucas. This UNESCO Biosphere Reserve offers bags of adventure, wildlife and beaches to intrepid explorers.
Want to snorkel with sea lions and tropical fish? This is your chance! There's a bird sanctuary too with enough pelicans and hummingbirds to keep your camera busy.
47 – Savor Mediterranean cuisine at Sunset Monalisa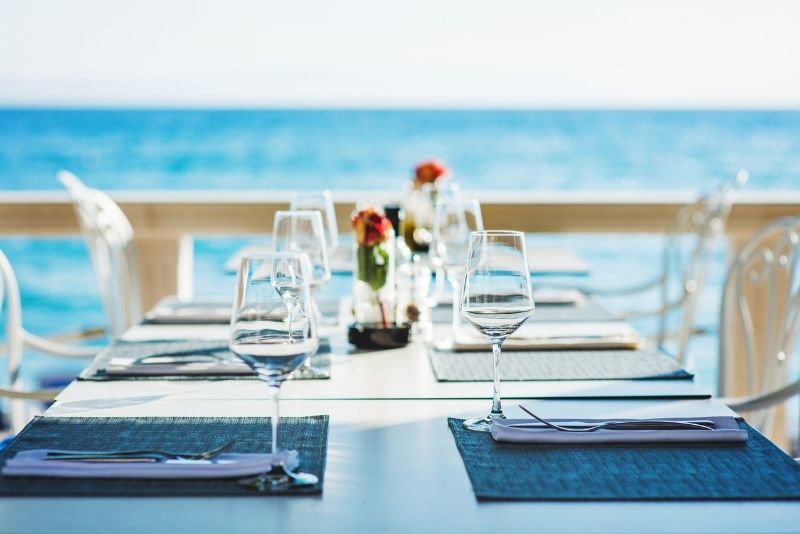 Food always tastes better if it's eaten outside, especially when served with ocean views like the ones at Sunset Monalisa. This spectacular dining spot is the most breathtaking place to eat in Cabo, so do book ahead.
Dive into one of its tasting menus with scallops, foie gras and truffle pasta, all vying for your pleasure. Live jazz and champagne sweeten the deal.
48 – Go on a Baja brewery tour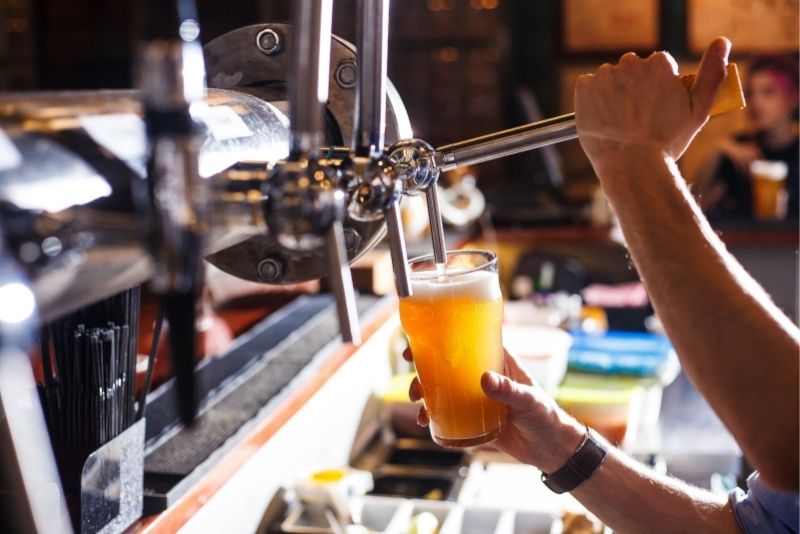 Craft beer is all the rage, and nowhere more so than here in Cabo San Lucas. Join a brewery tour to discover just what goes on behind the scenes and the history behind the process.
Of course, no brewery tour is complete without sampling the goods, so tastings are all part of the fun. You'll be a true beer connoisseur by the time you leave.
49 – Have a close encounter with dolphins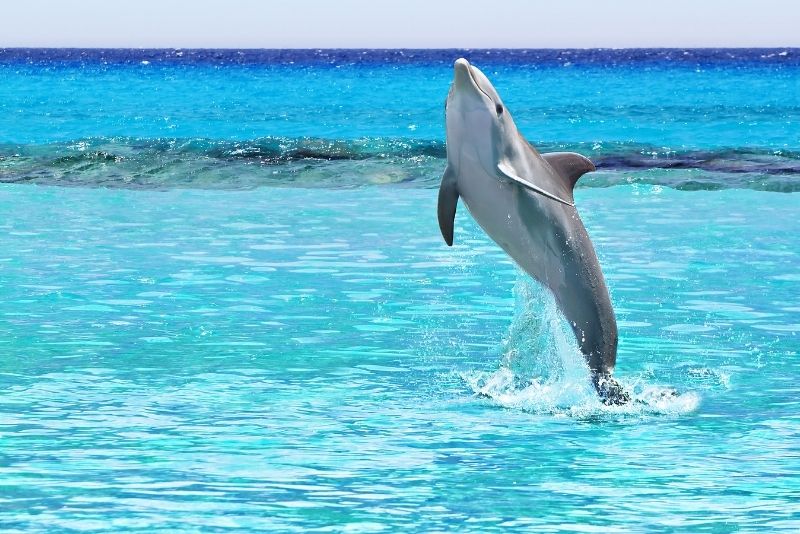 Enjoy an up-close and personal encounter with these friendly marine favorites on a Cabo dolphin watching session.
Both fun and educational, the experience is a great way for kids and non-swimmers to meet dolphins from the safety of a pool. Learn how to interact with your new pals and even give one a rubdown. You'll be best friends in no time.
50 – Chill out at Pedregal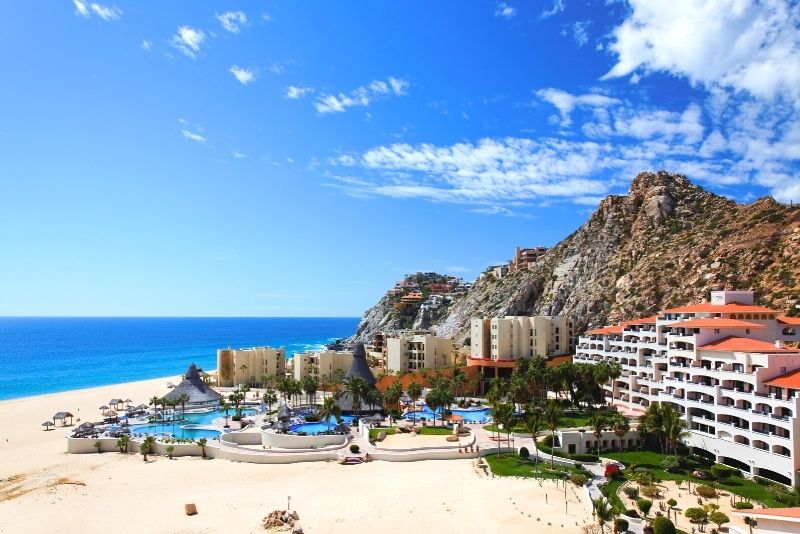 The swish hillside resort of Pedregal is all about relaxing in style. Sweeping sea views and high-end restaurants tempt travelers from across the peninsula for a slice of luxurious tranquility.
Dig into fresh seafood dishes, enjoy drinks at swim-up bars, or head to the beaches for some sun. You can buy souvenirs at the weekly farmers' market too, which is known for its handmade local crafts.
51 – Sail into the sunset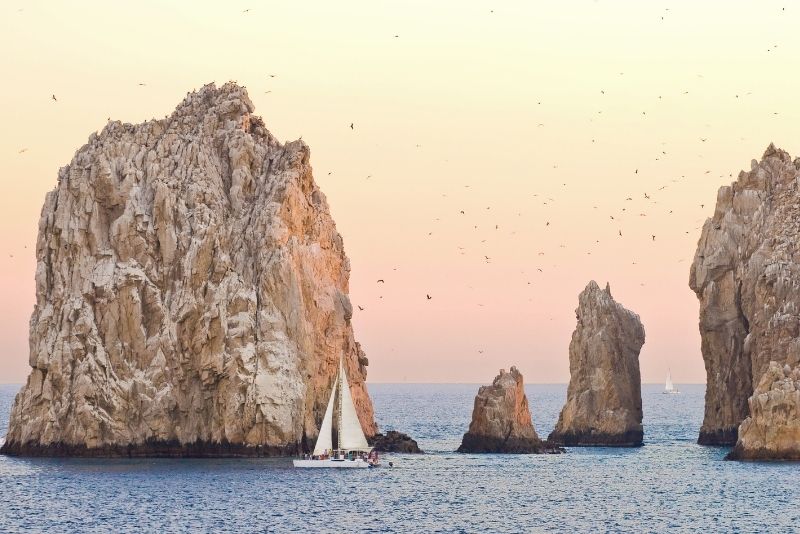 Calling all romantics, this one is for you. Sailing along the dramatic Cabo coastline, as the horizon floods with color, is the stuff of dreams.
Snuggle up with your loved ones, as dawn turns to dusk, and toast the day with a glass of bubbly. Having front row seats for viewing the magnificent rock formations and secret beaches is the icing on the cake.
52 – Traverse the blue skies paragliding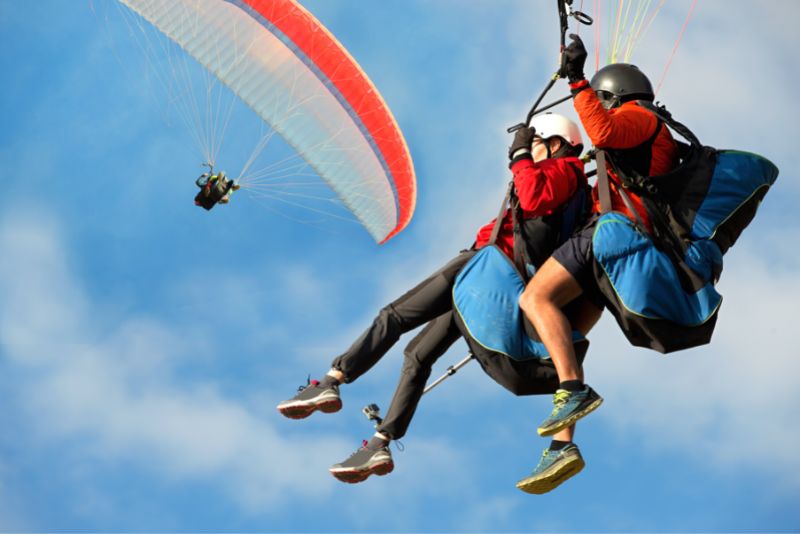 Take to the skies on an adventurous paragliding adventure through Cabo's blue skies – one of the most popular activities in Cabo!
Hop on a motorized paraglide along with your guide who takes care of all the mechanical details – all you have to do is sit back, and enjoy the ride!
Some of the scenes you'll see? Large humpback whales, the iconic arches, the coast, and the immense sea – no biggie!
53 – Play golf with a view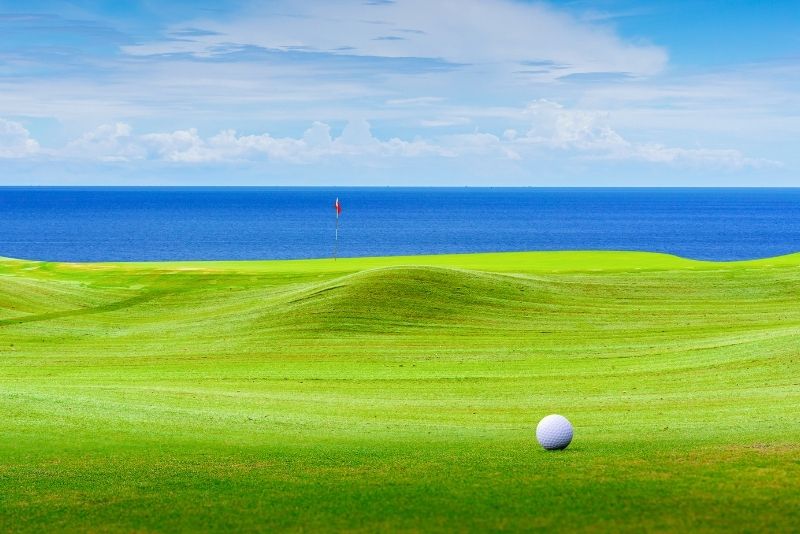 Practice your swing on some of the best golf courses in Cabo. Want some views during your game? Then opt for the Quivira Golf Course where the holes meander along sheer cliffs, desert foothills, and golden dunes.
For a challenging sandy course, Diamante is a good bet. Alternatively, you can combine a spot of whale watching with your game at Cabo Real Golf Club.
54 – Enjoy an indulgent dinner cruise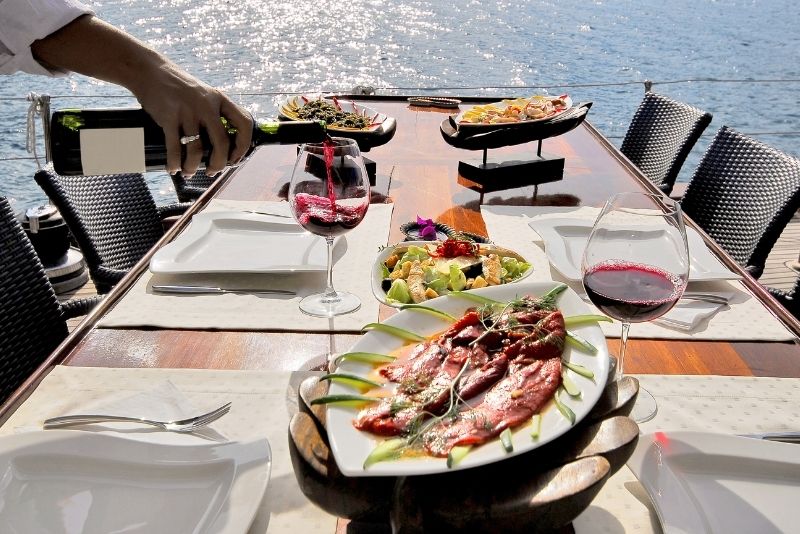 Tuck into delicious Mexican delicacies, as you sail into the sunset on a dinner cruise from Cabo San Lucas. Choose from luxury yachts, catamarans and even pirate ships for your jaunt.
Grab some drinks from the bar and sway along to live music, as the sun sinks slowly into the Pacific. If you're lucky the whales might put on a show for you too!
55 – Listen to live music at Cabo Wabo Cantina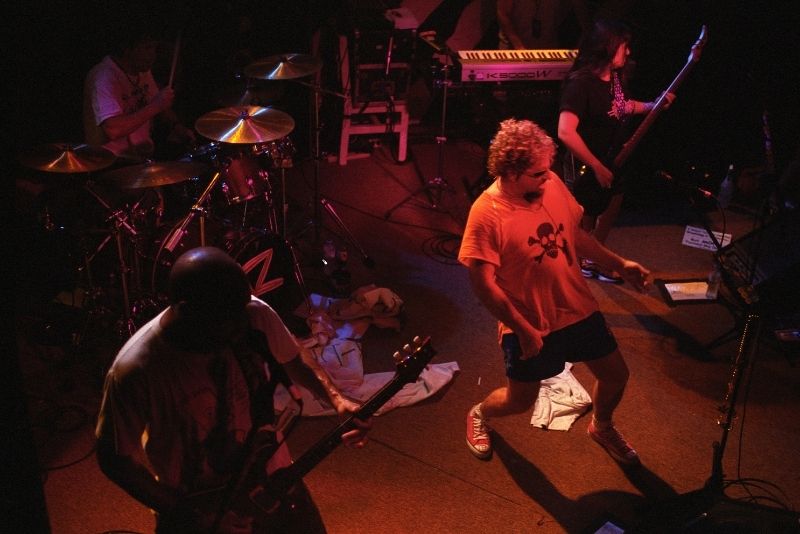 If you're look for some lively evening entertainment, Cabo Wabo Cantina is where it's at! Hosting musicians and celebrities from all around the world, the stage here is always on point.
Settle into the Cabo way of life with lobster burritos and tequila cocktails, as you watch the live show unfold. It's the perfect way to end your Mexican vacation.
56 – Party at El Squid Roe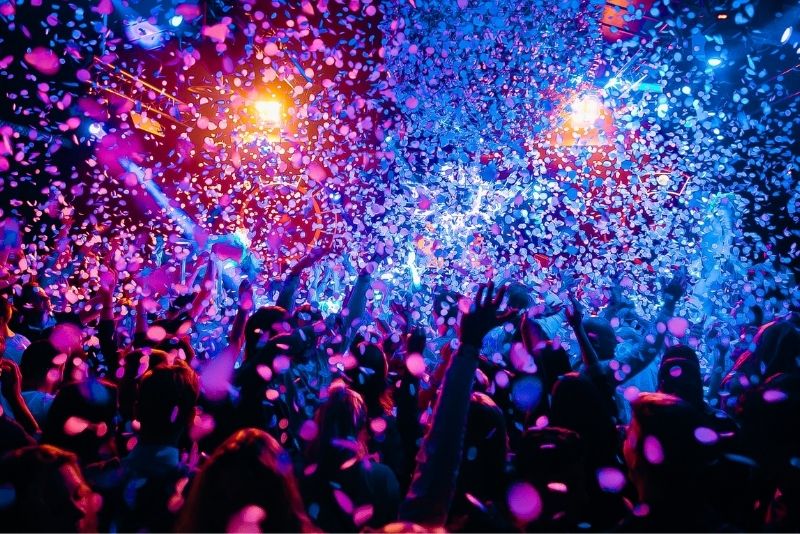 This buzzing nightclub and restaurant is all about dancing and DJs, with hearty pizzas and tacos to keep your energy levels high. El Squid Roe waiters wear spray tanks of tequila for added entertainment.
You'll be spoiled for choice with six bars at this trendy watering hole, which is a favorite with A-list celebrities. Book a VIP table for a night to remember.
How to get around Cabo San Lucas?
Wondering how to make it to your hotel from San Jose del Cabo International Airport (SJD)? Skip the bus shuttles, and instead opt for a quick and efficient airport transfer.
Pre-arrange an airport transfer that will meet you at the airport easily, and get you to your hotel in less than 20 minutes – a better option when you're traveling with a large group!
Where to stay in Cabo San Lucas?
Feel catered to when you stay at the Riu Palace Cabo San Lucas, a resort equipped with all the amenities you'd need for a beyond-comfortable stay. Enjoy the variety of restaurants, world-class gyms with views of the beach, a stunning private beach, and impeccable hospitality.
Hotel Los Patios is a short 4-minute walk from downtown Los Cabos and offers top service to its guests. From fully stocked rooms with flat-screen TVs, and fast wi-fi, to a balcony facing the ocean or lush gardens, and its incredible Mexican and international restaurants.
Lumina at Cardinal Los Cabos offers close proximity to a number of attractions from the Marina Cabo San Lucas, to the variety of beaches and much more. Enjoy the luxurious spa amenities along with the refreshing pools with views of the beach, and the famed rock arches. Relish the stylish interior and daily cleanliness for the best stay in Cabo.
Where to go next?
After exploring all the buzz in Cabo San Lucas, as well as its trip-worthy day trips via multi-day tours, the rest of Mexico awaits your adventurous spirit.
From learning about the different local animal species like flamingoes at the Vallarta Zoo to snapping your selfie in front of the Puerto Vallarta sign at the Puerto Vallarta Malécon – Puerto Vallarta guarantees a beyond beautiful time.
Mexico City, the most populous city in Mexico offers a thing or two of entertainment from peeking at the royal chambers at the Chapultepec Castle, to going back thousands of years in Mexican history at the Museum of Anthropology, or a day trip to the physical pyramids of Teotihuacan.
For the tropical jungle side of Mexico, a visit is in order to the Riviera Maya, located in Cancun. Jump in the refreshing water of the cenotes, and don't forget to walk under the famous Portal Maya in Los Fundadores Park.
Final thoughts
From world-class beaches, an endless list of thrilling water activities, and top-level dining opportunities, mixed with traditional Mexican hospitality, we certainly hope that you've enjoyed reading our list of the best things to do in Cabo San Lucas.
What's first on your list? A sailing adventure at sea, or a stroll through blossoming Flora Farms? Let us know!
Happy travels!