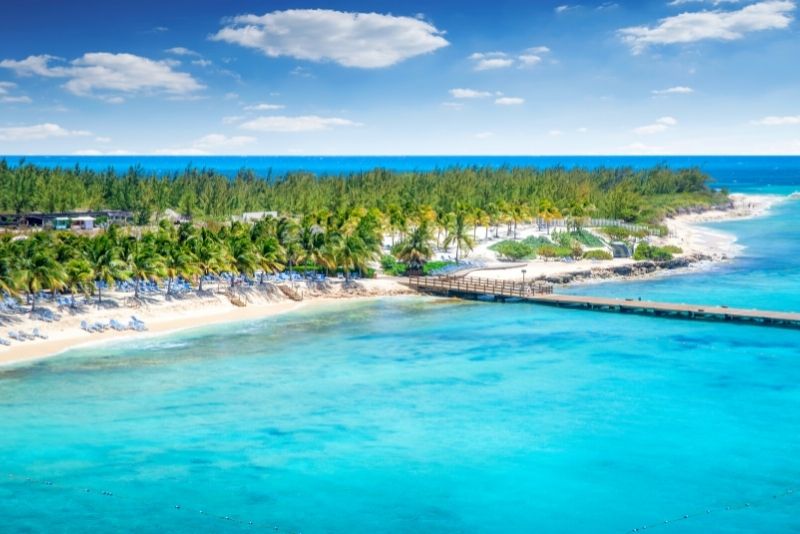 Searching for the real Caribbean? Then come to the Turks and Caicos Islands for all the palm trees, beaches and snorkeling that you can handle. This low-lying coral archipelago is a haven of luxury resorts, thrilling water sports and tasty tropical cuisine.
Providenciales is the gateway island, with North Caicos and Grand Turk worthy sidekicks. Here you can walk barefoot on white-sand beaches and dive with sea turtles — both are popular things to do in Turks and Caicos Islands. It doesn't get much more idyllic than this!
1 – Snorkel with sea turtles at Smith's Reef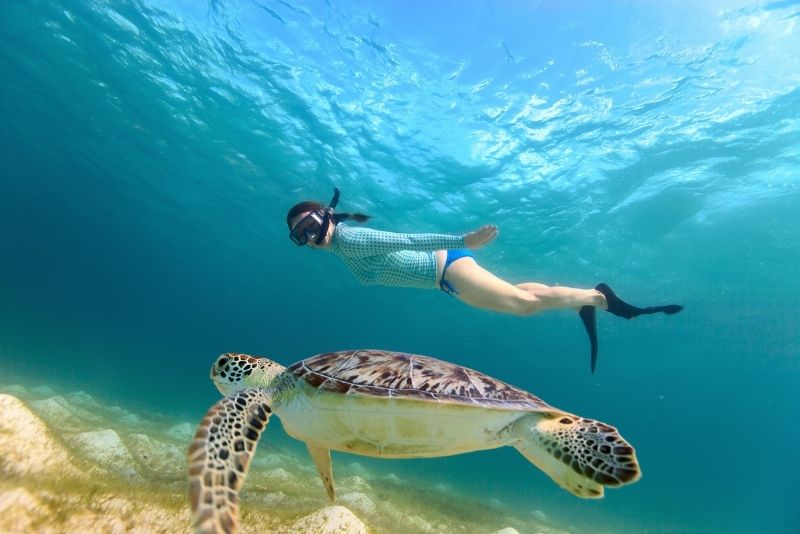 Glide along weightlessly as you swim through shoals of tropical fish at Smith's Reef. This stunning site off central Providenciales is one of the most easily accessible beach snorkeling locations on the island.
Hunt for slipper lobsters and moray eels in coral crevices, and watch barracudas slink by on their hunt for lunch. Come at night to spot squid and sea snails.
2 – Cruise into the Caribbean sunset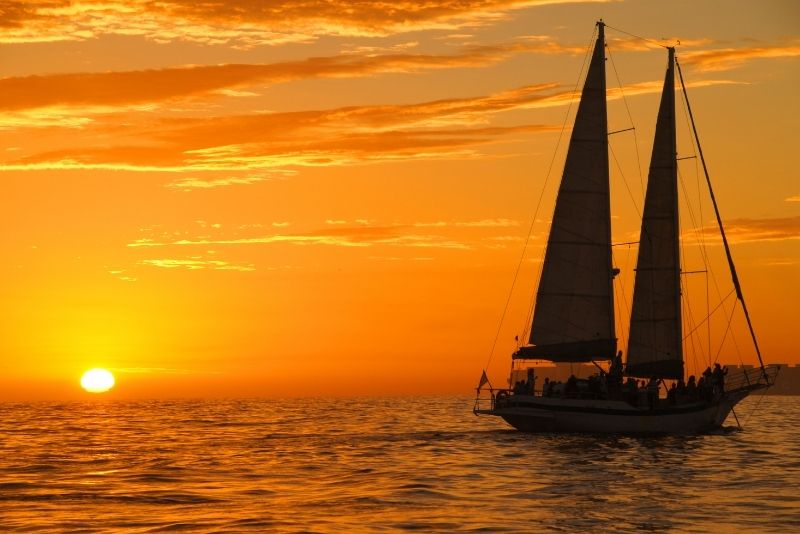 Head into the deep blue by catamaran in search of some sunset magic. You'll cruise along the exotic shores and drop anchor for a spot of snorkeling.
As the last light of day penetrates the water, keep an eye out for octopus and angelfish darting about the coral. Relax back on board with rum punch and watch the sun flood the ocean with color.
3 – Chill out at Taylor Bay Beach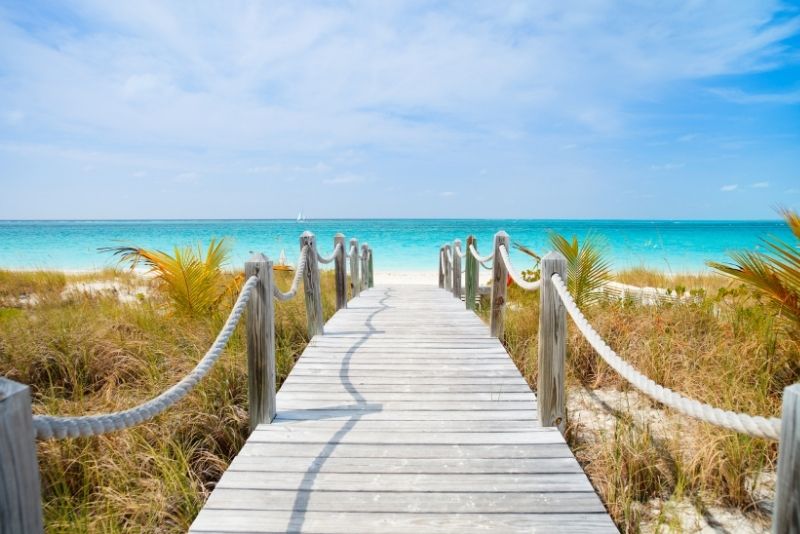 Small but perfectly formed, Taylor Bay Beach is rarely crowded. This sheltered cove off the southern coast of Providenciales is a favorite with families thanks to its calm, shallow water.
Take a dip in the ocean, tuck into a picnic, and build castles in the sand. Or feel the sun's warm embrace as you snooze away the afternoon in the tropical heat.
4 – Furl the sails on an ocean voyage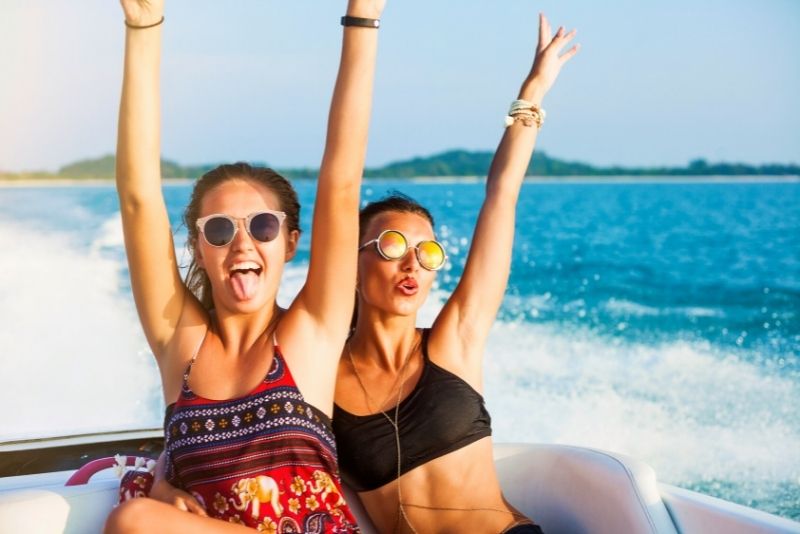 Set sail on a swanky catamaran and tune into life on the ocean wave. Cocktails on deck will have you in the Caribbean mood in no time, as the tropical shoreline glides by.
Keep your eyes peeled for dolphins playing in the spray. Then jump overboard to explore the underwater kingdom in a secret snorkeling sanctuary, far from the crowds.
5 – Fish for your lunch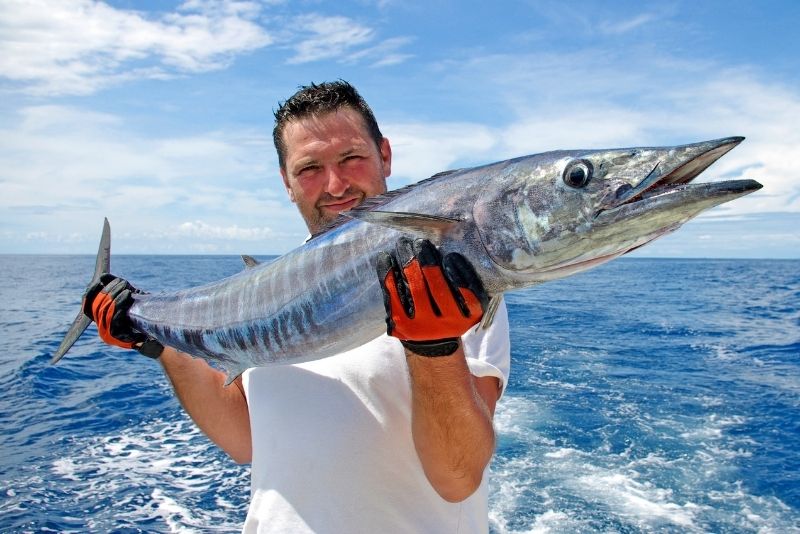 Spend a sublime day out fishing the turquoise waters of the Turks and Caicos Islands, and see what you can reel in. Compete with your deck mates — it's top marks for anyone who lands a prized red snapper.
The boat crew will rustle up a tasty feast with your catch as the centerpiece. A delicious end to a day out on the water.
6 – Fly high on a parasailing adventure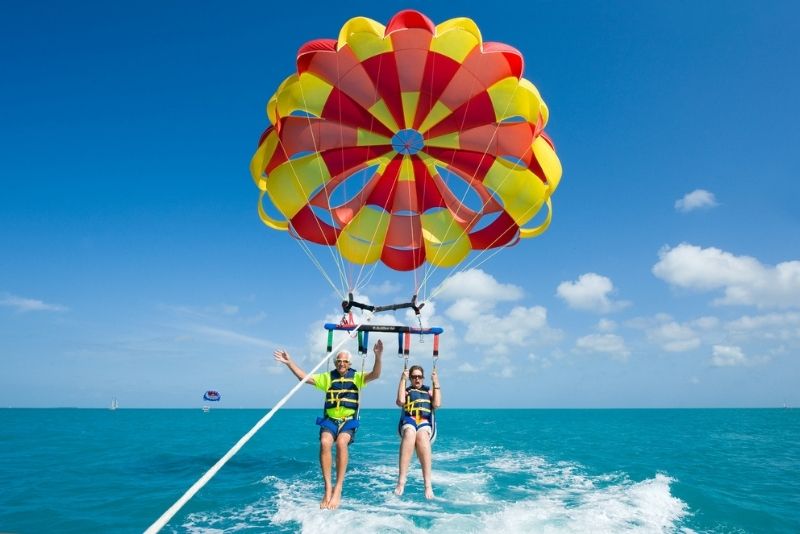 Want a bird's-eye view of one of the best beaches in the world? Then take to the skies on an epic parasailing excursion and see the islands from a rather unique perspective!
Hold tight as you're launched into the air, then scream in delight as you sail over the shimmering turquoise water. The views are breathtaking and the adrenaline is real.
7 – Explore Chalk Sound National Park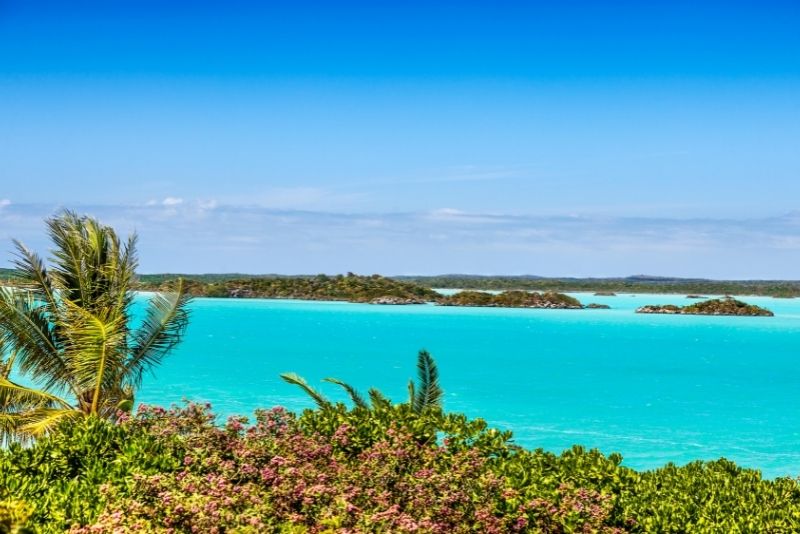 Visiting Chalk Sound National Park is one of the best things to do in Turks and Caicos. Hidden away in southwest Providenciales, the lagoon is a glimmering aquamarine color, with rocky islands punctuating the calm waters.
Iguanas bask on sun-baked shores while stingrays and lemon sharks swim lazily in the shallow sea. Get up close on a kayaking tour for total nature immersion.
8 – Paddle stealthily through mangroves by kayak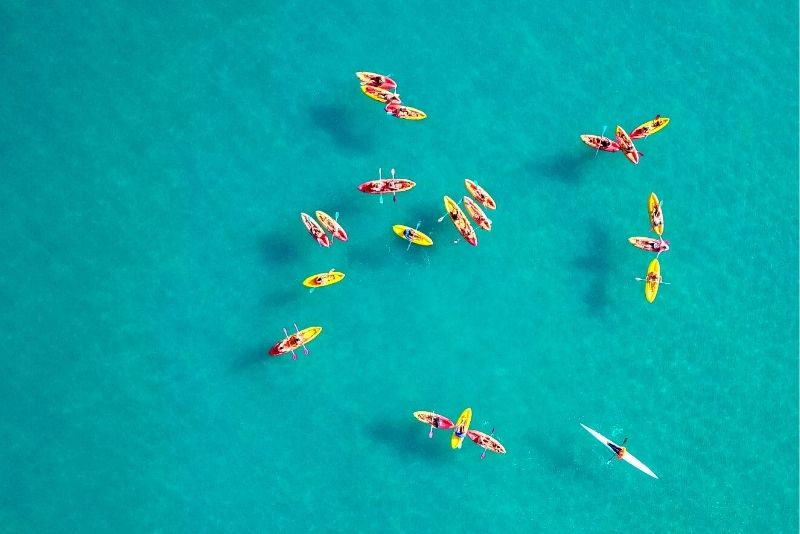 Put on your explorer's hat and get ready for a real eco-adventure in the tropics. Kayaking through the crystal-clear waters of Turks and Caicos is the stuff of dreams, with no experience required!
You'll be exploring mysterious mangrove estuaries and meeting the marine creatures who call this home. See if you can spot jellyfish, turtles, and baby sharks beneath your boat.
9 – Daydream at Grace Bay Beach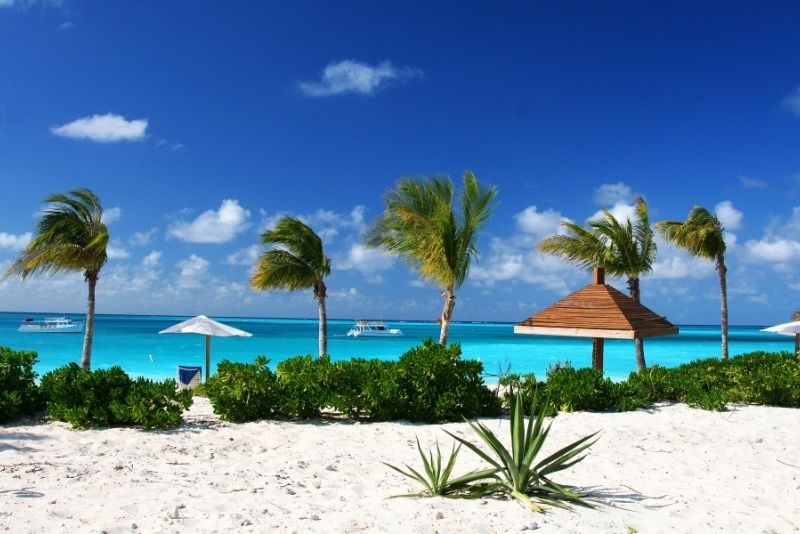 This world-famous slice of pristine sand is what the Caribbean is all about. Sweeping across the northeastern coast of Providenciales, Grace Bay Beach is the icon of Turks and Caicos.
The water is calm, and the sand is soft, with no seaweed or rocks to hamper your fun. Stroll along the beach, enjoy the water sports, and relax in upscale resorts.
10 – Stroll through Cockburn Town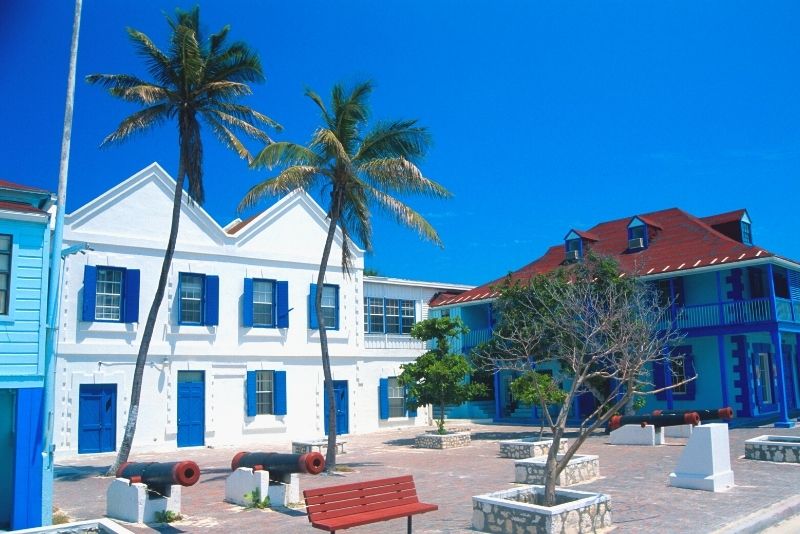 Standing proud on the western coast of Grand Turk, Cockburn Town is the archipelago's capital. It oozes charm, with a laid-back beachfront and plenty of colonial architecture along Duke Street to keep the camera busy.
Check out the National Museum, tour the pirate exhibits in the restored prison, and swing by St. Mary's Church for photographs. Then head to the beach for some chill time.
11 – Visit St. Mary's Anglican Church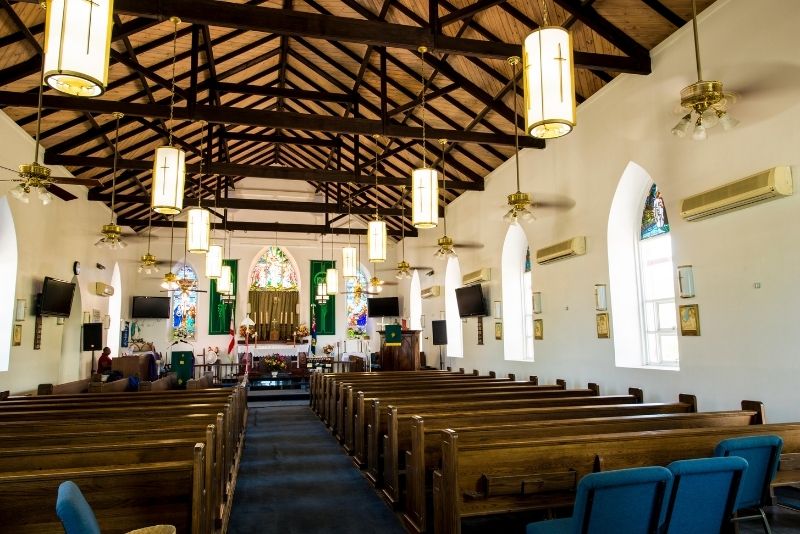 Turks and Caicos churches are striking with their whitewashed exteriors and colorful window shutters. These inviting buildings have been an important part of island society for centuries, and today remain a gathering point for local communities.
Located on Front Street in Cockburn Town, St. Mary's Anglican Church is one of the most photogenic. Admire the bold red façade of the island's very first pro-cathedral.
12 – Go stand up paddleboarding at Turtle Cove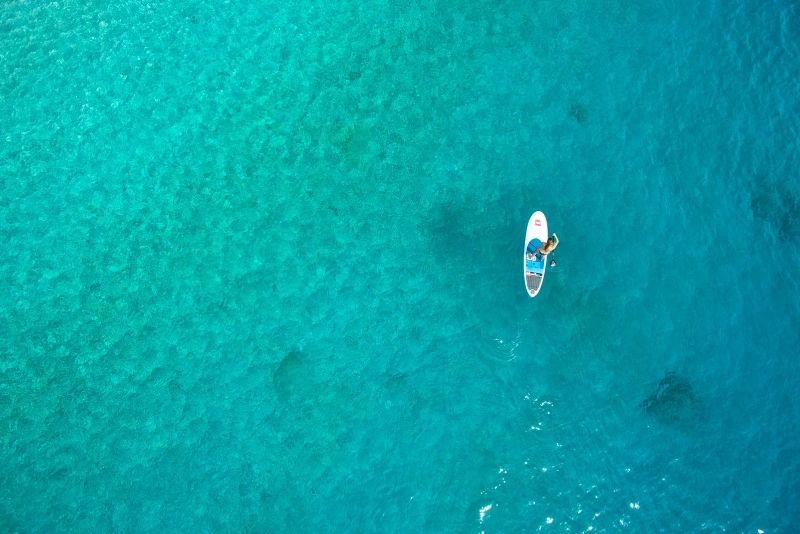 Dip your paddle into the emerald ocean and glide through the mangroves on a stand-up paddleboarding tour to Turtle Cove. This is fun for all abilities, giving you the chance to discover wildlife in its natural habitat.
Your companions on the excursion may include baby sea turtles, majestic rays, and even juvenile sharks. Don't worry, they're all very friendly!
13 – Discover the Turks and Caicos National Museum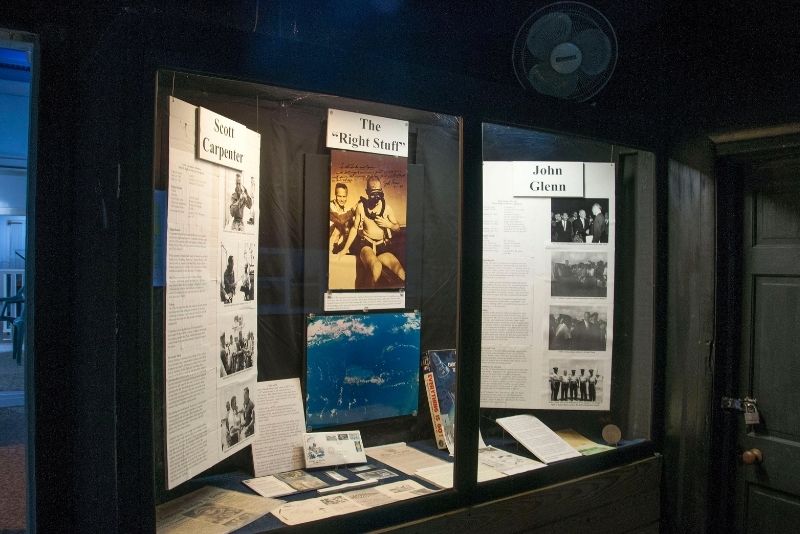 Tucked away in the quaint old district in Cockburn Town, the Turks and Caicos National Museum is a must-visit for history buffs.
Go on a journey through time as you uncover the rise and fall of the salt trade and explore a traditional Caicos Heritage House. Don't miss the Fresnel Lens from the old lighthouse and a gun rescued from a shipwreck.
14 – See the Sapodilla Bay Hill rock carvings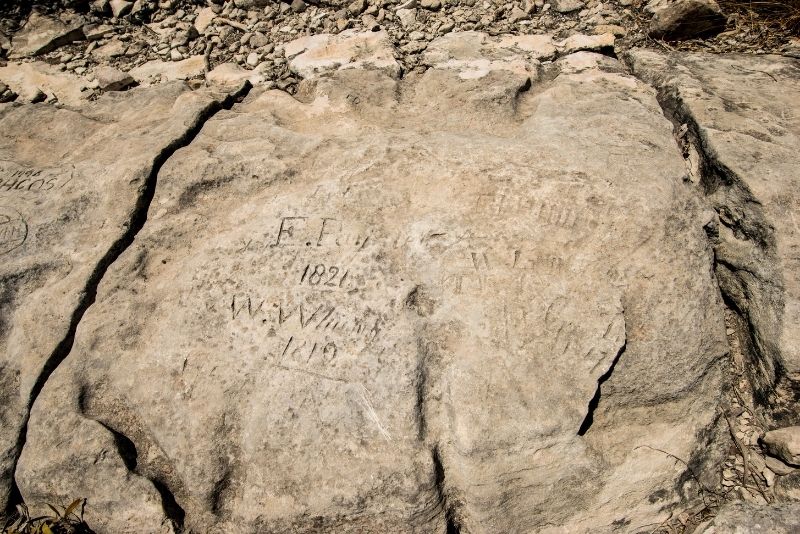 If you hike up Sapodilla Hill in Providenciales you'll discover several ancient inscriptions carved into the rock. These unusual markings depict ships and even individual people, giving an intriguing insight into island life back in the day.
Molds are being made of the carvings, and you can see them for yourself in the departure lounge at the Providenciales International Airport.
15 – Tour Grand Turk by tram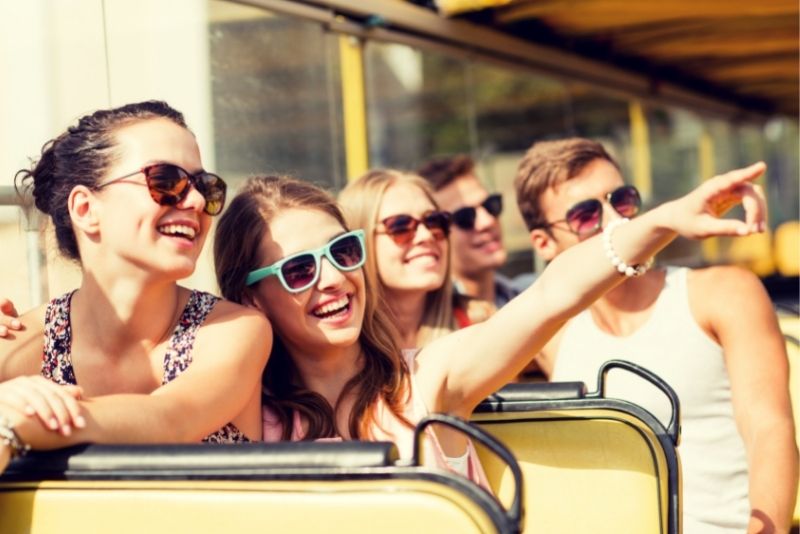 Seeing the historical landmarks of Grand Turk is fun but experiencing them by tram is even better. This is one of the top things to do in Turks and Caicos, especially if you want to sink your teeth deeper into the island's heritage.
You'll be visiting museums, the Grand Turk Lighthouse, and the salt ponds, before finishing in Cockburn Town for souvenir shopping.
16 – Visit Her Majesty's Prison Museum
It's not often you visit a prison on vacation, but this is a must for history enthusiasts. Her Majesty's Prison in Cockburn Town is now a museum, offering a glimpse into the colonial past of Grand Turk.
Built in the 1830s and operating until 1994, this was the only prison on the islands. Learn about escape attempts and prison life on a self-guided tour.
17 – Tour the islands by buggy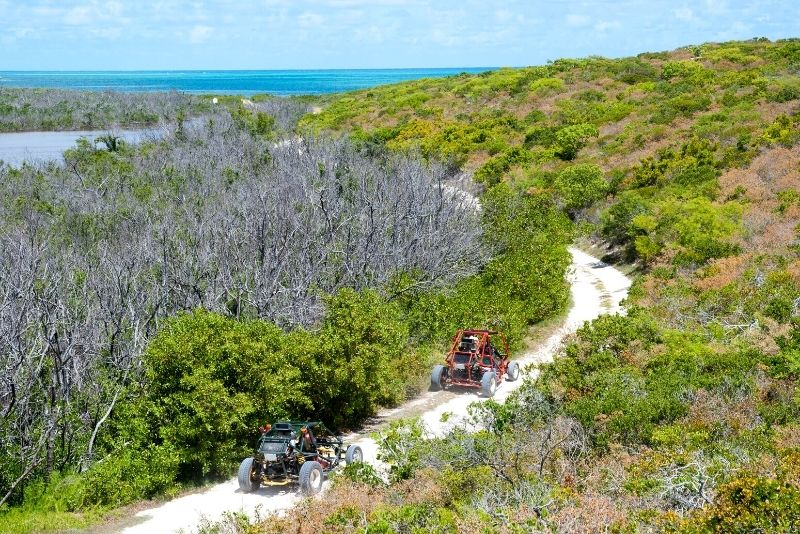 Do something different and ride around Providenciales on a buggy tour. This is a unique opportunity to see the island from a new angle and venture well off the beaten tourist trail to the hidden corners of Turks and Caicos.
You'll be visiting plantations, beaches and museums, as well as tucking into tasty local food in your quest to discover what makes the island tick.
18 – See iguanas on Little Water Cay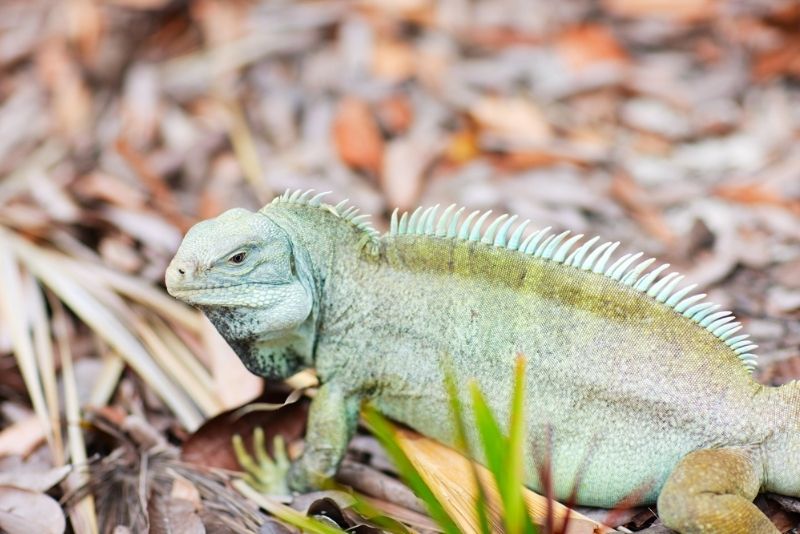 The Little Water Cay nature reserve is famed for its rock iguanas, which bask on the rocks, soaking up the sun. Known locally as Iguana Island, this marine sanctuary has a series of boardwalks so you can get close to these prehistoric creatures.
Up the adventure by kayaking across to the island from Providenciales and exploring remote inlets where the wilder iguanas live.
19 – Explore the Cheshire Hall Plantation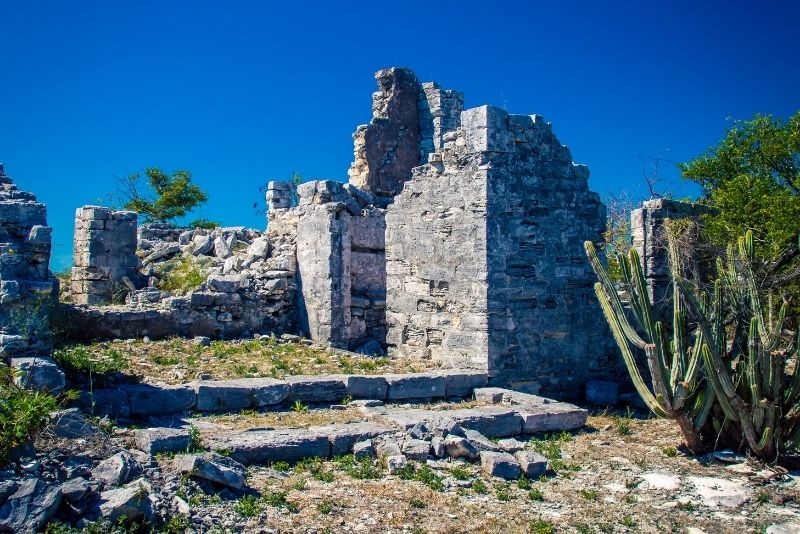 The Cheshire Hall Plantation may be in ruins, but it still has most of its buildings, which sets it apart from other such sites. You can see the great house, slave quarters and cotton press bases as you stroll around the grounds.
Fields of cacti and rusty old canons add to the atmosphere, with endemic plants and birdlife bringing the place to life.
20 – Splash in the shallows at Governor's Beach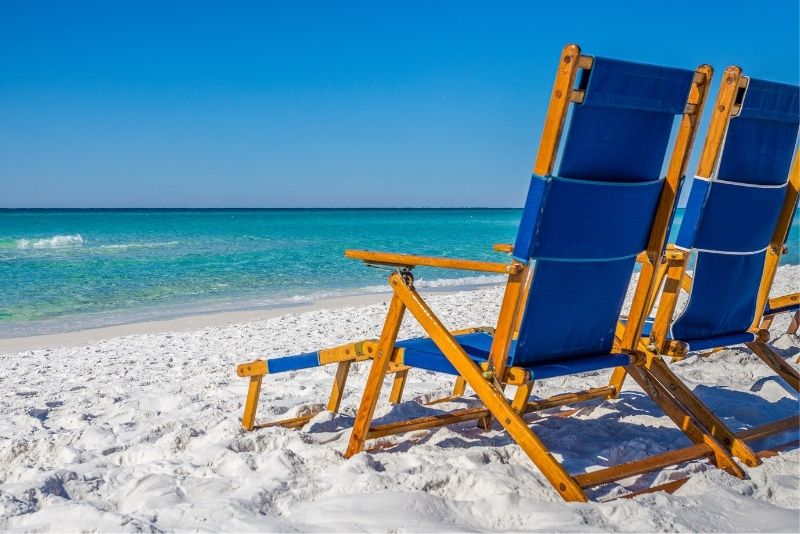 Governor's Beach is the jewel in Grand Turk's crown, with sparkling seas capturing the imaginations of photographers. Not far from Cockburn Town, the beach is the best on the island.
Relax beneath a shady casuarina tree and feel the soft sand between your toes. The clear water beckons you in for a swim, while tiny reef fish forage on the seabed.
21 – Encounter sea life on Bight Reef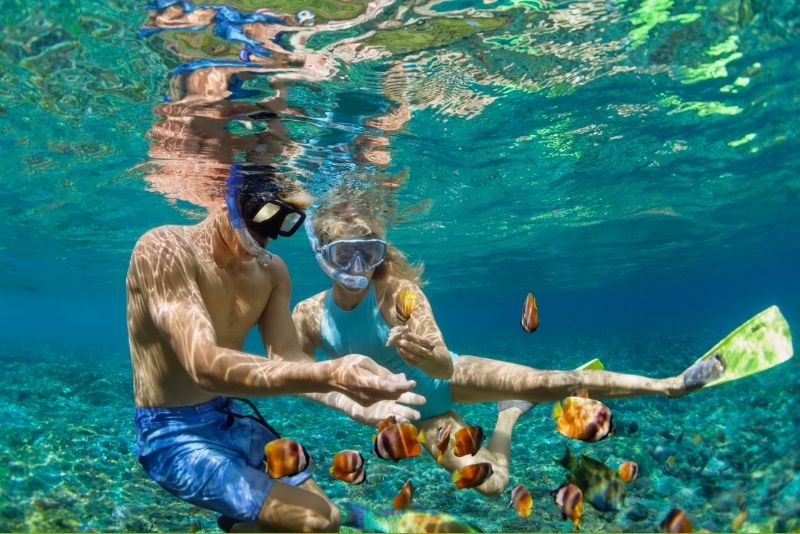 Want to snorkel over vibrant coral reefs in the company of colorful fish? Then get yourself down to Bight Reef on Providenciales and dive into these warm Caribbean waters.
You don't need a boat to reach the reef, just walk straight in from the shore. The coral gardens are teeming with life, and there's usually at least one turtle to hang out with.
22 – Dive down deep at Grand Turk Wall
Scuba diving in Turks and Caicos is a real treat, with some of the best barrier reef and wall sites in the tropics. Sink into this magical underwater kingdom and explore canyons, arches, and swim-throughs on your epic dive.
The marine life at Grand Turk Wall is incredibly diverse, with everything from corals and sponges to trumpetfish and nurse sharks to encounter.
23 – Encounter stingrays at Gibbs Cay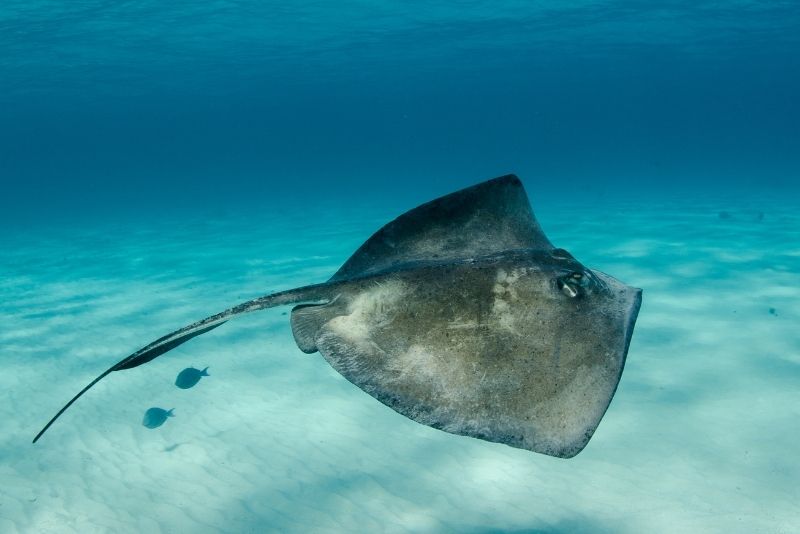 Lying a mile offshore from Grand Turk, Gibbs Cay is one of the best places in the Caribbean to see wild stingrays. Swimming with these graceful creatures is one of the most memorable things to do in Turks and Caicos.
The rays often congregate in vast numbers and being used to humans they are very friendly. You can even feed them if you like!
24 – Find the best swimming spots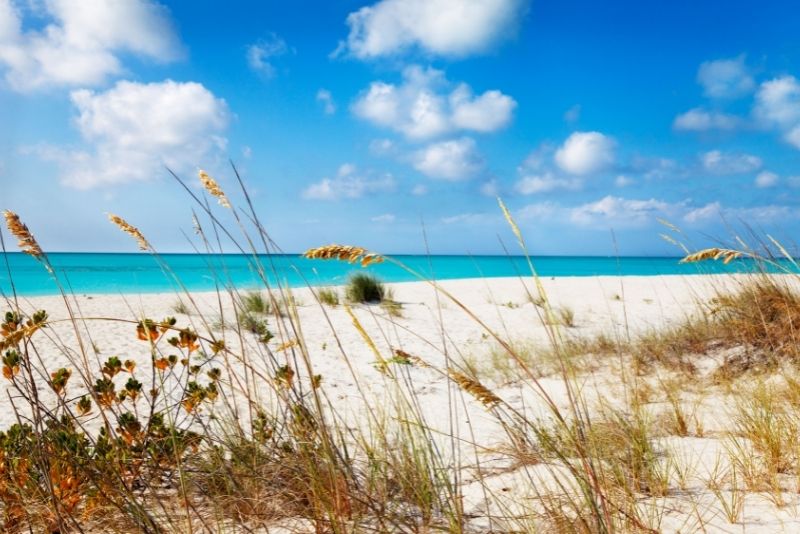 Swimming in Turks and Caicos will be a huge part of your vacation, but some spots are better than others.
Leeward Beach on Providenciales is a corker, with superb swimming conditions and perfect white sand. It's quieter than other bays so you'll be in for a peaceful day. If you're on Grand Turk, head to Pillory Beach for the shallow water and sheltered coastline.
25 – Cruise the Caribbean by catamaran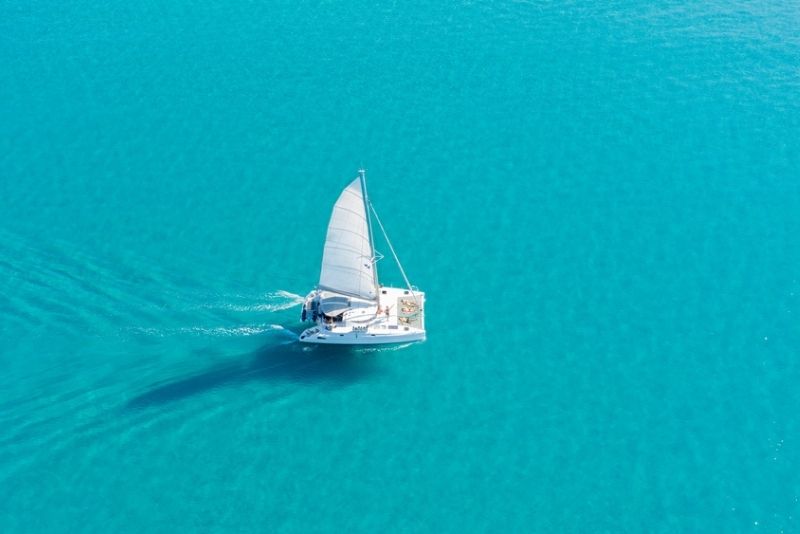 Climb aboard a luxury catamaran for a relaxing day out at sea. Sit back and relax as you're whisked away along the tropical coastline, refreshing drink in hand to keep you cool.
Anchor in turquoise bays and jump overboard for some of the best snorkeling ever. As angelfish and turtles glide by you'll have to pinch yourself to remember that this isn't a dream.
26 – Unwind at Grand Turk Cruise Center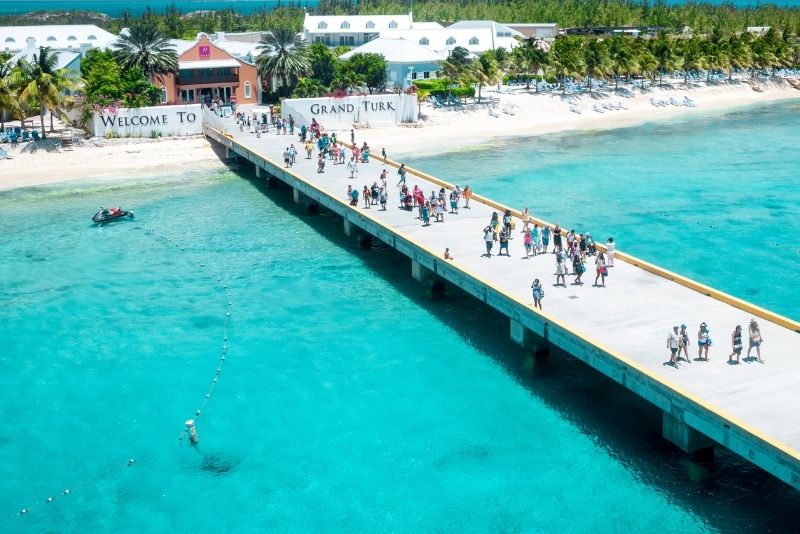 The Grand Turk Cruise Center is a one-stop shop for visitors spending a day ashore. You can snorkel with tropical fish in the ocean or take a dip in the enormous pool.
Test your balance on the FlowRider surf attraction or enjoy a plate of conch fritters at the bar. Then bag a lounger on SunRay Beach for sunbathing and a massage. Bliss!
27 – Discover a shipwreck by jet ski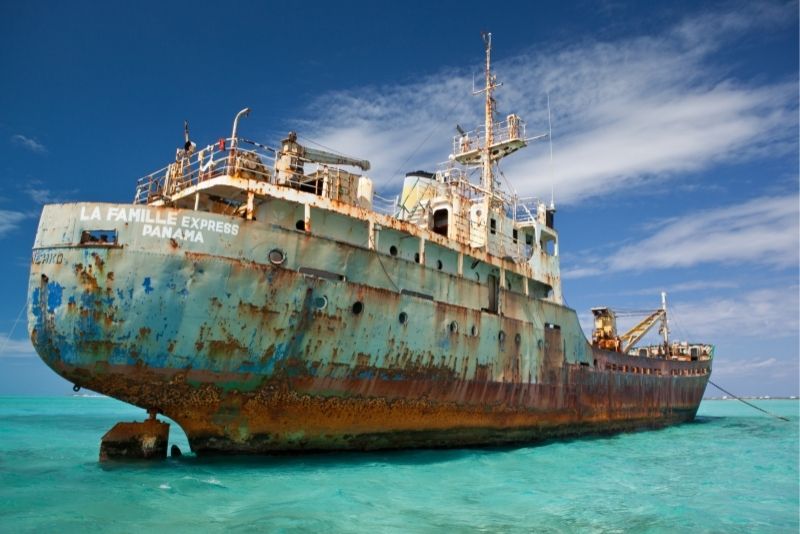 Hang on tight as you skim across the waves by jet ski towards an iconic shipwreck. Originally from the Soviet Union, the mighty "La Famille Express" grounded off Providenciales near Long Bay Beach during a hurricane.
Admire the imposing hulk, then jump in for a snorkel in the shadow of the ship, which has become an artificial reef teeming with marine life.
28 – Follow in the footsteps of pirates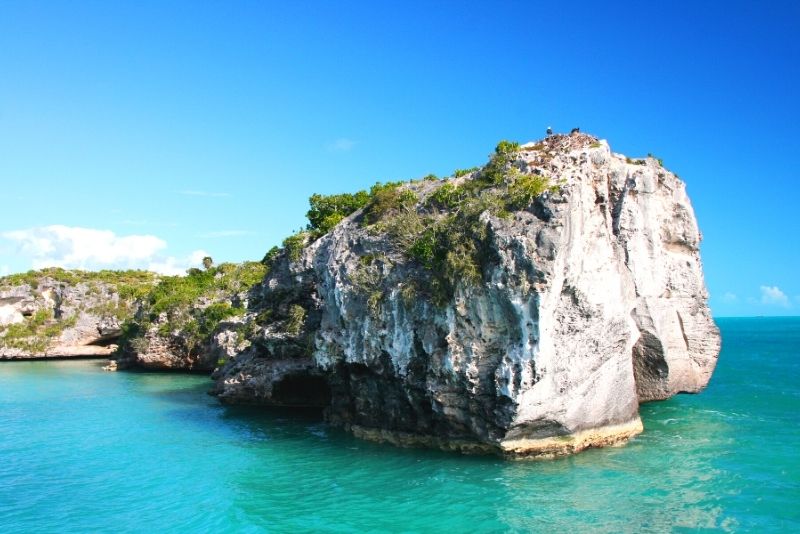 Cruise along the Providenciales coast in search of secret pirate hideouts. Hidden away in the dramatic rocky outcrop, Pirate's Cove was the perfect place for swashbuckling rogues to hole up for a while.
You can explore the cave that made such a legendary lair, then dive into the ocean for some sublime snorkeling. See if you can find a bit of buried treasure!
29 – Explore Princess Alexandra National Park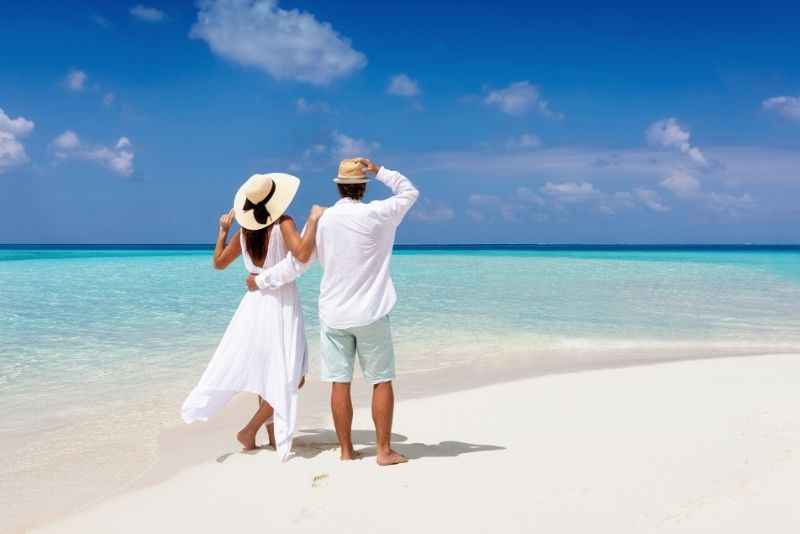 The Princess Alexandra National Park is one of the most beautiful parts of Providenciales, encompassing Grace Bay, and the Leeward and Bight Beaches.
Come here to be dazzled by pristine coral reefs, lush tidal wetlands and beaches that will make you the envy of your friends. Go kayaking to iguana islands or scuba dive alongside sea turtles — the choice is yours.
30 – Practice your swing at the Provo Golf Club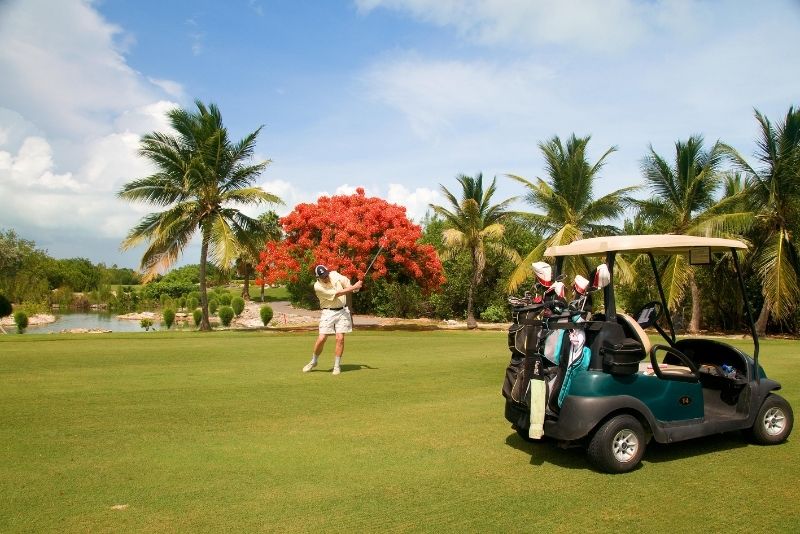 Playing a round at Provo Golf Club is one of the top things to do in Turks and Caicos for sports lovers. Handily situated in the Grace Bay area, this 18-hole course beautifully blends in with the natural landscape.
As you work your way across the greens, keep an eye out for herons, egrets, and even flamingos fishing in the waterways.
31 – Ride horses on the beach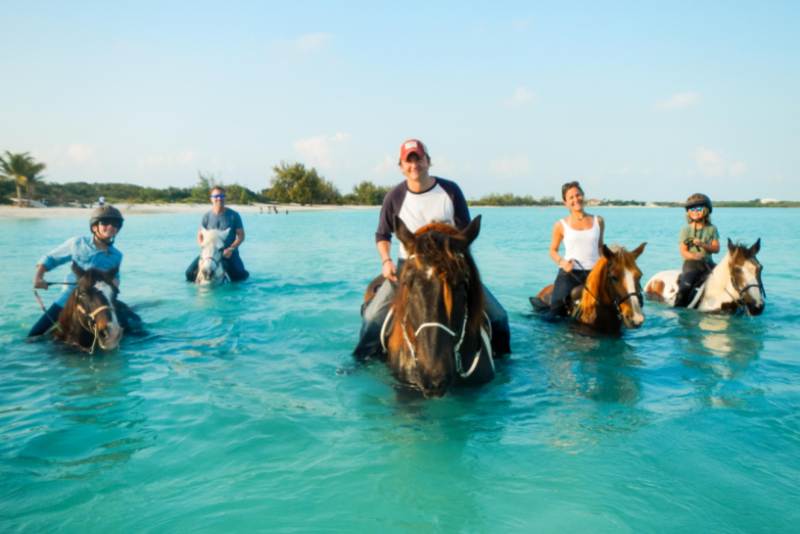 Feel the gentle swell of the ocean on your legs as you splash through the shallows on a horseback tour. Forget about trail riding, this adventure is all about living out those beach dreams.
The horses are at home in the calm Caribbean waters, so sit back and soak up your surroundings. You might see turtles and stingrays gliding silently by.
32 – Wander around Salt Cay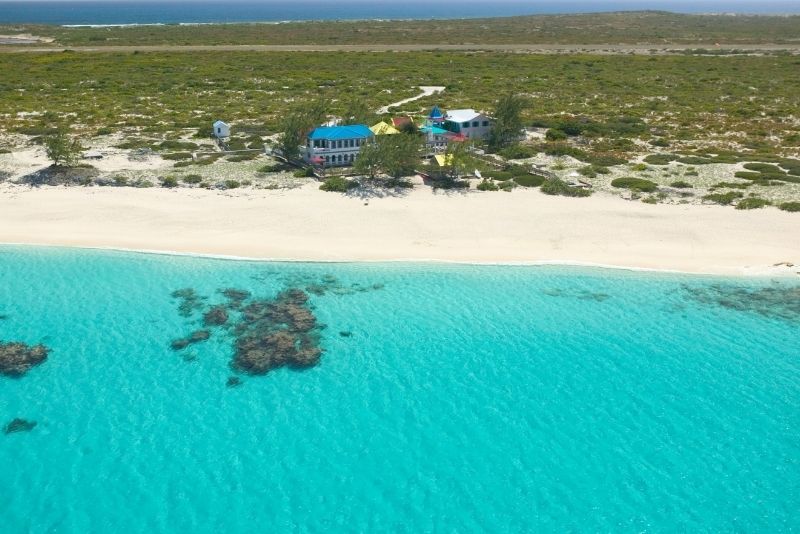 Small but still packing a punch, the tiny islet of Salt Cay entices adventurers away from the mainland bustle. Once famed for its thriving salt industry, today the cay is a peaceful island retreat.
Visit the photogenic pools at Salt Salinas and stroll through the colonial-inspired streets of Balfour Town. Then dip your toes in the ocean and watch for whales from the rugged cliffs.
33 – Be a winner at the Casablanca Casino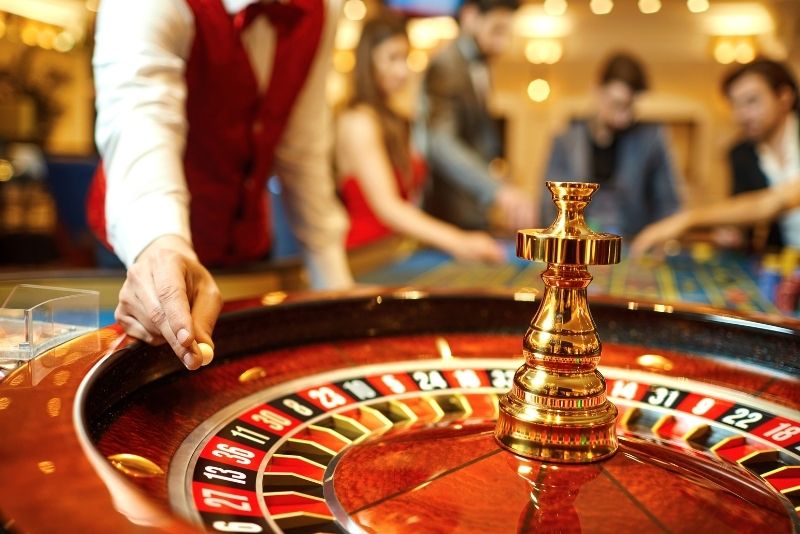 For an epic night out in Grace Bay, visit the Casablanca Casino and try your luck at the tables. Will you be a whizz at American Roulette or is Poker more your thing?
Enjoy complimentary cocktails as you take on the slot machines and learn to play Texas Hold'em like a pro. Whether you win or lose, you'll have bags of fun.
34 – Escape the crowds on North Caicos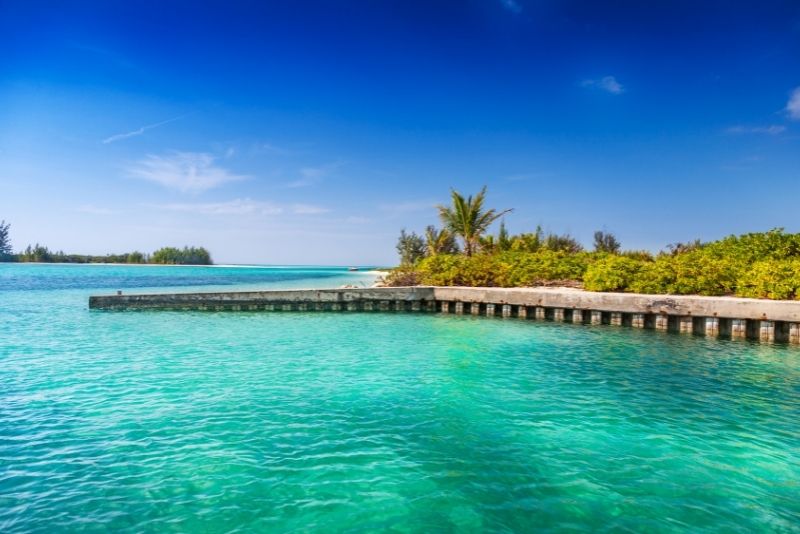 North Caicos might be the second-largest island in the archipelago but it's a world away from the busy resort scene. Here, you can stroll along long, empty beaches, explore atmospheric plantation ruins, and hike through the lush green interior.
There are secret sea inlets and hidden lagoons to discover, with superb snorkeling over coral reefs. Flamingos are the icing on the cake!
35 – See geology in action at The Hole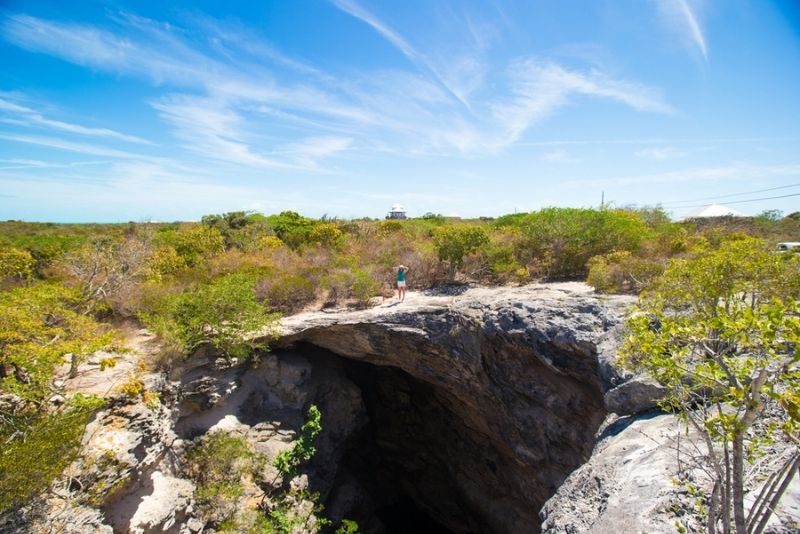 There are lots of naturally formed limestone sinkholes in Turks and Caicos, but this is one of the most spectacular in Providenciales. The Hole lives up to its name, with sheer rocky cliffs surrounding a deep emerald pool.
You can just make out a small cave on the southern side of the hole, with tunnels leading into the mysterious subterranean world.
36 – Explore Three Mary Cays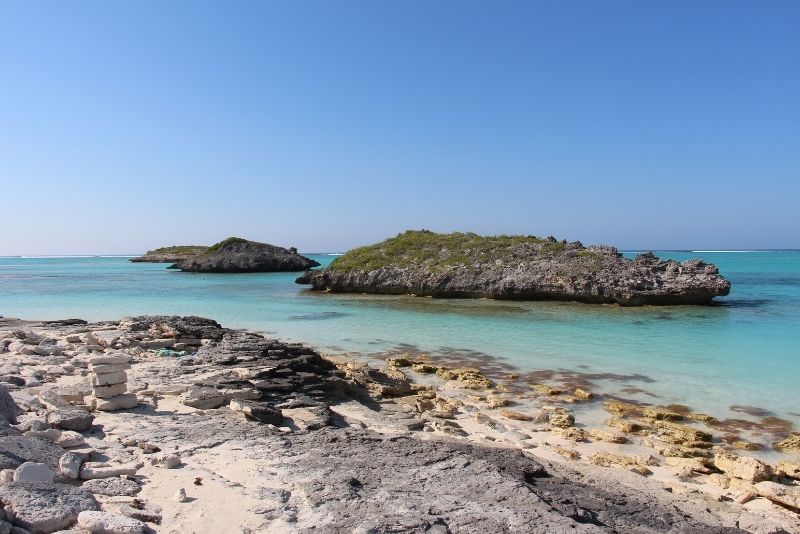 Swap sand for rock as you scramble around the limestone islets just off the North Caicos coast. The uninhabited sanctuary of Three Mary Cays offers nature immersion far from the crowds.
Jump in for a swim in the warm waters and dry off with a picnic back on the shore. Then watch birds flitting about wetland ponds, or hunt for sea urchins in the rock pools.
37 – Have a go at kiteboarding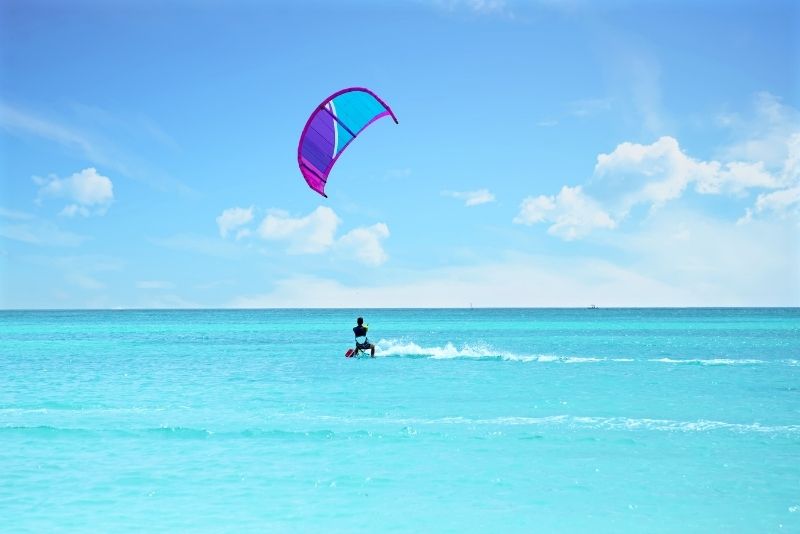 Get your heart pumping with a kiteboarding session in the tropical Caribbean waters. Adrenaline junkies agree this is one of the top things to do in Turks and Caicos, and beginners are welcome to try it too.
After a safety briefing, it's time to get in the water and start practicing those moves. Before long you'll be skimming the surface like a pro.
38 – Hang out at the Island Fish Fry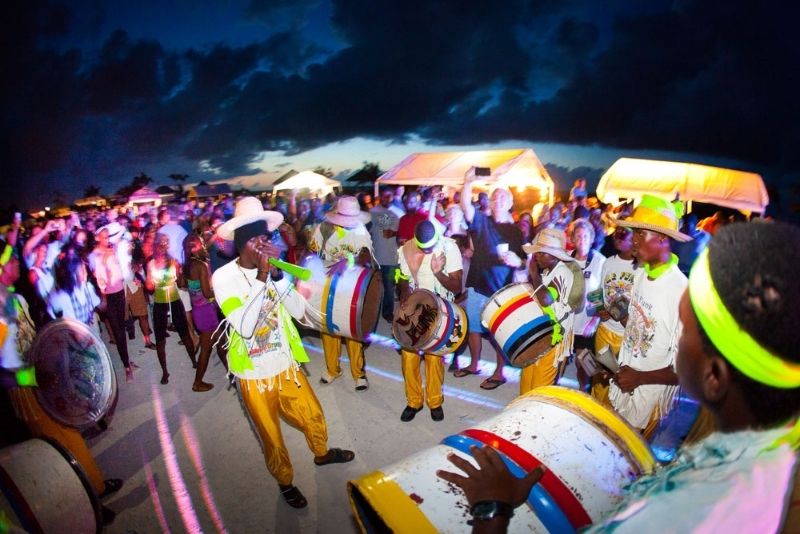 Follow your nose to the Kids Park on Providenciales and be rewarded with sizzling snapper and lip-smacking lobster. The Thursday Fish Fry entices visitors and locals to try tantalizing new seafood dishes.
Over a dozen restaurants take part, and there's live music and cultural performances to enjoy as you feast on the beach. Stay for the traditional masquerade procession at the end.
39 – Go whale and dolphin watching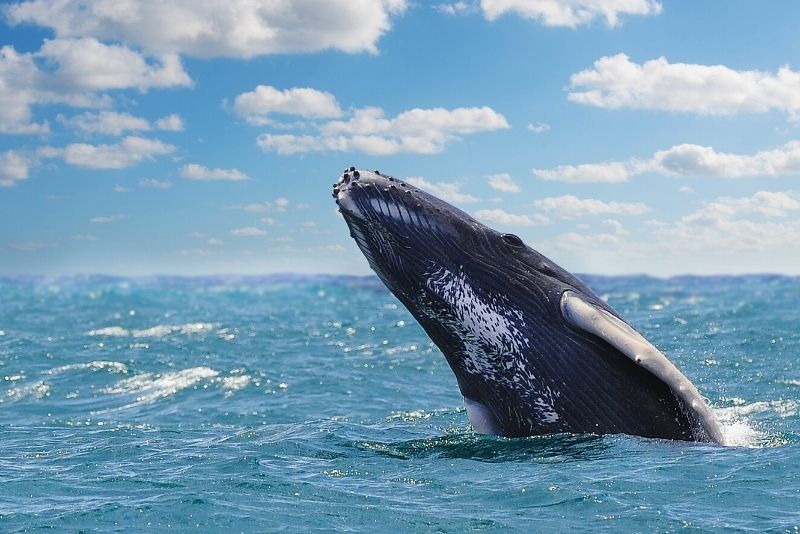 Head out to sea on a whale watching tour and see majestic humpbacks in action as they migrate to the Dominican Republic. Come between December and February for the best sightings.
Keep your eyes peeled for Jojo – a wild bottlenose dolphin who voluntarily interacts with people. He is often spotted swimming off Grace Bay Beach so you have a good chance of meeting him.
40 – Head underground to the Conch Bar Caves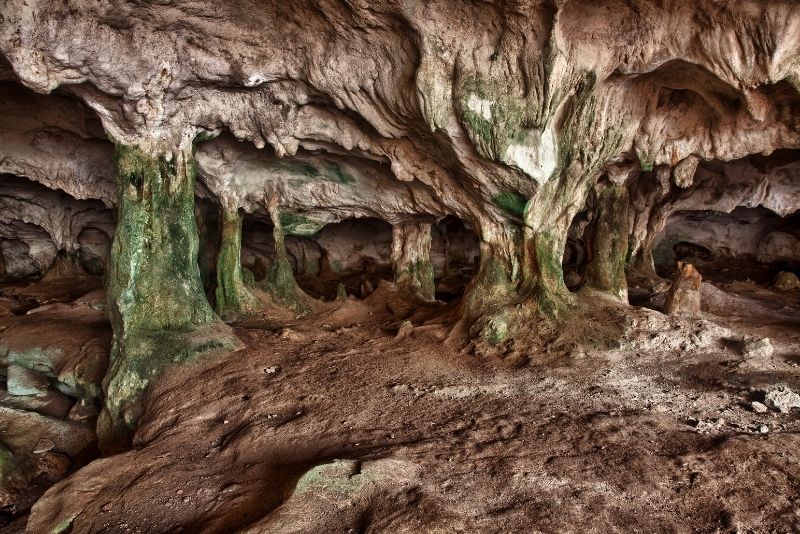 Venture underground into the mystical realm of the Conch Bar Caves on Middle Caicos. These dramatic caverns with their towering rock columns and natural skylights are like something right out of the movies.
Watch your head on the stalactites and take a moment to wonder what lurks beneath the tidal pools. Say hello to the bat colony that calls this home.
41 – Become a coastal explorer at Mudjin Harbour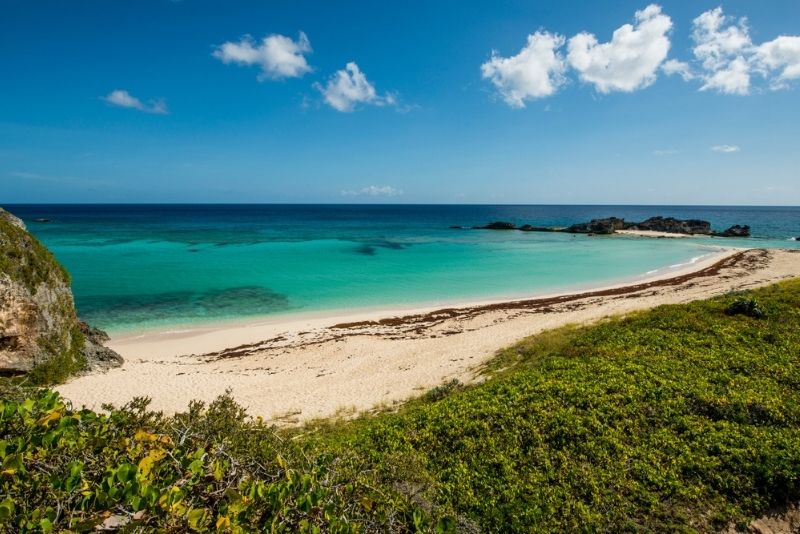 Mudjin Harbour is one of the best-loved stretches of coastline in Middle Caicos. Take a walk on the long beach and admire the dramatic cliffs that loom above.
You'll stumble across hidden coves and spot colorful sea urchins sheltering on the shoreline. Make sure you explore the two sea caves and keep watch for grey reef sharks swimming in the shallows.
42 – Visit Wade's Green Plantation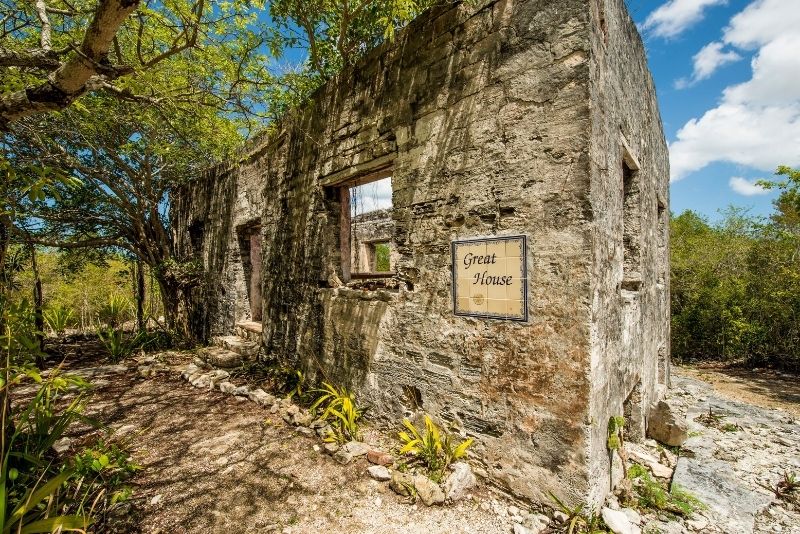 The remains of Wade's Green Plantation are the best-preserved ruins in the Turks and Caicos Islands. This cotton plantation was one of the most successful in North Caicos, until the decline of the industry in the 1820s.
You can explore the abandoned buildings and follow overgrown paths to long-lost corners of this historical site. Don't be surprised if you encounter a few ghosts!
43 – Harness the wind at Long Bay Beach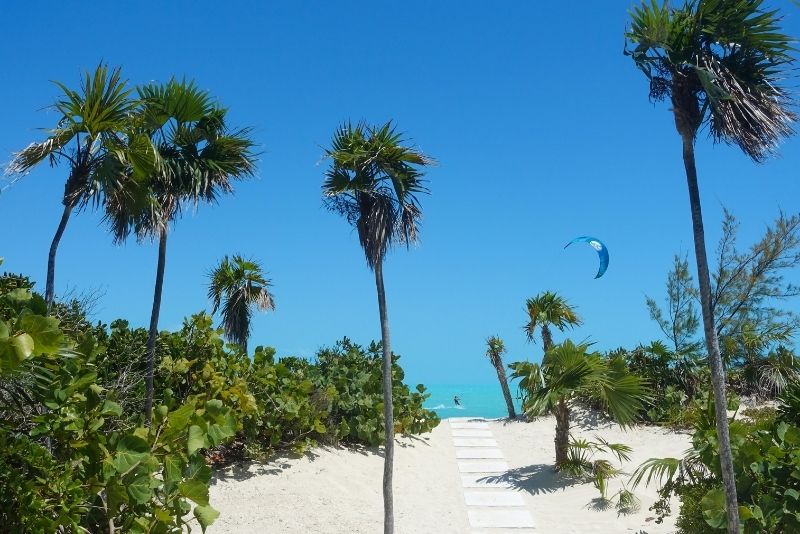 Providenciales isn't short of beaches, but this one deserves a special place on your to-do list. Long Bay Beach is a kite surfer's dream, where the shallow blue water is exposed to the trade winds making for some great waves.
Walk down to the southwestern end of the beach for calmer waters where kayaking and paddleboarding are both on the cards.
44 – Venture into Indian Cave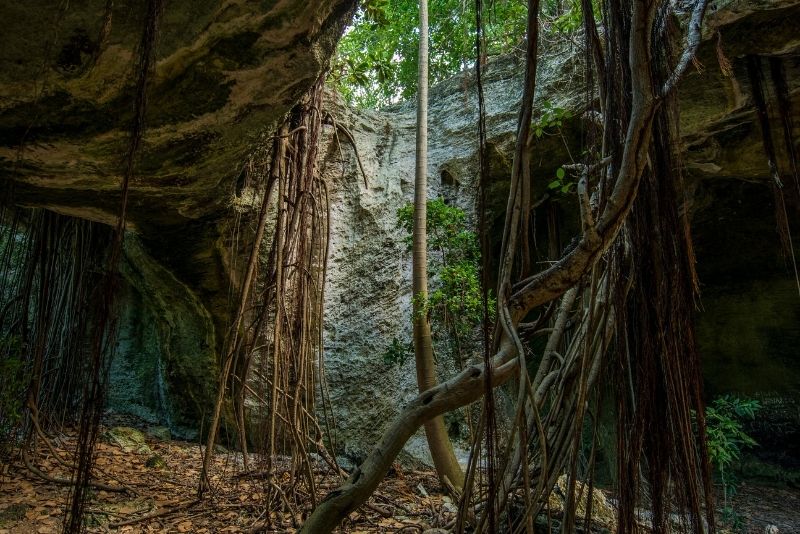 One of the more surreal things to do in Turks and Caicos is to visit Indian Cave in Middle Caicos. This large cavern has an ethereal feel, with natural rock skylights letting rays of sun penetrate the gloom.
The cave was created by water erosion, leaving behind strange shapes beloved by photographers. Look out for the giant blue land crabs that scuttle across the floor.
45 – Enjoy a beach day at Half Moon Bay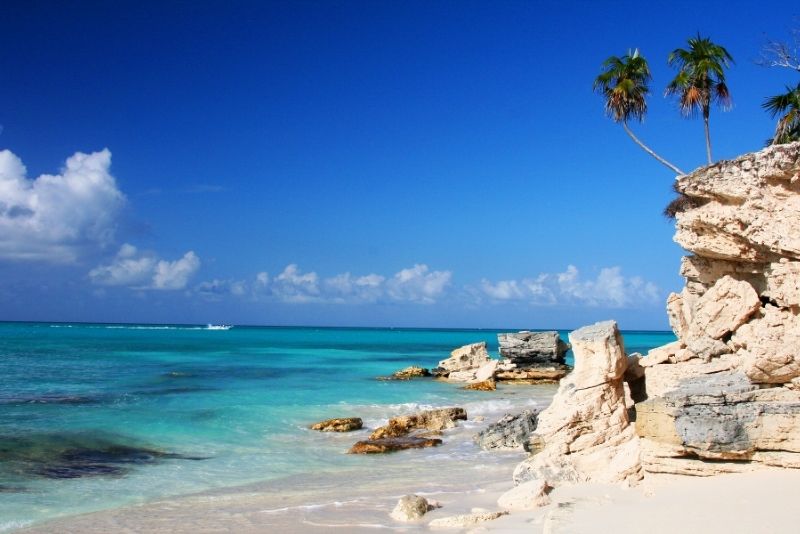 Miniature palm groves and curious iguanas are waiting to welcome you to Half Moon Bay. This is an idyllic place to spend half a day, sunbathing on the pristine beach and swimming in the sheltered lagoon.
For the ultimate thrill, you can kayak here from Providenciales. Remember to pack a picnic to make the most of your time at the beach.
46 – Go birdwatching at Flamingo Pond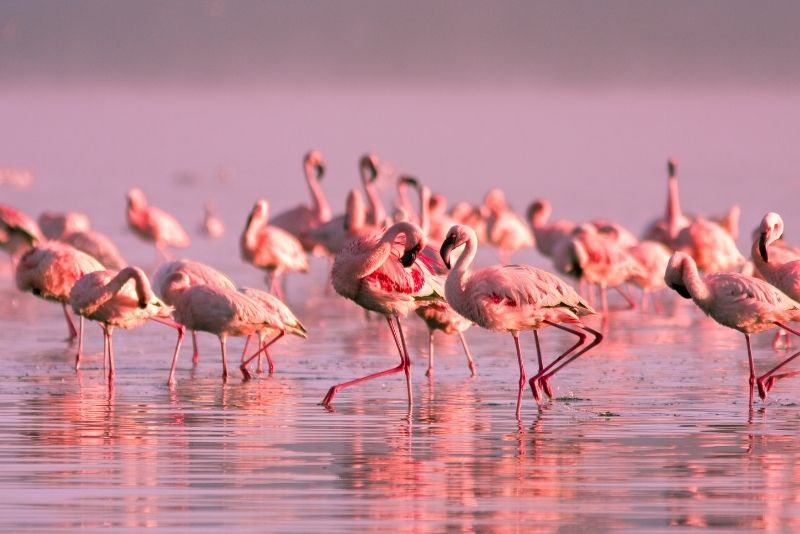 See West Indian flamingos strutting around in their natural habitat at this North Caicos tidal pool. Surrounded by thick mangrove forests, the Flamingo Pond Overlook is free to enter, although you can pay to hire a pair of binoculars.
At certain times of year, these striking pink birds flock here in their thousands, which is quite a sight if you get your timing right!
47 – Explore Bird Rock Point Trail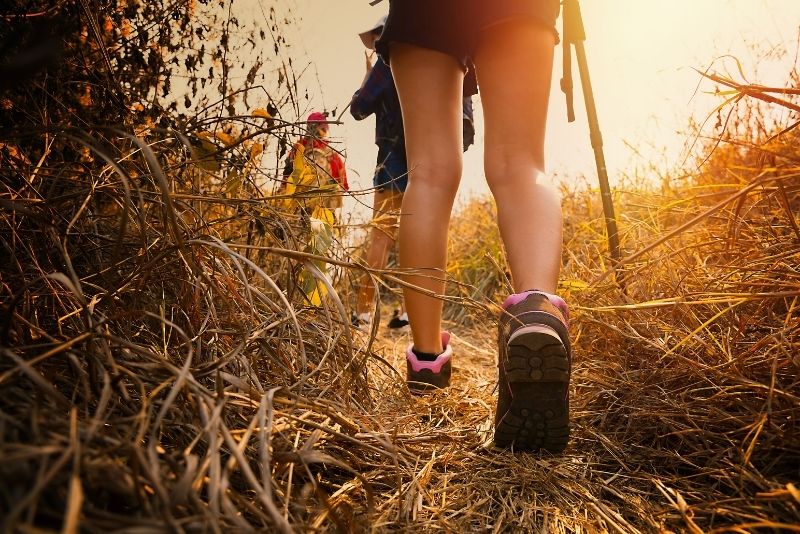 Lace up your boots and head off into the wilderness in search of adventure on the Bird Rock Point Trail. This undulating path takes you through varied terrain, with scenic wetlands being a real highlight.
Intrepid explorers will discover unique saline-resistant plant life and a mini lighthouse on a tiny cay. Birdwatchers can tick green herons, Antillean nighthawks and bananaquits off their list.
48 – Tour the old Government House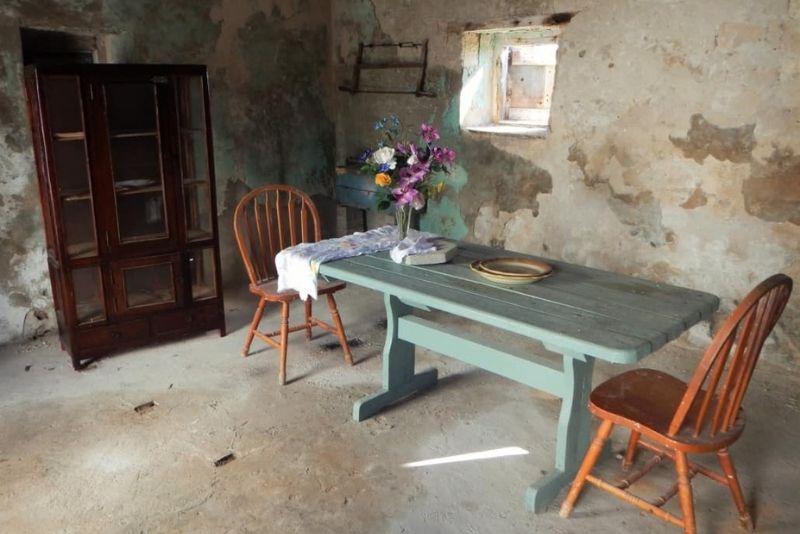 The restored Government House on Salt Quay is a must for history lovers. Built in 1795, this traditional building was the seat of the Government and a popular venue for garden tea parties.
The property features a Bermudian kitchen with a brick oven, and a gable-ended roof to protect from hurricanes. You can book a tour for an insight into life during the 1800s.
49 – Enjoy dinner with a view at Mudjin Bar and Grille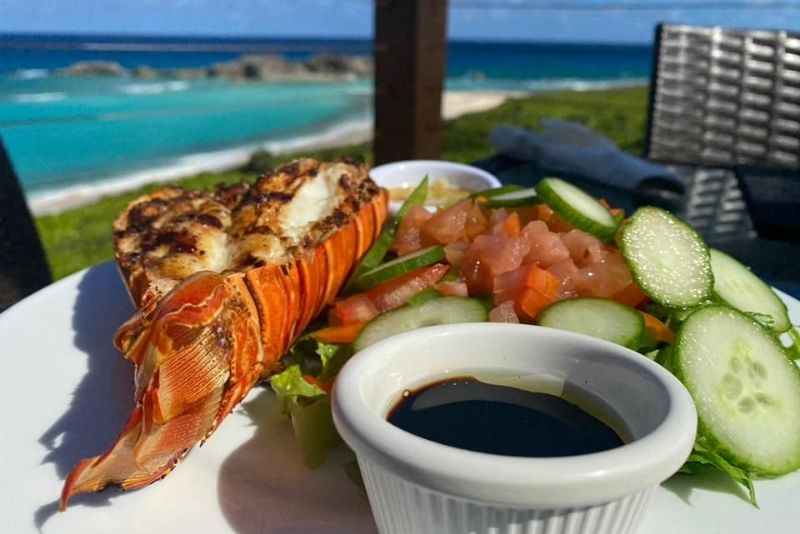 Soak up some of the best panoramas in Turks and Caicos as you munch on chili lobster and grilled snapper. The Mudjin Bar and Grille boasts an enviable location, overlooking the sweeping bay.
This is a great spot to relax after a hike along the Mudjun Bay sea cliffs. Or sip glasses of rum punch and watch the sunset.
50 – Hike along ancient trails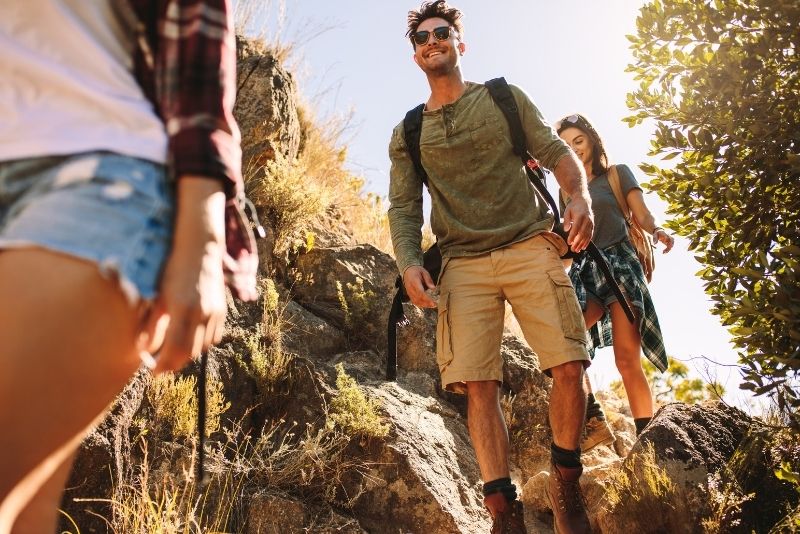 Middle Caicos is a hiker's paradise, with several paths crisscrossing the island. For a scenic coastal ramble, head to the Crossing Place Trail. This historical route once connected the island communities and offers views of Mudjin Harbour and Norbellis Cove.
For something different, check out Caicos Pine Yard Trail which meanders through tropical landscapes near the Conch Bar Caves. You'll probably have it to yourself!
51 – Marvel at nature on a Boiling Hole excursion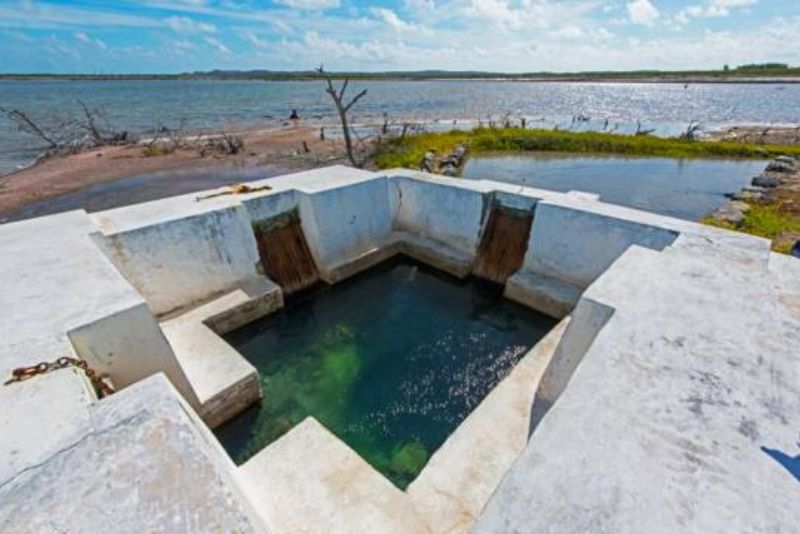 This intriguing subterranean cave connects the sea to the salt ponds on South Caicos. Early salt farmers fed the seawater into their channels to assist with salinization.
The Boiling Hole gets its name from the churning waters flowing through at high tide. Walking out to the sinkhole is one of the most iconic things to do in Turks and Caicos.
52 – Visit Salt Salinas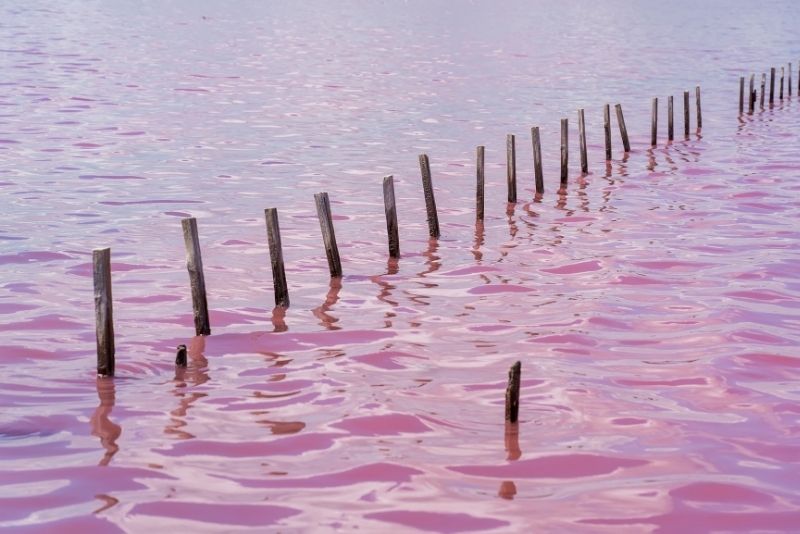 Walk back through time at the abandoned Salt Salinas on South Caicos. Salt was once a thriving industry here, but today the gates, walls, and ruined windmills give a haunting glimpse into the past.
You can wander past the patchwork of ponds and learn about the fascinating salt crystallization process using seawater channels. Take a walk on some of the pond walls for a better look.
53 – Swim at Bambarra Beach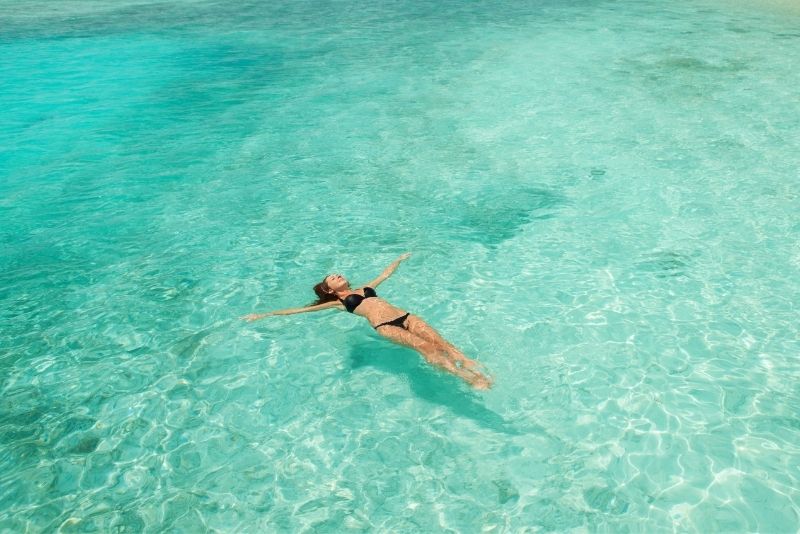 One of the delights of the beaches on Middle Caicos is that they're wide with shallow water for safe swimming. Bambarra Beach is no different, with clear, warm waters inviting you in.
Children love splashing in the sea, and there's plenty of shade beneath the casuarina trees that line the beach. In need of a refreshment? Just head to the tiki huts for sodas and snacks!
54 – Discover the mysterious Cottage Pond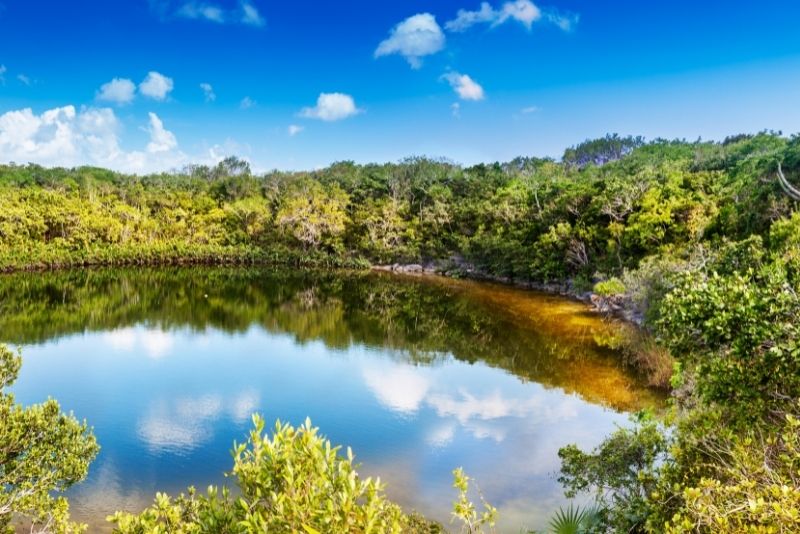 If you're heading off on a day trip around North Caicos, make sure you include Cottage Pond on your itinerary. This unusual sinkhole is naturally formed and leads to a series of underground caves and secret tunnels.
This is your chance to see one of these famous tropical blue holes, surrounded by scenic foliage. Endemic birdlife is a big draw, so pack your binoculars.
55 – Kayak on Bottle Creek Lagoon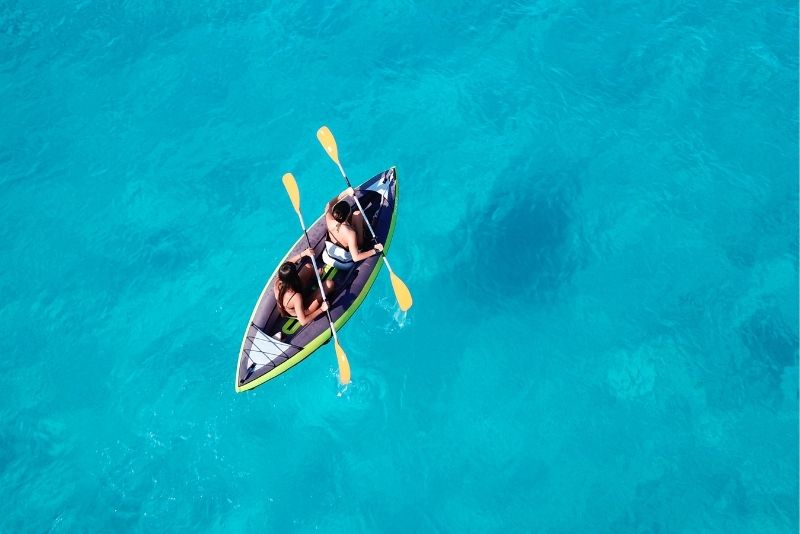 This low-lying lagoon near North Caicos is one of the most alluring places in the archipelago. You can take in the views from scenic overlooks along the road, but better still, get out on the water and explore first-hand.
Bottle Creek Lagoon is shallow, so kayaking and paddleboarding tours are the way forward. There's kiteboarding too for adrenaline-seekers to try.
56 – Explore the ruins of Haulover Plantation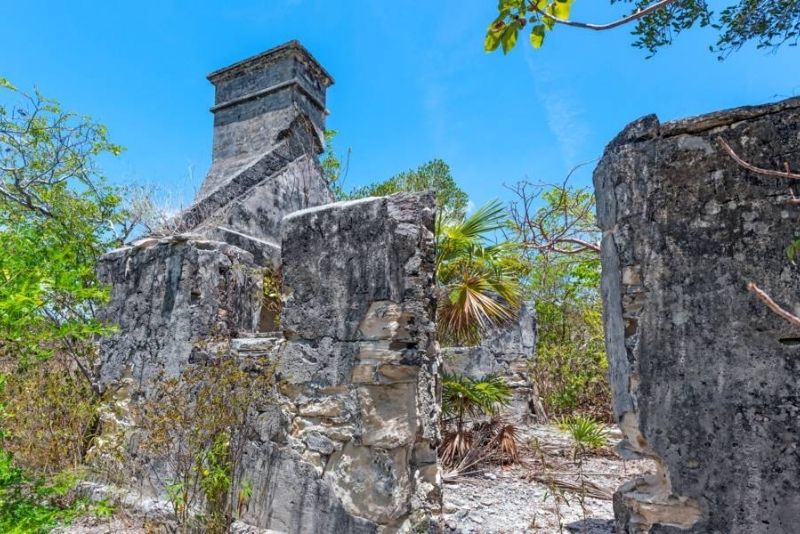 Wannabe archaeologists and Indiana Jones fans love visiting the remote and overgrown Haulover Plantation in Middle Caicos. It's well off the beaten tourist trail and is slowly being taken back by nature — which is part of the charm.
You can still see the remains of buildings, wells and walls at this former cotton plantation, so don't forget to charge up those camera batteries.
57 – Walk on sand bars at Horse Stable Beach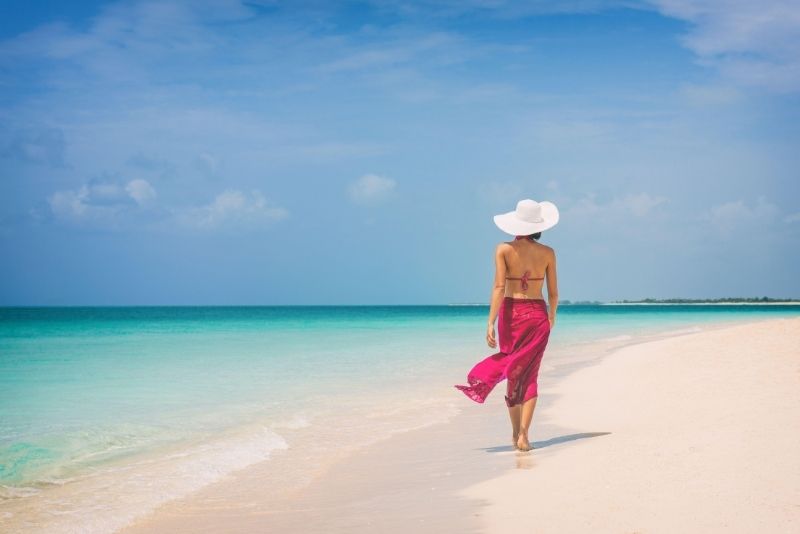 Leave footprints in the sand as you stroll down to the eastern end of Horse Stable Beach. It's one of the most stunning spots in North Caicos!
The rippling turquoise sea laps gently across the deserted sand bars where pelicans and ospreys dive and swoop. Enjoy a refreshing swim in the shallow waters — you might be joined by a friendly ray.
58 – Shop at Art Provo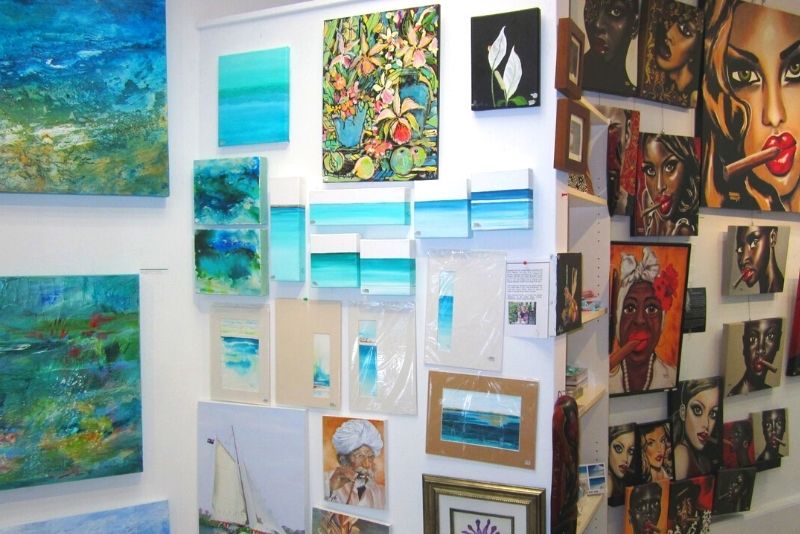 Visiting Art Provo in Grace Bay is one of the most eye-opening things to do in Turks and Caicos. This arts and crafts gallery is packed with vivid paintings of island life, as well as fine art photos, and handcrafted jewelry.
Looking for an unusual gift? The work here is all original so you know you won't find it anywhere else in the world.
59 – Browse photographic art at Brilliant Studios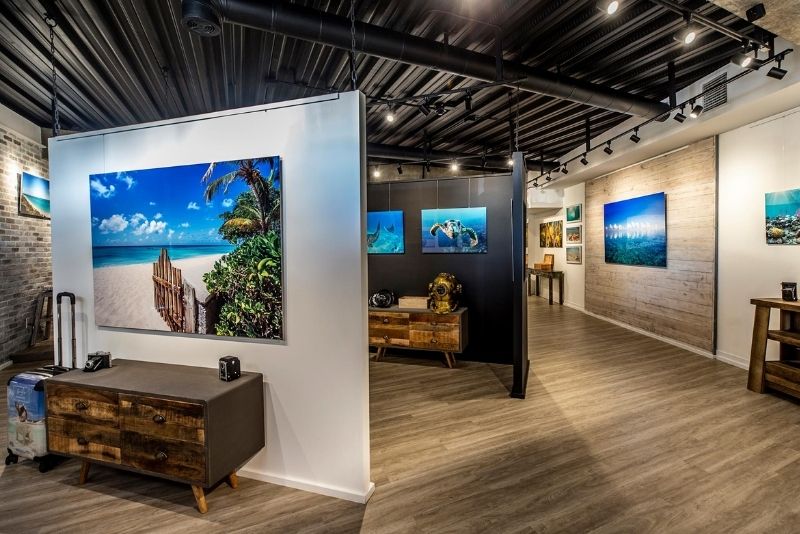 Budding creatives love visiting the Brilliant Studios in Salt Mills Plaza on Providenciales. This fine art gallery specializes in exclusive photographic prints using the island backdrop as a canvas.
The walls are adorned with artworks featuring sea turtles, coral reefs, and graceful rays. See which tickles your fancy and choose something to hang back home to remind you of your vacation.
60 – Eat out at Coco Bistro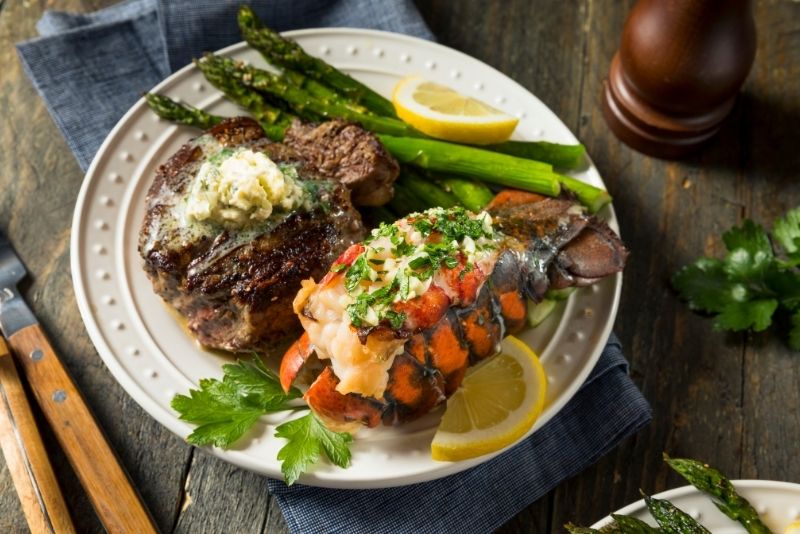 Nestled in a rustling palm grove at Grace Bay, Coco Bistro is one of the hottest postcodes on the island. It's one of the most romantic restaurants in Turks and Caicos, with flickering candles and a sultry vibe.
Dine beneath the Caribbean sky on fusion dishes with a tropical twist. Try the lobster bisque or the shrimp curry, accompanied by a bottle of bubbly.
61 – Feast on seafood at Da Conch Shack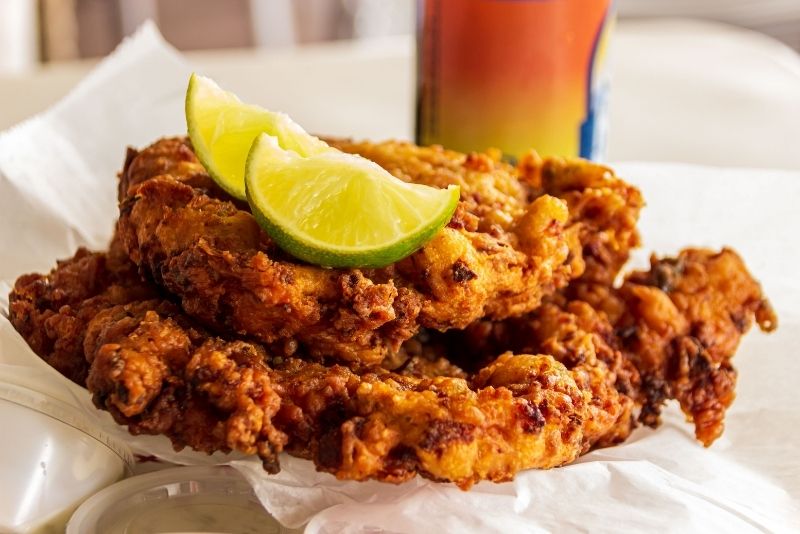 Da Conch Shack restaurant in Blue Hills on Providenciales is always buzzing. Come here to meet the locals and chow down on all things conch. Specialties include conch salads, conch fritters, and conch chowders, as well as other seafood dishes.
This is al fresco dining at its finest, with all the sand, coconut palms, and live music that you could wish for.
62 – Explore the marine world in Anna's Art Gallery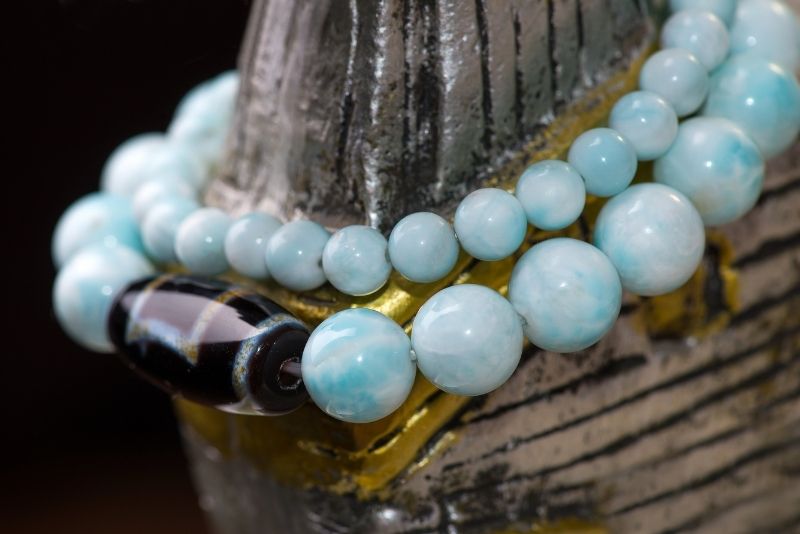 Head to the Saltmills on Providenciales and enter a world where art takes you on a journey around the Caribbean. Using the ocean and its inhabitants as inspiration, local artist Anna shares her love of Turks and Caicos through colorful creations.
Browse Anna's Art Gallery and choose from bold oils, decadent silks, and even glass work in this sea-themed treasure trove.
63 – Try lobster at the Bay Bistro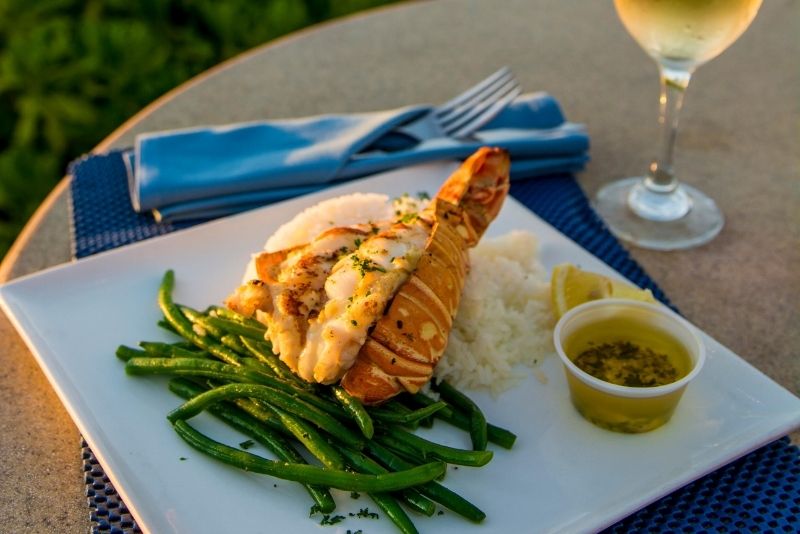 This popular beachfront eatery on Grace Bay is famed for its sunset dining and lazy brunches. Come for the fluffy pancakes and spicy shrimp tacos but stay for the view.
The Bay Bistro is one of the best-located restaurants in Providenciales, so booking for dinner is advised. Try the coffee-rubbed tuna and grilled lobster but leave room for some key lime pie.
64 – Buy a conch shell at Beachcombers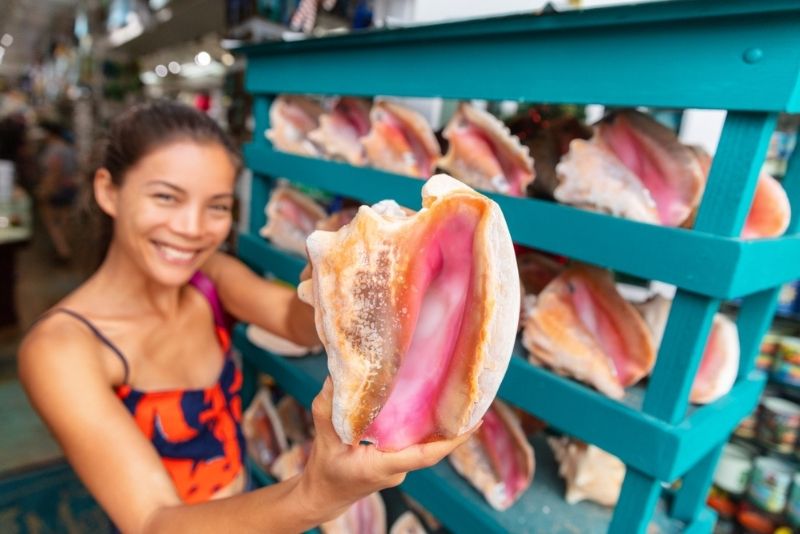 Find unique gifts from the sea at Beachcombers souvenir shop. Everything here is lovingly crafted using materials collected from the beach. So, if driftwood mirrors and shell lanterns float your boat, you'll love browsing this store.
Pick up a conch shell for your kitchen, or some sea glass earrings. This is the ultimate way to take home a little piece of the island!
65 – Dine by the sea at La Brisas Restaurant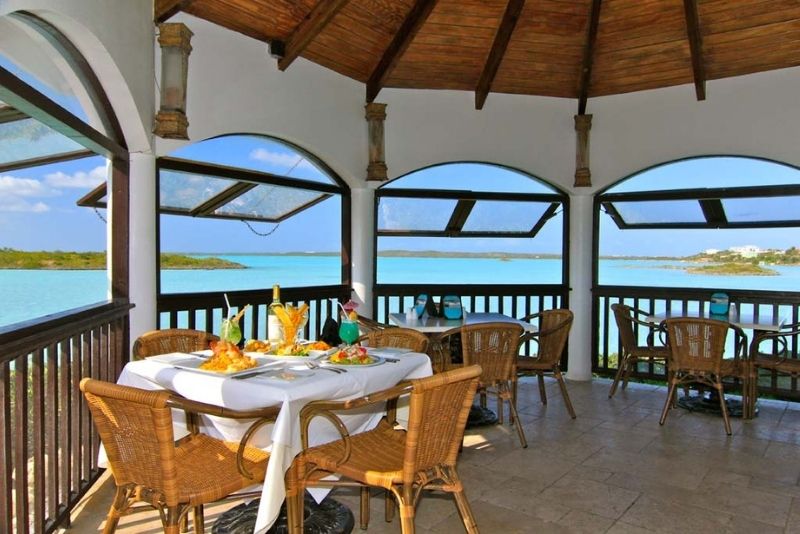 Located right on the water beside the beautiful Chalk Sound National Park, La Brisas Restaurant offers fine dining with a view.
The menu is all about fresh seafood, fiery tapas, and Caribbean fusion dishes, with wraps and tacos thrown in for good measure.
Feeling hot? Then take a dip in the restaurant's own pool while you're waiting for lunch.
66 – Taste beer at Turk's Head Brewery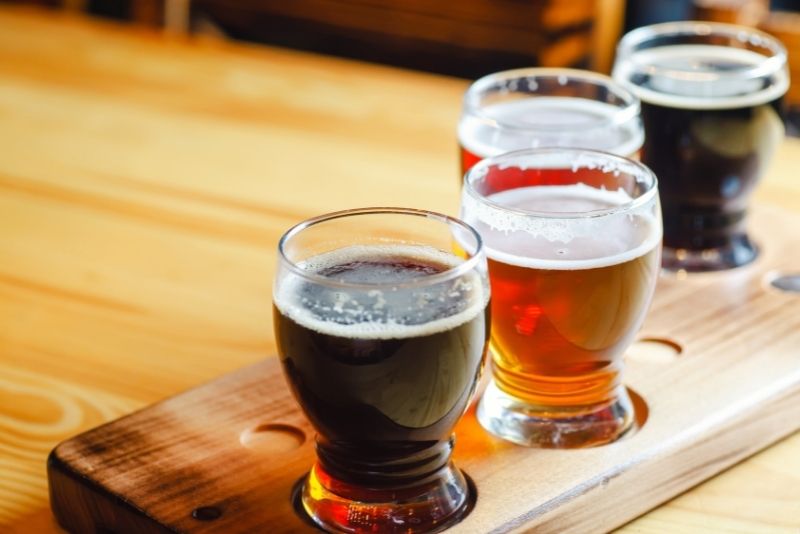 The Turk's Head Brewery offers one of the most unique tours on Providenciales. It's the only brewery on the islands, producing over 200 types of beer.
Take a tour of the taproom and discover how the local brew is made. Then pull up a pew at the bar and get stuck into some free samples. Will you be able to identify the flavors?
67 – Eat donuts at the Caicos Bakery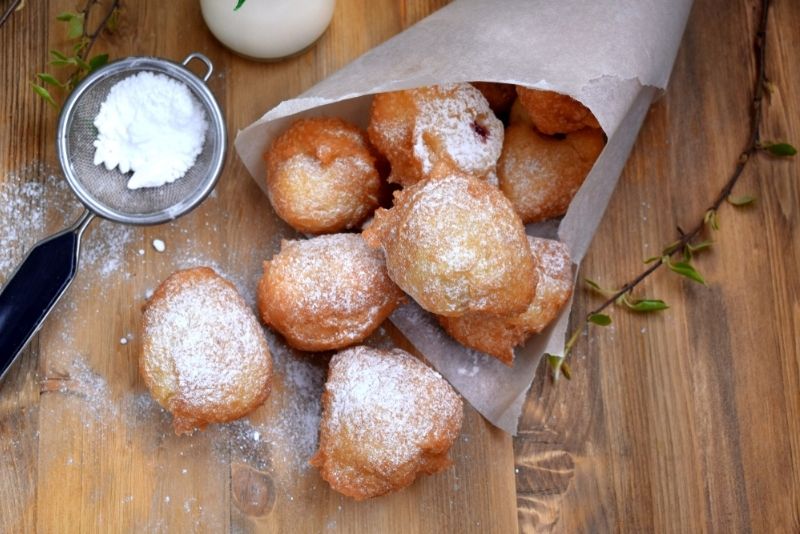 Let the sweet smell of sugar-dusted pastries and warm custard donuts tempt you from the street at the Caicos Bakery. Hidden away in the small Caicos Café Plaza on Providenciales, this French bakery makes everything fresh each morning.
Get stuck into buttery croissants, gourmet sandwiches, and slices of cheesy pizza, all washed down with a mug of locally brewed coffee.
68 – Buy gifts at Salt Cay Salt Works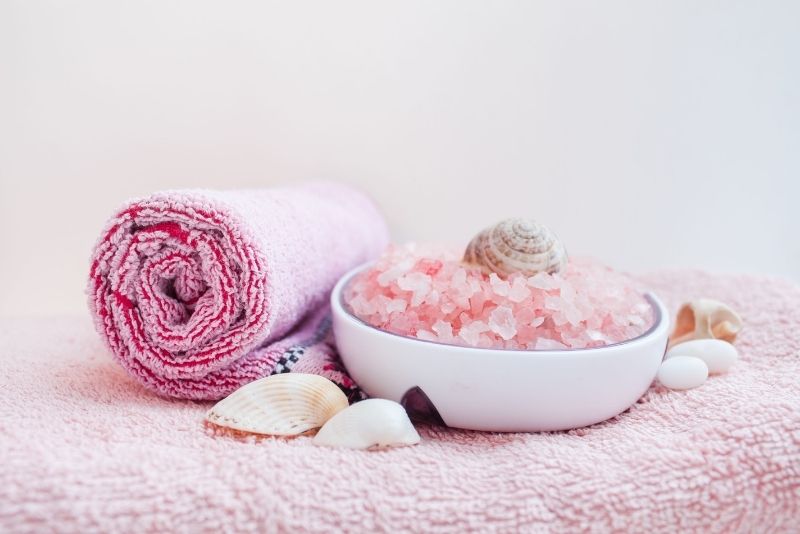 Formerly the center of the Caribbean salt industry, today the Salt Cay Salt Works shares its heritage through unique products. Using local organic sea salt, the store is a great place to buy souvenirs.
Shop for colorful bath salts and scented soap, or pick up a jar of culinary salt to add a pinch of Turks and Caicos to your cooking.
69 – Drink mojitos at Jack's Shack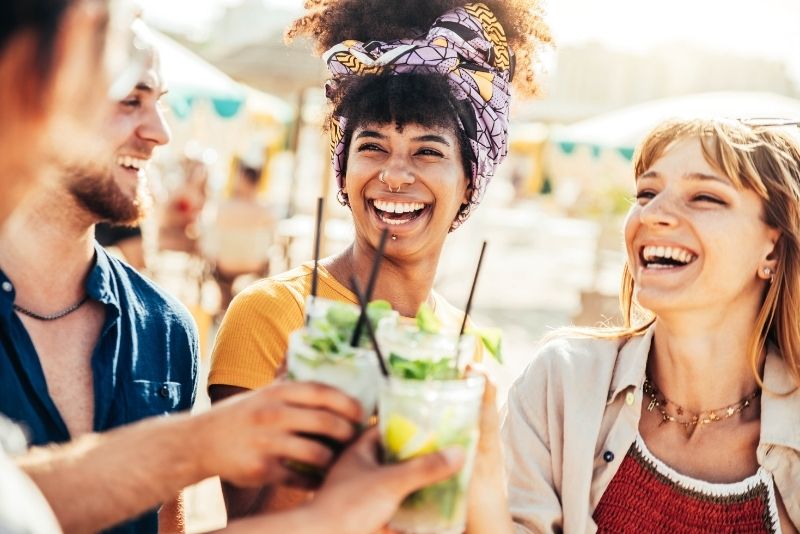 A bit of a local institution on Grand Turk, this delightfully rustic tiki hut serves up cool cocktails and eye-popping shots right on the beach.
Popular with cruise visitors, Jack's Shack welcomes you with open arms to enjoy a slice of Caribbean life in the sun. The mojitos are to die for, and there's jerk chicken and conch fitters to soak it all up.
70 – Snorkel at Bight Beach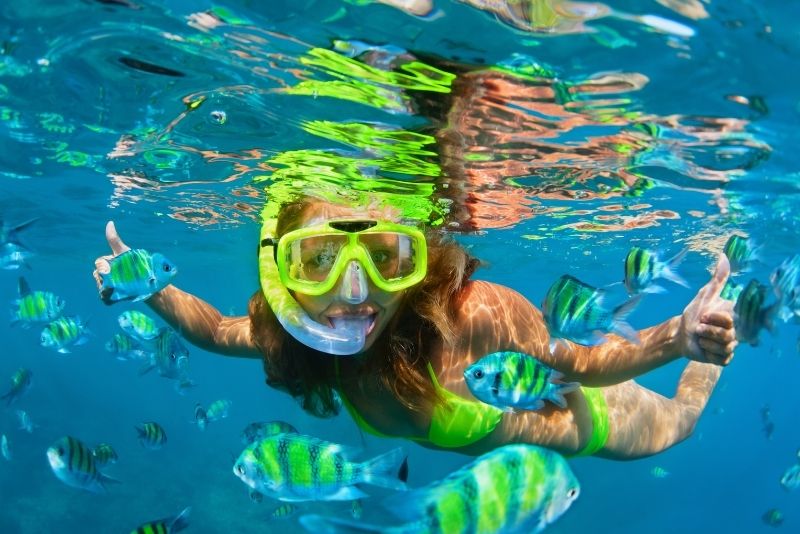 Sitting pretty on the central north coast of Providenciales, just along from Grace Bay Beach, this wide stretch of sand is clean and peaceful. Also known as the Children's Park, Bight Beach is a safe place for families to play.
The calm waters are sheltered from the trade winds so snorkeling is a real delight. You may spot eagle rays, starfish, and hawksbill turtles!
71 – Stock up at The Wine Cellar
Pop over to The Wine Cellar on Providenciales to bag some bargain drinks to lubricate your trip. They deliver to your hotel – now that's what we call service!
Wine connoisseurs will love browsing the rare vintages in the exclusive collection. There's an impressive range of rums to discover too, and more mixers than you'll ever need to get your island party started.
72 – Shop for souvenirs at Splash Boutique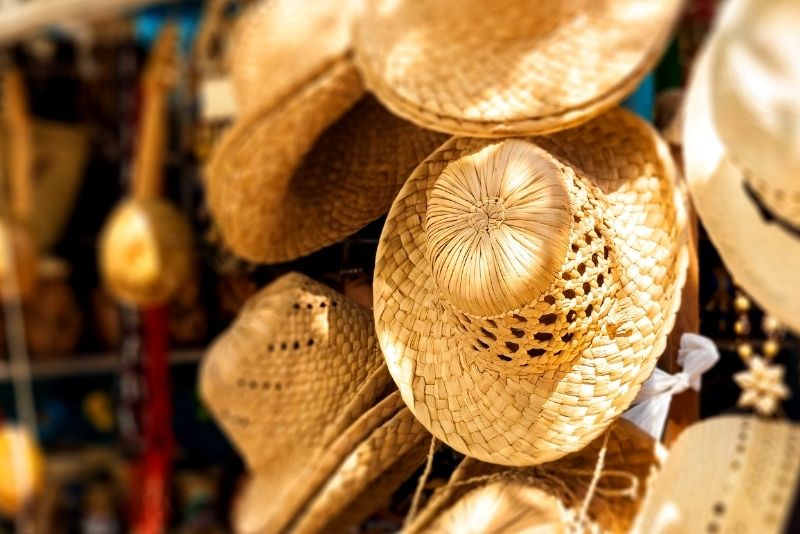 No vacation is complete without a bit of retail therapy, so hit the Splash Boutique store and find something special to take home. It's just east of Deane's Dock on Salt Cay so is easy to find.
Choose from locally crafted baskets and tropical island clothing. Or fill your bags with handmade jewelry, colorful paintings, and shell art to remember your Caribbean adventure.
73 – Get revitalized at Spa Tropique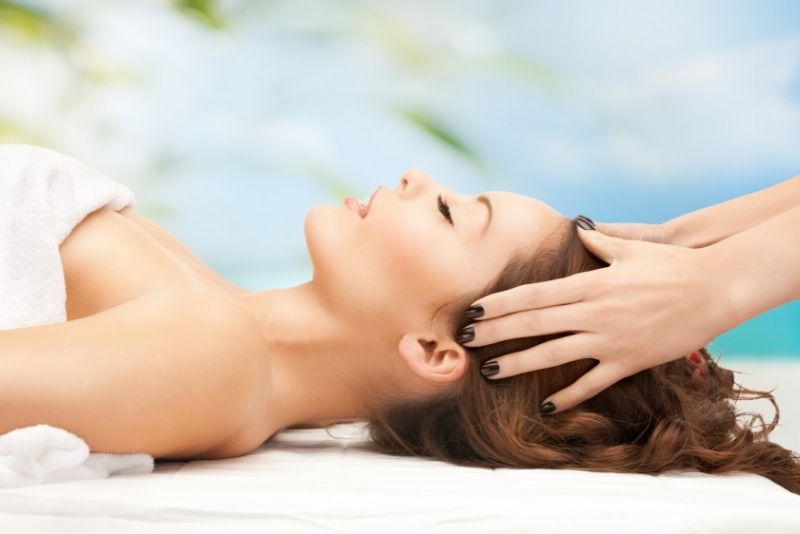 Let your stresses float away as you settle down for a day of pampering at Spa Tropique. With several convenient locations around the islands, this wellbeing sanctuary offers indulgent treatments to get you in the vacation mood.
Relax with an aromatherapy massage or enjoy a rehydrating water lily facial to combat too much time in the sun. You'll soon be feeling as good as new.
We hope you've enjoyed reading about all our favorite things to do in the Turks and Caicos Islands. Will you be heading straight to the beach or hitting the hiking trails for your first taste of Caribbean life?
Have you booked your accommodation yet? If not, check out these top Turks and Caicos hotels for some inspiration. The islands are popular so it's a good idea to make reservations in advance.
You might also like to consider arranging your airport transfers ahead of your trip, to bag the best deals for your chosen dates.
Happy travels!