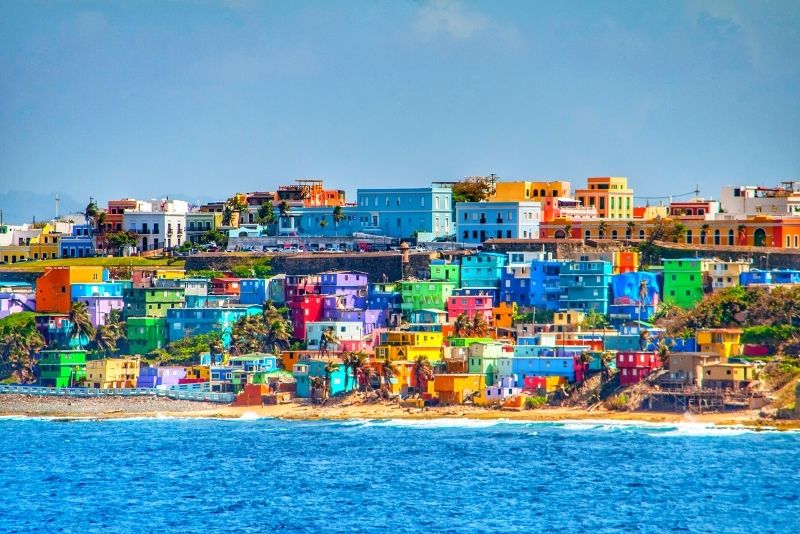 Look one way and you'll see mountains and waterfalls; look the other way and you'll see sprawling rainforests and historic cities — no matter where you are in Puerto Rico, there's never a shortage of beauty on the horizon!
From beautiful cobblestoned streets to colorful homes, sprawling plazas, and some of the most fantastic food in the world, the island's epicenter – San Juan-  is a multicultural city packed with love, life, and laughter.
However, outside of the city limits, the rest of the island is jam-packed with activities for relaxation, adventure, shopping, and so much more.
So, what are you waiting for? Check out our list of fun things to do in Puerto Rico!
1 – Have a drink at Casa Bacardi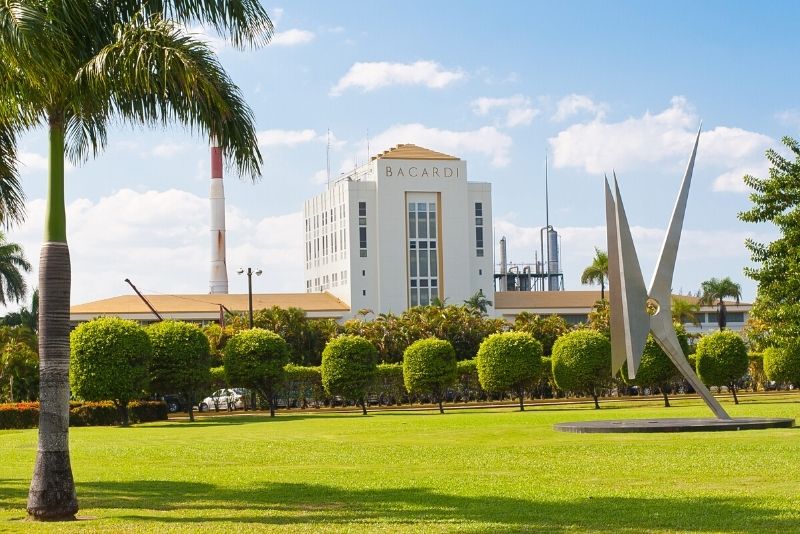 You're not really vacationing in Puerto Rico if you haven't spent at least a couple of hours kicking back and enjoying the fruity cocktails at the Casa Bacardi distillery.
But there's far more than just cocktails at this iconic watering hole: the famous Distillery offers immersive mixology classes, teaching you everything you need to know two about mojitos and mimosas!
If you fancy a drink, add this to the top of your list of things to do in Puerto Rico.
2 – Explore the streets of Old San Juan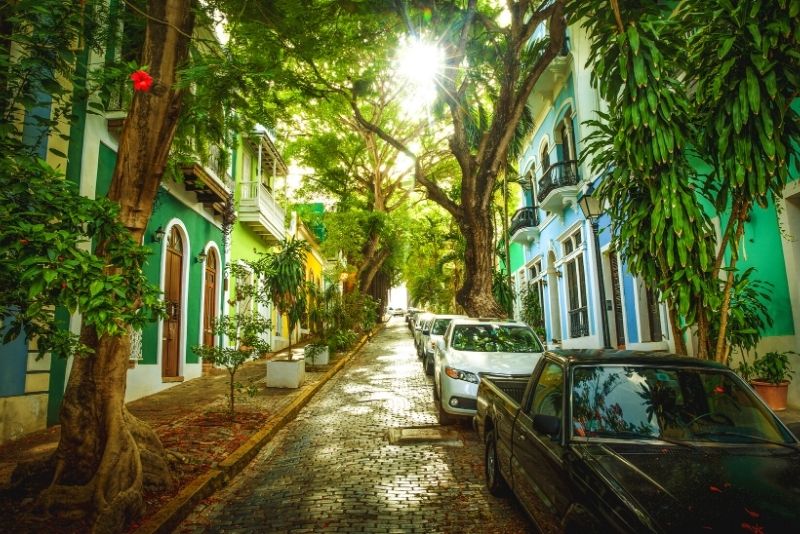 As anyone who's ever visited will share, Old San Juan has it all. A casual stroll through San Juan is like taking a step back in time.
Be sure to visit the famous 19th-century Santa María Cemetery, the Casa Blanca Museum, Cathedral de San Juan; and all of the sidewalk cafes, candlelit restaurants, and beautiful plazas.
Check out our selection of fun things to do in San Juan.
3 – Explore Culebra Island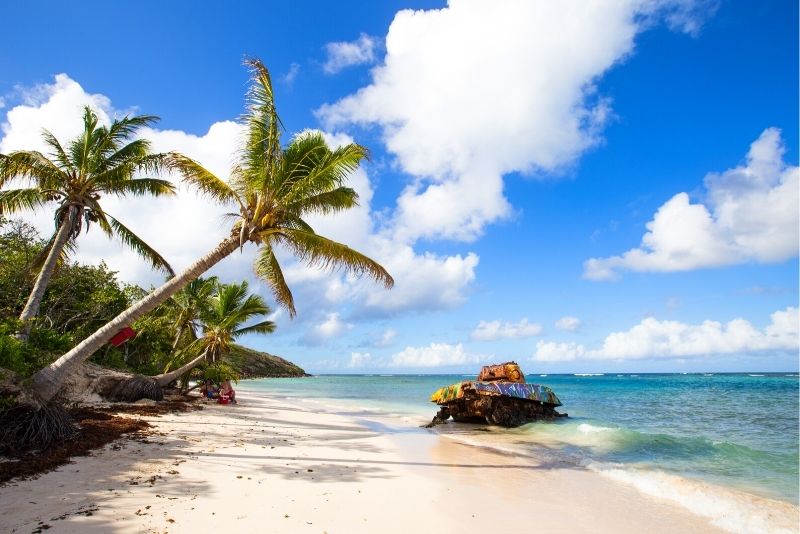 Picture vibrant marine life and beautiful, peaceful tropical islands — that's Culebra island for you.
With plenty of tranquil beaches and sparkling waters to explore, you can relax at the beach and enjoy your favorite cocktail, join a snorkeling or diving tour, or work on the tan at Flamenco beach — often considered one of the best beaches in the world.
4 – Try the water sports at Flamenco Beach (Playa Flamenco)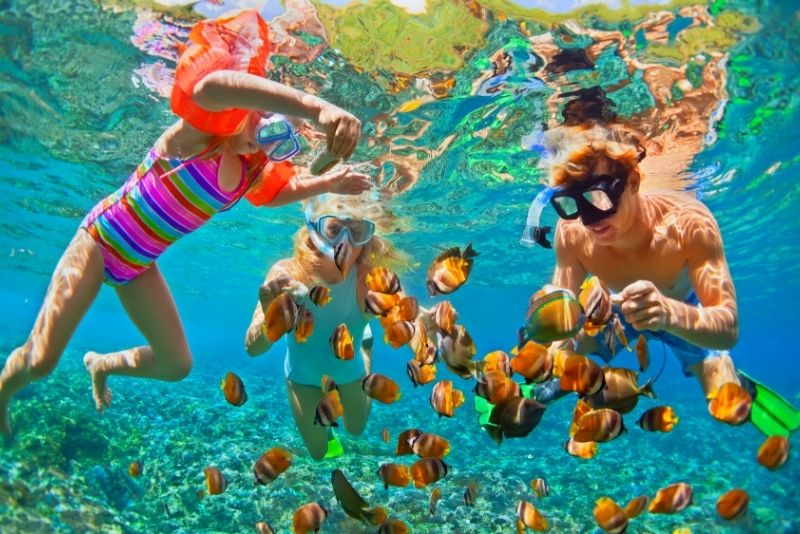 Rated as one of the most beautiful and scenic beaches in the world, the Flamenco Beach (or Playa Flamenco, as the locals know it) is a picture-perfect representation of turquoise waters and white sands all around.
The beach is ideal for various water sports like snorkeling, swimming, and kayak and jetski rental, but also provides plenty of space to simply sit back, relax, and enjoy the great outdoors (which we'll touch on a little more shortly).
If you're not after a high-octane water sport activity, the sapphire-blue waters and white sandy beaches make Flamenco Beach a highly picturesque spot to simply sit back and relax.
Hidden away on the beautiful island of Culebra, Flamenco is booming with colorful aquatic life and stunning scenery — it's guaranteed to make all of your social media buddies green with envy.
5 – Hike through the El Yunque Rainforest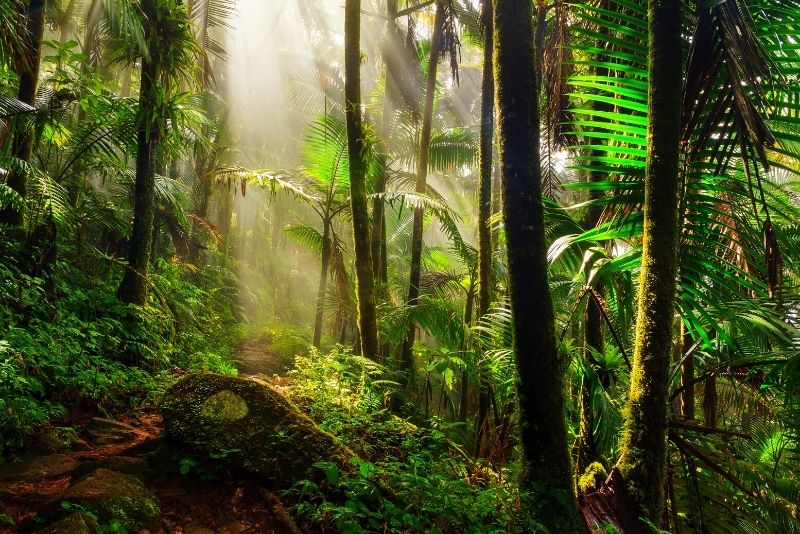 Puerto Rico is much more than just beaches and historical sites; the island nation is also home to a densely populated rain forest.
If you're someone who loves nature and everything green, then mark El Yunque down as a must-see.
Get lost in its beauty with a day hike, head out on a waterfall tour, sign up for a zipline adventure, or combine it with a kayaking experience on bioluminescent waters.
However you choose to experience the area, great times are guaranteed.
6 – Enjoy the atmosphere on a sunset cruise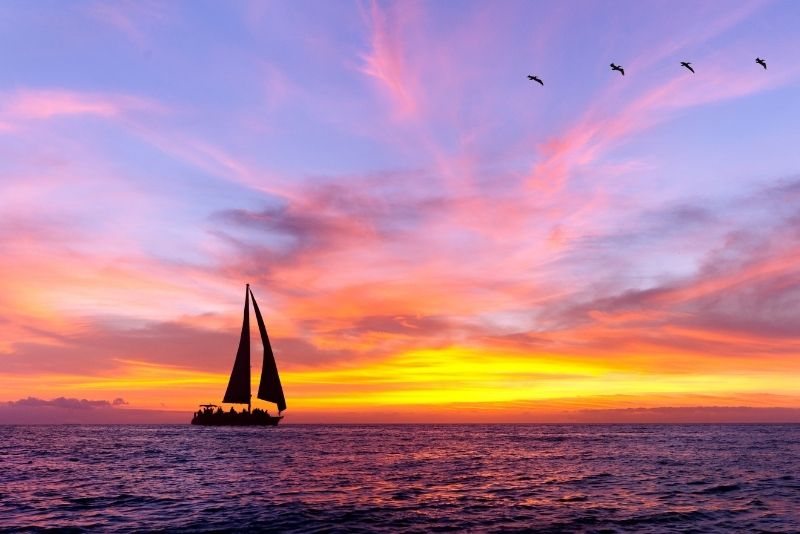 Romantics, take note. A staple of Puerto Rican tourism, sailing adventures, and sunset cruises are a regular hit with all kinds of travelers.
After departing from San Juan on either a historic schooner or a modern catamaran, enjoy the vibrant, pink-tinted sunset as it contrasts with the sparkling blue waters and bounces off the historic streets of Old San Juan.
7 – Admire the flora and fauna of the Bosque Carite Rainforest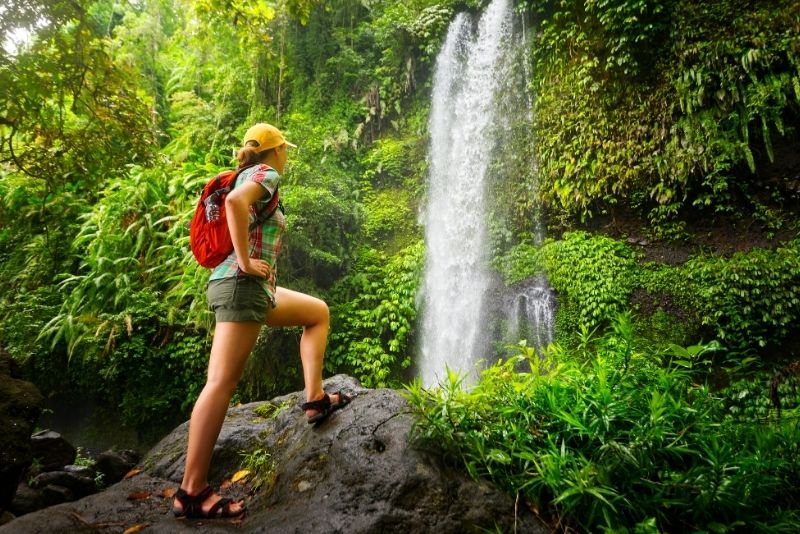 A representation of Mother Nature in all her glory, the Bosque Carite rainforest is one of the essential things to see in Puerto Rico for nature-lovers.
Kayak down the streams, tackle one of the many different hiking paths, and keep an eye out for the diverse wildlife along the way.
Be sure to check out the Blue Hole, then recharge the batteries with a hearty meal at Rancho Original.
8 – Feel the thrills of a jet ski ride!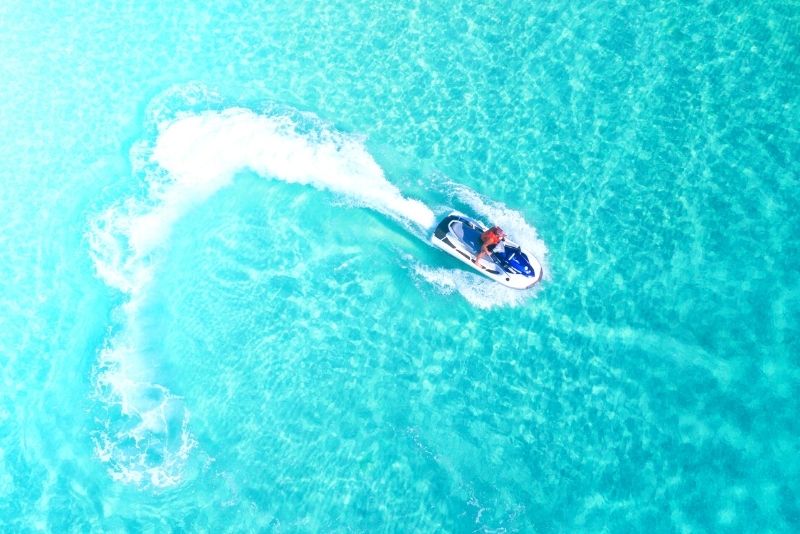 Puerto Rico — particularly the northern coast — is flush with so many great jetski spots!
As you zoom along the coastline of Puerto Rico, soak in some of the most breathtaking landscapes the island has to offer.
The mangroves, on the other hand, located in the San Jose lagoon, offer fantastic vistas of their own.
Rent your own or join a tour — either way, it's a wonderful experience!
9 – Kayak through bioluminescent waters at night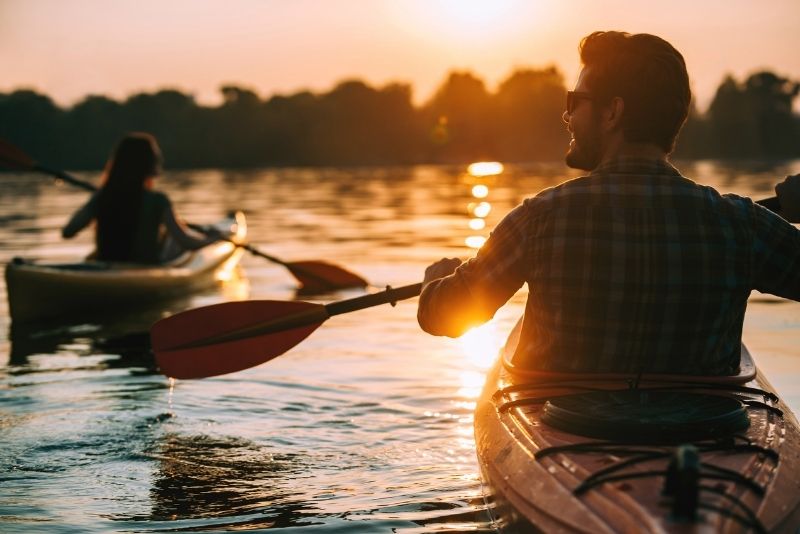 Of all the things to see in Puerto Rico, there's arguably nothing more magical than the shimmering neon-blue shores of the Laguna Grande Bioluminescent Bay and Mosquito Bay.
As you tour these places, led by a local guide, you'll learn about the scientific reasons behind these unique vistas — a fascinating organism called pyridinium bahamense.
On moonless nights, the glow is nothing short of breathtaking.
10 – Take a snorkeling tour to Icacos Island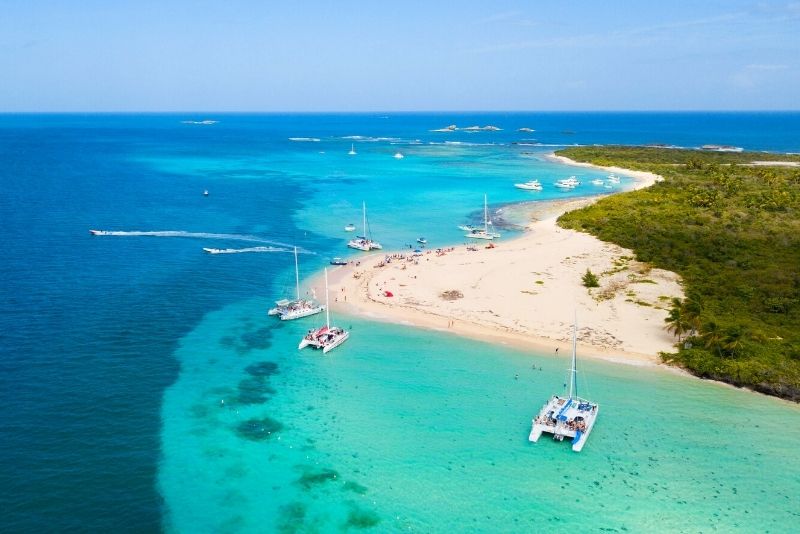 If you're after the snorkeling experience of a lifetime, look no further than Puerto Rico's Lcacos island.
As part of the Cordillera Cays Nature Reserve (an area protected for study and conservation), Icacos is flush with sea life and color.
Besides the time in the water, tour companies also provide plenty of entertainment on board the boats as well — expect your fair share of music, snacks, and cultural insights. Onboard the vessel, there are many fun activities for kids and adults alike.
11 – Explore the seabed with a scuba diving trip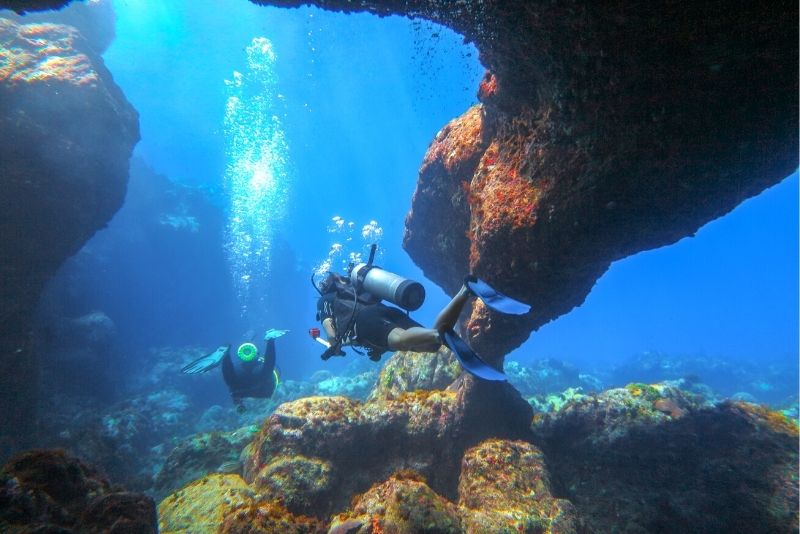 Puerto Rico offers some of the Caribbean's most pristine scuba diving spots — regular hits for both tourists and locals.
Typically departing from San Juan in the north or Fajardo in the northeast, diving excursions can last from anywhere from 3 hours to a half-day, with plenty of opportunities for beginners and experts alike.
12 – Experience horse riding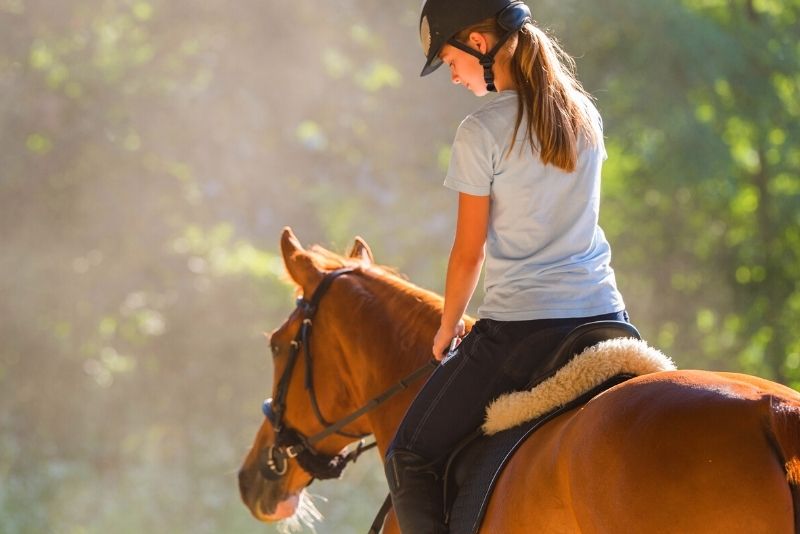 No vacation to Puerto Rico is complete without a day spent horse riding through the sprawling countryside.
With a great selection of locations to choose from, such as Vieques, Ricon, Carabalí Rainforest Park, and Hacienda Campo Rico — just to name a few — simply saddle up and enjoy the scenery as it morphs from countryside to meadows, mountains, and beaches.
13 – Go canyoning!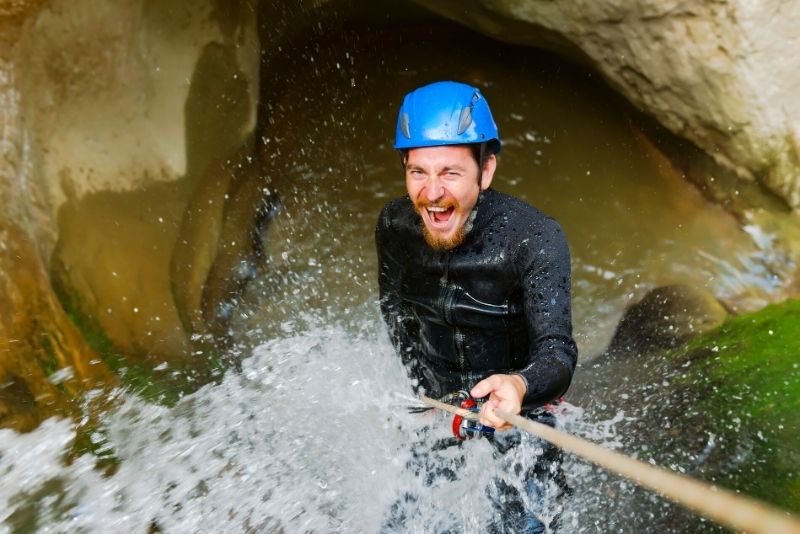 Adrenaline junkies, look no further!
If your idea of a great vacation includes caving, rafting, and hiking, then a canyoning adventure is a no-brainer to add to the itinerary.
With a local guide spearheading the group, this adventurous tour is a great way to not only immerse yourself in nature, but also learn about the environment and culture of the island!
14 – Rent a mini boat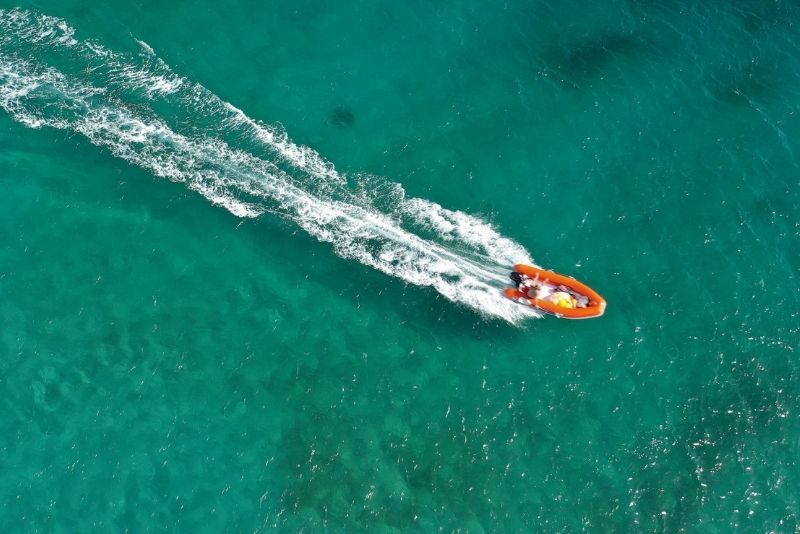 Want to explore old San Juan and the waters of Puerto Rico at your own pace?
With a mini boat rental, this popular activity presents as an excellent opportunity to soak in the fresh air and that iconic Carribian sea breeze.
Take your time and be sure to stop at some of the small, uninhabited islands; and walk along the white sand beaches.
15 – Try the local delicacies on a San Juan food tour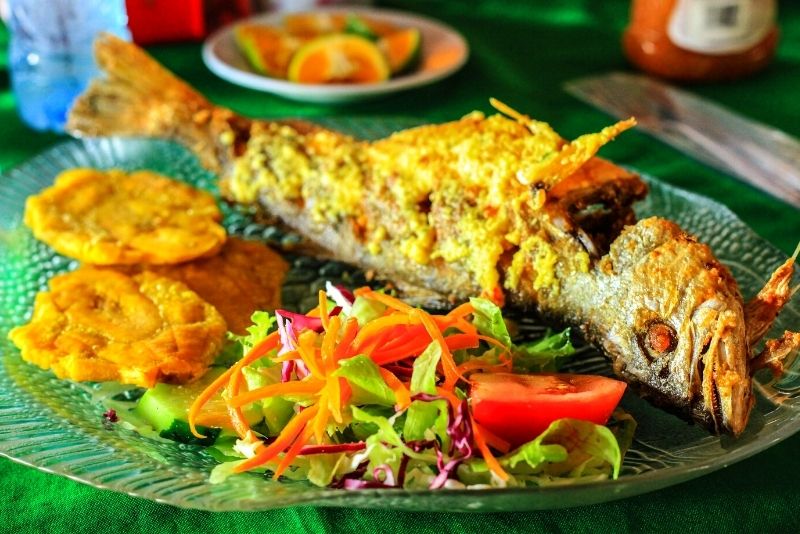 Anyone feeling peckish?
Old San Juan is a buzzing city full of life, laughter, and more importantly… food!
Led by a bilingual local guide, food tours take you through San Juan's cobblestoned streets, checking out the plethora of local cafes and restaurants on offer.
Besides tasting the famous local staples like plantains and sofrito, you'll also be given a complimentary rum cocktail and learn all about the intriguing architecture along the way.
16 – Snap a selfie on an Instagram street art tour!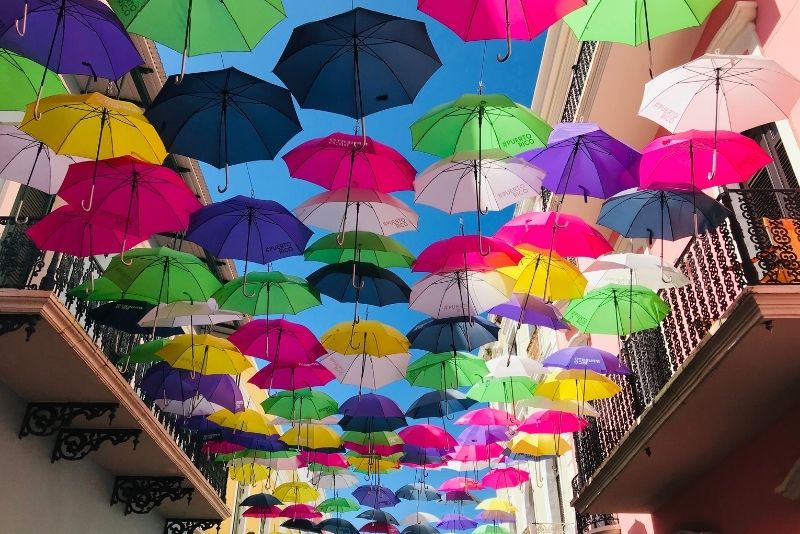 Want to populate your feed with colorful, jealousy-evoking pics? Then look no further.
On a street art tour, guests are led to a collection of the most Instagram-worthy sights in the city, with plenty of vibrant murals and picturesque beaches ready to be the perfect backdrop.
Led by a local, you'll also hear all about the culture, history, and art of the city along the way.
17 – Get a little buzzed on a cocktail tour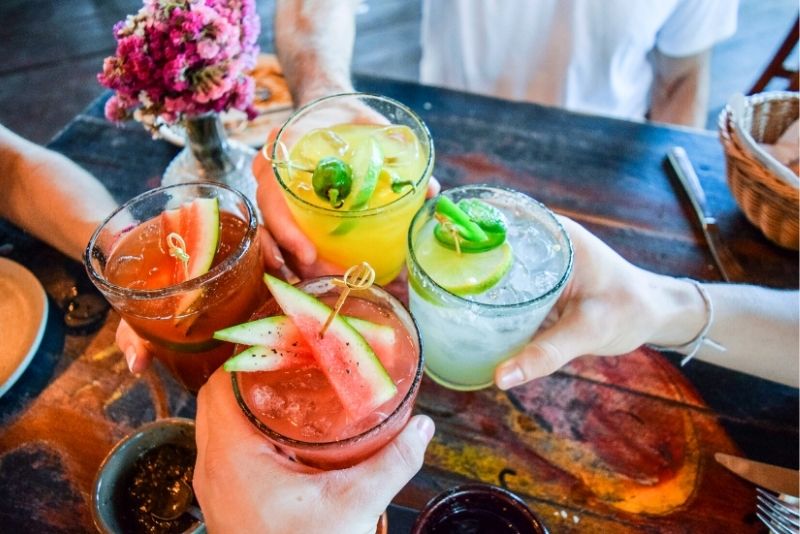 How can you honestly say you've been to San Juan without wetting your whistle at a couple of the city's popular watering holes?
On a dedicated booze tour, you'll get to sip and enjoy some of the best rums and cocktails that the island has to offer, hopping in between a selection of three unique bars (cocktails included, of course).
There is a reason why Puerto Rico is called the rum world's capital, after all!
18 – Roar through the jungle on an ATV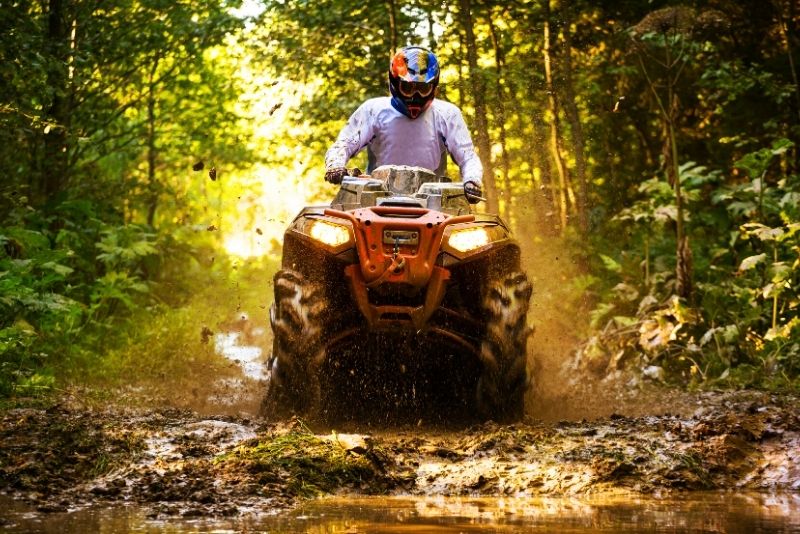 If you're a bit of an adrenaline junkie, an ATV adventure is a non-negotiable when it comes to things to do in Puerto Rico.
On a usually-2-hour tour, guests are led through a private ranch surrounded by beautiful green landscapes, meadows, and mangroves — an experience sure to leave a lasting impression.
19 – Try flyboarding in Luquillo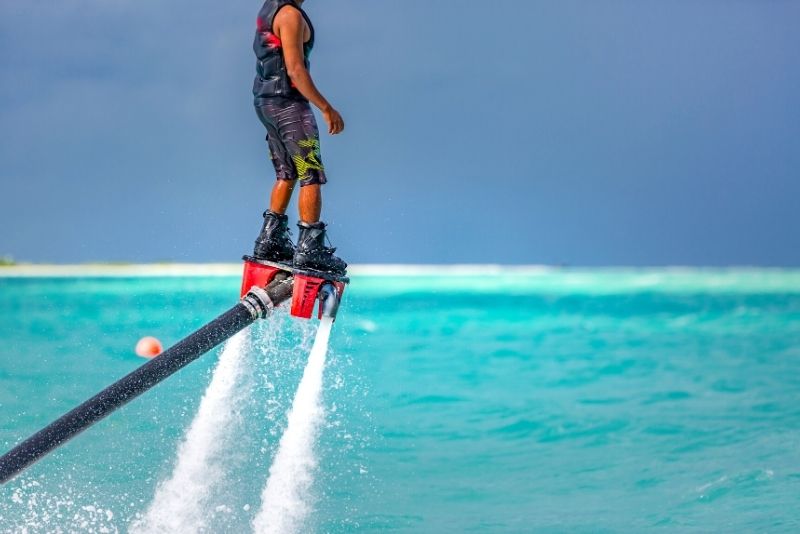 An area littered with fun-filled activities, Luquillo is a beloved destination for adventure enthusiasts — and for good reason.
If you've never tried flyboarding — essentially the amalgamation of a jetpack and a surfboard — then there's no better place than here, on the northeast coast.
As you soar out of the water like a superhero, you'll be grinning from ear to ear.
20 – Surf some waves at Domes Beach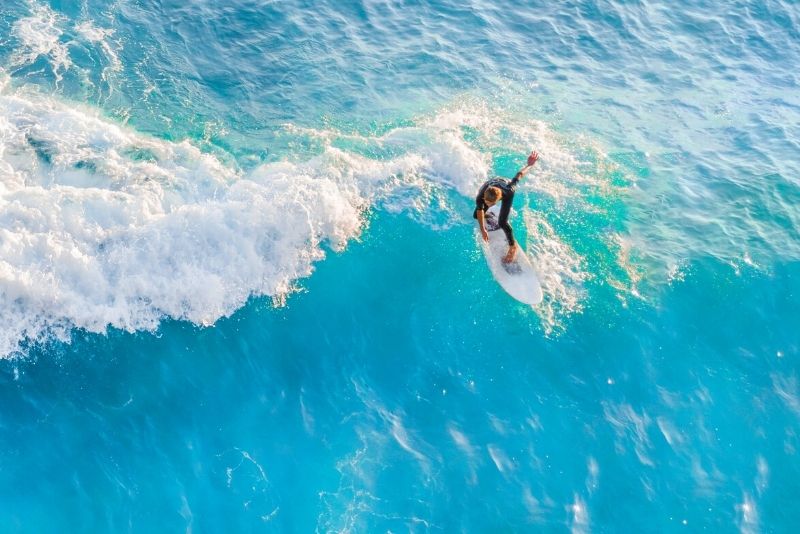 Whether you're a total newbie or a seasoned pro, there's no shortage of exciting spots in Puerto Rico to ride the waves.
However, the most famous surf beaches — all of which are worthy of a visit due to their regular lively atmosphere — are Domes, Sandy Beach, Maria's Beach, and Surfer's Beach.
Thanks to its calm waters, the country is ideal for surfing year-round.
21 – Spend the afternoon deep-sea fishing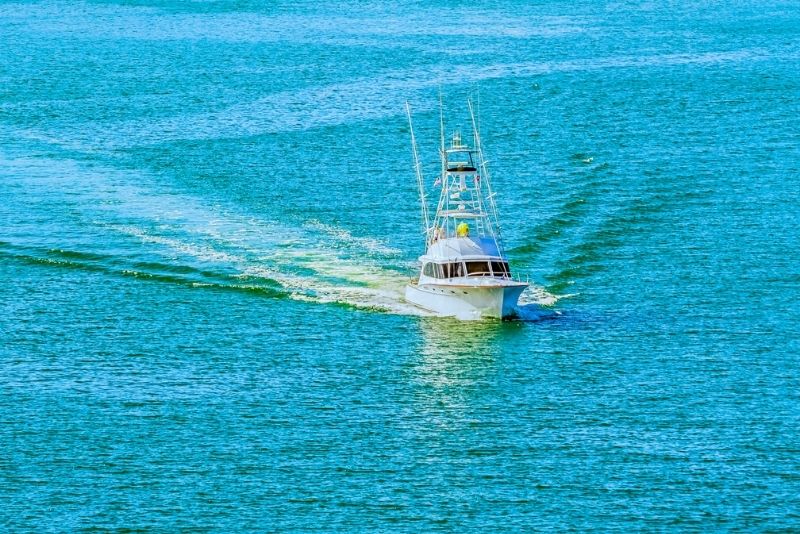 If you're after an unbeatable deep sea fishing experience in San Juan, look no further.
With an open-water fishing excursion in some of the greatest fishing waters in the world, the fun and exhilaration are second to none.
Not only do you get to be a part of the fishing experience — hooking the bait, casting the line, and reeling them in — but you'll be doing so in a luxurious yacht as you sail across the wonderful waters.
22 – Explore the plethora of mesmerizing caves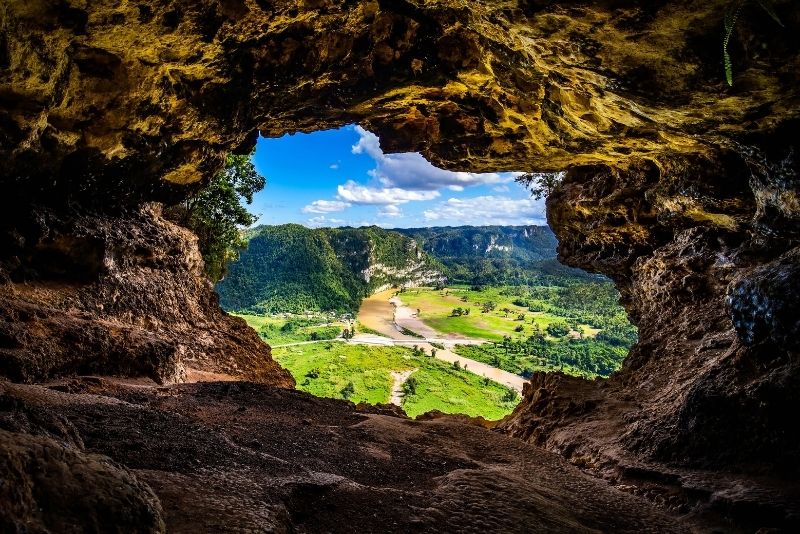 The list of beautiful natural caves in Puerto Rico is as impressive as any Caribbean island nation.
Cueva Ventana (Window Cave), the Cueva del Indio Cave (Indian Cave), and the Rio Camuy Caves all offer abundant opportunities for hiking, rock climbing, spelunking, rafting, or rappelling.
As you visit these caves in some of the less-explored parts of Puerto Rico, you'll see the nation from an entirely new perspective.
23 – Delve into the History of Castillo San Felipe del Morro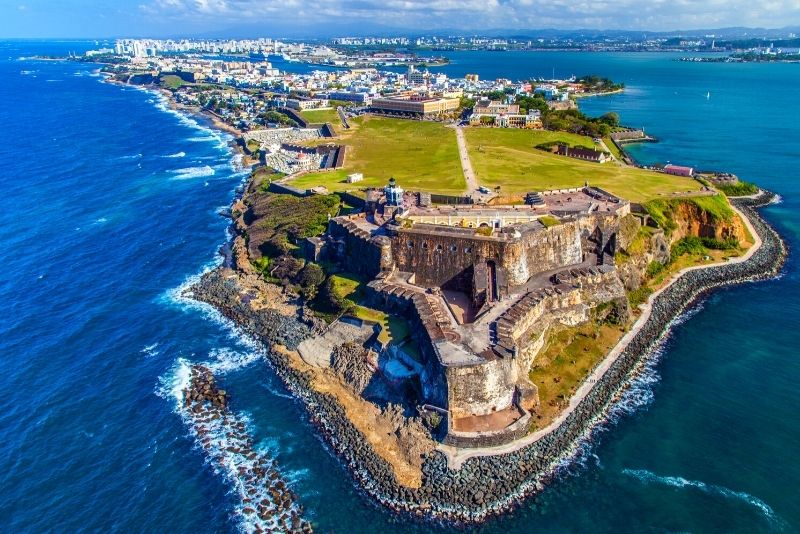 Learn about the history of one of the striking engineering marvels of Spain –the Castillo San Felipe del Morro.
As you walk through the narrow entrance and observe the flags waving across the Atlantic breeze, you easily transport to another medical time in history.
24 – Appreciate indigenous culture along the Taíno Route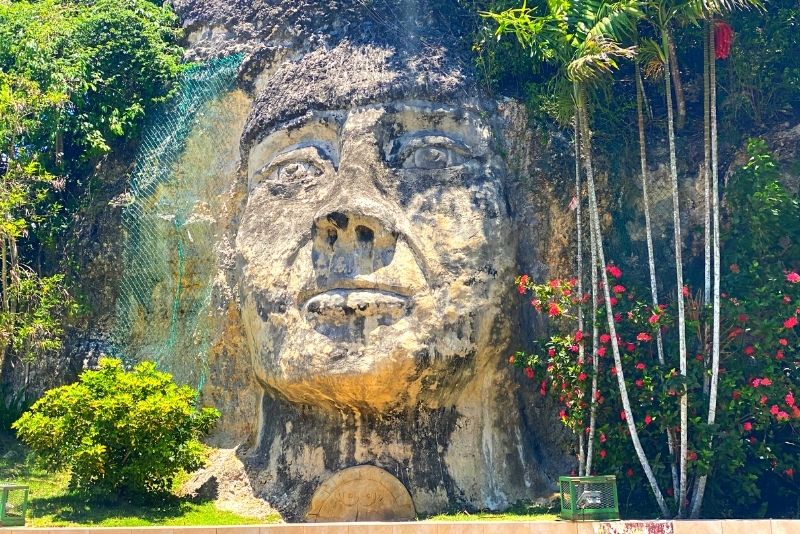 As you wander the famous Taíno Route, you'll witness beautiful caves, trails, and petroglyphs as they unveil in tandem the impressive story of the island's cultural origins.
Besides the impressive landscape, your expert guide will also share stories of the important role that the Taino people have played in developing the heritage of the island.
Along the tour, you'll also learn about the Taino contributions to local cuisine, language, and artwork.
25 – Be mesmerized by the beauty of La Fortaleza (The Fortress)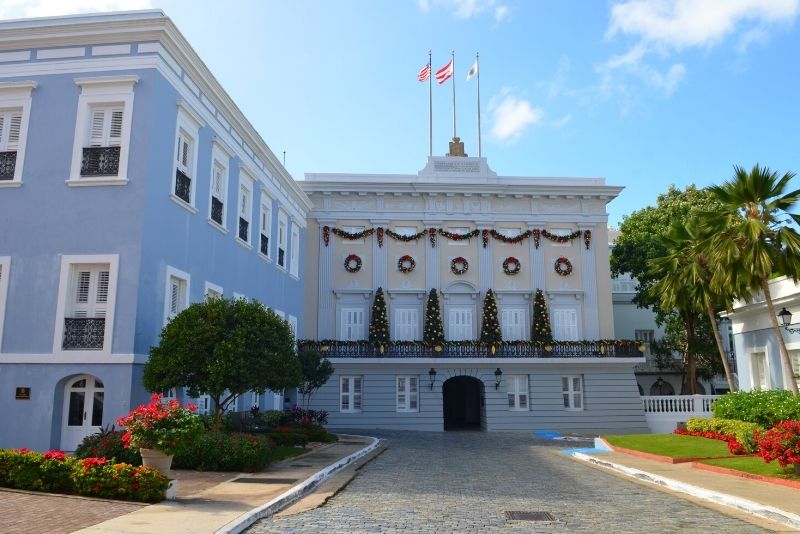 Serving as the current residence to the Governor of Puerto Rico, The Fortress or La Fortaleza is a sight to behold.
As a postcard-worthy UNESCO World Heritage Site, this foreboding structure is a must-visit for history enthusiasts and architectural buffs, especially due to its Spanish architectural flare.
26 – Go on a hiking adventure to the Gozalandia Falls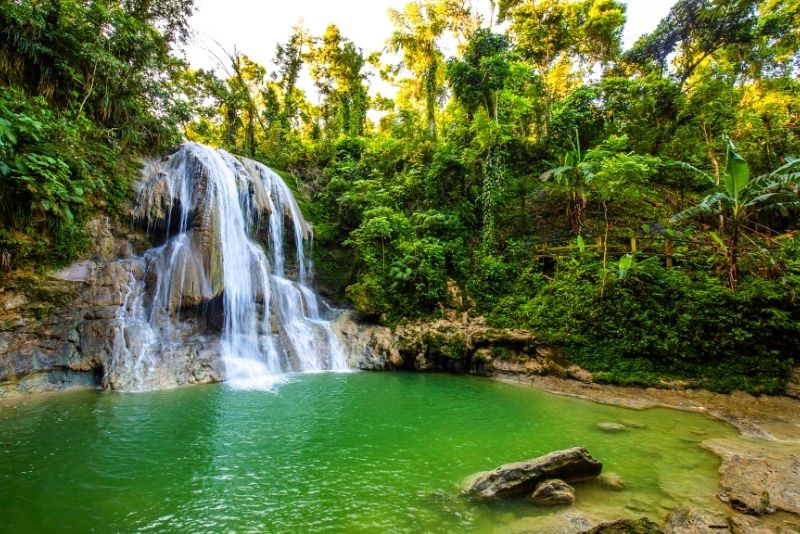 The breathtaking waterfall is one of the major natural attractions on the island, and therefore one of the most impressive things to see in Puerto Rico, hands-down.
The range of hiking tours to the Gozalandia Falls offers spectacular views, calming waters for a perfectly unwinding experience, and a great opportunity to meet fellow like-minded travelers.
Hot tip: bring a waterproof camera — the landscape at the base of the waterfall makes for some jaw-dropping pictures.
27 – Take a peek into history at the Castillo de San Cristóbal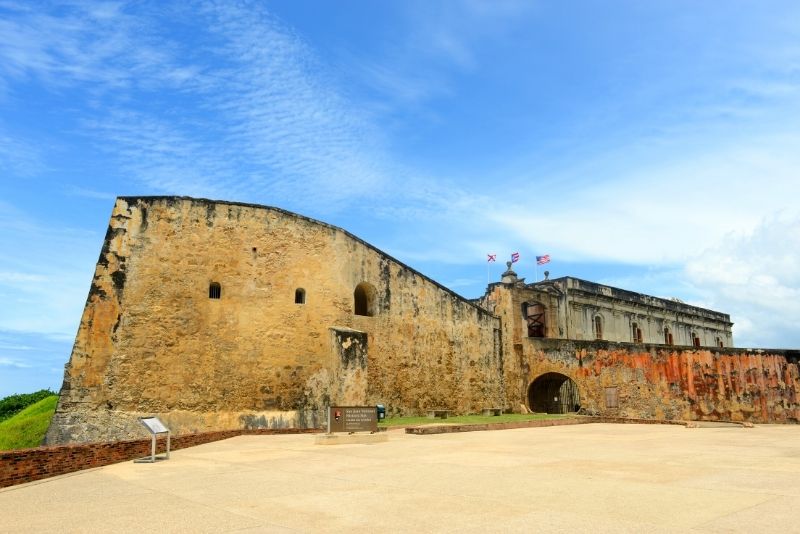 Spanning around 27 acres, Castillo de San Cristóbal was originally constructed to protect Old San Juan from foreign attacks.
These days, however,  the fort acts as a tourist attraction, offering stellar shoreline views that draw visitors from all over the world.
Be sure to check out the museum, military barracks, and military archives while you're there too.
28 – Get all scientific by exploring the Arecibo Observatory
[CLOSED RIGHT NOW] – The platform of the Arecibo Observatory, unfortunately, crashed into its dish on 1 December 2020.

For a great insight into the world of astronomy, check out the guided tour of the famous Arecibo Observatory.
Learn from experts about the close asteroids flying by the Earth, and so much more in the interactive exhibits.
Its true claim to fame? The observatory features the second-largest single-dish radio telescope on the planet.
29 – Step back in time at the Ponce History Museum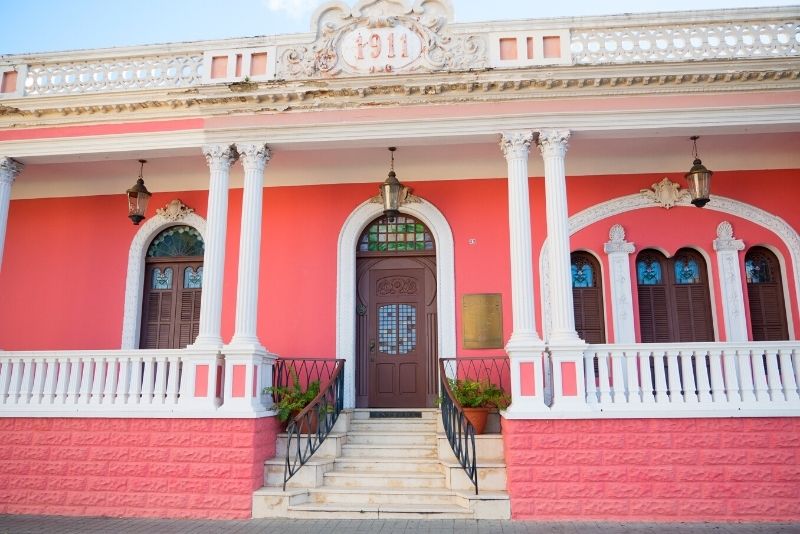 Found in the historic Casa Salazar-Candal district of Ponce, the enthralling Ponce History Museum provides a unique insight into decades and centuries gone by on this unique island, focusing on its art, culture, architecture, and government.
Outside of the museum, thanks to its narrow streets and friendly locals, the 17th-century city is a sight to behold in its own right.
30 – Catch a Glimpse of the Breathtaking Beauty of the Rio Camuy Cave Park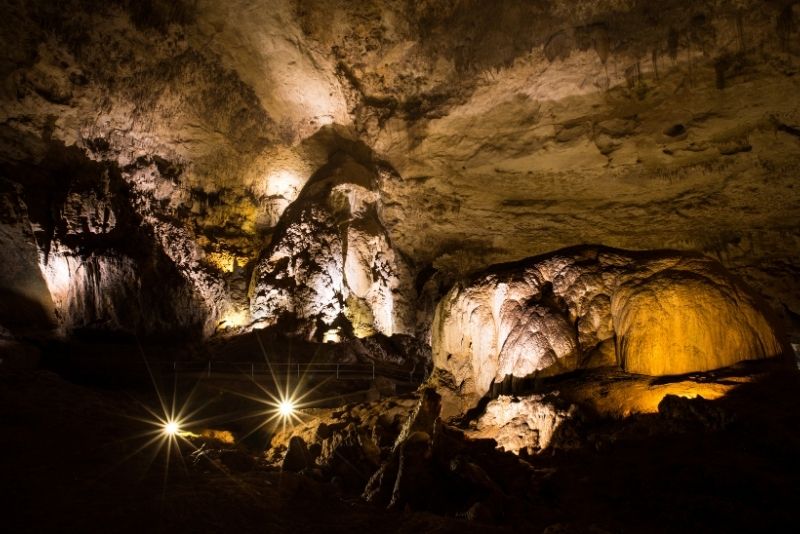 Famous for its spectacular interiors, the Rio Camuy Cave Park features stalagmites and stalactites that are millions of years old — it's no wonder that the Rio Camuy Cave Park draws the attention of nature lovers from near and far.
With a selection of incredible tours available, there are plenty of ways to explore the beautiful 108-hectare park.
31 – Explore the ruins on Goat Island (Isla de Cabras)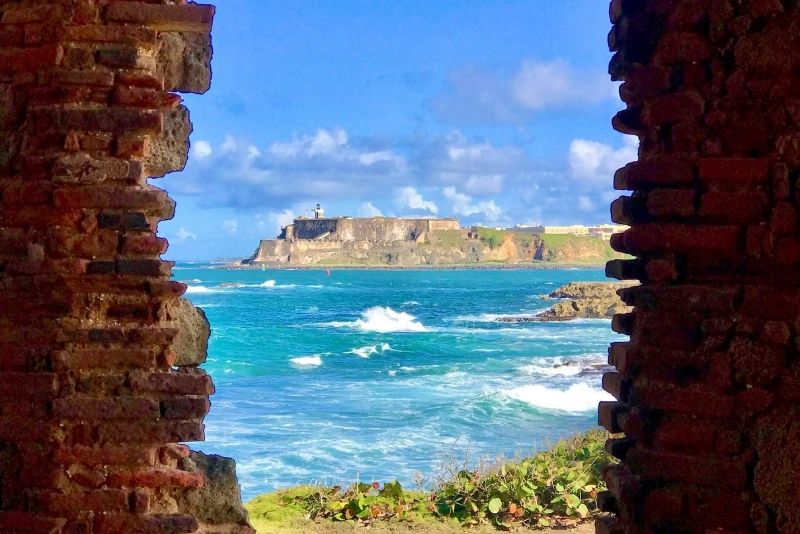 Formerly serving as a leper colony during the early 19th century, Goat Island (Isla de Cabras) is now a well-known tourist destination, with thousands of visitors flocking to its recreational Park year after year.
Travelers love checking out the Segundo de la Portilla — a centuries-old stone building that still stands today.
Moreover, the island attracts photographers from all across the world, as well as serving as the training destination for Puerto Rico Police.
32 – Spend a couple of hours at the Museum of the Americas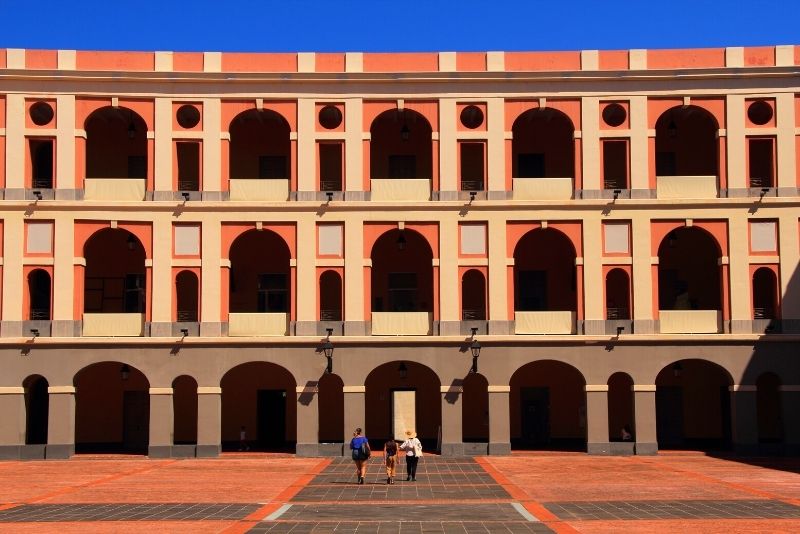 One for the history buffs, there's arguably no better place to learn about the fascinating cultural heritage of Puerto Rico than at the popular Museum of the Americas.
The museum offers access to both temporary as well as permanent exhibits, working together to provide an impressive overview of the region's cultural development.
33 – Get cultured at the Museum of Art of Puerto Rico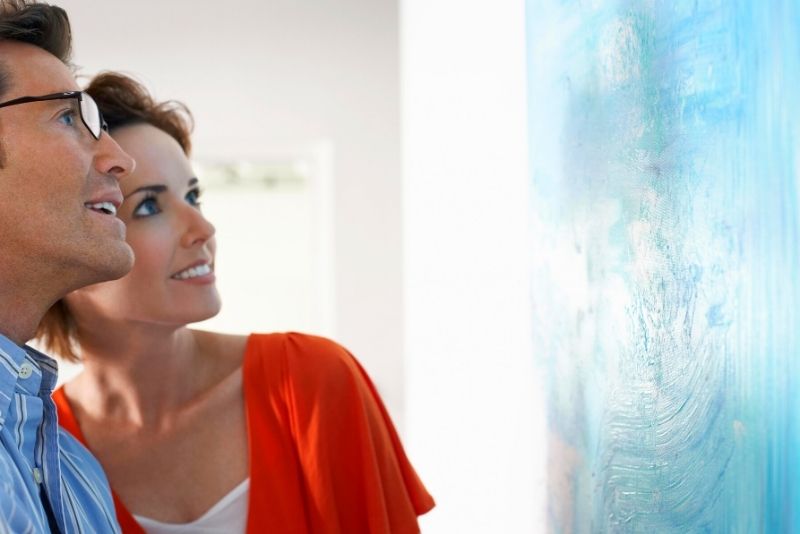 The Museum of Art of Puerto Rico is one of the most iconic buildings on the island in terms of both cultural and historical significance.
The core of the museum sits inside an impressive neoclassical building, dating back all the way to the 1920s.
Meanwhile, within its walls, you'll find an impressive collection of religious art and portraits, spanning from the modern era to the 17th century.
34 – Sample the delicious Alcapurrias in Pinones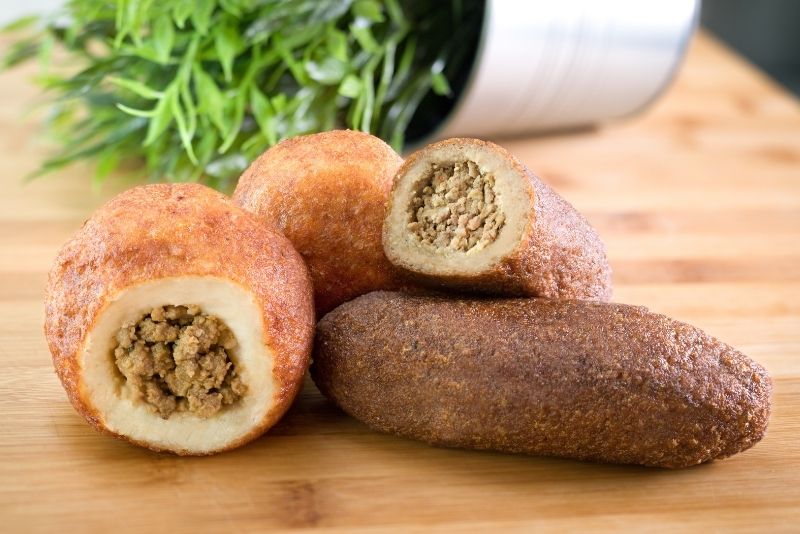 Eat like a local, devouring all the Puerto Rican specialties like Alcapurrias, Empanadillas, and Tostones!
Once you've had your share of snacks, head to one of many hidden surfers' beaches where crowds are near to non-existent and tide pools are aplenty.
35 – Have fun at Carabali Rainforest Adventure Park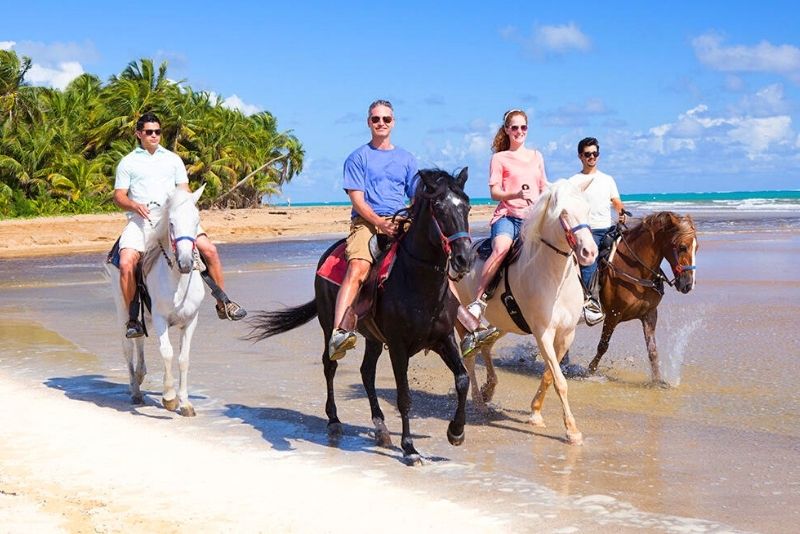 Get a feel of the ultimate Caribbean adventure by visiting the famous Carabali Rainforest Adventure Park, an immersive environment sitting on the foothills of the renowned EI Yunque National Rainforest.
In addition to its selection of noteworthy hiking trails, the park also offers a range of guided activities, including horseback adventures, ATV rides, and even a Go-Kart track.
36 – Wander through the old fire station at the Parque de Bombas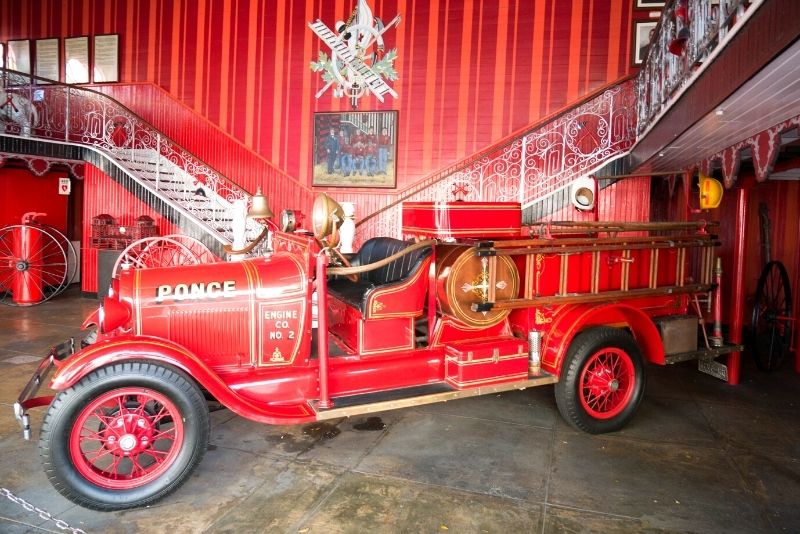 Situated in the enchanting city of Ponce – just behind the cathedral — the historic Parque de Bombas is a surefire hit with travelers of all ages.
Inside this loudly-colored building sits one of the city's most famous landmarks: the old fire station, which, today, acts as a small museum.
37 – Explore the beautiful Museo Castillo Serralles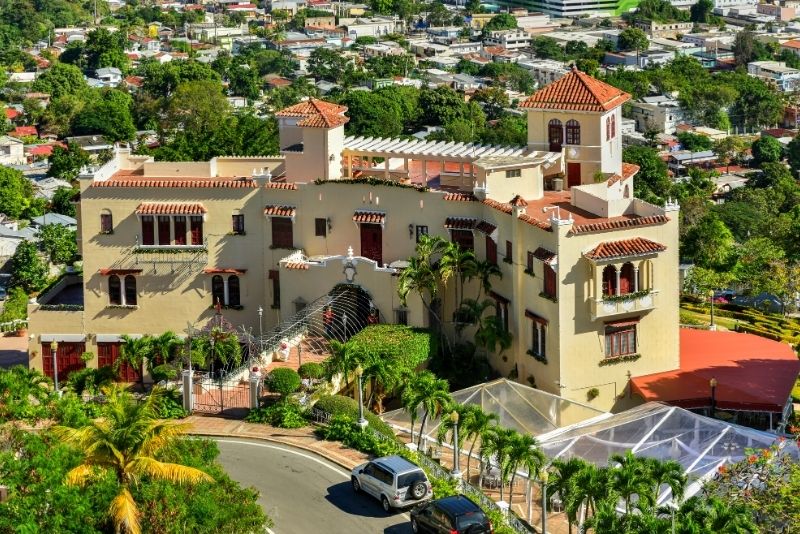 Sitting on a 2.5-acre plot of land that can only be described as exceptional, the Museo Castillo Serralles is a sight to behold, inside and out.
Its exterior features beautiful terraces – known for their architectural beauty and elegance — while, within its walls, a collection of historic, glamorous furniture awaits.
If you plan on hosting a special event (party, wedding, or special dinner), the terraces are available for rent.
38 – Catch the sunset at Playa Sucia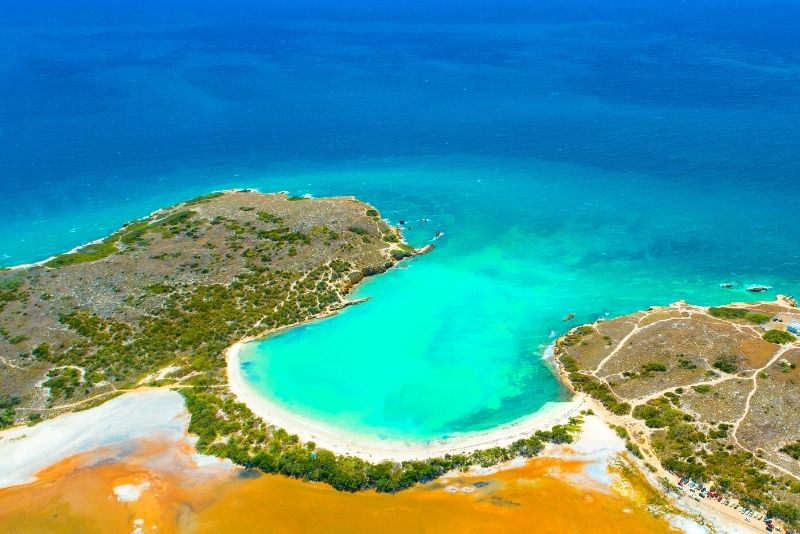 Grab the camera, people!
As one of the more impressive beaches in Cabo Rojo, Playa Sucia offers breathtaking views year-round, with quiet wilderness as far as the eye can see.
If you're looking for relaxing things to do in Puerto Rico after a few busy days, you could do far worse than sunbaking on these shores.
39 – Sunbake at Crash Boat Beach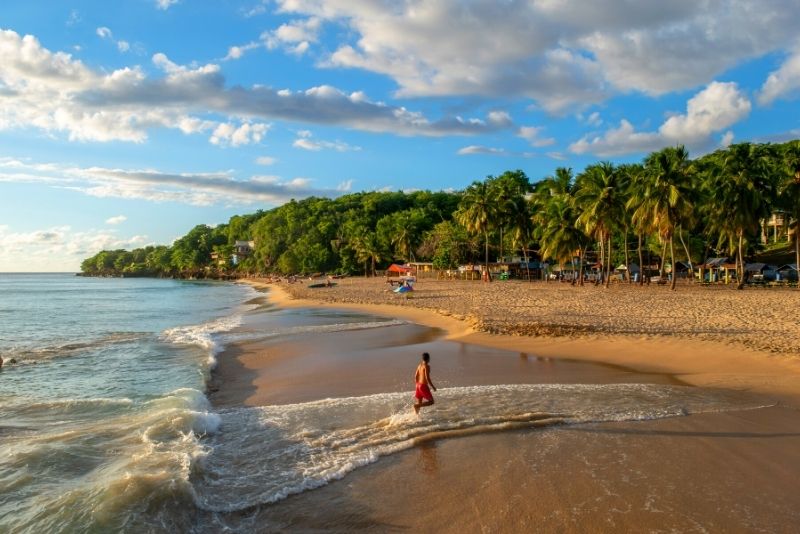 Considered one of, if not the best beach on the west coast of Puerto Rico, Crash Boat Beach is often referred to as the crowning gem of Aguadilla — and once you see it first-hand, you'll quickly understand why.
The turquoise waters and white sandy beaches present it as the ideal photo backdrop, and a cozy cafe or local restaurant is never too far away.
40 – Spend the day at La Marquesa Forest Park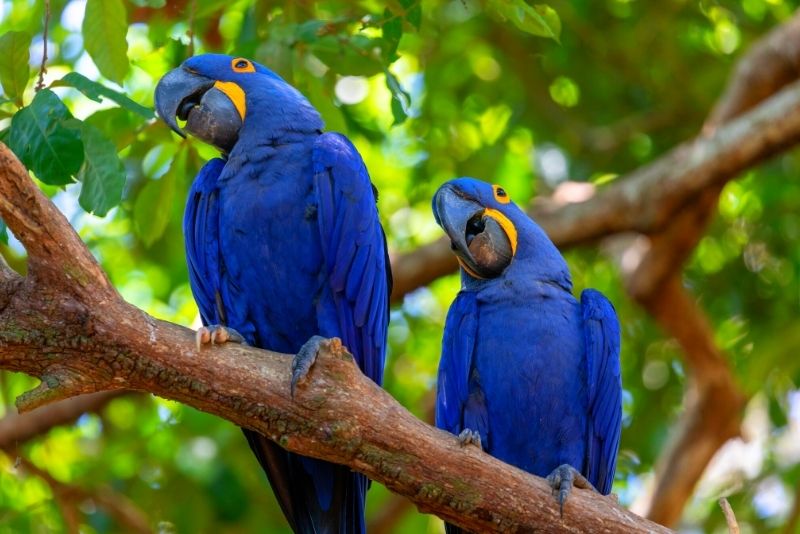 Are you the type of person who loves a day out in nature?
Then a trip out to La Marquesa Forest Park might just what the doctor ordered. With an array of hiking trails, zip-lining adventures, scenic routes, and more, it's a great day out for families.
For the best chance to see all of the wildlife native to the area, hop aboard the cable car and enjoy those birds-eye views from the observation tower at the top!
41 – Fly between the trees at Rainforest Zipline Park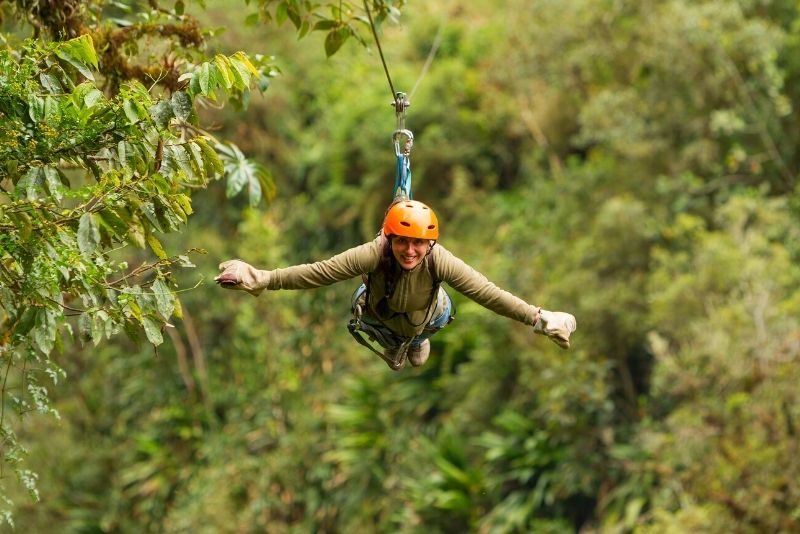 For the more adventurous among us, visiting Rainforest Zipline Park is definitely one of the most exciting things to do in Puerto Rico.
If you want to experience the rainforest in a fun and exciting way — as opposed to a casual hike or drive — then this place is an absolute must.
With professionals guiding across the eight lines (one of which stretches over 2300 feet!), you'll soar over the ground for two whole hours!
42 – Satisfy your sweet tooth at Chocobar Cortés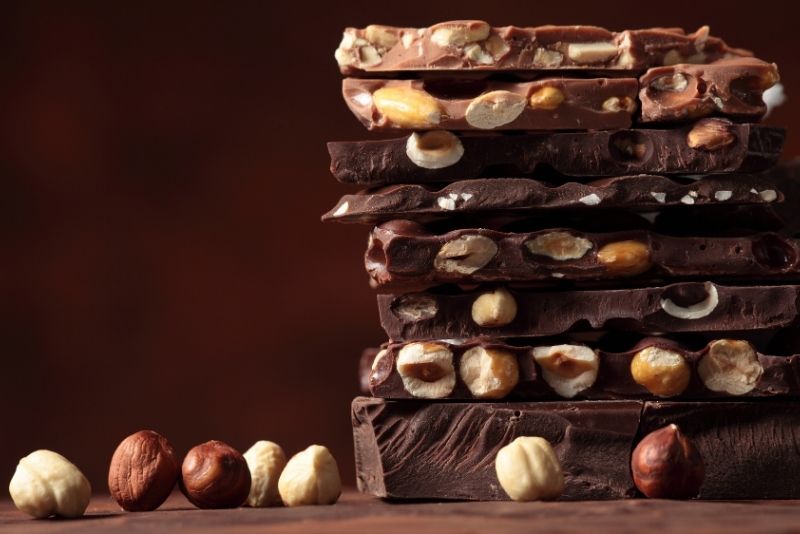 Calling all chocolate lovers!
If you're an undisputed sweet tooth who craves chocolate on the regular, there are no exceptions: you need to stop for a meal at Chocobar Cortés.
Don't worry, even if you don't enjoy sweets that much, their menu is packed full of delicious breakfast foods, entrees, and mains.
Don't forget to try their steak and eggs, with a side of choco pancakes!
43 – Marmalade Restaurant & Wine Bar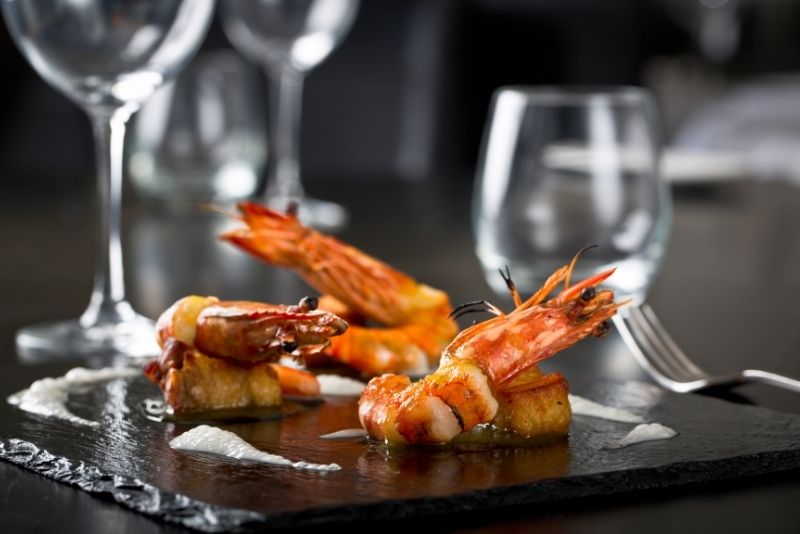 If contemporary fine dining is what your idea of an ideal vacation is all about, then you simply can't miss the Marmalade Restaurant & Wine Bar.
Their menu has something for everyone and their expert waiters will make sure to offer you the best wine pairing with any meal.
Hot tip: due to its popularity, if you do want to eat here, make sure to make a reservation first!
44 – Shop till you drop at Calle del Cristo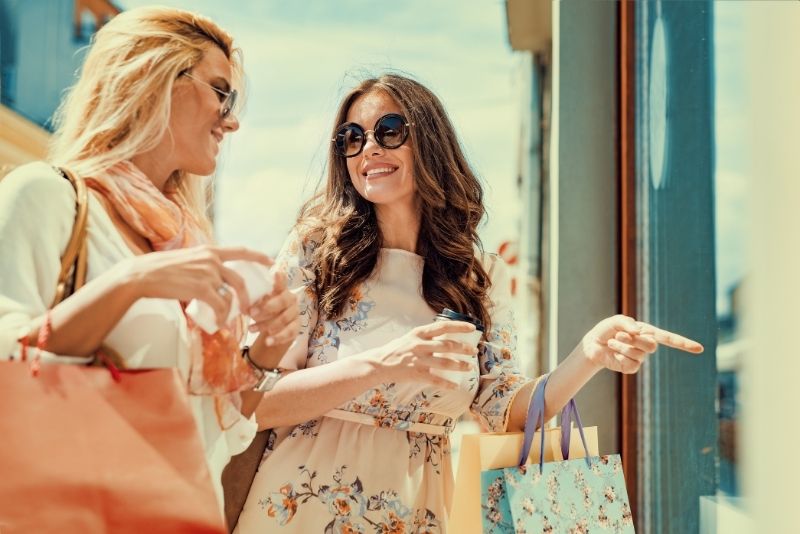 Calle del Cristo — commonly referred to as 'the shopping street' by locals — should be high up on any tourist's list of things to see in Puerto Rico.
With plenty of shops, restaurants, coffee shops, and bars to check out, it's easy to spend an entire day in the area, walking down the old cobblestone streets and enjoying the colorful architecture along the way.
45 – Spend a day golfing on the fairways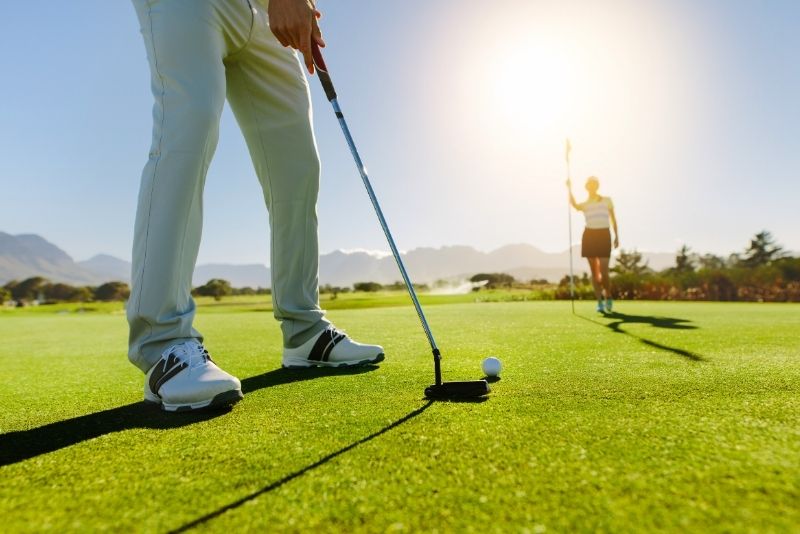 Are you a golf lover?
With so many incredible golf courses waiting for you in Puerto Rico, you'll be spoiled for choice!
The El Conquistador course is ideal for those who like a challenge; or, if you consider yourself a seasoned pro, why not try your luck at the championship course at the Hyatt Regency Grand Reserve Hotel?
46 – Admire the collection at the Museo de Arte de Ponce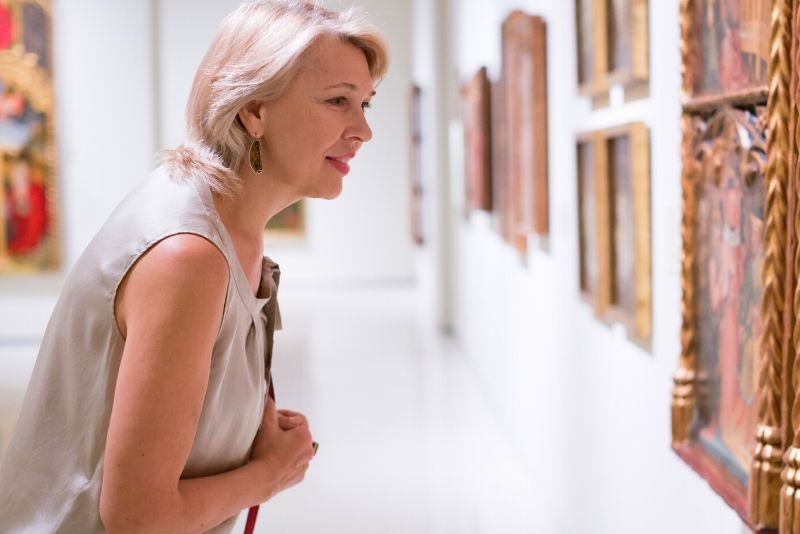 The Museo de Arte de Ponce has a permanent collection that is sure to thrill any and all art lovers, one featuring work dating all the way back to the 14th century!
Packed with a range of styles, the museum showcases pieces by European and Puerto Rican artists alike, meaning that there's something to suit everyone's tastes.
47 – Soar over the city with a helicopter tour!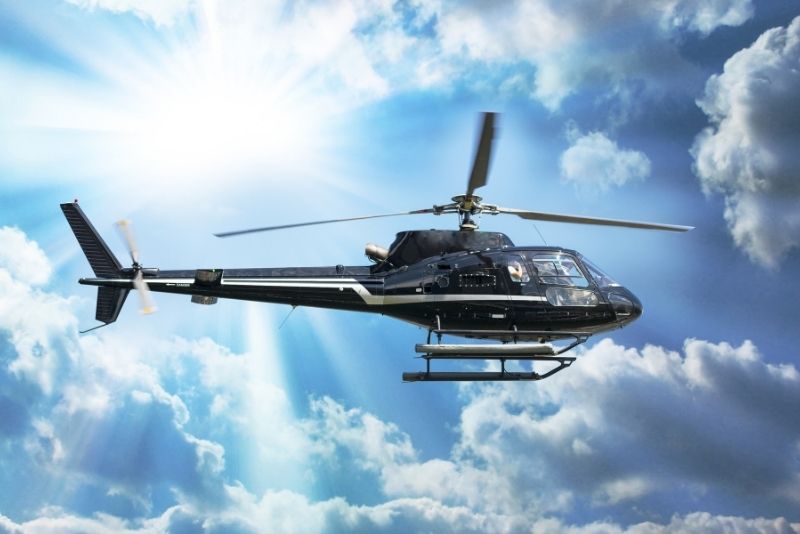 Want to see the best views in the city? Then why not go on a helicopter ride!
You'll get to see a great birds-eye view of all the places you want to visit (or have already visited) as well as spectacular views of the coastlines.
A little warning: if you're afraid of heights, you might be better of skipping this one!
48 – Learn how to dance salsa!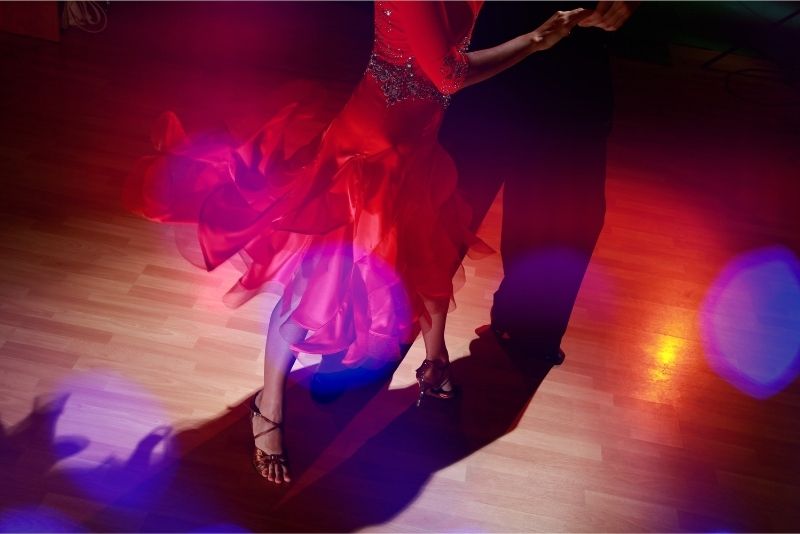 Fancy yourself a bit of a dancer? Then why not take a salsa dancing class and bring your skills to the next level!
Don't worry, even if you have two left feet, the instructors are super friendly and will help you get into the groove.
You'll be salsa dancing your way across Puerto Rico in no time!
49 – Check out the interactive Carolina Children's Museum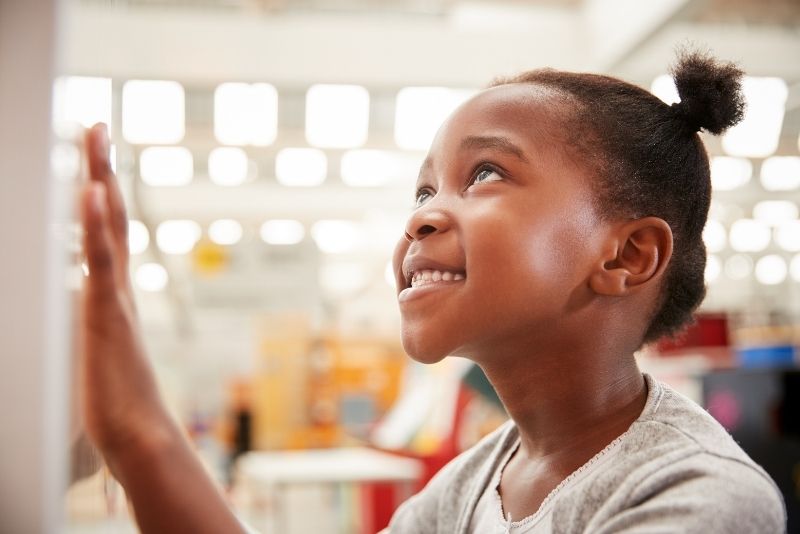 The Carolina Children's Museum makes learning fun!
They have all sorts of exhibits ranging from physics and energy, to art and music, transportation and construction, and so much more.
With a playground and a mini zoo on offer as well, if you have kids, be sure to add this place to the list of things to do in Puerto Rico — they'll have a blast!
50 – Visit the Coliseum of Puerto Rico José Miguel Agrelot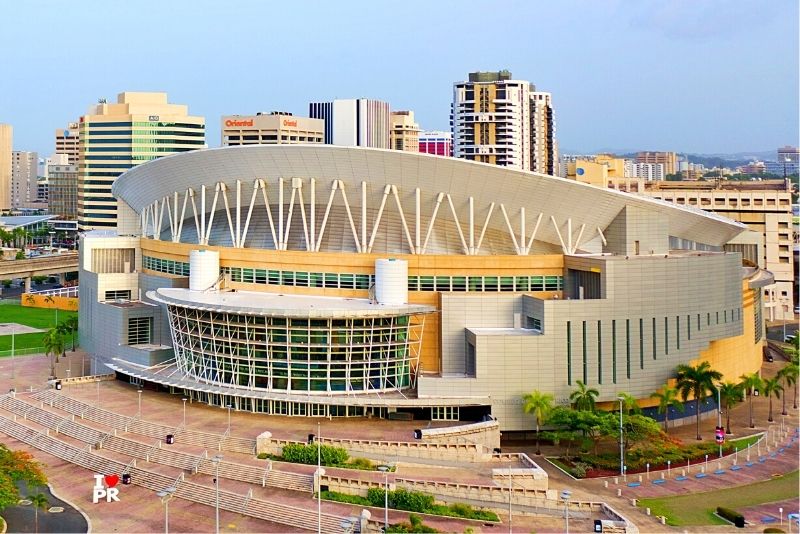 The Coliseum of Puerto Rico José Miguel Agrelot is the biggest indoor arena in all of Puerto Rico and it is host to many different events.
Over the years, some of the biggest names in the music industry have performed here — we're talkin' Madonna, Britney Spears, and so many more.
Hot tip: have a peek at the calendar before visiting to check out which of the upcoming events are most enticing.
51 – Zoom through San Juan on a Segway tour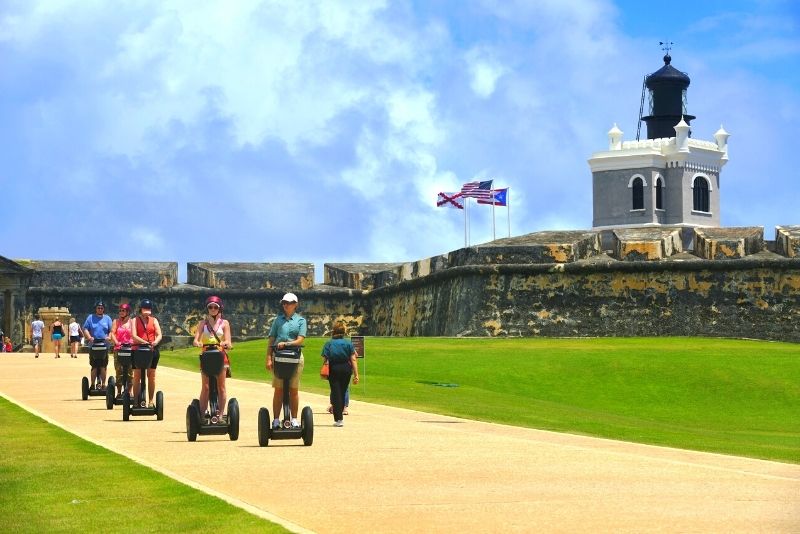 A Segway tour is the perfect way to explore the city and see all the attractions without breaking a sweat!
You'll get to see everything the city has to offer and learn the city's history thanks to the expert (and, more importantly, local) tour guides.
Since you'll also be provided with safety gear, sunscreen, and water, all you need to bring is a camera and a can-do attitude!
52 – Spend the day on Vieques Island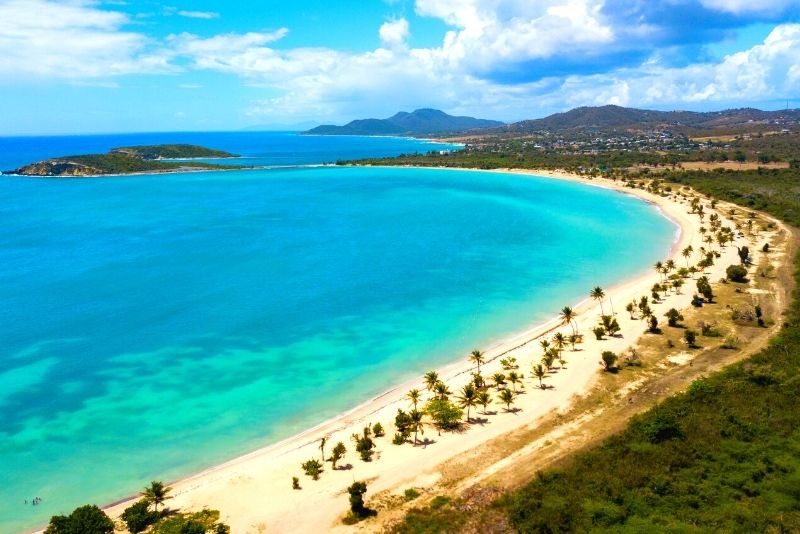 Puerto Rico has some of the best beaches in the world, and Vieques Island is no exception.
You can soak in the sun and enjoy the crystal clear waters, or you can opt to go on a snorkeling tour and catch a glimpse of the wondrous marine life in the area — either way, a day of fun in the sun for the entire family awaits!
53 – Put on your detective hat for a Murder Mystery tour!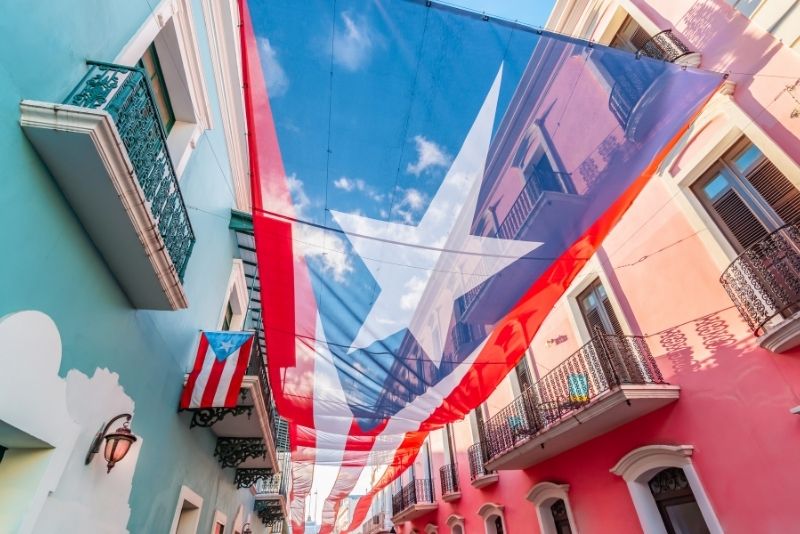 Do we have any budding Sherlock Holmes out there?
A murder mystery tour is not something you get to do every day, and it's one way to make sure your Puerto Rico trip falls nothing short of memorable.
After you arrive, your group will be split into two teams —  the fastest team to figure out the mystery wins!
Besides figuring out 'whodunit', you'll also get to stop at some of the local hotspots for drinks and a bite to eat.
54 – Plan a romantic sunset beach picnic!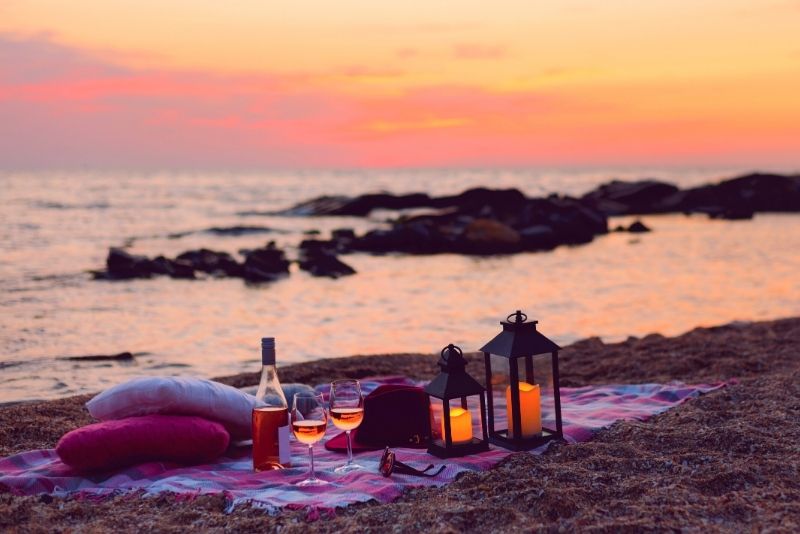 An organized romantic sunset beach picnic is the perfect way to surprise your better half!
Better yet, everything is already set up for you, so you don't have to sweat the details — just reap the rewards!
Planning something a little extra special? If you have something like a proposal in mind, you can upgrade your package and the locals will capture it all on camera (secretly) so that you can keep the memory forever.
55 – Conquer 'The Beast' at the Toro Verde Adventure Park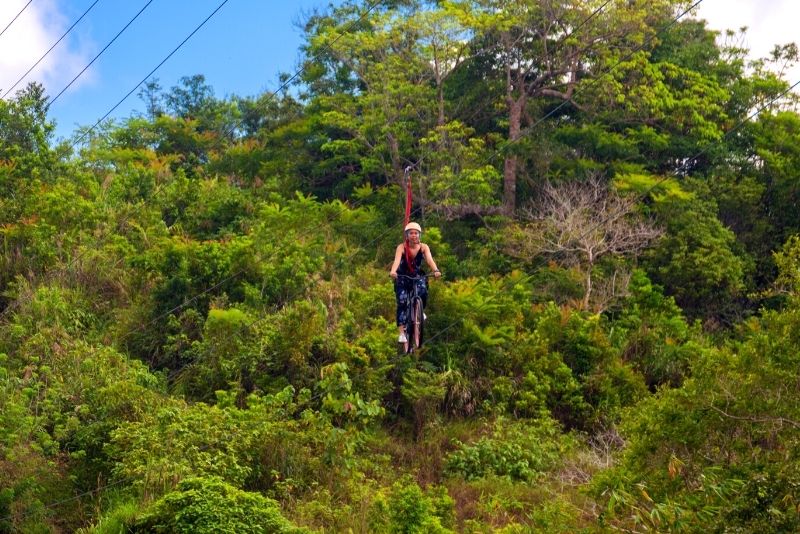 If you're on the hunt for adventure, look no further than the Toro Verde adventure park!
With so many different ways to explore the park and witness some truly amazing views above the forest canopy, it's a regular hit for adults and kids alike.
Try one of the many different kinds of ziplines (visitors love the zipline that you can ride bikes on), explore on foot, or — if you're brave enough — you can even try conquering The Beast!
56 – Learn about local culture at the Caguana Indigenous Ceremonial Center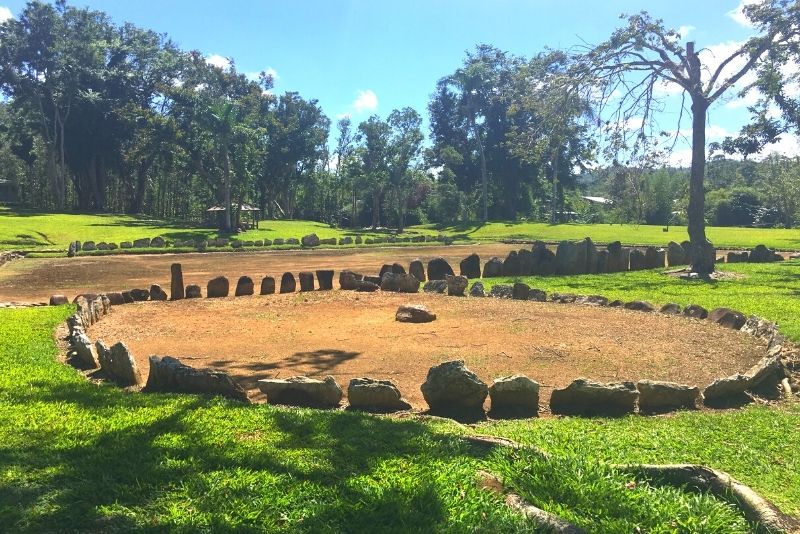 The Caguana Indigenous Ceremonial Center is considered to be one of the most important archeological sites ever discovered and it is said to be over 800 years old!
Whether visiting solo or with the family, you'll be sure to gain great insights and learn a lot of intriguing historical facts about the indigenous people that once lived here before the land was colonized.
57 – Make a beeline for Gilligan's Island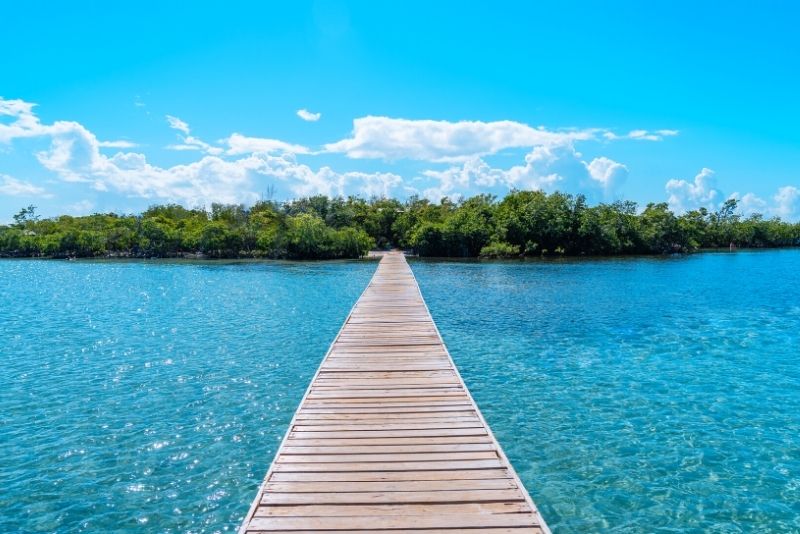 If you're looking for a little piece of heaven, be sure to add this place to your list of things to see in Puerto Rico.
The uber-popular Gilligan's Island (and no, we don't mean the TV show) is a fan favorite with the locals, yet is often kept under wraps for tourists (until now!).
On this picturesque oasis, you can soak up the sun on the beach, go for a kayaking trip,  or book a boat ride around the island.
58 – Try your luck at the casinos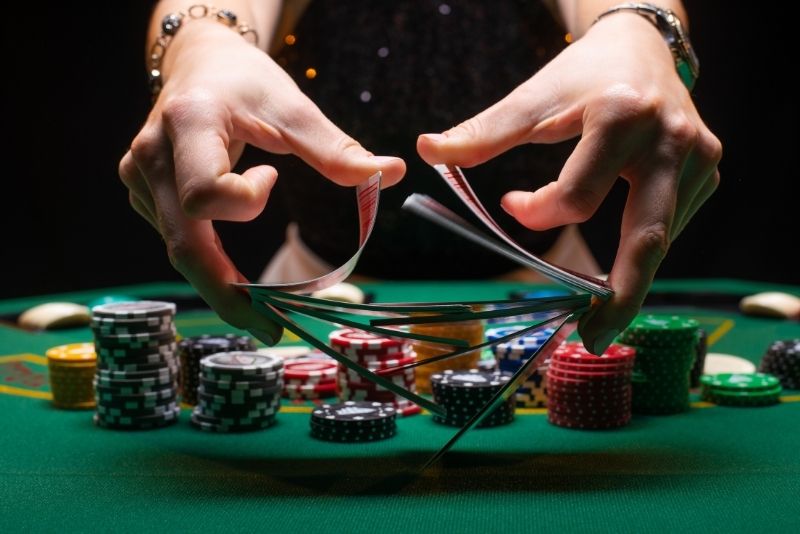 Do you consider yourself lucky? Why not put that theory to the test at some of the best casinos that Puerto Rico has to offer?
The island boasts some of the biggest names in the hotel and casino business, so you don't even have to leave the main island in order to have a great time!
If you'd like to stay at a resort-casino, any of La Concha Renaissance; The Ritz-Carlton, San Juan; or the Hilton Ponce Golf & Casino Resort are popular choices.
59 – Meet the locals at the farmers' markets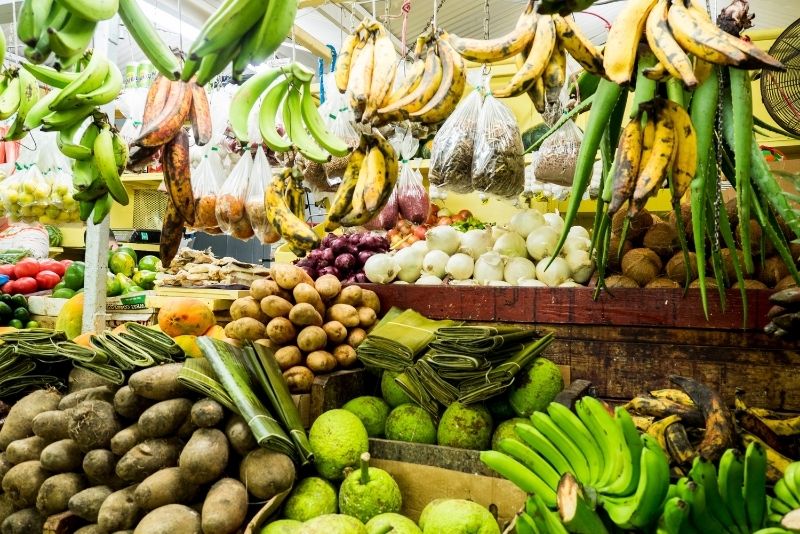 The perfect combination of food, souvenirs, and a vibrant atmosphere, the farmers' markets are a great way to spend your day strolling around and relaxing.
With all sorts of things including food trucks, drink stalls, and hand-crafted goods made by the locals, you never know what you'll find!
It's the perfect place to go to pick up some one-of-a-kind souvenirs before you head back home.
60 – Grab a photo at Salinas de Cabo Rojo (the pink lake)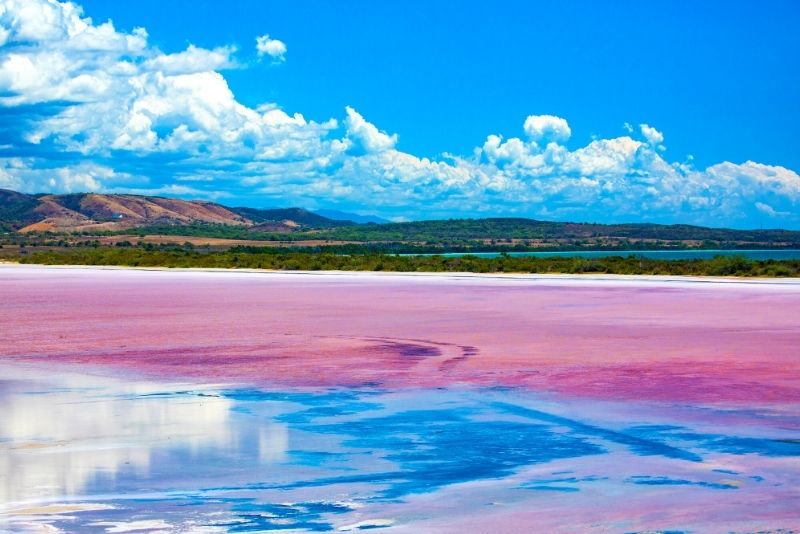 The Salinas de Cabo Rojo, otherwise known as the pink lake, is considered to be a national treasure – and it's not hard to see why!
Thanks to its natural hue, it gives off an absolutely stunning visual and is therefore often considered one of the essential things to see in Puerto Rico for travelers.
It is important to note that the lake is protected and there is no swimming allowed, but there is still plenty to do nearby!
61 – Have fun at Coqui Water Park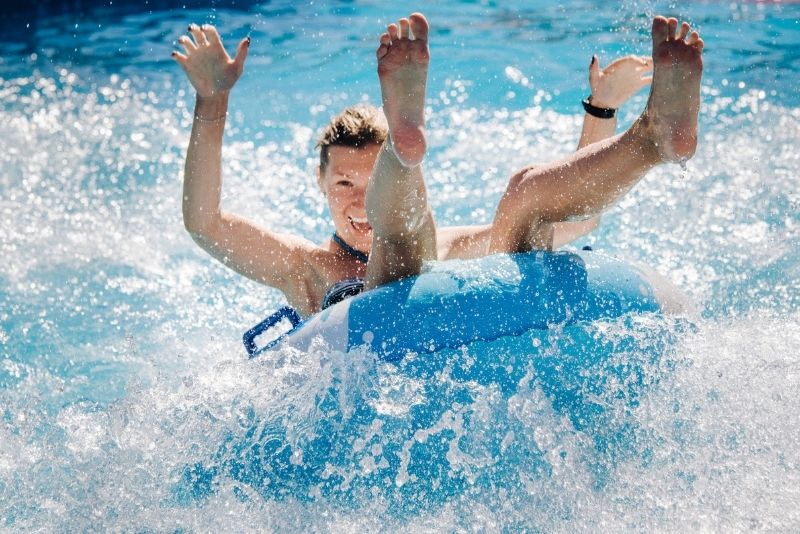 The El Conquistador Resort is one of the most well-known and prestigious resorts in Puerto Rico.
It is also home to the Coqui Water Park (found in the Marina Village section), a fantastic place to enjoy a day of fun in the sun — especially if you're traveling with the whole family!
As if that weren't already enough, there are also a number of other amenities available at the resort including a golf course, and plenty of bars and restaurants.
We hope you've enjoyed our selection of things to do in Puerto Rico — the Caribbean paradise oasis!
If you have any other must-see suggestions, feel free to let us know in the comments!
As always, happy travels!