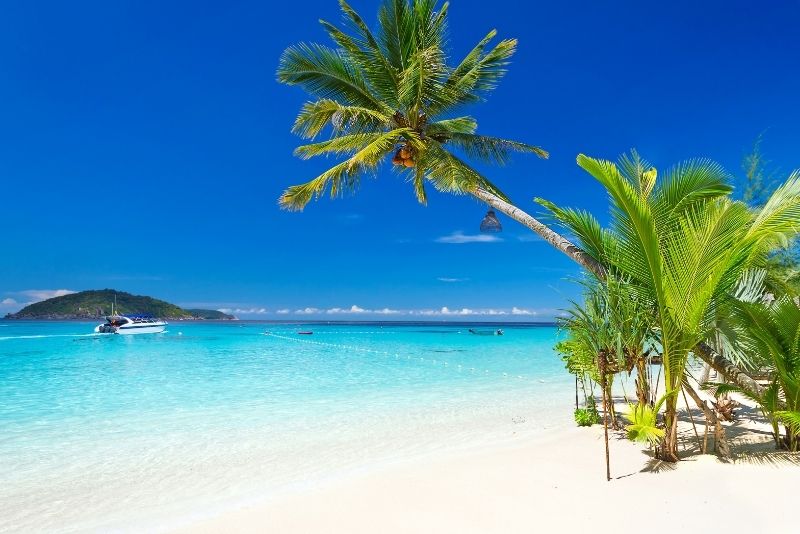 With crystal clear waters, a laid-back vibe (made even more famous by the legendary Bob Marley, of course), and no shortage of eclectic nightlife, Jamaica, the Caribbean's 3rd largest island, is a prime vacation spot. It's no wonder the paradise island receives over 4 million international visitors every year.
Offering visitors tropical climate and warmth virtually all year round, with a few months of dryness in the winter and spring, it's not hard to see why Jamaicans and visitors always have a reason to head to the pristine beaches to enjoy incredible food and music and watch life pass by beautifully.
Whether you're on the hunt for an exhilarating adventure (we're talkin' zip-lining, scuba diving, ATV riding or rafting through the lush forest) or lounging around on a stunning white sand beach in Montego Bay or Negril — there's truly something for everyone in this ocean oasis.
So, what are you waiting for? Take a trip to the Caribbean to get a real taste of what island life is truly about. You'll be amazed by the sheer magnitude of incredible things to do in Jamaica!
Want to dive straight in? Browse our catalog now!
1 – Spend some quality time underwater with a bit of snorkeling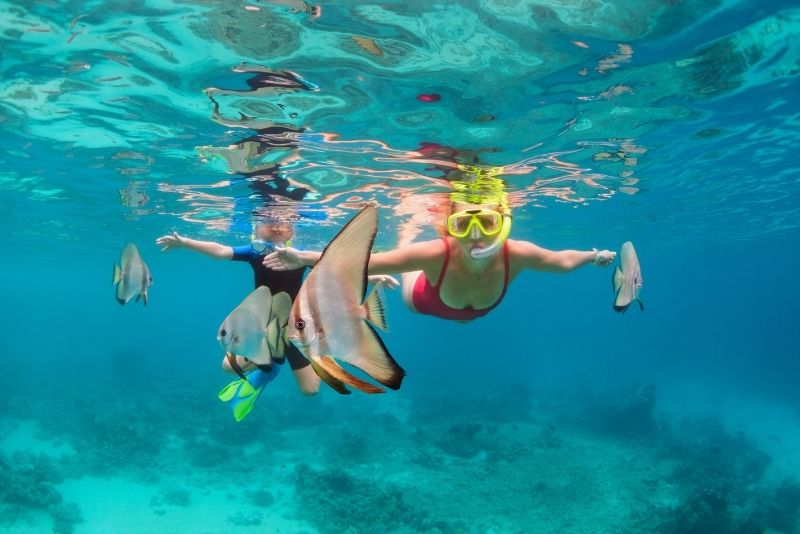 Jump on in and experience the unique sea life this island has to offer. With live coral reefs and schools of tropical fish scampering through warm turquoise waters, this underwater paradise is heaven on earth for nature lovers.
And given the diverse lineup of species in the area, each of these trips is distinct and memorable; you might see anything from sea urchins and mackerel to clownfish, tuna, and parrotfish!
Even if you're not a big swimmer, the boat trip alone is worth the excursion. You'll find flowing food and drinks to accompany the sweet sounds of island music.
2 – Scramble up or swim beside Dunn's River Falls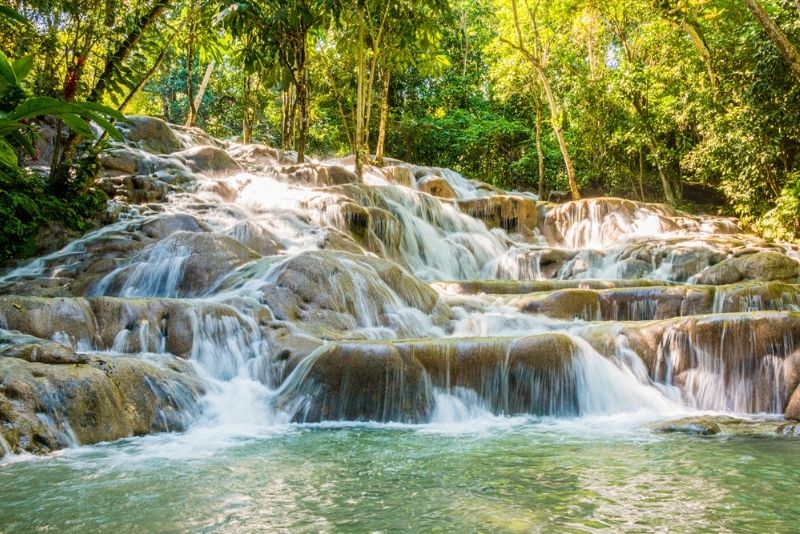 One of the most famous natural attractions on the island, the Dunn's River Falls attracts people from all over the world. As you can tell, it's not hard to see why. It's a one-of-a-kind place to climb, tube, jump and swim (with plenty of organized tours satisfying every interest).
There's something for everyone at this popular attraction.
Hike to the top for panoramic views and see the years of mineral deposits that make this the most beautiful spot — it regenerates itself as the water flows. Surrounded by lush vegetation, this serene location is truly unique.
Tours depart from Montego Bay, Ocho Rios, Falmouth and Negril.
3 – Check out Barney's Flower & Hummingbird Garden Jamaica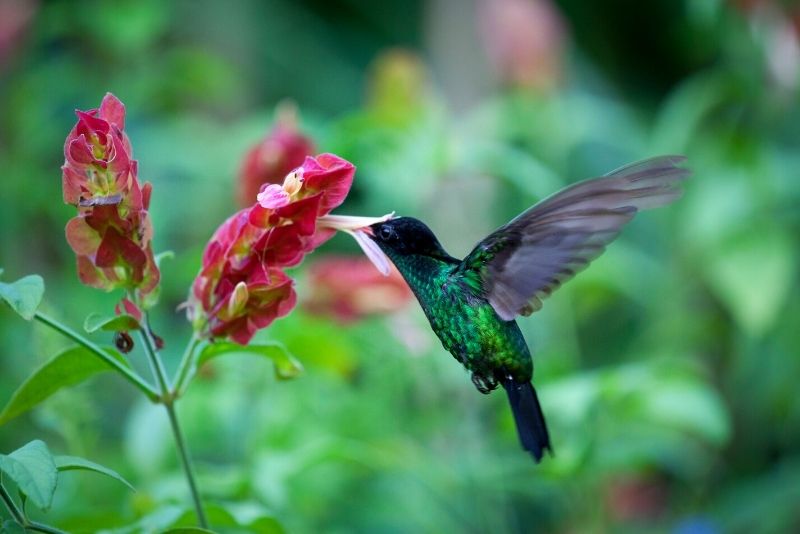 More hummingbirds? You betcha! On the island's West End near Negril (not too far from the Negril Lighthouse and the famous Rick's Cafe), you'll find Barney's Flower and Hummingbird Garden, a family-run tropical garden turned hummingbird haven.
Besides the abundance of these tiny birds that will swarm your head as soon as you walk in, there's also a beautiful variety of exotic plants and flowers!
4 – Explore the jungle with a kayaking tour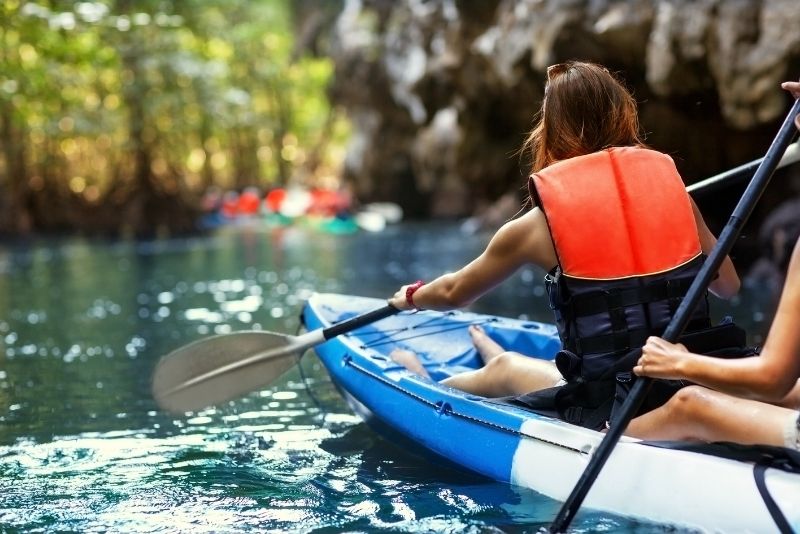 Give those shoulders a workout and paddle a kayak through the jungle! Through gentle currents, you'll have plenty of time to see the native wildlife and lush greenery that surrounds you along the Rio Bueno in Trelawny.
Conveniently, most tours provide pickup and drop-off from Montego Bay and Negril, with lunch and refreshments included.
In addition to kayaking, tubing your way through the river is another fun option! Check out the exciting tour options with highly qualified guides at River Rapids Jamaica.
5 – Soak up the local vibes of the Port of Falmouth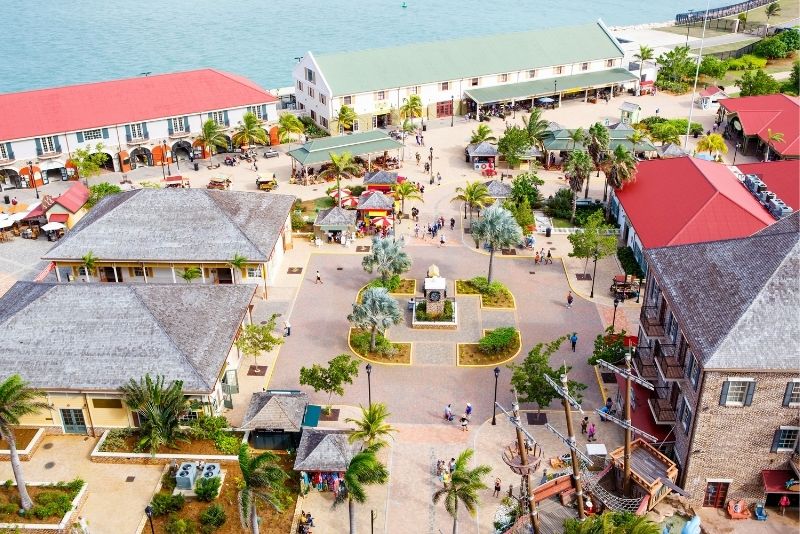 Wedged right between Ocho Rios and Montego Bay, Falmouth has been a popular Jamaican port since 1769. At this Trelawny Parish oasis, visitors can get a taste of Island Life past by taking in the gorgeous Georgian architecture of places, such as the Falmouth Courthouse, the Baptist Manse Masonic Temple, or the Good Hope Coach House.
Architecture, not your jam? There are, of course, no shortage of white sandy beaches, plus a bustling local market slingin' delicious delicacies like jerk chicken and beef patties, and plenty more in the area.
6 – Leap into the iconically beautiful Blue Hole!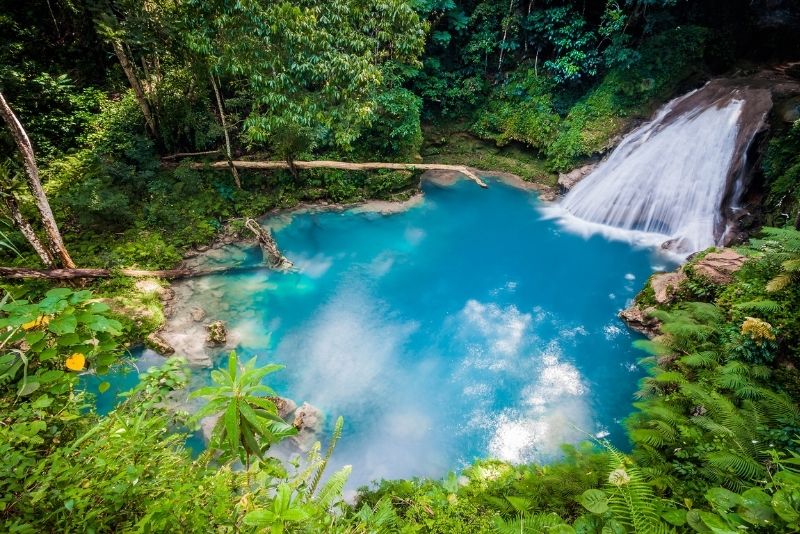 An incredible natural spot to light up the social media feed, the Blue Hole pairs white limestone with a deep natural sinkhole. Also known as the Secret Falls, it creates what's become an iconic Caribbean swimming hole!
Take amazing photos of this natural beauty. Make a splash into the bright blue waters with a rope swing or — if you're daring enough — leap from one of several rocky jumping platforms.
Whether you take a tour or hike your way up, this paradise in the middle of the jungle is a perfect place to spend the day!
Tours depart from Montego Bay, Falmouth and Negril.
7 – Live luxuriously on a boat tour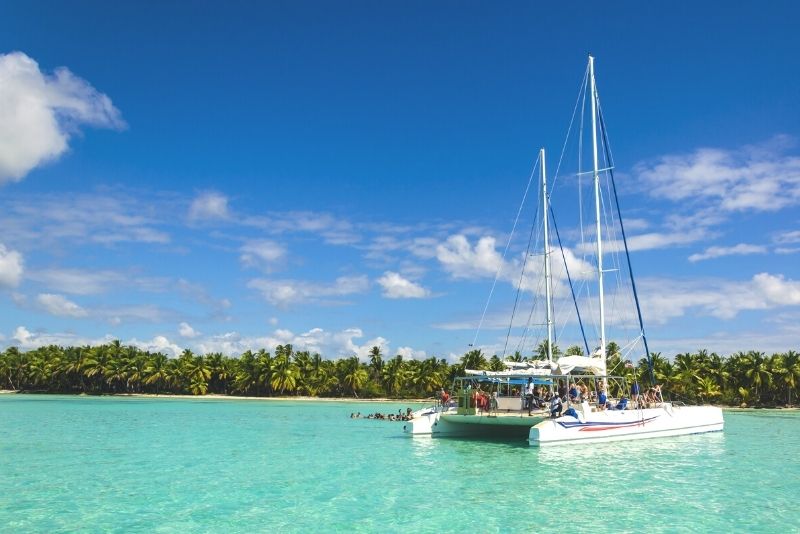 Want to see how the other half lives? Then grab the camera and sign up for a catamaran cruise! As you sail around the island, you can drink up all of its finest sights… and enjoy the boat's amenities, of course!
As the sun beams down, you'll be able to sit back and relax, listen to reggae, go snorkeling, and tuck into a delicious meal. If you're feeling extra bougie, rent a private yacht with an open bar.
From there you can check out massive waterfalls or even light up the night with a bioluminescent lagoon cruise!
8 – Find your adventure at the White River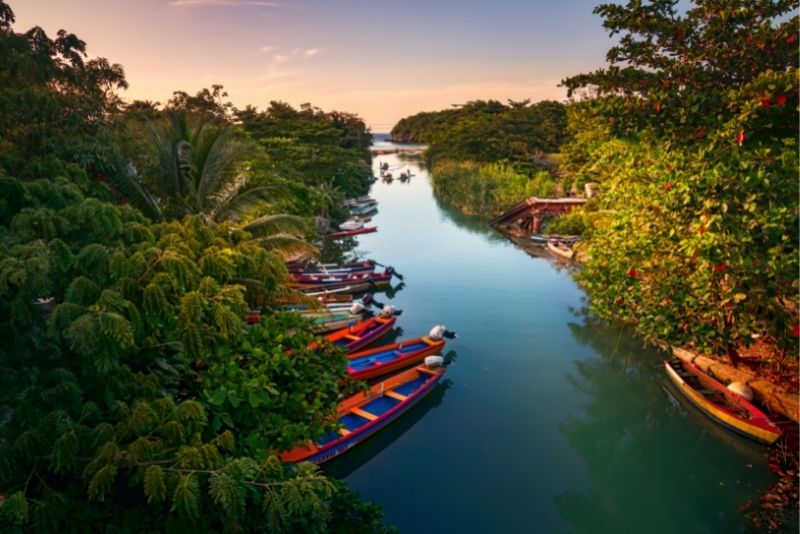 If you want to feel like Tarzan, look no further than the White River in Ocho Rios — the prime spot for a day full of thrills and adventure! The current is a wonderfully inviting shade of blue, and its gentle pace is perfect for all sorts of aquatic entertainment.
Swing on ropes to jump into the sparkling water or take a trail to a tranquil lagoon. Either way, ​​this cool fresh water is a great feeling on a hot Jamaican day. With a number of tours and excursions revolving around this area, you're sure to find the perfect adventure!
9 – Discover why they call it the "Ahhh Ras Natango Gallery and Garden"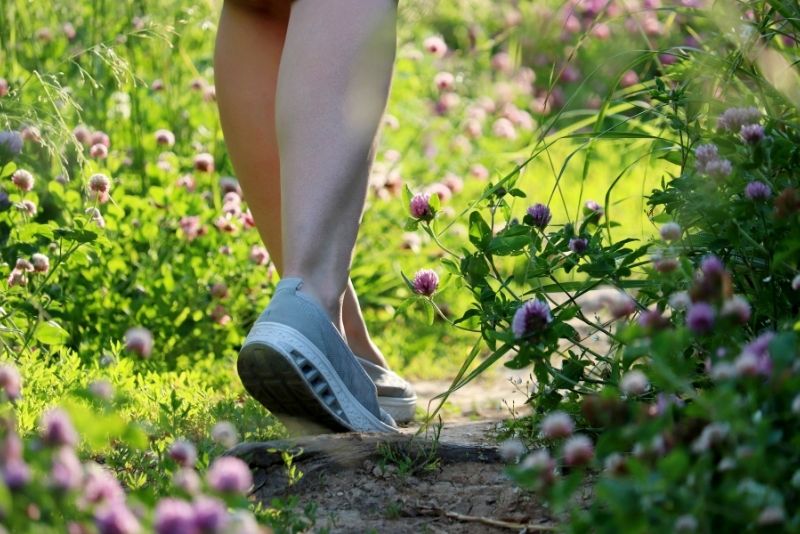 Artist and flora enthusiast Ras Natango transformed this once a barren, rocky hillside above the Montego Bay hills into a flourishing garden and art gallery.
A surefire hit for travelers of all ages, the Ahhh Rasnatango Gallery and Garden makes you feel like you've been transported to a magical land. Wander by the gladiolas, dahlias, begonias and ferns, while listening to the melodies of local songbirds.
As for the gallery, there is no shortage of culturally influenced paintings, some of which are available for sale (a perfect souvenir, perhaps?).
10 – Kick back at Bloody Bay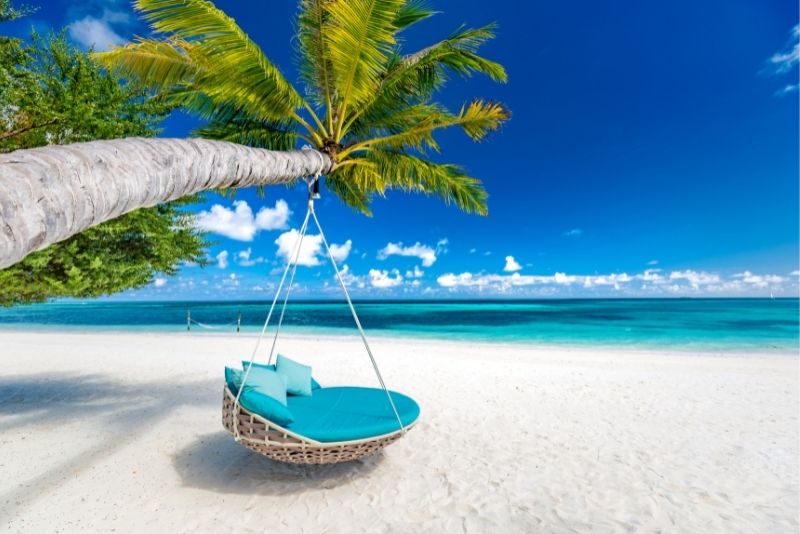 Powerful waves are ideal for watersports and adventure types, but when it comes to swimming, sometimes a quiet calm sea is all you need. For that, in Jamaica, there's no better spot to wade for a couple of hours than Bloody Bay.
Despite how the name sounds (earned off the back of 19th-century whalers butchering their catches), this area is a wonderful place to snooze in the sun or go for a jog in the soft sand — not to mention the breathtaking sunsets!
11 – Take in the many unique stories of the Rose Hall Great House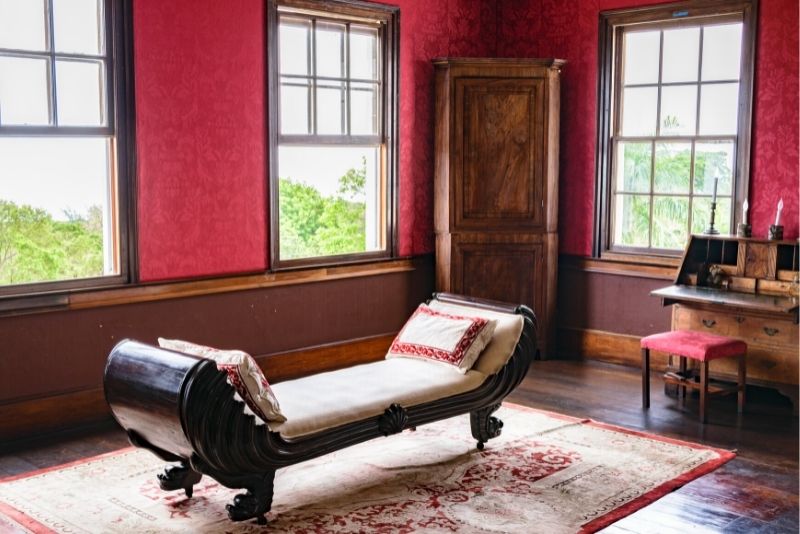 A frequently postcarded landmark, this restored 18th-century architectural masterpiece is arguably the most famous house in Jamaica. While once the centerpiece of a vast plantation spanning 650 acres, these days the Rose Hall Great House is a major tourist attraction.
Visitors can tour the house and its beautiful tropical gardens, getting a taste of the life of the historical European bourgeoisie. Take in amazing stories of the mansion's past as you explore, including the legacy of the famed "White Witch" who once lived here… when she wasn't busy killing off husbands, that is!
12 – Take a bamboo raft down the Martha Brae River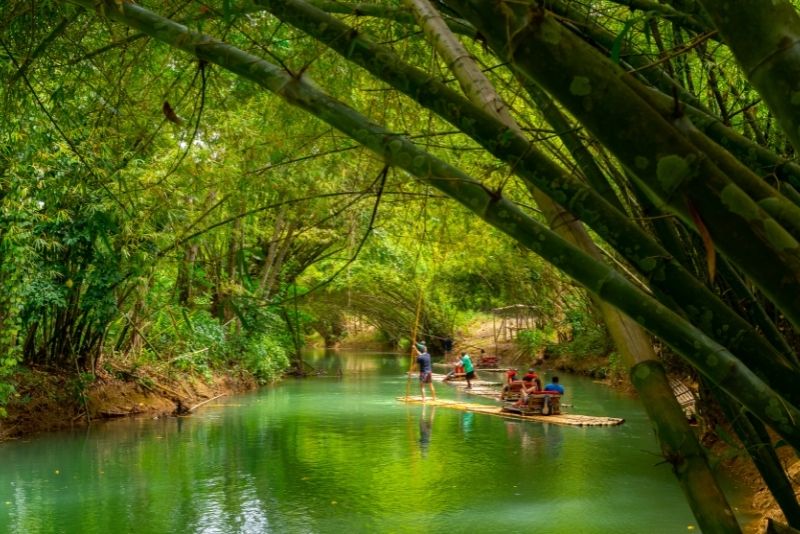 Looking for a unique excursion? Then a bamboo raft through luscious vegetation on aught to do the trick! With a local captain steering the ship, enough room for two, and the chance to buy fresh fruit and drinks along the way, this revitalizing experience is perfect for a romantic date.
There's a bunch of tubing opportunities for a little more adrenaline-inducing activities and a few relaxing activities too, like a chance to get a foot massage with an exfoliating limestone on the raft.
13 – Trot through the waters on horseback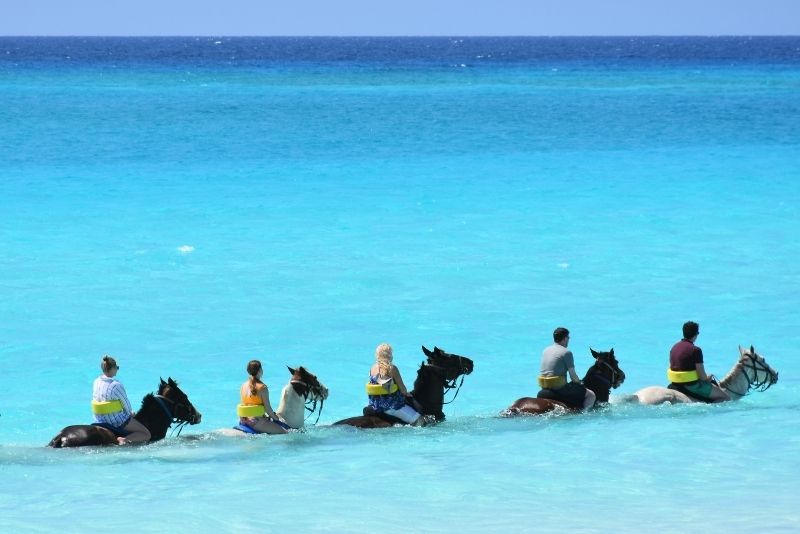 For an exciting day out fit for all ages and skill levels — saddle up, take an afternoon to enjoy the outdoors, and see the island on horseback! While trotting along with your new friend, you'll pass through local communities and learn about the history of the island from your friendly instructor.
Depending on which trip you choose, you can wade through the water with your mighty steed in Runaway Bay, trek through the beautiful Negril area, or plenty more.
14 – Pay a visit to musical history with a trip to Nine Mile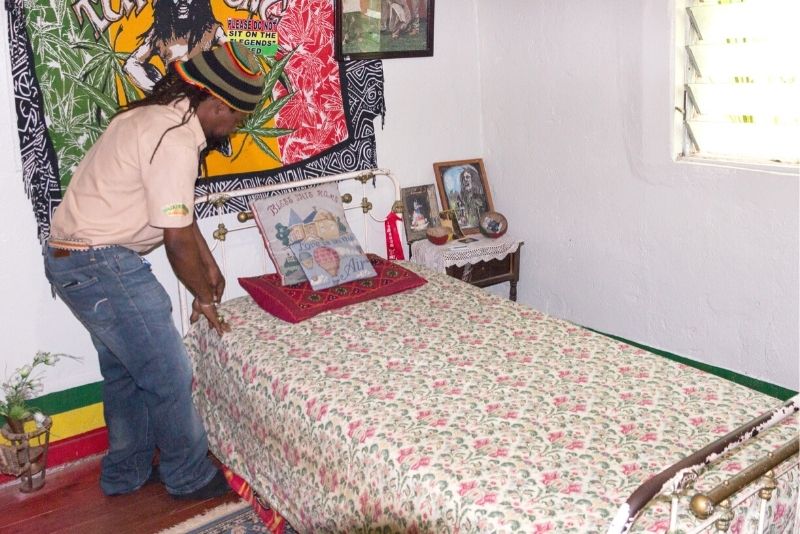 Three Little Birds told us that no visit to Jamaica would be complete without visiting Nine Mile, the birthplace of reggae legend Bob Marley. On dedicated Nine Mile tours, reggae-obsessed travelers can visit the Bob Marley Museum, where you can learn about Rastafarianism and also pay respects at the late singer's final resting place.
Enjoy a traditional Jamaican jerk lunch at Scotchies Outdoor Garden Restaurant, make the 600-foot climb up Dunn's River Falls for breathtaking panoramic views of the paradise-like landscape, and plenty more!
Tours depart from Ocho Rios, Montego Bay, Falmouth and Negril.
15 – Relax and unwind at Frenchman's Cove Resort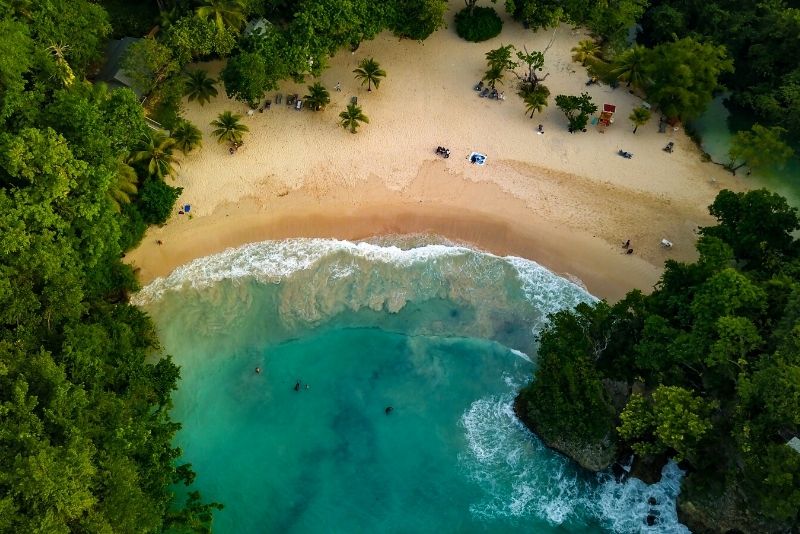 The party doesn't have to stop, but sometimes we all need a breather. That's where the relaxing escape at the Frenchman's Cove Resort comes into play.
With a majestic beach nestled in tropical forest, soft sand and stunning villas, this oasis is perfect for both small and large groups.
When you feel rejuvenated, look for some adventure — the resort has direct access to nearby excursions such as bike tours, caves, rafting, and the Blue Lagoon!
16 – Ride the SkyExplorer chairlift at Mystic Mountain Rainforest Adventures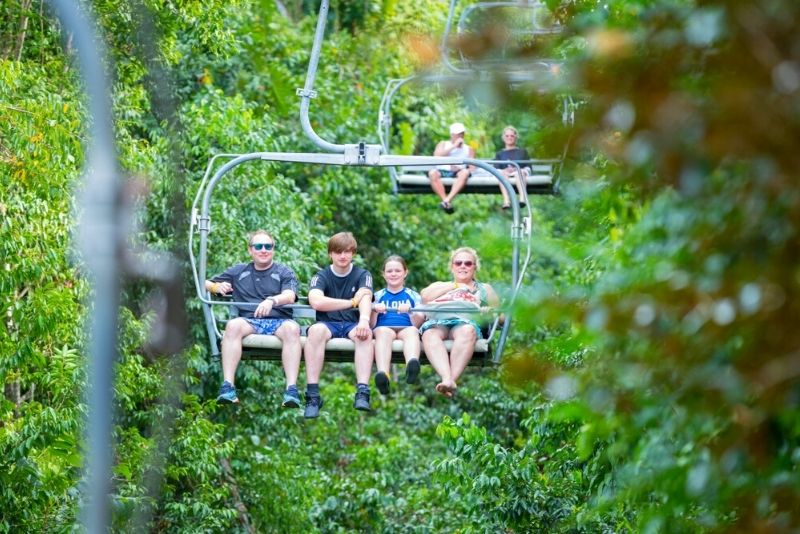 Mystic Mountain Rainforest Adventures offers the adrenaline-seeking tourist a chance to come face to face with Jamaica's fascinating rainforest ecosystem through activities like zip-lines, bobsleds, climbing walls, and roller coasters!
The undisputed highlight, however, is the SkyExplorer Chairlift. A wildly popular attraction, the chairlift en route to the park takes you 700 feet above sea level for breathtaking views of the rainforest and the Ocho Rios coastline.
Strap in and enjoy a wild, wonderful side of Jamaica!
17 – Spend the day enjoying the history and aquatic adventures of Black River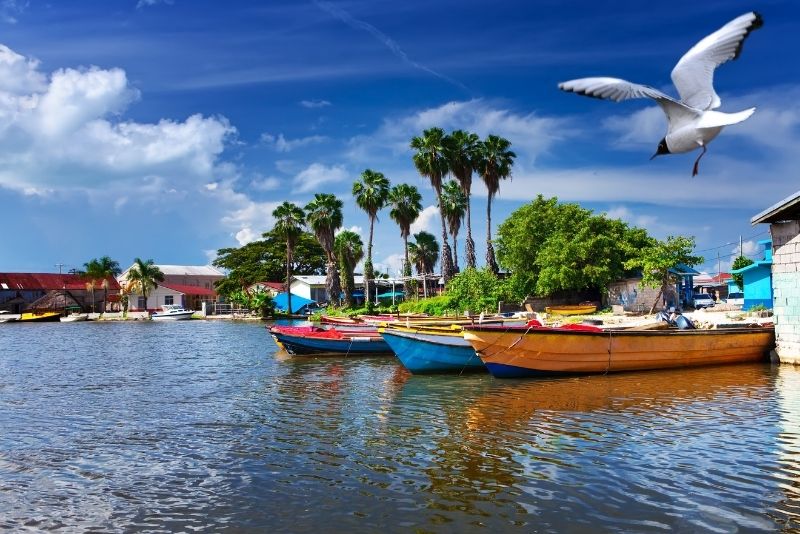 A gateway to must-see natural attractions like Lovers' Leap, YS Falls, Bamboo Avenue and the peculiar Pelican Bar, Black River is a small southwestern town just outside of Negril that offers a whole lot more than you might think.
Aside from its interesting history (it was home to the first sugar factories in Jamaica) and scenic natural beauty, there's also plenty of shopping opportunities.
It has art galleries, boutiques, craft stores and markets selling everything from Jamaican rum to handmade soaps.
18 – Be inspired by the Paint Jamaica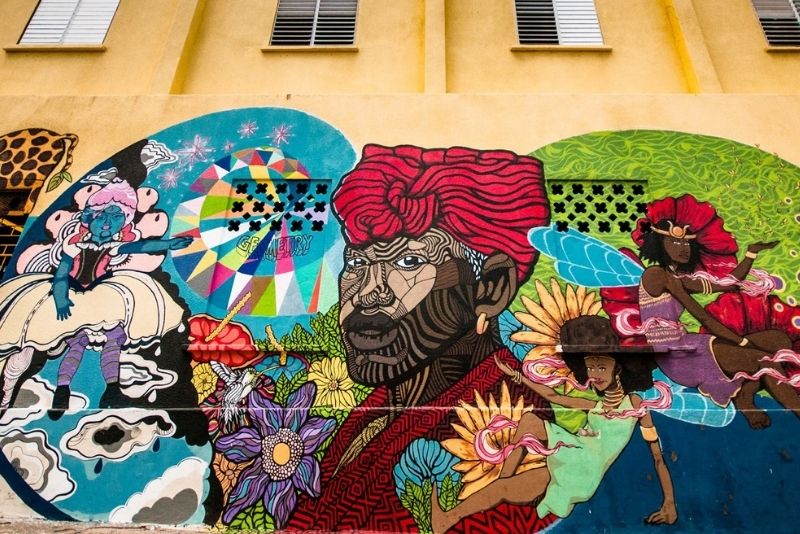 Nestled in the heart of Kingston is the Parade Garden neighborhood, home of the dazzling murals of Paint Jamaica. Started in 2014, the project aims to bring socially uplifting artwork to the streets of Jamaica.
Positive, inspiring messages abound in these community commissioned pieces of street art.
The neighborhood came together to transform a once abandoned and deleted part of town into what is now a beautiful landmark and a must-see tourist attraction (perfect for the 'gram).
19 – Soak up the sun at Montego Bay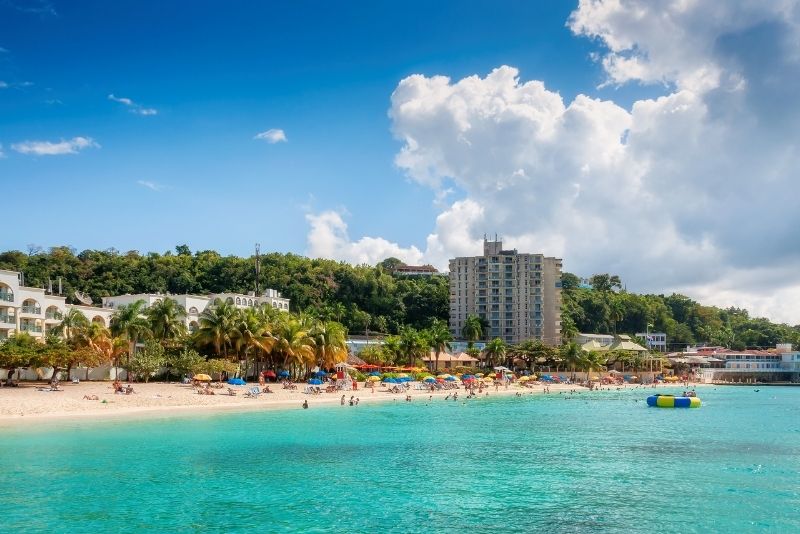 You won't want to miss the opportunity to visit one of the Caribbean's most prized destinations, Montego Bay — with its boasting clear blue waters, white sandy beaches and breathtaking views of the island's low mountains.
There are plenty of hotels and restaurants in the area, and several attractions within walking distance from one another. You can choose from beautiful estate gardens, day and night boat cruises, all-terrain buggy tours, and city tours.
From the beach to the water, make sure to get into the turquoise waters of the Caribbean Sea on a fun jet ski adventure, for the ultimate thrilling adventure!
It's fair to say that this locale has quickly become known as a beacon for Jamaican entertainment and activity!
20 – Browse to your heart's content at the Main Street Jamaica Mall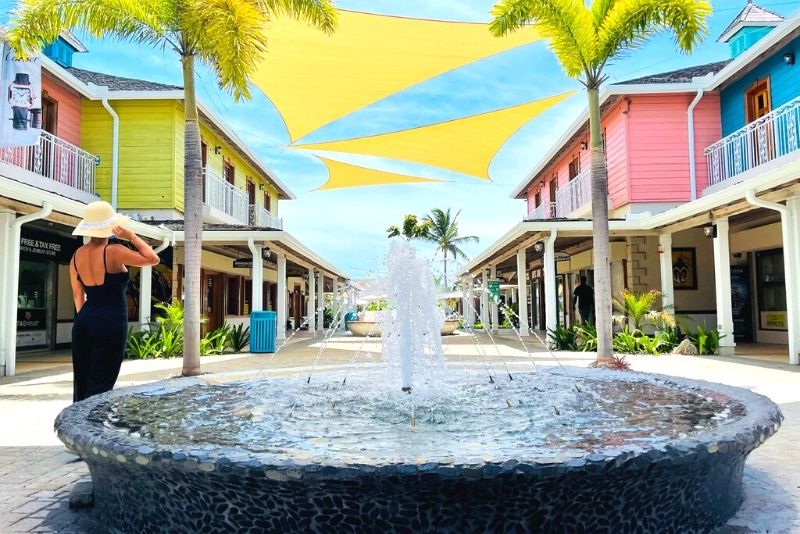 Formerly known as the Shoppes at Rose Hall, Main Street Jamaica is a shopper's paradise. No matter what sort of gift or snack you crave, this lavish spot will have something to please you – and it's also the perfect place to snag some authentic cultural items!
Found in St. Bran's Burg just outside of Montego Bay, it's the perfect place to find everything from Jamaican spices and food products to native handcrafts such as batik clothing.
You can also find healing stones, herbal remedies, secondhand books, locally-made cosmetics, jewelry and plenty more.
21 – Experience the flawless beauty of the Original Mayfield Falls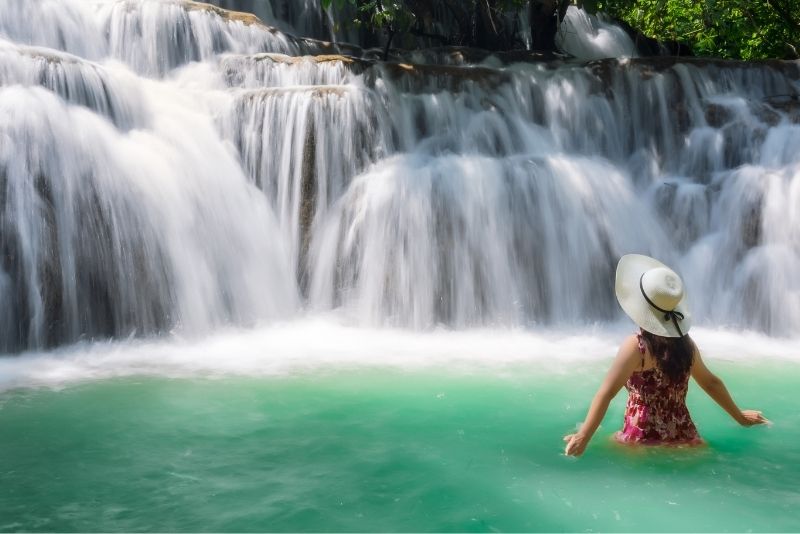 Self-touted as "the best waterfalls in Jamaica," the Original Mayfield Falls is a gorgeous, eco-friendly attraction boasting beautiful natural scenery and clean, fresh mountain air.
You'll want to make sure your phone battery is charged because the photogenic landscapes are seemingly endless.
Also offered are the rejuvenating Wellness Center and Spa, and weekly cultural shows featuring traditional Jamaican songs and dances!
22 – Get some fun in the sun at the best beaches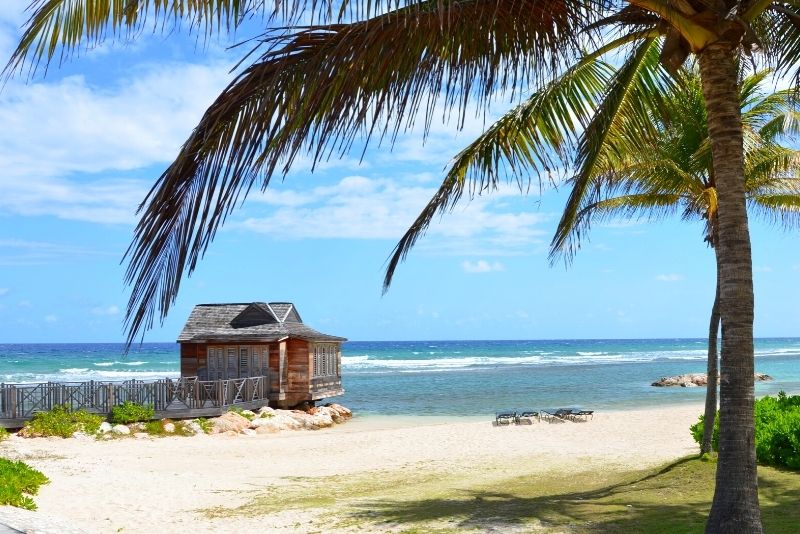 Let's be real: beaches are a big draw here. And the hardest decision will be which one to visit first! Surrounded by rocky cliffs and lush hillsides, Half Moon Beach offers a tranquil setting for sun worshippers who want to escape the crowds found at other popular resorts.
Considered one of the most pristine beaches in all of Jamaica, Ocho Rios Bay Beach (also known as Turtle Beach) is a splendid place to unwind on white sandy beaches and enjoy the crystal blue waters, plus an array of exciting water sport activities, like a fun-inducing ride on a jet boat through the salty Caribbean waters.
One of the most famous beaches in Jamaica, Winifred is an idyllic stretch of golden sand and turquoise waters that feels like paradise on earth.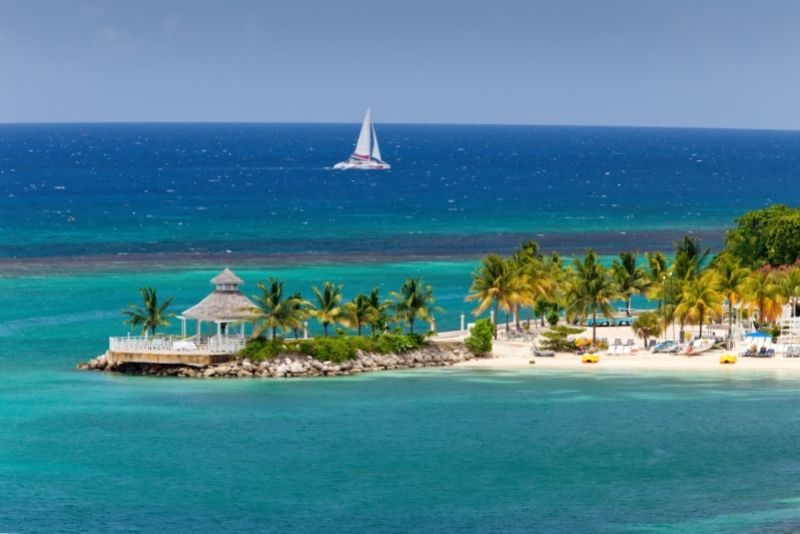 The six-mile stretch of beaches, coves and bays that make up Treasure Beach features plenty of secluded spots for swimming, snorkeling, biking, hiking or just kicking back at the many beachfront cafes supplied with fresh catches.
And on the island's north coast, not too far from Port Antonio's town center, Boston Beach is a popular destination for both surfers and sunbathers alike.
Meanwhile, Winifred Beach is an idyllic stretch of golden sand and turquoise waters that feels like paradise on earth, perfect for lounging beachside, snorkeling with colorful fish, or getting a great natural tan.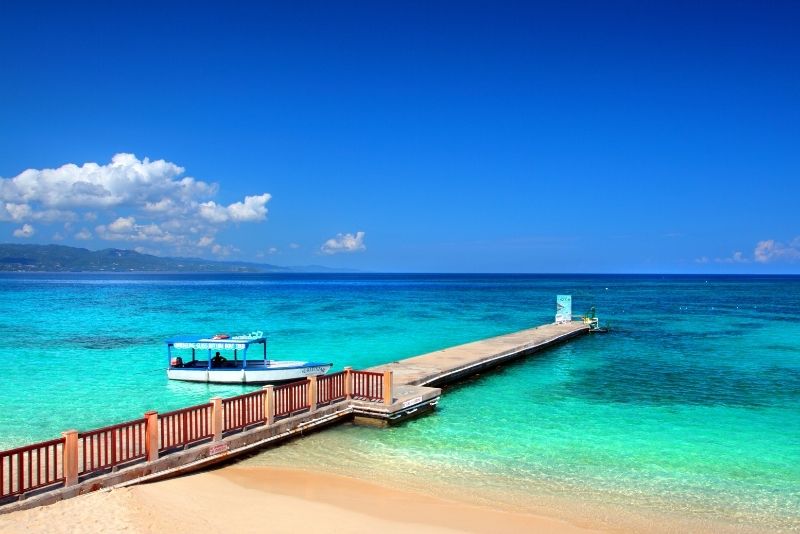 Although there isn't a cave anymore, Doctor's Cave Beach in Montego Bay is still a sight to see. The bathing club's crystalline waters are said to have restorative properties and have drawn in people from all over the world.
You can also relax at Pellew Island near Port Antonio, a tranquil shore reachable by boat, or Low Cay Beach in the Ocho Rios, where you can paddle around a gorgeous lagoon, or keep an eye out for the former vacation home of Ian Fleming, who created James Bond!
23 – Pick up one-of-a-kind souvenirs at Ocho Rios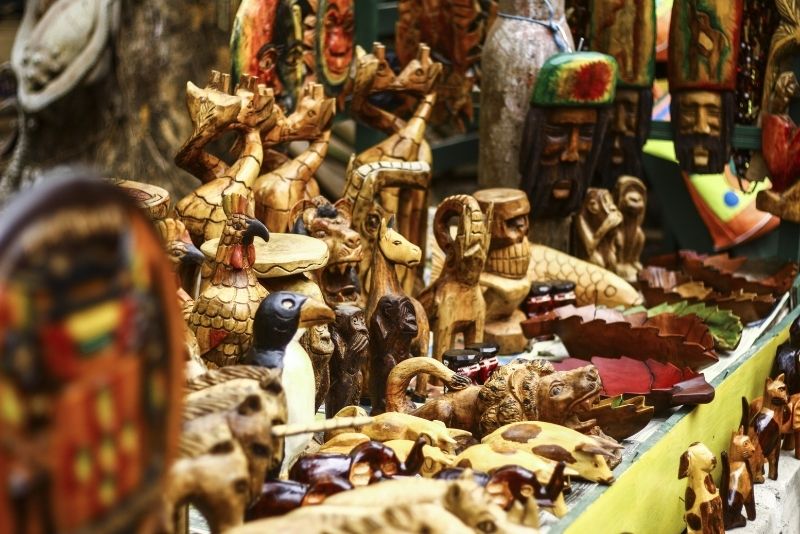 Not to be outdone by Jamaica's other spectacular hot spots, Ocho Rios has a little bit of everything for island tourists. Guided day trips take you through the storied town and its beautiful beaches and notable Fern Gully, a tranquil road filled with hundreds of towering fern species.
Meanwhile, a variety of local merchants offer handwoven hats and handbags, hand-carved statues, authentic garments, that oh-so-tasty Jamaican rum, and the area's signature and bold Blue Mountain Coffee.
24 – Enjoy a mellow day of river tubing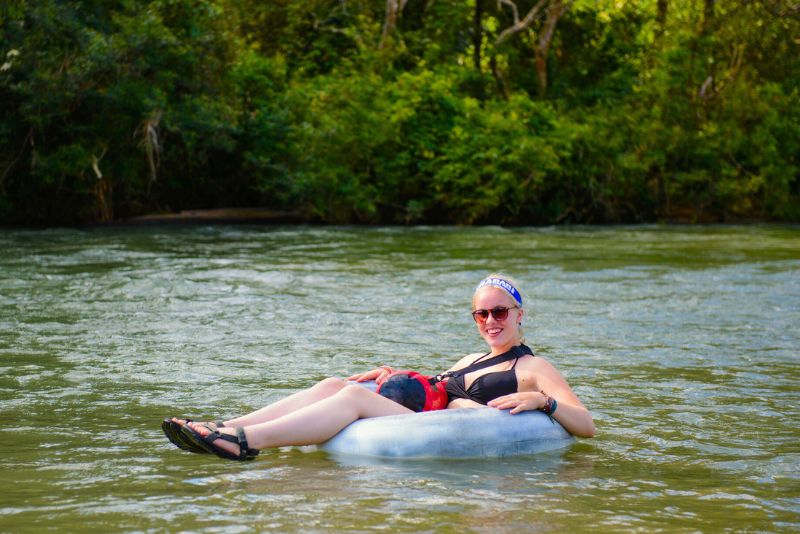 Take the joy of a waterpark and the novel thrills of the great outdoors, and you have one of the coolest things to do in Jamaica: river tubing! With cool currents all over the country, you can enjoy the lush delights of the wilderness at length, drifting along on an inner tube through the cool waters.
But rest assured, you'll still get plenty of action from the dips and turns of the river… and maybe even some small waterfalls for a natural slide! Ocho Rios and Rio Bueno are some of the most popular routes, and each trip has its own set of adventurous routes to try!
25 – Lean about sugar cane at the Croydon Plantation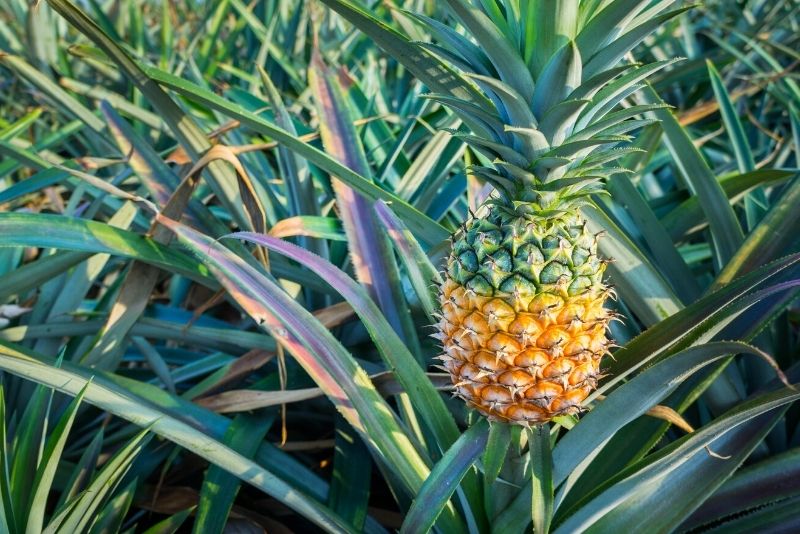 On family-friendly tours to this iconic sugar plantation (on an air-conditioned bus), you'll explore Croydon, which is one of Jamaica's most famous plantations. Learn about its storied history, as it winds up to the highest point in Westmoreland Parish.
Along with learning how sugar cane was once processed (and still can be), you'll also see the site of a historic battle during World War II, where Croydon served as an important base to protect Jamaica from enemy invasion.
And this versatile spot features plenty of other beloved island products; stroll through rows of growing pineapples and explore the unique stories of the fruit, then take a spectacular caffeine break as you sample some of the freshly grown coffee.
26 – Snap a sparkly selfie at Luminescent Lagoon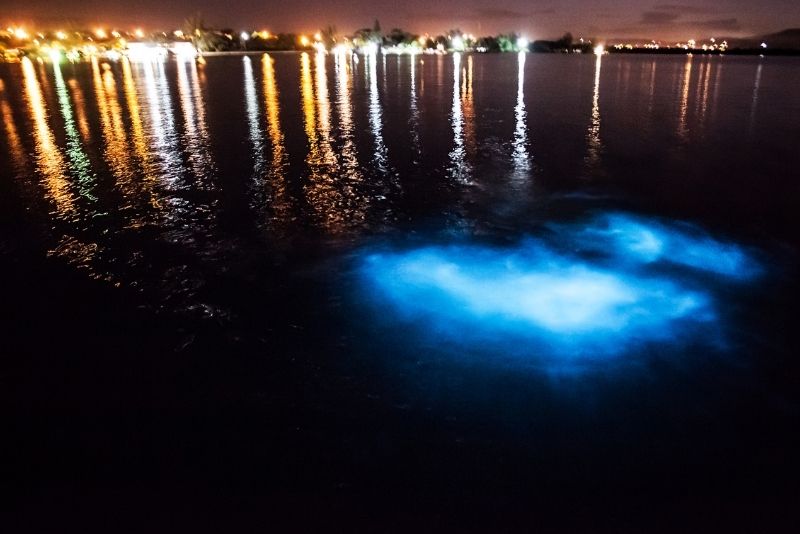 If you've ever seen the glowing, sparkly blue beaches decorating the likes of Instagram and Pinterest, it isn't just a cool filter. As one of the most famous spots in Jamaica, you have to see this spectacular phenomenon up close.
Despite a range of ways to appreciate ​Luminous Lagoon, most travelers prefer to take a glass-bottom boat out at night to see the awe-worthy phytoplankton sparkle in the darkness.
Hot tip: Take a dip (it's totally safe) and see your own body sparkle under the water on this once-in-a-lifetime trip.
Tours depart from Montego Bay and Falmouth.
27 – Lose yourself in the plant-filled wonderland of Hope Botanical Gardens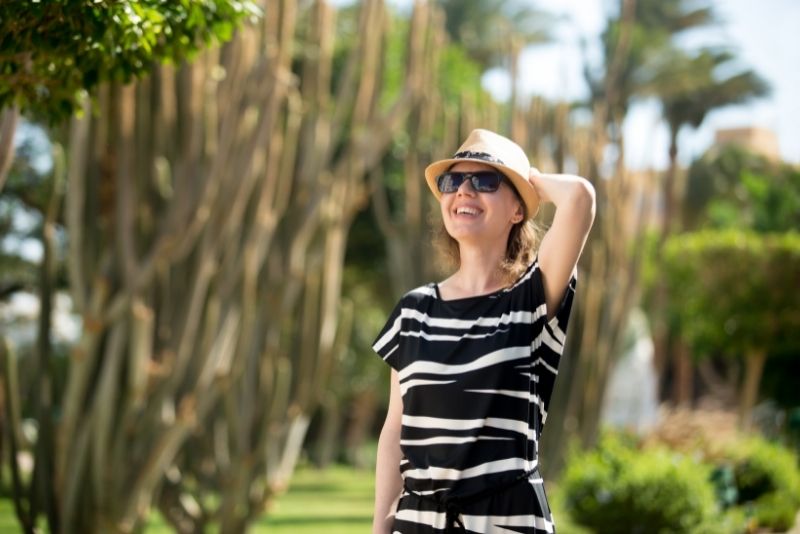 If you're looking for somewhere to hold a special event or maybe just a peaceful picnic, check out the Hope Botanical Gardens. A hot spot for both quiet afternoons and romantic weddings, its stunning scenery is sure to impress.
Between the regal Chinese Garden (a replica of the Temple of Heaven in Beijing) and the Poet's Corner, which inspired the likes of Claude McKay and Thomas McDermot, this is a prime place to find some peace.
28 – Hike through the lush Blue Mountains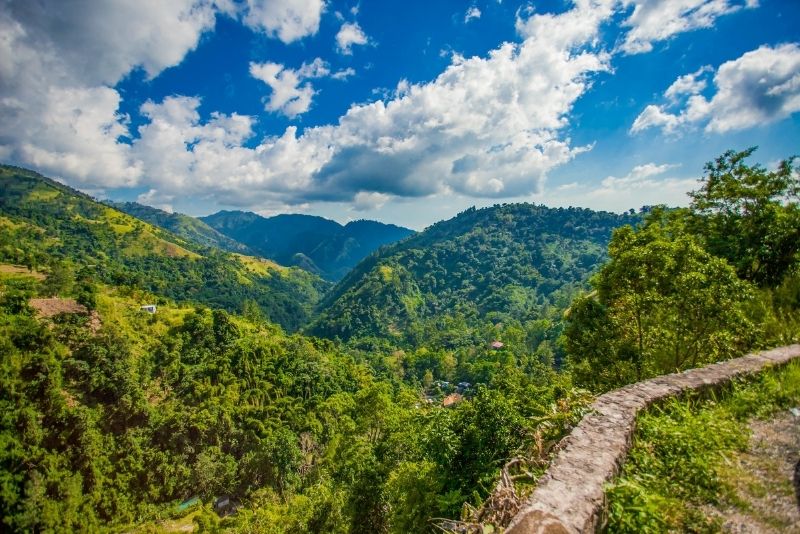 When you need a break from the go-slow vibes of Jamaica's beaches, explore and hike their mountains instead! The Blue Mountains is a UNESCO World Heritage site with diverse landscapes, including waterfalls, towering trees and rocky caves, perfect for birdwatching and butterfly spotting.
Keep your eyes peeled! You may even spot Jamaica's National Animal the doctor bird. Itinerary sneak peek: After conquering Jamaica's highest mountain peaks, top things off by sipping the world-famous Blue Mountain coffee on the veranda of an old mansion.
Tours depart from Kingston and Montego Bay.
29 – Get acquainted with the wonders of the deep by scuba diving!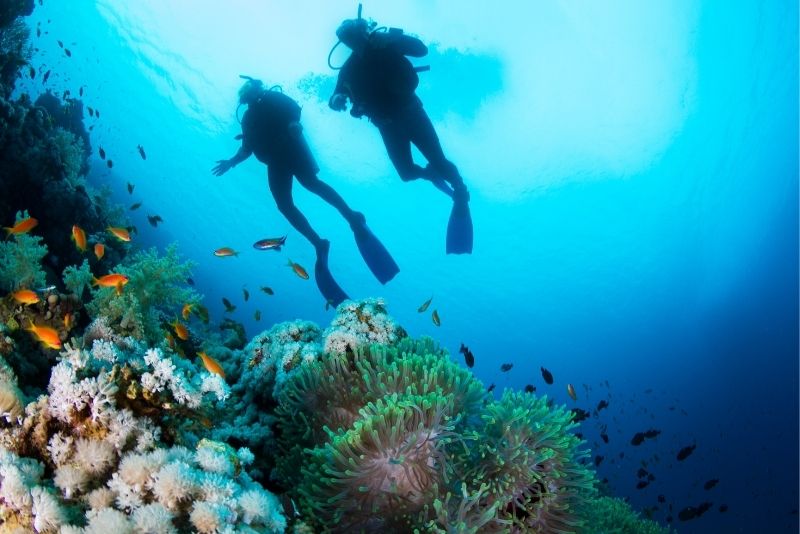 With no shortage of warm, clear waters near Montego Bay and beyond, it's not hard to find things to do in Jamaica for diving enthusiasts! Whether you're already PADI scuba certified or looking to start your journey, there's an option for you.
Choose from half-day or full-day dive tours in ​​places like Falmouth, Ocho Rios, Montego Bay or Negril, and get ready to see unique marine life and colorful coral reefs up close!
30 – Go underground at Green Grotto Caves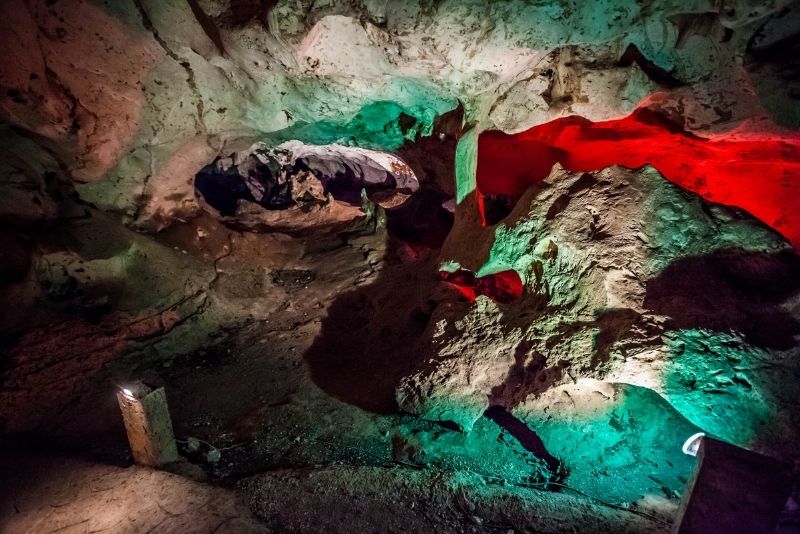 Talking about going under the sea, catching some air, and climbing massive waterfalls, it's only right to see what's beneath the lush jungles of the island. The Green Grotto Caves are a delight to see and a must for nature lovers, with unique rock formations, a subterranean lake, and a fascinating history.
Between remnants from early civilizations and stories of smugglers, these underground cavern walls have an amazing story to tell.
31 – Explore the beautiful Konoko Falls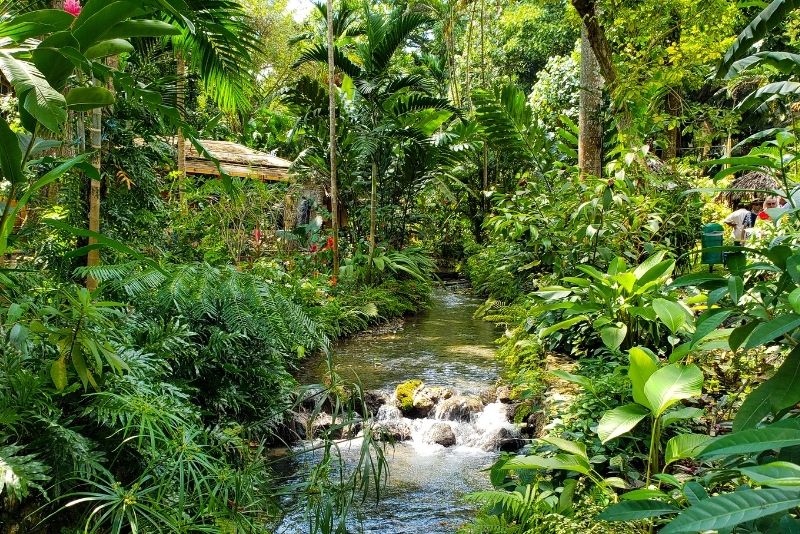 On Jamaica's northern Falmouth shore, tourists can stroll through lush tropical forests dotted with serene koi ponds and beautiful orchids, all en route to the picture-perfect Konoko Falls.
After absorbing the breathtaking view, cool off in one of several natural pools or duck under the falls for a soothing shower. There are also river tubing tours available for the more daring adventurer!
Tours depart from Falmouth, Ocho Rios, Runaway Bay, and Montego Bay.
32 – Conquer the waves and do some hardcore exploring on a jet ski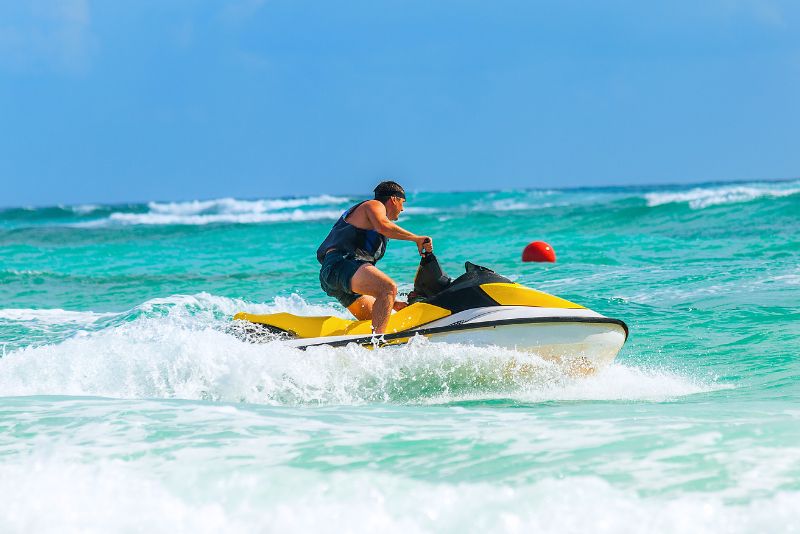 Time to take the adventure into your own hands… with gusto! It's impossible not to feel cool when you're zooming around on a jet ski, but these vehicles aren't just entertaining… they're great for discovering the island!
When you're not executing sick turns or indulging your inner speed demon, you can check out various beaches and swimming spots, enjoying an up-close view and the freedom to make your own schedule.
You can also combine your excursion with other watery endeavors, such as rafting.
33 – Get off the beaten path with a safari to YS Falls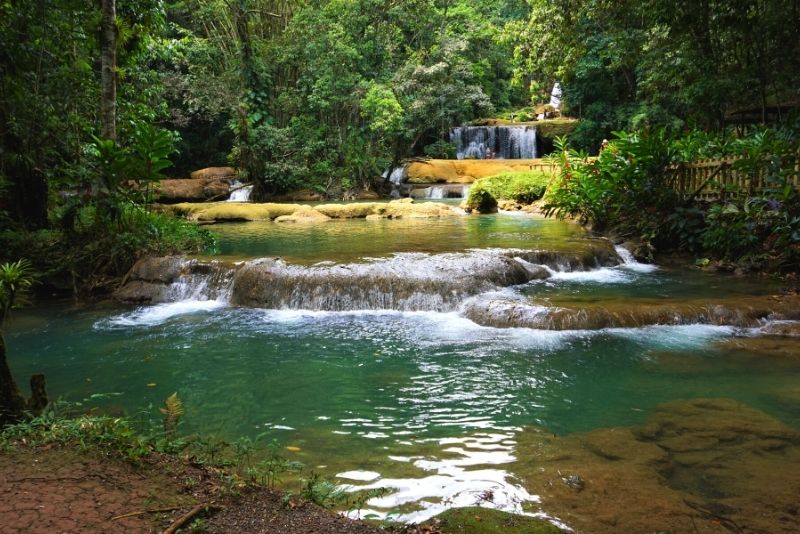 Private tours take you up the mountains and through the tropical forest to one of Jamaica's national treasures, the Black River.
Once on the river, experience spectacular views of YS falls, a series of seven cascading natural masterpieces — just beware, you might meet some crocodiles and egrets along the way! You'll also get the chance to swim beneath the falls and cool off (away from the crocs, of course).
Escape into the rugged terrain around YS Falls on an otherworldly jeep tour, with a guide taking you through the Jamaican rainforest, with a bonus activity in the mountains included.
For those feeling a little extra adventurous, zip line rides through the forest are also available!
Tours depart from Negril and Falmouth.
34 – Fly through the trees on a zip line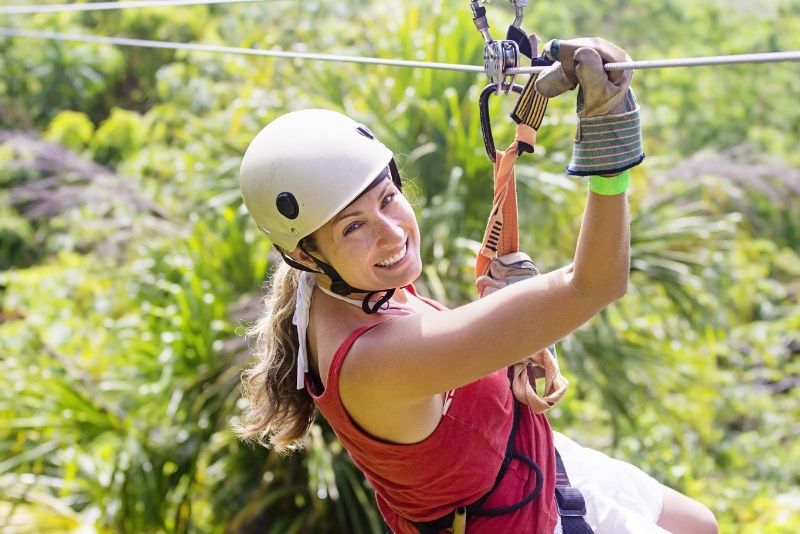 If an adrenaline rush is what you need, a zip line through the jungle will certainly do the trick — especially when you're crossing rushing rivers and weaving in and out of the trees on 150-foot-long glides!
With your knowledgeable guides, learn about the history and culture while experiencing the natural beauty that surrounds you. And the best part? Depending on your tour, you can soak in the bird's-eye views from above and then make your way back to base on a gentle kayak adventure.
35 – Throw a picnic blanket down in Emancipation Park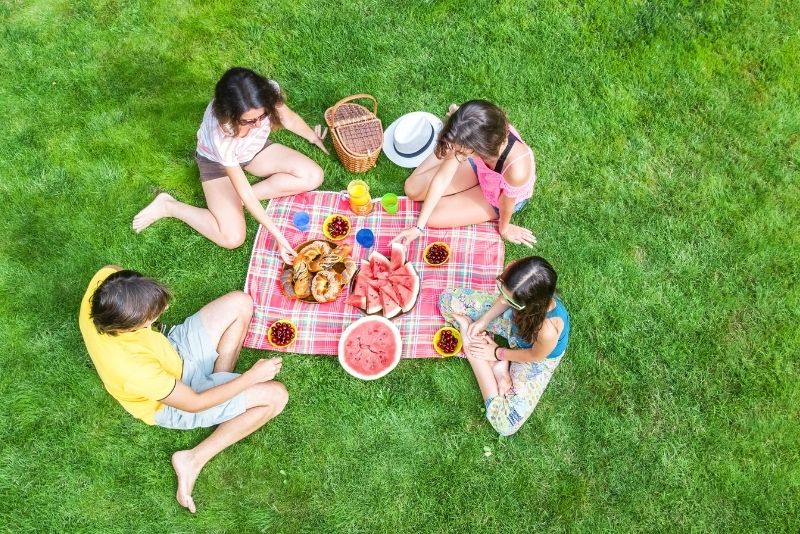 Looking for things to do in Jamaica that aren't part of the normal hustle and bustle? Then the serenity in Emancipation Park might just do the trick.
It was built back in 2002 to commemorate the Jamaican people's freedom from slavery in 1838. This seven-acre landscape is teeming with colorful tropical flowers, majestic Royal Palm trees, peaceful fountains and the triumphant sculpture art of Jamaican artist Laura Facey.
Whether for a walk or a picnic, it's a wonderful change of pace.
36 – Try a new water sport craze: flyboarding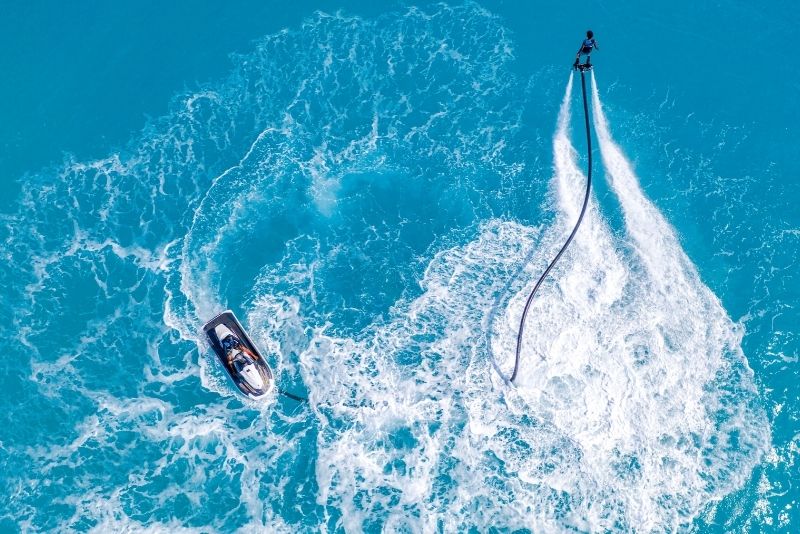 Ever dreamed of being like your favorite superhero? You may not have bad guys to fight (it's vacation, after all) but you can at least pretend to fly like one!
Flyboarding is a new craze among water sports fanatics and one look at it makes it clear why. Strap your feet onto a board or a bike, find your balance and soar high over the waters of Montego Bay. It's the perfect thrill for any adrenaline junkie when a jet ski doesn't cut it!
From flyboards to hoverboards, and other fun aquatic experiences and rentals, head to Jetpack Adventures Jamaica!
37 – Meet the many critters at Hope Zoo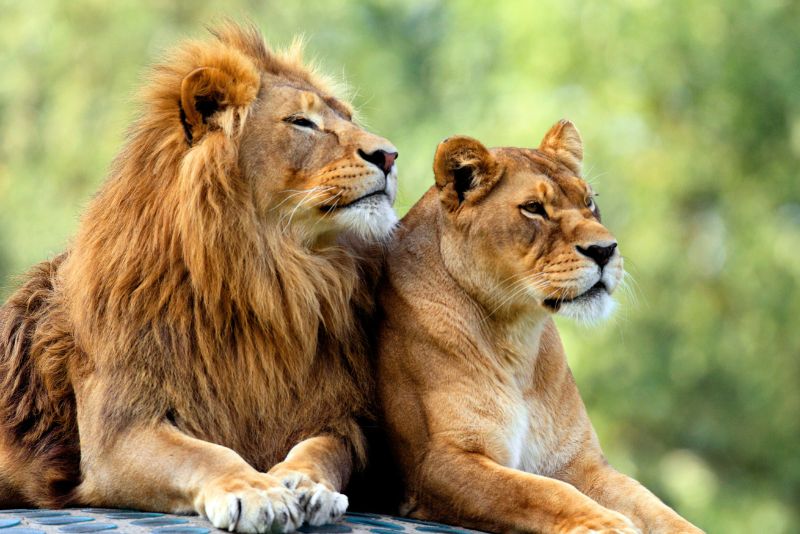 If you suddenly see a camel or an emu wandering around, don't worry, you're not hallucinating… you're just immersed in the wonder of Hope Zoo! Home to 134 different animals around the world (including some famous local species), this gorgeous stretch of land in Kingston serves as a wildlife refuge and conservation hub.
Hang out with lions, flamingos, zebras, and parrots, along with the gorgeous Jamaican Iguana, which is the center of a prominent conservation program here.
Learn all about the unique species and the environments they call home, as well as the ways in which the local creatures are cared for and rehabilitated. You'll really get to know the animal kingdom… and you'll have lots of fun in the process!
38 – Get schooled in local culture at the National Gallery of Jamaica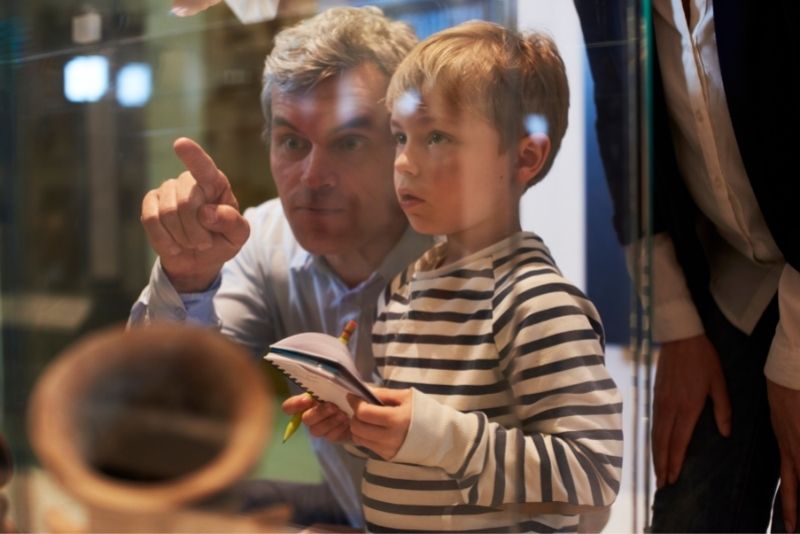 With the claim to fame of being the largest public art museum in the Caribbean, the National Gallery of Jamaica is a can't-miss for any art lover visiting Jamaica! Both permanent and rotating galleries feature early, modern and contemporary art, from Jamaican masters and emerging young local artists.
You'll also get the opportunity to participate in the gallery's multitude of educational programs like lectures, panel discussions and children's art programs.
39 – Try a more unique vantage point with a bit of parasailing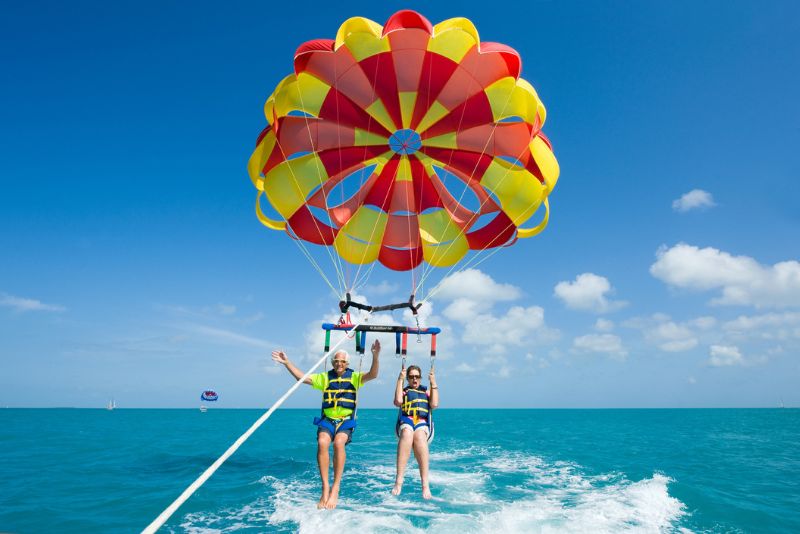 With the sea below and the sky above, you'll enter a world of serene delight… with a healthy bit of excitement thrown in, of course! Your parasailing adventure begins on the beach, where you'll strap into your device and learn the basics.
Then the boat towing you picks up speed, and you'll find yourself rising higher and higher into the air – until suddenly, you're floating above it all!
This is the perfect chance to enjoy a broader view of the famously beautiful scenery, with dense jungles, pristine beaches, and the dazzling ocean all laid out below you. And of course, there's nothing like bobbing amongst the birds!
40 – Go cliff-jumping at Negril's Seven Mile Beach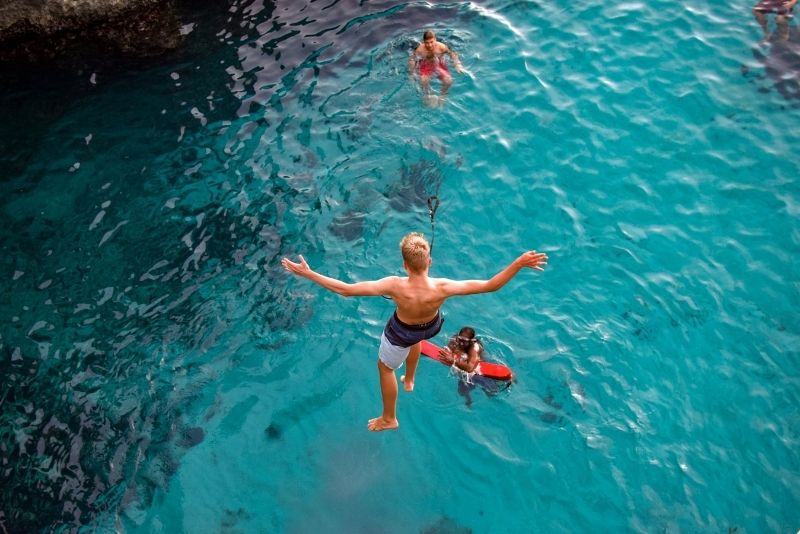 With a range of day trips heading out to the soft, white sands of the Seven Mile Beach on Jamaica's northern coast near Negril, there's no shortage of opportunity to get the adrenaline pumping.
Depending on your appetite for adventure, you might want to try your hand at the various watersport activities (flyboarding, jet skiing, and diving), get behind the wheel of a boat or head under underwater with a snorkel.
After a day of thrills, enjoy the sunset with a table at Jimmy Buffet's Margaritaville or head to Rick's Cafe, where you can watch or participate in a 50-foot cliff dive into the waters below!
Day trips depart from Montego Bay and Falmouth.
41 – Scale the trails with ATV tours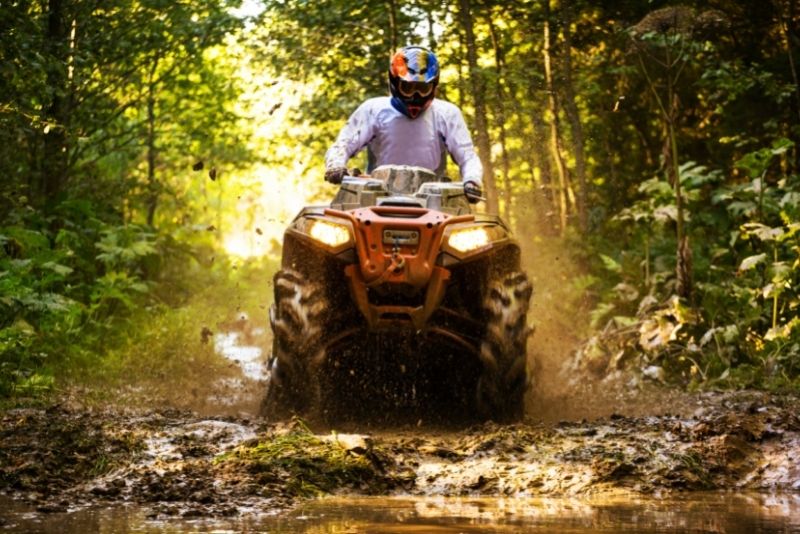 Why walk when you can see the beauty of Ocho Rios from an ATV? From forests to jungles, sugar plantations and natural pools, this island is full of postcard-worthy sites that simply can't be overlooked.
And these are the perfect vehicles to get you there – hearty, fast, and perfectly built for exploring the more rugged areas.
If you can't decide on what adventure to choose, many of the ATV or buggy tours also include another adventure, such as horseback riding or rafting. When you're on vacation, why choose one when you can have it all?
42 – Do as the tourists do: Head to Rick's Cafe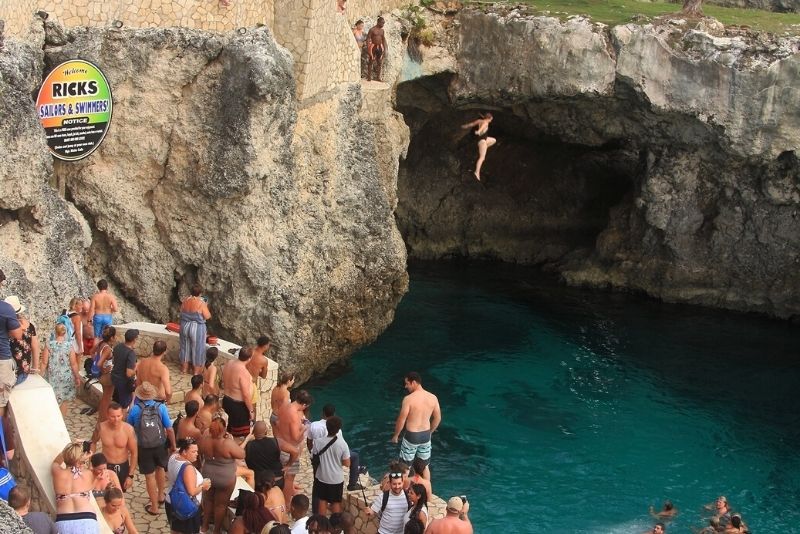 An absolute icon when it comes to Jamaican eateries, Rick's Cafe in Negril is the place to be for a quintessential Caribbean experience. It's been a local staple for nearly 50 years, serving up great food and atmosphere since Negril was just a simple little fishing outpost.
While it's fundamentally a restaurant and bar dishing up classic Jamaican fare like curry goat and jerk chicken, it's the heart-stopping cliff jumping and postcard-worthy sunsets that really draw the crowds!
43 – Meet some locals in Trench Town Culture Yard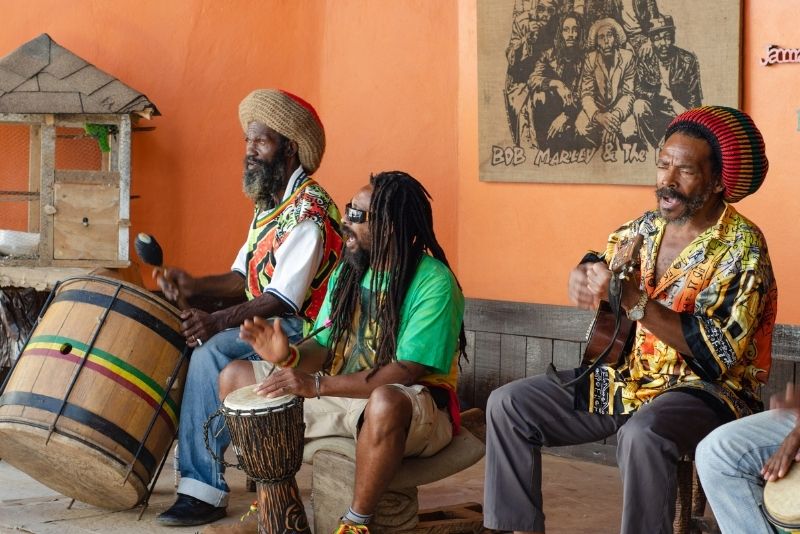 Owned and operated by neighborhood residents, the Trench Town Culture Yard gives visitors a close-up look of local Jamaican life. Spanning the size of over seven blocks, it's home to a diverse population and a truly hospitable environment.
It's the perfect opportunity to bypass the tourist traps and enjoy a moment of conversation with authentic and engaging locals. There's plenty to be learned about the history of the area, particularly its impact on modern reggae music. Grab a tour guide to get the most out of it.
44 – Feed a hummingbird at the Rocklands Bird Sanctuary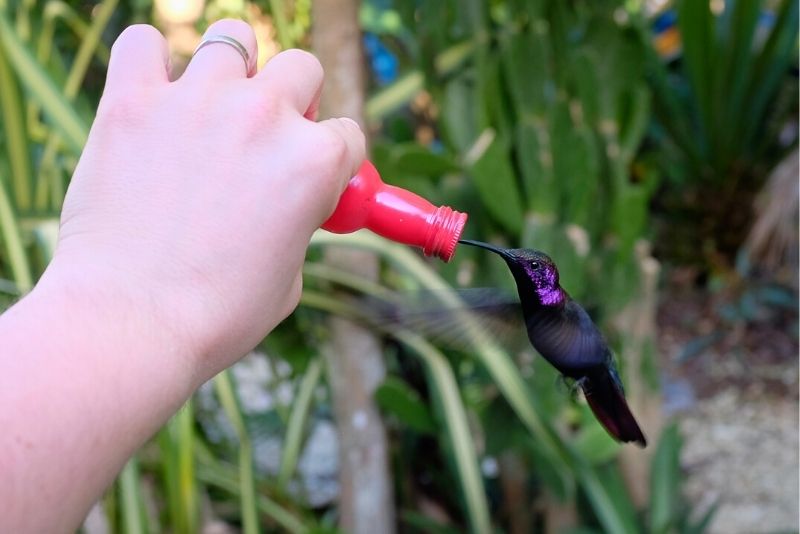 Located near Montego Bay, the lush Rocklands Bird Sanctuary is home to thousands of species of color birds (both native and migrant) — so it goes without saying that it's a paradise for birdwatching enthusiasts.
Feed the hummingbirds and then relax on the patio and simply revel in the immersive sounds. This morning or afternoon activity will leave you feeling like you've been transported into an exotic jungle paradise.
Most tours depart from Montego Bay.
45 – Settle in and try a bit of everything at some phenomenal restaurants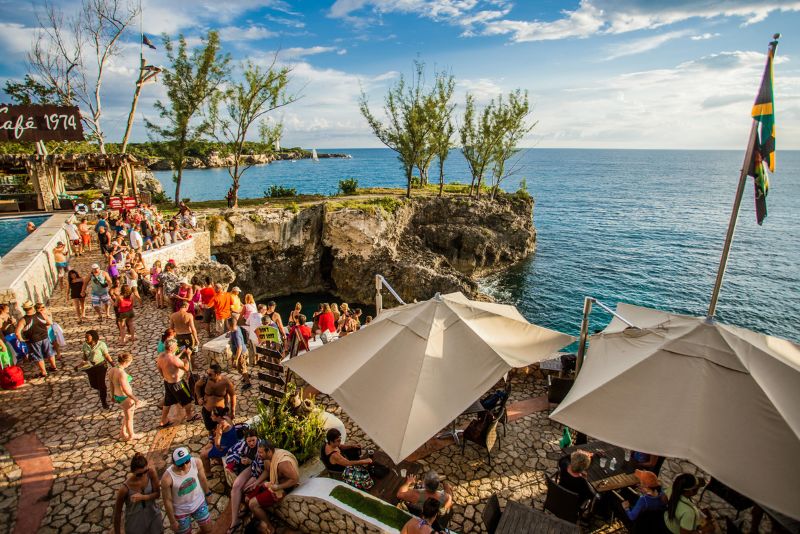 Mouthwatering, varied, and bursting with flavor, the island's food scene is a draw in and of itself – and just wait until you try out some of the best restaurants! With tiki-style straw huts setting the scene, Scotchies is a casual, friendly spot in Montego Bay where you can enjoy jerk pork, jerk chicken, and plentiful fresh Piña coladas.
Or head to Rockhouse Restaurant, A fine-dining establishment (that's still affordable) in Negril with an open-air dining room overlooking the crashing waves, serving Jamaican favorites like curried goat, jerk chicken and ackee.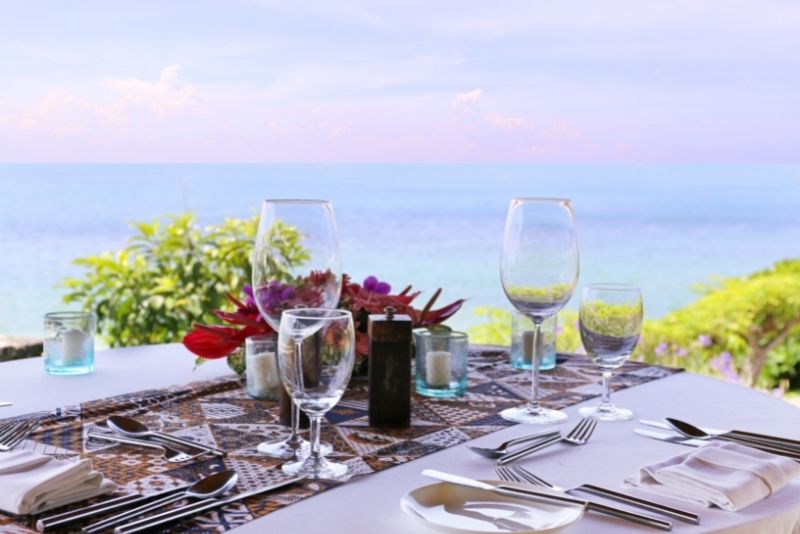 Other favorite spots in Negril include Flag City, offering up scrumptious vegan dishes and fresh lobster, and Kool Vybes Bar & Jerk Centre, serving up heaps of barbecued meats, curried goat, grilled shrimp, and plantains.
And in Port Antonio, you can relish the health-conscious tastes of Bushbar, a lovely spot with plenty of outdoor seating.
46 – Take a Kingston city tour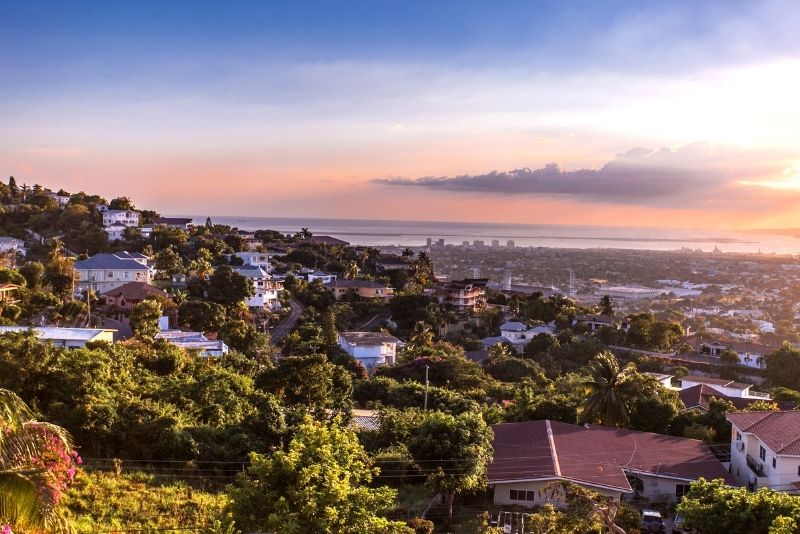 Located on the southeastern corner is the island nation's bustling and vibrant capital city, Kingston. Whether you're staying in the area or outside of it, a driving tour will allow you to take in all of the city's grand attractions in just a few short hours.
Have your camera ready because typical tour highlights include historical architecture, memorials of National Heroes, major churches, military bases, the National Stadium, and the Hope and Chinese Gardens.
And if you want to dig even deeper into the unique culture here, check out the walking tours in Kingston!
47 – Sample Jamaica's signature drink at the Appleton Rum Estate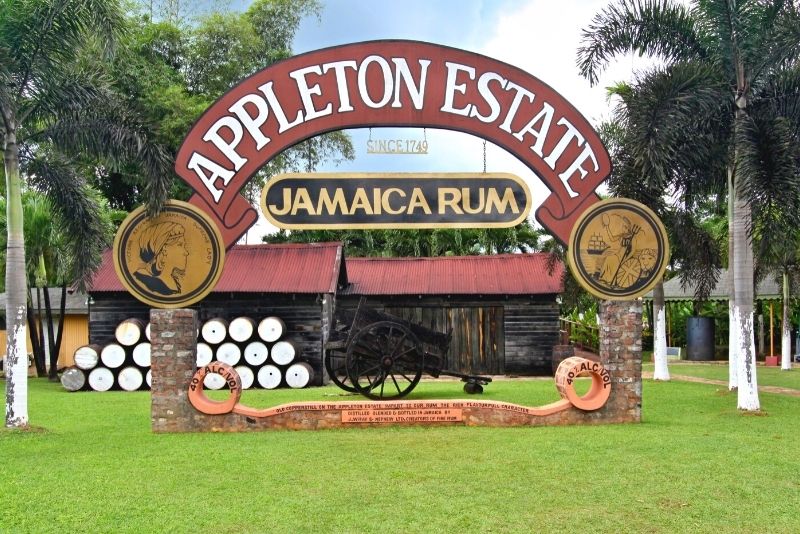 Deep in the heart of Jamaica's Nassau Valley lies Appleton Rum Estate, one of the country's oldest and most revered rum distilleries.
A tour of the facility will give you an overview of the estate's two-and-a-half-century-old history, as well as the chance to see and learn about the process of making Jamaica's most prized adult beverage.
Top off the experience by tasting 10 different styles of rum, and then let the tour driver worry about the rest!
Tours depart from Negril and Falmouth.
48 – Dare to experience the Jamaica Swamp Safari Village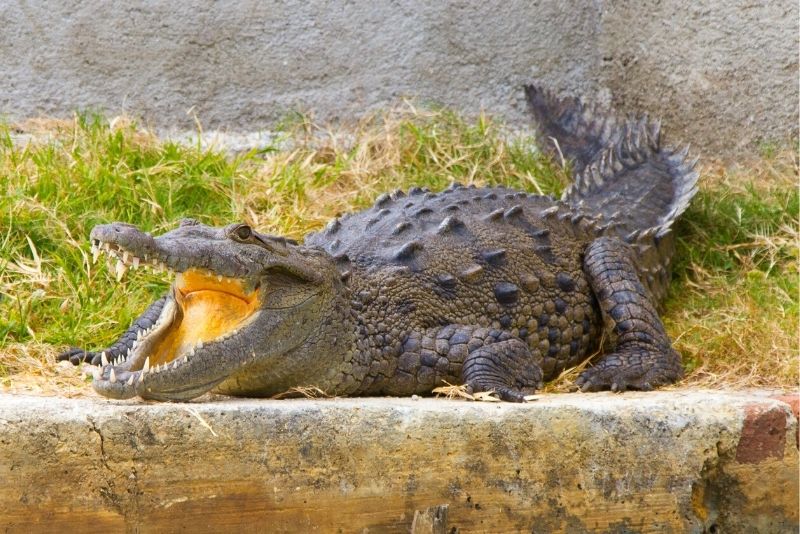 Grab your sunscreen, bug repellent and camera, and head into the swamp! An outdoor oasis teeming with crocodiles, boa constrictors, capuchin monkeys, gray foxes, spotted pacas and the rare Jamaican coney (a rodent once considered extinct), the Jamaica Swamp Safari Village promises an afternoon unmatched by anywhere else on the island.
While a delight for any kind of adventure-loving traveler, movie buffs specifically will be head over heels. The village is home to the site of the famous crocodile jumping scene in the 1972 James Bond film, Live and Let Die.
49 – Pedal around and see a bit of everything with a bike tour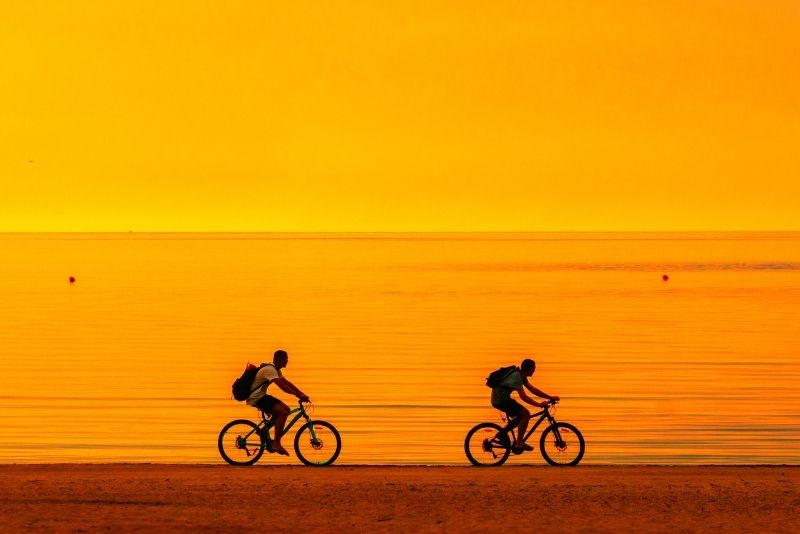 Exercise doesn't feel as bad when you've got ocean views. So grab a bike and pick your poison: scenic road bike adventure or thrilling mountain bike tour!
Either way, with pickup available in major hot spots and trips through must-see places like the Blue Mountains, it's always a great day out.
After tiring out the legs, most tours will make a stop at one of the island's many serene pools and lagoons, a sweet spot to beat the heat.
50 – Explore the sprawling Greenwood Great House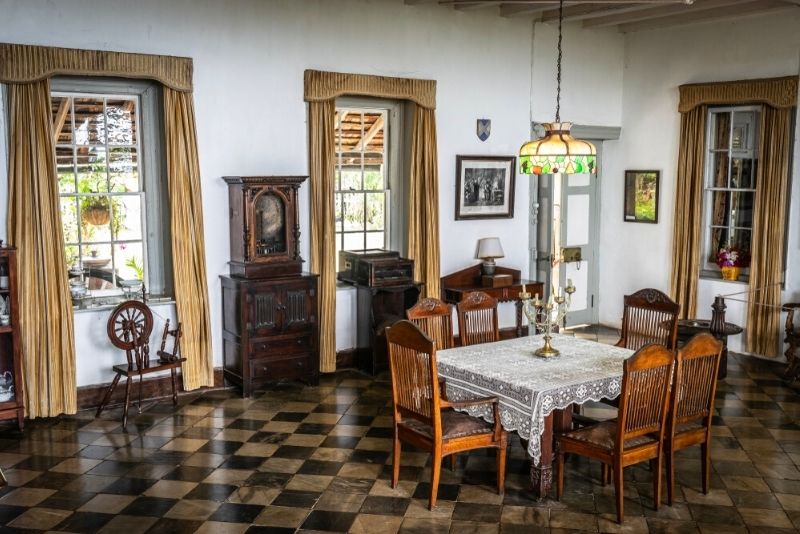 In many ways, Greenwood Great House is the quintessential Jamaican experience. Nestled in a valley surrounded by lush mountains and pristine waterfalls, this colonial plantation house was once home to one of Jamaica's richest families.
And with a fascinating, complicated history of colonization dating back to the mid-1600s, the mansion has stories woven into every square inch. As you go on tours through its halls and gardens, you will feel like stepping back into another century.
Hot tip: Book online in advance for a 10% discount!
51 – Celebrate Peter Tosh at his very own monument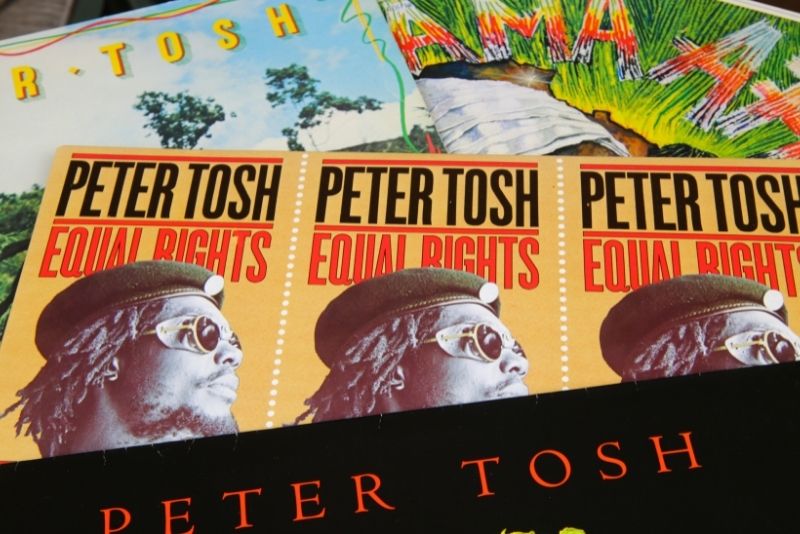 An absolutely non-negotiable for music diehards (as well as an eye-opening attraction for anyone who associated Jamaica solely with Marley), the Peter Tosh Monument in Belmont offers a chance to celebrate and honor one of Jamaica's most influential native sons.
Opened in 2016, the Peter Tosh Museum celebrates the life, times and music of the legendary reggae musician and founding member of the legendary group, The Wailers.
Step inside and you'll find a range of Tosh memorabilia and personal items on display, as well as plenty of fun and interactive elements.
52 – Eat traditional grub on a food tour!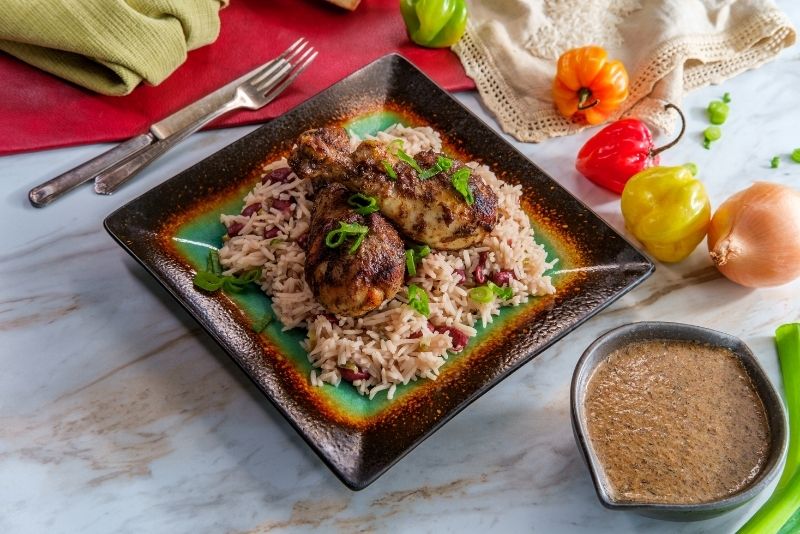 Eating might be the most quintessential thing to do in Jamaica with its rich history and the Rastafarian lifestyle. Locally-led foodie walkabouts are the perfect chance to check out what a truly traditional meal tastes like in this Caribbean paradise.
With a range of cooking classes and culture tours on offer, these guided experiences aren't just about what you eat but what you experience. From dancing to music, your islander guide will showcase what the Jamaican lifestyle is all about!
Hot tip: Make sure to get your hands on some Jamaican Jerk spicy seasoning!
53 – Stare down a 1,700-foot vertical drop at Lovers' Leap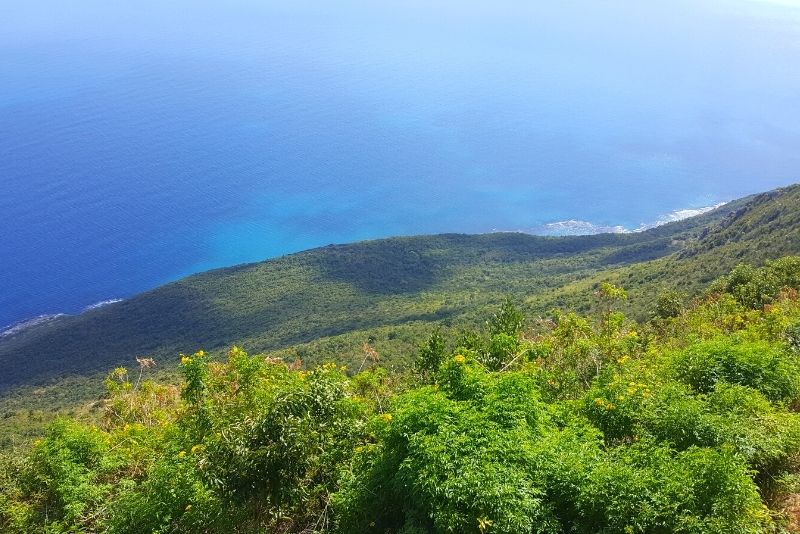 Standing as one of the island's most iconic landmarks, Lovers' Leap is a must-see for any visitor. Nestled in the St. Elizabeth Parish on Jamaica's southwest, where the jagged Santa Cruz mountains come to an abrupt halt at the ocean, it overlooks the sparkling water below and offers breathtaking views that can't be beaten — particularly as the sun goes down.
54 – Taste "ital livity" at the Bob Marley Museum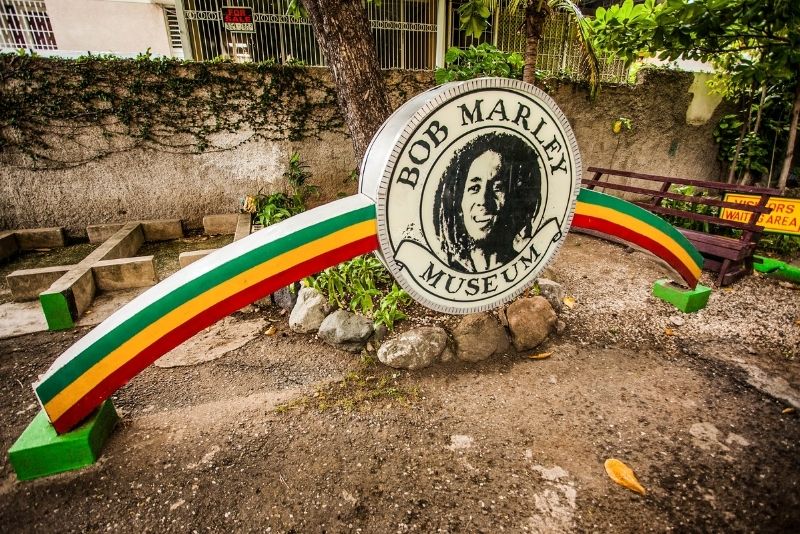 Born and raised on this stunning island, reggae legend Bob Marley is the epitome of what the world knows as Jamaican culture. Check out where this iconic figure lived and recorded his best sounds.
The Bob Marley Museum on the site of his home is full of his personal treasures, photo galleries, a record shop and a massive in-home theater.
Explore every inch of this multimedia timeline, diving into the personal side of the renowned artist. Finish your tour at the One Love Cafe to get a real taste of "ital livity."
55 – Take playtime to the next level at some VR Rooms & arcades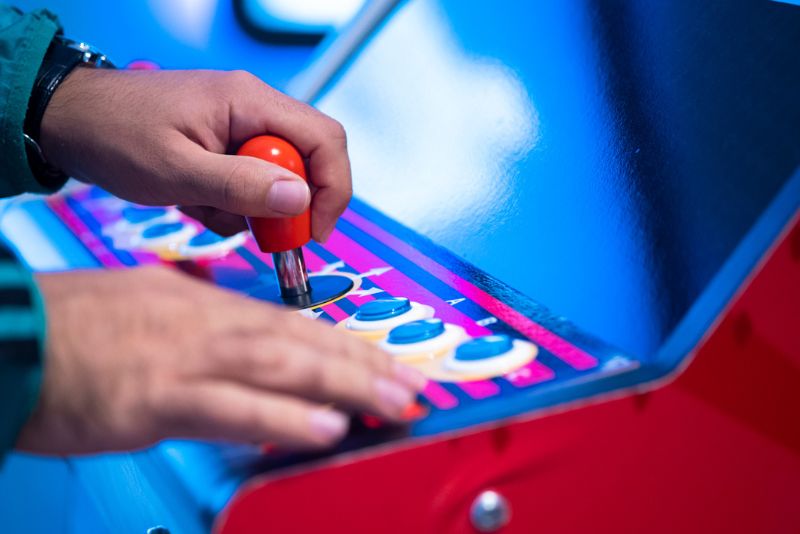 True, most of the great things to do in Jamaica are outdoors and/or historic, but there are also some excellent spots to take a glimpse into the future – and some other worlds!
At Buzzers Gaming Arcade in Portmore, you can race across a digital track, compete with your friends and family on pixelated playgrounds, or give your trigger finger a workout with some laser tag.
And at Barcadia VIRTUAL REALITY GAMING Lounge in Kingston, you can step into a dozen different lives with the help of VR headsets, whether you're outrunning a horde of zombies or taking part in an epic interstellar dance battle.
For rainy days or just an imaginative break, you can't go wrong with these lively spots!
56 – Run (and party) at the Reggae Marathon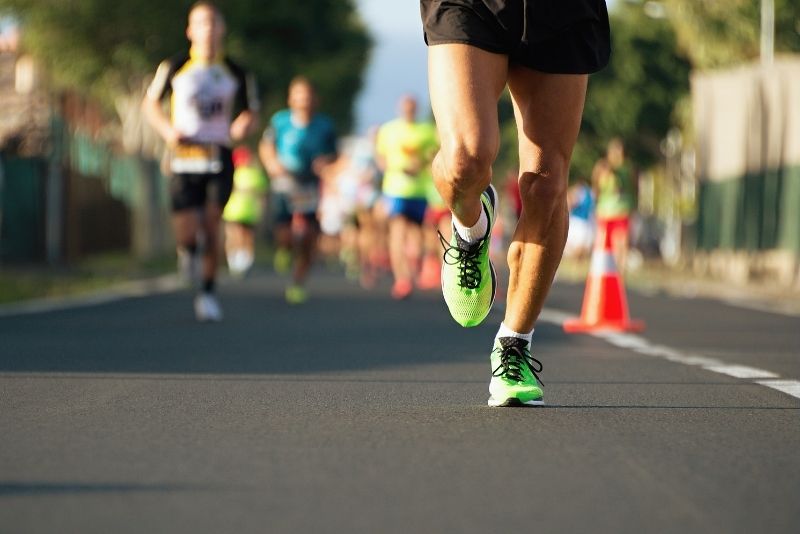 Joining a marathon is a bucket list activity for millions. But if you're gonna do it, why not do it in one of the world's most beautiful landscapes?
At what's considered one of the best races in the world (with a 10k and half-marathon also available), the high-energy and good vibes Reggae Marathon draws runners from all over!
With a gourmet Pasta Party to start and the Finish Line Beach Bash to top it off, this isn't your average run. Experience the party and live the "Irie spirit" with this fun event!
57 – Spend the day golfing!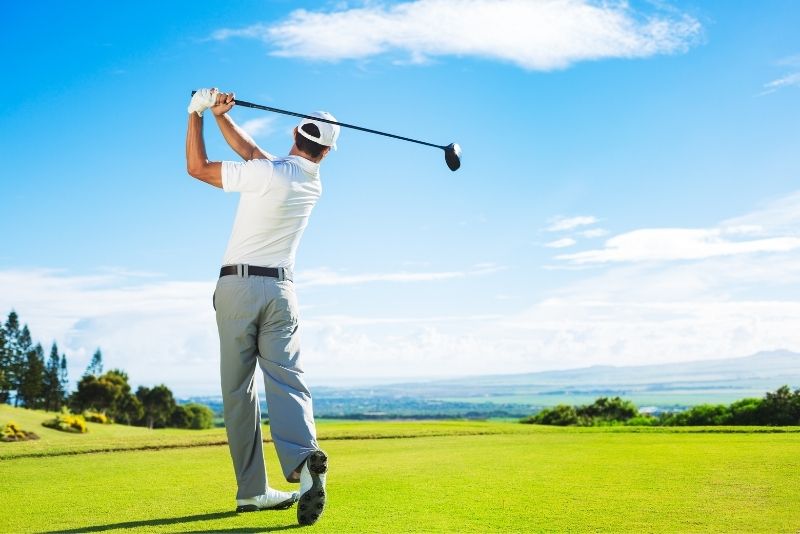 Most people think of Jamaica as a vacation destination, but it's also an awesome place for avid golfers, who want to get away from it all and play some world-class courses in paradise.
More than a dozen courses dot the island's lush and scenic landscape, catering to players of all skill levels.
Some favorites include the Rose Hall Golf Club, the Negril Hills Golf Club (which also boasts tennis courts), and the Tryall Golf Club in Montego Bay.
58 – Find the perfect souvenir on a shopping tour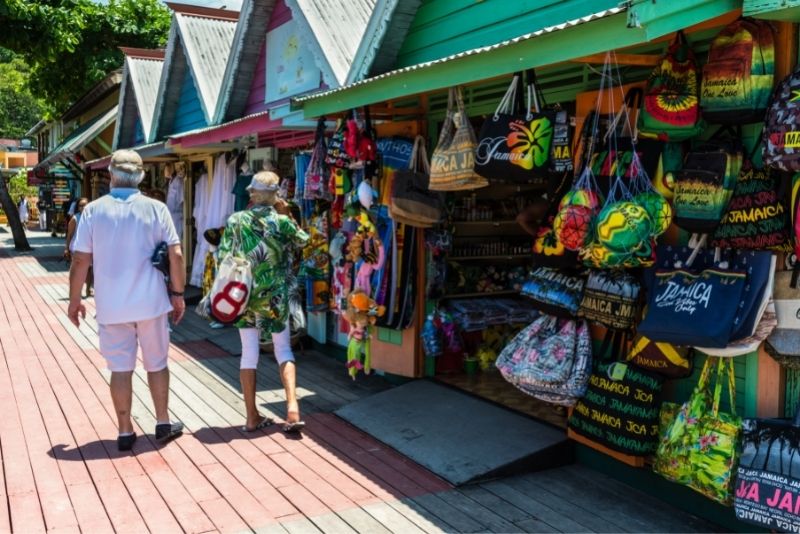 After exploring all the things to do in Jamaica, make sure you grab some awesome souvenirs for the folks back home. Between coffee, rum, and novelty items, you can find something that every friend and family member (no matter how picky) will appreciate.
While you can always wander the shops in your own time, the best way to go souvenir hunting is with a guided VIP tour. Escape the tourist traps, head out of town on a diving, Blue Hole or sightseeing tour, and then throw on a shopping add-on as well!
This way, you start the day with an exhilarating adventure and end it with a fun shopping spree!
59 – Tour every inch of the palatial Devon House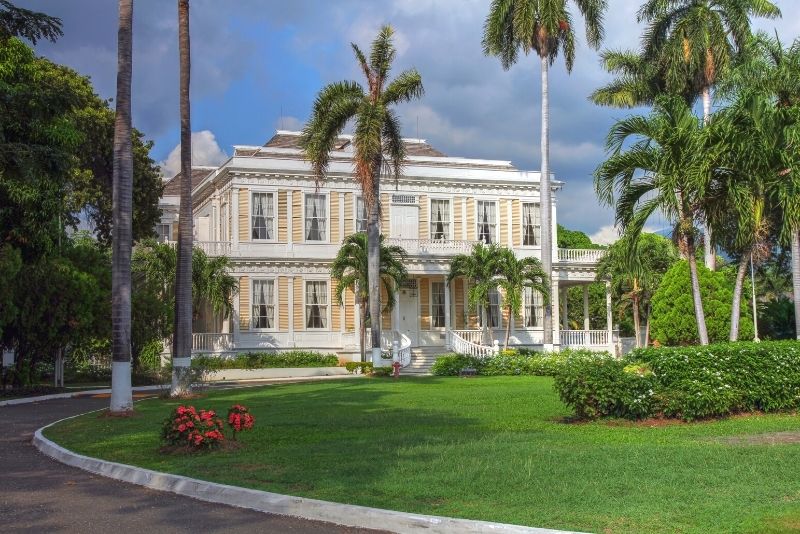 One of three mansions tucked away in "Millionaire's Corner," the Devon House is the former estate of gold mining magnate George Stiebel, Jamaica's first black millionaire. Declared a National Monument in 1990, the 19th-century Devon House is a blend of the Caribbean and Georgian architecture furnished with expertly curated antique French, English, and Jamaican pieces.
While wandering the sprawling property, visitors can tour the grounds, relax in the gardens, grab a scoop of premium ice cream or tuck into an authentic Jamaican beef patty.
60 – Take the kids to the water park at Jewel Runaway Bay Beach Resort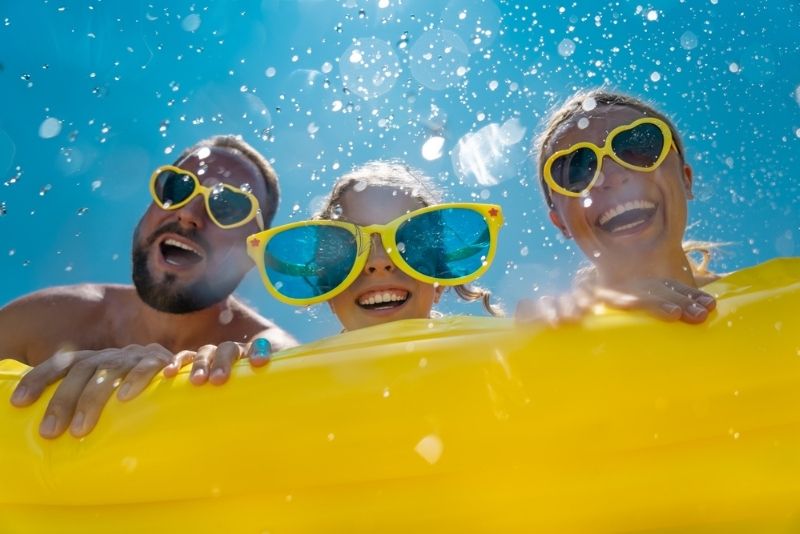 All-inclusive hotels are certainly popular here, but this spectacular spot really makes a splash… literally! The family-friendly Jewel Runaway Bay Beach Resort about 30 minutes west of Ocho Rios is the perfect spot for those who want plenty of activities on offer, while not being too close to all that noise and excitement.
With a water park, live entertainment and child care facilities — plus an assortment of restaurants both casual and fine dining — there's something for everyone!
61 – Chill out at the Rastafari Indigenous Village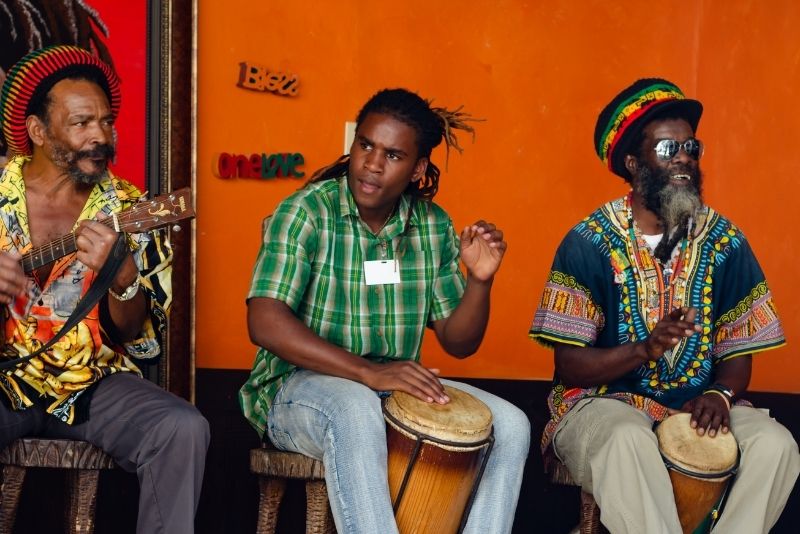 A wonderful insight into local traditions, these specialized excursions immerse you into the richness of Rastafarian culture and customs. After walking through a small stream to reach this hidden Rastafari Indigenous Village, expect to sample fresh fruits and juices, as you dance to the enchanting sounds of an authentic Rastafarian chanting and drum circle.
As you follow your guide and meet the locals, you'll see firsthand how this remarkable ideology took shape from a mixture of different religions and social customs, with roots stretching all the way across the sea to Ethiopia!
62 – Pamper yourself at some top-notch beach clubs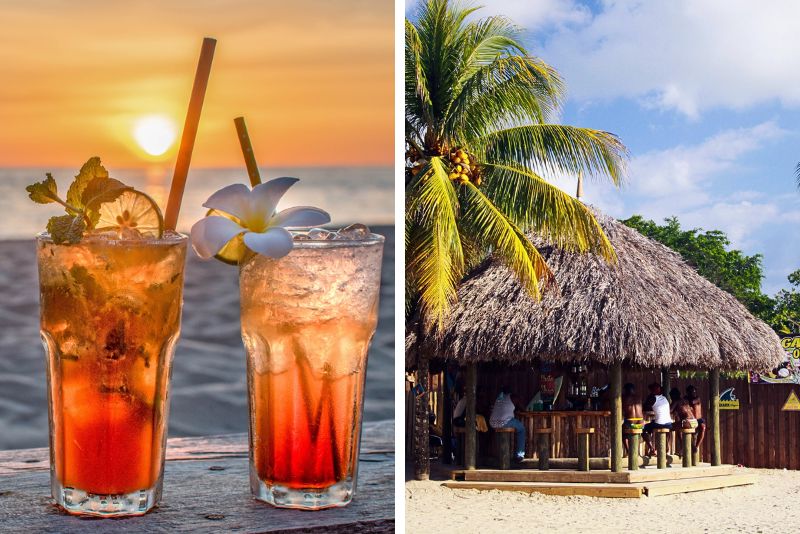 There are plenty of excellent beach clubs to party, kick back, and even bring the whole family – so put on some sunscreen and get ready for fun!
Bamboo Beach Club is famed for its party atmosphere and ever-flowing beverages, while Beaches Ocho Rios brings festive vibes to the whole family with its playground and water sports options.
The Blue Waters Beach Club provides an intimate, quiet spot to unwind with your significant other, while Lashings Beach Club is great for ritzy meals and a more glamorous trip.
And if you want the full experience without emptying your wallet, check out Sea Island Beach Club, which boasts all sorts of amenities and a great location at a decent price.
63 – Make some memories on a sunset cruise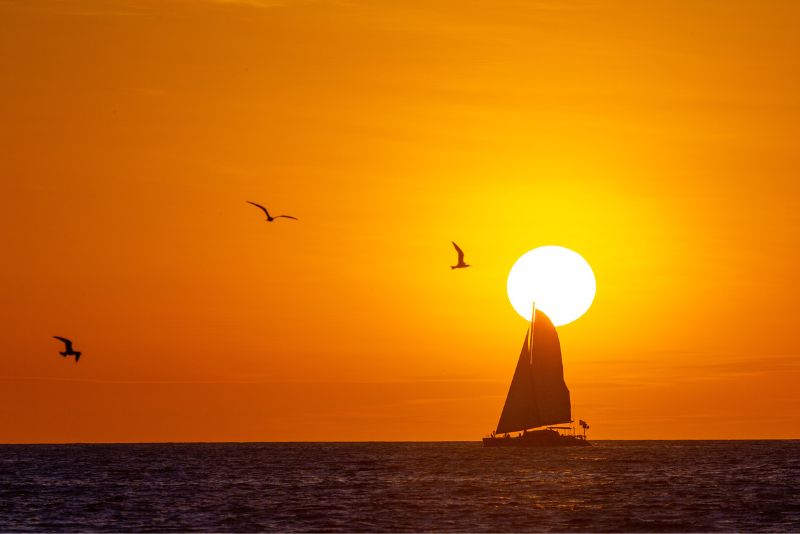 Evenings bring their own special magic to the sea, and there's no better way to enjoy that than on a sunset cruise! Hop aboard a catamaran and sail around picturesque spots like Montego Bay and Falmouth, where you can enjoy drinks and snacks to pair with spectacular views of the sun painting the sky.
Dive into the sparkling waters for a relaxing swim or a bit of snorkeling, then head back to the ship to continue the floating party. And with different options for families, adults, and couples, you can pick the perfect sailing excursion for you… all with guaranteed gorgeous scenery, of course!
64 – Soak in the last few moments of the day at the best sunset spots in Jamaica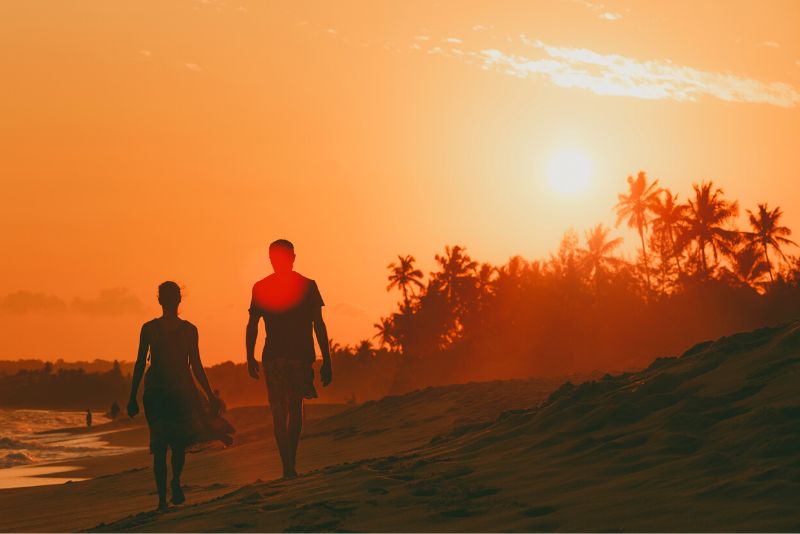 Get a view with a drink at Rick's Cafe or Longboarder Bar & Grill, offering terrace seating with unmatched views of the sea and the golden sun setting behind the silhouettes of cruise ships.
Impress your partner at Lovers Leap, for unobstructed views of the shining sun, and casting an ethereal light on the natural landscape around.
In downtown Kingston, stop by Victoria's Pier, for yellow and orange colored skies, as well as Treasure Beach.
65 – Experience live Jamaican music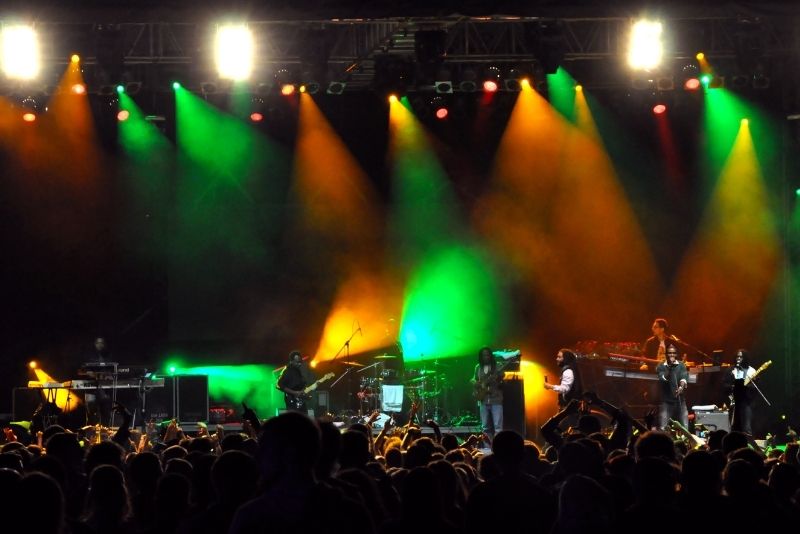 It's no secret that Jamaican culture revolves around music — particularly reggae and dancehall, so why not experience the chill vibes in all their glory, first-hand?
Get a taste of jazz, blues, and reggae at one of the many bars dotting the eclectic streets (Ribbiz Ocean Lounge and Janga's Soundbar are great options in Kingston, likewise Pier 1 and Margaritaville in Montego Bay). You may also go full-out with a ticket to a multi-day music festival!
As far as the festivals go, Rebel Salute in winter is hard to beat, while Reggae Sumfest is always full of lively fun.
66 – Sip your way through the fine offerings at the island's best bars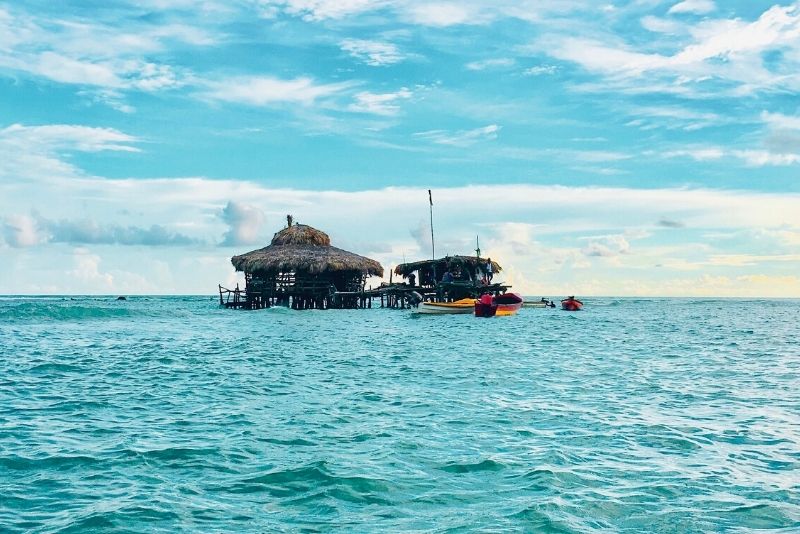 If you're looking for a great night out, you'll never be far from a quality watering hole, so keep your best hangover cures at the ready! A wholly unique watering hole experience, Floyd's Pelican Bar is located nearly a mile offshore in the middle of Parottee Bay, and the only way to get there is … any guesses? By boat!
For a more intimate atmosphere, head to Ivan's Bar in Negril, a cliffside, candlelit beauty that feels like its own piece of paradise. And if you prefer more of an energetic evening, enjoy the stylish, music-filled Blue Beat Ultra Lounge in Montego Bay, packed with cocktails and tunes.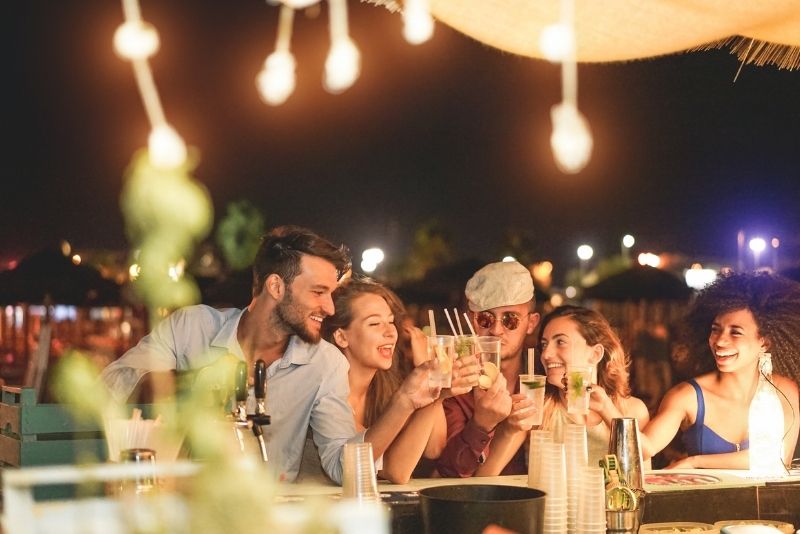 You can also head out to Runaway Bay for local favorite Flavours Beach Bar, right on the coast, or trot back to Montego Bay to enjoy the incredible views at Pier 1… with music to match!
Better yet, try some pub crawls! A bar-crawling, a booze-sipping party is not only a way to meet fellow thirsty travelers, but also get off the beaten track and dive into some of the hidden gems and local favorites.
Held in major tourist hubs like Negril or Ocho Rios, these party tours hop up to seven different bars, with plenty of great music and icebreaker games to make it all the more memorable!
67 – Enjoy a thoroughly classy experience at some rooftop hotspots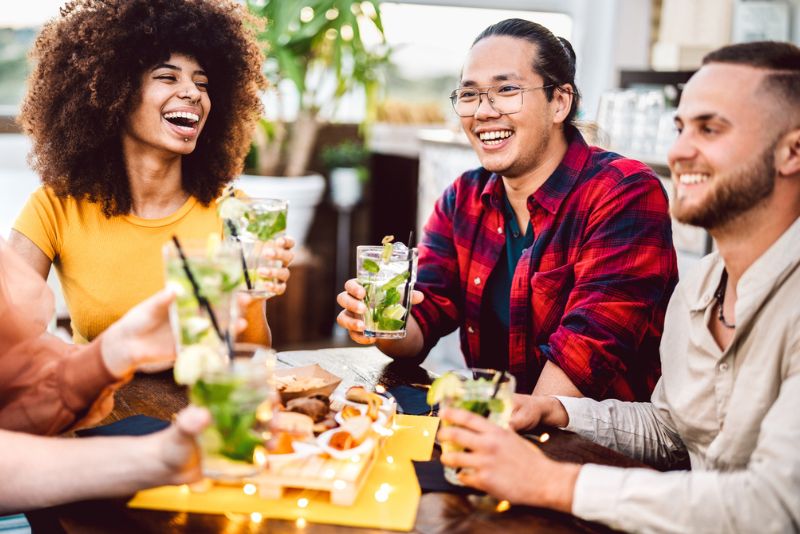 Of course, you'll want the biggest and best views possible while visiting such a beautiful place, which is why these rooftop joints will make a welcoming venue! On the sixth floor of Breathless Montego Bay, Altitude combines mountain and bay panoramas with an awesome pool… perfect for your next photoshoot!
And in Kingston, you have the stylish, seaside views of Ocean 7 Sky Bar, which also offers food. You can also enjoy the capital's livelier side at Macau Gaming Lounge & Bar, filled with cocktails and craps tables; or head to CRU Bar & Kitchen, with its innovative menu and vineyard-worthy selection of wines.
Don't miss the DJs, karaoke, and seafood at Offshore Rooftop Lounge, or head to Falmouth and enjoy a nice drink and jaw-dropping ocean views when you visit X-Lounge at Excellence Oyster Bay.
How to get to Jamaica?
No matter the time of your arrival to Jamaica, one of the best ways to get from the arrivals gate at Norman Manley International Airport to your hotel, is by pre-arranging a private airport transfer.
With prices as low as $20 USD, ride in luxury and comfort, and ensure an easy way around Jamaica, especially if it's your first visit.
Where to stay in Jamaica?
Enjoy the hospitality at Terra Nova All Suite Hotel in Kingston, featuring spacious suite-style rooms with impeccable decor, and an in-room-entertainment system. Guests who book their stay at Terra Nova enjoy a hearty breakfast included.
Hibiscus Lodge Hotel in Ocho Rios offers beautiful views of the sea, various dining restaurants, and complimentary breakfast every morning. Enjoy the air-conditioned rooms, as well as the daytime activities on-site.
Enjoy all the amenities there are at S Hotel Jamaica – Boutique All Inclusive in Montego, where you'll enjoy a complete and delicious food buffet for all meals, beautiful, large pools, as well as abundant spaces, beachside to sit back and relax.
In Falmouth, check out Royalton White Sands Montego Bay, offering a resort-style hotel with fun for the whole family. From water slides to adults-only pools, different food options on-site, and clean and spacious rooms – you're in for a great stay!
Stay the night at The Westender Inn in Negril, and enjoy a tropical drink as you bask in the sunset from the beach bar. Featuring beautiful gardens, sea views, and views of the Negril Lighthouse.
Where to go next?
Before setting your compass further afield, consider a tranquil pitstop to try the things to do in the Cayman Islands. A stone's throw away from Jamaica, it's a haven for divers, boasting some of the world's most exquisite coral reefs. Immerse yourself in the crystal-clear waters of Seven Mile Beach, interact with stingrays at the famous Stingray City and discover all the great things to do in Grand Cayman.
With endless water activities, from snorkeling to sailing, there are lots of sights to see and things to do in The Bahamas. Enjoy a rum-tasting tour, try rolling your own cigar, and for the kiddos, a ride down the tallest water slides at Coco Cay in Berry Island is sure to be just the ticket!
Feel the warmth of the sand between your toes while you sample the beaches and other amazing things to do in Punta Cana. Head to the water on a Catamaran tour, with the opportunity to do some diving in this tropical paradise, and for the cultural lovers, find yourself on a walking tour through the historic and picturesque Santo Domingo City.
And of course, there are tons of magical things to do in Puerto Rico, starting with the sight of the Pink Salt Lake at Salinas de Cabo Rojo to getting lost in the tropical, romantic streets of San Juan. For the adventurous souls, your senses will be tingling with so many hiking opportunities through the Bosque Carite Rainforest or El Yunque Rainforest.
Final thoughts
Though for many Jamaica was always known as the home of the beloved Bob Marley, we hope that our list of the best things to do in Jamaica has helped you see beyond into the depths of what makes this island country worth visiting.
From endless water sports to jungle adventures, and exquisite foods, let us know when you plan to leave for Jamaica!
Happy travels!