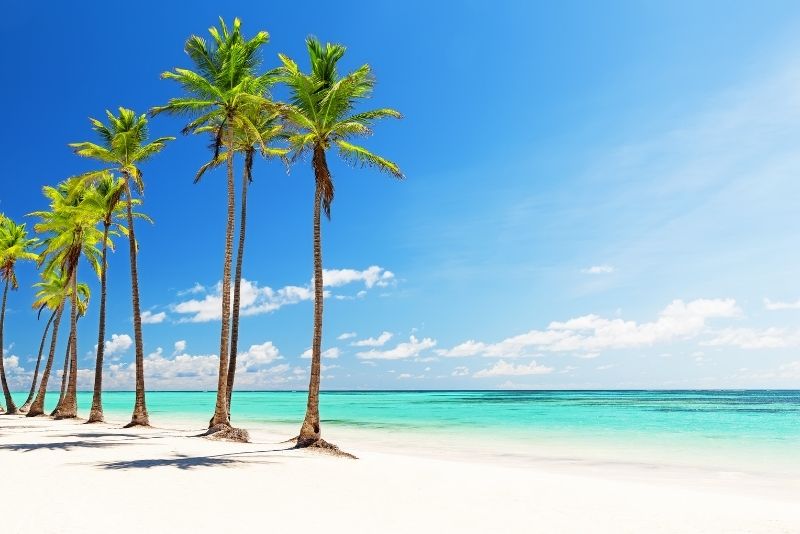 Looking for things to do in Punta Cana? Blessed with pure white sand beaches and crystal blue waters, Punta Cana offers a list of unforgettable activities unmatched by any other place in the Caribbean.
With traditionally fun activities to do in family, like splashing around the entertaining, state-of-the-art waterparks, to new activities like deep sea fishing, or a romantic horseback riding into the sunset with your partner for a slice of island paradise – there's something for everyone!
Cultural lovers will enjoy ample opportunities to dig deeper into the local lifestyle, with impressive sites like the Mediterranean village; Altos de Chavón, or learning about the agricultural practices for cigars and other crops.
Chocolate lover? Get a sweet experience visiting cacao plantations, tantalizing your tastebuds with the most natural form of chocolate.
Visit local animal sanctuaries, see vast national parks that boast mysterious cave networks and lush plantations on their grounds, enjoy world-famous Dominican beaches – there are so many fun activities in Punta Cana that to check them all off in one visit would be impossible.
Read on and uncover what's happening best in the breathtaking destination.
1 – Take a catamaran tour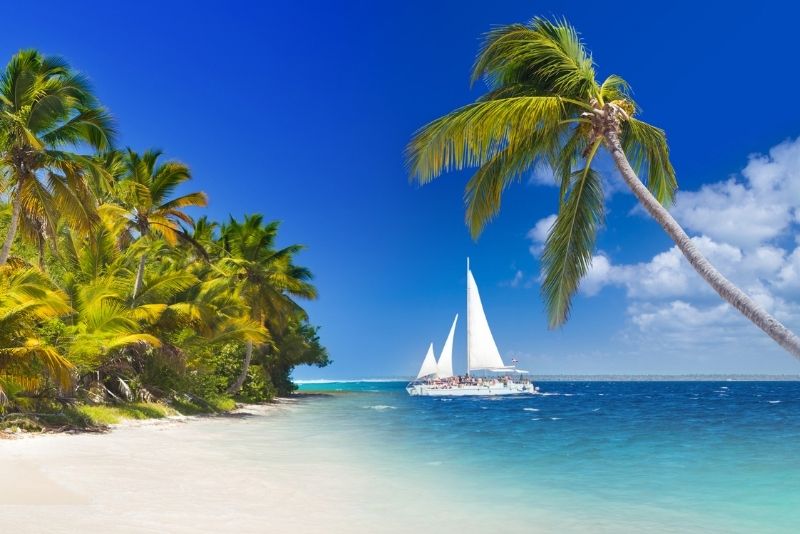 Of the numerous things to do in Punta Cana, one of the first ones you need to consider is a catamaran tour to one of the gorgeous islands that surround this tropical paradise, like Saona Island and Catalina Island.
Along the way, enjoy snorkeling, scuba diving, or parasailing. Don't forget to take pictures of the stingrays and sharks in the water!
2 – Discover the breathtaking Macao Beach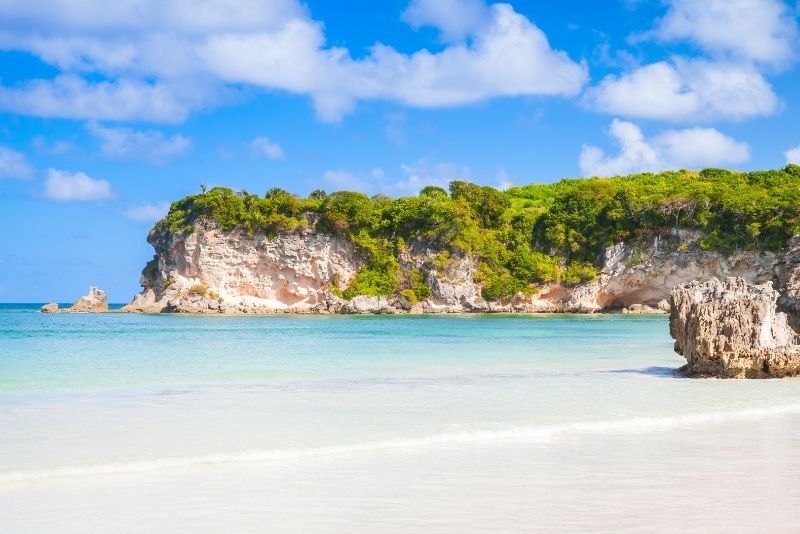 Surf's up! Macao Beach is the perfect spot to grab a board and hit the waves. Whether you've been surfing before or you're looking to learn how to do it, there are tons of activities just waiting for you.
There are also walking tours, dune buggy adventures, and caves to explore.
Or, of course, you could always just lie on the sand and soak up the Dominican sun!
3 – Find cigars, rum, coffee, cacao & local souvenirs on a shopping tour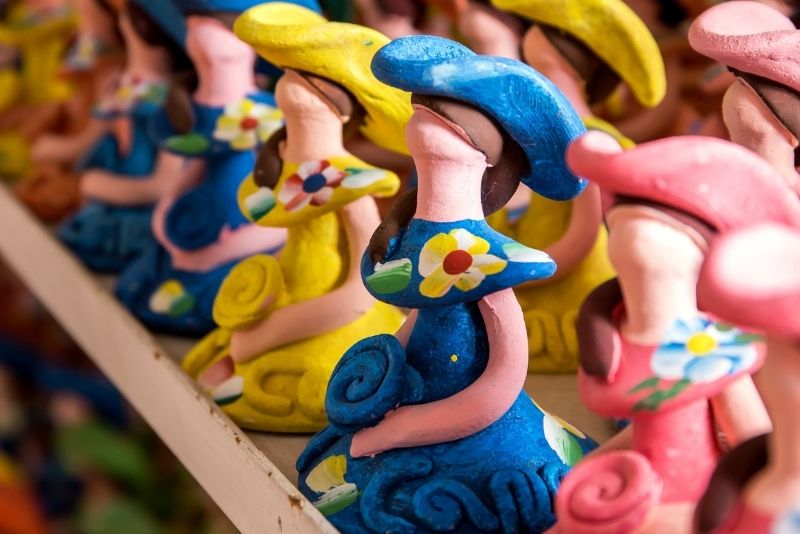 The Dominican Republic is famous for its tobacco and cacao plantations, as well as its rum production and fruity drinks, and delicious food.
That's why you won't want to leave this tropical paradise without going on a full-blown shopping tour.
Let the local experts show you to the very best cigars, rum, chocolate, coffee, and jewelry.
4 – Take a day trip to Santo Domingo City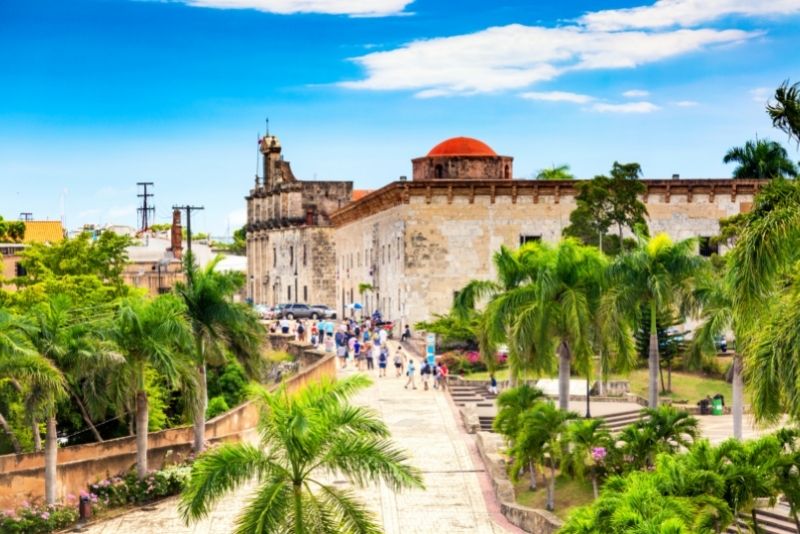 While you're in Punta Cana, consider taking a day trip to the nearby city of Santo Domingo, which was the first city ever founded in what would eventually become America.
See America's first cathedral, Diego Colon's palace, and the National Pantheon.
Learn about the unique local heritage through a number of city tours organized by experienced local experts.
5 – Get a taste of the local flavors at the best restaurants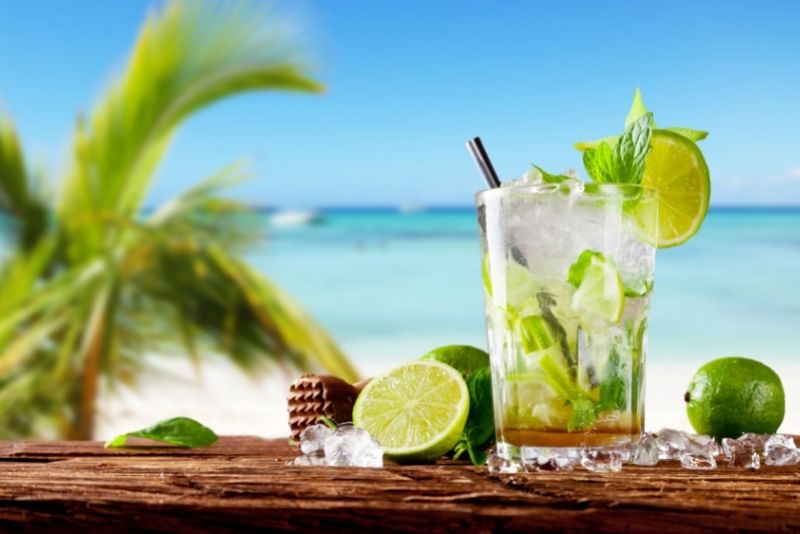 Punta Cana's Jellyfish Restaurant is so much more than just a delicious eatery. It's a luxury beachfront hotel that offers swimming pools, a gym, a game room, and anything else you could possibly need to make your vacation as perfect as possible.
Enjoy the best meat cuts at Cuts & Grill, serving a grand variety of barbequed meats, including Punta Cana favorites like Lechon Asado (grilled pork) or Pica Pollo (Dominican-style fried chicken).
Get the best ingredients and flavors of Punta Cana served to you on various small plates, as you drink in the mesmerizing sunsets at La Taberna de Charlo, where locals recommend ordering seafood tapas.
6 – Relax at Saona Island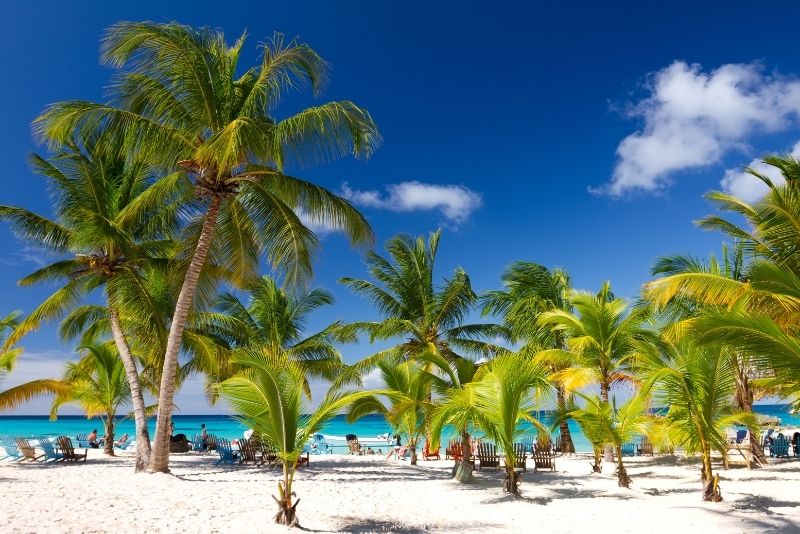 Once you've made your way to Saona Island, take your time and enjoy the palm trees and gorgeous beach sands.
While you're there, enjoy incredible local food and drinks, visit a cacao plantation, and learn about the island's history from local experts.
Or, just sit in the sun and tan for a few hours. There's certainly nobody here who will judge you!
7 – Go on a snorkeling expedition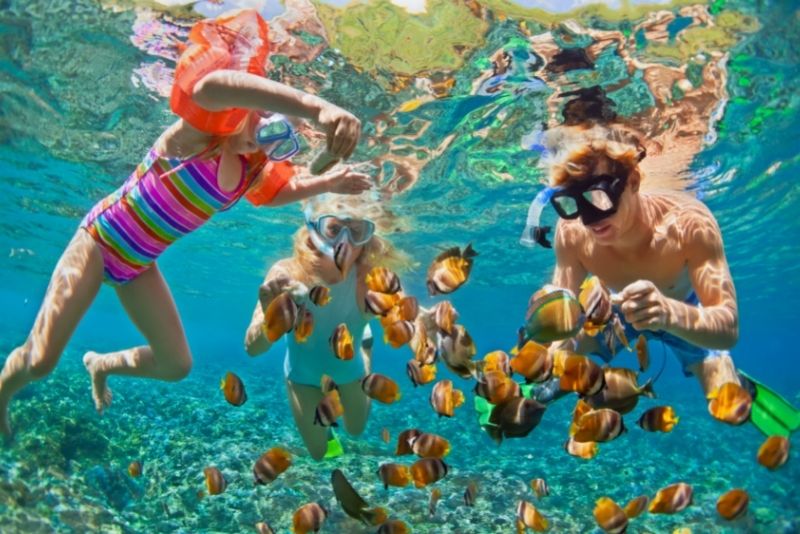 There's nothing like hitting the open water of the gorgeous Caribbean Sea on a luxury catamaran, only to take the time to dive into that water for some snorkeling.
You'll be able to see sharks, stingrays, and plenty of other exotic plants and animals as you get acquainted with the ocean floor.
You'll be perfectly safe the entire time as your expert guides and instructors make sure that you're well fed, well taken care of, and having the time of your life.
8 – See the rivers and mountains in Los Haitises National Park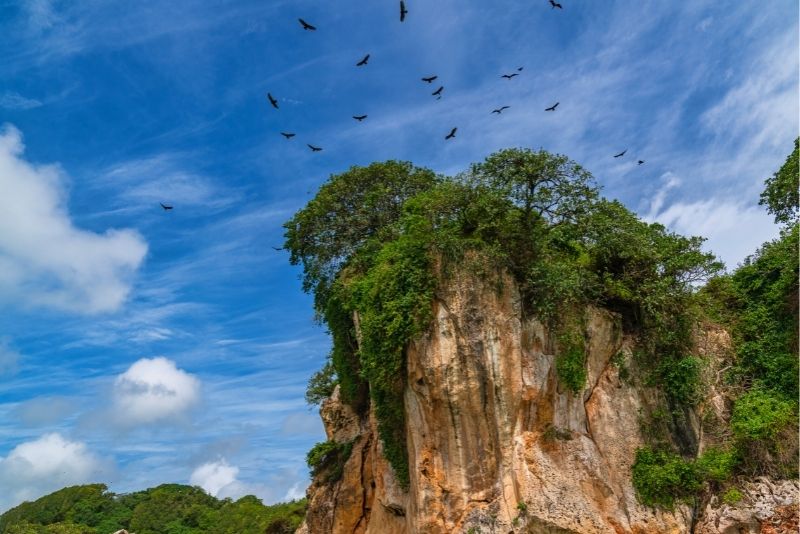 Los Haitises is another gorgeous national park complete with incredible rock formations, sunny skies, and exotic wildlife.
A tour of this island paradise takes you right from your hotel on a luxury bus through the mountains and rivers of Montana Redonda and Cano Hondo.
Enjoy local snacks and fruity drinks to whet your touristic appetite!
9 – Hop in a speed boat and guide yourself along the Caribbean Sea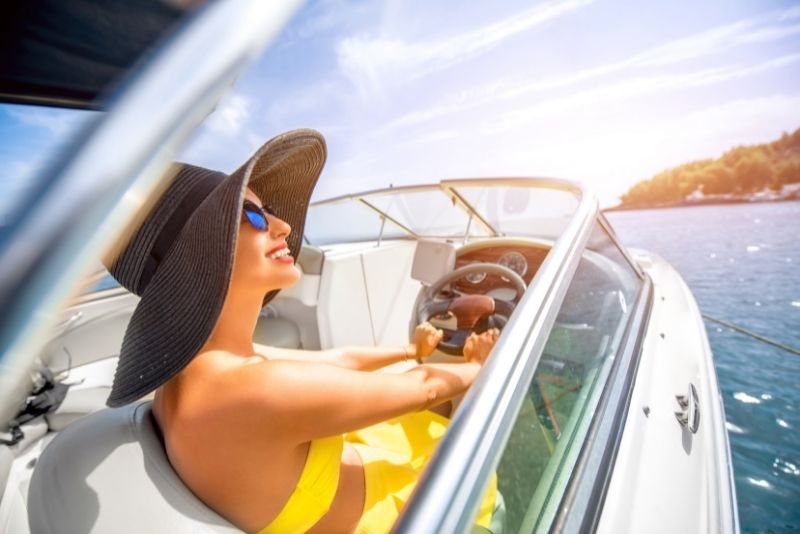 Renting a speed boat is one of the cheapest and easiest things to do in Punta Cana, and it's a great way to spend an afternoon.
Speed out to a secluded spot for a day of snorkeling or scuba diving.
There are also lots of gorgeous beaches to visit like Macao beach and Bavaro.
10 – Embark on a pirate adventure on the Hispanola ship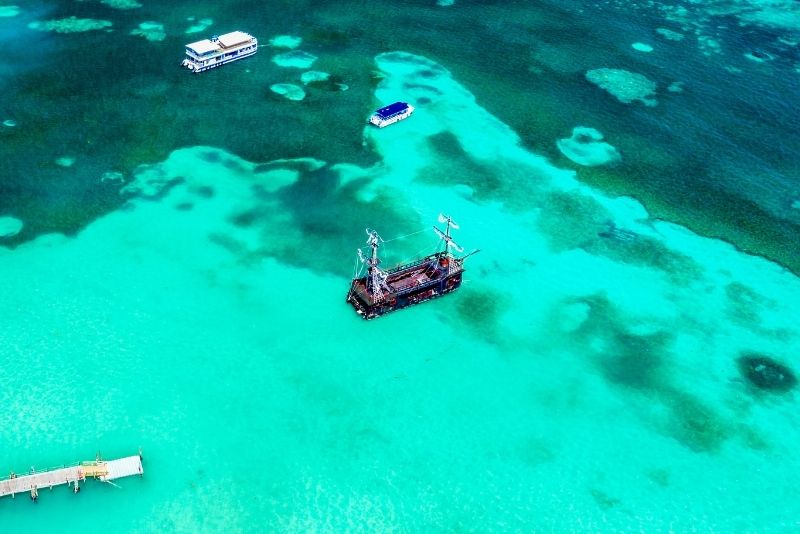 Have you been dreaming of an authentic pirate experience, complete with timbers to be shivered?
The pirate ship Hispanola will set sail for an adventure full of snorkeling, great food, sharks and adventure.
There's even a full on treasure hunt complete with rival pirates looking to find that booty first!
11 – Soak in the sun on Bavaro Beach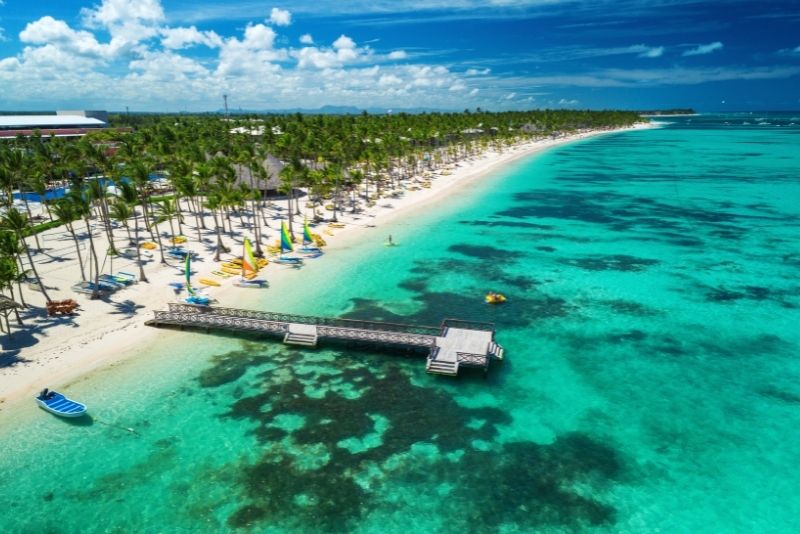 There are so many amazing beaches in Punta Cana that to visit only one would be doing yourself an injustice.
Bavaro Beach is one of the top 10 beaches in the world, and it's also home to an incredible resort.
Get a view of the natural biodiversity at Bavaro Lagoon, a 25-minute drive from Bavaro Beach where the sight of mangroves, amphibians, reptiles, and varieties of fish fill the landscape of the protected natural area right before you.
Soak in the sun, grab a swim, and enjoy a fruity tropical drink.
12 – Experience a dune buggy adventure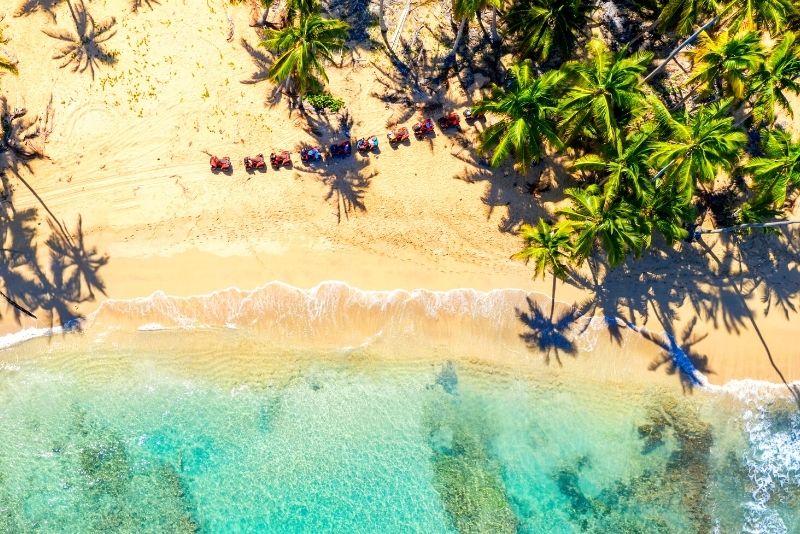 If you're looking for a real thrill, it's hard to beat taking a ride in a dune buggy.
Hit the sand on Macao beach, visit a local coffee plantation, or embark on a day-long eco-tour.
You'll even be able to go through caves on a Flintstones-themed adventure…But don't worry, these buggies run on electricity, not feet!
Packages are available to experience the full-fledged fun at La Hacienda, with hotel pickup, lunch, and safety equipment included to enjoy with comfort all the refreshing fun at the natural rivers, horseback riding adventures, and even zip lining up above the sea of green jungle.
13 – Go deep into the jungle to see Monkeyland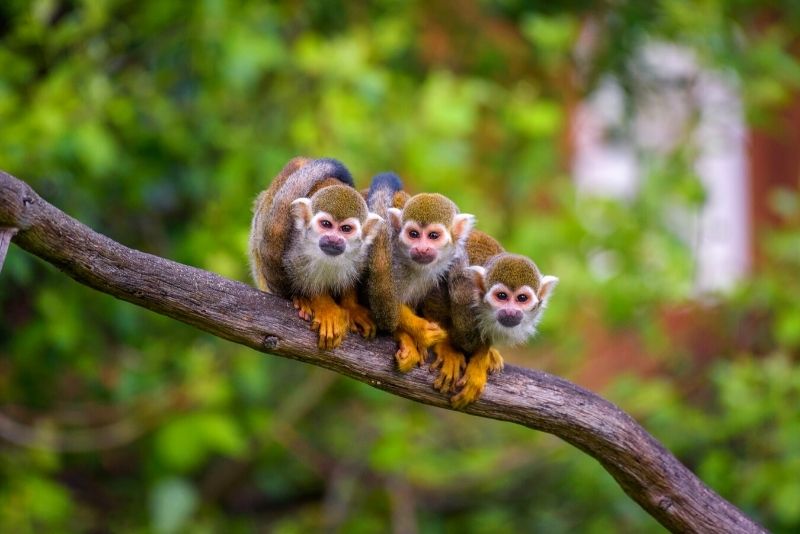 Monkeyland is an animal sanctuary located deep in the Punta Cana jungle.
A group of adorable squirrel monkeys calls this safe haven home and they've been trained to be safe and interactive around humans.
You'll also be able to see the local coffee plantation and sample the world-famous Dominican coffee and hot chocolate.
14 – Go horseback riding into the sunset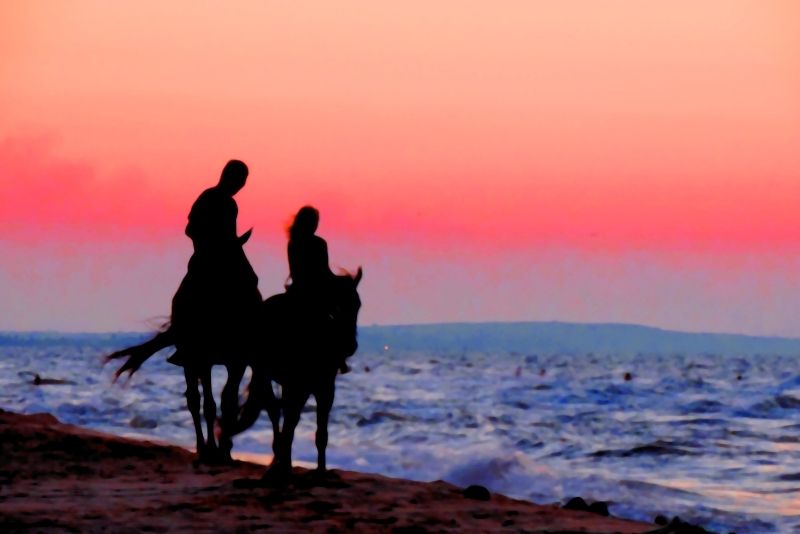 One of the most romantic things to do in Punta Cana is to go horseback riding into the sunset.
Add to the fun by combining your horseback ride with a bounce along the beach in a dune buggy or a quick zip line over the jungle trees.
There are even private tours available to make sure that nobody interrupts your time with that special someone.
15 – Squeeze in a round of golf while you're visiting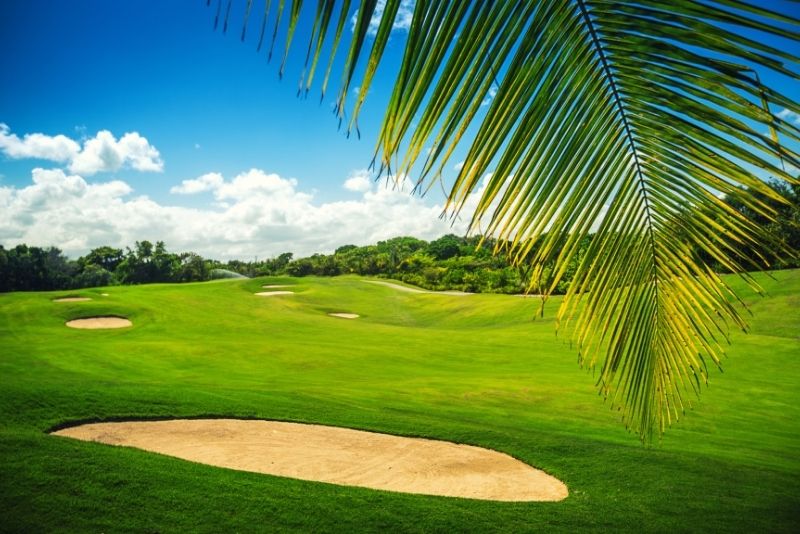 Surprisingly, golf is one of the easiest to find things to do in Punta Cana, probably because the climate is so perfect for it.
The city is home to several beautiful golf courses, like Punta Espada, La Cana and Cocotal Golf and Country Club.
Designed by a golf champion, enjoy the 3 separate 9-hole golf courses throughout Cocotal Golf Club, as you're surrounded by native coconut trees and their tropical aromas in the air, stunning lakes, and bonus exotic birdwatching.
Get a taste of the high life with courses tailored to all levels of experience.
16 – Learn some fascinating agricultural techniques in Higuey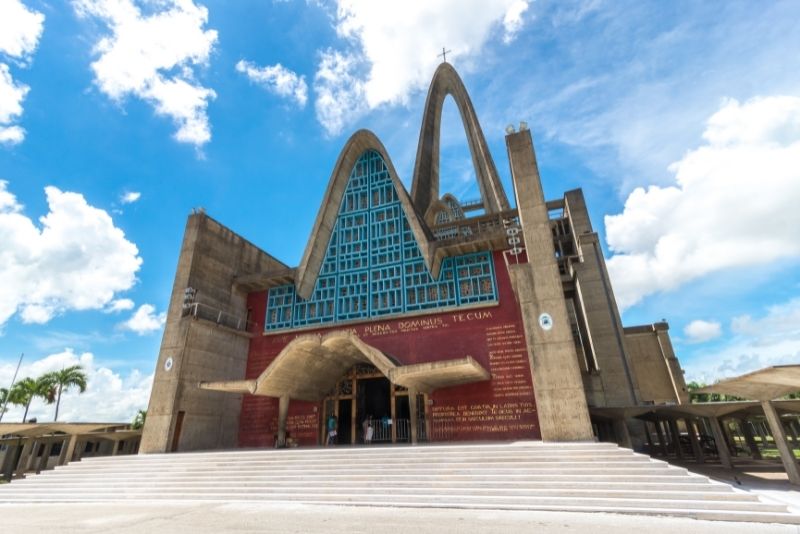 Just a bus trip away from Punta Cana is Higuey, the eighth-largest city in the Dominican Republic.
Learn the fascinating agricultural techniques used at the local tobacco plantation, and see the city's beautiful architecture, like the Basilica-Cathedral of Nuestra Señora de La Altagracia.
There's also the gorgeous Macao beach where you'll be able to soak in the Caribbean sun.
17 – See the protected Indigenous Eyes Ecological Reserve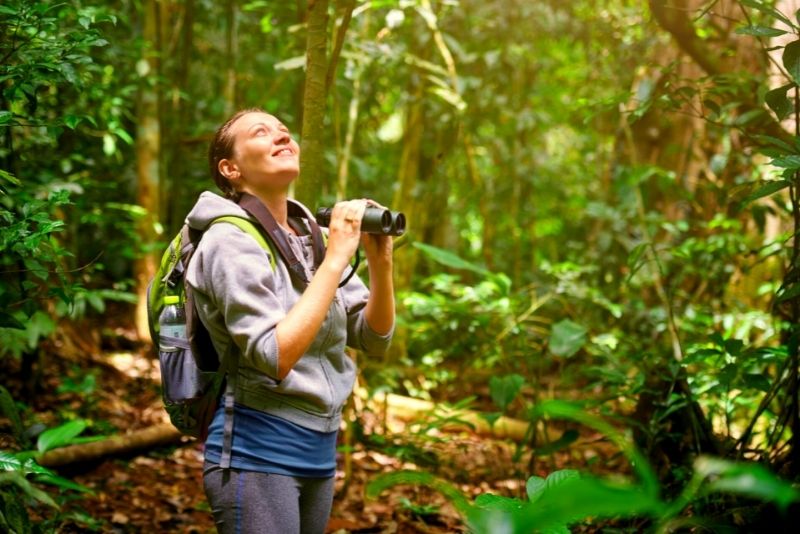 The Indigenous Eyes Ecological Reserve is a protected nature reserve owned and operated by a private group, but it is open for public tours and education.
The 1500 acres of gorgeous subtropical forest and freshwater lagoons are truly a sight to behold.
They also offer opportunities to learn about scientific and ecological research that takes place on the reserve, as well as ways to get involved.
18 – Get a bird's eye view of the Dominican on a helicopter tour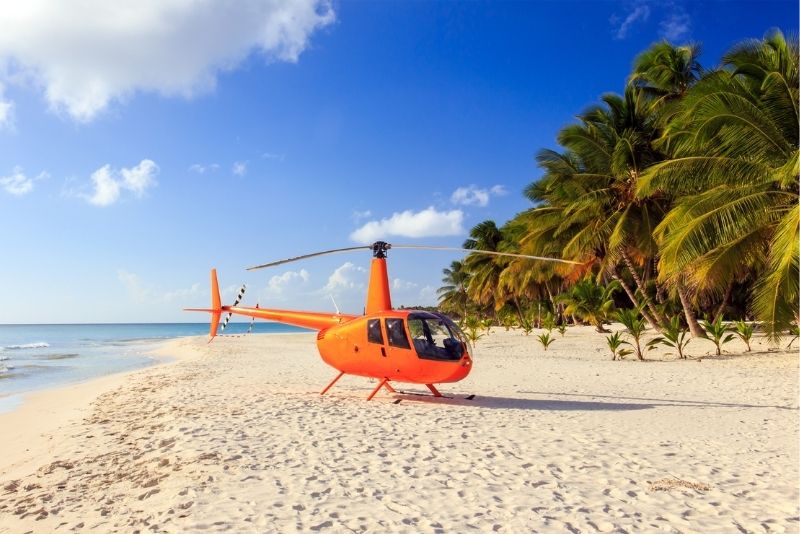 Get a bird's eye view of the Dominican Republic's gorgeous southeastern beaches.
See the picturesque Saona Island and the magnificent La Jalda Waterfall, and sip champagne as you take in nature in all its glory.
If you're using your Caribbean vacation as the perfect opportunity to pop the question to that special someone, a private helicopter tour is one of the things to do in Punta Cana that's tailor-made for just such an occasion.
19 – Take part in some fine food on Catalina Island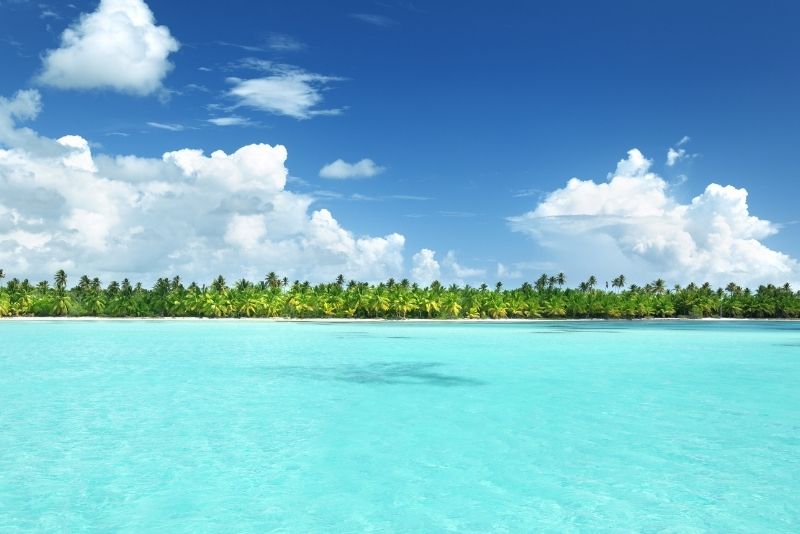 The Gorgeous palm trees and Caribbean sun await you on Catalina Island.
Along the way, take part in a variety of water sports, including snorkeling.
See the incredible underwater ecosystem, then enjoy some of the finest local food and drinks served buffet style, and spend the rest of the day on the beach.
20 – Refresh yourself by zipping down the waterslides at the best waterparks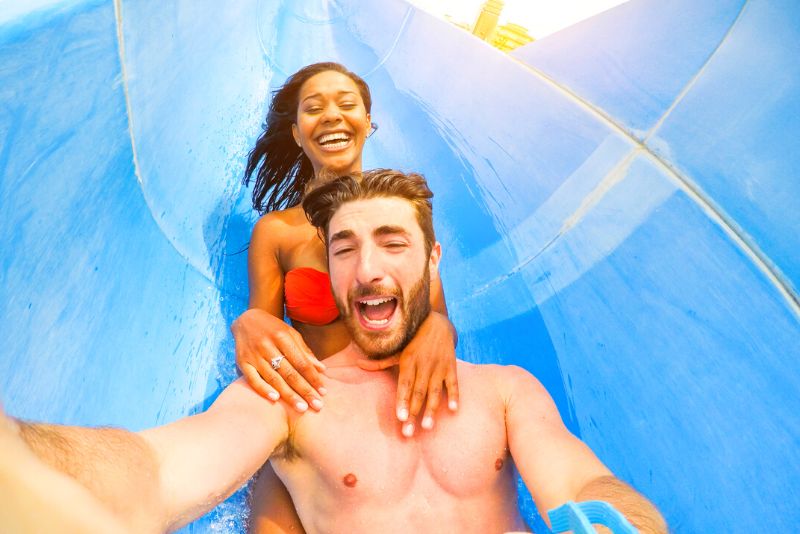 Create memories at the Bahia Scouts Water Park at Bahia Principal! A water park for kids of all ages to enjoy, offering a refreshingly fun time sliding down the multiple, twisted slides.
Splash Water Park at RIU Resort offers a major dose of fun for older children, and adults, featuring long tunnel slides, and a variety of other thrilling games like Body Vortex and Kamikaze.
Make a big splash at Agua Games at Sirenis, either jumping into the pool, climbing up the water towers to slide all the way down, or joining other water games like the Aquaracer for a water racing experience unlike anything else!
21 – Find the world's best whale watching between January and March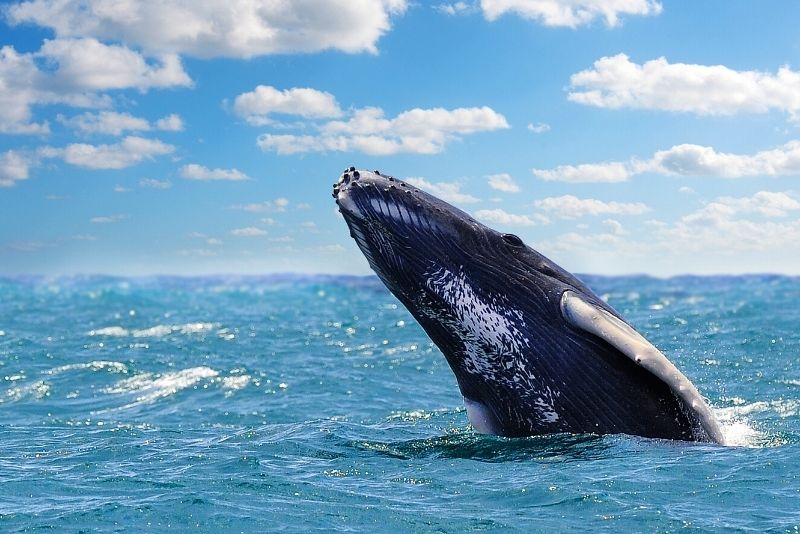 Between January and March every year, humpback whales gather at a UNESCO-funded whale sanctuary in Samana, to complete their annual mating ritual.
During this period, the sanctuary is free and open to tourists.
Learn firsthand from local experts about one of the Dominican Republic's most incredible natural occurrences.
22 – Take an electric bike tour around Macao beach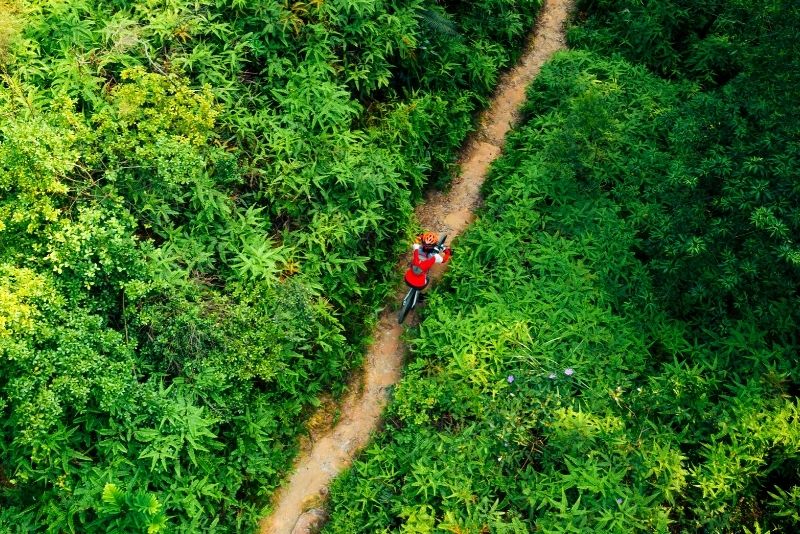 Electric bikes are all the rage these days, and for good reason!
An electric bike tour around Macao Beach and the surrounding mountains and countryside is perfect for people of all ages.
Learn from an expert local guide, sample delicious local food and drinks, see the incredible sights, and stay in shape while you're doing it.
23 – Travel to Samaná for the day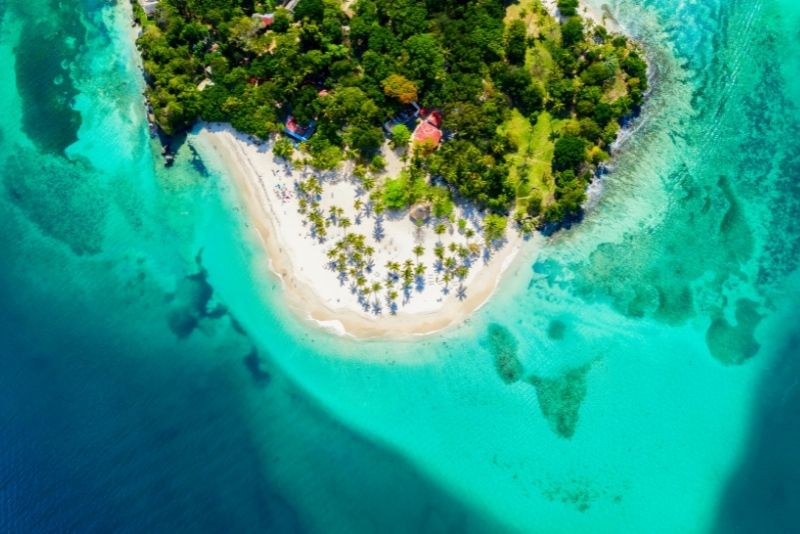 The lesser-known Samana Peninsula has lots of natural beauty to see, like the El Limon National Park and Waterfall.
There are a number of local markets and top-quality resorts sprinkled throughout the area's villages.
There is also a humpback whale sanctuary that plays host to the animals' mating ritual between January and March of every year.
24 – Make your own chocolate at the chocolate museum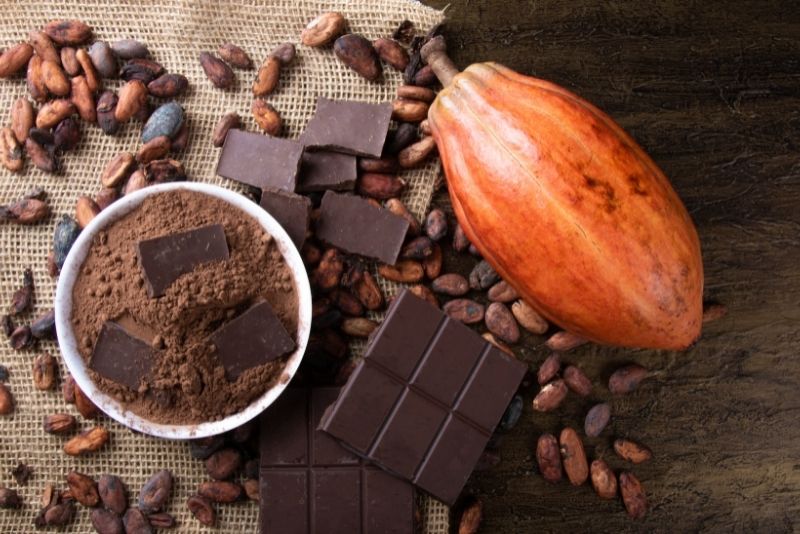 The Dominican Republic is famous for its chocolate and cacao plantations, so much so that they've even got a whole museum dedicated to the delicious natural treat.
Not only will you learn everything there is to know about the history of chocolate in Punta Cana, but you'll even be able to make your own straight from the bean.
While some of the other activities will cost you, the museum itself is free of charge.
25 – Catch a show at Coco Bongo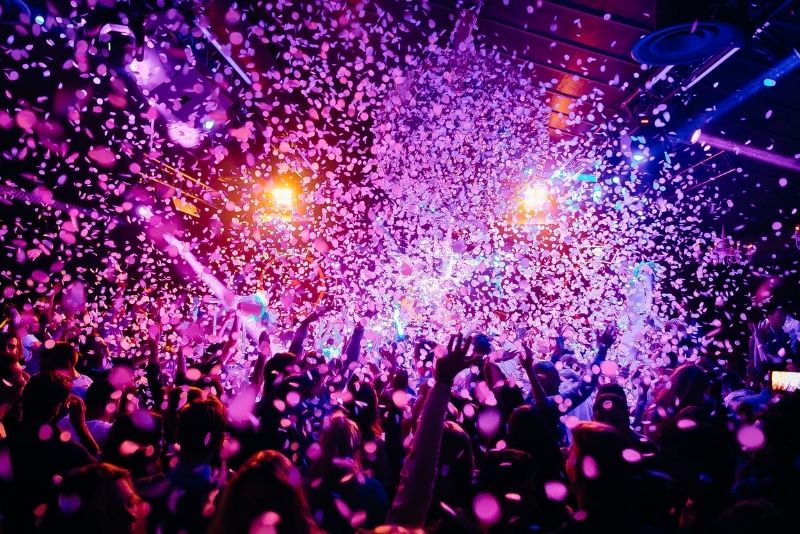 You can't plan a trip to Punta Cana without visiting the world-famous Coco Bongo.
There's always a show waiting for excited guests here. Get picked up and dropped off right from your hotel so that you don't have to worry about a thing as you're gulping down delicious drinks and food and taking in the spectacle at Downtown Punta Cana.
26 – See the lizards and parrots at Manati Park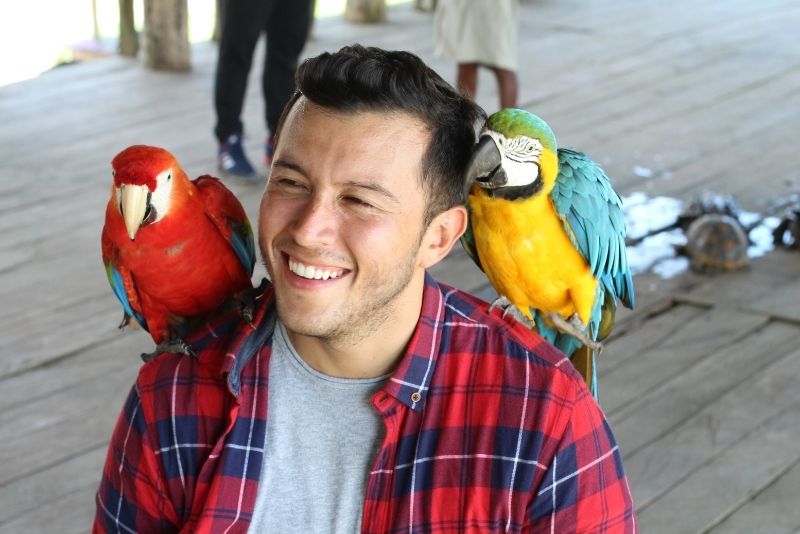 Manati Park, the Dominican Republic's first-ever theme park, is home to lizards, parrots, sea lions, iguanas, and 150 other exotic animal species.
There are shows happening there all the time and natural wells to bathe and relax in.
You can also swim with dolphins!
27 – Go zip-lining over top the jungle trees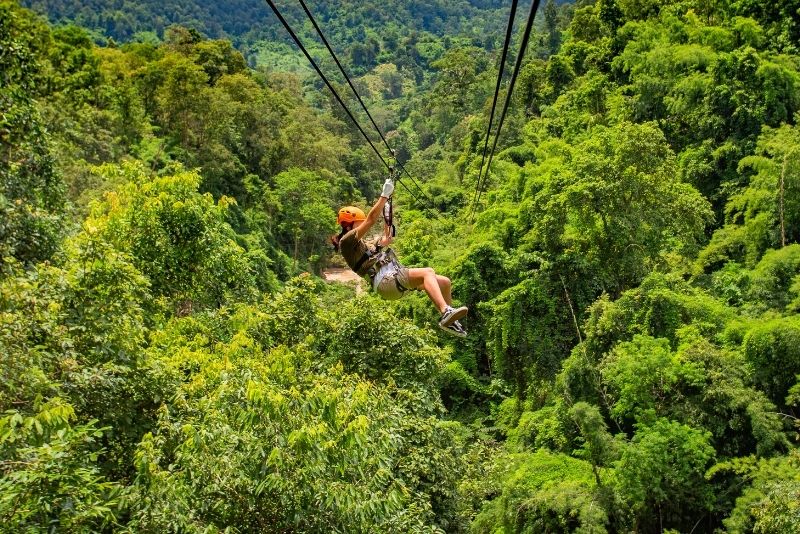 One of the most exhilarating ways to experience the Caribbean Jungle is by zip-lining over top of it.
There are no less than 12 different zip line ropes to ride along.
And the fun doesn't have to stop there! Combine this activity with any number of others like horseback riding, dune buggy riding, or a visit to the Monkeyland animal sanctuary deep in the jungle.
28 – Play a round of volleyball at Juanillo Beach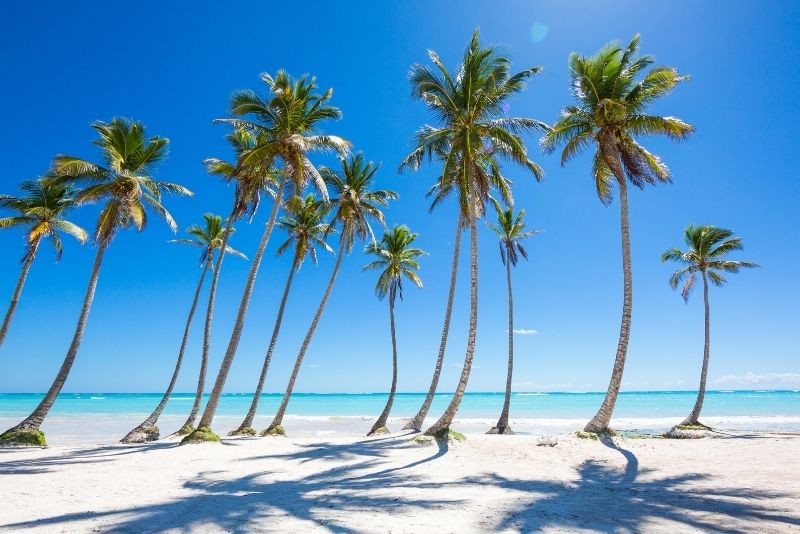 Juanillo Beach is just another beach in Punta Cana where you'll be able to soak in the Caribbean sun, get in a round of volleyball, and enjoy the fantastic local food and drinks.
It's also home to a gorgeous national cenote with unparalleled beauty. What more could you ask for from a day at the beach?
29 – Try an authentic Dominican cigar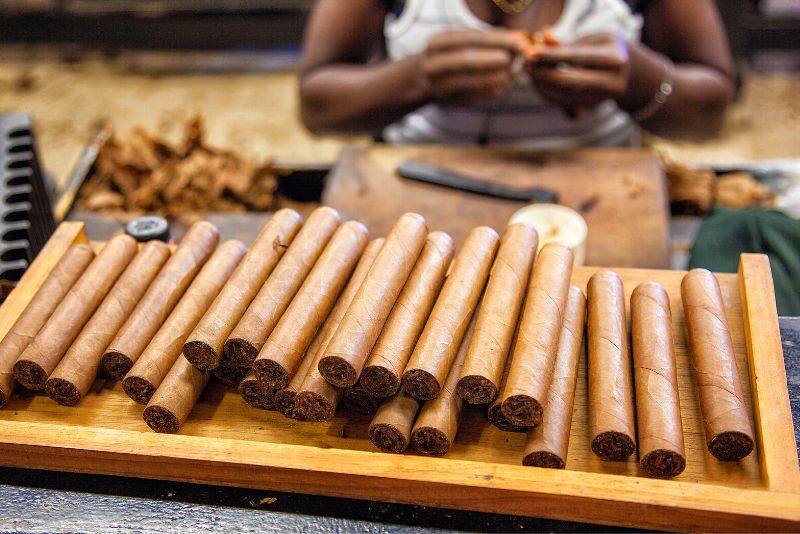 Enjoy the process and the final product when you book a tour experience at Don Lucas Cigars. Learn about the art and craft of Dominican cigar production, from its filler, and aging process, all the way to its wrapper. Complement the cigar with a good rum, and feel an experience unlike anything else.
Vivaldi Cigars takes you under their wing as they teach you their 20+ years legacy of cigarmaking. Learn about the story behind what turns a good cigar, perfect, and how a Dutch and Dominican made that happen together.
30 – Try parasailing and admire the Caribbean sea from the air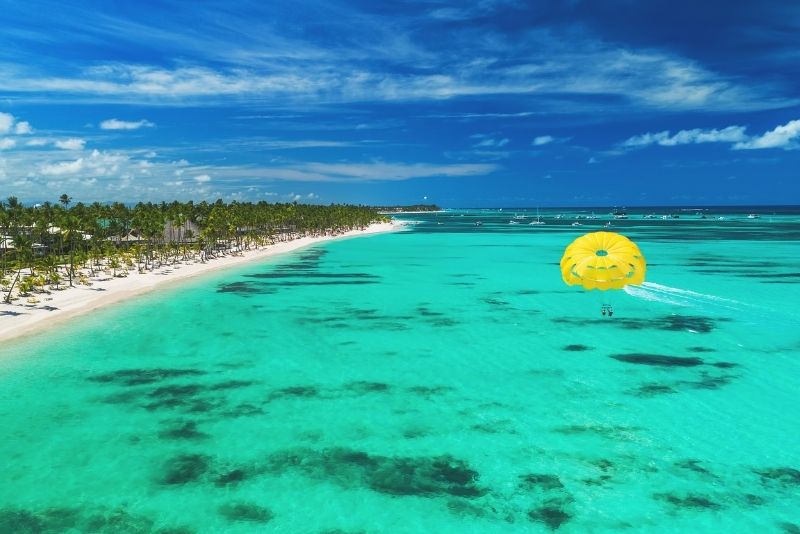 Just like scuba diving and snorkeling, there are a lot of different ways to enjoy parasailing in Punta Cana.
You could take a luxury catamaran cruise, hop off a party boat, or drive your own speedboat.
However you choose to get there, there's no way you won't enjoy that glistening water and the wildlife that lives within it from 500 feet in the air!
31 – Explore the caves in Scape Park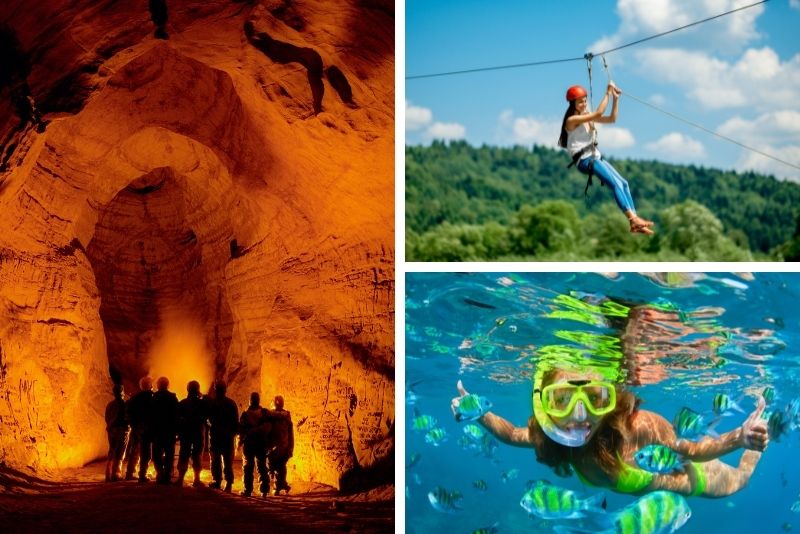 There are a lot of amazing things to do in Punta Cana, and quite a few of them can be found right in Scape Park.
Spanning a full 247 acres, the park includes sparkling pools hidden within mysterious caves, ziplining through lush jungle, and an exclusive beach club.
Swim through the turquoise blue waters inside the Hoyo Azul – a natural cenote pool or walk across the bridge directly above the cenote for an awe-inspiring view, and the perfect selfie spot!
Don't forget to keep a lookout for colorful exotic birds, and snap a few pictures while you're at it!
32 – Get yourself professionally photographed in Altos de Chavón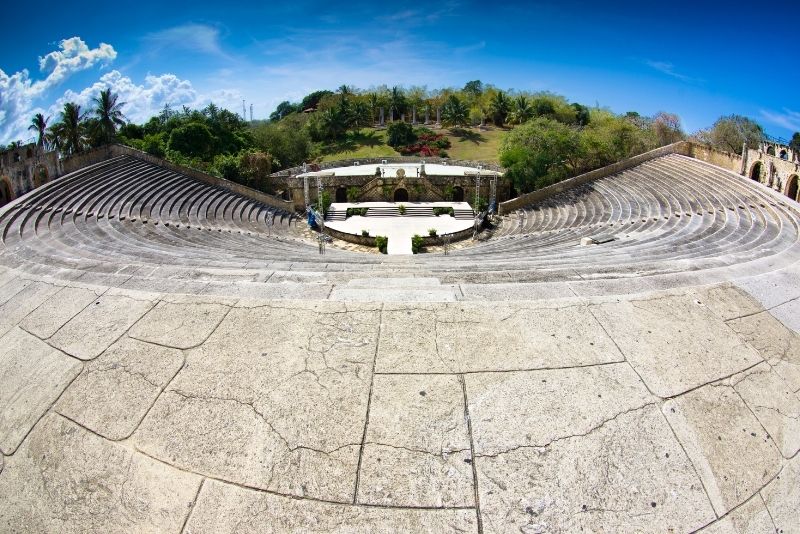 In the heart of the Dominican countryside lies the Altos de Chavón, a full replica of a 16th-century Mediterranean village.
It's also a cultural hub with numerous art studios, a gallery, and a school of design.
At its center is an incredible 5000 seat amphitheater that has played host to Frank Sinatra, Sting, and Elton John, just to name a few.
33 – Learn to surf at Macao Beach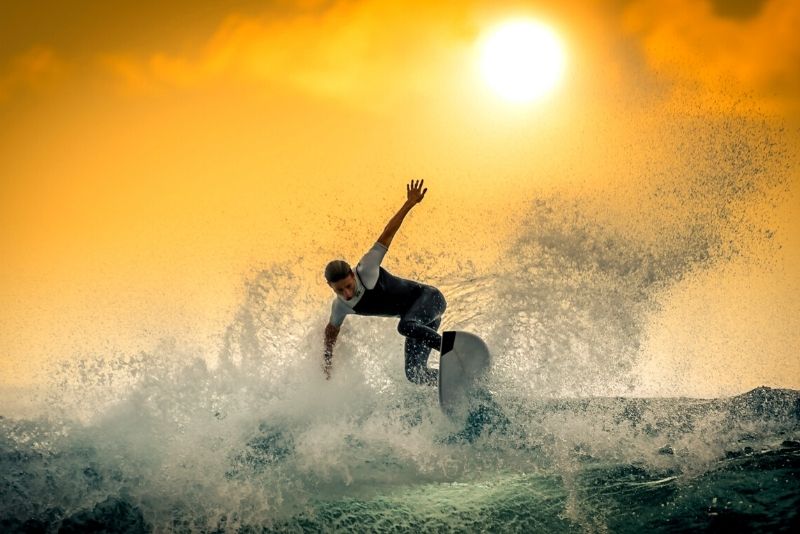 If you've ever wanted to learn how to surf, then the experts at Macao Beach are waiting to teach you.
Whether you're looking for group or individual lessons, a quick taste or a multi-day class, this gorgeous beach offers it all.
Grab your board, because you'll be hanging 10 on perfect waves in no time!
34 – Enjoy the impressive cocktails at Pearl Beach Club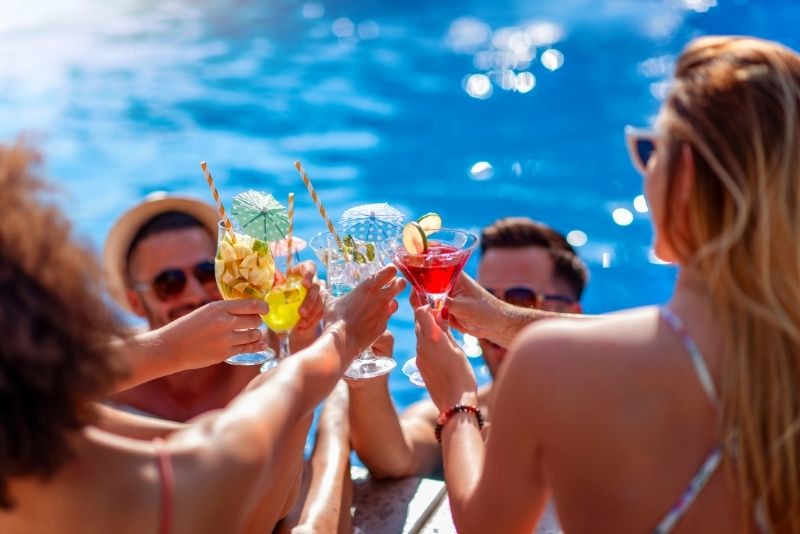 There are so many amazing beach clubs in Punta Cana that you'll want to keep coming back again and again just to visit them all.
Pearl Beach Club specializes in mixology and offers an impressive cocktail menu. Also, no surprise, they bill themselves as the perfect location for a Caribbean wedding.
Huracan Cafe is the perfect lunch spot beach club, offering a delicious menu of Italian dishes infused with Dominican ingredients, to be enjoyed with a refreshing cocktail to seal the deal at this beach dream venue.
Proudly claiming the best mojitos in the area title is TOC Beach Bar, located right on the beach, serving fresh seafood and meats, in a fresh, bohemian atmosphere. It's the perfect place to go during sunset for golden hour magic.
35 – See Bahia de las Aguilas, one of the most beautiful beaches in the world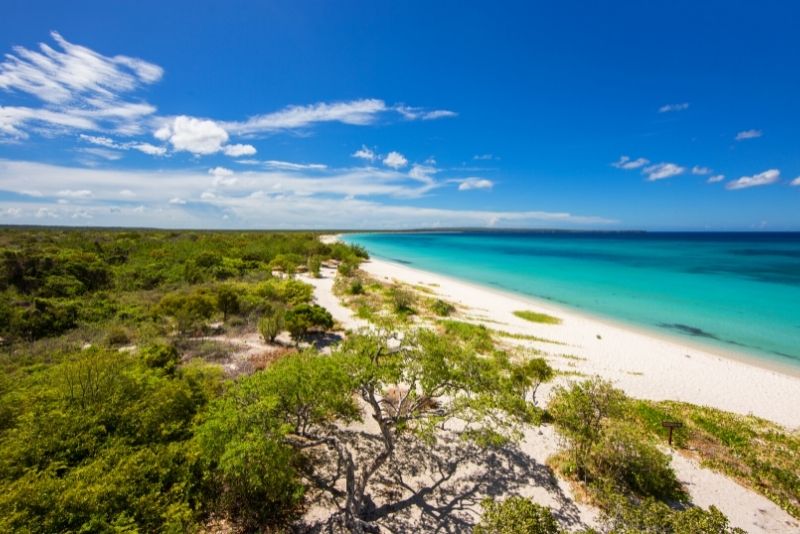 Every single Thursday, local experts offer a comprehensive tour of what many Dominicans refer to as one of the most beautiful beaches in the world.
The New York Times also referred to this beach as a must-see. Take a tour on the ground or in a plane, or simply walk along the beach on your own time.
36 – See the sparkling waterfall pools in the jungle on a jeep tour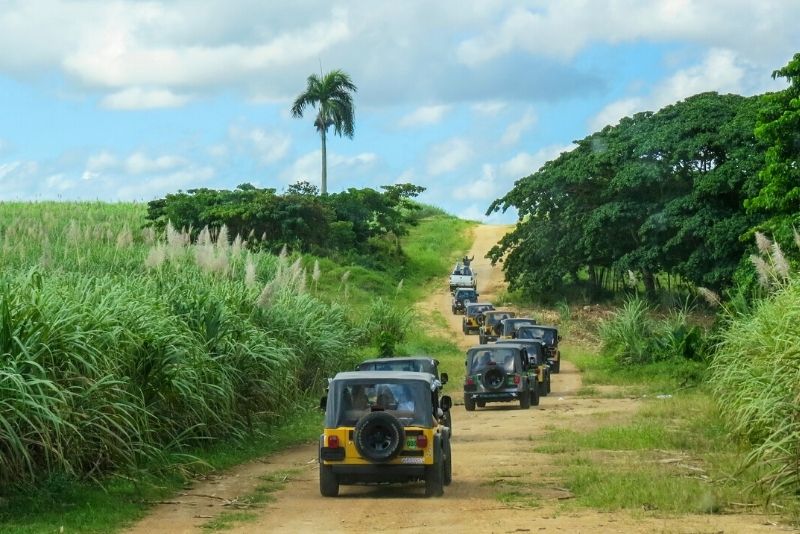 Where there's a jungle, there are jeeps.
Head deep into the jungle in a jeep or quad tour and find a sparkling waterfall pool, along with numerous other beautiful natural sights.
Stop by at local plantations and sample the local coffee and chocolate, and cap off your day with a magical horseback ride.
37 – Enjoy a magical day at the Seaquarium at Dolphin Island Park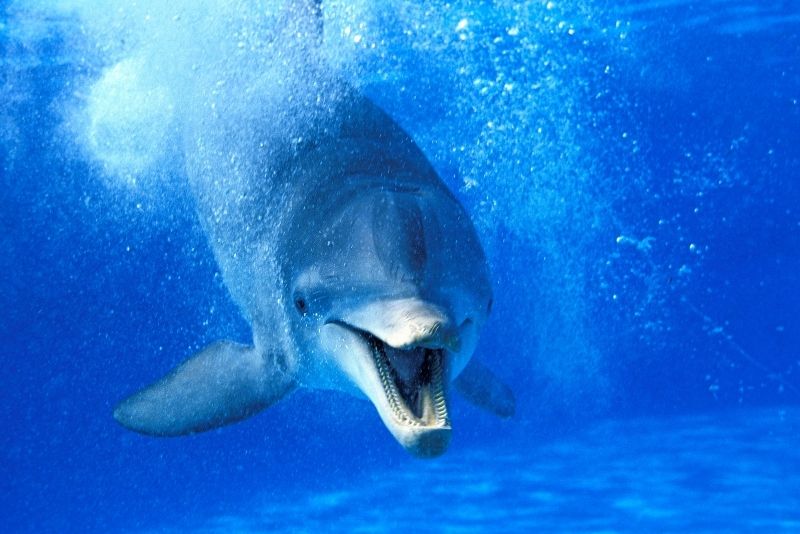 The Punta Cana Seaquarium is a theme park dedicated to the study of ocean life.
They offer all kinds of activities, including a fully immersive underwater walk surrounded by rare fish and other animals.
They also offer a full-on catamaran party cruise, for the adults.
38 – Learn to fish with experts on a chartered deep-sea fishing adventure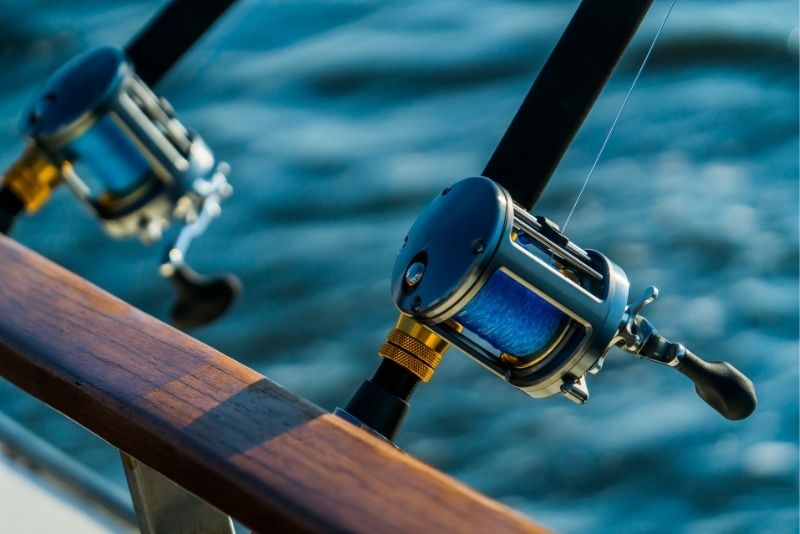 Seafood is a staple in Punta Cana, and you'll likely be able to sample the local offerings while you're here.
But you can also take it a step further and take a chartered trip out on the water with local fishermen to see how the sausage is made, so to speak.
Learn to fish in style with an activity that's perfect for the entire family.
39 – Splash around at Caribbean Lake Park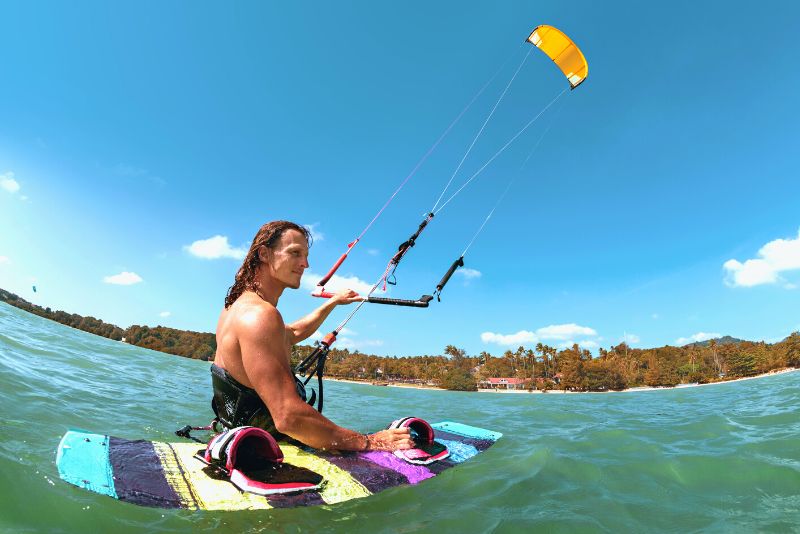 Consider visiting Caribbean Lake Park for a whole lot of water fun, featuring an abundance of relaxing poolside activities, as well as thrill-inducing ones not to miss.
For adventure seekers, consider some wakeboard fun, or rent a flyboard to learn and practice your impressive moves in the air.
Those looking for something a bit lax may want to lazily float in the floating circuit, leisurely swim in the pool, or even lounge and work on your tan.
40 – Enjoy the view from Montaña Redonda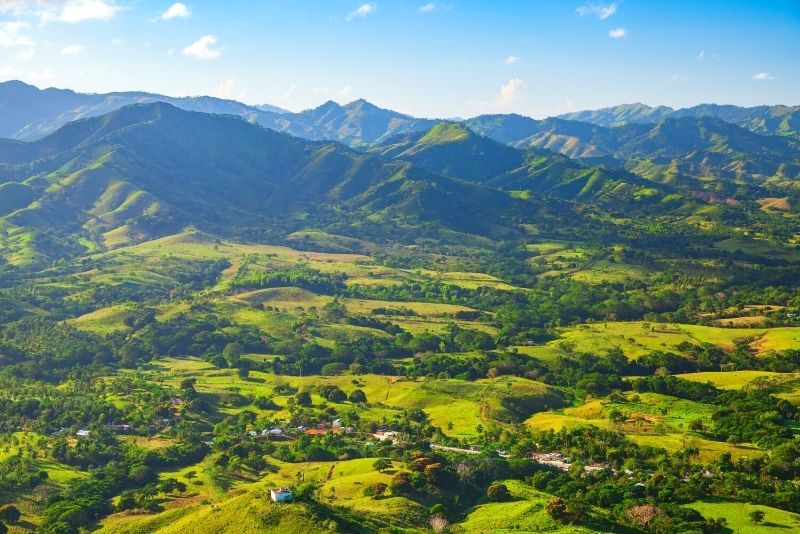 At the top of Montana Redonda is a 360-degree swing that allows you to take in a gorgeous panoramic view of the countryside. You'll literally be able to swing over the edge.
There's also a restaurant and a gift shop, and they offer full photo services with various props.
41 – Enjoy an easy hike on Anamuya Mountain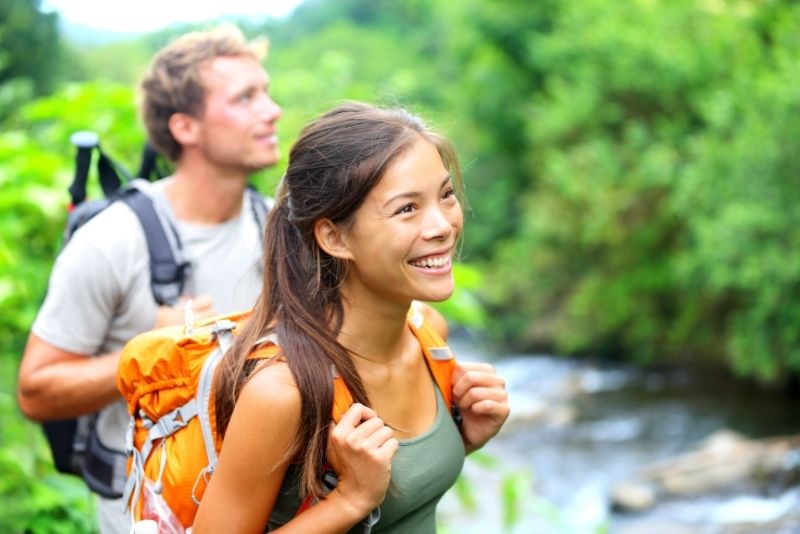 Not everyone wants to exert themselves in nature; sometimes you just want to walk through the trees and relax while you take in the sights.
A jungle hiking tour of Anamuya Mountain is designed for hiking newbies.
Plus, you'll get a chance to drink some local coffee as you stop by the local cacao plantation.
42 – Visit the awe-inspiring El Limon waterfall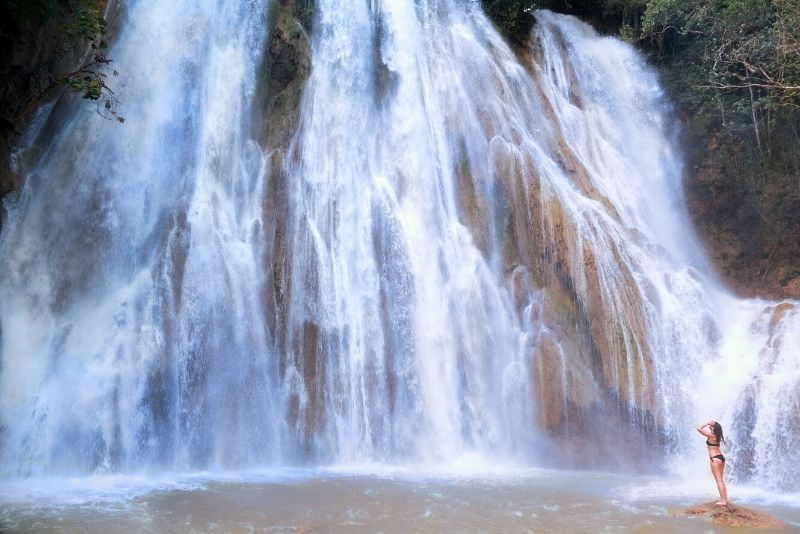 On the north coast of the Samana Peninsula is the gorgeous El Limon National Park and Waterfall.
The journey there will take you through 2.5 kilometers of forest. Along the way, spot flora and fauna indigenous to the area, including royal palm trees and pineapples.
43 – Enjoy a luxurious spa day on a catamaran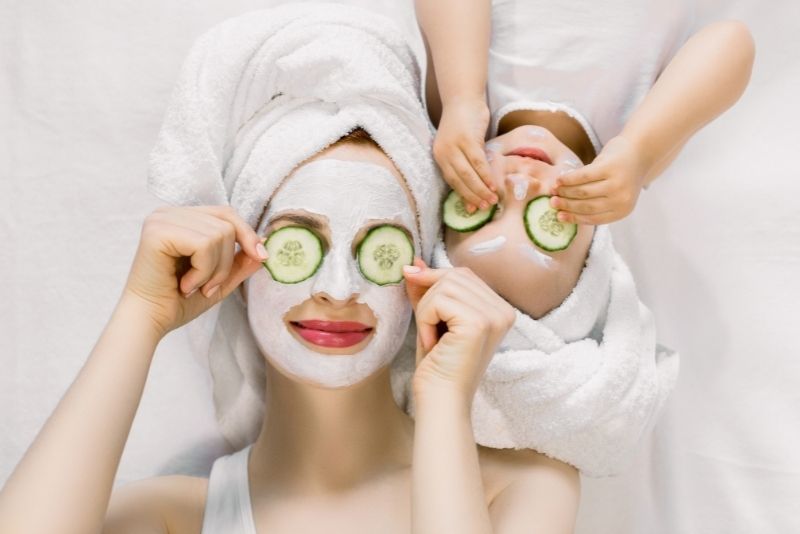 Spas are a great way to relax, and a natural inclusion for any vacation itinerary.
Thankfully, Punta Cana has no shortage of great spas to visit. Some even take place on a boat!
Spend the day relaxing and win back that youthful glow.
44 – Book your stay at the Hard Rock Casino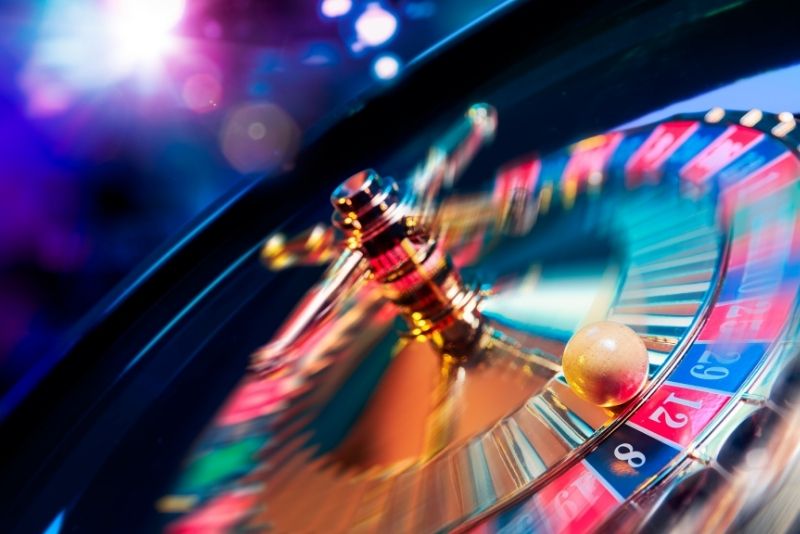 The Hard Rock Cafe is a timeless staple of so many of the world's greatest cities; New York, Washington DC, Montreal, and, of course, Punta Cana.
In this case, it includes a luxurious hotel and a fabulous casino.
This is also one of the numerous places in Punta Cana that offers stunning wedding services, so whether you're looking to pop the question or say "I do," this may just be the spot for you.
45 – Visit the underwater life when you go scuba diving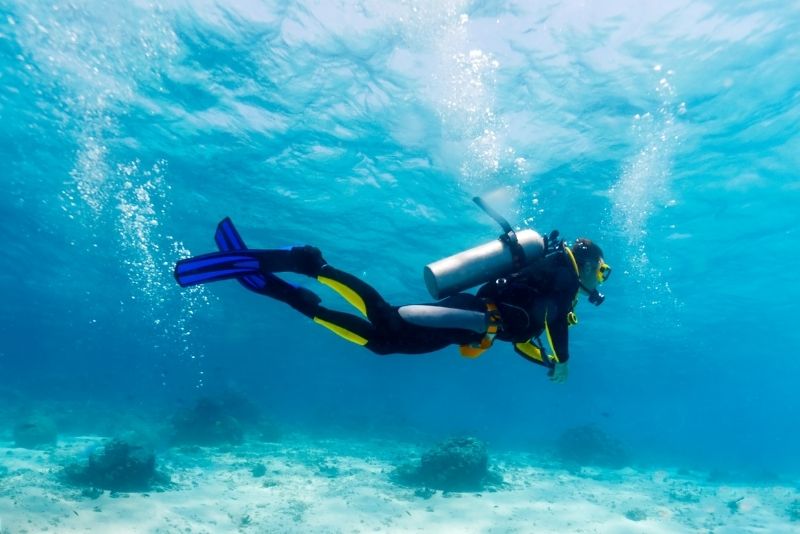 There are a number of ways you can go scuba diving in Punta Cana.
You can either take the afternoon and go for some lessons, or you could go on a day trip to some of the gorgeous surrounding islands like Soana Island and Catalina Island and stop for some scuba diving along the way.
An incredible underwater ecosystem awaits you!
46 – Descend into a cave to dance the night away at the Imagine Punta Cana Night Club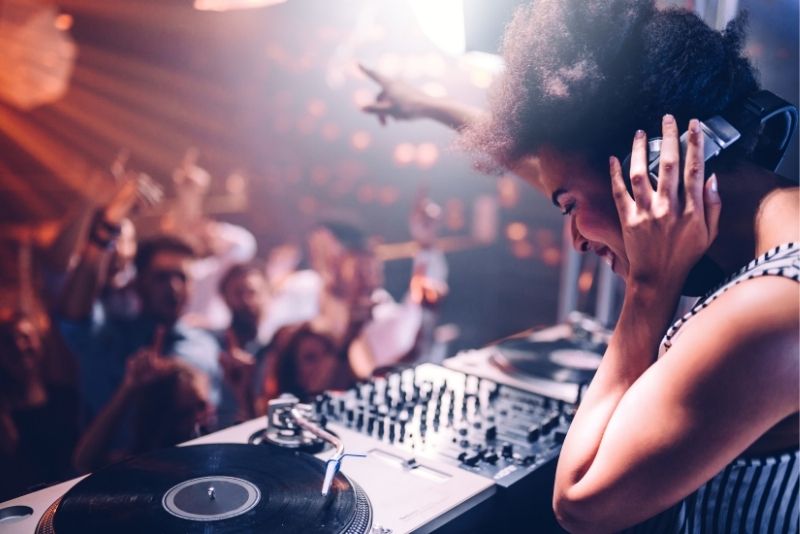 Located inside a vast network of cave tunnels that took thousands of years to form, the Imagine Night Club in Punta Cana is a fantastic club to party all night long.
One of Punta Cana's premier night spots, it has a capacity of over 3,000 people. Their parties always include a who's who of local DJs and artists.
El Kan Drinks House is a favorite club/bar for many locals, guaranteeing one of the most fun and authentic night outs in Punta Cana. Listen to the live DJ pump out the beats, enjoying as the music takes over the air.
Step inside a black-lit club with neon lights and glowing surfaces at Legacy Movie Disco Club, enjoying a grand selection of cocktails as the thumping of Latin reggaeton hits is perfectly mixed with the best hip-hop songs.
How to get to Punta Cana?
Remove any confusion with figuring out how to get from the airport to your hotel in Punta Cana by pre-booking an airport transfer, starting as low as $15 USD.
After arriving at Punta Cana Airport, your airport transfer will pick you up at arrivals, and will take around 20-25 minutes to arrive at some of the biggest hotels in Punta Cana.
Where to stay in Punta Cana?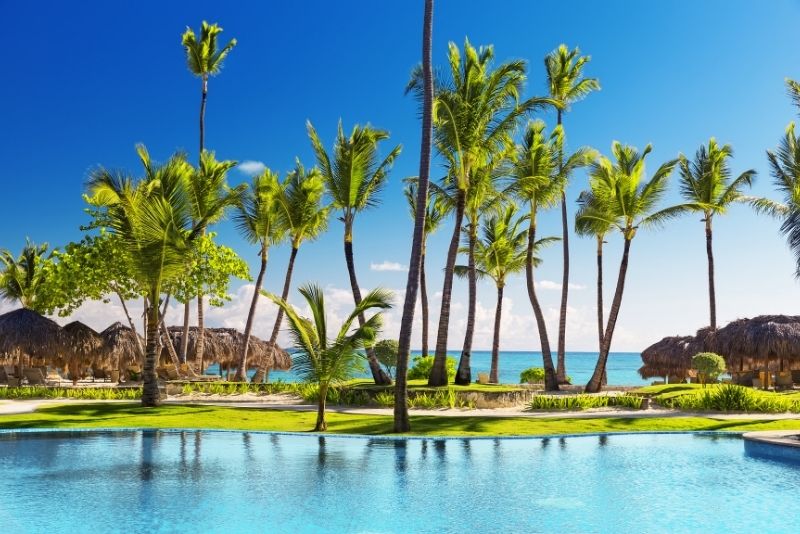 Sirenis is a chain of luxury resorts, and they just happen to have one located in Punta Cana. This lodging offers so many incredible amenities that you may not even want to leave while you're staying here. There's incredible food, a gym, a spa, and even water slides!
Relax on the lush stretch of golden sandy shores at Grand Bavaro Princess all-inclusive hotel, located on the pristine Bavaro Beach. Offering over 9 different restaurants, snack bars throughout the hotel, and fully-serviced spas, enjoy plenty of fun activities for families of all ages.
Traveling with just your friends or your partner? Consider booking a few nights at the Hyatt Zilara Cap Cana Adults Only hotel. Enjoy laying out on the sun terrace, daily entertainment and activities, and freshly-served continental or buffet-style breakfast. Relish a great amount of water sports activities, and even an adults water park for thrills.
Visiting with children? Your family will love staying at the Nickelodeon Hotels & Resorts Punta Cana, featuring Nickelodeon-themed games, activities, and foods, where your child can meet their favorite characters like Spongebob! While children play, parents can indulge in the spa amenities, or enjoy their drink of choice poolside.
Where to go next?
Head to Puerto Rico, where you'll go from dancing in the streets to stumbling into colorful colonial homes of Old San Juan, taking a peak at the thought-provoking street, and art, and of course end up at the most beautiful beaches.
Sway to the music of reggae in Jamaica, setting foot on the white sand and pristine beaches of Montenegro Bay, or enjoying a culinary delight on a fabulous food tour of Jamaica's best dishes.
St. Lucia is one of the most romantic islands in the Caribbean, offering beautiful beaches, luxurious resorts, and some of the most breathtaking scenery of dramatic mountains, perfect for a challenging yet beautiful hike.
Relax in the natural pools dotting Aruba, though it's known as another lovely romantic destination, it's also a hot spot for solo travelers looking to get a slice of island life, with incredible snorkeling by day and a lively nightlife scene by evening
Final thoughts
We hope that our list of things to do in Punta Cana has inspired you to seek out all of the richness of experiences, from cultural to gastronomic, for the adventurer in nature, and the hopeless romantic in search of luxury.
All that's left to ask is will you be making it to this treasured island? Keep us posted!
Happy travels!