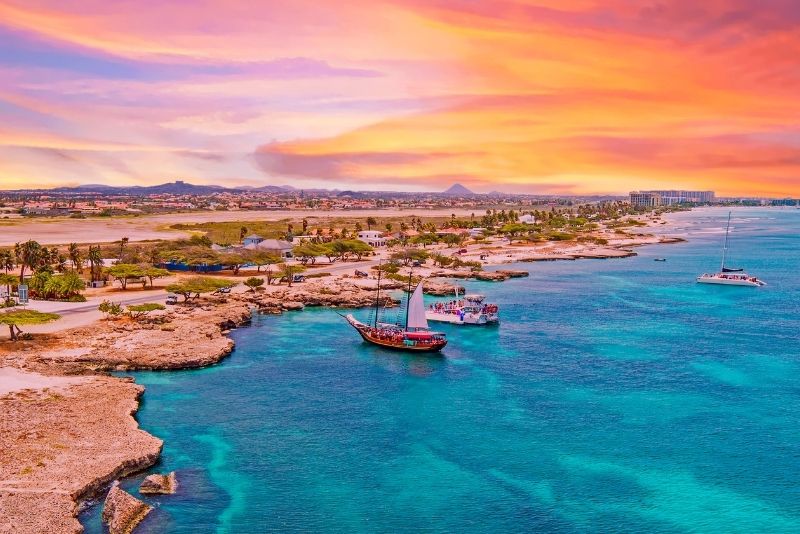 Located in the heart of the Caribbean, Aruba is home to crystal clear beaches, beautiful surroundings and a non-stop list of romantic and exciting things to do.
A couple's paradise, Aruba receives hundreds of inquiries about wedding or honeymoon reservations every day. You can have dinner on a sunset cruise on the calm water, dive to see the colorful reefs or feed flamingos on a private beach.
Solo travelers and families have several things to do in Aruba with its amusement parks, a drive-in movie theatre and thriving nightlife.
1 – Snorkel to admire the fish and corals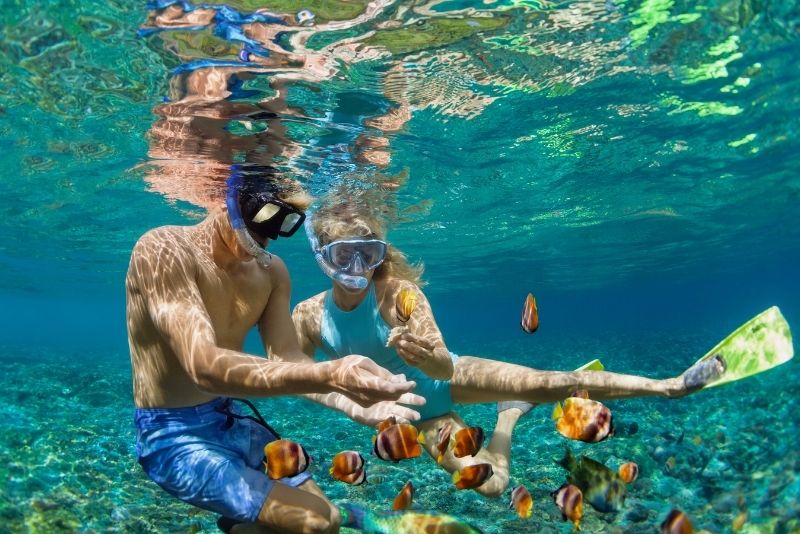 Dive into the crystal blue water and marvel at the rich marine life in the Caribbean Sea. When you're on a catamaran cruise on a warm sunny day, take the chance to plunge into the clear water where you can see vibrant corals underneath.
2 – Soak up some sun at Eagle Beach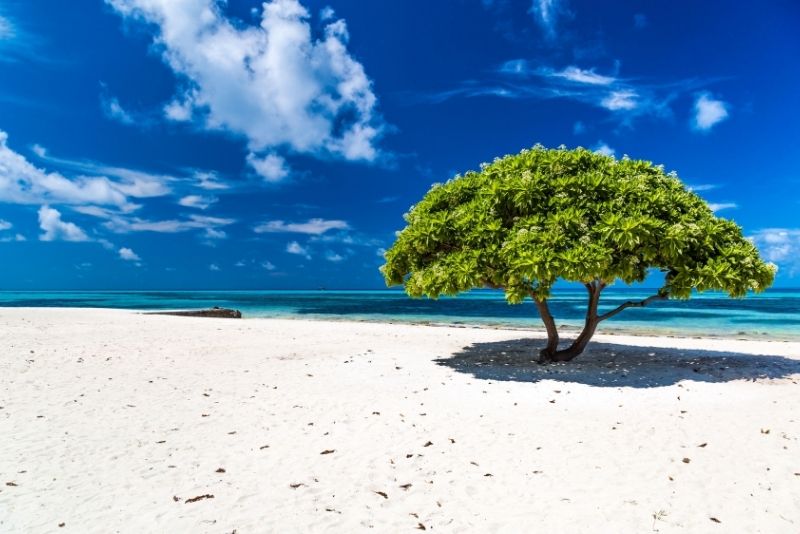 If you've ever seen a desktop wallpaper or an inspirational vacation photo, there's a good chance it strongly resembles Eagle Beach in Aruba — with a beautiful Divi Tree overhanging a white sand beach being lapped by the warm gentle sea.
With an easy bus ride from the capital Oranjestad, you'll be very close to capturing your own shot of paradise!
3 – Handle the butterflies at The Butterfly Farm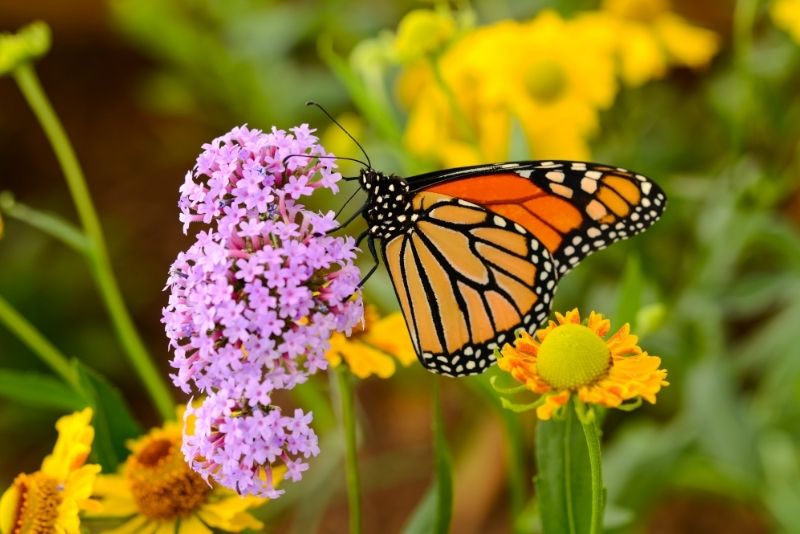 The beautifully consistent warm weather of Aruba lends itself as a perfect habitat for the butterflies. It will come as no surprise then that the butterfly expert William Slayter decided to open a farm there in 1999.
You can learn all about these beautiful creatures on a guided tour to The Butterfly Farm, and get the chance to handle them yourself — if you take the time to be taught how to by one of the local experts!
4 – Glide around on a Segway tour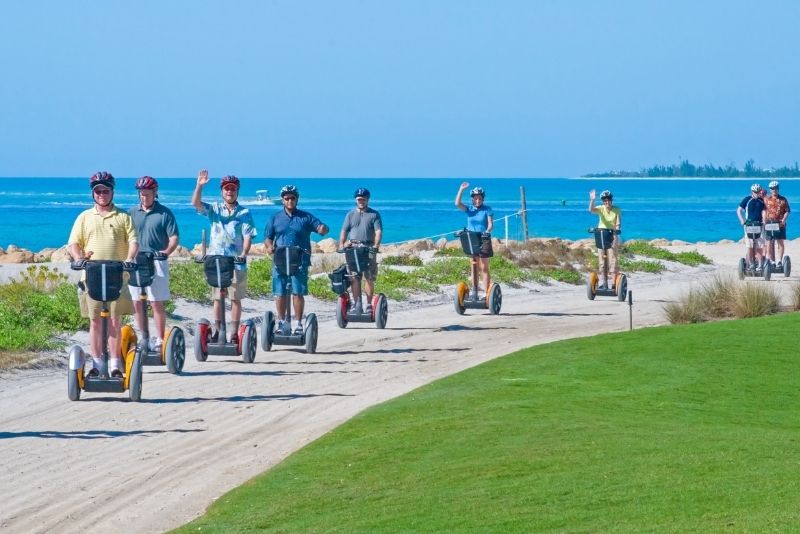 If you're settling into the leisurely theme of the island, then a Segway tour will definitely fit right into your itinerary.
You can book a private tour where you get to decide where you start from and where you go, so you can make sure you're being shown and taught about the interesting parts of Aruba. How good is that!
5 – Feed the flamingos at Renaissance Island & Flamingo Beach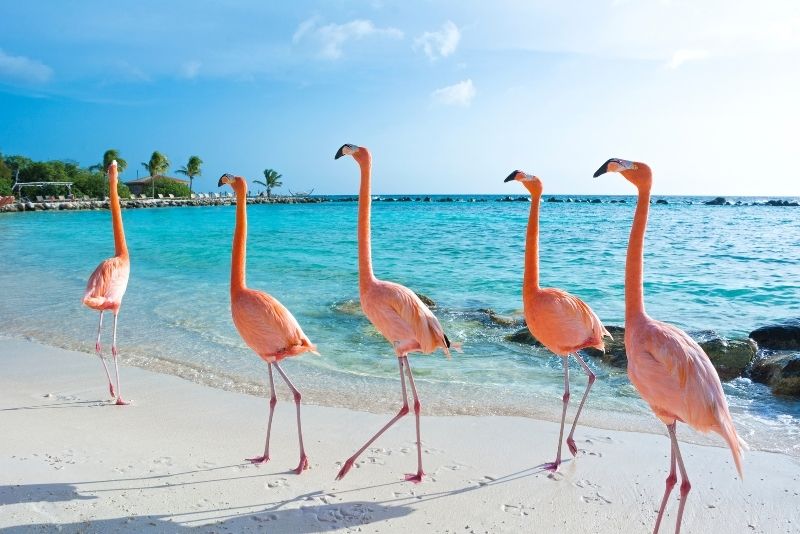 In Aruba, there's a luxurious hotel called Renaissance Resort and Casino that has a private island called Renaissance Island. Only an 8-minute water taxi ride from the resort, the island has a beach called Flamingo Beach.
True to its name and the world famous photos, this is the only place in Aruba you'll find flamingos that you can feed as you paddle through the clear water.
6 – Visit the oldest building in Oranjestad — Fort Zoutman Historical Museum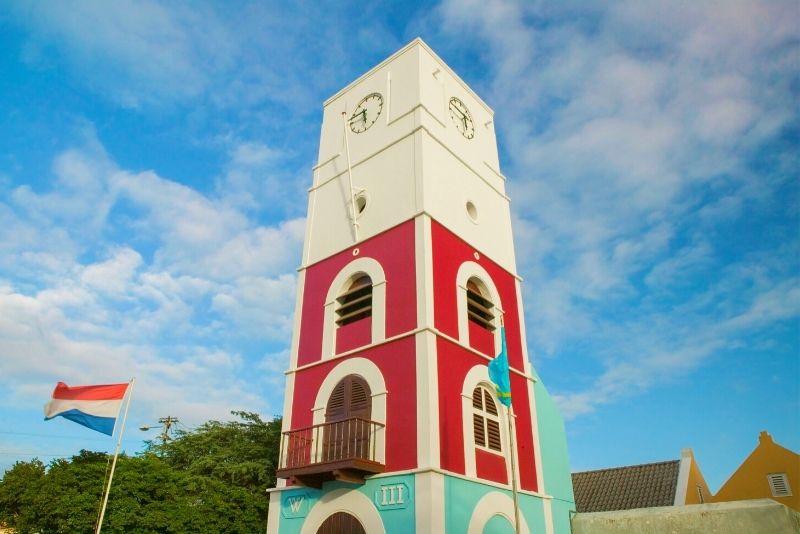 Built in 1796, Fort Zoutman is the place for all things historic on your visit to Aruba. The perfect place for a museum, the fort houses some of the island's oldest documents and artifacts from days gone by.
Keep your Tuesday evenings free from 6:30 a.m. to 8:30 a.m. for the welcome festival, a celebration of the island's rich culture and history.
7 – Find the secluded Natural Pool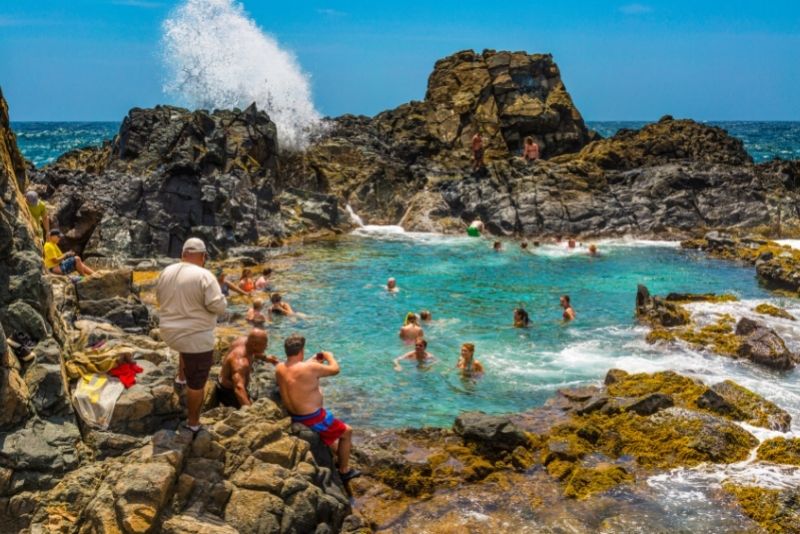 Hidden among raging waters and stark rock faces, the natural pool is one of Aruba's most secluded and serene places. Known as Conchi, it is a little bowl of calm water that feels like you have discovered something no one has ever seen before.
The pool is hard to get to, so you can't simply hop in your hired car. It's only accessible by foot, 4X4 vehicle or horseback! It'll be well worth the trek!
8 – Head out to the Ayo and Casibari Rock Formations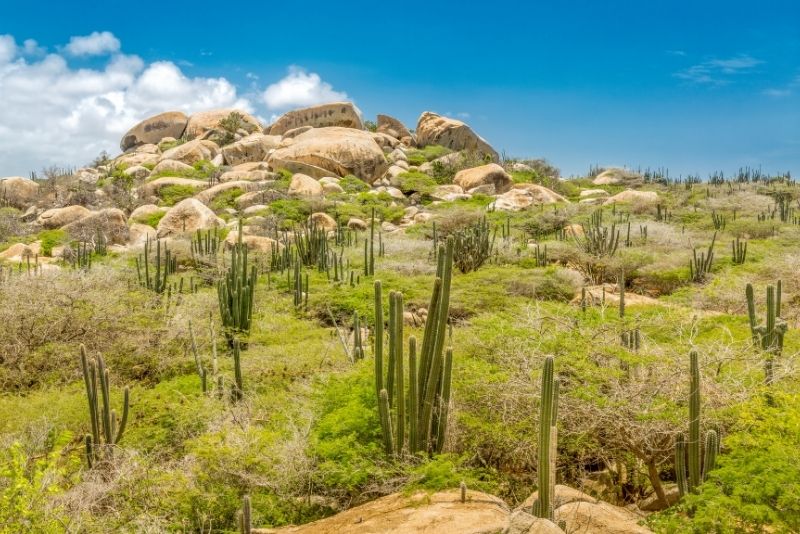 When you need a break from crowded beaches, duty free shopping and cruise ship tours, it's time to head to the East side of Aruba — to the less densely populated rock formations.
A free destination, make it a great stop for a lower budget day. The Ayo and Casibari Rock Formations have one of the best panoramic views of the Aruba island and surrounding water.
9 – Head to Oranjestad downtown to see the Dutch colonial architecture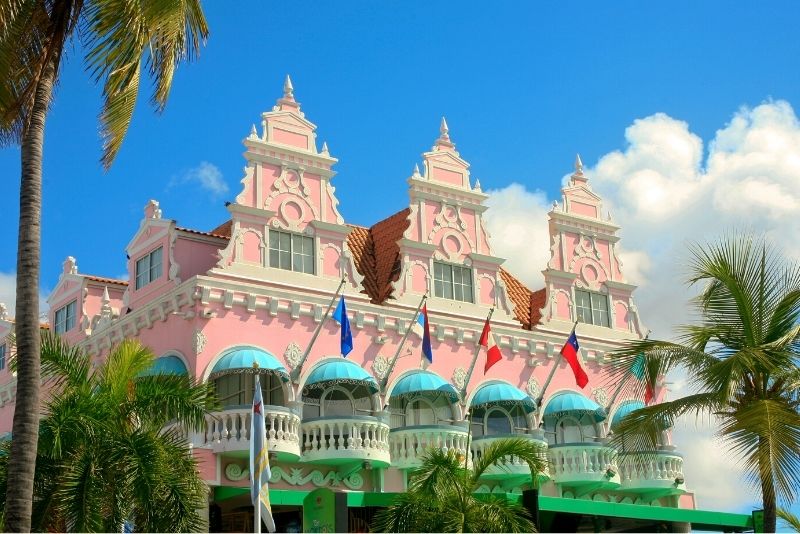 Known for beautiful color palettes and elaborate facades, the Dutch Colonial architecture is a sight to behold. Visiting downtown Oranjestad is one of the best things to do in Aruba for history buffs and architecture aficionados alike. 
Hop on a walking tour of the area and be taken to all the key places and learn the history and construction of a few of these iconic buildings!
10 – Soothe yourself at the Aruba Aloe Factory, Museum and Store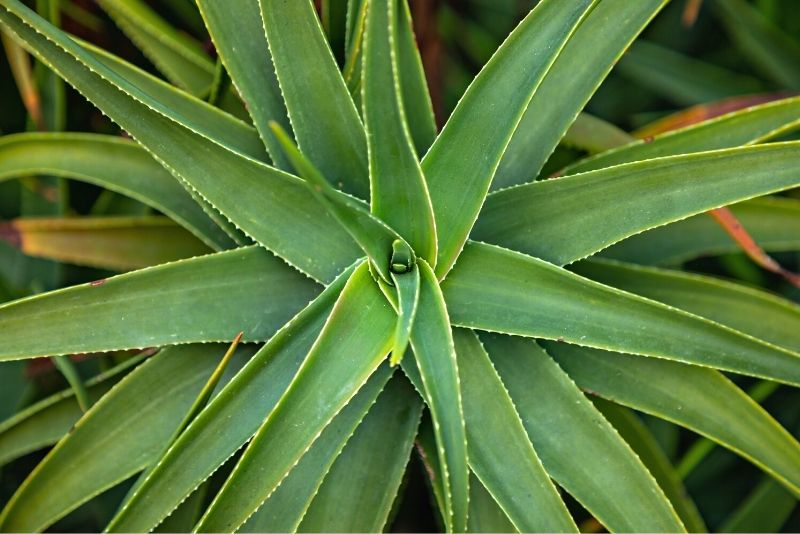 Aloe vera, known for its soothing abilities from after-sun lotions to hair products, is one of Aruba's top exports. 
If you're after a soothing balm or two, you won't get any fresher and more organic products than from the Aruba Aloe Factory. It is one of the very few companies that grows, harvests and processes its own aloe, all on-site. You can also learn all about the harvesting and growing process in its museum.
11 – Wade through Baby Beach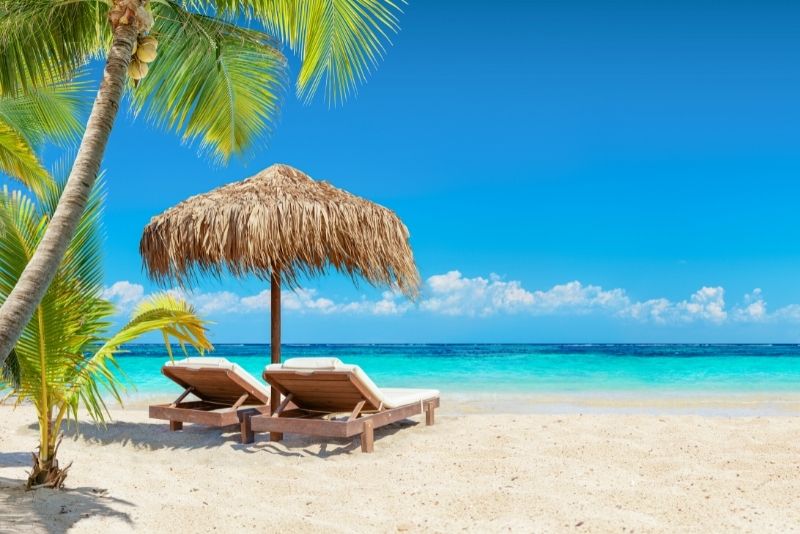 With waist-high waters all the way across, Baby Beach is the ideal destination for those traveling with children, inexperienced swimmers or snorkelers just starting out.
There's free to use thatched-roof shelters on the shoreline so just rent a chair and find yourself sinking into the serenity. Expect a day of relaxing in the shade with intermittent dips in the shallow calm water.
12 – Delve into the caves of Arikok National Park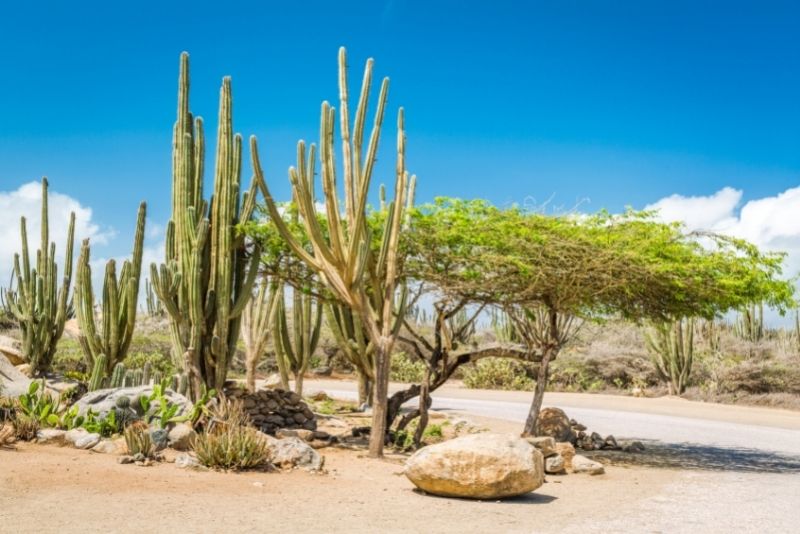 If you like animals, breathtaking caves and rolling sand dunes, Arikok National Park is a must for you in Aruba.
It's a budget-friendly adventure for families, with admission to the park being  $11 for adults and free for anyone under 17 years old. You can easily spend a full day here, simply stop by the visitor center and pick up a map.
Some of the attractions are only reachable by 4X4 vehicles, so be sure to hop on an off-road tour of the park — if you want to make it to all the uncharted areas!
13 – Let loose at Splash Park Aruba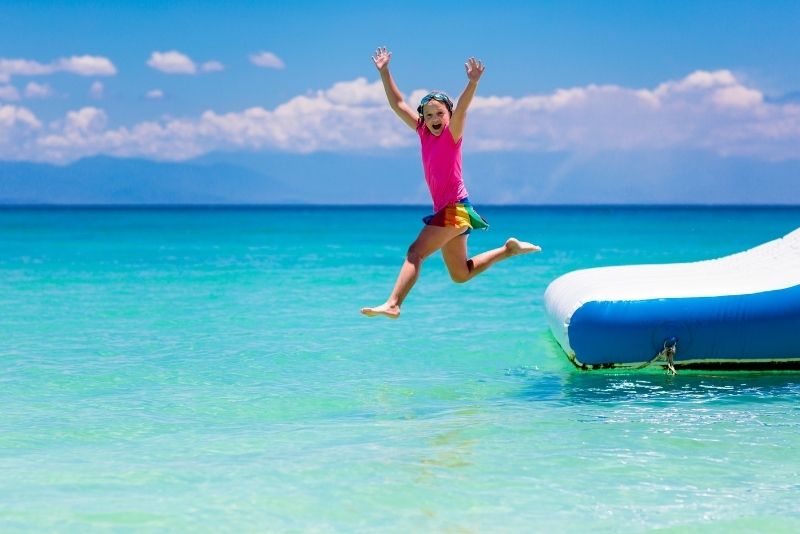 Splash Park Aruba makes the most of the natural wonder of the island and has a near limitless amusement park with something for all ages.
Just off the shore of Surfside Beach, the parkis a perfect place to blow off some steam after a quiet day or two in the sun!
14 – Climb up Hooiberg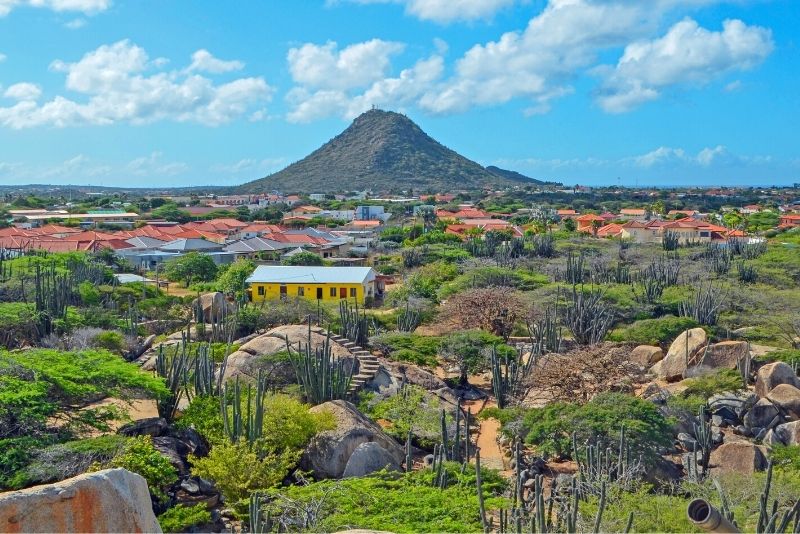 Thought to be named after the Dutch word for haystack, Hooiberb is a volcanic formation that lies at the heart of Aruba.
Its location and scenic steps up to the top make it the best place to visit if you want the best vantage point of the island. The view is 165 meters above sea level, so you're bound to get some photos you couldn't get anywhere else in the world.
15 – Sail the Caribbean Sea aboard a pirate ship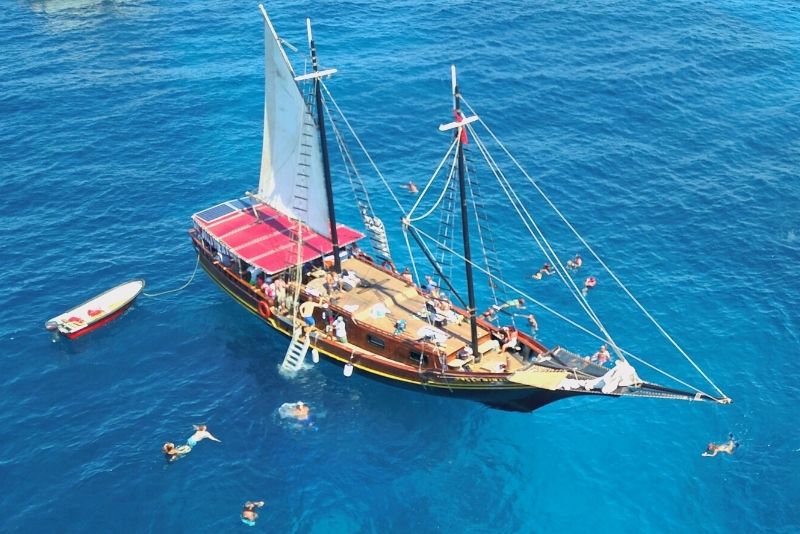 The beaches of Aruba aren't short of great sunset spots. It's still very much worth watching the sun go down aboard a beautiful teak schooner, sipping unlimited cocktails with Aruba behind you.
There's a rope swing if it happens to be a warm evening, which knowing the Caribbean, is most likely going to be the case.
16 – See the Caribbean critters at Philip's Animal Garden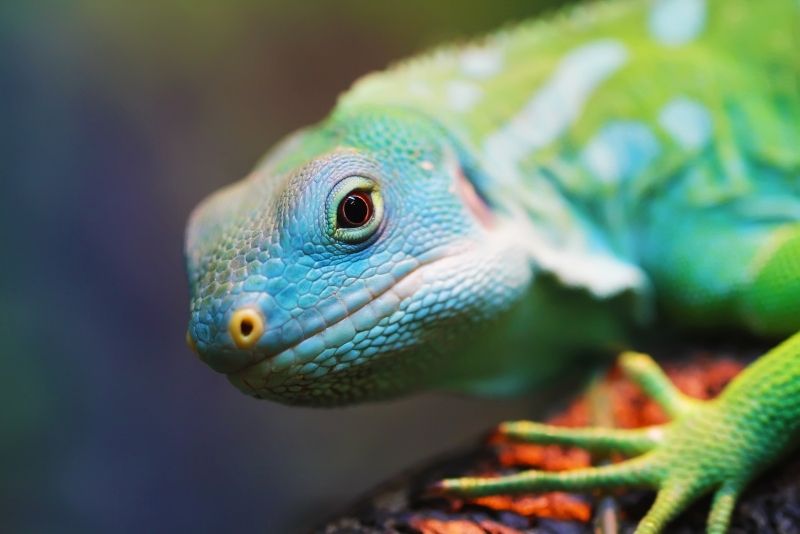 Aruba's only animal rehabilitation and conservation center is where you'll find all the most exotic creatures of the Caribbean (and a few from other regions).
Not only will the fauna amaze you, but also the efforts that have been made to recreate and maintain the exact flora that these creatures are used to living in.
At Philip's Animal Garden you'll find exotic animals and plants, and every dollar from admission goes toward keeping these animals happy and healthy!
17 – Get an all-access pass to De Palm Island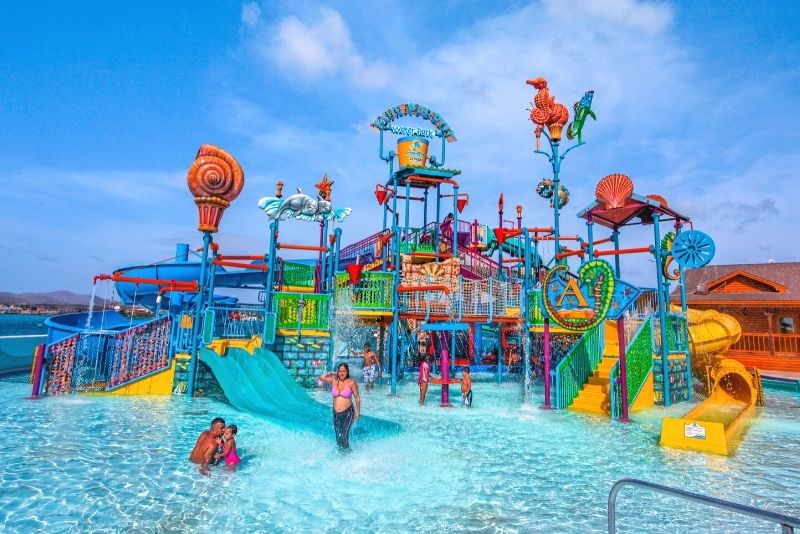 Can't decide if you want to spend the day snorkeling? Or snacking? Or having a salsa lesson? At De Palm Island, you don't need to.
Admission to the island includes unlimited access to all of the above. Once you're here, you need not worry about anything from hiring a beach chair to renting snorkeling gear, it's all included!
You simply need to choose from a tour that either includes transportation out to the island or not (if you have your own), and the rest is taken care of!
18 – Help save the donkeys at Donkey Sanctuary Aruba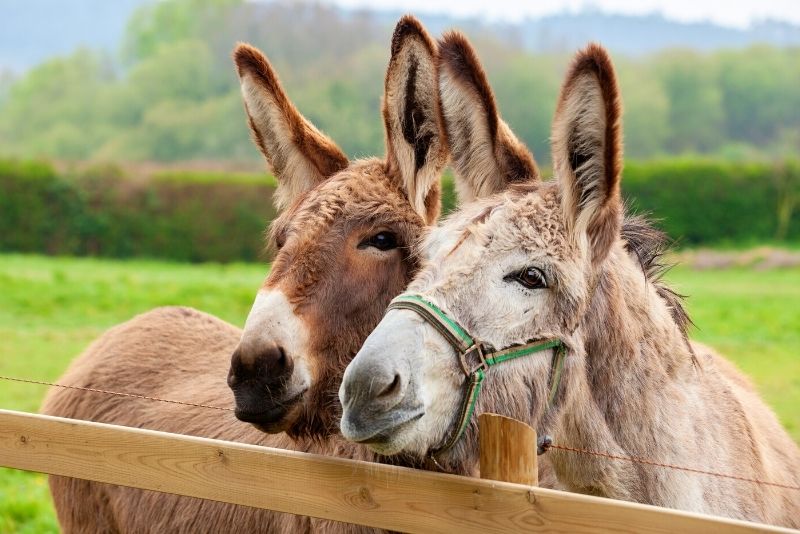 Some 500 years ago, donkeys were brought to Aruba as the primary mode of transport. But, with the population expansion, cars and illness, it was difficult for the donkey population to survive.
The Donkey Sanctuary stepped in as a safe haven where the donkeys are cared for, fed and housed. You can head over to pet, feed and learn all about these sweet little creatures!
19 – Get to all the hard to reach places on a jeep tour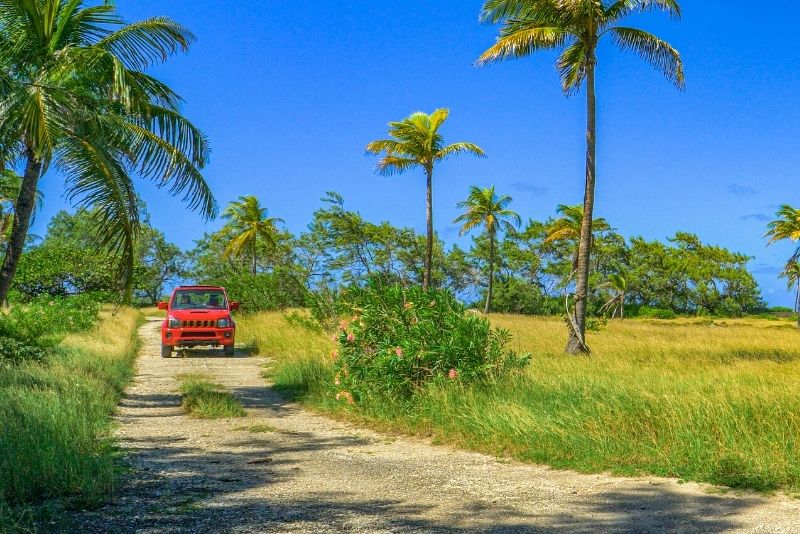 There are several places around Aruba that are a bit out of reach for the average car or pedestrian. Here's where a jeep tour comes in.
Hop on a 4X4 with a knowledgeable guide and driver, and make it to all the remote places,  such as secluded pools, far-off beaches and the like.
20 – Search for gold at Bushiribana and Balashi ruins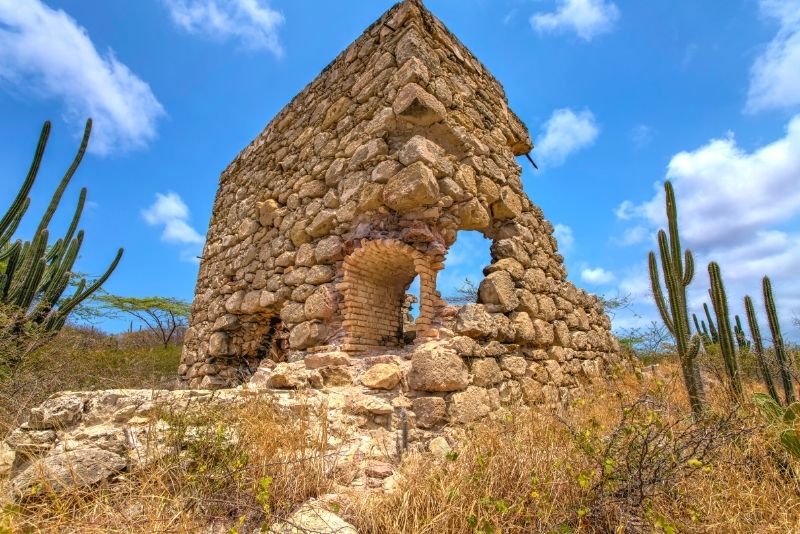 In the 1400s and 1500s, many headed to Aruba and the Caribbean in search of wealth. As a result, there were a few gold mills built around the island.
Still partially standing today, these ruins offer an insight into the gold rush history of the island. With 3 million pounds of gold found on the island, there's every chance something is left to be found at Bushiribana and Balashi ruins in Aruba!
21 – Get a 360-degree view from California Lighthouse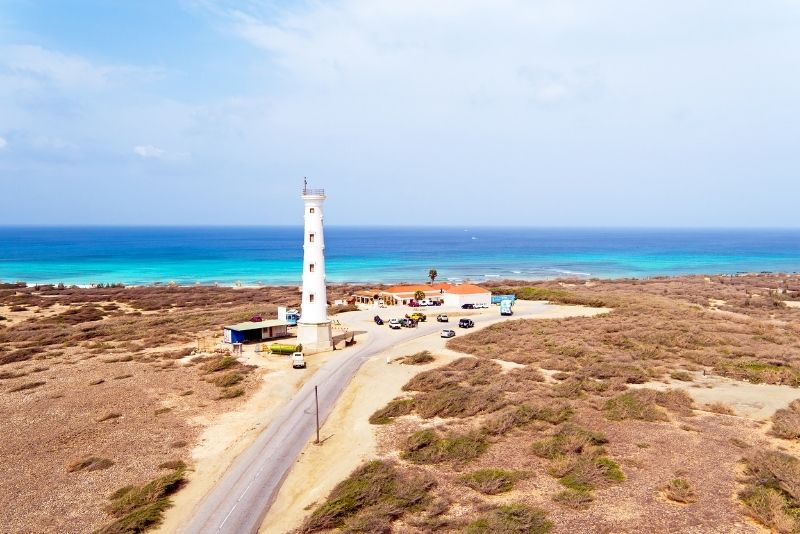 You can climb to the top of this historic lighthouse perched on the coastline of Aruba, which is open to the public.
Open every day from 9 a.m. to 7 p.m. and only $5 admission, it's a great stop on your trip around Aruba. If you time your ascent well and get to catch the sun pop over the horizon, you might get to see the famous Caribbean green flash just as the sun disappears.
22 – Visit the ornate St. Ann's Catholic Church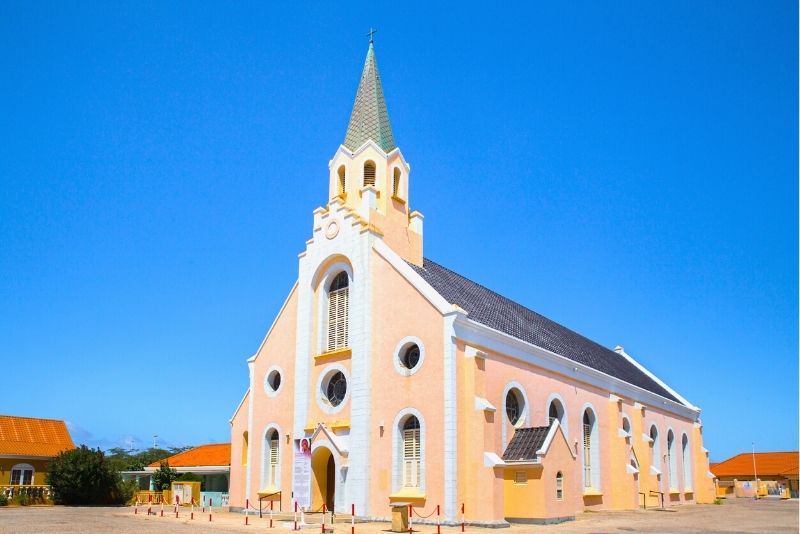 The first catholic church in Aruba is in the town of Noord, up on the north end of the island.
Known as a breathtaking place to attend mass, it is also a great stop for architecture lovers. The church is a classic example of stunning craftsmanship with a handmade wooden altar brought in from Italy and intricate features throughout.
Whether you're celebrating your faith or celebrating a keen eye for design, St. Ann's Church is worth a visit.
23 – Explore the rugged back roads on a quad tour
Buckle up and kick some dust, as you race around to explore parts of Aruba on a quad bike.
A guide will take you to natural bridges and ancient ruins before leading you to a great swimming spot to refresh, and then head back to the hotel.
The tour includes pick up and drop off, so all you have to worry about is your all-terrain vehicle driving skills!
24 -Watch the great migration at Bubali Bird Sanctuary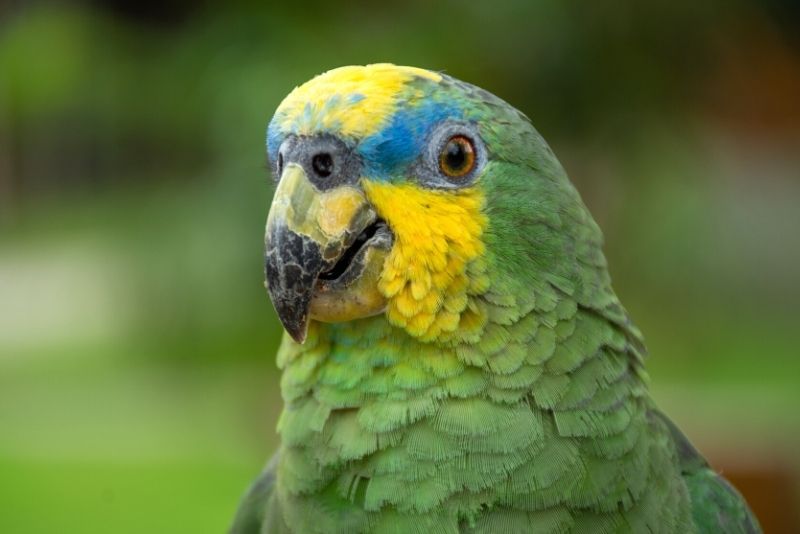 The warm wind of the Caribbean makes Aruba a common pit stop for migratory birds looking to escape the cold.
At the Bubali Bird Sanctuary, you'll get the chance to spot up to 80 different species of birds that call Aruba home (if only for a short while).
At the top of the observation tower, you'll have the best chance of getting up close and personal with the wild and untamed birds.
25 – Unwind at Aruba Vacation Park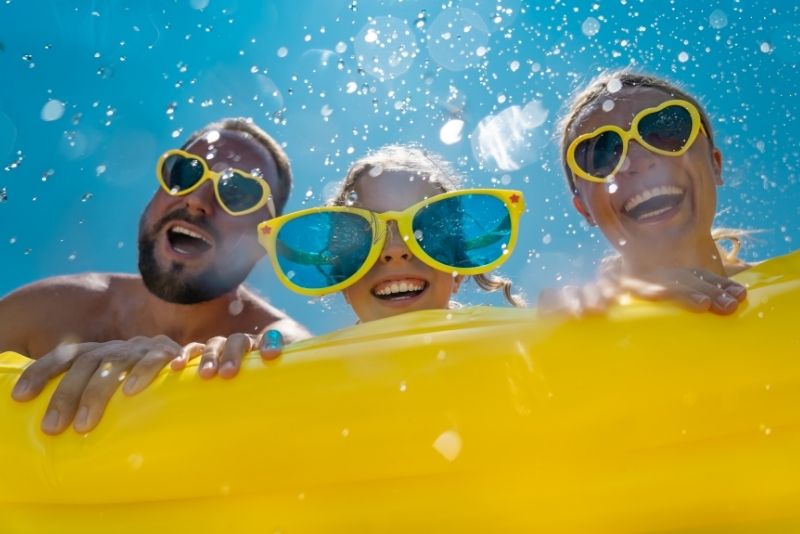 At the base of the towering Hooiberg volcanic structure in the center of Aruba, this vacation park is the perfect place for leisure and thrill-seekers alike. With soothing pools and adrenaline-pumping rides, this water park has something for everyone.
For those seeking an extended getaway, there are villas suited both for long and short-term stays. Better yet, it's located just far enough away from the water park that you can get a good night's sleep before heading back out for your next day of adventures!
26 – Swim at Boca Catalina Beach and dive to Antilla shipwreck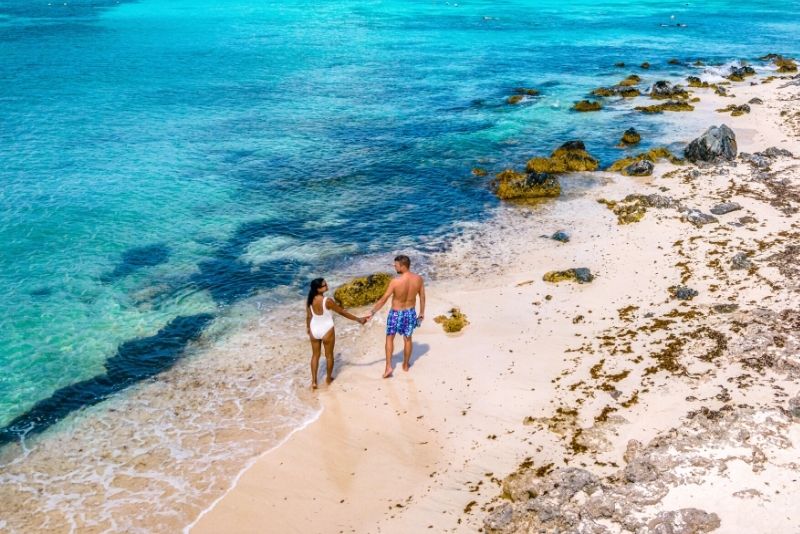 Antilla Shipwreck is Aruba's premier snorkeling location, which is hard to get to. A catamaran tour will take you right up to the wreckage, kit you up for snorkeling and allow you to explore the ancient depths — teeming with lost treasures and marine life.
The same tour will also take you to Catalina Beach, one of the more secluded beaches on Aruba. If you manage to get here on a weekday, there's every chance you might even have the beach all to yourself.
If exploring a shipwreck followed by a swim at an almost private beach sounds appealing to you, you shouldn't miss this one!
27 – Head to Aruba Ostrich Farm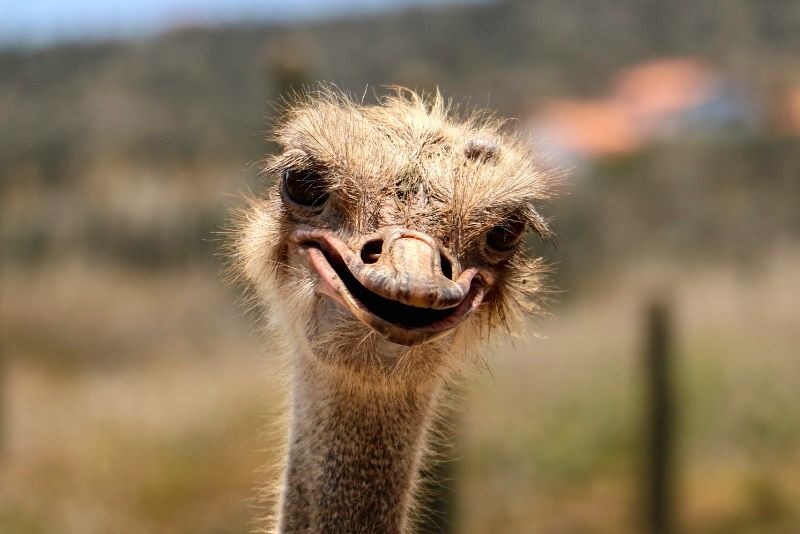 Just beside Bushiribana is the Aruba Ostrich Farm. On a tour ($14 for adults, $7 for kids), you'll get up close and personal with these majestic birds and learn all about their habits and lifestyles.
But, the experience doesn't stop there. There's an incredible art store featuring made goods by local artisans, and there's a farmers market on select Sundays. A visit here is the perfect place to pick up a few local treasures!
28 – Stop by the historic Alto Vista Chapel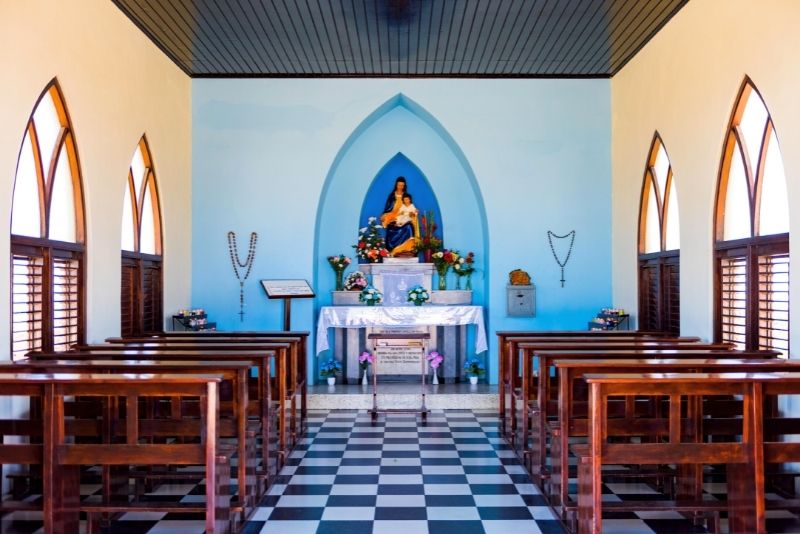 Alto Vista Chapel is considered to be the oldest church in the entire Caribbean, built by Spanish missionaries in 1750.
They are still doing services here, so if you'd like to know how they would've hosted masses back in the Spanish settlement days, attending one is one of the best things to do in Aruba.
Small and intimate, it's an incredible place to forget about the world and soak up the serenity of Aruba.
29 – Plunge 40 meters below the sea on a submarine tour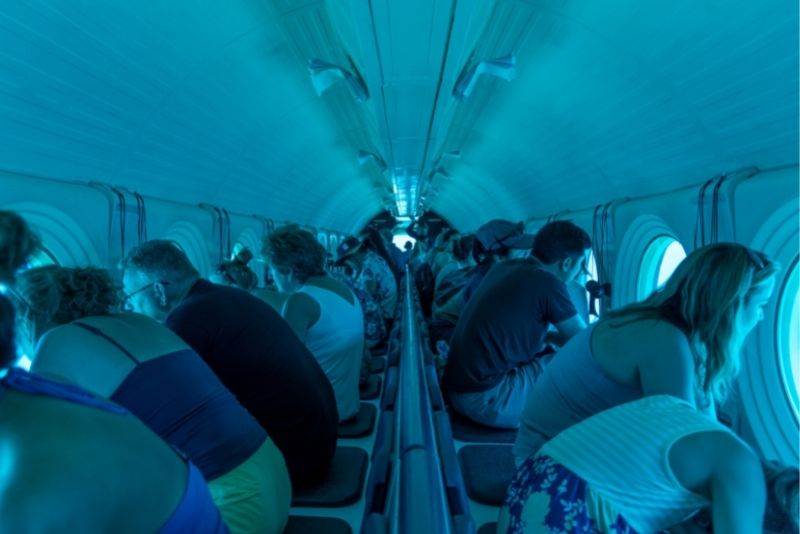 You can only get so far down with snorkeling gear, and there's a whole lot more to see the deeper down you go.
If you climb aboard a United States Coast Guard certified submarine, you'll be able to explore every in and out of the Aruba coastline while staying comfortable and dry.
Wind your way past shipwrecks and schools of exotic fish, as you get to see the underwater world like never before.
30 – Reach high speeds at Bushiri Karting Speedway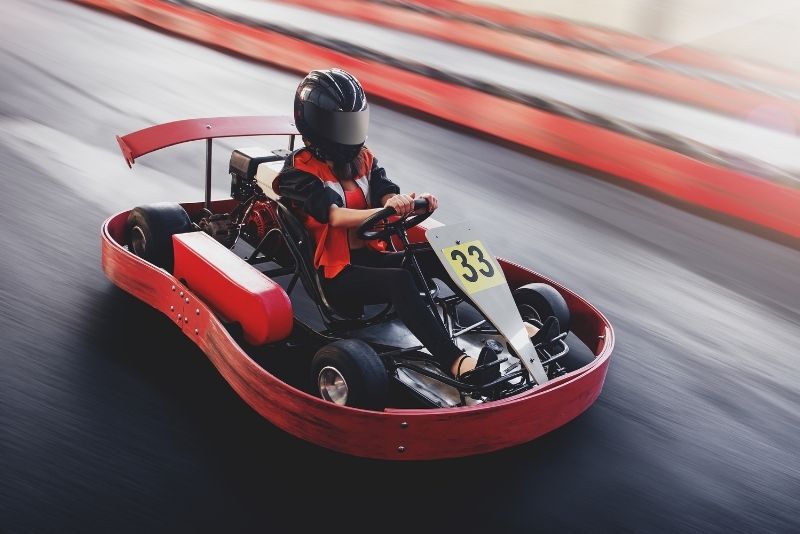 The only high-speed go-karting track in all of Aruba, this is the place to be for those who love to put the pedal to the metal. With every race at Bushiri Karting Speedway, you'll get eight  minutes of heart-pumping twists and turns.
It's perfect for celebrating the birthday of a go-kart enthusiast or simply settling once and for all who's the best driver in your group!
31 – Photograph the incredible Aruba Natural Bridges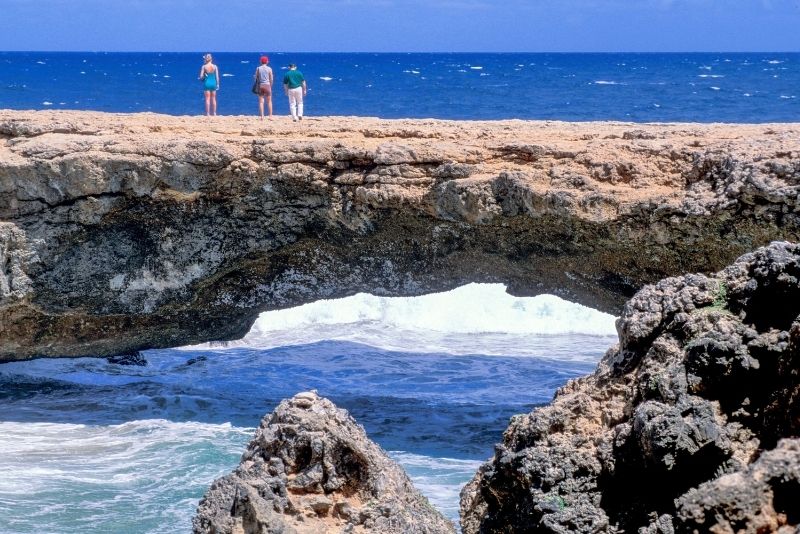 One of the most photographed natural landmarks in Aruba was the large rock bridge running between Bushiribana and Andicuri Beach.
The bridge collapsed in 2005 but the remains are still camera worthy. The Baby Bridge in the same area is still standing, so there's plenty of shots to be captured on a trip out to these natural beauties.
32 – Hop aboard a trolley tour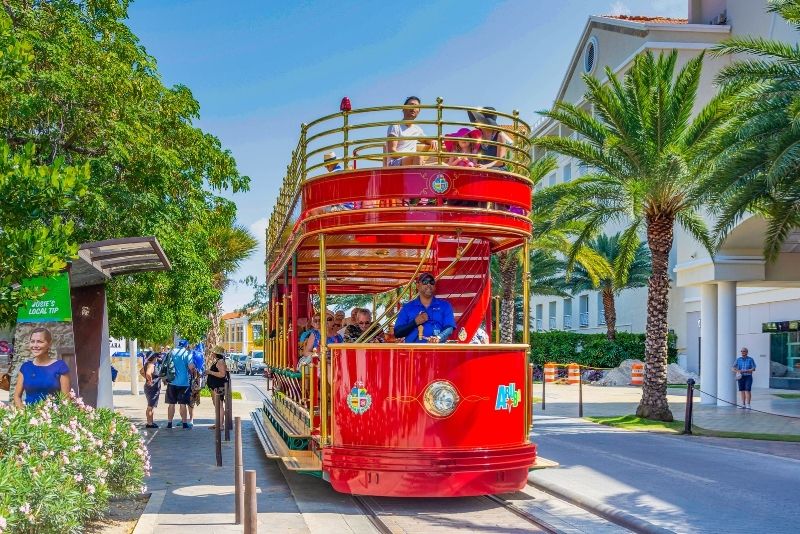 The trolley tour is one of the best features of Aruba for a tourist. A state-of-the-art vintage-styled tram runs from the cruise ship terminal right into the heart of Oranjestad.
This tour is a hop on hop off arrangement, so as soon as something catches your eye, you're able to hop off and explore — and hop back on to continue your journey into downtown Oranjestad.
There are six stops that cover all the key landmarks around town and just about everything you could need is within walking distance of one of the stops.
33 – Dive down to the Pedernales Wreck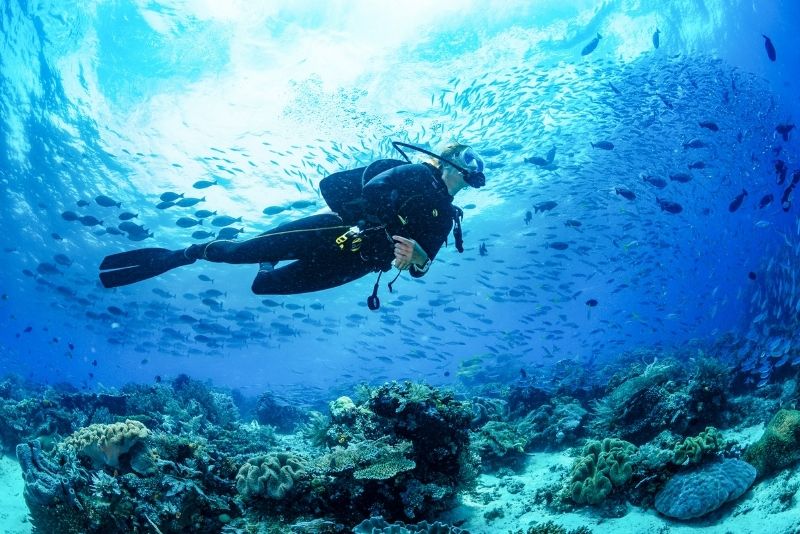 Located just 10 meters below sea level, the Pedernales Wreck is one of the ideal things to do in Aruba for divers of any level, new and experienced alike. Just offshore from Palm Beach, this is a perfect introduction to the world of sea diving.
Several companies will take you out to the wreck, so you don't have to battle your way through the 40-minute swim out to the site. Book one of the tours, so you'll have enough energy to dive down and explore!
34 – Enter the Quadirikiri Cave and Fontein Cave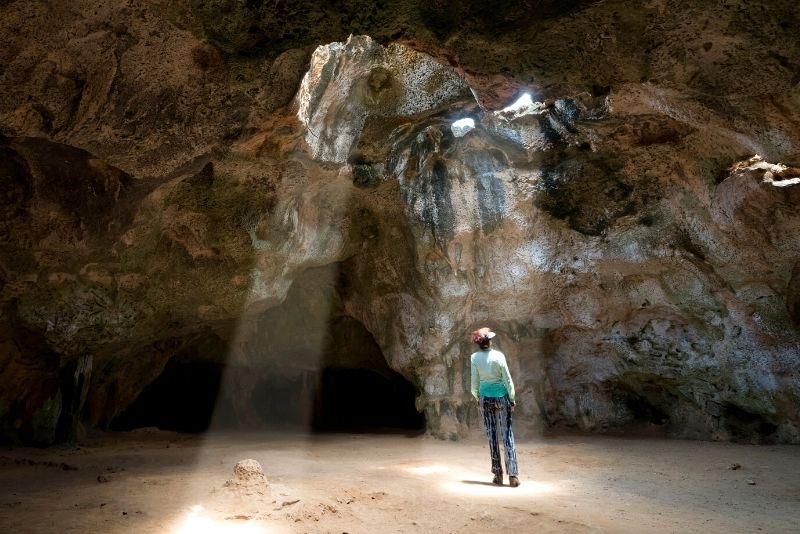 There's no shortage of natural wonders in Aruba and the natural cave formations have to be on your list of things to see.
Head into the enormous Quadirikiri Cave to watch the sunlight stream into the two separate caverns. Get to the Fontein Cave and see the only remaining drawings by the Arawak Indians. Here you'll get a dose of genuine island history.
35 – Step back in time at the Archaeological Museum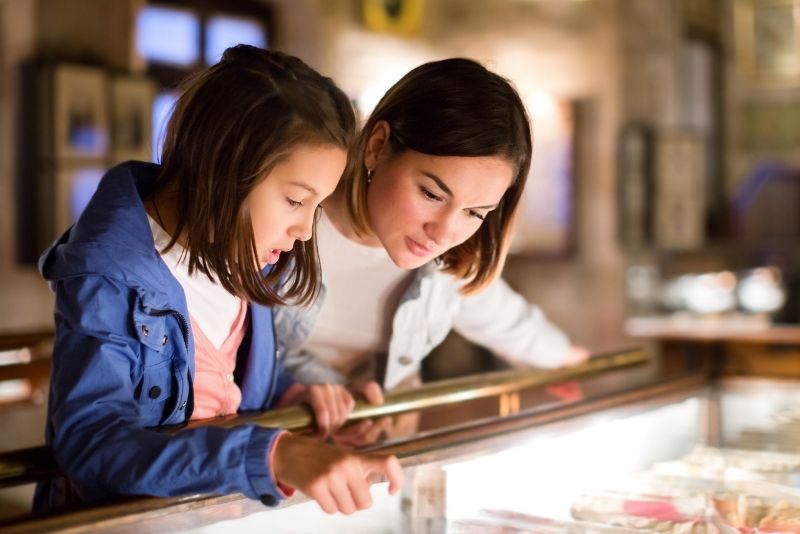 Explore the Archaeological Museum's incredible collection of 10,000 Amerindian artifacts, which span a time frame of 5,000 years.
The huge 580-square meter venue houses some of the most meticulously maintained relics of eras and civilizations that have gone by.
For those traveling on a shoestring budget, admission is currently free on Saturdays and Sundays between 10 a.m. and 2 p.m.!
36 – Plummet into Skydive Aruba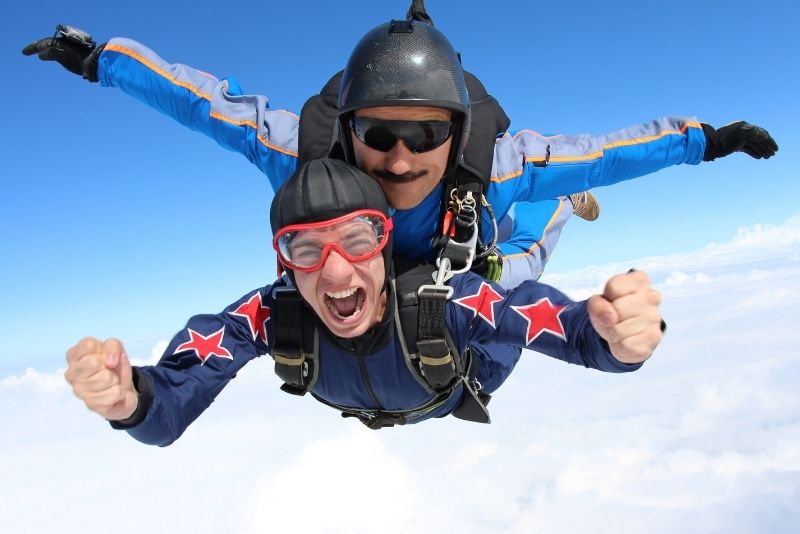 Skydive Aruba is the main skydiving company operating in Aruba. It's been in business for over 25 years, so you know you're in safe hands when you choose to see the island from the exhilarating position of a mile up in the air.
It even provides transport to and from most local hotels, so you can take every unnecessary element of stress out of the equation.  Just focus on getting the most out of your adventure.
37 – Grab an iconic photo at the I Love Aruba sign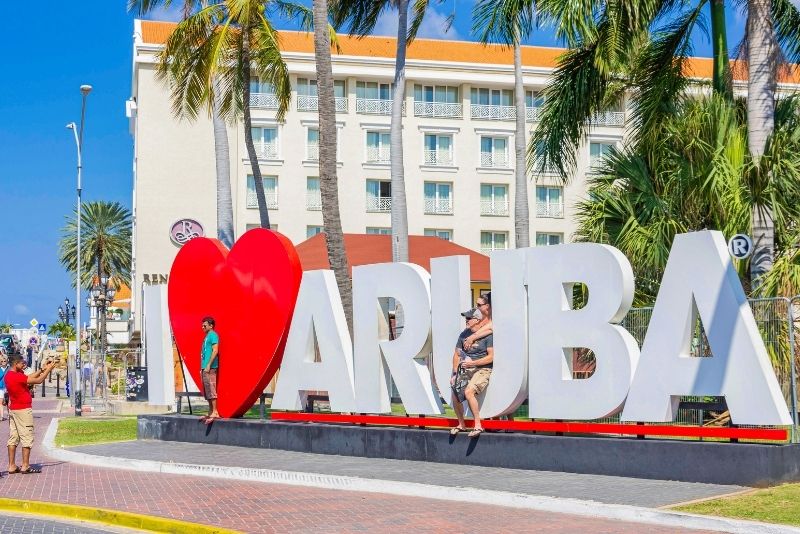 Just near the Aruba Cruise Terminal is the best spot to grab a selfie or group shot to reveal to everyone where your tropical paradise vacation was.
Given its proximity to where you'll inevitably find yourself at some point, you don't really have a reason not to snap one of the most recognizable tourist photos you can get in Aruba!
38 – Trot around on a horse riding tour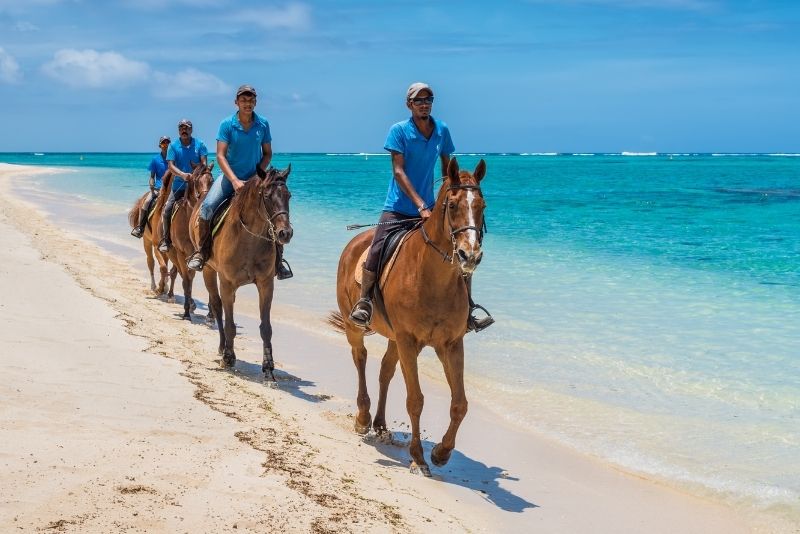 On a horse riding tour, you'll travel in a group no greater than  six people and be riding some of the most friendly modes of transport in Aruba.
Horseback riding is one of the most unique ways to explore the countryside of Aruba. On this tour you'll be covering more ground than on foot but moving slowly enough to truly soak in the incredible surroundings.
Expect to trot past many species of local wildlife, the lighthouse, goldmines, natural bridges and more on this one-of-a-kind experience.
39 – Watch the sun go down at Palm Beach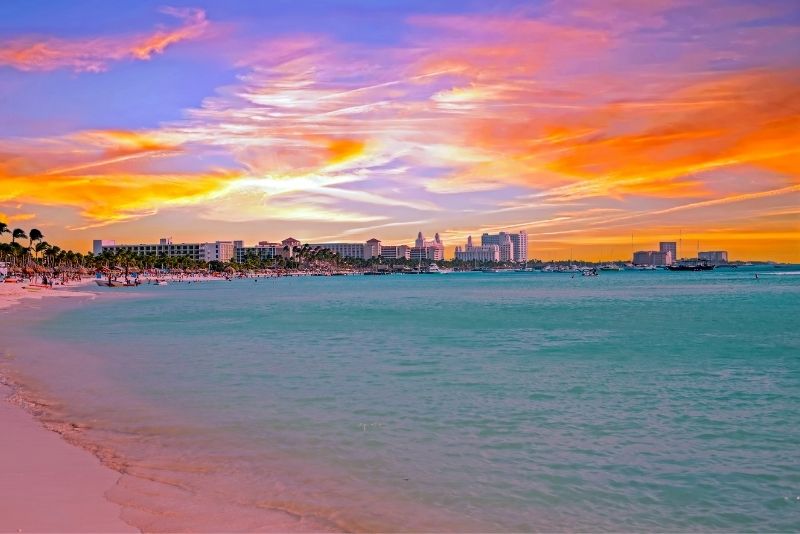 If you like stunning sunsets over the water, head over to Palm beach, located on the west side of Aruba — one of the quintessential things to do in Aruba for you.
The crystal clear water and white sand provide a place to swim during the day. Given its west-facing shoreline, if you hang around until the evening, you'll get to see a world-famous Caribbean sunset!
40 – Grab a place on a tour of Etnia Nativa Art Gallery & Museum
Visiting this venue is one of the experiences that is truly unique to Aruba. Etnia Nativa Art Gallery & Museum displays works created from discarded goods and natural waste products, and takes on only four people a day around its exhibits.
You'll be taken around by an expert artist/scientist who will teach you the history of each piece, as well as the background of the pieces and parts that were used to put them together.
Tours run only by appointment, so if this tickles your fancy, be sure to get in early and book ahead of time!
41 – Paddle across the shoreline on a kayaking tour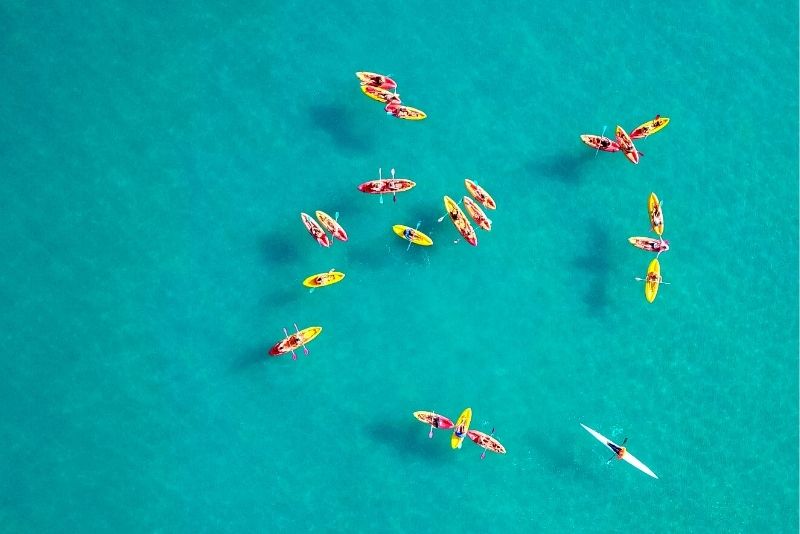 Any time you're in the Caribbean, you'll want to make sure you spend plenty of time on the water. Kayaking is a great way to wind your way through estuaries and spot all the local wildlife and landmarks from the water.
Better yet, these tours have glass bottom kayaks, so you can see every angle, as you gaze across the landscape both left, right and below!
42 – Gaze at the works on an Aruba Mural Tours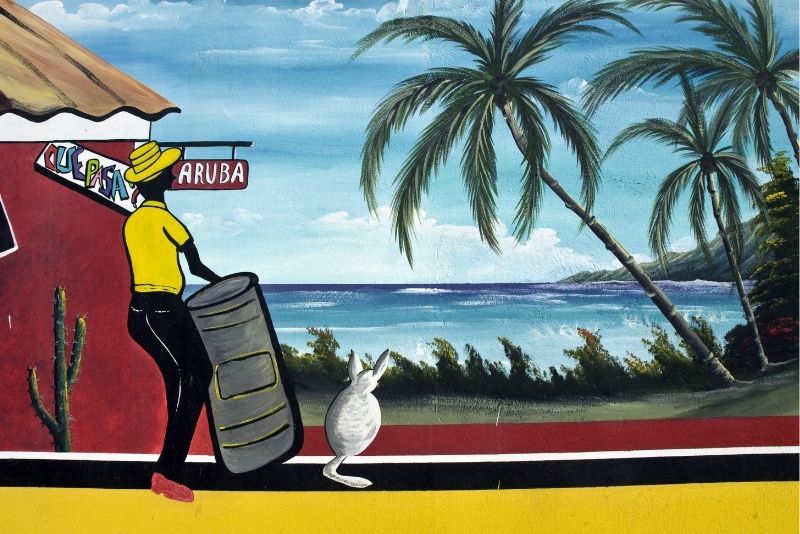 Aruba has a flourishing art scene, but you have to know where to find the best it has to offer. One of the local specialties of the area is street art, so catch it all on a walking tour guided by a local expert who can take you to all the best spots.
For those who really love street art, make sure you stick around for the annual Aruba Arts Fair where local artists make murals and street art — with live music and flowing food and drink. There's the ArtisA Gallery that each month exhibits the work of a local creator and hosts workshops.
43 – Stroll through Wilhelmina Park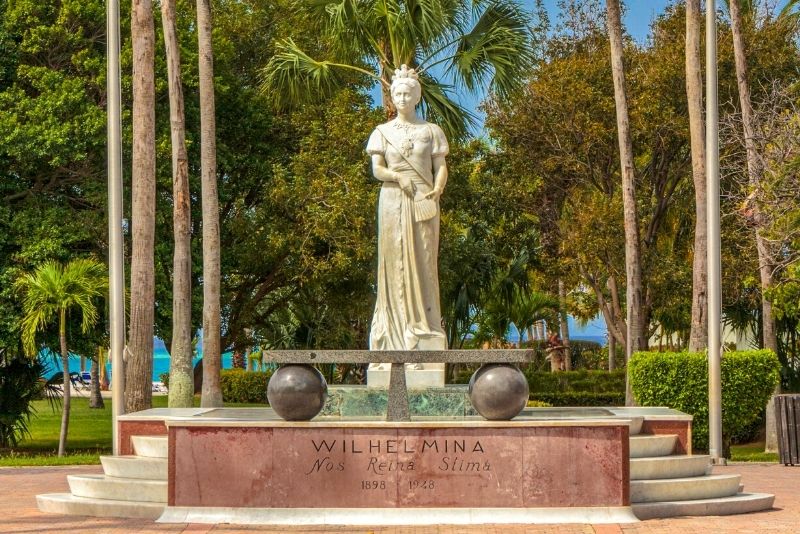 Wilhelmina Park, named after the Dutch leader Queen Wilhelmina, is a park and garden situated on the waterfront of Oranjestad.
There's a statue of the queen and countless spots to catch a breather by the calm blue waters before continuing your Aruba adventure.
44 – Get a bird's-eye view parasailing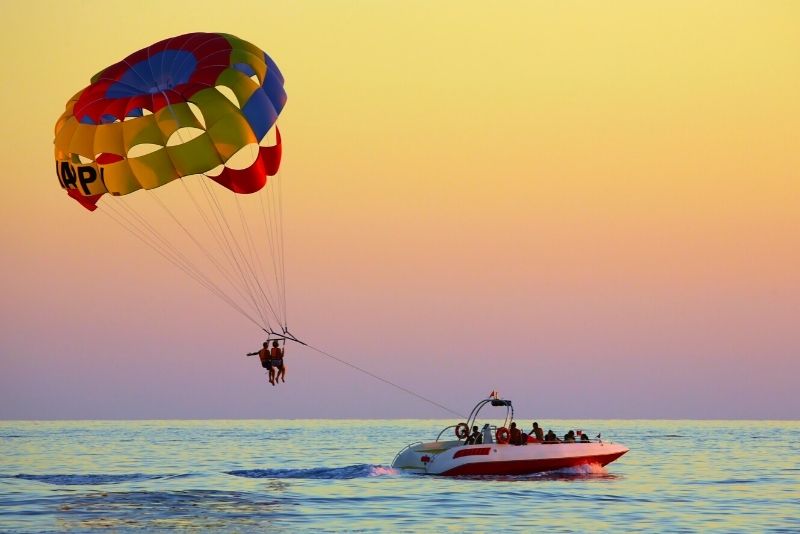 If you're struggling to find the time and space to take all of Aruba in, you can do it in 12 minutes by parasailing.
You can choose to fly solo or with a guide – for those new to the sport – and get the most incredible view of the entire island, as you gently soar through the Caribbean air.
You won't get a better view than this!
45 – Pay tribute to the red anchor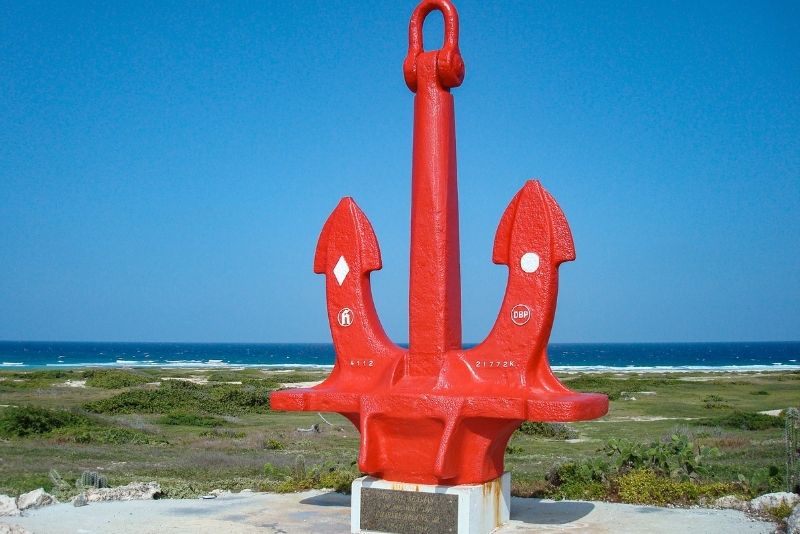 Just off Baby Beach on the south coast of Aruba lies one of the most iconic monuments in the whole country, the Red Anchor.
It stands there in memory and in honor of all seamen who have lost their lives at sea. This is one of the most important things to do in Aruba, for those who want to learn and experience the rich history of the country.
46 – Zoom around on a trike — no motorcycle license needed!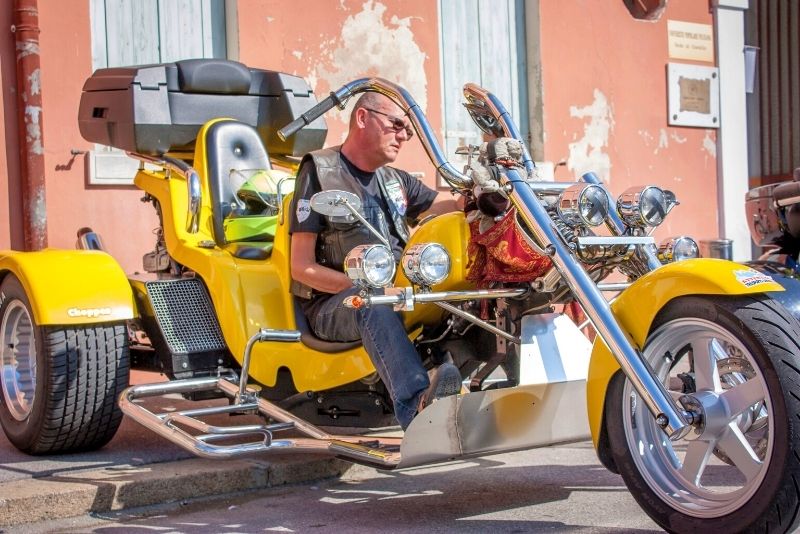 Looking for a compact and quick way to see the island but don't have a motorcycle license? Luckily, you can drive a trike designed to be safe and reliable without requiring the same skills as driving a motorcycle.
With several pick-up points across the country, including one in Oranjestad, this trike tour is one of the most convenient and effective ways of seeing as much of the island as possible. A passenger can comfortably ride in the back, so this isn't just for solo travellers!
47 – Go tubing around Aruba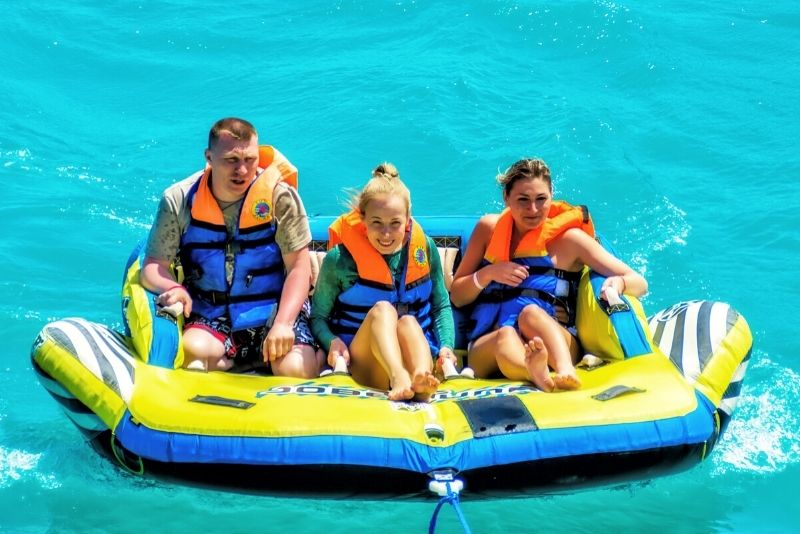 Tubing is sure to make a splash with those who love a bit of a thrill.
Hop on one of these inflatable rafts and be pulled along by a jet boat, allowing you to ride the waves with more gusto than any other mode of transport.
You even get to choose your vehicle size and shape to accommodate the kind of ride you're after — anywhere between gentle rocking to full-blown adrenaline rush!
48 – Escape to Arashi Beach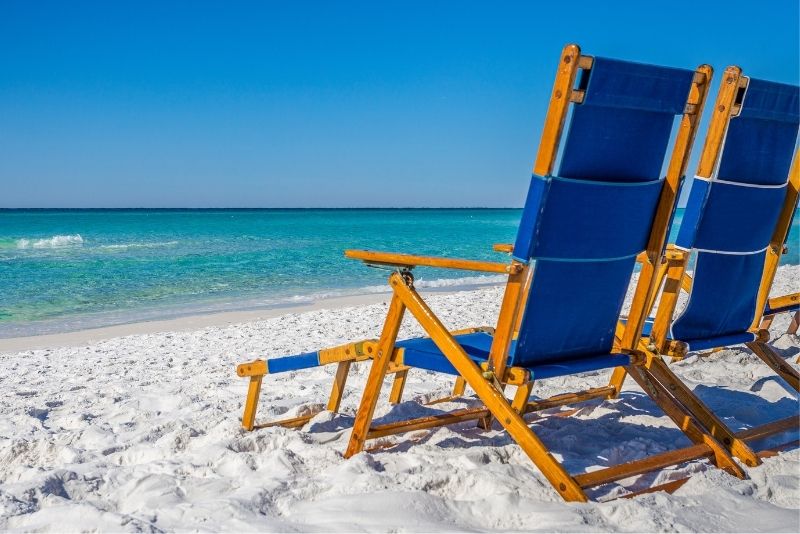 A quiet and secluded beach, Arashi is one of the best places to visit in Aruba for those looking to avoid the crowds. But just because it's a bit more secluded doesn't mean it lacks the amenities of the bigger beaches.
Arashi is the best of both worlds with the atmosphere of a quiet beach but still offers snorkeling, stand-up paddleboarding and all other water sports!
49 – Ride the waves on a jet ski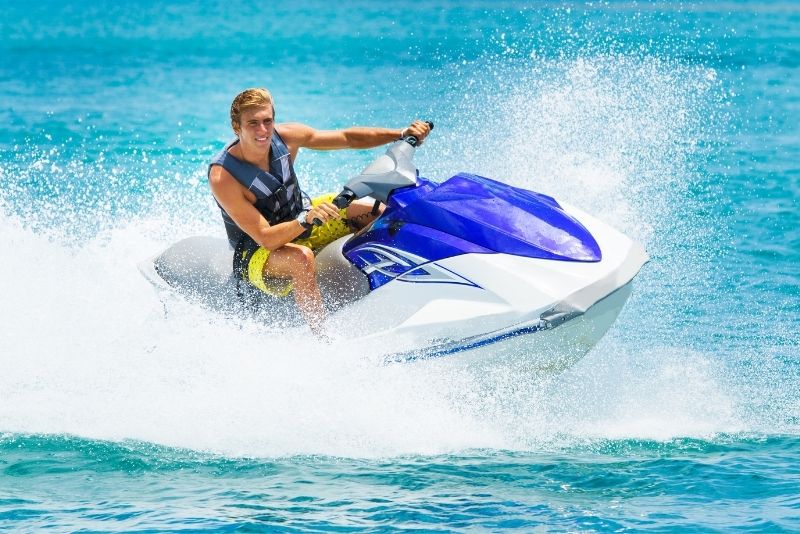 If the gentle lull of a catamaran or the effort of a kayak doesn't quite satisfy you, a jet ski may be the answer to your thrill seeking desires.
Combine the pace of a motorboat zipping across the shoreline with the ability to see a lot of sights in a very quick period of time. This fast paced tour is a great way to mix action and adventure!
50 – Wine and dine at MooMba Beach Bar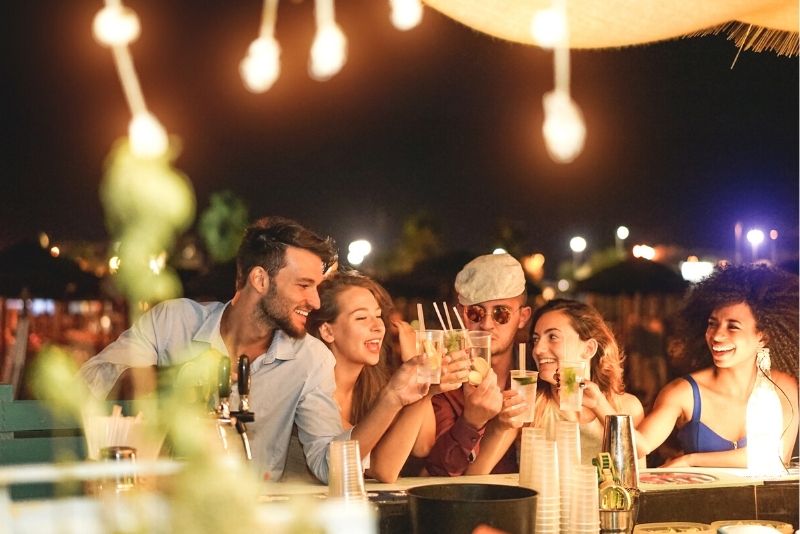 There's no bad seat in the house at MooMba Beach Bar and Restaurant.
With two separate but adjacent venues, you can choose from a romantic waterfront meal at the restaurant or a tasty cocktail, as the sun goes down over the horizon.
Located right on Palm Beach, the best times to go are either for the Friday night buffet (6-10 p.m.) or for the live music on Sundays (1-3 p.m.).
51 – Meditate atop the California Dunes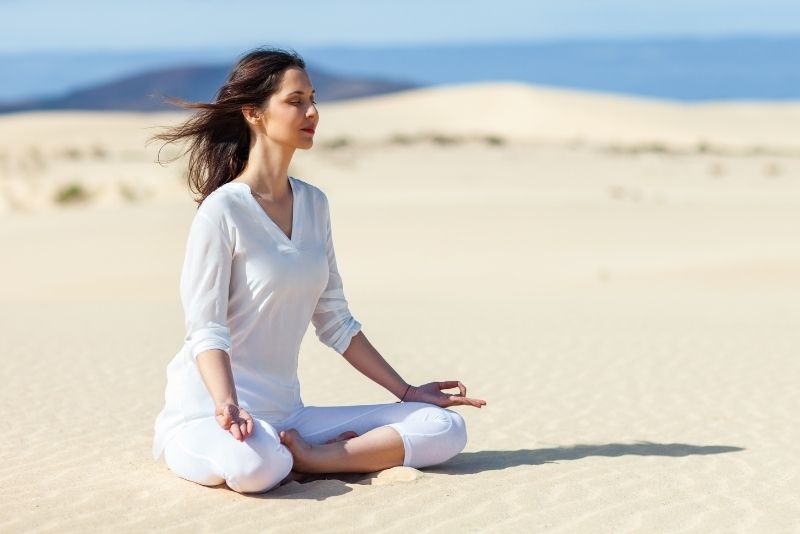 The silky soft white sand and tranquil surroundings at the California Dunes create one of the most soothing places to set a timer and just reflect.
Situated at the secluded north-western edge of Aruba, this area is often empty, so you might even  get them all to yourself after the slippery ascent!
52 – Grab a cocktail on the water at Bugaloe Beach Bar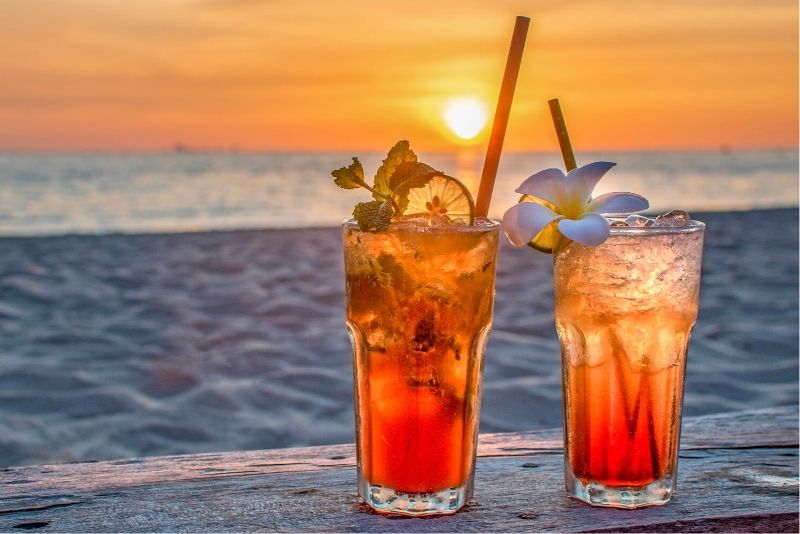 Breakfast, lunch or dinner, the Bugaloe Beach Bar has you covered if you're seeking a bit of live entertainment during your meal.
Known to attract some of the best bands on the island, this is bound to be the most exciting place to be at any one point in Aruba.
So if live entertainment, great food and drinks on the sand are your sort of thing, then drinking at the Bugaloe has got to be on your list of things to do in Aruba!
53 – Taste your way through a food tour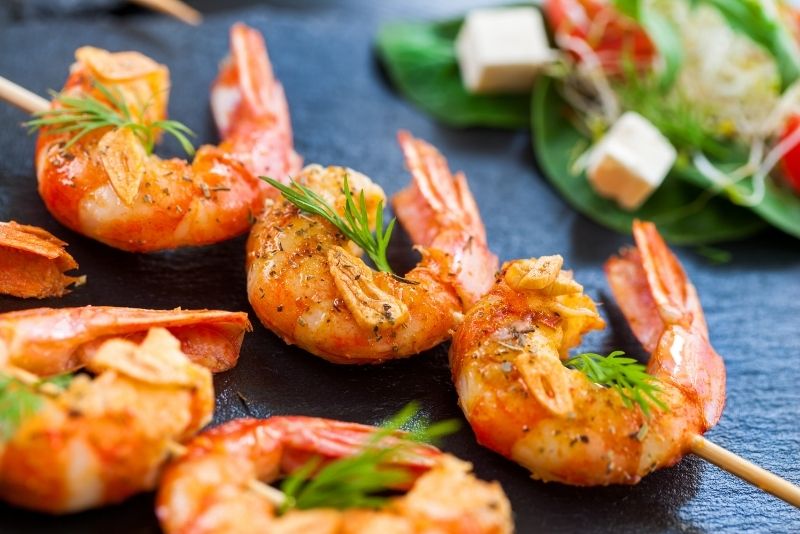 Aruba has been home to many different cultures over the years — its diverse population is reflected in the restaurant offerings.
The best way to know you're trying the best each culture brings (as well as the places that perfectly blend them) you'll need to obtain the help of a guide.
A food tour in Aruba takes place in the warm gentle hours of the evening, where you'll embark on a walking tour with stops at all the best bars and eateries around!
54 – Swing past the Old Dutch Windmill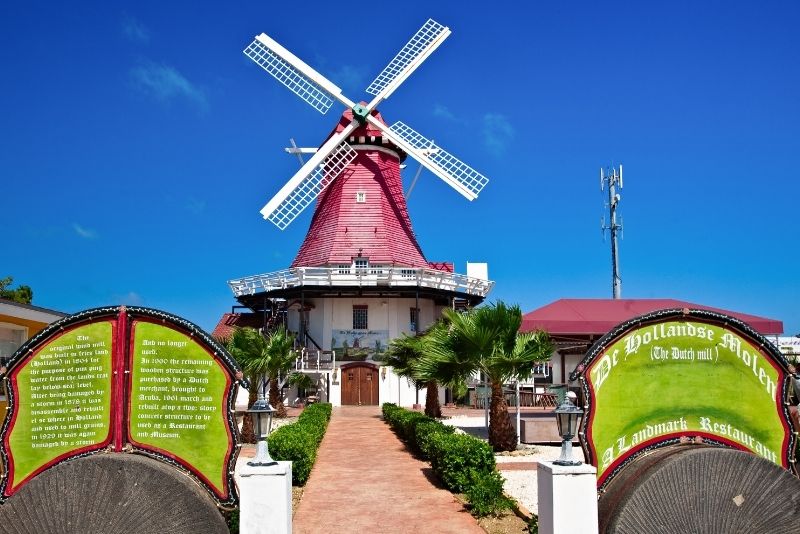 Another one of the must-see landmarks of Aruba, the Old Dutch Windmill got a little something over the rest.
Located in the base of the windmill, it is one of the best restaurants on the island. Whether you're in Aruba to photograph its history or sample the best culinary delights, you'll be happy either way.
Just off Palm Beach, it's easy to find so you don't need to venture far to get a taste (or photo) of this great place!
55 – Play a round of golf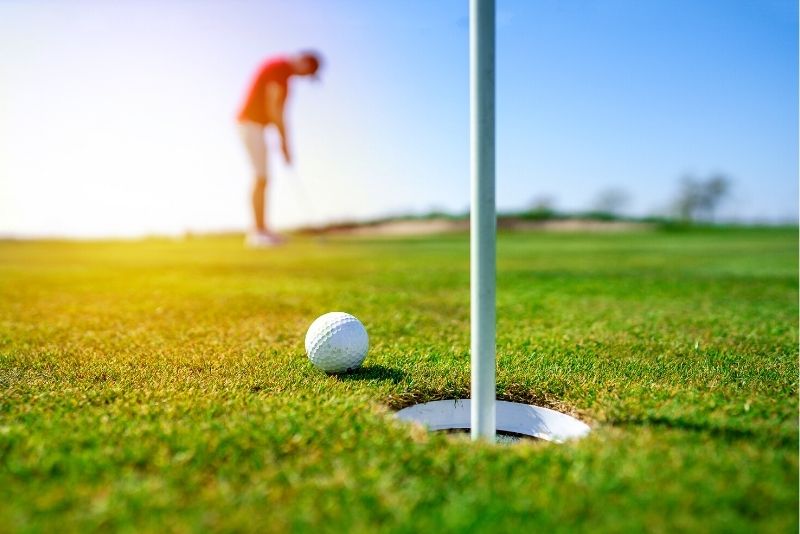 If you're at your happiest putting your way around a golf course, then playing a round while on holiday is an excellent stress reliever.
The consistent Caribbean weather means you'll never be rained out and it'll be a sunny warm day for the whole round.
There are two courses on Aruba island, both of varying difficulty, so there's something for every playing level from beginner to professional!
56 – Dine at the Barefoot Restaurant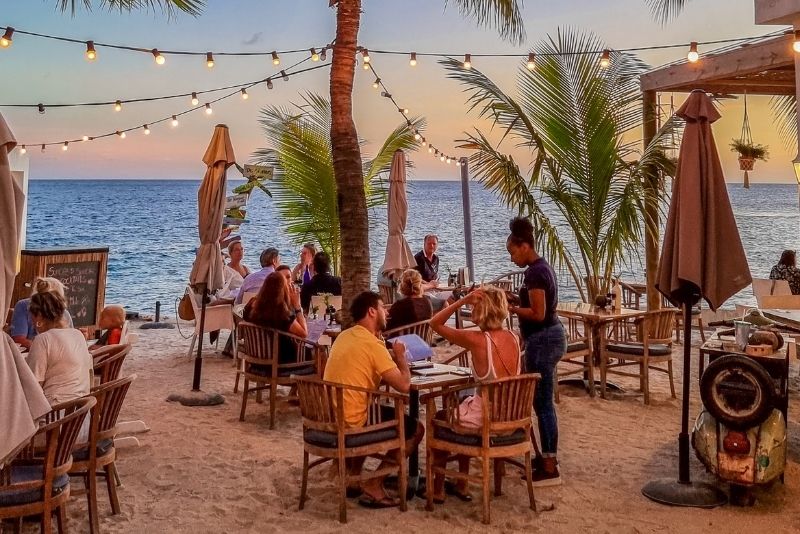 If you've never experienced fine dining with your shoes off, this will be a special treat for you. The Barefoot Restaurant opened in 2010, and the head chefs wanted to maintain a fine dining atmosphere but embrace the laid-back beach culture of Aruba.
Now there's a restaurant right on the water at Surfside Beach in Oranjestad where you can drink wine, eat fine food and still feel the sand between your toes.
57 – Try your hand at fishing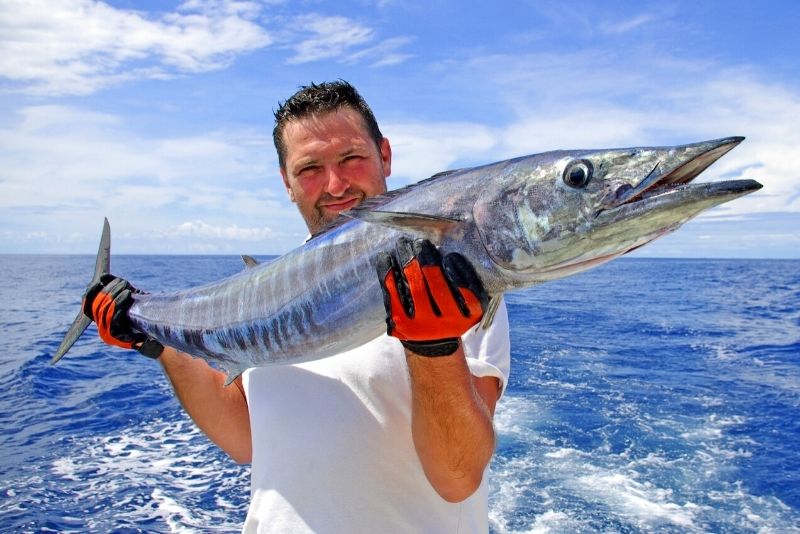 Where there's crystal clear waters and marine ecosystems, you're bound to find plenty of wild fish. This is definitely the case in Aruba, as there are schools of tuna, kingfish and barracuda – if you know where to look.
Take the guesswork out and hop on a full or half-day deep sea fishing charter. You'll be taken to all the hotspots of marine life where you're sure to come back with something to put on the grill for dinner!
58 – Dine by torchlight at Passions on the Beach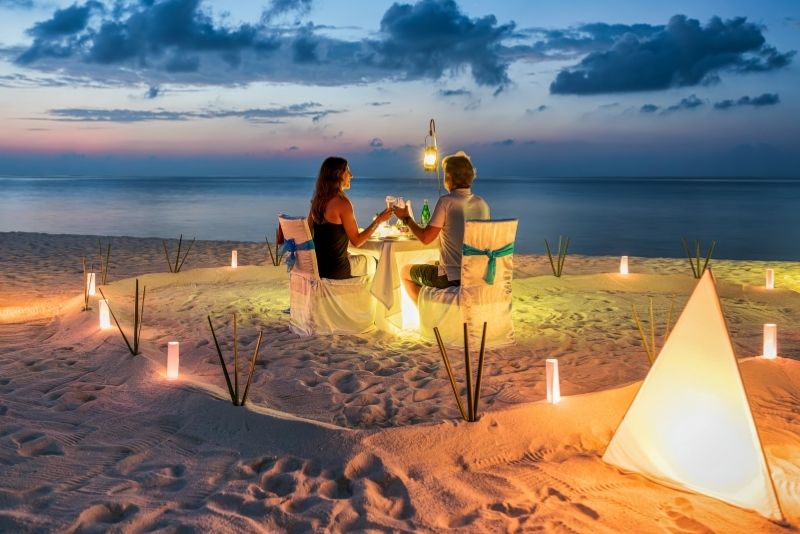 One of the most romantic things to do in Aruba, dining at Passions on the Beach is for the lovebirds or those celebrating a special occasion.
You can swing by anytime of day for a meal or a drink, but the best time has to be sunset for dinner — as the sun disappears and your surroundings become slowly lit by bamboo tiki torches.
On top of that, the restaurant is open late, so you can head back to the bar for a drink until the late hours.
59 – Seek refuge at Mangel Halto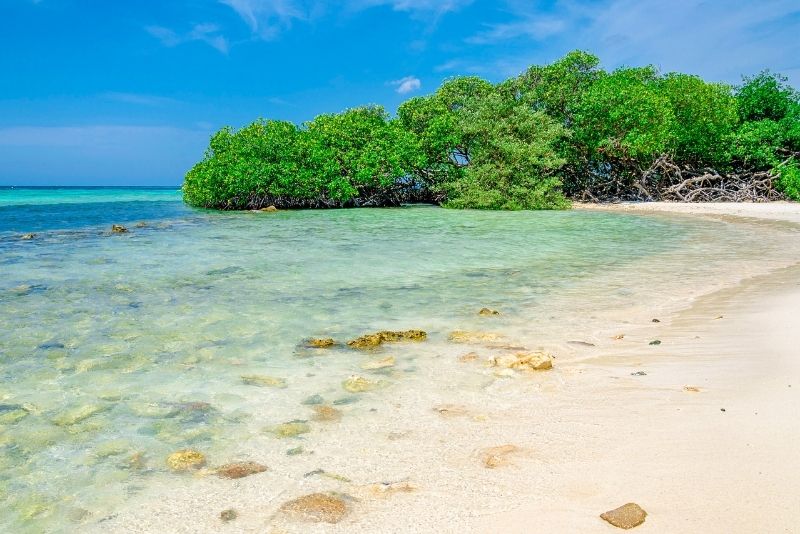 One of the more tucked away beaches in the Aruba area, Mangel Halto is the place to be for quiet sunbathers.
There are public huts that provide shade, so all you need is a bottle of water and a picnic.
You can even spy some wildlife at the surrounding mangroves and reefs. You can walk right to the edge of the reef and spot anything from parrotfish to yellowtail snapper.
60 – See out the day on a sunset cruise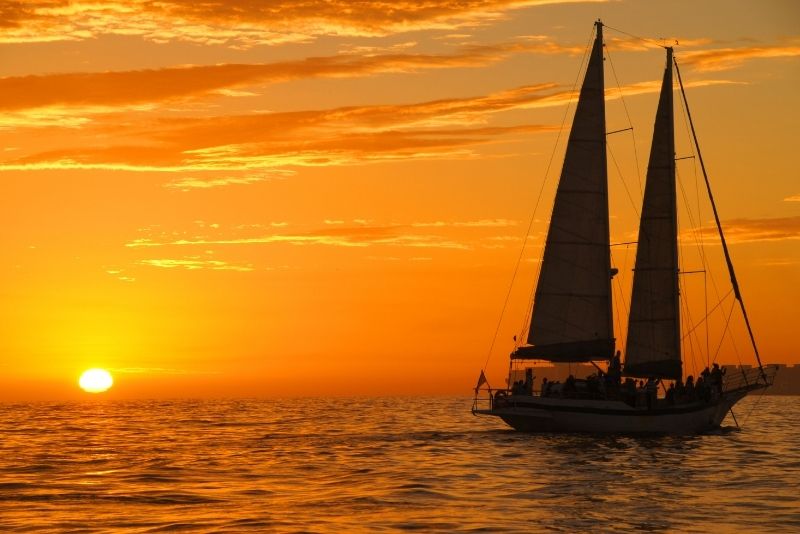 Catch a Caribbean sunset aboard an old sailboat, as you see off another wonderful day in Aruba. With an open bar, you'll have a drink, as you watch the sun go down over the water.
Simply head to Palm Beach to be on one of the most unforgettable cruises you'll ever experience!
61 – Cruise over to the drive-in movies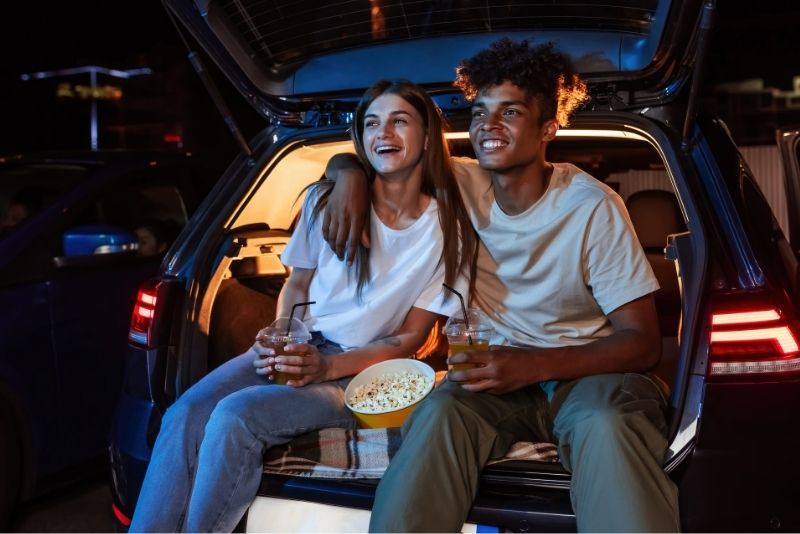 Step back in time and enjoy movies the way they used to be at the Drive-In.
It all started when the founder traded a pianola for movie projection equipment, then all of a sudden, the movies were brought to Aruba.
This is the quintessential vacation experience if you have a car and you want to experience entertainment from the golden era of movies!
62 – Hear a ghost story at Frenchman's Pass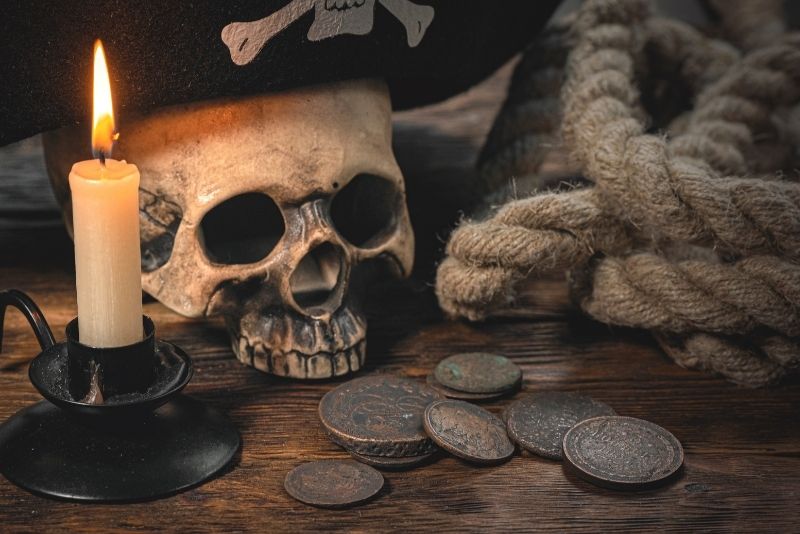 The Frenchman's Pass was a site of skirmishes between French pirates and Native Americans in the 17th century. The locals believe that the cave there is being haunted by the ghosts of the Indians who were forced to flee during the war.
True or not, you'll definitely be able to feel the spooky energy as you delve into the depths of Frenchman's Pass.
63 – Sample the local brew with a beer tasting & brewery tour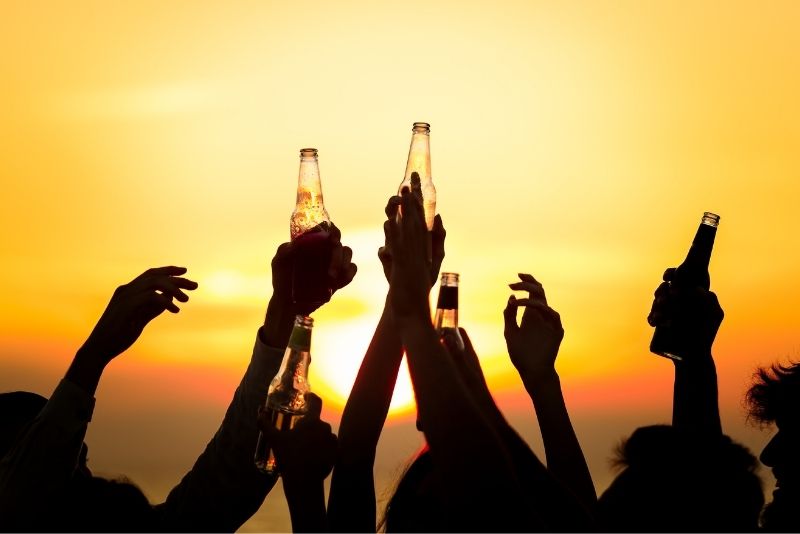 Aruba has plenty of local artisans of craft beer, such as Fireson Brewing, which is the first craft brewery in the country. It has a bar on site for you to sample its expansive menu of craft brews.
Balashi Brewery is similarly impressive, so be sure to hop on a guided tour and see how to produce beers from the finest local ingredients.
64 – Plunge the Aruban depths with an underwater scooter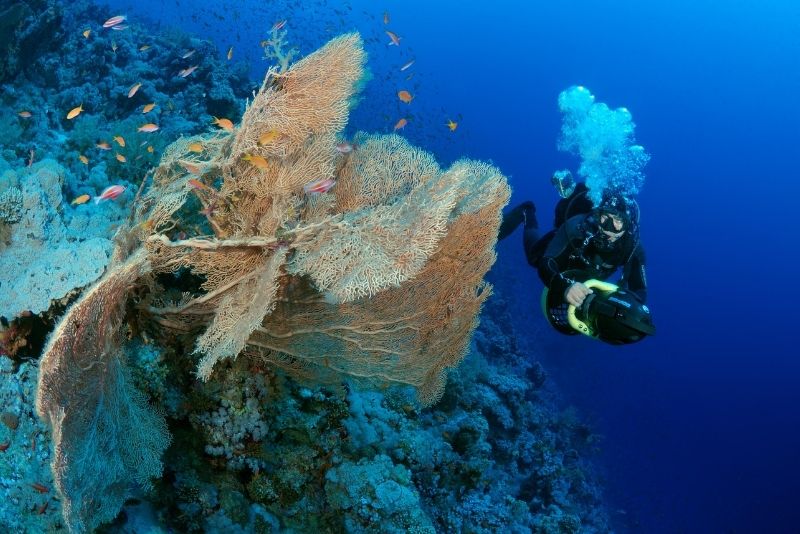 It's not a common mode of transport, but it makes perfect sense here in Aruba.
A scooter that takes you down to the depths of the ocean and whisks you around faster than you can swim. It is perfectly suited to those looking to explore the shoreline.
This tour takes you around the north coast of Aruba where you can properly see the reefs and marine life up close and personal!
65 – Have dinner with an ocean view at Pinchos Grill & Bar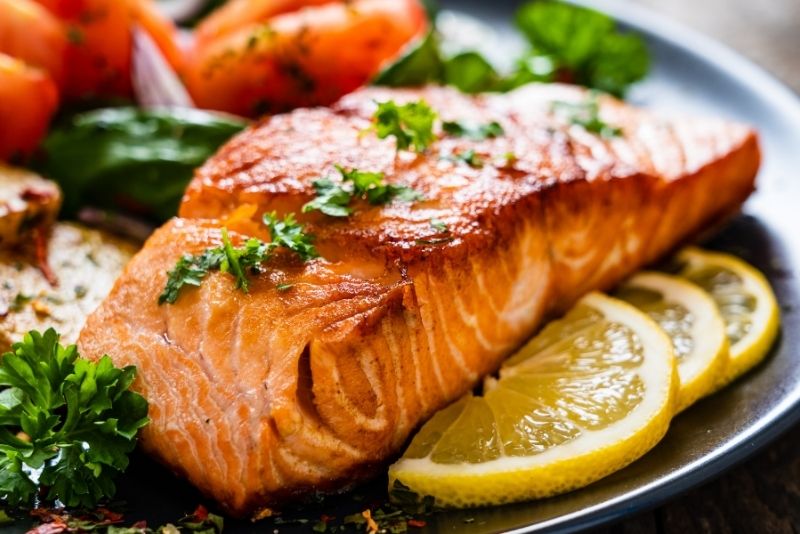 Just when you thought the restaurants in Aruba couldn't get any closer to the water, Pinchos Grill & Bar goes one step further. Pinchos is a casual yet chic grill and bar on a pier, completely over the clear blue waters of Aruba.
With the serene atmosphere of water all around you and live entertainment on weekends, this is an essential stop for foodies and travelers seeking to experience the local culture in action.
66 – Indulge aboard a dinner cruise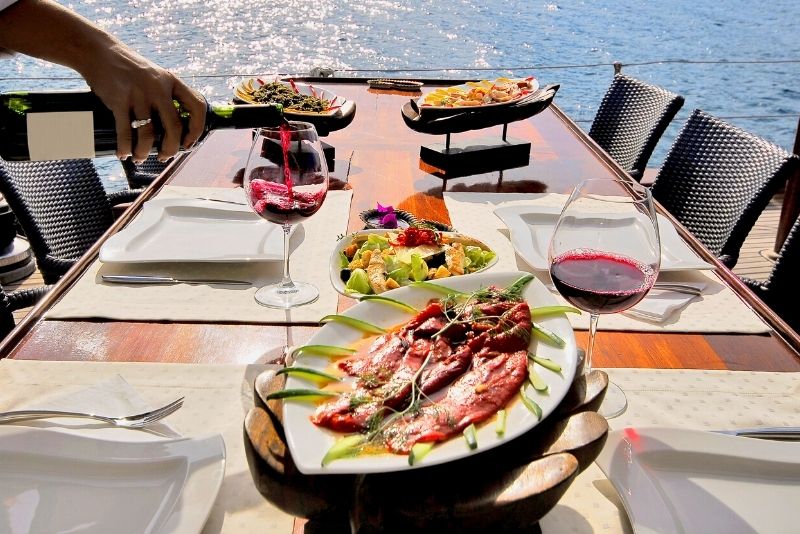 Combining so many of the best parts of Aruba — the food, water and scenery — in one beautiful romantic experience, a dinner cruise is a great indulgence.
Watch the sunset aboard a gentle three-hour catamaran cruise while being served some of the country's finest food and wine.
Dinner is served out on the deck, so you won't miss a beat of the natural wonder.
67 – Try your luck at the Casino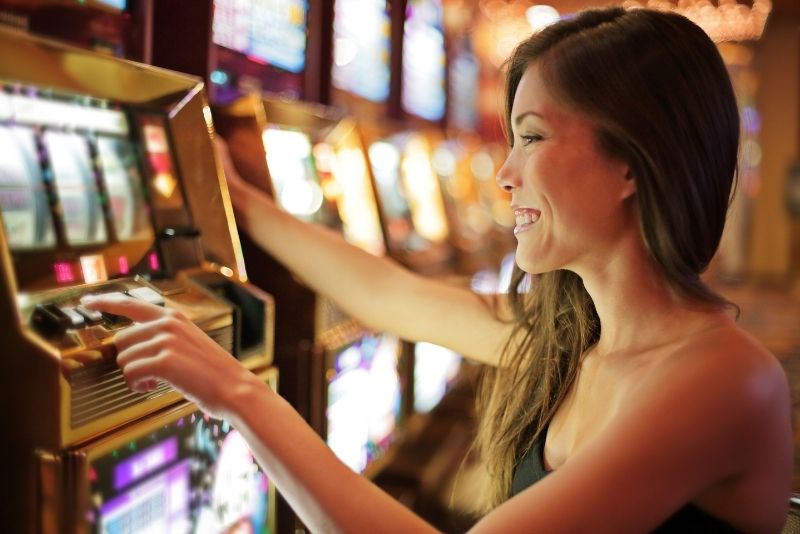 If you head down to the Renaissance marketplace, you'll be within walking distance of two Wind Creek casinos, the country's finest — where you can try your luck at the roulette tables or brush up on your poker face.
For those who want the full experience, head to either the Hyatt Regency in Palm Beach or Marriott Resort Aruba.
68 – Dress up and catch the Aruba Sinatra Dinner Show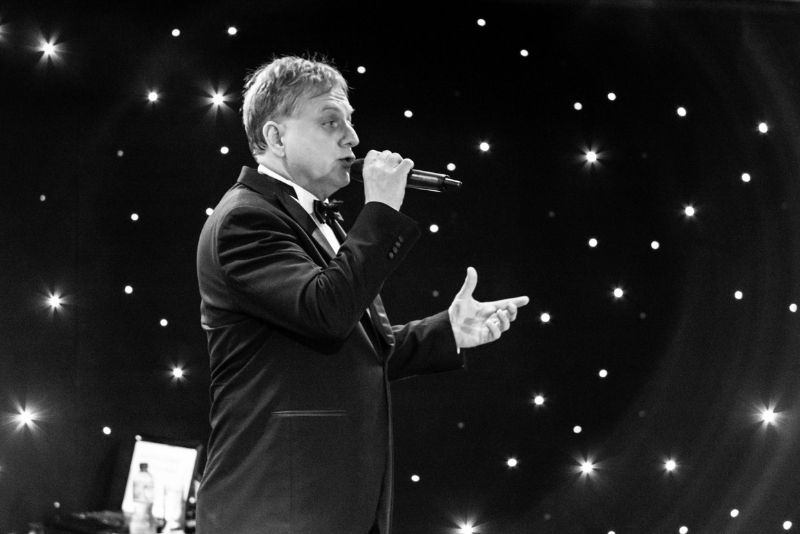 For a bit of glamour, head to the Old Cunucu House Restaurant where you'll be treated to a local Aruban singer belt out some Frank Sinatra Classics — all while being served traditional Aruban food.
With an intimate 40-person seating capacity, this humble restaurant turns into The Ritz every Thursday night. You can sample the finest food in the country while catching some of the best entertainment around.
69 – Have a drink at the historic Charlie's Bar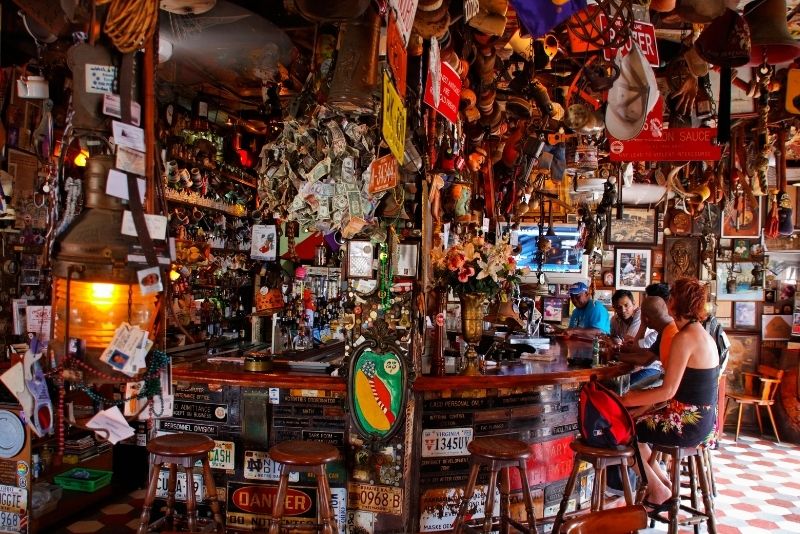 With doors opening in 1941, Charlie's Bar is a cultural icon among the nightlife of Aruba. Having a drink here is one of the most important things to do in Aruba when you're visiting St. Nicolas on the far side of the island.
The bar is a great place for people watching, talking to the bartenders and hearing the wild stories of the locals. It's suitable for solo travelers to get outside their comfort zone and couples to unwind and let their hair down after a day in the sun.
70 – Make new friends aboard the Kukoo Kunuku Party Bus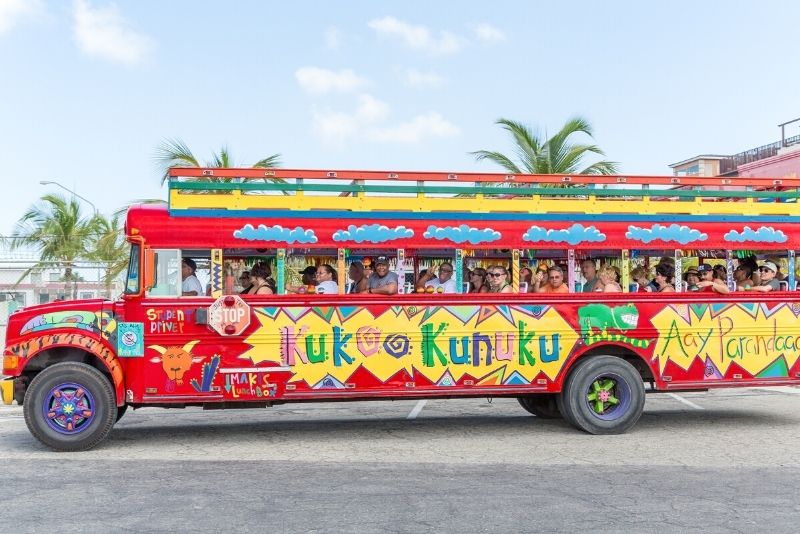 The Kukoo Kunuku Party Bus is great for solo travelers or small groups. Climb aboard this unique experience where you cruise around town, having the time of your life as you do it.
You can hop on a wine tasting tour hosted by a sommelier or a wild party trip with live entertainment aboard the bus. Whichever way you like to party, this bus has got you covered!
71 – Get caught up in the Aruba Carnival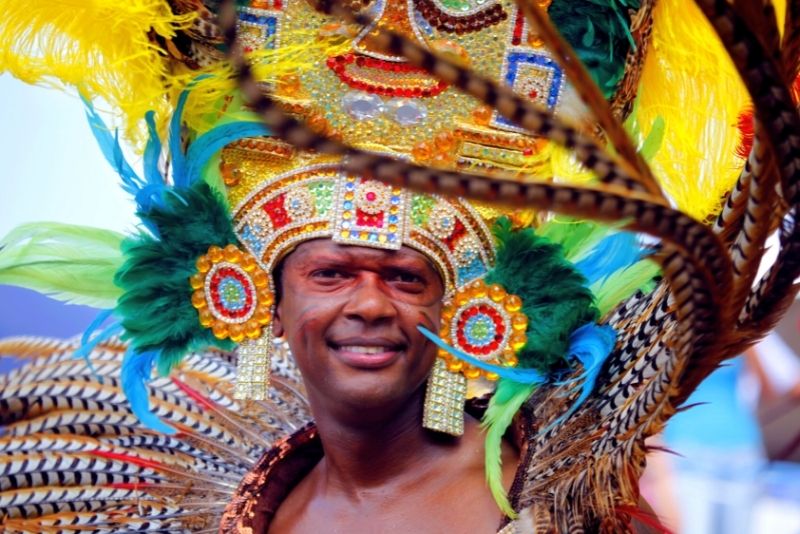 A great way to experience Aruba is to see how they celebrate their local carnival. At the Aruba Carnival, you can expect parades, floats, live music at every corner and street vendors during this two-month long celebration of local life and culture.
Every culture that calls Aruba home is given the time and space to shine and share with the public — from Dutch to Spanish, and everything in between. 
72 – Pick up some souvenirs at Renaissance Mall & Marketplace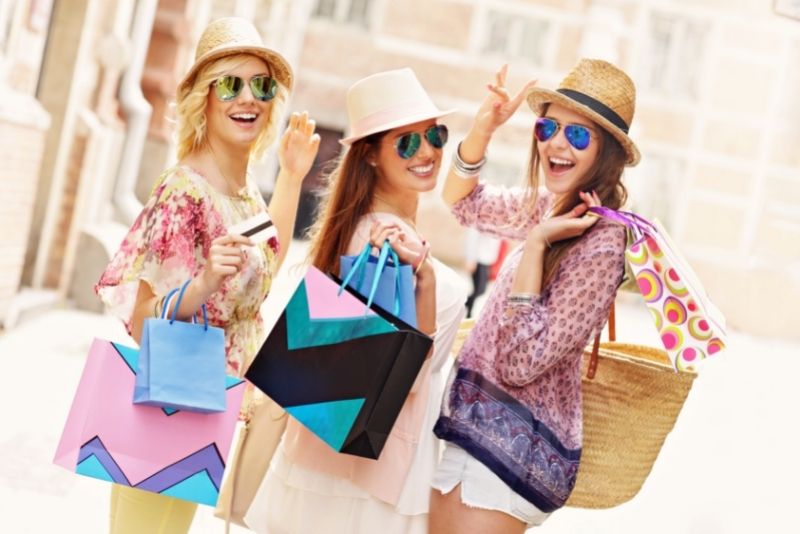 Once you've explored, swum, climbed and seen all the sights, it's time to pick up a few mementos of your journey to Aruba.
If you head over to Renaissance Mall and Marketplace, you'll find all the best designer clothing and locally made crafts, as well as culinary delights to fuel your shopping. This is a great place to pick up something special – for someone special.
Hopefully, you have a better idea of where to go and what to see in Aruba. Impress your fellow travelers as you know some of the best places to eat, swim and explore.
A hotel is the heart of your trip, so make sure to check out the best hotels in Aruba and you know you've got a cozy place to come back to after a long day. There are airport transfers which can take the stress out of arriving and departing!
If you need any more tricks on your sleeve, be sure to check out TourScanner's full list of tours and activities in Aruba.