Aruba's license plates read "One Happy Island", and it's no surprise to the many visitors who flock to this Caribbean paradise.
The small Dutch island is fringed with palms and white sand beaches, and the waters teem with sea life waiting to be discovered. A boat tour in Aruba is the ideal way to see and experience the island.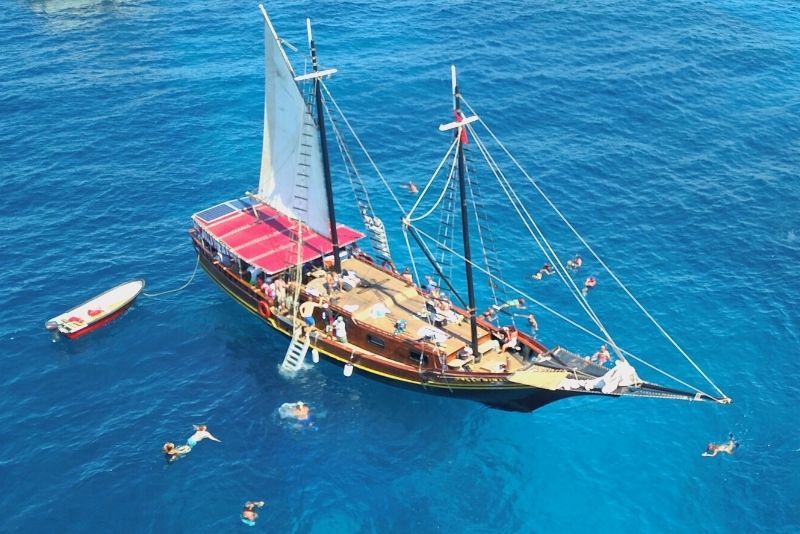 Here's all you need to know about boat tours, one of the most fun outdoor activities in Aruba.
What are the most popular boat tours in Aruba?
A boat tour in Aruba is a must. It's the ultimate way to see the rugged beauty of its coast, to explore the clear waters or just soak in the Caribbean sun.
Aruba Catamaram sail with snorkeling
Hop on a catamaran and let the captain take you to the best snorkeling spots in Aruba. These half-day tours include a guide, open bar, snacks or light meals and use of snorkeling gear.
Most boats have lounging areas including marine nets, and some feature waterslides and rope swings.
Aruba champagne brunch cruise
Treat yourself to a few hours of indulgence on a champagne brunch tour. Fuel up for your day as the crew speeds you to unmissable sites off of Aruba's shores.
Take advantage of the snorkeling gear provided as the boat makes stops at underwater attractions, and sip a mimosa or two while you dry off on deck.
Aruba sunset sail and dinner cruise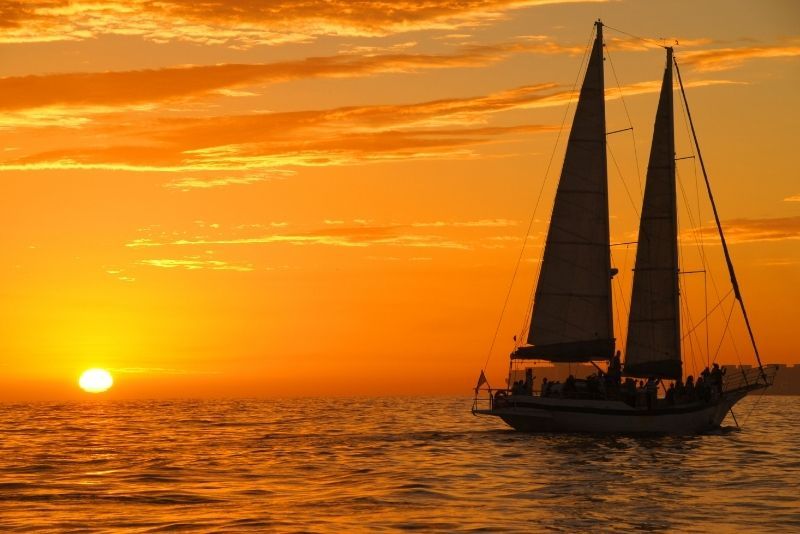 Enjoy the romance of a Caribbean sunset with your partner. Board a sailboat in the evening and prepare for twilight beauty and delicious food. Sunset dinner cruises boast open bars.
Less-expensive tours serve appetizers, and higher-end tours offer multi-course meals. You may dine on-board or at a seaside restaurant.
Aruba Red Sail scuba diving
If you are a certified diver, Aruba's red sail scuba diving sites are waiting for you. Tours take you to several reefs and a shipwreck to explore. Tanks, weights and belts are included in diving packages, and other gear you may need is available to rent for extra cost.
Donut boat tours in Aruba
Grab some friends and zoom off in a donut boat. Be your own captain for 2 to 8 hours as you explore up to a 5-kilometer radius from Palm Beach.
Donut boat tours are private, and the shaded vehicles can seat up to ten people. Boats are equipped with a waterproof speaker and icebox. Captains can be hired at extra cost.
Private boat tours in Aruba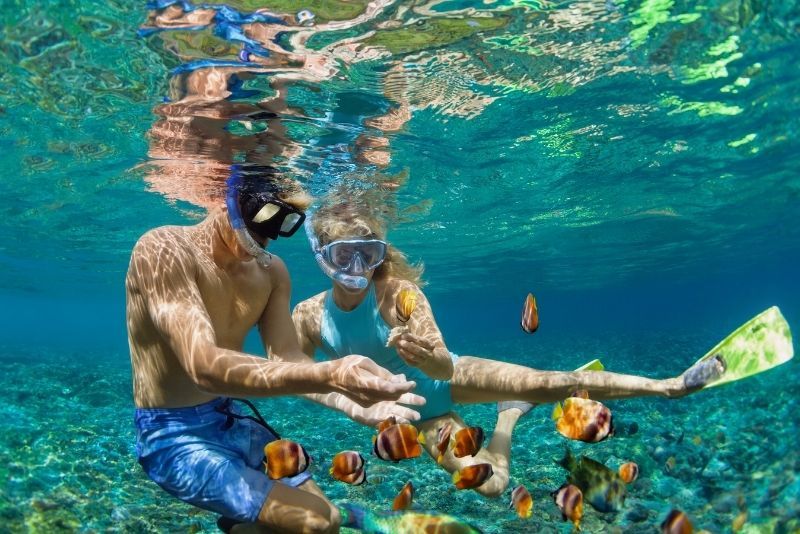 Do what you want on a private tour! Pilot your own boat or sit back while a captain escorts you to the best spots in Aruba! There are sailboats, fishing boats and speedboats at your disposal.
Less-expensive tours are shorter and have limited inclusions. The most luxurious tours provide meals, an open bar and snorkeling gear.
How much does it cost?
Snorkeling tours cost from US$50 per person to US$70 per person, depending on the duration of the trip. Luxury snorkeling tours cost US$140 per person.
Champagne brunch tours cost from US$90 per person for most tours. VIP small-group tours cost US$125 per person.

Sunset/dinner tours cost US$45 per person to US$150 per person, depending on the duration of the tour, whether food is served and if there is live music.

Scuba diving tours cost US$30 per person to US$120 per person, depending on the duration of the trip and the amount of dive sites visited.

Two-hour donut boat tours start at US$215 for a group of two.

Private tours cost from US$25 per person to US$175 per person, depending on the length of the trip, size of your group and whether drinks and food are included.
Which places are seen?
West coast shoreline
Sail along white sand beaches of Aruba's western coast. Watch waves crash on its rocky shores and spy rolling sand dunes.
Pass by Eagle, Malmok and Arashi Beaches, and snap photos of the California Lighthouse.
Boca Catalina
Also called Catalina Bay, this protected cove is one of the best snorkeling sites in Aruba.
Within minutes of donning your mask, you'll be visited by parrotfish, angel fish, stingrays and moray eels. A morning boat tour may give you a glimpse of sea turtles.
SS Antilla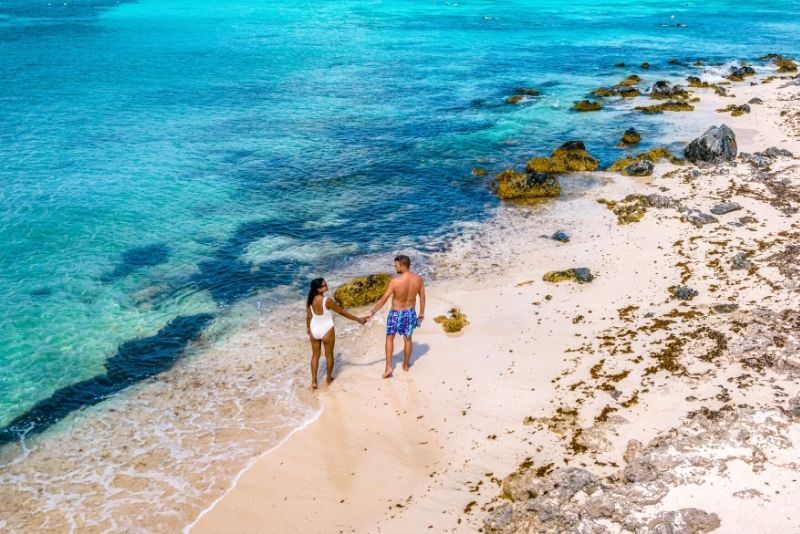 Get ready for the story of this 1940 shipwreck off Palm Beach. Your guide will tell you all about the SS Antilla's past as a German cargo ship that was purposefully sunk by its captain.
Now a prime snorkeling and diving destination, the sunken ship has become part of the ecosystem as it shelters sea fans, corals and a multitude of tropical fish.
Malmok Reef
Dip into the clear waters near Malmok Beach for optimal wildlife spotting. Malmok Reef is home to many types of coral, and its Debbie II shipwreck has become a habitat for many sea creatures.
How long does it last?
Boat trips in Aruba last from 2 to 8 hours. Shorter tours are sunset tours and snorkeling excursions. Private tours offer the longest trips, with 2- to 8-hour outings.
Where does it start?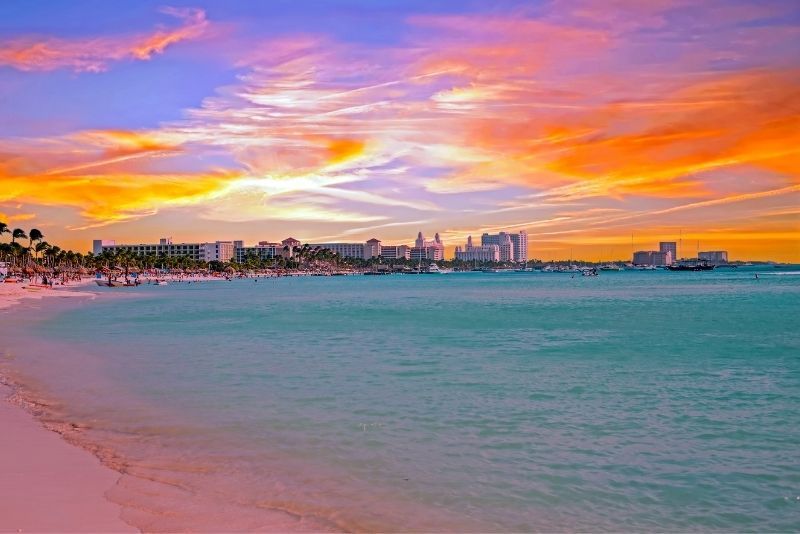 Boat trips in Aruba start from Palm Beach in Noord. Individual tour providers have kiosks on the beach where you will check in.
When is the best time for a boat trip in Aruba?
The best time for a boat trip in Aruba depends on your traveling tastes, since the weather on this southern Caribbean island is pleasant throughout the year. The high tourist season is mid-December to mid-April.
To avoid high costs and crowds, visit from September through November. Aruba tends to experience less hurricane activity during that time than other islands in the area.
Which other water activities can be done in Aruba?
Travel tips
Carry swimwear, sunglasses, a towel and a hat.
Wear reef-safe sunscreen.
If you suffer from motion sickness, take medication one hour before your tour.
Bring a charged smartphone to access your mobile ticket and to take pictures.