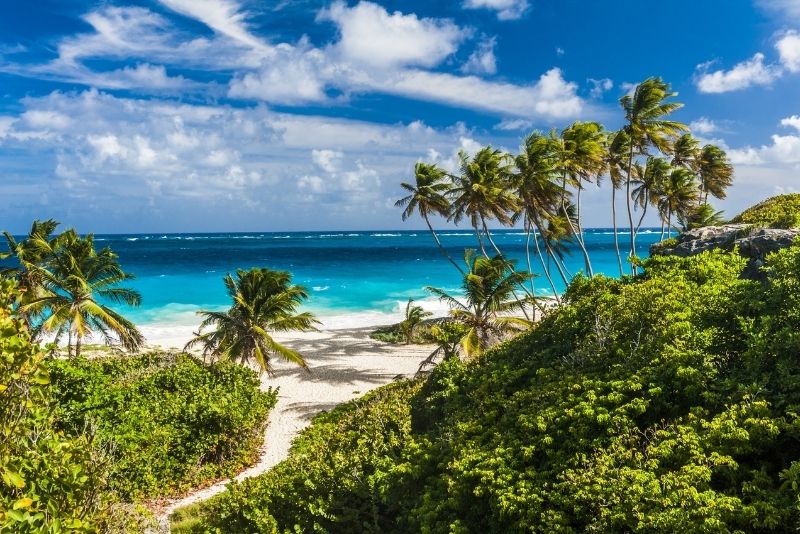 Barbados is the ultimate tropical island paradise for people looking for a thrilling adventure, beautiful scenery and a friendly atmosphere. Its crystal clear waters, powdery white sands and shady palm trees are just the beginning of this island's delights.
The country mesmerizes visitors with its diverse landscapes, from the rocky cliffs of the North to its serene western beaches which you can explore by cycling or hiking — one of the most essential things to do in Barbados.
Spot enchanting sea turtles and colorful fish while snorkeling, or conquer the waves by surfing the famous Soup Bowl. Explore the many magical gardens and grottos, tour the world's oldest rum distilleries, and learn about the nation's fascinating colonial history.
If you're feeling particularly adventurous, explore a massive cave system, see the hidden side of the island on an authentic steam locomotive, or hop into a submarine to see the underwater creatures… at night!
On the quirkier side of things, you can enjoy the high-octane thrills of a polo match, or hang out with eerily lifelike replicas of some of the Caribbean's most prominent celebrities.
This vibrant Caribbean island has tons of fun things to do and see.
1 – Snorkeling at Carlisle Bay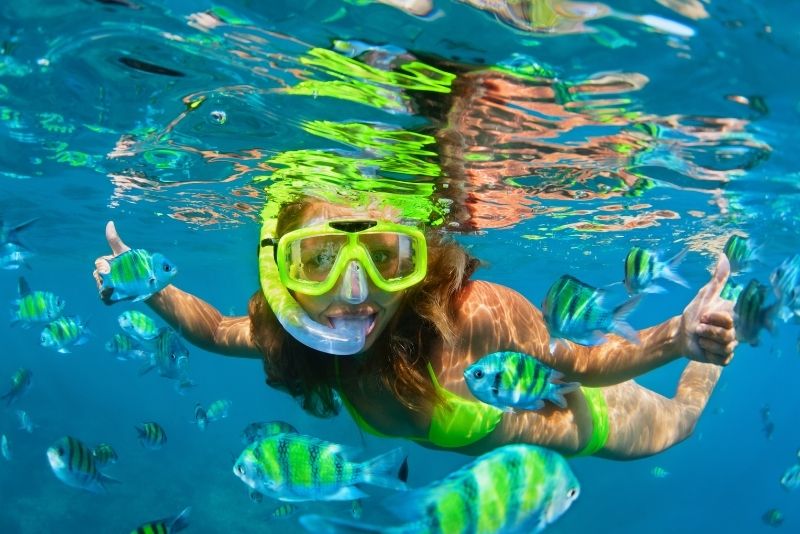 One of the best spots for snorkeling in Barbados is Carlisle Bay. It has six shipwrecks to explore, mostly in shallow water, which creates excellent habitats for fish and coral.
The area is abundant in wildlife and snorkelers can spot Hawksbill turtles, stingrays, groupers and angelfish.
Two of the most popular beaches for snorkeling are Pebbles Beach and Brownes Beach. They both offer the kind of soft sandy beaches and tranquil turquoise waters that have won Barbados its reputation as an island paradise.
This is definitely gonna be one of your top ten things to do on the island!
2 – See the mansion ruins at Farley Hill National Park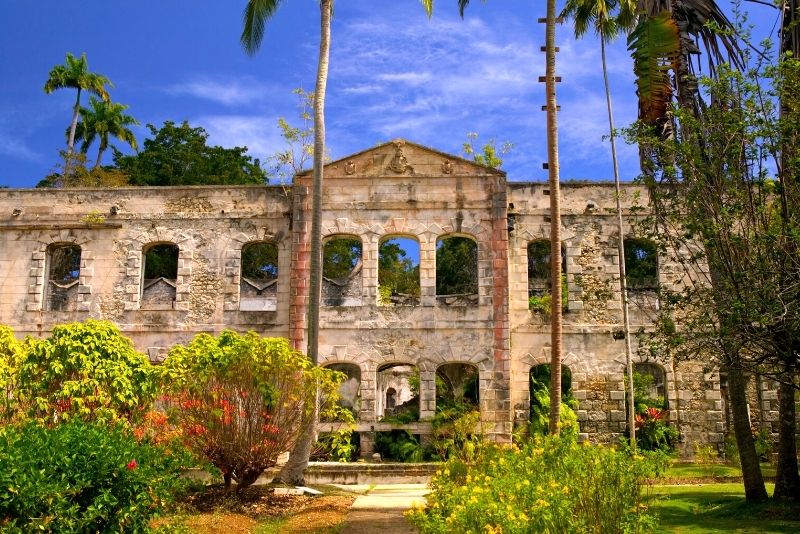 Home to what was once the island's grandest mansion, Farley Hill National Park is one of the most picturesque places to visit in Barbados.
Visitors can see the ruins of Farley Hill House, which appeared in the 1957 film Island in the Sun but burned down shortly after.
It opened as a national park in 1965, the year the country gained independence and its stunning location has become a popular spot for weddings and picnics.
The gardens include a diverse range of native and rare plants including many large mature mahogany trees.
Farley Hill Park hosts a number of yearly music festivals dedicated to reggae, soca and gospel.
3 – Tour Sunbury Plantation Great House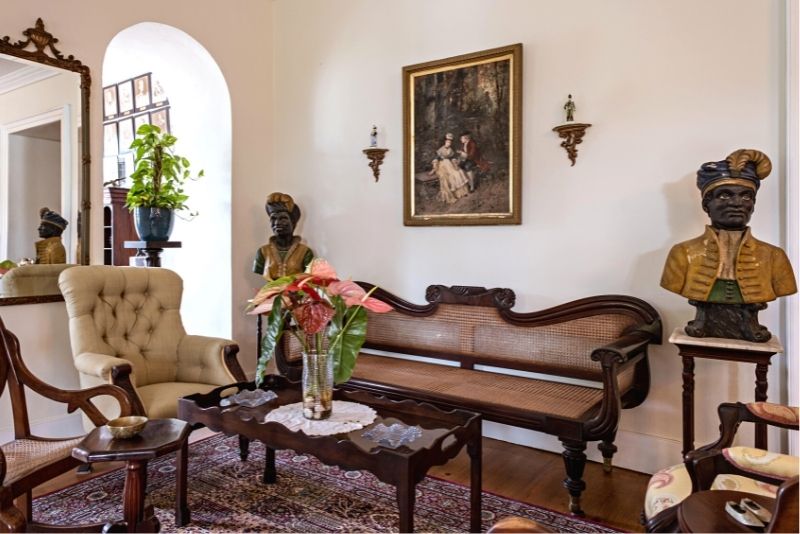 One of the earliest plantation houses built in Barbados, Sunbury dates from the mid-1600s and is entirely open to the public to view.
As you explore the various rooms and surrounding property, you'll get a fascinating glimpse into the evolution of colonial life on the island.
See antique period furniture and explore this recently renovated home and gardens.
See old artifacts including clothing, prints and a selection of horse carriages.
Try traditional foods in the courtyard restaurant and receive a lesson in mixing the famous Barbados rum punch.
4 – Cruise the crystal waters on a catamaran boat tour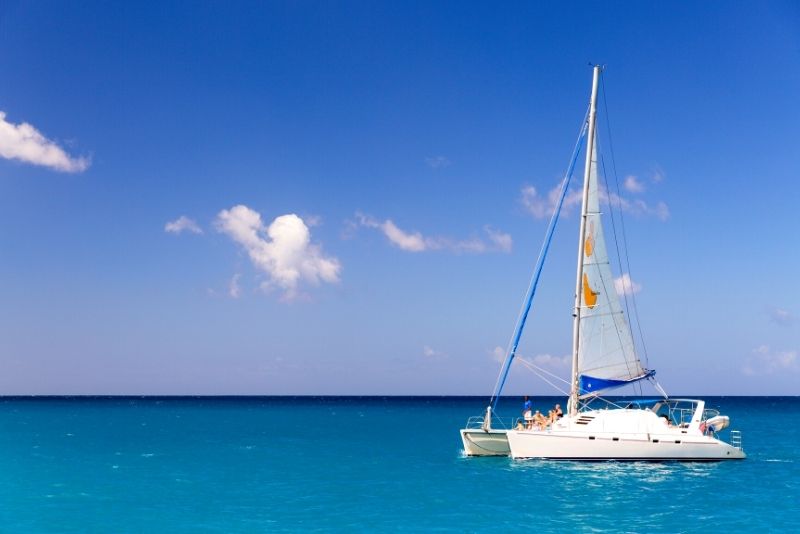 There are so many fun water-based activities to try in Barbados.
A Catamaran tour has to be top of the list and is usually one of the most fun things to do in Barbados for everyone. Visit pristine beaches and swim with turtles in the crystal clear Caribbean waters.
Visit local shipwrecks inhabited by fish and snorkel through brightly colored coral reefs on these essential catamaran tours.
Cruise the west coast of the island and get a feel for what Barbados is all about — a slower pace of life, the sun, the sea and the sand.
5 – Visit Marizayra Sanctuary Barbados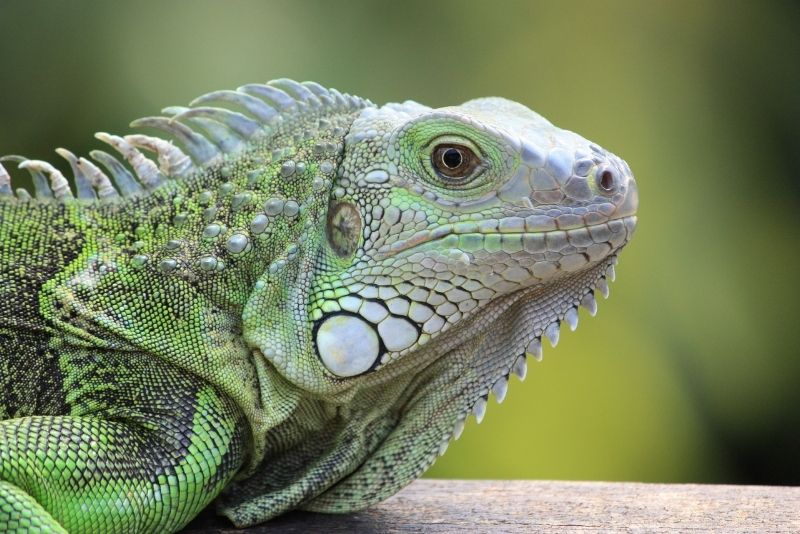 The Marizayra Sanctuary is home to a wide selection of native and exotic creatures from snakes to turkeys.
Started as a backyard project to help sick and injured animals it's blossomed into a refuge and education center.
See amazing reptiles including snakes, turtles and iguanas and brightly colored exotic birds.
You may even get the chance to hold or pet some of them!
Learn about the species from informative guides and explore to your heart's content this fun family-run endeavor. Kids especially will enjoy a trip to Marizayra Sanctuary.
6 – Stroll along The Richard Haynes Boardwalk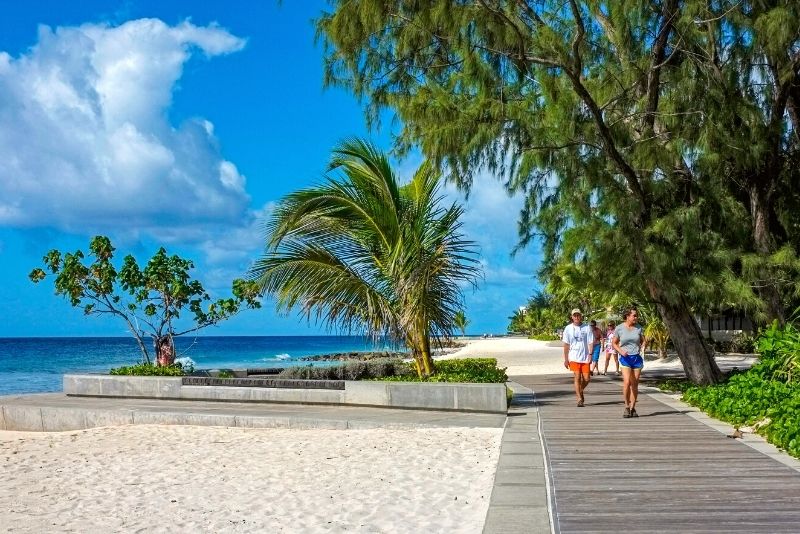 One of the nicest places in Bridgetown to take a relaxing stroll is the waterfront Richard Haynes Boardwalk.
It passes picturesque beaches which are nesting sites for Hawksbill turtles and offers a place to jog or walk near to the sea.
The boardwalk also has some nice restaurants and bars to visit and is a great place to enjoy at any time of the day.
Take an early morning stroll to catch the sunrise or visit at midday and take a refreshing dip in the sea.
The Boardwalk has some of the most beautiful scenery in Barbados and is one of the most popular places to visit on the Island.
7 – Ride the Steam Railway at St. Nicholas Abbey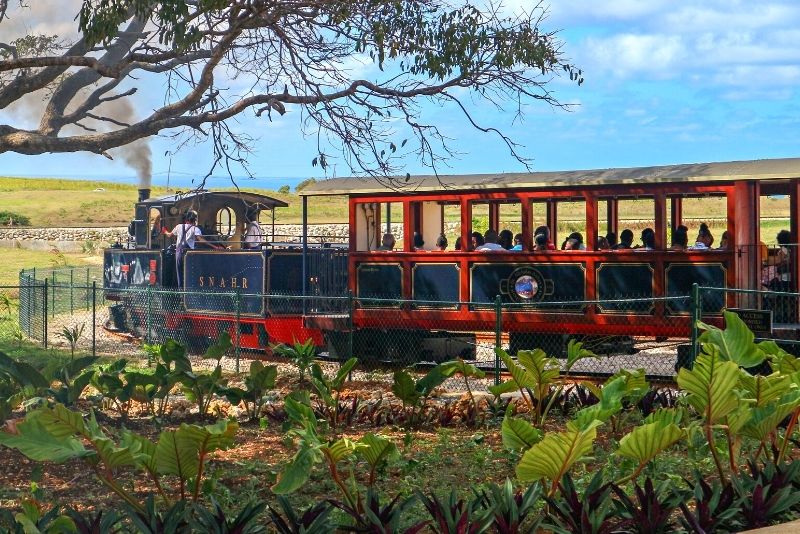 One of the country's most important historic sites, St. Nicholas Abbey is a plantation house, museum and rum distillery.
It was built in the mid-1600s by British-born planter Benjamin Berringer and features a Jacobean design, which is very rare in this part of the world.
The mansion-style house is well preserved and visitors can tour its lower halls and study rooms to see wonderful examples of period furniture.
Visitors can take one of the Rum Experience Tours to see the distillery, try some samples and learn a little history of this beloved Caribbean tipple.
St. Nicholas also has a Heritage Steam Railway offering visitors a unique chance to explore the 400-acre plantation in vintage style.
8 – Discover Andromeda Botanic Gardens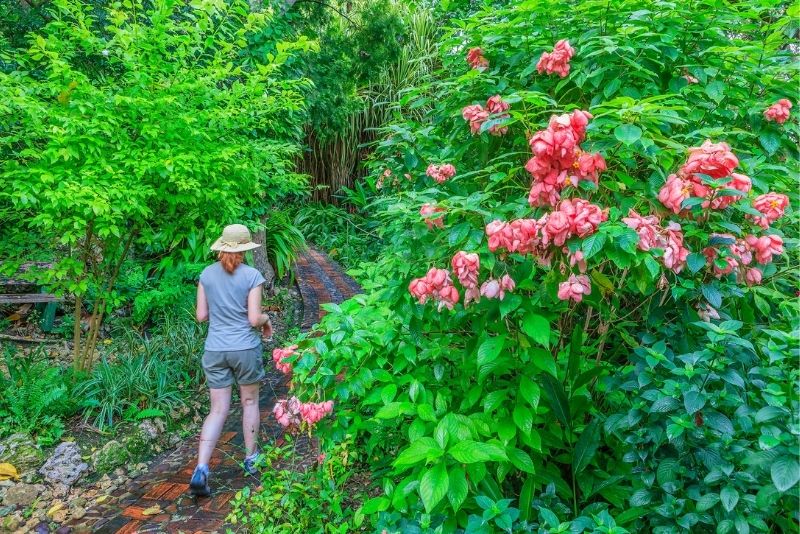 The fantastic Andromeda Botanic Gardens were created in the 1950s by Barbadian self-taught scientist Iris Bannochie.
The gardens are home to over 500 species of plants and trees some of which were collected on travels abroad or received as gifts from enthusiastic gardeners worldwide.
The garden has gathered international recognition and has been featured in television and magazines.
It was created with the dual purpose of being both beautiful to witness and as a botanic collection of plants for future generations.
Don't miss this amazing organic space during your time in Barbados.
9 – Tram tour at Harrison's Cave Eco-Adventure Park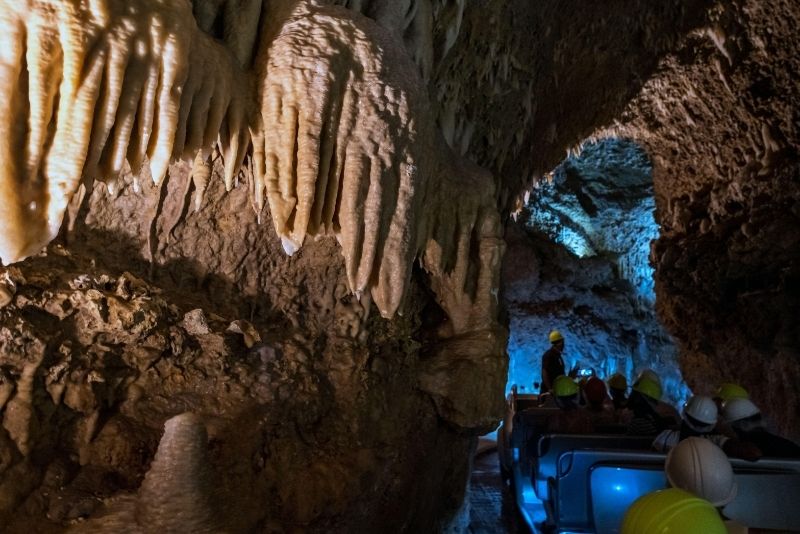 One of the many natural wonders of Barbados, Harrison's Cave is quite a sight to see. Featuring ancient rock formations like stalactites and stalagmites as well as underground waterfalls, It is one of the island's must-see attractions.
The whole cave system extends to nearly 2.5 kilometers with streams flowing through it and deep pools. One of its most amazing features is the huge cavern known as the "Great Hall" which reaches 50-feet in height.
Visitor's to the cave take a tram tour throughout and can get off at a number of stops to take a closer look.
10 – Relax in the shade at Petrea Gardens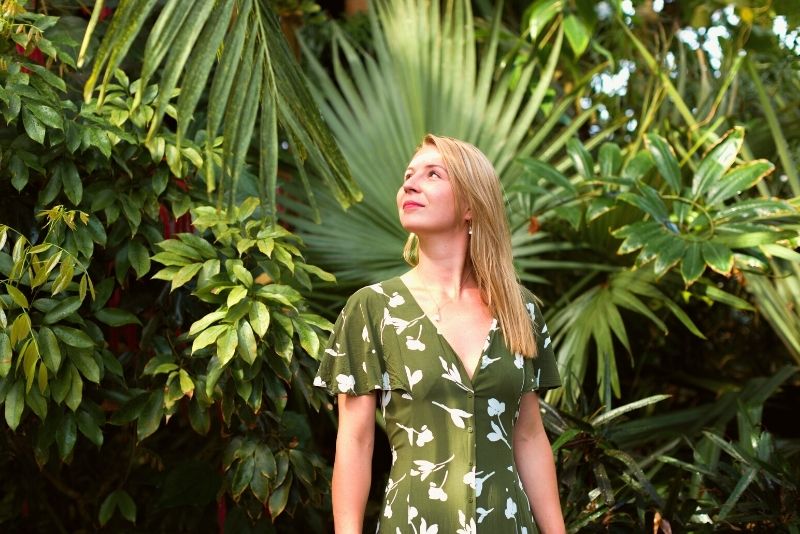 The outstanding five-acre Petrea Gardens are one of the island's most luxurious natural spaces.
Named after the white and blue Petrea flowers native to this part of the world, the gardens have a large central lake with picturesque bridges crossing it.
This is a great place to take a stroll and admire the natural beauty and colors of all the tropical plants and flowers.
As you drink in the manicured scenery, you'll feel like you're in a secluded world all your own!
The gardens are kindly open to the public as part of the Barbados Horticultural Society's open garden scheme.
11 – Tour Barbados Parliament Buildings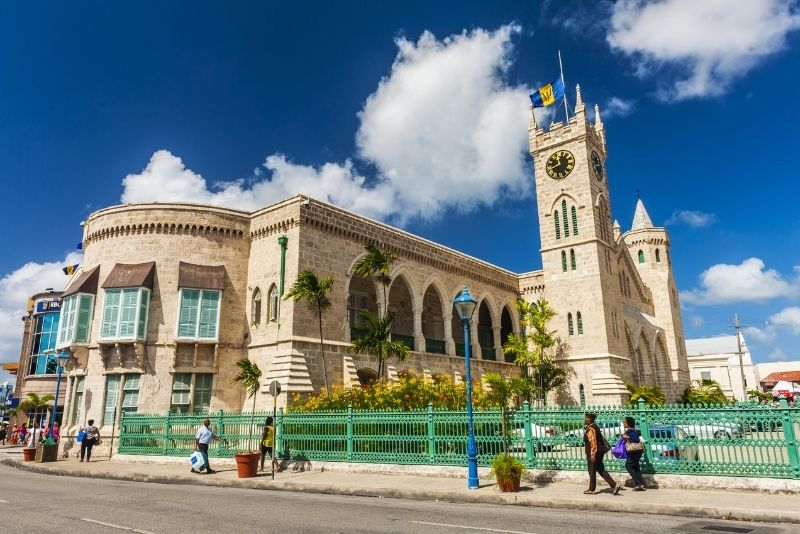 Right in the historic heart of Bridgetown are the Barbados Parliament Buildings, which have stood here since 1874.
They are the meeting place for the country's Senate and House of Assembly and include two large and imposing Victorian-style limestone buildings with a Barbadian twist
The Parliament Buildings, also known as Public Buildings are part of the UNESCO Historic Bridgetown site along with the Garrison and Synagogue.
Visitors can take a guided tour of the Parliament buildings and visit the History of Parliament Museum.
Check out the National Heroes Gallery to catch up on the key figures in Barbados' history.
12 – Take a nighttime Atlantis submarine tour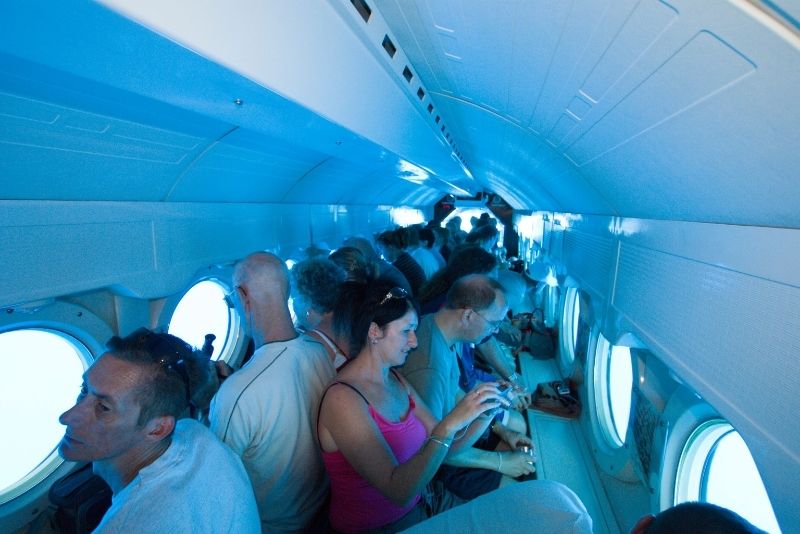 For a truly unforgettable experience in Barbados, why not try a submarine tour? Atlantis submarines give the experience of scuba diving to everyone.
Descend 150-feet beneath the surface to view the coral reefs and wildlife that live there on these environmentally friendly tours.
Enjoy the commentary from your guide as you drink in the lush aquatic scenery, constantly changing right before your eyes!
For the more adventurous travelers, why not try a nighttime submarine tour? Dive deep into the blackness to see what lurks around the shipwrecks of the island's shores.
This is sure to be one of the most thrilling things to do in Barbados for all adventure lovers.
13 – Visit the Gallery at Queen's Park House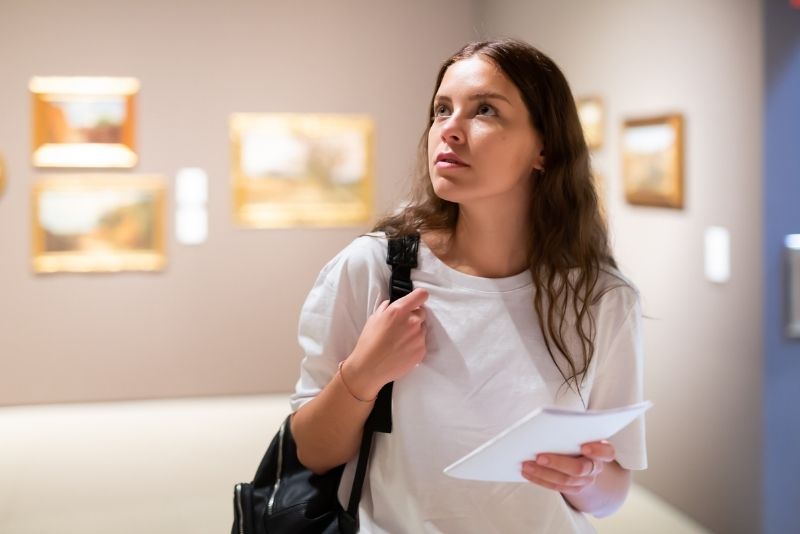 If you're visiting Bridgetown on your travels to Barbados, don't miss out on a visit to Queen's Park.
One of its main buildings, Queens Park House dates from the 1700s and was the residence of the Commander of the British troops stationed here. It is now home to the Daphne Joseph Hackett Theater and the Queen's Park Art Gallery.
One of the Island's largest trees, a baobab which is thought to be a thousand years old can also be seen in the park. Queen's Park is a great place to chill out in the city and features a bandstand, playground and fountain.
14 – Tour Historic Bridgetown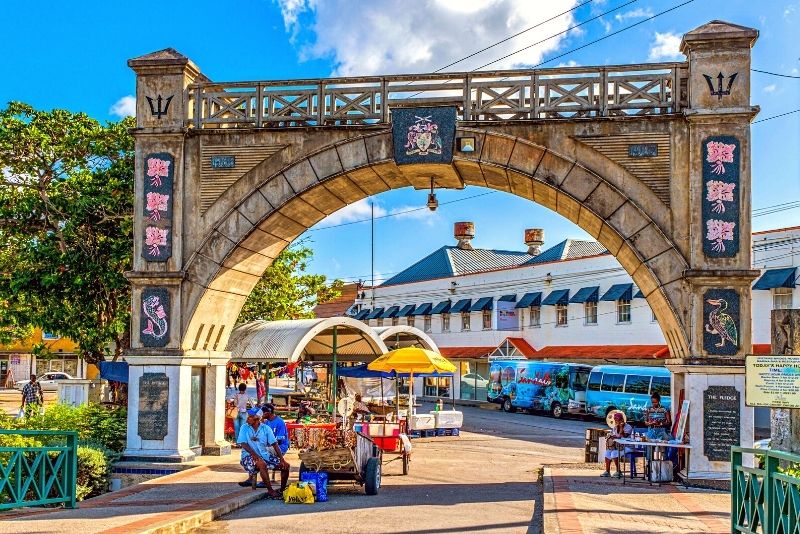 Barbados' capital city, Bridgetown, has a fascinating colonial history and is a UNESCO World Heritage Site.
Once a major trading port and stop-off for trans-Atlantic ships, the prosperous city was heavily fortified between the 17th and 19th centuries.
It features some wonderful 19th-century architecture, including the Parliament Buildings and Barbados Synagogue.
St. Ann's Garrison is one of the most historically significant areas of the city. It once housed British troops and was visited by George Washington in 1751.
15 – Learn the Jewish history of the Nidhe Israel Synagogue and Museum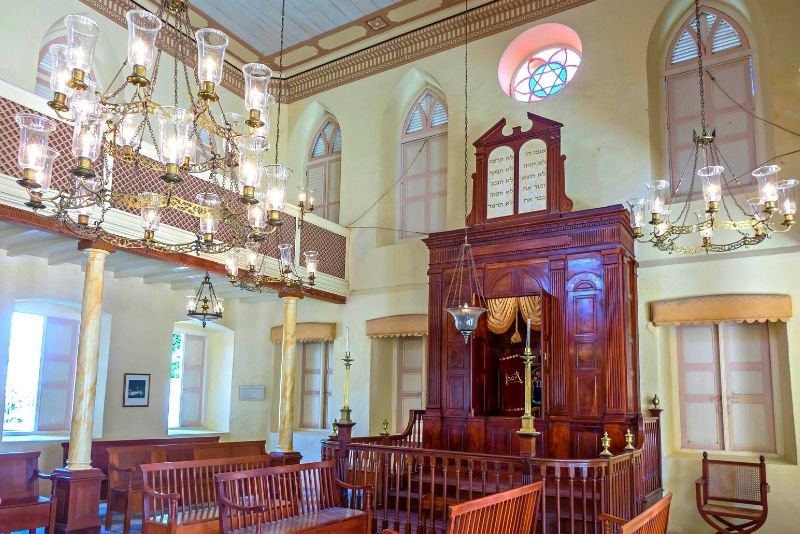 One of the oldest synagogues in the Western hemisphere, Nidhe Israel Synagogue is still in use today. It is a UNESCO World Heritage Site and features the only known full-immersion mikveh in all of the Americas.
The synagogue dates back to the mid-1600s when persecuted Jews migrated from Brazil to live and farm on the island.
There is also a Jewish burial ground and a museum that highlights the role that the Jewish community played in the island's prosperity, including not least their expertise in sugar cane growing.
Check out this truly unique and historic site in Bridgetown during your time in Barbados.
16 – Discover the historic Morgan Lewis Windmill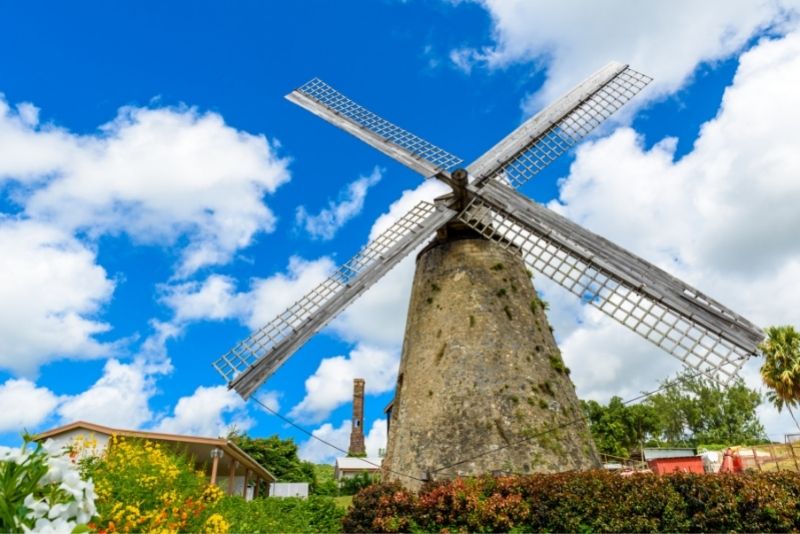 The Morgan Lewis Windmill harks back to the days of the island's major sugar plantations.
It is one of the largest and only complete mills of its type in the whole Caribbean and was used to grind the harvested sugarcane during processing.
The windmill was built in the 1700s and remained in use until 1947.
The Morgan Lewis Windmill is still intact and features an exhibit of equipment that would have been used in the milling of sugarcane.
The windmill is still used during the harvest season but mainly for demonstration purposes.
It is recognized as a national monument and features on one of Barbados' banknotes.
17 – Sunbathe at Bottom Bay
Considered by many to be Barbados' most beautiful beach, Bottom Bay is as idyllic as could be.
The secluded cove is surrounded by rocks and has a beach of fine white sand. The turquoise waters and swaying palm trees really complete this island paradise and it is definitely a must-visit while in Barbados.
Its location on the South East Coast means that the waters are usually a little choppier than other more protected areas so swimming is not recommended.
There is plenty more to do though and visitors can walk the shaded paths around the bay which offer great views for spotting the native Hawksbill turtles.
18 – Try the best Bajan cuisine on a food tour
If you're eager to take a deeper look at the Barbadian culture, where better to start than a food tour.
Take a stroll through Bridgetown's most interesting neighborhoods and try out the best local restaurants away from the tourist trail.
Sample some of the country's unique foods such as pudding and souse and seafood dishes like the ever-popular fishcakes.
Pick up some history and travel to interesting locations around the city and most importantly get the chance to eat like a local. Don't miss this during your time in Barbados.
Some tours even include a sweet souvenir at the end!
19 – See Needhams Point Lighthouse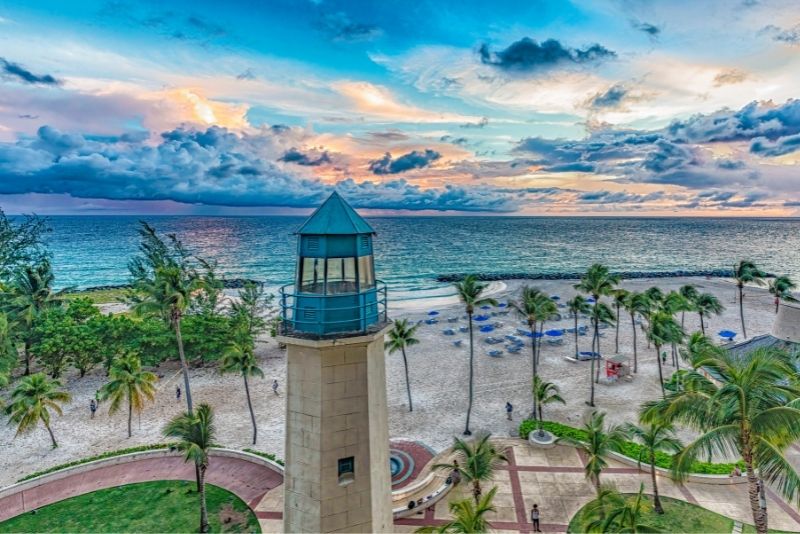 One of the country's four lighthouses, Needham's Point Lighthouse was built in 1855, making it the second oldest on the Island.
It was the only stationary lighthouse in Barbados, meaning that its lamp was fixed in place and did not rotate. When functioning it was half green and half red to show sailors which side of Carlisle Bay they were on.
It is located on the grounds of the Hilton Barbados Resort and has been partially restored.
Though the lighthouse is not currently open for visitors it can be viewed from the beach in front.
20 – See the engineering marvel, Blackwoods Screw Dock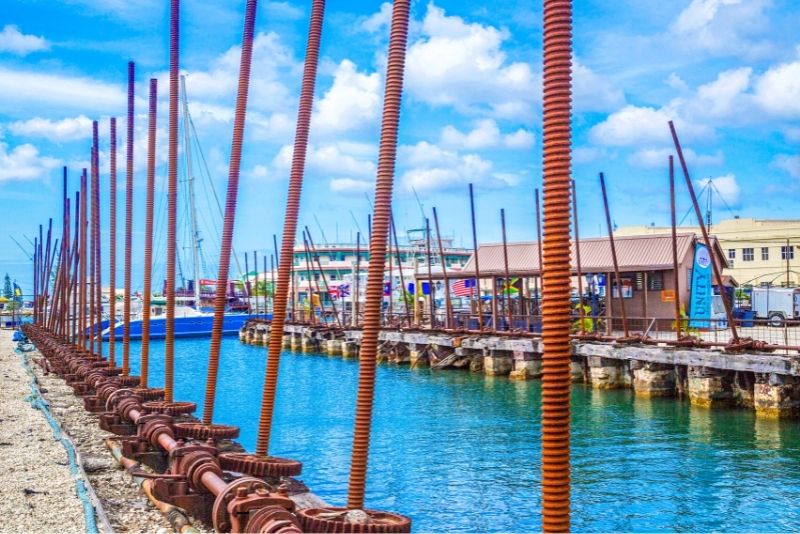 Thought to be the only surviving screw dock in the world, Blackwoods remains a marvel of Victorian engineering.
Though now decaying and out of use, the dock once used a series of large screws to hoist boats weighing up to 1200 tons out of the water.
It functioned as a dry dock for repairs and maintenance of vessels and was in use until the mid-1980s. In 1970, it welcomed Norweigian adventurer, Thor Heyerdahl and his handmade ship Ra II after its momentous Atlantic crossing.
The site now has a museum with information and photographs related to the docks and a bar.
21 – See green monkeys at Barbados Wildlife Reserve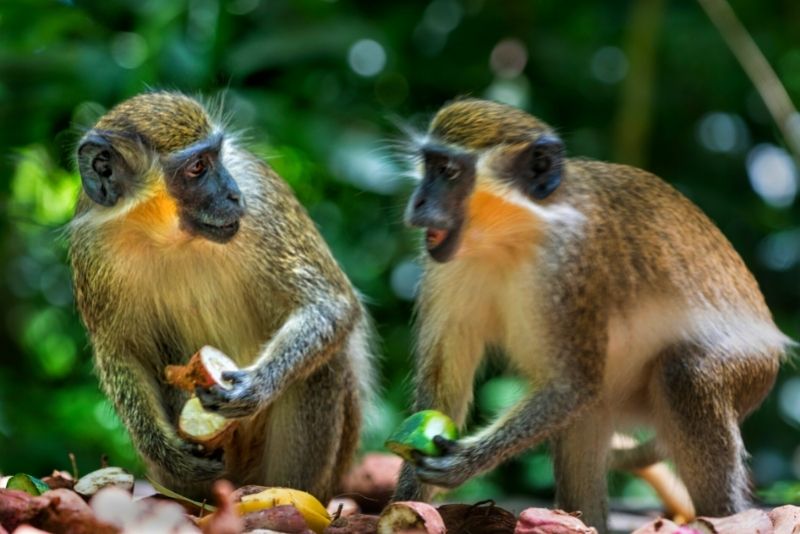 Set in four acres of forest, Barbados Wildlife Reserve is home to a wide variety of creatures, many of which are free-roaming.
Started as a primate research center in the 1980s — to observe the island's green monkey population, the reserve has grown to include many other creatures including birds, reptiles and mammals.
Visitors can see native and exotic reptiles such as tortoises, iguanas, snakes and caiman as well as other non-native creatures like peacocks, rocket deer and the unusual rodent, agouti.
Definitely try to visit during monkey feeding time in the afternoon to catch the reserve at its most lively.
22 – See Rihanna's childhood home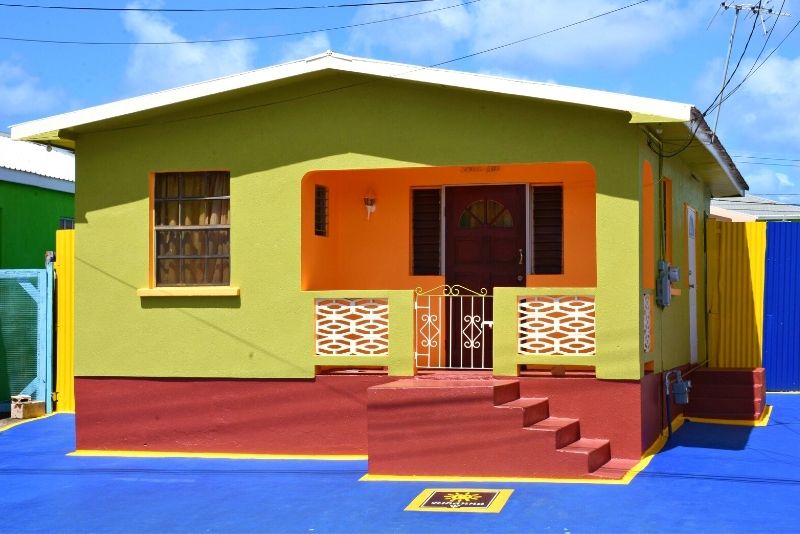 As well as being one of the most popular singers throughout the world, Rihanna is also a Barbados native.
Visitors to the country can see the singer's humble beginnings at her childhood home on Rihanna Drive.
She lived in the colorful bungalow on what was formerly called Westbury New Road from the age of 5 to 16.
Take a stroll around the outside, snap some pictures, and learn about the fascinating early years of a superstar.
The street also features a monument to the singer, this is a must-see for Rihanna fans.
23 – Take a trip to Hunte's Garden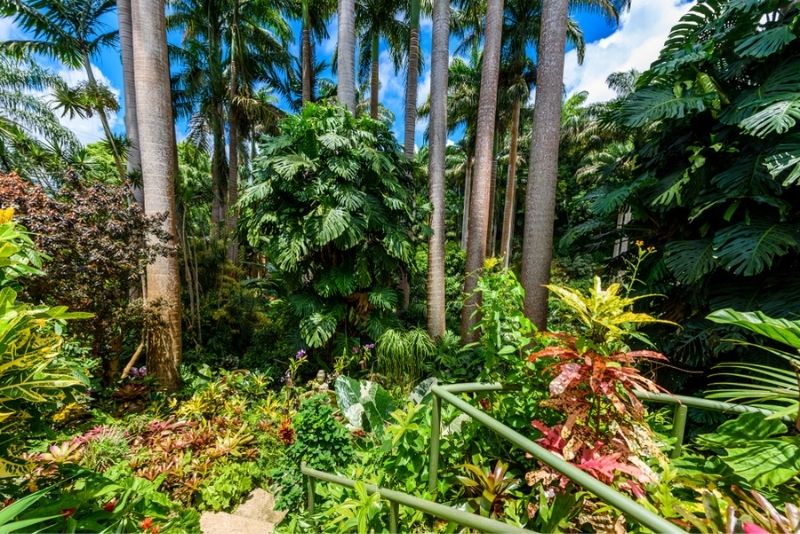 One of the must-see attractions in Barbados is the paradisiacal Hunte's Garden.
This enchanting landscaped area sits in a limestone sinkhole and is the product of its owner's amazing imagination.
The project began in 2004 and has since grown to be one of Barbados' most stunning gardens.
Explore the diverse array of tropical plants and art objects scattered about and spot the native wildlife that calls the garden home.
The owner, Anthony Hunte, is usually on-site to answer any questions and chat about his fantastic creation. Don't miss this one while in Barbados.
24 – Climb up to Gun Hill Signal Station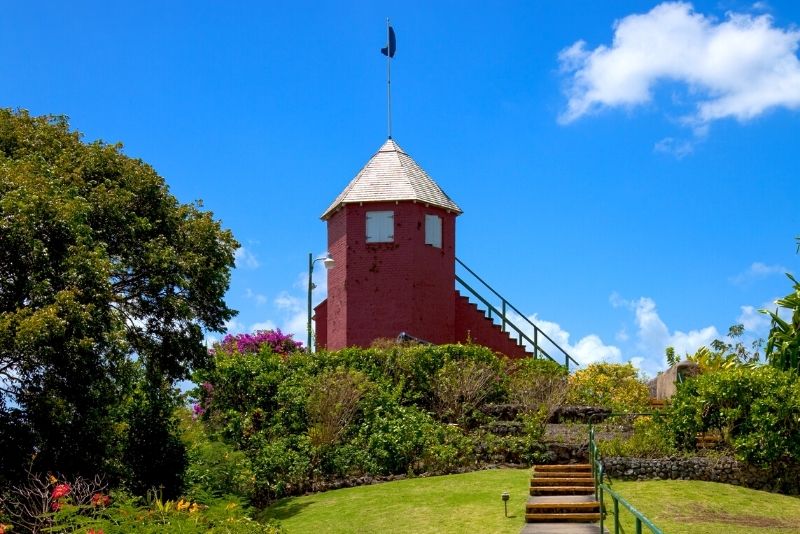 The Signal Station at Gun Hill was used to spot approaching ships so it goes without saying that it has fantastic views of the surrounding area.
Located in the hills above Bridgetown, it is the largest one of six such stations in Barbados. The site has been in use since 1818 and was built just after Bussa's Rebellion of the enslaved people.
As well as offering great panoramic views of the area it is also home to the famous Lion of Gun Hill statue and a small cafe bar.
Gun Hill is a great place to visit around sunset to enjoy a rum punch and take in the sights.
25 – Try surfing at Bathsheba Beach
The wild and windswept Bathsheba Beach is a place of gnarled rock formations, crashing waves and dramatic scenery.
Not a lazy sunbathing beach and definitely not recommended for swimmers due to the strong currents, Bathsheba is home to the world-renowned surf spot, the Soup Bowl.
This spot is loved by pros and amateurs the world over but is not recommended for the first-timer.
That being said, if you are looking to keep improving your wave-catching skills, there are tons of great surf lessons available!
The waves can be heavy and the reef is shallow but it's a consistent spot and on certain days is world-class for those who dare take it on!
26 – Unwind beneath an umbrella at Worthing Beach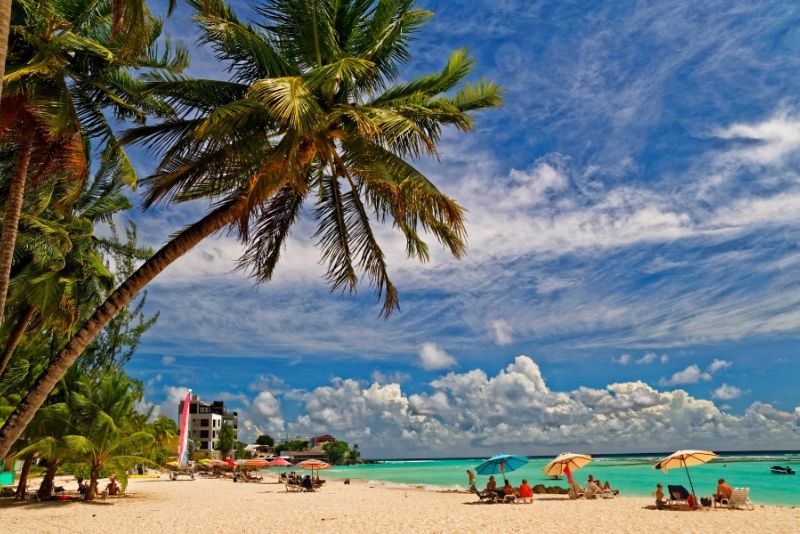 One of the quietest and more varied beaches of Barbados, Worthing Beach has something for everyone.
Its pure white sands are a great place to sit beneath an umbrella and relax the day away while you sip on a cool drink and enjoy snacks from the beachfront restaurants.
The beach is protected by a natural reef and is a great place to swim, especially if you're looking for calm waters to visit with younger children.
Often referred to as Sandy Beach, Worthing is one of the more low-key and less commercial places in Barbados.
You can often see people gathering for a game of cricket and it's a great place to spot turtles.
27 – Kayak over the shipwrecks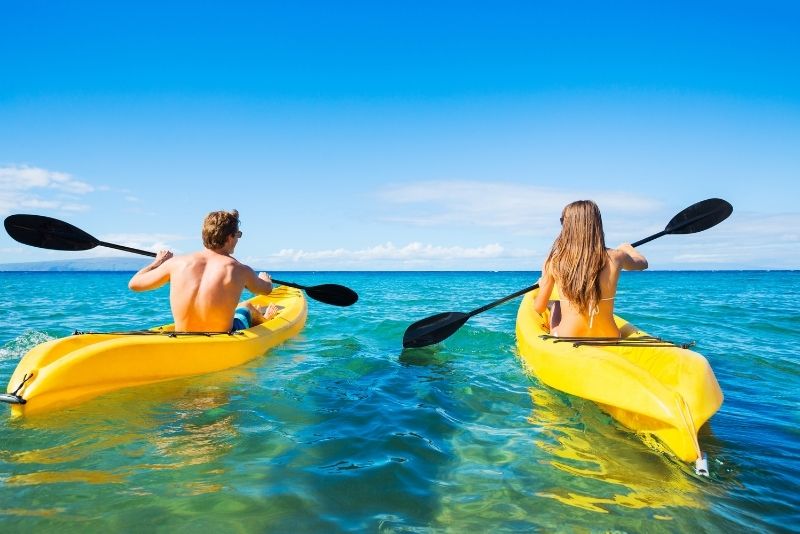 The coastline of Barbados is littered with shipwrecks, many were sunk deliberately to form artificial reefs which make up habitats for fish and coral.
Why not explore these amazing watery landscapes on a kayak tour and see the diverse sea life for yourself. Join a knowledgeable local guide who will show you all of the coolest underwater spots.
Try one of the glass bottom kayaks to get the best views beneath the waves. On a good day, visitors can see Hawksbill turtles, starfish and more around the decaying boats.
Why not try a romantic sunset kayak trip, this is sure to be one of the most unforgettable things to do in Barbados.
28 – See the views from Cherry Tree Hill Reserve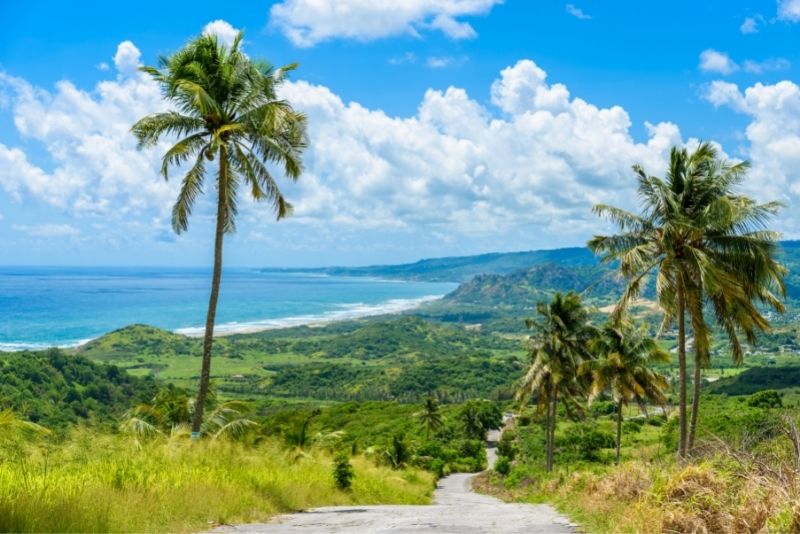 For some of the best views of the wild Atlantic East Coast, it is worth taking the trip up to Cherry Tree Hill Reserve.
The reserve has picturesque groves of mahogany trees and is part of the St. Nicholas Abbey Plantation.
In fact, one of the coolest ways to visit the reserve is on the Heritage steam railway which runs directly from the St. Nicholas Abbey Distillery.
From the reserve, you can see the historic plantation of mahogany trees, which dates back to the 1600s, and the views over the countryside all the way down to where the pounding surf meets the shore.
29 – Grab a selfie at Animal Flower Cave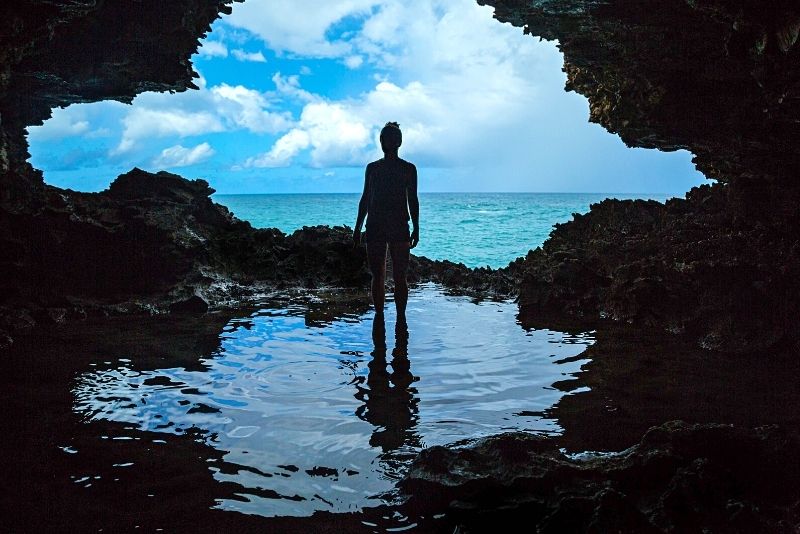 One of the most fun attractions in Barbados has to be Animal Flower Cave.
This natural cave has pools to swim in as well as excellent views out to sea and is an enchanting spot to take photographs.
It gained its name from the strange shapes of the brightly colored sea anemones attached to the rocks.
Take some time to explore the surrounding tidepools; you never know what amazing aquatic creatures you might spot!
There is also a bar and restaurant which serves a variety of traditional Barbadian dishes including great fresh seafood.
30 – Take it easy at some of the best beach bars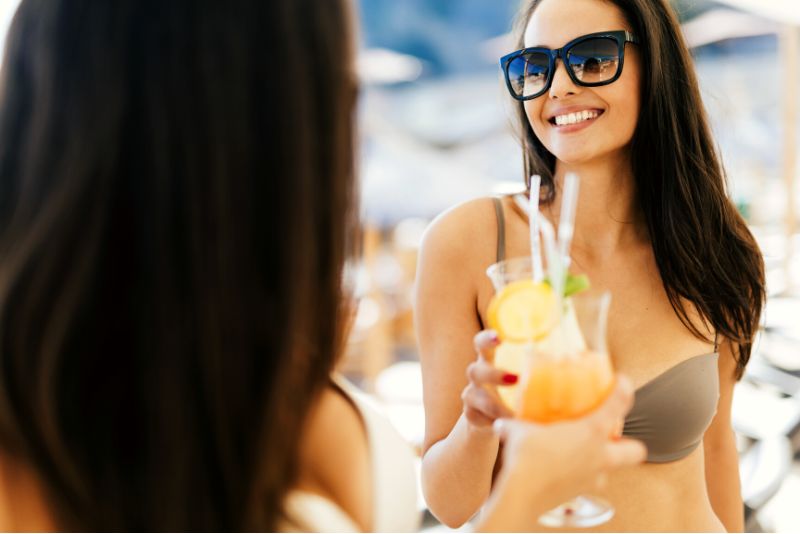 Beaches and booze… they just go hand in hand!
Be sure to save some time for these charming watering holes as you explore the area, each with their own unique flair.
Bounce on obstacle courses at Boatyard Beach Club, or make some new friends at Copacabana Beach Bar and Grill.
Snack and sip at The Tiki Bar, or sink into the sand at Carib Beach Bar.
Enjoy a cocktail at Little Bristol Beach Bar, or enjoy the sunset under a palm tree at Drift Ocean Terrace Lounge.
Or grab a round at Surfer's Bay Beach Bar, which offers all the fun of the surrounding resort with a mellow atmosphere.
31 – Explore the Flower Forest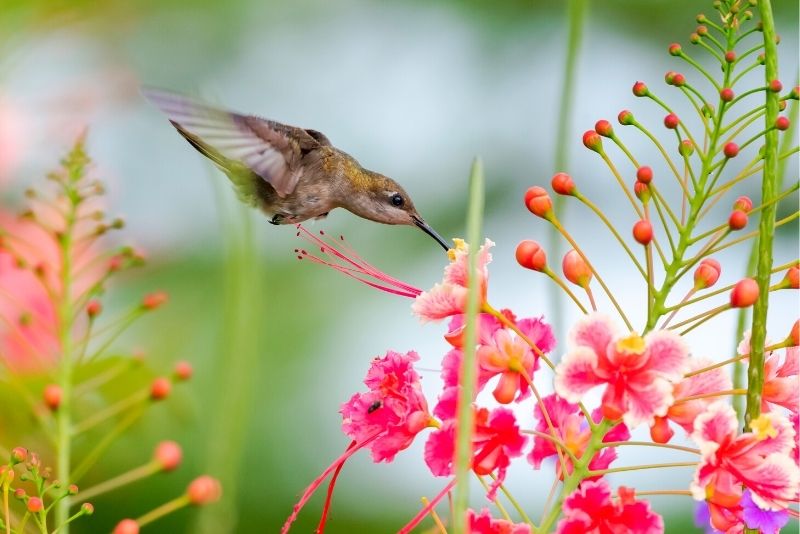 The largest garden in Barbados, Flower Forest includes a huge 50 acres of trees and tropical plants like the native Caribbean royal palms, Bromelia and Hibiscus.
Located high up in the hills, Flower Forest opens up onto fantastic views of the forest below stretching all the way to the East coast.
Explore the many trails and pathways and capture some amazing photographs or simply take in the serene and calm atmosphere of the garden.
The garden has a gift shop and cafe to visit and is also available to hire for weddings and functions.
32 – Chill out at The Folkstone Marine Reserve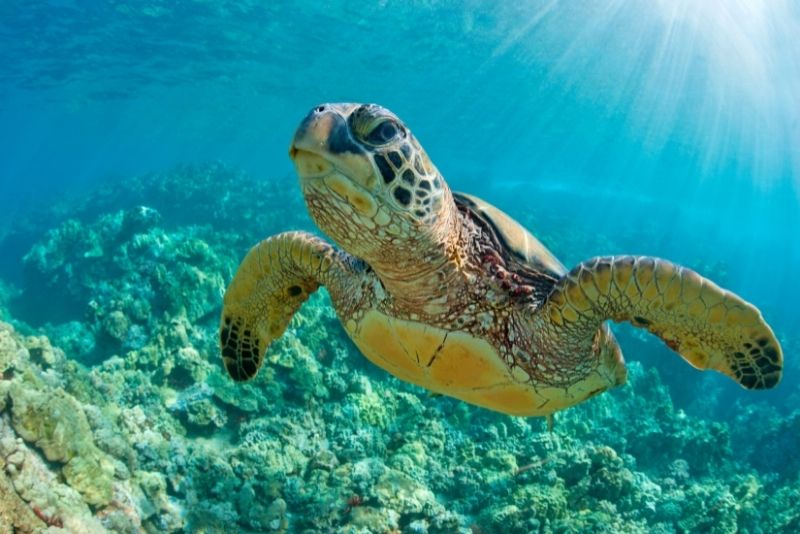 One of the best spots for snorkeling and scuba diving in Barbados is Folkestone Marine Reserve.
It features the shipwreck of the Stavronikita, which was deliberately scuttled in 1978, creating an artificial reef that is a habitat for fish and coral.
The wreck sits about half a mile off the coast in 120 feet of water and is a scuba diver's dream.
The inshore reef is better suited to snorkeling and the calm waters feature a fantastic array of colorful corals and fish.
There are also areas for paddleboarding and kayaking as well as spaces for jet skis and motorboats and a shop to rent equipment from.
The park is the only marine protected site of the island and was formed in 1981 to preserve the natural beauty of this area.
It has great sports facilities, including tennis and basketball courts, a children's playground, picnic areas, a souvenir shop and a visitor's center.
33 – Explore Speightstown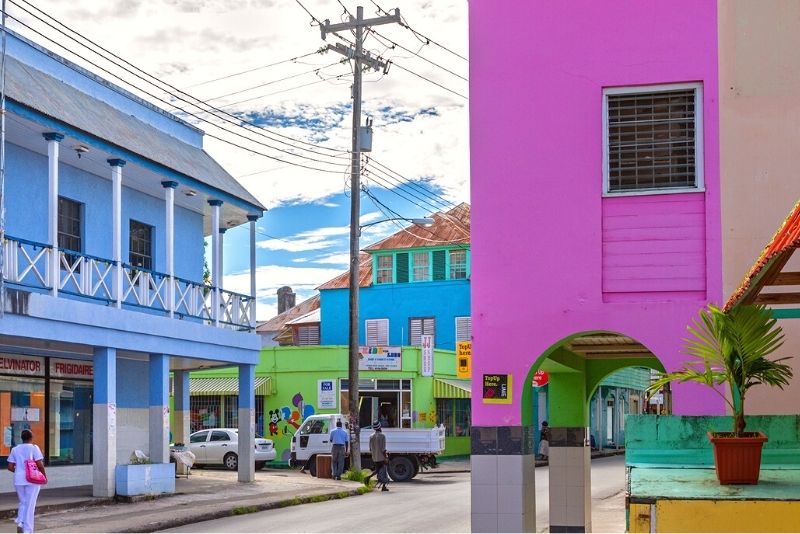 Barbados' second-largest city, Speightstown was once a shipping center for sugar and goods bound for England.
It did so much trade with Bristol in particular that it became known as Little Bristol. The coast around the port was heavily fortified to protect from sea attacks though few of these forts still exist.
Visitors can tour the Colonial-era architecture that served as a model in parts of the United States, Arlington House in particular is one of Barbados' best-loved landmarks.
This renovated home dates to the 1750s and now houses a museum of Speightstown that covers plantation and town history as well as stories of pirates and legendary storms.
34 – Sunbathing at Dover Beach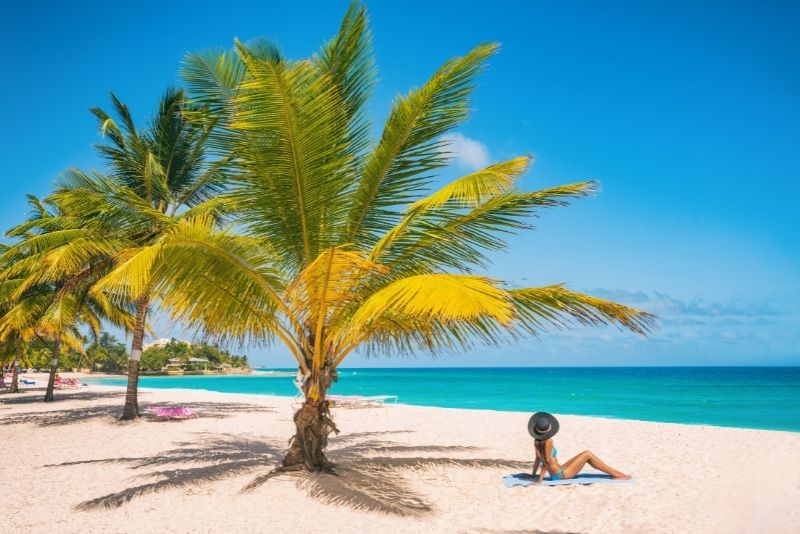 Discover the serene and clear waters of Dover Beach while you spend the afternoon sunbathing in this popular resort.
Dover Beach is located near the bustling St. Lawrence Gap, well known for its restaurants and nightlife, and is one of the most vibrant beaches around.
Its brilliant white sands offer the perfect excuse for a bit of sunbathing and the waters are always lively with people snorkeling, paddleboarding and windsurfing.
There are plenty of vendors nearby to grab a snack or drink and opposite is the Dover Playing Fields, where you can see a game of soccer or cricket.
35 – Party at Oistins Fish Fry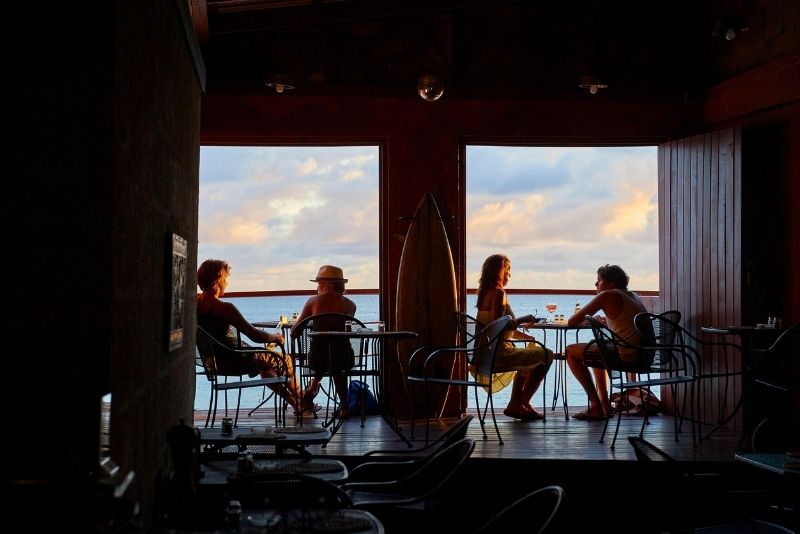 On a Friday night, one of the only places to be is Oistins Fish Market for the Fish Fry.
Here you'll see locals and tourists alike enjoying great seafood dishes, music, mostly reggae and calypso, and beers. The vibe is always friendly while the setting is unpretentious and rustic.
Visitors to the island should definitely take the chance to sample this staple of the Barbadian lifestyle.
Though most busy on a Friday and Saturday night and with a wider choice of vendors, you can check out the Fish Fry any night of the week for locally caught freshly cooked fish dishes.
36 – Swim at the natural wonder of Shark Hole Bay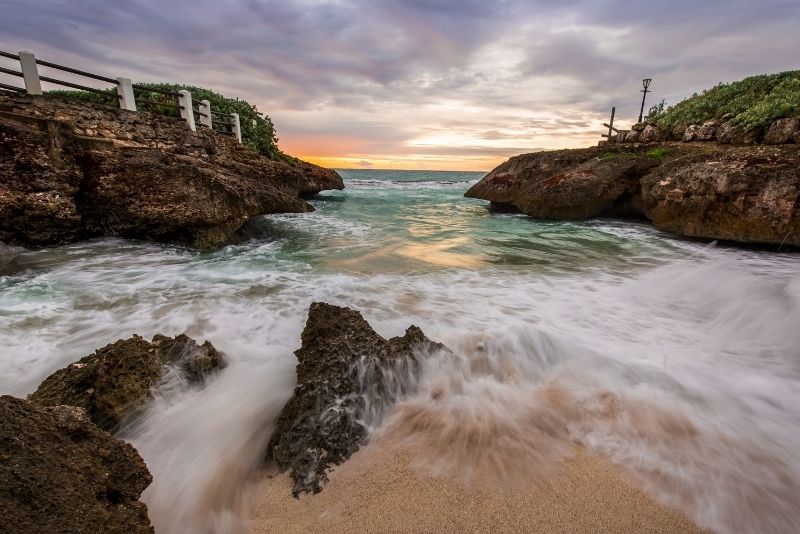 Though it may not sound like a place you want to swim at, Shark Hole Bay is not known to have any sharks there.
What it does have is a sea pool formed in a beautiful narrow bay that is sheltered by a reef from the wild Atlantic tides.
Visitors can swim or paddle in the protected bay while the heaving ocean crashes right next door.
Located in the south of Barbados near to the notorious pirate, Sam Lord's Castle, Shark Hole Bay is one of the best "secret" beaches on the island.
It is fairly small and is often busy at weekends but during the week is much quieter. Take a map, it is not well signposted!
37 – Cruise the coastline on a bike tour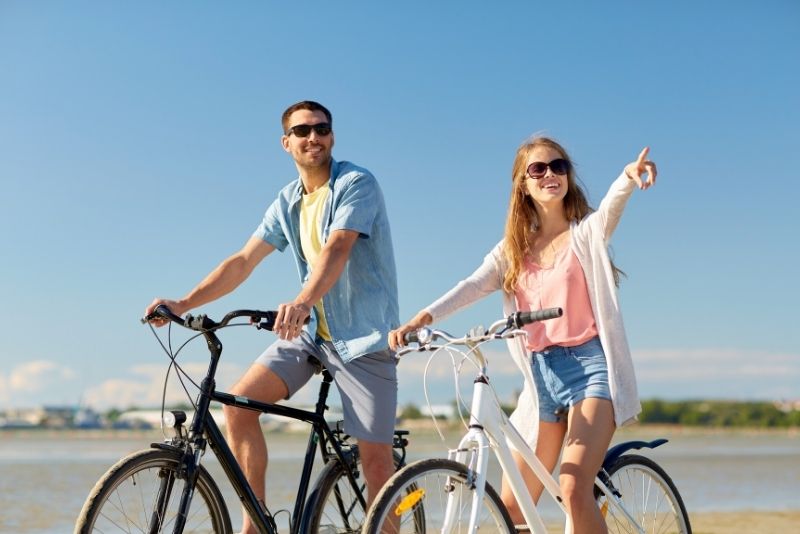 One of the most eco-friendly and fun things to do in Barbados is to explore by bike. Why not take a bike tour and learn a little history on the way as you visit the island's must-see places?
Discover cool tropical trails and rainforest paths on a guided bike tour through Barbados' natural spaces.
Cruise through the coastal areas and head off the beaten track to some of the lesser-known parts of the island.
See beautiful eco-reserves, historic buildings and wild coastlines on a fun bike or e-bike tour.
Whether you prefer the beach, the dirt roads, or a little bit of both, there's no better way to see the island than from behind the handlebars!
38 – Sample delicious sweets at Agapey Chocolate Factory & Shop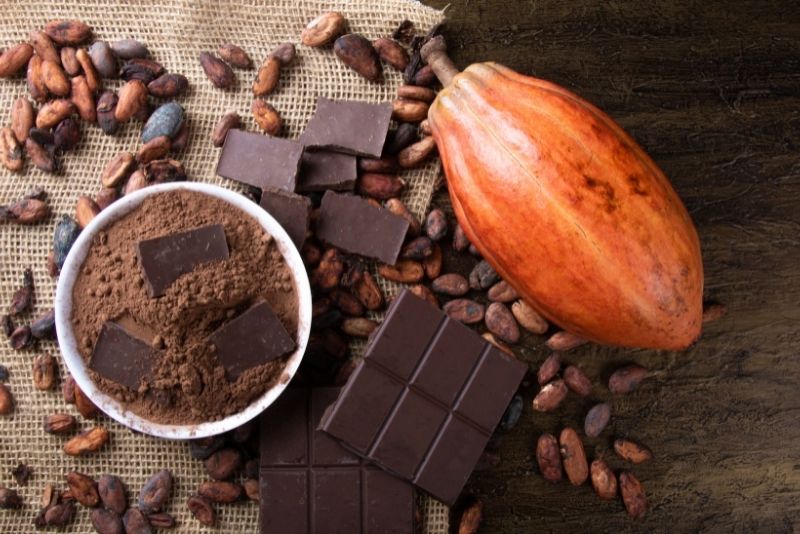 A trip to the island's only artisan chocolatier, Agapey Chocolate Factory, has to be one of the most fun things to do in Barbados.
Take a tour to discover the factory's traditional methods and see the vintage machinery still in use today. Sample a range of chocolates and discover how the ingredients shape the flavors.
The on-site shop sells the companies wide selection of chocolates but also a delicious range of ice creams, that happen to be totally vegan.
You won't be able to resist popping into Agapey Chocolate Factory & Shop.
39 – See the island's most beautiful Parish Churches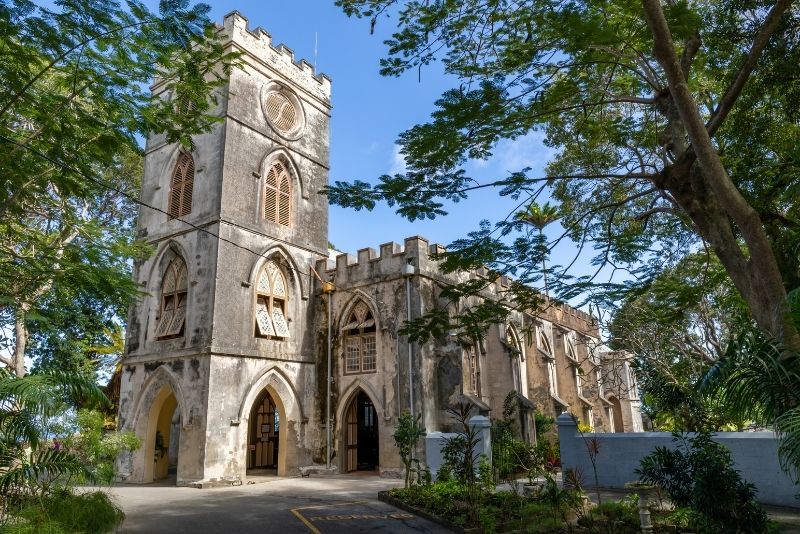 St. James Parish Church in Holetown is the oldest of Barbados' churches. The limestone building was constructed in the late 1600s to replace an older wooden church that had been ravaged by hurricanes.
The windows of the church feature over 950 pieces of stained glass and were gifted to the church by the Canadian Government in 1924.
Another of the island's beautiful churches, St. John's Parish Church is the fifth church to stand on its site. It was constructed in 1836 and is the location of the tomb of Ferdinand Paleologus, known as the "Greek Prince from Cornwall". The churchyard is particularly nice to visit.
Christ Church Parish Church also sits on a very old site that has housed a church since the earliest European settlers reached the island in the 1620s. It has been destroyed and rebuilt numerous times in its 400-year history and sits overlooking Oistins Bay.
40 – Sample some of the other great restaurants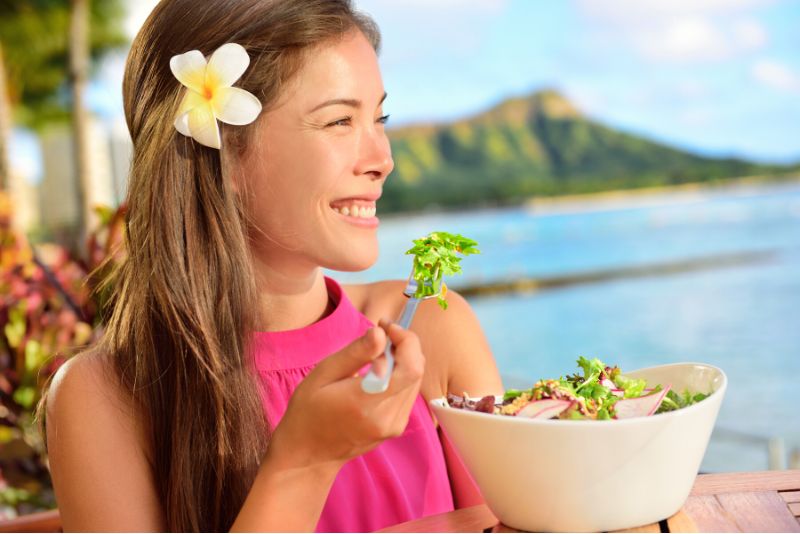 There's nothing like a good meal after a day's adventure, and lucky for you, there's no shortage of excellent eateries around the island!
Snack on seafood and fresh produce in the historic fort setting of The Fish Pot, or enjoy the laid back feel and iconic fried marlin sandwiches at Cuz's Fish Stand.
Indulge in fusion meals with great coastal views at Nishi Restaurant, or go a little more global with a taste of the Italian fare at QP Bistro, which often features live music.
With so many fantastic dining spots, you could easily spend a whole vacation just eating!
41 – Discover Caribbean history at Barbados Museum & Historical Society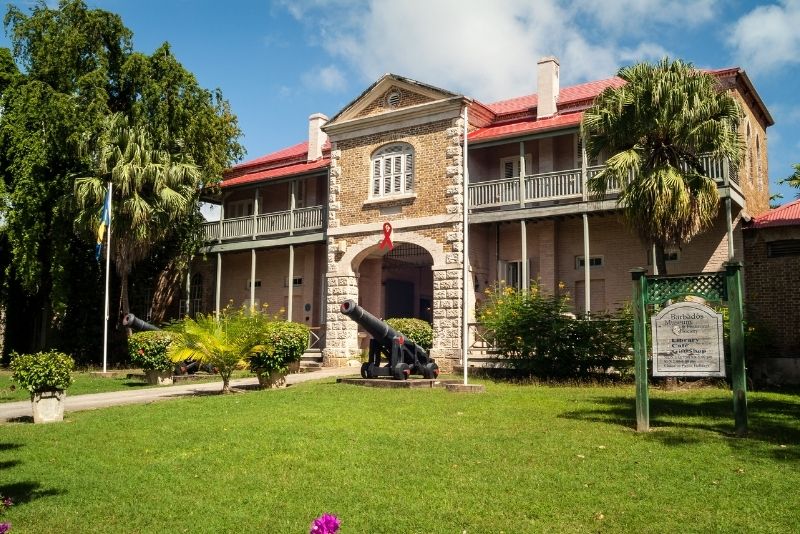 Housed in the Garrison's old military prison, Barbados Museum displays the island's diverse and rich history.
Containing over 500,000 items that bring to life the social and natural history of this vibrant country, the museum is Barbados' number one resource for history and preservation.
Discover the African heritage of the island's culture and see fine artworks in the museum galleries.
It also contains the Shilstone Memorial Library which houses rare documents, photographs and books related to the West Indies.
Don't forget to call by the shop and pick up a souvenir map of the Island.
42 – Explore the coastline on a hiking trip
Barbados has some really spectacular hiking trails, many of which incorporate the most scenic coastal routes.
Explore the Northern Cliffs as you pass by sugar cane fields and the rugged Atlantic coastline of the island.
Take in some of the country's most unspoiled natural spaces and see what makes the island such a favorite destination for nature lovers.
Visit picturesque fishing villages as well as secluded beaches. Discover the wilder parts of the country from its serene meadows to its wind-battered shorelines.
A hiking trip is, without a doubt, one of the best things to do in Barbados for those who love to get outside in nature and explore.
43 – Enjoy some scenic golf in Barbados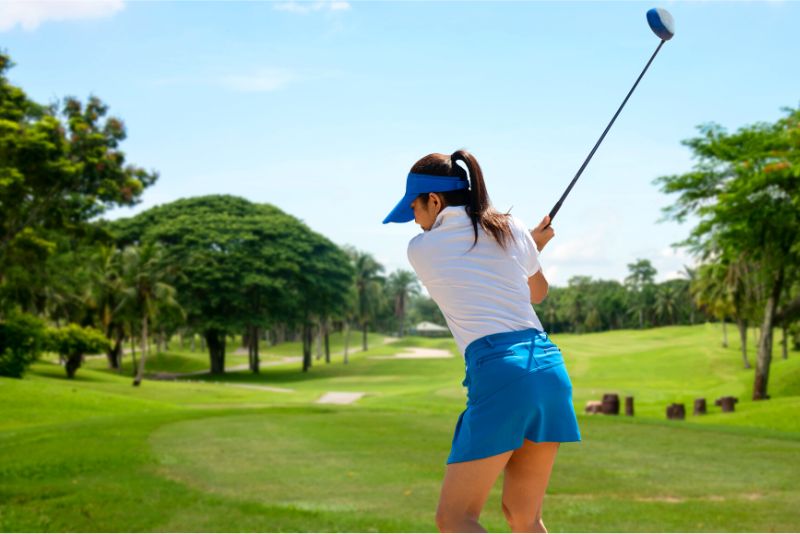 A day on the links is an iconic vacation experience, and there are some pretty excellent golf courses to try throughout the island.
Stroll through the gorgeous grounds of the Barbados Golf Club, where towering trees and two pristine lakes offer a consistently pleasant view.
Or lean into the tropical vibes at Apes Hill Barbados Golf Resort and Community, where you can practice your putt with a stunning seaside backdrop.
And don't miss the beauty of Sandy Lane Country Club, with three different courses to choose from, and an upscale atmosphere that will have you feeling like a bigshot from start to finish.
44 – Take a rum tasting and distillery tour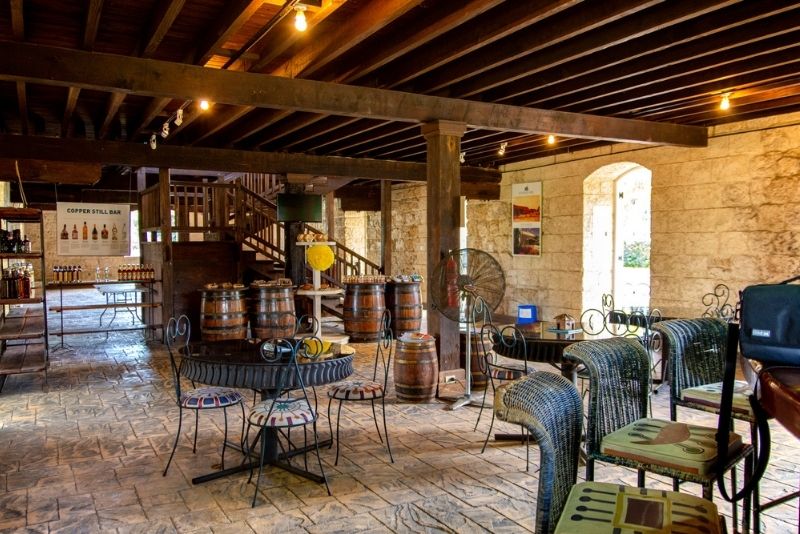 Where better to learn all about rum than in its birthplace, Barbados.
The Foursquare Distillery makes some of the world's most sought-after traditional rums and visitors to the country can tour its factory to get a glimpse into the process.
Learn about how sugar and the Caribbean climate have molded the flavor of the drink for over 250 years.
Mount Gay Rum has been produced on the island since 1703 using traditional methods and local ingredients which have remained the same for centuries.
Why not take a tour of the Mount Gay Distillery? Learn the heritage of the world's oldest Rum makers and taste some of its finest drinks.
45 – Sit beneath the palms at Miami Beach Barbados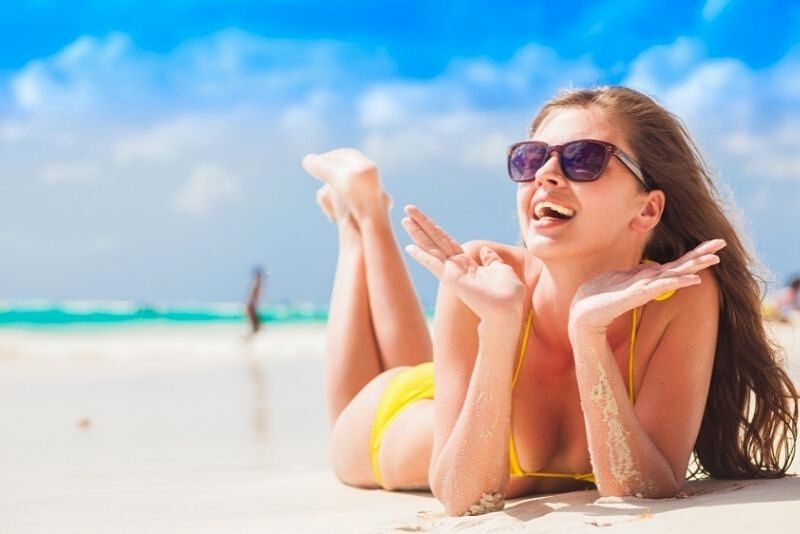 A favorite beach for locals and tourists alike, Miami Beach is located near Oistins.
It is one of the island's most beautiful beaches and has plenty of shady spots to relax in out of the midday sun.
The beach is in a great location and there are gardens nearby to walk in and local vendors selling snacks and drinks.
The waters are calm and relaxed which makes it a great place for swimming and the nearby Enterprise Beach has a reef with a shallow lagoon that is perfect for younger children.
The facilities are good here with washrooms and showers and the vibe is very family-friendly.
46 – Catch a match at Barbados Polo Club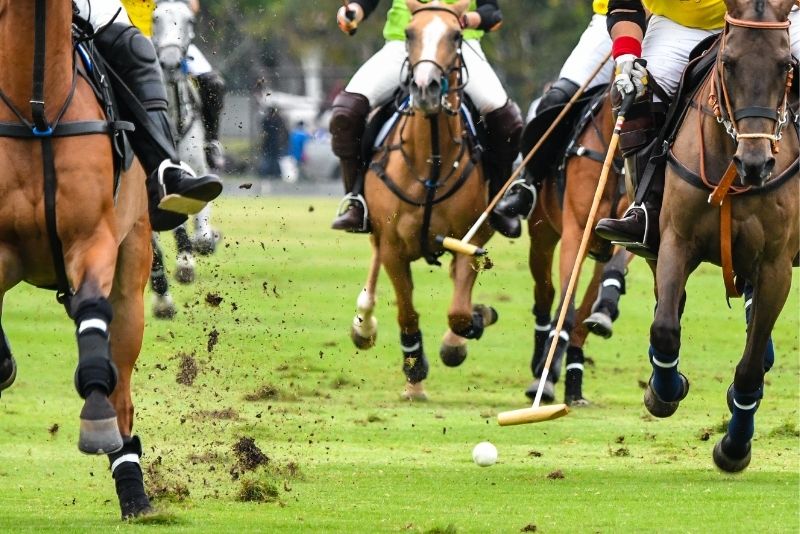 Looking for a fun and unusual thing to do in Barbados, Check out a polo game at Barbados Polo Club.
Grab afternoon tea and settle in for a sophisticated afternoon of "the gentleman's sport".
Never been to a polo game before and don't understand the rules? It's ok there is always a commentator on hand to explain what's happening and provide light entertainment.
The club has a reasonably priced bar and restaurant which means you can really make an afternoon of it.
Grab a seat and settle in for a match of this gentile yet thrilling sport.
47 – Visit George Washington House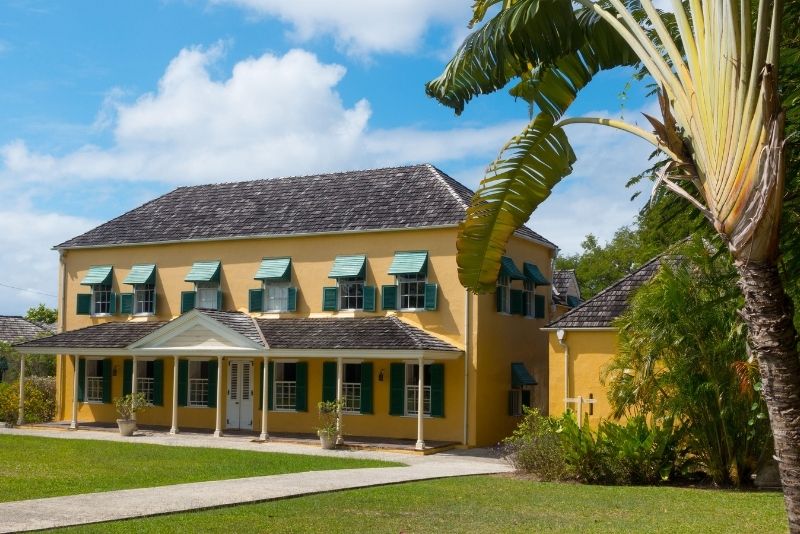 This popular museum was once home to the young George Washington when he stayed on the island in 1751.
The future first president of the United States traveled to Barbados with his brother Lawrence, who was suffering from tuberculosis, in hope that the sunny climate could help his recovery.
The pair stayed for six weeks and it would be the only trip George Washington would ever take outside of North America.
Visitors can take a guided tour of the house and learn a little about Washington's time on the island.
Preserved almost exactly as it looked in the 1700s, it's a fascinating piece of history to explore – and don't miss out on the tunnel system!
48 – Visit the "home of the grapefruit" Welchman Hall Gully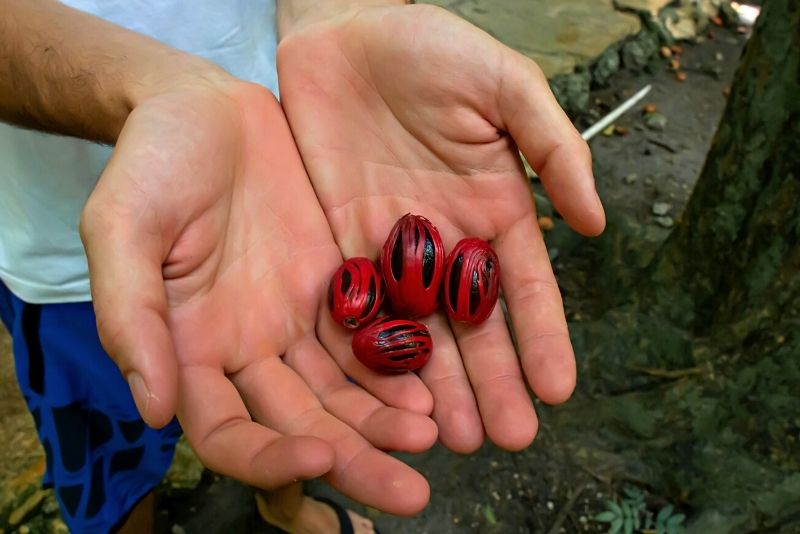 It sounds like a dubious title but it's thought that the grapefruit we all know and recognize originated here at Welchman Hall Gully.
A cross between an orange and pomelo, the fruit has been common on the island for centuries and was even mentioned in the writings of George Washington about his time in the country.
The Gully is made up of dense rainforest-like vegetation, drooping vines and limestone caverns and is a really magical place to visit. Let your imagination run wild as you explore this captivating landscape and conservation area.
The kids will have a blast in the adventure park, which features zip lines and rope swings, while the adults enjoy drinks beneath the shady trees.
The Gully is also home to a troop of green monkeys who can often be seen playing in the branches and grazing on fruit.
49 – Visit Orchid World and Tropical Flower Garden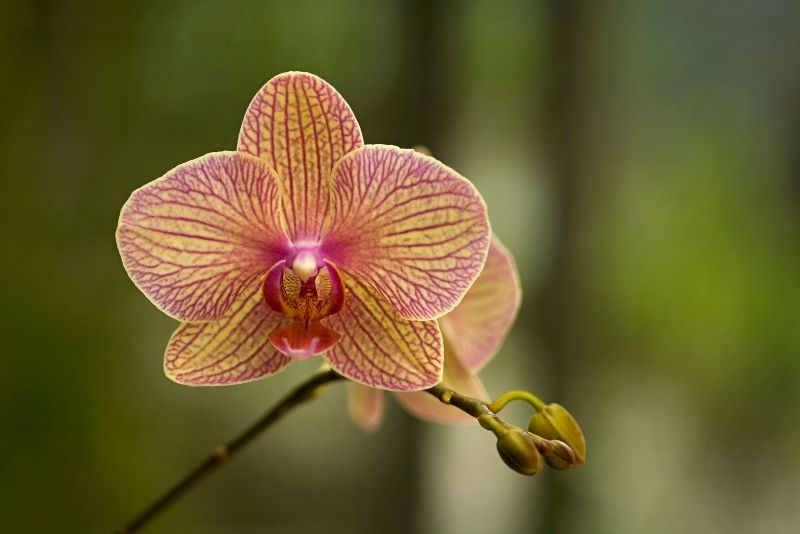 Enjoy the calming tranquil atmosphere and pervading scents of the many orchids on display at Orchid World.
This wondrous garden of tropical flowers is beautiful to see as well as smell.
See the many different varieties of orchids as well as other tropical trees and plants such as ferns, palms and native Caribbean flowers.
The paths that wind through the six acres of gardens reveal a new sight at every turn.
Take in the locally made garden art and stop for a refreshing drink in the cafe.
The garden also has a small gift shop, stop by and witness this idyllic colorful space during your time in Barbados.
50 – Learn the island's history at Arlington House Museum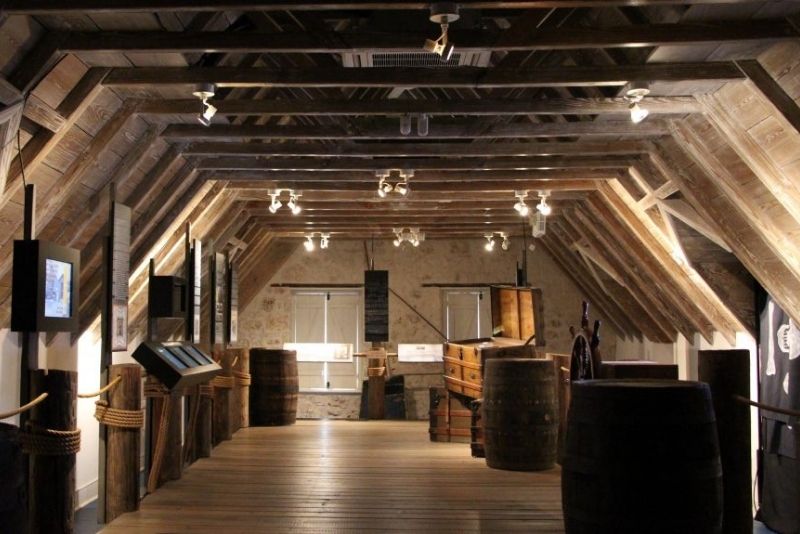 One of the island's most recognizable landmarks, the renovated, 18th-century Arlington House encompasses a museum dedicated to the history of Speightstown and Barbados.
Discover the history of plantations, regular people and great wealth resulting from the booming sugar trade.
Meet famous faces from the island's past and hear tales of infamous pirates that operated on the island.
The museum also has an exhibition of photographs covering Speightstown's transformation from the 1600s to the modern-day.
With three stories' worth of exhibits to explore, it's a must-see attraction for history fans when visiting the island!
51 – Watch horse racing at Garrison Savannah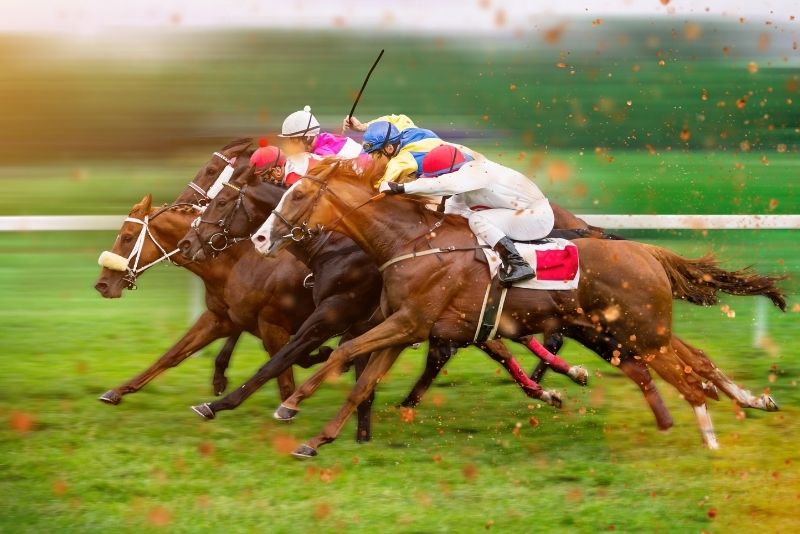 One Barbados event that's sure to draw the crowds is horse racing at the Garrison Savannah.
One of the oldest racecourses in the Americas, the Savannah has been hosting races since 1845.
Race days are usually one of the most fun things to do in Barbados and involve picnics, parades and a real party atmosphere.
The venue hosts the week-long Sandy Lane Gold Cup each year, which draws visitors from all over the world. It's also a great place to see many of the country's other favorite sports like cricket, soccer, rugby and basketball.
For fans of military history, the largest collection of 17th-century English iron canons in the whole world is located here.
A recent effort uncovered at least 400 of these antique guns scattered across Barbados, including one of only two surviving Commonwealth of England cannons.
The Barbados Independence memorial is located inside the grounds and commemorates fifty years since the island became an independent sovereign state.
52 – Get crafty at Artsplash Centre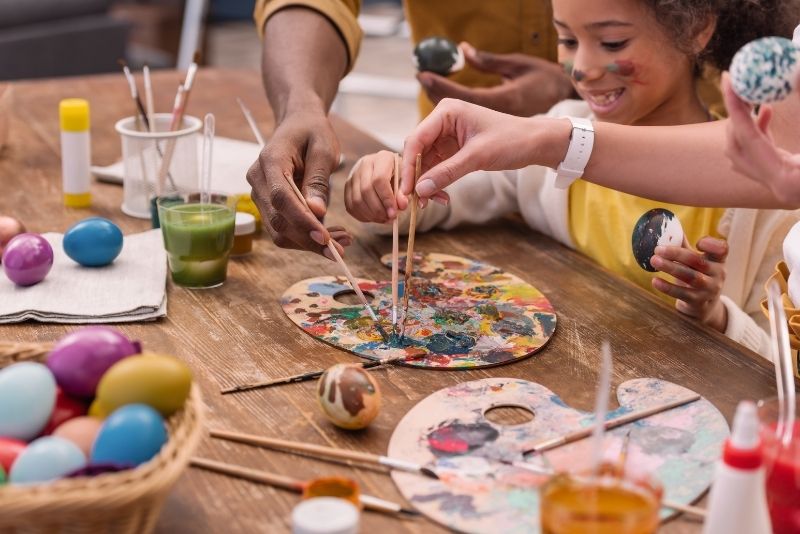 if you're looking for a fun, easy-going place to hang out on Barbados' South Coast, Artsplash Centre could be just the place.
Let your creativity loose with an art class, suitable for children and adults, or grab breakfast in the cafe. The center is great for kids also and has a play park with zip lines, climbing frames and swings.
Artsplash also hosts the Hastings Farmers Market on a Wednesday, Saturday and Sunday selling locally produced foods and crafts, including vegetables, Tiki pies, clothing and soaps.
There's so much to do here you'll want to return again and again.
53 – Meet the country's biggest celebrities at the  Caribbean Wax Museum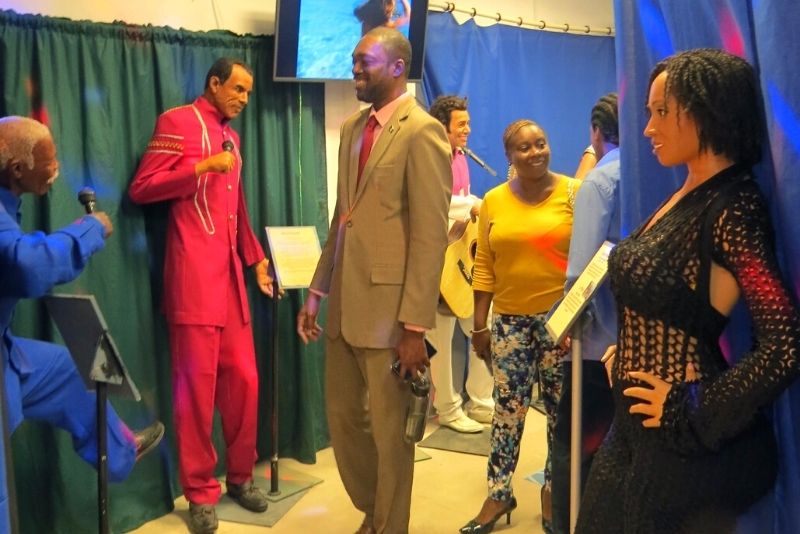 See some of the biggest stars of the Caribbean islands, immortalized in wax! Everyone loves a waxwork museum and this one is well worth a visit during your time in Barbados.
As the first wax museum in the region, it represents a broad spectrum of excellence, from sports and politics to music and history.
See some of the world's most famous faces, including Rhianna, Usain Bolt and the Mighty Gabby and pose for some photos.
This is great fun and a chance to pick up some local history. It's a must-visit during your time in Barbados.
54 – Take an off-road tour with Island Safari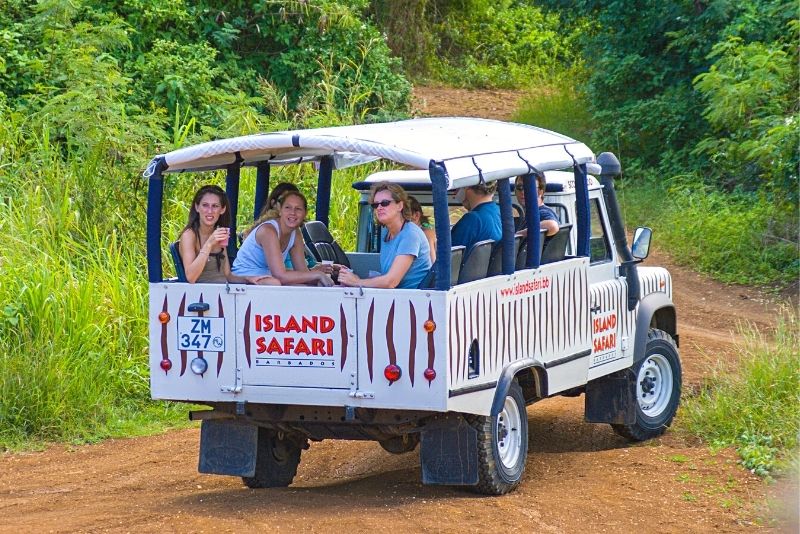 What better way to explore Barbados than to head off on an exciting off-road safari tour of the island.
Stop at popular spots, including the Lion at Gun Hill, a statue carved in the 1860s from a single piece of limestone, and Edgecliff with its spectacular views of the coastline.
Travel in an open jeep to secluded bays and see the island's many natural wonders.
In between all of the scenic stops, you may even pick up some cool historical tidbits!
From breezy cliff tops to natural blowholes these off-road safari's are one of the most adventurous things to do in Barbados.
55 – Watch the sunset at Paynes Bay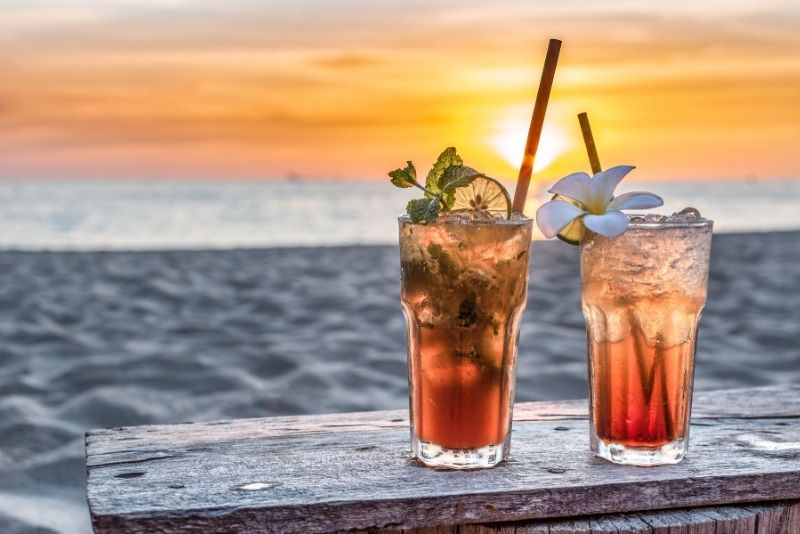 Home to some of the country's best swimming beaches and many of its most upmarket resorts and villas, Paynes Bay is a great place to visit during your time in Barbados.
Its position on the West Coast gives it incredible views of the sunset making it one of the nicest spots to sit and relax after a long day on the beach.
The area is home to many restaurants just a short walk from the beach, that serve a wide variety of local and international foods, especially fish and curry dishes. Grab a cool drink and watch the sunset, this is truly paradise.
56 – Dine in style at Champers Restaurant Barbados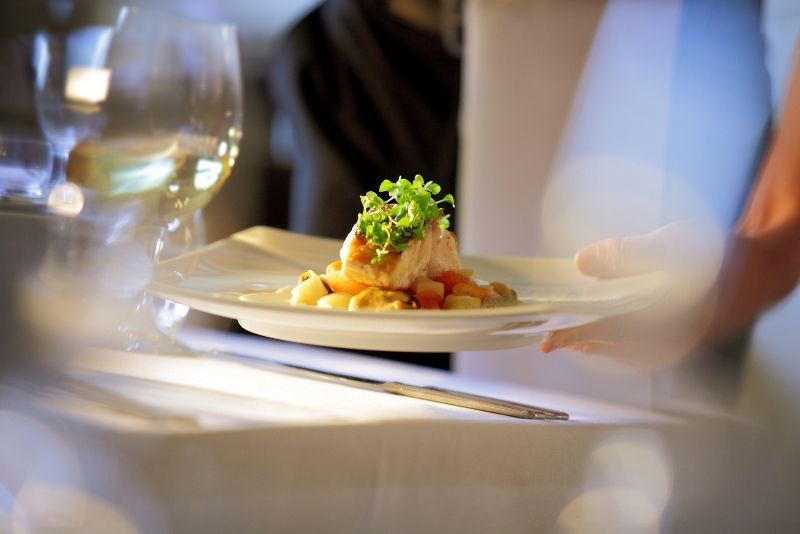 Looking for a romantic place to dine by the water's edge? look no further.
Though there are plenty of great beachside eateries throughout Barbados, Champers has a charm all of its own.
Blessed with a stunning seafront location in Christ Church and chic decor, it is bound to impress that special someone in your life.
The restaurant specializes in creating international dishes which incorporate local flavors and ingredients to create fresh inspiring tastes.
Try the fried flying fish or the rack of lamb, and settle in to enjoy a memorable meal and gorgeous views with your plus one!
57 – Take in some cricket at Kensington Oval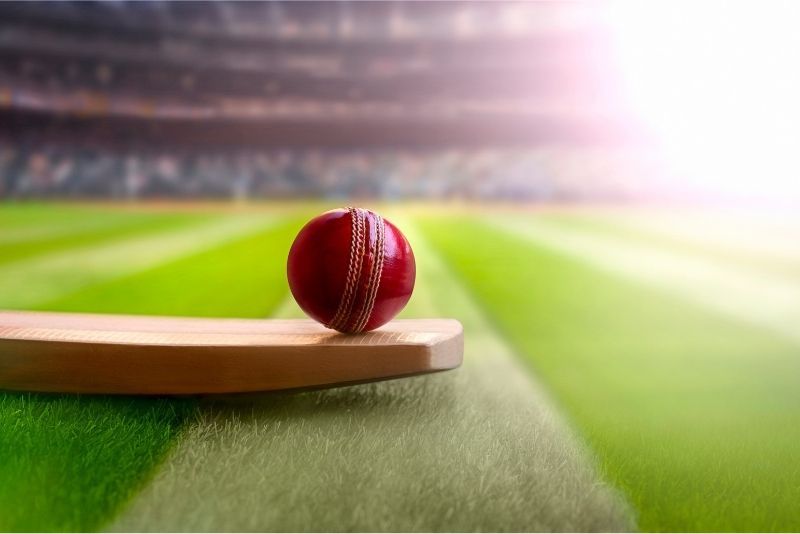 For some sporting adventures of a different sort, check out the lively cricket matches at the Kensington Oval!
Not only is this 28,000 – seat venue a great place to catch a game, but it comes with a rich history that makes it a fascinating site in its own right.
Originally established in 1882, the pitch is the oldest one of its kind on the island, and it has played a crucial role in the development of the sport on a national and international level.
It's also used for everything from hockey and soccer to cultural festivals, so no matter when you visit, it's well worth dropping by!
58 – Go shopping at Quayside Centre Shopping Plaza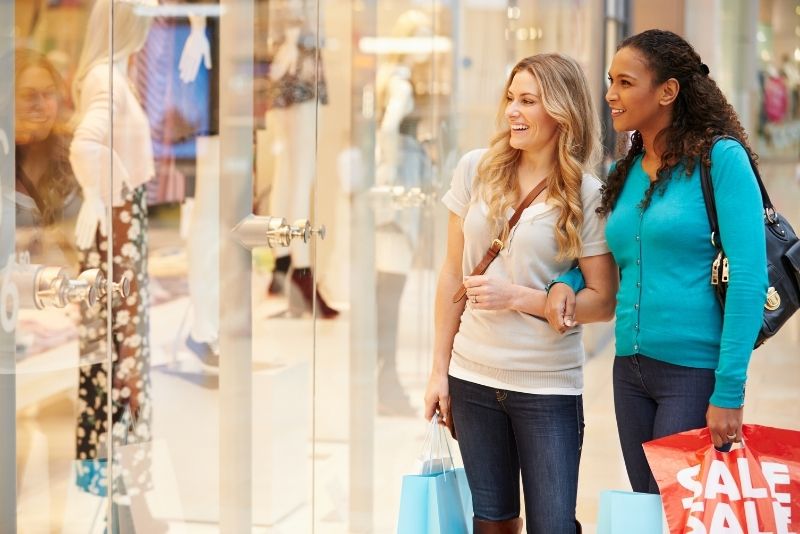 Opposite the popular Rockley Beach can be found some of the best shopping in Barbados. Quayside Shopping Centre is home to a number of cafes and restaurants serving everything from pizza and pasta to kebabs and healthy juices.
Pay a visit to one of the beauty salons or shop for clothes in the boutique stores. Pick up some french inspired chocolates or a new bikini to hit the beach in.
You can even pick up some groceries to enjoy during your stay… or some delightful keepsakes!
If you're looking for an all-in-one spot to shop and dine on the South Coast.
59 – Dance the night away at Harbour Lights Beach Dinner Show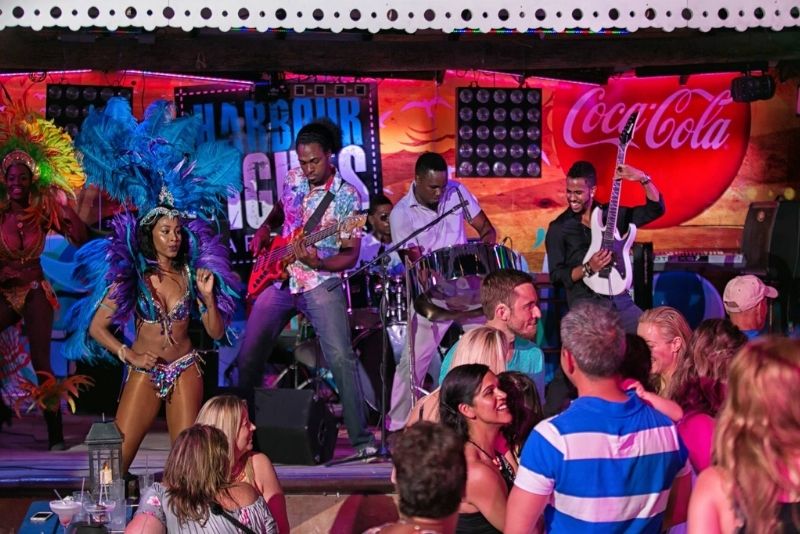 One of the wildest nights out in Barbados, Harbour Lights has a Beach Dinner Show you'll never forget.
With great food, music and entertainment, including dancers, fire breathers and stilt walkers, you're sure to get into the party spirit.
Harbour Lights takes place each Wednesday evening and shouldn't be missed if you like your nightlife on the rowdy side.
Enjoy some great Caribbean food and unlimited drinks, then dance the night away to live music.
It's one of the most fun – and delicious! – ways to explore the local culture in greater depth.
How to get to Barbados?
Unless you're a particularly intrepid sailor, you'll probably be flying into and out of Barbados, courtesy of Grantley Adams Airport.
With an airport transfer, you can easily get to and from your accommodations, avoiding the hassle of public transit, and leaving your free to devote your time to trip planning!
Where to stay in Barbados?
Give yourself the luxury treatment at Hilton Barbados Resort, where you have two beaches and three tennis courts to keep you entertained… plus a historic fort right on the grounds!
Or stop by Radisson Aquatica Resort Barbados, where you can enjoy a meal at the restaurant, get your blood flowing at the gym, or kick back in the bar after a day of beachcombing.
Accra Beach Hotel is perfect for families, offering everything from a swimming pool and a game room to kid-friendly areas and nightly live entertainment.
And at Coconut Court Beach Hotel, you can enjoy all the charms of an island getaway – such as beach access and tropical aesthetics – with a unique location in the heart of Bridgetown, which is laden with history and culture.
And don't miss the charms of Butterfly Beach Hotel, where the common lounge and lovely dining area will have you feeling right at home… with seaside views to die for!
Where to go next?
When you're ready to explore even more dynamic nations, do a bit of island hopping and enjoy the local treasures!
Nature fans will love the volcanic landscapes, lush hiking trails, and gorgeous marine worlds of St. Lucia, or the gorgeous jungles, fascinating agricultural history, and thrilling watersports of Punta Cana, one of the gems of the Dominican Republic.
Go even further, and you can enjoy the vibrant culture, lively culinary scene, and stunning natural wonders of Puerto Rico, or the romantic environs of Aruba, where the tranquil waters, unique architecture, and fun-filled tours make for an ideal destination for couples and families alike.
While hopping between islands may seem daunting, it's well worth it to enjoy the splendors that each of them has to offer… and they'll likely have you coming back for more!
Final thoughts
Whether you prefer lazy, sunny days, nights full of great food and awesome parties, or a little bit of both, you'll never run out of things to do in Barbados!
It's the kind of place where you can really create your own schedule, while also getting easily absorbed into the rhythms of daily routines.
So book your tickets and get ready for a taste of island life!