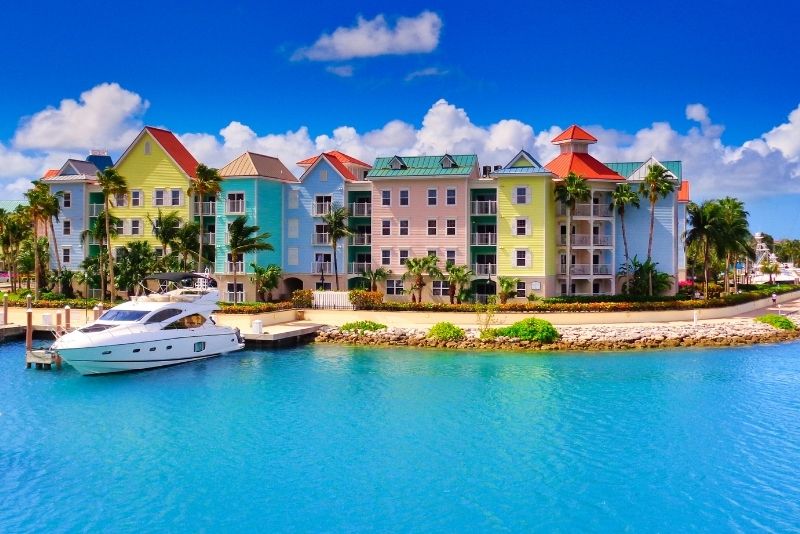 The capital of The Bahamas and the biggest city in the country, Nassau is far from just a stepping stone to other great destinations. It's home to some of the greatest things to do in The Bahamas.
Considering about 70% of the country's population are in the city, the list of things to do in Nassau has something for everyone. There are galleries, libraries and museums for the art and history lovers, as well as national parks and wetlands for the explorers. Its stunning coastlines welcome those in need of some sun and surf.
Nassau is also the best place to soak up the local culture with various restaurants, landmarks and markets for souvenirs. Expect to spend a fair amount of time on this Bahamian paradise!
Explore downtown where you will want to keep your camera close by … Go on a photography spree, snapping pics of pastel-colored buildings and historic sites like Fort Charlotte and the ancient Queen's Staircase.
Naturally, it's a paradise for all lovers of outdoor adventuring. Experience shark diving (both heart-palpitating as well as awe-inspiring), cruise across powder-white beaches on a quad bike, squeal as you swoosh down rides at water parks, or jet ski across to nearby postcard-perfect islands boasting idyllic waters!
1 – Stroll through Downtown Nassau with a walking tour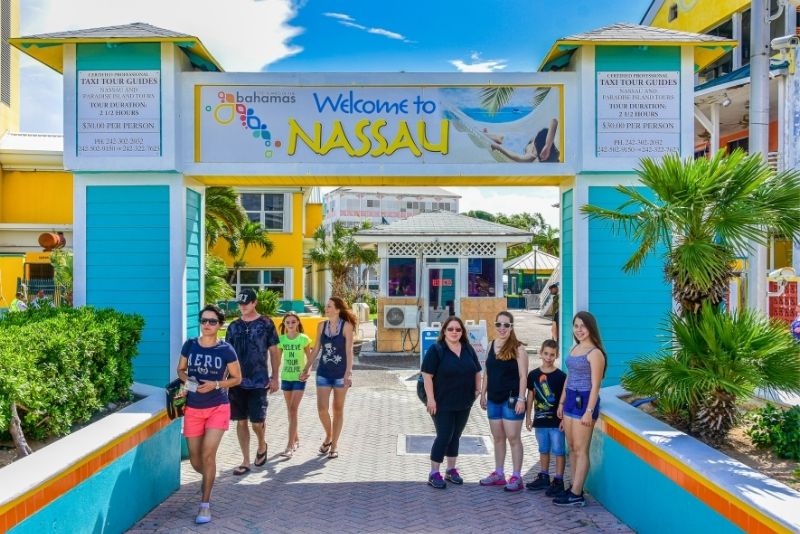 Downtown Nassau is a magnificent blend of the old and new sides of Nassau. From the historic architecture in the colonial period to modern high-end shopping, downtown Nassau is sure to have you covered.
Just to make sure you're getting the insider's information, hop on a walking tour with a knowledgeable guide. Anywhere from one to three hours, you have plenty of options to walk at your own pace!
2 – Watch a debate at Parliament Square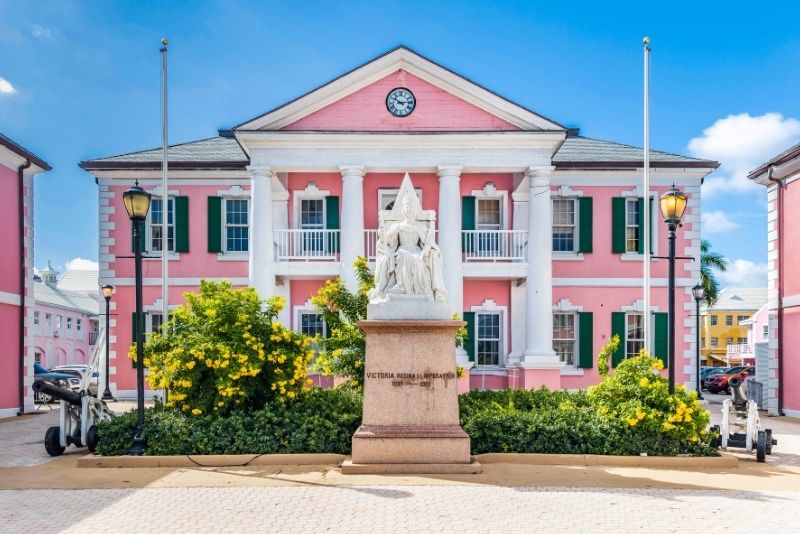 This complex of stunning pink buildings in downtown Nassau is where all the politics of The Bahamas happens.
Poke your head into the house of assembly to see the local ministers debating and discussing the laws of the land. It's an interesting stop, not just for sociology majors!
3 – Eat your way through Nassau on a food tour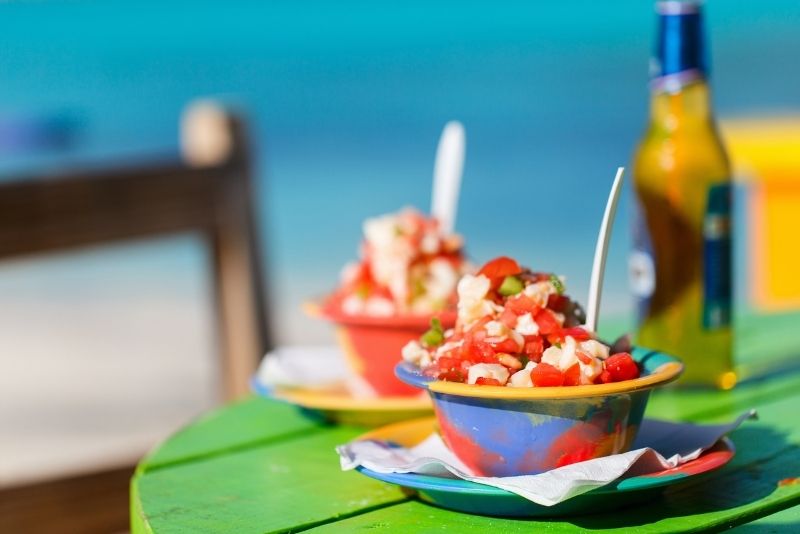 No trip to Nassau is complete without making sure you've tasted a conch fritter or the local mac 'n' cheese. The best way to sample the finest offerings is to join a food tour.
One of the most exciting options takes you to six local and family-run restaurants where you can watch the chefs behind the scenes — and even get access to their famous recipes to try at home!
4 – Take a day trip to Rose Island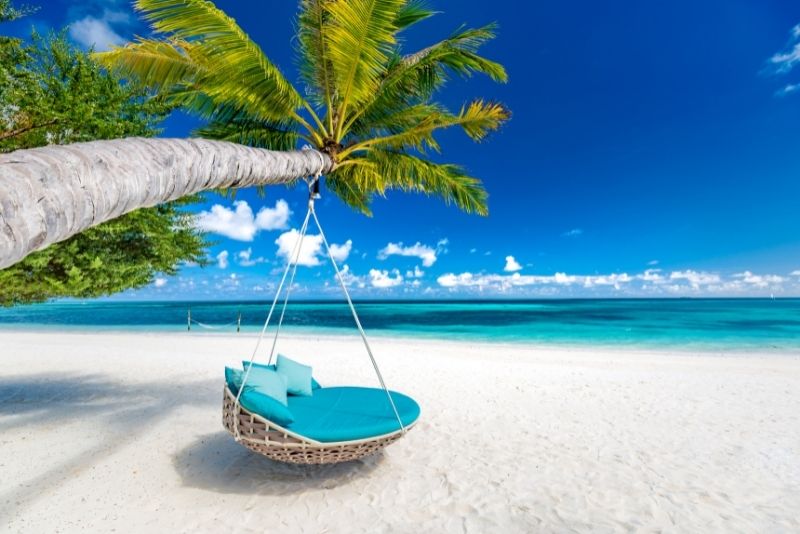 The hustle and bustle of Nassau is great fun, but occasionally you might need an escape. Rose Island, a seemingly untouched wilderness, is the perfect place for just that.
The best way to get there and see the island is to book a half-day cruise from Nassau.
Transport to and from the island by boat, snorkeling equipment, lunch and even a chance to sunbathe on a private beach are all included!
5 – Climb the Queen's Staircase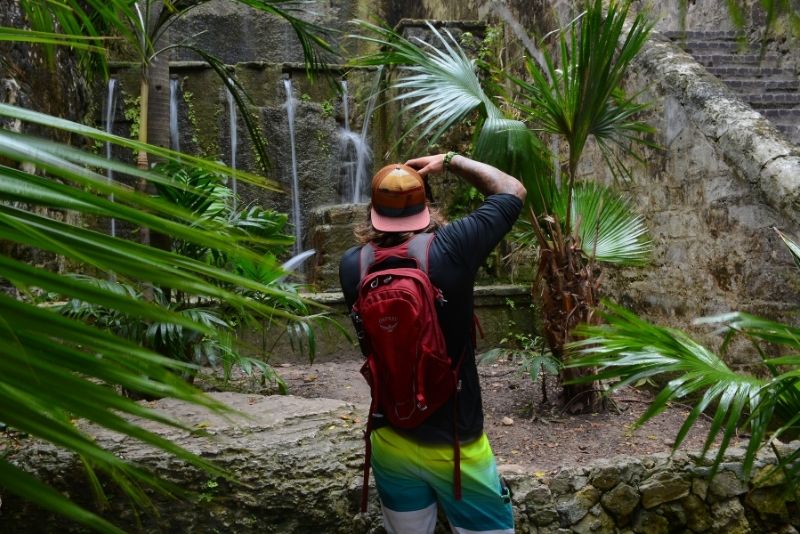 A short walk from Prince George Wharf in Nassau, the Queen's Staircase is an ancient construction of solid limestone.
It was built in 1794 to allow workers and locals to get from Fort Fincastle to Nassau City quickly.
You'll be following in the footsteps of an ancient civilization if you pay a visit to the staircase.
6 – Watch the Flamingo march at Ardastra Gardens & Wildlife Conservation Centre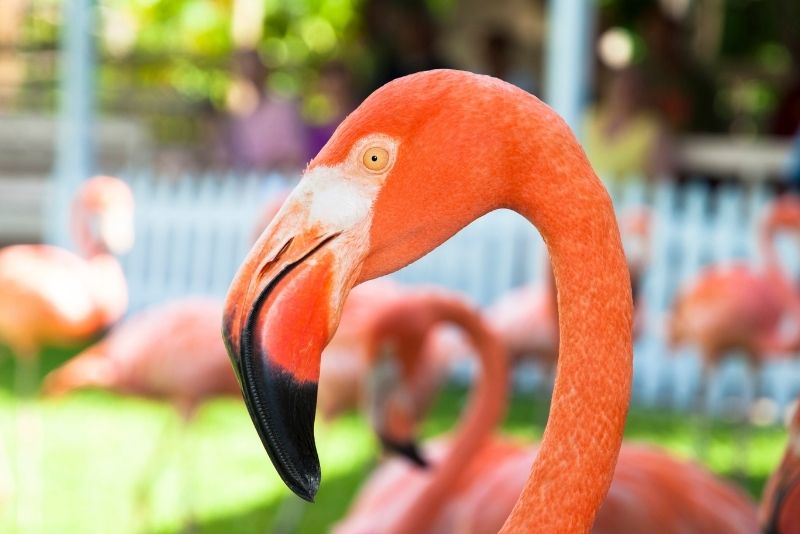 If zoos are your thing, there's only one in The Bahamas — Ardastra Gardens in the Zoo and Conservation Centre in Nassau.
Discover the only place to see the wonderful Caribbean flamingos (the national bird of The Bahamas) perform their trademark march. You definitely can't head home until you've stopped by.
7 – Speed up with a quad tour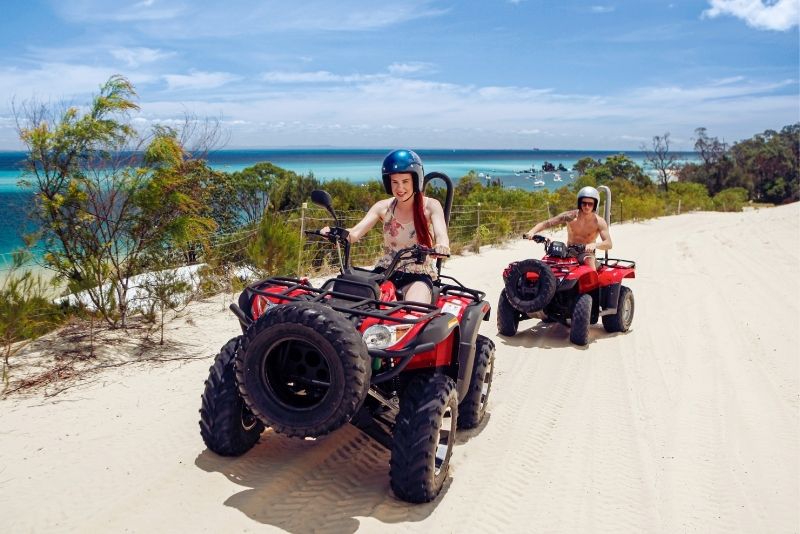 If you can't cover enough ground on foot and you just want to see as much of Nassau as possible, a quad bike tour is one of the best things to do in Nassau.
With plenty of guided tours available, all of various lengths, this is a great way to see more of the incredible sights and history The Bahamas has to offer. From the streets of Nassau to the rolling dunes of Clifton Heritage National park, there's a quad bike tour for every occasion.
Ranging from a few hours to half a day, to full-day adventures, not only enjoy the thrills of riding an ATV, but gain local insights and become knowledgeable on the history of the Bahamas as you pass by city landmarks and monuments.
The Queen's Staircase, Fort Charlotte, the Government House and the Water Tower are a few historical sites to see. Other quad tours guide drivers to beaches, islands and markets.
Are you on a family holiday? Consider buggy tours over an ATV as the four-seater vehicles are enclosed by an open-air cage and are considered a safer option. There are also buggies that can fit six people if you're traveling as a large group.
8 – Sail away with a boat tour
Some of the best things to do in Nassau are on the water and one way to see the sights and experience the Bahamian culture is on a boat tour around the island.
Hop on a boat charter and see Nassau and the surrounding islands from the crystal clear water and steady deck!
Opt for a half-day stint and take a tour on a 20-seater speedboat to Rose Island and Green Turtle Cay where you can stop off to snorkel with turtles! Alternatively, take a catamaran across to Spruce Cay or Athol Island.
If you prefer a sailing venture without strangers around, charter a private 12-meter yacht for a couple of hours and decide which direction you'd like to head in.
9 – Visit the Governor-General at Government House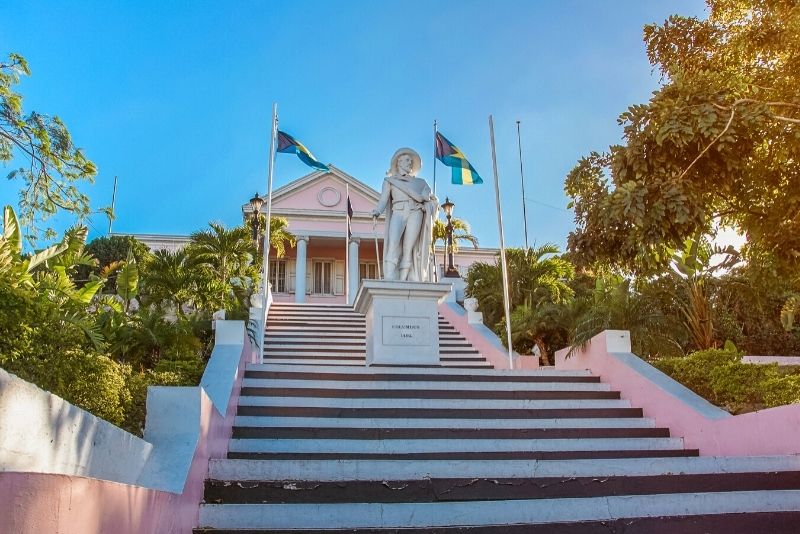 Home of the Governor-General, the Government House is one of the historic places in Nassau.
Planted on a 10-acre estate with beautiful architecture from the 1800s, this is a stunning meeting point of the British and American influence on Nassau. It's also home to the great Christopher Columbus statue imported all the way from London in 1830.
10 – Unwind on Cable Beach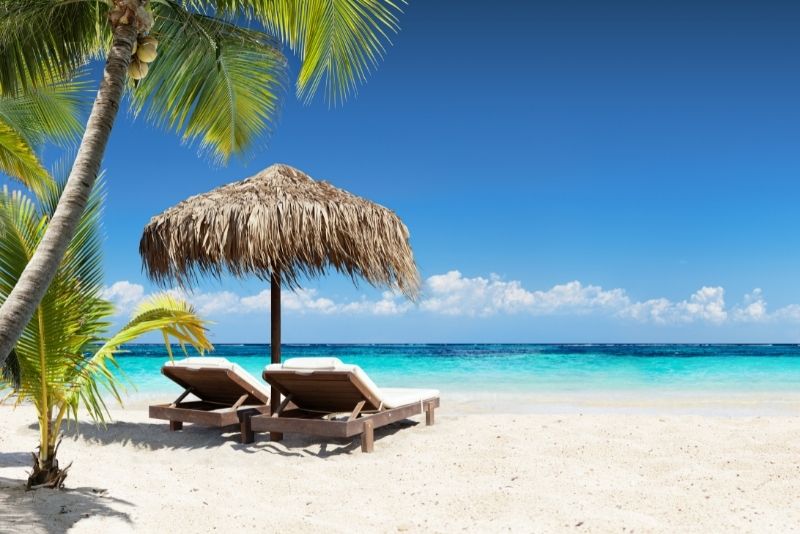 One of the most bustling beaches in Nassau, Cable Beach is identified by its pristine, white sand, warm water and party atmosphere.
Gathering locals and travelers, this is the perfect place to meet some new faces on the beach before sharing a daiquiri at one of the nearby bars for sunset.
11 – Visit the Nassau Public Library & Museum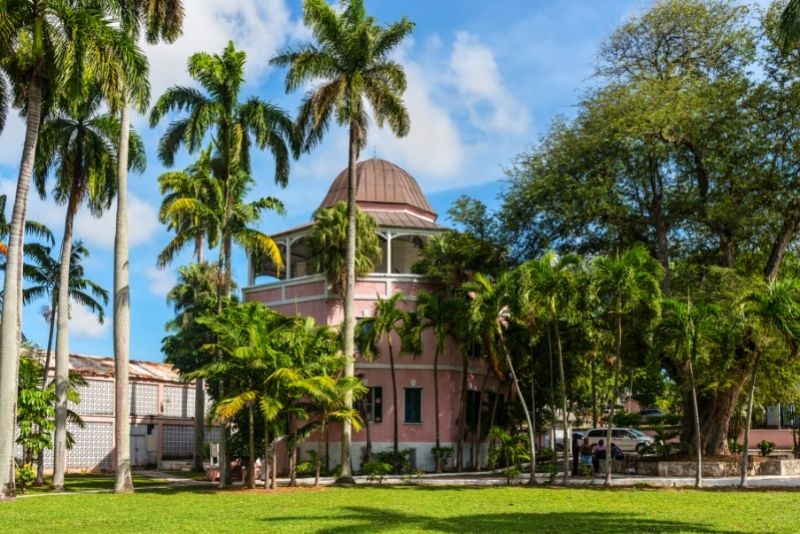 Built in a once colonial prison, the Nassau public library is one of the most unique things to do in Nassau.
The oldest and largest library in all of the Bahamas, even bookworms will have something to do in this wonderful city.
12 – Dive in with a snorkeling tour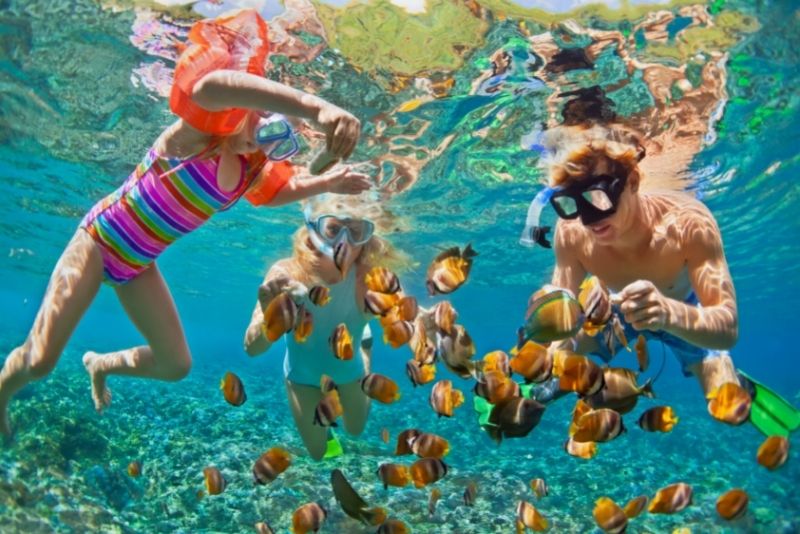 Make the most of Nassau's expansive coastline and get acquainted with the underwater world, with one of the many snorkeling tours available. You can see the colorful coral reefs by taking a scenic ferry ride or a bustling catamaran from Nassau.
Or, ditch the slow boats and opt for a snorkeling jet boat expedition instead where you'll zoom off to three islands in a few short hours. Private charter your own speedboat, or join a voyage onboard a luxurious Midnight Power Boat, covering more ocean thanks to the zippy engines.
Some tours make a stopover at the beaches around Paradise Island or head straight to Pearl Island to snorkel among the tropical fish. Cruise to Green Turtle Cay (Spruce Cay island) for the chance to float around with green sea turtles, then voyage onto Rose Island where adorable swimming pigs roam the isle.
If a short tour doesn't completely satisfy you, there's even a half-day historical tour from Nassau with plenty of snorkeling, sun-soaking and even a tasting of local chocolate!
13 – Swim with pigs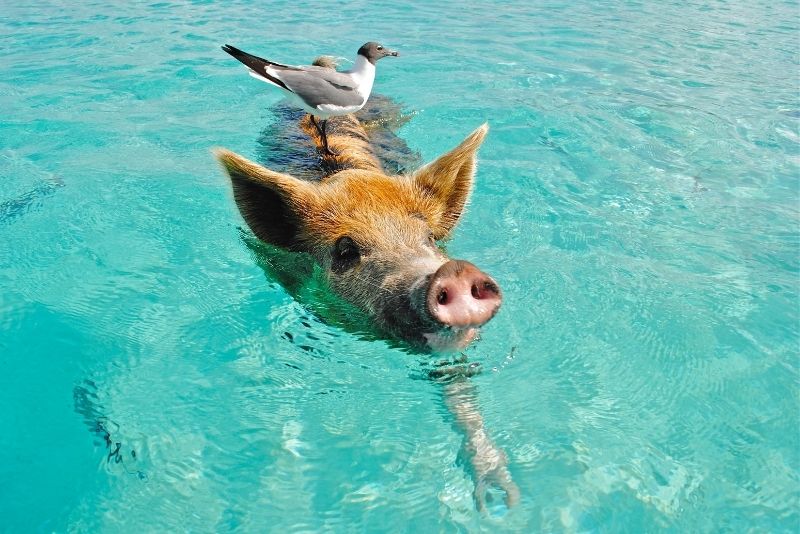 One of the quintessential things to do in Nassau is to meet the local wildlife, including the swimming pigs.
If you book a beautiful boat tour from downtown Nassau, you can end up on the Pig Beach in Big Major Cay, uninhabited by humans but populated by the famous swimming pigs.
Time to break out the waterproof camera because you are bound to make some memories worth snapping!
14 – Breach the Nassau forts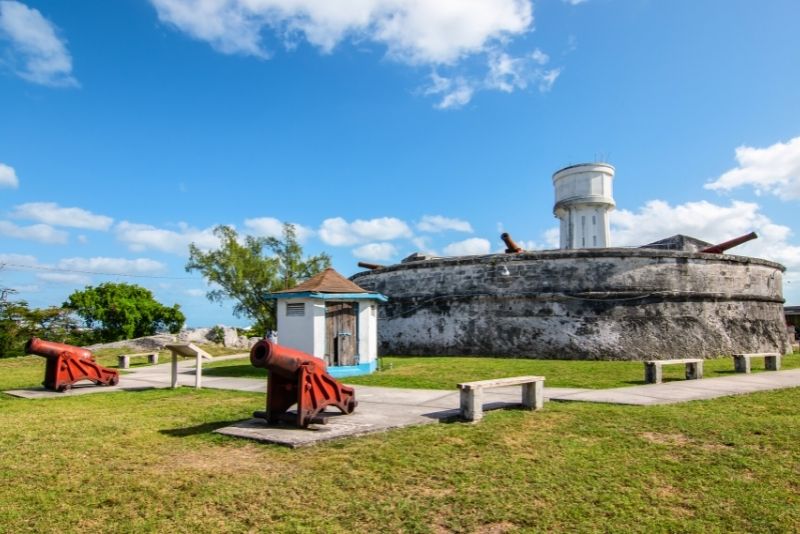 Whether you're a history buff or simply all beached out, the walking tours through the historical forts at Nassau are definitely worth a look.
See the moat and drawbridge at Fort Charlotte, the cannons at Fort Fincastle or the home of the British defense against the Spanish at Fort Montagu — all built during the 1700s.
A walking tour with a knowledgeable guide is definitely the way to learn about Nassau's interesting past!
15 – Sink into Aquaventure water park at Atlantis Bahamas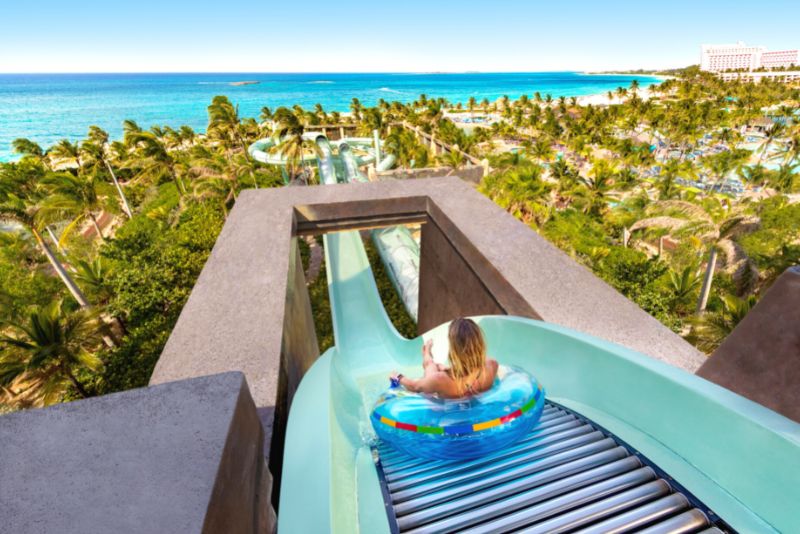 Located in Nassau, Aquaventure is a one-of-a-kind water park that appeals to all ages.
The 141 acres of water-themed bliss are shared between a mile-long white water river ride, adrenaline-pumping water slides, and plenty of relaxing and refreshing pools.
Stand under two crashing waterfalls at the Grotto Pool and the Mayan Temple Pool is well-favored by families.
Book out a private cabana for the day, work on your tan as the kids run wild, and there is plenty more things to do around the rest of the complex where Aquaventure is located.
16 – Escape to Blue Lagoon Island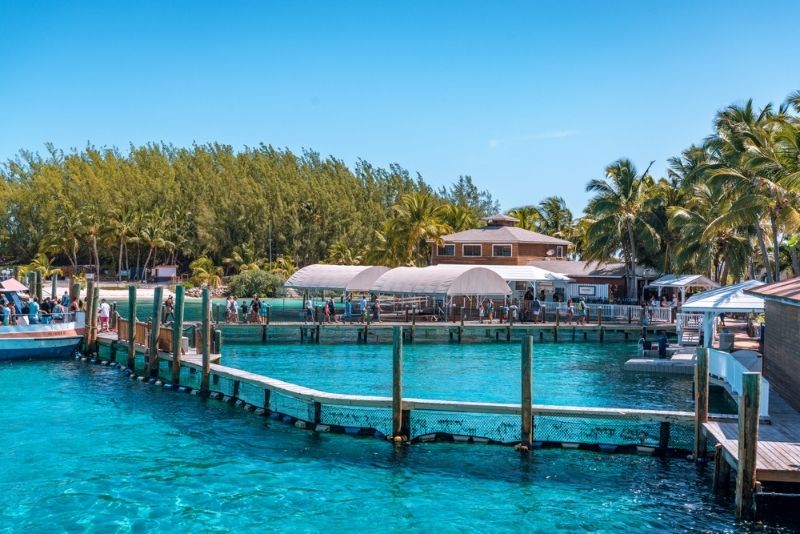 Heading to Blue Lagoon Island is definitely one of the most important things to do while in Nassau.
Sometimes referred to as the No. 1 tourist destination in all of The Bahamas, this island has something for everyone, families, friends and solo travelers alike.
For animal lovers, be sure to check out the Dolphin Encounters tour, where you can swim with one of the most intelligent creatures in the world!
17 – Sample some local Rum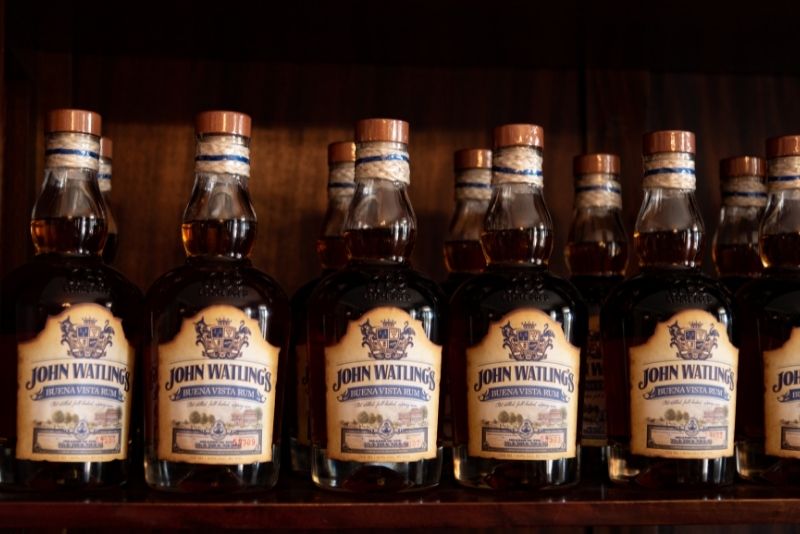 Rum is one of the most famous Caribbean global exports, so why not see how it tastes fresh from the source?
With a plethora of options for stellar bars throughout Nassau, it will be hard to put a foot wrong here but just make sure to make it to John Watling's Distillery. It's a stunning building where you can get a tour of the distillery before trying their great cocktails at the in-house bar.
18 – Hide away in The Retreat Garden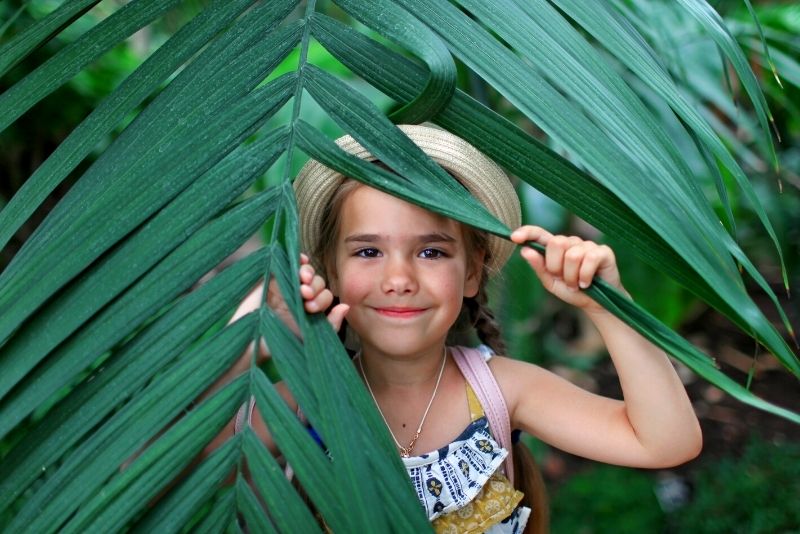 You won't be the only ones finding a peaceful haven right in the middle of urban Nassau.
Plenty of local and migratory birds also head to The Retreat Garden, a once magnificent estate turned into a national park.
You'll hardly be able to remember you're in the middle of a bustling city!
19 – Join the exciting Segway Tours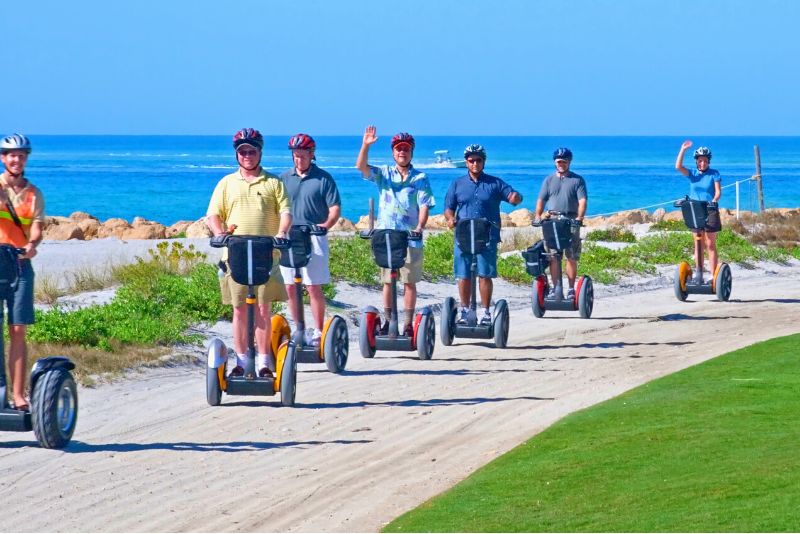 Presenting a unique way to explore Nassau, as well as providing a break from trekking on your feet all day, segway tours are fun and educational and allow travelers to explore the capital in a different way from an ordinary walking tour.
Depending on how keen you are to ride the two-wheeled scooter, choose between a two-hour excursion, or a half-day venture. All tours begin with a safety briefing and instructions on how to drive and maneuver the segway bike.
If opting for a shorter stint, there are multiple slot times to choose from: these are 9 AM, 12.30 PM and 3 PM, and tours begin at the waterfront, moving from the harbor to Junkanoo Beach to Arawak Cay fish fry and then to the outskirts of Fort Charlotte.
For those interested in five-hours worth of exploring via segway, you'll first boat across to Blue Lagoon Island and then head to the Segway Orientation Center. Leaving here, explore the beaches and best areas of this private island!
Once finished make your way back to the mainland and end the expedition with a ride around town to the most important landmarks and monuments such as the Water Tower.
20 – Explore Bonefish Pond National Park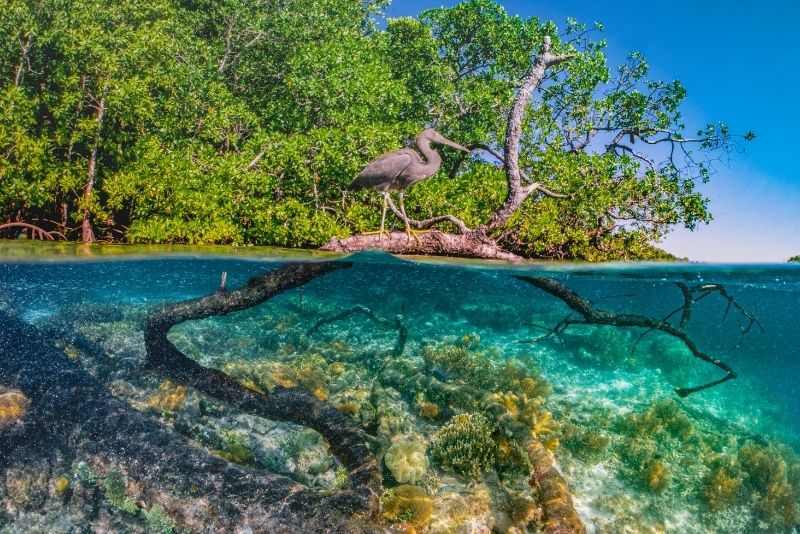 One of the few remaining wetlands in The Bahamas, the Bonefish Pond National Park is a very important landscape and habitat to many local birds and wildlife.
It's one of the most visited national parks in The Bahamas and for good reason.
Exploring the park is one of the best things to do in Nassau for educators and explorers alike!
21 – Swim with the dolphins at Dolphin Cay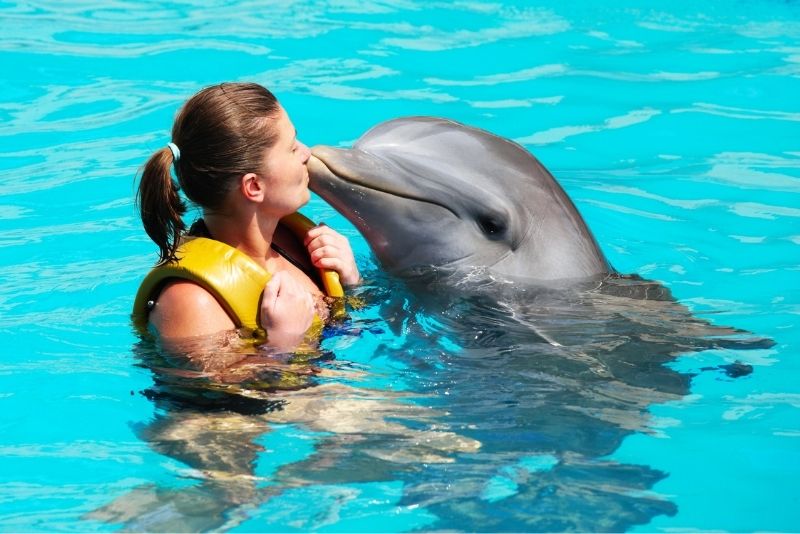 Dolphin Cay is one of the favored hangouts of the local dolphin population. Heading over and seeing the dolphins is a great thing to do in Nassau if you love the company of animals.
You can paddle in shallow water, dive out into the deep or stand-up paddle in Dolphin Cay to go rendezvous with the dolphins.
22 – Zip around on a jeep tour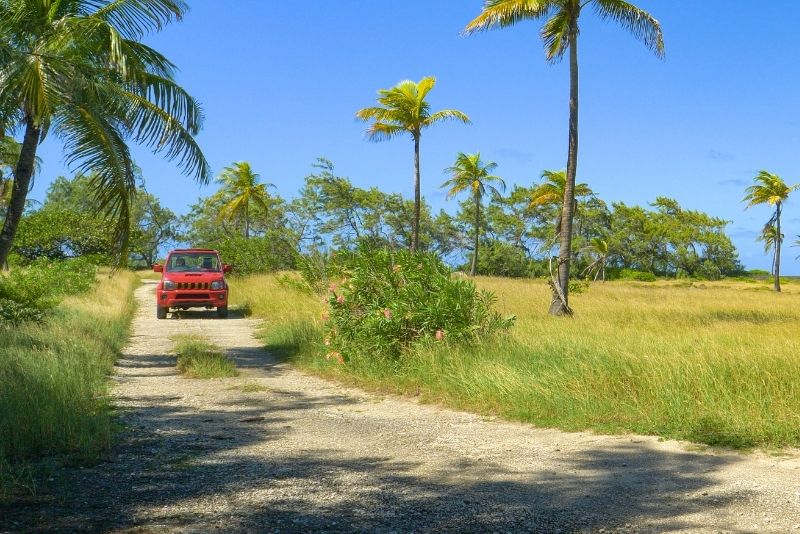 If you want to pack more into your stay in Nassau, hop on a rugged Jeep Wrangler and ride around Nassau on a three-hour culture and culinary tour of the city.
This tour is one of the best things to do in Nassau for those with a long list of sights and restaurants! Explore the ins and outs of areas like Junkanoo, a multitude of forts including Fort Montague, Fort Fincastle, Fort Nassau and Fort Charlotte and other points of interest, covering more ground in a few hours than if traveling by foot.
Some jeep excursions include stop-off times at foodie hotspots like Arawak Cay, John Watling's Distillery, Tasty Teas Bahamas and The Bahamas Rum Cake Factory.
Hunting down a journey different from the usual sightseeing options? Decked out as a pirate-themed vehicle, a 'Pirate Jeep Tour' is epic — led by a pirate tour guide of course! Uncover the world of piracy dating centuries back, and hear about the lives of the most infamous like Blackbeard.
23 – Prince George Wharf / Festival Place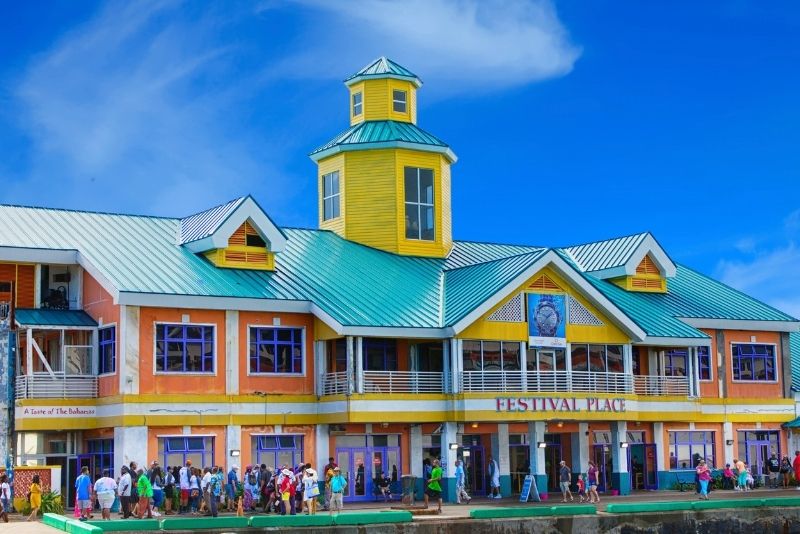 Book a shuttle from your accommodation or the airport and head down to Prince George Wharf, which is a large collection of boutiques and mooring for local and traveling ships.
You might even spot one of the biggest boats in the world moored there.
While you're in the area, be sure to trawl through the colors and sights of Festival Place, a market precinct where you can pick up a souvenir and try some local food.
24 – National Art Gallery of the Bahamas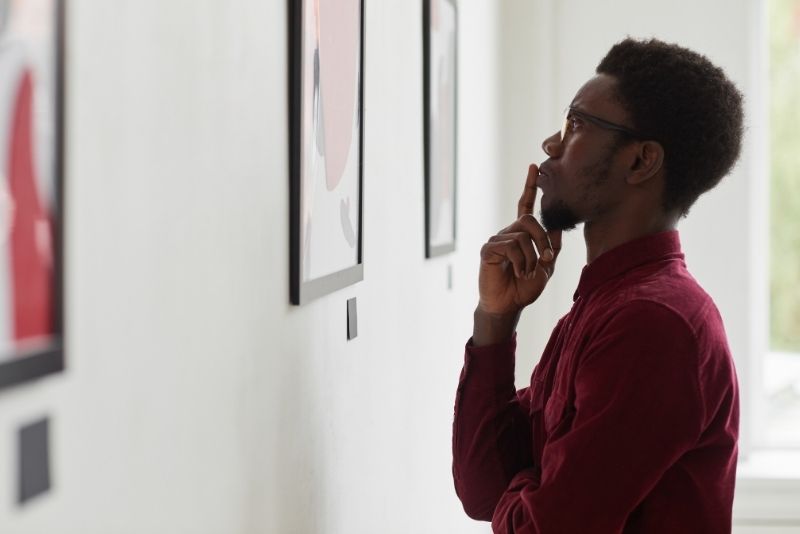 The National Art Gallery in Nassau is the countyr's leading art gallery, full of the finest local art, as well as international exhibitions.
This is definitely one of the most budget-friendly things to do in Nassau with admission at $10 for adults and $5 for students, while children under 12 get in for free!
25 – Confront your fear and dive with the sharks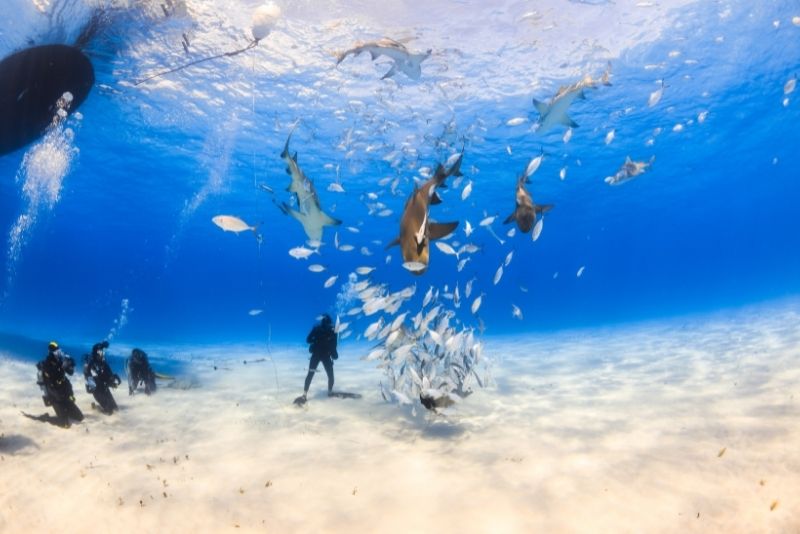 A great way to get acquainted with the Caribbean reef and be friendly with the sharks is to book a dive with Stuart Cove's diving.
Offering a two-tank trip, the first dive consists of a free dive with these magnificent creatures, and the second is a dedicated shark-feeding dive — but not to fear, it's safe and you're definitely not the bait!
Submerge under the waters around four diving sites where Caribbean reef sharks roam. These include Shark Wall, The Arena, Shark Wall North and The Runway and you will visit two spots during your session.
With transport to and from your accommodation included, you're running out of excuses to dive in and meet these surprisingly friendly creatures.
26 – Explore Primeval Forest National Park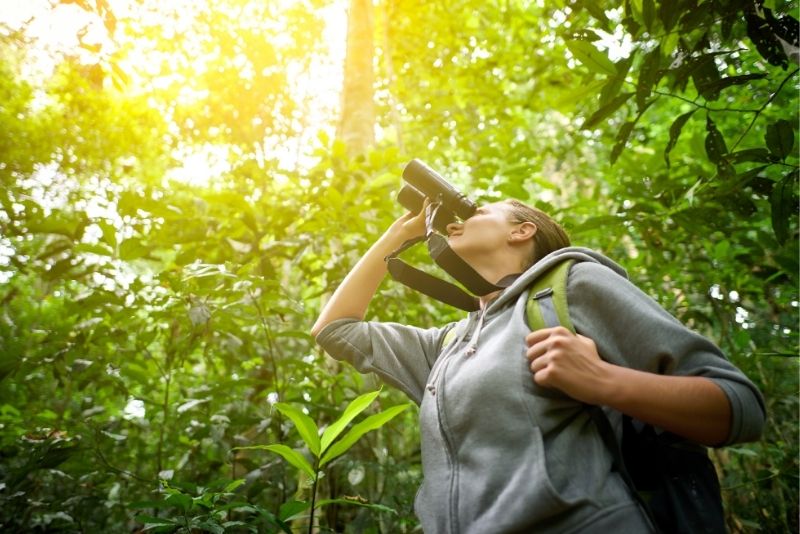 A beautiful untouched woodland landscape awaits visitors to Primeval Forest National Park. You'll discover a huge variety of natural beauty, from sinkholes to limestone caverns.
Be sure to pack binoculars or a camera because this is one of the biggest bird-watching hotspots in Nassau!
27 – Get a jet ski for the day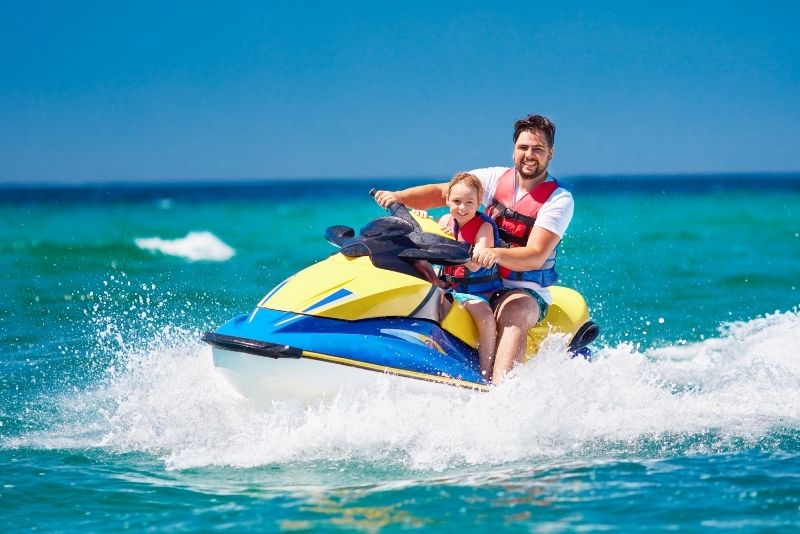 After days of swimming and evenings of beautiful sunsets on the sand, hop on a jet ski and have a more adrenaline-pumping experience.
In Nassau, it's not hard to get your hands on a jet ski for the day and zip around Paradise Island. For the less experienced, there are guided tours where you can just sit back and enjoy the ride.
For those keen on riding the motorized watercraft themselves, one of the jet ski operators will demonstrate how to use the vehicle, as well as illustrate all the necessary safety precautions.
Daredevils; if riding the waves isn't enough for you, follow it up with an epic parasailing quest! Plus, there are outdoor tours that combine the sport with other water activities, like banana boat rides (and jet ski time).
Preparing for lift-off from out in the ocean, you'll parachute into the air (whilst an extension metal rope stays attached to the boat) and fly above Cabbage Beach for six minutes of parasailing time.
28 – Hunt down a bargain at the Straw Market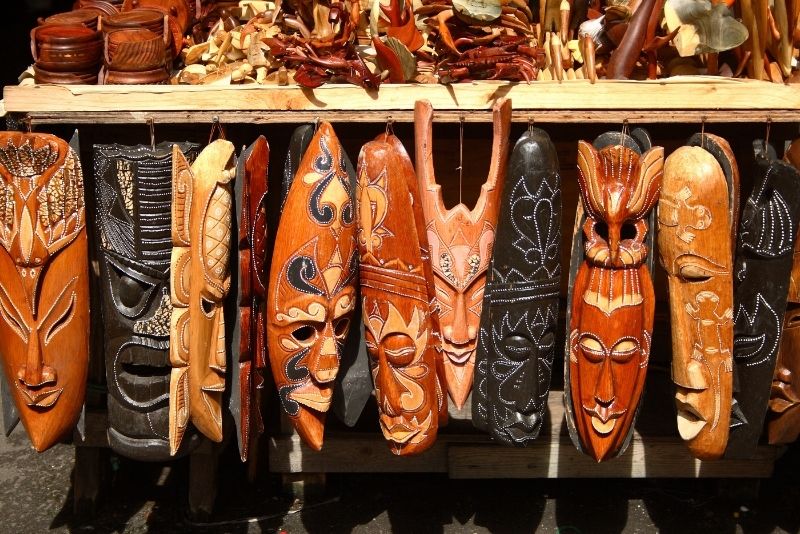 Downtown Nassau is home to one of the best shopping districts you'll find in The Bahamas.
If you love the hustle and bustle of culture, Bay Street is one of the busiest parts of town, largely due to the many incredible shops there.
Make sure to stop by the straw market where you can find some of the most incredible Bahamian gifts that'll make everyone wish they came with you!
29 – Relax in the Versailles Gardens and French Cloister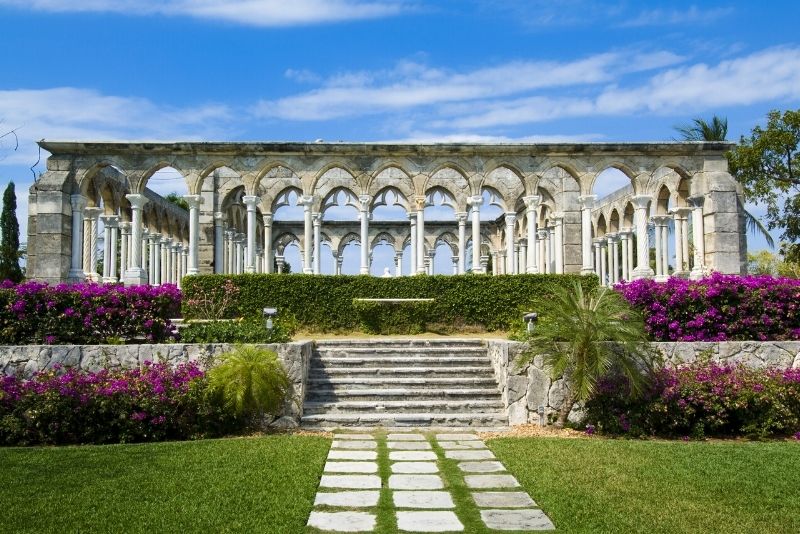 The French Cloister has stunning architecture and perfectly manicured gardens. You might think you're lost in the French countryside, but you are in fact just on a brief trip from Nassau.
A great photo opportunity or simply a chance to give yourself a break from the salt and the sun, visiting this place has got to be one of the most relaxing things to do in Nassau!
30 – Head to Arawak Cay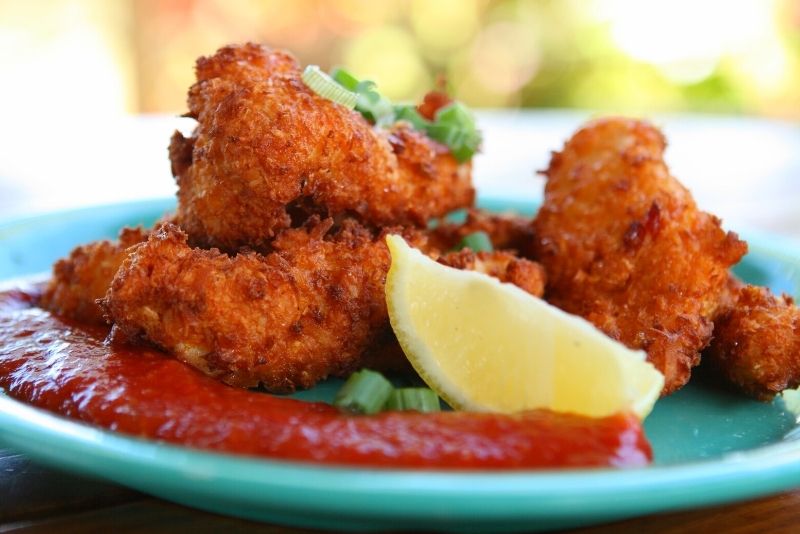 Just down from the cruise ship terminal is Arawak Cay, a beautiful hub of local restaurants and stores.
If you need to try the local mac 'n' cheese or conch fritters, and stock up on souvenirs in one-stop, then visiting the area is definitely one of the best things to do in Nassau!
31 – Ride around with a bike tour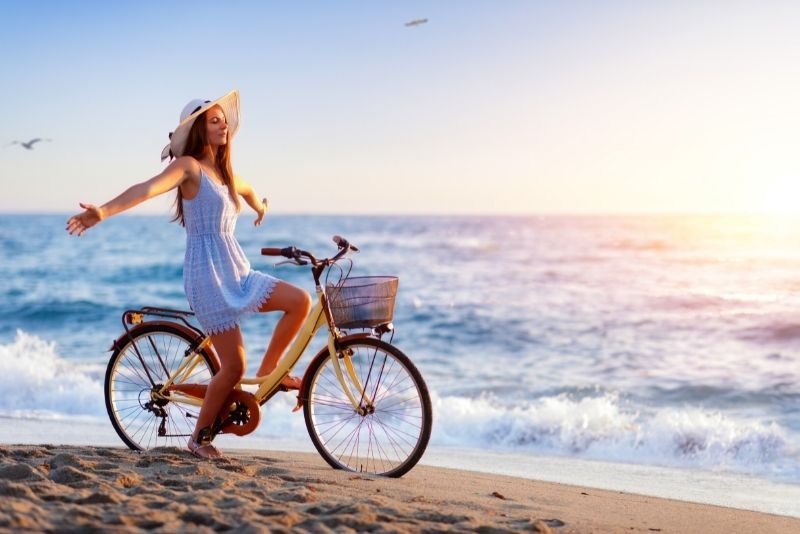 The perfect thing to do in Nassau is to make sure you properly soak up the sights around town.
You can hop on a half-day bike tour with an experienced guide to make sure you have plenty of time to fill up your travel album with the absolute finest sights Nassau has to offer!
During a four-hour Dowtown adventure, peddle to iconic landmarks and places of interest in the area, like the Queen's Staircase, the Water Tower, Fort Fincastle, Graycliff Chocolatier, John Watling's Distillery, the National Art Gallery of The Bahamas and more!
Or, pick a history-focused bike tour and cruise to the city's most important historical monuments.
If biking around for a few solid hours is too much, consider an E-bike (electric bicycle) option instead.
32 – Grab a beer at Pirate Republic Brewing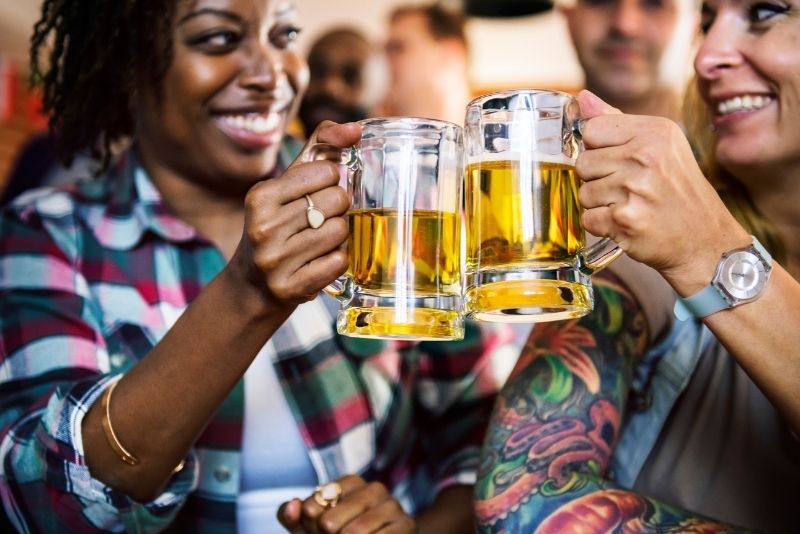 The Pirate Republic Brewing Company is the only craft brewery in all of The Bahamas and it isn't the place to just grab any old lager. Make sure to check out the seasonal varieties which currently include local ingredients such as a pineapple or mango pale ale!
Inspired by pirates who sailed the seas in quests for treasure-finding, everything has a truly authentic feel — from the names of their local brews to the tap room decor.
Pull up a wooden table and chair, or bar stool, and order from one of the 16 beers on tap. Feeling peckish? There's a food menu to go with all the washing down of IPAs and ales.
33 – Trawl through the Heritage Museum of The Bahamas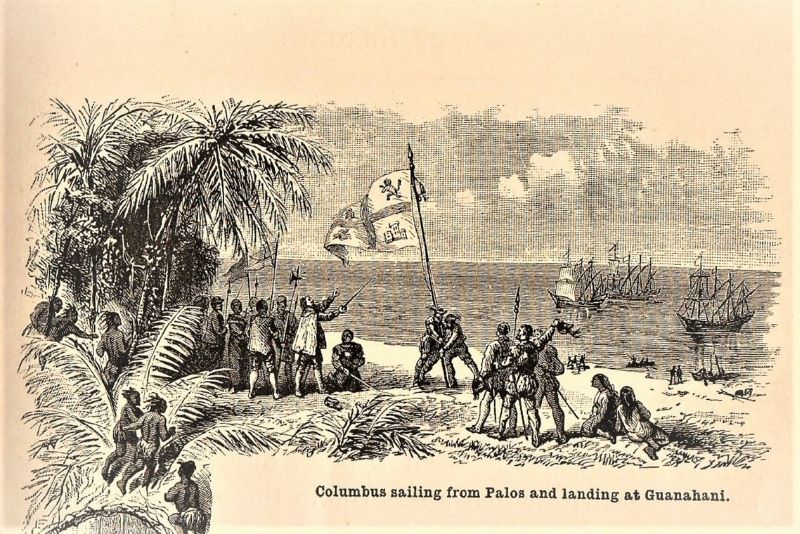 Head to the Heritage Museum in Nassau to look through the seemingly endless collection of Hamilton White, a British antique collector.
With relics from Columbus' days to antiques from the pirates, this is sure to teach you a thing or two about the history of Nassau.
34 – Get lost in Clifton Heritage National Park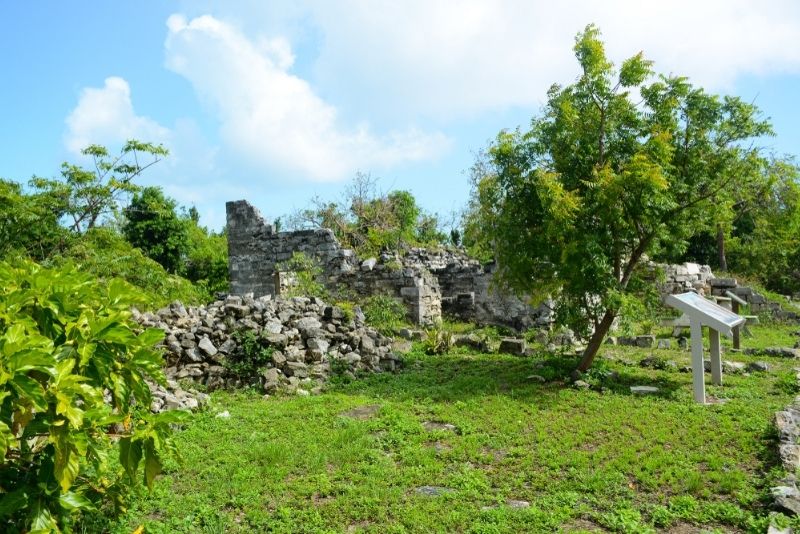 There's a lot more to Nassau's history than British and American colonization. Clifton Heritage National Park is home to some even more ancient remnants of Nassau's culture.
Book a heritage tour to learn all about the Lucayan and African cultures that have lived in The Bahamas for centuries. A walk through the park will present wetlands, sand dunes and even a 40-foot cliff — be sure to keep your eyes wide open!
35 – Soak up the silence at Christ Church Cathedral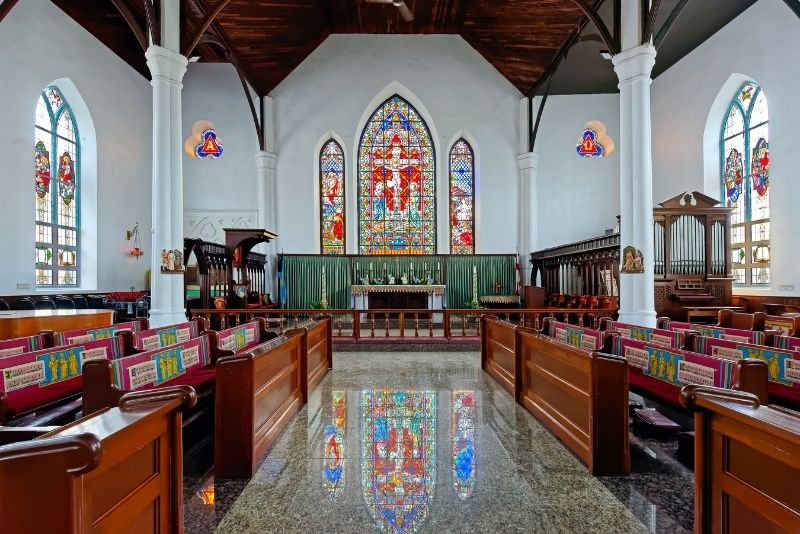 A spot of serenity among the chaos of Nassau, Christ Church Cathedral is a perfect awe-inspiring place for reflection for both the religious and non-religious.
Attend a service or watch the choir perform some hymns, or simply walk through the empty halls to quieten the mind!
36 – Cabbage Beach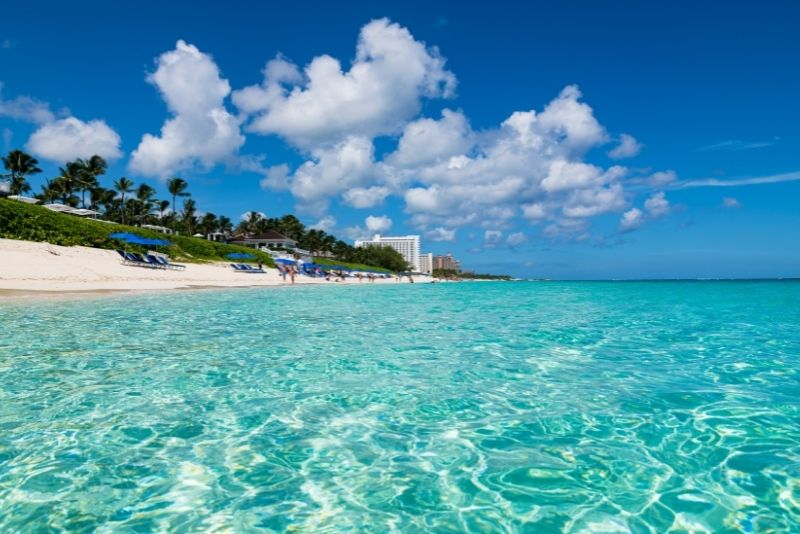 Cabbage Beach nestles on the secluded side of Paradise Island, a pleasant stroll from downtown Nassau.
Here you'll find the quintessential Bahamian beach experience with local vendors hiring out beach chairs for you to lounge along the peaceful coastline.
Not to mention there's no shortage of tropical refreshments and cocktails flowing, it's a perfect place to unwind after the walk from Nassau.
37 – Taste fresh conch at Potter's Cay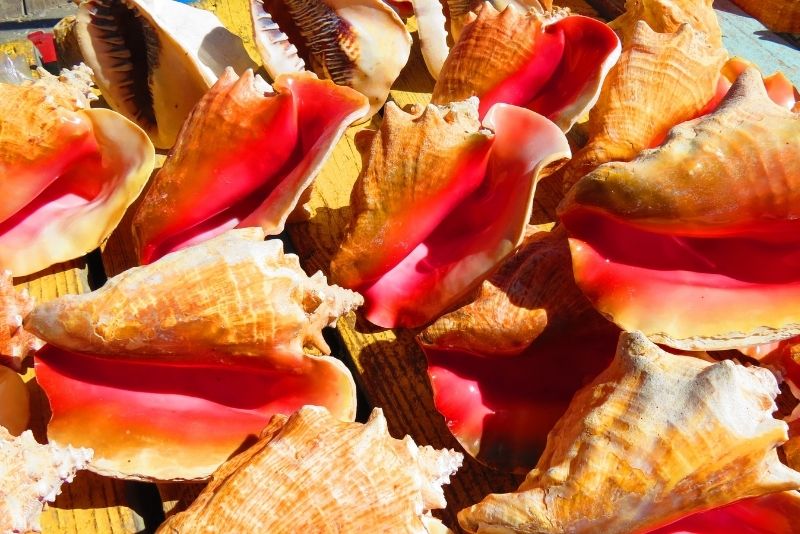 If watching local fishermen plunge into the water to fetch fresh conches to give to the local chefs sounds like your idea of paradise, be sure to check out Potter's Cay.
Every morning fresh conches are plucked from the sea and 40 local chefs prepare conch dishes for the hungry locals and travelers.
Doesn't get any fresher than that!
38 – Explore the Caves of Nassau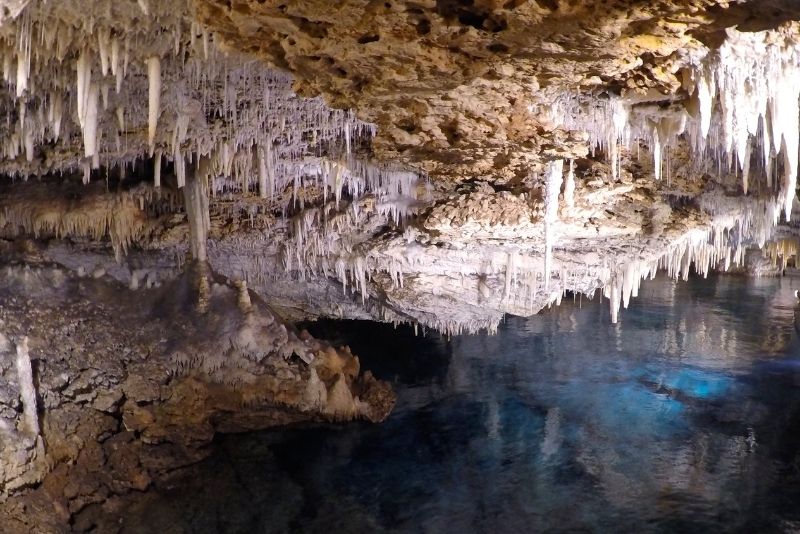 Just take a short drive from the cruise ship terminal in Nassau and you could find yourself stumbling through the hiding places of century-old treasure.
The Caves at Caves Beach are a less traversed tourist spot, also used as food storage for the ancient Lucayans. Better head on over and check out these natural beauties!
39 – Kayak your way around the island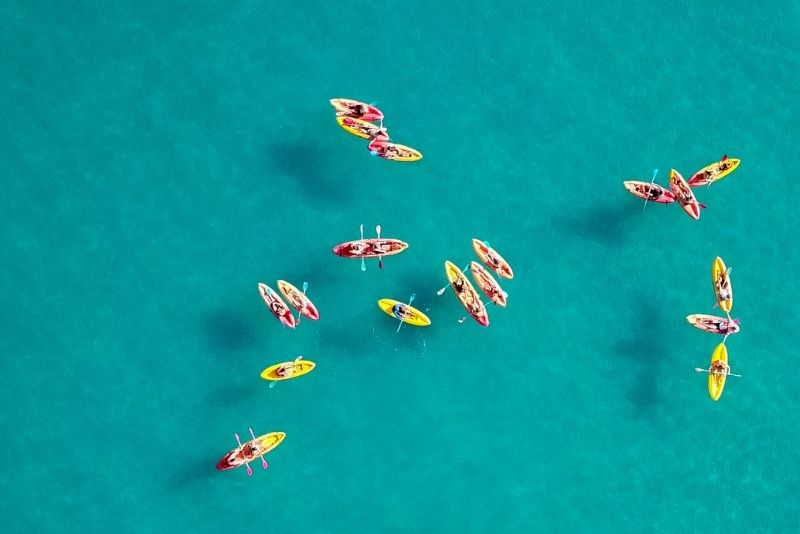 Book a guided kayak tour of the many inlets and find yourself paddling through the ghostly wetlands of Bonefish National Park.
Enjoy one-hour spotting native flora and fauna as you glide through mangrove forests and across crystal-clear waters, and your tour guide will share information about the local ecosystems as well as wildlife en route.
Pick up and drop off included, it's the perfect way to explore the unexplored!
All equipment is provided for too, however, make sure you pack a change of dry clothes as well as waterproof protection if you want to take photographs.
40 – Catch a show at  the Dundas Centre for the Performing Arts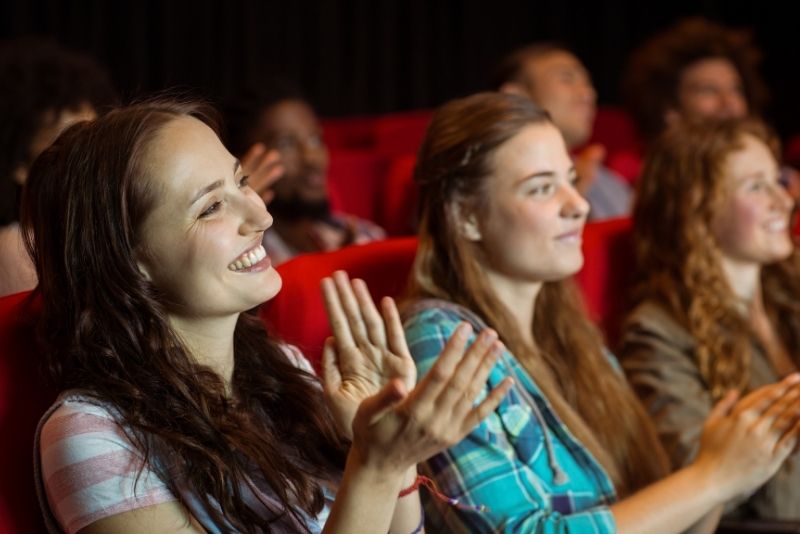 Founded all the way back in 1930, the Dundas Centre is a humble community-run theater and arts organization, supporting local artists and performers.
A far cry from stadium tours and Broadway shows, this one is for art lovers who love to be up close and personal with the performers, as the small capacity means you get a great view of the show.
41 – Join the crew at the Pirates of Nassau Museum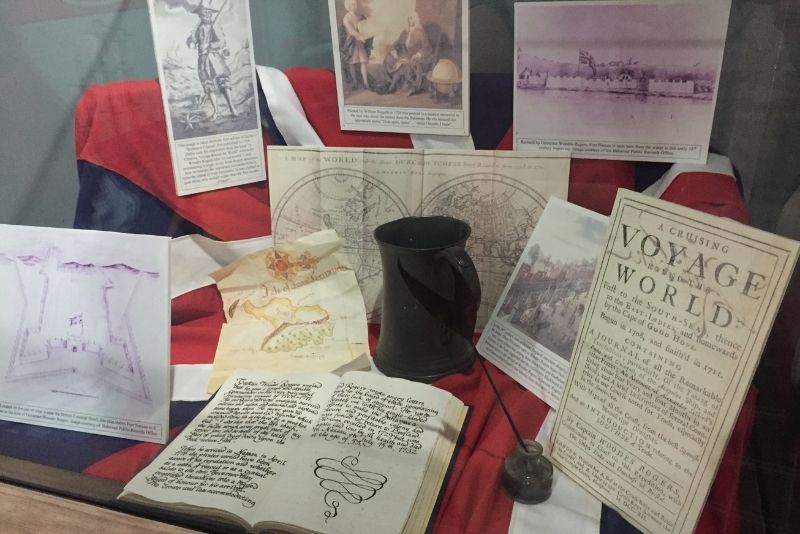 Immerse yourself in the Pirate History of Nassau and The Bahamas with a self-guided tour of the Pirates of Nassau Museum.
With artifacts of the pirate era gone by, as well as wax exhibitions, it won't be hard to really feel like you're on deck with Blackbeard himself!
42 – Head to St. Francis Xavier Cathedral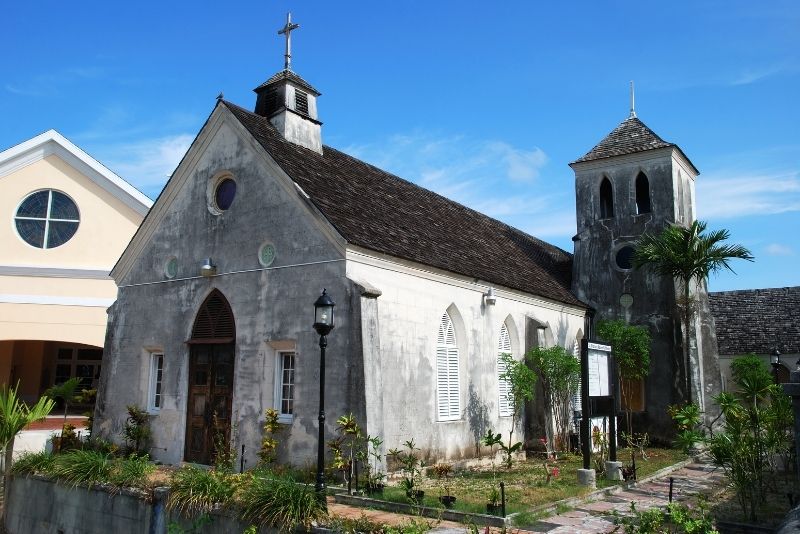 The oldest Roman Catholic church in The Bahamas, built in the late 1800s, St. Francis Xavier Cathedral is well worth the visit to see a slice of historic Nassau.
Hosting various spiritual retreats, as well as plenty of public services, it's a great stop for those wanting to explore every side of Nassau!
43 – Fish out the catch of the day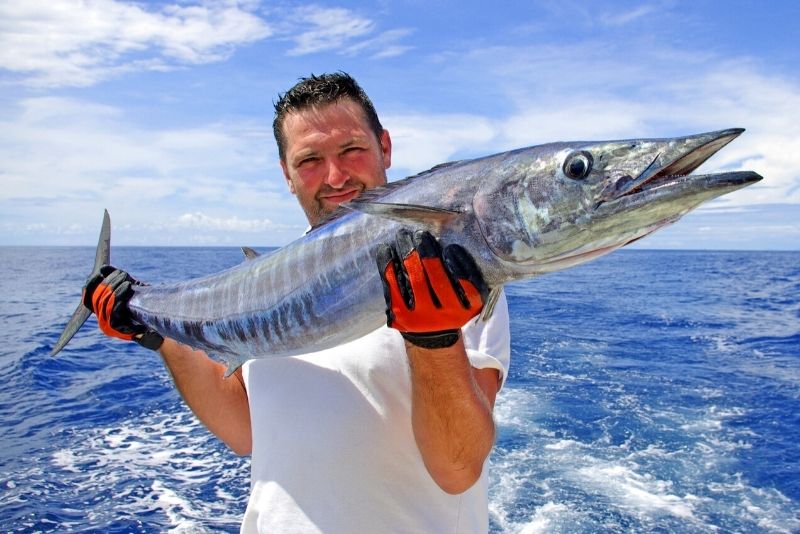 With waters teeming with sea life and access to great fishing tours with knowledgeable fishers, Nassau is an appropriate place to perfect your angling abilities.
Simply book a fishing charter and have fishing lessons and equipment all covered. Just be prepared to hoist your big catch on board!
44 – Get a taste of home at the Bahamas Cricket Club Sports Bar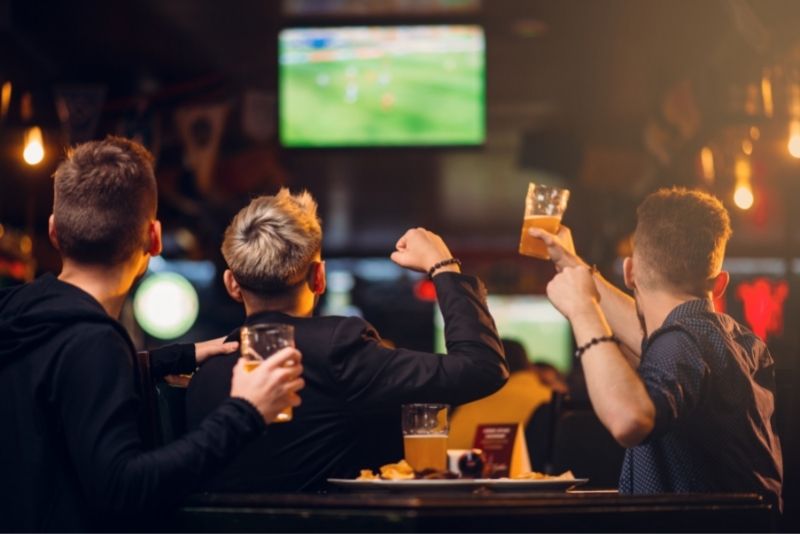 One of the best things to do in Nassau to treat homesickness is to head down to the local Cricket Club Sports Bar, just a half-mile out of downtown Nassau.
Get a full English breakfast, catch up on all the sport going on back home, or even watch a local football or cricket game live!
45 – Walk through the Marine Habitat at Atlantis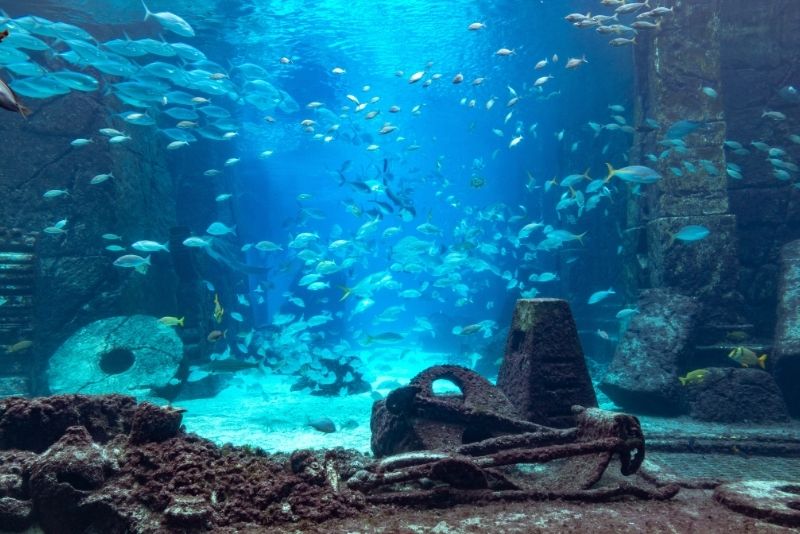 The Marine Habitat at Atlantis is a great way to see all the incredible local species of marine animals from the comfort of dry land.
With a plethora of lagoons and over 50,000 animals, this is an essential stop for animal lovers, especially if you left your waterproof camera at home.
46 – Soak up an exhibition at Doongalik Studios Art Gallery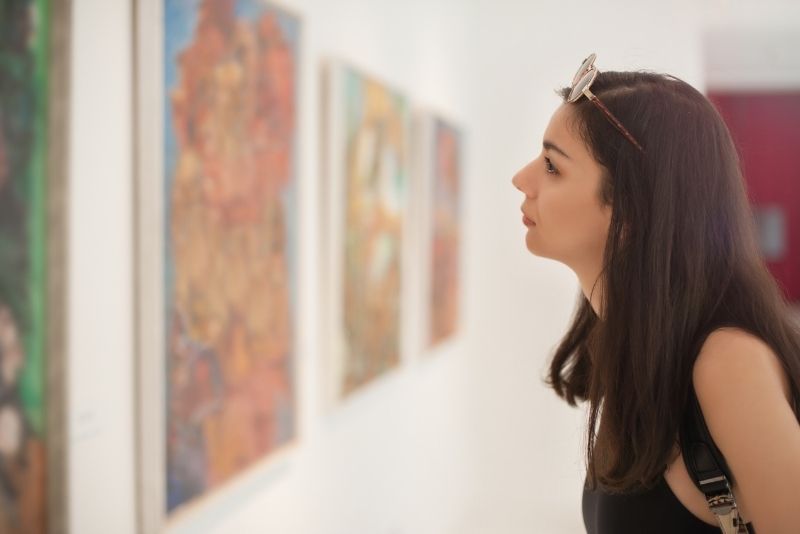 A small art gallery founded in the 1970s intending to promote local artists, this is one of the best places to see what the local creators are up to.
A short drive from downtown Nassau, the gallery has a Saturday farmers' market for those wanting to sample some local produce!
47 – Grab a  bite at Señor Frog's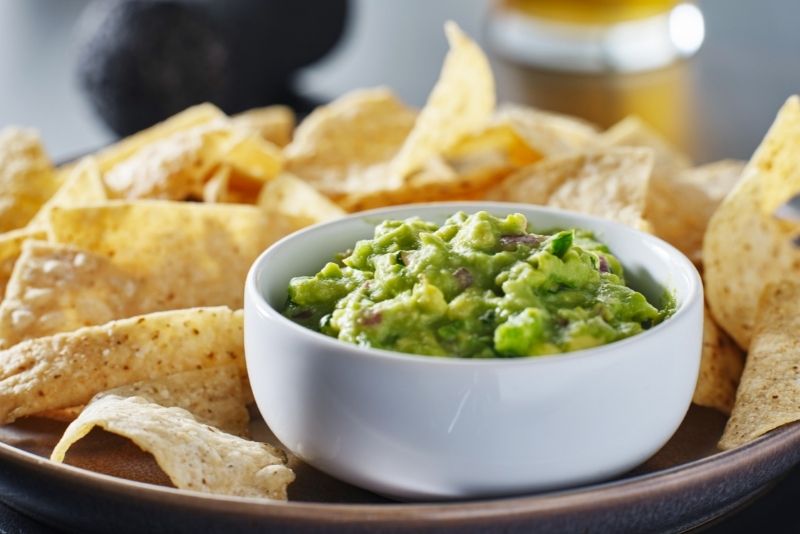 With a generous dose of local Bahamian cuisine, Senor Frog's is the best place to take the whole group or family.
Vegetarian-friendly and great bang for your buck, this is the kind of restaurant where you can take just about anyone.
Sitting right on the water, just off Bay Street in downtown Nassau, what more needs to be said?
48 – Indulge yourself in Graycliff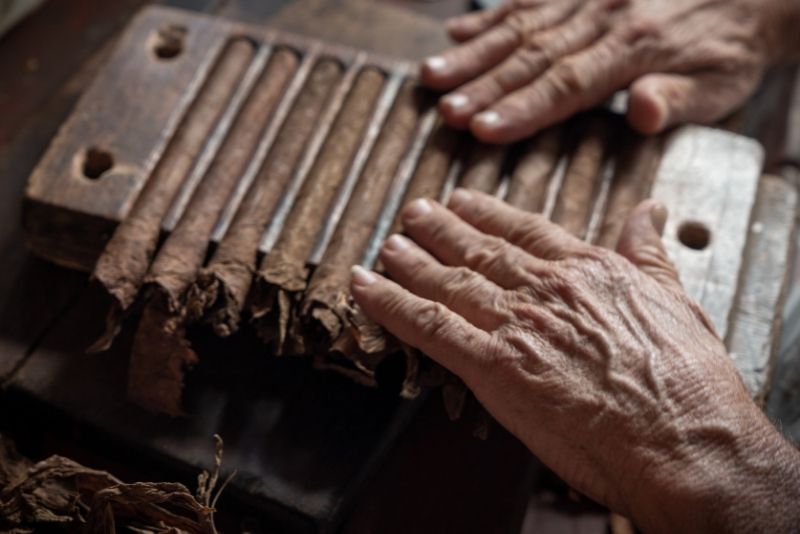 Tucked away from the glow of downtown Nassau is Graycliff, a slice of old-world Nassau.
You can learn to make chocolate at the Graycliff Chocolatier or take a 1.5-hour tour of Graycliff cigar company. You'll learn all about the process of making and smoking cigars, while sampling various different types of rum.
49 – Play a round at the Ocean Club Golf Course

Nothing quite says leisure like a round of golf surrounded by white sand and crystal clear blue waters.
The Ocean Club Golf Course runs alongside the ocean and, with lessons for the amateurs and crosswinds for the pros, it provides fun for all skill levels!
50 – Visit the Pompey Museum of Slavery & Emancipation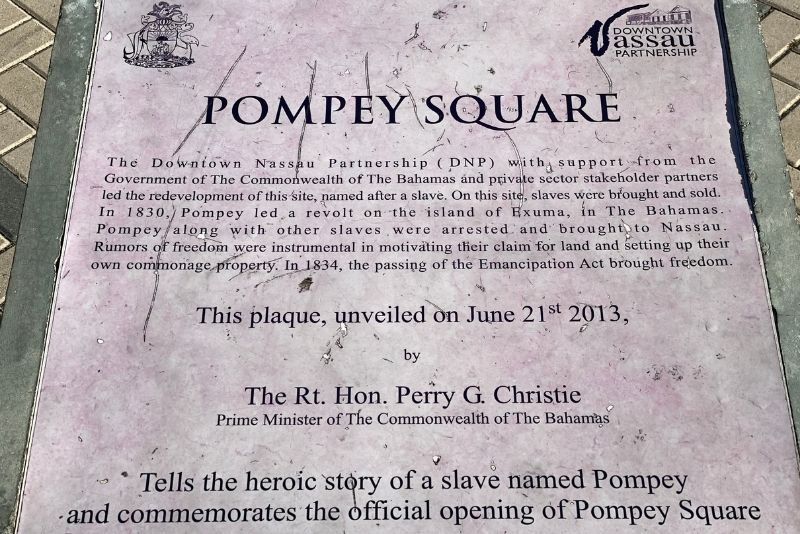 If you can manage to find it (the building is very discreetly designed), the Pompey Museum of Slavery and Emancipation is well worth the search.
The museum holds a wealth of information and exhibitions for those who love knowing the full story of Nassau's slave and colonial history.
While you're there, be sure to stop by Pompey Square, a hub of activity where you're sure to see some live music any night of the week!
51 – Attend the annual Junkanoo Festival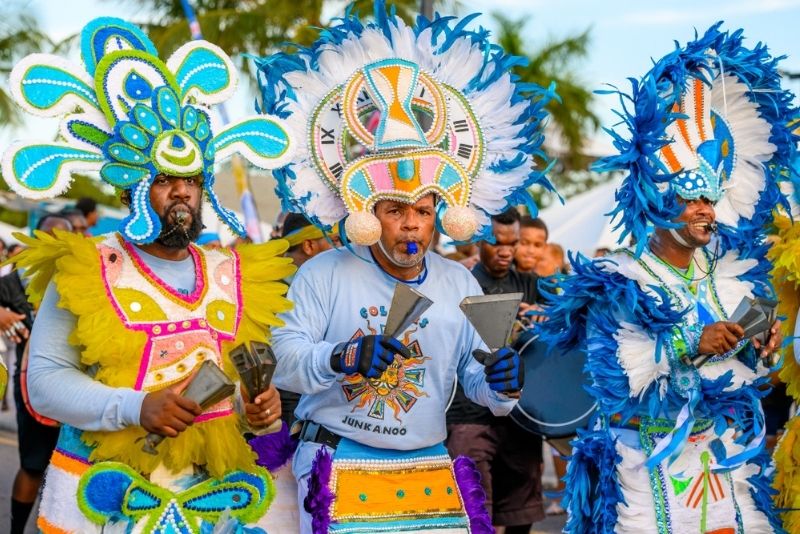 If you manage to find yourself in Nassau around holiday time, attending the annual Junkanoo Festival has to be on your list of things to do in Nassau.
A beautiful display of local Bahamian culture, this festival is one of the biggest events on the local calendar.
Make sure to also swing by the Educulture Junkanoo Museum on West Street in downtown Nassau, a stunning record of the Bahamian culture, created by a local to preserve the Bahamian culture!
52 – Sweat it out at Junkanoo Beach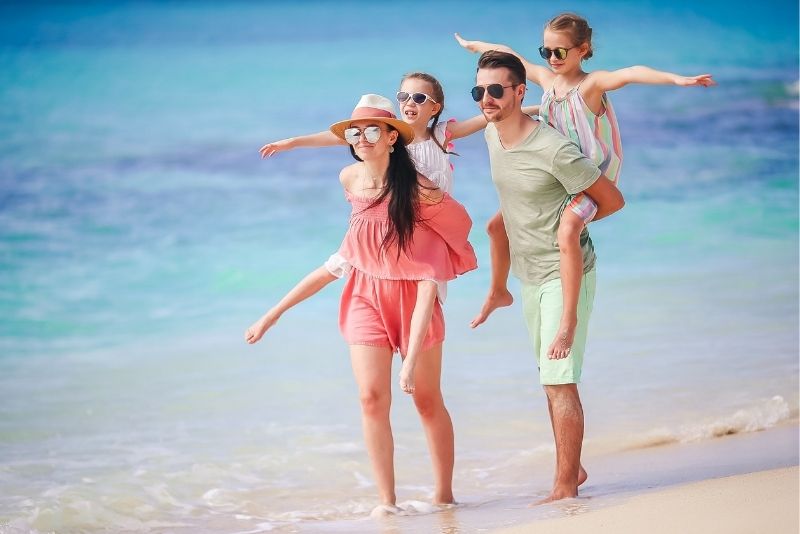 One of the sporty spots in Nassau, just a short walk from the cruise ship port, Junkanoo Beach is where the action happens.
The best way to experience this beach is the all-day access to water sports equipment pass at the local water park. With kayaking, beach volleyball, stand-up paddleboards, you name it, it's a great way to blow off some steam!
Rent out beach chairs, umbrellas, snorkel equipment or even jet skis from one of the local huts spewed along the beach, and bars and vendors let music fill the air.
Speaking of, Tiki Bikini Hut is one of the most popular drinking spots down at Junkanoo and is favored for its delicious cocktails, friendly staff and good vibes. You can order light bites to eat from the menu, like cracked chicken, lobster, macaroni and jerk ribs!
Located parallel to Arawak Cay and its famed fish fry, there are plenty of attractions and things to do close by. Check out Western Esplande Beach (right beside Junkanoo), and The National Art Gallery of the Bahamas and the John Watling's Distillery are less than a five-minute drive away.
53 – Try your luck at Bahamar Casino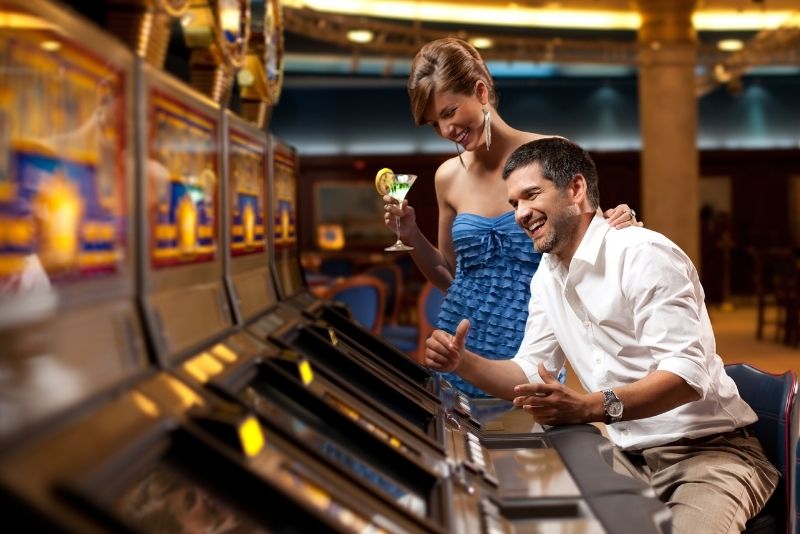 Head to Bahamar Casino for the essential Casino experience, only you can dip your feet in the sand at the roulette table and watch the sunset with a hand of poker.
Playing a game here is great for those who love the thrill of the casino, but can't stand the dark, clockless walls of a typical gambling palace.
54 – Watch the sun go down at Jaws Beach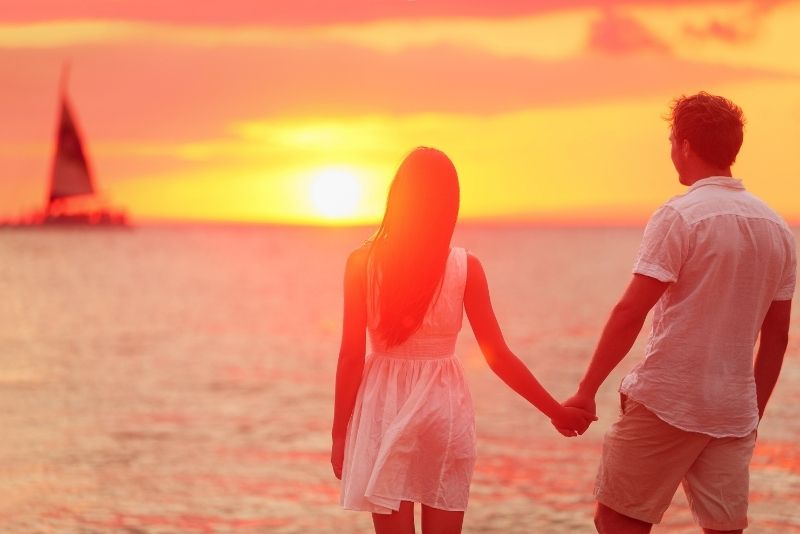 One of the most quintessential things to do in Nassau is to watch a famous Bahamas sunset.
Jaws Beach is home to one of the best, with the beach facing west so you can watch the sun fall down over the horizon.
Only a 15-minute walk from Clifton Heritage National Park, it's also a perfect place to unwind after a long hike!
55 – Hop on a rum reggae tour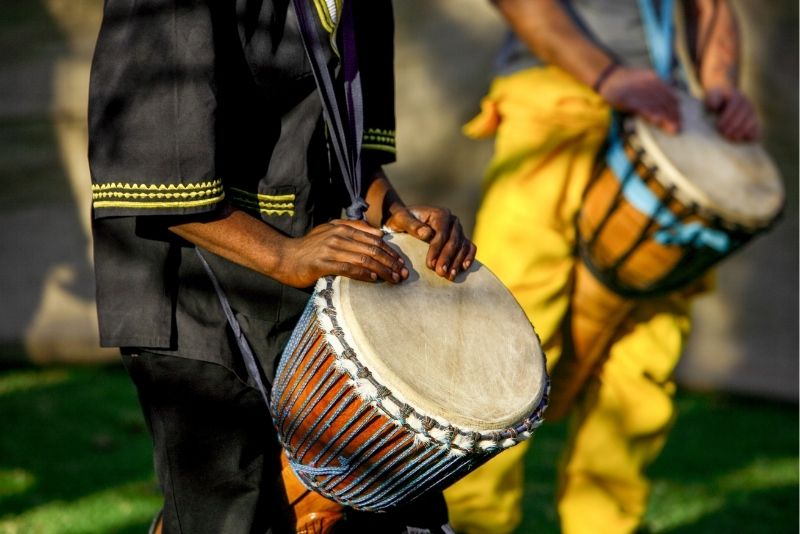 Music and rum are two of Nassau's most well-known exports. Luckily, there's an easy way to soak up both, and meet a bunch of fellow travelers along the way.
Hop on a Rum and Music tour, and visit all the best live music venues and rum bars Nassau has to offer!
The festive feelings continue to build over the course of four hours and to add to the fun, play games along the way. Learn interesting facts about both topics from your knowledgeable local guide as you move from one destination to the next.
Visit Graycliff Cigar Company, pop into Bahama Barrels, see how rum is manufactured at John Watling's Distillery and make a pit stop at Bob Marley's former home.
56 – Let loose at Aura Nightclub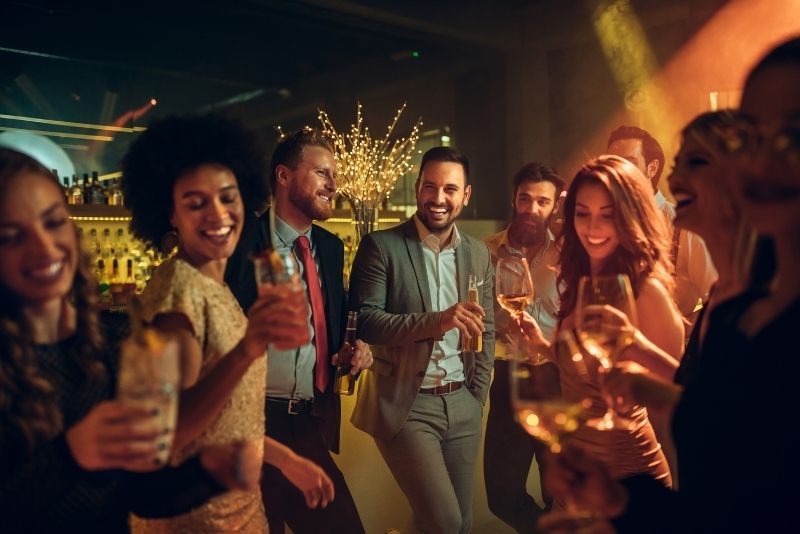 A 9,000-square-foot nightclub above the Atlantis Hotel, Aurora is the perfect place to unwind and get your dancing fix in Nassau.
With private booths and an intoxicating dance floor entertained by world-class DJs, this is the perfect send-off after a relaxing stay in Nassau!
How to get to Nassau?
Most travelers arriving in the capital city will fly into Lynden Pindling International Airport. A convenient way to get from the airport and to your accommodation is by pre-organizing airport transfers for when you land.
Once you're through all the controls, checks and luggage collections, your private driver awaits you, holding a placard with your name on it. Hop into a comfortable, air-conditioned vehicle and then head straight to your hotel in style.
Transfers are available to and from the airport if you require transport to get back once your vacation is done.
Where to stay in Nassau?
Nothing beats the feeling of returning to your accommodation in a foreign country, and it's simply bliss! Ensure you stay in comfort at some of the best hotels and resorts in Nassau with these picks of fabulous places.
For the best of the best check into The Ocean Club, A Four Seasons Resort which lives up to its name's reputation. More like a private tropical oasis, it's the epitome of luxurious living.
From the suites with stunning sea views to the ground-level studios with large private gardens next to the ocean, you can't go wrong with the contemporary and luxe Goldwynn Resort & Residences — located on Goodman's Bay beachfront.
Boasting old-world elegance and done up in rich finishes and interiors, find yourself immediately charmed by the Graycliff Hotel. It's also favored for its top-notch service.
A fantastic family-friendly option is Margaritaville Beach Resort with its own waterpark and private beach. The modern rooms flaunt a chic coastal palette.
Mixing colonial and oceanic-inspired design, Sandyport Beach Resort is perfect for travelers who prefer a quieter stay, away from the hustle and bustle, and is situated on a small beach.
The extra comfy beds are super appreciated at Ocean West Boutique Hotel and waking up to the sound of the waves crashing from your balcony adds the cherry on top. Staff go out of their way to ensure you have the best time!
Where to go next?
Now that you've explored the capital city, there are many other fun things to do in the Bahamas.
Take photographs of the iconic Pink Sands Beach on Harbour Island, free dive the oceanic sinkhole (Dean's Blue Hole) in Long Island, hunt down the abundance of powder white beaches and enjoy flavors of the Caribbean wherever you go.
Did you know that the closest US state to the Bahamas is Florida? Within one hour, reach the Sunshine State and from here make your way to Disneyland in Orlando or Tampa Bay on the Gulf of Mexico.
Alternatively, catch a direct one-hour flight from Nassau to Florida Keys. Among its 800 islets that comprise the keys, like Key Largo, Key West and Islamorada, spend endless hours sunbathing, snorkeling, swimming and fishing.
The Magic City probably needs no introduction and there are plenty of things to do in Miami from its bustling nightlife to Cuban flair influences. Fly from Nassau to Miami in just over one hour.
Final thoughts
From snorkeling with green seat turtles to indulging in the local cuisine; whether you've arrived in the Bahamas' capital city for a chilled-out break or a holiday induced with outdoor action and all of the water sports, there is plenty of things to do in Nassau to keep all travelers smiling.
Have you visited this island country before? What were some of the best sites that you visited or your fondest moments? Share with us in the comments.
Thanks for reading and enjoy The Bahamas! As always, happy travels!