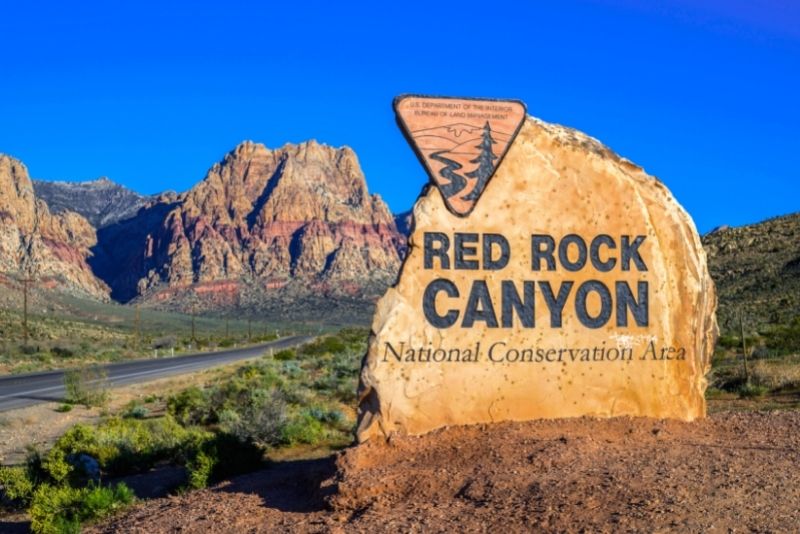 Most people visiting Las Vegas are there for the glitz and glamour of The Strip. Not that we can blame them – the City of Lights has much to offer in the way of iconic casinos, evening entertainment, and spectacular productions.
But there's a lot more to Nevada than Las Vegas, and when you're visiting the casino capital of the world, you should make plans for some day trips to discover some of the state's larger-than-life desert landscapes.
Less than 20 minutes but a world away from Las Vegas is the Red Rock Canyon National Conservation Area, famous for its stunning red-banded peaks and towering sandstone cliffs.
A crowd favorite for locals and tourists alike, Red Rock Canyon offers a one-way 20-kilometer scenic drive, hiking and horse riding trails through the maze-like canyons, rock climbing, and cultural resources to explore. Hands-down one of the most breathtaking places you can visit in the Mojave Desert, Red Rock Canyon is filled with photo opportunities and memories that will last a lifetime.
To make the most of your day at the Canyon, there are plenty of tours available that will bring you to the best scenic spots and fill your day with adventure. Bike along the red sandstone cliffs, try some off-road jeep fun or wait for red and golden hues as the sun drops behind the colorful sandstone.
So go ahead and leave behind the hectic Las Vegas crowds with some of the best Red Rock Canyon tours from Las Vegas.
1 – Red Rock Canyon scooter tours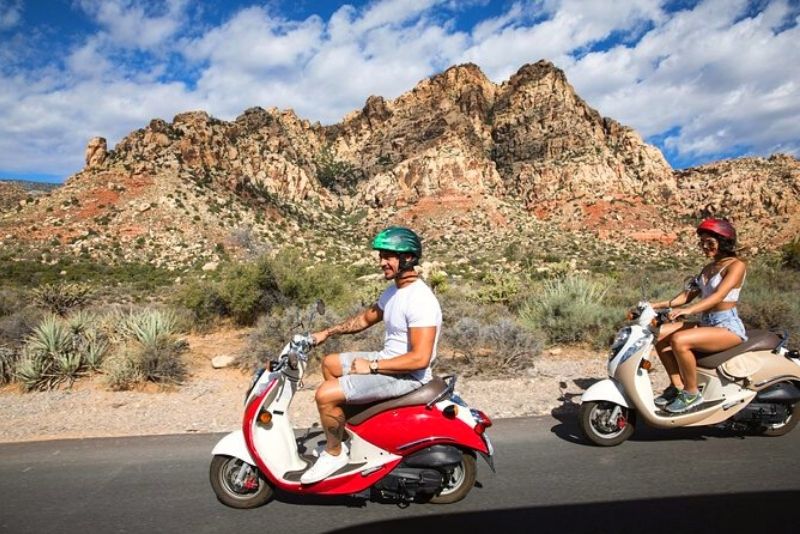 Hop on a scooter and get ready for the ride of your life! This is the most unique way of discovering the Red Rock Canyon National Conservation Area you'll ever find.
You don't even need experience riding a scooter to enjoy this tour – a patient professional will instruct you on how to ride safely so you can enjoy the 20km scenic paved loop like a pro. The road has a speed limit of 40kph, so if you're brave enough, you can let your hair down and zip all the way down for an adrenaline rush!
Red Rock Canyon is famous for its towering red cliffs and breathtaking photo opportunities. Since you'll be riding your own scooter, you'll be free to stop at any time to capture the dramatic colors, abundant wildlife, and 360-degree views of the desert landscapes that seem to go on forever.
If you pay attention, you might even catch sight of the tortoises and jackrabbits that call the desert home.
2 – Red Rock Canyon bike tours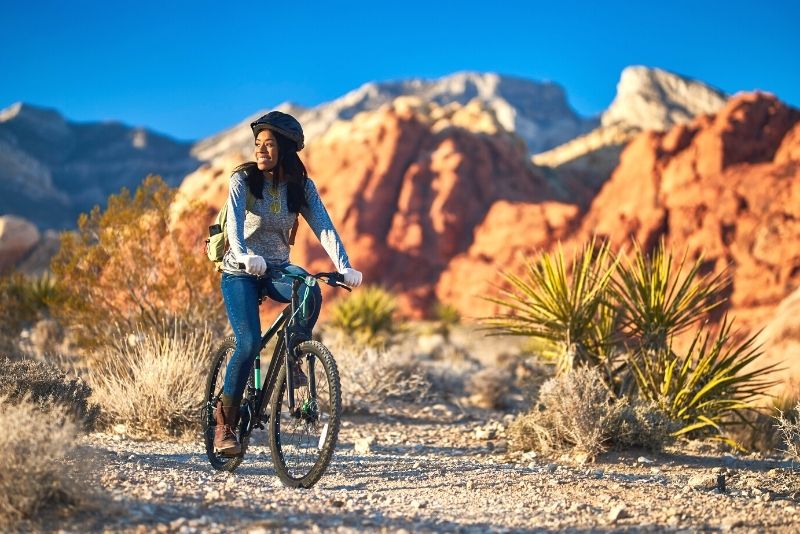 Craving some movement after a few days of just sitting at the casino tables? This is the perfect time to jump on a bike and get your heart pumping as you explore the gorgeous canyon landscapes of the Mojave desert.
Choose between electric bike tours, road or mountain bike tours, depending on how much pedaling you're up for. E-bikes are the perfect choice for the desert heat – you get to cover 21 km of the Red Rock Canyon National Conservation Area on a paved back road even if you're not used to biking. Red Rock Canyon tours include a few breaks so you can grab a snack or get off the bike to explore the surroundings (and even photograph some petroglyphs in the process).
Hybrids and road bikes are a great way to explore the canyon's famous 20-km scenic loop drive. Although popular for car drives, it can also accommodate hikers and those on a bike. You can choose a guided tour or a self-guided one (perfect for intermediate and advanced riders). For self-guided tours, you can even book a sunrise tour to enjoy the serene wilderness almost on your own.
If you're an avid mountain biking fan, there are also tours that get you off the paved roads of Red Rock Canyon and on the scenic Mustang Trail. You'll have your choice of three full-suspension bikes and your guide will provide the rest (helmets, water, and of course guidance and narrative along the way).
3 – Red Rock Canyon horse riding tours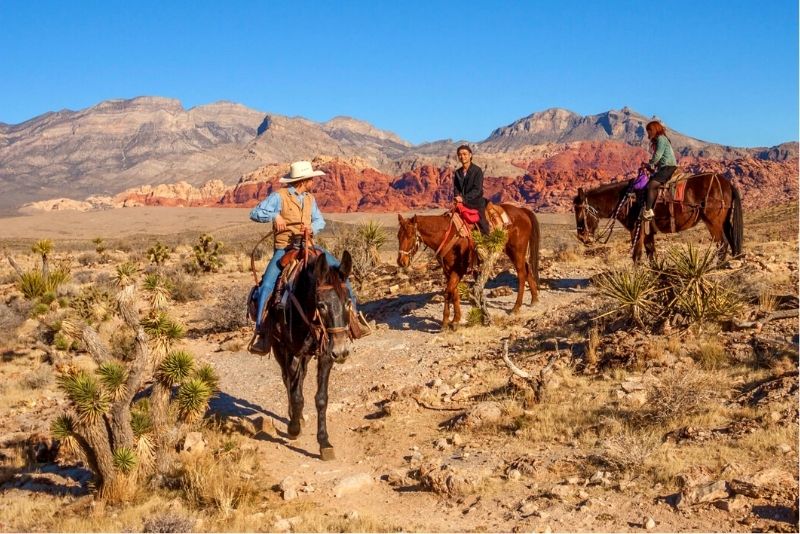 There's no better way to enjoy the relaxing nature of the desert than with a horseback riding tour. You'll get an authentic cowboy experience plus plenty of picturesque moments along the way to capture amazing photographs. Whether you're looking for a short adventure or an evening watching the sun set over the red desert sandstone, a horse riding Red Rock Canyon tours won't disappoint.
Go ahead and leave chaotic Las Vegas behind when your driver picks you up at your hotel and drives you 45 minutes to the Red Rock Stables. Here, you'll have a chance to learn the basics of riding (or to get to know your horse if you already know how to ride) before you head out into the desert with your guide for a two-hour riding adventure. There, you will have a chance to learn about the desert habitat, the rugged landscape, and the animals that call the canyon home.
Red Rock Canyon's rich sunsets of deep reds and yellow hues are the perfect backdrop for an evening ride. So why not ride into the desert to watch the sunset over Las Vegas Valley? After, you'll enjoy a campfire meal (s'mores included, of course!) and some cowboy poetry under the stars. At the end of the tour, your guide will drop you back in Las Vegas.
4 – Red Rock Canyon jeep tours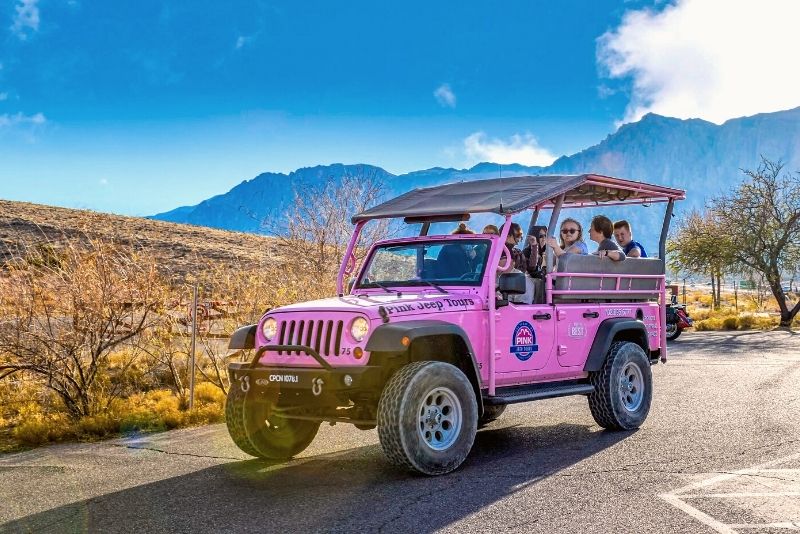 Experience rugged canyon walls, fascinating geology, scenic viewpoints, and even ghost towns as you hop on either an open-air Jeep Wrangler or a close cab Jeep for your 4×4 off-road adventure.
These small guided tours will pick you up right at your hotel and take you into the wilderness and on a thrilling off-road adventure to the heart of Red Rock Canyon. There, a highly-trained, entertaining adventure guide will help bring the colorful landscape around you to life.
A world away from the lights of Sin City, Red Rock Canyon offers stunning red rock formations, plenty of scenic trails and reptiles scurrying across wherever you walk, and a dazzling light show as the sun starts to set over the cliffs.
Half-day Jeep tours take you along the famous 13-mile scenic loop drive, with stops to see ancient Native American pictographs, the 65 million-year-old Keystone Thrust, and the Calico Hills, filled with fossils and home to shifting shades of pinks, reds and oranges.
At the end of the tour, you'll also have a chance to take the paved trail up to the Red Rock Overlook for stunning panoramic photographs over the surroundings. If you chose an afternoon tour, you might just catch the sunlight on the cliffs and see why the hills are called "Calico" – a reference to the shifting colors of the stone as the sun starts to fade away.
Some of the enclosed Jeeps can accommodate collapsible wheelchairs, but the open-air Jeeps are not wheelchair accessible. These tours aren't suitable for very young children.
5 – Red Rock Canyon hiking tours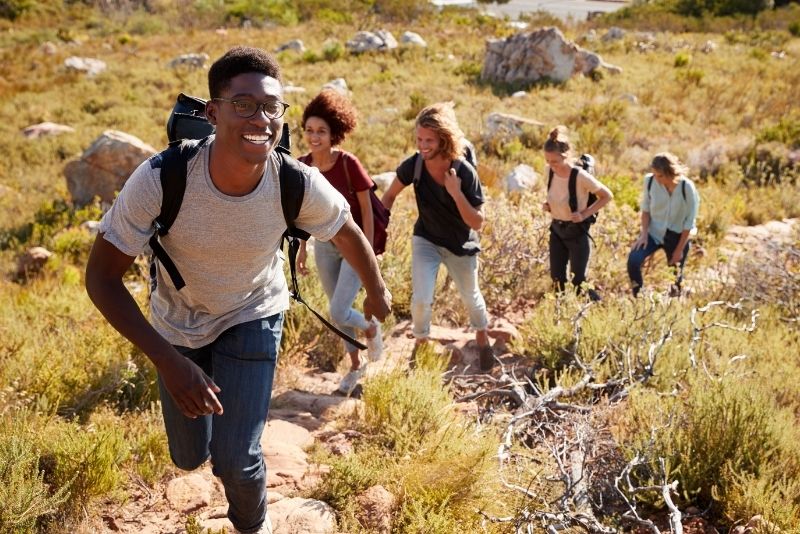 Ready to get away from the bright lights of The Strip for a while? Venturing out on a scenic, guided hiking tour of the stunning red canyons just outside Las Vegas is a great option. Get ready to lace up your boots, grab some cold water and some sunscreen (it gets hot in the desert!) and head out to one of the many scenic trails Red Rock Canyon has to offer.
Don't worry about the planning itself – a professional guide will be along for the entire hike so you can put your GPS away and just focus on taking some amazing photos of the canyons, rocks formations, and ancient pictographs.
Hiking tours in Red Rock Canyon are limited to 13 people, but most are smaller than that. This ensures a personalized, intimate setting with like-minded travelers.
Want even more privacy? Private tours are available, so you can have the guide all to yourself, enjoy more flexibility in times and itinerary, and take as many breaks as necessary along the way. Either way, your guide will point out the perfect places to stop to take a deep breath, have some water, and take some photos to remember.
After being picked up at your hotel, you will discuss three trail options with your guide. While all three offer stunning views of the Nevada wilderness, they are suited to different hiking levels and abilities, and picking the best one will guarantee a more enjoyable experience for the entire group.
Once you set off on your hike (depending on the trail chosen, it can last anywhere from 2 to 4 hours) your guide will share information about the ecological features of the area and answer any questions you might have.
6 – Red Rock Canyon sunset tours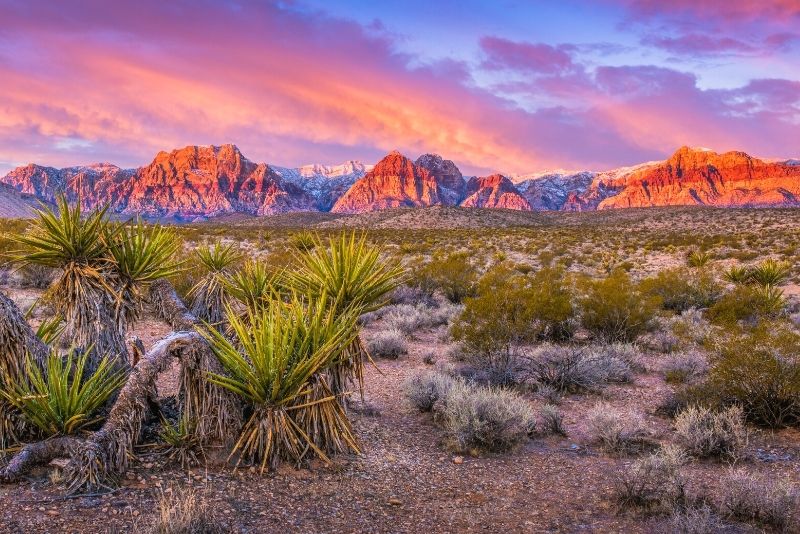 Red Rock Canyon is beautiful no matter when you visit – but there's something particularly magical about the sun bouncing on the red rock formations as sunset approaches. Luckily for visitors, there are many different ways to catch the sunset in the canyons.
The quickest and easiest one is via a helicopter tour, which will take you right over the canyon for stunning photo opportunities. Some helicopter Red Rock Canyon tours even offer a landing option, so you can jump off and admire the reds and yellows dancing over the cliffs as the sun sets.
Longer tours (up to 5 hours) take you right into the heart of the Red Rock Canyon Park for a sunset horseback ride or a Jeep off-road adventure. You'll have an opportunity to enjoy the rugged beauty of the park and see native wildlife up close.
Enjoy a western-style campfire barbecue complete with BBQ and s'mores (in some of the tours only). Ride the same trails cowboys were on hundreds of years ago and discover the unique beauty of the dessert as the stars come out.
Want an easy, relaxing late afternoon out in Red Rock Canyon? Small group tours are also available for those who prefer to be picked up along the Las Vegas Boulevard and driven to the park. There, you'll get a chance to drive around the scenic route before stopping at the perfect location to catch the sunset. Some of the small tours include an optional stop at the art installation Seven Magic Mountains inside the park.
7 – Red Rock Canyon helicopter tours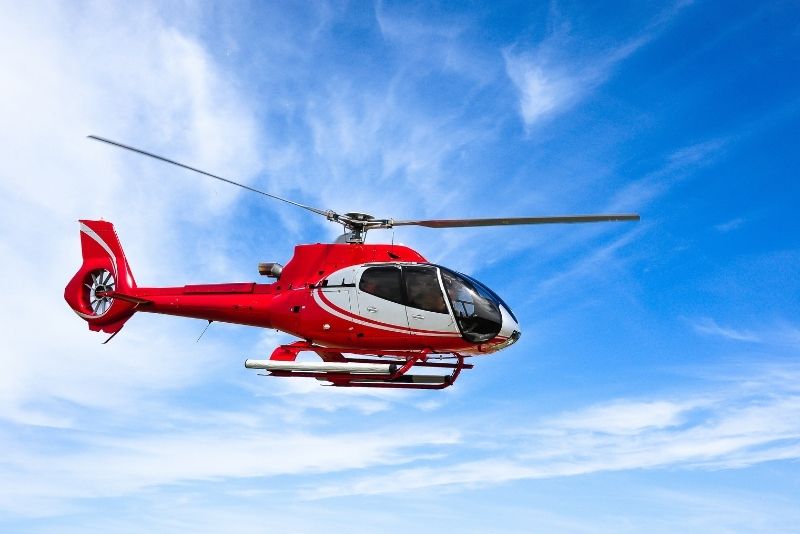 For a unique way to see the beauty of the red canyons, a daytime scenic flight over the Mojave Desert is hard to beat. This is a great option if you don't have enough time for a drive out to the park but don't want to miss out on the mind-blowing scenery.
There are several options when it comes to helicopter tours. You can choose a shorter 30-minute flight over Red Rock Canyon State Park for breathtaking views of the multicolored rock formations, the scenic loop, and the surrounding natural landscapes. All along, your pilot will provide insights into the geology and history of the area, as well as the animals and vegetation that call the place home.
For an even more stunning experience, consider a sunset flight with landing. These 2-2.5-hour-long tours will get you breathtaking views over Red Rock Canyon as the sun starts to set over the red sandstone. You'll then land on a private vista overlooking the Las Vegas Valley and The Strip, where you can toast the end of the day with champagne.
On your way back, you'll fly over some of the most iconic Las Vegas properties, including the Bellagio and Luxor casinos, as well as Allegiant Stadium just as the lights come on at the Strip. Helicopter tours with landing are also available during the daytime.
8 – Red Rock Canyon scooter car tours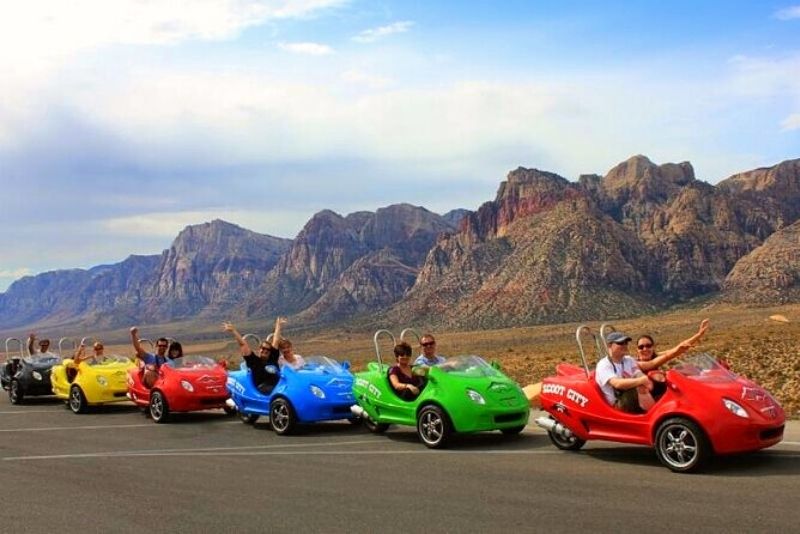 Want the fun of driving yourself around but a little uneasy jumping on a scooter? Instead of traditional scooters, you can try a Red Rock Canyon tour using a 2-person, 3-wheel scooter car.
You'll all get all the excitement of riding your own vehicle (with your partner or a friend) but can switch drivers at any time you need a break. Plus, that third wheel will come in handy for balance and speed.
This unique tour will have you feeling like a kid again. With no clutch or gears (and no special driving license required), these tiny cars are easy for everybody to maneuver. But don't worry, your guide will show you how to operate the car anyway as soon as you arrive at the Red Rock Canyon National Conservation Area.
From there, you will follow their lead to reach the scenic 21-km loop road that cuts through the canyon. Your tour guide will also suggest stops along the way so you can stretch your legs, try some of the short trails, or hike up to the High Point Overlook for great views over Las Vegas Valley.
As part of the tour, you'll also stop by the park's visitor center to learn about local flora and fauna before you head out. It'll give you a chance to identify some of the animals –including lizards and turtles – you might encounter in the desert.
TIP: This is a great tour if you're traveling with a partner, as the price is per car, not per passenger, so you'll save money while still getting the stunning 360-degree views the area is famous for.
9 – Red Rock Canyon private tours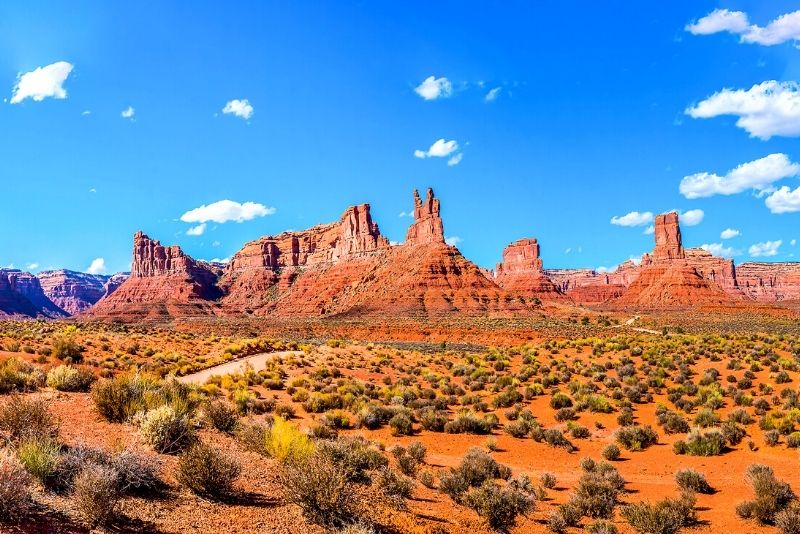 Tired of the crowds? We can't say we blame you. The glitz of Las Vegas comes with a lot of noise, people, and tight spaces. If you're heading out of the city and into nature for a chance to breathe, you might want to consider a private tour. Whether you're alone or with a group of friends, having a tour that's dedicated just to you would be a nice break from the hustle and bustle of the city.
Visiting Red Rock Canyon on a private half-day tour is very easy. Most private tours offer hotel pick up, from where you will then drive – in an SUV or small van – directly to the rugged beauty of the canyon. Depending on the tour, your guide might come bearing gifts in the form of a boxed lunch, juices and water, and sometimes even an acai bowl or snacks.
Most private tours will include the 20-kilometers scenic loop drive for amazing panoramic views. Plus, your driver will stop and let you out at the best photo spots. Depending on the tour, you could also stop at the Sandstone Quarry, the High Point Overlook for breathtaking panoramic views, Willow Springs, and the Calico Hills. There are also longer tours that last up to 10 hours and include additional stops, such as the Hoover Fam and the Valley of Fire with their fiery colors and shapes.
Is love in the air? Why have a rushed Las Vegas wedding when you can organize a private tour out to Red Rock Canyon for a serene wedding against a magical backdrop. If planning on getting married at the national park, this incredible private tour will help you with everything – from getting your marriage license to bringing a photographer and minister along – so you can return to Las Vegas as newlyweds.
10 – Red Rock Canyon combo tours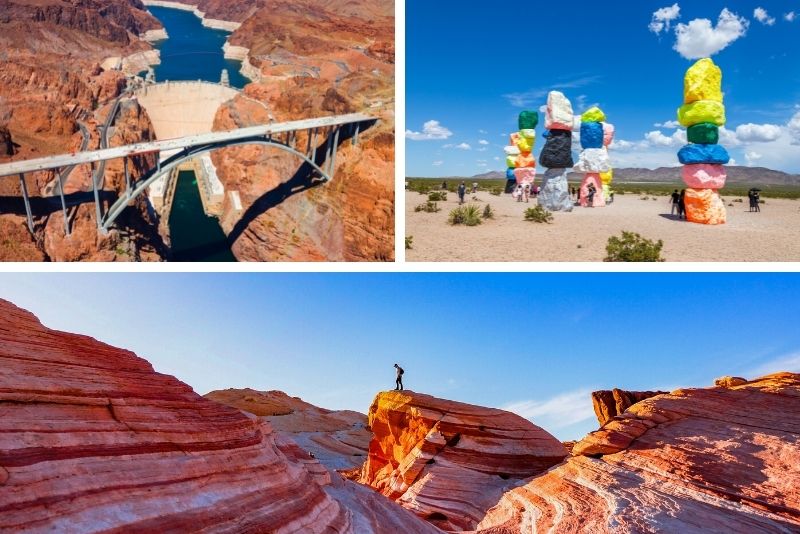 If you have enough time for more than one adventure, why not choose a tour that combines the beauty of Red Rock Canyon with other nearby attractions? There's a lot more to see outside Las Vegas, and the right tour can help you discover the area's most beautiful sights in one day.
A popular option that still only takes half a day is a tour of Red Rock's scenic desert cliffs combined with a journey to Seven Magic Mountains, an art installation consisting of seven painted boulders stacked to reach more than 12-meters high.
There's also the option to visit Hoover Dam with some of these tours for a chance to look out over one of the largest concrete structures in the world. You might even get the chance to enjoy lunch at Hoover Dam Lodge and Casino.
If you're craving more towering cliffs and red sandstone rock formations that look magical as the sun sets, adding Valley of Fire to your itinerary is the perfect choice.
These tours are longer (up to 9 hours) but will take you deep into Valley of Fire state park, where you can catch sight of petrified sand dunes. You'll also be able to hike the Mouse's Tank Trail through a canyon filled with Native American petroglyphs.
Less than 30 minutes from Las Vegas there's also Boulder City, a charming little town filled with historical heritage and an Art-Deco community with a very unique identity. If you want to walk its charming streets and fit in some artsy shopping, look for a tour that includes a stop there.
And just in case you were wondering, we've saved the best for last. Because just steps away from Red Rock Canyon there's an old west ghost town filled with spooky stories and rumors of haunting things walking its alleyways.
Curious? The Red Rock Canyon and Seven Magic Mountains Tour with Ghost Town option will take you there so you can wander around and try to catch the supernatural on film (well, your phone memory).
Final thoughts
So there you go: with so many Red Rock Canyon tours available, there's no excuse not to visit this stunning desert landscape so close to Las Vegas.
From biking the red canyons to spooky ghost towns to breathtaking helicopter tours, we hope you now know there's more than one way to explore Red Rock Canyon. We've made it easier for you to find the perfect match by aggregating all the tours available online in one place.
Whether you're looking for a day filled with adrenaline, a quiet private escape, or a chance to photograph the stunning desert sunsets, all it takes is one click and our smart search engine will help you find your ideal tour.
Hurry up and book your seats now! Have any favorites among our selection? Let us know in the comments below!