Take to the skies and soak up views of sprawling landscapes that make even Las Vegas seem tiny! Glide across wild canyons by plane, or hover over the city in a night helicopter – the choice is yours.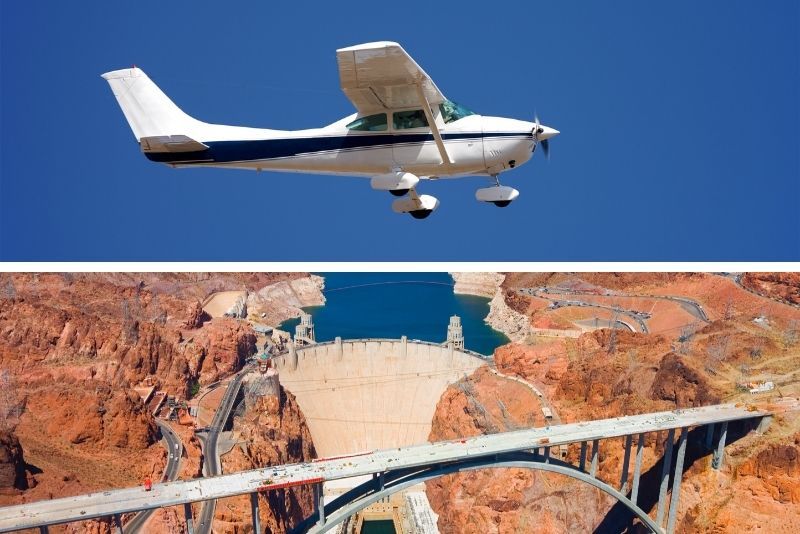 Airplane tours in Las Vegas are a truly unique way to explore beyond the city limits, and will undoubtedly be the highlight of your vacation. Read on to find out more.
What are the most popular airplane tours in Las Vegas?
Enjoy tours in planes or helicopters, with options for daytime sightseeing or city night flights. You can even take the controls yourself on some airplane tours in Las Vegas!
Airplane sightseeing tours
See some of the most spectacular landscapes in the American West during a sightseeing flight from Las Vegas. You will be picked up from your hotel and transferred to Boulder City Airport before taking to the skies toward the Grand Canyon. The plane has panoramic windows so keep your camera handy.
Some trips are purely aerial, while others land on the ground for further exploration. Half- and full-day trips are available, with a scenic lunch included on longer Las Vegas airplane tours.
Aerobatic flight experience
Take extreme sports to the next level with an adrenaline-filled aerobatic flight. Hold on tight as you experience 360˚ turns, loop-the-loops, and barrel rolls – just like a roller coaster in the sky.
There are three different options, including the Top Gun Experience where you will be doing the flying!
Scenic helicopter flights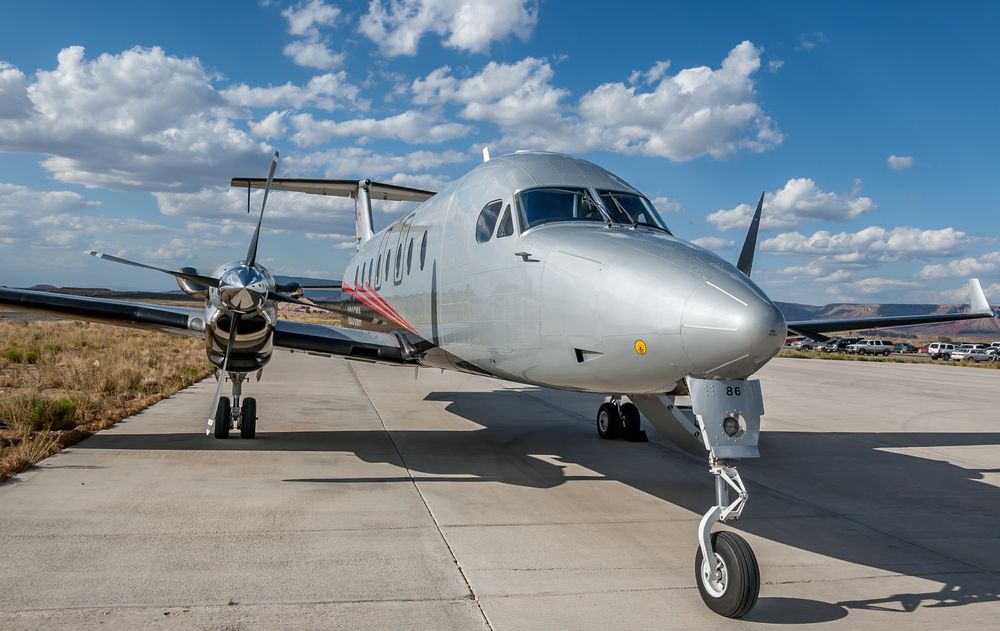 Fly over the Grand Canyon on a thrilling helicopter tour, with close-up views of the wilderness unfolding below. You will land in the canyon for Champagne and snacks.
Upgrade to a sunset flight to witness the changing rock colors, with a return evening flight over the sparkling Las Vegas Strip.
City helicopter night flights
See Las Vegas in all its glory as you hover over The Strip at dusk. Begin your evening in style with a luxury limousine hotel transfer, followed by a Champagne toast at the airfield.
Then it is all aboard for a city helicopter flight, with bird's-eye views of the Bellagio Fountains, Eiffel Tower, and the Mirage Volcano.
Airplane flight plus ATV excursion and barbecue
This is the ultimate combo tour, with action on the ground as well as in the skies. After your scenic flight, you will land on the North Rim of the Grand Canyon for an exhilarating quad bike adventure in the wilderness.
Next up is a hearty barbecue at Bar 10 Ranch, before heading back to Las Vegas. Hotel transfers are included.
How much do airplane tours in Las Vegas cost?
Prices for Las Vegas airplane tours vary depending on the excursion type and the experience length. Hotel pick-ups are included on all trips.
4-hour sightseeing airplane excursions over the Grand Canyon start at $189 per person. Want to go by helicopter? Tours that fly into the canyon cost $469, while the helicopter flight without a landing is $419.
Day trips with Grand Canyon flights and a landing on the West Rim start at $224. Some excursions also include a Hoover Dam tour. Picnic lunches are provided.
An 11-hour airplane tour to Horseshoe Bend and Antelope Canyon is $524. This includes guided ground tours and lunch.
The Las Vegas helicopter night flight costs $78 per person or $109 with the luxury transfer.
Aerobatic flights start at $364 for 12 minutes in the air, rising to $744 for the full 22-minute Top Gun Experience.
Which places are seen on airplane tours from Las Vegas?
Grand Canyon
The Grand Canyon is the main event on most airplane tours from Las Vegas. This colossal natural wonder stretches for miles through the desert, with colorful ravines and barren plateaus making for eye-catching photos.
The Colorado River snakes through the plunging gorge, which is a popular spot for Grand Canyon rafting tours. You can explore viewpoints and rim trails, and on some trips, you can fly insidrae the canyon itself.
For an additional cost, daring adventurers can test their courage on the 4,000-foot high Skywalk.
Lake Mead and Hoover Dam
You will enjoy unrivaled views of Lake Mead and Hoover Dam from the air during your Las Vegas airplane tour. Some excursions include a stop at the dam.
Hoover Dam is one of the most impressive feats of engineering in the world, towering over the Colorado and the Black Canyon down below. Discover how this man-made marvel was constructed and stand on Bypass Bridge for the best photos.
Antelope Canyon
Formed by years of water erosion, Antelope Canyon is as mysterious as it is beautiful. Hidden away on Navajo land in Arizona, this is America's most famous slot canyon.
Watch as light penetrates the narrow ravines, bringing the swirling colors and contours to life. This is a must for all budding photographers!
The only way to see the canyon is on a guided tour, which is included on some airplane excursions from Las Vegas.
Horseshoe Bend
Part of the Glen Canyon National Recreation Area, Horseshoe Bend centers on a giant meander along the Colorado River. This iconic landmark is one of the most photographed sights in the country.
Sweeping around a sandstone escarpment, the river has carved an intriguing horseshoe shape over millions of years. Today it is a panoramic hotspot and an unbeatable place for a picnic!
How long does an airplane tour last?
The most popular excursions are the half-day flights to the Grand Canyon, which last around 4 hours including transfer time.
If you have a little longer, consider taking a full-day tour to make the most of these incredible landscapes. There are 6.5-, 7-, and 11-hour trips available. The flight and ATV combo tour lasts 8 hours.
You will enjoy 15 minutes in the air on the Las Vegas helicopter night flight.
The aerobatic flight experiences last around 2.5 hours, with options for 12, 16, and 22 minutes of flying time.
Where do airplane tours leave from?
Airplane tours from Las Vegas usually include door-to-door transfers from your hotel, if it is located on The Strip. If you are staying further out of town, please contact the flight provider to enquire about meeting points.
When is the best time for an airplane tour in Las Vegas?
Most Las Vegas scenic flights are available throughout the year. However, some only operate between April and November so do double check your dates before booking.
The visibility over the Grand Canyon is best during the morning, so earlier tours are preferable for photography. The flight will be smoother too.
It is less busy on the ground in March through May, and September through November, so consider visiting in these shoulder seasons to avoid the crowds.
It can get chilly up in the air between October and March, so bring your winter clothing to keep warm.
Which other activities can be done in Las Vegas?
Travel tips
Book your airplane tour in Las Vegas online ahead of your trip to secure the best deals for your ideal dates.
Charge your camera batteries the night before and take a zoom lens if you have one. Most flights prohibit the use of selfie sticks, so leave those behind.
Remember to take your ID and present on arrival with your ticket.
Carry water with you to stay hydrated, but note that bottles cannot be opened on the plane.
You will need to take your driving license for the ATV tour – drivers must be a minimum of 16 years old.