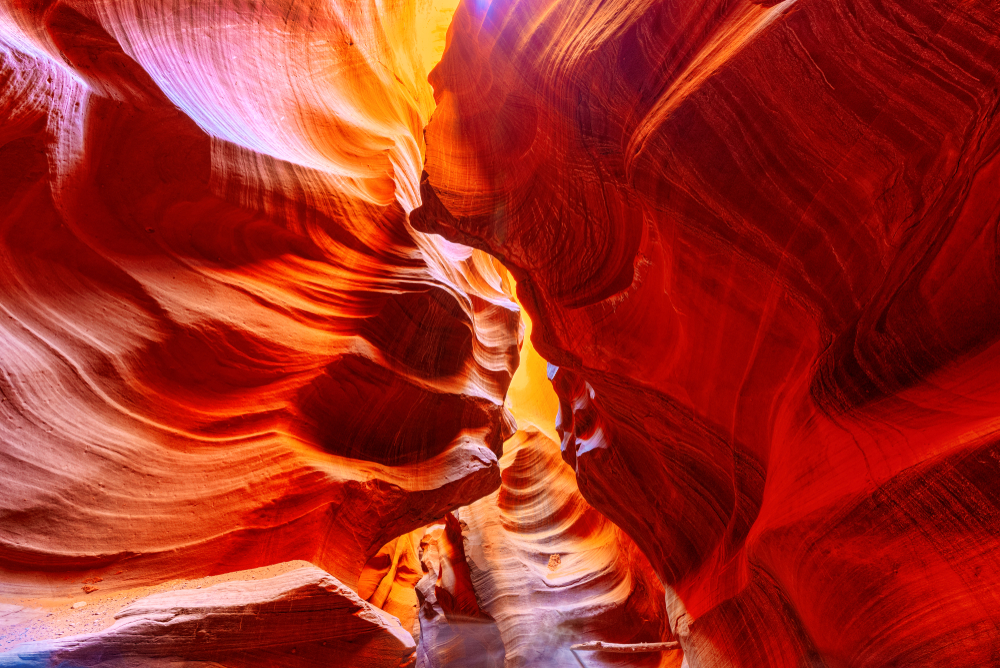 Formed by water erosion over thousands of years – the waterway is a tributary of nearby Lake Powell – the slot canyons are now dry for the most part, with only a few puddles remaining in some sections, but this just adds to the surreal atmosphere that's seen this Arizona natural landmark become an Instagram sensation.
All up, Antelope Canyon is 20 miles long, but its focal points – the Upper Canyon and Lower Canyon – are just 1,335 and 660 feet in length respectively, and can be easily covered in a couple of hours once you're there. With its upper crest hovering at close to 4,000 feet above sea level, and the lower section starting at about 3,700 feet, the temperature in Antelope Canyon is around 10 to 15 degrees cooler than in Las Vegas – which is a relief if you've been baking in the Mojave desert heat.
The majority of the canyon is located on Navajo land, and as such, access is highly regulated, meaning you'll need to join a guided tour to enter. With several different companies offering trips from both Page (the nearest city) and Las Vegas, you're sure to find something that fits your schedule.
Are you looking for the best Antelope Canyon tours from Las Vegas? In this article, you will find a complete travel guide to the Antelope Canyon, complete with everything you need to know before you go. Keep reading, or simply click on the links below.
How to get to the Antelope Canyon from Las Vegas?

The renowned Antelope Canyon is located in the American Southwest, on native land owned by the Navajo Nation. It's 279 miles east of Las Vegas, Nevada, and about eight miles east of the gateway city of Page, Arizona.
It's restricted to enter Antelope Canyon without a guided tour, so visitors will need to reserve their guide from one of the major tour companies in Page, or join a pre-organized excursion from Las Vegas. With transport included (hotel pickup and drop-off), most travelers understandably opt for the latter.
You can get to Page by car, shuttle, or plane, or access Antelope Canyon directly by guided tour — we'll dive into each of these in more detail now.
By car
It's about a 4.5-hour drive (276 miles) from the bright lights of Las Vegas to beautiful Antelope Canyon; a route that hops through three states (Nevada, Utah, and Arizona), crosses the mighty Colorado River, and winds its way through a handful of small towns (Mesquite, St. George, Washington, Colorado City, and Kanab, to name a few) worthy of a quick stop.
The most direct route requires you to take I-15 to Utah, passing the Valley of Fire State Park along the way. Once you're in Utah, passing the Red Cliffs National Conservation Area, you'll jump off the freeway, taking state route 9 and then 59 until you hit the Utah-Arizona border where the road merges to become the AZ-389. A beautiful stretch of road, AZ-389 will take you from Colorado City to Fredonia, after which you'll need to take the AZ-89A, merging onto US-89 to Antelope Canyon's gateway city of Page, Arizona.
To continue from Page to Upper Antelope Canyon, take AZ-98E for 4.5 miles to arrive at the Adventurous Antelope Canyon parking area on your right.
To continue from Page to Lower Antelope Canyon, take AZ-98E for 3 miles to arrive at Ken's Tours Lower Antelope Canyon parking area on your left.
All in all, this sun-kissed desert road trip makes for a very scenic drive, and is best not rushed.
By plane
Contour Airlines used to offer direct flights from Las Vegas McCarran International Airport to Page departing at 2:45 p.m with return flights that depart at 9:40 AM. Flights were taking a little more than an hour and cost as low as $100 round-trip.
Currently, there are no direct connections between Las Vegas and Page, but that doesn't mean it's out of reach by any means. Counter flies from Vegas to Phoenix, and then you can change planes for the short Phoenix to Page leg of the journey. All up, you're looking at a flight time of around 2.5 hours, plus layover (tip: consider a longer layover of 4-5 hours so you have time to leave the airport and check off some of Phoenix's main haunts).
Not forgetting private flights, as of October 1st, 2021, travelers can now reserve a 1-day Antelope Canyon tour from Las Vegas inclusive of flight and tour costs, hotel-to-hotel pickup, and meals.
By shuttle

There are no typical public transportation options from Las Vegas to Antelope Canyon, but a daily shuttle between Las Vegas and Page does exist. The west-to-east shuttle departs at 6:00 AM and arrives in Page at around 11:00 AM. A one-way ride is $95, making a roundtrip a total of $190 per person.
Travelers interested in using the service will need to reserve their seat online. The return shuttle leaves Page at 2:00 PM and arrives in Las Vegas at 7:30 PM. Visitors interested in exploring other sites in the region can reserve their return trip for a future date, book a room in a snazzy hotel, and check out spots like Horseshoe Bend, Lake Powell, and the Grand Staircase Escalante National Monument.
The convenient shuttle picks up travelers at 5 stops along the Strip and downtown: the Excalibur, Bally's, Treasure Island, Circus Circus, and the Golden Nugget (you don't need to be a guest of the hotel to use the shuttle, they're simply the meeting points).
By organized tour
Due to the distance, lack of public transport, pricey nature of the shuttle, and requirements that limit the access to Antelope Canyon to guided visits, tours departing from Las Vegas are the most efficient and economic way of viewing the park. And, led by an expert guide, also by far the most educational!
Excursions vary from one-day trips to Horseshoe Bend and Antelope Canyon tours to multi-day Grand Canyon and Antelope Canyon packages from Las Vegas, as well as exclusive Antelope Canyon helicopter tours from Las Vegas.
After something more comprehensive? Consider a multi-day package that also ticks off additional national parks in the region like Zion, Bryce Canyon, and Monument Valley.
Every group package is a little different, but for the mostpart, you'll find that they include meals, hotel pickup and dropoff from your Las Vegas accommodations, park entrance fees, flights and/or transport, guided narration to learn all about the movements as you pass them, and a friendly driver/guide always keen to answer your questions.
Do note that due to the high demand for tickets, it's essential to book your tour in advance, especially during the busy summer months (May-September).
How much does the entrance ticket to the Antelope Canyon cost?
As mentioned before, you will need to reserve a guided tour to enter the Antelope Canyon. The two sections of the Antelope Canyon have different prices.
Upper Canyon
There are two different kinds of guided tours to visit Upper Antelope Canyon: the first being for sightseeing (the general public) and the second being for photographers. Both require advanced online purchases and most operators won't make exceptions for walk-up visitors, so a little bit of foresight goes a long way here.
Sightseeing tours
Not including the time on the road or any stops along the way, sightseeing tours typically range from 60-90 minutes, with a variety of rates. General admission for adults 13+ ranges from $50-$90, depending on the length, times, and activities of your tour, with discounts often provided for children 0-12 – usually ranging from $30-$60.
Don't be surprised to see the more popular morning slots (10:30-11:30 AM) being a little more expensive. Due to their popularity and the limited number of passes available, you can expect to pay around $60-$100 for adults and slightly less for children ($50-$70) for the more basic excursions, which covers the Navajo entry permit, and all booking fees. Of course, any add-ons like transport, equipment rental, or a photoshoot will also come at an additional cost.
Photographer tours
A chance to soak in this stunning slice of Mother Nature from a new perspective – one behind the lens – the photographer's tour is reserved primarily for professional and hobby photographers interested in documenting the park (not your typical selfies and family photos). Lasting between two and a half and three hours, these picturesque treks through Upper Antelope Canyon normally hover between $110 and $160 per person, which covers your professional photographer guide (who'll ensure you snap the perfect photo), a Navajo entry permit, and all of the associated booking fees.
Just bring along your own camera and tripod and you're good to go.
Keep in mind: The best time for photography tours is early morning (between around 7:30 AM and 11:00 AM), and the late afternoon (from 2:00 pm to the last tour of the day) due to the enchanting lighting that bounces off the walls of the canyon during these times.
All rates include tax and Navajo Nation's $8 park entrance fee.
Lower Canyon
Being the larger section of the two, Lower Antelope Canyon is also the more popular option and, as a result, is usually a little pricier. With that being said, there are still a few different tour types and companies to choose from, all with their own rates, so you're sure to find something that fits both your budget and schedule.
While you will find tailored options here and there – some part of more comprehensive multi-day tours and others being more intimate, small-group experiences – the majority of Lower Antelope Canyon tours fall into two different categories, General and Private, and both options need to be purchased online in advance.
General tours
General tours include a 60-90 minute guided tour of Lower Antelope Canyon with prices usually hovering around the $90 mark, with typical discounts for kids. Led by a friendly, knowledgeable guide, these on-foot journeys will take you through some of the most impressive and best-known areas of the canyon, all while providing interesting facts and stories about the area's unique geology, history, and culture.
Like Upper Antelope Canyon, the earlier morning tours (before 11:00 AM) and late afternoon tours (after 2:00 p.m) are the most popular time slots, but there's nothing wrong with a little mid-day adventure. Just be sure to bring along some sunscreen and water, as it can get pretty hot in the canyon during the midday sun.
Private Deluxe tours
Deluxe tours are reserved for visitors interested in a more personal, tailored experience. Since they're private, you have a little more flexibility in regards to times and activities, making them perfect for those with specific needs or requests.
Rates for a private deluxe tour can vary rather dramatically based on your final itinerary. If you were to grab a ticket for the Guided 1.5 Hour Antelope Canyon Ligai Si Anii Cultural Tour, you're looking at around $140. On the other hand, a more comprehensive private excursion that includes luxury travel to and from Las Vegas (like the full-day Private Antelope Canyon & Horseshoe Bend Tour) can set you back upwards of $1,000 (but this can be split between up to 6 guests, so isn't too bad if traveling as a group).
Helpful tool: A list of tour operators serving the Antelope Canyon is reported on the official Navajo Nation website.
How to choose the best Antelope Canyon tour from Las Vegas?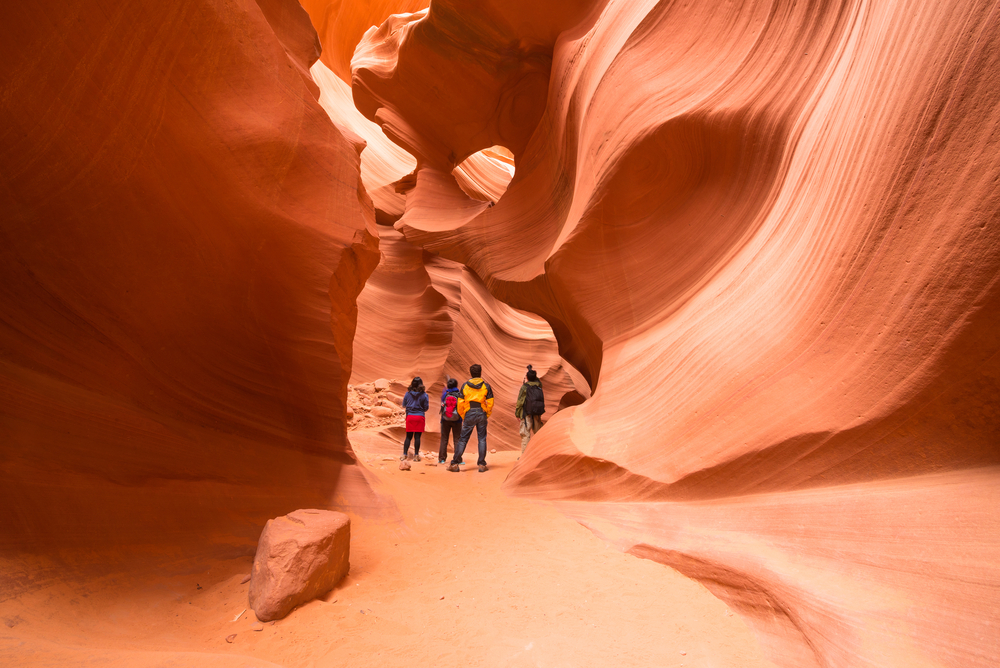 Due to the minimal public transport options in the Southwest, arranging an Antelope Canyon tour from Las Vegas is an economic and efficient way to visit the park.
There are a significant amount of travel providers offering Antelope Canyon tours from Las Vegas, so choosing the best can be challenging. Rates can fluctuate from $229 for a one-day trip to over $500 for a 3-day tour, and upwards of $1,000 if you prefer something a little more luxe!
The price is usually reflected in the inclusive benefits — think: meals, entry fees, flights, accommodation, drivers, and guides, so it's important to compare prices, benefits, and individual, unique factors when deciding which package suits you.
The Southwest is rich with national parks and natural wonders — from Horseshoe Bend to Zion National Park, Glen Canyon National Recreation Area, and more, some within an hour's distance of Antelope Canyon. And while Antelope Canyon is the focus of this article, it pays to remember that you might want to consider other options in the area too!
So, which tour should you choose?
If you prefer to drive to Page and Antelope Canyon yourself, simply book one of the 90-minute tours at the canyon entrance. If you don't have a car or prefer to avoid the hassle and enjoy the scenery en route, a full-day tour that includes hotel pick-up and drop-off in Las Vegas is a great option. Finally, for those wanting to explore the Southwest's wild landscape in more depth and variety, the combined and multi-day excursions are an excellent option.
Classic Antelope Canyon tour itinerary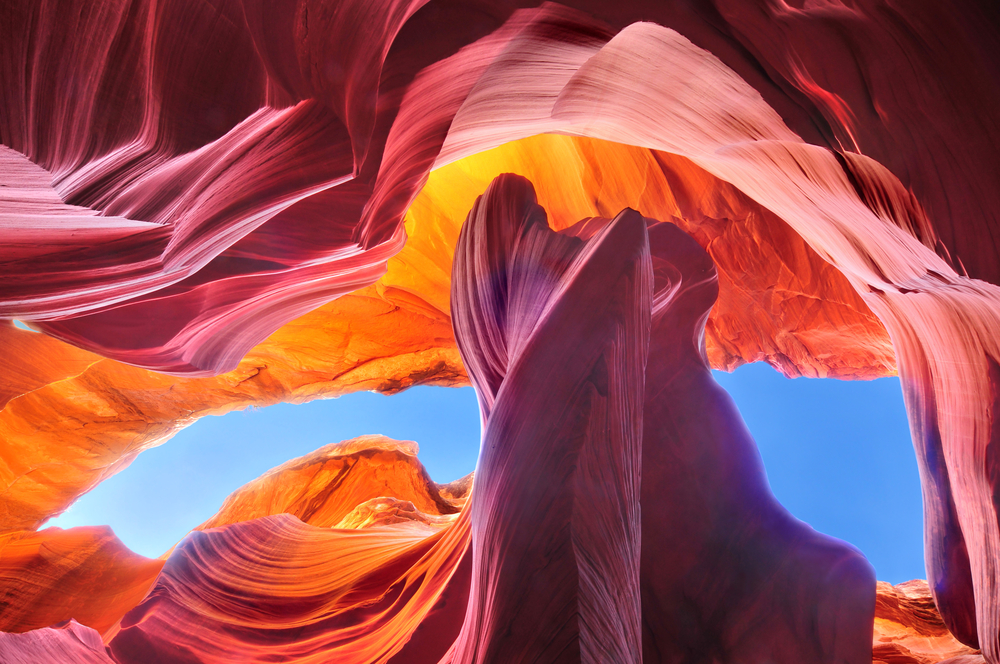 Antelope Canyon tours from Las Vegas usually include hotel-to-hotel transportation and depart between 7:00-8:00 AM, arriving at Antelope Canyon by 10:00-11:30 AM. Transport is provided by minivan in small groups of 6-14 or by coach with larger groups of 30+ — either way, the journey, which makes its way through the charming and at-time desolate scenery of Nevada, Utah, and Arizona along the way, delivers picture-perfect landscapes aplenty.
Once you arrive at the canyon, you'll be free to explore with your guide for around 60-90 minutes before being whisked away to the next destination on your tour – whether that's lunch, Horseshoe Bend (where you might spend 30-45 minutes), a Navajo Reservation Cultural Centre, a renowned viewpoint over Lake Powell (for about 15-30 minutes), or if your tour is a little more unconventional, the Glen Canyon Dam. The return journey to Las Vegas generally departs around 5pm, arriving back at the bright lights of the Strip between 8pm and 9pm.
Remember that each tour differs depending on the company and itinerary, so make sure to check the inclusions carefully before you book. That being said, most of the reputable companies offer a very similar experience.
Horseshoe Bend and Antelope Canyon tour from Las Vegas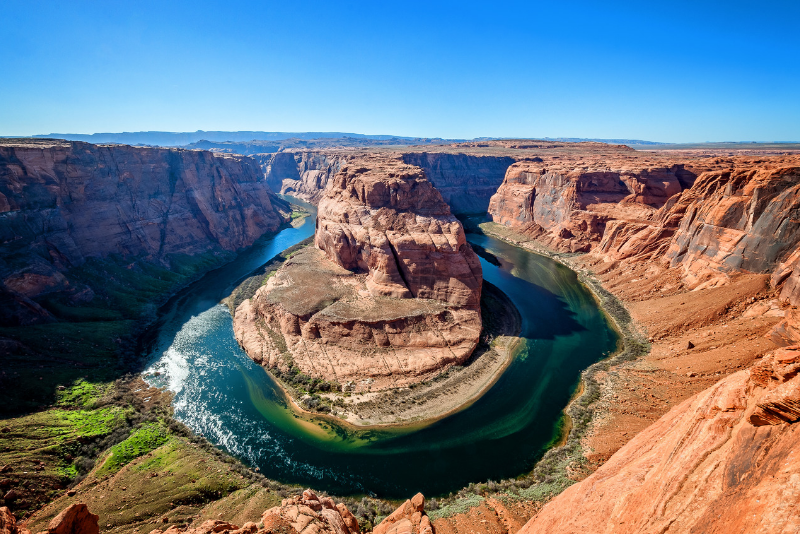 Less than 10 miles away from Antelope Canyon, Horseshoe Bend is a marvel in its own right and one of the most photographed places on Earth. Towering red rocks, a deep blue sky, and the Colorado River juxtapose in a scene that will have you scrambling for your camera. Sitting at 4,200 feet (1,300 m) above sea level, with a 1,000-foot drop between the cliffs and the river below, it's an impressive sight. Beneath the brim, the Colorado River meanders around the colossal sandstone plateau that's been elevated over millions of years of erosion.
Horseshoe Bend is located within the Glen Canyon National Recreation Area, which also encompasses Rainbow Bridge National Monument, one of the world's largest natural bridges. The recreation area offers ample opportunity to hike, camp, fish, and boat, making it a perfect add-on to your Antelope Canyon tour.
While many of the cheaper Antelope Canyon tours don't include Horseshoe Bend, it's easy to tack on an extra hour or two to your itinerary and make the most of your time in the area if you've got a few bucks to spare. If you're short on time, consider a helicopter tour that will fly you directly from Las Vegas to Horseshoe Bend and Antelope Canyon — you might even be able to combine it with a tour of the Grand Canyon.
For the Antelope Canyon and Horseshoe Bend combo, the logistics are relatively simple: most companies offering Horseshoe Bend and Antelope Canyon tours from Las Vegas include excursions through Upper Antelope Canyon (although you can find Lower options too), Lake Powell (an extensive sandstone reservoir with similar, monolithic structures that jut out from the idle waters), and Horseshoe Bend, one of the region's most revered natural wonders. At Horseshoe, it's an easy 10-minute hike to the viewing site with most packages including the $10 parking fee (motorcyclists pay $5).
Grand Canyon and Antelope Canyon tour from Las Vegas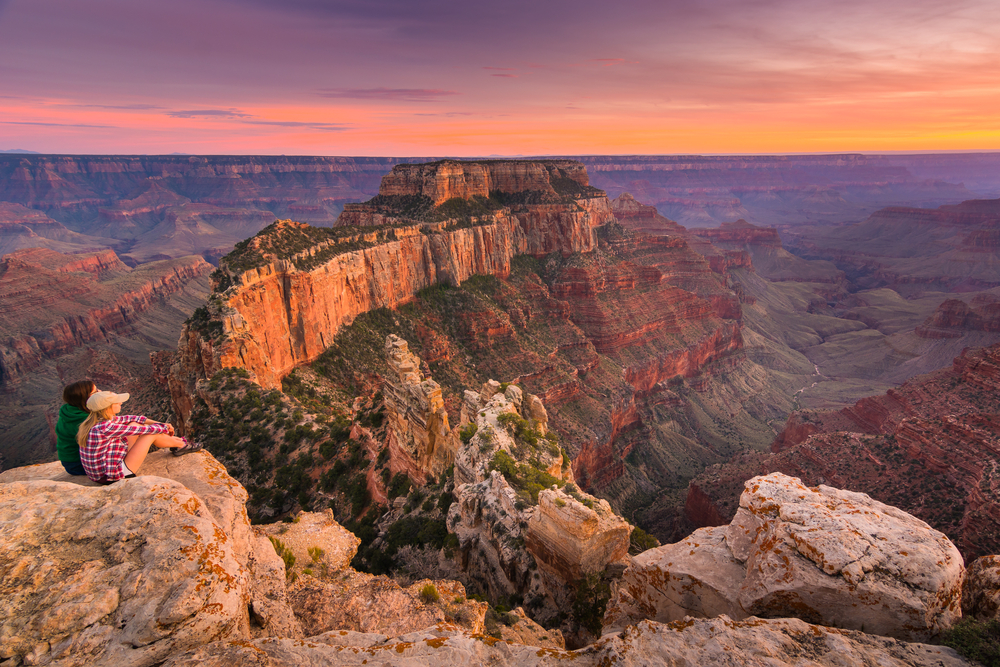 The best of both worlds, a Grand Canyon and Antelope Canyon tour from Las Vegas checks two of America's most impressive natural wonders off your bucket list in one all-encompassing adventure. Although it's a long day (or two) – you'll be up before the sun and won't be back to Vegas until after dark – it's more than worth it for the experience.
These two natural wonders provide starkly contrasting visuals, with the Grand Canyon's red-hued rocks set against the bright blue sky, its basic overwhelming in its size; and Antelope Canyon's undulating, orange slot canyons providing a more immersive sensation.
If you want to cram it all in in one day, it's certainly possible. Here's what the single-day adventure – sample 1-day itinerary – looks like:
Lasting anywhere from 17-19 hours in total – expect early mornings and late nights – you're whisked away from your Vegas Hotel and driven straight to Antelope Canyon for a guided tour (either Lower, Upper, or Canyon X). Once you're there, you can traverse the enchanting labyrinth of slot canyons, learning about their rainbow colors and unique formation from an experienced Navajo guide as you go.
After that, it's back in the car for a quick stop at Horseshoe bend, where a short hike (1.2 km or 0.75 miles on a sandy trail) and some epic views away – being right around the corner from Antelope Canyon (on the eastern side of Glen Canyon National Recreation Area), most companies will make a stop here anyway.
From Horseshoe Bend, it's a 4.5-hour drive to the South Rim of the Grand Canyon – the most popular (and accessible) section of this enormous natural wonder. You'll have some time to explore the UNESCO World Heritage Site, learning about its multi-million-year history and geology, soaking up the views, and perhaps even going for a short hike along one of the many trails.
As the day winds down and you've snapped the sunset selfies, you'll be driven back to your Las Vegas Hotel, arriving anywhere from 9 pm – 11 pm.
Sample 2-day itinerary
Does that feel a little too fast-paced? You can also join Grand Canyon and Antelope Canyon tours from Las Vegas that extend over 2 days, staying overnight 1-night trips of 4-8 participants, shuttled by an air-conditioned travel van.
Unlike 1-day Horseshoe Bend and Antelope Canyon tours from Las Vegas, businesses tend to provide flexibility with hotel pickup, although it's advised to ask which they serve. Departure times range between 5:00-7:00 AM and may include drive-by viewings of the infamous Hoover Dam and historic Route 66 en route to the Grand Canyon.
Voyagers arrive at the South Rim between 10:00 AM. and 12:00 PM., and stop for 1-3 hours. Trips may include an additional 15-minute stop along the East Rim for views of the Colorado River before continuing to Page for overnight accommodation.
The South Rim provides hiking access down into the canyon and a variety of panoramic trailheads. Also called the Desert View, sunrise and sunset vistas from the South Rim are some of the most breathtaking.
Along the East Rim, groups of visitors are much smaller as the area's less developed. As such, viewers are rewarded with authentic outlooks on the landscape, close-up views of the canyon, and sights of the cobalt Colorado River winding past East and South Rims.
Accommodation is provided in either Page or Flagstaff, all covered within the tour price.
After a well-earned rest and hearty breakfast, the next day's departure is usually bright and early around 9:00 AM, allowing for a short hike to Horseshoe Bend before continuing to Antelope Canyon.
Arrival time at Antelope Canyon ranges from 10:00-11:30 AM, widely considered optimal viewing times. Afterwards, expeditions may include an additional stop at Lake Powell before returning to Las Vegas by 7:00-9:00 PM.
Note: the specific times mentioned apply to many, but not all tours – consider them a guideline and make sure to double-check when booking.
Grand Canyon, Antelope, Zion, Bryce and Monument Valley tour from Las Vegas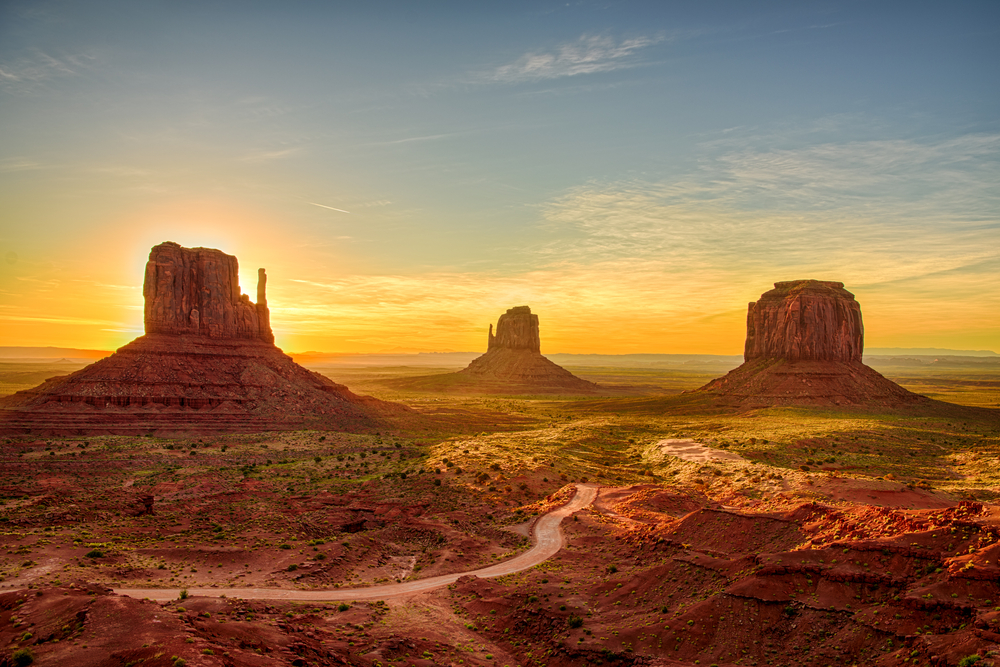 An all-encompassing, dramatic overview of the wondrous landscapes of the American Southwest, this tour hits all the highlights in just three days.
UNESCO-Listed Grand Canyon needs no introduction, drawing visitors from all over the world to its vastness, unique geology, and rich human history. Famed for its 2,000-foot-high sandstone cliffs, Zion National Park is home to some of the most stunning hiking trails – including one of the world's best treks, The Narrows – and vistas in the US. Then there's Bryce Canyon National Park – a veritable fairytale landscape of hoodoos (odd-shaped rock pillars) and red rock fins. The final stop is Monument Valley Navajo Tribal Park, where towering sandstone buttes have been the backdrop to numerous Western movies. And, of course, Antelope Canyon, whose smooth and ethereal slot canyons have already been discussed in-depth.
So close to one another in the grand scheme of the US, yet so vastly different, these parks will give you a true sense of the country's astonishing natural diversity.
Sample itinerary
Excursions through the Grand Canyon, Antelope Canyon, Zion National Park, Bryce Canyon, and Monument Valley are typically 3-day, 2-night trips by private van or motorcoach, ranging from small, combined groups of 6-14 to larger, combined bands of 35 people (give or take).
Departure times range from 6:00-8:00 AM, and arrive at the Grand Canyon South Rim a few hours later. Many purveyors include optional experiences at the site including helicopter tours over the Grand Canyon.
After admiring the spectacular scenes of the Grand Canyon's South Rim as well as East Rim, you'll get a good rest in the provided accommodation in Page, Lake Powell, Tusayan, or Williams, AZ, depending on the tour.
The next day, groups will typically head to Horseshoe Bend, Antelope Canyon, and Lake Powell, the latter being a refreshing change of scenery with its sprawling blue waters and 2,000 miles of shoreline.
Overnight stays are again included, this time in Kanab (1-hour drive), Bryce Canyon City (3-hour drive), or Springdale, UT (2-hour drive from Lake Powell).
On the tour's final day, you'll visit the epic Zion National Park – another visual feast of red rocks and valleys – where you can tick off the Emerald Pools, Weeping Rock, and the Riverside Walk; as well as the iconic Bryce Canyon, where you'll peer out from the most famous viewpoints "Bryce Point" and "Sunset Point". Depending on your package, you'll likely have some time at the pyramid-like Checkerboard Mesa too.
After appreciating the beauty on offer in Utah, it's time for the 4-hour journey back to Las Vegas, making your way through St. George, Washington, and Mesquite along the way.
Note: this style of itinerary (Grand Canyon – Antelope Canyon – Bryce/Zion National Parks) is just one style. Many tour operators do it in reverse, heading north to Utah first, and then making their way down to Arizona. Either way, with accommodation, most meals, educational guides, air-conditioned transport, park entry fees, parking, and sometimes even helicopter rides included, this type of tour offers great value for money with minimal hassle or organization.
Antelope canyon helicopter tour from Las Vegas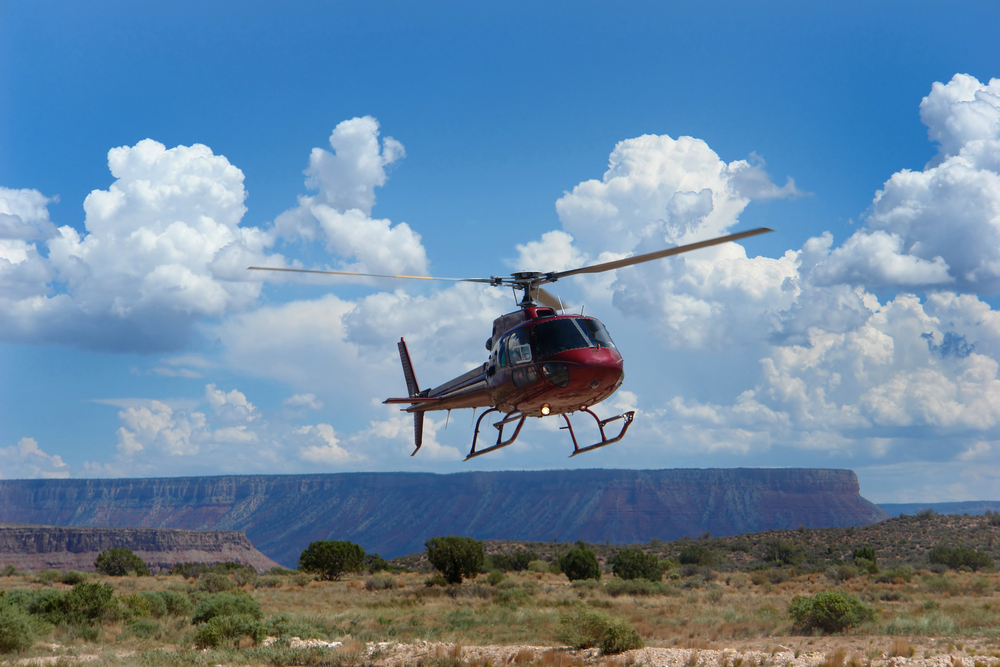 From ground level, the dramatic Arizona landscapes of red rock buttes, slot canyons and mesas look like a scene from another world. But it's only when you soar high above in a helicopter or airplane that the full scale of these natural wonders is revealed.
You'll avoid the crowds that can sometimes make visiting these canyons/parks a less than enjoyable experience, you won't have to be stuck on a bus for hours on end, and you'll get to see parts of the southwest that are inaccessible from the ground.
Helicopter tours are trendy in the Southwest of the United States. In fact, you can visit the Grand Canyon with a helicopter tour from Las Vegas.
But, there are no companies offering helicopter tours from Las Vegas to Antelope Canyon due to the long distance from Sin City.
Instead, you can book tours composed of a scenic airplane flight to Page (the small town that sits closest to Antelope Canyon), and then use Page as your jumping-off point to hit up Antelope Canyon and Horseshoe bend. This package is appealing because the total duration of the tour is shorter (about 11 hours) compared to bus tours. Plus, as you fly, you'll be greeted by spectacular views of Lake Powell, Glen Canyon, and the myriad of red rock canyons and mesas that make up this part of the country.
What will you see in the Antelope Canyon?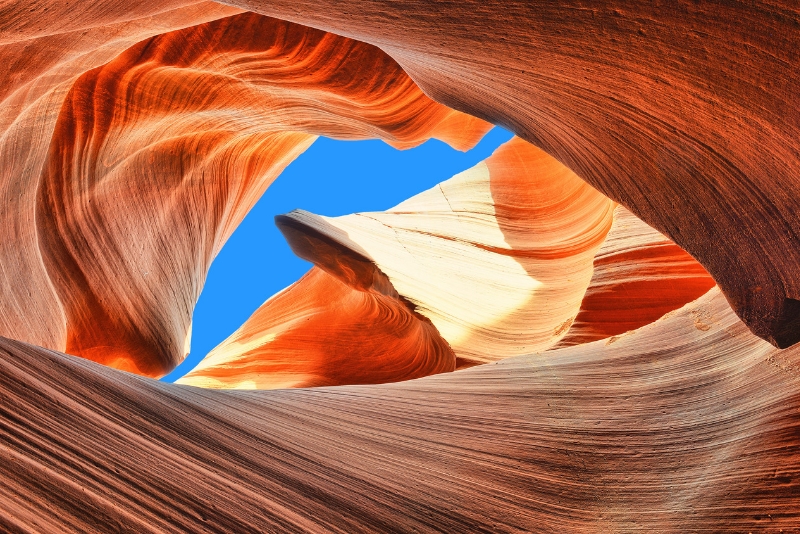 A coming-together of forces over millions of years has created one of the most photographed canyons in North America. The result is a place of rare and arresting beauty, with undulating walls that change color throughout the day as sunlight hits them at different angles.
The canyon is actually two separate slot canyons – Upper Antelope Canyon and Lower Antelope Canyon. Your tour will take you to one or both of these canyons, depending on the package you book.
Upper Antelope Canyon is known for its striking beams of light that illuminate the canyon floor in the late morning and early afternoon. These sunbeams are created when sunlight passes through small gaps in the canyon walls, casting a beam of light onto the ground below.
Lower Antelope Canyon is a bit deeper than Upper Antelope Canyon, and as such, it's less crowded and more intimate. It's also known for its smooth, flowing curves and for the way sunlight filters in to create a dream-like atmosphere.
Then there's Antelope Canyon X, a lesser-known, new addition to the tourist circles. Located on Navajo lands, just east of Page, about 4 miles south of Upper Antelope Canyon, this is a private canyon in a very remote area that can only be accessed with a permit, and being the new kid on the block, is typically far less crowded than the other two options. With no climbing required, and encompassing two slot canyons of different shapes (North and South), this is an ideal option if you're short on time or not looking for a strenuous hike. Plus, for now, the tickets to visit this canyon are slightly cheaper than the other two.
Upper Antelope Canyon
It's commonly believed that the best time to visit Upper Antelope Canyon is around midday (between 11 am and 1:30 pm) when the sun breaks between the fissures in the canyon to illuminate the lower passages, creating a light show of rays and color. The beams of light are at their strongest, but not drastically more than they are the rest of the day.
According to Upper Canyon tour companies, there's little difference between visiting the Upper Canyon at noon and visiting it at 8:00 AM or 3:00 PM. While the light shafts may not be at their brightest, colors can be more vibrant, and the canyon provides an equally appealing glow – it's a different experience, as all, not a worse one by any means.
If you visit early in the morning, fewer people are present, allowing for better photo opportunities too. And in the winter months (October-February), 8:00 AM and 3:00 PM are the recommended times – the same times recommended to professional photographers who want to capture the vibrant hues and ethereal glow.
Lower Antelope Canyon
Both the Upper and Lower Antelope Canyon are sister canyons, offering a very similar experience following the same hours and seasons. Unlike the Upper Canyon, the cascading sands tend to be less frequent, as are the beams of light, although the color and shadowplay are just as—if not more—vibrant in the Lower Canyon.
On the other hand, the minimal differences tend to be offset by the lower tourism and more affordable prices of the Lower Canyon. Likewise, the Lower Canyon is much more expansive, and trek durations can be twice as long as the Upper Canyon.
With narrow passageways to squeeze through and 5 ladders along the route to climb, it's spoken of as the more 'fun' of the pair, however, that also means that accessing the Lower Canyon by ladder might be difficult for some – in which case, Upper or X will still do the job.
Antelope Canyon opening hours
Upper Antelope Canyon sightseeing tours are offered year-round, 7 days a week, with the park typically open 8 AM-5 PM daily for most of the year – late March through to November 1st, and then adjusting to 9 AM-3 PM from November 2nd through to March to accommodate for the shorter winter daylight hours.
All excursions advise you to check in 30 minutes before your scheduled reservation time.
Upper Antelope Canyon photographer tours are offered year-round too, typically between 11:00 AM to 1 PM. Seasonal times might vary to include 9:30 AM from November-February and 1:30 PM from March-September 30th (only for special groups), however, it's best to confirm with your tour group as schedules can change depending on the circumstances.
All Lower Antelope Canyon tours are offered year-round, with visits departing roughly every 30 minutes from sun-up to late afternoon. Keep in mind that in cases of extreme temperatures (43C/110F), Lower Antelope Canyon may close as early as 11 AM.
As for Antelope Canyon X, opening hours are 9 AM-3 PM, 6 days a week, with the hours of 10:30 AM and 1:00 PM being the most popular timeslots. Given that Taadidiin Tours is the only operator in this section, you won't find too much variation in opening hours.
When is the best time to visit Antelope Canyon?
The best time to visit Antelope Canyon is between April and October when there's less chance of rain, and when the days run longer. Peak summer in July and August are the busiest times (and the hottest, so bring plenty of water), so you'll want to book your tour in advance if possible – especially for photography tours which have a limited number of spots available.
If you're visiting between November and March, you can still expect plenty of sunny days, but the temperature will be cooler, so dress accordingly. The upside is that there are fewer crowds, so Antelope Canyon (and nearby Horseshoe Bend) won't be as packed.
Keep in mind that regardless of the time of year, all sightseeing and photography tours are subject to weather conditions. If it's raining, or there's a chance of rain, your tour may be postponed or canceled entirely because of the risk of flash flooding.
Should I visit Antelope Canyon or the Grand Canyon?
The two canyons are completely different experiences, so it really depends on what you're looking for. The Grand Canyon is vast, with plenty of hiking trails and viewpoints to explore, whereas Antelope Canyon is much narrower and more intimate.
If you're interested in photography, then Antelope Canyon is definitely the better option as the light beams and rock formations make for some truly stunning shots. However, if you're more interested in nature and hiking, then the Grand Canyon will give you a better sense of the scale and grandeur of the landscape.
Ultimately, it comes down to what you want to see and do on your trip. If you can't decide, then you could always visit both! You'll find a handful of combination tour options that escort you from Las Vegas to the Grand Canyon, with a stop at Antelope Canyon (or vice versa) along the way, sometimes including more amazing locations like Horseshoe Bend, and often spending a night in Page, Sedona or Flagstaff.
What should I wear to Antelope Canyon?
The temperature in Antelope Canyon can range from quite cool to extremely hot, so it's important to dress accordingly. In the summer months (June-August), temperatures can exceed 40C/104F, so it's essential to wear light, breathable clothing and plenty of sunscreen. In the winter months (November-February), it can get quite chilly, especially in the early morning and evening, so layered clothing is recommended.
As Antelope Canyon is a hiking tour, closed-toe shoes are required, and it's recommended wearing sneakers or hiking boots for added comfort.
What's the difference between Upper Antelope Canyon and Lower Antelope Canyon?
The Upper Canyon has an inverted V shape; it's narrower at the bottom and wider at the top, and the canyon walls climb up to 120 feet high in some places. Being the more accessible of the two, an Upper Antelope Canyon tour is better for those who prefer a less strenuous walk; the elderly, or families with babies, toddlers, and preschoolers.
The light beams in Upper Antelope are said to be more intense than those in the upper, due to the inverted V-shaped walls. The different shape of the canyon also means that there's more opportunity for photographers to play with perspectives and capture unique shots – in fact, the upper canyon also offers photography tours which the lower canyon does not.
At 1,335 feet long, Lower Antelope Canyon is more than double the length of the Upper Antelope's 660 feet and is known as the "Corkscrew". The inverse of its Upper counterpart, Lower Canyon is shaped like a V – narrow at the bottom and opening up at the top – which can is ideal for those seeking an adventure travel experience. The tight spaces, ladders, and rock scrambling create a more hands-on adventure (not recommended for claustrophobics). Lower Antelope Canyon starts about three miles away from Upper Antelope Canyon, further downstream.
Can you see both? Absolutely, but it requires a little more organization. Your best bet is to book an Upper Canyon tour in the morning (a 10:30 AM timeslot is perfect), and then head to the Lower Canyon for an afternoon tour (try to get the 1:30 PM or 2:00 PM timeslot). This will give you enough time to explore both canyons without feeling rushed – just make sure to keep a minimum of three hours difference between both the tours.
What is Antelope Canyon X?
Antelope Canyon X is a newly discovered slot canyon, located just outside of Page, Arizona. Flying under the radar compared to the world-famous Upper and Lower Antelope Canyons, this hidden gem promises quieter experiences, fewer tourists, and an even more intimate experience with nature.
If you're planning on visiting Antelope Canyon X, it's important to book a tour in advance, as spaces are limited with only one tour company (Taadidiin Tours) operating through its majestic landscape.
While Lower and Upper canyons are distinctly V and A-shaped, Canyon X features two individual slot canyons that come together to provide a best-of-both-worlds experience — the perfect introduction to slot canyon hiking for first-timers.
Hiking tours are 1.5 hours in duration, while the Photo Tour is three hours in duration (designed specifically for DSLR/Tripod photographers with their own equipment).
What else can I see near Antelope Canyon?
If you're already traveling from Las Vegas out into the wonderful wilderness of Arizona, you might as well make the most of it and check out some of the other incredible natural wonders that this state has to offer.
Some of the other top attractions near Antelope Canyon include:
Horseshoe Bend: Just a short drive from both Upper and Lower Antelope Canyons, Horseshoe Bend is one of the most photographed places in Arizona. This natural wonder was created over time as the Colorado River slowly carved its way through the surrounding rock, creating a dramatic U-shaped bend in the process.
Glen Canyon Dam: Another man-made wonder near Antelope Canyon, Glen Canyon Dam is a massive concrete structure that stands 710 feet tall and 1,560 feet wide. Built in the 1960s, this dam created Lake Powell — one of the largest man-made reservoirs in the United States.
Monument Valley: One of the most iconic landscapes in the American West, Monument Valley is home to a series of towering sandstone buttes that have been featured in countless Western films throughout the years.
Bryce Canyon National Park: Located in southwestern Utah, Bryce Canyon is home to a series of unique geologic features called hoodoos, which are tall, thin spires of rock that have been formed over time by erosion.
Zion National Park: Located just north of Bryce Canyon, Zion National Park is known for its dramatic canyons, towering cliffs, and lush vegetation, which welcome wildlife of all shapes and sizes.
Vermilion Cliffs National Monument: Vermilion Cliffs is a massive 293,000-acre protected area famed for its colorful swirls of slickrock making up some of the most photogenic landscapes in Arizona, including the iconic Wave rock formation, the White Pockets, and the Buckskin Gulch.
Grand Canyon National Park: Last but certainly not least, no trip to Arizona would be complete without a visit to the Grand Canyon — one of the seven natural wonders of the world. This massive canyon is home to an incredible array of plants and animals, as well as some of the most stunning views in the entire country – which you can soak up with helicopter tours, white water rafting trips down the Colorado River, rim hikes, ATV rides, or horse riding adventures!
Can I go to Antelope Canyon without a tour?
No, all visitors must experience Antelope Canyon on a tour with a Navajo guide. The Navajo Nation, which owns and operates Antelope Canyon, has strict regulations in place to protect both the canyon and its visitors.
Not only is it required to have a Navajo guide with you at all times while in the canyon, but tours are also limited to small groups, so you'll have to book your tour in advance to secure your spot.
Of course, you don't have to book a tour from Las Vegas — you can always make your own way to Page, Arizona, where most of the tours depart from. However, if you're short on time or simply don't want to deal with the hassle of planning everything yourself, booking a tour from Las Vegas is definitely the way to go.
What should I bring with me to Antelope Canyon?
While you won't need to bring much with you on your tour of Antelope Canyon, there are a few essential items that you'll want to make sure you pack:
Comfortable walking shoes: You'll be doing a lot of walking (and sometimes even climbing) while in the canyon, so make sure to wear comfortable shoes that you can walk long distances in.
Sunscreen: Even if it's not super sunny outside, the sun can reflect off of the canyon walls and cause you to get sunburned, so make sure to put on sunscreen before your tour starts.
A hat: Wearing a hat will help keep the sun out of your eyes and protect your face from getting sunburned.
A water bottle: It can get pretty hot in the canyon, so make sure to stay hydrated by bringing along a large water bottle.
A camera: Antelope Canyon is incredibly photogenic, so you'll definitely want to bring along a camera (or your phone) to take pictures. Just keep in mind that tripods and professional cameras are only allowed on the specific Photography Tours – otherwise, your smartphone will do the trick.
Travel tips
Final thoughts
Well, there you have it – everything you need to know about booking the best Antelope Canyon tours from Las Vegas. If you're looking for an incredible experience and some amazing photos, Antelope Canyon is definitely worth a visit. Just make sure to book your tour in advance and bring along the essentials, and you'll be all set!
Staying in Vegas for a few days? Be sure to check out the comprehensive guides of the best things to do in Las Vegas for families, the most romantic things to do in Las Vegas for couples, and if you want to soak up more nature, the full rundown of the 26 Best National Parks Near Las Vegas.
Don't hesitate to comment below if you have any questions regarding Antelope Canyon tours from Las Vegas.
As always, happy travels!