Lake Mead is America's largest recreation area with 1.5 million acres of lakes, canyons, and peaks to explore. The wilderness provides a dramatic backdrop for hiking and boating, as well explorations by ATV and paddle steamer.
This is a land where rocks glow red in the sun, and the Milky Way twinkles above remote slot canyons at night. If you are staying in Las Vegas, taking a day trip to Lake Mead is a no-brainer.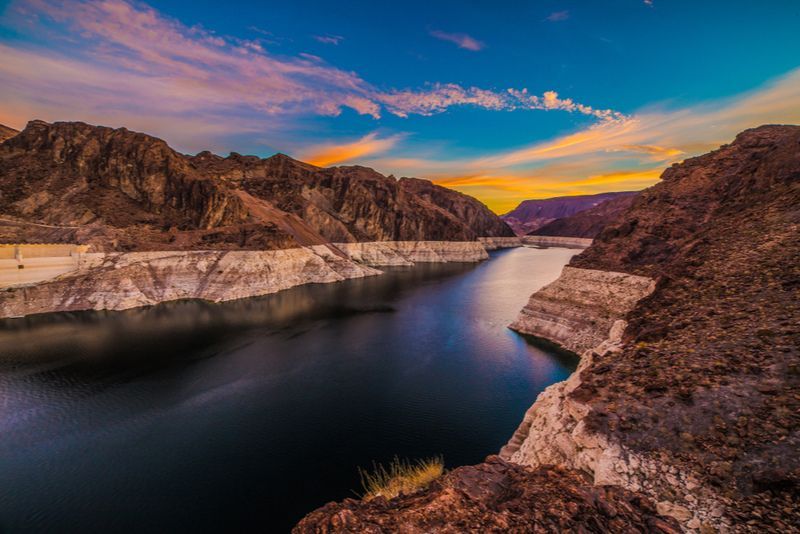 Here's all you need to know about Lake Mead, one of the most exciting day trips from Las Vegas.
How to get to Lake Mead from Las Vegas?
The western reaches of Lake Mead lie just 31 miles east of Las Vegas, with easy access by road.
From Las Vegas to Lake Mead by car
The journey takes around 35 minutes by car. Take the I-515 south before picking up the I-11 to Boulder Parkway. Come off at exit 15B and continue to the Hemenway Harbor Road.
To avoid the toll at Boulder Beach, turn off the I-515 at exit 64B onto West Galleria Drive, then join the East Lake Mead Parkway.
From Las Vegas to Lake Mead by bus
There are no direct public transport connections between Las Vegas and Lake Mead. However, you can take the bus to Wagonwheel after Boulder and then hop in a taxi for the last stretch. The entire journey lasts 1.5 hours.
Guided tour to Lake Mead from Las Vegas
By far the simplest way to visit Lake Mead is on a guided tour, with transportation direct from your hotel or designated Las Vegas departure point. Both small-group and private Lake Mead day trips are available.
How much does the entrance ticket to Lake Mead cost?
There is an entrance fee for Lake Mead Recreation Area, and passes can be purchased online or at the park gates. You will need to show your ID on arrival.
Vehicles are $25 per day, while motorcycles are $20. Individual walkers and cyclists are charged $15 for entry. Passes are valid for 7 days.
If you plan on visiting Lake Mead more than once, it may be worth considering an annual vehicle pass, which is $45.
Entry is usually included in the tour price if you have booked a day trip to Lake Mead from Las Vegas.
What is the typical itinerary of a day tour to Lake Mead from Las Vegas?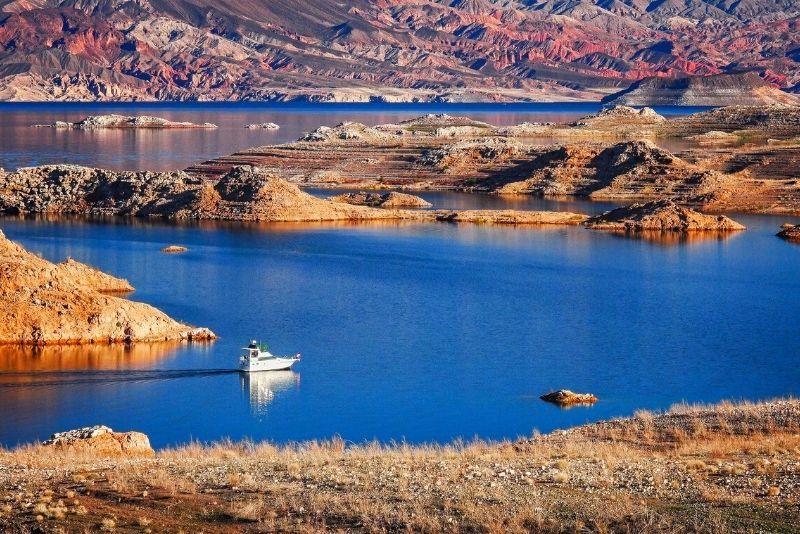 Most Lake Mead day tours include pick-ups from hotels or a central meeting point in Las Vegas. From there you will enjoy a comfortable ride in a minivan along the 31-mile scenic route. The journey usually takes half an hour.
Several tours stop at Hoover Dam for photo opportunities from the Bypass Bridge, before continuing to Lake Mead. Once at the lake, you can enjoy some water sports, take a cruise on a paddle steamer, or jump on an ATV to explore the trails.
At the end of your tour, your driver will return you to Las Vegas.
What kind of tours are available to go to Lake Mead?
You have lots of options when it comes to Lake Mead day trips, including group and private tours. All excursions (except some water sports tours) start and finish in Las Vegas, with return transfers provided.
Guided cruise tours to Lake Mead from Las Vegas
The most relaxing way to discover Lake Mead is on board the historic Desert Princess paddle steamer. Sit back and relax with lunch or dinner, watching the landscapes around Lake Mead unfold during your voyage.
You will enjoy free time at Hoover Dam to visit the installations and take photos, and there will be a stop at the famous "Welcome to Las Vegas" sign too.
ATV tours to Lake Mead from Las Vegas
Your first point of call on this Lake Mead day tour is the Hoover Dam Bypass Bridge for a 15-minute photo stop. Next up is the lake where you will head off along 22 miles of rugged trails on an exhilarating ATV adventure.
There will be plenty of scenic viewpoints, and swimming during the summer. Refuel with a world-famous burger at the lakeside restaurant before returning to Las Vegas.
Some ATV excursions also include a ride on the world's largest Monster Truck Limousine, and off-road racing in dune buggies for enthusiastic drivers! Optional 1.5-hour Grand Canyon helicopter tours are available too.
Private tours to Lake Mead plus Hoover Dam and Boulder City from Las Vegas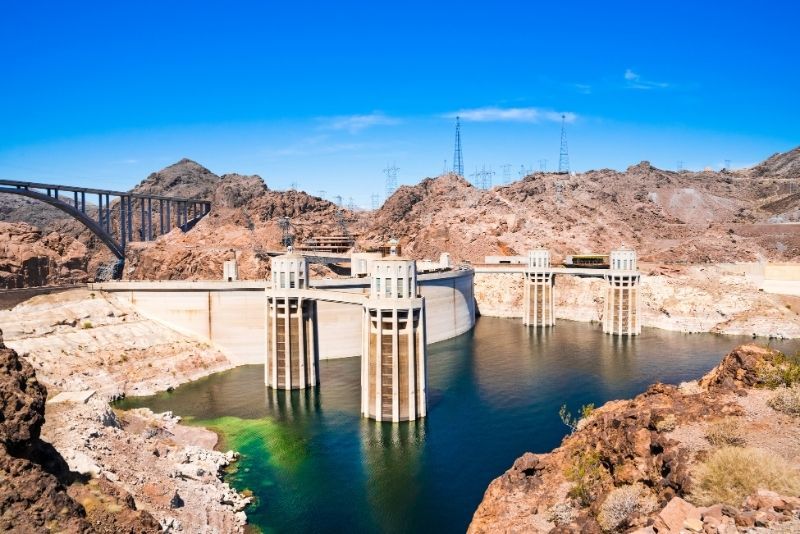 This 3-hour private tour is the ultimate way to experience Lake Mead in style. You will avoid the crowds and travel in a comfortable air-conditioned vehicle.
Stops at the Hoover Dam Bypass Bridge and Visitor Center are included, and there will be photo opportunities from scenic overlooks so keep your camera handy. After enjoying Lake Mead, see if you can spot bighorn sheep in Hemenway Park or do a bit of shopping in Boulder City.
Tours are for up to 8 participants, for a truly personal experience.
Guided day tours to Lake Mead and Hoover Dam from Las Vegas
Chill out at Lake Mead with this easy-going day trip from Las Vegas. Spend your day swimming, tubing, or fishing, and tuck into a delicious picnic lunch on the scenic shore.
Stops at Hemenway Valley Park for wildlife watching, and Hoover Dam for photos are included.
Water sports tours to Lake Mead from Las Vegas
There are several water sports tours to choose from, and all are suitable for beginners. Enjoy private instruction and pick up new skills as you try wakeboarding, water skiing, kneeboarding, or tubing.
For something more serene, have a go at stand-up paddleboarding yoga and experience the beauty of Lake Mead from a new angle. Tours last up to 6 hours and generally do not include land transfers.
Kayaking day trips to Lake Mead from Las Vegas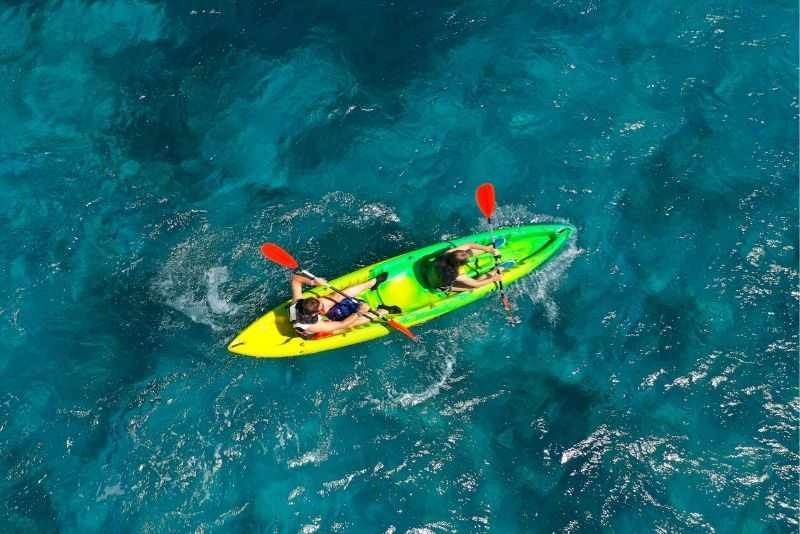 Paddle around Lake Mead in a stable touring kayak, on an aquatic adventure suitable for all levels. Venture out to the scenic Boulder Islands, do a spot of hiking, and plunge into the inviting water for a swim.
A beach picnic is the perfect end to a fun day on the water before returning to Las Vegas on this small-group tour.
Lake Mead National Park trail run tour from Las Vegas
Want to burn off some energy? Then lace up your running shoes and take on the 8-mile trail across the top of Hoover Dam and through Lake Mead National Recreation Area.
This 4-hour guided run begins at the historic railroad tunnels and takes in some of the best lake panoramas along the way. Reward your efforts with a celebratory photo stop at Hoover Dam!
How much does a tour to Lake Mead from Las Vegas cost?
Guided day tours to Lake Mead with swimming, tubing, and fishing cost $395 for a 10-hour trip. Transport and lunch are provided.
ATV day trips to Lake Mead are $250 for 3 hours or $355 for 6.5-hours. Transfers and safety gear are provided, as well as lunch on longer excursions. Some packages also include rides on Monster Truck Limousines.
ATV and buggy racing combo trips cost $715. Helicopter tours over the Grand Canyon are available at additional cost.
Private tours of Lake Mead start at $76 per person for a group of eight. Bottled water, snacks, and transfers in an air-conditioned vehicle are included.
The Lake Mead trail run tour is priced at $136 and includes a guide, water, transport, and snacks.
Private water sports sessions cost $385 for 2 hours and $875 for 6 hours. Stand-up paddleboard yoga is $58 for 1.5 hours. Transfers and the National Park fee are not included.
Expect to pay $177 for a 6-hour kayaking tour, that includes travel, equipment, lunch, and a dry bag for your personal belongings.
Lake Mead cruises are $109 for 8 hours and include lunch or dinner, a tour of Hoover Dam, and return transfers.
What will you see and do in Lake Mead?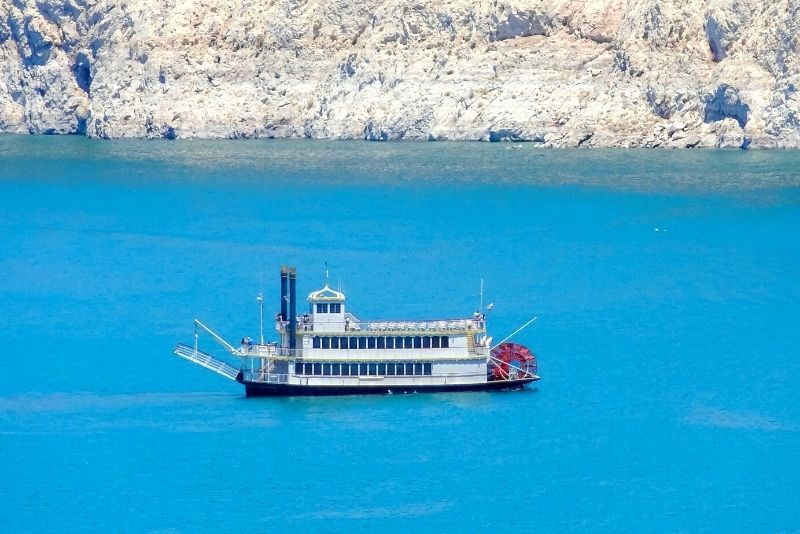 A visit to Lake Mead is about much more than just the lake – here are some of the highlights:
Hoover Dam and the Colorado River
The Hoover Dam is one of the most photographed structures in the US. It spans the dramatic Black Canyon, holding back the waters of Lake Mead.
You can stand on the Bypass Bridge for a mind-blowing perspective of the dam wall, as well as the Colorado down below. This iconic river has already flowed through several other national parks such as the Grand Canyon, Arches, and Canyonlands.
Want to spend longer here? Then have a look at the best Hoover Dam tours from Las Vegas.
Boulder Islands
If you choose the kayaking tour, you will be paddling to the Boulder Islands and exploring hidden coves, hiking trails, and unusual rock formations.
Pebble beaches make ideal picnic spots, with clear water for swimming. Keep your eyes peeled for the lizards that like to bask on the rocks.
Boating and water sports
The best way to see Lake Mead is of course from the water, so taking a cruise on a historic paddle steamer is a popular choice. Up the action with a water sports session if you feel energetic, with everything from wakeboarding to kayaking on offer.
When is Lake Mead open over the year?
Lake Mead day trips run throughout the year. The national recreation area is open 24 hours a day, 365 days a year, although some beaches do close overnight.
Paddleboat cruises are available between February and November.
When is the best time to visit Lake Mead?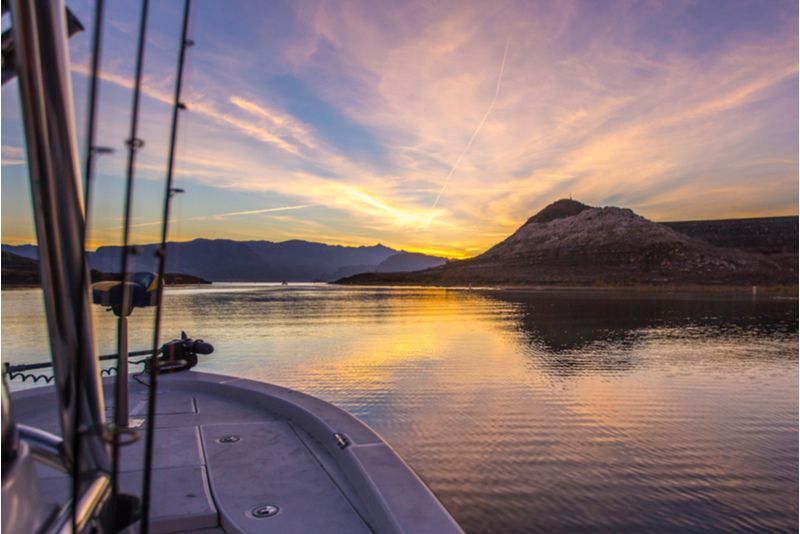 Lake Mead is a year-round destination, with each season offering something unique. Summers are warm and ideal for lake swimming, although this does draw the crowds.
For a quieter day tour to Lake Mead, visit during Spring for wildflower blooms, and Fall for hiking the rugged trails. Come in winter for snow-capped peaks and sunsets to die for.
Travel tips
ATV tour participants must be at least 18 years old to drive, and closed-toe shoes are required.
Book your Lake Mead day excursion online in advance to get the best deals.
Drink plenty of water throughout your visit to stay hydrated.
Bring a towel and your swimsuit if you want to take a dip or try some water sports.