Planning a bit of sightseeing during your trip? Then we highly recommend jumping on a hop on hop off bus in Las Vegas which is a hassle-free way to tick off some of the main landmarks and attractions.
If you want to explore at your own pace and create an itinerary that's unique to your interests, then these fun Las Vegas bus tours are the answer. Here's all you need to know about planning your excursion.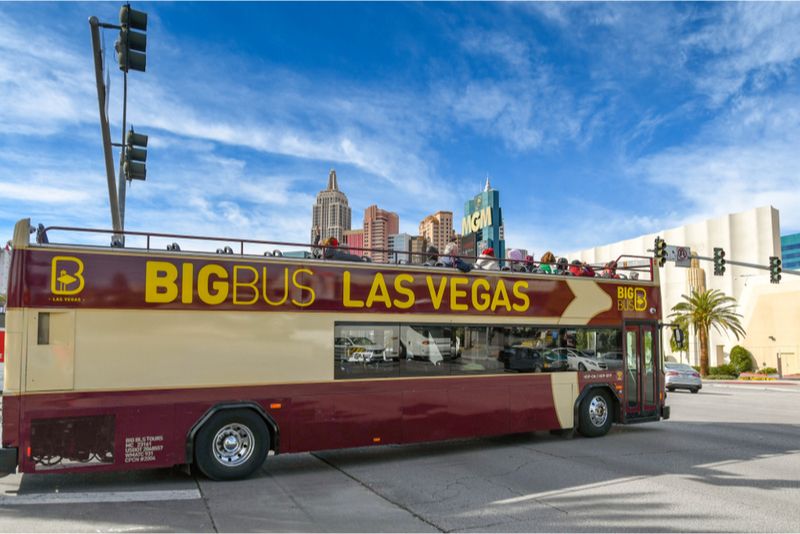 What are the best Hop on Hop off Las Vegas bus tours and their prices?
1. Big Bus Tours
Big Bus Tours is the world's largest operator of open-air sightseeing bus tours. They offer classic daytime excursions as well as night tours to see the city illuminated during the evening.
Their hop on hop off bus in Las Vegas is flexible and convenient, with an open-top deck for panoramic viewing. There are multiple stops that cover the main tourist areas of town, so you can pick and choose where to alight.
Route
There are two daytime hop on hop off Las Vegas routes with Big Bus tours, as well as an evening route which combines them both.
Red Route: The Red Route runs up and down The Strip, stopping at all the major hotels and attractions along the way. Pick-up and drop-off points include the MGM Grand, the LINQ High Roller, and Excalibur Hotel. The route finishes at the Welcome to Las Vegas Sign, before retracing its journey.
Blue Route: If you want to explore the Downtown area, take the Blue Route. This tour makes several stops in the neighborhood including the Mob Museum, Pawn Stars, and the Las Vegas Premium Outlets. This route is all about shopping, museums, and the Fremont Street Experience.
Green Route: The Night Tour follows the Green Route, which is essentially the Red and Blue routes combined. This takes in both The Strip and Downtown.
The daytime hop on hop off bus Las Vegas tours run daily between 10 AM and 7.45 PM, with departures every 20 minutes. To make the most of your time, we suggest starting out at no later than 5.20 PM.
Night tours depart at 7 PM from the LINQ Promenade, and 7.15 PM from the Excalibur Hotel and Casino. Make sure you're there 15 minutes before the bus leaves if you want prime seats on the top deck.
Tickets
There are three types of hop on hop off bus Las Vegas tickets. Each gives you unlimited stops for the duration of the tour. All excursions come with live guided commentary and free app access to help plan your visit.
Classic Ticket: This is a 1-day pass that includes both the red and blue routes. Tickets cost $45 for an adult, and $39 for a child (aged 3 - 12 years).
Premium Ticket: This single-day tour includes the Eiffel Tower Experience, the red and blue routes, and the night tour. Adults are $63, and children are $54.
Deluxe Ticket: This pass is valid for 2 days and includes all of the above plus a ride on the LINQ High Roller. Tickets cost $81 for adults and $72 for children.
Night Tour Ticket: Passes for the night tour only are $50 for adults and $40 for children.
2. Party Bus Club Crawl Tours
If you're in the mind to party, then these hop on hop off buses stop at some of the best clubs and bars in town. This is a fun way to let your hair down and dance the night away without having to worry about transport logistics.
Route
The routes do change according to club schedules and the hottest new openings, so you can be sure you'll be visiting some of the best party venues in Las Vegas. Popular spots include the Tao, Jewel, Marquee, and Drai's Nightclubs. You will have an hour at each location.
Hop on hop off Las Vegas party buses kick off from a hotel on The Strip, and you'll be advised which one at the time of booking. The starting and finishing points vary according to where the top DJs are playing that night. Guests can take an Uber back to their own hotel after the tour.
Las Vegas party bus tours depart at 10 PM and finish around 2 AM.
Tickets
Party bus tickets cost $50 per person and include skip-the-line entry and unlimited alcoholic beverages at each nightclub. You will need to make your own way to the start and end points of the tour.  
How do Hop-on Hop-off bus tours in Las Vegas work? What is included?
The main attraction of the hop on hop off bus in Las Vegas is that you can join the tour at any point along the designated routes. To begin your journey, just head to your bus stop of choice and present your ticket. You can then jump off and on again at any of the stops included in the timetable, and with departures every 20 minutes, there is never too long to wait.
You will be asked to indicate a date when booking, but tickets are valid for a week from the date selected so you have a bit of leeway. Do arrive at your departure point 15 minutes before the bus leaves to allow for the passenger boarding process and to bag good seats.
Entertaining live commentary or a personal audio guide is included on all Las Vegas hop on hop off bus tours, as well as free wifi and air-conditioning (on the lower deck!). Some of the day routes also include visits to the Eiffel Tower Experience, the LINQ High Roller, and the Fremont Street Experience.
Skip-the-line entry into nightclubs and unlimited drinks are provided on the party bus tours.
Are hop-on hop-off bus tours included in any city passes?
You can enjoy discounted rates on the hop on hop off bus in Las Vegas if you purchase a Go City Explorer Pass. Both classic tours and night tours on the Big Bus are included.
The pass is a great idea if you're staying in Las Vegas for a few days or planning on checking out multiple attractions. Essentially, the more places you visit on the Explorer Pass list, the more money you'll save.
Travel tips
Dates and times need to be pre-booked for your hop on hop off bus in Las Vegas, so make sure you do this in advance to secure your chosen slots.
Although you can get on and off the bus whenever you like, it's a good idea to have a plan of action beforehand to make the most of your time.
Bag a seat on the top deck for the best views and take sunscreen if you're on a day tour.