There are two types of helicopter tours in Las Vegas, both treating you to unrivaled bird's-eye views of the city and desert. The first is the popular helicopter flight over The Strip, where you'll enjoy the sparkling lights and iconic attractions from a rather unique perspective. Evening excursions are the best when the whole of Las Vegas is illuminated against the night sky.
The second tour takes you deep into the desert with a scenic flight over the Grand Canyon. There's no better way to see this vast escarpment, and some excursions even land on the canyon floor for close-up explorations.
Helicopter flights at night over the Strip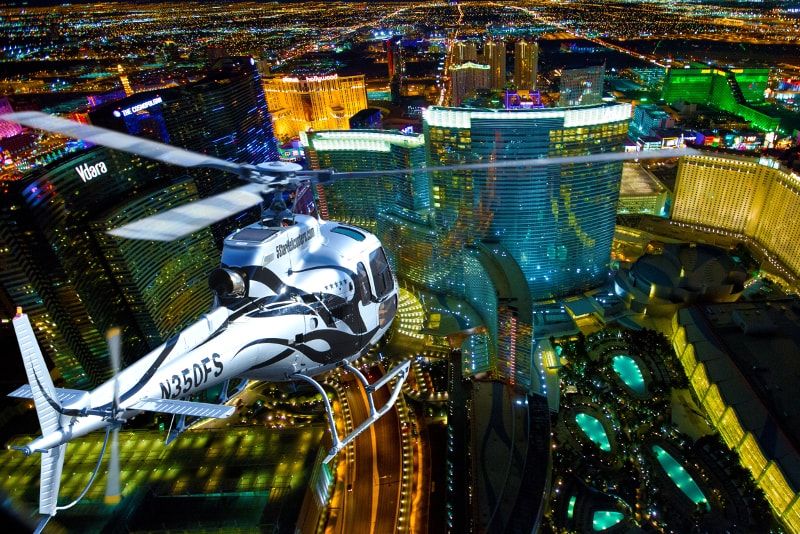 What is included in a helicopter tour over the Strip?
Helicopter tours in Las Vegas begin with a transfer from your hotel to the launch pad where you'll prepare for your aerial adventure. After check-in, a short safety briefing, and sometimes a sparkling wine toast, it's time to take to the skies.
From your comfortable perch, you'll enjoy 180-degree views out of the panoramic windows as you hover over the city. Most flights take off after dark so you can see the bright lights of Las Vegas from above.
The pilot will provide commentary on the sights below, as you fly over the mega-resorts and casinos of The Strip. You'll see famous icons like The MGM Grand Hotel, Planet Hollywood, and the LINQ High Roller, as well as the sparkling Stratosphere Tower and the dancing Bellagio Fountains. See if you can spot Fremont Street in historic downtown too and be dazzled by the Sky Beam radiating from the pyramid at Luxor Las Vegas.
During your short but sweet flight, you will soar over several well-known movie filming locations, so for a moment, you can pretend you're in Oceans 11, or The Hangover. There will be plenty of time to take some breathtaking aerial photos, and some tours include a professional photographer who will capture all the best moments.
Some Las Vegas helicopter experiences offer dinner in a renowned restaurant back down on earth after your flight. This is usually available as an upgrade at the time of booking, with transfers from the airport provided at an additional cost. A popular venue is the Eiffel Tower Restaurant where you'll be treated to a gourmet 3-course meal with a generous helping of views. Other excursions include an optional food tasting experience before the flight.
Both shared and private helicopter flights in Las Vegas are available.
How much do helicopter flights over the Las Vegas Strip cost?
The price of Las Vegas helicopter flights varies depending on trip length and package inclusions. Tours start at $89 per person for 10 - 15 minutes in the air without ground transfers. To add a hotel pick-up, expect to pay $149 per person for the package. If you want to include the food tasting experience, it's $323.
For the full works, tickets cost $330 per passenger. This includes luxury transfers, a pre-flight sparkling wine toast, a three-course dinner, and of course the helicopter ride.
If you would like a professional photographer to capture your experience, tours cost $899 for two guests. Transfers, Champagne, chocolates, and a photo stop at the Las Vegas Sign are all part of the deal. The experience lasts an hour, with a minimum of 48 photographs guaranteed - these can be downloaded after your flight.
Private Las Vegas helicopter tours start at $120 per person including hotel pick-ups.
Where do helicopter tours in Las Vegas start and what is the duration?
Transfers from hotels on and around The Strip are available for most helicopter tours in Las Vegas, sometimes as an add-on cost.
If you prefer to make your own way there, the majority of flights depart from the Helicopter Terminal at McCarran Airport off South Las Vegas Boulevard. A few trips also kick off from the helicopter operator premises opposite the Mandalay Bay and Four Seasons Hotels. Free parking is available for guests at both locations.
Flights themselves generally last up to 15 minutes, with the total tour time varying depending on whether other activities are included. The helicopter flight with an evening meal afterward usually takes around three hours.
When is the best time for a helicopter tour in Las Vegas?
Las Vegas helicopter trips take place throughout the day, but for a truly memorable experience, book an evening flight to see the city illuminated at night. Just make sure you reserve well in advance as this is the most popular time.
Choosing an evening helicopter tour in Las Vegas also means that the rest of your day remains free. So, you can visit other city attractions, or enjoy a day trip to Red Rock Canyon or Antelope Canyon before your flight.
Are there any combo options available with helicopter tours in Las Vegas?
Most Las Vegas helicopter tours come with several optional add-ons so you can tailor your experience to suit your preferences and budget. Here are some of the most popular combination excursions:
Las Vegas helicopter flight with dinner
For a glamorous evening out, a gourmet dinner at a premium hotel on The Strip can be included in your helicopter excursion package. You will be taken to the restaurant after your flight, for a delicious three-course meal. Venues include the Eiffel Tower Restaurant, where you will enjoy unrivaled views over the city.
Las Vegas helicopter flight with food tasting tour
Before taking to the skies, you can enjoy a food tour to sample some of the city's finest cuisine. You'll visit four exclusive restaurants where a dozen dishes are waiting to get those taste buds dancing. Then it's time for your flight to end the day on a high.
Is it safe to take a helicopter tour in Las Vegas?
Yes, helicopter tours in Las Vegas are perfectly safe, so you can just relax and soak up those views. These excursions are not suitable for travelers with heart conditions or other serious medical concerns, including some forms of vertigo. If in doubt, check with the operator before booking.
Are children allowed on a helicopter tour in Las Vegas?
Absolutely! Children can participate on Las Vegas helicopter trips, so you can enjoy a family adventure with your little explorers. Infants under two years should sit on the lap of an adult, while other children will require their own seat.
Travel tips
For all helicopter tours in Las Vegas, you will need to take your passport or ID for check-in.
You should arrive 30 minutes before your flight to allow time for the briefing and check-in.
Book your tickets in advance to avoid missing out on these popular Las Vegas helicopter flights.
The weight limit for a single passenger is usually 300 pounds (136 kilograms). Additional seats can be purchased if required.
Remember to take your camera to snap those 180-degree views.
Grand Canyon Helicopter Tours from Las Vegas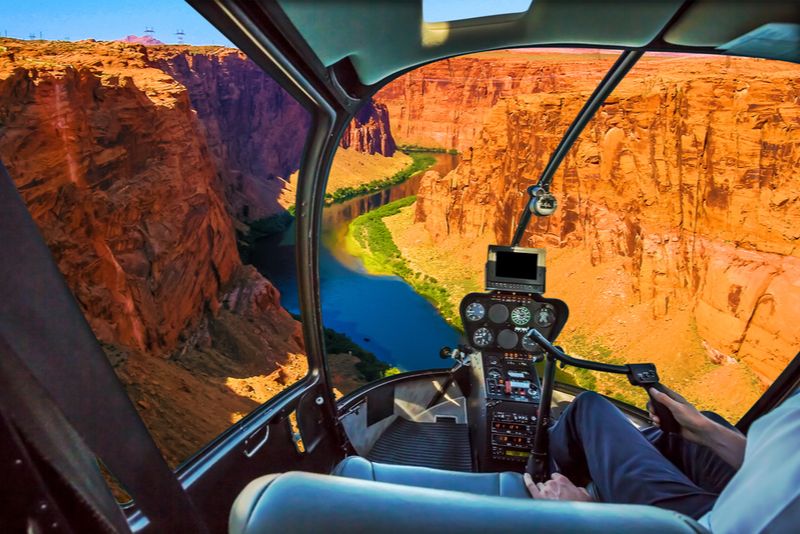 What is included in a Grand Canyon helicopter tour from Las Vegas?
You have several options when it comes to Grand Canyon helicopter flights. Here are the most popular tours:
Helicopter tours to Grand Canyon West - flight only
These excursions are air only, with scenic flights over the western rim of the canyon affording passengers draw-dropping panoramas on all sides. You will fly over The Strip, Lake Mead, and Hoover Dam on the way out, before hovering below the rim for a close-up inspection of the canyon walls. Top sights include the Grand Wash Cliffs on the Hualapai Reservation, the spectacular Grapevine Mesa, and the Black Mountains.
This round-trip Las Vegas helicopter tour is great for those who are short on time but still want to see some mind-blowing scenery.
Helicopter tours to Grand Canyon West - with landing
For added adventure, these helicopter excursions land in the bottom of the canyon after a panoramic flight over the escarpment. You'll enjoy all the same views as the flight-only option, before touching down in the Hualapai Indian Reservation. Here you'll have half an hour to explore, enjoy some drinks and snacks, and see the canyon from a different perspective.
On your return flight, you'll have front row seats to the red rock formations of the Bowl of Fire, which are particularly stunning if you've opted for a sunset tour. Flying through the canyon as the sun slowly sets over the plateau is definitely one of life's moments! You'll also see the city lit up at night if you go for a later tour.
Bus tour to Grand Canyon West - with helicopter ride
This full-day excursion begins with a coach transfer through the beautiful Mojave Desert to the Grand Canyon West Rim. You'll then board the helicopter and enjoy close-up views of the rock formations before landing on the canyon floor.
After your ride, you'll jump back on the bus and visit several overlooks, including Eagle Point and Guano Point. On some tours, you'll have the opportunity to explore the Hualapai Village or brave the Skywalk for an additional cost.
If you are traveling independently to the Grand Canyon South Rim or setting off from somewhere other than Las Vegas, you can join a helicopter tour in the Gran Canyon National Park itself. A variety of excursions are available, with some also including a Hummer ride, and ground transfers if required.
How much do helicopter flights to the Grand Canyon cost?
The flight-only helicopter tour costs $355 per person, including hotel transfers and up to 75 minutes in the air.
If you want to land at the bottom of the canyon, prices start at $449 per passenger, with transfers, sparkling wine, and snacks included.
The coach and helicopter combination tour is $329. Hotel pick-ups, lunch, and the flight into the canyon are included. If you want to visit the Grand Canyon Skywalk during your rim explorations, this costs an extra $76 per person.
Airplane sightseeing tours over the Grand Canyon are also available as a cheaper alternative to helicopter flights from Las Vegas, and the views are just as good!
Where do Grand Canyon helicopter tours from Las Vegas start and what is the duration?
Helicopter tours in Las Vegas offer hotel pick-ups, which are either included in the excursion price or provided for an additional charge. Do check with your provider to see if your accommodation is on the list. If the operator cannot collect you from your hotel, they will advise of the nearest pick-up point at the time of booking.
Flight experiences that land in the Grand Canyon last around four hours, including check-in and briefing time. Air-only rides are shorter, and you'll spend around 75 minutes on board the helicopter. Meanwhile, the bus and helicopter combination trip is a full day out, getting you back to Vegas in time for a late dinner.
When is the best time for a Grand Canyon helicopter tour from Las Vegas?
Grand Canyon helicopter tours operate all year-round. Morning flights usually experience the calmest weather conditions, while midday and afternoon trips are great for the detailed views of the dramatic geology.
If you would like to fly through the canyon at dusk and see the plateau flooded with color, then opt for a sunset helicopter tour. This will mean you'll also get to see Las Vegas illuminated at night as you soar over The Strip on the return flight.
Is it safe to take a helicopter flight to the Grand Canyon from Las Vegas?
Helicopters are a very safe way to get around, and these pilots are super experienced, so there's no need to worry. Travelers who suffer from vertigo or those with pre-existing health concerns such as a history of heart attacks are advised not to take the tour. If in doubt, consult a medical professional for advice.
Are children allowed on a Grand Canyon helicopter tour in Las Vegas?
There is no minimum age on helicopter excursions from Las Vegas, so you can enjoy a ride with all the family. Infants under two years of age will be considered a "lap child", while anyone under 16 years will need to be accompanied by an adult.
Are there any combo options available with a Grand Canyon helicopter tour from Las Vegas?
Helicopter tours in Las Vegas can easily be combined with other adventurous activities and sightseeing. Here are some of the top picks:
Grand Canyon helicopter tour with boat or kayak excursion
Experience the majesty of the canyon in all its glory with a combination flight and float extravaganza. After descending into the canyon by helicopter, you'll take to the water by pontoon boat or kayak and get a taste of the mighty Colorado River as it flows through the Black Canyon.
Grand Canyon helicopter tour with SUV ride
Add a rugged ride in an SUV to your helicopter excursion and stop at Hoover Dam and Joshua Tree Forest on the way to the canyon. You'll also visit the Native American Village after exploring the canyon floor by helicopter.
Grand Canyon helicopter tour with Valley of Fire landing
This scenic flight takes in the Grand Canyon, Hoover Dam, and Lake Mead, before descending into the Valley of Fire for a sunset landing. Here you'll enjoy a Champagne toast while watching the sun go down.
Grand Canyon helicopter tour with ATV ride
Zoom around Lake Mead National Park by quad bike and explore 22 miles of backcountry trails. Finish your adventure in style with a helicopter flight over the canyon.
Travel tips
Places are limited by the helicopter capacity so book ahead to avoid missing out on your preferred date.
You can take a bottle of water on board, but no food. Snacks are available on the tours that land in the canyon.
All passengers over 18 years will need to show photo ID at check-in.
Flights are usually rescheduled in the event of bad weather, so try to plan this tour towards the start of your vacation, just in case.