The striking Black Canyon is one of the best places to kayak on the Colorado River, as it winds its way through the desert landscape. This hidden oasis is a bit of an insider secret, and the place for active explorers to get their fill of nature and adventure.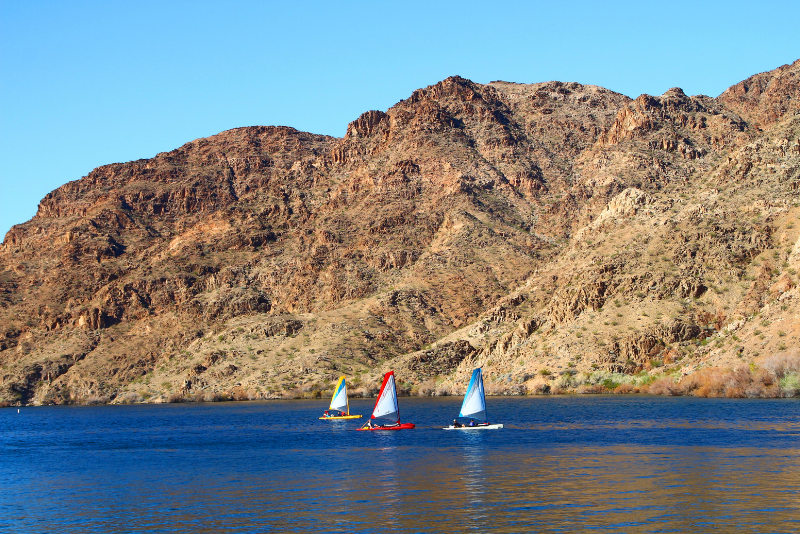 Black Canyon day trips are packed with hot spring swimming, lazy lunches on deserted beaches, and hikes through slot canyons in search of wildlife.
How to get to Black Canyon from Las Vegas?
Black Canyon lies 34 miles southeast of Las Vegas, and the easiest way to visit is by car or on a guided tour.
From Las Vegas to Black Canyon by car
It takes just 45 minutes to drive to Black Canyon from Las Vegas. Simply follow the I-515 heading south out of the city, before taking the I-11 and US-93 to Boulder City Parkway.
Guided tour to Black Canyon from Las Vegas
The easiest and most convenient way to visit Black Canyon from Las Vegas is on a guided tour. Pick-ups from selected hotels on the Las Vegas Strip or a pre-arranged meeting point are included.
Black Canyon day trips are usually by kayak, raft, or helicopter as this is a pretty remote place! Both half-day and full-day tours are available, as well as epic overnight camps.
How much does the entrance ticket to Black Canyon cost?
A river permit is required for all water activities in Black Canyon, but this will be included in your tour fee. You will need to take some photographic ID such as a passport or driving license with you on the day.
What is the typical itinerary of a day tour to Black Canyon from Las Vegas?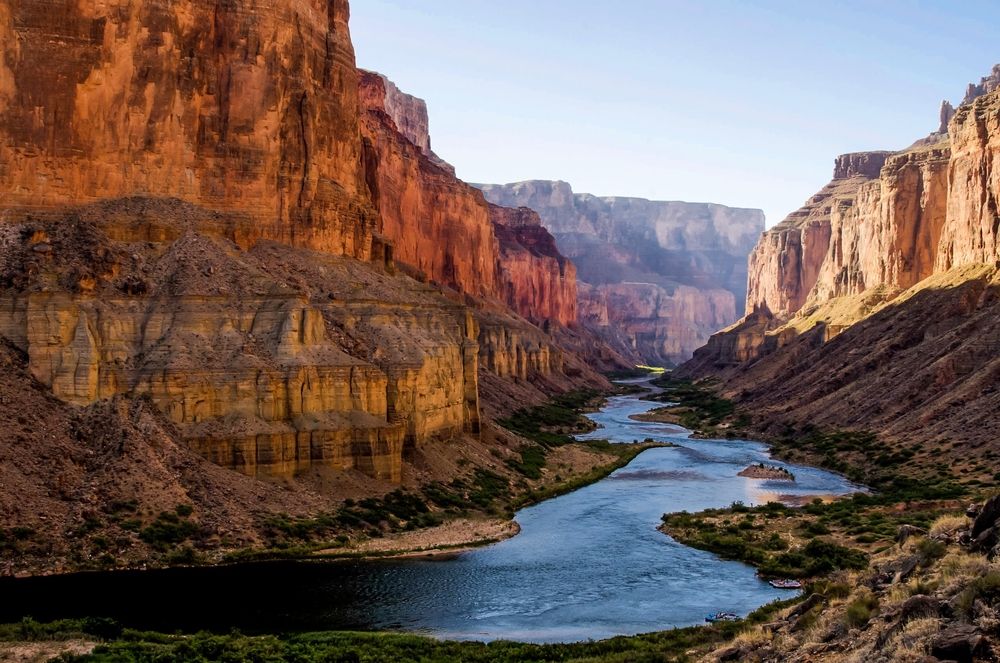 Much like tours to Red Rock Canyon and the Valley of Fire, a day trip to Black Canyon from Las Vegas is hassle-free and full of thrills.
After being picked up from your hotel or pre-agreed departure point, you will be transferred by shuttle to the Black Canyon. Half-day tours begin after breakfast, while full-day tours start at 6 AM.
Your expert guide will get you kitted up with the correct gear, depending on whether you are going kayaking, rafting, or mountain biking.
The day will then be spent exploring hidden gems along the Colorado River, including tranquil coves, sandy beaches, and bubbling hot springs. Hiking or cycling along slot canyon trails will have you constantly reaching for your camera.
Longer day tours to Black Canyon include a picnic lunch in a scenic spot, as well as multiple opportunities to take dips in the gently flowing river.
You will be returned to Las Vegas at the end of the day, with lots of tales to tell, and a full camera memory card!
What kind of tours are available to go to Black Canyon?
There are several different types of Black Canyon day tours to choose from, depending on how intrepid you feel.
Guided kayak tours to Black Canyon from Las Vegas
The best way to explore this dramatic natural ravine is from the water, which is why Black Canyon day trips are generally enjoyed by kayak. These small-group tours usually have a maximum of 15 participants.
There are half-day and full-day kayak excursions available in the Black Canyon, with pick-ups from selected hotels on the Las Vegas Strip.
You will be paddling into hidden caves, floating past historical sites, and watching out for wildlife as you journey down the Colorado River from the Hoover Dam. Stops on secluded beaches and swimming in hot springs will be the highlights of your day trip to Black Canyon.
No prior experience is required as the water is tranquil, and there will be a safety briefing where you will pick up some handy paddling skills. Kayaking equipment and river permits are provided.
Twilight kayak trips to Black Canyon from Las Vegas
For extra thrills, take a twilight kayak tour through Black Canyon and enjoy a moonlight paddle. This 4-hour trip stops at the same viewpoints as the day tours but throws in a glorious sunset from a panoramic overlook for good measure.
As day turns to dusk, you will cook hotdogs and s'mores over a roaring campfire, before journeying back to base under a sky of twinkling stars.
2-day kayak tour to Black Canyon from Las Vegas
Want to stay in the Black Canyon a bit longer? Then opt for an overnight kayak trip with camping out by the side of the river.
This adventurous Black Canyon excursion is a more leisurely way to see the sights, spending longer at remote beaches and secret hot springs. There is plenty of spare time for hiking and swimming along the way.
Day trip to Black Canyon by helicopter from Las Vegas
Take to the skies and soar over Lake Mead, Hoover Dam, and the Black Canyon on this exhilarating 10-minute flight from Boulder City. Follow the Colorado River for 20 miles as it snakes through the desert, enjoying stunning aerial views of rugged canyons and emerald coves.
There will be in-flight narration to help you understand the history and geology of the landscape unfolding below.
5-day mountain biking tour to Black Canyon
This one is for the active traveler who likes a challenge! You will be cycling along trails through the Black Canyon, the Sonoran Preserve, and the McDowell Sonoran Preserve, giving you front row seats to some spectacular desert scenery.
There will be up to 120 miles of biking, with overnight wilderness camps adding to the adventure. A maximum of 13 participants on this energetic Black Canyon tour ensures an intimate experience.
Participants need to make their own way to the meeting point in Phoenix, with a road transfer being the most convenient option.
Rafting day trip to Black Canyon from Las Vegas
This fun tour gets you up close to Hoover Dam and the iconic Mike O'Callaghan-Pat Tillman Memorial Bridge for top-notch photo opportunities.
You will then enjoy a journey by motorized raft along 12 miles of scenic canyon, with a stop at a peaceful beach for swimming and lunch.
How much does a tour to Black Canyon from Las Vegas cost?
Round-trip road transfers from Las Vegas are included on all tours, except for the multi-day mountain biking adventure.
Half-day guided kayak tours to Black Canyon start at $139, including safety equipment, drinks, and snacks. Full-day trips cost $287, giving you longer on the water as well as a tasty picnic lunch and the use of a dry bag for your personal belongings.
The twilight kayak tour is priced at $160 per person, with a campfire dinner provided. Meanwhile, the 2-day kayak jaunt is $495, with meals and camping equipment included.
Expect to pay $129 for a 3-hour rafting excursion in the Black Canyon with life jackets and a box lunch provided.
Black Canyon helicopter tours are $119 for a 10-minute flight. On some trips you can pay extra to sit up front.
The 5-day mountain biking tour is $1250. Bike rental is from $85 per person, and camping gear can be hired for $65. This Black Canyon tour begins in Phoenix, so you will need to arrange your own transport from Las Vegas.
What will you see and do in Black Canyon?
This 12-mile stretch of the Colorado River really packs a punch when it comes to natural landmarks and wildlife. These are the highlights to look out for:
Hoover Dam
The launch point of your Black River Canyon day trip is the colossal Hoover Dam – a remarkable feat of engineering that restrains the waters of Lake Mead.
Sauna Cave
The geothermal activity in this man-made cavern creates a natural steam room, making this a dramatic yet relaxing stop on your tour.
Nevada Hot Springs
You can find these hidden hot springs after a scramble up the imposing Gold Strike Canyon. The blue pools are the perfect temperature for a rejuvenating post-hike dip.
Boy Scout Canyon
This rugged canyon is home to a series of pools, just a short walk upstream from the Colorado. Intrepid souls can continue exploring, using ropes to scramble up the waterfalls.
Emerald Cave
The gently rippling waters in this enchanting grotto appear green when the sun shines, making for enviable vacation snaps. You can kayak into the cave to feel fully bewitched.
Arizona Hot Springs
These dramatically situated hot springs are tucked away in the bottom of a narrow slot canyon with towering walls. Climb the ladder to reach the most picturesque pools.
Wildlife
For such an arid environment, there is a surprising amount of wildlife in Black Canyon. Keep watch for sure-footed bighorn sheep scampering across the rock face, while bald eagles circle overhead. You may even spy a coyote as you drift by on the river.
When is Black Canyon open over the year?
Black Canyon is accessible year-round for kayaking tours. There are some restrictions for motorized rafting during peak periods, which is why your tour may not be available every day of the week. Check with your provider to find out about their days of operation.
When is the best time to visit Black Canyon?
You can visit Black Canyon all year-round, with each season having something different to offer. Spring and Fall are great times to come when temperatures are pleasant and the skies often clear.
Summer can be hot, which makes swimming in the Colorado all the more rewarding. Meanwhile, winter can be a wonderful time to explore, when crowds are fewer and it remains warm enough for kayaking.
Travel tips
Book your Black Canyon excursion from Las Vegas in advance as tickets do sell out.
The minimum age for Black Canyon kayak tours is 12 years.
Remember to take some sunscreen, your sunglasses, and a sunhat to protect from the heat.
Wear your swimming gear underneath your clothes if you fancy a dip in the hot springs. A small towel will come in handy too.
Wet shoes are a good idea, and there may be opportunities to purchase these at the start of the tour.
Always check what equipment rental is included in your trip so you go fully prepared.