Jump on your bike and get the adrenaline pumping with a fun tour through some of America's most spectacular landscapes.
Bike tours in Las Vegas can be enjoyed independently or with a guide, giving you unrivaled access to dramatic wilderness areas like Red Rock Canyon. Want to take it easy? Then opt for an electric bike and just sit back and enjoy the ride.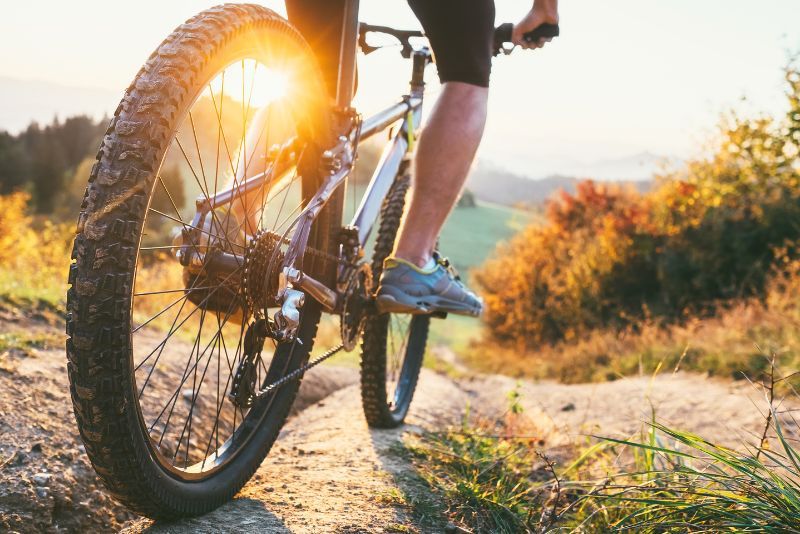 Here's all you need to know about bike tours, one of the most fun outdoor activities in Las Vegas.
What are the most popular bike tours in Las Vegas?
Las Vegas bike tours come in all shapes and sizes, with something to suit everyone.
Self-guided electric bike tours
Pedal as much or as little as you like on these tours because e-bikes will do all the hard work for you! Although this is a self-guided adventure, the hotel transfers and provided supplies make the trip a piece of cake.
There are sunrise, morning, or afternoon tours, to fit in with your schedule.
Guided bike tours
Enjoy a stress-free transfer from your hotel, before getting stuck into a few hours of easy exploring. Choose either an e-bike or mountain bike depending on how energetic you are feeling.
Your guide will show you the best viewpoints for photos, and there will be plenty of breaks for snacks. Group sizes are usually limited to 10 riders to maintain a personal experience.
Bicycle pub crawl tours
Enjoy a Las Vegas pub crawl in style as you pedal the streets on a giant group-powered bicycle. Your local guide will steer you in the right direction, all you need to do is move those legs.
Jig along to lively tunes as you wheel through the city, stopping at the hottest bars for local food and drink. Riders must be a minimum of 21 years.
Private guided mountain bike tours
Private bike tours in Las Vegas are for those who want top-notch personal service and a flexible itinerary. The ride will progress at your pace, so is suitable for beginners as well as adrenaline junkies.
Perfect your desert track maneuvers or enjoy a leisurely ride through a quiet canyon, the choice is yours.
Extreme dirt bike tours
Get the heart thumping as you power along off-road trails through secluded valleys in search of thrills. These Las Vegas dirt bike tours begin with a complimentary hotel transfer from the city, which takes around half an hour.
After a safety briefing, you will speed off over 50 miles of challenging terrain, enjoying beautiful mountain scenery on all sides. Prior dirt bike experience is essential.
Multi-day mountain bike tours
For the ultimate adventure, take to the saddle and explore the best of the American West by mountain bike. You will be exploring around 120 miles of epic trails on intermediate and challenging tracks, so experience is advised.
This 5-day 4-night bike tour from Las Vegas takes in some of the most spectacular landscapes in the Sonoran Desert between Scottsdale and Sedona. At night you can relax beside a campfire and fall asleep under the stars after a hearty dinner.
How much do bike tours in Las Vegas cost?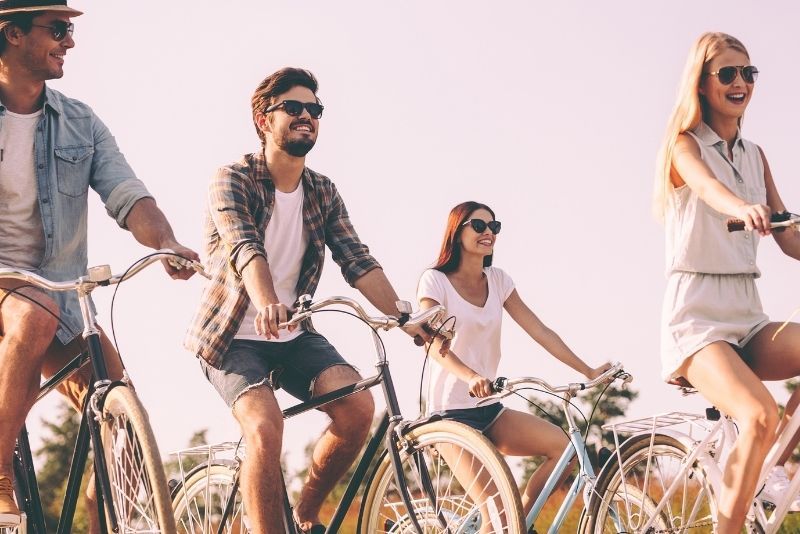 Las Vegas bike excursions are a cost-effective and thrilling way to explore some of the highlights around Las Vegas. Prices vary according to bike type and trip length.
Self-guided bike trips from Las Vegas start at US$89 per person for 3 hours and US$99 for half a day. Meanwhile, guided Las Vegas bike tours are priced at US$109 for 3 hours or US$130 for 4 hours. Transfers, equipment, and entrance to Red Rock Canyon are provided.
Dirt bike tours cost US$308 for a half-day excursion and include hotel transfers, a guide, equipment, and water.
A private guided mountain bike tour in Red Rock Canyon costs US$157 for 5 hours, with equipment, snacks, and soda provided. A full-day guided cycling tour around Hoover Dam and Lake Mead is US$190. Picnics, equipment, and hotel transfers are provided.
The 5-day 4-night mountain bike tour along the Black Canyon Trail costs US$1250 per person, including campsite fees. Bike rental is an additional US$85 per person, and camping gear hire is US$65 each. There will be a maximum of 13 participants on the trip.
Which places are visited on a bike tour in Las Vegas?
Red Rock Canyon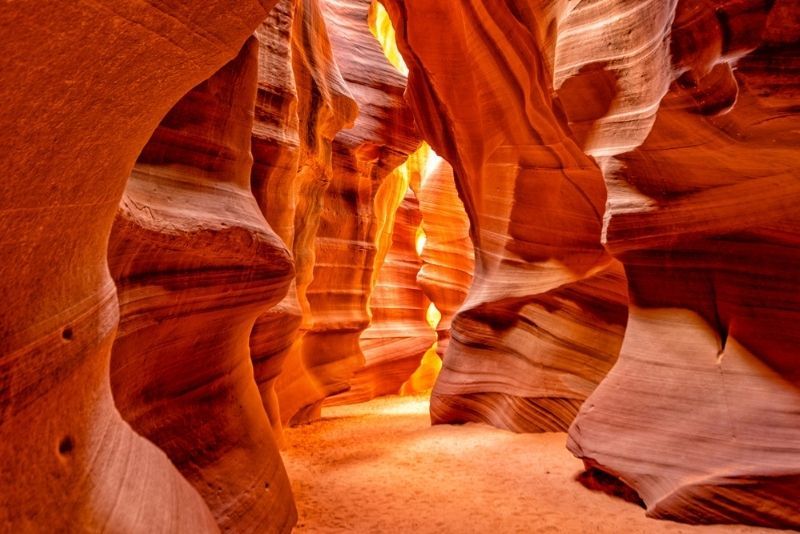 The Red Rock Canyon National Conservation Area is packed with unusual sandstone formations, sculpted over the centuries by the elements. Flanked by imposing cliffs, the 13-mile scenic road gives you the best views and an easy ride.
See if you can spot the ancient Indian petroglyphs hidden deep in the ravine. Watch out for coyotes and hawks too as you cycle through the gleaming red canyon.
Hoover Dam and Lake Mead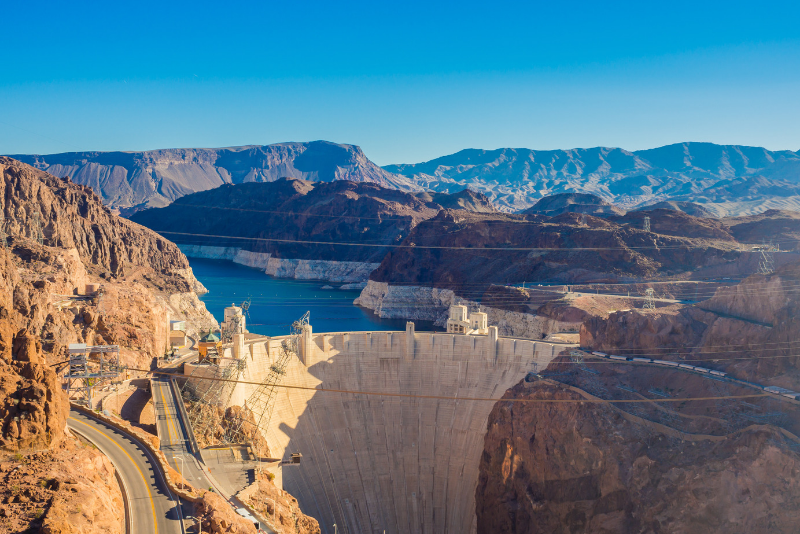 Cycle along the historical tunnel trail at Hoover Dam and see this engineering marvel from a different perspective. Want to find out more? Then pop into the Visitor Center and take the optional Discovery Tour for a chance to see inside the dam.
Ride downhill towards Lake Mead, keeping an eye out for the resident bighorn sheep and other native wildlife. You can take a dip in the lake if the weather is warm, and tuck into a picnic on the tranquil shores.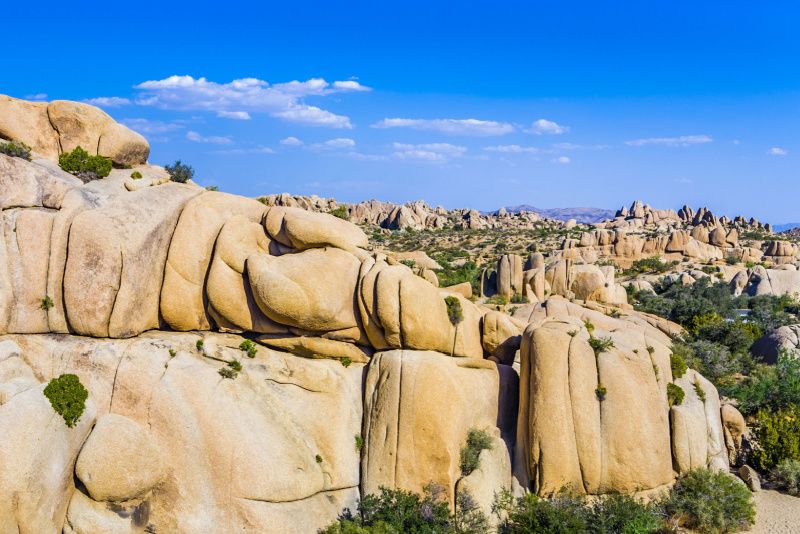 Dirt bike tours take in the rugged desert landscapes of Primm and the Hidden Valley, just outside Las Vegas.
The mountain terrain of the Nevada Desert makes a superb adventure playground for intrepid explorers. There are several off-road tracks to explore in the shadow of the McCullough Mountains and alongside the mesmerizing Roach Dry Lake.
Seven Magic Mountains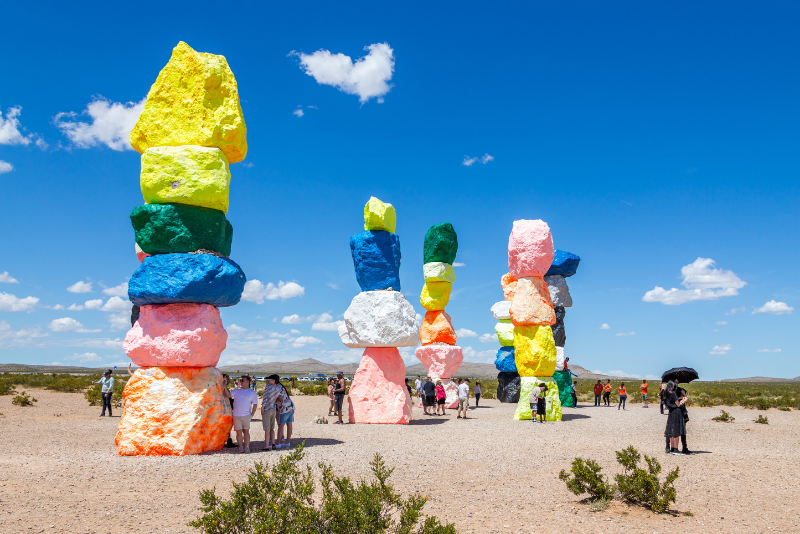 Some tours pass by the famous Seven Magic Mountains art installation. These colorful boulder totems designed by artist Ugo Rondinone are an intriguing contrast to the pale desert surroundings.
How long does a bike tour last?
Las Vegas bike tours tend to last around half a day, which is plenty of time to see the sights and work up a sweat!
Guided and self-guided bike tours from Las Vegas are 3-4.5 hours long, with most departing in the morning and heading out to Red Rock Canyon.
Allow 5 hours for the dirt bike tours, or up to a full day for a private mountain biking excursion to Hoover Dam and Lake Mead.
The cycling pub crawl is a couple of hours, allowing you to continue the party afterward at your favorite watering holes.
Where do bike tours leave from?
Most Las Vegas bike tours offer a hotel pick-up and drop-off, from selected accommodation along The Strip. Check with your provider to confirm arrangements before your visit.
Participants on the pub crawl cycle trip should meet beside the Freedom Beat Bar inside Downtown Grand Casio, on 3rd Street in Las Vegas.
The multi-day mountain bike tour departs from Phoenix in Arizona, so you will need to arrange a transfer from Las Vegas.
When is the best time for a bike tour in Las Vegas?
You can take bike tours from Las Vegas at any time of the year, but do bear in mind that it gets rather hot during the summer. If you visit between June and August, try and book an early morning tour to avoid the worst of the heat.
Cycling is more comfortable during Spring and Fall, although this is peak season so be sure to reserve your place on the tour well in advance.
To make the experience extra special, why not opt for a sunrise Las Vegas bike tour and see the Red Rock Canyon springing to life in the changing light. Hotel pick-ups are an hour before sunrise.
Which other activities can be done in Las Vegas?
Travel tips
Book your Las Vegas bike tour in good time so you can compare online prices for the best deal.
Take plenty of sunscreen and sunglasses to protect yourself from the heat and dust.
Wear comfortable clothing that allows movement, and avoid loose garments for safe cycling.
Be aware that there is no cell phone service down in Red Rock Canyon.
Charge your camera batteries the night before, as there will be lots of photo stops along the way.
Specialist cycling shoes are generally not included, so bring your own if you want to.